New Age Islam News Bureau
4 Aug 2014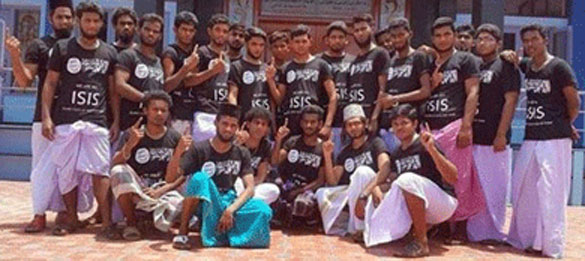 A group of Muslim youth sporting black T-shirts with "ISIS" mark. Photo: S. Mohamed Rafi
-----------
Arab World
• Syrian regime forces kill at least 130 civilians
• Iran's elite Guards fighting in Iraq to push back ISIS
• Egypt army says 11 militant fighters killed in Sinai
• Iraq: 13 ISIL Terrorists Killed in Northern Babil
• 1000's of ISIL Terrorists Flee Syria, Infiltrate Lebanon
• Seven members of Syria family executed by jihadists
• Iraq jihadists threaten Kurds after battlefield victories
• Eighteen rebel factions in Syria announce new military grouping
• Lebanese army advances in border area, finds 50 bodies
• Iraq's Yazidi minority flees militant threat
Mideast
• Israeli police storm Al-Aqusa Mosque, attack worshippers
• Turkey's Erdogan: Israel deliberately killing Palestinian mothers
• Israel considers 'underground barrier' with Gaza: Livni
• Four Yemeni Soldiers Killed in Ambush Attack
• Gaza conflict: Israeli partial ceasefire under way
• Report reveals extent of British arming of Israel
Europe
• UK Imams Urge British Muslims to Avoid Joining ISIL in Syria, Iraq
• Israel security does not justify 'slaughter of civilians': France
• British Isis recruit boasts on Twitter of killing prisoners
• 'White Shrouds' mobilize against ISIS in Syria
• Israel 'unlawfully' killed West Bank protesters: HRW
India
• 22-Year-Old Wearing T-Shirt with ISIS Symbol Held
• British parliament agrees to debate Kashmir 'rights violation'
• Palestinian envoy seeks India's help in ending Gaza crisis
Southeast Asia
• Indonesian Muslims Denounce ISIS Ideology
• Students speak about extremism, racism and role in national unity
Pakistan
• Aug 14 million march will end 'monarchy' in country: Imran
• US drone kill 15 rebels in north-western Pakistan
• PTI leader, two guards killed in DI Khan blast
• Zarb-e-Azb enters a decisive phase: PM
• Qadri's agenda cannot be that of a patriotic Pakistani: Minister
• Govt should've invoked 245 for Peshawar: PPP
• Jamaat-i-Islami against PTI's threat to dissolve KP assembly
• Spy agency officer among 2 killed in Karachi
• No big rallies as terror threat still looms: ANP
South Asia
• China offers US$49 million reward for Xinjiang 'terrorist hunt'
• Explosion in capital Kabul leaves 4 Afghan soldiers martyred
• Afghanistan accuses Pakistan for supporting Taliban militants
North America
• Gülenist Academic's Close Ties With Zionist Institute Draws Ire among American Muslims, Pro-Palestinian Activists
• Stop spying on American Muslims who dare to express their opinions
Africa
• Niger Acquires Land Owned By Radical Islamic Sect
• Libya inaugurates newly-elected Parliament
Compiled by New Age Islam News Bureau
URL: https://newageislam.com/islamic-world-news/syrian-regime-forces-kill-least/d/98417
----------
Arab World
Syrian regime forces kill at least 130 civilians
Aug 4, 2014
ALEPPO – At least 130 people, including seven children and 10 women, have been killed in air and ground operations across Syria by forces loyal to President Bashar al-Assad, opposition activists have said.
The London-based Syrian Network for Human Rights watchdog said Sunday that 130 people had been killed in Damascus' suburbs, Aleppo, Hama, Deir ez-Zor, Daraa, Homs, etc.
Meanwhile, the Syrian Local Coordination Committee said the Assad army had attacked in Aleppo with barrel and vacuum bombs and many homes were destroyed.
Also, the Syrian Local Coordination Committee said that fierce clashes took place between members of the Free Syrian Army and regime forces.
The Syrian government's official news agency, SANA, claimed that Syrian troops "neutralized" a large number of armed groups in Aleppo, Idlib, Latakia, and in the suburbs of Damascus.
Syria has been gripped by constant fighting since the regime launched a violent crackdown in response to anti-government protests in March 2011, triggering a conflict which has spiraled into a civil war.
The UN has stopped updating its death toll for the country saying an official count had become too difficult to verify.
At least 100,000 deaths were recorded in the last official count in July 2013.
http://www.dailysabah.com/mideast/2014/08/04/syrian-regime-forces-kill-at-least-130-civilians
----------
Iran's Elite Guards Fighting in Iraq to Push Back ISIS
Aug 4, 2014
In early July, hundreds of mourners gathered for the funeral of Kamal Shirkhani in Lavasan, a small town northeast of the Iranian capital Tehran. The crowd carried the coffin past posters which showed Shirkhani in the green uniform of the elite Islamic Revolutionary Guard Corps and identified him as a colonel.
Shirkhani did not die in a battle inside Iran. He was killed nearly a hundred miles away from the Iranian border in a mortar attack by the militants of the Islamic State of Iraq and Syria (ISIS) "while carrying out his mission to defend" a revered Shiite shrine in the city of Samarra, according to a report on Basij Press, a news site affiliated with the Basij militia which is overseen by the Revolutionary Guards.
Shirkhani's death deep inside Iraq shows that Iran has committed boots on the ground to defend Iraqi territory.
At least two other members of the Guards have also been killed in Iraq since mid-June, a clear sign that Shiite power Iran has ramped up its military presence in Iraq to counter the threat of Sunni fighters from ISIS, an Al-Qaeda offshoot that seized much of northern Iraq since June.
Iraqi security forces largely dissolved in the path of the ISIS' advance on Baghdad, proving that the Shiite-led government could hardly defend itself.
In late June, a spokesman for the militant group announced that it was shortening its name to the Islamic State and would rule its territory as a Sunni Muslim caliphate overseen by its leader Abu Bakr al-Baghdadi.
ISIS considers Shiites to be heretics deserving of death and made a point of filming its fighters gunning down Shiite prisoners as it advanced. Iranian and Iraqi Shiites see it as an existential threat.
Iran, with deep ties both to the Iraqi government and to a number of Iraqi Shiite militias, stepped in to stop it.
Senior Iranian officials have denied that any Revolutionary Guard fighters or commanders are inside Iraq. But there's no doubt that prominent politicians and clerics in Iran have been rattled by the rapid gains of ISIS and the threat it poses, not only to the Iraqi government but to Iran itself.
Iranian President Hassan Rowhani pledged his government's support to help counter the threat posed by ISIS if the Iraqi government requested it.
In late June, a senior Iranian cleric, Ayatollah Nasser Makarem Shirazi, said in a statement that waging jihad to defend all of Iraq, particularly holy shrines that are visited each year by millions of Shiite pilgrims, is "obligatory," according to a report from the semi-official Fars News agency.
Samarra, a city on the Tigris north of Baghdad where Colonel Shirkhani was killed, is the site of the first of those major Shiite shrines to land in the path of the Sunni fighters' advance. Iraqi government forces and Shiite militia swiftly mobilized and have so far succeeded in defending it. The deaths of Shirkhani and two others are proof that Iranians were part of that successful response.
"When the Islamic State [ISIS] reached Shiite areas in Iraq, the Revolutionary Guards had forces there who fought them," said Mohsen Sazegara, a founding member of the Revolutionary Guards who is now a U.S.-based dissident. "A number of them were killed."
Qassem Suleimani, the head of the external operations branch of the Guards known as the Quds Force, recently travelled to Baghdad, according to reports from a number of Iranian news sites. An Iraqi parliamentarian posted a picture on the Internet of himself with Suleimani in Iraq in mid-June.
Regional experts believe the Revolutionary Guards have increased the supply of weapons and funds to proxy militant groups inside Iraq in recent weeks.
Opponents blame Tehran
Critics of Iraq's Shiite Prime Minister Nouri al-Maliki blame him for excluding Sunnis from government in Baghdad, inflaming sectarian tension and allowing hardliners like ISIS to cultivate support among Iraq's Sunni community.
ISIS' rise was partly Iran's fault for doing too little to rein in the sectarian impulses of its ally Maliki, said Reza Marashi, a former Iran desk officer at the U.S. State Department who is now the director of research for the National Iranian American Council.
"Iran overplayed its hand. They overreached," he said. "By seeking to advance its interests with its Iraqi allies at the expense of other foreign and domestic players, look at what's happened: the Maliki government helped give rise to ISIS."
Throughout the U.S. occupation of Iraq, which ended in 2011, Washington accused Tehran of funding, arming and training Shiite militant proxy groups behind some of the deadliest attacks against U.S. troops and revenge killings of Sunnis. Those militia groups have re-emerged in recent months to join the fight against Sunni fighters.
A high-level Iraqi security official who asked not to be identified because he was not authorized to speak to the media said Iran had now mobilized up to 20,000 Iraqi militiamen from groups it funded and trained.
The fighters are spread south from Samarra to Baghdad and down into the farming communities south of the capital, the official added.
Several thousand Iraqi fighters were also brought back from Syria where they were helping defend the government of President Bashar al-Assad, the same official said. Some have now joined units of security forces from the Iraqi interior and defence ministries. Some of the groups were deployed since the spring with the blessing of Maliki, and put under a military chain of command, as the Iraqi security forces first struggled fighting in western Iraq and in Baghdad's rural hinterlands.
In addition, there are dozens of members of Lebanon's Shiite militia Hezbollah in Iraq, sources familiar with the group say. Hezbollah militants have been fighting in Syria to support Assad for more than two years. Their presence in Iraq now is a sign of the broader regional dimensions of the conflict which has pitted Shiite Muslims against Sunnis.
Unlike the fighters in Syria, the Hezbollah militants in Iraq are battle-hardened veterans leading and supervising operations, sources familiar with the group say. One Hezbollah commander, a veteran of the 2006 war between Hezbollah and Israel named Ibrahim al-Haj, was killed near Mosul recently.
The presence of the Iranian Guards in Iraq also comes after months of committed military support from the Quds Force in Syria. Senior Iranian officials had denied Guard personnel were there until websites linked to the Guards and Basij began publishing pictures and posting video of the funerals of Iranian fighters killed in Syria.
Still, it was more than a year after the beginning of the Syrian conflict before reports of the first Guardsman killed there began to circulate on the web. In comparison, the three Guardsmen killed in Iraq since mid-June appears to indicate that the Guards have leapt more quickly into the fight in Iraq.
Aside from Shirkhani, the funeral for a second Guardsman killed in Samarra, Shojaat Alamdari Mourjani, was held in the southern city of Shiraz on July 4. Mourjani, a pilot, "reached martyrdom while defending the shrine in Samarra," according to a report from the Islamic Republic News Agency (IRNA).
The IRNA report does not give any further details whether Mourjani was killed in ground combat or while flying a combat mission. Pictures published by the Fars News agency show posters pasted on Mourjani's casket with him wearing the uniform of the Revolutionary Guards and identifying him as a colonel.
Only a couple of days before Mourjani's funeral, the London-based International Institute for Strategic Studies published a report that Iran had delivered a handful of SU-25 ground attack aircraft to Iraq. The report notes that the only SU-25 aircraft owned by Iran are operated by the IRGC and that, "these aircraft were likely delivered to Iraq by Iranian pilots" but it is unclear who would be operating the aircraft once in Iraq.
The death of a third Guardsman, Ali Reza Moshajari, was reported by the Hengam News site in mid-June. The report, citing a Lebanese news source, included pictures of Moshajari in Revolutionary Guard uniform and noted that he had been killed in Kerbala while defending holy sites there, southwest of Baghdad.
Unlike in Samarra, there has not been sustained fighting around mainly Shiite Kerbala, although there have been occasional attacks in the area. The report, which also included a photo of Moshajari's bloodied face framed by a white burial shroud, does not present any more details of the circumstances of Moshajari's death. His funeral was attended by prominent Guardsmen, including Hussein Allah Karam, a former Guard commander who helped found a radical militant group, according to Hengam News.
Unlike in Syria, where Iran has staunchly defended Assad, a member of the Shiite offshoot Alawite sect fighting mainly Sunni opponents, Washington and other Western capitals hope Tehran will use its leverage in Iraq to help push for a more inclusive government in Baghdad to help defuse the crisis.
"The Iranians have seemingly calculated that they cannot preserve their interests in Syria without Bashar Assad, They have not made those same calculations about Maliki," Karim Sadjadpour, an Iran analyst with the Carnegie Endowment for International Peace, wrote in an email.
"But the question is whether there exists a unifying alternative to Maliki, an Iraqi politician who's both a steadfast Iranian ally and still palatable to Iraqi Sunnis and Kurds."
http://english.alarabiya.net/en/perspective/analysis/2014/08/03/Iran-s-elite-Guards-fighting-in-Iraq-to-push-back-ISIS.html
----------
Egypt army says 11 militant fighters killed in Sinai
Aug 4, 2014
Egyptian troops on Sunday killed 11 militant fighters in shoot-outs in the border Sinai Peninsula, where an Islamist insurgency is burgeoning, the army said on Monday.
On Sunday, a six-year-old child was killed and four others wounded when a mortar shell smashed into their home in a village in the northern Sinai town of Sheikh Zuweid, Aswat Masriya reported. The attack apparently targeted soldiers and police fighting with suspected militants in the area.
Egypt has been hit by an upsurge in Islamist militancy led by Sinai-based fighters that has mainly targeted security forces since the ouster of Islamist president Mohamed Morsi last summer and an ensuing crackdown on his supporters. Militants have also struck Cairo and the Nile Delta with bombings and shootings.
Egypt's military has launched large-scale operations in the underdeveloped region to quell the militants whose attacks have also led to civilian casualties.
At least five children were killed in two North Sinai towns last week in rocket attacks at their homes.
The extensive offensive involves the destruction of a network of smuggling tunnels connecting Sinai with the Palestinian Gaza Strip.
Three more passages were destroyed on Sunday, adding to over 1,640 tunnels the army said last week it had laid waste to.
http://english.ahram.org.eg/NewsContent/1/64/107665/Egypt/Politics-/Egypt-army-says--militant-fighters-killed-in-Sinai.aspx
----------
Iraq: 13 ISIL Terrorists Killed in Northern Babil
Aug 4, 2014
About 13 terrorists affiliated to the Islamic State of Iraq and the Levant were killed in Jurf al-Sakher area of Northern Babil province.
''The Iraqi air forces shelled a gathering of the terrorists of ISIL in Baj area of Jurf al-Sakher area where the Iraqi army killed 13 terrorists,'' a source told Alforat News Agency.
http://english.farsnews.com/newstext.aspx?nn=13930513000447
----------
1000's of ISIL Terrorists Flee Syria, Infiltrate Lebanon
Aug 4, 2014
Thousands of ISIL terrorists fleeing Syria after suffering heavy blows in the country's Qalamoun border area at the hands of the Syrian army forces intruded into Lebanese territory.
Latest reports indicate that heavy clashes continue between the Al-Qaeda-linked Takfiri insurgents and the Lebanese army along Lebanon's border with Syria, Al-Alam reported.
At least 10 Lebanese soldiers were killed and 25 wounded in fighting in the Lebanese village of Arsal.
Earlier, Lebanese security forces arrested a man on suspected links to the insurgency in Syria. A Lebanese military source says the unrest in Arsal is not linked to the arrest.
Meanwhile, Lebanese army General Jean Kahwaji described the insurgency in the area as preplanned.
Kahwaji said he was concerned that the ongoing Al-Qaeda linked insurgency in neighboring countries could spread to Lebanon as well. He added that the Lebanese army will not allow such a scenario to happen.
This comes as the Syrian government troops have captured most of the insurgent-held towns along the mountainous frontier since their offensive began in November 2013.
Over the past months, the Syrian army has achieved major victories in its battle against Takfiri groups across the country, particularly in the strategic Qalamoun region near the Lebanese border.
The Syrian army gains have forced the US and its regional allies such as Saudi Arabia to increase the bulk of aid for the Al-Qaeda-linked terrorism.
Syria has been gripped by deadly violence since March 2011. Over 160,000 people have reportedly been killed and millions displaced due to the violence fueled by the western-backed militants.
The West and its regional allies including Qatar, Saudi Arabia, and Turkey are giving financial and military support to the militants.
http://english.farsnews.com/newstext.aspx?nn=13930513000324
----------
Seven members of Syria family executed by jihadists
Aug 4, 2014
DAMASCUS: The jihadist Islamic State of Iraq and Greater Syria (ISIS) group executed seven members of a single family from the Ismaili minority in the central Syrian province of Hama overnight, state media and an activist group said Monday.
"An armed terrorist group committed a massacre in the Mzeiraa area near the town of Salmiya, killing seven people, including two aged 13 and 15 years old," Syrian state news agency SANA said.
Full report at:
http://www.dailystar.com.lb/News/Middle-East/2014/Aug-04/265999-seven-members-of-syria-family-executed-by-jihadists.ashx#ixzz39TVTUpe2
----------
Iraq jihadists threaten Kurds after battlefield victories
Aug 4, 2014
The Islamic State group warned Monday it would seek to further expand into autonomous Kurdish territory after claiming key towns and areas over the past 48 hours.
"Islamic State brigades have now reached the border triangle between Iraq, Syria and Turkey. May God Almighty allow his mujahideen to liberate the whole region," it said in a statement.
The jihadist group listed the gains achieved over the weekend in what was its most significant territorial push since first sweeping across Iraq nearly two months ago.
It seized the large town of Sinjar on Sunday, as well as two others in the same area. It took the town of Zumar the previous day and is now threatening Mosul dam, the country's largest.
"The mujahideen (holy fighters) conquered several areas controlled by secular Kurdish gangs and militias," said the statement, issued by IS' branch in the northwestern Iraqi province of Nineveh.
Full report at:
http://www.hurriyetdailynews.com/iraq-jihadists-threaten-kurds-after-battlefield-victories.aspx?pageID=238&nID=69935&NewsCatID=352
----------
Eighteen rebel factions in Syria announce new military grouping
Aug 4, 2014
BEIRUT: Eighteen rebel factions in Syria announced Sunday the formation of a new unified "Revolutionary Command Council" based inside the country, in the latest bid to address the rebels' fragmentation. The factions include leading groups from the Free Syrian Army, namely the Hazm Movement and the Syria Rebel Front, as well as members of the Islamic Front, such as the Islam Army and Suqour al-Sham.
Notably, the announcement leaves out the Islamic Front's Ahrar al-Sham militia as well as the Nusra Front, which cooperates with Islamist militias in many parts of the country although it is not a part of the seven-member Islamic Front.
Full report at:
http://www.dailystar.com.lb/News/Middle-East/2014/Aug-04/265969-eighteen-rebel-factions-announce-new-military-grouping.ashx#ixzz39TW7BTUm
----------
Lebanese army advances in border area, finds 50 bodies
World Bulletin/News Desk
Aug 4, 2014
The Lebanese army advanced on Monday into a border town attacked by militants at the weekend in the most serious spillover of the three-year-old Syrian civil war into Lebanon.
The army pounded areas around the town of Arsal with artillery for a third day in a bid to expel the fighters identified by the army as members of the Nusra Front and ISIL (now called Islamic State), which has seized wide areas of Syria and Iraq.
Advancing soldiers found the bodies of 50 militants, a Lebanese security official said.
At least 13 soldiers have been killed in the fighting, which erupted after the Lebanese security forces arrested a Syrian rebel commander on Saturday. At least two dozen members of the Lebanese security services - both army and police - have been taken hostage or are missing.
Full report at:
http://www.worldbulletin.net/todays-news/141874/lebanese-army-advances-in-border-area-finds-50-bodies
----------
Iraq's Yazidi minority flees militant threat
Aug 4, 2014
DAHUK: Tens of thousands from Iraq's minority Yazidi community have fled their homes after Sunni militants captured their towns in the latest offensive to expand the territory of their self-styled caliphate.
As Kurdish fighters struggled to hold back the onslaught of the Islamic State militants on Iraq's north, some 40,000 Yazidis, a minority religious sect, fled the northern towns of Sinjar and Zumar, said Jawhar Ali Begg, a spokesman for the community. "Thousands of Yazidi people have been killed," he said.
The militant group gave the Yazidis, who follow an ancient religion with links to Zoroastrianism, an ultimatum to convert to Islam, pay a tax or face death, Begg added.
Iraq is facing its worst crisis since the 2006 civil war when the Islamic State group, an al Qaeda breakaway faction with a strong presence in Syria, captured large swaths of land in the country's west and north in a lightning offensive earlier this year.
The United Nations said last month that more than 500,000 people have been displaced by the violence since June, bringing the total this year to 1.4 million, including more than 230,000 Syrian refugees.
Full report at:
http://www.dawn.com/news/1123250/iraqs-yazidi-minority-flees-militant-threat
---------
Mideast
Israeli police storm Al-Aqsa Mosque, attack worshippers
World Bulletin / News Desk
Aug 4, 2014
Israeli policemen on Monday stormed Al-Aqsa Mosque compound in East Jerusalem, and fired stun grenades and rubber-coated bullets at Palestinian worshippers inside the holy site, a Palestinian guard of the site said.
"Dozens of Israeli policemen stormed Al-Aqsa compound through Al-Magharbeh Gate and attacked worshippers at Al-Qebali Mosque inside the complex," the guard told Anadolu Agency on the condition of anonymity because he is not authorized to speak to media.
"The Israeli police fired stun grenades and rubber bullets in a bid to force the worshippers out," he said, adding that the worshippers responded by hurling the Israeli troops with stones and shoes.
Full report at:
http://www.worldbulletin.net/headlines/141847/israeli-police-storm-al-aqsa-mosque-attack-worshippers
----------
Turkey's Erdogan: Israel deliberately killing Palestinian mothers
World Bulletin/News Desk
Aug 4, 2014
Turkish Prime Minister Tayyip Erdogan accused Israel on Sunday of deliberately killing Palestinian mothers and warned it would "drown in the blood it sheds", pulling foreign policy to centre stage as a presidential race enters its final week.
Hundreds of thousands of people had filled the rally site -- a 1.2 million square meters area in Maltepe -- hours before Erdogan's appearance to voice their support for him in Sunday's election.
During his passionate address to his supporters, Erdogan renewed his strong criticism against ongoing Israeli offensives on the Gaza strip, which have left at least 1,830 Palestinians dead according to Palestinian health ministry.
Addressing hundreds of thousands of supporters at his biggest rally so far ahead of the Aug. 10 election, Erdogan said "Just like Hitler, who sought to establish a race free of all faults, Israel is chasing after the same target."
Full report at:
http://www.worldbulletin.net/headlines/141838/turkeys-erdogan-israel-deliberately-killing-palestinian-mothers
----------
Israel considers 'underground barrier' with Gaza :Livni
Aug 4, 2014
Israel's Justice Minister Tzipi Livni revealed on Monday that the government is examining possibilities of a "physical separation" from the Gaza Strip through using underground barriers, The Jerusalem Post reported.
The Israeli newspaper stated that Livni - in quotes to Army Radio - stated that such a barrier may be a "primitive one as long as its effective." The Israeli left-wing cabinet member and former foreign minister added that this step will be "worth it" regardless of its large expense.
She referred to "technological means" that are being checked and could be effective as the barrier brackets "may not need to visible from above ground."
On 22 July, Livni said Israel will not halt its offensive against Gaza until it destroys its tunnels. "First of all, it won't happen before we really finish the tunnels project which was laid out as a strategic objective," she told Ynet news website, referring to a major operation that started on the evening of 17 July.
Full report at:
http://english.ahram.org.eg/NewsContent/2/8/107666/World/Region/Israel-considers-underground-barrier-with-Gaza-Liv.aspx
----------
Four Yemeni Soldiers Killed in Ambush Attack
Aug 4, 2014
Four Yemeni soldiers were killed in an ambush when militants opened fire at an army vehicle Monday.
The attack took place in Yemen's Hadramawt province, AFP reported.
Officials suspect the assailants are members of Al-Qaeda in the Arabian Peninsula (AQAP); one of Al-Qaeda's most deadly affiliates.
AQAP is active in Yemen, taking advantage of instability that arose from the overthrow of President Ali Abdullah Saleh in 2011.
http://english.farsnews.com/newstext.aspx?nn=13930513001160
----------
Gaza conflict: Israeli partial ceasefire under way
Aug 4, 2014
A seven-hour "humanitarian window" announced by Israel has come into effect in parts of Gaza.
A senior Israeli military official said the ceasefire would not apply to the town of Rafah and that Israeli troops would respond if they were attacked.
Palestinian officials have accused Israel of breaking the truce with a strike on a house in Gaza City.
The Israeli announcement came after a attack near a UN-run school in Gaza on Sunday sparked international outrage.
Palestinian officials said at least 10 people died in the attack on Sunday.
Earlier, the Israel Defense Forces (IDF) confirmed that they had begun withdrawing some troops from Gaza, saying they were "extremely close" to completing their mission to destroy a network of tunnels.
Full report at:
http://www.bbc.co.uk/news/world-middle-east-28635031
------------
Report reveals extent of British arming of Israel
World Bulletin / News Desk
Aug 4, 2014
A report has revealed the extent to which the British government has been supplying Israel with military equipment ranging from weapons control and targeting systems to ammunition, drones and armoured vehicles which are being used in the bombardment of Gaza.
Despite former Foreign Secretary David Miliband vowing that all future export applications to Israel would be taken into account back in 2009 after he acknowlegded UK-made components were used in that year's Israeli offensive on the Gaza Strip, five years on the UK authorities is again accused of failing to regulate arms sales to Israel.
Documents shown to The Independent revealed that arms export licences worth £42m had been granted to 130 British defence manufacturers since 2010 with the aim of selling military gear to Israel.
Two British companies were among the manufacturers given permission to make sales in order to supply components for the Hermes drone, which the Israeli air force describes as the "backbone" of its strikes on Gaza. One company also supplies parts for Israel's main Merkava IV battle tank.
Full report at:
http://www.worldbulletin.net/headlines/141862/report-reveals-extent-of-british-arming-of-israel
----------
Europe
UK Imams Urge British Muslims to Avoid Joining ISIL in Syria, Iraq
Aug 4, 2014
More than 100 Islamic prayers leaders from various denominations of Sunni and Shiite Muslims signed a letter calling on the British Muslims not to travel to Iraq or Syria to fight.
"We urge the British Muslim communities to continue the generous and tireless efforts to support all of those affected by the crisis in Syria and unfolding events in Iraq, but to do so from the UK in a safe and responsible way," the open letter said, Alforat News Agency reported.
An estimated 500 British Muslim extremists are believed to have taken up arms in Syria.
Security services say the influx of western extremists to Syria creates a threat to the West, when radicalized fighters return home from fighting in the region.
Britain has stepped up security at airports after US officials said they were concerned that Al-Qaeda operatives in Syria and Yemen were developing bombs that could be smuggled onto planes.
"Our message is simple, we have come together to urge British Muslim communities not to fall prey to any form of sectarian divisions or social discord," said Qari Mohammed Asim, an Islamic prayer leader in the Northern English city of Leeds.
http://english.farsnews.com/newstext.aspx?nn=13930513000740
----------
Israel security does not justify 'slaughter of civilians': France
Aug 4, 2014
Israel's right to security does not justify its actions in Gaza, French Foreign Minister Laurent Fabius said Monday, as he called for a political solution to be "imposed" by the international community.
"How many more deaths will it take to stop what must be called the carnage in Gaza?" Fabius said in a statement.
"The tradition of friendship between Israel and France is an old one and Israel's right to security is total, but this right does not justify the killing of children and the slaughter of civilians."
The statement comes amid global outrage over an Israeli strike next to a UN school where ten people were killed, among them civilians who had been seeking refuge from the violence.
Fabius said Islamist group Hamas, the de facto rulers of Gaza, "clearly carries an overwhelming responsibility" for the conflict but that Israel was not justified in carrying out what UN Secretary General Ban Ki-moon called "a criminal act" with the attack near the school.
Full report at:
http://www.hurriyetdailynews.com/israel-security-does-not-justify-slaughter-of-civilians-france.aspx?pageID=238&nID=69941&NewsCatID=359
----------
British Isis recruit boasts on Twitter of killing prisoners
Aug 4, 2014
A British jihadi who travelled to join Isis terrorists in Syria has boasted about the killing of prisoners in a gruesome Twitter feed describing his life with the militants.
Reyaad Khan, 20, posted among his bloodthirsty tweets pictures of the dead bodies of men he said were "guys caught & executed".
The former Cardiff student joked about beheadings and warned that he was ready to "slaughter" in social media postings to more than 1,400 followers.
Full report at:
http://www.thetimes.co.uk/tto/news/uk/article4165618.ece
----------
'White Shrouds' mobilize against ISIS in Syria
Aug 4, 2014
BEIRUT: Last month's sweeping territorial gains by militants from ISIS in Deir al-Zor province have generated a fierce counter-offensive by locals, organized loosely in "popular resistance" groups that are targeting the ultra-extremists. The Syrian Observatory for Human Rights, an anti-regime group based in Britain, reported Sunday on the uptick in violence against ISIS.
It said the militants launched a campaign of arrests in the village of Tayyaneh after its residents killed two ISIS members in a skirmish, and also issued an ultimatum to residents of seven other villages to leave their homes, because they were "implicated in fighting" the group.
ISIS was responding to the kidnapping of three ISIS members – a Syrian, an Iraqi and an Egyptian – by unknown assailants in the village of Swaidan, the Observatory added.
The incidents come a few weeks after ISIS established a foothold in the city of Deir al-Zor, at the expense of its rivals the Nusra Front and Ahrar al-Sham, and swept through a number of villages in the province, many of which lie along the Euphrates River leading to the Iraqi border.
Full report at:
http://www.dailystar.com.lb/News/Middle-East/2014/Aug-04/265968-white-shrouds-mobilize-against-isis-in-syria.ashx#ixzz39SO2Rh3D
----------
Israel 'unlawfully' killed West Bank protesters: HRW
Aug 4, 2014
Human Rights Watch accused Israel of "unlawfully" killing two Palestinians who joined protests in the West Bank against Israel's military offensive in the Gaza Strip on 25 July.
HRW pointed out that the "available evidence" - mainly medical reports and sources - showed that they died of gunshot wounds caused by live ammunition.
"A third man at the same protest also appeared to have been killed unlawfully. Although witnesses said he threw stones, he was 35 meters away when he was shot and could not have posed an imminent deadly threat to Israeli forces," the international rights organisation said.
In its report, HRW stated that some offenses by Israeli forces in the West Bank as part of their occupation could be "subject to prosecution as war crimes."
Full report at:
http://english.ahram.org.eg/NewsContent/2/8/107664/World/Region/Israel-unlawfully-killed-West-Bank-protesters-HRW-.aspx
----------
India
22-Year-Old Wearing T-Shirt with ISIS Symbol Held
Aug 4, 2014
A 22-year-old youth was taken into custody on Sunday for questioning after a group photo of some youths wearing T-shirts with the Islamic State of Iraq and Syria's emblem appeared on a social networking site.
Abul Rahman has been taken into custody in connection with the photo which appeared during Ramazan period, Superintendent of Police P Mayilvahanan said.
However, Rahman told police that they did it to thank the ISIS for releasing Indian nurses from their captivity in strife-torn Iraq without harming them, the officer said.
Rahman also said they had only shared their gratefulness and happiness over the release of the nurses as ISIS was not a banned outfit in India, Mayilvahanan added. He said the 'Q' branch and Intelligence Bureau are investigating the incident.
The photo was taken in front of a mosque at Thondi. Initial investigation revealed that the person who took the photo had gone abroad and uploaded the picture on a social networking site.
The T-shirts were made by a company at Kader Pettai in Tiruppur district in Tamil Nadu, he said, adding, in all 100 such T-shirts had been made and of them 36 were worn by the group.
Rahman's friend Villavan had arranged to make the T-shirts, he said. Police said the youths, who posed for the photo, did not have any links with any terrorist organisation, "but they are being monitored and have been warned severely".
"The mosque authorise had warned the youths against wearing such T-shirts. The youths had told them it was only a prank," an official of the Intelligence Bureau said.
Officials said the picture had been withdrawn from the social networking site now. They also said they have not found any hardcore supporters of the ISIS in Tamil Nadu.
http://www.rediff.com/news/report/-iraq-isis-22-year-old-wearing-t-shirt-with-isis-symbol-held/20140803.htm
-----------
British parliament agrees to debate Kashmir 'rights violation'
Aug 4, 2014
LONDON: The House of Commons of British parliament has agreed to have a special debate on the state of human rights in Kashmir.
Calling the "ongoing Kashmir dispute a threat to regional and global peace", British MP David Ward informed the backbench business committee that new Indian government has been "quite aggressive in terms of its stance towards Kashmir" which was "opening up a whole new area of uncertainty".
Ward also informed committee that he had 40 MPs backing him up through a signatory campaign who would like Westminster to hold a debate on the human rights violations in Kashmir.
Though a formal date is yet to be decided, Britain's decision to agree for a debate on Kashmir hasn't gone down well with Friends of India and Southeast Asian think tanks.
They said "Why should Kashmir be discussed in the parliament when Britain has always been of the view that Kashmir is a bilateral issue between India and Pakistan?"
Full report at:
http://timesofindia.indiatimes.com/world/uk/British-parliament-agrees-to-debate-Kashmir-rights-violation/articleshow/39563002.cms
--------------
Palestinian envoy seeks India's help in ending Gaza crisis
TNN | Aug 4, 2014
HYDERABAD: Urging India to study the Gaza situation, Palestine ambassador to India, Adli Shaban Hasan Sadeq, called for greater participation from Prime Minister Narendra Modi's government in ending the crisis. India has historical ties with Palestine and has always supported its cause, Sadeq said, adding that in this backdrop, Modi should highlight the Palestinian cause when he meets Obama in September.
"The Palestinian civil society implores the Indian government to study the situation and play a greater role," he told a media gathering organized by the Indo-Arab League Hyderabad, where in-charge of the League of Arab States Mission, Mazim Al-Masoudi, was also present.
When asked if his government has asked the Indian government to sever ties with Israel, he said it is for the Indian government to decide. "We cannot ask them to cut their relationship with Israel. I don't think India would sever ties with Israel as they are partners in many fields," he said. Sadeq lashed out against the strikes on Gaza which has left more than 1,800 dead.
He said Palestine is ready to establish a progressive relationship with Israel if it agrees to peaceful coexistence with Jerusalem as capital of the country. He also said the Gaza strip has become heavily populated and owing to the attacks, it could become unlivable in the coming years.
Full report at:
http://timesofindia.indiatimes.com/india/Palestinian-envoy-seeks-Indias-help-in-ending-Gaza-crisis/articleshow/39572529.cms
----------
Southeast Asia
Indonesian Muslims Denounce ISIS Ideology
Aug 4, 2014
Jakarta. More Indonesian Muslim groups and public figures have voiced their rejection against the Islamic State of Iraq and Syria, or ISIS. Some urge the government to take firmer action against the possible spread of a growing movement in Indonesia, while others suggest that a lack of media attention would reduce interest in the extreme religious campaign.
"We strongly condemn the violence and terror waged by ISIS; they go against Islamic teachings," Teguh Santosa, deputy chairman of Indonesia's second-largest Muslim organization, Muhammadiyah, said in a press statement on Saturday.
"We cannot stand silent as we witness this [movement]. It's true that forming and joining a group is the right of every citizen, but we cannot tolerate violence. The government must take firm action [against ISIS's influence]."
Teguh warned Indonesian Muslims not to be duped by the hardline Muslim crusaders of ISIS, saying that the group is merely donning an Islamic mask but do not carry the true religious teachings of the prophet, given its notoriety for brutal force and violence.
ISIS, also known for its extreme interpretation of an offshoot of Islam called Wahabism, has reportedly been targeting Shiites and Christians in Iraq, one of two countries where the group currently operates — the other being war-torn Syria.
Full report at:
http://www.thejakartaglobe.com/news/indonesian-muslims-denounce-isis-ideology/
----------
Students speak about extremism, racism and role in national unity
Aug 4, 2014
Student leaders from various universities and colleges vented their frustration and concerns over education, extremism, conversion and their identity at a roundtable discussion with Global Movement of Moderates Foundation chief executive officer Datuk Saifuddin Abdullah.
It was lively discussion, where the youth, encouraged by the informal setting and Saifuddin's willingness to respond to their questions, spoke on issues that mattered to them, including national unity, and listened attentively as he addressed their concerns.
As Saifuddin said later: "Their questions are a reflection of what young people are thinking about today."
A student from a private university asked Saifuddin what youth could do to push for national unity in Malaysia.
Saifuddin suggested that they could join non-governmental organisations such as Friendship Group for Inter Religious Service (FGIS) which fostered unity through understanding each other's religion.
"This is one good group to join. The message is to do things together. Discussing issues is also important but doing something together is more important," he said at the roundtable yesterday held at Sunway University.
The roundtable on national unity was organised by Selangor MUN, the first independent Model United Nations (MUN) programme in Malaysia and GMMF.
The roundtable was part of its third annual conference for more than 200 youths from Malaysia, the United Kingdom and Singapore.
Full report at:
http://www.themalaysianinsider.com/malaysia/article/students-speak-about-extremism-racism-and-role-in-national-unity#sthash.1HWRIRFQ.dpuf
----------
Pakistan
Aug 14 million march will end 'monarchy' in country: Imran
Aug 4, 2014
LAHORE: Pakistan Tehreek-e-Insaf (PTI) Chairman Imran Khan has vowed to end "family-based monarchy" in the country through his party's "Azadi March" in the federal capital scheduled for August 14.
Addressing PTI workers convention on Sunday, Imran Khan reiterated his vow that the sit-in of his party will not end until a "new Pakistan" is made. He said there was no real democracy in Pakistan but a monarchy of few political leaders who have kept power in their hands. The PTI chairman said that one should differentiate between monarchy and democracy, as in real democracy, the head of state is accountable to the people, there is merit in democratic system and taxpayers' money is not used by the rulers.
"Can the Pakistani nation hold the ruling elite class accountable?" he questioned. "What kind of democracy is this? I challenge you to bring forward any individual whom I have appointed in Khyber Pakhtunkhwa (KP) government from my family," he added. Imran said till the leaders in the country are not elected democratically, they won't spend taxpayers' money on the citizens and no change will come. He said that the time for the "fake government" is over and he and his party will not rest until re-elections take place.
http://www.dailytimes.com.pk/national/04-Aug-2014/aug-14-million-march-will-end-monarchy-in-country-imran
-------
US drone kill 15 rebels in north-western Pakistan
Aug 4, 2014
A US drone killed 15 rebels in north-western Pakistan on Wednesday, officials said, as the military intensified its offensive to recapture a second key town controlled by Taliban insurgents. Separately, airstrikes by Pakistani fighter jets killed 35 rebels when they tried to break a cordon laid by the army in the Shawal area near the Afghan border, dpa reports.
The US drone targeted a compound and vehicle in the Datta Khel area of North Waziristan tribal district near the Afghan border, two intelligence officials told dpa.
"We have information that 15 militants are confirmed dead in the attack. Most of them are Uzbek nationals," one official said. "The death toll may go up."
It was the second drone strike this month in the region where the Pakistani military launched an offensive on June 15 to drive out local and foreign militants linked with al-Qaeda.
http://voiceofrussia.com/news/2014_07_16/US-drone-kill-15-rebels-in-north-western-Pakistan-9938/
---------
PTI leader, two guards killed in DI Khan blast
Aug 4, 2014
Pakistan Tehreek-e-Insaf (PTI) representative Faqeer Jamshed Ahmed and two others were killed in an improvised explosive device (IED) blast in Dera Ismail Khan on Monday morning.
The explosion reportedly took place near Faqeer Ahmed's car on Madhi Road and the other two deceased were said to be his security guards. Three suspects have been arrested so far.
http://www.pakistantoday.com.pk/2014/08/04/national/pti-leader-two-guards-killed-in-di-khan-blast/
----------
Zarb-e-Azb enters a decisive phase: PM
Aug 4, 2014
ISLAMABAD - Prime Minister Nawaz Sharif has said operation Zarb-e-Azb has entered a decisive phase and the entire nation is supporting it.
In a statement issued here, he said long-march and protest demonstrations are not solution of the problems and urged upon political parties to hold talks.
He stated the government is not afraid of the long-march on August 14. He said that we are addressing complaints with regard to judiciary and institutions independently. He added that opposition concern will be addressed before or after the long-march.
http://www.dailytimes.com.pk/national/04-Aug-2014/zarb-e-azb-enters-a-decisive-phase-pm
----------
Qadri's agenda cannot be that of a patriotic Pakistani: Minister
Aug 4, 2014
ISLAMABAD: Punjab Law and Education Minister Rana Mashhood said on Monday said that Pakistan Awami Tehreek (PAT) chief Dr Tahirul Qadri's agenda could not be that of a patriotic Pakistani.
Mashhood said Qadri had ordered his supporters to take the law into their own hands and so his agenda could not be in favour of the country.
The minister said Qadri was spreading anarchy in the country to halt its progress.
Meanwhile, he asked Qadri not to desecrate the Holy Quran for his personal and political motives and pointed out that the PAT chief had directed his supporters and party workers to bring copies of holy book.
Full report at:
http://www.dawn.com/news/1123240/qadris-agenda-cannot-be-that-of-a-patriotic-pakistani-rana-mashhood
----------
Govt should've invoked 245 for Peshawar: PPP
Aug 4, 2014
GUJRAT: Opposition leader in the National Assembly Syed Khursheed Ahmed Shah says the invocation of Article 245 is required in Peshawar or Bannu rather than Islamabad which is a city of not more than 1.5 million souls.
Talking to reporters at the PPP office in Lalamusa on Sunday, he said it seemed that the government had employed the 'tactic' to tackle the PTI's march.
He said PPP would never become part of any march aiming at derailment of democracy.
Mr Shah said: "It is a basic right of every citizen and political party to lodge a peaceful protest by remaining within the constitutional domain. My party is neither interested in the Tsunami march nor in the so-called revolutionary march despite the fact that PPP have some serious reservations over the results of the 2013 general election."
Full report at:
http://www.dawn.com/news/1123132/govt-shouldve-invoked-245-for-peshawar-ppp
----------
Jamaat-i-Islami against PTI's threat to dissolve KP assembly
Aug 4, 2014
PESHAWAR: Pakistan Tehreek-i-Insaf's partners in the Khyber Pakhtunkhwa coalition government have rejected its idea about dissolution of the provincial assembly.
Jamaat-i-Islami Amir Sirajul Haq and Shahram Tarki, parliamentary party leader of the Awami Jamhuri Itehad Pakis­tan, discussed the issue and later addressed a press conference at Al Markaz-i-Islami here on Sunday.
Being the senior partner the PTI had the right to pack up the government, but the JI and AJIP would not support dissolution of the assembly, said a joint statement issued by the two parties.
The two leaders disagreed with statements of PTI Chair­man Imran Kahn and Chief Minister Pervez Khattak about assembly's dissolution.
Article 112 of the Constitution empowers the chief minister to advise the governor to dissolve the assembly. The assembly stands dissolved at the expiry of 48 hours after the chief minister's advice.
Full report at:
http://www.dawn.com/news/1123223/ji-against-ptis-threat-to-dissolve-kp-assembly
----------
Spy agency officer among 2 killed in Karachi
August 04, 2014
KARACHI- At least two people were overnight shot down in firing incidents in different areas of the mega city.
A man was killed in a firing incident near Sakhi Hassan Chowrangi and the other man was killed in Majeed Colony; while, two others were wounded in today night violence, according to the Rescue sources.
According to police sources, the man, who was shot to death near Sakhi Hassan Chowrangi, was later identified as Amir Azhar. Azhar's bereaved family said he was killed while resisting a robbery.
The police sources said the deceased was a senior officer of a sensitive agency. He was about to return home after attending a ceremony at a marriage lawn, when two unidentified masked miscreants tried to snatch his mobile and other valuables. On resistance, the muggers opened fire, killing him on the
spot, and sped away. His body has been shifted to Abbasi Shaheed Hospital's morgue.
http://www.nation.com.pk/national/04-Aug-2014/spy-agency-officer-among-2-killed-in-karachi
----------
No big rallies as terror threat still looms: ANP
Aug 4, 2014
KARACHI - The Awami National Party would not organise any big ceremony in connection with the Independence Day due to the persistent terror threats from the Taliban.
Talking to TheNation, ANP Sindh chief Senator Shahi Syed confirmed that his party leaders and workers are still facing severe terror threats all over the country especially in Karachi where they had suffered various suicide attacks during general elections last year. He said the law and order situation is still not suitable for political activities as the party has been the prime target of the Taliban. He unveiled that scores of his party workers have been kidnapped for ransom by the terrorists who are also targeting the ANP leaders. He claimed that his party could organise a big gathering of more than 10 million people only if it is given a chance with proper security in Karachi.
The ANP Sindh chief disclosed that his party is not going to hold any big public gathering ahead of Independence Day celebrations keeping in view the terrorists threats to the party workers and leadership, adding that the day would be celebrated with simplicity, paying tribute to the martyrs.
Full report at:
http://www.nation.com.pk/karachi/04-Aug-2014/no-big-rallies-as-terror-threat-still-looms-anp
----------
South Asia
China offers US$49 million reward for Xinjiang 'terrorist hunt'
Aug 4, 2014
China is offering more than US$49 million (RM156 million) for residents of Xinjiang, the homeland of mainly Muslim Uighurs, who help a crackdown on "terrorists", state media reported Monday.
A total of 4.23 million yuan (RM2.19 million) was handed out to individuals and government agencies who helped in the killing and capture of 10 "suspected terrorists" in Hotan prefecture last week, the official Xinhua news agency said.
Local residents found the suspects in a corn field in Purgakqi last Friday, it said.
With the help of more than 30,000 "volunteers", police shot dead nine of the suspects and captured one after chasing the group to an abandoned house, where they "resisted arrest by throwing explosives into the crowd", according to Xinhua.
An award ceremony attended by more than 10,000 people was held in Hotan yesterday. Six individuals who provided key tip-offs were given 100,000 yuan each, said the report.
"Party members... cadres and the public of different ethnicities were called on at the gathering to be inspired (to)... build an iron bastion against violent terrorist crimes," Xinhua said.
Full report at:
http://www.themalaysianinsider.com/world/article/china-offers-us49-million-reward-for-xinjiang-terrorist-hunt#sthash.0oCbB1Ba.dpuf
----------
Explosion in capital Kabul leaves 4 Afghan soldiers martyred
Aug 4, 2014
At least four Natioal Army (ANA) soldiers were martyred following an explosion in capital Kabul early Monday.
Defense ministry spokesman, Gen. Zahir Azimi, said the incident took place in Mosahi district, southern part of capital Kabul.
Gen. Azimi further added that the soldiers were patrolling in the area when the incident took place, leaving four soldiers martyred and four others injured.
He said the incident took place around 7:30 am local time.
No group includig the Taliban militants has so far claimed responsibility behind the incident.
In the meantime, Azimi, said at least two other Afghan soldiers were martyred following roadside bomb blast in the past 24 hours.
Azimi did not disclose further information regarding the exact locations where the two Afghan soldiers were killed.
http://www.khaama.com/explosion-in-capital-kabul-leaves-4-afghan-soldiers-martyred-6510
----------
Afghanistan accuses Pakistan for supporting Taliban militants
Aug 4, 2014
The government of Afghanistan accused Pakistan for supporting the Taliban militants by increasing the presence of its military personnel and advisers among the terrorist groups in Afghanistan.
The issue was discussed during the National Security Council (NSC) meeting chaired by President Hamid Karzai.
Pakistan was also criticized for the continued cross-border shelling in Dangam and Shegal districts of eastern Kunar province and the NSC warned that the government and people of Afghanistan will not remain silent regarding such obvious violations.
The NSC also accused Pakistan for plotting a major attack by Taliban militants in Hesarak district of eastern Nangarhar province.
According to the NSC, around one thousand Taliban militants launched coordinated attacks on security check posts in Hesarak which was retaliated by Afghan security forces.
NSC praised Afghan security forces, local government and people of Hesarak district for their close cooperation to respond to terrorists attack which left at least 134 militants dead.
http://www.khaama.com/afghanistan-accuses-pakistan-for-supporting-taliban-militants-8383
---------
North America
Gülenist Academic's Close Ties With Zionist Institute Draws Ire among American Muslims, Pro-Palestinian Activists
Aug 4, 2014
ISTANBUL – While American Muslims debate how best to challenge the U.S. government's unconscionable, continuous support of the ongoing massacre in Gaza, they are also debating the roles and responsibilities of American Muslim leaders in representing their point-of-view and how they should interact with Israeli Zionists.
These concerns led to heated debates in American Muslim print publications and on social media over a group of American Muslim ideology leaders involved in the controversial Muslim Leaders Initiative (MLI), an initiative organized by the Duke University Islamic Chaplain Abdullah Antepli - an academic from the Gülen Movement, led by the controversial imam, Fethullah Gülen - and the Shalom Hartman Institute, an Israeli-based Zionist educational organization.
According to Yale professor Zareena Grewal, over the period of a year, MLI leaders made two trips to Israel under the auspices of the Shalom Hartman Institute "in order to learn about Judaism, Zionism and Israeli history."
Full report at:
http://www.dailysabah.com/politics/2014/08/04/gulenist-academics-close-ties-with-zionist-institute-draws-ire-among-american-muslims-propalestinian-activists
----------
Stop spying on American Muslims who dare to express their opinions
Aug 4, 2014
At the White House annual Ramadan iftar last month, President Obama spoke to a room full of American Muslim leaders and invoked their communities' "obligation to do [their] part — to help others overcome barriers, to reverse the injustice of inequality and help more of our fellow citizens share in the promise of America." Ironically, these statements came only one week after the Intercept published an expose detailing the United States' surveillance of five prominent American Muslims — including civil rights activists, humanitarians, academics and lawyers. It seems that being Muslim in American and "doing your part" is a surefire way to find yourself on a clandestine government surveillance list.
At this time of year, from the East Room of the White House to the chambers of local government, elected officials sit down with American Muslim communities for such iftar dinners. These gatherings offer an occasion for officials to acknowledge the service that American Muslims are providing to this country and reassert core values of religious and racial equality. At the White House iftar, Obama asserted, "No one should ever be targeted or disparaged because of their faith."
Full report at:
http://www.washingtonpost.com/posteverything/wp/2014/08/04/stop-spying-on-american-muslims-who-dare-to-express-their-opinions/
-----------
Africa
Niger Acquires Land Owned By Radical Islamic Sect
Aug 4, 2014
Minna — The Niger State Government over the weekend disclosed it has confiscated over 200 hectares of land acquired by a suspected Islamic radical sect which has earlier been dislodged by a combined security operatives in the Lapai Local Government Area of the state.
The recent clampdown is coming on the heels of the sects' defiance against the administration's suspicion and rejection due to their strange teaching for the second time in two months when their leader was arrested for among others, claiming to be the new Prophet Mohammed.
Governor Babangida Aliyu disclosed these when he received traditional rulers in the state on the traditional Sallah homage, led by the Etsu Nupe and Chairman of the State Council of Chiefs, Alhaji Yahaya Abubakar at his residence in Minna.
To avoid the re-grouping of the sect members, Governor Aliyu told guests during the homage that the revoked parcel of land would be converted into public use, adding that 50 hectares of the recovered land would be allocated to the Ibrahim Badamasi Babangida University, Lapai.
Unspecified hectares are to be allocated to the Lapai Emirate Council and the Lapai Local Government Area, the governor said.
He also said the state government would construct a model primary school on the remaining parcel of land.
The action was informed by the administration's resolve to ensure that the sect leaders and its members did not return to the place in future, he said.
He added that government would not fold its hands and watch some extremists turn the state to a theatre of war.
Full report at:
http://allafrica.com/stories/201408040028.html
----------
Libya inaugurates newly-elected Parliament
Aug 4, 2014
More than 150 members of Libya's newly-elected Parliament held their first official meeting in Tobruk, as militias continued to battle over the nation's largest cities.
The 200-member Parliament was elected at the end of June and will take over from the previous Assembly.
Monday's session in Tobruk was boycotted by pro-Islamist deputies and 12 seats are vacant because those regions were too unstable for elections.
http://www.thehindu.com/news/international/world/members-of-libyas-newlyelected-parliament-hold-first-official-meeting/article6280288.ece
---------
URL: https://newageislam.com/islamic-world-news/syrian-regime-forces-kill-least/d/98417