New Age Islam News Bureau
17 Jan 2014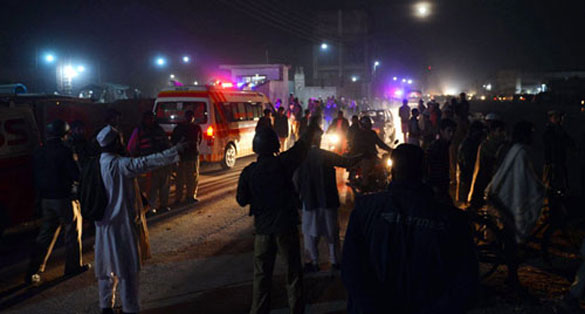 People gather outside the Tableeghi Markaz after a bomb explosion in Peshawar on January 16, 2014. —AFP Photo
-----------
Arab World
• Syrian Army Kills Dozens of Takfiri Terrorists, Saudi Bombers
• Bodies of 14 Sunni men found in Iraq orchard
• Rocket fire on Lebanese border town kills 7, wounds 15
• Suicide bomber kills three in Iraq's Anbar
• Thousands of expats' bodies lying in Saudi morgues
• Syrian opposition meets to decide on peace talks
• Syrian Govt ready to exchange prisoners of war
Pakistan
• Blast at Peshawar Tablighi centre kills ten, injures more than 60
• Birds of a feather: PTI and AQ Khan's TTP come together
• There could be at least 3 terrorists involved in Tableeghi Markaz blast: Report
• A change of guard in Pakistan stokes nuclear safety fears
• Nawaz advocates testing dialogue option with Taliban
• Woman among four killed in Balochistan
• FIA arrests Indian girl, in love, travelling with Pakistani passport
South Asia
• Tortured in Al-Badr camp in presence of Mir Quasem: Victim tells war crimes tribunal
• Afghanistan Taliban 'confident of victory' over NATO
• Spoiling Indo-Bangla relationship was aimed: Inu
• 53 activists of BNP, Jamaat-Shibir held in 3 districts
• Afghan intelligence seize vehicle laden with explosives in Helmand
Southeast Asia
• Jakim reminds Muslims to protect supremacy of Islam
• No need to return Bibles, fatwa council tells Jais
• No winners in 'Allah' issue, university survey shows
• Perkasa wants special Parliament sitting on Allah issue, says daily
India
• Prominent Islamic thinkers to address Jalsa-e-Rahmatul Alameen meeting on Jan 18
• Aam Aadmi Party cap invites fatwa in UP
• Need of the hour is the unity of Muslim Countries- Ambassador of Iran in India
• India rejects 'exit' strategy for Afghanistan
Mideast
• Salafis Forced To Flee Dammaj, Government Forces Unable To Protect Them
• Israeli FM summons EU envoys over pro-Palestinian 'bias'
• Senior Military Official: Global Arrogance Creating Rift among Muslims
North America
• Obama calls Cameron, discusses Syria, Af-Pak, NSA issues
• White House releases summary of Iran implementation deal
• US media conceal NSA memo on surveillance, corruption, 9/11 plot - ex-CIA analyst
• CAIR: New DOJ Position on Religious Profiling a 'Step in the Right Direction'
• 'Hillary Clinton mulled green light for Israeli strike on Iran'
• Feds to curtail profiling, barring investigations based on religion, ancestry
Europe
• Uzbek Art-Jihad Criticizes State, Breaks Taboos
• Central African Republic on brink of 'massive human catastrophe', Red Cross says
• UN calls on nations to take in Syrian refugees
• Russia hopes Syria has enough political will to curb attempts to disrupt Geneva-2
Africa
• When Bauchi govt gathered 6,000 Islamic clerics to intercede for Nigeria
• South Sudan army loses contact with key town claimed by rebels
• Uganda President Yoweri Museveni blocks anti-gay law
Compiled by New Age Islam News Bureau
URL: https://www.newageislam.com/islamic-world-news/new-age-islam-news-bureau/syrian-army-kills-dozens-of-takfiri-terrorists,-saudi-bombers/d/35323
-----------
Arab World
Syrian Army Kills Dozens of Takfiri Terrorists, Saudi Bombers
17 January 2014
TEHRAN (FNA)- The Syrian troops killed dozens of Takfiri terrorists across the Muslim country as the army continues to carry out operations against foreign-sponsored militant groups.
Syrian forces managed to kill nearly 50 extremist militants, including two Saudi bombers, in the central province of Homs, Al-Alam reported.
The army units targeted a group of militants who were planning a terrorist attack on military checkpoints in the Western city of Hama, while 15 Takfiri elements were also killed in an army operation in the city of Douma, located in Damascus Province.
Meanwhile, Syrian troops destroyed a number of militant hideouts in the provinces of Dara'a and Homs, confiscating large quantities of arms, ammunition and satellite transmission devices.
On January 13, the Syrian army said in a statement that the country's armed forces in cooperation with the National Defense Forces have gained complete control over al-Nakkarin, al-Zarzour, al-Taaneh, al-Subeihieh and Height 53 in the Eastern countryside of Aleppo City.
The army operations come as heavy infighting among al-Qaeda-affiliated militants and other Takfiri groups in Northern and Eastern Syria has killed hundreds of people over the past weeks.
On January 15, UN High Commissioner for Human Rights Navi Pillay warned the Takfiri militants and armed opposition groups against a "soaring" number of executions in Syria's north, which could amount to war crimes.
Syria has been gripped by deadly unrest since March 2011. According to figures released by the United Nations, over 100,000 people have so far been killed and millions of others displaced due to the turmoil.
On January 16, UN Under-Secretary General for Humanitarian Affairs and Emergency Relief CoordiNATO r Valerie Amos said Syria is experiencing the "biggest humanitarian crisis we face today."
http://english.farsnews.com/newstext.aspx?nn=13921027000207
-----------
Bodies of 14 Sunni men found in Iraq orchard
17 January 2014
The bodies of 14 Sunni Muslim men have been found in an orchard near Baghdad, say Iraqi authorities.
The bodies were found with gunshot wounds near the Sunni Arab town of Mishahda, about 30km (20 miles) north of the capital.
Among them were several members of one family, said officials. The men were kidnapped on Wednesday by suspected militants in military uniforms.
There has been a surge in sectarian violence across Iraq in the past year.
It is now reaching levels not seen since fighting peaked in 2006-7 following the US-led invasion of 2003.
In late November, 18 corpses were discovered in circumstances apparently similar to Thursday's grisly discovery.
The men's bodies were found with gunshots in an orchard, also near Mishada.
The Sunni men had also been kidnapped by men wearing military uniforms.
http://www.bbc.co.uk/news/world-middle-east-25770486
-----------
Rocket fire on Lebanese border town kills 7, wounds 15
17 January 2014
Rocket fire on the Lebanese border town of Arsal killed at least seven people and wounded 15 others on Friday, Lebanon's state news agency said.
The National News Agency said one rocket hit Arsal, but local security sources said at least seven rockets hit the area. Arsal sits on the frontier with neighbouring, which is mired in a nearly three-year civil war.
http://www.hurriyetdailynews.com/rocket-fire-on-lebanese-border-town-kills-7-wounds-15.aspx?pageID=238&nID=61189&NewsCatID=352
-----------
Suicide bomber kills three in Iraq's Anbar
17 Jan 2014
A suicide bomber targeting tribal militia fighting alongside Iraqi security forces in Sunni Arab-majority areas west of Baghdad killed three people late on Thursday, officials said.
The bomber struck a gathering of members of the Sahwa militia in Anbar provincial capital Ramadi at around 8:30 pm (1730 GMT), a police officer and a doctor at the city's hospital said.
Three Sahwa militiamen were killed and five others wounded in the blast in the east of the city.
The Sahwa, who joined US forces in the battle against Sunni co-religionists of Al-Qaeda from late 2006 turning the tide against the jihadists at the time, have been fighting alongside government forces this month against the resurgent militant network.
Officials say that Al-Qaeda loyalists of the Islamic State of Iraq and the Levant (ISIL) control large swathes of Ramadi and the whole of the city of Fallujah, farther east and just a short car journey from Baghdad.
It is the first time militants have exercised such open control in major cities since the height of the insurgency that followed the US-led invasion of 2003.
In Fallujah, four neighbourhoods came under heavy shelling late Thursday, witnesses and officials said, adding that there had been casualties, without being able to provide numbers.
Residents of Fallujah have accused the Iraqi army of carrying out the artillery bombardment from its positions on the city's eastern edge but defence officials have insisted they are not responsible.
UN chief Ban Ki-moon and other diplomats have urged Baghdad to pursue political reconciliation with the disaffected Sunni Arab minority to end the weeks-long standoff in Anbar and a months-long surge in violence.
But with a parliamentary election looming in April, Prime Minister Nuri al-Maliki has ruled out dialogue with the militants.
Fighting erupted in the Ramadi area on December 30, when security forces cleared a year-old Sunni Arab protest camp.
It spread to Fallujah, and militants moved in and seized the city and parts of Ramadi after security forces withdrew.
ISIL has been involved in the fighting along with anti-government tribesmen. The government has recruited its own allies among the province's powerful tribes.
http://english.ahram.org.eg/NewsContent/2/8/91776/World/Region/Suicide-bomber-kills-three-in-Iraqs-Anbar.aspx
-----------
Thousands of expats' bodies lying in Saudi morgues
17 January 2014
Thousands of bodies of expatriate workers remain in hospital mortuaries in the Kingdom awaiting repatriation.
Mortuaries in the country received 5,555 bodies of expatriates last year, of which 1,791 bodies were either repatriated or buried while 3,764 are still lying in various hospital morgues, Al-Eqtisadiah daily reported, quoting a forensics department official.
Ali Bawazeer, head of the deceased affairs at the forensics department in Riyadh, accused many businesses of the delaying arrangements for the repatriation of bodies of workers who died while under their sponsorship.
Full report at:
http://english.alarabiya.net/en/News/middle-east/2014/01/16/Thousands-of-expats-bodies-lying-in-morgues.html
----------
Syrian opposition meets to decide on peace talks
AFP | Jan 17, 2014
ISTANBUL: The divided Syrian opposition will meet on Friday in Istanbul to decide whether to join next week's landmark peace talks, as its Arab and Western allies ratchet up the pressure for it to attend.
On the eve of the National Coalition's meeting, US Secretary of State John Kerry made a powerful plea to the exiled group to decide in favour of the talks to be held in Switzerland on January 22.
"The United States ... urges a positive vote," Kerry said in a surprise statement to reporters.
"The Syrian people need to be able to determine the future of their country, their voice must be heard," he said.
Full report at:
http://timesofindia.indiatimes.com/world/middle-east/Syrian-opposition-meets-to-decide-on-peace-talks/articleshow/28934631.cms
-----------
Syrian Govt ready to exchange prisoners of war
17 January 2014
Foreign Minister Walid al—Moallem spoke about the exchange with the country's opposition forces after a meeting in Moscow with his Russian counterpart
Syria's Foreign Minister says Damascus is prepared to exchange prisoners of war with the country's opposition forces.
Walid al—Moallem told journalists about the possible exchange on Friday after a meeting in Moscow with his Russian counterpart Sergey Lavrov.
Al—Moallem also said he had presented Russia with a plan containing "measures to enforce security in Aleppo," a war—torn city 310 km from the Syrian capital.
The meeting between Russian and Syrian sides comes ahead of a peace conference dubbed Geneva 2, which opens on Wednesday in Montreux, Switzerland, that seeks to negotiate an end to the Syrian conflict, now in its third year..
Prospects for the talks, the first between the warring sides in Syria since the start of the conflict, are dim as each party shows no inclination for compromise.
Full report at:
http://www.thehindu.com/news/international/world/syrian-govt-ready-to-exchange-prisoners-of-war/article5586299.ece
-----------
Pakistan
Blast at Peshawar Tablighi centre kills ten, injures more than 60
2014-01-16
PESHAWAR: At least ten people were killed and more than 60 injured Thursday evening when a bomb exploded at a religious centre in Peshawar, the capital of Khyber Pakhtunkhwa province.
Eyewitnesses said the bomb exploded at Tablighi Markaz on Pajaggi Road run by the Tableeghi Jamaat, just before Maghrib prayers. Around a thousand people were gathered at the seminary for a Shab-i-Juma (Thursday) congregation when the bomb ripped through the centre, according to reports.
Provincial Health Minister Shaukat Yousufzai confirmed the number of casualties. "Eight people have died and 67 wounded," he said.
Shafqat Malik, a senior official of the bomb disposal squad, said the bomb was planted inside a canister of ghee (cooking oil). "Around five kilograms of explosive material was used in the blast, which was detonated through a timed device," he said.
Full report at:
http://www.dawn.com/news/1080731/blast-at-peshawar-tablighi-centre-kills-ten-injures-more-than-60
-----------
Birds of a feather: PTI and AQ Khan's TTP come together
January 17, 2014
PESHAWAR: The provincial chapter of Dr Abdul Qadeer Khan's Tehreek-e-Tahaffuz Pakistan (TTP) announced on Thursday that it would be merging with Pakistan Tehreek-e-Insaf (PTI).
While addressing a news conference, PTI Provincial General Secretary Khalid Masood said Khan was a national hero and PTI had always considered TTP as a friendly party, adding people were happy with PTI's performance and thus were becoming part of the party.
He also said PTI has prepared for local government polls and will come up with better results than the general elections.
Full report at:
http://tribune.com.pk/story/659646/birds-of-a-feather-pti-and-aq-khans-ttp-come-together/
-----------
There could be at least 3 terrorists involved in Tableeghi Markaz blast: Report
January 17, 2014
PESHAWAR: There could be more than three terrorists involved in the bomb blast in the Tableeghi Markaz in Peshawar, the investigation report of the blast revealed, Express News reported on Friday.
The report, prepared by police, stated that more than 15,000 people were present at the mosque at the time of the blast.
"A second bomb was recovered from the site of the blast, which had been planted so that maximum casualties would have taken place," the report added.
Full report at:
http://tribune.com.pk/story/659933/there-could-be-at-least-3-terrorists-involved-in-tableeghi-markaz-blast-report/
-----------
A change of guard in Pakistan stokes nuclear safety fears
MEENA MENON
17 January 2014
A cryptic message on December 18, 2013 announced a change of guard in the Strategic Plans Division (SPD), which marked the end of a long and distinguished career of its director general (DG) Lt. Gen. Khalid Ahmed Kidwai, whose name had become virtually synonymous with the nuclear weapons and strategy management of the country. He was replaced by Lt. Gen. Zubair Mahmood Hayat, corps commander Bahawalpur in one of the quieter moves by the Nawaz Sharif government, which has renewed the debate on the safety of Pakistan's growing nuclear arsenal. An oft quoted news report described Hayat as "brainy, brave and bold" and that he was commissioned in the Artillery regiment in the 80s. The new SPD chief has a tough challenge ahead to reorient the organisation in testing times.
Full report at:
http://www.thehindu.com/news/international/south-asia/a-change-of-guard-in-pakistan-stokes-nuclear-safety-fears/article5584545.ece
-----------
Nawaz advocates testing dialogue option with Taliban
2014-01-17
ISLAMABAD: Prime Minister Nawaz Sharif Thursday said the option of dialogue with Taliban should not be given up untested as it could prove the best strategy to resolve the prevailing situation.
"Several countries have resolved their grave issues through dialogue. It can prove as the best option if other side also shows positive gesture," he said in an interview with a private television channel.
The premier said the dialogue process had been heading fast but it came to a standstill following a drone attack killing Pakistani Taliban chief Hakimullah Mehsud.
He said drone attacks must not be carried out on Pakistan's soil as these breached the country's sovereignty. But why the drone attack was made at that time when the dialogue process was moving forward, he questioned.
Full report at:
http://www.dawn.com/news/1080799/nawaz-advocates-testing-dialogue-option-with-taliban
-----------
Woman among four killed in Balochistan
2014-01-17
QUETTA: Four people, including a woman and commander of a 'peace force', were killed on Thursday in Dera Bugti and Bolan districts.
Sources in the Levies Force said Dost Mohammad was killed in a clash with militants in Loti gas field area of Dera Bugti.
In another incident a man was killed in a landmine blast in Dera Bugti.
A young woman and a man were shot dead in a village in Bhag area of Bolan district on karo-kari allegations.
http://www.dawn.com/news/1080835/woman-among-four-killed-in-balochistan
-----------
FIA arrests Indian girl, in love, travelling with Pakistani passport
January 17, 2014.
LAHORE: The Federal Investigation Agency (FIA) on Thursday arrested an Indian girl at the Lahore airport for travelling with a fake Pakistani passport, Express News reported.
According to initial details, Nagita Ramesh arrived in Lahore from Doha to meet Multan resident Azhar. She told the investigation officers that she fell in love with Azhar on social media.
Ramesh – originally from Indian Gujrat – said she had converted to Islam. The passport she was travelling with identified her as Nimra.
The FIA officials informed the Indian High Commission, Foreign Office and other concerned authorities and deported Ramesh to Doha.
The investigators also interrogated Azhar and later allowed him to return to Multan.
http://tribune.com.pk/story/659936/fia-arrests-indian-girl-travelling-with-pakistani-passport/
-----------
South Asia
Tortured in Al-Badr camp in presence of Mir Quasem: Victim tells war crimes tribunal
17 January 2014
A prosecution witness yesterday testified that he was tortured at an Al-Badr camp in Chittagong in presence of Jamaat-e-Islami leader Mir Quasem Ali during the Liberation War.
Sanaullah Chowdhury, the second prosecution witness in Quasem's case, told the International Crimes Tribunal-2 that Quasem even interrogated him during his 12-day captivity at that camp in the city's Dalim Hotel.
The 67-year-old witness said bodies of four to five captives, who were tortured to death at the camp, were dumped into the Karnaphuli river in the last part of the nine-month long war in 1971.
On December 11 last year, Syed Mohammad Amran, a freedom fighter who endured torture for 16 days at the same camp, testified that four to five detainees were killed inside the Quasem-controlled camp.
Full report at:
http://www.thedailystar.net/city/tortured-in-al-badr-camp-in-presence-of-mir-quasem-7140
-----------
Afghanistan Taliban 'confident of victory' over NATO
17 January 2014
A spokesman for the Afghan Taliban has said it is "confident of victory" over NATO -led forces and already controls large areas of the country.
Interviewed by the BBC's John Simpson, Zabiullah Mujahed said in remote parts it was "everywhere", and foreign troops were scared to leave their bases.
He also denied any ties with candidates in the "fake" presidential elections.
But it is hard to believe the Taliban might make a comeback in Afghanistan as things stand, our correspondent says.
However, their takeover of Kabul in 1996 was unexpected, and the election of a weak, corrupt president could strengthen them, he adds.
Most NATO -led (Isaf) foreign combat forces are due to leave this year, having handed over control to the Afghan army, as combat operations are declared to be over.
In December 2013, the head of the British army warned that the Taliban could retake some lost territory after troops leave.
Full report at:
http://www.bbc.co.uk/news/world-asia-25765603
----------
Spoiling Indo-Bangla relationship was aimed: Inu
17 January 2014
Bangla daily Inqilab published a false report on a joint forces' drive in Satkhira aiming to spoil the existing relationship between Bangladesh and India, Information Minister Hasanul Haq Inu said today.
The report was published also to create a riot in Bangladesh and insult the joint forces members, the minister said.
Inu, also president of Jatiya Samajtantrik Dal, was talking to journalists after an executive committee meeting at his party office at Bangabandhu Avenue, private satellite channel Somoy TV reports.
Full report at:
http://www.thedailystar.net/spoiling-indo-bangla-relationship-was-aimed-inu-7188
-----------
53 activists of BNP, Jamaat-Shibir held in 3 districts
17 January 2014
Al least 53 BNP and Jamaat-Shibir activists were arrested in three districts on various charges yesterday and the day before.
Police arrested 12 activists of BNP, Jamaat and Shibir from different areas in Rangpur district on Wednesday night and early yesterday, reports our correspondent.
Police arrested them in connection with police cases filed for attacking polling centres, setting fire to polling centres, snatching ballot boxes and papers, vandalising and ransacking the Hindu people's houses in the district on January 5 national elections day and the day before.
Full report at:
http://www.thedailystar.net/country/53-activists-of-bnp-jamaat-shibir-held-in-3-districts-7109
-----------
Afghan intelligence seize vehicle laden with explosives in Helmand
Jan 17 2014
The Afghan intelligence – National Directorate of Security (NDS) announced Friday that a vehicle laden with explosives was discovered and seized in southern Helmand province of Afghanistan.
NDS following a statement said, Afghan intelligence operatives also seized a motorcycle laden with explosives from the same province.
The statement further added that the explosives were seized during operations in Greshk district and Lashkargah city of Helmand province.
According to the NDS officials, the militants were looking to carry out terrorist attacks using the explosives in Greshk and Lashkargah city.
Full report at:
http://www.khaama.com/afghan-intelligence-seize-vehicle-laden-with-explosives-in-helmand-2705
-----------
Southeast Asia
Jakim reminds Muslims to protect supremacy of Islam
17 January 2014
Muslims have been reminded that it is their duty to support all efforts to position Islamic teachings as the policy of the country, and to safeguard Islam against any negative elements affecting the Malay community.
In its Friday sermon today, the Malaysian Islamic Development Department (Jakim) told Muslims that they were expected to be aware of any agenda to reduce the supremacy of Islam.
"Realise before it's too late. Our religion is under attack. Our faith is being threatened. Our pride is being challenged.
"Just imagine the ills that will befall us if people of the Islamic faith are not united to defend our religion. What about the faith of our children in the future," the sermon said.
Jakim cited a recent statement by the Christian Federation of Malaysia (CFM) declaring their support for the right of Christians to practise their faith and to use Bibles in all languages, including Malay and other indigenous languages of the country.
Full report at:
http://www.themalaysianinsider.com/malaysia/article/jakim-reminds-muslims-to-protect-supremacy-of-islam
-----------
No need to return Bibles, fatwa council tells Jais
17 January 2014
The National Fatwa Council has come out in support of the Selangor religious authorities' raid and seizure of more than 300 Malay and Iban Bibles, adding that the holy books need not be returned, Umno mouthpiece Utusan Malaysia reported today.
Council chairman for the Islamic affairs committee Tan Sri Abdul Shukor Husin also hit out at certain quarters who criticised the raid by the Selangor Islamic Religious Department (Jais), and who have turned religion into a political tool.
He said the council supported Jais's action on the raid and seizure as it was done in accordance with the law and the sultan of Selangor's decree. So, the books need not be returned to the Bible Society of Malaysia.
Full report at:
http://www.themalaysianinsider.com/malaysia/article/no-need-to-return-bibles-fatwa-council-tells-jais
-----------
No winners in 'Allah' issue, university survey shows
17 January 2014
Neither Pakatan Rakyat nor Barisan Nasional stands to benefit politically from the sentiments played up by the tussle over the word "Allah", a study by a Universiti Malaya (UM) think tank has found.
The survey's authors concluded that the "Allah" issue only served to heighten tensions between Muslims and non-Muslims rather than give any political mileage to any of the two rival coalitions.
UM's Centre for Research on Democracy and Election (UMCEDEL), which did the survey, said there was no significant shift in Malay-Muslim support towards any of the two coalitions over the "Allah" issue.
Full report at:
http://www.themalaysianinsider.com/malaysia/article/no-winners-in-allah-issue-university-survey-shows
-----------
Perkasa wants special Parliament sitting on Allah issue, says daily
17 January 2014
Malay rights group Perkasa has called for a special Parliament session to discuss the use of the word "Allah" by non-Muslims.
It said the diplomatic approach taken thus far has failed and instead, caused Islam to be insulted.
Perkasa religious affairs bureau chairman Dr Shamsuddin Moner also called on Muslim opposition MPs, especially from PAS, to support his call for a special Dewan Rakyat session, if their struggle was truly for Islam, Umno mouthpiece Utusan Malaysia reported today.
Shamsuddin said that otherwise, the party would be seen as being Islamic from appearance only.
Full report at:
http://www.themalaysianinsider.com/malaysia/article/perkasa-wants-special-parliament-sitting-on-allah-issue-says-daily
-----------
India
Prominent Islamic thinkers to address Jalsa-e-Rahmatul Alameen meeting on Jan 18
17 January 2014
Hyderabad: Noted Islamic thinker Allama Quari Sakhawat Hussain Barkati and a galaxy of Islamic scholars will address the 22nd Jalsa-e-Rahmatul Alameen (PBUH), the public meeting being organised by the Majlis Bachao Tehreek on January 18, 2014, as part of birthday celebrations of Prophet Mohammad (Peace Be Upon Him).
Addressing a press conference here on Thursday, GHMC Corporator and Secretary Reception Committee Md Amjedullah Khan Khaled said that prominent Islamic scholars from across the country would address the historic meeting at Moghalpura Playgrounds. Besides Allama Sakhawat Hussain Barkati (Odisha), Khateeb-ul-Islam Moulana Shaker Raza (Maharashtra) and Qari Amanullah Balyavi (West Bengal) will also address the meeting, to be supervised by MBT President Dr Khayam Khan.
Full report at:
http://www.siasat.com/english/news/prominent-islamic-thinkers-address-mbts-meeting-jan-18
----------
Need of the hour is the unity of Muslim Countries- Ambassador of Iran in India
17 January 2014
Hyderabad:Mr. Ghulam Raza Ansari, Ambassador of Iran in India while addressing Milad-un-Nabi Function at Iranian Consulate in Hyderabad told that the need of the hour is the unity of Muslim countries. It is our duty to forget our differences and come together following the Sunnat of Prophet Mohammed (PBUH). In Iran, after the revolution, the Sunnat of Prophet Mohammed (PBUH) was adopted. Even today it is the supporter of the unity of all the Muslim Countries. Taking advantage of our disunity, forces hostile to Islam are dividing us. It is the responsibility of Muslim Ulema and leaders to promote the unity of the Muslim countries. Mr. Salar Muradi, MP of Iran Parliament told that in Iran there are no differences between Shias and Sunnis. Due to lack of unity bloodshed is going on in Islamic countries. He appealed to the Muslims to propagate the message of Prophet Mohammed (PBUH).
Full report at:
http://www.siasat.com/english/news/need-hour-unity-muslim-countries-ansari
----------
Aam Aadmi Party cap invites fatwa in UP
January 17, 2014
A section of clerics in Varanasi has issued a fatwa (religious edict) against members of the Muslim community wearing an Aam Aadmi Party (AAP) cap, which carries the image of a broom.
"After much discussion, it has been decided the AAP cap is anti-Islamic and Muslims must not wear it," Mufti board secretary Maulana Haseen Ahmad Habibi said.
"A broom is used for cleaning garbage. So, sporting its image on the head is anti-Islamic. In Islam, we bow our head only before the Almighty. We cannot allow Muslims to wear such a cap," he added.
Full report at:
http://www.hindustantimes.com/india-news/aam-aadmi-party-cap-invites-fatwa-in-up/article1-1173956.aspx
----------
India rejects 'exit' strategy for Afghanistan
PTI | Jan 17, 2014
NEW DELHI: Rejecting an "exit strategy" for Afghanistan, India on Thursday pitched for "closest international support" to prevent decade-long achievements from going "waste" in the war-torn country, where the US plans a total pull-out by this year end in absence of bilateral security agreement (BSA).
Addressing the meeting of International Contact Group (ICG) on Afghanistan-Pakistan, attended by representatives from 53 countries, external affairs minister Salman Khurshid said Afghanistan was at a critical juncture and required steadfast support from the international community.
Full report at:
http://timesofindia.indiatimes.com/india/India-rejects-exit-strategy-for-Afghanistan/articleshow/28898763.cms
---------
Mideast
Salafis Forced To Flee Dammaj, Government Forces Unable To Protect Them
17 January 2014
SANA'A—Following a three-month-long conflict with the Houthis, hundreds of Salafis have been fleeing the city of Dammaj in Sa'ada governorate, since Monday, headed to more stable parts of the country.
The two conflicting sides, the Houthis (Zaidi Shiites) and the Salafis (conservative Sunnis), signed an agreement on Saturday, stipulating the exit of non-local Salafis from Dammaj, out of Houthi-controlled Sa'ada.
The majority of exiles were expected to resettle in Hodeida governorate, but there are many raising questions about the practicality of the relocation.
Sheikh Yahia Al-Hajouri, the leader of the Salafis in Dammaj, arrived in Sana'a on Tuesday. He, along with 100 other leading Salafi figures, were flown to the capital in four military helicopters.
Full report at:
http://www.yementimes.com/en/1747/news/3365/Salafis-forced-to-flee-Dammaj-government-forces-unable-to-protect-them-they-say.htm
-----------
Israeli FM summons EU envoys over pro-Palestinian 'bias'
17 January 2014
Israel summoned European ambassadors on Friday accusing them of pro-Palestinian "bias" damaging to peace prospects, in a tit-for-tat move after Israeli envoys were called in over settlement expansion plans.
Foreign Minister Avigdor Lieberman called in the ambassadors of Britain, France, Italy and Spain to "stress to them that their perpetual one-sided stance against Israel and in favour of the Palestinians is unacceptable and creates the impression they are only seeking ways to blame Israel," his spokesman said.
The foreign minister asked that the envoys be told "Israel is making great efforts to enable the continued dialogue with the Palestinians".
"Beyond being biased, unbalanced and ignoring the reality on the ground, the positions held by these states significantly harm the possibility of reaching some sort of agreement between the sides," a statement said.
Full report at:
http://english.ahram.org.eg/NewsContent/2/8/91778/World/Region/Israel-summons-EU-envoys-in-tit-for-tat-after-sett.aspx
-----------
Senior Military Official: Global Arrogance Creating Rift among Muslims
January 17, 2014
TEHRAN (FNA)- The ongoing crisis, violence and bloodshed in Islamic countries is the result of the plots hatched by the major world powers to sow discord in the Muslim world, a deputy chief of staff of the Iranian Armed Forces said.
"All Muslims are fighting each other and Saudi Arabia despite being a Muslim country is coordinating major part of the ongoing clashes in the region," Deputy Chief of Staff of the Iranian Armed Forces for Cultural Affairs and Defense Publicity Brigadier General Massoud Jazayeri said.
Full report at:
http://english.farsnews.com/newstext.aspx?nn=13921027000674
----------
North America
Obama calls Cameron, discusses Syria, Af-Pak, NSA issues
PTI | Jan 17, 2014
WASHINGTON: US President Barack Obama has called up British Prime Minister David Cameron discussing a host of issues that included the Syrian crisis, Af-Pak situation and also briefed him on a review of NSA intelligence activities, the White House said.
In his call on Thursday, "The president expressed support for the prime minister's ongoing efforts to encourage the leaders of Afghanistan and Pakistan to take concrete steps toward peace and stability," the White House said in a statement.
Cameron has been holding tripartite summits with leaders from Afghanistan and Pakistan as part of his effort to bring peace and stability in the region.
The last tripartite talks were held in October in London which were attended by the Afghan President, Hamid Karzai, and Pakistan Prime Minister Nawaz Sharif.
Obama updated Cameron on the review of NSA intelligence activities and both leaders noted the intensive dialogue that the two countries have had on these issues, at all levels, it said.
President Obama is set to announce changes to the US electronic surveillance programmes, based in part on a review of NSA activities undertaken this autumn by a White House panel, the BBC said.
Full report at:
http://timesofindia.indiatimes.com/world/us/Obama-calls-Cameron-discusses-Syria-Af-Pak-NSA-issues/articleshow/28923753.cms
---------
White House releases summary of Iran implementation deal
17 January 2014
The White House has released a summary of the implementation deal of the six-month interim nuclear agreement with Iran, in an attempt to ease pressure from domestic opponents of the pact.
The summary of "technical understandings" includes a timetable for inspections of Iranian nuclear facilities by UN atomic watchdog IAEA officials.
According to the summery released on Thursday, on January 20, the IAEA (International Economic Energy Agency) will report on the current status of Iran's nuclear programme, and particularly on its uranium enrichment programme and the Arak reactor.
The IAEA will also report on several specific steps that Iran has committed to take by or on the first day of implementation, including halting production of near-20 per cent enriched uranium and disabling the configuration of the centrifuge cascades Iran has been using to produce it.
Full report at:
http://www.thehindu.com/news/international/world/white-house-releases-summary-of-iran-implementation-deal/article5585516.ece
-----------
US media conceal NSA memo on surveillance, corruption, 9/11 plot - ex-CIA analyst
17 January 2014
Almost two weeks passed since NSA senior executives published a memo criticizing America's controversial surveillance program but major US media outlets still remain silent on the issue. In an exclusive interview with the Voice of Russia ex-CIA analyst Ray McGovern talked about censorship as one of the main problems in modern-day America. Not only does McGovern believe that "there is no more free press" but he also states that there is not enough public supervision over the White House. Touching upon the Edward Snowden scandal, ex-CIA analyst says his revelations neither did "appreciable damage" to the US national security nor harmed US-Russia relations. Talking about improvement in US-Russia cooperation on such issues as Iran and Syria, McGovern claims there is the good ground for the bright future with one "but", which is American exceptionalism. As for the Iraq war of 2003, the analyst asserts that "it was a war of aggression as to be found by Nurnberg".
Full report at:
http://voiceofrussia.com/2014_01_17/US-media-conceal-NSA-memo-on-surveillance-corruption-9-11-ex-CIA-analyst-4093/
-----------
CAIR: New DOJ Position on Religious Profiling a 'Step in the Right Direction'
17 January 2014
(WASHINGTON, D.C., 1/16/14) — The Council on American-Islamic Relations (CAIR) today said it is optimistic that the U.S. Department of Justice (DOJ) is taking "a step in the right direction" with the announcement that it will expand its definition of profiling to prohibit agents from considering religion and national origin in their investigations.
Guidance on racial profiling issued in 2003 by the Bush administration banned the practice of racial profiling but left loopholes that allowed profiling at U.S. borders and in cases relating to national security or terrorism. The guidance never addressed profiling based on religion, national origin, or other factors. NBC News has reported that the new DOJ policy will prohibit profiling in terrorism cases; it is not yet clear whether it will still allow the national security or border loopholes.
Full report at:
http://boston-massachusetts.us/new-doj-position-on-religious-profiling-a-step-in-the-right-direction/
-----------
'Hillary Clinton mulled green light for Israeli strike on Iran'
17 January 2014
WASHINGTON – In her role as secretary of state, Hillary Rodham Clinton suggested the United States weigh the benefits of giving Israel "a tacit green light" to strike Iran's nuclear facilities on its own.
While Clinton did not explicitly endorse the idea, she suggested that by exploring it, a unilateral Israeli strike could "take care of the problem for" the US, one senior administration official quoted her saying, as first reported by Time journalist Michael Crowley.
The idea was raised at senior-level meeting in 2010 "as one option to consider," another US official said. The notion was quickly rejected by those in the White House.
Full report at:
http://www.jpost.com/Iranian-Threat/News/Hillary-Clinton-mulled-green-light-for-Israeli-strike-on-Iran-338511
-----------
Feds to curtail profiling, barring investigations based on religion, ancestry
17 January 2014
Federal agents could be barred from launching investigations based on religion, ancestry, sexual orientation or gender under expanded rules against profiling being considered by the Department of Justice, a government official said.
The rules, first reported in The New York Times on Wednesday and confirmed by NBC News, come after years of pressure from civil rights groups who said agents were allowed to target Latinos for immigration cases and American Muslims in terror investigations.
Racial profiling was banned by the Bush administration in 2003 but did not apply to a person's religion or national origin, and excluded matters of national security.
Full report at:
http://usnews.nbcnews.com/_news/2014/01/16/22323565-feds-to-curtail-profiling-barring-investigations-based-on-religion-ancestry
-----------
Europe
Uzbek Art-Jihad Criticizes State, Breaks Taboos
17 January 2014
Jihad is a word that in recent years has come to denote violence and hatred in most Western minds. However, in Central Asia a group of video artists has repurposed the word, using it to brand their own subversive, humorous criticisms of the overpowering central state.
"It's like the Soviet Union in the '50s, but with some of our own added elements of feudalism," video artist Oleg Karpov said of present-day Uzbekistan in a lecture at the Moscow Museum of Modern Art.
Karpov is among a small group of artists who have created a branch of artistic film that they have labeled "Art-Jihad." While the term seems to suggest a connection to Islam, a large proportion of the artists are actually ethnic Russians, and the films themselves are highly irreverent toward religion and any kind of authority, and frequently use profanity and obscenity.
Full report at:
http://www.themoscowtimes.com/arts_n_ideas/article/uzbek-art-jihad-criticizes-state-breaks-taboos/492741.html#ixzz2rcwlTGqD
-----------
Central African Republicon brink of 'massive human catastrophe', Red Cross says
17 January 2014
The Central African Republic is on the brink of "a massive humanitarian catastrophe," the Red Cross warned Friday.
Violence between Muslims and Christians, which broke out after a coup in March, has killed hundreds of people and displaced 1 million in the diamond and gold rich nation.
Hospitals have now ran out of drugs, food supply is scarce and the displaced lack access to shelter and proper sanitation, Red Cross president in CAR, Antoine Mbao Bogo, said in a statement.
"All signs are showing that the country is on the edge of a massive humanitarian catastrophe," said Mbao Bogo, calling the conflict "a silent disaster" that has not received sufficient international attention and support.
Full report at:
http://voiceofrussia.com/news/2014_01_17/Central-African-Republicon-brink-of-massive-human-catastrophe-Red-Cross-says-4460/
---------
UN calls on nations to take in Syrian refugees
17 January 2014
The U.N. refugee agency's chief has renewed a call on all nations to keep their borders open to Syrians fleeing their country, saying Syria's neighbors should not be "left alone" to cope with the influx.
More than 2 million people have been uprooted from their homes in Syria's civil war, many scattered in refugee camps and informal settlements dotting neighboring Lebanon, Jordan, Turkey and Iraq.
Full report at:
http://www.thehindu.com/news/international/world/un-calls-on-nations-to-take-in-syrian-refugees/article5586437.ece
-----------
Russia hopes Syria has enough political will to curb attempts to disrupt Geneva-2
17 January 2014
Russian Foreign Minister Sergei Lavrov has called on the Syrian administration not to give in to provocations caused by attempts to disrupt the international conference on Syria Geneva-2.
"The organization of Geneva-2 is now accompanied by various maneuvers, various attempts are being made to create artificial obstacles and disrupt the conference," he said before beginning negotiations with his Syrian counterpart Walid Mualem.
"At this pivotal stage, it's important to exchange opinions and do everything to prevent these attempts from succeeding. It takes political will, reserve, and ability not to give in to provocations. We are hoping that the position of the Syrian administration will be based on these principles," Lavrov said.
Full report at:
http://voiceofrussia.com/news/2014_01_17/Russia-hopes-Syria-has-enough-political-will-to-curb-attempts-to-disrupt-Geneva-2-7347/
-----------
Africa
When Bauchi govt gathered 6,000 Islamic clerics to intercede for Nigeria
17 January 2014
Saliu Gbadamosi attended the prayer session meant to usher in peace and greater developments for Bauchi State and Nigeria. He reports:
PEACE, no doubt, is sine quo non for development. It is an undisputable fact that without peace, there cannot be peace in any society the world over. Considering the insurgency in the Northern part of the country, particularly the North-East geo-political zone of Nigeria and other sundry challenges in every part of the country, there is no doubt that the country's socio-economic development is being slowed down in one form or the other.
Bent on achieving peace, unity and development, not only in the state but also in Nigeria in general in the New Year and beyond, the Bauchi State government in collaboration with the Centre for Islamic Culture, Population and Development between Thursday, 2nd and Sunday, 5th January, 2014 organised a national intercessory prayer session, which was attended by 6,000 Islamic clerics from the 36 states of the country and the Federal Capital Territory (FCT), Abuja, as well as other African countries like Egypt, Senegal, Mauritania, Algeria, Morocco, Niger Chad, Ghana and Cameroon.
Full report at:
http://tribune.com.ng/news2013/index.php/en/features2/item/30861-when-bauchi-govt-gathered-6,000-islamic-clerics-to-intercede-for-nigeria.html
-----------
South Sudan army loses contact with key town claimed by rebels
17 January 2014
South Sudan's army said Friday it has been unable to contact its forces fighting in the key oil-town of Malakal as rebels claimed to control it.
Malakal, the main town in northern Upper Nile state, has become one of the most bitter battlegrounds in the conflict now raging for over a month in the world's youngest nation.
On Monday, rebels staged an assault to seize back Malakal -- which has switched hands twice -- but both the government and rebels have insisted they are in control.
"The commander in Malakal has not been accessible since yesterday," army spokesman Philip Aguer said, without giving further details.
The United Nations is sheltering some 20,000 civilians in its cramped base in the riverside town, reporting tank battles and heavy street fighting in the hours after the rebels launched their attack.
Full report at:
http://english.ahram.org.eg/NewsContent/2/8/91779/World/Region/South-Sudan-army-loses-contact-with-key-town-claim.aspx
-----------
Uganda President Yoweri Museveni blocks anti-gay law
17 January 2014
Uganda's President Yoweri Museveni has refused to approve a controversial bill to toughen punishments for homosexuals.
He has written to the parliamentary speaker criticising her for passing it in December without a quorum.
Homosexuals were "abnormal" or were so for "mercenary reasons" and could be "rescued", a local paper quotes his letter as saying.
The bill includes life imprisonment for homosexual acts and also makes it a crime not to report gay people.
The promotion of homosexuality - even talking about it without condemning the lifestyle - would also be punishable by a prison term.
The BBC's Catherine Byaruhanga in the capital, Kampala, says the president is aware that if he signs the bill there will be an international outcry, which could see some countries suspend aid to the country.
Full report at:
http://www.bbc.co.uk/news/world-africa-25775002
---------
URL: https://www.newageislam.com/islamic-world-news/new-age-islam-news-bureau/syrian-army-kills-dozens-of-takfiri-terrorists,-saudi-bombers/d/35323