New Age Islam News Bureau
11 Oct 2013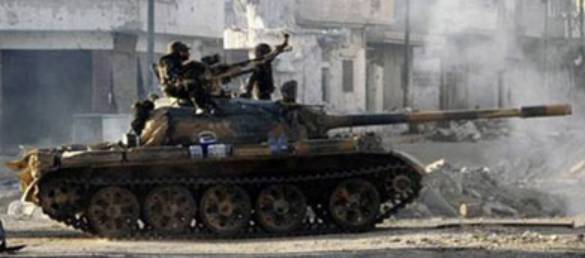 The fighters included members of Lebanese Shiite movement Hezbollah and were back by Syrian army tanks in the assault. (File photo: AFP)
-------
Arab World
• Syrian Army Kills 70 People, Retakes Two Damascus Suburbs from Rebels
• Syrian Kurdish Leader Urges Turkey to End Support for Salafists
• Journalist, anti-al Qaeda fighters among 21 killed in Iraq violence
• Sunni, Shia fighters clash near Damascus shrine
• Syria: Army of Islam Continues to Expand
• Egypt's identity defined under the monotheistic umbrella
• Egypt Islamists call for fresh marches to Tahrir
South Asia
• Taliban's Use of Sex Tactics Violates Islam
• Maldives SC orders EC to restart re-registration process
• Case in Maldives Supreme Court against Nasheed contesting polls
• BNP will stop war crimes trial if voted to power: PM Sheikh Hasina
Southeast Asia
• Using 'Allah' in Bible 'nullifies' Trinity, Jakim suggests
• Sabah mufti denies 'Malaynisation' remark a call to abandon ethnicity
• Google Malaysia hacked by Pakistani 'MadLeets'
Europe
• Imperative no further delays in Maldives polls: UK Foreign Secretary Hague
• Syrian rebels accused of killing hundreds of civilians: Human Rights Watch
• Malala Inc: Global operation surrounds teenage activist
• U.N. rights office condemns 'obscene' Iraqi executions
• Russia: Syria rebels received Afghan training
• Mosque and school spark new feud between Turkey and Greece
• Chemical Weapons Watchdog Wins Nobel Peace Prize
Pakistan
• Pakistani Taliban: 'Even If Our Enemies Use Atomic Bomb, We Will Not Stop Jihad'
• Sunni Ittehad Council denounces TTP justification of church bombing
• Senior Pakistani Taliban commander captured in Afghanistan
• Bomb blasts kill 10 in all four provinces
• Taliban warn shops against selling Malala's book
• India ties, Afghanistan peace top priorities: PM
• Provinces asked to fight terrorists with iron hand
• Pervez Musharraf remanded to judicial custody for 14 days
Mideast
• Turkey freezes al-Qaida, Taliban assets
• Turkey extends mandate for strikes on Kurds in Iraq
• New Iran government scraps anti-Israeli conference
• Palestinian mosque vandalised in West Bank: Residents
• Palestinian Charm Offensive Latest Twist in Peace Talks
• Israeli Radical-Left Sociologist Rejects Two-State Solution
• Rebels kill five Iranian elite troops in Kurdish region
Africa
• At least 16 killed in central Nigeria unrest: police
• Fear grips Somali town raided by US navy SEALs
• France says 10 Islamist rebels killed in Mali fighting
• The Inevitable Rise of Al-Qaeda in Libya
• Morocco's king names new ministers, Islamists lose ground
• Car bomb targets Swedish consulate in Libya
India
• Pak clerics determine poll mandate in this border constituency of Rajasthan
• Tripura to help Dhaka trace buried freedom fighters
• India clears visas for Yasin Malik's Pakistani family
• Kashmiris snub Hurriyat call to boycott Zubin Mehta concert
• Terror suspect brought to Hyderabad from Kuwait
North America
• Kerry lauds multi-faith Malaysia as model for world
• Terrorist sanctuaries in Pak challenge Afghanistan security: US
• Canadian Muslims Protest 'Honour Killing' Label as Racist
• White House condemns Libyan Prime Minister's abduction
Compiled by New Age Islam News Bureau
URL: https://newageislam.com/islamic-world-news/syrian-army-kills-70-people,/d/13950
---------
Arab World
Syrian Army Kills 70 People, Retakes Two Damascus Suburbs from Rebels
11 October 2013
Syrian army troops and Shiite fighters loyal to President Bashar al-Assad killed at least 70 people as they captured two southern suburbs of Damascus on Friday, said opposition activists according to Reuters.
The fighters included members of Lebanese Shiite movement Hezbollah and were backed by Syrian army tanks in the assault.
The Damascus suburbs of al-Thiabiya and Husseiniya, a Palestinian refugee camp, were combed after they were overrun, according to sources.
Syria's conflict broke out in March 2011, when peaceful protests calling for political change were met with a massive crackdown on dissent.
It has since developed into an all-out war with many fragmented opposition groups. The ongoing violence has forced millions of people to flee their homes.
http://english.alarabiya.net/en/News/middle-east/2013/10/11/Syrian-army-kills-70-people-retakes-two-Damascus-suburbs-from-rebels-.html
-----------
Syrian Kurdish Leader Urges Turkey to End Support for Salafists
October 11, 2013
Saleh Muslim, co-chair of the Kurdish Democratic Union Party (PYD) — which controls a string of mainly Kurdish-populated towns and villages in northern Syria and administers them through "popular councils" — has a few tempered messages for Turkey in an exclusive interview with Al-Monitor on Oct. 7. A few days later, on Oct. 9, as this article was about to be published, news emerged that Muslim's son Shervan, a fighter with the Popular Defense Units (YPG), had been shot and killed in the town of Tel Abyad by a sniper from the Islamic State of Iraq and al-Sham (ISIS). Muslim could not be reached for comment.
Muslim, who of late has accused Turkey of waging a proxy war against the PYD by supporting jihadist groups in Syria, said he appreciated the tough criticism delivered by Prime Minister Recep Tayyip Erdogan in late September to groups launching terror attacks in the name of Islam. Muslim also said there is no question whatsoever of his organization joining Syrian President Bashar al-Assad in taking hostile action against Turkey.
This was my sixth or seventh interview with Muslim over the past nine months. A graduate of chemical engineering from Istanbul Technical University, Muslim speaks perfect Turkish, and our interviews have always been conducted in Turkish. We could have spoken in English as well, because unlike many Kurdish leaders, Muslim also speaks that language quite well. Our interviews have been via Skype, because Muslim is constantly on the move. Our last interview, on Sept. 17, took place while he was in Iraq. This time, I caught up with him in Belgium.
Despite his exhausting schedule, the affable Muslim always breaks into a smile. He has a good sense of humor. In our previous interview, he was furious at Ankara. After being officially invited to Turkey in July and August, Muslim met in Istanbul with officials of the Foreign Ministry, National Intelligence Organization and others in the security sector. He briefed them on systematic and brutal attacks by Salafist groups, led by Jabhat al-Nusra and the al-Qaeda-linked ISIS, against Kurds. His briefing included documents attesting that these groups were moving back and forth across the Turkish border and included Turkish nationals among them. The Turkish official, while denying any knowledge of jihadists using Turkey as a rear base, admitted that jihadists could be infiltrating Syria without the state's knowledge. Muslim, seeking to establish friendly relations with Turkey, accepted these explanations in good faith.
Later, however, Muslim accused Turkey of facilitating the jihadists' cross-border movements by clearing passages through minefields and removing barbed wire. During our September interview, he had strong words for Turkey. He said he wanted to continue the dialogue with Ankara, but could not understand Ankara's support of extreme religious elements.
Muslim angrily charged that in addition to Ankara providing members of such groups medical care in Turkish hospitals and supplying them with arms and ammunition, Turkish border units were picking off members of the PYD's military wing, the YPG, with targeted fire. Moreover, he accused Ankara of blocking the dispatch of relief assistance donated by Kurds in Turkey to Kurds in Syria. While keeping open crossings controlled by Ahrar al-Sham, designated as "moderate Salafists," and other Arab opposition groups, Turkey continued to keep closed those controlled by the PYD.
According to Muslim, Turkey wants to weaken the Syrian Kurds. The target has been the PYD more so than the Kurdish people themselves. After all, the PYD was set up by the Kurdistan Workers Party (PKK), which Turkey had been trying to eradicate for 29 years. In other words, after Iraqi Kurdistan, a second autonomous Kurdish region is emerging on Turkey's southern border. Turkey's Justice and Development Party government has decided to respond by adopting an indirect policy toward the Kurds in Turkey and Syria of allegedly empowering Salafist groups opposed to them. Despite this, Muslim said, "We never retaliated. We didn't fire a single bullet at Turkey."
Muslim added, however, that he thought Ankara might have reconsidered the situation after the September capture of Azaz by ISIS fighters from gangs under the banner of the Northern Storm that pretend to be opposition forces, and have actually been controlling border trade for years and after the deployment of ISIS forces on the Turkish border.
"Let's see if after this Turkey will continue to train these gangs who chop off heads and eat the livers of their victims in camps reported to be operating at Bolu Mountain and in Ceylanpinar state agricultural farms," Muslim said. He added, "Obviously this policy hurts Turkey more than us. Who carried out the Reyhanli bomb attack? Perhaps al-Nusra, no?"
Further complicating the situation is the claim by the ISIS that it was responsible for the suicide bombing in Erbil, capital of the Kurdistan Region of Iraq, that killed seven people on Sept. 28. It was odd that the ISIS cited the support provided to Syrian Kurds by Kurdistan Regional Government President Massoud Barzani as the reason for the attack. Barzani, whose relationship with the leftist-Marxist-leaning PYD had never been close, has been, under Turkish counseling, restricting crossing of Syrian Kurds to Iraq to exert pressure on the PYD.
Iraqi Kurdish officials allow passage of refugees and humanitarian assistance but block trade and individual crossings. An Iraqi official explained the reason for this practice: "The PYD is making money from those crossing by collecting taxes." Muslim responded to the officials' assertion by countering, "It is not only us. They collect taxes, too. If they agree to eliminate taxes, we will too."
Is there really a softening of Ankara's attitude toward the Kurdish region of Syria, or Rojava? According to Muslim there are some positive indications, but it is still too early to reach a conclusion. Only this month, Foreign Minister Ahmet Davutoglu cited three conditions for normalizing relations with the PYD: "The first is to take a clear position against the Syrian regime. The second is to participate in the Syrian opposition [i.e., the Istanbul-based Syrian National Coalition]. Third, to display their will to avoid any de facto actions until an elected Syrian parliament comes into being and makes a legitimate decision to determine the future of the Syrian people."
According to Muslim, Syrian Kurds have had a clear position against the Baathist regime for years. The PYD, established in 2003 to secure the national rights of Syrian Kurds within Syria, occasionally fought against regime troops. Many PYD members were jailed, including Muslim, who was imprisoned for his political activities. Muslim categorically rejects allegations that the PYD has cooperated with the Assad regime.
The reason for the PYD's not actively joining the fight against Assad is not totally illogical: Muslim does not want to risk the gains of the Kurds by antagonizing the regime. Muslim asked, "What is this you call the opposition? They are in pieces, going after each other's throats. If the ones fighting in Syria don't recognize the ones in suits sitting in Istanbul as their legitimate representatives, why should we?"
As to Davutoglu's warning for the PYD to avoid taking de facto actions, Muslim insisted, "Syrian Kurds neither want independence nor a federal structure similar to Iraqi Kurdistan. All we want is recognition of our political and cultural rights and the right to govern ourselves in our region." He quickly added that the administration set up in Rojava is a "temporary" structure for managing daily life in a wartime environment.
Muslim pointed out that Turkey has a border of about 900 km [600 miles] with Syria. He then offered, "We want good relations with Turkey. Our people live on the Turkish side of the border as well. Families are split. We want them to unite."
Does that mean he is dreaming of a union with Turkey? "No," said Muslim. "We want very close relations but we are part of Syria and will remain as such. We have to establish healthy fraternal relations with the Arabs too. We want to live together in peace."
Going back to a possible easing of Turkish policy on Syria, Muslim thinks Erdogan's clear and tough condemnation of various terror attacks in the name of Islam include the extremist groups in Syria. "Erdogan said the right thing. I share his views 100% and applaud his remarks," Muslim asserted.
He sees Turkey's permission in recent weeks to allow assistance convoys to Rojava to cross the border as another positive development. "It really helped our people. For this, we are grateful to Turkey." He also noted the Oct. 8 visit to Ankara by a delegation from the Kurdish Supreme Council, composed of Syrian Kurdish parties, and their meeting there with Foreign Ministry officials.
Although Davutoglu had said the visit was "routine, with no special agenda," there were two representatives of the Democratic Social Movement, which is organically linked to the PYD, in the delegation.
One can conclude that Muslim, who said, "Who knows, perhaps I will also come soon," is again approaching relations with Turkey with cautious optimism.
http://www.al-monitor.com/pulse/originals/2013/10/syrian-kurdish-leader-calls-turkey-shut-down-salafists.html#ixzz2hP64vrrW
---------
Journalist, Anti-Al Qaeda Fighters among 21 Killed In Iraq Violence
2013-10-11
BAGHDAD: Violence in Iraq killed 21 people on Thursday, among them four anti-al Qaeda fighters and an AFP journalist's brother, officials said.
In Samarra, north of Baghdad, gunmen killed two Sahwa anti-al Qaeda fighters in an attack on a checkpoint, while two more died in a similar attack near Baquba, also north of the capital.
The Sahwa, who joined forces with the United States from late 2006 and helped bring about a sharp reduction in violence in Iraq, are frequently targeted by Sunni militants, who consider them to be traitors.
In Ramadi, a city west of Baghdad, gunmen killed Zuhair Shallal, the brother of AFP journalist Azhar Shallal.
Northeast of Baquba, a roadside bomb killed two police and wounded a third when it exploded near their patrol in the town of Muqdadiyah, which has been hit by frequent bombings and shootings this year.
And in Baghdad itself, bombings killed three people and wounded 11, while the owner of a tyre shop was gunned down.
Police also found the corpse of a man with signs of torture and gunshot wounds. He was believed to have been killed on Thursday.
In the northern province of Kirkuk, gunmen shot one person dead, while security forces killed eight militants in a multi-province operation that army Staff Lieutenant General Abdulamir al-Zaidi said resulted in the arrest of more than 60 people and the seizure of weapons.
Iraqi security forces have carried out wide-ranging operations targeting militants for more than two months, but have yet to curb the surge in violence plaguing the country.
This year's spike in violence, which has included a number of sectarian attacks, has raised fears that Iraq will relapse into the kind of intense Sunni-Shiite bloodshed that peaked in 2006-2007 and killed tens of thousands of people.
With the latest unrest, more than 250 people have been killed so far this month, and over 4,950 since the beginning of the year, according to AFP figures based on security and medical sources.
http://www.dawn.com/news/1048838/journalist-anti-al-qaeda-fighters-among-21-killed-in-iraq-violence
---------
Sunni, Shia fighters clash near Damascus shrine
October 11, 2013
AMMAN: Fighting flared between Syrian Sunni and foreign fighters near a main Shia shrine on the southern edge of Damascus, opposition activists said, in an increasingly internationalized conflict deepening Middle East sectarian faultlines.
Heavy clashes were reported as rebels fighting to overthrow President Bashar alAssad, whose Alawite sect is an offshoot of Shia sect, attacked Lebanese Hezbollah and Iraqi Shia group based in the Saida Zainab suburb of Damascus with mortar bombs and automatic weapons, the sources said.
Full report at:
http://tribune.com.pk/story/616645/sunni-rebels-shia-militia-clash-near-damascus-shrine/
--------
Syria: Army of Islam Continues to Expand
October 11, 2013
A commander from the armed rebels unit, operating in the mountainous region of Al Kabon west of Damascus, has recently announced his enlistment into the "Army of Islam," a new military coalition comprised of 50 or more rebel combat units seeking to topple Syrian President Bashar Al Assad.
A ceremony was held to express their loyalty to one another and to demonstrate their military power which boasts tanks, armored personnel carriers, a number of vehicles with mounted heavy machine guns, and fighters armed with light weapons.
The "Army of Islam," under the leadership of Sheikh Mohammed Zahran, are seeking to build their position as a major force in Syria and recruit fighters to join their ranks in order to officially establish a political platform.
Full report at:
http://www.israelnationalnews.com/News/News.aspx/172685#.UlekOdK-qho
---------
Egypt's identity defined under the monotheistic umbrella
11 October 2013
"Monotheistic religions" is a phrase we were brought up hearing. School, television channels and houses of worship strengthened our belief that the phrase refers to the three "major" religions, Judaism, Christianity and Islam. Therefore, any other religion is not considered monotheistic - meaning it's an unsacred religion, the rituals of which are not worthy of respect or recognition.
So, Judaism, Christianity and Islam are the only monotheistic religions in the world and all other religions are man-made myths.
Full report at:
http://english.alarabiya.net/en/views/news/middle-east/2013/10/11/Egypt-s-identity-defined-under-the-monotheistic-umbrella-.html
---------
Egypt Islamists call for fresh marches to Tahrir
October 11, 2013
Supporters of ousted president Mohamed Morsi have called for fresh protests despite recent clashes that left dozens dead and hundreds injured.
A Muslim Brotherhood-led alliance urged protesters to march to Cairo's Tahrir Square, the iconic protest venue during the 2011 uprising, after Friday prayers.
Some 57 people were killed on Sunday during clashes between Morsi supporters and police, while thousands of pro-military protesters celebrated the anniversary of the 1973 Arab-Israeli war.
Full report at:
http://english.ahram.org.eg/NewsContent/1/64/83707/Egypt/Politics-/Egypt-Islamists-call-for-fresh-marches-to-Tahrir.aspx
---------
South Asia
Taliban's Use of Sex Tactics Violates Islam
By Zahir Shah
2013-10-10
PESHAWAR – The Taliban's promise to recruits of sexual pleasures with heavenly maidens flagrantly contravenes Islam and Sharia law and is downright abusive, Pakistani activists said.
The Taliban's practice of coercing children into carrying out suicide bombings has long drawn criticism, but recent reports describing how the group uses sex to lure impressionable teens into becoming militants are even more appalling, they said.
The outcry comes in response to a report in the Leader, an Urdu-language newspaper published in Toronto, in which a young militant said that the Tehreek-e-Taliban Pakistan (TTP) trainers let women of ill repute tempt them sexually. That report followed a Central Asia Online story about militants sometimes forcing recruits to participate in homosexual activity at the training camps.
Sexual abuse runs counter to religious principles
Sexual abuse of any form defies not only Islam but just about any religion, Arshad Haroon, a Khyber Pakhtunkhwa regional leader of the Strengthening Participatory Organisation, said.
"It would not have any moral standing in any civilised culture or even in the Stone Age, if such a heinous crime is done in the name of Islam," he said. In the Leader's report, Abdul Malik, 17, said recruits were blindfolded or put in a dark room where women would seduce them.
Islam, Haroon said, clearly teaches that presenting a woman to males – whether they are minors or adults – is a major sin.
Abdul Jalil Jan, a leader of the religio-political party Jamiat Ulema-e-Islam (Fazl), agreed, saying that if a man and woman lack a marriage contract, "bringing them together and allowing their physical interaction are totally haram and against Sharia. There is no second opinion."
The public response to the militant behaviour should be pretty straightforward, he said. "It's common sense. Every sane person would condemn it."
Development issues
Medical professionals, meanwhile, worry about the emotional and physical effects that such tactics have on a young man's development. Dr. Akbar Khan, a psychiatrist at the Peshawar Cantonment Board Hospital, said abuse from age 6 to puberty subjects children to a higher risk of destroying their sexual and reproductive health. He added that provoking sexual responses at such a tender age can also damage the children's hormonal system, which could lead to other health complications. Such sexual harassment for the pleasure of others can be devastating developmentally, Khan said.
That said, he explained why the militants would use such ruses.
"The children are not mature; they have no guidance, and their systems are also not mature," Akbar said. With the prospect of sexual gratification hanging over their heads, "They can be ... [induced] to do any act of violence including suicide bombings, as their mental health does not allow them to decide about such coercions."
Between the violation of religious tenets and the damage to a young man's health, the tactic merits widespread condemnation, another social activist said.
"The children who are subjected to sexual abuse will long have a tarnished image [of healthy relations], and justifying such acts of sin in the garb of religion is shameless," Farah Zahir, a child psychologist, said.
http://centralasiaonline.com/en_GB/articles/caii/features/pakistan/main/2013/10/10/feature-01
-----------
Maldives SC orders EC to restart re-registration process
By JJ Robinson | October 11th, 2013
The Supreme Court opened at midnight on Thursday to issue a ruling ordering the Elections Commission (EC) to restart the entire elections re-registration process.
"[The Supreme Court] orders the Elections Commission to start anew the process of compiling the voter registry and abide by the Supreme Court guidelines in the re-registration process for those who individuals who wish to vote in a location other than their place of domicile, and start anew re-registration process according to new procedures, disregarding previous re-registration," read a verdict posted on the Supreme Court's website.
The court also ordered the Elections Commission to give candidates the choice whether to stay on the ballot paper or withdraw from the election, contrary to the EC's previous announcement.
"Elections Commission's announcements (A) EA-2013/539 and (A) EA-2013/540 [concerning the re-registration process] contravene the guidelines put forth in the Supreme Court Verdict no 2013/SC-C/42," read the ruling, signed by Chief Justice Ahmed Faiz.
"The Elections Commission must without further justifications proceed according to the guidelines put forth in the Supreme Court Verdict no 2013/SC-C/42," the ruling stated.
The PPM today sought an order at the Supreme Court blocking Nasheed's legitimacy to contest the election on the grounds of his criticising the judiciary and being "irreligious", although this appeared to split the party, with State Foreign Minister Dunya Maumoon declaring it was "not the right time".
According to local media, the PPM also requested the court order the annulment of the voters' list used in the first round on September 7, threatening that the party would not accept the result if the existing list was used. Prior to the first round, the PPM had called on the Elections Commission to make the voter registration process "more lenient", requesting the EC not to reject voter registration forms missing details such as the name of a voter's parents or a phone number, that could not be verified during random checks.
The 17 member Commonwealth election observation team in particular praised the final voter registry, describing it as "accurate and robust".
"Fears expressed by some political parties regarding possible large numbers of deceased voters and voters registered in the wrong geographic area seem to be unfounded, based on the low incidence of election day complaints," said the group's head, former Prime Minister of Malta Dr Lawrence Gonzi.
The verdict
In its verdict on the Jumhooree Party's case annulling the first round of the election, the court ordered the EC to hold an election by October 20, requiring the commission to prepare for polls as the government shuts down for the Eid al-Adha break.
The EC scheduled the election for Saturday October 19, sending the ballots for printing on October 9 and opening the list on October 10 for re-registration.
In a statement on October 9, Transparency Maldives noted that the Elections Commission had yet to receive the details of the Supreme Court verdict regarding the supposed discrepancies noted in the secret police report, between the voter registry and voting records (such as the claimed ID card number mismatches, permanent address mismatches, and name mismatches).
The Supreme Court's majority ruling this week to annul the first round contradicted the positive assessments of more than a thousand local and international election observers, and hinged on a confidential police report submitted to the court claiming that 5623 votes were ineligible.
The report has not been made public and the legal counsel of the Elections Commission was never given the opportunity to present a counter argument.
In the majority verdict, Supreme Court Judge Dr Ahmed Abdulla Didi also declared that if a new president was unable to be sworn in on conclusion of the presidential term on November 11, the "principle of continuity of legitimate government would override any repercussions faced by failure to adhere to constitutional deadlines."
The latest Supreme Court ruling follows a statement from UK Foreign Secretary William Hague stating that "It is imperative that there are no further delays and the elections be free, fair and inclusive, and that international observers are invited."
" It is important now that the democratic process proceeds in accordance with the Constitution," Hague stated, calling on presidential candidates to respect the democratic process "and create conditions for free, fair elections."
PPM MP Ahmed Nihan told Minivan News that he believed the latest order would mean additional delays to the voting, currently scheduled for October 19.
With growing international pressure for voting to take place without further delay, Nihan claimed that the party believed that the 24 hours for re-registration provided by the EC would have been a "disaster" for the election.
"Even here in Male' no one was aware of what was going on [regarding re-registration]," he said, adding that the occasion of the Eid holidays had meant voters were expected to be more likely to want to vote on different islands from where they were registered: "I am sure it is important to let everyone else have the right to vote in free and fair elections. The verdict clearly says the EC has to perform within guidelines," he said.
Nihan claimed the views of various international groups such as the UN and Commonwealth reflected the MDP's stronger connections with foreign governments, whom he accused of believing the views of the opposition party without listening to others.
"The international community are champions of democracy and we have to thank them for efforts to spread it throughout all corners of the globe," he said. "However, the EU and Commonwealth must make sure they are getting the proper and full information from all sides including the government and opposition as well."
Meanwhile earlier today Sun Online reported that one of the five EC members, Ogaru Ibrahim Waheed, had suddenly resigned.
According to Sun no reason was given, although ongoing death threats received by the Elections Commission (EC)'s permanent staff and polling station officials have prompted the commission to file a report with the Maldives Police Service (MPS).
http://minivannews.com/politics/supreme-court-orders-elections-commission-to-restart-registration-process-68299
---------
Case in Maldives Supreme Court against Nasheed contesting polls
October 11, 2013
There was some confusion over the identity of the petitioner, Waheed, as the President also goes by the same name. The President's media secretary told "The Hindu" that the two had no links.
A prominent lawyer has filed a case in the Supreme Court to disqualify Maldivian Democratic Party candidate, Mohamed Nasheed, from contesting the presidential polls, which will be held on October 19, 2013. He was irreligious, the petitioner contended.
The individual, identified by a senior government official as Waheed, is a member of one of the bodies of the Progressive Party of Maldives, run by former President Maumoon Abdul Gayoom.
There was some confusion on the identity of the petitioner as the President also goes by the same name. Asked for a clarification, the President's media secretary, Masood Imad, told The Hindu that the two had no links.
President Mohamed Waheed condemned efforts by individuals to stop Mr. Nasheed from running for Office of the President of Maldives. He said he believed this is not the time to engage in efforts to obstruct or bar candidates from going through the electoral process. "It will not help resolve the already volatile political situation in Maldives," the President said.
Earlier, the Maldives Supreme Court had annulled the results of the first round elections of September 7, 2013 in which Mr. Nasheed was placed first with over 45 per cent of the popular vote, and the Progressive Party of Maldives candidate Abdulla Yaameen was placed a distant second. It had ordered a rerun of the first round of polls before October 20, 2013.
The verdict was based on a case filed by resort tycoon Qasim Ibrahim, a candidate who had been eliminated in the first round of polls. He had contended that the first round of polls were not free and fair. Members of his party, and that of the other opposition, had told many members of the international press that the elections were rigged scientifically. When asked for proof, nothing was forthcoming.
http://www.thehindu.com/news/international/south-asia/case-in-maldives-supreme-court-against-nasheed-contesting-polls/article5221524.ece
---------
BNP will stop war crimes trial if voted to power: PM Sheikh Hasin
October 11, 2013
Prime Minister Sheikh Hasina yesterday sought vote for the Awami League in the next election and cautioned the countrymen about the return to power of BNP-Jamaat "who want to lead the country towards destruction."
"If the BNP-Jamaat returns to power they will stop the trial of the war criminals. They also don't want the victory that we've gained under the leadership of our father of the nation," she said at a mammoth public rally at Islampur Health Institute Ground in Islampur upazila in the afternoon.
Hasina said: "The BNP-Jamaat does not understand anything except for killing, looting, corruption, bombing, grenade attack, killing police, and violating mothers and sisters.
"They always obstruct the country's development as they want the destruction of the country."
In a scathing attack on the opposition leader's "relentless falsehood", Hasina alleged that before the general election in 1996, Khaleda Zia used to say there would be no "azan" in the mosques if the Awami League was voted to power.
"But that proved false.
"I seek vote for the Awami League….we've initiated the trial of the war criminals and the trial will continue and Insha-Allah, we'll complete the trial. Otherwise, they [BNP-Jamaat] will stop the trial," she said, urging the audience to pledge to vote for her party.
The gathering responded by waiving their hands.
http://www.thedailystar.net/beta2/news/bnp-will-stop-war-crimes-trial-if-voted-to-power/
---------
Southeast Asia
Using 'Allah' in Bible 'nullifies' Trinity, Jakim suggests
October 11, 2013
KUALA LUMPUR, Oct 11 — Malaysia's foremost Islamic authority has again questioned local Christans' use of the word "Allah" today, suggesting it nullifies their religion's concept of the Trinity.
In its weekly Friday sermon today, the Malaysian Islamic Development Department (Jakim) also warned Muslims against supporting "freedom without borders" and human rights causes, which it said are backed by "enemies of Islam" in the country, whom it failed to identify.
"Islam denies and rejects the belief based on Trinity... The huge question arising here, why is there a need to use the word 'Allah' in the Bible, since when used it will directly nullify the concept of Trinity that they practise," Jakim asked in its sermon ahead of a much-anticipated court ruling on the government's appeal against the Church's right to the Arabic word on Monday.
Full report at:
http://www.themalaymailonline.com/malaysia/article/using-allah-in-bible-nullifies-trinity-jakim-suggests#sthash.sGwYLkvN.dpuf
---------
Sabah mufti denies 'Malaynisation' remark a call to abandon ethnicity
October 11, 2013
KUALA LUMPUR, Oct 11 — Under-fire Sabah Mufti Mufti Bungsu @ Aziz Jaafar was urging the state's Muslim Bumiputera to unite under the umbrella of the so-called Malay stock with his controversial "Malaynisation" remark and not to deny their ethnicity, according to quotes attributed to him in a blog.
In a posting on D.K.M. Sabah site, the unidentified blog operator professed to have met the Sabah Mufti on October 2 for a brief interview on the Islamic cleric's comments late last month that have since stirred up a storm in the state.
There, Bungsu was quoted defending his remarks as a statement of scholarly facts based on ethnography and anthropology, saying that he was merely referring to the Malay stock from the Malay Archipelago that he said numbered over 200 million people.
Fending off accusations that he was attempting to dilute the ethnic diversity in Sabah, he was quoted as saying that the local natives there could acknowledge that they belong to the Malay stock without discarding their language and ethnicity.
Full report at:
http://www.themalaymailonline.com/malaysia/article/sabah-mufti-denies-malaynisation-remark-a-call-to-abandon-ethnicity#sthash.lfGgDV8C.dpuf
---------
Google Malaysia hacked by Pakistani 'MadLeets'
October 11, 2013
KARACHI: Google's Malaysian site — google.com.my – was hacked on October 11 by a Pakistani group called "Team Madleets". The search site was off for several hours and the page listed a series of handles that was apparently the team's doing.
The hackers gained access to the Malaysia Network Information Center and changed the DNS records of Google's site to Madleets-controlled servers, Techcrunch, a news website focused on information technology companies, reported.
Full report at:
http://tribune.com.pk/story/616652/google-malaysia-hacked-by-pakistani-madleets/
--------
Europe
Imperative no further delays in Maldives polls: UK Foreign Secretary Hague
By JJ Robinson | October 10th, 2013
UK Foreign Secretary William Hague has called on presidential candidates in the Maldives to respect the democratic process "and create conditions for free, fair elections."
"I note the Supreme Court's annulment of the first round of Presidential election results in Maldives, despite the assessment by both international and domestic monitors that proceedings were transparent, fair and credible," said Hague, in a statement.
"The Elections Commission has now confirmed that the first round will be re-run on 19 October. It is important now that the democratic process proceeds in accordance with the Constitution. It is imperative that there are no further delays and the elections be free, fair and inclusive, and that international observers are invited," the Foreign Secretary added.
Full report at:
http://minivannews.com/politics/imperative-no-further-delays-in-polls-uk-foreign-secretary-hague-68273
---------
Syrian rebels accused of killing hundreds of civilians: Human Rights Watch
11 October 2013
Syrian rebels killed at least 190 civilians and took more than 200 hostage during an offensive in Latakia province in August, Human Rights Watch said on Friday, in what it calls the first evidence of crimes against humanity by opposition forces.
HRW said many of the dead had been executed by militant groups, some linked to al-Qaida, who overran army positions at dawn on 4 August and then moved into 10 villages nearby where members of President Bashar al-Assad's Alawite sect lived.
Full report at:
http://www.theguardian.com/world/2013/oct/11/syrian-rebels-accused-killing-civilians-latakia
---------
Malala Inc: Global operation surrounds teenage activist
By AFP
October 11, 2013
LONDON: Teenage activist Malala Yousafzai has become a formidable force for rights in the year since the Taliban shot her, but an equally formidable public relations operation has helped her spread her message.
The 16-year-old campaigner for girls' education has been nominated for the Nobel Peace Prize, addressed the UN, published an autobiography and been invited to tea with Queen Elizabeth II, achieving a level of fame more like that of a movie star.
On Thursday she won the EU's prestigious Sakharov human rights prize Thursday, drawing a fresh threat of murder by the Taliban.
Full report at:
http://tribune.com.pk/story/616632/malala-inc-global-operation-surrounds-teenage-activist/
---------
U.N. rights office condemns 'obscene' Iraqi executions
11 October 2013
AFP, Geneva
The U.N. rights office Friday condemned Iraq's "obscene" execution of 42 convicts within a week, saying the country's justice system was too flawed to allow any use of capital punishment.
The strongly-worded statement from the world body's human rights watchdog came a day after Iraq's justice ministry said that 42 people convicted of "terrorism" had been put to death over the past week.
Iraq also executed 23 people during two days in September, 20 of them convicted on "terrorism" charges.
Full report at:
http://english.alarabiya.net/en/News/middle-east/2013/10/11/U-N-rights-office-condemns-obscene-Iraqi-executions-.html
-----------
Russia: Syria rebels received Afghan training
October 11, 2013
MOSCOW: Russia on Friday accused Syrian rebels of receiving chemical weapons training in lawless regions of Afghanistan and planning attacks on the territory of Iraq.
"Not so long ago, information emerged that third countries have been illegally using regions of Afghanistan not under Kabul's control to train rebels to fight against the Syrian regime, including by training them in the use of deadly chemical substances," Russian Foreign Minister Sergei Lavrov told reporters.
Full report at:
http://www.dailystar.com.lb/News/Middle-East/2013/Oct-11/234328-russia-syria-rebels-received-afghan-training.ashx#ixzz2hQSBZlxB
-----------
Mosque and school spark new feud between Turkey and Greece
October 11, 2013
ATHENS: Greece and Turkey, which share a history marred by bitter territorial disputes and Christian-Muslim feuds, are at loggerheads once again over religion.
The latest row erupted after Greece flatly rejected the idea of reviving two Muslim mosques in Athens in return for the reopening of an Orthodox clergy school in Turkey.
Mosques have been a thorny issue for a long time in Greece, where the population is predominantly Greek Orthodox. Athens is one of the few European capitals without an official mosque.
Full report at:
http://tribune.com.pk/story/616654/mosque-and-school-spark-new-feud-between-turkey-and-greece/
-----------
Chemical Weapons Watchdog Wins Nobel Peace Prize
By ALAN COWELL
October 11, 2013
LONDON — Urging the destruction of "an entire category" of unconventional weapons, the Norwegian Nobel Committee awarded its 2013 Peace Prize on Friday to a relatively modest and little-known United Nations-backed body that has drawn sudden attention with a mission to destroy Syria's stocks of chemical arms under a deal brokered by Russia and the United States.
The award to the Organization for the Prohibition of Chemical Weapons, usually known by its initials O.P.C.W., took some Nobel-watchers by surprise partly because of the unprecedented nature of its current task: seeking to dismantle a previously secret chemical weapons program quickly in the midst of a raging civil war.
Full report at:
http://www.nytimes.com/2013/10/12/world/chemical-weapons-watchdog-wins-nobel-peace-prize.html?partner=rss&emc=rss&_r=0
-----------
Pakistan
Pakistani Taliban: 'Even If Our Enemies Use Atomic Bomb, We Will Not Stop Jihad'
In Pak's Tribal Belt, Taliban Reject Peace Talks
October 11, 2013
WAZIRISTAN, Pakistan, Oct 9, (RTRS): The Pakistani Taliban envoy drew his white trousers up before settling on the floor of a mud-walled house in Pakistan's ethnic Pashtun tribal region near the Afghan border. Bodyguards, their long hair spilling out from traditional flat caps, listened warily for the occasional sound of a drone aircraft overhead. Carefully, Shahidullah Shahid laid out the conditions for peace talks with the Pakistani government: release all Taliban prisoners, withdraw the army from the tribal areas where the Taliban are entrenched, and stop US drone strikes.
The Pakistani Taliban, an umbrella group of factions operating independently from their Afghan Taliban allies, are fighting to set up an Islamic state in Pakistan but the government is trying to negotiate a peace settlement to end years of fighting. "Drones really stop us from moving freely in the area," Shahid, the main spokesman for the Pakistani Taliban, told a small group of reporters on a recent visit to Waziristan. "But even if our enemies use an atomic bomb, we would not stop our jihad."
Full report at:
http://www.arabtimesonline.com/NewsDetails/tabid/96/smid/414/ArticleID/200447/reftab/73/Default.aspx
---------
Sunni Ittehad Council denounces TTP justification of church bombing
By Zahir Shah
October 11, 2013
The attack on the All Saints Church was un-Islamic and defamed Islam, religious scholars say.
PESHAWAR – The Sunni Ittehad Council (SIC) in an October 6 statement denounced the Tehreek-e-Taliban Pakistan (TTP) for justifying the September 22 suicide attack on the All Saints Church in Peshawar.
The bombing, which killed at least 81 people and wounded 145 others, was in accordance with Sharia law, TTP spokesman Shaidullah Shahid had said.
The TTP has no legitimacy in Islam or in Sharia and the council considers attacks on a minority's place of worship contrary to Islam, the SIC, chaired by Sahibzada Fazle Karim, said.
Those who kill the innocent deserve no mercy, the SIC continued. The government needs to strike terrorists who defy Islamic teachings of tolerance and peace and damage Pakistan, it said.
Full report at:
http://centralasiaonline.com/en_GB/articles/caii/features/pakistan/main/2013/10/07/feature-02
---------
Senior Pakistani Taliban commander captured in Afghanistan
Oct 11 2013
An Afghan official said U.S. military forces are holding a senior Pakistani Taliban commander captured in Afghanistan a week ago.
Arsallah Jamal, the governor of eastern Logar province, said on Friday that Latif Mehsud was arrested by American forces as he was driving along a main highway.
The Pakistani Taliban confirmed that Mehsud had been captured by the Afghan army at the Ghulam Khan border crossing in the eastern province of Khost on October 5.
Pakistani Taliban commanders and intelligence officials said he was captured by the Afghan army as he attended a meeting to discuss swapping Afghan prisoners for money.
The U.S. military in Kabul referred all questions to Washington.
http://www.thehindu.com/news/international/south-asia/senior-pakistani-taliban-commander-captured-in-afghanistan/article5225431.ece
----------
Bomb blasts kill 10 in all four provinces
October 11, 2013
QUETTA: Bomb attacks hit all four provincial capitals (Peshawar, Quetta, Lahore and Karachi) and a northwestern district in Pakistan on Thursday, killing ten people and wounding more than 60, a day after the Taliban chief said his outfit would not hold dialogue (with the government) through the 'media.'
In the day's deadliest attack, a bicycle bomb tore through a crowded market area near a police station in the restive southwestern city of Quetta, killing six people and injuring art least 35 others.
Full report at:
http://www.dawn.com/news/1048800/bomb-blasts-kill-10-in-all-four-provinces
---------
Taliban warn shops against selling Malala's book
2013-10-11
MIRAMSHAH, Oct 10: The Tehreek-i-Taliban Pakistan has warned that those found selling "I am Malala" — the book authored by Malala Yousufzai — will face serious action as she had not performed any act of bravery but swapped her religion Islam with secularism for which she is being rewarded.
Talking to this correspondent on phone on Thursday, TTP spokesman Shahidullah Shahid said they knew that Malala would get awards from the enemies of Islam.
"Malala abandoned Islam for secularism for which she is being given awards," he said, adding that the media and the international community should keep in mind that students of Jamia Hafsa, Islamabad, were never given any award despite their immense bravery.
Full report at:
http://www.dawn.com/news/1048940/taliban-warn-shops-against-selling-malalas-book
---------
India ties, Afghanistan peace top priorities: PM
2013-10-11
ISLAMABAD: Prime Minister Nawaz Sharif says normalising ties with India and facilitating peace in Afghanistan are his foreign policy priorities.
Prime Minister Sharif, according to a source, shared his priorities with Foreign Secretary-designate Abdul Basit in a meeting on Wednesday.
Mr Sharif further told Mr Basit to work for aligning foreign policy with the economic development agenda of the country and to pursue the 'region first' approach.
Mr Basit was chosen on Wednesday to replace incumbent Foreign Secretary Jalil Abbas Jilani, who has been appointed as ambassador to the United States.
Full report at:
http://www.dawn.com/news/1048929/india-ties-afghanistan-peace-top-priorities-pm
---------
Provinces asked to fight terrorists with iron hand
2013-10-11
PESHAWAR: Prime Minister Nawaz Sharif has said a special law was being enacted to deal with cases related to terrorism and asked the provinces to take strict and effective measures to eliminate this menace.
Talking to members of families affected by the recent Qisa Khwani Bazaar bomb explosion and later in his talk with reporters at the Governor House on Thursday, he said the proposed law, which would effectively tackle cases of terrorism in the court of law, was ready. The culprits involved in terrorism would not escape the clutches of law, he added.
Mr Sharif said the proposed law would remove lacunas from existing laws, which helped the accused get bail because of lack of evidence or a weak case prepared by the prosecution.
He said in a country where security measures were weak extraordinary laws and decisions had to be taken to put things on the right track. The government would not show any weakness in elimination of terrorism and would go the distance to curb this menace once and for all, he added.
Full report at:
http://www.dawn.com/news/1048951/provinces-asked-to-fight-terrorists-with-iron-hand
---------
Pervez Musharraf remanded to judicial custody for 14 days
Oct 11 2013
Islamabad : A Pakistani court on Friday remanded beleaguered former President Pervez Musharraf to judicial custody for 14 days while another court rejected a request to bar him from travelling out of the country.
A magistrate's court here granted the judicial remand in a case related to the killing of Abdul Rashid, a top cleric of the radical Lal Masjid, during a 2007 military operation.
The same magistrate had earlier turned down the police's request seeking physical remand, saying this could be done only if Musharraf was present in court. Senior police officials told the magistrate that bringing Musharraf to court would involve grave security risks.
Full report at:
http://www.indianexpress.com/news/musharraf-remanded-to-judicial-custody-for-14-days/1181316/
----------
Mideast
Turkey freezes al-Qaida, Taliban assets
October 11, 2013
ANKARA: Turkey has imposed financial sanctions on some 350 people and dozens of organizations that have been blacklisted by the United Nations Security Council for alleged links to al-Qaida or the Taliban.
The move, made public late Thursday, would freeze any assets those individuals or groups may have in Turkey.
The sanctions come at a time when Turkey has been accused of supporting groups linked to al-Qaida which are launching attacks on Syrian President Bashar Assad's regime. Turkey denies backing those groups.
This month, Turkey's Interior Minister Muammer Guler said police had arrested 129 people in 104 operations targeting groups linked to al-Qaida groups since 2012. He did not give further details.
Militants tied to al-Qaida carried out attacks in Istanbul in 2003 that killed 58 people.
http://www.dailystar.com.lb/News/Middle-East/2013/Oct-11/234323-turkey-freezes-al-qaida-taliban-assets.ashx#ixzz2hQRcJan3
-----------
Turkey extends mandate for strikes on Kurds in Iraq
2013-10-11
ANKARA: Turkey's parliament extended for one year a mandate that would allow Ankara to order military strikes against Kurdish rebels holed up in neighbouring northern Iraq.
The vote coincides with Prime Minister Recep Tayyip Erdogan's reforms to boost the rights of the country's sizeable Kurdish community and secure an end to the nearly 30-year battle with the banned Kurdistan Workers' Party (PKK).
All opposition parties, except the pro-Kurdish Peace and Democracy Party, gave solid backing to the motion providing the government with another year-long mandate for cross-border operations against PKK hideouts in northern Iraq.
Full report at:
http://www.dawn.com/news/1048804/turkey-extends-mandate-for-strikes-on-kurds-in-iraq
-------
New Iran government scraps anti-Israeli conference
October 11, 2013
The administration of Iran's new President Hassan Rouhani has cancelled an anti-Israeli conference as part of his outreach to the West and efforts to map out a new diplomatic path for Iran.
The annual event was set up by Mr. Rouhani's predecessor, Mahmoud Ahmadinejad, and showcased the former president's vitriolic anti-Israeli rhetoric and promoted his anti-Israeli sentiments.
When the conference was first held in 2005, Mr. Ahmadinejad made his infamous remark that Israel should be "wiped off the map".
Full report at:
http://www.thehindu.com/news/international/world/new-iran-government-scraps-antiisraeli-conference/article5225176.ece
--------
Palestinian mosque vandalised in West Bank: Residents
October 10, 2013
BURQA, West Bank: Jewish settlers torched three Palestinian cars and scrawled graffiti on a mosque in the Israeli-occupied West Bank on Thursday, in the latest incident in a rising trend of attacks, residents said.
Two months after Israeli and Palestinian negotiators revived stalled peace talks, the Palestinian government says incursions by hardline settlers are becoming more frequent.
The phrase "Zion's redemption", a Star of David and the name of an Israeli soldier who was killed last month in the West Bank were spray-painted on the wall of the local mosque-cum-primary school in the village of Burqa.
Full report at:
http://www.dailystar.com.lb/News/Middle-East/2013/Oct-10/234172-palestinian-cars-vandalised-in-apparent-revenge-attack.ashx#ixzz2hKVV46pa
---------
Palestinian Charm Offensive Latest Twist in Peace Talks
October 11, 2013
For nearly two years, Israeli Prime Minister Benjamin Netanyahu and other senior leaders have hammered home a single point: "Why are Palestinians refusing to negotiate with us?" Netanyahu repeatedly said that he would go anywhere — including Ramallah — to meet Palestinian President Mahmoud Abbas and initiate peace talks. At one time, he suggested setting up a tent somewhere between Jerusalem and Ramallah, so that the two parties could meet and theoretically solve the decadeslong conflict.
Full report at:
http://www.al-monitor.com/pulse/originals/2013/10/abbas-netanyahu-peace-talks-status.html#ixzz2hP6LABCH
---------
Israeli Radical-Left Sociologist Rejects Two-State Solution
October 11, 2013
For many years, sociologist Yehouda Shenhav has rejected the two-state solution that became, in his eyes, the only paradigm of the Israeli left. As far as he is concerned, this is a violent, inapplicable solution that only promotes the next war.
Paradoxically, Shenhav — regarded as belonging to the radical left — has become an isolated, aberrant phenomenon in his camp. He is viewed as a figure who harms the group's efforts when he brandishes the one-space solution.
But now Shenhav feels that things are changing; that more and more people, including right-wingers and Palestinians, are beginning to distance themselves from the worn-out two-state solution that Shenhav is sure will never be realized.
Full report at:
http://www.al-monitor.com/pulse/originals/2013/10/yehouda-shenhav-binational-state-two-state-solution-settlers.html#ixzz2hP8fFP3R
---------
Rebels kill five Iranian elite troops in Kurdish region
11 October 2013
AFP, Tehran
Rebels killed five members of Iran's elite Revolutionary Guard in a clash Thursday in the Kurdish Baneh region in the northwest, media reports said.
"Five members of the Revolutionary Guard were killed in fighting with counter-revolutionaries in Baneh... two others were wounded and taken to hospital," the Fars news agency said, citing sources in the elite military force.
The Baneh region is on the border with Iraq's Kurdish region.
In April 2012 rebel Kurds, seeking a homeland of Kurdistan, killed four Revolutionary Guards in the same region.
http://english.alarabiya.net/en/News/middle-east/2013/10/11/Rebels-kill-five-Iranian-elite-troops-in-Kurdish-region-.html
---------
Africa
At least 16 killed in central Nigeria unrest: police
October 10, 2013
Agence France Presse
JOS, Nigeria: Armed gunmen suspected to be cattle rustlers killed 10 members of one family before six of the gunmen were shot dead by security forces in Nigeria's central Plateau state, the police said.
"Cattle rustlers believed to be (ethnic) Fulani attacked Kukek village in the state. They murdered about 10 members of a family. Six of the attackers were mowed down in an exchange of fire with security forces," the police chief in the state, Chris Olakpe, told AFP.
http://www.dailystar.com.lb/News/International/2013/Oct-10/234280-at-least-16-killed-in-central-nigeria-unrest-police.ashx#ixzz2hQRv50Ch
-----------
Fear grips Somali town raided by US navy SEALs
October 11, 2013
MOGADISHU: The al-Shabaab stronghold of Barawe, a coastal town in Somalia where US navy SEALs came ashore in a failed raid last weekend, is gripped by fear and tension as residents worry they'll be accused of spying and the insurgents ready for another attack.
Foreign fighters and Somali members of al-Shabaab have in recent years moved into the town, edged by red desert and emerald seas, as African Union peacekeeping troops and Somali government forces pushed the Islamic insurgent group from Somalia's capital and other areas.
Saturday's pre-dawn raid by the American commandos was aimed at a Kenyan al-Shabaab member named as a planner of al-Shabaab terrorist attacks. Since the SEAL raid, more al-Shabaab battle wagons — pickup trucks mounted with machine guns or recoilless rifles — can be seen prowling the sandy streets of the town, residents say.
Full report at:
http://timesofindia.indiatimes.com/world/rest-of-world/Fear-grips-Somali-town-raided-by-US-navy-SEALs/articleshow/23914893.cms
---------
France says 10 Islamist rebels killed in Mali fighting
October 11, 2013
About 10 Islamist rebels were killed in fighting involving French special forces in northern Mali earlier this month, the defence ministry said on Thursday.
The battle, which took place north of Timbuktu on 1 October, was some of the heaviest fighting since a French military intervention dislodged rebel forces in control of northern Mali early this year. The spokesman for the French General Staff, Colonel Gilles Jaron, would not provide exact details of the battle but said both a helicopter and ground troops were involved.
Full report at:
http://english.ahram.org.eg/NewsContent/2/9/83716/World/International/France-says--Islamist-rebels-killed-in-Mali-fighti.aspx
--------
The Inevitable Rise Of Al-Qaeda in Libya
October 11, 2013
The seizure and rendition of key al-Qaeda operative Abu Anas al-Libi in Tripoli on Oct. 5 is being hailed as a victory for American counterterrorism efforts. Given that Libi — or Nazih Abdul Hamed al-Raghie, as he is known in civilian life — has been a wanted man in the United States for more than a decade, a victory undoubtedly it is. Libi is under indictment in the United States for his alleged role in the 1998 African embassy bombings. On closer inspection, however, the rendition operation also exposes the contradictions of American Libya policy and, in particular, the boon for al-Qaeda-linked and al-Qaeda-inspired groups that the US-backed Feb. 17 revolution against Moammar Gadhafi has represented.
Full report at:
http://www.al-monitor.com/pulse/originals/2013/10/qaeda-libya-rise-zeidan-us.html#ixzz2hP6DfulR
---------
Morocco's king names new ministers, Islamists lose ground
Reuters | Oct 11, 2013
RABAT: Morocco's King Mohamed named 19 new ministers on Thursday after the prime minister reached a deal to form a new coalition that weakens the ruling Islamists who are trying to push through unpopular reforms to subsidies and the pensions system.
The centre-right National Rally of Independents (RNI), which is close to the palace, will replace ministers from the conservative Istiqlal party, which left the coalition in July in a dispute over the cuts and other issues.
Full report at:
http://timesofindia.indiatimes.com/world/rest-of-world/Moroccos-king-names-new-ministers-Islamists-lose-ground/articleshow/23928815.cms
----------
Car bomb targets Swedish consulate in Libya
October 11, 2013
A car bomb on Friday targeted the Swedish consulate in Benghazi, in eastern Libya, according to Libyan media reports.
The explosion caused damage to the consulate building and neighbouring buildings, but there were no casualties, the independent Press Solidarity Agency reported.
But Qatari broadcaster Al Jazeera reported that two people — a Swede and a Libyan — were injured.
Full report at:
http://www.thehindu.com/news/international/world/car-bomb-targets-swedish-consulate-in-libya/article5225349.ece
----------
India
Pak clerics determine poll mandate in this border constituency of Rajasthan
Mukesh Mathrani
October 11, 2013
Rajasthan's Barmer and Jaisalmer districts share the border with Pakistan. They are so close that in 2010, after Pakistan installed mobile phone towers along the 270-km border, the Indian authorities struggled to prevent the use of Pakistani SIM cards in the district — the Pakistani mobile phone network has a penetration of 30-40 km into Indian territory.
It is not just mobile telephony; the views of clerics on the other side also impinge on the politics of the Thar area.
Barmer and Jaisalmer together have 400,000-500,000 Muslims, 90% of whom are Sindhi Muslims. And these people depend on Pir Pagaras or pious leaders across the border for both spiritual and electoral guidance.
Full report at:
http://www.hindustantimes.com/specials/coverage/MyIndia-MyVote/Chunk-HT-UI-MyIndiaMyVote-Rajasthan/Pak-clerics-determine-poll-mandate-in-this-border-constituency-of-Rajasthan/SP-Article10-1133732.aspx
---------
Tripura to help Dhaka trace buried freedom fighters
SYED SAJJAD ALI
October 11, 2013
A team of officials and surviving war veterans is coming to the State
Having offered the best possible help to Bangladesh in its bid to identify graves of its freedom fighters, who died here during the 1971 War of Liberation, the Tripura government is awaiting the arrival of a team from across the border.
EFFORTS BEGAN IN 2007
Efforts to trace buried Bangladeshi war heroes in the State, begun in 2007, were renewed this year after an official-level talk in July.
http://www.thehindu.com/news/international/south-asia/tripura-to-help-dhaka-trace-buried-freedom-fighters/article5222428.ece
---------
India clears visas for Yasin Malik's Pakistani family
October 11, 2013
India has approved granting visas to Hurriyat Conference leader Yasin Malik's Pakistani wife Mushal Mullick, mother-in-law Rehana Mullick and 19-month-old daughter Razia Sultana to travel from Islamabad to Srinagar via New Delhi.
Union home ministry (MHA) sources said that visas of Mushal and Rehana Mullick were cleared even before the Hurriyat Conference leader was not allowed by IGIA immigration to proceed to Kathmandu on October 9, 2013 apparently to meet his wife and daughter.
The normal process for Pakistani visitors to get visas for India is that the application is sent to the MHA which then forwards it to the Intelligence Bureau and the CID of the concerned state police. After getting reports from the IB and CID, MHA then forwards the application to the ministry of external affairs.
Full report at:
http://www.hindustantimes.com/India-news/newdelhi/India-clears-visas-for-Malik-s-Pakistani-family/Article1-1133229.aspx
---------
Kashmiris snub Hurriyat call to boycott Zubin Mehta concert
Himanshi Dhawan, TNN | Oct 11, 2013
NEW DELHI: The Hurriyat call to boycott the Zubin Mehta concert was defeated by Kashmiris in a unique way — by switching on their television sets. A TAM survey has shown that an overwhelming 64% of people in Srinagar watched the live telecast of the classical music concert. In fact, insiders say that the call for boycott and strike, which led to shops, schools and establishments being forced to shut, may have even helped increase viewership.
The survey by audience measurement agency TAM was conducted on behalf of Prasar Bharati to gauge the response for the music maestro Zubin Mehta conducted 'Ehsaas-e-Kashmir' concert. The results show that 64% of the adult population of Srinagar tuned in to DD's telecast of the concert, and watched it for an average of 55 minutes. The data also revealed that more youth watched the concert telecast than those in the upper age bracket (that is above 35 years).
Full report at:
http://timesofindia.indiatimes.com/india/Kashmiris-snub-Hurriyat-call-to-boycott-Zubin-Mehta-concert/articleshow/23930186.cms
-----------
Terror suspect brought to Hyderabad from Kuwait
IANS | Oct 11, 2013
HYDERABAD: Mohammed Aijaz Ahmed, a terror suspect and an associate of slain Azam Ghori, was arrested in Kuwait with the help of Interpol and brought to Hyderabad, police said Friday.
Aijaz Ahmed, 35, is a native of Andhra Pradesh's Nizamabad district. He is an accused in a murder case and was absconding since 2006.
He was presented in a court after being brought to Hyderabad, and was sent to judicial custody.
According to T. Krishna Prasad, additional director general of police, crime investigation department, Ahmed is an accused in a contract murder case. The crime was committed in Vijayawada to allegedly raise funds for the Indian Muslim Mohammadi Mujahideen (IMMM).
Full report at:
http://timesofindia.indiatimes.com/city/hyderabad/Terror-suspect-brought-to-Hyderabad-from-Kuwait/articleshow/23980671.cms
---------
North America
Kerry lauds multi-faith Malaysia as model for world
October 11, 2013
KUALA LUMPUR, Oct 11 — US Secretary of State John Kerry lauded Malaysia today as a modern, innovative and multi-faith model for the world, heaping praise on a country the United States regards as a valuable Muslim ally.
On the final day of a curtailed Asian tour in which he has filled in for President Barack Obama, Kerry said Malaysia's young people were an inspiration for the Arab Spring.
"Here in Malaysia, people of different heritages have been in conversation for a long time," Kerry said in a speech to mainly young entrepreneurs in the Malaysian capital of Kuala Lumpur.
Full report at:
http://tribune.com.pk/story/616639/kerry-lauds-multi-faith-malaysia-as-model-for-world/
---------
Terrorist sanctuaries in Pak challenge Afghanistan security: US
PTI | Oct 11, 2013
WASHINGTON: The United States has said that safe havens of terrorists in the tribal areas in Pakistan continue to pose challenge to Afghanistan.
"Terrorist sanctuary in the tribal areas of Pakistan will continue to challenge Afghan security," nominated assistant secretary of defence for special operations and low Intensity Conflict Michael D Lumpkin said.
The Pentagon official also said the US must remain cautious in Afghanistan as the allied forces begin to withdraw in 2014.
"Both unilateral and partnered direct actions are an essential and highly effective element of our strategy to defeat al-Qaida and those that enable it in Afghanistan, particularly in northeastern parts of the country," he said.
Full report at:
http://timesofindia.indiatimes.com/world/us/Terrorist-sanctuaries-in-Pak-challenge-Afghanistan-security-US/articleshow/23962872.cms
-------
Canadian Muslims Protest 'Honor Killing' Label as Racist
October 11, 2013
Are they willfully misleading? Or are Canadian Muslims who are fighting federal funding to investigate honor violence simply naïve victims of the same propaganda used routinely to explain away the religio-culturally-based murders of Muslim women?
Every year, according to United Nations reports, 5,000 women worldwide are killed for reasons of "honor" that relate to matters of modesty and obeyance, though most experts maintain the numbers are far higher. And the number of victims of honor violence, which can involve beatings, acid attacks, or locking a woman in her home, is literally incalculable. In the United Kingdom alone, more than 3,000 such honor crimes occurred just in 2010, according to a study by the Iranian and Kurdish Women's Rights Organization (IKWRO). The vast majority of those crimes, the organization states, were committed by Muslims, though Sikhs and Hindus have also been known to commit honor-related crimes.
Full report at:
http://www.algemeiner.com/2013/10/10/canadian-muslims-protest-honor-killing-label-as-racist/
---------
White House condemns Libyan Prime Minister's abduction
AP | Oct 11, 2013
WASHINGTON: The White House said it is pleased that Libyan Prime Minister Ali Zidan is again a free man after his abduction at gunpoint earlier on Thursday.
Spokesman Jay Carney said the US condemns the kidnapping, which was carried out at dawn from the hotel where Zidan lives in the capital of Tripoli.
The abduction appeared to be retaliation for a weekend raid by US special forces, that seized a Libyan al-Qaida suspect in Tripoli.
Carney said the US supports Libya's efforts to fulfil the aspirations of the 2011 revolution that toppled long-time authoritarian leader Muammar Gaddafi.
Carney added Libyans deserve a democracy based on the rule of law and respect for human rights. He said the US will work closely with the Libyan government as it continues down that path.
http://timesofindia.indiatimes.com/world/us/White-House-condemns-Libyan-Prime-Ministers-abduction/articleshow/23941451.cms
-------
URL: https://newageislam.com/islamic-world-news/syrian-army-kills-70-people,/d/13950