New Age Islam News Bureau
12 Oct 2013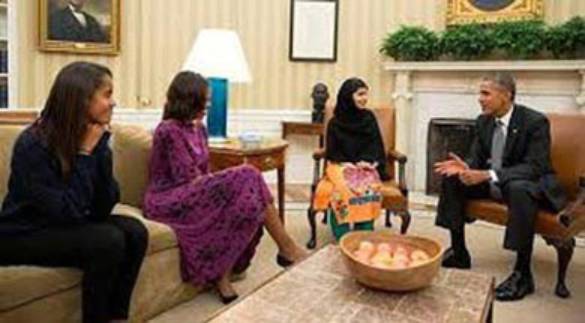 U.S. President Barack Obama, First Lady Michelle Obama, and their daughter Malia meet with Malala Yousafzai in the Oval Office
-------
Arab World
• Syrian Army Kills 130 in Fight for Damascus Suburbs, Say Rebels
• Religious minister closes 1,000 mosques in Egypt's Alexandria
• 93 percent of suicide attempts are of Saudis
• Sistani Issues Fatwa against Sectarian Violence in Iraq
• Talibanis Party Stung by Loss In Iraqi Kurdistan Elections
• Rise of Islamists Threatens Christian, Human Rights
• Zawahiri sends implied message of support to Muslim Brotherhood
• Islamists turn to walls in feud with Egypt military
• Emirati donates SR5 million to save friend from execution
South Asia
• President Waheed withdraws from October 19 elections
• Suicide bomber kills three Afghan police: officials
• Familiar Faces and Warlords Set To Dominate Afghan Election Campaign
• Political parties launch last minute re-registration drive in Maldives
Europe
• The Swiss who wanted mosque minarets banned embraced Islam
• As Sochi Approaches, Ethnic Russians Continue to Leave the North Caucasus
• Russian-Led Customs Union More Likely than EU to Islamicise Ukraine
• EU report to praise Kurdish peace process
• UN rights commissioner urges Iraq to halt executions
Africa
• Nigeria: Suicide Bombers Now Package IEDs in School Bags
• Mali takes baby steps toward protecting former child soldiers
• Gaddafi-era spy chief al-Senussi to be tried in Libya
• Tunisia Islamists ready to hand over power, see spring election
Pakistan
• Malala is Pakistan's pride, says Nawaz Sharif
• Combating militant ideologies: State organs asked to put their acts together
• The blueprint of a package deal with Taliban
• Taliban 'delighted' Malala missed out on Nobel
• Talks with militants within constitutional parameters: Kayani
• Indian military leadership's comments provocative: General Kayani
• Balochistan CM asks militants to stop attacks in quake-hit areas
• Karzai's quest Afghan: Taliban lambast Fazl over Kabul visit
• Bashir seeks "breakthrough'' in Indo-Pak economic relations
India
• For Modi 'Dilli door Hai', (Delhi is too far away) Maulana Vastanvi says
• India, Pakistan not at 'resumed talks' stage: Salman Khurshid
• Muslims should overcome dependence on state: Experts
• Pak kills Indian fisherman; abducts 30 others off Gujarat coast
Southeast Asia
• Muslims can't stop others from using the word Allah, says PAS president
• Indonesia, India take further steps to strengthen relationship
Mideast
• Iran's Public Executions Prompt Fatal Reenactment
• Hackers place Islamic call to prayer on Israeli websites
• 200 Jerusalem Palestinian families without homes
North America
• US President, First Lady meet Malala Yousafzai at the Oval Office
• U.S. Muslims to Mark End of Hajj with Prayers
• US "deeply concerned" about legal actions potentially delaying Maldives' October 19 election
• Progress on US-Afghan deal as Kerry visits Kabul
Compiled by New Age Islam News Bureau
URL: https://www.newageislam.com/islamic-world-news/new-age-islam-news-bureau/syrian-army-kills-130-in-fight-for-damascus-suburbs,-say-rebels/d/13970
----------
Arab World
Syrian army kills 130 in fight for Damascus suburbs, say rebels
Oct 12 2013
The death of 130 rebels and civilians was an execution carried out by the Syrian government and its Shiite allies, alleged Syria's opposition Free Syrian Army (FSA) on Saturday.
They were killed in the town of al-Ziyabiya amid battles to control southern Damascus suburbs, which began two days ago.
"The army of (Syrian President Bashar) al-Assad and their agents — the Iranian militia of Hezbollah and some Iraqi Shiites loyal to Tehran — have executed 130 men in areas near al-Ziyabiya," FSA spokesman Louay al-Mokdad said.
"We call on the world community to immediately look into this new massacre committed by the tyrant regime of al-Assad," Mr. al-Mokdad said.
The State-run SANA news agency reported that government forces managed to fully control al-Ziyabiya and had killed many "terrorists at the outskirts of the Bouayda suburb". The report added that the armed forces continued to advance towards Bouayda and Hujeira in a move aimed at "cleansing the area from terrorists", a term used by the regime to identify opposition fighters.
Rami Abdel-Rahman, head of the opposition watchdog Syrian Observatory for Human Rights, said "we have information that there were some fighters and people trapped inside al-Ziyabiya, as the Syrian army were storming the area, but we still know nothing about their fate". State television showed pictures of what it claimed was ammunition "left by the dead terrorists" in the area of Sheikh Omar, between al-Ziyabiya and Bouayda.
An army source told SANA that restoring security and stability in the towns of Husseiniya and al-Ziyabiya "will tighten the grip on the terrorists, who are still hauled up in Bouayda and Hujeira".
More than 100,000 people have been killed in the conflict, which began in March 2011 with anti-government protests, according to the United Nations.
One child killed
Syria's state news agency says two mortar rounds struck an upscale neighbourhood in the Syrian capital of Damascus, killing a child and injuring 11 people.
The Abu Roumaneh area where the mortars struck on Saturday is several hundred metres from a hotel where international inspectors are based during their mission to destroy Syria's chemical weapons.
The SANA agency says one shell hit near a school and the other on the roof of a building. It says the child killed in the attack was eight years old and that the shells damaged several shops and cars.
Rebels fighting to topple the Syrian regime routinely fire mortar shells from the outskirts of Damascus at neighbourhoods controlled by the government of President Bashar al-Assad.
http://www.thehindu.com/news/international/world/syrian-army-kills-130-in-fight-for-damascus-suburbs-say-rebels/article5228819.ece
----------
Religious minister closes 1,000 mosques in Egypt's Alexandria
Oct 12 2013
Egypt's Ministry of Religious Endowments (Waqf) has ordered the closure of 1,000 mosques in Alexandria.
The order from Minister Mohammed Mokhtar Juma affects mosques of 80 square metres or less in size and has angered many worshippers in the city, reported the Middle East Monitor.
The director of Alexandria's mosques, Sheikh Al-Ansari Saad Amara, has been given 72 hours in which to implement the closure order. People in the city denounced the closures, claiming that "tomorrow, Egypt will be a country without mosques".
http://www.worldbulletin.net/?aType=haber&ArticleID=120419
----------
93 percent of suicide attempts are of Saudis
Oct 12 2013
RIYADH — A study by King Saud University showed that 93.33 of suicide attempts are committed by Saudis, Al-Hayat newspaper reported.
Suicide attempts committed by residents represented only 6.67 percent.
The study shows that there were 28 repeat attempts by Saudis compared to 2 by expats. Suicide attempts increase during the summer season, and 70 percent of the attempts were committed using some form of medication.
The study was conducted by Mariam Al-Harz as part of her Masters Degree requirements in social studies. She said that she conducted the study on all suicide attempt cases that were admitted at hospitals in Ahsa.
Her study indicated that the majority of Saudis who attempted suicide were women. She said that 30 percent of suicidal persons were between 15-20 years old, when many are not emotionally settled.
Another 26.67 percent were between 25-30 years old, 13 percent between 30-35 years old, 6.67 were less than 15 years old, and 3.33 percent were over 40 years old.
The study also found that 26.67 of suicide attempt were committed by individuals of intermediate and secondary education, 16.67 of elementary education, 16.67 of university education, 6.67 percent of diploma education, and 3.33 percent are of post graduate education.
She pointed out that 83 percent of suicides were attempted by unemployed individuals, and 16.67 of suicidal attempts were committed by individuals suffering from chronic illnesses.
The study showed that 46.67 of suicides were by unmarried individuals, while 53.33 were married.
She said that 31 percent of suicide attempts were due to family violence, 23 percent due to marital disputes, 9 percent due to drugs addiction, and the rest were due to financial problems, divorce, death of a family member, and capital crime charges.
http://www.saudigazette.com.sa/index.cfm?method=home.regcon&contentid=20131012183483
----------
Sistani Issues Fatwa Against Sectarian Violence in Iraq
October 12, 2013
Amid the rising flames of sectarianism, occasionally there are people and groups that hurl insults at other religious sects, fueling the fire and stoking the cycle of violence and hatred. In contrast, moderate Iraqi clergymen make every effort to thwart this trend and try, as much as possible, to limit its influence.
Among the latest developments of the sectarian crisis that rages in Iraq, dozens of young men organized a provocative march in the predominantly Sunni al-Adhamiyah neighborhood of Baghdad on Oct. 7. They did not chant for a return to unity and the rejection of violence, nor did they condemn bombings and terrorism. They, in fact, hurled insults and cursed Sunni holy historical figures, labeling them "nawasib," a derogatory term used against Sunnis.
A video clip shows that the group marched with the protection of members of Iraq's security forces, leading many to doubt the spontaneity of the act. This also raised hypotheses as to the existence of political motives behind the march on the part of parties affiliated with the regime.
This same faction previously established satellite TV channels, such as Fadak and Sawt Alitraa, that transmit from European countries, as well as YouTube channels on which they publicly air insults and curses against some of the Prophet Muhammad's female relatives and companions who are revered by Sunnis. The faction belongs to an extremist Shiite movement that believes insulting the aforementioned figures is a duty prescribed by their faith.
The faction is faced by an equally extremist Sunni movement that believes Shiites are apostates, the killing of whom is permissible under certain circumstances. It also runs many satellite channels and websites, the most important and best known of them among Iraqis is the Safa Channel, which has been broadcasting for years, sermons and interviews that are degrading and demeaning to Shiites in the region, and Iraq in particular.
As a result, Iraq has been transformed into a raging inferno pitting extremists from both sides against each other. Usually, after each wave of abuse, tsunami-like reactions ensue from the affronted side, squelching the voices of moderation calling for calm.
Iraq's Sunni mufti, Sheikh Rafeh al-Rifai, issued a statement calling for a general strike in the six Iraqi provinces with Sunni majorities, threatening dire consequences if such events were to re-occur. The strike did in fact take place on Oct. 10 and included the closure of schools, as well as government institutions and markets in the aforementioned provinces. Meanwhile, Facebook and other websites overflowed with violent, demeaning reactions similar to those that accompanied the instigating event.
In contrast, the highest-ranking Shiite authority in Iraq, Ali al-Sistani, issued a fatwa condemning the abuse of Sunni sanctities, saying: "This is to be condemned and denounced, and is contrary to the instructions of Shiite Imams." The Imam al-Khoei Foundation, which is influential among Shiite religious circles, issued a statement denouncing events and called for the respect of everyone's sanctities.
Muqtada al-Sadr also delivered a speech denouncing and condemning the provocative act by some feeble minds, as he put it. At the same time, he decried the wave of bomb attacks, and tried to distinguish between moderate and extremist Sunnis. He said: "I salute Iraqi Sunnis who have shunned sectarianism and vile ideological extremism; who have rejected terrorism, al-Qaeda, booby-traps and acts of violence." Before the events, another fatwa was issued in this regard by the leader of Iran's Islamic Revolution, Ali Khamenei. It read: "It is forbidden to abuse our Sunni brothers' symbols, as it is forbidden to accuse the Prophet's wife of anything that taints her honor."
As a result of these developments, a number of Iraqi social activists proposed the establishment of a sectarian observatory that monitors provocative acts in the country and contains their dangerous effects through legal means and the media.
As one rumor spread about a legal decision to apprehend the leader of the group that perpetrated the provocative act, another claimed that the Council of Ministers had assigned an armed detail to protect that same person because he had received threats on Facebook.
No official statement has been issued by the Iraqi government in this regard, despite the seriousness of what occurred and its dangerous ramifications, while noting that a number of laws criminalize insulting the sanctities of others and stirring sectarian tensions, and require that the government punish those who commit such acts.
Finally, in these circumstances, the Iraqi government is expected to remain impartial and perform its legal duties. This is to prevent, through the implementation of legislation, the occurrence of similar acts.
http://www.al-monitor.com/pulse/originals/2013/10/iraqi-moderates-manage-sectarianism.html#ixzz2hZ5Er6Nl
--------
Talabani's Party Stung by Loss In Iraqi Kurdistan Elections
October 12, 2013
ERBIL, Iraqi Kurdistan — The political party of Iraqi President Jalal Talabani, who is recovering from a December 2012 stroke, is facing internal problems and challenges after the party's poor showing in the Sept. 21 parliamentary elections of the Kurdistan Regional Government (KRG), when it fell to the third place. The loss caused a power vacuum inside the Patriotic Union of Kurdistan (PUK).
The PUK won 18 seats, while the ruling Kurdistan Democratic Party (KDP) won 38 seats, and the PUK offshoot Gorran ("Change") Party won 24, including a majority in Sulaimaniyah, a longtime PUK stronghold.
Full report at:
http://www.al-monitor.com/pulse/originals/2013/10/talabani-loses-kurdistan-elections.html#ixzz2hZ5Mquc5
--------
Rise of Islamists Threatens Christian, Human Rights
October 12, 2013
At the conclusion of any meeting or dialogue about Christians in the Muslim world, everyone stands confused, asking, what solutions can we put forth? What recommendations should we submit to those involved in this chronic crisis? These very questions topped the discussions at the conference Eastern Christians in Light of the Arab Spring," held in the Jordanian capital, Amman, Sept. 27-29.
But what if the problem emanates from something other than religion, and the solution also lies elsewhere? What if the issue deep down is not a matter of Christian sects, minorities or religious persecution? What if the issue is fundamentally one of inherent and inalienable human rights, regardless of the person whose rights are being violated? This particular point of view suggests that action is required on three levels.
Full report at:
http://www.al-monitor.com/pulse/originals/2013/10/islamist-middle-east-human-rights.html#ixzz2hZ5WqNsx
--------
Zawahiri sends implied message of support to Muslim Brotherhood
October 12, 2013
DUBAI - Al-Qaeda leader Ayman al-Zawahiri on Friday said Islamists in Egypt and Tunisia were in part responsible for their recent political setbacks, accusing them of having been too conciliatory, in an implied message of support for the Muslim Brotherhood.
A 16-minute audiotape of Zawahiri released on jihadist forums focused on his native Egypt, where he said military-backed authorities were waging war on Islam at the behest of Israel and the United States.
Zawahiri said the increasingly violent conflict between Morsi's Islamist backers and security forces was a "conflict against Islam, a conflict against Sharia (Islamic law), a conflict against admitting the right of the Lord ... in legislation," according to a translation by the US-based SITE Monitoring Service.
Full report at:
http://www.middle-east-online.com/english/?id=61930
--------
Islamists turn to walls in feud with Egypt miltary
Oct 12 2013
Cairo: "Remove it and I'm writing again: Down with the military's rule!" This and other slogans have been ubiquitously daubed on walls of public and private buildings across Egypt since the army deposed president Mohammad Mursi of the Muslim Brotherhood in July following large street protests against his rule.
Islamists, who denounced Mursi's ouster as a military coup, have since spray-painted on walls signs vilifying the army chief Abdul Fattah Al Sisi and the military-installed authorities including interim President Adly Mansour.
Launching what observers describe as a last-gasp battle for the Brotherhood's survival, the 85-year-old group's followers have left virtually no public and private property immune to the anti-military slogans.
Full report at:
http://gulfnews.com/news/region/egypt/islamists-turn-to-walls-in-feud-with-egypt-miltary-1.1242330
----------
Emirati donates SR5 million to save friend from execution
Staff Reporter / 12 October 2013
An Emirati man has saved the life of his Saudi Arabian friend, who was sentenced to death for murdering another friend during a brawl, by donating Dh4.9 million.
Saudi Arabian daily newspaper Sabaq reported that the Emirati had donated nearly SR5 million in blood money to spare his friend from being executed as per the Shariah law.
The report said the Emirati philanthropist had sent the amount to secure a pardon for Abdul Rahman bin Zayed Al Thubaiti Al Otaibi.
Full report at:
http://www.khaleejtimes.com/kt-article-display-1.asp?xfile=data/nationgeneral/2013/October/nationgeneral_October160.xml&section=nationgeneral
--------
South Asia
President Waheed withdraws from October 19 elections
By Neil Merrett | October 12th, 2013
President Dr Mohamed Waheed has announced his withdrawal from the rerun of the 2013 presidential election scheduled for October 19, after polling held last month was annulled by the Supreme Court.
Waheed, who came in last place during the now defunct first round of polling held on September 7 with 5.13 percent of the popular vote, said he had taken his decision in the "greater interest "of the Maldives, citing concerns about the integrity of the independent Elections Commission (EC).
"The court found serious flaws with the election register and considered other allegations of irregularities," stated the President's Office yesterday (October 11).
Despite both local and international observers praising the September 7 polls and the conduct of the Maldives' EC, the Supreme Court ruled in favour of the Jumhooree Party (JP) – whose candidate MP Gasim Ibrahim finished narrowly in third place with 24.07 percent of ballots cast – by ordering a rerun of last month's poll in its entirety.
Full report at:
http://minivannews.com/politics/president-waheed-withdraws-from-election-rerun-68393
----------
Suicide bomber kills three Afghan police: officials
AGENCIES
2013-10-12
JALALABAD: A suicide bomber killed two policemen Saturday when he slammed an explosives-laden car into a police headquarters in east Afghanistan, underlining the country's instability as US Secretary of State John Kerry visited Kabul.
Nangarhar provincial spokesman Ahmad Zia Abdulzai said the attack took place Saturday next to the provincial police chief's office in the capital city of Jalalabad.
Abdulzai says the suicide bomber blew up his car at the main entrance of the police compound, destroying the front of the facility. He said one civilian and two officers had been killed.
Full report at:
http://www.dawn.com/news/1049189/suicide-bomber-kills-three-afghan-police-officials
----------
Familiar Faces and Warlords Set To Dominate Afghan Election Campaign
By Frud Bezhan
October 12, 2013
Twenty-seven presidential hopefuls have registered as candidates for Afghanistan's crucial April 5 vote, setting the stage for a wide-open race among former warlords, powerful officials, and several prominent Western-educated technocrats.
Each candidate has entered the race on a ticket that includes a first and second vice-presidential running mate. These tickets are often the result of political horse-trading that can forge unlikely unions.
In a country where no ethnic group can dominate the political scene on its own, candidates cross ethnic lines to choose high-profile running mates who can marshal votes from specific ethnic communities. The results can defy logic and assumptions based on previous electoral alliances and coalitions.
Full report at:
http://www.rferl.org/content/afghniastan-election-campaign-president-warlords/25129473.html
----------
Political parties launch last minute re-registration drive, ahead of 4:30pm deadline
By Zaheena Rasheed | October 12th, 2013
Political parties launch last minute re-registration drive, ahead of 4:30pm deadline thumbnail
All eligible voters who wish to vote on Oct 19 somewhere other than their permanent address must re-register using the new fingerprint forms.
Voter re-registration will close at 4:30pm today. Forms are available at all island council offices, Addu City Council departments, diplomatic missions and at www.elections.gov.mv. In Malé forms will be accepted at the Elections Commission's registration center on Handhuvaree Hingun.
Full report at:
http://minivannews.com/politics/political-parties-launch-last-minute-re-registration-drive-ahead-of-430pm-deadline-68401
----------
Europe
The Swiss Who Wanted Minarets Banned Embraced Islam
11 October 2013
The Swiss politician Daniel Streich, who rose to fame as a result of his opposition to mosques in his homeland, Switzerland, has now embraced the faith he reviled.
Daniel Streich was a member of the Swiss People's Party in Switzerland. A well-known politician, Streich led the calls for a ban on minarets across Switzerland. He was active in building anti-Muslim sentiments throughout Switzerland.
This sustained campaign led to him being given a high-ranking position in the Swiss Army.
Daniel Streich, born in Bulle, Canton of Fribourg, is a Swiss military instructor, community council member and a former member of Swiss People's Party (SVP).
Streich left the SVP over the campaign for the national ban on the construction of new minarets.
Streich was founding member and president of the Gruyères section of the party from 2003 to 2007. A devout Catholic, he however found Truth when he studied Qur'an, and followed conversion to Islam in 2005. The man who once reviled Islam, and studied Qur'an with the aim to malign it explained the reason for his conversion saying that this newly discovered religion offered him "logical answers to important life questions."
He resigned from his presidency in June 2007 citing his discomfort with certain "extremist" positions of the party, especially the campaign to ban nationwide construction of new minarets.
While Streich in 2007 stated that he had "many Muslim friends" he did not make public his personal conversion to Islam until early November 2009, when he left the Swiss People's Party in protest against their campaign for the impending referendum of Nov, 29, 2009. He then participated in setting up the Conservative Democratic Party cantonal section.
Steich's case was reported by the most read daily newspaper in Switzerland, 20 Minuten on Nov. 23, during the week preceding the referendum and the story was picked up by the tabloid newspaper Blick on the following day.
Streich was an important member of the Swiss People's Party (SVP). His importance could be estimated from his influence on party's policy making, in which he always had a prominent role.
His movement against minarets was aimed at gaining political attention and interest. Streich won the slot of military instructor in the Swiss Army due to his popularity. He was also committed to his party (SVP) and stood as a local politician in the commune of Bulle.
Streich attempted to understand the Qur'an and Islamic teachings in order to argue against Muslims on tenets of their faith. In the course of his efforts, the ex-Christian began to agree with and acknowledge the proclamations of the Qur'an.
Born in a Christian family, Streich had a comprehensive study of Islam merely to malign and confront, but later his Islamic teachings had a deep impact on him.
Eventually he de-linked himself from political activities and he embraced Islam. Streich has termed the SVP activities against the Muslims as satanic.
He says that he used to read the Bible and often went to chapel, but now he recites the Holy Qur'an and offers his prayers five times a day.
He further says that he cancelled his party membership and made public his conversion. Streich says that he has found the truth of life in Islam, which he could not find in Christianity.
"Islam offers me logical answers to important life questions, which, in the end, I never found in Christianity," says Streich. He is now a committed Muslim, who attends the mosque, recites the Qur'an and prays five times a day.
According to figures from the Union of Islamic Organizations and Communities, some 3,000 to 5,000 Italians have recently converted to Islam from Catholicism. Recently the question of ban on minarets was put to voting in Switzerland, wherein the Swiss nationals gave the issue a legal status.
As per voting results 42.5 per cent people voted in favor of the minarets and 57.5 per cent supported the ban, while the Muslim population in Switzerland is only 6 per cent.
The most wondrous thing in this regard, therefore, is the support of 42.5 per cent of population for only six percent Muslims. The analysts claim that ban on minarets and Islamic rituals has attracted the people toward Islam. Streich has now focused his intentions on participating in the building of the new Conservative Democratic Party in the canton of Freiburg.
Freich's new movement is in contrast to his previous one and he aims to promote religious tolerance and peaceful cooperative living, in spite of the fact that ban on mosques minarets has gained a legal status.
He is vehemently opposed to the Minaret ban and is hoping to establish Switzerland's fifth mosque and the most beautiful in Europe.
Meanwhile the SVP have raised concerns over Streich's position as military commander in the army following his conversion citing him as a security risk.
SVP National Council member Alfred Heer cited the Fort Hood shooting spree as an example.
http://www.arabnews.com/news/467363
-------
As Sochi Approaches, Ethnic Russians Continue to Leave the North Caucasus
October 11, 2013
By: Mairbek Vatchagaev
With the Olympics in Sochi scheduled to start on February 7, 2014, the situation in the North Caucasus is not improving as quickly as the authorities in the Kremlin would like (http://www.sochi2014.com/). The steps the Russian government has taken so far appear to be insufficient for any substantial improvement, so the authorities are increasingly resorting to the use of propaganda statements as the opening of the Games draws closer.
Full report at:
http://www.jamestown.org/regions/thecaucasus/single/?tx_ttnews%5Btt_news%5D=41480&tx_ttnews%5BbackPid%5D=54&cHash=095d6bf2cc406f30a6c656d09c837b64#.UljeKdK-rXA
----------
Russian-Led Customs Union More Likely than EU to Islamicize Ukraine
By Paul Goble
Oct 12 2013
Russians opposed to Kyiv's plans to pursue a European rather than Eurasian vector in its foreign policy have raised the specter of all kinds of apocalyptic consequences for Ukraine if it does so. They have suggested that Ukraine will suffer economic collapse, that Russia will "revise" Ukrainian borders, and that the European Union will strip off Crimea and other regions from Kyiv's control. But no more outrageous and flat out wrong prediction has been offered than the notion that if Ukraine integrates with Europe, that country will be overwhelmed by Arab and Islamic immigrants from the Middle East.
Full report at:
http://jamestownfoundation.blogspot.in/2013/10/russian-led-customs-union-more-likely.html
----------
EU report to praise Kurdish peace process
Oct 12 2013
The European Commission is expected to focus on the peace process and the government's attempts to resolve the Kurdish issue as a positive development in its upcoming progress report, due to be released on Oct. 13.
The progress report, a check list on where Turkey stands in the process of aligning with the European Union, will positively reflect on the commencement of peace talks that aim to end terrorism and violence in the country's southeast, pave the way to finding a resolution to the Kurdish issue, and put forward measures that were announced in the democratization package, released last month.
Full report at:
http://www.hurriyetdailynews.com/eu-report-to-praise-kurdish-peace-process.aspx?pageID=238&nID=56127&NewsCatID=351
----------
UN rights commissioner urges Iraq to halt executions
Oct 12 2013
The UN High Commissioner for Human Rights has called on Iraq to halt all executions and commute the sentences of hundreds of people sentenced to death.
A spokesman for Navi Pillay said the executions on Tuesday and Wednesday of 42 people convicted of terrorism charges was "obscene and inhumane".
The claim that the death penalty helped deter terrorism was a "fallacy", given the surging violence in Iraq, he added.
The number of people executed in Iraq rose from 18 in 2010 to 123 in 2012.
So far this year, the authorities have carried out 140 executions, according to figures compiled by the UN Assistance Mission in Iraq.
Full report at:
http://www.bbc.co.uk/news/world-middle-east-24493841
----------
Africa
Nigeria: Suicide Bombers Now Package IEDs in School Bags
BY ISMAIL MUDASHIR, 12 OCTOBER 2013
Kano — Insurgents now hide explosive devices in a new tactics to unleash terror on citizens during the sallah cerebration, Weekly Trust reports.
To continuously wreck havoc on citizens during the forthcoming sallah, terrorists are now packaging Improvised Explosive Devices (IEDs) in school bags for suicide bombers, the Joint Task Force (JTF) in Kano State has raised alarm. The innovation, according to the JTF, was copied from Boston in the United States where two bombers strike, killing three and injuring many during a marathon last April.
Full report at:
http://allafrica.com/stories/201310120190.html?viewall=1
----------
Mali takes baby steps toward protecting former child soldiers
Integrated Regional Information Networks, Humanitarian news and analysis
Oct 12 2013
BAMAKO, 11 October 2013 (IRIN) - Just a handful of the hundreds of Malian children believed to have been drawn into the country's recent conflict are formally receiving help. Bamako authorities say the involvement of children in conflict is a new phenomenon in the country, and they are striving to protect the minors under a fledgling set of regulations.
When Islamist groups Ansar Dine, Movement for Unity and Jihad in West Afria (MUJAO) and Al-Qaeda in the Islamic Maghreb (AQIM) and rebels from the Tuareg separatist National Movement for the Liberation of Azawad (MNLA) seized northern Mali after the March 2012 coup, an unknown number of children were recruited, sometimes forcibly, into the armed movements.
Full report at:
http://www.irinnews.org/report/98922/mali-takes-baby-steps-toward-protecting-former-child-soldiers
----------
Gaddafi-era spy chief al-Senussi to be tried in Libya
Oct 12 2013
The International Criminal Court (ICC) has ruled that Libya's Gaddafi-era intelligence chief, Abdullah al-Senussi, can be tried in Libya.
The decision means that the ICC will no longer demand that Mr Senussi be sent to The Hague to stand trial.
The former military intelligence boss was indicted by the ICC in 2011 for war crimes allegedly committed during the uprising against Colonel Gaddafi.
Mr Senussi's lawyer, Ben Emmerson, described it as a "shocking decision".
Mr Emmerson said he would be appealing against the ruling.
Full report at:
http://www.bbc.co.uk/news/world-africa-24493885
----------
Tunisia Islamists ready to hand over power, see spring election
Oct 12, 2013
TUNIS (Reuters) – A black and white photograph on Rached Ghannouchi's desk shows him as a young activist proclaiming the birth of a Tunisian Islamist movement that three decades later would win the first elections after the Arab uprisings. But having inspired Islamists across the Middle East by rising to power following Tunisia's 2011 popular revolution, Ghannouchi's moderate Islamist Ennahda party now finds itself within weeks of voluntarily stepping down. Full report at:
http://www.firstpost.com/world/tunisia-islamists-ready-to-hand-over-power-see-spring-election-1167733.html?utm_source=ref_article
----------
Pakistan
Malala is Pakistan's pride, says Nawaz Sharif
Oct 12 2013
ISLAMABAD: Prime Minister Nawaz Sharif has called Malala Yousafzai the pride of the nation.
In a statement, the prime minister said Malala was an asset for the country.
The prime minister stated Malala had made the nation proud at every forum, adding she was a role model for the young generation. Malala who was shot in the head by the Taliban last year, failed to win this year's Nobel Peace Prize which was awarded to the Organisation for the Prohibition for Chemical Weapons (OPCW).
Full report at:
http://www.dailytimes.com.pk/default.asp?page=2013\10\12\story_12-10-2013_pg7_6
----------
Combating militant ideologies: State organs asked to put their acts together
October 12, 2013
ISLAMABAD: The state has to "put its act together" if it wants to counter militant ideologies and create a peaceful society, speakers at a seminar said on Friday.
"It is a big challenge to tackle the prevailing environment of religious extremism," Tariq Khosa, former inspector-general of the Balochistan police, said describing it as a "mindset" and "a product of faulty policies."
The seminar, titled "Creating an environment that counteracts militant ideologies and radicalism in Pakistan", was organised by the Pakistan Institute for Peace Studies (PIPS) in collaboration with the Norwegian Peace-building Resource Centre (NOREF).
Full report at:
http://tribune.com.pk/story/616926/combating-militant-ideologies-state-organs-asked-to-put-their-acts-together/
----------
The blueprint of a package deal with Taliban
Shaheen Sehbai
October 12, 2013
WASHINGTON: What are the terms of engagement for talks that chief spokesman and information minister Pervez Rashid says have already begun between the Taliban and the Nawaz Sharif government. Apparently the TTP is jacking up its negotiating position and military muscle is being demonstrated to get a better start. Bombs all over the country are exploding while any contact with the official middlemen is being denied. Demands have been raised to a total denial of existence of the Pakistani State and its constitution and geographic boundaries. Allegience to Mulla Omar has been reaffirmed and the larger alliance with Al-Qaeda and Afghan Taliban has been underlined.
Full report at:
http://www.thenews.com.pk/Todays-News-13-26036-The-blueprint-of-a-package-deal-with-Taliban
--------
Taliban 'delighted' Malala missed out on Nobel
October 12, 2013
MIRAMSHAH: The outlawed Tehreek-e-Taliban Pakistan (TTP) said they were 'delighted' that Malala Yousafzai missed out on the Nobel Peace Prize on Friday.
They had shot Malala in the head on her school bus on October 9 last year for speaking out against them, and brazenly added that they would do it again.
TTP central spokesman Shahidullah Shahid said the 16-year-old had done nothing to deserve the Nobel, which went to the Organisation for the Prohibition of Chemical Weapons (OPCW) for its work to rid the world of chemical arms.
Full report at:
http://tribune.com.pk/story/616977/taliban-delighted-malala-missed-out-on-nobel/
----------
Talks with militants within constitutional parameters: Kayani
PTI | Oct 12, 2013
ISLAMABAD: The Pakistani military fully backs the government?s move to hold peace talks with banned militant groups but these parleys must be held within constitutional parameters, army chief Gen Ashfaq Parvez Kayani said today.
There is an opinion that the government was forced to go in for talks with militants because of the failure of military operations but this is far from the truth, he said.
Kayani, set to retire next month after leading the army for six years, further stressed the need for strengthening democracy while addressing a passing-out parade at the Pakistan Military Academy in Abbottabad.
Full report at:
http://timesofindia.indiatimes.com/world/pakistan/Talks-with-militants-within-constitutional-parameters-Kayani/articleshow/24049836.cms
--------
Indian military leadership's comments provocative: General Kayani
PTI | Oct 12, 2013
ISLAMABAD: Pakistan army chief Gen Ashfaq Parvez Kayani today criticised the Indian military leadership, saying their remarks about the Pakistani military and ISI's support to terrorism were "unfortunate, unfounded and provocative".
Pakistan was concerned about "continued violations of the Line of Control (LoC)", Kayani was quoted as saying in a statement issued by the military.
His remarks came against the backdrop of continuing tensions along the LoC in Jammu and Kashmir, including over an infiltration attempt in Keran sector by terrorists with the alleged backing of Pakistani troops.
Full report at:
http://timesofindia.indiatimes.com/world/pakistan/Indian-military-leaderships-comments-provocative-General-Kayani/articleshow/24054151.cms
-----------
Balochistan CM asks militants to stop attacks in quake-hit areas
SALEEM SHAHID
2013-10-12
QUETTA: Balochistan Chief Minister Dr Abdul Malik Baloch has once again urged militant groups to stop attacks on teams engaged in relief work in the quake-affected areas of the province.
Talking to notables of Awaran district here on Friday, the chief minister said that use of force had never been a solution to any problem.
"Even though militants are continuously attacking members of relief teams, the government has decided to continue relief operation in affected areas," he said.
Commander of Southern Command Lt Gen Nasir Khan Janjua and Chief Secretary Babar Yaqoob Fateh Mohammad were present on the occasion.
Full report at:
http://www.dawn.com/news/1049181/cm-asks-militants-to-stop-attacks-in-quake-hit-areas
----------
Karzai's quest Afghan: Taliban lambast Fazl over Kabul visit
October 12, 2013
ISLAMABAD: The Afghan Taliban on Friday heaped scorn at Jamiat Ulema-e-Islam (JUI-F) chief Maulana Fazlur Rehman for undertaking a visit to Kabul on the invitation of President Hamid Karzai and making a mockery of the deaths of thousands of people during Karzai's rule.
The JUI-F chief, who is considered as a pro-Taliban leader, took a five-member delegation to Kabul after a stopover at Dubai to meet President Karzai and members of the High Peace Council on Friday.
Full report at:
http://tribune.com.pk/story/616993/karzais-quest-afghan-taliban-lambast-fazl-over-kabul-visit/
----------
Bashir seeks "breakthrough'' in Indo-Pak economic relations
Oct 12 2013
Stating that Pakistan was committed to seeking improvement of relations with India, Pakistan High Commissioner, Salman Bashir strongly asked the India-Pakistan Joint Business Forum to work for a "breakthrough'' in economic and trade relations between the two nations.
Addressing the members of the India-Pakistan Joint Business Forum here at the end of the two-day meeting, Mr. Bashir said the newly elected Nawaz Sharif government was fully committed to improving ties with India. "The Joint Business Forum should steer the process for achieving 'breakthrough' in Pakistan-India economic relations by identifying opportunities, impediments and prescribing solutions. Economic and trade cooperation has to be mutually beneficial and on equitable terms. The private sector should also play its role in positively influencing political and public opinion and in suggesting a pragmatic course for unlocking the collective potential for development,'' he told the delegates from both sides. Mr. Bashir also emphasised on the importance of resumption of dialogue process.
Full report at:
http://www.thehindu.com/business/bashir-seeks-breakthrough-in-indopak-economic-relations/article5228748.ece
----------
India
For Modi 'Dilli door hai', (Delhi is too far away) Maulana Vastanvi says
Ramu Bhagwat, TNN | Oct 12, 2013
NAGPUR: Two years ago Maulana Ghulam Mohammad Vastanvi shot into controversy for saying that Gujarat had indeed developed under the stewardship of Narendra Modi and that it was time to move on forgetting the rancour of 2002 riots. He had to pay a heavy price for it. Vastanvi was forced to quit as vice-chancellor of the Dar-ul-Uloom, Deoband, the nation's highest Islamic seminary.
A much chastened Vastanvi, who now heads the Akkalkuwan Seminary in Nandurbar district close to Gujarat border, sees no chance for Modi ascending the prime minister's seat. "Dilli Modi ke life mein abhi bahut door hai (its too distant a dream for Modi)," he says.
Respected highly for spreading education among the Muslim community, Vastanvi was in the city for a renovated Eidgah's inauguration in Sadar area. The Maulana was also felicitated on the occasion by chief minister Prithviraj Chavan.
Full report at:
http://timesofindia.indiatimes.com/india/For-Modi-Dilli-door-hai-Maulana-Ghulam-Mohammad-Vastanvi-says/articleshow/23999511.cms
----------
India, Pakistan not at 'resumed talks' stage: Salman Khurshid
Oct 12 2013
On Board PM's Special Aircraft : Making it clear that India and Pakistan are not at a stage where they can resume dialogue, External Affairs Minister Salman Khurshid on Saturday said recent incidents on the LoC are "upsetting" and are not conducive to the normalisation of ties.
"I must make it very clear that we have not reached a stage where we have done something like 'so-called resumed talks'. We used to have a composite dialogue and that composite dialogue got suspended and then we began to move towards a process to resume that dialogue subsequently," he said.
Full report at:
http://www.indianexpress.com/news/india-pakistan-not-at-resumed-talks-stage-salman-khurshid/1181709/
----------
Muslims should overcome dependence on state: Experts
TNN | Oct 12, 2013
AURANGABAD: Experts on Friday stressed on the need for Muslims to overcome their dependence on the state and to initiate steps in the direction of obtaining modern education and technical knowledge.
They were speaking at the inauguration of a two-day seminar on 'What ails Indian Muslims', organized by the Dr Babasaheb Ambedkar Marathwada University's political science department and the Centre for Promotion of Democracy and Secularism (CPDS) on the university campus.
Full report at:
http://timesofindia.indiatimes.com/india/Muslims-should-overcome-dependence-on-state-Experts/articleshow/24003641.cms
----------
Pak kills Indian fisherman; abducts 30 others off Gujarat coast
PTI Ahmadabad, October 12, 2013
An Indian fisherman was killed and 30 others were allegedly kidnapped by Pakistani Maritime Security Agency, which took them away in five boats from international waters off Jakhau coast in Gujarat, a member of fishermen boat association said in Ahmedabad on Saturday.
"Pakistani agencies started indiscriminate firing on fishing boat 'Dhanvati', on Friday morning at around four when they were fishing in international waters," Porbandar Boat association vice-president Manish Lodhari told PTI.
Full report at:
http://www.hindustantimes.com/India-news/Ahmedabad/Pak-kills-Indian-fisherman-abducts-30-others-off-Gujarat-coast/Article1-1134248.aspx
--------
Southeast Asia
Muslims can't stop others from using the word Allah, says PAS president
OCTOBER 12, 2013
PAS president Datuk Seri Abdul Hadi Awang (pic) today weighed in on the controversial "Allah" row, saying there is nothing wrong with non-Muslims using the term in their faiths provided it is not misused or misinterpreted.
"There is no law that does not allow other people to use the word 'Allah', but if they interpret it wrongly to Muslims, they need to answer because Allah means He is the only God to be worshiped," Hadi said after launching a seminar on Shariah at the Universiti Selangor in Shah Alam, today.
Full report at:
http://www.themalaysianinsider.com/malaysia/article/muslim-cant-stop-others-from-using-the-word-allah-says-pas-president
----------
Indonesia, India take further steps to strengthen relationship
October 12 2013
Indonesia and India agreed on Friday to boost relations after the leaders of the two countries held a bilateral meeting in Jakarta that saw the signing of four agreements designed to increase cooperation between the two nations.
Indian Prime Minister Manmohan Singh and President Susilo Bambang Yudhoyono said that the two countries faced the same challenges and opportunities in the future.
"We realize we have great potential. We also realize we face the same challenges. Therefore, the strategic partnership between Indonesia and India should be based over the long term for the benefit of the two countries," President Yudhoyono said during a joint press statement after the meeting at the Merdeka Palace on Friday.
Full report at:
http://www.thejakartapost.com/news/2013/10/12/indonesia-india-take-further-steps-strengthen-relationship.html
---------
Mideast
Iran's Public Executions Prompt Fatal Reenactment
By Mahtab Vahidi Rad
October 10, 2013
When 12-year-old Mehran placed a noose around his neck and hanged himself with the help of his younger brother, suicide was the furthest thing from his mind.
Instead, the boy was playing a game. And his fatal inspiration was a public execution of the sort often seen in his home province of Kermanshah in western Iran.
Mokhtar Khandani, a journalist working for the Mokrian News Agency, remembers the details well. Immediately after the boy died on August 31, Khandani traveled to the little village of Kelashlulem to talk to a family unable to understand what had just happened.
"I talked to the family members, with his mother, his father, and his uncles," Khandani says. "They told me the younger brother prepared it, and the 12-year-old brother, Mehran, hanged himself. The younger brother thought Mehran was joking. After some time the younger brother became scared and let the grownups know. Unfortunately when they arrived they saw the child had already passed away."
Full report at:
http://www.rferl.org/content/iran-hanging-rights-un/25131488.html
----------
Hackers place Islamic call to prayer on Israeli websites
World Bulletin / News Desk
Oct 12 2013
Turkish computer hackers have placed the Islamic call to prayer on official Israeli websites after the Israeli Prime Minister Benjamin Netanyahu moved to ban the call in Israel. The website attack is believed to have been carried out by Team Ayyildiz.
Netanyahu's Likud Party has proposed the measure for their election campaign on 22 October. While Arabs living in Israeli are enraged by this idea, Turkish cyber warriors have also expressed their anger.
Full report at:
http://www.worldbulletin.net/?aType=haber&ArticleID=120363
----------
200 Jerusalem Palestinian families without homes
Oct 12 2013
Ramallah: At least 200 Palestinian families of occupied East Jerusalem are homeless and temporarily living in the houses of their relatives and friends due to home demolitions by the Israeli occupation, with no respite in sight.
The residents have called for the setting up a housing fund in the holy city to no avail.
Palestinian families whose houses have been demolished by the Israeli military bulldozers have been moving to areas behind the Israeli segregation barrier. In doing so, they are taking the risk of losing their Israel-issued Jerusalem identity cards.
Full report at:
http://gulfnews.com/news/region/palestinian-territories/200-jerusalem-palestinian-families-without-homes-1.1242334
--------
North America
US President, First Lady meet Malala Yousafzai at the Oval Office
Oct 12 2013
Washington: US President Barack Obama and First Lady Michelle Obama have met Pakistani teenage activist Malala Yousafzai in the Oval Office of the White House and praised her remarkable courage and efforts.
"President Barack Obama and First Lady Michelle Obama on Saturday welcomed Malala Yousafzai to the Oval Office to thank her for her inspiring and passionate work on behalf of girls education in Pakistan," the White House said after the meeting yesterday.
US joins with the Pakistani people and so many around the world to celebrate Malala's courage and her determination to promote the right of all girls to attend school and realise their dreams, the White House said.
Full report at:
http://www.indianexpress.com/news/us-president-first-lady-meet-malala-yousafzai-at-the-oval-office/1181664/
----------
U.S. Muslims to Mark End of Hajj with Prayers
Oct 12 2013
(WASHINGTON, D.C., 10/11/13) - On Tuesday, October 15, American Muslims will mark the end of the yearly pilgrimage to Mecca, or Hajj, with communal prayers and celebrations at locations around the country.
The prayers and the holiday that follows are called Eid ul-Adha (EED-al-ODD-ha), or "festival of the sacrifice." Eid ul-Adha also commemorates the Prophet Abraham's willingness to sacrifice his son Ishmael at God's command. The holiday is celebrated with the prayers, small gifts for children, distribution of meat to the needy, and social gatherings. During this holiday, Muslims exchange the greeting "Eid Mubarak" or "blessed Eid." Each year, some two million Muslims, including thousands of American Muslims, go on Hajj.
Full report at:
http://ca.cair.com/losangeles/news/u.s._muslims_to_mark_end_of_hajj_with_prayers
----------
US "deeply concerned" about legal actions potentially delaying Maldives' October 19 election
By JJ Robinson | October 11th, 2013
US "deeply concerned" about legal actions potentially delaying Maldives' October 19 election thumbnail
New voters and voters who wish to vote from a location other than their home island must submit the NEW fingerprint re-registration form by 4:30pm Saturday October 12, in line with Thursday night's Supreme Court ruling. People who re-registered prior to the Sept 7 election will need to complete the process again, or may be unable to vote. Fingerprint forms submitted on Oct 9-10 will still be valid.
Full report at:
http://minivannews.com/politics/us-%E2%80%9Cdeeply-concerned%E2%80%9D-about-legal-actions-potentially-delaying-maldives-october-19-election-68327
----------
Progress on US-Afghan deal as Kerry visits Kabul
October 12, 2013
KABUL: President Hamid Karzai and US Secretary of State John Kerry held a second day of talks in Kabul Saturday after making progress over a long-delayed deal on the future of US forces in Afghanistan.
Karzai said this week that he was prepared to walk away from negotiations on the Bilateral Security Agreement (BSA) that would allow some US troops to stay in the country after 2014.
But the United States has pressed for the pact to be signed within weeks so that the US-led Nato military coalition can schedule its withdrawal of 87,000 combat troops by December 2014.
Full report at:
http://tribune.com.pk/story/617084/progress-on-us-afghan-deal-as-kerry-visits-kabul/
----------
URL: https://www.newageislam.com/islamic-world-news/new-age-islam-news-bureau/syrian-army-kills-130-in-fight-for-damascus-suburbs,-say-rebels/d/13970