New Age Islam News Bureau
29 March 2014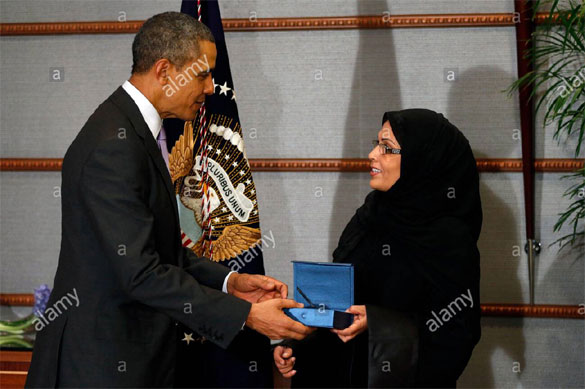 US President Barack Obama (left) presents the executive director of Saudi Arabia's National Family Safety Program Maha Al Muneef with the US Secretary of State's International Woman of Courage Award in Riyadh, on March 29, 2014. -- PHOTO: REUTERS
---------------
Arab World
• Syria in Last 24 Hours: Army Kills 500 Foreign-Backed Militants near Turkish Border
• At Least 30 Dead in Fighting in Anbar Province, Iraq
• Sunni Days for Saudi's Hired Gun Pakistan, As Obama Visits Riyadh
• Five killed as Egypt police, Islamists clash: Official
• Syrian regime forces take two villages near Lebanon
• Egypt reopens border crossing with Gaza after two months
• Assad Preparing To Run For President Despite War
North America
• Obama Meets Saudi Woman Activist after Reassuring King on Ties
• Obama to Saudi king: US will not agree to bad nuclear deal with Iran
• Obama Weighs New Aid for Gunmen in Syria, Sets Joint Military Plan with Saudis
• Obama says direct U.S intervention could not have ended Syrian war
• US issues scathing attack against UNHRC for singling out Israel
• FBI Wanted Boston Bombing Suspect 'to Be Informant'
South Asia
• Radical Islamist group Hefazat-e-Islam plans showdown in Chittagong city
• 4 Afghan soldiers, 26 militants killed in various incidents
• Afghan election HQ attacked by militants: official
• Myanmar says 'Rohingya' term banned from census
• Khaleda: New gen should learn original history
• Ex New Zealand PM sees scope for more scholarships for Bangladeshi students
• Bank of Korea joins Islamic finance body IFSB
Africa
• Moroccan king attends prayers led by reformed Salafi-jihadist
• Nigeria: Benue Suspects Chemical Attack in 200 Deaths
• 20 killed in grenade attack in Central Africa
• S. Sudan army thwarts rebel attack on Malakal
• Tunisia jails leader of controversial pro-Islamist group
• Poems and Cities: a tour in western Libya
Mideast
• President Gül vows 'no tolerance' for those responsible for Syria leak
• PM Netanyahu tells US that coalition could collapse if Israel-Arab prisoners released
• Turkey Leaks Unmask Military Plot against Syria, Erdogan Mad to Justify
• Danon: Peace talks going nowhere, Palestinians only want terrorists freed
• Israel kills 2 Syrian 'infiltrators', says army
• Israel 'no' on prisoners 'slap in face' to peace: Palestinians
• Twitter wins a key case against Turkish government
• Rabbi rules copying work in university is permitted in Jewish law
Southeast Asia
• Indonesians discuss ways to save youths from jihadist wars
• Moro Muslims want Christian mayor to respect treaty
• Saudi Family Agrees to Less 'Blood Money' for Indonesian Maid on Death Row
• No curb on Sarawak Christians' use of 'Allah' as long as I am CM, says Adenan
Pakistan
• Minor girl killed, 15 injured in Quetta explosion
• MQM elements involved in extortion, killings, alleges Former MQM leader
• Pakistani journalist Raza Rumi attacked in Lahore, 1 killed
• Education a national emergency, says Nawaz Sharif
• Militancy threatens Pakistan's growth, IMF warns
• 'War on terror' has failed, diplomacy needed: Fazal ur Rahman
• PPP condemns awarding death sentence to Sawan Masih, terms it miscarriage of justice
Europe
• UN rights forum calls for use of armed drones to comply with law
• Russia: Rise in Terrorist Activities in Syria Intended to Stymie Syrian Talks, CWs Removal
• West accuses Syria over 3.5 million in need
E• gypt's military held considerable sway over political decisions in 2013: EU annual report
• Over a million flee South Sudan conflict, U.N. says
India
• India, Pak must talk to end militancy in J&K: Farooq Abdullah
• IM terrorists contribute to self-finance their activities: ATS
Compiled by New Age Islam News Bureau
URL: https://www.newageislam.com/islamic-world-news/new-age-islam-news-bureau/syria-in-last-24-hours--army-kills-500-foreign-backed-militants-near-turkish-border/d/66334
-----------
Arab World
Syria in Last 24 Hours: Army Kills 500 Foreign-Backed Militants near Turkish Border
Mar 29, 2014
The Syrian army killed hundreds of foreign-backed militants in the Northern parts of the war-hit country.
The army units killed 500 terrorists who were trying to enter Syria from neighbouring Turkey.
Also in the past 24 hours, the Syrian army killed a senior militant commander in the Damascus countryside.
The army units killed head of the Opposition Military Council in Al-Qalamoun region in Damascus countryside on Thursday.
Also, the Syrian army killed a notorious terrorist ringleader in Felita region.
The army killed Ahmad Navaf, commander of Seif Al-Haq battalions, in heavy clashes in Felita region.
Meantime, Syrian President Bashar al-Assad warned of the dangers of terrorism and extremism backed by the West and some countries in the region.
President al-Assad cautioned, during a meeting Thursday with an Armenian parliamentary delegation, that this extremist ideology poses a threat of fragmenting the region that has been historically characterized by cultural and social diversity, Syrian Arab News Agency reported.
Elsewhere, Turkey's main opposition party criticized Prime Minister Recep Tayyip Erdogan for his policy on neighbouring Syria.
"The world's most immoral man is currently occupying the Turkish prime minister's seat. He wants to drag Turkey into a war against Syria," said Kemal Kilicdaroglu, the leader of the Republican People's Party (CHP), in an interview with al-Monitor on Thursday.
Kilicdaroglu also noted that Erdogan's ruling Justice and Development Party (AKP) is playing good-cop, bad-cop with the foreign-backed militants fighting against the government of Syrian President Bashar al-Assad.
The opposition leader went on to say that the current conflict in Syria is not a threat to Turkey.
Elsewhere, a car bomb blast rocked al-Arman neighborhood in the city of Homs, claiming the life of a civilian and injuring 11 others.
A source in Homs province said that the Thursday bombing took place in the main street in the neighborhood where militants had earlier parked the car.
The source said most of the injured are women and children, adding that the terrorist attack also caused great material damage to a number of houses, cars and shops.
http://english.farsnews.com/newstext.aspx?nn=13930108000225
-----------
At Least 30 Dead in Fighting in Anbar Province, Iraq
Mar 29, 2014
Ongoing clashes between Al-Qaeda linked fighters and government soldiers in Anbar province left at least 30 people dead and injured 50 others.
Army forces began shelling the region of Zoba, South of Fallujah, sparking clashes with militants, Ria reports citing local media, RT reported.
The government forces are continuing their effort to recapture Fallujah, Ramadi and parts of Anbar provincial since extremists seized control in early January.
http://english.farsnews.com/newstext.aspx?nn=13930109000116
-----------
Sunni Days for Saudi's Hired Gun Pakistan, As Obama Visits Riyadh
Chidanand Rajghatta,TNN | Mar 28, 2014
WASHINGTON: US President Barack Obama headed into Riyadh on Friday evening on a brief visit to Saudi Arabia, a long-time ally with which ties are fraying amid rapid changes in the region through events that also touches the Indian sub-continent.
Things have soured quite dramatically between Washington and Riyadh, which have long enjoyed an oil-for-security equation from the time President Roosevelt sealed an alliance with Saudi's Founding King Abdul Aziz. But several developments in the region, topped with America's own discovery of a vast trove of energy at home through shale gas exploitation, had disrupted the cozy arrangement. Meanwhile, pressure is growing on the White House to call the Saudi kingdom to account for its human rights excesses and funding of Sunni extremism through the region.
Just ahead of his departure, Amnesty International challenged Obama to take a female Secret Service driver with him to Riyadh to show his displeasure over the medieval Saudi Kingdom's ban on women driving — the only country in the world with such an absurd rule. Some 70 US lawmakers also wrote to the US President urging him to raise critical human rights issue with the Saudis. Earlier this week, Washington feebly complained about the Saudis denying a visa to the Washington-based bureau chief of the Jerusalem Post who planned to cover the Obama visit.
But these will be trifles as Obama deals with what White House sees as larger issues. He will also likely hear a laundry list of complaints from Saudis - the perceived US betrayal of Saudi interests arising from Washington's recent overtures towards Iran, to letting Riyadh down in Syria. In both countries, Saudis are fighting for Sunni influence in the region again Shia-dominated regimes. In neighbouring Bahrain, it is backing a minority Sunni regime against a majority Shia uprising.
In fact, the Sunni axis that Saudi Arabia has forged comes close to India's borders, since Pakistan is the hired gun Riyadh has chosen to act as an enforcer. According to reports in the Pakistani media, Saudi Arabia transferred a whopping $1.5 billion to Islamabad earlier this month, ostensibly to shore up Pakistan's economy.
While the Nawaz Sharief government confirmed the transfer as "no-strings-attached" grant from a "friendly" government, the scuttlebutt in strategic circles is that it is payoff for Pakistani foot-soldiers waging Saudi bankrolled jihad in Bahrain and Syria, among other places.
In fact, Washington's biggest fear is that the Saudis are also making sure they have access to the Pakistani nuclear arsenal just in case the US easing of pressure on Teheran results in Shiite Iran going nuclear. The Saudis have said as much, that they will be forced to go nuclear if Iran does. The Saudis are also ticked off with Washington over events in Egypt, where Riyadh is opposed to the Muslim Brotherhood, whose deposed ruler Mohammed Morsi, was backed by Qatar, home to the satellite channel Al Jazeera, which is also seen as being inimical to the Saudi Kingdom.
President Obama enters this snake pit at a time the sentiment in the US is increasingly to withdraw from regions where Washington has no strategic interest. Indeed, the rapid decline in US dependence on middle-east oil, affords this.
But the flip side is Washington's withdrawal will enable the spread of both toxic Sunni fundamentalism and Shiite resurgence that will come with an invigorated Iran. Both developments will bring trouble to the India-Pakistan region.
On its part, the Obama administration has ignored every report pointing to Pakistani malfeasance - from the sheltering of Osama bin Laden by its military-intelligence, to its secret nuclear deal with the Saudis, to its export of mercenary foot-soldiers to Bahrain and Syria. With Secretary of State John Kerry seemingly well disposed to it, Islamabad is easing its way back into American favour.
As a first stem, the US is reported to be considering channelling some of the huge surplus of military equipment in Afghanistan, worth some $7 billion, to Pakistan, even as it exits from the region. None of this augurs well for a new government that will come into place in New Delhi in May, particularly given India's own bilateral problems with Washington over trade and administrative issues that has put the strategic dialogue on the backburner.
http://timesofindia.indiatimes.com/world/us/Sunni-days-for-Saudis-hired-gun-Pakistan-as-Obama-visits-Riyadh/articleshow/32861236.cms
---------
Five killed as Egypt police, Islamists clash: Official
AFP | Mar 29, 2014
CAIRO: Five people including an Egyptian woman journalist were killed in Cairo on Friday as police clashed with Islamists protesting against ex-army chief Abdel Fattah al-Sisi's presidency bid, the interior ministry said.
The violence erupted in a deeply polarised Egypt as supporters of deposed president Mohamed Morsi took to the streets of Cairo, Alexandria and other cities to vent their anger at Sisi who overthrew the Islamist leader nine months ago.
Mayada Ashraf, who worked for privately owned Al-Dustour newspaper and freelanced for news website Masr Alarabia, was shot in the head while covering clashes in the northern neighbourhood of Ein Shams, a security official said.
Four more people were killed in the same violence and 11 others wounded by birdshot and live ammunition, the interior ministry said.
It said 79 Morsi supporters were arrested nationwide in possession of Molotov cocktails and fireworks.
In her last report published on Al-Dustour website, Ashraf said the clashes were pitting Morsi supporters against civilian opponents, adding the two sides traded fire with live ammunition and birdshot.
It was unclear when her report was filed during the clashes, in which police later intervened.
A colleague from Masr Alarabia who was with her told AFP they split up as police clashed with protesters, and they went in different directions.
"I later called her telephone to check up on her but a protester answered, and said she had died with a bullet to the head," Mohamed Rabie said.
Rabie said the protesters carried her corpse to a nearby mosque, where he found it.
The interior ministry blamed the killings on Morsi supporters, saying armed protesters opened fire at random. One victim, another woman, was stabbed to death, the ministry spokesman said.
But protester Galal Ali told AFP that it was police who fired at the crowd as demonstrators were about to disperse.
Nineteen people were wounded nationwide, four in the northern province of Damietta and 15 in Cairo, health ministry official Khaled al-Khatib told AFP.
Violence rocked other parts of Cairo. Al-Azhar Islamic university students hurled Molotov cocktails and stones at riot police who fired tear gas to disperse them in Madinat Nasr of eastern Cairo, security officials said.
Elsewhere in the country, police fired tear gas to disperse several Islamist protests, state news agency MENA reported.
Sisi, who was also defence minister and deputy prime minister, announced his resignation on Wednesday to enable him to stand in the election.
On Friday, dozens of his supporters also demonstrated to celebrate his candidacy, carrying Egyptian flags and his portraits in the Mediterranean city of Alexandria and Cairo's iconic Tahrir Square, symbol of the 2011 uprising that toppled veteran president Hosni Mubarak.
His candidacy is likely to further inflame Islamist protesters and worry secular activists who fear a return to rule by the military and the strong-arm tactics of the Mubarak era.
Sisi faces no serious competition in his bid for the presidency and is widely seen as the only leader able to restore order after more than three years of turmoil.
The electoral committee said it will hold a news conference on Sunday to announce the timetable of the presidential election, MENA reported.
The poll is scheduled to take place before June. Morsi's Muslim Brotherhood has rejected Sisi's candidacy outright and a coalition of his supporters had called Friday's protests.
"What we said nine months ago was confirmed and the mask fell off from the face of the coup leader... with the announcement of his candidacy to 'the bloody presidency'," it said in a statement Thursday.
Sisi "broke the oath he made before the elected president Mohamed Morsi by toppling him and made the Egyptian army enter the political arena with him," the coalition added.
Sisi is believed to be the real power behind interim president Adly Mansour, under whose watch police have killed hundreds of Islamist protesters and detained about 15,000 suspects since Morsi's ouster.
The crackdown has stirred international concern and outrage after 529 Morsi supporters were sentenced to death this week over deadly riots.
http://timesofindia.indiatimes.com/world/middle-east/Five-killed-as-Egypt-police-Islamists-clash-Official/articleshow/32870610.cms
-----------
Syrian regime forces take two villages near Lebanon
World Bulletin / News Desk
Mar 29, 2014
Syrian forces took control of two villages near the Lebanese border on Saturday after driving out rebels, state media said, helping President Bashar al-Assad secure the route connecting Damascus with Aleppo and the Mediterranean coast.
The fall of Flita and Ras Maara, two of the last rebel bastions in the area, is likely to push militants and refugees over the border into Lebanon, risking further destabilising the Mediterranean country whose own 15-year civil war ended in 1990.
"The Army and Armed Forces restored stability and security to the towns of Ras Maara and Flita ... after getting rid of the fleeing terrorists and destroying their weapons," state news agency SANA said.
Full report at:
http://www.worldbulletin.net/headlines/132331/syrian-regime-forces-take-two-villages-near-lebanon
-----------
Egypt reopens border crossing with Gaza after two months
Mar 29, 2014
Egypt has partially reopened its border crossing with the Hamas—ruled Gaza Strip on Saturday after closing it for almost two months.
The Hamas—run Interior Ministry said on its website that Egypt partly opened the Rafah crossing, the Palestinian enclave's only window to the outside world, in both directions for three days.
The travel is limited to patients, students, and holders of foreign passports, said the Interior Ministry statement.
Up to 10,000 Palestinians have applied to exit through Rafah, the ministry said.
Around 150 to 300 people can leave Gaza each day through the crossing.
Since the closure, Egypt has partly reopened it three times to allow the travel of Palestinian pilgrims to Saudi Arabia.
Full report at:
http://www.thehindu.com/news/international/world/egypt-reopens-border-crossing-with-gaza-after-two-months/article5848541.ece
-----------
Assad preparing to run for president despite war
AP | Mar 29, 2014
BEIRUT: Syrian President Bashar al-Assad is quietly preparing the ground to hold elections by early this summer to win another 7-year term, even as the Syrian conflict rampages into its fourth year with large parts of the country either in ruins or under opposition control and nearly a third of the population scattered by civil war.
Amid the destruction, which has left more than 140,000 dead, presidential elections may seem impossible. But Syrian officials insist they will be held on time.
The election is central to the Syrian government's depiction of the conflict on the international stage. At failed peace negotiations earlier this year in Geneva, Syrian officials categorically ruled out that Assad would step down in the face of the rebel uprising aimed at ousting him. Instead, they present the elections due at the end of Assad's term as the solution to the crisis: If the people choose Assad in the election, the fight should end; if Assad loses, then he will leave.
Full report at:
http://timesofindia.indiatimes.com/world/middle-east/Assad-preparing-to-run-for-president-despite-war/articleshow/32909189.cms
-----------
North America
Obama meets Saudi woman activist after reassuring king on ties
2014-03-29
RIYADH: US President Barack Obama met a Saudi women's rights activist on Saturday, the same day women have pledged to defy a driving ban, as he wrapped up a reassurance visit to the longtime ally.
In talks with King Abdullah late on Friday, Obama told his host their two countries remained in lockstep on their strategic interests despite policy differences over Iran and Syria.
But despite appeals from US lawmakers, Obama did not raise the issue of human rights, a senior US official said, instead scheduling Saturday morning's meeting with Maha Al-Muneef, a prominent campaigner against domestic violence in the ultra-conservative Muslim kingdom.
Muneef was one of 10 women honoured by the US State Department this year for bravery, and Obama took the opportunity to hand her the accolade in person after she was unable to attend an awards ceremony in Washington earlier this month.
Full report at:
https://www.dawn.com/news/1096405/obama-meets-saudi-woman-activist-after-reassuring-king-on-ties
-----------
Obama to Saudi king: US will not agree to bad nuclear deal with Iran
Mar 29, 2014
RIYADH - US President Barack Obama and Saudi King Abdullah discussed "tactical differences" in their approach to some issues during a meeting in Riyadh on Friday, but agreed both sides remain strategically aligned, a senior US official said.
Obama also assured Abdullah that the United States would not accept a bad nuclear deal with Iran, the official said, adding that Washington remained concerned about providing some shoulder-mounted anti-aircraft weapons to Syrian rebels.
In the run-up to his visit to the kingdom, officials had said Obama would aim to persuade the monarch that Saudi concerns that Washington was slowly disengaging from the Middle East and no longer listening to its old ally were unfounded.
Full report at:
http://www.jpost.com/Middle-East/Obama-to-Saudi-king-US-will-not-agree-to-bad-nuclear-deal-with-Iran-346835
-----------
Obama Weighs New Aid for Gunmen in Syria, Sets Joint Military Plan with Saudis
Mar 29, 2014
US President Barack ObamaThe United States is considering allowing shipments of portable air defense systems to Syrian opposition groups, a U.S. official said Friday, as President Barack Obama sought to reassure Saudi Arabia's king that the U.S. is not taking too soft a stance in Syria and other Mideast conflicts.
A Washington Post report said Saturday that the U.S. is ready to step up covert aid to Syrian armed groups under a plan being discussed with regional allies including Saudi Arabia.
The plan includes CIA training of about 600 Syrian opposition forces per month in Saudi Arabia, Jordan and Qatar, foreign affairs columnist David Ignatius wrote on Thursday. That would double the forces currently being trained in the region.
Full report at:
http://www.almanar.com.lb/english/adetails.php?eid=143119&cid=31&fromval=1&frid=31&seccatid=91&s1=1
-----------
Obama says direct U.S intervention could not have ended Syrian war
March 29, 2014
The United States could not have stopped the humanitarian crisis in Syria with military strikes, President Barack Obama said in a television interview airing on Friday, and said U.S. troops had reached their limits after long wars in Iraq and Afghanistan.
Obama was asked in an interview with CBS Evening News anchor Scott Pelley whether he regretted not applying U.S. force in Syria, where the three-year civil war has killed more than 140,000 people and displaced millions.
Full report at:
http://www.nation.com.pk/international/29-Mar-2014/obama-says-direct-u-s-intervention-could-not-have-ended-syrian-war
-----------
US issues scathing attack against UNHRC for singling out Israel
Mar 29, 2014
The United States on Friday issued a scathing attack against the United Nations Human Rights Council on Friday for its continued biased treatment of Israel and charged that the council was harming the peace process.
America was the sole country to vote against five anti-Israel resolutions with the UNHRC approved on Friday afternoon as it met in Geneva at the close of its 25th session.
Four of the five resolutions attacked Israel's treatment of Palestinians over the pre-1967 lines and were approved 46 to 1.
The fifth resolution that dealt with Israel's continued presence on the Golan Heights, and its treatment of the Syrian population that lives there, passed with the approval of 33 nations. There were 13 abstentions and one vote against it.
Full report at:
http://www.jpost.com/Diplomacy-and-Politics/US-issues-scathing-attack-against-UNHRC-for-singling-out-Israel-346821
-----------
FBI Wanted Boston Bombing Suspect 'to Be Informant'
Mar 29, 2014
New York. The defense for accused Boston marathon bomber Dzhokhar Tsarnaev say the FBI approached his brother and fellow suspect Tamerlan about becoming an informant on the Chechen and Muslim community.
The United States is to seek a rare federal death penalty for Dzhokhar after three people were killed and about 260 wounded on April 15 last year when two bombs made of explosives-packed pressure cookers went off near the finish line of the Boston marathon.
Dzhokhar, then 19, and his 26-year-old brother Tamerlan were cornered by police after a four-day manhunt. Tamerlan died after an exchange of fire with police and Dzhokhar was wounded.
Full report at:
http://www.thejakartaglobe.com/international/fbi-wanted-boston-bombing-suspect-informant/
-----------
South Asia
Radical Islamist group Hefazat-e-Islam plans showdown in Chittagong city
Mar 29, 2014
The radical Islamist group Hefazat-e-Islam is planning to flex its muscle in Chittagong city in the name of a two-day Islamic conference scheduled to be held in the first week of April in Laldighi Maidan.
Leaders of the organisation at a press conference on February 11 announced that it would hold the Resalat Conference on April 3.
Hefazat Organising Secretary Azizul Hoque Islamabadi said they had already gotten approval from the CMP.
However the date of the conference could be deferred by a day or two due to the ongoing ICC World Cup T20.
He also said although there was no cricket match on those days the CMP requested them to defer it by a day or two for the sake of the smooth exit of the foreign guests.
Full report at:
http://www.dhakatribune.com/politics/2014/mar/29/hefazat-plans-showdown-chittagong-city#sthash.cP7DOZ9p.dpuf
-----------
4 Afghan soldiers, 26 militants killed in various incidents
Mar 29 2014
At least four Afghan national army (ANA) soldiers were martyred in various incidents across the country, defense officials said Saturday.
Gen. Zahir Azimi, spokesman for the defense ministry of Afghanistan said at least three Afghan national army soldiers were martyred following improvised explosive device (IED) explosion.
Gen. Azimi did not disclose further information regarding the exact location of incident; however he said another Afghan soldier was martyred in militants' direct fire in Logar province on Saturday morning.
Full report at:
http://www.khaama.com/4-afghan-soldiers-26-militants-killed-in-various-incidents
-----------
Afghan election HQ attacked by militants: official
Mar 29, 2014
KABUL: Insurgents attacked the headquarters of the Afghan election commission in Kabul on Saturday, officials said, one week ahead of voting and after a series of bloody attacks in the city.
"I can confirm an attack at the IEC (Independent Election Commission) headquarters," Noor Mohammad Noor, the IEC spokesman, told AFP. "We heard two explosions inside the IEC compound, the sound of firing is still ongoing, but people are safe and are in (reinforced) safe rooms."
Full report at:
http://www.thenews.com.pk/article-142840-Afghan-election-HQ-attacked-by-militants:-official
---------
Myanmar says 'Rohingya' term banned from census
Mar 29, 2014
Myanmar said Saturday that Muslims would not be allowed to register as "Rohingya" in its first census in three decades despite UN assurances, on the eve of a survey that has fanned sectarian tensions.
The move came as Buddhists in an unrest-hit western state vowed to boycott the census over fears it could lead to official recognition for the Rohingya, viewed by the United Nations as among the world's most persecuted minorities.
"If a household wants to identify themselves as 'Rohingya', we will not register it," government spokesman Ye Htut told reporters in Yangon.
He said people could call themselves "Bengali", a term used by the authorities who view most Rohingya as illegal immigrants from neighbouring Bangladesh.
Full report at:
http://english.ahram.org.eg/NewsContent/2/9/97799/World/International/Myanmar-says-Rohingya-term-banned-from-census.aspx
-----------
Khaleda: New gen should learn original history
Mar 29, 2014
Urging the journalists to write the "original history of our independence war," BNP chairperson Khaleda Zia has said the new generation should be learnt about the history of birth of the country.
Addressing journalists, she said: "Write original history of the independence and make the future generation aware about it."
She made the call while addressing the biannual conference of a faction of Bangladesh Federal Union of Journalists (BFUJ) at the National Press Club in the capital on Saturday afternoon.
She further said: "Bangladesh does not exist today. It has become only a title now as there is no democracy in the country."
Full report at:
http://www.dhakatribune.com/politics/2014/mar/29/khaleda-write-original-history-independence#sthash.P8V4kmAE.dpuf
-----------
Ex New Zealand PM sees scope for more scholarships for Bangladeshi students
Mar 29, 2014
Former prime minister of New Zealand James Bolger said there was a scope for more university scholarships for Bangladeshi students to study in New Zealand, with a view towards benefitting both parties.
"One area where I do believe we can see greater cooperation (between New Zealand and Bangladesh) is in university scholarships for Bangladeshis to come and study in New Zealand. Your students get to learn in very good universities, and our system benefits from having a more diverse student body," Bolger said in an interview.
Bolger, who was twice elected prime minister of New Zealand in the 90s, was in Dhaka last week to gather support for his country's bid to be elected as one of the 10 rotating members of the UN Security Council for 2015-16, in his new role as a special envoy of the current New Zealand premier John Key.
Full report at:
http://www.dhakatribune.com/foreign-affairs/2014/mar/29/ex-new-zealand-pm-sees-scope-more-scholarships#sthash.skvUCtjv.dpuf
--------
Bank of Korea joins Islamic finance body IFSB
March 29, 2014
South Korea's central bank has joined the Islamic Financial Services Board (IFSB), one of the main standard-setting bodies for Islamic finance, as regulators across Asia build closer ties to the growing industry.
Guidelines issued by the Kuala Lumpur-based IFSB are gaining prominence as the industry takes a greater share of the banking sector in several majority-Muslim countries and expands into new markets.
The Bank of Korea is the 59th regulatory body to join the IFSB, bringing total membership to 184, joining the likes of the central banks of Luxembourg and Japan and the monetary authorities of Hong Kong and Singapore.
Full report at:
http://english.alarabiya.net/en/business/2014/03/28/Bank-of-Korea-joins-Islamic-finance-body-IFSB.html
-----------
Africa
Moroccan king attends prayers led by reformed Salafi-jihadist
Mar 29, 2014
A reformed Moroccan Salafi-jihadist sheikh, jailed for life over the 2003 Casablanca bombings, led Friday prayers in the king's presence in Tangiers, a first since receiving a royal pardon in 2011.
King Mohammed VI freed scores of Muslim extremists jailed in connection with the Casablanca attacks after Arab Spring protests swept the country in 2011, among them four radical Salafist leaders including Mohammed Fizazi.
Rights activists and family members say hundreds more Islamists who have never supported any jihadist ideology remain behind bars.
The king took part in Friday prayers at Fizazi's mosque in Tangiers and spoke to him briefly afterwards, with the symbolic event broadcast live on state television.
During his sermon, Fizazi praised the king for strengthening the security and stability of the country, which he said were needed to practise one's faith.
Once considered a leader of Morocco's Salafi-jihadist movement who became radicalised in the late 1990s, he also travelled and preached in Europe, notably at the Al-Quds mosque in Hamburg, which was frequented by key figures in the 9/11 attacks on the United States.
Fizazi was sentenced to 30 years in prison for his "ideological" role in the 2003 suicide bombings, which killed 33 people.
Full report at:
http://english.alarabiya.net/en/News/middle-east/2014/03/28/Morocco-king-attends-prayers-led-by-reformed-Salafi-jihadist.html
-----------
Nigeria: Benue Suspects Chemical Attack in 200 Deaths
29 MARCH 2014
George Okoh The recent series of attack on Benue Communities by Fulani Herdsmen is beginning to take its toll on displaced persons due to the crises even as the Commissioner for Information, Justine Amase disclosed that over 200 people were killed with substance suspected to be chemical weapons
According to him, some bodies of those killed were taken for medical examination and it was discovered that there was no gun shot or harm to the bodies.
"This led us to suspect that some chemicals were used and to compound the issue the bodies of some of the victim were set on fire to destroy any evidence", he said.
According to him, the Commissioner for health has taken up the issue and has sent sample of some of the victim to a world class laboratory for further investigation.
Investigations by THISDAY revealed that despite the effort of the Benue State Emergency Management Agency (BSEMA) and the National Emergency Management Agency (NAMA) to provide relief materials for those displaced in camps, life is turning out to be unbearable for them as child illness like malaria measles and diarrhoea have continued to ravage the camps.
Full report at:
http://allafrica.com/stories/201403290077.html?aa_source=slideout
-----------
20 killed in grenade attack in Central Africa
2014-03-29
BANGUI (Central African Republic): At least 20 people died when extremists threw hand grenades at a crowd of mourners during a funeral service in the Central African Republic capital Bangui overnight, the government said on Friday.
"Around 11pm (Thursday) a group of extremists, well known to the police, threw hand grenades at a crowd that was attending a wake," Public Security Minister Denis Wangao Kizimale told national radio.
"At least 20 people were killed and 11 others wounded and are currently undergoing treatment in hospital," he added.
A pregnant women and several children were among the victims, a source close to the families at the funeral service said.
"The government condemns this odious act. Already, an inquiry has been opened to determine the circumstances of this crime. Those responsible will be found and brought to justice," said Kizimale.
Full report at:
https://www.dawn.com/news/1096349/20-killed-in-grenade-attack-in-central-africa
-----------
S. Sudan army thwarts rebel attack on Malakal
World Bulletin / News Desk
Mar 29, 2014
The South Sudanese army has thwarted an attack by rebel forces loyal to sacked vice president Riek Machar on the northern city of Malakal, an army spokesman said on Saturday.
Speaking to Anadolu Agency, Philip Aguer said Machar's forces had attacked Malakal, the capital of the oil-rich Upper Nile State, late Friday but the army thwarted the attack.
According to the spokesman, ten rebel fighters were killed and two army soldiers were injured in the attack.
Full report at:
http://www.worldbulletin.net/todays-news/132343/s-sudan-army-thwarts-rebel-attack-on-malakal
-----------
Tunisia jails leader of controversial pro-Islamist group
Mar 29, 2014
A leader of a controversial pro-Islamist militia blamed for several violent incidents in Tunisia has been jailed for 14 months for inciting violence and for verbal attacks, a judicial source said Friday.
"The court in Tunis sentenced Imed Dghij to eight months for inciting violence and six months for attacking others on social networks," the source told AFP.
Dghij, a senior figure with the League for the Protection of the Revolution (LPR), was arrested at the end of February, after threatening the Tunisian authorities in a video posted on the Internet.
Full report at:
http://english.ahram.org.eg/NewsContent/2/8/97755/World/Region/Tunisia-jails-leader-of-controversial-proIslamist-.aspx
---------
Poems and Cities: a tour in western Libya
Mar 29, 2014
"The people will be really free only when they put down the weapons from their hands and replace them with words".
These words, spoken by Spanish poet Juan Carlos Mestre before reading one of his own poems at the Old British Consulate in Tripoli Old Town on Wednesday could be seen as encapsulating the ideas behind the international gathering "Poems and Cities" which started on March 22, and then was taken in a four-day tour around the west of Libya.
Drawn together by dynamic Libyan poet Ashur Etwebi, president of the Arknu Society for Arts and Literature, poets from USA, Spain, Italy and Greece accepted the challenge of coming to Libya to meet and talk with local Arabs and Amazigh poets in a tour of poetry readings deep inside the country.
Full report at:
http://www.libyaherald.com/2014/03/29/poems-and-cities-a-poetic-tour-in-western-libya/#ixzz2xPZ3n1S0
-----------
Mideast
President Gül vows 'no tolerance' for those responsible for Syria leak
Mar 29, 2014
Turkish President Abdullah Gül has slammed the leaked recording of top security officials on possible military action in Syria, and vowed that those who carried out the wiretapping would be found and shown "no tolerance." Gül also described the wiretapping as a "huge audacity" and an "act of espionage" in his first public statement regarding the incident March 28.
"What's necessary will be done and those who planned, organized, participated, contributed to and carried out this act will by all means be found. There will absolutely be no tolerance," Gül told reporters following Friday prayers in Istanbul.
"We have instructed the state institutions to be careful with regards to provocations to draw Turkey into the war in Syria and [take measures] on attacks that may target the Turkish flag in our land outside our borders [referring to the Süleyman Shah tomb]. Following, listening to, and watching a meeting headed by the foreign minister in his office with the top officials of the security bureau where they discuss such measures is a huge audacity," Gül said.
Full report at:
http://www.hurriyetdailynews.com/president-gul-vows-no-tolerance-for-those-responsible-for-syria-leak.aspx?pageID=238&nID=64254&NewsCatID=338
-----------
PM Netanyahu tells US that coalition could collapse if Israel-Arab prisoners released
Mar 29, 2014
Prime Minister Binyamin Netanyahu told the US that the Israeli government coalition could collapse should he go through with the controversial 4th prisoner release, according to a report by the British periodical al-Hayat.
The report further quotes Palestinian officials stating that Abbas has made clear his refusal to continue negotiations should the fourth prisoner release not come to fruition.
The Prime Minister's Office remained silent about whether Netanyahu intended to go ahead with the release. One official cited Justice Minister Tzipi Livni's comment last week that there was never an "automatic commitment to release prisoners unrelated to making progress in negotiations," and said that comment remained relevant.
Full report at:
http://www.jpost.com/Diplomacy-and-Politics/Report-PM-tells-US-that-coalition-could-collapse-if-Israel-Arab-prisoners-released-346857
-----------
Turkey Leaks Unmask Military Plot against Syria, Erdogan Mad to Justify
Mar 29, 2014
Turkey: Audio leaksIn his first official statement since an audio recording of a top secret security meeting between senior Turkish officials was leaked on the internet, Turkish president Abdullah Gul said the leak exposed Turkey's national security weaknesses.
Turkish Prime Minister Recep Tayyip Erdogan denounced the leaks as "villainous", while foreign minister Ahmet Davutoglu called the posting a "declaration of war."
The anonymous posting on YouTube was an audio file with photographs of the officials involved. It showed that the meeting was spied on while top Turkish figures were discussing possible causes that Erdogan's government may plot for any military intervention in Syria.
Calling the wiretapping of the meeting an act of espionage against the security of the state, Gul said ''the wiretapping of a meeting between the state's most important bureaucratic heads is a huge act of insolence.''
Full report at:
http://www.almanar.com.lb/english/adetails.php?eid=143163&cid=22&fromval=1&frid=22&seccatid=55&s1=1
--------
Danon: Peace talks going nowhere, Palestinians only want terrorists freed
Mar 29, 2014
Fatah official says failure to release Palestinian prisoners would be "slap in the face" of Washington and American diplomatic efforts.
Following a report that the release of a group of Palestinian prisoners in Israeli jails would not go ahead this weekend, Deputy Defense Minister Danny Danon (Likud) slammed the Palestinians for failing to make concessions in the peace process and for only being interested in releasing terrorists.
"It is clear to all sides that the negotiations are leading nowhere and it good that the Palestinians understand that Israel will not make it concessions without receiving anything in return," Danon said.
"The true face of the Palestinians was revealed when they declared that their sole aim was to free terrorists," he added.
Full report at:
http://www.jpost.com/Diplomacy-and-Politics/Danon-Peace-talks-going-nowhere-Palestinians-only-want-terrorists-freed-346819
-----------
Israel kills 2 Syrian 'infiltrators', says army
World Bulletin / News Desk
Mar 29, 2014
The Israeli army said on Saturday it had killed two people who were trying to infiltrate into Israel, according to Israel Radio.
In a statement, the Israeli army said personnel at an Israeli checkpoint saw an armed group approaching the border fence from Syria.
It added that an Israeli army force was immediately summoned to the scene and killed two people.
According to the radio, the Israeli army combed the area to make sure that no explosive charges were planted near the border fence.
Full report at:
http://www.worldbulletin.net/headlines/132305/israel-kills-2-syrian-infiltrators-says-army
-----------
Israel 'no' on prisoners 'slap in face' to peace: Palestinians
Mar 29, 2014
Israel's refusal to free a final batch of Arab prisoners Saturday is another obstacle to US efforts to broker peace, a senior official in Palestinian president Mahmud Abbas's Fatah party said.
Under the deal that relaunched peace talks last July, Israel agreed to release 104 Arabs held since before the 1993 Oslo peace accords in exchange for the Palestinians not pressing their statehood claims at the United Nations.
The prisoner release was also dependant on progress in the negotiations, of which there has so far been no sign.
Until now, Israel has freed 78 prisoners in three batches but ministers had warned they would block the final release, which had been anticipated for Saturday, if the Palestinians refused to extend the talks beyond their April 29 deadline.
Full report at:
http://english.ahram.org.eg/NewsContent/2/8/97770/World/Region/Israel-no-on-prisoners-slap-in-face-to-peace-Pales.aspx
-----------
Twitter wins a key case against Turkish government
Mar 29, 2014
Twitter has won a court case against the Turkish government's decision to block access to the social media platform in Turkey, CNN-Türk television reported.
The Telecommunication Directorate (TİB), which is affiliated with Turkey's Ministry of Transport, Maritime and Communication, had blocked Twitter March 20, hours after Prime Minister Recep Tayyip Erdoğan vowed to close it down.
Turkish authorities listed three court rulings and one prosecutor decision as the reason to block Twitter. The most striking verdict used as the base of the ban came from the Anatolia 5th Criminal Court of Peace. The court issued the ruling number 2014/181 in response to a complaint filed March 18 by former Minister of Transport, Maritime and Communication Binali Yıldırım and his son.
Full report at:
http://www.hurriyetdailynews.com/twitter-wins-a-key-case-against-turkish-government.aspx?pageID=238&nID=64273&NewsCatID=339
-------------
Rabbi rules copying work in university is permitted in Jewish law
March 29, 2014
Prominent haredi figure and Holon Chief Rabbi Avraham Yosef gave approval this week for copying university course work from someone else, in an online forum for questions and answers on Jewish law.
A woman posed a question to the rabbi on the Moreshet religious web portal, saying that her friend's lecturer had set an assignment that he had given to all his students over the past few years. The woman said her friend had obtained the completed assignment work of another friend, but wanted the questioner's help in rewording it so the lecturer would not be aware it had been copied.
Full report at:
http://www.jpost.com/Jewish-World/Jewish-News/Rabbi-rules-copying-work-in-university-is-permitted-in-Jewish-law-346738
-----------
Southeast Asia
Indonesians discuss ways to save youths from jihadist wars
Mar 29, 2014
After an East Javanese jihadist died in Iraq last month, Indonesians are debating how to stop more young countrymen from risking their lives in the Middle East.
"Islamic leaders must devote more of an effort to educating youths with a comprehensive knowledge of jihad and tolerance," said Ahmad Khalid, a 23-year-old student at Syarif Hidayatullah State Islamic University in Jakarta, told Khabar Southeast Asia.
"Second, the Indonesian government must also play an important role in promoting education and reviewing immigration fraud through law enforcement. Lastly, Indonesian government must also focus on a prevention programme before someone is radicalised," Ahmad said.
University of Indonesia counter-terrorism and intelligence expert Wawan Purwanto estimates that between 2011 and mid-2013, at least 55 Indonesians died in the Syrian civil war and a handful more in Iraq, Afghanistan and Yemen.
Full report at:
http://khabarsoutheastasia.com/en_GB/articles/apwi/articles/features/2014/03/28/feature-02
-----------
Moro Muslims want Christian mayor to respect treaty
World Bulletin / News Desk
Mar 29, 2014
A member of the Moro Islamic Liberation Front (MILF) is asking the Zamboanga City mayor to respect a historic peace agreement signed Thursday in Manila in an effort to end a conflict that has split the country for decades.
"Our message to Mayor Beng, please respect the will of the people and the Bangsamoro government," Taha Daranda, secretary of MILF Political Committee based in Zamboanga City, said Friday.
The signing of the Comprehensive Agreement on the Bangsamoro (CAB) between the government and the MILF in Malacanang, the official residence and principal workplace of the President of the Philippines, was viewed by Daranda as a step towards peaceful resolution in the decades long armed conflict in Mindanao.
Full report at:
http://www.worldbulletin.net/headlines/132312/moro-muslims-want-christian-mayor-to-respect-treaty
-----------
Saudi Family Agrees to Less 'Blood Money' for Indonesian Maid on Death Row
Mar 29, 2014
Jakarta. An Indonesian domestic worker on death row for murder in Saudi Arabia is now only 1 million riyal (Rp 3 billion, $266,645) short of delaying her execution in the Arab kingdom, as the victim's family has agreed to shave off 2 million riyal from their initial "blood money" demand and accept a payment of 5 million riyal for the time being.
"The family of Nura al-Garib has announced that they will receive the diyat if an additional 1 million riyal is [added] — making the total 5 million riyal," head of the National Agency for the Placement and Protection of Indonesian Migrant Workers (BNP2TKI) Gatot Abdullah Mansyur said on Friday, as quoted by the official website of the Cabinet Secretary setkab.go.id.
Full report at:
http://www.thejakartaglobe.com/news/saudi-family-agrees-less-blood-money-indonesian-maid-death-row/
-----------
No curb on Sarawak Christians' use of 'Allah' as long as I am CM, says Adenan
Mar 29, 2014
The Sarawak government has assured its large Christian population that it will not follow the states in the peninsula by trying to curb them from using the word Allah to refer to God.
Chief Minister Tan Sri Adenan Satem (pic), who marked his one month in office yesterday, said moreover, there is no law in Sarawak that restricts their use of the word Allah in their prayers and in their literature.
Speaking to Saints Peter and Paul Catholic Church parishioners at a meeting in Mukah yesterday, he also gave assurance that the state would not legislate any laws that would curb their use of the word "as long as I am the Chief Minister".
Pakatan-ruled Selangor sparked a heated debate when its religious authorities (Jais) raided the Bible Society of Malaysia premises in January and seized hundreds of Malay language Bibles containing the word Allah.
Full report at:
http://www.themalaysianinsider.com/malaysia/article/no-curb-on-sarawak-christians-use-of-allah-as-long-as-i-am-cm-says-adenan
----------
Pakistan
Minor girl killed, 15 injured in Quetta explosion
2014-03-29
QUETTA: A minor girl was killed and 15 others injured Saturday in a powerful explosion on the outskirts of Quetta, the capital of restive Balochistan province, police said.
Imran Qureshi, the Superintendent of Police, said militants targeted the vehicle of Frontier Corps (FC) through an Improvised Explosive Device (IED) on Quetta's Sariab road area. He said the militants had planted an IED in a rickshaw parked on the roadside.
"There was a powerful blast when a FC vehicle was passing by in the area," Qureshi stated.
The injured included three FC personnel, women and children. He added that a minor girl succumbed to her injuries on her way to a hospital.
The SP said the intensity of the blast smashed the windows of nearby homes and shops located in the area.
City police chief Abdul Razzaq Cheema confirmed the attack and said three of the wounded were seriously injured. The wounded also included up to eight children, he added, without giving ages.
Full report at:
https://www.dawn.com/news/1096398/minor-girl-killed-15-injured-in-quetta-explosion
-----------
MQM elements involved in extortion, killings, alleges Former MQM leader
2014-03-29
KARACHI: Muttahida Qaumi Movement's senior leader Saleem Shahzad dropped a bombshell on Friday soon after his membership had been suspended and said that several elements within the party were involved in extortion, killings and smuggling.
"The party leadership knew I have decided to resign from the basic membership," Mr Shahzad told a private news channel in London while reacting to news of his suspension.
"There is a corrupt lobby in the Muttahida which is against the ideological workers… These elements are involved in extortion, murder, smuggling and other illegal activities," the London-based leader said.
Full report at:
https://www.dawn.com/news/1096325/mqm-elements-involved-in-extortion-killings-alleges-shahzad
-----------
Pakistani journalist Raza Rumi attacked in Lahore, 1 killed
PTI | Mar 29, 2014
LAHORE: Two unidentified gunmen today opened fire on senior Pakistani analyst and writer Raza Rumi, a highly vocal critic of the Taliban and religious extremists groups, leaving his driver dead and guard injured here.
Lahore police spokesman Niyab Haider told PTI that two motorcyclists intercepted Rumi's car at Raja Market, Garden Town, and opened fire on it.
Rumi remained unhurt while his driver Mustafa and guard Anwar suffered bullet injuries.
They were rushed to hospital where Mustafa was pronounced dead while the condition of Anwar is state to be critical.
Rumi is a highly vocal critic of the Taliban and one of the few in the media community here who came out openly against the banned group.
Full report at:
http://timesofindia.indiatimes.com/world/pakistan/Pakistani-journalist-Raza-Rumi-attacked-in-Lahore-1-killed/articleshow/32866425.cms
-----------
Education a national emergency, says Nawaz Sharif
MEENA MENON
Mar 29, 2014
He said the government plans to launch a Literacy Movement in the country along with a package of incentives to ensure that every child of school going age is enrolled in school.
Prime Minister Muhammed Nawaz Sharif on Saturday said that for Pakistan, education is not merely a matter of priority and it had, in fact, become a national emergency.
Inaugurating a national education conference in the presence of Mr. Gordon Brown, Special Envoy of the UN Secretary General on Education, he said more than half of the country's population is below 25 years of age and without education, this resource could turn into a burden, an official statement said.
Full report at:
http://www.thehindu.com/news/international/south-asia/education-a-national-emergency-says-nawaz-sharif/article5848223.ece
-----------
Militancy threatens Pakistan's growth, IMF warns
2014-03-28
KARACHI: The International Monetary Fund (IMF) said Friday that Pakistan's key economic indicators were showing modest improvement but warned militancy and crime could threaten growth and investment.
The IMF warning came in its country report reviewing Pakistan's performance under a $6.7 billion bailout loan package.
The Pakistani government is in talks with the country's Taliban faction to try to end the militants' bloody seven-year insurgency, which has claimed thousands of lives.
"For the fiscal year 2014-15, growth is forecast to accelerate to about 3.7 per cent, and will continue to accelerate in the medium term," the report said.
"Security conditions in Pakistan remain difficult with significant terrorist activity, as well as sectarian violence and urban criminal activity, which could depress investment and growth."
Full report at:
https://www.dawn.com/news/1096189/militancy-threatens-pakistans-growth-imf-warns
-----------
'War on terror' has failed, diplomacy needed: Fazalur Rahman
Mar 29, 2014
ISLAMABAD: Jamiat Ulema-e-Islam-F chief Fazalur Rahman has said that the "war on terror" has failed to end terrorism and militancy in the region, and renewed efforts are needed to move from militarism to diplomacy, dialogue and reconciliation.
He was speaking to German Ambassador to Pakistan Dr Cyrill Nunn who met him here on Friday. In a statement issued here by JUI-F spokesperson, Jan Achakzai, the Maulana said that the government of Prime Minister Nawaz Sharif is genuinely trying to engage in dialogue with militants as it believes that talks can buy peace. He said that there is no place for extremism and militancy in Pakistan and the role of religion has been settled in the constitution; however, like some other laws, the constitution's Islamic provisions need to be implemented to permanently block the way of those taking up arms for Shariat.
Full report at:
http://www.dailytimes.com.pk/national/29-Mar-2014/war-on-terror-has-failed-diplomacy-needed-fazl
-----------
PPP condemns awarding death sentence to Sawan Masih, terms it miscarriage of justice
March 29, 2014
ISLAMABAD- PPP Human Rights cell, has called the award of death sentence to Sawan Masih of Joseph colony an apparent miscarriage of justice, which will further marginalise the minorities.
The Central Coordinator Dr Nafisa Shah said "This seems to be a case of adding insult to injury, or might is right, as instead of punishing those behind the Joseph colony conflagration the courts have punished someone through a law that is usually misused against minorities."
"More than 100 houses, besides schools, hospitals were torched and no one seems to have been punished for these cruel acts," says Dr Nafisa Shah."This will only encourage mob extremism against the minorities as the recent example of dharmashala in Larkana demonstrates" she added.
Full report at:
http://www.nation.com.pk/national/29-Mar-2014/ppp-condemns-awarding-death-sentence-to-sawan-masih-terms-it-miscarriage-of-justice
-----------
Europe
UN rights forum calls for use of armed drones to comply with law
Mar 29, 2014
GENEVA: The United Nations called on all states on Friday to ensure that the use of armed drones complies with international law, backing a proposal from Pakistan seen as taking aim at the United States.
A resolution presented by Pakistan on behalf of co-sponsors including Yemen and Switzerland did not single out any state. The United States is the biggest drone user in conflicts including those in Pakistan, Yemen, Afghanistan and Somalia.
"The purpose of this resolution is not to shame or name anyone, as we are against this approach," Pakistan's ambassador Zamir Akram told the UN Human Rights Council.
"It is about supporting a principle."
The United States prizes drones for their accuracy against al Qaeda and Taliban militants. Pakistan says they kill civilians and infringe its sovereignty.
Full report at:
http://www.thenews.com.pk/article-142762-UN-rights-forum-calls-for-use-of-armed-drones-to-comply-with-law
-----------
Russia: Rise in Terrorist Activities in Syria Intended to Stymie Syrian Talks, CWs Removal
Mar 29, 2014
The rise in the activities of extremist groups in Syria is intended to stymie talks between the Syrian parties and obstruct the Syrian chemical weapons' destruction, Moscow said.
The Russian Foreign Ministry said in a statement published on its website on Friday that the extremists' activity is designed to obstruct a resumption of talks between the Syrian parties and denies them the possibility of reaching a political settlement to the crisis, adding that it hinders the process of Syrian chemical weapons' removal, Syrian Arab News Agency reported.
The ministry condemned terrorist attacks against peaceful civilians in Syria, including the indiscriminate bombardment of residential areas in Syrian cities.
Russia renewed readiness to resume communications with all parties concerned to end violence in Syria based on Geneva communiqué.
http://english.farsnews.com/newstext.aspx?nn=13930109000218
-----------
West accuses Syria over 3.5 million in need
Mar 29, 2014
The Syrian government is denying 3.5 million civilians access to UN aid convoys in defiance of a Security Council resolution that has seen the crisis worsen, Western powers warned Friday.
Britain and the United States told the United Nations that Damascus bears overwhelming responsibility for denying UN relief workers access to an escalating number of people in need.
The Syrian government has allowed aid convoys to cross only one of eight border crossings identified by the United Nations as a priority, Western ambassadors said.
In February, the Security Council passed the first humanitarian resolution of the three-year civil war, demanding that the government and armed opposition allow aid to reach civilians.
But in the first progress report a month on, UN humanitarian chief Valerie Amos said the situation had only deteriorated and she demanded blanket, unhindered access to affected populations.
Full report at:
http://english.ahram.org.eg/NewsContent/2/8/97776/World/Region/West-accuses-Syria-over--million-in-need.aspx
-----------
Egypt's military held considerable sway over political decisions in 2013: EU annual report
Mar 29, 2014
The year 2013 was a "very challenging year" politically in Egypt, with the military holding "considerable sway over key political decisions," a newly published report by the European Union (EU) states.
The annual country progress report by the European Neighbourhood Policy (ENP), published Thursday, highlighted that Egypt's new constitution, passed in January, gives a high level of autonomy to the military as it will "grant a final say" over the position of minister of defence to Egypt's army.
It said no particular progress can be reported in Egypt, in relation to the country's Action Plan with ENP.
The Action Plan purses three priorities: political reform and good governance, competitiveness and productivity of the economy, and socio-economic progress in the development process.
Full report at:
http://english.ahram.org.eg/NewsContent/1/64/97796/Egypt/Politics-/Egypts-military-held-considerable-sway-over-politi.aspx
---------
Over a million flee South Sudan conflict, U.N. says
March 29, 2014
Over a million people in South Sudan have been forced from their homes during more than three months of ongoing fighting, with conditions continuing to worsen, the U.N. has warned.
"In the 100 days since the start of the conflict in South Sudan, over one million people have ?led their homes," the United Nations Office for the Coordination of Humanitarian Affairs (OCHA) said in a report late Friday.
Over 800,000 are displaced inside South Sudan, while almost 255,000 have fled as refugees to neighboring countries of Ethiopia, Kenya, Uganda and Sudan, the U.N. says.
Violence erupted in South Sudan on December 15 between forces loyal to President Salva Kiir and fighters loosely allied to former vice president Riek Machar.
Full report at:
http://english.alarabiya.net/en/News/africa/2014/03/29/Over-a-million-flee-South-Sudan-confict-U-N-says.html
--------
India
India, Pak must talk to end militancy in J&K: Farooq Abdullah
Mar 29, 2014
In the backdrop of latest terror strike in Kathua, ruling National Conference president and Union minister Farooq Abdullah on Friday said India and Pakistan need to sit together to have decisive talks to end militancy in Jammu and Kashmir.
"It (Kathua attack) is a proof that militancy in our neighbourhood has not stopped. Let me make one thing clear that without settlement with Pakistan, militancy will not end," Abdullah, who is National Conference candidate from the Srinagar Lok Sabha constituency, told reporters here.
He said the talks the two countries have to be very decisive so that militancy ends, otherwise the people of Jammu and Kashmir will continue to suffer and the militants will continue to cross the border.
Full report at:
http://indianexpress.com/article/india/india-others/india-pak-must-talk-to-end-militancy-in-jk-farooq-abdullah/
----------
IM terrorists contribute to self-finance their activities: ATS
TNN | Mar 29, 2014
JAIPUR: The five youths who were arrested from Sikar used to self finance their terror activities and arrange accommodation and logistics for Indian Mujahideen's (IM) trainers by collecting money from among themselves every month, ATS officials said. The five youths were produced in a court and taken on a 7-day police remand for further investigation. Some laptops and pen drives were also seized during raids at their houses in Sikar on Friday.
"The five youths, three of whom are students, used to arrange money from among themselves to self finance their terror activities. Each of them used to contribute Rs 100 to Rs 1000 every month," a senior ATS officer said.
The officer said Waqar, an engineering student who was arrested from Pratap Nagar-Sector 35 in the city, had provided some training to these five youths including on how to make electronic circuits for bombs.
Full report at:
http://timesofindia.indiatimes.com/india/IM-terrorists-contribute-to-self-finance-their-activities-ATS/articleshow/32867760.cms
-----------
URL: https://www.newageislam.com/islamic-world-news/new-age-islam-news-bureau/syria-in-last-24-hours--army-kills-500-foreign-backed-militants-near-turkish-border/d/66334