New Age Islam News Bureau
04 July 2022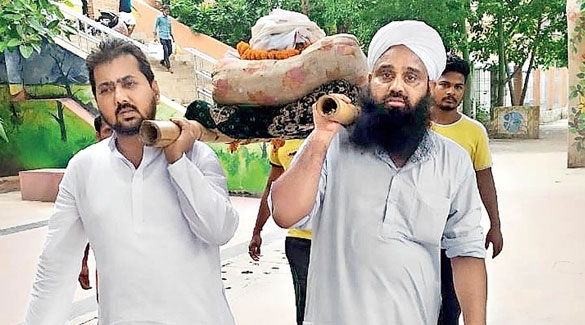 Rizwan Alam and his friends carry the bier with the body of Ram Deo Shah to the cremation ground in Patna
Telegraph picture
-----
• "Quran A Criminal Book, Orders To Kill, All Who Read the Quran Become Terrorists" Hindutva Leader, Keshav Murthi, At Karnataka Protest
• 'Nso Quran' Means Forbidden Quran not Holy Quran: Nigerian Islamic Scholars Reject Newly Launched Igbo Quran
• US Forensic Experts Examine Bullet That Killed Al Jazeera Journalist in Jerusalem
• Gwadar Rights Leader Maulana Hidayatur Rehman Threatens To Close Port
India
• At Panchayat in Manesar, Call Goes Out For 'Economic Boycott' Of Muslim Shopkeepers
• Reach Out To Deprived, OBC Muslims, PM Modi Tells Party Workers
• Rann Kali, the war memorial built by BSF at the request of Christian and Muslim soldiers
• 'Personal attacks on judges lead to dangerous scenario': SC judge who heard Nupur Sharma's plea
• Udaipur murder: Agencies to conduct analysis of accused phones to confirm Pakistan links
• Gyanvapi Masjid Case: Varanasi District Court Adjourns Hearing till July 12
--------
Africa
• Tunisia's constitution committee rejects president's proposed constitution
• UN condemns protesters' storming of Libya's parliament
• Tunisia's powerful labour union allows members to vote on new constitution
• Nearly 80 Hostages Rescued After Being Kidnapped By Priest in Nigeria
--------
North America
• US ban on imports from Xinjiang disrupts China's supply chain
• US reiterates stance on PTI's conspiracy controversy
• Somali-born US lawmaker: Minnesota more violent than Somali refugee camp
--------
Pakistan
• Religious ministry gets subsidy amount for pilgrims: Mufti Shakoor
• Amid political disorder in Pashtun belt, Pakistan army count on proscribed organization TTP
• PTI Leaders Defend Bushra Bibi after 'Leaked Clip'
• PPP leader Khursheed Shah assails ally PM Shehbaz for not attending parliament sessions
• Meeting on security, TTP tomorrow
• 'Imran's politics would end after Punjab by-polls'
• With Eid ul Azha around the corner, Pakistan's Covid-19 positivity rate reaches 4.6pc
• Pakistan seeks Qatar gas on deferred payment
--------
Europe
• Berlin-Based News Website Reveals Real Face of YPG/PKK Terror Group
• Denmark in shock as gunman kills three at Copenhagen shopping mall
• Sweden pledges to abide by agreement with Türkiye
• Sweden refuses to deny deportations to Turkey part of NATO deal
--------
South Asia
• Three People Flogged by the Taliban for Adultery and Theft in South Afghanistan
• Taliban Commander Uses Military Chopper to Take His Newlywed Bride Home
• Taliban Ministry: Over 4,500 Immigrants Returned To Afghanistan in 2 Days
• Taliban Still Illegitimate Rulers Say Afghan Women Activists
• The EU Provides an Additional €40 Million for Child Protection and Polio Vaccination in Afghanistan
• Floodwaters in Bangladesh take heavy toll on children's education
--------
Southeast Asia
• Does Learning Arabic Reflect a Colonial Mind-set, Says PBB Man
• MACC: Mosque fund management disclosure crucial to avoid misconduct
• Zakir Naik settles defamation suit against Kula
• Reject corrupt leaders in GE15, Anwar tells Malaysians
• I'll hear you out, task force chief tells protest leaders
• PAS to use PN logo for general election, says Muhyiddin
• Singapore urged to halt hanging of Malaysian drug trafficker
--------
Arab World
• Yemeni Troops Launch Campaign against Al-Qaeda
• Lebanon expects to settle maritime border dispute with Israel
• Cash-strapped Lebanon seeks Arab support
• Saudi Arabia Security Forces Hold Military Parade In Mecca in Preparation For Hajj
--------
Mideast
• Iran: US Should Account for Killing People through Terrorism, Sanctions, Occupation
• Iran Blasts Normalization of Ties with Israel as Betrayal of Palestinian Cause
• Iran: US, 15 European States Involved in Supplying Former Saddam Regime with Chemical Weapons
• Israel says it will test bullet that killed Shireen Abu Akleh, Palestinians disagree
• Iranian FM: Syria, Region Not to Tolerate Israel's Mischiefs
• Iranian Deputy FM: US Misusing Human Rights to Impose Unilateral Policies
• FM: Tehran Trying to Resolve Crisis between Syria, Turkey
• Palestinian teenager shot by Israeli forces in West Bank dies
Compiled by New Age Islam News Bureau
URL: https://newageislam.com/islamic-world-news/syncretic-hindu-muslim-culture-ram-nam-satya-hai/d/127400
--------
Syncretic Hindu-Muslim Culture: 75-Year-Old Received a Royal Funeral Chanting "Ram Nam Satya Hai" Thanks To His Muslim Employers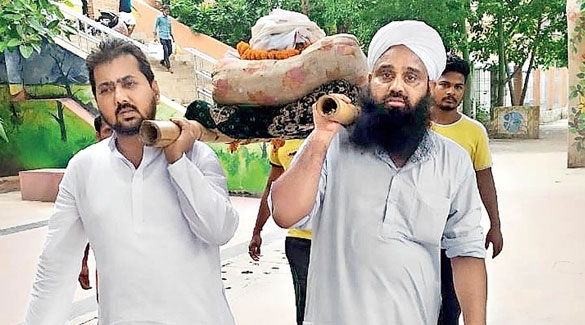 Rizwan Alam and his friends carry the bier with the body of Ram Deo Shah to the cremation ground in Patna
Telegraph picture
-----
Dev Raj
04.07.22
The small group, carrying the bier on their shoulders, walked along chanting "Ram Nam Satya Hai".
The mourners chanting "Ram Nam" with all the solemnity the occasion deserved were Muslims.
Curiosity drew many to join the procession at Sabzibagh, a densely populated locality in Patna, on Friday evening. The procession kept swelling as it wound through Patna's streets for 3km from Sabzibagh to the Gulbi Ghat cremation ground on the Ganga's banks.
Ram Deo Shah, the 75-year-old who lived alone and had no relatives to cremate him, had received a royal's funeral procession. Thanks to his Muslim employers and colleagues whom he called "family".
To Muhammad Rizwan Alam, garment trader and Shah's employer, it's no big deal that he had taken care of the funeral of a beloved Hindu employee, observing the Hindu rituals under the guidance of a Hindu priest.
"It's the Ganga-Jamuni tradition," he said, referring to the syncretic Hindu-Muslim culture of the north Indian plains.
"Our country is an example to the world as one where all religions exist together, happily and peacefully. We participate in each other's important occasions from birth and festivals to death. We have a basic understanding of each other's rituals," Rizwan said.
What of the prevailing situation in the country — the lynchings in the name of religion and the controversies over open-air namaz and the hijab?
Rizwan dodged the question. "It's nation first for us. Anything else, including religion, comes afterwards. We are proud Indians," he said.
He said he had been to other countries and realised the value of being an Indian, "because there they don't ask about creed or caste, but about nationality".
Rizwan, his brother Arman Alam and their friends had learnt of Shah's death shortly after the Friday prayers, and immediately headed to the old man's one-room dwelling in Sabzibagh.
On Sunday, Rizwan recalled the day he had first met Shah 22 years ago when the elderly man dropped in at his shop in search of work and stuck with him, working as his accountant.
"He was a gentleman; we called him 'Chacha' (uncle). He was like family, but he never spoke a word about his family or native place," Rizwan told The Telegraph.
As Shah grew old and weak over the years, some of his colleagues would ask him for the addresses of relatives so they could be informed if "anything happened". But Shah would merely say they were his family and he expected them to take care of his last rites.
As Covid struck, Rizwan asked Shah to stay at home instead of travelling to the shop in Buddha Marg, 4km from Sabzibagh. Shah was paid his monthly salary and a part-time job at a medical shop in Sabzibagh was arranged to keep him occupied.
"He came to meet us a few days ago and said he had a kidney infection. He asked us for a bathtub, weighing machine, juicer and water heater so he could undertake some naturopathy and ayurvedic treatment," Rizwan said.
"We ordered the bathtub and purchased everything else, but he passed away on Friday."
At the dead man's home on Friday, Rizwan and the others spent a couple of hours making the arthi (bier) with bamboo poles and preparing the body with the help of a Hindu priest. Then they set off for the cremation ground.
Prodded further on whether he hadn't set an example in communal harmony at a time of strife, Rizwan opened up a bit.
"Outside India we are recognised simply as Indians. Some stupid people in our country and religions are trying to vitiate the atmosphere on the lines of Hindus and Muslims," he said.
"We are neither bothered about them nor affected by what they speak or do. We delete such people from our phones and minds. Some day they too will realise the importance of being an Indian."
Muhammad Irshad, a business associate of Rizwan, echoed the sentiment. He said a handful of "political people" among Hindus and Muslims were trying to destroy peace in the country.
"The majority of our countrymen don't want this to happen. They want to stay together. We are staying together and shall do so in future too," Irshad said.
Rizwan and his family have engaged priests to ensure that the 13-day shraddh rituals for Shah are observed correctly. They also plan to hold the shraddh bhoj on the 12th day.
Source: Telegraph India
Please click the following URL to read the text of the original story:
https://www.telegraphindia.com/india/patna-muslim-colleagues-pay-homage-to-hindu-employee/cid/1873035
--------
"Quran A Criminal Book, Orders To Kill, All Who Read the Quran Become Terrorists" Hindutva Leader, Keshav Murthi, At Karnataka Protest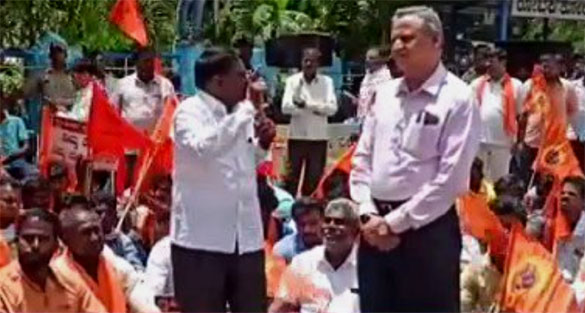 (Screengrab: Twitter)
-----
2nd July 2022
Amid unrest in the country following Nupur Sharma's remarks on Prophet Muhammad, and the killings of two who allegedly stood in support of the now sacked BJP spokesperson, offensive remarks on the holy Quran were made, at a protest organised by a Hindutva unit affiliated to the Hindu Jagaran Vedike. The event was held in the Kolar district in Karnataka.
Addressing the public, the leader, Keshav Murthi, referred to the recent Udaipur murder where a tailor, Kanhaiyalal, was hacked to death by two Muslim men allegedly after the victim came out in support of Nupur Sharma on social media.
"Quran is a criminal book. It orders killing people by stoning and beheading. All of them who read the Quran have become terrorists," alleged Murthi.
There has been a slew of hate speeches in Karnataka after the Udaipur murder. Many of these speeches call for the killing of Muslims, demolition of the concept of minorities in the Constitution and implementation of the Citizenship (Amendment) Act (CAA). Here are a few of them:
Udaipur murder:
On June 28, Kanhaiyalal, 40, who supported the suspended BJP spokesperson Nupur Sharma for her controversial remarks on Prophet Muhammed, was hacked to death by two Muslim men. The murder was recorded and uploaded on the social media platform Facebook.
In a video clip, one of the purported assailants declared that they had beheaded the man and then threatened Prime Minister Narendra Modi, saying their knife will get him as well.
The murder garnered massive condemnation from both Hindu and Muslim communities.
In Hyderabad, All India Majlis-E-Ittehadul Muslimeen (AIMIM) chief Asaduddin Owaisi also condemned the murder calling for the rule of law to be maintained.
"No one can take law into their own hands. We demand that the state govt takes strictest possible action," Owaisi tweeted.
Prominent Muslim organisation Jamiat Ulema-e-Hind condemned the heinous killing of the tailor in Rajasthan's Udaipur on Tuesday, saying such an act cannot be justified in any way and is against the religion of Islam.
In a statement, Maulana Hakeemuddin Qasmi, general secretary of the Jamiat Ulema-e-Hind, condemned the "brutal killing in Udaipur apparently on the pretext of the insult to the Prophet" and called it against the law of land as well as "against the religion of Islam".
Former Congress president Rahul Gandhi on Tuesday said he is deeply shocked by the heinous killing of a tailor in Udaipur and called for immediate punishment for those spreading terror through such brutality.
The murder led to a tense situation in Rajasthan and police had to resort to Section 144 and suspension of internet service to avoid any communal tensions. Rajasthan Chief Minister Ashok Gehlot maintained that the perpetrators would be brought to justice.
On June 28 afternoon, the two main accused – Gos Mohammad and Riaz Akhtari, both residents of Surajpol area in Udaipur – were arrested. They were soon booked under the Unlawful Activities (Prevention) Act (UAPA).
A team from the National Investigation Agency (NIA) was sent by the Central Government to investigate the murder.
Latest developments
The Congress on Saturday alleged that one of the main accused in the brutal killing of a tailor in Udaipur is a "BJP member" and asked whether the Centre had moved quickly to transfer the case to the NIA due to this reason.
Addressing a press conference at the Congress headquarters here, the party's media department head Pawan Khera said a very sensational disclosure has been made by a media group in connection with the Udaipur incident which pointed to the BJP links with Riyaz Attari.
Earlier in the day, responding to a tweet by a Congress leader referring to one of the accused's alleged BJP links, BJP's IT cell chief Amit Malviya dismissed the claim as "fake news".
Source: Siasat Daily
Please click the following URL to read the text of the original story:
https://www.siasat.com/quran-a-criminal-book-orders-to-kill-hindutva-leader-at-karnataka-protest-2361951/
--------
'Nso Quran' Means Forbidden Quran not Holy Quran: Nigerian Islamic Scholars Reject Newly Launched Igbo Quran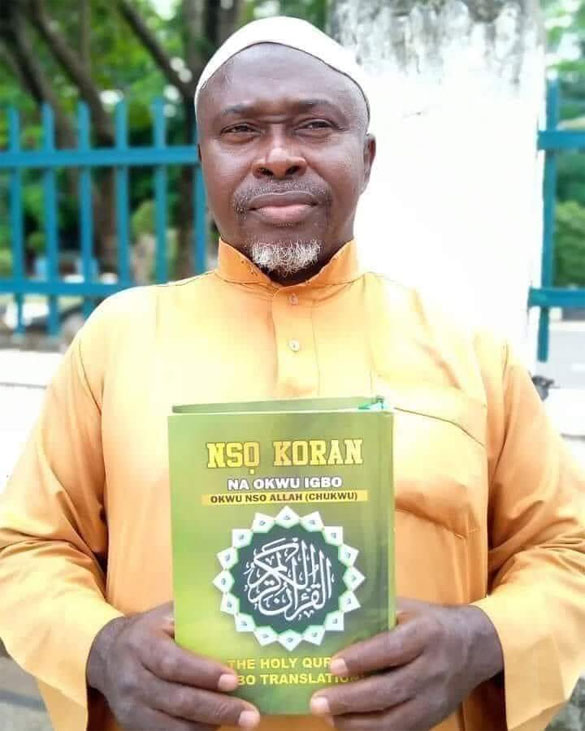 The spokesman for the South Eastern Muslims Organization of Nigeria, Yahya Abugu, also contacted me on the issue, saying there are fundamental errors right from the title of Sheikh Chukwuemeka's work.
-----
July 4, 2022
'Nso Quran' Means Forbidden Quran not Holy Quran, Nigerian Islamic Scholars Reject Newly Launched Igbo Quran.
The credit for the first Qur'an to be translated into Igbo language goes to Professor Jumbo Ugoji in 1984.
His daughter, Ngozi Ugoji, drew my attention to this fact, saying Sheikh Chukwuemeka's claims were wrong. She shared with me the cover and some pages of the Qur'an.
The spokesman for the South Eastern Muslims Organization of Nigeria, Yahya Abugu, also contacted me on the issue, saying there are fundamental errors right from the title of Sheikh Chukwuemeka's work.
"We have a lot of renowned scholars of both Arabic and Igbo languages. For example, Professor Ilyas Rabiu of Arabic department, Nassarawa State University and Dr. Amaechi Bn Ali of National Open University. We also have Bar. Haroun Eze of National Mosque, to mention but a few. None of these mentioned above know this translator, he never consulted them to seek input or scholarly advice before going ahead with the huge task.
"On that cover page alone, we have observed serious errors. Nso, has many meaning in IGBO language, the easiest meaning that can be read to that caption 'Nso Quran' is 'the forbiddance of Quran' followed closely by 'forbidden 'things' about Qur'an. No Igbo person will readily read Nso Qur'an to mean Holy Quran. Holy Quran in Igbo language should be 'Quran Nso'
"The Okwu Igbo does not mean Igbo language. Igbo language should be olu Igbo or asusu Igbo and not Okwu Igbo," Sheikh Abugu wrote to me.
I agree with both Ugoji and Abugu's submissions that a project of this nature should be subjected to rigours of consultation before its release. Had Sheikh Chukwuemeka consulted other Igbo Muslim scholars, he wouldn't have laid claims to the pioneering work on Quran translation in Igbo.
May Allah reward them all for their efforts.
Source: ABNA24
Please click the following URL to read the text of the original story:
https://en.abna24.com/news//nigerian-islamic-scholars-reject-newly-launched-igbo-quran_1272288.html
--------
US Forensic Experts Examine Bullet That Killed Al Jazeera Journalist In Jerusalem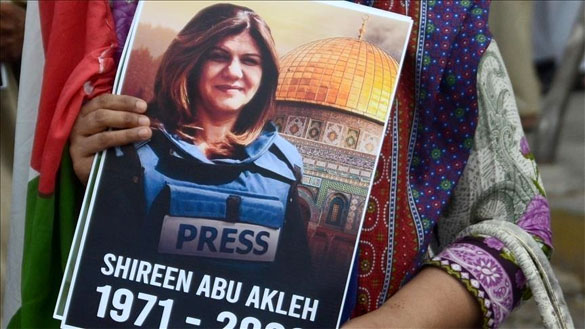 Mahmut Geldi
04.07.2022
US forensic experts returned the bullet that killed Al Jazeera journalist Shireen Abu Akleh to Palestinian authorities after examining it, the Palestinian justice minister said Sunday.
Upon Washington's request, the bullet that killed the journalist in the occupied West Bank in May was handed over to the experts for investigation, Mohammed al-Shalaldeh told Anadolu Agency.
"After the bullet was returned, it was also examined by us," he said, adding no new conclusions were reached over it.
Noting that there was no information regarding the allegations that Israelis also participated in the investigations, he said they adhered to official procedures with the US and delivered the bullet based on ethical and legal grounds.
"The important thing is to catch and bring to account the person who committed this murder," he said, adding the US is expected not only to care about the investigation but also to pursue whoever committed the killing as Abu Akleh was a US citizen.
Noting that the results of the US investigation did not reach them, he said they were determined about the investigation.
An Israeli military spokesman told Army Radio earlier Sunday that Israeli experts would examine the bullet with the Americans.
On Saturday, the Palestinian Authority said it had handed the bullet that killed Abu Akleh to US officials to conduct a forensic examination.
On May 11, Abu Akleh, 51, was covering an Israeli military raid near the Jenin refugee camp in the occupied West Bank when she was shot dead.
While Palestinian officials and her employer Al Jazeera accused Israel of killing the reporter, Tel Aviv denied any responsibility.
Palestinian officials have rejected an Israeli request for conducting a joint investigation into the journalist's death.
On May 26, Palestinian Attorney-General Akram al-Khatib announced that an examination of Abu Akleh's body confirmed that she was killed by an armor-piercing projectile fired directly at her head by an Israeli sniper.
Several leading media agencies including Al Jazeera, CNN, the Associated Press, The Washington Post and The New York Times conducted investigations which all came to the conclusion that Abu Akleh was killed by an Israeli bullet.
Source: Anadolu Agency
Please click the following URL to read the text of the original story:
https://www.aa.com.tr/en/americas/us-forensic-experts-examine-bullet-that-killed-al-jazeera-journalist-in-jerusalem/2629462
--------
Gwadar Rights Leader Maulana Hidayatur Rehman Threatens To Close Port
Saleem Shahid
July 4, 2022
QUETTA: Maulana Hidayatur Rehman Baloch, who led the Gwadar rights movement, has threatened to close the Gwadar port from July 21 if the demands agreed by the provincial government are not fulfilled.
Speaking at a press conference recently, the maulana, who is also provincial general secretary of the Jamaat-i-Islami, said the port would be closed as a protest as the government is not fulfilling it promises made in the agreement signed in April this year for ending a month-long sit-in in the port city.
He said that the main demands of the Gwadar rights movement were: free the coast of Balochistan from trawler mafia, open border points in Gwadar, eliminate drug trafficking and remove unnecessary check-posts.
He said Balochistan Chief Minister Mir Abdul Qudoos Bizenjo came to Gwadar and made promises to rid the coast of Balochistan of the trawler mafia, open crossing points in Gwadar, eliminate drug trafficking, remove security forces' checkposts and trace missing persons.
He criticised the opposition parties in Balochistan, saying that they have not raised their voice for the rights of the people of Balochistan. They did not raise objections even when the agreement for Reko Diq project was signed.
The maulana claimed that the law and order situation in Makran and Panjgur is deteriorating and in order to control it, the government must remove Frontier Corps from the province.
He said the doors for dialogue are always open.
Source: Dawn
Please click the following URL to read the text of the original story:
https://www.dawn.com/news/1698102/gwadar-rights-leader-maulana-hidayatur-rehman-threatens-to-close-port
--------
India
At panchayat in Manesar, call goes out for 'economic boycott' of Muslim shopkeepers
by Pavneet Singh Chadha | Gurgaon
July 4, 2022
A panchayat organised at a temple in Haryana's Manesar Sunday, claiming to represent the "Hindu society", called for an economic boycott of "Muslim shopkeepers and vendors".
Several speakers alleged that many juice shops and salons run by Muslims in the area had "Hindu names and names of Hindu deities" as part of a conspiracy. Issuing an ultimatum to the administration, the panchayat urged the gathering to form village-level committees to enforce the boycott.
More than 200 people, including members of Bajrang Dal and Vishva Hindu Parishad (VHP), took part in the panchayat. Participants also included people from nearby villages of Manesar, Kasan, Dharuhera and Gurgaon.
The members submitted a memorandum, meant for the deputy commissioner, to a duty magistrate stating that "illegal immigrants" must be evicted. "There should be an immediate enquiry into this and those found staying illegally should be evicted. They are involved in religious conversion and strict action should be taken against them," it read.
Devender Singh, general secretary, VHP Manesar, said the panchayat was called on behalf of the "Hindu society" in the region to raise their voice against growing "religious fundamentalism" and "jihadist forces" that have taken root in the country.
He claimed: "Hindus are being killed… Many Rohingya, Bangladeshis and Pakistanis are illegally staying in Gurgaon and Manesar by hiding their real identities. They have set up businesses in various sectors. We have given the administration a week's time to probe this and identify those with illegal documents… How did they get their IDs made? Who is funding them? This is a threat to our safety. If there is no action, then Hindu society will take action. Another panchayat will be called at a larger scale and the future course of action will be decided."
He further claimed: "Economic boycott is the only solution. Their shops are not for business or employment… this is part of jihad. Committees need to be formed in villages that can discuss and take action. We have already started this from Manesar."
Several speakers endorsed the boycott. "We need to pledge to not avail their services or purchase products from Muslim shopkeepers. There has to be a complete boycott. Boycott halal certified products. Do not get a haircut in their salons, do not rent them your houses, do not buy fruits from their shops," said Manish Sharma, a resident of Manesar.
Referring to the recent murders of a tailor in Udaipur and a chemist in Amravati, several speakers spoke about "retaliating in the same manner" in the future if such events are repeated, and to take up arms.
On whether the organisers had sought permission, SHO Manesar police station, Vijay Kumar, said, "We had received information that the panchayat will be held. As a precautionary measure, personnel from the
police station were deputed. Proceedings remained peaceful."
Source: Indian Express
Please click the following URL to read the full text of the original story:
https://indianexpress.com/article/cities/delhi/run-names-hindu-detites-panchayat-manesar-economic-boycott-muslim-businesses-8006518/
--------
Reach out to deprived, OBC Muslims, PM Modi tells party workers
Jul 4, 2022
HYDERABAD: PM Narendra Modi on Sunday called upon party workers to take out 'sneh yatras' to promote harmony and affection among different sections of society. He also asked party workers to reach out to the deprived sections in all communities, including Pasmanda (OBC Muslims) who have remained on the margins in the community's affairs.
This was BJP's first meeting in the wake of the killings in Rajasthan and Maharashtra over comments made by suspended party leader Nupur Sharma, but the PM in his address to the executive as well as, later, at the public meeting, made no mention of the horrific crimes which have incensed the party's base. The two-day executive meeting focused on the stock of its organisational activities and on lauding the Modi government over its economic and overall governance, though there was an obituary mention of Udaipur tailor Kanhaiya Lal who was beheaded.
The PM kept up his attack on "family outfits", something that has been BJP's chief campaign plank against Telangana CM K Chandrashekhar Rao. He said the domination of "family outfits" in different parts of the country is getting over. Modi, however, cautioned his audience that instead of mocking the plight of the opponents they should try to derive lessons from their failure so that they don't end up making the same mistakes.
"The terminal decline of a few political parties should not be the cause for mirth and humour," the PM said in his one-hour address, apparently a reference to Congress.
Modi also recalled his speech at Prayagraj national executive in 2016 in which he had suggested the party cadres practice the four mantra of 'seva' (service), 'santulan' (balance in outlook), 'samanvay' (coordination) and 'samvad' (dialogue) and suggested that they should review their own conduct since the party formed the government at the Centre.
Source: Times Of India
Please click the following URL to read the full text of the original story:
https://timesofindia.indiatimes.com/india/reach-out-to-deprived-obc-muslims-pm-modi-tells-party-workers/articleshow/92640123.cms
--------
Rann Kali, the war memorial built by BSF at the request of Christian and Muslim soldiers
JULY 03, 2022
The memorial has now become a pilgrimage point for locals
Half a century back, a Kali temple was built by the Border Security Force (BSF) as a war memorial at the request of two soldiers — a Christian and a Bengali Muslim — at the Border Outpost (BOP) in Srinagar, Tripura, which has now become a pilgrimage point for locals.
Major P. K. Ghosh, who was then commanding four border outposts (BOP) of BSF at Srinagar, Amlighat, Samarendraganj and Nalua in the southern part of Tripura bordering Chittagong division, in erstwhile east Pakistan, has chronicled the story in 'Borderman', the BSF journal.
When contacted, Major Ghosh said the Srinagar BOP was located in a very important strategic position and after the revolt by the East Bengal Regiment in 1971 against Pakistan, BSF aided the rebels in forming the first Muktibahini (Liberation army) in Srinagar.
"The MMG post at Srinagar BOP was playing a crucial role in thwarting the Pakistani army. It was the forward observation post near the Chittagong-Noakhali area. Exchange of fire was nothing new in that area, but it intensified when the liberation war started picking up", Major Ghosh told PTI telephonically.
He said since the MMG post was causing major damage to the Pakistani side, it became a precision target for the enemy.
"A precision target receives continuous firing of shells over a period of an hour or so, it is likely to get damaged. On that day, they fired 100 shells in ten minutes", Major Ghosh recalled.
"There were three members of the detachment at the post including a Nepali Christian, Constable Rehaman (a Bengali Muslim) and Constable Banabihari Chakraborty. The situation at the spot was terrible, and I asked them not to step out of the bunker," he said.
As the situation became worse, Constable Chakraborty asked the others to pray to goddess Kali. "They did that without even considering their religious beliefs. The post was saved due to its position near a pond and marshy land and heavy rain a night ago. A bamboo tree also prevented the shells from torching the bunker and they ended up as air bursts", Major Ghosh said.
When the BSF decided to build a war memorial at the spot, the Christian and the Muslim soldiers requested that a Kali temple be built instead.
"Building a Kali temple for a war memorial is very unconventional. But BSF did that to honour the request of the soldiers," Major Ghosh said.
The funds were collected from locals and the Bangladeshis also joined in constructing the Kali temple in 1972.
Source: The Hindu
Please click the following URL to read the full text of the original story:
https://www.thehindu.com/news/national/other-states/rann-kali-the-war-memorial-built-by-bsf-at-the-request-of-christian-and-muslim-soldiers/article65595318.ece
--------
'Personal attacks on judges lead to dangerous scenario': SC judge who heard Nupur Sharma's plea
Jul 3, 2022
NEW DELHI: Supreme Court judge Justice JB Pardiwala, who heard former BJP spokesperson Nupur Sharma's plea, said on Sunday that the situation in the country will become dangerous if judges were targeted personally for their decisions.
"Digital and social media needs to be mandatorily regulated in the country to preserve the rule of law under our Constitution.
"Attacks attempted at our judges for the judgments will lead to a dangerous scenario where the judges will have to pay greater attention as to what the media thinks rather than what the law actually mandates. This puts the rule of law on the burner ignoring the sanctity of the respect for the courts," he said.
Justice Pardiwala said that digital and social media need to be mandatorily regulated in the country to preserve the rule of law under the Constitution.
He also termed as "dangerous" the crossing of 'Lakshman rekha' on these platforms for "personalised, agenda-driven attacks" on the judges.
"In India, which cannot be classified as mature and an informed democracy, social and digital media is employed frequently to politicise purely legal and constitutional issues," Justice Pardiwala said and gave the illustration of the Ayodhya land dispute case.
He said the trials by digital media are an undue interference in the justice dispensation system. "Crossing that 'Lakshman rekha' many times, this is especially more worrisome," the judge, who has recently been elevated to the top court, said.
The remarks come amid an uproar by a section of people over the strong oral observations of a vacation bench, in which he was a member, against suspended BJP leader Nupur Sharma for her controversial comments against Prophet Mohammed.
The apex court had said that her "loose tongue" has "set the entire country on fire" and she should apologise.
Source: Times Of India
Please click the following URL to read the full text of the original story:
https://timesofindia.indiatimes.com/india/nupur-sharma-case-personal-attacks-on-judges-for-their-judgements-lead-to-a-dangerous-scenario-sc-judge-justice-jb-pardiwala-says/articleshow/92635912.cms
--------
Udaipur murder: Agencies to conduct analysis of accused phones to confirm Pakistan links
03rd July 2022
NEW DELHI/JAIPUR: Security agencies including the NIA, probing the "heinous" murder of a tailor in Udaipur, will conduct an Internet Protocol Detail Records (IPDR) analysis of the phones used by the four accused arrested in the case, officials said on Sunday.
They said it would help in ascertaining whether there was a radicalisation programme being run by Karachi-based Dawat-e-Islami religious group.
One of the four accused was linked with the JeI, according to the agencies.
The Rajasthan Police has, with the help of central security agencies, arrested the four people so far over the murder of Kanhaiya Lal on June 28 inside his tailoring shop.
The gruesome attack by Riaz Akhtari on the tailor was recorded on a phone by Ghouse Mohammad, and it was posted online.
They said in a video later that they hacked Lal to death with a cleaver to avenge an alleged insult to Islam.
Besides these two accused, against whom the evidence is a self-shot video, the security agencies also nabbed two more -- Mohsin and Asif -- who are alleged to be a part of the conspiracy to spread terror amongst the public at large.
The officials said that an IPDR analysis would be carried out on their phones to check their activities on the Internet.
The IPDR helps in tracking the details of a call or message generated by a phone device and includes information like the number from which the call was made, destination port, start and end date and time.
This technology works with closer proximity in a 2G environment.
The IDPR correlates the mobile users with other users of encrypted messaging service to make explicit the implicit call graphs in this data, according to a research paper by IIT professor Ranjan Bose, Computer Science student at the University of Maryland Adya V Joshi, who did internship with Delhi Police in 2017-18, and senior IPS officer Madan Oberoi, currently an executive director with Interpol.
The research paper was submitted by the trio at the Institute of Electrical and Electronic Engineers (IEEE), the world's leading professional organisation having over 4 lakh members from 160 countries during its 4th International Conference on Collaboration and Internet Computing (CIC) in 2018.
The IPDR analysis also helps in ascertaining the number of times a mobile user has visited a particular website, besides the calls and messages that were made using the internet telephony.
The probe agencies have also found several Pakistani numbers on their WhatsApp account and said one of the accused was part of the secret groups ostensibly meant for religious activities.
In one of these groups, it was alleged that Ghouse had been asked to do "something spectacular" to avenge the insult to Islam and the officials believed that this could be the turning point where the 'barbaric' act of killing the tailor could have been hatched.
They said that Mohsin's place was used for sharpening the cleaver used in the act, while Asif had helped in carrying out the recce of the tailor's shop.
The four are the custody of the National Investigation Agency (NIA) till July 12.
The NIA had on June 29 re-registered the case after taking it over from the Rajasthan police under the anti-terror Unlawful Activities (Prevention) Act.
"NIA has re-registered a case under sections 452, 302, 153(A), 153(B), 295(A) & 34 of IPC and sections 16, 18 & 20 of UA(P) Act, 1967 against accused who have conspired, planned and committed the heinous murder of Shri Kanhaiya Lal Telli on 28.6. 2022 in Udaipur, Rajasthan," NIA spokesperson had said.
Source: New Indian Express
Please click the following URL to read the full text of the original story:
https://www.newindianexpress.com/nation/2022/jul/03/udaipur-murder-agencies-to-conduct-analysis-of-accused-phones-to-confirm-pakistan-links-2472498.html
--------
Gyanvapi Masjid Case: Varanasi District Court Adjourns Hearing Till July 12
New Delhi | July 04, 2022
The Varanasi district court will resume hearing arguments today on the maintainability of a plea by five Hindu women seeking permission to worship the Shringar Gauri Sthal within the Kashi Vishwanath-Gyanvapi Masjid complex. Earlier, a structure, resembling a Shivling was found on the mosque complex. The Masjid committee contested that it was a fountain and not a Shivling.
Muslim side to keep its arguments on law-point in court on July 12, says Vishnu Jain
Advocate Vishnu Jain, representing the Hindu side in the Gyanvapi Masjid survey matter, said, " The Muslim side has given its arguments, date for the next hearing is July 12, keeping in mind everyone's convenience. The Muslim side to keep its arguments on law-point in front of the court then." (sic).
Source: India Today
Please click the following URL to read the full text of the original story:
https://www.indiatoday.in/india/story/gyanvapi-masjid-case-hearing-live-updates-kashi-vishwanath-shivling-fountain-hindu-muslim-shringar-gauri-worship-1969873-2022-07-04
--------
Africa
Tunisia's constitution committee rejects president's proposed constitution
03 July 2022
The head of Tunisia's constitution committee has denounced a proposed constitution published by the president, saying Kais Saied is after imposing a unilateral charter in the country.
Former constitutional law professor Sadok Belaid said on Sunday Saied's version was dangerous and did not resemble the first draft proposed by the committee. "…it is our duty to strongly and truthfully announce that the constitution that was officially published… and presented for referendum is not relevant to the constitution we prepared and sent to the president," he said in a letter published by the Assabah newspaper.
Belaid said the draft contains chapters that could pave the way for "a disgraceful dictatorial regime."
Last year, Saied used an "imminent danger" clause in the current constitution to dismiss the government and control executive powers, establishing one-man rule.
The president has not commented on the constitution since he published the text on Thursday in Tunisia's official gazette.
The country is expected to vote on the new constitution in a referendum on July 25.
Under the proposed constitution, the government would respond to the president and not the parliament. Saied would also be allowed to present draft laws and have sole responsibility for proposing treaties and drafting state budgets.
Tunisia's powerful General Labor Union has already stood up against the president's bid to overhaul the constitution to his own ends, saying it threatens democracy. In a statement on Saturday, the union said the draft includes broad powers for president and a reduced role for other bodies and institutions.
In recent days, the Tunisian people have held huge demonstrations across the country in a public display of opposition to the proposed constitution.
Saied assumed power last year. He dismissed the constitution so that he could rule by decree. The 2014 constitution was the result of intense negotiations among political parties and civil society groups. The president also dissolved the elected parliament and dismissed scores of judges.
Elsewhere in his remarks, Belaid, who has been appointed by Saied to draft a "new constitution for a new republic," said the proposal to limit membership of the Constitutional Court to judges named by the president would undermine the body's independence.
Source: Press TV
Please click the following URL to read the full text of the original story:
https://www.presstv.ir/Detail/2022/07/03/684976/Tunisia-proposed-constitution-president-saied
--------
UN condemns protesters' storming of Libya's parliament
02 July, 2022
A senior UN official for Libya on Saturday condemned the storming of the parliament's headquarters by angry demonstrators as part of protests in several cities against the political class and deteriorating economic conditions.
Hundreds of protesters marched in the streets of the capital Tripoli and other Libyan cities on Friday, with many attacking and setting fire to government buildings, including the House of Representatives in the eastern city of Tobruk.
"The people's right to peacefully protest should be respected and protected but riots and acts of vandalism such as the storming of the House of Representatives headquarters late yesterday in Tobruk are totally unacceptable," said Stephanie Williams, the UN special adviser on Libya, on Twitter.
Friday's protests came a day after the leaders of the parliament and another legislative chamber based in Tripoli failed to reach an agreement on elections during UN-mediated talks in Geneva. The dispute now centers on the eligibility requirements for candidates, according to the UN.
Libya failed to hold elections in December following challenges including legal disputes, controversial presidential hopefuls and the presence of rogue militias and foreign fighters in the country.
The failure to hold the vote was a major below to international efforts to bring peace to the Mediterranean nation. It has opened a new chapter in its long-running political impasse, with two rival governments now claiming power after tentative steps toward unity in the past year.
The protesters, frustrated from years of chaos and division, have called for the removal of the current political class and elections to be held. They also rallied against dire economic conditions in the oil-rich nation, where prices have risen for fuel and bread and power outages are a regular occurrence.
There were fears that militias across the country could quash the protests as they did in 2020 demonstrations when they opened fire on people protesting dire economic conditions.
Sabadell Jose, the European Union envoy in Libya, called on protesters to "avoid any type of violence." He said Friday's demonstrations demonstrated that people want "change through elections and their voices should be heard."
Source: Al Arabiya
Please click the following URL to read the full text of the original story:
https://english.alarabiya.net/News/north-africa/2022/07/02/UN-condemns-protesters-storming-of-Libya-s-parliament
--------
Tunisia's powerful labour union allows members to vote on new constitution
Yosra Ounas
03.07.2022
TUNIS, Tunisia
Tunisia's powerful labor union has allowed its members to vote in a planned referendum this month on the country's new constitution.
"Members have the freedom to vote in the (constitutional) referendum," Noureddine Taboubi, secretary-general of the Tunisian General Labor Union (UGTT), said following a meeting in the capital Tunis late Saturday.
Taboubi said the new charter has positive articles related to rights and freedoms.
"The charter, however, includes articles that consolidate power in the president's hands in addition to the absence of any mention of the civil state," he added.
Tunisians are scheduled to vote on July 25 in a public referendum on an amended version of the constitution.
Under the new constitution, the government will answer to the president not to the parliament.
The draft constitution also gives power to the president to dissolve the parliament who could serve for two terms of five years. The 142-article draft also says that Tunisia is a republic with a presidential system.
Tunisia has been in the throes of a deep political crisis that aggravated the country's economic conditions since President Kais Saied ousted the government, suspended parliament and assumed executive authority in July 2021.
Source: Anadolu Agency
Please click the following URL to read the full text of the original story:
https://www.aa.com.tr/en/africa/tunisias-powerful-labor-union-allows-members-to-vote-on-new-constitution/2629100
--------
Nearly 80 hostages rescued after being kidnapped by priest in Nigeria
Adam Abu-bashal
03.07.2022
ABUJA
Seventy-seven people held hostage in a church in southwestern Nigeria were rescued, according to media reports Saturday.
A priest took the hostages on the ground floor of a church in the Valentino district of Ondo State.
As residents of the neighborhood gave notice, the hostages, including 23 children, were rescued.
Source: Anadolu Agency
Please click the following URL to read the full text of the original story:
https://www.aa.com.tr/en/africa/nearly-80-hostages-rescued-after-being-kidnapped-by-priest-in-nigeria/2628989
--------


North America

US ban on imports from Xinjiang disrupts China's supply chain
Jul 04, 2022
The United States is rallying its allies against forced labour as it begins implementing an import ban on goods from China's Xinjiang region, where it says Beijing is committing genocide of the Uyghur population.
US Customs and Border Protection (CPB) on 21 June began enforcing the Uighur Forced Labour Prevention Act, which US President Joe Biden signed into law in December.
As per new rules all goods from Xinjiang, where Chinese authorities established detention camps for Uighurs and other Muslim groups, are made with forced labour and barred from import unless it can be proven otherwise.
"We are rallying our allies and partners to make global supply chains free from the use of forced labour, to speak out against atrocities in Xinjiang, and to join us in calling on the government of the PRC to end atrocities and human rights abuses immediately," US State Secretary Antony Blinken said in a statement, referring to China by its formal name, the People's Republic of China.
"Together with our interagency partners, we will continue to engage companies to remind them of US legal obligations," he said.
Xinjiang has a booming industrial, mining, and agricultural sector. Everything from peppers and walnuts to electrical equipment and polysilicon, a key material for making solar panels, ships to the US from the region. It also accounts for 20 per cent of the world's cotton and 80 per cent of China's domestic production.
Britain's Sheffield Hallam University released a report in mid-June documenting the use of forced labour in Xinjiang to manufacture polyvinyl chloride, a core component in floor tiling.
Academics and media organisations have published reports detailing the systematic use of forced labour among Uighurs in what critics describe as internment camps. China, which initially denied the existence of such facilities, later said they were vocational training centres are designed to combat the rise of religious and separatist extremism in the region.
A sweeping crackdown in Xinjiang over the past few years has repressed cultural and religious practices and prompted allegations of forced sterilisation and arbitrary imprisonment conditions that some western governments say amount to genocide.
Rights groups have urged for years that companies and brands linked to shirts, trousers and other Xinjiang-made goods be held accountable for labour conditions in the region.
However, China denies the claims of forced labour as "big lie concocted by anti-China forces" and has warned of retaliatory measures. However, the ban intensifies pressure on Beijing as the Foreign Ministry Spokesman Wang Wenbin said earlier in Beijing that "with this so-called law, the United States is trying to create forced unemployment in Xinjiang and to push for the world to decouple with China".
While Chinese companies and retailers are bracing for chaos as US Customs begins to enforce a ban on imports Xinjiang region. These companies are scrambling to gauge how the new rules could affect their business and supply chains, with Asian clothing suppliers, international retail chains, US solar-panel makers and Chinese floor tile material makers among scores of groups that could see US-bound shipments seized.
The Uighur Forced Labor Prevention Act entails that all US-bound imports traced to Xinjiang, from cotton and tomatoes to floor tile and solar panel materials, were made using forced labour and brands them as "high priority" for seizure.
More than 900 shipments from the region were seized in the last quarter of 2021 by US authorities under earlier trade restrictions. But trade and business groups said the new legislation's vague wording threatened to put the bulk of China's USD 500billion in annual shipments bound for the US at risk.
US customs said it would strictly enforce the rules, which threaten to aggravate already tense relations between Washington and Beijing. "If the act is implemented, it will severely disrupt normal co-operation between China and the US, and global industrial and production chains," said Zhao Lijian, Chinese Ministry of Foreign Affairs spokesperson, the week before the ban. "If the US insists on doing this, China will take robust measures to uphold its own rights and interests as well as its dignity."
Source: Hindustan Times
Please click the following URL to read the full text of the original story:
https://www.hindustantimes.com/business/us-ban-on-imports-from-xinjiang-disrupts-china-s-supply-chain-101656911339108.html
--------
US reiterates stance on PTI's conspiracy controversy
Anwar Iqbal
July 4, 2022
WASHINGTON: The US State Department on Sunday reiterated its stance that there's no truth to the claims that Washington was involved in a conspiracy to bring down the PTI government.
The controversy resurfaced on Sunday with media reports that PTI's secretary overseas Abdullah Riar "has contacted US Assistant Secretary of State for South and Central Asian Affairs Donald Lu and asked him to forget the past and move forward".
In March, former prime minister Imran Khan, while he was still in office, claimed that the opposition's no-confidence motion against him was the result of a "foreign conspiracy" because of his external policy and funds were channeled from abroad to oust him.
Later, PTI leaders told journalists that they based their claim on a cable that former Pakistani ambassador in Washington sent to Islamabad on March 7, detailing the conspiracy. The cable included details of Ambassador Asad Majeed Khan's meeting with Mr Lu at the Pakistan Embassy.
Dawn learned from diplomatic sources that the conversation mentioned in the cable happened at a farewell lunch by the outgoing ambassador and that the cable did not say anything about a conspiracy. Mr Lu, however, did convey the Biden administration's 'unhappiness' over former PM's visit to Moscow on the day Russia invaded Ukraine.
Mr Lu also said that this 'unhappiness' would continue as long as Imran Khan was in power. During the long conversation, Mr Lu also asked questions about the no-confidence movement against the PTI government as this was all over the media.
When Dawn contacted the US State Department for comments on Mr Riar's reported contact with Mr Lu, a spokesperson said: "As a standard practice, we do not comment on private diplomatic meetings."
On Imran Khan's claim on the US involvement in toppling him, the spokesperson said: "As we have said before, there is no truth to these allegations."
Source: Dawn
Please click the following URL to read the full text of the original story:
https://www.dawn.com/news/1698101/us-reiterates-stance-on-ptis-conspiracy-controversy
--------
Somali-born US lawmaker: Minnesota more violent than Somali refugee camp
02 July 2022
US Representative Ilhan Omar of the northern state of Minnesota has suggested that when it comes to violence, Minnesota is worse than the Somalian refugee camp she used to live in when she was a child.
"For six years, I had the privilege of not seeing any violence, until I moved to Minnesota," Omar stated at the Gun Violence Community Conversation held at North High School in the city of Minneapolis.
When Congresswoman Omar was eight years old, she and her family fled the civil war in Somalia and lived at the Dadaab refugee camp near the Kenya-Somali border for nearly four years.
"My first year in Minnesota I both saw a person shot at Peavey Park, dead on the floor, three weeks after my father and I arrived in Minneapolis," she said on Thursday. "Six months later I watched the Minneapolis police put 38 bullets into the body of a mentally disabled Somali immigrant who didn't speak English."
The city of Minneapolis alone has already marked 45 homicides so far this year. In early June, the leaders of 10 healthcare systems in the state of Minnesota declared gun violence a public health crisis.
The Muslim lawmaker also recalled a period at a refugee camp where some kids carried assault rifles while going to school.
"I know what that kind of violence looks like," she continued, "but I was fortunate enough to flee that and seek refuge in a refugee camp for four years where I did not witness that kind of violence."
Omar was granted asylum in the US in 1995, settling in New York City with her family when she was 12.
The congresswoman remains among a minority of US lawmakers fiercely opposed to gun laws in the country that allow the purchase of military combat weapons by any individual over the age of 18 with a little background check.
As a result, mass killings in public venues such as schools, places of worship and shopping centers have become a commonplace across the US with presidents, legislators and judicial authorities from both dominant political parties refusing or unable to enact laws to stop the persisting carnage.
This is while most US lawmakers receive various funding, campaign finance and political support from the country's powerful gun lobby group, known as the National Rifle Association (NRA).
Following the latest mass shootings across the US, the country's president and most other elected officials and politicians only extended rhetorical condemnations and calls for measures to curb the growing violence, according to local press reports, with little meaningful action.
Source: Press TV
Please click the following URL to read the full text of the original story:
https://www.presstv.ir/Detail/2022/07/02/684936/Ilhan-Omar--Minnesota-more-violent-than-Somali-refugee-camp
--------


Pakistan
Religious ministry gets subsidy amount for pilgrims: Mufti Shakoor
July 3, 2022
MECCA: Federal Minister for Religious Affairs Mufti Abdul Shakoor on Sunday said his ministry had received the amount of subsidy after approval of the federal cabinet for Hajj pilgrims.
To reduce Hajj expenses for low-income groups, the federal government had approved a Rs 150,000 subsidy for each pilgrim traveling to Saudi Arabia.
In a briefing meeting with Pakistan Hajj Mission Officials in Mecca, he said the subsidy amount would be transferred to the respective accounts of pilgrims after they returned home.
Ministry of Religious Affairs Senior Joint Secretary Alamgir Ahmad Khan, Director General Hajj Abrar Mirza, Director Hajj Mecca Sajid Manzoor Asadi, and other officials were present on the occasion.
The DG and Director Hajj Makkah briefed the minister on Hajj arrangements including accommodation, food and transport facilities to Pakistani pilgrims in Mina, Muzdalifah and Arafat.
The religious minister expressed satisfaction over the arrangements being provided to the pilgrims and directed the Pakistan Hajj Mission Officials to make all-out efforts to provide best possible facilities to the pilgrims in Saudi Arabia.
Source: Pakistan Today
Please click the following URL to read the full text of the original story:
https://www.pakistantoday.com.pk/2022/07/03/religious-ministry-gets-subsidy-amount-for-pilgrims-mufti-shakoor/
--------
Amid political disorder in Pashtun belt, Pakistan army count on proscribed organization TTP
3 July, 2022
Washington [US], July 3 (ANI): Amid the ebb and flow of political order in the Pashtun belt, the Pakistani army is counting on Tehrik-e-Taliban (TTP) to carry the dirty work of muffling secular and nationalist struggles, primarily spearheaded by National Democratic Movement (NDM) and Pashtun Tahaffuz Movement (PTM).
Senge Sering, President of Gilgit Baltistan Institute in Washington, writing in Baltimore Post-Examiner said that the Pakistani military's unpromising tryst continues with the TTP, though the establishment initiated a major crackdown on the organization for massacring 132 students of a military-run school in 2014.
Two weeks ago, four members of the Youth of Waziristan became victims of terrorism. The Pashtuns are critical of military-militant collusion and resultant damage to the secular fabric. Mohsin Dawar, a Pakistani parliamentarian representing NDM, while referring to this incident called the peace talks with TTP futile with a disastrous impact on the tribal culture, reported Sering.
The military establishment foresees NDM and PTM launching a region-wide protest against the armistice agreement with TTP. Ali Wazir, the prominent PTM leader and parliamentarian from South Waziristan, remains a formidable challenge to Pakistan's policy of employing terrorism for strategic benefits in Afghanistan.
In 2020, Wazir was framed and arrested for a purported hate speech crime. This is a cruel joke on a person who has dedicated an entire life to opposing extremism, hatred and bigotry. Many see the military's hand in his incarceration which could be protracted to create a much-needed breathing space for TTP in the tribal districts, reported Baltimore Post-Examiner.
Past results show that conditional negotiations like these produce short-lived peace and often favor TTP's expansion. In return for no (or fewer) attacks on its soldiers, army generals will surrender the safety and wellbeing of TTP's political opponents as well as the freedoms of ethnic and religious minorities.
Studies show that TTP sanctions female education and necessitates forced marriages of minor girls in the areas they control. They also carry out attacks on artists and musicians in the name of enforcing Islamic laws, reported Sering.
On June 24, TTP released an official statement echoing its pledge to bring Pakistan under Sharia. The statement confirmed the fears of many Pashtun leaders since TTP rebuffed the precondition of surrendering weapons for talks.
While calling the Pakistani government and military western slaves, TTP also declined to submit to the constitution. Left with no wiggle room, the cash-strapped military generals will most likely follow through with the deal, said Sering.
At this juncture, a majority would place a wager on the dwindling ruling coalition of the Pakistan Muslim League – Nawaz (PML-N) and Pakistan Peoples Party (PPP) to chime in, since they are desperate to preserve the fragile nexus with the military.
Moreover, the Taliban's return to power is profiting both its long-standing allies and new friends. According to a recent UN report, the Al-Qaida (AQ) is able to reclaim safe havens in Afghanistan in the wake of Ayman al-Zawahiri's growing bonhomie with the Taliban's head, Hebatullah Akhundzada.
Taliban regime has also enlisted several UN-proscribed terrorists for the executive and high-ranking ministerial portfolios. The AQ is expected to join forces with the Pakistan-backed Haqqani Network to transform Afghanistan into the once-famed epicenter of terrorism.
With a new lease on life, the Afghan Taliban is leveraged to mediate a truce between its Pakistani counterpart, the TTP and the Pakistani military.
Both Taliban and TTP desire to see Pakistan become a Sharia state and consider military establishment a major obstacle in their quest. Amidst the resurgence, TTP has restored contacts with the Islamic State of Khorasan (IS-K), which is a growing concern for the military.
Source: The Print
Please click the following URL to read the full text of the original story:
https://theprint.in/world/amid-political-disorder-in-pashtun-belt-pakistan-army-count-on-proscribed-organization-ttp/1022637/
--------
PTI leaders defend Bushra Bibi after 'leaked clip'
Ikram Junaidi
July 4, 2022
ISLAMABAD: Amid speculations that former first lady Bushra Bibi is not aloof from political matters following the leak of an audio clip wherein she purportedly instructed Pakistan Tehreek-i-Insaf (PTI) social media head Dr Arslan Khalid to run 'traitor trend' against political opponents, the PTI leaders have come forward to defend the wife of former prime minister Imran Khan and termed the clip 'fabricated'.
Addressing a press conference in Islamabad on Sunday, Imran Khan's Chief of Staff Shahbaz Gill alleged that an "organised campaign" was being run against the former premier and his wife to "defame" the couple.
Mr Gill warned that the members of the ruling Pakistan Muslim League-Nawaz (PML-N) would not be able to "show their faces" if their video and audio clips were made public.
The PTI leader also criticised the PML-N for its "derogatory remarks" against Army Chief Gen Qamar Javed Bajwa in the past. "Imran Khan, during his speech at the Parade Ground [on Saturday], clearly said that Pakistan cannot survive without the army," he said, adding that everyone was "aware of the derogatory remarks made by the PML-N leaders against the army chief".
Gill says 'organised campaign' underway to 'defame' Imran and his spouse
'Fictitious clip'
Similarly, Dr Arslan Khalid also rejected the audio clip, terming it "fictitious". In a tweet, the PTI leader said the public did not care for these "fabricated videos". "Recording thousands of calls, editing voices to turn them into custom phone calls and then disseminating them through lifafas — a term used by PTI for journalists critical of its policies — is this the only thing left [to do] now?" Dr Khalid added.
Leaked audio clip
The PTI leaders came to the defence of Bushra Bibi a day after her purported audio clip with Dr Khalid started making rounds on social and mainstream media. In the alleged clip, Bushra Bibi could be heard telling Dr Khalid that Imran Khan had asked him to run trends on social media declaring political opponents 'traitors'.
As per the clip, Dr Khalid was told to declare "Aleem Khan and others" traitors on social media as they would be speaking against the PTI chief. According to the clip, the former first lady also asked the PTI social media head to raise the issue of 'cipher' on social media. She also allegedly asked Dr Khalid to highlight the issue of the government not buying oil from Russia which was akin to "betrayal".
Dr Khalid was allegedly instructed by Bushra Bibi that these issues should not be hushed down and that trends should be generated to highlight how "Imran Khan and the country were being betrayed".
In the purported clip, Bushra Bibi also allegedly told Arslan Khalid to link criticism against her and Farah Khan, a friend of the former first lady who flew out of Pakistan in April, with treason. As per the clip, Dr Khalid assured the ex-first lady that the social media team would follow the instructions and label the PTI critics "traitors".
Source: Dawn
Please click the following URL to read the full text of the original story:
https://www.dawn.com/news/1698103/pti-leaders-defend-bushra-bibi-after-leaked-clip
--------
PPP leader Khursheed Shah assails ally PM Shehbaz for not attending parliament sessions
Syed Irfan Raza
July 4, 2022
ISLAMABAD: Federal Minis­ter for Water Reso­urces and Pakistan Peoples Party (PPP) leader Syed Khursheed Shah on Sunday criticised Prime Minister Shehbaz Sharif for not attending sessions of the parliament. He said that bringing a revolution in the country's agriculture sector is the "permanent solution of the prevailing economic crisis".
In a statement, Mr Shah, who has served as the leader of the opposition in the Nati­onal Assembly in the last Pakistan Muslim League-Nawaz (PML-N), said: "Like former prime minister Imran Khan, Shehbaz Sharif does not attend sessions of the parliament."
"We have not given due respect to parliament. The former prime minister also did not attend its sessions. Today our brother prime minister also does not turn up in the parliament," he added.
The PPP leader said politicians and institutions should ask this question from themselves that why the country is facing multiple problems today. "We have a constitution, but we marred it as we have maltreated our economy. Not only a single, but all previous governments are responsible for the current crippling economy," he added.
The PPP leader urged all political leaders to shun their differences and sit together to find best possible solutions of the problems confronting the country. "We have to sit together to save the country which is under the burden of heavy debts and unprecedented inflation," he added.
He criticised Pakistan Tehreek-i-Insaf (PTI) chairman Imran Khan for holding public meetings. "If Imran Khan believes that holding public meetings will bring any good to the country then he may continue with this," he added.
Khursheed Shah said development in the agricultural sector was the only remedy of the prevailing crisis. "We were prospering when we were producing nothing but had a strong agriculture base," he added.
Mr Shah urged the government to increase the support price of basic crops of the country. "Increase support price of cotton to Rs8,000 per 40kg, wheat Rs3,000 and mustard Rs7,000 per 40kg. Framers can happily buy a urea bag at Rs3,000 instead of Rs1,700. Withdraw subsidy of gas being supplied to urea factories and increase tax on cigarettes as by doing so additional Rs200 billion tax can be collected," he added.
Source: Dawn
Please click the following URL to read the full text of the original story:
https://www.dawn.com/news/1698107/ppp-leader-khursheed-shah-assails-ally-pm-shehbaz-for-not-attending-parliament-sessions
--------
Meeting on security, TTP tomorrow
July 4, 2022
ISLAMABAD: National Assembly Speaker Raja Pervaiz Ashraf has called a meeting of the parliamentary committee on national security on Tuesday (tomorrow) to discuss issues of national security, including talks with the banned Tehreek-i-Taliban Pakistan (TTP).
According to a press release issued by the National Assembly Secretariat on Sunday, the meeting to be chaired by the speaker will be attended by members of the National Assembly and Senate, the president and prime minister of Azad Kashmir, chief minister of Gilgit-Baltistan and chief secretaries of all the four provinces.
Source: Dawn
Please click the following URL to read the full text of the original story:
https://www.dawn.com/news/1698097/meeting-on-security-ttp-tomorrow
--------
'Imran's politics would end after Punjab by-polls'
July 4, 2022
LAHORE: PML-N vice-president Maryam Nawaz Sharif says that Imran Khan's politics will be eliminated in the July 17 by-polls.
Speaking at an election rally in PP-158, Dharampura, on Sunday, she said the people of Punjab would vote for Punjab's development in the by-poll and eliminate politics of the PTI chairman from the province.
Criticising the former prime minister, she said he ruled the country with the help of crutches (the establishment) and his government fell the day these crutches were withdrawn. She said Khan was the first politician who was calling upon 'the neutrals' to bring him back into power as his ouster had mentally deranged him.
Maryam said the PTI chairman was repeatedly urging the people to take to the streets against the incumbent government but nobody was paying heed to his protest calls.
Source: Dawn
Please click the following URL to read the full text of the original story:
https://www.dawn.com/news/1698032/imrans-politics-would-end-after-punjab-by-polls
--------
With Eidul Azha around the corner, Pakistan's Covid-19 positivity rate reaches 4.6pc
July 4, 2022
With Eidul Azha just a few days away, Pakistan on Monday recorded 675 fresh coronavirus cases as the national positivity rate reached 4.61 per cent.
Official data from the National Institute of Health (NIH) showed that two people succumbed to the virus in the last 24 hours. A total of 14,632 tests were conducted in this time period, while 153 patients were under critical care.
In a media briefing today, federal Health Minister Abdul Qadir Patel noted that the government was concerned over the increase in the hospitalisation and positivity rate over the last few days. "Our average deaths are between 1.5pc, while the average number of patients on ventilators is five."
He said that most of the infections were of the new Omicron sub-variant BA.5 — which spreads at a faster rate.
"The NCOC (National Command and Operation Centre) is monitoring cases vigilantly and we are prepared for any scenario," the minister assured.
He went on to say that all the provinces had been instructed to set up isolation centres and the National Disaster Management Authority (NDMA) had also been engaged in this regard.
Patel said the government was mulling rolling out mass testing, particularly in major cities such as Karachi. Commenting on the Covid surge in the metropolis, he said the positivity rate had dropped in the last few days, adding that this was not the "right time" for imposing a smart lockdown.
"But we have seen that there is still a lack of awareness among the people," he observed.
The minister further highlighted that two religious events, Eidul Azha and Muharram, were around the corner during which the chances of a spike in cases was expected. He urged the public to stay indoors during the Eid holidays.
Earlier, the government had made masks mandatory in all closed spaces and requested people to avoid hugging or shaking hands with people during the festivities. Further, the Civil Aviation Authority (CAA) also made wearing face masks mandatory on domestic flights.
Low testing skews data as Covid fatigue sets in
Government officials have blamed a decline in testing for skewed figures. They believe that both citizens and the health authorities have started taking the pandemic "as a normal disease" thanks to pandemic fatigue, an expected and natural response to a prolonged public health crisis.
"It's unfortunate that we put more emphasis on the positivity rate than the number of tests," Dr Javed Akram, member scientific task force on Covid-19, told Dawnon Sunday.
He said that according to different sampling methods, every fourth or fifth house and shop from the starting point should be included in the data and then all people present there should be tested.
"The size of the sample matters rather than the positivity rate. We should not forget that 30pc of the people never develop symptoms as they are asymptomatic but they continue to spread the virus," Dr Akram said.
"We need to understand that while Covid's virulence has been diminished with the passage of time, its transmissibility has increased. So now we can only control the virus by holding massive testing," he said.
Dr Akram, who is also the vice chancellor of the University of Health Sciences, said the media had also stopped giving importance to Covid.
Meanwhile, an official of the Ministry of National Health Services, requesting not to be named, said the number of Covid cases was doubling every five days, hospitalisations had started increasing and deaths had also reappeared.
Against this backdrop, "it's worrisome that testing beyond Karachi, Islamabad and Lahore shows no signs of improvement despite repeated push", he said.
He also called shutting down the NCOC a major setback. The previous government disbanded the NCOC, which was overseeing the country's Covid response, as the infection's numbers reached the lowest since the start of the outbreak in early 2020.
"The NCOC was practically being run by the army, with the Inter-Services Public Relations (ISPR) pushing the media to run stories and campaigns on the pandemic and give awareness to masses that how important it was to get tested, vaccinated and strictly adhere to the standard operating procedures (SOPs)," he said.
With the NCOC gone, the health ministry couldn't manage the media the way ISPR was doing it, the official said, adding that with the passage of time, citizens started thinking that the pandemic had been eradicated.
Source: Dawn
Please click the following URL to read the full text of the original story:
https://www.dawn.com/news/1698160/with-eidul-azha-around-the-corner-pakistans-covid-19-positivity-rate-reaches-46pc
--------
Pakistan seeks Qatar gas on deferred payment
Khaleeq Kiani
July 4, 2022
ISLAMABAD: Amid severe energy crunch and unprecedentedly expensive fuel imports, Pakistan is seeking more gas imports on deferred payments from Qatar, which is irritated by roadblocks to its infrastructure investment plans, particularly in import terminals.
Authorities in Islamabad are engaging with Qatar at different levels to ramp up Liquefied Natural Gas (LNG) supplies to Pakistan to make up for shortage of four to five cargoes (about 400-500 million cubic feet of gas per day) every month.
At almost every engagement, the other side wants to hear an update on the removal of hitches to its plans to set up a merchant LNG terminal near Karachi.
The government has failed in last three attempts over the past couple of weeks to secure even a single cargo for July from the spot market as whatever quantities are available in the spot or otherwise are herded by the Unites States towards Europe suffering energy shortages amid the Russia-Ukraine war and ready to pick every molecule at any cost.
Doha irritated over roadblocks to its infrastructure investment plans
The single bid again from Qatar at $40 per million British thermal units (mmBtu) for a July delivery was too expensive to be accepted against Qatar's long-term contract price of $11-14. For the next few months, it looks highly unlikely that the government can use its own capacity as sport price of LNG is not viable.
Informed sources said Minister of State for Petroleum Dr Musadik Malik visited Qatar a few weeks ago for additional LNG quantities. When approached, he chose not to comment on Qatar specifics but said the government was tapping all avenues to see how additional molecules are secured to meet needs of the local industry and the people at competitive costs.
He said various pricing models were in his mind, but the real challenge was the availability of additional energy quantities. He said the government would encourage private investment for competition and end monopolies. "We would not like to see a few faces in every field," he said.
The sources said the Qatari ambassador in Islamabad also recently called on Prime Minister Shehbaz Sharif and had a follow-up session with Dr Malik to convey that Qatar Energy was getting all the wrong vibes about its LNG terminal.
However, it is not only Qatar's Energas but also Mitsubishi's Tabeer Energy that have been running around with licences for LNG terminals, marketing and sales without any success on signing of pipeline capacity.
Informed sources said not only the gas companies but regulatory bodies and relevant ministries had been delaying the contract signing for pipeline capacity or providing third party access to two upcoming merchant terminals — private projects without government guarantee for LNG sales and purchases with private sectors on commercial terms.
They have even received threats that their soon-expiring licences would not be renewed. In the meanwhile, options for construction of new terminals for Pakistan many be diminishing as European clients rush for additional LNG processing capacity.
Dr Malik again wrote to Qatar that the government of Pakistan and its people appreciated Doha for its continued support, particularly in the supply of LNG under mutually beneficial long-term contracts. He reiterated that Pakistan's "desire to enhance the number of cargoes of LNG from Qatar under the two existing long term sale purchase agreements, on deferred payments" and reassured that Pakistan "government is also diligently working to do away with the stumbling blocks relating to third party access which will accelerate the process of investment by Qatar Energy in infrastructure development for LNG import".
The petroleum minister said Islamabad realised the limitations on account of the current turmoil in the energy markets but expected "a positive response" from Qatar for additional LNG cargoes that would further strengthen bilateral friendship.
Informed sources said Qatar Petroleum believed that merchant LNG terminals were being road blocked to create space for expansion of existing LNG terminals developed with government guarantees.
The two new private licencees — Qatar's Energas and Japan's Tabeer — were particularly perturbed by a narrative at a recent Turnaround Conference of the Planning Commission about possible inability of Energas and Tabeer to come up with new terminals and hence expansion of existing terminals after withdrawal of international arbitration and local accountability cases. Energas and Tabeer were not invited to the conference.
The two existing terminals were awarded through a tender process in which the entire capacity of the terminal and is associated infrastructure was for the sole use of the government. The terminal operators were given a guaranteed rate of return on the basis of roughly $100 million per annum for the next 15 years.
As part of the contacts, the government had the right to provide access to third parties through its own quota for the purpose of reducing its financial exposure. The existing terminals, however, now want to increase throughput capacity (LNG volumes) at additional charge from new customers, on top of over and above the guaranteed payments from the government. This would also mean reduced storage and increased throughput on the government capacity.
Officials said such an arrangement could entail legal questions and would need the tender process to be amended. Also, the Sui gas companies — the sole distributors of gas — would have to agree to waive their rights on storage and berthing and throughput containment to accommodate third parties.
Already, the existing six cargo throughputs per month from a 170,000 cubic metres of storage is already well above global standards with a significant exposure on the guaranteed LNG long-term contracts from Qatar.
Tabeer and Energas are seeking to build new terminals for their own consumption and their private clients and at their own private industry risk unlike $100 million per annum guaranteed for the first two terminals.
Both have already received the go-ahead from cabinet and its other forums to utilise the pipeline capacities but Sui companies have still not executed contracts despite strict reminders from the energy ministry and the regulator, Ogra.
Source: Dawn
Please click the following URL to read the full text of the original story:
https://www.dawn.com/news/1698111/pakistan-seeks-qatar-gas-on-deferred-payment
--------
Europe
Berlin-Based News Website Reveals Real Face of YPG/PKK Terror Group
Cuneyt Karadag
02.07.2022
BERLIN
One of Germany's leading news websites has published a story featuring the inner face of the YPG/PKK terror organization.
The opinions of Turcologist Walter Posch, who is a member of the Institute for Peace Support and Conflict Management at the Austrian National Defence Academy, was given space in Deutschlandfunk on June 22 under the title, "PKK, Turkey and Kurdish terror."
"The fact that foreign forces focus on the YPG as they do not have their own troops in Syria is a disaster with multiple consequences," said Posch.
Posch accused Western countries of legitimizing the PKK terror group.
Underlining that he examined the so-called charter of the terror group, Posch said Westerners are deceived by the PKK's rhetoric of a "democratic society."
Contrary to what is believed, what the PKK wants and aims at is a communist society, he said.
Posch drew attention to the fact that the PKK wants to legitimize its power against all Kurdish people rather than wanting cultural coexistence of various Kurdish groups.
Source: Anadolu Agency
Please click the following URL to read the full text of the original story:
https://www.aa.com.tr/en/europe/berlin-based-news-website-reveals-real-face-of-ypg-pkk-terror-group/2628462
--------
Denmark in shock as gunman kills three at Copenhagen shopping mall
July 4, 2022
Three people were killed and several more were wounded in a shooting at a shopping centre in Copenhagen on Sunday, Danish police said, adding they had arrested a 22-year-old Danish man and charged him with manslaughter.
The attack rocked Denmark at the end of an otherwise joyful week, just after it hosted the first three stages of the Tour de France cycle race. The event had sent hundreds of thousands of cheering Danes into the streets across the country.
"Denmark was hit by a cruel attack on Sunday night. Several were killed. Even more wounded. Innocent families shopping or eating out. Children, adolescents and adults," Prime Minister Mette Frederiksen said in a statement late on Sunday.
"Our beautiful and usually so safe capital was changed in a split second," she said. "I want to encourage the Danes to stand together and support each other in this difficult time."
Copenhagen police said armed officers were sent to Field's mall in the capital late on Sunday afternoon after reports of a shooting, and had told people inside to stay put and await assistance. Local media footage showed groups of terrified shoppers running from the mall.
The suspect was apprehended at 5:48pm local time, carrying a rifle and ammunition. Police launched a massive search operation throughout the local Zealand region early Sunday evening in search of any accomplices.
"We are going to have a large investigation and a massive operational presence in Copenhagen until we can say with certainty: He was alone," Thomassen said.
The shooter had killed a man in his forties and two "young people", a man and a woman, Thomassen said. Several more were wounded, and among those were three in critical condition.
The investigation so far did not point towards a racist motive or otherwise, but this could change, he said.
Copenhagen police will hold a press briefing Monday morning at 8:00am local time.
The capital's main hospital, Rigshospitalet, had received a "small group of patients" for treatment, a spokesperson said early on Sunday evening, and had called in extra doctors and nurses.
Danish tabloid BT published unverified video footage it said was shot by a witness to the attack, Mahdi Al Wazni, showing a man with a large rifle walking through the mall and swinging it around his shoulders.
"He seemed very aggressive and shouted different things," Al-wazni told BT.
Footage published by tabloid Ekstra Bladet showed one person being carried by rescue workers into an ambulance on a stretcher.
"People first thought it was a thief ... Then I suddenly hear shots and threw myself behind the counter inside the store," an eyewitness, Rikke Levandovski, told broadcaster TV2.
"He is just shooting into the crowd, not up in the ceiling or into the floor," she added.
The multi-storey shopping mall is located around 5 kilometres south of downtown Copenhagen.
"My friend and I ... suddenly we hear shots. I hear about ten shots and then run as fast as we can into a toilet. We squeeze into this tiny toilet where we are around 11 people," another witness who gave her name as Isabella told public broadcaster DR.
The attack follows a deadly shooting in neighbouring Norway last week, in which two people were killed by a lone shooter in the capital Oslo.
The terrorist threat against Denmark is currently assessed to be "serious", with the biggest threat coming from religious extremism, according to the latest report from the Danish Security and Intelligence Service.
The threat to Denmark from right-wing extremists is considered at a "general" level, which means there is capability and/or intent and possibly planning.
Denmark last saw a militant attack in 2015, when two people were killed and six police officers wounded when a lone gunman shot and killed a man outside a culture centre hosting a debate on freedom of speech, and later killed a person outside a Jewish synagogue in central Copenhagen.
That gunman was killed in a shoot-out with police.
A concert due to be held by singer Harry Styles in Copenhagen on Sunday night not far from the shopping centre was cancelled, police said.
Source: Dawn
Please click the following URL to read the full text of the original story:
https://www.dawn.com/news/1698159/denmark-in-shock-as-gunman-kills-three-at-copenhagen-shopping-mall
--------
Sweden pledges to abide by agreement with Türkiye
Atila Altuntas
03.07.2022
STOCKHOLM
Swedish Prime Minister Magdalena Andersson on Sunday vowed to abide by the recent agreement with Türkiye, including pledges on extradition of terrorists.
Speaking at the annual political festival Almedalen Week in Gotland, Andersson said she could not share specific details of the memorandum signed with Türkiye and Finland ahead of the June 28-30 NATO summit in Madrid.
Andersson said those who are not involved in terrorist activities need not worry. "Swedish citizens cannot be extradited according to national and international law. If you have not participated in terrorist activities, you do not need to worry," she added.
Sweden and Finland shunned neutrality and applied to join NATO in May, a decision spurred by Russia's war on Ukraine.
But Türkiye, a longstanding member of the alliance, voiced objections to the membership bids, criticizing the countries for tolerating and even supporting terrorist groups.
Just before the summit, Türkiye, Finland, and Sweden signed the agreement after four-way talks in the Spanish capital.
The agreement allows the two Nordic countries to become NATO members, but conditions them to take steps on Türkiye's terrorism concerns, and lift an arms embargo on Ankara.
Source: Anadolu Agency
Please click the following URL to read the full text of the original story:
https://www.aa.com.tr/en/europe/sweden-pledges-to-abide-by-agreement-with-turkiye/2629418
--------
Sweden refuses to deny deportations to Turkey part of NATO deal
July 03, 2022
VISBY, Sweden: Sweden's Prime Minister Magdalena Andersson refused Sunday to deny Turkey's claim that it had promised to deport individuals sought by Ankara as part of Stockholm's efforts to join NATO.
Despite questioning by journalists and concerns among Kurdish and Turkish refugees in Sweden, Andersson would not say whether such a commitment had been given to Ankara for it to lift objections to Sweden's membership.
"I've been a minister for eight years and I never talked about what is said in the negotiation room," she said. "(That) actually puts me in a bit of a difficult situation right now," she added.
In an agreement signed by Stockholm and Helsinki at a NATO summit in Madrid on Tuesday, the two Nordic countries agreed to examine Turkish extradition requests "expeditiously and thoroughly."
No promise has been given to actually carry out the extraditions, and Finland and Sweden have since recalled that the process is in the hands of the authorities and independent courts.
But Turkish President Erdogan on Thursday said at the end of the NATO summit that Sweden had made a "promise" to extradite "73 terrorists" and threatened to block NATO membership if the commitments were not met.
Andersson, who was pressed several times on Sunday to say whether such a promise had been given, simply repeated Stockholm's position.
She said Sweden will continue to respect national and international laws, no Swedish nationals will be extradited, the decision will be up to independent authorities and courts.
"If you are not involved in terrorist activities, there is no need for concern," she said.
The Swedish leader was holding her first press conference since returning from the summit, during a visit to the Baltic Sea island of Gotland.
Source: Arab News
Please click the following URL to read the full text of the original story:
https://www.arabnews.com/node/2115866/world
--------
South Asia
Three People Flogged by the Taliban for Adultery and Theft in South Afghanistan
By Saqalain Eqbal
03 Jul 2022
Three people have allegedly been publicly flogged by the City Court in southern Afghanistan, Kandahar province, for the crimes of adultery and theft, according to local Taliban officials in Kandahar province.
The three alleged offenders' sentences were carried out, according to the authorities, on Thursday, the 30th of June, in Kandahar, in the presence of Mawlawi Mohibullah, a member of the Taliban's judicial system, and other court members.
Each of the perpetrators allegedly received 39 floggings, according to the Taliban officials.
An Afghan legal analyst believes that as the Taliban reforms the Afghanistan's justice system under its rigid interpretation of Islamic law, a return to lurid and brutal public executions and floggings is unavoidable.
The Taliban have already whipped the accused for "crimes against God" in certain districts across Afghanistan.
The Taliban's local authorities previously lashed a young man in Ghor province, in central Afghanistan, for harassing a 29-year-old girl.
Source: Khaama Press
Please click the following URL to read the full text of the original story:
https://www.khaama.com/three-people-flogged-by-the-taliban-for-adultery-and-theft-in-south-afghanistan-37484/
--------
Taliban commander uses military chopper to take his newlywed bride home
Jul 4, 2022
KABUL: A Taliban commander allegedly flew his newlywed bride from Logar to Khost province in eastern Afghanistan, using a military helicopter, according to local sources.
The Taliban figure was referred to as a commander of the Haqqani branch on social media, and the sources claimed that he resides in Khost and that his wife's residence is in the Barki Barak district of Logar, reports Khaama Press.
The sources claim that this incident occurred in the Shah Mazar region of the Barki Barak district of Logar province.
The wife of the Taliban commander is seen being transported in a military helicopter that landed near a house in a video that went viral on social media, Khaama Press reported.
Furthermore, it is claimed that this commander gave his father-in-law 1,200,000 Afghanis as dowry in exchange for his daughter's hand in marriage.
However, in response, the Taliban's deputy spokesperson, Qari Yusuf Ahmadi, argues that the allegations are untrue calling it a "propaganda of the enemy", and that the Islamic Emirate dismisses it.
Source: Times Of India
Please click the following URL to read the full text of the original story:
https://timesofindia.indiatimes.com/world/south-asia/taliban-commander-uses-military-chopper-to-take-his-newlywed-bride-home/articleshow/92648327.cms
--------
Taliban ministry: Over 4,500 immigrants returned to Afghanistan in 2 days
July 4, 2022
The Taliban's Ministry of Refugees and Repatriation announced the return of more than 4,500 immigrants from Iran to Afghanistan in the last two days.
The Taliban ministry also added that returned refugees were referred to the United Nations High Commissioner for Refugees (UNHCR).
According to figures released by the Taliban Ministry of Refugees and Repatriation, those migrants returned to Afghanistan from the Milak border crossing in Nimruz during the last two days.
The Taliban ministry also announced that 26 families entered the country from Pakistan and Afghanistan's southern borders during that period.
However, Majid Mirahmadi, Iran's Deputy Interior Minister, said on Thursday that with the completion of the census of unauthorized nationals in the country, the deportation of those who did not introduce themselves to be listed will begin next Saturday.
Local Taliban officials declared that on average a thousand immigrants return to Afghanistan every day.
Most of the immigrants returning from Iran enter their country from the two border crossings of Islam Qala(Dogharoon as it is called on the Iranian side of the border) in Herat province and Milak in Afghan Nimruz province.
Source: ABNA24
Please click the following URL to read the full text of the original story:
https://en.abna24.com/news//taliban-ministry-over-4500-immigrants-returned-to-afghanistan-in-2-days_1272290.html
--------
Taliban still illegitimate rulers say Afghan women activists
Jul 3, 2022
KABUL: The Taliban remain illegitimate rulers despite a declaration by thousands of male clerics endorsing their hardline government, Afghan women activists said Sunday.
The clerics pledged allegiance to the Taliban and its reclusive leader Saturday following a three-day meeting that failed to address thorny issues such as the right of teenage girls to go to school.
The Taliban -- who seized power last August -- have since tried to present the meeting as a vote of confidence in their vision of a pure Islamic state totally subservient to sharia law.
They insisted last week that women would be represented at the meeting -- attended by over 3,500 men -- but only by their sons and husbands.
"Statements released or pledging allegiance to the Taliban in any gathering or event without the presence of half of the nation's population, the women, are not acceptable," Hoda Khamosh, a rights activist currently in exile in Norway, told AFP.
"This summit... does not have legitimacy, validity, or the approval of the people."
Since returning to power in August, the Taliban's harsh interpretation of sharia law has imposed severe restrictions on Afghans -- particularly women.
Secondary school girls have been barred from education and women prevented from working in government jobs, forbidden from travelling alone, and ordered to dress in clothing that covers everything but their faces.
The Taliban have also outlawed playing non-religious music, ordered TV channels to stop showing movies and soaps featuring uncovered women, and told men they should dress in traditional garb and grow their beards.
In Kabul, a collective of women's groups also slammed the clerics' meeting as not representative.
"The Ulema (clerics) are just one part of society, they are not the whole," organiser Ainoor Uzbik told AFP after a press conference.
"The decisions they made serve only their own interests and are not in the interest of the country and its people. There was nothing for women on the agenda, nor in the communique."
In a statement, the collective said men like the Taliban held absolute power before in history -- but usually only for a short time before being dumped.
Source: Times Of India
Please click the following URL to read the full text of the original story:
https://timesofindia.indiatimes.com/world/south-asia/taliban-still-illegitimate-rulers-say-afghan-women-activists/articleshow/92636329.cms
--------
The EU Provides an Additional €40 Million for Child Protection and Polio Vaccination in Afghanistan
By Saqalain Eqbal
03 Jul 2022
According to a statement made by the United Nations International Children's Emergency Fund (UNICEF) on Sunday, the European Union provides an additional €25 million for polio vaccines and €15 million for child protection in Afghanistan.
The EU has granted a combined €40 million to UNICEF and the World Health Organization (WHO) to assist polio vaccination operations and child protection efforts throughout the nation.
With the deteriorating humanitarian crisis and economic meltdown in the country, the children endure violence and other threats which force them to make desperate decisions for survival.
According to a UNICEF statement, many Afghan children experience compelled to start working, and some even take the risk of labor overseas as 88 percent of households had at least one child working under severe conditions outside home.
"That is why the EU is contributing an additional €15 million to UNICEF, to help identify boys and girls returning to Afghanistan who need help, and children at risk of migration, and give them options other than migration or labor," said the EU ambassador to Afghanistan, Andreas von Brandt.
Source: Khaama Press
Please click the following URL to read the full text of the original story:
https://www.khaama.com/the-eu-provides-an-additional-40-million-for-child-protection-and-polio-vaccination-in-afghanistan-458484/
--------
Floodwaters in Bangladesh take heavy toll on children's education
July 03, 2022
DHAKA: Last month's flooding in northeastern Bangladesh has dealt a heavy blow to the country's education sector as authorities estimate that it has kept hundreds of thousands of children out of school.
Millions of people were displaced, and dozens of others killed when heavy floods triggered by monsoon rains hit northeast Bangladesh in June. The South Asian nation witnessed intense rainfall that continued for days, causing the worst deluge that the country had seen in more than a century.
In the worst-hit Sylhet region, thousands of schools and colleges were forced to remain shut weeks after the devastating floods, leaving hundreds and thousands of students out of classes as authorities began assessing the extent of the damages.
Over 3,000 primary schools — more than half of the total in Sylhet — sustained damages during the floods, Dr. Nasima Begum, deputy director at the department of primary education in the region, told Arab News. Around 1.8 million children were enrolled in the primary schools, she added.
"Since more than half of the schools were affected by flood water, it is anticipated that the children of these areas were also affected," Begum said.
"We have yet to complete the loss assessment because the floods have not completely receded in many areas," she said. "We have plans to provide new books and education materials to the children when classes resume."
Mohammed Nazrul Hakim, executive engineer at Sylhet's education engineering department, told Arab News that buildings damaged in the floods are in dire need of repairs.
"The ground floors of the affected institutions have become unusable due to the floods. Students can't have classes there without repair works being done," Hakim said.
As hundreds of high schools and colleges in the region had also been damaged during the disaster, around 150,000 secondary students also had their final exams, initially scheduled to take place in June, postponed.
"More than 600 high schools and colleges were affected due to this flood," Prof. Abdul Mannan Khan, director of Sylhet's department of secondary and higher education, told Arab News.
Classes are expected to resume on July 19, but for most of the affected students, the "floodwater damaged many of their books and education materials," Khan added.
When the unprecedented floods hit villages across northeast Bangladesh, most people only had enough time to save themselves and their loved ones.
"Saving our lives was the only concern during the flood," 16-year-old Abdur Rahman Sohag told Arab News.
"It happened so quickly that I couldn't manage to save any of my books."
Sohag was among tens of thousands who were scheduled to take their final exams last month. But as the situation worsened and the final exams had to be postponed, a new date has yet to be announced.
Like Sohag, 16-year-old Sanjida Zahan Chowdhury also lost her textbooks in the floods, which had submerged her home in the Sunamganj district.
Source: Arab News
Please click the following URL to read the full text of the original story:
https://www.arabnews.com/node/2115876/world
--------


Southeast Asia
Does Learning Arabic Reflect a Colonial Mind-set, Says PBB Man
Robin Augustin
July 4, 2022
PETALING JAYA: A Sarawak minister has hit out at PAS president Abdul Hadi Awang for saying those pushing for the mastery of English are stuck in a colonial mindset.
"It's unfortunate for PAS to have a leader with such a shallow mindset," said Abdul Karim Rahman Hamzah, a vice-president of PBB, the mainstay of the ruling Sarawak coalition.
He said Islam advocates believers to acquire as much knowledge as possible. Being proficient in as many languages as possible would enable better communication with the rest of the world.
"Being good in English doesn't mean someone has a colonial mindset," he said. "Arabic is not the language of our region. Does learning Arabic mean we have a colonial mindset? No."
"Don't be a katak bawah tempurung," he said, using the Malay proverb for remaining in ignorance.
Karim is state tourism minister and a senior member of the Sarawak government. English is an official language in Sarawak under the state constitution.
Source: Free Malaysia Today
Please click the following URL to read the full text of the original story:
https://www.freemalaysiatoday.com/category/nation/2022/07/04/does-learning-arabic-reflect-a-colonial-mindset-says-pbb-man/
--------
MACC: Mosque fund management disclosure crucial to avoid misconduct
03 Jul 2022
MELAKA, July 3 — A clear explanation of the management of mosque funds to committee members is crucial, in efforts to ensure that there are no leakages or irregularities that affect public trust and the mosque's credibility as one of the fund distribution platforms.
The Malaysian Anti-Corruption Commission (MACC)'s Community Education division director, Datuk Razim Mohd Noor, said that his division will expand the Mosque Community Against Corruption programme nationwide, in an effort to provide a better understanding and enhance public awareness of fund management, especially among mosque committee members.
He said that generally, most malpractice cases involved a criminal breach of trust, which is a very serious offence and has a huge impact on society if it is not addressed at an early stage.
"We receive a lot of grievances and complaints from the community who express their displeasure and worry about the management of mosque funds. This is what we want to avoid.
"Through the Mosque Community Against Corruption programme, we will provide a briefing and explanation to mosque committee members on corruption offences and other aspects of corruption prevention that need to be emphasised in managing mosque funds," he said to reporters after attending the launch of the programme at Surau Al-Mughni in Kampung Tersusun, Bukit Larang here today.
The programme, jointly organised by MACC, the Melaka Islamic Religious Department (JAIM) and the Surau Al-Mughni, was also attended by JAIM director, Datuk Che Sukri Che Mat.
Razim said that, through such an awareness programme, mosque committee members could streamline standard operating procedures (SOPs) in terms of the management of mosque funds, which was found to be loose and subsequently led to abuse of power as well as leakage of public funds.
"For example, the implementation of a project that uses mosque funds needs to follow transparent procedures and processes, because we do not want these projects to be controlled by members of the mosque committee themselves.
"This will create a negative perception among the community or the congregation members, which will cause them to lose faith in the committee members, and worse still, they decide to stay away from mosques," he said.
He said that the programme will be implemented in stages with the cooperation of religious agencies and mosques nationwide.
Meanwhile, Surau Al-Mughni chairman, Mohd Noor Siden, said that the Mosque Community Against Corruption was a good approach, especially in the management of mosque funds, thus reminding mosque committee members to be transparent and careful in spending the funds raised.
Source: Malay Mail
Please click the following URL to read the full text of the original story:
https://www.malaymail.com/news/malaysia/2022/07/03/macc-mosque-fund-management-disclosure-crucial-to-avoid-misconduct/15537
--------
Zakir Naik settles defamation suit against Kula
V Anbalagan
July 4, 2022
KUALA LUMPUR: A defamation suit brought by controversial Muslim preacher Zakir Naik against former human resources minister M Kula Segaran has been resolved without a trial in the High Court.
Naik's lawyer, Akberdin Abdul Kader, said a consent judgment was recorded before judicial commissioner Arief Emran Arifin in chambers.
"The settlement terms are to remain confidential between the parties," he told FMT.
Sulaiman Abdullah and Rafie Mohd Shafie also represented Naik, who is a permanent resident staying in Putrajaya.
Kula's lawyer, K Shanmuga, confirmed the outcome.
Naik and Kula, who is also a DAP national vice-chairman and the Ipoh Barat MP, were present during the proceedings in chambers.
The suit against Kula was in connection with an FMT report titled "DAP: No reason for Malaysia to protect Zakir Naik", published on April 17, 2017.
Naik also cited a press release by Kula on Aug 13, 2019 titled "Zakir Naik's presence is embarrassing to all Malaysians".
He sought compensation and damage claims from Kula, as well as a court injunction prohibiting him from publishing and distributing four defamatory news articles in any medium.
Naik also demanded an apology to be issued and published in newspapers and online news portals.
Source: Free Malaysia Today
Please click the following URL to read the full text of the original story:
https://www.freemalaysiatoday.com/category/nation/2022/07/04/zakir-naik-settles-defamation-suit-against-kula/
--------
Reject corrupt leaders in GE15, Anwar tells Malaysians
July 2, 2022
KUALA LUMPUR: Opposition leader Anwar Ibrahim has urged Malaysians not to lose interest in politics, stating that corruption would continue to spread if the wrong leaders got the votes at the next general election (GE15).
Speaking at a conference here, the Pakatan Harapan (PH) chairman said Malaysians must have the courage to bring about change by electing " non-corrupt" political leaders at the next general election.
"If we choose to reject politics, the future of our children will be determined by corrupt people," he said.
"It doesn't matter if we are Malay, Kadazan, Chinese, Indian … we have a choice. Do not allow the people to suffer (from corrupt politicians)."
Also present were Amanah president Mohamad Sabu and DAP secretary-general Loke Siew Fook.
Anwar, who is also PKR president, said that PH had consistently rejected governments that practised corrupt politics.
"Who can deny that the political elite have collected wealth for themselves at the expense of the people?
"This is not a racial issue. Everyone is plagued by abuse of power and corruption, and there are those attacking the judiciary as they fear a brave and independent body (judiciary).
"From the beginning, we have stood up to uphold justice and voice out the concerns of the public."
Meanwhile, Mohamad said that although PH was accused of governing the country poorly when it was in control of the federal government for 22 months, the coalition had managed to improve the country's standing in Transparency International's annual Corruption Perception Index.
Touching on the police decision to investigate a protest at Kampung Baru, organised by Amanah against the rising prices of goods yesterday, Mohamad said that he was willing to take to the streets again to highlight the issue.
Source: Free Malaysia Today
Please click the following URL to read the full text of the original story:
https://www.freemalaysiatoday.com/category/nation/2022/07/02/reject-corrupt-leaders-at-ge15-anwar-tells-malaysians/
--------
I'll hear you out, task force chief tells protest leaders
Faiz Zainudin
July 4, 2022
KUALA LUMPUR: Anti-inflation task force chairman Annuar Musa has invited the leaders of a protest on rising prices to a discussion on solutions to rising inflation.
Annuar said he hoped the meeting would help provide interesting ideas. "I want to hear their ideas. I'm not capable of solving this by myself… I'm not Superman. If there are people with good ideas who can help, we invite them," he said.
Annuar, who is communications and multimedia minister, said he was not against demonstrations as Malaysia is a democratic country.
On Friday, about 100 people took part in a protest organised by Amanah at Kampung Baru in Kuala Lumpur over the rising cost of goods.
Among those at the event were the party's vice-president Adly Zahari, secretary-general Hatta Ramli and communications director Khalid Samad.
Source: Free Malaysia Today
Please click the following URL to read the full text of the original story:
https://www.freemalaysiatoday.com/category/nation/2022/07/04/ill-hear-you-out-task-force-chief-tells-protest-leaders/
--------
PAS to use PN logo for general election, says Muhyiddin
July 2, 2022
KOTA BHARU: Bersatu and PAS have decided to use the Perikatan Nasional (PN) symbol for the coming general election, Bersatu president Muhyiddin Yassin said today.
"This matter has been agreed to by PAS president Abdul Hadi Awang and the PAS leadership can confirm this. For example, in Johor, not only Bersatu will be contesting, but PAS too," he said, according to Bernama.
"That was the decision that I received and I think the decision remains. However, in terms of the distribution of seats, it has not been decided yet," he said.
He said several parties have expressed their intention to join PN but they are addressing the matter with caution.
However, a PAS central committee member, Ahmad Amzad Hashim, said the party leadership had decided to use its own logo in certain seats, NST Online reported. He said party leader Hadi Awang would announce the decision later.
Muhyiddin said he had held discussions with prime minister Ismail Sabri Yaakob about Cabinet positions, including the post of deputy prime minister.
He said the meeting was held a few days ago to consider a previous agreement between PN and the prime minister.
"I have raised a number of important issues including appointments in the government not only to fill vacancies but also with regard to new appointments. We are not asking for more (than what has been agreed), only about the appointment of a deputy prime minister and ministers as well as those involving government-linked agencies and statutory bodies as well as the government's allocations," he said.
Source: Free Malaysia Today
Please click the following URL to read the full text of the original story:
https://www.freemalaysiatoday.com/category/nation/2022/07/02/pas-to-use-pn-logo-for-general-election-says-muhyiddin/
--------
Singapore urged to halt hanging of Malaysian drug trafficker
July 04, 2022
KUALA LUMPUR: Anti-death penalty activists in Malaysia urged Singapore's government on Monday to halt the execution of a convicted Malaysian drug trafficker this week, the second in less than three months.
Kalwant Singh, who was convicted in 2016 of bringing heroin into Singapore, is scheduled to be hanged Thursday, activists said. The execution of another Malaysian in late April sparked an international outcry because he was believed to be mentally disabled.
The Anti-Death Penalty Asia Network delivered a statement to Singapore's embassy urging that Kalwant's execution be suspended to allow him an opportunity to file for clemency.
It said Kalwant, who was 23 when he was arrested in 2013, had been threatened with violence and forced to make drug deliveries to Singapore to repay a football gambling debt, and that factor was not adequately considered during his trial.
It said the death penalty has done little to stop drug traffickers and organized syndicates.
"The government of Singapore's persistence in maintaining and utilizing the death penalty has only led to global condemnation and tarnishes Singapore's image as a developed nation governed by the rule of law," it added.
The hanging in April of Malaysian drug trafficker Nagaenthran K. Dharmalingam sparked an international outcry because he was believed to be intellectually disabled with an IQ of 69. Another Malaysian drug trafficker who was to be hanged in April was given a reprieve pending the outcome of a legal challenge.
Source: Arab News
Please click the following URL to read the full text of the original story:
https://www.arabnews.com/node/2116211/world
--------

Arab World
Yemeni troops launch campaign against Al-Qaeda
SAEED AL-BATATI
July 03, 2022
AL-MUKALLA: Yemeni special forces have launched an offensive against Al-Qaeda in the southern governorate of Abyan, amid reports that the terrorist group is attempting a comeback.
Elite counterterrorism troops have been deployed in mountains and valleys in Abyan to prevent Al-Qaeda in the Arabian Peninsula, its branch in Yemen, from turning those areas into safe havens or launch pads for strikes against government troops in the south.
Abdul Rahman Al-Shonini, commander of counterterrorism forces in Abyan, said the campaign was launched after receiving information that AQAP was gathering in remote valleys and mountains to launch attacks against government troops in the south. He vowed to thwart its attempts to resurge in Abyan.
His forces have not encountered any resistance as AQAP terrorists have reportedly fled to their hideouts in mountains between Abyan and Al-Bayda governorate.
Last month, local media and residents said masked AQAP terrorists appeared in some valleys and areas in Abyan, ambushing troops and kidnapping residents.
Local security officials accuse AQAP of orchestrating a string of attacks that killed at least 10 soldiers in Abyan and Shabwa governorate last month.
In 2015, AQAP exploited instability stemming from the war in Yemen to seize large swaths of land in southern governorates, including Hadramout, Abyan and Lahj.
Thanks to military support from the Arab coalition, Yemeni troops managed to push AQAP from key cities, killing and capturing hundreds of terrorists.
Source: Arab News
Please click the following URL to read the full text of the original story:
https://www.arabnews.com/node/2115966/middle-east
--------
Lebanon expects to settle maritime border dispute with Israel
İdiris Okuduci
04.07.2022
BEIRUT
Lebanon's top diplomat said Sunday that he expects his country and Israel to reach a sea demarcation agreement in September.
Speaking to the LBCI television channel, Foreign Minister Abdallah Bou Habib commented on the negotiations between Lebanon and Israel which resumed through US mediation efforts in June following a one-year hiatus.
Bou Habib said information obtained from US and UN officials indicates that progress has been made in the talks but did not provide further details.
His comments come a day after the Israeli army announced the downing of three unmanned aerial vehicles (UAVs) which had been sent towards an Israeli gas rig in the Karish field in the Mediterranean Sea in what the army described as a reconnaissance mission in Israel's exclusive economic zone near the Lebanese border.
The Lebanese group Hezbollah confirmed the drone operation, saying it was meant to send a "message" to Israel about its capabilities.
Hezbollah has previously confirmed that it is prepared to take measures, including force, against Israeli gas drilling operations in such disputed offshore areas, saying "all options are on the table."
Lebanon and Israel have been embroiled in a dispute over 860 square kilometers (332 square miles) of the Mediterranean Sea, according to maps sent by both countries to the UN in 2011.
The area is rich in natural gas and oil.
Source: Anadolu Agency
Please click the following URL to read the full text of the original story:
https://www.aa.com.tr/en/middle-east/lebanon-expects-to-settle-maritime-border-dispute-with-israel/2629441
--------
Cash-strapped Lebanon seeks Arab support
Wassim Seif El Din
02.07.2022
BEIRUT
Lebanese Prime Minister-designate Najib Mikati has called on Arab countries to provide support to his cash-strapped country amid a deep economic crisis.
Speaking following a dinner for Arab foreign ministers in the capital Beirut, Mikati said Lebanon is committed to distancing itself from any Arab disputes.
He called on "the Arab countries, and the Gulf Cooperation Council (GCC) nations in particular, to support Lebanon in this critical juncture."
Mikati reiterated Lebanon's commitment to implementing all United Nations Security Council and Arab League resolutions "in a way that consolidates the policy of disassociation from any Arab disputes."
Beirut is hosting a meeting of the Arab foreign ministers on Saturday to discuss the agenda of an upcoming Arab summit in Algeria in November.
Source: Anadolu Agency
Please click the following URL to read the full text of the original story:
https://www.aa.com.tr/en/middle-east/cash-strapped-lebanon-seeks-arab-support/2628790
--------
Saudi Arabia security forces hold military parade in Mecca in preparation for Hajj
04 July, 2022
Saudi Arabian security forces marched through a parade ground in Mecca on Sunday as pilgrims around the world started to converge towards the Muslim holy city for the annual Hajj pilgrimage.
Police forces held a mock demonstration of a pursuit and capture situation, while paramedics mimicked quick response times for air lifting to safety.
Thousands of pilgrims started arriving in the holy city of Mecca in Saudi Arabia on Friday, among some one million Muslims expected to attend the 2022 Hajj pilgrimage season after two years of major disruption caused by the COVID-19 pandemic.
Every able-bodied Muslim is supposed to undertake it at least once in their lifetime.
Saudi Arabia, home to Islam's holiest sites in Mecca and Medina, allowed back foreign travelers this year to perform Hajj. Only a few thousand Saudi citizens and residents attended the annual pilgrimage in the last two years as COVID-19 wreaked havoc across the global economy and curtailed travel.
Source: Al Arabiya
Please click the following URL to read the full text of the original story:
https://english.alarabiya.net/News/gulf/2022/07/04/Saudi-Arabia-security-forces-hold-military-parade-in-Mecca-in-preparation-for-Hajj
--------
Mideast
Iran: US Should Account for Killing People through Terrorism, Sanctions, Occupation
2022-July-4
"This government (the US administration) should be held responsible to the oppressed peoples, who have lost their lives as a result of terrorism, sanctions, aggression, and occupation," Qaribabadi said on Sunday on the sidelines of the fourth International Conference on the American Human Rights from the Perspective of Leader of the Islamic Revolution Ayatollah Seyed Ali Khamenei.
He added that the US is, by no means, qualified to talk about (the issue of) human rights.
Qaribabadi cited the example of the people of Yemen, where Saudi Arabia and its allies have been waging a US-backed war, saying that the Yemenis were still being deprived of receiving the most basic humanitarian assistance due to the invaders and their supporters' "imperialist disposition of and great human rights violations".
Addressing the conference Iranian Deputy Foreign Minister for Political Affairs Ali Baqeri Kani said trampling on independent peoples' human rights was a "part and parcel" of the US foreign policy.
"One can confidently claim that there is no nation in today's world that has not tasted the bitter taste" of the American version of human rights, he said.
The biggest violation that can be committed against human rights is to "politicize" the issue, he said, adding, "Today, human rights are turned into a pretext and a tool for expansion and institutionalization of the predominance of American unilateralism."
Baqeri Kani considered "sanctions and terrorism" to be the main pillars of the American version of human rights, adding, "If they are robbed of these two pillars, they may not be able to continue their dominance and plots."
The official defined the US's unilateral sanctions as a means of collective targeting and punishment of all people without any exception or reason.
"Based on all international principles and regulations, humanitarian items are not subject to sanctions, but based on the American human rights, sanctioning of foodstuffs and medicine does not face any bans," the official noted.
The US returned its sanctions against Iran in 2018 after leaving a historic accord between the Islamic Republic and others.
Source: Fars News Agency
Please click the following URL to read the full text of the original story:
https://www.farsnews.ir/en/news/14010413000216/Iran-US-Shld-Accn-fr-Killing-Peple-hrgh-Terrrism-Sancins-Occpain
--------
Iran Blasts Normalization of Ties with Israel as Betrayal of Palestinian Cause
2022-July-3
"At the present time, Israel is going through its worse security and political conditions. However, there are those who think they can divert public opinion (from problems in their own countries) through normalization of relations with Israel," Amir Abdollahian said in a meeting with the representatives of Palestinian resistance groups in Damascus on Saturday evening.
A number of regional Arab countries, including the United Arab Emirates and Bahrain normalized their ties with the occupying regime as part of the so-called Abraham Accords, which were mediated by the administration of then US President Donald Trump in 2020. Morocco and Sudan followed suit by inking similar agreements with Tel Aviv.
Palestinians and their regional and international supporters have denounced the agreements as a "stab in the back" of the Palestinian cause of liberation from Israeli occupation and aggression.
Iran's foreign minister regretted the move by these countries, saying they have turned a blind eye to the issue of Palestine and are trying to cover up their domestic problems by getting closer to the Zionist regime.
"Such measures amount to betraying the lofty cause of the oppressed people of Palestine in their fight against the oppression and aggression of the usurping Zionist regime," he said.
Amir Abdollahian added the countries that have entered such agreements with Tel Aviv, think they can solve their own domestic problems by doing this, but they are "definitely making a mistake", since the occupying regime itself is "grappling with numerous issues".
Noting that the issue of Palestine is still the first priority for the Muslim world, Amir Abdollahian reiterated Iran's categorical support for the people of Palestine until they liberate their motherland and establish a single Palestinian government with al-Quds as its capital.
Elsewhere in his remarks, the Iranian foreign minister introduced resistance as the only way of tackling the issue of Palestine's occupation by the Zionist regime.
"The experience gained in the last seven decades shows that a fundamental solution to the issue of Palestine is only possible through resistance," Amir Abdollahian said, adding, "We stand by the Palestinian nation with all our might until realization of their goals, considering this to be incumbent upon us on moral and religious grounds."
Amir Abdollahian concluded his remarks by denouncing war, whether it was in Ukraine, Palestine or Yemen, saying "(any region's) problems must be solved by the people of that region."
Over the past years, specially during the last few months, several incidents have busted the Israeli regime's security and political invulnerability myths.
Last May, the regime launched its fourth wholesale war against the Gaza Strip only to be targeted with at least 4,000 rockets flown by the Palestinian territory's resistance movements.
In September, six Palestinian prisoners escaped a high-security prison in the northern part of the Israeli-occupied territories, using a tunnel that they had dug with a rusty spoon. Palestinians and their supporters hailed the dramatic jailbreak as a slap in the face of the occupying regime and its sprawling security apparatus.
Source: Fars News Agency
Please click the following URL to read the full text of the original story:
https://www.farsnews.ir/en/news/14010412000286/Iran-Blass-Nrmalizain-f-Ties-wih-Israel-as-Berayal-f-Palesinian-Case
--------
Iran: US, 15 European States Involved in Supplying Former Saddam Regime with Chemical Weapons
2022-July-3
"The Islamic Republic of Iran is a victim of weapons of mass destruction, more than 13,000 people have been martyred and more than 100,000 injured as a result of the use of chemical weapons against the people of our country, and some of our war veterans which were affected by the Saddam chemical attacks still become martyrs on a daily basis," Qaribabadi said on Saturday, addressing a ceremony on the anniversary of Saddam regime's bombardment of Sardasht in West Azerbaijan province in Northwestern Iran with chemical weapons in 1987.
He added that according to a report by the Organization for the Prohibition of Chemical Weapons (OPCW), more than 15 mainly European countries, along with the US, were involved in equipping Saddam's regime with chemical weapons, adding that these countries must now be held to account for arming the Saddam regime.
Qaribabadi further called on the relevant international legal organizations to hold these countries accountable, noting that complaints have been filed against certain European individuals, but that is not enough.
Sardasht is a city in Northwestern Iran. According to the 2006 census, its population was 37,000. It lies in the West Azerbaijan province. It was the first city in which civilians were attacked with chemical weapons by former Iraqi dictator, Saddam Hussein during the imposed Iraqi war on Iran.
The population of Sardasht is Kurdish. The city is also known for the many villages around it and their reliability on the city's market.
On June 28, 1987, Iraqi aircraft dropped what Iranian authorities believed to be mustard gas bombs on Sardasht, in two separate bombing runs on four residential areas.
Sardasht was the first town in the world to be gassed. Out of a population of 20,000, 25% are still suffering severe illnesses from the attacks.
Source: Fars News Agency
Please click the following URL to read the full text of the original story:
https://www.farsnews.ir/en/news/14010412000353/Iran-US-5-Erpean-Saes-Invlved-in-Spplying-Frmer-Saddam-Regime-wih
--------
Israel says it will test bullet that killed Shireen Abu Akleh, Palestinians disagree
03 July, 2022
Israel said on Sunday it would test a bullet that killed a Palestinian-American journalist to determine whether one of its soldiers shot her and said a US observer would be present for the procedure that could deliver results within hours.
The Palestinians, who on Saturday handed over the bullet to a US security coordinator, said they had been assured that Israel would not take part in the ballistics.
Washington has yet to comment. The United States has a holiday weekend to mark July 4.
The May 11 death of Al Jazeera reporter Shireen Abu Akleh during an Israeli raid in the occupied West Bank, and feuding between the sides as to the circumstances, have overshadowed a visit by US President Joe Biden due this month.
The Palestinians accuse the Israeli military of killing her deliberately. Israel denies this, saying Abu Akleh may have been hit by errant army fire or by one of the Palestinian gunmen who were clashing with its forces.
"The (ballistic) test will not be American. The test will be an Israeli test, with an American presence throughout," said Israeli military spokesman Brigadier-General Ran Kochav.
"In the coming days or hours it will be become clear whether it was even us who killed her, accidentally, or whether it was the Palestinian gunmen," he told Army Radio. "If we killed her, we will take responsibility and feel regret for what happened."
Akram al-Khatib, general prosecutor for the Palestinian Authority, said the test would take place at the US Embassy in Jerusalem.
"We got guarantees from the American coordinator that the examination will be conducted by them and that the Israeli side will not take part," Al-Khatib told Voice of Palestine radio, adding that he expected the bullet to be returned on Sunday.
An embassy spokesperson said: "We don't have anything new at this time."
Biden is expected to hold separate meetings with Palestinian and Israeli leaders on July 13-16. The Abu Akleh case will be a diplomatic and domestic test for new Israeli Prime Minister Yair Lapid.
Israeli Deputy Internal Security Minister Yoav Segalovitz said Lapid had been involved in "managing the arrival and transfer of this bullet."
Source: Al Arabiya
Please click the following URL to read the full text of the original story:
https://english.alarabiya.net/News/middle-east/2022/07/03/Israel-says-it-will-test-bullet-that-killed-Shireen-Abu-Akleh-Palestinians-disagree
--------
Iranian FM: Syria, Region Not to Tolerate Israel's Mischiefs
2022-July-4
"During the meeting, Mr. Mamluk, Syria's national security adviser, we discussed some security issues, including the Zionist regime's aggressive military attacks on Syria," Amir Abdollahian told reporters before leaving Damascus on Sunday.
He added that the Zionists are going too far in Syria, and naturally Damascus and the region cannot stand this situation anymore.
Amir Abdollahian had also on Saturday blasted the Zionist regime for its aggressive moves, saying that the western states' silence on Israel's attacks against Syria's territorial integrity indicated the untrue nature of their claims about supporting the Arab country's security and stability.
Amir Abdollahian made the remarks in a meeting with Syrian President Bashar al-Assad in Damascus.
He described the silence of the western organizations and governments on the Israeli attacks against Syria as an indication of their double standards.
Amir Abdollahian added that failure to seriously deal with the Israeli regime's destructive moves and its acts of aggression shows that western governments' claim that they are making efforts to stabilize Syria and restore security to the country, are not true.
The Iranian foreign minister said that this issue has further emboldened the racist Zionist regime to try to disrupt the situation in Syria.
The Iranian foreign minister also hailed the Syrian government and president's efforts to strengthen the country's national unity, territorial integrity and sovereignty.
Assad, for his part, described the top Iranian diplomat's visit to Damascus as important under the current circumstances given the regional and international developments.
He added that a situation is unfolding in the region that will tip the balance in our favor.
Assad accused the western governments of provocative acts in Syria for the purpose of settling scores, rivalry and extracting concessions from the other sides.
The Syrian president then referred to the existing concerns and dangers in the region, saying some of these issues are mutual among regional countries and must be resolved jointly through political means and dialogue.
Source: Fars News Agency
Please click the following URL to read the full text of the original story:
https://www.farsnews.ir/en/news/14010413000296/Iranian-FM-Syria-Regin-N-Tlerae-Israel%E2%80%99s-Mischiefs
--------
Iranian Deputy FM: US Misusing Human Rights to Impose Unilateral Policies
2022-July-4
Trampling on independent peoples' human rights was a "part and parcel" of the US foreign policy, Baqeri Kani said, addressing the fourth International Conference on the American Human Rights from the Perspective of Leader of the Islamic Revolution Ayatollah Seyed Ali Khamenei on Sunday.
"One can confidently claim that there is no nation in today's world that has not tasted the bitter taste" of the American version of human rights, he said.
The biggest violation that can be committed against human rights is to "politicize" the issue, Baqeri Kani said, adding, "Today, human rights are turned into a pretext and a tool for expansion and institutionalization of the predominance of American unilateralism."
He considered "sanctions and terrorism" to be the main pillars of the American version of human rights, adding, "If they are robbed of these two pillars, they may not be able to continue their dominance and plots."
The official defined the US unilateral sanctions as a means of collective targeting and punishment of all people without any exception or reason.
"Based on all international principles and regulations, humanitarian items are not subject to sanctions, but based on the American human rights, sanctioning of foodstuffs and medicine does not face any bans," Baqeri Kani said.
The US launched the so-called maximum pressure campaign of sanctions against Iran in 2018, after unilaterally exiting the Iran deal.
The sanctions have restricted the financial channels necessary to pay for basic goods and medicine, undermining supply chains by limiting the number of suppliers willing to facilitate sales of humanitarian goods to the country.
Source: Fars News Agency
Please click the following URL to read the full text of the original story:
https://www.farsnews.ir/en/news/14010413000330/Iranian-Depy-FM-US-Missing-Hman-Righs-Impse-Unilaeral-Plicies
--------
FM: Tehran Trying to Resolve Crisis between Syria, Turkey
2022-July-3
One of the important missions at this point was to investigate and discuss Turkey's reported special military operations in parts of Syria, Amir Abdollahian said, elaborating on his recent visit to Damascus.
During the last few days' trip to Turkey, this issue was also discussed, he noted.
Tehran rejects war and tries to resolve the crisis between the two countries through political ways, Amir Abdollahian stressed.
"We had a two-hour conversation with Syrian President Bashar al-Assad," he said.
Elsewhere, Amir Abdollahian described Cairo as an important country in the Islamic world, and hailed developing relations and cooperation between Tehran and Cairo.
He, meantime, said that the two countries have so far held no direct talks.
Heading a delegation, Amir Abdollahian was officially welcomed by his Syrian counterpart Faisal Mikdad in Damascus on Saturday.
Upon arrival in the Syrian capital city, he told journalists that President Assad's recent visit to Tehran was a turning point in bilateral relations.
"During that trip, we entered a new phase of comprehensive cooperation between the two countries, including in various economic and commercial fields," he said.
"Today marks a very good opportunity to discuss with my colleague Mr. Faisal Mikdad the latest state of relations between the two countries," the top Iranian diplomat added.
Elsewhere in his remarks, Amir Abdollahian said Iran strongly condemns the Israeli regime's violation of Syria's territorial integrity.
"Along with the sanctions imposed against the resistant people of Syria, the Zionists seek to destabilize (Syria) and increase the problems of the Syrian people," he said.
President Assad visited Tehran in May, and held talks with Supreme Leader of the Islamic Revolution Ayatollah Seyed Ali Khamenei and President Ebrahim Rayeesi.
Before departure to the Arab country, Amir Abdollahian said that during his visit to Damascus he would pursue establishment of peace between Syria and Turkey.
"My trip to Syria is partly meant to establish peace and security in the region between Syria and Turkey, as two countries with which the Islamic Republic of Iran has important relations," Amir Abdollahian said on Saturday.
He further said he would meet with Syrian President Bashar al-Assad and Mikdad and other high-ranking Syrian officials during the trip to push bilateral relations and review regional and global developments.
The Iranian foreign minister's visit comes days after he met with Turkish officials in Ankara as part of his regional tour.
Ties between Damascus and Ankara soured after Turkey launched several incursions into Northern Syria.
Ankara says the militants affiliated with the Kurdistan Workers' Party (PKK) have been fighting a separatist war against Turkey.
However, Damascus complaints that the Turkish offensive violates Syria's territorial integrity.
Iranian President Seyed Ebrahim Rayeesi said last Monday that his country supports peace and stability all across the world.
Source: Fars News Agency
Please click the following URL to read the full text of the original story:
https://www.farsnews.ir/en/news/14010412000648/FM-Tehran-Trying-Reslve-Crisis-beween-Syria-Trkey
--------
Palestinian teenager shot by Israeli forces in West Bank dies
03 July, 2022
A Palestinian teenager died on Sunday after being shot by Israeli forces in the occupied West Bank a day earlier, Palestinian medical sources said.
The 17-year-old was identified as Kamel Alawnah by the Palestinian health ministry, which said he "succumbed to wounds from live fire by the occupation (Israeli army) in the abdomen and hand in Jenin."
For the latest headlines, follow our Google News channel online or via the app.
https://news.google.com/publications/CAAqBwgKMOnQlwswi_quAw?oc=3&ceid=US:en&hl=en-US&gl=US
A Palestinian medical source told AFP that Alawnah was wounded in Jaba, a village in the Jenin governorate of the northern West Bank.
The Israeli military did not immediately respond to a request to comment on the incident.
Forty-nine Palestinians have been killed since late March across Israel and the Palestinian territories; civilians, attackers, and suspected militants among them.
They include Al Jazeera journalist Shireen Abu Akleh, who according to the United Nations was killed by Israeli army fire while covering a military raid in Jenin.
Over the same period 19 people -- the majority Israeli civilians inside Israel -- have been killed, mainly in attacks by Palestinians. Three Israeli Arab attackers have also been killed.
Source: Al Arabiya
Please click the following URL to read the full text of the original story:
https://english.alarabiya.net/News/middle-east/2022/07/03/Palestinian-teenager-shot-by-Israeli-forces-in-West-Bank-dies-
--------
URL: https://newageislam.com/islamic-world-news/syncretic-hindu-muslim-culture-ram-nam-satya-hai/d/127400


New Age Islam Islam Online, Islamic Website, African Muslim News, Arab World News, South Asia News, Indian Muslim News, World Muslim News, Women in Islam, Islamic Feminism, Arab Women, Women In Arab, Islamophobia in America, Muslim Women in West, Islam Women and Feminism