New Age Islam News Bureau
16 Dec 2014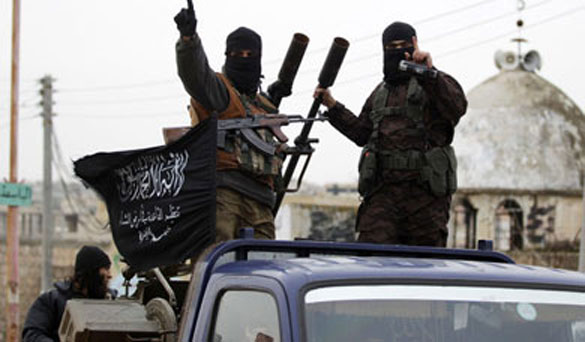 Members of al Qaeda's Nusra Front gesture as they drive in a convoy touring villages, which they said they have seized control of from Syrian rebel factions, Dec. 2, 2014. (File Photo: Reuters)
----------
Australia
• Sydney Gunman A 'Lone Wolf': Who Was Self-Styled Cleric Man Haron Monis
• I'll Ride With You: Australians Tweet Their Support to Muslims in Sydney
'• Deluded' Sydney Hostage-Taker Saw Himself as A Martyr
• Australia vows to unearth why 'sick' extremist was at loose
• Abbott pays homage to Sydney siege victims
Arab World
• Around 180 Syrian Soldiers, Jihadists Killed In Battle for Base
• Isis in Iraq Release Pictures of Mass Execution
• Muslim Brotherhood Beliefs Justify Radicals: Former Islamic Jihad Leader
• Jordan says no plan to push for quick UN vote on Palestine
• UAE supports Iraq's inclusive policy: Gen Mohammed
• Prophet's Mosque expansion work goes apace
• Shoura member: Need to revise terrorist rehabilitation program
Europe
• German Chancellor Calls for Unity against Anti-Islam Forces
• Austria to Close Saudi School with Alleged Anti-Semitic Inclinations
• France: 10 arrested over 'jihadist links'
• Seven held in Spain, Morocco in probe on women militants
• Spain slams move to erase Islamic past of Cordoba cathedral
• U.N. humanitarian chief: Syria parties are killing not protecting civilians
• 'Growing number of Swiss militants heading overseas
• Germany says it will help finance four new Israeli warships
India
• Bihar Man Gets ISI Job Offer via E-Mail
• After @Shamiwitness Discovery, India Bans Islamic State
• J-ul -M Bangladesh was on verge of setting up 3rd training centre in Murshidabad
• Sleuths track Kalyan youth tweeting from ISIS zone
South Asia
• 40 Insurgents Killed, Fighting Extended To 3rd Day in Kunar
• Arakan Muslims' Two Years of Despair in Myanmar Camps
• Online ventures target global Muslim consumer market
• ACC accuses Liberation War Ministry of non-cooperation
North America
• CIA Report Revives Legal Debate on Interrogation
• In Us Spending Bill, a Warning to Palestinians on UN Actions
• US says Halal food supplier who sold beef to UAE misled Muslims on beef
• A desert war on ISIS, fought from a floating city
Mideast
• Israel Arrests 10 Jewish Extremists for 'Hate Crimes'
• Palestinians Tell ICC They Want To Join the Court
• Clash of Islamist groups is basis for Dec 14 operation
• Amnesty calls killing of Yemeni separatist 'execution'
• Palestinian killed in Israeli raid in West Bank
• Netanyahu tells Kerry: Imposed Palestinian state deal will endanger Israel
• Iran Calls for Establishment of Int'l Body to Punish HR Violators
Pakistan
• Funding TTP: ANF Official Rebuffs US Allegations
• Pak Minorities May Work In Indian Private Sector
• Taliban attacks on Sufi shrines lead to unlikely victims
• Promoting tolerance: Punjab proposes a minority friendly curriculum
• Pakistan Army is your army, General Raheel tells Baloch youth
• PTI protest, gangsterism can't go on, says Nisar
Africa
• Nigerian Muslim Leader Underlines Imminent Defeat of Boko Haram
• Sudan Govt Forces Accused of Gang Rape in Blue Nile State
• Libyan air strikes pound targets at Tunisian border
• UN: Tens of thousands dead in S Sudan war
Southeast Asia
• Rap Your BN Buddies Over 'Allah' Ban First, Guan Eng Tells Umno
• Malaysian youth marrying too young, says UN report
• Lawyers' group pans PAS's Hudud move, says it's against Constitution
• Jakarta Post Editor's Blasphemy Case 'Under Review': Police
Compiled by New Age Islam News Bureau
URL: https://www.newageislam.com/islamic-world-news/new-age-islam-news-bureau/sydney-gunman-a--lone-wolf---who-was-self-styled-cleric-man-haron-monis/d/100516
-----------
Australia
Sydney Gunman A 'Lone Wolf': Who Was Self-Styled Cleric Man Haron Monis
16 Dec, 2014
Man Haron Monis, the Sydney hostage-taker killed in a 16-hour siege, was a self-styled sheikh with his own Wikipedia entry. He was on bail when he emerged as a lone wolf gunman.
Born in Iran, the 50-year-old was named in reports hours before being gunned down as the "cleric" who triggered a security lockdown in the heart of Australia's biggest city by unfurling an Islamic flag and holding several people captive in a chocolate cafe.
Arriving in Australia as a refugee in 1996, Monis was no stranger to controversy.
Convicted over sending offensive letters to the families of dead soldiers, he was on bail on charges of being an accessory to the murder of his ex-wife and for sexual and indecent assault, multiple Australian outlets reported.
His personal website, before it was taken down on Tuesday, featured a banner photo with graphic images of dead Arab children, with the caption: "This is an evidence for the terrorism of America and its allies including Australia. The result of their airstrikes."
The gunman converted from Shiism to Sunni Islam, according to a post on his website. The Sunni-based Islamic State and other jihadist groups consider Shiites heretics, or rejectionists - "Rafidhi" - of true Islam.
"I used to be a rafidi, but not anymore. Now I am a Muslim, Alhamdu Lillah," he said.
On his website, self-styled Sheikh Haron, also known as Man Haron Monis, says his children have been "taken away by the Australian government" and that he is not allowed to contact them.
Monis was on bail for dozens of charges, including 22 of aggravated sexual assault and 14 of aggravated indecent assault, according to the Australian Associated Press.
Stemming from his time as a "spiritual healer", an additional 40 charges were levelled against him in October and he was also on bail for being an accessory to murder.
The Sydney Morning Herald said it was understood that days before Monday's siege, Monis had lost a bid to have the charges over the letters overturned.
Showing a flair for the dramatic, a photograph said to be from his Facebook page published by the Business Insider showed him in chains with a poster claiming "I have been tortured in prison for my political letters.
Monis has said the crimes he has been accused of in the past were attempts to smear him.
"These cases are in fact political cases against this Muslim activist, not real criminal cases."
He compared himself to Wikileaks' Julian Assange on his website, saying both were activists facing government-backed smear campaigns.
He also counted astrology, numerology, meditation and black magic among his expertise, according to reports.
Before the raid, Monis had reportedly demanded an Islamic State flag and a phone call with Australian Prime Minister Tony Abbott.
But police and Monis's former lawyer Manny Conditsis said the public could be assured that the siege was not the work of an organised terrorist group.
"This is a one-off random individual," he told the ABC. "It's not a concerted terrorism event or act. It's a damaged-goods individual who's done something outrageous."
The Australian newspaper called him a "self-styled sheikh" who had sent offensive letters to the families of dead Australian soldiers and was on bail on charges of being an accessory to the murder of his ex-wife.
It said the 50-year-old - shown in local media in a photo smiling and sporting a beard and a white turban - lived in Sydney's southwest and was "understood to be a fringe Islamist".
http://www.hindustantimes.com/world-news/australian-hostage-taker-named-as-iranian-refugee-with-criminal-past/article1-1296809.aspx#sthash.KVyM2a5B.dpuf
-----------
I'll ride with you: Australians tweet their support to Muslims in Sydney
16 Dec, 2014
Australians came out Monday in solidarity with the Muslim community following a siege at a Sydney cafe, as tens of thousands tweeted the hashtag #illridewithyou to counter concern about an anti-Islam backlash.
The hostage-taking at the Lindt chocolate cafe triggered a security lockdown in the heart of Australia's biggest city, with the government and Muslim leaders condemning the attack and calling for unity.
Amid uncertainty about the hostage-taker's motives and fears of reprisals after an Islamic flag was raised in the cafe, an Australian woman, @sirtessa, reportedly started the #IllRideWithYou hashtag to show solidarity with Muslims who might feel threatened on public transport.
Within hours, Australians around the country repeated the hashtag, with more than 40,000 tweets helping #illridewithyou become one of the top trends on the social media site.
"I make a commitment, right now, to always say something when I see any kind of abuse on public transport. #illridewithyou," one user tweeted.
Another user in South Australia wrote, "If you wear religious attire, & need to get from #Adelaide's west suburbs to the city on Tues but don't want to travel alone #illridewithyou."
Others offered help beyond travel support: "I'm mostly housebound so Im not useful for #illridewithyou but if you're ever in tarneit VIC and need somewhere safe to hide out, contact me."
Australia's race discrimination commissioner Tim Soutphommasane said he was heartened by the campaign, adding: "let's not allow fear, hatred and division to triumph."
Anti-Islam groups had earlier expressed outrage about the siege, with the Australian Defence League writing on Facebook: "Here it is folks, homegrown islamic terrorism in our backyard, courtesy of successive australian governments and their brainwashed voters."
New South Wales Police Commissioner Andrew Scipione said officers were working with the Muslim community.
"Reprisal attacks are something that should not happen," he added.
More than 40 Muslim groups condemned the siege, saying in a statement that they rejected "any attempt to take the innocent life of any human being or to instil fear and terror into their hearts".
http://www.hindustantimes.com/world-news/i-ll-ride-with-you-australians-tweet-their-support-to-muslims-in-sydney/article1-1296751.aspx#sthash.nAone5TG.dpuf
-----------
'Deluded' Sydney Hostage-Taker Saw Himself as A Martyr
16 Dec, 2014
He wrote letters to grieving families of Australian troops killed in Afghanistan that likened them to "Hitler's soldiers." He was accused of assisting a woman kills his ex—wife, whose body was found, stabbed and set on fire.
But the social media postings of 50-year-old Man Haron Monis, the man who was killed Tuesday in a police operation to rescue the people he had held hostage in a Sydney cafe, indicate he thought of himself as something of a martyr. The self—styled Muslim cleric, who came to Australia as a refugee from Iran, complained of being tortured in prison for his political beliefs and said he was fighting for Islam and for peace.
"The more you fight with crime, the more peaceful you are," he wrote recently on his website, according to the SITE Intelligence Group. In another post he wrote- "I am one of the witnesses for the barbarism of the Australian government."
Monis was free on bail when he used a shotgun to take 17 hostages at the Lindt Chocolat Cafe Monday morning. He and two hostages died early Tuesday in a barrage of gunfire when police stormed the cafe.
Australian authorities are now facing questions about why he was allowed out of jail given the seriousness of the charges against him, which included being an accessory to the murder of his ex—wife and the sexual assault of a woman in 2002.
"We are all outraged that this guy was on the street," New South Wales Premier Mike Baird said. "We need to ensure that everything is done to learn from this."
Prime Minister Tony Abbott called him a "deluded and sick individual" who was known to police and intelligence agencies but who was not on a terror watch list.
Lawyer Adam Houda, who represented Monis in 2009 after he had sent about eight letters to the families of slain soldiers, said Monis was one of his strangest clients. He said he would arrive wearing his robe and proceed to lecture his lawyer on the evils of the Middle East wars.
A lone wolf
"He said he was a cleric but he was not a cleric and nobody knew him," Houda said. "He had no affiliation with any groups, no affiliation with any mosque, he was just a lone wolf."
Last year, Monis was sentenced to 300 hours of community service for sending the letters, which a judge described as "grossly offensive" and which The Australian newspaper said referred to the fallen men as "Hitler's soldiers."
Another former lawyer described him as a "damaged—goods individual."
"His ideology is just so strong and so powerful that it clouds his vision for common sense and objectiveness," Manny Conditsis told Australian Broadcasting Corp.
Exactly what that ideology was remains uncertain. Although he took an interest in the Islamic State group, his social media postings don't make clear his level of support for the group.
And the flag of Shahada that he had his hostages hang in the window of the cafe during the siege is a common expression of the Muslim faith. It was emblazoned with the Islamic declaration of faith, "There is no god but God and Muhammad is his messenger," one of Islam's five pillars of faith.
"This is a man who had serious history of criminal offences and a history of violence," Deputy Police Commissioner Catherine Burn told reporters. "This was a man that we do believe had some extremist views and we also believe that he was unstable."
http://www.thehindu.com/news/deluded-sydney-hostagetaker-saw-himself-as-a-martyr/article6697486.ece
-----------
Australia vows to unearth why 'sick' extremist was at loose
16 December 2014
Australia's government pledged Tuesday to determine why an Iranian-born Islamist with a history of extremism and violence was able to play out a "sick fantasy" by seizing hostages in a day-long siege.
A giant sea of flowers was laid at a makeshift memorial near the scene in the heart of Sydney's financial quarter, where Muslim community leaders joined their fellow citizens in mourning the two victims of Monday's cafe siege.
Prime Minister Tony Abbott conceded that the dead gunman, identified in reports as 50-year-old refugee Man Haron Monis, had evaded greater scrutiny despite being accused of serious crimes including sexual offences and abetting in murder.
"Decent, innocent people got caught up in the sick fantasy of a deeply disturbed individual and we have seen the consequences of this play out over the last 36 hours," Abbott told reporters.
"How can someone who has had such a long and chequered history not be on the appropriate watch lists and how can someone like that be entirely at large in the community?" he said.
"These are questions that we need to look at carefully and calmly and methodically to learn the right lessons and to act upon them. That's what we'll be doing in the days and weeks ahead."
Emotions were raw as Australia struggled with the news that two hostages were killed when the 16-hour standoff reached a dramatic climax in the early hours of Tuesday, as police commandos stormed the Lindt eatery, leaving Monis also dead.
It was not entirely clear how the hostages died although reports said that cafe manager Tori Johnson, 34, was shot as he tried to wrestle a shotgun out of Monis's hands. The other victim, mother-of-three Katrina Dawson, 38, was said to have been killed as she tried to shield a pregnant friend.
At a prayer service in St Mary's Cathedral near the Lindt chocolate cafe, Archbishop Anthony Fisher said the "heart of our city is broken by the deaths of two innocents".
"These heroes were willing to lay down their lives so others might live," he said.
Six other hostages were wounded, including three women with gunshot wounds, among them a 75-year-old. Two pregnant women were taken to hospital as a precaution.
Abbott said the hostage-taker, who at one point unfurled an Islamic flag at the window of the cafe, "had a long history of violent crime, infatuation with extremism and mental instability".
"As the siege unfolded... he sought to cloak his actions with the symbolism of the ISIL death cult," he said, referring to the Islamic State group, while praising police for their response "to this brush with terrorism".
The man was on bail for a series of violent offences, officials said.
New South Wales Attorney-General Brad Hazzard admitted there were serious questions over why he was free after being charged with being an accessory to his ex-wife's murder and other offences.
State Premier Mike Baird said: "We are all outraged that this guy was on the street."
The Muslim community, which condemned the hostage-taking and the use of the flag, won sympathy from ordinary Australians on its handling of the crisis.
Flags on all federal and New South Wales state buildings flew at half mast, while condolence books were opened.
The pre­Christmas siege of the Lindt chocolate cafe began Monday morning and triggered a massive security lockdown in the bustling financial district as hundreds of police surrounded the site.
The gunman forced hostages to make videos with demands during the standoff, including that Abbott call him and that an Islamic State flag be delivered.
Monis's former lawyer Manny Conditsis said the public could be assured it was not the work of an organised terrorist group.
"It's not a concerted terrorism event or act. It's a damaged­goods individual who's done something outrageous," he said of a man who arrived in Australia as a refugee in 1996.
Australia has been on high alert in recent months with the government raising concerns that citizens who have fought alongside Sunni jihadists in Iraq and Syria could return home radicalised and carry out "lone wolf" attacks.
The government in September raised its terror threat level and police conducted large­scale counter­terror raids across the country. Only two people were charged.
http://english.ahram.org.eg/NewsContent/2/9/118046/World/International/Australia-vows-to-unearth-why-sick-extremist-was-a.aspx
-----------
Abbott pays homage to Sydney siege victims
16 Dec, 2014
Australian Prime Minister Tony Abbott laid flowers on Tuesday at a makeshift memorial in Sydney for the victims of a central city cafe siege that left three people dead.
Mr. Abbott wrote a message and waved to the crowd as he laid a bouquet of white flowers at the memorial in Martin Place, the plaza in central Sydney where the drama took place. His wife, Margie, laid another bouquet of red flowers.
From early Tuesday, a steady stream of tearful people placed bouquets at the memorial outside of the Lindt Chocolat Cafe, where the gunman took 17 hostages a day earlier. The siege ended 16 hours later in a barrage of gunfire that left two hostages and the Iranian-born gunman dead, and a nation that has long prided itself on its peace rocked to its core.
As the standoff that started around 9.45 a.m. local time stretched through the day into nightfall with no apparent solution in sight, police stormed the cafe around 2 a.m. on Tuesday when they heard gunfire inside, said New South Wales state police Commissioner Andrew Scipione.
"They made the call because they believed that at that time, if they didn't enter, there would have been many more lives lost," Mr. Scipione said.
A loud bang rang out, several hostages ran from the building and police swooped in amid heavy gunfire, shouts and flashes. A police bomb disposal robot also was sent into the building, but no explosives were found.
The gunman was identified as 50-year-old Man Haron Monis, whom Mr. Abbott said earlier had "a long history of violent crime, infatuation with extremism and mental instability".
Australian Muslim groups condemned the hostage-taking in a joint statement and said the inscription of the Islamic flag was a "testimony of faith that has been misappropriated by misguided individuals".
Many Australians offered on Twitter to accompany people dressed in Muslim clothes who were afraid of a backlash against the country's tiny Muslim minority of some 500,000 people in a nation of 24 million. The hashtag #IllRideWithYou was used more than 90,000 times by early Tuesday.
http://www.thehindu.com/news/international/world/abbott-pays-homage-to-sydney-siege-victims/article6697051.ece
-----------
Arab World
Around 180 Syrian soldiers, jihadists killed in battle for base
Muslim Brotherhood
Around 100 Syrian soldiers and 80 Islamist fighters were killed during a two-day battle in which insurgents took the Wadi al-Deif military base, the Syrian Observatory for Human Rights monitoring group said on Dec. 16.
The Britain-based group said Islamist insurgents including al Qaeda's Syria wing, the Nusra Front, on Monday took the base next to the country's main north-south highway linking Aleppo with Damascus.
Forces loyal to President Bashar al-Assad had previously managed to repel numerous attacks on Wadi al-Deif, which has been surrounded by insurgents for two years.
Reuters could not immediately verify the report by the Observatory, which says it tracks the conflict through a network of sources on both sides.
Syrian government officials were not immediately available for comment. Syria's state news agency SANA said that the army had killed several "terrorists" in Idlib province.
Syria's war started with a pro-democracy movement that grew into an armed uprising and has inflamed regional confrontations. Some 200,000 people have died in the conflict, according to United Nations estimates.
http://www.hurriyetdailynews.com/around-180-syrian-soldiers-jihadists-killed-in-battle-for-base.aspx?pageID=238&nID=75686&NewsCatID=352
-----------
ISIS in Iraq release pictures of mass execution
16 December 2014
The Islamic State of Iraq and Syria (ISIS) group on Monday released pictures of the execution of 13 men described as anti-jihadist Sunni tribal fighters near the northern city of Tikrit.
Three pictures published on a jihadist forum and pro-ISIS social media accounts show the execution of the men wearing orange jumpsuits.
Local residents confirmed to AFP that a mass execution had taken place on a large roundabout six kilometers (four miles) east of the city of Tikrit at around 3:30 p.m. (1230 GMT).
The first picture shows 11 men kneeling, heads bowed, with one black-clad and masked gunman behind each one and black ISIS flags in the background.
The next picture shows the gunmen brandishing their handguns after the execution and in the third a small gathering of onlookers, including children, can be seen near 13 bodies, which have been dragged off the roundabout's central island and onto the road.
Residents said the roundabout is at an intersection for roads leading to Tikrit, Kirkuk and the town of Al-Alam.
Full report at:
http://english.alarabiya.net/en/News/middle-east/2014/12/16/ISIS-militants-in-Iraq-release-pictures-of-mass-execution-.html
-----------
Muslim Brotherhood Beliefs Justify Radicals: Former Islamic Jihad Leader
16 Dec, 2014
Sputnik International
UNITED NATIONS, December 16 (Sputnik) – Hundreds of children, some as young as five years old, are being trained for combat in a military camp in Ar-Raqqah, Syria, by Islamic State (IS) militants, UN humanitarian chief Valerie Amos has told the Security Council.
According to Amos, some 350 children undergo training at the IS camp in Ar-Raqqah and "reports of children killed or public executed, crucified, beheaded and stoned to death, particularly by ISIL [IS], have increased in recent months".
"Recently, Kurdish refugees from Kobani [in northern Syria] reported the capture of young girls by ISIL for sexual purposes," Amos added, speaking to the UN Security Council Monday.
According to the UN humanitarian chief, girls in Syria are forced to marry IS militants or are sold into sexual slavery.
Full report at:
http://sputniknews.com/middleeast/20141216/1015882694.html
-----------
Jordan says no plan to push for quick UN vote on Palestine
16 December 2014
Jordan said Monday it had no immediate plans to push for a vote on a UN Security Council resolution to end the Israeli occupation of Palestinian territories despite Palestinian statements that the move was imminent.
Jordan's UN Ambassador said she was awaiting the outcome of meetings that US Secretary of State John Kerry is having with Israeli Prime Minister Benjamin Netanyahu and European governments on the next step at the United Nations.
Jordan, which represents the Arab League at the council, had circulated the Palestinian text setting a deadline of November 2016 for a full Israeli withdrawal.
"Right now, I have no news," Ambassador Dina Kawar told reporters. "Secretary Kerry is having meetings in Europe with a number of ministers so we are waiting to see what happens."
Palestinian official Wassel Abu Yussef told AFP on Sunday following a meeting of the leadership that the draft resolution would come up for a vote on Wednesday.
Kawar said she had learned about the Palestinian decision through the media and had not been approached by the Palestinians to press for action.
Full report at:
http://english.ahram.org.eg/NewsContent/2/8/118009/World/Region/Jordan-says-no-plan-to-push-for-quick-UN-vote-on-P.aspx
-----------
UAE supports Iraq's inclusive policy: Gen Mohammed
(Wam) / 16 December 2014
General Shaikh Mohammed bin Zayed Al Nahyan, Crown Prince of Abu Dhabi and Deputy Supreme Commander of the UAE Armed Forces, and Iraqi Prime Minister Dr Haider Al Abadi held talks on Monday and discussed ways to enhance bilateral relations and issues of mutual concern as well as the latest developments in the region.
The Crown Prince of Abu Dhabi welcomed Al Abadi and his accompanying delegation, wishing that the visit would contribute towards enhancing the fraternal ties between the UAE and Iraq.
Shaikh Mohammed was briefed by Al Abadi on his government's efforts to set right the political, economic and social situation, its efforts to fight the armed groups, as well as providing aid to the displaced people in the country.
Gen Shaikh Mohammed said involving all sections of the Iraqi people in building the future of the country is one of the most important factors for the success of the political process. He also commended the efforts being exerted to achieve the country's national aspirations, which would receive support from other fraternal Arab countries.
Full report at:
http://www.khaleejtimes.com/kt-article-display-1.asp?xfile=data/government/2014/December/government_December31.xml&section=government
-----------
Prophet's Mosque expansion work goes apace
16 December 2014
In a race against time, over 6,000 individuals, from engineers to construction workers, are pooling their efforts to complete the expansion of the Prophet's Mosque. That huge work force is supervised by the committee of expropriation, which is part of the project initiated by Custodian of the Two Holy Mosques King Abdullah to expand the mosque and develop the surrounding areas.
The team is preparing the infrastructure in the eastern and western sides of the mosque and have already removed more than 100 properties in the central area, including the Ansar market, Awqaf building and the old children's hospital, while work is under way to remove the King Abdulaziz Library and a number of major hotels.
The total space of expropriated property is estimated at 12.5 hectares, with compensations reaching a total value of SR25 billion.
Full report at:
http://www.arabnews.com/saudi-arabia/news/675131
-----------
Shoura member: Need to revise terrorist rehabilitation program
Dec 16, 2014
RIYADH — The terrorist rehabilitation programs run by Prince Muhammad Bin Naif Center for Advice and Care needs to be revised and reevaluated now that it has been in place for ten years, according to Latifah Al-Shalan, member of the Shoura Council, Al-Watan daily reported.
Only 10 percent of rehabilitated inmates return to terrorist activities after their release from the center, according to reports.
"These reports do not change the fact that the center has produced very positive results since its inception in 2004," Al-Shalan said during the Council's session on the great achievements accomplished by the Ministry of Interior in fighting terrorism.
She said the Council's committees and some of its members are capable of contributing to a comprehensive plan to further develop the program.
Full report at:
http://www.saudigazette.com.sa/index.cfm?method=home.regcon&contentid=20141216227642
-----------
Europe
German Chancellor Calls for Unity against Anti-Islam Forces
PTI | Dec 16, 2014
BERLIN: Alarmed by the growing popularity of an anti-Islam movement in Germany, Chancellor Angela Merkel and other government leaders have appealed to the public to stay away from it and not to "become tools" in the hands of the organisers of such events.
"There is freedom of demonstration in Germany, but there is no place for spreading hatred and slander against people who come to us from other countries," Merkel said at a news conference here on Monday.
Therefore, everyone should be careful not to become tools in the hands of the organisers of such events, she said.
More than 10,000 people had demonstrated in eastern Germany against "criminal asylum seekers" and the "Islamisation" of the country, in the latest show of strength of a growing far-right populist movement on Monday.
Organised by a right-wing group called 'Patriotic Europeans Against Islamisation of the West Pegida', the movement began in the eastern German city of Dresden in September by staging demonstrations every Monday to protest against the government.
Full report at:
http://timesofindia.indiatimes.com/world/europe/German-Chancellor-calls-for-unity-against-anti-Islam-forces/articleshow/45533699.cms
-----------
Austria to close Saudi school with alleged anti-Semetic inclinations
Muslim Brotherhood
(Reuters) - Austria is to close a Saudi school in Vienna for failing to provide the names of its teachers and director and is also looking into allegations that it used anti-Semitic books, Vienna's school board said on Monday.
Austria's government wants to push ahead with passing a law which prohibits foreign funding for Muslim organizations and would make standardized German-language versions of the Koran mandatory.
The law, which the government says is aimed at preventing Austrian organizations from turning into recruiting grounds for jihadis, applies to institutions such as mosques rather than schools.
Full report at:
http://www.jpost.com/International/Austria-to-close-Saudi-school-with-alleged-anti-semetic-inclinations-384715
-----------
France: 10 arrested over 'jihadist links'
Dec 16, 2014
Anti-terrorism police arrested 10 people across France on Monday in a sweep aimed at disrupting a suspected jihadist network sending young fighters to Syria, the Paris prosecutors' office said.
The arrests were mostly carried out in the cities of Toulouse and Le Havre as well as Paris, the office said.
BFM-TV reported the early morning raids stemmed from an investigation launched last year after a Turkish family concerned about the behaviour of their son alerted authorities.
The investigation also targeted four people in prison linked to the presumed network, police told Reuters.
"For several years, these jihadist networks have represented an unrivalled threat," Prime Minister Manuel Valls said during a visit to Dijon.
"We've been working for two years to respond to this threat, to dismantle these networks with the work of the police."
Authorities say 1,132 French nationals have been linked to fighting in Syria or Iraq, more than any other Western nation. That number includes those either currently in Syria or Iraq, those in transit, and those who have returned.
In November, a 22-year-old French convert to Islam, Maxime Hauchard, appeared in a video of the beheading of a U.S. aid worker.
http://www.thehindu.com/news/international/world/france-10-arrested-over-jihadist-links/article6694921.ece
-----------
Seven held in Spain, Morocco in probe on women militants
16 December 2014
Seven people were arrested in Spain and Morocco on Tuesday in a probe into a network recruiting women to join the jihadist Islamic State group in Iraq and Syria.
Spain's interior ministry said four women, one of them a minor, and three men were arrested in Barcelona, Spain's North African enclaves of Ceuta and Melilla and in the nearby Moroccan town of Castillejos.
"All of the arrested are accused of forming part of a network that recruited and sent women to the Syria-Iraq front to the terrorist organisation Daesh," it said in a statement, using a term used by many governments use to call the militant group Islamic State.
Police were searching six homes as part of the operation, which was carried out in cooperation with Moroccan security forces.
Full report at:
http://english.alarabiya.net/en/News/middle-east/2014/12/16/Seven-held-in-Spain-Morocco-in-probe-on-women-militants-.html
-----------
Spain slams move to erase Islamic past of Cordoba cathedral
16 December 2014
MADRID: The regional government of southern Andalusia is protesting what it says are moves by the Catholic Church to downplay or eliminate references to the Islamic past of Cordoba's ancient Mosque-Cathedral, one of Spain's leading tourist attractions.
The region's tourism department says the practice by church authorities who own the complex of calling it simply "The Cordoba Cathedral" on its website, pamphlets and tickets could hurt tourism and confuse the 1 million-plus tourists who annually visit the "mezquita" (mosque), as it is known popularly.
Cathedral officials deny the name-change, saying the official title has been "The Cathedral of Santa Maria of Cordoba" since the 13th century, when the mosque was transformed into a cathedral.
Full report at:
http://www.arabnews.com/world/news/674766
-----------
U.N. humanitarian chief: Syria parties are killing not protecting civilians
16 December 2014
The U.N. humanitarian chief accused the warring parties in Syria on Monday of ignoring Security Council demands to protect civilians, citing a doubling of the number of people killed from 100,000 in February to close to 200,000 today and around 1 million injured.
Valerie Amos told the Security Council Monday that "brutality, violence and callous disregard for human life" have become hallmarks of the conflict that began in March 2011, and the international community "has become numb to its impact."
She said all sides are disregarding the council's call for an end to the indiscriminate use of weapons: the government continues to use barrel bombs in densely populated areas, and opposition groups and terrorist organizations are using mortars, car bombs and other explosives that kill civilians.
Full report at:
http://english.alarabiya.net/en/News/middle-east/2014/12/16/Syria-parties-are-killing-not-protecting-civilians-.html
---------
'Growing number of Swiss militants heading overseas
16 December 2014
GENEVA: Some 22 people have left Switzerland to fight abroad as militants since May, including eight in the past fortnight, the Swiss intelligence agency said.
This represents almost one third of the 62 who have left to fight since 2001, including 37 who headed to Syria and Iraq and 25 to Afghanistan, Pakistan, Yemen and Somalia.
Eight have since died, the agency said, giving no details of how, where or when.
Three fighters have returned to Switzerland since the end of November, bring the total to 19 returnees since 2001. The numbers are far below the hundreds who have flocked from countries such as France and Britain to fight with the Islamic State (IS) organization in Iraq and Syria.
Full report at:
http://www.arabnews.com/world/news/674911
-----------
Germany says it will help finance four new Israeli warships
Muslim Brotherhood
BERLIN - Germany plans to finance part of the cost of four new corvette warships for the Israeli navy made by German firm Thyssen Krupp under a deal struck with the Jewish state in November, the government said on Monday.
Following approval by German parliament's budget committee the contract could be finalized before the end of this year, government spokesman Steffen Seibert said.
As part of its atonement for the Nazi Holocaust, Germany is committed to Israel's security and has often helped pay for the cost of military equipment such as submarines.
The mass-circulation Bild am Sonntag newspaper reported on Sunday that Berlin had earmarked up to 115 million euros for the warships -- which would cost around 1 billion euros in total.
Full report at:
http://www.jpost.com/Israel-News/Germany-says-it-will-help-finance-four-new-Israeli-warships-384717
-----------
India
Bihar Man Gets ISI Job Offer via E-Mail
DC CORRESPONDENT | December 16, 2014
Patna: The Patna police has launched an investigation after a man named Rizwan informed them about receiving an e-mail that was sent by Pakistan's ISI.
Rizwan, who belongs to a religious organization named Jamaat-e-Islami, is in deep shock and fear after he received the email.
In Patna in his complaint to the police, Rizwan said that the email that was sent to him wanted him to participate in the recruitment drive for ISI.
"I have informed the police about it and have asked them to investigate the matter," he said.
The matter has been forwarded to cyber cell and the authenticity and IP address of the e-mail is being checked, said deputy superintendent of police Rajesh Kumar.
Rizwan feels that the email, which he received on December 9, could be an attempt to malign the image of the religious body Jamaat-e-Islami.
Patna superintendent of police Shivdeep Lande said that if the e-mail is traced to have links with Pakistan, then it would be a matter of grave concern.
http://www.deccanchronicle.com/141216/nation-current-affairs/article/bihar-man-gets-isi-job-offer-e-mail
-----------
After @ShamiWitness discovery, India bans Islamic State
December 16, 2014
New Delhi: Days after detaining a techie in Bengaluru for running a popular Twitter account extolling Islamic State's military campaign, India on Tuesday announced a ban on the militant group.
Speaking in Parliament, Home Minister Rajnath Singh said the government wanted to limit the activities of the Middle Eastern group which has carved out swathes of territory in Iraq and Syria.
"We had taken cognizance of Islamic State in Iraq and Syria activities in other countries," he said. "As a first step we have banned this outfit in India."
"It is true the number of Indians in the group or involved in its activities is only a handful," Singh said. "But I want to make clear we are taking this seriously."
A ban on the group makes it easier for police to prosecute suspects, a news agency quoted Singh's aide as saying.
Earlier, reports had claimed that four youth from Maharashtra have joined Islamic State. One has since returned and is in custody.
Full report at:
http://zeenews.india.com/news/india/after-shamiwitness-discovery-india-bans-islamic-state_1515681.html
----------
Jamaat-ul Mujahideen Bangladesh was on verge of setting up 3rd training centre in Murshidabad
16 Dec, 2014
The National Investigation Agency (NIA) probing the Burdwan blast case has found that besides the Simulia and Lalgola madrasas used by the Jamaat-ul Mujahideen Bangladesh (JMB) to train recruits in West Bengal, a third JMB recruitment and training base was on the verge of becoming operational in Murshidabad.
The NIA has also learned that JMB operatives had paid money to buy a plot of land to set up a madrasa for similar purposes in a village in Jharkhand's Deoghar district in July this year.
"Interrogation of JMB accused has revealed that the Simulia madrasa in Burdwan was set up in 2008 and was meant exclusively for girls. This was followed by the Lalgola madrasa set up in Murshidabad in 2011. In addition to these two major JMB bases in West Bengal, the JMB was also in the process of setting up a third a base at the Ghoramara boys madrasa in Domkol, Murshidabad. It was about to become fully operational before the crackdown on JMB across states," a source said.
Full report at:
http://indianexpress.com/article/india/india-others/nia-jmb-was-on-verge-of-setting-up-3rd-training-centre-in-murshidabad/#sthash.AECATaba.dpuf
-----------
Sleuths track Kalyan youth tweeting from ISIS zone
Bharti Jain,TNN | Dec 16, 2014
NEW DELHI: Intelligence agencies are tracking a second pro-ISIS Twitter handle purportedly operated by one of the four Kalyan youths still in ISIS territory. The account, which the agencies do not want identified just yet, is a near replica of Mehdi Masroor Biswas' handle @ShamiWitness in that it propagates ISIS ideology, retweets posts by its leaders and publicises their violent acts including beheadings.
The Twitter handle, which shows its location as Turkey, has many India-specific tweets among the 708 tweets posted by it since early August. This includes a December 14 tweet where in asks Mumbai, Delhi, Karnataka and Uttar Pradesh to be on high alert. Some tweets are addressed to ArifMajeed, or 'brother', and advise him against becoming 'murtad' or blame his family for misleading him to return to India.
Incidentally, a tweet from the account on November 25, days before Arif Majeed was flown to India from Turkey, had talked about the need for him to talk to "Indian brother". Another tweet on December 6 defended cleaning of toilets for ISIS, a job Indian agencies said was given to the Kalyan boys in Iraq/Syria, stating that it was better than cleaning villas with 10 toilets in the "land of kufr".
Full report at:
http://timesofindia.indiatimes.com/india/Sleuths-track-Kalyan-youth-tweeting-from-ISIS-zone/articleshow/45529322.cms
-----------
South Asia
40 insurgents killed, fighting extended to 3rd day in Kunar
Dec 16 2014
Officials in eastern Kunar province say 40 insurgents have been killed and as many injured so far in the fighting that is extended to 3rd day in Dangam district.
Afghan National Army commanders in the east say 5 of their soldier also lost their lives in the battle and 6 others injured.
Police have not released the current report of their casualties but yesterday 4 policemen were injured.
Officials say the insurgents have also burned a number of the civilian houses who upraised against the Taliban insurgency in the district and currently in the side of the security forces.
In the meantime the civilians who have taken their weapons against the insurgents urge the central government to send more aid to the district to defeat the insurgents.
Although local officials are saying that the insurgents belong to the group of the Taliban of Pakistan but Afghan Taliban have claimed responsibility for the attack.
Dangam district to the east shares a border with Pakistan. The information provided by the local officials indicates that insurgents cross border for terrorist activities in the province.
http://www.khaama.com/40-insurgents-killed-fighting-extended-to-3rd-day-in-kunar-2510
-----------
Arakan Muslims' two years of despair in Myanmar camps
16 Dec, 2014
Scrawny chickens and mangy dogs mingle with raggedly clothed children and exhausted adults on the dusty paths through Da Paing camp near the capital of Myanmar's Rakhine state.
Nobody wears shoes. Nearby are a dozen simple longhouses arranged in rows where families live in cramped quarters.
A salty breeze blowing in from the Bay of Bengal provides a brief respite from the blazing sun but there is little around that exudes anything but destitution.
"Everything is not okay here," Ba Sein, 52, a member of the managing committee for the camp, told The Anadolu Agency.
Holding 7,000 inhabitants from the Arakan Muslim minority (Rohingya), Da Phaing is one of several squalid enclosures for Internally Displaced People outside Sittwe in northwestern Myanmar.
Full report at:
http://www.worldbulletin.net/todays-news/150882/arakan-muslims-two-years-of-despair-in-myanmar-camps
----------
Online ventures target global Muslim consumer market
16 December 2014
From travel guides to shopping portals, new Internet ventures aim to capitalise on the growing "Muslim lifestyle" market, which is expanding beyond food to include areas such as tourism, fashion and credit cards.
Excluding food, where "halal" dietary restrictions must be followed, most of the world's 1.6 billion Muslims are content to buy the bulk of their goods and services from conventional suppliers.
A growing minority, however, want to certify more areas of their consumption as religiously permissible - a trend that appears partly due to rising incomes in majority-Muslim areas of the Gulf and southeast Asia, as well as to expanding choices for consumers.
In some ways, the trend resembles the surge of consumption of luxury goods in emerging markets, as newly affluent consumers seek to express their identities partly through what they buy.
For example, Muslim consumers may may want to stay in Islam-friendly hotels that ban alcohol, wear fashions that have been specifically designed to meet Muslim ideas of modesty, and use medicines that have been screened to exclude alcohol or gelatine made with banned animal products.
Full report at:
http://english.alarabiya.net/en/business/markets/2014/12/16/Online-ventures-target-global-Muslim-consumer-market.html
-----------
ACC accuses Liberation War Ministry of non-cooperation
16 Dec, 2014
The Anti-Corruption Commission (ACC) has accused the Ministry of Liberation War Affairs of being non-cooperative in providing information regarding its nine officials and staff charged with freedom fighter certificate forgery.
The anti-graft body is currently running an inquiry against the ministry employees, and it sent another notice to the ministry on Sunday asking for information in this regard.
The officials charged with the forgery are Director General (legal and prosecution) Kamrul Hasan Mollah, Directors Golam Yahiya and Abdul Aziz Bhuiyan, Deputy Directors Dhali Abdus Samad and SM Golam Mawla Siddique, former deputy director Ranjan Kumar Majumder, Assistant Inspector Abdus Sobhan, and Court Assistants Nurul Islam and Ishak Fakir.
The ACC approved the inquiry on October 22 and appointed Deputy Director Julfikar Ali and Assistant Director SM Rafiqul Islam to this case.
Full report at:
http://www.dhakatribune.com/bangladesh/2014/dec/16/acc-accuses-liberation-war-ministry-non-cooperation#sthash.V0JbVLgc.dpuf
---------
North America
CIA report revives legal debate on interrogation
Dec 16, 2014
WASHINGTON — When the CIA sought permission to use harsh interrogation methods on a captured Al-Qaeda operative, the response from Bush administration lawyers was encouraging, even clinical.
In one of several memos forming the legal underpinnings for brutal interrogation techniques, the CIA was told that Abu Zubaydah could lawfully be placed in a box with an insect, kept awake for days at a time and slapped multiple times in the face. Waterboarding, too, was acceptable because it did not cause the lengthy mental anguish needed to meet the legal standard of torture, the 2002 Justice Department memo says.
The release last week of a Senate report cataloging years of such interrogation tactics has revived debate about legal opinions since discredited and withdrawn and about the decision to not prosecute the program's architects or officers who used the methods.
Civil rights groups in the United States and abroad are renewing calls to prosecute those who relied on techniques that President Barack Obama has called torture.
"How can we seriously use the phrase 'rule of law' if crimes of this magnitude go uninvestigated and unprosecuted?" said Jameel Jaffer, the American Civil Liberties Union's deputy legal director.
Full report at:
http://www.saudigazette.com.sa/index.cfm?method=home.regcon&contentid=20141216227676
---------
In US spending bill, a warning to Palestinians on UN actions
Muslim Brotherhood
WASHINGTON – The US will eliminate funding to the Palestinian Authority should it move forward with a bid for statehood at the United Nations without Israeli consent, according to a new omnibus spending bill Congress that passed over the weekend.
That provision, theoretically, prevents the Obama administration from changing its long-held policy against unilateral Palestinian action, as the PA considers such moves this week.
PA officials suggested action would take place at the Security Council as early as Wednesday.
Jordan and France have drafted resolutions that would set a timeline for Israel to withdraw from the West Bank, without approval or acquiescence from Jerusalem.
US Secretary of State John Kerry is seeking to prevent that vote, though reports surfaced on Monday suggesting the US might be amenable to a working draft of the French resolution. The Jerusalem Post could not independently verify these claims.
Full report at:
http://www.jpost.com/Arab-Israeli-Conflict/In-US-spending-bill-a-warning-to-Palestinians-on-UN-actions-384722
-----------
US says halal food supplier who sold beef to UAE misled Muslims on beef
(AP) / 16 December 2014
Midamar Corp., based in Cedar Rapids, Iowa, sold at least $4.9 million in beef to customers in Malaysia, Kuwait, UAE and elsewhere that did not follow the halal practices.
A food supplier for several years falsely marketed beef to Muslims around the world as meeting strict halal standards, exporting products that weren't slaughtered in accordance with Islamic law, federal prosecutors allege in a major fraud indictment.
Midamar Corp., based in Cedar Rapids, Iowa, sold at least $4.9 million in beef to customers in Malaysia, Kuwait, UAE and elsewhere that did not follow the halal practices promised in its labeling and advertising, according to the indictment returned on December 5 by a grand jury.
Full report at:
http://www.khaleejtimes.com/kt-article-display-1.asp?xfile=data/international/2014/December/international_December379.xml&section=international
-----------
A desert war on ISIS, fought from a floating city
Eric Schmitt,NYT News Service | Dec 16, 2014
ABOARD THE U.S.S. CARL VINSON, in the Persian Gulf: More than a dozen Navy F/A-18 warplanes roar off this aircraft carrier every day to attack Islamic State targets in support of Iraqi troops battling to regain ground lost to the militants in June.
These Navy pilots face an array of lethal risks during their six-hour round-trip missions. Surface-to-air missiles and other enemy fire lurk below, as the downing of an Iraqi military helicopter late Friday underscored. About 60 percent of the aircrews are still learning the ropes on their first combat tours.
The United States-led coalition improvises how the Iraqis call in airstrikes: Iraqi troops talk by radio to American controllers at Iraqi command centers, who in turn talk to the Navy pilots to help pinpoint what to hit. Senior commanders have said that placing American spotters with the Iraqi troops would be more effective, but they have yet to recommend that step knowing that President Obama opposes it.
Full report at:
http://timesofindia.indiatimes.com/world/us/A-desert-war-on-ISIS-fought-from-a-floating-city/articleshow/45531744.cms
-----------
Mideast
Israel arrests 10 Jewish extremists for 'hate crimes'
World Bulletin/News Desk
16 Dec, 2014
Israeli police on Tuesday morning arrested ten members of the extremist Jewish Lehava group who are suspected of having carried out attacks against Arabs.
"A series of complex investigations led to the arrest and detention of ten suspects from the Lehava group, including senior members," Israeli police spokesman Luba Samri said.
"Lehava is an extremist organization which opposes integration with non-Jews as well as marriages between Jewish women and Arab men," she explained.
The group, she added, was "suspected of having carried out hate crimes and sponsored called inciting racist terrorist acts [against Arabs]."
She did not, however, disclose where the group members had been arrested.
The arrests came after scores of people protested in West Jerusalem earlier this week to demand that the Lehava organization be outlawed.
Full report at:
http://www.worldbulletin.net/world/150869/israel-arrests-10-jewish-extremists-for-hate-crimes
-----------
Palestinians tell ICC they want to join the court
(AP) / 16 December 2014
The Palestinians said Monday they have consensus to join the tribunal in the hopes of seeking justice for Israel's alleged crimes.
Addressing members of the International Criminal Court for the first time, the Palestinians said Monday they have consensus to join the tribunal in the hopes of seeking justice for Israel's alleged crimes.
"We view the ICC as the international legal and peaceful mechanism to combat impunity and seek accountability and justice," Palestinian UN Ambassador Riyad Mansour said in his speech to the 122 members of the Assembly of States Parties to the Rome Statute, which established the ICC.
"It is the court where the Palestinian people desire to seek justice for the war crimes and crimes against humanity being perpetrated against them by Israel, the occupying power," Mansour said.
The ambassador added that Palestine "may very well be the 123rd state party," but the timing is up to its leaders.
Full report at:
http://www.khaleejtimes.com/kt-article-display-1.asp?xfile=data/middleeast/2014/December/middleeast_December138.xml&section=middleeast
-----------
Clash of Islamist groups is basis for Dec 14 operation
16 Dec, 2014
Turkish law enforcement officials are basing the Dec. 14 crackdown throughout Turkey on a former police operation allegedly carried out by members of the Gülen movement against a rival Islamist movement.
Since the rift between the Turkish government and its ally-turned-nemesis Fethullah Gülen, a U.S.-based Islamic scholar, pro-government media had been accusing the Gülen movement of "abusing" Islam. Similarly, pro-Gülen media has been slamming the government for acting "un-Islamically," a term that the movement has also used against rival communities.
Security sources speaking to daily Hürriyet explained the chronology of the case that is the focal point of the current crackdown, which has seen the arrests of dozens of people so far, including police chiefs and media figures:
Full report at:
http://www.hurriyetdailynews.com/timeline-clash-of-islamist-groups-is-basis-for-dec-14-operation.aspx?pageID=238&nID=75677&NewsCatID=509
-----------
Amnesty calls killing of Yemeni separatist 'execution'
16 December 2014
ADEN: A separatist activist was shot dead in southern Yemen Monday as secessionists staged a day of civil disobedience, witnesses and activists said of a killing Amnesty International called an "execution."
Khaled Al-Junaidi, a prominent figure in the Southern Movement, was shot in the chest when security forces opened fire while trying to arrest him, activists told AFP.
Junaidi was released from prison earlier this month after serving five months for separatist activities, and had been preparing to take part in Monday's day of action, they said.
Amnesty called on the authorities to investigate his killing, describing it as an "extrajudicial execution."
"Yemeni authorities have an obligation under international law to ensure that an independent, impartial and prompt investigation into this killing is conducted, and that all those responsible are brought to justice, including anyone who ordered the killing," Amnesty's deputy regional director Said Boumedouha said in a statement.
The London-based watchdog said five masked security officers ordered Junaidi out of his car, and one of them shot him.
Full report at:
http://www.arabnews.com/middle-east/news/674901
-----------
Palestinian killed in Israeli raid in West Bank
16 December 2014
A Palestinian was killed overnight during an Israeli military operation in the Qalandiya refugee camp near Ramallah in the West Bank, medical and security sources said Tuesday, according to Agence France Presse.
The 22-year-old man was killed when troops entered the camp to make an arrest, triggering clashes with residents, the sources said.
The Israeli army confirmed that its special forces had launched a raid on the camp and that there had been clashes.
Witnesses said residents of Qalandia refugee camp threw stones at the Israeli soldiers and the man killed, Mahmoud Adwan, 20, was watching from the roof of his home when he was shot, according to Reuters news agency.
Full report at:
http://english.alarabiya.net/en/News/middle-east/2014/12/16/Palestinian-killed-in-Israeli-raid-in-West-Bank-.html
-----------
Netanyahu tells Kerry: Imposed Palestinian state deal will endanger Israel
Muslim Brotherhood
ROME – Emerging from a three-hour meeting in the Italian capital with US Secretary of State John Kerry, Prime Minister Benjamin Netanyahu said that Israel will "do everything possible" to make sure the UN Security Council does not impose a solution on Israel.
Netanyahu said that Israel reserves the "freedom of action" to repel both the Palestinian and French proposals expected to be brought to the Security Council in the near future, but would provide no details about what steps Israel might take in response.
Asked whether he left Rome feeling more or less confident that the US would use its veto in the Security Council to prevent the acceptance of a resolution detrimental to Israel, Netanyahu said that he is "confident that what he had to say was heard."
Netanyahu said that Israel's expectation is that the US would stick by its position over the last 47 years, since Security Council Resolution 242 following the Six Day War, that any solution to the conflict must come through negotiations, and not be imposed from the outside.
"We will not accept diktats on this," Netanyahu said, "and we see no reason for the US to change its position."
Full report at:
http://www.jpost.com/Israel-News/Israel-No-reason-to-believe-US-will-reverse-policy-on-supporting-imposed-Palestinian-state-384680
-----------
Iran Calls for Establishment of Int'l Body to Punish Human Rights Violators
16 December 2014
Iranian Vice-President for Legal Affairs Elham Aminzadeh blasted the West for attempting to impose its culture and human rights criteria on the other world states, and asked for setting up an international body to punish the countries which violate human rights based on global norms.
"The human rights should be defined in a uniform and impartial manner, and a western prescription shouldn't be imposed by them on the world since the westerners try to impose their culture and when a country with a diverse culture does not comply with this prescription, it is punished," Aminzadeh told reporters on the sidelines of an international seminar on the negative impacts of financial and economic sanctions in Tehran on Monday.
She referred to the tortures and pressures used by the CIA which were recently revealed in a report by the Senate Intelligence Committee, and said the report showed blatant human rights violations.
Full report at:
http://english.farsnews.com/newstext.aspx?nn=13930924001264
--------
Pakistan
Funding TTP: ANF official rebuffs US allegations
By Naveed Miraj
December 16, 2014
ISLAMABAD: A senior official of the Anti-Narcotics Force (ANF) dispelled the impression created by Americans, saying that the Tehreek-e-Taliban Pakistan (TTP) is not funded through the sale or smuggling of narcotics and is also not getting any financial support from the Afghan Taliban.
"The Americans are quick to give statements. However, they have so far failed to give any solid evidence to substantiate their assertion," said the senior ANF official.
The official was commenting on a statement of a US official that "they (Americans) believe that 40 per cent of the drugs smuggled from Afghanistan to rest of the world pass through Pakistan and out of this 10 per cent are sold inside Pakistan which helps in generating revenue for TTP."
Full report at:
http://tribune.com.pk/story/807507/funding-ttp-anf-official-rebuffs-us-allegations/
-----------
Pak minorities may work in Indian private sector
16 Dec, 2014
The government is planning to allow members of minority communities from Pakistan, who have come to India, to work in private sector, Union home ministry sources said on Monday.
"Initially, members of minority community members from Pakistan may be allowed to work in private sector here, but later the relaxation can be extended to minorities from other countries as well," said a home ministry official, requesting anonymity.
Besides, the power of extending their visa for six months is also being delegated to foreign regional registration offices to speed up the process, added the official.
Union home ministry has convened a meeting next week with representatives of minority communities from neighbouring countries to address their grievances related to long-term Indian visa and citizenship.
Additional secretary (foreigners) in the ministry, Braj Kishore Prasad, will hold a meeting with representatives from nearly ten associations, which represent minority communities from Pakistan, Bangladesh and Afghanistan, on December 23.
They will also be explained the procedure for grant of long-term visa and Indian citizenship, said a home ministry statement.
Afterwards, home minister Rajnath Singh may announce relaxed norms on December 25.
http://www.hindustantimes.com/india-news/now-pak-minorities-may-work-in-pvt-sector/article1-1296902.aspx
-----------
Taliban attacks on Sufi shrines lead to unlikely victims
16 Dec, 2014
KARACHI, Pakistan — At the base of one of this city's oldest Sufi shrines, in the Manghopir neighbourhood, a woman haggles over a bag of meat. Sold for $2 a half-kilo, the meat will be fed to one of the crocodiles that laze in the murky green waters of the pond next to the shrine.
The woman, Haseena Iqbal, travelled more than three hours from her home across town with her daughter, son and two nieces to visit the saint buried at the shrine. Like many of the shrine's visitors, she believes the crocodiles are sacred, formed when the head lice of the saint buried here mixed with the holy water of the hot springs, which bubbles underneath the shrine. As is customary, Iqbal arrived with a Mannat, a request for the saint. She believes that by feeding the crocodiles, her prayers will be answered.
Iqbal has already paid bus fare and an entrance fee and given a donation to the shrine's saint. Now she's worried that the meat's inflated price means she won't have enough money to get home. The crocodiles' caretaker, Shahan Mahmood, shakes his head sadly. He can't afford to sell her the meat at a lower price.
Full report at:
http://america.aljazeera.com/articles/2014/12/15/sufi-shrine-crocodiles.html
-----------
Promoting tolerance: Punjab proposes a minority friendly curriculum
December 16, 2014
ISLAMABAD: The higher education department of Punjab is planning some major changes in the curricula to promote religious and social tolerance in view of the Supreme Court's observations in its June 18 verdict regarding the protection of minority rights.
The three judge bench, headed by chief justice Nasirul Mulk, will resume hearing of the case on Tuesday (today), wherein the federal and all provincial governments will submit their reports. Punjab home secretary, through Additional Advocate General Punjab Razaq A Mirza, has submitted a compliance report in the matter regarding the implementation of court's judgment on the protection of minority rights.
Full report at:
http://tribune.com.pk/story/807342/promoting-tolerance-punjab-proposes-a-minority-friendly-curriculum/
-----------
Pakistan Army is your army, General Raheel tells Baloch youth
16 Dec, 2014
QUETTA: Chief of Army Staff (COAS) General Raheel Sharif said Tuesday that Pakistan Army was a symbol of national unity and induction of Baloch youth in its ranks from every corner of the province showed that it belonged to them as well.
"I am confident that the youth of Balochistan will not lag behind in defending their motherland," General Raheel said addressing a passing out parade in Quetta.
The army chief said each and every Baloch citizen was the country's pride, adding that the army wished to promote education in the province.
General Raheel praised the provincial government for playing its role in the development of Balochistan.
Full report at:
http://www.dawn.com/news/1151205/pakistan-army-is-your-army-general-raheel-tells-baloch-youth
-----------
PTI protest, gangsterism can't go on, says Nisar
16 Dec, 2014
ISLAMABAD: Interior Minister Chaudhry Nisar Ali Khan says the PTI's protest to close public roads and bazaars and access to public service vehicles through force and gangsterism just cannot go on.
"Somebody should agitate against the PTI leadership about their right to protest," he told The News.
The minister said it was their right to hold public meetings, demonstrations and even sit-ins, but it was not their right to close roads and markets through vandalism.
Chaudhry Nisar said it was the responsibility of every government to ensure free movement.
While on the one hand no restriction is put on any democratic and political activity of any political activity, it is also incumbent upon the government to ensure the rights of common citizens, he added.
Full report at:
http://www.thenews.com.pk/article-168815-PTI-protest,-gangsterism-cant-go-on,-says-Nisar
-------
Africa
Nigerian Muslim Leader Underlines Imminent Defeat of Boko Haram
16 December 2014
One of Nigeria's most powerful Muslim leaders, the emir of Kano, expressed optimism that the insurgency of Boko Haram Takfiri group will soon be over.
"I say help is on the way. Terror must and will be defeated. All it requires is the good leaders, uncommon courage and unrelenting determination, and victory will be ours," Muhammad Sanusi II said, AFP reported.
"We will together see the end of them and their reign of terror," Sanusi added.
Boko Haram, whose name means "western education is forbidden," says its goal is to overthrow the Nigerian government.
It has claimed responsibility for a number of deadly shooting attacks and bombings in various parts of Nigeria since the beginning of its operations in 2009, which have left more than 12,000 people dead so far.
http://english.farsnews.com/newstext.aspx?nn=13930924001262
---------
Sudan Govt Forces Accused of Gang Rape in Blue Nile State
16 December 2014
London — Sudanese government forces are gang raping teenage girls and women in government-held areas of Blue Nile state in a pattern of terror against civilians, a rights group said on Monday.
"Entire communities are trapped in camp-like conditions behind government lines, terrorised by government forces," said Daniel Bekele, Africa director at Human Rights Watch (HRW).
Researchers said refugees interviewed in South Sudan last month described widespread abuses, including rapes, beatings, torture and cases in which men were beaten to death in custody.
Full report at:
http://allafrica.com/stories/201412160704.html
-----------
Libyan air strikes pound targets at Tunisian border
16 December 2014
Libya's recognized government conducted air strikes against rival government forces trying to seize major oil ports in the east and against targets in the west on Monday, witnesses said.
Libya has had two governments and parliaments since a group called Libya Dawn seized the capital Tripoli in August. The recognized prime minister, Abdullah al-Thinni, was forced to withdraw to the east.
Both sides are allied to brigades which helped topple Muammar Qaddafi in 2011 and now vie for political power and a share of the vast oil reserves in a conflict Western powers fear might tear apart the North African country.
Full report at:
http://english.alarabiya.net/en/News/middle-east/2014/12/16/Libyan-air-strikes-pound-targets-at-Tunisian-border-.html
-----------
UN: Tens of thousands dead in S Sudan war
16 Dec, 2014
Tens of thousands of people have died in South Sudan during one year of war and the country's leaders are putting their "personal ambitions" ahead of the young nation's future, the UN secretary-general has said.
Ban Ki-moon called on the country's leaders to agree to an inclusive power-sharing arrangement that would address the root causes of the conflict and ensure accountability for any crimes committed on the battlefield.
There is no official death toll for the conflict, but Ban said "tens of thousands" of South Sudanese have died.
The UN Security Council blamed South Sudan's "man-made political, security and humanitarian catastrophe" on its feuding leaders on Monday, as the world body threatened targeted sanctions against those impeding the peace process.
Full report at:
http://www.aljazeera.com/news/africa/2014/12/un-tens-thousands-dead-s-sudan-war-20141216128423266.html
-----------
Southeast Asia
Rap your BN buddies over 'Allah' ban first, Guan Eng tells Umno
16 Dec, 2014
Turning the tables on Umno, Penang Chief Minister Lim Guan Eng said if the Malay party was really the defender of Islam, it should lodge reports against its Barisan National coalition partners who were against enforcing Islamic laws on Malaysians.
Lim said MCA had recently called for Islamic enactments in Penang to be repealed, yet Umno had said nothing against the party but had "bullied" him for saying that Penang would not ban the word "Allah" from non-Muslim use.
"I wish to reiterate that if Umno is sincere and serious about defending Islam, then the party should be condemning and lodging police reports against MCA for demanding that the Administration of the Religion of Islam (State of Penang) Enactment 2004 be repealed.
"This is gross interference and insult into the affairs of Islam by MCA because to repeal the enactment is to also abolish Majlis Agama Islam Negeri Pulau Pinang (Penang State Religious Council or MAIPP)," he said in a statement today.
Full report at:
http://www.themalaysianinsider.com/malaysia/article/rap-your-bn-buddies-over-allah-ban-first-guan-eng-tells-umno#sthash.FNtPgAdi.dpuf
-----------
Malaysian youth marrying too young, says UN report
16 Dec, 2014
Far too many young people in Malaysia are getting married too early, putting their health and wellbeing at risk, said a United Nations representative today.
UN resident coordinator in Malaysia Michelle Gyles-McDonnough said that these early marriages compromised the ability of young people to stay in school, pursue a higher education and be equipped to be part of a productive labour force within a high-income nation.
"Early marriage denies young people the basic right to the full realisation of their potential and better options must be made available to Malaysian youth," she said at the launch of a report on the state of the world population, titled "The power of 1.8 billion: adolescents, youth and the transformation of the future" in Kuala Lumpur today.
The report revealed that there are currently 1.8 billion young people, aged between 10 and 24, roaming the world.
Full report at:
http://www.themalaysianinsider.com/malaysia/article/malaysian-youth-marrying-too-young-says-un-report#sthash.NTqWMcnp.dpuf
-----------
Lawyers' group pans PAS's hudud move, says it's against Constitution
16 Dec, 2014
Any attempt to implement hudud would go against the Federal Constitution which is secular in nature, said Lawyers for Liberty (LFL).
LFL co-founder Eric Paulsen said hudud derived its ultimate authority from the Quran and would only be possible under a theocracy.
"The Federal Constitution is founded upon parliamentary democracy, fundamental liberties, equality and the rule of law – all concepts antithetic to hudud."
He was concerned at the Kelantan PAS government's plans to hold a special state assembly meeting on December 29.
The purpose of the meeting is to table an amendment to the Shariah Criminal Code Enactment II 1993 (Amended 2014), a step closer to implementing hudud.
Full report at:
http://www.themalaysianinsider.com/malaysia/article/lawyers-group-pans-pass-hudud-move-says-its-against-constitution#sthash.kH3FPKOR.dpuf
-----------
Jakarta Post Editor's Blasphemy Case 'Under Review': Police
16 Dec, 2014
Jakarta. Hints emerged the police may be softening their stance in the blasphemy investigation against The Jakarta Post's chief editor, Meidyatama Suryodiningrat. Although the Indonesian Press Council announced unequivocally on Monday the case will be dropped, that declaration appeared premature, as a police spokesman only said further consideration of the case was pending.
"We have made an agreement with the police to close the investigation into the case. It's over," Press Council member Yosep Adi Prasetyo told the Jakarta Globe on Monday. "This case is a pure ethics violation, and the newspaper has done what must be done when it comes to an ethics violation," Yosep said.
National Police spokesperson Brig. Gen. Boy Rafli Amar, however, only dropped hints of a softening position. "We are planning to [review] the case," Boy was quoted as saying by Tempo.co on Monday.
Full report at:
http://thejakartaglobe.beritasatu.com/news/jakarta-post-editors-blasphemy-case-review-police/
----------
URL: https://www.newageislam.com/islamic-world-news/new-age-islam-news-bureau/sydney-gunman-a--lone-wolf---who-was-self-styled-cleric-man-haron-monis/d/100516