New Age Islam News Bureau
22 Apr 2019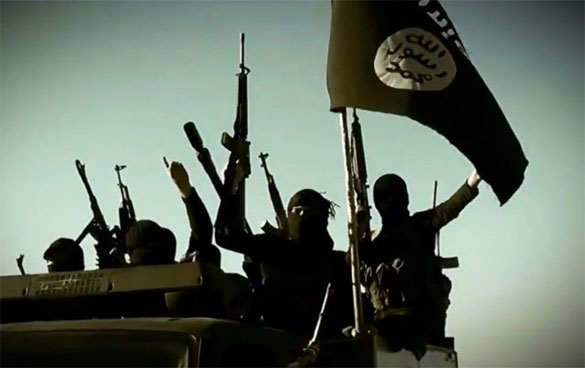 By CHRIS TOMLINSON
---
• Swedish Imam: ISIS Members Need 'Right Kind' of Islam to Rehabilitate into Society
• UK Cuts Cash Aid to Northeast Syria, Citing Fear of Funding ISIS
• Bomb Blasts: Clear That International Elements Are Involved, Says Sri Lankan Official
• Sri Lanka Attacks Death Toll Rises to 290, About 500 Wounded: Police
• Syria: Ankara-Backed Militants Plunder Infrastructures in Aleppo's Afrin
• Muslim World League Signs Deal With Moscow to Promote Interfaith Dialogue
• Israeli Settlers Storm Al-Aqsa Mosque, Perform Passover Prayers
• Sudan Protest Leaders Suspend Talks with Army Rulers
• India Must Be Prepared For Limited Military Actions against Terror Groups In Pakistan: Hooda-Led Panel
Europe
• Swedish Imam: ISIS Members Need 'Right Kind' of Islam to Rehabilitate into Society
• UK Cuts Cash Aid To Northeast Syria, Citing Fear Of Funding ISIS
• North England mosque attacked three times in three days
--------
South Asia
• Bomb Blasts: Clear That International Elements Are Involved, Says Sri Lankan Official
• Sri Lanka Attacks Death Toll Rises to 290, About 500 Wounded: Police
• 24 people arrested in connection with multiple blasts in Sri Lanka
• Next meeting to focus on foreign troops' pullout: Taliban
• Afghan Supreme Court extends Ghani's term till elections
• 24 Taliban militants killed in Special Forces raids and airstrikes
• Taliban commander 'Dada' and his 7 fighters killed in U.S. drone strike in Nangarhar
• 18 Taliban militants killed in airstrikes conducted in Wardak province
• ISIS Khurasan claims responsibility for the attack on telecom ministry in Kabul
• Sri Lanka lifts curfew after bomb attacks
• ISIS claims deadly attack on Afghan ministry
--------
Arab World
• Syria: Ankara-Backed Militants Plunder Infrastructures in Aleppo's Afrin
• Muslim World League Signs Deal With Moscow to Promote Interfaith Dialogue
• Deir Ezzur: Syrian Army Wards Off ISIL's Attack from SDF-Controlled Area
• Tens of Terrorists Killed in Foiled Attack on Syrian Army Positions in Aleppo
• Iraq sentences four to death for joining ISIS
• Bahraini king reinstates nationality of 551 citizens sentenced on terror cases
• Saudi Arabia foils terrorist attack north of Riyadh
• Saudi Arabia leads global condemnation of Sri Lanka attacks
--------
Mideast
• Israeli Settlers Storm Al-Aqsa Mosque, Perform Passover Prayers
• How Meir Kahane's Toxic Legacy Poisoned the Palestinian Peace Process
• Arab League Pledges $100 mln per Month to Palestinian Authority
• Iran's Supreme Leader appoints new IRGC chief commander
• Turkey opposition leader attacked at soldier's funeral
• Christians mark Easter at Jerusalem's Holy Sepulchre
• Israel bans entry of Gazan Christians to West Bank for Easter
--------
Africa
• Sudan Protest Leaders Suspend Talks with Army Rulers
• Haftar Forces Press Offensive On Libyan Capital
• Sudanese authorities arrest members of Bashir's party
• Sudan lifts immunity of agents involved in protester's death
• Mitiga airport in Libya's Tripoli re-opens, authorities say
• Blasts, airstrikes rock Libyan capital amid fierce fighting
--------
India
• India Must Be Prepared For Limited Military Actions against Terror Groups In Pakistan: Hooda-Led Panel
• Sikhs In South Kashmir Don't Fear Militants But Want Government Jobs
• Easter Mass Murder: India Sent Alert, But Why Sri Lanka's Guard Was Down
• Online watch on IS-related activities has foiled terror plots in India
• Blasts take sheen off Sri Lanka as hot tourist destination for Indians
--------
Southeast Asia
• Minister Denies Malaysia Being Silent in China's Treatment of Uyghur Muslims
• PM Says It Again: We Are Committed To Rule Of Law
• Anwar can name PAS leader who received RM90m, says Hadi
• Sabah minister: Right to freedom of religion guaranteed under Federal Constitution
--------
North America
• US To Sanction Nations for Importing Iranian Oil, Says a Report
• Defense Department announces deaths of US service members in Iraq and Qatar
• US mainstream media taken over by CIA, Mossad: Analyst
• Trump inflates Sri Lanka attacks victims by 'a million times' in new gaffe
--------
Pakistan
• Premier Extends Greetings As Christian Community Celebrates Easter
• No need to launch movement as govt is crumbling: opposition
• Imran pledges housing quota for terror-hit Hazara families
• 'Pakistan stands with Sri Lanka': Qureshi calls Sri Lankan premier to condemn terrorist attacks
• Centuries-old mosque crumbles after Rs120m preservation work
• Fazl questions parties' silence on 'political chaos' in country
Compiled by New Age Islam News Bureau
URL: https://www.newageislam.com/islamic-world-news/swedish-imam-isis-members-need/d/118392
--------
Swedish Imam: ISIS Members Need 'Right Kind' of Islam to Rehabilitate into Society
18 Apr 2019
A Swedish imam based in Stockholm has claimed that returning Islamic State members need the "right" kind of Islam to help rehabilitate them back into society.
Imam Kashif Virk has called for the Swedish government to include the "knowledge and experience of religious congregations" to help reintegrate any returning fighters in an opinion article for publication Dagens Samhalle.
The imam was, however, cautious over the fact that Sweden may not be properly equipped to prosecute those who have committed atrocities overseas saying, "In Sweden, we have a legal system that is not adapted for these gross abuses against humanity. The crimes are difficult to prove. The punishment is not in proportion to the crimes."
Virk also said that he was opposed to the idea of "calling terrorists home" and noted that the returnees "not only pose a threat to Sweden, but to the whole world."
The article was written as a follow-up to another opinion piece Virk wrote earlier this month in which he argued that returning Islamic State members should not be banned from coming back from Sweden but should instead be given a "second chance" following a judicial process.
"Any offences that can be proved must be prosecuted. The way back to a normal life must go through the judiciary," he said.
Imam Virk is a member of the Ahmadiyya Muslim community, which is often seen as blasphemous by radical Sunni Muslim extremists such as the Islamic State who have referred to them as polytheists.
In 2016, it was reported that Islamic State militants went as far as to bomb an Ahmadi mosque in Bangladesh as part of a number of other attacks against non-Sunni branches of Islam.
Other Muslim groups in Sweden, such as the Shiite community, have expressed fear of Islamic State militants returning home.
Omran Hashem, the chairman of the Ahl Al-Bait Cultural Centre in the Oxhagen district of Örebro, said his centre had already been forced to hire guards due to threats from Sunni extremists.
"When they come back and know that there is a Shia mosque here, of course, we are afraid of it. They might come in and hurt someone," he said.
https://www.breitbart.com/europe/2019/04/18/swedish-imam-isis-members-need-right-kind-of-islam-to-rehabilitate-into-society/
--------
UK cuts cash aid to northeast Syria, citing fear of funding ISIS
April 21, 2019
Aid organisations working in Syria say they are "extremely shocked" after the UK cancelled millions of dollars in cash assistance to the northeast of the country out of concern that money could be diverted to ISIS.
"We have suspended the use of UK aid through cash transfers in northeast Syria following the territorial defeat of Daesh," a spokesperson for the UK's Department for International Development (DFID) told The National, using the Arabic acronym for ISIS. "This is a precautionary measure due to the risks associated with the dispersal of Daesh members. UK aid will still give food, shelter and healthcare to those people in Syria in desperate need."
A group of international NGOs working in Syria described the decision as "politically driven" and a "hasty reactionary stance". The cutting of cash distributions will negatively affect already vulnerable populations and was "disappointing and impossible to explain or justify" to local actors, the group of 58 NGOs said in a letter to the department obtained by The National.
DFID has budgeted £152 million (Dh756 m) for support to Syria in its 2019/2020 budget, including £40 m (DH191 m) to northeast Syria. Up to $5 m (Dh18 m) of this is earmarked for cash assistance and could be cut, one aid worker told The National. Affected NGOs include The International Rescue Committee, Mercy Corps, and Care International.
Historically much aid has been distributed as in-kind assistance such as food, clothing, or shelter kits. But in the last decade many aid agencies have shifted towards paying cash to those in need, citing its greater efficiency, lower implementation costs and its ability to preserve the dignity and autonomy of recipients.
"One of the big benefits of giving cash and vouchers rather than food parcels is the incredible value for money that can be achieved," DFID said last year in a press release. "Cash transfers deliver better value for money for UK taxpayers and better support the world's poorest people who often rely on our help to stay alive."
But the provision of aid in northeast Syria has become politically charged in recent months, given the large numbers of ISIS supporters who have recently arrived in displacement camps.
Since the start of the year some 60,000 people have fled the last ISIS-held territory in the country, which only fell to US-backed Syrian forces last month. The vast majority have been taken to the overcrowded Al Hol camp, where some of the group's most hardened supporters remain committed to the idea of the caliphate declared by Abu Bakr Al Baghdadi in 2014.
In the UK in particular, public attention on unrepentant ISIS members, including Bethnal Green teenager Shamima Begum, has made the government wary of providing assistance to such groups. This is "what set off this public backlash and changed UK policy in Syria," said Fe Kagahastian, a cash and markets specialist deployed to the Syria response by the Norwegian Refugee Council's experts roster.
"The media focus on one Daesh-affiliated woman [Ms Begum] effectively strips tens of thousands of Syrians – who are displaced after fleeing ISIS violence to begin with – of a more dignified form of assistance," she told The National.
DFID's decision to cut cash assistance to northeast Syria was a "precautionary measure", it told aid agencies, adding that it was not aware of any money actually being diverted towards ISIS.
Cash-for-work payments and disbursements to vulnerable families typically amount to about $120 (Dh478) per month and are unlikely to form a meaningful source of funding for ISIS, even if part of it were diverted to the group, aid workers say.
Since its territorial defeat, ISIS has continued a low-level insurgency across parts of Syria and Iraq. During its retreat, ISIS is believed to have cached up to $400 m to continue operations, smuggling cash out of Iraq and Syria and investing in legitimate local businesses.
Cash distributions to help families buy food and other life-saving items cannot be quickly or easily replaced with alternatives, aid workers say. "We can't just switch to other modalities; this decision by DFID represents people missing out on assistance," an NGO worker in northeast Syria told The National, speaking anonymously because they were not authorised to brief the media.
Cutting cash distributions also has negative flow on affects on the market, said Ms Kagahastian. "The small shopkeepers, traders, bakers, water and fuel suppliers, transportation service providers are also now at risk of losing their businesses as displaced Syrians lose their purchasing power."
In Raqqa, cash for work schemes have been critical to the restoration of services in the city, after it was heavily damaged in fighting to drive out ISIS. NGOs working in the region now fear that should other donors decide to restrict cash assistance, such critical stabilisation efforts will stop.
"DFID's decision to ban cash assistance in northeast Syria will deprive tens of thousands of Syrians of existing and planned assistance," the group of NGOs wrote to other foreign donors. "Suddenly stopping this essential life-saving and dignity sustaining programming would have both immediate and long-lasting implications."
https://www.thenational.ae/world/mena/uk-cuts-cash-aid-to-northeast-syria-citing-fear-of-funding-isis-1.851970
--------
Bomb blasts: Clear that international elements are involved, says Sri Lankan official
by Arun Janardhanan
April 22, 2019
The "involvement of international elements is clear" from the pattern of Sunday's blasts in Sri Lanka, and investigators suspect that "two or three more bombs" are yet to be detected, a top government official in Colombo told The Indian Express.
Shiral Lakthilaka, advisor and coordinating secretary at the Presidential Secretariat, also said that the arrest of seven suspects was based on the "suspicious movement" of a vehicle before the blast at Colombo's Cinnamon Grand hotel, which was one of those targetted.
"Such a series of blasts and killings was not witnessed even at the height of the Sri Lankan war (against the Tamil Tigers)…We can see a pattern similar to a series of blasts that occurred in Nigeria a few years ago (2011) and an attack in Pakistan (2018)," Lakthilaka said, without providing further details.
Asked about the arrests during a raid by police at a Colombo apartment, he said: "They remain significant at the moment. But the seven who were arrested there cannot be linked directly to the blast as they were taken in custody out of suspicion, for being in the vicinity of an apartment where the terrorists were camping… Investigators suspect that two or three more bombs remain at large."
Detailing one of the first crucial tip-offs, the official said: "We traced the vehicle immediately to the compound of an apartment in Dematagoda in Colombo's northern suburb. Security personnel surrounded the building. As officers were about to enter the house on the third floor to carry out searches, a suicide bomber detonated explosives killing a Special Task Force personnel and two constables who were in the search team."
Sri Lanka blasts, Sri Lanka bomb blast, sri lanka church blast, Colombo blasts, Sri lanka explosions, Sri Lanka terror attack, Indians killed in Sri Lanka blast, Sri Lanka blast death toll, St. Anthony's Church, St. Sebestian's Church, bomb explosion in sri lanka, sri lanka church blast news, bomb explosion in sri lanaka
Sri Lankan military stand guard in front of the St. Anthony's Shrine, Kochchikade church after an explosion in Colombo, Sri Lanka (Reuters)
Asked about a possible security and intelligence lapse, he said: "A detailed investigation will look into all aspects of the incident. It may be too early to talk about (security) lapses. Terrorists have penetrated our security system… We suspect the role of international elements behind this. We cannot pinpoint anyone, a political or religious angle, to this tragedy right now. We have tightened security for all hotels and worship centres in the country. The situation is under control and the army is on standby to assist and take over any crisis situation."
In Batticaloa, Bishop Joseph Ponniah, who witnessed the blast at the Zion church where at least 30 people were killed, said the bombings showed that the "majority and minority factor continues to haunt Sri Lanka".
"I was sitting inside the Bishop House, which is hardly 100 metres from the Zion church. I had been watching many children enter the church since morning on Easter Day for special prayers and special classes. Later, the elders, too, started arriving. It was around 9.10 am when I heard the blast that killed all those innocent people," he said.
Batticaloa, in the eastern province, is home to a majority of Hindu Tamils and a sizeable number of Christian and Muslim population who hail mostly from an agrarian background.
"Even if the three-decade-long war (with the Tamil Tigers) ended in 2009, minorities continued to face threats. We were victims of atrocities by both the terrorists (LTTE) and the army. Now, it looks like it will never end. The minorities are not being cared for, nothing is being done. The majority and minority factor continues to haunt Sri Lanka," he said.
"But even in those 30 years of war, never had such an attack on a single day targetted so many innocent people across the country… We fear the death toll may go up further in Batticaloa," he said.
https://indianexpress.com/article/world/clear-that-international-elements-are-involved-says-sri-lankan-official-5687466/
--------
Sri Lanka attacks death toll rises to 290, about 500 wounded: Police
Apr 22, 2019
COLOMBO: The death toll from attacks on churches and luxury hotels across Sri Lanka rose significantly to 290, and about 500 people were also wounded, police said on Monday.
The death toll overnight had stood at 207. Police spokesman Ruwan Gunasekera declined to give a breakdown of those killed and wounded at each of the three churches and four hotels hit on Sunday, attacks that marked the most significant violence since a bloody civil war ended 10 years ago.
A government source said President Maithripala Sirisena, who was abroad when the attacks happened, had called a meeting of the National Security Council early on Monday. Prime Minister Ranil Wickremesinghe would attend the meeting, the source said.
https://timesofindia.indiatimes.com/world/south-asia/sri-lanka-attacks-death-toll-rises-to-290-about-500-wounded-police/articleshow/68984172.cms
--------
Syria: Ankara-Backed Militants Plunder Infrastructures in Aleppo's Afrin
Apr 21, 2019
The London-based Syrian Observatory for Human Rights (SOHR) reported that the Ankara-backed Olive Branch militants affiliated to Turkish Army have dismantled the railway in Akbas Square town in a bid to transfer them to other areas to be sold.
Meantime, the Turkey-backed militants have also cut the trees in Meidanaki region and other villages in Bolbol region of Afrin, it added.
The SOHR also pointed to continued arrests of civilians by Ankara-backed terrorists in Afrin, and said that the al-Montaser al-Belah terrorists in Haou village in Mabatli region have made numerous arrests and released only those civilians who have paid them cash.
In a relevant development earlier this week, the Kurdish-language media reported that the Turkish Army had strengthened its military positions in areas under its control in Afrin and set up another military base for Jeish al-Islam terrorists there.
The Kurdish-language Hawar News quoted local sources in Afrin as saying that the Ankara Army is presently setting up 3-meter walls in the surrounding areas of its command centers in the villages of Afrin region, specially in the villages bordering al-Shahba region.
The report pointed to an attempt by the Turkish Army to destroy people's houses, administrative buildings, schools and water reservoirs North of Jalbareh village in Shirva, and said that the occupying army intends to set a new military base in the same region.
Meantime, informed sources reported that the Turkish troops are establishing a command center and a camp for Jeish al-Islam terrorists near Kawa al-Haddad Square.
They also said that the Jeish al-Islam terrorists are meant to use the camp for training their militants.
http://en.farsnews.com/newstext.aspx?nn=13980201000259
--------
Muslim World League signs deal with Moscow to promote interfaith dialogue
April 21, 2019
MOSCOW: The Secretary-General of the Muslim World League (MWL) Sheikh Dr. Mohammed bin Abdul Karim Al-Issa held a meeting with the president of the Russian People's Council, Sergei Ordzhonikidze, and other council members, where they discussed issues of common interest.
They looked into means of boosting cooperation between Russia and the Muslim world, supporting positive national integration programs and countering extremist speeches and Islamophobia.
Al-Issa lauded the Russian model of national harmony and coexistence, while Ordzhonikidze presented Al-Issa with a copy of the council's yearly report.
At the meeting the two parties signed a memorandum of understanding (MoU) to share their experiences in the fight against extremist ideologies, the promotion of interreligious dialogue and coexistence and the implementation of joint projects to achieve shared goals. They also stressed the pure and peaceful values of Islam and rejected all forms of extremism and Islamophobia.
The meeting was attended by the Russian deputy chairman of the Committee for the Development of Agriculture, Aygun Memedov, the chairman of the Committee on the Normalization of Relations Between Nationalities and Religions, Sheikh Albert Karganov, the Mufti of Moscow and the Khanti-Mansisk Region in Siberia Sheikh Tahir Samatov.
Last month, Al-Issa met with Speaker of the Russian Parliament Vyacheslav Volodin. They discussed subjects related to promoting and supporting dialogue among followers of different religions and civilizations, activating cultural contacts and exchanges between the Muslim world and Russia.
Al-Issa signed a cooperation agreement between the MWL and Moscow's Fund for Islamic Culture, Science and Education. The agreement focused on tackling extremism and promoting tolerance. The agreement stressed the need for cooperation in the fight against extremism, intolerance, aggression and hostility among religions, races and ideologies that could lead to terrorism.
Both parties agreed to exchange information on the activities of scientific centers, cultural forums and websites.
http://www.arabnews.com/node/1485871/saudi-arabia
--------
Israeli settlers storm al-Aqsa Mosque, perform Passover prayers
Apr 21, 2019
More than 150 Israeli settlers have stormed the al-Aqsa Mosque compound in the occupied Old City of East Jerusalem al-Quds under the protection of Israeli forces.
The Palestinian Ma'an news agency, citing spokesperson for the Islamic Waqf (Endowment) organization Firas al-Dibs, said that a total of nearly 167 Israeli settlers entered the compound through the Moroccan Gate in the early hours of Sunday and throughout the afternoon.
He said the settlers, who were being escorted by heavily-armed Israeli forces, provocatively toured the holy site to celebrate the Jewish holiday of Passover, also known as Pesach.
Dibs further said that a large group of Israeli settlers performed Jewish religious rituals in the compound, which sits just above the Western Wall plaza and houses both the Dome of the Rock and al-Aqsa mosques.
Locals say Israeli settlers routinely "raid" the sacred compound via the Moroccan Gate, tour the site, and leave through the Chain Gate.
The Israelis regard the site as their most holy place, as it is located where Jews believe the First and Second Temples once stood.
The Jewish visitation of al-Aqsa is permitted, but according to an agreement signed between Israel and Jordan — which is the custodian of the holy sites in the compound — after Israel's occupation of East Jerusalem al-Quds in 1967, non-Muslim worship at the compound is strictly prohibited.
Visits accompanied by worship thus anger the Palestinians, who have repeatedly warned of Israeli attempts to change the status quo of the al-Aqsa compound, the third holiest site in Islam.
Furthermore, the number of Israeli lawmakers who enter the sacred compound has increased since Prime Minister Benjamin Netanyahu decided last July to allow such visits once every three months.
Many of the Knesset members are right-wing extremists who support the demolition of the Islamic site in order to build a Jewish temple in its place.
The occupied Palestinian territories have witnessed new tensions ever since US President Donald Trump announced a unilateral decision in December 2017 to recognize Jerusalem al-Quds as Israel's "capital" and relocate the US embassy in Israel from Tel Aviv to the occupied city.
The decision dealt a blow to the Palestinians, who view the eastern sector of the occupied city as the capital of their future state.
https://www.presstv.com/Detail/2019/04/21/593982/Palestine-alAqsa-Mosque-Israeli-settlers-East-Jerusalem-alQuds-Passover
--------
Sudan protest leaders suspend talks with army rulers
21 April 2019
Protest leaders on Sunday said they suspended talks with Sudan's military council as they urged people to intensify their protest outside army headquarters in Khartoum and in other towns.
"We will continue the sit-in and we are suspending our talks with the military council," a spokesman of the protest movement Mohamed al-Amin announced in front of thousands of protesters gathered outside the army complex.
"We are treating the military council as an extension of the regime," he said.
Amin also called on demonstrators to step up their protests until their demand for a transfer of power to a civilian council is met by the military.
"We call for escalating and continuing the demonstrations until the demands are met," he said.
A sea of protesters had been rallying outside the army headquarters, awaiting the unveiling of a civilian body to replace the military council that was put in place following the ouster of president Omar al-Bashir earlier this month.
The military rulers have resisted calls to transfer power immediately to a civilian body, but earlier on Sunday new army ruler General Abdel Fattah al-Burhan insisted he was committed to handing power to the people and also pledged to respond to demonstrators' demands within a week.
https://english.alarabiya.net/en/News/middle-east/2019/04/22/Arab-League-pledges-100M-per-month-to-Palestinian-Authority.html
--------
India must be prepared for limited military actions against terror groups in Pakistan: Hooda-led panel
Apr 21, 2019
NEW DELHI: India must be prepared for unilateral, limited military actions against terror groups in Pakistan as it can be assured of peace only if it demonstrates its capability to defend national interests through the use of force, according a report by the Congress-constituted task force on national security.
The report by the task force headed by Lt. Gen (retd) D S Hooda, made public on Sunday, stated that India's military preparedness will have to cater for a range of response options from surgical strikes to an all-out conflict as future conflicts will see an increased blurring between the tactical, operational and strategic levels of war.
The task force also called for long-term resolution to the difficult problem of conflict in Jammu and Kashmir and said serious efforts are required for countering radicalisation in the state.
The panel also called for cooperation with China and strengthening India's military preparedness through more budgetary allocation and modernisation in the defence sector.
"When required, India must also be prepared for unilateral, limited military actions against terror groups in Pakistan.
"India must also not rule out dialogue with Pakistan. However, talks with Pakistan must be structured, and further progress must be based on visible results. India and Pakistan must also seriously engage on nuclear issues. Nuclear sabre rattling by Pakistan is a major hindrance to stability in South Asia," it states.
"We will only be assured of peace if we can visibly demonstrate our capability to defend our national interests through the use of force. Future conflicts will see an increased blurring between the tactical, operational and strategic levels of war. Our military preparedness will have to cater for a range of response options from surgical strikes to an all-out conflict," it said.
Noting that India-Pakistan relations are at a new low, the panel said Pakistan's attempts to bring India to the negotiating table by destabilising Kashmir have not only failed but also hardened India's stance.
It said that international support to India's air strikes in Balakot has reinforced the policy on cross-border operations. "However, there is also no doubt that military actions carry the risk of escalation and this needs to be factored into our future plans," it said.
The report by Hooda, who is said to have headed the team that conducted the surgical strikes on terror camps in PoK, stated that there is a need to have a sustained and long-term strategy to build consistent pressure on Pakistan to desist from supporting terror and diplomacy and economic isolation will play a large part in this strategy.
The task force felt that internal conflicts are a grave danger to India's national security, imposing enormous economic, political, human and social costs.
It noted that despite successes on this front, the challenges remain particularly in Jammu and Kashmir, the Northeast and the Left-Wing Extremism-affected areas.
Terming the conflict in Jammu and Kashmir as India's "biggest internal security challenge", the report said the two key factors responsible for continuing strife in the state are constant support of Pakistan to terror activities in the state and the sense of anger and alienation among sections of the population in Kashmir valley.
"This is exacerbated by growing radicalisation," it said, adding that rise in number of local youths joining terror ranks is another worrying factor.
"The immediate focus should be on bringing calm to the streets and reducing violence levels in Kashmir. It is only after this that further steps can be taken for a long-term resolution to this difficult problem. And calm will come only if we deal with the people of Jammu and Kashmir with empathy and understanding.
"A well-thought-out surrender and rehabilitation policy could be an effective step in reversing the growing trend of locals joining terror ranks. Healing must begin from within the state," it said, calling for encouraging civil society to take the lead in this.
The vexing problem of the displaced Kashmiri Pandit community must be squarely faced to find an honourable solution, it said.
"Killing terrorists is an integral part of military operations to ensure that the state does not descend into chaos. However, this is not the primary measure of success or conflict resolution. Serious efforts are required for countering radicalisation," it suggests.
It also called for the need to have better protective equipment, bulletproof vehicles, counter-IED technology, surveillance and early-warning devices, and strong garrison security, that needs to be made on priority.
The committee also said the nuclear command and control system should be hardened against cyber attacks and India needs to gradually start building up a missile defence system to protect major cities.
"We will only be assured of peace if we can visibly demonstrate our capability to defend our national interests through the use of force. Future conflicts will see an increased blurring between the tactical, operational and strategic levels of war. Our military preparedness will have to cater for a range of response options from surgical strikes to an all-out conflict," the report said.
The task force report said the current budgetary allocations for defence, tardy procurement procedures, existing force composition, and decision-making structures pose a serious challenge to force modernisation and measures need to be taken to overcome this.
https://timesofindia.indiatimes.com/india/single-surgical-or-air-strike-not-enough-to-make-pakistan-change-its-behaviour-lt-gen-hooda/articleshow/68980614.cms
--------
Europe
North England mosque attacked three times in three days
Apr 21, 2019
Police in a northern English city have opened an investigation into repeated Islamophobic attacks on a major mosque in the past few days.
Police said on Saturday it had received three reports of hate attacks on the Masjid-e-Salaam mosque in Preston, Lancashire, over the past three days, adding that vandals had sprayed graffiti on the gatepost of the mosque to disrespect Muslim worshippers.
"There have now been three reports in a matter of days and this is understandably causing a lot of upset and concern in the local community," said Chief Inspector Gary Crowe, adding, "I would like to reassure people, especially worshipers in the area, that we are taking this extremely seriously."
Images published on the social media by the mosque authorities showed the attackers had spray painted offensive slurs on the gatepost to insult Muslims.
The last attack came on Saturday at 10:45 pm after the first two graffiti messages, sprayed between Thursday and Friday, had been removed.
Police officers were deployed to the area to prevent further attacks while authorities urged everyone with information to come forward.
Authorities said on Sunday that a 47-year-old man, from Preston, had been arrested on suspicion of involvement in the attack.
The attacks come amid a surge in hate crimes against Muslims in Britain. They took place nearly a month after an Australian white supremacist, who had claimed to be inspired by Islamophobes in Britain, massacred 50 Muslims in two mosques in the city of Christchurch in New Zealand.
Representatives of Islamic communities in the UK believe certain politicians and some media outlets should be blamed for increased hate crimes against the Muslims in the country. They cite comments by notable political figures which have encouraged attacks on Muslims in the UK, saying the rhetoric is meant to please supporters of far-right, nationalist groups amid a national debate on leaving the European Union.
https://www.presstv.com/Detail/2019/04/21/593995/UK-hate-attack-mosque-Preston
--------
South Asia
24 people arrested in connection with multiple blasts in Sri Lanka
Apr 22, 2019
COLOMBO: Sri Lankan authorities have arrested 24 people from the minority Muslim community in connection with the multiple blasts that rocked the island nation on Sunday, killing over 290 people.
A string of eight powerful blasts, including suicide attacks, struck churches and luxury hotels frequented by foreigners in Sri Lanka on Easter Sunday, killing over 290 people, including five Indians, and shattering a decade of peace in the island nation since the end of the brutal civil war with the LTTE.
Police spokesman Ruwan Gunasekera said the number of arrests on the incidents have now gone up to 24.
However, the government said they will not disclose the details of the suspects involved in the attacks to prevent them from getting publicity.
"Don't give extremists a voice. Don't help to make them martyrs," State minister of defence, Ruwan Wijewardene, told reporters when asked for details of those in custody.
Police officials privately said the suspects were all from the minority Muslim community.
Police said the van which had carried explosives to carry out bomb attacks at the three hotels was arrested with its Muslim driver.
A safe house where the bombers had lived for nearly three months leading to the attacks were discovered in the south of Colombo suburb of Panadura.
Sri Lanka Air Force said it found an improvised explosives device along a road leading to the departure terminal at the Colombo international airport Sunday night.
"It was a crude six- foot pipe bomb that was found by the roadside," an air force spokesman said.
"We have removed it and safely defused it at an air force location," he added.
https://timesofindia.indiatimes.com/world/south-asia/24-people-arrested-in-connection-with-multiple-blasts-in-sri-lanka/articleshow/68984787.cms
--------
Next meeting to focus on foreign troops' pullout: Taliban
April 22, 2019
DOHA: Upcoming talks between the Taliban and the United States will focus on the timetable for pulling out all foreign troops from Afghanistan, according to a senior Taliban member.
In an interview, the Taliban's political spokesman Suhail Shaheen said previous negotiations with Washington saw the two sides agree to a total withdrawal, with only the details needing to be fleshed out.
"In our last round of talks with the US side, we agreed with them on withdrawal of all foreign forces from Afghanistan," Shaheen said late on Saturday.
In return for a withdrawal, he said the Taliban have committed to preventing terrorist groups from using Afghanistan as a safe haven or for launching attacks on other countries.
"But still there are some details to be discussed, and this discussion will take place in our next round of talks and that is about [the] timetable of the withdrawal of forces from the country and other details," he said.
The next round of talks is expected to take place in Doha in the coming weeks, but no dates have been formally announced.
US special envoy Zalmay Khalilzad, who is leading the talks for Washington, said after the latest round ended that "real strides" had been made, but he insisted no agreement was reached on when the US and other countries might leave Afghanistan.
He spoke of an agreement "in draft" on the issues of counterterrorism, assurances from the Taliban and troop withdrawal, and suggested the next phases would be intra-Afghan dialogue and a ceasefire, but stressed that nothing was finalised.
Khalilzad has also said that "nothing is agreed to until everything has been agreed to".
A meeting between the Taliban and Afghan politicians and representatives that was due to take place over the weekend collapsed amid bickering about Kabul's lengthy list of delegates, which initially comprised 250 people. The conference would have been separate from the main US-Taliban peace talks.
Talks so far have faced fierce criticism in Afghanistan and internationally for their lack of women participants. While in power from 1996 to 2001, the Taliban banned girls' education, shredded any Western notion of women's rights and executed women on allegations of adultery.
The militants now say they support some access to education for girls, though this would be along religious lines in segregated schools.
Shaheen spoke to AFP in Qatari capital Doha, which has become the main hub for Afghanistan peace talks and once hosted a political office for the Taliban.
That facility was closed down after protests by Kabul, which said the Taliban were using the office as a de-facto embassy.
"Right now, we do not have any office," the spokesman said.
Full report at:
https://www.dawn.com/news/1477642/next-meeting-to-focus-on-foreign-troops-pullout-taliban
--------
Afghan supreme court extends Ghani's term till elections
April 22, 2019
KABUL: Afghanistan's supreme court has extended the term of President Ashraf Ghani until delayed elections take place, an official said on Sunday, resolving for now the question of what would happen after his term expires on May 22.
Presidential elections were initially slated for April 20, but Afghan poll officials were unprepared for a new nationwide vote so soon after October parliamentary elections.
With some final results from that election still pending, the presidential poll was delayed until July 20, then pushed back again until September 28.
Ariana News published a statement from the court saying it "has extended the service term of President Ghani until the re-election of a new president".
"The supreme court understands the financial, security and logistical challenges faced by the election commission." While the court did not make the statement public, Faraidoon Khwazoon, the deputy spokesman to Afghan chief executive Abdullah Abdullah, confirmed the document, noting that Abdullah's term had also been extended.
"Yes, the supreme court has made its decision, based on the constitution, on the extension of the service term of the president," Khwazoon said, adding the extension would last "until the re-election of the new president".
Ghani's office could not immediately be reached for comment.
The delayed elections come as the United States tries to negotiate a peace deal with the Taliban, and some had speculated the polls were being deliberately stalled to create more space for those talks.
Opposition politicians and presidential contenders had called for an interim government to fill the gap between Ghani's mandate expiring and the presidential elections.
The supreme court said it was asking "presidential candidates to respect the delay in the presidential elections".
Full report at:
https://www.dawn.com/news/1477655/afghan-supreme-court-extends-ghanis-term-till-elections
--------
24 Taliban militants killed in Special Forces raids and airstrikes
18 Apr 2019
At least 24 Taliban militants were killed during the operations of the Afghan Special Forces and airstrikes which were conducted in various provinces of the country in the past 24 hours.
According to informed military sources, one Taliban fighter was killed and three others were wounded during an operation of the Special Forces in Nahr-e-Saraj district of Helmand.
The Afghan Special Forces conducted a similar operation in Uruzgan province and destroyed 5 complete IEDs and 10 IED chargers.
At least 5 Taliban fighters were killed during the Special Forces operations in Ghazni province, the sources said, adding that the Afghan Special Forces conducted a raid in northern Parwan province during the same period and confiscated a small weapons cache.
The sources also added that the Afghan Special Forces conducted a clearance operation near Farah City and arrested 8 Taliban fighters while airstrikes were also carried out in the province which left 10 militants dead.
Full report at:
https://www.khaama.com/24-taliban-militants-killed-in-special-forces-raids-and-airstrikes-03750/
--------
Taliban commander 'Dada' and his 7 fighters killed in U.S. drone strike in Nangarhar
22 Apr 2019
A commander of the Taliban group and his seven fighters were killed in a U.S. drone strike in eastern Nangarhar province of Afghanistan.
The 201st Silab Corps in a statement said the U.S. forces on Saturday carried out an airstrike using unmanned aerial vehicle targeting a Taliban commander famous as Dada and his fighters in Marki Khel area of Khogyani district.
The statement further added that a Taliban commander famous as Dada was killed in the airstrike with his seven fighters.
Another Taliban militant has also been critically wounded, the 201st Silab Corps added in its statement.
The anti-government armed militants including Taliban have not commented regarding the airstrike so far.
Full report at:
https://www.khaama.com/taliban-commander-dada-and-his-7-fighters-killed-in-u-s-drone-strike-in-nangarhar-03777/
--------
18 Taliban militants killed in airstrikes conducted in Wardak province
22 Apr 2019
At least 18 Taliban militants were killed in the airstrikes which were conducted in central Maidan Wardak province of Afghanistan.
The informed military sources said Sunday that the airstrikes were carried out in the vicinity of Chak district of the province.
In the meantime, the 203rd Thunder Corps in a statement said the Afghan ground forces had also participated in the operations in Chak district.
The statement further added that 17 Taliban militants were killed and 11 others were wounded during the same operations.
The anti-government armed militants including Taliban have not commented regarding the operations so far.
Full report at:
https://www.khaama.com/18-taliban-militants-killed-in-airstrikes-conducted-in-wardak-province-03776/
--------
ISIS Khurasan claims responsibility for the attack on telecom ministry in Kabul
21 Apr 2019 0
The offshoot of the Islamic State Iraq and Syria, ISIS Khurasan (ISIS-K), has claimed responsibility for yesterday's attack targeting the ministry of telecommunications and information technology in downtown part of Kabul city.
According to a statement released by pro-ISIS media agency, Amaq News Agency, the attack was carried out by a group of four militants.
The statement further added that the militants initially detonated explosives near the entrance of the ministry compound.
The attack was launched at around 11:40 am local time with initial reports suggesting at least 7 people including four civilians and three security personnel were killed in the attack.
However, the Ministry of Interior later confirmed that the death toll from yesterday's attack in Kabul has climbed to 10 as three more civilians succumbed to their injuries.
Interior ministry spokesman Nasrat Rahimi confirmed that three civilians who had sustained injuries in the attack, died late on Saturday.
Rahimi further added two women and five men were among those killed while five other civilians sustained injuries.
Full report at:
https://www.khaama.com/isis-khurasan-claims-responsibility-for-the-attack-on-telecom-ministry-in-kabul-03775/
--------
Sri Lanka lifts curfew after bomb attacks
22 April 2019
Sri Lankan authorities have lifted a curfew that was in place overnight following Easter Sunday bombings that killed at least 290 people.
The streets in the capital, Colombo, were largely deserted Monday morning, with most shops closed and a heavy deployment of soldiers and police.
Stunned clergy and onlookers gathered at St. Anthony's Shrine, looking past the soldiers to the damaged church that was targeted in one of the blasts.
The nine bombings of churches, luxury hotels and other sites was Sri Lanka's deadliest violence since a devastating civil war ended a decade ago.
Full report at:
https://english.alarabiya.net/en/News/world/2019/04/22/Sri-Lanka-lifts-curfew-after-bomb-attacks-kill-290.html
--------
ISIS claims deadly attack on Afghan ministry
21 April 2019
ISIS on Sunday claimed responsibility for an attack that killed 10 people and trapped around 2,000 for hours inside the communications ministry in the Afghan capital the previous day.
Four ISIS extremists detonated explosives near the ministry, then entered and "battled Afghan security forces with machine guns and hand grenades for numerous hours", the group said in a statement on its social media channels.
The attack in central Kabul killed seven civilians and three members of the security forces, the interior ministry said on Sunday, in a new toll after three people died of their wounds.
AFP journalists heard one big blast around 11:40 am, followed by sporadic gunfire for hours afterward.
By about 5:00 pm, the interior ministry declared the assault over.
"All suicide bombers killed & more than 2000 civilian staff rescued," it said on Twitter.
General Sayed Mohammad Roshan Dil, the Kabul police chief, said the four attackers had been wearing police uniforms.
Panicked workers inside the 18-story building, believed to be Kabul's tallest, scrambled up to the top floor as the fighting raged below.
One woman said she had been in a group of about 30 people on the 10th floor when the assault started, then was told to move up to the 18th floor as gunfire increased. They were all eventually rescued by commandos.
Aside from a grenade attack on a military vehicle last week and persistent crime, Kabul has in recent weeks enjoyed a period of relative calm.
Full report at:
https://english.alarabiya.net/en/News/world/2019/04/21/ISIS-claims-deadly-attack-on-Afghan-ministry.html
--------
Arab World
Deir Ezzur: Syrian Army Wards Off ISIL's Attack from SDF-Controlled Area
Apr 21, 2019
The ISIL terrorists attacked the Syrian Army's military positions from Eastern Euphrates region which is under the occupation of the Syrian Democratic Forces (SDF).
The Syrian Army engaged in heavy clashes with the ISIL terrorists who were intending to penetrate into the army's military points in Hawija Sahin in al-Saiwieh in Eastern Deir Ezzur from the SDF-controlled Tal Jahfeh al-Baqouz in Eastern Euphrates.
Meantime, the Syrian Army troops pounded the terrorists' military positions and movements in the surrounding areas of the conflict zone, thwarting their offensive and inflicting heavy losses on the terrorists.
Meantime, the local sources in Eastern Deir Ezzur said that tens of ISIL elite militants and several of their senior commanders are stationed in Eastern Euphrates despite US claims that ISIL's presence had ended their presence there.
In a relevant development on Saturday, media reports revealed that Washington has dispatched new military aid to the SDF in Eastern Euphrates after declaring an end in the war on ISIL.
The London-based Syrian Observatory for Human Rights (SOHR) reported on Saturday that the US-led coalition has sent new military convoys, including tens of trucks carrying military aid and logistical equipment, from Iraqi Kurdistan region to areas occupied by the SDF in Eastern Euphrates.
It added that over 810 trucks, carrying military and logistic equipment of the US-led coalition have arrived in Eastern Euphrates.
Last month, Washington-backed Kurdish fighters in Syria declared their final victory over the ISIL terrorist group, ending bloody battle against the group that once held the territory spanning a third of Syria and Iraq.
The US Defense Department also announced that the Islamic State no longer holds any territory in Syria, according to former White House Spokeswoman Sarah Sanders.
In December 2018, US President Donald Trump declared the ISIL terrorist group defeated in Syria and announced American troop pullout from the country but gave no timeline. The surprise announcement resulted in the resignation of Secretary of Defense James Mattis, US anti-IS coalition envoy Brett McGurk and Pentagon Chief of staff Rear Admiral Kevin Sweeney who disapproved of the American president's decision.
But, Trump confirmed that 400 US soldiers will remain in the war-torn country indefinitely.
Notably, the US troops have been operating in Syria as part of an international coalition for about five years without the permission of Syrian authorities or the UN Security Council. The United States has, in particular, supported the Kurdish-led militia controlling the territories to the East of the Euphrates and opposing the Syrian government.
http://en.farsnews.com/newstext.aspx?nn=13980201000383
--------
Tens of Terrorists Killed in Foiled Attack on Syrian Army Positions in Aleppo
Apr 21, 2019
The Syrian Army troops engaged in heavy clashes with Tahrir al-Sham terrorists who had attacked their military positions in al-Rashedeen axis in Western Aleppo, the Arabic-language version of the Russian Sputnik news agency quoted a Syrian military source as saying.
Meantime, Sputnik said that the terrorist groups launched rocket attacks on al-Hamdanieh and New Aleppo districts.
The Syrian Army's artillery and missile units also heavily pounded the terrorists' movements all across Western Aleppo, destroying several of their key positions and a number of military vehicles, it said.
Tens of terrorists were killed and many others were wounded in clashes with the Syrian Army troops while 12 Syrian soldiers were also killed in the clashes, Sputnik added.
In Southeastern Idlib, the Syrian Army's artillery and missile units pounded the military positions and movements of Tahrir al-Sham in the villages of Al-Sha'areh and al-Sayyadi, destroying several of their positions.
The Syrian Army attacks came in response to terrorists' indiscriminate artillery and missile attacks on civilian areas and military zones.
In a relevant development earlier this week, the Syrian Army pounded and destroyed the military positions and convoys of the terrorists in Northern Hama and Southern Idlib.
The Syrian Army's missile units fired at least 40 missiles at military convoys of Tahrir al-Sham's elite terrorists in Khan Sheikhoun city in Southern Idlib, Sputnik news agency quoted a military source as saying.
Full report at:
http://en.farsnews.com/newstext.aspx?nn=13980201000303
--------
Iraq sentences four to death for joining ISIS
21 April 2019
An Iraqi court has sentenced four people to death by hanging for belonging to the ISIS extremist group and committing terrorist crimes in Iraq and Syria, a judiciary statement said on Sunday.
The four men, wanted by Iraqi authorities, were handed to Iraq by the US-backed Syrian Democratic Forces (SDF), the statement said.
A Baghdad criminal court convicted them for joining ISIS and "carrying out criminal operations that targeted innocent civilians with the aim of undermining peace and stability in Iraq and Syria".
A judicial source said the four men were Iraqi.
In February, Iraq's military said the SDF had handed 280 Iraqi and foreign detainees to Baghdad.
Thousands of foreigners have fought on behalf of ISIS in Iraq and Syria since at least 2014. Many foreign women came - or were brought - from overseas to join the militants.
Iraqi courts are relying on counter terrorism laws to prosecute thousands of suspects, including foreign fighters, for joining the ultra-hardline extremist group.
Full report at:
https://english.alarabiya.net/en/News/middle-east/2019/04/21/Iraq-court-sentences-four-to-death-for-joining-ISIS.html
--------
Bahraini king reinstates nationality of 551 citizens sentenced on terror cases
21 April 2019
Bahraini King Hamad bin Isa al-Khalifa has ordered that the citizenship of 551 Bahrainis be reinstated, after their nationality had been revoked by courts on terror cases, the kingdom's state news agency said on Sunday.
"The royal order is in line with the provisions of Article 24 bis of Law 58/2006 with respect to the Protection of the Community against Terrorist Acts stipulating that rulings related to citizenship withdrawal will not be effective unless they are approved by HM the King," a statement on Bahrain News Agency (BNA) read.
The Bahraini King has asked the relevant authorities to evaluate the cases before a final court decision is implemented.
Full report at:
https://english.alarabiya.net/en/News/gulf/2019/04/21/Bahrain-king-reinstates-nationality-of-551-citizens-sentenced-on-terror-cases.html
--------
Saudi Arabia foils terrorist attack north of Riyadh
21 April 2019
Saudi Arabia on Sunday foiled an attempted terrorist attack north of the capital Riyadh.
Al Arabiya sources say the Saudi authorities have foiled an attempted terrorist attack on the General Directorate of Investigation's Center in al-Zulfi suburb around 250 km north of the capital.
Initial reports of the terrorist attack indicate the killing of four assailants.
The attackers of al-Zulfi center carried machine guns, bombs and Molotov cocktails.
Full report at:
https://english.alarabiya.net/en/News/gulf/2019/04/21/Saudi-Arabia-foils-terrorist-attack-north-of-Riyadh.html
--------
Saudi Arabia leads global condemnation of Sri Lanka attacks
April 21, 2019
RIYADH: King Salman and other world leaders have condemned a series of blasts in Sri Lanka that killed more than 200 people on Sunday, including dozens of foreigners — with British, Dutch and American citizens believed to be among them.
The Saudi king sent a cable of condolence to the president of Sri Lanka Maithripala Sirisena following the terrorist attacks in the country.
"We are aware of the terrorist attacks that targeted your friendly country and the resulting deaths and injuries, and we strongly condemn this despicable act of terrorism," the cable from the king said.
Saudi Press Agency reported the king called for an international effort to combat terrorism.
Crown Prince Mohammed bin Salman also sent a cable to Sirisena, expressing his condolences and a speedy recovery to those injured in the attacks.
Seven suspects were arrested in connection with the Easter Sunday bomb attacks on eight churches and hotels in the island nation.
Other world leaders also condemned the attack. Here is a summary of the reactions:
United States of America
US President Donald Trump said the US sends its heartfelt condolonces to the people of Sri Lanka, adding his country is ready to help.
Pope Francis
Pope Francis condemned the attacks as "such cruel violence" and said he was close to the Christian community, hit while celebrating Easter.
United Kingdom
British Prime Minister Theresa May described the attacks as "truly appalling."
"The acts of violence against churches and hotels in Sri Lanka are truly appalling, and my deepest sympathies go out to all of those affected at this tragic time," she tweeted.
"We must stand together to make sure that no one should ever have to practice their faith in fear."
Netherlands
"Terrible reports from Sri Lanka about bloody attacks on hotels and churches on this Easter Sunday," Dutch Prime Minister Mark Rutte tweeted after the attacks first emerged.
"Thoughts are with the victims and their relatives."
Australia
Prime Minister Scott Morrison said Australia was thinking of those killed in a "horrific terrorist attack."
"To the beautiful people of Sri Lanka, Australia sends its heartfelt sympathies and our prayers and our support — and our offer to do whatever we can to support you in this terrible time of need," he said in a statement.
"At this time as Easter Sunday draws to a conclusion here in Australia, our heart goes out to those Christians and all of those other innocents who have been slaughtered today in this horrific terrorist attack."
New Zealand
A month after dozens of Muslims were killed in a shooting at two mosques in Christchurch, New Zealand Prime Minister Jacinda Ardern described the attack as "devastating."
"New Zealand condemns all acts of terrorism, and our resolve has only been strengthened by the attack on our soil on the 15th of March. To see an attack in Sri Lanka while people were in churches and at hotels is devastating.
"New Zealand rejects all forms of extremism and stands for freedom of religion and the right to worship safely. Collectively we must find the will and the answers to end such violence."
Catholic Church in Jerusalem
The Catholic Church in Jerusalem said the blasts were particularly sad as they "came while Christians celebrate Easter."
"We pray for the souls of the victims and ask for speedy recovery of the injured, and ask God to inspire the terrorists to repent of their killing and intimidation," the statement said.
"We also express our solidarity with Sri Lanka and all its inhabitants in their various religious and ethnic backgrounds."
India
Indian Prime Minister Narendra Modi also expressed solidarity with the fellow South Asian country, and said "there is no place for barbarism in our region."
Pakistan
Imran Khan also took to Twitter to condemn the attacks, saying: "My profound condolences go to our Sri Lankan brethren."
Iran
Iran's foreign minister says he is "terribly saddened" by the Easter Sunday bombings.
Mohammad Javad Zarif tweeted that "terrorism is a global menace with no religion: it must be condemned & confronted globally."
Lebanon
Lebanon's prime minister calls the attacks "blind terrorism" and offers solidarity to Sri Lanka's people.
Saad Hariri in a tweet asks for mercy for the "innocent victims" and speedy recovery for the injured.
Full report at:
http://www.arabnews.com/node/1485841/saudi-arabia
--------
Mideast
How Meir Kahane's toxic legacy poisoned the Palestinian peace process
April 22, 2019
JEDDAH: As Israel's most right-wing government in living memory prepares to take office, the outlook for the Palestinian-Israeli peace process has rarely been more dismal.
After his narrow election victory this month, Prime Minister Benjamin Netanyahu is clinging to office by assembling a coalition of Knesset members with no interest in peace. They range from far-right ultra Zionists to overt racists. Many, in particular the Otzma Yehudit, or "Jewish Power" party, are acolytes of Meir Kahane — a Brooklyn-born rabbi who co-founded the militant Jewish Defense League in 1968, joined the West Bank settler movement and established an extremist Israeli political party.
It is because of this toxic legacy that Kahane is the subject today of Preachers of Hate — the Arab News series that exposes extremist clerics of all religions and nationalities, places their words and deeds in context, and explains their malign influence on those who follow them.
As a member of the Knesset, Kahane proposed laws to strip Arabs of citizenship and force their emigration.
In the end he proved too extreme even for the Israeli far right; he was disqualified from running for office, and was eventually assassinated in New York in 1990.
Kahane's hatred lives on, however, in Israel's continuing rejection of the Palestinian people's entitlement to basic human dignity, far less a meaningful peace process and an independent state.
As the leading academic and Arab News columnist Yossi Mekelberg writes today: "Few people have contaminated the discourse within Israel with sheer hatred and anti-Arab bigotry as much as Meir Kahane."
http://www.arabnews.com/node/1485971/middle-east
--------
Arab League pledges $100 mln per month to Palestinian Authority
22 April 2019
The Arab League has pledged $100 million per month to the Palestinian Authority to make up for funds withheld by Israel because of payments made to the families of Palestinian attackers and prisoners.
Palestinian President Mahmoud Abbas addressed the Arab League in Cairo on Sunday as part of a diplomatic effort to rebuff the Trump administration's Middle East peace plan, which American officials indicate could be released this summer.
Abbas says, "the Arabs need to be engaging actively at this critical time."
Abbas says the Palestinians reject the deal and demand Israel fully withdraw from all occupied territories.
Full report at:
https://english.alarabiya.net/en/News/middle-east/2019/04/22/Arab-League-pledges-100M-per-month-to-Palestinian-Authority.html
--------
Iran's Supreme Leader appoints new IRGC chief commander
21 April 2019
Iran's Supreme Leader Ayatollah Ali Khamenei has appointed Hossein Salami as commander-in-chief of the Iranian Revolutionary Guard Corps, replacing Mohammad Ali Jafari.
Khamenei replaced the chief commander of the IRGC, state TV reported on Sunday, days after the United States designated the group as a foreign terrorist organization.
State TV did not give a reason for the appointment of Brigadier General Salami to the role.
"The Supreme Leader has appointed Salami as the new commander-in-chief of the Guards, who will replace Mohammad Ali Jafari," it said.
https://english.alarabiya.net/en/News/middle-east/2019/04/21/Iran-s-Supreme-Leader-Khamenei-appoints-new-IRGC-chief-commander.html
--------
Turkey opposition leader attacked at soldier's funeral
21 April 2019
The leader of Turkey's main opposition party was attacked on Sunday at a funeral for a soldier killed in fighting against Kurdish militants, a state news agency and his party said.
Republican People's Party (CHP) chief Kemal Kilicdaroglu was taken to a nearby house by security forces for his protection, Anadolu state news agency said.
Video of the incident on social media showed a mob pushing and shoving around Kilicdaroglu as he makes his way through the crowd.
His party confirmed Kilicdaroglu had been attacked, but it was not immediately clear if he had been injured.
The group first protested against Kilicdaroglu presence at the funeral in the Cubuk district of the capital Ankara and then attacked him with blows, Anadolu said.
The Ankara governor's office said in a statement: "Legal action has been launched against the culprits of the incident."
The CHP last month won Ankara and Istanbul mayors' offices in local elections in a setback for President Recep Tayyip Erdogan's ruling party.
Erdogan's AKP is appealing for a rerun of the Istanbul election citing irregularities in the very tight race against the CHP candidate Ekrem Imamoglu.
Full report at:
https://english.alarabiya.net/en/News/middle-east/2019/04/21/Sudan-army-ruler-committed-to-handing-over-power-to-civilians.html
--------
Christians mark Easter at Jerusalem's Holy Sepulchre
21 April 2019
Hundreds of pilgrims filed into Jerusalem's Church of the Holy Sepulchre, the traditional site of Jesus's resurrection, for Easter celebrations on Sunday.
Catholics and Protestants mark Easter on Sunday, while Eastern Orthodox Christians celebrated Palm Sunday, with Easter Sunday coming for them on April 28.
The church, in the Old City of Israeli-occupied east Jerusalem, is built at the site where Christians believe Jesus was crucified, buried and resurrected.
A recently renovated ornate shrine within the church surrounds the cave where Jesus is believed to have been interred.
"Too much of an unruly crowd is not so spiritual," grumbled Donatella Buhler from Switzerland, there with her children.
Full report at:
https://english.alarabiya.net/en/features/2019/04/22/Paris-Easter-Mass-honors-firefighters-who-saved-Notre-Dame.html
--------
Israel bans entry of Gazan Christians to West Bank for Easter
Apr 21, 2019
Israel has refused to issue travel permits for members of the small Christian community living in the Gaza Strip to visit East Jerusalem al-Quds and the West Bank for Easter celebrations.
Israeli authorities denied travel permits for hundreds of those Palestinian Christians hoping to visit the Church of Nativity in Bethlehem City and the Church of the Holy Sepulcher in East Jerusalem al-Quds, the Palestinian Ma'an news agency reported on Sunday.
Prominent Christians in Gaza had said on Saturday that no permits had been issued until then.
George Anton, a prominent Catholic Gaza activist, said Catholics in Gaza were "upset" and "disappointed" at not having received permits.
"We don't see any reason to refuse our permits," The Guardian quoted Anton as saying.
The Israeli military last week announced it would let only 200 Christians aged 55 and older for Easter — which is celebrated by Catholics on Sunday and Orthodox Christians the following week — to travel to Jordan without stopping in Jerusalem al-Quds.
The Tel Aviv regime's decision sparked protests, including by the Israeli human rights group Gisha, which called it "a further violation of Palestinians' fundamental rights to freedom of movement, religious freedom and family life."
In the past, many — though not all — members of Gaza's 1,100-strong Christian minority had sometimes been granted exit permits to Jerusalem al-Quds and the West Bank for worship and to visit relatives at Easter and Christmas.
According to a February 2018 report issued by the Palestinian Central Bureau of Statistics (PCBS), about 1,138 Palestinian Christians live in Gaza, with many of them having family members in the West Bank.
With the travel ban, the Palestinian Christians in Gaza would celebrate Easter in a church in Gaza City.
The Gaza Strip has been under an Israeli siege since June 2007. Palestinians in Gaza have held weekly rallies to demand the right to return for those driven out of their homeland and an end to the Israeli siege on the enclave.
Full report at:
https://www.presstv.com/Detail/2019/04/21/593988/Palestine-Gaza-Christians-Israel-Easter-entry
--------
Africa
Haftar forces press offensive on Libyan capital
April 21, 2019
TRIPOLI: Forces backing Libya's unity government battled to push back an offensive by eastern commander Khalifa Haftar on Sunday as his troops approached the gates of Tripoli after air raids overnight.
Haftar's Libyan National Army (LNA), galvanized by victories in its eastern stronghold and in the country's desert south, announced an offensive early this month to seize the capital from the administration of Fayez Al-Serraj.
But his forces have faced fierce resistance from armed groups backing the Tripoli-based Government of National Accord (GNA), including powerful factions from the western city of Misrata.
The bloodshed has derailed efforts to bring peace to a country where militants and people smugglers have exploited the chaos unleashed by the NATO-backed overthrow of Muammar Qaddafi in 2011.
Clashes intensified on Saturday when forces loyal to the GNA announced a counterattack.
"We have launched a new phase of attack. Orders were given early this morning to advance and gain ground," said Mustafa Al-Mejii, a spokesman for GNA forces.
Sustained rocket and shellfire could be heard in several districts of Tripoli on Saturday, after several days of less intense fighting and stalemate on the ground.
Explosions were heard from the city center overnight, and some witnesses reported airstrikes.
Pope Francis, delivering his traditional Easter message, called for an end to "conflict and bloodshed" that was killing "defenseless people" in Libya.
"I urge the parties involved to choose dialogue over force and to avoid reopening wounds left by a decade of conflicts and political instability," he said.
Tripoli air traffic was suspended overnight to Sunday for "security reasons," the city's only operating airport said Sunday.
At least two flights were re-routed from Mitiga airport to Misrata, more than 200 km to the east, the airport's authorities said on their Facebook page. They said flights had resumed early in the morning to Mitiga, east of the capital.
The former military air base was hit by an airstrike on April 8, claimed by the LNA, and has since only operated between 5 p.m. and 8 a.m.
The GNA counter-attack put pro-government forces back in control of Ain Zara, in the southern suburbs of Tripoli, where an AFP team confirmed pro-GNA forces had advanced, shifting the front line a few kilometers south.
GNA spokesman Mejii told AFP on Sunday morning that "after a long day of military success, our forces are consolidating their (new) positions."
Some witnesses spoke of air raids and drones, but Mejii said the blasts were caused by strikes from LNA helicopters aimed at "terrorizing civilians."
He said they had not caused any casualties but had taken place away from the front lines, without offering any further details.
Military sources say the aging Soviet and Russian fighter jets used by both sides are not equipped to carry out night time strikes, but Mejii said Haftar's forces have a helicopter with night vision capabilities.
The UN's Libya envoy warned on Thursday of "a widening conflagration" in the North African country.
Ghassan Salame told AFP that "international divisions" prior to the assault on Tripoli had emboldened Haftar, who is backed by Russia and seen by his allies Egypt and the UAE as a bulwark against militants.
The White House revealed Friday that US President Donald Trump reached out personally to Haftar, as a push at the UN to broker a cease-fire hit trouble.
A statement said that Trump "recognized Field Marshal Haftar's significant role in fighting terrorism and securing Libya's oil resources," adding that "the two discussed a shared vision for Libya's transition to a stable, democratic political system."
Observers saw Trump's words of praise for the strongman as evidence of US support that explains Haftar's determination to pursue his offensive to seize Tripoli.
On Thursday, Russia and the US opposed a British bid backed by France and Germany at the UN Security Council to demand a cease-fire in Libya.
Russia insisted on having no criticism of Haftar in the proposed resolution, while the US said it wanted more time to consider the situation.
http://www.arabnews.com/node/1485886/middle-east
--------
Sudanese authorities arrest members of Bashir's party
21 April 2019
Sudanese authorities have arrested several top members of the former ruling party of ousted President Omar al-Bashir, in a move that could bolster military rulers who are under mounting pressure by protesters to hand power to civilians.
In another part of a widening crackdown designed to remove remnants of Bashir's rule, the transitional military council (TMC) said it will retire all eight of the officers ranked lieutenant general in the National Intelligence and Security Service.
Opposition groups had demanded that the security agencies be restructured.
Sudan's public prosecutor has begun investigating Bashir on charges of money laundering and possession of large sums of foreign currency without legal grounds, a judicial source said earlier on Saturday.
Suitcases loaded with cash
The source said military intelligence officers who searched Bashir's home found suitcases loaded with more than $351,000 and six million euros, as well as five million Sudanese pounds.
"The chief public prosecutor ... ordered the (former) president detained and quickly questioned in preparation to put him on trial," the judicial source told Reuters.
"The public prosecution will question the former president in Kobar prison," the source said. Bashir has not been questioned yet, the source added.
Two of his brothers were also detained on allegations of corruption, the source said.
Relatives could not immediately be reached on Saturday for comment about the investigation.
Separately, a source in Bashir's National Congress Party said authorities arrested the acting party head Ahmed Haroun, former first vice president Ali Osman Taha, former Bashir aide Awad al-Jaz, the secretary general of the Islamic movement Al-Zubair Ahmed Hassan and former parliament speaker Ahmed Ibrahim al-Taher.
The source also said parliament speaker Ibrahim Ahmed Omar and presidential aide Nafie Ali Nafie were under house arrest.
High security prison
Bashir, who is also being sought by the International Criminal Court (ICC) over allegations of genocide in Sudan's western Darfur region, was ousted on April 11 by the military following months of protests against his rule and had been held at a presidential residence.
His family said this week that the former president had been moved to the high-security Kobar prison in Khartoum.
Hassan Bashir, a professor of political science at the University of Neelain, said the measures against Bashir are intended as a message to other figures associated with his rule that they are not above the law.
"The trial is a step that the military council wants to take to satisfy the protesters by presenting al-Bashir for trial," he said.
Bashir survived several armed rebellions, economic crises, and attempts by the West to turn him into a pariah during his 30-year rule before he was toppled in a military coup.
Full report at:
https://english.alarabiya.net/en/News/middle-east/2019/04/21/Sudanese-authorities-arrest-members-of-Bashir-s-party.html
--------
Sudan lifts immunity of agents involved in protester's death
21 April 2019
Sudan's new prosecutor general Saturday lifted the immunity of security agents allegedly involved in the death of a detainee held in connection with protests, state media reported.
Ahmed al-Kheir, 36, was arrested in late January in the eastern state of Kassala by agents of the National Intelligence and Security Service (NISS) on allegations that he was a protest organizer in the area.
His family was told to take his body from a local mortuary, and a top official in Khartoum later confirmed that Kheir had died from wounds suffered in detention.
On Saturday, Sudan's acting prosecutor general Al-Waleed Sayyed Ahmed issued a decree canceling the immunity of the agents involved in Kheir's interrogation, the official SUNA news agency reported.
He did not specify their number.
It is rare for the immunity of NISS agents to be removed in Sudan.
Ahmed also appointed a new prosecutor to handle corruption cases and ordered the speeding up of investigations in criminal cases filed against protesters.
Full report at:
https://english.alarabiya.net/en/News/middle-east/2019/04/21/Sudan-lifts-immunity-of-agents-involved-in-protester-s-death.html
--------
Mitiga airport in Libya's Tripoli re-opens, authorities say
21 April 2019
Libya has reopened Tripoli's only functioning airport, according to a posting on the airport authorities' Facebook page on Sunday.
Mitiga airport was closed earlier in the day when residents reported an air strike on the Libyan capital.
In a related development, several air strikes and explosions shook the Libyan capital Tripoli overnight, residents said, in an escalation of a two-week offensive by eastern forces on the city held by the UN-recognized government.
Full report at:
https://english.alarabiya.net/en/News/north-africa/2019/04/21/Mitiga-airport-in-Libya-s-Tripoli-re-opens-authorities-say.html
--------
Blasts, airstrikes rock Libyan capital amid fierce fighting
Apr 21, 2019
Several airstrikes and explosions have reportedly shaken the Libyan capital of Tripoli as fierce fighting continues between Libya's UN-backed government troops and forces loyal to renegade general Khalifa Haftar.
Reuters cited Tripoli residents as saying late Saturday that they had seen and heard aircraft opening fire and launching missile strikes on the capital city.
At least one missile struck a military camp of a force allied to Prime Minister Fayez al-Serraj's Government of National Accord (GNA) in the capital's southern al-Sabaa district, they said.
It was unclear if the strikes were conducted by a manned aircraft or a drone.
GNA's military spokesman Colonel Mohammad Gnounou said at least seven airstrikes had been carried out earlier in the day against military positions held by forces loyal to Haftar's Libyan National Army (LNA).
The strikes hit positions south of Gharian, 100 kilometers southwest of Tripoli, and also an airbase at al-Wotya, 50 kilometers further southwest.
Confirming the early Saturday attacks, the LNA claimed for its part that its forces were "taking control of several new positions on the frontlines in Tripoli," and that its fighters had made Serraj's troops retreat "on all fronts."
"Our air force is providing fire support to troops on the ground," said Ahmed al-Mesmari, spokesman for Haftar's forces. "The enemy is trying to flank our forces from the back, but they have failed in the face of the strength of our fighters and the experience of our fighters. It's become a war of attrition."
Airport in Libya's Tripoli reopens
The report of clashes came as Libyan authorities said they had reopened Mitiga Airport, Tripoli's only functioning airport, after hours of closure due to possible airstrikes.
The Libyan capital has another airport, Tripoli International, which is currently closed.
Libya has been divided between two rival governments - the House of Representatives based in the eastern city of Tobruk and the GNA headed by Serraj in Tripoli.
The 75-year-old Haftar who enjoys the loyalty of a group of armed militia and backing from Saudi Arabia, the United Arab Emirates and Egypt has taken upon himself to protect the government in Tobruk.
Armed forces and militia loyal to the GNA have been fighting back.
Haftar launched his deadly campaign on April 4 to invade and conquer Tripoli, the seat of the GNA, resulting in repeated fierce fighting on the southern edges of the capital.
According to the World Health Organization (WHO), the fighting has so far killed at least 205 people and wounded more than 900 others. The International Organization for Migration (IOM) also reported that more than 25,000 people have been displaced by the clashes.
The White House said on Friday that US President Donald Trump had personally discussed the situation in Tripoli with Haftar on the phone earlier this week.
The disclosure of the call prompted thousands of people in Tripoli to hold a protest against the US president.
Libya has been the scene of increasing violence since 2011, when former dictator Muammar Gaddafi was toppled from power after an uprising and a NATO military intervention.
Full report at:
https://www.presstv.com/Detail/2019/04/21/593968/Libya-Tripoli-airstrikes-explosions-UNbacked-government-Khalifa-Haftar
--------
India
Sikhs in south Kashmir don't fear militants but want government jobs
Abhishek Bhalla
Anantnag
April 22, 2019
The Sikhs living for generations in south Kashmir don't see any threat from militants in the area. The area has been a hotbed of terror activities for the last few years. Instead what they are yearning for is government jobs that will give the minority community better representation in the state's functioning.
While most of the people say there is no fear of the terror groups, they are shy to come out and openly speak about their political choices and problems when it comes to the elections.
"We don't face any threat but we want more jobs. There are hardly any Sikhs in government jobs and private jobs are not that lucrative here," said a 27-year-old medical representative.
The kids in the area go to private schools but with little employment opportunities in the private sector and lack of government jobs, employment is a problem for the younger generation.
Another middle-aged man who didn't wish to be named said that he has a government job but the new generation is suffering.
Not used to visits from political candidates, many from the Sikh community including children, women and the old gathered at a Gurudwara in Sangsoo, a village in Anantnag district ahead of the election on April 23 to welcome BJP candidate Sofi Yousuf from the area.
With increased terror activities and regular shootouts between security forces and militants, Anantnag is probably the most conflict-hit Lok Sabha constituency in the country.
Yousuf, with his head, covered made it to the Gurudwara amid chants of kirtan (hymns) being sung. Soon, the singing stopped and BJP candidate began the address with the customary Sikh war cry, Bole So Nihal. Sat Sri Akal as the gathering of men and women sat on the floor, separated, on two sides of the Gurudwara.
"The Quran says those who safeguard their motherland are the true custodians of Islam... We love our mother India more than our own mothers also," Yousuf said while addressing the people.
Yousuf said that he is loved both by the Muslims and Sikhs of Kashmir and believes jobs for youth and development is the only solution to get rid of problems in Kashmir.
The Anantnag constituency comprises of district Pulwama, Shopian, Kulgam and Anantnag.
The election in Anantnag is divided into three phases.
The Centre had deployed 100 companies of Central Armed Police Force and now with elections left only in Anantnag and Ladakh, the maximum deployment will be pressed into action for the only seat in South Kashmir.
https://www.indiatoday.in/elections/lok-sabha-2019/story/sikhs-in-south-kashmir-don-t-fear-militants-but-want-government-jobs-1507063-2019-04-22
--------
Easter mass murder: India sent alert, but why Sri Lanka's guard was down
by Nirupama Subramanian
April 22, 2019
With 13 arrests so far, and more likely, for the horrific bombings in Sri Lanka on Sunday that killed more than 200 people, the Sri Lankan government's investigations are pointing to the involvement of a jihadist organisation in the attacks. One of those arrested from the Cinnamon Grand Hotel, where one of the eight attacks took place, had been reported missing six months ago by his family.
The last two of the eight incidents were suicide bombings which took place when security personnel were about to arrest suspects. Police, however, have not named any jihadist group.
The Indian Express has learnt from two sources, one Indian and another Sri Lankan, that earlier this month, India passed on specific intelligence to Sri Lankan authorities that a terrorist attack was imminent there.
It appears that it was on the basis of this alert that the police chief sent out his April 11 nationwide alert warning of attacks on the Indian high Commission and churches. The alert named a group called the National Towheeth Jamaath, which preaches a puritanical form of Islam.
However, Sri Lanka's guard was clearly down, with the country shut down since April 12 for the Sinhala-Tamil new year, Good Friday and Easter. It speaks of how much Sri Lanka has got used to its peace of the last decade that the warnings were not considered actionable by the security apparatus.
In a country that is no stranger to terrorist attacks, Sunday's coordinated bombings were the first since the military defeat of the LTTE in May 2009. They were also most unlike any terror attack experienced by the country before.
The Tigers were brutal by any standards. Their worst terrorist bombing in Colombo was the 1996 vehicle-borne suicide attack on Sri Lanka's central bank that killed 91 people, and they caused hundreds of casualties in each of their attacks on police and army camps. In July 2001, just two months before 9/11, their attack on the Bandaranaike International Airport grounded almost the entire Sri Lankan fleet.
Sri Lanka blasts, Sri Lanka bomb blast, sri lanka church blast, Colombo blasts, Sri lanka explosions, Sri Lanka terror attack, Indians killed in Sri Lanka blast, Sri Lanka blast death toll, St. Anthony's Church, St. Sebestian's Church, bomb explosion in sri lanka, sri lanka church blast news, bomb explosion in sri lanaka
Sri Lanka mass murder: Police officials and Catholic priests stand inside the church after a bomb blast in Negombo, Sri Lanka (Reuters)
But Sunday's bombings do not bear any of the hallmarks of those attacks. After their crushing military defeat in May 2009, the LTTE now exists only in the imagination of sections of Tamil diaspora. In any case, barring the one occasion when the Tigers shelled Madhu church in Mannar, the LTTE was always cautious not to offend the Catholic church, which was sympathetic to its cause. Many Tamils in the north-east are Christian and lived peacefully in LTTE-controlled areas alongside their Hindu brethren. Muslims, on the other hand, were attacked and evicted from the north-east by the Tigers in 1990.
As the full extent of the horror unfolded – there were no claimants to the bombings even by late evening – only a number of comparable incidents from across the world brought out some patterns.
Two of the attacks are said to have been carried out by suicide bombers, which is no longer extraordinary for terrorist attacks. But in terms of the targets – the choice of churches – it recalls the January 2019 twin bombings on a Sunday morning at a Catholic church in Jolo, off Mindanao in southern Philippines, in which 20 people were killed, which has been linked to the ISIS of East Asia. It also recalled the recent gunning down of worshippers at a mosque by a white supremacist in New Zealand.
Sri Lanka blasts, Sri Lanka bomb blast, sri lanka church blast, Colombo blasts, Sri lanka explosions, Sri Lanka terror attack, Indians killed in Sri Lanka blast, Sri Lanka blast death toll, St. Anthony's Church, St. Sebestian's Church, bomb explosion in sri lanka, sri lanka church blast news, bomb explosion in sri lanaka
Sri Lanka blasts: A Sri Lankan police commando enters a house suspected to be a hideout of militants following a shoot out in Colombo, Sri Lanka (AP Photo)
In terms of the death toll, the choice of upscale hotels filled with foreign tourists, and the coordinated manner of the attacks, it was reminiscent of Mumbai 2008 in which 166 people were killed.
As an Easter attack, it recalled the March 27, 2016 attack at the Gulshan-e-Iqbal park in Lahore in which at least 75 people were killed as they celebrated the holiday claimed by the Pakistani Taliban. In 2017, again on Palm Sunday, 45 people were killed in attacks on two Coptic churches in Egypt.
Previous attacks on churches and other Christian targets across the world have been claimed by ISIS or have been linked to them.
The National Towheeth Jamaath, which was named in the April 11 police warning, has been seen as an influence on the over a hundred Sri Lankans who left to join the ISIS some years ago.
Meanwhile, the Sri Lanka Towheeth Jamaath has condemned the attacks on its Facebook page, and demanded the highest punishment to the perpetrators. The group also organised a blood donation drive in Kandy on Sunday, and posted photographs of the event on FB, saying that it wanted to do as much as it could to help the nation at this extraordinary time.
Sri Lanka has been roiled several times in the last five years by communal clashes instigated by Buddhist fundamentalist elements against Muslims. According to the 2011 census, Muslims are just under 10 per cent of the population, Hindus 12.6 per cent, Christians slightly over 7 per cent. Buddhists are 70 per cent of the 21 million population.
Sri Lanka blasts, Sri Lanka bomb blast, sri lanka church blast, Colombo blasts, Sri lanka explosions, Sri Lanka terror attack, Indians killed in Sri Lanka blast, Sri Lanka blast death toll, St. Anthony's Church, St. Sebestian's Church, bomb explosion in sri lanka, sri lanka church blast news, bomb explosion in sri lanaka
Sri Lanka attack: As the full extent of the horror unfolded – there were no claimants to the bombings even by late evening – only a number of comparable incidents from across the world brought out some patterns.
There are concerns that Sunday's attacks may bring back LTTE-era restrictions that were being seen as a thing of the past. Sri Lanka had been preparing to replace its draconian Prevention of Terrorism Act with another legislation called Counter Terrorism Act. The attacks could impact that intention.
The attacks are also sure to have an impact on the unsettled politics of the island. President Maithripala Sirisena and Prime Minister Ranil Wickremesinghe have been in an uneasy truce since December 2018 to run the government.
The presidential elections are set to take place at the year-end. The political group led by the Rajapaksas, who Sirisena and Wickremesinghe defeated in 2015, senses a comeback. Gotabaya Rajapaksa, who led the military campaign against the LTTE between 2007-2009 as defence secretary, has made it clear that he will contest the election.
Full report at:
https://indianexpress.com/article/explained/india-sent-alert-but-why-sri-lankas-guard-was-down-5687465/
--------
Online watch on IS-related activities has foiled terror plots in India
Apr 22, 2019
NEW DELHI: While Thawheed Jamaat is being suspected behind the serial blasts that rocked Sri Lanka on Sunday, India has so far managed to nip such conspiracies by radicalised and Islamic State-inspired modules here at the planning or close-toexecution stage.
The Islamic State has its share of influence among a section of Muslims of India, given that many tech-savvy and smartphoneowning youngsters are exposed in some way or the other to Islamic State propaganda online. Indian agencies, including some state police like Hyderabad police that has its cyber wing clued in to social media groups created and managed by IS headhunters, started early by tracking online activities and exchanges aimed at radicalising young Muslims here.
The IS influence showed up first in 2014 when some Mumbai youth left the country for Iraq/Syria to fight for ISIS. Later in early 2016, Indian intelligence agencies that had been following online activities including chat-groups operated by IS recruiters at home and abroad found that a particular pan-India module was close to planning attacks in India. It decided to move beyond online policing and NIA was brought in to bust the module, leading to arrest of nearly two dozen radicalised youth across several states. This had a deterrent effect with those experimenting with radical Islam by following IS activities online and trying to find ways to go to Iraq/Syria or plan lone-wolf attacks here. They realised that they were under watch.
Of course, IS recruiters - some of them former Indian Mujahideen cadres like Yusuf al Hindi - kept reaching out to youth here via social media chat groups. Agencies were tracking these groups, which is why they were able to stop several youth from Hyderabad and Kerala from leaving for Iraq/Syria to join IS. In some cases, modules were busted in Hyderabad, Kerala and more recently in Delhi and Amroha, just as they were collecting resources including explosives and arms for carrying out terror attacks here.
Of course, several Indian youth, particularly from Kasaragod and Kannur in Kerala, have managed to flee India to "fight" for IS, though many ended up not in
Iraq/Syria but IS-controlled territory in Nangarhar province of Afghanistan.
Indian government maintains that IS has not been able to make much of a mark in India due to the strong family system here.
Often, parents deter their children from turning towards radicalisation. In fact, there have been cases when parents have alerted the agencies including NIA on their "wayward" and "radicalised" children.
Full report at:
https://timesofindia.indiatimes.com/india/24x7-tracking-of-is-related-online-activity-has-foiled-terror-plots-in-india/articleshow/68985373.cms
--------
Blasts take sheen off Sri Lanka as hot tourist destination for Indians
Apr 22, 2019
NEW DELHI: Serial blasts in Sri Lanka on Easter Sunday led to a slowdown in the travel and tourism sector, with holiday planners and travel companies adopting a cautious approach in the immediate aftermath of the attacks.
Sri Lankan, which operates 118 weekly flights between Colombo and 12 Indian cities, said in a statement that the airline had informed passengers who were scheduled to depart Colombo on Sunday to arrive at the airport four hours prior to departure, as security at the Bandaranaike International Airport was tightened, but said the airline "currently continues operations as per schedule".
In light of the long weekend, a number of Indian tourists were understood to be in Sri Lanka on Sunday. Karan Anand of travel major Cox & Kings said, "All our guests who are in Sri Lanka are safe and we are monitoring the situation. We are getting updates from our local office in Sri Lanka and will guide our customers accordingly. "
Mahesh Iyer, executive director and CEO, Thomas Cook India, said, "For future departures, updates and requests from our booked customers, we will offer best options; to either defer their travel or provide best alternative destination availability, visas, documentation and pricing. For our customers who prefer to cancel, we will provide a travel voucher, thus enabling them to reschedule. "
Thomas Cook India Group CMD Madhavan Menon said the company's customers, currently on tour, were "accounted for and safe", as also the group's people on their teams .
Travel portal Yatra COO Sharat Dhal said the blasts would have a negative impact in the short term but things should return to normal soon.
Sri Lanka is a popular destination for Indian tourists and over 4.5 lakh Indians visited the island in 2018 and the figure was expected to double in 2019.
Full report at:
https://timesofindia.indiatimes.com/india/blasts-take-sheen-off-sri-lanka-as-hot-tourist-destination-for-indians/articleshow/68983309.cms
--------
Southeast Asia
Minister denies Malaysia being silent in China's treatment of Uyghur Muslims
20 April 2019
By Yiswaree Palansamy
KUALA LUMPUR, April 20 — Defence Minister Mohamad Sabu denied that Malaysia is being in voicing out its concerns about China's treatment of its Uyghur Muslim community.
He was asked to comment on Malaysia's stand on the matter, and whether it contrasted with the country's consistent criticism of Israel's treatment of Palestinian Muslims.
In an interview recently, the first time minister said that Malaysia has been using its diplomatic channels to convey its dissatisfaction on the treatment towards the minority Muslim community in China.
"We continue to use diplomatic channels under the Foreign Ministry. The minister for foreign affairs always talks about the issues that are happening in China, in the meetings that take place.
"Maybe it's not publicised about, but issues like that continue to be discussed in a diplomatic way between two countries," he said.
Unlike its vocal criticism of Israel, Mohamad was asked as to why Putrajaya is silent on the mistreatment of the Chinese government towards the Uyghur Muslims, despite numerous reports detailing the harrowing experience these detainees who are taken against their will, face in the detention camps.
"It is being discussed at the Foreign Ministry level.
'We discuss more towards defence diplomacy, especially with regards to China and our maritime issues at the South China Sea, or the disputed area. We discuss more on such issues, so that the issues with the disputed area does not lead to tensions.
"This is what we are discussing via the defence diplomacy, either by the Defence Ministry or the Foreign Ministry, and also the Prime Minister's Department. This, we are constantly doing," Mohamad added.
Last week, the New York Times (NYT) reported that Chinese start-ups have built algorithms which the government uses to track members of the predominantly Muslim minority group.
NYT had in its report citing documents and interviews, reported that the Chinese government is also employing a secret system of advanced facial recognition technology, to exclusively track and control the Uyghurs.
The report said that the algorithm looks for Uyghurs based on their appearance, and stores records of their movements for search and review.
In October last year, Malaysia released from detention, 11 Uyghur Muslims who fled into the country, after escaping from a Thailand prison in 2017.
Disregarding China's handover request, the group was deported to Turkey, Reuters quoted their lawyer Fahmi Moin saying.
Fahmi reportedly said that the prosecutors dropped that charges against the Uyghurs on humanitarian grounds.
The move had at that time, seen as further damaging the already soured bilateral relationship between Malaysia and China after Pakatan Harapan (PH) took over the government, and proceeded to cancel and suspend several China-backed projects.
https://www.malaymail.com/news/malaysia/2019/04/20/minister-denies-malaysia-being-silent-in-chinas-treatment-of-uyghur-muslims/1745239
--------
PM says it again: We are committed to rule of law
22 Apr 2019
KUALA LUMPUR: Prime Minister Tun Dr Mahathir Mohamad once again states that Pakatan Harapan is committed to the rule of law to ensure that everyone is equal in the eyes of the law and to uphold the Federal Constitution.
"We want to accept the rule of law. For us, we abide by it even though there are derails, etc," said Dr Mahathir.
Pakatan, he said, is holding fast to the rule of law, unlike the previous Barisan Nasional government, which he accused of "never even bothered about the rule of law".
"They (Barisan government) wants to arrest somebody, they arrest," said Dr Mahathir.
He said it is important that all Malaysians understand that Malaysia is a parliamentary democracy, under which the Constitution is the highest authority and no one can claim to be above it.
The Prime Minister, however, lamented that there is reluctance from all tiers of the government and authorities to apply the law consistently across the board for all Malaysians.
"This is a big problem. Although we are a parliamentary democracy, some of the people who run the government are quite feudal in their way of thinking. They cannot say no.
"Even though something is wrong, something is suggested to them which is wrong, which is against the law, but they would still do it so that they don't go against the higher authorities," said Dr Mahathir.
The government's recent withdrawal from ratifying the Rome Statute of the International Criminal Court still weighs on the Prime Minister's mind as he felt that he had been unjustly "blackened".
"Part of the task I am undertaking is to solve the failure to follow the Constitution but, of course, I have been blackened by other things such as (what was) done on Rome Statute. So that I would not be influential, (and) so that I can be overthrown. This is ongoing.
"We should actually take action over such things but there again, we have a problem of implementation because the agencies of the government are often reluctant to do anything. They look the other way.
"I was upset because this is the first time somebody tried to make use of the Rulers in order to frustrate the government. That is very wrong. If they have any problems, they can ask us. We can explain what the Rome Statute is all about. Instead, they somehow managed to have a meeting not consistent with the Constitution.
"They gave a wrong explanation about Rome Statute and they managed to influence people. We needed to ensure that the people continued to support us. For the time being, we had to do away with the Rome Statute.
"Eventually, we have to tell the people that this is not doing away with our Constitution. Our Constitu­tion and laws remain. It is only when we fail to apply the laws or we cannot apply the laws, then, if there is a very serious thing like there is a mass murder or mass jailing of people, then the International Criminal Court (ICC) can intervene," said Dr Mahathir.
On the issue of naming the new Chief Justice to replace Tan Sri Richard Malanjum who had retired, Dr Mahathir said at the moment, he had yet to receive any confirmation on the candidacy.
"I always imagined that the King is the person who must approve all senior appointments but somehow or rather, there is the reference to the Conference of Rulers.
"Now, it is not just the King but it also has to go to the Rulers. I don't know what it means. The decision made cannot be altered unless there is a valid reason. We have made a decision (on the name of the Chief Justice) and sent it to the King," he said.
He also talked about how those who claim to be religious have misled their followers merely to expedite their political agenda.
"I am not a moderate Muslim. A Muslim must be moderate. If you follow the teachings of the Quran. Everything advised is good but we do not follow what the religion says to do but you still say this is from religion and abuse the religion.
"For example, a party calls the other party kafir (apostate) but you cannot do that because you are not allowed to condemn any group as an apostate unless there is clear evidence he is praying to some image or things forbidden by religion," said Dr Mahathir in obvious reference to Islamist party PAS, which had in the past, condemned Umno as kafir.
"What we try to do is explain what the religion really says. And what they are doing is not religion.
Full report at:
https://www.thestar.com.my/news/nation/2019/04/22/pm-says-it-again-we-are-committed-to-rule-of-law/
--------
Anwar can name PAS leader who received RM90m, says Hadi
21 April 2019
By Ida Nadirah Ibrahim
KUALA LUMPUR, April 21 — PAS welcomes PKR president Datuk Seri Anwar Ibrahim to reveal the identity of the PAS leader who allegedly received the RM90 million funds from Umno, a news report said.
Its president Datuk Seri Abdul Hadi Awang said there are no constraints for the Port Dickson MP to do so and that PAS awaits the disclosure before issuing further statements.
"It is up to him, let him reveal the leader first, then we will make a statement," he said in a Sinar Harian report after launching the Perak PAS Youth annual general meeting in Sungkai, Perak today.
"We don't have to prove [of the claims] because we run [the party] on our own, and if we were to put together the donations PAS received from every ceramah throughout the year, it would have been more than RM90 million.
"We can set up thousands of Pasti (Pusat Asuhan Tunas Islam kindergarten) nationwide from the funds we collected," he said, referring to a religious kindergarten.
Abdul Hadi was responding to Anwar's statement that the identity of the PAS leader responsible in receiving the funds from Umno will be exposed in the near future.
Anwar's statement was made at a forum with Universiti Sains Islam Malaysia students, when asked whether the case was only an issue raised during the elections.
Abdul Hadi had also challenged Anwar to expose the political fundings that were previously rumoured to have come from overseas.
The Marang MP claimed PAS also has information that other political leaders had received large sums of financial aid from foreign sources.
"We also have the statement from other leaders who have received overseas aid in very large sums. That is more wrong.
"The government should not only investigate us, they have to investigate others as well, then it would be just," he said.
Full report at:
https://www.malaymail.com/news/malaysia/2019/04/21/anwar-can-name-pas-leader-who-received-rm90m-says-hadi/1745427
--------
Sabah minister: Right to freedom of religion guaranteed under Federal Constitution
21 April 2019
KOTA BELUD, April 21 — The right to freedom of religion of every Malaysian is guaranteed under the Federal Constitution, said Sabah Rural Development Minister Datuk Ewon Benedick.
He said although the Federal Constitution stated that the federation's official religion was Islam, other religions were free to be practised.
"Thus, as Christians, we do not have to worry about our religious rights although there are individuals and certain communities who have said things that may hurt our feelings.
"We may not be able to stop every individual from expressing his or her opinion, even though it could affect racial ties, but I'd like to state here that the government leadership will always defend this most fundamental right," he said.
He said this when closing the Kota Belud-Tuaran Pathfinder Fair camp at the Datau Nakapan Kg Malangkap Baru eco-tourism site in Kadamaian here today.
Ewon, who is also the Kadamaian state assemblyman, called on the authorities to take stern action against individuals trying to create racial and religious strife, especially in Sabah.
"Let's defend the culture of respecting religious freedom in Sabah, which has long been established, so that it will be a model to other communities nationwide," he said.
Full report at:
https://www.malaymail.com/news/malaysia/2019/04/21/sabah-minister-right-to-freedom-of-religion-guaranteed-under-federal-consti/1745470
--------
North America
US to sanction nations for importing Iranian oil, says a report
22 April 2019
The Trump administration is poised to tell five nations, including allies Japan, South Korea and Turkey, that they will no longer be exempt from US sanctions if they continue to import oil from Iran, officials said Sunday.
Secretary of State Mike Pompeo plans to announce on Monday that the administration will not renew sanctions waivers for the five countries when they expire on May 2, three US officials said.
The others are China and India.
It was not immediately clear if any of the five would be given additional time to wind down their purchases or if they would be subject to US sanctions on May 3 if they do not immediately halt imports of Iranian oil.
The officials were not authorized to discuss the matter publicly and spoke on condition of anonymity ahead of Pompeo's announcement.
The decision not to extend the waivers, which was first reported by The Washington Post, was finalized on Friday by President Donald Trump, according to the officials.
They said it is intended to further ramp up pressure on Iran by strangling the revenue it gets from oil exports.
The administration granted eight oil sanctions waivers when it re-imposed sanctions on Iran after Trump pulled the US out of the landmark 2015 nuclear deal.
They were granted in part to give those countries more time to find alternate energy sources but also to prevent a shock to global oil markets from the sudden removal of Iranian crude.
US officials now say they do not expect any significant reduction in the supply of oil given production increases by other countries, including the US itself and Saudi Arabia.
Since November, three of the eight - Italy, Greece and Taiwan - have stopped importing oil from Iran.
The other five, however, have not, and have lobbied for their waivers to be extended.
NATO ally Turkey has made perhaps the most public case for an extension, with senior officials telling their US counterparts that Iranian oil is critical to meeting their country's energy needs.
They have also made the case that as a neighbor of Iran, Turkey cannot be expected to completely close its economy to Iranian goods.
https://english.alarabiya.net/en/News/world/2019/04/22/US-to-sanction-nations-for-importing-Iranian-oil-says-a-report.html
--------
Defense Department announces deaths of US service members in Iraq and Qatar
Apr 22, 2019
The US Department of Defense over the weekend identified two US service members killed in non-combat related incidents in Iraq and Qatar.
Army Spc. Ryan Dennis Orin Riley, 22, of Richmond, Kentucky, died Saturday in Ninawa Province in Iraq.
Riley was supporting the effort against al Qaeda as part of Operation Inherent Resolve, according to a department statement. Officials identified Riley on Sunday and did not disclose further details about the incident, which is under investigation.
Riley was assigned to 2nd Battalion, 32nd Field Artillery Regiment, 1st Brigade Combat Team, 101st Airborne Division at Fort Campbell, Kentucky, according to the Defense Department.
On Saturday, the department identified an airman killed as part of Operation Freedom Sentinel, the global coalition effort against al Qaeda.
Staff Sgt. Albert J. Miller, 24, of Richmond, New Hampshire, died Friday at Al Udeid Air Base in Qatar. Officials said the incident is under investigation.
Full report at:
https://www.presstv.com/Detail/2019/04/22/594020/DoD-announces-US-service-members-deaths-in-Iraq-Qatar
--------
US mainstream media taken over by CIA, Mossad: Analyst
Apr 21, 2019
The mainstream media in the United States are highly influenced by spy agencies, such as the Central Intelligence Agency (CIA) and the Israeli Mossad, an American academic and analyst says, noting that Google's recent move in blocking Press TV's accounts was part of the American government's pressure campaign against Tehran.
James Henry Fetzer, a retired professor of philosophy at the University of Wisconsin in Madison, made the remarks in a recent interview with Press TV after Google blocked the English-language news network's access to its official accounts on YouTube and Gmail.
Condemning the ban as a "completely inappropriate" measure taken by the administration of US President Donald Trump, Fetzer said, "Unfortunately, the mainstream media here in the US seem for long taken over by the CIA and its allies and [Israel's spy agency] Mossad."
The scholar noted that the Trump administration has been pressuring Iran under the influence of the American Israel Public Relations Committee (AIPAC).
"I have no doubt that Press TV has suffered a tremendous amount of interference," he said. "I've been extremely concerned that the Trump administration has taken an extremely negative attitude towards Iran."
Following his decision in May 2018 to withdraw from the 2015 Iran nuclear deal, Trump has reimposed a series of economic sanctions against Tehran while also designating the Islamic Revolution Guards Corps (IRGC) as a terrorist organization.
Continuing the hostile line of action, American tech giant Google blocked on Friday Press TV and Hispan TV's access to their official accounts on some of its platforms, including YouTube and Gmail, without prior notice, citing "violation of policies."
"Well, the idea of silencing Iran on the pretext that Iran is a terrorist state simply flies in the face of history and readily available evidence," Fetzer added.
Google has so far refused to provide any explanation for disabling Press TV's account.
This is not the first time that Google is blocking Press TV's YouTube channels.
The original YouTube channel was established in December 2009, and closed in September 2013. A new channel was then opened, but it was shut almost two months later.
Another channel was opened, but it suffered the same fate after five months.
The fourth channel, however, remained active with over 270,000 subscribers until it was closed today without any prior notice for what Google calls "violation" of its terms and policies.
Full report at:
https://www.presstv.com/Detail/2019/04/21/594011/US-main-stream-media-CIA-Mossad-Fetzer-Press-TV-Google
--------
Trump inflates Sri Lanka attacks victims by 'a million times' in new gaffe
Apr 21, 2019
US President Donald Trump has added yet another major blunder to his long record of political gaffes, this time mistakenly stating in a tweet that the recent multiple bombing attacks in Sri Lanka killed "millions" of people.
"Heartfelt condolences from the people of the United States to the people of Sri Lanka on the horrible terrorist attacks on churches and hotels that have killed at least 138 million people and badly injured 600 more. We stand ready to help!" Trump wrote.
Trump's original tweet on Sri Lanka bombings.
It took the American head of state about half an hour to remove the tweet and correct his mistake. But there was ample time for the media to save a copy.
The tweet came after several explosions hit three churches and three hotels in Sri Lanka, reportedly leaving at least 290 people dead and over 500 others wounded.
Donald J. Trump
✔
@realDonaldTrump
138 people have been killed in Sri Lanka, with more that 600 badly injured, in a terrorist attack on churches and hotels. The United States offers heartfelt condolences to the great people of Sri Lanka. We stand ready to help!
130K
4:50 PM - Apr 21, 2019
Twitter Ads info and privacy
40.4K people are talking about this
Trump inflated the death toll by around a million times. The number he tweeted, "at least 138 million," is more than six times the population of the entire Southeast Asian country.
Trump's sloppy style of writing and often childish-like choice of words in interacting with his around 60 million followers have turned his twitter account into one of the most controversial aspects of his presidency.
In April 2017, he was left red-faced after retweeting a post that called him a "fascist."
The notoriously prolific tweeter first posted a link to a Fox news story which read: "FOX NEWS EXCLUSIVE: President Trump 'seriously considering' a pardon for ex-Sheriff Joe Arpaio."
FOX & friends
✔
@foxandfriends
FOX NEWS EXCLUSIVE: President Trump 'seriously considering' a pardon for ex-Sheriff Joe Arpaio http://fxn.ws/2w4LtM5
32.1K
3:30 AM - Aug 15, 2017
Twitter Ads info and privacy
Trump 'seriously considering' a pardon for ex-Sheriff Joe Arpaio
President Trump may soon issue a pardon for Joe Arpaio, the colorful former Arizona sheriff who was found guilty two weeks ago of criminal contempt for defying a state judge's order to stop traffic...
foxnews.com
17.7K people are talking about this
Things went horribly wrong for Trump, however, after he retweeted a reply by a user who wrote: "He's a fascist, so not unusual."
View image on TwitterView image on Twitter
Stephen Jones
✔
@SteveJonesPA
Looks like Donald Trump accidentally retweeted this reply from @MikeHolden42. Oops.
4:56 PM - Aug 15, 2017
See Stephen Jones's other Tweets
Twitter Ads info and privacy
The US commander-in-chief's string of reckless tweets stirred so much controversy that in June 2017, Democrats in the House of Representatives introduced the Communications Over Various Feeds Electronically for Engagement (COVFEFE) Act which called for classification of the US president's social media postings.
Full report at:
https://www.presstv.com/Detail/2019/04/21/593976/US-Trump-Sri-Lanka-tweet-gaffe
--------
Pakistan
Premier extends greetings as Christian community celebrates Easter
April 22, 2019
ISLAMABAD: Prime Minister Imran Khan on Sunday felicitated members of the Christian community on the religious festival of Easter.
"Wishing all our Christian citizens a happy Easter," he wrote on his official Twitter handle.
Imran Khan
✔
@ImranKhanPTI
Wishing all our Christian citizens a happy Easter.
28K
08:06 - 21 Apr 2019
Twitter Ads information and privacy
4,729 people are talking about this
Easter is one of the religious festivals celebrated with traditional and religious zeal by Christians every year around the world. It is usually celebrated on the first Sunday after the full moon marks the culmination of the 40 day period of fasting called Lent.
The festival is also called 'the Resurrection' as Christianity observes that Christ rose from the dead on the third day after his crucifixion. It is also considered as a rebirth of Christ.
Easter brings happiness as people come together, feast, pray, wish each other well and enjoy the moments that they consider as sacred and blessed.
It is the second biggest festival of the Christian community in a year which is celebrated with colourful traditional festivity.
https://www.pakistantoday.com.pk/2019/04/21/premier-extends-greetings-as-christian-community-celebrates-easter/
--------
No need to launch movement as govt is crumbling: opposition
April 22, 2019
ISLAMABAD: The country's two major opposition parties — the Pakistan Muslim League-Nawaz (PML-N) and the Pakistan Peoples Party (PPP) — on Sunday said they did not require to launch a movement to dislodge the government as "it will soon fall down on its own because of its incompetence".
Responding to Prime Minister Imran Khan's speech in Quetta in which he talked about conspiracy against his government, PML-N spokesperson Marriyum Aurangzeb said Mr Khan needed to understand that people of Pakistan were not buying his "rants of accusations and false propaganda" and they only wanted to know "why are they losing their jobs while inflation has pushed survival beyond their means".
Ms Aurangzeb said that Mr Khan had started "whining like a sore loser while still being the prime minister".
"Khan's government has never really grabbed a foothold and he's complaining about conspiracies to bring it down," she said, adding that the prime minister "also needs to understand that the reasons for his fall were his inability, incompetence and blabber".
Marriyum says people not buying PM's accusations, false propaganda against political parties
Responding to Mr Khan's threat to put the opposition leaders into jails, she said throw every politician into jails "if it helps in bringing back Rs100 billion embezzled in Peshawar Metro project and give people 10 million jobs".
"The pace at which the national kitty has been robbed during PTI's nine months in power is unprecedented and the national debt has shot to an insane Rs30,000 billion," she pointed out.
"In whose pockets all this daily loan of Rs16 billion is going? Tell the people of Pakistan," she said. The prime minister must tell the nation how his personal assets jumped from a few million to over Rs3 billion, she added.
In a separate statement, PPP vice-president Senator Sherry Rehman said the prime minister was scared of losing the government. She alleged that Mr Khan was doing character assassination of former president Asif Ali Zardari in an effort to save his falling government.
"No one needs to do anything to bring this government down. It will come down under its own weight," Ms Rehman said.
She alleged that Mr Khan was running the National Accountability Bureau and the Federal Investigation Agency like his Shaukat Khanum Hospital. She asked the prime minister to provide evidence to courts instead of making "money laundering rants" all the time.
Full report at:
https://www.dawn.com/news/1477634/no-need-to-launch-movement-as-govt-is-crumbling-opposition
--------
Imran pledges housing quota for terror-hit Hazara families
Saleem Shahid
April 22, 2019
QUETTA: Prime Minister Imran Khan on Sunday announced five per cent quota in the Naya Pakistan Housing Scheme for those families of Shia Hazara community who had lost their loved ones in terrorist attacks.
He made this announcement during a meeting with relatives of the victims of the Hazarganji suicide attack that left 22 people dead, including eight of the Hazara community, on April 12.
The prime minister was in the city on a brief visit to meet suicide attack victims' families and attend the groundbreaking ceremony of the housing scheme.
He expressed his sorrow over the tragedy, offered condolences to the bereaved families and prayed for the departed souls.
Speaking on the occasion, he called for joint efforts to foil the enemy's nefarious designs for stirring chaos in the country.
He said implementation of the National Action Plan against terrorism was inevitable and the government was determined to eliminate terrorism and extremism.
Mr Khan said providing security to citizens was a responsibility of the federal and the provincial governments and they would accomplish this task. The prime minister said the day was not far when people would live in a peaceful atmosphere.
He said anti-state elements wanted to create division among the people and called for joint efforts to foil their designs.
He said personnel of the Pakistan Army, police and Frontier Constabulary as well as the general public, had rendered immense sacrifices and helped in impro­ving security situation.
He assured the affected families that the government stood by them and perpetrators of the Hazarganji attack would be brought to justice. No laxity would be tolerated in maintenance of peace, he added.
Housing scheme
Addressing the groundbreaking ceremony of the Naya Pakistan Housing Scheme, the prime minister said the political leaders who had plundered the country during the last decade and burdened Pakistan with excessive debts would be taken to task.
"We will get them punished... so that they serve as a deterrent for those contesting elections in future," he remarked.
The ceremony, held at the Balochistan University of Information Technology, Engineering and Manage­ment Sciences, was attended by Balochistan Chief Minister Jam Kamal Khan Alyani, Governor Amanullah Yasinzai, Federal Minister for Housing Tariq Bashir Cheema, federal and provincial cabinet members and senior government officials. A sizeable number of students were in attendance as well.
The prime minister unveiled the plaques about construction of 110,000 houses in Quetta and Gwadar, including 54,000 units for fishermen.
During the first phase of the Naya Pakistan Housing Scheme, 135,000 units would be built across the country, he said, adding that 25,000 apartments would be built in Islamabad for federal government employees.
He said the Sharif family and Asif Zardari wanted to remove the government because they were afraid of jail as "new facts" (about their corruption) were being unearthed with each passing day. He said even enemies did not do what the Sharif and Zardari families had done to the country.
"For the first time in 70 years 'big dacoits were arrested and sent behind bars," the prime minister said. Previously only poor people were sent to jail. "In Musharraf government, I myself was imprisoned and found only poor people in the prison," Mr Khan said.
He said Maulana Fazlur Rehman wanted to wind up the whole system after facing defeat in the general elections last year.
He said the project to build five million houses was aimed at realising the dream of those people who could not afford to build their houses, particularly the salaried and other low-income groups. "Despite being a basic need, owning a house has become more difficult with the skyrocketing real estate prices."
Unfortunately, under the existing banking system, loans were given only to the elite, the PM said, adding that the government was preparing laws to extend loans to the low income group.
Imran Khan said currently only 0.2 per cent people in Pakistan availed housing finance against 80-90pc in Europe, 30pc in Malaysia and 10pc in India.
He said foreign companies were interested in investing in the housing project. If they did so, 40 other industries would benefit and thus job opportunities would be created.
He advised unemployed youth to "launch construction firms" instead of waiting for government jobs and said opportunities would be created for the youth to enable then to form construction companies to benefit from "the coming housing boom".
He directed the Balochistan chief minister to design a master plan for Quetta and allow vertical construction to discourage the horizontal spread of the city.
Full report at:
https://www.dawn.com/news/1477636/imran-pledges-housing-quota-for-terror-hit-hazara-families
--------
'Pakistan stands with Sri Lanka': Qureshi calls Sri Lankan premier to condemn terrorist attacks
April 21, 2019
Foreign Minister Shah Mahmood Qureshi on Sunday called Sri Lankan Prime Minister Ranil Wickremesinghe to condole and condemn the terrorist attacks that rocked the country on Easter Day.
A devastating series of eight bomb blasts ripped through high-end hotels and churches holding Easter services in Sri Lanka, killing nearly 160 people, including dozens of foreigners. Nearly 500 people were injured in the attacks.
Four Pakistanis were among the injured, according to the Foreign Ministry. All four ─ including three women identified as Maheen Hassan, Muzna Humayun and Atika Atif ─ sustained minor injuries and were discharged after receiving treatment.
In his call to Wickremasinghe, Qureshi expressed "his deepest condolences on behalf of Prime Minister Imran Khan and the people of Pakistan in the wake of terrorist attacks in Sri Lanka", said a statement issued by the ministry. "He conveyed sympathies for the families that lost their loved ones in the tragedy and prayed for the speedy recovery of the injured. He stressed that Pakistan fully understand the pain of their Sri Lankan brethren."
Read: 'Cruel violence': World leaders react to deadly Sri Lanka blasts
Qureshi added that Pakistan "condemns terrorism in all its forms and manifestations and completely understands the trauma and agony suffered by the people of Sri Lanka today".
"Being a victim of prolong terrorism itself Pakistan stands with Sri Lanka in its difficult hour."
The foreign minister, on behalf of the Government of Pakistan, also extended all out help and support to the Sri Lankan government and people.
'Horrific terrorist attack'
Earlier, Prime Minister Imran Khan strongly condemned the "horrific terrorist attack in Sri Lanka on Easter Sunday".
"My profound condolences go to our Sri Lankan brethren. Pakistan stands in complete solidarity with Sri Lanka in their hour of grief," he tweeted.
Leader of the Opposition and PML-N President Shehbaz Sharif also expressed grief at the "tragic Easter carnage" in Sri Lanka. "We mourn the loss of innocent lives. Stand by Sri Lanka and the Christian community around the globe in this hour of grief," he said.
Condemning the attacks, PPP Chairperson Bilawal Bhutto Zardari said "as always, the purveyors of terror have chosen to target innocents on a holy day. Thoughts & prayers with all the families for whom this #Easter has become one of mourning".
"The people and Government of Pakistan stand by the people and Government of Sri Lanka at this moment of tragedy and against terror," Foreign Office spokesperson Dr Mohammad Faisal tweeted soon after news of the attacks broke.
Minister for Human Rights Shireen Mazari condemned the attack in a tweet, saying that terrorism needs a strong united global approach to be effectively defeated worldwide.
"We stand with our Sri Lankan brethren as they confront these brutal terrorist attacks," Mazari said.
Full report at:
https://www.dawn.com/news/1477541/pakistan-stands-with-sri-lanka-qureshi-calls-sri-lankan-premier-to-condemn-terrorist-attacks
--------
Centuries-old mosque crumbles after Rs120m preservation work
April 22, 2019
Qurban Ali Khushik
DADU: Cracks have appeared in the walls of 320-year-old Khudaabad mosque despite the fact that Rs120 million have been spent on its preservation over the past five years, raising fears the historic structure may fall apart any moment.
The mosque located in Khudaabad town, 11 kilometres from here along Indus Highway, which remained capital of Sindh during Kalhoro rein from 1701 to 1751 AD, is on the brink of collapse thanks to negligence of the provincial antiquity, culture and tourism department. Tiles have also started falling off the walls, eclipsing its beauty, according to experts and visitors.
Abid Ali Babar, an archaeologist, said the mosque which was built by Kalhoro ruler Mian Yar Mohammad from 1700 to 1718 was in urgent need of repairs and preservation. Recent rains had also done irreparable harm to the structure, he said.
Historian Ihsan Ali Abro said that work on the preservation of the mosque had been going on intermittently since 2009. It was undertaken by the works and services department which kept working on it for six years without seeking expert advice. Millions of rupees were embezzled in the name of the mosque's preservation, he said.
Afterwards, he said, the provincial antiquity, culture and tourism department took the work in hand and spent Rs120 million in five years without bringing any major improvement to the structure.
He said that established procedure for the conservation was not adopted, substandard material was used instead of cheeroly, a construction material used in historic monuments in past, and Irani tiles were used in place of Sindhi tiles which completely changed the structure's look. Since material of inferior quality was used tiles had started falling off the walls, he said.
Historian-cum-journalist Wali Chandio feared the mosque could crumble any moment due to the dangerous cracks. Sindh and federal governments should take steps on a war footing for the preservation of the historic mosque, he demanded.
Institute of Art and Design of the University of Sindh's director Prof Saeed Ahmed Mangi said that the authorities concerned should hire professionals and experts for the preservation of the mosque, which had suffered official neglect for several years.
Manzoor Ali Kanasro, director general of the antiquity, tourism and culture department, said that work on the scheme for the conservation and restoration of Khudaabad mosque started in 2009 under Annual Development Programme.
He said that the work being carried out by works and services department was stopped over objections raised by experts and archeologists and was then handed over to the antiquity department, which hired professionals and experts from Sadiqabad for the work of fresco.
He said that chaff had been used in the construction material of the mosque's roof, which was completely removed and the roof was reconstructed with cheeroly. Since the work was being done in a professional manner it was taking time, he said, adding it would complete by June 2020.
Full report at:
http://www.dawn.com/news/1477584/centuries-old-mosque-crumbles-after-rs120m-preservation-work?preview
--------
Fazl questions parties' silence on 'political chaos' in country
Ibrahim Shinwari
April 22, 2019
LANDI KOTAL: Chief of his own faction of Jamiat Ulema-i-Islam Maulana Fazlur Rehman has questioned the silence of political forces on what he called the political chaos in the country.
"I don't understand why the political forces in the country have adopted silence while people are committing suicides and jobs are being snatched from them," he said while addressing a big public meeting in Jamrud on Sunday as part of his nationwide million march against the government.
The JUI-F chief demanded of Prime Minister Imran Khan to concede his failure and immediately resign from his position. He said that abrupt changes in the federal cabinet was a proof of failure of the federal government's policies.
Asks PM Imran to concede failure and step down
He said that changes in the ministries and resignation of the finance minister were in fact personal failure of the prime minister to fulfil his election promises. He alleged that a 'fake' prime minister was imposed on the Pakistani electorate through a 'fake' election, but the people would not submit to the pressure of accepting a 'fake' government which was imposed on them.
The Maulana said that an impression was created before 2018 general elections that the role of religious parties had ended, but the participation of a large number of ordinary people in his million march was a testimony to the active role of such forces in the country's politics.
Calling the presidential form of government a dictatorship, he said that his party would not accept the presidential form of government as was suggested and discussed by the ruling party.
Criticising the foreign policy of Pakistan Tehreek-i-Insaf government, he claimed that relations with Afghanistan, India and Iran were not cordial as border with Afghanistan had been made controversial while fencing of the Iran border was started. "How can the government claim about a successful foreign policy in such a hostile environment on borders," he said.
The JUI-F chief said that his party would not abandon the people of tribal districts who had overwhelmingly rejected the Fata-KP merger plan. He said that both the federal and Khyber Pakhtunkhwa governments had been befooling the people of tribal areas with announcements of allocation of billions of rupees fund for development.
"Even the KP government also has expressed its inability along with other provinces to give its share for tribal districts' development from the National Finance Commission award," he said and added that the governance system had collapsed after the region's merger with KP.
He said that his party would continue to oppose the unnatural merger of tribal areas with KP as it was done against the aspiration of majority of tribal people. "The merger has compounded the miseries of tribal people as the region is virtually without a proper governance system," he alleged.
Full report at:
https://www.dawn.com/news/1477570/fazl-questions-parties-silence-on-political-chaos-in-country
--------
URL: https://www.newageislam.com/islamic-world-news/swedish-imam-isis-members-need/d/118392
New Age Islam, Islam Online, Islamic Website, African Muslim News, Arab World News, South Asia News, Indian Muslim News, World Muslim News, Women in Islam, Islamic Feminism, Arab Women, Women In Arab, Islamophobia in America, Muslim Women in West, Islam Women and Feminism