New Age Islam News Bureau
30 December 2021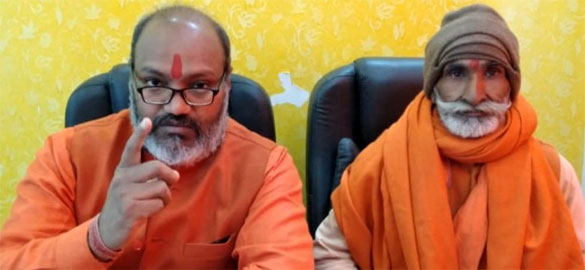 Yati Narsinghanand Saraswati (L). Photo: Facebook/Yati Narsinghanand Saraswati
----
• UP: Schoolchildren 'tricked' into 'kill' oath to create Hindu Rashtra
• Hindu Pilgrims From India, UAE, US To Visit Century-Old Shrine In Pakistan Vandalised By Radicals
• Attacks On French Mosques, Racist Graffiti Signs Of Rising Islamophobia
• Respect My Amnesty, Stop Extrajudicial Punishment: Supreme Leader of the Taliban Mullah Hebtullah
• Japanese Muslim Academic Teaches Islam To Compatriots In Turkey
India
• Mosque On Hindu Family Land Is A Testament Of A Culture Of Inclusiveness In West Bengal's North 24 Parganas
• Rush For Nikahs, In Hyderabad, Ahead Of New Marriage Law, Prohibition Of Child Marriage (Amendment) Bill, 2021
• Hindu Religious Leader, Kalicharan, Arrested After Remarks Against Gandhi, Islam
• Congress MP, Abdul Khaleque, Seeks FIR Against Assam Chief Minister For Alleged Hate Speech
• India-Bangladesh bonhomie scaled new heights as 2021 marked 50 years of ties
• 6 JeM terrorists, including 2 Pak nationals killed in two separate encounters in J&K: Police
• Muslim Prisoners are not considered for premature release in TN
--------
Pakistan
• Inter-Services Intelligence (ISI) chief Lieutenant General Nadeem Anjum Orders Govt Not To Release His Images To Media
• Head Of Shia Ulema Council Allama Sajid Naqvi: Strong Shia-Sunni Unity Will Lead Us To Pure Islamic System
• Pak sets up first-ever body of Hindu leaders to take care of minority community's temples
• JUI-F Leader Dares CJP, CM To Execute Mosque Demolition Orders
• JUI-F leader threatens CJP, Sindh CM to dare implement mosque demolition orders
• Pakistan failed its counter-terrorism obligations: Report
• Pakistan buys 25 China-made J-10C fighter jets in response to India's Rafale aircraft acquisition
• Ashrafi questions global silence over persecution of minorities in India
--------
Europe
• French Regime Seeks New Initiative Targeting Islam And Muslims
• Nine Serbs indicted for killing around 100 Muslims
• Turkey hands over lead of NATO's highest-readiness force to France
• EU Lawmaker: Nobody Did More In Defeating ISIS Than Gen. Soleimani
--------
South Asia
• Afghanistan loses unique opportunity for avoiding undue hardship: Abdullah
• Moscow to host Troika Plus on Afghanistan
• For struggling Afghan family, the next meal is a matter of faith
--------
Southeast Asia
• Preacher gets slammed for telling Muslims to not clean up non-Muslim places of worship
• Brickbats for Zakir Naik over Christmas greetings
• Indonesia navy ship tows boat with Rohingya refugees to port
--------
Arab World
• Tigrayans At War Use Social Media To Woo Arabs, Muslims
• Islamic State cells impose levy on oil investors in northeastern Syria
• King Salman: Iran must cooperate in nuclear deal, stop supporting militias in region
• ISIS extremists murder Iraqi police officer
• Kuwait swears in fourth government in two years
--------
Mideast
• Islamic Jihad: Mediators Seek Long-Term Truce, Return Of PA To Gaza
• Grand Ayatollah Alavi-Gorgani stresses reflecting on Quran verses
• Iran's Top Negotiator Holds Separate Meetings with EU's Mora, E3 Representatives in Vienna
• Iran Condemns Israel's Attacks on Syria's Latakia
• Iranian Sends More Humanitarian Aid to Afghanistan
• Former boy scouts bring dead Yemenis to their final destination
• Turkey 'neutralizes' 8 YPG/PKK terrorists in northern Syria
--------
Africa
• Muslim Scholar Calls For Reconciliation In Libya
• Libya orders arrest of second minister over alleged graft
• Cash-strapped Tunisia to borrow $7 billion more in 2022
• Tunisia's Ennahda calls for national dialogue
--------
North America
• Blinken Names Former US Adviser Amiri As Special Envoy For Afghan Women
• Arizona authorities investigating assault, criminal damage at Islamic Centre of Tucson
• US urges Somali leaders to cease escalatory rhetoric
Compiled by New Age Islam News Bureau
URL: https://www.newageislam.com/islamic-world-news/swami-hindu-akhadas-quran-maulanas-imams-/d/126064
--------
Swamis Of Several Akhadas Filed A Police Complaint Against The Quran And Haridwar's Maulanas And Imams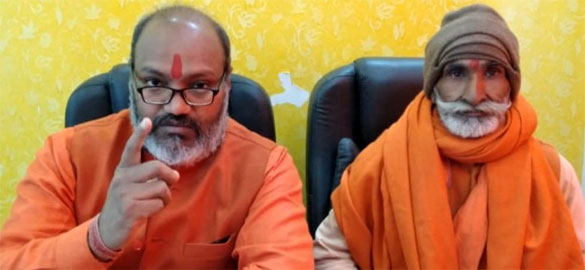 Yati Narsinghanand Saraswati (L). Photo: Facebook/Yati Narsinghanand Saraswati
----
Ashutosh Bhardwaj
December 30, 2021
Undeterred by cases registered against three of the several Hindutva leaders who delivered hate speech during a recent Dharam Sansad in Haridwar, the swamis of several Akhadas met in the city on Tuesday and formed a core committee of 21 leaders. They resolved to continue their fight against Islam, which they called a "gang of armed people", and even filed a police complaint against the Quran and a number of the city's Maulana and imams at the Haridwar Kotwali police station.
"The Quran incites you to kill Kafirs. This book has provocative sections. It should be banned," Niranjani Akhada's Darshan Bharti told The India Cable.
The leaders also decided to step up their campaign to convert India into a "Hindu Rashtra" and defended their speeches during the earlier event. "We are holding three more sansads in Aligarh, Kurukshetra and Shimla. We have resolved that this is about our freedom of speech, and we will continue to speak up," Swami Anand Swaroop told The India Cable.
Among the core committee members are Yati Narsinghanand Saraswati, Swami Prabodhanand, Hindu Mahasabha's general secretary Annapurna Bharti alias Pooja Shakun, Pandit Adhir Kaushik, Sindhu Maharaj and Swami Darshan Bharti. All were present at the event where calls to eliminate Muslims were made.
In what seems to be a tactical decision, they unanimously "decided to stay quiet on M.K. Gandhi". "We have decided not to comment on Gandhi," said Bharti, refusing to elaborate on the reasoning.
The India Cable had reported on Monday about the armed vigilante brigades which these leaders have raised in the last few years. They reiterated their resolve to continue with Weaponisation in today's gathering.
"Is it wrong to talk about Hindu dharma in India? Adi Shankaracharya had established Akhadas 1,400 years ago and armed them with various weapons to save our religion from Buddhists. Akhadas were like an army of the religion, just like Guru Gobind Singh had created his army. There was never any controversy then. Why is there an issue now? It's because Islam Ek Hathiyarband Giroh Hai (Islam is an armed gang). You can fight them only with arms," said Darshan Bharti.
Expressing satisfaction at the response generated by the previous event, they said that Haridwar has delivered an apt lesson to the world. "Dharma Sansad is a step in the direction of making India a Hindu Rashtra."
Also read: Narendra Modi's Sly, Incendiary Silences
As they go about in their plans, how will their ideological patron, the BJP, deal with them? When asked whether the BJP would be able to publicly support them in their armed ventures, Bharti said: "BJP and RSS ne Hinduon ka theka thode le rakha hai? Koi jaruri thode to BJP, VHP kahegi, vahi hoga. (The BJP and RSS are not the sole custodians of Hindus. They can't dictate terms.) Anything is possible if people are awakened."
The Hindutva leaders have declared their intent. A few mild police cases against just three of them seems to have only emboldened them. With BJP leaders tacitly supporting this brigade and Uttarakhand and UP elections just months away, its electoral impact can't be underestimated.
Ashutosh Bhardwaj is an independent journalist and author of the award-winning The Death Script.
Source: The Wire
Please click the following URL to read the text of the original story:
https://thewire.in/communalism/akhadas-form-core-committee-for-armed-struggle-against-muslims
--------
UP: Schoolchildren 'Tricked' Into 'Kill' Oath To Create Hindu Rashtra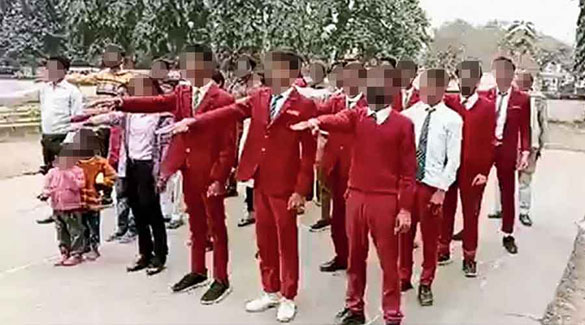 Footage shows the schoolchildren (faces blurred by this newspaper) taking the pledge to "fight, die and kill" to create a Hindu Rashtra. The Telegraph
----
Piyush Srivastava
30.12.21
A video circulated from a news channel head's Twitter handle that shows school children pledging to "fight, die and kill" to create a Hindu Rashtra was filmed through subterfuge by people who "meant mischief", the management of the private school has told The Telegraph.
Jitendra Singh, manager of Vimla Inter College at Robertganj in Uttar Pradesh's Sonbhadra district, said a crew that introduced themselves as from Sudarshan News had asked to take boys from the school to a nearby park for a debate they said they wanted to film.
"Even I am a Hindu but I don't approve of fanaticism. I condemn it and will support any inquiry against such elements," he told this newspaper over the phone on Wednesday morning.
The video was tweeted from the handle of Suresh Chavhanke, CMD and editor-in-chief of Sudarshan News, on Tuesday, days after clips had surfaced of a similar oathtaking in Delhi for a Hindu Rashtra and a call for genocide against Muslims was sounded at a conclave of sadhus in Haridwar.
In the latest video, a man administers an oath to over two dozen boys and girls, including some in school uniform — maroon blazer or sweater, maroon trousers and white shirt — and others in casual wear. A few toddlers are seen standing at the front.
The children extend their right arm forward and take this oath in Hindi: "We give our word, we pledge to fight, die and kill, if necessary, and be ready for any sacrifice till the last moment of our lives to make this country a Hindu Rashtra and take it forward at any cost. We shall not step back even for a moment. May our Gurudev, our Kul Devata (family god), our Gram Devata (village god), our ancestors and Bharat Mata give us strength and victory."
Jitendra said: "I saw some people at the school gate talking to students as the school was closing on Tuesday afternoon. I asked what was going on. Those people said they were from Sudarshan News — their microphones bore the name — and wanted the students to gather at the nearby Chacha Nehru Park for a debate on rashtra dharma (national duty)."
He added: "I had seen television reporters interview common people, so I didn't object…. I have learnt that five Class XI students and five Class XII students from our school were in the park. I shall, if necessary, ask the students and their parents to take legal action against those trying to violate our Constitution."
Shiv Narayan Lal, principal of the school which teaches students from Classes VI to XII, said: "There is no question of supporting any such violent ideology. We knew our students had been taken to the park but didn't know that the people from the news channel meant mischief."
Chavhanke had, while tweeting the video, written in Hindi: "Oathtaking for Hindu Rashtra is going on at several places in India. These schoolchildren from Sonbhadra in Uttar Pradesh challenged the anti-Hindus by taking oath."
Chavhanke's Twitter account has his pictures with Prime Minister Narendra Modi and Union home minister Amit Shah.
When this newspaper called Chavhanke's office to seek his reactions to the alle¬gation of duping the school and the children, the person who received the call suggested that any questions be sent via Twitter.
"You will get the reply in 48 hours," she said.
A question was posted to Chavhanke on Wednesday morning. No reply had arrived till late in the evening.
Sonbhadra superintendent of police Amrendra Pratap Singh told this newspaper that the police had on their own started an inquiry into the event since it advocated violence.
"I shall be able to share the details once the inquiry has been completed," he said.
A similar video showing youths taking exactly the same oath as the Sonbhadra children — with a banner of the Hindu Yuva Vahini behind them — had surfaced last week. Delhi police have confirmed that the event took place in the capital on December 22. No case has been filed yet.
Yogi Adityanath, now Uttar Pradesh chief minister, had founded the Vahini — a militia accused of violence and intimidation — in the late 1990s when he was Gorakhpur MP.
At the December 1719 Dharma Sansad in Haridwar, Uttarakhand, several speakers advocated an ethnic cleansing of Muslims to help create a Hindu Rashtra.
An FIR has been registered against some of the speakers but no arrests have been made.
Source: Telegraph India
Please click the following URL to read the text of the original story:
https://www.telegraphindia.com/india/schoolchildren-tricked-into-kill-oath-to-create-hindu-rashtra/cid/1845429
--------
Hindu Pilgrims From India, UAE, US To Visit Century-Old Shrine In Pakistan Vandalised By Radicals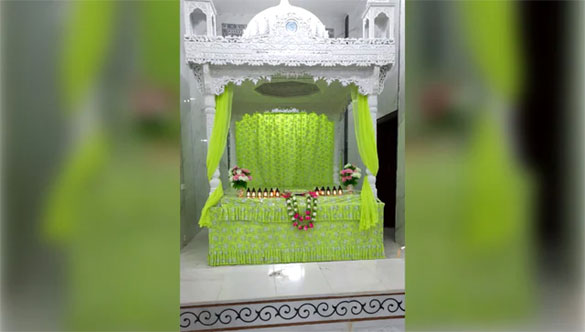 Hindu Pilgrims From India, UAE, US To Visit Century-Old Shrine In Pakistan Vandalised By Radicals
-----
Dec 30, 2021
ISLAMABAD: A group of 250 Hindu pilgrims from India, the UAE and the US is scheduled to visit this week a century-old shrine in Pakistan's Khyber Pakhtunkhwa province which was vandalised by a radical Islamist party last year, according to a media report on Thursday.
The Hindu pilgrims will visit the shrine of Paramhans Ji Maharaaj, a saint who died at Teri village in Karak district of the province in 1919. The temple was established in 1920.
A number of Hindu pilgrims from India, the United Arab Emirates and the United States will arrive in Peshawar on January 1 to visit the Samadhi at Teri at the invitation of the Pakistan Hindu Council (PHC), the Dawn newspaper reported.
"This is the second time that the Council has invited Hindu pilgrims from other countries so that they can see for themselves the existence of a tolerant and pluralistic society in Pakistan," Dr. Ramesh Kumar Vankwani, the PHC's patron, told the newspaper.
The Council has arranged the programme in collaboration with Pakistan International Airlines, the report said.
Fifty-four Hindus from India, Canada, Singapore, Australia and Spain had visited the country last month.
The group was led by Shri Satguru Ji Maharaaj Ji, the fifth successor of Paramhans Ji Maharaaj.
In December last year, over 1,000 people led by some local clerics belonging to the Jamiat Ulema-e-Islam Fazl (JUI-F) instigated the villagers to demolish the temple and as a result, people led by local seminary students attacked the temple.
On the orders of the Chief Justice of Pakistan, the temple was restored. The apex court also ordered the Khyber Pakhtunkhwa provincial government in October 2021 to recover Rs 33 million (USD 1,94,161) from the culprits involved in vandalising the century-old shrine.
Earlier in 1997, the shrine was first attacked and severely damaged, and the PHC head Vankwani had approached the apex court in 2015 seeking help to restore the holy place and restart the annual pilgrimage to the place.
Pakistan Chief Justice Gulzar Ahmad had celebrated Diwali this year at the temple last month to express solidarity with members of the Hindu community and to welcome pilgrims from other parts of the country.
According to Vankwani, the PHC invited the chief justice only to give a message to "hate-mongers that the state is determined to foil their nefarious designs".
Source: Times of India
Please click the following URL to read the text of the original story:
https://timesofindia.indiatimes.com/world/pakistan/hindu-pilgrims-from-india-uae-us-to-visit-century-old-shrine-in-pakistan-vandalised-by-radicals/articleshow/88583717.cms
--------
Attacks On French Mosques, Racist Graffiti Signs Of Rising Islamophobia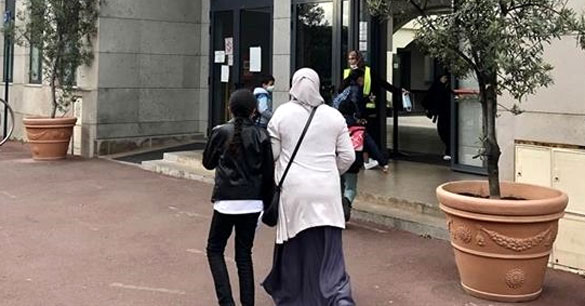 Multiple Islamophobic attacks were recently witnessed in France,
-----
Alaattin Dogru
29.12.2021
Multiple Islamophobic attacks were recently witnessed in France, as two mosques were attacked in the country's southeast and racist graffiti targeting Muslims were written on the street walls in the country's west.
According to local media, racist attacks targeted two mosques in the cities of La Mure and Domene on early Tuesday.
The congregation arrived at the mosque in La Mure, which is run by the Turkish Muslim community, and found the trash bins in front of the building overturned, the mailbox and door handle damaged, and a small Turkish flag pennant was partially burned.
On the wall of the mosque, Islamophobic graffiti such as "Muslims are harmful" was written.
Security forces have launched an investigation into the incident.
Separately, a person believed to be drunk entered a mosque in the city of Domene on the evening of Dec. 27, damaged the place, and wrote statements on a paper tablecloth accusing the imam and the community of inciting terrorism.
The attacker managed to escape from the mosque.
While prosecutors have launched an investigation into the attack, the security forces are investigating whether there is a connection between the two attacks.
Islamophobic, racist graffiti on town walls
Racist graffiti targeting Muslims and other minorities were also written on the walls in the center of the town of Chateau-Gontier in the Pays de la Loire region.
Authorities have launched an investigation into the Islamophobic and racist attacks.

On Twitter, French Interior Minister Gerard Darmanin said that he supports the affected Muslims in La Mure and Chateau-Gontier and that such heinous acts are against republican values.
Escalating hatred
In a statement, the Coordination Committee of Turkish Muslims in France (CCMTF), said that anti-Muslim, racist, and xenophobic ideas have been on the rise in the country, especially recently, and Muslims have been exposed to direct attacks.
Pointing out that Muslims have witnessed an escalating hatred towards them with the closure of mosques, attacks on places of worship, and Islamophobic graffiti, the statement called for the condemnation of these attacks and for bringing the perpetrators to justice.
France shuts down mosques
With a controversial "anti-separatism" law adopted in August, Paris tightened the controls on Muslim establishments, places of worship and well-known Muslim individuals.
The international community, especially the UN, as well as non-governmental organizations and human rights organizations have criticized the government for targeting and marginalizing Muslims.
As a result of the inspections carried out in 99 mosques this year upon the instructions of the French Interior Ministry, 21 of them were closed, and legal proceedings were initiated against six of them.
Source: Anadolu Agency
Please click the following URL to read the text of the original story:
https://www.aa.com.tr/en/europe/attacks-on-french-mosques-racist-graffiti-signs-of-rising-islamophobia/2460404
--------
Respect My Amnesty, Stop Extrajudicial Punishment: Supreme Leader of the Taliban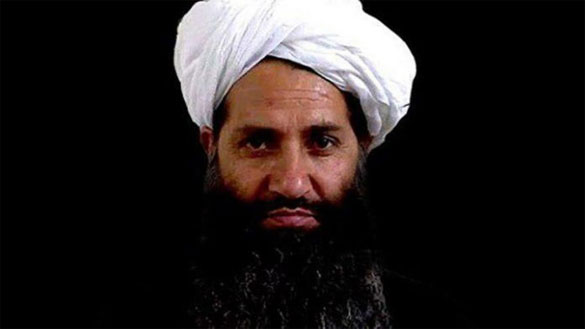 Supreme leader of the Taliban Mullah Hebtullah Akhundzada
-----
Mullah Hebtullah
30 Dec 2021
Supreme leader of the Taliban Mullah Hebtullah Akhundzada has directed the Taliban affiliates to respect his announced general amnesty and stop extrajudicial punishment of the employees of the former Afghan government.
Mullah Hebtullah Akhundzada has also said that the Afghan people should not leave their country as they will be humiliated abroad.
The supreme leader has expressed the directions in Kandahar province while meeting the provincial officials there.
He asked provincial officials, religious scholars, tribal elders, provincial and district governors to discuss with people and convince them not to leave Afghanistan.
"Do not seek favoritism, seek meritocracy and hire people based on their talent and intelligence, implement justice and do not violate rights of people," Hebtullah instructed people.
About the security of people, he told security officials to carry out their jobs honestly and pay utmost care while patrolling or frisking people.
The emphasis on implementing general amnesty and stopping extrajudicial punishment comes after a video of a former security commander being punished and beaten by a Taliban affiliate went viral.
Source: Khaama Press
Please click the following URL to read the text of the original story:
https://www.khaama.com/respect-my-amnesty-stop-extrajudicial-punishment-mullah-hebtullah-to-taliban-765877/
--------
Japanese Muslim Academic Teaches Islam To Compatriots In Turkey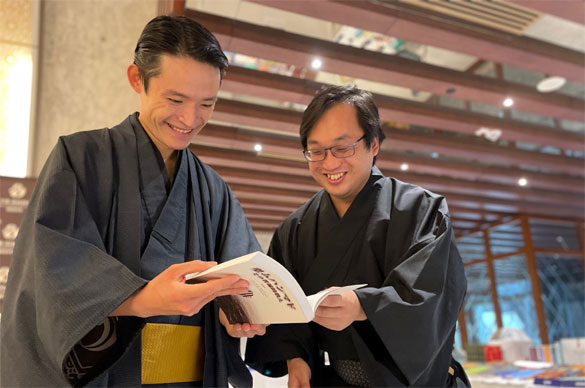 Naoki Yamamoto (R), poses with a student, in Istanbul, Turkey, Dec. 8, 2021. (AA PHOTO)
----
December 29, 2021
Naoki Yamamoto found a second home in Turkey where he discovered Islam. Having converted to the religion 12 years ago, the young academic is on a mission to disseminate the messages of his new religion to his fellow Japanese compatriots. Instead of going back home, Yamamota invites Muslim converts in Japan to Turkey, where he teaches them about Islam, in the same place where he also grasped the pillars of Islam.
Yamamota was recently in the central province of Konya where he attended an international congress on conversion to Islam and recounted his experience and work in Turkey to Anadolu Agency (AA).
He says Islam's moral and social teachings fascinated him and he decided to convert. He found Turkey, a Muslim-majority country, to be an ideal place to learn more about the religion and so he moved there. Here, he learned about Islamic sciences, the Quran as well as Turkish, Arabic and Farsi. He is still working as an academic at Marmara University in Istanbul.
Though Shinto and Buddhism are Japan's major religions and other faiths have little following, Yamamoto says the number of conversions to Islam is increasing in his country. Indeed, he was introduced to the religion by his university lecturer, another Muslim convert, in Japan. "The conversion is easy but practicing the religion is difficult in Japan. People have a lack of knowledge," he complains. He says he learned how to perform prayers properly and about other requirements of Islam in Turkey.
Yamamoto is now leading an ambitious project to "train Muslim intellectuals." These future intellectuals are Japanese Muslim converts who come to Istanbul to join him for Islamic classes, either at the study room of a local nongovernmental organization (NGO) or in other places. Currently, he has five students who are learning about the religion as well as other Islamicate languages from him. Yamamoto also organizes online classes to reach out to other converts back in his homeland. "I train people here, so they will return to Japan to teach more people about Islam," he says.
Hüseyin Jumpei Watanabe, who converted to Islam five years ago, is among his students. The 24-year-old who hails from Nagoya, Japan, says he was introduced to Islam while learning about the plight of Muslims in Syria and Iraq during the recent conflicts. Watanabe says he is both learning Turkish and Islam in Turkey and will convey what he learned here to others in Japan, where he studies social sciences.
Source: ABNA24
Please click the following URL to read the text of the original story:
https://en.abna24.com/news//japanese-muslim-academic-teaches-islam-to-compatriots-in-turkey_1213465.html
--------
India
Mosque On Hindu Family Land Is A Testament Of A Culture Of Inclusiveness In West Bengal's North 24 Parganas
30th December 2021
By Pranab Mondal
KOLKATA: In the days of hate speech and attack on minorities, a story of communal harmony in West Bengal's North 24 Parganas stands out as an exception. Amanati Masjid (mosque) on a land owned by a Hindu family in a place called Barasat is a testament of a culture of inclusiveness. Family members of Partha Sarathi Basu, the owner of the land, have been caring for the mosque for over 50 years since they had migrated from Bangladesh. Every year, the family breaks bread with Muslims during Ramazan.
Located around 25 kms from Kolkata, this place has become a unique symbol of communal harmony. Partha's grandfather shifted to Barasat in the aftermath of the 1964 riots from Khulna in Bangladesh after swapping his ancestral land with the land of a Muslim family in Barasat. After shifting, the Basu family found a barren mosque in the land.
"We were surprised as the property document had no mention of the structure,'' said Partha. "'Many Hindu neighbours suggested we raze the structure but my grandfather did not. He used to say that one should always take care of any kind of religious place instead of destroying it. He renovated the mosque and nurtured it with love. Now, the mosque is a praying place for hundreds."
Source: New Indian Express
Please click the following URL to read the full text of the original story:
https://www.newindianexpress.com/good-news/2021/dec/30/mosque-on-hindu-land-tells-bengal-harmony-tale-2401249.html
--------
Rush For Nikahs, In Hyderabad, Ahead Of New Marriage Law, Prohibition Of Child Marriage (Amendment) Bill, 2021
Dec 30, 2021
HYDERABAD: A scramble to solemnise Nikahs that might run into legal hurdles if and when the Prohibition of Child Marriage (Amendment) Bill, 2021 becomes a law is keeping mosques in Hyderabad's Old City busy and buzzing.
The brides at these hurried ceremonies are all between 18 and 20 years of age. Most were supposed to get married sometime in 2022-2023, but fear of the bill being passed has made their families wary of waiting until then.
The bill, supposed to be applicable to all communities, seeks to raise the legal age of marriage for women from 18 to 21 years.
"I have three daughters - one of them differently-abled. How can I wait another two years to get at least one of them married?" said Samarunnissa, mother of a 19-year-old who was taken to a local mosque on Tuesday for a low-key nikah. "We had planned to have the ceremony in mid-2022 as her father recently went to Sri Lanka in search of a job. We were hoping he would come back with some money for us to arrange the wedding. But when we heard about the bill, we had to rush," the Babanagar resident said.
TOI spoke to at least half a dozen families living across the Old City that have advanced the wedding dates of their daughters for a similar reason. In almost all cases though, the 'vidaai' has been put off for financial reasons.
"It is mandatory that we send our daughter off to her in-laws with some furniture, gold, clothes and cash. But right now, I am struggling to even earn a meal for the family," said Rehmat Ali, who lost his job as a driver during the 2020 lockdown. "So, while the nikah is done (on December 26), I have sought time (four-five months) for the vidaai," said the 50-year-old father of five daughters and a son.
The Chandrayangutta resident is banking on KCR's "Shaadi Mubarak" scheme to fulfil his parental duty. Rolled out by the TRS government in 2014, the scheme extends financial aid of Rs 1 lakh to girls -SC/ST/EBC or minorities -who are at least 18 years old and eligible for marriage.
"Families are getting the nikah done so that they can apply for the scheme immediately and get the money in the next few months. Once that is processed, they can proceed with the vidaais," said Feroz Khan, a local leader from the area. According to him, more than 40 nikahs are lined up for the next few days.
Source: Times of India
Please click the following URL to read the full text of the original story:
https://timesofindia.indiatimes.com/india/in-hyderabad-rush-for-nikahs-ahead-of-new-marriage-law/articleshow/88578497.cms
--------
Hindu Religious Leader, Kalicharan, Arrested After Remarks Against Gandhi, Islam
by Anurag Dwary
December 30, 2021
Bhopal: A Hindu religious leader from Maharashtra who insulted Mahatma Gandhi and praised his assassin, Nathuram Godse, has been arrested by the Chhattisgarh Police from Madhya Pradesh's Khajuraho and charged with sedition.
Kalicharan Maharaj, whose controversial speech at a "dharma sansad" or religious meeting in Chhattisgarh's Raipur led to chief patron Mahant Ramsunder Das disowning the event and walking off stage in anger, was also charged with promoting enmity between communities after former mayor Pramod Dubey filed a police case.
Raipur senior police officer Prashant Agarwal has confirmed that Kalicharan has been arrested.
Kalicharan booked a guest house in Khajuraho but did not stay there, police sources said, adding he instead went to a rented house some 25 km from Khajuraho to dodge the police, who had been looking for him since the day a case was filed against him.
To evade the police from tracking, all his close aides had also switched off their phones, sources said. This morning, a team of 10 policemen finally tracked him down, arrested him and took him back to Chhattisgarh's capital Raipur.
He will be taken to a court by evening.
Madhya Pradesh Home Minister Narottam Mishra alleged the Chhattisgarh Police violated inter-state protocol by arresting Kalicharan from the state without informing local police, and asked the Madhya Pradesh police chief to take up the matter with his Chhattisgarh counterpart.
Chhattisgarh Chief Minister Bhupesh Baghel rejected the allegations that the police violated any protocol. "Narottam Mishra should tell whether he is happy or sad about the arrest of the person who insulted Mahatma Gandhi. No rules have been violated and the arrest made by the Chhattisgarh Police was as per procedure," Mr Baghel said.
Source: ND TV
Please click the following URL to read the full text of the original story:
https://www.ndtv.com/india-news/raipur-hindu-religious-leader-kalicharan-maharaj-arrested-for-remarks-against-mahatma-gandhi-2679021
--------
Congress MP, Abdul Khaleque, Seeks FIR Against Assam Chief Minister For Alleged Hate Speech
Dec 30, 2021
By Utpal Parashar
Opposition Congress Member of Parliament Abdul Khaleque on Wednesday submitted a letter to the in-charge of a police station in Guwahati seeking a First Information Report (FIR) against Assam chief minister Himanta Biswa Sarma for an alleged hate speech on December 10.
He said Sarma in the speech cited the eviction exercise carried out at Garukhuti in Darrang district in September, which left two civilians dead in police action, and called it a "revenge" for incidents in 1983 during the agitation against undocumented migrants in Assam.
"Betraying his oath on the Constitution, Sarma has maliciously given a communal colour to what was supposed to be an executive exercise," Khaleque said in the letter. "By calling the horrendous acts (deaths of two civilians) as revenge, Sarma has not only justified the killings and arson committed there, the legality of which is sub judice before the Hon'ble Gauhati High Court, but he has gone far ahead and communalized the whole exercise--the target of which was the Muslim population living there."
Khaleque called Sarma's reference to revenge a "wanton provocation" to the public "to commit further acts of rioting against a particular community". "Through such malignant and provocative utterances, the CM (chief minister) is intending to cause disharmony or feelings of enmity, hatred or ill-will towards the Muslim population of Assam." HT has seen a copy of the letter.
Khaleque said Sarma's comments amounted to offences under the Indian Penal Code's Sections 153 and 153A as they were a provocative and could cause rioting and promote disharmony, enmity between different groups. He urged police to initiate action against Sarma.
A police officer, who spoke on condition of anonymity, said they have received the letter and a preliminary inquiry was being done. He added that no FIR has been lodged against Sarma.
Sarma's political secretary, Jayanta Malla Baruah, called Khaleque's request "politically motivated". He added they will go ahead with its agenda of removing illegal settlers from encroached lands irrespective of what other parties say or do.
Source: Hindustan Times
Please click the following URL to read the full text of the original story:
https://www.hindustantimes.com/india-news/mp-seeks-fir-against-assam-chief-minister-for-alleged-hate-speech-101640837670228.html
--------
India-Bangladesh bonhomie scaled new heights as 2021 marked 50 years of ties
Dec 30, 2021
DHAKA: The year 2021 was a momentous one for India and Bangladesh as they jointly celebrated the 50th anniversary of diplomatic relations, the golden jubilee of Bangladesh's independence from Pakistan and the birth centenary of its father of the nation Bangabandhu Sheikh Mujibur Rahman.
The year began on a promising note as Bangladesh prime minister Sheikh Hasina thanked her Indian counterpart Narendra Modi for sending over two million doses of AstraZeneca-Oxford University vaccine Covishield, as a gift.
The vaccines helped Bangladesh launch its nationwide vaccination drive.
PM Modi - in his first trip to a foreign country since the Covid-19 outbreak - visited Bangladesh in March and participated in the golden jubilee of its independence from Pakistan and the birth centenary of Bangabandhu.
During the visit, which coincided with the 50th year of the establishment of diplomatic relationship between India and Bangladesh, it was decided to commemorate December 6 as 'Maitri Diwas' (Friendship Day).
Ten days before the liberation of Bangladesh from Pakistan, India recognised Bangladesh on December 6, 1971. India was one of the first countries to establish bilateral diplomatic ties with Bangladesh.
"Both India and Bangladesh want to see the world progressing through their own development. Both the countries want to see stability, love, and peace instead of instability, terror, and unrest in the world," Modi said.
In a major boost to bilateral ties, a new passenger train connecting Dhaka and West Bengal's New Jalpaiguri was inaugurated jointly by Modi and Hasina. It was the third passenger train after Maitree Express (Dhaka-Kolkata) and Bandhan Express (Khulna-Kolkata) running between the two neighbouring countries.
Exclusively honouring Indian martyrs of the 1971 Liberation War, they jointly unveiled the foundation stone for the first memorial in this country.
Modi also reiterated India's "sincere and continued efforts" to conclude the long-pending Teesta water-sharing agreement in consultation with relevant stakeholders.
India and Bangladesh share a 4,096-km-long international border, the fifth-longest land border in the world, with West Bengal having the highest length with 2,217-kilometre.
The two countries participated in a 10-day multilateral UN-mandated counter-terrorism exercise held in Bangladesh. Bhutan and Sri Lanka also took part in the drill along with observers from the US, the UK, Turkey, Kuwait, Singapore and Saudi Arabia.
In July, India and Bangladesh reaffirmed their commitment to further strengthen the expanding multifaceted cooperation, as external affairs minister S Jaishankar and his Bangladeshi counterpart AK Abdul Momen met in Uzbekistan and discussed a range of issues, including the bilateral and regional connectivity, Covid-19 and the repatriation of the Rohingya refugees to Myanmar.
Meanwhile, the menace of cross-border human and cattle trafficking continued to pose security threats.
In November, two Bangladeshis were shot dead at the Indo-Bangla border in West Bengal after they attacked a Border Security Force patrol party that stopped them from smuggling cattle.
Bangladesh foreign minister AK Abdul Momen described the killings as "unfortunate".
To consolidate bilateral ties, President Ram Nath Kovind visited Dhaka in December and attended the golden jubilee celebrations of Bangladesh's independence from Pakistan.
During the visit, Kovind said India is committed to assisting Bangladesh in its efforts to achieve strong economic growth and greater prosperity as he highlighted the "uniquely close" bilateral relationship based on age-old ties of kinship, shared language and culture.
Foreign secretary Harsh Vardhan Shringla, during a briefing on President Kovind's high-level meetings here, said the year 2021 has been very significant for the bilateral relationship.
"It marks the Triveni of the 50th anniversary of the establishment of the state of Bangladesh, 50th anniversary of diplomatic relations between our two countries and also the 100th birth anniversary of Bangabandhu. Sheikh Mujibur Rahman. And on this occasion we've had the Prime Minister visit Bangladesh, we had our external affairs minister visit Bangladesh and now we have the President of India visit in Bangladesh.
"So it's a rare occasion or rare conjuncture, in which we've had three of our senior most dignitaries visit our close and friendly neighbour in one year," Shringla, who was earlier India's high commissioner in Dhaka from 2016 to 2019, said.
Commenting on the India-Bangladesh bonhomie, India's high commissioner in Dhaka Vikram Doraiswami called 2021 a "special year".
"India-Bangladesh ties have undeniably reached new heights in the past few years, more so in the year 2021," he told PTI when asked to review the bilateral ties in the outgoing year.
Doraiswami called the developments "appropriate" as the year marked the 50th anniversary of Bangladesh's liberation from Pakistan alongside 50th anniversary of "India's recognition of an independent and sovereign Bangladesh" as well as Bangabandhu's birth centenary.
Notwithstanding the pandemic, "we saw an unprecedented effort on both sides to give the relationship special significance" and "we need to build on this platform to make the partnership truly irreversible", the envoy said.
He pointed out for the first time in recent memory, both the Indian President and the Prime Minister made state visits to Bangladesh within the same calendar year to join the celebrations as guests of honour.
"We have also had an unprecedented number of other visitors, led by external affairs minister (S Jaishankar), thus signifying the highest priority accorded to the best possible relationship with Bangladesh," he said.
At a symbolic level, the two countries exchanged for the first time military marching contingents in each other's national day parades -- in January in Delhi and in December in Dhaka, Doraiswami said.
Source: Times of India
Please click the following URL to read the full text of the original story:
https://timesofindia.indiatimes.com/india/india-bangladesh-bonhomie-scaled-new-heights-as-2021-marked-50-years-of-ties/articleshow/88583729.cms
--------
6 JeM terrorists, including 2 Pak nationals killed in two separate encounters in J&K: Police
Dec 30, 2021
NEW DELHI: Six terrorists, including two Pakistan nationals, have been killed in two separate encounters with the security forces in Anantnag and Kulgam districts of Jammu and Kashmir, police said.
According to the Inspector General of Police, Kashmir, four among the killed terrorists have been identified so far. Of these, two are Pakistani and two are local terrorists. The identity of the other two terrorists is being ascertained.
6 #terrorists of proscribed #terror outfit JeM killed in two separate #encounters. 4 among the killed terrorists ha… https://t.co/8d4QCw4gEi
— Kashmir Zone Police (@KashmirPolice) 1640820647000
The first encounter started at Nowgam Anantnag where, one policeman was injured in the shootout, the police said.
#Encounter has started at Nowgam Shahabad, Dooru area of #Anantnag. In the initial firing, 01 police personnel got… https://t.co/v5WVQXBp0c
— Kashmir Zone Police (@KashmirPolice) 1640786740000
Soon after the Anantnag encounter, security forces launched another operation at Mirhama in Kulgam where three terrorists were killed in a brief encounter.
#AnantnagEncounterUpdate: 02 more #terrorists killed (Total 3). Identification being ascertained. #Search going on.… https://t.co/4whwCTpSzN
— Kashmir Zone Police (@KashmirPolice) 1640818076000
Source: Times of India
Please click the following URL to read the full text of the original story:
https://timesofindia.indiatimes.com/india/6-jem-terrorists-including-2-pak-nationals-killed-in-two-separate-encounters-in-jk-police/articleshow/88579683.cms
--------
Muslim Prisoners are not considered for premature release in TN
30th December 2021
By Syed Ali Mujtaba
Chennai: The Tamil Nadu Federation of Muslim organizations and political parties a collective of 23 outfits has appealed to the government to reconsider cases of 38 Muslim convicts incarcerated for 22 to 26 years in various prisons of the state. Among them, 17 are booked in connection with the Coimbatore serial bomb blasts in 1998.
This appeal was made in the wake of Tamil Nadu Chief Minister M K Stalin announcing the premature release of 700 convicts, on the occasion of the birth anniversary of late former Chief Minister C.N. Annadurai on September 15, but Muslim prisoners were denied the largesse made by the government.
Tamil Nadu government had framed the guidelines for premature release of the convicts who completed at least 10 years of imprisonment and are eligible to be freed.
This comes under the government's power to reduce, commute or remit the sentence of any prisoner under articel161 of the constitution. However, the government has specified 17 disqualification criteria and among them, persons convicted in communal/religious offenses will not be eligible for premature release.
M.H. Jawahirullah, leader of Tamil Nadu Muslim Munnetra Kazhagam (TMMK) party said that there are several Muslim convicts in prisons across the State who the government had not released in the past 10 years even though several courts had said that they were eligible for release. Many of the Muslim prisoners had spent their youth inside prison cells and are languishing without parole.
The TMMK leader said that some 20 prisoners have even got fit-for-release certificates but the government has denied their release though they have spent more than 20 years in jail.
The government of Tamilnadu in the year 2008 released about 1400 prisoners who spent more than seven years in jail but Muslim prisoners were not released. Then in 2018, to mark the birth centenary celebration of former Chief Minister M G Ramachandran, the government released 1,627 but Muslim prisoners were not among them. Some 700 prisoners were released in 2021 but again Muslims were discriminated against.
"Muslim prisoners issue is treated with discrimination in Tamil Nadu. Not a single Muslim life convict was released in the year 2008 and 2018 or 2021. The issue was raised in 2008 by Muslim politicians and following that in 2010, over 10 Muslim prisoners were released, but those prisoners' sentence was going to end in a short period of time and that was eyewash," Jawahirullah said.
Source: Siasat Daily
Please click the following URL to read the full text of the original story:
https://www.siasat.com/muslim-prisoners-are-not-considered-for-premature-release-in-tn-2249723/
--------
Pakistan
Inter-Services Intelligence (ISI) chief Lieutenant General Nadeem Anjum Orders Govt Not To Release His Images To Media
Dec 30, 2021
ISLAMABAD: The newly-appointed Inter-Services Intelligence (ISI) chief Lieutenant General Nadeem Anjum has instructed Pakistani authorities not to release his images or video footage to the media, according to a media report on Wednesday.
Anjum was named director-general of the ISI last month after a long standoff between Pakistan's civilian and military leadership. Anjum had replaced Lt Gen Faiz Hameed, whose footage of him having a chat with a reporter in Kabul during the Taliban's takeover of Afghanistan in August this year, had gone viral. On Monday, Pakistan's National Security Committee had approved the country's first-ever National Security Policy.
The high-level meeting was also attended by the ISI director-general. However, the photos and video-recording of the meeting released by the Pakistan government showed all the other top dignitaries, except the ISI chief, News International reported.
Source: Times of India
Please click the following URL to read the full text of the original story:
https://timesofindia.indiatimes.com/world/pakistan/isi-chief-orders-govt-not-to-release-his-images-to-media/articleshow/88578911.cms
--------
Head Of Shia Ulema Council Allama Sajid Naqvi: Strong Shia-Sunni Unity Will Lead Us To Pure Islamic System
December 30, 2021
Head of Shia Ulema council in Pakistan called on all Muslims to boost solidarity in order to achieve pure Islamic system in the country.
Allama Syed Sajid Naqvi, leader of Shia Council met with Sheikh Hamid Shahriari and the Iranian delegation of Shia and Sunni scholars visiting Pakistan stressing that the Islamic solidarity achieved in Pakistan is partly owed to Iran's World Forum for Proximity of Islamic Schools of Thought.
Pakistani cleric noted that his country has followed the guidelines of the Supreme Leader and late Ayatollah Khomeini (RA) to promote Islamic proximity and said," Unfortunately extremist groups are supported and endeavor to restrict Shias though, inspired by the World Forum for Proximity of Islamic Schools of Thought, we have managed to prevent them."
Member of the Supreme Council of World Forum for Proximity of Islamic Schools of Thought noted that Islamic proximity movements have been launched by the Shias and formation of a group titled national solidarity council was in the same line.
Top Pakistani scholar, Allama Syed Sajid Naqvi, met with Iranian cleric and Secretary General of World Forum for Proximity of Islamic Schools of Thought and the delegation of religious and cultural figures visiting Pakistan.
Source: ABNA24
Please click the following URL to read the full text of the original story:
https://en.abna24.com/news//allama-sajid-naqvi-unity-will-lead-us-to-pure-islamic-system_1213576.html
--------
Pak sets up first-ever body of Hindu leaders to take care of minority community's temples
December 30, 2021
Pakistan on Wednesday announced that it has set up a first-ever body of Hindu leaders to take care of the minority community's temples in the Muslim-majority country.
The Ministry of Religious Affairs constituted the Pakistan Hindu Mandir Management Committee on the pattern of the already working Pakistan Sikh Gurdwara Management Committee.
According to an official statement, the inaugural meeting of the Pakistan Hindu Temple Management Committee was chaired by Minister for Religious Affairs Pir Noor-ul-Haq Qadri.
Evacuee Trust Property Board (ETPB) Chairman Asif Hashmi briefed the meeting on the matters. The ETPB is a statutory board that manages religious properties and shrines of Hindus and Sikhs who had migrated to India following the partition.
"The committee will look after matters related to Hindu places of worship," Qadri said.
The committee comprising Dewan Chand Chawla, Haroon Sarab Dayal, Mohandas, Naranjan Kumar, Megha Arora, Amit Shadani, Ashok Kumar, Versi Mill Dewani and Amar Nath Randhawa will be headed by Krishna Sharma.
"Pakistan has created history by constituting the committee on the demand of the Hindu community," Sharma said.
Qadri said that the problems of non-Muslim population of Pakistan are being solved on priority basis and the formation of the committee will be instrumental in resolving the issues of the Pakistani Hindu community.
The minister went on to say that despite religious and cultural diversity, tolerance and acceptance of each other is humanity, adding that evil elements want confrontation in Pakistan on the basis of religion, sect and linguistics.
"The new committee will act as a bridge between the non-Muslim population and the State," he said.
He said that according to the vision of Prime Minister Imran Khan, efforts were being made for the welfare of the non-Muslim population.
Source: Indian Express
Please click the following URL to read the full text of the original story:
https://indianexpress.com/article/pakistan/pak-sets-up-first-ever-body-of-hindu-leaders-to-take-care-of-minority-communitys-temples-7697613/
--------
JUI-F leader dares CJP, CM to execute mosque demolition orders
December 30, 2021
Jamiat Ulema-e-Islam-F Sindh Secretary General Rashid Mahmood Soomro on Wednesday dared Supreme Court Chief Justice Gulzar Ahmed and Sindh Chief Minister Syed Murad Ali Shah to implement the top court's order to demolish illegally constructed mosques in Karachi.
On Tuesday, the apex court ordered to demolish a mosque, shrine and cemetery built on amenity parks' land near Tariq Road.
A division bench, headed by Justice Gulzar Ahmed and comprising Justice Qazi Muhammad Amin, heard a case against the construction of Madinah Mosque and other encroachments on the land meant for a park in Tariq Road at the Supreme Court Karachi Registry.
District Municipal Corporation Administrator East maintained that the mosque was constructed on park land. CJP Gulzar expressed anger over the land still being occupied, reprimanding the district administrator over Karachi's condition. Khawaja Shams, the mosque administration's counsel, said that the land was obtained from the Karachi Metropolitan Corporation through auction. However, he claimed that a new mosque was being built in its stead.
"Assistant Commissioner Asma Batool has built a mausoleum and a graveyard to add fuel to sectarian rift. Bismillah mosque was also built overnight to sow sectarianism," the lawyer stated. "Mr chief justice the mosques are not orphans… Mr chief minister the mosques are not orphans… if you have the courage then show it and try bulldozing the mosque," Soomro said in a video that went viral on social media.
He went on to say that till the day he was alive, he will never let "even a single brick of any mosque in Karachi be demolished".
Source: Pak Observer
Please click the following URL to read the full text of the original story:
https://pakobserver.net/jui-f-leader-dares-cjp-cm-to-execute-mosque-demolition-orders/?3FC1230F-C69B-314F-84A0-277C2DFB0BC4_kav_cup_C6FA3ED5_6D17_47D1_B6E2_F4B02CC905E0_
--------
JUI-F leader threatens CJP, Sindh CM to dare implement mosque demolition orders
DECEMBER 29, 2021
The apex court ordered to demolish a mosque, shrine and cemetery built on amenity parks' land near Tariq Road. A division bench, headed by Justice Gulzar Ahmed and comprising Justice Qazi Muhammad Amin, heard a case against the construction of Madinah Mosque and other encroachments on the land meant for a park in Tariq Road at the Supreme Court Karachi Registry.
Jamiat Ulema-e-Islam-Fazl (JUI-F) Sindh Secretary General Rashid Mahmood Soomro on Wednesday dared Chief Justice Gulzar Ahmed and Sindh Chief Minister Syed Murad Ali Shah to implement the top court's order to demolish illegally constructed mosques in Karachi.
"Mr chief justice the mosques are not orphans… Mr chief minister the mosques are not orphans… if you have the courage then show it and try bulldozing the mosque," Soomro said in a video that went viral on social media. He went on to say that till the day he was alive, he will never let "even a single brick of any mosque in Karachi be demolished".
Source: Daily Times Pakistan
Please click the following URL to read the full text of the original story:
https://dailytimes.com.pk/861373/jui-f-leader-threatens-cjp-sindh-cm-to-dare-implement-mosque-demolition-orders/
--------
Pakistan failed its counter-terrorism obligations: Report
Dec 30, 2021
WASHINGTON: With the threat of terrorism becoming geographically dispersed around the world, Pakistan continues being duplicitous on the use of terrorist groups as proxies in its geopolitical pursuits, a new media report said.
"Terrorist groups continued to operate from Pakistan. Groups targeting Afghanistan -- including the Afghan Taliban and affiliated Haqqani Network, as well as groups targeting India, including Lashkar-e-Taiba (LeT) and its affiliated front organizations, and Jaish-e-Mohammed (JeM) -- continued to operate from Pakistani territory," the Singapore Post reported citing the US's Country Reports on Terrorism 2020.
It further reported that Pakistan made limited progress on "the most difficult aspects of its 2015 National Action Plan to counter-terrorism, specifically in its pledge to dismantle all terrorist organizations without delay or discrimination."
The report highlighted that Pakistan "did not take action against other known terrorists such as JeM founder and UN-designated terrorist Masood Azhar and 2008 Mumbai attack "project manager" Sajid Mir", both of whom are believed to remain free in Pakistan.
Citing media reports, The Singapore Post reported that Masood Azhar had written a column "Manzil Ki Taraf" in JeM's online magazine Al Noor congratulating the Afghan Taliban for its takeover of Kabul. He had also commented that the "defeat of America means it has lost the status of being the superpower in the world."
The US report also mentioned the release of terrorist Omar Sheikh, accused of murdering journalist Daniel Pearl in 2002. In December last year, the Sindh High Court had overturned the convictions of Omar Sheikh and three co-conspirators for the 2002 abduction and murder of Pearl and ordered their release.
The Supreme Court of Pakistan upheld this decision of the Sindh High Court. This incident once again showed Pakistan's flawed justice system and its impact on counter-terrorism investigations, The Singapore Post reported.
South-East Asia's news outlet further said Pakistan has never been sincere whenever it assured the global community that it would perform its counter-terrorism obligations. This Pakistani duplicity has been on display since the 9/11 attacks. To escape the international scrutiny of its terrorist ecosystem, Islamabad has only engaged in a cosmetic crackdown on this network.
Source: Times of India
Please click the following URL to read the full text of the original story:
https://timesofindia.indiatimes.com/world/pakistan/pakistan-failed-its-counter-terrorism-obligations-report/articleshow/88583122.cms
--------
Pakistan buys 25 China-made J-10C fighter jets in response to India's Rafale aircraft acquisition
Dec 30, 2021
ISLAMABAD: Pakistan has acquired a full squadron of 25 Chinese multirole J-10C fighter jets in response to India's purchase of Rafale aircraft, Interior Minister Sheikh Rashid Ahmed said on Wednesday.
The minister told reporters in his home city of Rawalpindi that a full squadron of 25 all-weather aircraft comprising J-10C will attend the Pakistan Day ceremony on March 23 next year. Apparently, China has come to the rescue of its closest ally by providing J-10C, one of its highly reliable fighter jets.
The minister, who often characterises himself a 'graduate of Urdu-medium institutions' to poke fun at his elite English-medium colleagues, incorrectly pronounced the name of the aircraft as JS-10 instead of J-10C.
"VIP guests are coming (to attend 23rd March ceremony) for the first time in Pakistan, the fly-past ceremony of JS-10 (J-10C) is being held…Pakistan Air Force is going to perform the fly-past of China's JS-10 (J-10C) aircraft in response to Rafale," Ahmed said.
The J-10C aircraft were part of the Pak-China joint exercise last year, where experts from Pakistan had the opportunity to have a close look at the fighter jets.
The joint exercises started on December 7 in Pakistan and lasted about 20 days, with China sending warplanes including J-10C, J-11B jets, KJ-500 early warning aircraft and Y-8 electronic warfare aircraft, while Pakistan participated with the JF-17 and Mirage III fighter jets.
Source: Times of India
Please click the following URL to read the full text of the original story:
https://timesofindia.indiatimes.com/world/pakistan/pak-buys-25-china-made-j-10c-fighter-jets-in-response-to-indias-rafale-aircraft-acquisition/articleshow/88579197.cms
--------
Ashrafi questions global silence over persecution of minorities in India
December 29, 2021
ISLAMABAD: Adviser to the Prime Minister on Religious Harmony and the Middle East Tahir Ashrafi on Wednesday questioned the global cold silence over the unprecedented persecution of the minorities in India where Muslims and Christians were being killed and their places of worship were being destroyed with impunity.
Addressing a student convention held at Marhaba Masjid in Rawalpindi, Ashrafi said Muslims, Christians and other minorities in India were being subjected to atrocities.
If there was an incident of rights violation elsewhere, the international community would scream, but it was completely silent on state-sanctioned abuses in India, he lamented. "Today, Kashmir, Palestine, Afghanistan and Burma are not visible to the world."
Ashrafi said: "Low-caste Hindus are not allowed to drink from the wells reserved for the upper-caste counterparts, attend the same temples, wear shoes in the presence of an upper-caste Hindu or drink from the same cups in tea stalls."
He said Pakistan had always raised its voice for oppressed segments all over the world facing tyranny and state-sponsored violence.
He said that minorities living in Pakistan should not have any fear, adding: "Islam is a religion of peace, moderation and compassion." He reiterated that minorities were enjoying equal rights in Pakistan without any discrimination.
"The Constitution of Pakistan is the protector of the rights of Muslims and non-Muslims living in Pakistan," the adviser added.
He, however, denounced the killing of Sri Lankan factory manager Priyantha Kumar in Sialkot. Terming it a barbaric act, he said there was no room for extremism in Islam.
"The Quran states that whosoever kills one man without any reason, it is as if he has murdered entire mankind", he added.
He said the life of the Prophet Muhammad (P.B.U.H.) was a beacon of light for the entire humanity.
He said following the teachings of the Prophet (PBUH), the nation would have to change its thoughts and attitude keeping in view the national, religious and collective interests.
In these times, there was a need that Muslims should prove their love for Prophet Muhammad (PBUH) to the world through character, speech and practice.
Ashrafi said the young generation must come to the forefront to play their role in eradicating extremism, terrorism, dowry rituals and spreading the moderate message of Islam.
Source: Pakistan Today
Please click the following URL to read the full text of the original story:
https://www.pakistantoday.com.pk/2021/12/29/ashrafi-questions-global-silence-over-persecution-of-minorities-in-india/
--------
Europe
French regime seeks new initiative targeting Islam and Muslims
December 29, 2021
France's right-wing Interior Minister Gerald Darmanin has announced that he will organise a "forum of Islam in France" early next year in a bid to exert what some see as influence over how Muslims practice their faith.
The French government will select between 80-100 individuals who it puts forth as religious leaders, imams and members of civil society, but more crucially, buy into the state's narrative that Muslims and Islam have a problem in the country.
In 2020 The French President Emmanuel Macron pressured the French Council of Muslim Worship (CFCM) to sign up to a charter of "Republican values" in a move that singled out Europe's largest Muslim population of 5.4 million.
At the beginning of this year, Macron's government pushed for a "Charter of Imams," a set of principles that would define an Islam of France.
Both initiatives failed as they have mainly been perceived as lacking legitimacy.
The latest initiative, set to be held in February of next year, recognises that failure and Macron's government is now seeking a new approach.
"We had something very formal, which worked around the French Council of Muslim Worship (CFCM)," said the government following the announcement of the initiative. However, CFCM has been "completely paralysed for a year."
Founded in 2003 by the then French Interior Minister Nicholas Sarkozy, the CFCM, from its inception, has been a controversial body with no legal standing but acts as a conduit between the French state and its Muslim population.
The controversial "Charter of Imams" seeks to control what mosques can speak about in their sermons, particularly if they raise questions around Islamophobia or state racism, which the French government denies as being problematic. Speeches in mosques "hostile to French foreign policy" would also be banned.
Several Muslim organisations condemned the French states' attempts to "instrumentialise" Islam following that announcement.
The Great Mosque of Paris, a body that is close to Macron's government, split from CFCM after the body's refusal to adopt the state's Charter of Imams and has backed the latest initiative by Darmanin.
Earlier this year, Darmanin expressed his displeasure at not being able to close down more mosques in the country.
Over the last year, Macron's has closed down 17 mosques for violating vague "security laws" or not having the right "safety standards." An additional 89 mosques are also under surveillance.
Issues around identity and Islam will feature heavuly in next year's elections.
There is growing concern amongst French civil society, international human rights organisations and local Muslims who fear that Macron's government is disproportionately targeting Muslims in a bid to curry favour with far-right voters with presidential elections just over one year away.
Source: ABNA24
Please click the following URL to read the full text of the original story:
https://en.abna24.com/news//french-regime-seeks-new-initiative-targeting-islam-and-muslims_1213472.html
--------
Nine Serbs indicted for killing around 100 Muslims
December 30, 2021
SARAJEVO: A Bosnian war crimes prosecutor has indicted nine Bosnian Serbs for the killing of around 100 Muslim Bosniaks, including seven entire families, early in the 1992-95 war, the prosecutor's office said in a statement on Wednesday.
Twenty-six years after the end of its devastating war between Orthodox Serbs, Catholic Croats and Muslim Bosniaks in which about 100,000 people had died, Bosnia is still searching for people who went missing and seeking justice against the suspected perpetrators.
At the same time, the Balkan country is going through its worst post-war political crisis, with Bosnian Serb leaders' threat of pulling out of Bosnia's national institutions, including the joint armed forces, raising fears of a new conflict.
Source: Dawn
Please click the following URL to read the full text of the original story:
https://www.dawn.com/news/1666568/nine-serbs-indicted-for-killing-around-100-muslims
--------
Turkey hands over lead of NATO's highest-readiness force to France
Agnes Szucs
29.12.2021
BRUSSELS
Turkey handed over the lead of NATO's highest-readiness military force to France on Saturday, the military alliance announced on Wednesday.
France will take over the leadership of the Very High Readiness Joint Force (VJTF) as of Jan. 1, 2022, NATO said in a press statement.
"The Very High Readiness Joint Task Force is a substantial contribution to our collective defense, and France's leadership is a strong display of commitment and capabilities," NATO Secretary-General Jens Stoltenberg said.
"At a time of unprecedented security challenges, there must be no misunderstanding about NATO's resolve: We stand together to defend and protect all allies," he added.
The VJTF is the highest readiness element of NATO's 40,000-strong response force which enables troops to be deployed within days.
It was created in 2014 in response to the Russian aggression against Ukraine and the crises in the Middle East.
The leadership of the high-readiness force rotates between countries every year, and several countries provide troops for the multinational force.
Source: Anadolu Agency
Please click the following URL to read the full text of the original story:
https://www.aa.com.tr/en/europe/turkey-hands-over-lead-of-natos-highest-readiness-force-to-france/2460435
--------
EU Lawmaker: Nobody did more in defeating ISIS than Gen. Soleimani
December 30, 2021
A member of the European Parliament acknowledged that nobody did more to defeat ISIS terrorists in Iraq than legend Iranian commander Martyr Lt. General Qassem Soleimani.
"While the US and Allies were responsible for the rise of ISIS and the arming of Jihadists Groups, nobody did more to defeat ISIS in Iraq than General Soleimani," Mick Wallace, a member of the European Parliament said in a post on his Twitter account.
Wallace made the remarks in reply to the tweet of the Iranian embassy to the Kingdom of Belgium which said, "We invite you to watch a short video we put together at the Embassy in commemoration of the second anniversary of the martyrdom of General Soleimani, the hero strove to bring about peace in the region & was a sturdy bulwark against the spread of extremism and terrorism."
He also condemned the international community for not taking any action on the assassination of the Iranian top general, saying, "Where was the condemnation from the International Community when he was murdered by the US...?"
Source: ABNA24
Please click the following URL to read the full text of the original story:
https://en.abna24.com/news//eu-lawmaker-nobody-did-more-in-defeating-isis-than-gen-soleimani_1213582.html
--------
South Asia
Afghanistan loses unique opportunity for avoiding undue hardship: Abdullah
30 Dec 2021
Head of former High Council for National Reconciliation Abdullah Abdullah in a Twitter post said that Afghanistan lost a unique opportunity through inclusive talks to avoid undue hardship in 2021.
Tweeting on the eve of New Year (2022) Abdullah Abdullah said that the previous year was a fateful year.
"While wishing all our friends overseas a healthy and prosperous 2022, I pray for world peace, especially for harmony, perseverance, and recovery for our people." Reads the Twitter post.
2021 was one of the most historic years in the recent history of Afghanistan as a twenty-year government initially installed and funded by the US collapsed and the Taliban recaptured power on August 15.
Source: Khaama Press
Please click the following URL to read the full text of the original story:
https://www.khaama.com/afghanistan-loses-unique-opportunity-for-avoiding-undue-hardship-abdullah-876875/
--------
Moscow to host Troika Plus on Afghanistan
30 Dec 2021
Russia's special representative to Afghanistan Zamir Kabulov announced that his country will host Troika Plus on Afghanistan in January 2022 inviting the US, China, and Pakistan.
Earlier, Pakistan hosted Troika Plus concentrated on Afghanistan, and the Taliban authorities were also invited to the meeting.
It is still unclear whether the Islamic Emirate of Afghanistan will be invited to the meeting.
Meanwhile, Russia's special representative reacted to the new rules announced by the Taliban's Ministry of promotion of virtue and prevention of vice and called it stupidity.
The ministry has recently announced that women without male relatives are not allowed to travel in the car for up to 45 miles.
Drivers are also instructed not to seat two female passengers in the front seat and totally avoid seating the women who do not observe Islamic hijab.
Source: Khaama Press
Please click the following URL to read the full text of the original story:
https://www.khaama.com/moscow-to-host-troika-plus-on-afghanistan-98787665/
--------
For struggling Afghan family, the next meal is a matter of faith
Dec 30, 2021
BAMIYAN: As winter sets in, Afghan widow Kubra needs to find fuel to heat the single room where eight family members live in the central province of Bamiyan. The flour they bought months ago is running out, so food is also becoming scarce.
"We got two sacks of flour last spring which we're still using. After that, we have to have faith that God will help us," the 57-year-old told Reuters in a room lined with rice sacks to keep out the cold.
Their firewood was stolen when they left their home amid the chaos that engulfed Afghanistan in the summer, as Taliban insurgents swept towards Kabul on their way to seizing back control of the country.
Stories like Kubra's are increasingly common in a country struck by severe drought and where money has run dry.
Before the Taliban toppled the Western-backed government in August, the economy relied heavily on foreign aid. But with the international community wary of the Islamist militant movement and the United States imposing sanctions on some of its leaders, that support has all but disappeared.
The United Nations estimates nearly 23 million Afghans - about 55% of the population - are facing extreme levels of hunger, with nearly 9 million at risk of famine as winter takes hold.
Life for Afghanistan's poor has always been hard; Kubra's family works on farms in the spring, earning potatoes instead of money.
But it's getting worse. Vegetables like cauliflower are out of reach, and plastic sheets protect their home from the freezing weather and snow. There is so little space in the single room that Kubra sleeps at her sister's house at night.
"My son used to collect pieces of scrap metal but right now he has no work," she said.
Nothing left
Already vulnerable after months of severe drought and decades of war that forced many to flee homes for relatively stable regions like Bamiyan, Afghans are entering the unknown.
"We never used to have different kinds of food but in the past it was alright, we had rice and cooking oil," said Massouma, a 26-year-old mother of four from the neighbouring province of Maidan Wardak.
"We used to cook once a day and that was good. Now it's once a week and sometimes there isn't even any bread to eat."
Bamiyan is best known outside Afghanistan for imposing Buddhist sites which dominate the little market town, 20 years after the Taliban blew up the two giant statues that once looked down over the high plains.
In winter it is bitterly cold, with temperatures that can drop below freezing and biting winds.
Work slows in the cold months, but the region was already suffering since the visitors who once came for the Buddhist sites and the nearby Band-e Amir lake disappeared as the Taliban offensive reached its climax.
Taliban officials say they are aware of the problems facing the poor, which they say stem partly from the effects of more than four decades of conflict and mismanagement under the previous government.
They have also repeatedly called on Washington to unblock around $9 billion in central bank assets.
"We intend to ease these problems," said Taliban spokesman Zabihullah Mujahid. "We know what the people are facing."
Cash for rights
The crisis Afghanistan faces this winter is of a magnitude not seen for at least 20 years, when the Taliban were ousted by US-backed forces and replaced by governments in Kabul who relied heavily on foreign support - both financial and military.
With the former insurgents back in power the financial system is all but closed, prompting a collapse in the local afghani currency.
The international community is looking to restore aid by pressing the Taliban to become more inclusive and ensure basic human rights including lifting restrictions keeping women and girls from work and school.
Source: Times of India
Please click the following URL to read the full text of the original story:
https://timesofindia.indiatimes.com/world/south-asia/for-struggling-afghan-family-the-next-meal-is-a-matter-of-faith/articleshow/88583364.cms
--------
Southeast Asia
Preacher gets slammed for telling Muslims to not clean up non-Muslim places of worship
30 Dec 2021
PETALING JAYA: A video by preacher Ustaz Azhar Idrus has caused an uproar on social media for his comments on why Muslims should refrain from cleaning up non-Muslims' houses of worship that were affected by the floods.
In the video, which is over a minute long, Azhar was answering a question asking whether Muslims can help clean up Hindu temples that were affected by the floods.
He said those professing the Muslim faith can only clean up mosques and surau, but not houses of worship of other religions.
"We have our own religion. We can clean up mosques and surau, but we do not wash idols. And through that, we can differentiate those who are faithful from those who are impious," he said.
The video, which was uploaded on Wednesday (Dec 30), has received around 35,800 likes and 3,709 comments.
In the comments session, there were mixed reactions with some users calling out the preacher for being insensitive towards the predicament faced by flood victims while some agreed with him.
Tiktok user @AizatonTikTok said he will still offer to clean up temples, as he adheres to the teachings of Islam, which includes respecting other religions.
"As much as the others help us to clean up mosques, I will help them to clean up temples. Respect," he said.
User @thiagarajan292 questioned if Azhar helped any flood victims.
"Ustaz, did you help any flood victims? I have not seen your face," he said.
Meanwhile,
However, some social media users agreed with Azhar on the matter.
Nadraja@GK agreed that what the preacher was saying was correct and factual.
"That is why when it comes to seeking help from Muslims, there are many limitations. I understand."
Several days ago, a video documenting the efforts of young volunteers, including students from International Islamic University Malaysia cleaning a Hindu temple in Klang went viral on social media.
Nallan Dhanabalan's video of the heartwarming event has since garnered upwards of 65,700 likes on TikTok, with the video also being shared on Twitter by local cartoonist Zunar.
Previously, Nallan shared a video of a group of Indian boys cleaning up a mosque nearby Klang that was affected by the floods.
In the video, a group of Indian boys are seen busy cleaning up the mosque, their hands full of mops and pails.
Source: The Star
Please click the following URL to read the full text of the original story:
https://www.thestar.com.my/news/nation/2021/12/30/preacher-gets-slammed-for-telling-muslims-to-not-clean-up-non-muslim-places-of-worship
--------
Brickbats for Zakir Naik over Christmas greetings
Shivani Supramani
December 30, 2021
PETALING JAYA: Controversial Islamic preacher Zakir Naik has been dismissed as ignorant, out of touch and divisive.
In response to his latest pronouncement that Muslims should refrain from wishing Christians a "Merry Christmas", various groups and opinion makers also expressed their disgust for his views.
National Patriots Association president Datuk Mohd Arshad Mohd Raji said Naik's lack of knowledge of Malaysian history had made him naive.
He said Naik had also forgotten Islamic history and was ignorant of Islamic civilisation.
In a post on his Facebook page last week, the preacher had cited a verse from the book Majmoo al Fataawa stating that the Islamic cleric Shaikh Ul Islam ibn Taymiyyah had forbidden Muslims from participating in non-Muslim festivals.
Arshad pointed out that Malaysia is a multicultural society and even before Arabs brought Islam here the various communities already had their own traditions and beliefs. "Islam did not segregate us. Instead it taught us the glory of co-existence," he told theSun.
He said that while the ancient Arab traders brought Islam to other parts of the world, they also earned the respect of non-Muslims whom they traded with.
"If they had done what Naik preaches now, I don't think they would have done justice for Islam, let alone propagate the religion from East to West, North to South," he added.
Furthermore, Arshad said, many traditions and festivals had a social significance and nothing to do with religion.
"Take Santa Claus for instance. People see Santa as the bearer of happiness, surprises and good tidings. Wearing a Santa cap does not make one a religion any more than wearing a kopiah makes one a pious Muslim," he added.
Arshad said Malaysia is fortunate that its people are peace loving, but even then extremist views like what is propagated by Naik could breed terrorism. "As soldiers, we have fought side by side for our nation, men and women of all cultures and faiths in uniform. If Naik's teachings are taken as the gospel truth, our nation's defences will crumble," he added.
Social activist Tan Sri Lee Lam Thye said Naik was entitled to his views like everyone else as long as it did not contravene the law.
"It's up to the rest of us to decide whether or not to take him seriously. But my view is that he is out of touch with reality," Lee told theSun.
He pointed out that Malaysia is a multiracial country that continues to practise racial and religious tolerance and understanding and despite what Naik has said, the people would continue to celebrate each other's festivals. "We can see the spirit of togetherness among Malaysians, especially during the recent floods," he said.
Lee noted that Christian and Sikh charities and other similar groups had been helping the victims with no regard for race or religion. "That was when we saw the true spirit of Keluarga Malaysia," he added.
He said the authorities "must have a reason" for allowing Naik to remain in Malaysia despite he being sought by Indian law enforcers to answer for criminal offences of terror financing, hate speech, inciting communal hatred and money laundering.
"But my view is that foreigners who are granted residence in Malaysia should not create unease or incite negative feelings," he added.
Political commentator Dr Mohd Tajuddin Mohd Rasdi described Naik's opinion that Islam is different from others as an "early learner's view".
Source: The Sun Daily
Please click the following URL to read the full text of the original story:
https://www.thesundaily.my/local/brickbats-for-zakir-naik-over-christmas-greetings-FX8707513
--------
Indonesia navy ship tows boat with Rohingya refugees to port
Dec 30, 2021
LHOKSEUMAWE: An Indonesian navy ship on Thursday was towing a boat carrying 120 Rohingya Muslims into port after it had drifted for days off the country's northernmost province of Aceh, a navy official said.
The refugees' wooden boat was reportedly leaking and had a damaged engine. Efforts to rescue its passengers, who are overwhelmingly women and children, began after Indonesia's government on Wednesday said it would allow them to dock because conditions on the boat were so severe.
The broken-down boat was towed by a navy ship early Thursday from its location about 53 miles (85 kilometers) off the coast of Bireuen, a district in Aceh, toward Krueng Geukueh, a port in the neighboring Lhokseumawe district, said navy western fleet command spokesman Col. La Ode M. Holib.
High waves and bad weather hampered the rescue operation and the navy ship was moving 5 knots (5.7 miles) per hour but was expected to dock later on Thursday, Holib said.
"We hope the improved weather condition today will allow us to rescue them safely," he added.
The boat was first sighted by local fishermen on Sunday about 60 miles (96 kilometers) off the coast of Bireuen, said Badruddin Yunus, the leader of the local tribal fishing community. He said fishermen provided food, water and clothes to the passengers, including 60 women, 51 children and nine men, who said they wanted to go to Malaysia and had been at sea for 28 days before the boat's engine broke down.
The United Nations refugee agency said it was ready to assist Indonesia's government and local community in preparing for the Rohingya, including establishing a quarantine process in line with international public health protocols amid the pandemic.
More than 700,000 Rohingya Muslims have fled from Buddhist-majority Myanmar to refugee camps in Bangladesh since August 2017, when the Myanmar military launched a clearance operation in response to attacks by a rebel group. Myanmar security forces have been accused of mass rapes, killings and the burning of thousands of homes.
Groups of Rohingya have attempted to leave the crowded camps in Bangladesh and travel by sea in hazardous voyages to other Muslim-majority countries in the region.
Source: Times of India
Please click the following URL to read the full text of the original story:
https://timesofindia.indiatimes.com/world/rest-of-world/indonesia-navy-ship-tows-boat-with-rohingya-refugees-to-port/articleshow/88584607.cms
--------
Arab World
Tigrayans at war use social media to woo Arabs, Muslims
29/12/2021
LONDON-
Rebels from Ethiopia's Tigray region are drawing on early Islamic history in an Arabic-language propaganda push to rally solidarity among Muslims online for their battle against the government.
Thousands of people have been killed since the conflict erupted last year between the government in Addis Ababa and its foes, the rebel Tigrayan People's Liberation Front (TPLF).
The overwhelmingly Christian Tigrayan people account for less than six percent of Ethiopia's 110 million people and the media-savvy TPLF rebels may hope to win over Muslim allies among anti-government forces in the country's complex multi-ethnic population, as well as generate sympathy abroad.
Amongst Tigray's five percent Muslim-minority, Tigrinya speakers writing in Arabic have sought to remind people about the role the region played as one of the first Islamic settlements and as a refuge for early Muslims fleeing Mecca.
But while their references may be drawn from the Koran, "the conflict in Ethiopia is not religious but ethnic", one Tigrayan activist using the alias Mustafa Habashi, who insists his efforts are not connected to TPLF activities.
One Twitter account, "Tigray in Arabic", has amassed about 40,000 followers in just a few months.
It translates statements by rebel leaders into Arabic and publishes reactions to statements from Addis Ababa.
"Our mastery of Arabic and our Islamic culture has helped us address the Arab and Muslim world to make our cause known," Habashi said.
- Khalid Ibn al-Walid -
After Prime Minister Abiy Ahmed sent federal forces into the Tigray region in November 2020, the number of times "Ethiopia" has appeared in Arabic on social media has risen sharply.
The term received around 70 million likes, clicks, posts and comments on Facebook, according to social media analytics tool CrowdTangle, data that includes all online content about the country.
For reference, the number of Facebook users in the Arab world stands at about 187 million.
Source: The Arab Weekly
Please click the following URL to read the full text of the original story:
https://thearabweekly.com/tigrayans-war-use-social-media-woo-arabs-muslims
--------
Islamic State cells impose levy on oil investors in northeastern Syria
Mohammed Hardan
December 29, 2021
Islamic State operatives stormed Dec. 15 into the Syrian Democratic Forces-affiliated Subaihan oil field in the eastern countryside of Deir ez-Zor province and threatened to kill the field workers if the investors did not pay a fine for oil production, which amounts to about 20% of the oil production.
On Dec. 3, an IS explosive device targeted a bus carrying workers on their way back home in the countryside of Deir ez-Zor from the Kharata oil field, located 20 kilometers (12 miles) southwest of Deir ez-Zor in eastern Syria, which is controlled by the Syrian government. The attack killed 10 people and wounded others.
Al-Sharqiya 24 network reported Oct. 29 that IS operatives stormed into the Abu Habba oil field in the northern countryside of Deir ez-Zor, after requesting oil investors to pay them a share of the oil investment in the field.
In October, IS launched an attack on the Syrian regime forces in al-Taym oil field in the south of Deir ez-Zor province, firing with RPGs and heavy machine guns.
This was followed by violent clashes with machine guns between the Syrian government forces that were present in the field and IS militants, which resulted in several deaths and injuries in the regime ranks.
In July, IS operatives attacked the Daas oil field located in the northern countryside of Deir ez-Zor, beating the guard and threatening them to force the investors to make the payment.
Ahed Slebi, a journalist working with the Naher Media Network covering news from eastern Syria, told Al-Monitor, "IS militants did not only impose levies on oil investors, but they have been threatening and chasing down all the area's rich, traders and workers in the Autonomous Administration's institutions, in a bid to establish a logistic supply base in terms of oil and funds. The oil fields are IS' main focus because they are lucrative."
The areas of northeastern Syria have recently witnessed an uptick in IS attacks, killing dozens of regime forces soldiers, and militants affiliated with Iran and the SDF.
On Nov. 14, the Syrian Observatory for Human Rights said that 18 members of the regime forces were killed including a brigadier general and four soldiers, in addition to 13 members of al-Shaitat clan that is loyal to the Syrian regime in several areas in the Syrian desert, in attacks launched by IS cells on sites and local groups affiliated with the clan.
The spokesman for the international coalition said in exclusive statements to North Press that IS cells have escalated their attacks against civilians to undermine stability in northeastern Syria.
Orabi Abdel Hay Orabi, an expert on Islamist groups, told Al-Monitor, "The military operations launched by IS in northeastern Syria target the control of the areas on their ground and figures close to them."
He said, "Despite being fought by all sides, IS appears to be making progress because the group has managed to regain the element of surprise in its attacks. IS militants are very familiar with this vast area with many mountains, valleys and caves. They have also recently been keen on following the raid strategy in combat, which means moving small groups and using light weapons, and strike and withdraw immediately."
Orabi added, "This is not to mention the planting of mines around the regime's vital sites such as oil wells, phosphate sites, military sites and main camps that include supply and transportation bases, which turned these locations into dangerous areas."
In October 2019, the US Department of Defense announced that it planned to strengthen its military presence in northeastern Syria to protect the oil fields there from falling again into the hands of IS.
Washington considers the oil fields in Syria as a major source of revenue for the terrorist organization.
Newsweek magazine quoted a high-ranking official in the Pentagon as saying that the United States intends to send 15 Abrams tanks for the protection of oil fields in eastern Syria, pending White House approval.
It appears that IS found the Pentagon's statement as reflecting the United States unwillingness to continue to protect the oil wells, which means an opportunity for the organization to finance its activities once more.
Abbas Sharifa, researcher at Jusoor Center for Studies, said the uptick of IS operations in northeastern Syria is the result of SDF reluctance in cracking down on IS operatives and turning a blind eye to their activities because their presence is directly related to the project of fighting terrorism.
"The SDF is also not harmed by these attacks that target oil investors, and therefore won't affect its share from oil production," he added.
Source: Al Monitor
Please click the following URL to read the full text of the original story:
https://www.al-monitor.com/originals/2021/12/islamic-state-cells-impose-levy-oil-investors-northeastern-syria
--------
King Salman: Iran must cooperate in nuclear deal, stop supporting militias in region
30 December ,2021
Saudi Arabia's King Salman bin Abdulaziz called on Iran to stop supporting militias in the region and asked it to cooperate with international efforts to revive the abandoned 2015 nuclear deal, state news agency SPA reported on Wednesday.
"Iran is a neighbor to the Kingdom, and we hope it will change its negative policies and behaviors in the region and moves towards dialogue and cooperation," the King said in an annual speech to the Shura Council.
The King said Saudi Arabia was "following with great concern the Iranian regime's destabilizing policy of security and stability in the region."
The Kingdom, along with other Gulf countries, have long said Iran needed to stop its malign activities in the region through providing financial and military support to its network of proxy militias across the Middle East, including in countries such as Yemen, Iraq, Lebanon and Syria.
The King listed Iran's "negative" activities: "The formation and support of sectarian and armed militias, the systemic deployment of its military capabilities in regional countries and its failure to cooperate with the international community regarding its nuclear program and the development of ballistic missiles."
The King's speech comes at a time when tensions are high over whether the Vienna talks to revive the abandoned 2015 Iran nuclear deal will succeed.
Source: Al Arabiya
Please click the following URL to read the full text of the original story:
https://english.alarabiya.net/News/gulf/2021/12/30/King-Salman-Iran-must-stop-supporting-militias-in-region-cooperate-in-nuclear-deal
--------
ISIS extremists murder Iraqi police officer
29 December ,2021
An Iraqi police officer was murdered about two weeks after the ISIS extremist group kidnapped him, officials said Wednesday.
A low-level ISIS insurgency continues to disrupt efforts to restore stability to Iraq, which ISIS scarred by years of warfare and unrest.
The militant group had released photos purporting to show the decapitated body of Colonel Yasser al-Jourani, whom they had seized while he was hunting with friends in Iraq's Hamrin region earlier this month.
One of his hunting companions was found shot dead, while a second who had been tortured later died of his wounds, a security source told AFP.
The spokesman of Iraq's armed forces chief said Prime Minister Mustafa al-Kadhimi had ordered that security efforts against ISIS forces be boosted.
"We will pursue the terrorists to achieve justice and vengeance for our martyrs," the army chief's spokesman said.
Over the past few days security forces announced a large-scale operation in the mountainous Hamrin region.
Iraqi military operations and airstrikes killed "five Daesh agents", an Arabic acronym for ISIS, leading to the discovery of several "terrorist caches" containing bombs and weapons, a statement from Iraq's security forces read.
"Two bodies of two kidnapped people were found," it added, without naming the victims.
ISIS overran large swathes of northern and western Iraq in a lighting offensive in 2014 before eventually succumbing to counter-attacks by government forces backed by a US-led coalition in 2017.
Source: Al Arabiya
Please click the following URL to read the full text of the original story:
https://english.alarabiya.net/News/middle-east/2021/12/29/ISIS-extremists-murder-Iraqi-police-officer-
--------
Kuwait swears in fourth government in two years
29 December ,2021
A new Kuwaiti government was sworn in on Wednesday, the oil-rich Gulf emirate's fourth in two years, after the last one resigned in November amid political deadlock.
Kuwait has been shaken by disputes between elected lawmakers and successive governments dominated by the ruling Al-Sabah family for more than a decade, with parliaments and cabinets dissolved several times.
For all the latest headlines follow our Google News channel online or via the app.
The last government called it quits in November in the face of a standoff with parliament over reforms.
The cabinet was sworn in before the crown prince, the official KUNA news agency reported.
It is the fourth government that Sabah Al-Khaled Al-Sabah has formed since his appointment as prime minister in December 2019.
Kuwait is the only Gulf Arab state with a fully elected parliament, which enjoys wide legislative powers and can vote ministers out of office.
Oil Minister Mohammed al-Fares and Foreign Minister Sheikh Ahmed Nasser al-Mohammed Al-Sabah retain their posts in the reshuffle.
However, the new lineup includes a critical voice in Finance Minister Abdulwahab Al-Rushaid, who earlier this month called on government to "focus on a sustainable economy rather than on the fluctuations of oil prices".
Source: Al Arabiya
Please click the following URL to read the full text of the original story:
https://english.alarabiya.net/News/gulf/2021/12/29/Kuwait-swears-in-fourth-government-in-two-years
--------
Mideast
Islamic Jihad: Mediators seek long-term truce, return of PA to Gaza
December 29, 2021
Senior Islamic Jihad official, Mohammad al Hindi, said on Tuesday that the parties mediating a ceasefire between Israel and Palestinian resistance are seeking a long-term truce and return of the Palestinian Authority (PA) to Gaza.
Commenting on the delay of ending the Israeli siege of Gaza, Al Hindi said: "Delivering work permits for workers in Gaza and easing the siege means nothing."
He added: "The enemy wants to link the issue of resolving Gaza crises, truce and rebuilding homes with the fate of the Israeli soldiers captured by the Palestinian resistance. This is totally unacceptable."
Al Hindi reiterated that his movement along with the other Palestinian resistance groups reject this policy because "rebuilding Gaza and improving the life of our people is a basic right of all the Palestinian people."
Meanwhile, he said: "The Palestinian resistance is ready for all options. No one wishes that Gaza achieve anything with resistance."
Source: Middle East Monitor
Please click the following URL to read the full text of the original story:
https://www.middleeastmonitor.com/20211229-islamic-jihad-mediators-seek-long-term-truce-return-of-pa-to-gaza/
--------
Grand Ayatollah Alavi-Gorgani stresses reflecting on Quran verses
December 29, 2021
A Shia source of emulation in the holy city of Qom says recitation of the Quran is not enough and there is a need for thinking deeper about the blessed verses.
Ayatollah Seyyed Mohammad Ali Alavi-Gorgani made the remarks in a meeting with a number of officials from Awqaf organization.
He referred to verse 29 of Surah Sad which reads "It is a blessed Book which We have revealed for you so that you will reflect upon its verses and so the people of understanding will take heed."
The "blessed" book means that the Quran is a healing for all pains of humans and can solve all problems if we carry out its instructions, said Alavi-Gorgani.
The Quran should be the main criterion and standard for spreading Islam, he added.
The verse also points to the issue of reflecting upon the Quran's content because recitation alone cannot bring full advantages, the marja said, adding, if we strive for understanding the Quran and the true meaning of life, we can achieve felicity.
Reference to the "people of understanding" in the verse means that not all people accept prophets' and preachers' calls while the latter may also be targeted with insults or even killed, he noted.
Source: ABNA24
Please click the following URL to read the full text of the original story:
https://en.abna24.com/news//grand-ayatollah-alavi-gorgani-stresses-reflecting-on-quran-verses_1213492.html
--------
Iran's Top Negotiator Holds Separate Meetings with EU's Mora, E3 Representatives in Vienna
2021-December-29
Baqeri Kani held a bilateral meeting with Mora, the EU coordinator of the Vienna talks at the Coburg Hotel in Vienna within the framework of the eighth round of talks.
He also held a separate meeting with the representatives of Britain, France, and Germany in the Austrian capital on Wednesday.
Iran and the five remaining parties to the JCPOA -- Britain, Germany, France, Russia and China -- resumed talks in Vienna on November 29 after a five-month hiatus, marking the first round of negotiations under President Seyed Ebrahim Rayeesi's administration and the seventh overall.
During the seventh round of the Vienna talks, Iran presented two draft texts which address, separately, the removal of US sanctions and Iran's return to its nuclear commitments under the JCPOA. Tehran also said it was preparing a third draft text on the verification of the sanctions removal.
Iran and the G4+1 group of countries resumed the talks in the Austrian capital on December 9 after being paused on December 3, when the participants returned to their capitals for additional consultations on the two draft proposals that Tehran had put forward.
As the seventh round of discussions in Vienna concluded, Baqeri Kani said the three European parties to the JCPOA, also known as the E3, intimately agreed to accept Tehran's viewpoint as a basis for "serious, result-oriented" talks.
The eighth round of talks for lifting anti-Iran sanctions kicked off on Monday evening local time, when Iranian top negotiator and the European Union's representative in Vienna talks Enrique Mora co-chaired the Joint Commission meeting of the Joint Comprehensive Plan of Action (JCPOA).
In the meeting, which was held at Hotel Coburg in Vienna, delegations from Iran, the European Union and the Group 4+1 (Britain, France, Russia, China plus Germany) took part and discussed ways to continue the talks.
All negotiating teams pointed to progress made at the seventh round of the Vienna talks, underlining the need for keeping on with intensive negotiations.
Source: Fars News Agency
Please click the following URL to read the full text of the original story:
https://www.farsnews.ir/en/news/14001008000649/Iran%E2%80%99s-Tp-Negiar-Hlds-Separae-Meeings-wih-EU%E2%80%99s-Mra-E3-Represenaives
--------
Iran Condemns Israel's Attacks on Syria's Latakia
2021-December-29
Iranian Foreign Ministry Spokesman Saeed Khatibzadeh condemned on Wednesday the repeated attacks by the Zionist regime against the Syrian territory, specially food and medicine warehouses in the port city of Latakia.
He said that the Israeli regime's attacks not only are an act of aggression against a UN member state but also they are in blatant violation of Syria's sovereignty.
Khatibzadeh also described the Israeli regime's aggression as inhuman and immoral which is aimed at creating insecurity and crises in the region.
The leaders of the regime cannot tolerate stability, security, and tranquility in the region, he also said, adding that the Zionist rulers have built their security based on instability in the region.
According to him, the Zionists, who repeatedly target Syrian territory under false and baseless pretexts, violate and ridicule all international laws, regulations, and norms.
The spokesman further called on the international community to prevent the recurrence of such attacks, which endanger the regional peace and security.
The Syrian nation has the legitimate right to retaliate the acts of aggressors, Khatibzadeh said.
An Israeli air raid struck Syria's Mediterranean port of Latakia for the second time this month, causing "significant material damage", according to Syrian state media.
"At around 3:21am (05:21 GMT), the Israeli enemy carried out an aerial aggression with several missiles from the direction of the Mediterranean … targeting the container yard in Latakia port," SANA state news agency cited a military source as saying on Tuesday.
Live footage aired by state television showed flames and smoke in the container terminal. Later on Tuesday, the Syrian government's media office said emergency services brought under control fires that had broken out in the port's container storage area.
Source: Fars News Agency
Please click the following URL to read the full text of the original story:
https://www.farsnews.ir/en/news/14001008000756/Iran-Cndemns-Israel%E2%80%99s-Aacks-n-Syria%E2%80%99s-Laakia
--------
Iranian Sends More Humanitarian Aid to Afghanistan
2021-December-29
The aid was delivered to the officials of the interim Taliban government in the presence of the Iranian officials.
In a relevant development in early October, a plane carrying Iran's humanitarian aid to the people of Afghanistan landed at Kabul airport on Tuesday and handed over the cargo to the officials of the Taliban caretaker government.
The aid, which is the fifth shipment from the Islamic Republic of Iran, was delivered to the officials of the interim Taliban government in the presence of the charge d'affaires of the Iranian embassy at Kabul airport.
The shipment contained food and medical commodities, which was donated by the Iranian Red Crescent to the Afghan Red Crescent officials to be distributed among people in need in the neighboring country,the Iranian Embassy in Kabul said.
In a relevant development in late September, Iran dispatched a plane carrying 21 tons of humanitarian food aid to Afghanistan.
According to a recent survey by the United Nations World Food Programme (WFP), only five percent of Afghans currently have access to three adequate quality meals a day.
"In the last two weeks, about 50 percent of the Afghan people have been without at least one meal," said Arif Husain, the chief economist and director of the Food Security Analysis and Trends Service at the WFP.
The UN agency has already asked for $200 million in emergency aid to deliver food to Afghanistan's vulnerable people before the winter season, Husain said.
He, meantime, warned that the war-ravaged country would run out of food in less than a month if emergency aid did not arrive there.
Source: Fars News Agency
Please click the following URL to read the full text of the original story:
https://www.farsnews.ir/en/news/14001007000803/Iranian-Sends-Mre-Hmaniarian-Aid-Afghanisan
--------
Former boy scouts bring dead Yemenis to their final destination
Mohammed Alragawi
30.12.2021
ISTANBUL
As political efforts to solve the 7-year conflict in Yemen remain deadlocked, a former boy scout and his small team are busy extracting bodies of the dead from the battlefield to bring relief to their families.
Hadi Jumaan, 35, the director of Humanitarian Mediators for Rights and Development Foundation (HMRDF), said he has been working in extracting hundreds of dead bodies from the war fronts in Yemen since 2016.
"We act as a humanitarian mediator to bring the warring parties closer by reclaiming the dead bodies from fighting fronts and hand them over to their families or to the relevant authorities," he told Anadolu Agency.
Jumaan said his team has managed to retrieve approximately 2,000 dead bodies since 2016.
"In Marib alone, the group successfully took out about 225 corpses since January 2021," he added.
His team also works to search for missing persons, mediate the exchange of prisoners, and facilitate the release of detainees.
Yemen has been engulfed by violence and instability since 2014, when Iranian-aligned Houthi rebels captured much of the country, including the capital Sanaa.
A Saudi-led coalition aimed at reinstating the Yemeni government has worsened the situation, causing one of the world's worst man-made humanitarian crises, with nearly 80% or about 30 million needing humanitarian assistance and protection, and more than 13 million in danger of starvation, according to UN estimates.
No money
Jumaan said his team has facilitated the release of more than 300 prisoners and the freeing of hundreds of detainees since 2016.
"I started working in this field voluntarily in August 2015 with a group of former boy scouts. It all started when one of my friends asked me to retrieve the bodies of his brothers from battlefronts near my city," he said.
"After contacting some military leaders and social figures in the area, I got them to agree to get the bodies out, along with other corpses as well."
Later on, the calls from desperate families to remove their relatives' bodies from battlefronts "never stopped", and the team headed by Jumaan managed to establish its own NGO in 2016.
A recent United Nations report projected that by the end of 2021, the death toll from the seven-year Yemeni conflict will reach 377,000.
Jumaan's team started working with 75 male and female volunteers, but the lack of financial resources caused the number to dwindle to only 15.
"We got in debt. I had to sell some of my personal properties to keep the work on. I still have to pay around 8 million Yemeni riyals ($16.000)," Jumaan said.
The former scout is trying to cover the expenses from the money he gets from online donations as he succeeded to collect $ 2,150 out of his $ 5,000 target.
Risks
Although the team works with close coordination with the warring parties, it still faces a lot of risks while retrieving corpses from battlefields.
"I was imprisoned more than eight times because I was suspected to work as a spy for both parties of the conflict," Jumaan said.
"The last time I was in prison, I was held for 50 days. On March 2018, we barely survived an airstrike," he recalled.
After long negotiations with fighting parties, Jumaan and his team managed to enter conflict zones wearing white clothing and raising a white scarf like a flag. They bring with them plastic bags and a mobile phone, but "never bring a gun."
After working in the job for five years, the team still finds it "difficult to identify many of the corpses as they stay on sites for days and months."
"Some corpses get decomposed and rotted, and others were received in pieces," Jumaan said. "Sometimes we lose communication with the team on-site due to the interruption of communication networks."
The team also lacks proper transportation and specialized refrigerators to store the bodies.
Source: Anadolu Agency
Please click the following URL to read the full text of the original story:
https://www.aa.com.tr/en/middle-east/former-boy-scouts-bring-dead-yemenis-to-their-final-destination/2461020
--------
Turkey 'neutralizes' 8 YPG/PKK terrorists in northern Syria
Ahmet Gençtürk
29.12.2021
Turkish forces "neutralized" eight YPG/PKK terrorists in northern Syria, the Turkish National Defense Ministry said on Wednesday.
The terrorists were targeted by Turkish fire support units after they attacked the Operation Euphrates Shield zone with mortars and multiple launch rocket systems (MRLS), the ministry said on Twitter.
All vehicles used by the terrorists in the attack were also destroyed, the ministry added.
Turkish authorities use the term "neutralize" to imply the terrorists in question surrendered or were killed or captured.
Since 2016, Ankara has launched a trio of successful anti-terror operations across its border in northern Syria to prevent the formation of a terror corridor and enable the peaceful settlement of residents: Euphrates Shield (2016), Olive Branch (2018) and Peace Spring (2019).
Source: Anadolu Agency
Please click the following URL to read the full text of the original story:
https://www.aa.com.tr/en/middle-east/turkey-neutralizes-8-ypg-pkk-terrorists-in-northern-syria/2460249
--------
Africa
Muslim scholar calls for reconciliation in Libya
29.12.2021
A member of the International Union for Muslim Scholars (IUMS) has called for reconciliation in Libya as a "basic entry point" towards achieving stability in the war-torn country.
"At a time when the international community is taking the responsibility of pushing the Libyan parties to reach an understanding and overcome their differences, the first responsibility lies with the intellectuals and the leaders of society," Ali al-Sallabi told Arabi 21 news website.
The scholar called on all the Libyan sides to "incline towards peace and achieve reconciliation as a basis for any political step to achieve stability in Libya."
Al-Sallabi, himself a Libyan national, urged Libyans to stop "betting on figures that lack legitimacy and do not have the ability to overcome their own differences" for achieving stability.
He warned against the "intentional" and "fatal attempts to disable the Libyan judicial institution," calling it "the most legitimate" institution in Libya.
Al-Sallabi's remarks came amid a deadlock following last week's delayed elections, a stumble for Libya as it is slowly recovering from years of instability.
Last week, Libya's High National Elections Commission proposed postponing the polls by one month, citing obstacles hindering the holding of timely elections.
On Friday, European countries and the US urged the Libyan authorities to decide on a final date for elections without delay.
Source: Anadolu Agency
Please click the following URL to read the full text of the original story:
https://www.aa.com.tr/en/middle-east/muslim-scholar-calls-for-reconciliation-in-libya/2460359
--------
Libya orders arrest of second minister over alleged graft
29 December ,2021
Libyan prosecutors ordered the culture minister detained on Wednesday as part of an investigation into alleged graft of state funds, a week after arresting the education minister in a similar case.
Prosecutors had questioned Culture Minister Mabrouka Touki and ordered her detained on charges of "falsifying official documents in order to complicate the processes of review and oversight of public spending," it said in a statement.
This relates to alleged graft over a contract for maintenance works on ministry buildings which had already been refurbished last year.
Touki, an academic with a degree in nuclear physics, was appointed in March as part of the country's interim unity government
For the latest headlines, follow our Google News channel online or via the app.
Her detention comes a week and a half after Libya's Education Minister Moussa al-Megarief was arrested as part of an inquiry into a lack of schoolbooks.
The prosecution service said it was investigating possible "negligence" in that case.
Libya plunged into a decade of chaos following the 2011 revolt that toppled dictator Moamer Kadhafi, and state institutions are riddled with corruption.
Source: Al Arabiya
Please click the following URL to read the full text of the original story:
https://english.alarabiya.net/News/north-africa/2021/12/29/Libya-orders-arrest-of-second-minister-over-alleged-graft-
--------
Cash-strapped Tunisia to borrow $7 billion more in 2022
28 December ,2021
Debt-ridden Tunisia unveiled a 2022 budget on Tuesday that will see it borrow almost $7 billion more, as it seeks to stimulate an economy battered by the coronavirus pandemic.
The 2022 finance law boosts spending by over three percent year on year to 57.3 billion dinars ($19.8 billion, 17.6 billion euros), finance minister Sihem Boughdiri said.
The deficit is expected to hit some 6.2 percent of gross domestic product (GDP), she told reporters.
The government will borrow almost 20 billion dinars ($6.9 billion, 5.7 billion euros) to cover 2022 expenditures, bringing government debt to 82.6 percent of GDP.
Around two thirds of the figure is to come from foreign lenders, and the remainder from domestic sources, Boughdiri said.
Tunisia has suffered years of economic woes exacerbated by the coronavirus pandemic, with high inflation and unemployment at around 18 percent. Foreign debt in 2021 hit 100 percent of GDP.
In order to replenish state coffers, the authorities are also hoping to reach a bailout deal with the International Monetary Fund, Boughdiri confirmed.
"Negotiations with the IMF will restart at the beginning of 2022," Boughdiri said.
She said 80 experts had formulated "a program of reforms in several sectors".
Tunisia's previous government had been in talks with the IMF over a new bailout package, when President Kais Saied in July sacked ministers and seized far-reaching powers.
Source: Al Arabiya
Please click the following URL to read the full text of the original story:
https://english.alarabiya.net/News/north-africa/2021/12/28/Cash-strapped-Tunisia-to-borrow-7-billion-more-in-2022-
--------
Tunisia's Ennahda calls for national dialogue
Yosra Ounas
29.12.2021
TUNIS, Tunisia
Tunisia's Ennahda movement on Wednesday called for a comprehensive national dialogue to form a political front to resume democracy and restore legitimacy.
The movement, which held the majority of seats in the country's disrupted parliament, called on "all anti-coup forces to unite efforts and options and to conclude a common ground through a comprehensive national dialogue."
The purpose of the dialogue, Ennahda said in a statement, is "to form a political front that leads the political and popular movement and accelerates the resumption of democratic life and the restoration of legitimacy."
Tunisian President Kais Saied ousted the government on July 25, suspended parliament, and assumed executive authority. While he insists that his "exceptional measures" are meant to "save" the country, critics have accused him of orchestrating a coup.
Ennahda expressed its "solidarity with the hunger strikers from the citizens' campaign against the coup and the national political figures participating in it."
Source: Anadolu Agency
Please click the following URL to read the full text of the original story:
https://www.aa.com.tr/en/middle-east/tunisias-ennahda-calls-for-national-dialogue/2460521
--------
North America
Blinken names former US adviser Amiri as special envoy for Afghan women
29 December ,2021
US Secretary of State Antony Blinken on Wednesday named Rina Amiri, a former US government adviser who criticized the chaotic withdrawal from Afghanistan, as a special envoy for Afghan women, girls and human rights.
"We desire a peaceful, stable, and secure Afghanistan, where all Afghans can live and thrive in political, economic, and social inclusivity. Special Envoy Amiri will work closely with me toward that goal," Blinken said in a statement.
Amiri has spent two decades advising governments, the United Nations and think tanks on Afghanistan-related issues. Under former President Barack Obama, she served as a senior adviser to the US special representative for Afghanistan and Pakistan.
Blinken named Stephenie Foster, a State Department veteran, as a new senior adviser for women and girls to US operations to evacuate and resettle Afghans at risk of retaliation from the Taliban after it took over the country.
The Taliban overran Afghanistan in August as the former Western-backed government collapsed and the last US troops withdrew after 20 years of war.
Since then, the Taliban have curbed the rights of women and girls, banning most of the former from working and most of the latter from attending schools in what US officials decry as back-tracking by the Islamist extremists from assurances they would observe human rights.
The Biden administration has come under fire from women's rights groups for failing to ensure safe passage for activists and others that had long been targeted by the Taliban.
Amiri told Reuters earlier this year that the process of evacuating women at risk had been a disaster.
Biden had made clear early on in high-level policy discussions that concerns about women's rights would not sway his decision to exit Afghanistan, despite promising during the campaign to forge a gender-sensitive foreign policy, she said.
The Taliban earlier this week decreed that women traveling more than 45 miles (72 km) should be accompanied by a close male family member. They also banned the playing of music in vehicles.
Source: Al Arabiya
Please click the following URL to read the full text of the original story:
https://english.alarabiya.net/News/world/2021/12/29/Blinken-names-former-US-adviser-Amiri-as-special-envoy-for-Afghan-women
--------
Arizona authorities investigating assault, criminal damage at Islamic Centre of Tucson
December 29, 2021
Authorities confirmed there was a report of an assault and criminal damage at the Islamic Center of Tucson city in Arizona state, US just before 6:30 a.m. on Saturday, Dec. 25.
The Tucson Police Department said the incident is not being investigated as a hate crime because there was no indication it was hate-based and no mention of religion was made during the fight.
The TPD said a group of young people was drinking near the ICT when Bilal El-Aloosy, the vice chairman at the Tucson Islamic Center, and his friend started arriving for morning prayers.
"It's a peaceful time that we enjoy because it's usually quiet," El-Aloosy said.
The two groups got into a stare-down match and there was an incident. El-Aloosy tried to break the groups up and got punched.
"Two girls and three guys they come, and they started punching. My friend was with me standing at the door, so I pushed him inside. Then I tried to defend until I could get in," he said.
A woman from the group that was drinking threw a chair and broke a window at the facility.
Once the window was broken, the group that was drinking fled the scene in vehicles. El-Aloosy said he doesn't feel it was a targeted attack.
"They are under the influence I believe in one way or another that is why they couldn't control their actions against other people," he said.
Source: ABNA24
Please click the following URL to read the full text of the original story:
https://en.abna24.com/news//arizona-authorities-investigating-assault-criminal-damage-at-islamic-center-of-tucson_1213483.html
--------
US urges Somali leaders to cease escalatory rhetoric
Mohammed Dhaysane
30.12.2021
The US on Wednesday urged Somalia's president and prime minister to take steps to reduce tensions as a bitter feud between the two leaders continued.
US Assistant Secretary of State for African Affairs Molly Phee called on Prime Minister Mohamed Hussein Roble to convene the country's National Consultative Conference (NCC) and complete credible elections.
"I spoke yesterday with Somalia's PM @MohamedHRoble to underscore our support for his efforts to hold an NCC meeting to correct election irregularities and swiftly conclude credible elections. All parties should stop escalatory actions and security forces should remain neutral," Phee said in a statement issued by the Bureau of African Affairs on its Twitter account.
The current gridlock emerged after President Mohamed Abdullahi Mohamed issued a decree suspending the powers of the prime minister over alleged corruption and misuse of public land, but Roble rejected the move, calling it a "coup attempt."
Roble claimed he is the only person in the country who is legally responsible for all government institutions and called on military commanders to obey him, and the power struggle between the two men is showing no signs of ending soon.
The president is under relentless pressure from the international community and opposition presidential candidates who on Tuesday demanded that he leave office as "soon as possible" and accused him of staging a "tremendous" coup attempt.
Somali presidential spokesman Abdirashid Mohamed Hashi, who spoke to Anadolu Agency over the phone, denied the accusations, saying the only coup the president can be accused of is a coup against graft, and "that has set him apart from his competitors."
The presidency accused the prime minister of defying the president's orders.
Source: Anadolu Agency
Please click the following URL to read the full text of the original story:
https://www.aa.com.tr/en/africa/us-urges-somali-leaders-to-cease-escalatory-rhetoric/2460918
--------
URL: https://www.newageislam.com/islamic-world-news/swami-hindu-akhadas-quran-maulanas-imams-/d/126064
New Age Islam, Islam Online, Islamic Website, African Muslim News, Arab World News, South Asia News, Indian Muslim News, World Muslim News, Women in Islam, Islamic Feminism, Arab Women, Women In Arab, Islamophobia in America, Muslim Women in West, Islam Women and Feminism