New Age Islam News Bureau
14 Nov 2019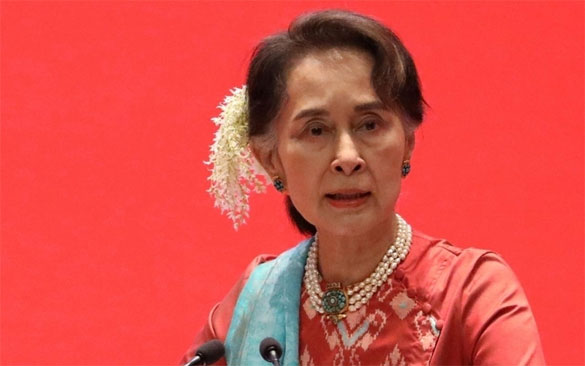 The lawsuit marks the 1st time Suu Kyi has been legally targeted over the Rohingya crisis. (Reuters pic)
-------
• Suu Kyi Named In Landmark Argentine Lawsuit for Crimes against Rohingya
• Taliban Prisoner Swap For Kidnapped Professors Never Happened, Says Afghan Diplomat
• Indonesia Targets Niqab and 167 Islamic Books to Counter Rising Tide Of Extremism
• Entry of Women into Sabarimala, Mosques and FGM — Indian Supreme Court to Consider 'Common Policy' For Religious Places
• Terrorist like Osama Bin Laden Used to Be 'Pakistani Heroes': Pervez Musharraf
• 'We will be Violent against the Unbelievers': Erdogan Hints Syria Invasion Really Islamic
Holy War
• Anti-Regime Shia Activist Dies At Dhahban Prison in South Saudi Arabia: Report
• Facebook Removed Millions of Christchurch Mosque Shooting Posts
South Asia
• Abrar Fahad: Bangladesh police charge 25 over murder
• At least 12, including children, killed in Kabul car bomb blast
• Mosque Construction Work Executed in Parwan
• Airstrikes kill 11 Taliban militants in 3 districts of Helmand province
• Special Forces arrest Taliban fighters, destroy cache of weapons in Balkh
• UN mission in Afghanistan under fire for blocking critics after leakage of controversial
letter
• 121 ISIS militants and their family members surrender to Afghan forces in Nangarhar
• Afghan presidential poll results further delayed as IEC halts vote recount process
-----
Southeast Asia
• Mujahid, In Charge Of Islamic Affairs, Malaysia, Pledges 'New Narrative' On Islam, Defends
• Policies
• Freed From Jail, Ex-UM Student, Noor Aishah Atam, Who Kept 'Terror Books' Has Second
• Thoughts about Sosma
• One dead, six injured in suicide bombing at Indonesian police station
• Chinese won't swallow BN lies, Dr M says in Tanjung Piai
• Dr M certain Tanjung Piai's Chinese voters won't fall for 'Buy Muslim First' pamphlets
• Indonesian E-Commerce Giant Tokopedia Aiming For 10% Of Total Transactions To Come From New Islamic Marketplace
• Internationalisation 'Our Agenda from Here On' As Global Islamic Economy Expands -
• Malaysia's Digital Agency Chief
-----
India
• Not Heard From Muslim Board on Reviewing Ayodhya Verdict: Iqbal Ansari
• Cleric among 4 held for UP mosque blast
• Muslim litigant ready to file Ayodhya review petition in SC with AIMPLB support
------
Pakistan
• 'Thank God It Was Unsuccessful,' Fawad Chaudhry Says Of JUI-F Sit-In
• PML-N rejects govt's condition of indemnity bond for Nawaz's travel, decides to approach court
• Nawaz's political legacy, his workers are guarantors of his return, says Khawaja Asif
• IHC reserves verdict on contempt cases against Awan, Ghulam Sarwar
• CTD official shot dead as gunmen open fire on his vehicle in Peshawar
• Consultant held over child pornography, abuse removed from KP govt project
• Over 260 fake media outlets set up by Indian network to target Pakistan: report
-----
Mideast
• Islamic Jihad Offers Egypt-Mediated Ceasefire Terms To Israel As Death Toll Mounts
• Egypt-mediated truce with Israel in force in Gaza: Islamic Jihad
• Israel threatens to assassinate Islamic Jihad leader in Damascus - report
• Erdogan reveals Trump's letter warning him not to be a 'fool'
• Erdogan slams Macron's Nato comments as 'unacceptable'
• Israel-Gaza fighting continues for second day after militant's death
• Gaza stops fire as Israel agrees to Islamic Jihad demands: Islamic Jihad
• Abu al-Atta was violent and unrestrained, even for Islamic Jihad
• 33rd International Islamic Unity Conference kicks off in Tehran
• Turkish imam learns sign language for deaf faithful
-----
Arab World
• Custodian of the Two Holy Mosques Congratulates Belgian King on King's Day
• 7 Yemeni soldiers killed by Houthi missile in Marib military base
• Appeals for calm after Lebanese protester shot dead in front of wife and child
• Saudi, Yemeni officials discuss relief projects
• MODON, GAMI sign deal to promote investments in Saudi military sector
• We seek to improve quality of teaching, Saudi education minister tells UNESCO meeting
------
North America
• US to maintain around 600 troops in Syria: US defence Secretary Mark Esper
• College Board to expand testing options for AP exam on Muslim holiday
• Complaint: Brooklyn school forced Muslim child to watch others eat during religious fast
• Again, NY Times Silent on Islamic Jihad Terror Designation
• US lawmakers take up held Kashmir issue, again
-----
Europe
• Bali Airport Staff Hit Back At Newlywed Couple and 20 Guests Who Claimed They Were Kicked Off Jetstar Flight for Being Muslim
• 'Isis Leader Who Beheaded Imam and Ordered Dozens of Killings' On Trial In Hungary
• Poland detains 2 for aiming to 'terrorise people of Muslim faith'
• Pope Francis Urged To REPENT By Clergy After Participating In 'Idolatrous Worship' Of Pagan Goddess
• 'DISLIKE': Russia's Facebook Rival VK to Roll out This ONE Button FB Users Always Wanted
• But Never Got
------
Africa
• Tunisia Elects New Parliament Speaker From Islamist Party
• Why Gaddafi built Old Kampala Mosque
• Momentum launches global Sharia portfolio
Compiled By New Age Islam News Bureau
URL: https://www.newageislam.com/islamic-world-news/suu-kyi-named-landmark-argentine/d/120261
-----
Suu Kyi named in landmark Argentine lawsuit for crimes against Rohingya
AFP -November 14, 2019
BUENOS AIRES: Former democracy icon Aung San Suu Kyi is among several top Myanmar officials named Wednesday in a case filed in Argentina for crimes against Rohingya Muslims, the first time the Nobel Laureate has been legally targeted over the crisis.
Rohingya and Latin American human rights groups submitted the lawsuit in Argentina under the principle of "universal jurisdiction", a legal concept enshrined in many countries' laws.
The premise is that some acts – including war crimes and crimes against humanity – are so horrific they are not specific to one nation and can be tried anywhere.
"This complaint seeks the criminal sanction of the perpetrators, accomplices and cover-ups of the genocide. We are doing it through Argentina because they have no other possibility of filing the criminal complaint anywhere else," lawyer Tomas Ojea told AFP.
The lawsuit demands top military and political leaders – including army chief Min Aung Hlaing and civilian leader Suu Kyi – face justice over the "existential threat" faced by the Rohingya Muslim minority.
"For decades, the Myanmar authorities have tried to wipe us out by confining us to ghettos, forcing us to flee our home country and killing us," said Tun Khin, President of the Burmese Rohingya Organisation UK (Brouk).
Argentinean courts have taken up other universal jurisdiction cases, including in relation to ex-dictator Francisco Franco's rule in Spain and the Falun Gong movement in China.
Myanmar faces mounting legal pressure in courts around the world for the 2017 expulsion of the Rohingya.
A separate case was filed Monday against Myanmar by The Gambia at the UN's top court in The Hague.
And in a third legal process, prosecutors at the International Criminal Court last year launched preliminary investigations in Bangladesh, where the Rohingya are refugees.
Ojea said he hoped international arrest warrants would be issued as a result of the suit. However, the crime of genocide was not specifically included as it is in not in Argentina's penal code.
'Time for justice'
UN investigators last year branded the 2017 military crackdown in Myanmar as "genocide" after some 740,000 from the Muslim minority were driven over the border into Bangladeshi refugee camps.
But rights groups pushing the case in Argentina demand the civilian leadership must also be investigated for complicity alongside top generals.
They accuse the government of a failure to condemn operations, assistance in the cover-up and a role in confining Rohingya communities to ghettos.
Ojea, who is leading the case, acted as UN Special Rapporteur on human rights in Myanmar between 2008 and 2014.
His collaboration is thought to be one reason why the case has been filed in Argentina.
"I have seen first-hand the suffering of Rohingya people," Ojea said.
"It's time for justice to be done."
Two Argentine human rights groups – Grandmothers of the Plaza de Mayo (Abuelas de Plaza de Mayo) and the Foundation for Peace and Justice (Fundacion Servicio Paz y Justicia) – are supporting the lawsuit.
They have helped bring influential figures to justice over the tens of thousands of people who disappeared under the Latin American country's military rule.
https://www.freemalaysiatoday.com/category/world/2019/11/14/suu-kyi-named-in-landmark-argentine-lawsuit-for-crimes-against-rohingya/
------
Taliban prisoner swap for kidnapped professors never happened, says Afghan diplomat
Reuters -November 14, 2019
WASHINGTON: The planned exchange of two senior Taliban commanders and a leader of the Haqqani militant group for an American and an Australian kidnapped in Afghanistan in 2016 has not taken place, a diplomat and a former Afghan official said on Wednesday.
The diplomat, who spoke to reporters on condition of anonymity, declined to provide details about why the planned exchange, which Afghan President Ashraf Ghani announced on Tuesday, did not occur.
The US State Department did not immediately respond to a request for comment, nor did the Afghan and Australian embassies in Washington.
The Afghan government's decision to free Anas Haqqani and two other Taliban commanders, Haji Mali Khan and Hafiz Rashid, was taken in the hope of securing direct talks with the Taliban, which has refused to engage with what it calls an illegitimate "puppet" regime in Kabul. All three were captured in 2014.
In return US citizen Kevin King and Australian citizen Timothy Weeks, professors kidnapped by the Taliban in August 2016 from the American University of Afghanistan in Kabul, were to be freed.
https://www.freemalaysiatoday.com/category/world/2019/11/14/taliban-prisoner-swap-for-kidnapped-professors-never-happened-says-afghan-diplomat/
-------
Indonesia targets niqab and 167 Islamic books to counter rising tide of extremism
14 Nov, 2019
An Indonesian [1] ministry last week banned its staff from wearing the niqab, or full-face veil, while on duty, as the government grapples with a rising tide of extremism and intolerance in the country.
Tjahjo Kumolo, the Minister of Administrative and Bureaucratic Reform, told local media employees still had a choice to wear the garment when not working.
"In my opinion, when at work, it's better not to wear niqab. Just wear it outside the office," Tjahjo was quoted as saying by The Jakarta Globe. "If it is outside the office, wearing the niqab is each citizen's fashion right," the minister said, adding that all workers should wear their uniforms.
Indonesia's Religious Ministry was also considering adopting the same ban, while announcing plans to replace 167 Islamic textbooks deemed to contain extremist or intolerant material in schools by the end of the year.
"The intention is so that religious teachings can make students more tolerant and appreciate others who are different from them," said Kamaruddin Amin, director general for Islamic Education at the Ministry of Religious Affairs.
In another initiative, the government on Tuesday launched a website for the public to report "radical content" shared by public servants, to combat hardline Islamist ideology permeating the civil service.
Communications Minister Johnny G. Plate said the website aimed "to bring together and improve the performance of our civil servants, as well as to foster higher levels of nationalism".
A 2017 survey by independent Jakarta-based pollster Alvara Research Centre found that one in five civil servants and 10 per cent of state enterprise workers did not agree with the secular state ideology Pancasila, and instead favoured an Islamic theocratic state.
The measures, announced just weeks after President Joko Widodo's new cabinet [4] was sworn in, are viewed as an attempt to push back against intolerance and the continued spread of jihadist ideology online in the world's most populous Muslim nation.
Indonesia has suffered a string of terror attacks in the past 20 years, committed by both home-grown radical groups and Islamic State affiliates.
Communities such as the minority Muslim Ahmadiyya sect, LGBTI groups, and non-Muslim places of worship have also come under increasing attacks by Islamic vigilantes.
On Wednesday, a suicide blast [6] went off at a police station in Medan city, northern Sumatra, killing the bomber and injuring six civilians.
Observers and a human rights group said while there was a need to combat radicalisation, the government's measures were "shallow" and did not address the causes of violent extremism, such as discrimination and marginalisation.
Ismail Hasani, research director of rights group Setara Institute, said the initiatives were "not based on a comprehensive understanding of intolerance and radicalism".
"This will only give rise to new problems," he said.
Ismail said the website inviting the public to report civil servants for sharing "radical content" was particularly "dangerous" as it could lead to abuse. [7]
Others said the religious ministry's decision to revise contentious textbooks was not expected to be effective, as the subject of religion and the country's secular state ideology were taught separately.
"What is needed is an integration of the teachings of religion and Pancasila, [to show] that religion and Pancasila are partners in preserving diversity in Indonesia," said Robi Sugara, lecturer and counterterrorism analyst at Syarif Hidayatullah Islamic University.
The niqab ban led to protests from Islamic groups and also prompted moderate Muslim scholars to note that niqab wearers do not necessarily hold extremist views.
Yaqut Cholil Quomas, a politician from the National Awakening Party (PKB), said it was acceptable if the ban was a move to regulate work uniforms, but was problematic if it was based on the belief that all niqab wearers were "terrorists".
"Because those who wear the niqab are not necessarily radical, even though there has been several cases [of niqab-wearing terror suspects], like in the case of Wiranto's stabbing," said Yaqut, who is also a member of the Nahdlatul Ulama (NU), the country's largest Muslim organisation.
Former chief security minister Wiranto was last month stabbed in West Java [9] by a member of Jemaah Ansharut Daulah (JAD), a local radical group affiliated to Islamic State, while his niqab-wearing wife attacked a police escort.
Siti Musdah Mulia, a Muslim scholar and human rights activist, said the niqab was not indigenous to Indonesia. It originated from Assyria in 25BC, long before the birth of Islam in the seventh century, and was worn then by aristocratic women.
"This means the niqab originated from non-Islamic and non-Arab traditions," said Siti, who is also chairperson of the Indonesian Conference on Religion and Peace.
"The rise of the niqab in Indonesia took place in line with the spread of Salafi-Wahhabi groups and transnational Islam following the fall of New Order regime," she said, referring to the regime of the late President Suharto, who was ousted in 1998. [10]
Although the religious garment is commonly worn in ultraconservative Saudi Arabia and some other Gulf states, they are rare in Indonesia, where about 90 per cent of its 255 million people have traditionally followed a moderate form of Islam.
The Niqab Squad, a community of 5,000 members established in 2017 to defend the rights of niqab-wearing women, expressed "sorrow" at the ban and hoped the government could find a "win-win" solution which did not involve them having to choose between their faith and "carrying out their duties to the nation".
"Sad and concerned because the niqab does not undermine the professionalism and competency of our friends who wear it," said Diana Nurliana, the group's founder.
https://www.scmp.com/print/week-asia/politics/article/3037620/indonesia-targets-niqab-and-167-islamic-books-counter-rising
------
Entry Of Women Into Sabarimala, Mosques And FGM — Indian Supreme Court To Consider 'Common Policy' For Religious Places
November 14, 2019
The Supreme Court Thursday said it should evolve a "common policy" for religious places, as it referred to a larger Bench a batch of review petitions challenging its 2018 verdict on the entry of women into Sabarimala temple in Kerala. The Bench, headed by Chief Justice of India Ranjan Gogoi, said the restriction of women in religious places was not restricted to Sabarimala and was prevalent in other religions as well.
The apex court said the larger Bench would consider the entry of women into mosques and the practice of female genital mutilation, prevalent among the Dawoodi Bohras.
Entry of women into mosques
The most recent petition in the SC, seeking entry of Muslim women in mosques across the country, was deferred last week by a three-judge Constitution bench headed by CJI-designate Justice S A Bobde. The bench, which also comprised Justices S Abdul Nazeer and Krishna Murari, said it was adjourned for a "different reason".
The PIL, filed by a Pune-based couple, had been admitted in Court only because of the September 2018 Sabarimala judgment. The petitioners said restrictions were "unconstitutional" and violated fundamental rights to life, equality and gender justice.
The Court has already sought responses from the Maharashtra State Board of Wakf, Central Wakf Council and All India Muslim Personal Law Board on the petition.
Female genital mutilation
Female genital mutilation is the practice of complete or partial removal of female external genitalia, This is performed in an attempt to keep sexual desires under control. FGM is practiced in parts of Asia and Africa, including among the Bohra community — not just Dawoodi Bohras but other sects too — in India.
The World Health Organization (WHO) recognises four kinds of FGM, of which two are practiced in India — the partial or total removal of the clitoris; other harmful procedures such as pricking, piercing, incising, scraping and cauterizing the genital area. It is also known as khatna. According to WHO, over 200 million girls and women alive today have been subjected to the practice in 30 countries in Africa, the Middle East and Asia.
A petition in the Supreme Court last year called for a ban on the practice as it amounts to violation of a woman's right to life and dignity. The plea had been referred to a five-judge Constitution Bench on September 25, 2018.
https://indianexpress.com/article/india/supreme-court-religious-places-women-sabarimala-temple-mosques-female-genital-mutilation-6119097/
------
Terrorist like Osama bin Laden used to be 'Pakistani heroes': Pervez Musharraf
Nov 14, 2019
ISLAMABAD: Former Pakistan president Pervez Musharraf has admitted that Kashmiris were trained in Pakistan to fight against Indian Army in Kashmir and touted as 'heroes'.
Musharraf said that terrorist like Osama bin Laden and Jalaluddin Haqqani used to be "Pakistani heroes".
In an undated interview clip shared by Pakistan politician Farhatullah Babar on Wednesday on Twitter, Musharraf can be heard saying, "...In 1979, we had introduced religious militancy in Afghanistan to benefit Pakistan and to push Soviet out of the country. We brought Mujahideen from all over the world, we trained them, supplied weapons. They were our heroes. Haqqani was our hero. Osama bin Laden was our hero. Then the environment was different but now it is different. Heroes have turned to villains."
While talking about unrest in Kashmir, the self-exiled dictator said, "... Kashmiris who came to Pakistan received hero reception here. We used to train them and support them. We considered them as Mujahideen who will fight with the Indian Army then various terrorist organisations like Lashkar e Tayyiba rose in this period. they were our heroes."
The revelation by Musharraf is nothing but proof that Pakistan, which claims to have no interference in Kashmir, has been using terrorists to fuel tensions in the region.
India has repeatedly accused Pakistan of using its soil to perpetrate terror in neighbouring countries. Islamabad has been asked by the international community to take actions against terrorist groups operating in the country.
------
'We Will be Violent Against the Unbelievers': Erdogan Hints Syria Invasion Really Islamic Holy War
11-13-2019
JERUSALEM, Israel - Turkey is in the sixth week of its violent campaign to establish a so-called "safe zone" in northeast Syria. But watchdog groups and eyewitnesses on the ground say Turkey has aspirations far beyond the war-torn country. Social media posts from Turkish-backed fighters and statements from President Recep Tayyip Erdogan himself reveal that Ankara appears to be on violent jihadist mission.
Erdogan told the international community he needs to create a safe zone in northern Syria to relocate millions of Syrian refugees there. The premier also said that "Operation Spring Peace" will eradicate Kurdish-led forces in the region, forces he regards as terrorists but the US sees as allies.
The Middle East Media Research Institute (MEMRI) reports that Erdogan uses very different language when speaking to his Turkish troops and the Free Syrian Army jihadist mercenaries he has recruited for the fight.
MEMRI reports that on October 25, in a speech at the Çamlica Mosque in Istanbul, President Erdoğan said: "The Lord commands us to be violent against the unbelievers. Who is that 'we'? Muhammad's ummah. But he commands us to be merciful among ourselves. We will be merciful among ourselves, and we will be violent against the unbelievers, as happened in Syria."
Eyewitnesses on the ground tell CBN News that Turkish-backed forces are targeting "the unbelievers," many of whom are Christians.
Mindy Belz of WORLD Magazine told CBN News that Free Syrian Army soldiers, who are allied with Turkey, are marking Christian homes with the Arabic letter "N" to identify them as Christian and then confiscated their belongings just like ISIS did a few years ago.
"One of the Syrian refugees that I spoke to, and this was a Muslim, went out of his way to explain to me that what he saw was targeting of Christians," Belz said.
A senior State Department official said last week that Turkey is backing forces who have the same radical ideology as ISIS.
"The problem is that the people doing the fighting are these ill-disciplined Arab militias, some of whom we've worked within the past when we were arming the opposition, but many of whom are (a) ill-disciplined, and (b) relatively radical, and their ideology is essentially Islamic ideology," the official said.
A fragile government in northern Syria called the Democratic Autonomous Administration of North and East Syria (DAA) released a statement on Tuesday saying that Erdogan seeks to subjugate them through radical Islam.
"Erdogan plans to turn are free, democratic region back into turmoil under radical Islamic occupation," the government said.
Many Turkish Twitter users praise the invasion into northeast Syria as a form of jihad.
On October 6, user @zintaniii wrote:
"When jihad knocks on your door, you will not turn and look back. It's time for holy war. #OperationPeaceFountain."
On October 7, user @mollakevseri wrote:
"An army educated by Islam will change its route to avoid harming an anthill in times of peace. In times of jihad it will show its intention to win by making its enemies' blood flow thunderously like waterfalls. #OperationPeaceFountain.
On the same day, @muradiilahi wrote:
"Our renown will increase with jihad. #OperationPeaceFountain."
Critics of Erdogan's invasion say he is trying to revive the Ottoman Empire and establish a new caliphate.
"Their open intention is to restore the original caliphate which was disbanded in 1924," said Dalton Thomas of Frontier Alliance International.
Recently Turkey's defense minister posted a map to his social media that shows portions of Greece, Syria, and Iraq as part of a greater Turkey.
Defense Minister Hulusi Akar posted a message alongside the map: "We have no eyes on anyone's soil. We will only take what's ours."
The map reflects the 1920 Ottoman National Pact that includes lands Turkey believes it deserved at the end of World War I.
Charmaine Hedding of the humanitarian aid organization The Shai Fund told CBN News she sees a historical parallel with World War II.
"I think that what we have done as the West is that we have given over this so-called buffer zone to Turkey in the hope for peace in our time, just like Chamberlain did to Nazi Germany with the Sudetenland land and we know what happened after that."
https://www1.cbn.com/cbnnews/israel/2019/november/we-will-be-violent-against-the-unbelievers-erdogan-suggests-syria-invasion-is-really-an-islamic-holy-war
------
Anti-regime Shia activist dies at Dhahban prison in south Saudi Arabia: Report
Nov 13, 2019
An imprisoned anti-regime activist from Saudi Arabia's oil-rich and Shia-populated Eastern Province has reportedly lost his life, as a crackdown led by Crown Prince Mohammed bin Salman against pro-democracy campaigners, Muslim preachers and intellectuals continues in the kingdom.
Informed sources, requesting anonymity, told London-based and Arabic-language Nabaa television news network that Hussein Ali Abdulaziz Al Ribh died at Dhahban Central Prison near the Red Sea port city of Jeddah on Wednesday evening. The circumstances of his death remain unknown.
The 38-year-old man, a resident of al-Awamiyah town in the al-Qatif region of Eastern Province, is survived a wife and two sons, named Fares and Ridha.
Early on August 16, 2017, dozens of heavily armed Saudi regime agents, on board military vehicles, raided Al Ribh's family home, and destroyed the door of the house with explosives.
They reportedly took the family members to a corner of the house at gunpoint, and then took away Al Ribh without an arrest warrant and providing any justifications.
Eastern Province has been the scene of peaceful demonstrations since February 2011. Protesters have been demanding reforms, freedom of expression, the release of political prisoners, and an end to economic and religious discrimination against the oil-rich region.
The protests have been met with a heavy-handed crackdown by the regime, with regime forces increasing security measures across the province.
Over the past years, Riyadh has also redefined its anti-terrorism laws to target activism.
In January 2016, Saudi authorities executed Shia cleric Sheikh Nimr Baqir al-Nimr, who was an outspoken critic of the Riyadh regime. Nimr had been arrested in Qatif, Eastern Province, in 2012.
https://www.presstv.com/Detail/2019/11/13/611130/Shia-activist-Dhahban-prison-Saudi-Arabia
------
Facebook Removed Millions Of Christchurch Mosque Shooting Posts
Thursday, 14 November 2019
Facebook has taken down millions of images and articles worldwide depicting the Christchurch terror attacks, which killed 51 people.
The company has been under pressure to remove objectionable material since the shooter livestreamed the 15 March massacre.
The social media company's fourth community Standards Enforcement Report details the number of times it removed content violating its policies.
The company's vice president of integrity, Guy Rosen, said between 15 March and 30 September it took down 4.5 million Christchurch attack content, and 97 percent of these were removed before being reported.
Mr Rosen said some of the content that was taken down would not ordinarily violate their policies, such as news media publishing stills of the attack.
Mr Rosen said Facebook decided to remove all content globally out of respect for the victims of the tragedy.
Internet New Zealand engagement director Andrew Cushen told Morning Report that the large figure showed the scale and challenges the social networking site has had to deal with.
"These stats show how Facebook has learned and adapted and responded to that challenge to minimise that harm of sharing this content around the world."
He said the fact they had extended those policies to news outlets' content showed they had to make some pretty extreme decisions.
"That for me raises an interesting set of questions about how you support an organisation like Facebook to make decisions like that, and how rules like that should be applied around the world to make sure we are doing the right thing and minimising harm, and learning from an attack like this in the best way possible."
In May, Facebook signed up to the Christchurch Call in Paris, co-chaired by Prime Minister Jacinda Ardern and French President Emmanuel Macron.
It later announced changes including limiting who could use Facebook Live, and ensuring anyone in New Zealand who looked at extremist content on the site would in the future be directed to websites helping people to leave hate groups.
http://www.scoop.co.nz/stories/HL1911/S00068/facebook-removed-millions-of-chch-mosque-shooting-posts.htm
------
South Asia
Abrar Fahad: Bangladesh police charge 25 over murder
13 November 2019
Bangladesh police have charged 25 people following the killing of 21-year-old student in October.
Abrar Fahad was beaten to death by fellow students at one of Bangladesh's top universities, after posting criticism of government policy on social media.
His death sparked protests at university campuses across the country.
Police say 11 of those charged were directly involved in the killing, while the others helped organise the attack.
Bangladesh - a profile of the country
Many of the students charged were members of the youth wing of the Awami League, the ruling political party in Bangladesh.
The group, called the Bangladesh Chhatra League (BCL), has been widely accused of using torture and extortion against students.
What happened to Abrar Fahad?
Abrar Fahad was an undergraduate student at one of the most prestigious places of learning in the country - Bangladesh University of Engineering (Buet) in the capital, Dhaka.
He criticised the government over a water-sharing deal with India, in a post shared to his social media.
A few days later, his body was found in a dormitory.
Witnesses told the BBC he was taken from his room around 20:00 (14:00 GMT) and beaten for at least four hours before he died.
Dr Sohel Mahmud, the doctor who performed the autopsy, confirmed to the BBC that Fahad's body was heavily bruised.
He said: "There was a lot of blunt force trauma in his body. We think he died of attack with blunt objects."
A Buet student told the BBC they saw Fahad after he had been beaten, but they did not want to be named for fear of reprisals.
"With help from some junior students I carried Abrar downstairs. He was still alive."
"He was saying, 'Please take me to the hospital, quickly.'"
News of the death led to protests in the capital by Buet students, members of the teaching staff and former students. The demonstrations then spread to other cities.
Protesters chanted slogans and blocked roads, while some demanded the death penalty for anyone found guilty of the killing.
https://www.bbc.com/news/world-asia-50409831
------
At least 12, including children, killed in Kabul car bomb blast
AFP Kabul, Afghanistan Nov 13, 2019
At least 12 people, including three children, were killed when a minivan packed with explosives rammed into a vehicle carrying foreigners during Kabul's morning rush hour Wednesday, officials said.
Four foreign nationals were among those wounded in the attack that targeted an SUV belonging to a private Canadian security company, GardaWorld -- in a crowded neighbourhood which is near the interior ministry and north of Kabul airport.
"As a result of today's attack in Kabul, 12 people, including three children, were killed and 20 were wounded including four members of Gardaworld," Marwa Amini, an interior ministry spokeswoman, said.
All those killed in the suicide attack were Afghan civilians, and the nationalities of the foreigners wounded were not confirmed.
Interior Minister Massoud Andarabi said that one of those killed was a 13-year-old child heading to school.
"The enemies of our people should know that our people are determined for peace, nothing can stop them from achieving peace," he said.
A source at the interior ministry said the blast was detonated by a suicide bomber in the vehicle.
There was no immediate claim of responsibility. Both the Taliban and the Islamic State group are active in the city, which is one of the deadliest places in the war-torn country for civilians.
The blast came one day after Afghan President Ashraf Ghani announced that Kabul would release three high-ranking Taliban prisoners in an apparent prisoner swap with Western hostages who were kidnapped by the insurgents in 2016.
https://www.wionews.com/south-asia/at-least-12-including-children-killed-in-kabul-car-bomb-blast-261895
------
Mosque Construction Work Executed in Parwan
Written by Manager2
Thursday, November 14, 2019
Charikar (BNA) The construction work of a mosque was completed in Parwan province.
The mosque was built by local residents of Laghmani area of Charikar city, over 1500 square meters with funding from the Haj and Endowment ministry.
The governor of provincial council, and a number of Parwan local government officials attended the inauguration ceremony.
T. Yarzada
http://www.bakhtarnews.com.af/eng/social/item/40955-mosque-construction-work-executed-in-parwan.html
------
Airstrikes kill 11 Taliban militants in 3 districts of Helmand province
Thursday, 14 Nov 2019
The security forces conducted airstrikes in three districts of southern Helmand province in the past 24 hours killing at least 11 Taliban militants.
The informed military officials said Thursday airstrikes in Lashkar Gah district of Helmand killed at least 8 Taliban militants.
The officials further added an airstrike in Now Zad district of Helmand killed 2 Taliban militants while a similar airstrike killed 1 Taliban militant in Nad Ali district of the province.
The Taliban group has not commented regarding the airstrikes so far.
Helmand is among the volatile provinces in South of Afghanistan. Taliban militants are active in remote and restive areas of the province and often conduct terrorist related activities.
Meanwhile, the Afghan forces routinely conduct counter-terrorism operations against the anti-government armed groups in this province.
https://www.khaama.com/airstrikes-kill-11-taliban-militants-in-3-districts-of-helmand-province-04338/
------
Special Forces arrest Taliban fighters, destroy cache of weapons in Balkh
Thursday, 14 Nov 2019
The Afghan Special Forces arrested two Taliban militants during a raid in northern Balkh province of Afghanistan, the military officials said.
The officials further added that the Special Forces arrested the two militants during a raid in Chahar Bolak district of Balkh.
The Special Forces also destroyed a small cache of weapons during the same raid, the officials added.
The Taliban group has not commented regarding the raid so far.
The security situation in northern Balkh province has deteriorated during the recent months.
Taliban militants are active in remote and restive areas of the province and often conduct terrorist related activities.
Meanwhile, the Afghan forces routinely conduct counter-terrorism operations against the anti-government armed groups in this province.
https://www.khaama.com/special-forces-arrest-taliban-fighters-destroy-cache-of-weapons-in-balkh-04337/
------
UN mission in Afghanistan under fire for blocking critics after leakage of controversial letter
Thursday, 14 Nov 2019
The UN mission in Afghanistan is under fire on social media platforms for blocking its critics after the leakage of a controversial letter it had sent to Independent Election Commission of Afghanistan regarding the alleged inappropriate actions of an election commissioner.
The social media activists particularly in Facebook and Twitter have criticized the UN mission for blocking its critics, accusing the mission of adopting an approach to 'silent freedom of speech' by blocking people and deleting their comments on the two vastly used social media platforms.
In the meantime, the UN mission in Afghanistan in a statement said "As part of the mandate conferred on it by the UN Security Council and at the request of Afghan authorities, UNAMA provides support to the Afghan electoral authorities and their work to manage credible elections."
The statement further added "On 10 November, the head of UNAMA, sent an official letter to the IEC Chair, bringing to her attention the Mission's concerns about an incident in which an IEC Commissioner's actions were considered inappropriate and in violation of the Afghan Election Law. The letter invited the Commission to take measures to address the matter."
"In keeping with its mandate to advise Afghan electoral authorities, the purpose of the letter was to support and safeguard the integrity of the IEC and for the Election law to be respected," the statement said, adding that "It is a matter of concern that the letter was leaked to the media and has been politicized by some to misrepresent its purpose and contents."
Reacting to UN mission's letter, election commissioner Mawlana Mohammad Abdullah said in a Twitter post that the letter by Yamamoto Tadamachi, the UN Secretary General's Special Envoy for Afghanistan about him is rife with accusations, lies and is shocking which raises questions regarding the credibility of an international institution.
Mawlana Abdullah further added that neither he has insulted the religion, race and religious values of anyone nor he has threatened anyone to death, warning that he would file a lawsuit against the accusations of UNAMA.
https://www.khaama.com/un-mission-in-afghanistan-under-fire-for-blocking-critics-after-leakage-of-controversial-letter-04336/
------
121 ISIS militants and their family members surrender to Afghan forces in Nangarhar
Wednesday, 13 Nov 2019
A group of 121 ISIS militants and their family members surrendered to the Afghan forces amid ongoing operations in eastern Nangarhar province.
According to a statement released by Ministry of Defense (MoD), 10 ISIS militants handed themselves over to the Afghan forces together with 111 family members of their comrades including 46 women and 65 children.
The statement further added that the ISIS militants surrendered in Achin district of Nangarhar province.
The ISIS militants also handed over some weapons to the Afghan forces, the Ministry of Defense added.
The defense ministry also added that the Afghan forces launched counter-terrorism operations nearly a month ago to suppress the terror group in Nangarhar province.
https://www.khaama.com/121-isis-militants-and-their-family-members-surrender-to-afghan-forces-in-nangarhar-04335/
------
Afghan presidential poll results further delayed as IEC halts vote recount process
Wednesday, 13 Nov 2019
The Independent Election Commission of Afghanistan has announced that it has halted the vote recount process across Afghanistan.
According to a statement released by election commission, the audit and recount process of votes has been stopped until further notice.
However, the election commission said the resolution will not apply on polling stations whose votes are under scrutiny and are being recounted.
This comes as certain electoral teams of Abdullah Abdullah, Gulbuddin Hekmatyar and Rahmatullah Nabil had called for the suspension of the vote recount process.
Meanwhile, election commissioner Aurangzeb has said the election commission has postponed the preliminary vote results which were due to be announced on Thursday.
Aurangzeb further added that the election commission has postponed the preliminary vote results announced due to the existing tensions over vote recount process of more than eight thousand polling stations.
https://www.khaama.com/afghan-presidential-poll-results-further-delayed-as-iec-halts-vote-recount-process-04334/
------
Southeast Asia
Mujahid, in charge of Islamic affairs, Malaysia, pledges 'new narrative' on Islam, defends policies
FMT Reporters -November 13, 2019
Mujahid Yusof Rawa.
PETALING JAYA: The minister in charge of Islamic affairs today appeared on the BBC Hardtalk programme to defend the government's track record on contentious issues affecting Islam, while pledging to come up with a "new narrative" on Islam that he said would not repeat past mistakes.
"When we came to power, we rejected being a government which used and exploited religion and race for political purposes. So that is why we are now proposing or advocating Islam as a very progressive religion.
"And we have come with a new narrative of Islam in Malaysia with the new government, with what we call the compassionate Islam, that we hope would trigger national unity," Mujahid said in the interview with host Zeinab Badawi, aired tonight by BBC.
Mujahid said the Pakatan Harapan (PH) government must not "repeat the same mistakes of the previous government" when it comes to Islamic issues.
"In order to do that, you need to have a strong narrative of Islam," he said.
During the 30-minute progamme, he was asked about the Islamic authorities' crackdown on Shia Muslims in Malaysia as well as his statements praising controversial preacher Dr Zakir Naik.
But Mujahid denied endorsing the Indian Muslim preacher, saying he had repeatedly warned him about his provocative speeches at a meeting held in March this year.
"All these words and statements are not suitable in Malaysia, and I have said this many times. I also warned him about his position in Malaysia, that he should be more alert in the sense that Malaysia is a multiracial country."
On March 13, Mujahid had met Naik, saying on his Facebook page that the televangelist's efforts to preach Islam had taken him to every corner of the world and served as an "inspiration" to others to keep on preaching.
Mujahid maintained this was not an endorsement, however, adding that it did not represent the full picture of his stand on Naik.
"That doesn't mean that I agree with whatever he's doing in Malaysia because I have a nation to protect … You can also check my other statements about him."
He also brushed aside questions on the authorities' persecution of Sisters in Islam, saying it was not the action of the present government.
"They were the first to come and see me. I invited them and talked to them to see how they can play a better role in advocating and helping oppressed women.
"I don't think in my position as minister of religious affairs that I've neglected their position."
https://www.freemalaysiatoday.com/category/nation/2019/11/13/grilled-on-hardtalk-mujahid-pledges-new-narrative-on-islam-defends-policies/
------
Freed from jail, ex-UM student, Noor Aishah Atam, who kept 'terror books' has second thoughts about Sosma
Adam Abu Bakar -November 14, 2019
PETALING JAYA: A former Universiti Malaya (UM) student who was arrested under Sosma two years ago now says the controversial security law against which she once fought could be beneficial.
Siti Noor Aishah Atam, who got into trouble for keeping reading materials promoting extremist ideologies, said Sosma, or the Security Offences (Special Measures) Act 2012, had "its pros and cons".
She said criminals would rejoice if the law was abolished, a promise made by Pakatan Harapan.
"Previously I agreed that Sosma should be abolished, but now I am clueless," she told FMT in a recent interview.
Now 32, Aishah who was released from jail in December last year, is trying to adapt to a new life in Terengganu.
She made headlines two years ago when she was found guilty under Sosma as well as the Prevention of Crime Act of possessing 12 books promoting extremism, five of which were authored by al-Qaeda followers and one by Osama bin Laden.
Aishah said then that the books were for research for her master's degree in Islamic Studies, an excuse dismissed by the court.
Aishah is currently a health consultant at a private company in Terengganu.
"I waited for the controversy about me to taper down. Only then did I pluck up the courage to go out and apply for jobs," she said, adding that she was careful not to let her identity create problems for her.
"They only know me as Aishah.
"My focus now is to work and become financially stable. Once I have achieved that, I will think about pursuing my studies. I am not that young anymore."
The Kuala Lumpur High Court sentenced Aishah to five years' imprisonment but her jail term was later reduced to three years.
Aishah was also dismissed by UM for failure to attend classes.
She is now determined to leave the past behind.
"Insha Allah, I will succeed. I just need to think positively. If I keep harbouring negative thoughts, I won't be able to move on," she said.
https://www.freemalaysiatoday.com/category/nation/2019/11/14/freed-from-jail-ex-um-student-who-kept-terror-books-has-second-thoughts-about-sosma/?utm
------
One dead, six injured in suicide bombing at Indonesian police station
AFP Medan, Indonesia Nov 13, 2019, 07.11 PM (IST)
A suicide bomber blew himself up at a police station in Indonesia on Wednesday, killing himself and wounding six others, according to authorities who described the 24-year-old attacker as a "lone wolf".
The motive for the attack was not immediately known, but police stations have been frequent targets for radicals in the world's biggest Muslim majority nation, which has long struggled with Islamist militancy.
The blast happened around 8:45 am (0145 GMT) at the police compound in Medan on Sumatra island during morning roll call.
"For now, we believe he was a lone wolf," national police spokesman Dedi Prasetyo told reporters in Jakarta.
"The anti-terror squad and forensics unit are still examining the crime scene," he added.
At least six people were wounded in the blast, including four officers and two civilians, but their injuries were not severe, he added.
The attacker -- whose identification listed him as a student -- wore an explosive device on his body, with authorities recovering nails, an on-off switch button, cables and body parts, Prasetyo said.
A bloody corpse lying in the compound's parking lot appeared to have been blown apart.
Police said the attacker was active on social media, while CCTV footage showed him entering the compound wearing a uniform worn by drivers of a popular ride-hailing service.
The attack came a day after Indonesia launched a website that lets the public report "radical" content posted by government workers, including material that promotes hate or intolerance.
The Southeast Asian nation of some 260 million has significant numbers of religious minorities -- including Christians, Hindus and Buddhists -- who have been targeted by radical Islamist groups amid concerns about rising intolerance.
Police stations have also been a frequent target of militants, some of whom have called for the pluralist country to become a strict Islamic state.
In August, authorities shot and arrested a militant who attacked officers at a station in Indonesia's second-biggest city, Surabaya, while in June another was seriously wounded when he tried to blow himself up outside a police building on Java island.
Last month, Indonesian President Joko Widodo ordered beefed-up security after two militants from an Islamic State-linked terror group stabbed his chief security minister.
He survived the attack, which led to the arrests of dozens of terror suspects.
The attackers were identified as members of Jamaah Ansharut Daulah (JAD), an extremist network loyal to IS and responsible for several previous attacks -- including deadly suicide bombings at several churches in Surabaya last year.
https://www.wionews.com/world/one-dead-six-injured-in-suicide-bombing-at-indonesian-police-station-261872
------
Chinese won't swallow BN lies, Dr M says in Tanjung Piai
Ho Kit Yen -November 14, 2019
PONTIAN: Dr Mahathir Mohamad voiced confidence today that Chinese voters in Tanjung Piai would not be easily duped by the accusations of those linking Pakatan Harapan's (PH) candidate Karmaine Sardini with the distribution of leaflets based on the "buy Muslim first" campaign.
The prime minister said the opposition had also lied by implying that he was campaigning for Barisan Nasional's (BN) candidate because he wore blue.
"This is to get the Chinese angry, but I do not see the Chinese being so stupid as to be cheated.
"They are smart because they have gone through many elections," he said after attending a breakfast session with the locals here.
He was responding to questions on claims that pamphlets saying "vote Muslim first" had been distributed at a PH ceramah in Kukup Laut.
The leaflets reportedly featured a red halal logo as well as background information on Karmaine and the achievements of the late Tanjung Piai MP Md Farid Md Rafik.
"When voting, it should be that when there is a Muslim and non-Muslim candidate, we choose the Muslim no matter the party.
"When there is more than one Muslim candidate, we choose the biggest. So vote PPBM. This follows the right principles," the leaflet said.
PPBM Youth chief Syed Saddiq Syed Abdul Rahman later spoke of suspected sabotage, saying no one had any knowledge of the printing or distribution of the flyers.
When asked about concerns over recognition of the Unified Examination Certificate and funding for Universiti Tunku Abdul Rahman, Mahathir said every race would have its own issues and concerns.
"We try to find ways to resolve this dispute," he added.
On who would replace PPBM's Md Farik Md Rafik as deputy minister in the Prime Minister's Department, Mahathir said he had yet to make a decision.
"Let us think about that after the by-election," he said.
Farik, who held the national unity portfolio, died in September, triggering the by-election in Tanjung Piai this Saturday.
https://www.freemalaysiatoday.com/category/nation/2019/11/14/chinese-wont-swallow-bn-lies-dr-m-says-in-tanjun
------
Dr M certain Tanjung Piai's Chinese voters won't fall for 'Buy Muslim First' pamphlets
Thursday, 14 Nov 2019
PONTIAN, Nov 14 — Tun Dr Mahathir Mohamad said voters were unlikely to be tricked by pamphlets calling for Muslims to vote for Pakatan Harapan candidate Karmaine Sardini.
He said the pamphlets found at last night's Ceramah Mega here in Kukup were falsely attributed to PH to turn the Chinese community against it.
"There is a pamphlet issued in support of PH candidate Karmaine Sardini, but on other page there is a 'Buy Muslim First campaign' which is intentionally trying to stoke Chinese anger.
"I do not think the Chinese (community) will be fooled by such things where they are wiser during elections and would not vote BN just because of such posters," said Dr Mahathir.
He said this after having breakfast with some 200 non-governmental organisations (NGO) members and supporters at Warung 800 in Pekan Nanas here today.
Also present was Dr Mahathir's wife Tun Dr Siti Hasmah Mohd Ali and other Bersatu leaders including the party's president Tan Sri Muhyiddin Yassin and Johor Mentri Besar Datuk Dr Sahruddin Jamal.
Last night, Malay Mail reported PH as claiming the pamphlets to be political sabotage. They were earlier placed on chairs, urging the Malay-Muslim community to vote for a Muslim candidate under the "Buy Muslim First" campaign
Karmaine is a mosque imam.
Dr Mahathir admitted there were unresolved issues with the country's various racial communities in the country that the government was trying to solve.
The 94-year-old prime minister urged Malaysians to put aside their needs and focus on what the country needs first as the government could not entertain every single person.
"As the prime minister who chairs Cabinet meetings, I want to say that all of us are able to deliberate on issues and find solutions properly to develop the country," said Dr Mahathir.
He also reminded the people that only the government is capable of bringing change and development to Tanjung Piai, and PH candidate Karmaine will be the bridge between the parliamentary constituency and the federal government.
"Should there be any problems or issues here, only the government is able to solve them.
"The Opposition, no matter how good they are, will be unable to do much.
"So, let's focus on solving the people's problems and maintaining our peace and stability by supporting PH," said Dr Mahathir.
The Tanjung Piai by-election will see a six-way contest between PH's Karmaine, BN's Datuk Seri Wee Jeck Seng, Gerakan's Wendy Subramaniam, Berjasa's Datuk Badhrulhisham Abdul Aziz, and two independent candidates Ang Chuan Lock and Faridah Aryani Abdul Ghaffar.
Polling is scheduled for this Saturday.
https://www.malaymail.com/news/malaysia/2019/11/14/dr-m-certain-tanjung-piais-chinese-voters-wont-fall-for-buy-muslim-first-pa/1809860
------
Indonesian e-commerce giant Tokopedia aiming for 10% of total transactions to come from new Islamic marketplace
13 NOV 2019
JAKARTA - Indonesian tech unicorn Tokopedia is aiming for at least 10% of its transactions to come from its new Islamic marketplace, its CEO Garri Juanda told Salaam Gateway.
The company that started in 2009 handled 73 trillion rupiah ($5.18 billion) in transactions last year and estimates that around 10% came from halal, Islamic and Muslim-friendly products.
Tokopedia Salam was launched in early November in response to demand from users, according to Garri. Internal research found that more than 80% of Tokopedia users have the need to buy food labelled halal, and more than 85% shop in the Muslim fashion category.
The tech company is now targeting three times more transactions overall this year to 222 trillion rupiah.
Garri expects Tokopedia Salam to grow at least 300 percent next year.
"At this moment, we are focusing on helping Indonesians fulfil their various daily necessities from a wide and comprehensive selection of trusted Muslim-friendly products and services through Tokopedia Salam," said Garri.
The Islamic marketplace currently sells more than 21 million Muslim-friendly products from more than 700,000 sellers across all categories including food, beverages, fashion, beauty, and umrah packages.
The e-commerce giant is also collaborating with a number of social institutions, including NU Care-LAZISNU, Rumah Yatim, Dompet Dhuafa, and the National Zakat Board (BAZNAS) to enable users to donate digitally and use the platform for other Islamic social finance and charitable purposes.
Tokopedia Salam provides Shariah-compliant payment methods, including from banks BRI Syariah, Bank Muamalat and Mandiri Syariah.
Shariah-sensitive investors can also access options such as Tokopedia Emas and Tokopedia Reksa Dana Syariah.
"We hope the launch of Tokopedia Salam will assist anyone from all walks of life in finding a variety of trusted Muslim-friendly choices and simultaneously supporting the democratisation of the Shariah economy in Indonesia through technology," said Garri.
Tokopedia most recently won Series G funding in 2018 from SoftBank Vision Fund and Alibaba Group. The company is widely estimated to be valued at $7 billion.
($1 = 14,079.20 Indonesian rupiah)
(Reporting by Yosi Winosa; Editing by Emmy Abdul Alim emmy.abdulalim@salaamgateway.com)
https://www.salaamgateway.com/story/indonesian-e-commerce-giant-tokopedia-aiming-for-10-of-total-transactions-to-come-from-new-islamic-m
------
Internationalisation 'our agenda from here on' as global Islamic economy expands - Malaysia's digital agency chief
BY RICHARD WHITEHEAD
13 NOV 2019
KUALA LUMPUR - Malaysian tech companies should look beyond Malaysia as the global Islamic economy expands, said Surina Shukri, CEO of MDEC, the government agency charged with promoting the country's digital economy.
Surina was speaking at the launch of the State of the Global Islamic Economy 2019/20 report in Kuala Lumpur on Wednesday (Nov 13), that said Muslims spent 5.2% more in 2018 to $2.2 trillion across the food, pharmaceutical and lifestyle sectors.
The annual report, produced by Salaam Gateway's parent, DinarStandard, forecasts Muslim consumption to reach $3.2 trillion by 2024.
"33% of the Islamic diaspora now doesn't live in Islamic countries. The whole world is waking up in terms of the Islamic digital economy's potential," Surina told Salaam Gateway.
"This lends itself to e-commerce, not just in Malaysia but internationally. Our agenda from here on is going to be internationalisation of all our companies, not just our digital start-ups but our SMEs as well," said the CEO.
"Malaysia has a huge export agenda, it's a huge opportunity."
According to the report, investments have been playing an important role in driving growth across the Islamic economy. It tracked $1.2 billion invested globally in Islamic economy companies for the 12 months to end-July, reflecting an increase of 399% compared to 2017.
This figure reflects a broad span of corporate-led acquisitions, venture investments in halal-tech start-ups and private equity investment. Halal products garnered the lion's share of investments, accounting for 54% of deal value, followed by Islamic finance at 42% and 4% in Islamic lifestyle, mainly in modest fashion and Muslim-friendly tourism.
The report identified a handful of sectors, including Islamic fintech and umrah travel tech as being "hot sectors" for growth in 2020.
Baiza Bain, a Kuala Lumpur investor in halal start-ups and founder of Ficus Venture Capital, said this year's figures stacked up well for the investment community as they will help inform investors on market sizes and growth levels.
"As VCs, we look at the addressable market. Reports like this are always useful because they go in depth and they actually show the addressable market for companies we have our eyes on in terms of investment," Baiza told Salaam Gateway.
"For halal technology, you wouldn't know what is the addressable market in normal circumstances when you meet a company, because they try to extrapolate a general number," he said.
In addition to the halal and lifestyle sectors, the report said Islamic finance assets increased by 3.5% to $2.5 trillion in 2018. It forecasts assets to reach $3.5 trillion by 2024.
While this growth is "encouraging", Dr Liza Mydin, head of corporate strategy at Maybank Islamic, said there are still areas where Shariah-compliant finance still needs to catch up.
"When one speaks about the halal economy, Islamic finance should be a given, but that's not the case at the moment," Dr Liza told Salaam Gateway.
"The fact is that a number of investments still lag: we aren't putting out our investment offerings and capturing the market. That we only account for about 0.1% of overall investment globally shows what must be done in terms of providing Shariah investments to the market."
Islamic fintech also needs a boost. While DinarStandard lists 93 start-ups globally, "recent growth is still solidly based more on traditional banking services and products," it says, adding: "Islamic banks can unlock substantial growth and profitability through digitisation."
"The fintech space is very much a closed community. There needs to be more cross-sector collaboration: fintech needs to talk to the halal economy and food segments," said Dr Liza.
"At policy level and industry level we need to have more cross-sector engagement of fintech. Partnerships will need to be more central," she added.
Muslim expenditure on pharmaceuticals continues to grow and is expected to increase from $92 billion last year to $134 billion in 2024, according to the report.
Muslim-majority countries are net importers of pharmaceuticals, with exports predominantly in the hands of non-Muslim countries led by Germany and France, says the report.
"Even the concept of halal pharmaceuticals is poorly understood in Organisation of Islamic Cooperation (OIC) countries, not having gained the same traction as other Islamic economy sectors, such as halal food and modest fashion," it says.
Seri Azalina Mohd Ghazalli, halal and government relations manager at Duopharma Biotech, the first Malaysian pharmaceuticals company to have halal certification, acknowledged there are misconceptions among Muslim consumers.
"We always want to correct their understanding as to how halal is bringing a value proposition to the pharmaceutical industry," Seri Azalina told Salaam Gateway.
"Regardless of whether our products are halal or not, we are still selling our products and we know that the halal component gives them a plus factor."
Companies could "generate substantial growth" by pursuing halal gelatin, nutraceuticals and vaccines, according to DinarStandard.
"It's a realisation of the state of the economy and where we should take up the opportunity further with new product categories. In Malaysia we are looking at how we expand further," said Seri Azalina.
(Reporting by Richard Whitehead; Editing by Emmy Abdul Alim emmy.abdulalim@salaamgateway.com)
https://www.salaamgateway.com/story/internationalisation-our-agenda-from-here-on-as-global-islamic-economy-expands-malaysias-digital-age
------
India
Not Heard From Muslim Board On Reviewing Ayodhya Verdict: Iqbal Ansari
November 14, 2019
AYODHYA: Ahead of a meeting of the All India Muslim Personal Law Board to decide whether to seek a review of the Supreme Court verdict in the Ayodhya case, Iqbal Ansari, the main litigant, said on Wednesday he has "not received any communication" from the AIMPLB in this connection.
Mr Ansari, 53, along with several other local Muslim leaders had recently said the five acres of land to be allocated for building a mosque as per the landmark verdict in the Ram Janmabhoomi-Babri Masjid dispute should be within the 67 acres of land acquired by the government in Ayodhya.
"I know the Muslim Board (AIMPLB) is holding a meeting on Sunday to take a decision on seeking a review of the Supreme Court judgement. I have not received any communication in this connection," he said, when asked if he has been asked by the Board to be part of this process.
"The Board can do whatever it wants now. I do not wish to be any party to that. I feel the judgement has settled a protracted dispute and the society should acknowledge that," he said.
Two senior police officials and a senior district administration official met Ansari late Wednesday evening at his home at Kotia Panjitola colony located near the Ramjanmabhoomi site.
During the meeting, the officials told Mr Ansari to be "cautious in making statements" given the sensitivity of the issue, sources said.
The city of Ayodhya on Wednesday virtually remained fortified with a posse of security forces patrolling and keeping strict vigil while most of the inner roads were still barricaded to restrict movement of vehicles of large crowds.
Mr Ansari became the main litigant after his father Hashmi Ansari died in 2016, in his late 90s, having fought the case since 1949.
Hashmi Ansari was given police security which has now been given to his son too.
Settling a fractious issue that goes back more than a century, the Supreme Court in a historic verdict on Saturday cleared the way for the construction of a Ram temple by a government trust at the disputed site in Ayodhya, and ruled that an alternative five-acre plot must be found for a mosque in the Hindu holy town at a "prominent" location.
Soon after the verdict, the AIMPLB in a press conference in Delhi had said that it would soon hold a meeting of its working committee to decide whether to seek a review of the judgement.
While Mr Ansari sought to steer clear of his earlier remarks, proposing the mosque be built within the 67 acres of the acquired land surrounding the Ramjanmabhomi site, he reiterated that he personally was "not in favour of a review".
At the November 9 press conference in Delhi, AIMPLB member Zafaryab Jilani had said, "We are dissatisfied with certain findings of the Supreme Court.... We respect the Supreme Court verdict and respectfully disagree with certain aspects of it."
Jilani had said the Board will carefully study the 1,045-page judgement and may seek a review.
"Even the inner courtyard has been given to the other party. It is not just," he argued, adding the working committee of the board will soon sit and discuss. "Whatever legal recourse is possible we will take," he told reporters hours after the verdict.
The dispute over the site of Babri Masjid, a three-domed mosque built by or at the behest of Moghul emperor Babur, dates back centuries with Hindus contending that the invading Muslim armies had razed an existing Ram temple to erect the mosque.
However, it turned into a legal dispute in 1885 when a mahant went to court seeking permission to build a canopy outside the mosque. The plea was dismissed.
In December 1949, unidentified men spirited an idol of Lord Ram into the mosque. The structure was demolished by a large mob of kar sevaks on December 6, 1992.
https://www.ndtv.com/india-news/iqbal-ansari-not-heard-from-muslim-board-on-reviewing-ayodhya-verdict-2132179
------
Cleric among 4 held for UP mosque blast
November 14, 2019
Four people, including a cleric, were Wednesday arrested in connection with an explosion inside a mosque at Bairagipatti village in Kushinagar district two days ago.
They were identified as Maulana Azeemudin (28), Izhar, Aashiq and Javed. Three others — Qutubuddin Ansari, Ashfaq and Munna, all from the same village — are on the run.
The blast was earlier reported as an inverter battery explosion. But Kushinagar SP Vinod Kumar Mishra said the battery was found intact. He said some explosive substance, which was kept inside a room in the mosque, had exploded due to "heat".
"During interrogation, Azeemudin told the police that around four months ago, a local, Qutubuddin Ansari, came to the mosque carrying a plastic bag and told him there was a powder inside. He asked him to keep it safe and ensure it did not come in contact with any other object. Ansari also told him that the material would be used at an appropriate time," the SP said.
The SP said the motive behind the storage of the powder would be clear after Ansari's arrest.
An ATS team, along with the police, is probing the case.
A case has been filed under IPC sections 147, 295 and 120-B, besides provisions of the Explosives Act and Criminal Law (Amendment) Act.
https://indianexpress.com/article/india/cleric-among-4-held-for-up-mosque-blast-6118556/
------
Muslim litigant ready to file Ayodhya review petition in SC with AIMPLB support
Nov 14, 2019
LUCKNOW: Days after the Supreme Court verdict on Ayodhya, Mohammad Umar, son of one of the first Muslim litigants, announced on Wednesday he was ready to file a petition after a nod from the All-India Muslim Personal Law Board (AIPLBM).
Talking to TOI from Ayodhya, Umar said alternate land for the mosque outside the acquired 67 acres may not be acceptable. "I am ready to move a review plea, if asked by AIMPLB, which will have to legally back me. We were fighting for Babri mosque, not a piece of land," said Umar, whose father Mohammad Farooq was one of the first six Muslim litigants in the Ram Janmabhoomi-Babri Masjid dispute, along with Hashim Ansari.
When asked about his stand on the five acres allotted for the mosque at an alternative site, Umar asked, "Why should the mosque be built away from the site of the demolished Babri masjid? Why should we go somewhere else to offer prayers? Land for the mosque should be given within the acquired site and not beyond," he said.
After the demolition of the Babri masjid, the then Congress government of Prime Minister P V Narasimha Rao passed the "Acquisition of Certain Areas at Ayodhya Act" to acquire 67 acres around the 2.77-acre disputed site where the Babri masjid had stood.
Another key litigant, the UP Sunni Central Waqf Board, has already announced it won't go for a review petition and will decide whether to accept the five acres of land soon. AIMPLB member and Babri Masjid Action Committee convenor Zafaryab Jilani had earlier told TOI the board would take a call on the review petition at its November 17 meeting in Nadwatul Ulama.
https://timesofindia.indiatimes.com/india/muslim-litigant-ready-to-file-ayodhya-review-petition-in-sc-with-aimplb-support/articleshow/72047357.cms
------
Pakistan
'Thank God it was unsuccessful,' Fawad Chaudhry says of JUI-F sit-in
14 November 2019
Addressing a press conference, Minister for Science and Technology Fawad Chaudhry says that they [the government] will tackle 'Plan B' of the JUI-F protests the same way that they had tackled 'Plan A'.
"Maulana sahib has left quite a lot of work for CDA," he said, referring to the Islamabad sit-in.
Chaudhry alleged that JUI-F chief Maulana Fazlur Rehman has a narrative of "extremism".
"The religious politics of the country have been damaged by this dharna [...] The narrative is one of the division of society," he said.
"Thank God it was unsuccessful," the minister said, adding that the JUI-F chief should learn a lesson from this.
https://www.dawn.com/live-blog/
------
PML-N rejects govt's condition of indemnity bond for Nawaz's travel, decides to approach court
Dawn.comUpdated November 14, 2019
PML-N president Shehbaz Sharif is addressing a press conference to discuss the government's conditional decision to allow former prime minister Nawaz Sharif to travel abroad for medical treatment.
He announced that the PML-N's legal team has approached the Lahore High Court against the government decision.
It emerged while Shehbaz's press conference was underway that a two-member bench of the LHC headed by Justice Ali Baqar Najafi will hear the PML-N president's petition seeking removal of Nawaz's name from the Exit Control List.
The government had on Tuesday announced that Nawaz will be given a "one-time" permission to travel abroad for his medical treatment for a period of four weeks. It said the permission would be subject to the Sharif family submitting an indemnity bond "to the tune of Rs7-7.5 billion".
Shehbaz during the presser said the government by asking the PML-N to submit indemnity bonds to secure permission for Nawaz to travel abroad was, in fact, demanding "ransom" and the decision was not acceptable to the PML-N in any condition.
He said the "political game" staged by Prime Minister Imran Khan and his team regarding the PML-N supremo's health is condemnable. The prime minister can "neither give nor take an NRO [National Reconciliation Ordinance-like deal]", Shehbaz added.
He asked the government whether Nawaz had submitted any indemnity or surety bonds when he had voluntarily returned to the country from London in July 2018 after he was sentenced to serve prison time by a trial court in the Avenfield reference.
"And today when two high courts have granted him bail and said that he can avail treatment in Pakistan or abroad, the government is doing politics on the issue.
"Renowned lawyers of the country have criticised the [government] decision," the PML-N president said.
"There is no example of dirty politics in the country's history over the health of anyone," he added while accusing the government and other institutions of passing the buck to each other regarding deciding the matter.
"Nawaz Sharif's health was turned into a shuttlecock," he said.
A senior leader of the PML-N had earlier said: "The option of moving the court to seek directives for the government to remove the PML-N supreme leader's name from the ECL is under serious consideration. It is highly expected that opposition leader in the National Assembly Shahbaz Sharif files a petition in a day or two."
"The government's offer is the worst example of the government's vendetta against the Sharif family," Nawaz's son Hussain Nawaz said in a tweet while reacting to the government's move.
With additional reporting by Rana Bilal in Lahore.
https://www.dawn.com/news/1516693/pml-n-rejects-govts-condition-of-indemnity-bond-for-nawazs-travel-decides-to-approach-court
-----
Nawaz's political legacy, his workers are guarantors of his return, says Khawaja Asif
Dawn.comNovember 14, 2019
PML-N leader Khawaja Asif on Thursday accused the government of "playing with Nawaz Sharif's life" and insisted that the former prime minister be allowed to go abroad for medical treatment.
The former minister criticised the government for demanding indemnity bonds worth Rs7 billion, saying, "This Rs7 billion's surety bond has no monetary value but, against the backdrop of Pakistan's [political scene], it is a deadly thing. It will muddy politics in Pakistan."
"We, his workers, are guarantors of his return," Asif declared. "Pakistan's public will bring him back, God will bring him back, his three terms as prime minister, that are his legacy, will bring him back."
"A man who has everything in Pakistan, his politics is in Pakistan — politics is the most valuable property for politicians — his political career spanning 35-40 years, his voters are in Pakistan.
"He does not want to leave Pakistan. His doctors told him in front of me, that we (the doctors) have done as much as we can and while we have the capability to treat you, we do not have the technology or the wherewithal," Asif told the parliament and added that a government doctor had recommended Nawaz to go to Massachusetts General Hospital in Boston, where all his ailments can be treated.
The PML-N stalwart alleged that the government was "playing with [Nawaz's] life" and lamented that Law Minister Farogh Naseem had advocated freedom of movement for former president Pervez Musharraf but not for Nawaz.
"Uphold principles, do not make statements to suit current circumstances," the PML-N leader said, adding: "I request [the government] not to turn Nawaz Sharif's life into a pawn."
He went on to claim that a "law officer told a court official [...] that the government's stance [on Nawaz's health] is 'let him die for all we care'".
He also alleged that during a meeting of government members, Prime Minister Imran Khan had asked to confirm if Nawaz's reports were being meddled with. "These attitudes are self-destructive," the PML-N leader warned.
"A thrice-elected prime minister, Nawaz Sharif, is fighting for his life and his doctors have been expressing concern regarding his health for the past few months. I am proud that even while he is fighting for his life, he has not forgotten his real battle, which is vote ko izzat do (respect the vote), he is still fighting on that front as well," Asif said amidst applause from opposition benches.
"Let's bring some civility in our attitudes," he added.
Asif alleged that parts of his previous speeches in the assembly had been "muted" and asked: "When we (the parliamentarians) don't have freedom of expression, how will they (journalists) get it?"
PTI lawmaker Murad Saeed, however, questioned the 'special treatment' for the former prime minister, saying it was unfortunate that the PML-N could not improve health care enough that Nawaz could have been treated here.
"A child dies in his mother's arms after a dog bite — that's the state of medical facilities in Pakistan [...] while the former premier is being asked to be sent abroad," he said.
https://www.dawn.com/news/1516691/nawazs-political-legacy-his-workers-are-guarantors-of-his-return-says-khawaja-asif
-----
IHC reserves verdict on contempt cases against Awan, Ghulam Sarwar
Tahir Naseer
November 14, 2019
The Islamabad High Court (IHC) on Thursday reserved its verdict on contempt of court cases against Aviation Minister Ghulam Sarwar Khan and prime minister's aide Firdous Ashiq Awan, after both of them offered unconditional apologies for their remarks.
The verdict of the cases, which were being heard together by IHC Chief Justice Athar Minallah, will be announced on November 25.
During the hearing of the case, Justice Minallah lashed out at Sarwar for linking the release of Nawaz Sharif on bail with a 'deal'.
"You are a representative of the federal cabinet," the IHC chief justice said. "You have raised questions on the medical board [constituted by the government].
"The court announced a verdict on that medical board and you declared it as fake."
The aviation minister said that he had "expressed doubts" about the medical board.
"You have tried to influence a pending case," declared Justice Minallah. "This is contempt of court and you don't even realise what you have said."
"I do realise," Sarwar insisted. Justice Minallah said that the court "respects" the minister.
"The purpose of summoning you here is to make you understand," the chief justice said.
"You tried to make people lose confidence in institutions by your remarks."
Sarwar offered an "unconditional apology" and said: "I apologise if my remarks have caused pain to the court."
"The court does not experience pain," the judge said. "Court verdicts are recorded by history."
The court told Sarwar to "submit whatever [he] wants to say in writing". The minister responded: "I don't want to contest this case that is why I am offering an unconditional apology."
Awan, special assistant to the prime minister on information and broadcasting, had also appeared before the court for a hearing of a similar case. The court reserved its verdict in that case as well.
The high court had issued separate notices to Sarwar and Awan for their remarks over an IHC verdict that granted bail to former premier Nawaz in the Al Azizia case on medical grounds. Awan, who had been summoned for saying that the IHC decision to grant bail to Nawaz was "a special dispensation", had earlier submitted a written apology to the court.
https://www.dawn.com/news/1516663/ihc-reserves-verdict-on-contempt-cases-against-awan-ghulam-sarwar
------
CTD official shot dead as gunmen open fire on his vehicle in Peshawar
Ali Akbar
November 14, 2019
Ghani Khan, a Deputy Superintendent of Police (DSP) of the Counter-Terrorism Department (CTD), died on the spot from gunshots after unidentified persons opened fire on his car on Thursday, a statement by Peshawar Capital City Police said.
According to the police, Ghani was travelling in his car in the morning when a "few unidentified persons" opened fire. His gunman Rashid and driver Nasir as well as two passers-by were wounded, police said. The injured have been shifted to the Lady Reading Hospital for medical treatment.
Heavy contingents of police arrived at the crime scene soon after the incident occurred. A search operation in nearby areas is underway.
Initial inquiry of the case revealed that Ghani was involved in a property dispute with some of his family members, the police statement said, adding that the conflict had resulted in deaths in firing incidents previously.
Capital Police Chief Karim Khan told DawnNewsTV said that police were investigating if Ghani's killing was a result of the property dispute or if he was targeted.
Khyber Pakhtunkhwa Chief Minister Mahmood Khan took notice of the incident and directed the provincial inspector general to wrap up the investigation as quickly as possible and submit a report.
Mahmood ordered authorities to provide the best medical facilities to the injured police officials. He also extended his condolences to Ghani's family.
Additional reporting by Zahid Imdad.
https://www.dawn.com/news/1516674/ctd-official-shot-dead-as-gunmen-open-fire-on-his-vehicle-in-peshawar
------
Consultant held over child pornography, abuse removed from KP govt project
Manzoor Ali
November 14, 2019
PESHAWAR: The services of Sohail Ayaz, a consultant in a planning and development department project, were terminated on Wednesday following his arrest in Rawalpindi over child pornography and sexual abuse.
As Ayaz was convicted for paedophile sex offences in the UK, his appointment by a government department has also raised questions about the process of hiring consultants in donor-funded projects.
A notification was issued by project director of the Post Crisis Need Assessment (PCNA), said the contract signed between the Governance and Policy Project and Sohail Ayaz on Nov 1, 2017, was terminated with an immediate effect in pursuance of Clause 12 of the contract due to engagement of the consultant in fraudulent practices and immoral activities.
After deportation from the UK on the completion of jail term, Ayaz managed to secure job in the provincial government's project under the health and planning and development departments and worked undetected for around four years until he was arrested in Rawalpindi in a similar case.
In a confessional video widely shared on social media, the accused admitted raping at least 30 boys.
Officials claim Ayaz was hired 'purely on merit', his deportation from UK over paedophile sex offences not known
The relevant officials told Dawn that Ayaz worked in the World Bank-funded projects in both health and P&D departments. A health department official said the accused was hired as a financial consultant with the revitalisation of health services in KP.
"He (Ayaz) was hired by a committee headed by the health secretary after the post was advertised and the WB issued him a no objection certificate," he said.
Officials in the P&D department said the accused had previously worked at the health department and joined the Governance and Policy Project (GPP), a donor-funded project under the Multi Donor Trust Fund (MDTF).
The official said the accused was hired as a public-private partnership specialist in 2017.
His contract with the GPP dated Nov 2017 said he would be paid Rs3.4 million for his services from Nov 1, 2017 to Oct 31, 2018.
In his application to the GPP coordinator, the accused claims working for more than a dozen high-profile humanitarian organisations, UN and other donor agencies.
Strangely, INGO Save the Children, from whose London offices he was arrested on the charges of sexual offenses against children and child pornography, is missing from that list. The accused also claims that he has international and field experience in Afghanistan, UAE, Turkey, Syria, Pakistan and Iraq under challenging and post-conflict environment on project contracts and financial management. Officials in GPP said the accused was a workaholic type, who only minded his own business, and was a timid sort of person.
"It is really embarrassing for us," a senior official said.
Another senior official insisted that lies were being propagated about Ayaz's hiring as he was not hired on 'parchi'.
"His (Ayaz's) hiring was made on purely on merit," he said.
The official said the project had no means to know a candidate's past and it was rather difficult to engage lengthy inquiries about one's past in short-term appointments.
"It's the job of the Federal Investigation Agency to do something about him (Ayaz) after he was deported from the UK," he said.
The official said he and other staff members felt revulsion after seeing news reports about the accused.
"Whatever he has done is against Islam, humanity and culture. He should be punished for his wrongdoings," he said.
Both the KP Public Procurement Regulatory Authority Rules, 2014, and KP Project Policy, 2008, are silent about any background check of the consultant and mostly focus on professional competence of the applicant for the job on offer.
The KPPRA rules declare that whenever short-listing is deemed necessary, the procuring entity shall pre-determine criteria for short-listing.
According to them, except for single source, there will normally be a minimum of three consultants in the short-list, but there is no upper limit for number of candidates to be short-listed. However, if less than three candidates apply; their proposals may be considered on merit.
The rules say procuring entity while short-listing consultants may take the following factors into consideration, namely: (a) qualification; (b) general experience; or (c) specific experience, particularly of the last five years; or (d) any other factor that a procuring entity may deem relevant, not inconsistent with these rules.
Similarly, the KP Project Policy, 2008, which deals with appointment in development projects, does not mention any background check while making project staff hiring. Section 3(iv) which deals with procedures to fill the post states that, "the scrutiny will be carried out in the light of record furnished by the applicant with particular reference to his academic qualification, experience, professional skills, age limits and other conditions advertised for the post."
A source said the project's policy mostly dealt with hiring in government-own development projects, while in case of donors involvement, their policies also came into play.
https://www.dawn.com/news/1516630/consultant-held-over-child-pornography-abuse-removed-from-kp-govt-project
------
Over 260 fake media outlets set up by Indian network to target Pakistan: report
Ramsha Jahangir
November 14, 2019
KARACHI: A European non-governmental group has uncovered a network of 265 'fake' news outlets managed by an Indian network to influence the European Union and the United Nations with content critical of Pakistan.
The 'EU DisinfoLab' is focused on researching and tackling sophisticated disinformation campaigns targeting the EU, its member states, core institutions and core values.
During the investigation, the DisinfoLab found that the fake websites copy-pasted anti-Pakistan content from unusual press agencies and amplified material shared by politicians and obscure think tanks that supported Indian geopolitical interests.
One such website eptoday.com — claiming to be a self-proclaimed magazine for the European Parliament in Brussels — had been copy-pasting a large amount of news word for word.
Much of EP Today's content — was drawn from the US-funded Voice of America outlet — linked to Indian interests and was critical of Pakistan, DisinfoLab's research showed. The website posted a large number of articles and opinion pieces related to minorities in Pakistan.
The investigation discovered that the news outlets were managed by Indian stakeholders, with ties to a large network of think tanks, NGOs, and companies from the Srivastava Group.
The EU DisinfoLab found that EP Today's office address was the same as that of the Srivastava Group that is based in New Delhi. The IP address of the Srivastava Group was also home to the obscure online media "New Delhi Times" and the International Institute for Non-Aligned Studies (IINS).
Only recently, the obscure IINS invited 27 members of the European Parliament to meet Indian Prime Minister Narendra Modi.
In Geneva, where the UN Refugee Agency has its headquarters, the group discovered timesofgeneva.com – an online "newspaper" that is "approaching 35 years in business". The 'Times of Geneva' published the same type of content as EP Today and produced videos covering events and demonstrations criticising Pakistan's role in the Kashmir conflict.
Through the website, the network served Indian lobbying interests in Geneva towards the United Nations.
Analysis of the fake websites revealed that most of them were named after an extinct local newspaper or spoof real media outlets. They republished anti-Pakistan content on the rest of the influence Indian network— including fake outlets such as EP Today, 4NewsAgency, Times Of Geneva, New Delhi Times. Most websites had a Twitter account as well.
The DisinfoLab found evidence that both EP Today and Times of Geneva had extremely strong ties to a network of NGOs and think tanks, such as the European Organisation for Pakistani Minorities, and Pakistani Women's Human Rights Organisation.
Why create the fake outlets?
According to the DisinfoLab's analysis, the purpose of these fake news outlets was to influence international institutions and elected representatives with coverage of specific events and demonstrations. They also provided NGOs with useful press material to reinforce their credibility and thus be impactful.
The network added several layers of media outlets that quoted and republished one another, making it harder for the reader to trace the manipulation, and in turn (sometimes) offer an illusion of international support towards Indian geopolitical interests.
The critical content was largely aimed to influence public perceptions on Pakistan by multiplying its iterations on search engines.
https://www.dawn.com/news/1516555/over-260-fake-media-outlets-set-up-by-indian-network-to-target-pakistan-report
------
Mideast
Islamic Jihad offers Egypt-mediated ceasefire terms to Israel as death toll mounts
Jerusalem, Yerushalayim, Israel Nov 14, 2019
Palestinian militant group Islamic Jihad offered terms on Wednesday for an Egyptian-mediated ceasefire with Israel, saying if these were not met it was prepared to keep up cross-border rocket attacks indefinitely despite a mounting Gaza death toll.
The worst surge in fighting around the Palestinian enclave was sparked on Tuesday when Israel killed Islamic Jihad's top Gaza field commander in an airstrike, accusing him of masterminding a spree of recent attacks and planning more soon.
As Islamic Jihad fighters responded with hundreds of rocket launches that reached as far as Tel Aviv and paralysed parts of Israel, it pressed the aerial barrage on the Gaza Strip.
Medics say 26 Palestinians, including at least 14 gunmen and six civilians, have been killed. Dozens have been injured on both sides.
In his first public comments on the fighting, Islamic Jihad leader Zeyad al-Nakhala said a truce could be agreed immediately if Israel accepted the Iranian-backed faction's terms.
These included Israel ending targeted killings of militants, its sometimes lethal response to weekly Gaza protests and steps to ease its blockade on the coastal Palestinian enclave, al-Nakhala, who is based in Beirut, told Al-Mayadeen TV.
Al-Nakhala said he expected to hear Israel's response via Cairo within hours. Should a truce not be agreed, he said, "the (Islamic Jihad armed wing) Jerusalem Brigades is able to manage the battle, and for a long time".
Israel signalled openness only to a quid-pro-quo restraint.
"Quiet will be answered with quiet," Israel's Army Radio quoted an unnamed Israeli government official as saying. "Islamic Jihad wants a ceasefire, and it is thus trying to create a false impression of achievements."
https://www.wionews.com/world/islamic-jihad-offers-egypt-mediated-ceasefire-terms-to-israel-as-death-toll-mounts-261923
-----
Egypt-mediated truce with Israel in force in Gaza: Islamic Jihad
Reuters Jerusalem Nov 14, 2019
Palestinian militant group Islamic Jihad said an Egyptian-mediated truce with Israel was in force in the Gaza Strip as of 0330 GMT on Thursday, and a Reuters witness confirmed that fighting had subsided.
An Islamic Jihad official told Reuters that Israel had agreed to the faction's demand that it cease targeted killings of militants and shooting of Gaza border protesters. There was no immediate confirmation of this from Israeli officials.
The worst surge in fighting around the Palestinian enclave was sparked on Tuesday when Israel killed Islamic Jihad's top Gaza field commander in an air strike, accusing him of masterminding a spree of recent attacks and planning more soon.
As Islamic Jihad fighters responded with hundreds of rocket launches that reached as far as Tel Aviv and paralysed parts of Israel, it pressed the aerial barrage on the Gaza Strip.
In his first public comments on the fighting, Islamic Jihad leader Zeyad al-Nakhala said a truce could be agreed immediately if Israel accepted the Iranian-backed faction's terms.
These included Israel ending targeted killings of militants, its sometimes lethal response to weekly Gaza protests and steps to ease its blockade on the coastal Palestinian enclave, al-Nakhala, who is based in Beirut, told Al-Mayadeen TV.
Israel signalled openness only to a quid-pro-quo restraint.
"Quiet will be answered with quiet," Israel's Army Radio quoted an unnamed Israeli government official as saying. "Islamic Jihad wants a ceasefire, and it is thus trying to create a false impression of achievements."
Hamas, in turn, has voiced solidarity with Islamic Jihad but has not claimed responsibility for any of the rocket launches.
https://www.wionews.com/world/egypt-mediated-truce-with-israel-in-force-in-gaza-islamic-jihad-261943
-----
Israel threatens to assassinate Islamic Jihad leader in Damascus - report
By ANNA AHRONHEIM NOVEMBER 13, 2019
Israel has reportedly threatened Palestinian Islamic Jihad that it will assassinate the group's secretary-general, Ziyad al-Nakhalah, if the rocket fire continues, an Arab media report claimed on Wednesday. Nakhalah is said to be based in Damascus.
According to a report in the Arabic-language Al-Hayat newspaper, Israel's message was delivered to the Palestinian terrorist faction by UN Special Envoy for the Middle East Nickolay Mladenov.
"If the PIJ continues to fire rockets at Israeli towns, Israel threatens to escalate assassinations, and that the secretary-general of the group is not safe from these threats: he is also a target," the report quoted a source as saying. "But if the group stops firing rockets toward the settlements of the Gaza envelope and commits to a truce, Israel will abide by all the terms of the truce understandings and will also provide more facilities to the Gaza Strip."
The sources told the paper that while Israel is not interested in escalation, PIJ will likely continue to escalate the situation over the coming hours, as the efforts of Mladenov to mediate between Israel and Islamic Jihad to put an end to the violence have yet to achieve any results.
Hamas, the report continued, does not want to involve itself in the latest round.
"We believe that PIJ is on its own," the sources told Al-Hayat.
https://www.jpost.com/Arab-Israeli-Conflict/gaza-news/Israel-threatens-to-assassinate-Islamic-Jihad-leader-in-Damascus-report-607724
------
Erdogan reveals Trump's letter warning him not to be a 'fool'
Bloomberg -November 14, 2019
NEW YORK: Turkish President Recep Tayyip Erdogan said he personally returned a letter that President Donald Trump sent him last month, warning him against an offensive in northern Syrian before Turkey began its incursion.
Trump's letter, dated Oct 9, cautioned Erdogan not to be a "tough guy" or a "fool".
Erdogan said in a joint news conference with Trump that he returned the letter during a meeting at the White House earlier on Wednesday. Trump didn't respond at the news conference.
"History will look upon you favourably if you get this done the right and humane way," Trump wrote in the letter.
"It will look upon you forever as the devil if good things don't happen."
Turkey began its offensive later that week, pushing US-allied Kurdish forces out of a region close to Turkey's border after Trump ordered American forces to withdraw. US lawmakers in both parties criticised Trump's decision, saying it amounted to a green-light for the Turkish offensive.
American lawmakers have also criticised Erdogan's increasingly authoritarian domestic politics.
The House voted last week by an overwhelming margin to describe the early-20th-century massacre of Armenians by Ottoman Empire forces as a "genocide," angering Erdogan, who considered cancelling his visit in response.
Erdogan's return of the letter wasn't the only uncomfortable moment the Turkish president created for Trump on Wednesday.
At the outset of the news conference, Erdogan delivered a more than 10-minute long monologue, a few minutes longer than Trump's opening remarks, while the US president fidgeted at his lectern.
Erdogan complained about Kurdish forces in Syria allied with the US that he considers "terrorists" as well as a Turkish cleric, Fethullah Gulen, whom Erdogan blames for fomenting a 2016 coup.
The US has refused to extradite Gulen, who lives in Pennsylvania. Erdogan also again criticised the House resolution on the Armenian massacre.
Later in the news conference, Erdogan called on a Turkish reporter who asked Trump to explain why he had invited a Kurdish military leader to the White House, calling the person a "terrorist".
Trump responded that the US is working closely with both the Kurds and the Turks, adding: "You sure you're a reporter and you don't work for Turkey with that question?"
https://www.freemalaysiatoday.com/category/world/2019/11/14/erdogan-reveals-trumps-letter-warning-him-not-to-be-a-fool/
----
Erdogan slams Macron's Nato comments as 'unacceptable'
AFP -November 14, 2019
WASHINGTON: Turkish President Recep Tayyip Erdogan yesterday slammed recent remarks on Nato by French leader Emmanuel Macron, who claimed the alliance was experiencing "brain death" and deplored Turkey's actions in Syria as "unacceptable".
Hosting his counterpart in the Oval Office, US President Donald Trump said Erdogan was "very disappointed in the statement made by France" regarding Nato.
"It bothered the president very much," Trump said. "A lot of other people feel that way too."
"Unacceptable," added the Turkish leader, speaking through an interpreter.
In an interview earlier this month, the French president decried what he called a lack of coordination between Europe and the United States and lamented recent unilateral action in Syria by Turkey, a Nato member.
"You have no coordination whatsoever of strategic decision-making between the United States and its Nato allies. None," Macron told The Economist.
"You have an uncoordinated aggressive action by another Nato ally, Turkey, in an area where our interests are at stake," he added.
Turkey's latest military operation against Kurdish forces in northern Syria was staunchly opposed by fellow Nato members like France but made possible by a withdrawal of US forces ordered by Trump.
In the interview, Macron asked what Nato's mutual self-defence pact, enshrined in Article 5 of its founding treaty, might mean in the future, and pondered whether it could be invoked if President Bashar al-Assad's forces retaliate against Turkey's military operation in northern Syria.
Macron also said that while "it's not in our interest" to expel Turkey from the alliance – as has been urged by some politicians – members states should "reconsider what Nato is."
https://www.freemalaysiatoday.com/category/world/2019/11/14/erdogan-slams-macrons-nato-comments-as-unacceptable/
------
Israel-Gaza fighting continues for second day after militant's death
14 November 2019
Cross-border violence between Israel and militants in Gaza is continuing after an Israeli air strike killed a Palestinian Islamic Jihad commander.
After an overnight lull, rocket fire towards Israel resumed and Israeli aircraft conducted retaliatory strikes on Wednesday.
Gaza's Hamas-run health ministry said 32 Palestinians, including children, have been killed by Israeli fire.
In Israel, 63 people have been treated for injuries and stress symptoms.
Life in the Gaza Strip
Is peace between Israel and Palestinians out of reach?
Late on Wednesday, Palestinian Islamic Jihad (PIJ) offered terms for a ceasefire, which included an end to Israel's targeted killings of militants and Gaza border protesters and well as steps to ease the blockade of the Palestinian enclave.
Israel has so far made no public comments on the truce offer.
What is the latest?
After a six-hour pause, PIJ militants resumed firing rockets at around 06:30 (04:30 GMT) on Wednesday, triggering air-raid sirens in southern and central Israel.
At least 360 rockets have been fired into Israel from Gaza since Tuesday, the Israeli army says. It adds that 90% of the missiles were intercepted.
An elderly woman was slightly wounded by broken glass after a rocket hit a house in the southern Israeli city of Ashkelon, Israeli media reported. Another rocket hit a factory in the southern town of Sderot.
The Israel Defense Forces (IDF) said it had bombed more PIJ targets in Gaza on Wednesday in response, including a military headquarters in Khan Younis and a factory manufacturing warheads for long-range rockets in the south of the strip.
The IDF said "20 terrorists" were killed, most of them from Islamic Jihad.
The health ministry in Gaza, which is run by Hamas militants, said 32 people had been killed in Israeli strikes, at least a third of them civilians.
It said six Palestinians from a single family were killed in a strike in the early hours of Thursday morning at their home in Deir al-Balah town, central Gaza Strip.
It was the deadliest incident reported since the beginning of the current fighting.
The Israeli military has not yet commented on the incident.
The rocket fire triggered air-raid sirens in southern and central Israel
PIJ said the dead included members of its military wing, the al-Quds Brigades. Khaled Faraj, a field commander, was killed in a strike in central Gaza.
UN Middle East peace envoy Nickolay Mladenov warned that the continuing escalation was "very dangerous".
"The indiscriminate launching of rockets and mortars against population centres is absolutely unacceptable and must stop immediately," he said. "There can be no justification for any attacks against civilians."
In a statement, Save the Children charity said it was "deeply concerned by the recently escalated hostilities", calling for an immediate ceasefire.
"For the second day, hundreds of thousands of children are impacted by school closures across Gaza and southern Israel, with parents terrified of the impact of further retaliation.
"Our teams in Gaza have been unable to go to work and our programmes have been suspended," the charity said.
What happened on Tuesday?
A pre-dawn Israeli air strike on a residential building in eastern Gaza City killed Baha Abu al-Ata, a senior PIJ military commander, and his wife.
At about the same time, the home of another leader of the Iran-backed group was struck by an Israeli missile in Damascus, killing two people, Syrian state media said. Israel did not comment on the incident.
Israel's Prime Minister, Benjamin Netanyahu, described Abu al-Ata as an "arch-terrorist" and a "ticking bomb" who posed an imminent threat to the country.
Abu al-Ata was thought to be behind recent rocket fire from Gaza, including an attack 10 days ago on Sderot, and to have acted increasingly outside of the control of the dominant militant faction Hamas.
Militants in Gaza said Israel had crossed a "red line" and fired more than 200 rockets in response.
About 90% of the rockets were intercepted by Iron Dome air defence systems, the IDF said, but one exploded on a main road close to passing cars, and elsewhere two people were lightly injured by shrapnel. An eight-year-old girl also suffered a heart attack in a bomb shelter and remains in a serious condition.
The IDF said it carried out air strikes in Gaza targeting PIJ rocket-launching units and infrastructure. Gaza's health ministry said eight people were killed, in addition to Abu al-Ata and his wife.
What are both sides saying?
PIJ spokesman Musab al-Buraim told the Hamas-linked Shehab news agency that it was not "appropriate" to discuss Egyptian efforts to end the flare-up when the group was still retaliating for Abu al-Ata's death.
"When we complete the response, it is possible to discuss calm," he said.
At the start of a special cabinet meeting on Wednesday, Mr Netanyahu warned PIJ that if it did not halt the rocket fire Israel would continue to hit Gaza.
"They have but one choice: either stop these attacks or absorb more and more blows," he said.
Earlier, IDF spokesman Brig Gen Hidai Zilberman told Israeli media that additional Iron Dome batteries had been deployed to central Israel as a precaution, and that commando units had been sent to communities near the Gaza border to defend them in case of infiltration attacks by militants.
There has been no sign yet that Hamas, which controls Gaza, intends to join the fight. If it does, the conflict would escalate sharply, says the BBC's Barbara Plett Usher in Jerusalem.
In order to prevent that, Israeli officials have signalled they are targeting only PIJ, and not Hamas. Gen Zilberman said the IDF was "walking on a tight-rope".
Our correspondent says it is the first time that Israeli officials are drawing a distinction between the two groups during a cross border flare-up - normally they hold Hamas responsible for any violence from Gaza.
The IDF said on Tuesday that Baha Abu al-Ata had undermined recent efforts to broker a ceasefire between Israel and Hamas.
https://www.bbc.com/news/world-middle-east-50403889
------
Gaza stops fire as Israel agrees to Islamic Jihad demands: Islamic Jihad
Thu Nov 14, 2019
The Gaza-based Palestinian Islamic Jihad movement says it is holding fire after the regime in Israel accepted its key demands, including stopping targeted killings, as part of an Egypt-mediated truce aimed at ending the military confrontation between the two sides.
Speaking on Thursday morning, the Islamic Jihad's spokesman, Musab al-Braim, confirmed earlier reports of the truce, saying the ceasefire came into force at 5:30 a.m. local time (3:30 GMT), Reuters reported.
Braim said Tel Aviv had agreed to both end its targeted killings of Palestinian resistance fighters and lethal gunfire at weekly Palestinian demonstrations against occupation near the fence separating the Gaza Strip from the Israeli-occupied territories.
"The ceasefire began under Egyptian sponsorship after the Occupation (Israel) submitted to the conditions set by Islamic Jihad on behalf of Palestinian resistance factions," Braim told Reuters.
Earlier, Egyptian sources said the "ceasefire agreement comes as a result of Egypt's efforts" and has been endorsed by "Palestinian factions including Islamic Jihad."
The Tel Aviv regime had agreed to the Islamic Jihad's key demands in exchange for the resistance group to stop firing rockets into the occupied territories and ensure Gaza rallies are peaceful.
There has been no confirmation so far from the Israeli side.
Israel's "Iron Dome" system fires interception missiles as retaliatory rockets are launched from Gaza towards the occupied lands, as seen from Ashkelon on November 13, 2019. (Photo by Reuters)
Nonetheless, shortly after the ceasefire, rocket warning sirens were reportedly sounded south of the occupied lands.
On Wednesday night, Ziad al-Nakhala, the Islamic Jihad secretary general, said the resistance group had laid out a list of demands for the ceasefire with Israel to Egyptian moderators.
"We gave specific conditions for a ceasefire," he told the Beirut-headquartered Al Mayadeen TV channel. "If Israel accepts them, we will accept a ceasefire."
"If Israel does not accept them, we are going to continue to fight for an open period of time," he warned.
The Islamic Jihad's "simple and humble" demands include an end to assassinations in the Gaza Strip and the West Bank, Israeli troops not firing at innocent civilians during Gaza protests, and Tel Aviv abiding by the understandings regarding Gaza reached in Cairo during previous ceasefire negotiations, Nakhala explained.
Israel's renewed air raids on Gaza Stip leave eight more Palestinians dead, prompting retaliatory rocket fire into the occupied territories.
The escalation erupted early on Tuesday, when Israel assassinated senior Islamic Jihad commander Baha Abu al-Ata, along with his wife, in a targeted strike on their home in Gaza.
A similar strike also hit the home of another Islamic Jihad commander in Syria on Tuesday, but missed the target.
Israel continued its deadly air raids on the besieged coastal sliver, killing 30 other Palestinians and injuring 97 others over the past two days.
Ata's assassination sparked Palestinian retaliatory attacks into the occupied territories.
A total of 300 rockets are estimated to have been launched from Gaza, reaching as far as Tel Aviv and shutting schools in the occupied territories' central and southern areas.
Footage shows Palestinian resistance groups raining down retaliatory rockets on the occupied territories after Israel's assassination of a senior resistance commander.
In a tweet on Wednesday, Islamic Jihad spokesman Abu Hamza said Israel is hiding the true extent of destruction caused by retaliatory rocket attacks.
"We challenge the Zionist military censorship to reveal pictures and videos showing the extent of the destruction of factories, headquarters and settler houses in the occupied cities," he wrote.
https://www.presstv.com/Detail/2019/11/14/611153/Israel-Islamic-Jihad-Gaza-ceasefire
------
Abu al-Atta was violent and unrestrained, even for Islamic Jihad
Yoav Zitun and Elior Levy
11.14.19
Islamic Jihad commander Baha Abu al-Atta, killed early Tuesday by the IDF in Gaza City, was considered to be extremely violent and unrestrained, even by the standards of the militant organization in which he was a senior figure.
The decision to eliminate Abu al-Atta was approved by the security cabinet in September, after he ordered rocket fire on Ashdod as Netanyahu was delivering an campaign speech in the city.
The execution of that decision was held off until the opportune moment, trying to avoid as many civilian casualties as possible.
In the days leading up to his death, Abu al-Atta worked to carry out several terror attacks against Israel, including sniper fire, drone attacks, and rocket strikes.
He joined Islamic Jihad in the end of the 90s and since then served in a range of both military and political roles within the extremist organization.
In 2007, he trained in Syria in order to deepen his military knowledge and field experience, amd a year later was already assigned to command the organization's division in Gaza.
He went on to command the entire northern division of Islamic Jihad, earning him one of the two most senior positions available in the organization's military echelons in Gaza.
Among his other responsibilities, Abu al-Atta was also responsible for the manufacture of a variety of weapons in the Srip, primarily locally made, Iranian-designed rockets.
Recently, Abu al-Ata personally led numerous terrorist attacks against both the citizens of Israel and its soldiers, using mainly rocket fire, drone attacks and sniper fire.
Among his most recent attacks, was the bombardment on the city of Sderot and Sha'ar HaNegev Regional Council two weeks ago, that saw a home in Sderot directly hit by a rocket.
He was also behind the rocket fire on Sderot in late August during a music festival attended by some 4,000 people, as well as the escalation on the Gaza border in May 2019 that ended barely a week before the start of the Eurovision Song Contest in Tel Aviv and killed four Israelis.
Approximately 700 rockets were fired into Israel territory during the week-long May escalation, resulting in the death of four Israeli citizens.
The IDF responded with widespread strikes across the Gaza Strip, carrying out Israel's first targeted killing since 2014. The next one - and the first of a high-ranking Gaza terrorist - was Abu al-Atta himself. In fact, Israel in a rare move published his picture as a warning prior to killing him.
And although the IDF eliminated Abu al-Atta successfully, it wasn't the first time he was marked for death by Israel.
During the 2012 war in Gaza, Israel tried to eliminate him while he attended a Gaza meeting for the top brass of the Islamic Jihad military wing.
In 2014, his home was destroyed by IDF troops, along with the residences of other senior Hamas and Islamic Jihad leaders who like him were in hiding for the duration of the 50-day conflict.
On Tuesday night, Israel finally caught up with him, killing him and his wife in an airstrike on the building in which he lived.
In response, Islamic Jihad fired 400 rockets over a 48 hour period, that reached all the way to Israel's central metropolitan areas, while Hamas joined in the group's vows for revenge bur refrained from joining the fighting.
"The return to the policy of assassinations is crossing a red line," the groups said in a joint statement. "The responsibility for this heinous crime is Israel's alone, and will not go unanswered."
Israel sent a message to the Hamas leadership saying it would abstain from attacking the group as long as it stayed out of the current conflict, which was ostensibly rejected.
But while it has engaged in a show of solidarity with Islamic Jihad, Hamas's relationship with Abu al-Atta was somewhat contentious.
The group saw him as problematic, someone who could try to destroy the agreement for calm the ruling organization had with Israel, and not without precedent.
https://www.ynetnews.com/articles/0,7340,L-5624110,00.html
------
33rd International Islamic Unity Conference kicks off in Tehran
Nov 14, 2019
The event will be held in Tehran on November 14-16 with the participation of 350 personalities from 93 countries.
The conference, which is themed "Ummah unity in defending the al-Aqsa Mosque," started with a speech by Iran's President Hassan Rouhani.
The International Islamic Unity Conference t is held annually in an effort to lay the ground for stronger unity and solidarity among Muslims and provide solutions for their problems.
(This item is being updated.)
https://www.presstv.com/Detail/2019/11/14/611158/Iran-Islamic-Unity-conference
------
Turkish imam learns sign language for deaf faithful
13.11.2019
n imam in southwestern Muğla province learned sign language in order to give sermons to deaf Muslims. Idris Sarı, the imam of Akyol Mosque in Menteşe district, said he learned sign language to better communicate with handicapped believers in his community.
Sarı said he took up sign language at a community training center run by the Presidency of Religious Affairs (DIB), and successfully completed courses after three months. Now, Sarı uses sign language to give his sermons at Friday prayers.
"At first, the community found it a bit odd but they quickly appreciated my effort after seeing handicapped believers showing up at prayers. Now we have eight handicapped faithful in our community. I chat with them after the prayer and answer their religious questions. I am really happy to be able to help them," Sarı said, adding that he also gives Quran lessons in sign language twice a week.
Local mufti Mustafa Aydın said Sarı's efforts were well received in the community and he hoped more imams would take up sign language. "We hope to extend this practice in the future. We want to be able to connect with everyone across the country, Aydın said.
https://www.dailysabah.com/turkey/2019/11/13/turkish-imam-learns-sign-language-for-deaf-faithful
------
Arab World
Custodian of the Two Holy Mosques Congratulates Belgian King on King's Day
Thursday 2019/11/14
Riyadh, Nov. 14 , 2019, SPA -- The Custodian of the Two Holy Mosques King Salman bin Abdulaziz Al Saud has sent a cable of congratulations to King Philippe of the Kingdom of Belgium on the anniversary of his country's King day.
In his cable, the Custodian of the Two Holy Mosques wished the Belgian King constant good health and happiness and his government and people steady progress and prosperity.
-- SPA
https://www.spa.gov.sa/viewfullstory.php?lang=en&newsid=1998327
------
7 Yemeni soldiers killed by Houthi missile in Marib military base
November 13, 2019
RIYADH: Houthi militants fired a missile at the Arab coalition's headquarters in the city of Marib on Wednesday during a visit by the Yemeni defense minister, killing seven Yemeni soldiers and injuring at least 12, local officials said.
The base, in Sahn Al-Gin district, is the main military facility overseeing a ground offensive aimed at recapturing the capital Sanaa, controlled by the Iran-backed Houthi militia since 2014, which lies 120 km (75 miles) to the west of Marib.
There was no immediate confirmation from the Arab coalition fighting to restore the legitimate Yemeni government and who have been battling the Houthis in Yemen for more than four years.
But Saudi-owned news channel Al Arabiya said a high-ranking official was among those killed.
Military sources told Al Arabiya that the "Iran-backed Houthi militia fired two missiles from Jabal Haylan, located about 70 km east of Sanaa."
Mohammed Al-Maqdishi, the defense minister of Yemen's internationally recognized government, and Saudi military officers were in the compound at the time, the officials said.
A military official, on condition of anonymity, said the Houthis carried out Wednesday's attack.
The official told AFP the casualty toll was confirmed by a medic at Marib hospital and included two senior officers.
However, no group claimed responsibility for the attack.
The uptick in violence follows weeks of relative calm in the war between the internationally-recognized government and the Iran-backed Houthi militia.
Separately, Wadah Dobish, a spokesman for the government's forces, says they repelled an attack by Houthi militants south of the key port city of Hodeida on Tuesday. Dobish says four Houthi fighters were killed.
Last week, Houthi forces fired missiles and drones at the Red Sea port city of Al-Mokha, killing eight people, among them four civilians, and damaging a hospital.
(With AP and Reuters)
https://www.arabnews.com/node/1583561/middle-east
------
Appeals for calm after Lebanese protester shot dead in front of wife and child
NAJIA HOUSSARI
November 13, 2019
BEIRUT: A Lebanese soldier has been detained and an investigation launched after an anti-government protester was shot in the head in front of his wife and child.
The wounded demonstrator, Alaa' Abu Fakher, a member of the Progressive Socialist Party (PSP) led by influential Druze politician Walid Jumblatt, was rushed to hospital but died from his injuries.
The shooting took place in the coastal town of Khalde, south of Beirut, as the Lebanese army attempted to break up a protesters' roadblock.
The action was part of the latest wave of demonstrations to hit the country which followed comments made by President Michel Aoun in a TV interview on Tuesday evening. When asked if he felt the Lebanese people had lost faith in the ruling authority, Aoun said: "If they cannot find anyone in power who is honest and genuine, let them migrate … they will not reach the authority."
As news spread on social media, angry groups again took to the streets, blocking roads, burning tires, and calling on Aoun to leave the country.
The army and republican guard were forced to set up a cordon to stop crowds marching on the presidential palace to protest at the president's failure to announce a date for consultations on the formation of a new government, following the resignation of Prime Minister Saad Hariri.
Cameras witnessed the incident in which Fakher was shot, and Jumblatt later appealed for supporters to remain calm. He also phoned the commander of the Lebanese Army, Gen. Joseph Aoun, and said: "In spite of what happened, we have no other refuge than the state. If we lose hope in the state, we enter chaos."
Calling on Lebanese citizens "to maintain their peaceful protests," caretaker PM Hariri stressed "the need to take all measures to protect citizens and ensure protesters' safety."
Army officials said a soldier had been detained over the Fakher incident and an investigation into the incident was underway.
Protesters in Beirut reacted to the shooting by throwing stones at soldiers, and in the Christian-majority town of Jal El-Dib, church bells rang to mourn the victim.
One activist in Jal El-Dib said: "The president was not fair at all in his interview. We are respectful people and not thugs. We took to the streets to make him hear our voices, but he is still not listening to us."
Another woman said: "Does the president know that our salaries have been cut in half, that people are eating from the garbage, and that young people are being fired from their jobs, while taxes are imposed and we are accused of disrupting the lives of people? Are we not the people?"
A protester on Beirut's Ring Bridge highway said: "We withdrew from the streets and protested in squares hoping that our voice had been heard and that the authority would meet our demands, but they thought that our revolution had ended and they could go back to the same ruling authority. Our revolution is stronger now more than ever and we are not going to leave the streets anymore."
On Wednesday banks, schools and universities throughout Lebanon remained closed.
According to media sources, Hariri was unlikely to preside over the next Cabinet, with Aoun and his allies, Hezbollah and the Amal Movement, insisting on a new government made up of an equal mix of politicians and technocrats. Protesters and Hariri however want a technocrat-led government.
On Tuesday night, during the Paris Peace Forum, the Russian foreign minister said that "the idea of forming a technocrat government in Lebanon is not realistic."
In meetings with Lebanese officials, Christophe Varno, the French envoy, responsible for France's MENA affairs, conveyed his country's concerns to Aoun "to preserve Lebanon's sovereignty, independence, safety and unity of people."
He also indicated France's "commitment to help Lebanon overcome the current hardships."
But Lebanon's Foreign Minister Gebran Bassil told Varno that "no foreign sides should interfere in and use the Lebanese crisis," adding that "the formation of a new government is a national matter and it has reached advanced and positive phases."
https://www.arabnews.com/node/1583546/middle-east
------
Saudi, Yemeni officials discuss relief projects
November 14, 2019
RIYADH: The supervisor general of the King Salman Humanitarian Aid and Relief Center (KSRelief), Dr. Abdullah Al-Rabeeah, met on Tuesday with Yemen's Minister of Local Administration and Chairman of the High Relief Committee Abed Araqib Fateh.
They discussed various humanitarian topics, including current relief operations in Yemen. Fateh thanked Saudi Arabia's leadership and KSRelief for the impartial humanitarian support being provided to all Yemenis in need.
He said during the meeting, discussions took place about KSRelief's "plans to support the humanitarian situation in Yemen, both in the field of emergency relief and economic recovery."
They also discussed KSRelief's volunteer surgical campaigns for heart and eye disease treatment in Hadramout, and talked about ways to strengthen these campaigns.
The center is continuing to implement a water and sanitation program in Hodeidah and Naham governorates, benefiting 34,614 people.
Meanwhile, the emergency medical nutrition clinics of KSRelief are continuing to provide medical services in those governorates, in partnership with the Taibah Development Foundation.
This comes within the framework of humanitarian and relief projects being provided by Saudi Arabia, represented by KSRelief, to the Yemeni people to improve their living conditions during the current humanitarian crisis.
The center also delivered 30 tons of medicines and various medical supplies to the Health and Population Office in Shabwah governorate.
The governorate's Undersecretary Dr. Abdulqawi Lamrouk praised KSRelief's roles in supporting Shabwah's health sector. He also expressed his appreciation for the Saudi leadership's support of Yemen.
Meanwhile, KSRelief has completed the distribution of school bags and stationery to the children of Syrian refugees in Azraq camp in Jordan, benefiting 8,000 students in 15 schools for boys and girls.
https://www.arabnews.com/node/1583831/saudi-arabia
------
MODON, GAMI sign deal to promote investments in Saudi military sector
November 14, 2019
The Saudi Authority for Industrial Cities and Technology Zones (MODON) and the General Authority for Military Industries (GAMI) have announced the launch of strategic cooperation, aiming to encourage the localization of military industries in the Kingdom.
The cooperation supports the localization of 50 percent of the expenditure in military industries through Vision 2030, making it an important pillar for economic development, increasing its contribution to local products and opening job opportunities for Saudis.
Through this cooperation, the two parties will seek to guide licensed investors toward targeted fields in Saudi industrial cities affiliated with MODON, who will provide incentives to investors.
The two parties will also work on providing industrial constellations for the targeted military sectors in the industrial cities as well as options for investors to support the establishment and empowerment of the project and ensuring its expansion, sustainability and development.
GAMI Gov. Ahmed bin Abdul Aziz Al-Ohali confirmed that cooperation with MODON came in line with GAMI's efforts to make the sector one of the main contributors to the national economy.
"This strategic cooperation will support the authority's endeavor to empower local and international manufacturers, by providing the right investment environment to build the Kingdom's industrial capability," he said.
For his part, Khalid bin Mohammed Al-Salem, the director general at MODON, pointed out that cooperation with GAMI aimed at increasing the contribution of the sector to the gross domestic product, an important part of Vision 2030.
Since its inception in 2001, MODON has been interested in the development of integrated industrial land. It oversees 35 existing and under-development industrial cities in various regions of the Kingdom, in addition to its supervision of private industrial complexes.
So far, the total area under MODON's control exceeds 198.8 million square meters, comprising 3,474 facilities.
https://www.arabnews.com/node/1583826/saudi-arabia
------
We seek to improve quality of teaching, Saudi education minister tells UNESCO meeting
November 14, 2019
PARIS: Saudi Minister of Education Hamad Al-Asheikh participated in the seventh meeting of the Steering Committee of the Sustainable Development Goals for Education 2030, held at the headquarters of the UN Educational, Scientific and Cultural Organization in Paris.
In his speech, Al-Asheikh stressed that Saudi Arabia and other countries in the region are committed to the fourth objective of the UNESCO 2030 agenda, and to the top priority policies in the Arab regions.
These policies included: Ensuring equitable and comprehensive provision of quality education for displaced and affected people, improving the quality of teaching and learning, increasing funding for education and innovating its use.
Al-Asheikh said that Saudi Arabia is working on these three priorities, and that "we are focusing our efforts on the second policy priority related to the quality of teaching and learning, as a result, we have made significant reforms in the educational policy related to curriculum, assessment and professional development of teachers, with an ongoing focus on learning outcomes at all levels."
He ensured that education will be a top priority in the agenda of the G20 summit that will be hosted by the Kingdom in 2020.
https://www.arabnews.com/node/1583821/saudi-arabia
------
North America
US to maintain around 600 troops in Syria: US defence secretary Mark Esper
AFP Washington Nov 14, 2019, 10.06 AM (IST)
The United States will maintain around 600 troops in Syria, Pentagon chief Mark Esper said on Wednesday, despite Donald Trump's desire to end US involvement in what the president calls "endless wars".
"We're still moving troops out of northeastern Syria," the US defence secretary said onboard a plane as he travelled to Seoul, where he begins a tour of Asia on Thursday.
"We're going to have about 500 to 600-ish troops there, at the end of the day," he said.
Asked if that figure included the approximately 200 troops deployed to the Al-Tanf base near the southeastern borders with Jordan and Iraq, Esper said that he was referring to northeastern Syria, where Trump has instructed the Pentagon to secure oil fields.
There would be "600-ish" troops across the country, he then reiterated.
Esper said that the numbers could fluctuate, particularly if European allies strengthen their presence in the country.
"Things change. Events on the ground change. We could have, for example, partners and allies from Europe joining us," he said. "If they join us on the ground it may allow us the ability to redeploy further US forces out there."
Trump's abrupt announcement last month that he had ordered a full troop withdrawal drew angry rebukes at home and abroad.
Critics said it could allow a resurgence of the Islamic State group while leaving US-allied Kurdish fighters in Syria vulnerable to a Turkish invasion.
https://www.wionews.com/world/us-to-maintain-around-600-troops-in-syria-us-defence-secretary-mark-esper-261941
-----
College Board to expand testing options for AP exam on Muslim holiday
Donna St. George
November 14, 2019
Responding to concerns about a possible conflict between Advanced Placement exams and a major Muslim holiday next school year, the College Board will expand testing options for the holy day of Eid al-Fitr in 2021.
College Board officials said Wednesday that tests planned for May 13 of that year — the expected date of the Eid holiday — would be given a second time on May 18, to support students observing the holiday.
"We understand that observant students may not be in school on Thursday, May 13, 2021, and that some schools may choose to close for the holiday," College Board spokesman Jerome White said in an email. "Our goal is to provide flexibility in the exam schedule to best support students and schools."
The move goes a step beyond the College Board's usual approach. It routinely provides an alternative testing time for students who miss exams for religious reasons, emergencies or other circumstances. But next school year, a full exam day will be repeated.
The complete AP exam schedule for 2021 will be posted in mid-December.
Muslim advocates and parents in suburban Maryland cheered the change, which they said they hoped would lead to a day off for students in the state's largest school system, in Montgomery County.
With AP testing in mind, Montgomery County school officials drafted three 2020-2021 calendar proposals, all of which showed Eid al-Fitr as a regular school day — in contrast to the past several years, when Eid holidays were marked as teacher professional days, so that students could be off.
Muslim advocates, students and parents learned of the conflict in late October, turning out for a school board meeting with signs saying "Equality for Eid" and giving passionate testimony about the importance of the holy day, which marks the end of the fasting month of Ramadan.
"This is a wonderful compromise," said Zainab Chaudry, director of Maryland outreach for the Council on American-Islamic Relations, a civil liberties and advocacy organization. "It would give flexibility to local school boards, based on whether they are giving students the day off for the Eid holiday."
Montgomery's school board voted in late October to notify the College Board of the potential conflict between AP testing and the Muslim holiday, and to ask that no exams be held on Eid al-Fitr.
School board vice president Patricia O'Neill, who had proposed writing the letter, lauded the College Board decision.
"We live in a global society and we need to be culturally responsive," she said. "This was an issue not just for Montgomery County but for Muslim students across the country."
The Council on American-Islamic Relations also sent the College Board a letter asking that AP exams not be scheduled on the religious holiday.
Chaudry said her organization spoke with College Board officials Wednesday, describing the conversation as cordial and respectful. The organization was told the College Board would create a distinct exam for each testing day, she said.
"We appreciate their commitment to inclusivity and diversity and their flexibility in trying to accommodate school districts that are giving the day off for the Eid holiday for tens of thousands of Muslim students," she said.
Montgomery's school board is expected to vote on a 2020-2021 calendar in early December. At a meeting Tuesday, the board discussed calendar issues broadly, and Muslim parents, students and advocates made their case again.
School leaders in Maryland ask for no AP testing on Muslim holy day
Schools are closed in Montgomery County on the Jewish holidays of Rosh Hashanah and Yom Kippur — a decision officials say was first made in the 1970s because of high levels of absenteeism.
In keeping with state law, schools are closed on Christian holidays, including Christmas and Good Friday.
For years, Muslim advocates had pressed to have a day off when one of their faith's two major holy days fell on a school day. Montgomery school officials say by law they cannot close schools specifically for religious reasons.
The school board voted in 2015 to schedule a professional day on Eid in 2016.
Elsewhere in Maryland, school systems in Howard and Baltimore counties recently voted to place a professional day on the Eid holiday in 2020-2021, so that students can be off. In New York, schools have given a day off on Eid holy days since 2015.
Adileh Sharieff, a parent and a trustee at the Islamic Center of Maryland, a mosque in Gaithersburg, said the College Board action reflects a growing inclusivity and acceptance of different faiths.
"That they are willing to listen and accommodate, that's huge," she said.
https://www.washingtonpost.com/local/education/college-board-to-expand-testing-options-for-ap-exam-on-muslim-holiday/2019/11/13/a249f97a-0621-11ea-b17d-8b867891d39d_story.html
------
Complaint: Brooklyn school forced Muslim child to watch others eat during religious fast
11/13/2019
A public school employee in Brooklyn allegedly forced a Muslim child to watch children eat while he fasted during one of the most important religious holidays in the Muslim calendar, according to a civil rights complaint filed on Wednesday.
On May 14, while a 9-year-old Muslim student at Public School 264 Bay Ridge Elementary School for the Arts was fasting for Ramadan, an employee at the school allegedly told him that because he was laughing during a lunch break, "you must sit in the cafeteria and watch all the kids eat while you are fasting!" according to the complaint.
The state chapter of the Council on American-Islamic Relations filed the complaint with the New York City Commission on Human Rights.
The student's mother, Zaman Mashrah, filed a discrimination complaint with the New York City Department of Education's Office of Equal Opportunity and Diversity Management in May. The DOE requires that a written determination be provided to Mashrah within 90 days but she said no report has been created, despite several requests, and the employee still works at the school.
"It upsets me as a parent that I had to see my child go through such a discriminatory act against him," Mashrah told POLITICO. "I'm upset that the Department of Education failed to resolve this issue. I believe that this individual needs to be held accountable for what she did to my son. What she did to my son was wrong."
During Ramadan, while other fasting students were taken to the theater at lunch time, Mashrah's son was forced to sit in the cafeteria at a table by himself and watch as students ate their lunch in front of him, the complaint said. The boy broke down in tears as he recounted the incident in front of the school's principal, Marisa Bolognino, the complaint states.
Mashrah said she's had meetings with investigators who told her they were not allowed to provide any information, and argued "they're not taking this matter seriously."
She decided to transfer her son to a different school — an Islamic school — as she felt her son would feel more comfortable there.
"He's angry — it still bothers him that he had to leave the school … he's sad that he had to leave his friends," she added. "We were afraid for my son's safety. I didn't want my son attending this school."
Ahmed Mohamed, CAIR-NY's litigation director, told POLITICO the DOE will be served with another complaint.
"Our hope is that the Department of Education finally comes to its senses and does the right thing and truly recognizes this incident for the egregious administrative bullying and targeting of a 9-year-old," Mohamed said. "The 9-year-olds that witnessed this, they recognized how cruel this staff member was being and how wrong that employee was and the way they treated this Muslim student."
He said he has seen incidents of administrative bullying across the state.
"I know this is not the only incident that we're dealing with right now," Mohamed said. "Because this involves children, the overwhelming majority of the time, we tend to try to resolve these matters in private, in a confidential manner so we are not invading the privacy of a child."
The complaint also says the school refused to put up signage recognizing Ramadan, despite doing so for other religious holidays such as Easter.
The DOE did not address the specific allegations but said it was taking the matter seriously.
"Schools must be safe, supportive and inclusive environments, and these very concerning allegations were immediately reported for investigation," Isabelle Boundy, a DOE spokesperson, said in a statement. "We take any allegation of discrimination seriously, and will review the complaint."
https://www.politico.com/states/new-york/city-hall/story/2019/11/13/brooklyn-school-forced-muslim-student-to-watch-others-eat-while-fasting-civil-rights-group-1226859
------
Again, NY Times Silent on Islamic Jihad Terror Designation
November 13, 2019
As we noted yesterday, the New York Times chose to remove the word "terror" from its article about fighting between Palestinian Islamic Jihad and Israel. While early versions of the story informed readers that Islamic Jihad is recognized internationally as a terrorist group, that information was scrubbed from the article shortly after 9am in New York.
Today's follow-up story on the fighting, too, neglects to tell readers of Islamic Jihad's terror designation. In fact, it's been over six months since the paper informed readers that the group is listed as a terror organization.
CAMERA's article yesterday pointed out that the Times repeatedly used the T-word after the U.S. operation that lead to the death of ISIS leader Abu Bakr al Baghdadi. But we don't have to look even that far back. Today and yesterday, on the very days the newspaper avoided noting — made edits to avoid noting — Islamic Jihad's terror designation, it did see fit to inform readers that, e.g.,
• "Turkey regards the Syrian Kurdish militia [SDF] as a terrorist organization";
• and that "Turkey also considers the Islamic State a terrorist organization";
• and that the Chinese government claims Hong Kong protesters are engaged in "brazen terrorism";
• and that ISIS is a "terror group."
So why weren't readers informed that Islamic Jihad is considered a terrorist group by the US, EU, Canada, UK, Australia, New Zealand and others? Is it somehow less important to share fundamental context about an organization that targets Jewish-Israeli civilians?
http://blog.camera.org/2019/11/ny_times_jihad_terror.html
------
US lawmakers take up held Kashmir issue, again
Anwar Iqbal
November 14, 2019
WASHINGTON: "We have concerns about Kashmir, and we are watching the situation very closely," says Eliot L. Engel, Chairman of the House Foreign Affairs Committee, as another congressional panel reviews the consequences of India's decision to revoke the valley's special status.
On Thursday, the Congressional Tom Lantos Human Rights Commission is holding a hearing to "examine the human rights situation in the former state of Jammu and Kashmir in India in historical and national context."
But that's not enough for Congresswoman Pramila Jayapal, who wants a House resolution to send a clear message to India that forces New Delhi to reconsider its policies in held Kashmir. Jayapal is the first woman of Indian descent to be elected to the US House of Representatives.
Another US lawmaker, Senator Chris Van Hollen, backs a recent amendment to a Senate appropriations bill that mentioned the restrictions in held Jammu and Kashmir.
At a gathering at the Islamic centre in Howard County, Maryland, on Tuesday, Senator Van Hollen urged the Indian government to "abide by international human rights laws and uphold democratic freedoms" for the people of Kashmiri.
Senator Van Hollen, who recently visited India, Pakistan and Afghanistan, also criticised the Indian government for refusing to let him visit Jammu and Kashmir by the Indian government. Speaking to a group of Kashmiri Americans at the residence of a Pakistani physician, Dr Asif Mahmood, Congressman Engel also expressed concern at the situation in Kashmir and assured the people of Kashmir that their basic human rights will be protected.
Last month, Dr Mahmood helped arrange a congressional hearing on Kashmir, which was described by the Indian media as "the most critical examination that any Indian action has received in a panel of US House of Representatives since the 1998 nuclear tests."
The Congressional Commission's Thursday hearing is equally important for highlighting the Kashmir cause and exposing India's atrocities in the occupied valley. So is Congresswoman Jayapal's effort to move a House resolution to "send a clear message to New Delhi" on Kashmir.
The Indian media, while commenting on her effort, compared her to a Republican congressman, Dan Burton, who "constantly raked India over the coals on Punjab and Kashmir," wrote a major Indian newspaper, The Economic Times.
The newspaper's warned that Ms Jayapal's move could embarrass India like what Congresswoman Ilhan Omar did last month during the hearing on South Asia, when she openly challenged New Delhi's claims on Kashmir.
In a statement to the media, the Lantos Commission noted that India's decision to change the legal status of the Muslim-majority region of Jammu and Kashmir, announced in August and effective as of October 31, 2019, "has attracted intense attention due to persistent reports of human rights violations." It also noted the crackdown on freedom of expression; the arbitrary "preventive" detention of hundreds of politicians, lawyers, journalists, and other civil society figures and related fears of enforced disappearance; and the use of excessive force against protesters.
The commission noted that the increased militarization of the region, and the economic and social consequences of India actions had also provoked widespread concern. "Although India's decision was sudden, the situation in Jammu and Kashmir has been of concern for years," it added.
The statement also mentioned a 2018 report by the Office of the UN High Commissioner for Human Rights (OHCHR), which documented human rights violations in the region and issued recommendations on a wide range of issues including civilian killings, deaths during security operations, blanket restrictions on journalists and independent observers, misuse of anti-terrorism legislation, and protection of religious minorities.
The commission also referred to a follow-up OHCHR report in July 2019, which found little improvement and reiterated the "urgent need to address past and ongoing human rights violations and to deliver justice for all people in Kashmir."
The commission said that its "witnesses will examine the human rights situation in Jammu and Kashmir in the context of the region's history and larger patterns of rights violations in India and Pakistan and will offer recommendations for action by Congress."
https://www.dawn.com/news/1516612/us-lawmakers-take-up-held-kashmir-issue-again
------
Europe
Bali airport staff hit back at newlywed couple and 20 guests who claimed they were kicked off Jetstar flight for being Muslim - saying the tourists were badly behaved and refused to sit down
14 November 2019
The decision to kick an Australian newlywed couple and 20 of their guests off a Jetstar flight was in no way related to their race, airport officials have claimed.
Sarah Aslan, 23, claimed her group were racially abused by airline staff for 'looking ethnic and being Muslim' after she was escorted from her flight at Bali's Denpasar Airport at 2am on November 4.
But officials from the airport in Bali have now said Mrs Aslan, her husband Muhammed and their 20 relatives were removed from the plane simply because of their behaviour.
'We want to convey the removal of a number of passengers from (the Jetstar plane) was purely because of security and flight safety reasons,' an airport spokesman said.
The statement issued on Wednesday said their removal had 'nothing to do with SARA', an Indonesian abbreviation referring to tribal affiliations, religious, race and social groups.
The airport added one passenger had complained the in-flight entertainment would not turn on and refused to sit down.
'After the warnings were not heeded by the aforementioned passengers, the cabin crew reported the incident to the pilot,' the statement said.
The decision was then made to remove two passengers from the plane, the statement said.
The airport said the rest of the group were then escorted from the plane for protesting about the removal of the first two passengers.
Denpasar Airport's version of events appears to mirror Jetstar's statement following the incident.
A Jetstar spokesman told Daily Mail Australia: 'Whilst taxiing to the runway a number of customers became disruptive and failed to follow crew instructions.
'The safety of our customers and crew is our number one priority and we do not tolerate any kind of disruptive or abusive behavior.
'We take these allegations extremely seriously and are investigating the matter, however our crew dispute the claims made by these passengers.'
Footage of the incident showed one of the guests, Mike Mahmoud, involved in an exchange with staff over a fault with the in-flight entertainment.
'Is it the beard? It feels like it might be,' Mr Mahmoud was heard saying to the flight attendant, appearing to suggest he was not being treated fairly because of his faith.
Other passengers were heard gasping at Mr Mahmoud's remark, but he and others in the group later insisted it was justified.
'I really truly don't believe I was arrogant, I just wanted to get home,' Mr Mahmoud said.
The group continued to argue with airline staff once escorted off the plane and into the terminal.
'I didn't do anything. I don't need you to speak to me like this, do you understand?,' Mrs Aslan was heard saying in video.
'Where's the lady that started this s**t before? This is very racist.'
Mrs Aslan doubled down on her comments in an interview with Nine News.
'Personally, it did feel like we were being attacked for looking ethnic and being Muslim,' Mrs Aslan said.
Selim Tutunca, one of the 22 passengers escorted off the plane, claimed the group was unfairly targeted.
'We were racially, verbally and physically assaulted by both Jetstar crew members and Bali airport officials. We have footage of all of this,' he wrote on the Jetstar Australia Facebook page.
Mr Tutunca said he and his young family, including a seven and a three-year-old, were stranded in the terminal, where they were forces to sleep.
'We have been waiting for over four hours and my children are sleeping on benches at the airport,' he said.
Daily Mail Australia has contacted Mr Tutunca and Muhammed Aslan for comment.
https://www.dailymail.co.uk/news/article-7683731/Bali-airport-says-Australian-passengers-NOT-targeted-Muslim.html
------
'Isis leader who beheaded imam and ordered dozens of killings' on trial in Hungary
A suspected Isis military leader is on trial in a Hungarian court, accused of terrorism and crimes against humanity.
The 27-year-old Syrian, identified as F Hassan, was charged in September after an international investigation led to his capture in Budapest's main airport at the end of last year.
Mr Hassan deserted from the Syrian army in 2011, then joined Isis sometime before 2014, prosecutor Andras Urbanyi told the court. He became commander of an Isis unit and actively recruited members, Mr Urbanyi said.
He allegedly participated in the murder of dozens of people near the city of Homs in 2015.
"In May 2015 Hassan's unit was ordered to capture an area rich in artefacts near Homs," Mr Urbanyi said. "Hassan was to draw up a death list, naming those to be executed out of revenge or to intimidate locals. The list was approved by Isis leaders."
His brigade went door to door, pulling and murdering individuals on the list either with gunshots or knifing, Mr Urbanyi said. Others were forced to gather at the town's main square.
"At the square they were forced to witness an execution. The local imam was beheaded. Hassan and an accomplice severed the imam's head with long, seesawing motions, then held up his head to the crowd."
Six women and one child were among at least 25 people killed by the militants.
Mr Hassan, cuffed on his hands and feet and accompanied by a dozen heavily armed counter-terrorism agents, gave a detailed testimony of his upbringing, family and his subsequent migration to Europe.
He denied involvement in the crimes, claiming not to have been in Syria when they took place.
"Your honour, I committed nothing, I just want my family," he told judge Gergely Miko. "I was not even in Syria in 2015. I was in Turkey, never to return to Syria."
Mr Hassan's father told the court that his son had been jailed in Syria for refusing to join Isis.
His attorney, Janos Kelen, echoed Mr Hassan's claim that his client was not in Syria at the time of the incidents, asserting that Mr Hassan was illiterate and incapable of leading units and organise killings.
Mr Kelen disputed that a video of the execution, shown in court, featured Mr Hassan. Witnesses did not personally see the atrocities, he said, while a lie detector test was conducted illegally, without a defence attorney.
The lawyer said Mr Hassan had tried to kill himself while in prison. Mr Hassan claimed he had been mistreated by police and feared being poisoned.
Mr Hassan had obtained refugee status in Greece, before being apprehended in December at Budapest's Ferenc Liszt International Airport when he and a female companion were found to have forged personal IDs.
https://www.independent.co.uk/news/world/europe/isis-leader-syria-trial-murder-beheading-imam-hungary-hassan-turkey-a9201446.html
------
Poland detains 2 for aiming to 'terrorise people of Muslim faith'
AFP -November 13, 2019
WARSAW: Two members of an "extremist group" suspected of planning bomb and gun attacks on Muslims have been arrested in Poland, the security services announced Wednesday.
Officers arrested the two suspects in Warsaw and in the northwest city of Szczecin, Stanislaw Zaryn, of the country's internal security service (ABW), told AFP.
They seized chemicals that could have been used to make large quantities of explosives after searching locations in the center, south and northwest of the country.
"The arrests are the result of an intelligence-gathering exercise by the ABW about an extremist group whose aim was to terrorise people" of the Muslim faith in Poland, said a statement from the agency.
"These are the first two arrests of members of this group, which was preparing acts of violence in Poland," Zaryn said.
While he did not name the group involved in this new plot or go into details of what they were planning, he said they had been inspired by attacks carried out by right-wing extremists Anders Breivik and Brenton Tarrant.
Breivik used a truck bomb and then guns to kill 77 people, many of them young people, in Norway in July 2011.
Australian Tarrant killed or wounded dozens of Muslims in an attack on two mosques in New Zealand in March this year.
There are around 20,000 in Poland, a country of 38 million people, most of them Catholic.
https://www.freemalaysiatoday.com/category/world/2019/11/13/poland-detains-2-for-aiming-to-terrorise-people-of-muslim-faith/
-----
Pope Francis urged to REPENT by clergy after participating in 'idolatrous worship' of pagan goddess
14 Nov, 2019
An international group of Catholic priests and scholars have called on Pope Francis to issue a public apology for holding a ritual on Vatican grounds which included the worship of a pagan fertility goddess.
The petition, signed by 100 clergy, scholars and influential members of the Church, demanded that the pontiff "repent publicly and unambiguously" for participating in the worship of Pachamama, a pagan fertility goddess, during the Amazon Synod at the Vatican last month. The group noted that "all participation in any form of the veneration of idols is… an objectively grave sin that only God can judge."
A video of an October 4 ceremony, held in the Vatican Gardens, shows Francis blessing a statue of the naked, pregnant goddess before receiving it as a gift from Amazonian clergy.
A few days later, the Pope prayed in front of the Pachamama statue at St. Peter's Cathedral, and then accompanied it in procession into the synod hall.
The ceremonies caused an uproar in the Catholic world. Replicas of the Pachamama statue were later seized from a church near St. Peter's Basilica in Rome and thrown into the Tiber River. The deed was committed by a man who described the statues as false idols that violated Catholic teachings. In response to the incident, Francis asked for "pardon of the people who were offended by this act."
On Tuesday, Francis issued a cryptic statement warning about the dangers of "jealousy, envy [and] rivalry."
In what has been interpreted as a rebuke to his critics, the pontiff said: "When you talk badly about someone you destroy them. The tongue is a fearsome weapon – gossip kills, slander kills, but the jealousy and the envy of the one destroyed the other."
https://www.rt.com/news/473383-francis-amazon-petition-catholic-repent/
------
'DISLIKE': Russia's Facebook rival VK to roll out this ONE button FB users always wanted but never got
Russian social network VKontakte has unveiled the upcoming 'dislike' button, a simple feature that has been cruelly denied to Facebook users despite years of begging. Now Mark Zuckerberg can claim it was a Russian plot all along!
The feature was announced on Wednesday at VK's Content Day conference in Moscow, and the company thinks it will help "invigorate" the comment section.
VK has answered its users' prayers with the button, which will appear as an option next to the 'like' button on comments, giving users the ability to register disapproval or disagreement without actually leaving a comment of their own. Enough dislikes will turn a comment invisible.
"Dislike" is far from a feature wanted only by VK denizens. Facebook users have pleaded with CEO Mark Zuckerberg for such a button of their own since the "like" button was first unveiled in 2009, only to be denied clickable catharsis. While the platform rolled out emoji reactions in 2016, giving users the option to respond to comments and posts they didn't like with a 'sad face' or 'angry face,' there was to be no inversion of Facebook's iconic blue thumbs-up gesture.
Zuckerberg himself said he is concerned such a button would be used to "demean" others' posts, apparently unaware of the kind of comments people leave when they don't have access to such a button.
The dislike button was so popular among Facebook users that multiple petitions were created to try to change Zuckerberg's mind. Scammers even lured victims to a malware site by dangling the opportunity to add a "dislike" button to their Facebook before everyone else.
Being beaten to the "dislike" punch by VK is not the only recent frustration for Facebook. The world's largest social network (and its subsidiary Instagram) recently banned the eggplant, peach, and water droplet emojis when used in a "sexual context" in an effort to put a damper on content that "facilitates, encourages, or coordinates sexual encounters between adults."
For a platform that unveiled "Facebook Dating" just a few months ago, the social media behemoth doesn't seem to understand that discouraging sexual encounters won't win it any customers.
Leaving aside who will be tasked with judging the context of a fruit- and veggie-laden message, Facebook's move inspired ridicule from users who mused the platform might be trying to virtue-signal to distract from anger over its political ad policy after Twitter appeased critics by banning all political ads.
Ranked No. 12 most popular website in the world, VK is the social network of choice in Russia, with over 38 million monthly users, out of the total 100 million logging in from Russian IP addresses.
While its 477 million accounts worldwide are dwarfed by Facebook's army of over 2 billion registered users, VK's numbers are growing. On its blog, VK announced the number of authors and published stories was increasing by 50 percent year over year, while the number of comments had increased 49 percent over 2018. The platform has also rolled out a Patreon competitor, called VK Donut.
https://www.rt.com/news/473369-vk-dislike-button-facebook-emojis/
------
Africa
Tunisia elects new parliament speaker from Islamist party
14 November 2019
The longtime leader of Tunisia's Islamist party Ennahdha has been elected speaker of the North African country's new parliament.
Rachid Ghannouchi was elected Wednesday with 123 votes of a possible 217 in the divided house.
Ennahdha won last month's election. But with only 52 seats, the party failed to win the 109 required for a majority. It has so far failed to forge a coalition with other parties and the country continues to have a caretaker government under Prime Minister Youssef Chahed.
Getting Ghannouchi to the powerful position within parliament was a key goal for Ennahdha.
Kais Saied was elected president last month after former President Beji Caid Essebsi died in office in July. Saied is a retired law professor with no party affiliations.
https://abcnews.go.com/International/wireStory/tunisia-elects-parliament-speaker-islamist-party-66982779
------
Why Gaddafi built Old Kampala Mosque
13th November 2019
On October 31, 1976, President Idi Amin went to Masaka Suicide Revolutionary Mechanised Specialist Reconnaissance Regiment barracks to commemorate Prophet Muhammad's birthday.
He was accompanied by his wife, Sarah Kyolaba and sons Aliga and Mwanga. At the barracks, they were received by its then acting commandant, Maj. Nasur Ezaga. Also present were Gen. Mustafa Adrisi (minister of defence), Abdel Nasser (minister of information and broadcasting), Sheikh Suleiman Matovu (the mufti), Col. Ibrahim (commander of the marines), Lt. Col. Khamis Safi (head of religious affairs in armed forces), Cyprian Bwanika (mayor of Masaka), Lt. Col. Abdul Kisuule (commanding officer, Masindi Regiment) and Lt. Col. Adek (commandant, Simba Mechanised Regiment).
In his speech, a furious Amin complained that there was not a single bag of cement available at the Old Kampala Hill towards the construction of the national mosque, yet a lot of money was donated for that cause by Ugandans and by foreign governments of Libya, Saudi Arabia, Central African Republic, Qatar, Iraq and United Arab Emirates.
Amin further claimed that when he realised that some leaders at the Uganda Muslim Supreme Council had embezzled the funds meant for the construction of the Old Kampala mosque, he decided to withhold sh70m, which Saudi Arabian king offered towards its construction.
Amin also revealed how he felt embarrassed before Libyan leader Col. Muammar Gaddafi over the money he (Gaddafi) donated towards other Muslim projects in Uganda, but was also swindled by the same council members.
It is pertinent to note that Amin-Gaddafi friendship started in February 1972 after West Germany government brokered their first meeting in Tripoli Libya. Hitherto, on January 25, 1971, when Amin toppled President Milton Obote, Gaddafi was not happy with the news of Amin's takeover. That was so, because Obote and Gaddafi shared the same ideology of socialism, even though they were not friends.
With the blossoming of Amin-Gaddafi friendship, Gaddafi offered space in Tripoli towards the setting up of a Ugandan chancery. For that reason, Amin in his subsequent visit to Libya went with a team he entrusted with the setting up Uganda's embassy in Tripoli. They included; Ayub Hassan, Joseph Juruga, Amin Mutyaba, Charles Ongura and Stephen Wamono. Among the aforesaid, it was only Mutyaba who was fluent in Arabic. Thus, to ease the communication of the other members of Ugandan team who did not comprehend Arabic, Amin instructed them to liaise with Haji Habib Kagimu, who acted as their interpreter during their meetings with Libyan officials.
Kagimu speaks Arabic fluently because he studied in Libya in 1960s.
His role as an interpreter endeared him to Gaddafi. Without a doubt, it was Kagimu who successfully co-ordinated the establishment of Uganda's embassy in Tripoli after an Algerian conman fleeced Ayub of $23,000, which Amin had first released for its establishment.
In March 1976, Amin appointed Mutyaba as Uganda's charge d'affaires in Libya. Thereafter, Mutyaba was elevated to the position of ambassador.
Gaddafi's first biggest donation to Muslims in Uganda was in December 1972, when he donated sh21m to Uganda Muslim Supreme Council. The cheque was handed over to Sheikh Abdulzaak Matovu by the Libyan minister of internal affairs, Maj. Himed Khiwildi.
With the inflow of more of such funds, Amin developed the idea of constructing a magnificent national mosque and the headquarters of Uganda Muslim Supreme Council at Old Kampala. However, much of the sh77m, which was fundraised was swindled. In the process, an unbefitting structure was constructed.
After Amin was toppled on April 11, 1979, Gaddafi and Saudi Arabian government first lost interest in Uganda since they could not ally with the new Uganda National Liberation Front (UNLF) government backed by their nemesis, president Julius Nyerere.
Mind you, Gaddafi and Saudi government were also aware of the hatred some UNLF officials had for Islam. For instance, one person who is now a presidential adviser and Dr Andrew Kayiira once proposed to president Yusuf Lule in 1979 to convert the previous mosque at Old Kampala into a hotel. However, Lule, who was once a Muslim, declined.
In particular, Saudi Arabian government was offended by the action of Tanzanian military, which on toppling Amin bombed part of its embassy building in Kololo. No wonder, in 1981, when Tanzanian backed Ugandan president Obote appointed Paulo Muwanga's loyalist, Sheikh Ali Ssenyonga as Uganda's ambassador to Riyadh, King Khalid of Saudi Arabia did not accept his appointment.
For that matter, throughout Obote's second regime, Uganda's mission in Riyadh had no substantive ambassador. Instead, Abubakari Nadduli acted as its charge d'affairs untill March 1986. Thereafter, Saudi Arabian King Fahad accepted prominent educationist, Prof. Badru Kateregga whom President Yoweri Museveni appointed as Uganda's Ambassador to that country.
In its renewed interest in Uganda in 1986, Saudi Arabian government secretly financed the subsequent campaigns of Sheikh Rajab Kakooza when he contested against Sheikh Saad Ibrahim Luwemba for the position of Mufti of Uganda. On the other hand, Gaddafi sponsored Luwemba, something that partly explains why Gaddafi and Saudi Arabia were not the best of friends. Eventually, Gaddafi's candidate (Luwemba), who was also the candidate secretly bankrolled by the National Resistance Movement (NRM) government won.
His victory motivated Saudi Arabian government to sponsor Kakooza's court battle against Luwemba. Luwemba also won the court battle and served as mufti until 1997, when he died. In his absence, Sheikh Ahmed Ssemakula became the acting Mufti until December 11, 2000, when Sheikh Shaban Ramadan Mubajje was elected as the new Mufti after defeating Kakooza and Sheikh Twaib Mukuye.
On May 11, 2001, Gaddafi visited Uganda at the invitation of President Museveni to attend his (Museveni) swearing-in ceremony at Kololo Airstrip since he (Gaddafi) sponsored part of the NRM campaigns that time against Col. Kizza Besigye's Reform Agenda pressure group.
For Gaddafi's accommodation, Libyan government paid handsomely and rented the residence of city businessman, Charles Mbire. After his arrival, Gaddafi told his long time friend Kagimu to organise his night tour of Kampala city that day. Gaddafi made it clear to Kagimu that he did not want Ugandan security personnel guarding him during the tour to be dressed in their military uniforms.
Indeed, when Gaddafi started on that tour in a Mercedes Benz at mid-night, soldiers of the Presidential Protection Unit (now Special Forces Command), complied with a number of Gaddafi's instructions.
From Mbire's residence, Gaddafi toured Makerere University Hill. While there, Kagimu showed him the tower of an old mosque at Old Kampala. He explained to Gaddafi how Amin had mobilised huge funds for the construction of a better mosque, but most of those funds were embezzled leading to the setting up of a wanting structure. Kagimu, therefore, requested Gaddafi that the best gift he could give to Muslims in Uganda would be the construction of a magnificent national mosque.
On May 12, Gaddafi attended President Museveni's inauguration. Towards its end, Gaddafi promoted Museveni's son, Muhoozi Kainerugaba from 2nd Lieutenant to Major. At the time, Muhoozi was the officer in charge of Combat Readiness and Operations in the Presidential Protection Unit.
Given the mixed reactions generated by Gaddafi's promotion of Muhoozi, State House later clarified that the promotion was honorary. It was also on the same visit that Gaddafi described Museveni as a revolutionary and advised him to rule without being subjected to elections.
Before Gaddafi ended his visit, Kagimu hastily arranged a meeting between Gaddafi and some Muslim leaders that included Mubajje and Sheikh Ahmed Mukasa, among others, from both Old Kampala and Kibuli factions. That meeting took place at Mbire's residence.
Before Gaddafi met those Muslim leaders, Kagimu coached them on how to request Gaddafi to fund the construction of a better mosque at Old Kampala. Indeed, Gaddafi was impressed by the choice of words they used in requesting for it.
Meanwhile, Kagimu hastily reached out to President Museveni and humbly requested him to officially write to Gaddafi with the same request in order to augment the earlier request made by Muslim leaders to Gaddafi. Indeed, Museveni did so.
Later, Gaddafi sent one of his presidential jets to Entebbe Airport, which took a delegation of Ugandan Muslim leaders to Sirte, Libya. While there, Gaddafi introduced them to Muhammad Ahmad al-Sharif, the general secretary of World Islamic Call Society, a non-profit entity established in 1972. Gaddafi instructed Sharif to make sure that World Islamic Call Society funded the construction of a magnificent mosque for Uganda at Old Kampala Hill. Gaddafi added to Sharif that if that was not done, Allah would on judgment day condemn him (Gaddafi) for having not constructed it, yet he was formally requested for it by a non-Muslim (Museveni).
Accordingly, a mosque with a sitting capacity of up to 15,000 worshippers was constructed. When Gaddafi was presented with videos and photographs of its works, he was impressed and, therefore, agreed to attend its launch.
At its inauguration, it was named 'Gaddafi National Mosque'. It also houses the headquarters of the Uganda Muslim Supreme Council. After Gaddafi was murdered, its administrators in Uganda renamed it 'National Mosque' in a bid to continue receiving its maintenance funding from Gaddafi's successor regime in Libya.
https://www.newvision.co.ug/new_vision/news/1510574/gaddafi-built-kampala-mosque
------
Momentum launches global Sharia portfolio
14 NOVEMBER 2019
Momentum Securities has launched a Global Sharia Portfolio providing South African investors with access to an international Sharia aligned investment for a minimal initial investment of R5000.
The portfolio invests in companies contained in the MSCI World Islamic Index, which is also the portfolio's benchmark.
"Investors can gain amccess to this portfolio via an exchange-traded note listed on the JSE which invests directly in the Global Sharia Portfolio," says portfolio manager Francois Strydom. "This means that investors gain offshore exposure without having to utilise their offshore allowance."
Momentum Securities will ensure that all dividends, interest and management fees are included within this single instrument listed on the JSE.
"At Momentum Securities, we select companies and analyse them both in isolation and in context of the macro environment in which they operate, enabling our investment teams to determine what value to place on securities' growth potential. This investment process assists us in finding stocks that trade below their intrinsic value, generate more reliable cash flows, and, ultimately, provides us with a competitively performing portfolio," says Strydom.
Strydom says the portfolio does not invest in companies that are directly active in, or derive more than 5percent of their revenue from, the following activities: alcohol, tobacco; pork-related products; financial services not regarded as Islamic financial institutions, defence/weapons, gambling/casinos, adult entertainment, music, hotels and cinema.
No shares outside of the MSCI World Islamic Index may be included in the portfolio, and Momentum Securities will not conduct dividend purification.
"The fund is high conviction, invested in approximately 20 different companies in the healthcare, information technology, consumer-non-cyclical, industrial and real estate sectors. A third of the fund is in cash, which enables us to take advantage of any investment opportunities we identify.
The fund is aimed at individuals looking for global equity exposure from the MSCI World Islamic Index universe with a minimum investment horizon of five years, Strydom says.
https://www.iol.co.za/personal-finance/investments/momentum-launches-global-sharia-portfolio-37117938
------
URL: https://www.newageislam.com/islamic-world-news/suu-kyi-named-landmark-argentine/d/120261
New Age Islam, Islam Online, Islamic Website, African Muslim News, Arab World News, South Asia News, Indian Muslim News, World Muslim News, Women in Islam, Islamic Feminism, Arab Women, Women In Arab, Islamophobia in America, Muslim Women in West, Islam Women and Feminism