New Age Islam News Bureau
4 Apr 2020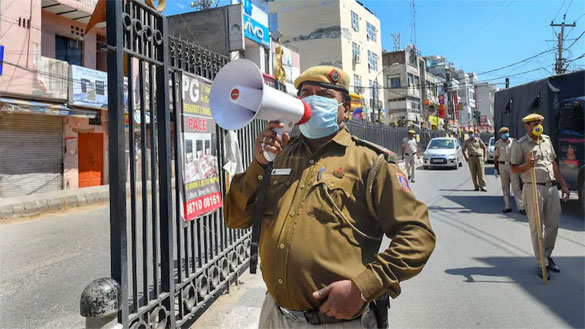 Delhi Police officers asking people not to step out of their homes owing to the lockdown (Photo Credits: PTI)
--------
• Surge in TikTok Videos Aimed at Misleading Indian Muslims Over Coronavirus Precautions: Investigation by Digital Lab, Voyager Infosec
• Do Not Visit Graveyards or Collect At Any Place This Shab-E-Barat: Islamic Centre Of India Advisory
• ISIS, Al-Qaida Commandeer COVID-19 As A 'Soldier of Allah'
• Did You Know: Haj Has Been Called Off At Least 40 Times
• UN Asked to Probe If Covid-19 Man-Made
• US Concern at Jihad Label on Coronavirus to A Particular Religion
• Several Mosques Remain Open in Pakistan As Coronavirus Cases Rise To Nearly 2,500
• Anguish as Sri Lanka Forces Muslims To Cremate COVID-19 Victims
• With A Quiet Ramadan On the Cards, Halal Restaurants Scramble To Deliver
• An Efficient Economic System Necessary for A New Islamic Civilization: Expert
• SA Muslim Community Distributes R7m Worth Of Humanitarian Aid
----------
India
• Investigation by Digital Lab, Voyager Infosec: Surge in TikTok Videos Aimed at Misleading Indian Muslims Over Coronavirus Precautions
• Do Not Visit Graveyards or Collect At Any Place This Shab-E-Barat: Islamic Centre Of India Advisory
• Coronavirus outbreak: Police search mosques to trace Tablighi Jamaat members
• Karnataka Chief Minister Reaches Out to Muslim Leaders to Expedite Tabligh Testing
• Pune: Search on for 10 who fled Shirur mosque
• Odisha's sixth coronavirus positive patient attended Delhi mosque event
• 12 Tablighi members holed up in Sadar mosque test +ve
• Police attacked while dispersing crowd at mosque
• 31 from two Patan mosques isolated
• Coronavirus: Yogi Adityanath's Tough Move Against Quarantined Islamic Sect Members
-------
Arab world
• ISIS, Al-Qaida Commandeer COVID-19 As A 'Soldier of Allah'
• Did You Know: Haj Has Been Called Off At Least 40 Times
• 3,500 workers help sanitize Grand Mosque in Makkah
• Imam of Grand Mosque brings to light importance of Supplication and Imam of Prophet's Mosque praises solidarity between leadership and individuals during Coronavirus Crisis
• Saudi Press: Custodian of the Two Holy Mosques' Supports Employees in Private Sector
• UAE combats Covid-19: Islamic Affairs Department launches fund ahead of Ramadan
• It was Russia, not Saudi Arabia, that pulled out of OPEC+ deal: Saudi ministers
• Royal decree allocates 9 billion riyals for employees affected by coronavirus repercussions
• Virtual oil summit planned amid ongoing market volatility
• Coronavirus impact: Homeless Pakistani family in UAE running out of options to stay safe amid crisis
-------
Europe
• UN Asked to Probe If Covid-19 Man-Made
• Coronavirus: BBC Begins Broadcasting Weekly Islamic Sermons As Mosques Remain Shut
• Coronavirus: UK lockdown could be relaxed in weeks, says top govt adviser
• Coronavirus: Should Boris Johnson take time off sick?
• Queen Elizabeth II to address the nation on coronavirus Sunday evening
-------
North America
• US Concern at Jihad Label on Coronavirus to A Particular Religion
• Muslim Community At New Brunswick Prepares For Less Social Ramadan As Mosques Shutter Due to COVID-19
• Biden's call on Trump to remove Iran sanctions is a 'game changer'
• Trump fires intelligence official who had key impeachment role
• Trump denigrating science' as virus wreaks mayhem in US: Analyst
• US records 1,169 coronavirus deaths, new global daily high: Johns Hopkins
-------
Pakistan
• Several Mosques Remain Open in Pakistan As Coronavirus Cases Rise To Nearly 2,500
• No Friday congregation: mosques locked down in Landi Kotal
• Mosques remain closed amid strict lockdown
• Lawyer files plea before SC to become party in UTPs case
• Collective efforts needed to fight coronavirus, Murad tells PM
• 294 more Americans evacuated from Pakistan
• IHC allows govt to turn hotels into quarantine centres
-------
South Asia
• Anguish as Sri Lanka Forces Muslims To Cremate COVID-19 Victims
• Bangladesh Puts into Mosques 321 Foreign Members Of Tablighi Jamaat
• Don't lose the Afghan Hindu and Sikh Communities, Protect Them
• Afghanistan's Hindu and Sikh communities take tough decision after deadly Kabul attack
• Coronavirus positive cases rise to 299 across Afghanistan
• Ghani appoints Atmar as acting minister of foreign affairs
• 2 Afghan President Protective Service personnel killed, wounded in Kabul city
• Help the poor families during the Coronavirus crisis, Afghanistan
• Ghani issues decree specifying Saleh's responsibilities as First VP of Afghanistan
--------
Southeast Asia
• With A Quiet Ramadan On the Cards, Halal Restaurants Scramble To Deliver
• Malaysia's small traders going online for Ramadan food sales
• Coronavirus: Indonesia's Widodo allows travel after Ramadan, raising fears infection will spread
• Jakarta secures food supply for Ramadan, Idul Fitri as COVID-19 stokes anxieties
• Police identify Covid-19 infection chain involving 40k people
• Analysts say Hadi's appointment aimed at appeasement
------
Mideast
• An Efficient Economic System Necessary for A New Islamic Civilization: Expert
• Turkey sends another military convoy to de-escalation zone in Syria's Idlib
• Saudi-led airstrike, gunfire leave nearly dozen civilians dead in Yemen
• Mossad Sneaking COVID-19 Medical Stocks - Ordered By Others - Into Israel: Senior Official
• Top Bahraini cleric demands release of prisoners amid coronavirus outbreak
• G77, China urge end to unilateral sanctions amid coronavirus pandemic
• Iran plans massive liquidity injection to fix economic woes
------
Africa
• SA Muslim Community Distributes R7m Worth Of Humanitarian Aid
• COVID-19: This Is the First Time I Would Miss Juma'at Service, Says 110-Year-Old Ondo Muslim Leader
• All Mosques In Kaduna Have Closed Down —Dr Tukur
• Security Operatives, Youths Clash During Enforcement Of Public Gathering Ban At Adamawa Mosque
• COVID-19: Police invite 2 Imams over Jumat during lockdown
Compiled by New Age Islam News Bureau
URL: https://www.newageislam.com/islamic-world-news/surge-tiktok-videos-aimed-misleading/d/121487
------
Surge in TikTok Videos Aimed at Misleading Indian Muslims Over Coronavirus Precautions: Investigation by Digital Lab, Voyager Infosec
April 3, 2020
Ankit Kumar
As India remains under lockdown for another eleven days, vested interests have turned to the Chinese short-form video app, TikTok, to exploit religious sentiments of the country's Muslim population to discourage it from practising social-distancing and mask-wearing as part of Covid-19 measures.
An investigation by a Delhi-based digital lab, Voyager Infosec, into more than 30,000 clips circulated this week suggests a set pattern of targeted disinformation campaign aimed at the Indian Muslim community.
The videos show young boys, teens and adults playing Muslims, who discourage fellow Muslims from exercising precautions.
These TikTok conversations are laced with religious overtones.
In one such video, a young boy describes the pandemic as "Allah's NRC".
"This coronavirus is nothing. It's Allah's NRC. It's Allah's wish who stays and who is summoned up," he argues.
The 13-second video ends with fellow boys throwing their masks into the air, with a song, "Allah Se Dar -- Fear Allah" playing in the background.
Another 17-second clip runs texts in Hindi that suggest coronavirus would not strike Muslims. One line invokes the Holy Qu'ran while claiming hand-shaking and hugging cure disease.
Voyager Infosec has submitted its digital investigation report to the Union Home Ministry.
The lab identified a range of high-impact videos that stoke religious sentiments of the Muslim community against lockdown guidelines.
The report, reviewed by India Today, found that TikTok has been used as the most preferred medium of a disinformation campaign.
Initial analysis of these viral videos reveals that more than 10 million users have already watched them so far.
Many of the accounts which created the content originally are being deleted regularly after the videos go viral, the report notes. This tactic helps content creators to hide their digital footprints, according to Voyager Infosec's findings.
"Some of the videos have foreign origin but they have been edited with Hindi texts and Urdu voiceover to target Indian audiences," the investigation claims.
The probe report recommends a deeper investigation into the possible role of foreign actors behind this disinformation campaign.
"We have found a very interesting pattern where TikTok has been used as a primary medium to spread misinformation, citing fake and dubious research, which claims that coronavirus does not affect Muslims and that there has not been a single Muslim coronavirus patient in China and Italy," said Voyager's Director Jiten Jain. "We have identified certain handles and patterns of these videos and once they go viral the original handle gets deleted to hide the origin. The purpose of this investigation is to inform our Muslim brothers of such patterns," Jiten told India Today.
https://www.indiatoday.in/india/story/surge-in-tiktok-videos-aimed-at-misleading-indian-muslims-over-coronavirus-precautions-1662930-2020-04-03
------
Do not visit graveyards or collect at any place this Shab-e-Barat: Islamic Centre of India advisory
Apr 3, 2020
LUCKNOW: The Islamic Centre of India led by Maulana Khalid Rasheed Farangi Mahali has asked the Muslim community to stay indoors on the upcoming Shab-e-Barat which falls on April 9 this year. The Sunni cleric who is Imam of the biggest Eidgah in Lucknow has strictly advised people to not visit graveyards on that night as is generally done by people and the scheduled Jalsa at Eidgah Lucknow on Shab-e-Barat has also been cancelled owing to the lockdown.
Eve of Shab-e-Barat that falls on the fourteenth day of the Islamic month of Shabaan is a night of forgiveness wherein devotees seek Allah's forgiveness for their sins.
On the night, a number of Muslims visit graves of their family members and recite prayers and read the Quran for forgiveness of their sins.
In a nine point advisory the cleric has also asked people to not burst firecrackers or gather together at any place which is observed to be done by young people every year.
"The night is a very important night for atonement and while it is extremely fruitful to offer prayers and read the Quran and recite duas, it should be done at home. At no cost should anyone visit the graveyards and go out in the lockdown. There should be no gathering of people or bursting of fire crackers," said Maulana Khalid Rasheed Farangi Mahali.
"The world is fighting the covid-19 pandemic and we should pray that this health crisis is over soon and all persons are safe and healthy in the world. The roza to be kept next day should be opened by this prayer," he added.
The cleric also condemned the incident of Indore and Ghaziabad where medical teams were attacked by people. "There should be punitive action against persons involved in both incidents. Doctors, paramedical staff, police, sanitation workers are all putting their lives at risks and coming out in lockdown to save all of us from the covid-19 infection. We should give total cooperation to our healthcare workers as Quran says that saving even one life is equal to saving the whole of humankind," he said.
https://timesofindia.indiatimes.com/city/lucknow/do-not-visit-graveyards-or-collect-at-any-place-this-shab-e-barat-islamic-centre-of-india-advisory/articleshowprint/74969644.cms
-----
ISIS, al-Qaida commandeer COVID-19 as a 'soldier of Allah'
April 3, 2020
Terrorist groups have given deadly COVID-19 a new name: "Soldier of Allah."
And ISIS and al-Qaida claim that the virus and ensuing global pandemic are retribution on the wicked West courtesy of God.
"Allah, the Creator, has revealed the brittleness and vulnerability of your material strength," reads the maniacal missive. "It is now clear for all to see that it was but a deception that could not stand the test of the smallest soldier of God on the face of the Earth."
Iran is one of the most COVID-19 wracked countries on the planet with more than 50,000 cases as of Thursday and hundreds dead.
But Afghanistan and Pakistan — part of the Islamic extremists' heartland — have been relatively unscathed by the pandemic, Al Jazeera reports.
Al-Qaida, the cult of terror master Osama bin Laden, also claimed the virus has obliterated the U.S. economy as millions of Americans apply for unemployment benefits.
Not to be outdone, junior jihadis ISIS said the virus has killed more Americans than the 9/11 attacks that left 3,000 dead. ISIS added that now was the time to strike the U.S.
"It is falsehood to worship America and to fear it instead of Allah the Almighty," the ISIS statement said.
The group has encouraged its followers to carry out terror attacks despite COVID-19, claiming that a massacre will make the martyr immune to the virus.
Both terrorist groups are calling on followers to attack, according to ABC News.
In COVID-19 ravaged New York, the NYPD has issued bulletins reminding officers to stay cautious and on the look out for suspicious activity.
https://torontosun.com/news/world/isis-al-qaida-commandeer-covid-19-as-a-soldier-of-allah
-----
Did you know: Haj has been called off at least 40 times
By Ahmed Shaaban
April 4, 2020
With authorities in Saudi Arabia asking Muslims to postpone their Haj (annual pilgrimage) plans till the Covid-19 pandemic is brought under control, there is a chance that the pilgrimage may be cancelled this year. The annual pilgrimage, which is to take place at the end of July this year, sees millions of Muslims flock to Makkah to perform a series of rituals, including circumambulating the holiest structure in Islam - the Kaabah. Although the possibility of Haj being cancelled is an unimaginable prospect for Muslims, historians say it has been called off at least 40 times in the past. Reasons included attacks, political clashes, plague and cholera outbreaks, floods, high costs and freezing weather.
Years: 930-940AD/316-326H (Hijri year): >> A sect called Qarmatians considered Haj to be a pagan ritual. They led an attack and slaughtered up to 30,000 helpless pilgrims. They filled the holy Zamzam well with the corpses. They also damaged the Kaaba and looted the sacred black stone - believed to be a stone from paradise - from the structure.
Years: 1256-1260AD/654-658H) >> Only those in Hijaz, Saudi Arabia, managed to perform Haj during these years.
Year: 967AD/357H) >> Haj was suspended because of a plague that killed thousands of people and animals.
Year: 1,000AD/390H) >> Pilgrims in Egypt could not perform Haj because of the high costs associated with travel. It happened again in 1028AD/419H.
Years: 885AD and 1001AD/272H and 392H) >> Haj was suspended in Iraq and the Levant, respectively, due to political disputes and internal wars.
Year: 1001AD/403H >> Haj was suspended for pilgrims in Iraq and Khurasan because of unsafe roads and political clashes.
Year: 1026 AD/417H) >> Haj was suspended for pilgrims in Iraq because of the freezing weather and floods.
Year: 1925AD/1344H) >> No pilgrim from Egypt managed to perform Haj because of an attack on a caravan that was transporting Kiswah (cover of the Kaabah) from Egypt to Saudi Arabia
https://www.khaleejtimes.com/photos/world/did-you-know-haj-has-been-called-off-at-least-40-times---#slide9
------
UN asked to probe if Covid-19 man-made
Iftikhar A. KhanUpdated
April 04, 2020
ISLAMABAD: Former interior minister and Pakistan Peoples Party (PPP) Senator Rehman Malik has urged the United Nations to form a high-powered commission to probe if Covid-19 is a man-made or a naturally grown virus and to locate its origin.
In a letter to UN Secretary General Antonio Guterres, he said the proposed commission on Covid-19 under the UN Convention on Biological Weapons, 1975 might comprise of virologists, scientists, professors, researchers, analysts and experts in the fields of microbiology and virology.
Making the letter public at a press conference through a video link, Mr Malik said the commission should present its report to the UN secretary general in three months, and its 'terms of reference' (ToR) should include recommendations to prevent future breakouts of such viruses, and international standards for coordination in case of a breakout.
These include accurate identification of the geo-location of the Covid-19's origin, identification of areas with zero patient, discovery as to why the behaviour, intensity and fertility rate of Covid-19 varies from country to country, investigation whether Covid-19 is a man-made or naturally-grown virus and examination of the allegations of transportation of the virus from one place to other destinations in the world, as a 'biological warfare tactics'.
He said the deadly coronavirus pandemic had stirred up the worst global crisis since World War II. Many claims, speculations, conspiracy theories and misinformation about the disease have found their way into the international print and electronic media, blurring distinction between real and fake news.
He said that he was not blaming any government or a group or levelling any allegation or endorsing any media report about the origin of Covid-19. However, he added, he had drawn the UN general secretary's attention to apprehensions being shown by the international media.
In his letter, Senator Malik writes that, it is unfortunate that coronavirus has emerged as the deadliest virus of this century, which definitely, is a deadly pandemic which has stirred up the worst global crisis since World War II, adding though the world history is strewn with pandemics, Covid-19 has shaken the whole world, like no other. He said what was being reported internationally was instead of calming down the public, was only creating uncertainty and panic amongst the masses across the globe.
https://www.dawn.com/news/1546299/un-asked-to-probe-if-covid-19-man-made
-----
US concern at Jihad label on coronavirus
4.04.20
By Anita Joshua
The US on Thursday expressed concern over efforts to link the coronavirus pandemic to a particular religion in several countries and urged governments to counter this.
This was stated by the US ambassador at large for international religious freedom, Samuel Brownback, in response to a specific question from a journalist in Washington about the hashtag CoronaJihad trending in India.
The journalist also asked if Brownback's office, which is part of the US state department, is "tracking how the coronavirus has exacerbated any anti-Muslim activity like this".
Stating that his office is looking into the blaming of religious minorities for the spread of the pandemic, Brownback said this was happening in various places.
"This is wrong by governments to do this. It is — the governments really should put this down and state very clearly that this is not the source of the coronavirus. It's not the religious minority communities," Brownback said.
It was not clear which governments the envoy was referring to. The Indian government has not blamed any minority community for the spread of the virus. Such a smear campaign is largely driven by several social media users who have drawn more attention because of the high-voltage coverage in sections of the mainstream media.
Hundreds of participants at a Tablighi Jamaat congregation in Delhi last month have tested positive for the coronavirus, becoming fodder for Right-wing propaganda communalising the pandemic and triggering the CoronaJihad hashtag.
In Washington, Brownback said: "And they (governments) should go out there in open messaging and say no, this is not what happened.... But unfortunately, we are seeing that sort of blame game getting started up in different places around the world, and we hope it gets pushed back aggressively by those host governments."
On whether he had raised with the Indian government the issue of people giving communal overtones to the pandemic, Brownback said "not yet".
Asked if Kashmir was getting the help it needed to counter the pandemic, the ambassador said he did not have any specific information, adding that "we do call on governments to work with their religious minorities in this time of pandemic and make sure they are getting the needed resources and aid".
https://www.telegraphindia.com/india/us-concern-at-jihad-label-on-coronavirus/cid/1761935
----
Several Mosques Remain Open In Pakistan As Coronavirus Cases Rise To Nearly 2,500
April 4, 2020
Several mosques remained opened on Friday across Pakistan and people offered prayers there despite a government ban on big congregational gatherings in order to curb the spread of coronavirus that has killed 37 people and infected nearly 2,500 others in the country.
The Sindh government had announced curfew like restriction from 12 noon to 3 pm to stop people from visiting mosques, while the Punjab government had issued fatwa for people to offer prayer in their homes. Similar instructions were issued by other provinces and the federal government.
The mosques made announcement urging people to pray at home, but some people defied the instruction and visited mosques, according to reports. Some clerics also encouraged people to attend prayers in mosques.
"The government and police are making statements to create a sense of fear. Nothing will happen. Karachi is a city of 20 million, the government cannot implement its decision in every nook and cranny, the prayer leader of the Jamia Mosque Quba told The Express Tribune.
A heavy contingent of police and Rangers personnel were also deployed in front of the New Memon Mosque and some other areas in Karachi.
Reports from different areas of Karachi suggested that the majority of mosques followed government orders, however, some continued to hold regular prayers.
"Baitul Mukarram Mosque is in front of my home. It was closed, so we prayed afternoon prayers at home, Rizwan Siddiqui, who lives Gulshan-e-Iqbal, told the paper.
"We were only five people at the mosque praying. We had already informed the area's citizenry not to attend Friday prayers as there is a ban on crowds assembling, said Qari Abdul Basit of Siddique Akbar Mosque in the Akhtar Colony locality.
In other towns and cities of the province, including Sukkur, Larkana, Hyderabad and Mirpurkhas divisions, the doors of most of the mosques were locked with only four to five people, including the prayer leader, allowed to pray.
We have offered Friday prayers in our Jamia mosque with the same crowd," said Abdul Hanan, who lives in a village in the Kamber Shahdadkot district.
The situation in Balochistan was not much different. A big crowd came to attend Friday prayers in Qandhari mosque of provincial capital Quetta, located near a police station.
In Punjab, announcements were made from mosques urging the people to pray at homes. In cities, the orders were mostly followed but the situation in the rural areas was different as people came out in big numbers to offer prayers.
Dar ul Iftah Jamia Naeemia, an Islamic university in Lahore, issued a fatwa (religious edict) saying that people who are stopped by the government from coming to mosques were not obliged to perform the prayers in congregation.
There were reports of confrontation between police and people on the issue of going to mosques. People gathered near Ghousia Mosque in Liaquatabad area of Karachi and pelted stones at police when stopped from entering the mosque.
Last week, the Grand Imam Shaikh of Egypt's Jamia Al Azhar, an authority on Islamic injunctions, and the Supreme Council in Egypt, issued a fatwa (religious edict) on the request of Pakistan President Dr Arif Alvi, empowering the head of the state to suspend Friday prayers in the wake of the coronavirus outbreak.
Alvi had asked clerics in Pakistan to act as per the principles of Islam from Quran and Sunnah, and said it purely Islamic to cancel Friday prayers over coronavirus concerns, The News reported.
https://www.indiatoday.in/world/story/mosques-remain-open-in-pakistan-as-coronavirus-cases-rise-to-nearly-2-500-1663110-2020-04-04
-------
Anguish as Sri Lanka forces Muslims to cremate COVID-19 victims
20 hours ago
by Shereena Qazi
The forced cremation of two COVID-19 infected Muslims in Sri Lanka has sent shock waves among the minority community, which accused the authorities of violating Islamic burial rites.
Bishrul Hafi Mohammed Joonus, a 73-year- old man from the capital Colombo who died of COVID-19, was the second Muslim to have been cremated in the Indian Ocean island nation, which has registered 151 cases so far.
Bishrul's son Fayaz Joonus, 46, said his father who had a kidney disorder tested positive for the virus about two weeks ago. He died on April 1 and was cremated the following day.
Fayaz said they could not perform congregational funeral prayers, called the Janazah, for his father due to fear of infections.
"My father was taken in a vehicle under the supervision of the police force and was cremated. We did some prayers outside the morgue, but it was not a Janazah that us Muslim typically do," Fayaz told Al Jazeera.
"The government needs to make arrangements for us Muslims to be able to bury our loved ones in accordance with our Islamic burial rites."
"If there is an option of burial, our government should accommodate. Cremation is not the only option, we want to bury our loved ones as per the Islamic way," he told Al Jazeera.
Sri Lanka's Ministry of Health on Tuesday issued COVID-19 guidelines saying the standard procedure of disposing bodies should be cremation. It reversed an earlier guideline that allowed traditional Muslim burial.
It also said the body should not be washed and placed in a sealed bag and a coffin, as against the Islamic practice of washing the body.
Muslim leaders and activists have pointed out that the World Health Organization (WHO) allows both burial or cremation for people dying due to the pandemic.
Prominent lawyer Ali Sabry said in a Facebook post that he was disappointed with authorities' decision to cremate bodies of Muslims, as it was in disregard to the WHO guidelines, which say that a body can be either buried or cremated.
Out of the four people who died due to COVID-19, two were Muslims. The cremation of Muslims has caused anguish in the community.
"The Muslim community sees this as a racist agenda of extremist Buddhist forces that seem to hold the government to ransom," Hilmy Ahamed, vice president of Muslim Council of Sri Lanka, told Al Jazeera.
"The guidelines issued by the WHO is practised by Britain, most of the European countries, Singapore, Hong Kong and all the Muslim nations [except for Sri Lanka]," he told Al Jazeera.
Amnesty International has also called on authorities to "respect the right of religious minorities to carry out the final rites" according to their own traditions.
"At this difficult time, the authorities should be bringing communities together and not deepening divisions between them," Biraj Patnaik, South Asia director at Amnesty International, said in a statement.
"Grieving relatives of people who have died because of COVID-19 should be able to bid farewell to their loved ones in the way that they wish, especially where this is permissible under international guidelines."
Muslims account for 10 percent of Sri Lanka's 21 million population. But their relationship with the majority Sinhala Buddhists deteriorated in the years after the end of civil war in 2009 during which hardline Buddhist groups were blamed for several attacks against Muslims' businesses and places of worship.
Following the deadly attacks in April 2019 that killed more than 250 people, Muslims have faced increased hostility from the Sinhala majority.
A little-known Muslim organisation was blamed for the island nation's worst attack since the civil war fought between the government forces and the Tamil separatist fighters.
"This is just to hurt the feelings of the minority," Azath Salley, leader of the National Unity Alliance political party and the former governor of Western province, told Al Jazeera.
The method of the disposal of the body has become a big talking point in the country, with a section of the media accused of running "anti-Muslim hysteria" and pointing fingers at Muslims for the spread of the virus.
Nalaka Gunawadenne, a media analyst said amid the COVID-19 pandemic, it is very disturbing and disheartening to see anti-Islamic sentiments and anti-Muslim hate speech "raise their ugly head again in Sri Lanka".
"This is national and global emergency shared by all humans, and not a time highlighting our cultural divisions. The coronavirus does not care about our ethnic or religious differences. We need to fear the virus - not each other - and unite in containing and battling the disease." he told Al Jazeera
https://www.aljazeera.com/news/2020/04/anguish-sri-lanka-forces-muslims-cremate-covid-19-victims-200403053706048.html
------
With a quiet Ramadan on the cards, halal restaurants scramble to deliver
By Hidayah Salamat
04 Apr 2020
SINGAPORE: For years, business has been brisk at Hjh Maimunah, a popular kampung-style restaurant located in one of the city's oldest Malay settlements, Geylang Serai. The restaurant is especially lively during Ramadan - with a record 2 million people visiting the annual Hari Raya Bazaar in the area last year.
This year, for the first time, the annual bazaar and many other Ramadan events planned islandwide have been cancelled due to the threat of COVID-19. With that, and the soon-to-be enforced "circuit breaker" measures announced on Friday (Apr 3), halal restaurants are feeling the heat.
Ms Mastura Didih, one of Hjh Maimunah's third-generation owners, said sales across her outlets dropped 20 per cent in February. It dropped further to 30 per cent this past week.
She said the sales impact was expected, given that most of the restaurant's customers are tourists and people who work in the neighbourhood, but the safe distancing measures - like many other measures introduced since the outbreak began in January - were sudden.
"Everything happened so quickly that we had to call an emergency meeting on the staff's day off. We had to tell them we needed to change the way we do business," she said.
Before the announcement on Friday, Ms Mastura told CNA the company was already expecting walk-ins to dwindle and the decision was made to expand their delivery service. Hjh Maimunah is currently available on Deliveroo for some parts of Singapore and offers catering services for orders S$150 and above.
But starting next week, customers can order on Hjh Maimunah's own online platform powered by Oddle, with minimum orders set at S$35 and delivery charges starting from S$7. The company is also hoping to take in tingkat orders (one week of lunches or dinners) on this platform.
"We had planned to launch this in Ramadan because we were getting requests for daily deliveries but because of the COVID-19 situation, we decided to launch earlier," said Ms Mastura.
The expanded delivery comes at a ripe time, with "circuit breaker" measures to prevent further spread of COVID-19 set to take effect Apr 7. On Friday, the Government announced the closure of all workplaces except for those providing essential services such as food and medicine.
Those establishments allowed to remain open have to continue to adhere to safe distancing measures, such as a 1m-space between people.
Hjh Maimunah is a popular option for catered festive food, which it typically delivers or prepares for self-collection on the eve of Hari Raya. Dishes like sambal goreng pengantin, sambal udang and rendang are prepared fresh for those who do not want to go through the laborious cooking process that the Hari Raya feast involves.
"For delivery on Hari Raya eve, we will probably do only 50 customers - first come, first served. For self-collection, we prepared 500 orders last year, but this year we will only be taking 200," she said.
"We opened a second factory recently that we've been using to process frozen food for our own kitchens. We'll start selling frozen food out of that factory in May during fasting month, for those who can't do their shopping in Geylang," said Ms Mastura.
Already in the delivery game is Flame Cafe, which began offering its zhi char and Western menus, as well as its signature pagoda steamboat platters online earlier this week for a flat delivery fee of S$4. However, customers have to make their order by phone two days in advance.
"We didn't have much time to plan, the limited gathering announcement was quite abrupt. We came up with a plan in something like 24 hours," said sales and marketing manager Ida Isnin.
The cafe had seen "quite a big drop" in walk-in customers, said Ms Ida, adding that the lunch crowd alone was reduced by up to 40 per cent.
"We usually see a few families dine at our restaurant for dinner, but recently we were seeing just one or two tables occupied," she said.
Over in the Arab quarter, a tourist hotspot also popular during Ramadan, at least three restaurants jumped on the delivery bandwagon this week.
After sales spiked from the launch of its delivery service in March, Fatpapas' marketing and communications executive Annabelle Francis said the team decided to launch the same service for their sister outlet Wakuwaku Yakiniku. Previously, both restaurants drew such consistent crowds that they had to implement a queuing system.
"We suffered a dip in numbers because of COVID-19, but our deliveries have definitely gone up. It did so well that Wakuwaku Yakiniku also became available for delivery on Apr 1. For Ramadan, we're staying optimistic and plan to offer an exciting festive delivery menu," said Ms Francis.
In nearby Bussorah Street, popular Italian eatery Positano Risto also launched a delivery service on its website with a wide range of menu items including risotto and lobster thermidor, with no delivery charge. Those who self-collect will get 15 per cent off their order.
"We never planned to do delivery at such a scale. We only started thinking about it on Mar 22 and decided to launch it as soon as possible. There was a sharp decline in revenue that week," said general manager Mohammed Taha. "Overall we have seen a 70 per cent drop in our in-house revenue."
Mr Mohammed Taha said the biggest change was having to shift the mindset of their staff in terms of the restaurant's core business.
"We had to transform from a dine-in service to a place where the revenue stream will mainly come from delivery. Front of house staff will have to go from entertaining customers to packing food. That's a major change in their roles," he said.
Another badly hit eatery in the area is I Am Cafe, which saw a 90 per cent drop in customers compared to before the coronavirus outbreak.
There is usually a queue on the five-footway for a table at the cafe located at the intersection of North Bridge Road and Haji Lane, but the tourist hotspot has turned into a "ghost town", said owner Jamuri Busori, who said he has no idea what to expect in Ramadan.
Usually packed with people, it remains a "big question mark" what Ramadan will be like for dining hotspots in Kampong Glam like I Am Cafe, said owner Jamuri Busori. (Photo: Facebook/I Am Cafe)
Our place is usually quite packed during iftar, but it remains a big question mark if anyone will come out to eat this Ramadan. People are afraid to go out. Even though we have taken extra measures, such as opening up our events area to offer more space between seats, people are not coming in. I'm clueless as to how things are going to be this Ramadan," said Mr Jamuri.
I Am Cafe has digitalised much of its operations since 2018, with customers encouraged to make even dine-in orders via their mobile devices. But amid the outbreak, delivery is now available islandwide, with S$10 specials and 20 per cent off the total bill.
Koh Nang Kam, a Thai restaurant in the Kampong Glam district, said that with revenue reduced to a third on a weekday and by 80 per cent on previously busy weekends, it had hoped to jump into islandwide delivery as well, but this was delayed because delivery platforms appeared overwhelmed by a surge in such requests.
We are in talks with Oddle to integrate a nationwide delivery into our official website. We may be able to launch this in two weeks because their technical team is overwhelmed with the surge in applications for such services," said manager Abdul Hadi Jamalludin, adding that the restaurant has submitted an application with GrabFood and is still awaiting response.
For Rasa Istimewa, delivery figures have not gone up, even though all its outlets have been available on third-party apps like Deliveroo and Foodpanda since before the outbreak.
I won't say that deliveries have gone up. People are staying at home so they probably have more time to do their own cooking, so delivery has not really gone up," owner Larry Tan told CNA.
Rasa Istimewa has three outlets including one in SAFRA Jurong, which is linked to one of the biggest COVID-19 clusters in Singapore.
The SAFRA Jurong outlet is more seriously affected compared to the ones in Woodlands and Pasir Ris. We saw an almost 70 per cent drop in diners," said Mr Tan.
It's very demoralising," said Mr Tan. "We hope the Government can help more than what they're offering now. Even if the curve is flattened and the situation stabilises, it will take months for customer confidence to be restored. We're in this for the long haul."
https://www.channelnewsasia.com/news/singapore/covid19-ramadan-halal-restaurants-delivery-12593922
--------
An efficient economic system necessary for a new Islamic civilization: expert
April 3, 2020
As an annual tradition, Leader of the Islamic Revolution Ayatollah Seyyed Ali Khamenei addresses the nation and determines a name for the new year. This year has been named the year of "Surge in Production."
Economist and university professor Hojjatollah Abdolmaleki, in an interview with the Tehran Times, said the Leader's emphasis on "production" in recent years is mainly rooted in the fact that in the country's goal of creating a new Islamic civilization is through strengthening the national economy and creating an efficient economic system.
Every year, on the first day of Noruz, the Leader of the Islamic Revolution addresses the nation and assigns a specific name to the year. What is the purpose and philosophy behind choosing a specific name for the year?
As the Leader of the Islamic Revolution, Ayatollah Seyyed Ali Khamenei is looking for the establishment of an Islamic system. Systematization is a process that requires institutionalization and cultural evolution. One of the measures taken by the Leader of the Islamic Revolution yearly to prepare the bedrock for systematization is naming the years. By naming a year with a specific pivot, more attention will be paid to certain features of the goals behind that pivot and all executive branches of the government, elites, scientists, and the public will acknowledge the importance of the issue.
The Leader always explicates the main conceptual specifications of every issue. Then scholars and scientists of the country study those specifications to explain the goals and outcomes of every issue. Meanwhile, the executive branch of the government tries to plan its future actions accordingly. The legislative body of the government, also, tries to revise existing regulations according to the new issue or pass new laws if needed. Finally, relevant institutions will try to inform the public of different characteristics of the issue.
Therefore, naming the years is a clever and scientific strategy to lead the Iranian society step by step towards the favorable Islamic system and to prepare all the factors which are going to be crucial and effective in that ideal Islamic system.
Each year's name is related to the past. Each name is like a piece of a puzzle and these pieces collectively make a bigger picture. So there is a precise direction in naming each year which acts as the plot that interconnects all the names. The Leader of the Islamic Revolution, since the first year in which the process of naming the year started, has chosen the names in an order that illustrates a certain transcendental goal once you analyze the names collectively.
During several past years, the names chosen by the Leader of the Islamic Revolution have been related to the economy. When you study the names, you will realize they are small parts of a big economic plan which all together, will help us move towards creating an ideal functional economic system. In fact, the concepts considered by the Leader (e.g. boost in domestic production, improvement of consumption patterns, innovation and prosperity, flourish in production, and surge in production) all together form the structure of the aforementioned ideal economic order. The Leader's emphasis on the category of "production" in recent years is mainly rooted in the fact that in our path towards creating a new Islamic civilization, the most important challenge to overcome at the moment in the country is the strengthening of the national economy and creating an efficient economic system.
Therefore, the concepts behind these names alongside each other illustrate the perfect picture of a convenient economic order.
As an economist, what's your idea about the importance of "production" in economic empowerment? Given the fact that our country has been under suffocating international sanctions for over four decades, isn't the expectation of a production leap rather unrealistic?
First of all, in every country which endeavors to achieve development, the element of "production" is the most significant factor in economic planning. Production is also vital to the "resistive economy". In a resistive economic strategy, production is the fundamental factor for economic growth. Production has very serious effects on obtaining economic goals in every country. Production results in the abundance of merchandise in an economy, meaning the people of the country, industries, and all economic activists including the final consumer and production units can find whatever they want in the market. This is the first influence of production growth.
The second influence is the containment of inflation. The most effective method to control or reduce the inflation rate is the production growth which can even end up in price reduction.
The third influence of production growth is the reduction of the countries' dependency on foreign merchandise and consequently reducing the demand for foreign currency. Through this strategy, the impacts of financial and bank-related sanctions against a country will decrease.
The next influence of growth in production is the increment of job opportunities which results in the increment of revenue and welfare of the society.
The last but not least influence is the increase of states' revenues from taxing without increasing the taxes. This has two effects: first, for economies like what we have here in Iran, it will decrease the dependency of the government on revenues from selling oil, and second, it will expand the governmental services and increment of public welfare.
To sum up, strengthening national production will result in public welfare for citizens and economic authority for the country on a global scale. So, the "production" is considered as a fundamental factor in economic planning and when we analyze the national and international economic status of more developed countries of the world which hold an economic hegemony or authority in global level, we realize there has been a substantial program in fields of production. They have empowered their national production and consequently increased public welfare and economic power internationally.
Strengthening domestic production requires various infrastructures. Our country has been struggling to make its way through uncountable impossible-to-defeat challenges to establish these infrastructures for more than 40 years. What's our status today? Do we have those infrastructures?
First, I should point out that we had a relatively good advancement in the "flourish of production" which was last year's name. Even though our revenues from selling petroleum reduced and our oil-oriented economic growth rate was negative, the economic growth rate of Iran was positive last year. This means that our real production rate in sections like agriculture, industries, and services increased and we got past the economic depression of previous years.
So, it is true to say that the prosperity of production began last year. But, as the Leader mentioned in his new years' speech, this prosperity was limited and Iranian people didn't feel its influence in everyday life. That's why the current year was named "Surge in Production" which one of its results is a sensible effect in public livelihood so that people feel the economic conditions are getting better.
The surge in production certainly needs infrastructures and some factors. Fortunately, Iran is one of the few countries in the world which has all the infrastructures and factors required for strengthening the production (or even a surge in production) at its disposal. Ironically, our main problems are privative, meaning the obstacles which exist in our way to boosting production rate. By removing these obstacles, we achieve the production leap.
I want to briefly talk about the infrastructures and capacities of production in Iran. Hardware-wise, production requires five factors. The first factor is the market. The second factor is the workforce. The third is knowledge and technology. The fourth factor is capital, and the fifth factor is natural resources. If a country would possess all these factors, it has a phenomenal capacity for production. Our country is rich in all those factors.
As of market factor, we already have a population of 84 million which means a huge ipso facto market. We also have 15 neighboring countries with a population of over 400 million people. These countries, collectively, spend $2 billion on different merchandise and services of which, $1.2 billion are imported from other countries. Iran can be one of the good exporters to these neighboring countries because, first, for most of these countries, Iranian merchandises are well qualified enough and second, most of these countries are culturally close to us. For example, most of our neighbors did not/will not acquiesce to sanctions programs against us. This means our domestic and regional market is a rich one and no matter how much we produce; the market exists out there.
As of the workforce, our country possesses over 40 million young workforces of which, 15 million are academically educated and account as expert workforces. This gives us a high capacity for production.
In the science and technology sector, Iran is a leading country in the field of new technologies in the region or as in some cases, in the world. We have 100,000 university professors who can run knowledge enterprises and perform activities in the technology sector. We also have more than 4,600 active knowledge enterprises in Iran which almost have produced any merchandise they have been ordered to produce. Many of these enterprises are producing productions that only one or two countries are capable of producing in the world. These knowledge enterprises and the technological power in Iran which has been flourishing since not long ago have proved there are no dead-ends in fields of technology and technical skills in the country.
As of the capital, we have over $550 billion of liquidity of which, if only one third would be directed towards the production, causes a production blast rather than a production leap. So we don't even need foreign investments to boost production and there is enough cash flow in the country to achieve that goal.
As of the natural resources, Iran is a very rich country. Iran, alone, possesses natural resources equivalent to a group of European countries combined. Iran is three times bigger than France in the size of the land. The land is an important element for production. As of geographical location, Iran is located on the 30th parallel north which is considered as the best agricultural climate in the world. We have rich sources of groundwater, surface water, and precipitations and also deep waters which are recently being studied. We have 40 million hectares of fertile agricultural land for traditional agricultural methods and if we use modern agricultural methods, the entire width of Iran can be used for agriculture. As of oil and gas which are the most important minerals and raw materials of the world, Iran is the richest country and ranks first among others for total oil plus gas resources. As of other sorts of minerals, except for a handful of minerals, all other resources exist in the country.
In terms of man-made infrastructures, Iran is in very good shape. Our roads network has expanded in every corner of the country interconnecting every rural and urban zone with appropriate routes. The ICT (Information and Communications Technology) network is desirably developed all over the country. The energy network is well expanded. Every populated area enjoys an electricity network and most of the villages in the furthest corners of the country have access to gas networks. In sum, all of the necessary infrastructures for boosting the production are favorably developed across the country since the Islamic Revolution in 1979.
So, it is true to say we have extensive land which is armed and has all the requirements of the production leap at its disposal. It means we have everything we need to boost high-quality production on a global scale and the main challenge to achieve that goal is removing the obstacles in the way of becoming an international economic power. Once these obstacles are defeated, an economy, in essence, tends to increase the production rate.
So if everything is ready, if all factors are gathered right here right now, why we can't feel a sensible change in approaches towards the production process? The statistics even imply a considerable decrease in the production rates within the last few years. You even argued that growth in the production rate will dramatically decrease the impact of different international sanctions. What part of the government is responsible for eradicating those obstacles mentioned above?
After the Islamic Revolution of Iran, the real production growth rate is multiplied by 16.4 which means we have moved from $100 billion of PPP (Purchasing Power Parity) in 1979 to $1,650 billion of PPP in 2019. This is while our population has multiplied by 2.8 and this means that real per capita production rate in Iran is now 7 times more than before the Islamic Revolution. This is a rare growth that is distinguished once compared with a country like the United States which over the same period, had its per capita production rate multiplied only by 2. It is a true argument that the U.S. has more population than Iran and its two-times growth worth more than our seven-times growth, but our growth ratio during the past 40 years has been significant and we expect it to increase.
We may see less emphasis on the production empowerment during the last few years. One reason is that those who are responsible for the lubrication of the production process, especially in the executive branch of government, have focused way more on foreign interactions and political exchanges with western countries than activating domestic capacities for production. This approach drew the attention of economic activists away from the domestic capabilities of the country in the fields of production.
Authorities of Iran have been engaged in nuclear negotiations with different countries of the world since 2003. From 2004 to 2013 the production process was not marginalized by intense nuclear negotiations and moved progressively forward parallel to diplomatic negotiations and interactions. But, unfortunately, since 2004 on, more than 90 percent of countries' power was dedicated to negotiations and we fell short of power to strengthen domestic production. Those negotiations finally resulted in The Joint Comprehensive Plan of Action (JCPOA) which didn't last long and had no positive effect on production units.
Various entities have different responsibilities. Central Bank and the banking network of the countries' responsibility is directing the heavy mass of liquidity towards production. The responsibility of the Ministry of Industry, Mining, and Trade is regulating the trade policies; partly to manage and control the importations, and partly to empower the exportations. This ministry is also responsible to provide the infrastructures necessary for production and lifting the bureaucratic obstacles in the way of increasing the production rate which is almost the most important obstacle amongst all for entrepreneurs. The Ministry of Economic Affairs and Finance is another part of the executive body of the government which accounts for removing those obstacles (which most of them are solvable merely by signing an order on a paper). The Presidential Deputy for Science and Technology is another effective entity in this process which fortunately has been very positively active in recent years both in reinforcing the technology in the country and canalizing those technologies toward production. The taxation system of the country must try to lift the burden of taxation pressure off the shoulders of the real production activist who mainly have a clear tax file. Taxation pressures should be focused on the part of the economy that doesn't produce value-added. (e.g. capital gain tax, etc.)
There are two main role-players in a resistive economy: state or government, and people as the main body of society. These two form the foundations of the resistive economy. The main task of government is planning and providing the infrastructures, but those plans will go no further than papers and books if the society would not act accordingly. Indeed, the government acts as the brain and operational arms are the people. For example, investments are conducted by the body of society. It is also the same about working, selling, marketing, producing and this list goes on and on. The word "people" here means university professors, workers, engineers, families, etc. For a country that is seeking to achieve a production leap, it is crucial to have a pure and unmixed public opinion and a culture consonant with this goal.
The members of the society, also by purchasing national productions, can accelerate the progress. Those who produce merchandise or prepare services are responsible to increase both the production rate and quality of the productions.
https://www.tehrantimes.com/news/446433/An-efficient-economic-system-necessary-for-a-new-Islamic-civilization
------
SA Muslim community distributes R7m worth of humanitarian aid
2020-04-03
The Muslim community has distributed more than R7 million worth of welfare and relief aid across the country since the lockdown began.
The SA Muslims Covid-19 response task team has been co-ordinating with the national and provincial government and other stakeholders to ensure that the needs of vulnerable families are met.
In Gauteng, the organisation, in partnership with the provincial government, has handed out food hampers along with blankets, hygiene hampers, sanitisers, and face masks.
"The Africa Muslims Agency has distributed hygiene kits and food hampers across the province. In the Johannesburg CBD, 500 people received food hampers and blankets were distributed to the homeless in the Mayfair area.
"Islamic Relief South Africa expended 685 one-month food hampers, hygiene packs, and household packs. The Al Imdaad Foundation distributed food hampers, blankets, hygiene packs, and toothbrushes to the homeless and vulnerable groups in Lenasia South, Windsor, Eikenhoff, Grosvenor, and Eldorado Park," said project spokesperson Shanaaz Ebrahim-Gire.
"The Natal Memon Jamaat welfare team in collaboration with the World Memon Organisation, Jama'atun Nisa and Being Muslim team distributed over 600 family food hampers and hygiene packs in the three days leading up to the lockdown.
"Since then, these organisations have distributed food hampers with hygiene content to various needy families residing in Bonela, Seaview, Canelands - Verulam, KaPata, Pietermaritzburg, Phoenix and other areas around Durban Central.
"… Africa Muslims Agency, as part of their #Humanitize and #12MillionMeals campaigns, distributed hygiene kits and food hampers and will continue to distribute these much-needed items in the Durban and Newcastle areas," said Ebrahim-Gire.
In the Western Cape, food hampers will be distributed to vulnerable families and informal settlements in Lost City, Athlone, Heideveld, Hanover Park, parts of Mitchells Plain, Salt River, Woodstock, Factreton, Parow, and others.
"In other provinces, SANZAF's offices in Port Elizabeth, East London and Kimberley are also active in responding to emergency cases," said Ebrahim-Gire.
https://www.news24.com/SouthAfrica/News/sa-muslim-community-distributes-r7m-worth-of-humanitarian-aid-20200403
-----
India
Coronavirus outbreak: Police search mosques to trace Tablighi Jamaat members
April 3, 2020
Abhishek Bhalla
Searches across the country are being carried out in mosques and other locations to members of the Tablighi Jamaat members who attended events at the Markaz centre in Delhi's Nizamuddin.
Over the last few days, searches have been carried out in Delhi, Andhra Pradesh, Telangana, Uttar Pradesh, Madhya Pradesh and Rajasthan.
Efforts are on to trace these members and evacuate them without any delay. They are being traced and sent in quarantine and if required, they are being tested for Covid-19, an official told India Today TV.
In Delhi alone, 17 mosques with 168 foreigners and 10 Indians staying have been identified. Among the foreigners, maximum are from Indonesia.
Foreign Tablighi Jamaat members travelled extensively to states like Uttar Pradesh, Madhya Pradesh, Rajasthan, Jharkhand, West Bengal, Odisha and Andhra Pradesh among other parts of the country.
Local police have now been asked to compile a list of members who visited big mosques in their jurisdiction, sources said.
If any contact history with a Covid-19 positive case is established, people in the area will be immediately screened and sent for quarantine, sources have told India Today TV.
As of April 2, 9,000 people with a contact history with members of the Tablighi Jamaat, who were part of the congregation at Nizamuddin in Delhi, were identified and sent in quarantine.
Of the 9,000 quarantined, 1,306 are foreigners and the others are Indians.
Delhi's Markaz had about 2000 Jamaat workers including 250 foreigners out of which 1,804 have been quarantined, the Ministry of Home Affairs has said.
The Ministry of Home Affairs (MHA) has blacklisted 960 foreigners, present in India on tourist visas, for their involvement in Tablighi Jamaat activities. The MHA has also directed police chiefs of all states and Union Territories to take necessary legal action against all such violators on priority.
https://www.indiatoday.in/india/story/coronavirus-outbreak-police-searches-mosques-to-trace-tablighi-jamaat-members-1662840-2020-04-03
------
Karnataka Chief Minister Reaches Out To Muslim Leaders To Expedite Tabligh Testing
Apr 4, 2020
BENGALURU: With distrust derailing the testing and quarantining of those who attended the Tablighi Jamaat congregation in Delhi in March, Karnataka chief minister BS Yediyurappa on Friday reached out to Muslim leaders and legislators to dispel fear and rumours and bring back on track the state's fight against Covid-19.
On a day many Tabligh delegates tested positive in Delhi, Maharashtra, Telangana, Andhra and other states, Yediyurappa urged the leaders to take urgent confidence-building measures with the community and help the government trace all delegates and their contacts.
A 75-year-old man died in Bagalkot on Friday hours after he was confirmed positive, taking the state's toll to four. A kirana merchant by profession, he had been kept in isolation in the district hospital and was being treated for symptoms, DC K Rajendra said. He is the first patient from the district; with Bagalkot, 15 of the state's 30 districts have come under the corona cloud.
Authorities in Bagalkot said the victim had not travelled anywhere recently. His son and daughter had arrived from Bengaluru 10 days ago and they have tested negative. Test reports of another family member are awaited.
Earlier in the day, three Tabligh delegates from Belagavi district tested positive for the infection. Along with the Bagalkot victim, they were the only Covid-19 cases to be reported in the state in 24 hours.
The Centre had sent the state a list of 1,500 people linked to the congregation at Nizamuddin Markaz, which has since emerged as a super-spreader of the virus, triggering cluster infections in several states. With increasing incidents of assault of healthcare workers and resistance to testing and quarantine being reported, Yediyurappa said there was a need to create awareness.
"We sought the help of community leaders to help us identify and trace those who attended the Nizamuddin Jamaat meeting," Yediyurappa said.
Among those present at the meeting were Congress MLAs Zameer Ahmed Khan, NA Haris and Rizwan Arshad; party MLCs CM Ibrahim and Nazir Ahmed and KPCC working president Salim Ahmed. Pledging support to the state's fight against the pandemic, the leaders assured the CM that they would hold meetings with religious leaders and stress on testing as a means to contain the outbreak
https://timesofindia.indiatimes.com/city/bengaluru/bs-yediyurappa-reaches-out-to-muslim-leaders-to-expedite-tabligh-testing/articleshowprint/74976166.cms
-----
Pune: Search on for 10 who fled Shirur mosque
Apr 4, 2020
PUNE: The Pune rural police on Friday registered an FIR and launched a search for 10 people, who ran away from a mosque in Shirur after they were stamped on April 1 for home quarantine as a precautionary measure.
Pune's divisional commissioner Deepak Mhaisekar said, "These people are in no way connected with the Tablighi Jamaat congregation at Nizamuddin in New Delhi. They escaped from the mosque on April 1 in a truck carrying medicines and drugs."
On Friday, the police booked the trustee of the mosque for helping them escape. All of them hail from Rajasthan and Haryana, the police said. The police have booked all the 11 men under IPC sections 188, 269 and 271 and invoked provisions of the National Disaster Management Act.
https://timesofindia.indiatimes.com/city/pune/pune-search-on-for-10-who-fled-shirur-mosque/articleshowprint/74977749.cms
https://timesofindia.indiatimes.com/city/pune/pune-search-on-for-10-who-fled-shirur-mosque/articleshowprint/74977749.cms
-----
Odisha's sixth coronavirus positive patient attended Delhi mosque event
April 4, 2020
Mohammad Suffian
Odisha reported a sixth novel coronavirus case on Friday after a Cuttack resident positive for Covid-19 who had attended the Tablighi Jamaat event at Delhi's Nizamuddin mosque.
People who came in contact with the Covid-19 positive person are now be traced, Subrota Bagchi, chief spokesperson of Odisha government for Covid-19 management said.
"While 21 of the returnees have tested negative, one positive case has been reported from Cuttack. Five test results are awaited," Bagchi said.
With the fresh confirmed case from Cuttack, Odisha government declared a complete shutdown in Cuttack from tonight till next 48 hours.
Bagchi also informed that 40 people from Odisha, who took part in the religious congregation, are still stranded in Delhi, Bihar, Uttar Pradesh, West Bengal and Andhra Pradesh.
https://www.indiatoday.in/india/story/odisha-sixth-coronavirus-positive-patient-delhi-mosque-tablighi-1663112-2020-04-04
-----
12 Tablighi members holed up in Sadar mosque test +ve
Apr 4, 2020
Lucknow: The Sadar area that borders Lucknow Cantonment was sealed on Friday after 12 natives of Saharanpur holed up in a mosque in Qasaibada area tested positive for Covid-19 on Friday morning. Barring medical emergencies, movement of residents or vehicles even for essential services was barred by the district administration. At least 2km of Cantonment straddling Sadar's virus hotspot has also been sealed. Police sources told TOI that presence of these 12 men at the Tablighi Jamaat event at Nizamuddin area is being verified.
Police and Provincial Armed Constabulary (PAC) personnel have been deployed and the area is being sanitized on a war footing. At least six teams of health department are scanning residents for symptoms of flu or fever. Senior police officials, including the joint-commissioner of police immediately rushed to the area after the 12 men tested positive and began making announcements, ordering residents to stay indoors.
"At least 12 members of Tablighi Jamaat had come from Saharanpur district and were holed up in the mosque at Sadar. We are probing whether they participated at the Nizamuddin event," said Pandey.
District administration officials said the area comprising 450 houses, 150 shops and kiosks has around 3,000 residents. Talking to TOI, Lucknow police commissioner Sujeet Pandey said, Sadar has been turned into a sterile zone to prevent spread of coronavirus.
He also said 250-strong police team has been deployed to enforce total lockdown. "We will not allow even essential services to operate in the area. Those needing medical help can contact police," he added.
Survey in charge at chief medical officer (CMO) office, MK Singh, said teams have been constituted to knock at every house and ask members if they came in contact with visitors at the mosque. "Then we will scan every family member for symptoms and quarantine or isolate them," he said.
Talking to TOI, Amit Mishra, chief executive officer, Lucknow Cantonment Board, said, "We have instructed all shops in the area open for essential services to down shutters and advised residents to stay indoors. The mosque is also closed and the area is being sanitised," he said.
https://timesofindia.indiatimes.com/city/lucknow/12-tablighi-members-holed-up-in-sadar-mosque-test-ve/articleshowprint/74975640.cms
------
Police attacked while dispersing crowd at mosque
04th April 2020
TENKASI/COIMBATORE/RANIPET: The fight against COVID-19 in the State got a communal tint on Friday after a few policemen, who tried to disperse a mob gathered at a mosque in Tenkasi, were attacked. Four people were arrested in connection with the case and the personnel had to resort to a lathi-charge.
According to police, around 500 people gathered at a mosque in Nadupettai area of Tenkasi for Friday prayers, despite the lockdown. Immediately, a team rushed to the spot to announced on the megaphone, asking the people to disperse. "Suddenly, a group of people started attacking us with chairs, and four personnel were injured in the melee," said a policeman. A lathi-charge followed, after which the mob dispersed.
In Coimbatore, the district joint secretary of the Bajrang Dal, D Satishkumar, was arrested for inciting communal hatred through a post on his Facebook page. He was booked for holding a particular community responsible for the disease spread.
Meanwhile, the Chief Secretary swung into action and held talks with various community leaders.
He requested them to appeal to members of community not to visit places of worship. Across the State, District Collectors too held similar meetings with local leaders from all faiths. The discussions centred around the increasing number of COVID-19 patients in the State and upcoming festivals, including Easter.
Dr K Meshach Raja, Bishop of Church of Episcopal Fellowship International Diocese, Chennai said: "the government must stop the malicious propaganda that COVID-19 was being spread by Muslims. Giving a religious colour to an infectious disease would be worse than the virus responsible for the disease." Mohammed Mansoor of Federation of Muslim Organisations, echoed similar views.
https://www.newindianexpress.com/states/tamil-nadu/2020/apr/04/police-attacked-while-dispersing-crowd-at-mosque-2125473.html
-----
31 from two Patan mosques isolated
Apr 3, 2020
According to Pew Research Centre, Tablighi Jamaat operates roughly in 150 countries around the world, including Western Europe, Africa, and South Asia. It is hard to monitor and supervise because there are so many, and temporary participants often make the group's membership. Because of a lack of centralised control, missionaries improvise, rather than follow a standard strategy. As a result, the impact often tends to depend on the methods, intentions, and inclinations of local leaders.
In the British town of Dewsbury, Tablighi Jamaat functions as regional headquarters coordinating activities throughout Northern Europe. Other centers, often focus on local concerns, or serving ethnic populations. In Barcelona, it has geared to the needs of the immigrants of North African origin. In France, while there is a center, most Tablighi groups operate independently, building relationships with local mosques. In Germany, Tablighis have found it difficult to penetrate Muslim communities, comprised largely of immigrants from Turkey — where the Tablighi Jamaat has virtually no presence. And in Western Europe, it has adapted to the reality of religious, social and political pluralism in the region, and has shown a willingness to partner with non-Muslim political institutions to further its ends. In South Asia too, the Tablighi Jamaat has a great following, especially in Indonesia, Malaysia, Bangladesh, Pakistan, and Thailand.
https://ahmedabadmirror.indiatimes.com/ahmedabad/others/31-from-two-patan-mosques-isolated/articleshow/74957638.cms
------
Coronavirus: Yogi Adityanath's Tough Move Against Quarantined Islamic Sect Members
April 03, 2020
New Delhi: Some members of the Islamic missionary sect Tablighi Jamaat, which organised a religious gathering in Delhi linked to hundreds of coronavirus cases, face charges under the National Security Act (NSA) after allegations of assault on nurses and obscene behavior at a hospital in Ghaziabad, Uttar Pradesh. Describing them as "enemies of humanity", Chief Minister Yogi Adityanath ordered charges under the tough law that allows detention without charges for up to a year.
"They will not follow the law, nor will they accept order. They are the enemies of humanity, what they have done with women healthcare providers is a heinous crime. We are invoking the National Security Act against them, we will not spare them," Yogi Adityanath said.
"An incident like Indore where doctors were attacked should not be seen anywhere in the state. For this, we will take whatever action is required by law," he said.
The Tablighi members, quarantined at Ghaziabad's MMG Hospital, have been accused of endangering staff by violating coronavirus precautions. They passed lewd comments, roamed about without clothes in the isolation ward, used expletives, refused medicine and kept asking for beedis and cigarettes, according to a written complaint to the police by the Chief Medical Officer of the hospital.
In Ghaziabad, officials have tracked down 136 who attended the religious gathering last month at Markaz Nizamuddin, the Delhi headquarters of Tablighi Jamaat, which is a major coronavirus hotspot linked to nearly 650 cases and 12 deaths. Six of them had symptoms of coronavirus and were admitted to MMG hospital on March 31. One tested positive.
"Our nurses and paramedical staff have complained about obscene behavior by these patients," Ravindra Singh, the chief medical officer of the hospital told NDTV.
https://www.ndtv.com/india-news/coronavirus-uttar-pradesh-to-use-national-security-act-against-islamic-sect-members-quarantined-for-2205484
------
Arab world
3,500 workers help sanitize Grand Mosque in Makkah
April 04, 2020MAKKAH: An army of 3,500 workers has been taking part in a major cleaning operation at the Grand Mosque in Makkah. The General Presidency for the Affairs of the Two Holy Mosques has been overseeing the disinfection program as part of the Kingdom's efforts to stop the spread of the coronavirus disease (COVID-19).
Workers for the department responsible for cleaning and carpets at the Grand Mosque have used 2,160 liters of eco-friendly sanitization solution and 89 pieces of equipment for the six daily cleaning operations at the holy site, which have included its squares and facilities, and the cleaning of carpets every five days.
https://www.arabnews.com/node/1652711/saudi-arabia
-----
Imam of Grand Mosque brings to light importance of Supplication and Imam of Prophet's Mosque praises solidarity between leadership and individuals during Coronavirus Crisis
2020/04/03
Makkah/Madinah, April 03, 2020 SPA -- Imam of the Grand Mosque (Alharam) in Makkah brought to light today the importance of supplication (Dua), and the Imam of the Prophet's Mosque in Madinah praised the solidarity between the leadership and individuals during coronavirus crisis.
In his Friday sermon delivered at the Grand Mosque in Makkah, Sheikh Dr. Bandar ibn Abdulaziz Balilah, detailed the benefits of supplication, noting that supplication saves from distress and distract badness.
He concluded that supplication is also a key to change and a good source for victory, especially if it is accompanied by the power of certainty and persistence.
In Madinah, Sheikh Abdulbari Al-Thobaiti, stated that, in light of the current global crisis caused coronavirus, every person in the Kingdom of Saudi Arabia lauded the cohesion that is embodied between the leadership and individuals.
He added that the leadership seeks to enact regulations and procedures to protect lives and preserve interests, while the individuals are aware of their role to adhere to instructions and guidelines.
He pointed out that overcoming this crisis will be by Allah's grace, his mercy and kindness, then with more solidarity.
He stated that, in light of this pandemic, businessmen and intellectuals should sense their religious and national duty in such events to mitigate the effects of this crisis
https://www.spa.gov.sa/viewfullstory.php?lang=en&newsid=2070008
------
Saudi Press: Custodian of the Two Holy Mosques' Supports Employees in Private Sector
2020/04/04
Riyadh, April 04, 2020, SPA -- Saudi newspapers highlighted in their editorials today a number of issues at local, regional and international arenas.
Al-Riyadh, Al-Yaum, Al-Bilad and Al-Eqtesadiah newspapers reported that the Custodian of the Two Holy Mosques King Salman bin Abdulaziz Al Saud has ordered to pay a monthly compensation to Saudi employees in the private sector in the Kingdom of Saudi Arabia at 60% of the wage registered in social insurance for a period of three months.
The papers highly commended such unprecedented step as it reflects the Custodian of the Two Holy Mosques' keenness on mitigating the social implications and economic consequences of the outbreak of the novel Coronavirus (COVID-19) pandemic, along with supporting employees' job stability and the sustainable ability of the labor market.
https://www.spa.gov.sa/viewfullstory.php?lang=en&newsid=2070138
------
UAE combats Covid-19: Islamic Affairs Department launches fund ahead of Ramadan
April 3, 2020
As part of facilitating community contributions and donations to efforts to combat the coronavirus outbreak in UAE, the Islamic Affairs and Charitable Activities Department in Dubai has announced the 'Social Solidarity Fund Against Covid-19'.
The launch of the fund seeks to support the fight against coronavirus in collaboration with government entities, charity associations and members of society.
The launch coincides with the approach of Ramadan, allowing members of society to contribute their Zakat donation during the blessed month in the form of support for the fight against Covid-19. The Fund will help unify efforts to contain the spread of the pandemic and allow all members of society to contribute to emergency efforts.
Director General of Islamic Affairs and Charitable Activities Department Dr. Hamad bin Sheikh Ahmed Al Shaibani said the department is keen to support preventive measures and contribute to efforts to combat the outbreak.
Al Shaibani added the Department is the sole entity authorised to manage donations in liaison with the Command and Control Centre for Combating Coronavirus. The Fund aims to contribute towards medical treatment and equipment, and other efforts to ensure the health, safety and protection of the community.
He also said the main role of national establishments in the current period is to streamline efforts to fight the virus. The leadership has set an example for providing support to all members of society, both expatriates and residents, he added.
https://www.khaleejtimes.com/coronavirus-pandemic/uae-combats-covid-19-islamic-affairs-department-launches-fund-ahead-of-ramadan
-----
It was Russia, not Saudi Arabia, that pulled out of OPEC+ deal: Saudi ministers
April 04, 2020
RIYADH: Saudi Arabia's foreign and energy ministers on Saturday denied Russia's claim that the Kingdom abandoned the OPEC+ deal, leading to a collapse in world oil prices.
In a statement carried by the Saudi Press Agency (SPA), Foreign Minister Prince Faisal bin Farhan said "a statement attributed to one of the media of President Vladimir Putin of the Russian Federation claimed that one of the reasons for the decline in oil prices was the Kingdom's withdrawal from the deal of OPEC + and that the Kingdom was planning to get rid of shale oil producers."
"The minister affirmed that what was mentioned is fully devoid of truth and that the withdrawal of the Kingdom from the agreement is not correct," the statement said.
In fact Saudi Arabia and 22 other countries tried to persuade Russia to make further cuts and extend the deal, but Russia did not agree, it said.
Prince Farhan expressed surprise that Russia had to resort to "falsifying facts" when Saudi Arabia's stance on shale oil production is known, the statement said.
He pointed out that Saudi Arabia is one of the main investors in the energy sector in United States, implying that there is no reason for the Kingdom "to get rid of shale oil producers" as Russia has claimed.
He further said the Kingdom "is also seeking to reach more cuts and achieve oil market equilibrium for the interest of shale oil producers."
OPEC+ refers to the cooperation between members of the Organization of Petroleum Exporting Countries (OPEC) and non-OPEC oil producers. The cooperation deal which called for cuts in production by the producers was meant to stabilize oil prices.
In a separate statement, Saudi Energy Minister Prince Abdulaziz bin Salman rejected Russian Energy Minister Alexander Novak's similar claim that the Kingdom refused to extend the OPEC+ deal and withdrew from it.
Novak "was the first to declare to the media that all the participating countries are absolved of their commitments starting from the first of April," Prince Abdulaziz said in a statement.
He said Novak's statement led other countries to decide "to raise their production to offset the lower prices and compensate for their loss of returns."
On Thursday, Saudi Arabia called for an urgent meeting of oil exporters after US President Donald Trump said he expected the Kingdom and Russia to cut production by 10-15 million barrels per day.
Prince Farhan said he was "hoping that Russia would take the right decisions in the urgent meeting" so that a "fair agreement that restores the desired balance of oil markets" could be achieved.
The global oil market has crashed, with prices falling to $34 a barrel from $65 at the beginning of the year, as a result of the coronavirus pandemic.
Fuel demand has dropped by roughly a third, or 30 million barrels per day, as billions of people worldwide restrict their movements.
A global deal to reduce production by as much as 10 million to 15 million barrels per day would require participation from nations that do not exert state control over output, including the United States, now the world's largest producer of crude.
A meeting of OPEC and allies such as Russia has been scheduled for April 6, but details were thin on the exact distribution of production cuts. No time has yet been set for the meeting, OPEC sources said.
https://www.arabnews.com/node/1652806/saudi-arabia
-----
Royal decree allocates 9 billion riyals for employees affected by coronavirus repercussions
April 03, 2020
JEDDAH: King Salman issued a royal decree ordering the allocation of SR9 billion ($2.4 billion) to compensate citizens working in facilities affected by repercussions of the pandemic.
The royal decree exempts Saudis working in the affected private sector facilities from Articles 8, 10 and 14 of the Unemployment Insurance (Sanad) scheme.
Said employees are to be given a monthly compensation of 60 percent of the registered wage in social insurance for three months with a maximum of SR9,000 monthly.
Finance Minister and Chairman of the Board of Directors of the General Organization for Social Insurance Mohammed Al-Jadaan said that the support mechanism will work as stipulated in the Sanad scheme for facilities included in the royal decree.
This covers 100 percent of Saudis working in facilities employing five or less and up to 70 percent in facilities that employ more than five.
The employer will be exempted from paying the monthly salary for beneficiaries during the compensation period as per the decree.
The facilities should also continue the payment of salaries for employees (Saudis and non-Saudis) who are not included in the compensation.
https://www.arabnews.com/node/1652396/saudi-arabia
-----
Coronavirus impact: Homeless Pakistani family in UAE running out of options to stay safe amid crisis
April 4, 2020
Saman Haziq
While residents of the country are staying put and supporting the UAE's #StayHome campaign to flatten the curve of the Covid-19 virus, a homeless Pakistani family says they are struggling to put a safe roof over their heads.
The family of four - Uzma Farooq, 28, along with her siblings Rabiya and Bilal Farooq and their ailing mother Khalda Farooq - roughed it out on park benches, in mosques and even in hospital corridors for one month. But now, with night-time restrictions in place, they're at their wits' end and are running out of options to stay indoors, says Uzma.
"We haven't changed our clothes for days as there is no place to freshen up, and we haven't eaten properly as there's no money. But what hurts the most is seeing our aged mother suffer," she told Khaleej Times.
"She [Khalda] cannot sit or stand for long, she has no energy left and what we fear the most is for her health as she is a heart patient, has bad knees and is also severely anaemic. She has been advised to get iron drips as her haemoglobin level is very low. My mother has also developed anxiety and her immune system is very weak. We are all very worried," she said.
For around two weeks after they had to leave their rented accommodation in the Rolla area in Sharjah, the family stayed at a friend's place. But with rising cases of Covid-19, the friend asked them to look for another place since their apartment was small and congested.
Uzma, from Sialkot, Pakistan, moved to the UAE three years ago after taking up a job in sales promotion in a perfume company in Sharjah. Her sister Rabiya soon joined her and took up a job as a nanny in a day-care. Things were working well for them and they recently called their younger brother Bilal too, who was set to take up a job at a mobile repair shop, and had applied for a work visa through an agent. But the agent fled with his money, leaving him broke and jobless.
Explaining how and why she came to the UAE, Uzma said: "We had a doting father, who wanted us to get a good education and do well in life. But as luck would have it, he died in a car accident [in Pakistan]. We were staying in a joint family, and our relatives took all his share and asked us to leave the house. We were all quite young at that time and with no way out, I came to the UAE and got myself a job to support my family. Thanks to this blessed country, I was able to support my family and they moved into a rented accommodation. My aim was to gradually shift all of them here and we managed it until my company shut down and my mother got very sick. We had to admit her and get her tests and drips done."
With hospital expenses to foot and with no income, the family soon ran out of money and had to vacate the apartment. Since then, they have been living it rough.
"People and authorities are very kind here, which is how we managed to stay without a home for a month but now with the restrictions on being out and the closure of mosques and malls, we are finding it hard to find a place to sit, especially after 8pm."
Calling people of the UAE generous, Uzma said: "Even though we have been living in parks, mosques and hospitals, people, security guards and hospital staff have been very kind to us. They gave us food and accommodated us for as long as they could, but it is now becoming impossible. I am sure we will get jobs once again when the market opens up. For now, we just need a place to stay. We can't think straight now as we haven't slept for days."
https://www.khaleejtimes.com/coronavirus-pandemic/homeless-pakistani-family-running-out-of-options-to-stay-safe-amid-covid-19-crisis-2
------
Europe
Coronavirus: BBC begins broadcasting weekly Islamic sermons as mosques remain shut
3 April 2020
The British Broadcasting Corporation (BBC) has begun airing Islamic reflections and prayers on 14 local radio stations as mosques remain shut amid the coronavirus pandemic.
According to local media reports, every Friday at 5:50am, a different imam will lead the broadcast, reciting a verse from the Quran or a saying from the Prophet Muhammad, then translate it and talk about its relevance, followed by a minute of prayer.
"Local radio is all about connecting communities and we hope these weekly reflections will go some way to helping Muslims feel a sense of community while they are isolating," said Chris Burns, the head of BBC Local Radio.
The British government ordered all places of worship closed on 23 March, as part of its measures aimed at curbing the spread of the coronavirus.
Days before the announcement, more than 375 mosques and prayer facilities suspended congregational activities, according to the Muslim Council of Britain (MCB).
"Safeguarding all of our communities is paramount, and it's reassuring so many mosques and prayer facilities have heeded this advice in trying their best to minimise the spread of the coronavirus," Harun Khan, secretary general of the MCB, said last month.
Many of Britain's mosques hold thousands of worshippers at a time, including the East London Mosque, which has capacity for 7,000, London Central Mosque with more than 5,000 and Birmingham Central Mosque, which regularly hosts 2,500 worshippers or more for weekly Friday prayer services.
Several mosques and Muslim communities have tried fill the void of the closure by using virtual means to engage in spiritual practices, though the lack of physical connection has been hard to replace.
Still, the impact of the closure will be even more impactful during the holy month of Ramadan, which is set to begin in the third week of April.
Harry Farley, a journalist with BBC Radio 4, responded to criticism of the announcement by pointing out that the BBC already broadcasts Christian services every Sunday.
"And to those complaining about/questioning this, just a reminder that a Christian service is broadcast each Sunday at 8am on all 39 BBC local radio stations," he tweeted.
In the country's fight to combat the virus, Muslim doctors and health-care professsionals have been among the first to die on the front lines.
Areema Nasreen, a 36-year-old nurse, became the latest Muslim fatality in the UK, joining five others who have lost their lives in the fight against the disease.
https://www.middleeasteye.net/news/coronavirus-bbc-muslim-prayers-local-radio
------
Coronavirus: UK lockdown could be relaxed in weeks, says top govt adviser
4 April 2020
Social distancing measures in the UK could be relaxed within weeks if there are signs the coronavirus epidemic is slowing, a leading scientist and government adviser has said.
Professor Neil Ferguson - of Imperial College London, which is advising the government on its coronavirus response - said the UK's epidemic was expected to plateau in the next week to 10 days, but said people's behaviour was critical to determining what happens next.
He told BBC Radio 4: "The critical thing first is to get case numbers down, and then I'm hopeful... in a few weeks' time we will be able to move to a regime which will not be normal life, let me emphasise that, but will be somewhat more relaxed in terms of social distancing and the economy, but relying more on testing."
Prime Minister Boris Johnson and Health Secretary Matt Hancock have urged people to "stick with the guidance" to stay at home and resist the temptation to break the COVID-19 outbreak social distancing rules this sunny weekend.
Asked what would happen if people flouted the lockdown rules, Prof Ferguson replied: "That moves us to a slightly more pessimistic scenario.
"We still think things will plateau but we'll be at quite high levels of infection for weeks and weeks rather than seeing quite a rapid decline as the type seen in China."
The government ramped up measures against the coronavirus epidemic last month after a report by Prof Ferguson's team predicted the UK could otherwise have seen 250,000 deaths.
He said on Saturday he was also confident successful antibody tests could be ready in days, adding he was "hopeful" some of the intense social distancing restrictions could be substituted with speedy access to testing and rapid contact tracing in a few weeks' time.
If there is a swift decline in case numbers, ministers would consider whether they could relax certain measures in "a way which is safe and still ensures the epidemic goes down".
Prof Ferguson added: "We want to move to a situation where at least by the end of May that we're able to substitute some less intensive measures, more based on technology and testing, for the complete lockdown we have now."
His comments come after a key government adviser warned the UK had "painted itself into a corner" with no clear exit strategy from the crisis.
Professor Graham Medley, a pandemic modeller also advising the government on the COVID-19 outbreak, warned the lockdown measures are merely a "placeholder".
According to a report in The Times, his modelling showed that letting people return to work or reopening schools would allow the pandemic to take off again and no way had been found of easing the lockdown while controlling the virus.
He told the newspaper Britain must consider allowing people to catch the virus in the least deadly way possible rather than allowing the impact on the economy, people's mental health, and harms in terms of domestic violence, child abuse and food poverty to continue indefinitely.
Prof Medley told The Times: "This disease is so nasty that we had to suppress it completely. Then we've kind of painted ourselves into a corner, because then the question will be, what do we do now?
"We will have done three weeks of this lockdown, so there's a big decision coming up on April 13. In broad terms are we going to continue to harm children to protect vulnerable people, or not?"
Prof Medley added: "If we carry on with lockdown it buys us more time, we can get more thought put into it, but it doesn't resolve anything, it's a placeholder."
Health specialists have said they are currently "testing to the limit of our materials", adding that they are ready to increase capacity, but only if given a "reliable supply" of equipment to do so.
The Institute of Biomedical Science (IBMS) warned there is a "very real risk" that hospitals may run out of reagents, leaving patients unable to be tested.
"The UK has numerous high-quality accredited laboratories with suitable equipment, with the capability to process over 100,000 tests per day, set up and ready to meet testing targets," a spokesman for the IBMS said.
"Currently, England could process up to 25,000 a day, which by May could rise to 100,000, meeting the ambitious target set down by Matt Hancock, all within the NHS. However, there is a material supply issue with a worldwide shortage in reagent kits.
https://news.sky.com/story/coronavirus-uk-lockdown-could-be-relaxed-in-weeks-says-top-govt-adviser-11968358
------
Coronavirus: Should Boris Johnson take time off sick?
4th April 2020
While Boris Johnson insisted he was "feeling better" despite continuing to suffer from Covid-19, he admitted he still had a temperature and his eyes looked weary as he urged people not to break the lockdown rules this weekend – even if they were starting to feel "a bit stir-crazy".
The Prime Minister has carried on working while in self-isolation, where he remains, and he may regard this as an important thing for him to do in a genuine attempt to provide reassurance to the country that the person who is supposed to be in charge still is and the wheels of government are still turning, not falling off.
However, any head of government worthy of the title will experience significant amounts of stress and worry about the decisions they are required to make, even in more normal times. And, in a life-and-death situation like the current coronavirus pandemic, those pressures will be greatly increased.
So it's possible that by continuing to work, Johnson is actually putting his health at greater risk. No government should revolve entirely around one person. The health of dictators and absolute monarchs – or the appearance of it – may be crucial to their survival, but this is not true in a democracy.
Prime Ministers are allowed to take time off – as Johnson's recent holiday to St Vincent and the Grenadines in the Caribbean demonstrated.
And, even if he is not damaging his own recovery, he could end up setting a bad example for the rest of the country. Company bosses may decide that if Johnson can 'bravely soldier on', then so will they. And some are likely to then conclude that if they can do it, why not their staff?
Johnson and his advisers might fear he would look weak to 'go off sick', but no one would – or should – blame him. And it would also help get the message across that this disease should not be treated in any way lightly.
Some amateur experts appear to have focussed on the higher chance of death among the elderly and those with pre-existing health conditions, but the Covid-related deaths of people like Areema Nasreen and Aimee O'Rourke, both nurses in their 30s and each mothers of three children, should underline that the lives of every one of us are in danger.
Just as no one is bulletproof, no one is Covid-proof. If the Prime Minister publicly acknowledged this by taking time off to speed his recovery, it could help get this message across – however stir-crazy Johnson might end up feeling.
https://www.scotsman.com/news/opinion/columnists/coronavirus-should-boris-johnson-take-time-sick-leader-comment-2529143
------
Queen Elizabeth II to address the nation on coronavirus Sunday evening
By Barnali Pal Sinha
April 4, 2020
Queen Elizabeth II is scheduled to address the nation and the Commonwealth on the coronavirus pandemic on Sunday evening, in a rare television broadcast. Buckingham Palace informed in a statement on Friday that the head of the state has already recorded the televised address to Britons.
"Her Majesty The Queen has recorded a special broadcast to the United Kingdom and the Commonwealth in relation to the Coronavirus outbreak," the palace said in a statement as reported by Independent. The address was recorded at Windsor Castle and will be broadcast Sunday at 8 p.m. local time.
The country's Department of Health and Social Care has said that more than 3,600 people in the UK have died during the coronavirus pandemic, and around 38,000 people have tested positive for the virus.
The queen's rare address comes at a time when the entire world is grappling with the deadly COVID-19, with Spain and the UK topping maximum number of cases. It was earlier reported that the 93-year-old monarch would address the nation at a critical time during the ongoing crisis.
The queen addresses the nation in a customary annual recorded message on Christmas Day. The only other instances when the monarch addressed the nation in her 68-year-reign was after the death of her mother – Queen Mother, the funeral of Diana, Princess of Wales in 1997, and during the Gulf War in 1991.
Buckingham Palace announced in March that all her official engagements would be postponed or cancelled in view of the coronavirus outbreak. She later left the Palace for Windsor Castle, west of London. This was done "as a sensible precaution and for practical reasons in the current circumstances," the palace said in a statement at the time.
The queen and her husband Prince Philip, the Duke of Edinburgh are self-isolation currently at Windsor Castle.
https://www.ibtimes.co.uk/queen-elizabeth-ii-address-nation-coronavirus-sunday-evening-1677230
-----
North America
Muslim community prepares for less social Ramadan as mosques shutter due to COVID-19
Apr 03, 2020
Hadeel Ibrahim
On a normal Friday afternoon, mosques would be packed with hundreds of praying people, standing shoulder to shoulder and following the lead of an imam.
But for the last three Fridays, the mosques has been empty and silent. The community centres have shut their doors following health experts' recommendation to stay home to slow the spread of COVID-19.
And it's not just Friday prayers that are cancelled. The New Brunswick Muslim community is preparing to spend the month of Ramadan, and possibly Eid, the holiday that follows, indoors.
This week New Brunswick extended its state of emergency for another two weeks, and continues to make physical distancing guidelines the law, banning gatherings of any size, including for religious reasons.
As the number of cases rises each day, reaching 91 cases by Thursday, people are not likely to see that change anytime soon.
"In the last few years, with the significant increase of the population in Moncton, this has been quite a big affair. There are lots of people turning up for these prayers at the mosque," Akhtar said.
The large gathering to celebrate Eid at the end of Ramadan might also be cancelled, said Abdul Rahimi, president of the Saint John Islamic Association
"We are hoping for good [news]," he said. "If everything goes well, we will have the Eid prayer, but we have to obey the law."
He said his mosque usually invited an imam to visit from Ontario and give the Eid sermon. He said travel restrictions and mandating a 14-day isolation after crossing provincial borders would make that difficult this year.
Mohamed El-Bayoumi of the Fredericton Islamic Association said the Friday prayer holds a special place for people. He said some people follow Friday prayer online or over the radio, but it's not the same experience.
"When I was too young to go anywhere I know that that we used to turn the radio on Friday and listen to it. But it has not been done anywhere. So… there is nothing remotely that can be followed or that can be watched."
Mohamed El-Bayoumi says following along with prayer online can be tough since mass gatherings are being banned globally. (Hadeel Ibrahim/CBC)
Much like a church, a mosque is a community centre as well as a place of worship, Rahimi said. Sunday school, and social events were also cancelled when the mosque closed.
"If you're asking me, I know it's not easy, it's boring, but you got to do what you got to do," he said. "The virus is a very critical virus, it's the killer. At this point everybody knows that their life is more important than anything else.
https://www.cbc.ca/news/canada/new-brunswick/new-brunswick-mulism-community-covid-friday-prayer-1.5519510
------
Biden's call on Trump to remove Iran sanctions is a 'game changer'
04 April 2020
US presidential frontrunner Joe Biden's recent call on the Trump administration to lift sanctions against Iran over the coronavirus pandemic is a significant shift and will increase pressure on Washington to remove all illegal sanctions on Tehran, says a journalist and former US Senate candidate.
"Joe Biden's latest statement on lifting the sanctions on Iran is a tremendous step," Mark Dankof said Friday during a phone interview with Press TV. "This is a potential game changer."
"So between the thinking left and the thinking right, hopefully we can put enough pressure on the powerbrokers in this country to do what should have been done all along and that is to ensure that we have no sanctions on the Iranian government whatsoever," Dankof said.
"Even before COVID-19, this should have been the case, because the Iranian government abided by its end to the [nuclear] deal," he added. "The United States unilaterally pulled out and basically punished the Iranian government for living up to its end of the deal."
In a statement on Thursday, Biden highlighted Iran's struggle "to contain one of the deadliest COVID-19 outbreaks in the world" and that the "Iranian people are hurting desperately."
The former US vice president added that "it makes no sense, in a global health crisis, to compound that failed strategy with cruelty by inhibiting access to needed humanitarian assistance. Whatever our profound differences with the Iranian government, we should support the Iranian people."
The US reinstated sanctions against Iran in 2018 after President Donald Trump withdrew the US from the landmark nuclear deal between Iran and six world powers, and launched a "maximum pressure" campaign against the Islamic Republic.
Iran says US "medical terrorism" against Iranians through imposing toughest ever sanctions on the country is leading to a "humanitarian catastrophe" as it makes it "impossible" for ordinary people to have access to essential drugs amid the Covid-19 pandemic.
Former US vice president and 2020 presidential hopeful Joe Biden calls on the Trump administration to immediately lift Iran sanctions which have hampered Iran's efforts to curb the coronavirus.
"I think as the American public finds out more about the ravages of COVID-19 in the United States, it's beginning to have a little more empathy for other people around the world who are battling this thing in an even tougher fight, and that especially includes Iran because of these draconian and illegitimate sanctions," Dankof said.
The sanctions "also betrayed Trump's America First rhetoric by showing that in fact, Israel was more in control of American foreign policy than Americans are," Dankof said.
Other countries such as China and Russia have also urged the Trump administration to lift illegal bans on Iran. Russian foreign ministry called the sanctions "anti-human" and that such sanctions prevent effective fight against the lethal virus.
The diplomatic missions of Iran and seven other countries including Russia, China, Syria, North Korea, Cuba, Nicaragua, and Venezuela, penned a letter to Antonio Guterres, UN Secretary-General, emphasizing again that unilateral sanctions were obstructing the battle with the "common enemy".
Despite Pompeo's claim that humanitarian assistance, medical devices, equipment and pharmaceuticals, are not sanctioned, many banks and companies have refrained from doing business with Iran fearing US secondary sanctions.
https://www.presstv.com/Detail/2020/04/04/622283/US-Iran-sanctions-coronavirus-Biden-Mark-Dankof
------
Trump fires intelligence official who had key impeachment role
April 4, 2020
President Donald Trump announced Friday, April 3, he was firing a senior intelligence official who had a central role in the complaint last August that sparked the impeachment trial of the US leader.
In a letter to the Senate Intelligence Committee, Trump said he had lost confidence in Michael Atkinson, the independent inspector general of the broad US intelligence community.
Atkinson reviewed and transmitted an anonymous whistle-blower's complaint in August that alleged that Trump had sought personal political favors from Ukraine in violation of US law.
The complaint became the basis for Trump's impeachment, which saw him put through a historic trial for removal in the Senate in January.
The president was charged with holding up official military aid to Ukraine in exchange for Kiev helping to smear his expected 2020 election foe, Democrat Joe Biden.
After deciding the complaint had merit, Atkinson, a 55-year-old veteran government attorney, forwarded it to the Justice Department and to Congress, setting off the impeachment investigation.
Atkinson then testified in a closed hearing of the House Intelligence Committee investigating the allegations, at a time when the White House sought to prevent other administration officials from giving evidence.
He then embarked on a campaign to force from office a number of officials in the White House, State Department and Pentagon who cooperated with the probe.
"It is vital that I have the fullest confidence in the appointees serving as inspectors general," Trump wrote in the letter to the two top senators on the Intelligence Committee, Richard Burr and Mark Warner.
"In the midst of a national emergency, it is unconscionable that the president is once again attempting to undermine the integrity of the intelligence community by firing yet another an intelligence official simply for doing his job," he wrote.
"The work of the intelligence community has never been about loyalty to a single individual; it's about keeping us all safe from those who wish to do our country harm."
https://www.khaleejtimes.com/world/americas/trump-fires-intelligence-official-who-had-key-impeachment-role
------
Trump denigrating science' as virus wreaks mayhem in US: Analyst
04 April 2020
"President Trump does not believe in science, he has denigrated science at every imaginable level, he has gotten rid of health positions that should have remained in place, people that would have kept on top of these things, would have communicated with other areas of the world, would have seen what was happening sooner, would have been unbelievably helpful," Carol Duff, professor of nursing sciences from Grand Rapids, Michigan, said during a Friday edition of Press TV's The Debate program.
"He does not want to be blamed for anything that has happened and is more than willing to blame other countries… President Trump came in to the presidency denigrating science, you can't live in a world without science, and especially as we have seen now, you cannot live in a world without very good medical science. Our lives depend on it and had depended on it; now we see what's happening."
Asked about media reports exposing a lack of medical equipment and supplies in the United States and the Trump administration's failure to meet demands, Duff said, "I don't think that the personal protection gear is extremely limited all over the United States but in some areas it absolutely is and this further compromises not only our health care workers who are with the very sick people or every sick person that comes in, but also compromises the health of those people who are ill or people who do not have COVID but are being evaluated because they possibly may have it."
Duff made the comments as the coronavirus pandemic continues to cause mayhem in the US, with the overall death toll exceeding 7,000 and the confirmed cases standing at more than 277,000. The Trump administration has come under fire from medical staff and Democrats for belittling the deadly virus.
US health experts warn that mass shutdowns of businesses and schools over the coronavirus outbreak will lead to thousands of deaths and suicides unrelated to the disease itself.
Eric Feigl-Ding, epidemiologist and health economist from Washington, was the other panelist invited to The Debate program who also reaffirmed that the US administration had failed to realize the enormity of the pandemic.
"I think he dropped the ball a long time ago," he said. "This epidemic has usually a doubling time of usually 6 days; the doubling time in the United States has now dropped to 2.5 days — 2 days in New York… it is just terrible response, terrible preparation and terrible policies that allow a lot of our reserves and stockpiles to be depleted very quickly."
In New York, the US state hardest hit by the coronavirus in the number of infections and lives lost, the fatalities rose above 2,900 — which is on a par with the death toll from the terrorist attacks on September 11, 2001.
New York Mayor Bill de Blasio pleaded with the US government for more help in expectation of a surge in COVID-19 cases next week.
Dr. Anthony Fauci, the director of the National Institute of Allergy and Infectious Diseases, warned last week that the global pandemic could kill between 100,000 and 200,000 Americans, infecting millions of others.
The coronavirus, a respiratory disease known as COVID-19, jumped from wildlife to people in the Chinese city of Wuhan late last year and is currently affecting more than 200 countries and territories across the globe. It has so far affected more than 1,118,000 people and killed over 59,000, according to a running count by worldometers.info.
https://www.presstv.com/Detail/2020/04/04/622277/US-administration-coronavirus-pandemic-Carol-Duff
------
US records 1,169 coronavirus deaths, new global daily high: Johns Hopkins
04 April 2020
The United States recorded 1,169 COVID-19 fatalities in the past 24 hours, the Johns Hopkins University tracker showed on Thursday, the highest one-day death toll recorded in any country since the global pandemic began.
Globally, Italy still has the highest total death toll, with over 14,000 dying of the disease there, followed by Spain at over 11,000.
The US also recorded more than 30,000 new cases of COVID-19 in the same 24-hour period, bringing the total number of officially reported cases in the country to more than 243,000, according to Johns Hopkins University.
New York Mayor Bill de Blasio pleaded with the US government for more help in expectation of a surge in COVID-19 cases next week.
New York City is at the epicenter of the American outbreak, recording more than 1,500 deaths and nearing 50,000 positive cases, according to figures released late Thursday by city health authorities.
More than 1.3 million COVID-19 tests have been conducted in the US, Vice President Mike Pence said Thursday at a daily White House press conference on the virus.
"We are now conducting over 100,000 coronavirus tests per day," President Donald Trump added at the same briefing, saying that was "more than any other country in the world, both in terms of the raw number and on a per capita basis".
White House projections show the virus is expected to kill between 100,000 and 240,000 people in the US.
https://www.presstv.com/Detail/2020/04/04/622268/US-coronavirus-deaths-COVID-19-
-----
Pakistan
No Friday congregation: mosques locked down in Landi Kotal
Ahmad Nabi
APRIL 4, 2020
Like elsewhere in the country, mosques in Landi Kotal were suspended for Friday congregations. On Thursday night, the federal government as precautionary step decided to lock down all mosques for Friday prayers, following consultations with religious scholars.
Chairman Islamic Ideology Council Dr Qibla Ayaz in his statement to the media also conferred the decision and asked the Muslims to offer their prayers at homes in the best interest of the masses. The local administration from morning deployed police officials at mosques and directed management of all mosques to close it for performing the religious congregation.
Station Home Officer (SHO), police station, Landi Kotal, Amjad Shelmani who visited the mosques urged the believers to offer their Friday prayers at their homes.
On the other hand, Federal Minister for Religious Affairs Allama Noorul Haq granted health safety kits to the Medical Superintendent (MS) of Headquarter Hospital, Landi Kotal Dr Naik Dad Afridi.
The safety kits consist of 30 thermal scanner guns, 40 cotton of surgical mask, 50 coverall, 50 hygiene kits, 3,000 pairs of gloves and 42 sanitizers.
The minister said that the same commodities would also be provided to Jamrud and Mulagori health centers to tackle possible coronavirus cases in the area. The MS thanks the Minister for supplying the safety products as it were dire need of the health officials combating the fatal COVID-19.
https://dailytimes.com.pk/588455/no-friday-congregation-mosques-locked-down-in-landi-kotal/
-----
Mosques remain closed amid strict lockdown
April 3, 2020
By Hafeez Tunio
KARACHI: While most mosques in the city complied with the Sindh government's ban on congregational prayers on Friday afternoon amid a three-hour lockdown, some clerics continued to defy the law, even leading to violence in one instance.
An incensed mob turned on the police officers who tried to prevent worshippers from offering Friday prayers at Liaquatabad's Ghousia Mosque. The khatib of the mosque, terming the lockdown 'un-Islamic', had said that the prayers would continue to be held there.
A video, going viral on social media, showed scores of angry people chasing police officials, throwing stones at them and forcing them to flee. According to area residents, the law enforcers had attempted to arrest the peshimam (prayer leader).
Karachi police chief Ghulam Nabi Memon said that the Liaquatabad police had registered a case against over 250 people, while arresting seven, including the prayer leader. He added that action would be taken against the imam who had incited the violence.
The FIR includes charges pertaining to multiple sections of the Pakistan Penal Code, as well as a clause of the Anti-Terrorism Act.
According to the police, when they found out about the congregational prayers being held at the mosque, they went there to arrest the imam. However, they claimed, the cleric incited the worshippers to violence, who attacked the police officials. The cops, trying to save their lives, were forced to flee.
Those who did attend Friday prayers at other mosques, along with the prayer leaders who led them, said they had left matters to the Will of Allah, adding that no harm would befall them unless it was Divine Will.
"The government and police are making statements to create fear. Nothing will happen," insisted the imam at Jamia Mosque Quba, in Defence View – the only mosque out of four to open for prayers in the area, with three or four dozen people turning up to offer prayers there despite announcements to pray at home. "Karachi is a city of 20 million people – the government cannot implement its decision in every nook and cranny," he added.
The majority of mosques remained closed, however, while the few that were open witnessed thin attendance. Heavy contingents of police and Rangers personnel were also deployed in front of some mosques, including the New Memon Masjid in Kharadar, where scores of worshippers had arrived last week.
"Baitul Mukarram Mosque is in front of my home. It was closed, so we prayed at home," Rizwan Siddiqui, who lives in Gulshan-e-Iqbal, told The Express Tribune.
At Siddique Akbar Mosque in Akhtar Colony, Qari Abdul Basit said that only five people had prayed at the mosque, as permitted by the government. "We had already informed the area's citizens not to attend Friday prayers, since there is a ban on crowds assembling," he explained.
Sindh Information Minister Nasir Hussain Shah, meanwhile, in a video message, thanked the people of Sindh for praying at home on Friday. He said that 98 per cent of people had followed the government's decision of a full lockdown. "I hope the two per cent who defied government orders will reconsider their decisions next time," he added.
In other towns and cities of the province, including Sukkur, Larkana, Hyderabad and Mirpurkhas, the doors of most mosques were locked, with only four or five people belonging to the mosque offering prayers inside.
"We prayed Friday prayers at our Jamia Mosque with the usual number of worshippers," Abdul Hanan, a resident of a village in Qambar-Shahdadkot, told The Express Tribune. "The partial ban is only implemented in the cities and towns. Here, people pray at the mosque five times a day without any fear
https://tribune.com.pk/story/2190179/1-sindh-govts-order-complete-lockdown-defied-mosques/
------
Lawyer files plea before SC to become party in UTPs case
Nasir IqbalUpdated
April 04, 2020
ISLAMABAD: A lawyer has sought permission from the top court to become a party in the hearing of the case regarding release of under-trial prisoners (UTPs) in view of the coronavirus pandemic.
Mirza Umar Asadullah, an advocate, stated in his application that he had been motivated to file the plea after reading a paragraph of April 1 Supreme Court order asking lawyers to assist the court in preparing a synopsis before the next date of hearing.
The apex court is seized with a petition moved by Syed Nayab Hassan Gardezi, an advocate, on behalf of Raja Muhammad Nadeen challenging the Islamabad High Court's March 20 order of granting bail to over 400 UTPs. The Supreme Court is to resume hearing in the case on Monday.
In a preliminary hearing on March 30, the Supreme Court had restrained all the high courts, as well as the federal and provincial governments, from passing any order or releasing UTPs before a decision on the matter.
At the last hearing on April 1, the apex court had observed it would determine the legality of March 20 Islamabad High Court (IHC) order as well as the March 26 instructions of the Chief Justice Sindh High Court (SHC) to release the under-trial prisoners (UTPs) from country's overcrowded jails in the wake of the deadly corona outbreak.
In the fresh application, Mirza Umar Asadullah contended that he mainly practised on the criminal side before the Supreme Court and therefore his valuable rights were involved in different cases which were the subject matter of the case being heard by the apex court.
But on April 1, the Supreme Court was told that 519 prisoners had been released from the prisons in Sindh under the directives by a judicial magistrate along with the list of prisoners. The Advocate General of Sindh, Salman Talibuddin, had stated the release was authorised by the chief justice of the SHC through an instruction.
AG Sindh had also assured the apex court that he would provide a complete list of all 519 prisoners, their names, their prisons, whether they were under trial or convicted, detail of cases they were facing under what offences.
During the last hearing, the President of the Supreme Court Bar Association, Syed Qalbe Hassan ,had also furnished a report with the heading "What makes Pakistani prisoners more vulnerable through the Cornonavirus."
The statistics had shown that out of 114 prisons in Pakistan, the recommended capacity to house prisons is 57,742, but presently these jails were overcrowded with 77,275 inmates. Of this, 25,456 prisoners are convicted while overwhelming majority constitutes UTPs to the tune of 48,008. The women prisoners who were living along with their children are 1,184 while 1,500 are elderly prisoners above the age of 60.
Attorney General Khalid Jawed Khan had also proposed the release on personal surety bond of those accused who have been charged with offences under non-prohibitory clauses or under vagrancy laws or offences carrying less than three years' sentence. But there must also be condition that this benefit must not be extended in cases involving abuse or violent acts against children and women.
https://www.dawn.com/news/1546300/lawyer-files-plea-before-sc-to-become-party-in-utps-case
------
Collective efforts needed to fight coronavirus, Murad tells PM
Tahir Siddiqui
April 04, 2020
KARACHI: Sindh Chief Minister Syed Murad Ali Shah said on Friday that it was an alarming trend that an 87 per cent rise in coronavirus cases was witnessed across the province during the past 18 days and more focused and collective efforts were needed to control the pandemic.
The meeting was attended by Health Minister Dr Azra Pechuho, CM's coordinator Haris Gazdar, Chief Secretary Mumtaz Shah and other relevant officials.
The chief minister said that there were 783 cases reported till April 3. "If the figures of the cases of the last 17 to 18 days are calculated it will show an 87 per cent increase in the infection — this is alarming and it must be contained with ... collective efforts."
The director general of the National Disaster Management Authority (NDMA) told the chief minister that he sent the PPE to the provincial authorities and if they were used he would arrange more kits.
The CM also said that the testing kits provided by the NDMA had some accuracy issues, as was pointed out by experts working with the provincial government, therefore they were not being used.
The meeting was told that up to till afternoon of April 3, 783 cases of coronavirus had been detected. Out of 783 cases, 342 cases are in Karachi, 51 in Hyderabad, 273 in Sukkur, seven in Larkana, two in Ghotki, one in Jacobabad, one in Dadu and six in Shaheed Benazirabad.
The chronology shows that on March 31, 49 cases were detected, on April 1, 367 and on April 2, 40 cases were detected. The number of local transmissions has reached 438. Around 297 people are in isolation at their homes, 65 patients, including 25 pilgrims, have been cured while 11 succumbed to the virus.
The chief minister directed all the district hospitals to provide their extra ventilators and other equipment to tertiary care hospitals so that serious patients of coronavirus could be shifted and treated there.
He issued these directives while presiding over a meeting on health-related issues. The meeting was attended by the health minister, chief secretary, health secretary and other relevant officials.
The chief minister said that there were six tertiary care hospitals in the province, except Karachi. They are in Hyderabad, Sukkur, Gambat, Khairpur, Larkana and Nawabshah. In these hospitals, the provincial government had developed best facilities to treat coronavirus patients with severe symptoms, he added.
"I have issued directives to all the DHOs to send their extra ventilators and other equipment to tertiary care hospitals and once the pandemic is over these ventilators and equipment would be returned to their respective hospitals," he said, directing the DHOs to expedite the exercise.
Mr Shah also talked to each DC, DHOs and elected representatives and inquired about the isolation centres/facilities they had set up in their districts.
The chief minister said that over 4,500 people of Tableeghi Jamaat (TJ) had returned and most of them had tested positive for Covid-19. Therefore, he directed all the DCs to keep the Tableeghi Jamaat people [returned from Raiwind] in isolation.
He said that those that tested positive, their family members and others with whom they were in close contact might also be kept in isolation at their respective homes.
The CM said that there was a standard operating procedure (SOP) for testing, under which a person with travel history and symptoms was required to be tested. Without symptoms, nobody would be tested.
The health minister said that there were 14 experts who would visit different districts and train the health staff on how to take a sample of a suspected patient and send the same to Karachi or Hyderabad.
Meanwhile, the CM directed the health department to issue necessary instructions to the regional blood banks to provide blood for thalassaemia patients. "I am worried about the patients, particularly the children," he said and added they must be administered blood as per schedule.
https://www.dawn.com/news/1546220/collective-efforts-needed-to-fight-coronavirus-murad-tells-pm
-----
294 more Americans evacuated from Pakistan
Mohammad Asghar
April 04, 2020
RAWALPINDI: As many as 294 American citizens, including nine diplomats, departed for the US aboard a special flight from Islamabad and Karachi in the early hours of Friday morning.
According to a spokesman for the aviation division, the chartered plane first landed at Karachi airport and then at Islamabad to take back the American citizens as the US authorities had planned to evacuate its people.
The special chartered flight arrived at the Karachi airport to take 119 US citizens and then the flight reached the Islamabad International Airport to take 175 US citizens, including some diplomats, according to sources.
At both airports, special arrangements had been made to check the spread of coronavirus as scanning of passengers and spray to their luggage were carried out by the Pakistani authorities. Besides the luggage, some pets were also with the passengers.
Earlier on March 22, several US embassy staff in Islamabad had departed for America on a flight contracted by a private company.
Meanwhile, as many as 195 Pakistanis stranded in Istanbul (Turkey) arrived at the Islamabad International Airport on a Pakistan International Airlines flight on Friday night.
An FIA immigration official said the 195 Pakistanis stranded in Turkey were brought to Islamabad on a Pakistan International Airlines (PIA) special flight PK-782, which was operated from Karachi to Toronto on Thursday.
Soon after their arrival, all the Pakistani passengers were screened by the health authorities at the Islamabad airport. They were later shifted to different hotels for quarantine.
The government has planned a week-long repatriation flight operation from Saturday to bring back its nationals stranded overseas due to the suspension of international flight operation in the wake of Covid-19 pandemic.
https://www.dawn.com/news/1546295/294-more-americans-evacuated-from-pakistan
-----
IHC allows govt to turn hotels into quarantine centres
Malik Asad
April 04, 2020
ISLAMABAD: The Islamabad High Court (IHC) on Friday gave a nod to turning three- and four-star hotels into 'quarantine centres' where the National Disaster Management Authority (NDMA) has planned to keep coronavirus patients.
Last month the NDMA had proposed to the government that the hotels in all major cities across Pakistan be converted into quarantine centres for suspected and confirmed coronavirus cases. Later with the federal government consent, the NDMA also issued directives to the management of different hotels on March 16 and March 28, to vacate the premises for the purpose.
The NDMA order to vacate the hotels was however challenged by three-star Hotel Margalla, situated in Islamabad, through Advocate Sikandar Bashir Mohmand.
IHC Chief Justice Athar Minallah observed that the federal government had taken several measures to prevent spread of the novel coronavirus. The measures taken by the federal government and the NDMA were obviously to safeguard the public at large and their fundamental rights. The chief justice observed that since it was an extraordinary situation and it was settled law that the interest of public at large prevailed over individual rights.
The petitioner contended before the court that the NDMA was not authorised to take such a decision and the government should utilise the places it owned rather than turning private properties into quarantine centres. "Why does the government not use the prime minister's home instead?" said the petitioner.
In response to the petitioner, Justice Minallah observed: "The government is taking measures for the protection of its people. How can the court interfere then? When it comes to protecting the people, the government can even use my home."
The petitioner's lawyer, however, argued that the fundamental rights could not be suspended even if a constitutional emergency had been invoked.
The lawyer said hotel staff had been sent on leave since March 28 for an indefinite period due to the coronavirus outbreak.
Justice Minallah suggested that if the petitioner believed the decision would cause damage to hotels, he could make a claim later on.
The lawyer, however, could not convince the court. Subsequently, Justice Minallah issued the written order stating: "The learned counsel, despite his able assistance, was not able to satisfy this court that the jurisdiction under Article 199 of the Constitution of the Islamic Republic of Pakistan, 1973 ought to be exercised in the prevailing exceptional circumstances.
"It is noted that the said jurisdiction is discretionary in nature. It is in public interest not to exercise the jurisdiction, because it will inevitably amount to interference with the measures taken by the Authority and the Federal Government to meet the challenges that have arisen due to the extraordinary circumstances.
"It cannot be ruled out that interference by this Court with the decisions of the Authority and the Federal Government may risk jeopardizing the interests of public at large and their fundamental rights"
The IHC chief justice preferred to exercise judicial restraint in this matter instead of passing an adverse order against the NDMA's initiative of turning hotels into quarantine facilities.
"This Court is, therefore, satisfied that restraint ought to be exercised. In view of the above, this Court is not inclined to exercise its jurisdiction under Article 199 of the Constitution of the Islamic Republic of Pakistan, 1973 and, therefore, this petition is accordingly dismissed."
The court, however, allowed the hotel to claim any damages if they wanted to be compensated but at a later stage. The court order read: "It is observed that in case the petitioner hotel suffers loss, it would not be without remedy because in such an eventuality remedies available under the law can be resorted to later."
To contain the spread of deadly coronavirus, the NDMA had already converted many educational institutions, public halls such as Expo Center in Karachi and Lahore and Pak-China Center in Islamabad, hostels and even train coaches into makeshift quarantine centres.
https://www.dawn.com/news/1546285/ihc-allows-govt-to-turn-hotels-into-quarantine-centres
------
South Asia
Bangladesh puts into mosques 321 foreign members of Tabligh Jamaat
04 Apr 2020
Kamal Talukder
The authorities in Bangladesh have put 321 foreign members of the Tabligh Jamaat into two mosques in Dhaka as India has quarantined thousands after hundreds linked to a gathering of the organisation were diagnosed with COVID-19.
Out of the 321 of its foreign members identified in Bangladesh, 191 have been kept at Kakrail Jam-e-Masjid, the Tabligh's Markaz or headquarters in the country.
The remainders, 130 followers of Saad's rival Maulana Zubair, have been gathered at Kolapotti Madina Jam-e-Masjid in Jatrabari, said Md Mazharul Islam, the chief of the local police station.
He said 30 to 40 people have also been kept in the mosque to look after the foreigners. As many as 40 students of a madrasa are also there.
Biswa Ijtema, the second largest annual congregation of Sunni Muslims after hajj, is organised by the Tabligh in Tongi on the outskirts of Dhaka every year. It was held in January this year.
India has detected coronavirus among 650 of those who attended the Tabligh gathering in Delhi. It has placed around 2,000 of the attendees and 7,000 close contacts into quarantine.
Malaysia had earlier reported spread of the virus from a similar Tabligh gathering while Indonesia had halted the organisation's event.
Mufti Mizanur Rahman Sayeed, director general of Shaykh Zakaria (Radi-Allahu anhu) Islamic Research Centre, said Tabligh members do not need to preach Islam by going door to door during a pandemic.
https://bdnews24.com/bangladesh/2020/04/04/bangladesh-puts-into-mosques-321-foreign-members-of-tabligh-jamaat
-----
Don't lose the Afghan Hindu and Sikh Communities, Protect Them
03 Apr 2020
In an Islamic State, Hindu and Sikh communities remain religiously discriminated despite the fact that, as per the Afghan constitution, freedom of practicing religion to the followers of other faiths is recognized and protected. Religious discrimination aside, for a once an economically prosperous Sikh community in Afghanistan, the economic situation has turned worse throughout recent years while their properties are also disputed and encroached. On the other hand, one of the most notable hindrances for the Hindu and Sikh community in Afghanistan is the security threats posed on them by the terrorist groups including Daesh/ISIS. In light of these problems, one can conclude that it is important to deliberately explore the struggles suffered by the Hindu and Sikh community and find circumvent to ensure and guarantee the equality of the citizens in the society as per the Afghan constitution.
In Afghanistan, the origin of the Sikh community has broadly two streams. In the first trace, one group is the descendants of Guru Nanak, the founder of Sikhism, whose move to Kabul is recorded to be around 1520. Alongside speaking in Pashto and Dari, the author makes an assumption that the Afghan Sikh community is natively Afghans because of the Afghan Sikh community potentially from groups who did not adopt Islam as the religion became regionally dominant between the 9th and 13th centuries. In the second trace, the Afghan Sikh community derived from the short-lived Sikh Empire (1799-1849) when the empire had control over the territory of Khyber Pass which remained connected through trading routes into Kandahar and Kabul. Hindus and Sikhs are, according to the South Asia State of Minorities Report (2018), largely discriminated and persecuted which is why their numbers have decreased to a mere 220 families.
Similar to all Afghans, the Afghan Sikh community is also vulnerable to security threats posed by terrorist organizations, particularly Daesh and IS. Tensions of the Sikh community related to security threats by Daesh heated when Islamic State (IS) declared responsibility of a suicide attack in the city of Jalalabad which claimed the lives of 10 Afghan Sikhs, including the only Sikh candidate for the parliamentary elections. Earlier this month, an attack carried out by the Islamic State on the Sikh Gurudwara in Kabul claimed the lives of 25 Afghan Sikhs, including women and children.
Whereas perpetual security turbulence is continuously present on all Afghans, Islamic State (IS) has announced its fight against polytheists which is directly concerning the Sikh community in Afghanistan. In the light of such hostile society in terms of security, Afghan Sikhs are driven to abandon the country attempting to find a society that is friendlier to their beliefs.
One of the most important reasons for the Sikh community's disillusionment from Afghan society is its unfriendly education environment to their children. Principally, education holds an important part in one community because it can ensure a well-heeled society in the long run. In a Muslim-majority country, Sikh families tend to avoid sending their children to public schools due to bullying. In an article on Afghan Sikhs and Hindus, Ekhtyar noted that education ministry's top priority to provide education to the Sikh community was through building special schools for the [Hindu and Sikh] minority to which the Sikh community disagreed; arguing that Sikh community do not want to separate from their Muslim brothers (2011). On the other hand, the system of education is a one-way road to Non-Muslim minorities as it obligates them to study Islamic Education whereas religious education to the Afghan Sikh community is only available informally at Gurdwaras.
At a point in time when the regime of the Taliban had control of Afghanistan, the land and belongings of the minorities (including the Sikh community) were seized while the Sikh community, in particular, had to separate themselves from the Muslims population with yellow armband and mark their homes and businesses with yellow flags. From the regime of the Taliban until recently, for a once an economically prosperous Sikh community in Afghanistan, the economic situation has turned worse to an extent that their trade is reduced in herbal medicine and spices only. Afghan Sikh community, therefore, suffer from economical challenges that can drive them to abandon Afghanistan.
From security unrest, challenges in terms of education and economic instability as major issues, there are peripheral or small issues that can create a hostile environment to this religious minority in Afghanistan, including but not limited to the currently offered Indian citizenship to the Sikh minority community in Afghanistan. Data collected shows that this minority group has largely migrated to settle in Kabul which is relatively safer than the rest of the country. Doubtlessly, any kind of unrest in the central Kabul might be the driving incentive for them to abandon the country which can (1) be a big failure of the state in terms of protecting the rights of minorities as per Afghan constitution and (2) perhaps weaken the already flawed young Afghan democracy and its reputation.
https://www.khaama.com/dont-lose-the-afghan-hindu-and-sikh-community-protect-them-76897689/
-----
Afghanistan's Hindu and Sikh communities take tough decision after deadly Kabul attack
04 Apr 2020
The Hindu and Sikh communities in Jalalabad city, the provincial capital of Nangarhar, took a tough decision to relocate to a third country after a deadly attack in Kabul city which targeted a Sikh temple, killing at least 27 people.
Only two Hindu families currently live in Jalalabad city who have also decided to move after the Sikh community in the town deided to shift the 'Saroop' of Guru Granth Sahib to safety, apparently to a third country.
A source within the Sikh community in Jalalabad city told The Times of India that they predict more attacks after deadly attack on Sikh temple in Kabul city.
The source further added that the Sikh community will most likely shift the 'Saroop' of Guru Granth Sahib to Peshawar Gurdwara in Pakistan.
This comes as a group of terrorists attacked the Sikh temple in Kabul city late last month, killing at least 27 people including an Indian national and wounding many others.
https://www.khaama.com/afghanistans-hindu-and-sikh-communities-take-tough-decision-after-deadly-kabul-attack-04604/
-----
Coronavirus positive cases rise to 299 across Afghanistan
04 Apr 2020
The Ministry of Public Health of Afghanistan confirmed that the positive cases of the novel coronavirus (COVID-19) has risen to 299 across the country.
Waheed Mayar, a spokesperson for the Ministry of Public Health, confirmed that the ministry has so far recorded 299 positive cases in various provinces of Afghanistan.
Mayar further added that the ministry recently recorded 11 new positive cases of COVID-19 in Kabul, 2 in Samangan province and one cases each in Balkh, Kunduz, Ghazni, Logar and Faryab provinces.
This comes as the number of COVID-19 positive cases have risen close to 1.1 million across the globe as the disease has so far killed more than 95 thousand people.
https://www.khaama.com/coronavirus-positive-cases-rise-to-299-across-afghanistan-04603/
-----
Ghani appoints Atmar as acting minister of foreign affairs
04 Apr 2020
President Mohammad Ashraf Ghani has appointed the former National Security Adviser Mohammad Haneef Atmar as the acting Minister of Foreign Affiars of Afghanistan.
The Office of the President, ARG Palace, in a statement said President Ghani issued a decree, appointing Mr. Atmar as acting minister of foreign affairs.
The statement further added that President Ghani appointed Mr. Atmar as per the paragraph 13 and Article 64 of the constitution of Afghanistan.
The ARG Palace also added that Atmar is one of the influential political figures of the country who has served in vital governmental institutions in the past two decades.
Atmar has previously served as the minister of rural rehabilitation and development, minister of education, minister of interior and national security adviser.
https://www.khaama.com/ghani-issues-decrees-regarding-the-appointment-of-haneef-atmar-04602/
-----
2 Afghan President Protective Service personnel killed, wounded in Kabul city
04 Apr 2020
Unknown gunmen opened fire on two personnel of the Afghan President Protective Service in Kabul city late on Friday night, leaving one dead and another one wounded.
Tariq Arian, a spokesperson for the Ministry of Interior, said the gunmen opened fire on the two PPS personnel in Paghman district at around 8:20 pm on Friday.
He said one of the PPS personnel, Qeyamuddin Maqsoodi, lost his life in the attack and another one sustained injuries.
https://www.khaama.com/2-afghan-president-protective-service-personnel-killed-wounded-in-kabul-city-04601/
-----
Help the poor families during the Coronavirus crisis, Afghanistan
03 Apr 2020
On Thursday 2 April 2020, the director-general of the World Health Organization said the lockdown to limit the COVID-19 transmission had "unintended consequences for the poorest" and "most vulnerable". "I call on countries to ensure these populations have food [and] life essentials during the crisis," Tedros Adhanom Ghebreyesus tweeted.
Till now more than 1000000 one million people are affected by the novel coronavirus around the world and out of this more than 53000 people have died, more than 210000 people have been fully recovered and the numbers are increasing every minute.
Long-suffering Afghanistan is increasingly facing an ever more severe threat: the novel coronavirus. If serious actions are not taken to prepare, the Afghan Public Health Ministry estimates that 80 % population of Afghanistan will be infected and 110,000 Afghans will die from COVID-19, till now 273 people are infected by the coronavirus in Afghanistan.
Herat, Khandahar, Logar and Kabul provinces have been lockdown by the government, the Afghan government has limited the movement of residents in Farah, Nangarhar and Nimruz provinces, praying in mosques has been suspended to prevent any possible spread of the virus.
Afghanistan is one of the poorest countries in the world and more than 42% of the Afghans are living under the poverty line. Most of the people in Afghanistan are taxi drivers, shopkeepers and day laborers, and earn enough to hardly make one-day family food expenses. In this lockdown, these people in the community suffer the most and they are faced with two hazards the Covid19 and Poverty because they are unable to get any work during the lockdown period and they do not have any savings so that they can spend it now.
During this time of crisis, the government should focus more on the poor people and help in providing them with food and life essentials during the lockdown period, the people can also do their part, by doing the following to help the poor families during this period.
Public awareness: Those people, who have more information about the novel coronavirus, try to find out about families and people who do not have access to Facebook and other social media and are unaware of the coronavirus. Provide them with accurate information the most important, how to protect themselves and the symptoms of the virus, so they do not become infected.
The traders: should not take this opportunity and try to earn from it by increasing the prices of the products and selling them on higher prices, it's not the time to make a profit but instead, the traders should sell their goods to the markets and shops much cheaper and they sell it to the public especially to the poor on cheaper prices.
The wealthy and the businessman: the lesson we can learn from the coronavirus is that it sees us all equal, poor, rich, black, white, educated, uneducated, it infects and attacks all of us. Try to buy food products for needy people so that they can use them during the lockdown period, as during this period they can't go outside or work and earn money in order to bring food to their family.
Those afghan brothers and sisters living outside Afghanistan can raise money from their friends and the Afghan community out there and send them back to Afghanistan to their families and friends to help the needy families in this crisis.
If there are markets and shops in your area talk with them to place a basket in there market and shops and those people who buy goods from their should buy one or two food products for the needy people and place it in the basket and should be latter distributed among the needy families.
There are many charitable organizations in Afghanistan who always helps the poor and needy families across the country, contact them and send them money to help more and more needy families.
You can also help these families by providing them with handwashing soap, hand sanitizers, face masks and disposable gloves to prevent them from getting infected.
https://www.khaama.com/help-the-poor-families-during-the-coronavirus-crisis-afghanistan-8790780/
-------
Ghani issues decree specifying Saleh's responsibilities as First VP of Afghanistan
03 Apr 2020
President Mohammad Ashraf Ghani has issued a decree to specify the responsibilities of Amrullah Saleh, the First Vice President of Afghanistan.
Ghani has authorized Saleh to distribute land to refugees and internally displaced people and coordinate with the United Nations institutions and Non-governmental Organizations, according to a copy of the decree being circulated on social media.
The decree also states that the President granted the authorities to Mr. Saleh in a bid to help with the effective and proper implementation of the government affairs as well as incorporation of reforms.
In other parts of the decree, it is stated that the First Vice President is obliged and must report to the President and to the cabinet regarding the methods of his activities.
Meanwhile, the ARG Presidential Palace in a statement said President Ghani has granted some other 'special authorities' to Mr. Saleh by preserving the authorities, the First Vice President has.
The statement further added that the rumors being circulated on social media, suggesting that the President has limited the authorities of Mr. Saleh, are untrue and baseless.
https://www.khaama.com/ghani-issues-decree-specifying-salehs-responsibilities-as-first-vp-of-afghanistan-04600/
----
Southeast Asia
Malaysia's small traders going online for Ramadan food sales
APR 4, 2020
KUALA LUMPUR • With some states in Malaysia banning the hugely popular Ramadan bazaars amid the coronavirus pandemic, netizens have started social media groups to help small traders sell online, avoiding what they claim are the high commissions charged by food-delivery players such as GrabFood.
Five states have already banned these once-a-year food bazaars in order to prevent large crowds from gathering, with more states expected to join soon.
Graphic designer Amirul Rafiq started a Facebook group called Seremban Online Bazaar Ramadhan 2020, when he heard that there will be no such bazaar in Negeri Sembilan this year. Mr Amirul said Ramadan bazaar sellers can promote their business through the online group and then contact him to arrange for runners for delivery.
"In Seremban, there could be up to 1,000 sellers who usually set up stalls at popular Ramadan bazaar locations. When it was announced that they couldn't do any business this year, a friend who is also a seller asked if we can start setting up a network for runners to help them do delivery," he said.
The group now has over 7,000 members. Mr Amirul said the plan is to help the sellers raise awareness about the dishes they will be offering during Ramadan and get customers interested.
The states of Selangor, Melaka, Negeri Sembilan, Terengganu and Kedah have decided not to organise these bazaars, even as federal Cabinet ministers said they have not made a decision on the matter.
Malaysia was into its 17th day of the 28-day movement control order (MCO) yesterday, with most businesses shut and the public advised to stay indoors.
The annual bazaars feature stalls selling freshly cooked food and beverages, among other things. The stalls are often set up along closed-off roads and in open-air car parks all over the country. They are mostly packed with Malay Muslims looking for food and drinks to break their day-long fast.
Malaysia yesterday said there were 217 new Covid-19 cases, bringing the total to 3,333 infections. There were three more fatalities, taking the death toll to 53.
Mr Zamri Mohammed, secretary for confederation of small hawkers and traders Malaysia said: "You have to understand that some people like our Mak Cik Kiah (older women) wouldn't know how to get on social media or engage with delivery platforms to help with their business."
He said some sellers are reluctant to sign up with established delivery platforms such as Grab and Foodpanda. "Some of these platforms could take a commission of up to 35 per cent per delivery. So if you're selling a food item for RM10 (S$3.30), then you only take home RM6.50," he said.
Terengganu resident Mohd Wan Azenan, who has been selling at Ramadan bazaars since 2012, set up the Bazaar Ramadhan Online Dungun group with his wife Rozana Manaf on March 31. It now has over 600 members.
"Now we have to do what we can to help people promote their food business for delivery during fasting month," he said.
https://www.straitstimes.com/asia/se-asia/malaysias-small-traders-going-online-for-ramadan-food-sales
-----
Coronavirus: Indonesia's Widodo allows travel after Ramadan, raising fears infection will spread
3 Apr, 2020
Amy Chew
Indonesia is bracing for millions of people from Jakarta, the epicentre of the country's coronavirus outbreak, to head for their hometowns across the archipelago after President Joko Widodo said he would not ban this year's usual surge in travel towards the end of the Muslim fasting month in May.
The scenario would be a repeat of the way mainland Chinese residents left big cities – including Wuhan, where the novel coronavirus was first reported – to return to the provinces and travel overseas ahead of the Lunar New Year holiday in February, fuelling the spread of Covid-19.
For Indonesia, which has a population of 270 million, the migration raises the stakes for a contagion that has seen 1,986 confirmed cases since the country reported its first case on March 2.
Widodo's decision came as Indonesia reported its biggest daily spike in infections, with 196 new cases. The pandemic has killed 181 people there, surpassing South Korea's total of 174 to become the highest in Asia after China.
The president has resisted calls from public health experts and provincial leaders to take tougher measures, including a lockdown, to stem the disease's spread.
He instead declared a state of emergency on Tuesday and called for stricter social distancing, promising US$1.5 billion in social assistance and subsidies for low-income workers. Widodo said he would not ban mudik, the journey home for the Eid ul-Fitr holiday after Ramadan, but urged people to stay in the capital where they could get social assistance.
Widodo also warned the country's provinces not to make their own rules and follow the policies set by the central government, a move analysts say hampers efforts to deal with the virus.
"This is confusing the people. The government is not speaking in one voice," said Muhammad Habib Abiyan Dzakwan, a researcher from the Centre for Strategic and International Studies's (CSIS) disaster management research unit.
Indonesian Muslims attend congregational Friday prayers in Medan, North Sumatra on April 3 without applying social distancing rules amid concern over the Covid-19 pandemic. Photo: AFP
Indonesian Muslims attend congregational Friday prayers in Medan, North Sumatra on April 3 without applying social distancing rules amid concern over the Covid-19 pandemic. Photo: AFP
Iwan Ariawan from the University of Indonesia's Faculty of Public Health described Widodo's current measures as a "moderate intervention".
According to a report he co-authored, Iwan said, the disease could kill close to 48,000 people across the country – but in the worst-case scenario, with no restriction on movement, there could be up to 240,000 deaths.
"We hope there will not be as many deaths as that," he said. "The government needs to carry out more intensive interventions."
The influential Indonesian Ulema Council (MUI) on Friday said mudik was haram, or forbidden, as it could spread the "dangerous virus", a move that could hold sway in a country where about 90 per cent of the population are Muslims.
"This is in keeping with the guidance shown by his holiness Prophet Mohammed when he forbade people to enter an epidemic zone as well as leave it," said MUI secretary general Anwar Abbas.
Indonesia's vice-president Ma'ruf Amin later the same day urged the MUI to issue a fatwa against mudik in the middle of an epidemic, according to local media.
For the past week, the governors of West and Central Java have been calling on migrant workers not to leave Jakarta and urging those working overseas not to return home, as they worry the exodus will hasten the spread of the coronavirus and overwhelm provincial medical facilities.
https://www.scmp.com/print/week-asia/health-environment/article/3078389/coronavirus-indonesias-widodo-allows-travel-after
------
Jakarta secures food supply for Ramadan, Idul Fitri as COVID-19 stokes anxieties
Dzulfiqar Fathur Rahman
April 3, 2020
The Jakarta administration has secured sufficient food supplies for residents to prevent shortages during the coming Islamic holy month of Ramadan as the COVID-19 outbreak stokes uncertainty in the capital, the country's hardest-hit area.
"The food supply is enough for the needs leading up to Ramadan and through Idul Fitri," Jakarta Governor Anies Baswedan said during an online video conference with Vice President Ma'ruf Amin on Thursday.
The month of Ramadan will begin on April 23 and will end with Idul Fitri celebrations. People typically buy more during the fasting month, which pushes up the prices of basic commodities.
The city administration is expecting a surge in demand for staple foods as millions of Jakartans are Muslim, 85.3 percent of the capital's 10 million people, according to the 2010 census.
Some commodities, such as garlic and sugar, are of particular concern in Jakarta. Statistics Indonesia's Jakarta office (BPS Jakarta) found that the average price of garlic had risen by 0.21 percent to Rp 44,465 (US$2.68) per kilogram and the average price of sugar by 20.62 percent to Rp 15,583 per kilogram, according to data released on Wednesday.
President Joko "Jokowi" Widodo previously said the government would keep garlic prices between Rp 20,000 and Rp 30,000 per kilogram and would keep sugar prices to Rp 12,500 per kilogram by procuring additional supplies from overseas.
Disrupted logistics, however, are posing a challenge to both the administration and the central government's plans to ensure the food supply.
Jakarta has had the most confirmed cases of COVID-19 in the country. As the national epicenter of the outbreak, the capital city has declared a state of emergency between March 16 and April 19, including the suspension of schools, in-office work, large religious gatherings and public activities.
The suspension of such activities is in line with the government's recently issued large-scale social restriction (PSBB) measure.
The suspension of public religious activities drew the government's attention as Muslims traditionally perform more rituals during the holy month.
When Vice President Ma'ruf asked Anies how long the measures would last, the governor said his administration had not made any decisions.
"We still have time, and we will observe the developments before Ramadan," said Anies. "We will probably wait for the Indonesian Ulema Council [MUI] to give advice if the COVID-19 situation shows no improvement leading up to Ramadan."
In addition to declaring a state of emergency, the Jakarta administration is allocating Rp 3 trillion of its Rp 87.9 trillion 2020 regional budget for COVID-19 efforts until May.
The governor is planning to allocate more money to fund the COVID-19 response from a profit-sharing fund worth Rp 7.5 trillion run by the Finance Ministry.
------
Police identify Covid-19 infection chain involving 40k people
04 Apr 2020
KUALA LUMPUR (Bernama): The police today said 40,000 people are involved in the Covid-19 chain infection, including those linked with the tabligh cluster.
Inspector-General of Police Abdul Hamid Bador (pic) on Saturday (April 4) said the data was analysed by a task force from the Criminal Investigation Department (CID) headed by Bukit Aman CID chief Huzir Mohamed to identify those who most likely to be infected by the coronavirus.
He said from the data provided by the Health Ministry, the police had identified several areas where certain individuals and groups were required to go for Covid-19 screening.
"We analysed the data by helping the ministry to identify up to about 11,000 tabligh members who attended the assembly at the Sri Petaling Mosque recently.
"From this data, the team refined and used specific methods to identify the network of close contacts, travel and who might be affected by those involved.
"We identified the individuals concerned, including getting complete information, such as their home addresses, telephone numbers and identity card numbers, to give to the ministry for the persons concerned to undergo Covid-19 screening, " Hamid said.
He added many of the tabligh members had been screened and urged the public not to criticise or discriminate against them.
Hamid said the team was also trying to get information on tabligh members who were overseas, and details on them would be given to Immigration for necessary action to be taken upon their return.
"This is to confirm their arrival, whereby the police will take the necessary action to escort them to the quarantine centre for the mandatory 14-day quarantine."
Prior to this, it was reported that the organiser of the tabligh gathering at Sri Petaling said 95% of the about 11,000 attendees had been screened for Covid-19
https://www.thestar.com.my/news/nation/2020/04/04/police-identify-covid-19-infection-chain-involving-40k-people
-----
Analysts say Hadi's appointment aimed at appeasement
03 Apr 2020
By TARRENCE TAN
PETALING JAYA: The appointment of PAS president Datuk Seri Abdul Hadi Awang (pic) as the special envoy with ministerial position to the Middle East, which came under heavy criticism during the height of a health crisis, was a political decision aimed at appeasement, said several analysts.
Adjunct senior fellow at Singapore's S. Rajaratnam School of International Studies, Dr Oh Ei Sun said such an appointment was to appease leaders who weren't appointed as ministers.
"Mainly, these are done to appease party presidents who are not included in Cabinet, such that they would still have ministerial privileges domestically and be accorded ministerial courtesy when travelling overseas.
"There has to be some semblance of political normalcy even during the movement control order (MCO). So, there was the appointment of Tan Sri Muhyiddin Yassin as Khazanah Nasional Bhd chairman and now this," he said.
Political analyst Prof Awang Azman Awang Pawi from University Malaya also agreed that Hadi's appointment was a political appointment.
He said it was done to satisfy PAS supporters who were beginning to voice out at the grassroots level against the ministerial appointments.
According to Prof Awang, the appointment of PAS ministers was perceived as least strategic compared to Parti Pribumi Bersatu Malaysia (Bersatu), which dominated vital portfolios such as the Home Ministry, the Rural Development Ministry, and the Economic Affairs Ministry.
"This appointment will lessen criticisms by PAS grassroots, who wanted their leaders to be given strategic positions in the government."
Prof Awang also said the government must justify Hadi's appointment in various aspects, as it came while the country faces the Covid-19 economic fallout.
"Therefore, this should be his main key performance index, as it comes with a big salary and a ministerial position when the economy is declining," he added.
Prof Shamsul Amri Baharuddin, who heads the Institute of Ethnic Studies at Universiti Kebangsaan Malaysia (UKM), said it is the prerogative of the ruling government to appoint leaders into the position.
"I expected this to happen when he (Hadi) was not named in the Perikatan Nasional (government). Anyway, only a prime minister can appoint a minister, the role is also decided by the prime minister only, " he said.
He also said such positions were accorded to various leaders in the past, such as former MIC president Tun S. Samy Vellu as special envoy to India and South Asia with ministerial rank, and Mohamed Rahmat as ambassador to Indonesia with ministerial rank.
Meanwhile, Universiti Sains Malaysia's Prof Sivamurugan Pandian explained that Hadi's position does not overlap with other similar positions such as ambassador or high commissioner.
"They may be appointed for some political reason, to accommodate their expertise, networking and working closely with the government machinery as they are not part of the Cabinet."
Acknowledging PAS as a key player in Perikatan, Prof Sivamurugan said Hadi's appointment may have a political impact to the coalition and the Islamist party itself.
"He can also use this as a channel to get assistance from the Middle East to assist Malaysia on Covid-19 cases and likewise."
https://www.thestar.com.my/news/nation/2020/04/03/analysts-say-abdul-hadi039s-appointment-aimed-at-appeasement
------
Mideast
Turkey sends another military convoy to de-escalation zone in Syria's Idlib
03 April 2020
Turkey has dispatched new reinforcements to Syria's northwestern province of Idlib, as Ankara beefs up its military presence in the embattled region following a ceasefire reached earlier this month with Moscow to halt an escalation of violence there, says the so-called Syrian Observatory for Human Rights (SOHR).
The Britain-based war monitor, citing activists requesting anonymity, reported that a Turkish convoy, consisting of nearly 35 military vehicles, crossed into the Syrian territory through Kafr Lusin border crossing on Friday afternoon, and headed toward Turkish positions.
Turkish Defense Minister Hulusi Akar announced on March 13 that the Russian and Turkish militaries had agreed on the details of a new ceasefire in the Idlib de-escalation zone following four days of talks in Ankara.
Akar said the first joint patrol by Turkey and Russia on the M4 highway in Idlib would take place on March 15, and that Turkey and Russia will set up joint coordination centers in the area.
Turkey and Russia agree to begin joint patrols along a key highway in Syria's northwestern province of Idlib as part of a ceasefire agreement, Turkey's defense minister says.
The announcement followed a telephone call between Russian President Vladimir Putin and his Turkish counterpart Recep Tayyip Erdogan the previous day to discuss the implementation of the agreements the two leaders had reached in Moscow the previous week.
"Vladimir Putin and Recep Tayyip Erdogan reaffirmed the importance of continued close joint efforts, first of all between the Russian and Turkish defense ministries, in order to ensure a stable ceasefire and further stabilization of the situation," a Kremlin press release read.
https://www.presstv.com/Detail/2020/04/03/622247/Turkey-sends-another-military-convoy-to-de-escalation-zone-in-Syria%E2%80%99s-Idlib
-----
Saudi-led airstrike, gunfire leave nearly dozen civilians dead in Yemen
03 April 2020
Nearly a dozen people have lost their lives and several others sustained injuries when warplanes operated by the Saudi-led military coalition and militiamen loyal to Yemen's former President Abd Rabbuh Mansur Hadi launched separate attacks in the northwestern province of Sa'ada and the central province of Ma'rib over a span of 24 hours.
Local sources, speaking on condition of anonymity, told Yemen's Arabic-language al-Masirah television network that three people were killed and a woman was injured on Friday, when the warplanes struck Ghafra area in the Dhaher district of Sa'ada.
The source added that the air raid also resulted in the death of dozens of livestock and destruction of the house targeted.
The incident took place only a day after Saudi-sponsored militiamen opened fire at a civilian car travelling along a road in the Raghwan district of Ma'rib province, killing all five occupants.
Moreover, the spokesman for Yemeni Armed Forces Brigadier General Yahya Saree said Yemeni air defense units had thwarted a Saudi-led airstrike against strategic and residential areas in the northern province of al-Jawf.
Saree said in a post published on his official Twitter page that a Saudi-led warplane sought to bombard areas in the Hazm district at 1:05 a.m. local time Friday (2205 GMT Thursday), when the domestically built, long-range Fater-1 (Innovator-1) surface-to-air missile defense system intercepted the jet and forced it off the Yemeni airspace.
Saudi Arabia and a number of its regional allies launched the devastating war on Yemen in March 2015 in order to bring Hadi back to power and crush the Houthi Ansarullah movement.
The US-based Armed Conflict Location and Event Data Project (ACLED), a nonprofit conflict-research organization, estimates that the war has claimed more than 100,000 lives over the past five years.
Saudi Arabia and the United Arab Emirates have purchased billions of dollars' worth of weapons from the United States, France and the United Kingdom in their war on Yemen.
Riyadh and its allies have been widely criticized for the high civilian death toll resulted from their bombing campaign in Yemen.
The UN says over 24 million Yemenis are in dire need of humanitarian aid, including 10 million suffering from extreme levels of hunger
https://www.presstv.com/Detail/2020/04/03/622243/Saudi-led-airstrike,-gunfire-leave-nearly-dozen-civilians-dead-in-Yemen
------
Mossad sneaking COVID-19 medical stocks - ordered by others - into Israel: Senior official
03 April 2020
Israel's spy agency Mossad has been running clandestine operations to sneak the medical supplies ordered by countries fighting the coronavirus outbreak into Israel, a senior Mossad official has revealed.
The head of Mossad's technology department, identified only as "Het," made the revelation in an exposé aired by Israel's Channel 12 "Uvda" investigative news program earlier this week, The Times of Israel reported on Wednesday.
Het said that Tel Aviv had ordered Mossad to procure up to 130,000 objects related to fight the COVID-19 outbreak in Israel, ranging from protective gear to test kits, medicine, and ventilators.
"I have overseen many operations in my life, and I've never dealt with such a complex operation," the Mossad officer remarked.
He claimed that countries are locked in a covert battle to take control of a limited supply of ventilators needed amid the coronavirus pandemic.
"We are utilizing our special connections to win the race," he said, adding that the spy agency was trying to do so by trying to "lay our hands on stocks ordered by others."
Similar reports of Israel using its notorious Mossad spy agency to obtain medical supplies amid the global pandemic have prompted observers to question Israel's means of acquiring the supplies.
https://www.presstv.com/Detail/2020/04/03/622241/Covid19-coronavirus-Israel-Mossad-clandestine-operation
-----
Top Bahraini cleric demands release of prisoners amid coronavirus outbreak
03 April 2020
Bahrain's most prominent Shia cleric Ayatollah Sheikh Isa Qassim has demanded the immediate and unconditional release of political dissidents currently being held in the Manama regime's prisons in the wake of the novel coronavirus pandemic, stressing that failure to take the measure will have dire consequences.
"Even if the release of political prisoners and prisoners of conscience in Bahrain, whose number stands in thousands, might not be recognized as a religious, constitutional, national and human right and would have no priority among the policies of ruling authorities, there is inevitable truth that COVID-19 virus could hit prisons and lead to consequences much more catastrophic that what the world has been witnessing," Arabic-language Bahrain Mirror news website quoted the cleric as saying in a statement.
He added, "Because of the high number of [coronavirus] patients and victims, security calculations cannot remain as perceived by local and foreign institutions in normal circumstances."
Sheikh Qassim then stressed the need for the freedom of political prisoners, saying, "Sitting idle and waiting for COVID-19 to strike prisons by surprise would plunge the country into chaos."
"Do not let coronavirus rip the homeland apart, and push it into unprecedented insecurity and hiatus. Neither reason nor suppression will be able to manage the situation once public rage over the spread of the virus boils over," the top Bahraini Shia cleric pointed out.
Meanwhile, a group of political prisoners at the notorious Jau Prison, south of Manama, have expressed their support for Sheikh Qassim's statement, and called on the international community and human rights organizations to pay attention to their condition.
"We are a group of prisoners of conscience in Jau Prison. We appeal to the international community, human rights organizations, and decision-making bodies of the world to prevent a humanitarian catastrophe at Bahrain's prisons," the dissidents said in a statement.
Forty-four Members of the European Parliament urge the Bahraini king to free political prisoners, and start sincere negotiations with the opposition.
The statement added, "Apart from intense fears that the coronavirus pandemic could be transmitted to prisons and cause infections, the prison administration continues to neglect healthcare, and either cancels or postpones necessary medical appointments for people with chronic diseases."
"Given the exceptional situation in the world in light of the coronavirus outbreak, which requires the utmost protection and safety measures, we demand to provided with sanitary ware and prison buildings that are home to hundreds of inmates to be regularly disinfected," the prisoners highlighted.
Thousands of anti-regime protesters have held demonstrations in Bahrain on an almost daily basis ever since a popular uprising began in the country in mid-February 2011.
They are demanding that the Al Khalifah regime relinquish power and allow a just system representing all Bahrainis to be established. Manama has gone to great lengths to clamp down on any sign of dissent. On March 14, 2011, troops from Saudi Arabia and the United Arab Emirates were deployed to assist Bahrain in its crackdown.
On March 5, 2017, Bahrain's parliament approved the trial of civilians at military tribunals in a measure blasted by human rights campaigners as being tantamount to imposition of an undeclared martial law countrywide
https://www.presstv.com/Detail/2020/04/03/622229/Top-Bahraini-cleric-demands-release-of-prisoners-amid-coronavirus-outbreak
------
G77, China urge end to unilateral sanctions amid coronavirus pandemic
04 April 2020
The Group of 77 (G-77) and China have called for an end to unilateral coercive economic measures against developing countries amid global efforts to contain the novel coronavirus (COVID-19) pandemic.
In a statement released on Friday, the coalition of developing nations warned that unilateral sanctions adversely affect the capacity of the targeted countries to deal with the highly contagious disease.
"The Group of 77 and China consider that at this juncture, the enactment and application of unilateral coercive economic measures will have a negative impact on the capacity of States to respond efficiently, specifically in the acquisition of medical equipment and supplies to adequately treat their populations in the face of this pandemic. Ultimately, these measures also affect the essential cooperation and solidarity that should prevail among nations," the statement read.
"We therefore call upon the international community to adopt urgent and effective measures to eliminate the use of unilateral coercive economic measures against developing countries," it added.
The coronavirus, which can cause potentially fatal respiratory malfunction, has infected over one million people and claimed 59,197 lives worldwide.
The battle against the fast-spreading virus has been exceptionally hard in the countries like Iran as their efforts have been severely hampered by illegal American economic sanctions.
The US restrictive measures have hindered Iran's ability to import medicine and other medical supplies to confront the coronavirus.
Earlier this week, Iran's Foreign Minister Mohammad Javad Zarif said US "medical terrorism" is leading to "humanitarian catastrophe"; as it makes it "impossible" for ordinary people to have access to essential drugs amid the pandemic.
In Iran, the flu-like virus has so far infected 53,183 people and killed 3,294 others, according to the Iranian Health Ministry. Some 17,935 patients have also recovered from the respiratory disease.
Elsewhere in their statement, the G77 and China said they are "resolved not to allow any stigmatization or discrimination of States, peoples or individuals in connection with the COVID-19 pandemic. This is a time for the international community, developed and developing countries alike, to demonstrate our capability to work together in solidarity to mitigate the impacts of COVID-19 and to build a community of shared future for humankind."
In another development on Friday, Spanish Foreign Minister Arancha González Laya called on the countries sanctioning Iran, Cuba and Venezuela to lift their measures for humanitarian reasons so that they may have access to medical supplies to deal with the coronavirus.
On Thursday, the UN General Assembly unanimously approved a resolution for the first time on the coronavirus pandemic demanding "multilateralism" in the fight against the virus.
The UN General Assembly approves a resolution calling for "international cooperation" and "multilateralism" in the global fight against COVID-19.
The resolution called for "intensified international cooperation to contain, mitigate and defeat" COVID-19 and recognized the pandemic's "severe disruption to societies and economies, as well as to global travel and commerce, and the devastating impact on the livelihood of people."
The assembly, however, failed to approve another resolution that was urging an end to trade wars, protectionist practices and US unilateral sanctions on countries across the world.
https://www.presstv.com/Detail/2020/04/04/622281/G77-China-unilateral-sanctions
------
Iran plans massive liquidity injection to fix economic woes
03 April 2020
The Central Bank of Iran (CBI) says it is ready for massive liquidity injections into the banking system as part of efforts to help government shore up the economy.
CBI governor Abdolnasser Hemmati said on Friday that the lender would ramp up its efforts for implementation of the newly-launched open market operations (OMO) to help the government fix the economic woes caused by the US sanctions as well as the spread of the new coronavirus in the country.
"The CBI is ready to extensively use the OMO for helping the government face the problems and assist the economic growth," said Hemmati in a social media post.
Hemmati's promise comes a day after the CBI board of governors approved a series of guidelines and rules for implementation of the OMO policies, including the rates for repurchase and reverse repurchase agreements.
Under the new policies, which has been a first in CBI's 60-year history, the bank buys and sells bonds issued by the government and owned by state and private banks in Iran.
The repo and reverse repo trade allows the CBI to regulate the size of overdrafts in the intrabank system and control the interest rates in the market.
Hemmati encouraged the government to issue more Islamic bonds, known as sukuk, to both access new sources of financing and help the banks to have a better control over their balance sheets.
He said CBI's implementation of the OMO policies is becoming more popular in the market after several rounds of trade that began in January.
Hemmati said even those who initially criticized the new policies are now demanding their increasing use by the CBI.
https://www.presstv.com/Detail/2020/04/03/622251/Iran-plans-massive-liquidity-injection-to-fix-economic-woes
------
Africa
COVID-19: This Is The First Time I Would Miss Juma'at Service, Says 110-Year-Old Ondo Muslim Leader
By Saheed Salawu
Apr 4, 2020
"Religion is the sigh of the oppressed creature, the heart of a heartless world, and the soul of soulless conditions. It is the opium of the people." This quote is from Karl Marx. The German philosopher was said to be making a structural-functionalist argument about religion and particularly about organised religion when he made the timeless statement.
Marx, it is said, believed that religion had certain practical functions in society that were similar to the function of opium in a sick or injured person: it reduced people's immediate suffering and provided them with pleasant illusions which gave them the strength to carry on. Perhaps the attitude of the religious-minded in Nigeria, particularly, Muslims and Christians, is a testament to this statement. And if the statement is anything to go by, these are definitely not the best of times for this section of Nigerians.
The spiritual life of Muslims and Christians has been hit hard in the face of the government's crackdown on the coronavirus pandemic in Nigeria. For the time being, there are no more church services on Sundays, just as Muslims have since ceased to gather for their Friday prayers. Most neighbourhood mosques have equally been deserted.
Some Muslim leaders speak to SAHEED SALAWU on how they and their followers have been coping with the challenges posed by the coronavirus pandemic. Their responses are as follow:
The father of the National Organising Secretary of Ansar-Ud-Deen Society of Nigeria, Alhaji Aderibigbe Kilani Balogun, is the oldest Muslim in Afin Akoko, Ondo State, he is 110 years old. He said this was the first time ever that he would miss a Jum'at service. However, he said he knew that the government's heart was in the right place at this time in banning all religious gatherings. The Muslim leader assured Muslims that their private prayers in their homes would be accepted by Allah.
Alhaji Ishaq Kunle Sanni, chairman, Muslim Community of Oyo State: "From the little one can see, because everybody is staying at home, in my own area, and from all the information at my disposal, Muslims are complying with the directives of the government. This is because Islam is a way of life. There is nothing that has happened, that is happening and will happen that is not accommodated in the Sharia. Plagues happened in the time of the Prophet and the Prophet told the people to keep distance from one another.
"In the time of Imam Malik (an Arab Muslim jurist and premier scholar of prophetic traditions), the mosque was closed for 12 years because there was a kind of epidemic like this. Sp, you cannot be holier than the Prophet, his Apostles and the imams that succeeded them.
"What we know in Islam is that if you intended to do a good thing and you were unable to do that good thing, Allah would deem you as having done it and reward you accordingly. You have always prayed in the mosque five times a day with the jama'a but because of certain peculiarities you can't go to the mosque, you will still get the same amount of blessing. The Qur'an says, 'obey Allah, the Prophet and those who are charged with authority over you. So, Allah has spoken, the Prophet has spoken and those in authority say stay at home. If you disobey, even if nothing happens to you, you have disobeyed God. A month ago, the president or the governors did not tell anybody not to go to the mosque, because that would be against the constitution, your right to freedom of religion or association. But this is something that is global. It is a peculiar situation and any reasonable Muslim would know that it is not because the governor of Oyo State or the governor of Osun State or the governor of Rivers State or the governor Kano State hates Islam. It is not against the Muslims alone. It is comprehensive; it is general. So, it is very easy to convince a Muslim. The imams know the antecedents; that things like this happened in the time of the Prophet and after the time of the Prophet, and what our governors have done is exactly what the Prophet did.
"The Prophet said, if there is an epidemic in a town, the people in that town should not go out and those outside should not enter that town. We have all these things in Islamic history. There is not a reasonable Muslim who would find fault with what the authorities have done except people who want to be overzealous, who may know the truth but want to do something different.
"We have gone round. We have issued statements and talked to the imams and so on. There was supposed to be a special prayer by the chief imam [of Ibadan] last week but he cancelled it, and he issued a statement that all mosques should be closed.
"As I am talking to you now, at the central mosque of Bodija, there are about four of us here talking to each other from a distance, brainstorming on how to get round to our people, you know, even to provide little things to make them comfortable. We are not up to 10 because we have to obey the law of the land. You are not a good Muslim unless you obey the law of the land. Under normal circumstances, you find about 60 people but the place has been closed down. We pray that by the grace of God, this thing will end soon.
"If some people don't understand, these government directives are in our interest because it is when you are alive that you can worship God. And somebody who worships for 10 years, you cannot compare him with somebody who worships for 50 years in terms of the benefits they are going to get from Almighty Allah. So, it is better to play safe, worship God for so many years so that you can get a lot of barakah (blessings) on the Day of Judgment. 'I must enter the mosque'; 'I must pray Juma'at'; 'I must pray in congregation'. Why? The situation on the ground does not allow for it, and then obedience to the authorities is obedience to God, according to the Islamic principle and jurisprudence.
"Apart from the government directives, the generalissimo and supreme leader of the Muslim Ummah in Nigeria, the Sultan of Sokoto, Alhaji Muhammad Sa'ad Abubakar, after due consultations with the fatwa committee of the Supreme Council For Islamic Affairs, directed that all mosques be closed until the pandemic subsides."
Dr Bashir Olanrewaju, Oyo State Missioner, Ansaruddeen Society of Nigeria: "So far, the Muslim community in Oyo State has been able to comply with the government's stay-at-home directive. My followers are no exemption. All mosques have since been shut down completely. There have been no Jum'ah prayers and daily congregational prayers in all our mosques throughout Oyo State as we have been able to monitor them.
"We have been able to cope with the COVID-19 challenges with prayers, endurance and strict observance of the medical tips provided for the prevention of the deadly disease. We have also made efforts to disabuse the ignorant minds of some of our people concerning the reality of coronavirus, especially those who believe it to be a myth.
NACOMYO secretary general and Chief Imam Alhaja Wasilat Aduke Alli central mosque, Ifeoluwatedo new Ife road ibadan, Alhaji Mas'ud Akintola: "The level of compliance is very high, especially in this part of the country since the leadership of the Ummah had spoken. Congregational prayers have stopped since about two weeks ago and the awareness about the virus is increasing daily
"The position of Islam in respect of epidemic or pandemic is very clear: those affected should be isolated, while those not affected should not mingle with the affected. Hence we are able to cope.
"The congregational daily prayers have been suspended at the respective mosques and members of the ummah have been praying at home since the restrictions started. At the NACOMYO level, we have suspended all our activities until further notice. We were supposed to have a da'wah retreat this month. This and others have been suspended. We also asked our members to comply with the advice of healthcare professionals in combating the scourge.
"At Alhaja Wasilat Aduke Alli Central Mosque, Ifeoluwatedo, New Ife Road, Ibadan, where I am the chief imam, Jum'ah and daily prayers have been suspended."
Former president of the National Council of Muslim Youth Organisations (NACOMYO) and current Ogun State coordinator of the Muslim Media Watch Group of Nigeria (MMWG), Alhaji Kamal'deen Akintunde: "First and foremost, the present experience occasioned by efforts of government (and stakeholders) geared towards curtailing the coronavirus that is ravaging the world constitutes an impediment to human activities, especially in terms of economic survival and seeking the favours of Allah for the attainment of human purpose in life. It constitutes an affront on religious right and freedom.
"But since the government has a responsibility to do and means well for all and sundry, the stay-at-home order could be said to be in the overall best interest and at attainment of individual and collective goal.
"However, it is unfortunate that a section of Nigerians, including the religious-minded, are indifferent to that government's directive banning religious gatherings, including Friday prayers, which have been proved to promote the transmission of the pandemic.
"It is the belief of some Muslims that the mosque is a sanctuary, a place of refuge and worship which offers opportunity to cry to the Creator of the earth and the heavens to rescue the troubled world from the seeming incurable epidemic that has brought the whole world to near standstill due to the lockdown, a result-yielding measure at containing the spread of the disease. Compliance with the order thus becomes strange to such people and sects or groups who hold such sentiment and they are reluctant to abide. But such divine favour seekers have forgotten the prophetic tradition that the desire to worship should be devoid of safety.
"Enforcement of the order by government has, therefore, become expedient and a must adhere to by the citizens since it is targeted at saving lives. More so that it often said that 'there is nothing in this world that is not health-related'. It requires being in a good state of health and safety to worship your God.
"No doubt, it has been pretty challenging to cope with the constraints posed by the pandemic, especially the precautionary measures that have undermined group or cluster activities, socio-communal, religious interactions and economic well-being. The well-intended directive by government has put a stop to group observance of the five daily prayers and even ordinary handshake.
"Since the present experience is for a limited time, aimed at checking the spread or occurrence of coronavirus, Nigerians and Muslim faithful must show understanding with the government and imbibe practices and behaviours that will ward off diseases, promote health and prolong life.
"This order, checking people's activities that will not put them at the risk of contracting the disease has made them not to be enthusiastic in group or congregational observance of the five daily prayers in mosques, more so that they must maintain the socio and physical distancing rule which contravenes the Islamic norm of shoulder-to-shoulder standing position and group-rendered supplications."
Alhaji Ibrahim Kilani is the National Organising Secretary of Ansar-Ud-Deen Society of Nigeria. He disclosed that immediately the government gave the directive, the national president of the organisation, Dr Ademola Sanni, sent a circular to branches nationwide to suspend all activities, including the Jum'ah service and the weekly asalatu.
According to Alhaji Kilani, in compliance with the directive of the Ondo State government and Muslim leaders, all central mosques in the state have been closed for the weekly Jum'ah, a development which is unprecedented in the history of Islam in Akoko land. He added that central mosques in places like Ikare, Afin, Oka, Akungba, Oyin Arigidi and Ogbagi are currently under lock.
"However, the compliance might not go well with many Muslims because the importance Muslims attached to weekly Jummah service. At Ikare Akoko Central Mosque which has the largest congregation in Akoko land was locked from the gate. Only the security men are around the mosque.
"I hereby call on Muslims to embark on fervent prayers in their various homes as this is acceptable in our current situation. This is a period of emergency that calls for great understanding. Many of the containment measures being taken by the governments might look like infringement on our religious right but they are only temporary," he said.
https://tribuneonlineng.com/covid-19-this-is-the-first-time-i-would-miss-jumaat-service-says-110-year-old-ondo-muslim-leader/
------
All Mosques In Kaduna Have Closed Down —Dr Tukur
By Muhammad Sabiu
Apr 4, 2020
Dr Adams Tukur is one of the prominent Islamic scholars in Northern Nigeria. He is the Chief Imam of the Almanar Mosque, Kaduna. He holds a PhD and also teaches at the Kaduna State University (KASU). In this nterview by MUHAMMAD SABIU. he shares his thoughts on the outbreak of the coronavirus and the impact the closure of mosques as well as the suspension of congregational prayers on the Muslim ummah. Excerpts:
The closure of mosques during coronavirus pandemic is in line with Islamic point of view. Islam enjoins Muslims to take precautions against all harmful things or situations. So these situations have originated from the Prophet (SAW). He said if people are attacked by any illness, the people should restrict themselves from the area where the problem is identified and those who are not affected should stay where they are. They should not be allowed to go near the crisis area. This is the Islamic point of view and the step taken by the government as a result of the outbreak of the coronavirus was line with the teachings of Islam. So Islam is always protecting human beings or humanity. So, banning congregational prayer is not banning the prayer itself. With the ban, you can't go to the mosque but you are expected to remain at home and observe your five daily prayers.
What the authorities did is in tandem with Islamic teachings. The only thing now, one can not interact with his fellow Muslims but if you stay at home and pray, in shaa Allah, God will accept one's prayers. If you can remember during rainstorms season Muslims are enjoined to remain at home. Those who are in mosque should pray in the mosque. So there is nothing new here.
Yes, I have told them during the previous Hutuba (sermon) when the curfew was imposed in the state, to obey the directives of the state government. In my sermon, I enlightened them to follow all the health guidelines presented by experts such as washing of the hands with soap and using sanitiser; avoiding crowds and what have you. Apart from that, as a mosque, we have made use of the radio and television to reach our audience. We have presented many programmes to that effect including the social media like Twitter, Instagram and Facebook. And our major thrust of the Hutuba is for every Muslim to remain at home. They should be law abiding. All the mosques in the state capital and its environs have been closed down and we have complied with the directives.
Mosques are closed so the proximity among those attending prayers in these mosques is no longer there. But let us assume, the government directs that people should not be above 20 in number, so if that should be the case, every person coming to pray in the mosque should give a gap like one meter. We are taking our own instructions from the medical personnel because in lslam you have to respect other people's field. So what they said is what we are going to implement. It is their field. They know about the existence of the coronavirus and the measures to be taken, the prevention and other stuff. So, we scholars are taking advice from the medical people and then we enlighten our people about what we learn from them. Islam protects every life and property of every human being. So, let us assume that the people are allowed to come to the mosque, the medical personnel advice that we should give one meter gap during prayers is what we are going to implement. But now we are already on a lock down. There is no more congregational prayers not to talk of distancing ourselves.
Sir, some Islamic scholars were of the view that this coronavirus is a sign that the world is gradually coming to an end. What is your view?
No. You know Prophet Muhammad (SAW) had said that there are 10 signs that will show us that the end of the world has come. Of course, the coronavirus is a sign but a minor sign. So the major signs of the hour have not yet surfaced. Among the major signs are the coming of Prophet Isa (Jesus Christ), appearance of Mahdi, eclipse, a smoke that will cover this world, the appearance of yajoji and wama joji, an animal like camel that will diffenriate between believers and non believers. We have 10 signs that will first surface on the earth before the hour. It is not yet. But we can say the outbreak of the coronavirus is a sign but a minor sign.
https://tribuneonlineng.com/all-mosques-in-kaduna-have-closed-down-dr-tukur/
-------
Security Operatives, Youths Clash During Enforcement Of Public Gathering Ban At Adamawa Mosque
APR 03, 2020
Scores of persons are currently feared injured after security operatives and Muslim youth clashed at Juma'at Mosque in Yola, Adamawa State.
The clash, occurred at about 2:00pm on Friday when the security operatives arrived the Damilu Jumma'at Mosque to enforce the ban on public gathering imposed by Governor Ahmadu Fintiri in a bid to curb the spread of Coronavirus in the country, according to a worshipper.
Violence erupted when a combined team of law enforcement operatives stormed the mosque and allegedly arrested the imam and some top officials.
Spokesperson for the police in Adamawa, Suleiman Nguroje, told our correspondent that there was no injury inflicted on any worshipper.
H said, "We were patrolling round the city to monitor compliance with the lockdown order when we got a distress call that something was happening around Damilu Jumma'at mosque.
http://saharareporters.com/2020/04/03/security-operatives-youths-clash-during-enforcement-public-gathering-ban-adamawa-mosque
-------
COVID-19: Police invite 2 Imams over Jumat during lockdown
APRIL 3, 2020
Perez Brisibe The Imams for the Ughelli main Mosque and Okorodafe Mosque were both invited by the Police following Friday Jumat services in the mosques despite the 14-day lockdown ordered by the Delta State Government. Hundreds of Muslims had despite the lockdown, stormed the Mosques in flagrant disregard of the order by the state government which was done to curb the spread of coronavirus in the state. Angered by the position of the Muslim faithful, the Ughelli Police Commander, ACP Adamu Lawal Shinkafi had summoned the Imams of the two Mosques for a meeting which was still ongoing as at the time of this report.
https://www.vanguardngr.com/2020/04/covid-19-police-invite-2-imams-over-jumat-during-lockdown/
------
URL: https://www.newageislam.com/islamic-world-news/surge-tiktok-videos-aimed-misleading/d/121487
New Age Islam, Islam Online, Islamic Website, African Muslim News, Arab World News, South Asia News, Indian Muslim News, World Muslim News, Women in Islam, Islamic Feminism, Arab Women, Women In Arab, Islamophobia in America, Muslim Women in West, Islam Women and Feminism