New Age Islam News Bureau
5 Sept 2017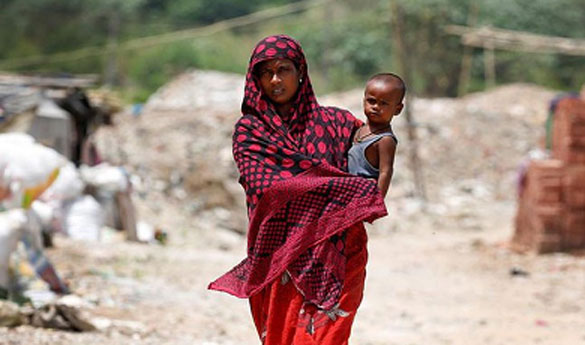 Photo: A woman from the Rohingya community walks through a camp in Delhi (Photo: Reuters)
------
• Supreme Court seeks Modi government's view on Rohingya Muslim refugees
• Israel to launch war games simulating 'next confrontation with Hezbollah'
• How Muslims in US are fighting Islamophobia and securing their civil rights
• Grand Mufti laments sectarian acts hide bright side of Islam
India
• Supreme Court seeks Modi government's view on Rohingya Muslim refugees
• Why China agreed to include Pak-based terror groups in BRICS declaration
• Face to Face with Lt Gen (retd) DB Shekatkar: Islam, violence and army reforms
• Allow temple at Ayodhya site, promote religious harmony: Shia leader Waseem Rizvi
• PM Modi, Russian President Putin discuss bilateral issues, security situation in Afghanistan
• Pak-based terror groups named in BRICS declaration for first time
• Two Hizbul militants killed in encounter in Jammu and Kashmir's Baramulla
• Terror funding case: NIA summons J&K high court Bar chief
--------
Mideast
• Israel to launch war games simulating 'next confrontation with Hezbollah'
• Iran urges practical moves to end Rohingya Muslims crisis
• Turkey slams Merkel for 'populist' EU membership remark
• Sistani refuses to meet Khamenei's envoy
• Houthis bomb house of leader from Saleh's party
• Ben Dagher: We will not allow Iran to have a foothold in Yemen
• WFP directly blames Saudi Arabia for Yemeni humanitarian crisis
• Netanyahu's ties with Israeli daily spark criticism
• Israel denying jailed Fatah leader's wife visiting rights
• MPs say Iran will never allow access to military sites
North America
• How Muslims in US are fighting Islamophobia and securing their civil rights
• 'Terrorist' Soros petition reaches 100K signatures, compels White House reply
• Takfiri terrorists fighting Islam under US guidance: Iranian Commander
--------
Arab World
• Grand Mufti laments sectarian acts hide bright side of Islam
• 14 civilians killed in US airstrikes on Raqqah in Syria
• 1,300 Foreign Terrorists of ISIL Surrender to Iraqi Army in Tal Afar
• US-backed Syrian militias seize Great Mosque of Raqqah from Daesh: US-led coalition
• Syria army nears regime enclave besieged by IS
• Daesh militant commanders slain by locals in Hawijah
• Saudi Crown Prince Orders Preparations for Kingship Celebrations
• Northeastern Syria: Kurdish-Led SDF Drive ISIL out of 65 Percent of Raqqa City
• Saudi minister denounces Lebanon's Hezbollah as 'Party of Satan'
• UK Withdraws Forces from Al-Tanf Militant Training Base in Southern Syria
• Israel Starts Education Programs in Terrorist-Held Regions in Syria
• Syrian Army on Verge of Removing ISIL's Siege on Deir Ezzur
• ISIS convoy of 113 militants join forces with Syrian regime army
• After the Jroud battle, Lebanon fears 'lone wolves'
--------
South Asia
• After Muslim Rohingyas, Hindus from Myanmar seek refuge in Bangladesh
• Explosions rock Myanmar area near Bangladesh border amid Rohingya exodus
• Hezb-e-Islami slams Taliban for fueling mass killings of Muslims in Burma
• Afghanistan: Why We Won't Leave
• Persecution of all Muslims in Myanmar on the rise, rights group says
• Militants suffer heavy casualties in Kunduz airstrikes: Shaheen Corps
• Taliban commanders among 25 killed, wounded in Helmand airstrikes
• Major operation to kick off in Kandahar, says Gen. Raziq
--------
Pakistan
• Pakistan urges Yangon to protect Muslim minority
• Four TTP militants killed in 'encounter'
• North Korea's technology much better than Pakistan's: Dr Qadeer
• Assassination bid 'mastermind' escapes after gun battle in Karachi
• Ghani's dialogue offer fuels hope for peace
• Rohingya genocide pains Muslims
• Asfandyar for 'bold steps' to end Pak-Afghan mistrust
• JeM, LeT, TTP named as 'regional concern'
--------
Southeast Asia
• Facebook user slams Muslims who 'show off' during ritual slaughter
• Security intensified following Molotov cocktail attack at Myanmar Embassy
• Ex-IGP Khalid made chairman of Prasarana
• Anwar's economic agenda best for Malaysia's future, says PKR
--------
Africa
• Algeria: Stop Persecuting a Religious Minority
• Boko Haram attacks kill nearly 400 since April: Amnesty International
• Will Jordan normalize relations with Syria?
• Somalia: U.S. Drone Attack Kills Top Militant Recruiter - Officials
• French foreign minister in Libya to push peace deal
• Libyan forces attack Daesh near former stronghold
• Somalia: Some 11 dead in terrorist attack on army base
• Nigeria: Top Muslim leader slams anti-Igbo ultimatum
--------
Europe
• Chechen strongman draws huge crowd over Rohingya plight
• Merkel defends refugee policy, says Islam belongs to Germany
• Johnson urges Suu Kyi to end violence against Rohingya Muslims
• BRICS countries urge UN reform, cooperation on terrorism
• Serbia charges five for wartime killing of Muslims
• Merkel wants to end Turkey EU membership talks
• Germany: No decision on Turkey's EU talks before polls
• Can't talk about Muslims? It seems we do little else in the UK
Compiled by New Age Islam News Bureau
URL:https://www.newageislam.com/islamic-world-news/supreme-court-seeks-modi-government/d/112438
--------
Supreme Court seeks Modi government's view on Rohingya Muslim refugees
Harish V Nair
September 5, 2017
The Supreme Court on Monday sought the view of the Modi government on the validity of 40,000 Rohingya Muslims who have taken refuge in India to escape persecution in Myanmar.
"What is your stand? Are they (Rohingyas) as a class entitled to stay in India as refugees? Tell us by September 11," a bench headed by Chief Justice Dipak Misra asked additional solicitor general Tushar Mehta, who represented the Narendra Modi government.
The bench directed noted lawyer Prashant Bhushan, who is appearing for the Rohingya community (which has challenged the move to send them back) to give a copy of his petition to the Centre.
However, the bench refused to issue any interim stay on deportation. As Bhushan said the court needed to ensure that no coercive steps shall be taken against the Rohingya refugees till the next date of hearing (Monday), Mehta merely said, "I am not making any statement."
'VIOLATION OF CONSTITUTIONAL PROTECTION'
Rohingya Muslims have termed the move to deport them as a "violation of the constitutional protection they enjoyed in India".
Mohammad Salimullah and Mohammad Shaqir, the petitioners, said, "This proposed deportation is contrary to the Constitutional protections of Article 14, Article 21 and Article 51(c) of the Constitution of India, which provides equal rights and liberty to every person living in India."
India has already warned Myanmar that Pakistan-based militants like Lashkar-e-Taiba are radicalising members of the Rohingya community, which posed a security risk to both the countries as well as the region.
'ILLEGAL MIGRANTS PRONE TO RECRUITMENT BY TERROR GROUPS'
In August, minister of state for Home Kiren Rijiju had said that according to available data, more than 14,000 Rohingyas, registered with the UNHCR, were staying in India.
He had said that around 40,000 Rohingyas were staying in India illegally.
In a communication to all states, the union home ministry had said the rise of terrorism in last few decades has become a serious concern for most nations as illegal migrants are prone to getting recruited by terrorist organisations.
The Centre had directed the state governments to set up a task force at district level to identify and deport illegally-staying foreign nationals.
He also said that India is a signatory to various Conventions that recognise the principle of 'Non-Refoulement', that prohibits the deportation of refugees to a country where they face threat to their life.
indiatoday.intoday.in/story/rohingya-muslims-myanmar-supreme-court-narendra-modi-government/1/1040955.html
--------
Israel to launch war games simulating 'next confrontation with Hezbollah'
Sep 4, 2017
Israel has announced that it will launch large scale military exercises aimed at simulating "the next confrontation with Hezbollah."
According to the Israeli war ministry, the 10-day drills, the largest the Tel Aviv regime has held in almost 20 years, are scheduled to kick off on Tuesday.
Tens of thousands of troops are set to take part in the war games, which will also include aircraft, boats, and submarines.
Preparations for the exercise have been in place for over a year.
Last month, the secretary general of the Lebanese Hezbollah movement said Israel is not able to launch a new war on Lebanon, because it knows that Hezbollah is much more powerful than 2006 and any such war would cost Tel Aviv dearly.
Sayyed Hassan Nasrallah made the remarks in a speech on the anniversary of Israel's defeat in the 33-day military onslaught against Lebanon back in the summer of 2006.
About 1,200 Lebanese, most of them civilians, lost their lives during Israel's 33-day war on Lebanon back in the summer of 2006.
According to the 629-page Winograd Report by the Israeli regime itself, Hezbollah fighters involved in defending Lebanon against the Israeli war defeated the enemy and Tel Aviv was compelled to withdraw without having achieved any of its objectives.
UN Security Council Resolution 1701, which brokered a ceasefire in the 2006 war, calls on Israel to respect Lebanon's sovereignty and territorial integrity.
presstv.ir/Detail/2017/09/04/534039/israel-lebanon-war-games-drill
--------
How Muslims in US are fighting Islamophobia and securing their civil rights
September 5, 2017
The past year has been a difficult one for American Muslims.
According to a July 2017 Pew survey, 48 percent of Muslims report experiencing at least one incident of discrimination in the past 12 months. The Council on American-Islamic Relations and other Muslim advocacy organizations found these trends were particularly intense during the 2016 campaigns and the early months of the Trump presidency.
And while the survey shows that Americans report warmer feelings toward Muslims today than they did in 2014, Muslims continue to be the most negatively rated religious group – followed closely by atheists. In fact, about half of Americans (49 percent) believe that at least "some" Muslim Americans are anti-American.
As a scholar of religion and politics, I've studied how U.S. Muslim advocacy organizations have advanced their community's integration in America. Their work reminds us that minorities in the U.S. are still struggling for civil rights.
Islamophobia in politics
Spikes in anti-Muslim sentiments and hate crimes appear to correlate with elections cycles. This is not a coincidence. In recent years, politicians have increasingly relied on anti-Muslim rhetoric to mobilize voters. What was once considered unacceptable discourse by members of both parties has gradually been normalized, particularly among Republican candidates.
During the 2016 presidential primaries, for example, Sen. Ted Cruz called for law enforcement to "patrol and secure Muslim neighborhoods." Ben Carson claimed that Islam was incompatible with the Constitution. And former Louisiana Gov. Bobby Jindal warned that some immigrants were trying to "change our fundamental culture and values and set up their own."
Then, candidate Donald Trump called for "a total and complete shutdown of Muslims entering the United States." Many critics consider that statement the basis for his January 27 executive order banning immigration from seven Muslim majority countries.
Muslim Americans are responding through organizations that represent their interests, and are increasingly visible, engaged and assertive. At the grassroots level, their presence is seen through the work of activists like Linda Sarsour, a co-sponsor of the 2017 Women's March. At the policy level, Muslim advocacy organizations such as the Council on American-Islamic Relations also work to advance the community's legislative agenda.
Advocating for Muslim Americans
There are an estimated 3.35 million Muslims in the U.S. A majority of them, 58 percent, are first-generation Americans who arrived in the U.S. after the passage of the Immigration and Naturalization Act of 1965. As these immigrants began to settle in the U.S., they established institutions. In fact, most Muslim advocacy groups were founded in the late 1980s and early 1990s, but gained prominence in the post-9/11 era.
The Council on American-Islamic Relations, the Muslim Public Affairs Council and the more recently established U.S. Council of Muslim Organizations are among the largest at the national level.
By working on behalf of one of the most stigmatized religious minority groups, Muslim advocacy organizations aspire to uphold the most cherished of American ideals and values: liberty, equality and the inalienable rights of all citizens. They aim to make U.S. Muslims agents of their own narratives, fostering their civic engagement and strengthening the social fabric of our nation.
Muslim American advocacy today
For years, these organizations have encouraged and registered Muslim citizens to vote. More recently, they've begun encouraging them to run for office. These efforts are significant because many Muslims are not registered to vote, and only 44 percent of those who are voted during the 2016 elections.
Muslim advocacy organizations are also actively bringing their community's concerns to the attention of elected officials. Some of their most recent lobbying efforts include calling on the House and Senate to support two bills. The No Religious Registry Act of 2017 (H.R. 489) would protect the constitutional rights of American Muslims. And Senate Bill 248 would block Trump's travel ban on seven Muslim majority countries.
They've also lobbied for the protection of immigrant communities and the cessation of religious and racial profiling. In particular, they have focused on building support for the BRIDGE Act, which would protect young undocumented immigrants from deportation, and the End Racial and Religious Profiling Act of 2017 (S.411), which would protect all Americans from discriminatory profiling by law enforcement.
U.S. Muslims face serious challenges, but they are also increasingly motivated to confront them. Their efforts show how minority groups in America work to secure their collective interests and continue the process of building an inclusive democracy.
business-standard.com/article/international/how-muslim-in-us-are-fighting-islamophobia-and-securing-their-civil-rights-117090500127_1.html
--------
Grand Mufti laments sectarian acts hide bright side of Islam
Sep 5, 2017
MINA – Grand Mufti and President of the Council of Senior Scholars Sheikh Abdul Aziz Al-Asheikh emphasized that it is incumbent on all Muslims to show the bright side of Islam through becoming its true models in their words and deeds.
"It is unfortunate that this shining aspect of Islam was hidden due to the sectarian practices being pursued by some Muslims who offend Islam through their unscrupulous dealings and despicable deeds and thus inflicting damage to the reputation of the divine religion," he lamented.
The Grand Mufti urged Muslims to follow the true character of Islam with good behavior, honesty in words and deeds, decency, trustworthiness in financial and commercial transactions and fulfilling their contracts and promises, along with staying away from injustice, treachery, falsehood and harming others.
Al-Asheikh, who is also president of the Constituent Council of the Makkah-based Muslim World League (MWL) made the remarks during his inaugural speech at the MWL Annual Haj Meet in Mina on Saturday. Several eminent Islamic religious leaders and scholars from around 72 countries across the world as well as prominent scholars from within the Kingdom attended the meet with the theme of "Moderation and Tolerance in Islam: Texts and Facts."
They included MWL Secretary General Sheikh Muhammad Al-Isa, Mufti of Egypt Shawki Allam, Grand Mufti of Jerusalem Muhammad Hussein, Mufti of Chechnya Salah Medjiyev, and Chairman of the Fatwa and Grievances' Council of Mauritania Sheikh Muhammad Mballa. They came to perform Haj as the guests of MWL.
In a final communiqué adopted by the meet, the scholars lauded the great efforts made by Custodian of the Two Holy Mosques King Salman and the Saudi government in promoting Islamic causes. They praised the King for his key initiative that paved the way for reopening the doors of Al-Aqsa Mosque in Jerusalem as well as his remarkable role in highlighting Islam's moderation and initiatives to establish King Salman Center for Global Peace, and the Global Center to Combat Extremism.
The scholars thanked the King and Crown Prince Muhammad Bin Salman, deputy premier and minister of defense, for their outstanding contributions in serving the Two Holy Mosques as well as pilgrims and visitors to these mosques.
In his speech, the Grand Mufti stressed that moderation, justice and tolerance are the most distinguished characteristics of the religion of Islam. "The moderation of Islam manifests itself in all the qualities of goodness, nobility, kindness, justice, fairness, mercy, fraternity, love, renunciation of violence and aggression, as well as calling for goodness and morality, forgiving the sinner and keeping patience when getting harmed and showing mercy to all the living beings."
The Grand Mufti called on scholars, preachers, writers and cultural figures to highlight Islam's moderation and tolerance through words and deeds, especially contributing to disseminate information in this regard through the print and electronic media as well as through the social media and other available media outlets.
saudigazette.com.sa/article/516583/SAUDI-ARABIA/Islam
--------
India
Why China agreed to include Pak-based terror groups in BRICS declaration
Sep 5, 2017
BEIJING: China on Monday said that Pakistan-based terrorist outfits like JeM, LeT and the Haqqani network have been included in the BRICS joint declaration due to concerns about their violent activities in the region.
Defending the move to include these terror groups for the first time in the BRICS joint declaration, foreign ministry spokesman Geng Shuang said BRICS countries have "shown their concerns to the violent activities raised by these organisations".
"These organisations are all sanctioned by the UN Security Council and have a significant impact for Afghanistan issue," Geng told PTI in a written response to a strong reference in the BRICS countries about these terror groups.
He, however, skirted a response to a question on whether the naming of Jaish-e-Mohammad (JeM) by the BRICS in which China is a prominent member marks a change in Beijing's stand of opposing the UN ban against the group's chief Masood Azhar.
"On the counter terrorism cooperation among the BRICS countries, we are very satisfied with the achievements made by the BRICS. We have a working group on terrorism," he said.
The 43-page 'Xiamen Declaration', adopted at the end of the five-nation BRICS plenary, expressed "concern" over the security situation in the region and the violence caused by the Taliban, ISIS, al-Qaida and its affiliates including Eastern Turkistan Islamic Movement, Islamic Movement of Uzbekistan, the Haqqani network, Lashkar-e-Taiba, Jaish-e- Mohammad, Tehrik-i-Taliban Pakistan (TTP) and Hizb ut-Tahrir.
While JeM, LeT and Haqqani network are from Pakistan, Eastern Turkistan Islamic Movement is fighting for a separate Uygur Muslim province in China's Xinjiang and it has bases in Pakistan.
This is for the first time China has agreed to include Pakistan-based terror groups in BRICS declaration.
In the last two years, China has stonewalled efforts by India and then later by the US, the UK and France to declare Azhar as a terrorist, stating that there is no consensus on the issue.
timesofindia.indiatimes.com/india/why-china-agreed-to-include-pak-based-terror-groups-in-brics-declaration/articleshow/60364375.cms
--------
Face to Face with Lt Gen (retd) DB Shekatkar: Islam, violence and army reforms
Sep 04, 2017
Yogesh Joshi
The Centre this week approved major reforms in the Indian Army to enhance its combat capabilities and rebalance defence expenditure based on the recommendations made by an 11-member committee led by Lt Gen (retd) DB Shekatkar. HT spoke to Shekatkar on how these reforms will impact the armed forces, and other issues relating to the defence forces. Following are the edited excerpts of the interview:
Your panel made a total of 188 recommendations of which the Centre accepted 99 and approved 65 for implementation by 2019-end. What about the recommendations that have not been accepted?
The thrust of the report I submitted was based on futuristic challenges in India, the emerging situation in the world and South Asia. So total of the 188 recommendations were made by the one man committee I headed, The government accepted 65 suggestions. I do hope the remaining recommendations will also be approved by the government soon. There is some resistance from within the armed forces which is understandable. All I am saying is that the government has initiated the process of reforms and that is very important and welcome move.
The next round of Pune Dialogue on National Security (PDNS) will be held later this month. Will reforms in the armed forces be one the topics of discussion?
The PDNS is organized by the Pune International Centre (PIC) and I feel it is a very important discussion. Based on the discussions, certain issues emerge and they should be forwarded to the government so as to help the decision makers to formulate the policy.
Extremist violence and radicalisation of Islam is another issue that has generated a lot of debate and discussion among defence experts. India is among the countries affected by it. How do you think we should tackle this problem?
I have been studying the Quran for 29 years since I have dealt with terrorism for most of my life. Unfortunately, terrorism has been linked to religion and this is very dangerous. Unfortunately, Islam has come under shadow of doubt and it is creating all the problems. Islam in itself has nothing do with violence.
Sometimes one finds strained relations between the military and the civilian population in a city like Pune. How do you look at the issue?
First of all I don't think that the civil-military relationship is strained. It is the lack of knowledge about each other's problems. For example, people may say why defence has closed down Cantonment roads and blame the army for being arrogant without understanding what has prompted the Army to take such decision. It is possibly due to the threat of terrorism. If the Army explains it to civilian population and to the media and also provide alternative route to common public, there won't be discontent. In democracy dialogue is the best thing and that unfortunately hasn't taken place. As a result we sometimes see tension.
Do you think growing population alongside the Cantonments is reason for growing tension?
Full report at:
hindustantimes.com/pune-news/islam-has-nothing-to-do-with-violence/story-MOXXttweV2rcVBZNJPLhZI.html
--------
Allow temple at Ayodhya site, promote religious harmony: Shia leader Waseem Rizvi
Sep 04, 2017
Uttar Pradesh Shia Wakf Board president Waseem Rizvi believes there is nothing wrong with allowing the construction of a Ram temple at the site of the erstwhile Babri Masjid in Ayodhya as long as it promotes the cause of communal harmony.
Rizvi visited Ayodhya over the weekend to meet many prominent saints and present his new formula, which advocates: "Hak se aao, mandir banao, bhai-chara phailao (Come construct the temple and spread harmony)". He said that while the temple can be constructed at the supposed birthplace of Ram in the religious city, a mosque with the title 'Masjid-e-Aman' may be set up at a Muslim-populated locality in the neighbourhood.
The Wakf Board president also said that the Shia community will not approve of any mosque in Ayodhya that bears the name of an "invader" like Mughal emperor Babar. Rizvi was accompanied by Mahiradhwaj Singh alias Murari Das, convenor of the Rashtriya Muslim Manch (the minority wing of the Rashtriya Swayamsevak Sangh), during his visit. The duo met several mahants, including Dharam Das, Suresh Das, Kamal Nayan Das and Bhaskar Das, to evolve a consensus on the proposed formula.
Rizvi said this was an independent move of the Shia Wakf Board, and its Sunni counterpart has not been consulted in this regard. Not all Shia clerics side with him, either. The Majlis-e-Ulama Hind, an umbrella organisation of Shia clerics, has already disassociated itself from the Shia Wakf Board's "solution" to the temple issue.
Mahiradhwaj said the Rashtriya Muslim Manch believes that the Ram temple in Ayodhya should be a symbol of harmonious bonding between the two communities. "This is why we have come into contact with various Muslim organisations who hold a similar belief," he added.
Rizvi said the board was trying to arrive at a consensus on the matter before December 5, when regular hearings in the Ayodhya case will begin in the apex court.
A five-day march will be launched from Lucknow to Ayodhya on September 11 to create awareness on the issue, the Muslim leader said. RSS leader Indresh Kumar and prominent saints from the holy city will participate in the event, he added.
However, Hazi Mahboob and Iqbal Ansar – the Sunni Wakf Board's plaintiffs in the Ayodhya case – said Rizvi's attempts at diluting the masjid cause were insignificant because the case was pending in the Supreme Court. Mahmood went on to allege that the Shia Wakf Board president was merely trying to create a fresh dispute.
Bhaskar Das and Suresh Das – the plaintiffs for the Nirmohi Akhada and Nirvani Ani Akhada respectively – welcomed Rizvi's campaign, stating that such a "solution" will go a long way in strengthening the ties between the Hindu and Muslim communities.
On August 21, Rizvi said that he has sought a 'fatwa' (edict) from prominent clerics in Iran and Iraq on the Ayodhya dispute. He also cited Maulana Kalbe Sadiq – another prominent cleric and vice-president of the All India Muslim Personal Law Board (AIMPLB) – as stating that Muslims should hand over the disputed land to Hindus.
Full report at:
hindustantimes.com/lucknow/allow-temple-at-ayodhya-site-promote-religious-harmony-shia-leader-waseem-rizvi/story-soUrR6XX1YdHPKyK56a7LP.html
--------
PM Modi, Russian President Putin discuss bilateral issues, security situation in Afghanistan
Sep 4, 2017
XIAMEN: Prime Minister Narendra Modi on Monday held talks with Russian President Vladimir Putin and discussed ways for boosting bilateral trade and investment along with the security situation in Afghanistan.
The two leaders met in this southeastern Chinese city on the sidelines of the BRICS Summit. This was Modi's first bilateral meeting since his arrival last evening.
The prime minister is also expected to meet Chinese President Xi Jinping before he travels to Myanmar tomorrow.
"The two sides basically touched upon several aspects of the bilateral relationship. President Putin recalled prime minister's visit to Russia earlier this year. And he thanked the prime minister for high-level participation from India at the Eastern Economic Forum," external affairs ministry spokesperson Raveesh Kumar told reporters at a briefing here.
When asked if the two leaders discussed Afghanistan, Kumar said some regional issues, including the situation in Afghanistan was also deliberated upon. He, however, refused to give further details.
He also said that during the Modi-Putin meeting, several bilateral issues were discussed like the cooperation in the oil and natural gas sector.
Kumar said the two leaders also discussed how they should work together to promote trade and investment.
During the meeting, the two leaders also discussed cultural exchanges.
"President Putin mentioned about the 'Festival of India', which was organised in Russia earlier this year. Discussions also took place on the promotion of tourism between the two countries and also on the student exchange between the two sides," Kumar said.
Later, Modi also met Brazilian President Michel Temer and discussed a partnership based on a "common global vision".
Full report at:
timesofindia.indiatimes.com/india/pm-modi-russian-president-putin-discuss-bilateral-issues-security-situation-in-afghanistan/articleshow/60361885.cms
--------
Pak-based terror groups named in BRICS declaration for first time
Sep 4, 2017
XIAMEN: For the first time, Pakistan-based terror groups like the LeT and the JeM were named today in the Summit declaration of the BRICS countries+ that also asserted that those responsible for committing, organising or supporting terror acts must be held accountable.
In a significant diplomatic win for India, Prime Minister Narendra Modi was joined by Chinese President Xi Jinping, Russian President Vladimir Putin, Brazilian President Michael Temer and South African President Jacob Zuma in strongly denouncing terror activities of such groups, as they expressed determination to collectively fight the scourge.
The 43-page 'Xiamen Declaration', adopted at the end of the five-nation BRICS plenary, stressed on the need for immediate cessation of violence in Afghanistan.
It expressed "concern" over the security situation in the region and the violence caused by the Taliban, ISIS, al-Qaeda and its affiliates including Eastern Turkistan Islamic Movement, Islamic Movement of Uzbekistan, the Haqqani network, Lashkar-e-Taiba, Jaish-e-Mohammad, Tehrik-i-Taliban Pakistan (TTP) and Hizb ut-Tahrir.
At the ninth Summit of the grouping, the BRICS leaders also condemned terrorism in all its forms and manifestations wherever committed and by whomsoever.
They stressed that there can be no justification whatsoever for any act of terrorism.
"We reaffirm that those responsible for committing, organising, or supporting terrorist acts must be held accountable," the statement said.
Highlighting the primary leading role and responsibility of states in preventing and countering terrorism, the grouping emphasised on the necessity to develop international cooperation, in accordance with the principles of international law, including that of sovereign equality of states and non-interference in their internal affairs.
According to officials, Modi raised the issue of terrorism strongly at the BRICS Summit and was joined by other leaders, who expressed willingness to fight this menace.
"For the first time specific listing of terror organisations has been made (in the BRICS declaration)," Secretary (East) in the external affairs ministry Preeti Saran told reporters.
The inclusion of Pakistan-based terror groups in the declaration is also significant as it indicated a slight shift in the Chinese view towards terror groups operating out of Pakistan.
Ahead of the BRICS Summit, the Chinese foreign ministry spokesperson had said, "We noticed that India, when it comes to Pakistan's counter-terrorism, has some concerns. I don't think this is an appropriate topic to be discussed at the BRICS Summit."
During the last BRICS Summit in Goa, China did not allow inclusion of Pakistan-based terror groups in the declaration despite the fact that the Summit was taking place within weeks of the Uri terror strike carried out by a Pakistan-based militant group.
However, now it is to be seen that after being part of such a strongly-worded declaration on terrorism and indicting Pakistan-based terror group JeM, how China will act towards the designation of Jaish's chief Masood Azhar as a global terrorist by the UN. Currently, China has put a hold on the proposal moved by the US and some other countries at the UN's Sanction's Committee.
The declaration referred to terrorism at least 17 times, apart from mentioning other forms of extremism and radicalisation. During the BRICS Summit here, India also offered to host a conference on countering radicalisation.
Talking about India's position on terrorism, Saran told reporters, "Terrorism is a scourge that has to be addressed collectively by the entire international community. And, I think, increasingly there is a realisation that you cannot have double standards in tackling this scourge."
"You cannot have good and bad terrorists. It is a collective action," she said.
Saran also said that prime minister Modi also raised the issue of speeding up the long-pending UN Security Council reforms during the Summit.
The BRICS countries also called upon all nations to adopt a comprehensive approach in combating terrorism.
They said that the approach should include "countering radicalisation, recruitment, movement of terrorists including Foreign Terrorist Fighters, blocking sources of financing terrorism including, for instance, through organised crime by means of money-laundering, supply of weapons, drug trafficking and other criminal activities, dismantling terrorist bases, and countering misuse of the Internet including social media by terrorist entities through misuse of the latest Information and Communication Technologies (ICTs)."
The BRICS leaders conveyed their commitment to prevent and counter the growing spread of terrorist narratives, and to tackle all sources, techniques and channels of terrorist financing.
They also recalled the responsibility of all states to prevent financing of terrorist networks and terrorist actions from their territories.
"We call for swift and effective implementation of relevant UNSC Resolutions and the FATF International Standards worldwide. We seek to intensify our cooperation in Financial Action Task Force (FATF) and FATF-style regional bodies (FSRBs)," the BRICS declaration said.
The BRICS also strongly deplored the nuclear test conducted by North Korea.
Full report at:
timesofindia.indiatimes.com/india/pak-based-terror-groups-named-in-brics-declaration-for-first-time/articleshow/60361371.cms
--------
Two Hizbul militants killed in encounter in Jammu and Kashmir's Baramulla
September 4, 2017
Two Hizbul Mujahideen militants, including a self-styled divisional commander of the outfit, on gunned down by security forces in Sopore township of north Kashmir's Baramulla district, the police said.
Acting on specific information about the presence of militants in the Check-e-Brath area of Sopore, security forces launched a cordon and search operation this morning, a police spokesperson said. During searches, the militants who were hiding in the area opened fire on the security personnel, who retaliated, resulting in an encounter.
Two Hizbul Mujahideen militants were killed in the gunfight. They were later identified as Pervaiz Ahmad Wani of Galoora Handwara and Naeem Ahmad Najar of Shelpora Brad, Sopore, he said. Wani was the divisional commander of the outfit for north Kashmir.
Two AK assault rifles, three AK magazines, 90 AK rounds, one INSAS rifle, one INSAS magazine, 13 INSAS rounds and other items were seized from the encounter site, the police spokesperson said. He said the two militants were involved in many "anti-national and anti-social activities".
Full report at:
indianexpress.com/article/india/two-hizbul-militants-killed-in-encounter-in-jammu-and-kashmirs-baramulla-4828626/
--------
Terror funding case: NIA summons J&K high court Bar chief
September 5, 2017
The NIA has summoned Jammu and Kashmir High Court Bar Association President Mian Abdul Qayoom for questioning in connection with its probe into a case of alleged terror funding through Kashmiri separatists. Qayoom has been asked to appear before NIA officers in Delhi on Wednesday, when he would be questioned on his links with Kashmiri separatists, his finances and various properties that he has amassed over the years, NIA sources said.
An NIA spokesperson confirmed that Qayoom has been summoned to Delhi. "You are acquainted with the circumstances of cases which are being investigated under chapter XII of the code of criminal (procedure). You are hereby required to appear before on Wednesday at NIA headquarters,'' reads the NIA letter. NIA sources said that Qayoom has close links with the Hurriyat Conference and has in fact drafted its constitution. "His name cropped up during the interrogation of various accused we have arrested. We have learnt that he has moved money for Kashmiri separatists such as Syed Ali Shah Geelani, chief of the hardline faction. We have to verify all that information," a senior NIA officer said. He added that Qayoom has been fighting legal cases, defending Hurriyat leaders and stone throwers in various cases registered against them. "He is an important cog in the Hurriyat wheel," the officer said.
An NIA team is already camping in Srinagar even though officers deny there is any plan to arrest Qayoom as of now. "We will think of arresting him only after we verify the information we have and if he refuses to cooperate," an NIA officer said. Qayoom has been a vocal supporter of the Kashmiri struggle and has hobnobbed with separatists and provided help to those agitating for freedom. The NIA has also prepared a list of several properties that the lawyer owns across Jammu and Kashmir and in Delhi.
Full report at:
indianexpress.com/article/india/terror-funding-case-nia-summons-jk-high-court-bar-chief-4828974/
--------
Mideast
Iran urges practical moves to end Rohingya Muslims crisis
Sep 4, 2017
Iranian Foreign Minister Mohammad Javad Zarif has urged Muslim countries to take practical measures to end the inhuman crackdown on the persecuted Rohingya Muslims in Myanmar's troubled Rakhine State.
Zarif made the call in separate phone conversation on Monday with his Turkish, Malaysian and Indonesian counterparts Mevlut Cavusoglu, Anifah Aman and Retno Marsudi, respectively.
The Iranian top diplomat expressed the Islamic Republic's deep concern about the sad situation of Rohingya Muslims, saying that Iran was prepared to help adoption of collective strategies by international organizations and Muslim countries in order to solve the ongoing crisis plaguing Myanmar's Muslim community.
Myanmar's military intensified attacks on Rohingya Muslims on August 25, after dozens of police and border outposts in the western state of Rakhine came under attack by an armed group, which is said to be defending the rights of the Rohingya.
The Muslim community had already been under a military siege in Rakhine since October 2016. The government used a militant attack on border guards back then as the pretext to enforce the lockdown. The Rohingya had already been subject to communal violence by extremist Buddhists for years.
Myanmar's military is accused of committing atrocities and crimes against Rohingya people, who are considered by the UN as the "most persecuted minority group in the world."
According to a United Nations report published on Monday, a total of 87,000 mostly Rohingya Muslims—including women and children, many with bullet wounds— have arrived in Bangladesh since last month.
In a tweet on Wednesday, Zarif criticized the global community for remaining silent on the persisting violence against the Rohingya Muslims, calling for "crucial" action to end the acts of aggression against the minority group.
"Global silence on continuing violence against #Rohingya Muslims. Int'l action crucial to prevent further ethnic cleansing—UN must rally," Zarif said.
Iran has called on the government in Myanmar to halt the continued violations of the rights of Rohingya Muslims and end the present violent situation in the country.
presstv.ir/Detail/2017/09/04/533996/Iran-Turkey-Myanmar-Rohingya-Mohammad-Javad-Zarif-Mevlut-Cavusoglu
--------
Turkey slams Merkel for 'populist' EU membership remark
Sep 5, 2017
Turkey on Monday accused German politicians of surrendering to populism and urged them to give up their "careless language" after Chancellor Angela Merkel said she would seek to end talks on Ankara's accession to the European Union.
Relations have been strained between Ankara and Berlin since the crackdown that followed last year's failed coup in Turkey that has seen more than 50,000 people arrested.
Turkish European Union Affairs Minister Omer Celik said discussion over "ending negotiations with Turkey is an attack on the EU's founding values".
In a TV showdown with challenger Martin Schulz on Sunday ahead of a September election, Merkel said it was "clear that Turkey should not become a member of the European Union".
Merkel said she would discuss with EU counterparts if "we can end these membership talks", adding: "I don't see (Turkey) ever joining and I had never believed that it would happen."
Her strong stance against Turkey appeared to steal the show from Schulz, who had minutes earlier called for an end to the EU membership talks.
Celik hit back at German politicians using "careless language" and "trying to give orders to EU institutions... they think the EU is the 'United States of Germany'".
He added the attitude of some German politicians was to "build a Berlin Wall with bricks of populism", heavily criticising Schulz but only directly accusing Merkel of taking a position against Turkey to "avoid falling behind".
The Turkish foreign ministry accused German politicians of encouraging Islamophobia, adding that Turkey had helped Europe during "large chaos" when refugees fled to the continent during the 2015 migrant crisis.
'Populism fuels racism'
Turkish Foreign Minister Mevlut Cavusoglu said Europe "was turning to the values of the pre-Second World War era... savagery, fascism, violence, intolerance".
Earlier, President Recep Tayyip Erdogan's spokesman said attacks on Turkey were a "surrender to populism and marginalisation [and] hostility [which] only fuels discrimination and racism".
"Attacking Turkey-Erdogan and ignoring Germany's and Europe's fundamental and urgent problems are a reflection of a lack of vision," Ibrahim Kalin said on Twitter.
Bilateral ties between the Nato allies worsened after Turkey detained German citizens including Turkish-German journalist Deniz Yucel, the Istanbul correspondent for the Die Welt newspaper.
Yucel has now spent over 200 days in custody ahead of a trial on terror charges.
Last week two more German citizens of Turkish origin were arrested, but the German foreign ministry Monday said one of them had been freed without restrictions, according to her lawyer.
She is expected to arrive in Germany in the next few days.
The ministry said it was still seeking independent confirmation of the release, but it brings the total number of Germans in Turkish custody down to 11.
EU foreign policy chief Federica Mogherini said Turkey remained a partner in the region and was still a candidate country.
"So, we will continue talks, it will be up to the internal discussions we will have and most of all to the discussions we will have together with them to define the future of our relations," she said at the end of an economic forum on Monday.
'Is Germany defending terrorists?'
Erdogan has previously accused Germany of sheltering coup plotters as well as Kurdish militants and demanded their extradition.
Erdogan's spokesman appeared to suggest that Germany supported terrorism, by giving space to groups like the Kurdistan Workers' Party (PKK) and the movement led by US-based Islamic cleric Fethullah Gulen who is accused of ordering the July 15, 2016 attempted putsch.
Gulen strongly denies the charges but Turkey calls his movement the "Fethullah Terrorist Organisation" (FETO). The movement denies this, insisting it promotes Islam, charity and education.
"Is Germany, which openly embraces organisations like the PKK and FETO, not aware that it defends terrorists and coup-plotters, not democracy?"
Last month, Erdogan urged ethnic Turks in Germany to vote against Merkel's conservatives and their coalition partners, the Social Democrats, in the election.
But Kalin dismissed the vote, saying: "It does not matter which party wins in the German elections because the mentality which will win is now obvious."
Full report at:
nation.com.pk/international/04-Sep-2017/turkey-slams-markel-for-populist-eu-membership-remark
--------
Sistani refuses to meet Khamenei's envoy
4 September 2017
Iraqi sources revealed that the Shiite cleric Ali al-Sistani refused to receive the Chairman of the Iranian Expediency Council Mahmoud Hashemi Shahroudi who was sent by the Supreme Leader Ali Khamenei in order to visit Iraq and meet with its officials, after escalations among the pro-Tehran Shiite alliance.
Shahroudi asked to meet Al-Sistani during his visit to Najaf, which lasted for two or three days, as part of his tour inside Iraq, but Sistani refused to meet with him," Al-Ghad Press in Baghdad reported.
The sources did not reveal why Sistani refused to receive Shahroudi, according to the site.
Iranian sources have revealed that Khamenei asked Shahroudi to visit Iraq to unite the Shiite parties after the growing differences between them in preparation for joining, with a single list, the upcoming parliamentary elections.
Differences between the Shiite alliance
Shahroudi's visit to Iraq comes amid escalating differences between the Shiite alliance to nominate a new candidate, replacing Ammar al-Hakim, who split from the Supreme Council on July 24, founded the National Wisdom movement (Al-Hikmah). Al-Hakim also received Shahroudi in Baghdad.
According to Fars News agency, Shahroudi told Hakim that they should not allow political issues and potential differences among politicians to negatively affect the morale of the Iraqi people, and that they should clarify the services and gains made for the Iraqi people.
The role of Shahroudi
Iran's supreme leader Ali Khamenei issued a decree on August 14 appointing Shahroudi, as chairman of the Expediency Council instead of his late president Akbar Hashemi Rafsanjani, for five years.
Some groups in Iran oppose his candidacy to succeed "Al Murshid" because of his Iraqi nationality, despite the support he is getting from Khamenei and senior leaders of the Iranian regime.
Full report at:
english.alarabiya.net/en/News/middle-east/2017/09/04/-Sistani-refuses-to-meet-Khamenei-s-envoy.html
--------
Houthis bomb house of leader from Saleh's party
4 September 2017
Houthis militias bombed the home of a leader of Ali Abdullah Saleh's political party, the first of its kind as tensions group between the two allies.
According to local sources, Houthi militias bombed on Monday the house of one of the leaders of the Popular Congress Party, Sheikh Ali al-Houbani, east of Taiz province in south-west Yemen.
The sources said that the house of Sheikh al-Hobani, a prominent leader of Saleh's party, in the area of al-Hoban east of Taiz, was completely destroyed.
It is believed the bombing was an attempt to intimidate Saleh's political leaders within his party.
Meanwhile, the Houthi militia arrested a senior military leader loyal to the ousted Saleh in al-Hudaydah governorate in western Yemen.
Full report at:
english.alarabiya.net/en/News/gulf/2017/09/04/Houthis-bomb-house-of-leader-from-Saleh-s-party-.html
--------
Ben Dagher: We will not allow Iran to have a foothold in Yemen
4 September 2017
Yemeni Prime Minister Ahmed Ben Dagher vowed not to allow Iran to have a foothold in his country.
This came during his meeting Sunday in the interim capital of Aden, with the commander of the Saudi forces in the Arab alliance, Brigadier Sultan bin Islam, and a number of officers of the Kingdom.
"We will not allow Iran to exist or to spread its culture or destructive project in Yemen and the entire Arab region," Ben Dagher said.
He added: "The Yemeni people stand supported by the countries of the Arab alliance to thwart this project."
The head of the Yemeni government said that Operation Al-Hazm Storm, led by Saudi Arabia, came at a time of divergence and changed the equation of forces. It foiled Iran's ambition to expand and control Yemen and threaten the security and stability of the Arab world, especially neighboring countries and regional and international shipping.
Full report at:
english.alarabiya.net/en/News/gulf/2017/09/04/Ben-Dagher-We-will-not-allow-Iran-to-have-a-foothold-in-Yemen.html
--------
WFP directly blames Saudi Arabia for Yemeni humanitarian crisis
Sep 5, 2017
The United Nations' World Food Programme (WFP) has directly blamed Saudi Arabia for a humanitarian crisis in Yemen, which has been the target of a Saudi-led war for two years and a half.
"Saudi Arabia should fund 100 percent of the needs of the humanitarian crisis in Yemen," said the WFP's Executive Director David Beasley. "Either stop the war or fund the crisis. Option three is, do both of them."
More than 12,000 people have died since March 2015, when Saudi Arabia and a number of its vassal states invaded Yemen — which was already the Arab world's most impoverished nation.
The war was launched to restore power to a former Riyadh-friendly regime.
The Saudi-led coalition has imposed an all-out blockade over Yemen.
The UN has accused the coalition of denying entry to vessels bound for the key Red Sea port of al-Hudaidah, through which around 80 percent of Yemen's food imports used to arrive.
"We are having problems with access. The Saudis have created serious complications for us because of the port being blockaded to a certain degree, and the destroying of the cranes at al-Hudaidah port...That has substantially reduced our capacity to bring food in."
The destruction of the five cranes has resulted in ships lining up off Yemen's coast because they cannot be unloaded.
Beasley said the restrictions introduced by the Saudi-led coalition had also prevented the delivery of fuel needed by the UN vehicles that travel in and out of the capital, Sana'a, carrying aid and personnel.
According to the UN Office for the Coordination of Humanitarian Affairs, two million people have been displaced since the onset of the warfare, and a cholera epidemic has killed 2,000 people and infected 600,000 others.
Full report at:
presstv.ir/Detail/2017/09/05/534061/Yemen-World-Food-Programme-Beasley-Saudi-Arabia-humanitarian-crisis
--------
Netanyahu's ties with Israeli daily spark criticism
Sep 5, 2017
New information has surfaced about Israeli Prime Minister Benjamin Netanyahu's frequent contacts with the most-widely-circulated, free Israeli newspaper, particularly in the run-up to 2013 elections that he won, sparking suspicions that he used the paper as an illegal propaganda tool.
Ordered by the Israeli Supreme Court, Netanyahu's Office revealed earlier this week that between 2012 and 2015, he had spoken 223 times to Israel Hayom's then-editor Amos Regev and 120 times to the paper's owner, Sheldon Adelson, the Jerusalem Post reported.
In average, Netanyahu spoke with Adelson almost once a week and nearly twice that often with Regev.
In many of the cases, late-night phone calls were followed by Israel Hayom front-page articles praising Netanyahu and attacking his rivals and opponents.
'The criminal truth of Netanyahu'
Netanyahu has sought to portray his contacts with Israel Hayom, which has the largest circulation and is distributed free-of-charge, as normal. But the frequency of the contacts and the staunchly supportive articles that appeared on the paper after each contact have raised suspicions and criticism.
Former Israeli prime minister Ehud Barak said on Sunday that Israel Hayom had served as an illegal political contribution to Netanyahu's campaign.
He said Netanyahu had effectively been the real editor of the newspaper.
Barak called on Israeli Attorney General Avichai Mandelblit and Comptroller Joseph Shapira to take action.
Israeli lawmaker Yoel Hasson has also written to Mandelblit and Shapira to demand an investigation into the connections between Netanyahu and the newspaper.
"The smoking gun has been uncovered," Hasson said in a statement, adding, "Netanyahu lied for years in his legal declarations, speeches and interviews." He said Netanyahu had lied to the Central Elections Committee in the past by denying any connections with Israel Hayom.
"Netanyahu enjoys a newspaper that serves as a propaganda tool that is intended first and foremost for him and the continuation of his tenure as prime minister. This constitutes the largest forbidden contribution a political party has ever received. This is the time to stop hiding and allow the criminal truth of Netanyahu and the Likud [party] to be revealed," the Israeli lawmaker said.
Full report at:
presstv.ir/Detail/2017/09/05/534059/Israel-Netanyahu-contact-Israel-Hayom
--------
Israel denying jailed Fatah leader's wife visiting rights
Sep 5, 2017
The wife of jailed leader of the Palestinian Fatah Movement, Marwan Barghouti, has said that the Tel Aviv regime will not permit her to visit her spouse.
On Monday, Fadwa Barghouti said that she was informed of the ban after attempting to visit her husband, who led a mass hunger strike earlier in the year.
She noted that the prison authorities said the ban was due to her role in the hunger strike and will be in place until 2019. The rest of Barghouti's family have also been denied entry into the occupied Palestinian territories.
Assaf Liberati, a spokesman for the regime's prison service, confirmed the claims, noting that they were for "security reasons" resulting from the hunger strike.
Led by Barghouti, the mass strike, dubbed the Freedom and Dignity Strike, began on April 17. Thousands of prisoners joined the action and started to refuse food in incarceration to protest their dire conditions in Israeli jails.
The hunger strikers were demanding appropriate medical care and treatment in Israeli prisons, as well as an end to solitary confinement and the so-called administrative detention, which is a form of imprisonment without trial or charge.
The strike came to an end in late April after Israeli authorities agreed to a deal with the Palestinian prisoners.
Full report at:
presstv.ir/Detail/2017/09/05/534044/palestine-israel-jail-hunger-strike-barghouti
--------
MPs say Iran will never allow access to military sites
Sep 4, 2017
Senior Iranian parliamentarians say the country will not allow inspection of its military sites "under any circumstances."
The US has been pressing the International Atomic Energy Agency (IAEA) to request access to Iranian military sites for inspections.
"As senior Iranian government and military officials have repeatedly said Iran's military sites do not have any connection with its nuclear facilities, and are substantially unrelated to our nuclear activities," MP Hossein Naqavi Hosseini said Monday.
US Ambassador to the United Nations Nikki Haley flew to IAEA headquarters in Vienna last week to personally lobby with the nuclear agency for access to Iran's military sites.
Naqavi Hosseini advised the US to remain committed to fulfilling its obligations under the 2015 nuclear accord, "instead of addressing the aspirations that are impossible" and commenting on the forbidden areas and red lines of Iran.
"Under no circumstances will we submit to the inspection of military centers and we cannot allow the foreign side to visit our military centers," said the MP who is the spokesman for Majlis Committee on National Security and Foreign Policy.
"If they have a discussion or a subject for discussion, they can discuss it with our diplomats, but they must know that Iran's military centers are secret and its doors will always be closed to the strangers."
The IAEA is tasked with monitoring Iranian compliance with the landmark deal, officially called the Joint Comprehensive Plan of Action (JCPOA).
The atomic agency has verified continued Iranian compliance in its latest report. IAEA officials have also said there was no ground for asking Iran to allow access to its military sites.
Naqavi Hosseini said one of the things that keep Iran ready to deal with threats is the country's military sites which should naturally remain intact.
The parliamentary committee's chairman Alaeddin Boroujerdi (seen below) also said, "It is likely that some people may seek access to our country's military information under the guise of IAEA inspectors."
He said the Americans are trying to sabotage the nuclear deal and its implementation, because they see themselves a loser, having no diplomatic relations with the Islamic Republic.
"Given the presence of many countries in the Iranian economic arena, the Americans do not see a share staked out for them. Hence, they are seeking to disrupt the implementation of the JCPOA and the lifting of sanctions" on Iran, Boroujerdi said.
"As a result, the Americans are constantly looking for pretexts and putting pressure on IAEA officials," he added.
The MP said Iran's military sites have nothing to do with the nuclear issues, and any permission to visit military centers is subject to the decision of the Supreme National Security Council.
Full report at:
presstv.ir/Detail/2017/09/04/533981/Iran-Parliament-JCPOA-Naqavi-Hosseini-Boroujerdi
--------
North America
'Terrorist' Soros petition reaches 100K signatures, compels White House reply
Sep 4, 2017
A petition calling on US President Donald Trump to declare Jewish billionaire George Soros a terrorist has garnered more than 100,000 signatures, enough to require a response from the White House.
More than 129,000 people had signed the online petition as of Monday, more than two weeks after a user posted it on the White House website's We the People section.
The petition's accuses the billionaire of financing multiple organizations with the sole purpose of weakening the Trump administration, an allegation that has been making the rounds over the past years.
"Soros has created and funded dozens (and probably hundreds) of discrete organizations whose sole purpose is to apply Alinsky model terrorist tactics to facilitate the collapse of the systems and Constitutional government of the United State, and has developed unhealthy and undue influence over the entire Democrat Party and a large portion of the US Federal government," the petition says.
Soros has been accused of facilitating "color revolutions" through organizations such as MoveOn, which encourages people to hold anti-establishment protests.
Republican leaning media outlets like Fox News allege that MoveOn is much larger than what it looks and that it "owns" the Democratic Party. The network has openly suggested that Soros owns the organization.
During the 2004 presidential election, Soros gave nearly $1.5 million to the MoveOn.org Voter Fund. Following Trump's election victory, the organization invited Americans to hold "peaceful" protests across the US.
Back then, MoveOn boasted on its website that it had created "over 200" gatherings within two hours of issuing the call.
Soros was a supporter of Trump's Democratic rival, Hillary Clinton, during the 2016 US presidential election, pouring millions of dollars into her campaign.
According to leaked emails released by the anti-secrecy group WikiLeaks, Clinton's top aide John Podesta had instructed Soros in 2008 on how to stir American voters through organizations similar to MoveOn.
Soros is the founder and head of the Soros Fund Management hedge fund and one of the world's wealthiest people. Forbes has put his fortune at around $25 billion.
presstv.ir/Detail/2017/09/04/533984/US-Trump-Soros-petition-White-House
--------
Takfiri terrorists fighting Islam under US guidance: Iranian Commander
September 4, 2017
What has been against Islam is the United States' evil deeds and there is enough evidence for that," Brigadier General Gholam Hossein Gheibparvar said in a speech in Tehran on Sunday.
"Today, there is no doubt that ISIS is the brainchild of the Americans," he said, adding, "Takfiris have risen up to fight Islam under the direct guidance of the US."
The commander further pointed to the martyrdom of Mohsen Hojaji, an Iranian military adviser who was recently decapitated by ISIS terrorists in Syria, and said the martyr "created a revolution" by himself.
Hojaji, a holy shrine defender, was taken hostage by the ISIS Takfiri group near the Iraqi border on August 7 and was beheaded two days later.
The shrine of Sayyida Zeinab, a sister of Imam Hossein (AS), the third Shiite Imam, is located in Damascus, Syria. Iranian military advisers have played a decisive role in the protection of the holy shrine against terrorist attacks.
In recent years, the Middle East has been plagued with Takfiri terrorist groups like ISIS that are believed to have been created and supported by the West and some regional Arab countries.
Full report at:
en.abna24.com/news/iran/takfiri-terrorists-fighting-islam-under-us-guidance-iranian-commander_852287.html
--------
Arab World
14 civilians killed in US airstrikes on Raqqah in Syria
Sep 4, 2017
The US-led coalition allegedly battling terrorism in Syria has killed at least 14 civilians in airstrikes on Raqqah.
According to Syria's official news agency, SANA, US warplanes carried out raids on the city's al-Naim region on Monday, claiming that they were targeting members of the Daesh terrorist group.
The raids also resulted in severe damage to civilians and the city's infrastructure.
Last month, Amnesty International released a report confirming that the US operations in Raqqah were greatly endangering civilians.
Earlier in the month, the US-led coalition acknowledged that it had killed almost 700 civilians since it commenced its aerial bombardment campaign three years ago.
The coalition has been conducting airstrikes against what are said to be Daesh targets inside Syria since September 2014 without any authorization from the Damascus government or a UN mandate.
The military alliance has repeatedly been accused of targeting and killing civilians. It has also been largely incapable of fulfilling its declared aim of destroying Daesh.
On June 6, the US-backed SDF militiamen said they had launched an operation aimed at pushing Daesh out of Raqqah.
The Syrian government has also on multiple occasions sent letters to UN Secretary General António Guterres and the UN Security Council stressing that US-led coalition was perpetrating war crimes and crimes against humanity through aerial bombardment of residential neighborhoods.
presstv.ir/Detail/2017/09/04/534037/us-raqqah-civilians-killed-daesh
--------
1,300 Foreign Terrorists of ISIL Surrender to Iraqi Army in Tal Afar
Sep 04, 2017
The sources said that 1,300 non-Iraqi ISIL terrorists that had surrendered to the Iraqi forces in the Tal Afar operation are jailed in Hammam al-Alil camp South of Mosul city.
The sources further said that most of the non-Iraqi militants in the camp are from Chechnya, Afghanistan, France and Britain.
Iraqi Prime Minister Haider Abadi announced on Thursday the complete liberation of the city of Tal Afar and the whole territory of the Nineveh Province from ISIL terrorists.
Abadi said as cited by local TV channel that Tal Afar, a strategically important city in Northwestern Iraq, which is located near the border with Syria, was liberated after being held by ISIL for some three years.
After the fall of Mosul, Tal Afar became ISIL's last stronghold in the war-plagued country.
The Iraqi government forces' operation to retake the city was kicked off on August 20.The city was seized by militants in 2014. Before the seizure, it was home to 750,000 people.
Full report at:
en.farsnews.com/newstext.aspx?nn=13960613000929
--------
US-backed Syrian militias seize Great Mosque of Raqqah from Daesh: US-led coalition
Sep 4, 2017
The US-led coalition purportedly fighting the Daesh Takfiri terrorist group says the so-called Syrian Democratic Forces (SDF) have taken the historic old city of Raqqah and its ancient mosque as they press ahead with their offensive to fully recapture the city.
Army Colonel Ryan Dillon, a spokesman for the US-led coalition, said in a statement on Monday that the US-backed forces had cleared the Great Mosque of Raqqah, the oldest mosque of the city.
The statement also described the advance as "a milestone" in the Raqqah battle.
"The SDF have made consistent incremental gains in the urban terrain of the city, fighting block by block," noted Dillon.
The SDF said last week said it had captured the final districts in Raqqah's old city from the Daesh terrorist group.
The walled old city lies in the heart of Raqqah, but Daesh terrorists still control districts in the west of the city.
The SDF says it holds 65 percent of Raqqa in total.
SDF fighters have waged fierce battles with slow progress against Daesh in Raqqah's old city since early July. The SDF pushed into the city in June after fighting for months to encircle it.
Thousands of people have fled Raqqah in recent months, and the United Nations Office for the Coordination of Humanitarian Affairs believes about 160,000 people still remain in the city.
The city of Raqqah, which lies on the northern bank of the Euphrates River, was overrun by Daesh in March 2013, and was proclaimed the center for most of the Takfiris' administrative and control tasks the following year.
The SDF, made up of an alliance of Arab and Kurdish fighters, is supported by the US-led coalition with artillery and airstrikes.
In the past few months, Daesh has suffered multiple defeats across Syria, notably in the city of Raqqah. It has also been heavily battered in neighboring Iraq, particularly by losing its main Iraqi base of Mosul in July.
Full report at:
presstv.ir/Detail/2017/09/04/534017/Syria-US-Daesh-SDF-Raqqah-Iraq
--------
Syria army nears regime enclave besieged by IS
Sep 5, 2017
BEIRUT - Syria's army battled the Islamic State group on the edges of Deir Ezzor Monday, seeking to break the siege of a government enclave and oust the jihadists from a key stronghold.
The jihadist group has already lost more than half of its nearby bastion of Raqa to attacking US-backed forces, and the loss of Deir Ezzor city and the surrounding oil-rich province would leave it with only a handful of isolated outposts. Deir Ezzor province borders Iraq, where IS has also been expelled from former strongholds Mosul and Tal Afar.
The jihadists hold large parts of Deir Ezzor province, and more than half the provincial capital Deir Ezzor city, the remainder of which is controlled by the government and under IS siege. Syrian troops backed by ally Russia have been advancing towards Deir Ezzor city on several fronts for weeks.
By Monday afternoon, Syrian state media said troops were swiftly approaching the city.
"The Syrian army has advanced towards Deir Ezzor to break the siege on it and is now just three kilometres (nearly two miles) from the city," a breaking news alert on state television said.
The Britain-based Syrian Observatory for Human Rights monitoring group said Syrian troops and allied fighters had arrived at the Brigade 137 base on the western outskirts of the city, and were battling to reach troops besieged by IS inside.
A military source told AFP: "There have been multiple collapses of the Daesh (IS) line in the west of Deir Ezzor province, allowing the army to move quickly."
"The siege on the government troops will be broken within hours," the source added.
Syrian troops were also quickly advancing on another front, said the Observatory, adding they were some 12 kilometres from Deir Ezzor's besieged military airport.
Provincial governor Mohamed Ibrahim Samra, quoted by state news agency SANA, said besieged residents were already celebrating as the army neared.
"Yesterday Deir Ezzor city saw celebrations and rejoicing among all segments of society ahead of the expected victory with the advance of the Syrian Arab Army to the outskirts of the besieged city," he said.
In Moscow, the Russian defence ministry also reported that Syrian forces were advancing on the city, backed by Russian air strikes. "The fall of IS in Deir Ezzor will be a strategic defeat for the international terrorist group in Syria," the ministry said in a statement.
IS seized large parts of Deir Ezzor province, including its many oilfields, in mid-2014 as it rampaged across Syria and Iraq. By early 2015, it had also seized parts of Deir Ezzor city and laid siege to remaining areas under government control.
The siege tightened further earlier this year, when IS advanced and cut the government-held parts of the city in two, with a southern section by the key military airport now divided from a northern sector.
An estimated 100,000 people remain in government-held parts of the city, which had a pre-war population of some 300,000.
The Observatory estimates more than 10,000 people may live in the parts of the city held by IS, although precise information is hard to come by.
The siege has created a humanitarian crisis in the city, with food and medical shortages and soaring prices.
The government has brought supplies in by helicopter, and the United Nations has periodically airdropped humanitarian aid, but the situation remains difficult for those under siege.
Conditions are also reportedly dire for civilians trapped in IS-held parts of the city, with activists reporting food and medical shortages as well as water and electricity cuts.
Syria's army has been advancing towards Deir Ezzor on several fronts in recent weeks, including from the west through neighbouring Raqa province, and from the south via central Homs.
Capturing Deir Ezzor would be a key gain for Syria's government, which has scored a series of military victories in recent months with Russian support.
Full report at:
nation.com.pk/international/05-Sep-2017/syria-army-nears-regime-enclave-besieged-by-is
--------
Daesh militant commanders slain by locals in Hawijah
Sep 4, 2017
Local residents of Hawijah have reportedly attacked a gathering of Daesh Takfiri terrorists and killed a number of high-ranking militant commanders as government forces are preparing to retake the town in the oil-rich northern province of Kirkuk from the extremists.
An informed source, speaking on condition of anonymity, said locals raided a house in the al-Askari neighborhood of the town, located 45 kilometers west of the provincial capital city of Kirkuk, killing four militant commanders.
The source added that Daesh second-in-command for Hawijah, was among the slain terrorists.
An Iraqi military official said on Friday that government forces, backed by pro-government fighters from Popular Mobilization Units – commonly known by the Arabic word Hashd al-Sha'abi, were preparing to launch a major military operation aimed at liberating the town of Hawijah from Daesh terrorists anytime soon.
The unnamed official said Iraq's Joint Operations Command (JOC) had formed a new force, dubbed Operation "We Are Coming, Hawijah" to retake the town.
He added that Iraqi army units, members of the Federal Police Force and the Counter-Terrorism Service (CTS), Hashd al-Sha'abi fighters as well as the Interior Ministry's elite rapid response forces will participate in the battle.
Iraqi airstrikes kill dozens of Daesh terrorists in Diyala
Meanwhile, more than four dozen members of the Daesh Takfiri terrorist group have been killed in separate operations by the Iraqi Air Force in the country's eastern province of Diyala.
Full report at:
presstv.ir/Detail/2017/09/04/533994/Hawijah-residents-kill-Daesh-militant-commanders
--------
Saudi Crown Prince Orders Preparations for Kingship Celebrations
Sep 04, 2017
The Arabic-language al-Manar daily quoted sources close to the royal family as saying that King Salman is due to step down from power for his physical conditions and feebling health and name his son, Mohammed, as the new king.
They said that a number of world leaders will also be invited to the ceremony to introduce the new Saudi king.
The sources added that bin Salman has ordered the country's security officials to increase supervision over the Saudi royal figures, specially the sons of Abdullah bin Abdolaziz, to prevent any coup.
The Arab media had reported last month that Mohammed bin Salman has escaped an assassination attempt at one of the royal family palaces in Jeddah.
Arabic language Mer'at al-Jazeera quoted sources close to the royal family as saying that bin Salman was targeted by an assassination attempt in Jeddah by one of the Saudi princes.
Also, a western diplomat in Riyadh said that the Saudi crown prince wasn't harmed in the failed attempt and the prince who made the move was arrested.
Bin Salman's ambitious acts in recent months and his attempts to dethrone the rivals have created wroth among other Saudi princes.
The Arab media have been reporting recently that Saudi Arabia's King Salman bin Abdulaziz al-Saud is much likely to step down in favor of his son Mohammed, the new crown prince, within the next few months.
In July, al-Ray al-Youm newspaper quoted informed sources in the Saudi royal family as saying that King Salman is likely to step down from power in the next five months.
They referred to the past and future steps to be taken by the king to empower his son, and said the first step was replacing former crown prince Mohammed bin Nayef by his own son, Mohammed bin Salman.
"The second step is that the Saudi king wants to travel to his beach villa in Tangier, Morocco, for a two-month vacation and entrust the new crown prince and his aides with management of the country," they added.
Therefore, bin Salman will be the Saudi king during August and it will be a test for him until King Salman will confirm quitting power in favor of his son, the sources said.
They added that the countdown for bin Salman's ascending to thrown will start somewhere between October and December and then King Salman will officially embark on stepping down under the pretext of protecting Saudi Arabia's interests.
The report by al-Ray al-Youm comes as Western, specially US, media outlets said last week that the King has already recorded a message to declare Mohammad as his successor.
Sources in the Royal family in Riyadh disclosed that Saudi King Salman bin Abdolaziz al-Saud has pre-recorded a statement to soon abandon power in favor of his son Mohammed bin Salman in the next few weeks as former crown prince Mohammed bin Nayef is still under house arrest.
According to Reuters, with Mohammad Bin Salman's sudden ascent, there is now speculation among diplomats and Saudi and Arab officials that King Salman is poised to abdicate in favor of his son.
Quoting a witness at the palace, one Saudi source said that King Salman pre-recorded a statement in which he announces the transfer of the throne to his son. The announcement could be broadcast at any time, perhaps as soon as September.
Also, the source close to Mohammed Bin Nayef disclosed that he would like to take his family to Switzerland or London but the king and his son had decided that he must stay, adding that "he wasn't given any choice."
A source close to Mohammed Bin Nayef also announced that he remains under house arrest to keep him out of circulation following his overthrow, with no visitors allowed except close family members. He is not taking calls. In the past week he was only granted permission to visit his elderly mother with the new guards assigned to him.
According to a report, on June 20 Mohammed bin Nayef was summoned to meet King Salman on the fourth floor of the royal palace in Mecca.
There, according to a source close to Nayef, as he is known, the king ordered him to step aside in favor of the king's favorite son because of his alleged drug addiction.
"The king came to meet Mohammed bin Nayef and they were alone in the room. He told him: 'I want you to step down, you didn't listen to the advice to get treatment for your addiction which dangerously affects your decisions'," the source close to bin Nayef said.
At dawn bin Nayef gave up, telling a palace adviser that he was ready to see the king. The meeting was short and bin Nayef agreed to step down and signed a document to that effect.
According to the adviser, when Mohammad bin Nayef left the king's quarters, he was surprised to see Mohammad bin Salman waiting for him. Bin Nayef was embraced and kissed by bin Salman while television cameras rolled.
The source close to Mohammed bin Nayef acknowledged that he had health issues, which were aggravated after an al-Qaeda attacker tried to blow himself up in front of him in his palace in 2009. The health issues were corroborated by three other sources in Saudi Arabia and Arab official sources with links to the royal family.
The sources also announced that bin Nayef had shrapnel in his body that could not be removed and he depended on drugs such as morphine to alleviate the pain, as, according to one source, he had been treated in clinics in Switzerland on three occasions in recent years.
Full report at:
en.farsnews.com/newstext.aspx?nn=13960613001383
--------
Northeastern Syria: Kurdish-Led SDF Drive ISIL out of 65 Percent of Raqqa City
Sep 04, 2017
Sheikh Ahmad said that the Kurdish forces have seized control over the neighborhoods of old Raqqa and al-Dar'eiyeh that were the most important strongholds of ISIL in the city.
He further added that the SDF has not imposed control over 65 percent of Raqqa, including 14 neighborhoods of al-Sabahi, al-Romaniyeh, Hatin, al-Karim, al-Qadesiyeh, al-Yrmouk, Nazla al-Shahadah, Hosham bin Abdul Malik, al-Moshalab, al-Sina'a, al-Batani, al-Dor'eiyeh and old Raqqa that covers the neighborhoods of al-Masoureh and al-Rafeqah.
Sheikh Ahmad also said that fierce clashes are underway between the SDF and ISIL in six neighborhoods of al-Marour, al-Barid, al-Nehza, al-Amin, al-Rowza and al-Ramileh.
In the meantime, the People's Protection Units (YPG) released a full statement covering the battle for Raqqa where heavy clashes continue day and night.
According to the YPG (main military branch of the SDF) press statement, some 65 percent of Raqqa's provincial capital has been 'liberated' while 2,000 hostages were freed from ISIL captivity over the past month.
Effectively, Kurdish forces are now in control of 14 of out the city's 23 neighborhoods, the YPG statement said.
The statement said that a total of 1,244 ISIL militants have been killed since the beginning of the battle.
Three prisoners-of-war were taken by Kurdish troops while 28 ISIL suicide bombers were neutralized in August.
Relevant reports said last month that the SDF engaged in fierce clashes with ISIL and pushed them back from Nazla Shahada neighborhood adjacent to Hosham bin Abdul Malik neighborhood in South Raqqa.
In the meantime, the London-based Syrian Observatory for Human Rights (SOHR) reported that ISIL withdrew from the Southern districts of Raqqa city and the Northern bank of the Euphrates River after the Kurdish fighters deployed in Eastern Raqqa (Hosham bin Abdul Malik neighborhood) advanced to shake hands with their comrades that had marched from the Western part of the city (Nazla Shahada neighborhood).
Full report at:
en.farsnews.com/newstext.aspx?nn=13960613001100
--------
Saudi minister denounces Lebanon's Hezbollah as 'Party of Satan'
5 September 2017
Saudi Arabia's Arab Gulf Affairs Minister Thamer al-Sabhan slammed Lebanon's Hezbollah and warned of the consequences of the party's crimes.
"The inhumane crimes which the Party of Satan is committing in our nation will inevitably have consequences on Lebanon," Sabhan wrote on Twitter on Monday.
Sabhan also urged the Lebanese people to stand against Hezbollah's militias.
"The Lebanese people must choose to either be with it or against it. The blood of Arabs is precious," he added.
english.alarabiya.net/en/News/gulf/2017/09/05/Saudi-minister-denounces-Lebanon-s-Hezbollah-as-Party-of-Satan-.html
--------
UK Withdraws Forces from Al-Tanf Militant Training Base in Southern Syria
Sep 04, 2017
The English-language AMN website reported that the United Kingdom has withdrawn its troops from the coalition-operated al-Tanf base in Syria's Southwestern desert and ended all military assistance hitherto provided to FSA-affiliated mercenaries in the region.
The UK-based Daily Telegraph reported the UK's wind-down of support for the FSA militants began in June of this year when at least 20 special forces troops were confirmed to have withdrawn from the al-Tanf base.
The former security commander of al-Tanf base in Syria revealed on Thursday that his comrades were selling arms to the ISIL terrorist group, adding that the US army took no action to stop the trade once it came in hold of relevant information.
The Arabic website of Sputnik news agency quoted Mohammad al-Salam, a former security official at al-Tanf base in Syria, as saying that commander of the US-backed Maqawir al-Thorah militant group Muhanned al-Tala sold the US-made weapons to the ISIL militants.
Noting that the equipment and weapons included SPG, Chas and Tata vehicles and a large number of M16 rifles, he said, "After the arms trade was disclosed, we informed the Americans that al-Tala is selling weapons to the ISIL but they took no action."
Full report at:
en.farsnews.com/newstext.aspx?nn=13960613001039
--------
Israel Starts Education Programs in Terrorist-Held Regions in Syria
Sep 04, 2017
The Arabic-language Elam al-Harbi news website quoted the Hebrew-language Maariv daily newspaper as disclosing that Moti Kahana, an Israeli tradesman who lives in the US, is the director of the Israeli-US school in Idlib province that has 90 students and 15 teachers.
Two similar Israeli-American schools had earlier been set up in terrorist-held regions near the Golan borders in Southeastern Syria, the news website reported.
Elam al-Harbi further said that the curriculum at these schools are different from those in Syria's official education program, and aims to change people's view towards Zionist regime.
The website added that the students can later study at Israeli universities after graduation.
Tel Aviv has has long been backing up various terrorist groups in Syria.
Local sources said in July that several terrorists, who had been wounded in the battle with the Syrian government forces in Quneitra province, were taken to an Israeli hospital.
The sources reported that a number of injured members of Al-Nusra Front (also known as Fatah al-Sham Front or the Levant Liberation Board) were transferred to the Israeli hospitals via al-Hamidiyeh region in Quneitra countryside.
Full report at:
en.farsnews.com/newstext.aspx?nn=13960613000853
--------
Syrian Army on Verge of Removing ISIL's Siege on Deir Ezzur
Sep 04, 2017
The sources said that the army soldiers drove ISIL out of the towns of Kobajeb and al-Shoula and several strategic hills, pushing towards Brigade 137 base in the Western outskirt of Deir Ezzur city.
They added that the army men captured al-Kharateh energy field North of Tar Tarfawi region in the Western countryside of Deir Ezzur city, deploying less than 20km away from Tal (hill) al-Sonouf near the city airbase.
A large number of ISIL terrorists have left behind their arms and equipment and have fled the battlefield amid rapid advances of the army.
The sources went on to say that the army forces have reached areas 10km away from Brigade 137 base, adding that the army is on the threshold of lifting ISIL's siege on Deir Ezzur after over three years.
In the meantime, Governor General of Deir Ezzur Mohammed Ibrahim Samra told Reuters that heroes of the army will arrive at Deir Ezzur in 24-48 hours at the most, adding that the Syrian Army was only 18-20 kilometers (11-12 miles) away from the city.
Civilians have already begun celebrating in the streets of Deir Ezzur, as news about the lifting of the siege was prematurely spread on social media.
The Russian Defense Ministry has previously stated that breaking the blockade of Deir Ezzur will mark the defeat of the last capable grouping of ISIL terrorists in Syria.
"ISIL militants are still attempting to stop the advancement of the Syrian troops by relocating to the Deir Ezzur region armor, pick-up trucks with high-caliber machine guns mounted on them, weapons and ammunition. They are creating fortifications with positions for artillery and mortars," the Russian Defense Ministry reported Saturday.
Geopolitical analysts believe that lifting the Deir Ezzur blockade will provide Syrian armed forces and their allies with a really stable foothold in this part of Eastern Syria.
The UN's special envoy for Syria, Steffan de Mistura, also expects all major ISIL's positions in Syria to fall by the end of October.
Reports said on Sunday that the army men seized control over several heights near Mount al-Bashari, the villages of Rajm al-Hajaneh and Mount Safiyeh, deploying forces only 30km to Deir Ezzur city.
The army men and popular fighters, backed by the Russian Air Force, also liberated several square kilometers of the desert terrain over a short period in both Homs and Deir Ezzur provinces.
The army units managed to advance against ISIL from Wadi al-Zoweihak region in Eastern Homs to the village of Haribsheh near the border with Deir Ezzur, seizing control over a 12km-long chunk of the al-Sukhnah-Deir Ezzur highway.
As a result of this advance, the Syrian government forces have positioned themselves within 16 km of al-Shoula, which is the last major town located directly West of the Deir Ezzur province's capital.
Full report at:
en.farsnews.com/newstext.aspx?nn=13960613000344
--------
ISIS convoy of 113 militants join forces with Syrian regime army
4 September 2017
Syrian sources announced that 113 members of ISIS militants staying in the Syrian desert between Reif-Homs and Deir al-Zour, joined forces of the Syrian regime.
The sources said on Monday that these militants insisted on not fighting in Deir al-Zour.
The Syrian regime secured the families of the ISIS militants who joined forces in Palmyra.
This came at a time when the Syrian regime's television announced on Monday that the army and its allies were within 3 kilometers of the city of Deir al-Zour.
The US-led international coalition announced on Sunday that the ISIS convoy was divided into two groups.
One is still in the desert, while another group returned to areas controlled by the Syrian regime, and they got equipped with food and water.
Army Colonel Ryan Dillon Spokesman for Operation Inherent Resolve (OIR), the US-led coalition against ISIS tweeted, on Sunday that 85 ISIS militants died in strikes by the coalition and 40 cars were destroyed.
An agreement was signed between ISIS and Hezbollah, to transfer ISIS militants with their families from the western Kalamoun on the Syrian-Lebanese border to Deir al-Zour in eastern Syria on 26 August.
ISIS fighters and their families evacuated from that enclave as part of a surrender deal were escorted by the Syrian army and Hezbollah to east Syria, but have been stopped by a US-led coalition from reaching Deir al-Zor.
Full report at:
english.alarabiya.net/en/News/middle-east/2017/09/04/ISIS-convoy-of-113-militants-join-forces-with-Syrian-regime-army.html
--------
After the Jroud battle, Lebanon fears 'lone wolves'
4 September 2017
After the battle of "Dawn of Jroud," last week, the Lebanese army cleared the Syrian border, especially in Raas Ba'bak, al-Qaa and Aarsal. However, Lebanon continues to fear terrorist attacks that might target vital areas. This could be executed by individuals or "lone wolves".
In a statement to Asharq al-Awsat newspaper, Lebanese General Security Director General Abbas Ibrahim said that "terrorists continues to target Lebanon despite the victory achieved on the eastern border [with Syria]." He expects a new phase of confrontations ahead.
Ibrahim said: "Terrorism in its geographical sense has receded from Lebanon after the defeat of the ISIS but that does not mean they disappeared along with their threats."
He stressed that "one of the most important forms emerging in the terrorist operations is that these lone wolves manifested their aggression by ramming cars into innocent lives and killing people in the streets of the world." He also warned of the danger of suicide bombers.
Timing of clashes
He pointed out that the timing of the clashes that broke out at camp Ain Al-Halwa in the city of Sidon in southern Lebanon, in conjunction with the battle of the Lebanese army in Jaroud, is not insignificant.
According to him, when the army began its battle, terrorists tried to relieve the pressure on their associates. However, the wise Palestinian forces responded to the message that they are not allowed to make camps a focal point to hit back at the Palestinians and the Lebanese.
Full report at:
english.alarabiya.net/en/News/middle-east/2017/09/04/After-battle-in-Jroud-Lebanon-is-afraid-of-lone-wolves-.html
--------
South Asia
After Muslim Rohingyas, Hindus from Myanmar seek refuge in Bangladesh
Sep, 04 2017
Dhaka: Hindus from Myanmar have joined streams of Muslim Rohingyas to seek refuge in Bangladesh after the killing of 86 people from their community in the ethnic violence in the neighbouring Buddhist-majority country.
Officials said nearly 500 Hindus arrived in Bangladesh's Cox's Bazar, bordering Myanmar, along with tens of thousands of Rohingya Muslims amid escalated violence at home.
UN officials estimate some 90,000 people have fled to Bangladesh from Myanmar in past 10 days and thousands more were trapped on borders without basic food and medicines.
"A total of 414 Hindus from (Myanmar's) Rakhine state took refuge at a Hindu village in Cox's Bazar," a Bangladeshi official told PTI on condition of anonymity.
However, Bangladesh Hindu-Buddhist-Christian Unity Council President Rana Dasgupta, who visited the village, said the figure of Hindu refugees was 510.
He said the refugees took shelters in different Hindu houses after fleeing their home along with ordinary Rohingyas following the killing of 86 Hindus in ethnic violence.
"According to the Hindu refugees, unidentified masked people in black attires attacked their homes killing 86 people on 27 and 28 August at different places in Myanmar's Mangdu district," he said.
Dasgupta said ordinary Rohingya Muslims escorted them to borders from where these Hindus entered Bangladesh along with thousands others.
"The attack on Myanmar Hindus should be investigated to bring the perpetrators to justice," he said.
Meanwhile, Cox's Bazar's deputy commissioner or administrative chief Ali Hossain told reporters bodies of 54 Rohingyas washed up on the Bangladesh shore in last five days.
The latest spate of violence erupted in Rakhine state on 25 August after alleged Rohingya insurgents attacked several police posts, triggering a counter-offensive by the military that resulted in the death of at least 400 people.
Rakhine, the poorest region in Myanmar, is home to more than a million Rohingya. They have faced decades of persecution in the Buddhist-majority country, where they are not considered citizens.
Soldiers and armed residents have been accused of carrying out a killing spree against Rohingya Muslim men, women, and children.
Reports said Myanmar blocked all UN aid agencies from delivering vital supplies of food, water and medicine to thousands of desperate civilians at the centre of the bloody military campaign in Myanmar.
Prime Minister Sheikh Hasina on Monday reviewed the Rohingya situation in the monthly meeting of National Security Council that comprises her security adviser, chiefs of three armed forces, police, and the intelligence agencies, an official familiar with the meeting told PTI.
Dhaka had urged Myanmar to take steps to protect innocent civilians to prevent the mass exodus and then proposed a joint security clampdown.
Bangladesh also alleged that Myanmar military helicopters violated its airspace repeatedly on 27, 28 August and 1 September, prompting its air force and navy to intensify their security alertness.
"These instances of incursion into Bangladesh air space by Myanmar helicopters run contrary to the good neighbourly relations and could lead to unwarranted situation," Bangladesh foreign office said in a statement two days ago.
firstpost.com/world/after-muslim-rohingyas-hindus-from-myanmar-seek-refuge-in-bangladesh-4008439.html
--------
Explosions rock Myanmar area near Bangladesh border amid Rohingya exodus
September 04, 2017
Two blasts rocked an area on the Myanmar side of the border with Bangladesh on Monday, accompanied by the sound of gunfire and thick black smoke, as violence that has sent nearly 90,000 Muslim Rohingya fleeing to Bangladesh showed no sign of easing.
Bangladeshi border guards said a woman lost a leg from a blast about 50 metres inside Myanmar and was carried into Bangladesh to get treatment. Reuters reporters heard explosions and saw black smoke rising near a Myanmar village.
The latest violence in Myanmar's northwestern Rakhine state began on August 25, when Rohingya insurgents attacked dozens of police posts and an army base. The ensuing clashes and a military counter-offensive have killed at least 400 people and triggered the exodus of villagers to Bangladesh.
A Rohingya refugee who went to the site of the blast - on a footpath near where civilians fleeing violence are huddled in no man's land on the border - filmed what appeared to be a mine: a metal disc about 10 centimetres (3.94 inches) in diameter partially buried in the mud. He said he believed there were two more such devices buried in the ground.
Bangladeshi border guards said they believed the injured woman stepped on an anti-personnel mine, although that was not confirmed.
Two refugees also told Reuters they saw members of the Myanmar army around the site in the immediate period preceeding the blasts which occurred around 2:25pm
Reuters was unable to independently verify that the planted devices were landmines and that there was any link to the Myanmar army.
The spokesman for Myanmar's national leader Aung San Suu Kyi, Zaw Htay, said that a clarification was needed to determine "where did it explode, who can go there and who laid those land mines. Who can surely say those mines were not laid by the terrorists?"
"There are so many questions. I would like to say that it is not solid news-writing if you write based on someone talking nonsense on the side of the road," said Zaw Htay.
The treatment of Buddhist-majority Myanmar's roughly 1.1 million Muslim Rohingya is the biggest challenge facing Suu Kyi, accused by Western critics of not speaking out for the minority that has long complained of persecution.
The Nobel Peace Prize laureate has come under increasing diplomatic pressure from countries with large Muslim populations such as Turkey and Pakistan to protect Rohingya civilians.
Myanmar says its security forces are fighting a legitimate campaign against "terrorists" responsible for a string of attacks on police posts and the army since last October.
On Monday, Reuters reporters saw fires and heard gunshots before the explosions near the Myanmar village of Taung Pyo Let Way.
'NO FOOD ... NO TREATMENT'
Myanmar officials blamed Rohingya militants for the burning of homes and civilian deaths but rights monitors and Rohingya fleeing to neighbouring Bangladesh say the Myanmar army is trying to force Rohingya out with a campaign of arson and killings.
The number of those crossing the border into Bangladesh - 87,000 - surpassed the number who escaped Myanmar after a series of much smaller insurgent attacks last October that set off a military operation. That operation has led to accusations of serious human rights abuses.
The newest estimate, based on calculations by U.N. workers in the Bangladeshi border district of Cox's Bazar, takes to about 174,000 the total number of Rohingya who have sought refuge in Bangladesh since October.
The new arrivals have strained aid agencies and communities already helping hundreds of thousands of refugees from previous spasms of violence in Myanmar.
"We are trying to build houses here, but there isn't enough space," said Mohammed Hussein, 25, who was still looking for a place to stay after fleeing Myanmar four days ago.
"No non-government organisations came here. We have no food. Some women gave birth on the roadside. Sick children have no treatment."
Hundreds of Rohingya milled beside the road while others slung tarpaulins over bamboo frames to make shelters against the monsoon rain.
Among new arrivals, about 16,000 are school-age children and more than 5,000 are under the age of five who need vaccine coverage, aid workers said over the weekend.
INTERNATIONAL ANGER
Turkish President Tayyip Erdogan, who said on Friday that violence against Myanmar's Muslims amounted to genocide, last week called Bangladesh's President Abdul Hamid to offer help in sheltering the Rohingya, Dhaka said.
Indonesian Foreign Minister Retno Marsudi met Suu Kyi and other officials in Myanmar on Monday, to urge a halt to the violence.
Suu Kyi's office said Marsudi expressed the Indonesian government's "support of the activities of the Myanmar government for the stability, peace and development of Rakhine state".
They also discussed humanitarian aid and the two countries would collaborate for the development of the state, Suu Kyi's office said without giving further details.
There were more anti-Myanmar protests in Jakarta on Monday.
Malala Yousafzai, the youngest winner of the Nobel Peace Prize, called on Suu Kyi to condemn the "shameful" treatment of the Rohingya, saying "the world is waiting" for her to speak out.
In addition to tens of thousands of Rohingya, more than 11,700 "ethnic residents" had been evacuated from northern Rakhine state, the Myanmar government has said, referring to non-Muslims.
Full report at:
thedailystar.net/world/south-asia/explosions-rock-myanmar-area-near-bangladesh-border-amid-rohingya-exodus-1457446
--------
Hezb-e-Islami slams Taliban for fueling mass killings of Muslims in Burma
Sep 05 2017
The Hezb-e-Islami party led by Gulbuddin Hekmatyar believes the Taliban group in Afghanistan has fueled the mass killings of the Muslims in Burma during the recent years.
In a statement released in the aftermath of the recent violence in the country, Hezb-e-Islami said the violence against Muslims in Burma has a old history but the massacre of Muslims was further fueled after the Taliban group detonated the Buddhas in Bamiyan.
The statement further added that the enemies of Muslims used the opportunity to spark tensions against the Burmese Muslims using the detonation of Bamiyan Buddhas as an opportunity, forcing the Burmese Buddhists to start movements against the Muslims for the revenge.
Hezb-e-Islami says hundreds of people have been massacred, thousands of houses have been burnt, and thousands of others have been forced to flee from their homes and country to seek refuge as a result of the violence.
The party also harshly criticized the Muslim leaders for remaining silent regarding the recent violence and slammed them from refraining to declare a stance against the killings of Muslims.
Full report at:
khaama.com/hezb-e-islami-slams-taliban-for-fueling-mass-killings-of-muslims-in-burma-03369
--------
Afghanistan: Why We Won't Leave
Sep 5, 2017
Peter LaVenia - Trump's recent decision to add troops in Afghanistan has nothing to do with combating terrorism (or mining mineral resources, or confusing militants as to when the US military might finally leave), no matter what the endless stream of pundits and think-pieces have argued since it was announced. After 16 years of occupation the Taliban control 48 of nearly 400 administrative units, the Islamic State has established a foothold, the United States supplies almost the entirety of the military and civilian budget, the Afghan military is incapable of functioning without US support, opium production has increased so that Afghanistan supplies 77% of the world's heroin, and by the end of the next fiscal year the total cost of the 16-year Afghan war alone will be $1 trillion. Afghanistan and Pakistan have engaged in their worst border clashes in years as militants shift back and forth between both countries at will. Chinese troops operate openly in the country and conduct joint security exercises with Afghan forces. Russia is now debating a military intervention, ostensibly to counter the growing Taliban threat.
Trump, like Obama, had promised on the campaign trail to end the war. The war itself is deeply unpopular, and his stance on ending the war (like Obama's before it) may have helped secure his victory in crucial states with high casualty rates. Now less than a year into his term Trump has decided to increase troop levels by 3,900, which his generals had requested earlier this summer. Since it is unlikely to help his dismal popularity ratings, what rationale would he have to do so? The usual suspects – combating terrorism and stabilizing the Afghan state – collapse quickly with even cursory investigation. After 16 years the Afghan government is little more than a puppet state, and after spending nearly a trillion dollars the United States clearly has no desire to build an economy and social programs that would modernize the country and loosen the reactionary social relations that give the Taliban and IS strength. The plan itself is one simply recycled from the early Obama era when Joe Biden was its pitchman.
No doubt this is, in good part, due to the inertia of the American empire. Representatives of the military-industrial complex have done very well selling the War on Terror; the ruling class – or the Power Elite if you prefer – seem to have a consensus that the war must continue not only to aid their own pockets and to give the military a place to test its new toys, but also because the empire should not voluntarily leave a place once it has been conquered. While it is true that Trump has staffed his administration at higher levels with generals, the national-security state's apparatus seems to be able to control policy much like previous regimes. It is merely more visible because Trump's unpredictable nature has caused the apparatus to show its face more often than it likes, and the generals have been more willing to accept roles with overt policy-making implications that in previous eras would have been done behind closed doors.
The real reason is that Afghanistan is a forward operating base for the US military in Asia in its attempts to counter China's inevitable rise, whatever the official justifications for maintaining troops there are. China's $900 billion Belt and Road Initiative aims to lay the trans-continental infrastructure to allow its transition from great power to world-hegemon. Its projected land routes go north around Afghanistan and south through Pakistan. Given that the United States recently began a "Pivot to Asia" strategy aimed at building an economic and military partnership with Asian states to balance China, and that the economic side of that – the Transpacific Partnership – was temporarily defeated, there has been an increased emphasis on its military part by the national security state.
In addition, India, alarmed at China's rise and open provocation on its eastern flank, has already signed an historic agreement to allow US warships and aircraft to use Indian bases for "refueling, repair, and other logistical purposes." The United States conducted joint naval war games with India and Japan this summer. It is clear that the United States is turning towards India at the same time as Pakistan moves closer to China's sphere of influence. China has signaled its displeasure at these containment efforts, even as it expands its military footprint into the South China Sea and Africa. Given that Afghanistan borders the northern and southern route of China's New Silk Road, and India has openly aligned itself with the United States, what is the likelihood of American troops leaving Afghanistan?
Full report at:
nation.com.pk/international/05-Sep-2017/afghanistan-why-we-won-t-leave
--------
Persecution of all Muslims in Myanmar on the rise, rights group says
September 5, 2017
The systematic persecution of minority Muslims is on the rise across Myanmar and not confined to the northwestern state of Rakhine, where recent violence has sent nearly 90,000 Muslim Rohingya fleeing, a Myanmar rights group said on Tuesday. The independent Burma Human Rights Network said that persecution was backed by the government, elements among the country's Buddhist monks, and ultra-nationalist civilian groups.
"The transition to democracy has allowed popular prejudices to influence how the new government rules, and has amplified a dangerous narrative that casts Muslims as an alien presence in Buddhist-majority Burma," the group said in a report. The report draws on more than 350 interviews in more than 46 towns and villages over an eight-month period since March 2016.
Myanmar's government made no immediate response to the report. Authorities deny discrimination and say security forces in Rakhine are fighting a legitimate campaign against "terrorists". Besides Rohingya Muslims, the report also examines the wider picture of Muslims of different ethnicities across Myanmar following waves of communal violence in 2012 and 2013.
The report says many Muslims of all ethnicities have been refused national identification cards, while access to Islamic places of worship has been blocked in some places. At least 21 villages around Myanmar have declared themselves "no-go zones" for Muslims, backed by the authorities, it said.
In Rakhine state, the report highlighted growing segregation between Buddhists and Muslim communities and severe travel restriction for the Muslim Rohingyas, which limited their access to health care and education.
Tens of thousands of Rohingya have fled into neighboring Bangladesh since Aug. 25, when Rohingya insurgents attacked dozens of police posts and an army base. The ensuing clashes and a military counter-offensive have killed at least 400 people.
Full report at:
indianexpress.com/article/world/persecution-of-all-muslims-in-myanmar-on-the-rise-rights-group-says-4829273/
--------
Militants suffer heavy casualties in Kunduz airstrikes: Shaheen Corps
Sep 04 2017
The anti-government armed militants have suffered heavy casualties during the airstrikes conducted in coordination with the Special Forces in northern Kunduz province.
The 209th Shaheen Corps of the Afghan National Army (ANA) forces in the north said the airstrikes were carried out in coordination with the Afghan Special Forces in the past 24 hours.
The Shaheen Corps officials are saying that the militants were targeted in the vicinity of the restive Chardara district.
The officials further added that 11 insurgents were killed during the airstrikes and 13 others were wounded.
According to the Shaheen Corps officials, the operations covered villages of Wardaks, Kharoti, Qatal-e-Aam, and Durman Payin.
The Afghan security forces also discovered and defused at least 18 improvised explosive devices planted by the militants, the Shaheen Corps officials added.
The anti-government armed militant groups including the Taliban insurgents have not commented regarding the report so far.
Full report at:
khaama.com/militants-suffer-heavy-casualties-in-kunduz-airstrikes-shaheen-corps-03368
--------
Taliban commanders among 25 killed, wounded in Helmand airstrikes
Sep 04 2017
At least twenty five Taliban insurgents were killed or wounded during the airstrikes in southern Helmand province of Afghanistan, the Ministry of Defense (MoD) said Monday.
According to a statement by MoD, the airstrikes were conducted in three different districts of Helmand, including the provincial capital Lashkargah city.
The statement further added that twelve insurgents were killed in total including three of their local commanders.
The Taliban commanders killed during the airstrikes have been identified as Mullah Khaliqdad, Mullah Musafir, and Khayal Mohammad, MoD added.
According to the Ministry of Defense, at least thirteen insurgents were also wounded during the same airstrikes.
The airstrikes targeted the hideouts of the insurgents that led to the casualties to the Taliban insurgents, MoD said, adding that four hideouts of the group were destroyed in total.
The anti-government armed militant groups have not commented regarding the report so far.
Full report at:
khaama.com/taliban-commanders-among-25-killed-wounded-in-helmand-airstrikes-03367
--------
Major operation to kick off in Kandahar, says Gen. Raziq
Sep 04 2017
The provincial police chief of the southern Kandahar province General Abdul Raziq has said a major operation will kick off against the insurgents in this province.
Gen. Raziq made the remarks during a visit to the restive Maiwand district of Kandahar.
Maiwand together with the Ghorak district borders the restive Sangin and Nahr-e-Saraj districts of Helmand province in the south which occasionally witness insurgency activities by the militant groups.
In the meantime, Gen. Raziq promised the residents of the two provinces that all the areas lying along the bordering lines of the two province will be cleared of the insurgents soon.
He said the operations will be launched by the Afghan security forces and the American forces based in the Afghanistan will provide support to the Afghan troops.
Gen. Raziq admitted that security related issues continue to threaten the residents of Maiwand and Ghorak districts.
The security situation has improved during the recent years in Kandahar which was once one of the main strongholds of the Taliban insurgents and was the birthplace of the group.
Full report at:
khaama.com/major-operation-to-kick-off-in-kandahar-says-gen-raziq-03366
--------
Pakistan
Pakistan urges Yangon to protect Muslim minority
5 September 2017
ISLAMABAD: Pakistan on Sunday expressed concern "over reports of the growing number of deaths and forced displacement of Rohingya," urging Myanmar to protect "the rights of Muslim minorities."
Such reports, "if confirmed, are a source of serious concern and anguish" on the eve of Eid Al-Adha, said Pakistan's Foreign Ministry.
Islamabad urged Myanmar to investigate reports of massacres and prosecute the perpetrators. Pakistan pledged to "work with the international community, in particular the OIC (Organization of Islamic Cooperation)," to safeguard Rohingya rights.
The world's youngest Nobel Laureate, Malala Yousafzai, questioned the Myanmar state counsellor's silence, tweeting: "Over the last several years, I have repeatedly condemned this tragic and shameful treatment. I am still waiting for my fellow Nobel Laureate Aung San Suu Kyi to do the same. The world is waiting and the Rohingya Muslims are waiting."
The secretary-general of the World Muslim Congress, Raja Zafar ul Haq, told Arab News: "We were of the view that after being released from long periods of house arrest and placed in the highest government position, Suu Kyi would help the Rohingya and ease their miseries. I'm disappointed that she didn't take any action, just to appease Myanmar voters to safeguard her political position."
Pakistani opposition leader Imran Khan criticized Suu Kyi's "shameful acceptance" of "genocide" against the Rohingya. Khan also lambasted the Muslim world for "ignoring (their) plight."
Haq said opening Pakistan's doors to the Rohingya will be met with stiff domestic resistance as the country already hosts millions of Afghan refugees.
"We've already catered to refugees (in the past), including some from Bangladesh and Myanmar," he said.
"Allowing more at this point will have a grave effect on the massive population and a negative reaction from people."
arabnews.com/node/1155881/world
--------
Four TTP militants killed in 'encounter'
September 05, 2017
KARACHI - After the raid conducted to arrest Siddiqui failed, the encounter specialist SP Rao Anwar claimed to have killed four terrorists in an encounter in District Malir.
The militants killed also included a cousin of Tehreek-e-Taliban Pakistan (TTP) Swat chapter leader Maulvi Fazalullah, allegedly involved in several major terrorist attacks, including an attack on Malala Yousufzai.
"I am going to share good news with you all that a cousin of Tehreek-e-Taliban-Pakistan (Swat) Maulvi Fazalullah has been killed," said District Malir SSP Rao Anwar while talking to the media at the encounter site. "The terrorists, hiding in a house, opened indiscriminate fire at the police when the latter was busy laying siege to the house."
The encounter took place when police conducted a raid near the Sadaf Society within the limits of Sachal police station after getting information about the presence of members of the militant group.
SSP Anwar said that police killed at least four terrorists during an exchange of fire, adding that one of them was later identified as Khursheed.
"Khursheed has been involved in various incidents of terrorism, including in attack on education activist Malala Yousufzai and in attacks on military as well as police in Quaidabad," SSP Anwar claimed.
He said that the militants were planning to carry out major terrorist activities in the city.
Their bodies were shifted to a morgue in a bid to search their family members and for identification purpose.
Police also claimed to have recovered arms and ammunitions from their possession.
Full report at:
nation.com.pk/national/05-Sep-2017/four-ttp-militants-killed-in-encounter
--------
North Korea's technology much better than Pakistan's: Dr Qadeer
September 05, 2017
KARACHI: North Korea's nuclear technology is much better than Pakistan's, nuclear scientist Dr Abdul Qadeer Khan said on Monday, but ruled out any assistance from Islamabad to Pyongyang in this regard.
In a telephonic interview to BBC Urdu, Mr Khan insisted that North Korea was self-reliant in the nuclear field because of its highly qualified group of scientists.
His comments came a day after North Korea said it successfully tested a hydrogen bomb. It was the country's sixth nuclear test and is considered the most powerful weapon Pyongyang has ever tested.
Mr Khan, said to be the father of Pakistan's nuclear programme, said he had been to North Korea twice under a missile programme, and found that they had much better quality than Pakistan. "Their scientists are highly capable, and most of them have studied in Russia."
Russia and China would never leave North Korea alone, he said, recalling the two countries' support for Vietnam during its 20-year war with the United States.
In February 2004, Mr Khan confessed to having supplied nuclear technology and expertise to North Korea, Libya and Iran.
When asked about Pakistan's role in North Korea's nuclear programme, Mr Khan rejected the notion out of hand. "It's out of the question. They have much better overall technology than ours. We have the same old and conventional technology," he said.
However, he said Pakistan's relationship with North Korea for the missile programme was common knowledge. "In fact, the Pakistani government itself announced that we were in contact with North Korea."
On North Korea's latest adventure, Mr Khan said the hydrogen bomb tested by Pyongyang had the capacity to destroy any city within minutes.
Full report at:
dawn.com/news/1355690/north-koreas-technology-much-better-than-pakistans-dr-qadeer
--------
Assassination bid 'mastermind' escapes after gun battle in Karachi
Imtiaz Ali
September 05, 2017
KARACHI: Two days after the attempt on the life of leader of the opposition in the Sindh Assembly Khwaja Izhar-ul-Hasan, law enforcers raided the house of the alleged mastermind of the attack on Monday but failed to capture him as he escaped following a fierce gun battle that resulted in the killing of a policeman.
Khwaja Izhar of the Muttahida Qaumi Movement-Pakistan came under an armed attack on Sept 2 as soon as he left a mosque after offering Eid prayers in Karachi's Buffer Zone locality. He remained unhurt in the incident but one of his police guards and his friend's son suffered serious bullet wounds and died.
One of the assailants — later identified as Hassaan, a lab technician in the Dawood University of Engineering and Technology (DUET) — was also killed under controversial circumstances.
Late on Sunday night, the militant Ansar-ul-Shariah Pakistan (ASP), in a Twitter message, claimed responsibility for the assassination attempt on "pro-American MQM's leader khuwaja izhar".
A few hours later, intelligence officials along with a heavy contingent of police carried out a targeted raid on Monday morning in Rufi Rose Petals Bungalows — one of the many housing societies in Karachi's Scheme-33 area near the Superhighway — to arrest a suspected militant but met stiff resistance from him.
As the militant fired indiscriminately, one intelligence official and two policemen sustained bullet wounds and one of them, identified as Constable Aijaz, died.
Malir SSP Rao Anwar said that the militant managed to escape. He identified the suspect as Abdul Karim Sarosh Siddiqui, who he said is linked with the ASP.
"He is the mastermind of the attack on Khwaja Izhar," clai­med SSP Anwar while talking to Dawn. He said that Siddiqui fired at law enforcers with 9mm and TT pistols and the spent bullet casings collected from the scene were sent for a forensic analysis to ascertain whether the same weapons had been used in any previous attack.
According to him, Siddiqui was a student of Karachi University's Applied Physics Department in 2011. His father was a retired professor of the same university. He was taken into custody for questioning, the SSP said.
Controversy surrounding 'assassin' killing
Earlier on Saturday, assailants clad in police uniforms fired at Khwaja Izhar as soon as he emerged from a mosque. He survived the attack, but his guards — Constable Moin, assistant sub-inspector Zulfiqar, Constable Shakeel — area residents Kamran, his son Arsal and Shaikh Abdul Waris sustained bullet wounds. Moin and 13-year-old Arsal died on the spot.
Khwaja Izhar's guards returned fire but it was still unclear whether their bullets hit any of the assailants.
Initially, police claimed that the law enforcers chased the fleeing suspects and managed to kill one of them. However, footage made from CCTV cameras and cellphones showed charged people beating up one of the suspects after catching him. It was unclear as to how the suspect ended up dead.
Sindh Home Minister Sohail Siyal ordered DIG-South Azad Khan to conduct an inquiry into the circumstances leading to the death of the attacker.
The DIG told Dawn on Monday that the inquiry was still under way as the police were waiting for the final medico-legal report.
He, however, said that the suspect, identified as Hassaan, got injured during an exchange of fire with the police but it was also true that he was subjected to a hiding by a mob.
A senior police officer said that Hassaan was an educated person and worked as a lab technician in the DUET, an engineering university in Karachi.
He belonged to an educated family and his father had a PhD from a university in Islamabad, the official added.
A 9mm pistol was also seized from deceased Hassaan.
Two police officers, who wished not to be named, told Dawn that the 9mm pistol was sent to the forensic lab which confirmed that the same weapon was used in the targeted killings of four policemen in SITE in June and the assassination of a DSP-Traffic and his constable driver in Azizabad in August.
They said that both the attacks were claimed by the ASP, which threw pamphlets on the scenes of crime.
CM promises more security
Also on Monday, Sindh Chief Minister Murad Ali Shah visited the residence of Opposition Leader Khwaja Izhar to express solidarity with him
He told reporters later that his government had given ample security to MQM leaders and other important personalities and would provide them more security if needed.
"The attack on Izahr-ul-Hasan was an attempt to create fear and insecurity in the city but Almighty Allah kept him safe," he said.
He said that the planning of the attack "must have been made out of this city and may be out this country".
He said he would conduct a security audit and verification of students of each and every educational institution to ascertain if they were breeding terrorists. "It is quite painful to see the highly educated persons involved in terrorism," he said.
Full report at:
dawn.com/news/1355681/assassination-bid-mastermind-escapes-after-gun-battle-in-karachi
--------
Ghani's dialogue offer fuels hope for peace
05-Sep-17
by Tahir Khan
ISLAMABAD: Afghan President Ashraf Ghani's willingness to hold comprehensive dialogue with Pakistan for regional peace could help in revival of talks.
Ghani issued a statement after he received Chinese special envoy for Afghanistan at presidential palace in Kabul.
China has been playing a role of facilitator between Pakistan and Afghanistan as it believes tensions in the region will have negative impact on its economic interests, especially the China-Pakistan Economic Corridor (CPEC) and the One Belt One Road (OBOR).
Chinese Special Envoy for Afghanistan Ambassador Deng Xijun, who earlier held talks in Islamabad days after US President Donald Trump announced controversial strategy for South Asia, met President Ghani and his top security adviser Hanif Atmar last week.
China was the first country in the region to oppose Trump's statement, followed by Russia and Iran, as the three key stakeholders oppose military option and press for political solution to the Afghan problem.
Ghani used his Eid messages to offer talks to Pakistan, which he described as part of his govt's agenda.
"We are ready for talks with Pakistan at any level. Peace with Pakistan is part of our national agenda," Ghani said after he offered Eid prayers at Presidential Palace.
He, however, said no country can pressurise his nation and he was ready to play his role for regional peace and prosperity. The statement was posted online.
The Foreign Office was quick to issue Foreign Minister Khawaja Asif's statement in response to Ghani's remarks on the first day of Eid.
"We already have bilateral, trilateral, quadrilateral and multilateral mechanisms for dialogue and interaction with Afghanistan in place. Those mechanisms should be utilised to their full potential," the FM said in what could be seen a positive response.
"During our interactions, of late, both sides recognized the need for Political to Political, Military to Military and Intelligence to intelligence cooperation," Asif said in an apparent reference to an understanding between former foreign affairs advisor Sartaj Aziz and Afghan National Security Adviser Hanif Atmar in London in March. Britain had brokered the London talks to defuse tensions between the two neighbours.
Both sides have not made public whatever they decided in the London talks and Afghan leaders always insist "Pakistan should implement decisions of the London meeting".
Kabul's call for a third country's verification of the actions on both sides of the border is believed to be one of the major obstacles in relationship. Islamabad has publicly opposed and both the civilian and military officials say the country will not allow foreign boots on its soil. Pakistan asserts its stance for using bilateral track. However, Asif has kept the option open for trilateral and quadrilateral to discussion on any issue.
Ghani also renewed his offer to the Taliban to join peace process but said he would not surrender to any pressure and will defend national interest with full strength.
"The govt has kept the doors open for peace negotiations with the Taliban despite upper hand of the security forces in fighting," he said.
Taliban Chief Haibatullah Akhundzada rejected Kabul's offer and reiterated longstanding stance that the "main obstacle in the way of peace is the occupation".
"Peaceful solution of the Afghan issue is the main pillar of the policy of the Islamic Emirate, should the occupation come to an end. To this end, the political office has been tasked to find a peaceful solution," the Taliban leader said.
"We urge the regional governments and those of the Islamic world to know our policy and position before announcing any unilateral stance or leveling accusation (against us) and don't view us from the angle of our enemy. The Islamic Emirate doesn't have any intention to harm anyone," Haibatullah said.
Earlier Kabul said Ghani received the Chinese special envoy for Afghanistan and called for regional cooperation and praised the Chinese president's OBOR initiative.
The Chinese envoy assured his country's support to the Afghan-led peace process and cooperation in economic fields, including new Silk Road and railway track that will connect China with Iran via Afghanistan.
Before his talks in Kabul, the Chinese special envoy met Foreign Secretary Tehmina Janjua in Islamabad and reaffirmed China's continuing and firm support to Pakistan's commitment and efforts for peace and stability in Afghanistan.
He emphasised that there is no military solution to the conflict, and underlined the need for a politically negotiate settlement through an Afghan-led and Afghan-owned peace process.
Chinese Foreign Minister Wang Yi visited Kabul and Islamabad in June as part of
his country's efforts to push the two countries to reduce tensions and find out solution to problems through negotiations.
Sacked prime minister Nawaz Sharif's meeting with Ghani in Astana, the capital of Kazakhstan, in early June was linked to Chinese efforts when the relationship was its lowest ebb.
China had brokered a bilateral crisis management mechanism Pakistan and Afghanistan had agreed to establish a crisis management mechanism to "enable the two sides to maintain timely and effective communications in case of any emergencies, including terrorist attacks, with a view to seeking proper solution through dialogue and consultation and preventing deterioration of the situation."
Full report at:
dailytimes.com.pk/pakistan/05-Sep-17/ghanis-dialogue-offer-fuels-hope-for-peace
--------
Rohingya genocide pains Muslims
September 05, 2017
ISLAMABAD - Muslim countries in Asia including Pakistan led a growing chorus of criticism on Monday aimed at Myanmar and its civilian leader Aung San Suu Kyi over the plight of its Rohingya Muslim minority.
Pakistan expressed deep concern over reports of growing number of deaths and forced displacement as nearly 90,000 Rohingya have flooded into Bangladesh in the past 10 days following an uptick in fighting between militants and Myanmar's military in strife-torn western Rakhine state.
Foreign Office spokesperson said such reports, if confirmed, are a source of serious concern and anguish on the eve of Eidul Azha.
He said in a statement that Pakistan urges authorities in Myanmar to investigate reports of massacre, hold those involved accountable and take necessary measures to protect the rights of Rohingya Muslims.
In line with its consistent position on protecting the rights of Muslim minorities worldwide, Pakistan will work with the international community in particular the OIC to express solidarity with the Rohingya Muslims and to work towards safeguarding their rights, the statement added.
Foreign Minister Khawaja Asif also expressed "deep anguish at the ongoing violence against the Rohingya Muslims in Myanmar", in a statement issued by the Foreign Ministry.
"The plight of the Rohingya Muslims is a challenge to the conscience of the international community," said Asif, expressing concern "over the spread of hate speech and incitement to violence, discrimination and prejudice against Muslims and members of national ethnic, religious and linguistic minorities."
Asif expressed support for the Organisation of Islamic Cooperation's (OIC) position "condemning the renewed violence" against Myanmar's Rohingya Muslim minority.
He also said that he supports the OIC Independent Permanent Human Rights Commission's call "for immediate and effective action to bring an end to all human-rights violations against innocent and unarmed Rohingya Muslim population" and recommendations of the Rakhine Advisory Commission.
Rohingya issue
The Rohingya are a mainly Muslim stateless ethnic minority who according to rights groups have faced decades of persecution in mainly Buddhist Myanmar. The impoverished Rohingya have been forced to live under apartheid-like restrictions on movement and citizenship.
The recent violence, which kicked off last October when a small Rohingya militant group ambushed border posts, is the worst Rakhine has witnessed in years with the UN saying Myanmar's army may have committed ethnic cleansing in its response.
De facto leader Suu Kyi, a former political prisoner of Myanmar's junta, has come under increasing fire over her perceived unwillingness to speak out against the treatment of the Rohingya or chastise the military.
She has made no public comment since the latest fighting broke out.
Muslim neighbours riled
The growing crisis threatens Myanmar's diplomatic relations, particularly with Muslim-majority countries in Southeast Asia where there is profound public anger over the treatment of the Rohingya.
The Maldives announced on Monday that it was severing all trade ties with the country "until the government of Myanmar takes measures to prevent the atrocities being committed against Rohingya Muslims", the foreign ministry said in a statement.
It did not say how much trade took place between the two countries but it could prompt other Muslim nations to follow suit.
Indonesia's foreign minister Retno Marsudi met Suu Kyi as well as Myanmar's army chief General Min Aung Hlaing in Naypyidaw on Monday in a bid to pressure the government to do more to alleviate the crisis.
"Once again, violence, this humanitarian crisis has to stop immediately," Indonesian president Joko Widodo told reporters on Sunday as he announced Retno's mission.
Hours before Widodo spoke, a petrol bomb was thrown at Myanmar's embassy in Jakarta while police there have previously dismantled two attempts by Islamist militants to bomb the compound.
Dozens demonstrated in front of the embassy on Monday, where armed police were deployed and the mission cordoned off behind barbed wire.
Iranian foreign minister Javad Zarif added in a recent tweet: "Global silence on continuing violence against #Rohingya Muslims. Int'l action crucial to prevent further ethnic cleansing - UN must rally."
Muslim-majority Malaysia has also seen public protests since the latest round of violence began.
"We urge for calm and restraint," Prime Minister Najib Razak tweeted. "The dire situation facing our Rohingya brothers and sisters must be alleviated for good of Myanmar and region."
Malala's message
"Every time I see the news, my heart breaks at the suffering of the Rohingya Muslims in Myanmar," Pakistani activist Yousafzai, who famously survived being shot in the head by the Taliban, said in a statement on Twitter.
"Over the last several years I have repeatedly condemned this tragic and shameful treatment. I am still waiting for my fellow Nobel laureate Aung San Suu Kyi to do the same," she added.
PTI moves NA
Pakistan Tehreek-e-Insaf (PTI) on Monday moved an adjournment motion in the National Assembly Secretariat to hold a discussion in the house over Rohingya crisis.
Five PTI lawmakers including Dr Arif Alvi and Shah Mehmood Qureshi submitted the adjournment motion, which demanded suspending routine business of the House to discuss the alarming situation.
"The genocide of Rohingya Muslims in Burma that has resulted in thousands being beaten [up], shot and hacked to death. Their homes have been burnt and hundreds of thousands are homeless and have taken refuge in Bnagladesh," read the motion.
Afghan Taliban's call
Afghan Taliban on Monday urged Muslims worldwide to not forget the oppressed Rohingya Muslims in their hour of need.
"Gird your loins for the defence, rescue, sanctuary and every type of aid to them and perform your obligation of Islamic sympathy towards them to your utmost extent," the Taliban told the Islamic countries in a statement.
"The international media have not properly broadcasted the genocide of Muslims of Burma and neither has the Human Right Watch given it any serious attention. In our view this is not only unfair and deplorable but is in conflict with the call of humanity and humanitarian sympathy," the statement said.
Warning about militancy threat
Analysts have long warned that Myanmar's treatment of the Rohingya would lead to homegrown militancy as well as support from international jihadists.
Since the latest fighting broke out, al-Qaeda's offshoot in Yemen has called for retaliatory attacks against Myanmar while the Afghan Taliban called on Muslims to "use their abilities to help Myanmar's oppressed Muslims".
Bangladesh forces 2,000 Rohingya off remote island
Bangladesh authorities have forced more than 2,000 Rohingya to leave a remote island where they were hiding out after fleeing violence in Myanmar, officials said Monday.
The UN says 87,000 mostly Rohingya refugees have poured over the border into Bangladesh since the latest round of fighting broke out 10 days ago in Rakhine state.
The vast majority have entered overland or by crossing the Naf border river. But as desperation grows, some are braving the open seas to reach the small island of St Martin's nine kilometres (around six miles) off Bangladesh's coast.
Officials said the island's 9,000 residents, who share close cultural ties with the Rohingya and speak a similar language, had been hiding around 2,000 recent arrivals but were ordered to give them up.
The head of the local council Noor Ahmad said mosque loudspeakers were used to ask residents to hand Rohingya arrivals over to the coast guard.
"They told us to help find the Rohingya by any means and bring them to the coast guard camp," said Ahmad.
Another elected official, Farid Ahmed, said 2,011 Rohingya including children were rounded up at the coast guard headquarters on Sunday evening and taken away.
"Rohingya children were crying. But it is the government order. What can we do?" Ahmed said.
Full report at:
nation.com.pk/national/05-Sep-2017/rohingya-genocide-pains-muslims
--------
Asfandyar for 'bold steps' to end Pak-Afghan mistrust
September 05, 2017
CHARSADDA: Awami National Party president Asfandyar Wali Khan has said that Afghan President Dr Ashraf Ghani's negotiation offer to Pakistan is a positive step that will reduce tension between the two countries.
Speaking at Ghazi Gul Baba Mosque after Eid prayers, he urged Pakistan to reciprocate positively because peace was prerequisite for stability and economic development.
He said that unity among Pakhtuns was need of the hour. He added that foreign elements should stop from interference in the region.
The ANP chief said that bilateral talks could end mistrust between the two countries. "Pakistan should take initiative in this regard. Kabul and Islamabad should take bold steps to improve ties," he added.
He showed astonishment over statements of Jamaat-i-Islami chief Sirajul Haq against corruption and said that the JI emir had closed his eyes to corruption in the so-called Afghan jihad.
Mr Khan said that JI laid foundation of corruption in Pakistan by misappropriating billion of dollars during the so-called jihad. He said that champions of transparency ignored corruption in Khyber Pakhtunkhwa.
The ANP chief announced to convene all-party conference in Islamabad on Sept 14 to develop consensus for merger of Fata with Khyber Pakhtunkhwa. He said that social, political, legal and economic rights of tribal people could be safeguarded through merger Fata with the province.
Mr Khan said that ANP would continue struggle for merger of Fata with Khyber Pakhtunkhwa. He said that his party gave identity to millions of Pakhtuns by renaming NWFP as Khyber Pakhtunkhwa.
"The existing administrative line between Khyber Pakhtunkhwa and Fata will be omitted very soon," said Khan, adding that Pakhtuns living in Balochistan would be integrated with Khyber Pakhtunkhwa.
The ANP chief alleged that Pakistan Tehreek-i-Insaf chairman Imran Khan promoted culture of abusive language in politics. He said that Imran Khan and senior leaders of PTI owned offshore companies, but no action was taken against them. He said that Imran wanted to remove Nawaz Sharif from power, not to eliminate corruption.
Meanwhile, Qaumi Watan Party chairman Aftab Ahmad Khan Sherpao also welcomed statement of President Ghani and said that friendly relations between Pakistan and Afghanistan were inevitable for sustainable peace in the region.
Full report at:
dawn.com/news/1355765/asfandyar-for-bold-steps-to-end-pak-afghan-mistrust
--------
JeM, LeT, TTP named as 'regional concern'
Sep 5, 2017
XIAMEN: The leaders of the five emerging market BRICS powers have named militant groups based in Pakistan as a regional security concern and called for their patrons to be held to account.
India welcomed the move — which came at a summit in the Chinese city of Xiamen — as an important step forward in the fight against militant attacks, of which it has been a target.
Brazil, Russia, India, China and South Africa make up the BRICS grouping. China has generally been supportive of its ally Pakistan in the past.
The group called for an immediate end to violence in Afghanistan.
"We, in this regard, express concern on the security situation in the region and violence caused by the Taliban, (Islamic State)..., Al-Qaeda and its affiliates including Eastern Turkistan Islamic Movement, Islamic Movement of Uzbekistan, the Haqqani network, Lashkar-e-Taiba, Jaish-e-Mohammad, TTP and Hizb ut-Tahrir," the leaders said in the declaration.
Indian foreign ministry official Preeti Saran told reporters on the sidelines of the summit that wording in the communiqué was a "very important development" and that there was recognition that the world cannot have double standards when dealing with militant attacks.
"You cannot have good and bad terrorists, and it is a collective action. Members of the BRICS countries have themselves been victims of terrorism, and I would say that what has come of today acknowledges the fact that we must work collectively in handling this."
The communiqué read, "We believe that all states should participate on an equal footing in the evolution and functioning of the Internet and its governance, bearing in mind the need to involve relevant stakeholders in their respective roles and responsibilities. The structures that manage and regulate the critical Internet resources need to be made more representative and inclusive. We note with satisfaction the progress made by the BRICS Working Group on ICT Cooperation. We recognize the necessity to strengthen our cooperation in this area. To that end, BRICS will continue to work together through the existing mechanism to contribute to the secure, open, peaceful and cooperative use of ICTs on the basis of equal participation of the international community in its management."
It added, "We reiterate that outer space shall be free for peaceful exploration and used by all States on the basis of equality in accordance with international law. Reaffirming that outer space shall remain free from any kind of weapons or any use of force, we stress that negotiations for the conclusion of an international agreement or agreements to prevent an arms race in outer space are a priority task of the United Nations Conference on Disarmament, and support the efforts to start substantive work, inter alia, based on the updated draft treaty on the prevention of the placement of weapons in outer space and of the threat or use of force against outer space objects submitted by China and the Russian Federation. We also note an international initiative for a political obligation on the no first placement of weapons in outer space."
Full report at:
dailytimes.com.pk/world/05-Sep-17/jem-let-ttp-named-as-regional-concern
--------
Southeast Asia
Facebook user slams Muslims who 'show off' during ritual slaughter
September 4, 2017
PETALING JAYA: A Facebook user today questioned the practice of some Muslims making a spectacle of the ritual slaughter of animals, as Muslims took part in the ceremony in conjunction with the Aidiladha celebrations.
Mujahidin Zulkiffli said the action of posting pictures of the animals smacked of ostentatious behaviour and had no basis in Islam.
"Is this Islamic?" he asked in a Facebook post accompanied by a picture of more than a dozen severed heads of cows arranged on the ground, as some 20 people stood behind smiling.
It is not known where or when the picture was taken.
Mujahidin said the ritual slaughter of animals should be done in moderation.
"And there's absolutely no need to show off like this. Showing off, in Islam, is called riak. And riak destroys all the pahala gained in performing a deed," he added.
Pahala refers to the Malay word for "reward".
Muslims mark Aidiladha by slaughtering animals and distributing the meat to the poor.
Mujahidin said making a scene out of the slaughtered beasts amounted to killing animals "for nothing but some fame amongst your friends and some hatred among animal lovers".
Full report at:
freemalaysiatoday.com/category/nation/2017/09/04/facebook-user-slams-muslims-who-show-off-during-ritual-slaughter/
--------
Security intensified following Molotov cocktail attack at Myanmar Embassy
September 4, 2017
he Jakarta Police have tightened security outside the Myanmar Embassy on Jl. Agus Salim in Central Jakarta in anticipation of another attack after a Molotov cocktail was thrown at the embassy on Sunday.
"There is tighter security involving personnel from the police and the Mobile Brigade," Central Jakarta Police chief Sr. Comr. Suyudi said on Monday as quoted by kompas.com. He did not disclose the number of personnel that had been deployed.
The attack occurred amid growing concern in the Muslim-majority nation over violence against the Rohingya in Myanmar.
No one was injured in the incident and the police are still searching for the perpetrators. (fac)
thejakartapost.com/news/2017/09/04/security-intensified-following-molotov-cocktail-attack-at-myanmar-embassy.html
--------
Ex-IGP Khalid made chairman of Prasarana
September 5, 2017
KUALA LUMPUR, Sept 5 — Prime Minister Datuk Seri Najib Razak named Tan Sri Khalid Abu Bakar as the group chairman of Prasarana today.
Khalid retired as the Inspector-General of Police as he reached the mandatory retirement age of 60 today.
He was replaced by Special Branch chief Datuk Seri Mohamad Fuzi Harun.
Aside from the Prasarana post, Khalid was additionally appointed as the special envoy to enhance relations for efforts against terrorism, extremism, and human trafficking.
themalaymailonline.com/malaysia/article/ex-igp-khalid-made-chairman-of-prasarana#fHJBvOvBgIBL6U74.97
--------
Anwar's economic agenda best for Malaysia's future, says PKR
Predeep Nambiar
September 5, 2017
GEORGE TOWN: A PKR youth leader says Anwar Ibrahim's Agenda Ekonomi Malaysia (AEM) plan remains the best fit for our multiracial country moving forward, in order to ensure that the poor and underprivileged get more government support.
Dr Afif Bahardin believes Anwar's AEM plan would ensure the poor among all ethnic groups in the country get the help they need, not just the bumiputeras.
"We must consider what is the purpose of the bumiputera status for certain segments of the population. It is about fairer distribution of education and business opportunities and sharing of the economic pie.
"So, it is basically an affirmative action plan.
"The AEM plan follows the same needs-based policy, but for all who are poor and underprivileged, whether they are Malay, Chinese or Indian," Afif told a forum titled "Apa Anak Muda Mahu Untuk Malaysia Baru", which translates to "What do youths want for a new Malaysia", here last night.
The AEM, which was first introduced by the former opposition leader as part of the PKR manifesto for the 2008 general election, keeps Malays' and other natives' special rights intact while focusing on eradicating poverty among all.
Afif suggested this after questioning the government for now considering giving Indian Muslims bumiputera status.
"We have heard lately that Prime Minister Najib Razak wants to give Indian-Muslims Bumiputera status. If that is the case, why don't you give them to other Muslims, such as the Chinese Muslims?
"Before you accuse me of taking away the special rights of Malays, no, I have no intention of doing so," Afif said.
In July, Najib said he would study a request by the Indian Muslim community to be recognised as Bumiputeras.
However, constitutional law expert Abdul Aziz Bari said the question of Bumiputera status for Indian Muslims does not arise because it was clear in the constitution that they could qualify as Malays.
The Federal Consitution defines a Malay as one who is a Muslim, speaks Malay habitually and practises Malay culture.
Another panellist, human rights lawyer Syahredzan Johan also agreed with Afif on forgoing the Bumiputera system for an affirmative action policy.
Syahredzan admitted however, this was a delicate matter for the Malays and it had to be explained clearly.
He said the Malay voters are especially spooked by certain parties saying Malay rights would be lost if Pakatan Harapan won the next general election and took over Putrajaya.
Syahredzan said this was not possible because Malay and native rights are enshrined in the constitution and can only be altered if there was consent from the Conference of Rulers.
He said even if the government of the day had a two-thirds majority to amend the Malay rights provision, the Conference of Rulers must give their consent.
"The fears of the Malays are real. Although some Malays are angry with BN, they are still worried about this. It is time for the Malays to forget about this.
Full report at:
freemalaysiatoday.com/category/nation/2017/09/05/anwars-economic-agenda-best-for-malaysias-future-says-pkr/
--------
Africa
Algeria: Stop Persecuting a Religious Minority
4 SEPTEMBER 2017
PRESS RELEASE
Beirut — The arrest of Mohamed Fali, president of Algeria's Ahmadiyya community on August 28, 2017, is the latest example of a crackdown on the religious minority, Human Rights Watch said today.
Scores of Ahmadis have been prosecuted since June 2016, and some imprisoned for up to six months. Senior government officials have at times claimed that Ahmadis represent a threat to the majority Sunni Muslim faith, and accused them of collusion with foreign powers.
"The persecution of Ahmadis and hateful speech from government ministers shows intolerance for minority faiths, whether they claim to be Muslim or not," said Sarah Leah Whitson, Middle East and North Africa director at Human Rights Watch. "The authorities should immediately release Mohamed Fali and other Algerian Ahmadis and stop attacking this defenseless minority."
At 9 a.m. on August 28, police came to Fali's home in Ain Sefra, in the province of Naama, and arrested him on the basis of a 15 February in absentia judgment sentencing him to 3 years in prison.. He is being held in Mostaganem prison.
Founded in India in 1889 by Mirza Ghulam Ahmad, the Ahmadiyya community identifies itself as Muslim. There are an estimated 2,000 Ahmadis in Algeria, according to the community.
Human Rights Watch interviewed six Ahmadis who faced prosecution around the country, including Fali (before his arrest). Human Rights Watch also reviewed the case files in three trials.
Fali told Human Rights Watch that the prosecutions started in June 2016 in the Blida governorate, and spread to other areas. A year later, some 266 Ahmadis had faced charges around the country, Fali said. Human Rights Watch could not independently confirm this figure.
Authorities charged them under one or more of the following charges, Fali said: denigrating the dogma or precepts of Islam; participation in an unauthorized association; collecting donations without a license; and possession and distribution of documents from foreign sources that endanger national security. At least 20 have faced a charge of practicing religion in an unauthorized place of worship under Algeria's 2006 law governing non-Muslim religions, Fali told Human Rights Watch, even though Ahmadis consider themselves Muslim.
Fali said that convictions and sentences were issued in 123 cases, and have ranged from three months to four years in prison. There were four acquittals. The remaining 161 prosecutions are still in the investigative phase. Fali said 36 persons spent time behind bars, with the longest to date being six months.
Several Ahmadis have faced two or more trials, sometimes in different parts of the country. For example, Fali faces charges in six cases and is either under investigation or on trial in Blida, Chlef, Mostaganem, Boufarik, and Sétif. He spent three months in Chlef prison in provisional detention from February to May. Another Ahmadi, who did not want to be identified, said he was prosecuted in three different trials in Blida, Boufarik, and Chlef.
Fali told Human Rights Watch that the courts had placed under judicial control at least 70 Ahmadis facing prosecution. This required the defendants to sign in on a regular basis with the court.
Authorities have also denied Ahmadis the right to form an association, using broad language in the Associations Law that they had previously used to restrict the right of other Algerian groups to form associations. They demolished a building in Larbaa, in the province of Blida, that Ahmadis were intending to use as a place of worship and as the headquarters for their association, on the pretext that it was an "unauthorized place of worship."
Several Ahmadis told Human Rights Watch that authorities confiscate religious books, documents about the Ahmadiyya faith, computers, identity cards, and passports during searches. One Ahmadi said that they confiscated his university diplomas and never returned them.
Ahmadi representatives told Human Rights Watch that at least 17 Ahmadis were suspended from their public-sector jobs. Human Rights Watch reviewed five of these suspensions; in each case, the only grounds provided were the ongoing prosecutions and court cases against the individual.
Under the International Covenant on Civil and Political Rights, which Algeria ratified, governments must ensure the right to freedom of religion, thought, and conscience of everyone under their jurisdiction, and in particular religious minorities. This right includes the freedom to exercise the religion or belief of one's choice publicly or privately, alone or with others. Algeria's constitution guarantees freedom of religion but states that "this freedom must be exercised in respect of the law."
Hateful Speech
Government ministers have made several anti-Ahmadi comments. In October 2016, the Minister of Religious Affairs Mohamed Aissa described the Ahmadi presence in Algeria as part of a "deliberate sectarian invasion" and declared that the government brought criminal charges against Ahmadis to "stop deviation from religious precepts." In February, he stated that Ahmadis are damaging the very basis of Islam.
In an interview in April 2017, Aissa seemed to have tempered his position. He said that the Algerian state does not intend to fight the Ahmadiyya sect. However, on July 5, he reiterated his belief that Ahmadis are manipulated by "a foreign hand" aiming to destabilize the country, and accused their leaders of collusion with Israel.
In April, Ahmed Ouyahia, then chief of cabinet to President Abdelaziz Bouteflika, said that "there are no human rights or freedom of religion" in the matter of the Ahmadis, because "Algeria has been a Muslim country for 14 centuries." He called on Algerians to "protect the country from the Shia and Ahmadiyya sects."
Denial of the Right to Form an Association
On November 15, 2015, a group of Ahmadis held a constitutive general assembly to create a new association they called the "Ahmed al-Khair Association" (Ahmed Charity), whose objective, according to bylaws Human Rights Watch has reviewed, is to perform charity projects and to help poor and marginalized communities. On March 26, 2016, they submitted the founding documents to the Ministry of Interior to register the association, as required by the 2012 Associations Law. On May 26, they received a letter from the ministry notifying them of the refusal to register the association.
According to the ministry's reply, which Human Rights Watch has reviewed, the refusal is based mainly on articles 2 and 27 of the Associations Law. Article 2 gives the authorities broad leeway to refuse authorization if they deem the content and objectives of a group's activities to violate Algeria's "'fundamental principles' (constantes nationales) and values, public order, public morals, and the applicable laws and regulations." Article 27 lists all the necessary papers and required documents that the association must provide to the ministry to be legally registered.
Interference with Faith During Trials
Authorities prosecuted the 266 Ahmadis under one or more charges: denigrating the dogma or precepts of Islam, punishable by a prison term of three to five years and a fine of up to 100,000 Algerian dinars (US$908), under article 144 of the penal code; participation in an unauthorized association, under article 46 of the Associations Law, punishable by a prison sentence of three to six months and a fine of 100,000 to 300,000 dinars; collecting donations without a license, under articles 1 and 8 of the decree 03-77 of 1977 regulating donations; conducting worship in unauthorized places, under articles 7, 12, and 13 of Ordinance 06-03 Establishing the Conditions and Rules for the Exercise of non-Muslim Religions; and possession and distribution of documents from foreign sources threatening national security, under article 96-2 of the penal code, punishable by up to three years in prison.
Several Ahmadis and their lawyers told Human Rights Watch that prosecutors and trial judges asked defendants intrusive and offensive questions about their religious practice. For example, Salah Debbouz, a lawyer defending many of the prosecuted Ahmadis, said that in a hearing on June 21 before the Batna appeals court, the prosecutor asked defendants: "Why do you profess allegiance to a Hindu and not to the Prophet of Islam? Why do you pray alone and not in a Mosque as other Muslims do?"
Mohamed Fali said that the judge in his trial in the first instance court in Chlef, on May 22, 2017, asked him: "Do you believe that Muhammad is the last of the prophets? Why don't you pray at the Friday prayer at the mosque?"
The judges' reasoning in several convictions of Ahmadis, which Human Rights Watch reviewed, demonstrates that the trials are based on religious arguments.
For example, the written judgment against six Ahmadis at the first instance court of Batna, dated March 27, 2017, states that the gendarmerie, while monitoring the activities of the religious groups in its region, received information about the existence of a group of people belonging to the Ahmadiyya faith. They searched their houses and seized all their books, computers, and other documents related to the "offense." When the gendarmerie interrogated them, they admitted belonging to the Ahmadiyya community and exercising their faith in private settings. They also provided information on why and when they joined the faith. The judgment cites as its basis for the guilty verdict these statements attributed to the six defendants by the police.
The written judgment includes quotes from the representative of the Ministry of Religious Affairs who said that the ministry decided to join the case as a civil party (partie civile) because the Ahmadis were disseminating "ideas that are foreign to Algerian society that could have a dangerous impact on the beliefs of the society and its stability."
To justify a guilty finding on the charge of distributing foreign material harmful to national security, the court cites only the seizing of books printed in Great Britain and documents printed from an Ahmadiyya website. It states, "[t]hese books and publications contain ideas that are alien to the national religious framework and this leads necessarily to harming the national interest." The court defines national interest as being "the economic, military, cultural, or religious principles of the state," and finds that Ahmadiyya doctrine challenges the national religious identity, which is based on the Malekite rite of Islam.
Based on this reasoning, the court convicted the accused of denigrating the dogma or precepts of Islam, participation in an unauthorized association, collecting donations without a license, possession and distribution of documents from foreign sources threatening national security, and sentenced them to four years in prison and a 300,000 dinar fine. It did not retain the charge of practicing religious rites in unauthorized places, stating that Ordinance 06-03 applies only to non-Muslims whereas Ahmadis claim to be Muslims. The defendants have filed an appeal against this verdict, Debbouz, their lawyer, said.
Human Rights Watch reviewed two other judgments, one issued by the first instance court in Chlef on May 22, 2017, the second by the first instance court in Blida on January 31, 2017. In both judgments, the courts refer to the circumstances of the arrest, stating that gendarmerie started an investigation after receiving information that the Ahmadis were threatening "the appearance of the religion" and "undermining Islam."
Cases
Mohamed Fali, president of the Jamaa Islamia Ahmadia in Algeria (The Islamic Ahmadiyya community), 44, tradesman, lives in Bousmail, Tipaza
Fali told Human Rights Watch that he has faced six distinct trials since June 2016. On June 2, 2016, gendarmes and municipal authorities came to demolish the building the Ahmadis were constructing in Larbaa, Blida province, for meetings and prayers. The same day, around 20 gendarmes came to arrest Fali and search his home. They confiscated his computer and books about the Ahmadiyya faith. He stayed five days in the gendarmerie detention center, where he was interrogated, before the first instance court in Blida provisionally released him.
The prosecutor charged Fali with participation in an unauthorized association, collecting donations without a license, and possession and distribution of documents from foreign sources threatening national security. On January 31, Fali, who had eight co-defendants in this case, was convicted in absentia while he was detained in another case, and received a six-month sentence and a 200,000 dinar fine. Fali presented himself to the court in Blida to oppose his conviction in this case. His retrial is scheduled to open on September 19.
Fali's second prosecution was in Chlef, where he was provisionally detained for three months between February and May 2017. He received a suspended sentence on May 22 to one year in prison and a 500,000 dinar fine for the same offenses as in the Blida case, in addition to the charge of denigrating the dogma or precepts of Islam. While he was in Chlef prison, he was sentenced in absentia in Mostaganem to three years in prison and a 50.000 dinar fine (USD$449), on February 15, for the same charges as in the Chlef and Blida cases. He appealed his sentence and is awaiting his appeal trial. He was also sentenced to a 100,000 dinar fine in another trial in Boufarik, on January 30, and has two other cases in the investigative phase, in Sétif and in Boufarik. In the second case in Boufarik, the investigative judge put him under judicial control, requiring that he register every Wednesday at the courthouse.
He said for each of these investigations the gendarmerie searched his house, confiscated his computers and telephones, arrested and detained him for several days, and interrogated him about his religion, his ties with the Ahmadiyya international movement, and his motivations.
On August 28, authorities arrested Fali after a search-and-seizure operation at his house. His lawyer, Debbouz, said that the arrest is linked to his trial in absentia at the Mostaganem court, and that his retrial in this case is scheduled for September 6. He is currently in pretrial detention at the Mostaganem prison.
S.B., 37, doctor, from Tipaza
S.B., who did not want to be named, said that he has faced three trials since 2016. He was part of the group arrested on June 2, 2016, in Larbaa, Blida province, where a court sentenced him to six months in prison in absentia while he was detained for another case, and a 200,000 dinar fine on charges of participating in an unauthorized association; collecting donations without a license; and possessing and distributing documents from foreign sources threatening national security. S.B. presented himself to the court to oppose his conviction in absentia. His retrial is scheduled to open on September 19, 2017.
The second trial of S.B. took place on January 30, in Boufarik, where he received a 100,000 dinar fine on the same charges. The third was in Chlef, for which he spent three months in provisional detention and received a one-year suspended sentence on May 22. He also said that the Chlef hospital suspended him from his post as a doctor. Human Rights Watch reviewed the decision by Chlef hospital, dated February 22, 2017 and signed by the director, which cites the prosecution of S.B. as a basis for the measure and the temporary suspension of his salary.
Z.M., 29, Salesman, from Chraga
Z.M., who asked not to be named for fear of retaliation, said he used to work as a salesman in his father's shop. Gendarmes came to his house on October 5, 2016, seized books, printed material, and the founding documents of the Ahmadiyya charity association Ahmad al-Khair, and arrested him for interrogation. He spent one night in detention. Gendarmes transferred him the next day to the prosecutor's office, who indicted him on the charge of "belonging to an unauthorized association" and "possession of foreign documents threatening state security." The first instance court in Douera sentenced him to 18 months in prison, suspended, and a 100,000 dinar fine. He said the appeals court confirmed the lower court's decision. He said during the appeals hearing, the trial judge asked him, "Are you aware of the Koranic verse that says, 'Those who change their faith should be killed?'"
B.S.H., 24, University Student, from a City Southwest of Algiers
B.S.H., who also asked not to be named for fear of retaliation, said he was first prosecuted in June 2016 with eight other Ahmadis. The gendarmerie arrested him in Larbaa on June 2, 2016, after authorities destroyed the Ahmadi house of worship under construction. Provisionally released after the gendarmerie interrogated him, B.S.H. was tried and sentenced in absentia by the first instance court in Blida to six months in prison and a 200,000 dinar fine on charges of participating in an unauthorized association; collecting donations without a license; and possessing and distributing documents from foreign sources threatening national security. Like his co-defendants Fali and S.B., he opposed his conviction and is scheduled to have a new trial on September 19. On March 1, gendarmes arrested him again and searched his house, seizing his computer and cell phone. The investigative judge in the first instance tribunal ordered his provisional detention for three and a half months. A court sentenced him to a 50,000 dinar fine on June 18, on the charge of participation in an unauthorized association, and released him from prison.
H.I., 29, student in Chraga
H.I. told Human Rights Watch that he was prosecuted and sentenced twice on charges of belonging to an unauthorized association, possession and distribution of foreign documents threatening state security, and collecting donations without a license. The first prosecution was before a Tipaza court, which sentenced him on December 28 to 18 months in prison, suspended, and a 100,000 dinar fine. The appeals court confirmed the sentence on April 2.
At H.I.'s second trial, the first instance court in Chlef sentenced him on May 22 to three months in prison, suspended, and a 50,000 dinar fine. He has appealed the verdict, he said.
In the Chlef judgment, which Human Rights Watch reviewed, the judges ruled that the mere possession of books on the Ahmadiyya faith, which gendarmes seized from H.I.'s home, was sufficient proof that he was engaged in a "proselytizing enterprise that could destroy the unity of society and threaten public order, since the Islamic religion is a pillar of the national identity and is enshrined in the Constitution."
Algerian Legislation and International Standards on Freedom of Religion
Article 18 of the International Covenant on Civil and Political Rights (ICCPR) guarantees individuals the right to hold and to display their religious beliefs. It states:
Everyone shall have the right to freedom of thought, conscience and religion. This right shall include freedom to have or to adopt a religion or belief of his choice, and freedom, either individually or in community with others and in public or private, to manifest his religion or belief in worship, observance, practice and teaching. No one shall be subject to coercion which would impair his freedom to have or to adopt a religion or belief of his choice.
The UN Human Rights Committee's General Comment No. 22 to Article 18 specifies that freedom of thought, including freedom of conscience and religious conviction, is a right that cannot be limited.
Article 27 of the ICCPR states, "In those States in which ethnic, religious or linguistic minorities exist, persons belonging to such minorities shall not be denied the right, in community with the other members of their group, to enjoy their own culture, to profess and practice their own religion, or to use their own language."
The committee, in its General Comment No. 22, expressed concern with "any tendency to discriminate against any religion or belief for any reason, including the fact that they are newly established, or represent religious minorities that may be the subject of hostility on the part of a predominant religious community."
The Algerian constitution provides for religious freedom, but states that "exercise of this freedom must be done in respect of the law." The main law governing the practice of non-Muslim religions, Ordinance 06-03 of February 28, 2006, restricts the religious freedom of, and discriminates against, non-Muslims, by imposing restrictive regulations on worships from which Muslims are exempt. Collective worship can take place only in a building designated for that purpose and with prior permission from the National Commission for the Practice of Religions. Collective worship can be organized only by religious organizations that have been established according to the law.
Under Ordinance 06-03, proselytizing by non-Muslims is a criminal offense and carries a maximum punishment of one million dinars ($12,845) and five years' imprisonment for anyone who "incites, constrains, or utilizes means of seduction tending to convert a Muslim to another religion; or by using to this end establishments of teaching, education, health, social, culture, training... or any financial means." Authorities used the Ordinance 06-03 to prosecute four Protestant Christians in August 2008, and courts sentenced them to two to three months in prison, suspended. Ordinance 06-03, by imposing blanket prohibitions on proselytizing, which apply only to non-Muslims, violates the right of individuals under the ICCPR to the "freedom to have or to adopt a religion or belief of his choice." According to the UN Committee, freedom of religion includes "the freedom to prepare and distribute religious texts or publications," and "the right to replace one's current religion or belief with another."
The Algerian penal code also criminalizes "offending the Prophet Muhammad" and denigrating the creed or prophets of Islam. Authorities used these provisions on September 6, 2016 to convict and sentence Slimane Bouhafs, a Christian convert, to three years in prison. He is still serving time in Belair prison in Sétif province.
allafrica.com/stories/201709040465.html
--------
Boko Haram attacks kill nearly 400 since April: Amnesty International
Sep 5, 2017
Amnesty International has voiced alarm over a "sharp rise" in crimes committed by the Nigeria-based Boko Haram terror group, saying attacks by the Daesh-linked militants have claimed nearly 400 civilian lives since April.
In a statement on Tuesday, the UK-based rights group said Boko Haram has been increasingly using bombers, mainly young women and girls, to set off explosives in crowded areas in Nigeria and neighboring Cameroon.
Such bombings, it said, have killed at least 381 civilians in the two countries since April.
"Boko Haram is once again committing war crimes on a huge scale, exemplified by the depravity of forcing young girls to carry explosives with the sole intention of killing as many people as they possibly can," Alioune Tine, Amnesty's director for West and Central Africa, said.
Tine further said the "sharp rise" in Boko Haram's "shocking" acts of violence "highlights the urgent need for protection and assistance for millions of civilians... Governments in Nigeria, Cameroon and beyond must take swift action to protect them from this campaign of terror."
According to Amnesty, at least 223 civilians have died in Nigeria since April, underscoring that the real toll could be far higher.
"Between May and August, seven times more civilians were killed than in the preceding four months, while 100 civilians were killed in August alone," the statement said.
On August 22, the United Nations Children's Fund (UNICEF) expressed "extreme" concern about the "appalling" rise in the use of children as "human bombs" by Boko Haram, which is mainly based in northeastern Nigeria.
The Takfiri group's terror campaign in Nigeria, which is in its eighth year, has so far killed more than 20,000 and forced the displacement of over two million people. Boko Haram pledged allegiance to the notorious Middle East-based Daesh terrorist outfit in March 2015.
Nigeria's President Muhammadu Buhari said earlier this year that Boko Haram had been technically defeated, and that the group could no longer pose a threat to major urban centers in northern Nigeria. However, the group continues to launch attacks in the country.
The United Nations has warned that around 8.5 million people in the worst affected areas of northeastern Nigeria are now in need of humanitarian assistance.
In neighboring Cameroon, at least 158 civilians have died in Boko Haram assaults since April, a figure four times higher than the preceding five months, Amnesty said.
In the most recent assault, a group of knife-wielding Boko Haram terrorists carried out a stabbing attack against people in the Cameroonian town of Banki on September, killing at least 18 people.
In July, 16 Cameroonian civilians were killed and at least 34 more injured after a young girl was forced to detonate a bomb in a crowded video game center in the town of Waza.
Full report at:
presstv.ir/Detail/2017/09/05/534058/Amnesty-raises-alarm-at-Boko-Harams-rise-in-suicide-bombing
--------
Will Jordan normalize relations with Syria?
4 September 2017
Jordan has expressed optimism over the reopening of its border crossing in southern Syria, with government spokesman Mohammed Momani affirming that relations between the two sides were "heading in the right direction".
Expressing satisfaction at increased 'stability' in southern Syria, the Jordanian spokesman noted late last month, "If the current situation continues and southern Syria stabilizes, it would allow for the reopening of the crossing points between the two states."
An 'incipient' Jordan-Syria bonhomie
Meanwhile, a top aide to Bashar Al-Assad praised relations between the two sides in glowing terms: "Hearts in Syria and Jordan still beat for each other and this reflects the Arab people's longing for the project of reawakening and liberation".
The political and media adviser to Bashar Al-Assad Bouthaina Sha'aban added: "We must look at the future with optimism and this necessitates reading events that our Arab nation went through with critical eyes, without repeating mistakes of the past".
Shaaban issued these statements on receiving a delegation from Arab Lawyers Union late last month. For his part, head of the delegation Samih Khreiss said that he only hears positive and reassuring statements from officials of the Assad regime and nothing that might adversely affect bilateral ties.
The Jordanian head of the delegation stressed that there was a common refrain among all the delegates who visited Syria. "The rejection of all that has happened in Syria thus far." He reiterated that "If the Jordanian government would take any positive steps toward Syria, we (the Lawyer's Union) are ready and we would support such a move to cement ties further".
Khreiss added that during his visit to Syria he spoke with several officials of the Assad regime including Hilal Hilal, Assistant Regional Secretary of the Syrian Regional Branch of the Ba'ath Party, and Bouthaina Sha'aban.
Syrian war to be 'over by year-end'
The head of the lawyers' delegation also disclosed that sources in the Assad regime told them that the war in Syria will be over before the end of the year, which should raise prospects for the early reopening of the Jordanian-Syrian borders.
Jordan shares over 380 kilometer-long border with Syria, and is one of the Arab states that did not sever its diplomatic relations with the Assad regime due to "the special and unique ties between the people of both countries". The country also played a role in brokering a truce in south western Syria, along with US and Russia, which entered into force on July 7, 2017.
Full report at:
english.alarabiya.net/en/News/middle-east/2017/09/04/Will-Jordan-normalize-relations-with-Syria-.html
--------
Somalia: U.S. Drone Attack Kills Top Militant Recruiter - Officials
4 SEPTEMBER 2017
By Mohamed Olad Hassan
Washington — A U.S. drone strike reportedly has killed a key al-Shabab commander in southern Somalia, officials tell VOA.
Local sources said the strike on Friday targeted a vehicle in which several al-Shabab officials were traveling near Kunya Barrow village in the southern Somali region of Lower Shabelle.
"I can confirm that the airstrike happened on Friday. It was carried out by a suspected U.S. drone. The strike targeted al-Shabab officials. Our intelligence sources confirm that a top al-Shabab commander in charge of recruiting fighters for the militants was killed in the strike," said Aden Omar, the district commissioner of Barawe town in the Lower Shabelle region.
He identified the dead officer as Abu-Xudeyfi, but local sources put his name as Sheekh Abdirahman Xudeyfi.
"The killed official was named Abu-Xudeyfi, probably his al-Shabab name; we are currently assessing if any other al-Shabab official was hit in the attack, and will provide additional information as appropriate," said Omar.
The news of the drone strike broke on Friday as Muslims across the world, including Somalis, were celebrating the festival of Eid al-Adha - Islam's most revered observance.
Controversial raid
Last month, a controversial joint raid involving U.S. troops in Somalia killed at least 10 people including three children in the village of Bariire in Lower Shabelle.
The incident caused a rift between the U.S.-backed Somali government and leaders of a powerful clan that claimed innocent farmers of their own were massacred.
In July, the U.S. military in Africa killed one of the militants' top jihadists, Ali Muhammad Hussein, known as Ali Jabal, in a "successful kinetic strike." Jabal oversaw al-Shabab's operations in the capital city of Mogadishu and led forces across two regions in southern Somalia.
The latest strike comes a day after the Somali government asked the United States to provide "immediate military assistance" to prevent al-Shabab from transporting uranium to Iran.
A letter from Somali Foreign Minister Yusuf Garaad Omar to U.S. Ambassador to Somalia Stephen Schwartz, widely published by the Somali media on Friday, said the militant group had captured "critical surface exposed uranium deposits" in the central Somali region of Galmudug and intend to transport the uranium to Iran.
The authenticity of the letter was confirmed to VOA's Somali Service by the Somali ambassador to the U.S., Ahmed Isse Awad.
Months after U.S. President Donald Trump approved increased operations in Somalia, the U.S. military supporting special forces of the Somali National Army intensified its operations in the region. A U.S. Navy SEAL was killed in one of the operations in May.
Full report at:
allafrica.com/stories/201709040549.html
--------
French foreign minister in Libya to push peace deal
Sep 4, 2017
France's Foreign Minister Jean Yves Le Drian was in Libya on Monday to meet rival political leaders and offer support for a deal aimed at stabilizing the strife-torn North African country.
Libyan Prime Minister Fayez al-Sarraj and the divided nation's eastern commander Khalifa Haftar signed an agreement in Paris in July committing them to a conditional ceasefire and to work towards elections in 2018. The deal did not include other key factions.
Western governments, worried about extremist militants and smugglers thriving in Libya's chaos, are pushing a broader UN-backed deal to unify Libya and end the instability that has weakened the country since the 2011 fall of Muammar Gaddafi.
In Tripoli, Le Drian met Sarraj and planned to hold talks with Abdulrahman Swehli, a politician connected to some of Haftar's rivals who heads a parliamentary council in the capital, Libyan officials said.
Le Drian was also to visit Misrata, Swehli's home city and a base of opposition to Haftar, before heading to Benghazi to meet Haftar and to Tobruk to meet the head of an eastern-based parliament aligned with him.
"The minister wants to consolidate this agreement by getting the parties not invited in July to support it," said a French diplomatic source.
"He wants to ensure that everyone is playing the game and lay the groundwork for elections."
The French minister's visit is in line with President Emmanuel Macron's push for a deeper French role in bringing Libyan factions together in the hope of countering militant violence and easing Europe's migrant crisis.
'Fragile balance'
"Our objective is the stabilization of Libya in the interests of the Libyans themselves," Le Drian said in a statement in Tripoli.
"A united Libya, equipped with functioning institutions, is the condition for avoiding the terrorist threat in the long term."
He said the Paris deal was meant to support the UN-backed accord for a government of national unity. Le Drian met UN special envoy Ghassan Salame on Sunday.
The French diplomatic source said the visit would fit into efforts by Salame to announce a road map to elections during the coming UN General Assembly.
"Sarraj and Haftar clearly want to measure themselves in elections," the source said.
Libya would likely need to agree on a new constitution or electoral law before elections, which will be a difficult task for the country's divided institutions. Organizing polls would also involve big logistical and security challenges.
Past Western attempts to broker agreements have often fallen victim to political infighting among rival factions and armed brigades vying for power in the OPEC oil producer.
Sarraj's government has struggled to impose control and its presidential council is divided. Haftar has refused to accept its legitimacy. He has been gaining ground, backed by allies Egypt and United Arab Emirates.
"The ceasefire between non-terrorist elements is in general respected," the French diplomatic source said.
Full report at:
presstv.ir/Detail/2017/09/04/534015/Libya-France-Khalifa-Haftar-Fayez-alSeraj-ceasefire-elections-Macron
--------
Libyan forces attack Daesh near former stronghold
Sep 4, 2017
The Libyan National Army (LNA) has carried out airstrikes on Daesh positions near the Takfiri terrorist group's former stronghold in the north of the country.
The LNA forces, who operate under the command of former army general Khalifa Haftar and are based in eastern Libya, said Monday that they had launched attacks a day earlier in the area of Ain Tarqft, between Sirte and the town of Waddan, 230 kilometers to the south.
According to Libyan officials, Daesh terrorists have shown increased activity in the south and east of Sirte in recent weeks.
Sirte, located on Libya's Mediterranean coast and on the line which divides rival militaries in the east and west of Libya, fell to Daesh in 2015 and it was liberated by the Libyan forces, dominated by brigades based in the port city of Misrata, last December.
Most of the terrorists were killed in the seven-month battle although an unknown number of them are believed to have returned to nearby areas from the desert they had escaped to after the Sirte operation.
The LNA says the Daesh operatives have set up temporary checkpoints and attacked local forces while taking over some village mosques near Sirte. Both the LNA and rival Misratan brigades say they are carrying out frequent patrols to monitor the movements of Daesh in the area.
Libya fell into chaos and lawlessness following the Western-backed ouster of long-time dictator Muammar Gaddafi in 2011.
The country has been ruled by two governments in the east and west with powerful militaries.
Haftar, a former general under Gaddafi, has refused to endorse the internationally-recognized Government of National Accord (GNA), which is based in the capital Tripoli.
Full report at:
presstv.ir/Detail/2017/09/04/533991/Libya-Daesh-LNA-Sirte
--------
Somalia: Some 11 dead in terrorist attack on army base
04 September 2017
At least 11 people, including Somali government soldiers and al-Shabaab fighters, were killed when the terrorist group stormed an army base on Sunday morning, officials said.
Mukhtar Abdi Mohamed, a colonel from the Jubaland state, told local media that at least four soldiers and seven al-Shabaab militants were killed and more than 10 people from both sides were wounded when the insurgents attacked an army base in the town of Bulo-gadud near Somalia's port city of Kismayo.
"It was very early on Sunday morning when an al-Shabaab suicide car bomb exploded at our base, and minutes later fierce fighting took place," he said.
Gen. Ismail Sahardid from the Somali National Army told state-run news agency SONNA that it had killed more 20 al-Shabaab militants during the fighting.
"We heard a huge explosion, then two hours of fierce fighting took place," one eyewitness told Anadolu Agency, speaking on condition of anonymity due to safety concerns.
The Somali-based terrorist group al-Shabaab claimed it had killed more than 26 government soldiers and seized three military vehicles.
Full report at:
worldbulletin.net/africa/193647/somalia-some-11-dead-in-terrorist-attack-on-army-base
--------
Nigeria: Top Muslim leader slams anti-Igbo ultimatum
04 September 2017
Nigeria's top Muslim spiritual leader on Sunday condemned an ultimatum for ethnic Igbo to quit the northern region, saying anyone wanting to attack the latter would have go through him first.
"If anybody or group of persons plans a negative attack on Igbos, he or they should attack me first because I am against the so-called ultimatum issued by the Arewa youths that Igbos should leave the north," Sa'ad Abubakar told a delegation of Igbo leaders visiting him to commemorate the Muslim Eid al-Adha holiday, or feast of sacrifice.
Abubakar is the sultan of Sokoto and the president general of the influential Nigeria Supreme Council for Islamic Affairs (NSCIA), the umbrella body for the country's estimated 100 million Muslim population.
His comment comes amid confusion and apprehension over an ultimatum some northern youths gave for Igbo to leave the northern region by October -- although the threat was later withdrawn following a warning by President Muhammadu Buhari.
That ultimatum was the fallout of what the northern youths called the excesses of Igbo separatists led by Nnamdi Kanu, leader of the Indigenous People of Biafra (IPOB), which seeks to break away from Nigeria.
Full report at:
worldbulletin.net/africa/193645/adf-rebels-kill-5-pygmies-in-dr-congo
--------
Europe
Chechen strongman draws huge crowd over Rohingya plight
Sep 5, 2017
MOSCOW - Thousands gathered in Russia's Chechnya region Monday for an officially staged rally over the plight of Myanmar's Muslim Rohingya minority that placed local strongman Ramzan Kadyrov at odds with the Kremlin.
A total of 87,000 mostly Rohingya refugees have arrived in Bangladesh since violence erupted in neighbouring Myanmar on August 25, with some alleging massacres by security forces and Buddhist mobs.
Kadyrov - who rules the mainly-Muslim Chechnya region in southern Russia with an iron fist - is a fierce loyalist of President Vladimir Putin, but has also sought to present himself as influential figure for Muslims worldwide.
"Stop this bloodshed. We demand the guilty are punished and crimes against humanity are investigated," Kadyrov told the large crowd in central Grozny in a live broadcast on local television.
"I am convinced that hundreds of millions of people around the world will hear our demand."
The outspoken protest in Chechnya - which Kadyrov claimed drew "hundreds of thousands" of people from across the Russian Caucasus - represented a rare public divergence between the leader and the official line from Moscow.
Russia has been muted over the latest violence in Myanmar and earlier this year reportedly even blocked a UN statement expressing fears over the situation in Myanmar's Rakhine state.
Russia and Myanmar are also allies who signed a military cooperation agreement last year, with Moscow of having exported military aviation and artillery to the country.
The country's foreign ministry said Sunday that is was "closely following" the current situation and was "concerned by reports of ongoing armed clashes that have caused casualties among civilians and government security forces."
Kadyrov - who rights groups accuse of rampant abuses - has previously staged a mammoth demonstration against the French satirical publication Charlie Hebdo over cartoons of the Prophet Mohammed.
The latest rally in Chechnya came after some 1,000 Muslims gathered in Moscow Sunday to protest outside Myanmar's embassy in the city.
nation.com.pk/international/05-Sep-2017/chechen-strongman-draws-huge-crowd-over-rohingya-plight
--------
Merkel defends refugee policy, says Islam belongs to Germany
September 4, 2017
Berlin: Chancellor Angela Merkel appeared to hold her ground in a television debate ahead of German elections, under attack from her Social Democrat (SPD) rival on refugee policy, ties with Turkey and her handling of US President Donald Trump.
Merkel was some 14 points ahead of Martin Schulz in opinion polls before the debate.
A survey by Infratest Dimap for ARD television showed her overall performance was viewed as more convincing by 55 per cent, compared to 35 per cent for Schulz.
Voting day
Three weeks from voting day, centre-left contender Schulz went on the offensive from the outset of the 97-minute debate — his only televised duel with Merkel, who looked rattled at times but showed enough authority to win.
Schulz, 61, outfoxed Merkel on ties with Turkey and bounced her into beefing up her rhetoric by vowing to stop Ankara's bid to join the European Union (EU) if he was elected chancellor.
The migration issue became the central issue of the discussion with Merkel forced on to the defensive when Schulz accused her of failing to involve Germany's EU partners in the decision.
Merkel responded by saying she had had little choice and that she was unable to contemplate a situation where she would have closed Germany's borders.
She said that while mistakes had been made, she would take the same decision again.
Merkel said although "radical Islamists" are perpetrating acts of terror in Europe, she still believes "Islam belongs to Germany".
No issue with Muslim immigration
Both Merkel and Schulz see no issue with Muslim immigration to Germany, but Merkel said the 2015 refugee crisis has left Germany with a "difficult task" of integrating new arrivals into society, making sure they find places in educational institutions and the labour market.
"People who don't have the right to be in our country should leave it — people have already been deported," said Merkel, defending her open-door immigration policy, calling for fighting the causes of such crises, such as the violence in Syria.
Merkel called for cooperation with Turkey, Libya, Niger and other countries in solving refugee and immigration issues and in the meantime, opening channels for legal immigration.
She also urged to better screening asylum seekers on for what reasons they come to Germany.
The SPD chairman Schulz criticised that Merkel had not voted with the European partners at the beginning of the refugee crisis in autumn 2015.
1 million refugees allowed
However, Merkel defended her decision of two years ago to allow more than about 1 million refugees to enter Germany, mostly from war-torn Middle East and North Africa, saying she could not act otherwise.
"It had to be decided," Merkel said.
After initially cautioning against pulling the plug on accession talks right now, Merkel returned to the issue of Turkey even when the moderators had moved on to a question about US President Donald Trump's policy towards North Korea.
"It is clear that Turkey should not become a member of the EU," she said after Schulz made his pledge to stop Ankara's accession bid.
Strained ties
"I'll speak to my [EU] colleagues to see if we can reach a joint position on this so that we can end these accession talks," Merkel, 63, added in comments likely to worsen already strained ties with Ankara.
In their exchange on Trump and North Korea, Schulz accused the US president of "bringing the world to the brink of crisis with his tweets" and said Germany should work with its European partners, Canada, Mexico and Trump's domestic US opponents.
Merkel, seeking a fourth term, responded by deploying her credentials as a global stateswoman, saying she had spoken to French President Emmanuel Macron about North Korea on Sunday and would talk to Trump as well as leaders from Russia, China, Japan and South Korea in the coming days.
"I don't think that one can solve this conflict without the American President," she said. "But I think one must say in the clearest terms that for us, there can only be a peaceful diplomatic solution."
'Merkel: More credible'
Her show of experience appeared to work with voters. The ARD poll showed that 49 per cent of those surveyed viewed Merkel as being more credible while 29 per cent favoured Schulz.
Merkel has been chancellor since 2005 and is widely seen as Europe's most influential politician.
She has weathered storms over mass immigration and financial and political turmoil in the European Union, while the SPD, Germany's oldest party, has struggled to promote a strong rival.
Schulz's campaign got off to a promising start early this year, with thousands flocking to the party after he was chosen as candidate; but three crushing defeats at the hands of the conservatives in regional elections, including in its heartland of North Rhine-Westphalia, knocked him off course.
Schulz has called Merkel "aloof" and attacked her on a range of issues but failed to dent her lead.
In the debate, he attacked her for failing to coordinate a better European response to the refugee crisis in 2015, when Merkel's decision to open Germany's borders to hundreds of thousands of refugees, many fleeing war in the Middle East, cost her support.
"The inclusion of our European neighbours would have been better," Schulz said. Merkel shot back: "We had a very dramatic situation then ... There are times in the life of a chancellor when she has to decide."
Schulz, a former European Parliament president with no national government experience in Germany, looked directly into the camera when making his closing remarks and appealed to voters to show the courage to choose change.
Full report at:
gulfnews.com/news/europe/germany/merkel-defends-refugee-policy-says-islam-belongs-to-germany-1.2084794
--------
Johnson urges Suu Kyi to end violence against Rohingya Muslims
Sep 4, 2017
British Foreign Secretary Boris Johnson has condemned ethnic cleansing of Rohingya Muslims in the Muslim-majority Rakhine region in Myanmar.
Johnson on Sunday warned Aung San Suu Kyi, Myanmar's de facto leader, that the atrocities against Rohingya Muslims are "besmirching" her country's reputation.
He urged Suu Kyi to "use her remarkable qualities" to end violence against Muslims in Rakhine state, where the United Nations believes the government might have committed ethnic cleansing and crimes against humanity in its crackdown on Muslims.
Suu Kyi won the Nobel Peace Prize for her political activism Myanmar's military rulers, but her failure to condemn and stop ethnic cleansing of Rohingya Muslims by Myanmar's security forces have damaged her reputation.
Suu Kyi is constitutionally barred from holding the office of president but her party's Htin Kyaw was sworn in as president in 2016 after the National League for Democracy won a landslide victory in the 2015 elections. She is now effectively rules Myanmar in the specially created position of state counselor.
"Aung San Suu Kyi is rightly regarded as one of the most inspiring figures of our age, but the treatment of the Rohingya is alas besmirching the reputation of Burma," Johnson said.
"She faces huge challenges in modernizing her country. I hope she can now use all her remarkable qualities to unite her country, to stop the violence and to end the prejudice that afflicts both Muslims and other communities in Rakhine," he added.
"It is vital that she receives the support of the Burmese military, and that her attempts at peacemaking are not frustrated. She and all in Burma will have our full support in this," he stated.
According to the UN High Commissioner for Refugees, nearly 90,000 Rohingyas have fled to neighboring Bangladesh since violence erupted in Rakhine state on August 25. Hundreds of people are thought to have died in the violence.
More than a dozen Nobel laureates wrote an open letter to the UN Security Council in December last year warning of a tragedy "amounting to ethnic cleansing and crimes against humanity" in Rakhine state, citing the "potential for genocide."
The refugees say their villages are being raided and burned by the country's security forces and by extremists who call themselves Buddhist nationals. They tell stories of the indiscriminate killing of civilians.
he extremists frequently attack Rohingyas and have set fire to their homes in several villages in Rakhine. Myanmar army forces allegedly provided the fanatics containers of petrol for torching the houses of Muslim villagers, who were then forced to flee.
Myanmar's government refuses to recognize Rohingya Muslims as citizens and labels them as "illegal" immigrants.
Rohingya Muslims have been denied Myanmar citizenship since a new citizenship law was enacted in 1982, and there have been a number of attacks on Rohingyas over in recent years.
The violence that originally targeted Rohingya Muslims in western Myanmar is beginning to spread to other parts of the country, where Muslims who have been granted citizenship are now being attacked, according to the website Myanmarmuslims.org.
About one million Rohingyas in the western state of Rakhine are deprived of citizenship rights due to the policy of discrimination that has denied them the right of citizenship and made them vulnerable to acts of violence and persecution, expulsion, and displacement.
The Myanmar government has so far refused to extricate the stateless Rohingyas from their citizenship limbo, despite international pressure to give them a legal status. Rohingya Muslims have faced torture, neglect, and repression in Myanmar for many years.
Full report at:
presstv.ir/Detail/2017/09/04/533968/Johnson-urges-Suu-Kyi-to-end-violence-against-Rohingya-Muslims
--------
BRICS countries urge UN reform, cooperation on terrorism
Sep 5, 2017
The BRICS group of five major emerging economies called Monday for reform of the United Nations and tougher measures against terrorist groups, while denouncing North Korea's latest nuclear test at a summit in China that seeks to enlarge the organization's presence on the world stage.
The nations — Brazil, Russia, India, China and South Africa— agreed in a joint declaration to strengthen cooperation against a range of organizations it described as terrorist, including some based in Pakistan, in a diplomatic victory for New Delhi.
The five also pledged their opposition to protectionism, a theme increasingly taken up by host Chinese President Xi Jinping as anti-globalization sentiment in the West poses a threat to China's vast export markets.
In the 43-page declaration, Xi, Indian Prime Minister Narendra Modi, Russian President Vladimir Putin, Brazilian President Michel Temer and South African President Jacob Zuma said they would work together to improve global economic governance to foster "a more just and equitable international order."
They also strongly condemned North Korea's sixth — and most powerful — nuclear test that took place Sunday and has overshowed the two-day BRICS summit in the southeastern Chinese city of Xiamen that China is using as a showcase for its growing international status.
Preeti Saran, an official with India's Ministry of External Affairs, said each leader had referred to North Korea's nuclear test when they spoke during their meeting.
The declaration said the five emphasized that the issue should only be settled through "peaceful means and direct dialogue of all the parties concerned."
They called for "comprehensive reform" of the U.N. and the U.N. Security Council "with a view to making it more representative, effective and efficient, and to increase the representation of the developing countries so that it can adequately respond to global challenges."
No proposals on specific reforms were offered.
China, the world's second largest economy, wants BRICS to play a more important role in international affairs. But some observers suggest the group's influence is waning given the ongoing political and economic rivalry between China and India and the economic woes faced by Brazil, Russia and South Africa.
In addressing terrorism, the declaration named organizations including the Pakistan-based militant groups Lashkar-e-Taiba and Jaish-e-Mohammad, the Islamic State group and al-Qaida.
Saran said it was the first time there had been a specific listing of alleged terrorist groups in a BRICS document, calling that "a very important development."
China, a key ally of Pakistan, has repeatedly blocked India's attempts to have the leader of Jaish-e-Mohammad, Masood Azhar, put on a U.N. Security Council terror blacklist. India has accused archrival Pakistan of harboring and training militants to launch attacks on its soil.
China is a veto-wielding permanent member of the Security Council and has been seen as using that clout to gain an edge in its political and economic rivalry with India. The nuclear-armed Asian giants recently ended a 10-week border standoff high in the Himalayas that re-awakened memories of their 1962 frontier war, paving the way for Indian Prime Minister Narendra Modi to attend the BRICS summit in China.
Saran denied any connection between China's agreement to list the Pakistan-based organizations and the withdrawal of Indian troops from the contested Himalayan area last week.
"This is a multilateral forum with five sovereign countries. There is no linkage to any other development," she said.
At earlier BRICS summits, China balked at India raising Pakistan-sponsored terrorism allegations and defended its ally's role in countering terrorism, said Sreeram Chaulia, dean of the Jindal School of International Affairs near New Delhi.
The inclusion of the two Pakistan-based groups in the declaration shows that "India has finally succeeded in persuading all BRICS members that Islamist fundamentalists pose a universal threat," Chaulia said.
That came despite comments by Chinese Foreign Ministry spokeswoman Hua Chunying on Thursday that China did not consider Pakistan's counter-terrorism efforts to be an "appropriate topic" at the summit.
Saran said Modi and Putin discussed oil and gas cooperation and how to promote trade and investment between their two nations. Xi and Modi are expected to hold a meeting on the sidelines of the summit tomorrow.
The declaration also expressed concern about the Haqqani network that is active in Afghanistan, and the Eastern Turkistan Islamic Movement, accused by Beijing of fomenting unrest in China's northeastern region of Xinjiang.
The declaration said nations should unite to fight terrorist groups in accordance with the principles of international law, but emphasized the importance of not interfering in the sovereign affairs of individual states.
Xi announced in his opening address Monday that China would set aside 500 million yuan ($76 million) for economic and technological cooperation and exchanges among BRICS countries, and $4 million to support the BRICS' New Development Bank.
Full report at:
nation.com.pk/international/04-Sep-2017/brics-countries-urge-un-reform-cooperation-on-terrorism
--------
Serbia charges five for wartime killing of Muslims
4 September 2017
Serbian prosecutors said on Monday they had charged five people with torturing and killing 20 civilians, mostly Serbian Muslims, during the 1990s war in neighboring Bosnia.
A group of Serb paramilitaries on February 27, 1993, stopped a train in the village of Strpci on the border with Bosnia, the indictment said.
They took off the train 20 passengers, mostly Serbian Muslims, brought them to Visegrad in eastern Bosnia, where they tortured and killed all of them, dumping their bodies in the Drina river.
All the victims were from the Muslim-dominated Sandzak area in western Serbia, which borders Bosnia, where at the time a bloody inter-ethnic war among Muslims, Serbs and Croats, was raging.
A total of 16 suspected members of the paramilitary group were arrested in 2014 in Bosnia's Serb-run entity or Serbia itself.
Eleven have gone on trial in Sarajevo, one of whom pleaded guilty and was sentenced to five years in prison in 2016 after reaching a deal with the prosecutors.
Another member of the group was sentenced to 15 years in prison in 2002 by a court in nearby Montenegro.
Leader of the group, Bosnian Serb Milan Lukic, was sentenced to life in prison by a UN tribunal for war crimes during Bosnia's 1992-1995 conflict, but he was never charged over the Strpci atrocity.
His brother, however, Gojko Lukic figures among the five recently accused.
Full report at:
english.alarabiya.net/en/News/world/2017/09/04/Serbia-charges-five-for-wartime-killing-of-Muslims.html
--------
Merkel wants to end Turkey EU membership talks
4 September 2017
German Chancellor Angela Merkel said Sunday that she would ask the European Union to call off membership talks with Turkey, amid escalating tensions between Berlin and Ankara.
"I don't see them ever joining and I had never believed that it would happen," she said during a televised debate with Martin Schulz, her Social Democratic rival in elections later this month.
She added that she would speak with her EU counterparts to see if "we can end these membership talks".
Merkel's tough stance came after Turkey arrested two more German citizens this past week "for political reasons", infuriating Berlin.
The arrests brought the number of German political prisoners in Turkish custody to 12, at a time when ties between the two NATO allies were already at an all-time low.
The plunge in relations began after Berlin sharply criticized Ankara over the crackdown that followed last year's failed coup attempt.
The arrest of several German nationals, including the Turkish-German journalist Deniz Yucel, the Istanbul correspondent for the Die Welt newspaper, further frayed ties.
Yucel has now spent 200 days in custody ahead of a trial on terror charges.
German journalist Mesale Tolu has been held on similar charges since May, while human rights activist Peter Steudtner was arrested in a July raid.
After Steudtner's arrest, Germany vowed stinging measures impacting tourism and investment in Turkey and a full "overhaul" of their troubled relations.
Turkish President Recep Tayyip Erdogan, for his part, has also sparked outrage after charging that Germany is sheltering plotters of last year's coup, as well as Kurdish militants and terrorists, and demanded their extradition.
Erdogan added to the tensions this month when he urged ethnic Turks in Germany to vote against Merkel's conservatives and their coalition partners, the Social Democrats, in September 24 elections.
Full report at:
english.alarabiya.net/en/News/world/2017/09/04/Merkel-wants-to-end-Turkey-EU-membership-talks.html
--------
Germany: No decision on Turkey's EU talks before polls
05 September 2017
Chancellor Angela Merkel's spokesman has ruled out an imminent decision on the future of Turkey's EU membership talks, despite recent campaign calls by the country's Social Democrats to stop the negotiations.
Speaking at a press conference in Berlin on Monday, spokesman Steffen Seibert said there won't be any decision on Turkey's EU membership talks before Germany's general elections later this month.
"There is no major European gathering before parliamentary elections in Germany on Sept. 24," he said.
"The European Council meeting in October will also review current relations with Turkey. And as the chancellor said yesterday, she will discuss there with her European counterparts whether or not to terminate membership negotiations," he added.
The EU's head of states and governments are scheduled to meet in Brussels on Oct. 19-20 for a planned European Council meeting.
Seibert underlined that any decision to end Turkey's membership talks would require unanimity among all EU member states.
He also warned that bringing termination to the agenda but failing to achieve unanimity would be "a very bad sign" for the EU.
Full report at:
worldbulletin.net/europe/193665/germany-no-decision-on-turkeys-eu-talks-before-polls
--------
Can't talk about Muslims? It seems we do little else in the UK
Nesrine Malik
5 September 2017
There's an awful lot we can't talk about in Britain these days. We can't talk about immigration, we can't talk about gender, about race, and most of all we can't talk about Muslims and Islam. We just can't talk about the hijab or the niqab, and we certainly can't talk about child abuse by men of Pakistani origin.
If you dare pipe up about any of these taboos you will be gagged, sacked and shunned. If you ask a question about immigration on BBC Question Time, for instance, a member of staff will rugby-tackle you and bundle you out of the studio. Politics, the media and polite society have become dominated by a powerful cabal, a liberal league that has so stifled debate for fear of offence that it has become an act of immense bravery to merely suggest that there is a religious or racial issue to any political or social problem.
This isn't hyperbole, it is the parallel universe that many, including politicians and most of the British media establishment, inhabit.
Let's take a quick glance at the news coverage over the past seven days. There have been three stories about Muslims and migrants, followed by their own noxious cloud of newspaper columns, radio phone-in shows and social media. The Labour MP Sarah Champion, who was forced off the Labour frontbench last month after writing a Sun column saying Britain "has a problem with British Pakistani men raping and exploiting white girls", ramped up her thoughts in a Times interview, where she blamed "the floppy left" – who, she claims, shy away from tackling difficult issues because they fear being accused of racism.
In another case, newspapers reported claims over the case of a child placed in foster care with a Muslim family that allegedly imposed a Muslim way of life – although the original reports contained questionable details and provocatively worded extrapolations. When challenged on this story, the Times played what is now a sort of meta race-card, defending its position by stating that the objection to the investigation "is a kneejerk response that betrays a blind spot on the left". Champion herself went full martyr and said she would "rather be called a racist than turn a blind eye to child abuse".
And this weekend the Sunday Times published a story on its front page about how five-year-old girls are wearing hijab as school uniform. The article quoted the former Archbishop of Canterbury, Lord Carey, who said: "Personally, I am against the wearing of hijabs altogether."
Following these stories, there have been phone-in shows, interviews and discussions on LBC, BBC Radio 4's Today and BBC Newsnight, plus two columns in the Sun. Not to mention the Daily Mail, which sank even further than usual by grafting a niqab on to a stock photo to illustrate its own report on the foster-parenting story.
At one point on Monday, a listener could switch over from Nick Ferrari hosting a debate on the hijab on LBC, to Radio 4 discussing the foster care case. The conspiracy of silence runs deep in the British establishment.
To claim, in this climate, that any criticism of reports that are sometimes inaccurate or even entirely made up, is due to a liberal progressive consensus that muffles discussion, is little short of gaslighting. We talk about "it" – immigrants, Muslims, political correctness, the apparent assault on Judaeo-Christian Britain – all the time. It has become a national obsession, as British as tea and crumpets. Keep calm and carry on dog-whistling.
Not only is there little fire to justify all the smoke, there is now a deliberate confection on the part of politicians and journalists in order to make careers or attract attention. A fake controversy which, when exposed as lies or exaggeration, is rehashed as an attack on the left for trying to suppress free speech.
And where is this "left" that has such a vice-like grip on politics, the media and public debate? Certainly not in government, and certainly not recently enough in power to have left such a lasting impact. Even when the left was in government, New Labour's overtures to the right were very much in evidence.
So where is this gagging left in the British media? Is it in the pages of the immigration- and Islam-obsessed Daily Mail? Is it in the tabloids? Is it in the pages of the respectable broadsheets like the Times and the Telegraph (whose columnist, Allison Pearson, said last week she was "deeply uneasy about this Muslim foster family")? Or in the BBC, which now largely acts as a referee providing a platform for false equivocation? Or maybe it is in our immigration-obsessed, Brexit-infected politics?
What we seemingly can't talk about is anything that takes these issues away from race or religion. We can't talk about how child abuse is also linked to class and economics, to the power of men over vulnerable children; we can't talk about how cultural compatibility in foster care is informed, and yes also sometimes compromised, by practicalities such as ease of familial access.
Full report at:
theguardian.com/commentisfree/2017/sep/05/muslims-criticism-religion-right-left-gag-debate
--------
URL:https://www.newageislam.com/islamic-world-news/supreme-court-seeks-modi-government/d/112438
New Age Islam, Islam Online, Islamic Website, African Muslim News, Arab World News, South Asia News, Indian Muslim News, World Muslim News, Women in Islam, Islamic Feminism, Arab Women, Women In Arab, Islamophobia in America, Muslim Women in West, Islam Women and Feminism