New Age Islam News Bureau
13 September 2022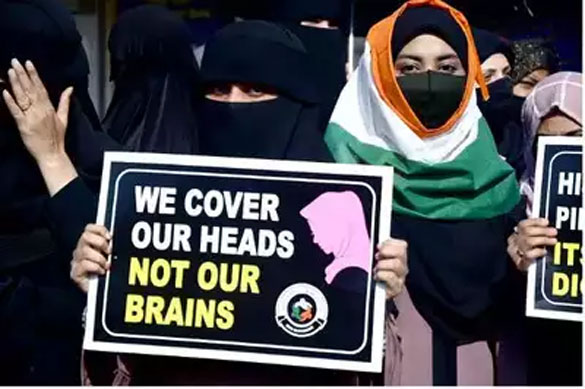 Photo: The Times of India
----
• Robots to Relay Sermons and Call to Prayer from the Imams and Muezzins to Pilgrims at Mecca's Grand Mosque
• US Special Envoy Condemns Taliban's 'Cynical' Policy towards Girls' Education
• Moroccan Army Chief Given Official Reception in Israel
• Greek Authorities Want To Install Christians in Mufti Offices in Western Thrace: Muslim Cleric, Mustafa Trampa
India
• 1991 Places of Worship Act and 1942 Allahabad HC Ruling Settle Gyanvapi's Status as a Mosque
• Gyanvapi: Gleeful Sangh Parivar Members Get a Poll Pot to Stir
• Over 30% of Detainees in Indian Prisons Are Muslims, Double Their Share in Population
• Organisers Booked for Provocative Songs outside Mosque during Ganesh Procession in Kalaburagi
• Gyanvapi Mosque Row: Varanasi District Court Verdict 'Disappointing', Communal Harmony Will Be Harmed, Fears AIMPLB
• Want UP-style madrasa surveys, mosque CCTVs in police control, says new Uttarakhand Waqf Board head
• PM Modi renews invitation to Saudi Crown Prince Mohammed to visit India
--------
Arab World
• Bahrain Prevents Prominent Shia Cleric from Traveling To Iraq to Commemorate Arba'een
• Iraqi Shia wailer hit with lawsuits for poem allegedly stirring up 'ethnic strife'
• Six Syrians die in attempt to reach Italy: UN
• Global summit on artificial intelligence kicks off in Riyadh
• Bahrain has highest number of political prisoners among Arab countries: Rights group
• Four Turkish soldiers killed in clashes with PKK militants in Iraq's Kurdistan Region
--------
North America
• US anger over Zawahiri's presence in Kabul key reason for Taliban travel ban
• US calls for immediate end to hostilities on Azerbaijani-Armenian border
• Afghan women face 'gender apartheid' under Taliban: Former parliamentarian
• US CENTCOM urges nations to bring ISIS relatives home from Syria
--------
Africa
• Burkina Junta Chief Sacks Defence Minister as Extremist Violence Rages
• Kenya's outgoing leader hosts rival President-elect Ruto hours before inauguration
• Tigray rebels ready for truce, African Union-led peace talks to end Ethiopia conflict
--------
Europe
• King Charles III A 'Friend' Of British Muslims, Says Head of Muslim Council of Britain
• British Muslims being reduced to 'second class' status by citizenship removal laws: report
• Brussels terror attack trial starts amid controversy over glass boxes for defendants
• Turkish-origin politician elected deputy in Swedish parliament
• Almost 80% of Turks want EU membership, says senior Turkish diplomat
• Germany urges Iran to revive nuclear deal, despite Israel's opposition
• Muslim Council of Britain chief pens condolence letter to King Charles III
--------
Mideast
• Hamas Says Israeli Blockade of Gaza Crime against Humanity
• Three soldiers killed in Al-Qaeda counterattacks in Yemen's Abyan
• Top Commander: Iran's Advanced Precision-Striking Drone Special Weapon for Destroying Israel
• Pro-Iran faction in Iraq sticks to its pick for premier
• Iran nuclear talks in disarray as monitors meet on probe
• Israel's spy chief says no deal gives Iran 'immunity' from its operation
• Iran says developed drone designed to hit Israel's Tel Aviv, Haifa
• Israel arrested 607 Palestinians in August, advocacy groups say
--------
Pakistan
• PTI to Move Court against Maryam for 'Accusing Imran of Blasphemy'
• Fear Grips Tirah Areas in Khyber As Families Flee After 'Arrival' Of Militants
• 5 killed, dykes breached as rains lash Mirpurkhas, Tharparkar in Sindh
• Opposition flays KP govt's 'poor' response to rising militancy, extortion cases
• Imran proposes limited extension in COAS Gen Bajwa's tenure
• COAS Bajwa Not Interested In Seeking Extension, PML-N Stalwart Says
--------
South Asia
• Journalist in Kapisa in Islamic Emirate's Custody: Family
• Back to back explosions hit Hazara neighbourhood in Kabul
• Taliban to Ink Contract with UAE over Airspace Control
• 'Very Limited' US Intelligence Capability in Afghanistan, Retired American General Says
--------
Southeast Asia
• Hadi Spoke about Graft, Not Race, Say Non-Muslim Supporters
• Pejuang may place youths from NGOs as GE15 candidates
• 1MDB trial: Banker confirms Najib never complained when millions flowed in and out of AmIslamic account
Compiled by New Age Islam News Bureau
URL: https://newageislam.com/islamic-world-news/supreme-court-arabic-quran-hijab/d/127940
--------
Supreme Court Not Being Sufficiently Proficient in Arabic, Is Ill-Equipped to Interpret the Quran to Determine Hijab's Essentiality: Muslim Side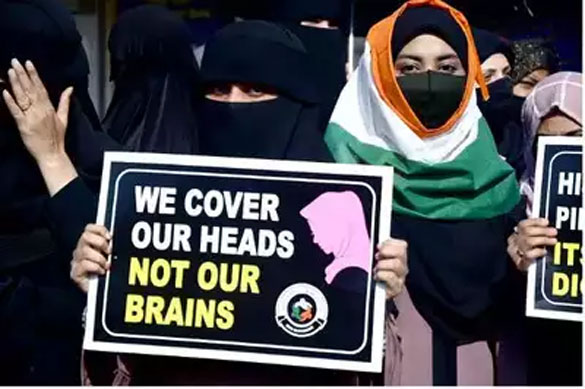 Photo: The Times of India
----
Sep 13, 2022
NEW DELHI: In an abrupt switch of gears, the Muslim side on Monday said the Supreme Court, not being sufficiently proficient in Arabic, is ill-equipped to interpret the Quran. It argued that instead of determining the essentiality of hijab to Islam by attempting to interpret the holy book, the court should view hijab as an individual woman's right to choose a piece of cloth to protect her privacy, dignity and identity.
The fresh of argument by the side that had earlier contended that hijab was essential to Islam, advanced in different forms by senior advocates Yusuf H Muchhala and Salman Khurshid. The last hearing in the court had seen a bench of Justices Hemant Gupta and Sudhanshu Dhulia, relying upon the Muslim side's argument on non-mandatory nature of five tenets of Islam — Namaz, Roza, Zakat, Hajj and Imaan — to ask how hijab, ranked lower in the hierarchy, could then be termed compulsory in Islam.
As the court was hearing the Karnataka hijab ban case, the Muslim side's change of track was palpable as Muchhala, counted among veteran experts on Muslim personal law, said, "Privacy means autonomy of body and mind. Right to conscience and the right to religion are complimentary. So when a Muslim women wants to wear hijab, it is her choice of cloth to feel empowered as well as protect her dignity and privacy."
He said the 'Amritdhari' Sikh women also wear turban and their right to wear it to educational institution should also be protected as much as Muslim women's right to sport headscarves. "We are concerned with individual rights. Whether hijab is essential to Islam is not a question in these batch of petitions," Muchhala said, not wanting the court to examine the essentiality of hijab to Islam.
The bench sought a clarification from Muchhala on his contradictory stands. It said, "First, you asserted that wearing hijab is a religious right. Now, you are arguing that the court should not get into interpreting Quran to determine whether hijab is essential to religion. And then, you are arguing that the matter should be referred to a nine-judge bench to determine whether this practice is essential to religion."
The bench said, "Even if this matter is referred to a nine-judge bench (which would hear issues relating to entry of Hindu women of all age-groups into Sabarimala temple, Muslim women into mosques and Parsi women into Agiyari), you could argue before the nine-judge bench that it too cannot interpret Quran and adjudicate on essentiality of hijab to Islam."
Khurshid argued that wearing hijab by a Muslim women could be because of her religious belief, a conscience call, a cultural necessity or a personal choice to maintain identity, dignity and privacy. "Cultural practices needs to be respected in a country of vast cultural diversity like India. The Muslim women do not want to defy the rule requiring them to wear uniform. They want to wear an additional cloth, in the nature of a headscarf, to honour their cultural requirement as well as personal choice."
The arguments would continue on Wednesday.
Source: Times Of India
Please click the following URL to read the text of the original story:
https://timesofindia.indiatimes.com/india/supreme-court-ill-equipped-to-determine-hijabs-essentiality-muslim-side/articleshow/94161800.cms
--------
Robots to Relay Sermons and Call to Prayer from the Imams and Muezzins to Pilgrims at Mecca's Grand Mosque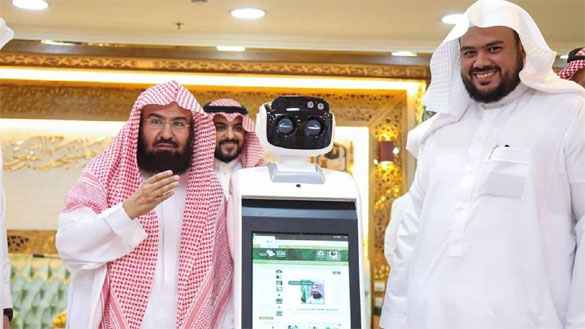 Abdul Rahman Al-Sudais (L), the general president of the Two Holy Mosques in Saudi Arabia, gestures while launching the new set of robots (Twitter/@ReasahAlharmain)
-----
12 September 2022
Saudi Arabia has launched a set of robots equipped with artificial intelligence technology in the Grand Mosque of Mecca, which will help worshippers during their visit to the holy site.
Unveiled over the weekend, the robots will communicate public messages, such as sermons and prayer calls, from the imams and muezzins to pilgrims.
Visitors can use their smartphones to scan the robot's barcodes to show content such as verses from the Quran and download it on their devices.
They can also interact with the robots via voice commands to obtain general information about the imams and muezzins and their weekly schedules.
Abdul Rahman Al-Sudais, the general president of the Two Holy Mosques, said on Friday that the new robots were launched as part of the "smart campus project, in accordance with Vision 2030 and the Presidential Strategic Plan 2024, which aims to provide maximum services to visitors to the two holy mosques".
According to Saudi Arabia, Vision 2030, which was launched in 2016, is aimed at opening up the country, privatising parts of the economy, reducing subsidies, attracting investors and weaning dependency off oil.
Earlier this year, Saudi Arabia introduced several intelligent robots in the Grand Mosque ahead of the Hajj pilgrimage, including robots specialised in cleaning the floor surface around the Kaaba, the shrine located in the centre of the mosque.
In December, Saudi Arabia launched a "Virtual Black Stone Initiative" that allowed Muslims to see and virtually touch the Black Stone, a rock set into the eastern corner of the Kaaba, without leaving home.
This year, almost one million pilgrims were allowed to attend the Hajj pilgrimage in Mecca after two years of cancellations and restrictions on the ritual - which is a lifeline for the kingdom's economy - as a result of the Covid-19 pandemic.
All able-bodied Muslims are expected to perform Hajj at least once in their lives.
Source: Middle East Eye
Please click the following URL to read the text of the original story:
https://www.middleeasteye.net/news/saudi-arabia-mecca-grand-mosque-robots-sermons-call-prayer-relay
--------
US Special Envoy Condemns Taliban's 'Cynical' Policy towards Girls' Education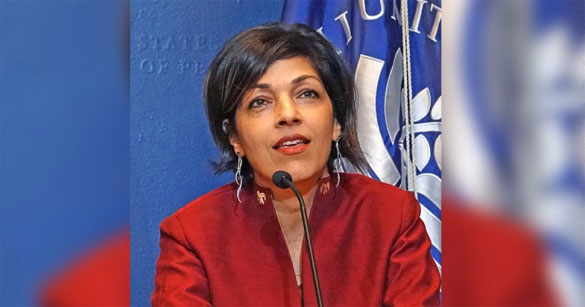 Photo: The Khaama Press
-----
By Saqalain Eqbal
12 Sep 2022
Rina Amiri, the US Special Envoy for Afghan Women, Girls, and Human Rights in Afghanistan, slammed the Taliban's policy of prohibiting girls from attending school past the sixth grade, calling it "cynical politics" that lacks any foundation in either culture or religion.
The Taliban's "cruel" stance toward girls' education, according to the special envoy Amiri, dashes the hopes and potential of young Afghan girls.
"There is no justification for continuing this cruel & destructive policy. Not culture, not religion nor logistics," Rina Amiri wrote on her Twitter handle on Sunday, September 11.
Earlier this week, after the schools, closed their doors to the girls and they were sent home in tears, young girls protested on the streets of Paktia province in southeast Afghanistan in front of the provincial directorate of education.
Without the Taliban's formal instructions, the province's schools reopened for girls after a decision by tribal chiefs and local education authorities but were closed again after only two weeks.
This comes as the Taliban Acting Minister of Education, Noorullah Munir, addressing an audience in Uruzgan province in central Afghanistan stated that given the current situation, parents in Afghanistan do not want to and are reluctant to send their daughters to school.
Afghan girls past the sixth grade have been denied the right to an education and the opportunity to attend school since the Taliban took control of Afghanistan last year, despite calls for the Taliban group to reopen girls' schools and sanctions from the international community. However, the issue has not yet been resolved.
Source: Khaama Press
Please click the following URL to read the text of the original story:
https://www.khaama.com/us-special-envoy-condemns-talibans-cynical-policy-towards-girls-education-46321/
--------
Moroccan Army Chief Given Official Reception in Israel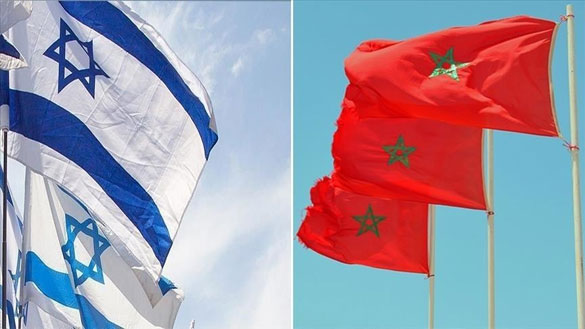 Photo: aa.com
----
Abdelraouf Arnaout
13.09.2022
Morocco's army chief Lt. Gen. Belkhir El-Farouk started an official visit to Israel on Tuesday to participate in a military conference in the city of Tel Aviv.
El-Farouk was offered an official reception ceremony upon his arrival and was welcomed by Israeli army chief Aviv Kochavi.
El-Farouk will take part in the Israeli army's International Operational Innovation Conference along with the participation of military leaders from other countries.
On Monday, the Moroccan army confirmed El-Farouk's participation in the conference, which takes place from Sept. 12 to 15.
"It will lay the foundations for solid cooperation in the field of multi-dimensional defense and military renewal," the army said in a statement.
Last week, the Israeli army said dozens of military leaders would take part in the conference, including Arab countries.
In 2020, Israel and Morocco announced the resumption of bilateral diplomatic relations, after their suspension in 2000.
Source: Anadolu Agency
Please click the following URL to read the text of the original story:
https://www.aa.com.tr/en/middle-east/moroccan-army-chief-given-official-reception-in-israel/2683759
--------
Greek Authorities Want To Install Christians in Mufti Offices in Western Thrace: Muslim Cleric, Mustafa Trampa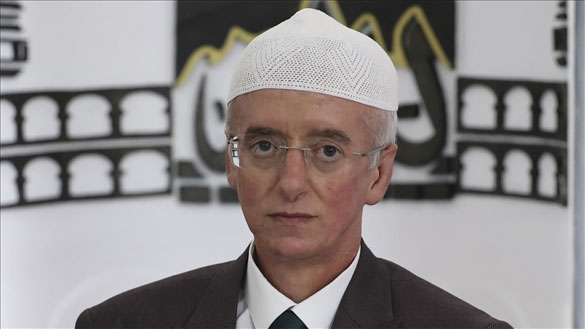 Mustafa Trampa/ Photo: aa.com
-----
Halil Ibrahim Medet
13.09.2022
The newly elected Muslim cleric (mufti) of the Turkish minority in the Xanthi region of Western Thrace in Greece said Monday that discriminatory practices are being carried out against the Turkish minority in the region.
Mustafa Trampa, who was elected as the new cleric on Sept. 9, told Anadolu Agency that the legal basis of the institution of the mufti is the Athens Treaty of 1913, Law No. 2345 enacted in 1920 and the 1923 Treaty of Lausanne, but Greece violated the fundamental rights of the Turkish minority under both these treaties.
Stating that the rights of the Turkish minority have been violated by new laws and decrees, Trampa said: "Our people clearly showed their reaction against…the mufti who was appointed without discussing it with our advisory board, our highest institution. Since 1990, our people began to elect their own mufti, as specified in treaties and laws. The process started with the unlawful dismissal of our muftis."
Attitude of Greek media immoral, unlawful
Noting that the Greek media took an "immoral and unlawful" attitude towards them with the announcement of the mufti candidacy, Trampa said what was done was open discrimination and an attitude that harmed human dignity.
He said the Greek press also slandered him and he condemned these approaches, which contradicted the principles of journalism.
"Everyone does what suits them," he said.
The "black propaganda" did not find any response in the eyes of the people of Western Thrace and the commonsense Greeks, he said, but it further angered the extremist groups who read these newspapers.
Trampa noted that even though they can pray freely in Greece, their religious freedoms are severely violated.
"The approach that if you can pray, then you have freedom is wrong because the Greek government has issued decrees with the force of law to minimize your institution and turn it into a state office. Greece's policies towards the religions of minorities are a great example of unlawfulness."
Authorities aim to place Christians in minority foundations, religious institutions
Stating that the aim of the Greek authorities is to place Christians in minority foundations and religious institutions, Trampa said: "For example, Christians lead the foundation committee in Rhodes. Christians are among the delegations here, including secretaries or in different positions. The latest law states that Christians or people from different religions can also be employed in mufti offices."
He said it is very difficult to obtain the necessary permits for the maintenance and repair of mosques in Western Thrace and that the bureaucratic procedures that can be completed in two to three months for the construction of a new village mosque have been extended up to 20 years.
"They are doing their best to alienate you from these works," he said.
3rd elected mufti of Xanthi
The election of the mufti, in which Trampa and Mustafa Kamo were candidates, was held on Sept. 9 with voting done with a show of hands in mosques in Xanthi.
In the election, in which 7,320 people took part, 2,570 voted for Kamo and 4,750 for Trampa.
Trampa, who won the election after Ahmet Mete, the elected mufti of Xanthi, passed away on July 14, became the third elected mufti of Xanthi.
Source: Anadolu Agency
Please click the following URL to read the text of the original story:
https://www.aa.com.tr/en/europe/greek-authorities-want-to-install-christians-in-mufti-offices-in-western-thrace-muslim-cleric/2683556
--------
India
1991 Places of Worship Act and 1942 Allahabad HC Ruling Settle Gyanvapi's Status as a Mosque
September 12, 2022
Shadan Farasat
New Delhi: The destruction of a monument of political, cultural or religious significance erected by an earlier, defeated order followed by the erection of a new building upon its ruins was standard practice for emperors and kings of all faiths in history. Though the pedigree of a given artefact or architectural element could be open to doubt, India is full of monuments which bear traces and vestiges of earlier constructions. None of this is of any legal relevance to the religious character of a site, after the passing Places of Worship (Special Provisions) Act 1991.
The 1991 Act says that a mosque, temple, church or any place of public worship in existence on August 15 1947, will retain the same religious character that it had on that day – irrespective of its history – and cannot be changed by the courts or the government.
Parliament was well aware of the possible traces of history at many places of worship, and it intended to put an end to claims that seek to set the clock back. "In preserving the character of places of public worship, Parliament has mandated in no uncertain terms that history and its wrongs shall not be used as instruments to oppress the present and the future." This is what the Supreme Court said in one voice in its 2019 Ayodhya judgment, authored by five judges.
The Gyanvapi mosque in Varanasi was built upon a temple destroyed in 1669 on Aurangzeb's orders and video surveys are hardly needed to identify Hindu features and motifs that are part of its masonry and structure. What matters in law is the status of the Gyanvapi mosque on August 15,1947. Its status as a mosque and a waqf was noted by a judgment of the Allahabad high court (AIR 1942 Allahabad 353, Din Mohammed and Ors. vs Secretary of State). Hindutva activists cite this judgment at their own peril.
In 1935 or 1936, some Muslim individuals went to court for a declaration to the effect that the enclosure outside the mosque was included in the dedicated waqf. During Eid and other special prayers, the congregation spilt over beyond the mosque into this enclosure. By its decree, the civil court recognised that the mosque itself, the plinth underneath and some adjacent portions were waqf but the enclosure around it was not. The issue in appeal was the status of this enclosure – which was held to be an area of public usage over which neither the Muslims (nor anyone else) could claim exclusive use, by ownership or by custom.
The Allahabad high court confirmed the findings of the civil court and also traced an instructive history of the administrative policy to protect the rights of both communities as they stood, in the area of the Gyanvapi site.
Following communal riots in 1809, a magistrate named Watson suggested exclusion of Muslims from the mosque in a letter to the vice president in council. His suggestion was turned down. The high court found a reference to this in a letter of March 28, 1810, written by a secretary to the government to the acting magistrate. Watson's letter is quoted by those who want the Muslims ejected from the mosque but they omit to mention its summary rejection by the vice president in council.
Some passages of the aforesaid Allahabad high court judgment are worth noting:
"4. The learned Civil Judge found that the land under the mosque and its plinth was waqf land. He also found that some houses over and nearer the northern gate of the mosque had been in the possession of the mutwallis for over 12 years and might be considered as waqf. It was further established in his opinion that the Musalmans had been in the habit of celebrating an urs or memorial service once a year near two graves to the west of the mosque and of using the part of the open land occupied by ruins as a passage for going over the proof (sic) of the mosque (whatever that may mean). He gave the plaintiffs a declaration to the effect that they could use the waqf property for the purpose of their religious ceremonies and that they could use the land near graves to the west in order to celebrate the urs once a year and that they could use the land covered with ruins as a passage but also declared that they had had no right to offer ordinary, funeral or Alvida prayers on any portion of the land marked red in the plaint map which would be part of the decree, but they might, if they liked, offer prayers on the proof (sic) of the mosque and of a certain house occupied by a dhobi or washerman and in the house over the northern gate and the house to the east of the gate and over the plinth to the north of the mosque over which there existed many graves. I may mention that the portion marked red and in the plaint map is that part of the enclosure between the mosque itself and the surrounding houses or wall.
The plaintiffs appealed. The first question which naturally arises is whether the whole of the enclosure is wakf or dedicated land. The learned Civil Judge has gone into the history of this mosque and has come to the conclusion that it was built on the site of a Hindu temple which was demolished by the Emperor Aurangzeb in the seventeenth century. I do not think that it is necessary to go into the question of the origin of the mosque. It is sufficient to go back to the year 1809 when there was a serious riot between Hindus and Musalmans in that part of Benares where the mosque is situated. It appears from a letter from a Secretary to Government to the acting Magistrate of Benares written on 28rd March, 1810, that the previous Magistrate, Mr. Watson, had suggested that the Musalmans should be absolutely excluded from the mosque and that the Vice-President in Council disapproved of this suggestion. The vice-President based his opinion upon the obvious expediency of uniformly manifesting the strictest impartiality on the occurrence of any dispute between the Hindus and Musalmans. He pointed out that a departure from that principle would be productive of the utmost jealousy and discontent on the part of those who were excluded and would give rise to the most extravagant pretensions on the part of other party. He asserted that the authorities must depend for the maintenance of public tranquility on a firm and just confidence in the known intentions of Government to afford both parties equal protection in the exercise of their religious opinions and on the conviction that any violence or outrage on either side would infallibly meet its merited punishment. The Vice-President approved of the proposal of the acting Magistrate for re-establishing the exercise of the Hindu and a Mahomedan religion respectively at the place mentioned in his letter which seems to suggest that both parties were to be allowed to perform their legitimate ceremonies in the enclosure of this mosque."
The 1942 judgment – which upheld Gyanvapi's status as a mosque – binds all the current proceedings.
Even today, none of the Hindu worshippers deny that the mosque was in existence on August 15,1947, nor is it their case that a temple was converted to Muslim use only after that date. They do not deny that Muslim worship took place at the site on August 15, 1947 and thereafter. The only allegation is that the structure was not made by any waqf known to be set up by Aurangzeb and must not be treated as a mosque. This allegation has no meaning in the face of a judicial declaration that the mosque and the plinth upon which it stands is indeed waqf.
The Allahabad high court also declared that the enclosure around the mosque was to be a public space. In fact, the high court records that periodic intrusions into this space – whether by Hindus or by Muslims – were corrected by the administration, and idols were removed from this space on occasion.
Now, fast forward to 2022. The grievance of the plaintiffs in the current suits appears to be that the temple was demolished in 1669. A slew of suits have been filed seeking court orders to enable Hindu worship in the mosque area, and even for the removal of the mosque. It is self-evident that such pleas are pleas to change the religious character of the mosque. A belated suit claiming that the deity Vishvanath has title to the land on which the mosque stands is also awaiting a decision before the Allahabad high court on whether such a claim can be at all maintained. Given that the sole purpose of the 1991 law was that all such pleas and claims must cease, it is astonishing to see the sustained campaign against the mosque, with allegations of idols and their damage coming thick and fast.
Rani Ahilyabai Holkar built the present Vishvanath temple in 1777. This is the temple that is statutorily recognised by the Uttar Pradesh Kashi Vishvanath Temple Act 1983. In the course of upholding the vires of this Act, the Supreme Court (in 4 SCC 606 Shree Adi Vishveshvara vs State of UP, 1997) recognises that the original svayambhu jyotirlinga was carefully removed from the old structure and protected every time the temple was attacked. The deity in the temple Ahilyabai built is the statutorily recognised "jyotirlinga", which any devotee of the Hindu faith would be loathe to deny. These are not issues that can now be reopened.
The Constitution Bench judgment in the Ayodhya case says this:
85……."Section 4(1) clearly stipulates that the religious character of a place of worship as it existed on 15 August 1947 shall be maintained as it existed on that day. Section 4(2) specifically contemplates that all suits, appeals and legal proceedings existing on the day of the commencement of the Places of Worship Act, with respect to the conversion of the religious character of a place of worship, existing on 15 August 1947, pending before any court, tribunal or authority shall abate, and no suit, appeal or proceeding with respect to such matter shall lie after the commencement of the Act. The only exception in the proviso to sub-section (2) is where a suit, appeal or proceeding is instituted on the ground that the conversion of the religious character of a place of worship had taken place after 15 August 1947 and such an action was pending at the commencement of the Places of Worship Act. (emphasis original)
Source: The Wire
Please click the following URL to read the full text of the original story:
https://thewire.in/law/1991-places-of-worship-act-and-1942-allahabad-hc-ruling-settle-gyanvapis-status-as-a-mosque
--------
Gyanvapi: Gleeful Sangh parivar members get a poll pot to stir
J.P. Yadav | New Delhi
13.09.22
The BJP core leadership maintained tactical silence but members of the wider Sangh parivar, including some ministers, a chief minister and a deputy chief minister, appeared unable to suppress their joy at a Varanasi court's ruling to examine the right of Hindus to worship on the premises of the Gyanvapi mosque adjoining the Kashi Vishwanath temple.
"Shiv hi satya hai (Lord Shiva is the truth)," tweeted rural development minister Giriraj Singh after the court ruling.
"Jai Baba Vishwanath! Har Har Mahadev," was the response of Madhya Pradesh chief minister Shivraj Singh Chouhan.
Uttar Pradesh deputy chief minister Keshav Prasad Maurya could not resist tweeting: "Karwat leti Mathura, Kashi (Mathura and Kashi turn sideways)!"
Maurya's tweet referred to the two other religious disputes, in addition to Ayodhya, raised by the BJP in the past.
Although these leaders did not explicitly link their tweets to the court ruling, they left little unsaid. While speaking to news channels, they welcomed the verdict.
Giriraj, a cabinet minister in the Narendra Modi government, went to the extent of indirectly appealing to the Muslim community to forgo its claim over Kashi and Mathura.
"I want to appeal to the Muslims that Kashi and Mathura are cultural icons of Bharat. For us (the Hindus), Mecca and Medina are all here," he said, asking whether Muslims can deny that Aurangzeb and some other invaders had destroyed temples.
This surround sound of delight from the ruling dispensation, even as the core leadership chose to remain silent, is being seen as a ploy to allow the polarising issue to simmer while maintaining distance from it.
In the recent past, BJP chief J.P. Nadda had stressed that the party had no role in the fresh Gyanvapi controversy. "Courts and the Constitution will decide issues like Gyanvapi," Nadda had said. His response had come in May this year when the Gyanvapi issue had hit the headlines amid claims that a Shivalinga had been found on the premises.
Internally, however, party leaders appeared joyous over the court's ruling, terming it a "big victory" for Hindus, confident that the issue would simmer in the run-up to the bunch of state elections this year and next year and finally the 2024 Lok Sabha polls.
"We don't need to speak. The issue is acquiring a momentum of its own," a party leader said.
The Vishwa Hindu Parishad, which had led the Ram Janmabhoomi movement in the 1980s till the BJP officially took it over and reaped political dividends, came out to celebrate the court ruling, saying the "first hurdle to the Gyanvapi temple's liberation has been crossed".
"The first hurdle has been crossed. Now the court will examine the matter on its own merit. We do hope and look forward to a victory. The law, justice and truth are with us," VHP working president Alok Kumar said.
BJP sources said that although their leadership would maintain silence, it cannot stop party members and outfits like the VHP from speaking about the issue as it concerns the sentiments of Hindus, who form the party's core support.
Former Union minister Uma Bharti, a leading player in the Ram Janmabhoomi movement, too, welcomed the ruling and urged Muslims to go for an out-of-court settlement, taking into account the faith of the Hindus.
The BJP and the RSS had decided not to pursue the Kashi and Mathura controversies after the Supreme Court handed over the Babri Masjid site to Hindus to build a Ram temple.
The party still maintains the same position but many leaders feel that given the way the Gyanvapi issue is taking shape, they may be forced to speak out on the subject in the days to come.
They believe that questions will be raised also over the maintainability of the 1991 Places of Worship Act, which prohibits the conversion of any place of worship and calls for maintenance of their religious character as they existed on August 15, 1947.
Source: Telegraph India
Please click the following URL to read the full text of the original story:
https://www.telegraphindia.com/india/gyanvapi-gleeful-sangh-parivar-members-get-a-poll-pot-to-stir/cid/1886240
--------
Over 30% of detainees in Indian prisons are Muslims, double their share in population
Vignesh Radhakrishnan
Jasmin Nihalani
SEPTEMBER 13, 2022
In 2021, over 30% of all detenues in Indian prisons were Muslims even though the community's share in the population is only 14.2%
In 2021, over 30% of all detenues in Indian prisons were Muslims even though the community's share in the population is only 14.2% (as of 2011). Indian jails host four types of prisoners — convicts (persons found guilty of a crime and sentenced by a court), undertrials (currently on trial in a court of law), detenues (persons held lawfully in custody), and those who do not belong to any of these three categories and who comprise a small share of the total number of prisoners. Notably, in Assam, 61% of the convicts and 49% of the undertrials were Muslims, while the population share of the community in the State was 34%. Among States with a relatively high number of detainees, the share of Muslim detainees was notably disproportationate to the population share in Gujarat, U.P., Haryana and J&K U.T.
Share of Muslims
The chart shows the % of Muslims in the total population in India in 2011, the % of Muslim convicts, the % of Muslim undertrials and the % of Muslim detenues in Indian prisons as of 2021.
Share of Hindus
The chart shows the % of Hindus of the total population in India in 2011, the % of Hindu convicts, the % of Hindu undertrials and the % of Hindu detenues in Indian prisons as of 2021.
Share of Muslims State-wise
The chart shows the % of Muslims in the total population in 2011 (black circle), the % of Muslim convicts (yellow), the % of Muslim undertrials (pink) and the % of Muslim detenues (blue) in prisons across States as of 2021. While the share of Muslim detenues was high in many States, the number of total detenues (number given in brackets) was higher only in some. So, the share has to be read along with the total detentions.
The total number of detainees was relatively high in J&K U.T., U.P., Gujarat, Haryana, Tamil Nadu, and Nagaland. Of these the Muslim share was notably disproportionate to the population share in Gujarat, U.P., Haryana and J&K U.T.
Source: The Hindu
Please click the following URL to read the full text of the original story:
https://www.thehindu.com/data/over-30-of-detainees-in-indian-prisons-are-muslims-double-their-share-in-population/article65882525.ece
--------
Organisers Booked for Provocative Songs Outside Mosque During Ganesh Procession in Kalaburagi
By: Harish Upadhya
SEPTEMBER 13, 2022
Police in Karnataka's Kalaburagi have registered a suo moto case against the organisers of a Ganesh utsava procession for playing provocative songs outside a mosque in the town.
The procession was passing through the town's super market area on September 10 night when it stopped in front of the Mehbas Masjid. The organisers had hired a DJ for the procession and provocative songs were allegedly played outside the mosque.
The case was registered at the Brahmapura police station after a video of the incident went viral on social media. Those booked include Bhovi Samaj Ganesh Utsav Mandali, its president Tukaram and two others for hurting religious sentiments and using a DJ without prior police permission among other offences under the IPC. Arrests are yet to be made in the case.
On Sunday, police in Karnataka's Ballari district had arrested four men for allegedly throwing slippers at a mosque in Siruguppa town during a Ganesh utsava procession the day before. After a video of the incident went viral, netizens demanded action. Taking note of the incident, ADGP Law and Order, Alok Kumar, tweeted: "We have secured the accused persons. Appropriate legal action is being taken against them."
Source: News18
Please click the following URL to read the full text of the original story:
https://www.news18.com/news/india/organisers-booked-for-provocative-songs-outside-mosque-during-ganesh-procession-in-kalaburagi-5944969.html
--------
Gyanvapi Mosque Row: Varanasi District Court Verdict 'Disappointing', Communal Harmony Will Be Harmed, Fears AIMPLB
13 SEP 2022
The All India Muslim Personal Law Board (AIMPLB) has termed "disappointing" the Varanasi district court's decision on the maintainability of the Gyanvapi mosque case and urged the government to implement the Places of Worship (Special Provisions) Act, 1991, with full force.
The Varanasi district court on Monday said it will continue to hear a petition seeking daily worship of Hindu deities whose idols are located on an outer wall of the Gyanvapi Masjid, dismissing the mosque committee's argument that the case is not maintainable.
What did AIMPLB say?
In a statement, AIMPLB General Secretary Maulana Khalid Saifullah Rahmani said the preliminary decision of the district judge's court was "disappointing and saddening".
Rahmani said in the midst of the Babri Masjid controversy in 1991, Parliament had approved that the status quo at all religious places, except the Babri Masjid, would be maintained as in 1947, and no dispute against it would be valid.
Then in the Babri Masjid case, the Supreme Court upheld the Places of Worship (Special Provisions) Act, 1991, and declared it mandatory, he pointed out.
"But in spite of this, those who want to serve hatred and who do not care about the unity of this country, raised the issue of Gyanvapi Masjid in Varanasi and it is a pity that the district judge's court ignored the 1991 law and allowed the petition," Rahmani said.
"Now, this sad phase has come where the court has initially accepted the claim of Hindu groups and has paved the way for them. It is a painful thing for the country and the people," he said.
This will affect the unity of the country and harm communal harmony, Rahmani said.
The government should implement the 1991 law with full force, all the parties should be made bound to this law and a situation should not arise wherein the minorities get frustrated with the justice system and feel all the doors of justice are closed for them, he said in a statement.
What is the current controversy all about?
District Judge A K Vishvesh rejected the Anjuman Intezamia Masjid Committee's petition questioning the maintainability of the case, which has reignited the Kashi Vishwanath temple-Gyanvapi Masjid dispute.
Separately, the Allahabad High Court which is hearing another case dating back to 1991 on the temple-mosque dispute on Monday fixed September 28 for its next hearing.
The mosque is located next to the iconic temple and the case in the Varanasi court revived claims that the mosque was built on a portion of the Hindu structure demolished on the orders of Mughal emperor Aurangzeb.
The Supreme Court had directed the district court to first decide on the maintainability of the case, filed by five Hindu women seeking permission to offer daily prayers before the idols of Shringar Gauri.
The mosque committee had approached the apex court, arguing that their plea was not maintainable as the Places of Worship (Special Provisions) Act, 1991, mandated that the character of such places should remain as it was at Independence.The 1991 law made an exemption only for the Ram Janmabhoomi-Babri Masjid land dispute.
Source: Outlook India
Please click the following URL to read the full text of the original story:
https://www.outlookindia.com/national/gyanvapi-mosque-row-varanasi-district-court-verdict-disappointing-communal-harmony-will-be-harmed-says-aimplb-news-222957
--------
Want UP-style madrasa surveys, mosque CCTVs in police control, says new Uttarakhand Waqf Board head
PRITHVIRAJ SINGH
12 September, 2022
Dehradun: Uttarakhand's new Waqf Board chairman Shadaab Shams wants the Pushkar Singh Dhami government to follow Uttar Pradesh's example and conduct a survey of the state's unregistered madrasas.
Shams, a leader of the Bharatiya Janata Party (BJP) who was elected unopposed to the position last week, told ThePrint in an interview that the Waqf Board will make an official representation before the state government soon to identify madrasas that are not affiliated to it or the Uttarakhand Madarsa Board (UMB) — the regulatory body for institutions of Islamic learning.
The Waqf Board and the UMB are the two state bodies that govern madrasas. Each has jurisdiction over the madrasas that come under it.
"Taking a leaf out of the UP government's book, we'll conduct a survey of madrasas functioning in Uttarakhand. This will include those affiliated to the UMB or Waqf Board as well as madrasas that are not registered with either of the two government bodies," Shams said.
The aim, he further said, is to prepare a database of unregistered madrasas functioning in the state and find out why they aren't registered with the board. The exercise is also aimed at identifying government-aided madrasas that need an upgrade, he added.
Madrasas that not registered with either the state waqf board or UMB will be given an ultimatum — either get registered or be disbanded.
"No unregistered madrasa will be allowed to function in Uttarakhand, no matter what. I have spoken to the CM. Soon, a formal proposal will be submitted to him for a survey," said the Waqf Board chief.
The development comes two months after Dhami's government warned government-aided madrasas to either get affiliated with the state board of education or face action.
Shams also said that security cameras will be installed in mosques and madrasas in the state to check "unlawful activities, if any".
According to the Waqf Board's estimates, Uttarakhand currently has 522 registered madrasas (419 with UMB and 103 with Waqf Board), while nearly the same number of madrasas are unregistered.
On 31 August, the UP government under Chief Minister Yogi Adityanath had ordered a survey to identify unrecognised madrasas and gather details such as organisations running them, curriculum, and source of income. The development has sparked a political row, with the opposition claiming that the exercise was meant to harass Muslims living in the state.
Upgraded learning, better infrastructure
Shams claimed that the new board plans to integrate madrasa learning with mainstream education. This means including subjects like maths and science in the madrasa education system: "Madrasas in Uttarakhand will now incorporate mainstream subjects like sciences, mathematics, and languages like Hindi and English. They will be converted into proper schools and modernised with smart classes and education systems."
The plan is to allow religious teachings for four hours each — two in the morning and two in the evening — while regular classes will be held from 8 am to 2 pm.
The proposal, which is still in the pipeline, will first be implemented with the 103 madrasas affiliated with the Waqf Board and will be eventually replicated in UMB institutions, Shams said.
The board also has plans to upgrade madrasas — not only in terms of the curriculum but also its infrastructure. For this, the Waqf Board has at its disposal large amounts of funds — mostly through donations — and properties, he added.
Shams also claimed that the board will set up centres for higher education for madrasa students: "These centres will be in the form of ITIs and other vocational and skill development centres so that madrasa students can have better means of employment."
According to the board's records, the Uttarakhand Waqf Board had properties worth nearly Rs 3 lakh crore, he said, adding: "Rehmania Madrasa in Roorkee will be developed as model minority study centre equipped with smart classes, adequate teaching staff and other modern infrastructural facilities."
CCTV cameras in mosques, doing away with loudspeakers
Madrasas and mosques under the state waqf board will be fitted with security cameras, Shams said. "CCTV cameras will be installed in madrasas and all 709 mosques managed by the state waqf board, with remote control at local police stations. It's aimed at preventing unlawful activities and maintaining transparency in the mosques."
New mosques will not have any loudspeakers, and efforts will be made to remove them from the existing ones as well, he said. The move is significant, especially given the controversy surrounding loudspeakers that rocked two states — Uttar Pradesh and Maharashtra — earlier this year.
The board is also working on plans to open shelter homes for the elderly who have been "abandoned" by their families, said Shams.
Called "Second Inning" homes, residents of these shelters can go back to their families when they want, he added.
Anti-encroachment drive
The BJP leader said that although the board had enough properties to fund its own activities, several of them had been encroached upon. For this, the board will most likely begin an anti-encroachment drive on 17 September, he said. First up is the 14 bighas of waqf land in Dehradun, which Shams claims has been encroached upon "for years".
Source: The Print
Please click the following URL to read the full text of the original story:
https://theprint.in/india/governance/want-up-style-madrasa-surveys-mosque-cctvs-in-police-control-says-new-uttarakhand-waqf-board-head/1122867/
--------
PM Modi renews invitation to Saudi Crown Prince Mohammed to visit India
Sep 13, 2022
RIYADH: Ahead of the National Day of Saudi Arabia, Prime Minister Narendra Modi has conveyed his greetings to Crown Prince Mohammed bin Salman and renewed the invitation to him to visit India at an early date.
External Affairs Minister S Jaishankar who just concluded his first official visit to Saudi Arabia and held talks with the top leadership here discussed measures for enhancing bilateral relations across all domains, including political, trade, energy, defence and security, the Indian embassy here said in a press release.
He met the Saudi Crown Prince in Jeddah on Sunday and handed over a written message from Prime Minister Modi, conveying greetings on the upcoming National Day of Saudi Arabia on September 23 and reiterating invitation to the Crown Prince to visit India at an early date, the press release said.
Crown Prince Mohammed paid his first State visit to India in February 2019. During the meeting, bilateral relations between the two countries and opportunities for enhancing them were reviewed and the latest regional and international developments, as well as the efforts being exerted towards them, were discussed, the official Saudi Press Agency reported.
Earlier on Sunday in Riyadh, Jaishankar held talks with his Saudi counterpart Prince Faisal bin Farhan and discussed current global political as well as economic issues and agreed to work closely together in G-20 and multilateral organisations.
The two ministers co-chaired the inaugural meeting of the Committee on Political, Security, Social and Cultural Cooperation (PSSC), under the framework of the India-Saudi Arabia Strategic Partnership Council.
Both ministers assessed the progress in bilateral relations positively across all domains including political, trade, energy, investments, defence, security and culture. Several areas were identified for further enhancing bilateral cooperation such as food security, healthcare, pharmaceuticals, defence industry and entertainment, the Indian embassy press release said.
The two ministers endorsed the work of the four Joint Working Groups of the PSSC (Political and Consular; Defence; Legal and Security; and Social and Cultural) as well as the Senior Officials Meetings. They also discussed greater coordination between the two countries in multilateral organisations especially the G-20, the statement said.
Jaishankar met the Secretary General of the Gulf Cooperation Council (GCC) Nayef Falah Mubarak Al-Hajraf on September 10 and discussed India-GCC relations.
Jaishankar and GCC Secretary General also signed an MOU on Mechanism of Consultations between India and GCC. The MOU provides for institutionalisation of annual dialogue between India and the GCC and setting up Working Groups on different areas of cooperation.
India and Saudi Arabia enjoy cordial and friendly relations reflecting the centuries-old economic and socio-cultural ties. Saudi Arabia is India's fourth-largest trading partner. More than 18 per cent of India's crude oil imports are sourced from Saudi Arabia. During FY22 (April -December), bilateral trade was valued at USD 29.28 billion.
During this period, India's imports from Saudi Arabia were valued at $22.65 billion and exports to Saudi Arabia were worth $6.63 billion.
Source: Times Of India
Please click the following URL to read the full text of the original story:
https://timesofindia.indiatimes.com/world/middle-east/pm-modi-renews-invitation-to-saudi-crown-prince-mohammed-to-visit-india/articleshow/94168554.cms
--------
Arab World
Bahrain prevents prominent Shia cleric from traveling to Iraq to commemorate Arba'een
12 September 2022
Bahraini authorities have prevented a prominent Shia Muslim cleric from traveling to Iraq to join masses of pilgrims from around the world marching to the holy city of Karbala to commemorate Arba'een, the 40th day after the martyrdom anniversary of Imam Hussein (AS), the third Shia Imam.
As part of the Al Khalifah regime's heavy-handed measures against members of the majority religious community in the tiny Persian Gulf kingdom, the officials did not allow the president of Bahrain's dissolved Shia Clerical Council, Sayed Majeed al-Mishal, to depart Bahrain for Iraq.
The authorities did not provide any reason for the restrictive measure, Arabic-language Lualua television network reported.
Bahrain's Shia community has long complained about discrimination and marginalization at the hands of the West-backed regime.
According to human rights organizations, Bahraini authorities have imposed heavy curbs on the religious freedom of the majority community since the outbreak of the popular uprising and nationwide protests in 2011.
Last month, Sheikh Hussain al-Daihi, the deputy secretary general of Bahrain's dissolved al-Wefaq National Islamic Society, condemned Bahraini officials' stringent restrictions on Shia citizens and prevented them from taking part in Ashura mourning rituals.
He said the practice falls within the framework of a "racist policy that has been nurtured in recent years."
Sheikh Daihi pointed to the "deep rift between the Bahraini nation and the Manama regime," arguing that Bahraini authorities are misappropriating state institutions in order to target Shias, their religious halls and preachers, and whoever disobeys the orders will be punished harshly.
"Shias in Bahrain do not seek to overthrow the ruling regime and establish their own rule. At the same time, they do not accept the ongoing imposition of tailored principles and certain religious orientations on them. Educational curricula, media reports as well as judiciary and security bodies are all being misused for the sake of suppressing Shias. This is the most contemptible level of tyranny," he pointed out.
Every year on Arba'een, millions of people from around the world flock to Karbala. Large groups of mourners travel on foot toward the holy city to take part in the largest annual Islamic gathering on earth. The ceremony falls on September 27 this year.
Imam Hussein (AS) and his 72 companions were martyred in the Battle of Karbala in southern Iraq in 680 AD after fighting courageously for justice against the much larger army of the Umayyad caliph, Yazid I.
Demonstrations have been held in Bahrain on a regular basis ever since the popular uprising began in mid-February 2011.
Source: Press TV
Please click the following URL to read the full text of the original story:
https://www.presstv.ir/Detail/2022/09/12/689079/Bahrain-prevents-prominent-Shia-cleric-from-travelling-to-Iraq-to-observe-Arba%E2%80%99een-ritual
--------
Iraqi Shia wailer hit with lawsuits for poem allegedly stirring up 'ethnic strife'
12 September, 2022
A poem by an Iraqi Shia wailer known as Basim al-Karbalaei, in which he allegedly curses the Companions of Islam Prophet Mohammed, describing them as "gangsters", went viral on social media platforms and led to condemnations and lawsuits for encouraging ethnic strife.
As the Shia Muslims across Iraq and neighbouring Iran march to the holy city of Karbala to commemorate Arbaeen, the poem has been trending high on Iraqi Twitter. Arbaeen marks the end of the 40-day mourning period for the seventh-century killing of Imam Hussein, Prophet Mohammed's grandson, by followers of Caliph Yazid. The occasion falls on 17 September this year.
"The Companions are gangsters", reads the poem and sung by al-Karbalaei during the traditional Shia self-beating ceremonies, was published in a video clip on his formal YouTube channel seven months ago.
The Diwan of Sunni Endowment, a formal body related to the Iraqi federal government, called for an investigation into the video clip and bringing those behind the "slur" to justice. It stressed the need to uphold all religious fatwas that "bans cursing all the religious symbols, especially the Prophets and Messengers of God, Ahl al-Bayt (the Arabic term of the holy family of the Prophet Muhammad), and the Companions of the Prophet."
Three Iraqi lawyers on Monday raised two legal complaints against al-Karbalaei.
According to Article 2 of the Iraqi constitution, "Islam is the official religion of the State and is a foundation source of legislation" and Article 7 stipulates, "Any entity or program that adopts, incites, facilitates, glorifies, promotes, or justifies racism or terrorism or accusations of being an infidel (takfir) or ethnic cleansing, especially the Saddamist Ba'ath in Iraq and its symbols, under any name whatsoever, shall be prohibited."
Scorning religious minorities is punishable by no more than three years imprisonment according to Article 372 of the Iraqi penal code of 1969.
Iraq's Anti-Terrorism Law, Number 13 of 2005, also stipulates that the "use violence or threat to stir up sectarian strife or civil war or sectarian infighting by arming citizens or by encouraging them to arm themselves and by incitement or funding."
Source: The New Arab
Please click the following URL to read the full text of the original story:
https://english.alaraby.co.uk/news/legal-suits-hit-iraqi-shia-wailer-ethnic-strife
--------
Six Syrians die in attempt to reach Italy: UN
12 September, 2022
Six Syrians including two infants died of thirst and hunger as they attempted to cross the Mediterranean Sea in a makeshift boat, the UN refugee agency said Monday.
More than thirty people attempted the crossing on the vessel, with many of the survivors in an "extremely serious" state of health according to UNHCR.
"Six Syrian refugees including children, women and teenagers lost their lives at sea. They died of thirst, hunger and severe burns," Chiara Cardoletti, UNHCR official in Italy, wrote on her Twitter account.
"This is unacceptable. Strengthening rescue at sea is the only way to prevent these tragedies," she added.
The victims included two children aged one and two years old, a 12-year-old child and three more adults, including a grandmother and mother also travelling with children who survived the journey, according to a UNHCR statement.
The 26 survivors were being treated in Pozzallo, Sicily.
It was not specified which country they had departed from.
Alarm Phone, a group running a hotline for migrants needing rescue, said some 250 migrants were in need of rescue off the coast of Malta.
The boat left Lebanon around a week ago, it said, and had now run out of fuel.
"Food & drinking water finished 2 days ago. The caller said his 3-month old daughter has died from thirst," the group posted on Twitter.
Several hundred migrants have been rescued in the past few days in the Mediterranean by humanitarian groups.
German NGO SeaWatch said on Monday it had 428 people on board a ship, waiting for a port to be assigned.
"The civil fleet has rescued hundreds of people in the past days, who otherwise would have been pulled back to Libya or even drowned," it said on Twitter.
Source: Al Arabiya
Please click the following URL to read the full text of the original story:
https://english.alarabiya.net/News/middle-east/2022/09/12/Six-Syrians-die-in-attempt-to-reach-Italy-UN
--------
Global summit on artificial intelligence kicks off in Riyadh
13 September, 2022
The second edition of the Global AI Summit kicked off Tuesday morning in the Saudi capital Riyadh, bringing together various stakeholders and academics to discuss the future of artificial intelligence and the Kingdom's contribution to this field.
Over 200 speakers representing 90 countries have come together for the global summit that will run until September 15 at the King Abdul Aziz International Conference Center and under the patronage of Saudi Crown Prince Mohammed bin Salman.
The Global AI Summit, organized by Saudi Data & AI Authority (SDAIA), will touch on topics such as the impact of AI on the public and private sectors, healthcare, environment, transportation, smart cities and culture among other matters.
SDAIA said on its website that "tech companies, startups, investors, and entrepreneurs [will] meet at the Global AI Summit to shape the future of AI."
Participants will also focus on "exchanging expertise with local and international experts and exploring investment opportunities related to AI technologies," according to the official Saudi Press Agency (SPA).
During the summit more than 40 agreements and Memorandums of Understanding will be signed between public and private sectors from Saudi Arabia and abroad, SPA added.
Source: Al Arabiya
Please click the following URL to read the full text of the original story:
https://english.alarabiya.net/News/gulf/2022/09/13/Global-AI-Summit-kicks-off-in-Riyadh-
--------
Bahrain has highest number of political prisoners among Arab countries: Rights group
12 September 2022
An independent human rights organization has censured Bahrain over its repressive measures and heavy-handed crackdown against political opponents and democracy advocates, saying the Persian Gulf kingdom has the biggest number of political prisoners among Arab states.
The Bahrain Centre for Human Rights (BCHR) said in a report that Bahrain, under the ruling Al Khalifah dynasty, has the largest number of imprisoned rights activists, and it is estimated that there are some 4,500 campaigners being held behind bars across the country.
The organization went on to note that a lot of reports published over the past decade have shed light on the deplorable conditions of prisoners at Bahraini jails, prompting the international community and human rights organizations to compel the Al Khalifah regime to relatively improve prison conditions.
BCHR highlighted that Bahraini authorities have arrested about 15,000 people for their political beliefs over the last decade, thus turning the country into the first Arab nation with the highest number of prisoners in recent years.
Political prisoners in Bahrain are subjected to various forms of torture, ill-treatment and persecution, and the Al-Khalifa regime silences any opposing voice through detention, torture and execution, it pointed out.
Lately, Jalal Feroz, a former member of the Bahraini parliament, said more than 2,500 political opponents are incarcerated in Bahraini prisons, and that they are subjected to the most vicious forms of torture.
BCHR, the Persian Gulf Centre for Human Rights (GCHR) and Americans for Democracy & Human Rights in Bahrain (ADHRB) recently in a joint report entitled "Prison Conditions in Bahrain" pointed to the serious structural deficiencies in Bahrain's criminal justice system, and lack of fair trials for defendants.
They emphasized that human rights are being violated on a large scale at detention centers across the Persian Gulf kingdom, and inmates are exposed to various forms of torture and ill-treatment.
Demonstrations have been held in Bahrain on a regular basis since the popular uprising began in the Arab country in mid-February 2011.
Source: Press TV
Please click the following URL to read the full text of the original story:
https://www.presstv.ir/Detail/2022/09/12/689088/Bahrain-has-highest-number-of-political-prisoners-among-Arab-countries--Rights-group
--------
Four Turkish soldiers killed in clashes with PKK militants in Iraq's Kurdistan Region
12 September 2022
At least four Turkish soldiers were killed after they engaged in fierce exchanges of gunfire with members of the Kurdistan Workers' Party (PKK) militant group in Iraq's semi-autonomous Kurdistan region.
Turkey's Ministry of National Defense said in a statement late on Sunday that Infantry Specialist Sergeant Harun Yıldırım and Infantry Specialist Sergeant Savaş Borlu were killed during clashes with the Kurdish militants in the Operation Claw-Lock zone.
The ministry later said that two of the four injured soldiers, Command Sergeant Major Gökhan Ağıl and Infantry Specialist Sergeant Fatih Kalkan, succumbed to their wounds in the hospital.
Turkey launched Operation Claw-Lock in April to target the hideouts of PKK terrorists in Iraq's northern Metina, Zap and Avasin-Basyan areas.
It was initiated after cross-border Operations Claw-Tiger and Claw-Eagle to root out terrorists hiding and plotting attacks in border areas close to Turkey.
Militants of the PKK — designated as a terrorist group by Turkey, the United States, and the European Union — regularly clash with Turkish forces in the Kurdish-dominated southeast of Turkey attached to northern Iraq.
In response, the Turkish military has occupied areas in northern Iraq, where it regularly conducts attacks against purported PKK positions without the Arab country's consent. Baghdad has repeatedly condemned Ankara's ongoing military operations there.
Iraqi resistance groups have also time and again warned Turkey of the consequences of its incursions into their country.
Back in July, Turkey carried out a strike against the Iraqi hill village of Parakh in the Zakho district of Dohuk province, killing at least nine tourists, including children and women, and wounding more than 20 others.
Source: Press TV
Please click the following URL to read the full text of the original story:
https://www.presstv.ir/Detail/2022/09/12/689070/Four-Turkish-soldiers-killed-clashes-with-PKK-militants-northern-Iraq
--------
North America

US anger over Zawahiri's presence in Kabul key reason for Taliban travel ban
Sep 12, 2022
As anger over al-Qaeda chief Ayman al-Zawahiri's presence in Kabul was one of the main reasons behind the decision not to extend a United Nations waiver allowing Taliban officials to travel abroad, people familiar with the matter said.
Zawahri, who led the terror network following the death of Osama bin Laden in 2011, was killed in a US drone strike in Kabul on August 1. At the time, Zawahiri was sheltering in a house in central Kabul owned by a top aide to Taliban deputy leader and interior minister Sirajuddin Haqqani.
In June, a UN Security Council sanctions committee currently led by India voted to remove two middle-ranking Taliban leaders from a sanctions exemption list because of the Taliban's failure to deliver on pledges to protect the rights of women and children.
When the renewal of the sanctions exemption list for 13 other Taliban leaders came up before the sanctions committee last month, the US proposed re-imposing the travel ban on seven Taliban leaders and retaining the exemption for six others while limiting their travel to Qatar, the people said.
Russia and China opposed the US move and proposed that all 13 Taliban leaders be given exemptions from the travel ban for three months in order to travel to Russia, China, Qatar, and unspecified regional countries. However, the joint Russia-China proposal was opposed by France and the UK, the people said.
With no agreement between the 15 members of the UN Security Council, the travel waiver expired on August 19.
"There was growing concern in the US side on the Taliban regime's repeated failures to deliver on commitments regarding the rights of women, children and minorities. The anger over Zawahiri being found in Kabul added to that and led to the decision to restrict the movements of Taliban leaders," one of the people cited above said.
"From now on, every request for foreign travel by Taliban leaders will be taken up individually by the sanctions committee and decisions made on a case-by-case basis. Without clearance, they will be unable to travel," a second person said.
In recent years, concern has grown in the US, several European countries, and even in India about the Taliban leadership misusing the travel waiver.
"Even before their takeover of Kabul, the Taliban leaders who benefited from the travel waiver were visiting countries where they had no real business," a third person said, pointing to visits to Central Asian countries and Iran by leaders who were granted an exemption from the travel ban.
The US had decided to allow some Taliban leaders to travel to Qatar as the American administration has had most of its dealings with the group in Doha, where the Taliban have had a political office since 2012.
Source: Hindustan Times
Please click the following URL to read the full text of the original story:
https://www.hindustantimes.com/world-news/us-anger-over-zawahiri-s-presence-in-kabul-key-reason-for-taliban-travel-ban-101662981384019.html
--------
US calls for immediate end to hostilities on Azerbaijani-Armenian border
Servet Gunerigok
13.09.2022
WASHINGTON
US Secretary of State Antony Blinken called Monday for an immediate end to military hostilities between Azerbaijan and Armenia following clashes on their border.
"The United States is deeply concerned about reports of attacks along the Armenia-Azerbaijan border, including reported strikes against settlements and civilian infrastructure inside Armenia," said Blinken in a statement.
"As we have long made clear, there can be no military solution to the conflict. We urge an end to any military hostilities immediately," he added.
Earlier, the Azerbaijani Defense Ministry said that the Armenian military carried out extensive provocations in the evening hours on the border in the direction of Dashkesan, Kalbajar and Lachin.
The ministry said sabotage groups of the Armenian army laid mines on land and roads between the positions of the Azerbaijani army in various directions, adding as a result of measures taken by the Azerbaijani military to address the situation, intense clashes broke out between troops of the two countries.
It added that there were casualties among military personnel from both sides.
Relations between the former Soviet republics of Armenia and Azerbaijan have been tense since 1991, when the Armenian military occupied Nagorno-Karabakh, also known as Upper Karabakh, a territory internationally recognized as part of Azerbaijan.
Source: Anadolu Agency
Please click the following URL to read the full text of the original story:
https://www.aa.com.tr/en/americas/us-calls-for-immediate-end-to-hostilities-on-azerbaijani-armenian-border/2683574
--------
Afghan women face 'gender apartheid' under Taliban: Former parliamentarian
UNITED NATIONS
13.09.2022
Women in Afghanistan are facing "gender apartheid" one year after the Taliban takeover of the country, said a former Afghan parliamentarian on Monday.
Women and girls have been deprived of their rights, including the right to education, and disappeared from the public under the Taliban rule, Afghanistan's de facto authorities.
Thousands have lost their jobs or were forced to resign, both in government institutions and in the private sector since the Taliban made a return to power on Aug. 15 last year.
Girls have been prevented from attending middle and high school.
"Time clearly proves that the erosion of women's rights has been one of the most notable aspects of the Taliban administration to date, and that African women are experiencing one of the world's biggest human rights crisis," Naheed Farid, who fled the country after the Taliban seized the control, told a press conference at the UN headquarters.
"What is happening in Afghanistan... is a gender apartheid," she said.
Afghan women are choosing to take their lives out of hopelessness and despair, said Farid, adding: "Death is preferable for them than living under the Taliban regime".
Farid appealed to the international community to demand the full rights of Afghan women and girls as a non-negotiable starting point for all negotiations with the Taliban.
She also called for a platform for Afghan women to directly negotiate with the Taliban on women's rights and human rights.
At the press conference, Afghan human right activist Najiba Sanjar, for her part, said 17 million Afghan girls and women are "experiencing an extremely unique dilemma in human history.
"We are all watching the suffering of women and girls, and minorities from the screens of our TVs as if an action movie is going on," Sanjar added.
Taliban returned to power in Afghanistan last year on Aug. 15 as officials of the US-backed Kabul administration fled the country and foreign forces withdrew.
Taliban's takeover of the government, followed by the disruption of international financial assistance, has left the worn-torn country in economic, humanitarian and human rights crises.
Source: Anadolu Agency
Please click the following URL to read the full text of the original story:
https://www.aa.com.tr/en/americas/afghan-women-face-gender-apartheid-under-taliban-former-parliamentarian/2683505
--------
US CENTCOM urges nations to bring ISIS relatives home from Syria
13 September, 2022
The head of the US armed forces' Central Command Monday urged countries from around the world to repatriate their nationals from a northeast Syrian camp housing militants' wives and children.
Al-Hol camp holds around 56,000 people -- mostly Syrians and Iraqis, but also around 10,000 who consist largely of wives and children of ISIS fighters originating from further afield.
Many were taken to the camp during the defeat of the militant group's self-declared caliphate by US-backed Syrian Kurdish forces in 2019.
"I encourage all of the countries that have citizens there to repatriate, rehabilitate and reintegrate" camp residents, CENTCOM's General Michael Kurilla told reporters in Jordan's capital Amman.
Syria's Kurds -- who run a semi-autonomous administration in northeast Syria -- have repeatedly begged countries to repatriate their citizens.
But such calls, despite being echoed by the United Nations, have largely fallen on deaf ears, due to fears returnees might pose a security threat back home and trigger a domestic backlash.
ISIS, a Sunni extremist group, seized around a third of Iraq and swathes of war-torn Syria in 2014, recruiting foreign militants from around the world, before it was gradually ground down by US-backed forces on both sides of the border.
The foreigners at Al-Hol are detained in a secure area away from other camp residents, since many of them are still highly radicalized, posing problems for Kurdish guards and other camp residents.
"I think we have to look at this with empathy... because there is no military solution to this," Kurilla said.
"The only solution is to repatriate, rehabilitate and reintegrate" camp residents.
About 50 percent of Al-Hol's inhabitants believe ISIS' "vile ideology," Kurilla said, while the other 50 percent "are those who have no other place to live and would like to... go back to their native country."
The camp has grown increasingly volatile this year, with at least 26 people murdered up to late August, according to the UN.
Around 700 ISIS-linked Iraqis are being repatriated per month from Al-Hol, said Kurilla.
It will take "about four years" to repatriate the Iraqi residents alone at that rate, he noted.
"We will have to accelerate that to a much faster" rate, he said, adding that the US was working with Iraqi authorities towards that end.
But repatriations to other countries have been even slower.
In late July, the Kurdish administration handed Tajikistan 146 women and children related to ISIS fighters, in the first such repatriation to the ex-Soviet state.
France in early July repatriated 35 children and 16 mothers from camps in northeast Syria, according to the foreign ministry, taking the total number of children returned to Paris to 161.
Kurdish-led forces last month launched a security operation to flush out fighters hiding out in Al-Hol following a resurgence of attacks.
Source: Al Arabiya
Please click the following URL to read the full text of the original story:
https://english.alarabiya.net/News/middle-east/2022/09/13/US-CENTCOM-urges-nations-to-bring-is-relatives-home-from-Syria
--------
Africa
Burkina Junta Chief Sacks Defence Minister as Extremist Violence Rages
13 September, 2022
Burkina Faso junta chief Lieutenant-Colonel Paul-Henri Sandaogo Damiba, who took power in a January coup, has sacked his defense minister and assumed the role himself after a series of extremist attacks, according to decrees published Monday.
The first decree, read on national television, removed General Barthelemy Simpore as defense minister, while the second said the "president has taken over the duties of the minister of national defense and veterans".
Damiba headed a group of officers who mounted a coup on January 24, toppling elected leader Roch Marc Christian Kabore, who had failed to stem the extremist insurgency that first emerged in Mali in 2012.
Much of the Sahel region is now battling the insurgency after it spread to Burkina Faso in 2015, then to Niger. In recent years, the violence has also begun to spill over into West African coastal states Ivory Coast and Togo.
The mini-shuffle in Burkina Faso is the first since the appointment of a transitional government in March. At that time, Damiba chose to retain Simpore, who had been appointed by Kabore.
In another change, Colonel-Major Silas Keita was named minister delegate in charge of national defense and promoted to brigadier general. He was the only new minister introduced.
The shuffle follows a string of deadly extremist attacks this month in the landlocked West African country, where the insurgency has claimed more than 2,000 lives and forced about 1.4 million people to leave their homes.
Attacks have increased since the start of the year, despite the junta's vow to make security its top priority.
September has been particularly bloody.
Two soldiers died and a dozen "terrorists" were killed Monday during an attack against a military detachment in Burkina Faso's extremist-hit north, the army said.
Less than a week earlier, security sources said separate attacks by suspected extremists had killed nine people, mostly civilians, in the north.
On September 5, at least 35 civilians were killed and 37 wounded when an improvised explosive device blast struck a convoy carrying supplies between Djibo and Bourzanga.
Source: Al Arabiya
Please click the following URL to read the full text of the original story:
https://english.alarabiya.net/News/world/2022/09/13/Burkina-junta-chief-sacks-defense-minister-as-extremist-violence-rages
--------
Kenya's outgoing leader hosts rival President-elect Ruto hours before inauguration
Andrew Wasike
12.09.2022
NAIROBI, Kenya
Kenyan President Uhuru Kenyatta on Monday hosted William Ruto, the president-elect, and congratulated him on his win in the Aug. 9 elections.
"My family and I join all Kenyans in wishing the very best to our next President Dr. William Samoei Ruto and extending to him our warmest congratulations for receiving the mandate of Kenyans to lead us as our fifth president," Kenyatta said in a statement shortly after meeting with Deputy President Ruto at State House in Nairobi, the capital.
The congratulatory message marked the first time that the Kenyan leader publicly complimented Ruto and their first meeting in months after a fallout over Kenyatta's open support for former Kenyan Prime Minister Raila Odinga as his preferred presidential candidate.
In a valedictory message to Kenyans after the meeting, Kenyatta said he is looking forward to handing over the reins of power to his successor on Tuesday.
"You the ordinary Kenyans have walked with me each step of the way, cheering me and chastising me as the occasion dictated. To you all and to all those who have served with me during my tenure as President, accept my immense gratitude," Kenyatta said.
On Tuesday, Kenyatta will pass the baton to Ruto at Moi International Sports Centre, Kasarani kicking off the fifth administration since Kenya's independence.
Source: Anadolu Agency
Please click the following URL to read the full text of the original story:
https://www.aa.com.tr/en/africa/kenyas-outgoing-leader-hosts-rival-president-elect-ruto-hours-before-inauguration/2683436
--------
Tigray rebels ready for truce, African Union-led peace talks to end Ethiopia conflict
Addis Getachew and Seleshi Tessema
12.09.2022
ADDIS ABABA, Ethiopia
Ethiopia's Tigray rebels have said they are willing to halt fighting and take part in peace talks led by the African Union (AU).
"We are ready to abide by an immediate and mutually agreed cessation of hostilities in order to create a conducive atmosphere," the Tigray People's Liberation Front (TPLF), the rebel group leading an insurgency in northern Ethiopia for nearly two years, said in a statement on Sunday.
The TPLF said it was "prepared to participate in a robust peace process under the auspices of the African Union," adding that it expects a "credible AU-led peace process" with "mutually acceptable" mediators and international observers.
As the statement did not mention any preconditions for talks, it remains unclear whether the TPLF will retract its previous demands for resumption of basic services such as electricity, telecommunications and banking, as well as the withdrawal of Eritrean forces.
The TPLF, which ruled Ethiopia for almost three decades until 2018, has been engaged in conflict with Ethiopian forces since November 2020.
After a months-long truce was shattered in late August, the Ethiopian military has been making significant inroads into Tigray, taking over strategic areas and towns that were under TPLF control for the past year, according to military sources.
The TPLF was previously opposed to AU mediation, accusing its special envoy for Horn of Africa, former Nigerian President Olusegun Obasanjo, of having close ties with Ethiopian Prime Minister Abiy Ahmed.
The Ethiopian government, which has been adamant on AU involvement in any peace talks, is yet to comment on the rebels' announcement.
The development comes a week after Mike Hammer, the US special envoy for the Horn of Africa, met Ethiopian officials, including Deputy Prime Minister Demeke Mekonnen, as well as African Union Commission chief Moussa Faki Mahamat and Obasanjo in Addis Ababa.
US President Joe Biden also renewed last week an executive order he signed a year ago authorizing sanctions against "parties to the conflict" in Ethiopia.
Mahamat, the AU Commission chairperson, welcomed the TPLF's declaration as a "positive development" that presents "a unique opportunity towards the restoration of peace."
Source: Anadolu Agency
Please click the following URL to read the full text of the original story:
https://www.aa.com.tr/en/africa/tigray-rebels-ready-for-truce-african-union-led-peace-talks-to-end-ethiopia-conflict/2683087
--------
Europe
King Charles III a 'friend' of British Muslims, says head of Muslim Council of Britain
Karim El-Bar
12.09.2022
LONDON
The head of Britain's largest Muslim umbrella organization issued a statement on Monday, offering condolences to King Charles III over the death of Queen Elizabeth II, and called him a "friend" of British Muslim communities.
Zara Mohammed, the secretary-general of the Muslim Council of Britain, said that in times of grief, Muslims say "To God we belong, and to Him we return."
"For over seven decades, Her Late Majesty was a constant and steady presence, unflinching in her dedication to public service. Queen Elizabeth II set the tone and tenor of modern Britain and had a commendable tole in upholding the freedom to practice faith, welcoming those of all faiths and none," Mohammed said.
"As an admirer of Islam, and a friend of British Muslim communities, we know Your Majesty will sustain that legacy," she continued.
"Your Majesty has touched the lives of British Muslims already, visiting countless mosques and Islamic associations across the Kingdom. You have been an active patron of initiatives that have empowered young British Muslims, and promoted a better understanding of Islam and Muslims," she said.
Source: Anadolu Agency
Please click the following URL to read the full text of the original story:
https://www.aa.com.tr/en/europe/king-charles-iii-a-friend-of-british-muslims-says-head-of-muslim-council-of-britain/2683270
--------
British Muslims being reduced to 'second class' status by citizenship removal laws: report
12 September, 2022
British Muslims have been reduced to 'second-class' citizens in the United Kingdom, according to a report published by the Institute of Race Relations (IRR) on Sunday.
Recently extended powers have given successive UK governments the power to remove citizenship from those who have access to another nationality. They "almost exclusively" target Muslims with South Asian heritage, according to the think tank.
The report, written by the IRR's vice-chair Frances Webber, comes amid renewed controversy around Shamima Begum, the British Muslim who at 15 years old was smuggled into Syrian territory controlled by the Islamic State extremist group.
In February 2020, a tribunal ruled it was lawful for her UK citizenship to be revoked as she had access to Bangladeshi nationality through descent. However, it was recently reported that a spy working for the Canadian government was responsible for trafficking her to Syria
"The message sent by the legislation on deprivation of citizenship since 2002 and its implementation largely against British Muslims of South Asian heritage is that, despite their passports, these people are not and can never be 'true' citizens, in the same way that 'natives' are," read the report.
"While a 'native' British citizen, who has access to no other citizenship, can commit the most heinous crimes without jeopardising his right to remain British, none of the estimated six million British citizens with access to another citizenship can feel confident in the perpetual nature of their citizenship," it continued.
Even though the government has said that the laws would be used only against those who were judged to be threats to national security, the report also said that the reasons for losing one's citizenship have become more 'nebulous and undefined', thereby increasing the likelihood of the arbitrary action.
Source: The New Arab
Please click the following URL to read the full text of the original story:
https://english.alaraby.co.uk/news/british-muslims-reduced-second-class-citizens-report
--------
Brussels terror attack trial starts amid controversy over glass boxes for defendants
Agnes Szucs
12.09.2022
BRUSSELS
The 2016 Brussels terror attacks trial started on Monday amid controversy over glass boxes built for the defendants.
With a preliminary hearing, the largest trial in Belgium's history kicked off with over 960 plaintiffs represented against nine alleged members of Daesh/ISIS.
The perpetrators are accused of carrying out terror attacks in Paris in November 2015 and in Belgium in March 2016.
The procedure is taking place at the former NATO headquarters, redesigned to meet the trial's high security demands.
The defendants' lawyers have already protested the transparent boxes that were expressly set up for the jihadist terrorists to give testimony.
"There won't be a trial if the boxes remain," Sebastien Courtoy, who represents several defendants, told reporters, according to public broadcaster RTBF.
Delphine Paci, who is defending the best-known perpetrator, Salah Abdeslam, said the boxes violate the European Convention of Human Rights.
Sofien Ayari, an accused accomplice of Abdeslam, said: "We are being treated like dogs here."
In the preliminary phase, a list of witnesses will be drawn up, and over 300 people are expected to be heard during the procedure.
The court will also decide if they maintain the glass boxes for the defendants before the actual trial starts on Oct. 13.
Nine members of the terror group, including one person in absentia who is believed to have been killed in Syria, will be prosecuted for their role in contributing to the terror attack on the metro and airport of Brussels that left 32 people dead and over 340 seriously injured.
Source: Anadolu Agency
Please click the following URL to read the full text of the original story:
https://www.aa.com.tr/en/europe/brussels-terror-attack-trial-starts-amid-controversy-over-glass-boxes-for-defendants/2683504
--------
Turkish-origin politician elected deputy in Swedish parliament
Atila Altuntas
12.09.2022
STOCKHOLM
As Swedish people went to the polls on Sunday for general elections, Muharrem Demirok of Turkish origin became a deputy from the Center Party.
Demirok has been involved in politics for many years and recently was the mayor of the Swedish city Linkoping, where he was responsible for the environment and energy.
He was nominated in the first row for the southern Ostergotland area of the country.
Speaking to Anadolu Agency, Demirok said he will carry his years of experience to the parliament and try to find solutions to many problems.
Saying that he comes from a working-class family that migrated from the Kulu district of Türkiye's central Konya province, Demirok thanked 50,000 Swedish citizens of Kulu origin for their moral support.
Source: Anadolu Agency
Please click the following URL to read the full text of the original story:
https://www.aa.com.tr/en/europe/turkish-origin-politician-elected-deputy-in-swedish-parliament/2683292
--------
Almost 80% of Turks want EU membership, says senior Turkish diplomat
Merve Aydogan
12.09.2022
Nearly 80% of the Turkish public favors EU membership, Türkiye's top official for relations with the bloc said Monday
"I can inform you that 79% of Turkish people want EU membership," said Faruk Kaymakci, deputy foreign minister and EU affairs director, on Twitter in response to a posting by a political communications specialist at the European Commission.
He quoted the figure in response to Tom Moylan, who on his personal Twitter account posted a graphic titled "Who wants to join the EU most?" along with pictures of over a dozen countries – failing, however, to include longtime candidate country Türkiye.
Kaymakci responded: "Dear Tom, the EU picture would not be complete & fair without Türkiye, an EU negotiating candidate. Omitting and adding those who are not even EU candidates distorts the picture of the EU."
Moylan later responded: "I didn't make the picture - I just thought it was interesting … Thanks for sharing the stat though, I agree that Turkey was a glaring omission."
Türkiye applied for EU membership in 1987 and accession talks began in 2005.
Source: Anadolu Agency
Please click the following URL to read the full text of the original story:
https://www.aa.com.tr/en/europe/almost-80-of-turks-want-eu-membership-says-senior-turkish-diplomat/2683289
--------
Germany urges Iran to revive nuclear deal, despite Israel's opposition
Ayhan Simsek
12.09.2022
BERLIN
German Chancellor Olaf Scholz on Monday renewed his call for a diplomatic solution to the Iran nuclear crisis, despite Israel's strong opposition to a new agreement.
Speaking at a joint news conference with Israel's Prime Minister Yair Lapid in Berlin, Scholz underlined that Iran should not have nuclear weapons, but stopped short of backing Israel's demand to end talks with Tehran.
"A functional international agreement to limit Iran's nuclear program is the right way," Scholz said, but also expressed regret that Tehran has not yet given a positive response to EU's proposals to revive the 2015 nuclear deal.
Speaking after Scholz, Lapid warned that Tehran was using talks to buy time while trying to become a nuclear state.
"It is time to move on from failed negotiations with Iran, they cannot and will not achieve the goal we all share, to stop Iran from getting a nuclear weapon," he said.
Lapid called for a new strategy to stop Iran's nuclear program.
"A nuclear Iran will destabilize the Middle East, and create a nuclear arms race that will endanger the entire world," he said.
Source: Anadolu Agency
Please click the following URL to read the full text of the original story:
https://www.aa.com.tr/en/europe/germany-urges-iran-to-revive-nuclear-deal-despite-israel-s-opposition/2683285
--------
Muslim Council of Britain chief pens condolence letter to King Charles III
September 12, 2022
LONDON: On behalf of the Muslim Council of Britain, Secretary General Zara Mohammed has written to King Charles III expressing condolences over the death of Queen Elizabeth II.
With over 500 members, including mosques, schools, charitable organizations, and professional networks, the council is the UK's largest and most diverse national Muslim umbrella organization.
In her letter, Mohammed paid tribute to the late queen, saying that she "set the tone and tenor of modern Britain and had a commendable role in upholding the freedom to practice faith, welcoming those of all faiths and none."
Mohammed said was equally looking forward to the future under the reign of King Charles.
"As an admirer of Islam, and a friend of British Muslim communities, we know Your Majesty will sustain that legacy," she wrote.
Source: Arab News
Please click the following URL to read the full text of the original story:
https://www.arabnews.com/node/2161226/world
--------
Mideast
Hamas says Israeli blockade of Gaza crime against humanity
12 September 2022
The Palestinian resistance movement Hamas says Israel's years-long blockade of the Gaza Strip amounts to a crime against humanity.
"The Israeli occupation's unjust siege on the Gaza Strip, imposed for more than 15 years, military offensives against it, the closure of the border crossings, and the denial of access to medicine and food that negatively affected innocent civilians and resulted in deteriorated Palestinians' health and economic conditions and worsening crises, are heinous crimes against humanity that disregard international laws and norms," Hamas said in a Monday statement.
A United Nations report has brought to the fore the monumental toll the blockade has taken on the coastal enclave's population. The report was released by the UN Office for the Coordination of Humanitarian Affairs (OCHA) on June 30.
About 2.1 million Palestinians in the besieged strip are "locked in," with a vast majority unable to access the remainder of the Occupied Palestinian Territories and the outside world, the UN report said. "In previous years, patients have died while awaiting a response to their application."
The Israeli blockade has turned the enclave into an open-air prison since 2007.
Hamas call on Arab and Islamic nations as well as the international community to ramp up assistance in the reconstruction of Gaza.
Hamas marks 17th anniversary of Israeli retreat from Gaza
On the seventeenth anniversary of Israel's withdrawal from Gaza (in September 2005), Hamas said the Palestinians would keep on the path of resistance until the occupied territories are liberated.
The Palestinian resistance fighters forced the then occupying regime of then Prime Minister Ariel Sharon to pull his armed forces and settlers out from the coastal enclave and dismantle settlements there.
Source: Press TV
Please click the following URL to read the full text of the original story:
https://www.presstv.ir/Detail/2022/09/12/689090/Palestinians-Hamas-Gaza
--------
Three soldiers killed in Al-Qaeda counterattacks in Yemen's Abyan
September 12, 2022
AL-MUKALLA: At least three Yemeni soldiers were killed and six more wounded, including a field military leader, when Al-Qaeda militants detonated improvised explosive devices and launched attacks in Yemen's southern province of Abyan on Monday, in a bid to halt Yemeni military advances into the militants' strongholds.
Two local officials told Arab News that the soldiers were killed immediately after their vehicles came into contact with IEDs planted by Al-Qaeda in Moudia, as they pushed deeper into remote areas of the district.
"Al-Qaeda militants cannot halt the advance of southern troops. However, they merely laid mines and quickly attacked them before fleeing," an official, who requested anonymity, said.
The Yemeni troops, mainly commanded by the Southern Transitional Council, have succeeded in clearing pockets of Al-Qaeda approximately 35 km east of Moudia, and are still pushing into the more remote areas of Abyan.
Residents reported hearing large explosions and seeing thick smoke billowing from mountainous areas east of Moudia on Monday, as advancing forces exchanged fire with Al-Qaeda militants.
The military activities in Abyan are part of a offensive by local security forces that began on Saturday and has the objective of driving Al-Qaeda militants from their long-held hiding places in Abyan and Shabwa, where militants stage deadly attacks on government-controlled areas.
Over the past three days, the military has gained control of a large swathe of land in Abyan, including three valleys that each house Al-Qaeda training facilities. Security forces also entered Khaber Al-Marakesha, an area of arid and mountainous terrain that is the home of Al-Qaeda militants, including Jalal Baliedi, a senior Al-Qaeda leader who was killed by a US drone in the same area in 2016.
In Shabwa, Yemeni forces also pushed the militants out of Al-Musainah and are now chasing pockets of Al-Qaeda in the area's mountains.
The current operations in Abyan and Shabwa will cease once both provinces have been cleared of Al-Qaeda militants, local military commanders said.
Analysts, however, argue that because of Al-Qaeda's knowledge of the challenging topography of Abyan, Shabwa, and Al-Bayda, local military forces may not be able to achieve more gains in the three provinces' mountains.
Yahiya Abu Hatem, a military analyst, told Arab News that Al-Qaeda has long been sheltered in Abyan's remote and mountainous areas which lack populations and state institutions.
"The terrorist organizations thrive in dead and difficult terrain where they are able to easily set up military facilities and take refuge in caves and valleys," Abu Hatem explained.
"In those areas, state services have been absent for a long time."
Al-Qaeda is also flourishing in the areas between Abyan and Shabwa and close to the Houthi-held Al-Bayda, Abu Hatem noted, due to the unusual relationship between Al-Qaeda and the Houthis, who encourage the militants to carry out attacks in the liberated areas in exchange for protection and weapons.
Source: Arab News
Please click the following URL to read the full text of the original story:
https://www.arabnews.com/node/2161141/middle-east
--------
Top Commander: Iran's Advanced Precision-Striking Drone Special Weapon for Destroying Israel
2022-September-12
The Arash-2 drone, which is a newer version of the previously unveiled Arash-1 aircraft, has been developed by the Iranian Army's Ground Force, Brigadier General Heidari stated.
"The new drone enjoys unique specifications and capabilities, and can successfully retrieve information multiple times before it strikes and destroys the designated target," he explained.
"The drone has been specifically designed to target Haifa and Tel Aviv," the military official noted, hailing it as a "peerless" aerial vehicle.
It has already been added to the Iranian Army's inventory, and its capabilities will be showcased during future military exercises, the commander added.
Iran has made great progress in developing different drones and missiles and has been able to export them to other contries. Military officials say Tehran has become self-sufficient in the producing of drones.
Iranian military officials warn that any wrong move by Israel would meet Tehran's response which would raze down Tel Aviv and Haifa. They say Iran has tens of thousands of missiles ready to wreak havoc on Israel.
Iran has repeatedly warned that any mistake by the US and Israel will be met with Tehran's crushing response. Iranian officials say Washington and Tel Aviv are well aware of Tehran's capabilities and capacities, and caution that Tehran does not compromise or joke with its national security.
Back in August, Spokesman of the Islamic Revolution Guards Corps (IRGC) Brigadier General Ramezan Sharif said that the Israeli regime is in the worst security situation and under intense pressure, adding that Tel Aviv is unable to take any measures against Tehran and only resorts to saber-rattling.
"The Zionist regime is experiencing the worst security condition and is under intense pressure," Brig. Gen. Sharif noted.
He stated that the Zionists have repeatedly claimed that security prevails across the 27,000 square kilometers of occupied Palestinian territories that they control.
He also issued a strong warning to Israel in July over military threats, stressing that the Tel Aviv regime will lose the 27 thousand square kilometers of the occupied territories in case of any folly by the Israeli military.
"Zionists are trying hard to threaten the Islamic Republic of Iran. We warn the usurping Israeli regime that it will permanently lose the 27,000 square kilometers of territories that it has occupied if it makes such a mistake," General Sharif said.
"There's no doubt about this threat," he added.
Sharif stressed that the Zionist regime does not dare to get out of occupied Palestine, and their planes do not have the guts to violate Iran's airspace.
Iran describes Israel as the root cause of the region's instability, but also stresses Israel's US-supported barbarity will not change the inevitable fate of the Tel Aviv regime.
Iranian officials have repeatedly underlined the necessity for the settlement of the crises and problems in the region through collective cooperation among the regional states, and underscored that the presence of foreigners is harmful.
Source: Fars News Agency
Please click the following URL to read the full text of the original story:
https://www.farsnews.ir/en/news/14010621000645/Tp-Cmmander-Iran's-Advanced-Precisin-Sriking-Drne-Special-Weapn-fr#:~:text=12%2021%3A10-,Top%20Commander%3A%20Iran's%20Advanced%20Precision%2DStriking%20Drone%20Special%20Weapon%20for,Aviv%20and%20Haifa%20in%20Israel.
--------
Pro-Iran faction in Iraq sticks to its pick for premier
13 September, 2022
The main coalition of pro-Iran parties in Iraq said Monday it would keep its candidate for the post of prime minister, despite a backlash from its main Shia rival.
The country is at a political impasse, with the two main Shia groups clashing since October 2021 elections over who will be the next premier and how to appoint him.
The group headed by Iraqi Shia cleric Muqtada al-Sadr wants parliament dissolved and early elections, but the Coordination Framework alliance of pro-Tehran factions wants a government to be put in place first.
On Monday, the Coordination Framework said it had reached an "understanding" with other political factions on how to proceed.
In a press release published by the INA state news agency, the Coordination Framework reiterated "its total commitment to its candidate presented for the post of Prime Minister, Mohammed Shia al-Sudani".
The group's nomination of Sudani as premier had previously angered al-Sadr, whose supporters stormed parliament in late July, demanding fresh elections. They then staged a weeks-long sit-in outside the legislature.
On Monday, the Coordination Framework claimed to have reached "understandings with the national forces".
It said it would "continue dialogue with all the parties ... to form a government endowed with full powers".
The Coordination Framework also welcomed a declaration by Sunni-backed parliament speaker Mohammed al-Halbussi and the Democratic Party of Kurdistan (KDP).
On Sunday these two factions had reiterated their support for "early elections", but preceded by "the formation of a government".
Iraq's latest crisis culminated at the end of August with al-Sadr supporters clashing with the army and the Iran-backed factions.
More than 30 al-Sadr supporters were killed and hundreds wounded in nearly 24 hours of violence that ended when he called on his supporters to pull out and announced he was retiring from politics.
Source: Al Arabiya
Please click the following URL to read the full text of the original story:
https://english.alarabiya.net/News/middle-east/2022/09/13/Pro-Iran-faction-in-Iraq-sticks-to-its-pick-for-premier-
--------
Iran nuclear talks in disarray as monitors meet on probe
12 September, 2022
International atomic monitors convened Monday to discuss a standoff with Iran that's dragged efforts to revive a landmark agreement to curtail the country's nuclear program deeper into disarray.
The International Atomic Energy Agency's probe into Iran's past nuclear activities has taken center stage in talks to resuscitate the 2015 deal, where success could unleash a surge in Iranian oil exports. Diplomats will discuss the issue this week in the Austrian capital, where the agency's 35-member board of governors is meeting.
"The information gap is bigger and bigger," IAEA Director General Rafael Mariano Grossi said at a press briefing in Vienna, adding he still expects Iran to cooperate in his inquiry.
Iran is demanding the IAEA investigation into suggestions of nuclear activities at undeclared sites be terminated before it starts to dismantle a program now enriching uranium just below the levels needed for weapons. The US and other world powers have offered sanctions relief if the Islamic Republic curtails nuclear-fuel production, but they insist it's up to the IAEA to declare an end to the investigation.
The governments of France, Germany and the UK issued a joint statement on Saturday addressing the latest demands from the Islamic Republic.
"In light of Iran's failure to conclude the agreement on the table, we will consult with our international partners on how best to deal with Iran's continued nuclear escalation," the European governments said.
"There is really no reason now for Iran not to agree to these proposals," German Chancellor Olaf Scholz said Monday. "But we must recognize that this is not the case and so it certainly won't happen anytime soon, even though it appeared that would happen for a while."
As European hopes dim for an immediate return to the agreement, Iran's leadership is focusing on the region. President Ebrahim Raisi is expected to meet his Chinese and Russian counterparts at a meeting of the Shanghai Cooperation Organization that convenes on Thursday in Uzbekistan.
Even if Iran and world power manage to clear the final hurdles toward reviving the accord, the IAEA's Grossi warned the amount of time his inspectors will need to verify compliance has grown.
"The reality is that it is going to be extremely difficult and we will have to work very hard and Iran will have to be very transparent," he said. "There's a lot of homework to do."
Talks to rein in Tehran's nuclear activities in exchange for easing sanctions, including those on oil exports, have been on a knife's edge since European negotiators proposed a final 25-page draft agreement after almost 18 months of negotiations.
After optimistic early signals that a return to the JCPOA could be days away, sides are now resigned to more delays, dragging out talks and preventing Iran from ramping up its sales of crude.
The nuclear deal unraveled after then-President Donald Trump withdrew the US in 2018 and reimposed sanctions. In response, Iranian officials expanded the country's nuclear program.
Israel's Prime Minister Yair Lapid welcomed the stalemate after meeting leaders of Germany's government on Monday in Berlin. "Returning to the nuclear agreement, under the current conditions, would be a critical mistake," he said, adding that doing so would set off an arms race in the Middle East.
Source: Al Arabiya
Please click the following URL to read the full text of the original story:
https://english.alarabiya.net/News/middle-east/2022/09/12/Iran-nuclear-talks-in-disarray-as-monitors-meet-on-probe
--------
Israel's spy chief says no deal gives Iran 'immunity' from its operation
Abdelraouf Arna'out
12.09.2022
JERUSALEM
The chief of Israel's foreign intelligence service Mossad said any deal with Iran over its nuclear program will not "provide immunity" from Israeli operations.
"The deal is based on Iranian lies, Iran has sought to build a nuclear weapon that endangers Israel's existence," David Barnea said in his first public speech since he became spy chief in June 2021 at a conference in the Reichman University in the central city of Herzliya.
"We will not close our eyes to the proven truth, the [Iranian] regime will have no immunity," he said, adding that "the nuclear talks are not a restraining factor in any way."
Barnea said Israel foiled "dozens of Iranian terror attacks against Israelis and Jews abroad" before being carried out.
On Sunday, Israeli Prime Minister Yair Lapid termed his country's campaign against the Iran nuclear deal as "successful."
The Iran nuclear deal – officially called the Joint Comprehensive Plan of Action (JCPOA) – was signed in 2015 by Iran, the US, China, Russia, France, the UK, Germany, and the EU.
Under the agreement, Tehran has committed itself to limiting its nuclear activity to civilian purposes and in return, world powers agreed to drop their economic sanctions against Iran.
Source: Anadolu Agency
Please click the following URL to read the full text of the original story:
https://www.aa.com.tr/en/middle-east/israels-spy-chief-says-no-deal-gives-iran-immunity-from-its-operation/2683168
--------
Iran says developed drone designed to hit Israel's Tel Aviv, Haifa
Syed Zafar Mehdi
12.09.2022
TEHRAN, Iran
A top Iranian military commander said Iran has developed a long-range drone that is designed specifically to target the Israeli cities of Tel Aviv and Haifa.
Brigadier General Kiomars Heidari, the commander of the Iranian army's ground forces, made the remarks in a program broadcast on state TV Sunday night, amid heightened tensions between Iran and Israel.
He said the Arash-2 drone, which is the newer version of Arash-1, is a "unique bird" that has been developed for the purpose of "destroying" Israel, describing it as a "child-killing regime".
The top-ranking military commander said the drone has been handed over to the army's ground forces and its capabilities will be put on display in future military exercises.
Heidari said Arash-2 has "unique capabilities" and can "recover multiple times until it hits the target" while stressing that they are "waiting for the orders to use it one day".
He said one of its key features is that it is a "spotter" and capable of hitting exactly the same spot that the ballistic missile Fath does.
The remarks come amid growing tensions between the two long-time regional adversaries with secretive sabotage attacks inside Iran and the intensification of Israeli strikes on Iran-backed groups in Syria.
Iran has also blamed Israel for disrupting the ongoing negotiations between Tehran and Washington, mediated by the European Union, to revive the 2015 nuclear deal.
Israeli Prime Minister Yair Lapid on Sunday thanked France, the UK and Germany for their "firm position" on Iran, a day after the European powers blamed Tehran for "jeopardizing" the talks.
Heidari said Iran's military today possesses strategic drones in different ranges, including in the range of 2,000 km, as well as strategic missiles.
He further stated that the army's ground force is the "largest, most equipped and most diverse" force in terms of technology and equipment while pointing to "unrivaled" helicopter power.
Source: Anadolu Agency
Please click the following URL to read the full text of the original story:
https://www.aa.com.tr/en/middle-east/iran-says-developed-drone-designed-to-hit-israel-s-tel-aviv-haifa/2683042
--------
Israel arrested 607 Palestinians in August, advocacy groups say
12 September 2022
Israel arrested at least 607 Palestinians, including 59 children and 13 women, from the occupied West Bank in the month of August, pro-Palestine advocacy groups say.
In a joint statement released on Monday, the Commission of Detainees' Affairs, Palestinian Prisoners' Club, Addameer Prisoners' Support and Human Rights Association said the largest number of arrests took place in al-Quds. Al-Khalil, Bethlehem and Jenin came next.
They said August witnessed a large number of violations and crimes committed by the Israeli regime against the Palestinians, ranging from field executions to collective punishment.
Israeli authorities use torturous techniques even after transferring Palestinian detainees for interrogation and then to detention centers. The groups have also recorded various injuries endured by the Palestinian detainees, some of whom were shot by the Israeli military.
Palestinian prisoners are held for lengthy periods without being charged, tried, or convicted, which is in sheer violation of human rights. Advocacy groups describe Israel's use of the administrative detention as a "bankrupt tactic" and have long called on Israel to end its use.
The Israeli Prison Service (IPS) keeps Palestinian prisoners under deplorable conditions lacking proper hygienic standards. They have also been subjected to systematic torture, harassment and repression all through the years of Israel's occupation of the Palestinian territories.
Source: Press TV
Please click the following URL to read the full text of the original story:
https://www.presstv.ir/Detail/2022/09/12/689098/Palestinian-prisoners-Israel
--------
Pakistan
PTI to move court against Maryam for 'accusing Imran of blasphemy'
Zulqernain Tahir
September 13, 2022
LAHORE: The Pakistan Tehreek-i-Insaf (PTI) says it will take legal action against PML-N vice-president Maryam Nawaz for what it calls her 'controversial' social media campaign accusing PTI Chairman Imran Khan of blasphemy that may endanger his life.
Maryam Nawaz on Monday uploaded two purported statements of Imran Khan and as many verses of Quran on her Twitter account to draw comparison between them. She also tweeted saying: "This man (Imran) is using religion for his politics and promoting his false narrative. Save your faith and the country from this satan."
According to the PTI, after Maryam's tweet, a trend on Twitter against Imran Khan accusing him of blasphemy followed with over 65,000 tweets targeting the PTI chairman. There were also tweets critical of Ms Nawaz suggesting her not to drag religion into politics that might endanger someone's life.
"We will not let this matter go unnoticed. Legal action will be taken against Maryam Nawaz for using the tool of blasphemy to endanger the life of the PTI chairman," PTI's senior leader Fawad Chaudhry declared.
In a talk with Dawn on Monday, Mr Chaudhry said: "The coalition government is probably the only government that is using blasphemy laws against political opponents blatantly. Using religion cards is the most blatant attempt to physically eliminate political opponents and Maryam Nawaz and Fazlur Rehnan are creating this web to physically eliminate Imran Khan."
He said Maryam Nawaz was behind such trends on the social media.
Federal Minister Ahsan Iqbal chided the ousted premier asking for a licence given to Imran Khan for speaking whatever came to his mind.
"This man does not care while speaking on religious matters and often insults religious signs like he does in the case of his political opponents," Iqbal said in a tweet and added self love, selfishness and ignorance had made Imran's mind numb.
Source: Dawn
Please click the following URL to read the full text of the original story:
https://www.dawn.com/news/1709751/pti-to-move-court-against-maryam-for-accusing-imran-of-blasphemy
--------
Fear Grips Tirah Areas in Khyber As Families Flee After 'Arrival' Of Militants
Ibrahim Shinwari
September 13, 2022
KHYBER: Families have fled several areas of Tirah valley here out of fear after 'spotting' militants, the local officials insist.
The officials told Dawn on condition of anonymity that those families from Sanda Pal, Jarrhobi, Dwa Khulay, Baghrai, Khapur and Dray Naghari either shifted to the adjacent Orakzai tribal district or went to relatives and friends based in Dars Jumaat, Sherkhel and Mergutkhel areas of Akkakhel.
They added that those people were members of Kamarkhel, Akkakhel, Zakhakhel and Sipah tribes and returned to the valley recently after a decade of displacement.
The officials said a camp was put up for those IDPs in Sokh area on their way to the respective destinations.
Tribesmen insist they're told to leave homes without transportation arrangements
The tribesmen told Dawn on condition of anonymity that they were told to leave homes in haste with no arrangements in place for the shifting of belongings.
They said the elderly, women and children, too, had covered long distances on foot.
Officials insisted that the displacement of the families won't last long and that they all would be registered with the Provincial Disaster Management Authority.
They said that most of those families were previously not registered prior to their return to their area.
The officials also said that the suspected people sneaked into the areas de-notified by security officials.
The tribesmen insisted that the armed men were present in some areas before the start of their (residents) return in June.
They said their elders reported the presence of those 'undesirable' elements to the local officials but action wasn't taken against them.
The tribesmen claimed that they were told a few days ago to either hand over armed men to the security forces or leave the area immediately following attacks on security checkposts and convoys with improvised explosive devices.
Two soldiers were injured in those attacks, which also damaged vehicles.
Some families, who reached Bara, said they were asked to leave homes while they were rebuilding damaged houses as part of preparations for the harsh winter.
They said they had to carry out the reconstruction on their own as the relevant departments hadn't so far conducted the assessment of damaged properties in the area for payments to their owners.
The tribesmen said that the armed men mostly belonged to the banned Tehreek-i-Taliban Pakistan and that their presence had caused fears and anger among the residents.
The activists of political parties and civil society and traders in Bara had organised a 'peace march' on Sept 4 under the banner of the Khyber Siyasi Ittehad and demanded an immediate crackdown on those suspected militants by the security forces.
KSI Bara chapter head Shah Faisal Afridi told Dawn that law-enforcement agencies had failed to check the sudden return of 'miscreants' in parts of Tirah, so the people were terrified.
He said the 'miscreants' were involved in targeted killing of at least four policemen and extorted money from the local traders and politicians.
The residents of Bagh Maidan, the largest business centre in Tirah valley, said that the situation in their area was peaceful but they had told security officials that they won't form any peace committee to act as a frontline defence against militants.
Source: Dawn
Please click the following URL to read the full text of the original story:
https://www.dawn.com/news/1709785/fear-grips-tirah-areas-in-khyber-as-families-flee-after-arrival-of-militants
--------
5 killed, dykes breached as rains lash Mirpurkhas, Tharparkar in Sindh
September 13, 2022
MIRPURKHAS: Lightning strikes killed three men, two others drowned in floodwater as downpour continued to wreak havoc on parts of Sindh, with breaches in the dykes of two major drains inundating dozens of villages.
Strong winds accompanying the showers blew away several makeshift camps of flood survivors along the roads and worsened the situation in low-lying areas of Mirpurkhas and Tharparkar districts.
Unrelenting rainfall during the past two days raised the level of floodwaters in Dhoro Puran and Left Bank Outfall Drains, while local authorities were yet to drain water from graveyards, residential areas, parks and playgrounds.
No official help had reached the flood-hit people after the latest blow as only a few organisations were providing them food and relief goods. The district administration had provided mosquito nets to its favourites, complained flood victims to journalists in Sindhri, Hussain Bux Marri, Digri and Jhuddo talukas. Mirwah Gorchani, Digri, Jhuddo, Naukot, Kot Ghulam Mohammad, Sindhri, Phuladyyoon, Hingorno, Samaro, Pithoro, Kunri, Jhilori and Khaan received moderate to heavy rainfall.
Rain caused Dhoro Puran dyke near Roshanabad in Jhuddo taluka, which had been plugged earlier, to develop a 20-foot-wide breach at the same place.
An irrigation official said the fresh showers disrupted the work on plugging breaches and draining out stagnant floodwater from the district through spinal drain.
Sources said Nara Canal Area Water Board director Mansoor Memon had advised commissioner Syed Ajaz Ali Shah during a briefing on Monday that floodwaters could not be drained out completely from the district till the removal of encroachments on natural rain drains and illegal dykes around farmland.
He set up a task force to ensure removal of all encroachment from natural rain drains and said Rangers personnel would also help in the removal of encroachments.
LBOD dyke breaches
Dozens of villages were submerged after a 100-foot-wide breach developed in LBOD in the wake of heavy rain at Qazi village near Jhuddo, sending villagers fleeing to main roads to save their lives.
Source: Dawn
Please click the following URL to read the full text of the original story:
https://www.dawn.com/news/1709825/5-killed-dykes-breached-as-rains-lash-mirpurkhas-tharparkar-in-sindh
--------
Opposition flays KP govt's 'poor' response to rising militancy, extortion cases
September 13, 2022
PESHAWAR: The opposition in the Khyber Pakhtunkhwa Assembly on Monday condemned the provincial government's 'lacklustre response to the surging militancy and extortion cases' and asked it to take the lawmakers on board about the current peace talks with the banned Tehreek-i-Taliban Pakistan (TTP).
The house, which met Deputy Speaker Mahmood Jan in the chair, discussed an adjournment motion by the opposition Muttahida Majlis-i-Amal member, Inayatullah Khan, regarding a fresh wave of militancy in Malakand division and erstwhile Fata, and a rise in the cases of extortion and targeted killings.
Most of the members, especially the treasury's, were absent showing the government's non-seriousness towards security-related matters.
Starting a debate on militancy and government-TTP peace talks, Mr Inayatullah said the state 'lost its justification' following its failure to protect public life and property.
Asks govt to take all MPAs on board about talks with TTP
He said MPA of the ruling Pakistan Tehreek-i-Insaf Malik Liaquat was seriously injured in a gun attack on his vehicle, while four others were also killed.
"That was not the first attack," he said, adding that a total of 434 gun attacks had been reported this year alone in which 323 people including personnel had lost their lives.
The lawmaker said 254 acts of targeted killing had occurred in tribal districts during the current year causing insecurity among the people.
He said surprisingly, the local administration had registered cases against the people, who organised peace walks in different areas.
Mr Inayatullah said the federal government had been in negotiations with the banned TTP for five months, so the house should be taken into confidence about the current status of the negotiations and ceasefire.
He said the people were 'threatened' over telephone to pay extortion, so it was the government's duty to trace those callers.
"The government is losing its writ in the province," he said, demanding an in-camera briefing for the lawmakers or parliamentary leaders on the current security situation.
Coming down hard on the provincial government and security agencies for 'not successfully handling the law and order situation', Awami National Party parliamentary leader Sardar Hussain Babak called the government the 'facilitator' of the local Taliban.
He said every member of the house, including himself, received telephonic calls to pay extortion.
Without naming anyone, he said a native of the chief minister's hometown was recently threatened to pay Rs50 million extortion (bhatta).
He said militants were seen roam in Buner district openly amid the local police's claims that they were not allowed to act against those exhibiting weapons.
"This government is playing the role of the Taliban facilitator and the police are unable to register case against militants," he said.
Mr Babak wondered under what law, the powers of the district police officer had been delegated to a serving military colonel in every district to oversee security related matters.
He said an 'unelected person' of the provincial government had been authorised to hold talks with the TTP without the approval of the assembly.
Pakistan Peoples Party member Bacha Salih, who belongs to Upper Dir district, said he had received 25 telephonic calls demanding extortion.
He said extortionists were using Afghan SIM cards.
The ANP leader complained that 'weak' police officials had been deputed in the district and that he had brought the issue to the notice of the provincial police officer.
He said the superintendent of police could tackle the matter if the government showed resolve and seriousness.
BILLS: The assembly passed KP Teachers (Appointment and Regularisation of Services) Bill, 2022 to regularise the services of as many as 38,000 teachers across the provinces including in the merged districts.
The government also introduced the Khyber Pakhtunkhwa Universities (Second Amendment) Bill, 2022. The house also passed the KP Fisheries and Aquaculture Bill, 2022, and tabled the KP Universities (Second Amendment) Bill, 2022, and KP Regularisation of Services of Employees of District Governance and Community Development Project Bill, 2022, which were moved by Minister for Higher Education Kamran Khan Bangash.
The house unanimously passed five resolutions seeking subsidy on natural gas for the province's people and payment of outstanding dues by the federal government to the provincial government under different heads.
A resolution by ANP parliamentary leader Sardar Babak said under Article 158 of the Constitution, priority for gas supply would be given to the province, where it was explored.
It said KP produced the cheapest natural gas at the rate of $4 per MMBTU but the federal government was importing it at the rate of $25 per MMBTU and applying weighted average cost on it and providing it to the province for the same rate.
The house asked the provincial government to recommend to the federal government to provide gas to KP's people at $4 per MMBTU as a constitutional requirement.
Similarly, a resolution moved by minister Shaukat Yousafzai referring to Article 161(1)(B) of the Constitution asked the provincial government to recommend the federal government to provide federal excise duty directly to the province and pay the related dues.
Another resolution moved by the minister regarding windfall levy on oil as envisaged in the federal government's Petroleum Policy issued on Aug 30, 2012, said the amount under that head should be equally divided among federal government and provinces.
A resolution moved by Jamaat-i-Islami MPA Inayatullah demanded that the federal government be recommended to pay dues of Rs10.187 billion under electricity heads to the provincial government.
Source: Dawn
Please click the following URL to read the full text of the original story:
https://www.dawn.com/news/1709787/opposition-flays-kp-govts-poor-response-to-rising-militancy-extortion-cases
--------
Imran proposes limited extension in COAS Gen Bajwa's tenure
September 12, 2022
ISLAMABAD: In a new twist to his quest for power, former prime minister Imran Khan Monday took a new summersault against his previous stance and said that whichever party comes into power after free and fair general elections should appoint a new army chief, indirectly proposing a brief extension in the tenure of incumbent Chief of Army Staff (COAS) Gen Qamar Javed Bajwa.
In an interview with a private TV channel on Monday, Imran said he is ready for holding talks with the coalition government led by the PML-N only if they accept his demand for the early polls.
"If they [government] are ready for [early] free and fair elections then there is also a possibility to delay elections in Sindh [due to floods]," he said.
Imran, the deposed premier, said he is ready for negotiations with the government on any matter "but you should decide first whether you want stability in the country or not".
The PTI chairman said he would have no objection to the incumbent rulers appointing new army chief if they came into power after winning free and fair elections.
He said this while responding to a question related to his controversial statement in which he alleged that PML-N supremo Nawaz Sharif and PPP leader Asif Ali Zardari wanted to appoint the army chief of their choice because if a "strong and patriotic army chief" came, they would be questioned about their loot.
"The second reason is that the new army chief is coming in November. Zardari and Nawaz want to bring their favourite as the next COAS because they have stolen public money," he said.
Source: Pakistan Today
Please click the following URL to read the full text of the original story:
https://www.pakistantoday.com.pk/2022/09/12/imran-proposes-limited-extension-in-coas-gen-bajwas-tenure/
--------
COAS Bajwa Not Interested In Seeking Extension, PML-N Stalwart Says
by Abdullah Momand
September 12, 2022
A federal minister from the Pakistan Muslim League-Nawaz (PML-N) said on Monday that Chief of Army Staff (COAS) General Qamar Javed Bajwa was not interested in seeking an extension.
The minister, a PML-N stalwart, told Naya Daur that Bajwa wanted to stay home following the completion of his tenure. The minister said PML-N supremo Nawaz Sharif, Jamiat Ulema-e-Islam (JUI) chief Maulana Fazlur Rehman and Pakistan Peoples Party (PPP) co-chairman Asif Ali Zardari all wanted a new army chief appointed in November.
Source: The Friday Times
Please click the following URL to read the full text of the original story:
https://www.thefridaytimes.com/2022/09/12/coas-bajwa-not-interested-in-seeking-extension-pml-n-stalwart-says/
--------
South Asia
Journalist in Kapisa in Islamic Emirate's Custody: Family
September 13, 2022
Abdul Hanan Mohammadi, a local journalist in the central province of Kapisa, has been detained by Islamic Emirate's forces for around three months now, the family claimed.
The family said that Mohammadi was arrested without having committed any crime.
Mohammadi's mother, who has been in despair for the past three months, said that her son was detained while covering a report in Kapisa.
"They didn't accept my complaint and didn't let me see him...my son is innocent and I wish he was free," she said.
"My brother was a journalist and was preparing a report. We call on the Islamic Emirate to release him," said Mohammadi's brother, Abdullah Khan.
"We wrote a complaint letter and signed it for them to release him. They took the letter but didn't let us see him," said Shah Wali, Mohammadi's uncle.
This comes as the media-supporting organization expressed concerns over the detention of the journalists in the country.
"They should hand over the cases of Mohammadi and other journalists in detention to the commission of media violation, so it can be pursued through the (commission)," said Farhad Behroz, deputy head of the Afghanistan's Freelance Journalists Union.
The provincial officials did not provide information.
"He is not detained because of being a journalist. The intelligence and security departments might have arrested him for other issues," said Bilal Karimi, deputy spokesman for the Islamic Emirate.
Source: Tolo News
Please click the following URL to read the full text of the original story:
https://tolonews.com/afghanistan-179819
--------
Back to back explosions hit Hazara neighbourhood in Kabul
10 Sep 2022
According to reports, two explosions hit Dasht-e-Barchi, a Hazara neighborhood in the west of Kabul on Saturday evening.
The first explosion reportedly occurred at 06:45 in front of a crowded commercial market and later another bomb exploded in Pul-e-Khushk bus stop.
Local sources confirmed injuries to civilians who were transported to the closes hospital in the area.
Taliban's Ministry of Interior announced that the explosion was as a result of sticky bombs placed on bicycles and as a result 3 civilians have been injured.
Source: Khaama Press
Please click the following URL to read the full text of the original story:
https://www.khaama.com/back-to-back-explosions-hit-hazara-neighborhood-in-kabul-64549/
--------
Taliban to Ink Contract with UAE over Airspace Control
By Arif Ahmadi
10 Sep 2022
KABUL, Afghanistan – The Taliban administration announced on Thursday they would sign the third and final major contract for running Afghanistan's airports with the United Arab Emirates' GAAC Holding, according to sources.
The contract would run for 10 years, Ghulam Jelani Popal, deputy head of Afghanistan's ministry of Transport and Civil Aviation, told reporters at a press conference in Kabul, as Reuters reported.
He added that the group had already signed contracts with UAE state-linked GAAC over ground services and security.
To what is known, the agreements would help the Taliban ease their isolation from the outside world, with no foreign country formally recognizing their government and strict enforcement of sanctions hampering the economy.
Ibrahim Moarafi, the General Manager and Regional Director of GAAC, told reporters in Kabul that it would encourage major international airlines to return to Afghanistan.
"We believe this is the significant development," he said, as quoted by Reuters. "We also believe this is a significant development as it will bring economic benefits in terms of job creation."
The Taliban, whose government remains an international pariah without formal recognition, have courted regional powers, including Qatar and Turkey, to operate Kabul airport, landlocked Afghanistan's main air link with the world, and others.
But after months of back-and-forth talks, and at one point raising the possibility of a joint UAE-Turkey-Qatar deal the Taliban in recent months decided to hand operations in their entirety to the UAE, sources had told Reuters in July.
Meanwhile, Afghan Traders' Council in the United Arab Emirates (UAE) welcomed the deals, saying the contract with the UAE's GAAC company to provide air services is crucial for strengthening relations between Kabul and Abu Dhabi.
Haji Obaidullah Sadarkhail, the head of the council, says that this contract will also solve the problem of issuing UAE visas to Afghan citizens and businesspeople.
"With the signing of this contract, foreign flights to Afghanistan will begin, including international flights, and as a result, relations between Afghanistan and other United Arab Emirates will improve," Sadarkhail said, as TOLOnews quoted.
According to figures provided by the council, three hundred Afghan businesspeople are currently operating in the United Arab Emirates, and this contract will facilitate their travel.
"This contract is almost $400 million in value. With the help of this contract, both our youth and technical and professional employees will have jobs. Trade and investment between Afghanistan and the United Arab Emirates will rise as a result of this agreement," said Jamal Nasir Ebadi, a trader.
Source: Khaama Press
Please click the following URL to read the full text of the original story:
https://www.khaama.com/taliban-to-ink-contract-with-uae-over-airspace-control/
--------
'Very Limited' US Intelligence Capability in Afghanistan, Retired American General Says
By Saqalain Eqbal
12 Sep 2022
Retired General Frank McKenzie, former commander of US Central Command (CENTCOM), stated that the US has limited intelligence capacity in Afghanistan.
The US has "very, very limited" intelligence capacity in Afghanistan, the former chief of US CENTCOM stated in an interview on September 11—21 years after the 9/11 terrorist attacks, expressing concern.
According to McKenzie, who retired in April, he advised US President Joe Biden to keep 2,500 troops in Afghanistan. The general claimed he was informed that such a move would be misinterpreted and send a bad signal.
The military chief was also questioned about if he agreed with the Biden administration's conclusion that the US is not now under threat from ISIS or al-Qaeda. The terrorist groups, McKenzie concluded, can "regenerate" and continue to pose a threat in the future.
When referring to the US military engagement in Afghanistan after 9/11, McKenzie noted, "The cost was not cheap." Up until the US military pullout, roughly 2,400 American forces died. "We lost a lot of brave young Americans," he added.
The American General expressed concern about the ill intention of the Taliban, speaking about the stay of al-Qaeda leader, Ayman Al-Zawahiri, who according to him, "was living in very good accommodations in downtown Kabul."
Source: Khaama Press
Please click the following URL to read the full text of the original story:
https://www.khaama.com/very-limited-us-intelligence-capability-in-afghanistan-retired-american-general-says-67474/
--------
Southeast Asia
Hadi spoke about graft, not race, say non-Muslim supporters
Faiz Zainudin
September 13, 2022
PETALING JAYA: Detractors of PAS president Abdul Hadi Awang should not view his comments about corruption through a racial lens, says a leader of the party's non-Muslim supporters' wing.
Balachandran G Krishnan, the information chief of the non-Muslim supporters' wing, said the public should not overlook the fact that corruption was becoming more prevalent.
He said Hadi's remarks, which sparked a political furore, were based on a study conducted by a local university which found that non-Malays formed 88% of those who gave bribes.
There was no need for detractors to get so worked up, he said.
"Don't racialise the statement. The president was not out to create racial tension nor was he trying to be condescending.
"Non-Muslim people are more inclined to offer bribes, while Malay people are more inclined towards taking them. This was what the research was about. Yet there were those who jumped on (the issue) and lodged police reports," he told FMT.
Balachandran said the issue was not about which racial group gave or received bribes but the menace of corruption itself which should be addressed.
"If we are too focused on the racial aspect of it, we would never stamp out corruption. Everyone should find a way to curb graft," he said.
Last month, Hadi stirred controversy after seeming to place blame on non-Muslim Malaysians and non-Bumiputeras for being at the root of corruption.
He blamed non-Muslims and non-Bumiputeras for ruining the country's politics and economy.
The non-Muslim supporters' chief, N Balasubramaniam, later said Hadi had informed them that he was in fact blaming the rich and famous.
A PAS central committee member, Zuhdi Marzuki, cited research conducted from 2010 to 2014 by a university that showed 88% of those convicted for giving bribes were non-Malays.
According to the study, 57.46% of those who gave bribes were Chinese, followed by Indians (30.51%) and Malays (12.03%).
Source: Free Malaysia Today
Please click the following URL to read the full text of the original story:
https://www.freemalaysiatoday.com/category/nation/2022/09/13/hadi-spoke-about-graft-not-race-say-non-muslim-supporters/
--------
Pejuang may place youths from NGOs as GE15 candidates
September 10, 2022
PETALING JAYA: Pejuang is considering nominating youth candidates from outside the party to contest in the next general election (GE15).
Pejuang deputy president Marzuki Yahya said these potential candidates, most likely from civil society groups (NGOs), could bring "winds of change" into the country's political scenario, Utusan reported.
"This is one way of getting political support from youths in order to take the country forward.
"We want to see candidates with fresh, new ideas," he was quoted as saying.
Marzuki said that Pejuang needed young leaders with a "strong fighting spirit" to be the voice of the youth in the next government.
He added that Pejuang also wanted Malay youths who were willing to stand for all races and to fight against parties that had destroyed the nation, especially through corrupt practices.
In July, Marzuki was reported as saying that Pejuang would occupy Putrajaya after GE15. He said this despite the party losing all 42 seats it contested in the Johor state elections in March, besides losing the deposit in every seat too.
He was also reported to have said that the party intended to contest up to 120 parliamentary seats.
Analysts have predicted that Pejuang's chances of victory in GE15 were slim and that it should instead form alliances in order not to relive its experience in Johor.
Last month, Pejuang chairman Dr Mahathir Mohammad announced the formation of Gerakan Tanah Air (GTA), comprising Pejuang, Berjasa, Parti Bumiputera Perkasa Malaysia (Putra) and the National Indian Muslim Alliance Party (Iman).
Source: Free Malaysia Today
Please click the following URL to read the full text of the original story:
https://www.freemalaysiatoday.com/category/nation/2022/09/10/pejuang-may-place-youths-from-ngos-as-ge15-candidates/
--------
1MDB trial: Banker confirms Najib never complained when millions flowed in and out of AmIslamic account
By Ida Lim
12 Sep 2022
KUALA LUMPUR, Sept 12 — Former prime minister Datuk Seri Najib Razak never complained about any of the transactions in his personal AmIslamic bank account where millions of ringgit had been banked in and had been used, the High Court heard today.
R. Uma Devi, the 37th prosecution witness in Najib's trial over the misappropriation of RM2.28 billion of 1Malaysia Development Berhad, confirmed that over RM15.2 million of funds were transferred out of Najib's AmIslamic account with the account number ending 9694, via 71 cheques issued during the March 2011 to December 2011 period.
The RM15.2 million went to various recipients, including to Umno, Yayasan Rahah, Shangri-La Hotel in Kuala Lumpur, car companies (Signature Exotic Cars Sdn Bhd, Zas Car Network Sdn Bhd, Edaran Tan Chong Motor Sdn Bhd), and former deputy transport minister Datuk Ab Aziz Kaprawi.
Uma Devi who is AmIslamic bank's Jalan Raja Chulan branch manager had last week also confirmed that over RM60 million had entered this same AmIslamic account belonging to Najib via two transactions in February and June 2011.
Asked by lead prosecutor Datuk Seri Gopal Sri Ram, Uma Devi confirmed that AmBank would send bank account statements to its customers every month, and that Najib had never complained about the account.
Sri Ram: In the case of your account, did he ever — from your records — did he ever complain about his statement of account to the bank?
Uma Devi: As far as my knowledge, even in SRC case, I did confirm there was no dispute or complaint about his account.
Sri Ram: What about this case? Same answer?
Uma Devi: Yes.
Uma Devi confirmed that she had previously testified as a witness during Najib's separate trial over the misappropriation of RM42 million of government-owned company SRC International Sdn Bhd's funds. That is the case which resulted in Najib being imprisoned.
Uma Devi confirmed to Sri Ram that her evidence or testimony in the SRC case was accepted by all levels of the courts, from the High Court where the trial took place and also at the appellate levels where Najib lost his appeals.
Having joined AmBank in 2012 and having been transferred to its Jalan Raja Chulan branch where she has been working as a branch manager since 2015, Uma Devi confirmed that Najib did not file any lawsuits against the bank from 2015 until 2018 for alleged mishandling of his account.
Based on bank documents which Uma Devi verified today, Najib's AmIslamic account ending 9694 had earned over RM1.25 million in interest during the March to December 2011 period, with the monthly interest garnered based on the monthly current balance in the current account.
Najib had opened this bank account on January 13, 2011 at AmIslamic's Jalan Raja Chulan branch, and closed it down on August 30, 2013.
The trial before High Court judge Datuk Collin Lawrence Sequerah is scheduled to resume tomorrow.
Based on bank documents which Uma Devi verified today, Najib's AmIslamic account ending 9694 had earned over RM1.25 million in interest during the March to December 2011 period, with the monthly interest garnered based on the monthly current balance in the current account.
The highest monthly interest received by Najib during this period was RM 308,621.92 on December 30, 2011.
To be precise, the total interest garnered in these 10 months in 2011 are RM1,253,924.80.
Najib had opened this bank account on January 13, 2011 at AmIslamic's Jalan Raja Chulan branch, and closed it down on August 30, 2013.
The trial before High Court judge Datuk Collin Lawrence Sequerah is scheduled to resume tomorrow.
Who were the known recipients of the RM15.2m cheques?
Based on the bank cheques verified by Uma Devi today, the recipients of Najib's cheques include Semarak Konsortium Satu Sdn Bhd which was identified as having received RM2,242,200 or over RM2.2 million via seven cheques during the March to December 2011 period, Institut Terjemahan Negara Malaysia Bhd (RM356,000 cheque in March 2011 and RM610,000 in August 2011), Koperasi Wanita Pahang Berhad (RM50,000 in May 2011), former international trade and industry deputy minister Jacob Dungau Sagan (RM200,000 in June 2011), and Datuk Ab Aziz Kaprawi (RM100,000 in October 2011).
Uma Devi also identified the other cheque recipients as Signature Exotic Cars Sdn Bhd (RM167,959.50 in June 2011), Umno's Tun Razak division (RM200,000 in June 2011), Shangri-La Hotel KL (RM395,782.40 in June 2011), Multi Trans Sdn Bhd (RM29,221.70 in July 2011), Binsabi Sdn Bhd (RM350,000 in July 2011), World Vantage Enterprise (RM8,000 in July 2011), Zas Car Network Sdn Bhd (RM8,400 in July 2011), Edaran Tan Chong Motor Sdn Bhd (RM72,208.20 in July 2011), Icah Enterprise (RM12,515 in July 2011), and Jakel Trading (RM360,000 via two cheques banked in in August and September 2011).
Individuals on the list who were also identified today as having received cheques from Najib's account are Mohammad Fakhruddin Mohd Ariff (RM30,000 cheque received in August 2011), Mohamed Idris Abu Bakar (RM50,000 in August 2011), Abu Bakar Harun (RM30,000 in August 2011), Datuk Ishak Mohamad (RM30,000 received in September 2011), Melati Ali (RM39,500 in September 2011), Minah Wee Wat (RM5,000 in September 2011), and Hj Ahmad Baijuri Ahmad Faudzi (RM50,000 in October 2011).
Uma Devi also confirmed that a RM200,000 cheque was paid to Indera Mahkota Umno in August 2011, and that the recipients include ORB Solutions Sdn Bhd (RM2,450,000 or RM2.45 million via five cheques during March to November 2011), Qalif Umar Creative (RM560,000 via four cheques from March to November 2011), Yayasan Rahah (RM1.5 million via three cheques during May to September 2011), and Transformasi Kreatif (RM193,000 via three cheques in November 2011).
Uma Devi did not identify the recipients for some of the 71 cheques.
Source: Malay Mail
Please click the following URL to read the full text of the original story:
https://www.malaymail.com/news/malaysia/2022/09/12/1mdb-trial-banker-confirms-najib-never-complained-when-millions-flowed-in-and-out-of-amislamic-account/27811
--------
URL: https://newageislam.com/islamic-world-news/supreme-court-arabic-quran-hijab/d/127940
New Age Islam, Islam Online, Islamic Website, African Muslim News, Arab World News, South Asia News, Indian Muslim News, World Muslim News, Women in Islam, Islamic Feminism, Arab Women, Women In Arab, Islamophobia in America, Muslim Women in West, Islam Women and Feminism