New Age Islam News Bureau
31 August 2022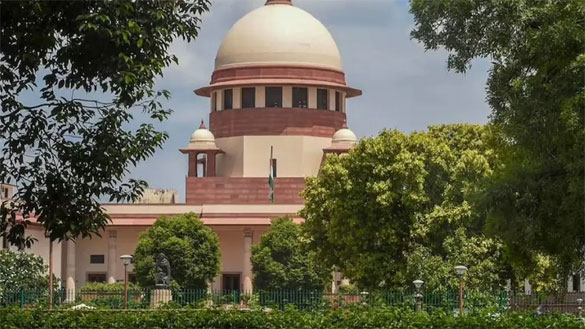 Supreme Court (Photo | EPS)
----
• An Example of Religious Unity: Muslim Youth Distribute Ganesha Idols in Fort City of Vizianagaram
• Turkish Association in Germany Receives Racist Death Threat Letter Signed With a Swastika and 'NSU 2.0'
• One Year of Taliban Rule, Afghan Envoy in UN Calls Country's Future 'Bleak and Opaque'
• Fighting In Iraqi Capital Leaves 30 Sadr Supporters Dead As Shiite Rivalry Escalates
India
• Supreme Court Closes All Proceedings Pertaining To Babri Mosque Demolition
• Karnataka High Court Allows Ganesh Puja at Hubbali Idgah Maidan
• Muslim Organisations to Protest in Surathkal on September 9 for Not Handing Over the Investigation of the Murder of Two Muslim Boys
• Why BJP Chose Muslim-Dominated Seemanchal to Kick Off Bihar Campaign
• Supreme Court asks Centre for its stand on SC status for Dalit Christians, Muslims
• 'Namaz At Home': UP Cops Drop FIR against 26, Say Video 'Fudged'
• Religion has become prosecuting factor in India, alleges PDP chief Mehbooba Mufti
• 2 LeT terrorists neutralised in encounter in J-K's Shopian
• Hyderabad: 'Don't Want Muslim Delivery Person', Writes Swiggy Customer
-----
Europe
• France's Top Court Green-lights Prominent Imam Iquioussen's Deportation for Hate Speech
• UK Home Secretary Asks Landlords to Take In Afghan Refugees
• French more accepting of far-right ideology: Survey
• Türkiye's experience sharing in counter-terrorism game-changer for many: President
• UN warns 6 million Afghans at risk of famine as crises grow
--------
South Asia
• Bangladesh Families Demand UN Probe into Disappeared Relatives
• PM Sheikh Hasina dispels possibility of Sri Lanka-like economic crisis in Bangladesh
• Taliban Requests Recognition Based on Its Territorial Control Says Markus Potzel
• Amnesty accuses Iran, Turkey of illegal Afghan migrant pushbacks
• Taliban celebrate anniversary of foreign troop withdrawal
--------
Arab World
• Saudi Activist Muhammad al-Jedaei, Handed 18-Year Prison Sentence for Social Media Activism on Twitter
• Iraqi protesters withdraw after Shia cleric al-Sadr demands end to protests
• Saudi Arabia seeks extradition of man who threatened embassy in Lebanon: Ambassador
• Iraq can redirect more crude exports to Europe if needed: SOMO source
• Iran closes its borders with Iraq, halts flights amid violence: State television
• Saudi Arabia urges Iraq's political parties to peacefully address people's demands
• Iraq's top court postpones session to dissolve parliament amid unrest
• Iraq's PM threatens to quit if political stalemate drags on
--------
North America
• US College in the US State of Arizona Launches Centre To Highlight Contributions of Muslims in the Country
• Taliban set off fireworks to celebrate anniversary of US withdrawal from Afghanistan
• Pentagon chief marks anniversary of US retreat from Afghanistan
• Iranian drones already experiencing failures in Ukraine: US State Department
• Iran seized, then released US Navy drone vessel: Pentagon
--------
Pakistan
• Shehbaz Wants To Work With Imran 'For Crisis Sake'
• Imran Khan Raises Rs 5 Billion for Pak Flood Victims through International Telethon
• 'Faysal Bank to Be Sharia-Compliant By End of 2022'
• No let-up in cases of enforced disappearance in Pakistan
• Govt to allow onion, tomato imports from Iran, Afghanistan
• Pakistani diaspora groups and UK charities raise up to £1m for flood relief
--------
Mideast
• AEOI Spokesperson Blames IAEA for Raising Excessive Demands from Iran
• President: Restoration of Iran-Saudi Arabia Ties Beneficial to Region
• Judiciary Official: Iran Biggest Victim of Terrorism
• Iran Reopens All Land Borders with Iraq as Calm Returns to Baghdad
• Iran Condemns US Continued Occupation of Northeastern Syria
• Israeli court rejects petition to release Palestinian hunger striker
• Israeli forces raid house, injure dozens of Palestinians in West Bank town
--------
Africa
• Churches, Mosques House Stolen Nigerian Fuel in Pervasive Oil Theft, Says NNPC Head
• 2023 Budget: How borrowing has become main source of funding Buhari's budgets
• Airstrike hits capital of Ethiopia's Tigray region
• Jordanian security forces foil cross-border drug smuggling racket
--------
Southeast Asia
• Malaysia's National Day Comes at Special Time in Türkiye Relations
• Former Malaysian PM Mahathir in hospital after testing positive for Covid-19
• PAS against working with PH, says Takiyuddin
• Umno Youth defends Azalina over remarks on AG
Compiled by New Age Islam News Bureau
URL: https://newageislam.com/islamic-world-news/supreme-nhrc-ncw-ncm-polygamy-marriage/d/127847
--------
Supreme Court Issues Notice to NHRC, NCW and NCM on Plea to Ban Polygamy and Some Forms of Temporary Marriage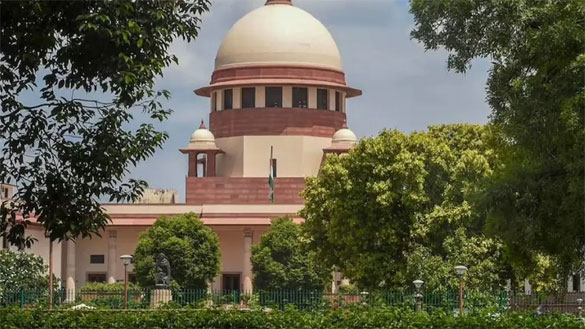 Supreme Court (Photo | EPS)
----
R. Balaji | New Delhi
31.08.22
A five-judge constitution bench on Tuesday issued notices to the National Human Rights Commission, National Commission for Women and the National Commission for Minorities on a batch of petitions filed mostly by Muslim women seeking a ban on polygamy and some forms of temporary marriage.
A bench of Justices Indira Banerjee, Hemant Gupta, Surya Kant, M.M. Sundresh and Sudharshan Dhulia said it would hear the matter again in the second week of October after the Dussera holidays, by which time the respondents are expected to come up with their replies.
The matter was referred to the five-judge constitution bench on March 26, 2018, by a three-judge bench in view of questions related to the fundamental right to life and personal liberty under Article 21, besides the right to equality (Article 14) and religious freedom under Articles 25 and 26.
A Muslim man is allowed to have up to four wives. Under nikah halala, a Muslim woman wanting to remarry her former husband has to first marry another man, consummate the marriage and divorce him. Nikah mutah and nikah misyar refer to temporary contractual marriages ranging from three days to three months, following which the woman is paid a certain amount by the man and the marriage is deemed to have ended.
In March 2018, a bench of then Chief Justice Dipak Misra and Justice A.M. Khanwilkar (since retired) and Justice D.Y. Chandrachud had issued a notice to the Centre on a batch of petitions challenging polygamy and the three other practices as unconstitutional. It referred the matter to a five-judge bench for an authoritative pronouncement.
While the main petition has been filed by advocate Ashwini Upadhyay, Sameera Begum, Nafeesa Begum and Mohsin Bin Hussain Bin Abdad Al Kathiri have submitted intervention applications.
Upadhyay has challenged Section 2 of the Muslim Personal Law (Shariat) Application Act as being unconstitutional and violative of Articles 14 (equality), 15 (non-discrimination) and 21 (life and liberty) of the Constitution.
Polygamy, nikah halala, nikah mutah and nikah misyar are recognised by the personal law.
According to Upadhyay, nikah halala can be viewed as rape under Section 375 of the IPC, and polygamy is an offence under Section 494 of the IPC which deals with bigamy.
Al Kathiri, who hails from Hyderabad, has said in her petition: "The Constitution neither grants any absolute protection to any personal law of any community that is unjust, nor exempts personal laws from the jurisdiction of the Legislature or Judiciary."
Sameera Begum said she was moving the apex court since thousands of Muslim women like her were either victims of polygamy or other such practices like nikah halala, nikah mutah and nikah misyar.
"…Polygamy, and nikah halala are arbitrary and violative of Articles 14, 15 and 21 of the Constitution and injurious to public order, morality and health also. Thus, these can be superseded by the state just as it prohibited human sacrifice or practice of sati…. Polygamy and nikah halala (should be declared) an offence under Sections 498A (harassment of woman by husband), 375 (rape) and 494 (bigamy) of the IPC," her petition pleaded.
Nafeesa Khan submitted that she was forced to approach the court as there was no law for a Muslim woman to file a case of bigamy or rape against men indulging in such activities.
The Jamiat Ulama-i-Hind filed an intervention application opposing any judicial intervention in the Islamic practices, saying the top court had earlier conclusively ruled that courts cannot interfere with the personal laws of a religion.
Source: Telegraph India
Please click the following URL to read the text of the original story:
https://www.telegraphindia.com/india/supreme-court-issues-notice-on-plea-to-ban-polygamy/cid/1883554
--------
An Example of Religious Unity: Muslim Youth Distribute Ganesha Idols in Fort City of Vizianagaram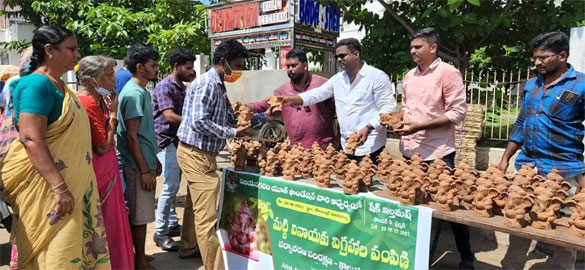 Vizianagaram Youth Foundation president Shaik Iltamash and his group distributing clay idols of Lord Ganesha among devotees in Vizianagaram on Tuesday. | Photo Credit: The Hindu
------
K Srinivasa Rao
AUGUST 31, 2022
Vinayaka Chavithi celebrations begin in Vizianagaram
Setting an example of religious unity, several Muslim youths distributed clay idols of Lord Ganesha among devotees on the eve of the Vinayaka Chavithi festival in Vizianagaram on Tuesday.
Shaik Iltamash, president of Vizianagaram Youth Foundation, distributed around 1,500 clay idols to devotees at Fort Junction on Tuesday. "Mutual respect and joint celebrations of festivals will further strengthen the bond between people of different faiths," Mr. Iltamash said.
Foundation members Shaik Sameer, Shaik Imran, A. Ashok, and Sai Kumar said that the foundation was working for the welfare of all sections of the society. Vizianagaram Rotary Club central president Krishna Gopal Agarwal and secretary Kolla Manoj Kumar also distributed Ganesha idols at Rotary Health Centre near Simhachalam Meda junction. Vizianagaram Legal Metrology Deputy Commissioner N. Janardhana Rao and Mother Teresa Seva Sangham president S. Shivaji jointly distributed 300 idols at Bobbadipeta in Vizianagaram.
Mr. Janardhana Rao urged people not to use idols made of chemicals and heavy colours as they pose a threat to the environment. Tilak Foundation president and senior advocate S.S.S.S .Raju and foundation secretary K. Saibaba distributed 500 idols to the devotees at R&B Junction.
Vizianagaram Deputy Mayor Kolagatla Sravani and YSRCP leader S.V. Krishna Reddy handed over 600 idols to students at Sri Venkateswara Swamy temple located at Ring Road. SITAM College director Majji Sasibushana Rao and principal D.V. Ramana Murthy distributed the idols to college students while asking them to highlight the benefits for the society by celebrating the festival in an eco-friendly manner.
Source: The Hindu
Please click the following URL to read the text of the original story:
https://www.thehindu.com/news/national/andhra-pradesh/muslim-youth-distribute-ganesha-idols-in-fort-city/article65829976.ece
--------
Turkish Association in Germany Receives Racist Death Threat Letter Signed With a Swastika and 'NSU 2.0'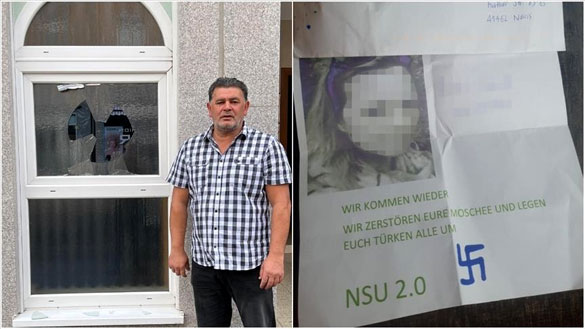 Photo: aa.com
----
Mesut Zeyrek
31.08.2022
COLOGNE, Germany
A Turkish cultural centre in the German town of Neuss received a racist letter with death threats, the head of the centre said Tuesday.
Speaking to Anadolu Agency, Tansel Ciftci said the Neuss Turkish Cultural Centre was the target of racists for the second time in two weeks.
"A letter came in the mail today. It was signed with a swastika and 'NSU 2.0' and included racist statements like 'We will burn down your mosques and kill you Turks,'" said Ciftci, noting that members of the cultural center as well as locals of Turkish descent in Neuss are in fear and anxiety over the recent incidents.
NSU 2.0 refers to the National Socialist Underground, a neo-Nazi extremist group uncovered in 2011 that murdered 10 people and planted three bombs.
"Two weeks ago, the windows of our building were broken in an attack on our association. Due to the frequency of these events, our members and those living here began to feel uneasy. We want the authorities to arrest those responsible and impose the necessary punishment," Ciftci added.
He further emphasized that they are living in the middle of Europe with death threats and called it "unacceptable."
Ciftci also noted that the police, to whom they filed a criminal complaint, had begun an investigation into the incidents.
Germany has witnessed growing racism and Islamophobia in recent years, fueled by the propaganda of neo-Nazi groups and the far-right Alternative for Germany (AfD) party.
With a population of over 84 million people, the country has the second-largest Muslim population in Western Europe after France. Among the country's nearly 5.3 million Muslims, 3 million are of Turkish origin.
Source: Anadolu Agency
Please click the following URL to read the text of the original story:
https://www.aa.com.tr/en/europe/turkish-association-in-germany-receives-racist-death-threat-letter/2673144
--------
One Year of Taliban Rule, Afghan Envoy in UN Calls Country's Future 'Bleak and Opaque'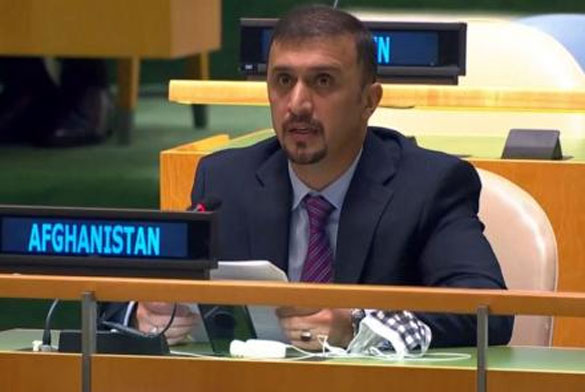 Naseer Ahmad Faiq, Chargé d'Affaires of Afghanistan Permanent Mission to the United Nations
-----
By Saqalain Eqbal
Aug 30, 2022
While discussing the situation in Afghanistan one year after Taliban rule at the United Nations Security Council (UNSC), Naseer Ahmad Faiq, Chargé d'Affaires of Afghanistan Permanent Mission to the United Nations, stated that the prospects for a prosperous and secure Afghanistan are "bleak and opaque."
The Afghan official expressed concern about Afghanistan's outlook during a UNSC session on August 29 that focused on the social and economic situation in Afghanistan.
Faiq said that the Afghan people have been affected by the combined effects of several natural disasters and "man-made catastrophes," which have led to Afghanistan experiencing the worst social, political, and humanitarian crisis.
He also discussed the "systematic erasure" of women and girls from society and public life, pointing out that during the Taliban regime, Afghan women and girls are denied access to their basic rights.
In addition to conceding a substantial decline in corruption and a reduction in civilian casualties, Faiq maintained that the Taliban's one-year accomplishments include the rise in poverty, mass migration, and unemployment.
The assassination of al-Qaeda leader Ayman al-Zawahiri in Kabul and recent ISIS operations in various parts of Afghanistan have raised concerns about Afghanistan being a "safe haven" for both international and regional terrorist organizations, he voiced concern.
Faiq urged the Taliban to uphold all citizens' human rights and to fulfill its pledges and international duties without discrimination based on gender or religious identity.
This comes as Markus Potzel, the acting head of the United Nations Assistance Mission in Afghanistan stated that the Taliban seek international recognition based on their territorial control rather than complying with the international community's norms.
Source: Khaama Press
Please click the following URL to read the text of the original story:
https://www.khaama.com/one-year-of-taliban-rule-afghan-envoy-in-un-calls-countrys-future-bleak-and-opaque-26474/
--------
Fighting In Iraqi Capital Leaves 30 Sadr Supporters Dead As Shiite Rivalry Escalates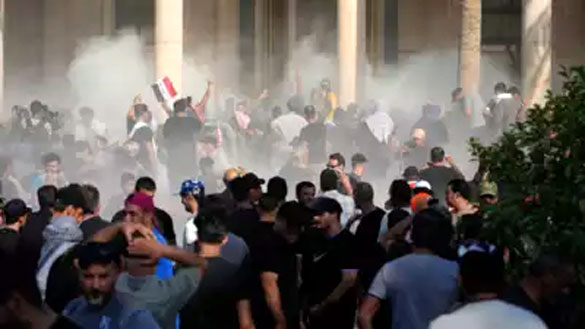 Iraqi security forces fire tear gas on the followers of Shiite cleric Muqtada al-Sadr inside the government Palace, Baghdad (AP)
-----
Aug 30, 2022
BAGHDAD: Fighting between rival Iraqi forces raged for a second day Tuesday with rocket fire echoing from Baghdad's Green Zone where 23 supporters of powerful Shiite leader Moqtada Sadr have been shot dead, medics said.
Tensions have soared in Iraq amid a political crisis that has left the country without a new government, prime minister or president for months.
They escalated sharply after Sadr's supporters on Monday afternoon stormed the government palace inside the high-security Green Zone following their leader's announcement that he was quitting politics.
The violence pitches backers of Sadr against rival Shiite factions backed by neighbouring Iran, with the sides exchanging gunfire across barricades -- violence the United Nations warns risks tipping the war-ravaged country deeper into chaos.
Overnight, shelling targeted the Green Zone that houses government buildings and diplomatic missions, a security source said, amid angry protests after Sadr's surprise announcement.
Sadr, a grey-bearded preacher with millions of devoted followers who once led a militia against American and Iraqi government forces after the 2003 US-led overthrow of dictator Saddam Hussein, announced Monday his "definitive retirement" and said he had "decided not to meddle in political affairs".
On Tuesday morning, fresh clashes broke out between Sadr's supporters and the army and men of the Hashed al-Shaabi, former Tehran-backed paramilitaries integrated into the Iraqi forces.
The rattle of automatic gunfire and heavier explosions of rocket-propelled grenades could be heard from the Green Zone.
The United Nations mission in Iraq warned of "an extremely dangerous escalation" and called on all sides to "refrain from acts that could lead to an unstoppable chain of events".
"The very survival of the state is at stake," it warned.
But amid an army-imposed nationwide curfew that continued Tuesday, Baghdad was otherwise quiet, with shops shuttered and few cars venturing out on the streets.
On Tuesday morning, medics updated the toll of Sadr supporters killed to 23, with some 380 others injured -- some with bullet wounds and others suffering tear gas inhalation.
A mass funeral was held Tuesday in the Shiite holy city of Najaf for some of the protesters killed in Baghdad.
Witnesses said earlier that Sadr loyalists and supporters of a rival Shiite bloc, the pro-Iran Coordination Framework, had exchanged fire.
The Framework condemned an "attack on state institutions", urging the Sadrists to engage in dialogue.
Caretaker Prime Minister Mustafa al-Kadhemi said "security or military forces, or armed men" were prohibited from opening fire on protesters.
The United States also urged calm amid the "disturbing" reports, while France called on "the parties to exercise the utmost restraint".
Shortly after Sadr made his announcement to step down, his followers burst into the Republican Palace in Baghdad -- where cabinet meetings are usually held -- and initially celebrated including by cooling off in a swimming pool in the garden.
Sadr -- a longtime player in the war-torn country's political scene, though he himself has never directly been in government -- announced he was quiting politics two days after he said "all parties" including his own should give up government positions in order to help resolve the political crisis.
His bloc emerged from last year's election as the biggest in the legislature, with 73 seats, but short of a majority.
In June, his lawmakers quit in a bid to break the logjam, which led to the Coordination Framework becoming the largest bloc.
Hamzeh Hadad, from the European Council on Foreign Relations, said it was "not clear" what Sadr's strategy was.
"Whatever it does mean, in typical Sadrist fashion, there is always backtracking expected," Hadad said.
"The second, and more terrifying thought on this is that he is giving his followers the green light to do whatever they like."
Iraq has been mired in political deadlock since legislative elections in October last year due to disagreement between Shiite factions over forming a coalition.
Sadr's supporters have for weeks been staging a sit-in outside Iraq's parliament, after storming the legislature's interior on July 30, demanding fresh elections be held.
The Coordination Framework wants a new head of government to be appointed before any new polls are held.
Source: Times Of India
Please click the following URL to read the text of the original story:
https://timesofindia.indiatimes.com/world/middle-east/fighting-in-iraqi-capital-leaves-23-dead-as-shiite-rivalry-escalates/articleshow/93878002.cms
--------
India
Supreme Court closes all proceedings pertaining to Babri mosque demolition
Aug 30, 2022
NEW DELHI: The Supreme Court on Tuesday closed all the proceedings arising out of the demolition of the Babri mosque in 1992.
The top court said that the contempt petition should have been listed earlier, but the issue does not survive with the November 9, 2019 judgment deciding the Ayodhya land dispute between Hindus and Muslims.
Muhammad Aslam Bhure - who had filed the petition in 1991 followed by contempt petition in 1992, died in 2010. The Supreme Court also rejected advocate M M Kashyap's plea for substituting the petitioner with an amicus curiae.
The final judgement in the Ayodhya dispute was declared by the Supreme Court of India on 9 November 2019. The Supreme Court had also ordered the Centre to set up a trust to build a temple, while alloting alternative five acres of land for constructing a mosque.
Source: Times Of India
Please click the following URL to read the full text of the original story:
https://timesofindia.indiatimes.com/india/supreme-court-closes-all-proceedings-pertaining-to-babri-mosque-demolition/articleshow/93871878.cms
--------
Karnataka High Court allows Ganesh puja at Hubbali Idgah Maidan
30.08.22
In a late-night hearing on Tuesday, the Karnataka High Court upheld an order of the Dharwad municipal commissioner allowing the Ganesh Chaturthi festival to be held at the Hubballi Idgah maidan.
Justice Ashok S Kinagi held that the property belonged to the Dharwad municipality and Anjuman-e-Islam was only a lease holder for a period of 999 years at a fee of Re 1 per year.
The court had heard the issue earlier in the day. The municipal commissioner's order was challenged in the court by Anjuman-e-Islam. The court had allowed the commissioner's order but at the same time, the Supreme Court was hearing the issue of the festival being allowed at the Chamrajpet Idgah maidan in Bengaluru.
Anjuman-e-Islam had claimed that the property in question was protected under the Places of Worship Act, 1991, which says no religious place of worship can be converted. The high court said in the case of the property in question, it was not a religious place of worship and was allowed for prayers only during Bakrid and Ramzan. During other times, it was used for purposes like a marketplace and a parking lot.
The Supreme Court order of status quo in the Bengaluru Chamrajpet ground was also not applicable to this case, the high court said.
The Chamrajpet issue involves a dispute about the ownership of the property, whereas the Hubballi ground belongs to the municipality, which Anjuman-e-Islam has also acknowledged, the court pointed out.
It had said if there was a Supreme Court order on the Benglauru Idgah issue, the same could be mentioned before it.
The apex court ordered for status quo in the Bengaluru issue and the Ganesh Chaturthi festival set to be celebrated by the state government had to be withheld.
Source: Telegraph India
Please click the following URL to read the full text of the original story:
https://www.telegraphindia.com/india/karnataka-high-court-verdict-on-ganesh-chaturthi-on-idgah-ground-in-karnataka/cid/1883535
--------
Muslim Organisations to Protest in Surathkal on September 9 for Not Handing Over the Investigation of the Murder of Two Muslim Boys
AUGUST 31, 2022
The protest is against the Karnataka govt. for not handing over the investigation of murders of Mohammed Masood and Mohammed Fazil to the NIA
The Muslim Aikyata Vedike, Surathkal, will hold a protest in Surathkal on September 9 against Karnataka government for not handing over the investigation of murders of 19-year-old Mohammed Masood and 22-year-old Mohammed Fazil to the National Investigation Agency.
Talking to reporters here on Tuesday, August 30, Umar Farooq, legal advisor of the vedike, said the State government has so far not handed over to the NIA the investigation of murders of Masood and Fazil though it is said to be linked with murder of BJP Yuva Morcha leader 34-year-old Praveen Nettaru. Praveen's murder is being investigated by the NIA. The police have so far not invoked provisions of Unlawful Activities (Prevention) Act in the two murders, he said.
Mr. Farooq said the State government has not given any compensation to family members of Masood and Fazil. Though Chief Minister Basavaraj Bommai and Home Minister Araga Jnanendra had said they will call on their family members, but have not done it yet. "We are really hurt by this discrimination against Muslims. Hence, to express our anguish, we will hold a protest meeting at Surathkal," he said.
Mr. Farooq said Vedike is contemplating to approach the High Court. "We have approached experts with related documents. A decision on filing a writ petition demanding NIA investigation will be taken shortly," he said.
He asked Dakshina Kannada district administration to enable Vedike members submit memorandum to Prime Minister Narendra Modi on September 2.
Fazil's father Farooq and Vedike President Mohammed Ashraf Badriya were present.
Source: The Hindu
Please click the following URL to read the full text of the original story:
https://www.thehindu.com/news/cities/Mangalore/muslim-organisations-to-protest-in-surathkal-on-september-9/article65830016.ece
--------
Why BJP Chose Muslim-Dominated Seemanchal to Kick Off Bihar Campaign
DIPAK MISHRA
31 August, 2022
Patna: In the run-up to the 2015 Bihar assembly elections, when Rashtriya Janata Dal leader Lalu Prasad Yadav and Nitish Kumar of the Janata Dal (United) had joined hands, Amit Shah, then national president of the Bharatiya Janata Party (BJP), had chosen the Gandhi Maidan in Patna to kick-start his party's poll campaign.
The Nitish-Lalu led RJD-JD(U)-Congress grand alliance swept the polls, while the BJP and its allies managed to win just 58 of the 243 seats.
Seven years on, as the JD(U) once again joined hands with the RJD and Congress after severing ties with BJP, the party in power at the centre has not just chosen a different venue to start off its campaign for the 2024 Lok Sabha elections, but also a set of issues on which it plans to take on the grand alliance.
Next month, now Union home minister Shah will kick off the BJP's poll campaign for 2024 in Bihar from the Muslim-dominated Seemanchal area, which comprises the four districts of Katihar, Purnea, Araria and Kishanganj. Shah is scheduled to first address a gathering in Purnea on 23 September, and then one in Kishanganj the next day.
"It will be our shankhnad (clarion call) for the 2024 Lok Sabha polls. We will reinstate our vows to provide a crime-free and corruption-free government in Bihar," former speaker and now leader of opposition in the Bihar assembly, Vijay Kumar Sinha, told The Print.
The Muslim population of Seemanchal ranges from around 70 per cent (in Kishanganj) to 35 per cent (in Purnea).
In the past, BJP has done well in this region by polarising Hindu votes. In the 2019 Lok Sabha elections, the NDA won three of the four seats here, including one won by JD(U) in Katihar, for which it had fielded a former BJP leader on its ticket. The NDA won 39 of 40 Lok Sabha seats in Bihar in 2019.
The JD(U) meanwhile seems unperturbed by the BJP's outreach in Seemanchal.
"It is obvious why the BJP has picked up Seemanchal to kick-start its campaign. But it will not succeed because our social base there is much larger and our voters are more aware of the motive of the BJP's communal agenda. The BJP's tally in Bihar will be in single digits," claimed Upendra Kushwaha, chairman of the JD(U)'s national parliamentary board.
Meanwhile, Telangana CM K. Chandrashekar Rao (KCR) is scheduled to visit Patna on 31 August and is expected to meet CM Nitish Kumar and deputy CM Tejashwi Yadav over lunch.
While KCR will be in town to distribute compensation money to families of Bihar labourers killed in Telangana in a fire accident and families of soldiers from Bihar killed in the Galwan valley, discussion on an anti-BJP front is also likely. In January, Tejashwi had flown to Hyderabad to meet KCR for the same.
Consolidation of Hindu votes
The BJP has its job in Seemanchal cut out.
"The Seemanchal region is a sensitive area. It is a hub of Islamic terrorism, infiltration from Bangladesh and IS (Islamic State) activities," state BJP spokesperson Prem Ranjan Patel told ThePrint.
Schools in the area had been a bone of contention between the JD(U) and BJP since even before they severed ties. Last month, then Bihar education minister Vijay Choudhary had asked for a "status report" on government schools in the Seemanchal area which remain closed on Fridays instead of Sundays, to allow teachers and students from the Muslim community to attend the jumma ka namaz or Friday prayers.
The issue had cropped up in Bihar after it was raised in neighbouring Jharkhand the same month. While the Jharkhand government has changed the holiday to Sunday in schools which had earlier remained closed Friday, the BJP wanted the same to be done in Bihar.
Consolidation of Hindu votes in Seemanchal will not only send a message to other parts of Bihar, but also to adjoining West Bengal districts which also have a high percentage of Muslim population, said a senior BJP leader on condition of anonymity.
"This time, the onus will be on the grand alliance partners to save their vote banks," said BJP leader and Bihar legislative council member Samrat Chaudhary. Claiming that the 2024 Lok Sabha elections will be all about Prime Minister Narendra Modi, Chaudhary recalled how the NDA had 27 per cent more votes than the grand alliance in Bihar in the 2019 elections.
The JD(U) had been a part of the NDA then.
Source: The Print
Please click the following URL to read the full text of the original story:
https://theprint.in/politics/shankhnad-for-2024-why-bjp-chose-muslim-dominated-seemanchal-to-kick-off-bihar-campaign/1107487/
--------
Supreme Court asks Centre for its stand on SC status for Dalit Christians, Muslims
Aug 30, 2022
NEW DELHI: The Supreme Court on Tuesday directed the Centre to take a stand within three weeks on the contentious issue of extending scheduled caste tag to Dalit Christians and Muslims and said that the day has come to take a call on issues having social ramifications.
Under the Constitution (Scheduled Castes) Order, only Hindus, Buddhists and Sikhs are recognized as scheduled castes.
Dealing with a public interest litigation filed by NGO Centre for Public Interest Litigation (CPIL) which flagged the issue for consideration by the court in 2004 and to which the Centre did not file any response during the long gap of 18 years, a bench of justices Sanjay Kishan Kaul, AS Oka and Vikram Nath said, "All these old matters are pending in this court because of its social ramifications. A day has come when we have to take a call on this."
The court gave the Centre three weeks' time to place on record its stand on the issue of reservation for Dalit communities of other religions other than those prescribed under the 1950 Order and posted the matter for consideration on October 11.
Appearing for the Centre, solicitor general Tushar Mehta said, "This matter is engaging the attention of the central government and we request for some time to bring the decision on record."
Advocate Prashant Bhushan who appeared for CPIL told the court that the issue involves a short question whether the 1950 Constitution (Scheduled Castes) Order discriminates against Dalit Muslims and Christians. Christian and Muslim organizations too had approached the Supreme Court and their petitions were bunched together with CPIL petition.
The petition sought a direction from the top court to declare paragraph (3) of the Constitution (Scheduled Castes) Order, 1950 as unconstitutional as it stated, "…no person who professes a religion different from Hinduism, Sikhism and Buddhism shall be deemed to be a member of a scheduled caste." The petitioners ought delinking of religion from consideration of scheduled caste status.
In 2007, former Supreme Court judge, justice Ranganath Misra headed the panel on the issue of granting SC status to religious communities besides Hindus, Sikhs and Buddhists and recommended that the 1950 Order was discriminatory.
Tushar Mehta said the government does not accept the recommendation. "We do not accept the Ranganath Misra Commission report as it ignored many aspects," SG Mehta said. But the court asked him why no affidavit was filed rejecting the Misra commission findings.
The 2011 census has total population figures for Christians and Muslims at 2.4 crore and 13.8 crore but there is no data on Dalit converts in these religions. In 2008, a study by the National Commission for Minorities recommended SC status for Dalit Christians and Muslims. This report too was not accepted.
Source: Hindustan Time
Please click the following URL to read the full text of the original story:
https://www.hindustantimes.com/india-news/supreme-court-asks-centre-for-its-stand-on-sc-status-for-dalit-christians-muslims-101661880145893.html
--------
'Namaz at home': UP cops drop FIR against 26, say video 'fudged'
Aug 31, 2022
BAREILLY: Days after 26 people were booked for "an unauthorised mass gathering to offer namaz" at the houses of two Moradabad residents, UP Police withdrew the FIR on Tuesday after they found the complaint to be "incorrect" and the "video" provided by the main complainant, Chandra Pal Singh, and other villagers to be "fudged".
The group namaz was not offered on the said date, August 24, as claimed by the complainants, police said, adding that a "thorough probe" was conducted in the matter.
Source: Times Of India
Please click the following URL to read the full text of the original story:
https://timesofindia.indiatimes.com/india/namaz-at-home-up-cops-drop-fir-against-26-say-video-fudged/articleshow/93891008.cms
--------
Religion has become prosecuting factor in India, alleges PDP chief Mehbooba Mufti
Aug 30, 2022
SRINAGAR: PDP president Mehbooba Mufti on Tuesday alleged that religion had become a prosecuting factor in the country's "warped idea of justice".
The former Jammu and Kashmir chief minister was reacting to reports that a Lingayat Mutt seer in Karnataka, who is facing allegations of sexual harassment, has not been arrested.
"Bilkis Bano's rapists walked free & now no action taken against Lingayat Mutt Seer despite serious rape charges. Religion has become the prosecuting factor in India's warped idea of justice. New Rashtra as envisioned by BJP is underway," Mehbooba tweeted.
Source: Times Of India
Please click the following URL to read the full text of the original story:
https://timesofindia.indiatimes.com/india/religion-has-become-prosecuting-factor-in-india-alleges-pdp-chief-mehbooba-mufti/articleshow/93884004.cms
--------
2 LeT terrorists neutralised in encounter in J-K's Shopian
Aug 30, 2022,
SRINAGAR: Two Lashkar-e-Toiba (LeT) militants were gunned down by security forces in Shopian district of Jammu and Kashmir on Tuesday, police said.
Security forces launched a cordon and search operation in Nagbal area of Shopian following information about the presence of militants there, a police official said.
An encounter broke out during the operation in which two ultras were gunned down.
Source: Times Of India
Please click the following URL to read the full text of the original story:
https://timesofindia.indiatimes.com/india/2-let-terrorists-neutralised-in-encounter-in-j-ks-shopian/articleshow/93883697.cms
--------
Hyderabad: 'Don't want Muslim delivery person', writes Swiggy customer
31st August 2022
Hyderabad: An instruction mentioned by a Swiggy customer in Hyderabad once again raises the question, 'does food have a religion?'.
Recently, the food aggregator customer mentioned that his order should not be delivered by a Muslim delivery boy.
Following the incident, Shaik Salauddin, chairman of Telangana State Taxi and Drivers JAC shared the screengrab of the instruction mentioned by the customer and requested Swiggy to take a stand against such request.
The food aggregator is yet to respond to the incident.
Similar situation faced by delivery boy in Hyderabad
It is not the first incident, earlier too a Swiggy customer in Hyderabad had refused to accept food delivered by a Muslim delivery boy.
In the instruction he had mentioned, 'Very less spicy. And, please select Hindu delivery person. All ratings will be based on this.'
Not only Swiggy, but another food delivery company Zomato had also faced a similar customer.
At that time, CEO and founder of Zomato Deepinder Goyal had tweeted, "We are proud of the idea of India – and the diversity of our esteemed customers and partners. We aren't sorry to lose any business that comes in the way of our values."
Swiggy, Zomato in Hyderabad
Both Swiggy and Zomato are famous food aggregators in Hyderabad. Thousands of people especially techies who hail from other districts depend on these aggregators for their meals.
Source: Siasat Daily
Please click the following URL to read the full text of the original story:
https://www.siasat.com/hyderabad-dont-want-muslim-delivery-person-writes-swiggy-customer-2402169/
--------
Europe
France's Top Court Green-lights Prominent Imam Iquioussen's Deportation for Hate Speech
Shweta Desai
30.08.2022
PARIS
France's top court has green-lighted the expulsion of prominent imam Hassan Iquioussen, the country's interior minister announced Tuesday.
"The Council of State validates the expulsion of Mr. Iquioussen who holds and propagates in particular anti-Semitic remarks and contrary to equality between women and men," Gerald Darmanin said in a tweet.
The court overturned an earlier ruling which stated that his expulsion would constitute a "disproportionate attack" toward his "private and family life."
Iquioussen is now likely to be deported to Morocco.
Iquioussen's lawyer Lucie Simon in a series of tweets, indicated the interior minister who had ordered the deportation, pressured the judiciary into giving the ruling.
Source: Anadolu Agency
Please click the following URL to read the full text of the original story:
https://www.aa.com.tr/en/europe/france-s-top-court-greenlights-prominent-imam-iquioussen-s-deportation/2672844
--------
UK home secretary asks landlords to take in Afghan refugees
August 30, 2022
LONDON: UK Home Secretary Priti Patel has asked landlords to house thousands of Afghan refugees stuck in temporary accommodation over a year since fleeing their homeland.
The Home Office says of the 21,450 people evacuated to the UK following the fall of Kabul to the Taliban in August 2021, 9,667 are still living in hotels at a total cost of over £1 million ($1.17 million) per day to the taxpayer.
In addition to Afghan refugees, there are 30,000 asylum seekers of other nationalities being put up in hotels across the UK, at an additional daily cost of around £4 million. The UK's total annual bill for asylum seekers is currently around £2 billion.
Just 7,385 Afghan evacuees have found permanent homes, with authorities citing the large sizes of many refugee families — seven people on average, as opposed to an average of three people per UK household — as a particular issue in rehousing them.
Patel wrote in The Times: "I urge landlords and local authorities to come forward with suitable homes. The government will continue to do everything possible to expedite moving those still in hotels into sustainable accommodation, while delivering value for money for the taxpayer."
The UK's housing shortage is also playing a part in the crisis, with local authorities struggling to find enough dwellings despite receiving £20,500 per refugee resettled in their area.
Despite this, the UK has pledged to take in another 3,500 Afghans trying to escape the Taliban, and Patel is readying plans to stop councils blocking refugees from being moved to their areas.
Source: Arab News
Please click the following URL to read the full text of the original story:
https://www.arabnews.com/node/2153126/world
--------
French more accepting of far-right ideology: Survey
Shweta Desai
31.08.2022
PARIS
France's recently concluded presidential and legislative elections reveal that the French are increasingly embracing a far-right-wing ideology that was once considered taboo, according to the latest survey by the Foundation for Political Innovation think-tank.
The survey, titled "Political changes and government majority in a right-wing France," was published Monday by the Le Figaro daily newspaper. It points to the shift of an increasing proportion of French people to the right politically, based on the analysis of the election results and three opinion polls with a sample of more than 9,000 people carried out parallel to the voting cycles.
The survey claims that large-scale abstention, blank votes, and protest votes, or votes cast in an election to demonstrate dissatisfaction with the choice of candidates or current political system, led to the marked success of far-right candidate Marine Le Pen and her National Rally (RN) party.
"This success is visible not only at the polls but also in public opinion. The ideas of the RN are increasingly widely accepted," it said.
It also demonstrates the shift towards the right through voting data. During the 2022 presidential election, the right-wing protest vote won 32.3% of the vote compared with 27.1% during the 2017 presidential election.
"Between 2017 and 2022, the protest vote in the presidential election is dominated by the right, while progressing more strongly on the right (+5.2 points) than on the left (+2 points)," the survey said.
After the RN bagged 89 seats, forming the largest opposition group in the National Assembly, nearly 47% of the respondents considered the development "a good thing." An overwhelming 59% of respondents who position themselves on the right consider the RN capable of governing, and 57% believe the party advocates a society in which they would like to live.
Public opinion-wise too, 39% of the respondents said they "completely agree" or "tend to agree" with the party's ideas. Besides the RN, Europe Ecology – The Greens (EELV) is the other popular party that has wide acceptance (39%) in terms of ideology.
The majority of the voters of far-right parties RN (91%) and Reconquest! (94%) are worried about the immigration of foreigners. More than half of the respondents (63%) think that "most immigrants do not share the values of our country and this poses problems of cohabitation." This opinion is in the minority among the voters (38%) of the left-wing coalition NUPES.
Le Pen's RN party remains the most popular sociologically and is expanding its electorate sharply in smaller cities, the survey analyzes.
The survey paints a "worrying" picture politically, as the parties that were deemed capable of governing like the Socialist Party (PS) on the left or Les Républicains (LR) on the right no longer have the means to rely on their own forces.
President Emmanuel Macron's Ensemble party also "suffered a limited but real disappointment with regard to the clear re-election."
The RN too will eventually face challenges after Le Pen ceases to be its leader, it said.
Source: Anadolu Agency
Please click the following URL to read the full text of the original story:
https://www.aa.com.tr/en/europe/french-more-accepting-of-far-right-ideology-survey/2673107
--------
Türkiye's experience sharing in counter-terrorism game-changer for many: President
Merve Aydogan
30.08.2022
Türkiye's benevolence of experience sharing with its friends in the fight against terrorism and advancement in the defense industry has acted as a "game-changer," the country's president said on Tuesday.
Speaking at the Turkish Military Academy's graduation ceremony on the centenary of Victory Day, in Ankara, Recep Tayyip Erdogan said: "Türkiye has become a country that preempts instead of lagging behind, by adopting a strategy of preventing threats at its root."
He added that Türkiye weighs in the pros and cons of its existing relationships, but do not feel shy to establish new partnerships.
Erdogan also said Ankara made the "first big and serious blow" to Daesh terrorist group, which was a major regional threat, via its Operation Euphrates Shield in northern Syria.
"Followed with the Operations Olive Branch, Peace Spring and Spring Shield, we showed the entire world the power of Turkish Armed Forces to protect the interests of our country and to ensure peace in its region," he said.
The Turkish president also criticized "the hostile attitudes of our so-called allies against Türkiye, or the support they give to those who display such attitudes."
On Türkiye's military education and training system, Erdogan said the country has now "completely abandoned" the system "damaged by the putschist mentality for 70 years."
Source: Anadolu Agency
Please click the following URL to read the full text of the original story:
https://www.aa.com.tr/en/europe/turkiyes-experience-sharing-in-counter-terrorism-game-changer-for-many-president/2672862
--------
UN warns 6 million Afghans at risk of famine as crises grow
August 31, 2022
UNITED NATIONS: Warning that Afghanistan faces deepening poverty with 6 million people at risk of famine, the UN humanitarian chief on Monday urged donors to restore funding for economic development and immediately provide $770 million to help Afghans get through the winter as the United States argued with Russia and China over who should pay.
Martin Griffiths told the UN Security Council that Afghanistan faces multiple crises — humanitarian, economic, climate, hunger and financial.
Conflict, poverty, climate shocks and food insecurity "have long been a sad reality" in Afghanistan, but he said what makes the current situation "so critical" is the halt to large-scale development aid since the Taliban takeover a year ago.
More than half the Afghan population — some 24 million people — need assistance and close to 19 million are facing acute levels of food insecurity, Griffiths said. And "we worry" that the figures will soon become worse because winter weather will send already high fuel and food prices skyrocketing.
Despite the challenges, he said UN agencies and their NGO partners have mounted "an unprecedented response" over the past year, reaching almost 23 million people.
But he said $614 million is urgently required to prepare for winter including repairing and upgrading shelters and providing warm clothes and blankets — and an additional $154 million is needed to preposition food and other supplies before the weather cuts access to certain areas.
Griffiths stressed, however, that "humanitarian aid will never be able to replace the provision of system-wide services to 40 million people across the country."
The Taliban "have no budget to invest in their own future," he said, and "it's clear that some development support needs to be started."
With more than 70 percent of Afghan's living in rural areas, Griffiths warned that if agriculture and livestock production aren't protected "millions of lives and livelihoods will be risked, and the country's capacity to produce food imperiled."
He said the country's banking and liquidity crisis, and the extreme difficulty of international financial transactions must also be tackled.
"The consequences of inaction on both the humanitarian and development fronts will be catastrophic and difficult to reverse," Griffiths warned.
Russia called the UN Security Council meeting on the eve of the first anniversary of the US withdrawal from Afghanistan and its ambassador, Vassily Nebenzia, sharply criticized the "ignominious 20-year campaign" by the United States and its NATO allies.
He claimed they did nothing to build up the Afghan economy and their presence only strengthened the country's status "as a hotbed of terrorism" and narcotics production and distribution.
Nebenzia also accused the US and its allies of abandoning Afghans to face "ruin, poverty, terrorism, hunger and other challenges."
"Instead of acknowledging their own mistakes and supporting the reconstruction of the destroyed country," he said, they blocked Afghan financial resources and disconnected its central bank from SWIFT, the dominant system for global financial transactions.
China's UN Ambassador Zhang Jun also accused the US and its allies of "evading responsibility and abandoning the Afghan people" by cutting off development aid, freezing Afghan assets and imposing "political isolation and blockade."
US Ambassador Linda Thomas-Greenfield accused the Taliban of imposing policies that "repress and starve the Afghan people instead of protecting them" and of increasing taxes on critically needed assistance.
She asked how the Taliban — which has not be recognized by a single country — expect to build a relationship with the rest of the world when it provided a safe haven for the leader of Al-Qaeda, Ayman Al-Zawahiri, in downtown Kabul. He was killed by a US drone strike on July 31.
Nonetheless, Thomas-Greenfield said, the United States is the world's leading donor in Afghanistan, providing more than $775 million in humanitarian aid to Afghans in the country and the region in the last year.
As for Afghan frozen assets, President Joe Biden announced in February that the $7 billion in the US was being divided — $3.5 billion for a UN trust fund to provide aid to Afghans and $3.5 billion for families of American victims of the 9/11 terror attacks in the United States.
"No country that is serious about containing terrorism in Afghanistan would advocate to give the Taliban instantaneous, unconditional access to billions in assets that belong to the Afghan people," Thomas-Greenfield said.
To Russia's claims that Afghanistan's problems are the fault of the West and not the Taliban, Thomas-Greenfield asked, "What are you doing to help other than rehash the past and criticize others?"
She said Russia has contributed only $2 million to the UN humanitarian appeal for Afghanistan and China's contributions "have been similarly underwhelming."
"If you want to talk about how Afghanistan needs help, that's fine. But we humbly suggest you put your money where your mouth is," Thomas-Greenfield said.
Russia's Nebenzia took the floor again, calling the suggestion "stunning."
"We are being asked to pay for the reconstruction of a country whose economy was essentially destroyed by 20 years of US and NATO occupation?" he asked. "You are the ones who need to pay for your mistakes. But first of all, you need to return to the Afghan people the money that has been stolen from them."
Thomas-Greenfield, the US ambassador, had the last word.
Source: Arab News
Please click the following URL to read the full text of the original story:
https://www.arabnews.com/node/2153521/world
--------
South Asia
Bangladesh families demand UN probe into disappeared relatives
Aug 30, 2022
DHAKA: Bangladesh's government is in "denial" about systematic abductions carried out by security forces, families of missing relatives said Tuesday, during a protest demanding a United Nations probe into enforced disappearances.
Rights groups accuse security forces of unlawfully killing around 2,500 people since Prime Minister Sheikh Hasina came to power in 2009, many of whom were prominent opposition figures.
Hundreds more have been declared missing, with Sweden-based news portal Netra News this month reporting that some have been secretly detained for years in a previously unknown prison near a military base.
"We want immediate release of the detainees from secret detention cells," said Sanijda Islam, a member of the local Maayer Daak civil society group which represents families of the missing.
"The authorities should stop their denial," Islam told AFP.
Outgoing UN human rights chief Michelle Bachelet visited Bangladesh this month and urged the government to create an independent agency to investigate claims of enforced disappearances.
But at a rally in the capital Dhaka, hundreds of people carrying photos of their missing relatives urged the UN to conduct its own inquiry.
"We want a strong investigation committee led by the UN," said Khondoker Ayesha Khatun, whose son was allegedly abducted by security forces in 2016 and has been unseen since.
There was "overwhelming" evidence that authorities were involved in enforced disappearances and Bangladesh should allow a UN investigation, Meenakshi Ganguly of Human Rights Watch said Tuesday.
"The Bangladesh government should stop feigning ignorance and work with the UN to provide urgent answers and effective accountability," she added.
Last year the United States imposed sanctions on the elite Rapid Action Battalion police unit, along with seven top security officers, over human rights violations.
Source: Times Of India
Please click the following URL to read the full text of the original story:
https://timesofindia.indiatimes.com/world/south-asia/bangladesh-families-demand-un-probe-into-disappeared-relatives/articleshow/93882366.cms
--------
PM Sheikh Hasina dispels possibility of Sri Lanka-like economic crisis in Bangladesh
Aug 30, 2022
DHAKA: Prime Minister Sheikh Hasina said on Tuesday that Bangladesh would never plunge into a Sri Lanka-like economic crisis as her government was steering the country's development in a planned way.
Addressing an event of her ruling Awami League here, Hasina said her government took every development project considering their economic return and the national budgets were prepared in a planned way as well to evade economic disasters and facilitate smooth development.
"Bangladesh will never become Sri Lanka, it won't be," Hasina said. "We think in a pragmatic way before taking any development project (and so) the country will continue to move ahead overcoming all global challenges."
The premier, however, said as Bangladesh started overcoming the COVID-19, the impact of the Russia-Ukraine war aggravated the situation which prompted her government to categorise the development projects in four segments in terms of budget allocations considering their economic returns.
"We don't eat ghee by borrowing money," which could lead the country to any debt trap, Hasina said, adding Bangladesh was repaying all loans on time very carefully.
Sri Lanka has been witnessing one of the worst economic crises since its Independence in 1948. They have defaulted on international loans as well.
In an apparent reference to China, she said the amount of "our debts is not so high that we would fall into the any debt trap of anyone".
Her comments came days after the global rating agency Standard & Poor's (S&P) cautioned Bangladesh that further depreciation of its currency would mount domestic inflation pressures, and make more expensive external debt servicing costs.
Financial analysts also predict the inflationary pressure to continue hurting people in days ahead while main opposition outside parliament Bangladesh Nationalist Party (BNP) of ex-premier Khaleda Zia feared the government's "inefficiency" could create the Sri Lanka type crisis.
Bangladesh liberalised further its trading mechanism in June 2022 and since then nominal exchange rate of Taka, the local currency, has depreciated by about 10 per cent against the US dollar, marking a notable shift in the country's foreign exchange dynamics.
The S&P said the measure weakened Bangladesh's external profile following a marked rise in its current account deficit, driven by surging domestic demand and higher commodity prices.
"These trends have driven net outflows of foreign exchange from the economy, resulting in declining reserves and depreciatory pressure against the taka," it said.
"Bad times are looming large as the general point-to-point inflation may hit 10 per cent in the coming months," financial think-tank Policy Research Institute (PRI) executive director Dr Ahsan H Mansur said earlier this week adding that the monetary policy was not working well to contain the inflationary pressure.
The S&P, however, said Bangladesh's economy accelerated in 2022 and underlying momentum remains sound and added that the normalisation of the global economy continued to drive a strong pick-up in the country's garment sector, contributing to a 12.3 per cent expansion in manufacturing activity in the outgoing fiscal year.
"The sector's recovery has also underpinned a durable recovery in the condition of Bangladesh's labour market, supporting robust domestic demand conditions," the rating agency said.
"The outlook remains stable (and) the stable outlook reflects our expectation that Bangladesh's solid growth prospects and policy adjustments will manage the risks associated with a challenging external landscape over the next 12 months," it noted.
The agency also said Bangladesh's economic recovery remains on a sound footing, and "we project real GDP growth to average 7.0 per year over the next three years."
Bangladesh Bank's Chief Economist Dr Habibur Rahman said the central bank took various steps to contain inflation stabilising the exchange rate while "efforts are on to control inflation through improving the supply side without raising the interest rate".
Hopefully, he said, the exchange rate of the US dollar against Taka would come down soon and there would be improvement in other sectors as well.
Source: Times Of India
Please click the following URL to read the full text of the original story:
https://timesofindia.indiatimes.com/world/south-asia/pm-sheikh-hasina-dispels-possibility-of-sri-lanka-like-economic-crisis-in-bangladesh/articleshow/93885768.cms
--------
Taliban Requests Recognition Based on Its Territorial Control Says Markus Potzel
By Saqalain Eqbal
30 Aug 2022
Markus Potzel, the Acting Special Representative of the UN Secretary-General for Afghanistan, stated that the Taliban seek legitimacy and recognition based on their territorial domination rather than by upholding the norms and standards of the international community.
Potzel stated in his briefing to the UN Security Council (UNSC) that the lack of recognition of the Taliban by any country to this point is due to several obvious reasons, including a failure to uphold international norms.
The UNSC held a session on Afghanistan on August 29, focusing on the social and economic situation in Afghanistan.
The Acting United Nations Assistance Mission in Afghanistan (UNAMA) head, Potzel, said, "Afghanistan is part of this international system and the Taliban need to adhere to their international obligations."
The UN official enumerated the standards set by the international community for representative government, collective international security, and women's and girls' rights, all of which the Taliban government appears to violate and struggle with.
Noting that the provision of humanitarian aid to the impoverished people of Afghanistan is not a "long-term solution", Potzel stated that measures should be put in place to allow the Afghan economy "breathe", including efforts to facilitate access to the held reserves.
The Taliban government, according to Potzel, is dealing with more and more challenges with governance as they portray themselves as a unified, integrated governing body, yet with rumours of internal tensions.
He also pointed at the curtailed fundamental human rights, especially the suspension of the schools for girls and the draconian policies in place for Afghan women, noting that "Afghanistan is the only country in the world that denies girls the full right to education."
Source: Khaama Press
Please click the following URL to read the full text of the original story:
https://www.khaama.com/taliban-requests-recognition-based-on-its-territorial-control-says-markus-potzel-278432/
--------
Amnesty accuses Iran, Turkey of illegal Afghan migrant pushbacks
31 August, 2022
Iran and Turkey are preventing entry of Afghan refugees or forcibly returning them to face life-threatening risks under the Taliban regime, in violation of international law, Amnesty International said in a report Wednesday.
Hundreds of thousands fled Afghanistan in August 2021 after the US left the country in a chaotic military pullout, allowing the hardline Taliban to retake control.
But while many who assisted US forces in particular were airlifted out, the vast majority have had to flee by land, in particular towards Iran and eventually Turkey.
Many are poor and lack passports or other valid travel documents, making them especially vulnerable to border police who use threats or outright violence to keep them out or push them back, Amnesty said.
"Iranian and Turkish security forces have unlawfully used firearms against Afghans trying to cross the border irregularly as a deterrent and a pushback method, sometimes resulting in deaths or injuries," the report said.
Amnesty said it based its findings on interviews with dozens of Afghans, including 74 who were forcibly returned, sometimes with children or other family members.
The NGO cited numerous cases of "unlawful killings, pushbacks by shooting and other unlawful returns, arbitrary detention, and torture and other ill-treatment of Afghans at the hands of both Iranian and Turkish officials."
In particular, it documented killings of 11 Afghans by Iranian security forces and three Afghans by Turkish forces over the past year.
Under international law, countries are obliged to ensure a right to seek asylum and the principle of non-refoulement, or the forced return of refugees to countries where they would face persecution or other human rights violations.
"It is Amnesty International's position, in line with UNHCR [United Nations High Commissioner for Refugees], that no Afghan should be returned, because of the risk of serious human rights violations they could face in Afghanistan," it said.
Source: Al Arabiya
Please click the following URL to read the full text of the original story:
https://english.alarabiya.net/News/world/2022/08/31/Amnesty-accuses-Iran-Turkey-of-illegal-Afghan-migrant-pushbacks-
--------
Taliban celebrate anniversary of foreign troop withdrawal
August 31, 2022
KABUL: The Taliban declared Wednesday a national holiday and decorated the capital with colored lights to celebrate the first anniversary of the withdrawal of US-led troops from Afghanistan.
The country's new rulers — not formally recognized by any other nation — have reimposed their harsh version of Islamic law on the impoverished country, with women squeezed out of public life.
But despite the restrictions, and a deepening humanitarian crisis, many Afghans say they are glad the foreign force that prompted the Taliban insurgency left after a brutal 20-year war.
"We are happy that Allah got rid of the infidels from our country, and the Islamic Emirate has been established," said Zalmai, a resident of Kabul.
"Happy Independence Day," tweeted government spokesman Zabihullah Mujahid.
In a separate statement, the government said the day marked "the country's freedom from American occupation."
"So many mujhahideen have been wounded (over the years), so many children became orphans and so many women become widows."
The authorities held an official celebration at Bagram air base, which US forces used to launch air strikes against the Taliban.
Foreign media outlets were not allowed to attend the event.
Kabul was quiet on Wednesday morning with a few Taliban fighters driving around the city and most residents staying indoors after the government declared a national holiday.
The plane carrying the last US troops took off from Kabul just a minute before midnight on August 31 last year.
That departure ended America's longest war, which began in the wake of the September 11, 2001 attacks in New York.
Some 66,000 Afghan troops and 48,000 civilians were killed in the conflict, but it was the deaths of US service members — 2,461 in total — that became too much for the American public to bear.
"The burden of the war in Afghanistan, however, went beyond Americans," the US military said Tuesday.
More than 3,500 troops from other NATO countries were also killed.
Two weeks before the end of last year's withdrawal, the Taliban seized power following a lightning offensive against government forces.
Banners celebrating victories against three empires — the former Soviet Union and Britain also lost wars in Afghanistan — flew in Kabul on Wednesday.
Hundreds of white Taliban flags bearing the Islamic proclamation of faith flew from lamposts and government buildings, while squares in the capital were decorated with lights.
On Tuesday night, the skies above Kabul were lit up with fireworks and celebratory gunfire from crowds of Taliban fighters.
In Massoud Square, near the former US embassy, armed fighters carrying Taliban flags chanted "Death to America." Others drove around the city honking their horns.
Taliban social media accounts posted videos and pictures of newly trained troops — many flaunting equipment the US military left behind during its chaotic withdrawal.
"This is how you troll a superpower after humiliating them and forcing them to withdraw from your country," read a tweet with a photo of a giant Taliban flag now painted on the wall of the former US embassy.
Despite the Taliban's pride in taking over, Afghanistan's 38 million people face a desperate humanitarian crisis — aggravated after billions of dollars in assets were frozen and foreign aid dried up.
Hardships for ordinary Afghans, especially women, have increased.
The Taliban have shut secondary girls' schools in many provinces and barred women from many government jobs.
They have also ordered women to fully cover up in public — ideally with an all-encompassing burqa.
"Women are mentally disturbed because they have no career, no education, and no basic rights," said Zulal, a former government employee in the city of Herat who lost her job after the arrival of the Taliban.
"Girls are particularly distressed after their schools were closed. You can see it on their faces."
Taliban spokesman Mujahid last week claimed there had been "major achievements" in the past year.
Source: Arab News
Please click the following URL to read the full text of the original story:
https://www.arabnews.com/node/2153696/world
--------
Arab World
Saudi Activist Muhammad al-Jedaei, Handed 18-Year Prison Sentence for Social Media Activism on Twitter
31 August 2022
A court in Saudi Arabia has sentenced a social media activist to more than a dozen years in prison, amid an intensified crackdown led by Crown Prince Mohammed bin Salman against pro-democracy campaigners, Muslim preachers, and intellectuals in the kingdom.
Democracy for the Arab World Now (DAWN), a US-based rights group created by murdered Saudi dissident and the Washington Post journalist Jamal Khashoggi to promote democracy, human rights and the rule of law for the Arab world, announced that the so-called Saudi Court of Appeals slapped an 18-yaer jail term against social and cultural activist, Muhammad al-Jedaei, better known as Jaddo, earlier this week.
Jedaei was detained nearly two and a half years ago as part of an arrest campaign, which targeted dozens of political activists, democracy advocates as well as social media activists.
The news comes as the Saudi Specialized Criminal Court has sentenced a woman to 45 years in prison for her social media posts, marking the second such case in weeks.
Nourah al-Qahtani received the heavy sentence on appeal after she was convicted of "using the internet to tear the (country's) social fabric" and "violating public order" via social media, DAWN said.
The Washington-based group added that she was convicted under the kingdom's so-called Counter-Terrorism and Anti-Cyber Crime Law, and shared a copy of the court document.
Earlier this month, Saudi officials sentenced women's rights activist Salma al-Shehab to 34 years in prison.
The United Nations Human Rights Council said in a statement that the jail term handed down to Shehab, a mother of two young children and a doctoral student at the United Kingdom's Leeds University, is the longest sentence ever given to a women's rights defender in Saudi Arabia.
The UN rights council noted that Saudi authorities have taken advantage of the return to the international fold following the savage killing of Khashoggi inside the kingdom's consulate in Istanbul on October 2, 2018 to deepen crackdown on political opponents.
Shehab was initially sentenced to six years in prison for using an internet website to "cause public unrest and destabilize civil and national security," the UN human Rights Council said, but after a public prosecutor asked for other alleged crimes to be taken into consideration, but an appeals court recently increased the sentence to 34 years along with a 34-year travel ban.
She was on holiday in Saudi Arabia in January 2021 and had planned to return to the United Kingdom when she was detained, according to the Freedom Initiative, a Washington-based human rights organization.
Several human rights organizations, including the Human Rights Foundation, the Freedom Initiative, the European Saudi Organization for Human Rights (ESOHR) and ALQST for Human Rights, have condemned the ruling against the Saudi women's rights activist, and called for her release.
Ever since bin Salman became Saudi Arabia's de facto leader in 2017, the kingdom has arrested hundreds of activists, bloggers, intellectuals and others for their political activism, showing almost zero tolerance for dissent even in the face of international condemnation of the crackdown.
Source: Press TV
Please click the following URL to read the full text of the original story:
https://www.presstv.ir/Detail/2022/08/31/688350/Saudi-man-handed-18-year-prison-sentence-for-social-media-activism-on-Twitter-
--------
Iraqi protesters withdraw after Shia cleric al-Sadr demands end to protests
30 August, 2022
Supporters of Iraq's Shia cleric Muqatda al-Sadr started to withdraw from Baghdad's Green Zone on Tuesday after he urged them to end a protest following violence that killed 23 of them.
Sadr gave followers "60 minutes" to withdraw from the high-security Green Zone, after which he would threatened to "disavow" those who remained.
"I apologize to the Iraqi people, the only ones affected by the events," al-Sadr told reporters from his base in the central Iraqi city of Najaf.
Moments after al-Sadr's speech, broadcast live on television, his supporters were seen beginning to leave the Green Zone, and minutes after that, the army lifted a nation-wide curfew imposed since violence erupted on Monday.
Tensions have soared in Iraq amid a political crisis that has left the country without a new government, prime minister or president for months.
They escalated sharply after al-Sadr's supporters on Monday afternoon stormed the government palace inside the Green Zone following their leader's announcement that he was quitting politics.
Al-Sadr, a grey-bearded preacher with millions of devoted followers who once led a militia against American and Iraqi government forces after the 2003 US-led overthrow of President Saddam Hussein, announced Monday his "definitive retirement" and said he had "decided not to meddle in political affairs."
Overnight Monday and on Tuesday morning, clashes raged between al-Sadr's supporters and the army and men of the Hashed al-Shaabi, former Tehran-backed paramilitaries integrated into the Iraqi forces.
On Tuesday morning, medics updated the toll of al-Sadr supporters killed to 23, with some 380 others injured - some with bullet wounds and others suffering tear gas inhalation.
Source: Al Arabiya
Please click the following URL to read the full text of the original story:
https://english.alarabiya.net/News/gulf/2022/08/30/Iraq-s-Muqtada-al-Sadr-calls-on-supporters-to-end-sit-in
--------
Saudi Arabia seeks extradition of man who threatened embassy in Lebanon: Ambassador
30 August, 2022
Saudi Arabia's ambassador to Lebanon Walid al-Bukhari said the Kingdom is seeking the arrest and extradition from Lebanon of a Saudi man who threatened the Kingdom's embassy in Beirut last week.
"We call upon the competent Lebanese authorities to undertake the necessary legal procedures regarding the terrorist threats," al-Bukhari said following a meeting with Lebanon's interior minister.
Lebanese and Saudi authorities say the person behind the recorded threats was a Saudi man named Ali Hashem. Reuters could not independently confirm the information and was not able to contact the man.
Lebanese Interior Minister Bassam Mawlawi last week asked security forces to probe the recorded death threats out of "concern for Lebanon's interest and security and good relations with brotherly nations, especially the Kingdom of Saudi Arabia."
Some Lebanese officials have tried to improve ties with Saudi Arabia, once a major donor, after years of tension over the growing influence in Lebanon of Hezbollah, which is classified by both Riyadh and the US as a terrorist group.
Relations hit a low last year when Saudi Arabia banned imports of Lebanese goods over drug smuggling concerns and then recalled its ambassador after critical comments by a pro-Hezbollah minister. The ambassador has since returned.
Source: Al Arabiya
Please click the following URL to read the full text of the original story:
https://english.alarabiya.net/News/middle-east/2022/08/30/Saudi-ambassador-says-Kingdom-seeks-extradition-of-man-who-threatened-embassy
--------
Iraq can redirect more crude exports to Europe if needed: SOMO source
30 August, 2022
Iraq's state-owned marketer SOMO can redirect more crude oil exports to Europe if required, a company source told Reuters on Tuesday.
SOMO began increasing exports to Europe in June, the source said, adding that Iraq has adjusted export flows as a result of increased competition in Asian markets.
India and China have stepped up Russian oil purchases as western oil importers shun trade with Moscow following its invasion of Ukraine in February, which it calls a "special military operation."
Source: Al Arabiya
Please click the following URL to read the full text of the original story:
https://english.alarabiya.net/business/energy/2022/08/30/Iraq-can-redirect-more-crude-exports-to-Europe-if-needed-SOMO-source
--------
Iran closes its borders with Iraq, halts flights amid violence: State television
30 August, 2022
Iran has closed its borders with Iraq and urged its citizens to avoid traveling there, a senior official said on Tuesday, amid an eruption of violence after Shia cleric Muqtada al-Sadr said he would quit politics.
Heavy clashes in Baghdad killed at least 20 people on Monday, after al-Sadr's announcement prompted his loyalists to storm a government palace and fight with rival groups.
Millions of Iranians travel to the Iraqi city of Karbala every year for the ritual of Arbaeen, which marks the end of a 40-day mourning period for the grandson of the Prophet Mohammed, Imam Hussein. Arbaeen falls on September 16-17 this year.
"The border with Iraq has been closed. Due to safety concerns, it is necessary for Iranians to refrain from travelling to Iraq until further notice," state television quoted Iran's deputy Interior Minister Majid Mirahmadi as saying.
State television said Iran had halted all flights to Iraq "until further notice because of the ongoing unrest."
Source: Al Arabiya
Please click the following URL to read the full text of the original story:
https://english.alarabiya.net/News/middle-east/2022/08/30/Iran-closes-its-borders-with-Iraq-halts-flights-amid-violence-State-TV-
--------
Saudi Arabia urges Iraq's political parties to peacefully address people's demands
30 August, 2022
Saudi Arabia urged all political parties in Iraq to resort to peaceful solutions to address the demands of the Iraqi people after clashes in Baghdad killed at least 23 people, the official Saudi Press Agency (SPA) reported on Tuesday.
"The Kingdom calls on all political parties in Iraq to stand [united] to protect the country and its people… and it supports all efforts that aim to spare the country of internal conflict," SPA reported citing a statement by the foreign ministry.
It also said that the Kingdom was following up on recent developments in Iraq "with great concern," and voiced its regret over the recent clashes that killed and injured dozens.
Tensions have soared in Iraq amid a political crisis that has left the country without a new government, prime minister or president for months.
They escalated sharply after Shia cleric Muqtada al-Sadr's supporters on Monday afternoon stormed the government palace inside the Green Zone following their leader's announcement that he was quitting politics.
Overnight Monday and on Tuesday morning, clashes raged between al-Sadr's supporters and the army and men of the Hashed al-Shaabi, former Tehran-backed paramilitaries integrated into the Iraqi forces.
Source: Al Arabiya
Please click the following URL to read the full text of the original story:
https://english.alarabiya.net/News/gulf/2022/08/30/Saudi-Arabia-urges-Iraq-s-political-parties-to-peacefully-address-people-s-demands
--------
Iraq's top court postpones session to dissolve parliament amid unrest
Raed al-Hamed
30.08.2022
BAGHDAD
Iraq's Federal Supreme Court on Tuesday postponed a session to discuss a lawsuit demanding the dissolution of parliament.
"All the courts, including the Federal Court, did not consider the cases presented before them today due to the curfew and the disruption of the work of all state institutions," the Supreme Judicial Council, Iraq's top judicial body, said in a statement.
The Judicial Council earlier said that it does not have the authority to dissolve the assembly.
Iraqi authorities on Monday declared a nationwide curfew after supporters of influential Shia cleric Muqtada al-Sadr stormed the Republican Palace where the government is seated in Baghdad.
The situation escalated shortly after al-Sadr said he was stepping down from politics amid a months-long political crisis in Iraq.
At least 13 protesters were killed and hundreds injured in the unrest, according to local media.
Source: Anadolu Agency
Please click the following URL to read the full text of the original story:
https://www.aa.com.tr/en/middle-east/iraq-s-top-court-postpones-session-to-dissolve-parliament-amid-unrest/2672582
--------
Iraq's PM threatens to quit if political stalemate drags on
31 August 2022
Iraqi Prime Minister Mustafa al-Kadhimi has threatened to step down if the country remained inside the political imbroglio that has left the country incapable of forming a new government since last October's parliamentary elections.
Speaking on Tuesday, Kadhimi said he could "vacate his post" in protest at the political uncertainty, asserting, "Enough of the duplicity of state and non-state [actors]."
Violence erupted in the capital Baghdad after the country's prominent Shia cleric Muqtada al-Sadr on Monday said he was resigning from politics and closing his movement's offices.
Sadr's supporters pulled down the barriers outside the government palace and breached its gates on Monday. The Iraqi Army announced a nationwide curfew, but armed clashes raged overnight.
At least 30 people were killed and 700 others wounded in the two days of unrest, which came after three years of relative stability in Baghdad.
Kadhimi said a commission of inquiry had been formed to probe the origin of the weapons that was used in recent clashes.
On Tuesday, Iraqi protesters, however, withdrew from the high-security Green Zone in the capital after Sadr called on his followers to end the violence within an hour.
"It saddens me a lot what happens in Iraq; I apologize to the Iraqi people, the only ones affected by the events," Sadr told reporters. "We had hoped that there would be peaceful protests, not weapons."
Kadhimi warmly welcomed the move by the cleric.
Source: Press TV
Please click the following URL to read the full text of the original story:
https://www.presstv.ir/Detail/2022/08/30/688329/Iraq-prime-minister-threatens-resignation
--------
North America
US College in the US State of Arizona Launches Centre To Highlight Contributions of Muslims in the Country
30 August 2022
A college in the US state of Arizona has launched a new centre that focuses on the experience and contributions of Muslims in the country.
The Center of Muslim Experience in the United States by Arizona State University "will facilitate belonging for Muslim students" and "work to build mutually beneficial partnerships between Muslim communities across the country and university", the university said in a press release on Monday.
"The Muslim contribution to world history and culture would be difficult to overstate - and the Muslim experience in the United States has helped to shape the nation," Jeffrey Cohen, ASU's dean of humanities, said in a statement.
The university, which boasts a total enrollment of more than 70,000, is also home to more than 8,000 Muslim students, faculty and staff.
The centre will host a variety of events including poetry readings and musical performances and will invite inspirational speakers and writers to ASU for public events.
"By creating a space for students to share their own stories, both Muslim and non-Muslim students will benefit from knowing one another and learning to appreciate that socio-cultural differences can benefit improved community-building locally," said Chad Haines, co-director of the new centre.
It will also host a years-long, student-run academic study to document the Muslim experience specific to the city of Phoenix, the capital of Arizona.
The exact population of Arizona's Muslim community is unclear, and various reports from local news outlets have pinned the number at anywhere from 50,000 to 120,000.
One of the main goals of the new initiative is also to highlight the scholarship of Muslim women and their contributions to society.
"At the heart of the many misconceptions of Islam are Muslim women," said Yasmin Saikia, the other co-director of the new centre.
"This needs addressing and discussing so we can transform the skewed image and show the reality of how Muslim women in America are contributing to multiple facets of American community life and well-being."
The ASU's new centre would build on a few different educational initiatives across the country that are aimed at sharing the story of America's Muslim populations.
Source: Middle East Eye
Please click the following URL to read the full text of the original story:
https://www.middleeasteye.net/news/us-college-launches-centre-highlight-muslim-american-experience
--------
Taliban set off fireworks to celebrate anniversary of US withdrawal from Afghanistan
31 August, 2022
Celebratory fireworks lit up the Kabul sky on Tuesday night on the first anniversary of the withdrawal of US troops from Afghanistan, which the Taliban are marking as 'Freedom Day.'
The withdrawal, completed a minute before midnight local time on Aug. 30, came as the war-torn country was taken over by the Taliban, who had waged a 20-year insurgency against US-led forces that invaded Afghanistan in October 2001 following the Sept. 11 attacks in New York.
"Fireworks with various and beautiful colors are going to be held to mark Freedom Day," Taliban spokesman Zabihullah Mujahid had said earlier on Tuesday.
The fireworks were accompanied by intense celebratory aerial firing in many areas of Kabul.
The de-facto Taliban government has also declared Wednesday a public holiday to mark the day, the labor ministry said.
The head of the US Central Command had said back then that there was "a lot of heartbreak" associated with the departure. Having failed to anticipate the Taliban would prevail so quickly, Washington and its NATO allies were forced into a hasty exit.
The United States completed its military withdrawal from Afghanistan after a huge but chaotic airlift that cost the lives of 13 US service members and left behind thousands of Afghans and hundreds of Americans still seeking an escape from Taliban rule.
Some have since been able to leave, but many others remain in Afghanistan, where the Taliban are looking to establish a fully-functional government that is recognized by the international community.
Source: Al Arabiya
Please click the following URL to read the full text of the original story:
https://english.alarabiya.net/News/world/2022/08/31/Taliban-set-off-fireworks-to-celebrate-anniversary-of-US-withdrawal-from-Afghanistan
--------
Pentagon chief marks anniversary of US retreat from Afghanistan
30 August 2022
The United States top brass has commemorated the first anniversary of American forces humiliating retreat from Afghanistan, claiming that Washington still had unfinished business in the country.
In a memorandum to mark the event addressed to all Department of Defense (DoD) personnel on Tuesday, Secretary Lloyd Austin said America's work in the country "is not done".
"[W]e know this work is not done," the letter by Austin to the DoD's personnel across the world emphasized.
Tuesday marked one year since defeated US soldiers left Afghanistan, ending America's longest war.
After 20 years of war and US occupation, the Americans exit led to Afghanistan suddenly falling back into the Taliban's control.
US President Joe Biden has been criticized for the chaotic exit of the military from Afghanistan, and his failure to provide a safe passage for US citizens and some Afghans from Kabul.
Biden, who acknowledged that he was stunned by the swift collapse of Kabul, said, "I don't think it was a failure."
"The idea that somehow there's a way to have gotten out without chaos ensuing, I don't know how that happens," he added.
Many top politicians have criticized Biden for allowing the Taliban forces' swift take back of Kabul.
Source: Press TV
Please click the following URL to read the full text of the original story:
https://www.presstv.ir/Detail/2022/08/30/688322/US-Afghanistan-Exit-Anniversary-Austin-
--------
Iranian drones already experiencing failures in Ukraine: US State Department
30 August, 2022
Iranian drones provided to Russia earlier this month have already experienced failures, the US State Department said on Tuesday.
Washington previously disclosed that Iran was preparing to supply Russia with drones as Moscow struggled to achieve its military goals in Ukraine.
Russian transport aircraft loaded UAV equipment at an airfield in Iraq before flying to Russia, State Department Principal Deputy Spokesman Vedant Patel said.
"In fact, our information indicates that UAVs associated with this transfer have already experienced numerous failures," Patel told reporters during a call.
Russia is likely to import hundreds of various Iranian UAVs, Patel said. He added: "The Russian military is suffering from major supply shortages in Ukraine, in part because of sanctions and export controls, forcing Russia to rely on unreliable countries like Iran for supplies and equipment."
The US warned China against providing Russia with military support shortly after it further invaded Ukraine in February. So far, US officials have not reported seeing any Chinese military support.
But it has turned to Tehran in recent weeks, and Russians continue to receive training in Iran on how to use different UAV systems, Patel said on Tuesday.
According to the State Department official, the Iranian drones are expected to be used for air-disturbance attacks, electronic warfare and other targeting on the battlefield in Ukraine.
Source: Al Arabiya
Please click the following URL to read the full text of the original story:
https://english.alarabiya.net/News/world/2022/08/30/Iranian-drones-already-experiencing-failures-in-Ukraine-US-State-Department
--------
Iran seized, then released US Navy drone vessel: Pentagon
August 31, 2022
WASHINGTON: An Iranian ship seized an American military unmanned research vessel in the Gulf but released it after a US Navy patrol boat and helicopter were deployed to the location, the Pentagon said on Tuesday.
The US Central Command's 5th Fleet said a support ship from Iran's Islamic Revolutionary Guard Corps Navy, the Shahid Baziar, was spotted towing the seven-meter (23-foot) Saildrone Explorer unmanned surface vessel (USV) late on Monday.
The US naval drone, equipped with an array of sensors, radars and cameras, was in international waters collecting navigation and other unspecified data, the 5th Fleet said in a statement.
When the Iranian vessel was seen towing the unmanned boat, US forces sent the USS Thunderbolt coastal patrol ship, which was operating nearby, to the scene. In addition, an MH-60S Seahawk helicopter based in Bahrain flew to the location.
Those actions "resulted in the IRGCN vessel disconnecting the towing line to the USV and departing the area approximately four hours later" without further incident, the 5th Fleet said.
"IRGCN's actions were flagrant, unwarranted and inconsistent with the behavior of a professional maritime force," said Vice Admiral Brad Cooper, commander of US Naval Forces Central Command, in a statement.
"US naval forces remain vigilant and will continue to fly, sail and operate anywhere international law allows while promoting rules-based international order throughout the region," he added.
With solar panels and a sail wing five meters tall, the Saildrone Explorer is driven by solar and wind energy and can be deployed on missions on the ocean for up to one year, monitored remotely by a human pilot.
It can collect a broad range of oceanic, navigational and meteorological data, as well as strategic intelligence.
Source: Dawn
Please click the following URL to read the full text of the original story:
https://www.dawn.com/news/1707652/iran-seized-then-released-us-navy-drone-vessel-pentagon
--------
Pakistan
Shehbaz wants to work with Imran 'for crisis sake'
Baqir Sajjad Syed | Syed Irfan Raza
August 31, 2022
ISLAMABAD: Prime Minister Shehbaz Sharif on Tuesday extended an olive branch to Pakistan Tehreek-i-Insaf (PTI) chief Imran Khan, urging him to set aside his acrimony, for now, and work together for providing relief to fellow countrymen affected by unrelenting rains and floods.
Speaking to the international media at the PM House, the premier said he wished to ask Mr Khan to sit with him and move forward on relief efforts and bring the country out of this crisis. "Let's put together a united effort, let's move with unity of thought and action, let's move in unison," Mr Sharif said in an unprecedented appeal to his predecessor, at a time when both the government and the former ruling PTI are at daggers drawn following Mr Khan's alleged threats to the police, judiciary and the army and the subsequent cases against him.
Besides this interaction, the PM had a busy Tuesday, as he reached out to several world leaders and expressed his gratitude for extending moral and financial aid to Pakistan to mitigate the sufferings of the flood-hit people
Denying apprehensions that the rescue effort may have got delayed because the media was preoccupied with the wrangling between politicians, Mr Sharif said he had on multiple occasions offered to form a 'charter of economy', but was not taken seriously by Mr Khan.
The PM also virtually ruled out the possibility of vegetable imports from India to overcome shortages caused by devastating floods, saying the two sides needed to talk about the human rights situation in India-held Kashmir. He added he was ready to sit with Indian Prime Minister Narendra Modi and talk over the issue.
Mr Sharif, however, said a committee had been constituted to explore the possibility of importing vegetables and other food items, revealing the government was in talks with Russia for import of wheat.
After the meeting, he also tweeted: "If it is us today, it can be somebody else tomorrow. Threat of climate change is real, potent and staring us in the face."
PM thanks world leaders
In another tweet, PM Sharif said in line with his commitment, Turkish President Recep Tayyip Erdogan was leading a humanitarian aid drive for the flood-affected people of Pakistan. "[Six] flights have landed so far; 2 more will arrive tomorrow. Train carrying relief goods left Ankara for Pakistan," he tweeted.
He also expressed gratitude to the Chinese leadership and people. "This flood is like no other in terms of its intensity and spread. China has been there for us at the most difficult times & we greatly value its support," the PM tweeted.
Earlier, Chinese President Xi Jinping and Premier Li Keqiang expressed solidarity with the government and people of Pakistan over the human and financial loss in the recent floods that have devastated huge parts of Pakistan.
The first batch of relief aid from China containing 300 tents would reach Karachi on Wednesday (today) that the Chinese envoy would hand over to the Pakistani authorities.
PM-IMF: Later, the PM also stressed upon breaking the "economic straitjacket" through structural reforms. "Revival of IMF program, though critical to our economy, is not an end in itself. It offers a pathway to reorient our economy. We will have to work hard to make it self-sufficient. Pakistan must break out of economic straitjacket, which is only possible through structural reforms," he tweeted.
PM-EU Council: While talking to PM Sharif over the phone, EU Council President Charles Michel offered his condolences over the loss of precious lives and the material damage as a result of devastating floods in Pakistan.
The PM thanked the EU president and appreciated their support of 2.15 million euros for flood-affected people in Pakistan.
Call to UAE ruler: Later, Mr Sharif also called Sheikh Mohamed bin Zayed, president of the UAE, and briefed him about the latest flood situation. The PM lauded the work being carried out by the Emirates Red Crescent and Khalifa bin Zayed Foundation in the flood-hit areas. Sheikh Mohamed expressed solidarity with the people of Pakistan and offered all-possible assistance to the affected people.
Source: Dawn
Please click the following URL to read the full text of the original story:
https://www.dawn.com/news/1707670/shehbaz-wants-to-work-with-imran-for-crisis-sake
--------
Imran Khan raises Rs 5 billion for Pak flood victims through international telethon
Aug 30, 2022
ISLAMABAD: Former Pakistan prime minister Imran Khan has raised Rs 5 billion through an international telethon for the people affected by the devastating floods in the country, according to a media report on Tuesday.
Khan, the Chairman of the Pakistan Tehreek-e-Insaf (PTI) party said during the telethon held on Monday that the objective was to raise funds for the flood victims as no government alone could deal with such a catastrophe.
Earlier, the Pakistan government had launched an international appeal seeking funds for relief and rehabilitation for flood-hit people and restoration of damaged infrastructure.
"The entire country has been affected by this [flood]. As per the initial assessment, losses of over Rs1,000 billion were incurred due to floods and over 1,000 people have died so far," Khan was quoted as saying by The Express Tribune newspaper.
He said he received a lot of calls from Pakistanis, including expats who wanted to help the flood victims.
The former premier said people can donate to two bank accounts opened by the Punjab and Khyber-Pakhtunkhwa (KP) governments. The funds will be spent to help the flood-hit people across the country, he assured.
The country-wide death toll has touched 1,136 as of Monday, with over 1,634 injured and 33 million displaced, according to the latest data issued by the National Disaster Management Authority.
The Federal Minister of Planning and Special Initiatives Ahsan Iqbal also said that the initial economic losses from floods in Pakistan could reach at least USD 10 billion, adding that the unprecedented floods caused by abnormal monsoon rains have washed away roads, crops, infrastructure, and bridges, affecting over 33 million people.
The monsoon season runs from July to September in Pakistan. This year monsoon and pre-monsoon rains broke the 30-year record in Pakistan and the NDMA data shows that the 30-year average rain was 130.8 millimeters but the rainfall in the 2022 season was 375.4 mm.
Source: Times Of India
Please click the following URL to read the full text of the original story:
https://timesofindia.indiatimes.com/world/pakistan/imran-khan-raises-rs-5-billion-for-pak-flood-victims-through-international-telethon/articleshow/93884855.cms
--------
'Faysal Bank to be Sharia-compliant by end of 2022'
Kazim Alam
August 31, 2022
KARACHI: Faysal Bank Ltd will become a full-fledged Islamic lender by the end of 2022 after ring-fencing its residual conventional loan portfolio, said Chief Financial Officer Syed Majid Ali on Tuesday.
Speaking at a press briefing at the bank's head office, Mr Ali said the commercial lender will surrender its conventional banking mandate once the regulator grants it the licence for Islamic banking. Faysal Bank will formally apply for an Islamic banking licence in September, he added.
Five Islamic banks and 17 conventional banks with Islamic banking branches currently operate in Pakistan. The share of Islamic banking assets in the overall banking industry is 18.6 per cent while the share of Sharia-compliant deposits stands at 19.4pc.
"There's never been a conversion of a conventional bank to an Islamic bank at such a massive scale. What we've done here is going to be taught as a case study worldwide," said Mr Ali.
Faysal Bank decided to convert its entire business from conventional to Sharia-compliant five years ago. It adopted the "asset-led conversion" model, which prioritised the conversion of banking assets such as investments and financings over that of liabilities like deposits.
Besides making all new branches Sharia-compliant from day one, the bank started converting its conventional business into Islamic one branch at a time. As a result, only one of the 639 branches remains conventional as of today. Even that branch will become Sharia-compliant by the end of this year, the CFO said.
The size of Faysal Bank's balance sheet was Rs997 billion at the end of June. Its unconsolidated quarterly profit increased 17.3pc year-on-year to Rs2.25bn for the latest three-month period.
The bank currently holds treasury bills and Pakistan Investment Bonds — conventional investment avenues forbidden under Islamic banking regulations — worth roughly Rs70 billion. "We'll soon dispose of these holdings," said Mr Ali.
Responding to a question about the paucity of Sharia-compliant investment avenues for the deployment of liquidity, Mr Ali said the conversion wouldn't be possible had the bank stayed overly focused on the ifs-and-buts of the process. "So what if we'll have fewer investment avenues?" he said while emphasising the need for following the letter of the religious injunctions against interest-based banking.
Replying to a comment about the similarity of the rates of return offered by conventional and Islamic banks despite the proclaimed differences between the two types, Faysal Bank's head of Islamic banking Muhammad Faisal Shaikh said its reason is the Karachi interbank offered rate (Kibor), a reference rate at which banks borrow overnight funds from each other in the money market.
Source: Dawn
Please click the following URL to read the full text of the original story:
https://www.dawn.com/news/1707649/faysal-bank-to-be-sharia-compliant-by-end-of-2022
--------
No let-up in cases of enforced disappearance in Pakistan
30 August, 2022
Islamabad [Pakistan], August 30 (ANI): To mark the International Day of the victims of enforced disappearance, the Rights Group highlights Pakistan's cases of horrible disappearances which continue with impunity, thus putting people at risk of torture or death.
Successive Pakistan governments have pledged to end the practice of enforced disappearances, however, the practice continued during their tenures.
Former Prime Minister Imran Khan, who lost a vote of no confidence held against him on April 9, 2022, had even campaigned with families of the disappeared prior to becoming Prime Minister.
Similarly, Maryam Nawaz, vice-president of the political party Pakistan Muslim League (Nawaz) currently in power, had previously campaigned with families of the disappeared and called for the end of the practice. However, enforced disappearances continue.
"Victim families who have exhausted all legal avenues are forced to publicly campaign in search of the fate and whereabouts of their loved ones," rights group Amnesty International South Asia said on Tuesday.
Earlier this month, Amnesty International documented how the protests by families of the disappeared are cracked down on.
Under the title, "Braving the Storm-Enforced disappearances and the right to protest in Pakistan", it explored how the right to protest of families of the disappeared and activists campaigning against enforced disappearances are repressed by the state, a practice that is longstanding and that continues to date.
Families and activists have described being harassed, arbitrarily arrested and detained, and subject to violence for simply exercising their right to peaceful protest – a right protected by
international human rights law and domestic law.
It further draws on previous research on the issue of enforced disappearances carried out by Amnesty International and additional desk research. Desk research includes a review of documents published by UN agencies, media articles, data from government websites, judgments by Pakistani courts and Twitter.
Enforced disappearance is a violation of international human rights law and a crime under international law. It also violates the fundamental rights enshrined in the Constitution of Pakistan.
It is the "arrest, detention, abduction or any other form of deprivation of liberty by agents of the State or by persons or groups of persons acting with the authorization, support or acquiescence of the State, followed by a refusal to acknowledge the deprivation of liberty or by concealment of the fate or whereabouts of the disappeared person, which places such a person outside the protection of the law."
Source: The Print
Please click the following URL to read the full text of the original story:
https://theprint.in/world/no-let-up-in-cases-of-enforced-disappearance-in-pakistan/1108666/
--------
Govt to allow onion, tomato imports from Iran, Afghanistan
Amin Ahmed
August 31, 2022
ISLAMABAD: The food ministry would issue permits within 24 hours to facilitate onion and tomato imports from Iran and Afghanistan, the government decided on Tuesday as it tries to stabilise food prices.
The decision was made in a meeting held in Islamabad on Tuesday. The food ministry has asked the Federal Board of Revenue to waive taxes and levies on onion and tomato imports for the next three months and expects that this will be made effective immediately.
The measures aimed to ensure the supply of essential commodities in the market and stabilise prices, the Ministry of National Food Security and Research said in a statement.
Calamitous monsoon floods have sent food prices skyrocketing, putting many staples out of the reach of the poor. Onions and tomatoes have been affected the most.
PTI lashes out at govt for trying to resume trade with India 'on pretext of floods'
Finance Minister Miftah Ismail said earlier this week the price of onions had shot up by more than five times, and that the government was trying to quickly implement policies to stabilise food prices — including importing from India.
The food ministry said it had taken all stakeholders on board to ensure a smooth supply of essential commodities and had directed the Department of Plant Protection to remove barriers for importers.
During the meeting, it was observed that imports from Iran and Afghanistan would have minimal impact on the foreign exchange reserves because of special trade arrangements with these countries.
The participants agreed that the country would face a shortage of tomatoes and onions over the next three months, as recent floods have badly damaged crops.
A contact group has also been created, where imp­orters will be able to share their problems. Bes­ides, a team of the food ministry will monitor the situation and take necessary action for redressal.
Pakistan's embassies in Iran, Afghanistan, the United Arab Emirates and other countries have also been requested to assist imports.
Meanwhile, an assessment report of the ministry estimates that the onion crop in Sindh was partially damaged. Some 42,268 acres under onion cultivation were affected, leading to a financial loss of Rs10.14 billion and yield losses of 120 maunds (around 4,500kg) per acre on average.
Besides, the Sindh Agriculture Department estimates that 12,101 acres of tomato crop have been damaged due to heavy rains and the resultant floods. The damaged area is about 20pc of the total cultivation area, and the financial loss has been estimated at a little over Rs2.7bn.
Meanwhile, the agriculture department of Balochistan is seeking Rs30.9bn in compensation for the losses and damages and subsidising affected farmers in the coming sowing season.
It said Rs19.8bn was needed for compensation and Rs11.07bn for the subsidy on account of fertiliser sand Zaid, kharif and rabi seasonal crops like pulses, sorghum, wheat and oilseeds.
The commerce ministry is also in contact with foreign governments to make the arrangements as soon as possible through commercial counsellors and trade attaches.
PTI slams govt on 'trade with India'
Meanwhile, the Pakistan Tehreek-i-Insaf (PTI) lashed out at the government on Tuesday for allegedly trying to resume trade with India on the pretext of floods.
In a Twitter post, party leader Fawad Chaudhry wondered how the government could start trade with India ignoring the atrocities on the people of occupied Kashmir.
He said Indian Prime Minister Narendra Modi's steps were not only against Muslims but also against humankind and trade could not be started unless such policies were reversed.
Source: Dawn
Please click the following URL to read the full text of the original story:
https://www.dawn.com/news/1707665/govt-to-allow-onion-tomato-imports-from-iran-afghanistan
--------
Pakistani diaspora groups and UK charities raise up to £1m for flood relief
Aina J Khan
30 Aug 2022
British charities and Pakistani diaspora groups have raised at least £1m after devastating floods in the south Asian country have killed more than 1,000 people, and affected about 30 million.
Pakistan is the eighth most at-risk country globally from the impacts of climate change. In the last decade, it has suffered an estimated $18bn in damages due to disasters, including the deadliest floods in the country's history in 2010, which left more than 2,000 people dead and millions homeless.
Now as people struggle once again to access necessities such as food and medical care, Pakistan's government has appealed for financial help from international donors and aid agencies.
Aleena Khan, a Pakistani living in London who has family living in north-western Pakistan, where flooding from the Swat River has affected tens of thousands of people, began fundraising on Instagram.
"The devastation is just unimaginable," Khan said. "The entire infrastructure of roads, bridges, has collapsed. There's people literally of all ages, genders, people in all their diversity, that are being swallowed by water."
Early on when international charities were not reaching far-flung areas in Pakistan, Khan planned to raise funds to send to her family still in a flood-stricken area of Swat, so that they could work on relief efforts directly or pass them on to organisations working in Pakistan.
What started as a small appeal on Instagram aimed at friends and family exploded into donations pouring in from all over the world.
"We have had an overwhelming response," Khan said, her voice heavy with emotion. "Literally just over this weekend, we've collected over £7,000 [in the UK].
"We're receiving donations from Australia, America, the UK, [and from] across Europe," Khan added. "It's really touching how people trust us."
The donations have gone on to support volunteer-led efforts with Pakistan's Red Crescent Society, who have distributed food rations, menstrual hygiene kits, water, and bedding in Khyber Pukhtunkhwa's DI Khan district.
British Muslims (43% who are of Pakistani origin) reported to be among the most charitable in the country and British Muslim charities have began raising funds for emergency relief.
Mariam Kadodia, the national fundraising manager for Islamic Relief, confirmed that the charity had raised at least £700,000.
"There's a significant diaspora community in the UK. They feel it because it's their country, it's their ancestors' country and they want to respond," Kadodia said, adding the wider British Muslim community had also been donating.
Yasrab Shah, the director of fundraising for another British charity, Muslim Hands, confirmed the charity had raised at least £200,000 in emergency relief funds. Other charities including Khalsa Aid are working with local journalists and women in Pakistan, to assess how they can provide women with menstrual products and specialised clothing.
In a letter addressed to Boris Johnson, Yasmin Qureshi, the Labour MP for Bolton South East and chair of the all party parliamentary group on Pakistan, said about £1.5m of financial aid pledged by the UK government to assist with the immediate aftermath of the floods was "insufficient".
Source: The Guardian
Please click the following URL to read the full text of the original story:
https://www.theguardian.com/world/2022/aug/30/pakistani-diaspora-groups-and-uk-charities-raise-up-to-1m-for-flood-relief
--------


Mideast
AEOI Spokesperson Blames IAEA for Raising Excessive Demands from Iran
2022-August-30
In a radio interview on Tuesday, Kamalvandi noted the IAEA's current "demands are considered to be excessive since they cannot be fulfilled to the sanctions", which the US imposed on Iran after exiting the 2015 nuclear deal.
"Of course, if the Westerners remove the sanctions and return to their obligations, Iran will likewise return to its commitments under the nuclear deal," he added.
Kamalvandi explained that the Safeguards agreement revolves around nuclear materials, and under that agreement, Iran is required to inform the IAEA of the amount of the nuclear materials it has, where they are located and how they are put to use.
As part of the Additional Protocol, countries, including Iran, place their uranium enrichment equipment under the nuclear agency's monitoring, he continued.
Besides, the 2015 Iran nuclear deal — which has been in trouble due to the US's withdrawal — allows the IAEA to conduct further inspections of Tehran's nuclear work, the official noted.
However, Kamalvandi added, Tehran's cooperation with the agency is currently restricted to the Safeguards agreement due to several issues, as part of a law adopted by the Iranian Parliament in December 2020, in response to Washington's exit from the Iran nuclear deal and the European signatories' failure to fulfill their contractual commitments to Iran.
Referring to Iran's measure to remove 27 surveillance cameras at different nuclear sites, he noted that "if the other parties return to their commitments, it would be possible for these devices and cameras to start working again".
Back in July, Head of the AEOI Mohammad Eslami stated that Tehran will keep the IAEA cameras, which had been installed beyond the country's undertakings under the safeguards agreement, switched off until the nuclear deal is fully restored.
"Those cameras are related to the nuclear deal," he reminded.
The official added that when the Western parties to the 2015 accord return to the agreement, and "Tehran is assured that they will not commit any acts of mischief, AEOI will make a decision on the cameras".
Iran has always had full cooperation with the IAEA and allowed it to visit the country's nuclear sites, but calls the nuclear agency's approach unconstructive and destructive.
In early June, the IAEA's Board of Governors adopted a resolution, accusing Iran of not cooperating with the nuclear agency.
Iranian officials criticized the US and the European trio for pushing a resolution against the country at the UN atomic body's board of governors, calling the move irresponsible. Tehran stressed that the IAEA is directly influenced by the Israeli regime, and the measure has undermined the country's constructive cooperation with the nuclear watchdog.
Back in June, Eslami said that heightened propaganda against Tehran's peaceful nuclear program, including the recent resolution at the UN nuclear watchdog, is part of the Western states' maximum pressure policy against the Iranian nation.
Iran has 3 percent of the world's nuclear capacity, but more than 25 percent of inspections have been carried out in Iran, he added.
The Iranian nuclear chief referred to the recent resolution proposed by the US and E3 to the IAEA Board of Governors, stressing that it was the last test by the enemies.
Source: Fars News Agency
Please click the following URL to read the full text of the original story:
https://www.farsnews.ir/en/news/14010608000869/AEOI-Spkespersn-Blames-IAEA-fr-Raising-Excessive-Demands-frm-Iran
--------
President: Restoration of Iran-Saudi Arabia Ties Beneficial to Region
2022-August-30
Rayeesi made the remark in a Monday meeting with the visiting Iraqi Foreign Minister Fuad Hussein in Tehran.
Iran's chief executive lauded Iraq's positive role in regional developments, stating, "The initiatives offered and measures taken by Iraq to improve cooperation among regional countries free from foreign meddling play an effective role in bolstering regional collaboration."
Rayeesi noted that five rounds of talks between Tehran and Riyadh, which were mediated by Iraq, were positive and useful, emphasizing that implementation of agreements reached in those talks would pave the way for further promotion of the two sides' interactions.
"Reestablishment and further bolstering of relations between Iran and Saudi Arabia will be in the interest of the regional security," Iran's president added.
Rayeesi also emphasized that establishment of security and stability in Iraq would be only possible through dialogue among all political groups on the basis of the country's constitution and with the goal of forming a new government.
Hussein, for his part, commended Iran's uninterrupted support for the establishment of stability and security in Iraq, saying his country will continue efforts to improve Iran's relations with Saudi Arabia.
Iraq has hosted five rounds of talks between Saudi Arabia and Iran at the level of intelligence and security heads since last April, Iraqi diplomat continued.
In late July, Iranian Foreign Minister Hossein Amir Abdollahian said Saudi Arabia has shown readiness to advance the ongoing talks from security to the political sphere, after progress in the previous five rounds hosted by the Iraqi government.
He stated the two sides have reached some agreements, including on re-opening embassies in their respective countries.
The foreign minister added Tehran has received a message from Baghdad saying that the Saudi side is ready to move the phase of talks from "a security one to a political and public one".
"We also expressed our readiness to continue talks at the political level so that it leads to the return of Iran-Saudi Arabia ties to the normal level," Amir Abdollahian continued.
Riyadh decided to sever diplomatic relations with Iran back in January 2016 after protestors who were enraged by the Saudi execution of prominent Shia cleric Sheikh Nimr Baqir Al-Nimr threw stones at its consultae in Mashhad in Northeastern Iran.
There was no change in Riyadh's confrontational policy towards Tehran until 2021 when it signaled an inclination to mend fractured ties with Iran.
Source: Fars News Agency
Please click the following URL to read the full text of the original story:
https://www.farsnews.ir/en/news/14010608000167/Presiden-Resrain-f-Iran-Sadi-Arabia-Ties-Beneficial-Regin
--------
Judiciary Official: Iran Biggest Victim of Terrorism
2022-August-30
Qaribabadi made the remarks in a Monday meeting with President of the Organization of Islamic Countries' Ombudsman Association (OIOCA) Seref Malkoc in Tehran.
Describing unilateral sanctions imposed on countries as "crime against humanity" and a form of "economic war", the Iranian rights official lauded the Turkish government's firm opposition to such bans.
He added, "Such sanctions are illegal and contravene [the principles of] human rights and affect Iran's neighbors as well."
Elsewhere in his remarks, Qaribabadi touched on the issue of terrorism, describing Iran as the biggest victim of terrorism.
"It is necessary for those countries who are faced with the phenomenon of terrorism to engage in serious cooperation in order to fight this ominous scourge. Due to common terrorist threats posed to Iran and Turkey, the two countries need to bolster cooperation in fighting terrorism," he noted.
Gharibabadi also criticized Western countries' double standards in dealing with terrorism, stressing, "On the one hand, they accuse Iran of violating human rights, but on the other, they martyr 17,000 innocent Iranian citizens through terrorism or violate the rights of millions of Iranians through imposition of unilateral sanctions and jeopardize their right to life."
Iran calls terrorism and extremism as result of the inefficiency of the current international situation, and stresses it wants a world free from violence and extremism. Iranian officials say Tehran has lost more people than any other country in the fight against terrorism. Iran has been the target of terrorist attacks in the past few decades and thousands of its citizens have been martyred by the terrorist groups.
After the Islamic Revolution in 1979, the anti-Tehran Mojahedin-e-Khalq Organization (MKO) terrorist group began its enmity against Iran by killing thousands of Iranians and terrorist activities. Several members of the terrorist group and its leaders are living in European countries now, freely conducting terrorist activities.
The MKO terrorist group has martyred 17,161 Iranian citizens and officials, including late president Mohammad Ali Rajayee, former Prime Minister Mohammad Javad Bahonar, late Head of Supreme Judicial Council Ayatollah Mohammad Beheshti, late Deputy Chief of the Iranian Armed Forces General Staff Ali Sayyad Shirazi, and 27 legislators, as well as four nuclear scientists, some on itself and some others through collusion with Israeli Mossad and other notorious spy agencies like CIA.
The MKO terrorist group has publicly specified targets as martyred Lieutenant General Qassem Soleimani, who commanded the Quds Force of the Islamic Revolution Guards Corps (IRGC), and Iranian President Seyed Ebrahim Rayeesi.
The terrorist organization said it would "welcome" their assassination, adding that it desired for the ranking officials to "join" Asadollah Lajevardi, Tehran's former chief prosecutor, and Ali Sayyad-Shirazi, a former commander of the Iranian Army's Ground Forces during Iraq's 1980-88 war against Iran, who have both been assassinated by the terror outfit.
The MKO is currently based in Albania, where it enjoys freedom of activity after being delisted by the European Union and the United States in 2009 and 2012, respectively.
Source: Fars News Agency
Please click the following URL to read the full text of the original story:
https://www.farsnews.ir/en/news/14010608000380/Jdiciary-Official-Iran-Bigges-Vicim-f-Terrrism
--------
Iran Reopens All Land Borders with Iraq as Calm Returns to Baghdad
2022-August-30
The Mehran, Khosravi, Shalamcheh and Chazabeh border crossings resumed operations, a day after they were shut down due to the bloody clashes between supporters of Al-Sadr and Iraqi security forces in Baghdad.
Tehran closed its borders and halted flights amid the eruption of violence on Monday.
Millions of Iranians travel to the Iraqi city of Karbala every year for the ritual of Arbaeen, which marks 40 days after the martyrdom anniversary of Imam Hussein (AS), the third Shia Imam.
Tensions escalated in the Iraqi capital on Monday after Al-Sadr announced his decision to distance himself from political life amid a constitutional crisis in the Arab country. His supporters responded by flocking to the city center. They clashed with people backing his rivals and the Iraqi security forces.
At least 20 people were reportedly killed in the fighting and hundreds of others were injured.
On Tuesday, Al-Sadr apologised to the Iraqi people, and ordered his supporters to leave Baghdad's Green Zone. He threatened to disown members of his Sadrist movement unless they vacate the parliament building and move away from the government area within an hour. Many of his supporters reportedly heeded the cleric's call immediately.
Source: Fars News Agency
Please click the following URL to read the full text of the original story:
https://www.farsnews.ir/en/news/14010608000962/Iran-Repens-All-Land-Brders-wih-Ira-as-Calm-Rerns-Baghdad
--------
Iran Condemns US Continued Occupation of Northeastern Syria
2022-August-30
Ershadi made the remarks at a United Nations Security Council meeting on the situation in the Middle East (Syria) in New York on Monday.
"The United States' presence in Northeastern Syria under the pretext of combating terrorism is a clear violation of the UN Charter, international law, and the sovereignty and territorial integrity of Syria," the Iranian envoy said.
The full text of the Iranian envoy's speech at the Security Council meeting is as follows:
Mr. President,
I thank the UN Special Envoy and the Under-Secretary-General for their briefings.
The humanitarian situation in Syria remains dire, and the country's economic crisis continues to affect the people across the country.
The provision of humanitarian aid is essential, and political circumstances should not be allowed to prevent humanitarian aid to reach the people in need. This must, however, be done with full respect for Syria's sovereignty, territorial integrity, and national unity.
We welcome the adoption of Resolution 2642 (2022) and consider it an important step toward addressing Syria's urgent needs.
The resolution expressly calls for early recovery projects and greater transparency in relief efforts. Furthermore, it emphasizes the critical importance of increasing cross-line delivery throughout Syria.
The UN's first report on the implementation of the resolution emphasizes the importance of early recovery projects and claims that the lack of electricity has made it more difficult to access necessary basic services. According to the report, limited access to electricity has also hampered the provision of essential humanitarian services and other response activities, including the provision of hospital and clinic services, food production, and water distribution.
Given the severity of the situation, early recovery projects such as electricity projects are critical in re-establishing access to essential services and must not be affected by unilateral sanctions.
In this regard, the resolution's provisions and content are explicit, leaving no room for arbitrary interpretation or self-reading. We demand that the resolution be fully and effectively implemented.
We also demand that unilateral sanctions against Syria be lifted, as they are impeding the resolution's implementation.
We trust that the special report of the Secretary-General, requested by Resolution 2642, will include general trends regarding unimpeded and secure United Nations cross-line operations, which should reach all of Syria, as well as early recovery projects, and accurate information on the humanitarian assistance provided through the United Nations humanitarian cross-border operations, including their transparency and the distribution mechanism.
Furthermore, an Informal Interactive Dialogue of the Security Council, as set out in the resolution, to review and monitor the implementation of this resolution, on a regular basis, could be an appropriate mechanism to allow the Council to keep track of how the resolution is being implemented effectively and fairly.
Regarding the political process, we would like to reiterate our steadfast position that the Syrian crisis must be resolved peacefully and in accordance with the principles of international law, particularly the full respect for national sovereignty and territorial integrity of States. In order to achieve this goal, the occupation must end, and Syria's full sovereignty must be restored.
We emphasize the Constitutional Committee's crucial role in the political resolution of the Syrian crisis, and we commend and support the UN Special Envoy's efforts to interact with the Syrian parties in order to facilitate the work of the Committee's ninth session.
In this regard, we highlight the tripartite summit within the framework of the Astana format held in Tehran on 19 July 2022, where the Presidents of the Astana format guarantors emphasized their unwavering commitments to the Syrian Arab Republic's sovereignty, independence, unity, and territorial integrity and the advancement of a sustainable political process led and owned by the Syrian people in accordance with UN Security Council Resolution 2254. They also emphasized the Constitutional Committee's critical role and reaffirmed their willingness to support ongoing interactions between its members and the Special Envoy for Syria as a facilitator in order to ensure long-term stability and effective work of the next sessions of the Committee.
The Israeli regime continues to violate Syria's sovereignty and territorial integrity, as well as carry out terrorist attacks on civilians and civilian infrastructure within Syrian territory. According to the UN report, the Damascus international airport was forced to close due to the damage caused by the Israeli terrorist attack on 10 June. All flights for the United Nations Humanitarian Air Service, which is run by the World Food Program and is the primary enabler of access for humanitarian operations in the country, have been canceled as a result of this criminal act.
We strongly condemn the continuing Israeli military attacks in Syria including on civilian infrastructures and recognize Syria's legitimate right to self-defense under international law and the United Nations Charter.
The continuation of such criminal acts will destabilize and exacerbate tensions in the region.
The Security Council must abandon its double standard and condemn unequivocally Israel's aggression and terrorist attacks on Syria's territory, which are being pursued in flagrant violations of the UN Charter and international law, particularly the principle of a sovereign state's territorial integrity and independence.
And finally, Mr. President, my delegation categorically rejects the unfounded accusations made by the representative of the United States against my country at this meeting.
Indeed, the United States' presence in the northeast of Syria under the pretext of combating terrorism is a clear violation of the UN Charter, international law, and the sovereignty and territorial integrity of Syria.
It is the United States that is working with the terrorist groups in Syria and destabilizing the peace and security in the region,
The United States must seize its violation of international law and the UN charter, by ending its continuing support of terrorist groups and occupation of the northeast part of Syria.
The Security Council should live up to its charter mandate and demand the US honor its international obligations.
Source: Fars News Agency
Please click the following URL to read the full text of the original story:
https://www.farsnews.ir/en/news/14010608000379/Iran-Cndemns-US-Cnined-Occpain-f-Nrheasern-Syria
--------
Israeli court rejects petition to release Palestinian hunger striker
Ahmed Asmar
30.08.2022
Israel's High Court rejected a second petition on Tuesday to release a Palestinian detainee on hunger strike for nearly six months to protest his indefinite detention without trial or charge.
Khalil Awawdeh, 40, was detained by Israeli forces in December and placed in custody under Israel's policy of administrative detention.
His defense lawyer Ahlam Haddad said the court rejected a petition to set him free.
"The court said the defense team did not provide any new evidence to change an earlier decision from freezing the detention to release," Haddad said in statements cited by the Palestinian Prisoner Society NGO.
On Aug. 19, an Israeli military court temporarily suspended Awawdeh's detention to allow him to receive medical care.
On Sunday, pictures emerged of Awawdeh showing a serious deterioration in his health, as he appeared with a slender body resembling a skeleton as a result of his strike.
As part of an Egyptian-brokered cease-fire that brought a recent Israeli offensive on Gaza to a halt, Cairo said it will seek to ensure the release of Awawdeh and Islamic Jihad leader Bassam al-Saadi.
Israeli authorities transferred Awawdeh to hospital earlier this month as his health deteriorated.
Source: Anadolu Agency
Please click the following URL to read the full text of the original story:
https://www.aa.com.tr/en/middle-east/israeli-court-rejects-petition-to-release-palestinian-hunger-striker/2673007
--------
Israeli forces raid house, injure dozens of Palestinians in West Bank town
30 August 2022
More than two dozen Palestinians have been injured in the town of Rujeib, near the occupied West Bank city of Nablus, as clashes erupted after Israeli forces raided a house.
Skirmishes started after the Israeli forces encircled a house in the early hours of Tuesday looking for two people who were said to be inside.
Heavy gunfire rang out in the town following an hours-long siege on the home. Local sources said that soldiers exchanged fire with armed Palestinians inside and outside the house and clashed with angry local youths in the area.
The Israeli military forces fired several anti-tank missiles at the house.
The Israelis said the two Palestinians were suspected of shooting at an armored vehicle in the occupied West Bank over the weekend. They were eventually arrested.
The Palestinian Red Crescent Society said its medics had treated four people for gunshot wounds. Ahmad Jibril, the head of the Palestinian Red Crescent Emergency and Ambulance Department, said 21 other people were injured by bullet shrapnel and rubber-coated bullets.
Dozens suffered breathing difficulties from tear gas fired by the Israeli forces.
Jibril confirmed that the soldiers prevented ambulances and medical teams from reaching the injured and even used them as human shields.
The soldiers, he added, opened fire toward a Palestinian Medical Relief Society (PMRS) ambulance, causing damage to it.
The situation in the city remains tense hours after the event. A number of people were also arrested by undercover Israeli agents in the area.
In separate raids across the West Bank, Israeli forces took into custody another 10 Palestinians.
The Israeli military frequently carries out wide-ranging arrest campaigns across the West Bank under the pretext of searching for "wanted" Palestinians.
Source: Press TV
Please click the following URL to read the full text of the original story:
https://www.presstv.ir/Detail/2022/08/30/688315/Israeli-forces-raid-house-injure-dozens-of-Palestinians-in-West-Bank-town
--------
Africa
Churches, mosques house stolen Nigerian fuel in pervasive oil theft, says NNPC head
By Libby George
August 30, 2022
LAGOS, Aug 30 (Reuters) - Every section of Nigerian society is complicit in the theft of millions of barrels, the head of state oil company NNPC Ltd said on Tuesday, adding that make-shift pipelines and stolen fuel had even been found in churches and mosques.
Large-scale theft from the nation's pipelines has throttled exports, forced some companies to shut in production and crippled the country's finances.
NNPC chief Mele Kyari said he was not accusing institutions, including government, but at virtually every level of Nigerian society, individuals were siphoning off a total of around 200,000 barrels per day (bpd) from what is typically Africa's largest exporter.
"Some of the pipelines and some of the products that we found are actually in churches and in mosques," Kyari said, adding this meant those complicit included "members of the communities, members of the religious leadership and also, most likely, government officials".
It was not immediately clear if the government had found crude oil, in addition to fuel, in those places.
The impact on exports is a reduction of 700,000 bpd, Kyari said, because theft had forced at least 700 "lock-ins" of oil production.
"No-one produces oil so that the next person can take it," he said. "The wise thing to do is to stop production."
Kyari said some of the pipeline taps were so sophisticated that they ran for 3-4 kilometres and would have involved cranes, industrial equipment and at least 40 workers.
NNPC has engaged companies, including those owned by ex-militants, to stem theft, and Kyari said the nation's anti-graft agency was also following the cash and would prosecute those involved.
Kyari said Nigeria was building a "national reserve company" that would run the pipelines on a commercial basis and would be able to manage theft and other issues differently.
Source: Reuters
Please click the following URL to read the full text of the original story:
https://www.reuters.com/world/africa/churches-mosques-house-stolen-nigerian-fuel-pervasive-oil-theft-says-nnpc-head-2022-08-30/?rpc=401&
--------
2023 Budget: How borrowing has become main source of funding Buhari's budgets
August 30, 2022
By Abdul Seye
The federal government is proposing a N19.49 trillion budget for the year 2023. More than half of the money is to be borrowed.
To finance the budget, the federal government plans to borrow N11.03 trillion and privatize several assets to raise the capital.
The government plans to generate only N8.5 trillion, out of the N19.47 trillion budget.
Buhari's administration plans to finance the huge budget by borrowing N7.4 trillion from the domestic market and N1.8 trillion from foreign entities. In addition, FG is expecting N206.1 billion from privatization proceeds and N1.7 trillion multilateral project-tied loans.
This borrowing plan is far above the recommended threshold stipulated by the fiscal responsibility Act. The law provides that the deficit should not exceed 3% of GDP. However, this plan is 5.01% of the GDP.
Section 12 (1) of the FRA states: "Aggregate expenditure and the aggregate amount appropriated by the National Assembly for each financial year shall not be more than the estimated aggregate revenue plus a deficit, not exceeding three per cent of the estimated Gross Domestic Product or any sustainable percentage as may be determined by the National Assembly for each financial year."
However, the law gives the President power to cross the threshold based on the approval of the National Assembly if the president believes that there is a reason to cross.
But the president has steadily crossed the deficit with different justifications. In 2021, it was 3.5% with the argument that there is a need to finance COVID-19 recovery. In the past, the administration premised its argument on funding the defence sector due to insecurity.
This time, the government is making petroleum subsidy the central argument for the huge deficit. However, it's worth noting that, in this current proposal, subsidy will only be paid for 6 months.
While the government is using subsidy as an excuse, there is a part of being unable to generate revenue. In 2014, government daily oil production was 2.33 barrels per day, but the government is projecting to produce 1.69 BPD in 2023.
On Monday, when the Minister of Finance, Zainab Ahmed appeared before the House or Reps Committee on Finance, she lamented that oil theft has reduced the capacity of the government to fund the budget.
She said the inability to produce sufficient oil has made it impossible to meet the crude oil for PMS swap deal as the government is now paying cash instead of crude oil.
"We need the crude to undertake the DSDP arrangement where crude is swapped for PMS. It means we have to pay for PMS ourselves," she said.
Furthermore, Nigeria is unable to meet its OPEC quota of 1.86 million barrels per day.
It would be recalled that the federal government recently signed a N4 billion monthly pipeline surveillance agreement with Government Ekpemupolo, better known as Tompolo.
It is a reversal of the initial stance which saw the cancellation of the contract months after President Buhari assumed office.
According to the Debt Management Office (DMO), as at the first quarter of the year, the debt of the country stood at N41.6 trillion.
Before the year runs out, Nigeria is expected to have added to it and by 2023, FG alone is expected to add N11.03 trillion to the profile.
Dr Adesanya Moses, an Economist at the Nigerian Army University, Biu, said any borrowing that is not going into financing the capital component of the budget is not sustainable.
"If they keep borrowing not for capital projects, then it is not sustainable because part of it will go into recurrent expenditures and debt servicing. It will be more efficient if the investment can repay the loans— it is what we call derived demand. When you spend money on capital projects, it will help the economy to grow.
"The problem is that borrowing to finance subsidy is not sustainable because the vast majority of the subsidy goes to the high and middle income earners. It is not creating jobs or improving the life of the people. Borrowing to finance subsidy is not sustainable," he said.
Source: Daily Post Nigeria
Please click the following URL to read the full text of the original story:
https://dailypost.ng/2022/08/30/2023-budget-how-borrowing-has-become-main-source-of-funding-buharis-budgets/
--------
Airstrike hits capital of Ethiopia's Tigray region
31 August, 2022
An airstrike hit the neighborhood near a hospital in the capital of Ethiopia's northern Tigray region late on Tuesday, said the head of another hospital which received casualties, less than a week after fighting shattered a four-month old ceasefire.
Kibrom Gebreselassie, chief executive of Ayder General Hospital, said on Twitter that an area near Mekelle General Hospital had been hit. The extent of the damage and casualties was unclear.
Ethiopian government spokesman Legesse Tulu, military spokesman Colonel Getnet Adane and the prime minister's spokeswoman Billene Seyoum did not respond to requests for comment on the airstrike.
Getachew Reda, spokesman for the Tigray regional government, said on Twitter that at least three bombs had been dropped and that the Mekelle Hospital was among the targets.
Another doctor at Ayder confirmed to Reuters he had heard three explosions late at night.
Reuters was unable to reach people in Mekelle for confirmation because the region has not had phone communication since Ethiopian troops pulled out more than a year ago.
Source: Al Arabiya
Please click the following URL to read the full text of the original story:
https://english.alarabiya.net/News/world/2022/08/31/Airstrike-hits-capital-of-Ethiopia-s-Tigray-region
--------
Jordanian security forces foil cross-border drug smuggling racket
August 31, 2022
DUBAI: Officers at Jordan's Jaber Post on the country's northern border, foiled an attempt to smuggle 10 kilograms of crystal meth into the country, state news agency Petra reported
Working with security services, on Tuesday, the drugs were found in a vehicle coming into the country, concealed in an armored plate inside the vehicle's body, created for smuggling, the report added.
Source: Arab News
Please click the following URL to read the full text of the original story:
https://www.arabnews.com/node/2153676/middle-east
--------
Southeast Asia
Malaysia's National Day comes at special time in Türkiye relations
AUG 31, 2022
As Malaysia celebrates its 65th National Day on Aug. 31, this year's celebration comes at a very special time in the history of diplomacy between Malaysia and the Republic of Türkiye.
On Oct. 29, 2023, Türkiye will be commemorating the centennial of the formation of the republic. This will be the day when Turks of all walks of life will look back on their nation's history and take stock of all her achievements. At the same time, the younger generation will peek into the future with the fervent hope of progress in this historic 83 million modern nation-state.
Nation-states have been the bedrock of political-economic entities since 1648 after the Peace of Westphalia. Ever since then, communities in Europe to Asia have embraced this form of government with geographically defined areas and borders that have promulgated into 193 nations across the globe. These political entities are the dominant political structure for the foreseeable future.
In 2024, Malaysia and Türkiye will be celebrating their 60th year of diplomatic relations. Both are two modern and progressive nations among the community of nations that have definitive culture, values and geographical locations that epitomize a progressive Muslim country. Both countries have strong political linkages and economic exchanges with increasing people-to-people contacts.
This year is marked by many new developments. The official visit by Malaysian Prime Minister Ismail Sabri Yaakob in July and the state visit by his majesty Sultan Abdullah Sultan Ahmad Shah and her majesty Tunku Azizah Aminah Maimunah, the king and queen of Malaysia, to Türkiye in August are symbols of the ever-growing political, economic and cultural relations between Malaysia and the Republic of Türkiye.
Our leaders have exchanged their highest national awards in recognition of the leadership of the two countries and also conducted discussions to identify new fields of cooperation. In fact, relations with Türkiye have been elevated to Comprehensive Strategic Partnership (CSP) which signifies monumental progress in bilateral relations.
The elevation of relations to CSP opens doors to newer and more extensive government-to-government, corporation-to-corporation and people-to-people connections that both nations should endeavor to explore.
Islamic finance
There is much both countries can explore in the field of Islamic finance. Malaysia has been focusing on developing Islamic finance as the country sees potential in providing financial services to complement conventional banking and finance. Today, Islamic finance is an integral component of the Malaysian financial system as banks offer all sorts of services within this scope. Its importance cannot be understated. The United Nations Development Programme (UNDP) views Islamic finance as an innovative financing modality to assist developing countries in funding development projects to achieve the 2030 Sustainable Development Goals.
At the same time, Malaysia and Türkiye are members of the Organisation of Islamic Cooperation (OIC) and both nations have vibrant and strong economies that can be leveraged in providing the Islamic world with suitable finances for the progress of the Muslim ummah. Malaysia's competitive advantage in the halal economy allows Islamic finance players to expand their footprint across Asia and OIC countries through halal trade and investment facilitation, including market expansion and the offering of ancillary services.
Islamic finance has the potential to provide much-needed sustainable financing for the OIC world that needs an estimated $1 trillion to $2 trillion to implement various projects under the U.N. Sustainable Development Goals.
Trade and economic ties
Malaysia and Türkiye have extensive trade and economic relations. Both countries continue to explore stronger trade and economic ties to reach the targeted $5 billion in trade volume.
Both countries signed the Malaysia-Türkiye Free Trade Agreement (MTFTA) in 2014 and are in negotiations to expand the MTFTA to include newer fields such as services, investment and e-commerce. These fields would further strengthen economic cooperation in both countries.
Being part of the Regional Comprehensive Economic Partnership (RCE), Malaysia continues to achieve trade growth reaching a total of $60 billion in trade in June 2022. The growth shows that Malaysia is seen as a hub and doorway into the Association of Southeast Asian Nations (ASEAN) and Asian market of 2.2 billion people.
Notwithstanding, Türkiye has also seen a surge in export growth. In June, Türkiye reached new heights in exports exceeding $250 billion for 2022. This increase did not go unnoticed, in fact, it is a factor that many countries see and are attracted to, including Malaysia. Similarly, Malaysian companies also see Türkiye as the gateway to Europe, North Africa and the Balkans. Malaysia also has been supporting Türkiye's manufacturers in increasing their exports by supplying intermediate goods such as palm oil, oleochemicals and rubber products.
Seeing the ever-growing potential in trade and economic cooperation, both countries are in talks to introduce currency swaps as a mechanism to entice more businesses and corporate engagements. With these mechanisms in place, trade, economy and investment are expected to grow as both countries venture deeper into the digital economy including lucrative e-commerce.
Cooperation in defense
While Malaysia continues to register growth in trade and investment, it has also invited Turkish companies to explore the potential of developing defense and security equipment and technology. This field is an important one that Malaysia is looking at as it supports its national defense in maintaining its territorial sovereignty and in the protection of its people in a world where regional and international security is becoming ever more important.
Malaysia has been an important user of Turkish defense equipment. Today, the Malaysian Army parades an array of armored personnel carriers and infantry fighting vehicles, such as the Adnan and Gempita, that are sourced from Türkiye. Turkish developed night vision equipment that turns the darkness of night into day has been used by the Malaysian Army since the 1990s.
Such cooperation would benefit both parties as Malaysia intends to develop and manufacture defense equipment and share such technology with its partners. This win-win formula would be even more worthwhile when Malaysian and Turkish companies collaborate and are able to market their products in the Asia-Pacific region.
Tourism and education
Bilateral visits and people-to-people contact are the most important elements in strengthening relations between two countries. The strengthening of relations should not just be limited to the government, it must also be in the interest of its people as well. In this effort, Turkish Airlines has an extensive number of flights to Malaysia. The airline flies daily to Malaysia, carrying many interested parties back and forth.
While many people don't see it, without a doubt tourism is the catalyst of political, economic and educational interactions between nations. The peoples of Malaysia and Türkiye are not excluded.
It is through people-to-people exchanges and visits that friendships are forged and discoveries are made. Türkiye continues to be one of the most popular destinations for many Malaysians. If you ask a Malaysian a destination to visit, make no mistake, Türkiye would be one of the countries that will be mentioned.
History cannot be written without people-to-people contacts and exchanges. Within this context, Malaysia is also an important tourist destination. In 2019, the country received 26.1 million foreign tourists. The Asian country has many attractive destinations such as the white sandy beaches of Langkawi, the crystal-clear waters off the coast of Mabul Island in Sabah popular for scuba diving and the deep green jungles of the Mulu National Park in Sarawak for the adventurer to explore. While the outbreak of COVID-19 has affected this industry tremendously, Malaysia is on the road to recovery.
Tourism and education go hand in hand. One field certainly affects the other and vice-versa. There are 284 Malaysians who are studying in Türkiye, while the number is slightly lower when it comes to Turkish students, with 148 studying at various higher institutions of education in Malaysia. The number of students is important as both nations work towards strengthening relations and enhancing cultural understanding.
There are many Malaysian universities that are looking for partners to collaborate with in scientific research and social studies. There should be more ventures in the fields of study that can be institutionalized and forged. History, economics, Islamic finance and the sciences of medicine and engineering are just a few of the fields worth looking into.
The Malaysian government took the initiative to recognize 208 Turkish universities as announced by Prime Minister Ismail during his official visit in July. Malaysian students in Türkiye have welcomed this announcement as it will provide more opportunities in the education sector and spur more collaborations between universities from both countries.
I would encourage both countries to solidify their work on this. The 21st century is called the "Asian Century" for good reason. Malaysia and Türkiye are both Asian nations that have strong historical connections that can serve as the mold for greater cooperation by inculcating interest in people from both sides.
In conclusion, what has been illustrated in this article is just the tip of the iceberg. The potential for stronger relations between Malaysia and Türkiye can be seen in many fields. The challenge now is for the current generation of leaders and people to be curious enough to dare to explore and discover.
Source: Daily Sabah
Please click the following URL to read the full text of the original story:
https://www.dailysabah.com/opinion/op-ed/malaysias-national-day-comes-at-special-time-in-turkiye-relations
--------
Former Malaysian PM Mahathir in hospital after testing positive for Covid-19
Hazlin Hassan
Aug 30, 2022
KUALA LUMPUR - Former Malaysian prime minister Mahathir Mohamad, 97, has tested positive for Covid-19, his office said on Wednesday (Aug 31).
He has been admitted to the National Heart Institute for observation for the next few days as advised by the medical team, it added.
Dr Mahathir, who has a history of heart problems, underwent an elective medical procedure on Jan 8 this year and was readmitted to the hospital later that month for treatment. He was discharged in February.
He revealed in March that he thought he was not going to make it.
"To me, it is a miracle. I didn't expect to live, I expected that I would die because I am old and also suffering from serious diseases affecting... my heart.
"When the heart is weak, it affects the lungs and when the lungs are weak, this affects the kidney and so on."
"But somehow, the doctors turned me around and eventually I was discharged and am quite well - not 100 per cent, but enough for me to continue with the little work that I have to do," he said during an appreciation ceremony for the medical experts and staff who had treated him.
The country's longest-serving prime minister, who held the top post for a total of 24 years, is still an active MP and has hurled potshots at jailed former premier Najib Razak.
He criticised Najib, who began serving a 12-year jail sentence on Aug 23 for graft linked to the 1Malaysia Development Berhad (1MDB) financial scandal, for not accepting that he had been found guilty by the Malaysian courts.
"Dozens of witnesses gave information about Najib's wrongdoing. Documents and other evidence were exhibited. The judge wrote 800 pages about information revealed by witnesses, the evidence, and the results of the investigation," Dr Mahathir said in a statement on Aug 30.
"The only truth is the denial made by Najib, by his children and his lawyer. Nine judges, three courts, four years of trial were all wrong," he added sarcastically.
Najib has been jailed for embezzling RM42 million (S$13 million) belonging to 1MDB subsidiary SRC International and faces four other trials.
Having served two stints as premier, Dr Mahathir has said in the past that he is not interested in becoming prime minister for a third time.
He has had several coronary bypass operations, suffered three heart attacks and had a pacemaker implanted.
Earlier this year, he told reporters he would not contest again due to poor health and age.
"These people get very upset if I say I'm not contesting," he said, referring to his party.
"So if I'm healthy enough - if they still want me - I cannot deny them, even if it kills me."
On Aug 4, he announced at a news conference the formation of a new coalition comprising Malay-based parties, non-governmental organisations, academics and professionals.
Source: Straits Times
Please click the following URL to read the full text of the original story:
https://www.straitstimes.com/asia/se-asia/former-malaysian-pm-mahathir-tests-positive-for-covid-19
--------
PAS against working with PH, says Takiyuddin
August 30, 2022
PETALING JAYA: PAS insists it will not collaborate with Pakatan Harapan or any of its component parties ahead of the next general election (GE15).
In a statement, PAS secretary-general Takiyuddin Hassan said the Islamic party is open to forming alliances with Malay-Muslim based parties and will continue to focus on its "ummah unification" concept.
"PAS is firm that it will not cooperate with Pakatan Harapan or any of its component parties to face GE15, including in the 'big tent' concept," he said.
"PAS is very optimistic that the unification of the ummah approach can be achieved through the collaboration of the main parties in the country based on Malay Muslim and Bumiputera unity.
"This is the most effective formula and is accepted by the majority of Malaysians."
He said these were among the decisions made at a PAS central committee meeting yesterday.
At the Perikatan Nasional (PN) convention on Saturday, PN chairman Muhyiddin Yassin said the coalition was open to the idea of teaming up with other parties to face Barisan Nasional (BN) in GE15 as it would be difficult to defeat "the main enemy" in multi-cornered fights.
PAS is one of the five component parties in PN.
PKR deputy president Rafizi Ramli has since said that PH would not cooperate with PN in GE15, adding that this was a decision reached by the PH presidential council.
The "big tent" approach that Takiyuddin refers to in his statement describes PH chairman Anwar Ibrahim's preference for uniting all opposition parties against BN ahead of GE15.
In his statement, Takiyuddin also said PAS was open to finding the "best formula" for political cooperation with parties that prioritise "unity and harmony" ahead of GE15.
This would ensure the stability and well-being of the country's various races and religions, he added.
Takiyuddin added that the state governments which the party controls – Kelantan, Kedah and Terengganu – would not dissolve their legislative assemblies earlier than March 2023 in a bid to focus on economic recovery.
Source: Free Malaysia Today
Please click the following URL to read the full text of the original story:
https://www.freemalaysiatoday.com/category/nation/2022/08/30/pas-against-working-with-ph-says-takiyuddin/
--------
Umno Youth defends Azalina over remarks on AG
August 29, 2022
PETALING JAYA: Umno Youth chief Asyraf Wajdi Dusuki has defended party colleague Azalina Othman Said after she drew criticism over her veiled dig at the prime minister for retaining Idrus Harun as the attorney-general (AG).
Asyraf said Pakatan Harapan (PH) had also appointed its own attorney-general, Tommy Thomas, when it came to power in May 2018.
In a Facebook post, he said PH even appointed a former PKR leader, Latheefa Koya, to head the Malaysian Anti-Corruption Commission (MACC).
Asyraf also pointed out that shortly after PH came into power, then prime minister Dr Mahathir Mohamad had reportedly "called in" the chief justice at the time, Mohamed Raus Sharif, for a meeting.
He said the head of the now-defunct Council of Eminent Persons (CEP), Daim Zainuddin, had met Raus and then Court of Appeal president Zulkefli Ahmad Makinudin.
Raus and Zulkefli resigned from their posts on June 7, 2018.
Asyraf said DAP had lobbied for Richard Malanjun to be appointed chief justice in 2018, which was criticised by another former CJ, Abdul Hamid Mohamad.
"(Malanjun) later retired (in April 2019) and campaigned for PH and Warisan in the Sabah state election in 2020, and had even gone on stage with Lim Guan Eng for a political ceramah," he said.
"So, do PH and Bersih still dare to call on others to respect the attorney-general's position and the judiciary?"
On Saturday, Azalina, a former law minister, said whoever became prime minister would usually appoint "one of their own" to become the AG, a post which came with wide-ranging powers.
Idrus was appointed AG after Muhyiddin Yassin took office as the eighth prime minister.
Bersatu vice-president Radzi Jidin said Azalina's remarks were proof that Umno and Barisan Nasional had made civil servants follow their wishes while they were in power.
Meanwhile, Bersih chairman Thomas Fann said he was puzzled and disappointed with Azalina's remarks yesterday about appointing an attorney-general.
Fann said Azalina had apparently changed her stance from her previous position of wishing to separate the roles of the attorney-general as legal adviser to the government and his concurrent role as the public prosecutor. She had also spoken previously about not interfering with matters of the court.
DAP's Beruas MP Ngeh Koo Ham also expressed shock over Azalina's comments, construing it to mean that the prime minister should appoint an AG who would act according to his wishes.
Source: Free Malaysia Today
Please click the following URL to read the full text of the original story:
https://www.freemalaysiatoday.com/category/nation/2022/08/29/umno-youth-defends-azalina-over-remarks-on-ag/
--------
URL: https://newageislam.com/islamic-world-news/supreme-nhrc-ncw-ncm-polygamy-marriage/d/127847
New Age Islam, Islam Online, Islamic Website, African Muslim News, Arab World News, South Asia News, Indian Muslim News, World Muslim News, Women in Islam, Islamic Feminism, Arab Women, Women In Arab, Islamophobia in America, Muslim Women in West, Islam Women and Feminism