New Age Islam News Bureau
27 Jul 2014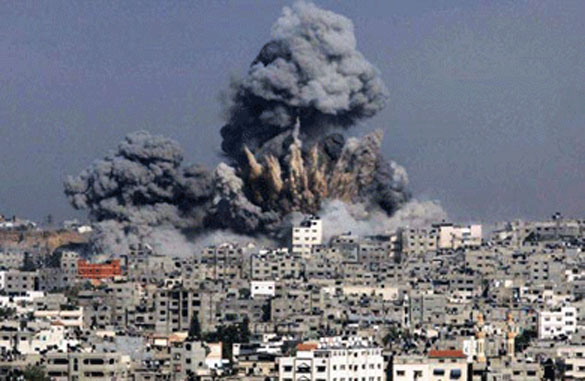 An explosion during an Israeli strike in the northern Gaza Strip is pictured from the Israeli border with Gaza, early morning July 26, 2014. (Reuters)
-----------
India
• Sunnis Demand Action against Maulana Who Wrote To Saudi Govt
• Female Genital Mutilation against Islam Sanctity: Indian Clerics
• Ancient Pakistan Temples Draw Devotees From Across Faiths
• 150-200 militants staged in camps across LoC: Army
Mideast
• Over 100 more Palestinians killed in Gaza
• 2 Yemen soldiers, 10 'Qaeda' dead in car bomb attacks
• Israeli diplomats taunt Europe with 'terror tweets'
• Israel 'bans' ad listing names of children killed in Gaza
• Livni tells Kerry his cease-fire proposal 'completely unacceptable' for Israel
• Israel resumes Gaza raids by land, sea and air
• Erdogan repeats: Sisi is a 'tyrant', Egypt responds
• Five flogged in Iran for Ramadan violations
• Turkish PM Erdoğan labels opponents as 'racists'
North America
• Destroy Hamas? Something worse would follow: Pentagon Intelligence chief
• Obama barred from entering Chechnya over 'state terrorism'
Arab World
• Kingdom: Reports on Israeli Ties 'Baseless Lies'
• Egypt forces kill 14 suspected militants in Sinai
• Four children killed in shell attack in Sinai
• Saudi Grand Mufti: Paying Fitr Zakat in cash 'not advisable'
• Military Operations Continue against Militants in Several Syrian Areas
• Egypt army destroys 13 more Gaza tunnels
• Syria regime forces retake gas field from jihadists: NGO
• King Abdullah keen on unity of Ummah, global peace: Sharif
Africa
• 38 killed as Libya army, Islamists clash in Benghazi
• 23 Egyptians killed in Tripoli rocket attack
• Boko Haram execute 12 in northeast town: Residents
• Nigeria Shi'ite leader says military kills 3 sons, 30 supporters
• Two Tunisian soldiers killed by 'terrorists': Ministry
• Don't negotiate with Boko Haram – Islamic Council warns Sultan of Sokoto
• Boko Haram: Ready for negotiations to free abducted girls, says Nigeria
Pakistan
• Sectarian targeted killings grip Rawalpindi, Islamabad
• Govt invoked article 245 after launching Zarb-e-Azb
• Karachi: Two TTP terrorists killed, arms seized
• Prayer leader among three shot dead in Karachi
• NWA operation: Afghan action needed for success, says Jillani
• Our workers are falsely represented as terrorists: MQM
• Army help to secure Islamabad not connected to any 'rally': Nisar
South Asia
• No Eid for Muslim Rohingya refugees in Bangladesh
• District police chief killed in Taliban attack in Kandahar
• Taliban recent gains cast doubt on Afghan forces ability
• ISAF and UNAMA condemns Taliban execution of civilians in Ghor
• Explosion in Helmand leaves 4 civilians dead
Southeast Asia
• Selangor royalty victims of attacks for defending Islam, says Utusan
• Police shoot tear gas in Indonesia's "Dolly" sex district
Europe
• UN Myanmar envoy worried over displaced Muslims
• Chechnya leader puts 'sanctions' on Obama, EU officials
• Tony Blair blasted for birthday party for wife - as Gaza death toll passes 1,050
• 50 held in Paris for defying ban on pro-Palestinian protest
• Pro-Palestine demonstrators march in Geneva and Germany
Compiled by New Age Islam News Bureau
URL: https://www.newageislam.com/islamic-world-news/new-age-islam-news-bureau/sunnis-demand-action-against-maulana-who-wrote-to-saudi-govt/d/98316
-----------
India
Sunnis Demand Action against Maulana Who Wrote To Saudi Govt
Mohammed Wajihuddin,TNN | Jul 27, 2014
MUMBAI: Expressing shock and anguish over cleric Maulana Salman Hussaini Nadvi's letter to the Saudi government requesting it to prepare an Army of five lakh Indian Sunni Muslims to fight the Shia militias in Iraq, a section of Sunnis in the city have demanded strict action against him.
Many Sunnis said Nadvi doesn't represent the Sunnis as he is an avowed follower of Wahhabism, a fanatical form of Islam which despises Sufism and discourages visit to the shrines of Sufi saints.
"If he has written such a letter, it is misrepresentation of the Sunnis. We don't believe in violence and will certainly not support a violent conflict just to gain power. The militants of Islamic State of Iraq and Syria (ISIS) are ideologically close to the Wahhabis and have nothing to do with the faith of Sunnis," said Rafiq Ahmed Khan, president of Minhaj ul Quran (India), an organization of Sunni Muslims. Khan said that such letters would only defame Sunnis.
Many have demanded action against Nadvi. "He is not a Sunni. He is acting on behest of Saudi Arabia, a Wahhabi-influenced country. He must be stopped from creating schism between Shias and Sunnis," said Farid Batatawala of Muslim Front.
Though Wahhabis too claim to be Sunnis (followers of the traditions of the Prophet), the difference between them and other Sunnis is that they regard visits to the Sufi shrines as biddat (innovation) in the faith and discourage them.
No wonder the ISIS militants have attacked shrines of many Sufis in Iraq and Syria. The call for creation of an Islamic Army has shocked scholars as well. "This is an incitement and completely anti-Islamic. This will further deepen the sectarian divide between Shias and Sunnis," said Islamic scholar Zeenat Shaukat Ali. Senior Shia cleric Maulana Zaheer Abbas Rizvi too condemned Nadvi's letter to Saudi government.
http://timesofindia.indiatimes.com/City/Mumbai/Sunnis-demand-action-against-Maulana-who-wrote-to-Saudi-govt/articleshow/39082302.cms
---------
Female Genital Mutilation against Islam Sanctity: Indian Clerics
27 July, 2014
New Delhi: The reported order passed by the Islamic State of Iraq and Levant (ISIL) militants for girls and women in and around Mosul in Iraq was Friday condemned by Indian Muslim clerics who said that such an order is "completely against Islam" and has brought "shame" to the religion.
"The order passed by the ISIL has denigrated Islam and is completely against the sanctity of the religion. I condemn such a non-lethal order and want it to be withdrawn," Maulana Mufti Mukarram, the Naib Imam of the 17th century Fatehpuri Mosque in Delhi, told IANS.
In the report, the jihadist militants of the ISIL have are said to have said all women aged between 11 to 49 must undergo genital mutilation, a fatwa that can affect over 4 million girls and women in Iraq.
"These are inhumane orders passed against the women of a sacrosanct religion such as Islam. Such a barbaric act cannot be part of Islam, Akhtarul Wasey, senior professor of Islamic studies at the Jamia-Millia -Islamia, told IANS.
He said that the religious leadership of Islam should come up against the order passed by the militant group.
However Wassey also said such practices were part of the religion centuries ago in some of the isolated parts of some Muslim countries.
He said that such practices "do not have any prevalence in Muslim society today".
"Anything that was not practiced by the Prophet should never be made obligatory for anybody," he said.
Agreed Ashraf Usmani, spokesperson of the Darul-ul-loom Deoband who said that such practices are against the religion.
"As per the religion no orders can be passed compelling a man or women to undergo genital mutilation," Usmani told IANS.
However Usmani said that the fatwa by the ISIL is to prevent "medical emergency" and protect Iraqi women from sexually transmitted diseases.
"However, no women can still be forced to undergo genital mutilation. I completely condemn it, "he said.
http://www.indiatvnews.com/news/india/genital-mutilation-against-islam-sanctity-indian-clerics-isil-39664.html
-----------
Ancient Pakistan temples draw devotees from across faiths
TNN | Jul 27, 2014
The Kalibari in Peshawar has a regular devotee who toggles between two identities. At home, up north in the Kurram Tribal Agency, she is Maria Salamat.
But here in the temples dedicated to Kali and Balmiki, she becomes Mala Kumari. She will not be allowed into the sanctum as Maria, and back home she cannot survive as Mala.
Reema Abbasi's just-released compendium of Pakistan's historic temples, is full of such stories where belief, minority identity, secular faith, bigotry and extremism criss-cross all the time. These are mostly ancient Shiva and Shakti temples: some date back 1,500 years and others, a few centuries. But like all shrines, they're not just stone and sculpture, their lives are deeply intertwined with society and politics. There is treacherous Balochistan, which despite its image mostly ensures communal harmony, prosperous Punjab where minorities live in fear and temples are shorn of icons, and Sindh which stays true to its Sufi and pluralist traditions.
"It started as a guerilla project, I and Madiha just heading out on our own to all kinds of territory. But this book had to be done to make a difference to how the two countries see each," says Abbasi of her work, Historic Temples of Pakistan.
There are over 70 lakh Hindus in Pakistan, mostly in the borderland deserts of the south and in Sindh. The numbers are dwindling (last year 500 fled in the face of extremist threat). But these ancient temples - over 40 of them - are places of worship for them and for pilgrims from India and elsewhere too. Contrary to what most tend to believe, they are also muchloved shrines for many Muslims, Sikhs and Christians in Pakistan. In Thatta, Sindh, recent efforts by land-grabbers to swallow temples was opposed by not just the Hindus but also Muslims and Christians.
"I am proud of this solidarity - people didn't wait for the government to take the step. When the establishment saw the public response it stepped in to protect the temple," points out Abbasi.
Many of the temples that feature in the collection are hauntingly beautiful, set in the midst of mountains, caves and one along the seashore. Hinglaj Mata temple, held sacred by Durga worshippers, is located in inhospitable Baloch terrain. (Durga here doubles as Bibi Nani for Muslims.) Katas Raj, decaying yet majestic, stands at
2,000 feet in Salt Range hills of Punjab. Gor Khattree, the splendid shrine to Gorakhnath in Peshawar, that left even Babur stunned was attacked by the Taliban recently . Fear, says Abbasi, still doesn't allow worshippers to return to the temple. "Hardliners in Pakistan have attacked more mosques than temples. They have no religion, they are just antipeople," says the author.
One shrine that pulls people of all faiths is the serene Sadhu Bela in Sukkur, Sindh. Set in a lush island in Indus, it is a seat of ascetics. It was attacked by mobs after the Babri Masjid demolition in India so the isolated temple is forever on guard. Believers say the shrine `protected' them during the 1965 and 1971 wars between the neighbours.
Punjab was one province that saw a lot of mob rage against tem ples in the aftermath of the Babri Masjid attack. "I was taken aback that the city was bent on rewriting the history of its communities. The answer to one wrong wasn't to reply with another," says Abbasi.
Hindu shrines are a popular destination for people looking to fulfil a mannat.
Since security is tight at the venues, Muslim worshippers have a tough time visiting. "We have to beg to be allowed in. In fact to get into the Swaminarayan temple in Pakistan we had to put on a bindi to pass the guards," says Abbasi. The book was not an easy journey for Abbasi and Aijaz.
"In Balochistan going to the Hinglaj Mata shrine, the headlight of our car was the only light shining off the jagged peaks. And a bomb once went off behind us as we stepped out of a Peshawar temple," recalls Abbasi.
But most of all the book is about human faith. About Delhi priest Nareshbhan Goswami who comes on a pilgrimage to the Kalka cave in Sindh.
Sculptor Fakira who fashions icons of deities for temples and churches. And Londoner Amna who comes to Ratneshwar Mahadev temple in Karachi every year to thank Durga for the gift of a child.
http://timesofindia.indiatimes.com/india/Ancient-Pakistan-temples-draw-devotees-from-across-faiths/articleshow/39084949.cms
-----------
150-200 militants staged in camps across LoC: Army
27 July, 2014
Stating that militants attempt to enter into Jammu and Kashmir before the onset of winter, General Officer Commanding (GoC) of 16 Corps Lt Gen K H Singh on Saturday claimed there are "150 to 200 militants" staged in various camps on the other side of the border in a bid to infiltrate into this side.
"In South of Pir Panchal 150 to 200 militants are staged in militant camps (set to infiltrate to this side)," Lt Gen Singh told reporters.
He said, "This is the time… During July, August and September — before the onset of winter — the militants try to infiltrate into our territory."
Lt Gen Singh was talking to reporters on the sidelines of an event to mark the 15th Anniversary of Vijay Diwas at Corps Headquarters, Nagrota on the city outskirts.
The Army commander maintained that the militants keep moving up and down at the launching pads and the Army is maintaining tight vigil along the Line of Control (LoC) to foil their bid.
On the issue of recent attacks on troops along the LoC, he said, "In Akhnoor there were two incidents in last two months or so. They are carrying out such attacks and we are taking adequate action and many militants have been killed on the LoC."
On a query regarding the involvement of Pakistani Army in these attacks, he said, "We cannot confirm or deny the involvement of the Pakistani Army, but we have a reason to believe that if they are serious, the Pakistani Army can also discourage them from coming across to our side."
http://indianexpress.com/article/india/india-others/150-200-militants-staged-in-camps-across-loc-army/
-----------
Mideast
Over 100 more Palestinians killed in Gaza
27 July, 2014
GAZA CITY: The toll in Gaza rose above 1,000 dead as more than 100 bodies were pulled from the rubble of homes throughout the coastal enclave during a truce, medics said.
US Secretary of State John Kerry has been spearheading international efforts to end the fighting. His diplomatic push was to continue on Saturday in Paris.
French Foreign Minister Laurent Fabius said that the foreign ministers of all seven countries involved in the diplomacy - the United States, France, Britain, Italy, Germany, Turkey and Qatar - had called for an extension of the truce. "All of us call on the parties to extend the humanitarian ceasefire that is currently under way," Fabius said.
srael on Friday rejected international proposals for an extended ceasefire, a government source said. But Kerry said in Cairo that no formal proposals had yet been put forward. He said there were still disagreements on the terminology, but he was confident there was a framework that would ultimately succeed and that "serious progress" had been made, although there was more work to do.
Full report at:
http://www.thenews.com.pk/Todays-News-13-31856-Over-100-more-Palestinians-killed-in-Gaza
-----------
2 Yemen soldiers, 10 'Qaeda' dead in car bomb attacks
27 July, 2014
Three simultaneous suicide car bomb attacks by Al-Qaeda on army posts in southern Yemen and clashes that followed killed two soldiers and 10 militants on Sunday, an official said.
Dozens of jihadists had taken part in the dawn attacks that aimed to capture three army posts in Mahfad, in the restive province of Abyan, the military official said.
Two of the car bombs exploded before reaching their targets, while a third went off at the gate of a base, he added.
http://english.ahram.org.eg/NewsContent/2/8/107165/World/Region/-Yemen-soldiers,--Qaeda-dead-in-car-bomb-attacks.aspx
-----------
Israeli diplomats taunt Europe with 'terror tweets'
27 July 2014
Staff at the Israeli embassy in Dublin, Ireland have been criticized after posting modified images of European statues clad in Islamic dress and explosives on their official Twitter feed, the Telegraph reported on Saturday.
The pictures – which seem to have been published earlier this week but were later deleted – contained images linked to various European countries and bearing the taunt: "Israel is the last frontier of the free world."
One of the images displayed a Roman statue clad in a Gulf-style headscarf along with a bomb round its torso. Above the statue, the slogan read "Israel now Italy next."
Another, aimed at Ireland, showed Dublin's renowned Molly Malone statue cloaked by a black niqab, a fourth presented what looks to be an AK-47 toting extremist balanced on a coastal rock and bearing the words: "Israel now Denmark next."
Full report at:
http://english.alarabiya.net/en/perspective/features/2014/07/27/israeli-embassy-ireland.html
-----------
Israel 'bans' ad listing names of children killed in Gaza
27 July, 2014
An Israel media regulator has banned this week a radio advert from a human rights group that lists the names of some Palestinian children that were killed during the Israeli offensive on Gaza.
The ad launched by pro-Palestinian human rights group B'Tselem was dubbed "politically controversial" by the Israeli Broadcasting Authority (IBA), according to Russia Today.
B'Tselem was outraged at the decision and has appealed to a top Israeli court in a bid to overturn the ban.
"Is it controversial that the children [aren't] alive? That they're children? That those are their names? These are facts that we wish to bring to the public's knowledge," the human rights group wrote in its appeal, according to Russia Today.
Full report at:
http://english.alarabiya.net/en/media/television-and-radio/2014/07/26/Israel-bans-ad-broadcasting-names-of-children-killed-during-Gaza-offensive.html
-----------
Livni tells Kerry his cease-fire proposal 'completely unacceptable' for Israel
27 July, 2014
Justice Minister Tzipi Livni (Hatnua) told US Secretary of State John Kerry on Friday that his proposal for a week long cease-fire of Israel's Gaza campaign was "completely unacceptable" and that it "would have strengthened extremists in the region."
The justice minister told Israel Radio on Sunday that over the course of the day on Friday, Kerry's proposal had improved.
By Friday afternoon, just before Shabbat, the security cabinet unanimously rejected Kerry's proposal which the ministers believed did not sufficiently ensure either continued Israeli activity against the Gaza terror tunnels or dismantling the rocket infrastructure, while giving Hamas significant concessions regarding lifting the blockade around the coastal enclave.
While Kerry said during a Cairo press conference Friday afternoon that the proposal was based on a previous Egyptian cease-fire agreement, Israeli officials said that included too many elements of a Qatari and Turkish proposal, which leaned more favorably toward Hamas.
On Saturday, Kerry flew to Paris to continue the ceasefire talks with his Qatari and Turkish counterparts, as well as with the German, French, British and Italian foreign ministers.
Full report at:
http://www.jpost.com/Operation-Protective-Edge/Livni-tells-Kerry-his-cease-fire-proposal-completely-unacceptable-for-Israel-369054
---------
Israel resumes Gaza raids by land, sea and air
27 July 2014
The Israeli army announced Sunday it is resuming its raids on Gaza by land, sea and air after Hamas continued firing rockets, ending a unilateral 12-hour humanitarian truce, Agence France-Presse reported.
"Following Hamas' incessant rocket fire throughout the humanitarian window, which was agreed upon for the welfare of the civilian population in Gaza, the IDF will now resume its aerial, naval and ground activity in the Gaza Strip," an army statement said.
"Due to flagrant violations of humanitarian remission by Hamas, the IDF is now resuming offensive activities," army spokesman Peter Lerner wrote on Twitter.
Following the announcement, three Palestinians were killed in shelling and explosions could be heard in Gaza City, medics said.
Full report at:
http://english.alarabiya.net/en/News/middle-east/2014/07/27/Hamas-rejects-Israel-s-24-hour-extension-of-Gaza-ceasefire-.html
-----------
Erdogan repeats: Sisi is a 'tyrant', Egypt responds
27 July, 2014
Egypt summoned the Turkish charge d'affaires for the second time in a month to complain about comments by Prime Minister Tayyip Erdogan deemed insulting to the leadership in Cairo, the Egyptian Foreign Ministry said.
In an interview with broadcaster CNN, Erdogan repeated the phrase that caused offense last time, calling Egypt's president, former army chief Abdel Fattah al-Sisi, a "tyrant". He also accused Egypt of not being "sincere" over the Gaza crisis.
"The Arab republic of Egypt expresses its deep rejection of the latest comments made by the Turkish Prime Minister Tayyip Erdogan," the foreign ministry said.
It said Erdogan's comments included "insults to the president and an issuing of general verdicts that lacked evidence, not objective but based on personal considerations."
Relations between Egypt and Turkey have soured since the Egyptian army last year ousted the governing Muslim Brotherhood, which Erdogan supports. Last year, Egypt expelled the Turkish ambassador, accusing him of undermining the country. Ankara responded in kind.
When asked if he still stands by his previous comment that Sisi was an "illegitimate tyrant", Erdogan said: "Well, he is right now a tyrant, I don't have any doubts about that," according to a transcript published on CNN's website.
Full report at:
http://english.alarabiya.net/en/News/middle-east/2014/07/26/Egypt-to-summon-Turkish-envoy-over-Erdogan-comments.html
-----------
Five flogged in Iran for Ramadan violations
27 July, 2014
ive people were publicly flogged in Iran as punishment for eating in public in violation of the rules of the Muslim fasting month of Ramadan, state media reported.
The offenders ignored warnings from police and "ate intentionally" in the western city of Kermanshah, the province's chief justice Ali Mozafari said, quoted by the official Irna news agency.
They were flogged for their actions, he added.
Iranian authorities issue warnings every year to respect Ramadan by not eating or drinking in public.
But, the fast is often ignored, especially in hot weather with people drinking water in the street.
http://www.themalaysianinsider.com/world/article/five-flogged-in-iran-for-ramadan-violations#sthash.6rXDRTz3.dpuf
-----------
Turkish PM Erdoğan labels opponents as 'racists'
27 July, 2014
Turkish Prime Minister Recep Tayyip Erdoğan has labeled his presidential opponents as "racists," bringing a theme that he has been harping on in Turkey's foreign policy to domestic politics two weeks before the elections.
"We're not racist, not Kurdist and not Turkist," Erdoğan said in a campaign rally in the southeastern province of Diyarbakır July 26.
"The CHP means racism," Turkish PM said, while slamming Ekmeleddin İhsanoğlu, the joint presidential candidate nominated by the main opposition Republican People's Party (CHP) and the Nationalist Movement Party (MHP).
"The MHP, which sees nationalism as racism, is also on the stage again," Erdoğan added. "I believe that this racist candidate will not get any votes from Diyarbakır."
Full report at:
http://www.hurriyetdailynews.com/turkish-pm-erdogan-labels-opponents-as-racists.aspx?pageID=238&nID=69646&NewsCatID=338
-----------
North America
Destroy Hamas? Something worse would follow: Pentagon Intelligence chief
27 July, 2014
A top Pentagon intelligence official warned on Saturday that the destruction of Hamas would only lead to something more dangerous taking its place, as he offered a grim portrait of a period of enduring regional conflict.
The remarks by Lieutenant General Michael Flynn, the outgoing head of the Defense Intelligence Agency, came as Israeli ministers signaled that a comprehensive deal to end the 20-day-old conflict in the Gaza Strip appeared remote.
At least 1,050 Gazans - mostly civilians - have been killed, and 42 Israeli soldiers and three civilians in Israel have died.
Flynn disparaged Hamas for exhausting finite resources and know-how to build tunnels that have helped them inflict record casualties on Israelis. Still, he suggested that destroying Hamas was not the answer.
Full report at:
http://english.ahram.org.eg/NewsContent/2/8/107163/World/Region/Destroy-Hamas-Something-worse-would-follow-Pentago.aspx
-----------
Obama barred from entering Chechnya over 'state terrorism'
27 July 2014
U.S. President Barack Obama has been banned Saturday by Chechnya's president from entering Chechnya, the Associated Press reported.
While Russia has not responded to U.S. and EU sanctions, Chechen President Kadyrov placed the U.S. president on a no-entry list, along with representatives from the European Union such as José Manuel Barroso, Herbert van Rompuy and Catherine Ashton.
Through his Instagram account, Kadyrove declared the reason behind his decision to be U.S. and EU policy in Ukraine, Libya, Syria, Iraq and Afghanistan, which he labeled as "state terrorism".
Full report at:
http://english.alarabiya.net/en/News/world/2014/07/27/Obama-not-allowed-into-Chechnya-.html
----------
Arab World
Kingdom: Reports on Israeli Ties 'Baseless Lies'
27 July, 2014
LONDON — Saudi Arabia's ambassador in the UK has slammed Middle East Eye editor David Hearst for a comment piece in which he accused the Kingdom of colluding with Egypt and Israel to crush Hamas.
In the letter, which the Ambassador Prince Nawaf Al-Saud made public via the embassy website on Friday, Saudi Arabia accused Hearst of publishing "utter rubbish" and "baseless lies" regarding the partnership, which has seen Israeli officials publicly confirm that Saudi funds will be relied upon to rebuild Gaza once Hamas has been rooted out.
"Is it your intention to insult? Or are you just completely ignorant of the history or politics of the Middle East?" ran the first line of the acerbic letter, which has also been published in Arabic.
Full report at:
http://www.saudigazette.com.sa/index.cfm?method=home.regcon&contentid=20140727212829
-----------
Egypt forces kill 14 suspected militants in Sinai
27 July, 2014
Egyptian troops in the border Sinai Peninsula have killed fourteen Islamist militants and arrested dozens of others, state news agency MENA reported, as part of an ongoing campaign to root out Islamist insurgents in the region.
Raids on militant hideouts in the northern Sinai towns of Sheikh Zuweid and Rafah on Saturday killed fourteen Islamist fighters in a firefight with security forces, MENA said early Sunday
Forty-seven other suspects were arrested, security sources said, and 18 shacks and buildings used as bases for terrorist attacks were destroyed, security sources said.
Egypt has been hit by an upsurge in Islamist militancy led by Sinai-based militants that has mainly targeted security forces since the ouster of Islamist president Mohamed Morsi last summer and an ensuing crackdown on his supporters.
Full report at:
http://english.ahram.org.eg/NewsContent/1/64/107171/Egypt/Politics-/Egypt-forces-kill--suspected-militants-in-Sinai-.aspx
-----------
Four children killed in shell attack in Sinai
27 July, 2014
Four children were killed and five other people injured when a shell hit a house in north Sinai, Aswat Masriya website reported.
The shell was reportedly fired by militants targeting the Egyptian military, according to a security source.
Militants have been escalating attacks against security forces, especially in north Sinai, since the ouster of Islamist president Mohamed Morsi last year.
More than 500 members of the security forces have been killed in attacks over the last year.
http://english.ahram.org.eg/NewsContent/1/64/107142/Egypt/Politics-/Four-children-killed-in-shell-attack-in-Sinai--.aspx
-----------
Saudi Grand Mufti: Paying Fitr Zakat in cash 'not advisable'
7 July 2014
The Grand Mufti of Saudi Arabia and head of the Senior Scholars Commission and Ifta Council Sheikh Abdulaziz Al-Asheikh pointed out that paying Zakat Al-Fitr in cash to the needy is against the Islamic Shariah teachings.
He said the Zakat should be in form of food so that the poor and needy can enjoy Eid Al-Fitr like other Muslims. He added that Zakat should be paid out before Eid prayers and in the country where the Muslim happens to be.
http://english.alarabiya.net/en/News/middle-east/2014/07/27/Saudi-Grand-Mufti-Paying-Fitr-Zakat-in-cash-not-advisable-.html
-----------
Military Operations Continue against Militants in Several Syrian Areas
27 July, 2014
The Syrian army carried out wide military operations against militants' concentration centers and hideouts in several areas around the country.
An army unit killed a big number of militants during targeting their concentration centers and destroyed vehicles equipped with heavy machineguns in Handarat, Rasem al-Abboud, al-Sheikh Lutfi, Khan al-Asal, Tal Khattab, al-Sheikh Said, al-Zarbeh, Bawabiyeh, Babansh, Haret al-Shahadiyeen, Hreitan and al-Ramousa in Aleppo, the state news agency reported.
In Daraa, an army unit destroyed a number of cars that were used by militants in Inkhel town and to the South of Khazan al-Oseileh in Daraa countryside.
Another army unit targeted a militant's concentration center on Qita crossroad in Om al-Mayaden town, killing many of them and injuring others.
In Homs, army units targeted militants' concentration centers in Kafar Laha, Wadi al-Kahef and al-Quneitrat in the rural area of the province, killing many militants and injuring others.
http://english.farsnews.com/newstext.aspx?nn=13930505000997
-----------
Egypt army destroys 13 more Gaza tunnels
27 July, 2014
Egypt's army said July 27 it has destroyed 13 more tunnels connecting the Sinai Peninsula to the Gaza Strip, taking to 1,639 the overall number it has laid waste to.
Cairo has poured troops into the peninsula to counter a rising insurgency since the ouster of Islamist president Mohamed Morsi last year, and its security operation involves the destruction of these tunnels.
The Palestinian militant group Hamas, which is the main power in Gaza, reportedly uses the tunnels to smuggle arms, food and money into the blockaded coastal enclave.
Israel has been waging a military offensive on Gaza since July 8 to halt rocket fire, and it launched a ground assault on July 17 aimed at destroying the network of tunnels.
It accuses Hamas of using the tunnels to attacks on Israel.
Full report at:
http://www.hurriyetdailynews.com/egypt-army-destroys-13-more-gaza-tunnels.aspx?pageID=238&nID=69654&NewsCatID=352
-----------
Syria regime forces retake gas field from jihadists: NGO
27 July, 2014
Syrian government troops Saturday recaptured the Shaar gas field in Homs province from the Islamic State, a week after the jihadists seized it, the Syrian Observatory for Human Rights said.
"Since this morning, there has been fighting around the Al-Shaar field between regime forces and the IS. The army has succeeded in ejecting the jihadists, and it now controls the site and surrounding hills," Observatory chief Rami Abdel Rahman told AFP.
The powerful jihadist group, which operates in Syria and Iraq, killed around 300 members of the Syrian security forces in the battle for the key facility. Some of them were executed after being captured.
http://english.ahram.org.eg/NewsContent/2/8/107152/World/Region/Syria-regime-forces-retake-gas-field-from-jihadist.aspx
-----------
King Abdullah keen on unity of Ummah, global peace: Sharif
27 July, 2014
JEDDAH – Pakistan Prime Minister Nawaz Sharif has said that Custodian of the Two Holy Mosques King Abdullah is keen on finding solutions for all issues facing the Muslim Ummah and boosting security, world peace, combat terrorism and instill the values of tolerance and the culture of peaceful coexistence and moderation.
He said he held deep and positive talks with King Abdullah during his recent visit to the Kingdom.
The talks focused on boosting and developing strategic partnership between the two countries in political, economic, commercial and security fields.
Sharif reiterated his country's keenness to strengthen coordination with the Kingdom in the interest of the two peoples and the entire Muslim Ummah.
Full report at:
http://www.saudigazette.com.sa/index.cfm?method=home.regcon&contentid=20140727212834
-----------
Africa
38 killed as Libya army, Islamists clash in Benghazi
27 July, 2014
At least 38 people, mostly soldiers, were killed in 24 hours of fierce fighting between the Libyan army and Islamists in the eastern city of Benghazi, officials said Sunday.
A military source said the clashes broke out on Saturday when Islamist groups launched an assault on the headquarters of a special unit near the city centre, causing casualties among forces defending their barracks.
http://english.ahram.org.eg/NewsContent/2/8/107181/World/Region/BREAKING--killed-as-Libya-army,-Islamists-clash-in.aspx
-----------
23 Egyptians killed in Tripoli rocket attack
27 July, 2014
Twenty-three Egyptian workers were killed in a rocket attack on Saturday in Tripoli, where militia rivalries are intensifying, state news agency MENA reported.
Brigades of former rebel fighters in the Libyan capital have fought with rockets and artilleries for two weeks since a militia attacked Tripoli airport -- the worst violence in Tripoli and eastern Benghazi since the 2011 downfall of autocratic ruler Moammar Gaddafi.
A Grad rocket was fired at the farm home of the Egyptian workers in Tripoli's western Karimiya region, killing them all, Alaa Hadoura, head of the Egyptian community in Libya, told MENA.
The United States evacuated its embassy in Southern Tripoli on Saturday, driving diplomats across the border into Tunisia after the intense fighting escalated near the embassy compound.
Full report at:
http://english.ahram.org.eg/NewsContent/1/64/107169/Egypt/Politics-/-Egyptians-killed-in-Tripoli-rocket-attack.aspx
-----------
Boko Haram execute 12 in northeast town: Residents
27 July, 2014
Boko Haram Islamists have executed 12 people including a village chief in a remote part of northeastern Nigeria, residents said.
The attackers entered the village of Garubula, in Biu district, late Wednesday and dragged their victims out of their homes before shooting them, the residents said.
"They killed 12 people including the village chief whom they shot in the head," said resident Mallam Idrissa told AFP.
Wednesday also saw bombings in north-central Kaduna blamed on Boko Haram in which 42 people died while the presumed targets of the attacks -- a prominent cleric and a former head of state -- escaped with their lives.
Boko Haram, which is seeking to install an extremist Islamic state in Nigeria, has recently stepped up attacks on remote villages in the northeast.
Dozens of Boko Haram gunmen raided the town of Rann in Borno state on the border with Cameroon on Friday, meeting fierce resistance, residents said.
Full report at:
http://english.ahram.org.eg/NewsContent/2/9/107146/World/International/Boko-Haram-execute--in-northeast-town-Residents.aspx
---------
Nigeria Shi'ite leader says military kills 3 sons, 30 supporters
World Bulletin/News Desk
July 27, 2014
The leader of Nigeria's minority Shi'ite Muslims accused the military on Saturday of killing three of his sons and 30 of his supporters when they opened fire on a protest the previous day.
The military said they were fired upon first by someone in the crowd and that they killed nine people.
The Shi'ites were protesting Israeli attacks on Gaza and also marching to observe of a religious holiday, in the northern city of Zaria, where Ibrahim Zakzaky's Islamic Movement of Nigeria is based, when a troop convoy tried to pass.
"Soldiers opened fire on our people at Kuban bridge killing 30 of our people, among which were three of my sons," Zakzaky said in a statement. He accused the government of ordering the attack and said two of his supporters were executed after being arrested.
"I however appeal to our people to remain calm," he said.
Full report at:
http://www.worldbulletin.net/world/141415/nigeria-shiite-leader-says-military-kills-3-sons-30-supporters
----------
Two Tunisian soldiers killed by 'terrorists': Ministry
27 July, 2014
Two Tunisian soldiers were killed and four wounded on Saturday in a gunfight with "terrorists" several kilometres (miles) from the border with Algeria, the defence ministry told AFP.
"There was an exchange of fire between a terrorist group and a military patrol at Ghar al-Tine, four kilometres from the Tunisian-Algerian border. Two of our soldiers were martyred and four were wounded," ministry spokesman Lamjed Hamami said.
http://english.ahram.org.eg/NewsContent/2/8/107151/World/Region/Two-Tunisian-soldiers-killed-by-terrorists-Ministr.aspx
-----------
Don't negotiate with Boko Haram – Islamic Council warns Sultan of Sokoto
27 July, 2014
The council asked the traditional ruler to be careful not to delve into any kind of dialogue with the sect until he receives an official approval from President Jonathan as he may regret such action later.
Their reason is founded on the ground that the Monarch might be blackmailed by the government if he goes ahead to negotiate with the terrorist group, especially on the over 200 students of Government Girls' Secondary School abducted by the sect on April 14, without seeking government's permission and approval.
Recall that some Muslim leaders, under the aegis of Concerned Muslim Professionals wrote to the Sultan earlier in July, asking him to lead the dialogue with the Boko Haram sect.
The group told the Monarch, who doubles as the President-General of the NSCIA, to use his position and engage members of the sect in a dialogue that would make them stop their campaign of killings.
Full report at:
http://dailypost.ng/2014/07/27/dont-negotiate-boko-haram-islamic-council-warns-sultan-sokoto/
-----------
Boko Haram: Ready for negotiations to free abducted girls, says Nigeria
27 July, 2014
Nigeria's Permanent Representative to the UN, Joy Ogwu said the country is open to negotiations in order to secure the release of over 200 schoolgirls who were abducted in April.
Ms. Ogwu on Saturday was speaking on the latest terrorist attacks in northern Kaduna and Kano, which killed several Nigerians and injured many others.
It is now more than 100 days after the schoolgirls were abducted by Islamist militant group Boko Haram in Chibok, Borno.
Full report at:
http://www.thehindu.com/news/international/world/boko-haram-ready-for-negotiations-to-free-abducted-girls-says-nigeria/article6254493.ece
-----------
Pakistan
Sectarian targeted killings grip Rawalpindi, Islamabad
27 July, 2014
ISLAMABAD: On January 3, 2014, Shakeel Muavia, a resident of Golra, was extremely happy - just a day earlier his brother, Mufti Muneer Muavia, was released from jail.
In the morning, the newly released brother, Mufti Muneer left home to visit his father-in-law Maulana Abdul Hameed Sabri in Sector I-8.
Shakeel spent the day preparing dinner but in the afternoon, he got a call from his brother's father-in-law who asked him over.
Attacks increased following Ashura violence last year
"On my way to I-8, I passed a private hospital in H-8, where there was an unusual traffic jam.
"There were many police officials who were checking motorbike riders," he said.
"When I reached I-8, I found out that some motorbike riders had shot my brother. His companion, Asad Mehmood Abbasi, sitting by his side in the car was also killed.
"My brother's widow, 11-year-old daughter and three sons now live in Golra.
"I have been taking care of the entire family though we get some help from Ahle Sunnat Wal Jamaat (ASWJ)," he added. He claims the police are not much help.
Full report at:
http://www.dawn.com/news/1121871/sectarian-targeted-killings-grip-rawalpindi-islamabad
-----------
Govt invoked article 245 after launching Zarb-e-Azb
July 27, 2014
ISLAMABAD - The federal government had invoked the article 245 soon after the launch of operation Zarb-e-Azb in the mid of June at the moment when army had been deployed at important installations throughout the country including airports, well-placed sources in military establishment revealed.
Background discussions with some retired army officers indicate that article 245 of the constitution had been invoked when Pakistan army had taken over the security of some sensitive installations soon after the launch of the NWA operation.
Some independent observers are of the view that recent announcement of the government for invoking article 245 was just meant to gain political mileage in the wake of announced Azadi March of Pakistan Tehreek-e-Insaf (PTI) in the capital on August 14. According to local administration of Islamabad, the ministry of interior had requisitioned Rangers troops in June for the security of the capital and then in the middle of July, army troops were also called in to assist the local police and administration. So army had already been deployed in the capital before the government's other day announcement about invoking article 245.
Full report at:
http://www.nation.com.pk/editors-picks/27-Jul-2014/govt-invoked-article-245-after-launching-zarb-e-azb
----------
Karachi: Two TTP terrorists killed, arms seized
27 July, 2014
KARACHI: Two terrorists were killed during Rangers action in Frontier colony, SITE area of Karachi, Geo News reported.
According to Rangers spokesman, the terrorists belong to Tehreek-e-Taliban and were involved in extortion and target killings of Law Enforcement Agencies (LEAs) personnel.
Hand grenades, IEDs, explosive material and other weapons were recovered from the possession of the militants.
http://www.thenews.com.pk/article-155131-Karachi:-Two-TTP-terrorists-killed,-arms-seized
-----------
Prayer leader among three shot dead in Karachi
27 July, 2014
KARACHI: Three people, among them a prayer leader and a muezzin, were killed in separate attacks in the city on Saturday which, according to the police, were apparently carried out on sectarian grounds.
In Block 13 D-2 of Gulshan-i-Iqbal, four men on two motorcycles opened fire at a camp set up outside Masjid-i-Madinatul Uloom to collect Fitra and charity. Four people sitting at the camp were critically injured. Three were identified as Maulana Ehtashamur Rahman, the prayer leader of the mosque, Qari Abdul Hafeez, the muezzin, and Mohammad Haroon.
Maulana Ehtasham and Qari Hafeez died while being taken to the Abbasi Shaheed Hospital, said SP Abid Qaimkhani. "We have found multiple cases of bullets from the crime scene which suggested that the attackers used 9mm pistols," said the officer. "It is definitely an act of terrorism."
Full report at:
http://www.dawn.com/news/1121910/prayer-leader-among-three-shot-dead-in-karachi
-----------
NWA operation: Afghan action needed for success, says Jillani
July 27, 2014
WASHINGTON: The ongoing operation in North Waziristan is targeting all militants but needs to be complemented by actions on the Afghan side to be conclusive, Ambassador to the United States Jalil Abbas Jilani said on Saturday.
"Our apprehension is that many of these [terrorist] elements are on the run… [and] some of them … people belonging to the Haqqani network… may have gone to Afghanistan," he said while speaking at the Aspen Security Forum in Colorado in a discussion on Afghanistan and Pakistan.
"While the hammer is in full swing, we only hope that the anvil we have been talking about for a long time that would also appear one day."
Ambassador Jillani said Pakistan was holding discussions with the US and Afghanistan on these apprehensions."We have good cooperation but I think something more needs to be done to make sure the successes we achieve in North Waziristan are conclusive," he stressed.
Full report at:
http://tribune.com.pk/story/741512/nwa-operation-afghan-action-needed-for-success-says-jillani/
----------
Our workers are falsely represented as terrorists: MQM
July 27, 2014
KARACHI- Muttahida Qaumi Movement (MQM) coordination (Raabta) committee said in a furious statement that MQM party workers were being misrepresented as terrorists and target killers whereas the Karachi targeted operation was not producing favorable results due to biased proceedings.
MQM said in a joint statement that its party workers were being arrested from mosques, homes and marketplaces even during the blessed month of Ramazan, adding that party workers were being subjected to inhumane torture within government's custody while being arrested under false pretexts.
Full report at:
http://www.nation.com.pk/national/27-Jul-2014/our-workers-are-falsely-represented-as-terrorists-mqm
-----------
Army help to secure Islamabad not connected to any 'rally': Nisar
27 July, 2014
ISLAMABAD: Federal Interior Minister Chaudhry Nisar Ali Khan said on Sunday that the decision to call for the Army's assistance in maintaining the law and order situation in Islamabad for three months under Article 245 of the Constitution had no link with "any political rally or party", DawnNews reported.
He claimed that anyone trying to link the government's decision of calling in the Army with any political party of political rally was actually engaging in political point-scoring and was making the Army's role needlessly controversial during a crucial time.
Nisar said that the decision to call for the Army's assistance in maintaining the law and order situation in the federal capital city had been taken before the initiation of the ongoing Zarb-i-Azb operation in North Waziristan following a precedent set during the military operation of 2010.
Full report at:
http://www.dawn.com/news/1121960/army-help-to-secure-islamabad-not-connected-to-any-rally-nisar
-----------
South Asia
No Eid for Muslim Rohingya refugees in Bangladesh
World Bulletin/News Desk
July 27, 2014
As Eid-al-Fitr, which marks the end of the holy month of Ramadan, nears, just around the corner, it does not affect Seno Ara in any way. She is busy with her paddle sewing machine, fashioning clothes for the other Rohingya women - refugees, like her and many others, in the camp in Kutupalong of Cox's Bazar in Bangladesh.
Seno Ara, 27, lives in a tiny shack made of bamboo sticks and poly sheets, with a five-feet-high and two-feet-wide door, and no window. Since there is no electricity in the camp and no light inside her home, she must find the light of day on her doorstep, to sew.
"We have neither Eid, nor pleasure," says Seno Ara. "We do not have money to have even new cloths for Eid."
She has been living in this unofficial Rohingya camp for six years. (The unofficial camp takes in all the refugees that the nearby official UN-run one, at full capacity, cannot).
She was forced to migrate and take shelter here after suffering from incessant persecution in her homeland – Myanmar, where, she lived in Mondu, along with her 35-year-old husband Ershad Ullah and their two daughters.
Full report at:
http://www.worldbulletin.net/headlines/141426/no-eid-for-muslim-rohingya-refugees-in-bangladesh
-----------
District police chief killed in Taliban attack in Kandahar
27 July, 2014
District police chief for Registan was killed following Taliban militants attack in southern Kandahar province.
According to local government officials, at least five security guards of Registan district police chief were also killed during the clashes.
Provincial governor spokesman, Dawa Khan Meenapal, said dozens of Taliban militants attacked the district government compound on Saturday.
Meenapal further added that Registan district police chief, Bismillah Jan was killed along with his five security guards.
Full report at:
http://www.khaama.com/district-police-chief-killed-in-taliban-attack-in-kandahar-6482
-----------
Taliban recent gains cast doubt on Afghan forces ability
27 July, 2014
KABUL: Taliban fighters are scoring early gains in several strategic areas near the capital this summer, inflicting heavy casualties and casting new doubt on the ability of Afghan forces to contain the insurgency as the United States moves to complete its withdrawal of combat troops, according to Afghan officials and local elders.
The Taliban have found success beyond their traditional strongholds in the rural south and are now dominating territory near crucial highways and cities that surround Kabul, the capital, in strategic provinces like Kapisa and Nangarhar.
Their advance has gone unreported because most American forces have left the field and officials in Kabul have largely refused to talk about it. The Afghan ministries have not released casualty statistics since an alarming rise in army and police deaths last year.
At a time when an election crisis is threatening the stability of the government, the Taliban's increasingly aggressive campaign is threatening another crucial facet of the American withdrawal plan, full security by Afghan forces this year.
Full report at:
http://www.thenews.com.pk/article-155153-Taliban-recent-gains-cast-doubt-on-Afghan-forces-ability-
-----------
ISAF and UNAMA condemns Taliban execution of civilians in Ghor
27 July, 2014
The International Security Assistance Force (ISAF) and United Nations Assistance Mission in Afghanistan (UNAMA) condemned the execution of civilians in Ghor province of Afghanistan.
"ISAF strongly condemns the killing of 15 innocent Afghan civilians in central Afghanistan by Taliban militants. Eleven men, three women, and one child were shot and killed after their vehicles were stopped while traveling through Ghor province," a statement released by ISAF said.
"I offer my deepest sympathies to the families of those killed in this brutal attack," said Gen. Joseph F. Dunford, Jr., the ISAF commander. "This violence demonstrates the continued disregard by the Taliban for the Afghan people."
Full report at:
http://www.khaama.com/isaf-and-unama-condemns-taliban-execution-of-civilians-in-ghor-6481
-----------
Explosion in Helmand leaves 4 civilians dead
27 July, 2014
At least four civilians were killed following an explosion in southern Helmand province of Afghanistan.
According to local government officials, the incident took place late Saturday in Marjah district, leaving four civilians dead and four others injured.
Provincial governor spokesman, Omar Zwak, confirmed the incident and said the last took place after a motorcycle packed with explosives went off.
No group including the Taliban militants has so far claimed responsibility behind the incident.
Helmand is among the volatile provinces in southern Afghanistan where anti-government armed militant groups including the Taliban militants are actively operating in its various districts.
The insurgent groups frequently use improvised explosive device (IED) to target Afghan and coalition security forces which normally leads to civilian casualties.
http://www.khaama.com/explosion-in-helmand-leaves-4-civilians-dead-8370
-----------
Southeast Asia
Selangor royalty victims of attacks for defending Islam, says Utusan
27 July, 2014
The Sultan of Selangor's fervent defence of Islam has resulted in him and his son, Raja Muda Tengku Amir Shah, becoming the victims of revenge attacks, Umno-owned Utusan Malaysia reported today.
Selangor crown prince Tengku Amir was recently in the headlines when fake news website World News Daily Report claimed that he had converted to Catholicism.
Awang Selamat, the pseudonym for Utusan's collective editorial voice, said the fake news report could be linked to religious movements and politicians who were angry with the Sultan of Selangor.
"Sultan Sharafuddin Idris Shah has been vocal in his defence of Islam and has issued several edicts and statements to that effect," Awang wrote.
"Sadly, there is a price to be paid for such courage and bravery. The false allegation against Tengku Amir is one such example," Awang wrote.
"While the false report stirred the anger of many, they also understand that it is the foul play of parties who are uncomfortable with how the Sultan of Selangor has defended Islamic interests.
Full report at:
http://www.themalaysianinsider.com/malaysia/article/selangor-royalty-victims-of-attacks-for-defending-islam-says-utusan#sthash.nXvt2qCw.dpuf
-----------
Police shoot tear gas in Indonesia's "Dolly" sex district
27 July, 2014
Indonesian police on Sunday fired tear gas at hundreds of protesters at the country's infamous "Dolly" red-light district, where workers are refusing to accept government orders to close shop.
Around 300 protesters, mostly men who work as pimps or vendors in the area, tore out and set alight a sign erected by the Surabaya city that read: "This area is free from brothels and prostitution".
The closure of one of Southeast Asia's biggest prostitution dens was spearheaded by Surabaya mayor Tri Rismaharini, who announced last month that Dolly would be completely closed by the end of Ramadan, which fell on Sunday.
"We reject the instalment of this sign here. And after Ramadhan, we will operate as normal. We refuse to shut down," said head of Dolly's workers' forum Ari Saputro, who goes by the nickname "Pokemon".
Full report at:
http://english.ahram.org.eg/NewsContent/2/9/107180/World/International/Police-shoot-tear-gas-in-Indonesias-Dolly-sex-dist.aspx
-----------
Europe
UN Myanmar envoy worried over displaced Muslims
27 July, 2014
YANGON: The new UN human rights envoy for Myanmar expressed serious concern about the conditions in camps for more than 100,000 mostly minority Muslims displaced by violence led by Buddhist extremists, and warned that the country's human rights situation may be deteriorating.
Yanghee Lee spoke at the end of a 10-day fact-finding mission to Myanmar, her first in the capacity of UN rapporteur.
She said Myanmar should be applauded for having come a long way since installing an elected government in 2011 after almost five decades of repressive military rule.
"Yet, there are worrying signs of possible backtracking, which if unchecked could undermine Myanmar's efforts to become a responsible member of the international community that respects and protects human rights," she said, after talks with political and social leaders and trips to troubled areas of the country.
In recent months, the government has failed to make much progress in ending religious conflicts and ethnic tensions, and journalists have been coming under legal assault after an initial period of goodwill that saw the lifting of censorship.
Lee visited western Rakhine state, where since 2012, violence between Rakhine Buddhists and Rohingya Muslims has left at least 280 people dead and 140,000 homeless, mostly Muslims confined in squalid camps. Myanmar is overwhelmingly Buddhist, and most Rohingya are denied citizenship.
Full report at:
http://www.dawn.com/news/1121942/un-myanmar-envoy-worried-over-displaced-muslims
-----------
Chechnya leader puts 'sanctions' on Obama, EU officials
World Bulletin/News Desk
July 27, 2014
Ramzan Kadyrov, the Kremlin-backed leader of Chechnya, said on Saturday he would ban entry to and freeze any bank accounts of U.S. President Barack Obama and top EU officials for bringing "tragedy" to Ukraine, in a gesture of defiance after being hit by sanctions.
After the European Union imposed sanctions over Ukraine that for the first time included the Chechen leader, Kadyrov repeated Russian statements that Washington and Brussels were responsible for plunging Ukraine into turmoil.
"The whole world has witnessed the tragedy of Libyan, Syrian, Iraqi and Afghan nations. And the Ukrainian one recently," Kadyrov said on his Instagram feed.
"Under the pretext of exporting democracy, civilians are being killed in these countries and cities and religious ties are being destroyed. The United States and the European Union bear direct responsibility for all that is happening."
Full report at:
http://www.worldbulletin.net/world/141436/chechnya-leader-puts-sanctions-on-obama-eu-officials
----------
Tony Blair blasted for birthday party for wife - as Gaza death toll passes 1,050
27 July, 2014
Tony Blair – the Middle East Peace Envoy – threw a lavish birthday party for his wife on Friday night at their country bolthole in Buckinghamshire, while the grim death toll from the Gaza conflict passed the 1,050 mark.
Mr Blair, whose role is to hammer out a ceasefire in times of conflict between the Israelis and Palestinians, spent most of last week in the UK before hosting the couple's friends at the party, estimated to have cost about £50,000.
He held the surprise 60th birthday party for Cherie at their £6million country mansion South Pavilions, formerly the home of Sir John Gielgud, inviting 150 of their closest friends, which included former New Labour ministers, as well as wealthy businessmen and TV celebrities.
Just to make Cherie's night even more memorable, Mr Blair even hired glamorous dance couple Kristina Rihanoff and Ian Waite from BBC's Strictly Come Dancing, who danced for them after dinner, to the Stevie Wonder classic Ma Cherie Amour.
And comedian Bobby Davro was also hired to entertain, doing an impersonation of Mr Blair, and singing the song, If I Ruled The World.
Mr Blair's unexpected birthday party – held against a backdrop of death and destruction in Gaza – was criticised last night, with some saying he could have held it later, as Cherie's actual birthday is not until September 23.
Full report at:
http://www.dailymail.co.uk/news/article-2706941/He-Middle-East-not-UK-Peace-envoy-Tony-Blair-blasted-throwing-surprise-birthday-party-wife-Cheries-60th-6million-mansion-Gaza-death-toll-passes-1-000.html#ixzz38iQba9W5
---------
50 held in Paris for defying ban on pro-Palestinian protest
27 July, 2014
PARIS: Police arrested around 50 people at a banned pro-Palestinian protest in central Paris on Saturday that degenerated into clashes between demonstrators and armour-clad riot squads.
The rally, which gathered an estimated 5,000 people in the capital's Place de la Republique, dispersed after 90 minutes during which police who were targeted with rocks and other projectiles responded with tear gas.
The demonstration against Israel's Gaza offensive that has killed more than 1,000 Palestinians comes after other protests last weekend in Paris and a suburb that had also initially been banned descended into chaos.
Full report at:
http://www.dawn.com/news/1121835/50-held-in-paris-for-defying-ban-on-pro-palestinian-protest
-----------
Pro-Palestine demonstrators march in Geneva and Germany
World Bulletin/News Desk
July 27, 2014
Hundreds of protesters marched to the headquarters of the Office of the UN High Commissioner for Human Rights at Palais Wilson in Geneva on Saturday to protest against Israel's onslaught on the Gaza Strip and UN's attitude towards the conflict.
About 700 people on Saturday amassed in the demonstration in support of Gaza, which started from Molard square and ended in front of the Palais Wilson in Geneva, Switzerland.
Some protesters carried banners indicating the names and ages of the Palestinians who died in Israeli attacks on Gaza, while some others were carrying coffins covered with Palestinian flags symbolic of dead Gazans.
Shouting anti-Israeli slogans and urging the international community to act for Palestine, protesters condemned the silence of the world leaders over the Gaza tragedy.
Full report at:
http://www.worldbulletin.net/headlines/141403/pro-palestine-demonstrators-march-in-geneva-and-germany
-----------
URL: https://www.newageislam.com/islamic-world-news/new-age-islam-news-bureau/sunnis-demand-action-against-maulana-who-wrote-to-saudi-govt/d/98316