New Age Islam News Bureau
17 September 2022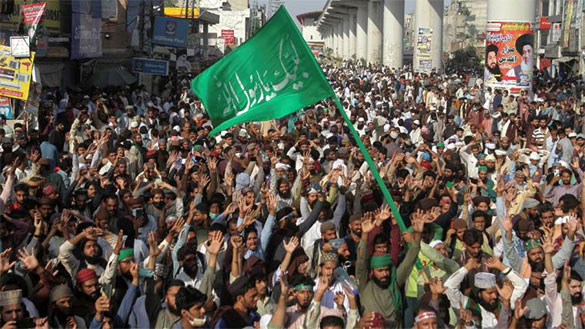 Photo: Crisis Group, Brussel
-----
• Calls By a Number of UK Lawmakers and Islamic Bodies Mount for Banning Anti-Muslim Hindu Nationalist from UK Visit
• Afghan Insurgent Leader, Ahmad Massoud, Calls for New Anti-Taliban 'Political' Front
• Shahi Eidgah Mosque and Krishna Janmabhoomi: Mosque Committee Objects to Creation of Special Court for Hearing Cases
• UAE Foreign Minister Meets with Israel's Netanyahu, Other Politicians
Pakistan
• Pakistan Faces TTP, JeM Hurdle in Exiting FATF Grey List
• Peace Talks with TTP Not Halted Despite Surge In Terrorist Attacks In KPK: Pak Official
• 16m children hit by 'super floods' in Pakistan, says UNICEF
• Ex-GB judge Rana Shamim disowns 'controversial' affidavit
--------
Europe
• How Arb'aeen Fosters a Common Identity between Iraqis and British Shia Muslims
• Saudi Crown Prince Mohammed bin Salman set to attend Queen Elizabeth's funeral
• SCO summit: Putin, Xi call for new intl. order as Iran's full membership confirmed
--------
South Asia
• 90 Pc Afghans in Online Poll Supports Reopening Girls' Schools As Taliban Blames Parents For Closure
• US Establishes Trust with $3.5B in Frozen Afghan Funds to Skirt Taliban: Report
• SCO Samarkand Declaration: Inclusive Government 'Critical' for Afghanistan
• Amnesty says six from minority Shia family killed by Taliban in Afghanistan
• Rohingya teenager killed in Bangladesh by mortar fired from Myanmar
--------
India
• Shanghai Cooperation Organisation to Draw Up Unified List of Terrorists, Terror Outfits to Counter the Menace of Terrorism
--------
Arab World
• Israel attacks Damascus airport, five soldiers killed: Syria ministry
• Head of Lebanon's victorious Mayyas dance troupe chides politicians
• Bank holdups snowball in Lebanon as depositors demand their frozen money
• Saudi Arabia's FM discusses bilateral ties in call with new UK FM
• Saudi Arabia's humanitarian project in Yemen clears 1,030 mines in one week
• Türkiye 'neutralizes' 2 YPG/PKK terrorists in northern Syria
--------
Mideast
• Iran's Accession to Permanent Membership of SCO Becomes Official
• Hamas Hails Chilean President's Rejection Of Israeli Envoy's Credentials Over Gaza Killings
• President Rayeesi Calls for Muslims' Unity against Enemies' Plots
• President Rayeesi Urges SCO to Condemn, Confront US Unilateralism
• President Rayeesi: Iran to Continue Resistance against US Bullying
• Iran's supreme leader undergoes surgery after falling 'gravely ill': Report
• Byzantine mosaics discovered under farm in Gaza
--------
Africa
• Muslims Commemorate Arba'een in Nigeria
• IPOB denies killing Ebonyi-born Muslim cleric
• Tunisian president makes new changes to electoral law
--------
Southeast Asia
• Stop the Damaging 'Infidel' Narrative, Says Anwar
• At Malaysia Day celebration, PM says national identity must be defended towards building united Keluarga Malaysia
• Santubong identified as Muslim-friendly tourism spot
--------
North America
• Proposing 'More Benign' World Order, Famed Harvard Scholars Cite Iran's 'Measured' Responses to US 'Escalation'
• Venezuela welcomes home seized crew from seized plane linked to Iran
• US House speaker heading to Armenia following Azerbaijan clashes: Report
• Venezuela seeks to strengthen technological cooperation with Türkiye
Compiled by New Age Islam News Bureau
URL: https://newageislam.com/islamic-world-news/sunni-muslim-deobandi-tehreek-barelvi-labbaik/d/127971
--------
Sunni Muslim Groups Deobandi Tehreek-e-Taliban Pakistan, Barelvi Tehreek-e-Labbaik Pakistan Incite Sectarian Violence: International Crisis Group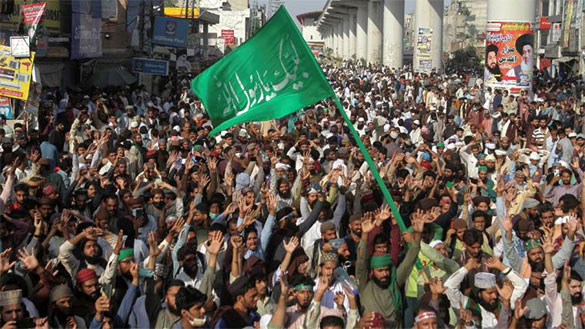 Photo: Crisis Group, Brussel
-----
September 17, 2022
Sunni Muslim groups, the Deobandi Tehreek-e-Taliban Pakistan (TTP), and the rival Tehreek-e-Labaik Pakistan (TLP) that represents the Barelvis, are fomenting sectarian violence across Pakistan.
A just-published study by the Brussels-based International Crisis Group (ICG) on September 5 said that this could grow with the current political acrimony and economic stress which threatens the vast region around Pakistan, reported Islam Khabar.
Titled "A New Era of Sectarian Violence in Pakistan Asia Report" it predicts that the TLP, recognized by the Election Commission of Pakistan as a political party despite its record of violence, could consolidate its political clout and threaten the mainstream political discourse during the elections, as of now due in the summer of 2023.
The report reinforces the conclusion reached by security experts earlier that the TTP, TLP, and other militant groups have become affiliates of the Islamic State Province of Khorasan (ISPK) that have grown out of the tribal belt that straddles Afghanistan and Pakistan to other provinces.
"These two groups are very different and responsible for some of the country's worst inter-communal bloodshed. Sectarian militancy thus extends across the spectrum of Sunni Islamist groups. Muslim minorities, particularly Shias, are deeply vulnerable. Vigilantism is a danger as hardliners mobilise around allegations of blasphemy to gain political clout," said the report.
Sectarian violence is rising and spreading across Pakistan, feeding domestic terrorism and hatred in the region around and the report holds all state institutions responsible for the competitive activities of the Sunni Muslim groups, reported Islam Khabar.
Of the two, the TTP, responsible for 83,000 deaths since 2008, has been defying the Pakistani state and operating with impunity from the Afghan territory with tacit help from the Taliban, the new rulers and ideological comrades.
"The rise of a local Islamic State franchise and the growing influence of a hardline and violent protest movement known as "Labaik" that draws support mostly from Pakistan's Barelvi majority, open a new chapter in the country's sectarian violence, which until recently was driven largely by Deobandi groups," the report says.
While the Pakistan government is struggling to tame the TTP, it has been mollycoddling the TLP, also using it to fight the 'nationalist' groups who demand justice and jobs.
The study seriously faults the Pakistani counter-terrorism approach as mostly reactive, when it should be proactive, because all institutions, from the politicians and the army to the police and the judiciary, are compromised, reported Islam Khabar.
"Pakistan's counter-terrorism approach has achieved short-term successes but neglected long-term strategies to deny civic space to violent sectarian outfits. Government policy has often amplified rather than tamped down sectarian rhetoric. Several senior serving and retired counter-terrorism, intelligence and regular law enforcement officials rightly contend that, in the past, the state has prematurely declared victory over such groups," added the report.
Moreover, the ICG study names mainstream political parties that have covert links with and support from the sectarian bodies whose storm-troopers are used to settle rival political scores and spread fear and mayhem, especially during elections.
From time to time, public forums and even the floors of National and provincial assemblies, are used to spew venom against religious and ethnic minorities, reported Islam Khabar.
Source: Business Standard
Please click the following URL to read the text of the original story:
https://www.business-standard.com/article/international/sunni-muslim-groups-ttp-tlp-incite-sectarian-violence-across-pakistan-122091700136_1.html
--------
Calls By a Number of UK Lawmakers and Islamic Bodies Mount for Banning Anti-Muslim Hindu Nationalist from UK Visit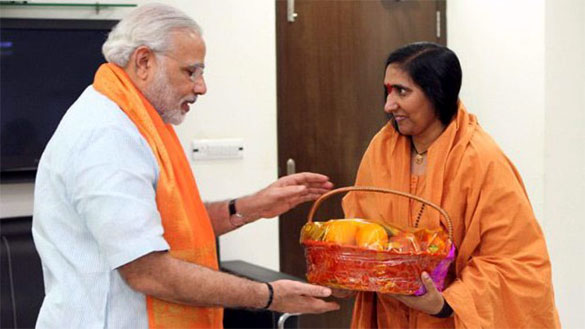 Photo: Press TV/ Modi meets Rithambhara on April 10, 2013. (File photo by narendramodi.in)
----
16 September 2022
A number of UK lawmakers and Islamic bodies have called on the British government to ban Sadhvi Nisha Rithambara, a Hindu nationalist figure, from entering the country on a speaking tour due to her Islamophobic rhetoric.
Rithambara heads the Durga Vahini organization which is the woman's wing of Vishwa Hindu Parishad (VHP). A Hindu nationalist movement, VHP is among the close allies of Indian Prime Minister Narendra Modi's Bharatiya Janata Party (BJP), under whose rule India has witnessed a sharp increase in anti-Muslim violence and hatred.
According to reports, Rithambara is set to pay visits to temples in Birmingham, Bolton, Coventry, Nottingham, and London from September 20 to 24.
International rights groups have warned that anti-Muslim air in India could even escalate further.
They have accused Modi's governing party of looking the other way and sometimes enabling hate speech against Muslims, who comprise a 14% minority in India's 1.4 billion population but are still numerous enough to be the second-largest Muslim population of any nation.
UK MPs urge ban on Rithambara
Two labor lawmaker Sam Tarry and Yasmin Qureshi have voiced their opposition to Rithambara's tour in the UK.
"Sadhvi Rithambara is a hugely divisive figure, known for her xenophobic speeches and rhetoric, in particular against the Muslim community in India," Tarry wrote in a letter cited by the Middle East Eye.
Noting that Islamophobic rhetoric has no place in Ilford, one of the planned destinations of the Hindu figure, Terry said he was "deeply worried about the potential stoking of communal tensions, should her visit be allowed to progress."
A report suggests that her visit to Ilford Hindu Centre has been already canceled but she could still plan to speak at a different venue.
Qureshi also cited academics as describing Rithambara as "the single most powerful instrument for whipping up anti-Muslim violence in India."
Muslim Engagement and Development (MEND), a Muslim advocacy group, expressed concern over the Hindu figure's imminent visit.
"We are deeply concerned that Sadvhi Rithambara will jeopardize the present harmony in the UK between Hindu and Muslim populations and believe that her hateful and Islamophobic rhetoric has no place within our multicultural and diverse communities," said Aman Ali, a spokesperson with MEND.
History of inciting violence against Muslims
Rithambara was arrested by Indian police over accusations that she had incited communal violence that led to the demolition of the historic Babri Masjid in 1992 and the death of 2,000 Muslims in India's northern Uttar Pradesh state.
According to a 17-year investigation commissioned by the Indian government into the Babri Mosque demolition, Rithambhara had been named in 2009 among several people guilty of leading the country "to the brink of communal discord."
However, a special court in 2020 acquitted all those accused of the destruction of the mosque, citing a lack of evidence.
Source: Press TV
Please click the following URL to read the text of the original story:
https://www.presstv.ir/Detail/2022/09/16/689325/Calls-mount-banning-Islamophobic-Hindu-figure-from-UK-visit
--------
Afghan Insurgent Leader, Ahmad Massoud, Calls for New Anti-Taliban 'Political' Front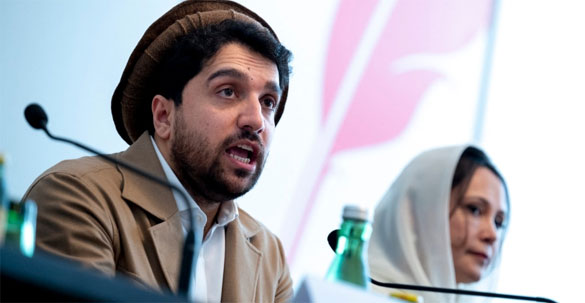 Ahmad Massoud, leader of the National Resistance Front of Afghanistan, and Aliya Yilmaz, Afghan women's rights activist, speak to journalists at Concordia Press Club, on the occasion of the intra-Afghanistan conference, in Vienna, Austria, Sept. 16, 2022.
-----
September 16, 2022
Afghan insurgent group leader Ahmad Massoud on Friday urged the diaspora to unite to find a "political" solution to end Taliban rule, describing his appeal as the beginning of a "new phase".
Massoud, who heads the National Resistance Front (NRF), an armed group waging an insurgency in Afghanistan's northern Panjshir Valley, said it was time to try to bring the Taliban back to the negotiating table.
"We want to unify the diaspora... and slowly expand the dialogue and reach to the point where we have a roadmap for the future of Afghanistan," he told a conference in Vienna.
"We are in the very beginning of a new phase," he said.
The Vienna conference brought together some 30 Taliban opponents, mostly living in exile.
Many groups recently formed outside Afghanistan were "not happy" with the current state of affairs inside the country, Massoud said, adding it was time to overcome differences and "heal the wounds".
The Taliban's takeover after US-led forces withdrew last year has set back women's rights and created fertile ground for terrorist groups, he said.
Massoud is the son of legendary anti-Soviet and anti-Taliban fighter Ahmad Shah Massoud.
The elder Massoud, known as the Lion of Panjshir, was assassinated in 2001 by Al-Qaeda, two days before the September 11 attacks in the United States.
His son has since picked up the mantle against Taliban forces, repeatedly denouncing the Islamist regime as "illegitimate".
NRF forces announced an offensive against the Taliban in May, and fighting has flared up again this month.
"Our aim has never been to strengthen the war but to end the war," Massoud said, calling for international support at a time where global attention is focused on Ukraine.
On Tuesday the Taliban said their forces had killed at least 40 NRF fighters.
A day later, the Islamist group said they were "looking into" a video circulating on social media that the NRF says shows some of its fighters being executed.
"This is unacceptable, and this is against all international laws," Massoud said.
Source: Dawn
Please click the following URL to read the text of the original story:
https://www.dawn.com/news/1710418/afghan-insurgent-leader-calls-for-new-anti-taliban-political-front
--------
Shahi Eidgah Mosque and Krishna Janmabhoomi: Mosque Committee Objects to Creation of Special Court for Hearing Cases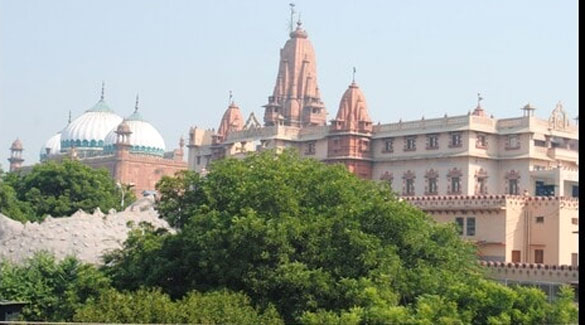 There are different petitioners in various cases filed on issue of Sri Krishna Janmabhoomi in Mathura courts. (HT file)
----
Sep 16, 2022
The Shahi Eidgah mosque management committee on Friday filed its objection in the court of the district judge, Mathura, against the application moved by Hindu petitioners to transfer all the cases related to Sri Krishna Janmabhoomi issue in Mathura to a special court after clubbing them. The court fixed October 7 for reply to be filed by Uttar Pradesh Sunni Central Waqf Board—another respondent in the case which is yet to appear in the court.
Hindu petitioners in one of the cases related to the Sri Krishna Janmabhoomi issue had earlier moved a transfer application on July 15, 2022 in the court of the district judge, Mathura, seeking the formation of a special court to hear all the cases related to Sri Krishna Janmabhoomi and Shahi Eidgah mosque— similar to the one created for cases related to Ayodhya. Around 12 cases have been filed over this issue in the Mathura court since September 2020.
"There is a provision under section 24 of the Civil Procedure Code where a case can be transferred from a court which, because of excess work, is unable to hear the matters pending before it. There are a dozen cases related to the Sri Krishna Janmabhoomi matter in the Mathura court. These cases need speedy disposal but it has not been possible due to excess work," said Rajendra Maheshwari, petitioner and counsel in case no 950 of 2020.
"There had been orders from the high court of Allahabad and district judge court in Mathura for expediting the hearing of cases but still almost all the cases are in preliminary stages despite being filed since September 2020 and thus some steps need to be taken," Maheshwari added.
"There has been a precedent of constituting a special court dedicated to an important issue like Ayodhya and a similar arrangement could be done for disposal of dozen cases filed over the Sri Krishna Janmabhoomi issue in the Mathura court," he said.
"The transfer application filed by petitioners is not legally maintainable and is liable to be dismissed. The court of civil judge (senior division) is conducting speedy and proper hearing for battery of the cases filed on issue and it is rather petitioners themselves who are filing baseless applications and adjournments to delay disposal of cases" said Tanveer Ahmed, the counsel and secretary, Intezamia Committee, Shahi Eidgah Mosque in Mathura, while appearing in the court on Friday.
"On July 21, 2022, the court of civil judge (senior division), Mathura, had ordered day to day hearing on application under Order 7 Rule 11 filed from July 25, 2022 while categorically stating that no adjournments will be allowed in the case till the hearing is completed. It was the petitioners who moved the adjournment application on July 25, 2022 to hinder the hearing and did not comply with the orders of the court," Ahmed added.
"Besides, there are different petitioners in various cases filed on issue of Sri Krishna Janmabhoomi in Mathura courts and none has expressed consent to such clubbing of cases or for hearing in special court. Rather, one of the Hindu petitioners has objected to the idea which, in fact, is another delaying tactics by Hindu petitioners not interested in arguing on the application filed under order 7 Rule 11 of Civil Procedure Code," he said.
Source: Hindustan Times
Please click the following URL to read the text of the original story:
https://www.hindustantimes.com/cities/lucknow-news/krishna-janmabhoomi-mosque-committee-object-to-creation-of-special-court-for-hearing-cases-101663350602336.html
--------
UAE Foreign Minister Meets With Israel's Netanyahu, Other Politicians
UAE Foreign Minister Sheikh Abdullah bin Zayed and former Israeli Prime Minister Benjamin Netanyahu. (WAM)
-----
16 September, 2022
The UAE Foreign Minister Sheikh Abdullah bin Zayed met with Israeli politicians, including former Prime Minister Benjamin Netanyahu during a visit to Tel Aviv, state press agency WAM reported on Friday.
Sheikh Abdullah's visit comes just days after the countries celebrated two years since their signing of the US-led Abraham Accords which marked a turning point in bilateral relations between Israel and the UAE.
During his meeting with Netanyahu, the politicians reportedly discussed the growing cooperation between the two countries since the signing of the accords in 2020.
The UAE top diplomat said that over the course of two years the countries provided "a model to be emulated for constructive and fruitful cooperation at all levels," WAM reported.
Netanyahu said that the "UAE-Israel cooperation has witnessed a remarkable development over the past two years in several fields," WAM added.
The UAE foreign minister also met with Minister of Finance of Israel Avigdor Lieberman during his visit to Tel Aviv and Minister of the Interior Ayelet Shaked.
Source: Al Arabiya
Please click the following URL to read the text of the original story:
https://english.alarabiya.net/News/middle-east/2022/09/16/UAE-foreign-minister-meets-with-Israel-s-Netanyahu-other-politicians
--------
Pakistan
Pakistan faces TTP, JeM hurdle in exiting FATF grey list
16 September, 2022
Islamabad [Pakistan], September 16 (ANI): The UN's anti-terrorism watchdog – the Financial Action Task Force (FATF) – will meet next month to evaluate not just enacting of laws and their enforcement, but also individuals and terror groups suspected to be the beneficiaries in Pakistan, reported local media.
Meanwhile, Pakistan is scrambling to play down the rebellious Tehreek-e-Taliban Pakistan (TTP)'s marauding of innocent civilians in the Swat Valley, but also convince the FATF that Jaish-e-Muhammad (JeM) chief, Masood Azhar, is absconding and is not being sheltered on Pakistan territory, reported Islam Khabar.
Pakistan's record on the flow of funds into terrorist activities has been under sustained scrutiny by FATF which has placed it on the 'grey' list since 2018.
Pakistan has to explain not only Azhar but also the role of his chief aide, Sajid Mir, besides others who conduct their activities in and out of Pakistan in a shadowy manner.
For form's sake, Islamabad has sent a formal letter to Kabul, ruled by an intransigent Taliban group, to locate Azhar. But it can expect no cooperation for a simple reason: Kabul is not obliged to help Islamabad and it is not affected by the FATF scrutiny, reported Islam Khabar.
Indeed, the entire Afghanistan-Pakistan region is a hotbed of terrorist activity and its massive financing, partly from the huge quantities of narcotics that Afghanistan produces year after year, irrespective of who rules in Kabul.
Of course, both nations deny the presence of any terrorist group, when affiliates of Al Qaida and Islamic State – Province of Khorasan (ISPK) are having a field day.
As for the TTP, it has claimed responsibility for nearly 13 attacks in the tribal areas since September 2, leaving nobody in doubt of its growing clout, continued defiance of the government and tacit support it enjoys from the Kabul regime.
On the TTP's role, Dawn newspaper (September 14, 2022) referred to a debate in Khyber Pakhtunkhwa provincial assembly when lawmakers "pointed to the rising incidents of gun attacks, targeted killings and extortion in the sensitive area, while it was also said that militants were roaming around freely in parts of the province."
The FATF sent a team this month to see on-the-ground enforcement of the measures against money laundering. On return from the visit, it reported that Pakistan's capability to enforce the anti-terror measures remains 'low,' Pakistani newspapers reported last week, reported Islam Khabar.
In an editorial (September 14, 2022), Dawn newspaper linked FATF and militancy and noted that Pakistan's level of effectiveness is "low" on 10 of 11 anti-money laundering and combating the financing of terror goals, even though the country is compliant with 38 out of 40 technical recommendations."
With Pakistan facing multiple crises, the newspaper demanded transparency on dealing with the FATF as it "simply cannot afford to ignore this matter, as being put back on the grey list will impact the country's ability to attract foreign investment and trade freely with the world."
Source: The Print
Please click the following URL to read the full text of the original story:
https://theprint.in/world/pakistan-faces-ttp-jem-hurdle-in-exiting-fatf-grey-list/1130728/
--------
Peace talks with TTP not halted despite surge in terrorist attacks in KPK: Pak official
16 September, 2022
Peshawar, Sep 16 (PTI) The Pakistan government's peace talks with the banned Tehreek-e-Taliban Pakistan terror outfit have not been stopped despite a rise in terrorist attacks in the militancy-hit Khyber Pakhtunkhwa province, a senior official said on Friday.
Special Assistant to Chief Minister Khyber Pakhtunkhwa for information and Public Relations barrister Muhammad Ali Saif said members of the Tehreek-e-Taliban Pakistan (TTP) resorted to terror activities during the ceasefire period, prompting the provincial government to initiate action against the banned outfit.
The Pakistani government and the TTP agreed in June to extend a ceasefire indefinitely while continuing negotiations to find an end to the nearly two decades of militancy.
Though the outlawed militant outfit agreed to a ceasefire, it had said that it would not back down from its demand for the reversal of the merger of erstwhile Federally Administered Tribal Areas with the Khyber Pakhtunkhwa (KPK) province.
Saif said the law enforcement agencies are working against complaints pertaining to growing incidents of kidnapping for ransom that have been reported in the province in the recent past.
According to Khyber Pakhtunkhwa Home Department, as many as 113 incidents of terrorism, including 15 grenade attacks and seven target killings, have been reported in the province in the last three months.
A total of 44 people have been killed while 67 terrorists were eliminated in counterterrorism operations in the last three months in the restive province.
The incidents of money extortion have also seen a surge with 39 cases reported recently in the province while the number of unreported incidents is much higher.
The TTP Swat chapter has warned of launching more attacks in the Swat district against rich people, local politicians, security forces and members of the peace committees.
Meanwhile, scores of representatives of Swat have moved along with their families to Islamabad and Peshawar due to fear of money extortion calls.
The local people in Swat, Buner and Dir districts of the Malakand division have also conducted demonstrations in the wake of the re-emergence of the TTP in their districts.
The TTP, also known as the Pakistan Taliban, was set up as an umbrella group of several militant outfits in 2007. Its main aim is to impose its strict brand of Islam across Pakistan.
The group, which is believed to be close to Al-Qaeda, has been blamed for several deadly attacks across Pakistan, including an attack on army headquarters in 2009, assaults on military bases and the 2008 bombing of the Marriott Hotel in Islamabad.
Pakistan has been fencing the 2,600-km border with Afghanistan since 2017 to end terrorist infiltration and smuggling, despite intense opposition from the neighbouring country.
Besides the erection of a fence, the project also includes the construction of border posts and forts, and the raising of new wings of the Frontier Corps, the paramilitary force that guards the border.
When the Taliban returned to power last year, Pakistan hoped that the new dispensation would deal with these terrorist groups. Despite promises, the Taliban have not yet taken decisive action to fulfil their commitments, which has frustrated the Pakistani government.
Source: The Print
Please click the following URL to read the full text of the original story:
https://theprint.in/world/peace-talks-with-ttp-not-halted-despite-surge-in-terrorist-attacks-in-kpk-pak-official/1131002/
--------
16m children hit by 'super floods' in Pakistan, says Unicef
Amin Ahmed
September 17, 2022
ISLAMABAD: The United Nations International Children's Emergency Fund (Unicef) representative in Pakistan has said that an estimated 16 million children have been impacted by 'super floods' and at least 3.4 million girls and boys remain in need of immediate, lifesaving support.
In a statement issued here on Friday, Abdullah Fadil, who recently concluded a two-day visit to the flood-affected areas of Sindh, said the situation was extremely grim in flood-hit areas with malnourished children battling diarrohea, dengue fever and several painful skin diseases.
Mr Fadil said floods had now claimed the lives of at least 528 children and each and every one of these deaths was a tragedy which could have been averted.
As the magnitude of flood disaster continues to unfold, international aid continues to trickle in. The Japanese government on Friday announced US$7 million while the Canadian government pledged $3m Canadian dollars for the flood-hit people.
Japan announces $7m, Ottawa pledges $3m Canadian dollars for flood-hit people
"The sad reality is that without a massive increase in support and aid, many more children will lose their lives," the Unicef representative said.
In pictures: Devastating floods affect millions in Pakistan
"A lot of the mothers are anemic and malnourished themselves and have very low-weight babies. Mothers are exhausted or ill and they are unable to breastfeed. Millions of families have been forced from their homes, now living with little more than rags to protect themselves from the scorching sun as temperatures in some areas pass 40 degrees Celsius.
"Many families have been forced to seek shelter on slivers of higher ground, often alongside roads putting children at risk, as lower land is covered by huge expanses of stagnant water, extending as far as the eye can see. The additional threats of snakes, scorpions and mosquitoes are ever-present in the area," Mr Fadil said.
"Whilst the number of children lost in these floods continues to grow, Unicef is doing everything it can to support children and families affected and protect them from the ongoing dangers of water-borne diseases, malnutrition and other risks," he added.
Japanese, Canadian aid
The Japanese government decided on Friday to extend emergency grant aid of $7 million to Pakistan in response to damages caused by flood disaster.
Of the $7m, World Food Programme will get $2.5m for food; IOM $1.5m for shelter and non-food items; Unicef $1m for water, sanitation and hygiene; UNHCR $1m for protection, non-food items; and International Federation of Red Cross and Red Crescent Societies $1m for health and medical care, the statement said.
The Canadian government has announced to match individual donations up to a total of 3m Canadian dollars through the Humanitarian Coalition of 12 charitable organisations collecting funds and donations in Canada in response to flooding in Pakistan.
Meanwhile, over 90,000 people were treated for infectious and water-borne diseases in a day in flood-hit areas of Sindh, government data showed on Friday, as the total death toll from the inundations surpassed 1,500.
Source: Dawn
Please click the following URL to read the full text of the original story:
https://www.dawn.com/news/1710501/16m-children-hit-by-super-floods-in-pakistan-says-unicef
--------
Ex-GB judge Rana Shamim disowns 'controversial' affidavit
Malik Asad
September 17, 2022
ISLAMABAD: In a major turn of events, former Gilgit-Baltistan (GB) chief judge Rana Muhammad Shamim has completely disowned his controversial affidavit that accused former chief justice of Pakistan (CJP) Saqib Nisar of manipulating judicial proceeding to delay the release of Nawaz Sharif and Maryam Nawaz through a judge of the Islamabad High Court (IHC).
Earlier on Sept 12, Mr Shamim had partially backtracked from the contents of his affidavit executed in Nov 10 last year, stating that not a single sitting judge of the IHC was involved in the controversy and submitted an unconditional apology to the high court. He had however stood by his allegations against former CJP Nisar.
He submitted an unconditional apology in an affidavit submitted on Friday in response to the contempt of court proceedings initiated against him following publication of his earlier affidavit in an English daily in Nov 2021.
IHC Chief Justice Athar Minallah had on Sept 12 directed Mr Shamim to submit an unconditional apology in an affidavit.
Rana Shamim files fresh affidavit withdrawing from contents of 'incorrect' document of Nov 2021; submits unconditional apology to IHC
In the document filed on Friday, Mr Shamim again apologised, disowned his own 'controversial' affidavit and withdrew from its contents.
It may be mentioned that in the earlier affidavit, Mr Shamim had stated that Justice Nisar made a phone call to a judge of the IHC, asking him to delay the release of Nawaz Sharif and Maryam Nawaz until the July 2018 general elections.
The affidavit filed on Friday stated: "I tender unconditional apology for an affidavit which was neither correct nor required… I regret rather apologise for an incorrect affidavit where the name of an honorable judge was mistakenly and unintentionally mentioned. I further regret and apologize for my grave mistake which should never have happened."
It further said: "The wrong and incorrect mention of a judge of this honorable court in affidavit dated 10th Nov 2021 was due to my glaring misunderstanding and unintentional mistake. Hence, I withdraw from the contents of the said affidavit. I profusely apologize for the wrong [and] unnecessary affidavit."
The ex-GB chief judge placed himself at the mercy of the IHC.
However, in the apology tendered on Sept 12, the former GB chief judge stated: "The contents of the affidavit emanate from the sitting in which myself, my late wife, former CJP Justice Saqib Nisar along with his wife were present at my official residence when I was Chief Judge of Gilgit-Baltistan Supreme Appellate Court... former CJP on the first day of their stay while taking tea in the lawn of my residence, was trying to get connected with someone time and again but when the said person could not be connected he directed his registrar to go and see him at his residence and tell him that Mian Nawaz Sharif and Maryam Nawaz Sharif should not come out on bail."
He had further said: "Since he could not be connected, therefore he directed the registrar to call him on WhatsApp as soon as possible. After some time, the then CJP was connected to the person, he talked for [a] few minutes; thereafter he felt relaxed and said that he has spoken to the senior puisne judge and demanded another cup of tea."
Source: Dawn
Please click the following URL to read the full text of the original story:
https://www.dawn.com/news/1710532/ex-gb-judge-rana-shamim-disowns-controversial-affidavit
--------
Europe
How Arb'aeen Fosters a Common Identity between Iraqis and British Shia Muslims
By Zahra Ladha
16 September 2022
In early September, against the backdrop of deadlocked attempts to form a government and periodic civil unrest in Iraq, British Shia Muslims travelled to the southern Iraqi cities of Najaf, Karbala and Samarra, joining millions of others from around the world to commemorate Arbaeen.
The religious occasion marks the fortieth day of mourning of the anniversary of Ashura, the day on which Hussein ibn Ali, the third Shia imam and the grandson of the Prophet Muhammad, was killed at the Battle of Karbala, nearly 1400 years ago.
Hussein had refused to pay allegiance to the new Umayyad caliph, Yazid ibn Muawiyah, who he believed was acting against the ideals of Islam. As Hussein and his family attempted to travel towards Kufa in modern day Iraq, they were surrounded by the Umayyad army.
Hussein's camp was cut off from water supplies and almost all of the 72 male friends and family members who had accompanied him on his journey to Kufa were killed, while the women and children were taken captive.
The event played a formative role in the creation of the Shia identity, in which opposing injustice and oppression has become a key ideal.
Since the fall of former Iraqi president Saddam Hussein in 2003, there has been a resurgence of previously restricted Shia mourning rituals. Karbala, Najaf and Samarra have drawn a steadily increasing number of visitors, and now play host to Islam's largest annual pilgrimage, known in Arabic as the ziyara.
In 2019, the number of pilgrims taking part in Arabeen commemorations reportedly exceeded 14 million. Even more are expected this year, despite the volatile political situation in Iraq.
Braving the risks
Since the escalation of the ongoing protest movement in Iraq, the UK has advised its citizens against all but essential travel to the country.
Even before the current unrest, however, British Muslims, alongside pilgrims from elsewhere, have travelled to Iraq despite the political instability and the threat posed by organisations like the Islamic State (IS) group, which targeted Shia Muslims in bomb attacks.
Nabeela Zaman, a British Shia of Bengali heritage, travelled to the southern shrine cities during Ashura in 2022.
"It's not something I even looked at," she said when asked whether the political situation made her reconsider her travel plans.
What drives her, and others, is the feeling that by visiting the shrines, they are serving a higher purpose.
Zaman said: "The ziyara is not like Hajj, it's not an obligation. But I feel – and I think many feel – that when we go for ziyara, we've been called there by a higher power.
"For many, it is a once in a lifetime opportunity and that is why we don't let anything stop us."
That's a sentiment echoed by British Indian Muslim, Mohsen, who spoke of an incident 2007, in which his tour group narrowly escaped an explosion.
"People were scared, but it didn't stop us from coming back," he said. "We have love for Imam Hussein. Nothing will stop us from coming back."
The targeting of Shia pilgrims by IS and al-Qaeda members has in some cases made pilgrims more resolved to continue.
Discussing her experience of visiting the Hassan al-Askari shrine in Samarra in 2009, after it had been desecrated by al-Qaeda insurgents in 2006 and 2007, Nabeela Zaman said: "I remember how it felt, seeing the shrine like that. It makes you more determined to come back."
"In 2017, there was no change in the number of pilgrims we took to Karbala," said Romana, a volunteer with the UK branch of Spiritual Guides, a tour company organising pilgrimage trips to Iraq, adding: "Daesh [IS] was at the height of its power, and pilgrims were still committed to coming to Iraq".
Historic dangers
The pilgrimage to Shia shrines in Iraq has long been fraught with risk for both locals and foreigners.
Under Saddam's rule, foreign pilgrims were heavily monitored by the state. Fearing a Shia political revolution in Iraq that would mirror that of Iran's, the Baathist government kept a watchful eye on all pilgrims to the shrine cities.
Yasmin, who travelled to Iraq extensively during the 1990s, recalled her experience in Karbala and Najaf, saying: "You were never allowed to be in the shrines alone. Two government guards were always watching you. You felt monitored. Even prayer books which contained pictures of the Marja (spiritual guides) were banned."
British nationals who were not of Iraqi origin were also detained by Saddam's government.
Mulla Asghar, a prominent figure in the global Khoja community, was arrested on one of his ziyara trips, where he was held in a Baghdad jail for three months, until international pressure forced his release.
Despite this, both under Baathist rule and post-Saddam Iraq, foreign pilgrims have remained comparatively insulated from the political and security threats faced by Iraqi citizens.
For Iraqis, the risks were much greater. Mulla Asghar spoke of meeting Iraqi prisoners who had been held at the notorious Abu Ghraib prison for over 10 months, charged with the crime of frequent visitation to the shrines.
Since the fall of the Baathist government, pilgrimages have grown in scale as fear around repercussions for Shia religious observance has melted away.
Given the religious and cultural significance of the shrines in Iraq, and the vital role religious tourism plays in Iraq's national economy, significant measures have been taken to protect the pilgrimage routes, particularly for foreign visitors.
Many foreign pilgrims fly directly into Najaf, and those who fly to Baghdad are often provided with security until they reach the south of Iraq.
According to the British ziyara tour guides that spoke to Middle East Eye, the Office of Ayatollah Sistani will frequently provide private security for pilgrims who travel to Samarra, and the shrines themselves are protected by armed wings of various political groups in the country.
In a similar vein, Iraq's energy crisis - in which widespread power cuts spark frequent protests in the summer months - has had a minimal impact on foreign pilgrims. Equipped with expensive private generators, local hotels do not experience the frequent power cuts that plague wider Iraqi society.
Connecting with Iraqis
The relative insulation from the Iraqi political climate enjoyed by foreign pilgrims has not precluded the development of strong ties between Iraqi citizens and non-Iraqi British Shia pilgrims.
The British Shia population, a significant proportion of which has South Asian origins, and remains ethnically and linguistically distinct from Iraq, finds itself increasingly connected to Iraq in more than just a religious capacity.
The Arbaeen commemorations carried out in the south of Iraq include an 80km walk from the shrine of the first Shia Imam Ali ibn Abi Talib in Najaf to the shrine of Hussein in Karbala.
Iraqis living on the road towards Karbala will open their homes to pilgrims, inviting them to rest in their houses.
Yasmin, who has attended the Arbaeen walk annually for the last decade, told Middle East Eye: "I've never experienced anything else like it. Whenever I go, it feels like I am coming home."
The growing centrality of the Arbaeen walk, and Iraqi culture, in the commemoration of Hussein's death is highlighted by the replication of the walk by communities in Britain.
This year, Hyderi Islamic Centre, a Shia mosque in London, recreated the Arbaeen walk in its neighbourhood, depicting the trajectory of the walk for those who were unable to travel to Iraq.
Walkers encountered different Mawkibs present on the route - these are stations that provide food, medical services and shelter to pilgrims on the route to Karbala, as well as traditional Iraqi food that is often served to pilgrims on the walk.
The effect of these experiences on the visiting populations is demonstrated by the extent to which fundraising for charitable organisations in Iraq has become a mainstay of the British Shia experience.
During Ramadan and Muharram, British Shia communities, most of which are non-Iraqi in origin, will fundraise to aid programmes in Iraq.
Particularly among the British South Asian Shia diaspora, fundraising for aid groups in Iraq will often take precedence over fundraising campaigns for aid in their countries of origin.
These funds are not channelled exclusively towards Iraq's Shia community.
British charities such as the Zahra Trust have worked across Iraq, distributing food, heaters, and clothing to vulnerable communities, as well as supporting the building of water wells in remote locations.
Other British Shia Muslims have travelled frequently to Iraq in times of unrest to provide medical aid in the southern governorates during Ashura and Arbaeen.
Romana has travelled to Iraq annually since 2004 in order to provide medical assistance to those in need. Addressing the motivation behind her decision to offer such help in Iraq, Romana said: "We are connected to Iraq through our love for Imam Hussein, but it is also wider than that. Our love for Imam Hussein also connects us to this community."
She emphasised that her support of the Iraqi population was not limited to one community but also extended to others that make up the social fabric of the country.
During the defence of Najaf and other shrine cities, members of other religious communities had fought alongside Shia fighters against Islamic State group.
Referencing the 2016 IS advance towards Najaf, she said: "I have worked with a lot of orphanages in Iraq. The parents of these children, who were not only Shia but from a range of faiths, fought IS, they defended Iraq, and they defended the shrines, because Ayatollah Sistani asked them to. Irrespective of their religious denomination, it is their right to expect support from us."
Others who have participated in Arbaeen in the south of Iraq spoke of the unifying power of the ziyara.
"It's incredible. You meet people from every part of the world. China, Indonesia, Pakistan, the Middle East… and you're all connected," said Yasmin. "You are connected because you are walking to the same place with the same objective".
Source: Middle East Eye
Please click the following URL to read the full text of the original story:
https://www.middleeasteye.net/discover/iraq-uk-arbaeen-how-fosters-common-shia-indentity
--------
Saudi Crown Prince Mohammed bin Salman set to attend Queen Elizabeth's funeral
16 September 2022
Saudi Crown Prince Mohammed bin Salman (MBS) is set to travel to the UK to participate in the funeral ceremony of Queen Elizabeth II and deliver his condolences to the Royal Family.
The details of MBS's visit remain unknown but according to a Friday report by The Guardian, his attendance at the funeral might "represent an unacceptable security threat" due to the protests his presence may provoke.
It will be the Saudi crown prince's first visit to the UK since the assassination of Saudi dissident journalist Jamal Khashoggi, who was brutally murdered at the kingdom's consulate in Istanbul almost four years ago.
At the time, the UK government imposed travel bans on a group of courtiers close to the crown prince due to their involvement in the assassination.
However, the prince himself did not go under any sanctions by the British government, in spite of a US intelligence report, which concluded that bin Salman was directly responsible for Khashoggi's murder.
UK bans Chinese officials from attending Queen's funeral
The reports about the infamous Saudi crown prince's visit to the UK come as the Chinese delegation has been banned from seeing the queen's coffin at Westminster Hall in London.
Speaker of the House of Commons Sir Lindsay Hoyle has refused a request from the delegation to attend the funeral ceremony due to sanctions China has imposed on British citizens.
Relations between Beijing and London are at odds, with a group of UK MPs expressing concerns that Chinese President Xi Jinping has been invited to the state funeral on Monday.
Queen Elizabeth II, Britain's longest-reigning monarch, died at the age of 96, and her son Charles III proclaimed the throne.
Her passing led to an outpouring of grief in the West. It also revived the British monarchy's colonial legacy, with people across the world seeing her as a symbol of an institution that thrived through violence, oppression, and theft.
The anti-monarchy chorus is growing louder in the United Kingdom with a spate of arrests by security agencies in recent days drawing condemnation from the country's civil liberties campaigners.
Source: Press TV
Please click the following URL to read the full text of the original story:
https://www.presstv.ir/Detail/2022/09/16/689337/Saudi-Arabia-crown-prince-attend-Queen-Elizabeth-funeral
--------
SCO summit: Putin, Xi call for new intl. order as Iran's full membership confirmed
16 September 2022
Russian and Chinese presidents have urged for re-shaping the international order at the latest Shanghai Cooperation Organization (SCO) summit which also saw the full-fledged accession of Iran to the organization signed by members.
Addressing the event on Friday in the Uzbek city of Samarkand, Russian President Vladimir Putin lauded the increasing influence of countries outside the West.
"Our integration is of a non-bloc nature, and we offer assistance in solving energy and food problems that emerge in the world, arising from a number of systemic mistakes in leading global economies in the area of finance and energy," TASS quoted him as saying.
"Hopefully, other participants in economic cooperation will build their policy on the same principles as well, and stop using the tools of protectionism, illegal sanctions and economic egoism opportunistically," the Russian president added.
"The growing role of new centers of power who cooperate with each other... is becoming more and more clear," Putin added.
The summit marked the first face-to-face meeting between Putin and Xi since the start of the conflict in Ukraine, and also the Chinese leader's first trip abroad since the early days of the coronavirus pandemic.
President Xi also urged regional countries to reshape the international system and "abandon zero-sum games and bloc politics."
He noted that leaders should "work together to promote the development of the international order in a more just and rational direction."
The SCO – made up of China, India, Pakistan, Russia, and the ex-Soviet Central Asian nations of Kazakhstan, Kyrgyzstan, Tajikistan, and Uzbekistan – was set up in 2001 as a political, economic and security organization to rival Western institutions.
SCO declaration and Iran's accession
At the end of the summit, member states released a declaration saying a memorandum of Iran's commitments was signed for the purpose of the country's accession to the SCO as a full-fledged member-state.
Iran and the organization started a formal process for Tehran's accession to the bloc in March. Iran's membership in the body was later approved by the Iranian administration.
At its 21st summit in Tajikistan's capital city of Dushanbe in September 2021, the SCO approved documents for Iran's full membership in the Eurasian political, economic, and security alliance.
In a tweet on Wednesday, Iranian Foreign Minister Hossein Amir-Abdollahian announced that he had signed a memorandum of commitment to join the organization.
SCO expansion to boost regional security
The declaration also noted that the expansion of the SCO will contribute to ensuring security and stability in the region.
"The member-states emphasized the idea that the expansion of the SCO and the further deepening of cooperation with the observer states, the SCO's dialogue partners and international associations will build up the organization's potential and contribute to further enhancing its role in the international scene as a multilateral mechanism for solving urgent problems of our time, ensuring security, stability and sustainable development in the region," reads the declaration.
The declaration welcomed the decision to grant the status of SCO dialogue partners to Bahrain, Maldives, Kuwait, the UAE, and Myanmar while also announcing that documents for giving the same status to Egypt, Saudi Arabia, and Qatar have been signed.
Source: Press TV
Please click the following URL to read the full text of the original story:
https://www.presstv.ir/Detail/2022/09/16/689331/Putin-Xi-call-new-intl-order-Iran-full-accession-SCO-confirmed
--------
South Asia
90 pc Afghans in online poll supports reopening girls' schools as Taliban blames parents for closure
17 September, 202
Kabul [Afghanistan], September 17 (ANI): About ninety per cent of voters in Afghanistan supported the reopening of schools for girls beyond grade six, and 10 per cent opposed the decision, as per an online poll conducted by Afghanistan's local media outlet TOLO news.
This comes as the Taliban-led education minister said that girls' schools have remained closed due to cultural reasons and that families themselves do not agree to send their daughters to schools.
These comments by the Taliban leader have invoked strong reactions. This 24-hour poll on the reopening of girls' schools across Afghanistan was launched on TOLOnews' Facebook and Instagram pages.
More than 34,100 people voted on Facebook. To be precise 89.7 per cent supported the opening of girls' schools, and 10.3 per cent were against it, reported Tolo News.
On the other hand, on Instagram, 9,820 (92 pc) users participated with 8,998 (92 pc) voting for girls' schooling, 452 (5 pc) not supporting, and 371 (3 pc) saying they had no opinion.
"None of the Afghan citizens is against the rights of education and girls' taking part in schools, the small number of votes negatively in the poll have some considerations and concerns which can be solved," said Maryam Maarof Arwin, a women's rights activist.
It is not just the activists who are raising their voices against the diktat. A number of students have said that the closure of schools is no longer tolerable and called for clarification regarding the schools. "We need our schools to be opened. Afghan society needs to have an education," said Abeda, a student.
Earlier, drawing flak over the decision to close girls' schools in Afghanistan, the Taliban shifted the blame on Afghan parents and said that people do not want their girls to attend school in the current situation.
Acting education minister Noorullah Munir while visiting Uruzgan province said, "You wouldn't need to ask me the same question if you ask how many people in this mosque are willing to send their 16-year-old daughter to school. You and I both grew up in the same Afghan society, and the culture is clear to everyone."
However, some Uruzgan residents stated that they are ready to send their daughters to school if the Taliban allows them, reported Tolo News. They asked the current government to reopen girls' schools as soon as possible.
"I think that the minister came from Kabul and he cannot represent our people, because he came from Kabul. People in Uruzgan want their daughters to go back to school, and they used to go to school before," said Javid Khpolwak, civil society activist.
"Those schools which are closed should be reopened as soon as possible because it is the demand of the people," said Mohammad Wali Samsor, a resident of Uruzgan.
According to Munir, schools are closed to students above the sixth grade due to cultural constraints, but he emphasized that if a better environment is created, girls' schools above the sixth grade will be opened, reported Tolo News.
Meanwhile, the Islamic Emirate's spokesman, Zabihullah Mujahid, has previously stated that girls' schools were closed due to religious issues. Notably, The Taliban were publicly criticized globally after closing Paktia girls' schools after a brief opening. It sparked serious reactions inside and outside of Afghanistan. On Saturday, dozens of girls took to the streets in the centre of Paktia to protest the closing of their schools, reported Tolo News.
The videos of the protests went viral on social media and triggered strong reactions by the Afghan public as well as famous politicians and human rights defenders.
Several human rights and education activists had urged world leaders in an open letter recently to mount diplomatic pressure on the Taliban to reopen secondary schools for girls in the war-torn country as the Taliban's brutal regime in Afghanistan will soon complete a year in August.
Young girls and women have been compromising with their aspirations as it has been almost 300 days since their development has been distorted, the activists said adding, that if this situation persists, their aims and hopes will suffer greatly, reported Khaama Press.
Source: The Print
Please click the following URL to read the full text of the original story:
https://theprint.in/world/90-pc-afghans-in-online-poll-supports-reopening-girls-schools-as-taliban-blames-parents-for-closure/1131837/
--------
US Establishes Trust with $3.5B in Frozen Afghan Funds to Skirt Taliban: Report
By Arif Ahmadi
16 Sep 2022
KABUL, Afghanistan – The Biden administration moved Wednesday to establish a foundation for managing $3.5 billion in frozen Afghan funds, according to sources, skirting Taliban in their efforts to having hands on what is known to be the last shot to stabilize country's economy.
This came a month after, United States President Joe Biden's administration said it will press ahead with talks on releasing billions of dollars in Afghanistan's foreign-held assets, after continued pressures by the international community.
With Several international partners, the US government announced the creation of a foundation based in Switzerland that will use the money help address the unfolding economic and humanitarian crisis in Afghanistan, where more than half of the population are starving.
"Pursuant to Executive Order (E.O.) 14064, President Biden set a policy of enabling $3.5 billion of Afghan central bank reserves to be used for the benefit of the people of Afghanistan while keeping them out of the hands of the Taliban and other malign actors," said US Treasury department in statement.
"The Afghan Fund will protect, preserve, and make targeted disbursements of that $3.5 billion to help provide greater stability to the Afghan economy," the statement further said.
Anwar ul-Haq Ahady, former Minister of Commerce and Industry of Afghanistan, Shah Mohammad Mehrabi, a member of the Supreme Council of Da Afghanistan Bank, and Scott C. Miller, the US Ambassador to Switzerland, as well as a person from the Swiss Foreign Ministry, are the trustees of this fund and will decide on the assets of Afghanistan, as TOLOnews wrote.
"We will help the people of Afghanistan as the economy of Afghanistan faces serious structural issues that no amount of external support can resolve of its own, and the US has made clear to the Taliban that the onus is on them to make key reforms," said US State Department spokesperson Ned Price.
"This fund will protect and preserve the Afghan Central Bank reserves while making targeted disbursements to help stabilize their economy and, ultimately, support its people and work to alleviate the worst effects of the humanitarian crisis," Price further stated.
But the Afghan Ministry of Economy asked the US government to hand over the frozen assets of Afghanistan to the Da Afghanistan Bank (Central Bank). This way, they will be able to prioritize best for what is needed in the country.
"No one has the right to place conditions on how and by whom these funds should be used," said Abdul Latif Nazari, deputy of the ministry, as local media quoted.
The decision to pursue the initiative to help stabilize Afghanistan's collapsed economy underscores growing concern in Washington over a humanitarian crisis, as the United Nations warns that nearly half the country's 40 million people face "acute hunger".
Afghanistan's economic and humanitarian crises deepened when Washington and other donors halted aid that funded 70% of the government budget following the Taliban's seizure of Kabul on Aug. 15, 2021.
In February, President Biden signed an executive order to free $7 billion in Afghan assets now frozen in the US, splitting the money between humanitarian aid for poverty-stricken Afghanistan and a fund for families of 9/11 victims still seeking relief for the attacks that killed thousands.
Source: Khaama Press
Please click the following URL to read the full text of the original story:
https://www.khaama.com/us-establishes-trust-with-3-5b-in-frozen-afghan-funds-to-skirt-taliban-report/
--------
SCO Samarkand Declaration: Inclusive Government 'Critical' for Afghanistan
By Saqalain Eqbal
17 Sep 2022
An inclusive government for Afghanistan was deemed "critical" at the Shanghai Cooperation Organization (SCO) Heads of State Council summit, which did not invite the Taliban.
During their three-day meeting, the heads of state of China, Russia, Turkey, and other SCO members issued a joint declaration stressing the imperative of establishing an inclusive administration in Afghanistan.
According to their declaration, the SCO Member States consider a comprehensive settlement of the Afghanistan situation to be one of the most crucial elements in preserving and strengthening peace and stability in the SCO region.
The declaration also stated that the SCO members are in favor of Afghanistan becoming an independent, unified, democratic, and peaceful nation free from terrorism, conflict, and drugs.
The three-day SCO summit concluded that Afghanistan should have a comprehensive and inclusive government with representatives from all ethnic, religious, political, and other societal groups.
The Taliban leadership was not invited to the conference despite Afghanistan being one of the key subjects of discussion.
According to reports, the Taliban's exclusion from the summit was due to the issue of the Taliban's international recognition as Afghanistan's controlling authority.
Source: Khaama Press
Please click the following URL to read the full text of the original story:
https://www.khaama.com/sco-samarkand-declaration-inclusive-government-critical-for-afghanistan-467542/
--------
Amnesty says six from minority Shia family killed by Taliban in Afghanistan
16 September, 2022
A leading international rights group released a harrowing report Friday about six members of an extended minority Shia family in Afghanistan who were brutally killed by the Taliban earlier this summer. It accused Afghanistan's new rulers of blatant disregard of human rights and abuse of minorities.
Amnesty International said the slain Hazaras included a 12-year-old child in what the rights group said was a deliberate attack on the ethnic minority. The killings took place in Ghor province on June 26 and represent evidence of how the Taliban have failed to establish an inclusive government since seizing power just over a year ago, Amnesty said.
The Taliban swept into Kabul, the Afghan capital, and captured most of the rest of the country in a blitz in August 2021, as US and NATO troops were in the final weeks of their exit from Afghanistan after 20 years of war. The country's Western-backed government and military crumbled in the face of the Taliban assault.
According to Amnesty, on the night of June 26, Taliban forces raided the home of Mohamad Muradi, a Hazara and a former security official in Ghor. Muradi had also led a local militia that fought the Taliban in 2020 and 2021.
After the Taliban takeover, Muradi had attempted to escape to Iran but failed and recently returned home to the Lal-wa Sarjangal district in Ghor, where he was in hiding.
Amnesty's report cited witnesses as saying that the Taliban attack began at night, with rocket-propelled grenades thrown at Muradi's home that instantly killed his 22-year-old daughter, Taj Gul Muradi. Muradi himself, and two other children, a son and a daughter, 12, were initially wounded. The girl died of her wounds the following day, Amnesty said.
A wounded Muradi surrendered to the Taliban through mediation by local elders, but was dragged out of the house and killed.
Three other men — Muradi's nephew, Ghulam Haider Mohammadi, and two other relatives, both former anti-Taliban militiamen — who were visiting the family were also killed, Amnesty said.
According to witnesses, the two relatives — Asif Rezayee and Arif Sangaree — were taken by the Taliban and driven away. Their bodies were later found more than a 30 minutes' drive from Muradi's home.
Amnesty said its report was based on eight separate interviews, done remotely and with witnesses of the attack, and also on analysis of photos and video footage taken in the aftermath of the killings.
It was not clear from the report what happened to Muradi's wounded son, other members of his immediate family and other relatives who may have been at the house during the attack.
The London-based watchdog urged the Taliban to investigate the killings and "ensure that those responsible are prosecuted in accordance with international human rights obligations and standards." It suggested that if Afghanistan's new rulers cannot provide justice, the prosecutor of the International Criminal Court should open a full investigation.
"The Taliban must immediately end this cruel pattern of targeted killings and, as the de facto authorities, ensure the protection of all Afghans," said Agnès Callamard, Amnesty's secretary general.
The international community, wary of the Taliban's harsh rule when they were last in power in the late 1990s, has withheld official recognition of their new administration. It has also demanded that the Taliban uphold women's rights, allow girls to go to school beyond sixth grade, and revoke their ban on women's full access to society and the right to work in all fields.
There are also other demands, such as rights for ethnic minorities and the establishment of an inclusive government — all points on which the Taliban have not responded despite their initial promises to the contrary.
Source: The New Arab
Please click the following URL to read the full text of the original story:
https://english.alaraby.co.uk/news/amnesty-says-six-shia-family-killed-taliban
--------
Rohingya teenager killed in Bangladesh by mortar fired from Myanmar
Sep 17, 2022
DHAKA: A 15-year old Rohingya boy was killed and at least six people were injured when mortar shells fired from Myanmar exploded in Bangladesh, the latest in a series of violent incidents, officials and a Rohingya leader said.
More than a million Rohingya are living in camps in southern Bangladesh that comprise the world's largest refugee settlement, the vast majority having fled from Myanmar during a military crackdown in 2017.
The Rohingya have been caught in the crossfire between Myanmar's military and the Arakan Army, an armed group fighting for self-determination for ethnic minorities in Rakhine state.
The teenager was killed late on Friday, said Dil Mohammed, a Rohingya leader in no-man's land, a strip of land along the Myanmar-Bangladesh border where an estimated 4,000 Rohingya live.
"We are living here in constant fear. Anytime any catastrophe can happen," Mohammed told Reuters by phone.
Strong protests would be lodged with Myanmar over the incident, a Bangladesh government official and border guard official said.
Bangladesh this month issued a statement expressing "deep concern over falling mortar shells inside Bangladesh territory, indiscriminate aerial firing from Myanmar in the bordering areas, and air space violation from Myanmar".
Source: Times Of India
Please click the following URL to read the full text of the original story:
https://timesofindia.indiatimes.com/world/south-asia/rohingya-teenager-killed-in-bangladesh-by-mortar-fired-from-myanmar/articleshow/94259199.cms
--------
India
Shanghai Cooperation Organisation to Draw Up Unified List of Terrorists, Terror Outfits to Counter the Menace of Terrorism
Sep 17, 2022
In a decision at the SCO summit meant to counter the menace of terrorism, the member-states, in accordance with their national legislation and based on consensus, decided to develop "common principles and approaches'' to form a unified list of terrorist, separatist and extremist organisations whose activities are prohibited on the territories of the SCO countries.
Referring to the announcement, which was made in the Samarkand Declaration, foreign secretary Vinay Kwatra said each of the member-states was clear in recognising the threat posed by terrorism to the region. Like in the past, India was again the only country to not endorse China's BRI initiative in the declaration.
In his intervention in the restricted session of the summit, Modi also sought greater cooperation among the SCO countries to deal with terrorism and stressed the role that SCO Regional Anti-Terrorist Structure (RATS) can play in this. India has not allowed its differences with Pakistan to come in the way of cooperation with SCO countries on the issue of terrorism. It has hosted delegations from Pakistan under the SCO banner for counter-terror drills and not shied away from sending its own officials to Pakistan. In his intervention, Modi also shared India's perspectives on regional security with focus on Afghanistan, highlighting the "human-centric nature'' of India's association with Afghanistan.
"The SCO member states believe one of the most important factors in preserving and strengthening security and stability in the SCO region is the speedy settlement of the situation in Afghanistan. They support the establishment of Afghanistan as an independent, neutral, united, democratic and peaceful state, free of terrorism, war, drugs,'' said the declaration on Afghanistan. "Member states believe it is critical to have an inclusive government in Afghanistan, with representatives from all ethnic, religious and political groups of Afghan society,'' it said.
Source: Times Of India
Please click the following URL to read the full text of the original story:
https://timesofindia.indiatimes.com/india/sco-to-draw-up-unified-list-of-terrorists-terror-outfits/articleshow/94256211.cms
--------
Arab World
Israel attacks Damascus airport, five soldiers killed: Syria ministry
17 September, 2022
Israel carried out an airstrike on Syria's Damascus International airport and other positions south of the capital, killing five soldiers and causing material damages, the ministry of defense said early on Saturday.
Syrian air defenses intercepted the attack and managed to down most of the missiles, a ministry statement said.
There was no immediate confirmation if the strike has affected airport operations.
Israel has intensified strikes on Syrian airports to disrupt Tehran's increasing use of aerial supply lines to deliver arms too allies in Syria and Lebanon including Hezbollah, regional diplomatic and intelligence sources told Reuters.
Tehran has adopted air transport as a more reliable means of ferrying military equipment to its forces and allied fighters in Syria, following disrupt ions to ground transfers.
Source: Al Arabiya
Please click the following URL to read the full text of the original story:
https://english.alarabiya.net/News/middle-east/2022/09/17/Israel-attacks-Damascus-airport-five-soldiers-killed-Syria-ministry
--------
Head of Lebanon's victorious Mayyas dance troupe chides politicians
17 September, 2022
The choreographer leading a Lebanese dance troupe that shot to fame by winning the 'America's Got Talent' TV contest castigated Lebanese politicians and called for revolution upon landing back in Beirut Friday.
Dozens of relatives offered the Mayyas flowers at Beirut airport while thousands of Lebanese were glued to their televisions to catch a glimpse of the performers who filled them with pride and joy in a country wrecked by nearly three years of economic crisis.
"We don't need you (politicians), Mayyas made Lebanon proud without your help" choreographer Nadim Cherfan told AFP in Beirut's airport, echoing the frustration of many Lebanese who blame the political class for the country's woes.
Amid Lebanon's worst-ever economic crisis, the national currency has lost more than 90 percent of its value on the black market since 2019 while poverty and unemployment have soared.
In a reflection of deep popular discontent, five banks were stormed Friday by depositors seeking to unlock savings frozen in the banking system after the economy crumbled.
"People should break all the banks, shake up the country and turn the table over politicians' heads," Cherfan said.
Mayyas this week snatched a $1 million prize and the chance to headline a Las Vegas show for their extravagant performance featuring belly dancing, feather fans and white orbs of light.
Judges and viewers hailed the troupe for their hypnotic and mesmerizing performances -- despite enduring hardships at home that include long daily power cuts.
Lebanese authorities can barely provide citizens and residents with bare necessities.
Lebanon suffers from electricity cuts that last up to 22 hours as the cash-strapped state can no longer afford fuel.
"Your job is to feed the hungry people and bring electricity," Cherfan said, addressing the politicians.
Source: Al Arabiya
Please click the following URL to read the full text of the original story:
https://english.alarabiya.net/News/middle-east/2022/09/17/Head-of-Lebanon-s-victorious-Mayyas-dance-troupe-chides-politicians
--------
Bank holdups snowball in Lebanon as depositors demand their frozen money
16 September, 2022
Five Lebanese banks were held up by depositors seeking access to their own money frozen in the banking system on Friday in a spiraling spate of holdups this week spurred by frustration over a financial implosion with no end in sight.
A total of seven banks have been held up since Wednesday in Lebanon, where commercial banks have locked most depositors out of their savings since an economic crisis took hold three years ago, leaving much of the population unable to pay for basics.
On Friday morning, an armed man identified as Abed Soubra entered BLOM Bank in the capital's Tariq Jdideh neighborhood demanding his deposit, the bank told Reuters.
He was still locked in the branch hours later, telling Reuters by phone that he had handed over his gun to security forces and just wanted his money.
"I'll stay here three, four, five days - I won't move until I get my deposit," he said.
Soubra said he had a refused an offer by the bank to take a portion of his $300,000 in savings with a significant haircut and in the deteriorating local Lebanese currency.
"I deposited by money in dollars, I want them back in dollars," he said.
Soubra was cheered on by a large crowd of people gathered outside, including Bassam al-Sheikh Hussein, who carried out the very first hold-up in August to get his own deposits from his bank, which dropped charged against him.
"We're going to keep seeing this happen as long as people have money inside. What do you want them to do? They don't have another solution," said Hussein, who got around $30,000 from his savings of $200,000.
Banks are 'worth my shoe'
Lebanon's banks association announced a three-day closure next week over mounting security concerns and called on the government to pass necessary laws to deal with the crisis.
Authorities have been slow to pass reforms that would grant them access to $3 billion from the International Monetary Fund to ease the crisis.
Among the laws-in-waiting is a capital controls law, still being debated by parliament. In its absence, banks have imposed unilateral limits on most depositors, allowing them to retrieve limited amounts each week in US dollars or Lebanese pounds.
Withdrawals in Lebanese pounds are worth less and less, as the lira has lost more than 95 percent of its value since 2019 and edged toward a new low of around 38,000 to the dollar this week.
Banks say they allow exceptional withdrawals for humanitarian cases including healthcare payments but depositors say the banks have not stuck to their word.
In Friday's first case, a man was able to retrieve a portion of his funds from the Ghazieh branch of Byblos Bank before being arrested, the source said, adding that the weapon in his possession was believed to be a toy.
Byblos Bank could not immediately be reached for comment.
Another incident saw a man with a pellet gun enter a branch of LGB Bank in Beirut's Ramlet al-Bayda area seeking to withdraw some $50,000 dollars in savings, a bank employee said.
Then, Mohammad al-Moussawi threatened the Banque Libano-Francaise bank with a fake gun and managed to get $20,000 in cash out of his account, he said by phone.
"This banking system is tricking us and it's worth my shoe," he said, telling Reuters he would be going into hiding.
BLF Bank told Reuters the incident "took five minutes" and that no employees were harmed.
The fifth incident on Friday afternoon saw a man fire shots inside a branch of BankMed as he sought access to his own savings, an industry source told Reuters.
The source said the man was a member of Lebanon's security forces and that there were no immediate reports of injuries.
Friday's incidents followed two others in the capital of Beirut and in the town of Aley on Wednesday in which depositors were able to access a portion of their funds by force, using toy pistols mistaken for real weapons.
Source: Al Arabiya
Please click the following URL to read the full text of the original story:
https://english.alarabiya.net/News/middle-east/2022/09/16/Armed-man-raids-Lebanon-s-BLOM-Bank-situation-under-control
--------
Saudi Arabia's FM discusses bilateral ties in call with new UK FM
17 September, 2022
Saudi Arabia's foreign minister discussed bilateral relations and issues of common interest in a call with his UK counterpart.
Saudi Arabia's Ministry of Foreign Affairs said on Saturday that Prince Faisal bin Farhan offered his condolences on the passing of Queen Elizabeth II during his call with James Cleverly.
Cleverly was appointed Secretary of State for Foreign, Commonwealth and Development Affairs on September 6.
The latest conversation between the two countries follows an earlier call between Saudi Arabia's King Salman bin Abdulaziz and Britain's King Charles III on Thursday.
The Saudi King offered his condolences and sympathies for the death of Queen Elizabeth and congratulated King Charles on the accession to the throne.
Source: Al Arabiya
Please click the following URL to read the full text of the original story:
https://english.alarabiya.net/News/gulf/2022/09/17/Saudi-Arabia-s-FM-discusses-bilateral-ties-in-call-with-new-UK-FM
--------
Saudi Arabia's humanitarian project in Yemen clears 1,030 mines in one week
16 September, 2022
A Saudi Arabian led humanitarian project has dismantled 1,030 mines in Yemen in the second week of September, the Saudi Press Agency (SPA) reported on Thursday.
The King Salman Humanitarian Aid and Relief Center (KSrelief) project's latest push adds to over 357,788 mines cleared since its inception.
Of the cleared devices, there were 26 anti-personnel mines, 123 anti-tank mines, 880 unexploded ordnance and one explosive device, according to the SPA report.
These mines, widely believed to be placed by the Iran-backed Houthis in war-torn Yemen, are endangering civilian lives.
In June, UN High Commissioner for Human Rights spokesperson Liz Throssell said in a statement that "children are especially at risk."
The toll recorded between April 2 and June 1 "underscores the threat these devices pose to civilians, often over long periods of time, causing death or serious injury," said the UN spokesperson.
"Three children were reported to have been killed and another 12 injured in this manner," she added at the time.
Saudi Arabia has taken significant efforts to clear mines, primarily through KSrelief's Project Masam.
The Kingdom's project has saved "hundreds of thousands of people" in Yemen by removing mines that were placed in residential areas, roads, schools, and farms, according to an older SPA report.
Yemen's warring parties have been observing a ceasefire since April, bringing a drastic reduction in hostilities although small-scale fighting has continued.
The UN-mediated ceasefire started in April for 60 days and was renewed twice for the same period. The current truce is set to expire on October 2, and the Houthis have refused to support a six-month deal.
The Taiz blockade continues to be of concern since it impedes the flow of essential goods and aid delivery inside Yemen's third largest city that has been under siege since 2015.
Source: Al Arabiya
Please click the following URL to read the full text of the original story:
https://english.alarabiya.net/News/gulf/2022/09/16/Saudi-Arabia-s-humanitarian-project-in-Yemen-clears-1-030-mines-in-one-week
--------
Türkiye 'neutralizes' 2 YPG/PKK terrorists in northern Syria
Merve Aydogan
16.09.2022
Turkish security forces "neutralized" two YPG/PKK terrorists in northern Syria, Türkiye's National Defense Ministry said on Friday.
The terrorists were planning an attack on the Operation Peace Spring zone, Türkiye's cross-border anti-terror push, according to the ministry.
Turkish authorities use the term "neutralize" to imply the terrorists in question surrendered or were killed or captured.
Since 2016, Ankara has launched a trio of successful anti-terror operations across its border in northern Syria to prevent the formation of a terror corridor and enable the peaceful settlement of residents: Euphrates Shield (2016), Olive Branch (2018), and Peace Spring (2019).
Source: Anadolu Agency
Please click the following URL to read the full text of the original story:
https://www.aa.com.tr/en/middle-east/turkiye-neutralizes-2-ypg-pkk-terrorists-in-northern-syria/2686878
--------
Mideast
Iran's Accession to Permanent Membership of SCO Becomes Official
2022-September-16
Uzbekistan President Shavkat Mirziyoyev whose country hosts the 22nd SCO summit officially announced Iran's status as a permanent member of the organization, which received the attendee's applause.
The 22nd SCO is ongoing in Samarkand, Uzbekistan, and is attended by heads of member states, SCO Secretary-General Jang Ming, and Director of the SCO RATS Executive Committee Ruslan Mirzayev.
Iranian President Seyed Ebrahim Rayeesi has taken part in the summit at the invitation of the Uzbek Presidenr Mirziyoyev. He is in Uzbekistan since Wednesday and has met Mirziyoyev and several participating heads of states.
Source: Fars News Agency
Please click the following URL to read the full text of the original story:
https://www.farsnews.ir/en/news/14010625000303/Iran's-Accessin-Permanen-Membership-Becmes-Official
--------
Hamas hails Chilean president's rejection of Israeli envoy's credentials over Gaza killings
16 September 2022
The Palestinian resistance movement Hamas has commended Chilean President Gabriel Boric's refusal to accept the credentials of the Israeli regime's new ambassador to the Latin American country.
Boric, a vociferous critic of Israel, refused to receive on Thursday the credentials of new Israeli Ambassador Gil Artzyeli because of "Israel's killing of children in Gaza" and the occupying regime's atrocities across the Palestinian territories.
Israeli media reported that "Artzyeli was to present his credentials to President Boric as a formality, but the Chilean government told him to cancel the meeting because of Israel's killing of children in Gaza."
Reports said the new ambassador had already arrived at the residence of the Chilean president to attend the credential presentation ceremony before he was informed of the cancelation of the meeting and returned to its place.
In a press statement on Friday, Hamas spokesperson Jihad Taha expressed appreciation for the Chilean president's move.
Taha called on Chile and all countries around the world to sever their ties with the Israeli regime in support of Palestine's liberation as well as humanitarian justice issues, foremost among them the Palestinian cause.
Boric's move came against the backdrop of the killing of a 17-year-old Palestinian at the hands of the regime forces during overnight clashes in the occupied West Bank.
According to local sources, Uday Trad Salah was shot by the Israeli forces in the head during their storming of the town of Kafr Dan, west of Jenin on Thursday at daybreak.
The sources said the young Palestinian boy later succumbed to his injuries at a hospital in Jenin.
Israeli forces continue their near-daily raid-and-arrest operations in various parts of the West Bank, wounding or killing Palestinians. Such raids are carried out while Israeli settlers also conduct acts of violence against Palestinians and their property.
Source: Press TV
Please click the following URL to read the full text of the original story:
https://www.presstv.ir/Detail/2022/09/16/689324/Hamas-lauds-Chilean-president-refusal-Israeli-envoy-credentials
--------
President Rayeesi Calls for Muslims' Unity against Enemies' Plots
2022-September-16
The Iranian president made the remarks addressing worshippers at the Ahl al-Bayt Rasoolullah (PBUH) Mosque in Samarkand city on Thursday evening.
President Rayeesi called on Muslims to unite against enemies and their plots
"Iran-Uzbekistan relations are based on historical relations and common beliefs of the two nations, and the two countries have planned to develop relations as much as possible," the President stated in this ceremony.
Raeisi spoke about the necessity of unity among Muslims in today's global situation, and noted, "Muslims, like Ahl al-Bayt (AS) who themselves were a symbol of unity and cohesion, should be sympathetic and united, and confront those who stand against Islam and Muslims".
Source: Fars News Agency
Please click the following URL to read the full text of the original story:
https://www.farsnews.ir/en/news/14010625000150/Presiden-Rayeesi-Calls-fr-Mslims
--------
President Rayeesi Urges SCO to Condemn, Confront US Unilateralism
2022-September-16
Speaking at the 22nd meeting of the council of heads of the SCO member states in Samarkand on Friday, President Rayeesi said that the US administration seeks to impose its intentions and internal laws on the international system and independent states.
"There is no doubt that the US is after blocking these countries on their path to development," he said.
He called on the Shanghai Cooperation Organization to "adopt special measures to confront the United States' unilateralism and cruel sanctions".
The full text of President Rayeesi's speech at the SCO Summit is as follows:
First of all, I would like to express my pleasure to be in the beautiful and historical city of Samarkand.
I would like to express my gratitude to Mr Shavkat Mirziyoyev, the honourable President of Uzbekistan, the government and the people of this country for their warm welcome and sincere hospitality and for holding this meeting well.
Samarkand, Bukhara and Khwarazm have been magnificent and culture-creating cities that always shine like shining stars in Persian civilisation and poetry. Our greatest capacity for peace-making is our civilisational capacity. Now that this old continent has risen again, it must once again become a civilisation. The Shanghai Cooperation Organisation, which is the symbol of this "great civilisation family", now stands in a position that can build new horizons of regional integration and security-building cooperation based on characteristics such as justice, spirituality and respect for human dignity.
"Maximum interaction and unity" with the countries of the region, including the member countries of the Shanghai Organisation, and effective presence in regional and international arrangements, are the focus of the foreign policy of the Islamic Republic of Iran. In addition to playing a role in ensuring stability and security in the region, especially in dealing with takfiri terrorism and extremism, drug trafficking and other forms of international organised crime, as well as hosting millions of refugees from neighbouring countries, the Islamic Republic of Iran's strategy has "deepening economic multilateralism" on its agenda.
The attention of the Islamic Republic of Iran to important arrangements such as the Shanghai Cooperation Organisation and BRICS shows our interest in participating in the efforts of aligned countries to establish a just, transcendent and partnership-based international system. These approaches, along with the broad capabilities of the Islamic Republic of Iran, speed up and facilitate the future movement of the Shanghai Organisation.
In recent years, economic and political multilateralism has been seriously threatened, and the American government is trying to impose its internal demands and laws on the international community and countries with sovereignty and independence with all its bullying and has put extensive use of "coercion" on its agenda. Undoubtedly, American unilateralism seeks to hold countries back from their independent development path.
In dealing with unilateralism and oppressive sanctions, the Shanghai Cooperation Organisation needs to adopt new solutions and special measures; One of them is the formation of sustainable trade among the members of this Organisation, which itself requires the joint development of infrastructure in the field of financial exchanges, commodity exchanges and data exchange between countries.
Following international developments, member countries have turned to trade with each other more than in the past. This opportunity has arisen in a situation where infrastructural weaknesses can prevent the rapid development of trade between members. To overcome this challenge, in the field of financial infrastructure, it is necessary to prioritise the financing of logistics and trade facilitation projects.
In this regard, the mechanism of "Interbank Exchanges" and "Shanghai Cooperation Organisation Financing" can play an important role. In addition, acceleration in concluding free trade agreements and customs cooperation will play an important role in facilitating trade in the region.
Along with financial-banking cooperation, I would like to highlight the important areas of transportation and energy security as two key and important areas for the Shanghai Cooperation Organisation. Despite the impressive potential, infrastructural connections in the field of transit between the members of the Shanghai Cooperation Organisation are not so extensive. Iran gives special priority to the development of the North-South Corridor and has made huge investments.
In addition, the China-Central Asia-West Asia-Mediterranean Sea Corridor, which has high potential, is currently described as an "important part of the solution" for the development of trade between East and West Eurasia. With the cooperation of the members of the Shanghai Cooperation Organisation, it is possible to provide the necessary grounds for the implementation of this corridor and for the members to benefit from its advantages.
Shaping "sustainable transit" requires multilateral cooperation of members in the development of hard and soft infrastructure. The joint financing of the infrastructure of the North-South Corridor, as well as the China-West Asia-Mediterranean Sea Corridor and its joint role in their implementation and management, can be proposed as a solution in the form of the Shanghai Cooperation Organisation.
I would like to announce that the transport and transit network of the Islamic Republic of Iran, as well as our port capacities in the Caspian Sea, the Persian Gulf, the Oman Sea, and the Indian Ocean, serve to strengthen transportation in the Shanghai Cooperation Organisation.
Also, considering the importance of health in today's world and the place of health diplomacy in the synergy of governments in serving the nations, the Islamic Republic announces its readiness to host the Shanghai Health Sector Cooperation Secretariat and hereby it invites the ministers of the member countries to hold the first meeting of the Shanghai health sector in December of this year.
The owners of the world's largest energy reserves are present in the Shanghai Cooperation Organisation along with the major energy-consuming economies. Other member countries also have great advantages of energy transit between production centres and consumption centres. This combination is prone to the formation of diverse and effective cooperation in the field of energy. Cooperation in areas such as the establishment of the electricity markets of the Shanghai Organisation and their connection with other electricity networks of the electricity market region being established in the ECO Organisation, as well as cooperation in meeting the oil and gas needs of the member countries, are among the notable cases.
Undoubtedly, convergence in the field of energy in the Shanghai Cooperation Organisation will contribute significantly to further economic development and ultimately to the reduction of security and economic costs and stability in the region and beyond. The Islamic Republic of Iran, benefiting from its unique capacities such as 1) proximity to the world's two largest oil and hydrocarbon fields, that is the Persian Gulf and the Caspian Sea, 2) the oil and gas transportation network and a suitable transit location, and 3) expert manpower, is ready to play an effective role in this area and in order to solve the concerns of the members in ensuring the security of energy supply.
During the past few decades, our region has tasted the bitter taste of foreign intervention and the result has been nothing but the creation of terrorism and the spread of insecurity. The result is the situation we are currently facing in Afghanistan. Not only has America not learned from its failure in Afghanistan, but it continues to spread the policy of spreading insecurity and intervention to other regions of Asia.
The new security model in Asia should be formed on the basis of "joint development and deepening of multilateralism without the interference of foreign powers" so that collective measures can be implemented to deal with the challenges facing peace and development.
The Islamic Republic, as a country that has rich ideological and cultural foundations against extremism and takfiri terrorism, and has also successfully proven its capability and efficiency in this direction, believes that the production of international norms and regulations in the fight against terrorism should not be done by countries that breed terrorism themselves. The Islamic Republic of Iran believes that the only solution for sustainable peace in Afghanistan is the formation of an inclusive government that is the result of authentic intra-Afghan dialogues with the participation of all groups, ethnicities and religions.
Experiences like Afghanistan and Syria should be a lesson and should be avoided. Pursuing NATO policies in any way poses a threat to different regions. The establishment of peace, stability and security in the Caucasus region is very important for the Islamic Republic of Iran. We have always emphasised respecting territorial integrity, and national sovereignty and rejecting any change in the recognised borders between the Republic of Azerbaijan and the Republic of Armenia. The parties should resolve their differences through dialogue and peacefully based on international law.
As the Islamic Republic of Iran protects its national interests and security and the region, it also declares its readiness to help resolve the disagreements between these two neighbouring countries.
Signing the memorandum of commitments of the Islamic Republic of Iran in this meeting and becoming a member of the Shanghai Cooperation Organisation is an important step in the field of regional and international politics of the Islamic Republic of Iran. Certainly, with the active and effective presence of the Islamic Republic of Iran in the activities of the Shanghai Cooperation Organisation, this membership will be recorded as one of the most important developments in the history of this Organisation.
I ask God for success for this important meeting and prosperity and well-being for the nations of the member countries of the Shanghai Cooperation Organisation.
At the end of my speech, I feel it necessary to once again express my and my nation's sympathy with the people and government of Pakistan regarding the recent flood in this country.
Source: Fars News Agency
Please click the following URL to read the full text of the original story:
https://www.farsnews.ir/en/news/14010625000500/Presiden-Rayeesi-Urges-SCO-Cndemn-Cnfrn-US-Unilaeralism
--------
President Rayeesi: Iran to Continue Resistance against US Bullying
2022-September-16
President Rayeesi made the remarks in a meeting with his Chinese counterpart Xi Jinping on the sidelines of the Shanghai Cooperation Organization (SCO) Summit in Tashkent, Uzbekistan on Friday.
"The Islamic Republic of Iran has never been stopped despite all the enmities, and has been able to continue its progress and development," President Rayeesi said.
During the meeting, the two sides discussed and decided on the most important issues related to bilateral relations to promote economic cooperation.
The Iranian president pointed out that the American and European parties have failed to fulfill their commitments to lift the sanctions, and emphasized, "The Islamic Republic of Iran will not surrender to the bullying of the United States in any way."
President Rayeesi, meantime, congratulated the Chinese president and people on the National Day of that country, and appreciated the constructive positions of China in the process of Iran's membership in the Shanghai Pact, and welcomed China's role in Iran's membership in the BRICS organization.
He described the comprehensive strategic cooperation program between Iran and China as a sign and symbol of the determination of the two countries for the comprehensive development of relations, saying, "The vast capacities in the fields of oil and energy, transit, agriculture, trade, and investment are a very suitable platform for deepening and development of economic relations between the two countries."
Chinese President Xi Jinping, for his part, praised the independent positions of the Islamic Republic of Iran on international issues, and said, "Iran-China relations are strategic relations and will continue to develop regardless of any international development."
The Chinese president officially invited President Rayeesi to visit China in the near future.
President Rayeesi has taken part in the summit at the invitation of the Uzbek President Mirziyoyev. He is in Uzbekistan since Wednesday and has met President Mirziyoyev and several participating heads of states.
Source: Fars News Agency
Please click the following URL to read the full text of the original story:
https://www.farsnews.ir/en/news/14010625000423/Presiden-Rayeesi-Iran-Cnine-Resisance-agains-US-Bllying
--------
Iran's supreme leader undergoes surgery after falling 'gravely ill': Report
16 September, 2022
Iran's Supreme Leader Ali Khamenei underwent surgery last week after falling "gravely ill" and is currently on bed rest under observation by a medical team, the New York Times reported on Friday, citing four people familiar with Khamenei's health condition.
Khamenei "had surgery some time last week for bowel obstruction after suffering extreme stomach pains and high fever," the NYT reported, citing one of the people.
Khamenei is currently being monitored "around the clock" by a team of doctors after undergoing the surgery, according to the report.
Khamenei's condition was considered "critical last week, but has improved, and he is currently resting," the report added. "His doctors are monitoring him around the clock and remain concerned that he is still too weak to even sit up in bed."
Khamenei's office canceled all meetings last week, including an annual meeting with the Assembly of Experts on September 6 because he was "too ill to sit up," the report said.
The assembly is a clerical body that supervises, appoints and in theory, can sack the Supreme Leader.
Source: Al Arabiya
Please click the following URL to read the full text of the original story:
https://english.alarabiya.net/News/middle-east/2022/09/16/Iran-s-Khamenei-being-monitored-around-the-clock-after-surgery-falling-gravely-ill
--------
Byzantine mosaics discovered under farm in Gaza
16 September, 2022
Byzantine mosaics dating from the 5th to 7th centuries were unveiled in the central Gaza Strip on Friday, after being uncovered by a farmer ploughing his land.
Found in an area less than a kilometer (half a mile) from the often tense border with Israel, the mosaics are "in a perfect state of conservation", said French archaeologist Rene Elter, a researcher associated with the French Biblical and Archaeological School of Jerusalem whose team examined the finds.
"It's work of excellent quality, they used materials that were certainly relatively expensive," Elter said.
He said the mosaics may have adorned the floor of a church or private villa.
The mosaics are the latest in a series of Byzantine archaeological finds in Gaza in recent years.
In January, the remains of a fifth-century church were unveiled in Jabaliya in the northern Gaza Strip following a three-year restoration project.
The Byzantine era was a time of wealth and artistic patronage in Palestine, with the construction of many new churches and other monuments. It ended with the Muslim conquest of the late 630s.
Source: Al Arabiya
Please click the following URL to read the full text of the original story:
https://english.alarabiya.net/News/middle-east/2022/09/16/Byzantine-mosaics-discovered-under-farm-in-Gaza
--------
Africa
Muslims commemorate Arba'een in Nigeria
17 September 2022
Hundreds of Shia Muslims took to roads trekking and chanting to mark forty days since the anniversary of the martyrdom of Imam Hussein and scores of members of his family and his companions in Karbala in present day Iraq.
The trekkers condemned Yazid and his army for the gruesome killing of the third Shia Imam. Men, women, and children joined millions of other Shia Muslims to participate in the symbolic trek, which was organized by Nigeria's Islamic movement.
The trek is held around the globe every year as part of mourning rituals for Imam Hussein.
They praised the leadership qualities of Imam Hussein.
Source: Press TV
Please click the following URL to read the full text of the original story:
https://www.presstv.ir/Detail/2022/09/17/689353/Muslims-Arbaeen-Nigeria-Shia-Iraq-
--------
IPOB denies killing Ebonyi-born Muslim cleric
September 16, 2022
By Joe Chukindi
The Indigenous People of Biafra (IPOB) has denied involvement in the recent killing of an Islamic cleric in Ebonyi State.
A Muslim cleric, who hails from Ebonyi State and converted to the Muslim faith, Sheikh Ibrahim Iyiorji, was recently murdered in the state by unidentified gunmen.
Speculations were that the IPOB might be responsible for the murder, but the group said killing Muslims was not part of its mandate.
In a press release by the spokesperson of the group, Mr Emma Powerful, he said killing a Muslim will add nothing to its quest for the Biafra Republic.
Part of the release read: "IPOB does not engage in such barbaric killings and cannot be part of such heinous crime against humanity. IPOB does not kill flies talk of human beings and an Igbo man for that matter, irrespective of his religious belief.
"Important questions to ask are: why will IPOB kill this Igbo Islamic cleric? Is he a threat to Biafra movement? How many of our known enemies have we killed?"
The group stated that Nigerian security agencies were fond of stage-managing confessions from criminals with the hope of indicting them.
They added that criminals tagged as unknown gunmen were not part of IPOB, stating that their activities are in the open and cannot be described as unknown.
"Some unscrupulous elements and petty thieves are constantly stage-managed by security agents to lie against IPOB members and ESN operatives.
"IPOB and ESN never killed any Army officer, Police officer, or DSS agent despite all provocations in the name of unknown gunmen since we started pursuing Biafra freedom.
Source: Daily Post Nigeria
Please click the following URL to read the full text of the original story:
https://dailypost.ng/2022/09/16/ipob-denies-killing-ebonyi-born-muslim-cleric/
--------
Tunisian president makes new changes to electoral law
September 17, 2022
TUNIS: Tunisian President Kais Saied has made new changes to electoral law that diminish the role of political parties, three months ahead of legislative elections.
A new electoral law reduces the number of members of the lower house of parliament from 217 to 161, and says candidates will now be elected directly instead of via party lists. Voters will elect a new legislature Dec. 17.
"In the past, the parliament deputy drew his legitimacy from his party. Today, he must assume his responsibilities, above all, before his constituents," Saied said at a Cabinet meeting.
According to the new rules, parliament members "who do not fulfill their roles" can be removed if 10 percent of constituents who voted for them lodge a formal request with parliament.
Several opposition parties, including the Ennahdha movement, have said they will boycott the December elections and say the new electoral law is aimed at muffling them.
Saied froze parliament in 2021 after years of political deadlock and economic crisis, and then dissolved it in March. A constitution approved in a July referendum hands broad executive powers to the president and weakens the influence of Tunisia's parliament and judiciary.
While opposition members and Western critics warned the moves threaten hard-won democratic gains, many Tunisians welcomed Saied's actions after years of exasperation with the country's political elites.
The president insisted at a Cabinet meeting Thursday that he had no intention of excluding any party from the parliamentary elections.
He argued that the new law was based on a study of systems in other countries, and "will allow the people to freely express their will and to vote for the person of their choice."
His critics accuse him of authoritarian drift and endangering the democratic process initiated in Tunisia in 2011.
Tunisia is struggling to revive its public finances as discontent grows over inflation running at nearly 9 percent and a shortage of many food items in stores because the country can't afford to pay for some imports.
The International Monetary Fund and major foreign donors want Tunisia to push ahead with cuts in subsidies and the restructuring of state-owned companies as well as steps to bring the public sector wage bill under control.
The government's spokesperson said on Friday that Tunisia hopes to reach an agreement with the IMF by the end of October after a wage deal agreed on with unions was seen as a key step toward getting IMF support.
The government and the powerful UGTT union on Thursday signed a deal to boost public sector wages by 5 percent, a step that may ease social tensions. But they did not announce any further agreement on reforms needed for an IMF bailout.
"The Tunisian negotiating team was in contact yesterday with (the) IMF regarding the last terms of the agreement with the Fund," said Nasreddine Nsibi, the government spokesperson.
"We seek to reach a deal with the IMF before the end of October, which would make Tunisia able to fulfill all its commitments, including providing foods and energy products, paying wages and debt service," he added.
Fitch Ratings said on Friday that Tunisia's wage agreement raises the likelihood of an IMF deal.
Tunisian officials have said that Tunis aims for a $3 billion loan.
Source: Arab News
Please click the following URL to read the full text of the original story:
https://www.arabnews.com/node/2164111/middle-east
--------
Southeast Asia
Stop the damaging 'infidel' narrative, says Anwar
September 17, 2022
PETALING JAYA: Opposition leader Anwar Ibrahim has called for political parties to stop perpetuating the "infidel" narrative following recent remarks made by Pejuang chairman Dr Mahathir Mohamad against PAS.
"Let me be clear on this. We must stop this damaging narrative," he told reporters after attending the annual general assembly of Angkatan Belia Islam Malaysia (Abim) in Kajang.
"Focus on policy issues and stop attacking other parties (with such descriptions). It will create a 'chaotic' situation that could become impossible to control."
He criticised such discourse, saying it was "unhealthy".
Anwar also advised Pakatan Harapan leaders not to entertain those who use such a narrative, and instead to always voice out against it.
Yesterday, Mahathir was reported to have said that PAS president Abdul Hadi Awang used to call Umno members infidels because the party worked with non-Muslim parties in Barisan Nasional, but was now "allowing PAS members to become infidels" themselves by partnering with Umno in Muafakat Nasional.
"PAS is opportunistic. When they see an opportunity, they put aside their principles.
Source: Free Malaysia Today
Please click the following URL to read the full text of the original story:
https://www.freemalaysiatoday.com/category/nation/2022/09/17/stop-the-damaging-infidel-narrative-says-anwar/
--------
At Malaysia Day celebration, PM says national identity must be defended towards building united Keluarga Malaysia
16 Sep 2022
MELAKA, Sept 16 — The process of building a united Keluarga Malaysia (Malaysian Family), one that carries the national identity must continue to be preserved in order to guarantee continuity of the country's sovereignty, Datuk Seri Ismail Sabri Yaakob said.
The prime minister said as the nation ages, challenges and threats become more complexed, with enemies constantly making attempts to cause divisions through economic, political and social issues, adding there were also external forces trying to disrupt peace and stability.
There is real concern that these elements, if allowed to prevail and dominate, will prove to be a menace that could threaten Keluarga Malaysia (the Malaysian Family) unity, he said.
He said like sparks that ignite a bonfire, if not stopped, is capable of fanning the flames of enmity and cause racial and religious strife that will weaken Keluarga Malaysia and eventually, destroy the country.
The prime minister went on to cite the Malay idiom, "kukur apa kepada kukur, nyiur juga yang binasa", which carries the meaning that while it is always easy to instruct someone, those who execute the task are the ones who face difficulties.
"Uniting all the states with diverse backgrounds, what more when there are geographical challenges and the South China Sea dividing us, is no easy task.
"Therefore, the values instilled in Keluarga Malaysia, which are based on inclusiveness, togetherness and gratitude are important ingredients in building its strength — from Perlis to Sabah, so that it remains firmly united, strong and resistant to challenges in the face globalisation," he said.
The prime minister said this in his speech at the 2022 Malaysia Day celebration at the Independence Declaration Memorial Square in Banda Hilir here tonight.
He said despite having a diverse background, these values when combined with the concept of Tasamuh (tolerance) outlined by Islam, are guarantees for Malaysia's survival and for it to remain a peaceful, stable, harmonious and prosperous country.
Ismail Sabri said fostering unity among Keluarga Malaysia, comprising various religious, racial, cultural and socioeconomic backgrounds, is an extremely important government agenda.
"Malaysia was formed and developed based on a guarantee of justice, protection and rights given to every Malaysian family. All members of Keluarga Malaysia are free to practise their culture and religion and master various languages," he said.
The prime minister, meanwhile, said the national-level Malaysia Day celebration this year was the first to be held outside Sabah and Sarawak, adding that the venue, namely the Independence Declaration Memorial Square, would certainly evoke memories of one of the country's most important historical events.
He said Melaka's Banda Hilir witnessed the declaration of independence on February 20, 1956 and also the lowering of the Union Jack at 6.30pm on August 30, 1957.
Source: Malay Mail
Please click the following URL to read the full text of the original story:
https://www.malaymail.com/news/malaysia/2022/09/16/at-malaysia-day-celebration-pm-says-national-identity-must-be-defended-towards-building-united-keluarga-malaysia/28600
--------
Santubong identified as Muslim-friendly tourism spot
September 15, 2022
KUCHING: The tourism, arts and culture ministry will promote Santubong as one of the Muslim-friendly tourism destinations to visit in the country.
Minister Nancy Shukri said based on research, Sarawak was the second oldest Malay state in the world with the mausoleum of Sarawak's first and only sultan, Sultan Tengah, also located in Santubong.
"(Santubong) is also an attraction because of its archaeological sites. Prehistoric burial grounds in Tanjong Kubor, prehistoric iron industry in Sungai Jaong, and stone carvings from previous civilisations – all these provide an interesting narrative for Muslim tourists," she said when opening the Islamic Tourism Entrepreneurship and Leadership Seminar (ITELS) here.
In an effort to develop the Muslim-friendly tourism and hospitality sector, Nancy said the ministry has made it easier for the registration of homestay operators to enable them to benefit from the Malaysian Homestay Experience Programme.
"This is one of the efforts by the government to generate more income for the local community through community-based tourism in rural areas," she added.
At the sidelines of the event, Nancy said the ministry has also identified several longhouses in Sarawak to be used as Muslim-friendly homestays.
"We want to show that in a longhouse, there are Muslims and non-Muslims staying together under the same roof.
Source: Free Malaysia Today
Please click the following URL to read the full text of the original story:
https://www.freemalaysiatoday.com/category/nation/2022/09/15/santubong-identified-as-muslim-friendly-tourism-spot/
--------
North America
Proposing 'more benign' world order, famed Harvard scholars cite Iran's 'measured' responses to US 'escalation'
17 September 2022
Seeing an America increasingly in decline, two famed scholars have proposed a "more benign" world order, and have praised Iran's "measured" responses to acts of "escalation" by the United States as evocative of the world they envision.
American Stephen M. Walt and Turkish Dani Rodrik, both of them acclaimed scholars at Harvard University, wrote in a joint article for Foreign Affairs' September/October 2022 issue that despite global upheavals, "one can… envision a more benign order in which the United States, China, and other world powers compete in some areas, cooperate in others, and observe new and more flexible rules of the road."
"The global order is deteriorating before our eyes," they wrote. "It is increasingly clear that the existing, Western-oriented approach is no longer adequate to address the many forces governing international power relations."
They offered a "four-part framework" in which "all actions and issues would be grouped into four general categories: those that are prohibited, those in which mutual adjustments by two or more states could benefit all parties, those undertaken by a single state, and those that require multilateral involvement."
They said that approach "would do much to increase trust and reduce the possibility of conflict," including when states, even "hardened adversaries," refuse to escalate or to respond to escalation with equally unruly behavior.
In a section subtitled "Acting, Not Escalating," Walt and Rodrik cited Iran's behavior in responding to massively escalatory acts by the United States under former President Donald Trump, including the "the shortsighted U.S. withdrawal" from the 2015 Iran deal (known as the JCPOA) and the "'maximum-pressure' campaign."
"When the United States left the JCPOA in 2018, for example, Iran did not respond by immediately restarting its full nuclear program. Instead, it adhered to the original agreement for months afterward," they said. Even later, and as other signatories failed to uphold their end of the bargain, Iran reduced its commitment "in an incremental and visibly reversible fashion, signaling its willingness to return to full compliance if the United States also did so."
Trump unilaterally withdrew from the Iran deal in 2018, and launched what he called a campaign of "maximum pressure" on Iran in the hopes that the country would cave in and agree to a new agreement on American terms.
"Iran's reaction to the Trump administration's 'maximum pressure' campaign was also measured," Walt and Rodrik said, citing the US assassination of revered Iranian General Qassem Soleimani in Iraq in 2020, an act of provocation that led many to believe the US was provoking war. That act, the US scholars said, "did not lead Iran to escalate."
General Soleimani was assassinated by the US military in Baghdad. In a statement, the Pentagon claimed responsibility for the act of terror. Iran promised revenge, but also initially responded by firing missiles at a base hosting US soldiers in Iraq. At least 109 American soldiers received brain injuries in that attack, according to the Pentagon.
Source: Press TV
Please click the following URL to read the full text of the original story:
https://www.presstv.ir/Detail/2022/09/17/689363/Proposing-more-benign-world-order-famed-Harvard-scholars-cite-Iran-responses-to-US
--------
Venezuela welcomes home seized crew from seized plane linked to Iran
17 September, 2022
Venezuela on Friday welcomed home a dozen flight crew members detained in Argentina since June after their plane was held for suspected terrorism ties, according to state television.
"We are celebrating (their) arrival," Venezuelan Transportation Minister Ramon Velasquez told Telesur from Maiquetia Airport, near the capital of Caracas, praising the crew as "an example of revolutionary struggle."
An Argentine judicial chamber on Tuesday authorized the departure of 12 of 19 crew members.
The Emtrasur cargo plane, sold to Venezuela by Iran's Mahan Air, arrived in Buenos Aires in early June, according to flight tracking data, with both Venezuelan and Iranian crew members.
Its arrival caused a diplomatic stir for Argentina. The country was accused of supporting Iran and Venezuela, which are both under US sanctions. Argentina grounded the plane then seized it in August after a request from a US court.
Of the 12 released crew members, 11 are Venezuelan and one Iranian. A further three Venezuelan and four Iranian crew are still not allowed to leave Argentina.
Velazquez said this was "illegal" detention.
The detentions sparked protests in Venezuela, with several marches in Caracas urging the crew's return.
Source: Al Arabiya
Please click the following URL to read the full text of the original story:
https://english.alarabiya.net/News/world/2022/09/17/Venezuela-welcomes-home-seized-crew-from-seized-plane-linked-to-Iran
--------
US House speaker heading to Armenia following Azerbaijan clashes: Report
Michael Hernandez
16.09.2022
WASHINGTON
US House Speaker Nancy Pelosi will travel to Armenia in what is being is billed as support for the Caucasus nation following clashes with neighboring Azerbaijan that left more than 170 dead, according to a report published Thursday.
Pelosi is slated to make the visit alongside congresswoman Jackie Speier, who is Armenian-American, following a summit in Berlin, the Politico news website reported.
Pelosi's office declined to confirm or deny the travel in advance when contacted by Anadolu Agency. It adopted the same position ahead of Pelosi's visit to Taiwan.
While in Armenia, Pelosi will meet Prime Minister Nikol Pashinyan in Yerevan, as well as other government officials, according to Politico.
The recent fighting claimed lives on both sides with Azerbaijan reporting 71 soldiers killed and two civilians wounded. Armenia said 105 of its soldiers were killed and six civilians were wounded. A cease-fire was declared Wednesday.
Source: Anadolu Agency
Please click the following URL to read the full text of the original story:
https://www.aa.com.tr/en/americas/us-house-speaker-heading-to-armenia-following-azerbaijan-clashes-report/2686508
--------
Venezuela seeks to strengthen technological cooperation with Türkiye
Laura Gamba Fadul
16.09.2022
BOGOTA, Colombia
Venezuela aims to increase trade relations with Türkiye, President Nicolas Maduro said Thursday.
Maduro made the remarks at the Iran-Venezuela Scientific, Technological and Industrial ExpoFair being held from Sept. 14-18 in the capital Caracas.
"We have to build our own technological model. We have to learn from the technological model of the rebirth of China, of Russia, of Iran, of India, of our brothers in Türkiye, the rebirth of the powers and superpowers and of the emerging powers, of the emerging world," he said.
In June, the Venezuelan president visited Türkiye as part of an 11-day international tour. Maduro and Turkish President Recep Tayyip Erdogan signed eight cooperation agreements in science and technology, agriculture and land, transportation and tourism.
Since the US imposed sanctions that have aggravated the economic crisis the South American country is experiencing, Maduro has sought to find new international partners.
On Thursday, Maduro dismissed the Biden administration's warning that it will intensify sanctions against his country if negotiations with the opposition are not resumed soon.
"They will shout threats, the US empire, but they should know that their threats are lost at the bottom of the sea of contempt and oblivion and their arrogance remains as a sad fable of what they were and will never be again -- a unique empire," said the president at the ExpoFair.
Source: Anadolu Agency
Please click the following URL to read the full text of the original story:
https://www.aa.com.tr/en/americas/venezuela-seeks-to-strengthen-technological-cooperation-with-turkiye/2686455
--------
URL: https://newageislam.com/islamic-world-news/sunni-muslim-deobandi-tehreek-barelvi-labbaik/d/127971
New Age Islam, Islam Online, Islamic Website, African Muslim News, Arab World News, South Asia News, Indian Muslim News, World Muslim News, Women in Islam, Islamic Feminism, Arab Women, Women In Arab, Islamophobia in America, Muslim Women in West, Islam Women and Feminism