New Age Islam News Bureau
13 Jun 2014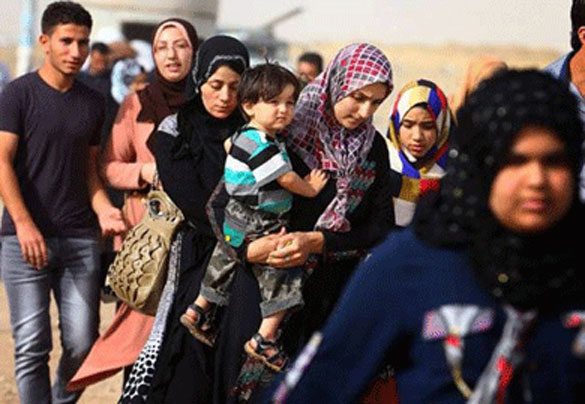 Summary executions, rape and atrocities reported in Mosul
---------
Arab World
• Sunni Militants' March into Iraq Threatens To Undo What US Sought
• Sharia Law Imposed In Iraq by ISIS Jihadists Bent On Implementing an Islamic Caliphate
• Jeddah: Children are introduced to drugs at an early age
• Iraqi govt in paralysis after Sunni militants captured major parts of the country
• Take Up Arms against Iraq 'Terrorists': Top Shia Cleric Ayatollah Ali Al-Sistani
• Iraq takes back Saddam hometown with Iran's help: Report
• Militant group says it's imposing extreme Islamic law
• Egyptian cabinet introduces plan to combat sexual harassment
• Press conference held in Cairo against 'Shura Council' court verdict
Africa
• Sultan Abubakar III Advises Govt to Swap Chibok Girls with Detainees
• Africa and West pledge more support in war against Boko Haram
• Nigeria wants to follow Sri Lankan example to fight terror
• Libya's grand mufti calls for jihad against Hifter
Pakistan
• Militants, families alike flee North Waziristan in fear of full-scale operation
• US 'bribing govt' for N Waziristan operation, says Imran
• Fleeing tribesmen consider Afghanistan safer
• Talks with Taliban only way to restore peace: Maulana Sami ul Haq
• Intelligence agencies predict further attacks by terrorists
• Pakistan denies 'express approval' for drone hits
• Sartaj calls victims of sexual violence the most vulnerable, neglected
India
• Sari-letter diplomacy helps, but LoC peace is a must: India tells Pakistan
• Indo-Arab League Hyderabad to hold Aqusa and Palestine Day on June 20
• Modi seeks 'new course' in India-Pakistan ties
• 10 J&K candidates crack UPSC exam
Mideast
• Zionists Discover Tunnel Dug by Palestinian Prisoners
• Zarif Warns against Threat of Takfiri Terrorists
• Ankara ordered Turkish Special Forces in Mosul not to clash with ISIL
• Palestinian Authority PM: Unity government still lacks control in Gaza
• Israeli envoy to UN General Assembly: Israel is used to terrorist threats
• Alarmed by Iraq, Iran open to shared role with US, Iran official says
Europe
• U.N. reports executions, rape in Iraq
• Islamic extremists pose increasing threat in Finland
• Germany to conduct study on anti-Semitism, anti-Zionism
• France's Fabius says world must act on Iraq
South Asia
• Afghan candidate Abdullah Abdullah seeks Pakistan cooperation
• UGC chair: Education standard in Bangladesh satisfactory
• Bogra Jamaat leader arrested in Sayedee violence case
• Witness: Qaisar was present during Pak Army atrocities
North America
• Anti-Islam bus ad angers Muslims, Christians and Jewish leaders
• Islamic Insurgents Advance in Iraq as US Weighs Response
• Somali-Americans Join Anti-Government Fight in Syria
• U.S. says Sudan deliberately attacks civilians
• US transfers 12 detainees including 10 Pakistanis out of Afghan prison
• US House leader says Obama 'taking a nap' on Iraq
• CIA Drone Strikes Resume in Pakistan after Five-Month Pause
Southeast Asia
• Islamic values not the glue to bind Malaysia, says Zaid
• After motion flip-flop, Selangor BN says PAS's job to push for Hudud
• Don't play games, Selangor Speaker tells BN after Hudud motion withdrawn
Compiled by New Age Islam News Bureau
URL: https://newageislam.com/islamic-world-news/sunni-militants'-march-iraq-threatens/d/87521
------------
Arab World
Sunni Militants' March into Iraq Threatens To Undo What US Sought
June 13, 2014
WASHINGTON // The sweep by militants through northern Iraq and the collapse of the Iraqi army threaten to undo whatever was accomplished after the US invaded the country and ousted dictator Saddam Hussein 11 years ago.
The region now faces the creation of a de facto militant Sunni state along the Syrian-Iraqi border that could serve as a safe haven and training zone for the Islamic State in Iraq and the Levant (ISIL), a group with a declared interest in attacking the West.
For the US president Barack Obama, who's built his foreign policy legacy on ending the wars in Iraq and Afghanistan, the militants' swift victories raise questions about his 2011 decision to withdraw all US troops from Iraq and his reluctance to help arm moderate Syrian rebels fighting Sunni extremists in that country.
"Now, in the middle of the Middle East, we have a big, gaping hole where the Iraqi-Syrian border has broken down," said Andrew Tabler of the Washington Institute for Near East Policy. "It's a threat to the regional security architecture, the boundaries of the region we're invested in, and a threat to a lot of the assets we've built up inside Iraq."
The US has not responded so far to a request last month from the Iraqi prime minister Nouri Al Maliki to mount air attacks against militant training camps in western Iraq, according to two US officials.
One of the officials said Mr Obama is reluctant to revisit a war that he opposed and repeatedly has declared over.
The administration is weighing options including drone strikes and expedited equipment and training for the Iraqi military, according to a White House official.
The US should determine how it "can effectively help in stabilising the present situation" because "we spent a lot of very precious lives to try to stabilise Iraq, give them the opportunity for democracy," Steny Hoyer, a member of the House of Representatives, said yesterday.
ISIL has long held areas in Anbar province to Baghdad's west. It seized oil-rich areas north of the capital, including Tikrit and parts of Kirkuk province, after taking Mosul.
Those changes are probably "semi-permanent", said Michael Knights, a fellow with the Washington Institute.
ISIL can be expected to "consolidate their hold on huge swathes of Iraq, cutting the country into three pieces" along ethnic and geographic lines.
"This is not an out-of-the-blue development," said Mr Knights. "It's the culmination of many trends, warning signs ignored, enlightened paths not taken by the Iraqi government. This is a game-changing moment in the country's security."
Mr Knights and other analysts said the return of Sunni extremism and the collapse of the Iraqi military are traceable in part to a series of American and Iraqi policy blunders over the years.
After the decision to invade Iraq, the first mistake, said a former Bush administration official, was the May 16, 2003, US edict purging all members of the Saddam's Baath party from the military and security services – a move that to the puzzlement of some officials exceeded US president George W Bush's order to de-Baathify the military only down to the rank of battalion commander.
The second blunder cited is Mr Al Maliki's use of his government and the military as a tool to enforce Shiite rule after years of Saddam's minority Sunni oppression.
The result now, said a US intelligence official, is that it is hardly surprising to find Sunni soldiers unwilling to fight others of their religion, no matter how extreme, on behalf of a Shiite government.
The former Bush administration official flagged another issue: Mr Obama had little choice but to withdraw the last American forces by the end of 2011, when an agreement could not be reached granting them immunity from prosecution in Iraqi courts.
Their departure undid both the gains made rebuilding Iraqi security and the progress that the "surge" of US forces in Anbar and other Sunni provinces made towards marginalising Sunni extremists.
"We shouldn't have walked away from Iraq," said Ken Pollack, a senior fellow at the Brookings Institution, a Washington policy group, pointing to the Obama administration's decision to withdraw all troops.
"This is nothing 10,000 or 20,000 troops couldn't have fixed," Mr Pollack said.
The speed and extent of the ISIL offensive and the disintegration of Iraqi forces, who left almost all their weaponry and equipment for ISIL to collect, has caught the Obama administration off guard, said two US intelligence officials.
So far, the officials said they have seen no evidence that the militants have picked up Hellfire anti-armour missiles or other weapons.
There is some evidence, they said, that ISIL is delivering some captured weapons, including machine guns, rifles and vehicles, to its fellow militants in Syria.
Asked about reports that ISIL has captured tanks and ammunition, the State Department spokeswoman Jen Psaki said the US is "trying to obtain confirmation on what assets ISIL may have obtained on the ground."
The situation on the ground, she said, "is very murky".
http://www.thenational.ae/world/middle-east/sunni-militantsx2019-march-into-iraq-undo-what-us-sought#ixzz34VZTAvBt
------------
Sharia Law Imposed In Iraq by ISIS Jihadists Bent On Implementing an Islamic Caliphate
June 13, 2014
Sharia law has been imposed on the province of Nineveh by the Islamic State of Iraq and Syria (ISIS), a Sunni Jihadi offshoot of Al Qaeda hell-bent on turning the entire nation of Iraq into an Islamic Caliphate, reports International Business Times. The following document, which has been circulating on ISIS' social media account, outlines a strict code of conduct based on Sharia law that bans drug, cigarette and alcohol consumption; prohibits women from wearing showy clothes; and warns tribal leaders and Sheikhs against cooperating with the Iraqi government:
According to Arabic Al Aan TV reporter Jenah Moussa, the document also outlines plans by ISIS to destroy all Shrines and graves. Furthermore, those members of the Iraqi army who do not repent and pledge allegiance to ISIS will be executed.
This comes just days after 1500 ISIS militants captured the provincial capital of Mosul, a move so bold and unexpected that The Economist labeled the city "terror's new headquarters." Keep in mind that the jihadists managed to capture the Turkish consulate, take 49 Turkish employees hostage, seize the Mosul International Airport, release 1,000 inmates from Mosul's central prison, and loot $420 million from Mosul's central bank, despite being outnumbered 15 to one. The fact is that many Iraqi soldiers simply threw down their weapons and surrendered.
The same thing happened in Saddam Hussain's hometown city of Tikrit this past Wednesday. Iraqi soldiers simply abandoned their posts. Those who remained were swiftly captured and then paraded through the city:
The goal of these ISIS jihadists is to impose an Islamic Caliphate that submits to the fundamentalist Islamic law known as Sharia Law. The latter is simply a strict code of laws based directly on the the teachers of Prophet Mohammed, whereas an Islamic Caliphate is a state (think government) that's based on Sharia law.
Unfortunately for the hundreds of thousands of Iraqi citizens who are having to flee their homes, ISIS continues to grow in strength and power. It doesn't help either that they now have close to half a billion dollars on their hands – more than enough money for them to afford the equipment and weapons needed to continue battling Iraqi's severely weakened government and install an Islamic Caliphate.
What still continues to baffle many is just how ISIS managed to so easily defeat Iraq's security forces, as Hamad al-Mutlaq, a member of the Iraqi parliament's defense committee, explained to The Guardian:
"Isis can't have had more than a few thousand men versus two divisions made up of 30,000 Iraqi soldiers. This signifies that the army has been built on weak foundations. The Iraqi government is the one to blame and should be held responsible for this failure; it has been unable to build a healthy state and unable to defend it."
This despite the fact that the United States spent a whopping $20.2 billion on training Iraqi security forces.
Regardless, if ISIS is allowed to continue on its mission of spreading Sharia law throughout Iraq, it may in fact just be able to achieve the Islamic Caliphate it so fervently desires. Will the US involve itself in the affairs of Iraq yet again? That remains to be seen, though the debate has already begun to rage across the states.
http://www.inquisitr.com/1295946/sharia-law-imposed-in-iraq-by-isis-jihadists-bent-on-implementing-an-islamic-caliphate/#qjGqyzQEP1SIOyO2.99
------------
Jeddah: Children are introduced to drugs at an early age
June 13, 2014
An official study has revealed that the majority of drug addicts in the Kingdom found their way to drugs at an early age.
The study was conducted on 500 drug addicts who are receiving treatment at local hospitals to kick the habit.
The study indicated that 10 percent of the addicted persons was introduced to drugs in elementary school against 56 percent who began taking drugs in secondary school, the most dangerous age to start on drugs as it is hard to wean people off them at this stage.
Talking to Al-Arabiya.net, Abdullah Al-Sharif said: "We discovered that people who started taking drugs at an early age were too young to know the hazards involved."
He warned families to be alert and watchful of their children. "Once they reach nine years of age, parents should start explaining the facts of drugs, the dangers involved and other useful information to raise awareness on the issue," he said, adding that the family's involvement was the first step toward decreasing the number of addicts in the country.
According to the study, the 12-18 age group is the most vulnerable to drug addiction.
They are most likely to try drugs like hashish or Captagon for the first time, especially when they are exposed to sellers who are on the look out for customers during exam period.
Many citizens expressed their ire at social networking sites for broadcasting a video of a boy teaching the methods of taking hashish. The video went viral and was termed by Al-Sharif as "painful."
http://www.arabnews.com/news/586006
------------
Iraqi govt in paralysis after Sunni militants captured major parts of the country
Press Trust of India | Baghdad | June 13, 2014
The Shiite-led government of Iraq's Prime Minister Nouri al-Maliki remained in paralysis on Friday, unable to form a coherent response after al-Qaeda-inspired militants blitzed and captured entire chunks of the nation's Sunni heartland this week, including major cities.
The new reality is the biggest threat to Iraq's stability since the US withdrawal at the end of 2011, and it has pushed the nation closer to a precipice that would partition it into Sunni, Shiite and Kurdish zones.
Fighters from the militant group known as the Islamic State of Iraq and the Levant on Thursday vowed to march on Baghdad, joined by Saddam Hussein-era loyalists and other disaffected Sunnis.
Trumpeting their victory, the militants also declared they would impose Shariah law in Mosul, Iraq's second-largest city they captured on Tuesday, and other areas they seized.
In northern Iraq, Kurdish security forces moved to fill the power vacuum – taking over an air base and other posts abandoned by the army in the ethnically mixed city of Kirkuk.
Three planeloads of Americans were being evacuated from a major Iraqi air base in Sunni territory north of Baghdad, US officials said, and Germany urged its citizens to immediately leave parts of Iraq, including Baghdad.
President Barack Obama said Iraq will need more help from the US, but he did not specify what it would be willing to provide. Unnamed senior US officials said Washington is considering whether to conduct drone missions in Iraq.
The UN Security Council met on the crisis, underscoring the growing international alarm over the stunning advances by the Islamic State.
Al-Maliki had asked parliament to declare a state of emergency that would give him and his Shiite-led government increased powers to run the country, but the lawmakers failed to assemble a quorum on Thursday.
Skirmishes continued in several areas. Two communities near Tikirt- the key oil refining center of Beiji and the city of Samarra, home to a prominent Shiite shrine – remained in government hands, according to Iraqi intelligence officials.
In Saddam's hometown of Tikrit, overrun by the militants on Wednesday, witnesses said fighters raised posters of the late dictator and Izzat Ibrahim al-Douri, his former deputy who escaped the 2003 US-led invasion and eluded security forces ever since.
Baghdad authorities tightened security and residents stocked up on essentials. Hundreds of young men crowded in front of the main army recruiting center in Baghdad on Thursay after authorities urged Iraqis to help battle the insurgents.
Security officials said the Islamic State fighters managed to take control of two weapons depots holding 400,000 items, including AK-47 rifles, rockets and rocket-propelled grenades, artillery shells and mortars.
http://indianexpress.com/article/world/middle-east-africa/iraqi-govt-in-paralysis-after-sunni-militants-captured-major-parts-of-the-country/
------------
Take Up Arms against Iraq 'Terrorists': Top Shia Cleric Ayatollah Ali Al-Sistani
June 13, 2014
Top Shia cleric Grand Ayatollah Ali al-Sistani called Friday for Iraqis to take up arms against "terrorists" who have overrun swathes of the country in a major offensive.
"Citizens who are able to bear arms and fight terrorists, defending their country and their people and their holy places, should volunteer and join the security forces to achieve this holy purpose," his representative announced on his behalf during Friday prayers in the city of Karbala.
"He who sacrifices for the cause of defending his country and his family and his honour will be a martyr," he added.
The elderly Sistani, who rarely appears in public, is highly influential in the Shia Muslim world and is adored by millions.
Full report at:
http://english.ahram.org.eg/NewsContent/2/8/103590/World/Region/Take-up-arms-against-Iraq-terrorists-Top-Shia-cler.aspx
---------
Iraq takes back Saddam hometown with Iran's help: Report
June 13, 2014
Iranian troops have helped Iraqi government forces re-take most of the town of Tikrit, the Wall Street Journal reports Iranian security sources as saying.
The source said that two battalions of Iran's Quds force, the overseas branch of the country's Revolutionary Guard, helped battle the Islamic State in Iraq and the Levant (ISIL) militants in the city.
A combined Iraqi-Iranian force has now taken control of 85% of Tikrit, the sources added.
Meanwhile, Iraqi forces launched at least four air strikes on militants occupying ousted dictator Saddam Hussein's palace compound in the city of Tikrit on June 12, witnesses told Reuters.
Full report at:
http://www.hurriyetdailynews.com/iraq-takes-back-saddam-hometown-with-irans-help-report.aspx?pageID=238&nID=67739&NewsCatID=352
------------
Militant group says it's imposing extreme Islamic law
Associated Press
June 13, 2014
BAGHDAD (AP) — The militant group that has taken control of some key cities in Iraq says it will start implementing its strict version of Islamic law in Mosul and other areas it now controls. It says women should stay in their homes for reasons of modesty, and that thieves will have their hands cut off. And it's telling Sunni members of the military and police to abandon their posts and "repent" -- or else "face only death."
Video that's been posted online today shows some residents of the Iraqi city of Tikrit (tih-KREET') celebrating the city's takeover by militants from the al-Qaida-inspired group.
The group is vowing to march on to Baghdad. But the capital doesn't appear to be in imminent danger of a similar assault. Baghdad would be a much harder target for the militants because of its large Shiite population. So far, fighters from the group have stuck to the Sunni heartland.
http://www.kmov.com/news/just-posted/Militant-group-says-its-imposing-extreme-Islamic-law--262970701.html
------------
Egyptian cabinet introduces plan to combat sexual harassment
June 13, 2014
A ministerial committee tasked with examining the issue of sexual harassment in Egypt announced its plan on to combat the problem following a meeting on Thursday.
The plan includes a heavy security presence in public squares and crowded areas. More police officers will also be tasked with joining the ministry's human rights sector to activate their role in confronting harassment in collaboration with the National Council for Women and civil society.
The plan also involves "activating the implementation" of the recently-issued anti-harassment law. Sexual harassment was criminalised for the first time in Egypt by a law issued last week. Penalties include fines and jail sentences of up to five years. The National Center for Social and Criminological
Full report at:
http://english.ahram.org.eg/NewsContent/1/64/103564/Egypt/Politics-/Egyptian-cabinet-introduces-plan-to-combat-sexual-.aspx
------------
Press conference held in Cairo against 'Shura Council' court verdict
June 13, 2014
A press conference was held at Cairo's Journalists' Syndicate on Thursday to denounce a recent court verdict against 25 activists accused in what is known as the "Shura Council" trial.
On Wednesday, the defendants were sentenced to 15 years in jail on charges including arranging an illegal protest, rioting and assaulting policemen.
The convictions stem from a protest that the defendants participated in last November outside the Shura Council in central Cairo to denounce military trials for civilians. The gathering was deemed illegal due to a recently-passed protest law banning all demonstrations not pre-approved by authorities.
"We are heading towards a path against the arms of tyranny that has been joined by the judiciary, prosecution and the media," said lawyer Ahmed Seif El-Islam, who is the father of one of the defendants, the well-known activist Alaa Abdel-Fattah.
El-Islam delivered his comments in front of a huge banner reading: "The fall of the justice state".
Full report at:
http://english.ahram.org.eg/NewsContent/1/64/103540/Egypt/Politics-/Press-conference-held-in-Cairo-against-Shura-Counc.aspx
------------
Africa
Sultan Abubakar III Advises Govt to Swap Chibok Girls with Detainees
June 13, 2014
Fears of a plan to Islamise Nigeria are unfounded, Sultan Muhammad Sa'ad Abubakar III said yesterday.
Sultan Abubakar, who is also the President General of the Nigeria Supreme Council for Islamic Affairs (NSCIA), also called on President Goodluck Jonathan to reconsider dialogue with the Boko Haram insurgents.
His Eminence spoke in Abuja while opening the 7th Annual National Conference organised by the Muslim Lawyers' Association of Nigeria (MULAN) in Abuja, with the theme: "Rule of Law and Social Justice: A Panacea for Unity and National Development."
He insisted that the government could only win the war against insurgency through dialogue.
Alhaji Abubakar also called on Muslim lawyers to offer free legal services to detained Boko Haram suspects so as to ensure freedom for those who are not connected with the deadly sect.
He decried a situation where non-Muslims are kicking against the inclusion of Sharia in the Constitution at the ongoing National Conference, even as he urged Muslims not to oppose provisions that would be of direct benefit to non-Muslims in the Constitution.
The Sultan of SOkoto said: "I have said it one million and one times, as far as America, when I delivered a lecture at Harvard University, that the problems of Nigeria is not caused by Muslims.
Full report at:
http://thenationonlineng.net/new/sultan-advises-govt-swap-chibok-girls-detainees/
-----------
Africa and West pledge more support in war against Boko Haram
June 13, 2014
LONDON: Nigeria will get more military and tactical support to help combat the Islamist militant group Boko Haram and find 200 kidnapped schoolgirls, African and Western officials pledged at a meeting in London yesterday.
Although Boko Haram has been fighting for five years, carrying out bombings and attacks on civilians and the security forces, the kidnapping in April of more than 200 girls has focused world attention on them and prompted demands for action.
Ministers from Nigeria and neighbouring Chad, Benin, Niger and Cameroon agreed on Thursday to form a regional intelligence unit to fight Boko Haram, aided by Britain, France and the United States, British Foreign Secretary William Hague said.
They also agreed to run multi-national patrols along the porous borders to stop the group, which is seen as a regional threat. The international community will enhance training for Nigeria's military and provide more schooling for Nigerian children.
Full report at:
http://www.freemalaysiatoday.com/category/world/2014/06/13/africa-and-west-pledge-more-support-in-war-against-boko-haram/
------------
Nigeria wants to follow Sri Lankan example to fight terror
June 13, 2014
ABUJA: Nigeria's military indicated on Thursday that it could follow the example of Sri Lanka in fighting terror, to bring end to an increasingly deadly insurgency by Boko Haram militants.
A high-ranking military delegation from the South Asian island nation, led by Chief of Defence Staff General Jagath Jayasuriya, was in the capital, Abuja, to meet their Nigerian counterparts to share experience and expertise.
The visit came after Pakistan's President Mamnoon Hussain held talks with his opposite number, Goodluck Jonathan, on Tuesday and the leaders pledged greater co-operation in defence and counter-terrorism.
Full report at:
http://www.dawn.com/news/1112352/nigeria-wants-to-follow-sri-lankan-example-to-fight-terror
------------
Libya's grand mufti calls for jihad against Hifter
June 13, 2014
The decision of the Constitutional Court of Libya's Supreme Court has failed to alleviate the political and security tension in the country, despite Ahmed Maiteeq, considered to be affiliated with the Muslim Brotherhood, having abdicated his post as prime minister. This step came when the constitutional committee confirmed that the recent decision of the General National Congress is illegal. However, the conflict between Islamists and their opponents — who are waging a campaign on the ground dubbed "Libya's Dignity" and led by Maj. Gen. Khalifa Hifter — has been taken to another level, which is likely to further inflame the security and political situation.
Full report at:
http://www.al-monitor.com/pulse/security/2014/06/libya-grand-mufti-fatwa-jihad-hifter.html#ixzz34VOtL6tU
------------
Pakistan
Militants, families alike flee North Waziristan in fear of full-scale operation
June 13, 2014
KABUL / MIRAMSHAH: Hundreds of families have fled from a surge of fighting between government forces and militants into neighbouring Afghanistan, while foreign fighters are also quietly slipping away ahead of a long-rumoured full-scale military offensive in North Waziristan.
Pakistani government forces have been launching air strikes against Taliban fighters in North Waziristan near the Afghan border in recent days, after Taliban fighters raided the airport in Karachi late on Sunday.
Missile-firing US drone aircraft have also, for the first time in six months, attacked militants this week in North Waziristan.
Millions of Afghan civilians have for decades sought shelter in Pakistan to escape war in their homeland but the fighting in Pakistan this week has sparked a rare flow of civilians the other way.
Full report at:
http://tribune.com.pk/story/721263/militants-families-alike-flee-north-waziristan-in-fear-of-full-scale-operation/
------------
US 'bribing govt' for N Waziristan operation, says Imran
June 13, 2014
ISLAMABAD: Pakistan Tehreek Insaf chief Imran Khan condemned US efforts to 'purchase the services of the Pakistan government' to carry out a military operation in North Waziristan.
By linking military aid and the Coalition Support Fund (CSF) payments directly to an operation in North Waziristan, the United States is bribing the Pakistan Muslim League-Nawaz (PML-N) government while seeking to discredit the Pakistan Army, said Khan in a statement issued on Thursday.
He was referring to the Carl Levin National Defence Authorisation Act for fiscal year 2015 in the US Congress, which links providing military assistance to Pakistan with Islamabad conducting military operations in North Waziristan.
Under the act, the US administration will also have to submit, twice a year, a report on the security cooperation with Pakistan, certifying that action is being taken against terrorists.
Imran pointed out that conducting such a military operation when most of the groups in North Waziristan are open to talks is 'suicidal' as it would result in the displacement of 0.7 million people.
Full report at:
http://tribune.com.pk/story/721140/new-congress-legislation-us-bribing-govt-for-n-waziristan-operation-says-imran/
------------
Fleeing tribesmen consider Afghanistan safer
June 13, 2014
PESHAWAR: Over 6,000 people from Ahmadzai Wazir and other clans have taken refuge in Afghanistan's Khost province in the aftermath of the recent targeted military action, suggesting the North Waziristan tribesmen consider the neighbouring country safer than their own.
"Keeping in view the long stay and plight of thousands of internally displaced persons of Fata in and off relief camps, I have made my mind to take my family to Afghanistan instead of keeping them in grimy tents in the adjacent Bannu district," said a tribal elder from Miramshah.
Several families have already crossed over to Afghanistan due to uncertainty.
Afghan official says 6,642 reach Khost from N Waziristan, ready to welcome more
Displaced people from other tribal agencies, including South Waziristan, Orakzai, Kurram and Khyber, have been living in awful conditions in and off camps for seven years.
Over 160,000 displaced families from Fata have been registered in Khyber Pakhtunkhwa.
The Taliban shura headed by Hafiz Gul Bahadur has already asked the local residents to move to areas close to Afghan border instead of proceeding to relief camps in Khyber Pakhtunkhwa.
Take a look: Centre indifferent to N Waziristan displacements
Full report at:
http://www.dawn.com/news/1112396/fleeing-tribesmen-consider-afghanistan-safer
------------
Talks with Taliban only way to restore peace: Maulana Samiul Haq
June 13, 2014
LAHORE- Jamiat Ulma-e-Islam-Sami (JUI-S) chief Maulana Samiul Haq has said that negotiations with Tehreek-e-Taliban Pakistan (TTP) were the only way to restore peace in Pakistan.
Talking to journalists' today, the JUI-Sami chief said that the US knew that talks had been suspended that's why it has restarted drone attacks in Pakistan's territory. The JUI-S chief urged the government to resume peace talks with the TTP immediately. Condemning terrorist attacks in Karachi and Taftan, Maulana Samiul Haq said that 'foreign forces' including India were involved in these attacks.
Full report at:
http://www.nation.com.pk/national/12-Jun-2014/talks-with-taliban-only-way-to-restore-peace-sami
------------
Intelligence agencies predict further attacks by terrorists
June 13, 2014
slamabad- Intelligence agencies have sent a report to Interior Ministry predicting future attacks at sensitive places including airports, schools and government installations.
According to the report, an important meeting headed by Tehreek-e-Taliban Chairman Molvi Fazalullah was conducted by the Taliban recently. The meeting's agenda was to target airports, intelligence agencies and other key buildings.
The government will have to use all its resources, especially the security of mosques will be a big challenge in the upcoming month of Ramadan.
http://www.nation.com.pk/national/13-Jun-2014/intelligence-agencies-predict-further-attacks-by-terrorists
------------
Pakistan denies 'express approval' for drone hits
June 13, 2014
ISLAMABAD - Apparently in a belated but calculated reaction, Pakistan strongly condemned Thursday the two incidents of drone strikes near Miranshah in North Waziristan which reportedly killed at least 16 foreign militants amid suspicions the two countries coordinated over the attack in the aftermath of a Taliban siege of Karachi airport.
Reports earlier quoted two unnamed government officials as saying Islamabad had given the Americans 'express approval' for the strikes. Underlining Pakistan's alarm over the brazen Taliban attack on the airport, just weeks after peace talks with the militants stalled, the top officials told Reuters a 'joint Pakistan-US operation' had been ordered to hit the insurgents.
Another official said Pakistan had asked the United States for help after the attack on the country's busiest airport on Sunday, and would be intensifying air strikes on militant hideouts in coming days.
Full report at:
http://www.nation.com.pk/national/13-Jun-2014/pakistan-denies-express-approval-for-drone-hits
------------
Sartaj calls victims of sexual violence the most vulnerable, neglected
June 13, 2014
LONDON – Adviser on National Security and Foreign Affairs Sartaj Aziz has declared that hidden victims of sexual violence are the most vulnerable and neglected people and said that there is a need for greater international recognition of their existence in a large number.
He was addressing the ministerial dialogue on the theme – hidden victims of sexual violence – during a global summit to end sexual violence in conflict. The adviser said that the hidden victims were affected by societal and cultural issues. He pointed out that the normal mechanisms of data collection and identification of the victims was not enough and there was a need for new innovative approaches.
Full report at:
http://www.dailytimes.com.pk/national/13-Jun-2014/sartaj-calls-victims-of-sexual-violence-the-most-vulnerable-neglected
------------
India
Sari-letter diplomacy helps, but LoC peace is a must: India tells Pakistan
June 13, 2014
"Maintenance of peace and tranquillity on LoC is one of the most important CBMs between India and Pakistan. That remains and will remain the case," Foreign Secretary Sujatha Singh said.
Against the backdrop of heavy shelling along the Line of Control in Jammu and Kashmir, India on Friday reminded Pakistan that maintenance of peace and tranquillity on the border is a "pre-condition" for having a normal relationship between the two countries.
Foreign Secretary Sujatha Singh said it has been India's endeavour to establish peaceful and friendly relations with all neighbours, including Pakistan.
"On firing, I will like to reiterate that peace and tranquillity on the border is of the highest importance in establishing the pre-condition for such peaceful and normal relationship," she told reporters.
Full report at:
http://www.thehindu.com/news/national/sariletter-diplomacy-helps-but-loc-peace-is-a-must-india-tells-pakistan/article6111723.ece
------------
Indo-Arab League Hyderabad to hold Aqsa and Palestine Day on June 20
June 13, 2014
Grand Mufti of Palestine His Excellency Mohammed A H Husain will throw light on the current situation in Palestine in a public meeting to be held by Indo-Arab League Hyderabad, on Friday, June 20, at 7 pm, at Numaish Club, Hyderabad. He will also conduct special prayer for peace and safety.
The public meeting going to be held to express solidarity with Palestinian people will also be addressed by member of Palestinian parliament his Excellency Abdullah MI Abdullah and Palestinian ambassador for India Al-Shaikh Hasan Sadiq Adli Shaban, besides ambassadors of Arab and leaders of political parties of India.
Chairman Indo-Arab League Hyderabad Mr. Syed Viqaruddin Quadri told that on the invitation of Indo -Arab League Hyderabad, Grand Mufti of Palestine and ambassadors of several parties are arriving in Hyderabad.
http://www.siasat.com/english/news/indo-arab-league-hyderabad-hold-aqsa-and-palestine-day-june-20
------------
Modi seeks 'new course' in India-Pakistan ties
June 13, 2014
Prime Minister Narendra Modi has written to his Pakistan counterpart Nawaz Sharif, saying he looked forward to charting a "new course" in the bilateral relations in an atmosphere "free from confrontation and violence".
Responding to Mr. Sharif's letter of June 2, Mr. Modi has said that "a relationship between India and Pakistan defined by peace, friendship and cooperation would unleash enormous opportunities for our youth, secure a more prosperous future for our people and accelerate progress across our region."
He also condemned the terror strike in Karachi earlier this week and conveyed his "deepest condolences" for the loss of innocent lives in this "senseless and barbaric" attack.
Mr. Modi said he was encouraged by discussions with Mr. Sharif during his visit to Delhi on bilateral relations and the convergence on views.
Full report at:
http://www.thehindu.com/news/national/modi-seeks-new-course-in-indiapakistan-ties/article6111255.ece
------------
10 J&K candidates crack UPSC exam
Press Trust of India | Srinagar | June 13, 2014
The representation of Jammu and Kashmir in the Union Civil Services is increasing as 10 candidates from the state cracked the prestigious examination this year.
Six candidates from Jammu region and four from the Valley have figured in the list of successful candidates, according to the results declared by Union Public Service Commission on Thursday.
Abid Sadiq Bhat (33), a resident of Srinagar, is the highest-ranked qualifier from the state, standing at 27th. Bhat had qualified the UPSC examination last year too and was allotted the Indian Revenue Service.
The other successful candidates from the Valley are Bashir Ahmad Bhat (189th), Raja Yaqoob (274th) and Shakeel Maqbool Yatoo (633rd).
Full report at:
http://indianexpress.com/article/india/india-others/10-jk-candidates-crack-upsc-exam/
------------
Mideast
Zionists Discover Tunnel Dug by Palestinian Prisoners
13 June 2014
Palestine: Tunnel dug by Palestinian prisonersThe Zionist police have discovered a four-meter tunnel inside a prison in northern Occupied Territories, Zionist daily Yediot Aharonot reported Friday.
The tunnel was discovered in a cell bathroom in the Shita prison during a major search, the daily said.
The search was initiated after prison officials received information about a potential attack on guards, according to the Zionist paper.
The cell in which the tunnel was found housed prisoners – some serving life sentences.
Around 5000 Palestinians continue to languish in more than 20 detention facilities throughout the occupation entity, according to a report by the Prisoners Center for Studies and Research, a Palestinian NGO.
http://www.almanar.com.lb/english/adetails.php?fromval=1&cid=23&frid=23&eid=156220
------------
Zarif Warns against Threat of Takfiri Terrorists
13 June 2014
Iranian Foreign Minister Mohammad Javad Zarif in a telephone conversation with UN Secretary General Ban Ki-moon discussed the latest developments in Iraq, and warned against the threat posed by Takfiri and Salafi groups to Iraq and the Middle-East.
"Takfiri terrorists pose a trans-border threat to Iraq's neighboring countries," Zarif said during the telephone conversation on Thursday evening.
The Iranian foreign minister also reiterated the UN responsibility to seriously and effectively support the Iraqi nation and government in fighting terrorism.
Iraqi forces are continuing their battle against Takfiri terrorists as militants are advancing in Iraq, taking control of parts of the Arab country.
Full report at:
http://english.farsnews.com/newstext.aspx?nn=13930323000398
------------
Ankara ordered Turkish special forces in Mosul not to clash with ISIL
June 13, 2014
Ankara instructed the special forces protecting the Turkish consulate in Mosul not to engage in clashes with militants of Islamic State of Iraq and the Levant (ISIL) who besieged the compound, Turkish media reported on June 13.
Forty-nine Turkish citizens, including thee consul general in Mosul and several members of the Turkish special forces, were taken hostage by ISIL and transferred to an undisclosed place on June 11.
One hostage posted a message on an Internet forum used by Turkish special forces members, daily Vatan reported. The message states that ISIL besieged the compound with "900 specially trained commandos" as Turks in the compound positioned snipers on rooftops to resist.
"They had mortars, DShK and PK-type heavy machine guns, RPGs and four tanks that they stole from the Iraqi army. We told the Foreign Ministry that we would clash until we ran out of ammunition, but the Foreign Ministry told us not to, saying 'We can't lose our personnel so blatantly," the special forces member reportedly stated on the forum.
Full report at:
http://www.hurriyetdailynews.com/ankara-ordered-turkish-special-forces-in-mosul-not-to-clash-with-isil.aspx?pageID=238&nID=67744&NewsCatID=352
------------
Palestinian Authority PM: Unity government still lacks control in Gaza
June 13, 2014
Rami Hamdallah speaks with the New York Times about newly-formed government, says "Don't expect we'll do it all in 24 hours."
Speaking with the New York Times in Ramallah on Thursday, Palestinian Authority Prime Minister Rami Hamdalla admitted "he still lacked any authority" in Gaza and that nothing had changed on the ground so far.
A week and a half after the establishment of a Palestinian unity agreement between the Fatah and Hamas, Hamdallah revealed in an hour-long interview that he was not satisfied with the new government that was negotiated between the two factions.
He said that if it were up to him, he would have chosen only a few of the ministers he currently has in his new cabinet.
Full report at:
http://www.jpost.com/Diplomacy-and-Politics/Palestinian-Authority-PM-Unity-government-still-lacks-control-in-Gaza-358251
------------
Israeli envoy to UN General Assembly: Israel is used to terrorist threats
June 13, 2014
NEW YORK — Israel's ambassador to the UN Ron Prosor spoke at the 94th plenary meeting of the UN General Assembly on Thursday afternoon, and touted his country's accomplishments in fighting insurgency and terrorism. He also called out Iran, as he had in many previous speeches, for fulling the Syrian conflict and for being "the world's primary sponsor of terrorism."
"Since its rebirth 66 years ago, Israel has found itself under constant threat from terrorist organizations," Prosor said. "Out of this persistent need to defend our citizens, Israel became a specialist in the field of counter-terrorism – with technologies and tools unmatched by any other country."
"Israelis are the targets of a terror campaign directed by the Iranian Revolutionary Guards and Hezbollah," he continued. "Iran's fingerprints can be seen on attacks from Bulgaria to Kenya to Thailand, where just a few weeks ago, authorities foiled a plan by Hezbollah agents to attack Israeli tourists."
Full report at:
http://www.jpost.com/Diplomacy-and-Politics/Israeli-envoy-to-UN-General-Assembly-Israel-is-used-to-terrorist-threats-358235
------------
Alarmed by Iraq, Iran open to shared role with US, Iran official says
June 13, 2014
ANKARA: Shia dominant Iran is so alarmed by Sunni insurgent gains in Iraq that it may be willing to cooperate with Washington in helping Baghdad fight back, a senior Iranian official told Reuters.
The idea is being discussed internally among the Islamic Republic's leadership, the senior Iranian official told Reuters, speaking on condition of anonymity.
The official had no word on whether the idea had been raised with any other party.
Officials say Iran will send its neighbour advisers and weaponry, although probably not troops, to help its ally Prime Minister Nuri al-Maliki to check what Tehran sees as a profound threat to regional stability, officials and analysts say.
Full report at:
http://tribune.com.pk/story/721281/alarmed-by-iraq-iran-open-to-shared-role-with-us-iran-official-says/
------------
Europe
U.N. reports executions, rape in Iraq
13 June 2014
The United Nations warned that the number of people killed after Sunni Islamist militants overran the Iraqi city of Mosul earlier this week may run into the hundreds, Reuters reported U.N. human rights spokesman Rupert Colville as saying on Friday.
Colville also said his office reported that the killings included the execution of 17 civilians working for the police and a court employee in central Mosul.
Four women had killed themselves after being raped, 16 Georgians had been kidnapped and prisoners released by the militants had been looking to exact revenge on those responsible for their incarceration, he said.
"We've also had reports suggesting that the government forces have also committed excesses, in particular the shelling of civilian areas on 6 and 8 June," he said. "There are claims that up to 30 civilians may have been killed."
"The High Commissioner Navi Pillay is expressing extreme alarm at the dramatic deterioration of the situation in Iraq amid reports of summary executions and extrajudicial killings and the massive displacement of an additional half a million people as [militants] overran the succession of major towns and cities this week," he told reporters.
Full report at:
http://english.alarabiya.net/en/News/middle-east/2014/06/13/U-N-reports-executions-rape-in-Iraq.html
------------
Islamic extremists pose increasing threat in Finland
June 13, 2014
Islamic extremists pose an increasing threat of violence in Finland, the Finnish Security Intelligence Service (Supo) estimates in its most recent threat assessment.
Today, the threat is posed mainly by so-called lone-wolf terrorists, whereas the threat of an organised terrorist attack remains low, reminds Antti Pelttari, the director of Supo. Pelttari in an interview with STT also emphasises that Supo is not aware of any concrete terror plots against Finland.
The threat of an attack carried out by lone-wolf terrorists, Supo explains, has increased due to the growing number of Finns participating in the ongoing civil war in Syria – as it has also elsewhere in Europe. "The anti-Western world-view of such people and their perhaps lowered threshold and personal reasons to use violence are factors that increase the risk," Supo views in its assessment.
Full report at:
http://www.helsinkitimes.fi/finland/finland-news/domestic/10902-supo-islamic-extremists-pose-increasing-threat-in-finland.html
------------
Germany to conduct study on anti-Semitism, anti-Zionism
June 13, 2014
The German Ministry of the Interior will undertake a study on anti-Semitism and anti-Zionism, a senior adviser to President Joachim Gauck told the Simon Wiesenthal Center in a letter obtained by The Jerusalem Post.
The letter, by Gauck's senior diplomatic and foreign policy adviser, Ambassador Heinz-Peter Behr, came in response to a request sent last month by Wiesenthal Center associate dean Rabbi Abraham Cooper, who has been demanding such studies in correspondence with several European leaders.
In his request to Gauck, Cooper cited a study by the German Friedrich Ebert Foundation that found that nearly half of Germans, and 40 percent of Europeans overall believe that "Israel is conducting a war of extermination against the Palestinians."
Another study, conducted by the University of Bielefeld, found that over half of Germans polled agreed that "Israel behaves toward the Palestinians the way the Nazis behaved toward the Jews," he added.
Full report at:
http://www.jpost.com/Jewish-World/Jewish-News/Germany-to-conduct-study-on-anti-Semitism-anti-Zionism-358229
------------
France's Fabius says world must act on Iraq
June 13, 2014
France said world powers needed to act urgently to deal with the situation in Iraq as the advance by Islamist militants put the country's unity in doubt and posed a wider risk for the region.
"The advance of the Islamic State of Iraq and the Levant seriously puts into danger the unity and sovereignty of Iraq and ... it poses a serious threat to the stability of the region," Fabius said in a statement of ISIL fighters. "The international community must imperatively deal with the situation."
http://english.ahram.org.eg/NewsContent/2/8/103555/World/Region/Frances-Fabius-says-world-must-act-on-Iraq.aspx
-----------
South Asia
Afghan candidate Abdullah Abdullah seeks Pakistan cooperation
June 13, 2014
WASHINGTON: Afghan presidential front-runner Abdullah Abdullah said Thursday he wanted "good neighborly relations" with Pakistan, taking a conciliatory tone after accusations that Islamabad's spy service tried to kill him.
Outgoing President Hamid Karzai's National Security Council said that "foreign intelligence services"- a thinly veiled reference to Pakistan – were behind two blasts last week aimed at Abdullah in which 12 people were killed.
But Abdullah, speaking to a Washington think tank via Skype two days before the run-off election, said he would seek cooperation with Pakistan – which he noted has also experienced a series of deadly attacks.
"Today one harsh reality is that both countries are faced with the same challenges and it is in the interest of both countries to deal with it in a genuine spirit of good neighborly relations," Abdullah told the Atlantic Council.
Abdullah said he also sought to work with Afghanistan's other neighbours including India, whose warm relationship with Karzai has alarmed rival Pakistan.
Abdullah, an ophthalmologist turned foreign minister who lost a contested 2009 election to Karzai, placed first in the initial round of the latest election.
Full report at:
http://tribune.com.pk/story/721266/afghan-candidate-abdullah-abdullah-seeks-pakistan-cooperation/
------------
UGC chair: Education standard in Bangladesh satisfactory
June 13, 2014
The education minister said he had learned a lot at the conference from the other education policy makers.
Though the education standard in Bangladesh is lagging behind from the developed and technologically advanced countries, it is satisfactory compared to the other developing and a few neighbouring countries, claimed AK Azad Chowdhury, chairperson of the University Grants Commission.
He made the claim during a press briefing at Ruposhi Bangla Hotel in the capital yesterday,arranged to share the experience of the Bangladeshi delegates at the Going Global 2014 conference that took place in the US from April 29 to May 1.
The delegation from Bangladesh was led by Education Minister Nurul Islam Nahid, while Azad Chowdhury was the deputy leader.
Full report at:
http://www.dhakatribune.com/education/2014/jun/13/ugc-chair-education-standard-bangladesh-satisfactory#sthash.Hk0ct3Qp.dpuf
-----------
Bogra Jamaat leader arrested in Sayedee violence case
June 13, 2014
Md Yasin Ali is the Nayeb-e-Ameer of Shahjahanpur Upazila unit Jamaat and also a former chairman of the Upazila
Detectives yesterday arrested a local Jamaat-e-Islami leader for his alleged involvement in instigating mob to carry out violence in the district after verdict in a war crimes case against its central leader Delawar Hossain Sayedee last year.
Md Yasin Ali is the Nayeb-e-Ameer of Shahjahanpur Upazila unit Jamaat and also a former chairman of the Upazila.
Yasin was arrested from the town's Jaleshwaritala area in the morning when he had gone to court to appear before it in a case hearing, ASP of Bogra police's media cell Gaziur Rahman told the Dhaka Tribune.
Full report at:
http://www.dhakatribune.com/politics/2014/jun/13/bogra-jamaat-leader-arrested-sayedee-violence-case#sthash.FUdcfpfy.dpuf
------------
Witness: Qaisar was present during Pak Army atrocities
June 13, 2014
Qaisar was indicted on 16 charges of crimes against he had allegedly committed in Habiganj during the war
A new witness in the trial of Syed Mohammad Qaisar yesterday said the accused was present during the killing of Abdur Gafur in Habiganj by the Pakistani occupation forces.
Lokman Hossain, 63, son of Zohur Ali from Lohaid under Madhabpur police station of Habiganj, testified at the International Crimes Tribunal 2 as the 22nd prosecution witness. He said: "Locals started to flee the village on May 14 of 1971, hearing that the Pakistani Army men entered the village. Hearing gunshots, I hid in a bush on the southwest part of our house and watched Qaisar with his cohorts entering neighbour Gafur's house. Qaisar was there when the army men shot him dead." The witness said he had seen bodies of at least 12 bodies in the village on that day.
Full report at:
http://www.dhakatribune.com/law-rights/2014/jun/13/witness-qaisar-was-present-during-pak-army-atrocities#sthash.suFDjvBM.dpuf
------------
North America
Anti-Islam bus ad angers Muslims, Christians and Jewish leaders
13 Jun 2014
Dubai: It has been posted on many buses in Washington, D.C., for few weeks provoking Muslims and non-Muslims alike.
The ad reads, "Islamic Jew-hatred; It's in the Quran. Two thirds of all US aid goes to Islamic countries. Stop racism. End all aid to Islamic countries."
Muslims in the US, supported by several Christians and Jewish leaders, united in their efforts to respond to the ads claiming that it is false that the Quran, holy book for Muslims, encourages Muslims to hate Jews.
They responded by posting another advertisement refuting the original ads placed by a group led by anti-Islam activist Pamela Geller.
"We normally ignore provocation of this nature because she (Geller) has been, along with other organisations, involved in propaganda against Muslims and Islam in the US," said Nihad Awad, National Executive Director of CAIR (Council on American-Islamic Relations).
But, "when their campaign tried to influence the public opinion with false information, then we have to counter that with accurate information about Islam and Muslims," Awad added in an interview with Gulf News.
Full report at:
http://gulfnews.com/news/world/usa/anti-islam-bus-ad-angers-muslims-christians-and-jewish-leaders-1.1346266
------------
Islamic Insurgents Advance in Iraq as US Weighs Response
June 13, 2014
Islamic militants are seizing more territory in Iraq as the U.S. weighs its response to the rebel advance.
Officials say militants captured the towns of Jalawla and Saadiyah in the ethnically divided eastern province of Diyala late Thursday.
The Islamic State of Iraq and the Levant, or ISIL, has already captured most of northern Iraq and is advancing toward the capital.
President Barack Obama said Thursday he is "looking at all the options" in deciding how to respond to the worsening crisis in Iraq.
"We do have a stake in making sure that these jihadists are not getting a permanent foothold in either Iraq or Syria, for that matter," said Obama.
U.S. officials, speaking on condition of anonymity, say the options being considered include possible drone strikes.
In lightning-quick strikes, ISIL fighters this week took control of Mosul, Iraq's second largest city, and advanced within 90 kilometers of Baghdad.
Full report at:
http://www.voanews.com/content/islamic-insurgents-advance-in-iraq-as-us-weighs-response/1936055.html
------------
Somali-Americans Join Anti-Government Fight in Syria
June 13, 2014
U.S. federal investigators say as many as 15 Somali-American men recently traveled to Syria to join Islamist militants who have been fighting to topple President Bashar al-Assad's government.
U.S. Federal Bureau of Investigation (FBI) agents in the northern state of Minnesota believe the men traveled from the Minneapolis-St. Paul area over the last few months. The twin cities have a large Somali community.
FBI spokesman Kyle Loven said Thursday that authorities are trying to identify other Somali-Americans who may be considering travel to Syria to join militant groups.
In an interview with VOA, Loven said authorities are also investigating how the young men may have become radicalized.
Full report at:
http://www.voanews.com/content/somali-americans-join-anti-government-fight-in-syria/1936031.html
------------
U.S. says Sudan deliberately attacks civilians
13 June 2014
The U.S. ambassador to the United Nations accused Sudan Thursday of intensifying attacks on civilians in South Kordofan and Blue Nile states, and of deliberately bombing schools and hospitals, Agence France-Presse reported.
Samantha Power denounced "in the strongest possible terms" attacks she said were being carried out by the Sudanese government and its rapid support forces against ordinary people.
Ground and air attacks have increased since April, with hundreds of barrel bombs and other ordnance dropped on towns and villages, deliberately targeting hospitals and schools, she said.
The United States was also disturbed by reports of air strikes targeting civilian aid workers, which if accurate would seriously violate international law, she said.
Full report at:
http://english.alarabiya.net/en/News/2014/06/13/U-S-says-Sudan-deliberately-attacks-civilians.html
------------
US transfers 12 detainees including 10 Pakistanis out of Afghan prison
June 13, 2014
WASHINGTON: A US official said Thursday the United States has repatriated a dozen inmates from a secretive military prison in Afghanistan where foreign terror suspects have been held for years without trial.
A French national, a Kuwaiti and 10 Pakistani detainees were sent back to their home countries last month from the Parwan prison, the defence official told AFP on condition of anonymity.
The move left 38 non-Afghan detainees at the prison.
The Defence Department notified Congress of the transfer 10 days beforehand, the official added.
Full report at:
http://tribune.com.pk/story/721257/us-transfers-12-detainees-including-10-pakistanis-out-of-afghan-prison/
------------
US House leader says Obama 'taking a nap' on Iraq
June 13, 2014
The Republican leader of the U.S. House of Representatives says President Barack Obama is "taking a nap" as terrorists capture Iraqi cities and move toward the capital of Baghdad.
Speaker John Boehner told reporters Thursday that the United States continues to have vital interests in Iraq, from which Obama has withdrawn American combat troops.
Boehner says U.S. progress in Iraq is clearly in jeopardy.
He says Obama's focus should be on completing the U.S. mission there and says the president should get engaged before it is too late. He says the U.S. should provide equipment and technical assistance to the beleaguered Iraqi government.
Iraqi Prime Minister Nouri al-Maliki has asked his parliament to declare a state of emergency that would give him increased powers, but the lawmakers have not done so.
http://english.ahram.org.eg/NewsContent/2/8/103550/World/Region/US-House-leader-says-Obama-taking-a-nap-on-Iraq.aspx
------------
CIA Drone Strikes Resume in Pakistan After Five-Month Pause
13 Jun 2014
Two drone strikes have hit North Waziristan in Pakistan's tribal northwest, reportedly killing 16 people and ending the longest pause in drone strikes of the 10-year campaign.
Prior to these attacks there had not been a drone strike in Pakistan since Christmas Day. The Pakistani government had requested that the US stop carrying out strikes to allow peace talks with the Pakistani Taliban (TTP) to take place, sources close to the negotiations told the Bureau in February.
But terrorist attacks and retaliatory air strikes by the Pakistani military continued throughout the peace talks, killing hundreds including civilians.
Any hope of the talks continuing ended on Sunday when the TTP launched an audacious 'joint operation' attacking Karachi airport, with members of the Islamic Movement of Uzbekistan (IMU), a group with a strong presence in North Waziristan. The five-hour assault killed at least 39, according to the BBC.
Full report at:
http://www.commondreams.org/headline/2014/06/12
-----------
Southeast Asia
Islamic values not the glue to bind Malaysia, says Zaid
JUNE 13, 2014
KUALA LUMPUR, June 13 — Multicultural Malaysia will not likely unite under the Islamic values that are increasingly dominating local society in the absence of a common set of national principles, said former minister Datuk Zaid Ibrahim.
The former Cabinet member in the Abdullah administration said that while the country once had the Rukun Negara, or National Principles, as a guiding core of universal values, this has since been eroded and replaced through the increasing emphasis on "Islamic values".
Pressing on the importance for every country to have shared values, Zaid nevertheless expressed uncertainty whether using Islam as the basis of the core belief system would work given Malaysia's diverse communities.
"Islamic values, being sourced from a particular religion, will find little acceptance in a multi-religious community.
"We see this in the continuing debate on hudud, and even if there were some 'Islamic' values that were similar to 'national values', it would be the result of an imposition by the government — not the kind of values freely accepted by the people," the former Kota Baru MP wrote on his blog yesterday.
Full report at:
http://www.themalaymailonline.com/malaysia/article/islamic-values-not-the-glue-to-bind-malaysia-says-zaid#sthash.v9o7cYrh.dpuf
------------
After motion flip-flop, Selangor BN says PAS's job to push for hudud
June 13, 2014
KUALA LUMPUR, June 13 — Selangor Barisan Nasional (BN) said today that it withdrew a motion on hudud in the state legislative assembly because it was PAS's responsibility to implement the Islamic penal code in the state.
Selangor opposition leader Datuk Shamsudin Lias pointed out that the Islamist party could count on BN's 12 assemblymen if it needed support to approve any motion or Bill on hudud in the state legislative assembly.
With the 12 from BN, 15 from PAS and 10 from PKR, there would technically be 37 Muslim representatives who make up the majority in the 56-seat Selangor state assembly.
"If PAS Selangor doesn't take any significant steps towards implementing hudud in Selangor after this, then it's clear that PAS is hypocritical as they are lying to their voters and to themselves.
Full report at:
http://www.themalaymailonline.com/malaysia/article/after-motion-flip-flop-selangor-bn-says-pass-job-to-push-for-hudud#sthash.6yN3oVUT.dpuf
------------
Don't play games, Selangor Speaker tells BN after hudud motion withdrawn
June 13, 2014
KUALA LUMPUR, June 13 ? Selangor Speaker Hannah Yeoh warned Barisan Nasional (BN) today not to play political games with the state legislative assembly after a Selangor Umno assemblyman withdrew his motion on hudud just over a day after she approved it for debates.
In a statement here, Yeoh confirmed that her office received a copy of Sungai Air Tawar assemblyman Kamarol Zaki Abdul Malik's notice withdrawing the motion for the Selangor government to conduct a study on the feasibility of implementing the Islamic penal code in Selangor.
"I view this move by the assemblyman from Umno as a blatant political stunt," Yeoh said in a statement.
"If an assemblyman is not ready or prepared to debate or stand by his motion, he should never have wasted the State Assembly's time by tabling it in the first place," she added.
Kamarol Zaki submitted the hudud motion two weeks ago on May 30, rousing anger among Umno's allies - MCA and Gerakan - who called for it to be withdrawn as it contravened BN's spirit of consensus.
Full report at:
http://www.themalaymailonline.com/malaysia/article/dont-play-games-selangor-speaker-tells-bn-after-hudud-motion-withdrawn#sthash.cYUsXmHj.dpuf
------------
URL: https://newageislam.com/islamic-world-news/sunni-militants'-march-iraq-threatens/d/87521