New Age Islam News Bureau
04 September 2020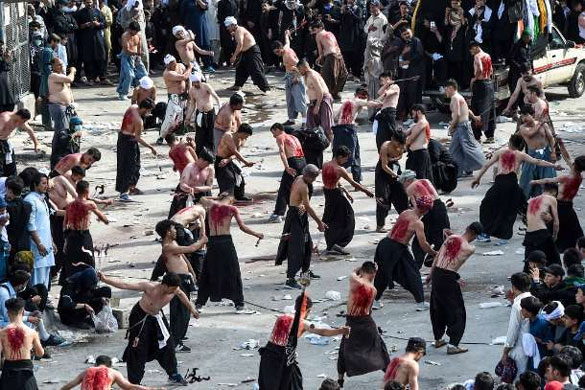 Shia Muslims flagellate themselves during an Ashura procession during the holy month of Muharram in Quetta, Pakistan, on Aug. 30. (Photo: AFP)
-----
• Indo-Islamic Cultural Foundation Will Ensure the Crowdfunding for The Ayodhya Mosque Is Strictly Adhered to Sharia Law
• Five Years After Terror Attack, Why Charlie Hebdo Has Reprinted Caricatures of The Prophet
• Uighur Issue Resonates in US Presidential Polls, China's 'Iron Brother' Pakistan Silent
• Beirut Residents Race Against Rain to Save Historical Homes Ravaged by Explosion
• Hamas Chief Haniyeh In Lebanon To Meet Palestinian Factions, Hezbollah's Nasrallah
Pakistan
• Sunni Coalition to Demand Arrest of Shia Clerics and Eulogists Accused of Blasphemy in Pakistan During the Recently Concluded Ashura
• Pakistan regrets politicisation of UN sanctions regime
• PM's aide quits following family business allegations
• Pakistan court directs govt to raise Jadhav's lawyer issue with India again
• Pakistani officials: Roadside bomb hits army, kills 3 troops
• Officer, two soldiers martyred in North Waziristan attack
--------
India
• Indo-Islamic Cultural Foundation Will Ensure the Crowdfunding for The Ayodhya Mosque Is Strictly Adhered to Sharia Law
• 'No Elements of Babri Masjid in New Ayodhya Mosque', Says Architect Designing It
• 180 Sikh families from Afghanistan arrive in Delhi
• India paves the way for return of 410 Pakistani Hindus stranded across the border
• J&K: Army officer injured in Baramulla encounter with terrorists
--------
Europe
• Five Years After Terror Attack, Why Charlie Hebdo Has Reprinted Caricatures of The Prophet
• UK Public Tribunal to Probe Uighur 'Genocide' Claims In China
• Europe's top human rights judge visits Turkey despite frequent violations
• Greece, Turkey agree to talks to avoid accidental clashes in Eastern Med: NATO
• Turkey, Pakistan rebuke French weekly for reprinting anti-Islam cartoons
• Russia praises 3rd round of Syrian peace talks
• Macron berates reporter for unveiling Hezbollah talks
• Danish racist leader applies for Swedish citizenship
--------
South Asia
• Uighur Issue Resonates in US Presidential Polls, China's 'Iron Brother' Pakistan Silent
• UNAMA Stresses Need for Women Participation in Intra-Afghan Talks
• Afghanistan's new State Minister for Peace officially assumed office
• Afghan, Taliban Prisoner Swap Ends: Deadlock to Intra-Afghan Talks
• Rohingya arrested at sea shunted back to Myanmar camps
--------
Arab World
• Beirut Residents Race Against Rain to Save Historical Homes Ravaged by Explosion
• Bahrain To Allow Israel Flights to UAE Over Its Airspace
• Airstrike kills 16 pro-Iran fighters in Syria, Israel suspected as behind it: Report
• Conflict in Syria requires political solution without foreign interference: Lavrov tells UN envoy
• US-backed SDF militants kidnap civilians, prevent food from entering al-Hawl refugee camp
• Less than a meter separates rescuer from what they hope is a survivor of the Beirut blast, buried under the rubble
• Saudi project saves Yemenis from Houthi landmines
--------
Mideast
• Hamas Chief Haniyeh In Lebanon To Meet Palestinian Factions, Hezbollah's Nasrallah
• Israel Remains Enemy, Does Not Belong To Middle East Despite UAE Deal: Hamas Leader
• Yemeni vice president slams Houthis for blocking international peace efforts
• Iran Condemns Notorious French Magazine's Sacrilegious Cartoon
• FM Zarif Discusses Bilateral Ties with Pakistani Counterpart
• Iranian FM Raps Israel for Continued Crimes against Palestinians
• Turkey Releases Hunger-Striking Lawyer After Death of Fellow Imprisoned Attorney
• Turkey's power projection risks military clash in Mediterranean, former PM says
--------
Southeast Asia
• Indira Gandhi Says No Issue with Daughter Embracing Islam, Just Hopes To Reunite With Her By Deepavali
• PAS MP Stands by Controversial Comments on Alcohol Consumption
• Another former Sabah chief minister hopes to make a comeback in Sept 26 poll
• After meeting with cops, Indira hopes for Deepavali reunion with daughter
• Over 600 Indonesian Islamic School Students Infected with Covid-19
--------
Africa
• UN Chief Guterres Calls for Closure of Libya Migrant Detention Centres
• Blasts hit Libya capital Tripoli, residents report
• UN laments 'blatant' violations of Libya arms embargo
• Nigeria: 20 villagers kidnapped in armed raid
• Kenya names 9 terrorism financiers, freezes assets
--------
North America
• Top Turkish, US Officials Discuss East Med Over Phone
• US' Kushner discuss Israel-UAE deal in London
• US sanctions 11 entities for aiding Iran's oil sector
Compiled by New Age Islam News Bureau
URL: https://www.newageislam.com/islamic-world-news/sunni-coalition-demand-arrest-shia/d/122791
--------
Sunni Coalition to Demand Arrest of Shia Clerics and Eulogists Accused of Blasphemy in Pakistan During the Recently Concluded Ashura
Zahid Hussain
September 04, 2020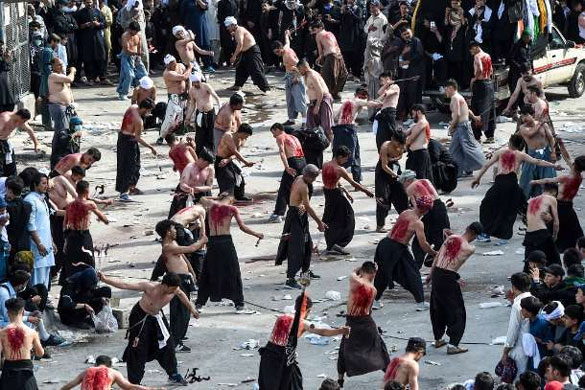 Shia Muslims flagellate themselves during an Ashura procession during the holy month of Muharram in Quetta, Pakistan, on Aug. 30. (Photo: AFP)
-----
A newly formed coalition of Sunni groups will stage a sit-in protest in Islamabad on Sept. 14 to demand the arrest of Shia clerics and eulogists accused of blasphemy.
The demand came despite an unprecedented wave of arrests of Shias on charges of insulting the Prophet Muhammad's companions during the recently concluded Ashura, a 10-day mourning period marked annually by the Muslim minority sect during the holy month of Muharram.
According to news reports and activists, more than 42 people, mainly Shias and Christians, have been arrested in the past month for blasphemy.
Shias, who make up 15 percent of Pakistan's 220 million population, commemorate the seventh-century massacre of the Prophet Muhammad's grandson Imam Husayn and his family and friends at the Battle of Karbala in Iraq for refusing to pledge allegiance to the then Muslim ruler Yazid ibn Muawiya.
Shias blame certain Islamic figures for events that led to the Karbala tragedy but the same people are revered by Sunnis for being companions of the Prophet Muhammad.
Several Sunni organizations known for their vocal support for controversial blasphemy laws — Jamiat Ulema Islam, Ahle Sunnat Pakistan, Aalmi Majlis Tahuffuz Khatm Nubawwat, Markazi Jamiat Ahle Hadith, JUI-S, Sunni Ulema Council and others — met in Islamabad and announced the creation of a new coalition to demand the arrest of Shias under blasphemy laws.
In a joint statement after the meeting, the groups condemned "insults to Prophet's companions" during Shia majalis (processions).
The groups called for the registration of cases under terrorism laws against Shias who hold licenses for taking out Muharram processions.
They also demanded the establishment of a national commission to stop sectarianism, religious hatred and incitement.
The Sunni groups also demanded that a controversial Islam Protection Bill recently passed by the Punjab Assembly be replicated in other provinces.
Meanwhile, lawyers' groups have voiced concern over a tweet by Prime Minister Imran Khan which appeared to criticize Shias.
"I want to thank our nation for the peaceful observing of Ashura in the country. However, unfortunately, information has come to me of elements who tried to ignite flames of sectarianism on this occasion and I will be taking very tough action against them," Khan tweeted.
In a statement, the Pakistan Bar Council and the Supreme Court Bar Association expressed concern and dismay over Khan's tweet "targeting a section of the Shia community and subsequent registration of cases against a number of persons of that community and their arrest being accused of blasphemy without any reason and justification. "
"The prime minister of Pakistan, being executive head of the country, is expected to play the role of a wise statesman, striking a balance among different religious sects and communities rather than to cause discrimination against a particular community/sect.
"The prime minister of Pakistan should be a symbol of unity for its citizens irrespective of religious beliefs, which in the current situation of the country is badly needed."
Blasphemy is a highly sensitive issue in deeply conservative Pakistan where mere allegations have led to extrajudicial killings and mob violence.
Human rights campaigners have long sought the repeal of draconian blasphemy laws, arguing they are used to victimize religious minorities or settle personal scores.
https://www.ucanews.com/news/sunni-coalition-to-demand-arrest-of-shia-clerics-in-pakistan/89408#
--------
Indo-Islamic Cultural Foundation Will Ensure the Crowdfunding for The Ayodhya Mosque Is Strictly Adhered to Sharia Law
By Namita Bajpai
03rd September 2020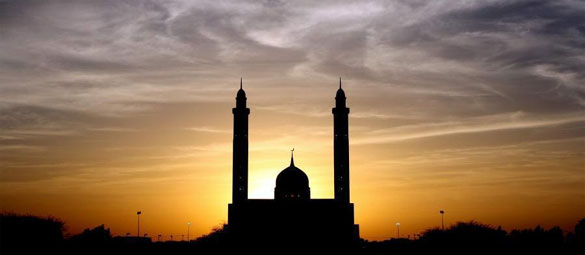 For representational purposes
-----
LUCKNOW: Indo-Islamic Cultural Foundation (IICF), the trust constituted for building Ayodhya mosque, will ensure that the crowdfunding for the shrine is strictly adhered to Sharia law.
According to the sources close to IICF members, the crowdfunding for the mosque and other utilities including hospital, community kitchen, library, Indo-Islamic Cultural Centre, etc would be dealt with separately.
"We will have to be very sensitive and alert as money generated as interest, profit, hoarding of stocks, etc, cannot be utilised to build a mosque," said a senior trustee seeking anonymity.
With the trust office already in place in Lucknow and two bank accounts opened -- one in ICICI bank and the other in HDFC bank -- to facilitate crowdfunding, the trust is now in the process of creating its portal, which will have the payment gateways for taking donations for the mosque and the public utility construction as part of the mosque project.
The portal would provide separate payment gateways for the mosque in compliance with the norms of Sharia, said the IICF sources.
Last month, the foundation was handed over the land for the proposed mosque at Dhannipur village under Sohawal tehsil, in Ayodhya district after measurement by the local revenue department officials.
The state government had allotted 5 acres of land, around 20 km from Ram Janmabhoomi premises, to UP Sunni Central Waqf Board for the construction of the mosque following the directives of the Supreme Court which had delivered the order in the vexed issue on November 9, 2019.
On Tuesday, IICF appointed Prof SM Akhtar, founder dean, Faculty of Architecture, Jamia Millia Islamia University, Delhi as consultant architect of IICF, masjid complex project.
https://www.newindianexpress.com/nation/2020/sep/03/donations-for-ayodhya-mosque-as-per-sharia-law-trustee-2192056.html
--------
Five Years After Terror Attack, Why Charlie Hebdo Has Reprinted Caricatures Of The Prophet
by Rahel Philipose
September 4, 2020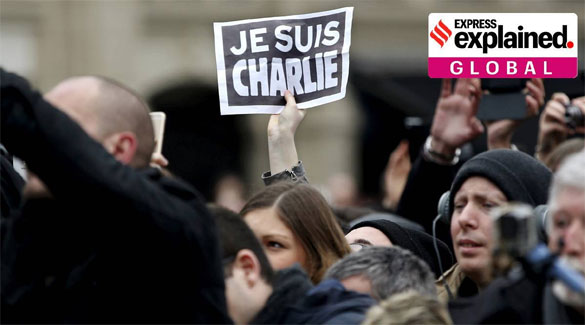 A person holds up a "Je Suis Charlie" (I am Charlie) sign during a ceremony to pay tribute to the victims of the shooting at the French satirical newspaper Charlie Hebdo, in Paris (Reuters/File)
-----
Five years after Islamist terrorists stormed its offices in Paris and slaughtered 12 people and injured at least 11, the French satirical magazine Charlie Hebdo on Tuesday (September 1) republished controversial cartoons depicting the Prophet, which had provoked that attack.
Among those killed in the January 7, 2015 attack by brothers Saïd and Chérif Kouachi, were several cartoonists, including some of France's most celebrated. The massacre left a deep scar and sparked global debates on free speech, blasphemy and religion.
The caricatures were reprinted a day before the scheduled opening of the trial of 14 suspected accomplices who were accused of providing logistic and material support to the two terrorists. The Kouachi brothers themselves were killed by French gendarmes in a standoff outside Paris on January 9, 2015.
The suspects will be tried on multiple charges, including complicity in murder and terrorist conspiracy, at a courthouse in northwest Paris over the next few months.
Why did Charlie Hebdo republish the cartoons?
Many believe that by republishing the cartoons a day before the landmark trial, the iconoclastic French publication sought to make a loud and defiant statement in support of free speech and expression. Some others have said that by its provocative action, Charlie Hebdo is needlessly reopening old wounds.
In an editorial note accompanying the new edition, publishing director Laurent 'Riss' Sourisseau, who sustained injuries in the 2015 attack, wrote, "We will never give up. The hatred that struck us is still there and, since 2015, it has taken the time to mutate, to change its appearance, to go unnoticed and to quietly continue its ruthless crusade."
Sourisseau, who named each of the victims of the attack in the foreword, said the only reasons to not publish the cartoons again would "stem from political or journalistic cowardice", according to media reports. The drawings "belong to history, and history cannot be rewritten nor erased", the magazine said.
Charlie Hebdo has had a history of provocation
The cover of the latest edition of the magazine features all 12 cartoons, which were criticised around the world, and triggered violent protests in some Muslim countries.
The cartoons were first published by the Danish newspaper Jyllands-Posten on September 30, 2005, and subsequently reprinted by Charlie Hebdo the following year. Jyllands-Posten claimed that the caricatures were meant to serve as a commentary on the culture of fear and self-censorship within the Danish media.
The cartoons were condemned by Muslim groups, which said they were blasphemous. They were also criticised strongly for furthering stereotypes about Muslims, and for unfairly branding them as terrorists.
In the months that followed the publication of the cartoons in Jyllands-Posten and Charlie Hebdo, violent protests broke out across Asia and the Middle East. Religious leaders in Muslim countries called for a boycott of Danish goods. The editor-in-chief of the newspaper ultimately issued a lengthy apology for publishing the cartoons, which he said had caused "serious misunderstandings".
In France, an attempt to sue Charlie Hebdo for hate speech was defeated in court. In 2011 and 2012, the magazine again published illustrations that were offensive to Muslims, and triggered criticism and a backlash that included a firebomb attack on its office.
https://indianexpress.com/article/explained/explained-five-years-after-deadly-terror-attack-why-has-charlie-hebdo-reprinted-caricatures-of-the-prophet-6580382/
--------
Uighur issue resonates in US presidential polls, China's 'Iron Brother' Pakistan silent
Edited by: Amit Chaturvedi
Sep 02, 2020
China's treatment of Uighur minorities has been widely criticised across the world, and many international bodies have demanded action against the Chinese government.
Last week, Joe Biden, the Democratic nominee for US presidential election, called the Chinese action a genocide. His campaign said the Biden stands strongly against it in strongest terms.
Biden also took the opportunity to lash out at his Reublican rival by questioning President Donald Trump what action his administration is planning to take.
Though Trump has criticised Beijing for the coronavirus crisis, and often called the Sars-CoV-2 "China virus", he has also sought a trade pact. What he got was a mini trade deal last year, and the ties have since soured. So, Biden hose to score a political point in race to White House.
China has been widely condemned for setting up complexes in remote Xinjiang region (where Uighurs mostly live) that it describes as "vocational training centres" to stamp out extremism and give people new skills. The United Nations says at least 1 million ethnic Uighurs and other Muslims have been detained.
Pakistan, which calls China its "Iron Brother" has so far remained silent on the issue.
In July this year, the Uighur Turks and other Muslim communities in China also protested Beijing's action against the community. They asked asked the United Nations and other international organisations to put pressure on Beijing and investigate the "acts of genocide" perpetrated against the Uighurs.
Campaign for Uighurs, which works for the community and keeps highlighting their status in China, released a report titled 'Genocide in East Turkistan' in which it listed instances where the Chinese government persecuted the embers of the minority community.
The report said that despite the Covid-19 pandemic, the Chinese government continues its oppression and persecution of Uighur Turks and other Muslim communities for its own political and economic interests.
"The Chinese government sent 1.1 million Han Chinese cadres to East Turkistan to control the daily life of Uighurs. Their job is to stay in Uighur homes, share the same bed with them if necessary and to control all aspects of their daily lives," the report claimed.
In order to disrupt the Uighur family structure, the Beijing administration offers the Han Chinese money, jobs and free homes for these arranged marriages, it further claimed.
https://www.hindustantimes.com/world-news/uighur-issue-resonates-in-us-presidential-polls-china-s-iron-brother-pakistan-silent/story-VzSBO32jMy0Rsyn8Jkyy5H.html
--------
Beirut residents race against rain to save historical homes ravaged by explosion
04 September 2020
Built in 1920, the house that Riad Asad's family has called home for decades outlasted 15 years of civil war but took what could be a fatal blow in last month's mammoth, port-side explosion.
Asad says his family - who has sought refuge outside Beirut - wants to restore the elegant home, with its high, ornate ceilings, arched windows and marble floors.
It faces quite a task.
The roof is caved - right to the dusty floor - and its structural bones are in danger of total collapse.
In the sitting room, a grand piano sits shrouded in blankets, lit by the warm afternoon sunlight. The glassless windows give onto Beirut's once-lively Gemmayze neighbourhood, its many cafes shuttered a month on from the blast.
What's left of Asad's home is skeletal; many walls, windows and wooden shutters went while the house awaits its rebuild.
"We have about 40 days until the weather shifts, it's a tight window," said Asad, a structural engineer, his voice riven with anguish. "It's a race against the rain."
Restoration is right off the agenda for now, he told the Thomson Reuters Foundation; the aim is just to strengthen the walls and cover the roof with plastic sheets.
"What we're doing now is trying to prevent the worst - a total collapse. Restoration is a longer, more expensive process, which will take months, years even. It's not compatible with a state of emergency."
On Aug 4, an explosion stunned the Lebanese capital, killing at least 182, injuring more than 6,000 and damaging about 50,000 homes when 2,750 tons of ammonium nitrate blew up in the port.
The blast - hundreds of metres from Beirut's historic heart - rocked streets long lined with grand French- and Ottoman-style homes, balconies and terraces overlooking mosques and churches.
The area, now destroyed, was beloved by locals and visitors alike; a place where cultures sometimes at odds mingled easily over a morning coffee or an evening glass of wine.
Labor of Love
Like many Lebanese engineers and architects, Asad has been working for free ever since the explosion, not only taking on the rescue of his family home, but of several others, too.
"The damage is so vast, we have to do what we can," he said.
While Gemmayse's streets have been cleared, many houses lie in rubble, missing windows and doors, pillars and balconies.
The Ministry of Culture says more than 300 historical buildings in the immediate area of the explosion were damaged - 86 are in critical condition.
Work is underway on just 14, according to Asad.
Independent heritage architects and structural engineers teamed up to form the Beirut Built Heritage Rescue 2020 two days after the blast, a collaborative of 40 Lebanese professionals intent on restoring the city's oldest houses - as well as turning them back into homes.
"We try to have people back in their buildings as soon as possible, but if the structure is at risk, the move will have to be delayed until international funds have arrived," explained architect and archeologist Yasmine Makaroun.
Makaroun said many Beirutis had moved in with relatives after the blast or had fled to nearby mountains.
Juggling priorities is hard, she said.
"We are trying to find the right balance between making houses habitable again quickly and renovating heritage, which requires specific, precise skills and is much slower. But right now, the priority is to secure houses before the rain."
High Cost
Given the economic climate in Lebanon - with months of political turmoil essentially bringing the economy to a halt - spending scarce money on old houses may not be a top priority amid a slew of competing interests.
Structural engineer Michel Chalhoub, also part of the collective, estimates that restoring a historical home - officially any house that predates 1935 - could cost $1,200 per square meter, a sum most homeowners cannot afford.
All restoration plans need the Ministry of Culture's approval, which is a lengthy process, he added.
And the money needs to be found, too.
Even before the explosion, Lebanon had debts several times the size of its economy and was in talks for a bailout.
"Reconstruction funds will come from abroad - from UNESCO and non-governmental organisations, as well as from the private sector," the Ministry of Culture's press attache Amal Mansour told the Thomson Reuters Foundation.
She refused to specify what financial role - if any - the government will play in the rebuild.
Abbas Mortada, Lebanon's Minister of Culture, told a press conference that the state and the president are keen to preserve heritage buildings, but the population is skeptical, citing past controversy over reconstruction.
According to Save Beirut Heritage, a non-profit founded in 2010 to preserve architectural heritage, Beirut had about 4,000 heritage buildings when the civil war ended, many of them damaged. Numbers have since decreased to about 600.
"Around 80 percent of the buildings could have been saved," said Beirut Heritage's Founder Naji Raji.
"Today it (downtown) is barely recognizable and has lost its heart. We don't have any laws to protect heritage buildings."
Almost a month after the explosion, shops and businesses are slowly opening again in Gemmayze.
Engineer Chalhoub said so many people were donating time and expertise to restore the vibrant neighborhood.
"It's not only about restoring cultural buildings; it's the social culture, the life, the neighborhood dynamics that need restoration. Eventually we hope we can do just that."
https://english.alarabiya.net/en/features/2020/09/04/Beirut-residents-race-against-rain-to-save-historical-homes-ravaged-by-explosion
--------
Hamas chief Haniyeh in Lebanon to meet Palestinian factions, Hezbollah's Nasrallah
03 September 2020
Hamas chief Ismail Haniyeh arrived in Beirut on Wednesday for a week-long visit that will see him meet with Palestinian factions over growing cooperation between their enemy Israel and Arab states.
Haniyeh's visit, his first to Lebanon in 27 years, comes after an August 13 announcement that Israel and the United Arab Emirates have agreed to normalize ties.
For all the latest headlines, follow our Google News channel online or via the app.
Meanwhile, Osama Hamdan, a senior representative of Hamas in Lebanon, pointed to the possibility of a meeting between Haniyeh and Hezbollah chief Hassan Nasrallah.
"It is natural for the head of the political bureau of Hamas, Ismail Haniyeh, to meet the Secretary-General of Hezbollah, Hassan Nasrallah, during his current visit to Lebanon," Hamdan said.
Haniyeh met on Wednesday with both Lebanese parliament speaker Nabih Berri and caretaker premier Hassan Diab, according to the Lebanese news agency NNA.
On Thursday, he will meet representatives of other Palestinian factions in rare talks on how to respond to such accords and to a Middle East peace plan announced by Washington this year, said the Islamist movement's representative in Lebanon, Ali Baraka.
The meeting at the Palestinian embassy in Beirut will coincide with talks in Ramallah between Palestinian president Mahmud Abbas and representatives of Palestinian factions there.
Thursday's joint discussions in Ramallah and Beirut aim to develop "a unified Palestinian strategy to confront normalization schemes... and to reject plans to annex the West Bank as well as (Trump's) 'deal of the century'," Baraka told AFP.
Speaking to AFP from Ramallah, Ahmad Majdalani, a member of the executive committee of the Palestine Liberation Organization (PLO), said the talks also sought to boost ties between the factions.
They aim "to open a new page, to end divisions, achieve national reconciliation and build a national partnership between all factions," he said.
The Palestinian embassy in Lebanon said that a part of the meeting was organized in Lebanon because most participating officials were residing either in Beirut, Syria or Ramallah.
Baraka justified the choice of Lebanon by saying the country is a supporter of the Palestinian cause and has a large population of Palestinian refugees who would be adversely affected by US President Donald Trump's peace plan for the Middle East.
The last time most heads of Palestinian factions held joint talks was in 2013 in Cairo.
Under the US plan unveiled this year, Israel would retain control of the disputed city of Jerusalem as its "undivided capital" and annex settlements and other areas in the occupied West Bank.
On August 13, Trump announced an agreement between the UAE and Israel to normalize ties.
Under the watershed US-brokered deal, Israel has suspended, but not permanently dropped, annexation plans.
The UAE became the third Arab country to agree to normalize ties with Israel, after Egypt signed a peace deal in 1979 and Jordan followed suit in 1994.
Israeli Prime Minister Benjamin Netanyahu said Sunday that "there are many more unpublicized meetings with Arab and Muslim leaders to normalize relations with the state of Israel."
https://english.alarabiya.net/en/News/middle-east/2020/09/03/Hamas-chief-Haniyeh-in-Lebanon-to-meet-Palestinian-factions-Hezbollah-s-Nasrallah
--------
Pakistan
Pakistan regrets politicisation of UN sanctions regime
04 Sep 2020
ISLAMABAD: Pakistan on Thursday regretted the politicisation of the United Nations sanctions regime after five UN Security Council members blocked its bid to get two Indians accused of terrorism here listed.
"We regret the decision by some members of the UNSC Sanctions Committee to block the designation of two Indian nationals, Gob­in­da Patnaik and Angara Appaji, to the sanctions list on 2 September 2020," Foreign Office spokesman Zahid Hafeez Chaudhri said at the weekly media briefing.
Pakistan had proposed designation of the Indian nationals under the United Nations Security Council's Islamic State of Iraq and Levant and Al Qaeda Sanctions list in 2019.
As per media reports, the United States, United Kingdom, France, Germany and Belgium blocked the request to list the two Indian nationals as global terrorists under the UN Security Council 1267 sanctions committee on the pretext that evidence was not provided.
Assails India's imposition of Hindi language in occupied Kashmir
Besides, the spokesman said that the forcible imposition of Hindi language on Kashmiris in occupied territory was part of India's actions aimed at changing the demography of the region and depriving Kashmiris of their identity.
"Pakistan condemns the Ind­ian government's decision to forcibly impose Hindi language on the Kashmiri people in Occupied Kashmir through the 'Jammu and Kashmir Languages Bill, 2020', approved by the Indian cabinet," he said.
https://www.dawn.com/news/1577816/pakistan-regrets-politicisation-of-un-sanctions-regime
--------
PM's aide quits following family business allegations
04 Sep 2020
ISLAMABAD: A week after allegations were levelled regarding his family's assets, retired Lt Gen Asim Saleem Bajwa, while rejecting the allegations, said on Thursday he was resigning as special assistant to the prime minister (SAPM) on information and broadcasting and would submit his resignation to the PM on Friday (today).
However, Mr Bajwa said, he would continue working as chairman of the China-Pakistan Economic Corridor (CPEC) Authority.
He said he had all documents about his family's assets and was ready to present them and money trail before any judicial forum.
A few days ago, journalist Ahmed Noorani broke the news on a website alleging that Mr Bajwa had used his offices in setting up of off-shore businesses of his wife, sons and brothers.
The report said Mr Bajwa's younger brothers opened their first Papa John's pizza restaurant in 2002, the year he started working as a lieutenant colonel on the General Pervez Musharraf's staff.
However, Asim Bajwa will continue working as CPEC Authority chairman
According to the news report, Nadeem Bajwa, 53, who started as a delivery driver for the pizza restaurant franchise, his brothers and Asim Bajwa's wife and sons now own a business empire which set up 99 companies in four countries, including a pizza franchise with 133 restaurants worth an estimated $39.9 million. Out of the total 99 firms, 66 are main companies, 33 are branch companies of some of the main companies while five firms are dead now.
The Bajwa family's companies spent an estimated $52.2m to develop their businesses and $14.5m to purchase properties in the United States.
The news report further said that Mr Bajwa's wife was a shareholder in all the foreign businesses from the very beginning and at present she is associated with or is a shareholder in 85 companies including 82 foreign companies (71 in United States, seven in UAE and four in Canada). The records of US state governments and other documents related to the companies show that some of these American companies (all jointly owned by Mr Asim's wife Farrukh Zeba) also have investments in real estate sector and own 13 commercial properties in the United States, including two shopping centers. Estimated current net worth of businesses and properties of these companies jointly owned by Farrukh Zeba stands at $52.7m.
In his statements of assets and liabilities signed in June as the special assistant to prime minister, Asim Bajwa had declared an investment of $18,468 in his wife's name and they have no "immovable property" outside Pakistan.
Mr Bajwa, soon after the news surfaced, had refuted the allegations about his family's assets in strong words and termed them "incorrect and false".
In a statement on Thursday, he rejected the allegations hurled by the journalist and said: "The news broken by Ahmed Noorani on an unknown website on 27.08.2020 regarding myself, is vehemently denied as incorrect and false.
"I have not shied away to explain the allegations shamelessly levelled against me. These allegations have been hurled at me to tarnish my image."
According to the statement, the news carried allegations that his declaration of assets and liabilities as an SAPM dated Aug 22 was incorrect because he had failed to disclose the investment made by his wife abroad.
The news report also alleged that Mr Bajwa's brothers had conducted businesses in the US and the growth of their business was relatable to his promotion in the Pakistan Army.
Mr Bajwa, who was also asked by his colleagues including Information Minister Shibli Faraz to respond to the allegations, said that on the date of filing of the assets declaration, i.e. Aug 22, his wife was no longer an investor or shareholder in any business of his brothers or anyone else, abroad.
"My wife had disinvested all her interests as at 01.06.2020 in any entity abroad and such fact has been duly documented in the official records in the USA. It may be pointed out that company registered in the SECP in Pakistan was liaison office of the companies in the USA. The process of change of name in the SECP in Pakistan has been conducted in due course, but that was only a ministerial function since the interest in the parent companies in the USA stood no more in the name of my wife as on 22.06.2020 i.e. the date of filing of my declaration of assets and liabilities as an SAPM," he said.
Mr Bajwa said from 2002 till Aug 1 this year, (18 years) the total amount out of investment made by his wife in the companies of his brothers in the US had been $19,492. "This investment was made by my wife through my savings spread over a period of eighteen years, all of which are fully accounted for. Not once the rules or regulations prescribed by the SBP were violated," he claimed.
With regard to the alleged investment of his brothers in the pizza chain Papa John's in the US and the UAE, he said the news story asserted that Bajco Global Management, LLC was the parent company of all Bajco-related businesses. "This is far from truth as Bajco Global Management, LLC is not parent of any company and is only a management company that provides management services to all Bajco-related businesses on a fee basis. Bajco Global Management, LLC does not have any ownership interest in any Papa John's in the USA, DQ, UAE or any real estate.
The author further makes a false claim that Bajco owns 99 companies. The author has listed many companies multiple times in his list. There are a total of 27 active companies in the US and 2 in the UAE," he said. "In a span of 18 years i.e. from 2002 till date my brothers purchased the franchise and assets related thereto and real estate to the tune of $70 million, out of which around $60 million was through bank loans and financial facilities.
"Over a period of 18 years the actual out of pocket cash investment into the said businesses by my brothers and wife has been about $73,950. It is further pointed out that out of $73,950, my wife's contribution, as stated aforesaid, is $19,492. Thus, the total out of pocket cash contribution of my five brothers, over a period of eighteen years, has been $54,458," he said.
Regarding allegations about businesses of his children, Mr Bajwa said it had been alleged that one of his sons owned a company, Scion Builders and Estates (Pvt) Ltd, which had been registered in the SECP. "However, this company has never done any business and is dormant since inception," he claimed.
Mr Bajwa said one of his sons was not the sole owner of a private company called Hima­laya Ltd, but owned only 50pc of its shares.
Regarding a business entity, Mochi Cordwainers, registered in the name of one of his sons, he said it was true that his son was the sole proprietor of the small entity, but for the last five years it had only incurred losses.
Mr Bajwa said a business entity, Krypton, was owned by his son. It dealt in mines and minerals and was registered at the time when he was posted in Balochistan. "Unfortunately, no one has bothered to find out the said business entity is registered as a sole proprietorship in the FBR in 2019, but it has always been dormant and has not done any business."
He said another company, Advance Marketing (Pvt) Ltd, was owned by one of his sons, but it had also remained dormant and had never conducted any business.
"This is an averment levelled against me that the company, Scion Management Group LLC, owned by my sons owns a house in the USA. If the journalist in question had bothered to find out facts honestly, justly and fairly, he would have also found out that the house in question was only bought for an amount of $31,000 in a cheap foreclosure proceedings; and the amount of $31,000 is fully justified by my two sons through their own independent sources. This is a small house," he claimed.
https://www.dawn.com/news/1577818/pms-aide-quits-following-family-business-allegations
--------
Pakistan court directs govt to raise Jadhav's lawyer issue with India again
Sep 3, 2020
Omer Farooq Khan
ISLAMABAD: The Islamabad High Court on Thursday asked the Pakistan government to approach New Delhi and Indian national Kulbhushan Jadhav once more to clarify their stance on pursuing the case.
The direction came after the attorney general for Pakistan (AGP) Khalid Javed Khan informed the larger bench of Islamabad HC's – comprising Chief Justice Athar Minallah, Justice Aamer Farooq and Justice Miangul Hassan Aurangzeb -- that the government has not received a reply from the Indian government yet.
During the hearing, the court inquired whether its last order was implemented.
The attorney general said that on August 6, Jadhav was informed of the government's decision to appoint a counsel for him but he had turned it down and the Indian foreign ministry is yet to respond. The AGP said it appears that the Indian government was not interested in availing the opportunity of legal representation and its "focus is on embarrassing Pakistan".
"Pakistan is ready to abide by the decision of the International Court of Justice," the attorney general said, adding that "India is becoming an obstacle in the way of the review."
The AG requested the court to take the matter forward and order the appointment of a counsel.
"What will be the status of the review petition if India or Kulbhushan does not want to take advantage of the facility?" the CJ asked, saying that the review process should be effective. "Wouldn't it be appropriate to make India an offer once more under the principles of a fair trial?" he said.
The attorney general noted that India has not refused to plead Jadhav's sentence.
"I agree that India should get one more opportunity to appoint a counsel for Jadhav," the AG told the bench, saying that Islamabad was ready to make India another offer for consular access to Jadhav.
Meanwhile, the attorney general said that no Indian lawyer can come here to practice law under the Pakistan Legal Practitioners Act and the law is the same in India since 1961. He said the Supreme Court of India had also ruled recently saying that no foreigner can fight a case in India.
The Pakistan government had filed a petition in the high court in July, requesting the court to appoint a counsel for Jadhav so that the International Court of Justice's verdict, which requires Pakistan to review the Indian national's death penalty awarded by a secret military court here, can be implemented.
https://timesofindia.indiatimes.com/world/pakistan/pakistan-court-directs-govt-to-raise-jadhavs-lawyer-issue-with-india-again/articleshow/77918170.cms
--------
Pakistani officials: Roadside bomb hits army, kills 3 troops
Sep 3, 2020
PESHAWAR: A powerful roadside bomb targeted a military vehicle in northwestern Pakistan, a former Taliban stronghold, killing three soldiers, officials said. The Pakistani Taliban claimed responsibility for the attack, which is raising fears the militants are regrouping in the region.
The bombing happened as the troops were patrolling in South Waziristan, which lies in the Khyber Pakhtunkhwa province bordering Afghanistan, said two intelligence officials. They spoke on condition of anonymity because they were not authorized to speak to the media.
There was no immediate statement from the military or the government but Mohammad Khurasani, a spokesman for the Pakistani Taliban, claimed responsibility for the attack. The Pakistani Taliban, or Tehreek-e-Taliban Pakistan, is a separate insurgent group from the Afghan Taliban.
South Waziristan served as a base for Pakistani and foreign militants until recent years, when the military claimed it cleared the region.
https://timesofindia.indiatimes.com/world/pakistan/pakistani-officials-roadside-bomb-hits-army-kills-3-troops/articleshow/77917982.cms
--------
Officer, two soldiers martyred in North Waziristan attack
04 Sep 2020
KARACHI: An army officer and two soldiers were martyred in a terrorist attack on security forces in North Waziristan on Thursday.
According to the Inter-Services Public Relations, the terrorists planted an improvised explosive device on a roadside. It went off near a convoy of troops providing protection to road construction teams working on Ghariom section of Shaga-Nishpa road in North Waziristan.
As a result, Lieutenant Nasir Hussain Khalid, 23, resident of Muzaffarabad; Naik Muhammad Imran, 33, resident of Faisalabad; and Sepoy Usman Akhtar, 30, resident of Rawalpindi, embraced martyrdom. Four soldiers were injured.
Security forces cordoned off the area and launched a search operation.
Sources said Lt Nasir Hussain was a brilliant cadet. Due to his outstanding performance in the Pakistan Military Academy, he was selected for training at Royal Military College, Duntroon, Australia.
https://www.dawn.com/news/1577821/officer-two-soldiers-martyred-in-north-waziristan-attack
--------
India
'No Elements of Babri Masjid in New Ayodhya Mosque', Says Architect Designing It
Ismat Ara
Sep 04, 2020
New Delhi: The architect tasked with designing a mosque in Ayodhya on the five acres of land given by the Centre says it will be done in a 'contemporary style' and not as per 'traditional, nostalgic imagery.'
S.M. Akthar, who is dean Jamia Milia Islamia's architecture department, has been chosen for the mosque that is to be constructed by the UP Sunni Waqf Board in the alternate piece of land that the Supreme Court's order handed the Muslim litigants in the Ayodhya title case. The top court's November 2019 judgment said the disputed land ‒ where the Babri Masjid stood and was demolished ‒ should be handed over to a trust to be created by Government of India to build a Ram temple.
On August 5, the foundation stone of the temple was laid and a bhoomi pujan event held, which was attended by Bharatiya Janata Party and Sangh parivar leaders, including Prime Minister Narendra Modi, Uttar Pradesh chief minister Yogi Adityanath, governor Anandiben Patel, Rashtriya Swayamsevak Sangh chief Mohan Bhagwat, Uma Bharti and Ram temple trust president Nritya Gopal Das. Bharti and Das are facing trial for their role in the 1992 demolition of the Babri Masjid.
Though the mosque's foundation stone yet to be laid in the alternate land, on Tuesday, Athar Hussain, secretary of the trust formed by the Waqf Board for the construction of the mosque, said Akhtar will design the mosque. The trust, called the Indo-Islamic Cultural Foundation (IICF), will oversee the construction of a mosque, an Indo-Islamic research centre, library and hospital in the five-acre land allotted in Ayodhya's Dhannipur village.
Akhtar has been at Jamia Millia Islamia since 2003, and established its Department of Architecture n 2005. Since then, he has been the department's dean five times. Formerly, he worked independently as a consultant in Lucknow.
Akhtar told The Wire, "My designs have diversity. I design architecture as per the needs and desires of people. My core interest is to find out where Islamic architecture is moving now. My work defies traditional nostalgic images and is more about contemporary Islamic projects. The belief that only medieval dome-shaped architecture is Islamic is nostalgia. Since Islam is a religion, no obsolete period's architecture can be considered Islamic, as it is ever-evolving." He has also written a book on the subject.
'Contemporary designs'
Akthar is quite clear about his vision: "We will keep in mind the contemporary challenges faced by people while designing the mosque. The mosque is only one component of the project – and it will be bigger than the Babri mosque, and grander."
He say since five acres of land is available, "We will follow the basic virtues of Islam as well as our country, Khidmat-e-Khalq [to serve humanity] and will work towards the cause of humanity. The mosque should be holistic and should bridge the gap between people and communities. And what are the two things that people need the most? Education and healthcare. And there is a dearth of these two things, especially in the area of Faizabad. There are hardly any hospitals."
He added, "So our vision is to create a multi-speciality hospital on that land and institutions that impart formal and informal education. We may also have museums. The three main themes of the mosque will be: Spirit to serve humanity, Indian ethos and Islamic philosophy."
Talking about the Babri mosque, he said, "Mughal architecture is not necessarily Islamic. Islamic philosophy is just about purity of soul, truthfulness, and being functionally effective. The new mosque will not have any elements of the Babri Mosque, it will be contemporary instead for contemporary people."
'Nothing to do with controversies'
He refuses to be drawn into the controversies surrounding the Babri masjid. "I have absolutely nothing to do with controversies. I am an architect. Our work and vision are to think about the future considering the present scenario. We are not concerned with the past. There are many others to look at the past of the Babri mosque. We are mazdoor [labourers] who will help the construction of the mosque brick by brick." He adds, "It's a major, prestigious project, but we see it as a responsibility, a duty.
He has begun working on the design but is still waiting for inspiration to strike him. "In creative work, there is no such deadline. Architecture cannot be replicated. Maybe I will have a vision tonight and the design will be ready by tomorrow morning. But after the concept is done, the technical work will start, which will take time," he said.
In the past, Akhtar has helped develop many structures within Jamia and elsewhere. In the university, he was consulted in the architecture of the pavilion for its cricket stadium and the buildings for several hostels and centres.
According to his profile on the university's website, Akhtar was a consultant in the conservation and site development of six heritage monuments under the Shahjahanabad Redevelopment Corporation of the Delhi government. The monuments he helped conserve are the tomb of Sheikh Ali in Defence Colony; mosque and tomb of Syed Yasin at Arab ki Sarai; tomb south of DPS Mathura Road; Gateway at Oberoi Hotel and Jharna.
https://thewire.in/religion/new-ayodhya-mosque-babri-sm-akhtar-jamia-design
--------
180 Sikh families from Afghanistan arrive in Delhi
Sep 3, 2020
NEW DELHI: A batch of 180 Sikh families from Afghanistan arrived at the IGI airport here on Thursday on "long-term" visas, Delhi Sikh Gurdwara Management Committee president Manjinder Singh Sirsa said.
Following an attack on a gurdwara in Afghanistan in March this year, there has been an "exodus" of Sikh and Hindu families. They are arriving in India on the initiative of the DSGMC, Sirsa said in a statement.
"Till date more than 450 families have already arrived in the national capital and the DSGMC is making arrangements for their stay in the inns of gurdwaras. The families also brought with them Guru Granth Sahib, in a chartered plane," he said.
They were welcomed at the airport by Sirsa and Vikramjeet Singh Sahni of the World Punjabi Organisation.
Sirsa thanked the central government, particularly Home Minister Amit Shah and Union Minister Harsimrat Kaur Badal, for facilitating "long-term visas" for these families, the statement added.
https://timesofindia.indiatimes.com/india/180-sikh-families-from-afghanistan-arrive-in-delhi/articleshow/77917894.cms
--------
India paves the way for return of 410 Pakistani Hindus stranded across the border
Dinesh Bothra | Edited by Abhinav Sahay
Sep 04, 2020
The Indian government has extended the term of the NORI (No Objection to Return to India) visas issued to at least 410 Pakistani Hindu immigrants-- who were living in India on long-term visas (LTV) before their intended short-trip to Pakistan earlier this year left them stranded due to the travel restrictions imposed in the wake of Covid-19—to facilitate their return to India, according to an office memorandum issued by Union ministry of home affairs.
The term of the lapsed NORI visas of such migrants will be treated as deemed extended for a period up to 15 days from the date of lifting of such travel restrictions by the government of India.
HT has seen the memorandums sent by the MHA to the external affairs ministry (MEA) and to the additional director of the Bureau of Immigration on July 31, paving the way for the return of such immigrants to India.
The migrants stranded in Pakistan include a 33-year-old Janata Mali, who travelled with her husband and three children to see her ailing mother in Mirpur Khas in February before the Covid-19 lockdown was clamped. Being Indian citizens, her husband and children returned to Jodhpur in the last week of June through a shuttle service operated for citizens stuck on both sides of the border but Janata Mali, a Pakistani living in Jodhpur on long-term visa since 2007, was denied permission to travel.
The July orders were issued after an earlier decision taken on May 9 to extend the NORI visas could not be implemented properly by the Indian high commission in Islamabad due to some technical difficulties. The MEA then requested the MHA for a review of the order on June 17.
Also Read: Pakistan trying to politicise UNSC's terrorist listing process, says India
The MEA gave details to MHA of 410 Pak nationals, who held NORI visas issued by India and had been registered with the Indian high commission in Islamabad for the purpose of return to India. It was then decided to allow return of these individuals through the integrated border check post at Attari, subject adherence to the health/ Covid protocols issued by the health ministry.
"Due endorsement of the physical extension of their Return Visas would be made on their passports at ICP Attari at the time of arrival. The HCI, Islamabad shall intimate to MHA the names and particulars of all such Pak nationals who have registered with them for Return Visa extension," the memorandum stated.
The MEA and the HCI Islamabad have been asked to intimate date and time, along with detailed particulars, of these Pak nationals return to India, well in advance to the MHA to facilitate their arrival and necessary arrangements to quarantine them.
The memorandum has also asked for details of other stranded Pak nationals holding NORI visas issued by India if and when they register with the Indian high commission in Islamabad, so that the matter may be taken up with the security agencies for prior clearance.
https://www.hindustantimes.com/india-news/india-paves-the-way-for-return-of-410-pakistani-hindus-stranded-across-the-border/story-WfVKJY5vEUffgCwvwFNXjN.html
--------
J&K: Army officer injured in Baramulla encounter with terrorists
Edited by Shivani Kumar
Sep 04, 2020
An Indian Army officer was injured during a gunbattle with terrorists in a village in Jammu and Kashmir's Baramulla district on Friday.
The encounter broke out in Yedipora village in Pattan area on Friday morning. According to a report by PTI, security forces were conducting a search operation in the area and they were fired upon, triggering the encounter.
The officer was injured in the initial exchange of firing and has been rushed to a local hospital in Srinagar for treatment, reported PTI. Two to three terrorists are still trapped while personnel of the police, army, and Central Reserve Police Force (CRPF) are engaged in flushing them out.
The area has been cordoned off and the encounter is still underway.
In the last two weeks, police and the army have launched several operations in the area after the presence of terrorists was reported.
On Thursday evening, multiple checking points were established at Kralhar, after specific input regarding the movement of terrorists in Pattan, said Police.
"During routine checking, three persons moving from Zangam crossing to main market Pattan on National highway Baramulla were observed moving in a suspicious manner. The individuals were challenged by the personnel at naka Aangam crossing as they tried to flee on being challenged from the spot. The security force personnel cordoned and apprehended the fleeing individuals and recovered three grenades from them," a police spokesperson said on Thursday.
The arrested men have been identified as Abid Parvaiz of Andergam, Javaid Hassan Ittoo of Goushbugh, and Jan Nissar Khaliq of Chanderhama Pattan.
Police said all three were working as overground workers for Lashkar-e-Taiba outfit.
https://www.hindustantimes.com/india-news/j-k-army-officer-injured-in-baramulla-encounter-with-terrorists/story-eQsMw5d4osSk321QajcRRL.html
--------
Europe
UK public tribunal to probe Uighur 'genocide' claims in China
September 3, 2020
A prominent British human rights lawyer is convening an independent tribunal in London to investigate whether the Chinese government's alleged rights abuses against Uighur Muslims in the far western Xinjiang region constitute genocide or crimes against humanity.
The tribunal is expected to reveal new evidence and testimony over several days' hearings next year. While the tribunal does not have government backing, it is the latest attempt to hold China accountable for its treatment of the Uighurs and ethnic Turkic minorities, who have been subject to an unprecedented crackdown since 2017.
Barrister Geoffrey Nice, who previously led the prosecution of ex-Serbian President Slobodan Milosevic over the Balkans war and worked with the International Criminal Court, was asked by the World Uighur Congress to investigate "ongoing atrocities and possible genocide" against the Uighur people.
Allegations against China about potential genocide are "questions that should be asked and answered" but such claims have never been legally scrutinized in public, Nice told The Associated Press on Wednesday.
Organizers are in the initial stages of gathering evidence, and expect to receive a substantial number of submissions from Uighurs exiled abroad over the next few months. New evidence that may emerge includes testimony from several former security guards who were involved in the Xinjiang detention camps.
"At the moment, the strongest evidence would appear to be evidence of incarceration and possibly evidence of enforced sterilization," Nice said.
A recent investigation by the AP found that the Chinese government is systematically forcing birth control on Uighurs and other Muslims in an apparent effort to reduce their population. The report found that authorities regularly subject minority women to pregnancy checks and force intrauterine devices, sterilization and abortion on hundreds of thousands. While scores have been thrown in detention camps for alleged "religious extremism," many others were sent to the camps simply for having too many children.
Such enforced sterilization practices could be found to breach the Genocide Convention, Nice said.
The Chinese Embassy in London did not respond to an emailed request for comment. Chinese officials have repeatedly derided allegations of rights abuses in Xinjiang as fabricated, and insist that all ethnicities are treated equally.
China has long suspected the Uighurs, who are mostly Muslim, of harboring separatist tendencies because of their distinct culture, language and religion. In a lengthy press conference in August, the Chinese ambassador to the U.K. played graphic videos of terrorist attacks in Xinjiang to show that the Chinese government's measures there are "necessary and important."
Ambassador Liu Xiaoming also called allegations about rights abuses in Xinjiang made in Western media "lies of the century," and denied that nearly 1 million Uighurs have been detained in Xinjiang.
The London tribunal's judgement is not binding on any government. However, Nice said that the process will nonetheless be one way to address the lack of action in tackling the alleged abuses by "filling the gap with reliable information."
"There is no other way of bringing the leadership of the (Chinese) Communist Party collectively or individually to judgement," Nice said.
In July, lawyers representing exiled Uighur activists filed a complaint with the International Criminal Court against China, asking the court in The Hague, Netherlands, to investigate the forced repatriation of thousands of Uighurs from Cambodia and Tajikistan and alleged genocide in Xinjiang.
However, Beijing does not recognize the international court's jurisdiction, and Nice — who is not involved in that case — said it will likely focus more on the repatriating countries' culpability and less on that of Chinese authorities.
The World Uighur Congress, an international organization representing Uighur exiles, has provided initial evidence and funding to the London tribunal. Organizers expect to hold two public hearings in London next year, each lasting several days.
The tribunal will comprise of at least seven members who will act as jury. A verdict is expected by the end of 2021.
https://indianexpress.com/article/world/uk-public-tribunal-to-probe-uighur-genocide-claims-6581483/
--------
Europe's top human rights judge visits Turkey despite frequent violations
03 September 2020
Europe's top human rights judge began a controversial visit to Turkey on Thursday despite criticism of what civil liberties groups view as the country's fast deteriorating record on human rights.
Robert Spano, an Icelandic-Italian who began his term as president of the European Court of Human Rights (ECHR) in May, is due to meet Turkish President Recep Tayyip Erdogan.
He began his visit by meeting the president of Turkey's constitutional court and delivering an address at the Turkish justice ministry titled: "The independence of the judiciary – a cornerstone of the rule of law."
For all the latest headlines, follow our Google News channel online or via the app.
Spano is also expected to receive an honorary doctorate from Istanbul University on Friday.
The visit comes at a time of growing alarm over the state of freedom of expression in Turkey under Erdogan, who became president in 2014.
The ECHR ranked Turkey second after Russia on its list of human rights violations recorded in 2019, lodging 113 offences in Turkey and 198 in Russia.
The country is often chastised by rights advocates over arresting journalists, civil society leaders and opposition politicians.
Turkey has also tightened control of the internet - including access to social media - and has in the past few years shut down television stations and critical media outlets.
Turkey's P24 press freedom group reports that 92 journalists are behind bars in Turkey today.
The government has also jailed tens of thousands of people and sacked more than 100,000 from their state jobs as part of a nationwide crackdown that followed a failed putsch in 2016.
Critics claim the focus of the crackdown has gone well beyond alleged coup plotters and is designed to silence dissent in Turkey.
Journalist Mehmet Altan, an economics professor who spent almost two years in prison over alleged links to the failed coup, criticised the top judge's visit in an open letter, calling it ill-timed.
"Under normal circumstances, of course it would be a pleasure to hear that you will be visiting Turkey. Unfortunately that's not the case," he wrote this week.
Altan was acquitted by an Istanbul court in November, one year after the ECHR ruled that Turkey had violated his freedom of expression.
He was dismissed from his job at Istanbul University under an emergency decree issued after the failed coup.
His brother Ahmet Altan, a journalist and author, remains in prison pending an appeal.
Prominent civil society leader Osman Kavala and Kurdish politician Selahattin Demirtas are also languishing behind bars.
https://english.alarabiya.net/en/News/middle-east/2020/09/03/Europe-s-top-human-rights-judge-visits-Turkey-despite-frequent-violations
--------
Greece, Turkey agree to talks to avoid accidental clashes in Eastern Med: NATO
03 September 2020
NATO allies Greece and Turkey have agreed to talks to avoid accidental clashes in the Eastern Mediterranean, NATO Secretary-General Jens Stoltenberg said on Thursday.
"Following my discussions with Greek and Turkish leaders, the two allies have agreed to enter into technical talks at NATO to establish mechanisms for military deconfliction to reduce the risk of incidents and accidents in the Eastern Mediterranean," Stoltenberg said in a statement.
For all the latest headlines follow our Google News channel online or via the app
NATO Secretary General Jens Stoltenberg announced the possible diplomatic opening in a statement on the military alliance's website the same day that Turkey announced that Russia plans to conduct live-fire naval exercises this month in the eastern Mediterranean.
"Greece and Turkey are valued Allies, and NATO is an important platform for consultations on all issues that affect our shared security," the statement read. "I remain in close touch with all concerned Allies to find a solution to the tensions in the spirit of NATO solidarity."
There was no immediate confirmation from Ankara or Athens and it was not immediately clear when the talks would begin.
Turkey announced the Russian exercises in a navigational notice issued late Wednesday that said they would take place on September 8-22 and September 17-25 in areas of the Mediterranean Sea where Turkish research vessels are doing seismic work for oil and gas exploration. Greece says the disputed area is over its continental shelf.
There was no immediate comment from Moscow on the exercises, which Turkey announced after the United States said it was partially lifting a 33-year-old arms embargo against ethnically divided Cyprus. Like Greece, Cyprus has been in a dispute with Turkey over drilling rights in the Mediterranean.
In Athens, Greek government spokesman Stelios Petsas said the planned Russian exercises were being "monitored by all the countries in the region, as well as our NATO allies and European Union partners."
It's unclear why NATO-member Turkey announced such drills on Russia's behalf, but the two countries have in recent years significantly strengthened their military, political and economic ties. They are coordinating closely on their military presence in Syria, while Turkey has purchased Russia's advanced S-400 missiles and has broken ground on a Russian-built nuclear power plant on its southern coast.
Cyprus government spokesman Kyriakos Koushos said that Russia notifies Cypriot authorities directly about issuing any navigation notice. He said Cyprus has no issue with Russia and that its only complaint concerns Turkey's attempts to "take advantage" of the situation.
German Chancellor Angela Merkel and Turkish President Recep Tayyip Erdogan spoke by phone on Thursday. Germany currently holds the European Union's rotating presidency and has been trying to informally mediate the dispute over eastern Mediterranean drilling.
A statement from Erdogan's office said the Turkish leader wants an arrangement in which resources are shared "fairly" and complained that Greece, Greek Cypriots, and countries backing the two, were the ones escalating tensions.
https://english.alarabiya.net/en/News/world/2020/09/03/Greece-Turkey-agree-to-talks-to-avoid-accidental-clashes-in-Eastern-Med-NATO
--------
Turkey, Pakistan rebuke French weekly for reprinting anti-Islam cartoons
03 September 2020
Turkey and Pakistan have separately censured the French satirical weekly Charlie Hebdo for republishing offensive cartoons of Prophet Muhammad (PBUH).
In an editorial this week accompanying the blasphemous caricatures, the magazine said they "belong to history, and history cannot be rewritten nor erased."
The insulting sketches were reprinted on the eve of the trial of suspects in a deadly attack on the paper's Paris offices in 2015.
French President Emmanuel Macron refused to censure the more and claimed it was not his place to pass judgment about what he called a matter of free speech.
In a statement released on Wednesday, Turkish Foreign Ministry spokesman Hami Aksoy strongly condemned the magazine's republication of the cartoons, adding that the approach of the French authorities, especially Macron, regarding the incident is also "unacceptable."
He further stressed that it is not possible to justify the insult and disrespect toward Muslims by saying it is freedom of the press, art or expression.
"At every opportunity, those who define themselves as democrat and liberal are serving the new generation of fascists and racists in France and Europe by using such racist and discriminatory actions that increase anti-Islamism and xenophobia," Aksoy said.
He also urged politicians and European countries to take a clear stance against such attacks against Islam which are on the rise and hurt Muslim sentiments.
Similarly, Pakistani Foreign Ministry denounced the French weekly's move as a "deliberate act" meant to offend Muslims' sentiments.
"Pakistan condemns in the strongest terms the decision by the French magazine, Charlie Hebdo, to re-publish deeply offensive caricatures of the Holy Prophet Muhammad (PBUH)," it tweeted.
"Such a deliberate act to offend the sentiments of billions of Muslims cannot be justified as an exercise in press freedom or freedom of expression. Such actions undermine the global aspirations for peaceful co-existence as well as social and inter-faith harmony," it added.
In a video message on Thursday, Pakistan's Foreign Minister Shah Mahmood Qureshi said that the blasphemous caricatures hurt the sentiments of millions of Muslims across the world, adding that Islamabad had conveyed its concerns to the French government.
The republication of the sketches was carried out without any reason and no amount of condemnation was enough, he noted.
"We are seeing a rise in Islamophobia, racism and xenophobia across the world and Pakistan has highlighted this at all forums," Qureshi warned.
"Pakistan is a democratic country and a democracy believes in freedom of expression. But freedom of expression does not give you the license to harm the sentiments of others," he added.
https://www.presstv.com/Detail/2020/09/03/633228/Turkey-Pakistan-France-Charlie-Hebdo
--------
Russia praises 3rd round of Syrian peace talks
Elena Teslova
03.09.2020
MOSCOW
Russian Foreign Minister Sergey Lavrov praised on Thursday the results of the third round of the Syrian peace talks in Geneva.
"Not everything was resolved, not everything was agreed upon, but in general, we consider the meeting fruitful and meaningful," Lavrov said at a meeting with UN Special Envoy for Syria Geir Pedersen in Moscow.
He urged Pedersen to step up efforts in repatriation of Syrians who want to return, saying it will help ease "the unbearable burden borne by the refugees host countries, primarily Lebanon, Jordan and Turkey".
In turn, Pedersen joined Lavrov's assessments, saying he did not expect "miracles" but had some expectations, some of them were achieved.
"What I noticed that there was what we call the more respectful tone between the parties and that is also important. Both co-chairs told me that they felt there were commonalities between them. That of course doesn't mean that there are not very serious differences, that's why we are meeting, that's why we are sitting down and discussing, to try to sort it out and identify commonalities," he said.
The work of the constitutional committee on Syria is to push the sides to cooperation, because the decisions are made based on consensus, therefore all sides need to interact to achieve it, he added.
"As you know we didn't manage to agree on the agenda so we don't have a date for the next meeting. But we will continue to work on this," Pedersen said.
Syria has been marred by civil war since 2011 when the Bashar al-Assad regime cracked down on protesters using disproportionate force.
Turkey has worked to protect the local civilian population as well as rid the wider region of terrorist elements.
https://www.aa.com.tr/en/europe/russia-praises-3rd-round-of-syrian-peace-talks/1962163
--------
Macron berates reporter for unveiling Hezbollah talks
Cindi Cook
03.09.2020
PARIS
French President Emmanuel Macron lashed out at a journalist following a news conference in Beirut, Lebanon Tuesday evening for his exposing an unannounced meeting by the leader with Hezbollah in a recent article.
French journalist Georges Malbrunot wrote a piece published in Le Figaro on Monday which reported Macron having threatened to impose sanctions against leaders of the militant faction who may be resistant to the necessary reforms that France seeks.
The president's rebuke came during his official two-day visit to Beirut to discuss reforms and the necessary reinvention of the country in the wake of the Aug. 4 deadly chemical explosions in the capital city.
Video of the footage broadcast by franceinfo TV reveals the president dressing down Malbrunot, with the two abruptly walking away after the exchange.
"What you are doing here is irresponsible in regard to the sensitive nature of the issue. It is highly irresponsible towards France and the parties involved, considering what you know about the history of this country.
"You know that I always defend journalists, I always will," he continued, "but I speak to you frankly. What you are doing is serious, unprofessional and petty," the leader cried.
For his part, Malbrunot was confounded.
"I am very surprised at the virulence of this attack, which is unacceptable and to which I responded."
Malbrunot is no stranger to the region and is considered an expert in Middle East relations. While reporting for Le Figaro in August 2004, he and a fellow journalist were taken hostage by a group called the Islamic Army of Iraq during the US-led war there. The two were released four months later.
The Elysee Palace defended Macron's reprimand, expressing their need to simply be informed.
"What the president reproached him for is not having given the Elysee the possibility of reacting to information which implicated him."
Macron was the first foreign leader to visit Lebanon, just two days after the port blast that left 190 dead, 6,500 injured, and 300,000 people displaced. His recent visit came with the objectives of rebuilding the economy and the country's crumbling infrastructure, and most importantly, aiding in the formation of a new government.
Lebanon is on the verge of bankruptcy, and has seen months of protests over a corrupt regime, members of which resigned after the explosion.
After reading Malbrunot's article, Macron criticized those who "write the worst nonsense on the subject without any verification." He requested rather that reporters question him directly.
The president did go on to say however that he did not negate "a broader sanctions mechanism" down the road.
https://www.aa.com.tr/en/europe/macron-berates-reporter-for-unveiling-hezbollah-talks/1961827
--------
Danish racist leader applies for Swedish citizenship
Atilla Altuntas
03.09.2020
STOCKHOLM
Danish far-right leader and convicted racist Rasmus Paludan announced he applied for Swedish citizenship to be able to freely burn Muslim holy book Quran in the country.
A copy of the Quran was burned by supporters of racist Danish leader Rasmus Paludan, the leader of the anti-Islamic group Tight Direction (Stram Kurs), in the southern Sweden city of Malmo last week.
The rally was marred by violence, which left several police officers injured. At least 10 people were arrested. Police also banned Paludan from entering Sweden for two years.
"Today, I have been to Sweden's Embassy in Copenhagen asking for investigation and confirmation that I have a right to a Swedish passport [as his father is of Swedish-origin]," Paludan said on his Facebook page on Wednesday.
Paludan said they asked police for permission to burn the Quran on Sept. 12 in the capital Stockholm's Rinkeby district, an area mostly populated by Muslims and immigrants.
If his citizenship is not approved until then, his friends will go to Stockholm and burn the Quran, he added.
The Organization of Islamic Cooperation (OIC) on Sunday condemned the burning of a copy of the Muslim holy book Quran.
The OIC Islamophobia Observatory, a body that monitors Islamophobic incidents across the world, welcomed the measures taken by the Swedish authorities against those who burned the Muslim holy book.
In a statement, the observatory called on the Muslim community in Sweden "to exercise restraint and avoid violence".
https://www.aa.com.tr/en/europe/danish-racist-leader-applies-for-swedish-citizenship/1961755
--------
South Asia
UNAMA Stresses Need for Women Participation in Intra-Afghan Talks
By Mohammad Arif Sheva
04 Sep 2020
KABUL, Afghanistan – United Nations Special Representative and Head of the United Nations Assistance Mission in Afghanistan (UNAMA) Deborah Lyons stressed the need for women participation in coming Intra-Afghan dialogues on Peace in the country.
"The issue will be more central, this issue of women's rights, will be more central in the Afghan peace process than we have ever seen in any other peace negotiation in recent memory," she said in a briefing to the UN Security Council Thursday evening.
Lyons believes women direct involvement on the Afghan peace process will ensure their "rights are upheld".
"We all know that it is women's representation at the peace table that offers the best opportunity to ensure that their own rights are upheld, and that their vision for elements of a peaceful Afghanistan is reflected in all aspects of the talks," she added.
Meanwhile, Lyons hopes the Taliban as well will consider woman's participation in their negotiating team, who will play constructive role in the peace process.
"…We are not yet aware of any women's representation on the Taliban side, but we remain hopeful that they, too, will find a way of meaningfully including women," she added.
This came at a time Afghanistan is preparing to lead its negotiating team to Qatar – where the first meeting on Intra-Afghan talks will be held – after both sides have settled their oppositions on prisoner swaps.
https://www.khaama.com/unama-stresses-need-for-women-participation-in-intra-afghan-talks-345345/
--------
Afghanistan's new State Minister for Peace officially assumed office
03 Sep 2020
The new State Minister for Peace officially assumed office on Thursday.
Fazal Mahmood Fazli, the head of the Administrative Office of the President recited the President's decree on the appointment of the State Minister of Peace.
According to the decree, Sayed Sadat Mansoor Naderi, the former Minister of Urban Development and Housing has been appointed as the new State Minister of Peace.
Naderi called on the Taliban to listen to the public's voice as the government has taken practical steps towards the peace.
"The Afghan government has taken practical steps toward achieving peace, we hope the Taliban, as Afghans who deeply have suffered from the situation, shall stand by their nation and understand this is a unique and historic opportunity," Naderi said.
This comes as, an Afghan delegation is scheduled to leave Kabul for Doha on Friday to meet with the Taliban negotiating team.
https://www.khaama.com/afghanistans-new-state-minister-for-peace-assumed-office-9797697/
--------
Afghan, Taliban Prisoner Swap Ends: Deadlock to Intra-Afghan Talks
By Mohammad Haroon Alim
03 Sep 2020
The demand for exchanging prisoners between the Afghan government and Taliban are said to have met Wednesday night, according to sources, breaking the deadlock for intra-Afghan dialogues to begin in coming days.
Two Afghan commandos – languishing in Taliban prison – were handed over to local officials in Kandahar, while a total of 113 Taliban prisoners were released by the Afghan government.
Their release came at a time, the Taliban demanded Afghan government to set their 400 prisoners free before any talk on peace, among who are seven hardcore prisoners who killed a number of foreign nationals.
Afghan Government said the seven hardcore prisoners were not released based on the request of French and Australian governments.
According to sources, the remaining seven Taliban prisoners are due to be transferred and monitored in Qatar during the Intra-Afghan Talks.
Masoom Stanekzai Chairman of the Peace Negotiating Committee Said today, "The government's negotiating team will soon begin peace talks with the Taliban, in which the rights of all citizens of the country are protected."
Earlier, the Afghan government was requested by the French and Australian governments to not release these staunch members, since they are involved in killing French troops and Australian civilians in Afghanistan.
Meanwhile, Khwazoon, a spokesperson to HCNR, told Khaama Press on Wednesday, "Process of releasing prisoners is scheduled to complete by today (Thursday)."
The controversies over releasing of Taliban prisoners were a huge barriers to push through the intra-Afghan talks.
https://www.khaama.com/afghan-taliban-prisoner-swap-ends-deadlock-to-intra-afghan-talks/
--------
Rohingya arrested at sea shunted back to Myanmar camps
September 3, 2020
YANGON: Myanmar has returned dozens of Rohingya to camps in conflict-wracked Rakhine state, officials said Thursday, after arresting them at sea as they tried to flee what rights groups brand as "apartheid" conditions.
A group of 42 Rohingya Muslims — including two children — was detained last Thursday offshore of Bogale in Ayeyarwady region, local police told AFP.
The long-persecuted Rohingya are widely regarded as illegal immigrants in Myanmar, refused citizenship and unable to travel freely.
One of the group tested positive for coronavirus, but the rest arrived Wednesday night in Kyaukphyu in central Rakhine state, local MP Ba Shein told AFP.
His constituents were "very worried" by the coronavirus risk, he said.
Local officials said the group was due to be sent by boat to camps further north on Friday.
Military operations in 2017 forced some 750,000 Rohingya to flee from northern Rakhine to Bangladesh in violence that now sees Myanmar facing genocide charges at the UN's top court.
But around 600,000 more Rohingya remain in Myanmar, living in what Amnesty International describes as "apartheid" conditions.
Kyaukphyu is one of many strictly segregated towns with its Muslim population of over 1,000 people confined to a camp since inter-communal violence in 2012.
It is mainly home to Kaman Muslims, a minority that — unlike the Rohingya — is officially recognised in the Buddhist-majority country, even though they also suffer discrimination.
The detained Rohingya were taken to the Muslim camp, where its inhabitants were told they had no choice but to accept them, one resident told AFP, asking not to be named.
"They had been travelling without sleep or food … so we agreed to let them come in," he said, adding his community was scared it would be even more stigmatised because of the coronavirus risk.
"We're already facing huge problems — they (the authorities) are just causing more trouble for us."
Hundreds of Rohingya have been arrested while trying to flee Rakhine state and seek refuge in other countries, many spending months or even years behind bars.
Burma Human Rights Network (BHRN) last week called for more international pressure on Myanmar in its report titled "Nowhere to Run in Burma: Rohingya trapped between an open-air prison and jail".
Executive Director Kyaw Win decried the "weaponisation" of Myanmar's legal system "against an entire ethno-religious group born and living in the country for generations".
https://www.freemalaysiatoday.com/category/world/2020/09/03/rohingya-arrested-at-sea-shunted-back-to-myanmar-camps/
--------
Arab World
Bahrain to allow Israel flights to UAE over its airspace
04 Sep 2020
Bahrain will allow "all flights coming to and departing from the United Arab Emirates" to cross through the island kingdom's airspace — a statement apparently allowing Israeli flights after neighboring Saudi Arabia issued a similar announcement.
The state-run Bahrain News Agency (BNA) made the announcement without directly naming Israel, just as Saudi Arabia had. However, the announcement late Thursday came just days after the kingdom allowed the first direct Israeli commercial passenger flight to use its airspace to reach the UAE.
The statement makes no mention of the kingdom's rival, Iran, nor Qatar, which Bahrain, Saudi Arabia and the UAE are currently boycotting.
Flights between Bahrain and the UAE now skirt just north of Qatari airspace as Doha remains banned from the airspace of boycotting nations amid a yearslong political dispute. Iranian flights to the UAE similarly don't need to enter the airspace of Bahrain, an island nation just off the coast of Saudi Arabia in the Persian Gulf.
BNA cited an unnamed Transportation and Telecommunication Ministry official for the announcement, saying it came at the request of civil aviation authorities in the UAE, a federation of seven sheikhdoms home to Abu Dhabi and Dubai.
Earlier this week, Jared Kushner, the US president's son-in-law and senior adviser, flew with a high-level Israeli delegation to the UAE on the first direct commercial passenger flight between the two countries. The flight traversed Saudi airspace, signaling at least acquiescence for the breakthrough US-brokered agreement by the United Arab Emirates to normalise relations with Israel.
The UAE has promoted the deal as hinging on Israel halting its contentious plan to annex parts of the West Bank sought by the Palestinians for their future state. The deal also may allow Abu Dhabi to purchase advanced weaponry from the US, including the F-35 stealth fighter jet.
The Palestinians have fiercely opposed the normalisation as peeling away one of their few advantages in moribund peace talks with Israel.
Bahrain, which hosts the US Navy's 5th Fleet and a British naval base, has a historic Jewish community. The kingdom has slowly encouraged ties to Israel, with two US-based rabbis in 2017 saying King Hamad bin Isa Al Khalifa himself promoted the idea of ending the boycott of Israel by Arab nations.
https://www.dawn.com/news/1577885/bahrain-to-allow-israel-flights-to-uae-over-its-airspace
--------
Airstrike kills 16 pro-Iran fighters in Syria, Israel suspected as behind it: Report
03 September 2020
Airstrikes on eastern Syria killed 16 Iran-backed fighters Thursday, a war monitor said, hours after Damascus said it intercepted Israeli missiles fired at a central air base.
Those killed were "Iraqi paramilitary fighters loyal to Iran, seven of whom were killed outside the city of Mayadeen," Rami Abdul Rahman, head of the Britain-based Syrian Observatory for Human Rights, said.
The other nine were killed in strikes south of the city of Abu Kamal, on the Iraqi border further east.
Abdul Rahman said Israel was "likely" responsible for the attack, which if confirmed, would mark the second such strike in less than 24 hours and the third this week.
Late Wednesday, Syrian air defenses intercepted missiles fired by an Israeli warplane at the T4 air base in central Syria, state news agency SANA reported.
"Our air defenses intercepted most of them," it said, adding the attack caused only material damage.
On Monday, Israeli strikes killed one civilian, three government troops and seven allied foreign fighters, the Observatory said.
Monday's strikes hit Syrian army positions south of Damascus and facilities used by Iran-backed paramilitaries, including fighters of Lebanese Hezbollah, in the southern province of Daraa, the Observatory said.
Israel has carried out hundreds of air and missile strikes on Syria since the civil war broke out in 2011, targeting Iranian and Hezbollah forces as well as government troops.
The Israeli army rarely acknowledges individual strikes, but did confirm on August 3 that it had used fighter jets, attack helicopters and other aircraft to hit military targets in southern Syria.
https://english.alarabiya.net/en/News/middle-east/2020/09/03/Airstrike-kills-16-pro-Iran-fighters-in-Syria-Israel-suspected-as-behind-it-Report
--------
Conflict in Syria requires political solution without foreign interference: Lavrov tells UN envoy
03 September 2020
Russian Foreign Minister Sergei Lavrov has stressed the need for a political solution to the conflict in Syria, saying the settlement of the conflict must be in accordance with UN Security Council Resolution 2254 and without foreign interference.
Speaking in a meeting with UN Special Envoy for Syria Geir Pedersen in Moscow on Thursday, Lavrov stated that Russia, as a guarantor country for Syria peace talks in the Astana format, supports UN efforts to facilitate the work of the Syria Constitutional Committee in line with Security Council Resolution 2254.
UNSC Resolution 2254 was unanimously adopted on December 18, 2015. It calls for a ceasefire and political settlement in Syria.
It calls for the formation of a "credible, inclusive and non-sectarian" government and UN-supervised "free and fair elections."
Moscow, Tehran, and Ankara have been mediating peace negotiations between representatives from the Damascus government and Syrian opposition groups in a series of talks held in Kazakhstan's capital, Nur-Sultan, formerly called Astana, since January 2017.
Russia has also hosted parallel talks in the resort city of Sochi aimed at solidifying the three countries' cooperation towards returning peace and stability to Syria.
Elsewhere in his remarks, Lavrov praised the results of the third round of the Syrian peace talks in Geneva.
"Not everything was resolved, not everything was agreed upon, but in general, we consider the meeting fruitful and meaningful," the top Russian diplomat said.
The third session of the UN-facilitated Syria peace negotiations convened in Geneva on Monday after a nine-month break, caused by differences over the agenda and the coronavirus pandemic.
Lavrov also underlined the need to preserve Syria's sovereignty and territorial integrity, and to continue the war on terror until all terrorists operating in the conflict-plagued Arab country are eliminated.
"There are grave difficulties concerning the humanitarian situation in Syria, especially in light of the coronavirus pandemic, whose solution requires removal of coercive Western economic sanctions imposed on the country," the Russian foreign minister pointed out.
Lavrov then called for stepped up efforts in repatriation of Syrian willing to return home, saying it will help ease "the unbearable burden borne by the refugees on host countries, primarily Lebanon, Jordan and Turkey."
Pederden, for his part, underscored UN's support for efforts aimed at a political solution to Syria crisis in accordance with UN Resolution 2254, noting that economic sanctions against Syria must be lifted to improve the humanitarian situation there.
'Western sanctions negatively impact war on terror in Syria'
Later on Thursday, Pederden met with Russia's Defense Minister Sergey Shoygu, who said the sanctions imposed on Syria by the Western countries have a negative impact on solving the country's crisis and the anti-terror fight.
"There are several factors that negatively affect the effort made to find a solution to the crisis in Syria and combating terrorism, which include in particular the Western sanctions," Sputnik News Agency quoted Shoygu as saying during the meeting.
Russia's top military official also chastised foreign parties for violating Syria's sovereignty and plundering its energy resources amid restrictions imposed by the deadly coronavirus pandemic.
Shoygu then lauded Syrian government's effort to overcome the existing hurdles in the way of reconstructing the war-torn country.
"It is difficult to understand the logic of Western countries, which on the one hand claim to be concerned about the Syrian people, while on the other hand, impose sanctions on them, which practically prevent the supply of medicine and foodstuffs and impede the return of the displaced," Russian defense minister said.
https://www.presstv.com/Detail/2020/09/03/633260/Conflict-in-Syria-requires-political-solution-without-foreign-interference-Lavrov-tells-UN-envoy
--------
US-backed SDF militants kidnap civilians, prevent food from entering al-Hawl refugee camp
03 September 2020
Militants affiliated with the so-called Syrian Democratic Forces (SDF) have abducted several civilians from the al-Hawl refugee camp in the northeastern Syrian province of al-Hasakah, and prevented the entry of food stuff highly needed for thousands of people stranded at the camp.
Local sources told Syria's official news agency SANA that US-backed SDF militants on Thursday stormed the camp, located near the border with Iraq, and arrested a number of people, before preventing food from crossing into the site amid a worsening humanitarian situation there.
SANA added that the development took place only a day after more than 25 minors suffered nausea and breathing difficulties after they were apparently given various doses of sleeping bills to be smuggled out of the refugee camp to a training camp run by the SDF militants.
SDF militants' positions attacked in Dayr al-Zawr, Raqqah
Also on Thursday, the positions of the US-sponsored militants were attacked by unidentified assailants in Syria's eastern province of Dayr al-Zawr as well as the northwestern province of Raqqah.
SANA, citing civil sources in Dayr al-Zawr, reported that unknown people hurled a hand grenade at an SDF position in Abu Hamam town in Abu Kamal district, causing material damage. There were no reports of casualties.
Elsewhere in al-Hous village in Raqqah province, several SDF militants were injured when a car bomb explosion struck them.
Security conditions are reportedly deteriorating in SDF-controlled areas in Hasakah, Dayr al-Zawr and Raqqah amid ongoing raids and arrests of civilians by the militants.
Local Syrians complain that the SDF's constant raids and arrest campaigns have generated a state of frustration and instability, severely affecting their businesses and livelihood.
Residents accuse the US-sponsored militants of stealing crude oil and refusing to spend money on service sectors.
Local councils affiliated with the SDF have also been accused of financial corruption.
https://www.presstv.com/Detail/2020/09/03/633245/US-backed-SDF-militants-kidnap-civilians-prevent-food-from-entering-al-Hawl-refugee-camp
--------
Less than a meter separates rescuers from what they hope is a survivor of the Beirut blast, buried under the rubble
September 04, 2020
BEIRUT: Rescue workers in Lebanon are in a race against time with about half a meter of rubble left between them and what they believe could be a survivor of the devastating Aug. 4 Beirut blast.
Local channel AlJadeed reported the heartbeat of the possible survivor buried under the rubble has dropped to 7 beats per minute.
Live feeds from the site were briefly interrupted through the morning as rescuers asked those at the scene to turn off phones, cameras and other electrical devices.
State news previously reported that a rescue and recovery team with a specially trained search dog had detected signs of a pulse and breathing under a destroyed building in the Gemmayze area of Beirut, one of the worst hit areas by the blast.
The team of rescue workers included volunteers from Chile, as well as Lebanon and members of the local civil defense force.
A crane was brought to the search area to help by carefully lifting up steel girders and other heavy pieces of debris.
Residents gathered nearby, holding out hope that someone could be found, while some voiced frustration that not enough had been done earlier to find survivors.
"How many people could have survived if there had been a state and rescue operations ready?" asked 28-year-old Chadem.
Rescue workers initially suspended the search operation late on Thursday night, sparking angered reactions from locals, The Washington Post reported.
Oscar-nominated director Nadine Labaki joined angered residents as they demanded the work continued.
"There could be someone alive," she said. "That cannot wait until tomorrow morning."
"You have no brains," another woman was quoted as saying. "If your sister or mother was there, would you leave them?"
Soldiers had to escort people off the rubble as they scrambled over the debris of the collapsed building to resume the work the rescuers appeared to be leaving, the Washington Post added..
The search was eventually resumed shortly after 1 a.m. on Friday.
The explosion ripped through a swathe of the capital, smashing up districts such as Gemmayze, home to many old, traditional buildings, some of which collapsed in the shockwave.
The building where the search was being conducted had once housed a bar on its ground floor.
The search came as Lebanon was to mark one month since the blast that killed about 190 people and injured 6,000 others, leaving the country traumatized. A moment of silence was planned at 6:08 p.m., the moment that marks the most destructive single incident in Lebanon's history on Aug. 4.
"These (signs of breathing and pulse) along with the temperature sensor means there is a possibility of life," rescue worker Eddy Bitar told reporters at the scene.
Rescue workers in bright jackets clambered over the building that had collapsed in the blast.
Bitar said a civil defense unit had been called in to help with extra equipment to conduct the search.
Local media said any search and rescue effort, if it became clear that someone was still alive, was likely to take hours.
https://www.arabnews.com/node/1729146/middle-east
--------
Saudi project saves Yemenis from Houthi landmines
SAEED AL-BATATI
September 03, 2020
AL-MUKALLA: The Saudi Project for Landmine Clearance (Masam) in Yemen has cleared mines from across the country to allow displaced people to return home, according to the project director.
Osama Al-Gosaibi said that the Iran-backed Houthis had put down tens of thousands of mines in Yemen since taking over Sanaa in late 2014.
He added that the project's demining engineers were working as hard as they could to clean land before civilians were hit. "We are racing against time," Al-Gosaibi told Arab News.
Masam, which was established in mid-2018 by the King Salman Humanitarian Aid and Relief Center (KSRelief), aims to clear Yemen of landmines and unexploded ordnances. It trains local demining engineers, equips them with state-of-the-art machines and also helps landmine victims.
In June, KSRelief extended Masam's contract for one year at a cost of $30 million.
Al-Gosaibi said the project has 32 demining teams. They have tackled more than 180,000 landmines, anti-personnel and anti-tank mines as well as other explosive devices since 2018. Their activity has covered an area exceeding 13 million square meters in the provinces of Marib, Jawf, Shabwa, Taiz, Lahj, Dhale, Hodeidah and Saada.
Compared to other countries such as Lebanon, where Al-Gosaibi and his teams have also worked, a demining mission in Yemen is more dangerous and arduous. It has cost Masam the lives of 21 engineers.
"The Houthi militia has extensively and indiscriminately planted mines in all areas," he said. "We retrieve mines from purely civilian areas. We remove them from schools, houses, farms, roads, children's playgrounds and animal pastures."
Figures collected by Masam and the US-based Armed Conflict Location and Event Data Project show that the Houthis planted around a million landmines in contested areas and even in areas under their control.
"As much as we are keen to secure and clear the largest amount of mined areas, the militias are still laying mines in the areas under their control."
Local and international right groups say that hundreds of Yemeni civilians have been killed over the last five years.
Masam said that the latest confirmed victims of Houthi landmines were two people who were killed on Monday in a landmine explosion in the central province of Al-Bayda.
Local media outlets recently reported that entire families were killed in Jawf when vehicles drove over landmines laid by Houthis.
"Landmine victims are in their thousands, mainly children and women, and this bloodshed will stop when Yemen is entirely secured from landmines. And this is our chief objective," Al-Gosaibi said.
Most landmines retrieved by Masam teams are locally made, while others originate from Iran.
Al-Gosaibi accused the Houthis of targeting civilians by planting landmines disguised as rocks and children's toys in villages, farmlands, schools, roads and parks.
Thousands of Yemenis who fled fighting in their home villages have been able to return thanks to the project's efforts, however. "By securing these areas, we helped thousands of displaced people to safely return to their homes, farms and schools," Al-Gosaibi said.
Yemeni demining officials have hailed the role of Masam in helping the country get rid of landmines and supplying local demining teams with knowledge and equipment.
"Masam is a great project that came at the right time," Maj. Gen. Ameen Saleh Al-Aqeli, the director of the Yemen Executive Mine Action Center (YEMAC), told Arab News. "It achieved great work at record time. The number of landmine victims would have been much higher if Masam did not come to Yemen. It has saved the lives of many Yemenis."
YEMAC has received support from the Saudi government and other international donors that have helped it stand on its feet during the war.
Al-Aqeli attributed the high number of civilian casualties to the intensity of landmines planted by the Houthis and people's lack of awareness, as many displaced Yemenis had hastily returned to liberated areas before demining teams were able to finish their missions.
"Due to poverty and hunger many people do not heed to our warnings against returning to their houses. So they cause a disaster to themselves and the others when they return."
https://www.arabnews.com/node/1729161/saudi-arabia
--------
Mideast
Israel remains enemy, does not belong to Middle East despite UAE deal: Hamas leader
03 September 2020
The chief of the political bureau of the Palestinian Hamas resistance movement has condemned landing of Israel's first passenger flight in the United Arab Emirates, stressing the recent UAE-Israel normalization deal will not change the facts as the Tel Aviv regime will remain an enemy.
"Israel is an enemy and such a point must remain clear to everyone. Such agreements [like that concluded between the UAE and Israel] and [subsequent] visits will not change the historical and geographical facts," Ismail Haniyeh said in a statement released by his office on Wednesday, emphasizing "Israel is neither part of the solution [to the Israeli-Palestinian conflict] nor of the region."
He added that the flight was "an unfortunate and painful moment for every Palestinian and every free Arab man and woman."
The website of the Israel Airports Authority listed the flight taking off Monday for Abu Dhabi last Friday, saying it was numbered LY971, a nod to the UAE's international calling code number.
A return flight to Tel Aviv's Ben Gurion International Airport on Tuesday was numbered LY972, the international calling code for the Israeli-occupied territories.
Israel and the UAE agreed to a US-brokered deal to normalize relations on August 13. Under the agreement, the Tel Aviv regime has purportedly agreed to "temporarily" suspend applying its own rule to further areas in the occupied West Bank and the strategic Jordan Valley that Prime Minister Benjamin Netanyahu had pledged to annex.
While Emirati officials have described the normalization deal with the Tel Aviv regime as a successful means to stave off annexation and save the so-called two-state solution to the Israeli-Palestinian conflict, Israeli leaders have lined up to reject the bluff of Abu Dhabi's crown prince and de facto ruler of the UAE, Sheikh Mohammed bin Zayed Al Nahyan, that Israel's annexation plans were off the table.
Netanyahu has underlined that annexation is not off the table, but has simply been delayed.
The Palestinians have unanimously censured the UAE-Israel peace deal, which runs counter to a long-standing Arab consensus that any normalization of ties with the Tel Aviv regime has to come in the context of the settlement of the Israeli-Palestinian conflict and the establishment of a sovereign Palestinian state.
They say the UAE, as an important Arab player in the region, has stabbed fellow Palestinians in the back.
They also say the agreement does not serve the cause of the Palestinians.
"This agreement does absolutely not serve the Palestinian cause, it rather serves the Zionist narrative. This agreement encourages the occupation [by Israel] to continue its denial of the rights of our Palestinian people, and even to continue its crimes against our people," Hamas spokesman Hazem Qassem said in a statement after the announcement of the deal.
The Palestinians also maintain that Abu Dhabi and Tel Aviv had long been in talks behind the scenes to pave the way for normalization.
Private jets had reportedly flown between the UAE and Israel as their officials were in covert talks.
The UAE-Israel agreement has also sparked protests and condemnations from Muslim and other Arab countries, who described it as an act of treason against the Palestinians.
https://www.presstv.com/Detail/2020/09/03/633236/Israel-is-an-enemy-does-not-belong-to-Middle-East-region-Hamas-leader
--------
Yemeni vice president slams Houthis for blocking international peace efforts
September 04, 2020
DUBAI: Yemeni Vice President Ali Mohsen Saleh criticized the Iran-backed Houthi militia for blocking international efforts to implement lasting peace in the strife-ridden country.
Mohsen highlighted the Houthis' continued escalation across the country, including the launch of ballistic missiles and drones against Yemeni and Saudi cities and the obstruction of initiatives to resolve the Safer oil tanker issue, state news agency Saba News reported.
The vice president made his comments after meeting with diplomats from the Netherlands and Sweden and discussing ongoing peace efforts 'to achieve permanent peace aimed at helping the Yemeni people' and 'to reinstate the official government and eliminate Iran-allied Houthi' militia.
The Yemeni leader praised the significant contribution of the Netherlands and Sweden to the peace efforts, with both countries reaffirming their support for the humanitarian and relief actions in Yemen.
Houthi elements meanwhile abducted 11 individuals, including five children, in the Al-Quraishiyah district of Yemen's central province of Al-Bayda, the state news agency reported
The kidnapping is part of the campaign by Houthis against the people of Al-Shiryaf village and villages near it, a local source told Saba New.
The militia are accused of crimes and violations against the people at Al-Shiryaf village, including storming and shelling houses, killing and injuring people among them women and children, the source added.
https://www.arabnews.com/node/1729371/middle-east
--------
Iran Condemns Notorious French Magazine's Sacrilegious Cartoon
Sep 04, 2020
Khatibzadeh said any irreverence to the Prophet of Islam or other prophets is totally unacceptable.
He noted that the provocative move, under the disguise of freedom of speech, has hurt the feelings of all monotheists in the world and also disrespected Islamic values and the beliefs of more than one billion Muslims.
Charlie Hebdo is a French magazine with a very black record of publishing anti-Islamic content. It had published caricatures of Holy Prophet Muhammad (PBUH) in 2012 and 2015 that sparked million-strong rallies of Muslims around the globe.
In early January 2015, the ISIL terrorist group attacked the weekly after it released a cartoon of ISIL leader Abu Bakr Al-Baqdadi. At least 12 people were killed when masked gunmen stormed the Paris offices of Charlie Hebdo and opened fire.
Iranian officials condemned the attack, but warned that the incident should not be used as a pretext for accusing Islam or pressuring the Muslim community in the West, reminding that ISIL is not an Islamic group.
The same day, the former Foreign Ministry Spokeswoman Marziyeh Afkham condemned the attack, and said any act of terrorism against innocent people is opposed to Islamic teachings.
https://en.farsnews.ir/newstext.aspx?nn=13990614000081
--------
FM Zarif Discusses Bilateral Ties with Pakistani Counterpart
Sep 04, 2020
Zarif and Qureshi in a phone contact on Thursday discussed bilateral relations, the Joint Commission for Cooperation between Tehran and Islamabad, Shanghai Cooperation Organization, as well as the latest developments in Afghanistan and Kashmir.
The Iranian top diplomat also offered his condolences to the Pakistani government and nation over the flood in the Sindh province last week.
Local media have reported that the Monsoon rains in various parts of the country, especially in the city of Karachi, have claimed more than 100 lives in recent days, destroying 1,000 homes.
In relevant remarks last week, Iranian Ambassador to Pakistan Seyed Mohammad Ali Hosseini voiced sympathy to the Pakistani people and government over the recent flood that has claimed scores of lives and caused much destruction.
"Deeply saddened over the loss of precious lives due to heavy rains and floods," Hosseini wrote on his Twitter page on Thursday, August 27.
https://en.farsnews.ir/newstext.aspx?nn=13990614000129
--------
Iranian FM Raps Israel for Continued Crimes against Palestinians
Sep 03, 2020
In a Twitter post on Wednesday, Zarif showed a picture portraying an Israeli soldier kneeling on a Palestinian's head, and said," The only thing that has been normalized is this."
Zarif was referring to a Tuesday incident where Israeli forces brutally confronted an elderly Palestinian man during a protest held near the occupied West Bank village of Shufah.
The protest came after the Palestinians gathered to protest against the confiscation of their land to expand settlements there.
In relevant remarks on Tuesday, Supreme Leader of the Islamic Revolution Ayatollah Seyed Ali Khamenei lashed out at the UAE for normalizing ties with Israel, describing it as a betrayal of Islam, the Arab and Palestinian people and the regional states.
"The UAE betrayed the world of Islam, the Arab nations, the region's countries and Palestine. Of course, this betrayal won't last long," Ayatollah Khamenei said, addressing the directors and heads of the Education Ministry via a videoconference.
"The UAE rulers opened the door of the region to the Zionists, and they have ignored and normalized the question of Palestine, which is a question about the usurpation of a country. This stigma will remain on them," he added.
"The nation of Palestine is under various, severe pressures. Then, the UAE cooperates with the Israelis and the filthy US agents - such as the Zionists in Trump's family - against the interests of the world of Islam and commits the greatest atrocity against it," Ayatollah Khamenei said.
He expressed the hope that the UAE would wake up soon and compensate for what they've done.
Also, last week, the Iranian foreign ministry blasted again the recent compromise deal between Abu Dhabi and Tel Aviv, warning that the UAE should account for any threat posed by Israel to the region.
"The agreement between the UAE and the Zionist regime is a scar on the Muslim world's body and the UAE has made a big mistake and we hope that it makes up for this mistake as soon as possible. The Muslim world will never forget betrayal of the holy Quds," Foreign Ministry Spokesman Saeed Khatibzadeh told reporters in Tehran.
He further downsized Israel as a serious threat to Iran, and said it is seen as too small and too weak as a threat, but warned that although Israel is not among the threats perceived by Iran's defense and security doctrine in the Persian Gulf region, the UAE will be held to account if the regime poses any threat to the region.
Khatibzadeh stressed Iran's seriousness about defending its security and national interests.
US President Donald Trump on August 13 announced a deal brokered by his government between Israel and the UAE which he said would lead to full normalization of ties between the two.
Critics see the deal as the latest attempt by Trump to save his presidential campaign against the Democrat Joe Biden.
Iranian President Hassan Rouhani decried the recent normalization deal between the UAE and Israel, describing it as a gift to Trump before elections.
"These days we have faced a neighboring country which has approached the enemy of the Islamic world and the region and the murderer of the Palestinian nation in a decision to get close to the Zionist regime," Rouhani said, addressing a meeting of the national coronavirus campaign headquarters in Tehran last month.
He added that the UAE rulers are wrongly thinking that their security and economy will improve through relations with Israel, noting that the measure is aimed at helping Trump win the November elections.
"(The UAE's) measure is one hundred percent wrong and condemned," Rouhani said.
He warned the regional states not to pave the way for Israel to have a foothold in the region.
In a relevant statement on August 14, the Iranian foreign ministry strongly condemned the UAE's decision to set up diplomatic relations with "the Zionist regime of Israel" and termed it as a strategic act of idiocy by Abu Dhabi and Tel Aviv which will undoubtedly result in the further reinvigoration of the axis of resistance in the region.
The statement further stressed that "the oppressed nation of Palestine as well as other freedom-seeking peoples worldwide will never forgive the sin of normalization of the ties with the occupier and bloodthirsty regime of Israel and also the act of those who approve and cooperate with its crimes".
Undoubtedly the innocent bloods shed during the past seven decades of resistance to free the sacred land of Palestine which is Muslims' first Qibla will sooner or later take those that betrayed the Palestinian cause by the throat, it added.
The statement also stressed that the Islamic Republic of Iran considers as dangerous Abu Dhabi's act of normalizing ties with the fabricated, illegitimate and anti-human regime of Israel, and warns the Zionist regime against any kind of meddling in the Persian Gulf region's equations.
The UAE administration and all other governments which approve of this move should be ready to take the responsibility of all the consequences of such a measure, it further said.
The Iranian foreign ministry's statement also noted that the history will definitely demonstrate how this strategic mistake by the Zionist regime and the dagger which stabbed both the Palestinian nation and the Muslim peoples in the back will backfire and further strengthen the resistance axis by enhancing unity and solidarity against the Zionist regime and the backward governments in the region.
The foreign ministry advised those rulers who, from inside their "glass castles", hatch plots against the Palestinians and other regional oppressed nations, including Yemen, to regain consciousness and stop erring in distinguishing between friends and foes.
https://en.farsnews.ir/newstext.aspx?nn=13990613000291
--------
Turkey Releases Hunger-Striking Lawyer After Death of Fellow Imprisoned Attorney
03 September 2020
Turkey's supreme court Thursday ordered the release of a hunger-striking lawyer, one week after a fellow attorney died 238 days into a fast she staged seeking a fair trial.
A judgement from the court's appellate division said an extension of Aytac Unsal's detention in an Istanbul hospital, where he was transferred from jail in July, "would be dangerous to his life."
The 32-year-old had been on hunger strike for over 200 days, his friends and family told Turkish media.
He was sentenced in 2019 to 10 years and six months in prison on terror-related charges which he denies.
Unsal and fellow lawyer Ebru Timtik, who died last week, were members of the Contemporary Lawyers' Association.
The group is accused of having close ties to the outlawed Revolutionary People's Liberation Party-Front (DHKP-C), a far-left Marxist organization.
The DHKP-C has claimed responsibility for several deadly attacks, including a 2013 suicide bombing at the US embassy in Ankara, which killed a Turkish security guard.
In 2019, an Istanbul court handed multiple sentences to 18 lawyers, including Timtik and Unsal, on charges of "forming and running a terror group."
After the sentencing, Timtik, Unsal and several other lawyers went on hunger strike, after their appeals were ignored by the courts.
The two lawyers turned their hunger strike into a death fast in April, consuming only liquids and vitamins.
They were transferred to a hospital but formally kept in detention after a medical report ruled that their lives were at risk in July.
At the time of her death last Thursday, Timtik weighed just 30 kilograms (65 pounds), her friends told AFP.
The supreme court ruling was issued shortly after Turkish President Recep Tayyip Erdogan met in Ankara with Robert Spano, the new president of the European Court of Human Rights.
Spano stressed to Erdogan "the importance of the rule of law and democracy and in particular," the ECHR said after the talks.
https://english.alarabiya.net/en/News/middle-east/2020/09/03/Turkey-releases-hunger-striking-lawyer-after-death-of-fellow-imprisoned-attorney
--------
Turkey's power projection risks military clash in Mediterranean, former PM says
September 04, 2020
ANKARA: Turkey risks military confrontation in the Eastern Mediterranean because it prizes power over diplomacy, a former prime minister who championed a less confrontational policy in the first decade of President Recep Tayyip Erdogan's rule told Reuters.
Ahmet Davutoglu, whose "zero problems with neighbors" mantra was a hallmark of Erdogan's early dealings with Europe and the Middle East, broke with the president's ruling AK Party last year to set up the rival Gelecek (Future) Party.
He criticized what he described as a lurch toward authoritarianism under Turkey's new executive presidency, and accused the government of mishandling a series of challenges including the economy, the coronavirus outbreak and the growing tensions in the Eastern Mediterranean.
Last month Turkey sent a survey vessel, escorted by frigates, to explore for oil and gas in waters claimed by Greece, a move Athens said was illegal. The two NATO allies are locked in a dispute over the extent of their continental shelves and maritime economic zones.
The European Union, backing EU members Greece and Cyprus, has imposed minor sanctions against Turkey, and a collision between Greek and Turkish warships shadowing the survey vessel last month highlighted the potential for military escalation.
Davutoglu said Ankara had genuine grievances over Greek claims to tens of thousands of square kilometers of sea extending up to Turkey's Mediterranean coast, but added that Erdogan's approach carried high risks.
"Unfortunately our government is not doing a proper diplomatic performance," he said in an interview, warning that if both Greece and Turkey prefer "power projections" over diplomacy, "at any time any crisis may erupt and escalate."
Time to talk
Turkey should say clearly to the EU: "'Let's come around the table and share all views'," Davutoglu said. It should also sit down with Greece to "discuss all matters (and) deescalate the tension."
Erdogan's government said it was on the verge of announcing a resumption of talks with Greece last month when Athens signed a deal setting out its maritime border with Egypt — an agreement which cut across waters claimed by Turkey.
Ankara cut off the process in protest, and a visit to Greece and Turkey by Germany's foreign minister last week appeared to make no headway. EU leaders will discuss the standoff later this month and could take further action against Turkey.
Davutoglu, who served as Erdogan's foreign minister from 2009 to 2014 and then as prime minister for two subsequent years, worked to strengthen Turkish ties and influence in the Mediterranean and Middle East.
But years of talks with Greece were suspended in 2016, and Davutoglu's Middle East strategy was derailed in the turmoil of the Arab uprisings, when relations with Syria and Egypt collapsed over Ankara's support for Muslim Brotherhood groups.
Davutoglu's Future Party is one of two which has broken away from Erdogan's AKP. Neither has registered above low single figures in recent polls, but by eroding the AKP's support they have made Erdogan's quest for a majority in elections due by 2023 more challenging.
https://www.arabnews.com/node/1729286/middle-east
--------
Southeast Asia
Indira Gandhi Says No Issue with Daughter Embracing Islam, Just Hopes to Reunite with Her By Deepavali
04 Sep 2020
BY JOHN BUNYAN
KUALA LUMPUR, Sept 4 — M. Indira Gandhi has no issue with her long-lost daughter Prasana Diksa embracing Islam as all she wants is to be reunited with her before Deepavali in November.
The mother-of-three said she just wants to meet her daughter, whom she last held in 2009 when the child was 11 months old, the Star Online reported today.
"I just want to meet her. I want to hold her. That's my main reason for finding Prasana," she told reporters after a meeting with investigators at Bukit Aman yesterday.
Indira, 45, was accompanied by lawyer and activist Datuk Ambiga Sreenevasan and Indira Gandhi Action Team (Ingat) chairman Arun Dorasamy to the meeting.
According to the report, Indira was unable to meet Inspector-General of Police Tan Sri Abdul Hamid Bador as he had to attend another meeting in Putrajaya.
Arun said there was still a deficit of trust between them and the police, adding that they remained unconvinced even after the meeting.
On Monday, Ingat called off a planned hunger strike after Abdul Hamid agreed to meet them on Thursday instead of just the Hindu mother alone.
Indira's daughter, Prasana Diksa, was taken by her ex-husband Muhammad Riduan Abdullah, known as K. Pathmanathan before he converted to Islam in 2009 when she was just 11 months old.
He had also converted their three children to Islam without Indira's knowledge.
After a protracted court battle that spanned years, the Federal Court ruled in January 2018 that the unilateral conversions of Indira's children were unlawful.
Their two elder children, Tevi Darsiny, now 22, and Karan Dinish, now 21, have stayed with Indira.
Despite the ruling, the police have yet to recover Prasana and return her to Indira.
Police have yet to locate Muhammad Riduan despite an arrest warrant issued by the High Court in 2014.
Indira last saw Prasana Diksa briefly in court when she was about 18 months old.
https://www.malaymail.com/news/malaysia/2020/09/04/indira-gandhi-has-no-issue-with-daughter-embracing-islam-just-hopes-to-reun/1900049
--------
PAS MP stands by controversial comments on alcohol consumption
September 3, 2020
PETALING JAYA: The PAS MP who sparked a controversy on the consumption of alcohol today said he stood by his views, citing several verses from the Bible to back his argument.
"I stand by what I said that all religions forbid the consumption of alcohol.
"Thus, I beseech those who distorted my explanation in the Dewan Rakyat to return to the right path and give their support to YB Datuk Seri Wee Ka Siong in his fervent campaign against drink driving," said Pasir Puteh MP Nik Muhammad Zawawi Salleh in a statement today.
In a Dewan Rakyat debate on proposed higher penalties for drink driving last week, Zawawi had said that biblical injunctions about drinking alcohol had been "distorted or altered" — leading to rebuke from Christian associations and politicians.
Breaking his silence on the matter, Zawawi said it was his "noble intention" to highlight that all religions forbid the consumption of alcohol, and therefore saw no need to apologise to Christians for his comments.
Zawawi said it would be "a sin unto Christianity" for those who say that Christians were allowed to consume alcohol, as it would lead to drunkenness.
However, he did not deny that there are mentions in the Bible of alcohol being used for medicinal purposes.
Zawawi said he has deep respect for Christians and has read both the Old and New Testaments in the Bible.
Stating that the Old Testament "explicitly" stated that alcohol is forbidden, he said there are 75 scripture warnings in the Bible against drinking alcohol – going on to provide two examples from the New International Version (NIV) translation;
"Wine is a mocker and beer a brawler; whoever is led astray by them is not wise" he said, quoting the book of Proverbs chapter 20, verse 1.
The other passage he shared reads as follows: "Do not gaze at wine when it is red, when it sparkles in the cup, when it goes down smoothly! In the end it bites like a snake and poisons like a viper" (Proverbs 23:31).
Stating that Muslims also believe in Prophet Isa (Jesus), Zawawi said Muslims are also required to believe in the original scripture which was revealed to Prophet Isa (Jesus).
"Even though I questioned if the Bible was changed from the original scripture that was revealed to him, I say it as a Muslim who believes in Prophet Isa (Jesus)," he said.
"Thus, I see no need to apologise to Christians as some quarters have asked me to.
"We as Muslims are very clear that we should believe in all the divine scriptures revealed to the Prophets before Prophet Muhammad.
"May the Christians too take it upon themselves to believe in these divine scriptures as well as the Holy Quran."
Stating that he does not intend to insult anyone or any religion, Zawawi called on those who continue to insist on an apology to meet him, have a cup of tea and discuss the issue amicably, so as to understand one another better.
https://www.freemalaysiatoday.com/category/nation/2020/09/03/pas-mp-stands-by-controversial-comments-on-alcohol-consumption/
--------
Another former Sabah chief minister hopes to make a comeback in Sept 26 poll
03 Sep 2020
BY JULIA CHAN
KOTA KINABALU, Sept 3 — Former Sabah chief minister Tan Sri Chong Kah Kiat today announced his return to active politics just days before the state goes into full election mode.
The Liberal Democratic Party (LDP) honorary lifetime president, who was Sabah chief minister from 2001 to 2003, said he hoped to provide voters with a local party with a clean slate as an alternative to the recent mass crossovers of 13 state lawmakers.
In a press conference here, Chong denounced the recent party-hopping antics in the state and said Sabahans have every right to be angry with "disgraceful party hoppers" and "political frogs".
"There will be no political frogs if there is no political party to accept them.
"It is these 'frog collectors' that gave a bad name to Sabah. Sabahans must condemn these politicians who had unashamedly embraced and accepted them into their political parties," he said.
Chong confirmed the LDP intends to run in more than 40 state seats, but stopped short of disclosing which seat he plans to contest.
He said LDP will announced its candidates before nomination day, which falls on September 12.
He said LDP had been relegated to being a Chinese-based party under the Barisan Nasional (BN) power sharing concept for 31 years, but added that it has since undergone a change and expanded its base to include Muslims and non-Muslim Bumiputera members for a multicultural appeal.
Chong said LDP is aspiring to form the next state government.
The crux of his administration would be to rid Sabah of its perennial illegal immigrant issues which he described as out of hand since the start of the Warisan administration under the leadership of Datuk Seri Shafie Apdal.
"Today we see the increasing presence of illegal immigrants everywhere in the state. They are getting braver and more blatant under the Warisan government. When I was chief minister, I sent back hundreds of thousands of illegal immigrants and I demolished over 10,000 illegal squatters. I did this all with good relations with the federal government and with help from Malaysia police, armed forces and other authorities based in Sabah.
"I have no doubt that the same support will be given to an LDP state government," Chong said.
He added that a state government that was in good terms with the federal government was another priority for him.
"We will never take sides but respect and cooperate and engage with any federal government led by whoever so long as he is appointed by His Majesty. Any acrimony will only bring Sabah back to the Parti Bersatu era of the '80s, where Sabah was fighting with the federal government," he said.
He also promised to be more frugal with the state finances, first by abolishing the state Education, Health and Public Well-being Ministry and the Law and Native Affairs Ministries which he said duplicates several federal ministries.
"We will also never have a chief minister and the finance ministry be the same person. This is not a family affair. They will be of a different race. Why not?" he said.
Chong said that he would also terminate mega projects like the controversial Kaiduan or Papar dam.
"Our politicians are obsessed with projects. We won't waste time and bluff that we have billions in our treasury. We don't. We will instead address issues like non-revenue water and fix those problems. With whatever money we have, we will address horrendous flooding in Penampang and Petagas. We don't need billions for this. Just a few hundred million," he said.
In announcing his manifesto, Chong also promises to revive Sabah "to its glorious past" as a world-class tourism destination which attract high end tourists via full-service airlines.
He also wanted to make Sabah a regional education hub and upgrade Sabah's railway into the west coast.
"Above all, we want to maintain Sabah as harmonious, respectful and tolerant of all religious practices without political or bureaucratic hindrances
"Under an LDP state government, there shall be no more political exploitations when giving out educational and religious grants. All such grants from the state government are the entitlements of all educational and religious institutions and must be delivered as a matter of course and not for political mileage," he said.
Chong was chief minister from 2001 to 2003 under a rotation system which allows the Chinese, Muslim Bumiputera and non-Muslim Bumiputera leaders to rule the state.
He later resigned as deputy chief minister in 2007 after a fallout with the chief minister Tan Sri Musa Aman over the construction of a Mazu statue in his hometown of Kudat.
He retired and remained on a low profile although staying close to LDP affairs since then.
https://www.malaymail.com/news/malaysia/2020/09/03/another-former-sabah-chief-minister-hopes-to-make-a-comeback-in-sept-26-pol/1899839
--------
After meeting with cops, Indira hopes for Deepavali reunion with daughter
Adam Abu Bakar
September 3, 2020
KUALA LUMPUR: Indira Gandhi, the former wife of fugitive Muhammad Riduan Abdullah, is hoping for a reunion with her daughter Prasana Diksa during the forthcoming Deepavali in November, after not seeing her for 11 years.
Indira said this matter was not related to religion, but simply out of a mother's longing desire to meet her daughter.
"If she chooses to embrace Islam, that's not an issue. I have no problems with her becoming a Muslim.
"I just want to meet her. I want to hold her. That's my main reason for finding Prasana," she told reporters outside Bukit Aman today.
Indira had earlier attended a meeting with the police, accompanied by her lawyer, Ambiga Sreenevasan, and Indira Gandhi Action Team (Ingat) chairman Arun Dorasamy.
Ambiga said Inspector-General of Police (IGP) Abdul Hamid Bador was unable to join the meeting as he had another appointment in Putrajaya.
"We have already received some information from police. We were told that because of Covid-19, the movement control order and other factors, their probe was interrupted.
"We had a good meeting with the police. We were also given information on those involved and we also voiced our worries," she said.
Ambiga said they wanted to cooperate and help in the police investigation, adding that they are ready to provide authorities with any information they have.
Riduan is the former husband of Indira who won custody of their daughter after a legal battle over the unilateral conversion of their children to Islam.
He fled with his daughter in 2009 when she was only 11 months old after he converted to Islam and no longer uses his birth name, K Pathmanathan.
In 2016, the Federal Court ordered then IGP Khalid Abu Bakar to arrest Riduan and retrieve Prasana.
https://www.freemalaysiatoday.com/category/nation/2020/09/03/after-meeting-with-cops-indira-hopes-for-deepavali-reunion-with-daughter/
--------
Over 600 Indonesian Islamic school students infected with Covid-19
September 2, 2020
BANYUWANGI: More than 600 Islamic school students in Indonesia have tested positive for the coronavirus, a health ministry official said, marking the latest outbreak as classrooms reopen across the country.
The Darussalam Blokagung boarding school in East Java's Banyuwangi regency has initiated a two-week quarantine of some 6,000 students after at least 664 pupils were infected.
Most of the cases involved mild or no symptoms but the local police and the military have blocked access to the school.
"All activities must be halted," health ministry spokesman Benget Saragih said Tuesday.
"Mass prayer has been temporarily stopped and all students must stay in their rooms."
Mass testing had been carried out from the middle of August after some students complained of feeling unwell, according to the school.
There are thousands of religious boarding schools across Indonesia, the world's biggest Muslim-majority nation.
The mass infection comes after nearly 1,300 people at an Indonesian military academy tested positive for the virus in July.
The country of nearly 270 million has since seen smaller outbreaks nationwide as schools began to reopen following months-long closures.
Indonesia on Wednesday reported more than 3,000 new cases to bring its official total to over 180,000 infections and 7,616 deaths.
But with some of the world's lowest testing rates, the true scale of the crisis is widely believed to be much greater in the vast archipelago.
https://www.freemalaysiatoday.com/category/world/2020/09/02/over-600-indonesian-islamic-school-students-infected-with-covid-19/
--------
Africa
UN Chief Guterres Calls for Closure of Libya Migrant Detention Centres
04 September 2020
UN Secretary-General Antonio Guterres has called for the closure of migrant detention centers in Libya, denouncing what he called rights violations committed there.
In a report submitted on Thursday to the UN Security Council, Guterres said: "Nothing can justify the horrendous conditions under which refugees and migrants are detained in Libya."
"I renew my appeal to the Libyan authorities... to fulfill their obligations under international law and to close all detention centers, in close coordination with United Nations entities," he said.
For all the latest headlines follow our Google News channel online or via the app
According to the secretary-general's report, more than 2,780 people were being detained as of July 31 in centers across Libya. Twenty-two percent of the detainees were children.
"Children should never be detained, particularly when they are unaccompanied or separated from their parents," Guterres said, calling on Libyan authorities to ensure the children are protected until "long-term solutions" are found.
The UN chief cited reports of torture, enforced disappearances, and sexual and gender-based violence in the centers, committed by those running the facilities.
He also mentioned a reported lack of food and health care.
"Men and boys are routinely threatened with violence when they are calling their families, to pressure them to send ransom money," he wrote.
"Migrants and refugees have been shot at when they attempted to escape, resulting in injuries and deaths," the report said, alleging that some are even "left on the streets or bushes to die" when they are deemed too weak to survive.
In centers where arms and munitions are stored, some refugees and migrants are recruited by force, while others are forced to repair or reload firearms for armed groups, it said.
More than a year after a July 2019 air strike killed more than 50 refugees and migrants and wounded dozens more at a detention center near Tripoli, no one has been forced to account for the deaths, Guterres said.
Libya has been in chaos ever since the 2011 overthrow and killing of dictator Muammar Gaddafi in a NATO-backed uprising, with warring rival administrations battling for power.
Since the downfall of Gaddafi, Libya also has become a key route for irregular migration from Africa into Europe, across the Mediterranean Sea.
https://english.alarabiya.net/en/News/north-africa/2020/09/04/UN-chief-Guterres-calls-for-closure-of-Libya-migrant-detention-centers-
--------
Blasts hit Libya capital Tripoli, residents report
01 September 2020
A loud blast hit the Libyan capital Tripoli early on Tuesday, residents said, with the noise audible across much of the city and dark smoke in the sky.
Local television stations reported that a suicide bomber on a motorbike had detonated a device at a roundabout where the main highway from the west enters the city, but there was no immediate official confirmation.
If confirmed as an attack, it would be the first for more than a year.
"I was driving on the motorway early morning at about 7:30 and I heard a massive explosion... Most of the other vehicles turned back after we saw black smoke in the sky," said a witness who asked not to be named.
Libya has been convulsed by political chaos and warfare for much of the period since the 2011 revolution that ousted Muammar Gaddafi.
The country is split between the Tripoli-based Government of National Accord (GNA) and the eastern-based Libyan National Army (LNA) loyal to Khalifa Haftar in Benghazi.
In June, the GNA ended a 14-month LNA assault on the capital and forced it to retreat, bringing a close to months of heavy bombardment.
https://english.alarabiya.net/en/News/north-africa/2020/09/01/Blasts-hit-Libya-capital-Tripoli-residents-report
--------
UN laments 'blatant' violations of Libya arms embargo
September 04, 2020
NEW YORK: The interim UN envoy for Libya, Stephanie Williams, on Wednesday denounced what she called "blatant" ongoing violations of the arms embargo in effect on the war-wracked country.
Since UN Secretary-General Antonio Guterres last briefed the Security Council on July 8 about 100 resupply flights landing in Libya to help forces loyal to the Tripoli-based Government of National Accord (GNA) and its rival forces led by Khalifa Haftar in eastern Libya.
Nine cargo ships docked in western Libya, while three others reportedly arrived in the east of the country. She also accused foreign powers of "fortifying their assets" on both sides.
"The arms embargo remains totally ineffective," according to an interim report from UN experts, who added that the violations are "extensive, blatant and with complete disregard for the sanctions."
Williams said the activity "constitutes an alarming breach of Libya's sovereignty, a blatant violation of the UN arms embargo."
The UN mission in Libya, whose mandate is up for renewal in mid-September, "continues to receive reports of large-scale presence of foreign mercenaries and operatives," she said.
Williams added that their presence complicates "chances of a future settlement."
Russia's UN envoy, Vassily Nebenzia, rejected any accusation of Russian interference.
"Not a single Russian serviceman is currently in Libya," he said, while his US counterpart Kelly Craft slammed the presence of Russian mercenaries linked to the Kremlin.
"There is no place for foreign mercenaries or proxy forces in Libya, including the Russian Ministry of Defense proxy Wagner Group, which is fighting alongside" Haftar, she said.
France's UN Ambassador Nicolas de Riviere called for a reinforcement of the world body's mission in Libya, so that it can help shepherd an eventual cease-fire and ensure that the arms embargo is respected.
Several Council members called for a quick nomination of a permanent UN special envoy for Libya.
Ghassan Salame stepped down in March for health reasons, and bickering between the US and its partners on how the role should be defined has stalled naming a successor.
Libya has endured almost a decade of violent chaos since the 2011 NATO-backed uprising that toppled and killed veteran ruler Muammar Qaddafi.
The GNA and a Haftar-backed eastern administration are now vying for power against a backdrop of dozens of local conflicts.
https://www.arabnews.com/node/1729296/middle-east
--------
Nigeria: 20 villagers kidnapped in armed raid
Adam Abu-bashal
04.09.2020
At least 20 villagers in central Nigeria were abducted in an armed raid, local media reported Thursday.
In Niger state, gunmen on motorcycles raided Adagbi village in Shiroro district and opened fire.
After they kidnapped the villagers, mostly women, the remaining villagers abandoned their homes out of fear.
There were no reports of fatalities or injuries in the raid, while Niger police have yet to issue a statement on the incident.
Separately, 17 people were killed by gunmen on motorcycles in an attack in the Rijau region of Niger state, according to local media.
The attack also left many injured, reports said.
Local authorities confirmed the attack but remained silent on the death toll.
Niger Governor Abubakar Sani-Bello called on people to remain calm and said security forces were rushed to the region.
Recently, the country banned the use of motorbikes in some states due to attacks carried out on them.
The country's northwest sees occasional clashes between the herder Fulani people -- one of the largest ethnic groups widely dispersed across West Africa -- and neighboring sedentary tribes.
The Fulani, who migrated to the south of the country to graze their animals, claim that farmers try to steal their animals and attack their people.
https://www.aa.com.tr/en/africa/nigeria-20-villagers-kidnapped-in-armed-raid/1962599
--------
Kenya names 9 terrorism financiers, freezes assets
Andrew Wasike
02.09.2020
Kenya's Interior Ministry on Wednesday named nine top financiers of terror activities carried out by Somali-based al-Qaeda affiliated al-Shabaab group.
In a statement, Fred Matiang'I directed all the assets of the individuals be seized and funds frozen for supporting al-Shabaab that has wreaked havoc in East Africa leading to the deaths of thousands of people and destruction of property.
"The only way to deny terrorists the means to threaten our way of life is to choke their facilitation networks, and this is why I have published the foregoing list so that they can no longer finance Al-Shabaab's operations within our borders," Citizen TV Kenya quoted Matiang'I as saying.
The accused include Halima Adan Ali, Waleed Ahmed Zein, Sheikh Guyo Gorsa Boru, Mohammed Abdi Ali (Abu Fidaa), Nuseiba Mohammed Haji, Abdimajit Adan Hassan, Mohammed Ali Abdi, Muktar Ibrahim Ali and Mire Abdullahi Elmi.
Kenya contributes troops to the African Union peacekeeping mission in Somalia which has weakened al-Shabaab that has been fighting to overthrow the Somali government for years.
Al-Shabaab has vowed to carry out terror attacks in Kenya until Kenya pulls out its soldiers from Somalia. In 2015, more than 140 university students were killed by the group marking their worst attack in Kenya.
https://www.aa.com.tr/en/africa/kenya-names-9-terrorism-financiers-freezes-assets/1961089
--------
North America
Top Turkish, US officials discuss East Med over phone
Yildiz Nevin Gundogmus
04.09.2020
Senior officials from Turkey and the US held a phone call Thursday on various issues including recent developments in the Eastern Mediterranean.
According to a statement by Turkey's presidential spokesman Ibrahim Kalin, he told US National Security Advisor Robert C. O'Brien that Ankara did not desire an escalation in its dispute with other countries in the region.
Rather it supports a model under which all sides could equitably share the region and its resources in a fair way, as Turkish President Recep Tayyip Erdogan has previously proposed, said the statement.
Kalin also underlined that Greece's unilateral and maximalist policy, which has served to escalate tensions and ignored international law, is unacceptable and that such approaches should be avoided for there to be a political solution.
Stressing Turkey's determination to protect its rights and those of the Turkish Republic of Northern Cyprus (TRNC) in the Eastern Mediterranean, he also said all of effort will be made to make the Mediterranean a "sea of peace."
Kalin and O'Brien also discussed bilateral relations and regional issues, the statement added.
Greece has disputed Turkey's current energy exploration in the Eastern Mediterranean, trying to box in Turkish maritime territory based on small islands near the Turkish coast.
Turkey -- the country with the longest coastline on the Mediterranean -- has sent out drillships to explore for energy on its continental shelf, saying that Turkey and the Turkish Republic of Northern Cyprus (TRNC) have rights in the region.
https://www.aa.com.tr/en/americas/top-turkish-us-officials-discuss-east-med-over-phone/1962559
--------
US' Kushner discuss Israel-UAE deal in London
Rabia Iclal Turan
03.09.2020
US President Donald Trump's senior advisor Jared Kushner held a meeting Thursday with UK's Foreign Secretary Dominic Raab, while British Prime Minister Boris Johnson made a "short drop-in" on the meeting, Downing Street confirmed to British media.
"We discussed the historic Israel-UAE deal and UK efforts to encourage Israeli-Palestinian dialogue," Raab wrote on Twitter. "I reaffirmed UK commitment to a negotiated two state solution."
Kushner paid a visit to London on his way back from a Middle East tour to persuade other Arab nations to normalize ties with Israel.
Last month, the UAE and Israel announced a US-brokered deal to normalize relations, including opening embassies.
Palestinian groups denounced the deal, saying it ignores the rights of Palestinians and does not serve the Palestinian cause.
After the deal was announced, Kushner visited Jordan on Aug. 26 and flew to Israel, the UAE, Bahrain, Saudi Arabia and Qatar.
https://www.aa.com.tr/en/americas/us-kushner-discuss-israel-uae-deal-in-london/1962419
--------
US sanctions 11 entitites for aiding Iran's oil sector
Michael Hernandez
03.09.2020
WASHINGTON
The US imposed sanctions on 11 entities and three executives Thursday for allegedly aiding an Iranian energy firm that was blacklisted in January, and helping Iran export petroleum products .
The new designations of companies and executives include six under the Treasury Department's authorities and five under the State Department. All are based in Iran, the United Arab Emirates (UAE) or China.
The State Department's sanctions target Iran-based Abadan Refining Company; China-based Zhihang Ship Management, New Far International Logistics LLC and Sino Energy Shipping; and UAE-based Chemtrans Petrochemicals Trading.
The department also imposed sanctions on New Far executive Min Shi, Sino Energy executive Zuoyou Lin and Abadan managing director Alireza Amin.
"All entities targeted today continued to facilitate Iran's export of petroleum, petroleum products, and petrochemicals contrary to U.S. sanctions. This is another reminder that the United States will not waver in its commitment to sanctions enforcement. Our sanctions will remain in place until Iran changes its behavior," Secretary of State Mike Pomeo said in a statement.
The Treasury Department is further designating six "front companies" used by Triliance Petrochemical, which was designated in January.
Among those sanctioned are Iran-based Zagros Petrochemical Company, which the Treasury said agreed to sell Triliance "hundreds of thousands of metric tons of Iranian petrochemicals during the year 2020."
The scheme allegedly involved Trilliance using UAE-based Petrotech FZE to purchase petrochemical products. Petrotech has also been sanctioned.
UAE-based Trio Energy and Hong Kong-based Jingho Technology Co. Limited, Dinrin Limited and Dynapex Energy Limited were also sanctioned for helping Triliance and Zagros.
https://www.aa.com.tr/en/americas/us-sanctions-11-entitites-for-aiding-irans-oil-sector/1962348
--------
URL: https://www.newageislam.com/islamic-world-news/sunni-coalition-demand-arrest-shia/d/122791
New Age Islam, Islam Online, Islamic Website, African Muslim News, Arab World News, South Asia News, Indian Muslim News, World Muslim News, Women in Islam, Islamic Feminism, Arab Women, Women In Arab, Islamophobia in America, Muslim Women in West, Islam Women and Feminism