New Age Islam News Bureau
19 Nov 2019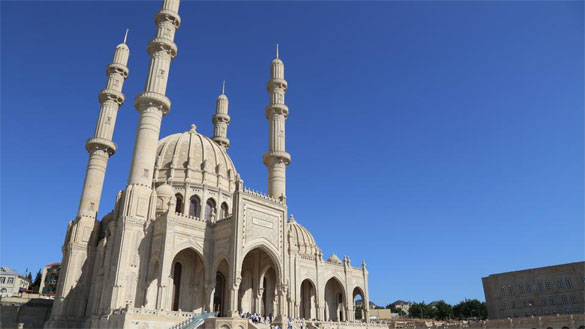 Muslims arrive to perform Eid al Fitr prayer at Heydar Mosque in Baku, Azerbaijan on June 15, 2018. (AA)
--------
• Sunni and Shia Muslims Pray Together In Azerbaijan's Heydar Mosque
• Sheffield Mosque reaches out to Non-Muslims on Their First Open Day, In Conjunction with Interfaith Week
• Isil Terrorists Hack Ordinary People's Dormant Twitter Accounts To Promote Jihad
• For Iraqi Demonstrators, Iran Protests Are the Islamic Republic's 'Punishment from God'
• Iran's Quds Force and Egypt's Muslim Brotherhood Plotted To Form Anti-Saudi Alliance
• BHU Assistant Professor Firoze Khan: 'Studied Sanskrit All My Life, Never Made To Feel I Am Muslim, But Now…'
• Court Has To Look How Much Freedom Media Should Have: IHC
• Female Muslim Students Have Constitutional Right to Use Hijab – Sultan Of Sokoto
• Two Christchurch Mosques Attack Widows to Be Granted Residency In New Zealand
• Secret IRGC-Muslim Brotherhood Meeting Proposed Anti-Saudi Alliance: Report
Compiled By New Age Islam News Bureau
URL: https://www.newageislam.com/islamic-world-news/sunni-shia-muslims-pray-together/d/120305
Europe
• Muslim Voters Can Change 31 Marginal Seats In UK, MCB Finds
• Muslims and Jews Unite On Mitzvah Day
• Exeter Muslim Family Feel 'Sick And Violated' After Being Delivered Pork On Vegetarian Domino's Pizza
• First Slovak Islamist jailed in Prague
• Morgan Sindall wins £18m muslim faith school build
• General election: Brexit Party candidate supports Tommy Robinson and called Islam a "death cult"
------
North America
• U.S. Sanctions Companies, Individuals for Supporting Islamic State
• Accused Bike-Path Terrorist Sayfullo Saipov Tells Judge He Only Answers To Allah
• US embassy in Jerusalem issues travel warning after Pompeo's settlement announcement
• Indian Repression Fuelling Militancy in Held Kashmir, Warns HR Watchdog, An US-Based Advocacy Group
• 'How dare you': Navy SEAL who shot bin Laden slams Biden for saying Trump is 'not fit to command' troops
• Suspect that allegedly threatened Denver mosque-goers with realistic-looking gun bonded out of jail
------
Arab World
• Saudi Arabia's General Authority of Zakat and Tax Prohibits Sale of Cigarettes without Tax Stamps
• Doha Institute Forum Discusses Pre-Colonial Arab-Islamic History
• Qatar ranks top in GCC Islamic banks' liquid asset ratio
• Islamic finance becoming a global force, says report
• Dubai Islamic Bank closes landmark $750 million Sukuk
• Secretary General of the Islamic Military Coalition to Combat Terrorism visits Dubai
• Muslim Plaid Cymru member suspended over "antisemitic" social media posts
• Minister of Islamic Affairs signs a MoU with the Islamic Community of Kosovo
------
India
• Muslim Students Throng This Sanskrit School in Jaipur
• In A First, Trinamool Chief Warned People against "Minority Extremism"
'Where is Farooq' cry in Lok Sabha
• Verdict in Ayodhya case, not justice: CPM
• Three more Muslim litigants to file Ayodhya review plea
• Sangh's Muslim outreach contrasts with silence on BHU appointment row
• Modi Pushes to Grant Citizenship to Non-Muslim Immigrants
------
Pakistan
• UAE Ambassador Pens Heartfelt Letter On Pakistan
• Civil, military leadership on same page, says ISPR chief
• Imran wants CJP to 'restore' public trust in judiciary
• Pakistani Man Jailed For 10 Years over Dutch Anti-Islam MP Murder Plot
• 7 detained for looting worshipers at Karachi mosque
------
Africa
• Nigeria Needs More Muslim Media to Counter Years of Islamophobic Propaganda
• Burkina Faso's Army Says 32 Islamic Extremists Killed In Weekend Violence
• Mali army says 24 soldiers, 17 militants killed in attack on northern patrol
• Abd'Allah Looks to Continuous Run of Good Form for Enyimba
• Eight Churches, Mosques Sealed In Lagos Over Noise Pollution
------
Australia and New Zealand
• Two Christchurch Mosques Attack Widows to Be Granted Residency In New Zealand
------
Mideast
• Understandings between Israel, Hamas Jilt Islamic Jihad
• Israeli threat to Al-Aqsa Mosque is getting worse
• Libya's GNA won't hand Saif Al-Islam Gaddafi to ICC
• Hamas and Islamic Jihad vow to deepen civilian and military cooperation
• Israeli Extrajudicial Execution Policy Resumed: IOF Airstrike Kills Senior Leader Of Islamic
Jihad, And His Wife, In Gaza
• Islamic Jihad commander: the resistance paralyzed half of Israel
• Muslim Brotherhood and IRGC's dirty dealings revealed in intel leak
• Turkish imam becomes 'father of cats,' protects them during winter in Istanbul
------
South Asia
• What Was in the Leaked Files on China's Detention Of Uighur Muslims?
• Airstrikes kill 19 Taliban and ISIS militants in 5 provinces
• Special Forces kill; detain 27 Taliban and ISIS militants in 6 provinces
• High-level HQN leaders arrive in Qatar after being released from prison in Afghanistan
------
Southeast Asia
• Indonesia Police Link Suicide Bombing To Islamic State-Inspired Group
• Lokman reports Hishammuddin to Umno disciplinary board
• Another Malaysian in Singapore prison to hang on Friday
• Court rules Pua can sue Najib for abuse of power in office
• Umno ready to investigate its MPs over meeting with Azmin
------
Sunni and Shia muslims pray together in Azerbaijan's Heydar Mosque
The divide between the two major denominations in Islam, Sunni and Shia, is prevalent, especially in the Middle East. But in Heydar Mosque in Azerbaijan, both Sunni and Shia Muslims come together every Friday for prayers.
Heydar Mosque, the largest mosque in Azerbaijan and in the entire Caucasus, was built just 5 years ago in Baku, but it has already become a symbol of peace, tolerance and unity. Both Sunni and Shia Muslims pray together here every Friday.
"Our mosque — the Heydar Mosque is unique, everyone here is equal — there is no difference — Sunni or Shia," Arif Novruzov, a Sunni Muslim who prays at the Heydar Mosque says.
Rufar Garayev, a Shia Muslim who also attends the Heydar Mosque agrees.
"I am a Shia Muslim. That's my choice. But we also have Sunni Muslims in Azerbaijan and we see them as our brothers.
This is our lifestyle, it's always been and always will be. Unlike other countries, there's stability in our country," he says.
Azerbaijan is an overwhelmingly Muslim country where Shia Muslims make up the majority. Less than 15 percent are Sunni. Members of both sects have lived together in harmony for centuries in Baku.
https://www.trtworld.com/life/sunni-and-shia-muslims-pray-together-in-azerbaijan-s-heydar-mosque-31473
------
Sheffield Mosque reaches out to Non-Muslims on Their First Open Day, In Conjunction with Interfaith Week
By Rahmah Ghazali
Monday, 18th November 2019
On their inaugural open day in conjunction with Interfaith Week 2019 last Saturday, Markazi Jamia Mosque on Industry Road, Darnall welcomed members of the public of different faiths to their doorsteps.
The chair of South Yorkshire Islamic Society of Britain, Abdool Kadir Gooljar said they aimed to host various events of interfaith dialogue while acknowledging differences and finding common ground.
"It's arguably more important than ever that people of different faiths and beliefs come
together and are able to explore what they have in common.
"Pope Francis repeated his appeal for people to build bridges of understanding at his weekly audience at the Vatican. Let's build a bridge to a new day paved in kindness and respect for others, and then cross it together," he said.
During the dialogue, Dr. Rev. Inderjit Bhogal OBE, a leading Theologian and Methodist Minister said it was high time for all leaders of different faiths to come together and build a better understanding between the communities.
"It is the most significant to help people to live with diversity and like the words of holy Quran that it is God's own purpose that we are different so will be enriched by each other differences," he said.
Meanwhile, the Lord-Lieutenant of South Yorkshire Andrew Coombe praised the Muslim community for their generosity and kindness in times of disaster.
He said this was evident during his recent visit to Fishlake, a flood-stricken village in Doncaster that saw thousands evacuated from their homes.
"I was in Fishlake on Friday, I went to the church there and I've never seen a church put in such good use (to help the victims). It was all being run by a church warden and his wife and some of their friends, who I can consider as senior citizens.
"So I asked, where's your help coming from? They said, it's coming from everywhere and three people from a mosque in Bolton just delivered 200 freshly made sandwiches and hot food and they're coming back tomorrow.
"It's a marvellous gesture from people of your community who came there and helped so soon," he said.
Former Sheffield MP Clive Betts, who also attended the dialogue commended the open day, saying that it helps people who aren't familiar with the faith to come together and experience the mosque.
"They can also find out what it's like and to get to know the people who worship here on a regular basis and dispel some fears and misconceptions that they may have," he said.
Debbie Mcshane, who is a principal of Park Academy, said this was her first experience being in a mosque and witnessing a prayer.
"I found out about this because this is one of the local mosques for our students and a couple of members of our staff come here and asked if I'd like to come for their open day.
"I came an hour early and I've seen the community coming to pray and spoke to a lot of people and it's really nice to see how a mosque works because I didn't know.
"This is a completely new experience for me because I've never been to one before," she said.
https://www.thestar.co.uk/news/people/sheffield-mosque-reaches-out-non-muslims-their-first-open-day-1284808
------
Isil terrorists hack ordinary people's dormant Twitter accounts to promote jihad
ISIL supporters are hacking into people's dormant Twitter accounts to hijack them to promote jihad and celebrate their dead leader Abu Bakr al-Baghdadi.
They are circumventing email and identity checks by taking over accounts that range from individuals' in the UK and across the world to a local cricket club in Australia.
The posts celebrate Isil killings, battles and individual jihadists as well as Al-Baghdadi, often posted against a backdrop of Isil iconography on flags or posters.
Typical is one with images of armed Isil fighters which declares: "With God almighty, soldiers in the caliphate targeted officers in a prison, using a pistol, and which led him to perish, thanks be to God."
Others feature armed soldiers digging graves, preparing fortifications and marching to the frontline with Arabic script urging people to join the jihad.
The hacking has been uncovered by Eric Feinberg, founder of the Global Intellectual Property Enforcement Center who has developed technology to detect communications of terrorists in Arabic and other languages and thus trace material that might be missed by the platforms.
"This is a hacking of dormant accounts to spread propaganda via hashtagging 'dog whistle' words like #Afghanistan #Iraq and # alBaghdadi in Arabic," said Mr Feinberg.
"It's hidden in plain sight. They are using existing accounts as Twitter has a system that requires certain details like an email address to open an account. They don't need to provide those details.
"They are using it to radicalise and recruit, taking their inspiration from the death of al Baghdadi. It's a badge of honour to incite.
"What concerns me is that I can find this but the companies don't seem to be taking a proactive enough stance against it. There needs to be more technological analysis by the companies. It needs to be prevented from happening in the first place."
Damian Collins, chair of the Culture Committee, said: "We should have a zero tolerance on accounts like this. This is another example of why we need a legal duty of care placed on social media companies so that they are responsible in law for the removal of content like this.
"Twitter needs to be doing more to identify and remove accounts that are being used to spread vile ISIL propaganda. These messages can be used to radicalise others into joining ISIL or committing atrocities in their own communities."
https://www.telegraph.co.uk/news/2019/11/18/isil-terrorists-hack-ordinary-peoples-dormant-twitter-accounts/
------
For Iraqi demonstrators, Iran protests are the Islamic Republic's 'punishment from God'
18 November 2019
Iraqi activists expressed solidarity with protesters in Iran on Monday, as they managed to recapture one of the main bridges leading to Baghdad's main government buildings.
Activists retook the eastern half of Ahrar Bridge on Sunday afternoon after having lost it to Iraqi security forces earlier this month. The protesters reinforced their position on the bridge with steel plates and other materials.
The bridge leads off the famous al-Rasheed Street over the Tigris river into the fortified Green Zone that houses the Iraqi parliament, the Iranian embassy and other key institutions.
Iraqi demonstrators' pushback comes as similar protests broke out in neighbouring Iran over the weekend. The Iranian protests erupted after the government announced an unpopular hike in petrol prices, but demonstrators have focused more broadly on the country's ailing economy and government corruption.
Anger at the Iranian government in Iran, however, is matched and arguably surpassed by Iraqis, who accuse the Islamic Republic of effectively treating their country like a puppet state and of helping funnel cash into the pockets of Iraqi politicians in exchange for their loyalty.
In addition, numerous protesters have accused Iran of embedding agents in the Iraqi security services and using lethal force against protesters.
Protesters have regularly chanted "Out, out Iran" at protests.
"We stand by the Iranian people," said Ahmed, an activist and volunteer medic at the Ahrar bridge. "We are not against Iran. We are just against the Iranian government and their intervention into Iraqi matters."
"I've visited Iran before. Most of the people there are dissatisfied about the government," he told Middle East Eye. "They are poor people who are suffering while the government is a dictatorship."
Another protester, Awathal, said that the protests were divine retribution against the Islamic Republic's actions.
"This is God's punishment. The Iraqi people are angry and now God is punishing them [the Iranian government] with this public revolt against them," he said.
"We have no problem with the Iranian people. We have a problem with the authorities. We have a problem with [Islamic Revolutionary Guard Corps commander] Qassem Soleimani. We have a problem with [Iran Supreme Leader] Ali Khamenei."
"They are ruled by those clerics and are suffering. God willing, their revolution will be victorious."
'We will die here'
Qassem Soleimani, the powerful chief of the elite Quds Force and one of Khamenei's top officials, has reportedly visited Iraqi government officials to advise them on how to deal with the protests, which have so far seen more than 330 people killed and thousands injured by security forces.
Three of the main bridges in central Baghdad, along with Tahrir Square, are now in the hands of demonstrators who have been protesting since early October against corruption, unemployment and a lack of public services in Iraq.
Al-Rasheed Street, which in normal times is a bustling high street, was blocked off at intervals by cement blocks.
Tuk-tuks and trucks weaved in and out of gaps made in the fortifications, bringing food, water and other supplies to activists.
A number of people brought warm clothing to the protesters, who have been sleeping out at the bridge camps despite the drawing in of winter.
One protester was killed and 32 were wounded on Sunday, hours after Ahrar bridge was retaken by the protesters.
Awathal said that men had come "wearing civilian clothing and even doctor's robes" and burned protesters' blankets and tents before detaining a number of them, himself included.
Despite this, Awathal - who said he had been camped out for 24 days - said he would not be deterred.
"I've been 24 days here and we will die before we leave."
A 'wake up call' for Iran
A report released jointly by The Intercept and the New York Times on Monday, based on leaked intelligence documents, revealed the extent of Iranian control over Iraqi affairs.
While Iran's wide influence in Iraq has long been an open secret, the report detailed a number of specific cases, including the tapping of a CIA intelligence source network by Iran's secret service.
One leaked document warned that Iran's actions in Iraq, among the country's Sunni Muslim population at least, meant that resentment had built to such an extent that some were "now wishing that not only America, but even Israel, would enter Iraq and save Iraq from Iran's clutches".
The source of the leaked documents, an Iraqi, reportedly told the US media outlets to which he anonymously sent the documents that they needed to "let the world know what Iran is doing in my country Iraq".
A number of protesters on Ahrar bridge went as far as suggesting that the protests in Iran were responsible for the pullback by security forces in Iraq, alleging that Iranian forces embedded with Iraqi security had left to deal with the protests at home.
MEE could not verify the veracity of this claim. However, on Saturday, the Iraqi defence minister said in a televised interview that a "third party" had been responsible for the deaths of protesters in Iraq, although he did not elaborate who this might be.
"This is an illegal government because they kill their citizens and they've been quiet about a 'third party' who's been killing their citizens since 1 October," Laith, a protester on Ahrar bridge, t0ld MEE.
He added that the protests in Iran were a "wake-up call" for the government there.
"Yesterday on television I saw that the protesters were carrying both Iraqi and Iranian flags - even the Iranian people are not happy about what their rulers are doing in Iraq."
Names of protesters have been changed for their safety.
https://www.middleeasteye.net/news/ahrar-bridge-iran-iraq-protesters-solidarity
------
Iran's Quds Force and Egypt's Muslim Brotherhood plotted to form anti-Saudi alliance
Mina Aldroubi
Nov 18, 2019
Representatives of Iran's Quds Force and Muslim Brotherhood considered forming an alliance against Saudi Arabia in 2014, leaked Iranian documents published on Monday show.
The 700 pages of files from Iran's Ministry of Intelligence and Security, seen by The New York Times and The Intercept, showed Tehran wielding its influence in the region, especially in Iraq.
Representatives of the Quds Force, the foreign operations arm of Iran's Islamic Revolutionary Guard, and the Brotherhood held secret summit at a Turkish hotel in April 2014 to seek common ground.
Although they had major differences, during the meeting they decided there "should be a focus on joint grounds for co-operation", the documents said.
Both sides shared "a hatred for Saudi Arabia, a common enemy of the Muslim Brotherhood and Iran".
Representatives of the Brotherhood suggested the two should join forces against the Saudis.
The place to do that was in Yemen, where a war between the Iranian-backed Houthi rebels and the Saudi-backed Yemeni government was about to escalate.
"In Yemen, with the influence of Iran on the Houthis and the influence of the Brotherhood on the armed tribal Sunni factions, there should be a joint effort to decrease the conflict between Houthis and Sunni tribes to be able to use their strength against Saudi Arabia," the Brotherhood delegation said.
The documents showed that neither side knew there was a spy at the meeting.
The Iranian ministry, a rival of the Revolutionary Guard in Iran's security apparatus, had an agent who reported on the developments at the meeting.
The ministry agent "acted as co-ordinator of this meeting", the documents showed.
Iran's intelligence ministry "envied the Quds' power and tried to keep track of their activities around the world".
Turkey at the time had good relations with both sides, making it safe to conduct the meeting there.
But the government denied entry to the Quds Force chief Gen Qassem Suleimani, the documents said.
Other senior Quds officials attended the meeting, which was led by one of Gen Suleimani's deputies, identified as Abu Hussain.
The Brotherhood delegation was led by three prominent members: Ibrahim Munir Mustafa, Mahmoud El Abiary and Youssef Moustafa Nada.
Mr Nada denied any knowledge of the 2014 meeting in an interview with The Intercept.
After 9/11, the US administration of George W Bush and the UN suspected that Mr Nada helped to finance Al Qaeda. His bank accounts were frozen and his movement restricted.
UN sanctions against him were lifted in 2009 because no proof of his ties to terrorism could be found.
https://www.thenational.ae/world/mena/iran-s-quds-force-and-egypt-s-muslim-brotherhood-plotted-to-form-anti-saudi-alliance-1.939273
------
BHU Assistant Professor Firoze Khan: 'Studied Sanskrit all my life, never made to feel I am Muslim, but now…'
Written by Avaneesh Mishra
November 19, 2019
Having joined as Assistant Professor at Banaras Hindu University's Sanskrit Vidya Dharam Vigyan (SVDV) 11 days ago, Firoze Khan, a doctorate in Sanskrit, has gone hiding for the past few days, switching off his mobile phone too.
On Monday, a "hawan kund" was set up and around 20 SVDV students were sitting on a dharna outside the Vice- Chancellor's residence protesting his appointment. The protests have been on since Khan's appointment, for the only reason that he is a Muslim. No classes have been held since he joined the faculty on November 7.
Khan is distraught, and hopes students will come around. "All my life, I learnt Sanskrit and I was never made to realise I am a Muslim, but now when I am trying to teach, suddenly it has become the only subject," Khan told The Indian Express.
He completed his Shastri (Bachelor degree), Shiksha Shastri (B.Ed), Acharya (post-graduate) and received his Ph.D in 2018 from Rashtriya Sanskrit Sansthan, a deemed university, in Jaipur. Khan has also cleared NET and JRF.
"I started learning Sanskrit since Class 2, but no one ever pointed this out even though my mohalla in Bagru (30 km from Jaipur) had 30 per cent Muslims. Neither the local maulavi nor the society. In fact, I don't know as much Quran as I know Sanskrit literature. Prominent Hindus in my area praised me for my knowledge of Sanskrit and its literature despite being a Muslim," said Khan, whose father Ramzan Khan too is a graduate in Sanskrit.
Krishna Kumar, a research student at SVDV, who is leading the protest with three other fellow students, "If a person is not connected with our feelings and culture, how will he be able to understand us and our dharma," he said. The other three are Shashikant Mishra, Shubham Tiwari and Chakrapani Ojha.
Mishra denied the protests were led by any political organisation, but claimed he has been an RSS member in the past. Ojha was a member of the ABVP and Tiwari was member of the ABVP and Kendriya Brahmin Mahasabha.
BHU administration has been unable to convince SVDV students that teaching Sanskrit literature has nothing to do with religion. Khan took pains to explain this. "To students who are protesting with an argument that how can I teach Hinduism when I am a Muslim, I want to say that in Sahitya department, we have to study about the technicalities of Sanskrit literature and famous dramas like Abhigyan Shakuntalam, Uttar Ramcharitam or Mahakavya like Raghuvansh Mahakavya or Harshcharitam and all this has nothing to do with religion," he said.
Students from some other departments and other faculty members find the protests outrageous and fully back Khan given his credentials. Mahesh Prasad Ahirwar, Professor of Ancient History, Culture and Archaeology said the university had nothing to do with caste and religion. "Those who were oppressed earlier are now coming and showing their ability. This is the changing India: whoever is capable has the right to teach in BHU. I feel that those who oppose this should be punished as per law," he said.
Khan's former teacher Arknath Chaudhary, Principal of Rashtriya Sanskrit Sansthan, Jaipur, said Firoze joined the university during his tenure. He remembers Khan as a good natured, soft-spoken and sociable person. Chaudhary, who has also been the Vice Chancellor of Shree Somnath Sanskrit University, Veraval, Gujarat, taught Khan in the final year of his Shastri course.
With protests by a section of students continuing for more than ten days, Khan said, "At one point I can agree that if I have to teach Vedas, Dharam Shastra or Jyotish then its better I am a Hindu but teaching Sanskrit Sahitya has nothing to do with it. All I have to teach what is written over there," he said.
The excitement of being selected as a faculty at BHU apart, Khan is at a loss what to do now. When asked if he will fight to be here and teach the students he just said if the environment is one of inclusiveness, questions like this won't arise. "Whatever they have in their heart, I hope I can change that," he said.
https://indianexpress.com/article/india/bhu-protest-sanskrit-professor-firoze-khan-6126419/
------
Court has to look how much freedom media should have: IHC
November 19, 2019
ISLAMABAD: The Islamabad High Court (IHC) Monday stressed to devise a code of conduct for media while hearing the contempt of court case.
IHC Chief Justice Athar Minallah took up the hearing of contempt of court case. Chairman Pakistan Electronic Media Regulatory Authority (Pemra), Geo News senior anchorperson Hamid Mir and many other anchors and representatives of the PBA were present in the court.
During hearing, Justice Athar Minallah remarked that a ticker on the media could create an impression about a person that he is corrupt.
He observed that mediahouses are privately owned and court will have to look that how much freedom media should have, adding that they will also have to also see whether media trial comes under the freedom of speech.
He said that media only highlights only case about politicians and elite class, adding that why media skips difficulties faced by common inmates. He made it clear that the court will hear case of a common prisoner in the same manner it heard the case of Nawaz Sharif.
He further remarked that the freedom of media is also important and the court has to take decision over the matter. "Cooperation of learned anchorpersons over the issue is needed," he added.
Justice Athar Minallah remarked that code of conduct of Pemra is not sufficient. "If you have to say something about us express it, but no analysis or comment is advisable over the cases under the court hearing," he said.
The court asked Hamid Mir to assist it in devising a plan to stop media trial. Justice Athar Minallah highlighted the need of formulating terms and conditions with regard to the media. Later the court adjourned the hearing of the case until December 18.
https://www.thenews.com.pk/print/571077-court-has-to-look-how-much-freedom-media-should-have-ihc
------
Female Muslim students have constitutional right to use Hijab – Sultan of Sokoto
November 18, 2019
The Sultan of Sokoto, Alhaji Muhammad Sa'ad Abubakar has stated that female Muslim students have the constitutional right to use the Hijab.
Alhaji Muhammad Sa'ad Abubakar who spoke at the 4th General Assembly of the Muslim Ummah of South-West Nigeria (MUSWEN) themed "Muslim Unity and Contemporary Political Challenges in Nigeria" and reportedly held at the University of Ibadan on Sunday November 17, told Muslim parents to always demand for their rights whenever they are being denied within the ambit of the law.
He also enjoined those championing causes in interest of Muslims to seek redress in a peaceful manner instead of open confrontations. The Sokoto Monarch also disclosed that they've been advocating for the issue of hijab in universities silently.
"Muslims must be law abiding, the moment we are attacking each other, then there will be no peace. So we need peace. And we have been doing our own in silence. I urge all of you to be law abiding. The issue is at the court and since it is in the court, we can't make further statement, so that we don't commit contempt of the court.
"Demand for your rights within the ambit of the law. I urge all of you to be patient because Almighty Allah loves patient people. On the issue of Hijab at the university, there are some organizations that are advocating for it, let them continue advocating, but at our own level we have been doing ours silently.
"In the constitution, we have freedom of religion. If my religion allows me to wear Hijab, nobody should stop me. So our politicians and leaders must know that''.
https://www.thebreakingtimes.com/female-muslim-students-have-constitutional-right-to-use-hijab-sultan-of-sokoto/
------
Two Christchurch mosques attack widows to be granted residency in New Zealand
Two widows from the Christchurch mosques attack will be granted residency in New Zealand, eight months on.
The husbands of Rina Akhter and Sanjida Neha were among the 51 killed in March, but since then their residency status was uncertain because they were in New Zealand, or coming to the country, through marriage.
Immigration lawyer Haseeb Ashraf, who represents both women, told TVNZ1's Breakfast the Minister of Immigration has granted a special direction for their grant of residence.
"There is a very standard procedure in applying for residence so they should be able to stay. Apart from that, they were not based in New Zealand at the time of the incident and they arrived in New Zealand afterwards," said Mr Ashraf.
He said the women would face a very stark future if they had to return to Bangladesh as widows.
"The upshot of all of this is that we have two individuals who will restart their life once again," he said. "As a community, we can see that the community is getting back up on their feet."
https://www.tvnz.co.nz/one-news/new-zealand/two-christchurch-mosques-attack-widows-granted-residency-in-new-zealand-v1
------
Secret IRGC-Muslim Brotherhood meeting proposed anti-Saudi alliance: Report
Monday, 18 November 2019
Leaders from Iran's Islamic Revolutionary Guard Corps (IRGC) and Egypt's Muslim Brotherhood met in a Turkish hotel in 2014 and discussed an alliance against Saudi Arabia, according to secret Iranian intelligence reports obtained by The Intercept.
The IRGC's foreign military arm, known as the Quds force, sent representatives to meet with three Muslim Brotherhood members in April 2014.
The groups "emphasized that there 'should be a focus on joint grounds for cooperation,'" with the Brotherhood delegation suggesting the "two sides could join forces against the Saudis," according to the leaked documents.
The Brotherhood representatives argued the best place for the two groups to partner against Saudi Arabia was in Yemen.
"In Yemen…there should be a joint effort to decrease the conflict between Houthis and Sunni tribes to be able to use their strength against Saudi Arabia," the Muslim Brotherhood delegation allegedly argued at the summit.
The details of the meeting were reported by a spy from the Iranian Ministry of Intelligence and Security (MOIS), a rival of the IRGC. The agent acted as a coordinator of the meeting, according to the MOIS report.
Turkey was the preferred location for the meeting "since it was one of the few countries on good terms with both Iran and the Muslim Brotherhood," according to The Intercept.
However the Turkish government refused a visa to Quds Force commander Major General Qassem Soleimani. Other Quds leaders showed up in his place.
The Quds Force representatives in the meeting insisted that they "never had any differences with the Brotherhood," according to the leaked intelligence report.
Muslim Brotherhood delegates in attendance were leaders all exiled from Egypt - Ibrahim Munir Mustafa, Mahmoud El-Abiary, and Youssef Moustafa Nada - according to the leaked document.
Nada denied attending or hearing about the meeting in an interview with The Intercept.
The Muslim Brotherhood has been designated as a terrorist organization by countries including Egypt, Saudi Arabia, and Russia. US President Donald Trump is working to designate the Muslim Brotherhood as a foreign terrorist organization. The Trump administration designated the IRGC a foreign terrorist organization in April.
The summit was held a year after the Muslim Brotherhood was pushed out of power in Egypt and three months after the EU and US said they had taken steps to lift certain sanctions against Iran through the Joint Plan of Action (JPOA).
https://english.alarabiya.net/en/News/middle-east/2019/11/18/Secret-IRGC-Muslim-Brotherhood-meeting-proposed-anti-Saudi-alliance-Report.html
------
Europe
Muslim voters can change 31 marginal seats in UK, MCB finds
Majid Khattak
NOVEMBER 19, 2019
Muslim voters could influence the outcome of more than thirty marginal UK constituencies in next month general election, according to research published as mosques across the country launches nationwide registration drive.
The Muslim Council of Britain (MCB) has identified 31 marginal seats in which Muslim voters could have "high" or "medium" impact. The analysis released on Monday compares the number of Muslims of voting age in each constituency with the results of the 2017 General Election.
Top of the list is Kensington in west London, where the Labour candidate, Emma Dent Coad, is defending a majority of 20 against a strong challenge from the Liberal Democrat candidate, Sam Gyimah. Nine per cent of the constituency's voting age population is Muslim – estimated at 5,431, or 271 times Dent Coad's majority.
According to the country's leading British Muslim representative findings, the list of seats where Muslim votes could have impact includes London's Harrow East constituency of MP Bob Blackman, Conservative Friend of India who recently claimed that entire Kashmir belongs to the India. Bob current majority is 1757 and there are around 6000 Muslim votes. Similarly, Richmond Park in central London where the Conservative candidate and brother of Jemima Khan Zac Goldsmith is defending a majority of 45 while there are around 4000 Muslim voters.
Richard Harrington, conservative MP for Watford and Friend of Kashmir is defending majority of 2092 and the member of Muslim registered votes in his constituency are more than 4000 majority of them Kashmir's who would support him. 14 of the 31 seats are held by Labour, 14 by the Conservatives and three by the SNP.
Both the British mainstream parties ruling Conservative and Labour are vying to win over the Muslims votes keeping in view the close contest between the both parties. Last week Prime Minister Boris Johnson starting his election campaign in London by visiting the central Mosque, while on other hand Labour leader Jeremy Corbyn is relying on Muslims as historically, they supports Labour and party leader Corbyn is enjoying support and respect among the Muslim and ethnic communities for his stance on the issues related to them.
However, there are some anger among British Pakistanis over the Labour's London Mayor Sadiq Khan support to the Pro Indian MP's to ban the Kashmir march outside Indian mission in London. Even PM Johnson is facing a young Muslim 25-year Labour candidate Ali Milani at his London's Uxbridge and South Ruislip constituency. In 2007 election, Boris Johnson majority was reduced to just 5000 votes and this time Ali supported by the young voters battling to oust Johnson from his own seat. The party sources warned the PM Johnson of potential risk of losing the seat.
Due to the significance of Muslims population in the UK, MCB is encouraging all Muslims to register to vote and help others to register to vote as well as calling on political parties and prospective candidates to commit to a set of pledges ahead of the General Election.
MCB Secretary General, Harun Khan, said: "It is essential that British Muslims, alongside their fellow Britons, play a role in this generationally important election. "The ongoing Islamophobia scandal in our country's governing party, as well as cases of racism and discrimination across political divides, underscore this even more, she added.
Khan said "Far from being a monolith, British Muslim communities have a range of concerns and priorities, and these election pledges will help them see who aligns with them – whichever party they belong to.
Tackle Racism and Islamophobia, Religious liberty, Engagement with Muslim Communities, Effective Health and Elderly Care Services and refugees are some of the issues on which the MCP wants clear commitments from all the parties during the election.
https://dailytimes.com.pk/502769/muslim-voters-can-change-31-marginal-seats-in-uk-mcb-finds/
------
Muslims and Jews unite on Mitzvah Day
18th November
Synagogues, mosques, churches and schools threw open their doors as people came together for Mitzvah Day.
More than 40,000 volunteers and 800 organisations in all parts of Britain and 30 other countries too part in Mitzvah Day, with projects ranging from planting trees and tidying cemeteries to collecting for food banks and entertaining in care homes.
In a unique event to start the day, Chief Rabbi Ephraim Mirvis visited the Al-Khoei Islamic Centre in Queen's Park where congregants from the mosque, Brondesbury Park Synagogue and Hampstead's Roslyn Hill Unitarian Chapel planted trees and herbs of relevance to the other's faith.
These included an apple tree, to produce fruit for the Jewish New Year of Rosh Hashanah, and fig trees of importance to Islam, as well as basil and hyssop. They all promised to meet again over the next few years to reap the produce.
The Chief Rabbi was joined at the mosque by Muslim leaders Dr Sheikh Ramzy and Ayatollah Dr Sayyid Fadhel H Al-Milan, as well as Mitzvah Day's founder Laura Marks OBE, chief executive Georgina Bye and interfaith advisor Rabbi Jeff Berger.
The Chief Rabbi said: "In a very challenging world, by standing here together we are making a huge statement. Being on this site, which used to be a synagogue, with our Muslim brothers and sisters on Mitzvah Day is charged with that symbolism of unity. This is what the world should be like all the time."
Dr Ramzy, of the Oxford Islamic Information Centre (OIIC), added: "If you look at every part of the world, there is war and hatred. But by coming together and planting this seed of peace in this holy place, we can start to bring peace to our heart, our families, our communities, our cities and around the globe."
Five rabbis, representing different branches of Judaism, took part in a moving project at the Somali Bravanese Welfare Association (SBWA) in Finchley, where Jewish and Muslim youth planted bulbs for a local care home. The new centre only opened recently.
The community's previous home was destroyed in an arson attack six years ago when the letters EDL – standing for English Defence League – were found sprayed on the side of the building.
Liberal Judaism's senior rabbi, Rabbi Danny Rich, attended the planting along with Rabbi David Mason of Muswell Hill United Synagogue, Rabbi Miriam Berger of Finchley Reform Synagogue, Rabbi Rebecca Birk of Finchley Progressive Synagogue and Rabbi Jeff Berger who comes from the Spanish & Portuguese Sephardi Community. They were hosted by the SBWA's Abu Bakar Ali and Asma Mohamed Ali, who were integral in the efforts to re-open a London home for the Somali Bravanese community.
The rabbis joined the Jewish and Muslim youth in planting bulbs and attaching labels with notes and pictures for the care home residents, many of who came to the centre to be part of the day.
Mitzvah Day chief executive Georgina Bye said: "Following the arson attack, the Jewish community supported the SBWA and it was truly special to be welcomed back for Mitzvah Day.
"This was an amazing demonstration of how communities can support each other in adversity and open our doors to share positive moments together. Planting bulbs at the centre and in pots to be donated to a local old age home, we look forward to returning to see them bloom and to continue this wonderful relationship."
The same bulb planting project was replicated in the afternoon at The Centre for Islamic Enlightening at the Hippodrome in Golders Green, organised and carried out by the Jewish/Muslim women's group Nisa-Nashim.
The new centre has come under attack from some locals, with petitions, social media campaigns and anonymous websites targeting it as it seeks planning approval. The Mitzvah Day project showed real and growing bonds between the centre and local Jewish communities.
Centre manager Razi Zadeh said: "It was a pleasure to work together with our Jewish friends and neighbours on Mitzvah Day, in our local community, to do something nice for people in care homes. It was a great way to bring everyone together to work on a local cause."
There was also a full day of activities at the JW3 Jewish Community Centre on Finchley Road, including a fun event where volunteers from six different faiths came together to cook for those helped by Pond Square Chapel Night Shelter, with an environmental twist – using produce from their fridges, gardens and cupboards to produce a meal.
The day at JW3 also saw volunteers aged from two to 82 wrap festive gifts for vulnerable children, register as potential stem cell donors with DKMS and turn old T-shirts into tote bags for charity.
As well as people of different faiths, politicians from different parties also took a break from the General Election to do good deeds. The Tory, Labour and Liberal Democrat candidates for the seats of Finchley & Golders Green, Hertsmere and Hampstead & Kilburn all took part, as well as many councillors. London Mayor Sadiq Khan posted a Twitter video of support, while candidates Rory Stewart and Siobhan Benita joined Mitzvah Day projects. Conservative Shaun Bailey sadly had to pull out due to a bereavement.
Outside of London and Hertfordshire, Mitzvah Day events also took place in Essex, Yorkshire, Cumbria, Lancashire, Berkshire, Bristol, Cumbria, Nottinghamshire, Oxfordshire, Scotland, Wales and the Midlands.
These included a whole cross-communal day of events in Leeds, tea parties and collectathons in Manchester, school kids baking for the elderly in Redbridge, blanket-knitting for the homeless in Newcastle and a huge beach cleans on Walney Island and Maryport in Cumbria.
The theme for this year's Mitzvah Day, now in its 11th year, was Going Greener – as the charity turned its attention to projects to help the environment.
Mitzvah Day founder and chair Laura Marks OBE said: "In this political climate, when everything is so unclear, one thing we can be sure of is that our environmental climate needs our attention. By focussing on the environment for Mitzvah Day this year, something we share with all humanity and with our neighbours from all faiths and backgrounds, we ground ourselves in real tangible and positive local action."
https://www.asianimage.co.uk/news/18044428.muslims-jews-unite-mitzvah-day/
------
Exeter Muslim family feel 'sick and violated' after being delivered pork on vegetarian Domino's pizza
18 NOV 2019
A Muslim family have spoken of how they feel 'sick and violated' after being delivered a pork sausage pizza instead of the vegetarian one they had ordered.
Exeter family-of-five the Khans ordered a vegetarian supreme online from Domino's in Honiton Road last night.
The mistake only came to light when they began tucking into their takeaway after it had been delivered.
Dad Sami Khan had already eaten a slice of when he saw that the 'funny taste' was in fact pork which is against their religion to eat.
Domino's have apologised for the error, but the family say it is not good enough.
In 2017, a Muslim man suing America's third largest pizza chain - Little Caesars - for $100 million (£78 million) after being served a pizza labelled halal which was topped with pork pepperoni.
Ambia said: "My husband ate one slice and he wasn't sure, so he looked on another slice of pizza and saw the pork.
"He feels sick and violated as it's pork sausage and we're Muslim.
"Pork is an absolute no, and on top of that we are vegetarian.
"Domino's have dealt with this situation horrendously. They said we could have a replacement pizza, but we didn't want anything from them.
"When my husband took the pizza to them in Honiton Road they confirmed it was sausage. No one came to our house to collect the pizza for investigation. In the shop they apologised but said, 'it's busy shop, it happens, just deal with it'.
"They offered replacement but after experiencing this we don't want anything from them. What about if we were allergic? They can't say sorry if that person happened to die.
"We have not had a refund, but that's not the point. This is morally and ethically wrong.
"If it can happen to us it can happen again. They need to do something to ensure there is no risk of cross contamination. It is serious and for an established business like Domino's it should be priority."
A Domino's spokesperson said: "This was an innocent mistake.
"When the customer notified us we immediately apologised and collected the pizza to investigate further.
"We issued a full refund to the customer and offered to remake and deliver a fresh order."
https://www.devonlive.com/news/devon-news/exeter-muslim-family-feel-sick-3551067
------
First Slovak Islamist jailed in Prague
19. Nov 2019
The first Slovak citizen to become an Islamist was sentenced to prison for terrorism, in the Czech Republic.
The Prague court jailed 26-year-old Dominik Kobulnický from the eastern Slovak village of Šarišské Michaľany, for six and a half years and extradited him to Slovakia on November 15, the Denník N daily reported.
"It offends me that such dirt is thrown at me," Kobulnický said in court, as quoted by the daily. "I hope my name will be cleared."
Although the Slovak citizen was charged with the preparation of a terrorist attack, he was sentenced for the propagation of terrorism and being a general threat. He can still appeal, though.
Conversion
Kobulnický grew up in a strong Christian family. He was introverted in school but secretly watched videos posted by jihadists online. He became so captivated he decided to convert to Islam in 2015, Denník N wrote.
Nobody in his family understood his decision. At that time, he had already worked in the Czech town of Pardubice just like his father. Soon after, he began visiting a small Turkish mosque in Hradec Králové, 30 km away from Pardubice. He studied Islam.
Simultaneously, he was planning a terrorist attack on the bus station in Prešov, eastern Slovakia, as reported by Denník N. He did not carry out the attack in the end.
When he appeared in the mosque wearing military clothes, he was recommended to leave. He moved to Prague at the turn of 2015 and 2016. Kobulnický was then 21 years old and was soon radicalised by the Prague-based Imam Sámer Shehadeh.
The 35-year-old imam, who became Kobulnický's role model, is nowadays accused of supporting the military group Fatah Al Sham.
Arrest
In 2017, the Czech police arrested the Slovak Islamist in his rented room in Prague for suspicion of planning a terrorist attack. They found military clothing, videos in Arabic and four kilograms of pyrotechnic compounds under his bed.
He presented his new life also on Facebook. In his phone the police even discovered a picture of a decapitated cat.
"I saw how Islamic State fighters captured and executed their prisoners by cutting their heads off and placing them on their bodies," he explained his act in 2017, as quoted by Denník N.
Nobody at home knew, apart from a friend of his, that he had watched jihadists' videos, either before or after his conversion to Islam.
Court
The trial with the Slovak Islamist lasted nearly one year. Although Kobulnický was sentenced for promoting terrorism, he was not convicted of plotting a terrorist attack, as reported by Denník N.
He reiterated in court that he had fireworks at home because he was going to New Year's Eve in Slovakia, and he was not going to carry out an attack. He also said he had never wanted to support any terrorist organisation.
"I do not want to feel sorry for myself, but prison is out of the question," he said to the court on November 15. "The offence of preparing an attack did not happen."
Despite this, the court sentenced him to almost seven years in jail and expelled him from the Czech Republic, Denník N wrote.
Čítajte viac: https://spectator.sme.sk/c/22263222/the-first-slovak-islamist-jailed-in-prague.html
------
Morgan Sindall wins £18m muslim faith school build
Construction firm Morgan Sindall has won an £18 million contract to deliver a new Islamic faith school in Birmingham.
The company, which is headquartered in Rugby, will build the Eden Girls Leadership Academy in Small Heath.
The city council school will cover 48,000 sq ft and have capacity for 600 secondary and sixth form pupils.
The new campus will comprise 15 modern, general teaching classrooms, three ICT-rich classrooms, five science laboratories and one science preparatory room, spread over three storeys.
Other facilities include a sports hall, grass pitch, library and a learning resource centre.
The Muslim-faith based school will also have a reflection hall for prayer and an ablutions room.
Eden Girls Leadership Academy is the company's fifth education contract won through the Constructing West Midlands framework this year.
Work is set to be completed in spring 2021.
Dave Kelly, Constructing West Midlands framework manager at Morgan Sindall Construction, said: "Delivering the number of school places the West Midlands requires to keep pace with population growth is an ongoing challenge for local authorities.
"Efficient procurement is key to success.
"Working through the framework over the past eight years, we've designed and built a range of schools, many on challenging sites, to help meet this demand.
"With more girls than ever getting involved in STEM, we are particularly proud to help deliver the Eden Girls Leadership Academy's impressive laboratories and technical facilities."
https://www.business-live.co.uk/commercial-property/morgan-sindall-wins-18m-muslim-17275674
------
General election: Brexit Party candidate supports Tommy Robinson and called Islam a "death cult"
November 18, 2019
By Kate Plummer
Another Brexit Party candidate has been outed for Islamophobia, it has emerged.
Speaking on his YouTube channel, David Ballantine, who is standing in Edinburgh South West, heaped praise on far-right leader Tommy Robinson and called Islam "a child rapist death cult".
Ballantine is a former UKIP member who runs an asset management firm. Now standing for the Brexit Party, he joins a faction of the political party that has expressed Islamophobic views. John Booker of Penistone and Stocksbrige has liked posts claiming that Muslims have a plan to "takeover" the world, and Wendy Garcarz, a candidate in Birmingham, compared Muslims to Nazis.
Ballantine is also not the only Brexit Party candidate to support Tommy Robinson. Robin Grey told Scram News that the far-right leader, who has recently endorsed Boris Johnson, has a "valid criticism of Islam".
According to the Mirror, Ballantine used another video to call the police and complain about the Koran – citing hate crime legislation. Other videos on his channel show him following Robinson's court appearances, interviewing former UKIP leader Gerard Batten, and comparing Labour to the Nazis
YouTube has a problem with this sort of hate speech. Despite having a specific hate speech policy, far-right party Britain First has been platformed by the site, allowing them to openly spout anti-immigrant hatred. Ballantine has contributed to this much broader issue.
A spokesperson from Muslim Council Scotland said: "By spreading false messages and stereotypes about Muslims and Islam, Mr Ballantine is sowing division and hatred.
"Political representatives have a responsibility to represent everyone in society and not to further hate speech and intolerance."
An SNP spokesperson added: "It won't surprise many people that Brexit Party candidates have extreme views – but it is extraordinary the Tories are now effectively in a pact with a party which welcomes such candidates."
This election presents a clear choice between anti-immigrant xenophobia and the acceptance of others. Stand with us by supporting tolerance over hate.
https://scramnews.com/general-election-brexit-party-candidate-david-ballantine-supports-tommy-robinson-called-islam-death-cult/
------
North America
U.S. sanctions companies, individuals for supporting Islamic State
ByDarryl Coote
Nov. 18 (UPI) -- The Trump administration on Monday sanctioned two people and four companies with connections in Syria, Turkey, the Persian Gulf and Europe for providing financial assistance to the Islamic State.
The U.S. Treasury Department said it also targeted the Afghanistan-based Nejaat Social Welfare Organization and two of its senior officials for transferring funds to IS's Afghanistan branch under the guise of charity.
They were sanctioned under an executive order that targets terrorists and those who have provided material support to the terrorist organization.
Sahloul Money Exchange Company, Al Sultan Money Transfer Company, Tawasul Company and ACL Ithalat Ihracat and individuals Ahmet Bayaltun, Ismail Bayaltun, Rohullah Wakil and Sayed Habib Ahmad Khan were all targeted by Monday's sanctions.
Treasury Secretary Steven Mnuchin said the sanctions are evidence of the United States' determination to destroy IS following the death of its leader Abu Bakr al-Baghdadi late last month.
Al-Baghdadi blew himself up during a U.S. mission to capture the head of IS who was hiding in a compound in Syria on Oct. 26.
"Following the highly successful operation against al-Baghdadi, the Trump administration is resolved to completely destroy [IS]'s remaining network of terror cells," Mnuchin said in a statement. "The Treasury Department contributes to this effort in several ways, including by degrading [IS]'s ability to recruit and arm fighters globally by stamping out its financial footholds."
The Treasury said the United States plans to nominate these targets to the United Nations ISIL and al-Qa'ida Sanctions List, which would subject them to asset freezes and travel bans on top of those applied by the United States.
https://www.upi.com/Top_News/US/2019/11/18/US-sanctions-companies-individuals-for-supporting-Islamic-State/9981574130480/?sl=1&ur3=1
------
Accused bike-path terrorist Sayfullo Saipov tells judge he only answers to Allah
By Emily Saul
November 18, 2019
Accused bike path terrorist Sayfullo Saipov told a Manhattan federal court judge Monday he doesn't respect his authority — while prosecutors said they want to empanel an anonymous jury to oversee the death penalty case.
"The orders issued here have nothing to do with me," Saipov told Judge Vernon Broderick through an Uzbek interpreter. "I am following orders of Allah, who gave me life."
The comments followed a hearing regarding jury selection ahead of the alleged ISIS militant's trial for driving a truck down a crowded bike path on Halloween 2017, killing eight people.
Saipov stood as he spoke, wildly gesticulating as he asked Broderick why he was sitting in judgement of him "for the eight people killed" and "not those who are killing thousands and millions of Muslims over the world."
Broderick eventually cut off the 31-year-old, and told him a judge's role was more like that of a "referee."
"I recognize that you don't recognize me, or recognize my authority," Broderick added. "This isn't the time or place to be making statements."
Meanwhile, Manhattan federal prosecutor Matthew Laroche said the government plans to seek an anonymous jury to sit on the case.
Defense attorney David Patton said his team would be opposing that request.
Broderick has yet to rule on the issue.
Saipov's trial is scheduled to kick off April 13, 2020.
https://nypost.com/2019/11/18/accused-bike-path-terrorist-sayfullo-saipov-tells-judge-he-only-answers-to-allah/
------
US embassy in Jerusalem issues travel warning after Pompeo's settlement announcement
November 19, 2019
The US embassy in Jerusalem on Monday warned Americans about traveling in Jerusalem, the West Bank and Gaza, soon after Secretary of State Mike Pompeo announced the United States was softening its position on Israel's Jewish settlements.
"The US Embassy advises US citizens in or considering travel to or through Jerusalem, the West Bank, or Gaza to maintain a high level of vigilance and take appropriate steps to increase their security awareness in light of the current environment," it said in a statement. "Individuals and groups opposed to the Secretary of State's recent announcement may target US government facilities, US private interests, and US citizens."
https://indianexpress.com/article/world/us-embassy-in-jerusalem-issues-travel-warning-after-pompeos-settlement-announcement-6126658/
------
Indian Repression Fuelling Militancy In Held Kashmir, Warns HR Watchdog, An US-Based Advocacy Group
Anwar Iqba
November 19, 2019
WASHINGTON: The Indian government's abusive tactics and violations of basic human rights have "increased support and recruits" for militant groups in held Kashmir, argues a US-based advocacy group.
In a written statement to the US Congress, the Human Rights Watch (HRW) also points out that India has used "excessive force" to respond to protests by Kashmiris.
"The government's focusing all blame for Kashmir's past problems on outside factors — cross border militant groups and Pakistan's support for them — ignores the government's abusive and rights-violating tactics that over decades has increased support and recruits for militant groups", says HRW's Asia Advocacy Director John Sifton.
Mr Sifton was one of half a dozen witnesses who also testified before the US Congress Tom Lantos Human Rights Commission this week on the situation in held Kashmir.
The written statement notes that there has been a spike in violent protests and militant attacks in Kashmir in recent years.
"Indian security forces have often used excessive force to respond to protests, including using pellet-firing shotguns as a crowd-control weapon, which have caused several protester deaths and many serious injuries," the report adds.
"Indian troops have seldom been held accountable for human rights violations that have occurred during counter-insurgency operations."
The statement notes that India's Armed Forces Special Powers Act (AFSPA) continues to provide Indian soldiers effective immunity from prosecution for serious human rights abuses. Since the law came into force in Kashmir in 1990, the Indian government has not granted permission in any case to prosecute personnel in civilian courts.
The report that Indian government has also "repeatedly imposed" internet shutdowns in Kashmir, restricting mobile and broadband internet services. There have already been 55 instances of shutdowns in the state in 2019, the largest number in the country.
"India has continued to lead the world with the largest number of internet shutdowns. … As of November, authorities in India had ordered 85 shutdowns," HRW adds.
This is "the legacy of abuses" that the people of Jammu and Kashmir have suffered, although India is not been willing to confront these problems, the report adds: "And here we come to the crux of the issue: until the Indian government acknowledges and addresses how their own abuses impact the situation, problems in Kashmir are likely to endure."
Urging the US Congress to redress the grievances of the Kashmiri people, HRW says: "This is where Congress can act. While encouraging Pakistan to end their support to militant groups committing abuses in Kashmir, members of Congress should communicate to Indian government officials that their actions in Kashmir are adding to the human rights problems." It urges Members of Congress to "challenge Indian officials to reexamine their rights-abusing practices" in Kashmir.
Advising the US administration also to play role, HRW says: "US officials should insist that political leaders and others arbitrarily detained are released, that restrictions on communications are lifted, and that independent observers, including diplomats, foreign journalists, and rights activists, are able to travel freely in Kashmir."
Examining India's general human rights situation, HRW notes that since the BJP first came to power in 2015, Indian authorities have been increasingly using sedition and criminal defamation laws to stifle dissent.
"Journalists have been harassed, and at times detained, for their reporting or critical comments on social media, and faced increasing pressure to self-censor—including on matters connected to Jammu and Kashmir."
Mob violence against minorities, especially Muslims, by extremist Hindu groups affiliated with the BJP have continued amid rumors that they traded or killed cows for beef. Since May 2015, 50 people have been killed and over 250 people injured in such attacks, HRW adds.
It notes that Muslims were also beaten and forced to chant Hindu slogans. Police have largely failed to properly investigate the crimes, stalled investigations, ignored procedures, and filed criminal cases against witnesses to harass and intimidate them.
The report argues that most of these worsening trends appear to be connected to the increasingly nationalist rhetoric and actions of the ruling BJP party—reflecting a link to the human rights problems in Jammu and Kashmir.
For this reason, Human Rights Watch recommends that members of Congress, when raising issues of Jammu and Kashmir, should raise these other broader problems as well.
"To riff off the cliché phrasing, leaders in the world's oldest democracy should be speaking to members of the largest democracy … to voice their concerns about common threats facing many democracies around the world: overwrought nationalism that demonizes minorities or critics or journalists, xenophobic rhetoric, and the relentless blaming of outsiders."
https://www.dawn.com/news/1517598/indian-repression-fuelling-militancy-in-held-kashmir-warns-hr-watchdog
------
'How dare you': Navy SEAL who shot bin Laden slams Biden for saying Trump is 'not fit to command' troops
by Madison Dibble
November 18, 2019
Former Navy SEAL Robert O'Neill leveled former Vice President Joe Biden after he claimed that President Trump is "not fit" to be commander in chief.
On Sunday, Biden, 76, tweeted about Trump's decision to clear three military members who had been accused or convicted of war crimes. The president pardoned Army Special Forces Maj. Mathew Golsteyn and Army Lt. Clint Lorance and restored the rank of Navy SEAL Edward Gallagher. Their crimes included killing a suspected Taliban bomb maker, taking photographs of an Islamic State fighter's corpse, and killing two civilians.
Trump claimed he intervened because he wants Americans fighting overseas to have the "confidence to fight." Biden claimed Trump's decision "betrayed the rule of law" and those who fight honorably.
O'Neill, who claims he was the SEAL responsible for killing Osama bin Laden, shot down the 2020 Democrat's tweet by highlighting his own foreign policy flaws. He noted that Biden reportedly opposed the 2011 raid to kill bin Laden and that he announced SEAL Team 6 was responsible for the operation.
Some believed Biden's admission that it was SEAL Team 6 put a target on their backs that resulted in the attack on one of the team's helicopters, which killed some who participated in the raid.
O'Neill has spread his criticisms of political leaders across the aisle. He called Trump's plans for a military parade "third world bullshit."
https://www.washingtonexaminer.com/news/how-dare-you-navy-seal-who-shot-bin-laden-slams-biden-for-saying-trump-is-not-fit-to-command-troops
------
Suspect that allegedly threatened Denver mosque-goers with realistic-looking gun bonded out of jail
Nov 18, 2019
DENVER — The man accused of verbally threatening members of a Denver mosque and brandishing what looked look like a real rifle on Thursday was released from the Denver Jail just after 1 a.m. local time Sunday.
A female relative of Benjamin Casillas-Rocha, 24, posted a $1,000 cash bond, according to a jail official and court records. His bond was set at $10,000, but posting a cash amount allowed his release on $1,000, according to jail officials.
Casillas-Rocha reportedly pointed what appeared to be a long gun at four people outside the Masjid Al-Shuhadaa mosque on Thursday afternoon, according to a probable cause statement. The realistic-looking gun turned out to be an airsoft pellet gun.
The suspect had been at the mosque earlier in the day and was upset about losing his phone, which he believed was inside the building, police documents state.
An investigation revealed he returned to the mosque later in the day, under the influence of an unknown narcotic, and started yelling anti-Muslim remarks while pointing the rifle at the four victims. He left the vicinity after hearing police had been called to the area.
No one was injured.
Police later found Casillas-Rocha at his home. They arrested him on an investigation of felony menacing.
During a Saturday court hearing, a judge issued a protection order prohibiting the suspect from contacting alleged victims. The judge also ordered that upon release from jail, Casillas-Rocha will have intensive probation supervision, including having to wear a GPS tracking device. He's also prohibited from possessing or attempting to possess a gun as a condition of his bond.
Police are investigating the incident as a bias-motivated crime. However, the district attorney has not formally charged him.
This story was originally published by Robert Garrison on KMGH in Denver.
https://www.wptv.com/news/national/suspect-that-allegedly-threatened-denver-mosque-goers-with-realistic-looking-gun-bonded-out-of-jail
------
Arab World
Saudi Arabia's General Authority of Zakat and Tax prohibits sale of cigarettes without tax stamps
18 November 2019
RIYADH: The General Authority of Zakat and Tax (GAZT) announced that it will ban the sale and circulation of cigarette packs without tax stamps, starting today.
GAZT explained that this decision is based on the provisions of the executive regulation of the selective tax system related to tax stamps, within the framework of the unified agreement for selective tax for Gulf Cooperation Council countries.
The tax stamp is defined as a "distinctive sign," in the form of a sticker or a symbol containing encrypted digital data, placed on selected products and activated electronically. The sticker is ordered, printed and followed through a tracking program. Producers and importers of the selected products are required to comply with specific product standards.
GAZT stated that the application of the tax stamps system will strengthen the imposition of controls on the tax collection on selected products that are imported to Saudi Arabia. It will also strengthen the ability to verify the safe entry of selected products into the Kingdom, in a lawful and legitimate manner, to ensure the collection of all due taxes on this type of goods. The application of tax stamps also ensures that the compliance standards set out in the World Health Organization Convention on Tobacco Control are met.
GAZT confirmed that the consumer can verify the legitimacy and integrity of tax seals through the verification application available on smart phones, launched by GAZT in conjunction with the application of the tax stamping system, so that the user can scan the bar code on cigarette packs through the application.
The authority called on all consumers to report illegal products through its official website (GAZT.GOV.SA), or through the unified call center (19993), or the verification application.
https://www.arabnews.com/node/1586036/saudi-arabia
------
Doha Institute forum discusses pre-colonial Arab-Islamic history
November 19 2019
The Leadership Forum in pre-Colonial Arab Islamic social and political history, organised by the Sociology and Anthropology Programme at the Doha Institute of Graduate Studies, kicked off yesterday.
The forum, which is held at the institute's headquarters, is attended by about 20 researchers from various local, regional and international academic institutions.
The forum brings together researchers from Morocco, Yemen, Tunisia, Iraq, Jordan and Lebanon to discuss a specific point between linguistic, anthropological, political, philosophical, and historical research.
The first day of the forum witnessed the organisation of three scientific sessions in which researchers discussed the topics of leadership and imamate, and their transitions during different historical periods.
In the opening session of the first session, the Head of Research at the Arab Centre for Research and Policy Studies Dr Haider Saeed addressed the subject of "Imamate".
Saeed tried in his paper to explore the origins of the semantics of the word "Imamate" and its derivatives in the Arab lexicon, pointing to the development of the concept and sociological contexts of this development.
The first day of the forum concluded with a paper entitled 'Religious and tribal leadership in Yemeni society', presented by Dr Fouad al-Salahi, a professor of sociology at Qatar University.
https://www.gulf-times.com/story/647994/Doha-Institute-forum-discusses-pre-colonial-Arab-I
------
Qatar ranks top in GCC Islamic banks' liquid asset ratio
19 Nov 2019
By Satish Kanady I The Peninsula
Qatar's Islamic banks have the highest liquid asset ratio among GCC countries in the period between 2016 and 2018. The liquid assets to total assets ratio, or liquid asset ratio, is one of the key indicators of a bank's liquidity.
Despite the outflow of deposits following the blockade during 2017, the country's Islamic banks have managed to improve their liquidity situation using government and public sector deposits and depending more on long-term sources of funding. Consequently, its liquid asset ratio improved in 2018 after a temporary fall in 2017, according to Islamic Finance News.
Qatar's Islamic banking share in the country's total banking assets is 25.2 percent, the third highest in the region. The liquid asset ratio of Qatar's Islamic banks stood at 35 percent in 2018, the highest in the region and up from 32.7 percent in the previous year.
While comparing GCC economies, Islamic banks in Qatar, Kuwait and Saudi Arabia are observed to have a very high portion of liquid assets on their books. Although having liquidity levels higher than the regulatory requirement enhances their resilience, it has an adverse effect on profitability. Considering the developments observed in the Islamic capital markets, the excess liquidity situation is expected to stabilize going forward.
Liquid assets are generally the assets that mature within one year, held as either cash or cash equivalents and consist of currencies, deposits (or other assets that are available on demand within three months) and securities that can be traded in the liquid market without the risk of change in value. Banks, irrespective of whether they are conventional or Islamic, are expected to maintain an acceptable level of liquidity in order to meet their financial obligations such as meeting depositor demand, maintaining the commitment to their creditors and complying with regulatory requirements.
The majority of GCC Islamic banks tend to maintain surplus liquidity, much like other jurisdictions around the world.
https://thepeninsulaqatar.com/article/19/11/2019/Qatar-ranks-top-in-GCC-Islamic-banks%E2%80%99-liquid-asset-ratio
------
Islamic finance becoming a global force, says report
November 18 2019
By Arno Maierbrugger/Gulf Times Correspondent/Bangkok
With global assets of currently more than $2.4tn and a forecast of 7.7% compounded growth per year to reach $3.8tn by 2023, Islamic finance is becoming "a force to be reckoned with," the newly released State of the Global Islamic Economy Report 2019/20, compiled by research and advisory firm DinarStandard in partnership with the Malaysia Digital Economy Corp, notes.
It states that the industry was successfully building upon its Shariah-based principles of ethical and sustainable finance and banking to attract new clients, both Muslims and non-Muslims who are looking for more ethical ways to bank and finance projects. This process continually widens the sector's asset base.
In regional terms, Southeast Asia and nations of the Gulf Co-operation Council keep leading the industry, while West and South Asia, particularly Jordan and Pakistan, are catching up and are now among the top 10 nations for Islamic finance development in the world, according to the Islamic finance development indicator, which is part of the report and takes into account the sector's quantitative development, knowledge, governance, corporate social responsibility and awareness of Islamic finance.
The strong role of Islamic finance in Malaysia, which keeps leading the world's Islamic finance development indicator index, was underlined in 2017 as Islamic financing overtook conventional loans as the growth driver for the domestic banking system, with a 71% increase last year.
Malaysia's top scoring in the indicator index is further attributed to its strength to build an Islamic finance ecosystem as part of the country's key economic growth areas and the continuous focus on the halal economy.
Indonesia, in turn, jumped six notches from ten to four on the development index, an exponential improvement which can be mainly attributed to the establishment of the 2019-2024 Shariah economy master plan under the government of President Joko Widodo.
The report also points out that traditional Islamic finance hubs continue to grow, including in the UK, which has the largest Islamic finance industry in the OECD, while there is emerging competition from newer players including Australia and a number of Sub-Saharan African states, including Kenya and Uganda, as well as Muslim-majority Central Asian countries such as Tajikistan and Uzbekistan which are currently working on implementing new regulations to develop the sector.
A central matter is the growing importance of financial technology in the entire global financial industry and the readiness for adoption, the report continues. While Islamic finance has not kept pace with the conventional banking sector's adoption of fintech, change is happening through the development of digital banking and other fintech solutions and processes, including blockchain technology implemented by the Islamic Development Bank to develop Shariah-compliant products in order to support financial inclusion.
The report also identifies opportunities for Islamic finance which are not yet completely realised. Among them is Islamic insurance, or takaful, a sector where the development of new financial products based on murabhahah and waqf would promise further growth.
Another big opportunity remains Islamic trade finance. With global trade being a $12.3tn-industry as per 2017 figures, representing 75% of global trade, total trade within the 57 member countries of the Organization of Islamic Co-operation stood at $250bn in that year. However, the Islamic trade finance industry as such was only at an estimated $186bn, reflecting substantial room for growth which could be achieved by developing standard documentation for Islamic trade finance deals and trade hubs in key regions offering progressive trade finance solutions.
A challenge remains the lack of talent in the industry which results in a competency gap, namely in Shariah expertise, innovation and product development, as well as technical Islamic finance knowledge, owing to too few specialised educational institutions in a number of Islamic countries. While this has held the industry back thus far, the increase in education initiatives has been promising, the report concludes.
https://www.gulf-times.com/story/647962/Islamic-finance-becoming-a-global-force-says-repor
------
Dubai Islamic Bank closes landmark $750 million Sukuk
Tue 19-11-2019
DUBAI, 18th November, 2019 (WAM) -- Dubai Islamic Bank PJSC, DIB, successfully closed a US$%750 million 5-year Sukuk with a profit rate of 2.950 percent per annum, which is equivalent to 140bps over the 5-year Mid Swap Rate.
The transaction is DIB's second foray into the international capital markets in 2019, the first being a $750mn Additional Tier 1 Sukuk priced earlier this year. The Sukuk's profit rate of 2.95 percent is the tightest achieved by an FI Sukuk in 2019. DIB is rated A3 by Moody's and A by Fitch (both stable).
The deal was priced intraday after completing a global roadshow in Hong Kong and London, as well as several investor calls. The meetings were used to demonstrate management's ability to deliver on its strategy and showcase the strong credit fundamentals of the bank. The roadshow resulted in significant demand from Middle astern, Asian and European investors, with an orderbook that closed in excess of USD 2bn, representing an oversubscription rate of 2.7 times.
Dr. Adnan Chilwan, the Group Chief Executive Officer of the bank, commented "The success of DIB's Sukuk is a testament to the confidence investors place in the bank's robust fundamentals, as well as their comfort in the broader Dubai and UAE story. We are extremely pleased with the outcome of this transaction and remain committed to our local and global investors who continue to support our diversified funding strategy".
The Sukuk was issued as a drawdown under DIB's USD 7.5 billion Trust Certificate Issuance Programme which is listed on Euronext Dublin and NASDAQ Dubai.
Bank ABC, Dubai Islamic Bank, Emirates NBD Capital, First Abu Dhabi Bank, HSBC, Maybank, Sharjah Islamic Bank, Standard Chartered Bank and Warba Bank acted as Joint Lead Managers and Bookrunners on this transaction. The Islamic Corporation for the Development of the Private Sector acted as a Joint Lead Manager (no books) and Kuwait International Bank acted as a Co-manager.
WAM/Tariq alfaham/Hatem Mohamed
http://wam.ae/en/details/1395302804215
------
Secretary General of the Islamic Military Coalition to Combat Terrorism visits Dubai Airshow 2019
2019/11/18
Dubai, Nov. 18, 2019, SPA -- The Secretary General of the Islamic Military Coalition to Combat Terrorism Maj. Gen. Mohammed bin Saeed Al-Maghaidi and his accompanying delegation, visited here a number of pavilions participating in the 16th edition of the Dubai Airshow 2019.
This visit comes in the context of the keenness of the Islamic Military Coalition to fight terrorism to attend events that will promote the upgrading of competencies, the exchange of experiences and getting acquainted to the latest.
https://www.spa.gov.sa/viewfullstory.php?lang=en&newsid=2000106
------
Muslim Plaid Cymru member suspended over "antisemitic" social media posts
A Muslim member of the Welsh political party Plaid Cymru has been suspended after admitting to "antisemitic" social media posts several years ago.
Sahar al-Faifi appeared in the Welsh nationalist party's election broadcast just a few days ago and received a barrage of Islamophobic abuse after it was aired.
But she now faces an investigation after old social media posts criticising Israel and the Israel lobby in the UK were uncovered, for which she has apologised.
Al-Faifi is the latest Muslim in public life who has been under scrutiny during the General Election campaign. Zarah Sultana and Ali Milani, who are prospective Labour Party parliamentary candidates, both apologised for old social media posts targeting Israel.
Here are some of Al-Faifi's posts which date from 2012-17:
Following the discovery of the social media posts, Plaid Cymru said it would not tolerate antisemitism or racism "in any form."
"We have taken immediate action to suspend the person in question. We will investigate all allegations," the party said. "Plaid Cymru will not tolerate anti-Semitism, racism or intolerance in any form. That includes the appalling abuse the individual has been subject to. It is not a part of the Wales we want to build."
For her part, Al-Faifi said her posts had crossed the boundary of criticism of Israel into antisemitism. She added that she had deleted the tweets, undertaken antisemitism training through the pro-Israel Board of Deputies of British Jews, and would never repeat the same mistakes.
Meanwhile, after its election broadcast which featured Al-Faifi, Plaid Cymru sent a tweet saying the post received "abusive Islamophobic responses" that are "unacceptable and will not be tolerated."
The party's tweet continued: "We stand with Sahar and all Muslim people in Wales and beyond. Wales is rich in its diversity. We are all Welsh citizens. We are all equal."
https://5pillarsuk.com/2019/11/18/muslim-plaid-cymru-member-suspended-over-antisemitic-social-media-posts/
------
Minister of Islamic Affairs signs a MoU with the Islamic Community of Kosovo
2019/11/18
Riyadh, November 18, 2019, SPA -- Minister of Islamic Affairs, Call and Guidance Dr. Abdullatif bin Abdulaziz Al Al-Sheikh signed here today a memorandum of understanding (MoU) in the fields of Islamic affairs with Head of Islamic Community, Grand Mufti of the Republic of Kosovo Sheikh Naim Ternava, in the presence of a number of officials from both sides.
The Memorandum of Understanding includes cooperation in the fields of Islam and its tolerant values, cooperation between the two side in the affairs of mosques, their maintenance, and cooperation in the field of service of the Holy Quran and the Prophetic Sunnah.
https://www.spa.gov.sa/viewfullstory.php?lang=en&newsid=1999955
------
India
Muslim students throng this Sanskrit school in Jaipur
Nov 19, 2019
At a time when the interest in the classical language of Sanskrit seems to be declining in the country, a school here stands out.
That's not only because it teaches Sanskrit and is attracting a large number of students, but also because the majority of them belong to the Muslim community.
In fact, 80 per cent of these students are Muslims and can be seen reciting Vedic Sanskrit shlokas (verses) fluently and authoritatively. They even introduce themselves in Sanskrit, giving one the feel of the Gurukul system of ancient education of India.
Out of 277 students enrolled at the school, which runs up to Class X, 222 belong to the Muslim community.
Another interesting aspect of this school is that girls outnumber boys.
The school was upgraded up to Class VIII in 2004. At that time, it didn't have a building of its own. However, looking at the enthusiasm of children to learn and read Sanskrit, the grandson of Thakur Harisingh Mandawa gave a plot of land to the school.
Thereafter, the school's name was changed to Rajkiya Thakur Hari Harisingh Shekhawat Mandawa Praveshika Sanskrit Vidyalaya.
Although other subjects are also taught here, the USP (unique selling proposition) of this institution is the emphasis on Sanskrit.
According to Vednidhi Sharma, headmaster of the school, students are quite interested in Sanskrit. "The intake of students can be increased with better school space," Sharma said.
Ameen Kaagzi, a mamber of the Rajasthan Assambly, said no one paid attention to the school for the last 15 years. "I have sanctioned Rs 10 lakh from the MLA fund for school. A new school building will be ready so that students won't suffer," Kaagzi said.
https://www.hindustantimes.com/education/muslim-students-throng-this-sanskrit-school-in-jaipur/story-8ltYg2d5hxCH0IGAtj1IvN.html
------
In A First, Trinamool Chief Warned People against "Minority Extremism"
Nov 19, 2019
COOCHBEHAR: Trinamool chief Mamata Banerjee, in a first ever, brought changes in her rhetoric against BJP and warned people against "minority extremism." Without naming the Majlis-e-Ittehadul Muslimeen (MIM) Mamata at a Trinamool workers' meet in Coochbehar said: "I am watching that there are some extremists among the minorities. They have their base in Hyderabad. Don't listen to them."
Minutes after workers' meet the chief minister went to the Madan Mohan Temple in Coochbehar to offer her prayers before she went to the Rash Mela on the Rajbari gorunds. Mamata's offering the puja at Madan Mohan Temple comes six days after BJP's Coochbehar MP Nisith Pramanik came in a grand procession to the temple last Tuesday, performed the puja, spinned the Rash Chakra and offered gifts to the temple.
Political observers reading Mamata's comment against "minority extremism" and her offering prayers at Madan Mohan Temple together held that the ruling Trinamool is desperate to win over the Hindu votes, both Bengali and Rajbanshi, who hold the key in Coochbehar. At the moment Trinamool has made dents into the Rajbanshi community but is yet to win over the Bengali refugee votes.
"I appeal to the Trinamool leaders to close ranks and take up challenge against BJP. Our activists are the party's assets. I would ask you not to work for groups under leaders. Work for the flag you hold. There should be an end to Trinamool leaders making comments against each other. The party is not going to swallow the poison they spit. I am happy that Trinamool MLAs, councillors are working together as a team now. The party wouldn't have lost seats if they did it earlier," the Trinamool chief said.
Mamata then warned the Trinamool gathering against the BJP's bid to reassure the Hindu refugees that they are all safe under the proposed Citizenship Amendment Bill. "CAB is a hoax. It struck them after 19 lakh Bengalis, non-Bengalis, Gorkhas in Assam could not make it to the final NRC list. Now they are talking of the CAB when people under the CAB will be treated as non-citizens for six years," the CM said. "You have already got your names enrolled in the voter's list. Your sons and daughters are going to schools. You are all enjoying the benefits of various state schemes. What else do you need to apply for citizenship afresh?" the CM said.
Calling BJP, Congress and CPM Jagai, Madhai and Gadai, Mamata said: "The CPM harmads have now joined BJP to become ostads. The leaders of Congress and CPM are taking anti-BJP stance in Delhi. But when it comes to Bengal they are all cobbling up against Trinamool."
https://timesofindia.indiatimes.com/india/in-a-first-mamata-warns-of-minority-extremism/articleshow/72117696.cms
------
'Where is Farooq' cry in Lok Sabha
19.11.19
The Lok Sabha reverberated to the question "Where is Farooq Abdullah?" on the first day of the winter session.
The Opposition slammed the "illegal" detention of the National Conference MP and former chief minister at his Srinagar home and demanded his immediate release so he could attend Parliament.
Opposition members demanded a statement from home minister Amit Shah, recalling how he had claimed in the House in the last session that Farooq had not been put under house arrest.
Farooq, 82, has been confined to his home since Jammu and Kashmir's special status was revoked on August 5. In September, he was formally arrested under the Public Safety Act, which allows lengthy detention without trial. Two other former chief ministers — Omar Abdullah and Mehbooba Mufti — are in custody too as are dozens of senior mainstream politicians.
Shah was not present in the House but Speaker Om Birla defended him saying the home minister was right when he told Parliament in August that Farooq was not under detention.
Birla said it was only later that written information of Farooq's detention had reached the Lok Sabha secretariat.
To the Opposition's questions soon after the government had announced its Kashmir decisions, Shah had said that Farooq was refraining from coming to the House of his own free will.
"If he doesn't want to come he can't be brought at gunpoint," Shah had said, prompting protests.
On Monday, Farooq's detention came up as soon as the House assembled. After the customary playing of the national anthem, Saugata Roy of Trinamul said: "Sir, Farooq Abdullah is not here."
The Speaker urged Saugata to allow the new members to be sworn in first.
Opposition members later rushed to the well of the House, chanting: "Stop attacking the Opposition, release Farooq Abdullah."
Birla continued with Question Hour amid the sloganeering. He allowed the Opposition to raise Farooq's detention during Zero Hour at noon.
Adhir Ranjan Chowdhury, the Congress's House leader, used the opportunity to also mention how the government was preventing Indian MPs from visiting Kashmir while escorting European parliamentarians to the Valley. He described the EU delegation as "bhade ke tattu" (hirelings).
"Our leader Rahul Gandhi was not allowed to visit (Kashmir), many MPs were sent back, but bhade ka tattu from Europe were taken there. Isn't this an insult to all the MPs?" Adhir asked, inviting protests from the treasury benches.
Saying that Farooq's detention had crossed 100 days, Adhir sought his release and a statement from Shah.
The Shiv Sena, which has quit the ruling NDA, didn't join the Opposition in protesting over Kashmir. Sena MPs had earlier walked out of the House in protest at the plight of Maharashtra's farmers. The sitting arrangement for the Sena members was not changed in the Lok Sabha on Monday.
DMK member T.R. Baalu sought the Speaker's intervention in securing Farooq's release. National Conference member Hasnain Masoodi made an emotional appeal to Birla.
"Farooq Sahab represents Srinagar, and it's the right of the 20 lakh people of Srinagar that their voice be heard in this House.… One order from you can revoke it (Farooq's detention)," Masoodi said.
RSP member N.K. Premchandran refused to ask a supplementary question, saying: "Farooq Abdullah is not in the House. The House is not in order. I'm not in a position to ask any question."
None from the government side responded to the Opposition's demand for Farooq's release. Birla too remained silent to requests that he ask the government to allow Farooq to attend the House since the MP is not under judicial custody.
https://www.telegraphindia.com/india/where-is-farooq-cry-in-lok-sabha/cid/1720243?ref=india_india-page
------
Verdict in Ayodhya case, not justice: CPM
19.11.19
The CPM politburo on Monday said verdict had been delivered but not justice in the Ayodhya dispute, maintaining that the detailed judgment raised serious questions, especially the manner in which it has given "precedence to faith and beliefs of one side".
Briefing journalists on the politburo meeting over the weekend, CPM general secretary Sitaram Yechury said the verdict unambiguously stated that the Babri Masjid demolition was a "serious violation of law", as was the placing of idols within the mosque in 1949, but "the entire disputed site has been handed over to the violators of law".
On the Sabarimala verdict, which directly impacts the party's government in Kerala, Yechury said the reference of the matter to a larger seven-judge bench had created an "ambiguous and uncertain situation".
A five-judge constitution bench has referred to a seven-judge bench an earlier order lifting the bar on women of childbearing age from entering the Sabarimala temple and also similar restrictive practices in other religions.
According to the politburo, by diverting the matter to other issues concerning women's rights of other religions, which are already being heard by other benches of the court, "the majority judgment has failed to uphold the 2018 verdict (lifting the bar) and by keeping the review petitions pending (the court) has created an ambiguous and uncertain situation".
The politburo has also leant its weight to the Congress demand for a joint parliamentary committee probe into the Rafale scam, pointing to the fact that the Supreme Court, while dismissing the review petition, has clarified that this in no way bars investigation by agencies like the CBI or others.
Besides calling for the release of all political leaders detained in Kashmir and the restoration of democratic rights to the people, the politburo has demanded that the government declare the losses suffered by apple traders as a "national calamity" and compensate the growers.
The politburo has also decided to extend support to the all-India strike called by trade unions on January 8 against privatisation and noted the continuing state of denial of the Narendra Modi government towards the economic slowdown that is now manifesting itself on various fronts. It also took note of the government deciding to junk the NSSO's consumption data that showed consumption at a four-decade low.
Referring to this, Yechury said the Modi government was specialising in data fudging, as a result of which India's data credibility was at its lowest worldwide.
https://www.telegraphindia.com/india/verdict-in-ayodhya-case-not-justice-cpm/cid/1720297?ref=india_india-page
------
Three more Muslim litigants to file Ayodhya review plea
Nov 19, 2019
LUCKNOW/AYODHYA: A day after All India Muslim Personal Law Board (AIMPLB) announced its decision to go for review of the Ayodhya verdict, three more litigants from the temple town confirmed their readiness to file pleas in Supreme Court, taking the count to seven.
On Monday, three others who gave their consent to go through the legal drill included Haji Mehboob, Maulana Hizbullah and Haji Asad Ahmad/Hafiz Rizwan, sons of one of the first Muslim litigants, Haji Abdul Ahad. With this seven of 10 Muslim parties have agreed to go for review, barring UP Sunni Central Waqf Board, UP Shia Central Waqf Board and key litigant Iqbal Ansari.
On Sunday, besides Jamiat Ulama-i-Hind, which announced its decision to independently file a petition, three litigants who were first of the blocks included Mohammad Umar, Misbahuddin and Maulana Mehfuzar Rehman.
Talking to TOI, Haji Mehboob said, "I have given my consent to AIMPLB and I will join the Muslim parties on the Ayodhya issue." Mehboob had met AIMPLB's expelled cleric Maulana Salman Nadwi on Ayodhya's outskirts on Saturday, where he claimed a review was not required. Nadwi was accompanied by a representative of mediation panel member, Sri Sri Ravi Shankar.
Speaking to TOI, Haji Asad Ahmad, son of one of the first Muslim litigants, Haji Abdul Ahad, said, "We will exercise our constitutional rights to file a review petition. I and my brother Rizwan are buoyed by hope and we wish to fight the legal battle." Asad, a corporator of Ayodhya Municipal Corporation, is continuing his father's legal legacy.
Mufti Hizbullah, another litigant in the case told TOI that "I have given my consent to a review petition and it's necessary we must exercise our constitutional rights and we will fight till the end."
On Sunday, AIMPLB, an umbrella body of Muslim organisations in the country, said though it was not a party in the case, it had been extending legal support to Muslim litigants and it would go for a review if litigants agreed.
https://timesofindia.indiatimes.com/city/lucknow/three-more-muslim-litigants-to-file-ayodhya-review-plea/articleshow/72118062.cms
------
Sangh's Muslim outreach contrasts with silence on BHU appointment row
Smriti Kak Ramachandran
Nov 18, 2019
On the top left hand corner of the Banaras Hindu University's website is a box with its founder Pandit Madan Mohan Malviya's picture and a message that describe India as not a country of the Hindus only.
"It is a country of the Muslims, the Christians and the Parsees too…It is my earnest hope and prayer that this centre of life and light which is coming into existence, will produce students who will not only be intellectually equal to the best of their fellow students in other parts of the world, but will also live a noble life, love their country and be loyal to the Supreme ruler," reads the message.
The message and the significance Malviya's words seem to have gone unnoticed or unheeded by the protesting students of the university who are objecting to the appointment of Firoz Khan, a Muslim, as faculty member to the varsity's Sanskrit department. However, it is the silence of the Rashtriya Swayamsevak Sangh (RSS) on the issue that stands out given its recent outreach to Muslims.
In the run-up to the Supreme Court's verdict on the Ramjanmabhoomi-Babri masjid title suit that was announced last week, the RSS went on an overdrive to allay fears among Muslims. From closed door meeting where plans were drafted on how to avert possible communal flare ups to reassuring public statements, urging the cadre not to celebrate the court's verdict, the RSS chose moderation over celebrations of triumph.
The court's nod to a temple at the disputed site in Ayodhya marked the fulfilment of the Sangh's long-pending demand, yet its chief Mohan Bhagwat said the decision should not be viewed from the prism of "victory or defeat" and urged for welcoming the decision "with restraint, moderation and politeness" to avoid any provocative or instigating action or deed and staying within the limits of the Constitution and law.
Days before the court's verdict, another senior functionary of the Sangh, Krishna Gopal at another closed door meeting, which had in attendance Muslim scholars and research students among others also reiterated inclusivity as India's core value. Whether any political party needs them or not, the country needs Muslims, Gopal held forth.
Were these statements mere rhetoric?
There has been conspicuous silence from the Sangh and its affiliates on the plight of Firoz Khan, an alumnus of the Rashtriya Sanskrit Sansthan, a deemed university under the Ministry of Human Resource Development. A recipient of the Sanskrit Yuva Pratibha Samman by Rajasthan government, Khan's love for Sanskrit has also gone unnoticed by the Samskrita Bhararti, an organisation with links to the RSS that works for the preservation and propagation of Sanskrit and calls it a language that can unify.
The organisation which holds workshops for teaching Sanskrit overseas, including in countries like Kuwait and Bahrain has been silent on the controversy.
A senior functionary declined to comment on the issue on grounds that he was not familiar with the rules of appointment, even as the university has gone on record to say that the appointment was made after following due process.
On the one hand the Sangh urges Indian Muslims to follow in the footsteps of Dara Shikho, the Mughal prince who translated 50 Upanishads from Sanskrit into Persian and fits their description of a 'good Muslim' and on the other it has chosen to overlook the ruckus over Khan's appointment.
https://www.hindustantimes.com/opinion/sangh-s-muslim-outreach-contrasts-with-silence-on-bhu-appointment-row-opinion/story-IUZo2jpZk6seYKEEB9Ek9N.html
------
Modi Pushes to Grant Citizenship to Non-Muslim Immigrants
Bibhudatta Pradhan
(Bloomberg) -- Prime Minister Narendra Modi's government is set to push ahead with a controversial bill to grant Indian citizenship to non-Muslim illegal migrants from neighboring countries, a move that is expected to lead to heated debates as parliament reconvenes on Monday.
The legislation seeks to provide citizenship to Hindus, Sikhs, Buddhists, Jains, Parsis or Christians from Afghanistan, Bangladesh and Pakistan. Muslims are excluded from the list. Modi's political opponents say the move to shelter non-Muslim refugees is a way to keep for the ruling Bharatiya Janata Party to push its Hindu nationalist ideology.
Home Minister Amit Shah has defended the proposed legislation by saying that Muslims do not face persecution in Afghanistan, Pakistan and Bangladesh and therefore do not qualify. "If someone comes here to earn livelihood or to disrupt law and order, then they are intruders," Shah said in a TV interview last month.
The move is likely to raise fears among India's Muslim minority. In the northeastern state of Assam some 1.9 million people, mostly Muslims, face the risk of losing their Indian citizenship as Modi's government has enforced a National Register of Citizens to weed out illegal migrants. The register of citizens in Assam does not distinguish so-called illegal immigrants on the basis of religion but the proposed Citizenship Bill will exclude Muslims.
This is second time that the Modi administration is attempting to amend India's Citizenship Bill. The legislation was passed in the lower house of parliament in January, but lapsed as the upper house didn't take it up.
The rest of the winter session of parliament, which is scheduled to end on Dec. 13, will be dominated by economic legislation as the government seeks to revive Asia's third-largest economy that expanded at the slowest pace in six years in the quarter ended June.
Following are some key legislation:
To contact the reporter on this story: Bibhudatta Pradhan in New Delhi at bpradhan@bloomberg.net
To contact the editors responsible for this story: Ruth Pollard at rpollard2@bloomberg.net, Muneeza Naqvi
©2019 Bloomberg L.P.
https://www.bnnbloomberg.ca/modi-pushes-to-grant-citizenship-to-non-muslim-immigrants-1.1349405
------
Pakistan
UAE ambassador pens heartfelt letter on Pakistan
November 18, 2019
United Arab Emirates Ambassador in Pakistan Hamad Obaid Ibrahim Salem Alzaabi fondly spoke of his stay in Pakistan, saying the country's human potential sets it apart as it is blessed with highly talented people.
The UAE ambassador expressed his opinion on Pakistan in a heartfelt post to a foreign publication Arab News, where he said that he has deeply enjoyed the hospitality during his stay in the 'brotherly nation'.
The ambassador wrote that Pakistan despite its potential and scenic views, battled hard against terrorism and extremism — a solution to which he deems is tolerance.
Defining tolerance, Alzaabi said that it is an amalgamation of respect, humanity, coexistence and openness to different cultures.
"Given prevailing circumstances, tolerance has become more important than ever, and keeping this in view, the United Arab Emirates has taken many steps to promote it on a national, regional and global level. The founding father of the UAE, Sheikh Zayed bin Sultan Al Nahyan left behind a legacy of noble values such as equality, tolerance and charity," he stated.
He said that in a historic move, the UAE established the ministry of tolerance and even termed 2019 as the "Year of Tolerance".
Calling the UAE an exemplary case, the envoy to Islamabad said that the UAE has attracted more than nine million people from hundreds of nationalities around the world and built an open society.
"Earlier this year, Pope Francis paid a visit to the UAE, and during his stay, His Eminence, the Grand Imam of Al-Azhar, considered a main Islamic reference at one of the world's leading Islamic institutions, also visited. Together, the two religious leaders signed the 'Document on Human Fraternity for World Peace and Living Together,' which sends a strong message for hope and peace to the entire world," he wrote.
The government of Dubai also launched the International Institute of Tolerance to promote tolerance on a regional and global level, he said, adding: "The institute will focus on encouraging open dialogue and highlighting the honest and peaceful essence of Islam against extremism, fanaticism and intellectual repression."
UAE's premier and ruler of Dubai Sheikh Mohammed Bin Rashid Al Maktoum led patronage to the World Tolerance Summit to bring together the global leaders, envoys and change-makers to celebrate diversity, said the UAE ambassador.
https://www.thenews.com.pk/latest/570776-uae-ambassador-pens-heartfelt-letter-on-pakistan
------
Civil, military leadership on same page, says ISPR chief
November 19, 2019
KARACHI: Amid speculation that the civil-military relationship is under strain at the moment, the Inter-Services Public Relations (ISPR) chief on Monday said the government and the army are "on the same page" and meetings between the prime minister and army chief are necessary for the country's progress.
A private news channel said on Monday that Major General Asif Ghafoor, the ISPR director general, told the host of Off the Record programme that there was no difference of opinion on the issues of the state with the government.
"The army is supporting a democratically elected government as per the Constitution and there will be no let-up in this as that's must for progress and prosperity of Pakistan," the ARY News quoted the ISPR chief as telling the host.
Only last Friday, Chief of the Army Staff Gen Qamar Javed Bajwa called on Prime Minister Imran Khan. According to the Prime Minister Office, Mr Khan and Gen Bajwa discussed the security situation within the country, the situation in India-held Kashmir, Pak-Afghan border and the internal security.
But what sparked rumours was Mr Khan's decision to suspend his official and party engagements for two days to spend the weekend at his Banigala residence following the Friday meeting.
The programme host said that he spoke to the military's chief spokesperson the other day and asked him about speculation on social media that there was some lack of understanding or consensus on various issues between the premier and the army chief and that there was a long gap between their last two meetings.
Rejecting all such reports as "baseless gossip", the ISPR chief told the host that the prime minister and the army chief were in regular touch with each other.
"Meetings take place as and when required and at times not every meeting is covered in media. There have been meetings and telephone calls between the two in period between the last two meetings covered in media," he said.
https://www.dawn.com/news/1517563/civil-military-leadership-on-same-page-says-ispr-chief
------
Imran wants CJP to 'restore' public trust in judiciary
Rashid Javed
November 19, 2019
ABBOTTABAD: Prime Minister Imran Khan has asked Chief Justice of Pakistan Asif Saeed Khosa and senior judge of the Supreme Court Justice Gulzar Ahmed to come forward and restore public confidence in the judiciary and criticised opposition parties over what he described as 'a circus on a container' aimed at evading accountability.
"If there ever is an expert on dharna [sit-in], it is me standing right here," said Prime Minister Khan before mocking his political opponents for "giving up" too early.
He was addressing the inaugural ceremony of Havelian-Mansehra section of the Hazara motorway at Havelian on Monday evening. Khyber Pakhtunkhwa Chief Minister Mahmood Khan, National Assembly Speaker Asad Qaiser and federal ministers Omar Ayub Khan and Murad Saeed besides the Chinese ambassador to Pakistan were also present at the ceremony.
Lashing out at the Jamiat Ulema-i-Islam-Fazl's dharna, Mr Khan said a "circus was staged by opposition parties on the container. I had said earlier that I would have agreed to all their demands if they could last a month on those containers. We [the PTI] stage a sit-in for 126 days," he recalled.
Slams opposition parties for evading accountability by staging 'a circus on container'
Criticising the JUI-F leadership for 'hiding' in the comfort of their 'warm rooms', he said ordinary workers braved the cold and rain during the sit-in. He said that Maulana Fazlur Rehman had brought innocent students of seminaries on roads by telling them that the prime minister was going to recognise Israel and that Islam was in danger. Mr Khan said the people were cheated by the so-called Ulema in the name of Islam.
He said that the sit-in distracted world attention from the people of India-held Kashmir who had been under siege for more than 100 days, as the entire media was busy in the coverage of dharna whereas a 'long list of jobless, corrupt politicians' were standing on the container. He said PML-N president Shahbaz Sharif and PPP chairman Bilawal Bhutto-Zardari as per his assessment joined hands when asked to return the looted wealth of the nation. He said they wanted an NRO-like relief that he said he would never give them in his lifetime. He said he considered such a move an 'unforgivable sin'.
The PM said the government had only demanded an amount of Rs7 billion in the shape of indemnity bonds which he said was very little when compared to the mega corruption of the Sharif brothers.
About the PML-N president's undertaking accepted by the Lahore High Court, Mr Khan said the son and sons-in-law of Shahbaz Sharif were fugitive. "Who will provide a guarantee for them? On top of that there are corruption cases pending against you (Shahbaz) as well. Who will give your guarantee?" He said the nation had understood his (Shahbaz's) 'dramas'.
Mocking Bilawal Bhutto-Zardari's statement on rains and flooding, the PM mimicked the PPP chairman to say "when it rains, water pours down. When it rains more, more water pours down." Mr Khan further said: "Bilawal claims to be a liberal; in fact, he is nothing but liberally corrupt."
In response to the mimicry, the PPP chairman tweeted: "I am neither liberal nor corrupt or a hypocrite. I am progressive and a visionary with one year in politics. You are 70 years old who has been doing 'selected' politics for 20 years. If you have any identity, it is of taking U-turns, of being a hypocrite and a puppet."
In his address, PM Khan also said that speedy and quick justice for all would lay the foundation of the country's new system based on the principles of 'Riasat-i-Madina'. He said there was a perceived disparity in how the powerful and common people were treated in the country's judicial system. He said he was ready to support the judiciary to change the perception and restore public confidence in the institutions.
The premier said the China Pakistan Economic Corridor, which had been limited to roads and power stations previously, was becoming a 'real game changer' with transfer of technology in different fields. He said the agriculture and dairy farming would be the main beneficiary of technology transfer.
Earlier in his welcome address, federal Minister for Communication Murad Saeed said the National Highway Authority (NHA) and the postal services, which were near default in the past, had shown major improvement. He said both the departments had contributed over Rs10 billion to the national kitty.
Mr Saeed claimed that the government would offer training to 45,000 youth, followed by internship and job offers for them.
Meanwhile, PML-N parliamentary party leader in KP Assembly Aurangzeb Nulhota along with a number of party supporters staged a protest demonstration in Abbottabad. He said the Hazara motorway project was the brainchild of Nawaz Sharif. He said the PTI government was cheating people by taking the credit for the Hazara motorway project whose foundation stone was laid by former premier Shahid Khaqan Abbasi.
Meanwhile, the PML-N supporters were told that the banners and billboards displayed along the motorway by the party workers were allegedly removed by the district administration.
https://www.dawn.com/news/1517556/imran-wants-cjp-to-restore-public-trust-in-judiciary
------
Pakistani man jailed for 10 years over Dutch anti-Islam MP murder plot
COPENHAGEN: A Dutch court sentenced a Pakistani man to 10 years behind bars on Monday for planning to assassinate anti-Islam politician Geert Wilders after the MP announced a cartoon competition depicting Prophet Muhammad (PBUH).
The man, identified as Junaid I. by local media, was arrested in August 2018 at a train station in The Hague after he posted a film on Facebook in which he said he wanted to "send Wilders to hell" and urged others to help.
Judges at The Hague's district court found the 27-year-old man, who had travelled from France, guilty of "planning a murder with a terrorist motive" and "incitement to commit a terrorist deed".
"The suspect more than once said that Wilders' death would be a good deed," said presiding judge Jan van Steen, who added four years in jail to the six years sought by the prosecution.
"Furthermore, the suspect wanted to commit the murder in one of the parliamentary buildings, the heart of Dutch democracy," Van Steen said. The suspect had denied any terror-related motives.
He said during the trial that he was "peace-loving" and had only travelled to the Netherlands from France to protest against Wilders' cartoon competition.
The Facebook video was seen by more than 153,000 people and shared 14,000 times.
Far-right leader Wilders cancelled his plans two days later to stage the cartoon competition, a move that angered many Muslims, particularly in Pakistan where widespread protests were held.
Wilders, 56, known for his peroxide bouffant hairdo and firebrand anti-immigration and anti-Islamist statements, lives in a safe house and has been granted 24-hour protection by the Dutch state.
The court did not say how Junaid I. planned to kill Wilders but found that in a bugged phone call after his arrest he said he took "specific things with him […] without which his mission would not be complete". He had also walked around with a "large backpack, which he did not have when he was arrested" and lied about what it contained, the judges said.
https://www.pakistantoday.com.pk/2019/11/18/pakistani-man-jailed-for-10-years-over-dutch-anti-islam-mp-murder-plot/
------
7 detained for looting worshipers at Karachi mosque
KARACHI: A seven-member gang of robbers has been arrested for looting worshipers at a mosque in Karachi's Dhoraji Colony on Monday.
The police detained the suspects with the help of CCTV camera footage.
SSP Noman Siddiqi said that a citizen went to the bank to deposit money but it had closed so he went to the mosque to pray on his way home. The robbers followed him to the mosque and stole the money from him.
He said the suspects have confessed to several other robberies as well.
https://www.pakistantoday.com.pk/2019/11/18/7-detained-for-looting-worshipers-at-karachi-mosque/
------
Africa
Nigeria needs more Muslim media to counter years of Islamophobic propaganda
The Nigerian media's deafening silence over the recent kidnapping of Muslim children and their forced conversion to Christianity is indicative of its institutional Islamophobia, writes Suleiman Ahmed.
If you can convince a man that he has no roots, history or civilisation, then he will think of himself exactly as you have described him. He will be incapable of defining himself and will only be capable of accepting the label which you have given him — that of an uncivilised savage only fit to be a slave.
The renowned African American scholar, Dr Carter Godwin Woodson, in his book, 'The Miseducation of the Negro', said:
"If you can control a man's thinking, you don't have to worry about his actions. If you can determine what a man thinks, you do not have to worry about what he will do. If you can make a man believe that he is inferior, you don't have to compel him to seek an inferior status; he will do so without being told, and if you can make a man believe that he is justly an outcast, you don't have to order him to the back door, he will go to the back door on his own, and if there is no back door, the very nature of the man will demand that you build one".
This was why one of the first things the European slavers did to the African captives was to change their names, religion and culture. For the only thing that separates a man from an animal or an uncivilised savage is his sense of worth, history, religion, culture and roots.
Enslaved Muslim children
History is repeating itself once again in northern Nigeria, this time, not by European slavers but by a Nigerian criminal gang who have been responsible for the abduction of at least 47 young Muslim children. These poor children are being kidnapped, forcefully converted to Christianity, their names changed, and then sold into a life of misery and slavery.
The Nigerian police have been uncovering several of these cases, and some of the children have been freed and are waiting to be reunited with their families.
One of the rescued kids is Muhammed Yau Muhammed, who was six-years-old when he was kidnapped from his home town in the city of Kano. He was sold into slavery and forcefully converted to Christianity. His abductors, Paul Onwe, and his wife, Mercy, who have now been arrested, were also responsible for the kidnapping and forceful conversion to Christianity of nine other rescued Muslim children.
The lack of media coverage of this tragic and despicable occurrence is not only shameful, but also demonstrates how deeply Islamophobic and indifferent to Muslim sufferings the Nigerian media is.
Media hypocrisy
A few years ago, a Muslim teenager ran away with his Christian girlfriend from Yenagoa, a Christian dominated city in the south of Nigeria, to Kano, a Muslim dominated city in the north. The girl, out of her own free will, accepted Islam, and instead of reporting the matter as it was, – which was, at worst, that of an older male taking advantage of a much younger female, an offence punishable by law in Nigeria – the Nigerian media decided to run the news as one of "Islamisation" – one of abduction, forced marriage, and the conversion of a young, naive Christian girl to Islam.
The most irresponsible media outlets even went further to imply that it was a ploy by the Muslims to slowly "Islamise" the country through the abduction, forced marriages and conversion of their little girls. The Nigerian media ran with this toxic narrative, and subsequently an onslaught of online attacks on Islam and Muslims ensued for weeks.
In stark contrast, there has been pin drop silence from the Nigerian media about the recent kidnappings and forceful conversions of Muslim children to Christianity – had the perpetrators been Muslim, rest assured it would have dominated headlines and prime time TV.
Enslaving young children and forcing them to convert to another religion is a heinous crime with absolutely no cultural or monetary justification. Therefore, the silence and indifference of the Nigerian media is inexcusable and unequivocally condemnable.
The need for Muslim media
The Nigerian and international mainstream media is largely controlled by a well-oiled Islamophobic machine – aggressively pursuing what clearly seems like an anti-Muslim agenda.
Just like the western media, the Nigerian media exaggerates crimes perpetrated by Muslims, and under-reports, or at times chooses to completely ignore stories where the perpetrators are Christian and the victims are Muslim. The dominant media narrative around Nigerian Muslims for many years has been one of dehumanisation, one which is synonymous with violence, extremism and cultural repressiveness.
As the African proverb goes, "Until the lion learns to tell his own story, the story of the hunt will continue to glorify the hunter." Therefore, the need for independent Muslim media outlets with an Islamic ethos, which will be committed to pursuing truth and justice is greatly needed in Nigeria – our stories and struggles need to be told through our own lens. Relying on an institutionally Islamophobic mainstream media to report fairly and accurately about Islam and Muslims has only proven to cause harm.
This is not a call for a Muslim – Christian divide, nor a North – South one. Rather, it is a call to build a bridge of balance, through reputable news reporting, that will serve as a window to the Muslim dominated north for the common people in the Christian south. It is a well-known fact that theirs is an over concentration of large media houses in south Nigeria, and very few in the north, which is inevitably resulting in an imbalance and bias in the way events are being reported.
The western media, namely the BBC and CNN controlled the narrative of the Muslims of the Middle East and North Africa until Al-Jazeera took gradually took over. Now, that balance is slowly shifting. So, calling for more northern based, Muslim controlled media outlets in Nigeria is not unreasonable – it's well overdue. Rather, it is a noble call that will have great strategic benefits for Muslims in the north of Nigeria by countering and debunking the years of misinformation and propaganda spread in Christian-dominated south, thereby facilitating a better understanding between the two regions and the two faith communities.
https://5pillarsuk.com/2019/11/19/nigeria-needs-more-muslim-media-to-counter-years-of-islamophobic-propaganda/
------
Burkina Faso's army says 32 Islamic extremists killed in weekend violence
Burkina Faso's army says 32 Islamic extremists were killed over the weekend in the country's north and several women used as sex slaves were freed.
An army statement says one soldier was also killed in the latest clashes as the extremist presence grows in the West African nation.
The statement says 24 extremists were killed in hours of intense fighting Friday in Yorsala after a military patrol was ambushed. The following day, an army offensive near Bourzanga killed eight extremists and recovered a stash of weapons.
Burkina Faso's president earlier this month vowed to hunt down extremists after they killed at least 37 people in an attack on a convoy carrying employees of a Canadian mining company. It was called the deadliest attack since Islamic extremists became active in the country in 2015.
https://beta.theglobeandmail.com/world/article-burkina-fasos-army-says-32-islamic-extremists-killed-in-weekend/
------
Mali army says 24 soldiers, 17 militants killed in attack on northern patrol
November 19, 2019
Twenty-four Malian soldiers were killed and 29 wounded in an attack on an army patrol in northern Mali on Monday in which 17 militants were also killed, a spokesman for the army said.
The West African country is still reeling from an attack on an army post that killed 54 in early November – one of the deadliest strikes against its military in recent memory, which underscored the increasing reach and sophistication of armed jihadist groups active in the wider region.
The Malian patrol attacked on Monday was in Tabankort, Gao region, while on a joint operation with Niger against militants operating near the border.
"During this attack, Malian forces suffered 24 deaths, 29 wounded as well as equipment damage. On the enemy's side, 17 were killed and a certain number captured," army spokesman Diarran Kone said.
The authorities have not named the assailants or identified which group they belonged to. From strongholds in Mali, groups with al Qaeda and Islamic State links have been able to fan out across the Sahel, destabilising parts of Niger and Burkina Faso.
Violence has surged this autumn with heavy military and civilian losses in Mali and Burkina Faso.
In addition to November's bloodshed in Mali, 38 Malian soldiers were killed on Sept. 30 in coordinated attacks on two army bases in the centre of the country, which has slipped from government control despite the presence of the French army and other international forces.
Meanwhile, 39 people were killed in Burkina Faso on Nov. 6 when militants attacked a convoy carrying workers of Canadian gold mining company Semafo.
https://indianexpress.com/article/world/mali-army-says-24-soldiers-17-militants-killed-in-attack-on-northern-patrol-6126590/
------
Abd'Allah Looks to Continuous Run of Good Form for Enyimba
November 19, 2019
Fresh from its impressive 3-1 win over Akwa United on Sunday, head coach of Enyimba, Usman Abd'Allah has suggested that the team can still do better than has been seen after three matches in the Nigeria Professional Football League (NPFL).
Abd'Allah expressed satisfaction with the team's progress so far while hoping the team will get better.
'I am very happy with the way the team has performed right now. We seem to be getting better because we are playing more matches now and it's helping us to get better.
'At the start of the season, it was a little difficult for us because we had few matches and this cost us our place in the champions league. Now with the NPFL back we are beginning to create the right balance in the squad. I am happy with our recent performances but we will continue to improve until we get what we want' Abd'Allah remarked.
The NPFL defending champions are currently unbeaten in its opening three matches of the new season and are unbeaten in its last five matches in all competitions.
Traditionally, the People's Elephant are known to hit top gear around mid season in contrast to the current scenario where they are seated 2nd on the log but coach Abd'Allah revealed that he prefers to get the points early and insists his side has what it takes to maintain the early momentum till the end.
"As you can see, there is a lot of confidence in the team and the boys are responding very well. The important thing is that we are taking it match after match and getting the points now.
"It's better we grab the points early than to play catch-up while hoping for other teams to drop points. It's also a message [the coaching staff] have passed along to the squad and I am happy they have responded well.", he explained.
Enyimba will be hoping to maintain the positive start to the season when they visit Sunshine Stars on Wednesday on the Matchday 4.
https://www.thisdaylive.com/index.php/2019/11/19/abdallah-looks-to-continuous-run-of-good-form-for-enyimba/
------
Eight Churches, Mosques Sealed In Lagos Over Noise Pollution
BY SAHARAREPORTERS
NOV 18, 2019
The Lagos State Government on Sunday closed down eight worship centres across the state for contravening environmental pollution regulations, according to the News Agency of Nigeria.
General Manager, Lagos State Environmental Protection Agency, Dr Dolapo Fasawe, who led the exercise, said that the facilities were closed down to save the people from health crisis that might arise from the activities of the centres.
The LASEPA boss said that there would be no hiding place for any religious organisation, which failed to operate within the ambit of the law, regardless of their faith.
The sealed facilities are located at 68, Old Ota Road, Orile Agege; 4, Ademola Oshinowo Street, Off Love Street, Ketu; 1 Dele Amuda Street, Lekki.
Others are 17, Ajileye Street, Ilaje Bariga; 39, Kusenla Road, Elegushi and Ajayi Bembe Street Abule Oja, Yaba, among others.
Fasawe said that mutual respect of views, culture and religion, which the annual tolerance day celebration symbolised, must be adhered to by all residents to foster peace.
She said, "Those recalcitrant organisations or worship centres, known to be disturbing the peace of Lagos residents, will face the full wrath of the law.
"In as much as the state government is positively disposed to the peaceful conduct of religion of choice by its citizens, it does not condone infringements on the rights of other residents in the name of religious activities.
"The agency is inundated with petitions and outcry from residents over the insensitivity and intolerance of some religious outlets in different parts of the state.
"LASEPA regrettably notes that several warnings issued to the management of these centres have not yield the result.
"But of great concern to the state government is the need for religious activities to be conducted in a manner that worshippers will not infringe on others' rights."
http://saharareporters.com/2019/11/18/eight-churches-mosques-sealed-lagos-over-noise-pollution
------
Australia and New Zealand
Two Christchurch mosques attack widows to be granted residency in New Zealand
19-11-19
Two widows from the Christchurch mosques attack will be granted residency in New Zealand, eight months on.
The husbands of Rina Akhter and Sanjida Neha were among the 51 killed in March, but since then their residency status was uncertain because they were in New Zealand, or coming to the country, through marriage.
Immigration lawyer Haseeb Ashraf, who represents both women, told TVNZ1's Breakfast the Minister of Immigration has granted a special direction for their grant of residence.
"There is a very standard procedure in applying for residence so they should be able to stay. Apart from that, they were not based in New Zealand at the time of the incident and they arrived in New Zealand afterwards," said Mr Ashraf.
He said the women would face a very stark future if they had to return to Bangladesh as widows.
"The upshot of all of this is that we have two individuals who will restart their life once again," he said. "As a community, we can see that the community is getting back up on their feet."
https://www.tvnz.co.nz/one-news/new-zealand/two-christchurch-mosques-attack-widows-granted-residency-in-new-zealand-v1
------
Mideast
Understandings between Israel, Hamas jilt Islamic Jihad
Mordechai Sones
18/11/19
After Hamas leadership abandoned its "little brother" to bleed alone in the face of Israel's Operation Black Belt last week, a Hamas official last night affirmed the rival Islamic group's status as "brothers-in-arms", hewn from the same stone.
Galei Tzahal Arab affairs commentator Jacky Hugi says the two organizations are expending efforts to project the image of business-as-usual, despite last week's explosive tension between them.
"Hamas stood aside and did not participate in the fire against Israel," Hugi says, "They actually let the Islamic Jihad fend for themselves with the Air Force attacks that were landing on them."
Hugi says Hamas' non-participation in the warfare does not represent mere acquiescence in the attacks, but was stated explicitly in a message from the bureau of the Islamic organization's head Ismail Haniyeh to Jerusalem that "if you don't attack us, we won't attack you." "In other words," explains Hugi, "Hamas told Israel, 'You're free to do the work yourselves; we won't aid the Jihad,' and this is what happened. Both sides, Hamas and the IDF, maintained this understanding throughout the round of violence."
Hamas' betrayal of their Islamic brothers did stoke some antipathy, but the message now is that the groups are brothers, not enemies; also Hamas considers Israel the enemy and Islamic Jihad is only an internal adversary, albeit a bitter and at-times dangerous adversary.
"But even when a military strike against the Jihad is called for, Hamas is unable to commit. Israel in great measure helped them to eliminate a certain problem, this time one that Hamas called Baha abu el Atta, the Islamic Jihad operative who comprised this specific problem.
"For this reason one saw the Hamas official in Qatar Husan Badran address the Palestinian public, also to the Jihad: 'Come let us not be confused; our relations with the Jihad are stable, build on sturdy foundations. We're together in the same pit. Coordination between us [and Israel] is rare.' The Jihad responded in their own way - they didn't directly attack Hamas, they're too busy publicizing their shooting at Israel, showing off their missile stores and their uses."
Hugi concluded by mentioning that the missile fired at Be'er Sheva on Friday by Hamas was intended to mollify the Islamic Jihad.
http://www.israelnationalnews.com/News/News.aspx/271854
------
Israeli threat to Al-Aqsa Mosque is getting worse
November 18, 2019
Israel's threat to Al-Aqsa Mosque and Al-Rahma Gate have been getting worse, the Deputy Director of Jerusalem Religious Endowment Department, said on Sunday. Najeh Bkeerat told the Palestinian Information Centre that the rising threat is due to Israeli aggression and the lack of Arab, regional, international and Islamic deterrence in response to this.
Bkeerat added that the lack of awareness about the importance of the Palestinian cause, Jerusalem and Al-Aqsa Mosque among Palestinians, Arabs and Muslims is another reason for the increasing Israeli danger. Bab Al-Rahma was re-opened in February for the first time since 2003, before being closed again by the Israelis a month or so later.
"The Israeli occupation authorities are trying to send a message to the world, through their aggression, that it is keeping tight control over Al-Aqsa Mosque," Bkeerat explained. He insisted that Israel's increasing number of violations of the sanctity of the site suggest that the occupation state is preparing something against the Noble Sanctuary. He did not rule out that the increasing number of Jewish settlers raiding Al-Aqsa Mosque are part of a campaign by the Israeli right wing to attract more support.
"We must not remain silent regarding the conspiracies being orchestrated against Al-Aqsa Mosque," he noted. "We can do this by reinforcing our relationship with Al-Aqsa Mosque and the Jerusalemites."
To achieve this goal, the Awqaf official called for the Palestinian, Arab and Islamic media to counter the false Israeli and pro-Israel narrative by publishing facts about the holy city and what is going on there. Bkeerat also called for Palestinian and Arab intellectuals and officials to do whatever they can to protect Al-Aqsa Mosque and Jerusalem from Israel's nefarious plans.
https://www.middleeastmonitor.com/20191118-israeli-threat-to-al-aqsa-mosque-is-getting-worse/
------
Libya's GNA won't hand Saif Al-Islam Gaddafi to ICC
November 18, 2019
The Libyan Government of National Accord (GNA) has decided not to hand over Saif Gaddafi, son of late Libyan leader Muammar Gaddafi, to the International Criminal Court (ICC) where he faces trial for charges of crimes against humanity during the revolt against his father's rule in 2011.
The Libyan justice ministry said in a statement on Saturday that it would not extradite Said Al-Islam, stressing its adherence to "the absolute sovereignty of the Libyan state, and its exclusive right to prosecute its citizens on charges against them before its national judiciary".
ICC Prosecutor General Fatou Bensoua confirmed a few days ago that her office has credible information concerning the whereabouts of three suspects; including Saif Gaddafi whom the ICC issued arrest warrants against. According to Bensoua, Gaddafi is currently in the city of Zintan, southwestern Libya.
The prosecutor called on all states, including Libya and Egypt, to facilitate the immediate arrest and extradition of Libyan fugitives, pointing out that "the three ICC fugitives stand accused of grave international crimes. These crimes include the war crimes of murder, torture, cruel treatment and outrages upon personal dignity, and the crimes against humanity of persecution, imprisonment, torture, and other inhumane acts."
The other suspects are Al-Tuhamy Mohamed Khaled who is in Egypt and Mahmoud Al-Werfalli who is in the Benghazi area of Libya.
https://www.middleeastmonitor.com/20191118-libyas-gna-wont-hand-saif-al-islam-gaddafi-to-icc/
------
Hamas and Islamic Jihad vow to deepen civilian and military cooperation
11-18-2019
Amid the backdrop of tensions between Hamas and Palestinian Islamic Jihad in Gaza and mutual recriminations, the leaders of the two terrorist organizations are trying to project an image of unity and rapprochement.
The leader of Hamas' political bureau, Ismail Haniyeh, spoke on the phone with PIJ Secretary-General Ziad al-Nakhalah and agreed with him to "deepen civilian and military cooperation between the two organizations."
Haniyeh also visited the bereavement tent for relatives of Bahaa Abu al-Atta, the PIJ commander assassinated by Israel in an airstrike in Gaza last week that set of a round of fighting that saw hundreds of rocket fired at Israel from Gaza.
Following IDF airstrikes in Gaza in response to Hamas firing two rockets at Beersheba over the weekend, in an apparent act of solidarity with PIJ, Haniyeh said: "This round of fighting is over, but the war is not. Our victory in the latest round wasn't determined by the number of rockets launched, but by the paralysis of Israel during the escalation."
Also on Sunday, PIJ leader Khaled Al-Batsh warned Prime Minister Benjamin Netanyahu not to violate the ceasefire agreement between the sides.
"We caution against any attempt by Netanyahu to maneuver and ignore the ceasefire agreement mediated by Egypt," he said.
Media outlets in Gaza, meanwhile, reported that during the recent fighting 500 homes were damaged in Israeli airstrikes and 30 were destroyed entirely, and that the direct impact of the strikes on Gaza's economy amounted to some $3.1 million.
In Jerusalem, Netanyahu met with the families of fallen IDF soldiers Staff Sgt. Oron Shaul and Lt. Hadar Goldin – who were killed in Gaza in 2014 and whose remains are being held by Hamas. The prime minister updated the families about the efforts being made to return them home and recent developments.
At the request of the families, Netanyahu reiterated his promise that "there won't be an arrangement with Gaza without the return of soldiers Oron Shaul and Hadar Goldin."
https://www.israelhayom.com/2019/11/18/hamas-and-islamic-jihad-vow-to-deepen-civilian-and-military-cooperation/
------
Israeli Extrajudicial Execution Policy Resumed: IOF Airstrike Kills Senior Leader Of Islamic Jihad, And His Wife, In Gaza
Tuesday 12th Nov 2019
Israel resumes its extrajudicial execution policy against Palestinians, as Israeli warplanes carried out a targeted attack against a senior leader of Palestinian resistance groups at dawn on Tuesday, 12 November 2019. As a result, the targeted Palestinian was killed along with his wife, while 7 others sustained injuries including 4 of the victims' children in the attack on their house in al-Shuja'ya neighborhood in Eastern Gaza. This attack reflects a decision by the highest Israeli military and political offices.
According to PCHR investigation, at approximately 04:00 on Tuesday, IOF warplanes fired a missile at Bahaa' Salim Hassan Abulatta's house (42), member of the al-Quds Brigades' military bureau which is the armed wing of the Islamic Jihad movement, and he was in charge of its northern Gaza Strip activity. Abulatta and his wife, Israa' Mohammed Hassan Abulatta (38), were killed during the targeted airstrike on their apartment, on the second floor of a residential building, resulting in complete destruction. The victims' bodies were extracted from the rubble at the UNRWA school across the street from their apartment due to the extreme intensity of the explosion: his body was found near the gates, while his wife's was found within the school. Furthermore, 7 others sustained shrapnel wounds in the airstrike, including 4 of the victims' children (including two little girls): Salim (19); Mohammed (18); Fatima al-Zahra' (13); Layan (11); two women from the neighborhood: Hanan Shehda Mohyaldeen Helles (26); Shereen Fouad Khalil Helles (21); and Mahmoud Fouad Abdulrahman Abulatta, victim's bodyguard. The injuries were reported to be minor and moderate.
IOF and the Israeli Security Agency (Shin Bet) announced in a press statement by the Israeli military spokesperson, Avichay Adraee, that the targeted attack against prominent Islamic Jihad Leader in Gaza was a joint operation between the Israeli military and the intelligence services. He also reiterated that Israeli Prime Minister and Defense Minister, Benjamin Netanyahu, authorized the attack, which is the first extrajudicial execution carried out by Israeli airstrikes since the 2014 Israeli offensive against the Gaza Strip.
[Attachment]The Gaza attack was simultaneous with another targeted airstrike by Israeli warplanes against Islamic Jihad Political Bureau member, Akram al- 'Ajoury, in the Syrian capital, Damascus. According to Islamic Jihad press release and Syrian media, al- 'Ajoury's son was killed in the attack.
Today's attacks are worrying signs of a larger escalation against the Gaza Strip, as precedented in similar Israeli attacks that Palestinian armed groups responded to with a rain of retaliatory rocket fire at Israeli settlements and cities, as is the scenario today. IOF warplanes carried out multiple airstrikes on various targets in the Gaza Strip, some located within densely populated areas, causing great damage and destruction. PCHR teams and fieldworkers are working round the clock to document and investigate each incident.
An Israeli missile targeted and destroyed a residential apartment on the third floor of Khayal Building, on al-Rasheed Street; no injuries were reported. Another missile hit the Independent Commission for Human Rights (ICHR) office in Harara Building in Gaza City center, causing grave damage. The missile hit the 5th floor of the Gaza office, destroying it. The floor was empty as all staff were in a meeting on the sixth floor, which sustained partial damage on the eastern side. Bahjat Ibrahim al-Helou, Head of ICHR Training and Awareness Unit, sustained wounds due to shattering glass.
[Attachment]PCHR team will continue to document, investigate and report on all airstrikes and attacks.
PCHR reminds and stresses that it is always Palestinian civilians who pay the price for the Israeli attacks and military escalations and warns that this policy retains 2 million Palestinian hostages to aggression, fear, anxiety and direct targeting. Palestinian Government Press announced the activation of the emergency state in all government office, and suspension of education until further notice.
Additionally, in another act under the Israeli policy of collective punishment against Palestinians, IOF closed Kerm Shalom Commercial Crossing, east Rafah, which is Gaza's only crossing for goods; and Beit Hanoun 'Erez' Crossing, northern Gaza, dedicated for movement of individuals. IOF also announced reducing the fishing area to 6 nautical miles until further notice, according to Major General Kamil Abu Rokon, Coordinator of the Government Activities in the Territories (COGAT), justified by the security situation in Gaza.
PCHR strongly condemns the Israeli extrajudicial execution policy against Palestinian activists and expresses its concern for a dramatic deterioration of the security situation, warning that the situation is susceptible to a deterioration on all aspects. As such, PCHR:
Reminds all parties of the need to protect protected civilians under the international humanitarian law (IHL), especially that Gaza Strip civilians and their property have been subjected to direct targeting by IOF in grave violations of the 4th Geneva Convention of 1949, that amount to war crimes; and
calls upon the international community to move immediately and urgently to pressure Israel to cease its attacks against Palestinians and to remind it of its obligations under international law, especially the 4th Geneva Convention of 1949.
https://pressat.co.uk/releases/israeli-extrajudicial-execution-policy-resumed-iof-airstrike-kills-senior-leader-of-islamic-jihad-and-his-wife-in-gaza-893cd295894d2cd339f8413cd09019ae/
------
Islamic Jihad commander: the resistance paralyzed half of Israel
NOVEMBER 18, 2019
A high-ranking Palestinian Islamic Jihad commander from Gaza, Mohammed al-Hindi, spoke about the latest wave of escalation, saying that "the resistance managed to completely paralyze half of Israel," Ynet reported on Monday.
"Israel needs to know that no assassination will go [unanswered], without [Israel] paying the price," he said. "The reaction to the assassination of Baha Abu al-Ata was carried out by our military wing, and the issue is over."
Al-Hindi added that Hamas did not participate in the conflict so as not to escalate the situation, adding that there is still contact and cooperation between organizations.
https://www.jpost.com/Breaking-News/Islmic-Jihad-commander-the-resistance-paralyzed-half-of-Israel-608237
------
Muslim Brotherhood and IRGC's dirty dealings revealed in intel leak
By SETH J. FRANTZMAN
NOVEMBER 18, 2019
Leaked Iranian intelligence documents revealed that the Muslim Brotherhood and Islamic Revolutionary Guard Corps of Iran sought to work together. Like an iron fist in a velvet glove, the IRGC would be the muscle and the Brotherhood could give it cover in the 85 countries it works in, members of the organizations discussed. They convened in Turkey in 2014 to discuss how they might work together and who to fight against. First target: Saudi Arabia. Other common enemies: Israel and the United States.
The revelations come from some of the 700 documents that were leaked from the Iranian Ministry of Intelligence and Security to The Intercept and The New York Times, which have been running stories about the documents. The leak reveals that the Brotherhood – a Sunni Islamic religious organization rooted in Egypt with branches in other countries which has inspired numerous far-right Islamist groups, including Hamas – wanted to work with Iran's religious far-right leadership.
The embrace by these two groups in 2014 appears to go against the narrative that Sunni and Shi'ite religious extremists don't get along. But the region is not so simple, and in fact, they saw areas of cooperation. First of all, the Brotherhood came to power in Egypt in 2012 but had been swept from power in 2013 by Abdel Fatah al-Sisi. While its members were arrested, others reached out to Iran. This was in the spring of 2014. Could a meeting be arranged?
Iran's IRGC was so eager that it said it would send Maj.-Gen. Qassem Soleimani, the IRGC Quds Force commander. The Brotherhood wanted to meet in Turkey where its allies among the AKP ruling party were in power. Hamas was being well received in Turkey as well, and Turkey under President Recep Tayyip Erdogan had been a key supporter of the Brotherhood's Mohammed Morsi in Egypt. Turkey was angered by Sisi pushing Morsi from power. Saudi Arabia had supported Sisi.
Herein lies the reality of the region in that year. Turkey didn't mind the meeting taking place, but Soleimani was too high profile. Instead an IRGC member named "Abu Hussain" was sent. A Turkish hotel was selected. The Brothers, The Intercept claims, sent "Ibrahim Munir Mustafa, Mahmoud al-Abiary and Youssef Moustafa Nada." But Nada told The Intercept he never attended the meeting.
What's important is that while the world was being told that Sunnis and Shi'ites were fighting each other in places like Syria, Lebanon or Iraq, that in fact the religious far-right of these groups was willing to work together. How would that happen?
They could work against the "common enemy" of Saudi Arabia. The Brotherhood had once made major inroads in Saudi Arabia. But in recent years, it has been challenged. The United Arab Emirates began to crack down on it in 2011 and Saudi Arabia followed, designating it a "terrorist organization" in 2014. The US designated Hasm and Liwa al-Thawra, offshoots of the Brotherhood, according to the Carnegie Endowment for International Peace, as terrorist organizations in 2018.
In 2014 the Brotherhood and IRGC said they might be able to cooperate in Yemen. This is a major revelation because Saudi Arabia didn't intervene in Yemen until 2015 to stop the Houthi rebels. The crackdown on the Brotherhood is largely seen as part of Crown Prince Mohammed Bin Salman's approach, as well as the war in Yemen. But this shows that actually the Brotherhood and IRGC were already plotting before MBS reacted.
"The Brotherhood delegation said the two sides could join forces against the Saudis. The best place to do that was in Yemen," they said, according to The Intercept report. They would escalate with the Houthis against the Saudi-backed government. The Brothers would work with the tribes and the IRGC with the Houthis.
They could also work together in Iraq. The unspecified enemy there would be the US. The IRGC was already working against the US in Iraq. The Brotherhood could help reduce tensions with the Sunni community.
It isn't known what came out of the meeting, but there were hints of more discussions in Turkey or Beirut. The details of the meeting show that these two important organizations appeared willing to discuss different shared interests. This is part of a wider web whereby the IRGC in Iran is willing to work with groups like Hamas or the Taliban when it serves their interests, even though they are ostensibly against other more extremist Sunni jihadist groups.
They have shared interests and enemies, and both have a worldview rooted in religious theocracy. While the Brotherhood often likes to use the ballot box and political Islam to gain power, working both sides of the fence by appearing moderate but also theocratic, the IRGC also uses a different methods to gain influence. The IRGC works with groups like Hezbollah and the Popular Mobilization Units in Iraq. In each case, it creates a mini-IRGC, with a political party and armed group. It then inserts itself into democratic systems to slowly take over part of the state.
Both groups understand the need for using both democratic means and muscle. Democracy is like a train: you ride it until you reach your station and then you get off. Your destination is power. Both the IRGC and the Brotherhood want power. And they view countries like Saudi Arabia and its allies, the US and its allies, or Israel as often being in the way of that power.
https://www.jpost.com/Middle-East/Intel-leak-reveals-dirty-dealings-between-Muslim-Brotherhood-and-IRGC-608215
------
Turkish imam becomes 'father of cats,' protects them during winter in Istanbul
November 18, 2019
The magnanimous imam of the Aziz Mahmud Hüdayi Mosque, one of the most famous landmarks in Istanbul, has been opening the mosque's doors to stray cats to protect them against cold winter days for years.
Worshipers who visit the mosque for the first time are shocked in the face of the great number cats around.
The imam, Mustafa Efe, has provided them with a comfortable home and it has even been reported that one cat brought her kittens and placed them on pulpit where the Imam preaches.
''The kitty has found the heart of compassion and mercy,'' Efe wrote on Facebook.
https://www.yenisafak.com/en/news/turkish-imam-becomes-father-ofcats-protects-them-during-winter-in-istanbul-3505407
------
South Asia
What was in the leaked files on China's detention of Uighur Muslims?
Nov 18, 2019
Leaked documents allegedly shared among Chinese Communist Party officials have laid bare the details of Beijing's brutal crackdown on ethnic and religious minorities within the country's borders.
The 403-page internal government file was given to The New York Times by a "member of the Chinese political establishment".
It cites President Xi Jinping's request that security personnel show "absolutely no mercy" in their suppression of ethnic Uighurs and other Muslim groups.
The crackdown has seen more than one million civilians sent to detention camps - mainly in the Xinjiang region of China - where they are subjected to political indoctrination. China first denied the existence of such camps, before relenting and claiming that their sole purpose is to "re-educate" dissenting voices and root out terrorism.
What do the leaked papers say?
The documents were released by an anonymous Chinese official and reveal that President Xi first called for the crackdown in a series of private speeches given to officials during and after a visit to Xinjiang in 2014, The Guardian says.
This came shortly after Uighur militants attacked a train station, stabbing and killing 29 people and wounding more than 100 others.
Citing a speech made by Xi shortly after the visit, the Guardian reports that Xi said China must begin a "struggle against terrorism, infiltration and separatism", adding: "We must be as harsh as them and show absolutely no mercy."
Xi did not explicitly order the creation of a large network of camps, the documents reveal, but said that his party should use the "organs of dictatorship" to deal with the threat of terrorism.
The papers also contain a series of directives to officials in the region, advising on how to pressure the local population into remaning silent about the disappearance of family members into camps. Officials are told to answer questions about when individuals can return home from the camps by saying: "Freedom is only possible when this 'virus' in their thinking is eradicated and they are in good health."
The documents also reveal that secretary of Xinjiang Uyghur Autonomous Region Chen Quanguo gave orders in February 2017 for authorities to engage in a "smashing, obliterating offensive" and to "round up everyone who should be rounded up", says The Telegraph.
What has the response been?
The information has sparked outrage among human rights campaigners and activists, with the Asia Times reporting that it is hoped Western powers will offer a sterner condemnation of the Chinese Communist Party's behaviour after the leak.
Democratic US presidential candidate Elizabeth Warren tweeted that the report details "a horrifying human rights violation", calling China's crackdown "cruel" and "bigoted". The World Uyghur Congress described the findings as "truly chilling" and another form of "genocide", calling China a "country with concentration camps" in a tweet.
The New York Times reports that the leaked papers reveal that one of the most surprising reactions to the supression of the Uighur Muslims has come from within China, with the plans facing "unexpected resistance from officials who feared a backlash and economic damage".
https://www.theweek.co.uk/104396/what-was-in-the-leaked-files-on-china-s-detention-of-uighur-muslims
------
Airstrikes kill 19 Taliban and ISIS militants in 5 provinces
Tuesday, 19 Nov 2019
A series of airstrikes killed at least 19 Taliban and ISIS militants in five provinces of Afghanistan in the past 24 hours.
According to military officials, an airstrike in Sayyid Karam district of Paktiya killed 6 Taliban militants and destroyed a small cache of weapons.
The officials further added an airstrike in Dasht-e Archi district of Kunduz killed 3 Taliban militants.
Another airstrike in Achin district of Nangarhar province killed 3 militants of ISIS Khurasan, the officials said, adding that airstrikes in Pul-e Alam and Charkh districts of Logar killed a Taliban militant and destroyed a small cache of weapons.
The officials also added that an airstrike in Maraj district of Helmand province killed 3 militants of Taliban group.
The anti-government armed militant groups including Taliban and ISIS Khurasan have not commented regarding the airstrikes so far.
https://www.khaama.com/airstrikes-kill-19-taliban-and-isis-militants-in-5-provinces-04360/
------
Special Forces kill, detain 27 Taliban and ISIS militants in 6 provinces
Tuesday, 19 Nov 2019
The Afghan Special Forces killed 13 Taliban militants and arrested 14 others during separate operations in the past 24 hours.
The military officials said Tuesday the Special Forces killed 8 Taliban militants and destroyed a small cache of weapons in Baraki Barak district of Logar province.
The officials further added the Special Forces killed 5 Taliban militants and destroyed a cache of weapons during a separate raid in Gizab district of Daykundi province.
The Special Forces arrested 5 ISIS Khurasan militants and destroyed a small cache of weapons during a separate raid in Shinwar district of Nangarhar, the officials said, adding that the Special Forces arrested 3 Taliban militants during a separate raid in Deh-e Sabz district of Kabul.
The officials also added that the Special Forces arrested 3 Taliban militants and destroyed a small cache of weapons during an operation in Jaji district of Paktiya.
https://www.khaama.com/special-forces-kill-detain-27-taliban-and-isis-militants-in-6-provinces-04359/
------
High-level HQN leaders arrive in Qatar after being released from prison in Afghanistan
Tuesday, 19 Nov 2019
Three senior Haqqani Network leaders including Anas Haqqani have arrived in Qatar after being released from prison in Afghanistan, it has been reported.
Sources privy of the development have confirmed to media outlets that the Afghan government released the three senior Haqqani network leaders late on Monday night.
Presidential spokesperson Sediq Sediqqi earlier said President Mohammad Ashraf Ghani phoned the Secretary of State of the United States Mike Pompeo and National Security Adviser Rober O'Brien on Monday night to review the steps necessary to implement President Ghani's recent decision to release the three high-level Taliban/Haqqani detainees.
Meanwhile, sources close to Taliban have told Reuters that the Taliban group would release the two American University lecturers later on today.
President Mohammad Ashraf Ghani on Tuesday announced that the Afghan government would release the three senior Haqqani Network leaders in exchange for the release of the American University lecturers.
https://www.khaama.com/high-level-hqn-leaders-arrive-in-qatar-after-being-released-from-prison-in-afghanistan-04358/
------
Southeast Asia
Indonesia Police Link Suicide Bombing To Islamic State-Inspired Group
NOVEMBER 18, 2019
JAKARTA - Indonesian anti-terrorism officers shot dead two suspected bomb makers during a raid on the weekend and arrested more than a dozen as authorities linked a suicide bombing last week to an Islamic State-inspired network, police said on Monday.
A 24-year-old student blew himself up outside a police station in the city of Medan in North Sumatra province last Wednesday, killing himself and wounding six people.
Police had initially declared the attacker to be a "lone wolf", but a national police spokesman said on Monday the student along with 22 other suspects in the area had links to the Islamic State-inspired Jamaah Ansharut Daulah (JAD).
JAD has been blamed for a series of attacks in recent years and was banned in Indonesia last year for "conducting terrorism" and being affiliated with foreign militants.
"(The network in) North Sumatra has direct links to JAD," police spokesman Dedi Prasetyo said in a statement, adding that a leader of the group had been arrested.
"Their main target is the police," Prasetyo said in comments broadcast on television.
Of the 23 suspects, two suspected bomb-makers were shot dead on Saturday while resisting arrest, while one officer was wounded during the raid, said Prasetyo.
Bomb-making material was seized, he said.
Four suspects had turned themselves in and the others had been arrested, he said.
Indonesia, the world's most populous Muslim-majority country, has seen a resurgence in militancy in recent years, with police frequently the target of attacks.
Hundreds of suspects have been detained under tougher new anti-terrorism laws brought in at the beginning of the year after a series of suicide bombings linked to the JAD group killed more than 30 people in the city of Surabaya.
Last month, a man affiliated to JAD was named a suspect in the stabbing and wounding of the then security minister.
Stanislaus Riyanta, a terrorism analyst, warned that militants could intensify attacks in retaliation for the death of the Islamic State leader, Abu Bakr al-Baghdadi, who killed himself last month during a U.S. commando raid on his compound in Syria.
"Alert levels for terror acts must be ratcheted up because of the momentum that's usually associated with the Christmas and New Year period for radical groups to act," he said.
https://www.jpost.com/Breaking-News/Indonesia-police-link-suicide-bombing-to-Islamic-State-inspired-group-608186
------
Lokman reports Hishammuddin to Umno disciplinary board
November 19, 2019
PETALING JAYA: Umno Supreme Council member Lokman Noor Adam has called for disciplinary action against Sembrong MP Hishammuddin Hussein, saying the former party vice-president has been trying to incite Umno MPs to join PPBM.
In a response to reports that some two dozen MPs including from Umno had attended a "dinner meeting" hosted by PKR deputy president Mohamed Azmin Ali last night, Lokman also revealed that he had made an official complaint to Umno's disciplinary committee on Oct 30.
"Hishammuddin has again betrayed Malaysians, especially the voters of Tanjung Piai who only two days ago gave their support to the BN candidate," said Lokman, referring to Barisan Nasional's victory in the Johor federal seat.
Hishammuddin has been linked to talk of moves to form a new government through a realignment of political forces, which Pakatan Harapan (PH) critics have labelled "a government by the back door".
The former defence minister has also denied claims of his involvement in talks to sideline PKR president Anwar Ibrahim, who has been named by PH as Dr Mahathir Mohamad's successor.
Yesterday, FMT reported that Hishammuddin was among two dozen MPs who attended a meeting at Azmin's official residence in Putrajaya in what was seen as an attempt to stop pressure on Mahathir to quit, following PH's defeat in Tanjung Piai.
Lokman said Umno should take disciplinary action against Hishammuddin for trying to influence the party's leaders and MPs to support Mahathir as well as Azmin.
"I hope no one defends this act of betrayal by Hishammuddin," said Lokman.
https://www.freemalaysiatoday.com/category/nation/2019/11/19/lokman-reports-hishammuddin-to-umno-disciplinary-board/
------
Another Malaysian in Singapore prison to hang on Friday
November 19, 2019
PETALING JAYA: Rights group Lawyers for Liberty (LFL) has spoken against the impending execution of yet another Malaysian on death row in Singapore's Changi prison, questioning the likelihood that Abd Helmi Ab Halim had received a fair trial.
LFL adviser N Surendran said Helmi, 36, had been convicted and sentenced to death for allegedly trafficking 16.56g of diamorphine on March 24, 2017.
He is scheduled to be hanged at dawn on Friday.
"Helmi has consistently denied any knowledge of the drugs he is alleged to have been carrying.
"Once again Singapore is preparing to execute an alleged drug mule while the drug kingpins continue to operate with impunity," Surendran said in a statement today.
Surendran, who represents Malaysian death row inmates in Singapore, previously accused the Singapore government of "double standards" in targeting Malaysians charged with drug trafficking for execution. He also claimed that lawyers were barred from visiting their clients in prison.
He also spoke of "serial hanging" in the republic after 10 inmates at Changi prison, including four Malaysians convicted of drug-related offences, had their clemency petitions rejected.
Singapore has denied targeting Malaysians, saying it applies the laws "equally" to both local and foreign offenders.
Surendran today said "an unusually high proportion" of those charged with drug trafficking in Singapore are eventually convicted.
"This itself suggests a legal system biased against the accused in drug trafficking cases," he said.
Urging Singapore to comply with international law under which the death penalty for drug crimes amounts to unlawful killing, he said Malaysia itself had declared a moratorium on executions pending abolition of the death sentence for drug offences.
"We also urge the Malaysian government to make urgent representations to Singapore to save the life of this Malaysian citizen."
https://www.freemalaysiatoday.com/category/nation/2019/11/19/another-malaysian-in-singapore-prison-to-hang-on-friday/
------
Court rules Pua can sue Najib for abuse of power in office
V Anbalagan
November 19, 2019
PUTRAJAYA: The Federal Court in a landmark ruling today decreed that former prime minister Najib Razak was a public officer and could be sued for allegedly abusing his power while in office.
Judge Nallini Pathmanathan said the suit brought against Najib by Damansara MP Tony Pua over 1MDB appeared to contain the necessary elements to constitute a valid claim.
"Whether or not he will succeed at trial is a question of evidence, particularly in relation to the alleged damage he suffered," she said.
The apex court also sent back Pua's suit for hearing before a High Court.
Lawyer Surendra Ananth, who appeared with counsel Malik Imtiaz Sarwar, said the case will be mentioned on Nov 26.
Nallini said the provision of the Government Proceedings Act (GPA) 1956 envisaged that a claim could be brought against a public officer as provided for in Section 5.
"This would include a claim against a prime minister, who is a public officer as envisaged under the act," she added.
She also said the Federal Constitution and Interpretation Act which exclude members of the administration do not apply to the tort of misfeasance in public office.
However, the government can only be found vicariously liable if Pua proves his case against Najib in trial.
The other judges who heard the appeal in April were Chief Justice Tengku Maimun Tuan Mat, Court of Appeal president Ahmad Maarop, Chief Judge of Malaya Azahar Mohamed, and Federal Court judges Rohana Yusof, Mohd Zawawi Salleh and Alizatul Khair Osman Khairuddin.
Pua, who is the political secretary of Finance Minister Lim Guan Eng, filed the suit in early 2017, including Putrajaya as party to his action.
Late last year, the Federal Court allowed two questions to be brought up at Pua's full hearing, namely whether the prime minister or other ministers are public officers under the GPA, and whether the definition of "public officer" should be confined to what is stated in the constitution.
Malik submitted before the bench in April that the GPA must be read in a way that allows litigants to hold the government responsible for the conduct of the executive.
"A litigant must be able to obtain judgment for the tort of misfeasance in public office when the government is brought in for being vicariously liable," he said.
In his statement of claim filed in January 2017, Pua explained why 1MDB was set up, the transactions that took place in relation to the issuance of two bonds, and how part of the funds was allegedly transferred to Najib's private accounts.
However, the High Court struck out his suit, saying he lacked the legal capacity as a taxpayer to sue 1MDB, whose majority shareholder is the finance ministry.
Last year, the Court of Appeal struck out Pua's suit saying he had failed to show he was an aggrieved party and that Najib was a public officer.
Justice Yeoh Wee Siam, a member of that three-member bench, said it was also bound by the decision of another Court of Appeal panel that dismissed an appeal on the same issue brought by former opposition leader Dr Mahathir Mohamad and former Umno divisional leader Khairuddin Abu Hassan.
https://www.freemalaysiatoday.com/category/nation/2019/11/19/court-rules-pua-can-sue-najib-for-abuse-of-power-in-office/?utm_source=FMT+Media+Sdn.+Bhd.&utm_campaign=c5b924d703-RSS_EMAIL_CAMPAIGN&utm_medium=email&utm_term=0_dfafd0994c-c5b924d703-228005497
------
Umno ready to investigate its MPs over meeting with Azmin
November 19, 2019
PETALING JAYA: Umno's disciplinary board today said it was ready to receive complaints against its MPs who attended a meeting with PKR deputy president Mohamed Azmin Ali last night, and promised a fair investigation.
The board's chief Mohamed Apandi Ali also pledged immediate action based on existing procedures.
"It must be stressed that the party's disciplinary board has been given the trust and responsibility with powers vested in it under the Umno constitution to carry out its duties in a stern, honest and fair manner without fear or favour," Apandi, who is also the former attorney-general, said in a statement.
On Oct 30, Umno Supreme Council member Lokman Noor Adam wrote to the board accusing Sembrong MP Hishammuddin Hussein of inciting party leaders to join PPBM.
Lokman renewed the call today, hours after reports that Hishammuddin and several other MPs from Umno had attended a meeting at Azmin's official residence in Putrajaya last night.
https://www.freemalaysiatoday.com/category/nation/2019/11/19/umno-ready-to-investigate-its-mps-over-meeting-with-azmin/?utm_source=FMT+Media+Sdn.+Bhd.&utm_campaign=c5b924d703-RSS_EMAIL_CAMPAIGN&utm_medium=email&utm_term=0_dfafd0994c-c5b924d703-228005497
------
URL: https://www.newageislam.com/islamic-world-news/sunni-shia-muslims-pray-together/d/120305
New Age Islam, Islam Online, Islamic Website, African Muslim News, Arab World News, South Asia News, Indian Muslim News, World Muslim News, Women in Islam, Islamic Feminism, Arab Women, Women In Arab, Islamophobia in America, Muslim Women in West, Islam Women and Feminism