New Age Islam News Bureau
27 Oct 2018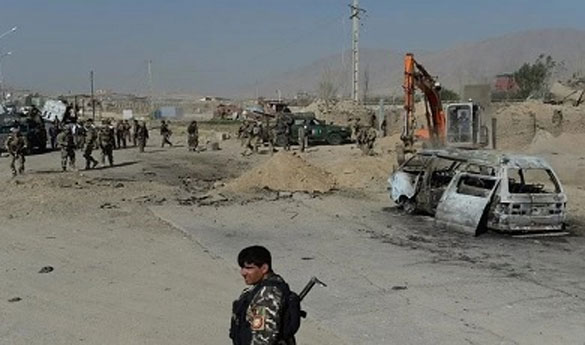 Photo: The bombing took place in Wardak. (File/AFP)
-------
• Ban on Hafiz Saeed's outfits lifted
• Back candidates with secular credentials: Muslim bodies
• Woman who insulted the Prophet Mohammed loses free speech case at the European Court of Human Rights
South Asia
• Suicide bombing kills five, wounds 15 in central Afghanistan
• London seminar underscores need for secular politics in Bangladesh
• Three Jamaat leaders arrested including former nayeb-e-amir Ahsanullah
• Voting underway for parliamentary elections in Kandahar province
• Afghans becoming unprecedentedly pessimistic about future of country: Survey
--------
Pakistan
• Ban on Hafiz Saeed's outfits lifted
• 182 journalists killed in 2016-17: Unesco report
• Pakistan army chief confirms death sentence for 14 militants
• Reform promises made but hard to keep in Pakistan
• Yemen's Houthi rebels respond to PM Imran's mediation offer
• 44 'politically exposed persons' own properties in UAE
• Pakistan has asked UAE to provide deferred payment facility for oil import, says Qureshi
• Man acquitted in Nato containers attack case
• Fazl in Lahore to push for opposition alliance
• JUI-F leader shot dead in Tank
• Two security personnel injured in remote controlled bomb blast
• Gen Bajwa signs death warrants of 14 'hardcore terrorists'
--------
India
• Back candidates with secular credentials: Muslim bodies
• School Hindu scripture plan foiled in Kashmir
• Pakistan aware it can't succeed in Kashmir, using terror to keep pot boiling: Army chief Bipin Rawat
• Jammu & Kashmir: BSF starts exercise to detect tunnels from Pakistan
--------
Europe
• Woman who insulted the Prophet Mohammed loses free speech case at the European Court of Human Rights
• No German arms to Saudi until Khashoggi case is clarified: Merkel
• Russia's FSB says detained six ISIS members plotting attacks in Moscow
• Syrian war journalist denied UK visa to attend awards ceremony
--------
Southeast Asia
• Hundreds of Indonesian Muslims Demand Punishment for Burning of Flag Bearing Islamic Tenet
• A month on, Indonesia's quake-tsunami hit city faces health crisis
• Zahid coy on calls for him to take leave
• PM thanks Saudi Arabia for cordial treatment of Malaysian pilgrims
--------
Arab World
• UN envoy: Syria pushes back on UN role in constitutional talks
• Syrian regime bombardment kills seven civilians in Idlib
• Netanyahu visits Oman for the first time, meets Sultan Qaboos
• Macron: Calls to suspend arms sales to Saudi Arabia are "pure demagoguery"
• Kremlin: No reason to question Saudi Arabia's investigation of Khashoggi's case
• Turkish president gives 'final warning' to US-backed militants in northern Syria
• Turkey to host Syria summit with Russian, French, German leaders
--------
Mideast
• Iran says Israeli regime seeks to divide Muslim countries
• Turkey wants 18 Saudis extradited over Khashoggi murder
• Israel launches its heaviest strikes in weeks after deadly Gaza protests
• Khashoggi fiancee rejects Trump's WH invitation fearing a public relations stunt
• Israeli soldiers kill more Palestinians in Gaza
• Yemeni forces shoot down Saudi reconnaissance drone in Jizan
--------
Africa
• Jordan's King Abdullah expresses grief over those killed in Dead Sea floods
• AU force says key al-Shabaab commander killed
• Boko Haram: Army frees 28 juveniles from custody
--------
North America
• Georgia gubernatorial candidate poses with anti-Muslim activist
• Mullah Baradar's release fulfils Afghan demand, says US
• Hezbollah fighting to prevent Zionist terrorists from overrunning Mideast: Scholar
• Trump signs new sanctions against Lebanese resistance movement
• Khashoggi killing hazes Saudi economic reform: NY Times
• Nashville, Franklin mosques want to help you to meet your Muslim neighbours
Compiled by New Age Islam News Bureau
URL: https://www.newageislam.com/islamic-world-news/suicide-bombing-kills-five-wounds/d/116730
--------
Suicide bombing kills five, wounds 15 in central Afghanistan
October 27, 2018
KABUL: At least five people were killed and 15 more wounded when a suicide bomber detonated a car packed with explosives outside a police compound in central Afghan province of Wardak on Saturday, a police spokesman said.
The early morning bombing in Maidan Shahr, the main city of the province, some 35km (22) miles southwest of the capital Kabul, happened as policemen and civilians were going inside the base, said Hekmat Durrani, a spokesman for the police chief.
Three civilians and two policemen were among the dead, Durrani said, adding that the casualty figure could rise as policemen and first responders were busy recovering the wounded and bodies from collapsed walls and debris.
No group has claimed responsibility for Saturday's attack but the Taliban insurgents fighting to overthrow the Western-back Kabul government has carried out some of the deadliest bombings against government installations in past years.
Strategically located along the route connecting Kabul to the southern region, Wardak is ideally placed for insurgents who control nearly mountain villages to use as a staging ground for suicide bombings inside Kabul.
The sprawling base built by the Americans, is home to hundreds of Afghan policemen from where they conduct operations in two nearby provinces.
http://www.arabnews.com/node/1394706/world
--------
Ban on Hafiz Saeed's outfits lifted
Oct 26, 2018
ISLAMABAD: The ban on the Mumbai terror attacks mastermind Hafiz Saeed's outfits Jamaat-ud- Dawa (JuD) and Falah-i-Insaniyat Foundation (FIF) has been lifted.
The Lashkar-e-Taiba linked JuD and FIF were proscribed by a Presidential ordinance in February this year. Former President Mamnoon Hussain had promulgated an ordinance to amend the country's Anti-Terrorism Act to list the groups sanctioned by the UN's Security Council - including JuD and FIF - as terrorist organisations. However, neither the new President Arif Alvi extended the ordinance nor did the Imran Khan government bring in a law to proscribe the globally banned organizations.
According to media reports, Saeed filed a petition in the Islamabad High Court on Thursday, challenging the Presidential ordinance under which his outfits were declared as proscribed organisations.
During Thursday's hearing, Saeed's counsels, Raja Rizwan Abbasi and Sohail Warraich, informed the Islamabad HC that the presidential ordinance had lapsed as it had neither been extended nor tabled in parliament to change it into an act by the current Pakistan Tehreek-i-Insaf (PTI) government.
Confirming that the ordinance had lapsed, Deputy Attorney General (DAG) Raja Khalid Mehmood Khan refused to give any statement on behalf of the interior ministry regarding the lapse of the ordinance.
Subsequently, Justice Aamer Farooq of the Islamabad HC held that the petition became infructuous since the ordinance challenged by the petitioner had lapsed.
The judge disposed of the petition with an observation that in case the government renewed this ordinance, the petitioner was at liberty to file another petition against the promulgation of the law.
In his petition, Saeed reportedly had contended that he had established JuD in 2002 and cut off all ties with the banned Lashkar-e-Taiba (LeT), but India continued to malign JuD for its past association with the banned outfit.
"I was kept in detention in 2009 and 2017 due to India's pressure. The UN Security Council had passed a resolution against JuD after which the government of Pakistan put it on the watch list," the petition stated, adding that the move to ban his organisation was against the sovereignty of Pakistan.
https://timesofindia.indiatimes.com/world/pakistan/ban-on-hafiz-saeeds-outfits-lifted/articleshow/66381911.cms
--------
Back candidates with secular credentials: Muslim bodies
Oct 27, 2018
JAIPUR: Several Muslim groups have asked the community neither to have a soft corner for the Congress candidates nor to vote for the party which is fundamentally against Muslims in the upcoming polls.
The socio-religious leaders representing all sects of the community have decided to mobilise support for alternate leadership by supporting smaller parties or independent candidates who have secular credentials over BJP and Congress candidates. The decision was taken in a meeting on Thursday in Jaipur.
Naim Rabbani of Helping Hand Foundation says that Congress had maintained a stoic silence on lynching cases involving Muslims while BJP leaders left no stone unturned to justify the killings.
"BJP leaders openly supported the killers of Pehlu Khan and Rakhbar who were lynched in Alwar and Afrazul who was killed in a hate crime in Rajsamand. The episodes in the last five years is a grim reminder that neither of the two has supported for justice," said Rabbani, who was lodged in a Jail and his hotel was sealed for two months over suspicion of cooking beef which later forensic confirmed it to be a chicken.
Jamait-E-Ulema Hind, a frontal body of Muslims, spokesperson Mohammed Iqbal says that 14th Rajasthan legislative assembly had two Muslim MLAs that too from BJP who remained silent on the issues pertaining to the 10% of the state population. "The time has come to support a leader who can at least talk about justice. Even if he/she may not win this time but with our votes we can build his prospect for the next time. We will appeal to all Muslims to vote for a candidate which has no criminal case pending," said Iqbal.
The leaders argued that Congress gave tickets to 16 Muslims from seats with reasonably Muslim voters. "The result is before you that they all lost miserably which means that even the non-Muslim voters of the Congress chose not to vote them," said Iqbal.
The leaders expressed that they are disappointed with the political parties and they civil society has been their biggest support. "During the time of any atrocity, it is the civil society which stood by them," said Iqbal adding that no political voice They also slammed the Former health minister AA Khan and Rajya Sabha MP Ask Ali Tak for being silent on the issues likes lynching and communal tension while being on the fore of seeking tickets in lieu of Muslim voters who plays a vital role in deciding the fate of 25-30 seats.
https://timesofindia.indiatimes.com/city/jaipur/back-candidates-with-secular-credentials-muslim-bodies/articleshow/66384911.cms
--------
Woman who insulted the Prophet Mohammed loses free speech case at the European Court of Human Rights
October 26, 2018
An Austrian woman who was convicted for insulting the Prophet Mohammed did not have her right to freedom of speech violated, a European court has ruled.
The European Court of Human Rights (ECHR) ruled that courts in Austria, where the woman was found guilty, had balanced the "right to freedom of expression with the right of others to have their religious feelings protected, and served the legitimate aim of preserving religious peace in Austria".
The woman, who has been named only as ES, held seminars in 2009 for Austria's far right Freedom Party in which she made defamatory remarks relating to the Prophet Mohammed's marriage to Aisha, which is usually misrepresented as being to an underage girl.
A court in Vienna convicted her for disparaging religious doctrines in 2011 and fined her 480 euros (Dh2,000) plus costs. The conviction was upheld by two further domestic appeals.
ES had claimed that the comments were not designed to defame the Prophet Mohammed and had fallen within her right to freedom of speech. She added that they were intended to spark a public debate.
But the ECHR said the remarks were an "abusive attack on the Prophet of Islam" and were capable of stirring up prejudice and religious intolerance.
The Strasbourg-based court added that the comments had no intention of promoting a public debate.
An estimated 600,000 Muslims make up around 6.8 per cent of Austria's population, an increase of 2.6 per cent since 2001 when there were 338,988 Muslims living in the country.
While most Austrian Muslims are of Turkish origin, the highly-politicised migration crisis in 2015 gave rise to growing anti-Islamic sentiment in the country. Far-right Chancellor Sebastian Kurz was elected in 2017 promising to crackdown on what he called "political Islam" and illegal immigration. Mr Kurz, leader of the OVP, formed a coalition government in December with the anti-Islamic Freedom Party, which had also campaigned to tighten the country's immigration policies.
Earlier this year the government closed down seven mosques, six of which were suspected of having extremist links, and expelled up to 60 imams it said were funded by Turkey.
The move was criticised by Austrian Islamic groups as well as Turkey's president Recep Tayyip Erdoğan, who accused Mr Kurz of encouraging "a war between the cross and the crescent".
https://www.thenational.ae/world/europe/woman-who-insulted-the-prophet-mohammed-loses-free-speech-case-at-the-european-court-of-human-rights-1.784583
--------
South Asia
London seminar underscores need for secular politics in Bangladesh
October 26th, 2018
The seminar was held against the background of preparations in Bangladesh for the forthcoming parliamentary election in December
The European governments must effectively engage with the Bangladesh authorities in order to combat fanatic indoctrination, terrorism and other forms of political violence, speakers said at a seminar held in the House of Lords in London, UK on Thursday.
Titled "Challenges to Parliamentary Democracy and Threats of Radicalisation in Bangladesh: Way Forward," the seminar was organized by the European Bangladesh Forum (EBF) and hosted by EBF Patron Lord Paul Bew.
Among the speakers were Jim Fitzpatrick, member of the British House of Commons and vice-chairman of the All-Party Parliamentary Group on Bangladesh; Syed Badrul Ahsan, editor of The Asian Age in Bangladesh; Roberta Bonazzi, founder and president of the European Foundation for Democracy; Dr Siegfried O Wolf, German political scientist and director of South Asia Democratic Forum; Shahriar Kabir, president of Forum for Secular Bangladesh; and Martin Frampton of Queen Mary University, London.
EBF President Ansar Ahmed Ullah delivered the welcome speech.
The seminar was held against the background of preparations in Bangladesh for the forthcoming parliamentary election in December.
Speakers at the seminar were of the view that secular politics has, in broad outlines, been restored in Bangladesh in a significant way, but warned at the same time that the forces arrayed against secularism should not be underestimated or ignored.
Addressing the seminar, Lord Bew said: "We have to look at the root of violent extremism and religion-based violence, which is not only a significant issue for Bangladesh, but also significant for European countries, including the United Kingdom. Through analyses of European and global perspectives of militancy and terrorism, we have to increase mutual understanding and cooperation to ensure a sustainable policy and strategy against all sorts of extremist threats and violence."
Syed Badrul Ahsan noted that the emergence of Bangladesh was in essence a revolt against the communal politics pursued in Pakistan between 1947 and 1971. But while liberal, secular politics was established in Bangladesh with the achievement of freedom, there has ironically been a progressive decline in the secular ethos of the country since the assassinations of Bangabandhu Sheikh Mujibur Rahman and the four national leaders in 1975, Badrul added.
He also pointed to the inordinate influence of the Hefazat-e-Islam, despite widespread condemnation of its 13-point demand of a fanatical nature, on national politics. Secularism, he said, had a long way to go considering the alarming decline in the figures for the Hindu population of the country.
Dr Siefgried Wolf said western government should not allow parties supporting or patronizing terrorism to use their territories and must stop granting them a safe-haven, freedom of movement. Political parties that directly or indirectly associate with violent Jihadist organizations must be considered as part of the Jihadist movement, he opined.
In his remarks, Shahriar Kabir said from 2001 to 2006 Bangladesh witnessed an unprecedented persecution of religious minorities, mostly Hindus.
Roberta Bonnazi said radicalisation was a global phenomenon, which is why it needs multi-level cooperation among civil societies and also at government-to-government levels.
In this respect, Bangladesh needs support and cooperation from European countries and, at the same time, Europe has a lot to learn from Bangladesh from its successful operation against militancy and religion-based extremism, Bonnazi added.
https://www.dhakatribune.com/world/2018/10/26/london-seminar-underscores-need-for-secular-politics-in-bangladesh
--------
Three Jamaat leaders arrested including former nayeb-e-amir Ahsanullah
Oct 27,2018
Police arrested three leaders of Bangladesh Jamaat-e-Islami including one of its central leaders from Bakalia area Chattogram.
During a special raid on Rahattarpol and Masterpol area Chattogram, police arrested them in separate operations on Thursday night.
Bakalia police station officer in charge Pranab Barua said that the three arrestees were Bangladesh Jamaat-e-Islami central organizing secretary and former nayeeb-e-ameer Professor Ahsanullah, Jamaat rokon Shabauddin Aftab and ward 17 Jamaat amir Asadullah.
He said that acting on a tip-off, during a raid, police arrested Aftab from his house at Masterpol area.
Police recovered extremist propaganda books, leaflets and documents from their houses which they considered related to their anti state activities.
In another drive police arrested Ahsanullah and Asadullah from the area adjacent to Baitul Mamur Mosque at Rosulbagh area, Bakalia, Chattogram.
Earlier, they were accused of 'hatching a conspiracy' and 'planning to sabotage' and for their involvement in several cases of violence.
On Thursday noon, police arrested another Jamaat leader Md Azizul Haque from the city's Rahatarpol area of Bakalia. Later, police filed a case against Azizul for sabotage.
Meanwhile, six leaders and activists of Jamaat were arrested from a madrassah at Nabagram Road area of the Braishal city on Friday afternoon suspecting them as participants of a meeting conspiring sabotage, reported New Age correspondent from Barishal.
Kotwali police station officer-in-charge Nurul Islam, said the arrested six were Bhola district Jamaat amir Fazlul Karim, 63, Jhalakathi municipal amir Abdul Hye, 55, Gournadi municipal former amir Kamrul Islam Khan, 63, Satkhira Shamnagar JI activist Khalilur Rahman Tarafdar, 46, Binoykathi union under Jhalakathi district JI activist Mahbub Alam, 38, Madhavpasha (Babuganj upazila of Barishal) union JI activist Keramat Ali, 65.
Full report at:
http://www.newagebd.net/article/54263/three-jamaat-leaders-arrested-including-former-nayeb-e-amir-ahsanullah
--------
Voting underway for parliamentary elections in Kandahar province
Oct 27 2018
The voting for parliamentary, Wolesi Jirga, elections kicked off in southern Kandahar province of Afghanistan earlier today.
The Independent Election Commission (IEC) officials are saying that more than 500 hundred thousand voters have registered for the parliamentary elections in this province.
The officials further added that 173 polling stations would remain open for the voters during the elections day in Kandahar.
According to reports, 109 candidates are running for the parliamentary elections from Kandahar province, including 96 men and 13 women.
The parliamentary elections in southern Kandahar province were due to be conducted last Saturday but the voting was postponed due to the deadly incident in governor's compound.
Full report at:
https://www.khaama.com/voting-underway-for-parliamentary-elections-in-kandahar-province-02630/
--------
Afghans becoming unprecedentedly pessimistic about future of country: Survey
Oct 27, 2018
People in Afghanistan are showing unprecedented levels of pessimism about the future of their war-ravaged country, a US survey shows, as militant attacks continue to take toll on the lives of Afghans almost every day 17 years after the US invaded the country.
In a survey, whose results were published on Friday, Gallup asked Afghans of all walks of life how good they anticipate life to be in five years. It recorded a shocking average of 2.3 on a ladder scale with 10 as the best possible.
"Almost no Afghans see their economic situation improving anytime soon. This year, 4 percent say their standard of living is getting better; this is lower than or on par with the lowest figures Gallup has recorded from any country since 2006, including the most desperately poor countries in Africa and Asia," Gallup said.
Two years ago, Afghans put their life quality in five years at 5.4.
The latest survey "reveals just how devastating the negative cycle of poverty and violence has been to Afghans' daily experiences," the polling organization added.
Gallup conducted the survey in July in face-to-face interviews of 1,000 Afghans.
The results of the survey were announced in the wake of last week's legislative elections which were marred by blood and violence.
Some four million Afghans voted in the long-delayed elections amid widespread accounts of polling problems and Taliban deadly attacks.
The US invaded Afghanistan in 2001, toppling a Taliban regime in control of most of the country at the time. But the invasion has failed to restore security in the country plagued by militancy and terrorism.
The administration of US President Donald Trump is struggling to find a way out of the costly conflict as the Taliban militant group has managed to partially reassert themselves in several provinces by taking control of certain areas.
Over 8,000 people lost their lives or have been wounded in Afghanistan between January and September this year, with the country on track to be deadlier than Syria in 2018. Kabul blames the Taliban militant group for the bulk of the death toll.
Full report at:
https://www.presstv.com/Detail/2018/10/27/578193/Afghanistan-pessimism-Gallup-life-Taliban-US
--------
Pakistan
182 journalists killed in 2016-17: Unesco report
Amin Ahmed
October 27, 2018
ISLAMABAD: The United Nations Educational, Scientific and Cultural Organisation (Unesco) in its new report recorded the killing of 182 journalists in 2016-17 — a slight decrease in the number of fatalities compared to the previous two-year period.
However, compared to ear­­lier periods — 2007 to 2011 — numbers remain ele­vated, according to the 2018 Director-General Report on the Safety of Journalists, rel­eased for the "Inter­nat­ional Day to End Impunity for Crimes against Journa­lists" to be observed on Nov 2.
In 2017, the largest number of fatal attacks (27 killings) took place in Asia and the Pacific region, representing 34 per cent of the total, followed by Latin America and the Caribbean with 28pc (22 killings). In the Arab states region, Unesco documented 18 killings, representing 22pc of killings of journalists registered worldwide.
Overall, it noted, the number of killings in 2016-17 was lower than that in the previous two-year period, when 213 killings were recorded. However, this trend did not appear to be confirmed in 2018, with 80 killings already condemned by the Unesco director general as of Oct 9 this year.
Unesco this year sent a request for information to 56 member states where it recorded killings of journalists between 2006 and 2017, and for which records showed no information that the judicial cases had been resolved. In 2017, 62 member states received such a request.
Pakistan did not submit information on specific cases of killings of journalists, but did submit detailed information on concrete measures targeted at improving safety of journalists and combating impunity, the report said.
In 2017, local journalists represented 90pc of those murdered and 94pc in 2016. Of the 14 foreign victims in 2016-17, half were killed in countries experiencing conflict.
https://www.dawn.com/news/1441703/182-journalists-killed-in-2016-17-unesco-report
--------
Pakistan army chief confirms death sentence for 14 militants
Oct 26, 2018
ISLAMABAD: Pakistan's army chief has approved death sentences for 14 "hardcore terrorists" convicted by military courts for attacks in recent years that killed 19 security forces and three civilians.
A military statement issued on Friday says General Qamar Javed Bajwa also approved prison terms for eight militants. It says those convicted were involved in attacks on security forces and civilians, as well as the destruction of educational institutions and a famous ski resort in Swat valley. It didn't say when the men would be executed.
Military trials are not open to the public in Pakistan but defendants have the right to hire their own lawyers.
Full report at:
https://timesofindia.indiatimes.com/world/pakistan/pakistan-army-chief-confirms-death-sentence-for-14-militants/articleshow/66381440.cms
--------
Reform promises made but hard to keep in Pakistan
Farzana Hassan
October 25, 2018
Imran Khan, the once-swashbuckling and debonair new prime minister of Pakistan, made lofty promises to reform the country's decaying educational, political, social and legal frameworks.
The people were jubilant: finally someone from among them, rather than from the traditional oligarchic parties, had risen to power and would hopefully usher in a vibrant, progressive Pakistan.
What has really changed in a country where the recent most election promises were predicated on thorough change for the better?
Appearances certainly have. I have spent the past two weeks in Pakistan. What I've seen in the capital are buses and vans proudly displaying captions like "Prime Minister's National Health Program" or "Prime Minister's Educational Service Reform."
Imran Khan has certainly aligned his brand with the as yet non-existent reforms. Perhaps these appearances will fool the politically naïve, but it seems unlikely that such cosmetic measures will actually deliver the kind of reform the country so badly needs.
Granted, there have been promising token measures. Khan has sold the fancy cars, livestock and other luxuries that were a perennial feature of the prime ministerial house. In fact, he has become the first prime minister to decline to live in that house. However, one deeper change – Khan's austerity drive – mainly affects the poor, who understandably complain of rising living costs.
His top stated aims were educational and medical reform. Undisclosed educational changes are being considered. In the largest province, the Punjab, Minister of Health Yasmin Rashid has promised to issue health cards to the poorest of the poor. These cards would attempt to provide them easier access to health care, but the specific services are yet to be revealed.
Pessimism is justified. Pakistan's problems are too monumental to be overcome in the normal lifespan of a government. The economy is such a shambles that the IMF's austerity demands are crippling. The skyrocketing population continues to overload scant services, forever widening the gap between problems and their solutions.
The newly elected prime minister's allies remain suspect and present the biggest stumbling block to any reform. Many consider Khan a stooge of the army and suspect that whatever the army wants, Khan will have to deliver, or else he will be ousted. On the political front, a coalition of opposition parties is already forming to topple him.
Progress is difficult when attitudes remain entrenched in parochialism. Social ills prevail, such as honour killings and the persecution of religious minorities, and the new conservatism that has prevailed since the 1980s clamps down on the merest suggestion of change. The Ahmadiyya community, for example, remains perhaps the most persecuted religious minority of Pakistan. While the overwhelming Muslim majority may at least tolerate Christians and Hindus, most cannot abide Ahmadis because they call themselves Muslims but refuse to uphold the finality of the prophet Mohammad as God's last messenger on earth.
Khan had initially appointed an Ahmadi, Atif Mian, to an important economic post, but social pressure made him resign. Such is the climate in this country, which is riddled with toxic sentiments towards those seen as religious pariahs.
Khan's problems are insurmountable. His opposition, from long-established vested interests, is massive and influential. His allies are untrustworthy and problematic.
Full report at:
https://torontosun.com/opinion/columnists/hassan-reform-promises-made-but-hard-to-keep-in-pakistan
--------
Yemen's Houthi rebels respond to PM Imran's mediation offer
by Mahmood Idrees
October 27, 2018
SANAA – Houthi rebels, who are engaged in the fight against Yemeni government for past few years, have said that they are ready to cooperate with anyone who will try to end this war.
The rebels in a statement, according to Geo News, said that they will consider the option pitched by Pakistani Prime Minister Imran Khan. However, they rejected the notion that they had contacted Islamabad for playing the mediation role.
The statement comes days after PM Imran, following his visit to Saudi Arabi, said that he will try to get Muslim countries together, besides acting as a "mediator" in the resolution of conflicts between Muslim countries.
He said that Pakistan will act as a mediator in the war between the Houthi rebels and Saudi Arabia-led alliance in Yemen.
A fight, which has claimed over 10,000 lives so far and caused a cholera epidemic, started between the rebels and the government when Houthis, in 2014, took over Sanaa, the capital. A Saudi-led coalition with Yemeni government is fighting against the rebels since 2015.
Yemen Clarification
The Embassy of Yemen in Islamabad on Friday rejected a notion that there is a war between Saudi Arabi and Yemen.
"Some media outlets depict the situation in Yemen as a war between Yemen and Saudi Arabia," said a statement issued by the embassy. "This grave mistake misinforms the public and entails wrong conclusions and biased stances."
The embassy clarified that the war ensued after Houthi militia attempted an alleged coup against the government by seizing public institutions and wealth.
It added that the internationally recognized Yemeni government "in order to safeguard the Yemeni people from the heinous acts of the Houthi militia, called for the assistance of Saudi Arabia and friendly countries to restore the state and end the coup," Dawn News reported.
Full report at:
https://en.dailypakistan.com.pk/pakistan/yemens-houthi-rebels-respond-to-pm-imrans-mediation-offer/
--------
44 'politically exposed persons' own properties in UAE
Nasir Iqbal
October 27, 2018
ISLAMABAD: The Federal Investigation Agency (FIA) has furnished before the Supreme Court a list of 44 politically exposed individuals or their benamidars who possessed properties in the United Arab Emirates (UAE).
The list contains the name of Aleema Khanum, a sister of Prime Minister Imran Khan. She is identified as benamidar of a property. A notice has been issued to her through email as well as delivered at her home address, but her servant says she is abroad.
The list was part of the annexure submitted to a three-judge SC bench, headed by Chief Justice Mian Saqib Nisar, seized with a case relating to illegal transfer of money from Pakistan to foreign countries.
The list also contains the name of Ayesha Enver Baig, wife of former senator Enver Baig and owner of Anwar Steel. She has one property in the UAE, but it has been disclosed in the tax returns filed with the Federal Board of Revenue (FBR).
Irfanullah Khan Marwat, a politician, is also on the list, but has disowned the property shown in his name.
Likewise, Mumtaz Ahmed Muslim, who is affiliated with the Pakistan Tehreek-i-Insaf, has conceded that he owns properties in Dubai, but not 16 properties as shown in the FIA list.
Rizwana Amin, wife of the late Makhdoom Amin Fahim of the Pakistan Peoples Party, owned four properties. A notice was issued to her, but her watchman did not receive it as she was out of the country.
Naureen Sami Khan, who owned three properties in the UAE, is wife of Arshad Sami Khan and is under verification by the FBR.
Sardar Dildar Ahmed Cheema, former MNA from Faisalabad, disowned two properties in the UAE.
Tahira Manzoor owned six properties in the UAE. She is daughter of Tariq Aziz, personal secretary to former president retired Gen Pervez Musharraf, and is also under verification by the FBR.
Sublina Zulfikar, who owned a property in the UAE, is wife of Collector Customs Dr Zulfikar Ahmed. Agha Shahid Majeed Khan, a government servant and serving as Collector Customs, also owned one property.
Zulfikar Baloch, who owned one property, is grandson of former federal minister Mir Ibrahim Reki. He had declared the property received as a gift from his grandfather in the tax returns.
Azra Nasreen, mother of TV anchor Dr Farrukh Saleem, owned a property in the UAE, but it has been declared in the tax returns.
Mohammad Aijaz Haroon, who had served as managing director of the Pakistan International Airlines during the PPP government, disowned a property shown in his name.
The name of Abdullah Kadwani also featured in the list with one property. He is former PRO to the Sindh governor and also an actor.
Akbar Khan had six properties in the UAE. He is brother of Humayun Akhtar and Haroon Akhtar — both former ministers. He did not provide any affidavit despite repeated notices.
Full report at:
https://www.dawn.com/news/1441725/44-politically-exposed-persons-own-properties-in-uae
--------
Pakistan has asked UAE to provide deferred payment facility for oil import, says Qureshi
October 26, 2018
Foreign Minister Shah Mahmood Qureshi on Friday said Pakistan has asked the United Arab Emirates (UAE) for a deferred payment facility for the import of oil, similar to the one agreed with Saudi Arabia earlier this week.
Qureshi said this while addressing a press conference in Islamabad, during which he briefed the media about a meeting earlier in the day between Prime Minister Imran Khan and a high-level delegation led by UAE Minister of State Sultan Ahmed Al-Jaber.
The minister said the UAE delegation is visiting Pakistan under the aegis of UAE Crown Prince Sheikh Mohammed bin Zayed to discuss mutually beneficial projects which both countries can undertake.
"The delegation said bilateral relations between Pakistan and UAE are decades old, but there was a dip in the last 4-5 years," Qureshi said. "In today's meeting, we have discussed measures to expand the economic side of our longstanding bilateral ties."
"First, in the agriculture sector, we have discussed how we can increase exports to the UAE. We have an exportable surplus in rice which we used to export [to the country], but our exports have decreased considerably in the last few years."
"In fruits, I discussed with them the export of citrus and mangoes. We have both in abundance and there is a demand in UAE too. Due to our proximity, we can easily export these despite them being perishable items," the foreign minister said, adding that the UAE has an "effective way of processing and packaging food, so we have decided to benefit from their expertise".
The foreign minister further said that the matter regarding setting up a state-of-the-art LNG terminal in Pakistan with UAE's cooperation was also discussed during the meeting. The Emirati delegation has expressed interest in setting up an LNG terminal in Pakistan," he said.
Qureshi said a member of Emirati real estate company Emaar was also part of the delegation. "We told them that the government was planning to build five million houses and asked if they could be of any help in this regard," the foreign minister said.
"Another issue which we are facing these days is that of water shortage. UAE holds expertise in water desalination and if they could invest in setting up a plant in Karachi or Gwadar, our water crisis will be resolved and it will be a massive development," Qureshi said.
Foreign diplomatic postings
Referring to Pakistan's foreign policy, the foreign minister said Pakistan is pursuing its policy with other countries based on mutual benefits and national interest.
In order to make the foreign policy stronger and robust, it has been decided to appoint professional diplomats in key foreign capitals, the minister said.
Qureshi said Nafees Zakaria, who is currently serving as Pakistan's High Commissioner to Malaysia, will be posted to London as the High Commissioner.
Raza Sher Tarar will be appointed Pakistan High Commissioner to Ottawa, Canada, he announced, adding that Raja Ali Ijaz will be posted as Pakistan High Commissioner to Saudi Arabia.
Full report at:
https://www.dawn.com/news/1441522/pakistan-has-asked-uae-to-provide-deferred-payment-facility-for-oil-import-says-qureshi
--------
Man acquitted in Nato containers attack case
October 27, 2018
PESHAWAR: An appellate court has acquitted a suspected member of a proscribed militant outfit by setting aside his conviction by an assistant political agent on the charges of waging war against the state and attacking Nato containers bound for Afghanistan.
Exercising appellate powers under the Fata Interim Governance Regulation (FIGR), 2018, the additional commissioner accepted an appeal filed by the appellant Nama Jan, a resident of Bara, Khyber tribal district.
Under the FIGR, the court of a designated commissioner or additional commissioner is the second judicial forum hearing appeals originated out of the judgments of the political agents (now deputy commissioners) or assistant political agents (now assistant deputy commissioners).
The man was convicted by an assistant political agent in his capacity as the additional district magistrate had convicted the appellant on Aug 17, 2018, and sentenced him to seven years rigorous imprisonment with a fine of Rs200,000.
He was charged under Pakistan Penal Code's Section 121 (waging war against the state) and 121-A (punishment for waging war) and Section 11 of the erstwhile Frontier Crimes Regulation.
Shabbir Hussain Gigyani, lawyer for the appellant, said his client was innocent and was falsely implicated in the case.
He said the appellant was taken into custody by the security forces on Oct 9, 2015, and after keeping him in illegal detention for over two years, he was handed over to the administration of Khyber Agency (now Khyber tribal district).
The lawyer said the only evidence against his client was a report of the joint investigation team, which claimed that the appellant belonged to a proscribed militant organisation and was involved in attacks against Nato conveys carrying goods to Afghanistan and waging of war against the state by attacking personnel of law-enforcement agencies.
He said the JIT report could be considered a charge sheet against the appellant and not evidence.
The lawyer said for convicting the appellant, the prosecution had to produce incontrovertible evidence, which was not available in the case.
He said it was on record that the appellant was kept in illegal confinement for over two years.
Full report at:
https://www.dawn.com/news/1441649/man-acquitted-in-nato-containers-attack-case
--------
Fazl in Lahore to push for opposition alliance
October 27, 2018
LAHORE: The Punjab capital may see hectic political activities during the next two days as ex-prime minister Nawaz Sharif, former president Asif Zardari and religious alliance MMA's chief Maulana Fazlur Rehman will be active here to try forming an opposition alliance.
Maulana Fazl is working to convene a multi-party conference as a first step to carve out an alliance on the minimum possible common agenda but is failing to give a final date (and venue) for the purpose because Mr Sharif is apparently reluctant to ensure his physical presence at the proposed meet.
Though the MMA leader claimed here before the media on Friday that the ex-premier would be part of the MPC, a senior official of the PML-N said Mr Sharif had so far committed only sending a Raja Zafarul Haq-led delegation to the opposition's conference.
Sources in the MMA say the N-League has been told that the MPC may fail to make any political impact unless Mr Sharif is seen sitting along with Mr Zardari.
The indecision on the part of Mr Sharif is delaying the formal announcement of holding the MPC, they say.
Maulana Fazl says he has already met Mr Zardari and will try to call on the PML-N supremo in the next two days to finalize the moot.
Mr Zardari, who is in the city to attend a couple of PPP functions and meet the local leadership, has said a couple of days ago that talks may be held with Mr Sharif.
The former president had earlier been refusing to sit with the ex-prime minister and had even supported the ruling PTI in the Senate chairman polls to the disadvantage of the PML-N.
Earlier, Maulana Fazl told the media after a meeting of the Shura (consultative body) of the JUI faction led by him that there is strong consensus among opposition that the PTI government cannot run the country and all parties would join hands in the upcoming multi-party conference.
He said the PTI government had brought the country and economy to their knees in two months. The opposition feels obliged to play its due role in retrieving the country from those who "have stolen the mandate."
Talking about legal problems of the opposition, which may make it difficult for him to bring them to one platform, he dispelled the impression, saying cases, jails and corruption charges were part of struggle against establishment and this game has been going on for 30 years – without any result. Had these charges, reserved only for politicians, been true, they could have resulted in end of corruption in the last three decades. The politicians have faced jails, exiles and cases all those years and continue doing so: such practices now cannot deter the opposition but would rather be an impetus, he told a questioner.
The politicians have two options: either resist or submit to the establishment. The opposition feels that submission is not an option.
"In that case, the establishment would keep the country on path to slavery and the country would end up nowhere," he said and added: "The PTI has been claiming $200 billion in the Swiss Banks as proof of corruption for the last many years. Now they themselves say that those reports were not correct?"
Talking about recent economic aid from Saudi Arabia, he said that it could only be welcomed but one should keep in mind that it was meant to boost foreign reserves.
Full report at:
https://www.dawn.com/news/1441612/fazl-in-lahore-to-push-for-opposition-alliance
--------
JUI-F leader shot dead in Tank
October 27, 2018
TANK: Jamiat Ulema-e-Islam-Fazl (JUI-F) leader Abdul Hameed Mehsud was killed in an armed attack late on Thursday night.
Unidentified assailants attacked Mehsud's vehicle at New Sabzi Mandi Road in Tank, resulting in critical bullet injuries.
The body was shifted to hospital for post-mortem.
JUI-F chief Fazlur Rehman condemned the murder and offered condolence to the bereaved's family. He demanded that the attackers be hunted and arrested.
https://www.pakistantoday.com.pk/2018/10/26/jui-f-leader-shot-dead-in-tank-fazl-condemns-incident/
--------
Two security personnel injured in remote controlled bomb blast
October 27, 2018
MIRANSHAH: Two security personnel were injured in a remote controlled bomb blast here on Friday, according to a source in the forces.
The miscreants targeted a vehicle of the security forces through a remote controlled explosive device at the Bypass Road in Miranshah, North Waziristan district.
The vehicle was damaged as a result of the blast in which Hawaldar Iftikhar and soldier Zahib were injured. They were shifted to FTC, Miranshah.
The security forces cordoned off the area after the incident and launch search operation.
In a separate incident in Rawalpindi, the Counter Terrorism Department (CTD) foiled a bid to attack an intelligence agency office after arresting an alleged terrorist in the city.
According to media reports, CTD, on a tip off caught a terrorist identified as Imran Shah from Chari.
According to a CTD spokesperson, the suspect is affiliated with banned outfit Tehreek-e-Taliban Pakistan (TTP). Arms, ammunition and detonators have been recovered from his possession. He was shifted to an undisclosed place for further interrogation.
Moreover, security forces also carried out a search operation in Bara, Peshawar and recovered an explosives laden suicide jacket.
According to media reports, security forces conducted a search operation in Shalobar, area of Tehsil Bara of Khyber on a tip off and recovered a suspicious jacket laden with explosive materials from the bank of Kuwar Jali stream.
Senior Line Officer Shamshad Khan along with a heavy contingent of security forces cordoned the area and recovered the suicide jacket that was later defused in a far off place by carrying out an explosion.
Full report at:
https://www.pakistantoday.com.pk/2018/10/26/two-security-personnel-injured-in-remote-controlled-bomb-blast/
--------
Gen Bajwa signs death warrants of 14 'hardcore terrorists'
October 27, 2018
RAWALPINDI: Chief of Army Staff (COAS) General Qamar Javed Bajwa has signed death warrants of "14 hardcore terrorist", the Inter-Services Public Relations (ISPR) said in a statement on Friday.
"The terrorists were involved in heinous offences related to terrorism, i.e. attacking armed forces/ law enforcement agencies, killing of innocent civilians and destruction of educational institutions, Pakistan Tourism Development Corporation (PTDC) Hotel Malam Jabba, Swat," the military's media wing claimed.
Besides, they were involved in the killing of 22 persons — three civilians and 19 officials of the army, paramilitary forces and police.
All of the convicts were said to be members of proscribed organisations who were found in possession of arms and explosives as well, as per the statement. They were tried by special military courts. Besides death sentences, eight convicts were awarded imprisonment.
Rehman Ali S/O Hassan Ghani, Rehmat Ali S/O Sher Malik, Saifur Rehman S/O Akbar Aman and Fazal Mabood S/O Fazal Rabi: They were involved in the destruction of an educational institution and attacking armed forces, which resulted in the death of Naib Subedar Muhammad Hanif along with seven soldiers, a civilian and injuries to 12 others. These convicts confessed their offences before a magistrate and a trial court. They were awarded death sentence.
Irshad Ahmed S/O Mumtaz: Irshad was involved in an attack on LEAs, which resulted in the death of Sepoy Raza Khan. He was also involved in the destruction of Pakistan Tourism Development Corporation (PTDC) Hotel Malam Jabba, Swat. The convict confessed his offences before a magistrate and a trial court. He was awarded a death sentence.
Afreen S/O Naseem: He was involved in attacking armed forces, which resulted in the death of five soldiers and injuries of seven others. He was awarded a death sentence.
Ahmad Hussain S/O Qari Muhammad Zarif: Ahmad was involved in an attack on LEAs, which resulted in the death of Naib Subedar Hussain Faraz along with four officials and injuries to five others. He was also awarded a death sentence.
Bacha Rehman S/O Masoom Jan: He was involved in an attack on the armed forces, which resulted in the death of Havildar Muhammad Ilyas along with four soldiers and injuries to six others. After his confession, he was awarded a death sentence.
Muhammad Majeed Khan S/O Sanoubar: Majeed was involved in an attack on innocent civilians and armed forces, which resulted in the death of Sepoy Asif Mehmood and injuries to an officer along with two soldiers. He was also involved in the destruction of Government Primary School Zangi, Swat and Pakistan Telecommunication Limited Exchange Tower. He was awarded a death sentence.
Muhammad Aqil S/O Nawab Ali:
Aqil was involved in attacking LEAs, which resulted in the death of Assistant Sub Inspector Noor Zaman along with four officials and injuries to five others. The convict confessed his offences before a magistrate and a trial court. He was awarded a death sentence.
Saif Ullah S/O Muhammad Rafique: Saifullah was involved in the destruction of Government Primary School Langar (Swat) and attack on armed forces, which resulted in the death of Naik Ghulam Hassan, Sepoy Shoukat Ali and injuries to two others. He was awarded a death sentence.
Muhammad Sher Ali Khan S/O Sher Afzal Khan: He was involved in an attack on the LEAs, which resulted in a death of Sepoy Raza Khan. He was awarded a death sentence.
Muhammad Tariq S/O Ghulam Badshah: Tariq was involved in an attack on armed forces, which resulted in the death of Naik Muhammad Suleman and injuries to another soldier. He was awarded a death sentence.
Full report at:
https://www.pakistantoday.com.pk/2018/10/26/gen-bajwa-signs-death-warrants-of-14-hardcore-terrorists/
--------
India
School Hindu scripture plan foiled in Kashmir
October 26, 2018
Complaints from religious and political leaders have forced the scrapping of a requirement for Hindu scriptures to be made available to students in India's Muslim-majority state of Jammu and Kashmir.
The state administration, under the federal government run by the pro-Hindu Bharatiya Janata Party (BJP), on Oct. 23 ditched the bid only one day after it was announced.
The state education department wanted schools, colleges and public libraries to make available copies of Hinduism's sacred books, the epic tales of the Bhagavat Gita and the Ramayana.
And these institutions were directed to have the texts available in the local Urdu language.
The National Conference, a political party, was first to protest, asserting that if Hindu texts were to be provided, the same should apply for other religions.
Archbishop John Moolachira of Guwahati, a member of the Catholic Bishops' Conference of India, described the directive as selective and bizarre.
He cited "saffronization" of education in Jammu and Kashmir, a reference to the saffron robes worn by Hindu priests.
Archbishop Moolachira said this agenda included an attempt to overhaul school and college curriculums to win support from grassroots Hindus.
The prelate said that the studying of religious texts was not bad in itself, but scriptures of all religions should be made available to students so they could learn values impartially.
Javaid Bhat, a social activist based in Kashmir, said the move was a violation of India's Constitution barring promotion of religions through educational institutions. "Why drag religion into school curriculums?" he asked.
Bhat also believed the aborted move had been aimed at giving a "Hindu color" to education in line with the ruling BJP's ideology of Hindu dominance.
Abid Ahmad, an educationalist, warned that doing so would lead to anarchy by undermining the majority-Hindu nation's secular character. He noted that history books for schools had already been re-written to omit the reigns of Muslim kings.
One independent legislator from Kashmir termed the withdrawal of the controversial Hindu scripture requirement for students as a confession of guilt.
He said the government needed to explain why it issued a communally-oriented order only to withdraw it after realizing that the measure had not gone down well with most people in the state.
Jammu and Kashmir has some 12.5 million people, with nearly 70 percent of them Muslims and 29 percent Hindus. Most Hindus live in the Jammu region, while the majority in Kashmir — 96 percent — are Muslims. The state also has some 20,000 Christians, with Catholics the largest component.
Jammu and Kashmir has suffered violence since militant Islamic groups began resisting Indian rule 30-years ago.
An estimated 100,000 people have died in the conflict, including civilians, militants and security force personnel.
https://www.ucanews.com/news/school-hindu-scripture-plan-foiled-in-kashmir/83723
--------
Pakistan aware it can't succeed in Kashmir, using terror to keep pot boiling: Army chief Bipin Rawat
October 27, 2018
Army Chief General Bipin Rawat on Saturday said that Pakistan was using terror to keep the pot boiling in Jammu and Kashmir since it was well aware they could never succeed. Accusing the neighbouring country of trying to stall development in the state, Rawat warned that India was strong enough to counter Pakistan's evil designs and capable of carrying out different operations.
"Pakistan is fully aware they can never succeed, terror is another way by them to keep the pot boiling. They want to stall development in Kashmir but Indian state is strong enough to counter everything, and we are fully capable of carrying out different operations," ANI quoted the Army chief as saying. Rawat made the remarks after paying tribute at the Amar Jawan Jyoti in the national capital to mark Infantry Day.
Rawat had articulated the need for another surgical strike on terror launch pads across the Line of Control twice in the past month. On September, the Army chief emphasised the need to "avenge" the "barbaric" acts carried out by the Pakistani Army and terrorists against Indian soldiers, saying it was time to "give it back in the same coin".
Speaking on the death of a 22-year-old soldier following a head injury in an incident of stone-pelting in Anantnag district of South Kashmir, Rawat said there were some people who ask for stone pelters not to be treated as over ground workers of terrorists. "The jawan who lost his life after being attacked by stone pelters was guarding a border roads team which was constructing roads, and then we have some ppl saying don't treat stone pelters like OGWs(over ground workers) of terrorists," he said.
Full report at:
https://indianexpress.com/article/india/pakistan-kashmir-terror-army-chief-bipin-rawat-5420784/
--------
Jammu & Kashmir: BSF starts exercise to detect tunnels from Pakistan
by Arun Sharma
October 27, 2018
The Border Security Force and Jammu Kashmir Police have started a joint anti-tunnelling exercise along the international border at various places in the state to detect any cross-border tunnel originating from Pakistan.
Top BSF officials said such exercises are conducted from time to time, and the latest searches have come following revelations by a truck driver, who was arrested recently, that he had carried at least 30 militants from Kathua's Hiranagar area to the Kashmir Valley in the past, before last month's terror attack at Jhajjar Kotli along the Jammu-Srinagar national highway.
The truck driver was identified as Riaz Ahmed, a resident of Pulwama. He was arrested for carrying three men in his vehicle from Hiranagar area – the trio, according to officials, opened fire on some police personnel at Jhajjar Kotli before they were killed in a joint operation by the police, CRPF and Army personnel. During questioning, Riaz is learnt to have revealed that he had in the past carried nearly 30 suspected militants from Hiranagar in Kathua to the Valley in four or five trips.
The police said the three militants gunned down in Jhajjar Kotli were Pakistani nationals, and they had sneaked into the state through the Tarnah nullah, which flows into Pakistan from Bobiya area.
Deputy Inspector General of BSF Akhilesh Singh said, "This (anti-tunnelling exercise) has been our normal practice but recently we asked others (agencies) to join the BSF in the exercise, as there was no semblance in reports that terrorists who attacked Jhajjar Kotli had come in from the international border (in Hiranagar)."
Full report at:
https://indianexpress.com/article/india/bsf-starts-exercise-to-detect-tunnels-from-pakistan-5420628/
--------
Europe
No German arms to Saudi until Khashoggi case is clarified: Merkel
October 27, 2018
German Chancellor Angela Merkel vowed on Friday that Berlin would not export arms to Saudi Arabia until the murder of dissident journalist Jamal Khashoggi is clarified, a stance French President Emmanuel Macron dubbed "pure demagoguery".
"The case of journalist Khashoggi is, of course, something incredible, I told the Saudi king yesterday in our telephone conversation," Merkel said at a press conference with Czech prime minister Andrej Babis.
"We need to clarify the background of this horrible crime and until that, we will not supply weapons to Saudi Arabia," she added, reiterating comments made earlier this week.
The stance led to a clash with France's Macron who told reporters in the Slovak capital Bratislava on Friday that stopping arms sales to Saudi Arabia would be "pure demagoguery".
The sale of weapons "has nothing to do with Mr. Khashoggi. One shouldn't mix everything up," he said.
Merkel also insisted on Friday that "Saudi Arabia must do everything to solve the urgent humanitarian situation in Yemen, there are currently millions of hungry people, we are witnesses of one of the greatest humanitarian catastrophes".
Germany last month approved 416 million euros ($480 million) worth of arms exports to Saudi Arabia for 2018. In the past, military exports by Berlin to Saudi have mostly consisted of patrol boats.
Germany and Saudi Arabia only returned their ambassadors in September after 10 months of frosty relations following criticism from Berlin of what it said was Saudi interference in Lebanese affairs.
The Khashoggi case has opened a serious new rift with European partners Britain, France, and Germany jointly calling for Riyadh to clarify how Khashoggi died inside its Istanbul consulate, and for its account to "be backed by facts to be considered credible".
After a fortnight of denials, Saudi authorities admitted Saturday that Khashoggi, a Washington Post columnist and prominent critic of powerful Crown Prince Mohammed bin Salman, was killed after entering the consulate in Turkey on October 2.
But it has faced a growing chorus of incredulity over its belated explanation that he died in a "brawl", as world powers demand answers and the location of his body.
https://nation.com.pk/27-Oct-2018/no-german-arms-to-saudi-until-khashoggi-case-is-clarified-merkel
--------
Russia's FSB says detained six ISIS members plotting attacks in Moscow
26 October 2018
Russia's Federal Security Service (FSB) said on Friday it had detained six members of an ISIS cell plotting attacks in Moscow, Russian news agencies reported, citing an official statement.
The FSB said the group planned to use guns and improvised explosive devices for their attacks and was guided by ISIS members in Syria.
https://english.alarabiya.net/en/News/world/2018/10/26/Russia-s-FSB-says-detained-six-ISIS-members-plotting-attacks-in-Moscow.html
--------
Syrian war journalist denied UK visa to attend awards ceremony
October 26, 2018
A journalist who spent five years covering the Syrian civil war for a British television station has been barred from entering the UK to attend an awards ceremony for which he has been nominated for a prestigious prize.
Humam Husari, a Syrian freelance filmmaker, has been shortlisted for his reporting on the siege of Ghouta earlier this year at the Rory Peck Awards, for which he lived underground with civilians.
But British authorities have refused to grant him a visa on the grounds that there is a risk he will stay in the UK.
Mr Husari, 32, who has worked for ITV News since 2012, filmed video reports from the city of Ghouta including the aftermath of chemical weapons attacks on civilians.
He left Syria this summer with his wife and now lives in Turkey, where he has been offered a job and has paid a year's rent for accommodation. His wife is enrolled at university in Turkey.
Despite ITV News supplying Britain's Home Office with proof of his continued residence in Turkey and promising to book the journalist return flights as well as accompany him on his visit to the UK, two separate visa applications submitted by the broadcaster on his behalf have been rejected.
ITV News said they hoped a last-minute visa would be granted, which would allow Mr Husari to attend the awards ceremony on Thursday evening.
Praising his "extraordinary eye-witness journalism", ITV said Mr Husari had been "crucial" to their coverage of the seven-year conflict.
Full report at:
https://www.thenational.ae/world/europe/syrian-war-journalist-denied-uk-visa-to-attend-awards-ceremony-1.784637
--------
Southeast Asia
Hundreds of Indonesian Muslims Demand Punishment for Burning of Flag Bearing Islamic Tenet
26 Oct 2018
Up to 1,000 Muslims in Indonesia, the world's most populous Muslim country, took to the streets Friday to "demand justice" for the burning of a flag bearing the Tauhid, an Islamic concept affirming that there is only one God.
Reuters reports that Muslims came together to rally against the burning of the flag by members of the youth wing of Nahdlatul Ulama (NU), the largest Islamic organization in the country.
At the "peaceful" demonstration, leaders of the rally reportedly urged people to defend Islam as protestors chanted "There is no God but Allah."
"We want justice for the burning of the flag, for those who are responsible," Fahruh Rozi, 47, a member of Forum Masjid Al Falah, one of several groups at the rally, told Reuters.
"We want to raise awareness for respect for Islam. It's not to do with politics or elections," Rozi added.
The demonstration took place in the Indonesian capital of Jakarta.
"Demonstrators in white Islamic robes snarled traffic outside the security ministry in Jakarta, waving flags with Arabic text professing belief in one God and chanting 'God is great' and 'No God except Allah,'" the Associated Press (AP) reports.
Ahead of the presidential and parliamentary elections next April, there have been "sporadic tensions" between the NU, considered a moderate organization, and more hardline groups, Reuters pointed out.
Angered by the flag's affiliation to the banned Hizb-ut-Tahrir Indonesia (HTI) group that is allegedly seeking to establish an Islamic caliphate in the country, NU members decided to set the flag ablaze.
AP notes:
Video of members of Nahdlatul Ulama's youth arm burning the flag of the outlawed group, Hizbut Tahrir, has stirred controversy in Indonesia because the flag is also emblazoned with the Islamic declaration of faith. Their uniforms indicated they're part of the youth organization's militia.
The flag burning reportedly prompted NU to cancel a mass rally to promote a moderate brand of Islam that was predicted to draw 10,000 supporters.
NU accused HTI of inciting violence that drove its young members to burn the flag.
Yahya Cholil Staquf, the NU's secretary general, told AP that HTI "operatives" exploited religious symbols, which led to the flag burning incident.
"Further incidents of provocation were planned. Our members would find it difficult to control their anger in the face of such flagrant exploitation of our religious symbols," he said.
https://www.breitbart.com/national-security/2018/10/26/hundreds-of-indonesian-muslims-demand-punishment-for-burning-of-flag-bearing-islamic-tenet/
--------
A month on, Indonesia's quake-tsunami hit city faces health crisis
October 27, 2018
JAKARTA: Indonesia's quake-tsunami battered city of Palu is facing a public health crisis as torrential rains threaten to spread malaria and dengue fever to the devastated region a month after the disaster, aid agencies have warned.
On September 28, a magnitude 7.5 quake and a subsequent tsunami razed swathes of Palu on Sulawesi island, killing some 2,200 people and displacing more than 220,000.
Thousands more are missing, presumed dead, after entire neighborhoods were swallowed up by liquefaction — a process where a strong quake makes the ground start behaving like a liquid, turning it into a kind of quicksand.
Desperate to stave off disease, authorities last week dropped disinfectant from helicopters on the worst-hit parts of Palu, where some 5,000 rotting corpses are feared buried beneath the ruins.
Indonesia's disaster mitigation agency said the move was crucial to preventing the proliferation of disease-laden flies, cockroaches and rats.
But aid groups say there has been an increase in cases of diarrhea and respiratory infection, while there are also suspected cases of mosquito-borne illnesses, including malaria and dengue fever.
Heavy monsoon rains predicted for the months ahead threaten to make a bad situation worse.
"It is likely we're going to see more and more people getting sick... given how hard it is to maintain hygiene standards, with the rains providing the perfect breeding ground for mosquitoes, and with hundreds, if not thousands of bodies, believed to be decomposing in the ground," said Selina Sumbung, chairperson of Save the Children's partner in Indonesia, Yayasan Sayangi Tunas Cilik.
Safe play spaces and temporary schools have provided some solace for kids — including many left orphans or still separated from surviving parents — but children are at particular risk from any illness outbreak.
Local and international relief efforts have accelerated over the past month after initial delays sparked looting as food and water ran out.
Telephone reception and electricity have been restored to many areas with shops, restaurants and markets open.
Disaster agency spokesman Sutopo Purwo Nugroho said Friday that things were "getting better" for people in the worst-affected areas.
But numerous challenges remain.
The hundreds of thousands left homeless by the disaster are scattered across Palu and beyond.
Many squat outside their ruined homes or are bunkered down in makeshift camps and entirely dependent on handouts to survive.
Safe drinking water has to be trucked into encampments, while tarpaulins, blankets and tools are still in short supply in some areas.
"We know when people are living in temporary conditions — in tents or under tarpaulins — that always poses a problem for hygiene," said Andreas Weissenberg, team leader of the Red Cross field assessment team in Palu.
"People stay closer together. It's difficult to keep clean. They may not have access to water and latrines."
Elsewhere, monsoon rains have already turned roads to mud and primed slopes for landslides in some remote areas — hampering access for relief teams.
Indonesian authorities lifted a state of emergency on Friday, after which a "transition period" is to continue before that ends on December 25.
Indonesia has said that damage to the devastated area has topped $900 million while the World Bank has offered the country up to $1 billion in loans to get Palu back on its feet.
Seventy percent of Palu has been cleaned up and water supply will return to normal by December, Central Sulawesi governor Longki Djanggola said Thursday.
More than 1,400 tents have been erected for classes and 1,200 semi-permanent shelters — each with a dozen rooms — are expected to be finished in two months' time.
For many, however, life is still far from returning to normal.
Full report at:
http://www.arabnews.com/node/1394596/world
--------
Zahid coy on calls for him to take leave
October 26, 2018
PETALING JAYA: Umno president Ahmad Zahid Hamidi said he welcomed the view by Umno Youth that he take leave pending the outcome of his corruption trial, but did not state whether he agreed with the call.
Instead, Zahid, who is facing 45 charges involving over RM100 million, said Umno members should move as a team "to oppose the enemies who are out to destroy it".
"Rise Umno, pray for Umno," said Zahid in hashtagged messages on Twitter.
It comes a day after Umno Youth chief Asyraf Wajdi Dusuki said Zahid should go on leave, adding that it would allow the party chief to better focus on his upcoming court trials.
"Our principle is that as long as he is not convicted, he should not resign from holding the president's post," Asyraf had said.
Zahid thanked Asyraf for his opinion.
"Thank you for the opinion Umno Youth Malaysia, I celebrate the diversity of opinions," he added.
Zahid, who was elected as the Umno president in July, has claimed trial to 45 charges related to criminal breach of trust, money laundering and corruption.
Asyraf's call did not sit well with Kinabatangan Umno Youth chief, Mohamad Kurniawan Naim Moktar, who said it was unbecoming of the Youth wing's reputation as a "strong bastion of the party".
"Umno Youth should aggressively defend the leadership and the party," said Kurniawan, who is also the son of Umno's Kinabatangan MP, Bung Moktar Radin.
The view was also echoed by Puteri Umno, whose chief said its members would continue to stand in solidarity and give moral support to Zahid.
Full report at:
https://www.freemalaysiatoday.com/category/nation/2018/10/26/zahid-coy-on-calls-for-him-to-take-leave/
--------
PM thanks Saudi Arabia for cordial treatment of Malaysian pilgrims
26 October 2018
PUTRAJAYA, Oct 26 — Prime Minister Tun Dr Mahathir Mohamad has thanked the Saudi Arabian government for the cordial treatment for Malaysian pilgrims when performing the Haj in that country.
"We thank them for the treatment accorded by the Saudi Arabian government to our pilgrims when performing the Haj all this while and at times they were given special treatment.
"In general, the Saudi Arabian government is a good host and we have no problems with them," he told the media at his office in Putrajaya today.
Earlier, Dr Mahathir received a courtesy call from the Saudi Foreign Minister Adel Ahmed Al-Jubeir at the Perdana Putra building.
The two held an approximately 30-minute discussion in conjunction with Adel's three-day visit to Malaysia beginning last Wednesday.
The prime minister said the Saudi minister also appreciated and praised the attitude of Malaysian pilgrims who had performed the rituals for the fifth pillar of Islam in a very proper manner.
"Malaysia's advantage is because we went there via the Pilgrimage Fund Board (Tabung Haji) which managed Haj rituals for the Malaysian pilgrims," he said.
On the quota for the pilgrimage, Dr Mahathir also told Adel about the large number of Tabung Haji contributors in this country.
"As such, no matter how big the quota is, not everyone can go and there are some who are too old and may not be able to perform the Haj, so we give priority to such groups," he added.
He said Adel had accepted his explanation.
"I did not ask for an increase in the quota, but I explained that many people want to perform the pilgrimage but their age may have exceeded the ideal level and they may not be able to go," he said.
Malaysia's official quota for the pilgrimage this year remains at 30,200 people like last year.
Full report at:
https://www.malaymail.com/s/1687039/pm-thanks-saudi-arabia-for-cordial-treatment-for-malaysian-pilgrims
--------
Arab World
UN envoy: Syria pushes back on UN role in constitutional talks
26 October 2018
Syria wants the United Nations to simply facilitate efforts to rewrite the country's constitution and not choose a third of the committee that will undertake the job, outgoing UN Syria envoy Staffan de Mistura told the Security Council on Friday.
De Mistura briefed the 15-member body after meeting Syrian Foreign Minister Walid al-Moualem in Damascus this week. De Mistura wants to convene a constitutional committee in November before he steps down at the end of the month, but he has accused the Syrian government of delaying the process.
"We do have a serious challenge, let's be frank. It is my intention to spare no efforts to address this challenge during the forthcoming weeks," de Mistura told the council.
Participants at a Syrian peace conference in Russia in January agreed to form the 150-member committee to rewrite the Syrian constitution with a third chosen by the government, a third by opposition groups and a third by the United Nations.
"Minister Moualem did not accept a role for the UN in general in identifying or selecting the ... third list," de
Mistura said. "He underlined that the Syrian constitution is a highly sensitive matter of national sovereignty."
He said Moualem indicated that Syria and Russia had recently agreed that the third list of participants should be decided by Syria, Russia, Turkey and Iran - the three countries pushing separate Syria political talks known as the Astana process - and then given to the United Nations for facilitation.
British UN Ambassador Karen Pierce questioned Russia's motives in trying to negotiate a political solution given Syria's efforts to stall a constitutional committee meeting.
"Either Russia has given the UN and this council assurance it has proved too weak to deliver on, or it was all a cynical smokescreen designed to divert attention and energy while Russia, Syria and Iran prosecuted the military campaign," she told the council.
Russian UN Ambassador Vassily Nebenzia said there were "no grounds for establishing artificial deadlines for the establishment of the constitutional committee."
De Mistura said he would attend a summit with the leaders of Russia, Turkey, France and Germany in Istanbul on Saturday.
De Mistura's successor faces a tough battle to negotiate a political deal, which the West has said is needed to unlock its reconstruction support and to encourage the bulk of the millions of refugees in Europe and the Middle East to return.
Diplomats say Norway's Ambassador to China Geir Pedersen has emerged as a front-runner to become the fourth UN Syria envoy during the more than seven-year-old war.
https://english.alarabiya.net/en/News/middle-east/2018/10/26/UN-envoy-Syria-pushes-back-on-UN-role-in-constitutional-talks-.html
--------
Syrian regime bombardment kills seven civilians in Idlib
26 October 2018
Syrian regime artillery fire Friday killed seven civilians in Idlib, in the highest death toll since a Russian-Turkish deal last month to prevent a government assault on the province, a monitor said.
The Britain-based Syrian Observatory for Human Rights said Friday's shelling is the most serious violation of a truce reached by Turkey and Russia last month.
The Observatory said seven people, including three women and three children, were killed in the shelling of Umm Jalal and Rafa villages in Idlib province.
The area is part of a demilitarization zone that was agreed upon between Russia and Turkey to avert a government offensive on Idlib, the last major rebel stronghold in the country.
The Smart News, an opposition activist collective, reported casualties in Rafa without giving a breakdown.
The Russia-Turkey deal that went into effect on Oct. 15 has been violated on several occasions.
The official spokesman of the National Liberation Front revealed that the forces of the Assad regime in Syria are targeting positions of the Syrian armed opposition in the countryside of Idlib and Aleppo with artillery and missiles.
Full report at:
https://english.alarabiya.net/en/News/middle-east/2018/10/26/Syria-regime-bombardment-kills-7-civilians-in-Idlib-.html
--------
Netanyahu visits Oman for the first time, meets Sultan Qaboos
26 October 2018
Israeli Prime Minister Benjamin Netanyahu on Friday ended a visit to the Sultanate of Oman, the first of its kind, during which he met with Sultan Qaboos bin Said.
"Prime Minister Netanyahu and his wife returned to Israel at the end of an official visit to the Sultanate of Oman, where he met with Prime Minister Sultan Qaboos bin Said," Netanyahu wrote on his Twitter account.
Netanyahu's office said in a statement on Friday that Netanyahu and his wife had been invited by Oman's Sultan Qaboos bin Said after lengthy communications.
The two leaders issued a joint statement saying that the two sides "discussed ways to advance the Middle East peace process and discussed a number of issues of common interest to achieve peace and stability in the Middle East."
Oman has no diplomatic relations with Israel. The meeting between Netanyahu and Sultan Qaboos is the first of its kind between the leaders of the two countries since the visit of Shimon Peres in 1996 when he was acting prime minister. On his official visit, Netanyahu was accompanied his wife Sarah.
Others in his team were head of the Mossad intelligence agency, Yossi Cohen, the national security adviser, Meir Ben-Shabat, the director general of the Israeli Ministry of Foreign Affaris, Yuval Rotem, the chief of staff, Yuval Horowitz and the military secretary, Colonel Avi Balut.
This is the second visit by an Israeli prime minister to Oman, which was visited in 1994 by Yitzhak Rabin.
Former Prime Minister Shimon Peres also hosted in 1995 the Omani Foreign Minister Yousef bin Alawi in Jerusalem.
Full report at:
https://english.alarabiya.net/en/News/middle-east/2018/10/26/Netanyahu-visits-Oman-for-the-first-time-meets-Sultan-Qaboos.html
--------
Macron: Calls to suspend arms sales to Saudi Arabia are "pure demagoguery"
26 October 2018
French President Emmanuel Macron on Friday dismissed as "demagoguery" the calls by several European countries including Germany to suspend arms sales to Saudi Arabia following the murder of journalist Jamal Khashoggi.
"What's the link between arms sales and Mr Khashoggi's murder?" Macron told a news conference in Slovakia.
"That's pure demagoguery to say 'we must stop arms sales'. It's got nothing to do with Mr Khashoggi," he added.
Between 2008 and 2017, Saudi Arabia was the second biggest buyer of arms from France after India, with the kingdom signing contracts for French arms worth $13.8 billion.
https://english.alarabiya.net/en/News/gulf/2018/10/26/Macron-Calls-to-suspend-arms-sales-to-Saudi-Arabia-are-pure-demagoguery-.html
--------
Kremlin: No reason to question Saudi Arabia's investigation of Khashoggi's case
26 October 2018
Kremlin spokesman Dmitry Peskov said Russia has no reason to question Saudi Arabia's statements about the death of Saudi journalist Jamal Khashoggi.
During a press conference, Peskov said: "There is no reason that would lead anyone not to believe Saudi Arabia's announcements," stressing that Russia supports investigations into the case.
Sputnik news agency reported Peskov as saying, "We have heard the royal family's statement condemning this murder… But everything else comes down to the investigations the royal family ordered, and we support all of it."
On Thursday evening, Russia's President Vladimir Putin spoke with King Salman bin Abdulaziz on the telephone and the two discussed "the circumstances of Khashoggi's case," according to Peskov.
https://english.alarabiya.net/en/News/gulf/2018/10/26/Kremlin-No-reason-to-question-Saudi-Arabia-s-investigations-in-Khashoggi-s-case-.html
--------
Turkish president gives 'final warning' to US-backed militants in northern Syria
Oct 26, 2018
President Recep Tayyip Erdogan has issued a "final warning" to those who would endanger Turkey's borders, in an apparent reference to the US-backed Kurdish militants operating in northern Syria.
Erdogan issued the warning in an address to a group of provincial leaders of his Justice and Development Party (AKP) in Ankara on Friday.
He also noted that Turkey was determined to focus its attention on east of the Euphrates in Syria, rather than Manbij area, citing the presence of the Kurdish People's Protection Units (YPG), which Ankara considers a terrorist group.
Earlier this month, Russian Foreign Minister Sergei Lavrov once again warned that the US is seeking to establish a quasi-state east of the Euphrates River and create illegal structures there.
"The US is trying to use these lands through their Syrian allies – above all, through the Kurds – in order to establish a quasi-state there," Lavrov said on October 12.
"But the US is by all means illegally seeking to establish a quasi-state on this territory, trying to do everything there to create conditions for a normal way of living for their subordinates, creating a structure of authority which is an alternative to those legitimate [structures] of the Syrian Arabic Republic," the top Russian diplomat noted.
Russian Foreign Ministry spokeswoman Maria Zakharova on Thursday lashed out at the US military's actions in Syria, saying the Americans have literally occupied the country's south and are supporting Kurdish militants in the north.
Speaking at a regular press briefing, Zakharova said, "The situation in the northeast of Syria, where the US side is still trying to flirt with separatist-minded Kurdish groups, is concerning."
Also a source of concern is the situation in "the south of the country near al-Tanf, where there is … de facto undisguised occupation by US forces of the territory of the sovereign Syrian state," she added.
Syria to retake Idlib, end US illegal presence
Meanwhile, Syrian Defense Minister Major General Ali Abdullah Ayoub on Thursday reiterated that Idlib province is a Syrian territory and will return to government control.
He also stressed that Syria considers the US's and British presence on its territory illegal and a violation of the sovereignty of an independent country and a UN member, the official Syrian Arab News Agency (SANA) reported.
Ayoub noted that Syria will deal with the remaining areas which the US is still betting on, either by local reconciliations or by Syrian army operations.
Full report at:
https://www.presstv.com/Detail/2018/10/26/578139/Turkey-Erdogan-warning-Kurdish-Syria-Idlib-Russia
--------
Turkey to host Syria summit with Russian, French, German leaders
October 27, 2018
ISTANBUL: The leaders of Turkey, Russia, France and Germany meet in Istanbul on Saturday to try and find a lasting political solution to the Syrian civil war and consolidate a fragile cease-fire in a rebel-held northern province.
Turkish President Recep Tayyip Erdogan will host Russian President Vladimir Putin, French President Emmanuel Macron and German Chancellor Angela Merkel for a summit on the conflict, in which more than 360,000 people have been killed since 2011.
Russia, which supports the regime of Syrian President Bashar Assad, and Turkey, which backs the rebels, have held previous talks with Iran on the issue, in efforts that have often been greeted with suspicion in the West.
But Saturday's summit will be the first to bring together the Turkish and Russian leaders with the European Union's two most significant national leaders.
Turkish presidential spokesman Ibrahim Kalin said on Friday that the primary goal would be to "clarify the steps to be taken for a political solution and to determine a roadmap."
Forming a commission to create Syria's post-war constitution, seen as a stepping stone to staging elections in the war-torn country, would be a particular point of emphasis, Kalin told the state-run news agency Anadolu.
The talks will also look to extend a cease-fire around the last major rebel-held bastion of Idlib, where aid groups have warned that a military offensive could spark one of the worst humanitarian disasters of the seven-year war.
With an assault by government troops seeming imminent, last month Russia and Turkey agreed to create a demilitarised buffer zone ringing Idlib, home to three million people.
The September 17 deal for the 15-20 kilometer-wide zone came after a flurry of activity as Turkey sought to avoid an assault leading to a further influx of people across its border.
However shelling in the area has continued intermittently, and the Syrian Observatory for Human Rights said Syrian regime artillery fire killed seven civilians in Idlib on Friday — the highest death toll there since the cease-fire deal.
The participants have damped down hopes of a long-term solution ahead of the summit, with France's Elysee palace saying there were "modest expectations" and Putin's spokesman Dmitry Peskov urging everyone to be "realistic."
Peskov said that while all sides want a political settlement in Syria, "certain disagreements may exist regarding the instruments and tactics."
"The issue of the day is to reconcile different formats in order to synchronize our watches, to negotiate, and to attempt to identify common topics," he said.
While two key global players in the Syria conflict — Iran and the United States — will be absent, Macron said he briefed US President Donald Trump on strategy this week.
The push by Turkey and Russia has overshadowed a rival United Nations-backed political process, which has been hampered by the Syrian regime's refusal of "any foreign interference" in writing the new constitution.
However France and Germany's inclusion in Saturday's summit could help Turkey's bargaining position, as all three share the same view of Assad's regime, said Jana Jabbour, professor of political science at Sciences Po university in Paris.
The talks could even let Erdogan "try to normalize relations with Europe" and show he can be "a good partner with the West" after relations were badly affected by Ankara's crackdown over a failed coup in 2016.
Anthony Skinner, director for Middle East and North Africa at the Verisk Maplecroft consultancy, said the summit fits with Ankara's broader strategy, "one plank of which is to further solidify its position as a vital working partner for Russia and the Europeans."
Full report at:
http://www.arabnews.com/node/1394621/middle-east
--------
Mideast
Iran says Israeli regime seeks to divide Muslim countries
Oct 26, 2018
Iranian Foreign Ministry Spokesman Bahram Qassemi says the Israeli regime is striving to create rifts among Muslim countries and cover up its 70-year-long occupation of Palestine and the massacre of Palestinian people.
Qassemi made the remarks on Friday in response to a question regarding Israeli Prime Minister Benjamin Netanyahu's unannounced trip to Oman a day earlier.
While criticizing the Israeli PM's trip to Muscat, he said Muslim states, under pressure from the United States, should not allow Tel Aviv to create further trouble for the region.
The Israeli regime "is undoubtedly seeking to create rifts among Muslim countries and cover up 70 years of occupation, aggression and massacre of the oppressed Palestinian people," Qassemi stated.
Netanyahu along with a delegation, including Yossi Cohen, the director of the Mossad spy agency, and National Security Adviser Meir Ben-Shabbat, arrived in Muscat on Thursday night and flew back to the occupied Palestinian territories later on Friday, making it the first such meeting in over 20 years.
A joint statement by Netanyahu and Oman's ruler Sultan Qaboos said the two sides "discussed ways to advance" the so-called Middle East peace process and "a number of issues of mutual interest to achieve peace and stability in the Middle East."
It seems that since US President Donald Trump came to power, Netanyahu has been lobbying the Zionist regime and pressuring Muslim states to "normalize diplomatic relations with the usurpers of Muslims' first qibla," Qassemi added, referring to the holy city of Jerusalem al-Quds.
"History and experience have proved that surrendering to the illegitimate demands of the US and the Israeli regime will further embolden them to exert pressure and advance their agenda in the region and to ignore the inalienable rights of the Palestinian nation," he further said.
Muscat and Tel Aviv have no diplomatic relations, and the last Israeli leader to visit Oman was then-prime minister Shimon Peres in 1996.
Earlier this week, Palestinian President Mahmoud Abbas also visited the Persian Gulf Arab state for three days.
https://www.presstv.com/Detail/2018/10/26/578189/Iran-Israel-Oman-Palestine-Muslim-countries-Netanyahu-US
--------
Turkey wants 18 Saudis extradited over Khashoggi murder
October 27, 2018
ISTANBUL - Turkey on Friday said it wanted 18 Saudis extradited over the murder of journalist Jamal Khashoggi, as President Recep Tayyip Erdogan said Ankara still had more evidence to reveal in the case.
The announcement came a day after the Saudi prosecutor said that based on evidence supplied by Turkey the murder appeared to have been premeditated - the first time Saudi authorities had made such an admission.
In a speech in Ankara, Erdogan said Saudi Arabia's chief prosecutor would visit Istanbul on Sunday to speak to Turkish authorities as part of the investigation.
Saudi authorities earlier arrested 18 men wanted by Ankara following an international furore over the death of Khashoggi, a Washington Post contributor and critic of Saudi policies, who was killed at the Saudi consulate in Istanbul on October 2.
The killing has tainted the image of Crown Prince Mohammed bin Salman, who has positioned himself as a Saudi reformer, and tested ties between Washington and Riyadh as Western powers demand answers over Khashoggi's death.
A written request for the extradition of the 18 suspects had been prepared by Istanbul's chief prosecutor.
"It is clear that the judicial system in Turkey is better equipped to genuinely serve the cause of justice in this case," a senior Turkish official said, because Khashoggi was "murdered in Turkey by Saudi nationals who travelled to Turkey for this specific purpose".
Erdogan on Friday called on Riyadh to reveal who ordered the killing and the whereabouts of Khashoggi's body.
"You need to show this body," Erdogan said.
The Turkish president, who has stopped short of directly blaming the Saudi government, said that the 18 suspects must know who killed Khashoggi and repeated his call for the men to be tried in Turkey.
"The culprit is among them. If that is not the case, then who is the local conspirator? You have to tell," he said.
"Unless you tell, Saudi Arabia will not be free from this suspicion." Khashoggi, 59, who had lived in self-imposed exile in the United States since 2017, was not seen again after entering the consulate to obtain paperwork for his marriage to his Turkish fiancee Hatice Cengiz.
A tearful Cengiz said in a TV interview on Friday that she never would have let Khashoggi enter the consulate if she had thought that "Saudi Arabia authorities would hatch a plot" to kill him.
Saudi Arabia has sought to draw a line under the crisis with the investigation, but a string of gruesome details about the murder have continued to appear in the Turkish media.
In his speech, Erdogan indicated that more evidence was yet to be revealed.
"It is not that we don't have any other information or documents. We do. Tomorrow is another day," he said.
Riyadh's admission that the murder appeared to be a premeditated killing marked the latest twist in the shifting official narrative from Saudi authorities.
They had first insisted Khashoggi left the consulate unharmed, then said he was killed in an argument that degenerated into a brawl.
In his speech, Erdogan mocked the initial story of Khashoggi's disappearance as "childish" and "far from state seriousness". And the explanations have met with growing incredulity from Western governments who say many questions remain.
German Chancellor Angela Merkel vowed on Friday that Berlin would not export arms to Saudi Arabia until the murder is clarified, a stance French President Emmanuel Macron dubbed "pure demagoguery" as it "has nothing to do with Mr Khashoggi".
Macron dismissed calls to halt lucrative arms sales to Saudi Arabia over the murder of journalist Jamal Khashoggi, saying such a move would be "pure demagoguery".
Sale of weapons to Riyadh - France's second biggest customer after India - "has nothing to do with Mr Khashoggi. One shouldn't mix everything up," Macron told a press conference during a visit to Bratislava.
"I greatly admire those who, even before they know anything, say 'We won't sell any more weapons'!," the French leader said in an apparent reference to Germany.
"They sometimes sell more than France thanks to their joint ventures," he added
Meanwhile, the Kremlin said Russia believes that the Saudi royals were not involved in the murder.
On Thursday, CIA Director Gina Haspel briefed US President Donald Trump on the latest developments in the investigation after a fact-finding mission to Turkey.
Trump has called the case "one of the worst cover-ups in history".
Pro-government Turkish media said that intelligence officers showed Haspel video images and audio tapes of Khashoggi's killing gathered from the consulate.
A Turkish presidential source said Erdogan shared information about the case with Canada's Prime Minister Justin Trudeau during a phone call on Friday.
Prince Mohammed, the kingdom's de facto ruler, has denounced the "repulsive" murder, denying any involvement. The kingdom's leadership has pushed responsibility down the chain of command.
Full report at:
https://nation.com.pk/27-Oct-2018/turkey-wants-18-saudis-extradited-over-khashoggi-murder
--------
Israel launches its heaviest strikes in weeks after deadly Gaza protests
27 October 2018
Israeli aircraft have struck dozens of "militant sites" across the Gaza Strip as Palestinians fired some 30 rockets into Israel in the heaviest exchange of fire between the bitter enemies in several weeks.
The fighting early Saturday followed a bloody day of border protests, in which Israeli forces shot and killed four Palestinians protesting along the perimeter fence dividing Hamas-ruled Gaza and Israel.
The sudden burst of fighting and bloodshed complicated the mission of Egyptian mediators, who have intensified shuttle diplomacy to achieve calm and prevent a full-blown conflict between Hamas and Israel.
Full report at:
https://english.alarabiya.net/en/News/middle-east/2018/10/27/Israel-launches-heaviest-strikes-in-weeks-after-deadly-Gaza-protests.html
--------
Khashoggi fiancee rejects Trump's WH invitation fearing a public relations stunt
Oct 26, 2018
The fiancee of slain Saudi journalist Jamal Khashoggi, Hatice Cengiz, has revealed her rejection of United States President Donald Trump's White House invitation, fearing that it may have been a public relations stunt.
"Trump invited me to the United States but I perceived it as a statement to win [his own] public favor," said Cengiz during an interview with Turkish broadcaster Haberturk on Friday.
During the interview, Cengiz also revealed further details surrounding Khashoggi's brutal death, pausing several times during the program to hold back tears, explaining that her fiance "had questions in mind about whether something untoward could actually happen at the consulate," but had ultimately assumed that he would not be arrested or harmed in Turkey, specifically after being treated well during an initial visit to the Saudi consulate in late September.
"His local network in Turkey was very good as you know, his political network as well," Cengiz said, pointing out that "he thought Turkey is a safe country and if he would be held or interrogated, this issue would be swiftly solved."
Khashoggi – a US resident, Washington Post columnist, and a critic of Crown Prince Mohammed bin Salman – entered the consulate in Istanbul on October 2 to obtain a document certifying he had divorced his ex-wife, but reportedly never left the building.
Saudi officials have since presented numerous contradicting explanations over the journalist's fate, originally insisting that Khashoggi had left the diplomatic mission after finishing his paperwork, only to admit several days later that he had in fact been killed inside the building.
Moreover, Saudi Arabia's public prosecutor revealed on Thursday that a joint Saudi-Turkish investigation had reached the conclusion that the murder was "premeditated," effectively dismissing an earlier account that the dissident journalist had died in an accidental "altercation".
Several countries, including major allies of Riyadh, have called for clarifications on the murder, while many politicians have subsequently brought into question their countries' existing arms and trade deals with the oil-rich kingdom.
Full report at:
https://www.presstv.com/Detail/2018/10/26/578183/Khashoggi-Fiancee-rejects-Trump
--------
Israeli soldiers kill more Palestinians in Gaza
Oct 26, 2018
There seems to be no cut to the streak of young Palestinians being killed by Israeli soldiers at the fence area separating the besieged Gaza Strip from the occupied territories.
Ashraf al-Qidra, spokesman for the Gaza Health Ministry, said three Palestinians were killed on Friday east of Khan Yunis in southern Gaza, identifying them as Nassar Eyad Abu Taim, 19, Ahmed Saied Abu Labda, 22, and 23-year-old Ayesh Ghassan Shaat.
He said Israeli soldiers also killed Muhammad Khaled Mahmoud Abdul Nabi, 27, east of Jabalia, about four kilometers north of Gaza City.
Jabr Ibrahim Abu Hamisa, 25, was also killed in an incident east of al-Bureij refugee camp in central Gaza.
Tensions have been running high near the border fence since March 30, which marked the start of a series of protests dubbed "The Great March of Return." Palestinian protesters demand the right to return for those driven out of their homeland.
The clashes in Gaza reached their peak on May 14, the eve of the 70th anniversary of Nakba Day, or the Day of Catastrophe, which coincided this year with Washington's relocation of the US embassy from Tel Aviv to occupied Jerusalem al-Quds.
More than 200 Palestinians have so far been killed and over 20,000 others wounded in the renewed Gaza clashes, according to the latest figures released by the Gaza Health Ministry.
Gaza has been under Israeli siege since June 2007, causing a decline in living standards as well as unprecedented unemployment and poverty.
Israel has also launched several wars on the Palestinian sliver, the last of which began in early July 2014 and ended in late August the same year. The Israeli military aggression killed nearly 2,200 Palestinians and injured over 11,100 others.
Palestinian man killed in Ramallah
In the West Bank city of Ramallah, clashes were reported between the Palestinians and Israeli forces.
Full report at:
https://www.presstv.com/Detail/2018/10/26/578168/Israeli-forces-Palestinians-Gaza
--------
Yemeni forces shoot down Saudi reconnaissance drone in Jizan
Oct 26, 2018
Yemeni army forces, supported by allied fighters from Popular Committees, have intercepted and targeted an unmanned aerial vehicle, belonging to the Saudi-led military coalition, as it was flying in the skies over the kingdom's southwestern border region of Jizan.
An unnamed Yemen military source told Yemen's Arabic-language al-Masirah television network that Yemeni air defense forces and their allies shot down the drone as it was on a reconnaissance mission over Hariqah area in the Wadi Jarrah district of the province, located 969 kilometers south of the capital Riyadh, on Friday evening.
Separately, Yemeni army forces and Popular Committees fighters fired three domestically-developed Zelzal-1 (Earthquake-1) ballistic missiles at a position of Saudi troops and Saudi-backed Yemeni militiamen loyal to former president Abd Rabbuh Mansur Hadi in the al-Khobe area of Jizan region, leaving a number of them killed and injured.
A bulldozer belonging to Saudi forces was also destroyed after a barrage of Yemeni artillery rounds slammed into the strategic Jabal al-Doud military base in the same Saudi region.
Saudi Arabia and a number of its regional allies launched a devastating military campaign against Yemen in March 2015, with the aim of bringing the government of Hadi back to power and crushing the country's popular Houthi Ansarullah movement.
The Legal Center for Rights and Developments in Yemen, in a statement released on October 15, announced that the ongoing Saudi-led military campaign against the impoverished and conflict-plagued Arab country has resulted in the death of 15,185 civilians, including 3,527 children and 2,277 women.
A total of 23,822 civilians, among them 3,526 children and 2,587 women, have also sustained injuries, and are currently suffering from the lack of medicine, medical supplies and poor treatment due to the crippling Saudi siege.
The center highlighted that aerial assaults being conducted by the Saudi-led alliance have resulted in the destruction of 15 airports and 14 ports, and damaged 2,559 roads and bridges in addition to 781 water storage facilities, 191 power stations and 426 telecommunications towers.
The statement went on to say that the incessant Saudi-led bombardment campaign has destroyed more than 421,911 houses, 930 mosques, 888 schools, 327 hospitals and health facilities plus 38 media organizations, halted the operation of 4,500 schools and left more than 4 million people internally displaced.
Full report at:
https://www.presstv.com/Detail/2018/10/26/578153/Yemeni-forces-shoot-down-Saudi-reconnaissance-drone-in-Jizan
--------
Africa
Jordan's King Abdullah expresses grief over those killed in Dead Sea floods
26 October 2018
Speaking on the tragic flood that left at least 20 people dead near the Dead Sea, King Abdullah II of Jordan said "my grief is great and deep, and nothing equates to it except the anger I feel towards those who failed to take measures that could have prevented this painful incident."
Jordan's King said in a speech on Friday: "My condolences to the people of Jordan at the loss of our family members. The pain of every father, mother, and family is my pain as well."
King Abdullah also expressed his condolences to the leaders of Iraq regarding the death of two Iraqis who were killed in the flood near the Dead Sea.
The King will chair a meeting with the National Policy Council to discuss the ramifications of the flood.
At least 20 people, mainly schoolchildren and teachers, were killed on Thursday in a flash flood near Jordan's Dead Sea that happened during a school field trip, rescuers and hospital workers said.
Heavy rains hit Jordan on Thursday afternoon, causing floods in several areas which led to the worst disaster in years. The Dead Sea, the lowest point on the earth, is surrounded by steep valleys that frequently witness flash floods and landslides.
https://english.alarabiya.net/en/News/middle-east/2018/10/26/Jordan-s-king-expresses-grief-over-the-loss-of-those-killed-in-Dead-Sea-floods.html
--------
AU force says key al-Shabaab commander killed
2018-10-25
The African Union force in Somalia says it has killed a "chief finance controller" for the al-Qaeda-linked al-Shabaab extremist group.
The AU force in a series of tweets on Thursday says the commander, the head of tax collection in Lower Shabelle region, was killed after an ambush on Monday on an al-Shabaab meeting in Bariire. The extremists bring in funding by taxing the communities they control.
The AU force says another seven al-Shabaab fighters were killed on Sunday when their attack on a forward operating bases was "botched."
The multinational force in the coming years is expected to draw down and hand over responsibility for Somalia's security to the country's military.
Full report at:
https://www.news24.com/Africa/News/au-force-says-key-al-shabaab-commander-killed-20181025
--------
Boko Haram: Army frees 28 juveniles from custody
October 26, 2018
The Nigerian military on Thursday handed over 28 juveniles associated with the terrorist group, Boko Haram, to the Borno State Government and the United Nations Children's Fund.
The juveniles were said to have been rescued from Boko Haram insurgents and kept with the army before they were released on Thursday.
Northern City News learnt that the released teenagers would be de-radicalised, rehabilitated and reintegrated into the society.
The head of the military counter-insurgency operation in the North-East, Operation Lafiya Dole, Maj Gen Abba Dikko, while handing over the teenagers, said their release was in deference to all international standards on human rights.
He said the army had abided by its Rule 28 on how children or minors associated with armed groups should be treated.
He gave the assurance that the military would ensure that people return to their localities to resettle and go back to their normal lives.
The 28 released teenagers comprise 24 males and four females, with the oldest being 17 years and the youngest being 13 years old.
The theatre commander pointed out that it was high time people embraced peace.
He said he was impressed with the large size of farmlands cultivated across the North-East by the returned IDPs and residents of host communities with the return of relative peace and agricultural activities.
He noted that the teenagers were thoroughly screened and had passed through processes of interrogation and counselling by the military and other security agencies as the law required.
He urged the people to resist all temptation and intimidation from unscrupulous elements in the society who were out to deter the efforts of the military to restore peace in the country.
He appealed to the teenagers to be disciplined, obedient, dedicated and committed to the de-radicalisation and rehabilitation process as well as the psychological training that will be extended to them by the UNICEF and the Borno State Government.
Speaking on the occasion, the UNICEF Borno Chief Field Office Maiduguri, Mr Geoffrey Ijumba, said in the last two months, 23 children were released to the Borno State Ministry of Women Affairs and Social Development to rehabilitate and reintegrate with their families and communities.
He said, "Today, another 28 children were released showing the commitment of the military to adhere with the international humanitarian law and ensuring protection of the innocent children caught up in the Boko Haram conflict."
Ijumba gave assurance that UNICEF would continue to work with the military and other authorities to support the reintegration of all children released until there were no more children in protective custody, stressing that UNICEF remained committed to working with the Borno State Ministry of Women Affairs and Social Development and all other partners to provide all children released with medical attention and psychological support before the process of reuniting them with their families and reintegrating them into the society begins.
Geoffrey disclosed that out of the 338 children released by rhe military this year, 175 were girls and 268 were boys, adding that more than 385 children had been reunited with their families and were on the oath towards starting a better life.
He said UNICEF would continue to support the ministry to identify alternative care arrangements for the children who could not return home because of difficulties in family tracing or projection concerns.
The Permanent Secretary, Borno State Ministry of Women Affairs and Social Development, Hajiya Hauwa Mai Musa, who represented the Borno state Government thanked the Nigerian military for its efforts and sacrifices as well as UNICEF for its support to the children and other vulnerable in the society around the world.
Full report at:
https://punchng.com/boko-haram-army-frees-28-juveniles-from-custody/
--------
North America
Georgia gubernatorial candidate poses with anti-Muslim activist
by Patrick Strickland
October 27, 2018
With a thumb's up, a half-hug and a smile, Georgia gubernatorial candidate Brian Kemp posed for a photograph with a well-known far-right and anti-Muslim activist at a campaign event.
The far-right conspiracy theorist James Stachowiak wore a t-shirt that read, "Allah is not God, and Mohammad is not his prophet", in a photo posted on what appears to be his Twitter account on October 15.
The tweet reads, "This is me a week ago meeting Brian Kemp in August Georgia he will be on the governor of Georgia."
On Friday, the Georgia chapter of the CAIR called on Kemp, a Republican who currently serves as Georgia's Secretary of State, to apologise for the photograph.
With less than two weeks until midterm elections, Kemp's photo controversy comes on the heels of a lengthy spate of a lengthy spate of anti-Muslim incidents in 2017 and 2018, according to a new report.
"I am rarely surprised when I see anti-Muslim bigotry these days, but Mr Kemp should apologise, meet with us and other Georgia Muslim leaders, and renounce this man's support," Edward Ahmed Mitchell, CAIR-Georgia's executive director, told Al Jazeera.
Stachowiak, a pro-Trump activist and former police officer, has been "defaming, harassing and threatening Georgia Muslims for at least the past two years", Mitchell added.
In the past, CAIR-Georgia has had to call the police on Stachowiak over alleged violent threats and intimidation, he said.
At the time of publication, Kemp's campaign spokesperson had not replied to Al Jazeera's request for a comment.
With less than two weeks before US midterm elections, Kemp is polling neck and neck with Democratic challenger Stacey Abrams.
In campaign ads, Kemp, a vocal supporter of President Donald Trump, joked about his willingness to "round up … criminal illegals" in his "big truck" and bragged about owning guns.
Posing with Stachowiak marks the latest in a spate of controversies marring Kemp's campaign, including allegations that Kemp has engaged in voter suppression through his position as Georgia's secretary of state.
In the past, Stachowiak has called on the US military to bomb Mecca, urged people to open fire on Black Lives Matter (BLM) protesters and destroyed copies of the Quran in front of Georgia mosques.
The Alabama-based Southern Poverty Law Center has described him as "a long-time militia organiser".
Stachowiak has also bragged about his guns. In an August 2016 YouTube video, he lifted a military-grade gun to the camera and held up a bullet with "BLM" written on it in black marker.
"I'll drop you like it's hot, you little maggots," he said in the video. "And by the way, Black Lives Matter are working with the Muslim Brotherhood."
Uptick in anti-Muslim campaigning
Earlier this week, the Muslim Advocates civil rights group released a report documenting at least 80 instances of political candidates using "clear anti-Muslim rhetoric" in 2017 and 2018.
The vast majority of those incidents involved Republicans, and 64 percent of the listed candidates held office before or enjoyed a presidential endorsement.
More than a third of the candidates included in the report alleged that Muslims are innately violent or pose a physical threat.
Although anti-Muslim movements have been growing for years, Scott Simpson, public advocacy director of Muslim Advocates, explained that Trump's election energised them.
"[Anti-Muslim] individuals are in power right now, and we see the outcome of that on a weekly basis," he told Al Jazeera by telephone.
On Monday, Trump baselessly claimed that "unknown Middle Easterners" had embedded in a US-bound caravan of Central American refugees and migrants.
The following day, the president defended his comments, but admitted that he had no evidence to substantiate the claim.
"There's no proof of anything, but they could very well be," Trump told reporters at the White House.
Throughout the ongoing midterm campaigning period, Republicans and right-wing Super PACs have attempted to link Democratic candidates to "terrorism", in many cases evoking Islam and Muslims.
https://www.aljazeera.com/news/2018/10/georgia-gubernatorial-candidate-poses-anti-muslim-activist-181026220648234.html
--------
Mullah Baradar's release fulfils Afghan demand, says US
Anwar Iqba
October 27, 2018
WASHINGTON: Founding Taliban leader Mullah Abdul Ghani Baradar's release is the fulfilment of a long-standing Kabul demand, says the US State Department, as diplomatic circles in Washington see this as opening new possibilities for improvement in US-Pakistan relations as well.
"We are aware of the reports and would refer you to the Pakistani authorities and to the Afghan government, which has repeatedly asked for his release to help facilitate a peace process," said a US State Department spokesperson when contacted by Dawn for the confirmation of Mullah Baradar's release.
On Thursday, Afghan Taliban confirmed media reports that Pakistani authorities had released their former deputy chief and that they "made no compromise" to get him out.
Mullah Baradar co-founded the Taliban movement with Mullah Omar and was a prominent member of the Taliban government before it was toppled in October 2001.
He was the most high-profile Taliban leader in Pakistan's custody and was arrested in February 2010 in a joint ISI and CIA operation. Mullah Baradar's release came less than two weeks after special US envoy Zalmay Khalilzad met Taliban representatives in Doha, Qatar, to discuss various options for ending the Afghan conflict.
Reports in the US media suggested that Mullah Baradar was among several senior Taliban leaders freed this week, after the Taliban demanded their release in direct talks with Mr Khalilzad on Oct 12.
Reports originating in Kabul suggested that Mullah Baradar would stay in Pakistan and shuttle between the Taliban's Doha office, Kabul and Islamabad.
A Taliban official told reporters in Doha that his release would further enhance the US-led effort for negotiating a peace deal with the Taliban in Doha where American officials have already held two rounds of talks with the Afghan rebels.
US media reports also noted that Mullah Baradar's release followed the election of Prime Minister Imran Khan, who has long advocated talks with the Taliban as the only viable option for ending the 18-year-long war in Afghanistan.
During a visit to Washington early this month, Foreign Minister Shah Mehmood Qureshi also pledged support to the US move to engage the Taliban.
Diplomatic sources told Dawn that Pakistan came close to releasing Mullah Baradar in 2012-13 as well, when the Taliban's Doha office became operational. Former Afghan President Hamid Karzai, however, strongly opposed the decision to set up a Taliban office in Doha, arguing that it amounted to granting diplomatic recognition to the movement. This also squandered the move to involve Mullah Baradar in peace negotiations.
During the same period, Pakistan agreed to allow a representative of the Kabul government to meet Mullah Baradar in prison but the Taliban leader refused to see the envoy.
Full report at:
https://www.dawn.com/news/1441718/mullah-baradars-release-fulfils-afghan-demand-says-us
--------
Hezbollah fighting to prevent Zionist terrorists from overrunning Mideast: Scholar
Oct 26, 2018
Hezbollah is an anti-terror group which is fighting to prevent the Zionist terrorists from continuing to overrun the territory that does not belong to them in the Middle East, an American scholar says.
Kevin Barrett, an author, journalist and radio host with a Ph.D. in Islamic and Arabic Studies, made the remarks in an interview with Press TV on Friday after the Trump administration imposed a new round of sanctions on the Lebanese resistance movement.
The sanctions targeted individuals and international organizations that do business with the group.
Trump signed the sanctions legislation – known as the Hezbollah International Financing Prevention Amendments Act 2018 – against the resistance group on Thursday.
"Over the past year we have levied the highest sanctions ever imposed on Hezbollah – in a single year, by far. Just a few moments ago, I signed legislation imposing even more hard-hitting sanctions on Hezbollah to further starve them of their funds. And they are starving for them," Trump said during an event in Washington, DC, that marked the 35th anniversary of an attack on US marine barracks in the Lebanese capital of Beirut.
Washington has for long accused Hezbollah of being behind the 1983 bombing attack, in which 241 US Marines were killed.
'Sanctions against Hezbollah a political stunt before midterms'
Dr. Barrett said that sanctions against Hezbollah are a political stunt by President Donald Trump before the November 6 midterm elections.
"Trump is once again trying to distract from his other political problems by blaming somebody, in this case Hezbollah, slapping more sanctions on Hezbollah," he said.
"I think Hezbollah is already very heavily sanctioned but Trump needs a political stunt. In any case, this is deceptive because naturally Trump is saying the same words that the Zionists put in his mouth and everyone else's mouth claiming that Hezbollah is a terrorist group which is a lie," he stated.
"Hezbollah does not go out of his way to target civilians. That is the definition of terrorism. Terrorism is a military tactic and it is a tactic which consists of intentionally targeting civilians. Hezbollah does not do that. On the contrary, Hezbollah is a resistance group which is fighting to prevent the Zionist terrorists from continuing to overrun the territory that does not belong to them in the Middle East, which is essentially everything in the Middle East," the analyst said.
"Nothing in Palestine or its surroundings belong to the Zionists. They came from Europe. They invaded, used terrorism as their main tactic. And the resistance groups typically are focusing on stopping this invasion and stopping terrorists," he noted.
"So Hezbollah actually is an anti-terror group but of course Trump being owned lock, stock, and barrel by the Zionist movement like most US politicians are -- in Trump's case even more so given his son-in-law Kushner's ties with Bibi Netanyahu," he observed.
"Obviously Trump is going to pay the Zionist propaganda card and used that to collect money for the election campaign, to scare up Zionist money for the Republicans in the coming congressional elections," he said.
"So here in the United States, the Zionists actually give about half of the money that comes into the federal elections. So that means they actually own our entire political process," the commentator said.
Full report at:
https://www.presstv.com/Detail/2018/10/26/578182/Hezbollah-fighting-to-prevent-Zionist-terrorists-from-overrunning-Mideast
--------
Trump signs new sanctions against Lebanese resistance movement
Oct 26, 2018
The administration of US President Donald Trump has imposed a new round of sanctions on Lebanese resistance movement Hezbollah targeting individuals and international organizations that do business with the group.
Trump signed the sanctions legislation – known as the Hezbollah International Financing Prevention Amendments Act 2018 – against the resistance group on Thursday.
"Over the past year we have levied the highest sanctions ever imposed on Hezbollah – in a single year, by far. Just a few moments ago, I signed legislation imposing even more hard-hitting sanctions on Hezbollah to further starve them of their funds. And they are starving for them," Trump said during an event in Washington, DC, that marked the 35th anniversary of an attack on US marine barracks in the Lebanese capital of Beirut.
Washington has for long accused Hezbollah of being behind the 1983 bombing attack, in which 241 US Marines were killed.
"We will target, disrupt, and dismantle their operational and financing networks – of which they had plenty; they don't have plenty now… and we will never forget what they did to our Marines in Beirut," Trump added.
The US president also used the attack to criticize Iran, claiming that the Islamic Republic is "instrumental in founding Hezbollah," and remains "its main patron today."
White House press secretary Sarah Sanders said in a statement that the sanctions "will further isolate Hezbollah from the international financial system and reduce its funding," adding that "these sanctions will target foreign persons and government agencies that knowingly assist or support Hezbollah, and Hezbollah-affiliated networks."
Washington claims that the resistance movement condones terrorism despite the fact that Hezbollah has been involved in a fierce fight against Takfiri terror groups, including Daesh and al-Nusra Front, thus preventing the spillover of the militancy gripping neighboring Syria into Lebanon.
Hezbollah was founded in the 1980s following the Israeli invasion and occupation of southern Lebanon. The movement waged a long resistance campaign against Zionist forces and pushed them out of southern Lebanon in May 2000. Since then, the group has grown into a powerful military force. Israel also suffered a humiliating defeat from Hezbollah in the 2006 war.
Hezbollah has also supported the Syrian army in its fight against foreign-sponsored terrorists, who have been wreaking havoc in the Arab country since March 2011.
Full report at:
https://www.presstv.com/Detail/2018/10/26/578174/Donald-Trump-sanctions-Hezbollah
--------
Khashoggi killing hazes Saudi economic reform: NY Times
26.10.2018
By Umar Farooq
WASHINGTON
The killing of Saudi journalist Jamal Khashoggi served as an obstacle to the economic endeavors of Crown Prince Mohammed bin Salman, the New York Times wrote.
The newspaper said the crisis over the murder of the journalist happened at a time when Saudi Arabia was already struggling financially, with low oil prices and difficulty lifting up its private sector in a country with an "increasingly youthful population".
"It is both a political and an economic crisis," a scholar at the American Enterprise Institute, Karen Young, told the Times on Thursday. "The economic reform agenda is somewhat derailed. I don't think it's over, but this is a clear stall, mostly because it's so dependent on foreign investment and this is the worst timing."
Khashoggi, a Saudi national and columnist for The Washington Post, was last seen entering the his country's consulate in Istanbul on Oct. 2. After initially denying involvement, Saudi authorities admitted he had died in a fist-fight at the consulate.
The aftermath of the killing led to many prominent executives in business and finance, including U.S. Treasury Secretary Steven Mnuchin and billionaire Richard Branson, to pull out of the second annual Future Investment Initiative in Riyadh, an attempt by the crown prince to diversity the oil-based economy.
The conference ended on Thursday and "served as a litmus test of sorts for where the prince's vast reform efforts stand."
The Saudi energy minister said deals worth around $56 billion were still made at the conference, many of them with U.S. companies.
Some world leaders still attended the conference as well, such as Pakistan's Imran Khan and Jordan's King Abdullah II. However, both came in relation to financial aid packages that the former was asking for, and the latter had already received.
The newspaper added that while Khashoggi's killing may have been a setback in Saudi's economic plans, overall it may not have an impact in the long term.
Full report at:
https://www.aa.com.tr/en/americas/khashoggi-killing-hazes-saudi-economic-reform-ny-times/1294570
--------
Nashville, Franklin mosques want to help you to meet your Muslim neighbors
Oct. 26, 2018
Two mosques in Middle Tennessee want to help you meet your Muslim neighbors.
Both the Islamic Center of Tennessee in Antioch and the Islamic Center of Williamson County in Franklin are hosting open mosque day events this weekend to teach the broader community about the faith and build relationships between Muslims and non Muslims.
Ahmedulhadi Sharif, the imam at the Islamic Center of Tennessee, hopes his mosque's Saturday afternoon event will break down the barriers that difference and Islamophobia can put up.
"The world will be a better place and Nashville will be a better place if you know your neighbors," said Sharif, who added that ICT has an open door policy. "We just want people to get to know us — that we are regular people — to build relationships, to collaborate, to make Nashville a better place, to work on common causes."
The Islamic Center of Williamson County is hosting its event on Sunday afternoon. Both events will feature mosque tours, food, Arabic calligraphy, henna, trying hijab and a presentation by Dr. Sabeel Ahmed, the director of GainPeace. The mission of GainPeace is to educate the public about Islam.
Ahmed said his presentation will focus on the history of Muslims in the U.S., Islamic beliefs and misconceptions, including perceptions about jihad, violence, terrorism and women in Islam.
"Of all the faiths in the U.S., I think Islam is the most misunderstood," Ahmed said. "People may have a fear of the unknown about Islam and Muslims that may lead to us looking at Muslims with bias and suspicion and discrimination some times. That may lead to violence against Muslims."
Full report at:
https://www.tennessean.com/story/news/religion/2018/10/26/nashville-franklin-mosques-want-you-meet-your-muslim-neighbors/1765951002/
--------
URL: https://www.newageislam.com/islamic-world-news/suicide-bombing-kills-five-wounds/d/116730
New Age Islam, Islam Online, Islamic Website, African Muslim News, Arab World News, South Asia News, Indian Muslim News, World Muslim News, Women in Islam, Islamic Feminism, Arab Women, Women In Arab, Islamophobia in America, Muslim Women in West, Islam Women and Feminism