New Age Islam News Bureau
26 Oct 2012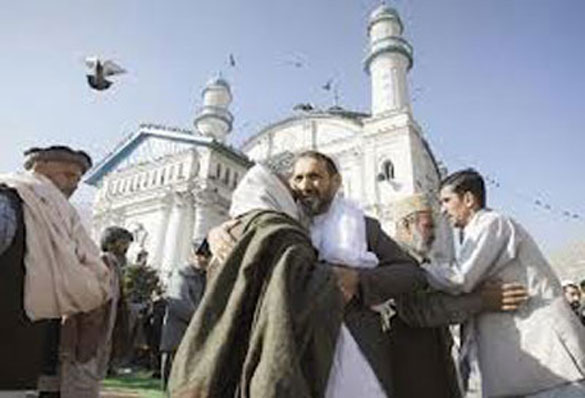 South Asia
• Suicide Bombing Kills 41 in Afghan Mosque after Eid Ul Azha
• Over 100 dead as communal violence rocks Myanmar
• Bangladesh rebuilds temples torched in Muslim riots
• Bank of China denies channelling funds to Hamas
• Trail of assault: Malala attack plot hatched in Afghanistan
• Pak, Afghanistan clash over Durand Line
• Myanmar govt pleads for end to ethnic strife
• British, US soldiers die in Afghan chaos: officials
• Taliban claim Afghan attack killing two Americans
• Bangladesh steps up patrols on Myanmar border
India
• Family clueless about doctor detained in Saudi Arabia
• Pak infiltration through Nepal border increases alarmingly
• Maintaining peace biggest challenge faced by J&K government: Omar Abdullah
• Pune blast: Mumbai ATS seeks 4 IM suspects' custody
• Kasab's security bills issue needs debate: Shinde
• Abdul Kalam hopes Vision 2020 will be fulfilled in next 8 years
• Curfew in Faizabad after riots
Africa
• Mali back in African fold as world rallies to oust Islamists
• Six civilians killed in Somalia fighting
• A.U. readmits Mali with 2013 poll plan
• Rebels kill two park rangers in eastern Congo
Europe
• Bishops seeking to revive Catholicism are worried by Islam
• "Adultery should not be classified as a criminal offense" says UN expert
• 60pc French say Islam too prominent at home
• Birmingham school desperate for a new site as hundreds apply for just 60 places
• In death, dog that sniffed out Taliban arms a hero in Britain
North America
• Eid Prayer Leaders Urged to Encourage Voter Turnout
• CSUN students learn about more than the myths of Islam
• India's role in bringing stability in Afghanistan will be very helpful: US
• Canada asks UN expert to resign over Israel remarks
• Panetta Says Risk Impeded Deployment to Benghazi
• WikiLeaks starts releasing American detenu policies
Arab World
• President Morsi, time is up for appeasing 'secularists': Salafist sheikh
• 'Boycotters' chant against Revolution's Imam at Eid prayers in Tahrir
• Haj congregation impresses new Muslims
• Battle mars Syria holiday truce; lull elsewhere
• Grand Mufti emphasizes fairness in all dealings
• Fighting rages in Syria before proposed truce
• Haj pilgrims stone the Satan, pray for forgiveness
• Tank fire, snipers kill 3 in Damascus suburb: Activists
Pakistan
• Gunship attacks in Bara kill 9 militants; 5 hideouts destroyed
• UN reports that 30 govt schools in Karachi shut down since 2011
• Pakistan shares dossier on Fazlullah with Afghanistan
• Pak minister and Chairman ETPB at loggerheads over Gurdwara properties
• Gunmen kill two anti-Taliban elders in Swat
• Pakistan-born US billionaire says racist remarks hardened his resolve
• Two TTP men held in Karachi
• PPP leaders condemn killing of journalist Ali Raza
• Asghar Khan Case: Nawaz Sharif 'strongly' denies taking money from ISI
• Malala Yousafzai: Girl activist safe in UK, father says
• Eid ul Azha: Govt directed not to suspend mobile services unless 'necessary'
• Jab Tak Hai Jaan's release hangs in the balance for Pakistan
Mideast Asia
• Israeli Officials Asked to Be Silent on Issue of U.S.-Iran Talks
• Iran Said to Nearly Finish Nuclear Enrichment Plant
• Mortar Bombs, Gunfire Heard Along Turkey-Syria Border
• Hamas Brinkmanship Masks Quiet Confidence
• Iran dissidents Sotoudeh and Panahi win Sakharov prize
• Netanyahu, Lieberman join forces for Israel poll: reports
Compiled by New Age Islam News Bureau
Photo: Suicide Bombing Kills 41 in Afghan Mosque after Eid Ul Azha
URL: https://newageislam.com/islamic-world-news/suicide-bombing-kills-41-afghan/d/9108
-------------
South Asia
Suicide Bombing Kills 41 in Afghan Mosque after Eid Ul Azha
October 26, 2012
KABUL: A suicide bomber killed at least 41 people, including five children, when he struck at a mosque in northern Afghanistan after Eid ul Azha prayers on Friday, officials said.
Dozens more were wounded as the bomb ripped through the crowd of worshippers in Maymana city in Faryab province and there were fears the death toll could rise.
There was no immediate claim of responsibility, but suicide bombings are a favourite weapon of Taliban trying to topple the Western-backed government of President Hamid Karzai.
The attacker was wearing a police uniform when he blew himself up at the entrance to the city's packed Eid Gah mosque, deputy provincial governor Abdul Satar Barez told AFP.
"Our latest death toll shows 41 deaths, and that might rise," he said.
"Nineteen were members of the security forces, including police, army and intelligence agents. Seventeen were civilians and five children are also among the dead."
Barez, like many other provincial officials, was at the scene at the time of the bombing and described the horror of the blast in the midst of a religious celebration.
"We had just finished Eidul Azha prayers and we were congratulating and hugging each other," Barez said.
"Suddenly a big explosion took place and the area was full of dust and smoke and body parts of police and civilians were all over the place. It was a very powerful explosion."
One eyewitness, Sayed Moqeed, described the bomber as appearing to be in his early teens.
"Suddenly I heard a very big explosion," he said. "Everywhere were pieces of bodies, hands and limbs. The suicide attacker was in police uniform, he looked to be around 14 or 15 years old."
Karzai strongly condemned the attack, calling the perpetrators "the enemies of Islam and humanity".
"Those who take the happiness of Muslims during Eid days cannot be called human and Muslim," he said.
Northern Afghanistan is relatively peaceful, with the Taliban, who were ousted from power in a US-led invasion in 2001, concentrating their operations in the south and east of the country.
http://tribune.com.pk/story/457168/suicide-bomber-hits-afghan-mosque-during-eidul-azha-prayers-official/
-------------
Over 100 dead as communal violence rocks Myanmar
October 26, 2012
SITTWE: At least 112 people have been killed and thousands of homes torched in Buddhist-Muslim violence in western Myanmar, casting a shadow over the reformist government's attempts to remake the country's international image.
People have fled their homes in droves following the latest clashes in Rakhine state, which was rocked by communal violence in June that split communities and left tens of thousands of mainly Muslim Rohingya living in camps.
"Up until this morning, 51 men and 61 women have died," a spokesman for Rakhine state Win Myaing said, doubling an earlier toll.
The dead were from both sides, he added, while scores more were wounded as violence engulfed four townships.
More than 200 people have now been killed in the state since June, according to the authorities, who have imposed emergency rule in the face of continued explosive tension in the region.
The United Nations responded to the bloodshed Friday with a stark warning that Myanmar's reforms are under threat from the continued unrest between ethnic Rakhine and the Rohingya.
"The vigilante attacks, targeted threats and extremist rhetoric must be stopped," a spokesman for Secretary-General Ban Ki-moon said in a statement released in Yangon.
"If this is not done… the reform and opening up process being currently pursued by the government is likely to be jeopardised."
President Thein Sein has been widely-praised for overseeing sweeping reforms in the former junta-ruled nation, including the release of hundreds of political prisoners and the election of opposition leader Aung San Suu Kyi to parliament.
But the Rakhine violence poses a stern challenge to the reform process.
State media on Friday took the rare step of acknowledging the damage the resurgent violence is causing to the nation's image at a pivotal moment in its transition from authoritarian rule.
The violence comes as the "international community is watching", a statement signed by the president's office said in government mouthpiece New Light of Myanmar.
Myanmar's 800,000 Rohingya are seen as illegal immigrants from neighbouring Bangladesh by the government and many Burmese — who call them "Bengalis".
The latest violence, which prompted Myanmar's main Islamic organisations to cancel celebrations for the four-day Eidul Azha holiday that began on Friday, is seen as serious challenge to the government.
Washington joined the United Nations to swiftly condemn the violence, with US State Department spokeswoman Victoria Nuland urging both sides "to exercise restraint and immediately halt all attacks".
Security has been stepped up in affected areas, including around the state's main tourist attraction of Mrauk U and Kyaukpyu, where a major pipeline to transport Myanmar gas to China begins.
Tun Tun, an ethnic Rakhine resident in Mrauk U contacted by AFP from Yangon said the situation in his township had calmed on Friday.
"The situation is calm now. We heard that more security forces were sent from Sittwe (the state capital) to Mrauk U," he said, adding some shops have been closed since violence flared.
AFP journalists visiting Rakhine just before the renewed unrest saw thousands of Muslim Rohingya trapped behind barbed wire and armed guards in a ghetto in the centre of the capital.
Tens of thousands more are housed in camps beyond the city limits as segregation between the two communities becomes more pronounced.
There have been a number of anti-Muslim protests by Buddhists recently.
The stateless Rohingya, speaking a Bengali dialect similar to one in neighbouring Bangladesh, have long been considered by the United Nations as one of the most persecuted minorities on the planet.
Bangladesh on Thursday mobilised extra patrols along its river border with Myanmar amid reports of dozens of boats carrying Rohingya Muslim refugees fleeing the clashes.
Dhaka drew criticism from the UN after it turned back boatloads of Rohingya, mainly women and children, after the June violence. But the nation said it would not accept any new refugees because it was already dealing with an estimated 300,000 Rohingya.
The UN's refugee arm has said it fears large numbers of Rohingya will attempt the perilous sea journey south over the coming weeks to escape violence in Rakhine and the sprawling refugee camps in Bangladesh.
http://tribune.com.pk/story/457164/at-least-56-dead-as-communal-violence-hits-myanmar/
-------------
Bangladesh rebuilds temples torched in Muslim riots
October 25, 2012
Bangladesh has started rebuilding 19 Buddhist temples vandalised by Muslim mobs in violence triggered by anger over a controversial Facebook content, officials said on Thursday. Army engineers will renovate the temples at a cost of nearly 120 million taka ($1.5 million) on the orders of
Prime Minister Sheikh Hasina who recently visited the area, district administrator Ruhul Amin said.
"The army has already started work. We have sat with Buddhist community leaders to finalise the designs. The temples will be rebuilt almost to their old shape," Amin said.
At least 120 Buddhist houses were also attacked, some of them razed to the ground, and dozens of shops were looted in last month's violence that began at Ramu town in the southeastern Cox's Bazaar district.
The violence spread to five towns and a dozen villages as rumours circulated that a young Buddhist man had posted photographs on Facebook insulting Islam. He denied responsibility for the posting.
Buddhists, who make up less than one per cent of Bangladesh's 153 million mostly Muslim population, are based mainly in the southeast near the border with Buddhist-majority Myanmar.
Buddhist leaders said the two days of violence was on a scale unseen since Bangladesh broke free from Pakistan and declared independence in 1971.
Police said thousands of Muslims had taken part in the riots and nearly 300 people have been arrested.
http://www.hindustantimes.com/world-news/Bangladesh/Bangladesh-rebuilds-temples-torched-in-Muslim-riots/Article1-950123.aspx
-------------
Bank of China denies channelling funds to Hamas
October 25, 2012
The Bank of China (BOC) denied on Thursday reported allegations that it helped funnel millions of dollars to Palestinian group Hamas. "The Bank of China has always strictly followed the UN's anti-money laundering and anti-terrorist financing requirements and regulations in China and other
judicial areas where we operate," the bank said on its website.
"We strictly ban any financial service for any terrorist organisation."
The Wall Street Journal reported that five families of eight Israeli high school students who died in a shooting in Jerusalem in March 2008 filed a lawsuit Tuesday against the bank seeking $1 billion in damages and compensation.
According to the report, the civil lawsuit was filed in New York state court and alleges that the Hamas leadership processed transfers worth several million dollars from 2003 via BOC's branches in the United States.
The suit claims the money was sent to a BOC account in China linked to Hamas and Palestine Islamic Jihad before being forwarded to Hamas and other groups in the West Bank and Gaza Strip and used for terror attacks, the newspaper reported.
"The Bank of China has noted relevant reports in the press," the BOC statement said. "The accusations in the reports cited are groundless."
The Wall Street Journal, citing an Israeli law center representing the families, said that the students died when an alleged member of an Islamic terrorist organisation opened fire on the grounds of a Jewish educational institute in Jerusalem.
Scrutiny of alleged links between international banks and terror groups and states that are accused of sponsoring them has been increasing.
Britain-based banking giant Standard Chartered was plunged into crisis in August when a US regulator accused the bank of hiding $250 billion in transactions with Iran.
The bank -- which derives 90% of its profits across Africa, Asia and the Middle East -- denied the allegations but paid $340 million to settle the dispute.
http://www.hindustantimes.com/world-news/China/Bank-of-China-denies-channelling-funds-to-Hamas/Article1-950113.aspx
-------------
Trail of assault: Malala attack plot hatched in Afghanistan
October 26, 2012
ISLAMABAD: Attaullah Khan, the prime suspect in the shooting of Malala Yousafzai, planned his attack following a meeting with Mullah Fazlullah in Kunar province of Afghanistan, well-placed security officials told The Express Tribune.
According to the officials, Khan is one of two main suspects in the attack which involved a larger group of 12 people. With the main suspects still at large, officials say six facilitators of the attack have been arrested so far.
Full report at:
http://tribune.com.pk/story/457045/trail-of-assault-malala-attack-plot-hatched-in-afghanistan/
--------
Pak, Afghanistan clash over Durand Line
ANITA JOSHUA
October 25, 2012
The U.S. assertion that the Durand Line is the international border between Pakistan and Afghanistan has triggered a fresh war of words between the two neighbours who as it is have a blow-hot-blow-cold relationship.
Reacting to the second statement to this effect from Washington in four days, Pakistan Foreign Office spokesman Moazzam Khan maintained that the Durand Line issue is a settled and closed one for Islamabad. "We regard it as the recognised international border and it is a position accepted by the international community.''
Full report at:
http://www.thehindu.com/news/international/pak-afghanistan-clash-over-durand-line/article4031545.ece
-------------
Myanmar govt pleads for end to ethnic strife
October 26, 2012
The ethnic violence risks harming the country's reputation as it seeks to install democratic rule, says Myanmar government
Myanmar's government has appealed for peace in the western state of Rakhine, warning that ethnic violence there that has taken at least 56 lives in recent days risks harming the country's reputation as it seeks to install democratic rule.
The mob violence pitting the Buddhist Rakhine community against the Muslim Rohingya has seen entire villages torched and has drawn international calls for government intervention.
Full report at:
http://www.thehindu.com/news/international/myanmar-govt-pleads-for-end-to-ethnic-strife/article4033965.ece
-------------
British, US soldiers die in Afghan chaos: officials
October 25, 2012
British troops killed two of their own soldiers in a 'friendly fire' incident in Afghanistan while two American soldiers were shot dead by an Afghan ally, Afghan and international military sources said on Thursday. Britain's defence ministry did not confirm the deaths of the two British
soldiers in Helmand province, one of them a female medic, were a result of "friendly fire", saying the incident was still under investigation.
But US forces in Afghanistan confirmed that two American soldiers were killed by a man in an Afghan police uniform -- the latest in a series of insider attacks that have seriously undermined trust between the allies.
Full report at:
http://www.hindustantimes.com/world-news/Afghanistan/British-US-soldiers-die-in-Afghan-chaos-officials/Article1-950111.aspx
-------------
Taliban claim Afghan attack killing two Americans
October 26, 2012
KABUL: The Taliban are claiming responsibility for what may have been the latest insider attack against Western troops.
They say one of their infiltrators killed two American service members in Uruzgan province.
A statement Friday said an Afghan soldier shot the men a day earlier, and then escaped to join the insurgents.
Full report at:
http://dawn.com/2012/10/26/taliban-claim-afghan-attack-killing-two-americans/
-------------
Bangladesh steps up patrols on Myanmar border
October 26, 2012
DHAKA: Bangladesh on Thursday mobilised extra patrols along its river border with Myanmar amid reports of dozens of boats carrying Rohingya Muslim refugees fleeing new sectarian clashes in Myanmar.
"Boats are heading to Bangladesh territory. We've stepped up vigilance to make sure they can't enter our territory," Border Guard Bangladesh commander Colonel Zahid Hasan said. He said the boats were expected to try to cross the Naf river into Bangladesh at night.
After the sectarian clashes in Rakhine in June, Bangladesh river patrol teams turned back 16 boats carrying Rohingya, most of them women and children. The move drew criticism from the United Nations and rights groups, but Bangladesh said it would not accept any new refugees as it was already burdened with an estimated 300,000 Rohingya living in its southeast.
Full report at:
http://www.dailytimes.com.pk/default.asp?page=2012\10\26\story_26-10-2012_pg14_7
-------------
India
Family clueless about doctor detained in Saudi Arabia
October 26, 2012
Over a fortnight after he was picked up by the Saudi Arabian police, the family of Usmane Ghani, a doctor who hails from Dharwad, has no clue about his whereabouts.
Dr. Ghani, who worked at the King Fahad National Guard Hospital in Riyadh, was detained on the basis of a request by the Bangalore police which is investigating an alleged plot to assassinate prominent Hindutva leaders and some journalists.
ON OCTOBER 8
Dr. Ghani's mother, Fathima Khan, told journalists here on Thursday, that he was picked up from the National Guard hospital at 2 p.m. on October 8.
"Since then, we have not heard anything from either the Saudi Arabian or the Indian authorities. We have been running from pillar to post," she said.
Full report at:
http://www.thehindu.com/news/states/karnataka/family-clueless-about-doctor-detained-in-saudi-arabia/article4031877.ece
-------------
Pak infiltration through Nepal border increases alarmingly
Oct 25, 2012
BAHRAICH: Pakistan is sneaking an increasing number of infiltrators through the porous Indo-Nepal border using four little known gateways in the Terai region along the western border. This year, 107 men and 43 women infiltrated through the Nepal border till October, reliable sources told TOI. The 2012 count is the highest in the last five years.
Between 2007 and 2010,127 men and five families from Pakistan crossed the Indian border. The number rose in 2011 when 61 men and 15 women came and settled on the Indian side. Full report at:
http://timesofindia.indiatimes.com/india/Pak-infiltration-through-Nepal-border-increases-alarmingly/articleshow/16957419.cms
-------------
Maintaining peace biggest challenge faced by J&K government: Omar Abdullah
Oct 25, 2012
PAMPORE (JAMMU & KASHMIR): Jammu and Kashmir chief minister Omar Abdullah on Thursday said keeping situation peaceful in the state is the biggest challenge faced by his government.
"Keeping situation peaceful in the state is the biggest challenge before the government and the second biggest is the huge unemployment," Omar said at a function here.
The function was organised to distribute placement orders to 1,423 youth who completed their training at various centres under centrally sponsored 'HIMAYAT' scheme.
He said the government cannot provide employment to every educated youth as the resources of the state are limited.
Full report at:
http://timesofindia.indiatimes.com/india/Maintaining-peace-biggest-challenge-faced-by-JK-government-Omar-Abdullah/articleshow/16956998.cms
-------------
Pune blast: Mumbai ATS seeks 4 IM suspects' custody
October 26, 2012
The Anti-Terrorism Squad (ATS) of the Mumbai Police has moved a court here seeking the custody of four suspected Indian Mujahideen operatives allegedly involved in the Pune blast in August. They were arrested by the Delhi Police's Special Cell for allegedly planning strikes in the Capital during Dussehra and Diwali.
Full report at:
http://www.thehindu.com/news/national/pune-blast-mumbai-ats-seeks-4-im-suspects-custody/article4031819.ece
-------------
Kasab's security bills issue needs debate: Shinde
October 26, 2012
The controversy over payment of bills for providing security to 26/11 terrorist Ajmal Kasab, who is lodged in a Mumbai jail, is a matter that needs to be debated, Union home minister Sushilkumar Shinde said in New Delhi on Friday.
"This is an administrative matter and cannot be solved without being debated," Shinde told reporters on the sidelines of a function.
The Indo-Tibetan Border Police (ITBP) has prepared a bill of over Rs. 26 crore, till Aug 31, for providing security cover to Kasab.
Full report at:
http://www.hindustantimes.com/India-news/NewDelhi/Kasab-s-security-bills-issue-needs-debate-Shinde/Article1-950402.aspx
-------------
Abdul Kalam hopes Vision 2020 will be fulfilled in next 8 years
Oct 26 2012
Kanpur : Former President A P J Abdul Kalam Azad hoped that Vision 2020 would be fulfilled within the remaining eight years in order to bridge the gap between the country's villages and urban areas.
Special attention needs to be paid to villages because till their progress is brought at par with that of the cities, the country cannot develop fully, Kalam said at IIT Kanpur.
While addressing a gathering during the Golden Jubilee celebrations of Student Gymkhana in the institute, he said majority of the country's population resides in villages and their progress is crucial to the integrated development of the country.
Full report at:
http://www.indianexpress.com/news/abdul-kalam-hopes-vision-2020-will-be-fulfilled-in-next-8-years/1022292/
-------------
Curfew in Faizabad after riots
Oct 26 2012
Lucknow: Curfew was imposed in parts of Faizabad town on Thursday morning after about 15 shops and some vehicles were burnt in rioting, which broke out during a procession carrying idols of Durga for immersion on Wednesday evening. About 10 people were injured in clashes, none seriously.
Curfew was imposed in City Kotwali and Cantonment police station areas and the borders of the district were sealed to check the movement of antisocial elements, said Lucknow Range IG Subhash Chandra. "The exact reason behind the violence is not yet known. Efforts are on to identify the people involved in inciting mobs from both sides," the IG said.
Full report at:
http://www.indianexpress.com/news/curfew-in-faizabad-after-riots/1022243/
-------
Africa
Mali back in African fold as world rallies to oust Islamists
25 October 2012
DAKAR, Senegal: The international community has ramped up efforts to help Mali drive radical Islamists from its north, with the African Union taking the nation back into its fold in its bid to curb the extremist threat.
Western powers are helping the pan-African bloc draw up plans for a military intervention to be presented to the United Nations in late November, offering logistical support rather than troops to help Mali recover its territory.
The African Union, which suspended Mali after a March coup that led to the country's rapid implosion, on Wednesday re-admitted it despite a lack of cohesion in Bamako, where an interim regime has failed to assert itself.
Full report at:
http://www.arabnews.com/mali-back-african-fold-world-rallies-oust-islamists
------------
Six civilians killed in Somalia fighting
25 Oct 2012
At least six civilians were killed in war-ravaged Somalia after their bus was hit close to the frontline with Al-Qaeda linked Shebab fighters, witnesses said Thursday.
"Six people including two women were killed, and at least five others were seriously injured when a big explosion hit their minibus," said Hassan Yahya, a witness.
"I saw four of the dead bodies, one of them was my cousin... we don't know who fired the shot," said Mohamed Abdirahman, another witness.
Full report at:
http://english.ahram.org.eg/NewsContent/2/8/56494/World/Region/Six-civilians-killed-in-Somalia-fighting.aspx
------------
A.U. readmits Mali with 2013 poll plan
AMAN SETHI
October 26, 2012
Mali was readmitted into the African Union (A.U.) after a meeting of the A.U. Peace and Security Council [AUPSC] on Wednesday. The A.U. had suspended the West African nation after a coup in March this year saw a military junta seize power even as two thirds of Mali slipped into the control of a coalition of armed groups and organised gangs. The soldiers behind the coup had claimed that the existing dispensation was unable to tackle the insurgents in the north.
Full report at:
http://www.thehindu.com/news/international/au-readmits-mali-with-2013-poll-plan/article4031809.ece
-------------
Rebels kill two park rangers in eastern Congo
Oct 26, 2012
KINSHASA: Two park rangers and a soldier were killed in a firefight with armed militia in eastern Democratic Republic of Congo, where rebels have transformed Africa's oldest national park into a war zone, officials said on Friday.
Congo's rugged eastern borderlands are among the world's most biodiverse areas and are home to one of the last remaining populations of mountain gorillas. But they have also been at the centre of nearly two decades of armed conflict, which have left millions dead.
Full report at:
http://timesofindia.indiatimes.com/world/rest-of-world/Rebels-kill-two-park-rangers-in-eastern-Congo/articleshow/16968143.cms
------------
Europe
Bishops seeking to revive Catholicism are worried by Islam
Oct 25 2012
Paris: A drive to rekindle Roman Catholicism's missionary zeal is struggling to counter the challenge of Islam, a religion with an arguably more direct message and a greater institutional hold on its faithful.
Bishops who have been meeting for three weeks to plot a way forward for a Church whose membership is dwindling in Europe are concerned by Islam's growth and worried about Christian minorities in Muslim countries, according to participants' comments released by the Vatican.
Full report at:
http://www.indianexpress.com/news/bishops-seeking-to-revive-catholicism-are-worried-by-islam/1021995/
-------------
"Adultery should not be classified as a criminal offense" says UN expert
25 October 2012
UNITED NATIONS, New York, N.Y.: When one of the Asian countries embraced Islamic Sharia law back in the 1990s, the rigidly conservative government threatened to enforce a provision that called for convicted adulterers to be stoned to death.
"If this law is enforced," a weekly magazine cynically pronounced at that time, "the country will run out of stones."
Cynicism apart, the controversial issue, mostly with religious overtones, surfaced last week when a group of U.N. human rights experts weighed in with its own perspectives on adultery.
The four-member Geneva-based group urged member states to repeal laws criminalising adultery which have resulted in punishments ranging from the imposition of fines to flogging, hanging and death by stoning.
Full report at:
http://womennewsnetwork.net/2012/10/25/adultery-criminal-offense/
----------
60pc French say Islam too prominent at home
October 26, 2012
PARIS: Sixty percent of the French think Islam is too prominent in their country and nearly half view the religion as a threat to national identity, according to a survey published on Thursday. Thirty-five percent said they were indifferent and only five percent thought the presence of Islam was not overwhelming, an Ifop survey for Le Figaro newspaper said. The poll covered 1,736 persons and was conducted between October 15 and 18. Forty-three percent said the presence of Muslims was a "threat" for national identity, 43 percent said they did not view it as a problem and only 17 percent saw it as culturally enriching. France has a population of 65 million, including an estimated four million Muslims, the largest Islamic population in Western Europe. Of those surveyed by Ifop, 67 percent said Muslims were not integrated into the mainstream and 68 percent thought Muslims were to blame for this.
http://www.dailytimes.com.pk/default.asp?page=2012\10\26\story_26-10-2012_pg4_6
-------------
Birmingham school desperate for a new site as hundreds apply for just 60 places
25 Oct 2012
More than 200 pupils from Al-Hijrah Primary School are taught at a school in Saltley because there isn't room for them at the Bordesley Green site.
It's the Birmingham school which is the top choice for parents – yet is so cramped that playground games are banned.
Lessons are taught in leaking classrooms, while pupils jostle for somewhere to sit and eat a hurried snack every lunchtime.
But despite staff complaining some students feel like "third class citizens", Al-Hijrah Secondary School in Bordesley Green is one of the most oversubscribed in the country.
The Birmingham Mail revealed earlier this month it was by far the top choice secondary for city parents, with nearly 20 children battling for every available place.
The voluntary-aided Islamic school was deluged with 1,101 applications for just 60 places for the 2012/13 intake.
Full report at:
http://www.birminghammail.net/news/local-news/bordesley-greens-al-hijrah-primary-school-264619
-------------
In death, dog that sniffed out Taliban arms a hero in Britain
Oct 26, 2012
LONDON: A British military dog who died in Afghanistan has been awarded the highest bravery award for an animal for finding hidden weapons and improvised explosive devices planted by the Taliban.
Theo, a springer spaniel, died from an undiagnosed seizure hours after his handler Lance Corporal Tasker was killed on March 1, 2011 in a firefight. Theo worked for five months in Afghanistan with royal army veterinary corps, searching out roadside bombs.
Full report at:
http://timesofindia.indiatimes.com/world/uk/In-death-dog-that-sniffed-out-Taliban-arms-a-hero-in-Britain/articleshow/16961152.cms
-------------
North America
Eid Prayer Leaders Urged to Encourage Voter Turnout
10/25/2012
(WASHINGTON, D.C., 10/25/2012) -- CAIR is calling on imams and khateebs nationwide to use the upcoming prayers on Eid Al-Adha to urge every eligible Muslim voter to go to the polls on November 6 and vote for the candidate of their choice.
CAIR reminds imams and khateebs that mosques that are registered 501c3 tax-exempt organizations cannot explicitly or implicitly endorse or oppose candidates for public office. However, this does not stop religious leaders from urging Muslims to vote and otherwise participate in American public life.
"Voting is the civic duty of every eligible United States citizen and is an important exercise of our constitutional rights," said CAIR National Executive Director Nihad Awad. "Muslims' votes could be a deciding factor in this year's election. Islamophobes wish to marginalize Muslims and deprive our community of its voice. Voting is a clear message that we will not be pushed aside."
In a similar effort, the American Muslim Taskforce on Civil Rights and Elections (AMT) has chosen Friday, November 2 as "National Voter Reminder Day," to encourage mosques and Muslim organizations to maximize Muslim voter turnout for the election.
CAIR recently released a poll of registered Muslim voters. The poll, conducted by an independent research firm, indicates that 91 percent of Muslim voters plan to go to the polls on November 6. The survey indicates that 25 percent of American Muslim registered voters are still undecided about who to vote for in this year's presidential election.
As part of its non-partisan election activities, CAIR has distributed "MVP - Muslim Voter Power" get-out-the-vote posters and lawn signs designed for mosques and other Islamic institutions nationwide. CAIR also has a national list of registered Muslims voters and CAIR chapters around the nation are currently conducting non-partisan efforts to turn out those voters in November.
In addition, CAIR is providing the American Muslim community with a number of items designed to maximize voter participation:
CAIR partnered with the American-Arab Anti-Discrimination Committee (ADC) as part of its efforts to empower minority voters. CAIR is encouraging supporters to join ADC's voter protection unit.
CAIR provides the community with voter guides that give information on presidential candidates, as well as data on times polls are open and what to take with you when you vote.
CAIR is America's largest Muslim civil liberties and advocacy organization. Its mission is to enhance the understanding of Islam, encourage dialogue, protect civil liberties, empower American Muslims, and build coalitions that promote justice and mutual understanding.
-------------
CSUN students learn about more than the myths of Islam
By Julia Vazhenina
October 25th, 2012
CSUN hosted a lecture "Islam: Beyond the myths to social change" in the Flintridge Room at the USU, featuring a speaker from the University of Michigan.
Amer Ahmed, associate director of multi-ethnic student affairs at University of Michigan, started the lecture by talking about basics of Islam.
"Everything you do matters in the afterlife," Ahmed said. "It is an objective of our religion and we truly believe in that."
The lecture was devoted to challenging the increased Islamophobia among Americans. After the 9/11 events, the entire Muslim community was treated like criminals and terrorists.
Full report at:
http://sundial.csun.edu/2012/10/csun-students-learn-about-more-than-the-myths-of-islam/
-------------
India's role in bringing stability in Afghanistan will be very helpful: US
Oct 26, 2012
WASHINGTON: Emphasising on India's cooperation for developing stability in Afghanistan, US defence secretary Leon Panetta said here that India is an important country in the region and whatever India can do to bring stability in Afghanistan would be very helpful.
"India is an important country in that region. And obviously, whatever India can do to try to help develop stability in that region, both working with Afghanistan as well as Pakistan, would be very helpful to the prospects of peace in the future," Panetta told reporters on Thursday during a Pentagon news conference.
Full report at:
http://timesofindia.indiatimes.com/india/Indias-role-in-bringing-stability-in-Afghanistan-will-be-very-helpful-US/articleshow/16962524.cms
-------------
Canada asks UN expert to resign over Israel remarks
October 26, 2012
OTTAWA: Canada has said a UN rights expert should resign over his call for a boycott of companies taking part in Israel's settlement expansion in the occupied Palestinian territories.
The appeal by Richard Falk, the UN special investigator on human rights in the occupied territories, also provoked a sharp response from Israel and the United States, which said it would "poison the environment for peace."
Canadian Foreign Minister John Baird said Thursday that the remarks were "both offensive and unhelpful."
Full report at:
http://tribune.com.pk/story/457172/canada-asks-un-expert-to-resign-over-israel-remarks/
-------
Panetta Says Risk Impeded Deployment to Benghazi
By ELISABETH BUMILLER
October 26, 2012
WASHINGTON — Defense Secretary Leon E. Panetta said Thursday that he and top military commanders "felt very strongly" that deploying American forces to defend against the fatal attack last month on the United States diplomatic compound in Benghazi, Libya, was too risky because they did not have a clear picture of what was happening on the ground.
"There's a lot of Monday-morning quarterbacking going on here," Mr. Panetta told reporters at the Pentagon, adding that "the basic principle is that you don't deploy forces into harm's way without knowing what's going on, without having some real-time information about what's taking place."
Full report at:
http://www.nytimes.com/2012/10/26/world/africa/panetta-tells-of-monitoring-situation-in-
-------------
WikiLeaks starts releasing American detenu policies
HASAN SUROOR
October 26, 2012
WikiLeaks on Thursday started releasing a set of more than 100 "classified or otherwise restricted" files from the U.S. Defence Department that details policies for dealing with detainees in U.S. military prisons such as Guantanamo Bay.
WikiLeaks founder Julian Assange said the documents reveals the "excesses" of the US-driven "war" on terror.
"The 'Detainee Policies' show the anatomy of the beast that is post-9/11 detention, the carving out of a dark space where law and rights do not apply, where persons can be detained without a trace at the convenience of the U.S. Department of Defense.
Full report at:
http://www.thehindu.com/news/international/wikileaks-starts-releasing-american-detenu-policies/article4031377.ece
-------------
Arab World
President Morsi, time is up for appeasing 'secularists': Salafist sheikh
26 Oct 2012
Egypt's new constitution must reflect "God's rule" or "we will put it under our shoes," a Salafist sheikh in northwest Egypt has said during Eid prayers.
Addressing worshippers at a mosque in the coastal city of Marsa Matrouh, Salafist Sheikh Ali Ghalab said that President Morsi should stop appeasing "secularists" and that he must now fight them head-on.
Full report at:
http://english.ahram.org.eg/NewsContent/1/64/56560/Egypt/Politics-/President-Morsi,-time-is-up-for-appeasing-seculari.aspx
----------
'Boycotters' chant against Revolution's Imam at Eid prayers in Tahrir
26 Oct 2012
In Egypt's Tahrir Square on Friday morning, after the "Imam of the Revolution" Mazhar Shaheen delivered his sermon for the Muslim holiday, Eid Al-Adha, some worshippers began chanting against him.
Members of a group that campaigned unsuccessfully for a boycott of presidential elections in June chanted: "Down with the rule of the Supreme Guide," referring to the Muslim Brotherhood's Supreme Guide Mohamed badie. They also charged that "Shaheen acts as an agent for the Supreme Guide."
Full report at:
http://english.ahram.org.eg/NewsContent/1/64/56553/Egypt/Politics-/Boycotters-chant-against-Revolutions-Imam-at-Eid-p.aspx
----------
Haj congregation impresses new Muslims
26 October 2012
Twenty-four-year-old Michael from Virginia in the United States is one of the hundreds of new Muslims performing Haj this year. He said he was happy to be among the 3 million Muslim faithful assembled in Arafat.
"It's an amazing experience," Michael said. "It reflects the universal brotherhood promulgated by Islam. Haj brings together people speaking different languages and belonged to difference races."
Michael said the participation in Haj has given him a feeling that he is part and parcel of the great Islamic Ummah.
Full report at:
http://www.arabnews.com/haj-congregation-impresses-new-muslims
----------
Battle mars Syria holiday truce; lull elsewhere
Oct 26, 2012
BEIRUT: Fighting raged near a military base in Syria's north as a cease-fire in the bloody civil war was set begin Friday at dawn, activists said, illustrating the difficulty of enforcing even a limited truce coinciding with a Muslim holiday.
Elsewhere, violence appeared to die down, and thousands of protesters took advantage of the lull to mount some of the largest anti-regime demonstrations in months.
The truce, proposed by UN-Arab League envoy Lakhdar Brahimi and endorsed by the Security Council, is set for only the four days of the Eid al-Adha holiday, has no monitoring mechanism and no stated plans for its aftermath.
Full report at:
http://timesofindia.indiatimes.com/world/middle-east/Battle-mars-Syria-holiday-truce-lull-elsewhere/articleshow/16967878.cms
-----------
Grand Mufti emphasizes fairness in all dealings
26 October 2012
Saudi Arabia's Grand Mufti Sheikh Abdul Aziz Al-Asheikh urged yesterday that Muslim rulers to strive hard for the welfare of their people, stressing the importance of fairness in all dealings while addressing the millions of pilgrims assembled at the plains on Arafat.
"Make all your efforts to achieve dignified living for your people and end their sufferings. You should deal with them with justice because justice and fairness bring hearts close and solve issues," Al-Asheikh said.
Full report at:
http://www.arabnews.com/grand-mufti-emphasizes-fairness-all-dealings
----------
Fighting rages in Syria before proposed truce
Oct 25, 2012
AMMAN: Syrian troops bombarded a town near Damascus on Thursday and fighting raged in and around the northern city of Aleppo, a day before a proposed truce for a four-day Muslim religious holiday.
President Bashar al-Assad's government was expected to make a statement later in the day on whether it accepts the temporary ceasefire advocated by UN-Arab League envoy Lakhdar Brahimi.
Full report at:
http://timesofindia.indiatimes.com/world/middle-east/Fighting-rages-in-Syria-before-proposed-truce/articleshow/16954426.cms
-------------
Haj pilgrims stone the Satan, pray for forgiveness
Oct 26 2012
Jeddah : After having spent a day in prayer on the 'Mountain of Mercy', millions of Muslim pilgrims, including Indians, descended on the city of Mina today to perform the symbolic Haj ritual of stoning the Satan.
Clutching the pebbles collected on their way overnight from the town of Muzdalifah, the flock of pilgrims started arriving in Mina early in the morning as the city's roads choked with people making their way to their camps.
Large crowds began the rite in which pillars symbolising the Satan are stoned as a mark of the believers' resistance to the devil. The ritual will continue for two more days as the pilgrims complete their pilgrimage.
Full report at:
http://www.indianexpress.com/news/haj-pilgrims-stone-the-satan-pray-for-forgiveness/1022390/
----------
Tank fire, snipers kill 3 in Damascus suburb: Activists
26 Oct 2012
Three people were killed by tank fire and snipers in the Damascus suburb of Harasta on Friday, activists said, in another violation of a ceasefire intended to mark the Muslim holiday of Eid al-Adha.
Rebels in a northern town close to the Turkish border also reported one of their fighters was shot dead by a sniper early on Friday and a Reuters journalist in the town heard what sounded like four rounds of tank fire.
http://english.ahram.org.eg/NewsContent/2/8/56545/World/Region/Tank-fire,-snipers-kill--in-Damascus-suburb-Activi.aspx
----------
Pakistan
Gunship attacks in Bara kill 9 militants; 5 hideouts destroyed
October 26, 2012
LANDIKOTAL: Gunship helicopters have bombed hideouts of militants in Aka Khel area of Bara tehsil, killing nine suspected militants and destroying five hideouts, local media persons have reported. The security forces have expedited their offensive against the militants in Aka Khel and other areas of Bara, Khyber Agency, in the last few days. Hundreds of suspects have reportedly been arrested and shifted to Shakas Jamrud and other forts in the ongoing military offensive in Bara to contain the militants' activities. The security forces officials have assured that those found innocent after thorough investigations would be set free. Skirmishes have been continuing between the security forces and the militants in Bara for the last three years. Full report at:
http://www.dailytimes.com.pk/default.asp?page=2012\10\26\story_26-10-2012_pg7_2
-------------
UN reports that 30 govt schools in Karachi shut down since 2011
October 26, 2012
KARACHI: Since June 2011, when ethnic violence erupted in Qasba Colony, people of the area – especially children – have been left struggling to live a normal life.
The road leading to Qasba paints a bleak picture with a drug den where teenagers flock to buy heroine or hashish, a school wall pockmarked with bullet holes and three schools in ruins, with one of them being used as a dump.
Full report at:
http://tribune.com.pk/story/456995/un-reports-that-30-govt-schools-in-qasba-shut-down-since-2011/
-------------
Pakistan shares dossier on Fazlullah with Afghanistan
By Imdad Hussain
October 26, 2012
ISLAMABAD: Foreign Office Spokesman Moazzam Khan on Thursday said Pakistan shared dossier on Taliban commander Mullah Fazlullah with the Afghan government, as well as with the ISAF.
He was responding to questions in his weekly press briefing in the Foreign Office.
Afghan officials had rejected Presence of Mullah Fazlullah, alleged for carrying out cross border attacks against Pakistani forces after he was ousted from Swat as a result of successful military operations and the person reportedly responsible for killing attempt on peace icon Malala Yousufzai.
Full report at:
http://www.dailytimes.com.pk/default.asp?page=2012\10\26\story_26-10-2012_pg7_1
-------------
Pak minister and Chairman ETPB at loggerheads over Gurdwara properties
Yudhvir Rana
Oct 26, 2012
AMRITSAR: Pakistan's minister of state for national Harmony Akram Masih Gill and chairman, Evacuee Trust Property Board (ETPB), which look after the Gurdwara and temple properties left in Pakistan after Indo Pak partition, Sayed Asif Hashmi, enjoying status of a minister, are at loggerheads after the former accused Hashmi of financial irregularities, doling away properties of Gurdwaras and temples at throw away prices and have sought details of financial dealings and accounts of ETPB within 4 working days after Eid celebrations.
Full report at:
http://timesofindia.indiatimes.com/india/Pak-minister-and-Chairman-ETPB-at-loggeheads-over-gurdwara-properties/articleshow/16967118.cms
---------
Gunmen kill two anti-Taliban elders in Swat
October 26, 2012
PESHAWAR: Gunmen shot dead two members of an anti-Taliban peace committee in Pakistan's northwestern Swat valley, where militants tried to murder schoolgirl activist Malala Yousufzai, police said Friday.
The shooting will heighten fears of a campaign of targeted killings in Swat, as in the last four months, two businessmen and outspoken anti-militant campaigners have been shot dead and two others wounded.
The latest incident took place in the Charbagh area, a former militant stronghold some 10 kilometres north of Mingora, the main town of Swat valley, where Taliban shot 15-year-old Malala in the head for promoting the right of girls to go to school.
Full report at:
http://dawn.com/2012/10/26/gunmen-kill-two-anti-taliban-elders-in-swat/
-------------
Pakistan-born US billionaire says racist remarks hardened his resolve
October 26, 2012
NEW YORK: Pakistan-born billionaire Shahid Khan has told US television newsmagazine "60 Minutes" that racist remarks when he bought the NFL's Jacksonville Jaguars last November made him more determined to succeed.
CBS said Thursday that the report, to air on the show's Sunday telecast, shows Khan that he felt like such remarks as "sand monkey" and "terrorist from Pakistan" were not his problem but showed the troubles of those who made them.
"(I reacted) the way I reacted most of my life, which is it's not really my problem. It's their problem," he said. "It was not Jacksonville's finest moment."
Full report at:
http://dawn.com/2012/10/26/pakistan-born-us-billionaire-says-race-insults-hardened-his-resolve/
-------------
Two TTP men held in Karachi
October 26, 2012
KARACHI: Special Investigation Unit (SIU) of Sindh police on Thursday claimed to have apprehend two alleged members of Tehreek-e-Taliban Pakistan (TTP) from Manghopir area and recovered weapons, hand grenades and stolen vehicle from their possession.
SIU/CIA SSP Farooq Awan in a press conference said that the detained men belonged to TTP and were taking extortion from the marble factories in Maghopir area and were involved in killing of police personnel and attacking police station. He informed that the detained men were Akram Ullah alias Naveed son of Noor Ahmed and Murad son of Warday Khan. He said that the accused had recently given extortion slips of Rs 5 million to the marble factory owners, and All Pakistan Marble Industry Association (APMIA) informed high ups regarding the slips.
Full report at:
http://www.dailytimes.com.pk/default.asp?page=2012\10\26\story_26-10-2012_pg7_14
-------------
PPP leaders condemn killing of journalist Ali Raza
October 26, 2012
KARACHI: General Secretary PPP Sindh Taj Haider, President PPP Karachi Division MNA Qadir Patel and others have strongly condemned the murder of reporter of a Urdu daily, Ali Raza. In a joint statement issued on Thursday, the PPP leaders has called for immediate arrest of the culprits. They called upon the law enforcers to take measures to maintain law and order in the metropolis. They also sympathised with the family of Ali Raza and prayed to Allah Almighty to rest the departed soul in eternal peace. ]
http://www.dailytimes.com.pk/default.asp?page=2012\10\26\story_26-10-2012_pg12_16
-------------
Asghar Khan case: Nawaz Sharif 'strongly' denies taking money from ISI
October 25, 2012
Pakistan Muslim League (PML-N) chief Nawaz Sharif "strongly" denied allegations of receiving from Inter-Services Intelligence (ISI) agency during the 1990 elections, reported Express News on Thursday.
He said that Mehran Bank owner Yunus Habib, who allegedly gave loaned money to the ISI in the 1990s, had a "criminal" past and he did not remember ever meeting him.
Nawaz also said that his party is considering to move the court against Habib's allegations.
The PML-N chief added that he has no objections over the Federal Investigation Agency (FIA) probing the case on the orders of the Supreme Court.
Full report at:
http://tribune.com.pk/story/456885/asghar-khan-case-nawaz-sharif-strongly-denies-taking-money-from-isi/
----------
Malala Yusafzai: Girl activist safe in UK, father says
26 October 2012
The father of Malala Yousafzai, the Pakistani schoolgirl activist shot by the Taliban, has said his daughter is safe in the UK.
Ziauddin Yousafzai was speaking after visiting his daughter for the first time at a Birmingam hospital.
She was transferred because of the need for a safe environment to recover from the gun attack which left a bullet lodged in her neck.
The Pakistani president had taken the decision to move her, her father said.
Mr Yousafzai described Malala's survival as a "miracle".
Full report at:
http://www.bbc.co.uk/news/world-asia-20093945
-----------
Eidul Azha: Govt directed not to suspend mobile services unless 'necessary'
October 26, 2012
KARACHI: The Sindh High Court has ordered the interior ministry not to suspend mobile phone services on Eidul Azha, which falls on Saturday, unless absolutely necessary.
A divisional bench of the SHC, headed by Justice Maqbool Baqir, also gave the same direction to the Federal Investigation Agency on Thursday while hearing a petition filed by a local lawyer, Tahir Pervez.
The interior secretary, Pakistan Telecommunication Authority chairman and the presidents of five cellular service provider companies – Mobilink, Ufone, Warid, Zong and Telenor – were named as respondents.
Full report at:
http://tribune.com.pk/story/457047/eidul-azha-govt-directed-not-to-suspend-mobile-services-unless-necessary/
-------------
Jab Tak Hai Jaan's release hangs in the balance for Pakistan
By Rafay Mahmood
October 25, 2012
KARACHI: As the king of Bollywood romance, Yash Chopra departed from the world earlier this week, his legacy came to an end with his last and final project, Shahrukh Khan and Katrina Kaif starrer Jab Tak Hai Jaan, which is all set for a November 13 release worldwide.
But while the film-makers are hoping that the Yash Chopra magic of theatrical romance will rake in the numbers, there are whispers that the film may not make it to Pakistani screens. Sources have said that trailers for the movie have been banned from being screened, but the Ministry of National Regulation and Services has denied reviewing any content related to the film.
Full report at:
http://tribune.com.pk/story/456811/jab-tak-hai-jaans-release-hangs-in-the-balance-for-pakistan/
-------------
Mideast Asia
Israeli Officials Asked to Be Silent on Issue of U.S.-Iran Talks
By JODI RUDOREN
October 26, 2012
JERUSALEM — Israel's Ministry of Foreign Affairs sent an e-mail on Monday to its embassies and consulates around the world, sharing Prime Minister Benjamin Netanyahu's declaration that he had no knowledge about the possibility of bilateral talks between the United States and Iran, and advising others not to speak publicly about the issue.
"We remind that the P.M. asked that all requests for interviews in the matter require his approval," read the brief e-mail, its last three words underlined for emphasis.
The e-mail was part of a broader effort, including instructions to all government employees who deal with the news media and orders by the prime minister himself to his cabinet that everyone should remain silent on the matter.
Full report at:
http://www.nytimes.com/2012/10/26/world/middleeast/israel-asked-to-be-silent-on-us-iran-talks.html?ref=middleeast
-------------
Iran Said to Nearly Finish Nuclear Enrichment Plant
By DAVID E. SANGER and WILLIAM J. BROAD
October 26, 2012
WASHINGTON — Intelligence officials from several countries say Iran in recent weeks has virtually completed an underground nuclear enrichment plant, racing ahead despite international pressure and heavy economic sanctions in what experts say may be an effort to give it leverage in any negotiations with the United States and its allies.
The installation of the last of nearly 3,000 centrifuges at a site called Fordo, deep under a mountain inside a military base near the holy city of Qum, puts Iran closer to being able to build a nuclear weapon, or come up to the edge, if its leaders ultimately decide to proceed.
Full report at:
http://www.nytimes.com/2012/10/26/world/middleeast/iran-said-to-complete-nuclear-enrichment-plant.html?ref=middleeast
-------------
Mortar Bombs, Gunfire Heard Along Turkey-Syria Border
October 26, 2012
BESASLAN, Turkey (Reuters) - Heavy machinegun fire and the sound of mortar bombs could be heard on Friday along the Turkey-Syrian border near the Syrian town of Haram, a Reuters witness said, in another violation of a ceasefire intended to mark the Muslim holiday of Eid al-Adha.
It was not clear whether the firing was from the Syrian army or from rebels fighting to overthrow President Bashar al-Assad.
The firing could be heard from the Turkish border village of Besaslan in southern Hatay province.
(Reporting by Mert Ozkan; Writing by Jonathon Burch; Editing by Janet Lawrence)
http://www.nytimes.com/reuters/2012/10/26/world/europe/26reuters-syria-crisis-turkey-border.html?ref=middleeast&gwh=244BA047EB331F897E3F708AD554CEF9&_r=0
-------------
Hamas Brinkmanship Masks Quiet Confidence
October 26, 2012
GAZA STRIP (Reuters) - One of 70-odd rockets fired from Gaza into Israel this week hit a chicken coop, critically wounding two Thai migrant workers, innocent bystanders in a deadly game of brinkmanship.
If it had killed children on the Israeli farm they work for, Israel and Gaza would probably be at war right now.
Gaza's Islamist rulers, Hamas, know what a fine line they tread when they fire rockets at Israel: maybe they'll explode in a field and draw a few targeted air strikes; or maybe they'll hit a kindergarten and Israel will bombard the Gaza Strip, as it did in their lopsided three-week war at the turn of 2008-2009.
Full report at:
http://www.nytimes.com/reuters/2012/10/26/world/middleeast/26reuters-palestinians-gaza-hamas.html?ref=middleeast
----------
Iran dissidents Sotoudeh and Panahi win Sakharov prize
26 October 2012
The European Union's annual Sakharov prize has gone to two Iranians noted for their opposition to the government.
Lawyer Nasrin Sotoudeh, who represents opposition activists and is now in prison, and banned filmmaker Jafar Panahi were the joint winners.
The other nominees were the jailed Russian punk band Pussy Riot and a Belarussian civil rights activist.
The Sakharov Prize is awarded by the EU for dedication to the defence of human rights and freedom of thought.
Full report at:
http://www.bbc.co.uk/news/world-europe-20095403
-------------
Netanyahu, Lieberman join forces for Israel poll: reports
October 26, 2012
JERUSALEM: Israeli Prime Minister Benjamin Netanyahu will join forces with his ultra-nationalist Foreign Minister Avigdor Lieberman for a January 22 general election, media reported on Thursday.
Netanyahu and Lieberman, the respective leaders of the Likud and Yisrael Beitenu parties, would officially announce their decision to run on the same list in Jerusalem at 8:00 pm (1800 GMT) on Thursday, the reports said.
Likud currently has 26 seats in the 120-seat Knesset or parliament, and Yisrael Beitenu has 15. Polls show both parties should at least retain or even boost their representation in the chamber.
Full report at:
http://dawn.com/2012/10/25/netanyahu-lieberman-join-forces-for-israel-poll-reports/
-------------
URL: https://newageislam.com/islamic-world-news/suicide-bombing-kills-41-afghan/d/9108