New Age Islam News Bureau
5 Dec 2009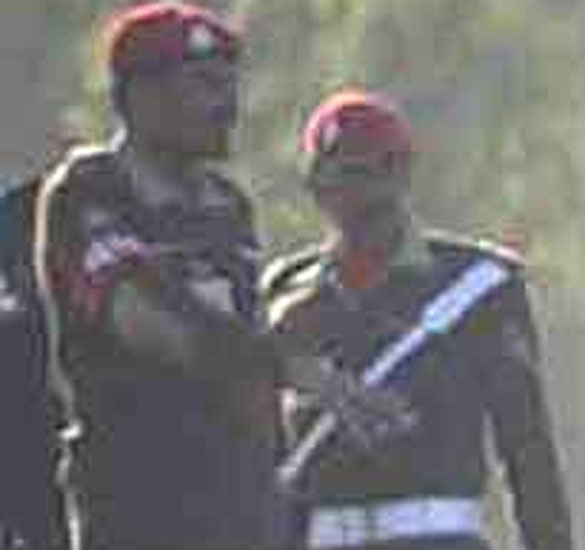 • Hillary Clinton praises Nato allies' Afghanistan pledge
• NATO chief: 25 countries to help in Afghan war
• Islam: Another Wrinkle in Dubai's Default
• Taliban Detainee Says Bin Laden is in Afghanistan
• Did Headley visit Pushkar to plot attack on Jews?
• LeT duo admits role in B'lore blasts
• Suicide bomber kills senior Iraqi police official, 4 others in Tikrit
• Bangladesh hands over Ulfa chairman Rajkhowa to India
• Somali Islamists deny responsibility for bombing
• Jail term for threat against anti-Islam MP
• Bank Islam targeting 5,000 new cardholders via latest offering
• Muslim family killed in Thailand's restive south
• Report: Anti-Muslim Discrimination Up, Hate Crimes Down
• Bid to rid Bible of 'liberal' additions kicks up a storm
• 'Spiked salad killed Iran whistleblower'
• Arab Leader Aims to Hold Obama's Feet to the Fire
• Iraqi insurgent fighter falls to his prey
• Lebanon: an End to Sectarian Politics?
• Lebanon Mufti: The equal Muslim-Christian powersharing should not be undermined
• Turkmenistan slightly improves attitude towards freedom of religion: U.S State Department
Compiled by New Age Islam News Bureau
URL of this Page: https://newageislam.com/islamic-world-news/suicide-bombers-assault-mosque-rawalpindi,/d/2189
------
Suicide bombers assault mosque in Rawalpindi, kill 40
By Bill Roggio
December 4, 2009
The Taliban have struck again in the heart of Pakistan's military garrison city of Rawalpindi. A Taliban suicide assault team estimated at between three to five men entered a mosque in the city and opened fire on the worshippers and detonated their vests, killing 40 and wounding 83 more. The attack killed a senior general and wounded another.
Two of the members of the suicide assault team have been killed. The assault team was not interested in taking hostages or negotiations, according to the Pakistani military.
"They exploded bombs inside the mosque," Major General Athar Abbas, the top military spokesman told AFP. "They opened fire on the worshippers... There is no hostage situation. Two terrorists have been killed."
The blasts caused parts of the roof of the mosque to collapse.
The attack took place in a mosque that is used by Army officers on a day when the mosque is sure to be filled; Friday is the Muslim day of prayer.
"There were about 200 or 300 worshippers in the hall," an eyewitness told AFP. "Army officials mostly offer their Friday prayers in this mosque."
Major General Bilal Omar Khan, who had served as the commander of the Pakistani Rangers, and the son of the Peshawar Corps commander were both killed in the attack, according to Samaa. General Mohammad Yousuf, the retired former Vice Chief of Army Staff, was wounded.
The Taliban and allied terror groups have struck at the military and police forces in Pakistan's major cities to counter the ongoing military operations in South Waziristan, Khyber, Arakzai, Kurram, and Swat.
Today's Rawalpindi attack is the latest in a wave of Taliban violence that emerged in the beginning of October. Suicide bombers have struck in Islamabad, Peshawar, Shangla, Kohat, and Charsadda, and assault teams have targeted police in Lahore and Peshawar as well as the Army General Headquarters in Rawalpindi. Just two days ago, a suicide bomber detonated outside the gate of the Naval headquarters in Islamabad.
The Oct. 10 assault on Army General Headquarters shut down Pakistan's military command for nearly a day, as hostages were held. The Taliban are reported to have obtained sensitive data from computers and files during that assault.
The Taliban have also conducted targeted assassinations of senior military officers. Two Brigadiers have been killed and two more wounded in four separate assassination attempts in Rawalpindi and Islamabad.
The Taliban have repeatedly attacked their enemies in mosques and other places of worship. There have been 19 such attacks in mosques and other Islamic institutions in Pakistan since December 2007, according to information compiled by The Long War Journal.
Major attacks at mosques, religious events, and Islamic institutions in Pakistan since December 2007:
Dec. 4, 2009: A suicide assault team stormed a mosque in Rawalpindi that is frequented by Army officers, killing 40.
Oct. 20, 2009: A pair of suicide bombers detonated their vests at Islamabad's International Islamic University, killing five.
June 12, 2009: A suicide bomber killed five Pakistanis, including anti-Taliban cleric Dr. Sarfraz Naeemi, in an attack on a mosque during Friday prayers.
June 12, 2009: A suicide bomber killed six worshipers and wounded more than 90 in an attack inside a mosque in Nowshera. The attack collapsed the dome of the mosque.
June 5, 2009: A suicide bomber killed 49 worshipers in an attack on a mosque in a remote village in Dir.
April 5, 2009: A suicide bomber killed 24 worshipers and wounded more than 100 in an attack outside a Shia religious center in the Chakwal district in Punjab province.
March 27, 2009: A Taliban suicide bomber killed more than 70 worshipers and wounded more than 125 in an attack at a mosque in the Khyber tribal agency.
March 5, 2009: An attacker threw a hand grenade into the middle of a mosque in Dera Ismail Khan, wounding 25 worshipers.
March 2, 2009: A suicide bomber killed six people during an attack at a gathering in a mosque in the Pishin district in Baluchistan.
Feb. 20, 2008: A suicide bomber killed 32 Pakistanis and wounded more than 85 in an attack on a funeral procession for a Shia elder who was murdered in Dera Ismail Khan.
Feb. 5, 2009: A suicide attack outside a mosque killed more than 30 Shia worshipers and wounded more than 50.
Nov. 22, 2008: A bombing at a mosque in Hangu killed five civilians and wounded seven.
Nov. 21, 2008: A suicide attack on a funeral procession in Dera Ismail Khan killed 10 mourners and wounded more than 25.
Sept. 10, 2008: The Taliban attacked a mosque filled with Ramadan worshipers in the district of Dir in northwestern Pakistan. More than 25 worshipers were killed and more than 50 were wounded.
Aug. 19, 2008: A suicide bomber killed 29 Shia mourners and wounded 35 after detonating in the emergency ward of a hospital.
June 17, 2008: Four Pakistanis were killed and three wounded in a bombing at a Shia mosque in Dera Ismail Khan.
May 19, 2008: Four Pakistanis were killed in a bombing outside a mosque in Bajaur.
Jan. 17, 2008: A suicide bomber killed 10 and wounded 25 in an attack on a Shia mosque in Peshawar.
Dec. 28, 2007: A suicide bomber detonated in the middle of a mosque in Charsadda in an attempt to kill former Interior Minister Aftab Sherpao as he conducted Eid prayers. More than 50 were killed and more than 200 were wounded.
http://www.longwarjournal.org/archives/2009/12/suicide_bombers_assa.php
------
Hillary Clinton praises Nato allies' Afghanistan pledge
4 December 2009
US Secretary of State Hillary Clinton has welcomed a pledge by Nato allies to send at least 7,000 extra troops to support the US surge in Afghanistan.
She said beating the Taliban insurgency there was a "crucial test" for Nato.
She spoke in Brussels after talks with Nato foreign ministers and other partners with forces in Afghanistan.
Nato's top official, Anders Fogh Rasmussen, said at least 25 countries had promised more forces in 2010, providing at least 7,000 more troops.
He suggested there would be "more [troops] to come" over and above that number once other nations had reached decisions on deployments.
The US has called on allies among the 43 nations with troops in Afghanistan to send about 10,000 extra soldiers.
Some major countries are holding back, however. France and Germany, for instance, have not yet committed themselves to sending extra troops.
'Lives and treasure'
Mrs Clinton welcomed what she described as a "significant commitment" by Nato allies, saying she was extremely heartened by their positive response.
She also acknowledged the sacrifices made by those countries "in lives and treasure", as they promised military forces and civilian resources to back the new US Afghan strategy.
Earlier this week, US President Barack Obama announced he was sending an additional 30,000 troops to help battle the Taliban insurgency.
Speaking earlier in the day Mrs Clinton had said the need for additional forces was "urgent, but their presence will not be indefinite".
Mr Rasmussen told delegates at Nato HQ that the coming year would "see a new momentum in this mission".
The BBC's Nick Childs, in Brussels, says the main thrust of Mr Rasmussen's speech was to insist on a message of solidarity, despite the challenges, and of unity behind the mission.
"In addition to the clear pledges already tabled, we have heard indications... that other allies and partners will probably be in a position to announce contributions in the coming weeks and months," Mr Rasmussen said.
"Isaf [International Security Assistance Force] will have at least 37,000 more soldiers in 2010 than it did this year. That is solidarity in action."
Meanwhile more than 1,000 Nato soldiers, most of them from the US, as well as Afghan troops, launched a major offensive in southern Afghanistan on Friday.
A US military spokesman said Operation Cobra's Anger in the northern part of Helmand province was aimed at cutting off insurgent supply and communication lines.
Warning for Kabul
But many Nato governments face publics even more sceptical about the mission than those of the US and Britain.
Even if more public announcements are forthcoming, turning these into firm pledges of the right troops at the right time and for the right missions may take longer, our correspondent adds.
Mr Rasmussen said several countries had pledged additional funds for development assistance as part of the mission's new approach in providing basic services to benefit the local people in Afghanistan.
But he warned that Kabul had to play its part in the reconstruction process.
"None of these initiatives are of any use if it is not backed up by good governance, efficient governance in Afghanistan, including a determined fight against corruption, a determined fight against the drug trade," he said.
"So the international community stands ready to assist Afghanistan in promoting economic and social development but it also takes a strong effort from the Afghan people and not least the Afghan government."
http://news.bbc.co.uk/2/hi/europe/8396162.stm
------
NATO chief: 25 countries to help in Afghan war
By Mary Beth Sheridan
Friday, December 4, 200
BRUSSELS -- NATO leaders said Friday that 25 countries have pledged to back up the U.S. escalation in Afghanistan with 7,000 extra troops, as Secretary of State Hillary Rodham Clinton pressed American allies to firm up their commitments.
NATO Secretary General Anders Fogh Rasmussen told reporters that additional countries "probably will be in a position to announce further contributions during the coming weeks and months."
U.S. military officials have sought about 10,000 troops to augment the surge of 30,000 American forces announced Monday by President Obama. Clinton told reporters traveling on her plane to Brussels that she was "encouraged" by the response she had been receiving.
Clinton met Friday morning with foreign ministers from NATO and other countries contributing to the international security force in Afghanistan. She urged the allies to back the new U.S. strategy, acknowledging that some faced political pressures at home to start withdrawing.
"Today, our people are weary of war. But we cannot ignore reality," she said, according to a transcript of her prepared remarks. "The extremists continue to target innocent people and sow destruction across continents."
In announcing the new troop commitments, Rasmussen declined to give country-by-country specifics. Officials said the 7,000 total appeared to include both new troops and soldiers who had been sent temporarily to Afghanistan to help with elections, who will stay on.
Some countries are not expected to make commitments before an international conference on Afghanistan scheduled for Jan. 28 in London. They include Germany and France, who are among the largest contributors of troops, with 4,200 and 3,750, respectively. Britain has promised 500 soldiers; Italy has said it will send about 1,000; and Poland has said it is likely to provide at least 600.
U.S. officials have asked Germany for a number of extra soldiers "in the low four figures," said one senior diplomat. The request to France was for 1,500 troops, according to a report in LeMonde.
The U.S. government is also seeking contributions for training, equipping and funding the Afghan army and police.
In the meeting Friday morning, countries also discussed how to coordinate the unwieldy civilian aid effort -- which involves the United Nations, dozens of nations and hundreds of non-governmental organizations -- in the war-torn country,
"We have a unified military command but we have an 'un-unified' international effort" on civilian aid, U.S. special envoy Richard C. Holbrooke told reporters in Brussels on Thursday.
Clinton said her goal was for the international community to establish a "coordinating mechanism" for civilian assistance, but U.S. officials denied they were seeking to appoint a high-level representative to oversee the effort. European countries are wary that any such position could marginalize the United Nations' representative in Afghanistan, Kai Eide.
The number of non-U.S. military forces in Afghanistan has jumped from about 17,000 to nearly 44,000 in the past two years, according to Defense Secretary Robert M. Gates. But some function under strict domestically imposed rules that limit where and how they can operate.
The United States had more than 71,000 troops in Afghanistan at the end of November, according to the Pentagon.
http://www.washingtonpost.com/wp-dyn/content/article/2009/12/04/AR2009120400621.html?hpid=topnews
-----
Islam: Another Wrinkle in Dubai's Default
Dec. 3 2009
Yesterday, while Dubai citizens celebrated National Day with parades and exuberant flag-flying, government officials were grappling with an uglier commemoration: the city's first debt freeze, first potential sukuk default and in many ways, its first major embarrassment.
If the $80 billion debt burden, plummeting real estate market and general loss-of-face weren't enough, Dubai and its lenders have an an additional problem in that the $3.5 billion in loans which property developer Nakheel owes in less than two weeks are no ordinary securities. They are sukuk certificates, Islamic bonds which, in compliance with Shari'ah or Islamic Law, do not pay interest.
Rather than receive interest payments, lenders assume a kind of partial ownership of a company's underlying assets. It typically works like this: Company X sells the investors a piece of paper stating the investors own a piece of them, the investors then "rent" their share of the assets back to Company X at a predetermined rate. Company X also signs a contract promising to buy back that share they sold to the investors at par value at a future date. Voila: Company X gets immediate cash, the investors get a steady, regular return and no deities are offended.
Sukuk bonds skyrocketed in popularity with Western investors starting around 2005, round about the same time Dubai was ramping up its pitch to the world. In 2006 Dow Jones launched the first-ever index dedicated to tracking global sukuks. By 2007 the global sukuk market reached a record value of $51.5 billion. Like every other exotic, convoluted financial instrument at the time, sukuks were raging hot.
That sukuks would be flattened along with bonds in the credit crunch was inevitable. But the hitch with sukuk- which Nakheel lenders are discovering now- is that there is practically zero precedent of what happens in the case of default. As the Wall Street Journal noted this morning:
But with no precedent in the United Arab Emirates for a restructuring of this size, and its government ownership, creditors are in the dark as to how the process may work. As a result, investors will be watching events related to the Nakheel bonds for a road map for future restructurings in the region.
Via Dubai World Restructuring Poses Questions – WSJ.com
There have been a few cases of default, but the phenomenon is stunningly new. The very first sukuk default in modern history occurred less than six months ago when Kuwaiti firm Investment Dar admitted it had defaulted on a $100 million certificate. As of now, there are no clear-cut guidelines from either Islamic, Western or international courts on what creditors receive in the event of default. If they theoretically own a piece of a company's assets can they lay claim to it?
Dubai_500_500
Which creditor gets what? In the case of Nakheel, could a creditor claim an island on its signature gaudy fake island- say, Brazil- in exchange for their lost scratch? What if everyone wants Brazil?
And although the Islamic bonds were formed under British law, the restructuring would take place in Dubai courts, which as the WSJ notes, could be problematic:
It isn't clear that Dubai courts would enforce any rights that holders may have to seize Dubai World's assets, either land used to secure the Nakheel sukuk or other property the parent company owns, as Western courts might.
Whatever happens, you can bank on the process being long, contentious and rife with red tape. Nakheel, or rather their parent Dubai World has until December 14 to persuade sukuk-holders to accept their previously-announced standstill. Otherwise they better get to precedent-setting. The Islamic financial world will be watching closely.
http://trueslant.com/devonpendleton/2009/12/03/islam-another-wrinkle-in-dubais-default/
------
Taliban Detainee Says Bin Laden is in Afghanistan
ISLAMABAD | DEC 04, 2009
A Taliban detainee in Pakistan has claimed that one of his contacts met al-Qaeda chief Osama bin Laden in Afghanistan early this year.
"In 2009, in January or February I met this friend of mine. He said he had come from meeting sheikh Osama, and he could arrange for me to meet him," the detainee said.
"The sheikh (bin Laden) doesn't stay at any one place. That guy (the contact) came from Ghazni, so I think that's where the sheikh was," the detainee told BBC.
He said his contact met bin Laden 15 to 20 days prior to their meeting.
The detainee, who was not named for legal reasons, said his contact is a Mehsud tribesman responsible for getting al-Qaeda operatives based abroad to meetings with bin Laden.
The contact helps "al-Qaeda people coming from other countries to get to the sheikh, so he can advise them on whatever they are planning for Europe or other places", the detainee said.
He also claimed to have met bin Laden numerous times before the 9/11 terror attacks.
The province of Ghazni in eastern Afghanistan has a strong Taliban presence. Large parts of it are "no-go" areas for foreign and Afghan forces.
But the detainee said militants were avoiding Pakistani territory because of the risk of US drone attacks.
"Pakistan at this time is not convenient for us to stay in because a lot of our senior people are being martyred in drone attacks," he said.
The detainee's claims about the whereabouts of the world's most wanted terrorist cannot be verified, BBC reported. However, former CIA analyst Bruce Riedel said his story is plausible and should be investigated.
"The entire Western intelligence community, CIA and MI6, have been looking for Osama bin Laden for the last seven years and haven't come upon a source of information like this," Riedel said.
"So if it's true - a big if - this is an extraordinary and important story. We know Osama bin Laden is alive. We know that he is living somewhere in the badlands along the border with Pakistan and Afghanistan," he said.
"What is extraordinary about this story is we have someone who has come forward and said, really for the first time, 'I met with Osama bin Laden and I had the opportunity to meet him again in the recent past'."
A Pakistani security official said the detainee has close ties with Taliban leaders in Pakistan and Afghanistan and was involved in kidnapping and fundraising operations.
BBC was given access to the detainee twice in November in the presence of a Pakistani interrogator.
Amidst pressure from Western powers to do more to trace bin Laden and to take action against al-Qaeda elements, Pakistan has maintained that the terrorist leader is not on its soil.
http://news.outlookindia.com/item.aspx?670495
------
Did Headley visit Pushkar to plot attack on Jews?
4 December 2009
AJMER: Was Pakistan-born American David Coleman Headley in Pushkar plotting an attack on Israeli tourists
visiting the holy town? Intelligence bodies, including a National Investigation Agency (NIA) team, are pursuing some specific leads which hint that Headley had done a recce of the Bed-chabad — the prayer hall of the Jews — where hundreds of them gather every evening for routine prayers. After 26/11, Headley visited Pushkar a couple of times and spent about a month there.
Besides, there are certain calls and e-mails sent from Pushkar cyber-cafes that the special team of NIA is following up. Officials on Thursday searched log-books of almost all the cyber cafes in Pushkar and questioned a barber Headley had visited.
''So far, we have confirmed inputs that Headley stayed in Pushkar and was monitoring his operations from here,'' said an NIA team member. The team said Headley stayed in hotel Oasis on March 11 and 12 near Bed-chabad. ''The hotel staff has confirmed that he had taken a room facing the road where the Jewish prayer hall is located,'' said an investigator. ''We're going to suggest that the security around the Jewish prayer hall be beefed up. There is a strong possibility that Headley oversaw the place to execute a terror attack in the future,'' said an IB official.
Meanwhile, the IB is searching forms submitted by the hotel that day to learn the name and passport Headley used. Every hotel has to fill in a C-form and submit it to local IB. Sleuths hope to find out more details soon. The team also got the name of two more hotels, one near Pushkar Sarovar and the other near the Brahma temple. The owner has identified Headley's sketches and confirmed his stay in their hotel last December/January.
Local intelligence has gathered that Headley came to Pushkar on a local bus and talked and behaved like an American tourist.
http://timesofindia.indiatimes.com/india/Did-Headley-visit-Pushkar-to-plot-attack-on-Jews/articleshow/5298166.cms
------
LeT duo admits role in B'lore blasts
3 December 2009,
SHILLONG: The two Lashker-e-Taiba (LeT) militants, who were handed over to India by Bangladesh Rifles (BDR) near the Indo-Bangla border in Meghalaya on Wednesday, have reportedly admitted their involvement in the serial blasts that rocked Bangalore last year.
"Nazir Tarian Dabede (25), alias T Nazir, told interrogators of Meghalaya Police and BSF that he had planted the bombs along with another person, Rahim," a top police official said here on Thursday. "The duo did not admit their involvement in the 2005 terror attack on the Indian Institute of Sciences (IISc) in Bangalore," the official said.
Nazir, a bomb expert, and another LeT operative, Siraj Shamshudeen Shamas, 33, were handed over to BSF by BDR on Wednesday at Erbamon village in Meghalaya's East Khasi Hills after the two security agencies had shared intelligence inputs about their presence in that country.
The militants, who were on Thursday remanded to a day's judicial custody by the additional district magistrate, are likely to be taken to Bangalore on Friday.
A team from Bangalore Police, led by an ACP, has arrived here and formalities were on to take the two militants to Karnataka, officials said. Incidentally, the LeT duo is from Kerala.
Nazir and Siraj, who were in Bangladesh about a year, have reportedly revealed some "vital information" about their bases in south India during the interrogation.
Nazir's name surfaced in February last year when Mohammed Yahya Kammukutty, 31 was arrested as part of a probe into a SIMI network in Karnataka that has already led to the arrest of six youths, including four medical students, from the northern part of the southern state. Kammukutty is a resident of Mukkom in Kerala's Kozhikode district.
The police officer said Nazir also revealed during interrogation that five new LeT recruits had gone to PoK for a five-month training after the Bangalore blasts. "Four of them were killed by the army, while the whereabouts of one are not known yet," the official added.
Nazir and Siraj reportedly told of the existence of the LeT's bases in UAE, Qatar and Bahrain. The duo was first interrogated at the Pynursla police station and later brought to Laban police station in Shillong where they were being quizzed by a special Meghalaya Police team and central security agencies, the sources said.
Intelligence agencies suspect that a Lashker "commander" had been in touch with Nazir and the duo was on a "recruitment spree" following ISI's orders.
Nazir was arrested after FBI's inputs to Bangladesh about LeT's plan to carry out attacks on the US embassy and the Indian high commission in Dhaka last month. The US agency had unearthed the LeT plan after interrogating the terror duo David Coleman Headley and Tahawwur Hussain Rana in Chicago for plotting attacks on India and Denmark.
http://timesofindia.indiatimes.com/city/guwahati/LeT-duo-admits-role-in-Blore-blasts/articleshow/5297055.cms
------
Suicide bomber kills senior Iraqi police official, 4 others in Tikrit
By Ernesto Londoño and Muhanned Saif Aldin
December 4, 2009
BAGHDAD -- A suicide bomber killed a senior Iraqi police official in the northern city of Tikrit on Thursday in an attack that authorities blamed on al-Qaeda in Iraq.
The bomber ran toward Lt. Col. Ahmad al-Fahal, who headed the city's anti-terrorism and anti-riot force, as he was walking in a crowded market, according to Lt. Ibrahim al-Duri, a police spokesman in Tikrit.
Duri said the bomber yelled the colonel's name before detonating the explosives, which also killed two guards and two civilians. Nine people, including two policemen, were wounded. Tikrit was the home town of deposed Iraqi leader Saddam Hussein.
Violence in Iraq has ebbed in recent months, but the Sunni Muslim insurgent group al-Qaeda in Iraq is seeking to destabilize the government by targeting key government facilities and officials.
Fahal was known for his dogged approach to battling Sunni insurgents. Colleagues at the Interior Ministry referred to him informally as the "terrorism destroyer," an Iraqi police official said. Fahal once boasted in a TV interview of killing 168 foreign fighters, a term used to describe non-Iraqi Arabs who travel to Iraq at the behest of Sunni insurgent groups.
Meanwhile, Iraq's Sunni vice president, Tariq al-Hashimi, expressed optimism that the impasse over legislation to organize upcoming national elections will be overcome soon.
Iraqi political leaders have reached a tentative deal to resolve complaints from Sunnis and Kurds, but the Kurds have yet to sign off on it.
Hashimi's office said the vice president retains the right to veto the legislation until Sunday. Hashimi's veto of the original bill sent it back to parliament. The amended legislation was passed last month over the objection of some Sunnis who said they would be disenfranchised.
Aldin, a special correspondent, reported from Tikrit. Special correspondents Qais Mizher and K.I. Ibrahim in Baghdad contributed to this report.
http://www.washingtonpost.com/wp-dyn/content/article/2009/12/03/AR2009120303300.html?hpid=moreheadlines
------
Bangladesh hands over Ulfa chairman Rajkhowa to India
4 December 2009
GUWAHATI: Ulfa's top leader Arabinda Rajkhowa, his wife and another key militant were on Friday handed over to the Indian authorities by Bangladeshi agencies at an outpost along the border in Meghalaya, paving the way for peace talks with the banned militant outfit. ( Watch Video )
The custody of 53-year-old Rajkhowa along with 9 others, including Ulfa's military operations deputy chief Raju Barua was given to the BSF at the Dawki outpost in the Jaintia hills district, official sources said.
Along with them were Rajkhowa's wife and two children, his bodyguard Raju Borah, Barua's wife and son, and wife and daughter of Ulfa's self-styled foreign secretary Sashadhar Choudhury, they said.
They were later flown to Guwahati where they surrendered before the Assam Police, the sources said. They were immediately taken into preventive custody for completion of various legal formalities, the sources said.
Rajkhowa, founder member of the outfit, was detained in Bangladesh recently. He is among four people who founded the separatist outfit on April 7, 1979.
Indications of government opening talks with Ulfa were given by home minister P Chidambaram on Wednesday when he told the Rajya Sabha that the outfit is likely to make a political statement in the next few days.
"Ulfa is in disarray today. In next few days, the Ulfa leadership will make a political statement. Our government is prepared to talk to Ulfa provided they abjure violence and there is no demand for sovereignty," he had said.
The government is moving cautiously in its approach towards talks with Ulfa, given the militant outfit's track record and the group's leaders going back on their promises to take the peace process forward.
Assam chief minister Tarun Gogoi had said in Guwahati on Thursday that his government has received "encouraging signals" from Ulfa for holding peace talks and favoured safe passage to the group's leaders if they came to the negotiating table.
Government is hoping that other top Ulfa leaders including the outfit's 'commander-in-chief' Paresh Barua, will also join the dialogue process. Barua, who is believed to be holed up in a southeast Asian country, has been opposed to the talks process and has been harping on the sovereignty plank.
Rajkhowa, whose real name is Rajib Rajkonwar, is the son of a freedom fighter Umakanta Rajknowar, who died three years ago.
Accused in several cases, including that of waging war against India, Rajkhowa has an Interpol Red Corner notice against him. He has been out of India since 1992 and is said to have lived in places including Bangladesh, Myanmar and Bhutan.
Two other top Ulfa leaders, self-styled finance secretary Chitrabon Hazarika and foreign secretary Sasha Choudhury had been arrested in Bangladesh in November last and handed over to Assam police in whose custody they are lodged at present.
The developments assume significance in view of Bangladesh Prime Minister Sheikh Hasina's visit to India slated later this month and also the signing of three proposed agreements, including an extradition treaty and another on combating international terrorism.
http://timesofindia.indiatimes.com/india/Bangladesh-hands-over-Ulfa-chairman-Rajkhowa-to-India/articleshow/5298994.cms
------
Somali Islamists deny responsibility for bombing
December 4th, 2009
MOGADISHU — Somalia's hardline Islamist insurgents denied Friday that they carried out a suicide bomb attack in Mogadishu that killed at least 23 people, including three government ministers.
A bomber dressed as a woman carried out the attack at a medical student graduation ceremony in a Mogadishu hotel, which also killed three journalists and left dozens of people injured.
The international community condemned the attack, which dealt an unprecedented blow to Somalia's feeble transitional government, and President Sharif Sheikh Ahmed blamed it on the Islamist insurgency.
But the Al Qaeda-inspired Shebab movement and its Hezb al-Islam allies, who have waged a relentless guerrilla war against the government since May, denied any involvement in the bombing.
"We have heard about that tragedy from the media. On behalf of the Shebab, we are not in anyway involved in that incident," top spokesman Sheikh Ali Mohamud Rage said in a statement.
Hezb al-Islam leader Sheikh Hassan Dahir Aweys condemned the attack, charging the suicide bomber must have been a foreigner.
"I condemn this attack, which is the work of the enemy, and I send my condolences to the family members of those who were killed," he told AFP in a telephone interview.
"This was the work of enemies who want to destroy Somalia's intelligentsia and create a hostile atmosphere in which Somalis cannot reconcile," Aweys added.
Although not the deadliest attack in Mogadishu, the suicide bombing sent shockwaves across the civilian population, the government and the international community.
Hundreds of people were gathered inside the Shamo hotel for a rare celebration in a country which has experienced 18 years of almost uninterrupted civil chaos.
The blast ripped through the crowd, killing the ministers of education, higher education and health.
A medic at Mogadishu's Medina hospital said that, in addition to the dead counted on Thursday, three wounded had since died of their injuries and one more civilian victim was found, raising the death toll to 23.
Three journalists were also among the victims, bringing to nine the number of reporters killed in the restive Horn of Africa country this year alone. An AFP photographer sustained slight injuries.
"We were waiting outside the conference room when there was a huge explosion. I found myself on the ground in the middle of the smoke and screaming," the photographer said.
"I went to get my camera, and that's when I saw the bodies of the three ministers."
Shebab and Hezb al-Islam have so far focused their armed effort on attacking government troops and African Union peacekeepers, who they accuse of spearheading a Western-backed Christian crusade in Somalia.
In his reaction to the bombing, the Shebab spokesman insinuated that the attack was the result of quarrels within the transitional government, caused notably by the reported imminent sacking of senior security officials.
A joint statement from the European Union, the InterGovernmental Authority on Development, a regional body, the League of Arab States, the United Nations and the United States condemned the attack as "cowardly acts of terrorism".
"The horrific attack is another demonstration of the extremists' complete disregard for human life. The fact this bombing targeted graduating medical students - the future doctors of Somalia - is particularly egregious," the statement said.
------
Jail term for threat against anti-Islam MP
4 December 2009
The public prosecutor in Rotterdam has demanded a 60 day jail term or 120 hours of community service for a Dutch rapper who threatened anti-Islam MP Geert Wilders. The Freedom Party leader was present as a witness in the heavily guarded courtroom.
According to the prosecutor, the rapper who goes by the name of Mo$heb threatened Mr Wilders in the text of his rap Who is Next (Wie Iz De Volgende). In the track which is on the web Mo$heb says it will be "bam, bam" if he should happen to run into Mr Wilders.
Gunned down
The rapper recalls that filmer and Islam critic Theo van Gogh, and anti-immigration nationalist politician Pim Fortuyn "were gunned down", and he is warning Mr Wilders that he may be next if he persists in his policies. Mr Mo$heb denied in court that he treatened Geert Wilders, pointing to his next line in the rap: it won't be him who kills Mr Wilders, because a true Muslim wouldn't hurt a fly.
Mo$heb said in court that he feels threatened by Mr Wilders, who responded by saying "I can't imagine you feel like that. If you disagree with me, use democratic means to protest, like writing a letter to the newspapers. I find it hard to understand threats against me."
The offending rap was posted on YouTube in February, labelled as a "Geert Wilders diss".
A film defending Mo$heb and showing how Muslims are treated around the world was posted on YouTube after his arrest (English subtitles).
http://www.rnw.nl/english/article/jail-term-threat-against-anti-islam-mp
------
Bank Islam targeting 5,000 new cardholders via latest offering
December 4, 2009
KUALA LUMPUR: Bank Islam Malaysia Bhd aims to sign up 5,000 new cardholders in the financial year ending June 30, 2010 with the launch of its new World MasterCard.
Consumer banking group general manager Khairul Kamarudin said to date, the bank had almost 500,000 cardholders.
The Bank Islam World MasterCard, unveiled yesterday, is Asia Pacific's first Islamic World MasterCard.
Card membership, which is via invitation only, "will allow members to indulge in the most luxurious comforts in style, class and sophistication," the bank said in a statement issued during the launch. Speaking to reporters, Khairul said Bank Islam's target for the new product was "the affluent segment."
Among the privileges are higher financing limit, no annual fee for life and free use of safe deposit box for three years. "We are currently working with safe deposit box companies at three locations, namely Damansara, USJ Summit and Raja Chulan," Khairul said.
He said cardholders would also receive free comprehensive takaful travel coverage of RM2mil, free takaful purchase protection coverage of RM10,000 and free takaful coverage on outstanding balance of RM100,000.
MasterCard vice president and senior country manager for Malaysia and Brunei Jim Cheah said the company was actively in talks with several banks interested in rolling out World MasterCard. He declined to elaborate. — Bernama
http://biz.thestar.com.my/news/story.asp?file=/2009/12/4/business/5233838&sec=business
------
Muslim family killed in Thailand's restive south
Fri Dec 4, 2009
PATTANI, Thailand, Dec 4 (Reuters) - Three Muslims were shot dead in their family home in Thailand's deep south, police said on Friday, in the latest attack in the troubled region bordering Malaysia.
Unknown assailants broke into the victims' home in Pattani province late on Thursday and shot them in their living room, police said.
The victims were a 46-year-old rubber tapper, his wife and their 17-year-old son. Police blamed separatist insurgents bent on fuelling sectarian violence between local Muslims and minority Buddhists.
In a separate incident, a small explosive hidden in the basket of a motorcycle exploded outside a market on Friday, slightly wounding two civilians and two soldiers.
More than 3,700 people have been killed in almost six years of bloody violence in Muslim-dominated Pattani, Yala and Narathiwat provinces.
The government has deployed a massive security contingent in a so far unsuccessful attempt to crush ethnic Malay rebels thought to be fighting for self-rule in the once-independent region, which is just a few hours from some of Thailand's most popular tourist destinations.
The attacks came a few days ahead of a visit to the region by Thai Prime Minister Abhisit Vejjajiva and his Malaysian counterpart, Najib Razak, who has advocated a degree of autonomy for the three provinces as a way of stopping the violence. (Reporting by Surapan Boonthanom; Writing by Ambika Ahuja; Editing by Martin Petty) ((ambika.ahuja@thomsonreuters.com; +662 648 9739)) ((If you have a query or comment on this story, send an email to news.feedback.asia@thomsonreuters.com))
http://uk.reuters.com/article/idUKBKK483284._CH_.2420
------
Report: Anti-Muslim Discrimination Up, Hate Crimes Down
Thursday December 3, 2009
By Omar Sacirbey
(RNS) Muslim Americans faced more anti-Muslim bias but fewer physical assaults in 2008, according to a report released Thursday (Dec.
3) by the Washington-based Council on American-Islamic Relations.
"In 2008, Muslims continued to face barriers to their full and equal participation in American society. Certain individuals and institutions persisted in profiting by smearing Islam," CAIR's annual civil rights report said. "American Muslims continued to fear profiling, surveillance and undue scrutiny by law enforcement and other authorities."
According to the study, CAIR recorded 2,728 incidents of anti-Muslim discrimination or bias in 2008 -- an increase of 3 percent from 2007.
So-called hate crimes -- incidents involving threats or physical violence -- fell 14 percent, from 135 to 116.
CAIR also expressed concern about government surveillance of Muslims and mosques, profiling, and worries that many politicians were willing to play on public fears about Muslims, and equate tolerance of Muslims with weakness on national security.
CAIR spokesman Ibrahim Hooper acknowledged the increase in reported incidents could be attributed to greater Muslim American organization and less timidity about seeking help from law enforcement or civil rights groups. Still, he said Islamophobia persists.
"There is an increasingly vocal minority of Muslim bashers who are promoting hate and trying to marginalize Muslims, and they are having an impact," said Hooper.
Almost 31 percent of the complaints stemmed from hate mail and Internet abuse; 21 percent related to legal discrimination; and more than 12 percent stemmed from job discrimination. Skin color, headscarves and Muslim names were among the factors that triggered discrimination, CAIR said.
More than a quarter of the incidents happened at mosques or buildings belonging to Islamic organizations; 23 percent happened at government agencies, and 18 percent happened in the workplace.
In the report, CAIR urged President Obama to visit a major American mosque, and asked the Justice Department to revise FBI guidelines they say allow the use of informants in mosques, and encourage religious profiling.
Copyright 2009 Religion News Service. All rights reserved. No part of this transmission may be distributed or reproduced without written permission.
http://blog.beliefnet.com/news/2009/12/report-anti-muslim-discriminat.php
------
Bid to rid Bible of 'liberal' additions kicks up a storm
4 December 2009
CHARLESTON (West Virginia): The Gospel of Luke records that, as he was dying on the cross, Jesus sho-wed his boundless mercy by praying for his killers: "Father, forgive them; for they know not what they do."
Not so fast, say contributors to the Conservative Bible Project. The project, an online effort to create a Bible suitable for contemporary conservative sensibilities, claims Jesus' quote is a disputed addition abetted by liberal biblical scholars, even if it appears in some form in almost every translation of the Bible.
The project's authors argue that contemporary scholars have inserted liberal views and ahistorical passages into the Bible, turning Jesus into little more than a well-meaning social worker with a store of watered-down platitudes.
"Professors are the most liberal group of people in the world, and it's professo-rs who are doing the popular modern translations of Bible," said Andy Schlafly, founder of Conservapedi-a.com, project's online home. Experts who have devoted their careers to unraveling ancient texts of the Scriptures, many in long-extinct languages, are predic-tably skeptical about a project by amateur translators.
Contributors to the project aren't arguing on ideological grounds alone. The discussion forum on the site is full of discourse on Greek grammar, along with arguments long familiar to Biblical scholars about the history of certain passages.
http://timesofindia.indiatimes.com/world/us/Bid-to-rid-Bible-of-liberal-additions-kicks-up-a-storm-/articleshow/5297881.cms
------
'Spiked salad killed Iran whistleblower'
4 December 2009
CAIRO: A 26-year-old doctor who exposed the torture of jailed protesters in Iran died of poisoning from a delivery salad laced with an overdose of blood pressure medication, prosecutors say. The findings fueled opposition fears that he was killed because of what he knew.
Much of the abuse took place at Kahrizak, a prison on Tehran's outskirts where hundreds of opposition protesters were taken. Several there died, and the facility became so notorious that Iran's supreme leader was forced to close it down. Ramin Pourandarjani, a doctor at Kahrizak, later testified to a parliamentary committee and reportedly told them that a young protester he treated died from severe torture.
Pourandarjani died in mysterious circumstances, with authorities initially saying he was in a car accident.
http://timesofindia.indiatimes.com/world/middle-east/Spiked-salad-killed-Iran-whistleblower-/articleshow/5297883.cms
------
Arab Leader Aims to Hold Obama's Feet to the Fire
By Liz Peek
December 03, 2009
Disappointment with President Obama is not a strictly U.S. phenomenon. According to Shafik Gabr, Chairman of Egypt's Artoc Group for Investments and Development, the Arab world's enthusiasm for our new president is beginning to wane as well. Just six months ago, Obama went to Cairo to push the "reset" button on relations with Arab nations. Promising a more even-handed treatment of Middle Eastern countries and a wide series of initiatives aimed at fostering better relations between the U.S. and the Muslim world, Obama drew rave reviews.
"The speech met or went beyond expectations in the Arab world," says Mr. Gabr. "Since then, there has been little progress on the ground. Now Arab Main Street is beginning to suspect that it was all just rhetoric."
Mr. Gabr, who convened a group of Egyptian leaders and policy makers to hear and discuss President Obama's speech in June, was cheered by the prospect that relations between his country and the U.S. might improve. He has made a career of building relations with legislators and business leaders here, trying to convince his counterparts that Egypt's record of peace with Israel and women's rights sets it apart from some of its neighbors – a distinction in his mind that is too rarely made. This, he feels, is good for Egypt and good for business.
He has not given up. To further his agenda, and to mark the six-month anniversary of the Cairo speech, Gabr is convening over 200 Middle Eastern and U.S. business and political leaders in Washington next week for an Arab Global Forum. Topics on the agenda include investment opportunities in the Middle East for U.S. investors as well as prospects for Arabs in the U.S. The sessions will review energy and technology developments of importance to both groups, as well as one which confronts "mutual misperceptions."
The purpose of the forum is not entirely educational. Consider it a pep rally -- Egyptian style. "I want to knock on the president's door" says Mr. Gabr. "We'll be convening representatives of different aspects of the Arab world – the media, business, women leaders – to see what we can do to move the president's initiatives forward."
Gabr cites a number of proposals outlined in the Cairo speech, including increased cooperation in areas like education, technology and trade. He feels there are a number of ideas which could be put into action very quickly, keeping alive some of the enthusiasm of six months ago. "He invited civil society to step up; we're stepping up."
For instance, Gabr would like to see an increased number of exchange students traveling between East and West -- something he feels could be put into action within a matter of months. Also, he thinks that quite easily the U.S. and certain Arab countries could establish mutually beneficial technology zones, whereby U.S. companies would partner with Arab counterparts – supplying research and know-how in return for funding. He would build on a successful program undertaken during the Bush era which set up Qualified Industrial Zones, encouraging trade by making such centers duty free into the U.S.
Another target for Gabr would be the VISA restrictions for Middle Easterners traveling to the United States. He describes two well known Moroccan CEOs who wanted to come to his forum, but were told they would have to wait several weeks, possibly months, before they would be given a VISA. Because they are often treated poorly, many Middle Easterners now choose to deal with European counterparts.
The point is that not all small initiatives should be held hostage to resolution of the Arab-Israeli conflict. "I am much more optimistic about short-term efforts than long-term ones" says Gabr. "President Obama hasn't had a chance to put his feet on the ground yet, but his people have to give him credibility. We need to see some steps taken in the short term to convince people that he is serious."
President Obama should take heed; Mr. Gabr is offering excellent advice. Sometimes, smaller is better—in health care and in improving relations with the Arab world. Republicans should take note, too. This is the kind of reasoned (and polite) pressure that they should bring to bear on matters such as infrastructure investment and increased trade – matters the president has endorsed but not yet pursued. Of course, you have to be serious about your mission, as Mr. Gabr clearly is.
As he says, "If nothing happens, it just will just give added ammunition to the radicals. I'm here because I don't want this effort to fail."
Liz Peek is a financial columnist and frequent contributor to the Fox Forum.
http://www.foxnews.com/opinion/2009/12/03/liz-peek-egypt-arabs-obama/
------
Iraqi insurgent fighter falls to his prey
By LARA JAKES
December 4, 2009
BAGHDAD — He compared al-Qaida in Iraq to wolves, urging that the terrorist group be crushed since he believed its members would never reject violence. But the wolves got to the Iraqi insurgent fighter first.
Ahmed Subhi al-Fahal's death in a suicide bombing in Tikrit could embolden al-Qaida loyalists to try to make a return to the area around Saddam Hussein's hometown where he held sway. On Friday, within hours of his killing, dozens of Web sites affiliated with al-Qaida in Iraq were already celebrating the death of their longtime nemesis.
The attack also stood as a reminder that Iraqi security officials who work closely with American forces remain a prime target for insurgents even as overall violence in Iraq fades.
Thursday's bombing, outside a goldsmith's store, also killed two of al-Fahal's bodyguards and two bystanders in Tikrit — which holds symbolic significance for the Sunni-led insurgents because of its connection with Saddam.
Al-Fahal, in his early 30s, was a lieutenant colonel in the Salahuddin provincial police force. But he was mostly known, by al-Qaida and the American military alike, as one of central Iraq's top counterterror officials, bent on purging insurgents from his turf.
"It is better to kill al-Qaida's members because it is no use to reform them," al-Fahal said in a recent interview with Al-Arabiya TV. He was paraphrasing a religious saying that there is no use in trying to reform wolves — instead, they must be killed.
And kill them he did.
In his interview, al-Fahal claimed he killed more than 250 al-Qaida terrorists: 200 Iraqis and 50 Arab foreign fighters.
He was also thrown the most difficult missions. It was al-Fahal who was called in to track down 16 prisoners — including several al-Qaida-linked inmates awaiting execution — who escaped in a stunning September jailbreak in Tikrit that deeply embarrassed Iraqi officials.
Most of the prisoners were recaptured, but al-Fahal said two escaped and at least one suspected al-Qaida member was killed.
Al-Fahal had a particularly good relationship with U.S. forces, who let him and his officers work out of Saddam's old palaces in Tikrit. When he was advanced to the rank of lieutenant colonel earlier this year, the U.S. brigade commander who was then in charge of the American forces in the area threw a promotion party at his headquarters for al-Fahal.
"He was controversial, flamboyant, brave, and effective," U.S. Col. Walt Piatt wrote in an e-mail message Friday from the U.S. after hearing of his former colleague's killing. "He single-handedly disrupted numerous enemy plots during the last election — He was the go-to-guy in the province."
Piatt said al-Fahal worked well with the Americans, "but he was the kind of person who was willing to lead Iraq to a peaceful future — for Iraqis. Many feared him but all respected his courage."
Violence in Iraq has dipped dramatically over the last two years after the surge of U.S. forces and after Sunni Arab tribes turned against al-Qaida in Iraq, particularly in western areas once part of the insurgent heartland.
U.S. data shows the monthly number of attacks in Iraq dropped from more than 4,000 in August 2007 to about 560 in September 2009. Army Gen. Ray Odierno, commander of U.S. forces in Iraq, in September told Congress that far fewer al-Qaida and foreign fighters remain, and most of those who are left are criminals and disenfranchised Iraqis who have been recruited by a small number of hard-core insurgents.
Still, U.S.-allied security forces and religious leaders who speak out against insurgents continue to be targeted.
In October, a bomb hidden inside a mosque killed imam Narjis Shiwash during prayers in a mostly Sunni village south of Mosul, which is considered the last urban stronghold for al-Qaida in Iraq. In early November, twin car bombs targeted police in the western city of Ramadi, killing one officer.
Associated Press Writer Maamoun Youssef in Cairo and AP staff in Tikrit and Anbar Province contributed to this report.
Copyright © 2009 The Associated Press. All rights reserved.
------
Lebanon: an End to Sectarian Politics?
December 4-6, 2009
By Rannie Amiri
"To encourage vast participation in political life, a national committee should be established and charged with abolishing political sectarianism."
– Lebanese President Michel Suleiman, in a televised address on the eve of the nation's 66th anniversary of independence, 21 November 2009.
"Political sectarianism is blocking the development of the Lebanese political regime and standing as an obstacle in the face of a democracy … We want a Lebanon that is united through its land, its people, its state and institutions."
– Hezbollah Secretary-General Sayyid Hassan Nasrallah, in a news conference announcing the party's new manifesto, 30 November 2009.
Lebanon's entire political structure and climate revolves around sectarianism. The country's 128-member parliament or "Chamber of Deputies," is based on a confessional distribution of seats, divided equally between Muslims and Christians irrespective of political affiliation (as is the prime minister's cabinet). In parliament, the Christian side is further subdivided in a fixed allotment among seven dominations, and the Muslim half among four.
The country's top three political posts – president, prime minster, and speaker of the parliament – must be assigned to a Maronite Christian, Sunni Muslim, and Shia Muslim respectively. Sectarian quotas have even found their way into the public sector, the military and the security services.
None of the above is based on actual demographic information, of course. Indeed, there has been no official census conducted in Lebanon since 1932. The equal allocation of parliamentary seats between Muslims and Christians mandated in the 1989 Taif Accord was nevertheless an improvement from the status quo ante, which gave Christians more seats despite a Muslim majority. The Taif Accord put an end to the country's 15-year civil war, in part, by allowing for just representation in parliament between the two religious groups.
The new configuration of political sectarianism set up in Taif was still meant to be a temporary one, with the ultimate goal being its demise. As stated in Section G:
"Abolition of Political Sectarianism: Abolishing political sectarianism is a fundamental national objective. To achieve it, it is required that efforts be made in accordance with a phased plan. The Chamber of Deputies elected on the basis of equal sharing by Christians and Muslims shall adopt the proper measures to achieve this objective and to form a national council ... The council's task will be to examine and propose the means capable of abolishing sectarianism, to present them to the Chamber of Deputies and the cabinet, and to observe implementation of the phased plan."
Refreshingly, both President Suleiman and Hassan Nasrallah have come to similar conclusions: it is time to move past the current (and outdated) system which has paralyzed Lebanese politics for so long, abolish sectarianism, and establish a government based on proportional representation. In essence, Lebanon would be transformed into a single electoral constituency.
Parliamentary speaker Nabih Berri pledged to establish the national committee called for by Suleiman and " … embark on a legislative push that centers on implementing the long-awaited Taif Accord provisions of administrative decentralization and the abolishment of political sectarianism."
The reaction to the bold proposition?
Uproar.
From charges it would "distort Lebanon's pluralistic character" to Maronite Patriarch Nasrallah Sfeir's bizarre assertion that institutionalized sectarianism should not be eliminated by law before it can be "abolished from the souls," it was met with both opposition and anger. Several MPs implicitly chided the supporters of Hassan Nasrallah for following a "sectarian leader" while making tangential references to Hezbollah's arms.
The majority of voices balking at the proposal have come from the ruling March 14 coalition, comprised mainly of Sunni Muslim and secular Maronite Christian parties.
There is no doubt Taif put into place an arrangement that has managed to keep the peace in Lebanon for 20 years. But, are some of the circumstances that led to the outbreak of violence and civil strife in the 1970s and 1980s, namely skewed parliamentary representation poorly reflective of the population at large, present once again? What are those opposed to Suleiman's progressive call really afraid of?
Simply, that the least privileged, and historically most politically marginalized of Lebanon's people – the Shia Muslims – will come to power. Now believed to form the single largest plurality among Lebanon's confessional groups, they have long played "third fiddle" to the country's Sunnis and Christians in government in relation to their numbers.
Again, we must remember that the discrepancy found in parliamentary seats and power, whereby Christians were overrepresented in relation to Muslims and were the politically privileged class, was a significant factor that led to a long and painful civil war.
Shouldn't such recent lessons be heeded if this imbalance is once again apparent?
Suleiman, a Maronite Christian himself and widely considered to be evenhanded, recognizes the present situation cannot continue; as a result of the confessional distribution of seats, the ruling March 14 coalition won a majority despite clearly losing the popular vote. It then took Prime Minister Saad Hariri five months to be able to form a cabinet.
A clarion call has thus been issued for Lebanon to advance beyond its sectarian nature and adopt a political structure which eschews sectarianism and instead implement one based on equitable, and proportional, representation.
It is time for Lebanon to embrace it.
Rannie Amiri is an independent Middle East commentator. He may be reached at: rbamiri AT yahoo DOT com.
http://www.counterpunch.org/amiri12042009.html
------
Lebanon Mufti: The equal Muslim-Christian powersharing should not be undermined
December 4, 2009
Grand Sunni Mufti of Lebanon Sheikh Mohammed Rashid Qabbani phoned Maronite Patriarch Nasrallah Sfeir congratulating him on returning safely from his visit to the Vatican. The two religious leaders stressed during the phone call upon "the common national stances that guarantee Lebanon's unity."
The Mufti also told Sfeir that "the Taef Accord must be implemented in text and spirit upon the rule of consensus and that the equal Muslim-Christian powersharing should not be undermined under any condition,"
http://www.yalibnan.com/2009/12/04/lebanon-mufti-the-equal-muslim-christian-powersharing-should-not-be-undermined/
------
Turkmenistan slightly improves attitude towards freedom of religion: U.S State Department
04.12.2009
H. Hasanov
In general, there were some small improvements in the status of respect for religious freedom by the state during the reporting period, the annual report of the U.S. State Department said.
The report, prepared by the Bureau of Democracy, Human Rights and Labor, pays attention to the fact that the Turkmen Constitution envisages freedom of religion and does not establish a state religion. But in practice the government continued to restrict freedom of religion.
All groups must register to get the legal status. The unregistered religious activity is illegal and can be punished administratively in the form of fines.
"In general, the government gave legal force to existing legal restrictions on religious freedom. But there were some small improvements in the status of respect for religious freedom by the state for the reporting period," the report said.
"The unsettled state practice in the treatment with some registered and unregistered groups continued for the previous reporting period."
Several religious groups failed to register. But the authorities restricted the opportunity to have a property for registered groups, to print or import religious materials, to receive foreign guests and to engage in religion.
The report states that "there are no reports of abuse and public violence based on religious affiliation, religious belief or practice."
The state has made little for the promotion of interfaith understanding or dialogue beyond the understanding and dialogue that exists between Muslims and Orthodox through its Council on Religious Affairs. The majority of citizens are Sunni Muslims: Turkmen people's ethnicity associated with Islam. Historically, the Turkmen society was tolerant and included different religious beliefs. But ethnic Turkmen people who appeal to other religious groups, particularly in less well-known Protestant groups are treated with suspicion and sometimes banished.
The U.S. Government discusses freedom of religion issues with the Turkmen government as part of its overall policy to promote human rights.
http://en.trend.az/news/politics/foreign/1593836.html
URL of this Page: https://newageislam.com/islamic-world-news/suicide-bombers-assault-mosque-rawalpindi,/d/2189