New Age Islam News Bureau
9 March 2014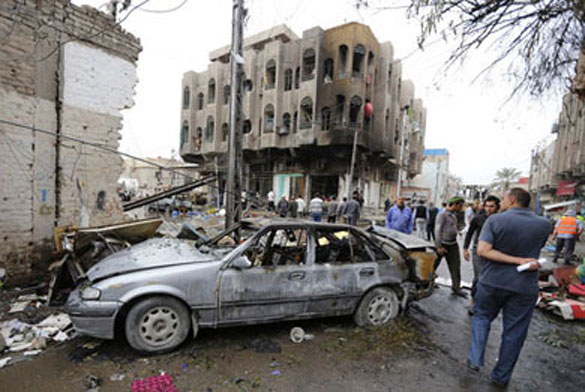 People look at the site of a car bomb attack in the neighbourhood of al-Qahera in northern Baghdad, March 9, 2014 (Reuters / Thaier al-Sudani)
-------------
Arab World
• Suicide bomber kills 42 at a crowded Iraq checkpoint
• Rebels execute 10 people in Syria
• Saudi ban of Brotherhood could send shockwaves worldwide
• Grand Mosque imam's advice: Put society before self
• Arabs 'must unite to defeat terror'
• Saudi Arabia, Qatar largely to blame for terrorist crisis in Iraq - Iraqi PM
• ISIL Terrorists Kill Syrian Civilians in Cold Blood
• New Pakistani Militia Group Starts Activity in Syria, Iraq
• OIC chief: Extremists won't be allowed to hijack Islam
• UAE backs Saudis with Muslim Brotherhood blacklist
Mideast
• Clashes in Northwest Yemen Leave 30 Dead
• 1,000 Palestinians to go on hunger strike in Israeli jail
• Ballot is battleground for Israeli town torn by religion
• Israeli teens say won't join army because of occupation
• Netanyahu calls on EU's Ashton to question Iran on arms ship during Tehran visit
South Asia
• 8 Taliban militants killed, 6 others arrested in Afghan operations
• Three Afghan teachers killed by Taliban
• 15 civilians killed or injured in Helmand roadside blast
• Myanmar anti-Muslim rhetoric similar to Sri Lankan
• Deputy PG Maldives calls on authorities to take religious extremism more seriously
Africa
• Masjid Musa cleansed and given new name
• Somali troops seize south-western city from Shabaab
• Communists, Islamists in Sudanese 'Movement for Change'
• Two killed in Libya's Benghazi
Pakistan
• Art of Living yoga centre set afire in Pakistan
• Imran, Nisar discuss peace dialogues with Taliban
• Pakistan Tehreek-e-Insaf wants Taliban office in Pakistan
• A tough life for the displaced Hazaras in twin cities
• Pakistan plans deradicalisation
• 5 killed, 5 injured in Jacobabad jirga firing
• Sanaullah says PTI's "point of view" has been Talibanised
• PTI women members oppose Veena Malik's attempt to join the party
India
• 'Don't Turn AMU into A Madrasa'
• 'Sedition' case reflects growing intolerance in India: Pakistani daily
Southeast Asia
• From Allah to Anwar, Malaysia Now Bordering On Insanity
• Comic Superhero Ultraman Slain By Rising Islamic Fanaticism in Malaysia
• Terrorism not ruled out as search goes on for Malaysia Airlines plane
Europe
• Ashton says no guarantee of final Iran nuclear accord
• Top UK vet challenges Jewish ritual animal slaughter
• Aid groups demand humanitarian access in Syria
North America
• Community Shows Up in Hundreds to Colorado Mosque Open House
• CAIR-MN Welcomes New St. Paul Police Hijab Policy
Compiled by New Age Islam News Bureau
URL: https://www.newageislam.com/islamic-world-news/new-age-islam-news-bureau/suicide-bomber-kills-42-at-a-crowded-iraq-checkpoint/d/56054
------------
Arab World
Suicide bomber kills 42 at a crowded Iraq checkpoint
Reuters | Hilla | March 9, 2014
A suicide car bomber set off his explosive-laden vehicle at a security checkpoint Sunday in southern Iraq, the deadliest of a series of attacks that killed 42 people, officials said. The violence, which comes a few weeks before scheduled elections, is the latest by insurgents bent on destabilizing the country.
The blast struck the entrance of the city of Hillah during morning rush hour as dozens of cars waited to be searched. The explosion killed 21 civilians, including a woman and 12 year old, and 15 security personnel, two police officers said. It wounded at least 115, they said.
The bombing set dozens of cars ablaze, killing those trapped inside. Debris littered the ground, covered by foam sprayed by firefighters trying to extinguish the fire.
Police say the victims' burns suggested the bomber packed his car with liquid fuel, probably gasoline.
Hillah, a Shiite-dominated city, is located about 60 miles (95 kilometers) south of the capital, Baghdad.
Elsewhere Sunday, militants launched attacks just outside the capital against security forces and employees of the state-run oil company, killing six people, police said. They said the assaults wounded 16.
Medical officials confirmed the casualty figures for all the attacks. All officials spoke on condition of anonymity as they were not authorized to release the information.
Iraq has seen a spike in violence since last April, with the death toll climbing to its highest levels since the worst of the country's sectarian bloodletting in 2006-2008. The U.N. says 8,868 people were killed in 2013, and more than 1,400 people were killed in January and February of this year.
No one immediately claimed responsibility for the attacks, but they bore the hallmarks of an al-Qaida breakaway group that frequently uses car bombs and suicide attacks to target public areas and government buildings in their bid to undermine confidence in the government.
Iraq is to hold its first parliamentary elections since the U.S. troops' withdrawal in late 2011 in April.
http://indianexpress.com/article/world/middle-east-africa/suicide-bomber-iraq/
------------
Rebels execute 10 people in Syria
IANS | Mar 9, 2014
DAMASCUS: A radical rebel group executed about 10 civilians in Syria's southern province of Daraa, the media reported Saturday.
The 10 people, including an elderly man and a 10-year-old kid, were killed in a fusillade of bullets fired at close range, Xinhua reported citing the official SANA news agency.
The report said that an online video footage showed that several armed masked men forced a group of civilians to kneel on the ground for execution.
The elderly man begged for his life, while his executioner showed no pity to him but urged another masked militant to execute the 10-year-old boy.
SANA said the massacre took place in Daraa, while activist reports said it was in a town in the northern province of Aleppo and blamed the jihadist Islamic State of Iraq and the Levant (ISIL) for committed the killing.
The ISIL, imposing a radical Islamic rule in the areas under their control, have recently been engaged in fights against other radical groups across Syria.
The Syrian government has for long accused regional countries of supporting such radical groups, which try to establish an Islamic state in Syria.
http://timesofindia.indiatimes.com/world/middle-east/Rebels-execute-10-people-in-Syria/articleshow/31700050.cms
------------
Saudi ban of Brotherhood could send shockwaves worldwide
World Bulletin/News Desk
March 09 2014
Saudi Arabia's surprise announcement on Friday to declare the Muslim Brotherhood as a terrorist organization is an attempt to strike the group at their weakest moment - and an attempt to kick start worldwide condemnation towards the group, an analyst told to Al Arabiya.
According to the report, the blacklisting of the group comes soon after the kingdom - along with Bahrain and the UAE - withdrew their ambassadors from Qatar, a known backer of former Egyptian President Mohammad Mursi's Brotherhood-led government.
The ban is an attempt to strike the group at their weakest moment, according to Abdulkhaleq Abdulla tells Al Arabiya, a professor of political science at UAE University.
"They [the Muslim Brotherhood] have lost so much as a result of the crackdown in Egypt and the dismantling of their leadership, so I think the time is probably right [to ban them]," said Abdulla.
By joining Egypt in designating the group as a terrorist organization, the kingdom may be able to persuade Western governments to blacklist the group – further weakening its power, the analyst said.
"Probably if you have the UAE joining in, and others, probably this will send a message to west, to London and Washington, this is probably going to be a masterstroke from the Saudis," he told Al Arabiya.
The sudden ban has triggered some Muslim preachers - commonly believed to be supporters of the now-banned group - to remove any indications of Brotherhood sympathies, report says.
Mohamad al-Arefe, a Muslim preacher and a professor at the King Saud University in Saudi Arabia, has allegedly changed his display picture on Twitter that originally contained the 'Rabaa hand' logo, which depicts a four-fingered gesture - now banned in Egypt - raised by supporters of ousted President Mohammad Mursi.
Users of Twitter criticized Arefe, who has more than 8 million followers on Twitter, for changing his picture.
Salman al-Odah, a Muslim preacher, writer, and a host of several religious TV programs, has also changed his Twitter profile image to one that does not include the Rabaa sign.
Arefe then said on Twitter: "Dear Twitter users… Whoever believes in Allah and the Last Day, let him say good or remain silent," indirectly avoiding comment on kingdom's recent move to ban the Brotherhood.
Wide support base
Fahd al-Khireeji, a professor of Political Media, told Al Arabiya News everyone should abide by the Kingdom's new decision.
"The issue is settled. They need to know that Saudi Arabia has made a decision and all they need to do is stand for the kingdom's fight against terrorism."
The swift change in the preachers' accounts triggered social media users to comment on the subject.
Wiping out the Muslim Brotherhood is a "huge challenge," due to its penetration in many societal institutions, said Abdulla.
"They are all over the place, in civil organizations, media, as well as religious associations," he said.
The Brotherhood's power comes from their "mass base of support," unlike militant groups such as the Islamic State of Iraq and the Levant (ISIS) and the al-Qaeda-linked al-Nusra Front, which were also banned in the same royal decree.
http://www.worldbulletin.net/headlines/130582/saudi-ban-of-brotherhood-could-send-shockwaves-worldwide
------------
Grand Mosque imam's advice: Put society before self
March 9, 2014
Selfishness causes many worries for society, according to Sheikh Saud Al-Shuraim, imam of the Grand Mosque.
In his Friday sermon, he told Muslims to fear God, obey Him and stay away from the things prohibited.
Al-Shuraim said that selfishness means loving oneself and putting whims and desires before that of everything else, disregarding public and private rights. It means benefiting oneself without paying much attention to Muslim interests. "Selfish individuals don't have family or community interest in their moral dictionary. A selfish man sees life as meaningful for himself only," he said.
He added that Allah has deprived selfish people of the sweetness of belief, which can't be felt by people who have this character trait. The Prophet (peace be upon him) said: "One isn't a believer unless he wishes for others what he wishes for himself."
He said the word "I" begins with pride and arrogance until it becomes a moral and mental tumor. If this individual is asked to do something, he wants to know what's in it for him first. In this respect he is similar to the Pharaoh, Nimrud and Lucifer who said to His Creator, "I am better than him. You created me from fire and him from clay."
Al-Shuraim said that no society will succeed if its individuals only know the word "I." Society is like a big family, where all members take part in fostering what's good for the whole family and keeping away from harmful things, keeping in mind the public benefit. Communities will not rise unless people perform their duties in a manner satisfactory to God.
He said: "Our religion encourages people to alleviate themselves from demeaning behavior, including arrogance, self-admiration and pride. These characteristics lead to preferring personal interests over public benefits."
He quoted Ibn Al-Qayim as saying: "Be careful of 'Me, 'I have' and 'I owe', because these words were used by Lucifer, the Pharaoh and Qarun."
http://www.arabnews.com/news/537146
-----------
Arabs 'must unite to defeat terror'
March 9, 2014
Saudi Arabia's decision to declare regional militant and insurgent groups, including the Muslim Brotherhood, "terrorist entities" was strongly favored by a cross-section of Saudi citizens and Arab expats on Saturday.
They hailed the Saudi decision, saying it is "an important move in the right direction," while calling on Arab states to unite against nations and groups promoting terrorism.
Well-known columnist Abdul Rahman Al-Rashed said many groups were organized in the name of Islam, "jihad," and the oppressed. Some of these groups had political projects, while most were armed groups with violence on their agenda, he said.
"These groups claim that their external activities were against their enemies, while in fact, their ultimate target is Saudi Arabia. There is no need to argue about the validity of the accusations against groups that succeed in misleading people by claiming to be innocent and victims of the hostility against Islam."
He added that the latest examples of such groups include the Al-Qaeda affiliated Al-Nusra Front and the Islamic State of Iraq and Syria (ISIS).
Justice Minister Muhammad Al-Eissa told Al-Arabiya that the Kingdom's security and stability is a red line that must not be compromised.
Individuals who choose to take advantage of the grace period offered by the government will be spared, he said.
Maj. Gen. Mansour Al-Turki, Interior Ministry spokesperson, told Al-Arabiya that this decision was made to bring an end to terrorism and to protect youth from being exploited by terrorist groups.
The committee, he said, would not hesitate to add new names to the list.
"The blacklisting of these organizations is a welcomed move made by the Saudi government," said Osama R. Al-Ghunaim, a senior functionary associated with the Charity for the Care of Saudi Families Abroad. He said that these regional extremist organizations, including the Muslim Brotherhood, continue to instigate violence in the Middle East and abroad.
Saudi Arabia also banned the display and sale of all Muslim Brotherhood books and literature at the Riyadh book fair.
The Kingdom on Friday blacklisted the Muslim Brotherhood, the Hezbollah, the ISIS and the Al-Nusra Front and declared them terrorist organizations.
Egypt's interim government designated the Muslim Brotherhood a terrorist organization last year. The majority of Saudi citizens and Arab expatriates welcomed the decision, while some of them reserved comment.
Saleh Al-Khatlan, deputy chief of the National Society of Human Rights (NSHR), refused to speak on the issue, saying "I have no comments on this issue now."
Sheikh Abdulrahman Al-Jeraisy, chairman of the Riyadh Chamber of Commerce and Industry, welcomed the decision, but did not provide further comment. A few Shoura members and academicians contacted by Arab News preferred to give their comments after watching how the situation unfolds in the region.
Badr Al-Otaibi, a Saudi businessman, said that the decision was made following an increase in terrorist attacks and the nasty role being played by these groups. "The labeling of the groups as terrorists comes after it became clear for the Kingdom and Arab countries that these organizations are threatening peace and security in the region," he said.
"Seeing the region falling into the hands of the Muslim Brotherhood, the ISIS or the Al-Nusra Front is a great danger," said Al-Otaibi, adding that 30 men were convicted early this year by the UAE for establishing a Muslim Brotherhood branch in that country.
Members belonging to the Al-Nusra Front and Muslim Brotherhood have been sending millions of dollars to their parent organizations to create unrest in the region, said Esam Al-Sadiq, a Saudi manager working for a local company.
"The Al-Nusra is, in fact, a branch of Al-Qaeda operating in Syria," said Fahd M. Al-Onaizi, chairman of the EBS Group, while terming the Saudi government's declaration a "right step."
Al-Onaizi also called on government agencies in the Kingdom and the Arab world to tighten the noose around those funding these organizations.
http://www.arabnews.com/news/537161
-----------
Saudi Arabia, Qatar largely to blame for terrorist crisis in Iraq - Iraqi PM
Mar 9, 2014
Saudi Arabia and Qatar are supporting militant groups in Iraq and have effectively declared war on the country, Prime Minister Nuri al-Maliki said as nationwide violence left 15 dead Saturday.The rare direct attack on the Sunni Gulf powers comes with Iraq embroiled in its worst prolonged period of bloodshed since 2008, with more than 1,800 people killed already this year.
The bloodletting in Iraq, which shares a long border with Saudi Arabia, has been driven principally by widespread discontent among the country's Sunni Arab minority and by the civil war in neighbouring Syria.
Maliki, a Shiite, has in the past blamed unnamed regional countries and neighbours for destabilising Iraq. In an interview with France 24 broadcast on Saturday, Maliki said allegations he was marginalising Sunnis were being pushed by "sectarians with ties to foreign agendas, with Saudi and Qatari incitement.
"These two countries are primarily responsible for the sectarian and terrorist and security crisis of Iraq."
He said Riyadh and Doha were providing political, financial and media support to militant groups and accused them of "buying weapons for the benefit of these terrorist organisations."
Violence has worsened markedly in Iraq - the death toll from violence last month was more than double that of February 2013 - and with elections due on April 30, Maliki has taken a hard line, pushing security operations against militants.
He has also called for greater coordination against militancy, with Baghdad due to host an international counter-terrorism conference on March 12.
On Saturday, violence nationwide killed at least 15 people, including a parliamentary election candidate and four children, security and medical sources said.
At least 110 people have been killed so far this month, and more than 1,800 since the beginning of the year, according to AFP figures based on security and medical sources.
Saudi Arabia and Qatar are destabilising Iraq by supporting militant groups and have effectively declared war on the country, Prime Minister Nuri al-Maliki said in an interview broadcast on Saturday.
"They are attacking Iraq, through Syria, and in a direct way, and they announced the war on Iraq," the premier said in an interview with France 24, in a rare direct attack on the Sunni Gulf powers.
raqi Prime Minister Nuri al-Maliki accused Saudi Arabia of supporting global "terrorism," both inside the Arab world and in other countries, in an interview broadcast Saturday.
Maliki, in an interview with France 24, slammed "the dangerous Saudi stance" of supporting "terrorism in the world - it supports it in Syria and Iraq and Lebanon and Egypt and Libya and even in countries outside" the Arab world.
http://voiceofrussia.com/news/2014_03_09/Saudi-Arabia-Qatar-largely-to-blame-for-terrorist-crisis-in-Iraq-Iraqi-PM-6365/
------------
ISIL Terrorists Kill Syrian Civilians in Cold Blood
Mar 9, 2014
A new video has emerged showing the terrorists of al-Qaeda-linked group kill Syrian civilians in cold blood.
The footage, posted online on Friday, showed the Takfiri militants committing the war crime in Deir Ezzor.
The video shows the terrorists' brutality as they killed an old man who appeared in the video appealing to them that he has a family. However they hit him and killed him in cold blood.
Also among the victims was a 10-year child, whose age did not prevent the Takfiri militants from killing him.
Full report at:
http://english.farsnews.com/newstext.aspx?nn=13921217001561
------------
New Pakistani Militia Group Starts Activity in Syria, Iraq
Mar 9, 2014
Footages taken from a new Pakistani militia group named 'Asgar Sheikh al-Qazi' show that its members are being trained for terrorist operations in Iraq and Syria.
Ansar al-Islam is the name of a terrorist group in Pakistan and has named its branch in Iraq after Abdul Rashid al-Qazi who was the brother of La'l mosque's prayer leader Abdul Aziz. Abdul Rashid was killed by the Pakistani army in 2007.
It was reported that the group has recently started activity in Iraq and Syria and conducts tactical operations.
The group was formerly active in the Iraqi Kurdistan region under the name of Ansar al-Settah.
Full report at:
http://english.farsnews.com/newstext.aspx?nn=13921218000338
------------
OIC chief: Extremists won't be allowed to hijack Islam
Mar 9, 2014
Organisation of Islamic Cooperation (OIC) Secretary General Iyad Ameen Madani has said Muslims cannot allow the extremists who interpret Islam from narrow perspective to hijack Islam.
The OIC chief made the statement after holding meetings with Foreign Minister AH Mahmood Ali and Foreign Secretary Md Shahidul Haque on Sunday.
Terming Islam as a religion of tolerance, he said: "We cannot allow ourselves to be taken away by literal translation of narrow minded extremists."
Madani also termed conflict between Shiah and Sunni, and Sunni and Sunni as sectarian violence.
Full report at:
http://www.dhakatribune.com/foreign-affairs/2014/mar/09/oic-chief-extremists-wont-be-allowed-hijack-islam#sthash.9kwONnvw.dpuf
------------
UAE backs Saudis with Muslim Brotherhood blacklist
Mar 9, 2014
The United Arab Emirates has thrown its support behind neighboring Saudi Arabia's decision to label the Muslim Brotherhood a terrorist organization, deepening Gulf Arab pressure on the group.
The Western-allied Gulf federation's foreign ministry says it will cooperate with Saudi Arabia to tackle "those terrorist groups through liquidating all forms of material and moral support."
Saudi Arabia also designated al-Qaeda-linked groups and an al-Qaeda breakaway as terrorist.
Egypt was the first Arab country to label the Brotherhood terrorist. The move comes amid a crackdown on the group following its July ouster of Islamist president Mohamed Morsi after mass protests against his rule.
Full report at:
http://english.ahram.org.eg/NewsContent/2/8/96226/World/Region/UAE-backs-Saudis-with-Muslim-Brotherhood-blacklist.aspx
------------
Mideast
Clashes in Northwest Yemen Leave 30 Dead
March 09 2014
At least 30 people were killed over two days of clashes between Shi'ite Muslim insurgents and Sunni Salafi tribesmen in Yemen's northwestern al-Jawf province, the provincial governor said, as chaos reigns two years after mass protests ousted the country's leader.
Shi'ite Houthi fighters are trying to strengthen their hold on the north – just one of the challenges facing an interim government also battling southern separatists, al Qaeda-linked militants and an economic crisis.
Strategically positioned next to top oil exporter Saudi Arabia and to main shipping lanes, Yemen's security situation is being closely watched by Gulf Arab states and Washington.
"The Presidential Commission intervened to stop the fighting after heavy losses on both sides amounted to 30 people dead and dozens injured," al-Jawf governor Mohammed bin Aboud, told a local television channel in Yemen.
Full report at:
http://www.thejakartaglobe.com/international/clashes-in-northwest-yemen-leave-30-dead/#.Ux0bOj9dUqM
------------
1,000 Palestinians to go on hunger strike in Israeli jail
World Bulletin/News Desk
March 09 2014
Nearly one thousand Palestinian prisoners in the on Sunday notified the Israeli Negev prison administration of their intention to go on hunger strike next month, according to a Palestinian NGOS.
"The strike is a protest against humiliating inspections of and insults to the families of the prisoners and the deliberate delay of visiting hours," the Palestinian Prisoner Club said in a statement.
The prisoners are also complaining against medical negligence, it added.
Some 4600 Palestinian detainees, including 12 women and 187 children, are currently held in Israeli prisons, according the Prisoners' Affairs Ministry.
http://www.worldbulletin.net/headlines/130576/1000-palestinians-to-go-on-hunger-strike-in-israeli-jail
------------
Ballot is battleground for Israeli town torn by religion
Mar 9, 2014
(Reuters) - When this Israeli town goes to the polls on Tuesday, the vote may decide more than a bitter mayoral race. Many see it as a bellwether for the strained secular-religious relations throughout the Jewish state.
Municipal votes rarely raise passions in Israel, but this one - a rerun of an election last October - is different. Two courts ordered it after finding voter fraud in the original ballot that returned the ultra-Orthodox mayor to office.
Now more liberal voters in the town of 80,000 are mobilising to topple the incumbent and, they hope, stem the influence of religious zealots they see as a growing challenge.
"This election is our last chance to save Beit Shemesh," said Noa Kedmi, 28, who has lived in the town for eight years.
Full report at:
http://in.reuters.com/article/2014/03/09/israel-ultraorthodox-idINDEEA2803M20140309
------------
Israeli teens say won't join army because of occupation
Mar 9, 2014
A group of Israeli teenagers have informed Prime Minister Benjamin Netanyahu they will refuse to serve in the military because of its role in the occupation of Palestinian land.
"The main reason for our refusal is our opposition to the occupation of the Palestinian territories by the army," 50 youths wrote in a letter to Netanyahu published Saturday by an Israeli pacifist group.
The youths referred to "human rights violations" in the West Bank, including "executions, settlement construction, administrative detention, torture, collective punishment and unfair distribution of water and electricity."
Full report at:
http://english.ahram.org.eg/NewsContent/2/8/96224/World/Region/Israeli-teens-say-wont-join-army-because-of-occupa.aspx
------------
Netanyahu calls on EU's Ashton to question Iran on arms ship during Tehran visit
March 09 2014
As Israel began unloading the crates of ordnance on the Klos-C now docked in Eilat, and EU foreign policy chief Catherine Ashton began a landmark visit to Teheran, Prime Minister Binyamin Netanyahu wondered out loud Sunday whether Ashton would raise the issue with her hosts.
"I would like to ask her if she asked here hosts in Tehran about the arms shipment to terrorist organizations, and if not, why not?" Netanyahu said at Sunday's weekly cabinet meeting.
"No one has the right to ignore the true murderous activities of the regime in Tehran, and I think that it is fitting for the international community to deal with the true polices of Iran, not its propaganda," he said.
Full report at:
http://www.jpost.com/Diplomacy-and-Politics/PM-calls-on-Ashton-to-question-arms-ship-during-Tehran-visit-344754
----------
South Asia
8 Taliban militants killed, 6 others arrested in Afghan operations
Mar 09 2014
At least eight Taliban militants were killed and six others were detained following military operations in various provinces of Afghanistan.
The operations were conducted by Afghan national police in coordination with the Afghan national army and Afghan intelligence – National Directorate of Security (NDS) in the past 24 hours.
Interior of Afghanistan following a statement said, "In past 24 hours, Afghan National Police conducted several anti-terrorism joint operations with Afghan National Army and NDS to clean some of the areas from terrorists and enemies of peace and stability of Afghanistan."
The statement further added that the operations were conducted in Kunar, Kunduz, Kandahar, Zabul and Helmand provinces, as a result eight armed Taliban members were killed and six others were arrested by Afghan National Security Forces.
Full report at:
http://www.khaama.com/8-taliban-militants-killed-6-others-injured-in-afghan-operations-4018
------------
Three Afghan teachers killed by Taliban
Mar 9, 2014
Taliban militants killed three teachers and abducted another in western Afghanistan, an official said Sunday.
"The teachers were on the way home in Taywara district late Saturday after attending a seminar in the provincial capital Cheghcheran," said Abdul Hai Khatibi, governor spokesman for Ghor province.
"They were caught by Taliban insurgents who were likely waiting for them in Shahrak district," Khatibi said.
"The insurgents killed three of the teachers on the spot and took another to an unknown location." The militants have not commented.
http://www.thehindu.com/news/international/three-afghan-teachers-killed-by-taliban/article5766652.ece
----------
15 civilians killed or injured in Helmand roadside blast
Mar 09 2014
At least seven civilians were killed and eight others were injured following an improvised explosive device (IED) explosion in southern Helmand province.
Local government officials in Helmand province said the incident took place on Sunday morning in Mosa Qala district.
The officials further added that the incident took place after a civilian vehicle struck with the roadside bomb, leaving seven people dead and eight others injured.
According to local officials, the victims of the incident are members of the same family and at least two children and three women were also among those killed.
Full report at:
http://www.khaama.com/15-civilians-killed-or-injured-in-helmand-roadside-blast-4017
------------
Myanmar anti-Muslim rhetoric similar to Sri Lankan
World Bulletin/News Desk
March 09 2014
The anti-Muslim rhetoric of Sri Lanka is similar to that of Myanmar, an international panel of experts at a conference on violence in the two countries concluded this week.
Although no one has died in anti-Muslim violence in Sri Lanka, speakers at the March 6 discussion said that the language of hatred is similar to that in Myanmar where hundreds of Rohingya Muslims are reported to have lost their lives.
Held at the Central European University's School of Public policy in Budapest, "Buddhist Fury: violence against Muslims in Sri Lanka and Myanmar" sought to answer questions on conflict solution, develop policy ideas and share news on the current situation in both countries, with a purpose of releasing a policy paper to help deal with anti-Muslim hatred.
Full report at:
http://www.worldbulletin.net/headlines/130577/myanmar-anti-muslim-rhetoric-similar-to-sri-lankan
------------
Deputy PG Maldives calls on authorities to take religious extremism more seriously
By Ahmed Nazeer | March 9th, 2014
Deputy Prosecutor General Hussein Shameem has called on authorities to take terrorism issues more seriously, noting the most common source comes from religious extremism.
"We should become more proactive and stop complaining about the missing laws," he told Minivan News today. "There are things we can still do to curb crimes although some of the necessary laws are still not passed."
Shameem noted that the current Terrorism Act was adequate, but the lack of laws such as the Evidence Act was an issue.
Speaking at a ceremony held to commence a police terrorism-training course last night, Shameem told attendees that past incidents of terrorism occurred in the Maldives due to a lack of discussion on the issue of religious extremism.
Full report at:
http://minivannews.com/crime-2/deputy-pg-calls-on-authorities-to-take-religious-extremism-more-seriously-79303
------------
Africa
Masjid Musa cleansed and given new name
Mar 9, 2014
MUSLIM cleric Abubakar Makaburi yesterday led youth to cleanse the Majid Musa mosque. The mosques will now be known as Masjid Shuhadaa or Martyrs Mosque in Majengo, Mombasa.
The youth replaced carpets that were stained with blood when police raided the mosque in February. They held prayers and condemned the killing and detention of "innocent" Muslim worshipers by the government.
At least eight people, among them a GSU officer, were killed during the February raid. Police stormed the mosque to disperse youth they claimed where attending a Jihad convention.
Armed officers laid siege on the mosque for several hours and arrested some of the youth. They seized confidential documents including laptops.
Speaking to the Star yesterday, Makaburi said they changed the name of the mosque to honour four slain Muslim clerics allegedly executed by security agencies.
hey include Sheikh Shaaban (only identified by one name), Sheikh Sameer Khan, Sheikh Aboud Rogo and his successor Sheikh Ibrahim Ismail.
Full report at:
http://www.the-star.co.ke/news/article-158234/masjid-musa-cleansed-and-given-new-name
---------
Somali troops seize southwestern city from Shabaab
March 09 2014
Somali government forces and African peacekeepers have seized control of the southwestern city of Wajid, the state-run TV announced on Sunday.
The broadcast said the city, which is part of the southwestern Bakool region, fell after fierce clashes with the Al-Shabaab militant group.
The city's governor had told Anadolu Agency on Saturday that Al-Shabaab militants had pulled out of the city without fighting.
The Somali government has unleashed a major offensive to flush out the militant group from areas under its control.
Full report at:
http://www.worldbulletin.net/todays-news/130589/somali-troops-seize-southwestern-city-from-shabaab
-----------
Communists, Islamists in Sudanese 'Movement for Change'
AFP | Mar 9, 2014
KHARTOUM: A politically diverse group of Sudanese including communists, Islamists and Arab nationalists on Saturday announced a National Movement for Change seeking a more inclusive form of government for the vast nation.
The group aims to challenge the Arab-dominated regime of President Omar al-Bashir, which has for years been fighting ethnic insurgencies fuelled by complaints of economic and political neglect by the Islamist central government in Khartoum.
The conflicts include an 11-year-old insurgency in the western Darfur region and uprisings by the Sudan People's Liberation Movement-North ( SPLM-N) that began nearly three years ago in South Kordofan's Nuba Mountains and Blue Nile areas.
And in 2011 South Sudan, which has a mostly Christian and animist population, separated from Sudan after successive civil wars lasting for most of the country's independent existence.
"The problem of Sudan, it is not in Darfur, it is not in Blue Nile. It is not in Nuba mountains, actually it is in Khartoum here," Khalid Tigani, a founder of the Movement for Change, told AFP on the sidelines of the group's first press conference.
Full report at:
http://timesofindia.indiatimes.com/world/rest-of-world/Communists-Islamists-in-Sudanese-Movement-for-Change/articleshow/31706200.cms
------------
Two killed in Libya's Benghazi
World Bulletin/News Desk
March 09 2014
A former Libyan officer and a Lebanese national were killed in separate militant attacks in Libya's eastern city of Benghazi, according to medical sources.
"The Galaa hospital in Benghazi received late Saturday the body of a Lebanese national who was shot in different parts of his body," Fadia al-Barghathi, the hospital media officer, told Anadolu Agency on Sunday.
She said the 55-year-old Lebanese was targeted by unknown gunmen in central Benghazi.
Al-Barghathi said they also received the body of former officer gunned down inside a shop he owns in the al-Saberi district of the city.
Full report at:
http://www.worldbulletin.net/todays-news/130588/two-killed-in-libyas-benghazi
------------
Pakistan
Art of Living yoga centre set afire in Pakistan
PTI | Mar 9, 2014
ISLAMABAD: An Art of Living yoga centre on the outskirts of the Pakistani capital has been set afire, allegedly by unknown miscreants, police said.
The centre, which is based in Peace Street in Bani Gala area, was set on fire last evening after some people reportedly entered the premises asking for money, Islamabad police sources told PTI.
"There were just two guards there. Around eight people came and asked where the money was kept. On told that they didn't know, the guards were tied up and the building was set on fire," a source said.
The culprits fled the scene after the incident. However, Meena Gabeena, an official at the centre said, as per her information, the attackers did not speak a word.
"They just tied the guards and set the building on fire," she told PTI.
Gabeena also drew attention to a recent programme aired by a news channels which had made some allegations against the centre.
Full report at:
http://timesofindia.indiatimes.com/world/pakistan/Art-of-Living-yoga-centre-set-afire-in-Pakistan/articleshow/31727822.cms
------------
Imran, Nisar discuss peace dialogues with Taliban
Mar 9, 2014
ISLAMABAD: Interior Minister Chaudhry Nisar Ali Khan and Pakistan Tehreek-e-Insaf (PTI) chief Imran Khan made a telephonic contact, Geo News reported on Sunday.
Both the leaders discussed matter of peace talks with Tehrik-e-Taliban Pakistan (TTP) in their conversation.
According to the spokesman of Imran Khan, the PTI chief and interior minister also exchanged views on the situation which emerged after the attack on F-8 Kachehri Islamabad.
The spokesman said Imran Khan and Ch. Nisar were in regular contact with each other over the past one month. Both the leaders also held a meeting last week.
http://www.thenews.com.pk/article-140464-Imran,-Nisar-discuss-peace-dialogues-with-Taliban
------------
Pakistan Tehreek-e-Insaf wants Taliban office in Pakistan
March 09, 2014
PESHAWAR- Pakistan's Khyber Pakhtunkhwa (KPK) Minister of Health and Information, Shaukat Yousafzai, today said that they were ready for assistance of the Taliban office in the province in order to step forward for peace establishment in the country.
KPK minister Shaukat Ali Yousafzai was addressing a press conference in Peshawar, the provincial capital of KPK. During an anti-polio campaign he said that they were ready to play role in peace establishment.
Full report at:
http://www.nation.com.pk/politics/09-Mar-2014/pakistan-tehreek-e-insaf-wants-taliban-office-in-pakistan
------------
A tough life for the displaced Hazaras in twin cities
2014-03-09
ISLAMABAD: Asad Ali, 14, has been selling potato chips on his cart for the last two years in Jinnah Super Market.
He opens his shop at 3pm after attending school and packs up at around 10pm.
He along with his family used to live in Quetta, but after the tragic death of his father in a suicide attack in 2011, his mother decided to move to Islamabad and settle here.
Asad said surviving on his income was very difficult for his family but they had to live with it as he worked hard to meet the monthly expenses.
Asad maintained that he was living in a rented house along with his mother and four other siblings while his mother also took care of the family by stitching clothes.
"Life has become more difficult after the migration as Quetta was comparatively cheaper. There we used to live in our own house," he added.
Full report at:
https://www.dawn.com/news/1091921/a-tough-life-for-the-displaced-hazaras-in-twin-cities
------------
Pakistan plans deradicalisation
Mar 9, 2014
Pakistan's first ever National Internal Security Policy (NISP) apart from addressing critical issues related to threat perceptions ranging from street crimes to nuclear terrorism, envisages a deradicalisation programme which involves looping madrassas into mainstream education.
The policy tabled by Interior Minister Chaudhry Nisar Ali Khan in the National Assembly recently, is aimed at protecting the national interest of Pakistan and includes three key elements — a dialogue with all stakeholders, isolation of terrorists from their support systems and enhancing deterrence and capacity of the security apparatus. The NISP said dialogue offered a political means to end internal disputes but this is not the only option though it is the most preferred way to bring peace and reconciliation. Doors were open for negotiations with all anti-state and non-state groups within the limit of the Constitution and without compromising the primary interests of territorial integrity and sovereignty of the state.
Full report at:
http://www.thehindu.com/news/international/south-asia/pakistan-plans-deradicalisation/article5764803.ece
-----------
5 killed, 5 injured in Jacobabad jirga firing
Mar 9, 2014
JACOBABAD: At least five people were killed and five others injured when a man opened indiscriminate fire in a jirga here on Sunday, Geo News reported.
According to reports, a jirga was called to settle land dispute in Mauladad town. When the matter was not resolved opposite groups attacked each others with clubs.
During the clash a man opened fire, killing five people and injuring five others.
The jirga was being held in the chair of Sardar Noorul Rehman who is relative of Provincial Minister Mir Mumtaz Jakhrani and MNA Mir Ejaz Jakhrani.
http://www.thenews.com.pk/article-140458-5-killed,-5-injured-in-Jacobabad-jirga-firing
------------
Sanaullah says PTI's "point of view" has been Talibanized
Mar 9, 2014
LAHORE: Rana Sanaullah, the law minister of Punjab, says Pakistan Tehreek-e-Insaf's (PTI) "point of view" has been Talibanized, Geo News reported.
"The PTI has started thinking like Taliban. It is evident from the fact that Imran Khan is never happy about any decision the government takes", he said in a statement issued here.
Sana added that, to make the matters worse, the PTI lawmakers were also following the suit of their leadership.
Full report at:
http://www.thenews.com.pk/article-140412-Sanaullah-says-PTIs-%22point-of-view%22-has-been-Talibanized
----------
PTI women members oppose Veena Malik's attempt to join the party
Mar 9, 2014
ISLAMABAD- Pakistani actress Veena Malik has shown interest in joining Pakistan Tehreek-e-Insaf (PTI) but PTI women parliamentarians have opposed this move on her part.
The PTI parliamentarians say that the party image will be spoiled if actress Veena Malik joins the party. They fear the party's internal matters might not remain intact. The PTI members from Khyber Pakhtunkhwa and Sindh have been more vocal in opposing this move.
http://www.nation.com.pk/national/09-Mar-2014/pti-women-members-oppose-veena-malik-s-attempt-to-join-the-party
------------
India
'Don't turn AMU into a madrassa'
Mar 9, 2014
ALIGARH: There is a quiet row erupting in the Aligarh Muslim University between students who call themselves liberals and the other faction that wants the famous varsity to go back to certain tenets of traditional Islam, like the use of burqa by women and holding of namaz five times a day.
The clash of ideologies, which has cleaved the student community in half, and simmering for a while now, has become even more apparent after a bunch of pupils who call themselves students of AMU put up posters of burqa-clad women for a seminar that, ironically, was on 'Women Empowerment: An Alternative in Focus'. In fact, senior lawyer Vrinda Grover, who was invited for the talk, was quoted by an English daily saying she pulled out of it after "she came to know about the group and its activities."
Full report at:
http://timesofindia.indiatimes.com/india/Dont-turn-AMU-into-a-madrassa/articleshow/31685125.cms
------------
'Sedition' case reflects growing intolerance in India: Pakistani daily
Mar 9, 2014
Islamabad: The recent episode in Meerut, Uttar Pradesh, where 67 Kashmiri students were suspended from college for three days after they cheered Pakistan's victory over India at an Asia Cup cricket match reflects the growing intolerance in India, a leading daily in Pakistan said on Saturday.
"The episode is reflective of the intolerance that seems sneakily to be growing in India, casting its long shadow over claims towards progressiveness," The Dawn said in its editorial.
The Meerut police pressed sedition charges against the students from Kashmir. The charges were later dropped.
The reports of the state government and the university were contradictory as the state government said that the content of the charges made against the students did mention sedition but the university denied it.
Full report at:
http://news.in.msn.com/international/sedition-case-reflects-growing-intolerance-in-india-pakistani-daily
----------
Southeast Asia
From Allah To Anwar, Malaysia Now Bordering On Insanity
Mar 9, 2014
Malaysia has reached a stage where I am afraid, that we are already at the breaking point.
Insanity 'day-in, day-out' has entered the socio-political and religious arena like never before.
I have dreaded this moment: Anwar Ibrahim is found "guilty" for Sodomy II!
Anwar may be sent to jail for the next five years, but the implications when he is sent to jail, in my opinion, will be humongous. I believe I am not the only one who can see this happening.
I think we have come to a point that people will no longer think of the consequences, but will forge ahead whatever the resistance they will face.
It is no longer a minority's issue. It is an entire nation in anguish to see a change in government. We have already seen four waves and a fifth wave with a great earthquake may be about to hit the nation.
The loud-mouthed agitators and the court jesters that we see nearly every day will suddenly be overwhelmed by the waves that have picked up a lot of momentum. They will realise that they are no longer the majority no matter how many people they can try to rally to show their power.
Full report at:
http://www.malaysia-chronicle.com/index.php?option=com_k2&view=item&id=240341:from-allah-to-anwar-malaysia-now-bordering-on-insanity&Itemid=2#ixzz2vWkC8i8a
------------
Comic Superhero Ultraman Slain By Rising Islamic Fanaticism In Malaysia?
Reuters
Mar 9, 2014
Malaysia has banned a comic book starring the Japanese superhero Ultraman because it could disturb "public order", sparking a torrent of online ridicule from those who saw it as the latest sign of excessive censorship in the Muslim-majority country.
The book, "Ultraman The Ultra Power", was banned from Feb. 18 with a penalty of up to three years' imprisonment for anyone who imported or published the comic, state news agency Bernama reported the home ministry as saying.
The book was on a list of banned publications on the ministry's website on Friday.
Home ministry officials did not respond to a request for comment on the ban and on reports that it had been implemented because it contains a reference comparing Ultraman to "Allah", the Malay and Arabic word for God.
Full report at:
http://www.malaysia-chronicle.com/index.php?option=com_k2&view=item&id=240091:comic-superhero-ultraman-slain-by-rising-islamic-fanaticism-in-malaysia?&Itemid=2#ixzz2vWkHOrSU
------------
Terrorism not ruled out as search goes on for Malaysia Airlines plane
Mar 9, 2014
BEIJING — A massive search was underway Sunday for a missing Malaysia Airlines jetliner, focusing on a spot off the southern coast of Vietnam where two large oil slicks were reported. But there were, so far, no clues to why the China-bound flight vanished without warning with 239 people on board.
Malaysian officials investigating the disappearance said they were not ruling out terrorism — or any other causes — as reports emerged that two Europeans listed on the passenger manifest were not aboard and their passports had been lost or stolen. Who was traveling on those passports, though, remained unclear.
At a news conference Sunday morning, Azharuddin Abdul Rahman of Malaysia's Department of Civil Aviation said searchers had "not located anything" and were expanding the search area. He said even the oil slick sighting, reportedly made by a Vietnamese military plane, had not been verified.
Full report at:
http://www.latimes.com/world/asia/la-fg-malaysia-airplane-missing-20140309,0,4722157.story#ixzz2vWk7FYiA
------------
Europe
Ashton says no guarantee of final Iran nuclear accord
AFP | Mar 9, 2014
TEHRAN: European Union foreign policy chief Catherine Ashton said on Sunday there is "no guarantee" that talks with Iran on its disputed nuclear programme will lead to a comprehensive agreement.
"This interim agreement is really important but not as important as a comprehensive agreement (which is)... difficult, challenging, and there is no guarantee that we will succeed," Ashton told a joint news conference in Tehran with Iranian foreign minister Mohammad Javad Zarif.
Iran clinched the interim deal in November with the so-called P5+1 - Britain, China, France, Russia, the United States and Germany - under which it agreed to curb its nuclear activities in exchange for sanctions relief.
Full report at:
http://timesofindia.indiatimes.com/world/middle-east/Ashton-says-no-guarantee-of-final-Iran-nuclear-accord/articleshow/31727281.cms
-----------
Top UK vet challenges Jewish ritual animal slaughter
March 09 2014
LONDON – British Jewry became the latest European community to face shechita (Jewish religious slaughter) problems last week when the newly elected head of the British Veterinary Association called for a ban on all forms of "ritual animal slaughter."
The ban specifically referred to shechita and halal, the Muslim standard for matters of daily life, including form of slaughter and acceptable food and drink.
John Blackwell, the president elect of the British vets trades body managed to secure a front page story in The Times and a sympathetic editorial for his call to "stop ritual slaughter of animals" on the grounds that it caused "unnecessary suffering."
He demanded that the exemptions for Jews and Muslims over their methods of religious killing, which is enshrined in UK law, be ended and "ritual slaughter" methods banned if both religions refuse to adopt what he termed "more humane methods."
But Jewish and Muslims leaders independently and jointly rejected the calls, pointing out that the way the majority of animals are slaughtered in the UK – by use of a "captive bolt" before they have their throats slit – often causes far more suffering and pain, especially when in up to a third of cases the bolt misfires and the process has to be repeated.
Full report at:
http://www.jpost.com/Jewish-World/Jewish-News/Top-UK-vet-challenges-Jewish-ritual-animal-slaughter-344741
-----------
Aid groups demand humanitarian access in Syria
March 09, 2014
BEIRUT: Nearly 130 organizations have called for immediate and permanent humanitarian access to civilians throughout Syria to help relieve the immense suffering caused by the country's civil war.
The 128 groups making the appeal include United Nations agencies and relief organizations from around the world.
In a statement released Sunday, the groups urge all sides in Syria's conflict "to listen to the voice of the international community as expressed unanimously through the Security Council."
A U.N. Security Council resolution last month called on Syria's warring sides to facilitate aid deliveries. The U.N. says more than 9 million Syrians are in need of humanitarian assistance.
Many of those most in need live in areas under government-imposed blockades, while others are in territory under the nominal control of rebel groups.
http://www.dailystar.com.lb/News/Middle-East/2014/Mar-09/249689-aid-groups-demand-humanitarian-access-in-syria.ashx#ixzz2vWzlOSeN
------------
North America
Community Shows Up in Hundreds to Colorado Mosque Open House
Mar 9, 2014
Some three hundred community members stepped for the first time into the Islamic Center of Fort Collins on Saturday, leaving their snow boots at the door and walking comfortably around the new 18,000-square-foot building.
"It's a beautiful mosque," said visitor Donna Ott, who was attending the event out of curiosity with her husband, Jim, and their 14- and 9-year-old daughters.
The Turkish-style mosque opened at 925 W. Lake St. in September after a year and a half of construction. Saturday marked the new building's first public open house, and the center's vice president Faiq Majeed couldn't have been more pleased with the turnout.
"Everybody is new today," Majeed said.
Full report at:
http://www.cair.com/press-center/american-muslim-news/12398-community-shows-up-in-hundreds-to-colorado-mosque-open-house.html
-----------
CAIR-MN Welcomes New St. Paul Police Hijab Policy
Mar 9, 2014
The Minnesota chapter of the Council on American-Islamic Relations (CAIR-MN) today welcomed a new St. Paul Police Department (SPPD) policy that allows Muslim employees to wear a police-issued hijab (Islamic headscarf). SPPD recently became the first police department in the state to hire a female Muslim Community Liaison Officer.
"We congratulate Chief Smith and the St. Paul Police Department for creating a welcoming, inclusive environment for Muslim employees," said CAIR-MN Executive Director Lori Saroya. "This decision will enable more Muslim women to consider serving their community through a career in law enforcement."
Full report at:
http://www.cair.com/press-center/press-releases/12397-cair-mn-welcomes-new-st-paul-police-hijab-policy.html
-----------
URL: https://www.newageislam.com/islamic-world-news/new-age-islam-news-bureau/suicide-bomber-kills-42-at-a-crowded-iraq-checkpoint/d/56054