New Age Islam News Bureau
3 Jul 2013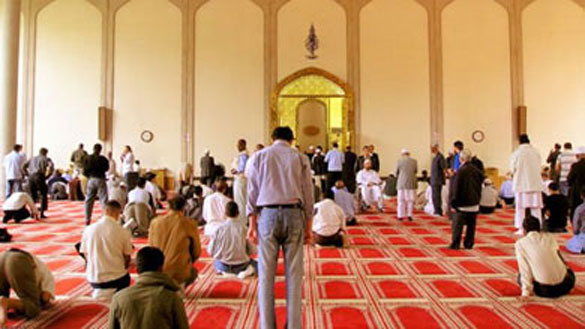 Photo: The British "Channel 4" TV to broadcast Muslim call to prayer 'adhan' during Ramadan
-----------
Pakistan
• Suicide Attack the Biggest Sin in Islam: Ulema of the Sunni Ittehad Council
• US strike kills 16 suspected militants in Pakistan
• At least six FC persons killed in a militant attack in Peshawar
• Quetta bombings a 'test case' for ISI, IB: Nawaz
• Govt, spy agencies accused of harassing Wadh people
• 'Unleashing the Taliban': Pakistan shuns Afghan army chief's comments
• Balochistan violence: Spy agencies to help govt restore peace, says PM
• Lasting terror from TTP makes govt rethink dialogue plan
• Terrorist threat stops IDPs' return to Orakzai
• FO condemns North Waziristan drone attack
Europe
• British TV channel to broadcast Muslim call to prayer
• Russian Islamist leader instigates jihadists to attack Sochi Olympics
• Blasphemers in Russia to face fines, jail sentence
• WUC to Commemorate Victims on 4th Anniversary of Urumchi Unrest
Arab World
• Sixteen shot dead in pro-Morsi rally in Cairo: state TV
• Rise in sexual assaults at protest hub
• Tuesday Terror: 86 Iraqis Killed, 234 Wounded
• ElBaradei party asks Egyptian military to save people from 'mad' Mursi
• Shelling kills 11 near Syrian capital
• Egypt's Mohamed Morsi to resign or be sacked on Wednesday: Al-Ahram
• UAE Islamist group had no desire to topple government: families
• Al-Qaradawi Addresses Egyptians, Urges Dialogue
• Mohamed Morsi loyalists ready to fight to preserve Islamist rule
• General Abdel Fattah el-Sisi: top brass ready to defend the people
• Egypt's Mursi would 'die in defense of democracy,' says spokesman
• Ousted Mubarak says Mursi should resign to 'save lives'
South Asia
• Pakistan controls Taliban, says Afghan army chief
• Ex-Taliban official vows to protect Afghan women, but alarm bells ring
• Afghan troops disarm suicide bomber's vest
• High Court delays Nasheed's case until he returns from pilgrimage to Mecca
• US drone strikes more deadly to Afghan civilians than manned aircraft – adviser
• Donors Are Likely to Ask Karzai to Rethink Rights Panel Choices
India
• Startling Revelations: Tricolor Designed By Suraiya Taiyabji, Jai Hind Coined By A Muslim, Says Senior Historian
• CBI files chargesheet, says Ishrat Jahan encounter was 'fake'
• Kashmir: separatists placed under house arrest ahead of protest march
• India, Pak agree for third round of talks on bilateral issues
• Three Indians killed in Taliban attack in Kabul
• 'Hizb ul Mujahideen commander killed in J&K encounter'
Africa
• UN mission says thousands of Timbuktu manuscripts destroyed by Islamic radicals
• Libya: 'Inhumane Conditions' for Sudanese, Prisoners in Libya
• Nigeria: Police Parade Bishop Nwabueze over Alleged Rape
• Somalia: The Godane Coup and the Unraveling of Al-Shabaab
North America
• US urge Mohamed Morsi to listen to Egyptian people
• Obama administration seeks decline in aid to Pak.
• Judge asked to move along 9/11 case at Guantanamo
• Two face terror charges after Canada Day bombs found
Southeast Asia
• Philippines 'deeply concerned' on reported use of children in armed conflict
• New bill not fair to non-Muslims, says Nazri Aziz
• No basis for an 'Arab Spring' in Malaysia, Najib tells BBC
Mideast
• Abbas 'optimistic' over Kerry's peace efforts
• Turkey minister denies blaming Jewish lobby for unrest
• Iran's president signals softer line on web censorship and Islamic dress code
Compiled by New Age Islam News Bureau
URL: https://newageislam.com/islamic-world-news/suicide-attack-biggest-sin-islam/d/12419
-----------
Pakistan
Suicide Attack the Biggest Sin in Islam: Ulema of the Sunni Ittehad Council
July 3, 2013
LAHORE: Ulema of the Sunni Ittehad Council on Saturday declared that suicide bombing is the biggest sin in Islam, Express news reported.
As many as 50 Ulema of the Sunni Ittehad Council in a collective edict declared that killing an innocent is the biggest sin and killing of foreign guest is the worst crime. It was also declared in the edict that attacks on Mosques, hospitals, educational institute, funerals and security forces is not Jihad.
Edict was given in the wake of the recent killings of foreign tourists and attacks in Peshawar and Quetta.
Afghan Taliban are fighting against the US occupation while Pakistani Taliban are just a group of professional assassins, edict stated.
http://tribune.com.pk/story/571677/suicide-attack-the-biggest-sin-in-islam-fatwa/
-----------
US strike kills 16 suspected militants in Pakistan
July 03, 2013
Unmanned U.S. aircraft fired four missiles at a house in northwest Pakistan before dawn on Wednesday, killing 16 suspected militants, Pakistani intelligence officials said. The strike in the Sarai Darpa Khel area of the North Waziristan tribal region also wounded two suspected
militants, said the officials, speaking on condition of anonymity because they were not authorized to talk to the media.
The suspected militants who were targeted were believed to be from the Afghan Haqqani network. U.S. officials consider the Haqqani network to be one of the most dangerous militant factions fighting American troops in neighboring Afghanistan. The leadership of the Haqqani network pledges allegiance to Taliban chief Mullah Omar but operates fairly independently.
U.S. drone strikes have become a serious source of tension between Washington and Islamabad. The Pakistani government regularly denounces the strikes as a violation of the country's sovereignty, even though senior officials are known to have supported some of the attacks in the past.
U.S. officials rarely provide details publicly about the covert CIA drone program in Pakistan.
Elsewhere in northwest Pakistan, militants attacked a police post before dawn Wednesday and killed six policemen, said a local government administrator, Habibullah Khan.
Ten policemen were wounded in the attack about 25 kilometers (15 miles) southeast of the city of Peshawar, said another government official, Feroz Shah. The post was staffed by both paramilitary police from the Frontier Constabulary force and also by tribal policemen.
Khan said policemen retaliated in a gunbattle that lasted several hours and killed several militants.
No one has claimed responsibility
http://www.hindustantimes.com/world-news/pakistan/US-strike-kills-16-suspected-militants-in-Pakistan/Article1-1086230.aspx
-----------
At least six FC persons killed in a militant attack in Peshawar
ZAHIR SHAH SHERAZI
Jul 3, 2013
PESHAWAR: At least six Frontier Constabulary (FC) personnel were killed and seven others injured when suspected Taliban militants attacked the Kishan Ganga check-post near Frontier Region (FR), Jina Kor on Tuesday night.
Police confirmed the incident and said militants also kidnapped two security forces' personnel.
Speaking to Dawn.com from an undisclosed location via telephone, Tehrik-i-Taliban Pakistan (TTP) spokesman Ehsanullah Ehsan claimed responsibility for the attack.
According to police, militants attacked the checkpost at 11:00 pm. A heavy exchange of fire between security forces personnel and the armed men ensued and continued till the early hours of Wednesday morning.
Meanwhile, the bodies and injured were shifted to nearby hospital and a search operation went underway to recover the missing soldiers.
Few months ago, the militants had kidnapped 22 FC persons and killed them after tying up their hands and feet. Later, the dead bodies were found from Jina Kor.
http://beta.dawn.com/news/1022313/at-least-six-fc-persons-killed-in-a-militant-attack-in-peshawar
-----------
Quetta bombings a 'test case' for ISI, IB: Nawaz
Jul 3, 2013
QUETTA: Prime Minister Nawaz Sharif on Tuesday said that he has directed the law enforcement agencies, including the ISI and Intelligence Bureau, to treat Sunday's bombing in the provincial capital as a test case and catch the culprits.
Addressing a joint press conference after a day of meetings with the provincial government and law enforcement agencies in Quetta, the premier said that the acts of violence in the province were not acceptable anymore. "This (attacks) is neither acceptable for the provincial government nor for the federal government." Nawaz said the governor, chief minister, interior minister and heads of security forces, including the Inter-Services Intelligence and the Intelligence Bureau, were present in their meetings.
Full report at:
http://www.dailytimes.com.pk/default.asp?page=2013\07\03\story_3-7-2013_pg1_1
-----------
Govt, spy agencies accused of harassing Wadh people
Jul 3, 2013
QUETTA: The Balochistan National Party-Mengal (BNP-M) has accused the government, intelligence agencies and Khuzdar administration of harassing the people of Wadh town to create problems for the party's leadership.
The party appealed to the traders to observe a strike on Thursday and requested the transporters not to bring to the roads their buses and coaches on Friday, to support the party's blockade of the highways.
Leaders and activists of the BNP staged a demonstration outside the press club on Tuesday in protest against the killing of three persons in Wadh area three days back.
Full report at:
http://beta.dawn.com/news/1022316/govt-spy-agencies-accused-of-harassing-wadh-people
-----------
'Unleashing the Taliban': Pakistan shuns Afghan army chief's comments
July 3, 2013
ISLAMABAD: The Afghan army chief's comments regarding Pakistan's strong control over the Taliban are yet another attempt to malign the country, a statement by the Ministry of Foreign Affairs stated on Wednesday.
In a BBC interview, General Sher Mohammad Karimi had said Pakistan could end the Afghan war "in weeks" if it were serious about peace.
The foreign office said the allegations that Pakistan "controls" the Taliban and has "unleashed" them on Afghanistan have no basis and we reject them categorically.
"Pakistan has exercised extreme restraint in the face of highly provocative language used by the Afghan civil and military officials over the last few months, not to mention some totally fabricated accusations," the statement said.
Full report at:
http://tribune.com.pk/story/571856/unleashing-the-taliban-pakistan-shuns-afghan-army-chiefs-comments/
-----------
Balochistan violence: Spy agencies to help govt restore peace, says PM
July 3, 2013
QUETTA: Prime Minister Nawaz Sharif on Tuesday threw a lifeline to the besieged residents of Hazara Town by asking all intelligence outfits in the country to pool their resources and protect the neighbourhood from multiple gun and bomb attacks.
The prime minister has directed all intelligence agencies – including Inter-Services Intelligence (ISI) and Intelligence Bureau (IB) – to treat the security of Hazara Town as a 'test case'.
Hazara Town, a Shia neighbourhood of Quetta, has been plagued by a wave of bomb and suicide attacks since January this year. Lashkar-e-Jhangvi, a sectarian militant group outlawed by the government in August 2001, has claimed credit for all these attacks.
Full report at:
http://tribune.com.pk/story/571712/balochistan-violence-spy-agencies-to-help-govt-restore-peace-says-pm/
-----------
Lasting terror from TTP makes govt rethink dialogue plan
By Tanveer Ahmed
Jul 3, 2013
ISLAMABAD: The Pakistan Muslim League-Nawaz (PML-N) is in a fix over reaching out to Tehreek-e-Taliban Pakistan (TTP), particularly after the latest spiral of violence by militants and subsequent claims of involvement.
According to sources, the latest episode of terror acts has badly hampered the government's resolve to contact militants and put them in a quandary as how to proceed ahead in the given circumstances.
PML-N remained a supporter of negotiations with militants operating under the umbrella of TPP and during its stint as opposition in the center, it repeatedly called for holding dialogues with them.
Full report at:
http://www.dailytimes.com.pk/default.asp?page=2013\07\03\story_3-7-2013_pg7_2
-------
Terrorist threat stops IDPs' return to Orakzai
Jul 3, 2013
KALAYA/TANK, July 2: The return of thousands of internally displaced persons from Mohammad Khwaja relief camp in Hangu to Chaper Perozkhel area in Orakzai Agency was postponed at the eleventh hour on Tuesday over threats of terrorist attacks.
Fata Disaster Management Authority had made preparations for the return of over 26,000 IDPs to Chaper Perozkhel area from Tuesday (July 2).
The next date for the IDPs' return will be announced later on, according to the relevant officials.
The political administration and FDMA had joined hands for the rehabilitation of IDPs from the Mohammad Khwaja relief camp in Hangu to Chaper Perozkhel area in Orakzai Agency after the return of normalcy in the region.
Full report at:
http://dawn.com/news/1022400/terrorist-threat-stops-idps-return-to-orakzai
-----------
FO condemns North Waziristan drone attack
Jul 3, 2013
ISLAMABAD: The Foreign Office on Wednesday condemned the latest US drone strike that took place in North Waziristan late on Tuesday.
At least 17 people were killed and two others injured in the drone attack which targeted a house in North Waziristan's Miramshah town late on Tuesday night.
Hours after the strike, the Foreign Office issued a statement saying drone strikes were a violation of Pakistan's sovereignty and territorial integrity, adding that Pakistan has repeatedly emphasised the importance of bringing an immediate end to these.
Full report at:
http://dawn.com/news/1022504/fo-condemns-north-waziristan-drone-attack
-----------
Europe
British TV channel to broadcast Muslim call to prayer
Jul 3, 2013
LONDON: A mainstream British TV channel said Tuesday it would broadcast the Muslim call to prayer throughout the fasting month of Ramadan.
From July 9, Channel 4 will cut into its schedule to show the three-minute call to prayer, or Azaan, live.
The channel's decision comes as Britain is experiencing community tensions in the wake of the brutal murder of a British soldier.
Two Muslim converts have been charged with the murder.
The number of attacks on Muslims rose sharply after the killing in May and several mosques have been targeted.
As well as on television, Channel 4 viewers will be able to watch the call to prayer on the station's website, where it will play automatically at prayer times throughout the day.
A series of Ramadan-themed programmes will also be shown, starting on July 8.
Ralph Lee, head of factual programming at Channel 4, said: "The calls to prayer prompt Muslims to carry out quiet moments of worship, but hopefully they'll also make other viewers sit up and notice that this event is taking place."
http://beta.dawn.com/news/1022295/british-tv-channel-to-broadcast-muslim-call-to-prayer
-----------
Russian Islamist leader instigates jihadists to attack Sochi olympics
JULY 03, 2013
Russia's top Islamist leader Doku Umarov called in a video released today for jihadists to stage attacks against a range of targets that include the 2014 Sochi Olympic Games.
"We know that on the bones of our ancestors, on the bones of many, many Muslims who died and are buried on our territory along the Black Sea, today they plan to stage the Olympic Games. We, as the Mujahedeen, must not allow this to happen by any means possible," Umarov said in a message posted on the kavkazcenter.com website.
Russia hopes to make the 2014 Winter Olympic Games into a showcase event that highlights the economic and social strides that the country has made under President Vladimir Putin.
But the Black Sea resort is located in the immediate proximity of Russia's North Caucasus - an extremely volatile region that has witnessed two post-Soviet wars in Chechnya and daily violence in republics such as Dagestan.
Full report at:
http://www.indianexpress.com/news/russian-islamist-leader-instigates-jihadists-to-attack-sochi-olympics/1137138/
-----------
Blasphemers in Russia to face fines, jail sentence
July 3, 2013
Lyudmila Alexandrova
Those who hurt the feelings of believers may find themselves marooned in jail for up to three years, according to provisions of a law that was signed by President Vladimir Putin after endorsement by the State Duma.
A new amendment to the Criminal Code of the Russian Federation states that "actions in public, demonstrating clear disrespect for society and committed with the intent to insult the religious feelings of believers," will be subject to fines of up to 300,000 roubles ($9,300), or prison sentences of up to one year.
If such actions are committed "in a specially designated place of worship," then the maximum fine is 500,000 roubles ($15,400), or three years in prison.
An initiative to redefine the insulting of religious feelings and to make it a criminal offence was put forward in the wake of the spring 2012 'punk prayer' that activists of the Pussy Riot punk rock group staged inside the Saviour's Cathedral in Moscow. In August 2012, a court in Moscow sentenced the three active participants in the action to 24 months in jail for hooliganism. The sentence of one of them, Yekaterina Samutsevich, was mitigated to a suspended term later. The women's defense insisted in the courtroom on their guilt only under the insult on the believers' feeling clause that was ranked as an administrative violation at the time.
Full report at:
http://indrus.in/society/2013/07/03/blasphemers_in_russia_to_face_fines_jail_sentence_26709.html
-----------
WUC to Commemorate Victims on 4th Anniversary of Urumchi Unrest
2 July 2013, World Uyghur Congress
On 5 July 2009, one of the worst episodes of human rights violations to be felt in East Turkestan in recent history occurred. The World Uyghur Congress (WUC), along with other human rights organisations, national governments, media, the EU and the UN have documented a wealth of human rights violations directly connected to the violent repression of peaceful protests on this day in Urumchi, East Turkestan. To commemorate the 4th anniversary of the atrocities committed then, in the aftermath and those which continue today, the WUC and its affiliate organisations will be organising a series of demonstrations around the world.
As in most years, the 5 July is a doubly-sensitive moment as the Muslim holy month of Ramadan usually falls on or around the same time, which is also severely repressed as reported by the WUC and the Uyghur Human Rights Project, thus making the time an especially dishevelling experience for Uyghurs in East Turkestan.
This has been most poignantly reminded in view of the recent crackdowns and incidents witnessed in Maralbeshi, Lukchun, Hotan and Urumchi. These latest developments reveal more than ever that an overhaul of the Chinese authorities' policies towards Uyghurs and meaningful efforts to redress the longstanding human rights issues in East Turkestan require urgent attention.
The demonstrations will be taking place outside Chinese embassies, consulates and other relevant locations in order to maximise the attention drawn to this important anniversary. In order to view a list of the locations to where they will be taking place, please see our protest calendar here.
On 5 July 2009, Uyghurs gathered in Urumchi to legally protest (notices were posted online several days in advance and not removed, suggesting the Chinese authorities approved) the deaths of 18 migrant Uyghur factory workers at the hands of the Han Chinese colleagues in Shaoguan, in the Chinese Guangdong Province on 26 June 2009. In a demonstration which started peacefully, the Chinese police quickly went on to violently repress it, following which thousands of extra police, soldiers and security forces were drafted in to quell the ensuing unrest.
Two days later, the authorities reported that almost 1500 people had been arrested for taking part in the demonstration, which they described as "a pre-empted, organised violent crime." By 19 July, Kathrin Hille from the Financial Times reported from a source that another 4000 people had been arrested. During the incident, and in the aftermath, possibly hundreds of people were killed. The Chinese authorities immediately blamed overseas agitators for planning, directing and instigating the unrest, without presenting any evidence for the accusation.
WUC President Ms Rebiya Kadeer said in the run up to the anniversary that, "it is vitally important that we do not forget the widespread human rights violations associated with this day and its aftermath." The WUC, Amnesty International, Human Rights Watch have all documented the egregious human rights violations from the 5 July Urumchi, which included arbitrary arrests and detentions, enforced disappearances - on which the WUC and Human Rights Watch (HRW) have documented nearly 70 cases, though likely many more exist - extra-judicial killings, the use of the death penalty for political prisoners, a 10 months media blackout, trials without due process nor being open and fair, and repressions of freedom of expression, opinion, assembly and association.
Eyewitness accounts gathered by Amnesty International cast doubt on the official version of the events and pointed to unnecessary and excessive use of force by the Chinese Police against Uyghur protesters, including beatings, use of tear gas and shooting directly into crowds. In spite of the mounting contrary evidence to the official narrative, the Chinese authorities have refused to allow any independent investigation into the unrest.
"The Chinese authorities steadfastly refuse to address the root causes of the peaceful protests, to provide reparation to the victims and to undertake an independent investigation, in spite of mounting evidence contrary to the official narrative. It is therefore as important as ever for the international community to be reminded by such demonstrations that they alone are the only means for the suffering victims to obtain redress," Ms Kadeer added.
Hundreds of individuals were detained and prosecuted in connection with the July 2009 protests. At least 9 people were sentenced to death after summary trials. Others were prosecuted and sentenced to long prison terms for nothing more than exercising their freedom of expression and for seeking to communicate information to the outside world regarding the treatment of the Uyghur people in the People's Republic of China (PRC). The Chinese authorities still continue to pursue and prosecute individuals who divulge sensitive information about the treatment of Uyghurs during the 5 July unrest of the ensuing crackdown.
By treating individuals who peacefully express their opinions or divulge information sensitive to the authorities as "terrorists", the Chinese government perpetuates a climate of fear which helps to ensure a near-total black-out of information regarding the human rights violations suffered by Uyghurs in the PRC. The PRC's definition of what constitutes terrorism has been heavily criticised by human rights organisations, media and academics.
As recently as March 2013, the UN Working Group on Arbitrary Detention ruled (case number: A/HRC/WGAD/2012/29) that Ms Gulmira Imin, a journalist and contributor to the now banned Uyghur-language website Salkin, is being detained arbitrarily after having divulged information on the brutal crackdown of the peaceful protest on 5 July 2009. In this regard, the Committee to Protect Journalists reported that minority journalists in the PRC are being disproportionately targeted.
In view of the continuing emergence of further reports of human rights violations associated with the 5 July Urumchi unrest, the WUC calls on the international community, especially on the EU and the UN, to urge the Chinese government to:
A) conduct an meaningful independent investigation into the events of July 2009 to clarify the the real circumstances of these events;
B) cease the increase human rights violations that have been felt since 23 April 2013 as we approach 5 July;
C) set up an ombudsman with meaningful, comprehensive powers and independence to freely investigate and receive complaints relating to the 5 July unrest, as well as complaints relating to the root causes of the peaceful protests, such as discrimination in the job market and education, lack of religious freedom, degradation of linguistic rights, and others;
D) Immediately and unconditionally release all those who protested peacefully on 5 July or who have been held without evidence and to ensure that those accused of cognisable crimes under international and domestic law are afforded due process, not subjected to torture or other forms of cruel or degrading treatment, tried in an open and fair court, and given access to legal representation of their choice;
E) Prove that trials in East Turkestan were conducted according to international standards, including allowing defendants to hire lawyers of their own choosing, allowing them access to their family and lawyers, and informing family members in a timely fashion of detentions, charges and trials;
F) To address the root causes of the 5 July protest and the ethnic unrest, including the severe political and religious repression and economic discrimination to which Uyghurs are subjected and the dilution of Uyghurs' language and culture.
-----------
Arab World
Sixteen shot dead in pro-Morsi rally in Cairo: state TV
Jul 3, 2013
CAIRO: At least 16 people were killed on Wednesday and 200 wounded when gunmen opened fire on supporters of President Mohamed Morsi who were rallying outside Cairo University, state television quoted a Health Ministry spokesman as saying.
Security sources said pro-Morsi demonstrators clashed with security forces. They put the death toll at 18.
Witnesses said they heard shotgun and rifle fire.
"Police attacked the protesters in their uniforms, using state-issued machine guns and ammunition," said Gehad El-Haddad, spokesman for the Muslim Brotherhood.
Full report at:
http://dawn.com/news/1022538/sixteen-shot-dead-in-pro-morsi-rally-in-cairo-state-tv
-----------
Rise in sexual assaults at protest hub
AP | Jul 3, 2013
CAIRO: A new wave of sexual assaults by groups of men targeting women during antigovernment protests in Cairo's central Tahrir Square has been reported as millions of Egyptians take to the streets to demand President Mohamed Morsi's ouster.
A vigilante group formed to protect women in the square said it recorded the highest number of attempts — 46 — on Sunday as the majority of protesters were festive as families with small children and others spilled into side streets and across boulevards, waving flags, blowing whistles and chanting.
Full report at:
http://timesofindia.indiatimes.com/world/middle-east/Rise-in-sexual-assaults-at-protest-hub/articleshow/20886654.cms
-----------
Tuesday Terror: 86 Iraqis Killed, 234 Wounded
Margaret Griffis, July 02, 2013
Coordinated violence took place across Baghdad today, as bomb after bomb exploded in neighborhoods across the city. The bloodshed extended deep into Shi'ite southern Iraq, which has been relatively quiet compared to restive northern Iraq. Overall, at least 86 Iraqis were killed and 234 were wounded.
In Baghdad, nine people were killed and 24 more were wounded in a double bombing in Shabb. A double bomb killed 12 people and wounded another 38 at a market in Shula. Three people were killed and 13 more were wounded during a car bombing in Hurriya. In Aden, two bombs killed four people and wounded 15 more. Two people were killed and 10 more were wounded in a blast in Abu Dsheer. A car bomb in Kamaliya left five dead and 16 wounded. In Doura, a car bomb killed four and wounded 15 more. Two people were killed and 12 more were wounded in Amiriya. Gunmen killed three people at a Zaafaraniya pet food shop. Also in Zaafaraniya, a sticky bomb killed a university professor. A barber and a physician were also separately killed.
Full report at:
http://original.antiwar.com/updates/2013/07/02/tuesday-terror-86-iraqis-killed-234-wounded/
-----------
ElBaradei party asks Egyptian military to save people from 'mad' Mursi
3 July 2013
A leading opposition party on Wednesday asked Egypt's armed forces to intervene in order to prevent further casualties, saying President Mohammed Mursi had "lost his mind" and provoked civil war.
"We ask the army to protect the souls of Egyptians after Mursi lost his mind and incited bloodshed of Egyptians," said a statement from the Dustour (Constitution) Party led by former U.N. nuclear watchdog Mohamed ElBaradei, as quoted by Reuters.
The statement was given out just hours before the army's ultimatum to intervene if political forces fail to reach a resolution.
Full report at:
http://english.alarabiya.net/en/News/middle-east/2013/07/03/ElBaradei-party-asks-Egyptian-military-to-save-people-from-mad-Mursi.html
----------
Shelling kills 11 near Syrian capital
Jul 3, 2013
Syrian troops shelled a rebel-held suburb of the capital Damascus on Tuesday, killing at least 11 people including women and children as government forces forged ahead with offensives against rebel-held areas around the country, activists said.
The shelling on Kfar Batna appeared to be part of a concerted government push against contested and rebel-held areas around the capital. In recent months, troops have captured several suburbs of the capital, Damascus, as President Bashar Assad regime's looks to secure its seat of power.
Full report at:
http://www.thehindu.com/news/international/world/shelling-kills-11-near-syrian-capital/article4873835.ece
-----------
Egypt's Mohamed Morsi to resign or be sacked on Wednesday: Al-Ahram
Reuters | Jul 3, 2013
CAIRO: Egypt's flagship state newspaper Al-Ahram said it expected President Mohamed Mursi would either step down or be removed from office on Wednesday when a deadline set by the army for resolving the country's political crisis expires.
But a military source denied reports in several local newspapers on details of the road map, describing them as "nothing but predictions". The source expected the next step would be to call political, social and economic figures to talks on the road map.
Full report at:
http://timesofindia.indiatimes.com/world/middle-east/Egypts-Mohamed-Morsi-to-resign-or-be-sacked-on-Wednesday-Al-Ahram/articleshow/20890368.cms
-----------
UAE Islamist group had no desire to topple government: families
By Yara Bayoumy
Jul 3, 2013
DUBAI (Reuters) - With a small, wealthy local population, the United Arab Emirates seemed immune to both Islamist militancy and revolts of the Arab Spring. So when it said it had exposed a "secret organization" plotting to depose the ruling sheikhs, astonishment reigned.
Many of the so-called UAE94 group belonged to al-Islah, an Islamist association suspected of ties to the Muslim Brotherhood, the movement which came to power in Egypt last year and advocates Islamic principles in everything from politics to education.
After a trial that began in March, the group, which includes lawyers, doctors and academics, were sentenced on Tuesday. Eight were sentenced in absentia to 15 years in prison, 61 received jail terms between seven and 10 years, and 25 were acquitted.
Full report at:
http://news.yahoo.com/uae-islamist-group-had-no-desire-topple-government-152632362.html
-----------
Al-Qaradawi Addresses Egyptians, Urges Dialogue
01 July 2013
As the political crisis in Egypt escalates, dividing Egyptians into supporters to President Dr. Mohamed Morsi and protesters, Dr. Yusuf Al-Qaradwi addressed the Egyptian people in a televised speech broadcasted by Al-Jazeera Channel on Sunday, June 30, 2013. Dr. Al-Qaradawi called Egyptians to adopt dialogue to reach a solution for the current deadlock and to steer clear of all causes of disagreement.
"It is saddening me that I cannot find you (the Egyptian people, united) in one camp so that I can address all of you.
Unfortunately, Egyptians are divided. So I refused to respond to support one party at the expense of the other… because I would like to address the whole [undivided] Egyptian people as I did before in the Victory speech that marked the triumph which Allah granted to the (January 25th) revolutionaries."
Full report at:
URL: http://www.onislam.net/english/shariah/shariah-and-humanity/shariah-and-life/463348-qaradawi-egypt-brotherhood-elections-morsi.html
-----------
Mohamed Morsi loyalists ready to fight to preserve Islamist rule
3 July 2013
Posters of Mohamed Morsi can be seen on every other Egyptian street this week, usually with the eyes gouged out and his face covered with a giant cross. But outside the Rabaa al-Adaweya mosque in Nasr City, in east Cairo, pictures of the president remain in rather better shape.
It is here that about 100,000 Morsi supporters have gathered in recent days, a reminder that however many millions have called for his downfall since Sunday he retains a significant core support.
Full report at:
http://www.guardian.co.uk/world/2013/jul/02/mohamed-morsi-loyalists-islamist
-----------
General Abdel Fattah el-Sisi: top brass ready to defend the people
Ian Black, Middle East editor
3 July 2013
General Abdel Fattah el-Sisi, architect of the military intervention in Egypt's worsening political crisis, was little known outside the army when he was appointed Mohamed Morsi's defence minister last August — part of the Islamist leader's deft consolidation of power.
Sisi, a career soldier, was head of military intelligence and the youngest member of the 19-strong Supreme Council of the Armed Forces. But despite coming from the heart of the security establishment he had a reputation for being sympathetic to the Muslim Brotherhood — the reason, many Egyptians assumed, Morsi chose him for the job. Sisi is said to be a religious man, and his wife, unusually, wears the full niqab (face veil.)
Full report at:
http://www.guardian.co.uk/world/2013/jul/02/general-abdel-fattah-sisi-profile
-----------
Egypt's Mursi would 'die in defense of democracy,' says spokesman
3 July 2013
It would be better for Egypt's embattled President Mohammed Mursi to die in defense of democracy than be blamed by history, a statement from his spokesman said on Wednesday.
Facing an increasingly angry tide of protests and opposition demands to hand over power, Ayman Ali told Reuters news agency that, in Mursi's overnight speech to the nation, the president had defied calls to resign in order to "defend the democratic system".
Full report at:
http://english.alarabiya.net/en/News/middle-east/2013/07/03/Egypt-s-Mursi-would-die-in-defense-of-democracy-says-spokesman-.html
----------
Ousted Mubarak says Mursi should resign to 'save lives'
2 July 2013
Ousted Egyptian President Hosni Mubarak said that the country's current Islamist president, Mohammed Mursi, should step down for the sake of the Egyptian people, al-Akhbar al-youm newspaper reported.
Mubarak said that the number of protesters in the past few days has been larger that than the number of demonstrators that rose during his rule in 2011 to topple him, the report quoted a "well-informed" source as saying.
Full report at:
http://english.alarabiya.net/en/News/middle-east/2013/07/02/Mursi-must-step-down-Egypt-s-ousted-president-says.html
----------
South Asia
Pakistan controls Taliban, says Afghan army chief
Jul 3, 2013
Fighting in Afghanistan could be stopped "in weeks" if Pakistan told the Taliban to end the insurgency, the head of the Afghan army has told the BBC.
Gen Sher Mohammad Karimi said Pakistan controlled and gave shelter to Taliban leaders, deliberately unleashing fighters on Afghanistan.
Pakistan denies controlling the militant group.
It was one of the Taliban's main supporters from its launch in 1994 until the 2001 fall of the regime.
Most of the Taliban's leaders reportedly then fled to Pakistan and the group is still considered to be heavily dependent on the support of certain elements in the country.
Sensitive time
"The Taliban are under [Pakistan's] control – the leadership is in Pakistan," Gen Karimi told the BBC's Today programme.
Full report at:
http://www.thedailystar.net/beta2/news/pakistan-controls-taliban-says-afghan-army-chief/
-----------
Ex-Taliban official vows to protect Afghan women, but alarm bells ring
JULY 03, 2013
Reuters_KABUL: Just 16 years ago, Abdul Rahman Hotak helped prop one of the world's most austere regimes for women as a newspaper editor and bureaucrat for the Taliban. Now, as a one of Afghanistan's top human rights protectors, he says he has turned a corner.
Sitting in a small grassed yard outside his new office at the Afghanistan's Independent Human Rights Commission, Hotak insists on being a voice in favour of hard-won women's rights in the deeply conservative country, still ranked as one of the world's most dangerous places to be born a girl.
Full report at:
http://www.thefrontierpost.com/article/24261/
----------
Afghan troops disarm suicide bomber's vest
02 Jul 2013
An Afghan bomb disposal expert defused a suicide bomber's explosive vest as he was still wearing it ahead of an attempted attack in the province of Jalalabad.
Provincial police chief Mohammad Sharif Amin reported that the man carrying a suicide bomb was walking near young people playing cricket and was stopped by security forces.
"The suicide bomber was trying to reach the crowd of youths playing cricket, the bomber was spotted looking suspicious by the Afghan intelligence department," said Amin.
Full report at:
http://www.telegraph.co.uk/news/worldnews/asia/afghanistan/10154503/Afghan-troops-disarm-suicide-bombers-vest.html
-----------
High Court delays Nasheed's case until he returns from pilgrimage to Mecca
By Ahmed Nazeer | July 2nd, 2013
The High Court has delayed the trial of former President Mohamed Nasheed until July 25, after he requested the court grant him permission to leave the country to perform Umrah – a pilgrimage to Mecca, Saudi Arabia.
High Court Spokesperson Ameen Faisal confirmed to Minivan News that the High Court had informed Nasheed it had no objection to his request.
"Nasheed told the court that he wished to leave the country July 6-25 to visit Saudi Arabia and Dubai," Ameen said.
Full report at:
http://minivannews.com/politics/high-court-delays-nasheeds-case-until-he-return-from-pilgrimage-to-mecca-60661
-----------
US drone strikes more deadly to Afghan civilians than manned aircraft – adviser
2 July 2013
A study conducted by a US military adviser has found that drone strikes in Afghanistan during a year of the protracted conflict caused 10 times more civilian casualties than strikes by manned fighter aircraft.
The new study, referred to in an official US military journal, contradicts claims by US officials that the robotic planes are more precise than their manned counterparts.
It appears to undermine the claim made by President Obama in a May speech that "conventional airpower or missiles are far less precise than drones, and likely to cause more civilian casualties and local outrage".
Drone strikes in Afghanistan, the study found, according to its unclassified executive summary, were "an order of magnitude more likely to result in civilian casualties per engagement."
Full report at:
http://www.guardian.co.uk/world/2013/jul/02/us-drone-strikes-afghan-civilians
-----------
Donors Are Likely to Ask Karzai to Rethink Rights Panel Choices
By ROD NORDLAND
July 3, 2013
KABUL, Afghanistan — President Hamid Karzai's widely criticized appointment of five new human rights commissioners has become a sore point with the countries that support Afghanistan financially. Major donor nations and the United Nations will call on Wednesday for Mr. Karzai to reconsider the appointments, according to two Western diplomats.
The call will come along with an announcement by the donor countries on Wednesday that Afghanistan has so far met only 3 of the 17 benchmarks required for it to qualify for billions of dollars in reconstruction aid after 2014. One of those requirements was for an impartial Afghanistan Independent Human Rights Commission.
Full report at:
http://www.nytimes.com/2013/07/03/world/asia/afghan-donors-want-human-rights-panel-reconsidered.html?_r=0
---------
India
Startling Revelations: Tricolor Designed By Suraiya Taiyabji, Jai Hind Coined By A Muslim, Says Senior Historian
New Age Islam News Bureau, July 3, 2013
A senior historian of Andhra Pradesh, Capt. Pandav Rangareddy has created a flutter in the academic circles of the state by making some startling revelations about the Indian history. He has claimed that the Tri-color was actually designed by a Muslim lady of Hyderabad, Surayya Taiyabji. He claimed that he was in possession of historical documents to prove this. He said that the design of the Tricolor attributed to one Pingli Wenkaiyyah who also belonged to the state but it is wrong.
Another claim which he made is that the first freedom fighter who was sent to Kala Pani (Andaman and Nicobar Islands) after the failure of the 1857 revolution was Maulvi Alauddin. He also said that the slogan of Jai Hind was coined by one Abul Hasan Safrani.
Capt. Pandav Rangareddy made his claims in his research paper titled, 'The construction of Deccan History' and wanted to present it in a seminar held by the Osmania University on June 28-29 but he was not permitted to do that. The organisers of the seminar demanded a copy of the paper in advance and asked him to change the title of the paper. He did not comply with and released his paper to the newspapers.
He said that Hyderabad was an independent state for one year after the country's independence. Despite it being a separate state, the Muslims of this state made great sacrifices to drive out the British from the state but their sacrifices are never remembered. He said the credit of the design of the Tricolor was given to Pingli Venkaiyah who also belonged to the state but according to historical documents it is wrong. He claimed that a Muslim lady of Hyderabad Suraiya Taiyabji actually designed the Tricolor. Mr Rangareddy has decided to register a complaint against the organisers to the University Grants Commission and Council of Historical Research.
-----------
CBI files chargesheet, says Ishrat Jahan encounter was 'fake'
Prashant Dayal, TNN | Jul 3, 2013
AHMEDABAD: The CBI has filed its first chargesheet in the Ishrat Jahan 'fake encounter' case on Wednesday in Gujarat high court. Ishrat Jahan and three others were killed by Gujarat police nine years ago.
In its chargesheet, the agency accused cops DG Vanzara, Tarun Barot, JR Parmar, NK Amin accused of murder, conspiracy and destruction of evidence.
The CBI also said that Ishrat Jahan was not a terrorist, but the three others killed along with her in a fake encounter on the outskirts of Ahmedabad nine years ago had alleged terror links, the CBI has concluded in its chargesheet filed before the court.
The CBI has said the three — Pranesh Pillai alias Javed Shaikh, Amjad Ali Rana and Zeeshan Johar — were allegedly planning attacks in Ahmedabad. It added Pranesh was using Ishrat, a Mumbai college student, as a shield to escape detection. The four were killed in cold blood
"The three men were in touch with a Pakistan-based Lashkar-e-Taiba handler, Muzammil. The three were identified as terror suspects by the Subsidiary Intelligence Bureau during telephone interceptions. They were planning to unleash terror attacks in Ahmedabad, but Gujarat chief minister Narendra Modi was not their target," said a CBI official.
Full report at:
http://timesofindia.indiatimes.com/india/CBI-files-chargesheet-says-Ishrat-Jahan-encounter-was-fake/articleshow/20894471.cms
---------
Kashmir: separatists placed under house arrest ahead of protest march
July 03, 2013
Top separatist leaders were today placed under house arrest ahead of their march to a village in north Kashmir's Bandipora district where two youths were killed in alleged army firing on Sunday.
The leaders, including, Syed Ali Shah Geelani, Mirwaiz Umar Farooq and Mohammad Yasin Malik, were placed under house arrest ahead of the march towards Markundal village in Sumbal area, police said. Restrictions on the movemnet of people were also put in place in many parts of Bandipore district to maintain law and order, added police.
Full report at:
http://www.hindustantimes.com/India-news/srinagar/Kashmir-separatists-placed-under-house-arrest-ahead-of-protest-march/Article1-1086238.aspx
-----------
India, Pak agree for third round of talks on bilateral issues
Jul 3, 2013
India and Pakistan on Tuesday agreed to hold a third round of meetings on outstanding bilateral issues in next two to three months, after a small pause in the wake of the beheading of Indian soldiers by Pakistani Army in January.
This was announced after a meeting between External Affairs Minister Salman Khurshid and Pakistan Prime Minister's Special Adviser on Foreign Affairs Sartaj Aziz on the sidelines of ASEAN Foreign Minister's meet in the capital of Brunei, a first high-level meeting after the new government in Pakistan took over.
Full report at:
http://www.thehindu.com/news/national/india-pak-agree-for-third-round-of-talks-on-bilateral-issues/article4873596.ece
-----------
Three Indians killed in Taliban attack in Kabul
Jul 3, 2013
Three Indians were killed in a Taliban suicide attack on a NATO supply company's compound in Kabul on Tuesday.
They were working in a housing compound, when the Taliban attack began with a suicide bomb in a large truck.
Two or three insurgents fought guards for about 30-40 minutes before all the attackers were killed.
"India's Mission is providing all assistance in bringing back the bodies of three Indians killed," Ministry of External Affairs spokesperson Syed Akbaruddin said.
http://www.thehindu.com/news/national/three-indians-killed-in-taliban-attack/article4874421.ece
-----------
'Hizbul Mujahideen commander killed in J&K encounter'
Jul 03 2013
Srinagar : The police claimed to have killed Hizbul Mujahideen district commander in south Kashmir's Tral area along with his two associates in a joint operation on Monday.
The slain commander has been identified as Shabir Ahmad Bhat alias Adil of Hayan Tral. The police said he was involved in a number of killings including that of Manzoor Ahmad Keeli alias Man Keeli in 2009 and Ghulam Mohideen Bhat, a political worker in Pinglish Tral in 2011. "The slain commander was also involved in the IED blast at Nawdal road attempting to kill police officers,'' a police spokesman said. A policeman was killed and three personnel injured in the encounter Monday. ens
http://www.indianexpress.com/news/-hizbul-mujahideen-commander-killed-in-j-k-encounter-/1136935/
----------
Africa
UN mission says thousands of Timbuktu manuscripts destroyed by Islamic radicals
Baba Ahmed, The Associated Press | Jul 02, 2013
TIMBUKTU, Mali - Islamic radicals destroyed 4,000 ancient manuscripts during their occupation of Timbuktu, according to the findings of a United Nations expert mission.
The damage amounts to about one-tenth of the manuscripts that were being stored in the fabled northern city. The majority of the documents dating back to the 13th century were saved by the devotion of the library's Malian custodians, who spirited them out of the occupied city in rice sacks, on donkey carts, by motorcycle, by boat and by 4-by-4.
Officials are currently trying to determine how many of those documents were digitized prior to their destruction or disappearance, said David Stehl, program specialist in the cultural section of UNESCO, the U.N. body that added Timbuktu's monuments to its list of World Heritage sites in 1988.
Full report at:
http://www.windsorstar.com/news/mission+says+thousands+Timbuktu+manuscripts+destroyed+Islamic/8605752/story.html
-----------
Libya: 'Inhumane Conditions' for Sudanese, Prisoners in Libya
2 JULY 2013
Tripoli — Approximately 85 Sudanese citizens, 75 from western Sudan and 10 from the north of the country, are reportedly being held in the Libyan prison of El Tiwiesha in the capital Tripoli.
Reporting from inside the prison, a Sudanese inmate whose name is retained to protect him, says he was arrested in Ramadan 2012. He told Radio Dabanga that the length of detention varies from 18 months to a year to a few months.
"The conditions of detention are very difficult," he says. "There is a lack of food, drink, clothing, blankets, medicines and the environment is generally not fit for human habitation. The regime in the prison is characterised by ill-treatment, cruelty, humiliation, and beatings," he says. "This in addition to being deprived of due legal process; many have not been formally charged or brought to trial."
Full report at:
http://allafrica.com/stories/201307030226.html
-----------
Nigeria: Police Parade Bishop Nwabueze Over Alleged Rape
BY JIMITOTA ONOYUME, 3 JULY 2013
Port Harcourt — Chairman of All Bishops in Rivers State, Bishop Chibuike Nwabueze, who was arrested for allegedly raping a 15-year old girl, was paraded, yesterday, by the state Police Command.
The Bishop, who confessed to the crime before newsmen, said he was hypnotised, adding that he was set up by the pastor of the church where the incident occurred.
He denied raping the underage girl, but admitted that she removed her clothes after he finished praying for her in the office and before he could shout 'the blood of Jesus,' he was already all over the girl.
Full report at:
http://allafrica.com/stories/201307030688.html
-----------
Somalia: The Godane Coup and the Unraveling of Al-Shabaab
BY HASSAN M. ABUKAR, 2 JULY 2013
The week of June 19th was a bloody milestone for the course of jihad in Somalia as the leaders of Al-Shabaab clashed in Barawe, a coastal city in the south. That conflict led to the killing of some of the top echelon of the terror group and the escape of others. What this violent encounter portends for the future, however, is far more serious than it appears at first glance.
In a single stroke, Ahmed Abdi Godane, the emir of Al-Shabaab who goes by the nom de guerre of "Abu Zubeir," managed to re-align the radical group's leadership dynamics and further consolidated his power by getting rid of his major detractors. His loyalists killed two co-founders of Al-Shabaab, including his former deputy and longtime friend, Ibrahim Al-Afghani, and chased away Hassan Dahir Aweys and Mukhtar Robow, the former spokesman for the terror group.
Full report at:
http://allafrica.com/stories/201307020928.html?aa_source=sptlgt-grid?aa_source=sptlgt-grid
--------
North America
US urges Mohamed Morsi to listen to Egyptian people
Reuters | Jul 3, 2013
DAR ES SALAAM: The United States put pressure on embattled Egyptian President Mohamed Morsi on Tuesday to listen to concerns of huge anti-government protests, as Egypt's army planned to push the Islamist leader aside if he fails to strike a power-sharing deal with his opponents within 24 hours.
In a phone call at the end of an African tour, President Barack Obama told Morsi that the political crisis can only be resolved by talks with his opponents.
"President Obama encouraged President Morsi to take steps to show that he is responsive to their concerns, and underscored that the current crisis can only be resolved through a political process," the White House said in a statement.
Full report at:
http://timesofindia.indiatimes.com/world/middle-east/US-urges-Mohamed-Morsi-to-listen-to-Egyptian-people/articleshow/20884518.cms
----------
Obama administration seeks decline in aid to Pak.
Jul 3, 2013
The Obama Administration has requested to the U.S. Congress for a steep decline in its economic and security aid to Pakistan for the year 2014, a latest Congressional report has said.
The request, if accepted, will see this aid coming down by more than one-third against that given to Pakistan in 2012.
"The Administration has requested nearly $1.2 billion economic and security aid to Pakistan for financial year 2014.
This represents a steep decline from total assistance of about $1.9 billion (excluding Coalition Support Fund) during financial year 2012," the report on U.S. aid to Pakistan prepared by the Congressional Research Service (CRS) said.
Full report at:
http://www.thehindu.com/news/international/world/obama-administration-seeks-decline-in-aid-to-pak/article4876126.ece
-----------
Judge asked to move along 9/11 case at Guantanamo
Jul 3, 2013
A military judge presiding over the stalled Sept. 11 war crimes tribunal at Guantanamo Bay is being urged to move the case along.
Prosecutors have asked Army Col. James Pohl to set a Sept. 22, 2014, trial date, establish deadlines for pre-trial motions and hold month long hearings to resolve preliminary matters that must be addressed before the death penalty case against five Guantanamo prisoners can be heard by a jury of military officers at the U.S. base in Cuba.
Prosecutors say in a motion unsealed Monday that the sporadic, five-day pre-trial sessions held so far are not adequate for what is believed to be one of the most complex trials in U.S. history.
Full report at:
http://www.thehindu.com/news/international/world/judge-asked-to-move-along-911-case-at-guantanamo/article4876108.ece
-----------
Two face terror charges after Canada Day bombs found
July 03, 2013
Police in Canada arrested a man and woman accusing them of attempting to leave pressure cooker bombs at British Columbia's provincial legislature on Canada Day, the same day that thousands attended the celebrations in the provincial capital of Victoria.
John Stewart Nuttall and Amanda Marie Korody, who are reportedly a couple, were arrested on Monday. They have been charged with conspiracy, facilitating a terrorist activity and making an explosive device.
Full report at:
http://www.hindustantimes.com/world-news/northamerica/Two-face-terror-charges-after-Canada-Day-bombs-found/Article1-1086368.aspx
-----------
Southeast Asia
Philippines 'deeply concerned' on reported use of children in armed conflict
By Gilbert P. Felongco, Correspondent
July 3, 2013
Manila: Following a UN report that said rebels and security forces are using children as soldiers, the social welfare department had intensified its monitoring systems to ensure that minors are kept out of the insurgency conflict.
Department of Social Welfare and Development (DSWD) Secretary Corazon Soliman said the Council for the Welfare of Children (CWC) is working hard to keep children out of armed conflict, specifically in the countryside and remote areas of the country, after the United Nations cited the Philippines as among 22 countries last year that experienced conflicts involving child warriors.
Full report at:
http://gulfnews.com/news/world/philippines/philippines-deeply-concerned-on-reported-use-of-children-in-armed-conflict-1.1204941
-----------
New bill not fair to non-Muslims, says Nazri Aziz
BY MD IZWAN
JULY 03, 2013
Datuk Seri Mohamed Nazri Aziz stands by his 2009 decision that the unilateral conversion of minors to Islam should not be allowed.
He said the Administration of Islamic Law (Federal Territories) Bill was unfair to non-Muslims and stressed that the consent of both parents is needed to convert minors.
This raises the question if proper consultations were carried out in Cabinet before the Bill was tabled.
"As a lawyer and a Muslim, I am not comfortable with this situation," said the Tourism Minister on the Bill which was tabled in Parliament last week.
Full report at:
http://www.themalaysianinsider.com/malaysia/article/new-bill-not-fair-to-non-muslims-says-nazri-aziz/
-----------
No basis for an 'Arab Spring' in Malaysia, Najib tells BBC
JULY 03, 2013
Datuk Seri Najib Tun Razak said there is no basis to mount a protest like the 'Arab Spring' in Malaysia, as the country has enjoyed 55 years of peace and stability.
"We don't think there's a basis for the people to go to the streets to protest against the government," he said when queried by the BBC yesterday whether he was fearful that the protest against the government on the scale seen in Egypt could happen in Malaysia.
Najib, who is on a four-day working visit to the United Kingdom, said what was important in the Malaysian context was that change could be delivered from within and it was not just about changing the government.
Full report at:
http://www.themalaysianinsider.com/malaysia/article/no-basis-for-an-arab-spring-in-malaysia-najib-tells-bbc/
---------
Mideast
Abbas 'optimistic' over Kerry's peace efforts
Jul 3, 2013
RAMALLAH: Palestinian President Mahmud Abbas said on Tuesday that US Secretary of State John Kerry had made "useful and constructive proposals" during his four-day visit last week and said he was "optimistic" about the outcome.
His remarks, at a news conference with visiting Italian Prime Minister Enrico Letta, came in the wake of Kerry's latest attempt to coax Israel and the Palestinians back into direct peace talks, in a visit, which the chief Palestinian negotiator said had failed to achieve any breakthrough.
Full report at:
http://www.dailytimes.com.pk/default.asp?page=2013\07\03\story_3-7-2013_pg4_4
-----------
Turkey minister denies blaming Jewish lobby for unrest
July 3, 2013
ANKARA: Turkey's deputy prime minister denied Tuesday he had blamed the Jewish community for the anti-government protests that rocked Turkey last month and shook the ruling party to its core.
"I am upset that the statements I've made about Gezi Park have been deliberately distorted by a (news) agency. An accusation regarding the Jewish lobby or Jews is out of the question," Besir Atalay was quoted as saying by local media.
In remarks carried by the Cihan news agency on Monday, Atalay appeared to link the protests to Turkey's Jewish diaspora and the foreign media.
Full report at:
http://tribune.com.pk/story/571820/turkey-minister-denies-blaming-jewish-lobby-for-unrest/
-----------
Iran's president signals softer line on web censorship and Islamic dress code
Saeed Kamali Dehghan
2 July 2013
Two weeks after his sensational victory Iran's president-elect, Hassan Rouhani, has expressed relatively progressive views about civil liberties, freedom of expression and the internet.
Social networking sites such as Facebook were, he said, a welcome phenomenon.
In his most outspoken interview in the Iranian media, Rouhani told Chelcheragh – a popular youth magazine – that he is opposed to segregation of sexes in society, would work to minimise censorship and believes internet filtering is futile.
"In the age of digital revolution, one cannot live or govern in a quarantine," he said as he made clear he is opposed to the authorities' harsh crackdown on Iranians owning satellite dishes, which millions have installed on rooftops for access to foreign-based TV channels illegal in the country.
Full report at:
http://www.guardian.co.uk/world/2013/jul/02/iran-president-hassan-rouhani-progressive-views
-----------
URL: https://newageislam.com/islamic-world-news/suicide-attack-biggest-sin-islam/d/12419