New Age Islam News Bureau
14 Oct 2019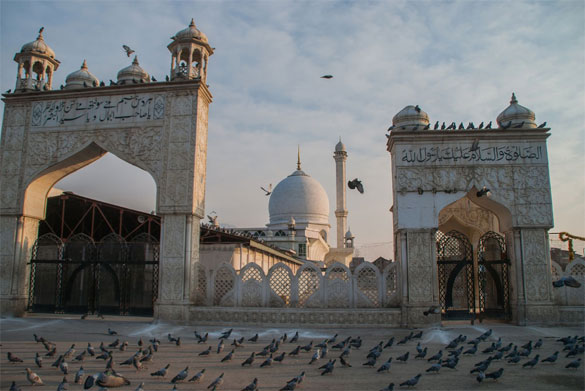 Kashmir fury at Sufi mission in Hazratbal. Muzaffar Raina | Srinagar
------
• 127 Held In Connection With ISIS; Those Arrested Say Zakir Naik Videos Inspired Them: NIA
• Maulana Fazlur Rehman Has Nothing to Do with Islam, Democracy: PM's Special Assistant
• US Urges Pakistan to Nip Militancy In The Bud For Own Sake
• Bangladeshi Court Indicts Eight Ansar al Islam Militants for Killing Publisher in 2015
• Pakistan Must Prosecute Top LeT Operatives Along With Its Leader Hafiz Saeed: US
• With Friends China, Malaysia, Turkey in FATF, Pak Likely To Stay In Grey List
• 'We Are Part of Canada': Ottawa Muslims Weigh In On Federal Election
• Nigeria: Shekau Breaks Silence, Says Boko Haram Members Will Never Stop Violence
• Syrian Army Takes Control of Several Kurdish-Held Towns to Face Turkish Aggression
India
• Sufi Mission Heckled, Greeted with Anti-India Slogans and Forced to Beat a Retreat during a Visit to Srinagar's Hazratbal Shrine
• 127 Held In Connection With ISIS; Those Arrested Say Zakir Naik Videos Inspired Them: NIA
• "Muslims in Maharashtra Are Scared": Social Activist Irfan Engineer on the Impact of NRC
• Want Babri Masjid Restored, Sunni Wakf Board Tells Supreme Court
• Ayodhya: Questions Asked Only To Us, Not To Hindus, Allege Muslim Parties
• Doval cites FATF pressure on Pakistan, asks counter-terror agencies to 'convert info into evidence'
• Naxals getting organised funding to spread terror in the country, says NIA
• Ready to send Army to fight terror in Pak, says Rajnath
• Pakistan violates ceasefire along IB in Jammu area
• Owaisi takes dig at Mohan Bhagwat's 'Muslims happy in India' remark
--------
Pakistan
• Maulana Fazlur Rehman Has Nothing to Do with Islam, Democracy: PM's Special Assistant
• US Urges Pakistan to Nip Militancy In The Bud For Own Sake
• Pakistan Delegation Arrives In Paris To Present Compliance Report To FATF
• Pak PM Imran Khan discusses Kashmir issue with Rouhani
• Azadi March: PM tells Buzdar to exploit PML-N's fissures
• Prince William, Kate Middleton to arrive in Pakistan today on 5-day visit
• Opposition seeks probe into terrorist attacks in Balochistan
• KP govt warns baton-wielding JUI-F workers of action
• JUI-F should refrain from sowing 'discord': Fawad
--------
South Asia
• Bangladeshi Court Indicts Eight Ansar al Islam Militants for Killing Publisher in 2015
• Airstrikes killed 9 militants of Taliban and ISIS groups in 2 provinces
• Airstrikes kill, wound 23 Taliban militants in Balkh province
• Mortar rounds land close to parliament building in Kabul, no casualties reported
• Institute founded by President Ghani makes significant profit from government contracts
--------
Europe
• Pakistan Must Prosecute Top LeT Operatives Along With Its Leader Hafiz Saeed: US
• Muslim Professor Devotes His Life to Bringing Jews, Muslims Together To Find Common Ground
• New Zealand's Prime Minister Ardern Steps up Fight against Extremist Online Content
• Macron, Merkel call for end to Turkish offensive in Syria
• Italy backs EU ban on arms sales to Turkey
• Turkey expects Turkish Cypriot aid in anti-terror fight
• PKK's violent actions increase in Europe: Turkey
--------
Southeast Asia
With Friends China, Malaysia, Turkey in FATF, Pak Likely To Stay In Grey List
India May Restrict Imports of Palm Oil from Malaysia
DAP also champions PAS call to table White Paper on LTTE in Parliament
Indonesian Military Demotes 3 Members for Wives' Social Media Posts About Wiranto Attack
--------
North America
• 'We Are Part of Canada': Ottawa Muslims Weigh In On Federal Election
• Trump says he is an 'island of one' on Syria
• US reportedly leaves 5 'high value' Daesh prisoners behind in Syria
• Toronto-based group aims to boost Muslim-Canadian participation in federal election
• US preparing to withdraw all remaining troops from northern Syria
• US sees reports of Hevrin Khalaf killing, finds them 'extremely troubling'
--------
Africa
• Nigeria: Shekau Breaks Silence, Says Boko Haram Members Will Never Stop Violence
• Landslide win for Kais Saied in Tunisia presidential election, says state TV
• Five officers killed by armed group in Niger
• South Sudan says will host peace talks between Sudan and rebels
• Grenade attack kills deputy governor, son in Somalia
• Al-Shabab Mortar Attacks Hits Area around Mogadishu Airport
• Al-Shabaab's strengthening capabilities require urgent International attention
--------
Arab World
• Syrian Army Takes Control of Several Kurdish-Held Towns to Face Turkish Aggression
• Lebanon says Israel sent drone over Hezbollah area
• Kurdish-led authority: 785 ISIS-affiliated foreigners escape Syria camp
• More than 130,000 people displaced by fighting in northeast Syria: UN
• Bahrain's King: Any threat to freedom of navigation is disruption to world trade
--------
Mideast
• Israel to Construct Over 250 New Settler Units In Occupied West Bank
• Saudi Arabia's football team visits al-Aqsa in Jerusalem ahead of West Bank game
• As options narrow, Trump prepares to drop sanctions hammer on Turkey
• Syrian army to deploy along Turkish border in deal with Kurdish-led forces
• Turkish army, Syrian allies enter Tal Abyad, situation calm: Reuters witness
• Proper end to Yemen war can have positive impact on region: Ayatollah Khamenei
• Ayatollah Khamenei urges IRGC to prepare against enemy
• Israeli settlers vandalize Palestinian property in West Bank
• Israeli reconnaissance drone violates Lebanon's airspace
• Yemeni forces shoot down drone collecting intelligence for Riyadh in Hudaydah
Compiled by New Age Islam News Bureau
URL: https://www.newageislam.com/islamic-world-news/sufi-mission-heckled-greeted-with/d/119993
--------
Sufi Mission Heckled, Greeted with Anti-India Slogans and Forced to Beat a Retreat during a Visit to Srinagar's Hazratbal Shrine
By Muzaffar Raina in Srinagar
Published 14.10.19
Agroup of Sufi clerics from mainland India who were apparently on a mission to placate Kashmiris were heckled, greeted with anti-India slogans and forced to beat a retreat during a visit to Srinagar's Hazratbal shrine on Saturday.
The protesters apparently suspected that the government was playing a Sufi card to divide Kashmiris on sectarian lines. That the Sufi clerics faced such hostility at the renowned shrine was a measure of the public anger at the August 5 revocation of Jammu and Kashmir's special status.
Clerics from the All India Sufi Sajadahnishin Council, headed by Syed Nasiruddin Chishti, heir to the chief priest of the Ajmer Sharif Dargah, were on a three-day visit to the Valley "to ascertain the ground situation". The 17 members of the delegation came from several prominent shrines, including Ajmer Sharif and Nizamuddin.
Theirs is probably the first outstation delegation that the state government has hosted since August 5, providing it with heavy security and permitting it to reach out to people. The government had earlier sent back several high-profile delegations, while allowing some others to visit the Valley only after court intervention.
Eyewitnesses said hundreds of devotees chanted pro-independence, anti-India and anti-Narendra Modi slogans to express anger against the clerics' visit to the Hazratbal shrine.
"People chanted slogans like, 'Go India, go back' and 'We want freedom'. The protesters surrounded the Sufi clerics but did not harm them. The (visiting) maulvis rushed out of the shrine, and police escorted them to safety," said a devotee.
Residents said the clerics had arrived during the afternoon prayers. "They also offered prayers but afterwards, people were agitated by their presence, particularly because they were wearing saffron robes," an elderly resident said.
"People thought they had been sent by the Indian government. Old and young, men and women joined the sloganeering and for a moment I thought my heart would collapse."
He added: "Hundreds had come to offer funeral prayers for a woman on the shrine lawns. They all joined the sloganeering."
Police sources said the delegation later travelled to the Makhdoom Sahib shrine, a few kilometres away in the city's old quarters. But seeing a crowd gathering there, they dared not climb the steps to the shrine, located in the foothills.
Sources said the delegation visited the Sonwar shrine and the G.P. Hospital without incident on Sunday.
Chishti denied there was any sloganeering at the Hazratbal shrine while the visiting clerics were there. He said the delegation did not visit the Makhdoom Sahib shrine as a fair was on there and the clerics did not want to inconvenience people.
"Maybe there was some reaction (at Hazratbal) after we left," he told The Telegraph. He claimed the people showed the visiting clerics a lot of respect and some even kissed his hand.
His spokesperson, Deepak Sharma, however, said theirs was a big delegation, some of whose members had left the shrine earlier than the rest. "Some members heard the slogans," he admitted.
Chishti refused to comment on the revocation of the state's special status and denied the delegation had come at the government's behest.
"It's our own initiative. We had written to the governor (Satya Pal Malik) to allow us to visit the Valley. Our first request was turned down but when we asked again some 10 days ago, we received permission," he said.
Chishti said the purpose of the visit was to integrate Kashmiris with the national mainstream and revive Sufiyat (the Sufi stream of Islam) in Kashmir. He said the clerics wore saffron robes because the colour is linked to Sufi Islam.
"The colour belongs to Hinduism but it was adopted by Khawaja Moinuddin Chishti (the founder of Sufi Islam in India) around eight centuries ago," he said.
"We are here to promote Sufism and its message is love, love and love…. All Indians are brothers and sisters."
https://www.telegraphindia.com/india/kashmir-fury-at-sufi-mission-in-hazratbal/cid/1711565
--------
127 held in connection with ISIS; those arrested say Zakir Naik videos inspired them: NIA
Oct 14, 2019
NEW DELHI: Most of the 127 persons arrested in connection with cases linked to terror organisation ISIS from across 14 states in the country were inspired by controversial Islamic preacher Zakir Naik, according to Inspector-General (IG) of National Investigation Agency, Alok Mittal.
Addressing a conference of anti-terror agencies here on Monday, Mittal said that 127 people arrested in ISIS-related cases over the years including 33 from Tamil Nadu, 19 from Uttar Pradesh, 17 from Kerala and 14 from Telangana.
Some of the accused arrested in cases related to ISIS have accepted that they were radicalised by the mastermind behind the Easter Day bombings in Sri Lanka and by the preacher Zakir Naik.
"In three of these ISIS cases from Kerala and Tamil Nadu, the accused have admitted that they were radicalized by Zahran Hashim's videos. Hashim, as we know, is the mastermind of the Easter day bombings in Sri Lanka," Mittal said.
"Accused in the majority of these ISIS cases have also admitted that they were radicalized through videos of Zakir Naik and other Islamic preachers, so a case was registered against Naik and his organization Islamic Research Foundation (IRF)," Mittal added.
The inaugural session of the two-day national conference of chiefs of Anti-Terrorism Squad and Special Task Force (STF) that began here today was attended by National Security Advisor (NSA) Ajit Doval and Minister of State (MoS) Home Affairs, G Kishan Reddy.
Former IB Special Director and present Nagaland Governor RN Ravi and NIA, DG, YC Modi were also present at the meeting.
During the conference, one session was dedicated to Jihadi terrorism and the efforts being made to counter the menace.
https://timesofindia.indiatimes.com/india/127-held-in-connection-with-isis-those-arrested-say-zakir-naik-videos-inspired-them-nia/articleshow/71578356.cms
--------
Maulana Fazlur Rehman Has Nothing to Do with Islam, Democracy: PM's Special Assistant
October 14, 2019
SIALKOT: PM's Special Assistant on Information and Broadcasting Dr Firdous Ashiq Awan has said JUI-F chief Maulana Fazlur Rehman was not worried about country but halwa, adding he has nothing to do with democracy or Islam. She said today people in jails were feeling uneasy.
Talking to media Sunday after inaugurating gas supply in Dhilam Ghazi area of Sialkot, she said Prime Minister Imran Khan was working hard for the country's progress. She said the mediator role being played by prime minister to end tension in the region reflects confidence of Muslim Ummah and world in him. She said the premier awoke the conscience of world for giving right of self-determination to oppressed Kashmiris.
Taking a jibe at the PML-N, Firdous taunted that incarcerated Nawaz Sharif desires such a democracy where he remains prime minister while his brother remains chief minister. Those responsible for inflation have initiated unabated propaganda against the incumbent government. Deprivation from power is being equated as deprivation of masses by Sharifs, she added. Economy was on the path of revival and soon hundreds of thousands of new jobs will be created through flagship CPEC project, she further added.
https://www.thenews.com.pk/print/540799-fazl-has-nothing-to-do-with-islam-democracy-firdous
--------
US urges Pakistan to nip militancy in the bud for own sake
October 14, 2019
WASHINGTON: The United States has appreciated Pakistan's efforts to curb militancy but reminded Islamabad that it must do more to stop militants from operating within its borders.
The statement from Alice Wells, the acting assistant secretary of the US State Department's Bureau of South and Central Asian Affairs, came via Twitter early on Sunday morning.
She said Washington welcomes Pakistan's recent arrest of four Lashkar-e-Taiba (LeT) leaders and wants them and LeT chief Hafiz Saeed face prosecution for their "vicious attacks".
Wells added that Prime Minister Imran Khan has vowed to pursue action against all militant groups and that "Pakistan, for its own future, must prevent militant groups from operating on its soil."
The reminder from Washington comes on the heels of Thursday's arrest of four aides of Hafiz Saeed on terrorism financing charges.
Saeed, arrested on the same charges, has been on judicial remand since July, a move previously welcomed by US President Donald Trump who wants Pakistan to do more to crack down on militancy.
The recent arrests come ahead of a meeting next week of the Financial Action Task Force (FATF), a global watchdog, which will review progress made by Pakistan in controlling terror financing and money laundering.
Pakistan, included on a so-called grey list compiled by the FATF, has been under increasing pressure to stop the financing of militant groups.
The recently released final Mutual Evaluation Report of the Asia Pacific Group (APG) says Pakistan faces high risks of money laundering and terror financing and it needs to improve the understanding of these risks that are also emanating from various terrorist groups operating in the country.
The APG on Money Laundering released its report 10 days before the Financial Action Task Force's plenary meeting, which is going to give its decision on Pakistan's status on its grey list.
After the APG report, chances are high that Pakistan would be retained on the grey list during the FATF plenary meetings from October 13 to 18 in Paris.
https://www.pakistantoday.com.pk/2019/10/13/us-urges-pakistan-to-nip-militancy-in-the-bud-for-own-sake/
--------
Bangladeshi Court Indicts Eight Ansar al Islam Militants for Killing Publisher in 2015
October 13, 2019
Dhaka: A Bangladeshi court on Sunday indicted eight members of a banned militant outfit for allegedly killing a publisher of books on secularism and atheism in 2015, according to a media report.
Anti-Terrorism Special Tribunal Judge Majibur Rahman read out the charges to the six accused -- Moinul Hasan Shamim, 24, Abdus Sabur, 23, Khairul Islam, 24, Sheikh Abdullah, 27, Abu Siddiq Sohel, 34, and Mozammel Hossain, 25. All of them are currently in jail, reported the Daily Star.
The accused militants are members of banned militant outfit Ansar Al Islam.
The court also issued arrest warrants against two fugitives -- Major Zia ul Haque and Akram, according to the report.
Faisal Arefin Dipan, 43, the publisher of Jagriti Prokashani, was hacked to death in Dhaka's Shahbagh neighbourhood in October 2015.
Dipan had been stabbed twice on the face and once on the neck, the coroner's report had said. Dipan's wife had filed a case with Shahbagh Police.
Dipan was a publisher of Bangladeshi-American writer and blogger Avijit Roy. He was working on books on secularism and atheism.
Several other atheists and bloggers were killed by suspected militants in 2015.
https://www.news18.com/news/world/bangladeshi-court-indicts-eight-militants-of-ansar-al-islam-for-killing-publisher-in-2015-2344393.html
--------
Pakistan must prosecute top LeT operatives along with its leader Hafiz Saeed: US
Oct 14, 2019
WASHINGTON: Pakistan must prevent terrorist groups from operating on its soil and prosecute top Lashkar-e-Taiba operatives along with its leader Hafiz Saeed, the US has said ahead of the Financial Action Task Force's crucial decision on whether to blacklist the country.
Alice Wells, head of the US state department's South and Central Asian bureau, also welcomed the arrest of the top four leaders of Lashkar-e-Taiba /Jamaat-ud-Dawah in Pakistan.
Pakistan's law enforcement agencies on Thursday arrested the "top four leaders"+ of the banned LeT/JuD on charges of terrorism financing.
The top four arrested terrorists have been identified as Professor Zafar Iqbal, Yahya Aziz, Muhammad Ashraf and Abdul Salam.
"As Prime Minister Imran Khan has said, Pakistan, for its own future, must prevent militant groups from operating on its soil," Wells tweeted.
"We welcome news that Pakistan arrested 4 LeT leaders. The victims of LeT's vicious attacks deserve to see these individuals prosecuted now, along with LeT leader Hafiz Saeed," she said.
Pakistan has a long history of catching and releasing terrorists operating from its soil.
Wells' remarks came as the FATF is set to give its decision on the country's 'grey list' status.
Pakistan was placed on the grey list+ by the Paris-based watchdog in June last year and was given a plan of action to complete it by October 2019, or face the risk of being placed on the black list+ with Iran and North Korea.
The ongoing review - from October 12 to 15 - of Pakistan's performance will determine if it stays on the grey list or moved on the black list or given a clean chit.
Wells last month also asked Pakistan to prosecute terrorists like Saeed and Masood Azhar, saying the reduction of the Indo-Pak tensions would depend on Islamabad's seriousness in taking action against those who engage in "cross-border infiltration".
Tensions between the two countries have spiked since India abrogated Article 370 of the Constitution to revoke the special status of Jammu and Kashmir in August.
India's decision evoked strong reactions from Pakistan, which downgraded diplomatic ties and expelled the Indian ambassador.
Pakistan has been trying to internationalise the Kashmir issue after India withdrew the special status of Jammu and Kashmir, but New Delhi has asserted the abrogation of Article 370 was its "internal matter".
The US Department of the Treasury has designated Saeed as a Specially Designated Global Terrorist. The US, since 2012, has been offering a $10 million reward for information that brings Saeed to justice.
Saeed-led JuD is believed to be the front organisation for the LeT which is responsible for carrying out the 2008 Mumbai attacks that killed 166 people
https://timesofindia.indiatimes.com/india/pakistan-must-prosecute-top-let-operatives-along-with-its-leader-hafiz-saeed-us/articleshow/71574819.cms
--------
With friends China, Malaysia, Turkey in FATF, Pak likely to stay in grey list
13 Oct 2019
NEW DELHI : As the Financial Action Task Force (FATF), the global watchdog for terror financing and money laundering, meets in Paris for its crucial plenary, it will most likely vote to keep Pakistan in the grey list.
Though the Asia Pacific Group (APG) sub group has recommended that Islamabad be downgraded to the black list due to its poor compliance on measures to tackle terror funding, the FATF is most likely to keep it in the grey list.
The FATF is currently headed by China and has Malaysia, Turkey as well as Saudi Arabia are its members. China, Malaysia and Turkey are most likely to vote against a downgrade for close friend Pakistan.
"The APG has recommended that Pakistan should be downgraded from grey to black. But the APG is not empowered to downgrade, which comes from the FATF," strategic expert and Pakistan watcher Jai Kumar Verma told IANS.
At the FATF meeting, it will require a minimum of three votes to prevent a blacklisting. "At the FATF, if the three countries -- China, Malaysia and Turkey -- say that Pakistan should not be downgraded from grey to black, then it will not.
"And the three countries will vote that Pakistan should not be downgraded to black," he added.
However, even remaining in the grey list will prove very costly for Pakistan. Its Foreign Minister Shah Mahmood Qureshi had in April said that Pakistan will face losses worth $10 billion annually if it remains in the 'grey list'.
"The damage will be much more if it is downgraded to the black list," Verma added.
"Pakistan has been alleging that India is trying to get it downgraded to the black list. That is not true. Why would India do it? The APG has already said that Pakistan has not been able to fulfil the measures required to tackle money laundering and terror funding, and thus it should be downgraded," he added.
On Pakistan's arrest earlier this week of four Jamaat-ud-Dawah members, Verma said, "This is only an eyewash, and false gestures that Pakistan indulges in whenever required."
"Instead of blaming India or anybody else, Pakistan should try to amend its own ways. But it is difficult for Pakistan because its army is getting so many benefits, and it has made it a policy to launch a low intensity war against India and in Afghanistan," he said.
"The Pakistan army considers it part of its foreign policy (support to terror), and that's why they cannot and will not stop doing this. The terror groups are part of its low intensity war against India, and the Pakistan army has strategic depth in Afghanistan.
"Secondly Pakistan's help is also sought for the peace negotiations in Afghanistan, and that is also one reason why they are continuing with the assistance to the Afghan terror groups," said Verma.
According to the expert, the army in Pakistan has "created an impression that very soon Kashmir, a Muslim-populated area, will join the country". And by backing some Sikh separatists, it has also created an impression "that soon there will be a Khalistan, an independent entity, and that will be the revenge of Pakistan for its dissection and the creation of Bangladesh".
To get itself out of the grey list, Pakistan will need a minimum of 11 members, "which it cannot muster," he added.
https://www.livemint.com/news/world/with-friends-china-malaysia-turkey-in-fatf-pak-likely-to-stay-in-grey-list-11570972458482.html
--------
'We are part of Canada': Ottawa Muslims weigh in on federal election
Yasmine Mehdi
Oct 13, 2019
Microphones and lecterns were being set up in the Ottawa Mosque in Westboro Saturday as people gathered for the afternoon prayer.
That's because the house of worship was preparing to host its first federal election debate of the 2019 campaign, with five Ottawa Centre candidates sharing their views later that evening in front of more than 100 people.
"We are a non-partisan organization. For us, this is an education session for the community," said Ahmed Ibrahim, president of the Ottawa Muslim Association.
Ibrahim said he hoped the debate would encourage Muslim voters to head to the polls.
"The issue we are seeing is people don't know who to vote for. We are helping them to make their own decision," Ibrahim said.
"We are Muslims, we are part of Canada and we will continue to be part of Canada."
Economy, climate change, Islamophobia
The themes discussed at Saturday's debate were diverse, ranging from immigration and climate change to Islamophobia and the economy.
"Muslim-Canadians are concerned about the economy. They are concerned about jobs, affordability," said debate moderator Ginella Massa.
"But then there are issues that impact them directly like racism and Islamophobia, immigration [and] Bill 21."
The debate, Massa added, was a good way to show that Muslim-Canadians are civically engaged, too.
"A lot of times, issues that relate to Muslims are talked about by politicians. [But] we are often used as rhetoric in this campaign without being engaged in these conversations," she pointed out.
Strong voting bloc
According to the 2011 census, the latest data available, just over a million people in Canada self-identified as Muslim, representing 3.2 per cent of the country's total population.
In 2015, high voter turnout among Muslims helped Justin Trudeau form a majority government.
"There is concentration of Muslims in enough ridings in Ottawa that — depending on where they vote — they can actually swing ridings," said local activist Fareed Khan, who was at Saturday's debate.
"I think Canadian political parties need to pay greater attention to Muslims and to issues important to Muslims."
Shukri Hilowle, a young Gatineau paralegal who also attended, said she hasn't yet decided which party will get her vote.
"[When it came to] the stuff about Muslims that they discussed, [the candidates] were very politically correct. They said they were going to support us, but they didn't say how," Hilowle said.
"I know everybody is speaking about international relations and all that stuff, but right now with the housing crisis, jobs and healthcare, it's everyday stuff that we need to hear about. What are they going to do for the average Canadian?"
Safaa Habach says she's mostly concerned tuition debt.
"I'm struggling for my kids. They have more than $40,000 in OSAP debt," she said.
Habach, who immigrated from Syria almost 20 years ago, also wishes political parties would do more to tackle discrimination.
"My son graduated five years ago and he can't find a job because his name is Mohammed," she said. "What do we have to do? Change [his name] to find a job? That's not fair."
No PPC candidate
The organizers said they reached out to all 12 candidates running in Ottawa Centre, and five showed up: Liberal Catherine McKenna, New Democrat Emilie Taman, Conservative Carol Clemenhagen, Green Party Angela Keller-Herzog and independent candidate Chris Jones.
Massa said the candidate for the People's Party of Canada cancelled, adding that she hoped to ask them about their party leader's stance on multiculturalism and immigration.
Party leader Maxime Bernier previously criticized Justin Trudeau's "extreme multiculturalism", tweeting that "having people live among us who reject basic Western values such as freedom, equality, tolerance and openness doesn't make us strong."
"This was an opportunity for them to engage with the Muslim community and if they wanted to, dispel some of the misconceptions if they felt like they were painted unfairly," said Massa before the debate.
"Unfortunately we won't have a chance to ask them about that."
PPC candidate Merylee Sevilla told CBC she was unable to attend "due to a personal matter and conflict in the new change of date."
In an email, she said she offered to go to the mosque "to have a discussion and be open to answering the questions that were asked."
https://www.cbc.ca/news/canada/ottawa/ottawa-muslim-canadian-election-1.5319973
--------
Nigeria: Shekau Breaks Silence, Says Boko Haram Members Will Never Stop Violence
13 OCTOBER 2019
Premium Times (Abuja)
By Abdulkareem Haruna
The Boko Haram leader, Abubakar Shekau, on Sunday broke his longtime silence to speak on the Borno governor's recent call on insurgents to lay down their arms and embrace government's amnesty programme.
In an 18 minutes audio message, Mr Shekau, who spoke in his native Kanuri language and in Hausa, faulted the governor's claims that some of the insurgents that were forced to join Boko Haram are tired of fighting.
The Boko Haram leader said none of his members was tired of fighting and that they would continue fighting till their last breathe.
This is the first video by the terror group's fugitive leader in several months.
Midway into the video, Mr Shekau played an audio clip in which the Governor of Borno, Babagana Zulum, was heard addressing a crowd. In the audio, the governor called on Boko Haram members to surrender and embrace government's amnesty programme through the 'safe corridor' programme.
It is not known how Mr Shekau and his group got the audio clip, although there have been rumours that Boko Haram members masquerade as IDPs and are in some of the camps Mr Zulum recently visited.
Mr Zulum, who usually ends his public speeches with a call for Boko Haram to surrender, was also heard quoting a verse of the Holy Quran which says "God forgives sins."
But Mr Shekau, who claims to have memorised the Quran, said the governor misquoted the verses.
"I decided to deliver this message to clarify an issue in order for the public to understand our stand so that they would not be misguided. Particularly, I'm speaking on the claims of the governor of Borno State that some of our members were forced to join us against their will and now they are tired of fighting.
"And it was because of that that government has created "operation safe corridor" programme where repentant members of our group can be helped.
"I want to tell the governor that we are not tired yet. We have not even started. It is our wish to die fighting. We are on top of our game and by the grace of God we are going die doing this. We are still here.
"You should know that in Islam, you cannot receive the forgiveness of Allah if you die without accepting Islam.
"Even the disciples of Islam, including the parent of a prophet of Islam did not get the pardon of God because they died without accepting Islam.
"The governor should know that Islam is not Borno's religion, it is not religion of Yobe or Kano; it is not a religion from Nigeria, or Niger or Cameroon. It is God's religion sent down from heaven and explained to us clearly by the prophet.
"For that reason, people should desist from giving wrong interpretation to the verses of the Holy Quran. For example, the verses that the governor quoted about forgiveness were not only wrong but used out of context; even this is enough shame on you governor.
"It is not for us to repent; it is your governor of Borno that needs to repent. You cannot get paradise with what you are doing now.
"The world is full of people seeking its secular gains, and it abounds for all, but heaven is only for those that worked for it. Paradise is meant only for those who follow the path of God. Neither power nor wealth can earn one paradise. The people of Borno should repent and seek the face of God.
For us, democracy is an act of infidelity toward God. Democracy means "demons and cratos". These are man-made laws that you follow, and God has forbidden us from following man-made laws. God has enjoined us to worship none except Him alone.
"But here you are obeying the constitution when we have the Quran. It is better to be buried under the earth than to live in this kind of misguided generation.
"This is my message to the people of Borno in response to the speech made by their governor.
"That is why I kept saying that any of our members that will come and join us only for him to leave because he is tired, is just wasting his time. They should know that even we only depend on God in all that we do. Anyone that knows the Holy Quran won't want to spend a second amongst those infidels."
https://allafrica.com/stories/201910140054.html
--------
Syrian Army Takes Control of Several Kurdish-Held Towns to Face Turkish Aggression
Oct 14, 2019
Official news agency SANA reported on Sunday evening that the Syrian Army units have begun moving to the territory "to confront Turkish Army aggression", amid a continuing Turkish offensive against Kurdish militias.
State media did not announce where and when the Syrian Army troops were deploying in Northern Syria.
It came after Reuters news agency reported that the Syrian government and the Kurdish-led Syrian Democratic Forces (SDF) have been holding negotiations with Moscow's participation at Russia's Hmeimim airbase in the Western coastal province of Lattakia.
Ahmed Suleiman, a senior member of the Kurdish Democratic Progressive Party in Syria, stated that the talks were being held in Lattakia, and expressed the hope for a deal that would halt the Turkish assault.
Yet, a source close to the Syrian government noted that they were taking place in the capital, stating that meetings between the SDF and Damascus had taken place before and after the latest Turkish offensive.
Later, the SDF announced in a statement that an agreement has been reached with Damascus for the Syrian government troops to be deployed along the border with Turkey.
The Syrian Army deployment would support the Kurdish fighters in countering the Ankara aggression and "liberating the areas that the Turkish Army and mercenaries had entered", it said, adding it would also allow for the liberation of other Syrian cities occupied by the Turkish Army such as Afrin.
Late on Sunday, al-Mayadeen reported that the Syrian Army has entered the city of Manbij in the Northern province of Aleppo, as the Kurds let the government troops pass through their checkpoints unhampered.
Earlier, the Lebanese broadcaster reported that the Syrian Army would deploy within 48 hours to the town of Ein Al-Arab (Kobani) which is controlled by Kurdish fighters, as the strategic region is currently being targeted in the offensive by Turkey and Ankara-backed militant groups.
The distance between Manbij and Kobani is around 60 kilometers.
Meantime, general Ismet Sheikh Hasan, an official in Kurdish-controlled Kobani, told the Russian news agency RT that Kurds have reached an agreement with Moscow to allow Syrian President Bashar al-Assad's troops into the strategic town.
After the agreement reached between the two parties, Russia's Sputnik news agency reported the arrival of the first unit of the Syrian Army in the town of Tel Temar in Hasaka province, which was under the control of Kurdish fighters. Later, SANA confirmed that troops of the Syrian Army have entered the town on Monday.
Tel Temer is a relatively small town, but it's located on an intersection of several major roads and is of strategic importance.
On Monday morning, al-Mayadeen also reported that the Syrian Army has entered the city of al-Tabqah, previously controlled by the Kurdish militias, in the province of Raqqa and is moving Northward.
The government troops have also entered Al-Thawrah, a city in the Raqqa province located on the Euphrates River, which is famous for its proximity to a major dam.
The Syrian Observatory for Human Rights reported earlier that military aircraft affiliated to the International Coalition targeted a column of Syrian forces in Al-Rasafa area Southwest of Raqqa city.
Earlier this week, the Turkish military entered Northern Syria without consent from Damascus in order to fight the Kurdish militia, which Ankara regards as terrorists. Before the start of the military operation, the US called back several dozen servicemen who were embedded with the Kurdish fighters.
On Saturday, President Donald Trump authorized a withdrawal of the remaining 1,000 American troops from Northern Syria so they don't get caught up between the warring sides. Two American officials told Reuters on Sunday the United States is considering plans to withdraw the bulk of American troops from Northern Syria in the coming days.
The Kurds, who were Washington's main allies in fighting the Islamic State of Iraq and the Levant (ISIL, ISIS or Daesh) before, called the US move a betrayal.
https://en.farsnews.com/newstext.aspx?nn=13980722000176
--------
India
"Muslims in Maharashtra are scared": Social activist Irfan Engineer on the impact of NRC
AATHIRA KONIKKARA
14 October 2019
On 31 August this year, the National Register of Citizens authority published the final list of citizens in Assam, excluding over 19 lakh people whose legal status remains disputed. The NRC data showed a higher proportion of exclusions in Assam's Hindu majority areas than its border districts with Bangladesh, predominantly occupied by Muslims of Bengali descent, prompting the state's Bharatiya Janata Party government to denounce the project. Meanwhile, the home minister Amit Shah has stated that Hindus need not worry about being excluded from the NRC because they will be granted citizenship when the central BJP government passes the Citizenship Amendment Bill. The bill proposes to grant citizenship to six non-Muslim communities from India's three neighbouring countries—in effect, the government is targeting Assam's Bengal-origin Muslims, who have long been viewed as illegal immigrants from Bangladesh.
The Bengal-origin Muslim community has historically been targeted by right-wing political parties looking to consolidate Hindu votes. In the mid 1990s in Mumbai, the then Shiv Sena chief Bal Thackeray had called for the deportation of "illegal Bangladeshi immigrants" residing in several slum pockets of the city. The Sena had made several allegations about the number of Bangladeshis living illegally in Mumbai—including estimates as high as four crore.
In October, Aathira Konikkara, a reporting fellow at The Caravan, spoke to Irfan Engineer the director of the Centre for Study of Society and Secularism, a civil-society organisation in Mumbai. Engineer was part of an activist-led fact-finding committee that surveyed Mumbai's Bengali-dominated pockets during the height of the 1990s deportation drive. In June this year, Engineer also visited Assam on fact-finding surveys to meet the communities impacted by the NRC updation exercise.
In the interview, he discussed the historical background of the Bengali-Muslim community being labelled as Bangladeshi, the deportations from Maharashtra, and the implications of the NRC. Recalling his interactions with Bengal-origin Muslims in Mumbai, Engineer said, "We also spoke to people who were deported and came back. They said, 'We are Indians. We know nobody there in Bangladesh. We have no native place there, no village. We didn't know where to go.'"
Aathira Konikkara: Could you explain the historical context in which Bengal-origin Muslims began to be labelled as foreigners, or more specifically, as Bangladeshis?
Irfan Engineer: The story goes back to the nineteenth century, certainly the twentieth century. Britishers started encouraging migration from Bengal to Assam. On the one hand, they wanted to increase their revenue, and on the other hand, and there was drought in Bengal in the early twentieth century. Bengali farmers who were facing drought and willing to migrate were given cheap land. They were asked to cultivate that land. At that time, in a united India, early migrations caused conflict and there was a line system to control that conflict. The Britishers drew a line beyond which they would not allot land to people migrating from Bengal. Assam was one state where the Assamese were in the minority. There was a continuous conflict between the Muslim League—the migrants tended to support the Muslim League—and the Hindu politicians, the Congress leaders opposed the migration. They felt threatened by the migration because it reduced the possibility of them getting elected.
There was also another threat— if the Muslims became the majority in Assam, it would become part of East Pakistan. In the 1946 Cabinet Mission Plan, [which was the British government's proposal for the formation of a post-independent India,] there was a demand that Assam should form a part of the confederation of Muslim-majority provinces. This entire conflict was spurred by migration. After partition, riots led to increased migration of Muslims out of Assam. Some of them were forced to migrate to what was known as East Pakistan. We can't lose this perspective of history.
In 1951, they started making the national registry of citizens for Assam. Two things happened: one, the process was not complete. They did not enumerate everybody. And secondly, lot of people had migrated out. Then prime minister [Jawaharlal] Nehru and [the former Pakistani] prime minister Liaquat [Ali Khan] signed what is known as the Nehru-Liaquat pact, which allowed people to return if they wanted to, if they had migrated out. After NRC had been completed, many people came back and they were not recorded. Then the Congress government began to deport them. The Bengali Muslims who migrated to Assam had adopted Assamese as their language. They sent their children to Assamese schools and colleges. Yet they were denigrated and stigmatised.
AK: How did that manifest into the politics of the rest of the country?
IE: What had happened in Assam had happened before Independence. It should not have happened but the colonial government did it. But we should have worked out norms in respecting each other's rights. Instead of that, Assamese politicians created a fear of the other. First they were called illegal migrants. In the fifties, they were called Pakistanis. Even before Bangladesh was created, they were still stigmatised as foreigners or Pakistanis. In 1946 when they were all Indians, they were stigmatised as illegal migrants.
Politicians of Hindutva ideology saw an opportunity in this. In Maharashtra, the Shiv Sena was against all migrants. The first agitation was against south Indians in the late sixties. Then in the eighties, when they adopted Hindutva as an ideology which spread throughout India, their politics became sharpened as anti-Muslim. Bengal has a large Muslim population. The push factor from Bengal pushed them all over India to metropolitan cities for employment and livelihood. The Shiv Sena's anti-migration programme, in this case, was both non-Marathis and Muslims. It was the perfect target for them.
AK: Was there a spike in cases of deportation during the nineties?
IE: TN Seshan, [the former chief election commissioner], was updating the electoral rolls when Maharashtra was facing elections. Rafiq Zakaria, who was a former minister, was categorised as illegal migrant. That sparked a row. This was around 1993–94. So the Mumbai riots had happened. Bal Thackeray started to pin the blame for the entire riots on Bangladeshis. He started claiming that there are [millions] of Bangladeshis in Mumbai.
We visited all the Bengali-speaking pockets in Mumbai. Forget Indian or Bangladeshi, there were not even 20,000 Bengalis at that point of time. They were working as zari workers or domestic workers or construction workers. People working in construction labour did admit to us that they came from Bangladesh in the seventies. But they said that "We are married here, we have children here." How many of them were Bangladeshis was difficult to say.
AK: Was there an exaggeration of statistics to create fear?
IE: There was an exaggeration of their capabilities as rioters, their skills and an exaggeration of the numbers. Many people were deported before and after the Shiv Sena came to power [in 1995]. We saw no spike in numbers. I remember OP Bali, who later became [Mumbai's] commissioner of police, was in-charge of deportations. We asked him to tell us the number of people deported from 1992 to 1996. We saw no spike. We tried to make this a big issue in our limited capacity.
AK: What was the estimated number of deportations at the time?
IE: After the Shiv Sena came to power, if I remember correctly, it was 182. You are claiming [millions] as illegal Bangladeshi immigrants then what are you doing? Why are the numbers so low? We also spoke to people who were deported and came back. They said, "We are Indians. We know nobody there in Bangladesh. We have no native place there, no village. We didn't know where to go."
AK: On what basis were they deported back then?
IE: They were arbitrarily picked up from certain pockets. They were forcibly taken first to Kolkata and from Kolkata, they were handed over to the border police. They were taken to the border and pushed to the Bangladeshi territory. They would point guns and say, "Peeche mudh ke dekha toh maar denge"—If you turn around to look, we will shoot you. And after they enter Bangladeshi territory, the Bangladeshi Rifles would say, "Aage badha toh maar denge,"—If you come forward, we will shoot you. Bangladesh had not accepted those who were pushed by India into their territory. All of them came back. They told us, "We don't have a home there. Where will we go?" On the journey, they were all mistreated, particularly women. The terminology used for them was "ghospetiya"—infiltrators.
AK: You also spoke to police officials and the administration. Were communal biases apparent in the way they carried out the exercise?
IE: Bali would have seen it as him doing his duty, to supervise it to ensure that certain processes are carried out. He didn't seem to have any bias. The police officers who were detaining people knew that they were not foreigners. They were enjoying their power or forced to do their duty. In spite of all this, only 182 [were deported]. So what was all this about? And after they [the BJP and the Shiv Sena alliance] came to power, they forgot. The Bangladeshi issue died down once they came to power.
AK: You visited Assam to monitor the NRC exercise in June. Did you see any similarities between what you saw there and the case studies from back in the nineties?
IE: The Supreme Court of India believed—without any data, it was told or it was made to believe—that there are 80 lakh Bangladeshis [in Assam]. For [the government], every Muslim is a Bangladeshi.
If Bal Thackeray's speeches about illegal Bangladeshis in Mumbai are relayed once again, you have to ask Shiv Sena how many have been deported? From 1995 to 1999, you were in power. From 2014, you have been in power again. What have you done? The fact that it is rhetoric is obvious.
When we had gone earlier [to Assam], some three-four years ago, we found Bengali-speaking Muslims and Assamese Muslims welcoming NRC. We expected that it will be the other way round. They said that we were always labelled as Bangladeshis. This is our chance to prove otherwise. Somebody is coming and asking us to show our documents. Among Bengali-speaking Hindu labourers, there was fear but somewhere, they were also laidback. They said all this will not happen to us because we are Hindus. This is not about us. This is about Muslims. The Muslims were very careful in keeping their documents because they were accused. Some lost their documents because of riverine changes and floods.
AK: Did you find that this cooperative attitude had changed when you went recently? Did you see any anger against the administration?
IE: It was not anger against the administration. It was a feeling of helplessness. They felt the harassment. If somebody filed a complaint some 300 kilometres away, the entire family would have to hire a vehicle and go to the NRC hearing centre just because somebody accused them without any proof or without even knowing who they are accusing. But they were still working hard to cooperate, to get rid of this label. When we went to Assam, I told my team members, after this NRC is finally declared, nothing will change. They will start stigmatising the entire NRC process. The Assamese want all Bengali people out of Assam. So no process, which keeps even one Bengali in Assam, will be acceptable.
AK: Many who were included in the NRC faced objections. Objectors they did not even know had filed complaints against them. Do you think these objections are specifically targeted against Muslims?
IE: The AASU [All Assam Students' Union] are not targeting Muslims. They are targeting Bengalis—Hindu Bengalis and Muslim Bengalis. People motivated by Hindutva are targeting Muslims. Hindu Bengalis are acceptable to them. They want polarisation along Hindu-Muslim lines. AASU wants polarisation along the lines of Assamese and non-Assamese.
AK: How does the process of filing objections work?
IE: Anybody could file objections. The person filing objections did not have to have any proof or any grounds on the basis of which he believed that any person was wrongly included. Objections were filed against some well-known Hindus as well.
AK: What are the ways in which NRC can be resisted?
IE: One of the demands I have suggested is that those who are included in the NRC should not be questioned. They have gone through a lot of harassment in the process. So now their citizenship should not be questioned at all. Those who have been excluded from the NRC should be given an opportunity to present their documents as and when they get them. If they have the documents to prove their citizenship, the process should be open to them. Those who don't have documents to prove their citizenship, they should have all the habeas corpus rights, fundamental rights under the Constitution. Either deport them with the proof that they belong to some other country, but so long as they are here, don't put them in detention camps. And the arbitrariness of the Foreigners' Tribunals should end.
AK: Do you see fear among Muslims in general outside Assam now that the NRC exercise has taken place?
IE: You should see what is happening in Bengal. People are queuing up to get their birth certificates. This government is interested in putting all citizens in queues. During demonetisation, everyone was in bank queues and now there is NRC. Even Hindus are scared and are getting their birth certificates. Muslims in Maharashtra are scared. Some people phoned me and asked me, what kind of documents should we keep?
This interview has been edited and condensed.
https://caravanmagazine.in/politics/irfan-engineer-bengali-muslim-bangladeshi
--------
Want Babri Masjid Restored, Sunni Wakf Board Tells Supreme Court
October 14, 2019
NEW DELHI: Muslim respondents in the Ayodhya case contended today that there was no claim for the title in the Ayodhya land by the Hindus until 1989 and want the restoration of Babri Masjid as it stood before demolition in 1992. "We are entitled to restoration of the building as it stood as on 5-12-1992," the petitioners told the court.
The Muslims never lost the title and the claim of title by Hindus in 1886 was denied, the petitioners led by the Sunni Wakf Board maintained at the 38th day's hearing in the Ayodhya title suit at the Supreme Court.
Justice DY Chandrachud, who was part of the five-judge bench hearing the case, disagreed, saying, "The possession of the outer courtyard with them (the Hindus) continuously and documents show that".
"Hindus can't claim the outer courtyard. All facts show the Hindus have the right to pray and not possession," argued Rajeev Dhavan, who was representing the Muslim petitioners.
When Justice Chandrachud suggested that evidence shows bairagis (mendicants) were staying at the outer courtyard and "there were complaints from your side", Mr Dhavan said, "All questions are directed to us (Muslim side) only and not to the other (Hindu) side".
His outburst got the lawyer representing Ram Lalla -- the deity infant Ram -- protesting. "Such comments are unwarranted," said advocate CS Vaidyanthan.
Hearing in the politically sensitive case entered its final stage today, with the judges being determined to wrap up the arguments by October 18. Chief Justice Gogoi - who is heading the five-judge constitution bench hearing the case -- retires on November 17 and unless the court reaches a decision before that, the whole process will begin again.
The bench had started the day-to-day hearings on August 6 after the mediation proceedings suggested by the court failed to find an amicable solution to the decades-old dispute.
Full report at:
https://www.ndtv.com/india-news/ayodhya-case-hearing-questions-only-for-us-complain-muslim-petitioners-2116534
--------
Ayodhya: Questions asked only to us, not to Hindus, allege Muslim parties
Oct 14, 2019
Muslim parties alleged before the Supreme Court on Monday that questions are asked only from them and not posed to the Hindu side in the politically sensitive Ram Janmabhoomi land dispute case at Ayodhya.
This comment was made by senior advocate Rajeev Dhavan, appearing for the Muslim parties, before a 5-judge Constitution bench headed by Chief Justice Ranjan Gogoi.
"Your Lordship didn't ask a question to the other side. All the questions have been asked to us only. Of course, we are answering them," Dhavan told the bench on the 38th day of the crucial hearing in the case.
The submission was vehemently opposed by senior advocate C S Vaidyanathan, representing deity 'Ram Lalla', who said: "This is totally unwarranted".
Dhavan's remark came when the bench, which also comprises justices S A Bobde, D Y Chandrachud, Ashok Bhushan and S A Nazeer, said that the idea behind erecting iron railing at the disputed site was to separate the inner courtyard from the outer courtyard. By putting up an iron railing, the idea was to separate Hindus and Muslims and it was to appreciate the fact that Hindus were offering prayers in the outer-courtyard where 'Ram Chabutra', 'Sita Rasoi', 'Bhandar Grih' were situated, the court said.
The bench also took note of Dhavan's submissions that the Hinuds only had "prescriptive right" to enter and offer prayer at the site and it does not mean that they had ownership claim over the disputed property.
As you say they had the right to pray and enter, does it not dilute your right to ownership, the bench asked, adding in case of "exclusive ownership" over a property, can a third person be allowed entry and prayer right.
The protracted hearing in the case has entered the crucial final leg on Monday as the top court resumed proceedings on the 38th day after the week-long Dussehra break.
Full report at:
https://www.tribuneindia.com/news/nation/ayodhya-questions-asked-only-to-us-not-to-hindus-allege-muslim-parties/847084.html
--------
Doval cites FATF pressure on Pakistan, asks counter-terror agencies to 'convert info into evidence'
Oct 14, 2019
NEW DELHI: Stating that it was common knowledge that Pakistan sponsors and finances terrorism, National Security Adviser Ajit Doval on Monday asked all counter-terror agencies in India to collect and preserve evidence of Islamabad's role in terror acts so that it can be placed before international forums and platforms.
"Everybody knows that Pakistan is supporting terrorism, Pakistan is financing terrorism, but it must be kept in mind that it is the evidence that is required," Doval told a conference of chiefs of anti-terrorism squads and special task forces of various state police being organised by National Investigation Agency (NIA) here.
"You have access to it (facts regarding Pakistan's sponsorship of terrorism) and you understand how that information is converted into evidence that can withstand scrutiny of law. So depend on the facts, preserve the facts, put them into a format ... they may be used nationally and internationally (to nail Pakistan as a sponsor and financier of terror)," he told the ATS/STF heads.
"One of the biggest pressures that has come on Pakistan today is because of the proceedings of the financial action task force (FATF). FATF has brought so much pressure on them that no other action could have," the NSA said while calling upon the counter-terror bodies' heads to collect sustainable information against Pakistan and preserve it for effective use nationally and internationally.
Doval also sought their proactive role in perception management that helps expose Pakistan's involvement in terror acts. "So many Pakistanis are arrested...there is no harm in giving out their identities and giving out their plans to the media. Let the world know about it," he said adding that not doing so would only benefit Pakistan by maintaining deniability.
Stating that there was a tendency for counter-terror efforts to be conducted in three different silos — first, getting to know the source of terror; second, the action based on that knowledge; and third, taking the evidence to a court of law and establishing the role of those behind the terror act — the NSA impressed upon the need to merge the three silos and synergise the efforts of Central and state-level intelligence and investigative agencies in fighting terror.
This, he said, would ensure that counter-terror efforts of different agencies are multiplied rather than simply adding
up.
The NSA called upon the ATS/STFs chiefs to suggest during the two-day conference what they can do to contribute to one another's efforts, what they expect the government to do, what counter-terror policy changes need to be made and what executive action is needed in terms of improvement in training and resources.
Particularly complimenting the NIA for its scientific approach in cases relating to separatists and money laundering in Jammu & Kashmir, Doval said the impact that NIA probes had on Kashmir terror was more than any other agency.
"NIA took it (investigation) in the right spirit...that is, through legal permissible methods and proper process and procedures. They have followed the cases diligently and very intelligently, put pressure at the right places so that the persons being paid by the foreign agencies had to stop their activities to some extent," he stated.
Listing the challenges in terror investigations, he said the first was the covert role of a state sponsor, which offered a higher degree of deniability as well as resources and technology that made it difficult to figure out the perpetrators.
Full report at:
https://timesofindia.indiatimes.com/india/preserve-evidence-of-pak-role-in-terror-attacks-nsa-doval-to-counter-terror-agencies/articleshow/71578102.cms
--------
Naxals getting organised funding to spread terror in the country, says NIA
Oct 14, 2019
NEW DELHI: The National Investigation Agency (NIA) on Monday revealed that Left-wing extremist groups, who are active in almost 10 states across the country are getting organised funding to spread terror and create a disturbance.
In his address, at the inaugural session of the two-day conference of the chiefs of Anti-Terrorism Squads (ATS) and Special Task Forces (STFs), Inspector General (IG), NIA, Alok Mittal said that investigations of cases related to the groups have revealed that they also indulge in extortion to supplement their income.
"The Left-wing extremist groups are getting organised funding to spread terror and create disturbances in the 10 states where they are present. Investigation of the cases related to these groups have revealed that they also resort to extortion to supplement their income," Mittal said at the event here.
The NIA official added that the funds so procured by the extremist groups are used to facilitate training and purchase arms and ammunition for their cadres.
"Investigations have also revealed that the Naxals invest in lands, construction to safeguard and multiply their money," he added.
National Security Advisor (NSA) Ajit Doval, Minister of State (MoS) Home Affairs, G Kishan Reddy presided over the conference which was also attended by the DG, NIA, YC Modi and former IB Special Director and present Nagaland Governor RN Ravi.
The conference was also attended by chiefs of ATS and STF of the Naxal affected states of Bihar and Odisha among others.
Full report at:
https://timesofindia.indiatimes.com/india/naxals-getting-organised-funding-to-spread-terror-in-the-country-says-nia/articleshow/71578103.cms
--------
Ready to send Army to fight terror in Pak, says Rajnath
Oct 14, 2019
SONIPAT/KARNAL/GURGAON: Defence minister Rajnath Singh on Sunday "offered" help to Pakistan Prime Minister Imran Khan to rein in terrorism, saying India was ready to send its Army to the neighbouring country to fight the menace if the latter "did not have the strength" to do so .
Asking Pakistan to 'honestly' fight terrorism, Singh said at an election rally at Rai in Haryana's Sonipat district: "If you want India's help, then India is ready to help in any manner to battle terrorism. If the help of Army is required (to battle terrorism), then India will even provide that." Asking Pakistan to stop using terrorism to destabilise India, he said: "Before using terrorists against India they should remember what happened in Balakot. "
At another rally in Karnal, he blamed Pakistan for the Partition in 1947 as part of Muhammad Ali Jinnah's two-nation theory. "But in 1971, your country was divided into two pieces again," Singh referred to the creation of Bangladesh, adding, "And if the situation persists, then no power can stop Pakistan from disintegrating further ."
Attacking Imran for his speech in which he had vowed to stand by Kashmiris till his last breath after the nullification of Articles 370 and 35A, Singh said Pakistan should be ready to face the consequences if it did not change its thinking. "I want to tell Imran Khan, forget Kashmir and never think about Kashmir in future."
Full report at:
https://timesofindia.indiatimes.com/india/ready-to-send-army-to-fight-terror-in-pak-says-rajnath/articleshow/71572460.cms
--------
Pakistan violates ceasefire along IB in Jammu area
Oct 13, 2019
JAMMU: Pakistan on Saturday night violated ceasefire by firing at forward posts and villages along the International Border (IB) in Kathua district of Jammu and Kashmir.
According to Border Security Force (BSF) sources, Pakistani Rangers resorted to unprovoked firing along the border and also targeted civilian areas in Hiranagar area.
Full report at:
https://timesofindia.indiatimes.com/india/pakistan-violates-ceasefire-along-ib-in-jammu-area/articleshow/71571205.cms
--------
Owaisi takes dig at Mohan Bhagwat's 'Muslims happy in India' remark
Oct 13, 2019
HYDERABAD: AIMIM chief Asaduddin Owaisi on Sunday took a dig at RSS chief Mohan Bhagwat over his remarks that Muslims in the country were happy, saying the Constitution and not "magnanimity of majority" determined it.
Referring to Bhagwat's speech on Saturday in Bhubaneswar, the All India Majlis-e-Ittehadul Muslimeen (AIMIM) Hyderabad MP in a tweet said "...The measure of whether we're happy or not is the Constitution, not the magnanimity of majority."
He also said: "No matter how hard Bhagwat tries to link us to foreign Muslims, it will not reduce my Indianness. Hindu Rashtra=Hindu Supremacy. That is unacceptable to us."
No matter how hard Bhagwat tries to link us to foreign Muslims, it will not reduce my Indianness. Hindu Rashtra=Hi… https://t.co/1hzJt3hVYR
— Asaduddin Owaisi (@asadowaisi) 1570962439000
"Bhagwat cannot erase my history in India by renaming it Hindu. It wont work. He cannot insist that our cultures, faiths, creeds & individual identities all be subsumed by Hinduism. Bharat na kabhi Hindu Rashtra tha, na hai, na hi kabhi banega Inshallah", he said in another tweet.
Addressing a meeting of intellectuals ahead of the meeting of Akhil Bharatiya Karyakari Mandal, the highest decision-making body of RSS, Bhagwat had said "People of India consider themselves as one irrespective of diverse culture, languages, geographical locations."
Full report at:
https://timesofindia.indiatimes.com/india/owaisi-takes-dig-at-mohan-bhagwats-muslims-happy-in-india-remark/articleshow/71569327.cms
--------
Pakistan
Pakistan delegation arrives in Paris to present compliance report to FATF
Tahir Sherani
October 14, 2019
The Pakistani delegation, which will present the compliance report before the Financial Action Task Force (FATF), arrived in Paris on Sunday to attend a round of the financial watchdog's meetings.
Minister for Economic Affairs Division Hammad Azhar, who is heading the delegation, will present Pakistan's compliance report that details the measures taken by the government to curb terror financing and money laundering, in accordance with FATF's guidelines.
According to Radio Pak, the body will review the "progress" made by Pakistan until April this year, during the FATF Week, which began on October 13 and will conclude on October 16. Along with Pakistan, the body will also review the progress made by Iran and other countries "that present a risk to the financial system". A press statement will be released on October 18.
Pakistan is looking to get off FATF's 'grey list', on which it was placed last year after the body decided that the country had failed to take enough measures to curb money laundering and terror financing.
The FATF Week will focus on "disrupting financial flows linked to crime and terrorism and discuss ways to contribute to global safety and security". The round of meetings will be attended by representatives from 205 countries as well as jurisdictions around the world, including the International Monetary Fund, United Nations, World Bank and other organisations.
The Asia-Pacific Group (APG) on Money Laundering released its mutual evaluation report on Oct 2, which discussed measures that were in place in Pakistan during the onsite visit conducted in October 2018. The APG is a regional body of the FATF, which requires its members to undergo mutual evaluation of the anti-money laundering and combating the financing of terrorism frameworks.
Read: Dodging the FATF's blacklist
"According to the APG report, out of the 40 recommendations given to Pakistan, the country has shown compliance in one (area), Financial Institutions Secrecy Law, and has shown noncompliance in four areas," stated brokerage firm Topline Securities in its report.
"However, Pakistan is partially compliant on 26 and largely compliant on nine recommendations," it added. It mentioned that Pakistan has shown decent progress since October 2018.
The National Assembly recently passed a bill to amend Foreign Exchange Regulations (FERA 1947) with a view to streamline the foreign exchange movement and prescribe stricter punishment for money laundering. The government has also launched a crackdown on banned terrorist outfits.
https://www.dawn.com/news/1510804/pakistan-delegation-arrives-in-paris-to-present-compliance-report-to-fatf
--------
Pak PM Imran Khan discusses Kashmir issue with Rouhani
Oct 13, 2019
ISLAMABAD: Pakistan Prime Minister Imran Khan on Sunday discussed the situation in Kashmir with Iranian President Hassan Rouhani amidst tensions with India after New Delhi abrogated Jammu and Kashmir's special status.
Khan, who visited Tehran on Sunday to help mitigate tensions between bitter regional rivals Iran and Saudi Arabia, held talks with President Rouhani at the presidential palace and later met with Iran's supreme leader Ayatollah Ali Khamenei.
Pakistan Foreign Office in a statement said Khan discussed the situation in Kashmir with Rouhani and expressed gratitude over "Iran's support" on the Kashmir issue.
Pakistan has been trying to internationalise the Kashmir issue after India withdrew the special status of Jammu and Kashmir on August 5, but New Delhi has asserted the abrogation of Article 370 was its "internal matter" and has asked Islamabad to accept the reality.
India has also said that there is no scope for any third party mediation on the Kashmir issue.
It was Prime Minister Khan's second visit to Iran this year. He also had a bilateral meeting with the Iranian President on the sidelines of the 74th UNGA Session in New York in September.
He is expected to visit Saudi Arabia on Tuesday.
Pakistan has been trying to improve ties between Iran and Saudi Arabia due its close ties with both nations.
Full report at:
https://timesofindia.indiatimes.com/world/pakistan/pak-pm-imran-khan-discusses-kashmir-issue-with-rouhani/articleshow/71571378.cms
--------
Azadi March: PM tells Buzdar to exploit PML-N's fissures
October 14, 2019
As the date for Jamiat Ulema-e-Islam-Fazl's (JUI-F) Azadi March draws closer, the government is mulling all possible ways to stop the protests.
As part of this effort, Prime Minister Imran Khan has reportedly directed Punjab Chief Minister Usman Buzdar to contact those Pakistan Muslim League-Nawaz (PML-N) workers who are unwilling to join the anti-government protests.
Reportedly, the government plans to resume its contact with the PML-N workers who had recently met with the premier and the chief minister.
Full report at:
https://www.pakistantoday.com.pk/2019/10/14/azadi-march-pm-tells-buzdar-to-exploit-pml-ns-fissures/
--------
Prince William, Kate Middleton to arrive in Pakistan today on 5-day visit
October 14, 2019
Britain's Duke and Duchess of Cambridge, Prince William and Kate Middleton, will make their first visit to Pakistan today and are expected to arrive in Islamabad at 9pm.
The five-day visit, which will end on October 18, has been organised at the request of the United Kingdom's (UK) Foreign and Commonwealth Office.
This will be the first royal tour to the country since 2006 when Prince Charles and Camilla, the Prince of Wales and the Duchess of Cornwall, travelled to Pakistan.
Taking to Twitter, British High Commissioner in Pakistan Thomas Drew said it will be a "very exciting programme".
"It will of course pay respect to the historical relationship between Britian and Pakistan. But it will focus largely on showcasing Pakistan as it is today: a dynamic, aspirational and forward looking nation," he said.
He added that the royal couple was looking forward to meeting as many Pakistanis as possible and building a lasting friendship with the people of Pakistan.
During their time in Pakistan, the Duke and Duchess of Cambridge will visit Islamabad, Lahore, Gilgit-Baltistan and rugged border regions to the west, an official handout from Kensington Palace had stated. The visit will span over 1,000 kilometres, and will take in Pakistan's rich culture, its diverse communities, and its beautiful landscapes, the handout said.
"Access to quality education, particularly to girls and young women is one of the UK's top priorities in Pakistan," it added.
Earlier, Foreign Minister Shah Mahmood Qureshi had said the visit would further improve ties between Pakistan and Britain.
Full report at:
https://www.dawn.com/news/1510805/prince-william-kate-middleton-to-arrive-in-pakistan-today-on-5-day-visit
--------
Opposition seeks probe into terrorist attacks in Balochistan
October 14, 2019
QUETTA: Opposition lawm­akers in the Balochistan Assembly have demanded setting up of a fact-finding committee to probe increasing terrorist attacks in the province.
However, the debate on the adjournment motion of Nasarullah Zerey of the Pakhtunkhwa Milli Awami Party (PkMAP) could not be completed as Speaker Mir Abdul Qudoos Bizenjo adjourned the session because of the lack of quorum.
The quorum was pointed out by Minister for Public Health Engineering Noor Mohammad Dummor when Syed Fazal Agha of the Jamiat Ulema-i-Islam-Fazl was speaking on the motion.
During the last session of the Balochistan Assembly, the speaker had fixed Oct 12 for general debate on the motion.
Members of the opposition and the speaker expressed reservation over breaking of quorum by the treasury benches and noted that the home minister was not in the house when the adjournment motion was being discussed.
Mover of the motion Nasarullah Zerey expressed serious concern over the deteriorating law and order situation in the province and said that during the past 10 months more than a dozen terrorist attacks and bomb blasts took place in Quetta, Loralai, Chaman, Qila Saifullah and other towns and cities of the province.
He said the government had allocated over Rs40 billion for law and order but the situation was not satisfactory.
He said a contractor was kidnapped and killed in Harnai. He said the government did not arrange in-camera briefing over terrorist activities as promised.
"The real culprits behind these terrorist activities and crimes in Balochistan should be exposed," Mr Zerey said, adding that it had become essential to implement the National Action Plan against terrorism in Balochistan.
He said the government had registered over 250 cases in one year against workers of different political parties. "Three cases have also been registered against me," he said.
Speaking on the motion, Minister Noor Mohammad Dummar said that terrorist attacks, bomb blasts and other such incidents were regrettable. However, he said, the law and order situation had improved during the past one year with joint efforts of security forces.
"Those who speak against security institutions of the country are equally liable to be punished along with those who morally and financially support and provide assistance to the terrorists," Mr Dummar remarked.
Speaking on the motion, Syed Fazal Agha said Pakistan was facing a conspiracy hatched by anti-Islam forces. He expressed dissatisfaction over the law and order situation.
The assembly approved a bill regarding Balochistan Welfare and Donors Organisations Regulations and Registration; Mental Health Bill, 2019; Balo­chistan Education Foun­dation Bill, 2019 with amendment, Balochistan Private Schools Regi­stration and Regularisation Bill and Balochistan Boards of Intermediate and Secondary Education Bill, 2019.
Full report at:
https://www.dawn.com/news/1510732/opposition-seeks-probe-into-terrorist-attacks-in-balochistan
--------
KP govt warns baton-wielding JUI-F workers of action
October 14, 2019
PESHAWAR: The Khyber Pakhtunkhwa government here on Sunday warned JUI-F of taking action against its baton-wielding workers parading in uniform.
Addressing a press conference, Provincial Minister for Information Shaukat Yousafzai took exception to JUIF's gathering in provincial capital where volunteers of Ansarul Islam, the security wing of party, were doing rehearsal for Islamabad sit-in.
He said that such parades were in violation of National Action Plan, which had been signed by all the political parties.
He said that the government would lodge cases against those, who paraded on roads in uniform. He said that governments would not allow anyone to wear uniform as there was only one uniformed force in the country.
The minister said that provincial government would never allow any political or other actors to form a private force as such forces were direct threat to the writ of the state.
He said that Sunday's gathering was violation of NAP. He said that currently government was not considering any arrest, however, cases would be lodged against those doing parades in uniform.
Mr Yousafzai said that government would not allow JUI-F to use children of seminaries for its political ends.
He said that JUI-F was agitating just to free Nawaz Sharif and Asif Zardari from the clutches of accountability.
He said that JUI-F chief wanted to regain the space he lost to PTI in the previous general elections. He said that JUI-F not only wanted its political revival but also wanted to make relevant the people, who were behind bars on charges of corruption, in the politics of the country.
The minister said that Maulana Fazlur Rehman could not wrap up the democratic system through use of his private force. He said that Chief Minister Mahmood Khan had categorically stated that his government would never allow engaging seminary students in the undemocratic activities.
He said that the bringing of peace to the country was the unified agenda of all political parties but some elements wanted to go back on it because they feared to face accountability on charges of corruption in the country.
"We were voted to power for accountability to recover the looted money. We are committed to our words translating them into actions for stern accountability. There would be no compromise on accountability," said Mr Yousafzai.
He said that threat by Fazlur Rehman to institutions was tantamount to challenging the writ of the government. "There is no danger to the people and Islam in this country," he added.
Full report at:
https://www.dawn.com/news/1510709/kp-govt-warns-baton-wielding-jui-f-workers-of-action
--------
JUI-F should refrain from sowing 'discord': Fawad
October 14, 2019
ISLAMABAD: Federal Minister for Science and Technology Fawad Chaudhry on Sunday said that Jamiat Ulema-e-Islam-Fazl (JUI-F) chief Fazlur Rehman should refrain from creating chaos in the country.
"Pakistan Muslim League Nawaz has developed fissures inside the party and now it has been clearly divided into two groups with different ideologies," he said.
"This country requires stability and any attempt to undermine the government will be thwarted," he added.
"The demands of Fazlur Rehman have not been revealed yet but he needs to start negotiations with the government."
Full report at:
https://www.pakistantoday.com.pk/2019/10/13/jui-f-chief-should-refrain-from-causing-chaos-fawad/
--------
South Asia
Airstrikes killed 9 militants of Taliban and ISIS groups in 2 provinces
14 Oct 2019
A series of airstrikes killed 9 militants of the Taliban and ISIS Khurasan groups in eastern Nangarhar and central Wardak provinces.
The military officials said Monday an airstrike killed 5 ISIS Khurasan militants in Pachir Wa Agam district of Nangarhar province.
The officials further added a similar airstrike killed 2 Taliban militants in Maidan Shahr district of Wardak province.
The security forces conducted another airstrike in Chak-e Wardak district of Wardak province which killed 2 Taliban militants, the officials added.
The anti-government armed militants including Taliban and ISIS groups have not commented regrading the airstrikes so far.
https://www.khaama.com/airstrikes-killed-9-militants-of-taliban-and-isis-groups-in-2-provinces-04215/
--------
Airstrikes kill, wound 23 Taliban militants in Balkh province
14 Oct 2019
A series of airstrikes targeted Taliban militants in northern Balkh province killing or wounding at least 23 of them.
The 209th Shaheen Corps said in a statement the Air Force carried out airstrikes against Taliban positions in Aaqtapa Village of Chahar Bolak district.
The statement further added that the security forces conducted the airstrikes at around 8:00 pm on Sunday amid ongoing clashes.
Furthermore, the 209th Shaheen Corps said the airstrikes killed 8 Taliban militants and wounded at least 15 others.
The Taliban group has not commented regarding the clashes and airstrike so far.
Full report at:
https://www.khaama.com/airstrikes-kill-wound-23-taliban-militants-in-balkh-province-04218/
--------
Mortar rounds land close to parliament building in Kabul, no casualties reported
14 Oct 2019
Three mortar rounds landed close to parliament building in Kabul city earlier today but caused no harm or damage.
Officials in Kabul Police Headquarters confirmed that the mortar rounds landed close to the parliament building at around 10:15 am local time.
The officials further added that the attack did not cause casualties or damages to the properties.
Full report at:
https://www.khaama.com/mortar-rounds-land-close-to-parliament-building-in-kabul-no-casualties-reported-04217/
--------
Institute founded by President Ghani makes significant profit from government contracts
14 Oct 2019
The Institute for State Effectiveness founded by President Mohammad Ashraf Ghani made significant profit from governmental government during the recent years, it has been reported.
The Tolo News reported late on Sunday that President Ghani established the institute in the United States a year before 2014 presidential elections.
The institute reportedly made significant profit from governmental contracts during the recent years.
However, the website of the institute states that Mohammad Ashraf Ghani and Clare Lockhart jointly established the Institute for State Effectiveness in Washington in 2005.
Furthermore, senior presidential adviser Humayoun Qayoumi received enormous amounts of money from the institute despite working during the years of 2016 and 2017 when he was serving as a government official.
According to reports, Qayoumi received $105,000 in the year 2016 from the Institute for State Effectiveness and $255,000 in 2017.
Meanwhile, former lawmaker Haji Nesar Ahmad Faizi said the steps by President Ghani is a clear misuse of his authority and are against the procurement laws of Afghanistan.
Faizi further added as per the procurement law no governmental official or employee including their close family members can obtain projects from the government.
Procurement law and procedures
According to procurement law and procedures, each bidder must complete a specific form 'Declaration of Conflict of Interest' before starting the bidding process.
Another part of the procurement procedure states that none of the procurement department workers including the director approving the bids should have any kinds of relations that could lead to conflict of interest.
This comes as the National Procurement Commission led by President Ghani approves contracts worth more than 100 million Afghanis.
The 112th decree of the procurement procedure states that all employees of the procurement department including the delegations tasked with review, bid opening, grants managers and members of the national procurement commission must disclose all clear activities that lead to conflict of interest in Form#7, before starting or approving all kinds of procurement activities.
Full report at:
https://www.khaama.com/institute-founded-by-president-ghani-makes-significant-profit-from-government-contracts-04216/
--------
Europe
Muslim professor devotes his life to bringing Jews, Muslims together to find common ground
By Lara Hansen
October 14, 2019
In the anti-Semitic and secular town in southeastern Turkey where Abdullah Antepli grew up, no one expected him to work in interfaith Jewish-Muslim relations one day. They were proven wrong.
In August, the now 46-year-old was ranked among the NonProfit Times Power and Influence Top 50, in honor of his work co-founding the Muslim Leadership Initiative, also known as MLI.
The MLI recruits engaged, pro-Palestine American Muslims, ranging from scholars to journalists. These participants are connected with a credible Zionist institution, the Shalom Hartman Institute (SHI), whose stated mission is to help "strengthen Jewish peoplehood." During the program, members learn to critically understand the complex religious, political and socioeconomic issues of people in Israel and Palestine, Antepli said.
"I am extremely proud of this cutting edge social and educational experiment that we were able to initiate," Antepli said.
In his brand-new office in Rubenstein Hall, the Sanford School of Public Policy's new associate professor of the practice and long-standing associate professor of interfaith relations at the Divinity School apologizes for "the mess" in his perfectly tidy bureau. His office does, however, overflow with books, most of which are religion-themed.
"I never go anywhere without a book," Antepli said. His gem at the moment is "White Fragility: Why It's So Hard for White People to Talk About Racism" by Robin DiAngelo.
Dressed in a grey shirt tucked in black pants with sleeves rolled up, Antepli first gives off the impression of a restless businessman. But the father of two's hearty "salaam"—meaning "peace," a common greeting in Arabic—immediately lets those who walk through his door know that he will gladly share his time.
A resentful child
Antepli, the University's first Muslim chaplain and inaugural director of Muslim life at Duke from 2008-2014, grew up during a critical time in southeastern Turkey when religion was despised.
Although his parents were not religious, they were anti-Semitic, he said. His upbringing quickly led him on a path of resentment toward the Israelis. He recalled as a child scapegoating the Jewish community for the grievances of Muslim everyday life.
"The seductive thing about hate is that it gives simple black and white answers to complicated questions," Antepli said.
Muslim friends and teachers introduced Antepli into the world of Islam and he promptly came to devour the religion. His religiosity just happened to emerge simultaneously with the Israeli-Palestine conflicts.
"The first thing I remember is an IDF [Israel Defense Forces] soldier with a piece of rock breaking the bones of Palestine protesters," Antepli said, remembering his first time watching international news at the age of 12.
Antepli said that studying Islam in Turkey "slowed [him] down on the highway of hate." Immigrating to the United States and meeting the Jewish community further saved him.
"I would call myself a recovering anti-Semite," he said, soberingly. "Once exposed to hate, it becomes a lifelong struggle."
"If he had this illness once, I don't see any traces," professor of religious studies Laura Lieber said. "He stands out as being so much on the other end of the spectrum."
Crossing borders
The idea of interfaith work between Israelis and Palestinians took roots when Antepli came upon Yossi Klein Halevi, an author and journalist from Israel and a former Jewish extremist, who had made regular journeys to Palestine to listen to their stories. After reading his book "At the Entrance of the Garden of Eden: A Jew's Search for Hope," Antepli felt connected to Halevi on a deeper level.
"He was my Jewish version, a fellow traveler and 'recoverer,' if that word even exists," Antepli said.
Humbled by Halevi's journeys to his own religion, Antepli reached out to the Israeli author in an attempt to reciprocate. His developing friendship with Halevi "gave wings and legs" to his recovery and inspired him to engage vigorously not only in his own recuperation, but also that of the Muslim people.
"I knew I had to play a role in uniting and healing our divided and wounded communities," Antepli said.
MLI's doubtful beginnings
In the last two decades, Antepli noticed the perception of Muslims in the United States dramatically worsening, even 10 years after 9/11.
"People created a culture of fear around Islam," Antepli said. He felt helpless watching fabricated images of cultural propaganda flood the media. "A hate for one group is everyone's problem."
He began to make change in the best way he knew how—religious scholarship. He and Halevi founded the Muslim Leadership Initiative. The participants of this program would be North American Muslims and they would learn about Judaism, Israel and Jewish peoplehood in a hands-on-manner. Every cohort involves a trip to Jerusalem in which Jews and Muslims are brought together for fruitful discussions in an effort for mutual understanding.
Upon its establishment, the program ignited troubling tensions within the Muslim American community. This mild-mannered man, at five feet and eight inches tall, became a polarizing figure.
Ismail Akbulut, an alumnus of the MLI program who considers Antepli a great mentor and friend, had reasonable concerns himself.
"Working with the enemy, why would you do that?" Akbulut said, recalling his first reaction to the initiative. "It felt like a betrayal to the Muslim community."
In particular, he feared that it would be too one-sided. But he was surprised in most positive ways.
"They will listen to you and you can challenge their views—it is not a one-way engagement," said Akbulut. "It is a dialogue with the people on the other side and not a brainwashing attempt."
Nevertheless, Antepli was continuously put under scrutiny and sometimes even received threats.
"It was a gross misunderstanding of the program," he said.
Yet the activist at no point regretted launching the initiative. He doesn't scare conflict or disagreement, and commented that the key to gaining from these situations is to "develop generosity toward people you disagree with."
"He has a preference for situations where there is a specific difference in thinking," Ellen Davis, Amos Ragan Kearns professor of Bible and practical theology, said.
She shared just how stressful that can be through a particular instance in their travels to Jerusalem, when Antepli brought students to the home of a U.S.-born Jewish settler who helped found a settlement outside Jerusalem. The man considered himself a native to the land due to a divine Jewish covenant, celebrating the Palestinians' departure from the territory in 1948.
As he continued to suggest that Palestinians had expelled themselves, Antepli "literally bit his tongue to keep silent," Aminah-Al Attas Bradford, a doctoral fellow at the Divinity School who was in the same trip, said. Amidst growing tension between the Jewish habitant and he, Antepli insisted they stay seated at the same table and continue the discussion.
While Davis remembered having to talk him out of this situation, she added that she admires his passion for engagement with people who think differently from him. He is not afraid of being wrong or knowing less than those around him.
"Oh, I stand corrected" is one of his signature phrases, Davis mentioned.
"He cares about us"
His twelve first-year students, to whom he teaches the Great Abrahamic books as part of Duke's Science and Religion in Public Life first-year Focus cluster, called to mind a similar impression of their professor.
"He's always asking questions on the intersection with Islam, Christianity and Judaism," first-year Angela Greene said.
Greene recalled being sick two weeks into the semester. In the subsequent weeks, Antepli continuously asked her how she was doing even though she had been healthy for a long time. He cares about us as students but also as people, Greene said.
His big brown eyes light up when he talks about his children, his students said.
"He loves bragging about his daughter," first-year Connor Blue said, laughing.
"He updates me on his daughter every time I talk to him," Greene added.
Antepli may have been talking about his children extra these days, as he and his wife recently became empty nesters. Their daughter has moved to California for college, while their 15-year-old son goes to boarding school.
That is not all for new adjustments in Antepli's life. He was used to traveling up to 200 days a year for his projects.
"Duke loaned me to the world," he said, chuckling.
Now that the interfaith scholar has moved to Sanford, he is excited to focus on public policy conversations on site and reconnect with his roots at Duke.
Looking at the future of interfaith relations, Antepli is determined and hopeful that there will be a reciprocal program, a Jewish Leadership Initiative.
"But the ball is in our court as Muslims," he said.
He commented that a Muslim equivalent to the SHI will be required where a broad spectrum of Islamic narratives could be taught without any impositions. The next step would subsequently be the recruitment of North American Jewish leadership.
"That's why I continue to do the work," Antepli said. "I hope many similar and even better programs will emerge."
https://www.dukechronicle.com/article/2019/10/muslim-professor-bringing-jews-together-peace-duke-sanford
--------
New Zealand's Prime Minister Ardern Steps Up Fight Against Extremist Online Content
October 14, 2019
WELLINGTON: New Zealand's Prime Minister Jacinda Ardern announced more funding and support today to target violent extremist content online, just months after an alleged white supremacist livestreamed a massacre at two mosques in Christchurch.
The attack on March 15 that killed 51 Muslim worshippers was livestreamed on Facebook, and the video was shared on Twitter, YouTube and Facebook-owned apps Whatsapp and Instagram.
Ardern said the government was investing NZ$17 million (US$10.73 million) over four years to boost New Zealand's ability to find, stop and stamp out terrorist and violent extremist content online quickly.
The investment would be used to double the investigative, forensic, intelligence and prevention work of the Department of Internal Affairs, she announced at a press conference.
A new team of 17 people will be dedicated to tackling such content, the government in a statement.
The new department's powers include investigating and prosecuting those committing offences through both proactive detection and working with international and domestic partners, it added.
"Our online world must be a force for good where we can exchange ideas, share technology, and maintain civil liberties, while protecting New Zealanders from objectionable content," Ardern said in the statement.
"Countering violent extremism online is an important part of our response to the March 15 terrorist attacks," she added.
Silicon Valley tech giants and world leaders have endorsed a movement by Ardern called "Christchurch Call" which aims to establish ethical standards for tech companies and media outlets to avoid amplifying violent extremist content online.
Their commitment was tested last week as social media firms scrambled to scrub footage of a shooting outside a German synagogue that was livestreamed on Amazon's gaming subsidiary Twitch.
As with Christchurch, full copies and portions of the German video quickly began appearing elsewhere online, shared both by supporters of the gunman's anti-Semitic ideology and critics condemning his actions.
Full report at:
https://www.freemalaysiatoday.com/category/world/2019/10/14/ardern-steps-up-fight-against-extremist-online-content/
--------
Macron, Merkel call for end to Turkish offensive in Syria
13 October 2019
France's President Emmanuel Macron and German Chancellor Angela Merkel called on Sunday for an end to Turkey's offensive against Kurds in northern Syria, warning of dire humanitarian consequences and a boost for ISIS, a terrorist organization.
"Our common wish is that the offensive must cease," Macron told a joint press conference with Merkel, who said she had spoken to Turkish leader Recep Tayyip Erdogan for an hour on Sunday and told him: "We must put an end to this Turkish invasion."
"There are humanitarian reasons for this," Merkel told journalists, adding: "We can no longer accept this situation against the Kurds. Another solution must absolutely be found."
For his part, Macron said the offensive risked creating "unbearable humanitarian situations" while helping ISIS extremists, whom the Kurds had fought, "re-emerge in the region."
Fighting has engulfed northern Syria since Wednesday when Ankara launched a long-threatened offensive against the Kurdish-led Syrian Democratic Forces (SDF), which it considers "terrorists" linked to insurgents in Turkey.
Full report at:
https://english.alarabiya.net/en/News/middle-east/2019/10/13/Macron-Merkel-call-for-end-to-Turkish-offensive-in-Syria-.html
--------
Italy backs EU ban on arms sales to Turkey
13 October 2019
Italian Prime Minister Giuseppe Conte said on Sunday he would press for an EU ban on arms sales to Turkey, as Ankara pressed its attack on Kurdish forces in northern Syria.
Conte was speaking ahead of a meeting in Luxembourg on Monday of the European Union's foreign affairs committee on the issue - and a day after both France and Germany joined a list of countries halting arms supplies to Turkey.
A government statement said that Rome had been working since Saturday for a moratorium on arms exports to Turkey "as soon as possible."
"Italy will promote this initiative in all multilateral forums and will work to combat Turkish military action in the northeast of Syria with every instrument permitted by international law," said the statement from Conte's office.
"The Italian government is convinced that we must act with the utmost determination to avoid further suffering of the Syrian people, especially Kurds, and to counteract destabilizing actions in the region," the statement added.
Italy is one of Turkey's main arms suppliers.
Several European countries, including Finland, France, Germany, the Netherlands and Norway, have already announced a halt in arms supplies to Turkey.
Earlier on Sunday, Turkey's President Recep Tayyip Erdogan said that threats of sanctions and arms embargoes by Western powers would not stop the military offensive against Kurdish militants in Syria.
The Turkish offensive began on Wednesday after US President Donald Trump ordered American troops to pull back from the border.
Full report at:
https://english.alarabiya.net/en/News/middle-east/2019/10/13/Italy-backs-EU-ban-on-arms-sales-to-Turkey-.html
--------
Turkey expects Turkish Cypriot aid in anti-terror fight
Talha Ozturk, Lejla Biogradlija
14.10.2019
BELGRAD, Serbia
Turkey expects the support of Turkish Republic of Northern Cyprus (TRNC) in its fight against terrorism, a senior Turkish official said on Sunday.
"We [Turkey] want to see the TRNC stand by us in our struggle against terrorism and for Operation Peace Spring [in northern Syria]," Turkish Parliament Speaker Mustafa Sentop said.
His remarks came in Belgrade, Serbia's capital, which he visited to attend the 141st Assembly of Inter-parliamentary Union between Oct. 13-17.
As part of his visit, Sentop met Teberruken Ulucay, his counterpart from TRNC, and he expressed his disappointment over criticisms from TRNC about Turkey's ongoing anti-terror operation in northern Syria.
Ulucay said: "Any distress Turkey experiences affects the TRNC as well. So, we are very sensitive about Turkey's concerns."
Turkey's top officials criticized TRNC President Mustafa Akinci over his remarks against Turkey's military operation in Syria.
Sentop also met Gabriela Cuevas Barron, president of the Inter-Parliamentary Union, and briefed her about Turkey's Operation Peace Spring.
"There was left no solution but a military operation," Sentop said, "Turkey tried everything before it launched a military operation to prevent the establishment of a terrorist corridor in the region."
He said no results were obtained despite all the efforts.
He stressed that Turkey is carrying out Syria operation under it rights borne out of international law.
"Turkey is hosting millions of civilians. Despite documents that show some European countries provide logistics to the terrorists, they are targeting Turkey," Sentop said.
Turkey on Wednesday launched Operation Peace Spring to eliminate terrorists from northern Syria in order to secure Turkey's borders, aid in the safe return of Syrian refugees, and ensure Syria's territorial integrity.
Ankara wants to clear northern Syria east of the Euphrates River of the terrorist PKK and its Syrian offshoot, the PYD/YPG.
Full report at:
https://www.aa.com.tr/en/europe/turkey-expects-turkish-cypriot-aid-in-anti-terror-fight/1612775
--------
PKK's violent actions increase in Europe: Turkey
13.10.2019
Turkey on Sunday called for an increase in security measures against PKK terror group's violent actions in European countries.
"With the start of the Operation Peace Spring, we observe an increase in the violent demonstrations and actions of PKK elements, especially in European countries," the Turkish Foreign Ministry said in a statement.
"In response to the actions of the PKK, we expect from the relevant countries to increase the measures in order to protect the security of life and property of our diplomatic missions, citizens, personnel and Turkish interests abroad and to show maximum sensitivity in this regard," the statement said.
Turkey on Wednesday launched Operation Peace Spring east of the Euphrates River in northern Syria to secure its borders by eliminating terrorist elements and to ensure the safe return of Syrian refugees and Syria's territorial integrity.
Ankara wants to eliminate terrorist group PKK and its Syrian offshoot, the PYD-YPG from the region.
Full report at:
https://www.aa.com.tr/en/europe/pkk-s-violent-actions-increase-in-europe-turkey/1612423
--------
Southeast Asia
India may restrict imports of palm oil from Malaysia
October 14, 2019
India is considering restricting imports of some products from Malaysia including palm oil, according to government and industry sources, in reaction to the Southeast Asian country's leader criticizing New Delhi for its actions in Kashmir.
India is looking for ways to limit palm oil imports and may place restrictions on other goods from the country, said a government source and an industry source who participated in discussions led by the Ministry of Commerce and Industry on the planned restrictions.
The sources asked not to be named as the proposal was still under discussion.
India's government was angered after Malaysian Prime Minister Mahathir Mohamad said last month at the United Nations that India had "invaded and occupied" Jammu and Kashmir and asked New Delhi to work with Pakistan to resolve the issue.
Muslim-majority Kashmir is divided between India and Pakistan, which both claim it in full and have twice gone to war over the territory. India revoked the special constitutional status of its portion of Kashmir in August, angering Pakistan.
The government wants to send a strong signal of its displeasure to Malaysian authorities, the sources said. India, the world's biggest importer of edible oils, is planning to substitute Malaysian palm oil with supplies of edible oils from countries such as Indonesia, Argentina and Ukraine, said the sources.
Palm oil accounts for nearly two-thirds of India's total edible oil imports. India buys more than 9 million tonnes of palm oil annually, mainly from Indonesia and Malaysia.
In the first nine months of 2019 India was the biggest buyer of Malaysian palm oil, taking 3.9 million tonnes, according to data compiled by the Malaysian Palm Oil Board.
A spokeswoman for India's commerce ministry said the ministry could not comment on things that were under consideration.
Malaysia's prime minister on Friday said he had not received "anything official" from India, after Reuters first reported that India was mulling restricting imports of Malaysian palm oil and other products.
https://www.thedailystar.net/business/news/india-may-restrict-imports-palm-oil-malaysia-1813393
--------
DAP also champions PAS call to table White Paper on LTTE in Parliament
Monday, 14 Oct 2019
KUALA LUMPUR, Oct 14 — DAP said today it supported the proposal by PAS for Putrajaya to table a White Paper on the Liberation Tigers of Tamil Eelam (LTTE) in Parliament.
DAP's Lim Kit Siang, in voicing the party's support, also suggested that the White Paper should cover the entire spectrum of the terrorism problem faced by Malaysia.
"It was been reported that the four Gulf states, Saudi Arabia, Egypt, the United Arab Emirates and Bahrain, dubbed the "anti-terror quarter", had added the International Union of Muslim Scholars (IUMS) on their terror lists.
"As the leader of a Malaysian Opposition party is a vice-president of IUMS, this is also a matter which should be addressed by the White Paper on terrorism," he said in a statement.
While Lim failed to mention names, his remarks are believed to be targeted at PAS president Datuk Seri Abdul Hadi Awang.
In 2017, the Saudi-led quartet added IUMS on its list of organisations and individuals they accuse of supporting terrorism.
In a statement carried by the Saudi Press Agency then, they said IUMS was "working to promote terrorism through the exploitation of Islamic discourse".
The Qatar-based IUMS was formed in 2004 and is headed by the influential Muslim scholar Yusuf al-Qaradawi, who has also been named by the Saudis for links to terrorism.
In a statement earlier today, PAS secretary-general Datuk Takiyuddin Hassan said that the matter is now of "public interest", following the arrests of several individuals, including DAP member with alleged links to the now-defunct LTTE.
On Thursday, Bukit Aman confirmed Seremban Jaya assemblyman P. Gunasekaren and Gadek assemblyman G. Saminathan were among five people arrested on suspicion of supporting the LTTE.
The LTTE was a separatist group that had been active in Sri Lanka until it was officially defeated in 2009. It has been classified as a terrorist group by 32 countries including Malaysia, which did so in 2014.
Full report at:
https://www.malaymail.com/news/malaysia/2019/10/14/dap-also-champions-pas-call-to-table-white-paper-on-ltte-in-parliament/1800143
--------
Indonesian Military Demotes 3 Members for Wives' Social Media Posts About Wiranto Attack
BY TELLY NATHALIA
OCTOBER 12, 2019
Jakarta. The Indonesian Military, has taken disciplinary action against three of its members after their wives raised doubt on social media over Thursday's attack in Banten on Chief Security Minister Wiranto by an Islamic militant.
Gen. Andika Perkasa, chief of staff of the Indonesian Army, said on Friday that Col. H.S. (Hendi Suhendi), who headed the Kendari Military District Command in Southeast Sulawesi, and Sgt. Z. of the Horse Cavalry Battalion in Bandung, West Java, had been demoted and would be detained for 14 days by Military Police.
He added that their wives would be reported to police for violating the Electronic Information and Transactions Law.
"I have signed an order for Col. H.S. to be released from his post, plus light detention of 14 days. The same applies to Sgt. Z.," the four-star general said.
The Indonesian Air Force meanwhile posted an announcement on its official website on Friday stating that it had removed Chief Warrant Officer Y.N.S., a member of the Military Police stationed at Muljono Air Force Base in Surabaya, East Java, from his post after his wife, F.S., spread negative content on social media.
In a Facebook posting on Thursday, the officer's wife questioned whether the attack on Wiranto may have been staged to distract the public before the inauguration of President Joko "Jokowi" Widodo for a second term on Oct. 20.
"This is probably only drama created by Wir [Wiranto] … to divert public attention before the inauguration, but if it was a real stabbing, I hope the stabber would be safe from police brutality and the one who was stabbed could go smoothly to his death," she wrote in the post, displayed on the Air Force's website.
The Air Force has reported her to the Sidoarjo Police for spreading hate speech and false information.
Full report at:
https://jakartaglobe.id/context/indonesian-military-demotes-3-members-for-wives-social-media-posts-about-wiranto-attack
--------
North America
Trump says he is an 'island of one' on Syria
13 October 2019
US President Donald Trump says he is an "island of one" for removing American forces from northeastern Syria.
Trump's decision drew swift bipartisan criticism in the US and abroad that he was endangering regional stability and risking the lives of Syrian Kurdish allies who helped the US bring down ISIS in Syria. But Turkey views those Kurdish fighters as terrorists and a threat to its security and has launched a military operation against them.
Trump defended his actions during a speech Saturday to social conservative activists, saying "it's time" to bring US troops home from fighting "endless wars."
He sought to portray the Middle East as a hopeless cause, saying it's less safe, secure and stable despite American involvement "and they fight. That's what they do. They fight."
https://english.alarabiya.net/en/News/world/2019/10/13/Trump-says-he-is-an-island-of-one-on-Syria.html
--------
US reportedly leaves 5 'high value' Daesh prisoners behind in Syria
Oct 13, 2019
The United States forces have reportedly left five "high value" prisoners behind in Syria amid Turkey's offensive against the war-ravaged country.
The New York Times report on Sunday came after hundreds of ISIL allies escaped from a low-security detention camp amid Turkey's invasion into northern Syria.
There are reportedly about 11,000 prisoners in Syria, 2,000 of whom are from 50 other nations that have not taken them back.
US Congressional Democrats have been urging President Donald Trump to reverse his decision to pull back troops from northern Syria, Senate Minority Leader Charles Schumer (D-N.Y.) said on Sunday.
"We will be putting on the floor of the Senate and the House ... a joint resolution that urges the president to undo his decision to do everything he can to protect the Kurds, to do everything that we must do to prevent ISIS terrorists from escaping, and make sure that Turkey respects existing agreements related to Syria and with the United States," Schumer said. "I'm going to work so hard to pass this resolution, this joint resolution, this bipartisan resolution to try and get the president to undo what he has done."
Full report at:
https://www.presstv.com/Detail/2019/10/13/608611/US-leaves-behind-5-high-value-Daesh-ISIL-terrorists-in-Syria
--------
Toronto-based group aims to boost Muslim-Canadian participation in federal election
October 13, 2019
A cross-country effort aims to encourage Muslim-Canadians to vote in the upcoming federal election.
The non-partisan organization Canadian-Muslim Vote is working to mobilize Muslim voters and encourage them to vote in advance polls over the Thanksgiving weekend and on election day.
The Toronto-based group sent more than 130 kits to volunteers at mosques across the country to help educate and inform prospective voters about the importance of voting.
"We truly do believe that if (Muslims) participate in democracy, we're making Canada stronger, we're making democracy stronger," said Ali Malek, the group's executive director. "That's a big part of the philosophy that we have and why we're doing what we're doing."
Fatema Abdalla, a first-time voter who works as a communication coordinator for the non-profit, said she hopes to convince as many fellow Muslims as she can to head to the ballot box.
"I am a young Canadian and I believe that for issues such as the climate, for issues such as education, for the seniors — for everyone — I vote because it matters," Abdalla said.
Low Muslim voter participation
Malek told Global News the Muslim population has historically had lower voter turnout rates than the general population.
"The Muslim community is made up of a variety of communities and those communities — and each one of them face barriers to democracy in a different way," he said,
Malek cited fear of voting and fear of democracy in general stemming from their countries of origin. He said many also lack information and understanding on the importance of voting.
Focus on key ridings
To maximize its impact, Canadian-Muslim Vote is paying particular attention to 113 of Canada's 338 ridings where the Muslim populations are believed to be large enough to directly influence the outcome.
"We're really trying to focus on the areas where we think we have the potential to swing the results of the election," Malek said.
Full report at:
Advance polls close on Monday, a week before election day.
https://globalnews.ca/news/6028774/muslim-canadians-federal-election/
--------
US preparing to withdraw all remaining troops from northern Syria
13 October 2019
The United States is poised to evacuate about 1,000 US troops from northern Syria, Defense Secretary Mark Esper said on Sunday in an interview with "Face the Nation" on CBS.
The withdrawal of the troops from the region comes after US President Donald Trump abruptly shifted policy and withdrew some US troops deployed to support Kurdish-led forces in the fight against ISIS.
That decision, in turn, helped open the door for Turkey to launch an offensive against the Kurdish-led Syrian Defense Forces (SDF).
"In the last 24 hours, we learned that [the Turks] likely intend to extend their attack further south than originally planned, and to the west," Esper said in a pre-taped interview with CBS.
"We also have learned in the last 24 hours that the ... SDF are looking to cut a deal, if you will, with the Syrian government and the Russians to counterattack against the Turks in the north."
Full report at:
https://english.alarabiya.net/en/News/middle-east/2019/10/13/US-preparing-to-withdraw-all-remaining-troops-from-northern-Syria.html
--------
US sees reports of Hevrin Khalaf killing, finds them 'extremely troubling'
13 October 2019
The US State Department spokesperson said on Sunday that Washington has seen reports of the killing of Kurdish politician Hevrin Khalaf and several captured Syrian Democratic Forces (SDF) fighters, adding that it finds them "extremely troubling."
"We find these reports to be extremely troubling, reflecting the overall destabilization of northeast Syria since the commencement of hostilities on Tuesday," the spokesman said in emailed comments, adding that Washington condemned any mistreatment and extrajudicial execution of civilians or prisoners, and was looking further into these circumstances.
The Syrian Observatory for Human Rights had reported on Saturday the execution of nine, which the SDF said that the female Kurdish party official and her driver were among.
Khalaf was "taken out of her car during a Turkish-backed attack and executed by Turkish-backed mercenary factions," the political arm of the Kurdish-led Syrian Democratic Forces (SDF) said in a statement.
Turkey and its allied fighters began the offensive on Wednesday to push back the Kurdish Peoples' Protection Units (YPG), the backbone of the SDF, from its border.
Full report at:
https://english.alarabiya.net/en/News/middle-east/2019/10/13/US-sees-reports-of-Hevrin-Khalaf-killing-finds-them-extremely-troubling-.html
--------
Africa
Landslide win for Kais Saied in Tunisia presidential election, says state TV
13 October 2019
Conservative academic Kais Saied Sunday won a landslide victory in Tunisia's presidential runoff, sweeping aside his rival, media magnate Nabil Karoui, state television Wataniya said.
It said he scooped almost 77 percent of the vote, compared to 23 percent for Karoui.
Voting had ended at 1700 GMT.
Thousands of supporters of presidential candidate Kais Saied thronged the grand boulevards of central Tunis in celebration late on Sunday after two exit polls said he was elected by a landslide.
Official results will not be published until Monday and Saied's opponent, the media mogul Nabil Karoui, has left the door open to an appeal.
Sunday's vote was only Tunisia's second free presidential election and came after years of economic frustrations that overshadowed the legacy of the 2011 revolution which threw out autocratic rule and inspired the "Arab spring".
Saied, a retired law professor backed by both Islamists and leftists, spent barely any money on an election campaign that has seized the imagination of voters with its promise to bring back the values of the 2011 uprising.
"We need to renew confidence between the people and the rulers," Saied said in televised comments after two separate exit polls gave him more than 70% of the vote.
If he is confirmed as president, Saied will face a difficult moment in Tunisian political history.
The parliament elected last week is deeply fractured and though the moderate Islamist Ennahda party that took most seats backed him on Sunday after its own candidate was beaten in the first round, it may struggle to build a ruling coalition.
The prime minister, chosen by parliament, has more direct powers than the president, but since he is the most senior elected official in Tunisia, he shoulders much of the public praise or blame for the state of the country.
All recent governments have been bedeviled by economic ills: unemployment of 15%, inflation of 6.8%, high public debt, a powerful union that opposes economic reforms and foreign lenders who demand them.
Karoui told a news conference he would decide whether to appeal after the electoral commission announces the official results, but said he had been denied a chance to compete fairly.
Karoui spent weeks in detention pending his corruption trial before he was freed on Wednesday, and spent the first round of the election behind bars.
One of the foreign election monitoring missions in Tunisia said earlier on Sunday that Karoui's detention had raised concerns about the vote, saying it was "not business as usual".
Karoui denies charges of money laundering and tax evasion, but the verdict in his trial is still pending.
Crowds of Saied supporters began gathering on the tree-lined Habib Bourguiba Avenue in central Tunis soon after polls closed, cheering slogans from the 2011 revolution in anticipation of him winning.
Where in 2011 they gathered to chant "the people want the fall of the regime", on Sunday night they chanted "the people want a strong Saied", holding candles and setting off fireworks
Elsewhere in the city center, cars drove around the streets,
honking their horns in celebration.
"We are happy because this victory returned the spirit of the revolution," said one of Saied's supporters there, who gave only his first name Nejib.
'Correct, serious person'
With voter turnout higher than in other recent elections in Tunisia, Sunday's poll appears to have reversed a recent trend of disillusionment with politics.
The electoral commission said after polls closed that turnout would be more than 60%. In the first round of the presidential election, which put Saied and Karoui through to the runoff above 24 other candidates, turnout was only 45%.
The two candidates offered starkly different options for president: Saied has conservative social views, and wants Tunisia to adopt an experimental form of direct democracy.
If his victory is confirmed, his first visit as president would be to Algeria, he said. He also spoke in support of the Palestinian cause.
Karoui courted the poor, showcasing his philanthropy on the television station he owns, but also appealed to the business elite and to some secular Tunisians worried about Saied's conservative social views.
Both candidates presented themselves as outsiders taking on an establishment that has failed to improve Tunisia's economy or arrest a decline in living standards.
The runoff presidential election pitted Saied, an independent law professor, against Karoui, a media mogul facing corruption allegations, after they won more votes than any of the other 24 candidates in the first round last month.
Preliminary turnout figures suggested Sunday's contest had grabbed the public imagination more than either September's first round vote or a parliamentary election a week ago.
At 1430 GMT on Sunday, turnout was 39.2% according to the electoral commission. By comparison, on the day of the first round vote it said that turnout at 1400 GMT was 27.8%.
At a polling station in the working class Ettadamon district of Tunis, a man stood haranguing passersby, urging them to vote against Karoui, until a policeman asked him to quieten down.
Inside, Hanan Madouri, a 25-year-old call center worker in a big straw hat, said she was voting for Saied, citing the corruption trial hanging over his opponent. "I want to vote for a correct, serious person," she said.
The two candidates offer starkly different options for president: Saied has spent almost nothing on his campaign, has the backing of both leftists and Islamists, and wants Tunisia to adopt an experimental form of direct democracy.
Karoui has courted the poor, showcasing his philanthropy on the television station he owns, but has also appealed to the business elite and to some secular Tunisians worried about Saied's conservative social views.
Karoui was arrested in August and held pending a verdict in his trial for money laundering and tax evasion before a court released him on Wednesday. He denies the accusations against him.
Both candidates present themselves as outsiders taking on an establishment that has failed to improve Tunisia's economy or arrest a decline in living standards since the 2011 revolution that introduced democracy and inspired the "Arab spring."
Dissatisfaction with the political elite was evident in both the first round vote and last week's legislative election, as major parties lost ground, independents did well, and turnout was low.
Higher turnout
Opposite the Ettadamon polling station, Othman Dabbousi, 63, sat next to his fruit stand and said he would not vote, preferring a non-democratic system of rule. "There is a lot of chaos in this country and it needs a strong man," he said.
Nearby, a soldier stood with a hand on her assault rifle watching over the polling station, a reminder of the extremist attacks that have sporadically shaken Tunisia, threatening its tourism industry and alarming voters.
Whoever wins the presidential race, along with any governing coalition that can be forged in the fragmented parliament, will face the same problems that have bedeviled recent governments: unemployment of 15 percent, inflation of 6.8 percent and high public debt.
An international election monitoring team in Tunisia raised concern on Sunday about the fairness of the vote, however, because of Karoui's detention during much of the run-up to the election including the first round vote.
"This is not business as usual," said Les Campbell, joint leader of the National Democratic Institute and International Republican Institute observer mission in Tunisia.
"The playing field was disrupted and that was a significant factor in the election," the electoral monitor said.
At a polling booth in the upmarket Lac area of northern Tunis where Karoui also voted, 21-year-old student Najwa Salmi said she had travelled from her university in the city of Sousse to vote.
"We want a president who respects his powers... we don't need one who will bring in his family," she said, without saying who she would vote for.
She had not voted in either the first-round of the presidential election or in the parliamentary poll.
"But today I vote to support a candidate who will be president of all Tunisians and be fair," she said.
https://english.alarabiya.net/en/News/north-africa/2019/10/13/Tunisians-vote-for-new-president-in-runoff-election.html
--------
Five officers killed by armed group in Niger
14 October 2019
At least five officers were killed in a weekend attack by an armed group in Niger's western Tillaberi region, a local politician said on Sunday.
The region, which is close to Mali, has been rocked by recurrent extremist attacks.
"On Saturday, an attack targeted a patrol of gendarmes in the town of Sanam, killing five of them," a local Tillaberi politician told AFP.
"The assailants arrived on a motorbikes and targeted the patrol near the village of Abare on its market day."
A security and government source confirmed the attack without being able to provide the death toll.
No group has claimed responsibility for the attack.
Extremists, including those from ISIS, have a presence in southwestern Niger near the border with Mali - where they have carried out bombings, shootings and kidnappings.
More than 250 civilians were killed and nearly 240 others were kidnapped between January and August this year, mainly in Niger's regions of Diffa, Tillaberi and Tahoua in the west, according to a UN report in September.
Niger's President Mahamadou Issoufou has repeatedly called on the West and the United Nations to help the country battle the extremists.
Full report at:
https://english.alarabiya.net/en/News/world/2019/10/14/Five-officers-killed-by-armed-group-in-Niger-.html
--------
South Sudan says will host peace talks between Sudan and rebels
13 October 2019
Sudanese Prime Minister Abdallah Hamdok will attend peace talks in the South Sudan capital on Monday with rebel leaders from several Sudanese states, said official sources in Juba.
"Tomorrow's meeting is to mark the launching of Sudan's peace talks," Ateny Wek Ateny, spokesman for South Sudan's President Salva Kiir, told AFP on Sunday.
Hamdok, who was only appointed in August in a deal between the army and the opposition, will meet rebel leaders from the Sudanese states of Darfur, South Kordofan and Blue Nile.
Kiir, who just a few weeks ago signed his own peace deal with rebel leader Riek Machar, offered to mediate between Sudan and the rebels back in November 2018.
This new set of talks follow a first round in September when both sides agreed on a road map for the negotiations.
This week's meeting is intended to tackle the main issues, said Ateny.
Also attending will be Ethiopia's Prime Minister Abiy Ahmed, who last week won the Nobel Peace Prize, Ugandan President Yoweri Museveni and Kenyan President Uhuru Kenyatta.
Their presence, said Ateny, was to give the talks more weight.
A senior Sudanese delegation arrived in Juba on Sunday.
The Sudanese delegation will meet Abdulaziz al-Hilu, leader of the Sudan People's Liberation Movement-North (SPLM-N), which is active in Bule Nile and South Kordofan states.
Al-Hilu will lead the rebel delegation.
This new peace initiative comes after the fall of longtime Sudanese autocrat Omar al-Bashir, who was toppled from power by the Sudanese military in April.
Prime Minister Hamdok has been tasked with leading Sudan back to civilian rule, but he has said he also wants to end the conflicts with the rebels.
Full report at:
https://english.alarabiya.net/en/News/middle-east/2019/10/13/South-Sudan-says-will-host-peace-talks-between-Sudan-and-rebels.html
--------
Grenade attack kills deputy governor, son in Somalia
Mohammed Dhaysane, Magdalene Mukami |
13.10.2019
MOGADISHU, Somalia
A deputy governor in Somalia and his son was killed in a grenade attack that targeted his house in the administrative capital of the southern Hirshabele state, officials said.
"Mohamed Sugal, deputy governor of Middle Shabelle region and his son have been killed in a grenade blast that targeted his house in Jowar Town," Mohamed Abdi, a senior security official in the region, told media.
Police have launched an investigation into the incident, Bashiir Roble, a police officer, told Anadolu Agency over the phone.
UN compound attacked in Mogadishu
At least 7 people -- including 3 African peacekeeping mission forces in Somalia and one international staff -- were wounded after a mortar attack targeted the compound of UN and African Union Mission to Somalia (AMISOM) in Somali capital Mogadishu, according to Local media.
James Swan, UN's special envoy to Somalia, condemned the mortar attack and confirmed that several mortar rounds landed at the heavily fortified UN compound in Mogadishu, injuring several people, according to a statement issued by the UN Assistance Mission in Somalia.
Full report at:
https://www.aa.com.tr/en/africa/grenade-attack-kills-deputy-governor-son-in-somalia/1612699
--------
Al-Shabab Mortar Attacks Hits Area Around Mogadishu Airport
By Harun Maruf
October 13, 2019
Seven people were wounded after a mortar attack by al-Shabab militants hit the area around Mogadishu airport on Sunday, Somali witnesses and officials say
The mortars landed on the heavily-guarded Halane area of the airport that houses the African Union and United Nations Mission in Somalia.
Witnesses told VOA Somali that six mortars were fired at the vicinity just after 1pm local time.
The al-Shabab militant group claimed responsibility for the attack.
The Special Representative of the U.N. Secretary-General for Somalia, James Swan, confirmed that the mortars landed inside the U.N. and AMISOM facilities.
"I am appalled by this blatant act of terrorism against our personnel, who work together with the Somali people on humanitarian, peace building, and development issues," Swan said in a statement. "There is no justification for such despicable acts of violence, and the United Nations remains determined to support Somalia on its path to peace, stability and development."
Al-Shabab uses mobile vehicles that transport mortars from one location to another. The mortars are then dissembled immediately after being fired and hidden in the bush or in a car, according to security sources.
Al-Shabab attacked the same facility with mortars earlier this year injuring two United Nations staff members and a contractor.
The attack on Sunday comes a day before Somalia marks the deadliest terrorist attack in Somalia and in Africa.
Full report at:
https://www.voanews.com/africa/al-shabab-mortar-attacks-hits-area-around-mogadishu-airport
--------
Al-Shabaab's strengthening capabilities require urgent International attention
October 14, 2019
The ongoing political battle between the administrative wings of the Government of Somalia, be it between the Federal Government of Somalia (FGS) and other five Somali regional states, and the ideological battle with the extremist faction, Al-Shabab, that has been continuously expanding its coercive pangs for power control has resulted in making the region a hotbed for conflicts and violence, with the sufferings of innocent civilians augmenting on a daily basis.
It is worth noting that the military capabilities of the Al-Shabaab have taken an upward hike in the past few years that is openly manifested in the number of violent attacks carried out by the extremist group on regular basis. The high-level attacks carried out by Al-Shabaab highlights the military capabilities and strengths of the faction that per the message of the group's Emir, Ahmed Umar (alias Abu Ubayda or Ahmed Diriye) is the result of the weakened administration and political squabbling between the FGS administration of President Mohamed Abdullahi Mohamed "Farmajo" and other semi-autonomous Somali regional states. The void created by the political instability in the region has provided a fertile ground for the proliferation of extremist forces in the soil of Somalia. Al-Shabaab's Emir, Ahmed Umar in a new standalone audio message released after a long gap of about 16 months to mark the start of the new Islamic lunar year on September 1, titled "But Allah Will Complete His Light Even Though the Disbelievers Hate It", released in both Somali and Arabic with English subtitles, highlighted the augmenting military capabilities of the faction as well as their governing priorities in the region of Somalia that ranges from mediating disputes between local forces to carrying out developmental works in the region, that according to Umar has been neglected by far in the region.
Umar blamed the FGS and the over-powering western hegemony in the region for the situation. The Somali message of the audio was broadcasted domestically by Al-Shabaab's Radio al-Andalus and Radio al-Furqan. In no way, violence could be the answer to development and the claims of Al-Shabaab's Emir, Ahmed Umar falls flat with his group carrying out violent attacks in the region that despite targeting government and international aid agencies have time and again claimed the lives of several civilians.
As per the message released under, "But Allah Will Complete His Light Even Though the Disbelievers Hate It" on September 19, and broadcasted by the external media department of the Somali militant Islamist group, Harakat al-Shabaab al-Mujahideen, the Al-Kataib Media Foundation, Umar pointed and praised the suicide attack carried out by Al-Shabaab on July 24, that targeted the United Nations Special Envoy to Somalia, James Swan and fatally wounded Mogadishu's Mayor, Abdirahman Omar Osman. The radio and video messages released by the extremist factions are steps taken to consolidate their influence and unite the scattered forces to fight together for the ultimate goal. Umar's robust and egoistic claims of being successful in carrying out violent attacks in Mogadishu, the capital city of Somalia showcases how the group idealises violence and thinks the same to be the only answer for development and their claim of ending the so-called hegemony of the westerners that in his message he terms them to be "Crusaders". Ahmed Umar even reiterated Al-Shabaab's ideological connection to Al-Qaeda and urged local Somalians to support the group to win the ideological and political battle that is at the heart of their struggle to reinstate the lost lustre of the Islamic State.
Al-Shabaab has openly locked their horns with the administrative forces operating in Somalia and in their battle of "reviving" the Caliphate, has been rejecting all international models associated with development.They have claimed to drive in development by relying on primitive methodology and overtly theological teachings.
All modern and international concepts of development be it capitalism, secular education, federalism and modern usury system are blatantly rejected by Al-Shabaab's Umar as just dominating sciences and techniques to disunite the Muslim Ummah.
Full report at:
https://www.newdelhitimes.com/al-shabaabs-strengthening-capabilities-require-urgent-international-attention/
--------
Arab World
Lebanon says Israel sent drone over Hezbollah area
14 October 2019
The Lebanese army on Sunday accused Israel of sending a reconnaissance drone at the weekend over Beirut's southern suburbs, a bastion of the Shia militant Hezbollah group.
On August 25, two explosives-laden drones were sent to the same area. One of them exploded, sparking a dangerous escalation between Hezbollah and Israel.
On Saturday night, "one of the Israel enemy's reconnaissance drones violated Lebanese air space... overflew the southern suburbs and left," the army said in a statement.
The Iran-backed Hezbollah is represented in Lebanon's government and parliament but is considered a terrorist organization by Israel and the United States, which has stepped up the financial pressure on the organization.
The August incident heightened regional tensions, which culminated in a cross-border exchange of fire in early September.
Hezbollah vowed then that it would shoot down any Israeli drones violating Lebanon's air space.
https://english.alarabiya.net/en/News/middle-east/2019/10/14/Lebanon-says-Israel-sent-drone-over-Hezbollah-area-.html
--------
Kurdish-led authority: 785 ISIS-affiliated foreigners escape Syria camp
13 October 2019
The Kurdish-led administration in northern Syria said 785 foreigners affiliated with ISIS managed to escape a camp where they were being held following Turkish shelling on Sunday.
In an apparent reference to Turkish-backed Syrian opposition forces, the administration said in a statement that "mercenaries" had attacked the camp where ISIS families in turn attacked camp guards and opened the gates.
The Kurdish-led Syrian Democratic Forces (SDF) said 31 of its fighters had been killed fighting a Turkish offensive in northern Syria since Saturday, increasing the SDF's official death toll to 76.
The spokesperson of the French government said that Paris is "worried" about the reported escape of ISIS extremists.
Full report at:
https://english.alarabiya.net/en/News/middle-east/2019/10/13/Kurdish-led-authority-785-ISIS-affiliated-foreigners-escape-Syria-camp.html
--------
More than 130,000 people displaced by fighting in northeast Syria: UN
13 October 2019
More than 130,000 people have been displaced from rural areas around the northeast Syrian border towns of Tal Abyad and Ras al-Ain as a result of fighting between Turkish-led Syrian opposition forces and Kurdish-led Syrian Democratic Forces, the United Nations said on Sunday.
Full report at:
https://english.alarabiya.net/en/News/middle-east/2019/10/13/More-than-130-000-people-displaced-by-fighting-in-northeast-Syria-UN.html
--------
Bahrain's King: Any threat to freedom of navigation is disruption to world trade
13 October 2019
Bahrain's King Hamad bin Isa al-Khalifa said on Sunday that any threat to freedom of navigation is considered a disruption to world trade and oil prices.
King Hamad said that the international community must join forces to take resolute steps to deter the aggressor.
Bahrain's King's comments came during his opening speech of the second session of the fifth legislative term of the shura and representatives councils in the Bahraini capital, Manama on Sunday.
He said "On this occasion, we reaffirm that prosperity and human security can be achieved only by continued economic growth, whether in our region or in the world at large. One fifth of the world's oil and gas supply is launched from the waters of the Arabian Gulf, and any threat to the freedom of navigation is therefore considered a disruption to world trade, a disturbance to oil prices, and a challenge to the global order."
Full report at:
https://english.alarabiya.net/en/News/gulf/2019/10/13/Bahrain-s-King-Any-threat-to-freedom-of-navigation-is-disruption-to-world-trade.html
--------
Mideast
Israel to construct over 250 new settler units in occupied West Bank
Oct 13, 2019
Ignoring the international outcry against its settlement expansion policies, the Israeli regime is planning to build 251 new settler units in the occupied West Bank.
The head of the Committee against the Wall and Settlements in Bethlehem, Hassan Bureijia, said in a statement on Sunday that High Planning Committee of the Israeli Civil Administration has approved the construction of 146 housing units in Gush Etzion settlement south of Bethlehem, while 105 settler homes will be built in Kfar Eldad settlement south of Jerusalem al-Quds.
Bureijia said Israeli authorities have also seized a vast area of land in Nahalin village in order to expand Alon Shvut settlement.
More than 600,000 Israelis live in over 230 settlements built since the 1967 Israeli occupation of the Palestinian territories of the West Bank and East Jerusalem al-Quds.
The UN Security Council has condemned Israel's settlement activities in the occupied territories in several resolutions.
Less than a month before US President Donald Trump took office, the United Nations Security Council in December 2016 adopted Resolution 2334, calling on Israel to "immediately and completely cease all settlement activities in the occupied Palestinian territories, including East Jerusalem" al-Quds.
Palestinians want the West Bank as part of a future independent Palestinian state with East Jerusalem al-Quds as its capital.
The last round of Israeli-Palestinian talks collapsed in 2014. Among the major sticking points in those negotiations was Israel's continued settlement expansion on Palestinian territories.
https://www.presstv.com/Detail/2019/10/13/608580/Israel-settler-units-West-Bank
--------
Saudi Arabia's football team visits al-Aqsa in Jerusalem ahead of West Bank game
14 October 2019
Saudi Arabia's national football team visited the al-Aqsa compound in East Jerusalem on Monday morning, a day before their historic game against the Palestinian national team in the occupied West Bank.
The visit to the site is part of the Saudi Arabian team's unprecedented trip to the Palestinian territories. The World Cup qualifying match on Tuesday will be the first time the teams face off in the West Bank. Past games have taken place in third countries.
Saudi Arabia's Prince Abdulaziz bin Turki Al Faisal, chairman of the country's Sports Authority, said the decision for the team to play in the West Bank came in response to a request by the Palestinian Federation and their desire to host the game.
"At the request of the brothers in the Palestinian Federation, the Saudi Football Federation agrees to play the first team match in the Asian qualifiers in the city of Ramallah in Palestine," Saudi Arabia's Sports Authority said on October 3 in a statement on Twitter.
Arab countries' national football teams have historically refused to play matches in the West Bank, as it required them to apply for Israeli entry permits.
The Saudi Arabian team arrived to the West Bank city of Ramallah on Sunday via bus from Jordan. Palestinians welcomed the Saudi Arabian team upon their arrival.
"We welcome them, this is their second home. Whether [the Saudi national team] wins or the Palestinian national team [wins], we're the same," a university student in Ramallah told Al Arabiya.
Al-Aqsa is the third holiest site in Islam. The site includes the famous Dome of the Rock shrine and the al-Aqsa Mosque.
The Group D World Cup qualifier will take place in the Palestinian town of al-Ram, at the 12,500-seater Faisal Al-Husseini International Stadium.
Full report at:
https://english.alarabiya.net/en/News/middle-east/2019/10/14/Saudi-Arabian-footballers-visit-Al-Aqsa-in-Jerusalem-ahead-of-West-Bank-game.html
--------
As options narrow, Trump prepares to drop sanctions hammer on Turkey
14 October 2019
President Donald Trump's administration is set to impose economic sanctions on Ankara, potentially as early as this week, for its incursion into northern Syria, one of the few levers the United States still has over NATO-ally Turkey.
Using the US military to stop the Turkish offensive on US-allied Kurdish fighters was never an option,defense officials have said, and Trump asked the Pentagon on Sunday to begin a "deliberate" withdrawal of all US troops from northern Syria.
After Treasury Secretary Steven Mnuchin said on Friday that Trump had authorized "very powerful" new sanctions targeting Turkey, the administration appeared ready to start making good on Trump's threat to obliterate Turkey's economy.
On Sunday, Trump said he was listening to Congress, where Republicans and Democrats are pushing aggressively for sanctions action.
"Dealing with @LindseyGrahamSC and many members of Congress, including Democrats, about imposing powerful Sanctions on Turkey," Trump said on Twitter, referring to the loyal Trump ally and US senator who lambasted the president last week.
"Treasury is ready to go, additional legislation may be sought. There is great consensus on this. Turkey has asked that it not be done. Stay tuned!" he added.
A US official, speaking on condition of anonymity, told Reuters that sanctions were "being worked out at all levels of the government for rollout."
Trump is struggling to quell harsh criticism, including from some of his staunchest Republican backers, that he gave Turkish President Tayyip Erdogan a green light to attack the Kurds last Sunday when he decided to pull a small number of US troops out of the border area.
Turkey's offensive aims to neutralize the Kurdish YPG militia, the main component of the Syrian Democratic Forces (SDF) and seen by Ankara as a terrorist group aligned with Kurdish insurgents in Turkey. But the SDF has also been Washington's key ally in fighting that has dismantled ISIS's "caliphate" in Syria.
Trump's decision, rooted in his long-stated aim to get the United States out of "endless wars," has prompted bipartisan concerns that it opens the door to the revival of ISIS.
While sanctions appear to be the strongest tool of deterrence, the United States and its European allies could also ponder arms sales bans and the threat of war crimes prosecutions.
"Good decision by President @realDonaldTrump to work with Congress to impose crippling sanctions against Turkeys outrageous aggression/war crimes in Syria," Graham tweeted.
'Monumental failure'
It is unclear what sanctions are in the order drafted last week, which Mnuchin said was ready for activation at any moment, and whether they would be as severe as what lawmakers are proposing.
Representatives Eliot Engel, the Democratic chairman of the US House of Representatives Foreign Affairs Committee, and Mike McCaul, the committee's senior Republican, introduced a bill last Friday that would sanction Turkish officials involved in the Syria operation and banks involved with Turkey's defense sector until Turkey ends military operations in Syria.
It also would stop arms from going to Turkish forces in Syria, and require the administration to impose existing sanctions on Turkey for its purchase of a Russian S-400 missile-defense system.
Turkey's Foreign Ministry said late on Friday that Turkey would retaliate against any steps aimed at countering its efforts to fight terrorism, in response to the announcement of possible US sanctions against Turkey.
The United States has successfully gone after Turkey with sanctions and tariffs before, hitting Ankara last year to pressure authorities to return an American pastor on trial for terrorism charges.
The United States could look at targeting arm sales to Turkey, something a number of European countries have already done. France said on Saturday that it had suspended all weapon sales to Turkey and warned Ankara that its offensive in northern Syria threatened European security.
The White House could also look at increasing pressure on Turkey over reports of human rights abuses during the offensive, with a threat of war crimes prosecutions.
The United States is looking into reports that a Kurdish politician and captured Kurdish fighters were killed in northeastern Syria amid Turkey's offensive, a State Department spokesman told Reuters, adding that Washington found the reports disturbing.
In response to the reports, the US official said: "This is awful. All these are among the issues that is addressed by our executive order," referring to the sanctions.
Experts doubted that any of the US punishments would make Erdogan change his mind, given his long-held belief that the Kurdish fighters in Syria threaten national security and whom Ankara sees as a branch of the Kurdistan Workers Party (PKK).
"This is a monumental failure on behalf of the United States," said Aaron Stein, director of the Middle East program at the Foreign Policy Research Institute think tank.
Stein said it would be the Syrian government or Russia, not American sanctions, that could stop the Turkish operation.
"The only thing that will stop them is if the regime or the Russians move in in significant numbers to where they stop," Stein said.
The Syrian army will deploy along the length of the border with Turkey in an agreement with the Kurdish-led administration in northern Syria to help repel a Turkish offensive, the Kurdish-led administration said on Sunday.
The United States does have one person that Erdogan has long wanted extradited: the US-based Muslim cleric Fethullah Gulen, accused by Turkey of orchestrating a failed 2016 military coup against Erdogan.
Full report at:
https://english.alarabiya.net/en/News/middle-east/2019/10/14/As-options-narrow-Trump-prepares-to-drop-sanctions-hammer-on-Turkey.html
--------
Syrian army to deploy along Turkish border in deal with Kurdish-led forces
13 October 2019
The Kurdish-led administration in northern Syria said on Sunday it has agreed with the Syrian government for the Syrian army to be deployed along the Syrian-Turkish border.
The army deployment would also allow for the liberation of other Syrian cities occupied by the Turkish army such as Afrin, a statement said.
Earlier, state media said that the Syrian army has begun deploying its troops to northern Syria battlefronts to "confront the Turkish aggression" on Syrian territory.
The Syrian army will enter the SDF-held town of Ain Arab (Kobani) and Manbij within 48 hours following an agreement between the two sides, reported the Syrian Observatory for Human Rights.
Reuters also confirmed the report citing the Lebanese broadcaster al-Mayadeen which reported that the Syrian army would deploy within 48 hours to the town of Kobani which is held by the Kurdish-led Syrian Democratic Forces and the nearby town of Manbij which is controlled by SDF-aligned forces.
The towns fall within a swathe of northern Syria controlled by the SDF that is currently being targeted in an offensive by Turkey and Turkey-backed Syrian militant groups.
The Syrian government and the Kurdish-led Syrian Democratic Forces have been holding negotiations at a Russian airbase in Syria, a Syrian Kurdish politician told Reuters on Sunday, expressing hope for a deal that would halt a Turkish attack.
Ahmed Suleiman, a senior member of the Kurdish Democratic Progressive Party in Syria, said the talks were being held at Russia's Hmeimim airbase in Latakia.
He did not say if he or his party - which is independent from the SDF - had a role in the negotiations.
Asked about Suleiman's comments, the head of the SDF media office Mustafa Bali said "no comment." "We have confirmed from the start of the (Turkish) invasion that we will study all options that could spare our people ethnic cleansing," he said.
Syrian government officials could not immediately be reached for comment.
Suleiman said he hoped for an agreement between the sides that would "halt the ongoing war and especially its catastrophic and dangerous consequences."
He said the talks could be moved to Damascus, from where he was speaking to Reuters via Whatsapp messenger.
"We are now in Damascus, this is what I can say at present. We hope an agreement is reached that halts the war and its dangerous and catastrophic consequences on the citizens east of the Euphrates."
His party, one of Syria's oldest Kurdish groups, is not involved in the autonomous administration set up by the SDF and other Kurdish groups such as the PYD party in northern Syria.
Russia is President Bashar al-Assad's most powerful ally.
In a related development, the Syrian Observatory for Human Rights said that at least 26 civilians were killed in northeastern Syria as Turkey stepped up its offensive against Kurdish forces.
Among the casualties were 10 people killed in an air strike that hit a convoy of vehicles carrying civilians and journalists, the UK-based war monitor said.
Earlier, the war monitor put the tally at 24 civilians.
Full report at:
https://english.alarabiya.net/en/News/middle-east/2019/10/13/Syrian-army-to-enter-SDF-held-Kobani-Manbij-Monitor.html
--------
Turkish army, Syrian allies enter Tal Abyad, situation calm: Reuters witness
13 October 2019
The Turkish army and its Syrian opposition allies advanced into the center of the Syrian town of Tal Abyad on Sunday where the situation was calm and they were conducting search operations, a Reuters witness said.
Tal Abyad is a town at the Syrian-Turkish border and one of the main focal points of the Turkish offensive that began on Wednesday against the Kurdish-led Syrian Democratic Forces.
President Recep Tayyip Erdogan said on Sunday that Turkey's military and its Syrian opposition allies will advance 30-35 km into Syrian territory in their offensive against Kurdish-led forces and they have already seized control of the town of Ras al-Ain. Speaking at a news conference in Istanbul, Erdogan said the Turkish-led forces had also besieged the Syrian border town of Tal Abyad. He said two Turkish soldiers and 16 Turkey-backed Syrian fighters had been killed in the operation.
Turkish-led forces have seized control of Syria's M4 highway, some 30-35 km deep into Syrian territory, as part of its incursion against Kurdish-led forces in northeast Syria, Turkey's Defense Ministry said on Sunday.
Full report at:
https://english.alarabiya.net/en/News/middle-east/2019/10/13/Turkish-army-Syrian-allies-enter-Tal-Abyad-situation-calm-Reuters-witness.html
--------
Proper end to Yemen war can have positive impact on region: Ayatollah Khamenei
Oct 13, 2019
Leader of the Islamic Revolution Ayatollah Seyyed Ali Khamenei says a proper end to the ongoing war waged by Saudi Arabia and its allies on Yemen can have "positive" effects on the region, highlighting Iran's plan as a suitable solution to this crisis.
"The Islamic Republic of Iran has for a long time presented a four-point plan to end the war in Yemen," Ayatollah Khamenei said in a meeting with the visiting Pakistani Prime Minister Imran Khan in Tehran on Sunday, adding, "The end of this war in the proper way can have positive effects on the region."
In April 2015, Iranian Foreign Minister Mohammad Javad Zarif submitted a four-point peace plan for Yemen to the United Nations in an attempt to end the bloodshed in the Arab country.
"It is imperative for the international community to get more effectively involved in ending the senseless aerial attacks and establishing a ceasefire," Zarif said in the letter, adding that Tehran is ready to cooperate with the UN "to facilitate and encourage an immediate end to these senseless bombardments and initiation of a genuine dialogue to find a political solution to this tragic crisis."
Elsewhere in his remarks, the Leader lauded Pakistan's concern about the establishment of peace and security in the region, noting that West Asia is a "very sensitive and critical" region.
Ayatollah Khamenei expressed regret about the destructive role played by "some regional countries" through their support for terrorist groups in Iraq and Syria and causing war and bloodshed in Yemen.
"We have no motivation for being hostile toward these countries, but they are under the influence of America and act against the Islamic Republic of Iran in line with what America desires."
The Leader emphasized that the Islamic Republic has never initiated any war, saying, "If someone starts a war against Iran, they will undoubtedly regret it."
Full report at:
https://www.presstv.com/Detail/2019/10/13/608594/Khamenei-Khan-Yemen-fourpoint-West-Asia
--------
Ayatollah Khamenei urges IRGC to prepare against enemy
Oct 13, 2019
Leader of the Islamic Revolution Ayatollah Seyyed Ali Khamenei says US hostility with the Islamic Revolution Guards Corps (IRGC) has added to the force's dignity.
"The Americans, through their hostile behavior toward the Guards, have increased the IRGC's dignity. Today, thank God, the IRGC has dignity both at home and abroad," the Leader said during a graduation ceremony at IRGC's Imam Hossein University in Tehran. The United States designated the IRGC as a foreign terrorist organization in April, marking the first time Washington has formally labeled another nation's military a terrorist group.
The measure, however, earned the force more respect and admiration among Iranians and other people, Ayatollah Khamenei said.
The IRGC, set up after the 1979 Islamic Revolution to protect the country, immediately won the hearts and minds of Iranians through its gallantry in the battlefield against an all-out invasion by former Iraqi dictator Saddam Hussein.
Since the end of the imposed war in 1988, the IRGC has also engaged in housing development, dam and road construction, oil and gas projects, food, transportation and even educational and cultural activities.
Touching on the force's respected standing, Ayatollah Khamenei said, "Incidentally, the enemies also contributed to this dignity."
"The Americans, with their cruel and grim image and hostile behavior toward the Guards, added to the IRGC's dignity," the Leader said.
"The enemies of God make hostility to God's servants, and this hostility makes the image of God's servants brighter and makes them dearer," he added.
After the blacklisting, US officials were at pain to clarify that the designation did not mean the US military would start treating the IRGC like al-Qaeda, Daesh or other militant groups that it can target at will.
The US step, however, prompted an immediate response from Iran, with the country's Supreme National Security Council in turn designating American military forces as a "terrorist organization."
'Build modern military equipment'
The IRGC is also a crucial arm of Iran's self-sufficiency drive in military industries and Ayatollah Khamenei on Sunday called on the force to continue inventing and building modern and advanced military hardware.
"A permanent lesson before the eyes of the Revolutionary Guards is this verse: 'And prepare against them whatever you are able of power and of steeds of war by which you may terrify the enemy of Allah and your enemy'," the Leader said, citing the Holy Qur'an.
"God has decreed in the Holy Qur'an that you must have all the necessary defense, operational and intelligence equipment. However, these instruments must be manufactured and developed at home and meet all the needs of the country on the ground, in the sky and space as well as at sea and borders. Even the cyberspace is among the necessary instruments."
Ayatollah Khamenei went on to explain that "this verse means you need to increase your power as much as possible by building a strong, robust and inclusive organization."
The IRGC needs to "always have enhancing scientific and specialized power in mind, keep moving forward in tactical and strategic strengths, operate with constant alertness and readiness and avoid even a moment of neglect and increase the strength of the IRGC's faith by training faithful, determined, pure, and motivated youth every single day," he added.
Ayatollah Khamenei touched on Iran's military capabilities before the revolution when the country's "munitions depots were full of American weapons but the Iranians did not even have the right to open or repair many of the equipment."
Full report at:
https://www.presstv.com/Detail/2019/10/13/608567/Iran-Leader-Ayatollah-Khamenei
--------
Israeli settlers vandalize Palestinian property in West Bank
Oct 13, 2019
A group of Israeli settlers has vandalized Palestinian-owned property in the occupied West Bank.
According to a report by the Palestine Information Center, dozens of extremist Israeli settlers damaged several cars and sprayed racist graffiti on them as well as on the walls of Palestinian-owned buildings in Marda Village, north of Salfit, in the West Bank, adjacent to the Israeli settlement of Ariel, early on Sunday.
It added that Israeli settlers also punctured the tires of at least five Palestinian cars.
Back in April, Israeli settlers committed similar crimes in Beit Hanina neighborhood in East Jerusalem al-Quds. They also broke the windows of a number of private vehicles.
The acts of vandalism and violence by Israeli settlers against Palestinians are known as "price tag" attacks, which also target Muslim holy sites.
Palestinian activists and rights groups say Israel is fostering a "culture of impunity" for the Israelis who commit such violent acts against Palestinians.
The Israeli NGO B'Tselem says settler vandalism in the occupied West Bank is a daily routine and is fully supported by Israeli authorities.
Israel closes Gaza, West Bank crossings
On Sunday morning, Israeli authorities shut down the Karam Abu Salem and Beit Hanoun (Erez) crossings, southeast and north of the besieged Gaza Strip, for Jewish holidays, the Palestine Information Center said in a separate report.
The administration of Beit Hanoun Crossing said in a statement that it would be closed on Sunday for Palestinians until 2:00 p.m. local time.
The Karam Abu Salem Crossing is used to transfer goods into the coastal sliver and the Beit Hanoun Crossing is usually used by patients seeking treatment in Israel, Jordan, and the West Bank. The latter indirectly links the Gaza Strip to the occupied West Bank.
A complete closure has been imposed on the West Bank since the early hours of Sunday and is set to last until October 21, the report further said.
It added that as for al-Karama crossing with Jordan, the crossing would be opened on Sunday at 7:30 a.m. local time for three hours only. On Monday, it will be opened at 7:30 a.m. and closed at 5:00 p.m. local time.
Full report at:
https://www.presstv.com/Detail/2019/10/13/608599/Palestine-Israeli-settlers-vandalize-property
--------
Israeli reconnaissance drone violates Lebanon's airspace
Oct 13, 2019
Lebanon says Israel has violated its territory by flying a reconnaissance drone over Beirut's southern neighborhood at the weekend, weeks after a pair of drones were used in botched Israeli raids over the same area.
On Saturday night, "one of the Israeli enemy's reconnaissance drones violated Lebanese airspace... overflew the southern suburbs and left," the Lebanese army said in a statement on Sunday.
On August 25, two explosives-laden Israeli drones had been sent to the same area.
Lebanese resistance movement Hezbollah said at the time that the first drone had fallen on a building housing the resistance movement's media office in the Moawwad neighborhood of Beirut's Dahieh suburb. The second drone, which appeared to have been sent to search for the first one, crashed in an empty plot nearby after being detonated in the air.
Hezbollah pledged a swift response along the border and said that it would also shoot down any intruding Israeli drones in the future.
Lebanon's President Michel Aoun also said at the time that the Israeli aerial transgressions amounted to a "declaration of war."
Tensions peaked on September 1 when Hezbollah fired anti-tank missiles at an Israeli military vehicle along the border with the occupied territories and attacked several Israeli bases as well.
Israel continued its aggression by shelling some Lebanese territories before relative calm returned the next day.
The Tel Aviv regime staged full wars against Lebanon in 2000 and 2006, during both of which it was forced to withdraw after being confronted by Hezbollah's defensive power.
Full report at:
https://www.presstv.com/Detail/2019/10/13/608596/Israel-Lebanon-Beirut-drone-airspace
--------
Yemeni forces shoot down drone collecting intelligence for Riyadh in Hudaydah
Oct 13, 2019
A drone operated by the Saudi-led military coalition has been intercepted and targeted while flying in the skies over Yemen's strategic western province of Hudaydah.
The media bureau of Yemen's Houthi Ansarullah movement said in a statement on Sunday that Yemeni army forces, supported by allied fighters from the Popular Committees, shot down the aircraft as it was on a reconnaissance mission over Kilo 16 district.
قناة المسيرة
✔
@almasirah
إسقاط طائرة تجسس للعدوان في الحديدة ومصرع مرتزقة بكمين في الجوف#المسيرة #المسيرة_نتhttps://almasirah.net/details.php?es_id=45963&cat_id=3 …
إسقاط طائرة تجسس للعدوان في الحديدة ومصرع مرتزقة بكمين في الجوف
أسقطت الدفاعات الجوية للجيش واللجان الشعبية، اليوم الأحد، طائرة تجسس لقوى العدوان خلال تنفيذها أعمال عدائية في محافظة الحديدة، فيما قتل وجرح عدد من مرتزقة العدوان بكمين في محافظة الجوف.
almasirah.net
238
5:44 PM - Oct 13, 2019
Twitter Ads info and privacy
68 people are talking about this
Separately, a bomb explosion struck a group of Riyadh's mercenaries loyal to Yemen's former President Abd Rabbuh Mansur Hadi south of al-Maton district in the northern Yemeni province of al-Jawf. Casualties were reported but the exact number remains unknown.
Earlier in the day, the Fakher area of the Qa'atabah district in Yemen's southwestern province of Dhale was the scene of an indiscriminate shooting by militiamen sponsored by the Saudi regime. Two refugee children were injured in the incident.
Mercenaries also shelled a number of villages in the Hays district of Hudaydah province. No reports of damage or possible casualties were immediately available.
Moreover, Saudi-led forces sprayed a number of buildings on two streets in Yemen's western coastal city of Hudaydah with machinegun rounds. There were no quick reports of casualties though.
Saudi Arabia and a number of its regional allies launched a devastating campaign against Yemen in March 2015, with the goal of bringing the government of Hadi back to power and crushing the Ansarullah movement.
The US-based Armed Conflict Location and Event Data Project (ACLED), a nonprofit conflict-research organization, estimates that the war has claimed more than 91,000 lives over the past four and a half years.
Full report at:
https://www.presstv.com/Detail/2019/10/13/608585/Yemeni-forces-allies-shoot-down-Saudiled-surveillance-drone-in-Hudaydah
--------
URL: https://www.newageislam.com/islamic-world-news/sufi-mission-heckled-greeted-with/d/119993
New Age Islam, Islam Online, Islamic Website, African Muslim News, Arab World News, South Asia News, Indian Muslim News, World Muslim News, Women in Islam, Islamic Feminism, Arab Women, Women In Arab, Islamophobia in America, Muslim Women in West, Islam Women and Feminism