New Age Islam News Bureau
10 February 2021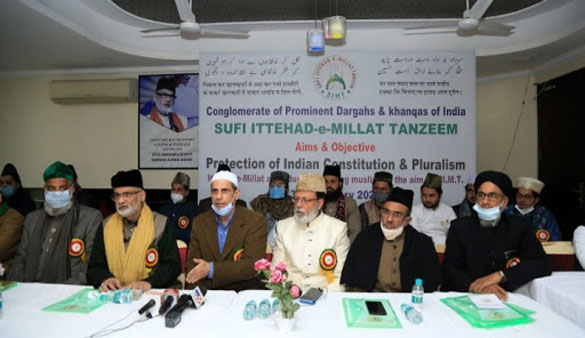 A new organisation 'Sufi Ittehad-e-Millat Tanzeem" was launche
-----
• Pakistan SC Orders Immediate Reconstruction of Vandalised Hindu Temple
• Bangladesh to Hang Eight Islamists over Murder of Publisher
• Christian Duo Publicly Flogged In Aceh for Drinking, Gambling
• Lokman Slim's Sister Says Lebanon's Assassination History Repeats Itself
• Fatah, Hamas Agree To Respect Outcome of Forthcoming Palestinian Elections
• Nigeria Deepens Security Ties with Egypt to Battle Boko Haram
• US Administration to Seek 'Productive' Ties with Pakistan, Says Scholar
• UK Muslims Ask UN to Halt Sri Lanka's Forced Cremations
India
• Sufi Ittehad-e-Millat Tanzeem Launched: 'Not Supporter of the Present Government but the Constitution'
• Muslim Law Allows Minor Girls to Marry On Attaining Puberty: Punjab and Haryana High Court
• Countering 'Love Jihad': India Love Project (ILP) Marked the 100th Day of Its Formation on February 4
• Trust Nominated War Veteran Mohammad Afzaal Ahmad Khan as Its Tenth Trustee For Ayodhya Mosque Project
• India inks MoU to build dam for safe drinking and agri water to Kabul
• No Gender, Religion Bias in Orders by District Courts, Finds Study
--------
Pakistan
• Pakistan SC Orders Immediate Reconstruction of Vandalised Hindu Temple
• Pakistani PM To Address Lankan Parliament Amid Muslim Human Rights Concerns
• Former PTI lawmaker confesses to accepting bribe ahead of Pakistan 2018 Senate polls
• Pakistan to seek debt relief from China Belt and Road loan
• PTI dragging establishment into politics: PDM
• Pakistan opposition slams govt over farmer leader's arrest in Lahore
• ECP panel rejects plea for access to PTI accounts
• SC bars carrying out death penalty for inmates with mental disorders
• Shangla police arrest terrorist in Karachi
• Five 'foreigners linked with RAW, NDS' remanded in CTD custody
--------
South Asia
• Bangladesh to Hang Eight Islamists over Murder of Publisher
• Taliban Maintains Close Ties To Al-Qaeda, Says Afghan Foreign Ministry
• The Taliban's varied suitors could spoil Biden's Afghanistan plans
• Insecure Afghanistan will pose threats to global peace
• Bomb explosions target Kabul police killing chief, bodyguard: Afghan official
• Myanmar military implausibly plays the Rohingya card
• Taliban offensives claim 9 ANA soldiers: Nimroz
• India, Afghanistan signed a pact on 'Shahtoot Dam'
• Foreign fighters among '22 Taliban killed' in Ghazni
--------
Southeast Asia
• Christian Duo Publicly Flogged In Aceh for Drinking, Gambling
• Radicalised Malaysian man arrested under ISA and deported, wife placed on Restriction Order
• Singapore Expels Malaysian Man Who Allegedly Planned to Join IS in Syria
--------
Arab World
• Lokman Slim's Sister Says Lebanon's Assassination History Repeats Itself
• Qatar ready to help Lebanon financially only if new government formed: Minister
• Iraq executes five 'terrorism' convicts: Security sources
• Saudi Arabia's Prince Sultan bin Salman congratulates UAE on Mars Hope Probe
• Top Bahraini cleric terms Islamic Revolution as great dawn coming after long night
• Saudi-led coalition destroys two Houthi armed drones
--------
Mideast
• Fatah, Hamas Agree To Respect Outcome of Forthcoming Palestinian Elections
• Golan Heights Will Stay Israeli, Netanyahu Office Tells US Secretary Of State Blinken
• Erdogan says Turkey aims to reach the moon in 2023
• Iran summons Belgium envoy after diplomat Assadi jailed over terrorism
• Iran's spy chief says Tehran could seek nuclear arms if 'cornered' by West
• Yemen: UAE needs to end war on Earth before reaching for space
• Iranians celebrate 42nd anniversary of Islamic Revolution
--------
Africa
• Nigeria Deepens Security Ties with Egypt to Battle Boko Haram
• Erdogan says Turkey might consider leaving Libya if others go first
• Amnesty demands humanitarian access in Ethiopia's Tigray
• UN Security Council supports Libya's new interim government
• Arab League rejects unilateral Israeli projects, calls for end to occupation
• 'Tunisia backing Libya's efforts for peace, stability'
• 3rd round of Libya constitutional talks starts in Egypt
• Turkey trains Libyan troops on counter-terrorism
--------
North America
• US Administration to Seek 'Productive' Ties with Pakistan, Says Scholar
• US-Backed Forces Stepping Up Campaign against IS in Eastern Syria
• Why Biden is making unacceptable demands on Iran
--------
Europe
• UK Muslims Ask UN to Halt Sri Lanka's Forced Cremations
• EU: Israel should stop demolition of Palestinian homes
• Manchester police warned in 2016 over terrorism strategy, arena inquiry hears
• UK lowers terrorism threat level to 'substantial'
Compiled by New Age Islam News Bureau
URL: https://www.newageislam.com/islamic-world-news/sufi-ittehad-e-millat-tanzeem/d/124268
--------
Sufi Ittehad-e-Millat Tanzeem Launched: 'Not Supporter of The Present Government But The Constitution'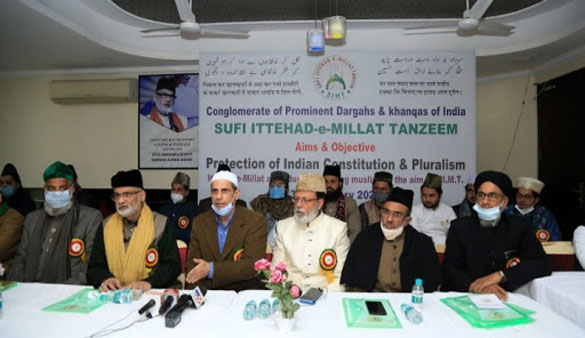 A new organisation 'Sufi Ittehad-e-Millat Tanzeem" was launche
-----
By Abdul Bari Masoud
February 3, 2021
New Delhi: A new organisation 'Sufi Ittehad-e-Millat Tanzeem" was launched here on Sunday with the aim to dispel the wrong notion that Sufis and Shrines are supporting the agenda of the present government. The leaders of the new organization alleged a fake narrative of nationalism is being created to suppress minorities, Dalits, Tribals and weaker sections.
The leaders addressed a press conference to announce the launch of the outfit. Founder of the new outfit, Syed Sarwar Chishti, who is also Khadim of the Ajmer Sharif Dargah, said a fake narrative is spread that Sajjadanashins and Sufis are supporting the government and its "repressive policies".
We want to make it clear that Sajjadanashins and Sufis are not 'agent and supporters' of the government and there may be some black ships among our ranks but we are not a supporter of any political or the government, Chisti said in an oblique reference to All India Sufi Sajjadanashin Council which recently met government officials and announced its support to government agenda.
It is history that Dargahs and Sufis always raise the voice of truth and never sided with the government of the day and we want to revive this noble tradition as the country is passing through a critical juncture since the advent of fascist forces to the power, Sarwar Chisti said.
Launching a scathing attack on the government, Sarwar Chisti said when people rise against the anti- minority and anti- farmers' policies; they are dubbed as "Pakistanis and Khalistnis'. While referring to a plethora of ordinances namely "Love Jihad", Cow slaughter and others, he said the Constitution is being attacked and we want to safeguard it.
He also said the Tanzeem's aim is to foster and promote communal harmony as it is under serious strains due to nefarious activities of the communal and fascist forces. Tanzeem will also work for unity among Muslims and promotion of education, he added.
Speaking on the occasion, activist and Supreme Court lawyer, Mahmood Pracha stressed the need to protect and strengthen the Constitution which safeguards the fundamental rights of the people.
Referring to the heavy presence of police personnel at the site of the event, Pracha said the 'Manuvādi' mentality only fears the Constitution which gives equality before law to every citizen of this country. Pracha, whose offices was raided by the Delhi police recently, said Sufis have taken good step to save the constitution and added that Islam was spread in the Sub-continent not because of Muslims rulers but of Sufis's good manners and character which need to be revived.
The Delhi Police allegedly tried to scuttle the Press meet reportedly at the behest of a tiny section of Sufis who are siding with the government and formed their organization All India Sufi Sajjadanashin Council (AISSC).
The organizers of the meet said they have been forced to cancel two venues India Islamic Culture Center and The Park-Inn by Raddison hotel. When shifting the press conference at the Hotel Riverview situated in Abul Fazal Enclave in Jamia Nagar, Police said you have not taken permission for the meet, the organizers said.
As many as 25 prominent Sajjadanashins and Sufis from across the country participated in the launching event of the Tanzeem.
https://www.alhaqeeqa.org/sufi-ittehad-e-millat-tanzeem-launched-not-agent-and-supporter-of-the-government-but-the-constitution/
--------
Pakistan SC Orders Immediate Reconstruction of Vandalised Hindu Temple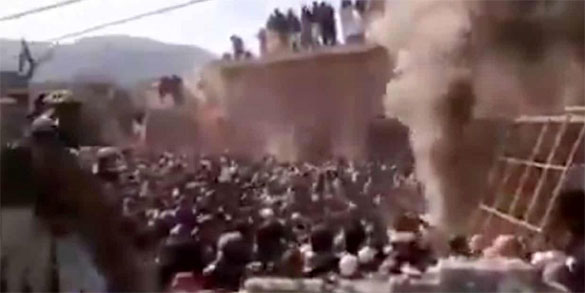 A still from video footage shows the attack on the Hindu temple in the village of Terri. Photo: Twitter
-----
Sajjad Hussain
February 10, 2021
Islamabad: Pakistan's Supreme Court has ordered the Khyber-Pakhtunkhwa government to immediately start rebuilding a century-old Hindu temple that was vandalised by a mob in the province and submit a timeline for its completion.
The attack on the temple in Terri village in Khyber Pakhtunkhwa's Karak district by members of radical Jamiat Ulema-e-Islam party (Fazal ur Rehman group) in December drew strong condemnation from human rights activists and the minority Hindu community leaders, prompting the apex court to order its reconstruction last month.
On Monday, a three-judge apex court bench, headed by chief justice Gulzar Ahmed, heard the suo motu case regarding the burning of the temple, the Express Tribune reported.
During the proceedings, justice Gulzar said, "Inform us if any recovery or arrest has been made on the temple issue in Khyber-Pakhtunkhwa?" In January, the apex court had ordered the provincial government to recover the money for the construction of the temple from those who had burnt it.
Evacuee Trust Property Board lawyer Ikram Chaudhry apprised the bench that no recovery has been made so far on the temple issue, the paper said. "The government had approved Rs 30.41 million for the reconstruction of the temple," Chaudhry informed the bench.
Justice Ijazul Ahsan said that the court had ordered to recover the money from those who burnt the temple so that they could learn a lesson.
"Evacuee Trust Property Board chairman should be summoned and a detailed report containing all the progress made so far be submitted in court," justice Gulzar said.
The Evacuee Trust Property Board is a statutory board that manages religious properties and shrines of Hindus and Sikhs who had migrated to India following the partition.
Ramesh Kumar, head of the Hindu Council and a member of the National Assembly, said that the chief minister, Mahmood Khan, had said that the Karak area was sensitive and that the reconstruction of the temple in Karak should be done by the Hindu community. "The KP government will later reimburse the cost of building the temple."
The KP additional advocate general said that according to the law, tender should be issued for the reconstruction of the temple.
Justice Gulzar directed authorities to ensure that the Prahladpuri temple in Multan is prepared for the Holi festival falling on March 28. The chief justice directed the Evacuee Trust Property Board chairman, Punjab IG and chief secretary to ensure security at the Multan shrine.
The bench summoned the Evacuee Trust Property Board chairman on the next hearing and adjourned the suo motu case till next Monday.
Hindus form the biggest minority community in Pakistan. According to official estimates, 75 lakh Hindus live in Pakistan. However, according to the community, over 90 lakh Hindus are living in the country. The majority of Pakistan's Hindu population is settled in Sindh province, where they share culture, traditions and language with Muslim residents. They often complain of harassment by extremists.
https://thewire.in/south-asia/pakistan-sc-orders-immediate-reconstruction-of-vandalised-hindu-temple
--------
Bangladesh To Hang Eight Islamists Over Murder Of Publisher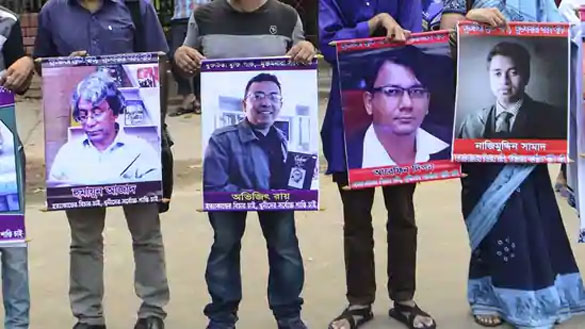 Protesters mourn the death of (from Lto R) Humayun Azad, Abhijit Roy, Faisal Arefin Dipan and Nazimuddin Samad who were killed by religious hardliners in a wave of violence between 2013 and 2016 which secular activists, bloggers and atheist writers. (AFP File)
-----
FEB 10, 2021
Eight Islamic extremists were on Wednesday sentenced to death in Bangladesh for the murder of a publisher, as the Muslim-majority nation grapples with tensions between religious hardliners and secularists.
Faisal Arefin Dipan, 43, the owner of a Dhaka-based publishing house that had released several atheist books, was hacked to death in October 2015 by men suspected to be members of a local jihadist group.
The attack was part of a wave of violence between 2013 and 2016 targeting secular activists, bloggers and atheist writers.
Several top Islamist political party leaders were hanged over the violence under the government of Prime Minister Sheikh Hasina.
Prosecutor Golam Sarwar Zakir told AFP that the judge at Dhaka's Special Anti-Terrorism Tribunal had convicted all of the eight accused men.
"He (the judge) said their goal was to muzzle people's voices by murdering bloggers, writers and publishers. They wanted to disrupt public security by creating panic among the people," Zakir said.
Two of the men are still on the loose and were sentenced in absentia, including mastermind Syed Ziaul Haque, a sacked army officer, Zakir added.
Haque has been charged with the killings of several secular activists.
A defence lawyer for the eight men said they would appeal against the sentences.
The Bangladesh government has set up two major anti-terrorism police units in recent years to crack down on Islamic extremists.
More than 100 suspected Islamists have been killed in anti-terror raids across the country and hundreds have been detained. Around half-a-dozen Islamist militant outfits have been banned.
Star Bangladeshi cricketer Shakib Al Hasan has become the latest target of radicals and had to be given an armed bodyguard after he was threatened for attending a Hindu ceremony in neighbouring India.
https://www.hindustantimes.com/world-news
--------
Christian duo publicly flogged in Aceh for drinking, gambling
February 8, 2021
BANDA ACEH: Two Christian men were publicly flogged today in Indonesia's ultra-conservative Aceh province for drinking alcohol and gambling, in a rare instance of non-Muslims facing a punishment frequently condemned by rights groups.
The caning comes less than two weeks after a male couple were flogged nearly 80 times each for having gay sex, which is outlawed under local Islamic law.
On Monday, the two accused received 40 lashes each from a masked sharia officer who beat their backs with a stick.
One of them, identified only as JF, said he chose flogging to avoid a criminal prosecution that could have seen him jailed up to six months.
"The Sharia police gave us options and we consciously decided to comply with the Islamic criminal code. No one forced me to choose it," he told AFP.
Aceh is the only province in the world's most populous Muslim-majority country that imposes Islamic law.
Non-Muslims who have committed an offence that violates both national and religious laws can choose to be prosecuted under either system.
Flogging of non-Muslims is rare, however, with only a handful subjected to the punishment in recent years for crimes including gambling and selling alcohol.
The two Christians were among seven people publicly flogged in the province on Monday.
The five others were Muslims who were whipped for adultery and drinking alcohol – both violations of religious law.
Human rights groups have slammed public caning as cruel, and Indonesia's President Joko Widodo has called for it to end.
https://www.freemalaysiatoday.com/category/world/2021/02/08/christian-duo-publicly-flogged-in-aceh-for-drinking-gambling/
--------
Lokman Slim's sister says Lebanon's assassination history repeats itself
09 February ,2021
Rawad Taha
The sister of prominent Lebanese publisher and critic of the Shia Hezbollah group Lokman Slim said Lebanon's history of assassinations was repeating itself, days after her brother as found shot dead in his car on Thursday.
"My father was also the lawyer of journalist Kamel Mroueh who was assassinated. They assassinated him in his office… History is repeated in this country," Rasha al-Ameer told Al Arabiya during an interview.
Slim's mother said she refused to leave the southern suburbs of Beirut, because her house is 150 years old and is older than Hezbollah.
"I have lived here for 60 years… This house is 150 years old… I will stay in this house because this house is older than Hezbollah… I will not leave," Salma Merchak added.
Al-Ameer had previously hinted that Hezbollah was behind the killing, without naming the group, adding that it is known who controls the area where her brother was found dead.
"Killing for them is a habit," she said. Hezbollah and its allies dominate the area in southern Lebanon.
Hezbollah condemned Slim's killing, calling for a swift investigation. It also urged security agencies to combat crimes it said have spread around Lebanon and which have been "exploited politically and by the media at the expense of security and domestic stability" — a jab at their critics.
Slim was born in Beirut's southern suburbs, a Hezbollah stronghold, where he lived all his life. He returned from abroad, when most people were leaving, during the 2006 war with Israel, as the suburbs were being bombed.
He founded Umam, a research and film production house with a library documenting Lebanon's and Shia history. His family owns a publishing house and Slim hosted public debates and political forums and art shows, including exhibitions documenting the civil war's missing. He and his wife worked on a film documenting the atrocities of Syria's notorious Tadmor prison.
In 2009, he and his wife organized a private viewing at their center for an Oscar-nominated anti-war Israeli cartoon about Israel's 1982 invasion of Lebanon and the rise of the then-President Bachir Gemayel, in defiance of Hezbollah and Lebanese authorities, who have banned it.
Slim also set up Haya Bina, or "Let's go," a group that encouraged participation in 2005 parliamentary elections, called for changes to Lebanon's sectarian-based system, and taught women English.
https://english.alarabiya.net/News/middle-east/2021/02/10/Sister-of-late-activist-Lokman-Slim-Lebanon-s-assassination-history-repeats-itself
--------
Fatah, Hamas agree to respect outcome of forthcoming Palestinian elections
10 February ,2021
Palestinian factions Fatah and Hamas said Tuesday they had agreed on the "mechanisms" for forthcoming elections and to respect their outcome.
In a joint statement on the second day of talks between Palestinian factions in Cairo, they said they had agreed a timeline for the polls and "committed to respecting and accepting their results."
The deal provides for an "electoral court" with exclusive jurisdiction over the electoral process and any cases arising from the polls, the first in 15 years.
The parliamentary and presidential polls are set for May 22 and July 31, respectively.
The Islamist movement Hamas won an unexpected landslide at the last elections in 2006, a victory not recognised by president Mahmud Abbas's Fatah.
That led to bloody clashes the following year and a split in Palestinian governance.
Fatah has since run the Palestinian Authority in the Israeli-occupied West Bank and Hamas has held power in the Gaza Strip since 2007, the year Israel imposed a devastating blockade on the coastal enclave.
In their statement, the factions said polling "must take place in Jerusalem, the West Bank and Gaza, without exception" and committed to allowing "public liberties and... an atmosphere of political freedom" as well as equal access to official media for all electoral lists.
The deal also includes commitments to immediately release all prisoners detained "on factional grounds or in relation to freedom of opinion," the statement says.
The parliamentary and presidential polls, set for May and July respectively, are the first in 15 years.
https://english.alarabiya.net/News/middle-east/2021/02/10/Fatah-Hamas-agree-to-respect-outcome-of-forthcoming-Palestinian-elections
--------
Nigeria deepens security ties with Egypt to battle Boko Haram
George Mikhail
Feb 8, 2021
Egypt is concentrating on strengthening its economic and security influence in Nigeria and consolidating relations with the ruling regime there. On Jan. 27, Egyptian President Abdel Fattah al-Sisi received a letter from his Nigerian counterpart, Muhammadu Buhari, which included a formal request from Nigeria to cooperate with Egypt in security fields, especially combating terrorism by organizing training courses and exchanging technical expertise.
Buhari's letter, delivered to Sisi by Nigerian Ambassador Joseph Kishi, dealt with ways to enhance Nigerian-Egyptian cooperation in the fields of the economy and trade, and how to benefit from Egypt's role in supporting Nigeria in infrastructure projects, particularly roads and power generation.
The Egyptian interest in Nigeria has recently increased, stressed Egyptian Ambassador to Nigeria Ihab Awad, during his meeting with Buhari Jan. 28. He said, "Ties with Nigeria have grown stronger in recent years, in light of Egypt's keenness to do so."
Samir Ghattas, head of the Middle East Forum for Strategic Studies, told Al-Monitor that the Egyptian-Nigerian relations include several areas, most notably the security field. "Egypt supports Nigeria against the extremist organization Boko Haram. Cairo has decided to establish the Community of Sahel-Saharan States (CEN-SAD) regional anti-terrorism center, through which Nigeria receives security support by training its forces on how to combat terrorism and track down extremist groups."
In December 2018, the Egyptian army invited several CEN-SAD countries for a joint military training, during which the Nigerian forces were trained on how to deal with various terrorist threats such as armed groups and the release of hostages.
The Egyptian-Nigerian relations were not only limited to the security field but extended to the economic field, as many official Egyptian economic delegations visited Nigeria. Most prominently, Sherif Ismail, presidential aide for national and strategic projects, visited Nigeria in 2018 to discuss how the Egyptian companies could contribute to infrastructure projects in Nigeria.
In 2016, Ibrahim Mahlab, then-presidential aide for national and strategic projects, visited Nigeria and met with many Nigerian businessmen to discuss investment in the real estate and energy sectors.
On Jan. 15, Egypt and Nigeria agreed on cooperation and investment in the field of communications and technology. In February 2020, Egypt and Nigeria concluded a contract between the Egyptian National Authority for Military Production and the Nigerian Rungas Group, to establish a joint stock company for the production and manufacture of gasoline and natural gas cylinders in Nigeria.
Egypt's insistence on strengthening its presence and influence in Nigeria coincides with Turkey's moves to establish a security and economic presence in Nigeria, in light of accusations that the Turkish regime is supporting the armed group Boko Haram in Nigeria.
In 2016, Turkish President Recep Tayyip Erdogan visited Nigeria and Turkey signed several memoranda of understanding for cooperation in the industrial, commercial, energy and security fields.
In January 2020, Turkish Minister of Trade Ruhsar Pekcan visited Nigeria, as the country is Ankara's sixth-largest commercial market on the African continent, according to Turkey's Anadolu News Agency.
Despite Turkey's interest in benefitting economically from the Nigerian market, the Nigerian authorities suspect that Ankara could be involved in arming and supporting Boko Haram, and have opened an investigation into the matter after intercepting an illegal arms shipment coming from Turkey in 2019.
"The Nigerian government is concerned about the continuous import of weapons from Turkey. In 2017 alone, four arms shipments arrived from there," Nigerian customs spokesman Joseph Atta, had told France24.
Egyptian Ambassador Mona Omar told Al-Monitor, "Egypt realizes that Nigeria has a strong presence and influence in all African forums and entities. Nigeria needs Egypt's support in confronting terrorism and extremist groups, which calls for security and political cooperation between the two countries."
Omar added, "Egypt hosts the CEN-SAD regional anti-terrorism center, which includes intelligence delegations — most notably from Nigeria — and the role of that center is to train Nigerian forces and others to combat terrorism and exchange intelligence information."
In 2018, the Egyptian army announced the establishment of the CEN-SAD regional anti-terrorism center in Cairo, after the Egyptian Ministry of Defense delegation attended the meeting of the defense ministers of the CEN-SAD, held in the Nigerian capital Abuja in June 2018.
Speaking about the economic cooperation between Egypt and Nigeria, Omar said, "A large number of Egyptian companies invest in Nigeria — most notably the Arab Contractors company — which contributes to infrastructure projects."
She noted, "Egypt is religiously present in Nigeria through the Al-Azhar Foundation as well — sending delegations from Al-Azhar and receiving Nigerian students at Al-Azhar University."
In 2016, Grand Imam of Al-Azhar, Sheikh Ahmed el-Tayeb, visited Nigeria and met with Buhari to discuss ways to confront extremist ideology.
Speaking about the Turkish presence in Nigeria, Omar said, "Turkey is working to flood the Nigerian market with Turkish products and projects to control the country, but there is a state of mistrust and popular anger toward Ankara since it is suspected of supporting Boko Haram."
She added, "Egypt's security support for Nigeria disturbs Turkey because supporting Nigeria's stability and training its forces weakens the extremist groups that Turkey relies on to implement its plans."
Member of parliament Tarek Radwan told Al-Monitor, "The Egyptian parliament plays an important role in consolidating relations with Nigeria through the visits of Egyptian parliamentary delegations."
In October 2019, former Egyptian parliament Speaker Ali Abdel Aal visited Nigeria and discussed with his Nigerian counterpart, Femi Gbajabiamila, the laws required to combat terrorism.
"Turkey is using economic activities in Nigeria as a cover to fund extremist groups in the country, so the Egyptian role serves to strengthen and train Nigerian forces to undermine any suspicious Turkish support for extremist groups," Radwan noted.
https://www.al-monitor.com/pulse/originals/2021/02/egypt-turkey-nigeria-economy-politics-terrorism.html?utm_source=iterable&utm_medium=email&utm_campaign=1983405_
--------
US administration to seek 'productive' ties with Pakistan, says scholar
Anwar Iqbal
February 10, 2021
WASHINGTON: The Biden administration would like to rebuild America's relationship with Pakistan and make it more productive than it has been during the recent past, says a senior US scholar.
At a recent briefing on the new US administration's foreign policies, James M. Lindsay, a senior vice president at the Council for Foreign Relations, also predicted a better understanding between the White House and the Pentagon on the deployment of American troops in Afghanistan.
Since their inauguration on Jan 20, several Biden administration officials have endorsed the Pentagon's position that Washington could not withdraw all its troops from Afghanistan by May, as stipulated in the US-Taliban peace agreement signed last year.
"The Biden administration would hope to find a way to improve relations with Pakistan," said Mr Lindsay while responding to a question at the briefing which was arranged by the US State Department's Foreign Press Centre.
Noting that the United States had had "a longstanding relationship with Islamabad," Mr Lindsay pointed out that during this period both sides had also developed "lots of differences and grievances". But "I think the Biden administration would like to do what it can to make that relationship more productive," he added.
The US scholar argued that the Biden administration had inherited a complicated US relationship with Pakistan, and some of the issues between the two countries "sort of resonant here in the United States".
One such issue, he said, was a recent Supreme Court decision in Pakistan to overturn the conviction of Ahmed Omer Sheikh, the prime suspect in the beheading of American journalist Daniel Pearl.
The US Justice Department as well as the new Secretary of State Antony Blinken have urged Pakistan to ensure that those involved in the murder do not go free. Both also offered to bring Sheikh to the United States to face a trial in this country if Pakistan is reluctant to go ahead with the proceedings.
Mr Lindsay said that the administration would also have significant concerns about human rights issues in Pakistan and they did worry about "whether or not Pakistan is doing everything it can to prevent, contain, deter terrorists".
Another major concern for the new administration would be the relations between India and Pakistan, he added, while pointing out that "it's the one place in the world in which two nuclear-armed countries abut one another and have tense relations".
Mr Lindsay also listed the China-Pakistan relationship among the issues that the Biden administration would like to discuss with Pakistan's rulers, adding: "I think there's … concern in a Biden presidency about the nature of the evolution of Pakistan's relations with China."
https://www.dawn.com/news/1606486/us-administration-to-seek-productive-ties-with-pakistan-says-scholar
--------
UK Muslims ask UN to halt Sri Lanka's forced cremations
Rabia İclal Turan
10.02.2021
The Muslim Council of Britain (MCB) submitted a complaint to the UN on Tuesday over the forced cremations of Muslims in Sri Lanka who died of COVID-19.
The MCB in partnership with UK-based law firm Bindmans submitted the complaint to the UN Human Rights Council (UNHRC) on behalf of their families.
"No other state has carried out such unjust and discriminatory measures. We very much hope that the Sri Lankan government will change its policy in line with the World Health Organization's advice," Zara Mohammed, secretary general of the MCB, said in a statement, describing the government's policy as "unprecedented."
Tayab Ali, a partner at Bindmans who represents the MCB and the applicants, said the forced cremations are a violation of religious freedom as well as international law.
"We hope that the United Nations Human Rights Committee will take immediate action on receipt of this complaint by granting interim measures to halt these cremations," Ali said.
In March last year, Sri Lanka's Ministry of Health declared that burying coronavirus victims could spread the virus. It said the bodies of the deceased, irrespective of their religion, would therefore be cremated.
But the World Health Organization (WHO) stressed that cremation is a "matter of cultural choice."
"It is a common myth that persons who have died of a communicable disease should be cremated, but this is not true," it added.
NGOs and minority groups in Sri Lanka have filed petitions before the Supreme Court pleading to stop the cremation of Muslim bodies. But the court dismissed all such petitions.
Since the beginning of the pandemic, Sri Lanka has reported 71,211 coronavirus cases, 370 deaths and 65,053 recoveries, according to data compiled by US-based Johns Hopkins University.
https://www.aa.com.tr/en/europe/uk-muslims-ask-un-to-halt-sri-lanka-s-forced-cremations/2139537
--------
India
Muslim Law Allows Minor Girls to Marry On Attaining Puberty: Punjab And Haryana High Court
Manjeet Sehgal
February 10, 2021
The Punjab and Haryana High Court has said that a minor Muslim girl who has attained puberty was at liberty to marry anyone as per the Muslim Personal Law.
Referring to Article 195 of Muslim Personal Law, the court said, "Lunatics and minors who have not attained puberty may be validly contracted in marriage by their respective guardians. Marriage of a Muslim having a sound mind and who has attained puberty is void if it is brought about without his or her consent."
The court further said that "puberty is presumed, in the absence of evidence, on completion of the age of 15 years".
The order was passed by Justice Alka Sarin while hearing a petition moved by a Muslim couple from Punjab. The petitioners -- a 36-year-old man and 17-year-old girl -- who got married on January 21, 2021, as per Muslim ceremonies, had sought protection from the court, stating that their relatives were against their relationship.
Justice Alka Sarin observed that the petitioners cannot be deprived of the fundamental rights provided by the Constitution merely because their family members were against it. The court also said that family members had no right to interfere since the couple got married as per the Muslim Personal Law.
The court has directed SSP Mohali (SAS Nagar) to provide security to the couple.
https://www.indiatoday.in/india/story/muslim-law-allows-minor-girls-to-marry-on-attaining-puberty-high-court-1767740-2021-02-10
--------
Countering 'Love Jihad': India Love Project (ILP) Marked the 100th Day of Its Formation on February 4
By Chinki Sinha
10 Feb 2021
New Delhi, India – Last week, India's Supreme Court refused to hear petitions challenging the constitutional validity of religious conversion laws passed by right-wing governments in Uttar Pradesh and Uttarakhand states, saying the high courts in these states should decide on the matter.
The petitioners said innocent people, mainly Muslims, were being unfairly penalised under the so-called "love jihad" laws, and that at least two other Bharatiya Janata Party (BJP)-governed states, Madhya Pradesh and Gujarat, were also planning similar laws.
"Love jihad" refers to a conspiracy theory propagated for more than 10 years by India's right-wing groups that accuse Muslim men of luring Hindu women for marriage to forcefully convert them to Islam.
A day after the Supreme Court order on "love jihad" laws came, a campaign called the India Love Project (ILP) marked the 100th day of its formation on February 4.
Started by a group of three former journalists in October last year, ILP aims to celebrate stories of interfaith love or marriages – considered taboo in a country divided along caste, religious and ethnic lines – on social media.
The campaign, with steadily growing followers on Instagram, Facebook and Twitter, says it advocates "love and marriage outside the shackles of faith, caste, ethnicity and gender".
Cofounded by a journalist couple, Priya Ramani and Samar Halarnkar and their friend Niloufer Venkatraman, the project invites people to submit stories about themselves or their families that help others understand that love transcends religious and communal identities.
"This is not fiction. These stories and couples have already happened, they exist. People have made choices and some have braved odds to be with the person they love," Venkatraman told Al Jazeera.
Venkatraman's was the first story to feature in ILP, where she talked about her Parsi mother and Tamil Hindu father.
Ramani says the idea of creating ILP came when right-wing politicians started taking aim at interfaith marriages as the "love jihad" controversy grew bigger towards the end of last year.
"We began discussing it actively last year," she says, adding that the trigger was the bullying popular jewellery brand Tanishq faced when it was forced to withdraw its TV advertisement featuring an interfaith couple, where the boy was a Muslim.
In that same month, October 2020, that Yogi Adityanath, a saffron-clad Hindu monk who is the BJP's chief minister in Uttar Pradesh state, said those who practice "love jihad" will not be spared.
His government promulgated an ordinance making religious conversion a non-bailable offence, with penalties up to 10 years in prison if found guilty of using marriage to force someone to change their religion.
All this despite the central government telling parliament last year that no cases of "love jihad" were reported by any of the investigating agencies.
"In my view, the concept of 'love jihad' is an attack on Hindu girls. They can't make a choice because we have this politics," says Tanvir Aeijaz, a professor of political science at Delhi University.
"I am surprised why liberal feminists don't pick up on this issue."
Aeijaz is married to Vinita Sharma, a Hindu who also teaches at the same university. Their story was featured on the ILP, where the couple shared how they met in 1997 and got married after dating for six years.
"Our families were concerned about our kids. We got married in 2003 in the backdrop of the Gujarat riots. We were scared. I asked my friends to join us in the court," he says.
In 2002, more than 1,000 people – an overwhelming majority of them Muslims – were killed in religious violence in the western state of Gujarat, the home state of Prime Minister Narendra Modi who was then the chief minister.
The couple named their daughter Kuhu, now 13. "We liked the name and it didn't have any religion in it," says Aeijaz.
He lauds the ILP for its campaign amid the growing backlash against Muslims. "These are small but very strong interventions that are trying to build a counter-narrative."
Shainaz Shaikh is a Muslim, who married Sanket Devle, a Hindu from the western state of Maharashtra, in 2012.
"He loves chicken biryani and I love misal pav [a delicacy in the state of Maharashtra] and we tease each other how we were born in the wrong families," Shaikh wrote on the ILP page.
India's Special Marriage Act, 1954 allows marriage between individuals of different faiths.
But Tanweer Kamal, a lawyer in Patna High Court in the eastern state of Bihar, says he faces a lot of problems when trying to register such marriages.
Kamal says he has so far filed papers for at least 70 interfaith and intercaste marriages. He says many interfaith couples settle for a marriage ceremony held according to the traditions of one of the partners, while others opt for religious conversion where a partner adopts the other's religion.
Nivedita Jha, author and president of Bihar chapter of South Asian Women in Media, says she did neither and married under the Special Marriage Act.
Jha is married to Shakeel, a doctor based in Patna, who goes by his first name only. She says they married in 1987 against the wishes of their families.
"It wasn't easy in those days. My mother fainted when she heard about it. My father didn't have an ideological problem but he said the extended family might have an issue," she says.
During the religious riots that erupted in the aftermath of the 1992 demolition of a Mughal-era mosque in the neighbouring Uttar Pradesh state, Jha was pregnant. When their son was born the next year, they named him Pushkin Shanib.
"We both loved the Russian writer Pushkin and for his last name, we combined our names. We didn't want any identity politics in his name," she says.
Jha says "love jihad" laws are "against the soul of the constitution".
"All the people in this country have religious freedom. Jihad is done when we go to war. In love, there is no war," she says.
Ramani says she receives a lot of messages from people who say they find reassurance in such love stories.
"My partner and I are facing a lot of hostility due to our interfaith backgrounds and I cannot stress enough how relevant and healing your page is. Each story brings both smile and tears. Keep doing the good work," one such message reads.
Ramani says the project now wants to curate more intercaste and LGBTQ love stories.
"Who doesn't like a good love story?" asks Niloufer.
https://www.aljazeera.com/news/2021/2/10/countering-love-jihad-by-celebrating-indian-interfaith-couples
--------
Trust Nominated War Veteran Mohammad Afzaal Ahmad Khan as Its Tenth Trustee For Ayodhya Mosque Project
FEBRUARY 10, 2021
The new mosque will be bigger than Babri Masjid, says war veteran Mohammad Afzaal Ahmad Khan
The trust entrusted with building a mosque and hospital in Ayodhya's Dhannipur village on Tuesday nominated war veteran Mohammad Afzaal Ahmad Khan as its tenth trustee, officials said.
The Dhannipur mosque project was formally launched on Republic Day at Dhannipur, around 24 km from the Ram Janmabhoomi, exactly six months after the Sunni Waqf Board constituted the mosque's trust — Indo-Islamic Cultural Foundation (IICF).
The trust was constituted following the 2019 Supreme Court verdict that backed the construction of a temple at the Ram Janmabhoomi and ruled that an alternative five-acre plot be found for a mosque in Ayodhya in lieu of the Babri Masjid.
The blueprint of the mosque complex, which includes a hospital, was unveiled on December 19.
In a virtual meeting of the IICF in Lucknow, it unanimously nominated 80-year-old Khan as its tenth trustee, officials said.
Khan is a veteran of the 1965 and 1971 wars and a recipient of the Sena Medal. He is also a recipient of the President Award - Samaj Ratan.
The Ayodhya Mosque project of the IICF is based on serving humanity. The hospital will be the centre stage of the project, Khan said.
"We will provide free of cost treatment to the ailing poor through this hospital, and our community kitchen, another important part of our project, will feed at least 1,000 people daily, and the research centre that is also part of the project will be dedicated to great freedom fighter of Awadh Maulvi Ahmadullah Shah," he said.
The new mosque will be bigger than Babri Masjid, but won't be a lookalike of the structure which once stood in Ramjanmabhoomi premises.
Meanwhile, the Indo-Islamic Cultural Research Centre, to be built by Uttar Pradesh Sunni Central Waqf Board in Ayodhya, would be named after freedom fighter who led the first war of Independence in the Avadh region, Maulvi Ahmadullah Shah.
The decision was taken in the IICF meeting, spokesperson of the trust, Athar Hussain said.
The research centre will have a museum, library and publications to showcase Indo-Islamic culture of shared struggle and accomplishments of Hindus and Muslims of India, he said.
Shah had led the first war of Independence in 1857 in the Avadh region.
The spokesperson said that as the Allahabad High Court has dismissed a petition filed by two Delhi-based sisters claiming ownership of the five-acre land at Dhannipur village in Ayodhya, the process to speed up the project will begin now.
https://www.thehindu.com/news/national/10th-trustee-appointed-for-dannipur-mosque-project/article33797988.ece
--------
India inks MoU to build dam for safe drinking and agri water to Kabul
Feb 10, 2021
NEW DELHI: India and Afghanistan signed an MoU on Tuesday for construction of the proposed Shatoot dam that India will build to provide safe drinking and irrigation water to Kabul residents. Presiding over the virtual ceremony with Afghan President Ashraf Ghani, PM Narendra Modi said no external power can come in the way of India-Afghanistan friendship.
Modi also expressed concern over increasing violence in Afghanistan and the "cowardly manner" in which innocent civilians and journalists were being targeted in Afghanistan. While calling for comprehensive ceasefire in Afghanistan, he said as close neighbours and strong strategic partners, both India and Afghanistan want to see the region free of extremism and terrorism. Referring to the Afghan peace process, he said unity within the country was important and hoped that a "united Afghanistan" will be capable of dealing with any challenge facing it.
In his remarks, Ghani said India's development assistance to Afghanistan is iconically marked on the country's landscape. The MoU for Shatoot dam was signed by foreign minister S Jaishankar and his counterpart Hanif Atmar. The government said the project was a part of the New Development Partnership between India and Afghanistan. "The Lalandar (Shatoot) dam would meet the safe drinking water needs of Kabul city, provide irrigation water to nearby areas, rehabilitate the existing irrigation and drainage network, aid in flood protection and management efforts in the area, and also provide electricity to the region," said a government statement.
This is the second major dam being built by India in Afghanistan, after the India-Afghanistan Friendship Dam [Salma Dam], which was inaugurated by Modi and Ghani in June 2016.
"Signing of the MoU on Lalandar (Shatoot) dam is a reflection of India's strong and long-term commitment towards the socio-economic development of Afghanistan and the enduring partnership between two countries. As a part of our development cooperation with Afghanistan, India has completed over 400 projects covering all 34 provinces of Afghanistan," said the statement. In his remarks, Modi highlighted the civilisational relationship between India and Afghanistan and gave an assurance of India's continued support for a peaceful, united, stable, prosperous and inclusive Afghanistan.
https://timesofindia.indiatimes.com/india/india-inks-mou-to-build-dam-for-safe-drinking-and-agri-water-to-kabul/articleshow/80777390.cms
--------
No gender, religion bias in orders by district courts, finds study
by Apurva Vishwanath
February 10, 2021
Does the religion or gender of a judge in a lower court play a role in their orders?
A study by the Development Data Lab, a US-based research organisation, has found scant evidence of any systemic gender or religious bias in district and subordinate courts across the country.
"In both of these specifications, we find a robust null estimate of in-group bias among Indian judges. Judges of different genders do not treat defendants differently according to their gender, nor do judges display favouritism on the basis of religion," the study said.
The Development Data Lab, founded by Dartmouth College Professor Paul Novosad and Johns Hopkins SAIS Professor Sam Asher, works with governments, firms, and civil society organisations to generate policy-relevant knowledge using data.
The study looked at a dataset of 8 crore case records of all district and subordinate courts, from 2010 to 2018, available on the government's eCourt platform. These cases cover over 7,000 district and subordinate trial courts and more than 80,000 judges. This is the first such empirical study of judicial data in India.
While women represent 48 per cent of our population, they constitute only 28 per cent of district court judges. Similarly, India's 200 million Muslims represent 14 per cent of the population but only 7 per cent of lower court judges.
The study classified judges and defendants according to gender and religion (Muslim and non-Muslim) to examine in-group bias or whether existing structural inequalities led to worse judicial outcomes for women and Muslims.
It found that men defendants did not get better outcomes in conviction or acquittal when their cases were assigned to men judges, and similarly, women defendants did not get better outcomes before women judges. Equally, the judicial outcomes of Muslims were virtually identical whether their cases were assigned to Muslim or to non-Muslim judges.
Apart from conviction and acquittal, the study tested the data against other case processes such as delay or change of judge during the pendency of the case, and found similar results.
However, the lack of bias that the study found in Indian lower courts while deciding cases involving Muslims and women does not rule out judicial bias in its entirety.
While the study examines bias by religion, it leaves out caste, a crucial variable. Similarly, while the study examines systemic bias during conviction and acquittal, it leaves out significant markers of the judicial processes such as framing of charges, granting bail and determining the quantum of punishment.
As a 2016 study by the Delhi-based Project 39A, a criminal law reforms advocacy group, showed, of 385 death row convicts in India then, two-thirds belonged to the backward classes or were religious minorities. All the 12 women death row convicts at that time belonged to backward classes or castes or were religious minorities.
Similarly, according to the National Crime Records Bureau's (NCRB) data for 2019, Muslims and Dalits constitute the biggest set of undertrials in the country, disproportionate to their share in the population. The share of Scheduled Castes among undertrials stood at 21 per cent at the end of 2019, while their share in the population is pegged at 16.6 per cent, according to the 2011 Census. Scheduled Tribes and Muslims make up for 10.5 per cent and 18.7 per cent respectively of all undertrials while their respective share in population is 8.6 per cent and 14.2 per cent.
On not using caste as a variable while examining judicial bias, the study said, "We do not examine bias on the dimensions of income or caste because we do not yet have an algorithm that can classify these dimensions with high accuracy," the study said.
https://indianexpress.com/article/india/district-courts-order-gender-religion-bias-7181919/
--------
Pakistan
Pakistani PM to address Lankan parliament amid Muslim human rights concerns
MOHAMMED RASOOLDEEN
February 10, 2021
COLOMBO: Sri Lankan Muslim community leaders were on Tuesday pinning their hopes on Pakistani Prime Minister Imran Khan addressing their human rights concerns during his historic visit to the island nation later this month.
Premier Khan is due to arrive in the capital Colombo on Feb. 23 where he is expected to hold talks with key government officials and party leaders.
Sri Lanka's parliament speaker, Mahinda Yapa Abeywardena, on Tuesday said that the Pakistani PM was slated to address the legislature the following day.
Khan will become the third Pakistani head of state to address the Lankan parliament, after former President Gen. Mohammed Ayub Khan (1963) and Prime Minister Zulfikar Ali Bhutto (1975).
Former Indian premier, Jawaharlal Nehru, also addressed the Lankan parliament in 1962, followed by British Prime Minister Margaret Thatcher in 1985. More recently, Indian PM Narendra Modi spoke to the legislature in 2015.
During his two-day visit to the country, Khan is expected to hold talks with Sri Lankan President Gotabaya Rajapaksa, Prime Minister Mahinda Rajapaksa, and Foreign Minister Dinesh Gunawardena.
Prominent representatives of the island's 2 million Muslims, who make up 9 percent of the total population, said they were banking on "great Muslim leader" Khan to "speak on our behalf."
President of the Muslim Council of Sri Lanka, N. M. Ameen, told Arab News: "The community wishes to welcome a great Muslim leader who is coming as his country's prime minister for the first time. He is in a vantage position to speak on behalf of the Sri Lankan Muslims."
Rishad Bathiudeen, former minister and leader of the All-Ceylon Makkal Congress, who met with the charge d'affaires of the Pakistan High Commission in Colombo on Tuesday, told Arab News: "We have expressed the concerns of the Muslim community, especially regarding the forced cremation policy of the government (for COVID-19 victims)."
Last year, the Sri Lankan government was accused of forcing the cremation of anyone confirmed or suspected to have died from the coronavirus disease (COVID-19).
The move outraged Muslims who said it breached their religious rights, and medical experts argued that there was no evidence that COVID-19 could be contracted from dead bodies.
Shreen Saroor, a women's rights activist and co-founder of the Women's Action Network, told Arab News: "Our legitimate rights to bury our dead must not undermine the rights of our Tamil and Sinhala brothers and sisters to protect their rights or know the truth about the death of their family members and to be allowed to mourn them."
"Prime minister Khan must use his visit to assist in our struggles for human rights, justice, and accountability for all in Sri Lanka," she said.
Saroor added that there were "concerns" that Khan might "negotiate a deal with the Sri Lankan regime to restore Muslim burial rights while in turn offering Pakistan's support to Sri Lankan diplomatic efforts to reject the (UN) Human Rights Council resolution.
"This would not be the act of a friend to Sri Lanka and would be at the cost of the Tamil community's legitimate struggle for truth and justice. Like Muslims, Tamils have been facing many challenges. The failures of domestic justice have prevented reconciliation in our country and stopped the nation from moving toward a stable and prosperous future."
A Jan. 27 report by UN High Commissioner for Human Rights Michelle Bachelet, highlighted the need for a "strong human rights resolution" to address Sri Lanka's "deteriorating human rights situation" and "pursue accountability for past and recent violations."
It also set out steps for the UN Human Rights Council to "confront the growing risk of future violations."
In response to the report, the Human Rights Watch organization said: "Since the government of President Gotabaya Rajapaksa has withdrawn its support for the 2015 consensus resolution seeking justice and reconciliation, and shown general disregard for upholding basic human rights, the council should act to protect those most at risk and advance accountability for grave international crimes."
Toward the end of the 2009 civil war between the government and the separatist Liberation Tigers of Tamil Eelam (LTTE), both groups committed atrocities which led to the deaths of tens of thousands of civilians.
https://www.arabnews.com/node/1806646/world
--------
Former PTI lawmaker confesses to accepting bribe ahead of Pakistan 2018 Senate polls
Feb 10, 2021
ISLAMABAD: After a video went viral on Tuesday that showed Imran Khan-led Pakistan Tehreek-e-Insaf (PTI) lawmakers receiving bribes before the Senate elections of 2018, former PTI lawmaker Ubaid Ullah Mayar has confessed to taking bribe worth Rs 10 million.
Speaking to Geo News, Mayar said that he took the money on the directives of then Khyber Pakhtunkhwa Chief Minister Pervez Khattak and also said that the PTI-led provincial government had paid Rs 10 million to all Members of National Assembly (MPAs).
He also mentioned that the bribery incident took place at the National Assembly speaker's house and it was the provincial government which paid money to the MPAs and then made a video.
"At that time, Pervez Khattak had formed a committee of 17 MPAs and asked us to vote for them, paid us the money, and promised to give us party's tickets," he said, adding that he was not aware of being filmed at the time of receiving the money.
He also informed that he went to the High Court in relation to the matter, adding that he "stands by [his] statement and is "not afraid of anyone", reported Geo News.
Responding to a question regarding two people from another party who could be seen taking money in the video, Mayar said that "Khattak had promised to make them ministers if they joined the PTI, which was later fulfilled".
He also said that he was asked to return the money on the suspicion that he did not vote for PTI's candidate.
This comes after a video of PTI lawmakers receiving bribes before the Senate elections in 2018 has surfaced on social media amid the ongoing war of words between Prime Minister Imran Khan-led government and the Opposition on the open ballot issue ahead of Senate polls.
According to a report by Geo News, the video showed a couple of PTI Members of National Assembly (MNAs) taking money from Mohammad Ali Bacha, former MPA of the Pakistan Peoples Party (PPP) before the Senate elections in 2018.
In the video, stacks of currency are seen in the video atop a table in front of the Khyber Pakhtunkhwa PTI Members of Provincial Assembly (MPAs).
Following the release of the video, Imran Khan has ordered the removal of Khyber Pakhtunkhwa Law Minister Sultan Mohammad Khan, who had joined the PTI before the 2018 elections, according to a report by Samaa TV.
https://timesofindia.indiatimes.com/world/pakistan/former-pti-lawmaker-confesses-to-accepting-bribe-ahead-of-pakistan-2018-senate-polls/articleshow/80779805.cms
--------
Pakistan to seek debt relief from China Belt and Road loan
Feb 9, 2021
Pakistan plans to ask China for relief on payments for power projects Beijing financed over the past eight years, the latest developing nation that's struggling to repay debt under President Xi Jinping's Belt and Road Initiative.
In informal talks, Pakistan and China have discussed easing terms on the repayment of debt on about a dozen power plants, according to a person with knowledge of the matter, who said Islamabad hasn't made a formal request yet. The parties have canvassed Beijing's willingness to stagger debt payments, as opposed to lowering equity returns, the person said, requesting anonymity as the plan is private.
An enormous build-out of Chinese-financed power plants in Pakistan, which was originally intended to solve its electricity shortages, has resulted in a surplus that Islamabad isn't able to afford. Infrastructure projects funded by China's initiative in other developing nations, such as Sri Lanka and Malaysia, have suffered issues ranging from heavy debt loads to corruption.
China's ministry of foreign affairs and ministry of finance, as well as Pakistan's power division, didn't respond to requests seeking comment.
China has denied US criticism that the initiative leads to debt traps, while acknowledging that countries have had difficulties repaying loans due to the pandemic-induced global recession. Last year, Beijing canceled interest-free loans to 15 African countries due to mature by the end of 2020, and it has delayed other payments.
The Belt and Road program had found new life in Pakistan last year with the signing of $11 billion worth of projects, most of which went to revamping the nation's railway system.
While Chinese financing has helped Pakistan diversify fuel supplies, it has also resulted in a surplus of electricity, which is problematic for the government in Islamabad because it is the sole buyer and pays producers even when they don't generate. To help tackle the issue, the government has negotiated with power plants, which produce roughly half of its electricity, to lower rates.
Pakistan will formally make the request to defer debt payments to China, as well as other plants that were part of the latest power policy, after it concludes deals with those local power producers to reduce electricity tariffs, said the person with knowledge of the matter. Debt relief from China will also help the government reduce power payments.
https://timesofindia.indiatimes.com/world/pakistan/pakistan-to-seek-debt-relief-from-china-belt-and-road-loan/articleshow/80769727.cms
--------
PTI dragging establishment into politics: PDM
February 09, 2021
HYDERABAD:
Leaders of the Pakistan Democratic Movement (PDM) have blamed the Pakistan Tehreek-e-Insaf (PTI) for dragging the "military establishment" into the power politics while also asking the later to admit and apologise for their past mistakes of political adventurism.
Addressing a public meeting in Hyderabad on Tuesday, Pakistan Peoples Party (PPP) Chairman Bilawal Bhutto Zardari, Jamiat Ulema-Islam-Fazl (JUI-F) chief and PDM President Maulana Fazlur Rehman and others asserted that they had always opposed the army's involvement in politics.
Tens of thousands of supporters of the PDM's allied parties, with a far larger presence of the PPP supporters, attended the event organised by the PPP at a ground on the Hyderabad bypass. Pakistan Muslim League-Nawaz (PML-N) Vice President Maryam Nawaz was scheduled to address the gathering but she did not attend due to the accident of her daughter.
"Are those dragging them into politics who say in their public meetings that you [the army] have no role in politics and that you should keep away from politics and that all institutions should work as per their constitutional mandate?" asked Bilawal.
"Or those people drag them into politics who fight elections with their support, who ask them to make them victorious in the elections, who want deployment of the army inside and outside the polling stations."
He went on to contend that the PTI even urged the establishment to handle the media, support them in passing the budget, to handle differences with friendly countries, support the Financial Action Task Force (FATF) legislation, help create consensus over Gilgit-Baltistan and help them in the Senate polls.
"When they [PTI] see their defeat; when they know that the people are not standing with them; when they realise that with your votes they can't make government and come to the power than they drag the establishment in politics."
Bilawal said that the people should be trusted for their wisdom in electing their representatives and their decisions should be accepted. "The people should be given permission to take decisions for their future," he added.
Bilawal reiterated that Prime Minister Imran Khan was responsible for the economic crisis, inflation, unemployment and the growing corruption as identified in the Transparency International's latest report.
He again rapped Imran's knuckles for his statement in which he had said that Sindh was not their province. "Balochistan, Punjab, K-P [Khyber Pakhtunkhwa], Gilgit-Baltistan and Kashmir are also not your provinces," he charged.
The PPP chairman alleged that Imran only wanted Sindh's natural resources, tax revenue and the islands and not the province or its people. According to him, around 50% households or the people in half of Pakistan are facing malnutrition because of Imran's governance.
He also blamed the PTI's government for being anti-poor and pro-rich. The prime minister was also accused of the ongoing anti-encroachment operations in the province, though, those were being carried out on the Supreme Court's order.
Referring to the accountability process, Bilawal lamented that Imran was not questioned for the alleged corruption in Bus Rapid Transport (BRT) project, foreign funding case, Malam Jabba, billion-tree project and Aleema Khan's sewing machines controversy.
The PPP's chairman informed the gathering that he would set off for the long march next month from Karachi. "There will be a march in the month of March … we will oust the selected, inept and illegal PM and will form the peoples' government."
Rehman, the PDM and JUI-F chief, said they also wanted to see the army to remain impartial in the political matters. "When do we want the army to get involved in politics or play a role other than defence [of the country]," he asked. He added that mistakes of the military's intervention in politics had been made and that should be admitted, followed by an apology to the nation.
Rehman asked the establishment to reply why did they implicitly mock the opposition parties and congratulated the PTI after the 2018 general elections if they were not involved in rigging the polls and in giving power to Khan. "You should clarify whom did you defeat and whom you made victorious [in 2018 elections]."
He said the opposition parties were familiar with the obstacles created on the path of democracy. "We have spent 40 years in politics. Please don't teach us a, b, c of politics. Rather, if you have to learn politics, become our students."
Rehman derided the prime minister for being "more virulently infectious" than the coronavirus. "They say Covid-19. I say, no, it's Covid-18. We have to get rid of the 2018's coronavirus," he added, referring to PTI's election victory in the 2018 elections.
Commenting on the presidential ordinance for the open ballot in the Senate polls, the PDM's president advised the superior judiciary to stay away from that controversy, which is purely political in nature.
He argued that if the Constitution is silent over the secret or open vote to elect the senators, the court should leave it to parliament to amend the law, instead of trying to interpret the existing law. "Whatever is being done is also a conspiracy against the judiciary."
According to him, a new controversy has emerged in the PTI's foreign funding case which has laid bare that Imran's personal staff at his Bani Gala residence received direct payments. "You are yourself head of the thieves but you blame others for being thieves!"
He asked the people from across Pakistan to gather in Rawalpindi and Islamabad for the long march. "Until these cruel rulers remains in the power, our workers will keep swimming against the tide. We aren't the people who fall tired," he added.
The PML-N Senior Vice President and former prime minister Shahid Khaqan Abbasi said that the 11 parties, which are part of the PDM, had received 70% of the total votes cast in 2018 general elections.
He maintained that the PTI government was trying to usurp provincial autonomy, vowing that the PDM would stand as a bulwark against the usurpation and protect the 18th Amendment. "Who was distributing Rs1,000 notes [at Faizabad sit-in]?"
National Party President Dr Abdul Malik Baloch questioned under what law the Centre was occupying the islands in Sindh and Balochistan. He complained that the people of Balochistan were not being made beneficiaries of the China-Pakistan Economic Corridor (CPEC) and the Gawadar port.
According to him, the point of convergence for all the allied parties in the PDM is that the country should be ruled as per the Constitution.
Pashtunkhwa Milli Awami Party (PkMAP) leader Mehmood Khan Achakzai asked Rehman and Bilawal to meet the army officers with regards to their statement of establishment's non-involvement in politics. "If they take oath that they won't interfere in politics, the PDM will be ended."
https://tribune.com.pk/story/2283268/pti-dragging-establishment-into-politics-pdm
--------
Pakistan opposition slams govt over farmer leader's arrest in Lahore
FEB 10, 2021
Pakistan Kissan Ittehad (PKI) president Chaudhry Anwar was arrested from his residence on Monday by the Raiwand police, which has led to the opposition claiming that the government was putting pressure on the farmer leader to withdraw a complaint against the police.
The farmers' leader had led a protest around three months ago in the provincial capital, demanding ₹2,000 per 40 kg wheat support price and ₹300 per kg for sugarcane, besides a flat power rate of ₹5 per unit for the farm tubewells, Dawn reported.
However, in the ensuing clash with police, one of the protesters named Ashfaq Langrial had died.
Following the arrest, Pakistan Muslim League-Nawaz (PML-N) has alleged that the police action is aimed at forcing Anwar to withdraw the petition he had earlier filed for registration of a murder case against the police over the protester's death.
"The Punjab government had been pressing Chaudhry Anwar to withdraw his application for registration of the murder case. On his persistent refusal, the Raiwind police arrested him from his residence," Punjab PML-N President Rana Sanaullah Khan said on Monday, reported Dawn.
He further added that the 'puppet' government, which had been claiming to champion the cause of farmers' rights, is now harassing the farmers' leadership through arrests.
Meanwhile, a police source says the PKI president was arrested from Multan by the Raiwind police on a complaint of an overseas Pakistani, who alleged he had given ₹32 million in cash besides some machinery for an agriculture project to the farmer leader.
The complainant had alleged that life threats had been hurled at him when he demanded his money back.
https://www.hindustantimes.com/world-news
--------
ECP panel rejects plea for access to PTI accounts
Iftikhar A. Khan
February 10, 2021
ISLAMABAD: In what appears to be another setback to a founding member of Pakistan Tehreek-i-Insaf (PTI) in the scrutiny process of the ruling party's foreign funding case, the scrutiny panel on Tuesday rejected Akbar S. Babar's petition seeking access to PTI documents, including details of over a dozen 'undeclared' bank accounts of the party.
In its latest order, the scrutiny committee of the Election Commission of Pakistan (ECP) highlighted that the PTI documents were kept 'secret' because the ruling party had objected to sharing the same with the petitioner.
Also, the counsel for the PTI Shah Khawar had earlier termed Prime Minister Imran Khan's recent offer of ending secrecy in the foreign funding matter "misconstrued", because "his offer did not mean ending secrecy of the PTI documents".
The counsel for the petitioner Syed Ahmad Hassan Shah, who was assisted by Badar Iqbal Chaudhry during the scrutiny proceedings, also conveyed to the committee that they would challenge its latest decision before the ECP, as transparency, law and ECP orders demanded full access to PTI documents.
The scrutiny committee meeting was later adjourned to February 15.
Parliamentary secretary of the ruling party says all donations from overseas Pakistanis came through banking channels
During the scrutiny proceedings, the counsel for the petitioner read out a news report whereby the PTI finance secretary admitted that the PTI had authorised using personal bank accounts of four PTI 'employees' to collect donations from within and outside Pakistan and that funds had been received from the UAE through those accounts.
Mr Shah said he had repeatedly referred to the original petition specifying the front accounts of the PTI employees that had been allegedly used to collect illegal money particularly from the Middle East and siphoned off by the top leadership through cash cheques.
While moving an application before the scrutiny panel, the counsel said it was incumbent on the committee to write to the State Bank of Pakistan (SBP) for full access to the personal accounts of the four PTI employees to ascertain the full scale and scope of illegal fund raising.
The counsel said his client had repeatedly requested the scrutiny committee to investigate the PTI employees' private bank accounts which had been 'illegally used as a front' to collect funds. Despite sharing ample evidence, the scrutiny committee till date had made no effort to investigate those accounts, he pointed out.
Also, the PTI finance secretary had admitted to the existence of a special audit report verifying all the allegations of financial irregularities by the PTI that the ruling party refused to acknowledge before the scrutiny committee, Mr Shah added.
The PTI was asked to respond to the news report and the application filed by the petitioner seeking SBP intervention to reveal the personal bank accounts of the four 'employees'.
For PTI funds' scrutiny, the committee will again meet on Monday.
'PML-N laid foundation of foreign funding'
Soon after the scrutiny committee meeting, PTI parliamentary secretary Farrukh Habib while talking to reporters said all PTI donations from abroad came through banking channels and lambasted the opposition's objections to the ruling party right to allow its 'paid employees' to receive donation.
It was like pot calling the kettle black, he said. "They are the ones who laid the foundations of foreign funding in Pakistan," he said while accusing Pakistan Muslim League-Nawaz (PML-N) Vice President Maryam Nawaz of having been "gifted" the laundered money by her father and ex-premier Nawaz Sharif.
He said that while the opposition party accused the PTI of having gotten foreign funding, all of their leaders were sitting abroad. "The foreign funding case is getting on Maryam's nerves," he said and dared the opposition party to appear before the ECP and present their money trail.
He said Ms Maryam was "caught with her lies, including in the Calibri font faux pas [in the Panama Papers case]."
He said a PML-N leader had disclosed Sharif family's ties with Indian businessman, Sajjan Jindal, through a tweet in April 2017. "These were the resources used for receiving funding from India to weaken Pakistan and its institutions," he remarked.
He chided the opposition for its talks of a Kashmir's debacle. He recalled that when ex-PM Sharif had gone to India to attend the oath-taking ceremony of Modi, he preferred not to see the APHC leaders.
He said Mr Sharif never uttered a single word about Indian spy Kulbushan Jhadav.
Mr Habib also referred to the allegation that the PML-N supremo had received Rs10 million from Osama Bin Laden to topple the PPP government in the 1990s and chided both parties for joining hands.
He also alleged that then PM Sharif had sent Minister for Religious Affairs Syed Amjad Qadri in 1998 for recognising Israel.
Transparency in scrutiny
Talking to reporters, PTI founding member Akbar S. Babar said the scrutiny committee's decision to keep PTI documents 'secret' had no legal basis and would be challenged before the ECP.
He said keeping the documents secret would only made the transparency and credibility of the scrutiny process doubtful. He recalled that ECP in its August 27, 2020 order had already rejected the committee's report after nearly two and half years of deliberations.
Mr Babar said the PTI's acknowledgment of using employees front accounts for fund raising was an admission of guilt and vindication of his stance of mega corruption and financial irregularity.
He said the committee had been formed in March 2018 and asked to complete scrutiny within one month, but the process was still under way. He requested the Chief Election Commissioner (CEC) to intervene. He said the scrutiny committee and the ECP could not be separated, as committee's failure to conduct transparent scrutiny impacted ECP's public standing as an independent constitutional body. He again requested the ECP to take charge of the case and conduct scrutiny under its direct supervision.
Mr Babar said he had no intention of relenting on the issue as he was determined to bring truth before the people even if it meant knocking the doors of the Supreme Court.
https://www.dawn.com/news/1606495
--------
SC bars carrying out death penalty for inmates with mental disorders
Rana Bilal
February 10, 2021
The Supreme Court on Wednesday said that if a prisoner on death row is unable to comprehend the rationale behind their punishment due to a mental illness, then carrying out the death sentence does not "meet the ends of justice".
The apex court announced the verdict after reserving its judgement on a point whether mentally ill death-row prisoners can be executed.
Headed by Justice Manzoor Ahmad Malik, a five-judge bench announced the judgement at the Lahore registry. Other members of the bench included Justice Sardar Tariq Masood, Justice Ijazul Ahsan, Justice Mazhar Alam Khan Miankhel and Justice Syed Mansoor Ali Shah.
The bench had on Jan 7, 2021, reserved its verdict after marathon hearings on three appeals pertaining to as many mentally ill prisoners on death row amid a consensus from the amicus curiae and advocate generals that such inmates should not be executed.
The appeals had been filed on the behalf of Kanizan Bibi, Imdad Ali and Ghulam Abbas who have spent 30, 18 and 14 years on death row, respectively, while exhibiting acute symptoms of mental illness.
In its judgement, the court commuted the death sentences of Kanizan Bibi and Imdad Ali to life imprisonment.
Meanwhile, the court directed a fresh mercy petition to be prepared on behalf of Ghulam Abbas, stating that there was nothing on record to show whether mental illness was taken into consideration while dismissing an earlier plea.
The petition is to be prepared in accordance with the relevant Prison Rules and submitted to the president.
The court also directed the Punjab government to immediately shift the accused from prison to the Punjab Institute of Mental Health, Lahore, for treatment and rehabilitation.
The court also directed authorities to amend the Prison Rules to bring the jail manuals of all the provinces in harmony, and directed the federal and provincial governments to establish/create high security forensic mental health facilities at teaching and training mental health institutions .
"The federal government (for Islamabad Capital Territory) and each provincial government, shall immediately constitute and notify a medical board comprising of three qualified and experienced psychiatrists and two psychologists from public sector hospitals for examination and evaluation of the condemned prisoners who are on death row and are suffering from mental illness to ensure that such mentally ill condemned prisoners [...] are not executed," the judgement read.
The federal and provincial governments were also directed to launch training programmes and short certificate courses on forensic mental health assessment for psychiatrists, clinical psychologists, social workers, police and prison personnel.
The Federal Judicial Academy, Islamabad, and all the provincial judicial academies shall also arrange courses for trial court judges, prosecutors, lawyers and court staff on mental illness including forensic mental health assessment, the judgement added.
In its judgement, the SC clarified that not every mental illness shall automatically qualify for an exemption from carrying out the death sentence.
"This exemption will be applicable only in that case where a medical board, consisting of mental health professionals, certifies after a thorough examination and evaluation that the condemned prisoner no longer has higher mental functions to appreciate the rationale behind the sentence of death awarded to them," the judgement read.
In the judgement, the apex court observed that the terms "mental illness" or "mental disorder" are both used to refer to mental ailments and are defined by medical science.
"It is with the developing nature of medical science that scope of these terms may also evolve. Therefore, we are of the view that a limited definition of the terms 'mental disorder' or 'mental illness' should be avoided, and the provincial legislatures may [...] consider to appropriately amend the relevant provisions of mental health laws to cater for medically recognised mental and behavioral disorders as notified by the World Health Organisation."
The court also noted the use of "stigmatic labels" such as "unsound mind", "lunatic" and "insane".
"Latest legislations all over the world do not use such terms. Therefore, we consider it appropriate to direct that the terms 'unsoundness of mind' and 'unsound mind' occurring in Pakistan Penal Code, the Criminal Code of Procedure and the Prison Rules be substituted with term 'mental disorder' or 'mental illness'.
"The term 'lunatic' wherever it occurs shall also be substituted appropriately," the judgement stated.
https://www.dawn.com/news/1606555/sc-bars-carrying-out-death-penalty-for-inmates-with-mental-disorders
--------
Shangla police arrest terrorist in Karachi
February 10, 2021
SHANGLA: The Shangla police claim to have arrested a wanted terrorist during a raid in Karachi.
A statement issued here on Tuesday, said Abdul Satar of Lilonai, an alleged Taliban commander, had carried out attacks on police and government installations, and managed to escape to Karachi, where he had been living along with his family for last 14 years.
It said that district police officer Rahim Shah Khan had sent a team led by SDPO Mohammad Fazil Khan and SHO Arif Khan to Karachi where he was arrested.
The statement said the police had information about his hideout. The terrorist is wanted to police under sections 364, 148, 149, 448, 120A, 121 and 124A of the ATA.
Separately, the police foiled a timber smuggling bid by seizing cedar wood at Dandai checkpost on Tuesday.
The police said the precious quality timber was being smuggled to Thakot area of Battagarm district through Karakoram Highway.
They said the forest department officials had been called for seizing the timber and imposing fine on the smugglers.
https://www.dawn.com/news/1606453/shangla-police-arrest-terrorist-in-karachi
--------
Five 'foreigners linked with RAW, NDS' remanded in CTD custody
February 10, 2021
KARACHI: The administrative judge of the antiterrorism courts on Tuesday remanded five foreigners held for allegedly working for the Afghan and Indian intelligence agencies in police custody.
The Counter-Terrorism Department on Monday claimed to have foiled a major terrorist activity in the metropolis by arresting five Afghan nationals for having links with Afghanistan's National Directorate of Security (NDS) and India's Research and Analysis Wing (RAW).
On Tuesday, the investigating officer of the case produced the suspects before the administrative judge of the ATCs to seek their physical remand for interrogation and investigation.
He informed the court that the gang of held suspects was busted in an intelligence-based operation carried out in Shah Latif Town.
The IO submitted that the suspects engaged in an encounter with personnel of law enforcement agencies who managed to arrest them.
He mentioned that the suspects were planning to target key government installations, including the Sindh Assembly building.
The IO said that an explosives-laden rickshaw prepared by them to use in terrorist activity was recovered from their possession along with explosives and arms.
He mentioned that some eight cases pertaining to encounter, possessing illicit weapons and explosives and attempted murder were registered against them.
He requested for 14-day physical remand of the suspects in the custody of the CTD for interrogation and completion of investigation and other legal formalities.
However, the judge remanded them in the custody of the CTD till Feb 20, directing the IO to produce them on the next date along with an investigation report.
A day earlier, the CTD chief had said a suspected militant was killed and five of his accomplices were arrested during a pre-dawn raid on their hideout following a deadly gunfight.
https://www.dawn.com/news/1606482/five-foreigners-linked-with-raw-nds-remanded-in-ctd-custody
--------
South Asia
Taliban Maintains Close Ties To Al-Qaeda, Says Afghan Foreign Ministry
08 February, 2021
Kabul [Afghanistan], February 8 (ANI): Despite the Taliban's claim that it seeks to maintain peace in Afghanistan, the country's Foreign Ministry on Sunday revealed that the terror outfit still maintains close ties to the terrorist outfit Pakistani Al-Qaeda and other terrorist groups.
According to Khaama News, the ministry announced on Sunday in a released statement that the 27th report of the UN Security Council (UNSC) Watchdog Group on Al-Qaeda, ISIL, and its affiliated groups indicated the Taliban has continued its relations with Al-Qaeda and other terrorist groups.
The statement read that the Taliban's ties to Al-Qaeda, ISIS, and some other terrorist groups are still intact and that the killing of several al-Qaeda commanders, including Husam Abd al-Rauf, known as Abu Muhsen al-Masri, in Taliban-controlled areas is the evidence that backs these claims.
"The UN Security Council report also noted threats and coordination between the Pakistani Taliban, regional terrorist groups, and the Islamic Jihad group, a group of 100 militants that operate in Faryab and Kunduz provinces, in areas under the Taliban influence," MoFA said in the statement.
Khaama News further reported that based on the findings, UN-Analytical Support and Sanctions Monitoring Team considers the situation in Afghanistan to be challenging and widely exposed to terrorism.
The Afghan Foreign Affairs Ministry also called on international partners to uphold the Republic's rightful stand against the Taliban and push the group for a ceasefire and violence reduction. First Vice President, Amrullah Saleh said the Taliban did not abide by the Doha agreement, He added that from 5,500 Taliban released prisoners, 85 per cent has returned to the battlefield. (ANI)
http://www.businessworld.in/article/Taliban-maintains-close-ties-to-Al-Qaeda-says-Afghan-foreign-ministry/08-02-2021-375298/
--------
The Taliban's varied suitors could spoil Biden's Afghanistan plans
February 10, 2021
Russia, Iran and Pakistan could easily undercut US designs in Afghanistan unless they are made a part of the process.
US President Joe Biden is considering to slow down the withdrawal of American troops from Afghanistan and may remove the May 1 exit deadline.
The Taliban has warned of violence if the Doha deal signed last February is violated. The complete withdrawal, however, was always conditional on the Taliban meeting their commitments to prevent terrorism, and the Pentagon is stressing that.
While abandoning the US-initiated Doha "peace-talks", the Taliban – despite UN-documented evidence of responsibility for the killing of tens of thousands of Afghan civilians – has been invited to high level political meetings in Tehran and Moscow.
It is strange how Iran, which in 2001 helped US troops defeat the Taliban, is using the same group 20 years on to upstage American efforts in Afghanistan.
Iran's invitation to the Taliban two weeks ago with photos of Foreign Minister Javad Zarif showing respect to Mullah Abdul Ghani Baradar took many by surprise but it was choreographed to send a message to President Biden that Iran must be involved in decisions on Afghanistan.
The fact that two days later another Taliban leader, Sher Mohammed Abbas Stanikzai, led another delegation to Russia indicates that Moscow and Tehran had coordinated manoeuvres. Both moves could not have taken place without Pakistan's approval.
Iran, Russia and Pakistan share concerns about the potential of continued American presence in Afghanistan with additional troops returning.
The Taliban's insistence on the need for the US troop withdrawal echoed across the Iranian press. Zarif told the Taliban they must do all they can to reach peace to ensure "the occupiers have no more reason to be there". He also stressed that the US is by no means a suitable mediator or judge.
The chief of Iran's National Security Council, Ali Shamkhani, who also met Mullah Baradar welcomed the fact that the Taliban are "determined to fight the US".
Iran, which has never stopped meddling directly and indirectly in Afghanistan's political affairs, supporting mainly the Shia Hazara and Tajik groups in the western provinces, seems to be eyeing Taliban power-sharing ideas provided all ethnic groups were included. That is where it wants to work in closer cooperation with Pakistan.
President Ashraf Ghani remains strictly loyal to the United States and is opposed to any interference by Iran or Pakistan.
Iran's former allies in the Northern Alliance, are divided between Dr Abdullah Abdullah – who heads the High Council for National Reconciliation, working in close cooperation with President Ghani – and others such as Ata Mohammad Noor gathering support for a transitional government to upstage Ghani.
Despite a turbulent relationship in recent years, Tehran and Islamabad appear to be moving closer. Over the past few days Pakistan has helped release the last of the 14 IRGC border guards.
Additionally through online meetings, Iran and Pakistan have agreed to increase annual bilateral trade to $5 billion. Last month they opened a border crossing point to boost trade.
One week before the Taliban's Tehran visit, Pakistan's Prime Minister, Imran Khan supported Iran by saying he hoped the US sanctions would be lifted. "The Islamic Republic has the capacity to turn into an economic power in the region," he said.
Meanwhile, Stanikzai as the head of delegation in Moscow warned in a press conference that the Taliban will continue to fight if the Americans don't leave. He said he hoped Russia would help the final settlement.
Russia, which fought a 10-year war in Afghanistan in the 1980s, has increasingly played the diplomatic card inviting the Taliban four times. Russia's special envoy for Afghanistan, Zamir Kabulov, a former KGB agent, has in several interviews expressed concern that the Americans don't want to leave Afghanistan and that is what brings them close to the Taliban.
Iran's Zarif went to Moscow immediately after meeting the Taliban in Tehran and praised the collaboration between the two countries which he said: "goes back longer than the history of the US".
Iran and Russia cooperate closely on Afghanistan, Syria, Yemen, the Caucuses and Central Asia.
They are both on the frontline of a series of new moves by the US administration. Russia has just signed the renewal of the New Strategic Arms Reduction Treaty, and Iran is expecting a way forward on its nuclear deal, the JCPOA. They see the roadmap of their relations with the new US administration through that prism. They are weary that too many new demands and controls will soon follow.
Russia and Iran have justifiable security concerns about Afghanistan and want to ensure that if the US presence continues it would include more consultation with them. As such, the Taliban is the pawn in their opening move.
Pakistan shares this outlook and as such, is willing to play its part.
They know that the combination of Iran, Russia and Pakistan could undercut the US-initiated "peace talks" in Doha and jeopardise any unsolicited future American designs for Afghanistan.
https://www.trtworld.com/opinion/the-taliban-s-varied-suitors-could-spoil-biden-s-afghanistan-plans-43987
--------
Insecure Afghanistan will pose threats to global peace
09 Feb 2021
President Ghani on Tuesday said that if peace opportunities are lost, and the country heads towards an uncertain future, the situation will cause extreme harm to global and regional peace.
During the virtual meeting the Afghan president indicated that the peace process is in danger if the Taliban does not embrace a real political solution, he added that "security forces are not defeated and neither have we lost our will or capacity for serving our people", and that Afghanistan will not surrender to the group.
The president warned, "God forbid, if Afghanistan plunged into uncertainty, consequences for the region and the world will be dire,".
"This is the moment where regional consensus and international consensus on the need for guarantees for a stable and prosperous Afghanistan are essential. We must ask the world to ask all stakeholders to respect the rules of sovereignty and international relations, stop giving sanctuaries and stop interfering in the affairs of their neighbors," President Ghani said.
This comes as Abdullah Abdullah, Chairman of the High Council for National reconciliation criticized the Taliban for their absence in the 2nd round of the peace negotiations that stalled the talks for many weeks.
According to Abdullah, the Taliban's non-appearance has affected hopes for peace in Afghanistan.Peace talks between both sides have been stopped for 23 days, Abdullah also asked countries involved in the peace to encourage the Taliban to return to the peace talks.
He stressed that every commission in the council is responsible for ensuring participation of all layers of society in the peace process, he said the transitional government is not the aim.HCNR head added, that people and the public should decide their future through elections and votes and that no interim government resulted in peace.
Peace can be achieved with inclusivity, and if there will be discussions on the interim government, it should be discussed on the table.
https://www.khaama.com/insecure-afghanistan-will-pose-threats-to-global-peace-445544/
--------
Bomb explosions target Kabul police killing chief, bodyguard: Afghan official
10 February ,2021
A chain of bomb explosions targeting Kabul police on Wednesday killed a district police chief and his bodyguard, and also wounded five people, officials said.
No one immediately claimed responsibility for the blasts, which were all caused by so-called sticky bombs, explosive devices attached to vehicles that are remotely detonated or set off by timers.
The largest of the attacks struck a police car in a western Kabul neighborhood; the force of the blast was so strong that the car flipped upside down, killing the city's District 5 police chief, Mohammadzai Kochi, and his bodyguard. The driver of the car was wounded, according to two Afghan officials who spoke on condition of anonymity because they were not authorized to talk to the media.
Kabul police spokesman Ferdaws Faramarz said an hour before that blast, two other sticky bomb explosions took place. One of them, about 500 meters (yards) away from where the police car was targeted, wounded four civilians. There were no casualties in the other blast, which took place elsewhere in Kabul.
Afghanistan has seen a nationwide spike in bombings, targeted killings, and violence on the battlefield as peace negotiations in Qatar between the Taliban and the Afghan government have stalled.
The ISIS group's local affiliate has claimed responsibility for some of the attacks, but many go unclaimed, with the government putting the blame on the Taliban. The insurgents have denied responsibility for most of the attacks.
In eastern Ghazni province, the provincial governor's spokesman, Wahidullah Jumazada, said an airstrike called in during fighting with the Taliban killed at least 22 insurgents, including foreign fighters in the group.
Taliban spokesman Zabihullah Mujahid immediately tweeted a denial, saying Afghan government forces were defeated in the fighting in Ghazni. He also claimed the Taliban have no foreign fighters in their ranks.
https://english.alarabiya.net/News/world/2021/02/10/Bomb-explosions-target-Kabul-police-killing-chief-bodyguard-Afghan-official-
--------
Myanmar military implausibly plays the Rohingya card
By BERTIL LINTNER
FEBRUARY 9, 2021
CHIANG MAI – After grabbing power in a February 1 coup that has been resisted by massive demonstrations and condemned by the US, EU and UN, Myanmar's military regime would appear to have few cards to play to win acceptance.
But one the coup-makers amazingly think they can play is the plight of Muslim Rohingya refugees in Bangladesh, who were driven across the border during brutal military campaigns in 2016-17, and those who have remained behind in Myanmar.
Shortly after overthrowing Aung San Suu Kyi's democratically elected government, the new military regime sent a letter to Bangladesh's government through its ambassador in Myanmar to explain their reasons for the coup, namely unsubstantiated allegations of fraud at the November 2020 election Suu Kyi's National League for Democracy (NLD) resoundingly won.
In the letter, the full contents of which has not been made public, the military regime also mentioned a possible solution for solving the Rohingya crisis. That prompted Bangladesh's Foreign Minister Abdul Momen, quoted by the Dhaka Tribune on February 6, to say "these are good news. It's a good beginning."
Inside Myanmar's Rakhine state, several local military commanders have visited Muslim-inhabited areas close to the Bangladesh border and a camp for internally displaced Rohingyas in the state capital Sittwe.
According to a February 5 United News Bangladesh (UNB) report, the commanders talked to Rohingya elders and donated 500,000 Myanmar kyats (US$350) and food for the mosque in Aung Mingalar Quarter where thousands of internally displaced persons (IDPs) have been languishing since communal riots between Muslims and Buddhists in 2012.
Military visits have also reportedly taken place in Maungdaw, a Rakhine state township that borders Bangladesh. The commanders have reportedly told the Rohingyas the same thing: Suu Kyi, not the military, is to blame for their massive exodus from Myanmar into Bangladesh in 2017.
It's not clear yet if the Rohingyas are taking the claim seriously. According to all other accounts, what happened in 2017 was a military campaign over which Suu Kyi, or any other elected civilian leader, had no influence considering the military controlled the defense, border affairs and home ministries.
However, the UNB report stated that Rohingyas in the overcrowded camps in Bangladesh's Cox's Bazar were "joyous at the news of the fall of Suu Kyi." Similar reports have also appeared in other Bangladeshi media.
But the question remains: will these military overtures result in an easing of the restrictions on the movements of the Rohingyas in the IDP camp in Sittwe and some token repatriation of refugees from Bangladesh?
Bangladesh's authorities have handed over a list of 840,000 Rohingyas to Myanmar for citizenship verification, but only 5% of those, or 42,000, have been verified by Myanmar and almost none has been able to return due to lingering security concerns.
Bangladesh, which fears radicalization among young, restless refugees and the activities of criminal gangs among them, have up until now moved 5,300 refugees from the overcrowded and congested camps near Cox's Bazar to Bhasan Char, an isolated island in the Bay of Bengal where new, modern facilities have been built, indicating that they will be there for the foreseeable future.
Now, if Bangladesh's Foreign Minister Momen is to be believed, the Rohingyas in the camps "expressed happiness hearing the news from Rakhine."
Part of the military's ruse, Yangon-based analysts say, is that those opposing the military takeover and its policies could be branded "racists" or "Islamophobes" if they denounce the military for suggesting repatriation of a community who the vast majority of Myanmar citizens consider illegal immigrants from Bangladesh.
Moreover, how will the West react to such sentiments, if expressed, from the pro-democracy demonstrators who are opposing the military's coup? And what role would China play in any such gambit?
Rohingya refugees may have cheered Suu Kyi's ouster, but social media postings also show photos of Rohingyas expressing opposition to the coup by holding up three fingers, a symbol of democratic defiance first used in the region by anti-government demonstrators in Thailand and now being flashed across Myanmar.
As for China's role, Bangladesh has pinned its hopes for help on Beijing to find a solution to the refugee crisis. According to Momem, speaking to Bangladesh journalists on February 3, "We have confidence in China. They have come forward to take initiative and some progress has been made."
It was not clear what kind of progress he was referring to, but, so far, it has been limited to inconclusive talks between various actors. A virtual meeting set up by Beijing involving representatives of Myanmar, Bangladesh and China scheduled for February 4 was canceled because Myanmar's coup-makers had cut the nation's internet connections.
Beijing, which remains suspicious of any movement that could be described as Islamic, has through the United Wa State Army — a Myanmar-based ethnic armed organization that has close relations with China's security services — warned other ethnic groups not to have any dealings with the Arakan Rohingya Salvation Army, a Rohingya rebel group.
Attacks by that rag-tag rebel outfit against security outposts in Rakhine in 2016 and 2017 prompted the Myanmar military to launch a massive "clearing" operation in the area. The Chinese have since claimed ARSA had connections with what it called "Islamic militants" in its western province of Xinjiang.
The international community appears to be divided on the issue. It is highly unlikely that the new Joseph Biden administration in Washington, with its stated commitment to democracy promotion in Asia and worldwide, would change its view on the military takeover because of vague coup-maker commitments to finding a solution to the refugee crisis, the greatest humanitarian crisis in Southeast Asia since the Vietnam War.
Washington is already considering re-imposing sanctions on Myanmar and even the 15-member UN Security Council released a statement on February 4 calling for the release of all detainees and respect for human rights, fundamental freedoms and the rule of law.
But if Myanmar's new military government manages to ride through the storm of massive protests and strikes to retain power in Naypyitaw, it is not inconceivable that Western powers and Japan, which is eager to keep Chinese influence in Myanmar at bay, may start to soften their stance and engage the coup regime.
History, of course, shows engaging Myanmar's generals is unlikely to restore the relatively open but only semi-democratic order that prevailed under Suu Kyi before the coup. Nor are the million or so Rohingya refugees in Bangladesh likely ever to return to Myanmar, regardless of the regime's teasing suggestions to the contrary.
https://asiatimes.com/2021/02/myanmar-military-implausibly-plays-the-rohingya-card/
--------
Taliban offensives claim 9 ANA soldiers: Nimroz
10 Feb 2021
At least nine Afghan soldiers were killed in a Taliban offensive attack in the Khashrod district of Nimroz province.
Provincial council members confirmed to media, that a large group of Taliban fighters attacked Afghan National Army outposts on Tuesday night.
According to the reports, 9 Afghan soldiers were killed during the skirmish, equipped with armored Humvee tanks and heavy weapons Taliban rushed into the battle for hours in the Minar area of the district.
Taliban fighters had attacked army checkpoints in the Minar area using Humvees and heavy and semi-heavy weapons.
ANA reportedly reacted to the offensive and fought back the Taliban, it is said the militants left the area upon hearing the sound of a plane.
Provincial council officials also said, that the Taliban has taken two soldiers with them and one Afghan national army member is still missing in action.
The southwestern province of Nimroz is one of the most insecure provinces in the country, where Taliban fighters are active in the majority parts of the region.
https://www.khaama.com/taliban-offensives-claim-9-ana-soldiers-nimroz-454555/
--------
India, Afghanistan signed a pact on 'Shahtoot Dam'
09 Feb 2021
Indian Prime Minister, Narendra Modi and President Ashraf Ghani agreed on the construction of a dam project in a virtual summit talk.
The Shahtoot dam project establishment was signed by Mohammad Hanif Atmar, Afghan Foreign minister, and Subrahmanyam Jasishankar, Indian Minister of Foreign Affairs.
President Ghani on his part thanked the Indian government for 500,000 doses of the vaccine he added, "At this critical time, there could not be a greater gift".
India being a true partnership in Afghanistan's development plans and assistance is marked on our landscape, President Ghani added.
Meanwhile, PM Modi expressed his Nation's concern over the increasing level of violence and targeted killings of journalists, and innocent people and call for an "immediate stop" to such actions, he also said that India supports Afghan-owned and led peace negotiations.
Prime Minister, Narendra Modi indicated that both "India and Afghanistan want to see the region free of terrorism".
Shahtoot dam will help provide 2 million people in Kabul with clean water and it will be the second dam constructed by India in Afghanistan, reports indicated, that the cost of this project is estimated to be $236 million.
The project is expected to be completed within three years and will facilitate the irrigation of 4,000 hectares of land in the Charasiab and Khairabad districts.
The dam will hold 146 million cubic meters of portable water.
Previously India in Afghanistan constructed the Salma dam also known as the India-Afghanistan friendship dam.
https://www.khaama.com/india-afghanistan-signed-a-pact-on-shahtoot-dam-445544/
--------
Foreign fighters among '22 Taliban killed' in Ghazni
10 Feb 2021
Ministry of Defense stated, in a special defense operation in Ghazni province, the Afghan commando forces captured and destroyed a manufacturing center for making suicide bombing vests, the unit also wrecked a location where foreign Taliban affiliates were kept.
In a released statement on Wednesday, MoD indicated that both of the locations were completely destroyed by the Afghan national defense and security forces.
During the operation 22 Taliban fighters, including Arab, Pakistani, Tajik nationals were also killed among the fighters, the bulletin added.
The statement elaborated that among the 22 killed Taliban were Six Arabs, Two Pakistanis, and Two Tajik nationals.
Three Taliban members, including "Shahbaz Kha" suicide bombing facilitator were also detained in the special operation conducted by the Afghan commandos, among the detainees, MoD said.
MoD's commando unit also destroyed 16 suicide vests and 16 tons of explosive materials during the operation.
This comes as local authorities in Herat province reported that two soldiers were killed and three others were wounded in a Taliban attack on a government checkpoint in Golran district on Tuesday night.
Following the battle, Taliban fighters fled the area, and according to the witnesses, this clash has lasted overnight.
https://www.khaama.com/foreign-fighters-among-22-taliban-killed-in-ghazni-334433/
--------
Southeast Asia
Radicalised Malaysian man arrested under ISA and deported, wife placed on Restriction Order
Hariz Baharudin
FEB 9, 2021
SINGAPORE - A 33-year-old radicalised Malaysian working as a cleaner here has been arrested and deported to Malaysia for planning to travel to Syria with his Singaporean wife to take up armed violence for terrorist group Islamic State in Iraq and Syria (ISIS).
The Internal Security Department (ISD) on Tuesday (Feb 9) said the man's 34-year-old wife, a religious teacher who was radicalised by him and had wanted to go with him, has been placed on a Restriction Order for two years. Her teaching accreditation has been suspended.
The man, Mohd Firdaus Kamal Intdzam, was arrested under the Internal Security Act (ISA) in July 2020. The ISD said there was no indication he had made any specific plans to cause violence in Singapore.
Investigations revealed that Firdaus started being radicalised in 2016, when he went online to deepen his religious knowledge and was exposed to pro-ISIS content.
"Through sustained exposure to pro-ISIS materials, Firdaus was convinced by early 2018 that ISIS was fighting for Islam, and that its use of violence to create an Islamic caliphate was justified," said ISD.
It added that Firdaus had regarded a self-declared leader of ISIS, Abu Bakr al-Baghdadi, as the true Islamic ruler. Even after ISIS' so-called caliphate fell in the late 2010s, he still remained a fervent supporter of ISIS by actively posting materials promoting ISIS and armed jihad on his social media accounts.
Firdaus had even created an ISIS flag in March 2020, which he hung at home to show his loyalty towards the group.
He believed armed jihad, or struggle in the name of Islam, was compulsory for all able-bodied Muslim men.
In addition to travelling to Syria to take up arms, Firdaus was also willing to carry out attacks against countries which he deemed to be oppressing Muslims, or which he saw as being hypocritical for aligning themselves with the West, said the ISD. "He aspired to die as a martyr in the battlefield so as to receive divine rewards."
The department had worked closely with its Malaysian counterparts, the Malaysian Special Branch, on investigations into Firdaus.
After investigations were completed, Firdaus had his work pass cancelled and he was handed over to the Malaysian Special Branch in August 2020.
The head of the Counter-Terrorism Division at Malaysia's Special Branch, Deputy Commissioner Normah Ishak, told The Straits Times Firdaus was charged at the Johor Baru Sessions Court last August for possessing items related to terrorist acts. The case has been mentioned four times since September and last Wednesday, it was again adjourned to March 1. Prosecutors are expected to request that the case be transferred to the Kuala Lumpur High Court.
Responding to queries on how it found out about Firdaus and his wife Ruqayyah Ramli, the ISD said it had received information on his radical social media posts in mid-2020. It declined to give further details, citing operational reasons.
"While it is ISD's practice to announce any new ISA terrorism cases expeditiously, one key determinant of the timing of any such announcements is that it should not jeopardise any ongoing investigations," it added.
Radicalised wife
Firdaus started to influence his wife Ruqayyah Ramli with his pro-ISIS views after their marriage in December 2018.
The housewife and part-time freelance religious teacher, who was accredited by the Islamic Religious Council of Singapore in September 2017, has had her accreditation suspended.
As part of her Restriction Order, she is not allowed to conduct religious classes.
ISD said that while Ruqayyah initially had doubts, she started to believe her husband's words and also saw ISIS' use of violence against perceived oppressors of Islam as justified.
"She was willing to accompany him to Syria, and intended to bring her two children along. She believed that her role in the conflict zone would be to take care of the family (through cooking and housework), and to assist other wounded ISIS fighters," it added.
ISD told The Straits Times that her children were not influenced by their parents' radical beliefs, and that an aftercare officer has been assigned to provide support for Ruqayyah and her family.
Ruqayyah was not found to have attempted to spread her pro-ISIS views to others.
She is currently undergoing religious counselling to steer her away from her radical path, said ISD.
Under the Restriction Order, she cannot change her residence, employment or travel out of Singapore without official approval. She is also barred from issuing public statements or joining organisations without approval.
In a statement on Tuesday, Muis said it was "alarming" that Ruqayyah was a part-time freelance religious teacher, and that her case is a "grim reminder" of the dangerous influence of extremism still present today, especially from online sources.
The council urged people here to report any individual espousing violent or extremist ideologies to the relevant authorities quickly for timely intervention.
In a Facebook post, Minister of State for Home Affairs Faishal Ibrahim said: "If there are signs of radicalisation, we should refer these individuals to Muis, the Religious Rehabilitation Group or the police. Early intervention will help steer them away from the radicalised path."
This is the second time an accredited religious teacher has been issued with an order under the ISA.
In 2019, former freelance religious teacher Murad Mohd Said, an ex-principal of Madrasah Al-Arabiah Al-Islamiah, was placed on a Restriction Order for segregationist ideologies that promoted violence and views detrimental to Singapore's cohesion.
https://www.straitstimes.com/singapore/politics/radicalised-malaysian-man-arrested-under-isa-and-deported-local-religious-teacher
--------
Singapore Expels Malaysian Man Who Allegedly Planned to Join IS in Syria
2021-02-09
Singapore has deported a Malaysian man who intended to travel to Syria with his wife to fight alongside the Islamic State extremist group, authorities in the city-state said on Tuesday.
Upon his expulsion to his home country in August, Malaysia charged the man for possession of terror-related items, and a judge is expected to examine case materials on March 1, the country's counterterrorism chief told BenarNews on Tuesday.
"Mohd Firdaus bin Kamal Intdzam (Firdaus), a 33-year-old Malaysian, was arrested under the Internal Security Act (ISA) in July 2020. Investigations revealed that Firdaus, who was working as a cleaner in Singapore, was a supporter of the terrorist group Islamic State in Iraq and Syria (ISIS)," according to a statement issued by Singapore's Ministry of Home Affairs and the city-state's Internal Security Department (ISD).
"ISD had worked closely with the Malaysian Special Branch (MSB) on the investigations into Firdaus. His Work Pass was canceled and he was repatriated to Malaysia and handed over to MSB in August 2020 upon the completion of ISD's investigation into him."
It was not immediately clear why the Singaporean agencies had waited till Tuesday to announce the deportation. In Kuala Lumpur, Malaysian counterterrorism police chief Normah Ishak confirmed that Firdaus had been deported in August.
"He was charged in August 2020 at the Johor Bahru Session Court in Johor with five charges for possessing items related to terrorist acts under Section 130JB (1) (a) of the Penal Code," Normah told BenarNews.
If convicted, Firdaus could be sentenced to a maximum of seven years in prison, or fined, according to the penal code.
"The prosecutor is still waiting for the completed expert and forensic reports [in the case]," Normah said via text messages, adding that the judge had set March 1 as the next court date to examine evidence.
"The prosecutor is expected to request the court to transfer the case to the Kuala Lumpur High Court," Normah said.
'Intention to travel to Syria'
According to Singapore's investigation, Firdaus began to be radicalized in 2016, when he found Islamic State propaganda online during his research to learn more about religion, Singaporean officials said.
Two years later, he was convinced that the group was fighting for Islam and that its use of violence to create and Islamic state was justified, the ISD said.
Islamic State's self-declared Caliph Abu Bakr Al-Baghdadi, Firdaus believed, was the true Islamic leader. The top IS leader was killed when he detonated a suicide vest he was wearing during a raid by U.S. forces in Syria in October 2019.
"Even with the demise of ISIS's so-called caliphate in Syria and Iraq, Firdaus remained a fervent supporter of ISIS. He actively posted materials promoting ISIS and armed jihad on his social media accounts. … He harbored the intention to travel to Syria with his wife to fight alongside ISIS," the statement from Singapore said, referring to the Islamic State by another acronym.
IS's last bastion in Syria fell in March 2019.
Meanwhile last August, Singapore imposed severe restrictions on Firdaus's wife, Singaporean Ruqayyah Ramli, who was radicalized after her marriage in 2018, according to the ISD.
"She was issued with a Restriction Order (RO) under the ISA for a period of two years in August 2020 after investigations found that she had been radicalized by her husband, the department said.
A person under such an order is not permitted to change his or her residence or employment, or travel out of Singapore, without the prior approval of the ISD. The individual also cannot issue public statements, address public meetings, or print and distribute any materials.
Ruqayyah, 34, was a housewife and a part-time religious teacher who supported Firdaus's ambition to go to Syria, the agency said.
"She was willing to accompany him to Syria, and intended to bring her two children along. She believed that her role in the conflict zone would be to take care of the family (through cooking and housework), and to assist other wounded ISIS fighters," the ISD said.
The investigation did not find proof that Ruqayyah had attempted to spread her pro-IS views.
"She is not allowed to conduct religious classes as part of her restriction order conditions. She is presently undergoing religious counseling to steer her away from her radical path," the department said.
7 arrests last year
On Nov. 24, 2020, Singapore announced that another Malaysian national was sent back home after that person was found to have been radicalized. Singapore did not say when it expelled that person.
Malaysia did not take any action against this person because police had cleared that individual, Normah told BenarNews on Tuesday.
Malaysia made seven counterterrorism arrests last year, she said.
"In January [2020], six were arrested where three were charged and three more were released due to insufficient evidence. In August 2020, we arrested one individual and successfully charged him in court," Normah said.
By comparison, Malaysia arrested 72 IS-linked suspects in 2019 and 119 the year before that.
"Due to health security and pandemic prevention measures, daily movement and activities have been restricted. So this has indirectly reduced the risk and flattened the curve of terrorism in Malaysia," Normah said last month during a symposium on preventing violent extremism.
In September, security analysts told BenarNews that IS was stepping up recruitment in Muslim-majority Indonesia and Malaysia, as well as the Philippines, amid the distraction of a global pandemic.
https://www.benarnews.org/english/news/malaysian/my-sg-is-02092021124332.html
--------
Arab World
Qatar ready to help Lebanon financially only if new government formed: Minister
09 February ,2021
Tuqa Khalid
Qatar is prepared to help Lebanon kick-start its struggling economy only if a new government is formed, the Gulf country's Minister of Foreign Affairs Mohammed bin Abdulrahman Al-Thani said on Tuesday during a visit to Beirut.
"Qatar in its policy does not provide financial support in cash, but in the form of programs that make a difference in the state's economy and in the interest of the people. This requires a stable government and work on economic programs that serve the people," he said.
Lebanon is locked in its worst economic crisis in decades and desperately needs international aid, but donors have conditioned financial help on an independent cabinet enacting sweeping reforms.
The country's politicians have failed to agree on a new government since the previous cabinet stepped down after a monster August 4 blast at the Beirut port that killed more than 200 people and ravaged large parts of the city.
Two visits to the country by French President Emmanuel Macron have failed to lift Lebanon out of the impasse has yet to yield results.
"Qatar does not seek to undermine the French initiative, rather it is working to complete international efforts to form a government," the minister said.
Qatar has maintained good ties with all sides of the multi-confessional country's political factions over the years, hosting them in Doha in 2008 to ink a deal after tensions came to a boil in the Mediterranean country.
The agreement followed clashes in May that year between gunmen led by the Shia Hezbollah group and pro-government forces, with the former briefly seizing Sunni areas of west Beirut.
In 2019, gas-rich Qatar pledged to buy $500 million in Lebanese government bonds to help support one of the world's most indebted countries.
https://english.alarabiya.net/News/middle-east/2021/02/09/Qatar-ready-to-help-Lebanon-financially-only-if-new-government-formed-Minister
--------
Iraq executes five 'terrorism' convicts: Security sources
09 February ,2021
Iraq on Tuesday hanged five people convicted on "terrorism" charges in a notorious southern prison, security sources said, despite an international outcry in recent months over the country's execution record.
The five men, all Iraqi, were executed in the Nasiriyah prison in Dhi Qar province, the only one in Iraq that carries out capital punishment, the security sources told AFP.
Since declaring ISIS defeated in late 2017, Iraq has condemned hundreds of its own citizens to death for membership of the terrorist group.
But only a small proportion of the sentences have been carried out, as they must be approved by the country's president, currently Barham Saleh, who is known to be against capital punishment on a personal level.
Last month, Iraqi authorities revealed that they had more than 340 execution orders "for terrorism or criminal acts" that were ready to be carried out.
A presidential source told AFP that a majority of those approvals dated back to before Saleh became president.
https://english.alarabiya.net/News/middle-east/2021/02/09/Iraq-executes-five-terrorism-convicts-Security-sources
--------
Saudi Arabia's Prince Sultan bin Salman congratulates UAE on Mars Hope Probe
Reem Krimly
10 February ,2021
Saudi Arabia's Prince Sultan bin Salman bin Abdulaziz, Chairman of the Saudi Space Commission, on Tuesday congratulated the United Arab Emirates on Mars "Hope" Probe successfully entering the planet's orbit, the Saudi Press Agency (SPA) reported.
The UAE made history on Tuesday by becoming the first Arab nation, and the fifth worldwide, to send a probe to Mars.
Officials have lauded the symbolic importance of the mission, which they say will inspire a new generation of Emirati and Arab youth to begin careers in the sciences.
Prince Sultan said the UAE's ambition "was not born today," but has been around since the late Sheikh Zayed, the country's founding father.
"In 1986, when I met Sheikh Zayed, may God have mercy on him, he was talking about space and remembering the smallest details, and he had a great ambition on which he built generations, aspirations and initiatives that contributed to the realization of this dream," SPA cited the chairman of the Saudi Space Commission as saying.
Prince Sultan affirmed the Kingdom's support for the efforts of the UAE in the projects and programs it is working on in the field of space.
For his part, the Secretary General of the Gulf Cooperation Council (GCC), Dr. Nayef Falah al-Hajraf, congratulated the leadership, government, and people of the UAE on the arrival of the "Hope" Probe to Mars.
Al-Hajraf expressed his happiness and pride in this great achievement, adding that the probe was manufactured by Emirati efforts, SPA reported.
https://english.alarabiya.net/News/gulf/2021/02/10/Saudi-Arabia-s-Prince-Sultan-bin-Salman-congratulates-UAE-on-Mars-Hope-Probe
--------
Top Bahraini cleric terms Islamic Revolution as great dawn coming after long night
09 February 2021
Bahrain's most prominent Shia cleric Ayatollah Sheikh Isa Qassim has described the Islamic Revolution as a "great dawn" that came after a long night that had distanced the Islamic community from divine guidance.
"The Ten-Day Fajr (dawn) of the Islamic Revolution is a great Fajr for the Islamic Ummah (community)," Sheikh Qassim said in a statement, referring to the ten-day celebration period that began with the return of the late Leader of the Islamic Revolution Ayatollah Ruhollah Khomeini to Iran and ended 10 days later with the victory of the Revolution under his leadership on February 11, 1979.
"Helping and protecting the [Islamic] government equals helping the divine religion," he said, Iran's Al Alam TV network website reported.
He added that supporting the Islamic government leads to empowerment, honor and preservation of the independence of the Islamic community.
"It will manifest the truth in the world and will serve the interests of all humanity, because the interests of humanity are not separated from those of Islam."
The Bahraini cleric said the Islamic community must feel proud of and rejoice over the establishment of an Islamic government anywhere in the world, because such a government is "truly a source of pride, honor, strength and encouragement" for the whole Islamic community.
"This government is a source of sincere guidance that helps humanity grow and thrive, and it opens up for them opportunities for guidance, salvation and freedom," the top Shia cleric added.
Back in 1979, Iran's Islamic Revolution overthrew the Western-backed Pahlavi dynasty, which had ruled Iran for over fifty years.
The Revolution was among the most important events of the world in the 20th century, changing the geopolitical landscape of the Middle East and the balance of power in the world.
Iran celebrates the Islamic Revolution each year during the 10-day dawn between 1 and 11 February.
https://www.presstv.com/Detail/2021/02/09/644911/Shia-cleric-Islamic-Revolution-great-dawn-after-darkness
--------
Saudi-led coalition destroys two Houthi armed drones
February 10, 2021
DUBAI: The Saudi-led coalition battling Yemen's Houthi movement said on Wednesday it had intercepted and destroyed two armed drones launched by the Iran-aligned group toward southern Saudi Arabia.
Coalition spokesman Turki Al-Malki said in a statement on Saudi state media that the attack had targeted civilians and civilian infrastructure.
It was the third day this week that the coalition said it had intercepted Houthi drones fired toward a southern region of the kingdom that borders Yemen.
The Saudi-led military alliance intervened in Yemen in 2015 after the Houthis ousted the internationally recognized government from power in the capital, Sanaa.
The Houthis hold northern Yemen, from where they have often launched missiles and drones toward Saudi cities.
https://www.arabnews.com/node/1806911/saudi-arabia
--------
Mideast
Golan Heights will stay Israeli, Netanyahu office tells US Secretary of State Blinken
09 February ,2021
The Golan Heights will remain Israeli, Prime Minister Benjamin Netanyahu's office said Tuesday, after the US's top diplomat suggested American support for Israeli control of the plateau was not unshakeable.
"The Golan is very important to Israel's security" but "legal questions are something else," US Secretary of State Antony Blinken told CNN on Monday.
"As long as Assad is in power in Syria, as long as Iran is present in Syria... these pose a significant security threat to Israel... the control of the Golan in that situation I think remains of real importance to Israel's security," he said.
In response on Tuesday, a source in Netanyahu's office said: "Israel's position is clear. In any future possible scenario the Golan will remain Israeli."
Former US president Donald Trump signed a decree in March 2019 recognizing Israel's sovereignty over the occupied part of the Syrian Golan, annexed in 1981 in a move never recognized by the international community.
Syria described Trump's decision at the time as a "flagrant violation" of its sovereignty.
Israel and Syria, which are still technically at war, are separated by a de facto border at the Golan Heights, which Israel has occupied since the end of the 1967 Six-Day War.
https://english.alarabiya.net/News/middle-east/2021/02/09/Israel-relations-Golan-Heights-will-stay-Israeli-Netanyahu-office-tells-US-Secretary-of-State-Blinken
--------
Erdogan says Turkey aims to reach the moon in 2023
09 February ,2021
Turkey aims to achieve first contact with the moon as part of its national space program in 2023, President Tayyip Erdogan said on Tuesday.
"The first rough landing will be made on the moon with our national and authentic hybrid rocket that shall be launched into orbit in the end of 2023 through international cooperation," Erdogan said, detailing a two-phase mission.
Erdogan did not elaborate further on the cooperation. Last month, Erdogan spoke to Tesla and SpaceX boss Elon Musk on possible cooperation in space technologies with Turkish companies.
Speaking in an event in Ankara, Erdogan announced a program with 10 strategic goals including sending a Turkish citizen to a scientific mission in space.
Last month, Turkey launched its Turksat 5A satellite into orbit from the United States in cooperation with SpaceX. Turksat 5B satellite is planned to be launched in second quarter of 2021.
Turkey aims to reach strategic space goals in 10 years, Erdogan also said, adding that the country will improve work on satellite technologies and establish a space port with other ally countries.
"Our feet will be on earth but our eyes will be in space. Our roots will be on earth, our branches will be up in the sky," Erdogan said.
https://english.alarabiya.net/News/middle-east/2021/02/09/Erdogan-says-Turkey-aims-to-reach-the-moon-in-2023
--------
Iran summons Belgium envoy after diplomat Assadi jailed over terrorism
09 February ,2021
Iran on Tuesday summoned Belgium's ambassador to Tehran in protest after a court in Antwerp jailed one of its diplomats for plotting a thwarted 2018 bombing in neighboring France.
Assadollah Assadi, 49, was sentenced to 20 years behind bars on Thursday after being convicted of attempted murder of a "terrorist" nature and "participation in the activities of a terrorist group."
He denies the charges.
For all the latest headlines follow our Google News channel online or via the app.
The Iranian foreign ministry said it had summoned the Belgian ambassador in Tehran "to convey the strong protest of the Islamic Republic of Iran against the illegal decision of the court in Antwerp concerning our diplomat Assadollah Assadi."
"The Belgian government has also been called upon to take measures for the immediate release of Assadi" and "to respect human rights standards," it added.
Three Belgians of Iranian origin were given jail sentences of between 15 and 18 years and stripped of their Belgian nationality in the trial, which further poisoned already tense relations between Tehran and European capitals.
The Islamic republic had warned ahead of the trial that it would not recognize the outcome, saying the procedure initiated by the Belgian justice system was "not legitimate" as Assadi enjoyed diplomatic immunity.
https://english.alarabiya.net/News/middle-east/2021/02/09/Terrorism-Iran-summons-Belgium-envoy-after-diplomat-Assadi-jailed-over-terrorism
--------
Iran's spy chief says Tehran could seek nuclear arms if 'cornered' by West
09 February ,2021
Iran's intelligence minister said persistent Western pressure could push Tehran to fight back like a "cornered cat" and seek nuclear weapons, which Iran has for years insisted it has no intention of ever developing.
The remarks made in a television interview are a rare suggestion that Iran might have an interest in nuclear weapons, which Western nations have accused Iran of pursuing.
Iranian officials have repeatedly dismissed this charge, citing a fatwa or religious decree issued in the early 2000s by the Islamic Republic's top authority, Supreme Leader Ayatollah Ali Khamenei, that bans the development or use of nuclear arms.
The United States and the other Western powers which originally signed up to a 2015 nuclear deal with Iran appear to be at an impasse over which side should return to the accord first, making it unlikely US sanctions that have crippled its economy can be quickly removed.
"The Supreme Leader has explicitly said in his fatwa that nuclear weapons are against sharia law and the Islamic Republic sees them as religiously forbidden and does not pursue them," the minister, Mahmoud Alavi, told state TV.
"But a cornered cat may behave differently from when the cat is free. And if they (Western states) push Iran in that direction, then it's no longer Iran's fault," Alavi said in the interview broadcast late on Monday.
Details from the interview were published by Iranian news websites on Tuesday.
Iran has insisted its nuclear program is to generate power and for other peaceful purposes. But US intelligence agencies and the United Nations nuclear watchdog believe Iran once had a nuclear weapons program that it halted.
US President Joe Biden's administration is exploring ways to restore the 2015 nuclear deal that Iran signed with major world powers but that was abandoned in 2018 by former President Donald Trump, who restored sanctions. Iran retaliated by breaching the terms of the accord in a step-by-step response.
Biden has said that, if Tehran returned to strict compliance with the pact, Washington would follow suit, using that as a springboard to a broader agreement that might restrict Iran's missile development and its regional activities.
Tehran has insisted that Washington must first ease sanctions before it resumes compliance. It has ruled out any negotiations on wider security issues.
https://english.alarabiya.net/News/middle-east/2021/02/09/Iran-s-spy-chief-says-Tehran-could-seek-nuclear-arms-if-cornered-by-West
--------
Yemen: UAE needs to end war on Earth before reaching for space
10 February 2021
A senior Yemeni official has reacted to Abu Dhabi's successful launch of a Mars-bound mission, saying the United Arab Emirates (UAE) should first make achievements on Earth, the greatest of which would be ending its role in the bloody Saud-led war on Yemen, before reaching for the space.
"The UAE is one of the countries involved in the coalition of aggression that is besieging Yemen and killing people at the same time as it is following Amal (Hope) [probe] on Mars," Mohammed Ali al-Houthi, member of Yemen's Supreme Political Council, wrote in a post published on his Twitter page on Tuesday.
Addressing Abu Dhabi, he added, "Abandon your conspiracies against the Republic of Yemen and other countries [instead]! This will be the greatest achievement you will make on Earth. It will be even bigger than the results that the probe will send from Mars."
Earlier in the day, the UAE's first mission to Mars reached the red planet and entered orbit after a seven-month and 494 million-kilometer (307 million-mile) journey, allowing it to start sending data about the Martian atmosphere and climate.
The launch made the UAE the first Arab country ever to reach Mars.
The UAE has been a key part to a Saudi-led coalition that has been involved in a military campaign against Yemen aimed at reinstalling a Riyadh-allied former government there.
Last December, the UN Office for the Coordination of Humanitarian Affairs put the death toll from the Saudi-led war at 233,000.
According to the world body, 80 percent of Yemen's 30 million people need some form of aid or protection. About 13.5 million Yemenis currently face acute food insecurity, UN data shows.
Borrell: Yemeni war source of instability for region
Meanwhile, High Representative of the European Union Josep Borrell has described the ongoing Yemen conflict as a source of instability for the entire region.
"The humanitarian and political situation in Yemen deserves more attention. Much more than the one we pay to it. The war has been raging for almost 6 years, with a devastating impact: 24 million people – which means 80% of the Yemeni population – are in need of humanitarian assistance and more than 4 million are displaced," Borrell said at a European Parliament debate on the humanitarian and political situation on Tuesday.
He added, "Beyond this terrible humanitarian crisis, the war in Yemen has become a source of instability in the whole region. We need to take decisive action to avert a mass famine. The situation can still deteriorate, if restrictions to imports of basic commodities and humanitarian access persist. The COVID-19 pandemic has only exacerbated the humanitarian situation in Yemen. Additionally, the Safer oil tanker stranded in the Red Sea is a ticking time bomb that could cause an environmental disaster."
The EU foreign policy chief highlighted that the only solution to Yemen crisis "is to look for an inclusive political agreement."
"We fully back the efforts of the United Nations Special Envoy, Martin Griffiths, in support of a ceasefire and a political solution [in Yemen]. We are ready to push for a concerted action to unlock the stalled process and nudge the parties to implement a permanent ceasefire and begin political talks," Borrell noted.
The remarks come as the Arabic-language al-Jazeera television news network reported on Tuesday that the European Parliament is working on a draft plan for a ceasefire in Yemen and negotiations for a comprehensive settlement in the war-ravaged Arab nation.
Ansarullah: Griffiths is British representative in UN attire
Separately, the spokesman of Yemen's Ansarullah movement has lashed out at Griffiths, stating the British diplomat pursues the interests of the United Kingdom under the guise of a UN official.
"Just like the logic of the British ambassador [Michael Aron], Griffiths calls the defensive actions of our compatriots hostile. This makes him the representative of his country [Britain] under cover of the United Nations," Mohammed Abdul-Salam said.
https://www.presstv.com/Detail/2021/02/10/644958/Ending-atrocities-in-Yemen-greater-achievement-than-sending-Hope-space-probe-Houthi-tells-UAE
--------
Iranians celebrate 42nd anniversary of Islamic Revolution
10 February 2021
Iranians across the country are celebrating the 42nd anniversary of the Islamic Revolution, which toppled the US-backed Pahlavi regime in 1979.
Each year, the occasion is commemorated by nationwide mass rallies, but this year, there has been a change in the ceremonies due to the coronavirus outbreak.
The celebrations began in the capital, Tehran, and other cities at 10:00 a.m. local time (0630 GMT) on Wednesday, with the participants driving their cars, motorcycles and bicycles.
The vehicles were decorated with slogans as well as the images of Imam Khomeini, the late founder of the Islamic Republic, Leader of the Islamic Revolution Ayatollah Seyyed Ali Khamenei, and Lieutenant General Qassem Soleimani, the top Iranian anti-terror commander, who was assassinated by the US, last year.
In Tehran, processions of cars, motorcycles and other vehicles kicked off from 12 different points on, driving through the streets to circle the iconic Azadi (freedom) Square.
More than 6,000 Iranian and some 200 foreign journalists, photographers and cameramen are covering the event.
Ballistic missiles of Iran's Islamic Revolution Guards Corps (IRGC), namely Zolfaqar-e Basir, Qiam and Dezful, were also put on display as part of the ceremonies at Azadi Square.
In addition to the driving marches, a virtual rally also took place on Wednesday, with the Iranians taking to social media to renew their allegiance to the Islamic Republic.
The previous night, on the eve of the 42nd anniversary, a fireworks display was performed over Tehran and other Iranian cities.
'Iranians will defeat US in economic war'
In a final communiqué, the demonstrators reminded the arrogant powers, especially the United States, of their grave miscalculations in dealing with the Iranian nation before and after its Islamic Revolution, reaffirming their firm determination to the deal the enemies another blow in the economic war they are currently waging against the Islamic Republic.
The demonstrators also said they will stand firm by their position on the 2015 nuclear deal with world powers, which the US abandoned in 2018, calling for the removal of all sanctions imposed by Washington on Iran following its exit from the agreement.
Tehran, they emphasized, will return to its commitments under the agreement only after a thorough verification of the other parties' compliance with the deal, not only in words or on paper but in practice.
https://www.presstv.com/Detail/2021/02/10/644950/Iran-Islamic-Revolution-anniversary-
--------
Africa
Erdogan says Turkey might consider leaving Libya if others go first
Tuqa Khalid
09 February ,2021
Turkey will discuss withdrawing its forces from Libya if other foreign troops leave first, Turkish President Recep Tayyip Erdogan said on Tuesday.
In December, Turkey's parliament authorized an 18-month extension of its troop deployment in Libya.
For all the latest headlines follow our Google News channel online or via the app.
Ankara has long claimed Turkish armed personnel were only deployed in Libya to train units loyal to the Tripoli-based Government of National Accord (GNA) against the Libyan National Army (LNA), a rival administration backed by military strongman Khalifa Haftar in the East.
However, foreign powers and international monitors have accused Turkey of intervening militarily in the North African country with the hope of expanding its influence in the region.
Turkey's presence in Libya is linked to its broader interests in the eastern Mediterranean, where it is hunting for natural gas in disputed waters claimed by Cyprus in Greece.
The Syrian Observatory, a war monitor, also reported that Turkey recruited Syrian and Somali mercenaries to fight in Libya alongside the GNA.
Libya has plunged into chaos since the 2011 toppling of dictator Moammar Gaddafi.
On Saturday, an interim executive was selected to lead conflict-torn Libya until December elections following a decade of chaos.
https://english.alarabiya.net/News/middle-east/2021/02/09/Erdogan-says-Turkey-might-consider-leaving-Libya-if-others-go-first
--------
Amnesty demands humanitarian access in Ethiopia's Tigray
10 February 2021
Amnesty International has urged Ethiopia's government to honor a promise to grant humanitarian access to the conflict-stricken Tigray region in the north.
"The Ethiopian authorities must live up to their promise to allow humanitarian access to the region, where civilians continue to bear the brunt of fighting," Sarah Jackson, Amnesty International's deputy director for East Africa, the Horn and Great Lakes, was quoted as saying on the organization's website on Monday.
Jackson insisted that despite an agreement to grant free access to humanitarian workers, the telephone and internet blackout in the region had hindered aid operations.
"The authorities must do everything in their power to facilitate access for humanitarian and human rights workers to civilians in Tigray whose lives have been torn apart by the fighting," she said.
"Ethiopian authorities must not renege on this agreement. We reiterate our call on all parties to the conflict to comply with their obligation under international humanitarian law to facilitate rapid, unimpeded access for impartial humanitarian relief," the Amnesty official added.
Meanwhile, European Union (EU) authorities have warned that the fighting in Tigray could lead to a broader conflict.
EU authorities on Monday urged Eritrean troops, who reportedly support the Ethiopian government troops fighting Tigrayan rebels, to withdraw from the conflict zone and return to behind the border lines.
The presence of Eritrean forces is "exacerbating ethnic violence" in Tigray, the EU said in a statement.
Eritrea, however, rejected the EU statement, describing the accusation as "appalling."
"The EU statement laments the 'exacerbation of ethnic violence' while conveniently forgetting the toxic policy of institutionalized ethnicity and polarization that the now defunct Tigray People's Liberation Front (TPLF) clique pursued for decades," Eritrean Information Minister Yemane Gebremeskel tweeted on Tuesday.
Eritrea and Ethiopia deny that Eritrean soldiers are involved in the Tigray conflict.
Ethiopian government troops captured Tigray as part of a retaliatory response to alleged attacks on government forces in November last year, and ejected the dissident ruling party of TPLF, which had set itself in opposition to Prime Minister Abiy Ahmed since he came to power in April 2018.
The Ethiopian prime minister was awarded the 2019 Nobel Peace Prize for restoring peace with neighboring Eritrea after a long-lasting conflict between them that was blamed on the TPLF members in government who wielded considerable clout for decades.
Meanwhile, accounts from residents, medical workers and humanitarian groups operating in Tigray illustrate the plight of the people as Ethiopia struggles to revive a heavily damaged healthcare system in Tigray three months after fighting erupted.
Some hospitals are barely functioning, with no water, electricity, or food, according to witnesses.
"The health system in Tigray is reportedly nearly collapsing," the United Nation's Office for the Coordination of Humanitarian Affairs (OCHA) said in a February 4 report.
This month, an assessment carried out by international aid agencies found that out of Tigray's 40 hospitals, 11 were fully functional and nine were partly functioning. Fourteen were not working at all and six were not assessed, the report said.
However, conditions were improving rapidly, according to Ethiopian Health Minister Lia Tadesse.
Last week, Tadesse said the government had sent supplies to 70 of the region's 250 medical centers, along with 10 ambulances.
"So many health facilities have been looted, so we are working to get more equipment to the region," she said. "The focus is to restore services, supporting health workers to come back and ensure they have the supplies."
One woman told Reuters her mother died in Mekelle on December 4 because the family was unable to find insulin. The woman said she tried hospitals, the Ethiopian Red Cross Society, and other centers for diabetics, but no one had insulin to spare for the 55-year-old woman. "The insulin came 13 days after my mother died," she said.
Separately, one person was shot dead on Tuesday when soldiers opened fire on an anti-government protest in the city of Mekelle.
Several witnesses told AFP that groups of young men were throwing stones and burning tires to block roads in central Mekelle when soldiers used live rounds in at least one location.
"One dead body already arrived" with gunshot wounds, said a doctor at Ayder Referral Hospital, adding that the victim was "a young man."
Meanwhile, an international aid group on Monday denounced the destruction of its facilities at refugee camps in Ethiopia.
Last week, DX Open Network, a British investigations firm, released satellite imagery showing widespread damage to both Hitsats and Shimelba, two camps for Eritrean refugees.
"There are clear and consistent patterns across both camps over a two-month period demonstrating that these refugee camps were systematically targeted despite their protected humanitarian status," the Norwegian Refugee Council said in a statement.
"We condemn the criminal destruction of our buildings and facilities that we set up to serve refugees in great need," Jan Egeland, the NRC's secretary-general, said in a statement. "This rampage of burning and looting by armed men deepens an already dire crisis for millions of people."
https://www.presstv.com/Detail/2021/02/10/644960/Amnesty-demands-humanitarian-access-in-Ethiopia-Tigray
--------
UN Security Council supports Libya's new interim government
10 February 2021
The United Nations Security Council has unanimously agreed to support the new interim government in Libya, praising the move as "an important milestone" in the conflict-ridden North African country's political process.
In a statement drafted by Britain, the 15-member body called on "the interim executive authority to agree swiftly on the formation of a new, inclusive government," and to "launch a comprehensive national reconciliation process."
The Security Council also stressed the need to respect the ceasefire observed since October, and to proceed with "the withdrawal of all foreign forces and mercenaries from Libya without further delay."
Libyan delegates at the UN-facilitated talks in Switzerland on Friday selected an interim executive to lead the oil-rich country until December elections.
The delegates chose Abdul Hamid Dbeibah, a businessman from the western city of Misrata, as Libya's new prime minister, and elected a three-member presidential council at the end of five days of talks, which took place within a framework known as the Libyan Political Dialog Forum comprised of 75 participants picked by the UN.
All candidates for the new government vowed to honor a plan to hold presidential and parliamentary elections on December 24, and gave written pledges. None of them will be allowed to run for office.
Libya has been grappling with unchecked violence since the overthrow of former dictator Muammar Gaddafi in 2011 during an operation backed by the Western alliance of NATO.
Since 2014, two rival seats of power have emerged in Libya, namely the UN-recognized government based in the capital Tripoli, and another camp based in the eastern city of Tobruk, backed militarily by armed rebels.
The country descended into unprecedented chaos last year after the so-called Libyan National Army (LNA) under rebel commander Khalifa Haftar moved toward Tripoli to seize the city. They were repelled by government forces.
The conflict has escalated into a regional proxy war fueled by foreign powers pouring weapons and mercenaries into the country.
https://www.presstv.com/Detail/2021/02/10/644940/UNSC-interim-government-Libya
--------
Arab League rejects unilateral Israeli projects, calls for end to occupation
09 February 2021
The Arab League has reaffirmed its rejection of any unilateral Israeli projects or steps in violation of the rights of the Palestinian people and international law.
In their final statement after a Monday emergency meeting in Cairo, the foreign ministers of the member states of the Arab League said they opposed any move by the Israeli regime that would "undermine the two-state solution, for which there is no alternative."
They urged Israel to immediately resume negotiations with Palestine, and stressed the "adherence of the Arab countries to the two-state solution, which embodies the independent and sovereign Palestinian state," according to Egypt's official MENA news agency.
They also urged all international bodies to make every effort to launch credible negotiations that can end the Israeli occupation of Palestinian territories.
The ministers welcomed a ruling by the International Criminal Court (ICC) on its territorial jurisdiction in Palestine, which cleared its chief prosecutor to investigate Israeli war crimes over the objections of the Tel Aviv regime.
Addressing the meeting, Arab League Secretary-General Ahmed Aboul Gheit stressed that the Palestinian issue was the focus of Arab consensus, Arab News reported.
"The Palestinian position must be strengthened internally and externally," he said, warning that Israeli settlement activity in the West Bank and East Jerusalem al-Quds was a serious obstacle to the two-state solution.
He also renewed the Arab League's commitment to supporting Palestine until it achieves official statehood.
The Monday meeting coincided with reconciliation talks in Egypt between the leaders of rival Palestinian factions Hamas and Fatah, which respectively rule the Gaza Strip and the West Bank.
"The Cairo dialog is the culmination of an effective process that began months ago, during which we worked together with the brothers in the Fatah movement and all the factions," Ismail Haniyeh, the head of the Hamas political bureau, said in a statement on Monday.
The meeting also comes as normalization deals signed between some Arab governments and the Israeli regime have enraged Palestinians and other Muslim nations, which have slammed the deals as a stab in the back of the Palestinian people. The governments of the UAE, Bahrain, Sudan, and Morocco have signed normalization deals with Israel.
Egypt opens Gaza border crossing 'indefinitely'
Meanwhile, Egypt on Tuesday opened its Gaza border crossing "indefinitely," allowing Gazans — who have been under a blockade imposed by the Israeli regime — to pass through Egypt to the outside world.
"This isn't a routine or normal opening. This is the first time in years that the Rafah border crossing is opening indefinitely. It used to open only three or four days at a time," AFP cited an Egyptian security source as saying.
The Rafah crossing had been largely closed in recent months because of efforts to contain the spread of the coronavirus.
"I've been waiting for six months for the crossing to open," university student Ibrahim al-Shanti told AFP. "The repeated closures have cost me a semester of my studies. I hope it's really permanent."
Another Palestinian, Yasser Zanoun, urged political leaders to negotiate a permanent arrangement to ease Gaza's worsening humanitarian plight, compounded by the pandemic.
"This crossing must be open 24 hours a day, throughout the year. There are lots of humanitarian cases that are extremely dire," said Zanoun.
https://www.presstv.com/Detail/2021/02/09/644924/Arab-League-rejects-unilateral-Israeli-projects,-calls-for-end-to-occupation
--------
'Tunisia backing Libya's efforts for peace, stability'
Adel Thabeti
09.02.2021
TUNIS, Tunisia
Tunisia on Tuesday vowed to continue its support for Libya's efforts to restore peace and stability.
Foreign Minister Othman Jerandi congratulated Mossa Al-Koni and Abdullah Hussein Al-Lafi, members of Libya's new Presidency Council, in a phone call, Tunisia's Foreign Ministry said in a statement.
He said Tunisia would continue to back Libya's moves to strengthen its institutions and reclaim its regional role.
Jerandi stressed the importance of the role that the new executive authority has to play in ensuring stability and a permanent resolution of Libya's problems.
Al-Koni and Al-Lafi expressed gratitude for Tunisia's vital role in the Libyan reconciliation process.
Last Friday, Libya's rival political groups agreed to form an interim unity government to lead the country to elections this December.
Mohammad Younes Menfi was elected head of the Presidency Council, with Al-Koni and Al-Lafi as the members, and Abdul Hamid Dbeibeh was chosen as the prime minister.
https://www.aa.com.tr/en/africa/tunisia-backing-libyas-efforts-for-peace-stability/2139366
--------
3rd round of Libya constitutional talks starts in Egypt
Diana Shalhub
09.02.2021
A third round of Libya's dialogue on the constitutional track kicked off in Egypt's Red Sea resort of Hurghada on Tuesday, days after the election of a new interim authority in the war-torn country.
Egypt's intelligence chief Abbas Kamel and the recently-appointed UN Special Envoy on Libya and Head of the United Nations Support Mission (UNSMIL), Jan Kubis, addressed the opening session.
"The Libyan Constitutional Committee will discuss arrangements for holding a popular referendum on a new constitution," committee member Naema Elhammi told Anadolu Agency.
She said the committee meetings will continue for three days.
The Constitutional Committee is consisted of 10 members of both Libya's High Council of State and the Tobruk-based House of Representatives (parliament).
According to Egypt's Al-Akhbar newspaper, the dialogue will also be attended by Emad al-Sayeh, the head of Libya's election commission.
The committee had previously held two rounds of talks in Hurghada in September and January.
On Friday, Libya's rival political groups agreed to form an interim unity government after five days of talks at the UN-led Libyan Political Dialogue Forum (LPDF) in Switzerland.
Mohammad Younes Menfi was elected to head the Presidency Council of the interim government and Abdul Hamid Dbeibeh as its prime minister. Mossa Al-Koni and Abdullah Hussein Al-Lafi were also voted on the three-man Presidency Council.
Libya has been torn by civil war since the ouster of ruler Muammar Gaddafi in 2011.
Based in the capital Tripoli and currently led by Prime Minister Fayez al-Sarraj, the Government of National Accord was founded in 2015 under a UN-led agreement. But efforts for a long-term political settlement have failed due to a military offensive by militias loyal to Libyan warlord Khalifa Haftar.
Al-Sarraj's internationally recognized government has been battling Haftar's militias since April 2019 in a conflict that has claimed thousands of lives.
https://www.aa.com.tr/en/africa/3rd-round-of-libya-constitutional-talks-starts-in-egypt/2138891
--------
Turkey trains Libyan troops on counter-terrorism
Burak Dag
09.02.2021
The Turkish Armed Forces continue to provide counter-terrorism training to the Libyan Armed Forces, the Turkish National Defense Ministry said on Tuesday.
"As part of the military training, assistance and advice agreement, we continue to provide training to the Libyan Armed Forces. Our personnel are providing 'Basic Counter-Terrorism Training' to the Libyan soldiers in the Homs Joint Maritime Training Center Command," the ministry said on Twitter.
On Nov. 27, 2019, Ankara and Tripoli signed two memorandums of understanding: one on military cooperation and the other on maritime boundaries of countries in the Eastern Mediterranean.
The North African country has been torn by a civil war since the ouster of late ruler Muammar Gaddafi in 2011.
Last Friday, Libya's rival political groups agreed to form an interim unity government after five days of talks at the UN-led Libyan Political Dialogue Forum (LPDF) in Switzerland.
Mohammad Younes Menfi was elected the head of the three-member Presidency Council, with Mossa Al-Koni and Abdullah Hussein Al-Lafi as its two other members. Abdul Hamid Dbeibeh was elected the prime minister.
https://www.aa.com.tr/en/africa/turkey-trains-libyan-troops-on-counter-terrorism/2138858
--------
North America
US-Backed Forces Stepping Up Campaign Against IS in Eastern Syria
By Sirwan Kajjo
February 08, 2021
WASHINGTON - U.S.-backed forces have intensified their campaign against the remnants of the Islamic State (IS) terror group in eastern Syria.
The Syrian Democratic Forces (SDF), a military alliance that has been a major U.S. partner in the fight against IS, said it has captured dozens of IS members in the eastern Syrian province of Deir el-Zour.
"Our forces have already arrested over 30 terrorists," said Siyamend Ali, a press officer with the People's Protection Units (YPG), the main element within SDF.
"This ongoing campaign is targeting (IS) hideouts and underground tunnels that have been instrumental in their recent insurgency," he told VOA in a phone interview.
The SDF said in a statement last week that its latest campaign was in retaliation for the recent killing of two female officials by IS, adding that the "large-scale operation" targets the terror group "across the entire Deir el-Zour desert and along the Syrian-Iraqi border."
Seda al-Faisal al-Hermas and Hind Latif al-Khidr, two local leaders in eastern Syria, were reportedly kidnapped and killed by IS militants in late January. The United States has condemned the killings.
Despite its territorial defeat in March 2019, IS continues to pose a threat in eastern Syria. In recent weeks, the militants have escalated their attacks against civilians and SDF-affiliated personnel, particularly in Deir el-Zour and Hasaka provinces.
Several Arab tribal leaders and civil servants have been killed in recent attacks claimed by IS.
"There is a need for us to intensify the operations, especially after the organization started to expand its attacks to the Syrian Badia (desert) and its attempts to expand to regions that were liberated by our forces," Mazloum Abdi, general commander of the SDF, said last week in an interview with the pan-Arab Asharq al-Awsat newspaper.
U.S. military officials said the global coalition against Islamic State is committed to assisting its SDF partners in its ongoing anti-IS operations.
"The coalition provides our SDF partners with a number of enabling capabilities, to include intelligence, surveillance and reconnaissance, air power when requested, and logistics," Col. Wayne Marotto, spokesman for the U.S.-led coalition, told VOA.
The militant group has also increased attacks and ambushes against Syrian government forces and its allied militias in areas such as Deir el-Zour, Homs and Hama.
In January, IS militants carried out at least 46 attacks in central Syria, killing at least 55 pro-Syrian government fighters and 26 civilians, according to the Counter Extremism Project.
Experts say while IS currently has no capability to hold territory in Syria or Iraq, the extremist group will likely continue to wage major attacks against other forces in both countries.
"The challenge in Syria is the fact that the country is fragmented because of the civil war, and this means there is no unified effort to counter IS," said Sadradeen Kinno, a Syrian researcher who focuses on Islamist militancy.
IS militants "have been exploiting this political and territorial fragmentation to make gains across the country," Kinno told VOA.
https://www.voanews.com/extremism-watch/us-backed-forces-stepping-campaign-against-eastern-syria?utm_source=iterable&utm_medium=email&utm_campaign=1983405_
--------
Why Biden is making unacceptable demands on Iran
09 February 2021
An American writer and political analyst believes US President Joe Biden is making unacceptable demands on Iran because he neither wants to remove illegal sanctions nor return to the nuclear deal.
In an interview with Press TV on Tuesday, Stephen Lendman said the Biden administration intends to continue Washington's dirty business as usual against Iran because the Islamic Republic is not under American control.
Iran's foreign minister has said it is the United States that has to return to compliance with the 2015 nuclear agreement because Washington is the party that abandoned the deal and violated its terms, warning the new US administration against building on the failed policies of its predecessor.
"The US left & violated the nuclear deal. So it's the US that has to return & implement its obligations," Mohammad Javad Zarif tweeted on Monday.
In 2015, Iran and six world states — namely the US, Germany, France, Britain, Russia and China — signed the Joint Comprehensive Plan of Action (JCPOA) which was ratified in the form of UN Security Council Resolution 2231.
However, the US under former president Donald Trump unilaterally pulled out of the JCPOA in May 2018 and reinstated the anti-Iran sanctions that had been lifted by the deal.
The Trump administration also launched what it called a maximum pressure campaign against Iran, targeting the Iranian nation with the 'toughest ever' restrictive measures.
Lendman said, "It appears the Biden folks have been around in office since January 20 - that's getting close to three weeks - and my assessment of them is... well number one Biden is a figurehead but forces behind him are pulling the strings. He's an election loser, not a winner. He was not elected. He was selected to replace Trump. So that's the way the situation is."
"After only three weeks in office, he and the hardliners surrounding him have given me no clues, no evidence whatsoever that they're willing to go another way from Trump to reverse Trump's harshness on Iran and begin engaging with Iran responsibly. Everything I've seen from them - their language, the few actions they have taken, or maybe are beginning to take and their body language seems to indicate they intend to continue dirty business as usual against Iran and that shouldn't surprise anybody because this is the way the US has treated Iran since 1979 liberating revolution from tyrannical control by the US," he stated.
"So because Iran is free from US control, its imperial control; it's considered an enemy of the US. Iran doesn't threaten anybody. It observes international laws, it respects its neighbors, it supports peace, stability and cooperative relations with other countries. It operates exactly the opposite of the way the US, the West overall, NATO, Israel, these, and their imperial allies operate. They have no respect for the rule of law, and they deplore peace, they continually wage wars by hot or other means against other countries, including Iran, and that's what the Biden people are doing. I think this is what they'll continue to do in office ahead," he added.
Iran won't sacrifice its sovereign rights to US
"I'm very leery about whether they really ever intended to rejoin the JCPOA. Why? Because they made absurd demands, offensive demands, extrajudicial demands, they knew Iran would reject. If they wanted to rejoin the JCPOA they will make reasonable requests, not demands," Lendman said.
"Iran is a very reasonable country. It'll go along with anything that's reasonable, but it will not sacrifice its sovereign rights to a higher power in Washington, and neither Washington, nor any other countries should expect Iran or any other country to do that, but that's the way the US operates. It wants everything its own way. It offers nothing in return, but broken promises," he said.
"So I don't know what's coming. But I don't expect anything good. I think there'll be a stalemate in bilateral relations for a while. I do not expect a war. I don't think the US would attack Iran. I know, Israel would never attack Iran on its own without US permission and US direct involvement," he said.
Forget the saber-rattling
"There's no evidence whatsoever that Israel would attack Iran. Forget all the saber-rattling. I mention it once in a while in my writing, but it's meaningless saber-rattling. It's is just that, and there is no follow-up to what actions are to be taken," the analyst said.
"Israel would never attack Iran on its own without US permission and direct involvement and I see none of that happening. I see US war by other means continue against Iran, with no end of it as long as Biden's around, as long as any us regime is involved because as long as Iran is free from US control, it'll always be considered an adversary of the US, even though it's well-known in Washington. It's well-known around the world that Iran doesn't threaten the US, doesn't threaten Israel. Doesn't threaten any other countries, but these countries ally with US imperial aims. They threaten Iran and all other independent countries that they don't control. So looking ahead I see nothing good happening," he said.
"I don't expect Biden to rejoin the JCPOA, certainly no time soon. The unacceptable demands that he made Iran won't accept that. The JCPOA was hardwired into international law in 2015. On January 16, 2016, the deal became effective, affirmed by the Security Council unanimously which means, including the US, which means is binding international law and in the US it is also binding constitutional law. Under the Constitution Supremacy Clause, all international laws the US has signed onto are automatically US laws - constitutional laws," he added.
"So if Biden has no cause to make demands of Iran there's only one thing Biden should do, but he won't. He should obey the law, rejoin the JCPOA, and if he does, and lift the sanctions that were illegally imposed Iran is very willing to sit down and negotiate with the US on other issues, but it will not and it should not go back and renegotiate the JCPOA all over again. It took years for it to be adopted and approved, and so on. So I am not optimistic about what I see lying ahead," he concluded.
https://www.presstv.com/Detail/2021/02/09/644902/Why-is-Biden-making-unacceptable-demands-on-Iran
--------
Europe
EU: Israel should stop demolition of Palestinian homes
Agnes Szucs
09.02.2021
BRUSSELS
The EU on Tuesday called on Israel to stop its demolition of Palestinian homes and to instead facilitate humanitarian access to Palestinian communities.
The bloc firmly opposes "Israel's settlement policy and actions taken in that context, such as forced transfers, evictions, demolitions and confiscations of homes," the European Commission's foreign policy spokesperson said in a statement.
According to the EU, around 60 Palestinians – 35 of them children – have been displaced since Israeli forces confiscated and demolished 46 structures belonging to Palestinian families in Hamsa al-Foqa in the northern Jordan Valley.
The statement called the recent developments a "regrettable trend of confiscations and demolitions seen throughout last year" that Israel continued despite the COVID-19 outbreak.
The EU considers Israel's actions "illegal under international law and as an impediment to a viable two-state solution," the spokesperson added.
The document reiterated the bloc's previous call on Israel to stop all settlement expansion "in East Jerusalem and sensitive areas such as Har Homa, Givat Hamatos and E1."
Encouraged by then-US President Donald Trump's so-called "Deal of the Century, Israeli Prime Minister Netanyahu announced last May that his government would formally annex the Jordan Valley and all settlement blocs in the West Bank.
The West Bank, including East Jerusalem, is seen as occupied territory under international law, thus making all Jewish settlements there – as well as the planned annexation – illegal.
Like Turkey and much of the international community, the EU does not recognize Israel's sovereignty over the territories it has occupied since 1967.
The EU has repeatedly called on Israel to end all settlement activity and to dismantle the already existing ones since 2001.
https://www.aa.com.tr/en/europe/eu-israel-should-stop-demolition-of-palestinian-homes/2139447
--------
Manchester police warned in 2016 over terrorism strategy, arena inquiry hears
Alex Mistlin
Mon 8 Feb 2021
Greater Manchester police were warned about shortcomings in their terrorism response plans six months before the Manchester Arena bombing, the public inquiry into the attack has been told.
The inquiry heard on Monday how the police inspectorate outlined a number of concerns it had identified, as part of a national review, in a November 2016 "hot debrief" with GMP's counter-terrorism lead, Catherine Hankinson.
Among the inspectorate's conclusions was the risk of a force duty officer becoming overwhelmed in the event of a marauding terrorist firearms incident (MTFA).
Inspectors found that the majority of force duty officers "felt ill-equipped" to deal with a terrorism incident and needed more training before enacting Operation Plato, the police codename for a continuing marauding attack.
The inquiry heard that the inspectorate report quoted an unnamed force duty officer as saying: "I get two days on how to command vehicle pursuit and approximately one to two hours in MTFA."
The inquiry has previously heard that, on receiving reports of gunshot injuries and an active gunman during the arena attack on 22 May 2017, Insp Dale Sexton, the force duty officer at GMP HQ, declared Operation Plato, believing an armed terrorist was on the loose.
The Plato plan included the designation of a hot zone into which only suitably trained firearms officers could go, and dictated when emergency services could help those injured.
The inquiry has heard that for the first 40 minutes after the blast, only one paramedic was in the City Room foyer, where Salman Abedi detonated his suicide bomb killing 22 people, and that the first fire engine arrived more than two hours after the explosion.
Giving evidence on Monday, Andrew Buchan, associate inspector with Her Majesty's Inspectorate of Constabulary and Fire and Rescue Services, said it found GMP's Plato plan to be "very tactically focused" but did not go into detail about operations jointly conducted with other agencies.
Buchan told counsel to the inquiry Paul Greaney QC that GMP had placed an "over-reliance" on the force duty officer (FDO) to lead its response to a terrorist attack.
The inspectorate's report was critical of "the number of tasks the FDO was expected to perform" saying that "in all likelihood there are so many that it may be some will not be completed or at least in the order expected", the inquiry heard.
The report concluded: "There is no question that the FDO is being overloaded with tasks in the initial stages of a potential Plato and will require urgent help."
Those findings were passed on to then assistant chief constable Hankinson – now assistant chief constable at West Yorkshire police – in early November 2016, when the terror threat level in the UK was severe.
The hearing continues.
https://www.theguardian.com/uk-news/2021/feb/08/manchester-police-warned-in-2016-over-terrorism-strategy-arena-inquiry-hears?utm_source=iterable&utm_medium=email&utm_campaign=1983405_
--------
UK lowers terrorism threat level to 'substantial'
FEBRUARY 8, 2021
LONDON (Reuters) - Britain's terrorism threat level from international terrorism has been lowered to 'substantial' from 'severe', the third highest tier which means an attack is deemed to be likely as opposed to highly likely.
The threat level is set by the Joint Terrorism Analysis Centre and the security services. It has five levels moving from low to moderate, substantial, severe and critical.
The United Kingdom was moved on to a severe setting last November following attacks in France and Austria.
https://www.reuters.com/article/britain-security/uk-lowers-terrorism-threat-level-to-substantial-idUSS8N2J402R?utm_source=iterable&utm_medium=email&utm_campaign=1983405_
--------
URL: https://www.newageislam.com/islamic-world-news/sufi-ittehad-e-millat-tanzeem/d/124268
New Age Islam, Islam Online, Islamic Website, African Muslim News, Arab World News, South Asia News, Indian Muslim News, World Muslim News, Women in Islam, Islamic Feminism, Arab Women, Women In Arab, Islamophobia in America, Muslim Women in West, Islam Women and Feminism