New Age Islam News Bureau
27 Nov 2018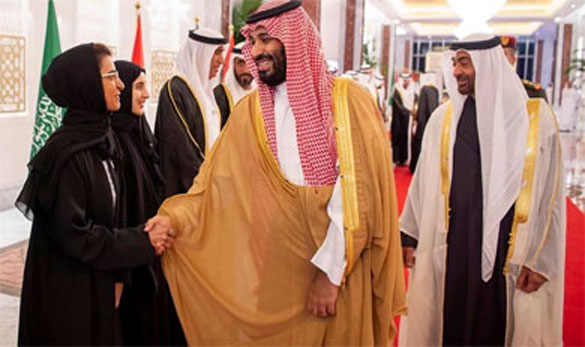 Crown Prince Mohammed bin Salman of Saudi Arabia visiting the United Arab Emirates last week. Credi tCreditBandar Algaloud/Saudi Royal Court
------
• Sufi Federation of India Counters Extremism among Youths
• Multiple Tehrik Labbaik Ya Rasool Allah Factions, Religious Parties to Unite Muslim Ummah Separately
• Argentine Prosecutors Consider Charges against Saudi Crown Prince Ahead of G-20
• British Activists Examine Shariah Law, Pakistan's Asia Bibi Case
• Ansar al-Islam's Operational Trainer Arrested in Dhaka
• Indonesian App to Report 'Misguided' Religion 'Risks Dividing Neighbours'
India
• Sufi Federation of India Counters Extremism among Youths
• As Tensions Rise In Ayodhya, Muslim Leaders Tell Community Members to Keep Calm
• 'The Day Babri Masjid Was Demolished, Sanctity of Constitution Was Also Brought Down': Sharad Yadav
• On 26/11 anniversary, India tells Pakistan to give up double standards
• 26/11 Mumbai attacks: US supports India's quest for justice, says Donald Trump
• Kartarpur Corridor: Venkaiah talks peace, Amarinder Singh warns Pak army
• Separated during Partition, Muslim sisters meet Sikh brother for first time
• Handlers asked 26/11 Pakistani terrorists to identify themselves as Hyderabad residents
• A terrorist who became a decorated Armyman dies fighting for nation
--------
Pakistan
• Multiple Tehrik Labbaik Ya Rasool Allah Factions, Religious Parties To Unite Muslim Ummah Separately
• Pakistan's Top Islamic Advisory Body to Discuss Triple Talaq Issue Today
• Ulema reject campaign against armed forces: Ashrafi
• Pakistan Will Never Again Fight 'Imposed Wars' On Its Territory: Imran Khan
• Sikh pilgrims gather at Gurdwara Punja Sahib in Pakistan for Guru Nanak's birth anniversary
• 26/11: Ten years on, trial drags on in Pakistani anti-terror court
• Hotels, railway station to be built for Sikh pilgrims in Kartarpur
• Pakistan believes in peace beyond borders: Imran
• Over 200 TLP activists booked under sedition, other charges in Rawalpindi
--------
Arab World
• Argentine Prosecutors Consider Charges against Saudi Crown Prince Ahead of G-20
• Infighting Intensifies Among Terrorists over Controlling Key Road In Idlib
• Tahrir Al-Sham's Chlorine Attack on Aleppo Shows Turkey's Lack of Control
• More Civilians Killed in US Airstrikes in Deir Ezzur
• Graduation of 25 Saudi Shiites, previously involved in security-related cases
• Syrian president reshuffles cabinet as anti-terror fight nears end
• Leader of Iraqi Shia group urges formal border security role for Shia fighters
--------
Europe
• British Activists Examine Shariah Law, Pakistan's Asia Bibi Case
• Pro-Palestine Groups Urge Boycott Of Eurovision Hosted By Israel
• UAE frees British spy jailed for life after London threatened diplomatic ties
• France, Germany may host payment channel aimed at bypassing US bans on Iran
• European Jews are more afraid in the West and other commentary
--------
South Asia
• Ansar al-Islam's Operational Trainer Arrested in Dhaka
• At Least 22 Afghan Police Killed In Taliban Ambush, Officials Say
• Wahdat Islami Demands Unconditional Release of Commander Alipur
• Rohingya say Bangladesh, aid agencies must stop collecting information for Myanmar
• Myanmar seizes boat carrying 93 fleeing Rohingya camps for Malaysia
• Bangladesh court begins trial of militants over 2016 Dhaka cafe attack
--------
Southeast Asia
• Indonesian App to Report 'Misguided' Religion 'Risks Dividing Neighbours'
• Penang Mufti Supports Call For Male Footballers to Cover Up
• Aceh Village Leaders Issue Circular On Wi-Fi Ban At Cafes
• Scholars Condemn Mass Detention of Muslim Uighurs, Other Ethnic Groups in China
• Islam Forbids Intrusion on Any Place of Worship, Says Malaysian Minister
• Musician Ahmad Dhani could face two years behind bars for alleged hate speech
--------
Mideast
• Associating Terrorism with Islam Is Greatest Obstacle to Combating It: Erdoğan
• Yemeni Drone Targets Meeting of Saudi-Backed Militia Commanders
• Palestinian shot dead after allegedly injuring Israeli soldiers in car-ramming
• Has Hamas sold Gaza for Qatari cash, limited Israeli benefits?
• Iran says won't let 'deal of the century' pass
• George Soros foundation says will end Turkey activities
• Police search villa in northwest Turkey for remains of slain Saudi journalist
• Israeli military commander calls for Hezbollah leader's assassination
--------
North America
• Pompeo Urges Pakistan to Sanction Terrorists Responsible For 26/11
• America Targets Middle East As It Fears Islamic Strengthening: Iran Leader
• Pompeo: Rouhani works to isolate regime from both world and Iranian people
• Sanders to pursue Senate vote on ending US involvement in Yemen
• Kushner pushed to inflate Saudi arms deal to $110 billion: Sources
--------
Africa
• Al Shabaab Gunmen Kill Cleric, 14 Others at Religious Centre in Somalia
• Mozambique: Suspected Al-Shabab Militants Kill 12 in North Mozambique
• Boko Haram: Muslim group blows hot over killing of soldiers, blames NASS
• Morocco asks Algeria to officially respond to king's offer for dialogue
• Tunisia: Protesters decry MbS visit in aftermath of Khashoggi killing
Compiled by New Age Islam News Bureau
URL: https://www.newageislam.com/islamic-world-news/sufi-federation-india-counters-extremism/d/116996
--------
Sufi Federation of India Counters Extremism among Youths
Nov 27, 2018
Mohammed Anas
To counter extremism among Muslim youths and to preserve syncretic cultural values of India, Sufi Federation of India (SUFI), umbrella organisations of various shrines in India, has embarked upon a mission to educate youths on the tolerant side of the faith and the importance of peace in society in the light of teachings espoused by shrines.
The SUFI is active throughout India except the Northeast. Representatives of all the leading shrines like Dargah Ajmer Sharif, Dargah Nizamuddin, Dargah Kichaucha Sharif, Dargah Bareilly Sharif, etc are part of SUFI and work through different networks in India.
They organise seminars, talks with Sufi scholars for youths and disseminate their message. They also try to contact seminaries in rural and urban areas to introduce Sufi thoughts in their syllabi.
Syed Babar Ashraf, the secretary of the SUFI, said that shrines in India have always spread message of peace, equality and brotherhood without any discrimination of creed and class.
"Actually this face of Islam, which is popularly known as Sufi thoughts, has been an essential part of Muslim culture in India. Unfortunately because of influence of Saudi-financed Wahhabism, Sufi thoughts were eclipsed by an extremist brand which preyed on the youth of India and many of them went astray and went on to join extremist organisations. We seek to counter such extremist thoughts which may engulf Muslim youths in future as well," said Mr Ashraf.
Mr Ashraf alleged that leading Muslim seminaries like Deoband, Nadwatul Ulema and organisations like Jamate-e-Islami have worked to suppress Sufi thoughts in India over the years.
"Under the influence of Saudi funding, these seminaries and organisations have presented a rather aggressive form of Islam, which is completely against prevalent tolerant ethos of India. Jamat-e-Islami actually for a long time demanded establishment of an Islamic state and objected to active participation in Indian democracy. This is totally against the tenets of Islam that emphasise universal brotherhood," said Mr Ashraf.
The SUFI, in association with an international organisation of similar leaning, Spiritual Foundation, is also organising the Global Peace Conference, that will see international Sufi scholars sharing the message of peace in Mumbai on December 29-30.
Syed Ashraf Jilani, a senior member of Spiritual Foundation, said that there is a strong need to revive and spread Sufi thoughts.
"A huge percentage of Indian population, including Muslims, comprises youths. These youths are vulnerable to extremist propaganda that is easily available through online platforms. We want to make sure Sufi thoughts and message of tolerance are available to them easily. Therefore, we have to have constant dialogue," said Mr Jilani.
Mr Ashraf said that efforts of his foundation is bearing fruit as youths' participation increased in Eid Milad un Nabi (Birthday of Prophet Muhammad) celebrations on November 21.
http://www.asianage.com/india/all-india/271118/sufis-counter-extremism-among-youths.html
--------
Multiple Tehrik Labbaik Ya Rasool Allah Factions, Religious Parties To Unite Muslim Ummah Separately
Nov 27, 2018
ISLAMABAD/LAHORE – After the arrest of Tehrik Labbaik Ya Rasool Allah (TLY) leader Khadim Hussain Rizvi, the multiple factions of TLY along with other religious parties have separately vowed to unite the Muslim Ummah under one banner.
After Maulana Rizvi was arrested, his followers reached out to other TLY faction led by Maulana Asif Ashraf Jalali and other religious parties to try and get support and solidarity from them and help in organising protests against the arrest.
Talking exclusively, and separately, to The Dependent Rizvi and Jalali assured that they were on track to complete the plan of action. The Pakistan Sunni Tehreek and its allies also distanced themselves from TLP's protest call,
"In light of the recent developments, we all stand united for the cause and we are sure that we will overcome all ideological differences and fight as a united front, because that's the best way to celebrate our win," Asif Ashraf Jalali said while talking to The Dependent.
Adding to that in a separate call, Khadim Hussain Rizvi said that: "In light of the recent developments, we all stand united for the cause and we are sure that we will overcome all ideological differences and fight as a united front, because that's the best way to celebrate our win."
"We are relevant too" said leaders of the Pakistan Sunni Tehreek before adding much of the same.
Jalali, however, added that, "It's a shame some of our folks differ at such a momentous time. They shouldn't have done it."
But Rizvi disagreed saying, "It's a shame some of our folks differ at such a momentous time. They shouldn't have done it."
Khadim Hussain Rizvi reiterated that the 14 centuries old differences between Muslims can be resolved in ten minutes. Jalali again disagreed saying that he can do it in eight and a half minutes.
https://www.pakistantoday.com.pk/2018/11/26/multiple-tly-factions-religious-parties-to-unite-muslim-ummah-separately/
--------
Argentine Prosecutors Consider Charges Against Saudi Crown Prince Ahead of G-20
Nov. 26, 2018
BUENOS AIRES — Argentine authorities are looking into possible criminal charges against Crown Prince Mohammed bin Salman of Saudi Arabia as he prepares to attend an international summit meeting of world leaders this week in Buenos Aires, officials involved in the inquiry said.
The inquiry, centering on allegations of war crimes during the Saudi-led military intervention in neighboring Yemen, is the most significant test yet of Prince Mohammed's ability to move past the international uproar that has surrounded him since the killing of the Saudi dissident Jamal Khashoggi, a Virginia resident and Washington Post columnist.
The Khashoggi case, too, is expected to be part of the inquiry as well as allegations of torture in Saudi Arabia.
The investigation in Argentina, initiated by a complaint lodged by Human Rights Watch, the advocacy group, is in its early stages, and diplomatic or other kinds of immunity may ultimately shield the prince from any potential charges. Argentine officials called it extremely unlikely that the inquiry might produce an arrest warrant before the gathering, which is set to begin on Friday.
But even a small risk of a messy dispute in the Argentine courts could overshadow a trip previously seen as a chance for Prince Mohammed to show he remained welcome among world leaders even after the conclusion of American intelligence agencies that he had authorized the killing of Mr. Khashoggi.
Any retreat from the Group of 20 summit meeting, attended by the leaders of the world's largest economies, could be a sign that the lingering stigma of the Khashoggi killing could hamper the continued effectiveness of the 33-year-old crown prince as a regional leader — a role that officials of the Trump administration have cited as a main reason to stand by him.
President Trump last week pushed back against the conclusion of American intelligence services about Prince Mohammed's culpability while also acknowledging that he may have known about the killing: "maybe he did and maybe he didn't," Mr. Trump said in a statement.
Mr. Trump insisted that Washington should nonetheless continue to back Prince Mohammed, calculating that it was in the nation's economic and strategic interest to do so: because Saudi Arabia is a valuable customer for American weapons, an important source of oil and a useful partner in containing Iran.
Bolstered by Mr. Trump's support, Prince Mohammed recently embarked on a week of visits to Saudi allies in the region, where Saudi news organizations photographed him smiling and shaking hands with fellow Arab rulers, with no mention of the Khashoggi case.
But the move by Argentine prosecutors now threatens to interrupt his victory lap just as it reaches its finish, at the summit meeting where he was set to mingle with Mr. Trump and other Western leaders of the so-called G-20 countries.
"Mohammed bin Salman should know that he may face a criminal probe if he ventures to Argentina," Kenneth Roth, the executive director of Human Rights Watch, said in a statement.
The law in Argentina is unusually favorable for bringing international human rights cases because of the legacy of the country's transition from a military dictatorship. During the military's rule from 1976 to 1983, some 30,000 people were killed or disappeared. Argentina's own immunity laws were overturned in the early 2000s, and its prosecutors have since charged thousands with human rights violations committed under military rule.
Argentine law has incorporated a broad interpretation of universal jurisdiction, the doctrine that some serious rights violations constitute offenses against humanity and should be subject to prosecution anywhere.
Carlos Rívolo, the head of the prosecutor's association, said a complaint against the crown prince was referred to a prosecutor on Monday, and that prosecutor will now decide whether to open a formal investigation.
Such cases are assigned by draw in Argentina, and the prosecutor assigned to evaluate the potential charges, Ramiro González, could not be reached for comment.
Mr. González has a record of handling international human rights cases, including leading an eight-year-old Argentine prosecution of crimes committed during the 36-year dictatorship of General Francisco Franco in Spain. (Spain used the same principle of universal jurisdiction to bring charges against an Argentine military official, who was sentenced in 2005.)
Although it is the killing and subsequent dismemberment of Mr. Khashoggi by Saudi agents in a consulate in Istanbul that has most damaged Prince Mohammed's international image, the Argentine inquiry appears to center on potential crimes committed during the Saudi-led military intervention in Yemen.
Prince Mohammed, who is the kingdom's defense minister as well as its de facto day-to-day ruler, has led a three-and-a-half-year bombing campaign and naval blockade of Yemen by a coalition of Arab allies seeking to dislodge from power a Yemeni faction allied with Iran.
The conflict has resulted in widespread famine and disease as well as thousands of civilian casualties. The United Nations has called the results of the Yemen conflict the world's worst humanitarian crisis, and United Nations experts have said that both sides in the conflict may be guilty of war crimes.
The Human Rights Watch petition, delivered to the Argentine judicial system on Monday, argues that Prince Mohammed was responsible for multiple violations of international law in Yemen, including "indiscriminate and disproportionate airstrikes on civilians" as well as the use of internationally prohibited munitions known as cluster bombs.
Human Rights Watch has documented as many as 90 "apparently unlawful coalition airstrikes," which "hit homes, markets, hospitals, schools and mosques," while United Nations agencies and other organizations have identified scores of others, Mr. Roth wrote in the petition.
An airstrike by the Saudi-led coalition in August 2018 killed at least 26 Yemeni children and wounded 19 others in or near a school bus. An airstrike in October 2016 killed or wounded thousands of civilians at a crowded funeral. A series of bombings at a well in September 2016 killed 31 civilians as well as others who sought to remove the bodies.
"Some of these attacks — if ordered or carried out by individuals with criminal intent — may amount to war crimes," Mr. Roth wrote.
By restricting critical food imports, the Saudi-led coalition "may also have violated the prohibition against using starvation as a method of warfare, which is a war crime," the petition argued.
United Nations officials have said that the Saudi-led blockade has put 14 million people at risk of starvation, and a United Nations panel of experts concluded earlier this year that, "with the requisite intent," the blockade of Yemen "may amount to international crimes," the petition noted.
In addition, "the Saudi government under the authority of Crown Prince Mohammed bin Salman has been implicated in serious allegations of torture and other ill treatment of Saudi citizens," the petition argued. Several recent reports, including in The New York Times and by Human Rights Watch, have recounted allegations that detained women activists were subjected to electrical shocks, beatings and sexual harassment.
The Human Rights Watch petition also cited a report in the Turkish news media, citing anonymous sources, that the Saudi agents who killed Mr. Khashoggi had also beaten and tortured him during his final moments. Turkish intelligence agencies possess an audio recording of the killing that was obtained from inside the consulate and could corroborate such reports. But Turkish officials familiar with the audio recording have said that it indicates a swift and deliberate assassination, not a prolonged torture.
Prince Mohammed is expected to continue his tour of the region on Tuesday in Tunisia, the birthplace of the Arab Spring uprisings and the only Arab country with both freedom of expression and a history of peaceful rotation of power. Activists in Tunis demonstrated against his arrival on Monday with a banner depicting a chain saw, a reference to the dismemberment of Mr. Khashoggi.
https://www.nytimes.com/2018/11/26/world/americas/argentina-crown-prince-mohammed-saudi-arabia.html
--------
British activists examine Shariah law, Pakistan's Asia Bibi case
26.11.2018
Should Shariah, the Islamic religious law, be blamed for the injustices faced by Muslim women and children or its rigid implementation? Can Shariah be adapted to the needs of secularism? Pakistan's blasphemy laws and their political use that resulted in Asia Bibi's death sentence prompted the discussion at a conference on Shariah, segregation and secularism in London on November 25.
The case of Bibi, a Christian woman who was recently acquitted by Pakistan's Supreme Court from blasphemy charges, is a widely discussed topic all over the world. Earlier this month, Bibi's husband Ashiq Masih requested asylum for his wife and the rest of the family from a number of European countries, including the UK, but some reports claim that British authorities were reluctant to offer it to avoid "religious disharmony" in the country.
Read more: Lawyer says Asia Bibi 'wants to leave for Germany'
Although released from prison, Bibi cannot still leave the country due to protests by hardline Islamist groups against her acquittal and a pending review petition in the Supreme Court.
The conference also featured Saif ul Mulook, Bibi's lawyer, who fled Pakistan to the Netherlands soon after the court overturned his client's death sentence, which had kept her in prison for nearly a decade.
Mulook praised the Pakistani constitution for its "secular credentials" and cited its Article 25 that guarantees equality to all citizens. He also spoke about his childhood when Christians and Muslims lived peacefully together in Pakistan.
"Small groups of mullahs (Islamic clerics) gained prominence after General Zia-ul-Haq [a military dictator who ruled Pakistan in the 1980s] and the US intervened in Afghanistan, a peaceful country at the time," Mulook told the audience, as he was given a standing ovation by the attendees for his long struggle to get justice for Bibi.
The conference participants urged the British government to grant asylum to Bibi on humanitarian grounds. They also urged authorities to abolish all laws that are against the spirit of freedom of conscience and expression.
Equal rights for all
The participants of the international conference, organized by Maryam Namazie, marked the 10th anniversary of the One Law for All Campaign, which campaigns for equality irrespective of background, beliefs and religions. They demanded "one law for all' in opposition to those in Europe who are calling for more autonomy for the arbitration of religious courts and religious judges, especially over matters related to family law, inheritance, divorce, child custody and domestic violence.
In her speech, Yasmin Rehman, a women's rights campaigner, criticized British authorities for the "mess" they have created by categorizing minority communities "between good and bad migrants."
Rehman alleged that the British government tends to support any organization that speaks against Muslim radicalization without analyzing its credentials.
The rights activist argued that authorities pander to the demands of right-wing Muslim organizations, giving them legitimacy by allowing Shariah courts to have authority in divorce cases, adding that these measures are tantamount to creating parallel legal systems in the country.
Conference organizers shared Rehman's views, saying that often the victims of parallel legal regimes in the UK are the most vulnerable people, such as women, children and minority communities.
"We must acknowledge equal rights for all and stop dividing people into communities. We must all abide by human rights laws that are man-made and are subject to change, of course," said Fariborz Pooya.
Interpretations of Shariah
In February, a report submitted to the British parliament recommended regulation of Shariah courts in the country. It was, however, rejected by the government.
Gita Sahgal, director of the Center for Secular Space organization, accused the British government of legitimizing a parallel legal system in the UK by allowing a dual divorce procedure — one civil and one religious — for British Muslims.
Sahgal explained that the interpretation of Shariah laws is different in Muslim-majority and Muslim-minority countries. In Muslim-minority countries, Muslim organizations campaign for "cultural conservatism" and a more rigid form of Shariah law. Shariah, she said, has undergone a reformation over a period of time, depending on the political views of the Muslims organizing themselves in different societies or as different communities.
Pakistan's blasphemy laws, for instance, are used politically by the ruling class of the Muslim-majority country. Their interpretation, experts say, is problematic. Scores of people have been killed by angry mobs or sent to the gallows on charges of insulting Islam or Prophet Muhammad, they say. Bibi's case, thus, sheds a light on this aspect.
The conference declaration said that "both racist and fundamentalist discourses, whether they appeal to Shariah, facism, anti-semitism, casteism or any ideology, deny the universal dignity of a human being."
https://www.dw.com/en/british-activists-examine-shariah-law-pakistans-asia-bibi-case/a-46458816
--------
Ansar al-Islam's operational trainer arrested in Dhaka
November 26th, 2018
Md Yunushas been recruiting youths from Jurain area and carrying out the terror group's activities there
The Rapid Action Battalion (RAB) has arrested the operational trainer of banned militant outfit Ansar al-Islam from Dhaka.
Md Yunus alias Asadullah, 27, was arrested during a RAB raid inthe city's Jurain area on Sunday night, according to a media statement issued by the elite force on Monday.
It said Yunus was there to attend a meeting of the terror group's operational team.
During the raid, extremist and jihadi literature, two sharp weapons and two mobile phones were also seized from his possession.
RAB claimed that Yunus was fully trained in hand-to-hand combat and in Ansar al-Islam's operational activities. He is also currently the main trainer of the group's operation team.
He had joined the outfit after being motivated by a spiritual leader named Jasim Uddin Rahmani. Later, he became a close associate of Jasim, said the statement.
In recent times, Yunushas been recruiting youths from the Jurain areaand carrying out Ansar al-Islam's organizational activities there.
The statement added that he has been training the new recruits to carry out subversive activities.
Legal action against him was being taken by RAB, it said.
https://www.dhakatribune.com/bangladesh/crime/2018/11/26/ansar-al-islam-s-operational-trainer-arrested-in-dhaka
--------
Indonesian app to report 'misguided' religion 'risks dividing neighbours'
26 Nov 2018
JAKARTA: Indonesia's national human rights agency said on Monday (Nov 26) it was concerned about the launch of a mobile application by the Jakarta Prosecutor's Office, which allows members of the public to report religious beliefs they consider "misguided".
Indonesia has no state religion but has traditionally required citizens to register as Muslim, Catholic, Protestant, Hindu, Buddhist or Confucian, though last year the Constitutional Court affirmed the rights of faiths outside official religions after a challenge by some indigenous faiths.
Nonetheless, there remain concerns about rising intolerance in the world's biggest Muslim-majority country as well as the use of strict blasphemy laws against minorities and the targeting of Islamic sects such as the Ahmadiyyah.
The app, called "Smart Pakem", features a list of groups including Ahmadiyyah as well as Gafatar, which the country's highest Islamic council considers a deviant sect.
It was not clear what the list represented, but some of the groups such as Gafatar have been outlawed and the app has a link that allows members of the public to report organisations deemed harmful.
The app could have a "dangerous consequence by causing social disintegration", said Amiruddin Al-Rahab, a commissioner at the National Commission on Human Rights.
"When neighbours are reporting each other, that would be problematic," Al-Rahab told Reuters.
Despite facing a backlash from human rights groups, the free app was available for download on Google Inc's Google Play store on Monday afternoon.
Al-Rahab said since the app's features were not running in full it was unclear whether the prosecutor's office would include detailed guidance on the kind of organisation categorised as "harmful" or beliefs deemed as "misguided".
"Don't leave the people in confusion, if people are confused they will take matters into their own hands," he said, adding that the app could also contravene the Constitutional Court's ruling last year on the rights of devotees of faiths outside the state-recognised religions.
The Jakarta Prosecutor's Office could not immediately be reached for comment.
Yulianto, an official at the Jakarta Prosecutor's Office, was quoted as saying by the news site Kompas.com that the app aimed to educate people and to increase the transparency of the reporting process.
Indonesia's attorney general's office has the authority under the law to monitor religions in case beliefs are deemed a threat to the community and can establish teams to examine such claims.
https://www.channelnewsasia.com/news/asia/indonesian-app-to-report--misguided--religion--risks-dividing-neighbours--10970130
--------
India
As Tensions Rise In Ayodhya, Muslim Leaders Tell Community Members To Keep Calm
Siraj Qureshi
November 26, 2018
At a time when RSS chief Mohan Bhagwat is giving an ultimatum to the Modi government to either start constructing the Ram temple in Ayodhya before the 2019 elections or issue an ordinance, Muslims have been in a wait and watch mode with community religious leaders urging them to remain calm and place some trust in the Supreme Court of India.
Addressing a meeting of the community in Tajganj area of Agra, Mufti Mudassar Ali Khan Qadri said the way VHP and Shiv Sena have amassed their activists in Ayodhya is in clear contempt of the Supreme Court of India, which has asked that a status quo be maintained around the disputed site till any verdict on the title of the land is pronounced.
He said that the Dharma Sabha and Uddhav Thackeray were creating an anti-Muslim atmosphere in Ayodhya and the rest of the state, which cannot be tolerated, but the Muslims have to be careful in dealing with this situation and not lose trust in the judicial system.
Social activist and Bharatiya Muslim Vikas Parishad chairman Sami Aghai said the Muslim community was being asked to build a mosque outside Ayodhya, which was a dictatorial order and was unacceptable.
He said this fight was no longer that of a mosque's title, but it has become a fight of principles. He demanded to know how many mosques will the Muslims be asked to sacrifice in the name of peace and brotherhood in India.
He said that the Muslim community has been trying hard to arrive at a consensual solution to this dispute but as soon as one party strikes a resolution with the Muslims, another non-Muslim party rises and pushes back the previous one, bringing them back to square one.
Jameet-ul-Quresh president Mohd. Shareef Kale said a solution had already been arrived at during the discussion between Haji Ayub Khan and Sri Sri Ravi Shankar several months ago, but now Hindu organisations are claiming Sri Sri Ravi Shankar is no longer in the picture as he has been pushed back by Hindu organisations.
Kale said Shiv Sena chief Uddhav Thackeray has left Maharashtra politics and entered the arena in Ayodhya because he is losing ground in Maharashtra against the BJP.
So, to bring himself to the forefront of Hindu politics, he has taken up the mantle of the Ayodhya dispute.
He said that it is clear that all this exercise is in the preparation of the 2019 elections, which the BJP is going to lose miserably unless it raises the spectre of the Ram temple again and divide Hindu and Muslim communities like it did in 1992.
He said that it would be better if Uddhav Thackeray concentrates on politics in his own state, otherwise the Muslims of Uttar Pradesh will push him back there.
Hindustani Biradari secretary Ziauddin said the Ayodhya issue is in the Supreme Court and both Hindus and Muslims of UP will obey the Supreme Court's orders. He said political parties should not unnecessarily try to raise the temperature of Uttar Pradesh and the country by firing up a non-issue.
He said UP has always been the epitome of inter-religion harmony and in this state, it is only the politicians who make their careers shine by promoting communal divide between various religions in the state.
https://www.indiatoday.in/politics/story/as-tensions-rise-in-ayodhya-muslim-leaders-tell-community-members-to-keep-calm-1396651-2018-11-26
--------
'The Day Babri Masjid Was Demolished, Sanctity of Constitution Was Also Brought Down': Sharad Yadav
November 27, 2018
New Delhi: Loktantrik Janata Dal (LJD) leader Sharad Yadav has said that demolition of Babri Masjid was an attack on the Constitution. He made this statement while speaking at the Samvidhan Samman Samaroh (My Pride-My constitution) organised by the Congress on Sunday.
He said, "The day Babri Masjid was demolished, it was not just a structure which was brought down but the Indian Constitution was also brought down along with it. Even the sanctity of the Constitution was also let down."
It is to be noted that the political parties are trying to pressurize the saffron party for bringing an ordinance on the construction of Ram Temple after Supreme Court adjourned the Ayodhya title suit case hearing till next year. Recently, Shiv Sena chief Uddhav Thackeray, who was a two-day visit to Ayodhya, had asked ruling government to give a date for the construction of Ram temple.
Shiv Sena Sanjay Raut had said, "If we had demolished Babri in 17 minutes then how long does it take to make a law. From Rashtrapati Bhavan to UP, there is BJP government only. There are many MPs in the Rajya Sabha who will stand with Ram Temple issue. And the one who will protest against, it will be difficult for them to roam in the country."
The Babri Masjid, built by Mughal emperor Babur in Ayodhya in 1528, was, on December 6, 1992, razed to the ground allegedly by Hindu activists, claiming that the mosque was constructed after demolishing a Ram temple that originally stood there.
Full report at:
https://www.india.com/news/india/sharad-yadav-says-the-day-babri-masjid-was-demolished-sanctity-of-indian-constitution-was-also-brought-down-3448402/
--------
On 26/11 anniversary, India tells Pakistan to give up double standards
Nov 27, 2018
NEW DELHI: On the 10th anniversary of the 26/11 terror attacks on Mumbai, India again called on Pakistan to abandon "double standards" and expeditiously bring the perpetrators behind the horrific terrorist onslaught to justice.
The reality check came even as India embarked on an initiative with Pakistan to open the Kartarpur corridor to a major Sikh shrine across the Punjab border in Pakistan, with the ministry of external affairs using strong words to castigate Islamabad for the delay in holding those responsible for 26/11 to account.
Prime Minister Narendra Modi had recently told US Vice-President Mike Pence that the planners of the 26/11 terror attack had been "mainstreamed" in Pakistan, the reference was to Lashkar putting up candidates in recent elections to the national assembly there.
In a statement, the MEA spokesperson said Islamabad had shown "little sincerity" in punishing those involved in the terror attack and its planners were still roaming the streets of Pakistan with "impunity".
"The 26/11 terrorist attack was planned, executed and launched from Pakistan territory. The former PM of Pakistan had earlier this year admitted that terrorists were sent from Pakistan's soil. We once again call on the Government of Pakistan to give up double standards and expeditiously bring the perpetrators of the horrific attack to justice. This is not just a matter of Pakistan's accountability to the families of the innocent victims who fell to terrorists, but also an international obligation," the Indian statement said.
Full report at:
https://timesofindia.indiatimes.com/india/on-26/11-anniversary-india-tells-pakistan-to-give-up-double-standards/articleshow/66818721.cms
--------
26/11 Mumbai attacks: US supports India's quest for justice, says Donald Trump
November 27, 2018
On the 10th anniversary of the Mumbai 26/11 terror attacks that left 166 people dead, US President Donald Trump said Monday the country stands with India in their quest for justice.
"On the ten-year anniversary of the Mumbai terror attack, the U.S. stands with the people of India in their quest for justice. The attack killed 166 innocents, including six Americans. We will never let terrorists win, or even come close to winning!" Trump tweeted.
The US has announced a reward of USD 5 million for anyone with information leading to the arrest or conviction of any individual who was involved in planning or facilitating the assault. "It is an affront to the families of the victims that, after ten years, those who planned the Mumbai attack have still not been convicted for their involvement," US Secretary of State Mike Pompeo said in a statement yesterday.
"We call upon all countries, particularly Pakistan, to uphold their UN Security Council obligations to implement sanctions against the terrorists responsible for this atrocity, including Lashkar-e-Tayyiba and its affiliates."
On November 15, Prime Minister Narendra Modi shared India's "serious concern" at the "mainstreaming" of Mumbai terror attack mastermind Hafiz Saeed, who carries a $10 million bounty, in Pakistan's recent elections, when he met US Vice President Mike Pence on the sidelines of the East Asia Summit in Singapore.
Full report at:
https://indianexpress.com/article/india/26-11-mumbai-terror-attacks-10-years-india-donald-trump-5466266/
--------
Kartarpur Corridor: Venkaiah talks peace, Amarinder Singh warns Pak army
November 27, 2018
IN LANGUAGE that is rarely heard in the context of India-Pakistan relations, especially since 2014, Vice President M Venkaiah Naidu on Monday said the Kartarpur Corridor would act as a bridge between the people of the two countries and pave the way for peace and prosperity in the region.
In sharp contrast, Punjab Chief Minister Amarinder Singh, who jointly inaugurated the development of the Kartarpur Corridor with Naidu, raised the issue of Pakistan-sponsored terrorism and warned Islamabad to "rein in" its army, saying that the Indian army is "bigger" and "fully prepared"."This is a corridor that connects us to the Guru we revere, to the sacred space where he spent the last 18 years of his life. Not only that, it is a bridge between the people of the two countries who have so much in common. This is a corridor to the shrine of peace, harmony and humanism, to the universal vision of a world as one family, to the sublime ideal of service to humanity. This is a corridor that opens new doors. It is a path that opens up new possibilities," said Naidu.
He described the proposed corridor as "a unifier, building bridges across old chasms". "It promotes deeper understanding and a new resolve to connect the people of our two countries through love, empathy and invisible threads of common spiritual heritage," he said.
"As Guru Nanak Ji had exhorted, let us, on this auspicious day, 'make the heart the pen, the intellect the writer and write that which has no end or limit'. That is the history we have to create together, a history that will make our two countries and the entire world a more peaceful place for our children and grandchildren to live and grow together," said Naidu.
Singh, in his speech, thanked Pakistan Prime Minister Imran Khan for reciprocating India's move on developing the Kartarpur Corridor, but targeted Pakistan Army Chief General Qamar Jawed Bajwa. "The Pakistan PM should rein in his army as the ISI, which works under the army, works against us. Such army chiefs (referring to Bajwa) should understand that we have a bigger army than they have, and we are fully prepared. There is a limit… If you do it (provoke) repeatedly, then India will also have to think," said Singh, adding, "Nobody wants war. We want peace and development."
In a speech that lasted about 20 minutes, Singh spent about 15 minutes talking about terrorism emanating from Pakistan against India and the killings of soldiers on the Line of Control. He said as an ex-armyman himself, he saw no justification in killing soldiers, which he described as an act of cowardice, not becoming of army personnel. "Soldiers are taught to protect and serve their nations, not to kill innocent people," he said.
"I was in the Army. I am senior to Pakistan Army Chief Bajwa. Every soldier knows what another soldier is thinking. Who has taught to kill soldiers by taking them by surprise? Who taught to attack people holding a religious congregation in Rajasansi Amritsar? We, Punjabis, know how to give a befitting reply to such forces… Bajwa should wake up," he said. He recalled the 26/11 Mumbai attack as a grim reminder of Pakistan-sponsored terrorism in India, and pointed out that the Dina Nagar and Pathankot attacks also stood out as major examples of the terror unleashed by Pakistan in this part of Punjab.
"I want to go to Kartarpur, and also visit Nankana Sahib and Panja Sahib gurdwaras again, but I cannot go there as I have to enter Pakistan, which is killing my people every day," he said. "People are telling me on Facebook to go to Pakistan on November 28. But I can't go until there is peace," he said.
Punjab Governor V P Singh Badnore, Union Ministers Nitin Gadakari, Hardeep Singh Puri and Harsimrat Kaur Badal were among those present on the occasion. Urging Gadkari to try and ensure that the Kartarpur Corridor starts functioning by the next Gurpurab, Singh later said he would accompany the first jatha, through the corridor, to Kartarpur. The road, which India will build up to the International Border at Dera Baba Nanak, and which Pakistan will develop from the IB to Gurudwara Darbar Sahib at Kartarpur 2 km inside its territory, will give pilgrims direct access to a shrine revered by Sikhs as the place where Guru Nanak is said to have spent his final days and died.
Full report at:
https://indianexpress.com/article/india/kartarpur-corridor-venkaiah-talks-peace-amarinder-singh-warns-pak-army-5466114/
--------
Separated during Partition, Muslim sisters meet Sikh brother for first time
Nov 27, 2018
Three siblings, two Muslim sisters and their Sikh brother from a village near Dera Baba Nanak, had an emotional reunion at Gurdwara Janam Asthan, Nankana Sahib, on Sunday.
Ulfat Bibi and Mairaj Bibi hugged Beant Singh tightly as they met him for the first time in seven decades.
Natives of Paracha village near Dera Baba Nanak, the family was migrating to Pakistan when it lost its son and daughter during the violence that marked Partition.
The mother, Allah Rakhhi, later contacted one of her former neighbours and found out the whereabouts of her son, Beant.
Since then Beant has been in touch with his sisters through letters and phone calls. But it was only this year that he managed to meet them face to face as part of the Sikh jatha (group) from India.
Speaking to Express Tribune, a Pakistani daily, Ulfat Bibi said she should be allowed to travel to India to meet her sister-in-law and nieces and nephews.
Ulfat and Miraj also appealed to Pakistan prime minister Imran Khan to extend their brother's visa.
Pakistan and India have decided to open the Kartarpur corridor to facilitate the visit of Sikh pilgrims to Kartarpur Sahib, the final resting place of Guru Nanak.
Full report at:
https://www.hindustantimes.com/cities/two-muslim-sisters-meet-their-sikh-brother-first-time-after-being-separated-in-1947/story-vuMdbAqHywKLND5RmSrFKN.html
--------
Handlers asked 26/11 Pakistani terrorists to identify themselves as Hyderabad residents
November 26, 2018
Ten years ago on November 26, 2008, Mumbai and Indian security establishment battled with one-of-its-kind terror attacks on Indian soil. Ten Pakistani gunmen created mayhem in Mumbai targeting high-profile locations.
The counter-terror operations lasted for nearly 60 hours, during which the terrorists were getting constant instructions from their handlers based in Pakistan.
More than 200 calls were made to phones carried by the terrorists, who were recruited by the Lashkar-e-Taiba (LeT) terror outfit. The terror group is affiliated to Jamaat-ud-Dawa of designated global terrorist Hafiz Muhammad Saeed.
The calls were made on voice-over-internet and through satellite phones to avoid being intercepted. However, Indian intelligence agencies intercepted many of those calls. In one of the calls, the terrorists were told by their handlers to identify themselves as members of fictitious Hyderabad Mujahideen.
In the same intercept, one of the handlers was Zaibuddin Ansari better known by his alias Abu Jundal. He was deported to India from Saudi Arabia in 2012. He was also wanted in the German Bakery blast case of Pune. He was convicted in 2016 and sentenced to life imprisonment.
Abu Jundal asked the terrorists, active at the Chabad House at Nariman Point in Mumbai, to mislead the security agencies, if caught or any communication was established with police. He told them not to underreport the number of gunmen in Mumbai.
An unknown voice followed Abu Jundal in giving instruction to the terrorists. He asked the LeT gunmen to identify themselves as residents of Toli Chowki of Hyderabad City. This locality had been in news for its connection with several Lashkar operatives.
Read | US offers $5 million for information on 26/11 attackers, wants Pakistan sanctions
The terrorists were told to identify themselves as members of Hyderabad Mujahideen. The handler also referred to the Sachar committee report saying the government promised a lot on paper but on the ground it arrested Muslim men on various charges.
This handler asked the terrorists not to panic and drink water to relax.
Full report at:
https://www.indiatoday.in/india/story/26-11-attackers-pakistani-handlers-hyderabad-mujahideen-1396371-2018-11-26
--------
A terrorist who became a decorated Armyman dies fighting for nation
Nov 27, 2018
SRINAGAR: Lance Naik Nazir Ahmed Wani, the soldier slain in a counterterrorist operation in Shopian district on Sunday in which six terrorists were killed, was once an ikhwan (a terrorist who surrenders and becomes involved in counter-insurgency operations) before joining the Army.
He was a highly decorated soldier and was awarded the Sena Medal for gallantry in August 2007 and a bar to the Sena Medal in August this year.
He belonged to Cheki Ashmuji village in Kulgam tehsil, in the terrorinfested south Kashmir district of Kulgam. Wani is survived by his wife and two children, an Army spokesman said.
The Lance Naik, who began his career with Territorial Army's 162 Battalion in 2004, received a 21-gun salute on Monday as his body was lowered into the grave, PTI reported. Earlier, the body, wrapped in the Tricolour, was taken to his native village and given to the family.
General Bipin Rawat #COAS & all ranks salute supreme sacrifice of Lance Naik Nazir Ahmad Wani, SM* & offer sincere… https://t.co/qLATaBbl7j --------
The village is surrounded by areas like Koinmooh, which are notorious for terrorist activities.
In this hour of grief, the Army stands in solidarity with the bereaved family of the martyr and remains committed to their dignity and well-being, the Army spokesman said.
Wani was a terrorist initially and became a counter-insurgent after he realised the futility of violence, a senior Army officer was quoted as saying. "The family was fighting tears and were honoured by the sacrifice of Lance Naik Wani for the nation ," said the officer.
Full report at:
https://timesofindia.indiatimes.com/india/a-terrorist-who-became-a-decorated-armyman-dies-fighting-for-nation/articleshow/66818835.cms
--------
Pakistan
Pakistan's top Islamic advisory body to discuss triple talaq issue today
by Mahmood Idrees
November 27, 2018
ISLAMABAD – The Council of Islamic Ideology is set to take up the triple talaq issue in its today's meeting with an aim to end the instant divorce practice in the country.
The constitutional body, which is responsible for advising the legislature whether or not a certain law is repugnant to Islam, namely to the Qur'an and Sunna, aims at declaring triple talaq in one go null and void, ineffective and even punishable.
The members of the country's top Islamic advisory body, including chairman Dr. Qibla Ayaz has been active to bring amendments to the relevant laws since January 2018.
The Hanafi school of thought considers the triple talaq practice legal, but other sects including Shia and Ahl-i-Hadis opposed it.
Ayaz has raised concerns over the matter on multiple occasions. In January when he was appointed a new chief of the body, Ayaz had said CII wants to impose punishments for practicing triple talaq at one time, besides implementation of other recommendations on the issue.
On another occasion, members of the council during a meeting observed that in triple talaq issue, women and children are adversely affected, especially with regard to their emotional health and future education.
https://en.dailypakistan.com.pk/pakistan/pakistans-top-islamic-advisory-body-to-discuss-triple-talaq-issue-today/
--------
Ulema reject campaign against armed forces: Ashrafi
Parvez Jabri
November 27, 2018
LAHORE: Ulema and Mushaikh on Monday said spreading anarchy in the country was a bigger crime than murder.
This was said by Pakistan Ulema Council (PUC) Chairman Hafiz Muhammad Tahir Mehmood Ashrafi while addressing Seerat e Rehmatullil Alemeen (SAWW) Conference organized by the PUC at here Alhamra Hall.
He said that elements who were conspiring against the country on the name of Aqeeda e Khatam e Nabuwat (SAWW) and Namoos e Risalat (honour of the holy prophet PBUH) were the enemy of Islam and the country.
He said Muslim Ummah and Pakistan were guardians of Aqeeda e Khatam e Nabuwat (SAWW) and honour of the holy Prophet (PBUH), but, politics could not be allowed on the name of faith.
To make Pakistan, a state on the pattern of Madina Munawara, justice need to be done, he said.
He announced that International Message of Islam conference would be held in March next year in Islamabad.
"Every Muslim is guardian of Aqeeda e Khatam e Nabuwat and Namoos e Risalat, however, no party or individual would be allowed to destabilize the country on the name of this faith," he said.
Hafiz Ashrafi said that attacks were being carried out on the unity of Muslims under a conspiracy, adding that unity of Muslims was based on faith of oneness of ALLAH, Khatam e Nabuwat and love for Harmain Sharifain.
He said that Pakistani Constitution declares Qadiyanis as non-muslims and no one could change this law.
He said that enemies of Islam were attacking on the Islamic countries and conspiracies were being hatched against Pakistan and Saudi Arabia to destabilize Islamic countries.
Ashrafi said that attacks on Chinese consulate and Orakzai agency were aimed at damaging Pakistan-China relations and fanning sectarianism.
He demanded the government to release all innocent religious and political workers.
Other Ulema in their address demanded an urgent hearing of the review petition in Asia Masih case, and said her name be put on ECL.
They said that protection of Aqeeda e Khatam e Nabuwat (SAWW) and Namoos e Risalat could be possible only by following the teachings of the Holy Prophet (SAWW).
The Ulema said that Rehmatullil Alemin Conferences would be held across the country to create awareness among the people about the life of the Holy Prophet (PBUH), Aqeeda e Khatam e Nabuwat (SAWW) and Namoos e Rasalat, besides apprising the people about the conspiracies against Islam and Pakistan.
Later, a resolution was passed in the conference, in which, Ulema hailed Prime Minister Imran Khan's announcement to set up Seerat Chairs in three public sector universities.
The conference validated the announcement of the government for the protection of Namoos e Rasalat law and articles of the constitution about Qadiyanis.
The conference condemned the baseless Fatwas against the armed forces and said that motto of Pakistan army was "Imaan, Taqwa and Jehad fi Sabilallah", adding that those who were enemy of Islam and Pakistan were resorting to propaganda against Pak Army.
In another resolution, United State President Donald Trump was criticized on baseless allegations and criticism against Pakistan.
"Pakistan brought peace to the world which is acknowledged by the whole world, so the US president should withdraw his statement against Pakistan," the resolution said.
The conference appreciated the prime minister for his reply to the US president.
The conference also condemned the negative campaign by the western media against Saudi Arabia and its leadership especially Ameer Muhammad Bin Salaman.
"Muslim Ummah rejects all conspiracies against people and leadership of Saudi Arabia.
Full report at:
https://www.brecorder.com/2018/11/27/454927/ulema-reject-campaign-against-armed-forces-ashrafi/
--------
Pakistan will never again fight 'imposed wars' on its territory: Imran Khan
Nov 26, 2018
ISLAMABAD: Prime Minister Imran Khan on Monday termed the 'war on terror' as an "imposed war" on Pakistan and promised to never fight such a war inside his country, in a veiled attack on US President Donald Trump who has repeatedly accused Islamabad of not helping America in its fight against terrorism.
"We have fought an imposed war inside our country as our war at a very heavy cost of sweat and blood and lose to our socio-economic fibre...We shall not fight any such war again inside Pakistan," Khan told tribal elders during his first visit to the newly-merged tribal districts of North Waziristan - once a stronghold of Taliban militants.
Khan, who was accompanied by Army chief General Qamar Javed Bajwa, hailed achievements of the army, other security forces and intelligence agencies for their successful operations against terrorists.
"No other country or their armed forces have done what Pakistan and its armed forces have done in the war against terrorism," Khan said, apparently referring to Trump who has accused Pakistan of not helping the US in its fight against terrorism.
Khan's remarks came days after Trump reiterated that the $1.3 billion in aid to Pakistan will remain suspended until the country acts against militant safe heavens inside its territory.
The US, which is fighting the Taliban militants since 2001 in Afghanistan, continues to seek an exit strategy from the troubled country and in recent months Washington has held direct talks with the Taliban representatives to end the 17 year long war.
During his visit to tribal areas, Khan was briefed in details about operations conducted, ongoing operations, rehabilitation of displaced people, socio-economic development projects and fencing along Pak-Afghanistan border, according to a statement issued by the Inter-Services Public Relations - the media wing of the army.
Khan promised to play role in peace and stability in Afghanistan.
"We are for peace beyond borders especially in Afghanistan. We shall play our role in Afghan peace process along with other stake holders as peace in Afghanistan is critical for achieving enduring peace in Pakistan," he said.
The Prime Minister also announced various welfare projects in the fields of health, education, employment and administration for the newly established districts of former tribal area.
The seven former regions of Federally Administered Tribal Areas were earlier this year merged with Khyber-Pakhtunkhwa province, ending a more than century old colonial legacy. But the areas are still impoverished.
Khan announced announced police reforms and resolve to address law and order and provide alternative dispute resolution system for the tribes.
He also announced to set up a medical college along with hospital for North Waziristan and South Waziristan districts, university for North Waziristan, army cadet college for North Wazirsitan, health insurance cards to residents of merged districts and Tele-medics system to fulfill deficiencies of specialist doctors.
Provision of interest-free loans, computers and development of sports grounds were among other several facilities offered by the prime minister for the former tribal region to bring it at par with other regions of the country.
Full report at:
https://timesofindia.indiatimes.com/world/pakistan/pakistan-will-never-again-fight-imposed-wars-on-its-territory-imran-khan/articleshow/66814760.cms
--------
Sikh pilgrims gather at Gurdwara Punja Sahib in Pakistan for Guru Nanak's birth anniversary
Nov 26, 2018
ISLAMABAD: Thousands of Sikh pilgrims from across the world have gathered at Gurdwara Punja Sahib in Pakistan's Punjab province to celebrate the 549th birth anniversary of Sikhism's founder Guru Nanak Dev.
Security was beefed up in and around the gurdwara - one of the most sacred places of Sikh religion - where dozens of officials from the security agencies were deployed, Dawn reported on Monday.
Over 3,800 Indian Sikh pilgrims and thousands of Sikh and Hindu devotees from various parts of Pakistan, especially Federally Administered Tribal Areas (Fata) and interior Sindh, arrived at the gurdwara to perform their rituals which include 'Akhand Path', 'Ashnan', 'Matha Teak' and 'Kirtan', the paper said.
The pilgrims hailed the decision of India and Pakistan to build a corridor, linking Dera Baba Nanak in Punjab's Gurdaspur district with the Gurdwara Darbar Sahib in Kartarpur, Pakistan.
Talking to reporters, the leader of the Indian pilgrims, Marjeet Singh, said, "with the opening of this corridor, the Pakistani government had won the hearts of millions of Sikhs living on the other side of the border", the paper reported.
Delhi Sikh Gurdwara Parbandhak committee leader Raminder Singh also lauded the steps taken by the Pakistani government and said the latest step of opening the corridor would further cement relations between Pakistan and the Sikh community.
He said that the opening of the Kartarpur corridor would be a gift for the Sikh community by the governments of both sides. He said over 10,000 Sikh pilgrims would visit Pakistan on the occasion. He stressed the need for opening more corridors between the two countries, especially in Kashmir.
Leader of female contingent from India Manmohan Kaur said that visa-free entry to Gurdwara Darbar Sahib Kartarpur would be a great facility for Sikh pilgrims.
She also expressed displeasure over the mismanagement by the Pakistan railways as a result of which over 113 pilgrims were left behind at Nankana Sahib.
Talking to the media, Pakistan's Evacuee Trust Property Board (ETPB) Deputy Secretary Shrines Imran Gondal said mismanagement was due to the negligence of the railway authorities and the pilgrims' displeasure was communicated to the relevant authorities.
He said the government had decided to open the Kartarpur corridor to allow Sikh pilgrims from neighbouring India to visit their gurdwara in Pakistan.
Prime Minister Imran Khan would formally inaugurate this corridor on November 28, he said.
Kartarpur Sahib in Pakistan is located across the river Ravi, about four kilometres from the Dera Baba Nanak shrine in Punjab's Gurdaspur district. It was established by the Sikh Guru in 1522. The first Gurdwara, Gurdwara Kartarpur Sahib, was built here, where Guru Nanak Dev is said to have died.
Full report at:
https://timesofindia.indiatimes.com/world/pakistan/sikh-pilgrims-gather-at-gurdwara-punja-sahib-in-pakistan-for-guru-nanaks-birth-anniversary/articleshow/66812013.cms
--------
26/11: Ten years on, trial drags on in Pakistani anti-terror court
Nov 26, 2018
LAHORE: As India Monday marked the 10th anniversary of the 26/11 carnage, the mastermind of the attack LeT operations commander Zaki-ur Rehman Lakhvi has virtually secured his acquittal and his six accomplices are expecting their exoneration anytime in the near future.
The Mumbai attack case in which seven Lashkar-e-Taiba members are facing charges of planning and executing the deadly strike since 2009 is still being dragged on in a Pakistani anti-terror court though the Islamabad High Court in 2015 directed that the case should be wrapped up in two months.
Lakhvi walked free from jail in April 2015 after securing a bail from the trial court, while the six others are in jail. After his release, Lakhvi went underground. He has virtually secured his acquittal with the Pakistan government indicating no plan to challenge his bail.
The six others - Abdul Wajid, Mazhar Iqbal, Hamad Amin Sadiq, Shahid Jamil Riaz, Jamil Ahmed and Younis Anjum - have also "bright chances" of acquittal with their trial witnessing bizarre twists and turns like frequent change of judges and murder of a prosecutor.
On November 26, 2008, ten Pakistan-based LeT terrorists carried out a series of 12 coordinated shooting and bombing attacks lasting four days across Mumbai. A total of 166 people died and over 300 were wounded in the strikes.
Nine of the attackers were killed by police, while lone survivor Ajmal Kasab was captured and hanged after a trial in India.
In a fresh development, the US Monday announced a $5 million reward for information leading to the arrest or conviction in any country of any individual who committed, conspired, aided or abetted the 26/11 attack.
Apart from the US, other countries have also asked Pakistan to bring the 26/11 attack perpetrators to justice.
There has been a realisation in Pakistan, especially among politicians, that the attacks had demolished all the past efforts to build friendly ties with India.
However, there are divergent views on whether punishing the culprits in Pakistan will help restore ties between them.
Questions are being asked in Pakistan "why trial is not being completed?"
When PTI sought a reaction from the Foreign Office on the status of the 26/11 trial, its spokesman Mohammad Faisal just said, "It is sub judice."
Pakistani prosecutors are, however, quick to blame India for the delay.
Chief prosecutor Chaudhry Azhar told PTI the case can be concluded in a week if India sends 24 witnesses to Pakistan for recording of their statements and other evidence.
"The Mumbai case will take not more than a week to conclude if India allows Pakistan to examine the boat on which the terrorists travelled to reach Mumbai and also send its witnesses here for recording of their statements," he said.
Azhar, who is also Federal Investigation Agency (FIA) special prosecutor, further said India will have to cooperate with Pakistan if it wants logical conclusion of the case.
"Crime had taken place in Mumbai and onus is on India to provide full evidence to Pakistan. The Indian government has not yet either clearly refused to send its witnesses to Pakistan or allow us to examine the boat there. If it refuses, the benefit will go to the suspects and the case will be over," he said.
When asked why the government has not challenged the bail granted to Lakhvi, he said there was no strong evidence against his involvement.
Abuzar Peerzada, another prosecutor in the case, said the hearing of the case in the Anti-Terrorism Court (ATC) is being held on regular basis and the next hearing is on November 28.
When asked about any possible time frame for conclusion of the trial, he said: "No...it is very difficult to give any time frame...as it is not an ordinary trial (involving two countries)."
A lawyer associated with the case, requesting anonymity, said: "Since both Pakistan and India's interests are involved in this case...this is more of a political case than a legal one. And a 'political case' has no time limit (for conclusion)."
Raja Rizwan Abbasi, a counsel for Lakhvi and six others, was reluctant to talk to PTI when contacted.
However, a lawyer close to him said the defence is not filing a bail petition of the six suspects as it is hoping that since enough time has passed they have "bright chances" to secure acquittal.
"The defence lawyers are optimistic about acquittal of their clients. Therefore, they are not moving their bail plea," he said.
Azhar, however, is of the view that they may get benefit only if India does not send its witnesses and other evidence.
The case is being tried in the ATC since 2009. There has hardly been any case in any ATC in Pakistan that is pending for over nine years.
"It appears that the state is not in hurry to decide this case since the matter is related to its arch-rival India," a senior lawyer said.
Interestingly, former FIA chief Tariq Khosa too pointed out lingering on the case "far too long".
"Dilatory tactics by the defendants, frequent change of trial judges (at least nine times), assassination of the case prosecutor and retracting from original testimony by some key witnesses have been serious setbacks for the prosecutors," he said.
Like many others in Pakistan, Khosa too believes the case "will not be over soon".
Full report at:
https://timesofindia.indiatimes.com/world/pakistan/26/11-ten-years-on-trial-drags-on-in-pakistani-anti-terror-court/articleshow/66809076.cms
--------
Hotels, railway station to be built for Sikh pilgrims in Kartarpur
Amjad Iqbal
November 27, 2018
TAXILA: Federal Minister for Railways Sheikh Rashid Ahmed on Monday announced that the government would provide land to Sikh organisations for construction of modern hotels in Kartarpur, Nankana Sahib and Narowal, besides construction of a railway station in Kartarpur to provide state-of-the-art board and lodging facilities to Sikh pilgrims visiting Pakistan.
He was talking to reporters after seeing off Indian Sikh pilgrims who departed for Lahore through special trains after offering their religious rituals at Gurdwara Panja Sahib in Hassanabdal.
He said Pakistan Railways (PR) had offered 10 acres of land each in Kartarpur and Nankana Sahib and five acres of land in Narowal to Sikhs' organisations for establishment of five-star hotels to facilitate Sikh pilgrims. Trains would be run from Nankana Sahib to Kartarpur and hostels would be constructed near all Sikh pilgrimage sites, he added.
The minister said the present government wanted to provide all facilities to Sikh pilgrims. He said the government was investing millions of rupees for modernisation of Hassanabdal and Narowal railway stations. He said that for better supervision of the Hassanabdal railway station, its administrative control would be transferred from Peshawar division to Rawalpindi division on Dec 1.
Answering a question, the minister said the decision about a railway track project under the China-Pakistan Economic Corridor would be taken after Dec 25. A new fast track from Peshawar to Karachi would be laid under proper fencing and there would be no level crossing on it, he said, adding that a dry port along the railway track would also be established.
In reply to another question, he said the government was embarking upon a major project of laying a new double rail track from Karachi to Peshawar. He said the upgrade of infrastructure would help run fast trains on this track.
He said freight trains were a major source of revenues, adding that the government was committed to launching more freight trains to increase the revenue of the PR and reduce its losses.
He said the Rehman Baba Express train would be launched on Dec 25. Nine out of 10 passenger train services have been launched while the number of freight trains will be increased to 12 as three more will be launched during the current fiscal year.
The minister said the PR was working on a project to install broad-gauge railway tracks from Karachi to Peshawar.
He apologised to Indian Sikh pilgrims for the inconvenience they faced due to paucity of coaches in special trains which resulted in delay of their travelling from Nankana Sahib to Panja Sahib.
Full report at:
https://www.dawn.com/news/1447894/hotels-railway-station-to-be-built-for-sikh-pilgrims-in-kartarpur
--------
Pakistan believes in peace beyond borders: Imran
Pazir Gul
November 27, 2018
MIRAMSHAH: Prime Minister Imran Khan has said Pakistan believes in peace beyond borders and will play its role in the Afghan peace process, as peace in the war-ravaged country is critical for achieving an enduring peace in Pakistan.
Addressing a jirga of selected elders during his first visit to North and South Waziristan tribal districts after assuming office, Prime Minister Imran Khan on Monday said the nation had fought an imposed war inside the country at a very high cost and vowed that they would not again opt for any such war inside Pakistan.
He announced several welfare packages for the area, including induction of tribal districts into the mega Naya Pakistan Housing Scheme and three per cent share to the seven districts of the erstwhile Fata in the National Finance Commission award.
During the visit to the tribal borderlands, Mr Khan was accompanied by Defence Minister Pervez Khattak, Khyber Pakhtunkhwa Governor Shah Farman, Chief Minister Mahmood Khan, Chief of the Army Staff Gen Qamar Javed Bajwa and provincial ministers. The jirga was attended by the elders of the Mehsud, Ahmadzai Wazir and Dawar tribes.
However, lawmakers Mohsin Dawar and Ali Wazir representing the tribal areas in the National Assembly were conspicuous by their absence during the PM's visit. Spokesman for the KP government Ajmal Wazir expressed ignorance about their absence when asked about it. "I don't know whether they were invited or not. Better to ask the MNAs," he replied when asked about the lawmakers having affiliation with the Pashtun Tahafuz Movement. He said that a large number of elders and maliks representing different tribes were present in the jirga.
The PM maintained the status quo of his predecessors, except PPP founder Zulfikar Ali Bhutto, and addressed a gathering of selected elders instead of holding a public meeting.
The KP government spokesman told Dawn that Mr Khan announced that elections for the Khyber Pakhtunkhwa Assembly and local governments would be held in the seven tribal districts next year.
"His visit to the area would send a positive message to the people of erstwhile Fata and would end a sense of deprivation among them," said Mr Wazir.
According to him, the premier also announced induction of the militancy-affected North and South Waziristan tribal districts into the mega housing scheme and three per cent share to the seven districts of the erstwhile Fata in the NFC award.
Earlier, the PM laid a wreath at the martyrs' monument and was briefed in detail about the operations conducted, ongoing stability operations, rehabilitation of temporary dislocated persons, socio-economic development projects and fencing along the Pak-Afghan border, said the military's media wing, Inter-Services Public Relations (ISPR).
Mr Khan also visited the Ghulam Khan border area and saw the fencing. The army media wing said the prime minister hailed achievements of the security forces and intelligence agencies for their successful operations against terrorists.
"No other country or their armed forces have done what Pakistan and its armed forces have done in war against terrorism," the premier said in his address. He said the nation had fought an imposed war inside the country at a very heavy cost of sweat and blood with loss to socio-economic fibre and they shall not fight any such war again inside Pakistan.
The PM said: "We are for peace beyond borders including in Afghanistan. We shall play our role in Afghan peace process along with other stakeholders as peace in Afghanistan is critical for achieving an enduring peace in Pakistan."
Paying tribute to the martyrs and their families, he said they had given huge sacrifices for the safety, security and prosperity of Pakistan. He praised the people of the tribal districts and other parts of Khyber Pakhtunkhwa who bravely faced a very challenging time.
Full report at:
https://www.dawn.com/news/1447882/pakistan-believes-in-peace-beyond-borders-imran
--------
Over 200 TLP activists booked under sedition, other charges in Rawalpindi
Mohammad Asghar | Munawer Azeem
November 27, 2018
RAWALPINDI/ISLAMABAD: As many as 207 workers and activists of Tehreek-i-Labbaik Pakistan (TLP), including its three local leaders, have been booked on the charges of sedition, blocking roads and damaging public property.
Around 300 workers and activists of the religious group, who were arrested during a major crackdown before its Nov 25 planned protest at Faizabad, were on Monday sent to Mianwali and Bhakkar prisons. Besides, 190 individuals, including 97 arrested by the Islamabad police, were being kept in the Adiala jail.
Of the 207 workers and activists, 102 have been identified and nominated in three FIRs registered with the Waris Khan, City and Rawat police on charges ranging from sedition to creating law and order, damaging public property, blocking roads and violating Section 144.
On the other hand, 16 activists arrested in Attock under the Anti-Terrorism Act were produced before an ATC court here which handed them over to the police on a seven-day remand.
Following intelligence that TLP leaders Inayatul Haq Shah, Farooqul Hassan and others were trying to lead a protest and delivering speeches and messages to their workers and activists through the social media against the government from a house in Bahria Town Phase VIII, the Rawat police conducted a raid there.
The police said the religious group's local leaders were calling their workers to reach Liaquat Bagh and other areas to block roads. They were accused of inciting people against the state and its institutions by using the social media and mobile phones and calling their workers to gather at Liaquat Bagh for blocking roads.
When the police arrived at the Bahria Town house on Sunday evening, a watchman informed them that Inayatul Haq Shah, emir of TLP Rawalpindi; Mohammad Farooq Al-Hassan, finance secretary; Tahir Mehmood, organiser; along with Mohammad Usman, Mirza Amir Jabbar, Syed Fareedul Haq Shah and Riaz Hussain had been staying there for two to three days. They left the house two hours before the arrival of the police.
The police booked the seven TLP leaders and workers under Section 124-A of the PPC and Section 29 of the Telegraph Act on the complaint of Tariq Mehmood, the station house officer (SHO) of Rawat.
Section 124-A of Pakistan Penal Code (PPC), which is related to sedition, states: "Whoever brings into hatred or contempt the federal and provincial government shall be punished with up to imprisonment for life to which fine may be added."
The Islamabad police rounded up 221 local leaders and activists of the TLP under the Maintenance of Public Order (MPO) Ordinance during its crackdown launched on Friday.
Over 100 of the detained people approached the district magistrate and sought their release on bail, pleading they had no links with the TLP and its protest.
In response, a verification of the applicants was sought from the police and on the light of it 37 people were released.
An officer told Dawn that only those people were released who had been arrested wrongly.
"The arrests have been made on the directions of the government. Though the date of the protest has passed, a decision about the release of the arrested people would be taken by the government."
He said vigilance was still mounted around seminaries to prevent its administrations and students from taking part in any protest.
He said officials of the police and administration held talks with the administrations of the seminaries and a majority of them said they had nothing to do with the TLP and its protest. But seven seminaries were reluctant to give such assurances. Police were then deployed around the seven seminaries to monitor the movement of its students.
Full report at:
https://www.dawn.com/news/1447850/over-200-tlp-activists-booked-under-sedition-other-charges-in-rawalpindi
--------
Arab World
Infighting Intensifies Among Terrorists over Controlling Key Road in Idlib
Nov 26, 2018
Heavy clashes broke out between Tahrir al-Sham and Ahrar al-Sham militants on the outskirts of Maarat al-Numan in Southern Idlib, field sources reported.
The sources noted that the infighting broke out after Tahrir al-Sham entered Heish region controlled by Ahrar al-Sham and set up an inspection post there. Ahrar al-Sham also targeted and pounded Tahrir al-Sham's post and put their forces on alert.
Tahrir al-Sham also hit the military posts of the National Liberation Front in Babolin area in Heish region, they added.
The sources also pointed to the preparations by Tahrir al-Sham Hayat to launch a large-scale military operation in the region, and said Tahrir al-Sham aims to seize control of the international highway passing through Maarat al-Numan city.
The international highway is part of the international Aleppo-Damascus Road whose security was demanded by the Sochi Agreement.
In a relevant development on Saturday, field sources in Northern Syria said tensions among terrorist groups and insecurities in regions occupied by militants in Idlib and Aleppo provinces have exacerbated, adding that more senior terrorist commanders have been shot dead by unidentified attackers in the region.
Unknown assailants have killed several terrorist commanders, including two from Tahrir al-Sham Tahrir al-Sham Hay'at (the Levant Liberation Board or the Al-Nusra Front), in Idlib and Aleppo provinces.
A commander of Tahrir al-Sham named Abdollah Ansari was killed in an attack by unknown gunmen in the town of Ahsam in Jebel al-Zaviyeh region in Southern Idlib, field sources in Idlib said.
Meantime, another Tahrir al-Sham commander nom de guerre Abu Jalbib was shot dead by unidentified assailants in the town of al-Dana in Northern Idlib, they added.
In Western Aleppo, a former commander of Jeish al-Mojahedin was also killed by unknown gunmen in Batbou village.
Meantime, the field sources pointed to the new wave of arrests of Tahrir al-Sham militants in Northwestern Hama, and said Tahrir al-Sham has arrested one of its former commanders namely Maher Fajr al-Khalil in the town of Kafar Zita.
http://en.farsnews.com/newstext.aspx?nn=13970905000651
--------
Tahrir Al-Sham's Chlorine Attack on Aleppo Shows Turkey's Lack of Control
Nov 26, 2018
The Arabic-language Al-Watan newspaper quoted sources close to Nureddin al-Zinki terrorist group as saying that Tahrir al-Sham terrorists were responsible for the chlorine gas attack on residential areas in Aleppo.
"The attacks on Aleppo's residential areas were done by rockets and shells that had been chemically armed by White Helmets," the sources said.
The sources noted that Tahrir al-Sham's chemical attacks were launched from the demilitarized zone specified under the Sochi agreement.
The attacks from the demilitarized zone display that Ankara has no control over the terrorist groups operating in zone, and has thus failed to hold up its end of the bargain.
In a relevant development on Sunday, Syrian Foreign Ministry said that the Aleppo chlorine shelling was made possible because Western countries had been supplying weapons to militants so that they staged chemical attacks.
Damascus went on to call on the United Nations to take measures regarding the militants who attacked Aleppo and the states that were supporting them, Sputnik reported.
Full report at:
http://en.farsnews.com/newstext.aspx?nn=13970905000562
--------
More Civilians Killed in US Airstrikes in Deir Ezzur
Nov 26, 2018
"The US-led coalition warplanes struck the homes of civilians in the town of al-Shaafa in Eastern Deir Ezzur, killing at least 14 civilians from a family most of them children and women," battlefield sources in Eastern Deir Ezzur said.
The sources noted that many other civilians were also injured in the US airstrikes on the residential areas.
"A large number of houses were destroyed and the region's infrastructure was extensively damaged in the US warplanes' raids," the sources added.
Meantime, the Orient Base affiliated to militant groups reported that the US-led coalition fighter jets also targeted and pounded the village of Abu al-Hassan on the outskirts of the city of Hajin in Eastern Deir Ezzur, leaving at least 21 civilians dead and many others wounded.
The US-led coalition fighter jets conducted similar attacks on residential areas in the Eastern part of Deir Ezzur province on Saturday.
The US-led fighter planes targeted and heavily pounded al-Sha'afah village in Southeastern Deir Ezzur which killed at least 11 civilians, including eight women and children, and injured tens more, local sources reported.
The sources pointed to large-scale destruction of people's houses, and said the death toll is on rise due to the deteriorating health conditions of a large number of those injured in the attacks.
Full report at:
http://en.farsnews.com/newstext.aspx?nn=13970905000506
--------
Graduation of 25 Saudi Shiites, previously involved in security-related cases
26 November 2018
Twenty-five Saudi citizens have graduated from the "care and rehabilitation" program dedicated specially for Shiite detainees in security related cases, in the Eastern Province of Saudi Arabia on Sunday evening.
In its 21st edition, the graduation ceremony was held under the patronage of the head of the Mohammed bin Nayef Care Rehabilitation Center, Major General Nasser al-Mutairi.
The attendees were a number of the area's dignitaries, including the judge of the Department of Endowments and Heritage, and families of the 25 graduates.
In an interview with Al Arabiya, Member of the Saudi Shura Council Nabih al-Barahim said: "I attended the graduation ceremony of a group of men from Qatif governorate, most of them were from my hometown. They have gained back their reasoning after they had responded, in a moment of weakness, to those who do not wish our country any good."
He added saying: "Those men have made mistakes that might have risked the security and stability of the country, but procedures have been taken by the appropriate authorities to rehabilitate them and bring them back to the society as useful and effective members."
Barahim also spoke about his personal relationship with the graduates saying: "I have noticed how they changed. Some of them greeted me with love although they used to despise even looking at me previously. Those of them who have personally hurt me and my family before, are now apologetically asking how we're doing."
The graduates leave the program to go back to their normal lives, and Barahim has requested their societies to "positively welcome them". He also said that "All parts of the society have a responsibility to support those men in their new beginnings by embracing them socially and supporting them with job opportunities, which will help them stay on the right track and avoid any negative results."
Full report at:
https://english.alarabiya.net/en/News/gulf/2018/11/26/Graduation-of-25-Saudi-Shiites-previously-involved-in-security-cases.html
--------
Syrian president reshuffles cabinet as anti-terror fight nears end
Nov 27, 2018
Syrian President Bashar al-Assad has reshuffled his cabinet as the government's counter-terrorism operation is nearing an end.
In a decree carried by Syria's official SANA news agency on Monday, Assad changed the ministers of interior affairs, industry, water resources, internal trade and consumer protection, communications and technology, public works and housing, education, higher education and tourism.
The Syrian president also ordered the formation of the National Reconciliation Commission to replace the current Ministry of National Reconciliation.
Ali Haidar, ex-Syrian minister of reconciliation, was further renamed as the head of the new reconciliation body.
Additionally, in the same decree, Assad changed the governor of Damascus.
The cabinet shake-up comes at a time when Syrian army soldiers, backed by the Russian air force and Iranian military advisers, have been making sweeping gains against foreign-backed terrorists, who have been wreaking havoc in the Arab country since 2011.
Full report at:
https://www.presstv.com/Detail/2018/11/27/581265/Syria-Bashar-Assad-cabinet
--------
Leader of Iraqi Shia group urges formal border security role for Shia fighters
Nov 26, 2018
The head of a powerful Shia group in Iraq says Shia paramilitaries in the Arab country should have a formal role in securing the border with Syria and defend the Iraqi people against terror outfits, particularly the Takfiri Daesh terrorist group.
Qais al-Khazali, the leader the Asaib Ahl al-Haq group, which is part of the Popular Mobilization Forces (PMF), made the remarks in an interview with Reuters at his office in the Shia holy city of Najaf on Saturday, the transcripts of which published on Monday.
"Securing Iraq's borders with Syria is among the most important duties of the Popular Mobilization Forces right now," he said, urging Baghdad to provide a more formal, long-term border protection role for the voluntary forces.
The PMF, which are known in Arabic as Hashd al-Sha'abi, is a combination of some 40 groups of mostly Shia fighters as well as Sunnis and Christians, which was formed shortly after the Daesh emerged in Iraq in mid-2014. The forces played a significant role in aiding the army forces in defeating the terror group in the country.
Asa'ib Ahl al-Haq, in turn, is part of the Fatah (Conquest) Alliance led by secretary general of Badr Organization Hadi al-Ameri, which finished second in the May 12 election with 47 out of 329 parliamentary seats.
The alliance is a political coalition in the Arab country formed to contest the 2018 general election. Its main components are groups involved in the state-sponsored PMF, which was formally declared as part of Iraq's security forces earlier this year.
"The Daesh threat against Iraq won't end as long as Syria is unstable. The PMF proved it is the military side most capable of dealing with Daesh ... maybe the armed forces can invest the PMF in duties that include border security," Khazali added.
He went on to say that paramilitary commanders should retain leadership positions and that "the government needs to provide bases and weapons depots."
The Iraqi military, supported by the United States, is deployed along the frontier, but PMF leaders have already said they are taking the lead in securing it, including around the town of al-Qaim which borders Syria's embattled eastern province of Dayr al-Zawr.
"The border was not secure before. Our operations have fixed that completely," Reuters quoted an unnamed senior PMF commander as saying in October.
Full report at:
https://www.presstv.com/Detail/2018/11/26/581236/Iraq-Qais-alKhazali-Asaib-Ahl-alHaq-PMF-Daesh-border-Syria
--------
Europe
Pro-Palestine groups urge boycott of Eurovision hosted by Israel
Nov 26, 2018
Three UK-based pro-Palestine groups have called on European artists and performers to boycott the 2019 Eurovision Song Contest hosted by Israel.
Manchester Palestine Action, Manchester Palestine Solidarity Campaign and Manchester Jewish Action for Palestine posted a tweet on Monday, urging songwriters and performers to boycott the 2019 Eurovision Song Contest, scheduled be held in Israel "just as they once boycotted the South African apartheid regime."
"Israel regularly uses culture to cover up, justify and distract from its oppressive regime of military occupation and apartheid against the Palestinian people," read the tweet.
The three groups called for a protest at the BBC Headquarters in London on December 1 to demand that the British Broadcasting Corporation withdraw from the song contest.
"Join the protest and take a stand against BBC artwashing apartheid," said the post on Twitter.
"We demand an end to Brand Israel's whitewashing of Israel's crimes against the Palestinian people, most recently the massacre of 220 unarmed protesters and the ongoing ethnic cleansing of the Palestinian population."
"Just days after Israel's Eurovision win, Israeli forces massacred 62 Palestinians in Gaza, including six children, as they demonstrated for freedom and refugee rights. Since 'The Great Return March' protests began on March 30th, 2018 at least 205 Palestinians have been killed by Israeli forces in the besieged Gaza Strip. More than 18,000 others have been injured, including thousands shot with live fire," the groups stressed.
All three pro-Palestine groups, who are part of the Boycott, Divestment and Sanctions (BDS) movement, called on "all concerned individuals to take a stand for the Palestinians, still occupied, still violently forced from their land and still killed mercilessly under Israel's apartheid regime."
In September, about 140 artists, including musicians, writers, actors, directors, novelists, and poets signed a letter calling for the boycott of the 2019 Eurovision Song Contest.
The letter signed by the 140 artists, including six Israeli artists, demanded the song contest should be boycotted if it is "hosted by Israel while it continues its grave, decades-old violations of Palestinian human rights."
"Until Palestinians can enjoy freedom, justice and equal rights, there should be no business-as-usual with the state that is denying them their basic rights," the letter said.
It also referred to how Israel massacred more than 60 Palestinians in Gaza on May 14 alone, just two days after Netta Barzilai won Eurovision 2018, securing for Israel the right to host next year's edition of the celebrated contest.
Israeli officials in charge of combating the global solidarity for Palestine see hosting of Eurovision as a "national project" and the regime is spending millions of dollars to stage the event they hope will help whitewash Israel's image, especially in the wake of its recent massacres of Great March of Return protesters in Gaza.
Eurovision officials have previously expressed concern about Israel's efforts to use the song contest as part of its international propaganda campaign, including by initially insisting that it be held in the occupied Jerusalem al-Quds.
But Israel backed down from the demand in June, and said that the occupied city would be only one of several possible venues, including Tel Aviv, Haifa and Eilat.
With the possibilities reportedly narrowed down to Jerusalem and Tel Aviv, the announcement of the host city is expected any day.
"We understand that the European Broadcasting Union is demanding that Israel finds a 'non-divisive' location for the 2019 Eurovision," the artists stated in their letter reported by The Guardian – a reference to how Tel Aviv is viewed by Eurovision officials as a less controversial location than the occupied Jerusalem al-Quds.
But the artists assert that the European Broadcasting Union "should cancel Israel's hosting of the contest altogether and move it to another country with a defendable human rights record."
"Injustice divides, while the pursuit of dignity and human rights unites," read the letter by the artists.
https://www.presstv.com/Detail/2018/11/26/581214/UK-Palestine-groups-Israel-Eurovision
--------
UAE frees British spy jailed for life after London threatened diplomatic ties
Mon Nov 26, 2018
The United Arab Emirate has granted a pardon to a British academic whose life sentence a week ago had triggered a harsh response from London.
The pardon issued by the UAE president, on Monday came despite the release of a video in which Matthew Hedge purportedly accepted his spying conviction by saying that he was a member of the British intelligence agency MI5.
Hedges, 31, a doctoral student who was arrested in May after UAE authorities found about his espionage activities, said in the video that he was specifically looking into UAE military issues while in the emirates.
However, a court ruling last week, which sentenced him to life in prison, sparked harsh reactions from London. Both Prime Minister Theresa May and Foreign Secretary Jeremy Hunt had warned that ties could be at risk over the ruling.
A statement on state news agency WAM said the pardoning of Hedges was part of a mass clemency of more than 700 prisoners to mark the country's National Day. It said the order was effective immediately and Hedges could leave the UAE "once formalities are completed".
Britain is a main supplier of lethal weapons to the UAE, on which the small Persian Gulf country has relied for its contribution to a deadly Saudi war on Yemen over the past three years.
The two countries maintain close economic cooperation while London has helped the UAE over the years to boost its media image around the world.
Hunt, the British foreign minister, welcomed the UAE's grant of pardon to Hedges, saying it was a "fantastic news".
"Although we didn't agree with charges, we are grateful to the UAE government for resolving the issue speedily," said Hunt.
However, Hunt's denial of espionage charges against Hedges came as a UAE government spokesman showed a video several minutes before the pardon was announced in which Hedges appeared to be admitting that he had been working for the MI5. He said in the video that he had approached sources in the UAE as a doctoral student to know which military systems the UAE was buying.
Jaber al-Lamki, the spokesman, said Hedges had been in the UAE to steal the country's "sensitive national secrets for his paymasters". The official told reporters that Hedges was "100 percent a secret service operative".
Full report at:
https://www.presstv.com/Detail/2018/11/26/581192/UAE-UK-national-spy-MI5
--------
France, Germany may host payment channel aimed at bypassing US bans on Iran
Nov 27, 2018
France and Germany will likely host the Special Vehicle Purpose (SPV), a special payment channel created by Europe as part of its efforts to keep trade flowing with Iran in defiance of US sanctions, senior diplomats told the Wall Street Journal.
The Monday report said the governments participating in the payment channel will directly manage the company (mechanism) in order to prevent the US from putting direct sanctions on it.
According to the diplomats, British officials are also mulling over joining France and Germany in order to rescue the European attempt to circumvent the US sanctions and salvage the Iran nuclear deal following the US' withdrawal in May.
The report said if France plays host to the SPV, Germany will take the helm, and vice versa.
According to the report, the mechanism is not finalized yet and finishing touches will be discussed on the sidelines of the 2018 G20 Buenos Aires summit, scheduled to begin on November 30.
The move comes after Luxembourg and Austria, under the US pressure, refused to host the SPV, with Luxembourg officials being warned that hosting the mechanism could damage the country's place as a major financial center hosting many international investment funds, European diplomats said.
The report was released during the visit of Iran's nuclear chief Ali Akbar Salehi to Brussels, Belgium, where he attended the third seminar on peaceful nuclear cooperation between Tehran and the European Union.
The European Union hosted the AEOI chief at the seminar aimed at showing the bloc's continuing support for the Joint Comprehensive Plan of Action.
Addressing the seminar, Salehi criticized the US administration's efforts to prevent the implementation of the 2015 deal through exerting pressure on other countries to make them pursue Washington's policies vis-a-vis the deal.
"This unconstructive US approach shows that this country, as a permanent member of the [United Nations] Security Council, is not committed to its international obligations," said Salehi, the head of the Atomic Energy Organization of Iran (AEOI).
Speaking to reporters on the sidelines of the seminar, the Iranian nuclear chief warned the European Union of "ominous" outcomes if it did not follow through with action to keep the economic benefits of the JCPOA alive.
"If words are not turned into deeds, then ... it is very ominous, the situation would be unpredictable," Salehi said.
Iran's nuclear chief, however, said he believed that the 28-nation bloc was "doing its best" and was on its way to delivering on its promises.
Europe has been taking a range of measures to meet the Iranian demand for practical guarantees.
Iran and the European side have been discussing ways to conduct non-dollar trade in order to offset the US sanctions.
Full report at:
https://www.presstv.com/Detail/2018/11/26/581243/France-Germany-Iran-SPV-US-sanctions
--------
European Jews are more afraid in the West and other commentary
November 26, 2018
Foreign Desk: Eastern Europe Safer for Jews Than West
Many American Jews think "rightist governments enable anti-Semitism" in Europe, notes Evelyn Gordon at Commentary. And for the same reason they chide Israeli Prime Minister Benjamin Netanyahu for his diplomatic outreach to the likes of Hungary and Poland. But, it turns out, "Respondents from places like Poland, Hungary, and Romania — countries routinely accused of having anti-Semitic, borderline fascist governments — felt safer than Jews in liberal countries like France and Germany by a 20-point margin." One reason is "the politically incorrect fact that violence against Jews in Europe comes mainly from Muslim anti-Semites," and there are more of those in Western Europe than Eastern. Another is hostility to Israel, which is more prevalent "in liberal Western Europe than conservative Eastern Europe."
Censorship Watch: Twitter Tries to Shut Down Trans Debate
"When it comes to the trans issue," observes Kimberly Ross at the Washington Examiner, Silicon Valley has set out to silence "honest conversation." Case in point, Twitter's new addition to its terms of service prohibits "targeted misgendering or deadnaming of transgender individuals." In plain English, that means users are now prohibited from suggesting that someone was born a different sex or from "using their original, now unwanted, name." The company is wielding its vast power to short-circuit debate on a condition that is still ill-understood and has profound implications for how we order society. Yes, firms should be permitted to set their own rules, but conservatives must be alert to how "their voices are being shut out."
Religion Writer: DNA Evidence for Adam and Eve?
"All humans alive today are the offspring of a common father and mother — an Adam and Eve — who walked the planet 100,000 to 200,000 years ago." So writes Michael Guillen at FoxNews.com, citing a study by scholars at Rockefeller University and the University of Basel. "The same is true of nine out of every 10 animal species," meaning that "nearly all of Earth's creatures living today sprang into being from some seminal, Big Bang-like event." The scientists analyzed the DNA 'bar codes' of five million animals from 100,000 different species." The method allowed the scientists "to infer the passage of time" and conclude that something "caused animal life on Earth to be almost completely renewed" a relatively short time ago. And while it's not dead-on evidence for the Genesis creation account, the study "proves we are at the mercy of forces we do not see nor understand."
From the Left: A Potential Dem Upset in Mississippi
Mississippi's Republican Gov. Phil Bryant asked Cindy Hyde-Smith "to replace retired Sen. Thad Cochran earlier this year — in no small part because Bryant thought he could trust her to not put her foot in her mouth," writes Josh Voorhees at Slate. Well, so much for that. It turns out that Hyde-Smith made a pair of controversial remarks earlier this year that have only recently surfaced. In one, she described "her loyalty to one of her supporters" by suggesting that "if he invited me to a public hanging, I'd be on the front row." In another, she seemed to cheer voter suppression on college campuses "in a state with more than a half-dozen historically black universities." The result: The GOP may lose Tuesday's runoff for the Cochran seat — its first Senate loss in the state in more than 30 years.
Full report at:
https://nypost.com/2018/11/26/european-jews-are-more-afraid-in-the-west-and-other-commentary/
--------
South Asia
At least 22 Afghan police killed in Taliban ambush, officials say
26 November 2018
At least 22 police were killed in a Taliban ambush in Afghanistan's western province of Farah late on Sunday, officials said, adding to the growing casualty toll on Afghan security forces fighting an increasingly confident insurgency.
Taliban fighters ambushed a security forces' convoy in Lash-e Joveyn district of Farah, a remote and sparsely populated province on the border with Iran where the Taliban have control of large parts of the countryside.
Police spokesman Mohebullah Moheb confirmed the ambush but gave no details. A spokesman at the provincial hospital said 22 bodies had been brought in from the incident.
Taliban spokesman Qari Yousuf Ahmadi said 25 police, including senior commanders, had been killed and four vehicles were destroyed in the attack. Large quantities of weapons were captured, he said.
Afghan authorities no longer release detailed figures but US Defense Secretary James Mattis recently confirmed casualties have been running at some 500 a month, a figure many officials in Kabul say understates the real toll.
The losses have been mounting even while US diplomatic efforts to begin peace talks with the Taliban have picked up with the appointment by Washington of Zalmay Khalilzad, a former US ambassador to Kabul, as special peace envoy.
https://english.alarabiya.net/en/News/world/2018/11/26/At-least-22-Afghan-police-killed-in-Taliban-ambush-officials-say.html
--------
Wahdat Islami demands unconditional release of commander Alipur
Nov 26 2018
The Wahdat Islami party has reacted to the arrest of a local uprising commander Alipur alias commander Shamsher in Kabul.
Wahdat Islami party in a statement has said the party condemns the arrest of the local uprising forces commander of Midan Wardak commander Alipur, calling it a provocative and irresponsible move.
The statement further added that the party demands unconditional release of the commander from the custody of the security forces.
Eyewitnesses said Sunday that Commander Alipur was detained by the National Directorate of Security forces from Qala Qazi area of the city on Sunday morning.
Commander Alipur is accused of harassing the passengers on highways in central parts of the country and leading irresponsible armed individuals.
Full report at:
https://www.khaama.com/wahdat-islami-demands-unconditional-release-of-commander-alipur-02820/
--------
Rohingya say Bangladesh, aid agencies must stop collecting information for Myanmar
Nov 26, 2018
Rohingya refugees in southeast Bangladesh have staged a massive protest and strike, demanding that officials and aid agencies stop sharing their family information with Myanmar's government.
Markets were shut at several of the refugee camps in Cox's Bazar District because of the protest on Monday. Rohingya working with non-government groups and the UN refugee agency also boycotted their jobs as part of the strike.
The leaders of Rohingya refugee camps called the strike to pressure the UN High Commissioner for Refugees (UNHCR) to include "Rohingya" on the ID cards it has been issuing them. The smart cards however, identify an individual as a "forcibly displaced Myanmar national" and not as Rohingya.
In a statement, the protesting refugees said it was crucial that they be identified as ethnic Rohingya on the cards because they were being persecuted in Myanmar precisely because of their ethnicity.
"The term 'Rohingya' is very important because we have been persecuted because of our identity," the statement said, adding that while the term was banned in Myanmar, it should not be banned in Bangladesh.
Elsewhere in the statement, the angry protesters also voiced concern about a plan to collect biometric data and copies of documents, as they fear the UNHCR and the Dhaka government could share the data with Myanmar, which could use the information against them.
Bangladesh has been urging the refugees to accept smart cards that help with identification and the distribution of aid.
Firas al-Khateeb, a UNHCR representative, said data was being collected for a verification process which would help Rohingya refugees get better protection and ensure their access to services in Bangladesh.
"It is not linked to repatriation," al-Khateeb said, adding that the data was jointly maintained by Bangladesh and the UNHCR.
Hundreds of thousands of Rohingya Muslims have been living for more than a year in cramped refugee camps in southeastern Bangladesh after fleeing violence in Rakhine at the hands of the Myanmar military.
In late October, Bangladesh and Myanmar agreed to begin to repatriate hundreds of thousands of Rohingya refugees who fled last year.
None of those on the list agreed to return if their demands for justice, citizenship and the ability to go back to their original villages and land were not met.
Myanmar's government has faced international condemnation for failing to halt the brutal persecution of Rohingya Muslims by military forces and Buddhist extremists.
Full report at:
https://www.presstv.com/Detail/2018/11/26/581212/Myanmar-Rohingya-UNHCR-Bangladesh-UN
--------
Myanmar seizes boat carrying 93 fleeing Rohingya camps for Malaysia
November 27, 2018
YANGON: Authorities in Myanmar have seized a boat carrying 93 people, apparently Rohingya Muslims, fleeing displacement camps in western Myanmar's Rakhine State and hoping to reach Malaysia, an official said on Tuesday.
The boat is believed to be the third bound for Malaysia stopped in Myanmar waters since monsoon rains began to subside last month, bringing calmer weather, raising fears of a fresh wave of hazardous voyages after a 2015 crackdown on people smugglers.
Moe Zaw Latt, director of the government office in Dawei, a coastal town in southern Myanmar, said fishermen had reported a "suspicious" boat to authorities.
The navy stopped the boat on Sunday and detained the 93 people, who said they had come from the Thae Chaung camp in the Rakhine State capital of Sittwe, he said.
Thae Chaung is about 900 km (560 miles) northwest of Dawei and holds internally displaced people, most of whom are stateless Rohingya.
"They said they ran away from the camp. They said they intended to go to Malaysia," said Moe Zaw Latt, adding authorities were preparing to send them back to Sittwe on Tuesday.
Photographs in media showed police standing by as passengers — many of them women in headscarves and children — huddled on the deck.
The boat resembled vessels the Rohingya typically use to escape the apartheid-like conditions in Rakhine State, where their movements and access to services are severely curtailed.
The UN refugee agency has said Myanmar must "address the root causes of displacement," including the lack of citizenship for the Rohingya, who consider themselves native to Rakhine State.
Myanmar regards Rohingya as illegal migrants from the Indian subcontinent and has confined tens of thousands to sprawling camps outside Sittwe since violence swept the area in 2012.
More than 700,000 Rohingya crossed into Bangladesh last year fleeing an army crackdown in the north of Rakhine State, according to UN agencies.
UN-mandated investigators have accused the Myanmar army of "genocidal intent" and ethnic cleansing. Myanmar has denied most allegations of atrocities, blaming Rohingya insurgents who attacked police boats for sparking the exodus.
Myanmar officials say they are ready to accept Rohingya who want to return from Bangladeshi refugee camps. But refugees themselves and aid agencies oppose a repatriation plan that was due to begin on Nov. 15, saying conditions in Myanmar were not safe.
Myanmar detained 106 Rohingya men, women and children on a boat near the commercial hub of Yangon on Nov. 16, when their engine failed on their way from the Sittwe camps to Malaysia.
Full report at:
http://www.arabnews.com/node/1411676/world
--------
Bangladesh court begins trial of militants over 2016 Dhaka cafe attack
November 26, 2018
The trial of eight militants who perpetrated Bangladesh's worst terror attack on a popular cafe here in 2016 that killed 22 people, including a 19-year-old Indian girl, began in a court on Monday.
Indian national Tarishi Jain was among 17 foreigners who were brutally murdered by the militants inside the restaurant in Dhaka's high-security diplomatic zone on the night of July 1, 2016, before commandos launched an assault killing six attackers and capturing one alive.
Apart from Jain, nine Italians, seven Japanese, and five Bangladeshis, including two police officers, were also killed while 50 people were injured in the attack. Most of the victims were found with their throats slit.
Investigators said a total of 21 militants were involved in planning the assault but 13 of them were killed in subsequent anti-terrorism operations by security forces.
"The judge indicted the suspects to be tried and set December 3 for beginning the arguments," an official of Anti-Terrorism Special Tribunal said.
He said Judge Mujibur Rahman indicted eight accused while police produced six of them in the dock as two others are absconding and would be tried in absentia. He said the six accused pleaded not guilty.
The trial comes four months after police pressed charges over the attack.
Five militants directly carried out the attack at the Holey Artisan Bakery in Dhaka's upscale Gulshan diplomatic enclave. All of them were killed on the morning of July 2 in a military commando raid at the site.
The country's deadliest ever terrorist attack prompted authorities to launch a massive anti-militancy operation.
The Neo-Jamaatul Mujahideen Bangladesh (Neo-JMB), said to be linked to the Islamic State (IS) terror group, was blamed for the carnage. The outfit has emerged as the new chapter of the radical Islamist group JMB.
Police counter-terrorism chief Monirul Islam earlier said they gathered 75 pieces of evidence for the trial and mobilised 211 witnesses to the carnage to testify in court.
Full report at:
https://indianexpress.com/article/world/bangladesh-court-begins-trial-of-militants-over-2016-dhaka-cafe-attack-5465775/
--------
Southeast Asia
Penang mufti supports call for male footballers to cover up
November 26, 2018
GEORGE TOWN: A mufti in Penang has voiced support for a call by a Terengganu legislator for all Muslim athletes, including male footballers, to cover themselves until their knees at all events beginning next year.
Wan Salim Wan Mohd Noor said this was in line with the requirements of Islam.
"I am also of the opinion that covering up will not affect the performance or achievements of these athletes. After all, 'tutup aurat' (covering up) is a must in Islam," he said when contacted.
Salim added that the ruling should be easy for most Muslim men as they are only required to cover themselves from the navel to the knees.
Terengganu executive councillor Wan Sukairi Wan Abdullah told the state assembly yesterday that beginning next year, all Muslim athletes from the state had to wear shariah-compliant clothing both at home and while participating in outstation events.
He said the "tutup aurat" initiative would begin with footballers and expand to other sporting activities in stages.
He said this was part of the PAS-led government's initiative to put in place Islamic values, especially in matters concerning shariah-compliant clothing.
According to him, the initiative was first proposed by the state mufti. He said implementation would not be immediate but that athletes were encouraged to start meeting the required standards.
Sukairi also dismissed concerns over a possible drop in performance, giving the example of Terengganu state runner Azreen Nabila Alias who was crowned the "speed queen" at the recent Sukma games despite being dressed in shariah-compliant clothing.
https://www.freemalaysiatoday.com/category/nation/2018/11/26/penang-mufti-supports-call-for-male-footballers-to-cover-up/
--------
Aceh village leaders issue circular on Wi-Fi ban at cafes
November 26, 2018
Village leaders of Curee Baroh in Simpang Mamplam district, Bireun regency, Aceh, have issued a circular that calls on all cafes to remove access to free Wi-Fi, which they have blamed for distracting children from their studies and Quran recital sessions. The circular, the sharia-abiding province's first, was issued on Nov. 13 as a result of discussions among village officials who have attributed the low interest in studying and reciting the Quran to the fact that more young people are crowding such hangout spots.
"We have delivered the circular to the cafe owners so that they can cut the Wi-Fi connection," said Curee Baroh village head Helmiadi Mukhtaruddin.
The village leaders said they found that children and teenagers in the area went to cafes during school hours and claimed some opened sites containing pornography.
"There is a growing concern about Wi-Fi access. We have six cafes in the village and it is getting harder for parents and teachers to control the children," said Helmiadi.
He said children often left home telling their parents that they would attend Quran recital sessions at mosques or musholla (prayer rooms), but they actually went to cafes and surfed the internet.
Despite upholding regional autonomy principles, sharia implementation in Aceh has been condemned and criticized over alleged human rights violations.
Previously, the Bireun administration was criticized for issuing a circular asking coffee shops, cafes and restaurants to ensure that male and female customers who are not married or related to one another do not sit at the same table together.
The circular is meant to serve as a guideline for business owners to abide by sharia, which prohibits khalwat (physical displays of affection between unmarried couples).
Bireun Communications and Information Agency head M. Zubair said many cafes in the regency now provided Wi-Fi access to visitors, and only in Curee Baroh was it now denounced. He said the regency administration respected the village's decision.
"We support the Wi-Fi ban as long as it benefits the young generation," Zubair told The Jakarta Post on Saturday.
He said the village regulation did not contravene higher law in the regency and allowed other villages to follow suit. He, however, said there would be no legal consequences for ignoring the circular.
"[The circular] has no legal consequences. But, ideally, residents should comply with the circular," said Zubair.
The circular came along with the village leaders' statement conveying their commitment to eradicate drug trafficking, especially for crystal metaphetamine and marijuana.
Full report at:
http://www.thejakartapost.com/news/2018/11/26/aceh-village-leaders-issue-circular-on-wi-fi-ban-at-cafes.html
--------
Scholars condemn mass detention of Muslim Uighurs, other ethnic groups in China
November 27, 2018
WASHINGTON: Countries must hit China with sanctions over the mass detention of ethnic Uighurs in its western Xinjiang region, hundreds of scholars said on Monday, warning that a failure to act would signal acceptance of "psychological torture of innocent civilians."
Beijing has in recent months faced an outcry from activists, academics and foreign governments over mass detentions and strict surveillance of the Muslim Uighur minority and other ethnic groups that live in Xinjiang.
In August, a United Nations human rights panel said it had received many credible reports that a million or more Uighurs and other minorities are being held in what resembles a "massive internment camp that is shrouded in secrecy" in the region.
Representatives from a group of 278 scholars in various disciplines from dozens of countries called on China at a news briefing in Washington to end its detention policies, and for sanctions directed at key Chinese leaders and security companies linked to the abuses.
"This situation must be addressed to prevent setting negative future precedents regarding the acceptability of any state's complete repression of a segment of its population, especially on the basis of ethnicity or religion," the group said in a statement.
Countries should expedite asylum requests from Xinjiang's Muslim minorities, as well as "spearhead a movement for UN action aimed at investigating this mass internment system and closing the camps," it said.
China rejects criticism of its actions in Xinjiang, saying that it protects the religion and culture of minorities, and that its security measures are needed to combat the influence of "extremist" groups that incite violence there.
The country's Foreign Minister Wang Yi has said the world should ignore "gossip" about Xinjiang and trust the government.
But after initial denials about the detention camps, Chinese officials have said some people guilty of minor offenses were being sent to "vocational" training centers, where they are taught work skills and legal knowledge aimed at curbing militancy.
Michael Clarke, a Xinjiang expert at Australian National University who signed the statement, told reporters that China sought international respect for its weight in global affairs.
Full report at:
http://www.arabnews.com/node/1411626/world
--------
Islam Forbids Intrusion on Any Place of Worship, Says Malaysian Minister
November 27, 2018
PETALING JAYA: Minister in the Prime Minister's Department Mujahid Yusof Rawa has called for calm in the wake of a second day of chaos at the Seafield Sri Maha Mariamman temple in Subang Jaya.
Mujahid, who is the minister in charge of Islamic affairs, also said Islam taught its followers to respect each other and look after the sanctity of houses of worship, regardless of which religion they belonged to.
"If it is true that a house of worship was intruded upon, and that the place of worship was damaged to the point that people around were endangered, this cannot be accepted," he said in a statement.
He was referring to Monday's early morning scuffle at the Sri Maha Mariamman Temple, which is slated for relocation. That scuffle saw one group of people attack devotees at the temple.
The Amanah leader called for a peaceful resolution to the Sri Maha Mariamman temple issue and urged all quarters to immediately cease any provocative action.
"I also hope the authorities will carry out a fair and detailed investigation into the incident so that action can be taken against those responsible according to the law."
He added that action must be taken against anyone who did not respect the law.
"Parties are also advised against issuing statements which can further muddy the waters to ensure the peace and harmony we have built all this while is maintained."
Last night, a crowd of over 2,000 gathered to protest the relocation. The initially peaceful protest turned unruly after midnight when some protesters vandalised and set fire to several vehicles.
Full report at:
https://www.freemalaysiatoday.com/category/nation/2018/11/27/islam-forbids-intrusion-on-any-place-of-worship-says-mujahid/
--------
Musician Ahmad Dhani could face two years behind bars for alleged hate speech
November 26, 2018
Prosecutors are seeking two years of imprisonment for musician Ahmad Dhani over alleged hate speech.
"We prosecutors demand that the judges declare the suspect guilty beyond reasonable doubt of inciting hatred against a certain group and [sentence him to] two years in prison," the prosecution side read out its statement at the South Jakarta District Court on Monday, as reported by tribunnews.com.
Dhani was named a suspect for posting on his Twitter account messages that allegedly contain hate speech, one of which reads that "anyone who supports a blasphemer is scum that deserves to be spat on in the face," in a clear reference to former Jakarta governor Basuki "Ahok" Tjahaja Purnama, who was sentenced to two years in prison last year for blasphemy against Islam.
The prosecutor added that there was no mitigating factor that could lessen the sentence and that the suspect had created public disquiet.
The tweets were posted during the Jakarta gubernatorial election campaign season, which coincided with Ahok's blasphemy trial.
Full report at:
http://www.thejakartapost.com/news/2018/11/26/musician-ahmad-dhani-could-face-two-years-behind-bars-for-alleged-hate-speech.html
--------
Mideast
Associating Terrorism with Islam Is Greatest Obstacle to Combating It: Erdoğan
November 26, 2018
Turkish President Recep Tayyip Erdoğan said on Monday that associating terrorism solely with Muslims is the greatest obstacle to globally combatting terrorism.
"Do we say Christian terror? Do we say Jewish terror? Are there no Christians and Jews who are involved in terrorism? There are," Erdoğan said at a symposium on international drug policies and public health in Istanbul.
"Nobody can join Islam and terrorism. The world Islam itself means peace. Is it possible to associate a religion that demands peace with terrorism? The aim is to taint Islam with Daesh and other terror groups," he added.
"I invite the whole world to unite around a stance against terrorism that is principled and result-oriented."
Turkey's fight against terror
President Erdoğan lauded the success Turkey's resolute stance against terrorism has yielded.
"One the most important outcomes of Turkey's fight against terror is the progress we have made in terms dealing great blows to the drug trade. Terrorism cannot be fought unless it is targeted in all aspects," Erdoğan said.
Erdoğan said that Turkey's fight against drug trafficking also harms terrorist organizations.
"Addiction and terror resemble each other. The swamp must be drained for an effective fight against both," he added.
"Therefore, the struggle against addictive products is also a struggle to dry out the resources of terrorism," he said.
The Turkish president reiterated it was not an accident that drugs, alcohol and tobacco fuel terrorist organizations.
He said 52,000 people have been put in jail in Turkey on charges related to drug trafficking.
He added that electronic addiction was also a big threat to the society.
"The world is silent and does not see Paris"
Erdoğan called for more coverage of the protests that have rocked France's Paris and left at least two people dead. Over 750 people, including 136 security guards, were injured and 693 people have been detained during the one-week demonstrations.
"During the Gezi events, international media was always covering Taksim. There are terror events in Paris at the moment, and international media is silent. The world is silent and does not see Paris. Why? Because they don't want them to be tainted but regardless of this, the world is watching
French police detained at least 100 people on Saturday in anti-government protests which sparked by rise in fuel prices in the country, according to security sources. The protests which turned violent as the security forces used tear gas to disperse the "yellow vests" in Paris' key points, especially on Champs-Elysees.
The protesters named after the high-visibility jackets staged the nationwide protests last week. Over a thousand demonstrators also gathered in front of Elysee Palace calling for President Emmanuel Macron to resign.
https://www.yenisafak.com/en/news/associating-terrorism-with-islam-is-greatest-obstacle-to-globally-combatting-it-erdogan-3467439
--------
Yemeni Drone Targets Meeting of Saudi-Backed Militia Commanders
Nov 26, 2018
Yemeni drone Qasef 1 hit a venue of the meeting of the militia commanders backed by the Saudi-led coalition, killing and injuring a number of them, reported al-Masireh news channel.
The attack was carried out late on Sunday, hitting Mass base in the province of Marib, Northeast of the Yemeni capital city of Sana'a.
The air assault was carried out after a series of reconnaissance operations, a Yemeni military commander told al-Masireh.
Saudi Arabia and some of its allies, including the United Arab Emirates, Morocco, and Sudan, launched a brutal war against Yemen in March 2015 in an attempt to reinstall Yemen's former president Abd Rabbuh Mansur Hadi.
The aggression initially consisted of a bombing campaign but was later coupled with a naval blockade and the deployment of ground forces to Yemen. Around 20,000 people have died since the war began, says Yemen's Health Ministry.
The Saudi-led war has also taken a heavy toll on the country's infrastructure, destroying hospitals, schools, and factories. The United Nations (UN) has said that a record 22.2 million Yemenis are in dire need of food, including 8.4 million threatened by severe hunger.
Despite Riyadh's claims that it is bombing the positions of the Ansarullah fighters, Saudi bombers are flattening residential areas and civilian infrastructures.
In August, a Saudi air raid hit a school bus as it drove through a market in the town of Dhahyan in Sa'ada Province in Northwestern Yemen, killing a total of 51 people, among them 40 children, and injuring 79 others, mostly children.
Full report at:
http://en.farsnews.com/newstext.aspx?nn=13970905000680
--------
Palestinian shot dead after allegedly injuring Israeli soldiers in car-ramming
26 November 2018
A Palestinian was shot dead while allegedly attempting to carry out a car-ramming attack on Monday that injured three Israeli soldiers in the occupied West Bank, the Israeli military said.
The military said one of the soldiers sustained moderate injuries and the other two were slightly hurt when the Palestinian allegedly crashed his vehicle into them along a West Bank road north of the city of Hebron.
Another soldier then shot and killed the assailant, the military said.
There was no claim of responsibility for Monday's incident, which drew praise from the Hamas militant group as "a response to crimes carried out by the occupation", a term it uses to refer to Israel.
Full report at:
https://english.alarabiya.net/en/News/middle-east/2018/11/26/Palestinian-shot-dead-after-allegedly-injuring-Israeli-soldiers-in-car-ramming.html
--------
Has Hamas sold Gaza for Qatari cash, limited Israeli benefits?
26 November 2018
Gaza residents have apparently started "branding Hamas with slurs", accusing the group of "selling out" the enclave in return for aid from Qatar and more collaboration with Israel, a newspaper column published this week suggests.
Muhammad Shehada, a writer and activist from the Gaza Strip who writes for Haaretz, published a column this week that suggested Gazans were angry at Hamas after the group reached a "limited set of understandings" with Israel earlier this month.
"'They sold us out!' Gazans began to whisper," according to the columnist. The deal with Israel included keeping Palestinian protesters hundreds of meters away from the separation fence with Israel. The site is where demonstrators weekly protested by tire-burning and firing incendiary kite-flying at Israeli farms and assets -- an act Hamas has previously defended the Palestinian right in doing so.
On social media, Gazans used Arabic hashtags equivalents to #sell-outs, at which they wrote messages like: "[Suddenly] burning tires have become 'unhealthy' and [approaching] the electronic fence is suicide! #sell-outs."
In return for this calm, the writer notes that Israel restored the status quo ante, as well as other "limited" "benefits."
This included the expansion of the Gaza fishing zone for a few a months, bringing back the heavily-restricted entry of relief and commercial vessels into the enclave, following a full-on closure. And a tentative supply of Qatari fuel and cash to pay Hamas' government employees.
"Basically, a return to square one" the writer said. Gazans unleashed some of their anger during a visit by Qatari ambassador earlier in November. Not only his convoy was hurled with stones, but also he was met with angry cries such as "collaborator."
Public outrage was also evident during a small protest by young Gazans in Khan Younis where this "sell-out" hashtag became a shouted slogan, accusing Hamas of "betrayal."
But a botched Israeli operation thwarted by Hamas military wing, al-Qassam Brigade, has given the group some relief, the writer suggests.
Days after this last escalation -- which left an IDF officer dead and led to a barrage of rocket fire from Gaza towards Israel -- Hamas leaders celebrated the "heroic engagement" against Israel, silencing critics by showing it still is the "armed resistance" protecting Gaza.
Their campaign, Shehada writes, has been effective in delegitimizing further criticism of Hamas' political and administrative conduct in Gaza once again.
"Criticism of Hamas became equivalent to undermining the overall Palestinian national struggle for liberation.
"Unsurprisingly that silenced the popular outrage about Hamas' initial agreement of trading Gaza's sacrifices over the last seven months for a meager supply of aid and money."
It was time for Hamas to return to business, the writer says. The group continues to sell Gazans "the delusion that their decade of endurance is finally bearing fruit and soon, more prosperity, employment and hope will trickle down to the masses."
What has been achieved so far "are temporary and symbolic painkillers, not an actual end to Gaza's pain", Shehada writes.
Hamas has agreed to give a small share of the Qatari money to 50,000 needy Gazan families; $100 for each household.
The group also created a temporary employment programs for 5,000 young university graduates with the aspirational title of Tomoh ("Ambition"). Hamas also promised to "keep up the fight until Gaza is no longer unlivable," and "pledged with their honor" to continue the Gaza Great Return March until the protests' main goal was achieved -- ending the blockade.
But the writer questions whether such protests would be of any significance when they are hundreds of meters away from the Israeli fence.
"At what price is Hamas doing this? And for what purpose?"
Full report at:
https://english.alarabiya.net/en/features/2018/11/26/Columnist-Has-Hamas-sold-Gaza-for-Qatari-cash-limited-Israeli-benefits-.html
--------
Iran says won't let 'deal of the century' pass
Nov 27, 2018
Iranian Parliament Speaker Ali Larijani says the United States plans to make Israel a dominant force in the Middle East through its 'deal of the century' plot, but Iran is determined to foil it.
"The so-called 'deal of the century' is an Israeli-American plot," Larijani said in a Monday address to the closing ceremony of the Islamic Unity Conference in Tehran.
"We will stand against the Israeli regime and won't let the deal take place in this region," he went on to say.
"They have called it the 'deal of the century' to achieve a number of major goals. Their first goal is to increase the power of Israel in the region. … The other goal is to end the story of Palestine by telling Palestinian refugees to stay in other countries and not to return to their homeland," Larijani said.
He further noted that the United States has a serious plan to plunder the region's oil resources and accuses Iran of misbehavior in order to only justify their presence in the Middle East and encourage regional countries to buy their weapons.
"They target Iran because it is the only country that has stood against Israel and America and has maintained its position for 40 years," he said.
Larijani warned certain countries in the region against supporting the so-called 'deal of the century' and hosting Israeli officials, saying that such moves won't have any benefit for them.
He said Saudi Arabia, the UAE, and some other countries admit they made a mistake when they supported former Iraqi dictator Saddam Hussein in his eight-war war against Iran. "We overlooked that mistake and did not retaliate, but their second mistake – supporting Israel – wouldn't remain without retaliation."
Iran won't let countries that are siding with the US and serving the Israeli regime by supporting the 'deal of the century' achieve anything, he warned.
"You are the leaders of Muslim countries, but know it that we'll stand against Israel, and won't let the 'deal of the century' happen in the region," Larijani noted. "People never forget the issue of Palestine. Their governments may say something for their own interests or to appease the US; they may remain silent or establish ties with Israel. But their people hate it. The people of the region in any country consider Israel as a cancerous tumor, and hate it."
The so-called deal, a backchannel plan to allegedly reach a peace settlement between Israel and the Palestinians, was proposed by the US administration late last year. Although the plan has not been released, leaks signal it will consist of the same tried and failed ideas.
While little is known about the controversial deal, leaks have suggested that it regards Jerusalem al-Quds entirely as Israeli territory, whereas Palestinians view the eastern sector of the occupied city as the capital of their future state.
Palestinians also believe that the US-drafted plan calls for keeping borders and security under Israeli control, while it keeps Israeli settlements' final borders to be discussed in later negotiations.
Earlier this month, Palestinian President Mahmoud Abbas rejected the plan and decried what he called efforts to separate the West Bank from the Gaza Strip.
"The 'deal of the century' will not pass and the fate of the land of Palestine will be decided by the Palestinian people," Abbas said in a recorded speech aired on Palestine TV on Nov. 10.
Abbas has described US President Donald Trump's plan as "the slap of the century" and boycotted the US administration since December 2017 when Trump recognized Jerusalem al-Quds as Israel's capital.
In Gaza, Hamas official Sami Abu Zuhri said the resistance movement would never allow the "deal" to be implemented.
Full report at:
https://www.presstv.com/Detail/2018/11/27/581255/Iran-Larijani-Deal-Century-Israel-Palestine-Trump
--------
George Soros foundation says will end Turkey activities
Nov 26, 2018
George Soros's Open Society Foundation says it will cease operations in Turkey, days after President Recep Tayyip Erdogan accused the billionaire philanthropist of trying to divide and destroy nations.
The organization said it was no longer possible to work in Turkey after it became the target of "baseless claims" in the media and a renewed investigation by Turkish authorities into mass protests against Erdogan's government five years ago.
It said the Turkish Interior Ministry was renewing attempts to prove that the Soros foundation was behind the 2013 Gezi Park protests, one of the biggest political challenges to Erdogan's 15-year rule. The foundation denied any link to the protests.
Erdogan denounced Soros last week while speaking of the detention of 13 activists and academics accused of supporting attempts by jailed businessman and rights advocate Osman Kavala to revive the Gezi protests.
"The person (Kavala) who financed terrorists during the Gezi incidents is already in prison," Erdogan told a meeting of local administrators on Wednesday.
"And who is behind him? The famous Hungarian Jew Soros. This is a man who assigns people to divide nations and shatter them. He has so much money and he spends it this way."
One of the 13 people detained on November 16 was Hakin Altinay, who helped establish the Open Society Foundation in Turkey. Others were staff members of Kavala's Anadolu Kultur center, which campaigns for human rights and cultural diversity.
All but one of the detainees were later released, but not before the European Union and United States expressed concern about their cases.
Ankara's Western allies have repeatedly criticized the arrest of tens of thousands of people since a failed military coup in Turkey in July 2016.
Money transfers
Kavala, in detention for more than a year, said on Monday in a statement posted on his website that he was still waiting for an indictment to be prepared so that he could prove that the claims he had helped to direct and finance the Gezi protests and wanted to overthrow the government were "unfounded."
The pro-government Sabah newspaper, citing reports from financial crime investigators, said on Monday the Open Society Foundation had made financial transfers to Kavala's organization to support the spread of the Gezi protests nationwide.
It said nearly 1.9 million lira had been transferred between August 2011 and April 2017.
The foundation said it informed the Turkish authorities every year about which institutions and projects had received donations, and the authorities had approved them.
"However, with the new investigations that have been opened, it is seen that there is an effort to link the Open Society Foundation to the Gezi incidents in 2013. These efforts are not new and they are outside reality," it said.
The foundation said it would apply for the legal liquidation and winding up of the company's operations as soon as possible.
"The increase of baseless claims and disproportionate speculation in the media in recent days has made it impossible for the foundation to continue its operations."
Full report at:
https://www.presstv.com/Detail/2018/11/26/581237/George-Soros-Foundation-Turkey-Recep-Tayyip-Erdogan-Gezi-Park
--------
Police search villa in northwest Turkey for remains of slain Saudi journalist
Nov 26, 2018
Turkish police have searched the villa of a Saudi citizen in a northwestern province for the remains of murdered Saudi dissident journalist Jamal Khashoggi who was killed after entering the kingdom's consulate in Istanbul in early October.
State news agency Anadolu said that the officers began searching a two-story building in Termal district in Yalova with the help of sniffer dogs and drones on Monday.
The law enforcement agencies later widened the search and investigation to the adjacent villa, it added.
Crime scene investigators were inspecting a well in the first villa's garden in Samanli village, while images showed fire trucks at the scene.
In a statement, the Istanbul prosecutor said the first villa is owned by a Saudi man who had spoken to one of the murder suspects on October 1. The prosecutor added that this information was the reason given to search the building.
"It is believed that what was discussed was how to destroy or hide journalist Jamal Khashoggi's body after his dismemberment during this conversation," the statement read.
There have been previous inspections of the Saudi consulate and the consul-general's residence in Istanbul as well as a forest in the city. The latest searches came more than two weeks after pro-government Sabah daily reported that samples taken from the consulate drains showed traces of acid.
President Recep Tayyip Erdogan earlier this month said Turkey had given "recordings" on the murder of Khashoggi to Saudi Arabia, the United States, Germany, France, and Britain. In a televised speech on November 10, Erdogan said Saudi Arabia knew the killer of Khashoggi was among a group of 15 people who arrived in Turkey one day ahead of the October 2 murder.
The contents of the gruesome recording allegedly prove that Khashoggi was grabbed, drugged and dismembered with a bone saw. The voice attributed to a Saudi forensic evidence chief also suggests that others witnessing Khashoggi's harrowing fate listened to music in order to drown out the sounds.
Turkish media outlets have named the Saudi suspects who flew into Istanbul and left on the same day the journalist was last seen.
Turkish judicial sources have said that Khashoggi was "strangled" as soon as he entered the diplomatic mission and his body was then "cut into pieces" under a "premeditated plan."
A senior Turkish official recently told the Washington Post that the slain journalist's body was destroyed in acid on the grounds of the Saudi consulate or at the nearby residence of the Saudi consul general. The official, speaking on condition of anonymity, said biological evidence discovered in the diplomatic mission garden supports the theory that Khashoggi's body was disposed of close to where he was killed and dismembered.
The body of Khashoggi remains missing. A joint Turkish-Saudi investigation into Khashoggi's fate has made little progress so far.
Khashoggi, a prominent commentator on Saudi affairs who wrote for the Washington Post's Global Opinions section, had lived in self-imposed exile in the US since September 2017, when he left Saudi Arabia over fears of the Riyadh regime's crackdown on critical voices.
He was seeking to secure documentation for his forthcoming marriage when he entered the Saudi consulate in Istanbul on October 2, but never came out despite Riyadh's initial claim that he exited the mission less than an hour after completing his paperwork.
Riyadh initially denied knowledge of Khashoggi's disappearance, then offered contradictory explanations.
The kingdom, however, later admitted that Khashoggi had been murdered in the consulate during an interrogation by rogue operatives that had gone wrong after diplomatic pressure grew tremendously on Riyadh to give an account on the mysterious fate of its national. However, Saudi Arabia said that it did not know the whereabouts of the body, which is widely believed to have been dismembered.
His death has put the Riyadh regime and Saudi Crown Prince Mohammed bin Salman under strict scrutiny.
Full report at:
https://www.presstv.com/Detail/2018/11/26/581229/Turkey-Saudi-Khashoggi-Erdogan-Trump-bin-Salman
--------
Israeli military commander calls for Hezbollah leader's assassination
Nov 26, 2018
Commander of the Israeli military's 300th Infantry Brigade has called on the Tel Aviv regime to resort to the policy of "targeted killings," arguing that the assassination of the Secretary General of Hezbollah will deal a fatal blow to the Lebanese resistance movement.
Colonel Roy Levy, in an article published in the Hebrew-language Ma'arakhot magazine, which is affiliated to the Israeli army, wrote that "targeted killings" must be carried out, and that Sayyed Hassan Nasrallah should be killed by commando forces backed by the air force, the Hebrew-language Walla news website reported.
"His personality and military experience have turned him into a center of gravity. All of his organization - from senior commanders to the low-ranking soldiers - and thus the fighting spirit of the enemy will be harmed once he is targeted," Levy wrote.
He then recommended Israeli military operations deep inside Lebanon, asserting that the offensives would yield many benefits despite the risks associated with them.
The Israeli military commander also called for "a proper positioning of combat commando units with the aim of subjugating the enemy."
"Should we make a similar decision and kill the leaders of enemy organizations, for example, Nasrallah? The answer is not easy.
"But the idea of harming the enemy's fighting spirit by damaging its property must be examined. We must adopt a policy not anchored in force, but in ruse instead. The deep activity of commandos in a way that surprises the enemy and strikes its equipment will be an important means of damaging its fighting morale, and will lead to its defeat," Levy commented.
On November 28, 2017, the Israeli military's chief spokesman said Nasrallah would be a target for assassination in any war between Israel and Hezbollah.
Ronen Manelis added that the Israeli military is conducting psychological and media warfare against Hezbollah.
"One of the things we talk about is the transition from traditional media consumption to social media," Manelis said, adding, "We are also active in this theater, and it is an operational theater in every respect. Just in the past few weeks, we've taken a great many actions that caused consternation on the other side."
Full report at:
https://www.presstv.com/Detail/2018/11/26/581202/Israeli-military-commander-calls-for-Hezbollah-leaders-assassination
--------
North America
Pompeo urges Pakistan to sanction terrorists responsible for 26/11
NOVEMBER 27, 2018
US Secretary of State Mike Pompeo on Monday called upon all countries, particularly Pakistan, to uphold their UN Security Council obligations to implement sanctions against terrorists responsible for the 26/11 Mumbai attack.
"We call upon all countries, particularly Pakistan, to uphold their UN Security Council obligations to implement sanctions against the terrorists responsible for this atrocity, including Lashkar-e-Tayyiba (LeT) and its affiliates," said the US secretary of state on the 10thanniversary of the attack. "It is an affront to the families of the victims that, after 10 years, those who planned the Mumbai attack have still not been convicted for their involvement," he added.
Indian politicians and officials routinely condemn Pakistan for not taking action against LeT leader Hafiz Saeed. Pakistan says that evidence provided by India against Hafiz Saeed is too vague.
Six Americans were among the Mumbai victims and the US State Department announced a $5 million prize for the capture of the remaining planners of the attacks. The US already has a $10 million bounty offered for Hafiz Saeed and $2 million for Hafiz Abdul Rahman Makki, another senior group leader.
India marked the 10thanniversary of the Mumbai terror attacks with ceremonies at sites across the city that became battlegrounds in the wave of violence that killed scores and dealt a critical blow to relations with Pakistan.
While Mumbai staged its own solemn ceremonies, Prime Minister Narendra Modi called the attacks 'gruesome' and said, "A grateful nation bows to our brave police and security forces who valiantly fought the terrorists during the Mumbai attacks."
Played out on TV news channels around the world, the bloody events – widely known as 26/11 – have been compared in India to New York's suffering on September 11, 2001.
https://dailytimes.com.pk/326667/pompeo-urges-pakistan-to-sanction-terrorists-responsible-for-26-11/
--------
America targets Middle East as it fears Islamic strengthening: Iran leader
Nov 25, 2018
DUBAI: Iranian supreme leader Ayatollah Ali Khamenei said on Sunday the United States is targeting the Middle East because it fears Islamic "awakening" in the region, according to his official website.
Tension has increased between Washington and Tehran since May, when President Donald Trump reimposed sanctions after pulling out of a 2015 nuclear deal between Iran and six major powers.
"World powers headed by America show interest for the Middle East because of Islamic awakening in this region. They are afraid of the awakening of the Islamic nations ... because of blows they have suffered wherever Islam has spread to peoples' hearts," Ayatollah Khamenei said.
"Why should Islamic rulers side (with America) in their crimes against Palestine and the Yemeni people? They can be sure ... that they will be defeated," Khamenei said, in an apparent reference to Saudi Arabia.
The website was quoting a speech Ayatollah Khamenei gave to Iranian officials and foreign Muslim figures attending an international Islamic conference in Tehran.
Full report at:
https://timesofindia.indiatimes.com/world/middle-east/america-targets-middle-east-as-it-fears-islamic-strengthening-iran-leader/articleshow/66795115.cms
--------
Pompeo: Rouhani works to isolate regime from both world and Iranian people
27 November 2018
The US Department of Sate released a press statement by Secretary Mike Pompeo on Monday stating that Iranian President Hassan Rouhani has "once again called for the destruction of Israel", which comes across as "seemingly calling for war."
The statement added that Rouhani has also encouraged Muslims worldwide to unite against the US, which is a step that will "further deepen Iran's isolation."
"The Iranian regime is no friend of America or Israel when they repeatedly call for the death of millions, including Muslims. The Iranian people know better and do not agree with their government, which has badly represented them to the world for 39 years. The people have suffered under this tyranny for far too long," the statement read.
Addressing an annual Islamic Unity Conference last Saturday, Rouhani had said "one of the ominous results of World War II was the formation of a cancerous tumor in the region." He went on to refer to Israel as a "fake regime" set up by Western countries.
Full report at:
https://english.alarabiya.net/en/News/world/2018/11/27/Pompeo-Rouhani-works-to-isolate-regime-from-both-world-and-Iranian-people.html
--------
Sanders to pursue Senate vote on ending US involvement in Yemen
Nov 27, 2018
United States Senator Bernie Sanders has announced his intention to push for a Senate vote ending US involvement in Yemen in the upcoming days.
In an email addressing supporters, Sanders announced "this week I will go to the floor of the United States Senate [to force the vote]," revealed The Hill on Tuesday.
"Despite Trump's venal support for the Saudi regime, I am confident that we now stand an excellent chance to win this vote which I plan on bringing back to the Senate floor this week," added Sanders.
A spokesman for the politician further confirmed that Sanders is negotiating a Wednesday or Thursday vote with Senate leadership.
The vote may seek to introduce a resolution similar to a previous one brought up in March which called for a halt in US intervention in Yemen.
The resolution, proposed by Sanders and Republican Senator Mike Lee, was blocked by a 55-strong vote despite gaining 44 favorable votes.
A new vote will further increase pressure on US relations with the oil-rich kingdom, given the added controversy over the killing of Saudi dissident journalist Jamal Khashoggi along with Saudi Arabia's prolonged bloody onslaught on Yemen.
The announcement comes as the Senate has been exploring different means to punish the Saudi government in recent weeks.
On November 15, a bipartisan group of senators introduced a bill seeking to halt US arms exports to Saudi Arabia.
The measure came on the same day the US Treasury Department had imposed economic sanctions on 17 Saudis allegedly involved in Khashoggi's murder.
Later this week, Defense Secretary James Mattis and Secretary of State Mike Pompeo plan to brief the Senate on Saudi Arabia, in what may be a last attempt to defend the Trump administration's positive relations with Riyadh in the Upper House.
The Saudi regime and its allies launched a deadly campaign against Yemen in March 2015 in an attempt to reinstall the country's former Riyadh-allied regime and crush the Houthi Ansarullah movement.
The Western-backed imposed war, which has so far failed to achieve its stated goals, has, however, constrained humanitarian deliveries of food and medicine to the import-dependent state, leading to a mass cholera outbreak and starvation from famine.
Full report at:
https://www.presstv.com/Detail/2018/11/27/581258/Ending-US-involvement-in-Yemen-proposalin-Senate
--------
Kushner pushed to inflate Saudi arms deal to $110 billion: Sources
Nov 26, 2018
US President Donald Trump's son-in-law pushed American officials to pump up numbers for a supposed $110 billion arms deal with Saudi Arabia, sources tell ABC News.
"There was a back and forth between Kushner and Department of Defense and State officials on how to get to a larger number because the officials initially told Kushner that realistically they had about $15 billion worth of deals in works," read a Monday report, which cited two US officials and three former White House officials.
According to the Pentagon, Riyadh has so far signed "Letters of Offer and Acceptance" (LOAs) for only $14.5 billion in sales of helicopters, tanks, ships, weapons, and training.
Kushner, Trump's adviser put in charge of the Middle East, was apparently trying to solidify the new alliance between the Trump administration and the Saudi royal family.
Therefore, he pushed the State and Defense departments to inflate the number, an initiative also backed by Defense Secretary James Mattis
"We need to sell them as much as possible," Kushner reportedly told colleagues at an NSC meeting weeks ahead of Trump's trip to Saudi Arabia last year.
The new revelations come amid tensions in US-Saudi ties over Trump's connivance of dissident journalist Jamal Khashoggi's probable assassination at the Saudi consulate in the Turkish city of Istanbul last month.
Saudi Arabia has acknowledged the murder, yet left many questions unanswered.
Turkish intelligence intercepts reportedly show that Khashoggi, who was last seen entering the Saudi mission in Istanbul on October 2, was murdered on a direct order from Saudi de facto ruler Crown Prince Mohammad bin Salman
Full report at:
https://www.presstv.com/Detail/2018/11/26/581244/Kushner-pumped-up-Saudi-arms-deal-to-110bn
--------
Africa
Al Shabaab Gunmen Kill Cleric, 14 Others at Religious Centre in Somalia
26 November 2018
Al Shabaab gunmen and a suicide car bomber struck a religious center in central Somalia on Monday, killing a cleric and at least nine of his followers, a police officer said.
"The militants killed ten people including the cleric, teenagers and women who lived inside the camp," Police Major Abdirahman Abdullahi told Reuters by phone from the central city of Galkayo.
"Fighting between security forces and al Shabaab still goes in the center, the toll may rise," he added.
Al Shabaab, an extremist group fighting to topple the Somali government, told Reuters they were responsible for the attack.
"A car bomb rammed into the center of the man who insulted the prophet. Our militants are now inside and fighting goes on," Al Shabaab spokesman Abdiasis Abu Musab told Reuters.
Residents of Galkayo and a regional official said Abdiweli may have also been targeted because his center hosts mostly youths who play music and dance.
Al Shabaab said last year the cleric had referred to himself as the Prophet, an accusation denied at the time by Abdiweli.
"We cannot know the figure of casualties right now. Al Shabaab had threatened him many times," Abdirashid Hashi, the governor of Mudug region, told Reuters.
Al Shabaab is fighting to establish its own rule based on its harsh interpretation of Islamic law. The group controls small sections on Mudug region, but it does not include Galkayo.
"Galkayo north has been very peaceful and the question is how armed militants with a suicide car bomb entered the town," Police Captain Nur Mohamed told Reuters from Galkayo.
https://english.alarabiya.net/en/News/middle-east/2018/11/26/Al-Shabaab-gunmen-kill-cleric-9-others-at-religious-center-in-Somalia-.html
--------
Mozambique: Suspected Al-Shabab Militants Kill 12 in North Mozambique
26 NOVEMBER 2018
Twelve people have been killed in a suspected Islamist militant attack in northern Mozambique, with thousands of villagers fleeing into neighbouring Tanzania, police sources said Sunday.
Hardline Islamists have launched several attacks in the majority -Muslim province during the last year, stoking unrest just as Maputo pushes ahead with oil and gas development in the region.
Early Friday, "there was an attack in Nangade district, where there are no security patrols. The attackers killed 12 people, mostly women and children," a police source in Cabo Delgado province, who asked not to be named, told AFP.
The attack took place in the village of Chicuaia Velha, just a few kilometres (miles) from Tanzania, forcing several thousand people to seek safety cross the border, police said.
A local journalist said the villagers were hacked to death with machetes or died after the attackers torched their homes.
"The district of Nangade is far from the sea where the police have focussed their efforts, which allowed the assailants to enter and attack and then retreat," another police source said.
"They use guerrilla tactics and attack several points simultaneously. It's hard to control the situation," he said.
It was the third such incident in the last month in Cabo Delgado, leaving a total of 20 dead.
Analysts say the nascent insurgency staged its first attack in October 2017 year hitting a police station and military outpost in the northern town of Mocimboa da Praia, killing two officers.
Originally known as Ahlu Sunnah Wa-Jama -- Arabic for "followers of the prophet" -- the group is commonly referred to by locals and officials as "Al-Shabaab," although it has no known link to the Somali jihadist group of the same name.
Its links to other West Africa militant groups such as Boko Haram in northern Nigeria are also unclear.
"The current insurrection is a small affair, literally barefoot, with a very strong local dimension," said Eric Morier-Genoud, a specialist in Mozambique at Queen's University Belfast.
It is believed to have formed in Cabo Delgado in around 2014 when its leaders called on followers to adhere to a more extreme form of Islam.
Experts believe the militants -- most of whom are members of the Kimwani ethnic group -- are also motivated by grievances over perceived discrimination in favour of the Makonde people, the tribe of President Filipe Nyusi.
Over the last year, the insurgency has claimed more than 50 lives in gun, grenade and knife assaults.
The authorities have already prosecuted more than 200 suspects, including some Tanzanians and Somalis, and shut down several mosques as part of a crackdown.
The violence has shaken government plans for Cabo Delgado, a coastal province in the far north that will be a base for development since natural gas reserves were discovered.
US oil and gas giant Anadarko earlier this year temporarily evacuated workers from the area and halted operations after the US embassy in Maputo issued an alert warning of imminent attacks.
Full report at:
https://allafrica.com/stories/201811260664.html
--------
Boko Haram: Muslim group blows hot over killing of soldiers, blames NASS
November 26, 2018
By John Owen Nwachukwu
The Muslim Rights Concern, MURIC, has expressed consternation, dismay and shock over the killing of Nigerian soldiers by Boko Haram terrorists.
DAILY POST reported that Boko Haram terrorists on Monday overran the 157 Task Force Battalion at Metele Village in Guzamala Local Government Area of Borno State.
Over seventy Nigerian soldiers allegedly lost their lives during the encounter.
The high death toll has already caught the attention of President Muhammadu Buhari who summoned top brass in the Nigerian military command to review the situation..
MURIC's reaction was contained in a press statement signed and made available to DAILY POST on Monday, by the group's director and founder, Professor Ishaq Akintola.
It read: "This is audacious, benumbing and preposterous. We are nonplussed. This is a national tragedy of no little proportion. We join millions of other patriotic Nigerians to mourn these fallen heroes. Our hearts go to those gallant soldiers who paid the supreme sacrifice for their country in active service. We ask Nigerians to pray for them and their families. We also implore our religious leaders to organize special prayers for total victory over the insurgents.
"But we must not spend all the time on our mats and knees praying. We must, in the spirit of ora et labora, work more and pray less because it is our handiwork that Allah will crown with glory. Allah himself confirmed this position when He said, 'Tell them to work and Allah will see (i.e. He will reward you for) your work…' (Glorious Qur'an 9:105).
"The question that arises here is how much work did we do? How well did we prepare for the insurgents? There are allegations that neglect and sabotage caused the Metele fiasco. Soldiers in that axis reportedly complained of poor weaponry but nothing was done about it.
"We are therefore demanding a probe of events which led to the overrunning of Metele and the merciless killing of Nigerian soldiers by Boko Haram insurgents.
"MURIC recalls a similar situation in 2014 when 54 Nigerian soldiers complained to their commander that their weapons were too poor to confront better equipped Boko Haram fighters. They had earlier lost 23 men and four officers due to poor equipment when they advanced on Damboa on 9th July, 2014. This made them to demand better supplies but they were rounded up instead. They were consequently tried and sentenced to death but this was later commuted to ten years imprisonment. They are still in jail as we speak.
"What kind of people are we? Why must those who work for us suffer unnecessary hardship on account of the services they render? Why must soldiers who are defending our territorial integrity be punished unjustly? Those 54 soldiers would have been slaughtered like rams in 2014 if they had not raised objection and refused an illegal order.
"Their refusal to march on insurgents with bare hands created the awareness of the existence of massive fraud in the army. Why must they still be in jail today? MURIC therefore calls for presidential pardon for the 54 soldiers. They should be treated as whistle-blowers and heroes for exposing graft."
MURIC also descended on Western powers for delaying the supply of sophisticated weapons to Nigeria and for playing tortuous politics with the issue.
"We are bemused that strange conditionalities are pushed forward each time the issue of supplying better weapons to Nigeria in its fight against terrorism is raised before Western countries. They raise baseless issues of human rights and tie remote incidents to the supply. Those countries are not behaving like friends at all.
"But what moral right do we have to blame outsiders when Nigerian lawmakers are the country's worst enemies?
"They have never displayed any unity of purpose when the presidency requests funds to purchase sophisticated weapons. We recall the National Assembly's strong objection and procrastination when President Muhammadu Buhari asked for $1 billion for more arms in February 2018. It is paradoxical that the same unpatriotic elements are now blaming the presidency for the Metele tragedy.
"We urge Nigerians to open their eyes. We must never surrender the national mandate to shenanigans, egocentric and unpatriotic politicians in 2019. Never again, never again must we allow those who supervised the debilitation and emaciation of Nigerian troops to occupy the seat of power.
"They diverted huge amounts of money meant for arms for our soldiers to the extent that our soldiers started running each time they saw Boko Haram fighters. It is a shame that some of the drammatis personaecan still blame the current administration for what happened at Metele. It is also a manifestation of gross insensitivity for anyone to politicize the disaster.
"This is food for thought for the Nigerian civil society. We are particularly miffed by the silence of powerful groups like the Nigerian Labour Congress on the moral debauchery, open blackmail and daylight robbery of our common patrimony going on in the NASS. The latter armtwisted the executive in virtually every aspect of administration yet nobody spoke out. Revelations were made about their illegal and atrocious salaries and unlawful emoluments. Nobody did as much as whisper.
"NASS delayed the 2018 budget for seven months and nobody did as much as whimper. The same NASS cut allocations to vital areas in the budget and added the deductions to its own in brazen exploitation and legislative rascality.
"Yet the same NLC ignored this and went on strike to put additional pressure on an overstressed administration. Silence is not golden in moments like these.
"Nonetheless, Metele or no Metele, we assert clearly, emphatically and unequivocally that Boko Haram remains technically defeated. A group of terrorists who once occupied 17 local governments, terrorized three North Eastern states (Adamawa, Borno and Yobe) and extended its tentacle of bombing terror to Kano and Abuja has been reduced to a shadow of itself.
"It is now restricted to acts of cowardice, hiding behind little girls who play the role of suicide bombers, engaging in seasonal guerilla warfare and disguising as friendly soldiers to gain access into the camps of gallant Nigerian soldiers".
MURIC also sent a strong message to Nigerian soldiers fighting Boko Haram in the North East.
"To our gallant soldiers, both officers and other ranks, we salute you all. You have done well and many of you deserve medals. We are proud of you. We know all about your sacrifices for the sake of our dear country.
"You are on sentry all night so that we can sleep peacefully. You face hardship so that Nigeria may remain one indivisible entity. Boko Haram would have taken Abuja but for your gallantry.
"You are our heroes. We are with you in your advance on the enemy. We assure you that you are not alone. We share your pains. Your victories gladden our hearts.
"We are with you in the trenches. Come rain, come shine, we will never abandon you. We are on our prayer mats in the mosques and on our knees in the churches as you battle the enemy. We charge you to forge forward. To flush out Boko Haram is a task that must be done.
Full report at:
http://dailypost.ng/2018/11/26/boko-haram-muslim-group-blows-hot-killing-soldiers-blames-nass/
--------
Morocco asks Algeria to officially respond to king's offer for dialogue
26 November 2018
Morocco has officially asked Algeria to make public the points discussed during a recent meeting between high officials from both countries and to respond to King Mohammed VI's offer for dialogue to improve relations.
"Mediation and regional frameworks with Algeria remain fruitless," a statement released by Morocco's Foreign Ministry read while adding that Rabat expresses its regret to Algeria because the initiative of King Mohammed VI did not find a desired response as of yet.
Earlier this month, Morocco's King Mohammed VI stated that he wants to establish a joint committee with Algeria to discuss outstanding disputes, including closed borders.
Full report at:
https://english.alarabiya.net/en/News/north-africa/2018/11/26/Morocco-asks-Algeria-to-officially-respond-to-king-s-offer-for-dialogue.html
--------
Tunisia: Protesters decry MbS visit in aftermath of Khashoggi killing
Nov 27, 2018
Dozens of protesters rallied in central Tunis on Monday to decry Saudi Crown Prince Mohammed bin Salman's scheduled visit.
The Prince is expected to land on Tuesday, in what will be his first foreign trip since the murder of Saudi journalist Jamal Khashoggi.
The demonstrators also pointed to the situation in Yemen and the Saudi-led coalition's involvement there.
https://www.presstv.com/Detail/2018/11/27/581256/Tunisia-Protesters-decry-MbS-visit-in-aftermath-Khashoggi-killing
--------
URL: https://www.newageislam.com/islamic-world-news/sufi-federation-india-counters-extremism/d/116996
New Age Islam, Islam Online, Islamic Website, African Muslim News, Arab World News, South Asia News, Indian Muslim News, World Muslim News, Women in Islam, Islamic Feminism, Arab Women, Women In Arab, Islamophobia in America, Muslim Women in West, Islam Women and Feminism