New Age Islam News Bureau
13 September 2020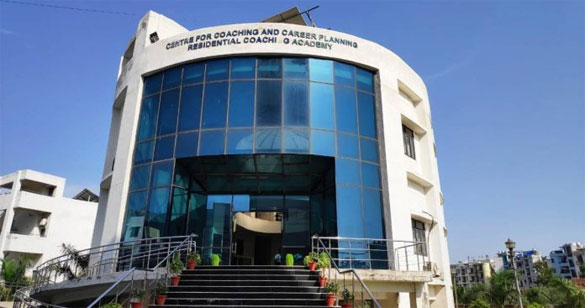 The Jamia Centre for Coaching and Career Planning in Delhi | By special arrangement
------
• Sudarshan News 'UPSC Jihad' Row: Kavendra Singh Sagar, an IPS Officer Looks Back with Gratitude on His Days at The Jamia Millia Islamia UPSC Coaching Centre
• Tehreek-e-Labbaik Pakistan and Ahl-e-Sunnat Wal Jamaat Hold Anti-Shia Rally In Karachi, Pelt Stones At Imambargah
• Afghanistan Must Have Islamic System, We Must Take into Account the Interests of All In Talks: Mullah Baradar
• Counter-Extremism Is Heavily Politicised: The Scale of Islamist and Far-Right Extremism Among British Young People
• Filmmaker Michael Moore Compares 'Mass Killer' Donald Trump To Osama Bin Laden
• Hamas TV Glorifies Jihad, Urges 'Death to Israel!
• Egypt's Islamophobia Watch condemns Quran burning in Sweden
India
• Sudarshan News 'UPSC Jihad' Row: Kavendra Singh Sagar, an IPS Officer Looks Back with Gratitude on His Days at The Jamia Millia Islamia UPSC Coaching Centre
• Stay Away from Politics or Face Consequences: Hizbul to J-K Leaders
• Delhi Court Convicts Nine More Islamic State Operatives in Terror Case After They Pleaded Guilty of Establishing A Base of The Terror Outfit in India
• Hindu Man Performs 'Tarpan', Special Prayers, For Muslim Friend During 'Pitrupaksha' In MP's Sagar
• UDF, Muslim league are tarnishing KT Jaleel's image, alleges Kerala law minister
• Police lodge FIR after former Congress minister Raman Bhalla gets threatening letter from Hizb
• 4 arrested in Pampore, Tral for 'supporting militants'
-------
Pakistan
• Tehreek-e-Labbaik Pakistan and Ahl-e-Sunnat Wal Jamaat Hold Anti-Shia Rally In Karachi, Pelt Stones At Imambargah
• NA speaker hopeful of consensus over FATF bills
• Islamic Banking industry continues its upward trajectory
-------
South Asia
• Afghanistan Must Have Islamic System, We Must Take into Account the Interests of All In Talks: Mullah Baradar
• Afghan, Taliban Delegation Form Joint Committee to Facilitate Intra-Afghan Talks
• Everyone responsible for Narayanganj mosque blast will face speedy trial: CID
• Taliban Raid Security Post in Kapisa, Kill 5
• Germany Announces Readiness to Host Peace Talks
• Ceasefire Top Priority during Intra-Afghan Talks: Nadiri
• Dhaka-Delhi connectivity positively impacts Bangladesh, India's north-east: Shringla
-------
Europe
• Counter-Extremism Is Heavily Politicised: The Scale of Islamist and Far-Right Extremism Among British Young People
• Harry Styles 'lands new movie role replacing Shia LeBeouf in Don't Worry Darling with Chris Pine and Florence Pugh'
• Johnson faces pressure from MPs – but a third of Brits say it is acceptable to breach international law
• Coronavirus: Britain on 'edge of losing control' of spread of Covid, says government scientific adviser
--------
North America
• Filmmaker Michael Moore Compares 'Mass Killer' Donald Trump To Osama Bin Laden
• UN Adopts Saudi Resolution to Fight Pandemic
• Belarusian Muslim Leaders Break with Moscow Mufti and Attack Lukashenka
• The Vaisovtsy, Bulgar Activists Who Tried to Combine Pure Islam with Bolshevism, Recalled as Source of Ideas about the Future
--------
Mideast
• Hamas TV Glorifies Jihad, Urges 'Death to Israel!
• Iran's Friday Prayer Leaders Condemn Desecration of Islam's Prophet, Holy Quran
• Muslims Must Protect Their Values in Current Critical Situation: Rouhani
• Shiite Muslims to Observe Arbaeen Remotely over Pandemic: Iran
• Anti-Netanyahu protesters keep up pressure on Israeli leader
• Oman Welcomes Bahrain's Move to Normalize Ties With Israel
• Thousands of Israelis protest outside Netanyahu's residence
• "US-Brokered Deal Makes Bahrain Partner To Israel Crimes": Iran
--------
Arab world
• Egypt's Islamophobia Watch condemns Quran burning in Sweden
• Head of Muslim Scholars Union Slams Bahrain-Israel Pact
• Islamic Universities League to Hold Virtual Int'l Conference to Enhance its Role in Serving Society
• Saudi Arabia announces 27 more deaths from COVID-19
-------
Southeast Asia
• Political Understanding Among Muslim Youths Should Be Enhanced - Abdul Hadi
• Ismail Sabri: 512 arrests yesterday including over private parties, activities at pubs, nightclubs
--------
Africa
• Southern Kaduna: Fresh killings may derail peace deal – Miyetti Allah
• Late Wa Imam's family rejects GH¢20k funeral donation from Bawumia
Compiled by New Age Islam News Bureau
URL; https://www.newageislam.com/islamic-world-news/sudarshan-news-upsc-jihad-row/d/122847
------
Sudarshan News 'UPSC Jihad' Row: Kavendra Singh Sagar, an IPS Officer Looks Back With Gratitude On His Days At The Jamia Millia Islamia UPSC Coaching Centre
KRITIKA SHARMA
12 September, 2020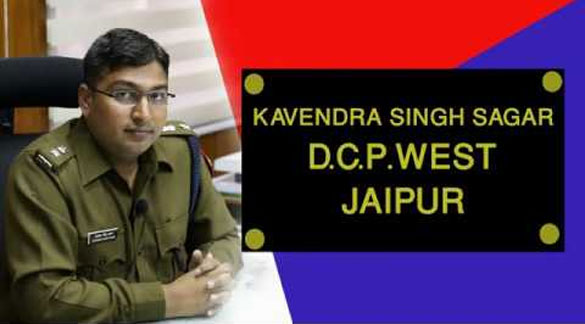 New Delhi: Kavendra Singh Sagar, an IPS officer who serves as superintendent of police (SP) in Banswara, Rajasthan, looks back with gratitude on his days at the Jamia Millia Islamia UPSC coaching centre.
"Jamia's UPSC coaching is the best bet for those who do not have the means to attend private coaching," said Singh, a member of the centre's 2014 batch. "They have the best kind of facilities, library, test papers, teachers. It all helped me crack the exam and become an IPS officer."
Sagar is one of over 240 IAS, IPS and other central civil servants, and more than 260 officers in state services and other government jobs, who count the Centre for Coaching and Career Planning at Delhi's Jamia Millia Islamia as their alma mater.
An important destination for the underprivileged in their journey into the civil services, the centre is currently in news as the subject of a controversial show that seeks to project it as the fountainhead of so-called "UPSC jihad".
The show in question was aired on Sudarshan News, a Hindi channel, Friday night. It is the latest episode of a programme called Bindaas Bol, hosted by Sudarshan News Editor-in-Chief Suresh Chavhanke, who is no stranger to allegations of hate speech.
The facility is one of five centres set up by the government between 2009 and 2010 to provide underprivileged communities with free residential coaching for the civil services and other government exams.
As IPS officer Sagar said, it is a place where underprivileged communities — not just Muslims, but also the Scheduled Tribes (STs), the Scheduled Castes (SCs) and women — find a fighting shot at a dream that is, by far, the most coveted accomplishment for most Indians.
The initiative is meant to encourage more students from these communities to ace government exams. And student experiences suggest it is helping them do exactly that.
Bhanu Prabha, who is posted as district magistrate at Tirap in Arunachal Pradesh, studied at the coaching centre between 2012 and 2014. Her training at the centre, she says, helped her crack the civil services interviews.
"The coaching helped me to prepare for the interview stage, because the academy arranged a mock interview with a senior officers' panel," said Prabha. They focused primarily on answer-writing and essay-writing. This is very important for scoring a high rank."
Mohammad Tarique, deputy director at the centre, said, "Ever since the inception of the coaching centre in 2010, we have had more than 240 students selected and placed as IAS, IPS, IRS and customs officers. More than 260 students have been placed as officers in the state services, and central armed police forces, like the BSF, ITBP and others."
Former University Grants Commission (UGC) chairman Ved Prakash, under whom the five coaching centres were established, said the initiative was aimed at increasing the representation of people from backward castes and minorities in civil services.
"It was felt that minorities and people from the SC, ST communities are not fairly represented in civil services, hence the coaching centres were started in five universities," Prakash said.
Apart from Jamia Millia Islamia, the coaching centres were set up at Jamia Hamdard University, Delhi, Aligarh Muslim University, Maulana Azad National Urdu University, Hyderabad, and Bhimrao Ambedkar University, Delhi. The initial grant for setting up the centres was given by the UGC, and the central government now issues funds annually for their operations.
According to Prakash, most of the universities, "especially Jamia Hamdard and Jamia Millia", are doing a very good job, and "producing a good number of civil servants each year".
Tarique, who has been associated with the coaching centre since its inception, dismissed the allegation that one religion dominates the student rolls.
"We have an equal representation from all religions in the coaching centre, there are students who are Sikhs, Christians, Muslims and we even have some Buddhist students. Women and SC/ST candidates are also represented fairly," he added.
Tarique said students are admitted on the basis of an entrance test and interview. "The test carries 85 per cent weightage and interview carries 15 per cent weightage, so whoever performs well in the test will be admitted. There is no chance that the system could be biased towards a particular community," he said.
The "UPSC jihad" aka "bureaucracy jihad" episode of Chavhanke's show was announced through a trailer that has been widely panned for its provocative language. Civil servants had subsequently criticised the show, terming it hate speech, and demanded action against Chavhanke.
Following a plea from Jamia students and alumni, the Delhi High Court had ordered a stay on the show's telecast on 28 August. However, when Sudarshan News challenged the stay, the court left the final call to the central government, which gave its go-ahead Wednesday, citing rules that don't allow pre-censorship of TV programming.
The Union Information & Broadcasting Ministry just advised the channel to make sure it doesn't violate the code that oversees television and advertising content — among the provisions of the code is one that bars programmes containing attacks on religions or communities, visuals or words contemptuous of religious groups, or which promote communal attitudes.
There has been no comment so far from the Jamia administration on the I&B Ministry's go-ahead for the programme. ThePrint has sought a comment from the official spokesperson through text and phone, but was yet to receive a response by the time of publishing.
Asked about the Sudarshan News controversy, Tarique said he hoped the authorities "look into what's going on and fulfil their duty".
Meanwhile, the controversy has done little to harm the image of the coaching centre as a beacon of hope.
Manisha Minz, who is enrolled at a private coaching centre in Delhi, said she will apply to the centre. "I had no idea about the coaching centre until this year. I will apply to the centre… I am eligible as I belong to the ST category, it would save me a lot of money as well."
https://theprint.in/india/education/jamia-centre-at-heart-of-sudarshan-news-upsc-jihad-row-has-coached-500-govt-officers/500738/
--------
Tehreek-e-Labbaik Pakistan and Ahl-e-Sunnat Wal Jamaat Hold Anti-Shia Rally In Karachi, Pelt Stones At Imambargah
News Desk
September 12, 2020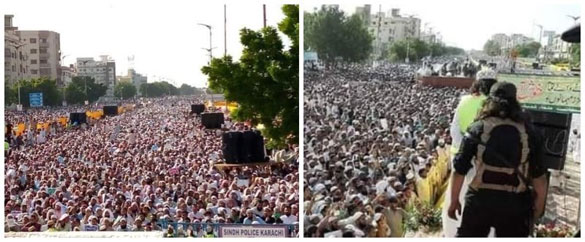 Tehreek-e-Labbaik Pakistan (TLP) and Ahl-e-Sunnat Wal Jamaat (ASWJ) held a rally in Karachi against the minority community.
-----
Amid an increase in registration of blasphemy cases against Shias in Pakistan, the Tehreek-e-Labbaik Pakistan (TLP) and Ahl-e-Sunnat Wal Jamaat (ASWJ) held a rally in Karachi against the minority community.
During the rally, the participant chanted hate slogans, such as 'Shia kafir' against the members of the Shia community and demanded a ban on Muharram processions.
Imam Bargah Imamia at Lines Area under attack by the same goons, some pelting on Bargah reported.#ShiaGenocide pic.twitter.com/HD5rUfrBJo
Its getting more and more dangerous for Shias of Pakistan as the state seems to have abandoned them completely..#ShiaGenocide pic.twitter.com/AnvHS5oqlB
Another social media user said that the demonstrators held banners belonging to a known terrorist organization– ASWJ/SSP– that has been responsible for the targeted killings of Shia Muslims in the country.
This is extremely worrying, and this is a strong indication that there will be further sectarian violence in the country. pic.twitter.com/3p44xE5Qsf
Since the start of Muharram, there has been an increase in hate campaigns against Shia groups and subsequent blasphemy allegations for reciting Ziyarat-e-Ashura — a prayer that denounces the killers of Imam Hussain. Moreover, a number of Shia orators were detained across the country for allegedly making blasphemous statements against some companions of Prophet Muhammad (PBUH).
At least 42 cases pertaining to blasphemy were registered across Pakistan in a single month. Most of those accused of blasphemy belonged to the Shia community, who have been booked under 295-A and 298 sections of the Pakistan Penal Code for allegedly 'insulting the companions of Prophet Muhammad (PBUH)'.
Similarly, members of Ahmadiyya and Christian communities are also among the people accused of blasphemy. Blasphemy accusations are highly inflammatory in deeply conservative Pakistan and have in the past sparked mob lynchings, vigilante murders, and mass protests.
Amid a rise in such cases, the Human Rights Commission of Pakistan (HRCP) said it was 'gravely concerned' at the recent surge in blasphemy cases being registered against sectarian and religious minorities, particularly the Shia community, and the potential for ensuing sectarian violence. It said the police must also refrain from registering blasphemy cases so promptly, knowing full well the sensitive implications of doing so when such complaints are often fabricated and spurred on by personal vendettas.
Days after a Shia cleric was booked for alleged blasphemous remarks, anti-Shia wall chalking — a hate practice common since the 80s — has reappeared in various neighbourhoods of Karachi.
According to a post shared on Facebook, the wall chalking also had flags of banned sectarian outfits next to it. "Today, Prime Minister and COAS are coming to Karachi and we can see how the decades-old wall chalking of "Shia Kafir" started reappearing on the street walls of various neighbourhoods in Karachi with the flags of the banned militant outfits."
Pakistan Shias — that account for 20 per cent of the country's population — have been at the receiving end of faith-based violence since the 1980s.
In the latter half of the 20th Century, the religious minority started facing the brunt of Sunni extremist groups, such as Ahle Sunnat Wal Jamaat (ASWJ), Lashkar-e-Jhangvi (LeJ), Sipah-e-Sahaba Pakistan (SSP) which are considered to be the same group with different names. All these groups claimed to target Shia over their 'blasphemous practices'.
https://nayadaur.tv/2020/09/extremist-outfits-hold-anti-shia-rally-in-karachi-pelt-stones-at-imambargah/
---------
Afghanistan Must Have Islamic System, We Must Take into Account the Interests of All In Talks: Mullah Baradar
September 12, 2020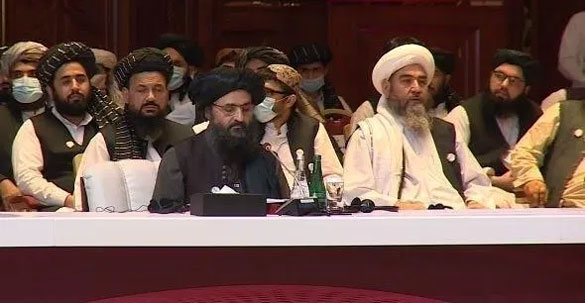 Afghanistan Must Have Islamic System, We Must Take into Account the Interests of All In Talks: Mullah Baradar
------
Taliban's deputy leader Mullah Baradar said at the opening ceremony of intra-Afghan talks that Afghanistan must have an Islamic system so that all citizens can see themselves in it.
Mullah Baradar said at the first meeting of intra-Afghan negotiations, held in Doha on Saturday, that Taliban have so far acted based on the US-Taliban agreement.
Being the third speaker at the opening ceremony, Baradar said: "Taliban assures Afghan people that they will conduct the negotiations sincerely. We must take into account the interests of all".
"Afghanistan should have an Islamic system in which all Afghans should see themselves represented," he added.
It is worth mentioning that Taliban in their rhetoric did not mention women's rights, achievements of the past two decades, the rights of religious and ethnic minorities and human rights.
https://www.didpress.com/en/2020/09/12/afghanistan-must-have-islamic-system-we-must-take-into-account-the-interests-of-all-in-talks-mullah-baradar/
-------
Counter-Extremism Is Heavily Politicised: The Scale of Islamist and Far-Right Extremism Among British Young People
12th September 2020
Cristina Ariza
Counter-Extremism Is Heavily Politicised. For years, leading politicians have failed to engage constructively, shying away from tackling divisive groups head on. But the rise in identity politics should not stop us from making greater efforts to bridge divides and identify and root out those seeking to damage the social fabric of our communities.
In 2020, governments across the world have had to deal with the unprecedented health and economic challenges posed by the spread of Covid-19. While the priority of every government at the moment should be to protect lives and the economy by building in the necessary infrastructure to live with the virus as we wait for a vaccine, let us not forget that the problems that existed before Covid-19 will continue to exist afterwards. If anything, Covid-19 will only exacerbate the problems that were there before.
This year marks 15 years since the 7/7 terrorist attacks, which led to a shift in the way we looked at security in Britain. Avoiding a similar event was the core aim of my government's renewed and updated focus on counter-extremism. Yet extremism, both violent and not, is an ever-evolving challenge. As new extreme movements gain momentum, political leaders must be equipped to tackle this threat effectively. Even during the spread of Covid-19, extremist groups have found a reason to mobilise and promote their hateful rhetoric.
Yet it is imperative that we continue to tackle the threat of extremism from across the ideological spectrum. The rise of the far right and the increased threat of Shia extremism, for example, demand that we take an objective look at all forms of extremism. All political movements are struggling with extremism, both within and on the fringes of their own parties. This makes it harder to accuse any one community of suffering from this problem. We therefore have an opportunity to unite behind a new focus, not just on violent extremism but on the dangerous ideologies behind extremism in the UK.
This report, the third and last in a series that seeks to push UK counter-extremism policy in a more practical and cohesive direction, highlights the pressing need for a renewed political focus. The narratives my Institute have identified are clearly resonating with a sizeable minority, one we cannot ignore out of convenience. Dangerous views about immigrants and minorities "invading" Britain, the state of democracy and even the use of violence are being spread among our young people.
Any and all government counter-extremism policies are bound to be criticised: Extremist groups have a vested interest in maligning policies as a gateway to their more damaging worldview. By framing counter-extremism as a targeted, police state–style apparatus, extremist groups prey on young people's feelings of vulnerability and uncertainty in an otherwise febrile political atmosphere. That these programmes have a reputation for opacity does not help.
We must be clear: Much of the blame lies at the feet of these extremist groups. They cannot continue to operate with the impunity that the political system currently allows them. Yet the drivers this report identifies also point to a more complex picture, one in which the information ecosystem of young people pushes extreme narratives to the fore.
However, this research shows there are also reasons to be optimistic. An overwhelming majority of those surveyed hold positive views of the future and their own agency. Many of those suffering from discrimination, like young Muslim women, still prove hopeful and resilient. These are the feelings we must foster, to build this same resilience in those who are less sanguine. Positivity, diversity and critical thinking are a bulwark against dangerous ideas.
As we continue to reflect on the impact of Covid-19 on our lives, including skyrocketing unemployment figures, fears of recession and entrenching of political division, we should be mindful of how they can provide the material conditions in which extremism emerges. To avoid exacerbating existing tensions, the government must refocus its agenda on extremism in the UK. This agenda must be one that crosses the narrow political divides and identities that hold progress back. One that relocates counter-extremism as a cross-government endeavour, bringing diffuse and disconnected policies together. And one that is unapologetic to those guilty of hate. The resources my Institute has produced show clear examples of divisive extremism. Only by calling these out can we stop them from further damaging the social fabric that is vital for the well-being of our societies.
https://institute.global/policy/resonating-narratives-scale-islamist-and-far-right-extremism-among-british-young-people
--------
Filmmaker Michael Moore Compares 'Mass Killer' Donald Trump To Osama Bin Laden
September 12, 2020
Chip Somodevilla
During an "Emergency Podcast Episode" of RUMBLE, host and filmmaker Michael Moore accused Donald Trump of being a "mass killer" and compared him to al-Qaeda founder Osama bin Laden, Breitbart reported.
"My friends," he said. "This is murder. In the extreme. No American other than Confederate President Jefferson Davis and his General Robert E. Lee has killed more Americans than Donald J. Trump."
Moore linked his emergency commentary to the recent Bob Woodward revelations. In particular, Trump faced significant criticism for leaked audio that showed him acknowledging the deadly nature of coronavirus compared to the flu, despite attempts at the time to downplay its severity.
"Think about that," Moore said. "Civil War. 600,000 plus dead. Thank you, Jefferson Davis and Robert E. Lee. We're heading over 200,000."
The filmmaker also cited the IHME projection that over 400,000 Americans will die from COVID-19 by the end of the year, per CBS News. But Breitbart pushed back on the reliability of the IHME model and pointed to the global health research center's alleged "pattern of failed projections."
Nevertheless, Moore continued to attack Trump for his decision to downplay the severity of coronavirus instead of being honest with the American public.
"What if he had chosen to do what any other decent, sane, moral person would have done when informed about this national security threat?"
Later, Moore compared Trump to bin Laden, who was one of the masterminds behind the September 11 attacks.
"I can tell you for a fact that Osama Bin Laden did not fly a single one of those God damn airplanes," Moore said, noting that the former terrorist leader is still responsible for the deaths of the event.
According to Moore, both the al-Qaeda founder and Trump are mass killers. In particular, the Bowling for Columbine filmmaker said Trump is responsible for 67 September 11 attacks due to his purported responsibility for the approximately 193,000 pandemic deaths as of Saturday afternoon.
U.S. President Donald Trump prepares to welcome President Klaus Iohannis of Romania to the White House for a "working visit" June 9, 2017 in Washington, DC.
Moore is not the only figure who has expressed his belief that Trump is complicit in U.S. deaths for his coronavirus response. As The Inquisitr reported, former federal prosecutor Glenn Kirschner said that Trump's comments in Woodward's interview constituted an admission that he committed second-degree murder.
During an appearance on SiriusXM's The Dean Obeidallah Show, the MSNBC legal analyst claimed that the president fit the criteria for the charge: causing the death of another person, and intent. According to Kirschner, Trump's taped admission that he knew of the danger of COVID-19 can be used to prove that he knew the repercussions of his actions.
https://www.inquisitr.com/6277185/michael-moore-mass-killer-trump-osama/
-------
Hamas TV glorifies jihad, urges 'Death to Israel!
By DONNA RACHEL EDMUNDS
SEPTEMBER 13, 2020
Hamas has broadcast an advert glorifying terrorism and the killing of innocent Israelis in jihad, NGO Palestinian Media Watch (PMW) has revealed.
A one-minute filler aired on Hamas-run al-Aqsa TV on August 29, 2020, depicts a group of Palestinian terrorists in jail, watching a news report on a (fictional) suicide bombing in Tel Aviv which has claimed 19 lives. The prisoners leap to their feet and cheer, before realizing that one of their group is crying. When an inmate asks him why, he reveals that he had wanted to be part of the suicide bombing operation. His fellow inmate assures him that Allah will reward him for being jailed as a terrorist.
The video is by no means atypical of the output on Hamas-run TV. Palestinian Media Watch, which monitors Palestinian media output, watched a full day of television broadcast on August 23 2020, and found numerous examples of anti-Israel, anti-Jew and pro-terror messages.
"Hamas' broadcasts demonstrate the depths of hate Hamas disseminates against Israel and Jews alongside its pro-terror and murder messages," the NGO noted.
"The fire [in the Al-Aqsa Mosque in 1969] is still burning and still has not been extinguished since its occupation by the Zionist terror," he said.
"Because the Muslims are distracted from it, and they are in a deep slumber … The arson in Jerusalem demands a greater arson that will burn its thieves, burn the attacking sons of Zion, burn the lowly Arabs and non-Arabs, burn those (i.e., the PA) who are carrying out security coordination [with Israel] and those dealing in [Jerusalem's] sanctity, and burn whoever normalizes their relations (i.e., UAE) and flatters the occupation. Long live Jerusalem, free and proud! … Long live Palestine, free and eternal; and death to Israel, the occupation, and the Zionist terror!"
A filler segment on the same day intermixed images of masked Hamas terrorists wielding assault rifles with an excerpt of a speech by Hamas Political Bureau member Khalil Al-Hayya, who said: "We are saying to the occupation that we are primed and ready, and our hands are squeezing the trigger. We're not afraid of threats or hints about an attack here or killings or bombings. Know that bombings will be answered with bombings. Rockets will be answered with rockets. Casualties will be answered with casualties! Palestine – its people lives! And it has fortunate heroic men. They will sacrifice their blood and all that is precious to them in defense of their land, defense of their Jerusalem, defense of their heritage, and defense of their present and future!"
Another filler featured a song glorifying past terror attacks, as well as the capture of Gilad Shalit and the holding of the bodies of Hadar Goldin and Oron Shaul, who were killed during the 2014 Gaza War.
"Day and night we are preparing tunnels… We came from below, from the land, from the air…" the lyrics ran, "We will never forget the Martyr prisoners who were led as grooms to Heaven…"
A third showed a close-up of someone's hand attempting to open a prison cell door with various keys. One labelled [UN] 'Security Council' fails to open the door, as does another labelled 'negotiations.' Ultimately a hand of a Hamas fighter with a black sleeve and black fingerless tactical gloves with a key labeled 'resistance' succeeds in opening the door and freeing the prisoner inside. As a prisoner and a Hamas fighter exit the prison, images of various imprisoned terrorists appeared on screen.
A fourth featured a Hamas fighter loading bullets into a magazine and shooting at a hand with an Israeli flag drawn along the arm. The Israeli hand is grasping a white dove symbolizing Palestinian prisoners, and when it is shot, the dove is set free.
https://www.jpost.com/arab-israeli-conflict/hamas-tv-glorifies-jihad-urges-death-to-israel-642065
--------
Egypt's Islamophobia Watch condemns Quran burning in Sweden
Source : IQNA
September 13, 202
The Egyptian Dar Al Ifta's Islamophobia Watch denounced the move by far-right groups in Sweden to once again burn a copy of Islam's Holy Book.
The Islamophobia Watch issued a statement describing the move as a crime that hurt the feelings of Muslims in Sweden and elsewhere, Masrawy website reported.
The statement added that respect for religious sanctities is among nations' most basic rights and that governments must prevent desecration of religious values.
Following a similar Islamophobic provocation last month, a far-right group on Thursday burned a copy of the Holy Quran in a heavily Muslim area of Sweden.
Members of the Danish far-right group Hard Line (Stram Kurs) burned the Muslim Holy Book in an illegal demonstration in the Rinkeby neighborhood of Stockholm.
Last month in the southern Sweden city of Malmo, supporters of Rasmus Paludan, Hard Line's leader, also burned a copy of the Quran.
https://en.abna24.com/news//egypt%e2%80%99s-islamophobia-watch-condemns-quran-burning-in-sweden_1070117.html
---------
India
Stay away from politics or face consequences: Hizbul to J-K leaders
Ravi Krishnan Khajuria
Sep 13, 2020
Hizbul Mujahideen has allegedly threatened leaders in Jammu and Kashmir to "get ready to face dire consequences" if they don't stay away from political activities, according to the police.
The threat has been issued through a letter written in Urdu on the proscribed terror group's letterhead, officials said.
"The letter was addressed to Jammu & Kashmir's Congress vice-president and former minister, Raman Bhalla. The letter was delivered at Congress office in Shahidi Chowk via post on Saturday afternoon," said Anayat Ali, station house officer (SHO), Pir Mitha police station, Jammu.
The letter contained the names of politicians from the Congress, the Bharatiya Janata Party (BJP) and other parties, Ali said.
A case under sections 121-A (waging war against the government of India) and 506 (criminal intimidation) of the Indian Penal Code (IPC), and sections 13 (unlawful activity), 16 and 18 (terrorist act) of the Unlawful Activities (Prevention) Amendment Act (UAPAA), 2019, has been registered, Ali said.
The Hizbul has referred to the killing of public representatives in the letter, according to people aware of the developments who did not want to be named.
Congress sarpanch Ajay Pandita and BJP leader Waseem Bari were gunned down in the Kashmir Valley in June and July, respectively.
Ravinder Sharma, a Congress spokesperson and a former member of J&K legislative council, said the letter was delivered at the party office by post on Saturday afternoon.
However, a BJP leader, who did not want to be named, said the letter could be a prank, but he admitted that leaders from his party face threat from terrorists.
https://www.hindustantimes.com/cities/stay-away-from-politics-or-face-consequences-hizbul-to-j-k-leaders/story-DuzaSOiDzuA6Srb6jZo6mN.html
--------
Delhi Court Convicts Nine More Islamic State Operatives in Terror Case After They Pleaded Guilty of Establishing A Base of The Terror Outfit in India
Kamaljit Kaur Sandhu
September 12, 2020
A local court in Delhi has convicted nine more people for hatching a criminal conspiracy aimed at establishing a base of the terror outfit Islamic State in India by recruiting local Muslim youths for terror activites.
The court convicted the nine people on Friday after all of them pleaded guilty. Prior to this, the court had convicted six other IS operatives in this case. They too had pleaded guilty.
The nine people convicted on Friday are: Abu Anas, Nafees Khan, Najmul Huda, Mohd Afzal, Suhail Ahamed, Obedullah Khan, Mohd Aleem, Mufti Abdul Sami Qasmi and Amjad Khan.
Their advocate Qausar Khan said the court convicted them under sections 120B (criminal conspiracy) of the Indian Penal Code, and various sections of the stringent Unlawful Activities (Prevention) Act and Explosive Substances Act.
Their court convicted them after accepting their application wherein they pleaded guilty to being involved in the criminal conspiracy. The court has now posted the for September 22, when it will hear the arguments on their quantum of sentence.
On the next date of hearing, the court will also hear arguments on the quantum of sentence of six others - Mudabbir Mushtaq Sheikh, Mohammad Shareef Moinudeen Khan, Asif Ali, Mohammad Hussain Khan, Syed Mujahid and Mohammad Azhar Khan - who were earlier convicted after they pleaded guilty.
The court have directed the jail authorities to file reports regarding their conduct and asked the defence counsel to inform about their background and family's condition.
While pleading guilty, the accused told the court that they were "remorseful for the acts alleged against them", and undertook not to indulge in similar acts and activities in future.
Advocate Khan has further told the court that the accused wanted to return to the mainstream society and rehabilitate themselves.
"The accused are having clean antecedents, even their conduct in jail are satisfactory and there is nothing adverse against them...the accused are pleading guilty voluntarily without any pressure, threat, coercion, inducement or undue influence and he that he understands the consequences," their plea had said.
The advocate said though the maximum punishment for the offences in which the accused persons are convicted after pleading guilty is life imprisonment, the court may consider all other aspects mentioned before it while pronouncing quantum of punishment.
The case, registered by the NIA on December 9, 2015 pertains to the larger criminal conspiracy hatched by the Islamic State to establish its base in India by recruiting Muslim youths for the proscribed terror group through different social media platforms, the NIA said.
The accused had formed Junood-ul-Khilafa-Fil-Hind organisation, seeking to establish a caliphate in India and pledging allegiance to ISIS, to recruit Muslim youths to work for the ISIS and commit acts of terrorism in India at the behest of Syria-based Yusuf-Al-Hindi who is purportedly the media chief of ISIS, the NIA said.
The NIA filed chargesheets against the accused persons in 2016-2017. This case was first of its kind in which terrorist conspiracy of this magnitude involving online radicalisation was effected on cyber space in the aftermath of declaration of Islamic Caliphate by ISIS leader Abu Bakr al-Baghdadi in 2014, the NIA had said.
https://www.indiatoday.in/india/story/delhi-court-convicts-9-more-islamic-state-operatives-in-terror-case-after-they-pleaded-guilty-1721247-2020-09-12
--------
Hindu Man Performs 'Tarpan', Special Prayers, For Muslim Friend During 'Pitrupaksha' In MP's Sagar
By Express News Service
12th September 2020
BHOPAL: No barrier of religion, caste or colour can affect the eternal bond of friendship.
While Hindus across the globe pay tributes to their ancestors through rituals and special prayers during the ongoing fortnight of Pitrupaksha, a man in Sagar district of Madhya Pradesh has been performing similar rituals to pay tributes to his long time friend Syed Wahid Ali, who died three years ago in a road accident.
"Syed Wahid Ali has been my best friend since childhood. He was an advocate who practised law in Gopalganj area of Sagar district. He died three years back in a road accident. Just like I perform tarpan of my ancestors in the Pitrupaksha fortnight, I performed tarpan for my late best friend, praying that his soul be in peace and we are born as friends again," said Pandit Ram Naresh Dubey, a resident of Chaturbhata village in Surkhi area of Sagar district.
Every day, the elderly Brahmin performs special prayers and rituals before the pictures of his ancestors and Ali.
Tarpan is performed facing south, remembering the ancestors by their names with offers of water, milk and black sesame seeds.
"My father died in November 2017. Three years later, his friend Ram Naresh Dubey, not only keeps visiting but has performed special prayers in my father's memory. This is one of the best examples of the secular fabric of our country and the Ganga Jamuni culture," said Syed's son Wajid Ali.
The priest who performed the Tarpan ritual for Dubey said, "I've never seen such a deep bond of friendship, which even death has failed to break."
Dubey's village is located in Surkhi area -- one of the 27 assembly segments of MP going to by-polls within a few weeks. It was from Surkhi assembly segment only that the BJP launched the Ram Shila Pujan Yatra, reportedly to reap the benefits of the Bhoomi Pujan of Ram Temple at Ayodhya.
https://www.newindianexpress.com/good-news/2020/sep/12/hindu-man-performs-tarpanfor-muslim-friend-during-pitrupaksha-in-mps-sagar-2196101.html
-------
UDF, Muslim league are tarnishing KT Jaleel's image, alleges Kerala law minister
13th September 2020
By Express News Service
THIRUVANANTHAPURAM: A day after CPM secretariat defended higher education minister KT Jaleel, law minister AK Balan said it's the open stance of the UDF especially the Muslim League to tarnish the image of the minister in the public sphere.
Reiterating the CPM stance that there was nothing wrong in accepting Quran, he said what the central agency has sought was only some details from the minister and he was given the notice to appear before the investigation officials as a person. He had accepted the religious texts as per law, he said.
Jaleel refused to disclose the details of the quizzing as per a direction issued by the Supreme Court, said Balan.
When asked about party protection, he said that there will not be any for Jaleel if he is found guilty of the charges levelled against him.
Jaleel was interrogated by the Enforcement Directorate sleuths on Friday in connection with the probe into the UAE consulate linked gold smuggling via Trivandrum International Airport.
https://www.newindianexpress.com/states/kerala/2020/sep/13/udf-muslim-league-are-tarnishing-kt-jaleels-image-alleges-kerala-law-minister-2196309.html
--------
Police lodge FIR after former Congress minister Raman Bhalla gets threatening letter from Hizb
SYED AMJAD SHAH
September 13, 2020
Police have registered a case and started an investigation after a former minister and the J&K Congress party Vice President, Raman Bhalla and two other leaders received threatening letters allegedly from Hizb-ul-Mujahideen militant outfit, warning them of death in case they don't stay away from politics.
"We received an envelope with my name on it on September 12 at the Congress Headquarters at Shaheedi Chowk. I thought someone might have sent a letter to highlight a public issue. To our utter shock, when we opened, it was a threatening letter in Urdu language on the letter pad of Hizbul Mujahideen," said Bhalla.
Bhalla said that he alongwith three others, including J&K Panthers Party Chairman Harsh Dev Singh and Ex-Minister Choudhary Lal Singh, have been threatened by the militant outfit.
"Stay away from political activities or face the consequences. You have become an obstacle in our struggle and hence, you have become a target. If you do not keep yourself away from political activities, get ready for death," Bhalla said while quoting from the threatening letter.
"My relative Dr Ashok Bhalla has already been killed in 1990-91 in Chatha in Satwari area. My security cover has also been taken away. I have requested for security cover, but no one is listening," he added.
Station House Officer, Pir Mitha, Inspector Nayat Ali told Greater Kashmir: "A Congress worker had come to the police station with the complaint and we have lodged an FIR on the basis of a threatening letter issued by Hizb-ul-Mujahideen to Raman Bhalla. We have lodged an FIR under section 121, 121-A, 506 of IPC and 13, 16, 18 UAPA, 1967 Act."
Investigation is being carried out by a DySP rank police officer, he said
https://www.greaterkashmir.com/news/latest-news/police-lodge-fir-after-former-congress-minister-raman-bhalla-gets-threatening-letter-from-hizb/
-------
4 arrested in Pampore, Tral for 'supporting militants'
Showkat Dar
September 13, 2020
Police on Saturday said they have arrested three youths for their alleged role in pasting posters and displaying banners of militants in Pampore town of south Kashmir's Pulwama district. Police also said they have arrested a militant associate in Tral.
According to SP Awantipora Tahir Saleem, three persons were arrested for 'glorifying militancy' by means of posters and displaying banners in Pampore town.
"The said posters and banners were seized by police and case FIR number 75/2020 under relevant sections of law was registered in Police Station Pampore", Tahir Saleem said.
He identified the arrested as Nadeem Ahmad Dar resident of Drangbal Pampore, Irshad Ahmad Sofi resident of Tulbagh Pampore and Shakir Ahmad Dar of Jalalabad Sopore Baramulla.
Police also claimed to have arrested a militant associate of Ansar Gazwat-ul-Hind militant outfit in Tral area of south Kashmir's Pulwama district.
SP Tahir Saleem said the person was involved in providing shelter, logistics and other support to the AGH militants as well as in transporting arms and ammunition of the militants in the Tral area.
https://www.greaterkashmir.com/news/front-page-2/4-arrested-in-pampore-tral-for-supporting-militants/
--------
Pakistan
NA speaker hopeful of consensus over FATF bills
Amjad Iqbal
13 Sep 2020
TAXILA: National Assembly Speaker Asad Qaiser on Saturday said the government would take all opposition parties on board for legislation related to the Financial Action Task Force (FATF) before convening a joint session of parliament to pass the bills.
Talking to mediapersons in Wah, Mr Qaiser said political parties would be taken into confidence on the proposed FATF bills that were crucial for getting the country out of the grey list.
Pakistan was placed on the FATF's grey list in June 2018 and had to meet its 27-point action plan to avoid getting blacklisted as a non-compliant nation.
The speaker said before calling the session, consultations would be held with leaders of various political parties in the parliament and hoped they would act responsibly.
He said there should be no politics and point scoring on issues of national security and integrity, adding that the proposed amendments would reflect on the government's firm resolve to strengthen its anti-money laundering regime.
Responding to a question about the ongoing Afghan peace process, he said from the very first day, Pakistan had maintained a principle stand which was "let the Afghans decide about their fate".
https://www.dawn.com/news/1579419/na-speaker-hopeful-of-consensus-over-fatf-bills
---------
Islamic Banking industry continues its upward trajectory
Ali Ahmed
12 Sep 2020
The Islamic Banking industry continued its upward trajectory in Pakistan as the market share of the IBI's rose to 15.3 percent witnessing a jump of one percentage point from 15.2 percent during the year till June 2020.
As per the State Bank of Pakistan (SBP) Islamic Banking Bulletin, during the quarter under review (April-June 2020), the asset base of the Islamic banking industry (IBI) grew by 8.1 percent to reach to Rs 3,633 billion while deposits of IBI stood at Rs 2,946 billion depicting quarterly growth of 9.5 percent; YoY growth was recorded 21.4 percent and 22 percent for assets and deposits, respectively.
Similarly, 'financing & investments (net)' recorded quarterly growth of 15.5 percent and reached Rs 2,597 billion, whereas, the YoY growth was 20.8 percent.
In terms of market share, the Islamic banking industry now stands at 15.3 percent and 16.9 percent, respectively in assets and deposits of the overall banking industry. Moreover, at the end of the reporting period, profit before tax of IBIs stood at Rs 49 billion.
The assets of the Islamic banking industry increased from Rs 3,360 billion to Rs 3,633 billion at the end of June 2020. It was a significant increase of Rs 273 billion compared to the corresponding increase of Rs 202 billion during 2019. At the end of June 2020, the market share of the Islamic banking industry's assets in the overall banking industry's assets increased from 15.2 percent to 15.3 percent.
The deposit base of IBIs increased by 9.5 percent i.e. Rs 254 billion to Rs 2,946 billion at the end of June 2020 showing a YoY increase of 22 percent, slightly higher than the growth in the deposit base of the overall banking industry, which saw an increase of 9.3 percent and YoY rise of 14.3 percent during the period under review.
The growth in deposits largely came from customer deposits of varied kinds, in particular, non-remunerative current accounts and saving deposits.
At the end of June 2020, the infrastructure of the Islamic banking industry remained the same with 22 Islamic banking institutions (IBIs); 5 full-fledged Islamic banks (IBs), and 17 conventional banks having standalone Islamic banking branches (IBB's). However, the branch network of IBIs increased from 2,913 branches to 3,274 branches during FY 20. As evident from Figure-1, the major share of branches is concentrated in Punjab, followed by Sindh and Khyber-Pakhtunkhwa (KPK). The number of Islamic banking windows (dedicated counters at conventional branches) operated by conventional banks having Islamic banking branches (IBBs) stood at 1,394.
https://www.brecorder.com/news/40018219/islamic-banking-industry-continues-its-upward-trajectory
---------
South Asia
Afghan, Taliban Delegation Form Joint Committee to Facilitate Intra-Afghan Talks
By Mohammad Arif Sheva
13 Sep 2020
DOHA, Qatar – The Afghan representatives and the Taliban delegation – who launched the intra-Afghan talks in Qatari capital Doha on Saturday – formed a joint committee of 10 members to facilitate the negotiations.
In this committee, there are five members from each parties to represent their group accordingly – the Afghan negotiation team and the Taliban delegation.
Enayatullah Baligh, Zarar Ahmad Moqabel, Massom Stanikzai, Fowzia Kofi and Nader Nadiri are introduced by the Afghan government to the committee, according to sources.
While Taliban introduced Shekh Abdul Kabir, Abbas Stanikzai, Shekh Delawar, Shekh Qasem and Noorullah Noori to represent its delegation within the committee.
This came after the initial meeting on Intra-Afghan talks was held Saturday in Doha, Qatar, as Afghan and Taliban delegation, including international allies from Asian, Europe, United Nation and NATO representatives, came together in a bid to determine a political settlement to Afghanistan.
The first round of Intra-Afghan talks is due on Monday, September 14, between the Afghan and Taliban delegation in Doha.
https://www.khaama.com/afghan-taliban-delegation-form-joint-committee-to-facilitate-intra-afghan-talks-34534/
-------
Everyone responsible for Narayanganj mosque blast will face speedy trial: CID
Star Online Report
September 12, 2020
Deputy Inspector General of Criminal Investigation Department (CID) Md Mainul Hasan has said each and every person responsible for Narayanganj mosque blast will be brought under speedy trial, based on evidence collected during the investigation.
"We will complete the investigation with the highest level of professionalism and skills," he said while talking to media after visiting Pashchim Talla Baitus Salat Mosque in Narayanganj where a deadly explosion happened on September 4.
At least 39 people were injured in the explosion and of them, 31 died so far.
"On completion of the investigation, we will submit the report to a lower court,"said the DIG, who along with his team, visited the mosque around 11:00am today.
Asked about primary findings from their investigation, he said it seems that the explosion occurred due to accumulated gas. It can be confirmed after further investigation, he added.
Evidence is being collected from the spot, he said, adding, "We will talk to locals and the evidence will be examined at the forensic department. We will complete investigation within the shortest possible time after examining the evidence and other probe reports."
It is suspected that the explosion was caused due to an accumulation of leaked gas -- from an underground Titas Gas pipeline -- that came in contact with an electric spark.
Titas Gas has suspended eight of its officials and staffers in connection with the blast. During digging, officials noticed two holes in an underground gas pipe adjacent to the mosque.
https://www.thedailystar.net/country/news/everyone-responsible-narayanganj-mosque-blast-will-face-speedy-trial-cid-1960033
--------
Taliban Raid Security Post in Kapisa, Kill 5
By Mohammad Arif Sheva
13 Sep 2020
KAPISA, Afghanistan – At least five Afghan security forces killed after the Taliban militant raided a local security post in Tagab district of Kapisa late Saturday night, provincial authorities confirmed.
Abdul Shaiq Shorish, spokesman for the local police, said the armed Taliban raided a security post in Tagab district of Kapisa province at around 9pm local time.
The battle between the Afghan forces and the Taliban continued until 3am Sunday morning, killing at least five Afghan security officers, including the head of the post.
Seven further security forces injured during the shootouts, according to the spokesman.
The arm battle did not inflict any casualty to the local residents, he added.
The Taliban did not immediately commented on the incident, while the officials said they were battered in the battlefield.
The attack came at a time Afghan government and the Taliban delegation met in Doha earlier that day to settle a peace agreement in Afghanistan.
https://www.khaama.com/taliban-raid-security-post-in-kapisa-kill-5-32332/
--------
Germany Announces Readiness to Host Peace Talks
By Mohammad Arif Sheva
13 Sep 2020
KABUL, Afghanistan – Germany announced it is ready to host the upcoming round of Afghan peace talks in the country, said the High Council for National Reconciliation in a statement.
According to the statement, Chairman of the HCNR Abdullah Abdullah, on sideline of the inaugural session of the Intra-Afghan talks on Saturday in Doha, met with German special envoy for Afghanistan Markus Potzel.
During the meeting, both parties discussed the most obvious topics of negotiation and Germany's readiness to host the upcoming peace talks in the country, the statement said.
Abdullah assured Afghanistan's commitment for achieving peace, as the country has already paid greater cost to have paved ways for lasting peace.
Meanwhile, Potzel said starting the talks was a major turning point and a historic event, adding Germany is ready to host next round of talks.
https://www.khaama.com/germany-announces-readiness-to-host-peace-talks-34534/
---------
Ceasefire Top Priority during Intra-Afghan Talks: Nadiri
By Mohammad Arif Sheva
13 Sep 2020
DOHA, Qatar – Sayed Saddat Mansoor Nadiri, State Minister for Peace Affairs, said the primary demand by the Afghan government is a comprehensive ceasefire during the intra-Afghan talks held in Qatari capital Doha.
In an exclusive interview with the Khaama Press on Saturday, Nadiri said the first and primary demand by Afghan negotiation team is a comprehensive ceasefire in Afghanistan.
"Peace is a wish for all Afghan people," he added.
"Today is (a representation of) a positive pace for the Afghan nation towards achieving peace," Nadiri exclaimed. "Really, it is a wish for all Afghans to obtain peace with dignity and permanent."
Meanwhile, Nadiri stressed the need for comprehensive ceasefire, saying peace will hopefully contribute to trust-building of both parties, the Afghan government and the Taliban.
It is an undeniable wish for people to live in an environment where people would embrace each other peacefully, rather than killing each other, he elaborated.
It came at a time both Afghan negotiation team and the Taliban delegation, including a number of international allies, came together in Doha Saturday to mark the initial meeting on Afghan peace.
https://www.khaama.com/ceasefire-top-priority-during-intra-afghan-talks-nadiri-3454/
---------
Dhaka-Delhi connectivity positively impacts Bangladesh, India's north-east: Shringla
Unb, Dhaka
September 13, 2020
Indian Foreign Secretary Harsh Vardhan Shringla has said Bangladesh-India connectivity directly and positively impacts both India's North East and Bangladesh.
He said four of the six pre-1965 rail links between the two countries have been made operational, and work is underway on the remaining two.
The under-construction rail link between Haldibari in West Bengal and Chilahati in Bangladesh would revive the old Siliguri-Sealdah rail route through Bangladesh, taken by the Darjeeling Mail, Shringla said.
The Indian foreign secretary highlighted the connectivity issues while delivering the keynote address at a webinar on "Self-reliant India: Reimagining the North East India in terms of Employment and Skill" recently.
Nationals of the two countries cannot only travel on board the Maitree and Bandhan express to each other's countries, but also on buses plying between Shillong and Dhaka and between Agartala and Kolkata via Dhaka, he added.
"We are upgrading the infrastructure of land customs stations for enabling smooth cross-border movement of goods and people," Shringla said.
He said the potential of mutually beneficial resources and of generating common economic spaces was evident in another area -- energy.
He said 20 port townships are planned along the Brahmaputra and Barak river systems to enhance inland water connectivity. "This could galvanise multimodal linkages in the entire region."
Goods are trans-shipped to the North East through Ashuganj inland river port in Bangladesh and further through Akhaura-Agartala by road.
Recently, the first container of goods was moved from Kolkata to Agartala, using the newly-established India-Bangladesh agreement permitting the use of Chattogram port for India to transport goods to and from North East India.
A new waterway connecting Tripura to Bangladesh was also operationalised recently with the first ever export consignment from Bangladesh reaching Tripura through the waterway.
https://www.thedailystar.net/backpage/news/dhaka-delhi-connectivity-positively-impacts-bangladesh-north-east-india-1960333
--------
Europe
Harry Styles 'lands new movie role replacing Shia LeBeouf in Don't Worry Darling with Chris Pine and Florence Pugh'
Jamie Tabberer
11 Sep 2020
Harry Styles is to replace Shia LeBeouf in the upcoming movie Don't Worry Darling, according to Deadline. LeBeouf had to depart the film – the next directorial effort from Booksmart's Olivia Wilde – due to scheduling conflicts. The movie co-stars Chris Pine and Florence Pugh, and follows an 'isolated, Utopian community' in the Californian desert in the 50s, according to the publication. It will be One Direction star Harry's first film since Christopher Nolan's 2017 war epic Dunkirk. ADVERTISEMENT Top articles by Metro Lucifer to cover Queen in upcoming musical episode READ MORE READ MORE READ MORE READ MORE READ MORE SKIP AD Since then, the star has released a stunningly successful album: 2019's Fine Line, which spawned the hits Lights Up and Watermelon Sugar. Florence Pugh is known for roles in the likes of Midsommar and Lady Macbeth. She received a best supporting actress nod for her role in last year's tearjerker drama Little Women, and will star in the upcoming superhero epic Black Widow.
https://metro.co.uk/2020/09/11/harry-styles-lands-new-movie-role-replacing-shia-lebeouf-in-dont-worry-darling-with-chris-pine-and-florence-pugh-13259564/?ito=newsnow-feed
-------
Johnson faces pressure from MPs – but a third of Brits say it is acceptable to breach international law
by Jack Peat
September 13, 2020
Boris Johnson is facing mounting criticism over his legislation overriding his Brexit deal, as leaders from across the political spectrum attacked the threat to break international law.
Senior Conservatives were not backing down on their rebellion against the Prime Minister's plans despite his warning that Brussels could "carve up our country" without his new Bill.
Former prime ministers Sir John Major and Tony Blair united to urge MPs to reject the legislation, saying it imperils the Irish peace process, trade negotiations and the UK's integrity.
Sir Keir Starmer accused Mr Johnson of having "reigniting old rows" by working to flout his own Withdrawal Agreement, but pledged Labour support if he addresses "substantial" concerns.
Tory rebels suggested their numbers were growing and opinions were only hardened by Mr Johnson's increased rhetoric that the EU could impose a trade border in the Irish Sea.
A third say it is acceptable to breach international law with regard to UK internal market bill, while a similar number (32 per cent) approve of Boris Johnson's handling of Brexit.
The majority (52 per cent) now believe the UK is likely to leave the transition period without a trade deal, and while 50 per cent feel this would be bad for the economy, only 27 per cent believe it would be bad for their personal financial situation.
Adam Drummond, head of political polling at Opinium, comments: "As Brexit returns to the news again, the Leave/Remain divide returns as well but not as emphatically as before.
"Similarly, while 60 per cent believe Boris Johnson wants 'no-deal' in the event of a trade deal not being struck, Keir Starmer's relative silence on the issue means efforts to portray him as a 're-joiner' have not yet succeeded with only 23 per cent believing he would want to request to re-join the EU in the event of no trade deal."
https://www.thelondoneconomic.com/politics/johnson-faces-pressure-from-mps-but-a-third-of-brits-say-it-is-acceptable-to-breach-international-law/13/09/
--------
Coronavirus: Britain on 'edge of losing control' of spread of Covid, says government scientific adviser
Ashley Cowburn
12-08-2020
Britain is on the "edge of losing control" of the spread of the coronavirus, according to a member of the government's Scientific Advisory Group for Emergencies.
Sir Mark Walport – a former chief scientific adviser – also insisted there was an "extremely strong argument" for people who can work from home to continue to doing so.
"I think one would have to say we're on the edge of losing control and you've only got to look across the Channel to see what's happening in France and what's happening in Spain," he told BBC Radio 4's Today programme.
"The French on Friday had 9,800 new infections and one can see their hospital admission and intensive care admissions are going up."
The distinguished scientist also cited an alarming study from Imperial, commissioned by the government, suggesting Covid-19 cases are doubling every seven to eight days and warned the R rate of transmission could be as high as 1.7.
The analysis of ICL's Real-time Assessment of Community Transmission (React-1) came as the UK reported the highest daily number of new coronavirus cases since mid-May: 3,539, up from 2,919 the previous day.
Pressed on whether the public should be returning to work, Sir Mark, who said he "definitely" will continue to work from home, added: "The only way to stop the spread of this infection is to reduce the number of people we come into contact with.
"Therefore it's a fine balancing act. It's very important to get youngsters back to school and universities, but it means we're going to have to hold back our contacts in other areas.
"Where people can work from home there's an extremely strong argument they should do so."
Speaking on Saturday, the Cabinet Office minister Michael Gove said: "I think Sir Mark's words – he's a very distinguished scientist – are a warning to us all.
"There's a range of scientific opinion, but one thing practically every scientist is agreed is that we have seen an uptick in infection and therefore it's appropriate to take public health measures."
The cabinet minister said the "rule of six" – to be introduced on Monday in England, limiting social gatherings to a maximum of six people indoors and outdoors – was necessary due to concerns over the prevalence of the virus.
In a separate interview on Times Radio, Mr Gove also claimed the UK was not heading towards a second national lockdown, adding: "The reason why we're taking the steps we announced this week and come into force on Monday is precisely to avoid that situation.
Rather, he said the new measures such as "target local lockdowns" and "new regulations governing social contact" were to ensure that children can still go to school, adults can still go to work and the "life of the nation can continue".
https://www.independent.co.uk/news/uk/politics/coronavirus-uk-covid-spread-cases-deaths-mark-walport-latest-b429942.html
---------
North America
UN adopts Saudi resolution to fight pandemic
SPA
September 12, 2020
NEW YORK: The UN General Assembly on Saturday adopted a Saudi-proposed resolution calling for a global coordinated response to fight the coronavirus disease (COVID-19) pandemic.
The draft resolution, adopted by a large majority, praised Saudi Arabia's efforts, as chair of the G20 presidency, against the pandemic and in assisting developing countries without any discrimination to fight the unprecedented health challenges posed by the COVID-19.
While presenting the draft resolution, Abdallah Al-Mouallimi, Kingdom's ambassador to the UN in New York, said: "This pandemic has ravaged our world and resulted in around 1 million deaths in 9 months, and infected 28 million people around the world."
He said the pandemic is threatening international health security, causing huge damage to the economies of states around the globe, and interrupting all aspects of human life. "It has left the people in a state of forced confinement and painful isolation due to the fear of contracting this malicious virus, which does not differentiate between men and women, or old and young," Al-Mouallimi said.
Offering his condolences to all those who lost their loved ones to the virus, he wished a speedy recovery to those who are being treated for the disease.
Al-Mouallimi stressed the need to support those who are on the frontline of fighting the pandemic.
He said the pandemic has exposed the vulnerability of global health. "This makes us more aware of the importance of cooperation and support to overcome our differences, and to work jointly to boost a transparent and coordinated response plan to enable us to fight threats to the international health system, and lay strong bases for sustainable development," the Saudi ambassador to the UN said.
He stressed that at the beginning of the outbreak Saudi Arabia and Egypt took the initiative to table a draft resolution under Article 123 of the agenda of the UN General Assembly, calling for intensifying international cooperation and coordinating a tangible and strong international response plan to fight the pandemic, in collaboration with Bahrain, Canada, Iraq, Jordan, Lebanon, Morocco, Oman, Singapore, and the UAE.
He pointed out that a draft resolution was proposed calling for a practical global response to fight the pandemic, by referring to the resolutions of the virtual extraordinary summit of G20 leaders held on March 26.
Al-Mouallimi added: "Since we started preparing the draft resolution, we worked with member states and regional groups and conducted lengthy consultations to ensure taking into consideration all concerns and proposals of member states to include them in the draft resolution. Hence, we did our best so that the final version of the draft resolution would be balanced and in line with the interests of member states, to provide support to all developing states without exception or discrimination, at the right time, to deal with this emergency."
He lauded the broad support for the resolution, which was endorsed by about 120 countries, surpassing the simple majority in the UN General Assembly.
https://www.arabnews.com/node/1733606/saudi-arabia
--------
Belarusian Muslim Leaders Break with Moscow Mufti and Attack Lukashenka
Paul Goble
September 12, 2020
Staunton, September 11 – In yet another indication that Belarusians are not going to defer to Moscow either before or after a possible annexation, the leaders of the two Muslim Spiritual Directorates (MSDs) have broken with the most prominent Muslim leader in Moscow and attacked Alyaksandr Lukashenka for his repressive policies.
(On the more general problem of Belarusian attitudes now or in the event of an Anschluss, see this writer's "A Problem for Putin: Belarus Is Not Ukraine Either Now or If Moscow Annexes It," Eurasia Daily Monitor, September 10, 2020, at jamestown.org/program/a-problem-for-putin-belarus-is-not-ukraine-either-now-or-if-moscow-annexes-it.)
After Lukashenka claimed victory in heavily falsified elections, Moscow Mufti Ravil Gaynutdin, head of the MSD of the Russian Federation hurried to send him a message of congratulations (dumrf.ru/regions/77/documents/17507). Belarusian Muslims were angered both by his backing of Lukashenka and his saying anything as an outsider.
It should be noted that while Gaynutdin is perhaps the most prominent Russian Muslim leader, he is far from the only one. Other Muslim leaders in the Russian Federation, including Mufti Talgat Tajuddin of the Central MSD in Ufa have not made any public comments about the Belarusian situation.
When Lukashenka began repressing protesters, Gaynutdin criticized both sides (dumrf.ru/upravlenie/documents/17534); and when Lukashenka marked his birthday, the Moscow mufti sent another message of congratulations (dumrf.ru/upravlenie/documents/15815), further outraging the Muslims of Belarus.
Their two leaders, Mufti Abu-Bekir Shabanovich, who heads the Muslim Religious Union in Belarus, and Mufti Ali Voronovich, who is chairman of the MSD of the Republic of Belarus, did not congratulate Lukashenka on either occasion and instead sharply criticized his police actions against the Belarusians in the streets.
(For their statements, see mechet.by/post/обращение-муфтия and islam.by/post/zayavlenie-muftiyata-dukhovnogo-upravleniya-musulman-v-respublike-belarus; for an analysis of their remarks, see windowoneurasia2.blogspot.com/2020/08/belarusian-muslim-leader-urges.html.)
The indigenous Muslim community in Belarus (the Belarusian Tatars) numbers only 7300 people, and the total number of Belarusians who identify as Muslims is 19,000. They are organized in 25 Muslim parishes (24 Sunni and one Shiite) (reltoday.com/news/belorusskie-musulmane-v-uslovijah-politicheskogo-krizisa/).
This should serve as a warning to the Kremlin that if it tries to absorb Belarus, it will face not only the opposition of the Belarusian nation but also the opposition of Belarus' Muslims, who have demonstrated already that they aren't ready to defer to Moscow politically or in religious terms.
http://windowoneurasia2.blogspot.com/2020/09/belarusian-muslim-leaders-break-with.html
--------
The Vaisovtsy, Bulgar Activists Who Tried to Combine Pure Islam with Bolshevism, Recalled as Source of Ideas about the Future
September 13, 2020
Paul Goble
Staunton, September 12 -- The ideological diversity of pre-1917 Muslims in the Russian Empire was far greater than many imagine. It involved not just divisions between Sunnis and Shiia or between modernists (Jadidism) and traditionalism (Kadism) but among a wide variety of groups with a remarkable diversity of ideas.
The Soviets worked especially hard to suppress these groups, classifying them as "sects," lest their ideas inform the thinking of Muslim groups within the USSR. Since 1991, scholars and activists have begun to recover some of these traditions; and now, these groups are beginning to attract broader attention from the Muslims living in the Russian Federation.
One of the most curious of these groups, the Vaisovtsy, who promoted pure Islam long before the name, called on Tatars to reidentify as Bulgars and even sought to combine Islamic purity with Bolshevism, cooperating with the latter against Tatars and Idel-Ural activists, before being brutally repressed in the 1920s is now getting its day in the sun.
Today, Kazan's Business-Gazeta presents a 5,000-word article about the Vaisovtsy that not only surveys the curious history of this group between the 1860s and 1920s but also considers its ideas which continue to resonate in the Middle Volga up to now (www.business-gazeta.ru/article/480788).
The occasion for the article is the supposed 210th anniversary of the birth of the founder of the group, Bagautdin Vaisov – the actual date is much disputed – and the form is an interview with Dilyara Usmanova, a professor at Kazan Federal University and a widely published specialist on Muslim politics at the end of the imperial period.
Vaisov who was a follower of the Naqshbandi sufi brotherhood, established a prayer house in Kazan where he promoted the idea that Bulgarian Islam was the closest to the pure Islam of the time of the Prophet and that Tatars had fallen away from this under the influence of the more public imams, mullahs and muftis.
He and his followers found themselves at odds with the Islamic establishment and with the state. The latter was disturbed by their role in a series of peasant uprisings in the Middle Volga and the former by his theology. As a result, the tsarist police together with the mullahs closed his school in 1884, confined him in a psychiatric hospital and then exiled him to Siberia.
His family members and closest followers were also exiled but some were able to return to Kazan in 1905. The most important of these was his son Gaynutdin who became the leader of the movement, which numbered between 1500 and 2,000 during its greatest activity in the revolutionary years after 1917.
Gaynutdin was drawn to socialism and in a strange evolution of events, he and his movements became allies of the Bolsheviks against Tatar nationalists. Usmanova argues that "the Bolsheviks used the Vaisovtsy to split the Tatar national movement and as a counterweight to the ideals of Idel Ural."
Gaynutdin Vaisov was killed by anti-Soviet elements, but despite that, the Bolsheviks having gained strength did whatever they could to wipe out his movement in the early 1920s, killing or exiling his followers. But when things eased in perestroika time, many people in the Middle Volga sought to revive his ideas, seeing them as a way to combine sovietism and Islam.
"The history of the Vaisi movement shows," the Kazan scholar concludes, "how complicated and diverse society was in the 19th and early 20th centuries," far more interesting that the simplified ways in which it is normally considered. And as Tatars look to the future, they can draw on that diversity to provide guidance about the directions they may choose to go.
http://windowoneurasia2.blogspot.com/2020/09/the-vaisovtsy-bulgar-activists-who.html
--------
Mideast
Iran's Friday Prayer Leaders Condemn Desecration of Islam's Prophet, Holy Quran
TEHRAN (FNA)
Sep 12, 2020
Friday prayer leaders across Iran strongly denounced the French weekly Charlie Hebdo's republication of insulting cartoons of Prophet Mohammad (PBUH), stressing that sacrilege of Islam's Prophet means sacrilege of all divine prophets.
All Friday prayer leader in Iran said the recent disrespect of the Prophet of Islam and the Holy Quran has been orchestrated by the Global Arrogance, adding that this vicious act is indicative of the victory of Islam and the Islamic Ummah.
During an illegal gathering on August 28, supporters of right-wing Danish politician Rasmus Paludan, who leads the anti-Islamic group, Tight Direction (Stram Kurs), burned a copy of Holy Qur'an in the Southern Swedish city of Malmo.
Also, on September 1, the ill-reputed French Magazine Charlie Hebdo also republished blasphemous cartoons of the Prophet of Islam on the eve of the trial of suspects in a deadly attack on the paper's office five years ago.
In a relevant event on Thursday, a large number of Iranian people in the capital city of Tehran held rallies to condemn the recent insulting moves against the Holy Quran and Prophet Mohammad (PBUH) in a number of European states and French President Emanuel Macron's support for them.
The protestors deplored the French government for supporting the blasphemous acts against the sanctities of Muslims, chanted slogans against Macron who supported them under the pretext of advocacy for freedom of expression.
The slogans chanted by the protestors underlined that sacrilege of the holy Quran and Prophet Mohammad (PBUH) indicates the arrogant governments' weakness and such acts will backfire on them.
In relevant remarks on Monday, Iran's Judiciary Chief Seyed Ebrahim Rayeesi deplored the recent insulting moves against the Holy Quran and Prophet Mohammad (PBUH), and warned of the West and Israel's plots to undermine Islam's power and might in the world.
https://en.farsnews.ir/newstext.aspx?nn=13990622000246
---------
Muslims Must Protect Their Values in Current Critical Situation: Rouhani
By Fatemeh Askarieh
September 11, 2020
Iran's president has condemned a French satirical magazine's move to reprint an offensive cartoon about Prophet Muhammed (PBUH), saying that Muslims must be careful to protect their values under the current "critical" situation.
Hassan Rouhani said on Thursday that the world, especially the Muslim world, is in a special and critical situation now.
"On the one hand, the Zionists are conspiring in the region, and unfortunately, they are deceiving some Muslim and Arab countries, which should be sensitive to the Palestinian issue," Rouhani said.
On the other hand, he added, their flunkies are publishing insulting cartoons in certain magazines.
"All this means that we are in a critical situation in the world and we must defend Iran, the interests of Islam and our values," noted Rouhani.
The situation in the region is very critical and all must be watchful, President Rouhani said in a videoconference address to an inauguration ceremony to launch mega projects in Free zones of Kish, Aras, Qeshm, Sarakhs, etc., said.
An 80-hectare greenhouse in West Azarbaijan's Aras Free Zone, a home appliance factory in Payam Free Zone in Alborz Province, some factories in Shiraz Free Zone, and a tile production facility in Sarakhs were among the main projects launched by Rouhani via videoconference.
"We are launching 4,800 billion tomans (over 192 million dollars) worth of projects. Of course, if we convert Dollar and Euro to our own currency and calculate, our inaugurations are worth about 15,000 billion tomans (around 600 million dollars)," said the Iranian president.
He also noted the fact that Iran can launch projects worth 15,000 billion Tomans in a week, shows the country is flourishing and active.
"It also means that the US is defeated. It means that we can tread on the path of glory as well as the progress and development of the country," underscored Rouhani.
The President said Iran, with its huge resources, diverse climate and easy conditions for investment, is an attractive place for investors, and all governors and managers of free and special zones are ready for domestic and foreign investment.
https://ifpnews.com/muslims-must-protect-their-values-in-current-critical-situation-rouhani
---------
Shiite Muslims to Observe Arbaeen Remotely over Pandemic: Iran
By IFP Editorial Staff
September 11, 2020
Iran's health minister says this year's Arbaeen march, which is to mark the fortieth day after the martyrdom of Imam Hussein (AS), will be held remotely due to the coronavirus pandemic.
Saeed Namaki said in a phone conversation with Iraqi Health Minister Hassan al-Tamimi that in the year of the Coronavirus pandemic, perhaps the best way to express devoutness to Imam Hussein (AS) is new methods not experienced before.
The Radio and Television of the Islamic Republic of Iran and the ulema as well as cultural figures in Iran and Iraq must come together to make a more detailed plan for the Arbaeen mourning ceremony this year, noted Namaki.
"It is necessary to form a joint committee between the Ministries of Health of the two countries to hold the glorious mourning ceremony of Arbaeen remotely. With the cooperation of the two countries, we are trying to seriously fight COVID-19 in order to contain the disease as soon as possible," added Namaki.
Iran's minister of health emphasized that the country's relationship with the honourable people and the land of Iraq is historic and will never be broken.
"This year in Iran, with the support of the Leader of the Islamic Revolution, a very glorious but protocol-based Muharram ceremony was held. We were able to follow health protocols in such a way that the least harm from the corona virus was recorded."
For his part, the Iraqi health minister said it is very nice to hear good news from Iran about the control of COVID-19 and the reduction of the number of deaths.
"We continuously follow the actions of the Islamic Republic of Iran regarding the control of this disease and we have learned lessons in this regard," underlined Tamimi.
https://ifpnews.com/shiite-muslims-to-observe-arbaeen-remotely-over-pandemic-iran
--------
Anti-Netanyahu protesters keep up pressure on Israeli leader
REUTERS NEWS AGENCY
13-09-2020
Thousands of Israelis protested against Prime Minister Benjamin Netanyahu in Jerusalem on Saturday over his alleged corruption and the government's handling of the coronavirus pandemic.
The crowd rallied outside Netanyahu's residence, blowing whistles, waving signs and flags and calling for his resignation.
Israeli media estimated that about 10,000 people attended what has become a weekly demonstration in Jerusalem. Organisers said that as many as 25,000 people joined the protest.
A survey published in August by the Israel Democracy Institute found that 61 percent of Israelis did not trust Netanyahu to manage the coronavirus crisis.
Some critics of the prime minister say he is preoccupied with his corruption trial on charges of bribery, fraud and breach of trust.
The 70-year-old was indicted in November in cases involving gifts from wealthy friends and for allegedly seeking regulatory favours for media tycoons in return for favourable coverage. His trial opened in May and is set to resume in January.
Netanyahu denies any wrongdoing. He has described his trial as a leftist political witch-hunt aimed at unseating a popular right-wing leader.
A diplomatic breakthrough with the United Arab Emirates in August - followed by Bahrain on Friday - has largely been welcomed by Israelis, but has been overshadowed by the economic fears stirred by the coronavirus crisis.
After a media backlash, Netanyahu scrapped plans to travel on an executive jet with his family to Washington, DC on Sunday for a signing ceremony of the Israel-UAE accord, separately from an airliner chartered for the Israeli delegation.
Some media commentators criticised the plans to travel to the United States as extravagant at a time when Israelis are heading into their second lockdown since March.
The prime minister's aides said the plans to travel separately had been a health precaution. But Netanyahu's office said on Friday that he would travel with the rest of the delegation.
https://www.aljazeera.com/news/2020/09/anti-netanyahu-protesters-pressure-israeli-leader-200913010154110.html
--------
Oman Welcomes Bahrain's Move to Normalize Ties With Israel
Reuters
13-09-2020
Oman welcomes Bahrain's decision to normalize relations with Israel, Oman state TV reported on Sunday.
Bahrain on Friday became the second Gulf country to normalize ties with Israel after the United Arab Emirates said they would do so a month ago, moves forged partly through shared fears of Iran.
"The Sultanate welcomes the initiative taken by the sisterly kingdom of Bahrain," the channel said on its Twitter account.
https://www.haaretz.com/middle-east-news/oman-welcomes-bahrain-s-move-to-normalize-ties-with-israel-1.9151054
-------
Thousands of Israelis protest outside Netanyahu's residence
AP
September 12, 2020
JERUSALEM: Thousands of Israelis demonstrated outside Prime Minister Benjamin Netanyahu's official residence in central Jerusalem late Saturday, demanding he resign over his trial on corruption charges and what is widely seen as his mishandling of the coronavirus pandemic.
With Israel reporting record levels of new coronavirus cases each day, the country appears to be headed toward a nationwide lockdown this week ahead of the Jewish New Year.
Saturday's demonstration came a day after Israel announced an agreement to establish diplomatic relations with Bahrain, the second Arab country to normalize ties with Israel in under a month and just the fourth overall.
But the surprise announcement had little effect on the thousands of demonstrators, who have been gathering outside Netanyahu's residence every Saturday throughout the summer. Protests against Netanyahu over his corruption trial have expanded to include demonstrations against his handling of the health crisis and the resulting economic pain.
Israel earned praise last spring for its early handling of the virus crisis, moving quickly to seal the country's borders and appearing to bring an outbreak under control.
But Netanyahu has come under criticism for reopening the economy too quickly in May. Since then, new cases have soared, the government has been blamed for mismanaging the resurgence and unemployment has soared to double digit levels. Many struggling workers and business owners fear another closure will be devastating. Many of the demonstrators are unemployed.
Last week Netanyahu announced overnight curfews on some 40 cities and towns hit hard by the coronavirus, but backed away from reported recommendations for full lockdowns after an uproar by politically powerful religious politicians.
Netanyahu has been charged with fraud, breach of trust and accepting bribes for his role in a series of scandals involving gifts and alleged favors exchanged with wealthy associates.
He denies any wrongdoing and accuses police, prosecutors and the media of conspiring to oust him. He has dismissed the protesters as "leftists" and "anarchists."
https://www.arabnews.com/node/1733611/middle-east
--------
"US-Brokered Deal Makes Bahrain Partner To Israel Crimes": Iran
Agence France-Presse
September 13, 2020
Tehran: Iran on Saturday angrily accused Bahrain of stirring instability after US President Donald Trump announced Manama and Israel were opening ties in a landmark deal that reinforces America's push to redraw Middle East conflicts.
Calling it a "truly historic day," Trump said on Friday that Israel and Bahrain were establishing full diplomatic and commercial relations.
"They will exchange embassies and ambassadors, begin direct flights between their countries and launch cooperation initiatives across a broad range of sectors, including health, business, technology, education, security and agriculture," he said.
Bahrain said in a joint statement it had agreed to formalise the deal with Israel at a ceremony Tuesday in the White House, where the United Arab Emirates will also sign off on its own thaw with Israel announced in mid-August.
Shiite Iran, which has especially tense ties with Bahrain and is a sworn enemy of Washington, slammed its Gulf neighbour over the deal.
"The rulers of Bahrain will from now on be partners to the crimes of the Zionist regime as a constant threat to the security of the region and the world of Islam," it said.
Bahrainis opposed to the agreement vented their frustration on social media, using the hashtags "Bahrainis against normalisation" and "normalisation is betrayal".
Turkey condemned it, saying it would "further embolden Israel to continue its illegal practices... and attempts to make the occupation of Palestinian territories permanent".
Bahrain, a Sunni-ruled kingdom with a large Shiite population, relies heavily on the United States, which stations its Fifth Fleet in the tiny but strategic Gulf archipelago.
The joint statement said Bahrain's King Hamad bin Isa Al-Khalifa, Israeli Prime Minister Benjamin Netanyahu and Trump had spoken hours before announcing the new breakthrough.
During the phone call, the king "stressed the need to reach a just and comprehensive peace as a strategic option, in accordance with the two-state solution and relevant resolutions of international legitimacy".
"Citizens of Israel, I am moved to be able to tell you that this evening, we are reaching another peace agreement with another Arab country, Bahrain. This agreement adds to the historic peace with the United Arab Emirates," he said.
Israeli defence minister and alternate premier, Benny Gantz, congratulated Netanyahu and Al-Khalifa for the deal and thanked Trump and the US government for "their exceptional efforts to build a more stable Middle East".
Israeli President Reuven Rivlin called on "other Arab and Muslim countries to make peace with Israel, peace between peoples, peace for peace".
"Today marks another significant and historic achievement which will contribute enormously to the stability and prosperity of the region," said Hend al-Otaiba, director of strategic communications at the foreign ministry.
Trump, who is banking on the latest deals will give him momentum going into the November 3 presidential election, said more Arab nations could open their doors to Israel.
He has taken a string of decisions highly beneficial to Israel, from recognising disputed Jerusalem as the country's capital to unilaterally withdrawing from an international accord meant to end Iran's isolation in return for verified controls to prevent militarisation of its nuclear industry.
At the same time, Trump has pushed to wind down America's own military footprint after decades of bloody entanglements in Iraq and elsewhere.
The UAE's announcement broke with years of policy on the Middle East conflict, prompting angry pushback from the Palestinians, who see Arab support as crucial to their limited power in resisting Israeli occupation.
The agreement was "a stab in the back of the Palestinian cause and the Palestinian people," Ahmad Majdalani, social affairs minister in the West Bank-based Palestinian Authority, told AFP.
Hamas, which controls the Gaza Strip, said it was an "aggression" that dealt "serious prejudice" to the Palestinian cause.
Trump, who has made crushing sanctions and diplomatic pressure on Iran a priority of his administration, predicted however that there would be a "very positive" development in the standoff with Tehran.
"I can see a lot of good things happening with respect to the Palestinians," he said, arguing they would end their conflict with Israel once enough Arab countries follow in the UAE and Bahrain's footsteps.
"As more countries normalise relations with Israel, which will happen quite quickly we believe, the region will become more and more stable, secure and prosperous."
https://www.ndtv.com/world-news/us-brokered-deal-makes-bahrain-partner-to-israel-crimes-iran-2294560
---------
Arab world
Head of Muslim scholars union slams Bahrain-Israel pact
12.09.2020
Ahmed Asmar
The Secretary-General of the International Union for Muslim Scholars (IUMS), Ali al-Qaradaghi, on Saturday decried the normalization of relations with Israel as a "treason".
On Friday, Bahrain and Israel announced a US-brokered agreement to normalize their relations.
"How can a person concede his right and the right of the Palestinian people and all Muslims in this blessed land, in our Al-Aqsa Mosque...," al-Qaradaghi said in a video released on his Twitter account.
He said the recent developments "require us to stand with the Palestinian cause by all our capabilities".
In another tweet, al-Qaradaghi said that the recent deals between Israel and both Bahrain and the UAE were a "prelude to an imminent agreement between Israel and Saudi Arabia".
Bahrain became the fourth Arab country to have diplomatic relations with Israel, after Egypt in 1979, Jordan 1994 and the United Arab Emirates in August 2020.
https://www.aa.com.tr/en/politics/head-of-muslim-scholars-union-slams-bahrain-israel-pact/1971420
-------
Islamic Universities League to Hold Virtual Int'l Conference to Enhance its Role in Serving Society
2020/09/12
SPA
Cairo, Sep 12, 2020, SPA -- The League of Islamic Universities is set to hold on Sunday a virtual international conference that discusses the role of the universities, in serving their societies, and consolidating values.
Muslim World League will participate and sponsor this conference, in addition to contributions from the Egyptian Ministry of Endowments, Al-Azhar University, Alexandria University, Institute of Moderation, at King Abdulaziz University and the World Muslim Communities' Council as well as participation of a number of ministers, senior scholars, presidents of universities and specialists.
https://www.spa.gov.sa/viewfullstory.php?lang=en&newsid=2132812
-------
Saudi Arabia announces 27 more deaths from COVID-19
RAWAN RADWAN
September 12, 2020
JEDDAH: Saudi Arabia continues to witness a decline in the daily cases of coronavirus disease (COVID-19).
The Kingdom recorded 643 new confirmed cases on Saturday, raising the total number of patients that have been infected so far to 325,050.
Makkah recorded the highest confirmed number, with 69. Jeddah came in second highest with 65 cases and Hofuf third with 51 confirmed cases.
Of the confirmed cases, 59 percent were male, of which 85 percent were adults, while 5 percent were elderly (above 65 years of age) and 10 percent were children. The number of recoveries also rose, with 903 new recoveries recorded, raising the total number to 301,836, placing the Kingdom's recovery rate at 92.8 percent. Madinah recorded the highest number of recoveries with 93, while Hofuf had 76 and Dammam 75.
There are currently 18,974 active cases, 1,343 of which are in critical care units.
Saudi Arabia recorded 27 new fatalities on Saturday, raising the death toll to 4,240 since the first recorded death on March 24.
In its continued effort to minimize the spread of COVID-19 and detect infections early, 41,178 polymerase chain reaction tests have been conducted in the past 24 hours, raising the number of tests done so far to 5.68 million tests.
The Ministry of Health recently announced that a third Takkad (make sure) center had been opened in Riyadh. The centers are devoted to testing individuals who suspect an infection but don't show signs or have developed mild symptoms after being in close contact with a confirmed case. The centers provide Molecular Diagnostic Test (swab test) services and require a prior appointment through the ministry's "Sehaty" app.
Takkad Centers have served over 680,000 beneficiaries in the Riyadh region to date.
https://www.arabnews.com/node/1733421/saudi-arabia
--------
Southeast Asia
Political understanding among Muslim youths should be enhanced - Abdul Hadi
12/09/202
KOTA BHARU, Sept 12 -- The PAS Youth wing plays an important role in enhancing political understanding among the young Muslim generation as they make up the largest part of the electorate, said PAS president Datuk Seri Abdul Hadi Awang.
He said that this was due to the political ideology among Muslim youths being very weak compared with other races.
"In fact, Islam champions politics in its struggle, but due to ignorance in terms of religion, we abandon this obligation. All the Prophets and Messengers did not separate politics from da'wah.
"Due to this, the vote for Muslims is very weak due to frail political ideology… especially among young people who are targeted by the enemies of Islam so that they end up being complacent.
"Hence, the role of the PAS Youth wing is very big and important (in this case)," he said during the debate session of the 61st PAS Youth Muktamar or annual general assembly at the Pusat Tarbiah Islamiah Kelantan (PUTIK), in Pengkalan Chepa, near here today.
Abdul Hadi also said that PAS needs to further strengthen the position of the Islamic-based party's struggle to garner people's mandate directly through the 15th General Election (GE15).
The 61st PAS Youth Muktamar, attended by about 400 delegates from across the country, is being held in a new normal by complying with the standard operating procedures (SOPs) of the Recovery Movement Control Order (RMCO) to curb the spread of the COVID-19 pandemic.
Earlier, when officiating the convention, PAS deputy president Datuk Seri Tuan Ibrahim Tuan Man said that youths were getting tired of the current political situation, resulting in some of them stopping caring about the country's political development.
"In the face of political challenges, the so-called 'carca marba' (all mixed up), has caused a new polemic among them. According to a study, it was found that 23 per cent of youths were fed up with the current political situation," he said.
He said that this trend does not benefit any party because youths are the backbone of the leaders of the future, hence, PAS, especially the Youth wing, must translate the real political situation using new media, and convey the main agenda of the party which also practices the principle of unity with all races and religions.
https://www.bernama.com/en/politics/news.php?id=1879177
-------
Ismail Sabri: 512 arrests yesterday including over private parties, activities at pubs, nightclubs
BY IDA LIM
13 Sep 2020
KUALA LUMPUR, Sept 13 — The police yesterday caught 512 individuals breaking the recovery movement control order (RMCO), with more than half of them being nabbed over their activities at pubs or nightclubs, Defence Minister Datuk Seri Ismail Sabri Yaakob said today.
In a statement today, Ismail Sabri said the 512 individuals comprised 452 individuals who were issued compounds, while 59 were remanded and one on bail.
When listing down the types of MCO breaches the 512 individuals were nabbed over, Ismail Sabri said these include 294 individuals who were nabbed over activities in pubs or nightclubs, followed by 103 over activities where big attendance made physical distancing difficult, private parties with 56 nabbed, failing to provide the necessary equipment or recording the entry and exit of patrons at 32, and not wearing face masks (14).
Eight were nabbed for operating premises beyond operating hours, four over suspicion of prostitution activities and one for failure to obey the order to be under quarantine during the recovery movement control order.
Ismail Sabri also said the police-led taskforce to monitor and enforce compliance of standard operating procedures (SOP) during the RMCO had yesterday carried out 58,393 inspections, including on 5,405 restaurants, 3,989 supermarkets, 3,860 banks, 1,331 traders, 1,146 factories, 663 government offices, as well as 1,146 land transport terminals, 211 water transport terminals, 108 air transport terminals.
As for ongoing enforcement of tight border controls to avoid illegal immigrants slipping in and to avoid the spread of Covid-19, Ismail Sabri said the authorities yesterday arrested 80 illegal immigrants, six smugglers and one tekong or fishing boat skipper.
Those arrested include 20 illegal immigrants who were detained by the Malaysian Armed Forces at Sungai Nipah Haji Dorani in Sungai Besar, Selangor for not having valid personal identification papers, he said.
"The government will take firm action against anyone who tries to enter the country's borders illegally and the enforcement agencies will continue to tighten control of the border areas especially at lorong-lorong tikus (rat lines)," he said.
As for overseas returnees, Ismail Sabri said a total of 28,063 individuals had during July 24 to September 12 returned to Malaysia and were placed in 69 hotels and eight other premises in Kuala Lumpur, Selangor, Negri Sembilan, Penang, Johor, Sarawak, Kelantan, Perak, Kedah, Perlis, Terengganu, Sabah and Labuan.
Out of the 28,063 returnees, 10,187 are still undergoing mandatory quarantine, 69 were sent to the hospitals for treatment and 17,807 were discharged and allowed to return home, he said.
The 28,063 returnees to Malaysia are from 32 locations, namely the Philippines, Thailand, Indonesia, Cambodia, Singapore, Vietnam, Brunei, Qatar, Pakistan, Saudi Arabia, Hong Kong, India, the United Arab Emirates, Japan, Turkey, South Korea, Iran, Nepal, Bangladesh, Myanmar, Timor Leste, Taiwan, China, UK, the Netherlands, Papua New Guinea, Egypt, Spain, France, Australia, New Zealand and the US, he said.
https://www.malaymail.com/news/malaysia/2020/09/13/ismail-sabri-512-arrests-yesterday-including-over-private-parties-activitie/1902796
-------
Africa
Southern Kaduna: Fresh killings may derail peace deal – Miyetti Allah
September 13, 2020
Frank Ikpefan
The Kaduna State chapter of Miyetti-Allah Cattle Breeders Association of Nigeria (MACBAN) has condemned recent attacks in some communities in Southern Kaduna.
The organisation stated that the renewed attacks were contrary to the spirit of the ongoing efforts to bring peace to the area and cautioned those it labelled as "criminal elements" to refrain from carrying out further attacks in the area.
It stated that three of its members – Abdullahi Hassan, Yusuf Hassan and Abubakar Hassan, were killed in the "unprovoked" attack, blaming people who are "hell-bent on sabotaging the peace processes in the area," for the killings.
In a statement by its Director of Media and Publicity, Bayero Zango, Miyetti-Allah said the attacks resulted in the death of three cows while some Fulani pastoralists were chased away from their places of abode.
The statement said: "Our attention has been drawn to the recent attacks on Fulani pastoralists, which were carried out by suspected criminals in Atyap Chiefdom at Sagwaza and Kurmin Masara, where one Fulani person, AbdulRashid Lawal Malam was killed at Kurmin Masara on Wednesday 9th September. 2020.
"Earlier, another incident occurred on Tuesday 8th September, 2020, at Sagwaza, where some suspected Atyas kataf criminals attacked some innocent Fulani pastoralists and injured one Malam Hassan and his son Musa Hassan, who are currently receiving treatment in a private hospital at Zonkwa in Zangon Kataf Local Government Area.
"We condemn these unprovoked attacks by these Atyap criminal elements, who are hell-bent on sabotaging the peace processes in the area.
"We are appealing to the perpetrators of these attacks to, in the interest of peace, refrain from these breaches of the peace accord that was reached and respect their leaders and parents who are working day and night to restore peace, law and order in the area."
The group expressed its appreciation to the Commander of Operation Safe Haven, Major General Chukwuemeka Okwonkwo, his men and the Special Forces, for its quick responses. It also expressed appreciation to Rev. (Dr.) Yakubu Pam, Chairman, Northern Christians Association of Nigeria who is also the Executive Secretary, National Christians Pilgrims Commission, for his commitment to ensuring that peaceful coexistence return to Southern Kaduna by organising a three-day Peace Summit at Kafanchan.
"We also strongly commend the efforts and commitment of the Kaduna State governor, Malam Nasir Ahmed El Rufa, for demonstrating deep commitment in bringing to an end the killings in the area, through his quick response and for supporting all the peace processes in Southern Kaduna.
https://thenationonlineng.net/southern-kaduna-fresh-killings-may-derail-peace-deal-miyetti-allah/
--------
Late Wa Imam's family rejects GH¢20k funeral donation from Bawumia
EMMANUEL AYAMGA
September 12, 2020
The Vice President intended to donate the money as his support for the funeral and burial rites of the late Islamic cleric.
3news reports that the family rejected the donation, saying they cannot take it because the funeral rites have already been concluded.
They, however, acknowledged the kind gesture of Dr Bawumia, before raising some concerns.
A statement from the Head of the Limanyiri Family, Alhaji Issaka Mahama Bawmara said: "Besides, the Vice President never showed up in person to mourn with the family when he paid a visit to the region on the 7th of September, 2020.
"The money was only sent through the constituency Chairman of the NPP for Wa Central which is unethical."
The statement also detailed the tension that existed between the late Imam and the Upper West Region Minister.
It said the Regional Minister, Hafiz Bin Salih, constantly prevented the Imam from performing his religious duties at the Central Mosque.
According to the release, the "embattled" Imam called on the presidency to intervene but no response came at the time.
"The Regional Minister used the powers vested in him by the Presidency to promote and support a rival faction as they purport to allegedly depose the Imam.
"Isn't it ironic that neither the President nor his vice found it worthy to attend any of his funeral celebrations nor visit the family to mourn with them even when they visited and toured the Region, yet find it expedient to send money through others to be donated to the family?
"The family however wishes to express its sincere gratitude to the last minute kind gesture by the presidency and wish to state that it however came too late when the final funeral rites has been performed," the release added.
https://www.pulse.com.gh/news/local/late-wa-imams-family-rejects-ghcent20k-funeral-donation-from-bawumia/86sg0sp
---------
URL: https://www.newageislam.com/islamic-world-news/sudarshan-news-upsc-jihad-row/d/122847
New Age Islam, Islam Online, Islamic Website, African Muslim News, Arab World News, South Asia News, Indian Muslim News, World Muslim News, Women in Islam, Islamic Feminism, Arab Women, Women In Arab, Islamophobia in America, Muslim Women in West, Islam Women and Feminism