New Age Islam News Bureau
26 March 2012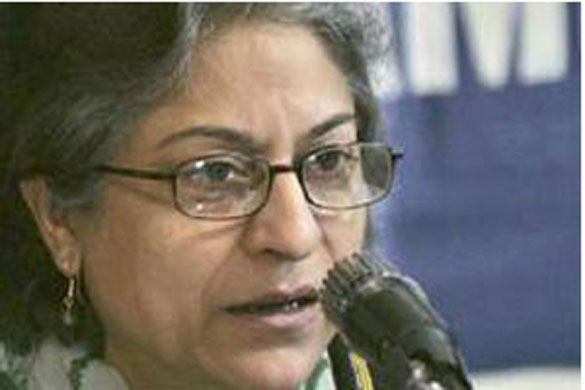 • Fifteen female Kurdish rebels killed in southeast Turkey
• Pakistan: Girl, boy killed in a Honour Killing incident
• Most famous 'face', Fakhra Yunus, of Pak acid attacks kills self
• Pak's deputy attorney gen works off Taliban's sins at Delhi Gurudwaras
• Bangladesh: killing grounds where hundreds of Bangalees were massacred about to be obliterated
• Kazakhstan Puts 47 on Trial on Terrorism Charges
• Israel ends contact with UN Human Rights Council
• In Pakistan, Hindus Say Woman's Conversion to Islam Was Coerced
• Sarkozy to Bar Radical Imams from Entering France
• Turkish Ex-Military Chief Goes on Trial for 'Terrorism'
• Wielding Fire, Islamists Target Nigeria Schools
• Iraqi woman beaten in US, threat note at scene
• India: Muslim body accuses National Investigation Agency of bias
• Blasts shake Homs, 30 killed across Syria
• Unborn Afghan Child Said to Be 17th Victim of Killing Spree
• Muslim Brother picked to lead new Libya party
• French Authorities File Charges Against Brother of Gunman in Toulouse Killings
• Thousands rally in Tunis to demand Islamic law
• J& K surrender sop raises Hizb hackles
• Israel weighs ban on UN human rights council probe
• Iranian leader says US can no longer dictate policy
• India: Maharashtra ATS guns down Ahmedabad terror blast suspect, arrests two
• Foreign soldier among 10 killed in Afghan bombing
• Attacker in Afghan uniform kills two NATO troops
• Syria unrest: Divided opposition seeks 'national pact'
• Huge security operation in Baghdad for Arab summit
• Mansoor Ijaz abused Kashmiri Muslims: JKLF Chairman
• 2007 peace treaty to remain intact: Mullah Nazir group, Pakistan
• Memogate a well-woven story, says Haqqani
• Pakistan greets Hello! It's family read, says magazine
• 'Pak PM to quit if SC decision is unfavourable'
• Salman Rushdie hits party trail with a new girl
• No US charges planned over NATO strike in Pak
• An interpreter of change, Zakaria at Adda today
• Ahmadinejad urges unity against 'aggression'
• Displaced Iraqis still suffering from sectarian war
• US to pursue 'non-lethal' aid for Syrian rebels
• Obama pledges nuclear cuts, warns North Korea and Iran
Complied by New Age Islam News Bureau
Photo: Prominent Pakistani human rights activist Asma Jehangir
URL: https://www.newageislam.com/islamic-world-news/new-age-islam-news-bureau/stop-hair-raising-atrocities-in-baloch--pakistani-human-rights-activist-to-pak-govt/d/6924
---------
Stop Hair-Raising Atrocities in Baloch: Pakistani Human Rights Activist to Pak govt.
Mar 26 2012
New Delhi : Prominent Pakistani human rights activist Asma Jehangir wants Pakistan to put its act together for a time-bound mechanism to address the unrest in Baluchistan while appealing for stopping "hair-raising" atrocities in the troubled province.
Jehangir, who is in India as part of a delegation of Supreme Court Bar Association of Pakistan (SCBAP) attending a seminar organised by Supreme Court Bar Association, said her country was going through a "very difficult" phase which was not comprehended here properly.
"I think that the government (of Pakistan) has to put its act together. First of all, the atrocities which are very tragic, which are hair-raising have to stop," Jehangir said on the sidelines of dinner hosted in her honour by South Asia Free Media Association (SAFMA) and South Asian Women in Media (SAWM) here.
She said Pakistan government has to have "time-bound... political talks so that they can convince the nationalists of a sincere agenda which should be placed into their hands so that the nationalists can execute it themselves".
The whole attitude of giving Baluchistan something should now disappear, she said, adding "the Balochs have to be in-charge as a province for themselves."
Talking about 26/11 Mumbai attacks and Pakistan's inability to bring the perpetrators to book, she said they have denounced it but at the same time India must remember that they go through terrorist attacks every single day.
"We are going through very difficult times and those difficult times are not understood here. We are in a transition and it is a very difficult transition. People are losing hope. We are going through a poverty cycle which is difficult to beat, so I think we need time," Jehangir said.
"No doubt there have been mistakes on our part, but after all people have aspirations, just like Indian people have aspirations," she said.
She said a commission from Pakistan visited India and we should wait for their findings too.
Calling for more people to people contact, she said that events like these help a great deal in connecting to each other and bridging the gap between the two neighbouring
nations.
The dinner was attended by media personalities and jurists. Pakistan High Commissioner Shahid Malik was also present.
http://www.indianexpress.com/news/stop-hairraising-atrocities-in-baloch-asma-jehangir-to-pak-govt/928551/
---------
Fifteen female Kurdish rebels killed in southeast Turkey
Mar 26, 2012
ANKARA: Officials say 15 female Kurdish rebel fighters have been killed in clashes with Turkish security forces in southeast Turkey.
An interior ministry statement today said the rebels -- members of the Kurdistan Workers' Party, or PKK -- were killed in fighting that erupted in the mainly Kurdish province of Bitlis.
It said a government-paid village guard, helping the Turkish security forces, was also killed.
The ministry gave no other information. The death toll is believed to be the highest number of female PKK casualties killed at any one time. The PKK -- believed to have several units of female fighters -- is fighting for autonomy in Turkey's mainly Kurdish southeast.
Tens of thousands of people have died since the conflict began in 1984.
http://timesofindia.indiatimes.com/world/middle-east/Fifteen-female-Kurdish-rebels-killed-in-southeast-Turkey/articleshow/12396289.cms
---------
Pakistan: Girl, boy killed in a Honour Killing incident
Mar 26, 2012
LAHORE: A girl and her alleged lover were killed in a Karo-kari ('honour' killing) incident in Rajanpur, police officials told The Express Tribune on Sunday. The incident reportedly took place on the night between Saturday and Sunday in the Basti Sardar Chang area.
Investigation Officer Ghulam Akbar told The Express Tribune that the deceased, Shahina Bibi and Abdul Malik, were cousins suspected of involvement in an illicit affair. The complaint was registered by Malik's father, Mohkam Din, he added.
According to Din's statement, Malik and Shahina were killed at her father's residence. Din had sought Shahina's hand in marriage for his son, regarding which the two were visiting her father, Muhammad Ali. Muhammad Ali had already concluded his daughter's engagement with her other cousin, Afsar Ali. Unbeknown to either Din or his son, Shahina's family elders, upon suspecting her of illicit relations with Malik, declared both of them 'kari' and passed a death sentence upon them.
Upon their arrival at Muhammad Ali's house, Shahina and Malik were shot by four assailants led by her fiancé Afsar, Din's statement added. He identified the other assailants as Shahina's brother Ashraf and her two cousins, Ataullah and Safdar Ali.
A case against the four has been registered under sections 302 and 311 of the Pakistan Penal Code at the Sadder Rajanpur police station. It is significant to note, that while section 302 deals directly with acts of murder, section 311 directs the court to rule out any later retraction of statements by the accused. According to Investigation Officer Akbar, section 311 had been invoked since Karo-kari related complaints are often retracted later due to mounting community pressures on the aggrieved party.
No arrest has been made so far, despite various raids claimed by Station House Officer (SHO) Inspector Talib Hussain.
http://tribune.com.pk/story/355040/girl-boy-killed-over-suspected-affair/
---------
Most famous 'face', Fakhra Yunus, of Pak acid attacks kills self
Mar 26 2012
Islamabad : Barely a month after Pakistan bagged its first Oscar for a documentary on victims of acid attacks, the country's most famous face of one such assault ended her 13-year ordeal by jumping out of her sixth-floor apartment in Italy.
Fakhra Yunus was 22 when her husband Bilal Khar, a member of the politically strong Khar family of Punjab, marred her life by allegedly throwing acid on her face, just three years after their marriage.
Bilal Khar, a former provincial legislator, is a cousin of Foreign Minister Hina Rabbani Khar.
Following the intervention of Pakistani writer and activist Tehmina Durrani of "My Feudal Lord" fame, Yunus was shifted to Italy where she underwent over three dozen plastic surgeries and intensive counselling. Ironically, Durrani is also the ex-stepmother of Bilal Khar as she was once married to his father Ghulam Mustafa Khar.
During appearances on Pakistani TV news channels last night, Bilal Khar acknowledged that Yunus was working as a prostitute in Karachi when he married her. He further acknowledged that he was married at least twice before his marriage with Yunus. However, he claimed he was not behind the acid attack.
In a touching piece following Yunus' death, Durrani wrote: "At the young age of 22 an acid attack left her only marginally alive, her horrific mutilation disfigured her so completely that she was now confronted by open disgust and contempt by everyone who set eyes on her in Pakistan. She also became a liability to her own family for whom she was once a source of income.
"I have met many acid victims. Never have I seen one as completely disfigured as Fakhra. She had not just become faceless; her body had also melted to the bone. Despite her stark and hopeless condition, the government of the Islamic Republic of Pakistan was not in the least God-fearing. She was provided nothing... but disdain... and trashed."
At Durrani's request, the Italian government urgently arranged for everything Yunus and her then five-year-old son Nauman required. Despite 38 surgeries and efforts to help her lead a normal life, Yunus jumped to her death from her sixth floor apartment in Rome, 13 years after the attack.
"Despite her extremely disturbing image, the gracious people of Italy never ever made her feel she was any different to any one of them! In the beautiful city of Rome, Fakhra was able to walk the streets, laze in the parks, and enter a shop or a restaurant in the most prestigious of places, without an iota of embarrassment. In fact, every waiter served her more respectfully than he did any other, and every person who looked her way smiled and nodded with respect!" Durrani wrote in The News daily.
Haji Allah Din, Yunus' neighbour in Rome, accompanied her body to Karachi yesterday. He told the media that he had seen Yunus an hour before she committed suicide. At the time, Yunus looked at her scarred face in the mirror and wept bitterly, Allah Din said. He said he had left her crying in her apartment, dismissing the incident as a "daily episode".
After funeral prayers at the Edhi Shelter Home, Yunus was buried at a graveyard in the Defence Housing Authority.
Yunus was reportedly jubilant on the day Pakistan's Parliament passed a law under which people responsible for acid attacks could be punished with life imprisonment. She celebrated the Punjab government's vow to get that law implemented in letter and spirit on International Women's Day.
She was also thrilled when filmmaker Sharmeen Obaid Chinoy's documentary "Saving face" won an Oscar.
Yet Yunus pined to return to Pakistan, reports said. "If I don't get back in my lifetime, promise to take my dead body home," she once said.
Durrani quoted an Italian professor who counselled Yunus as saying: "I tried to mend her physical scars but was unable to heal her soul."
http://www.indianexpress.com/news/most-famous-face-of-pak-acid-attacks-kills-self/928582/
---------
Pak's deputy attorney gen works off Taliban's sins at Delhi gurdwaras
Mar 26, 2012
NEW DELHI: A man in a maroon kurta sits hunched on the floor on Sunday afternoon, polishing the shoes of devotees at a room in Delhi's Gurdwara Rakabganj. It's a common sight in gurdwaras, except that this man is Pakistan's deputy attorney general, Muhammad Khurshid Khan, who had requested he be allowed to perform seva ( community service) at the shrine.
Khan, 62, is an eminent lawyer and a devout Muslim from Pakistan's Peshawar province. He is in Delhi for a judicial conference. "I have been more keen on visiting various places of worship here to promote harmony between India and Pakistan," says Khan.
Khan's tryst with temples and gurdwaras began in 2010 to "heal the wounds of minorities in Pakistan by becoming their sevadar (performer of service)". For him, it was a "penance" for crimes committed by the Taliban.
In February that year, the Taliban had kidnapped three Sikhs from Peshawar and demanded a $235,000 ransom. Pakistan army rescued two of them, but the third, Jaspal Singh, was beheaded by the captors. After the killing, Khan performed service at a gurdwara in Peshawar.
Full report at:
http://timesofindia.indiatimes.com/india/Paks-deputy-attorney-gen-works-off-Talibans-sins-at-Delhi-gurdwaras/articleshow/12407550.cms
---------
Bangladesh: killing grounds where hundreds of Bangalees were massacred about to be obliterated
Mar 26, 2012
At least 12 killing grounds (bodhyabhumi), where hundreds of Bangalees were massacred by the Pakistan occupation forces during the War of Liberation in 1971, are about to be obliterated due to neglect by the authorities.
No government or non-government initiatives have been taken to preserve or renovate the killing grounds in four upazilas of the district, local people and freedoms fighters said.
Lalmonirhat District Muktijoddha Sangsad said it identified 12 killing grounds in the district which have almost vanished or lost area mark.
As it was a bordering district, thousands of people fleeing from different areas of the country gathered in Lalmonirhat town and adjoining areas for safety and shelter during 1971 war. But a large number of them were slain by the occupation forces and their cohorts.
Full report at:
http://www.thedailystar.net/newDesign/news-details.php?nid=227801
---------
Kazakhstan Puts 47 on Trial on Terrorism Charges
ALMATY, Kazakhstan (AP) — A court in western Kazakhstan has begun hearing the case of 47 people charged with involvement in terrorist activities.
State news agency Kazinform cites the prosecutors' office in the western Atyrau province as saying that most of the defendants on trial are suspected of preparing and mounting terrorist attacks last year.
The remaining five are charged in connection with blasts in October near the Atyrau provincial administration and the Atyrau city prosecutors' office.
Kazakhstan has been largely untroubled by Islamist-related violence since gaining independence amid the collapse the Soviet Union.
Last year saw an anomalous string of attacks that authorities tied to radical Islamist organizations.
http://www.nytimes.com/aponline/2012/03/26/world/asia/ap-as-kazakhstan-terrorism-trial.html?ref=global-home&gwh=299E5638A2F14E33AA2815DEDA2483B1
---------
Israel ends contact with UN Human Rights Council
26 March 2012
Israel has cut working relations with the UN Human Rights Council, officials say, after it decided to investigate Jewish settlements in the West Bank.
The foreign ministry has reportedly told its envoy in Geneva not to co-operate with the council or with UN Human Rights Commissioner Navi Pillay.
It will also prevent a UN team entering Israel to assess the effects of settlements on Palestinian rights.
Last week, Israel said the decision to establish the probe was "surrealistic".
Negotiations between Israel and the Palestinians on a two-state solution stalled in late 2010 after a dispute over settlement construction.
About 500,000 Jews live in more than 100 settlements built since Israel's 1967 occupation of the West Bank and East Jerusalem. The settlements are considered illegal under international law, though Israel disputes this.
'Superfluous and extravagant'
Full report at:
http://www.bbc.co.uk/news/world-middle-east-17510668
------------
In Pakistan, Hindus Say Woman's Conversion to Islam Was Coerced
By DECLAN WALSH
Mar 26, 2012
GHOTKI, Pakistan — Banditry is an old scourge in this impoverished district of southern Pakistan, on the plains between the mighty river Indus and a sprawling desert, where roving gangs rob and kidnap with abandon. Lately, though, local passions have stirred with allegations of an unusual theft: that of a young woman's heart.
In the predawn darkness on Feb. 24, Rinkel Kumari, a 19-year-old student from a Hindu family, disappeared from her home in Mirpur Mathelo, a small village off a busy highway in Sindh Province. Hours later, she resurfaced 12 miles away, at the home of a prominent Muslim cleric who phoned her parents with news that distressed them: Their daughter wished to convert to Islam, he said.
Their protests were futile. By sunset, Ms. Kumari had become a Muslim, married a young Muslim man, and changed her name to Faryal Bibi.
Full report at:
http://www.nytimes.com/2012/03/26/world/asia/pakistani-hindus-say-womans-conversion-to-islam-was-coerced.html?ref=world
---------
Sarkozy to Bar Radical Imams From Entering France
Mar 26, 2012
PARIS (Reuters) - France will bar radical Muslim preachers from entering the country to participate in an Islamic conference next month as part of a crackdown after shootings by an al Qaeda-inspired gunman, President Nicolas Sarkozy said on Monday.
Sarkozy, who has announced plans to punish those viewing Islamist Web sites and going abroad for indoctrination, said he would block the entry of some imams invited to a congress organized by the Union of French Islamic Organizations (UOIF).
The UOIF, one of three Muslim federations in France, is regarded as close to Egypt's Islamist Muslim Brotherhood.
"I have clearly indicated that there certain people who have been invited to this congress who are not welcome on French soil," Sarkozy told France Info radio.
He cited Sheikh Youssef al-Qaradawi, an Egyptian cleric based in Qatar who is one of the most prominent Sunni Muslim clerics in the Arab world and a household name in the Middle East due to regular appearances on the Al Jazeera news channel.
Full report at:
http://www.nytimes.com/reuters/2012/03/26/world/middleeast/26reuters-france-election.html?ref=global-home&gwh=834A9209871BE671150A29B7158503CC
---------
Turkish Ex-Military Chief Goes on Trial for 'Terrorism'
Mar 26, 2012
SILIVRI, Turkey (Reuters) - Turkey's former armed forces chief raised a clenched fist and waved to supporters when he faced terrorism charges on Monday in a historic trial that demonstrates the ebbing power of an army that once ranged above political leaders in the country.
The court, sitting in the Silivri high security prison complex, underlined the fall of the military by denying General Ilker Basbug's opening appeal to have his case considered by the Supreme Court.
Basbug, chief of staff from 2008 to 2010, is accused of being a leader of a shadowy network dubbed "Ergenekon", behind a string of alleged plots against the government of Prime Minister Tayyip Erdogan. His lawyer, however, said at the weekend the case targeted not only Basbug, but also "the Turkish armed forces and even, in political terms, the state."
The trial encroaches on sensitive territory in a country that saw three coups in the second half of the 20th century.
Full report at:
http://www.nytimes.com/reuters/2012/03/26/world/europe/26reuters-turkey-general.html?ref=global-home
---------
Wielding Fire, Islamists Target Nigeria Schools
By ADAM NOSSITER
Mar 26, 2012
MAIDUGURI, Nigeria — The teenager in the immaculate white robe stood in the ruins of what had been his school. There were no classrooms, no desks or chairs, no intact blackboards — there was, in fact, no longer any reason for him to be there.
Yet the teenager, Aruna Mustapha, and a friend had come to sign in anyway, just as they did every morning before the fire, expressing a hunger for education and a frustration with the insurgents bent on preventing it.
"We can't stay at home any longer; we want to come to school, to learn," explained Aruna, 16. "I'm fed up. I want to be in school."
The insurgent violence stalking northern Nigeria has struck a long list of official targets, killing police and army officers, elected officials, high-ranking civil servants, United Nations workers and other perceived supporters of the Nigerian government.
Now it has an ominous new front: a war against schools.
Full report at:
http://www.nytimes.com/2012/03/26/world/africa/in-nigeria-boko-haram-targets-schools.html?_r=1&ref=global-home
---------
Iraqi woman beaten in US, threat note at scene
Mar 26, 2012
EL CAJON (CALIFORNIA): A 32-year-old woman from Iraq was critically injured after being severely beaten in her Southern California home, and police said a threatening note was discovered at the scene.
The woman's 17-year-old daughter found her unconscious Wednesday morning in the dining room of the house in El Cajon, police Lt Steve Shakowski said. Authorities identified the victim as Shaima Alawadi, a mother of five.
The daughter told KUSI-TV that her mother had been beaten on the head repeatedly with a tire iron.
Full report at:
http://articles.timesofindia.indiatimes.com/2012-03-25/us/31236499_1_note-iraqi-woman-head-scarf
---------
India: Muslim body accuses National Investigation Agency of bias
26 MARCH 2012
The National Investigation Agency's (NIA) U-turn on the Malegaon blasts giving a lease of life to seven Muslim youths has led a Muslim organisation to seek reinvestigation of all bomb blast cases since 2002.
The organisation contends that probe agencies did similar shoddy work in failing to nab the real perpetrators of the attacks.
Producing a list of four cases involving blasts at Malegaon, Samjhauta Express, Mecca Masjid and Ajmer Sharif in its petition before the Supreme Court, the Legal Cell secretary of Jamaat-ul-Ulema's Maharashtra unit, Gulazar Ahmed Azmi, claimed that Muslims were wrongly targeted as the NIA chargesheet accused a totally different set of persons not linked with the arrested Muslim youths.
The Bench of Justices TS Thakur and GS Mishra, who were reluctant to allow reopening of all blast cases, however, permitted the petitioner two weeks' time to place on affidavit the list of similar cases where NIA investigation told a different story as compared to the investigation carried out by the State police or CBI.
Senior advocate Amarendra Sharan, who appeared for the petitioner, informed the Court that a high level enquiry headed by a judge of the Supreme Court could be constituted to monitor the cases.
Full report at:
http://www.dailypioneer.com/nation/52627-muslim-body-accuses-nia-of-bias-.html
---------
Blasts shake Homs, 30 killed across Syria
Mar 26, 2012
BEIRUT - Blasts rocked the flashpoint city of Homs on Sunday as Syria's regime pressed its assault on protest hubs, with another 30 people, including 18 civilians, killed in violence across the country, activists and monitors said.
There was "heavy shelling of Khaldiyeh, Hamidiyeh and Old Homs neighbourhoods by the regime's army, and explosions shook the whole city," the Local Coordination Committees said.
The Syrian Observatory for Human Rights, a Britain-based monitoring group, said in a statement that five civilians were killed by security force fire in the Homs area.
Four, including an infant, died in Homs itself, while a fifth — a young girl — was killed in Rastan by heavy machinegun fire. The Observatory also said a member of the security forces was killed in Homs city.
In the central Hama region to the north, the monitoring group said army shelling killed five civilians in the Murk and Latamna districts.
And in the southern town of Nawa, tanks entered the main streets, and heavy clashes broke out between regime forces and deserters, said the Observatory and the LCC, the main opposition activist group in Syria. Three soldiers and six rebel fighters were reportedly killed.
Full report at:
http://www.khaleejtimes.com/displayarticle.asp?xfile=data/middleeast/2012/March/middleeast_March566.xml&section=middleeast&col=
---------
Unborn Afghan Child Said to Be 17th Victim of Killing Spree
By ROD NORDLAND
Mar 26, 2012
KABUL, Afghanistan — The United States military has charged Staff Sgt. Robert Bales with murder for the death of the unborn baby of one of the victims, a senior Afghan police official said on Monday.
That would explain the ongoing discrepancy between American and Afghan officials over whether Sergeant Bales killed 17 Afghan civilians, according to the military's formal charges, or 16, the number of dead according to Afghan officials.
"The Americans are right and one of the females was pregnant, which is why they are saying 17," Kandahar Province Police Chief Brig. Gen. Abdul Razak said.
American officials were not immediately available for comment, and a spokesman for the International Security Assistance Force referred all questions to the United States Army in Washington State, where Sergeant Bales's unit was based.
Full report at:
http://www.nytimes.com/2012/03/27/world/asia/unborn-afghan-child-said-to-be-17th-victim-of-killing-spree.html?ref=global-home
---------
Muslim Brother picked to lead new Libya party
By Dominique Soguel
Mar 26 2012
TRIPOLI — Libyan Islamists and independents on Saturday formed a new political party, electing as its leader a Muslim Brotherhood member who was a political prisoner under the regime of dead dictator Moamer Kadhafi.
Mohammed Sawan, jailed for eight years under the ousted regime of Kadhafi who had outlawed political parties as an act of treason, was elected Justice and Construction party leader after a three-day conference in the capital.
"I have real mixed feelings because I was imprisoned under Kadhafi for my attempts to create a political party, and I am grateful to the people here who have placed their trust in me," Sawan told AFP.
The Tripoli meeting brought together hundreds of people keen to take part in the launch of the new party. Votes on a wide range of issues, including the party's name, were taken by a show of hands.
Full report at: Copyright © 2012 AFP. All rights reserved
---------
French Authorities File Charges Against Brother of Gunman in Toulouse Killings
By SCOTT SAYARE
Mar 26 2012
PARIS — Investigating judges on Sunday filed preliminary murder and terrorism charges against the older brother of the man who confessed to killing seven people in southwest France, saying that the killer acted with the guidance of his brother, an Islamic radical who reportedly had ties to at least one jihadist network. The brother denies involvement in the fatal shootings, his lawyer said.
The police detained the gunman's brother, Abdelkader Merah, 29, at his home outside Toulouse early on Wednesday, saying that they suspected Mr. Merah and his brother, Mohammed, 23, in the killings. Simultaneously, the police tried to detain Mohammed Merah, who repeatedly fired on officers and claimed responsibility for the attacks before being killed in a shootout with police commandos on Thursday, after a standoff that lasted more than 30 hours.
Full report at:
http://www.nytimes.com/2012/03/26/world/europe/french-officials-want-to-investigate-gunmans-brother.html
---------
Thousands rally in Tunis to demand Islamic law
Mar 26, 2012
TUNIS — At least 8,000 Islamists staged a mass demonstration in central Tunis on Sunday in the latest show of force to demand the adoption of Islamic law in the north African country.
"The people want an Islamic state", "the people want sharia (Islamic law)," chanted the protesters, whose number was estimated by a police officer on site at between 8,000 and 10,000.
Tunisia's moderate Islamist leaders, who took power following last year's ouster of strongman Zine El Abidine Ben Ali after a popular uprising, are under pressure to adopt sharia law in the new constitution.
Demonstrators also condemned as "an unacceptable crime" and a "provocative act" the desecration of the Koran and religious sites in incidents in Tunisia last week.
Copies of the Muslim holy book were found torn in a mosque in the southeastern town of Ben Guerdane and eggs splattered on its walls while in Tunis, the Star of David was daubed on the walls of a mosque used as a base for Salafist rallies.
Copyright © 2012 AFP. All rights reserved.
---------
J& K surrender sop raises Hizb hackles
By Naseer Ganai
Mar 26, 2012
THE response to the J& K government's surrender policy for militants who crossed over to Pakistan- occupied Kashmir( PoK) has peeved Hizbul Mujahideen chief Syed Salahuddin.
The rehabilitation policy of giving safe passage to militants who want to return to J& K from training camps across the LoC — though not yet implemented — has received a response encouraging enough to create ripples in the Hizbul camp in PoK. " The most precious thing for a human being is honour and dignity. I put a curse for one thousand times on those who return to Kashmir in a way they have to surrender before and seek forgiveness from the enemy and go behind bars," Salahuddin, head of the United Jehad Council, said in Muzaffarabad on Saturday.
In February 2010, chief minister Omar Abdullah had promised amnesty to militants who crossed over to PoK for arms training but wanted to surrender and return. The idea also found support with Union home minister P. Chidambaram.
To seek benefits under the rehabilitation policy, parents of the youths who had crossed over were required to approach the police certifying that their son( s) want to return and live a normal life. Those who have crossed over are required to write to their families in J& K to get their cases listed.
Full report at: Mail Today
---------
Israel weighs ban on UN human rights council probe
Mar 26, 2012
JERUSALEM: Israeli Cabinet ministers were in an uproar on Sunday over the UN Human Rights Council's plan to investigate Israeli settlement in the West Bank and east Jerusalem, and some urged that the panel be banned from entering Israel and the Palestinian territories.
Israel's Security Cabinet, made up of senior ministers, was set to meet later Sunday to discuss the planned visit, an official said, speaking on condition of anonymity because the meeting's agenda was classified. Last week the UN council voted to send a fact-finding team to investigate Israeli settlement construction in a resolution that also condemned such activity. It was one of five resolutions critical of Israel passed on the same day.
Israel accuses the council of having a pronounced anti-Israel bias because of its disproportionate focus on Israeli policy and actions toward the Palestinians, while it ignores human rights abuses in countries such as Iran and Arab nations. "It's clear the Palestinians are preparing a Goldstone 2 (report)," Deputy Foreign Minister Danny Ayalon, who wants the council banned, told Israel Radio on Sunday.
Full report at:
http://www.dailytimes.com.pk/default.asp?page=2012\03\26\story_26-3-2012_pg4_6
---------
Iranian leader says US can no longer dictate policy
March 26, 2012
Iranian President Mahmoud Ahmadinejad said on Monday that the United States could no longer dictate policy to the rest of the world and relations between Nato and Pakistan would become more unstable.
"Nato and the United States should change their policy because the time when they
dictate their conditions to the world has passed," Ahmadinejad said in a speech during a conference on Afghanistan's economy in the capital of neighbouring Tajikistan.
"Relations between Nato and Pakistan, their unsteadiness and instability, will only grow," he said.
http://www.hindustantimes.com/world-news/RestOfAsia/Iranian-leader-says-US-can-no-longer-dictate-policy/Article1-830925.aspx
---------
India: Maharashtra ATS guns down Ahmedabad terror blast suspect, arrests two
Mar 26, 2012
AURANGABAD/MUMBAI: A suspect in the 2008 Ahmedabad blasts was killed and two of his accomplices arrested in an encounter with Maharashtra ATS on Monday which also left a constable wounded at Aurangabad.
The deceased has been identified as Khaleel, a resident of Gulmohar Colony in Ahmedabad, police said.
The encounter occurred near Uddhav Rao Patil Chowk in Himayat Bagh area of the town around 12.30pm, sources said, adding two accomplices of Khaleel identified as Mohammed Shabbir and Abrar, were arrested in an injured condition after the encounter in which an ATS constable Sheikh Arif was also wounded.
All three have been admitted to the Government Medical College and Hospital at Aurangabad, the sources said.
One of the two arrested was also involved in the murder of a BJP activist, they said.
Ahmedabad was rocked by 21 bomb blasts in July 2008 within a span of 70 minutes in which 56 people were killed and over 200 injured.
http://timesofindia.indiatimes.com/india/Maharashtra-ATS-guns-down-Ahmedabad-terror-blast-suspect-arrests-two/articleshow/12414443.cms
---------
Foreign soldier among 10 killed in Afghan bombing
Mar 26, 2012
KANDAHAR: Eight Afghan security officials and a foreign soldier were among 10 people killed in a Taliban-style roadside bombing in the southern province of Kandahar, officials said on Sunday.
"Last night there was an improvised explosive device (IED) attack," Arghandab district local administration chief Shah Muhammad told AFP.
Provincial government spokesman Zalmai Ayoubi said an International Security Assistance Force (ISAF) soldier, six Afghan policemen, two Afghan army soldiers and a translator working for the foreign forces were killed in the bombing. An ISAF serviceman and another Afghan policeman were injured, Ayoubi added. Separately, the NATO-led foreign forces said one service member had died "following an IED attack in southern Afghanistan yesterday". A spokesman declined to give further details or confirm Afghan casualties.
But a Western security source confirmed to AFP that the Afghan and ISAF reports were referring to the same incident.
Full report at:
http://www.dailytimes.com.pk/default.asp?page=2012\03\26\story_26-3-2012_pg7_14
---------
Attacker in Afghan uniform kills two Nato troops
Mar 26, 2012
KABUL: Officials say an Afghan in an army uniform has shot and killed two international service members inside a Nato base in southern Afghanistan.
Nato spokesman Maj. Jason Waggoner says the attack happened Monday morning in southern Afghanistan. He says a man in an Afghan army uniform killed two service members and the gunman was shot dead. He declined to provide further details.
A Western official in southern Afghanistan confirmed that the incident happened at a base in Lashkar Gah, Helmand province, but declined to give further details. The official spoke on condition of anonymity because the information had not been officially released.
http://www.dawn.com/2012/03/26/attacker-in-afghan-uniform-kills-2-nato-troops.html
---------
Syria unrest: Divided opposition seeks 'national pact'
26 March 2012
Syria's divided opposition groups are meeting in Istanbul to try to achieve a more united front in their efforts to oust President Bashar al-Assad.
The main opposition coalition, the Syrian National Council (SNC), has said it wants to draw up a "national pact" of common objectives.
The Arab League and Turkey want the opposition to unite before next week's "Friends of Syria" summit in the city.
Meanwhile, activists say security forces have again been bombarding Homs.
Video posted online showed flames and thick black smoke at two locations in the city, which has been a focus of anti-government unrest.
The Syrian Observatory for Human Rights said at least five civilians had been wounded seriously by shelling in the central district of Warsheh.
"Every day the shelling goes on. The regime is wiping out the city," Walid Faris, an activist in Homs, told the Reuters news agency.
Shelling was also reported in Hama, and tanks were seen in the streets of the southern town of Nawa, the Local Co-ordination Committees said.
Full report at:
http://www.bbc.co.uk/news/world-europe-17508096
-----------
Huge security operation in Baghdad for Arab summit
26 March 2012
A huge security operation has begun in the Iraqi capital Baghdad, days before an Arab League summit.
Airspace around the city has been closed until Thursday and more than 100,000 security forces personnel have been deployed.
The meeting will mainly focus on the crisis in Syria, but will also be seen as a test for the Iraq government following the violence of recent years.
There have been several bombings across Iraq since US troops left in December.
More than 50 people were killed in a series of co-ordinated attacks on Tuesday, the deadliest of which struck the cities of Karbala and Kirkuk.
Searches
The BBC's Wyre Davies in Baghdad says the security for this week's Arab League summit, the first such meeting to be held there since Saddam Hussein's forces invaded Kuwait in 1990, is extraordinarily tight.
Safa Hussein
Full report at:
http://www.bbc.co.uk/news/world-middle-east-17510663
----------
Mansoor Ijaz abused Kashmiri Muslims: JKLF Chairman
ISLAMABAD: Jammu and Kashmir Liberation Front (JKLF) chairman Yasin Malik has alleged that Mansoor Ijaz abused Kashmir Muslims at a conference in India.
Yasin Malik is appearing before the judicial commission tasked with probing the memo scandal.
Malik claimed that Ijaz was appearing at the conference as a guest of former US President Bill Clinton.
In his statement to the memo commission, Malik called Ijaz a mad person and said that when Ijaz crossed his limits during the conference, he threw a shoe at him and snatched the microphone.
Malik had requested the Supreme Court to allow him to become a party before the commission after Mansoor Ijaz had alleged that he had arranged a meeting between Malik and then-chief of Indian intelligence agency, Research and Analysis Wing (RAW) at the behest of US government.
http://www.thenews.com.pk/article-41640-Ijaz-abused-Kashmiri-Muslims:-Malik
---------
2007 peace treaty to remain intact: Mullah Nazir group, Pakistan
March 26, 2012
DERA ISMAIL KHAN / PESHAWAR: Even as security forces pressed ahead with the operation against militants in Wana (South Waziristan) on Sunday, a senior commander of the Mullah Nazir group said that the 'peace treaty' they had entered with the authorities in 2007 will stay intact.
The forces killed some 40 militants on Saturday – the first day of the operation – mostly those who had returned to South Waziristan under a deal with the Mullah Nazir group.
Six children were reported injured in the ongoing operation on Sunday.
An Inter Services Public Relations (ISPR) statement said that 35-40 militants were killed in the operation with the help of Mehsud and Wazir tribesmen. Some of the militants were behind attacking security personnel in Balochistan.
In separate incidents across Khyber-Pakhtunkhwa (K-P) and Khyber agency, a tribal elder was shot dead, two children died in a bomb blast, while a telecom tower was blown up. Moreover, three people went missing in Tank.
Hospital staff told The Express Tribune that the children who suffered injuries were Sajad Khan, Sikandar Khan, Aeysha, Surayya, Ana Adil and Nawal Khan.
Full report at:
http://tribune.com.pk/story/355047/2007-peace-treaty-to-remain-intact-mullah-nazir-group/
---------
Memogate a well-woven story, says Haqqani
ANITA JOSHUA
Mar 26, 2012
The former Pakistan Ambassador to the U.S., Husain Haqqani, has dismissed the allegations levelled against him in the 'Memogate' case as a "well-woven" story that the author, Pakistani-American businessman Mansoor Ijaz, put together on the basis of random telephone calls and some e-mails unrelated to the specific charge.
This affidavit — notarised and attested in Washington as Mr. Haqqani is presently out of the country — is due to be submitted on Monday to the Supreme Court-appointed judicial commission hearing the case in Islamabad.
According to Mr. Haqqani, there is no human witness to support Mr. Ijaz's claim that he drafted and delivered the "disputed memo" to the former U.S. Joint Chiefs of Staff Chairman, Mike Mullen, through an intermediary on the request of the former Ambassador. In the memo, the Zardari-led dispensation sought Washington's help in pre-empting a coup following the U.S. raid in Abbottabad to take out al-Qaeda leader Osama bin Laden.
Airing his opinion of the entire controversy in the affidavit, Mr. Haqqani said: "It is apparent to me that around May 9-12, Mr. Ijaz created a trail of text and BlackBerry messenger (BBM) exchanges that he could line up alongside contemporaneous telephone calls to falsely and maliciously implicate me in his own scheme and specifically create evidence that I was involved in a memo that he drafted and gave to General James Jones for onward transmission to Admiral Mike Mullen."
Full report at:
when the e-mail and BBM exchange with Mr. Haqqani is said to have taken place.
http://www.thehindu.com/news/international/article3223545.ece
---------
Pakistan greets Hello! It's family read, says magazine
Mar 26, 2012
Given the general perception of Pakistan in the West, this was not the country where one expected the international celebrity and lifestyle monthly magazine, 'Hello!', to make a foray. But, against the odds, 'Hello! Pakistan' is all set to launch sometime next month and the press conference organised here on Saturday provided a sampling of the possible potholes ahead for this venture.
Unveiling plans for 'Hello! Pakistan' with a dummy cover featuring half-Pakistani actress Nargis Fakhri in an off-shoulder attire and talking about her debut in a Bollywood film, the magazine's team was walking into a minefield. The inevitable question came soon enough: "Have you got a no-objection certificate from the Jama'at-e-Islami?''
Evidently, the team had come prepared for such a line of questioning. Consulting Editor Wajahat S. Khan said: "This is our Pakistan also as much as it is theirs. Go take a look at the bookshops in town and see for yourself how many such magazines are available in the market.''
Full report at:
http://www.thehindu.com/news/international/article3220620.ece
---------
'Pak PM to quit if SC decision is unfavourable'
Mar 26, 2012
ISLAMABAD: Facing immense pressure to reopen graft cases against the President, Pakistan's embattled Premier Yousuf Raza Gilani has decided to quit if an "unfavourable decision" is made by the Supreme Court in the contempt case against him, a media report said on Monday.
Gilani made up his mind after consulting the leadership of the Pakistan People's Party and its allies in the ruling coalition, the Daily Times newspaper quoted its sources in the PPP as saying.
The PPP's leadership decided that Gilani would tender his resignation before the Supreme Court in person if he faced any "situation" in the contempt case.
The premier will tell the court about the government's Constitutional stance on the issue of presidential immunity.
Full report at:
http://timesofindia.indiatimes.com/world/pakistan/Contempt-case-Pak-PM-to-quit-if-SC-decision-is-unfavourable/articleshow/12413646.cms
---------
Salman Rushdie hits party trail with a new girl
Mar 26, 2012
THE NEW YORK social scene has become rather more highbrow in recent months with the addition of famous author Salman Rushdie to its ranks.
The writer has been seen at a number of high- profile events in the Big Apple, often accompanied by a young woman.
His reinvention as a socialite is all the more surprising since he is best known for spending years in hiding to escape threats of violence from Islamic fundamentalists.
Rushdie went to ground for nearly a decade following the uproar over his depiction of the Prophet Muhammad in 1988- novel The Satanic Verses . A fatwa calling on Muslims to assassinate the author was issued by Ayatollah Khomeini the following year, causing Rushdie to disappear from the public eye.
But now the writer is highly visible, according to the New York Times , as he is primarily based at his home near the city's Union Square.
Full report at: Mail Today
---------
No US charges planned over NATO strike in Pak
Mar 26 2012
The US military has decided that no service members will face disciplinary charges for their involvement in a NATO airstrike in November that killed 24 Pakistani soldiers, an accident that plunged relations between the two countries to new depths and has greatly complicated the allied mission in Afghanistan.
A US investigation in December found fault with both American and Pakistani troops for the deadly exchange of fire, but noted that the Pakistanis fired first from two border posts that were not on coalition maps, and that they kept firing even after the Americans tried to warn them that they were shooting at allied troops. Pakistan has rejected these conclusions and ascribed most of the blame to the American forces.
The American findings set up a second inquiry to determine whether any American military personnel should be punished. That recently completed review said no, three senior military officials said, explaining that the Americans fired in self-defence. Other mistakes that contributed to the fatal cross-border strike were the regrettable result of battlefield confusion, they said.
"We found nothing criminally negligent on the part of any individual in our investigations of the incident," said one senior US military official involved in the process, who spoke on the condition of anonymity.
Full report at:
http://www.indianexpress.com/story-print/928311/
---------
An interpreter of change, Zakaria at Adda today
Mar 26 2012
New Delhi : For more than a decade, the world has been undergoing its third great power shift, as America's dominance shrinks. This new world requires a new thinking, and Fareed Zakaria has been that interpreter of change, ever since he took over as editor of Newsweek International in 2000.
Now editor-at-large and columnist with Time magazine, Zakaria is the guest on Monday night at the Express Adda in New Delhi.
The Adda is a series of conversations with people at the centre of change, and has earlier hosted Financial Times commentator Martin Wolf, New York Times columnist Thomas L Friedman, actors Shah Rukh Khan and Vidya Balan, and BJP leader Arun Jaitley. Zakaria will be in conversation with Shekhar Gupta, Editor-in-Chief of The Indian Express, and Express Contributing Editor C Raja Mohan.
Full report at:
http://www.indianexpress.com/story-print/928370/
---------
Ahmadinejad urges unity against 'aggression'
By Akbar Barisov
Mar 26, 2012
DUSHANBE — Iranian President Mahmoud Ahmadinejad called on regional powers Sunday to unite against "aggression" as he gathered with his counterparts from Afghanistan and Pakistan for security talks.
Ahmadinejad said celebrations for the Iranian New Year holiday Nowruz showed that life only improved after a "hard winter" when friends joined forces.
"Nowruz represents a battle between the forces of light against those of darkness, the fight against injustice," Ahmadinejad said at a ceremony hosted by Tajik President Emomali Rahmon and attended by some 15,000 spectators.
"Nowruz is traditionally viewed as a new day without poverty, aggression, instability, crime, discrimination, occupation and the abasement of human dignity," Ahmadinejad said.
"All people have the right to live their life in dignity."
Ahmadinejad was due to meet Pakistani President Asif Ali Zardari and Afghan leader Hamid Karzai on Monday for a formal round of talks aimed at forging a joint stance in the restive region.
Full report at: Copyright © 2012 AFP. All rights reserved.
---------
Displaced Iraqis still suffering from sectarian war
Mar 26, 2012
Iraq's brutal sectarian war has died down from its peak in 2006 and 2007, but the UN says some 1.3 million Iraqis remain internally displaced persons (IDPs) - Iraqis living in their country, but driven from their homes
TALIB al-Ajami stands near his makeshift house in a garbage and sewage-filled slum in north Baghdad holding a torn, creased letter from insurgents who drove him from his home in 2006. "In the name of God, the Beneficent, the Merciful," the letter begins, but the only mercy in what follows is that Talib received a 'final warning' instead of being killed outright. "We know about you and your mean, sectarian activities, and it is time for every soul that holds destruction and hatred for this country to die," it says.
"You should know that you are a target for us wherever you go. This published statement is for the traitors who live in Khamis al-Tajah," a small village near Abu Ghraib, west of Baghdad. The letter, which is signed the "Advisory Council of the Mujahedeen", was the second Talib had received in 2006. One of his brothers was murdered without warning, and Talib decided to leave. He now lives in a shanty town called Mukhayamat.
Full report at:
http://www.dailytimes.com.pk/default.asp?page=2012\03\26\story_26-3-2012_pg4_9
---------
US to pursue 'non-lethal' aid for Syrian rebels
Mar 26, 2012
SEOUL, South Korea - Seeking to stem the violence in Syria, the U.S. and other key allies are considering providing Syrian rebels with communications help, medical aid and other "non-lethal" assistance.
President Barack Obama discussed the potential aid options Sunday in a lengthy private meeting with Turkish Prime Minister Recep Tayyip Erdogan. Both leaders are in Seoul, South Korea, for a nuclear security summit.
Turkey has been a key U.S. partner in international efforts to quell violence in neighboring Syria and push President Bashar Assad to leave power. The United Nations estimates 8,000 people — many civilian protesters — have been killed in yearlong clashes between forces loyal to Assad and opposition fighters.
Ben Rhodes, the White House deputy national security adviser for strategic communication, said Sunday that communications assistance could be critical to the opposition's efforts.
"It's important to the opposition as they're formulating their vision of an inclusive and democratic Syria to have the ability to communicate," Rhodes told reporters traveling with Obama.
Full report at:
http://www.khaleejtimes.com/DisplayArticle08.asp?xfile=data/middleeast/2012/March/middleeast_March560.xml&section=middleeast
---------
Obama pledges nuclear cuts, warns North Korea and Iran
Mar 26, 2012
SEOUL: US President Barack Obama said on Monday the United States would further cut its own nuclear stockpiles, as he warned North Korea and Iran to back down over their atomic plans.
Obama delivered a hard-hitting address in Seoul before a nuclear security summit opened, seeking to build global momentum in the drive to eliminate or safeguard material that could be used to make thousands of bombs.
He said major progress had been made since the initiative was launched two years ago, citing a number of countries that had removed their stockpiles and forecasting more commitments from other nations during the two-day summit.
"But we're under no illusions. We know that nuclear material -- enough for many weapons -- is still being stored without adequate protection," he said.
"We know that terrorists and criminal gangs are still trying to get their hands on it, as well as the radioactive material for a dirty bomb... the danger of nuclear terrorism remains one of the greatest threats to global security."
Full report at:
http://timesofindia.indiatimes.com/world/rest-of-world/Obama-pledges-nuclear-cuts-warns-North-Korea-and-Iran/articleshow/12413873.cms
URL: https://www.newageislam.com/islamic-world-news/new-age-islam-news-bureau/stop-hair-raising-atrocities-in-baloch--pakistani-human-rights-activist-to-pak-govt/d/6924