New Age Islam News Bureau
16 Apr 2020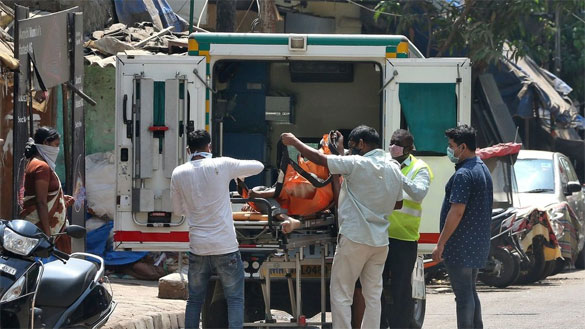 Health workers carry a man suspected of Covid-19 to shift him to a hospital at Shahu Nagar in Mumbai, India, April 2, 2020. © Reuters / Prashant Waydande
-------
• 'Stop Adding Religious Colour to Our Fight Against Covid-19': India Slams US Panel for Accusing It of Segregating Muslim Patients
• Actor Aayush Sharma Says He Always Wanted Kids to Have Muslim First Name and Hindu Surname
• Coronavirus Lockdown: Pak Govt To Negotiate with Religious Leaders Over Closure of Mosques
• At Syria 'S Great Umayyad Mosque, Six Muezzins Sit Before A Loudspeaker, Collectively Reciting the Call to Prayer That Can Be Heard Across the Ancient Quarters of Damascus
• Ghani Urges Taliban To Positively Respond to Demands Of UN, Regional Countries, Afghan Nation
• Indonesia Takes an Ultra-Nationalist Turn Against Islamic Populism
• Egypt's Mosques To Remain Closed Until No Coronavirus Cases Are Detected: Religious Endowments Ministry
• Bradford Kurdish Mosque Spends Thousands in Donation To NHS
• Authorities Alarmed by Reported Spread of Islamic Extremism in Russian Prisons
• Ethiopia: Muslims, Christians Join to Fight COVID-19
------------
India
• 'Stop Adding Religious Colour to Our Fight Against Covid-19': India Slams US Panel for Accusing It of Segregating Muslim Patients
• Actor Aayush Sharma Says He Always Wanted Kids to Have Muslim First Name and Hindu Surname
• Covid-19: Separate Wards for Hindu And Muslim Patients Made In Ahmedabad Hospital
• Islamic Sect Leader Charged of Culpable Homicide as Attendees Of Delhi Mosque Event Die: Police
• Salman Khan shows how Muslims and Hindus are united in the fight against coronavirus
• Distribution Of Food Packages By "Ahle Bait (AS) Foundation Of India" Among Needy Shiites
• Video of fruit vendors in Indore shared with false anti-Muslim angle
• 11 Foreigners Linked to Delhi Mosque Event Jailed in Bihar For Violating Visa Norms
------
Pakistan
• Coronavirus Lockdown: Pak Govt To Negotiate with Religious Leaders Over Closure of Mosques
• Jamaat-e-Islami, Pakistan, Supports Ulema's Demand for Reopening Mosques
• NAB laws flawed in light of Islamic jurisprudence, says Mufti Muneeb-ur-Rahman on MSR's arrest
• Mehwish Hayat blasts India over discrimination against Muslims
-----
Mideast
• At Syria 'S Great Umayyad Mosque, Six Muezzins Sit Before A Loudspeaker, Collectively Reciting the Call to Prayer That Can Be Heard Across the Ancient Quarters of Damascus
• Ayatollah Bashir Najafi Fatwa on Fasting During Coronavirus Pandemic
• Palestinians Instructed To Pray At Home During Ramadan Due To Coronavirus
• Health Ministry weighs options to prevent COVID-19 spread during Ramadan
• Turkish Red Crescent to aid 10M in Ramadan, head says
• U.S. accuses Iran of 'dangerous harassment' of its warships
• Israel talks to drag on as Netanyahu and Gantz miss coalition deadline
-----
South Asia
• Ghani Urges Taliban To Positively Respond to Demands Of UN, Regional Countries, Afghan Nation
• India sending 500,000 HCQ tablets to Afghanistan to help treat the coronavirus patients
• Bangladesh Commerce Minister Seeks Help Of All For TCB's OMS Operation Ahead Of Ramadan
• Bangladesh rescues hundreds of Rohingya adrift at sea; 24 dead
• With Virus, South Korea's Govt Wins in Landslide
• COVID-19 cases rise to 840 in Afghanistan with 56 new positive cases
• Over 3 million rounds of munitions handed over to Afghan forces
• Stoltenberg talks about troop reduction, peace process, political challenges in Afghanistan
-----
Southeast Asia
• Indonesia Takes an Ultra-Nationalist Turn Against Islamic Populism
• Ramadan under a quarantine: Finding meaning even with distancing
• SC 2019 Annual Report: Malaysia retains top position in Islamic capital market
• India agrees to sell hydroxychloroquine to Malaysia to help fight Covid-19
• Health DG: Wear mask and practise social distancing
• MCO violators to serve time at prison academy
• Building regional resilience against COVID-19
-----
Arab world
• Egypt's Mosques To Remain Closed Until No Coronavirus Cases Are Detected: Religious Endowments Ministry
• International Islamic Trade Finance Cooperation Provides $850 Million for COVID-19 Emergency Interventions for OIC Member Countries in Most Need
• UAE Charities Will Deliver Iftar Meals During Ramadan
• Egypt's economic reform program has helped in absorbing economic shocks: IMF's Jihad Azour
• UAE charities to deliver iftar meals rather than serve them in Ramadan tents
• Synergy releases promo of Ramadan sci-fi series The End
• Custodian of the Two Holy Mosques approves a package of additional initiatives to mitigate • impacts of Coronavirus on economic activities and private sector
-----
Europe
• Bradford Kurdish Mosque Spends Thousands in Donation To NHS
• Germany arrests 4 Islamic State suspects planning attack on US bases
• Ramadan will be 'very different this year' says doctor
• Record number of Muslims apply for Zakat
• Cyprus imam revives island's historic Islamic sites
• Representatives of Administrations of Muslims of Kyrgyzstan, Kazakhstan, Uzbekistan discuss date of start of Ramadan
• CORONAVIRUS: Six-figure fund set up to help Bradford mosques
-----
North America
• Authorities Alarmed by Reported Spread of Islamic Extremism in Russian Prisons
• Coronavirus: US Muslims pitch in to help frontline health workers
• Top Muslim leaders launch grant initiative to protect imams from layoffs
• With New Plots and Sterilized Sets, Ramadan TV Adapts to Virus
• 11 Islamic Revolutionary Guard Corps vessels harass US warships in the Persian Gulf
• Press Remarks by Jihad Azour on the Economic Outlook for the Middle East and Central Asia
-----
Africa
• Ethiopia: Muslims, Christians Join to Fight COVID-19
• In northern Nigeria, distrust jeopardises response to coronavirus
• Boko Haram Kill 8 Passengers Driving along Highway
• 58 Boko Haram members to appear in court Thursday
• Boko Haram confronts Buratai with mortar gun attacks in Borno camp
Compiled by New Age Islam News Bureau
URL;https://www.newageislam.com/islamic-world-news/stop-adding-religious-colour-our/d/121591
------
'Stop Adding Religious Colour To Our Fight Against Covid-19': India Slams US Panel For Accusing It Of Segregating Muslim Patients
16 Apr, 2020
The Indian government has hit back at a US religious freedom panel, which accused New Delhi of "stigmatizing" Muslims, and denied a report that patients are being separated based on their faith.
The government-run US Commission for International Religious Freedom (USCIRF) is "spreading misguided reports on the professional medical protocols followed to deal with spread of Covid-19 in India," Foreign Ministry spokesperson Anurag Srivastava has said.
The USCIRF had earlier accused New Delhi of "stigmatization of Muslims," citing a report by local media about a hospital in India's Gujarat state maintaining separate wards for Hindus and Muslims.
Srivastava said the report about the segregation based on faith was false, urging the USCIRF to "stop adding religious colour" to the nation's efforts to fight the pandemic.
"No segregation is being done in civil hospitals on the basis of religion, as clarified by the Gujarat government," he said
rt.com/news/485946-india-us-religious-freedom/
----
Actor Aayush Sharma Says He Always Wanted Kids To Have Muslim First Name And Hindu Surname
Apr 15, 2020
Actor Aayush Sharma has said that it was always part of his and wife Arpita Khan's plan to give their kids Muslim first names. The couple has two children, son Ahil and daughter Ayat.
Aayush told ETimes in an interview, "We wanted everyone to be named with A. When I was travelling to London, I met a guy named Ahil and I thought it's a very unique name and it turned out to mean the rightful prince in Persian and that was very fascinating. We believe in secular relationships so we wanted both our kids to have a Muslim first name and a Hindu surname."
He said about his daughter, Ayat, "She's still rather young but she's started to react to people and associating with people. Luckily, I have a lot of time to spend with my family owing to the quarantine. We take her out for strolls and she gets very fascinated by nature around. I'm just trying to fulfil my fatherly duties."
Also read: Aayush Sharma on being quarantined with his family, Salman Khan in Panvel: 'I am trying to fulfil my fatherly duties'
Aayush revealed on Instagram that he'd shaved his head during the lockdown. "Bald look or badass look... kaisalaga," Aayush wrote along with his mirror-selfie. Reacting to Aayush's makeover, actor Varun Dhawan said that he is looking like a famous WWE wrestler 'Stone Cold' aka Steve Austin.
The actor made his film debut with Loveyatri, produced by Salman. He will next appear in Kwatha, which also stars Katrina Kaif's sister, Isabelle.
https://www.hindustantimes.com/bollywood/aayush-sharma-says-he-always-wanted-kids-to-have-muslim-first-name-and-hindu-surname/story-YW3eCEytr5TDjdPfDXp2tK.html
------
Coronavirus lockdown: Pak govt to negotiate with religious leaders over closure of mosques
April 15, 2020
Hamza Ameer
As the Pakistan government announced extension of the imposed lockdown for another two weeks, stretching the restrictions till April 30, religious leadership has come out again demanding opening of mosques for daily prayers, Friday prayers and for Taraweeh congregations during Ramadan.
Pakistan's National Command and Operations Centre (NCOC), during a meeting on Tuesday agreed to reach out to religious leaders and clerics to discuss the imposed restrictions including closure of mosques for prayers.
Government officials will consult religious leadership and proposed guidelines will be discussed before allowing mosques to be opened during the holy month of Ramadan.
On the other hand, prominent religious leaders have demanded the federal government to lift restrictions on congregational prayers at mosques in the country.
In a joint statement by clerics and leaders of religious parties, it has been demanded that mosques should be opened daily five times for prayers and the Friday prayers, adding that closing mosques is not practical.
"Restriction of three or five people at mosques is not proving to be practical, those who are sick, elderly should not come to mosques," Mufti TaqiUsmani, one of the top clerics in Pakistan, said.
The demand comes at a time when Pakistan Prime Minister Imran Khan said he would meet religious scholars and discuss the restrictions imposed.
Closure of mosques has seen a widespread backlash in Pakistan with violent attacks on police including women police officers by locals reported for the second consecutive week. The backlash came after police tried to stop prayers at mosques in different parts of the country especially the port city of Karachi.
Pakistan announced extension of the lockdown till April 30 on Tuesday to contain the spread of Covid-19 and decided to outline and proposed guidelines, to be followed by mosques during Ramadan regarding Taraweeh prayers, fasting timings and distribution of good items.
Ministry of Interior, in a notification extended the closure of borders for another two weeks. As per the notification, Wagah Border will remain closed from April 16 to 29, western border with Afghanistan and Iran will remain closed till April 26 while Kartarpur Corridor will remain closed till April 24.
The domestic extension of lockdown has come with leverages being given to the section of the construction and services industry, allowing them to open their businesses and earn their livelihood following the guidelines and SOPs given to them by the government.
The construction industry barbers, mechanics, beauty salons, carpenters and other sections have been allowed to open businesses as per the new orders of the lockdown.
The NCOC prepared guidelines for opening certain industries in a stepwise manner stating that the owner of such businesses would be bound to follow the standard operating procedures (SOPs).
https://www.indiatoday.in/world/story/coronavirus-lockdown-pak-govt-to-negotiate-with-religious-leaders-over-closure-of-mosques-1667300-2020-04-15
------
At Syria 'S Great Umayyad Mosque, Six Muezzins Sit Before A Loudspeaker, Collectively Reciting The Call To Prayer That Can Be Heard Across The Ancient Quarters Of Damascus
16 April 2020
Inside the Syrian capital's Great Umayyad Mosque, six muezzins sit before a loudspeaker, collectively reciting the call to prayer that can be heard across the ancient quarters of Damascus.
They are among 25 muezzins who take shifts intoning the azan, or call to prayer, in groups, using a technique of collective recital that is unique to the centuries-old mosque.
The place of worship was closed in mid-March as part of measures to stem the novel coronavirus pandemic that Damascus says has infected 29 people, two of whom have died -- but its calls to prayer live on.
"I come from a long line of muezzins," the man in his eighties told AFP. "I have been a muezzin for 68 years, as was my father until he died."
Sheikh was drawn to the role as a child, encouraged by his father's colleagues who complimented him on his voice, one he now cherishes as a gift from God.
In a room inside the mosque, a picture of the sacred Kaaba, Islam's holiest site in Mecca, Saudi Arabia, hangs near framed verses of the Koran holy book.
It yields a unique sound when it rises from the Umayyad Mosque, which sends out the azan from three towering minarets overlooking the capital.
Built in the eighth century, the Umayyad Mosque has long drawn in worshippers near the Damascus centre's Hamidiyah souk, or bazaar.
Before loudspeakers were installed in the 1980s, groups of muezzins used to recite the call to prayer directly from the minarets, Sheikh among them.
Amplifying their voices so they could be heard across Damascus, they also raised a red ball to alert other muezzins in the city to join the call to prayer, Sheikh said.
There are many accounts of how the group call to prayer started at the Umayyad Mosque but its muezzins say that it was born out of a need to reach as many worshippers as possible.
In his book, "The Great Mosque of Damascus", architect and writer Talal Akili said the technique originated in the late 15th century as a way to inform Muslim pilgrims converging on the city en route for Mecca that it was time to pray.
With decades of experience, Sheikh is among the muezzins qualified to grant certificates to pupils training to recite the azan.
His grandfather was the lead muezzin in Damascus, and when Abu Anas was just a child, he used to watch his father recite the call to prayer from the Umayyad Mosque, famed for its columned courtyard and walls covered in golden mosaics.
While answering questions from customers about the prices of items on display, he eyes a watch hanging on a wall in front of him.
When it is time to pray, he closes the shop, apologising to clients for his absence, and walks to the Umayyad Mosque to intone the azan.
Impressed by his dedication, they encouraged him to join their ranks, and even though he was not formally trained, he started reciting the call to prayer in the 1990s.
While he is bound to retire one day from the silver trade, he said he would continue to be a muezzin until the day he died, cherishing the tradition as part of Syria's national fabric.
https://www.dailymail.co.uk/wires/afp/article-8224177/At-Syria-mosque-group-recital-prayer-call-runs-blood.html
-----
Ghani urges Taliban to positively respond to demands of UN, regional countries, Afghan nation
16 Apr 2020
President Mohammad Ashraf Ghani has urged the Taliban group to positively respond to the demands of the United Nations, the regional countries, Afghan nation and the Afghan government, pertaining ceasefire.
Ghani urged the Taliban group to declare a ceasefire and end hostilities in his message which he published regarding the precautions to prevent the outbreak of COVID-19 disease.
This comes as the Taliban group resumed attacks against the Afghan forces shortly after signing a peace deal with the U.S. government, following a 7-day reduction in violence late in the month of February.
Meanwhile, reports indicate that the Taliban group carried out more than 2,000 attacks across the country following the signing of the peace deal with the United States.
Meanwhile, the Afghanistan Independent Human Rights Commission has said at least 83 civilians were killed and 119 others were wounded after the signing of peace deal between Taliban and Washington.
https://www.khaama.com/ghani-urges-taliban-to-positively-respond-to-demands-of-un-regional-countries-afghan-nation-04670/
------
Indonesia Takes an Ultra-Nationalist Turn Against Islamic Populism
April 16, 2020
After banning Islamist organisation Hizbut-Tahrir Indonesia (HTI) through a decree in July 2017, Indonesia has now moved to codify in law government power to summarily disband community organisations deemed to be against Pancasila, the country's state ideology.
On Tuesday, October 24, of 445 lawmakers present, 314 members from seven factions agreed to approve a regulation in lieu of law on community organisation (PerppuOrmas). Some 131 members from three opposition factions objected.
HTI was one of the Islamist organisations that rallied against the former Jakarta governor, Basuki "Ahok" Tjahaja Purnama, for his comments on Islam. Ahok is now in jail after being convicted of blasphemy.
The PerppuOrmas serves as a political tool for President Joko Widodo's administration. Jokowi, as the president is commonly called, is wary of the rise of Islamic populism. He has seen how it managed to mobilise large numbers of the Muslim community to bring down Ahok, a Christian Chinese-Indonesian widely seen as clean and competent by the Jakarta electorate.
Unable to rely on pluralist or tolerant Islam – which is poorly organised and lacks a large social or political base – it seems that Jokowi's administration views ultra-nationalism as the answer to rising Islamic populism in Indonesia.
In arguing for the PerppuOrmas, the government used militaristic language: "a threat to the Unitary State of the Republic of Indonesia (NKRI))", or "national alert" (kewaspadaannasional). The military under Soeharto's New Order regime commonly used these phrases to justify repressive approaches.
At this point, a return to military involvement in Indonesian politics is unlikely and would be unpopular. But the military clearly sees the Perppu as an opportunity to claw back some influence in political life. Several high-ranking military personnel have publicly supported it.
Since the declaration of independence in 1945, the relationship between Islam and the Indonesian state has been a constant source of debate.
In June 1945, leaders of the independence movement produced The Jakarta Charter, a document that laid out the first draft of the country's founding principle, Pancasila. The charter included an obligation for Muslims to follow Islamic law.
But the country's first president, Sukarno, deleted this, restating Pancasila's first principle as "Belief in God Almighty". Sukarno moved to embrace other religious communities, particularly in the eastern islands, with the aim of preventing them from making their own demands for independence.
This lack of clear acknowledgement in the Constitution of the dominance of Islam became a grievance among some Muslim communities. In 1949, the radical Darul Islam movement emerged in West Java, calling for Islam to be recognised as the basis of the state. It gained popularity in Aceh, South Sulawesi and South Kalimantan. Sukarno ordered military operations to dissolve the movement, resulting in an estimated 16,000 to 40,000 deaths.
Under Soeharto, the military and Islamic groups worked closely together once again in the early days of the New Order to kill or imprison alleged communists.
Islamic groups had expectations of being offered political space in the regime. Instead, Suharto's regime forced Islamic groups to unite in one political party, the United Development Party (PPP), which it tightly controlled.
The New Order also promoted Pancasila as "the single principle" for the country. Political and social organisations, including Islamic organisations, had no choice but to accept Pancasila as their ideological basis.
Religion is compulsory for all citizens, but this, too, followed Pancasila orthodoxy. Pancasila was used as a means to establish control, eliminating both the now banned Indonesian Communist Party (PKI) and Islamist movements as sources of contested power.
Suharto continued using the military to suppress dissent. The military was not only in charge of state security from foreign threats but also was involved in socio-political affairs through the so-called military's dual roles (dwi-fungsi). The military repressed groups it saw as not adhering to Pancasila. This often involved violent means, such as the TanjungPriok massacre in 1984, which resulted in more than 400 casualties.
The fall of Soeharto's New Order in 1998 ushered in press freedom, multiparty democracy, the end of the military's role in politics, and the lifting of restrictions on civil rights.
Today, there has been greater expression of Islam in everyday life. Diverse forms of political Islam – from liberal to radical – have emerged.
While HTI's platform is considered intolerant and undemocratic, it is still important not to ignore the lessons of the past simply to keep the current administration in power.
It might serve short-term goals for Jokowi. But the Perppu could have serious implications for the future of Indonesian democracy.
The Perppu ignores a legal process that is the base of democracy by giving the government the authority to disband any community organisation without trial. The Perppu as a legal product could be used like a "gun" being pointed to any direction depending on the interest of the "gun holder". Even human rights defenders could be potential targets as seen in the attempt to disband the Jakarta Legal Aid Institute.
We are going to see these contested power plays at least until Indonesia's next presidential election in 2019. Brace yourself
https://goodmenproject.com/featured-content/indonesia-takes-an-ultra-nationalist-turn-against-islamic-populism/
-----
Indonesia Takes an Ultra-Nationalist Turn Against Islamic Populism
April 16, 2020
After banning Islamist organisation Hizbut-Tahrir Indonesia (HTI) through a decree in July 2017, Indonesia has now moved to codify in law government power to summarily disband community organisations deemed to be against Pancasila, the country's state ideology.
On Tuesday, October 24, of 445 lawmakers present, 314 members from seven factions agreed to approve a regulation in lieu of law on community organisation (PerppuOrmas). Some 131 members from three opposition factions objected.
HTI was one of the Islamist organisations that rallied against the former Jakarta governor, Basuki "Ahok" Tjahaja Purnama, for his comments on Islam. Ahok is now in jail after being convicted of blasphemy.
The PerppuOrmas serves as a political tool for President Joko Widodo's administration. Jokowi, as the president is commonly called, is wary of the rise of Islamic populism. He has seen how it managed to mobilise large numbers of the Muslim community to bring down Ahok, a Christian Chinese-Indonesian widely seen as clean and competent by the Jakarta electorate.
Unable to rely on pluralist or tolerant Islam – which is poorly organised and lacks a large social or political base – it seems that Jokowi's administration views ultra-nationalism as the answer to rising Islamic populism in Indonesia.
In arguing for the PerppuOrmas, the government used militaristic language: "a threat to the Unitary State of the Republic of Indonesia (NKRI))", or "national alert" (kewaspadaannasional). The military under Soeharto's New Order regime commonly used these phrases to justify repressive approaches.
At this point, a return to military involvement in Indonesian politics is unlikely and would be unpopular. But the military clearly sees the Perppu as an opportunity to claw back some influence in political life. Several high-ranking military personnel have publicly supported it.
Since the declaration of independence in 1945, the relationship between Islam and the Indonesian state has been a constant source of debate.
In June 1945, leaders of the independence movement produced The Jakarta Charter, a document that laid out the first draft of the country's founding principle, Pancasila. The charter included an obligation for Muslims to follow Islamic law.
But the country's first president, Sukarno, deleted this, restating Pancasila's first principle as "Belief in God Almighty". Sukarno moved to embrace other religious communities, particularly in the eastern islands, with the aim of preventing them from making their own demands for independence.
This lack of clear acknowledgement in the Constitution of the dominance of Islam became a grievance among some Muslim communities. In 1949, the radical Darul Islam movement emerged in West Java, calling for Islam to be recognised as the basis of the state. It gained popularity in Aceh, South Sulawesi and South Kalimantan. Sukarno ordered military operations to dissolve the movement, resulting in an estimated 16,000 to 40,000 deaths.
Under Soeharto, the military and Islamic groups worked closely together once again in the early days of the New Order to kill or imprison alleged communists.
Islamic groups had expectations of being offered political space in the regime. Instead, Suharto's regime forced Islamic groups to unite in one political party, the United Development Party (PPP), which it tightly controlled.
The New Order also promoted Pancasila as "the single principle" for the country. Political and social organisations, including Islamic organisations, had no choice but to accept Pancasila as their ideological basis.
Religion is compulsory for all citizens, but this, too, followed Pancasila orthodoxy. Pancasila was used as a means to establish control, eliminating both the now banned Indonesian Communist Party (PKI) and Islamist movements as sources of contested power.
Suharto continued using the military to suppress dissent. The military was not only in charge of state security from foreign threats but also was involved in socio-political affairs through the so-called military's dual roles (dwi-fungsi). The military repressed groups it saw as not adhering to Pancasila. This often involved violent means, such as the TanjungPriok massacre in 1984, which resulted in more than 400 casualties.
The fall of Soeharto's New Order in 1998 ushered in press freedom, multiparty democracy, the end of the military's role in politics, and the lifting of restrictions on civil rights.
Today, there has been greater expression of Islam in everyday life. Diverse forms of political Islam – from liberal to radical – have emerged.
While HTI's platform is considered intolerant and undemocratic, it is still important not to ignore the lessons of the past simply to keep the current administration in power.
It might serve short-term goals for Jokowi. But the Perppu could have serious implications for the future of Indonesian democracy.
The Perppu ignores a legal process that is the base of democracy by giving the government the authority to disband any community organisation without trial. The Perppu as a legal product could be used like a "gun" being pointed to any direction depending on the interest of the "gun holder". Even human rights defenders could be potential targets as seen in the attempt to disband the Jakarta Legal Aid Institute.
https://goodmenproject.com/featured-content/indonesia-takes-an-ultra-nationalist-turn-against-islamic-populism/
---------
Egypt's mosques to remain closed until no coronavirus cases are detected: Religious endowments ministry
15 Apr 2020
Egypt's mosques will remain closed until no new coronavirus cases are detected, a statement by the religious endowments ministry read.
The ministry said on Wednesday it told its workers to maintain the closure of mosques to protect the public from the threat of the coronavirus.
"The closure of mosques and suspension of congregation prayers continues to be applied until the reason for the closure no longer exists and no new cases are reported," it said.
It added that holding Friday congregations despite the closure is "wrong, a sin," and an encroachment on religion and the state.
Egypt ordered the closure of mosques and churches on 21 March for two weeks in a move aimed at curbing the spread of the novel coronavirus.
The closure was extended indefinitely at the end of March over the spread of the pandemic amid concerns that the virus would affect the people during the Islamic fasting month of Ramadan, which begins on 23 April.
The Egyptian authorities said all congregational religious activities, including communal prayers in mosques, will continue to be suspended during Ramadan.
Other public activities planned for Ramadan, such as charity banquets for the poor to break their fast, have also been suspended.
Egypt on Tuesday reported its highest daily increase in coronavirus cases with 160 new infections, bringing the total number of confirmed cases to 2,350.
http://english.ahram.org.eg/NewsContent/1/64/367338/Egypt/Politics-/Egypts-mosques-to-remain-closed-until-no-coronavir.aspx
----
Bradford Kurdish Mosque spends thousands in donation to NHS
By Yusef Alam
3 hrs ago
Salahadin Mosque, which is run by the West Yorkshire Kurdish Community Association, made the charitable donation on Tuesday, donating snacks, hot and cold beverages and 2,000 face masks to staff at BRI.
Members of the Mosque, which is on Little Horton Lane, got in touch with BRI to ask if they could offer a helping hand, and after the hospital responded with a list of items in need, the Salahadin Mosque then spent around £3,000 on essentials, said one of its members, Hawker Hussain.
"The Kurdish community has been here in Bradford for a long time now, so we wanted to help the NHS and give something back", Mr. Hussain said.
"Everyone in the community was really happy to come forward and donate, including some local Kurdish businesses. We all wanted to benefit the NHS.
"The 2,000 masks were kindly donated by a local Kurdish businessman and we also had a lot of help from members of the Mosque, including Yasen Karim and Awat Abdallah.
"We spent around £3,000 on the items, but we still have some money left - we would love to donate to the ambulance service or to care homes, so we welcome people to get in touch.
"Insha'Allah ['God-willing'] our support isn't going to end - we're going to keep helping and working together as long as people need help.
The Salahadin Mosque, which Mr. Hussain says was established over ten years ago, is considered to be a vital hub for Bradford's Kurdish community.
The number of Kurds in Bradford is difficult to estimate, given that Kurdish was not listed as an ethnic category in the most recent UK census, but Kurdish was revealed to be Bradford's tenth most spoken language in the 2011 census, with over 1,200 speakers in the district.
This number is believed to have increased in the years since, with many Kurdish people arriving in Bradford as refugees and as economic migrants. Mr. Hussain estimates that there are "four to five thousand" Kurds living in Bradford.
Kurdish people hail from Kurdistan, a region in the Middle East spanning parts of Turkey, Iraq, Iran and Syria, which has its own distinct culture, language and national identity.
Many Kurds have had to flee their homeland due to persecution and human rights abuses, and have been described by some as the world's largest ethnic group without a state.
Bradford Labour MP Naz Shah was at BRI on Tuesday, when the donations were handed over, and said, "It is really important that communities across the Bradford district step up and play their part during this crisis. Therefore, we are very grateful and thankful to the Kurdish community for their generous effort to support our NHS.
"Bradford Royal Infirmary has a huge significance in the Bradford district, so this is an amazing gesture which is very much appreciated, and shows the spirit of unity and communities coming together.
"The Kurdish community in Bradford are almost a minority within a minority, and the efforts they have made demonstrates that minority communities can play a huge role, which is what makes the fabric of Bradford and shows that diversity is a huge strength of our city."
Inayah Sher, of Bradford4Better, who helped to co-ordinate with the Salahadin Mosque, said, "The members of the Salahadin Mosque are immensely charitable, as many of them are recent migrants who live on the poverty line. They are an example to us all, on how to be truly charitable.
https://www.thetelegraphandargus.co.uk/news/18381570.bradford-kurdish-mosque-spends-thousands-donation-nhs/
------
Authorities Alarmed by Reported Spread of Islamic Extremism in Russian Prisons
By: Valery Dzutsati
April 15, 2020
On April 3, Russian news agencies reported that the country's security services killed one and detained another member of an Islamic State (IS) cell in Stavropol Oblast. Russian officials alleged that members of the extremist group were preparing terrorist attacks in Stavropol as well as Khanty-Mansiysk Autonomous Okrug (KhMAO), in north-central Russia. One of them was a resident of Stavropol and the other came from neighboring Dagestan. The special operation took place in the city of Neftekumsk, which is located in the eastern part of the Stavropol region, in the vicinity of Dagestan. On that same day, the Federal Security Service (FSB) declared that it arrested three other people affiliated with the regional insurgent group the Caucasus Emirate in the city of Lyantor, KhMAO. The arrested individuals are suspected of planning a terrorist attack in the northern Russian town (TASS, April 3). KhMAO is known for having the largest oil extraction industry in Russia.
How the two above-mentioned incidents are related is unclear. The Islamic State and the Caucasus Emirate are competing organizations in the region rather than allies. Therefore, it is unlikely that members of the two organizations would cooperate to launch attacks. The Caucasus Emirate is a homegrown militant group dating back to 2007, which aims to create a separate state in the Russian North Caucasus. The IS is a global jihadist organization, although its regional offshoots often support local agendas. The IS arrived to the North Caucasus at the end of 2014 and immediately started to supplant the Caucasus Emirate. The Russian security services succeeded in largely suppressing both organizations over the past several years; today, these North Caucasus militant groups' members are associated only with sporadic violence. As KavkazskyUzel points out, the last two insurgency-related incidents in Stavropol Oblast occurred a year apart (KavkazskyUzel, April 3).
Even though the overall levels of insurgent violence in the North Caucasus have been dramatically falling, some Russian officials believe that the Islamist militancy has shifted its activities to the country's penitentiary system. In December 2019, the Russian Investigative Committee announced that in Kalmykia, investigators identified a terrorist organization that operated in Penal Colony #2. The extremist network had reportedly been in operation since 2013 and had at least 100 members. The Penal Colony's leadership was also suspected of covering up for the local extremist group. Upon uncovering the network, authorities conducted searches at Colony #2 as well the private residences of the suspects and their relatives in Dagestan, Kabardino-Balkaria, Krasnodar and Volgograd regions. In addition, government agents searched the office of Viktor Grebennikov, the first deputy head of the Russian State Penitentiary Agency's regional branch in Kalmykia (Kommersant, December 18, 2019).
Kalmykia is a Buddhist-majority republic, lying to the north of Dagestan and Stavropol. Recently, it became known for a series of mass public protests that broke out after authorities appointed a former official from the Russia-backed separatist territory of the Donetsk People's Republic, in eastern Ukraine (BBC News—Russian service, October 23, 2019; see EDM, November 15, 2019).
Meanwhile, according to a source inside Kalmykia's penitentiary system, quoted by KavkazskyUzel, prisoners of Penal Colony #2 first established a jamaat (a Muslim social support group that engages in joint religious worship and other activities) in 2010. From the outset, it operated as an ideological organization, working to indoctrinate its members in Islamist thought. Eventually, this Kalmykia prison jamaat transformed into a multi-ethnic group that was only nominally Islamic, although it retained a declarative affiliation with the Islamic State. Reportedly, the jamaat grew quite rich: its members made money by engaging in a variety of fraudulent activities. As a result, many inmates sought to join due to the organization's abundance of resources. At the same time, the jamaat's affiliation with extremist Islamic organizations, like the IS, was purely nominal, said the KavkazskyUzel source (KavkazskyUzel, April 1).
Harvard researcher of extremist organizations Vera Mironova told KavkazskyUzel that jamaats have become quite common in Russian penitentiaries. However, according to the academic, they encapsulate inmates' responses to the rampant human rights abuses inside the Russian prison system. Their affiliation with the Islamic State and similar extremist groups is usually a symbolic act, with little or no bearing on these prison jamaat members' everyday lives. Some experts contend that while it may be possible for the IS to carry out indoctrination and recruitment efforts inside Russian prisons, they doubt that the scale of such activities is significant. Other scholars argue that the radicalization of Muslims in Russian prisons is related to the instinctive fear that Islam and Muslims instill among penitentiary administrators, who are unprepared to grant religious freedoms and often try to suppress any Islamic religious activity among inmates. Rights activists say that the authorities' reports about uncovering large-scale Islamist networks in the Russian prison system are part of the self-promotion of Russian security officials and have little to do with reality (KavkazskyUzel, April 1).
Although the activity of insurgency movements in the North Caucasus has evidently declined in the past several years, sporadic violence and systemic responses to human rights abuses have not disappeared. The systemic mistreatment of incarcerated individuals in Russia is especially glaring, and Islam provides a platform for disgruntled inmates to unite and protect themselves. In turn, Russian officials' allegations that, in some instances, such self-support groups may be turning to political violence has yet to be openly substantiated.
https://jamestown.org/program/authorities-alarmed-by-reported-spread-of-islamic-extremism-in-russian-prisons/
------
Ethiopia: Muslims, Christians join to fight COVID-19
April 16, 2020
While in other parts of the world, authorities labored to convince some religious groups about the dangers of the pandemic, in Ethiopia two major religions Christianity and Islam took no time to join the fight against the coronavirus or COVID-19.
Prime Minister Abiy Ahmed-led government also obliged them, by relaxing broadcast rules and directed four government-run TV stations to reserve prime time slots for the leaders of these two faiths to deliver lectures and lead prayers. Ethiopian law did not allow religious programs on national television.
Speaking to Anadolu Agency, Danial Kibret, an advisor of the prime minister said the move was aimed to let believers pray from their homes and avoid any religious gathering.
The Inter-Religious Council of Ethiopia (IRCE), established in 2010 to promote tolerance and address common concerns was roped in to help believers to continue prayers from their homes and engage them in the fight against the pandemic.
Bekele Muleta, the chief executive officer of Fana Broadcasting Corporation, said his organization has reserved a one-hour evening prime time for both the religious groups.
''The program involves religious teachings, prayers, and lessons about necessary precautions to combat COVID-19. Our feedback tells that the viewers of both religions were satisfied, "he said.
Director-General of Ethiopian Broadcast Authority Getachew Dinku said the shows are reaching to 60%-70% population, who have TV sets. Dinku, who is also a member of the National Coronavirus Campaign Committee said they have suggested a code of conduct to prevent unnecessary competition and negative messages.
According to census data, Christians account for 62.8% while Muslims comprise 43.5 percent of the country's 109 million population. Dominant Christian groups include Ethiopian Orthodoxy, Pentay and Roman Catholic.
BerhanuAseged, a religious scholar believed that the Ethiopian Orthodox Church has been one of the powerful institutions capable of organizing and influencing its followers in every sphere of public life.
''During a crisis, as said in the biblical maxim, Ethiopia shall stretch forth her hands unto God. This is the strong belief that gives us confidence in defeating coronavirus pandemic," he said.
Sheik Abdelaziz Mohammed, the Imam of Bilal al-Habashi mosque in the capital Addis Ababa said that prayers and healthy life were the cornerstones of Islam.
''Our wellbeing and the knowledge to maintain our health was prescribed in the Holy Quran, and rests in the hands of Allah,'' Mohammed added.
Ethiopian Muslims had brought about God's mercy and interventions in times of pandemics and another crisis. ''It is within this spirit we are participating in the televised payer and spreading awareness, "he said.
Churches and mosques in the landlocked country have indefinitely suspended regular services. Schools and universities which have more than 25 million students remain shut with most of the employees working from their homes.
According to the Health Ministry, some 4 000 people have been tested after a door to door screening was launched in some parts of the country. So far 85 infected cases have been detected with three deaths, as per the data compiled by the U.S.-based John Hopkins Coronavirus Resource Centre.
But what is staring at everybody's face is that the pandemic that has killed thousands in rich countries could play havoc in the region which has little health infrastructure.
''The pandemic had forced on us social distancing. It is a must preventive method. But we live in a world of sharing stories, meals, happiness, and grief. How long we live like this?" he asked, shaking his head in disbelief.
''Risky behaviors and lifestyles are not changing. Health officials are worried that the current infection rate could increase fast and become uncontrollable,'' he said, adding that there is a window of opportunity to learn from global experience and the slow infection and death rates.
''We have to design a messaging that resonates with all and also to enforce social distancing and other preventive methods,'' he noted.
Earlier last week, Addis Ababa denied landing rights to a Saudi Airlines plane that was carrying Ethiopian nationals without prior notification. Ethiopia had asked Saudi authorities to stop repatriating its citizens in times of coronavirus pandemic, said an official requesting anonymity, as he was not authorized to talk to media.
''Saudi authorities refused to note Ethiopia's reasonable request and continued sending people every day,'' he said. The official added that Addis Ababa tried its best to avoid diplomatic spat with Saudi Arabia.
Quoting Zewudu Assefa, an officer with the Ethiopian Health Institute, local news channels reported that as many as 300-500 people were cramped in the Saudi flight.
As Saudi officials are determined to continue deporting a large number of Ethiopians, health officials fear that the quarantine centers would be unable to house so many people.
https://www.yenisafak.com/en/news/ethiopia-muslims-christians-join-to-fight-covid-19-3517071
-----
India
Covid-19: Separate wards for Hindu and Muslim patients made in Ahmedabad hospital
Yesterday · 06:35 pm
A hospital in Ahmedabad has been placing its coronavirus patients in different wards on the basis of their religious identity, claiming it was based on a decision made by the Gujarat government, The Indian Express reported on Wednesday.
At civil hospitals, patients are normally segregated on the basis of their gender, with separate wards for male and female persons. However, at the Ahmedabad Civil Hospital, where 1,200 beds have been set aside for coronavirus treatment, separate wards have been created for Hindu and Muslim patients. Medical Superintendent Dr Gunvant H Rathod told the newspaper the segregation was made as per a directive issued by the Gujarat government. "It is a decision of the government and you can ask them," he said.
However, Deputy chief minister and Health Minister Nitin Patel strongly rebutted the claim. "I am not aware of such a decision [that wards have been segregated on the basis of faith]." Patel sad. "Generally, there are separate wards for males and females. I will enquire about it."
Ahmedabad Collector KK Nirala also denied any knowledge of the matter. "There has been no such instruction from our side and we are not aware of any such government decision," Nirala told the newspaper.
According to hospitalisation protocol, patients are kept in different wards based on their medical condition and the severity of their symptoms, keeping in mind other factors such as their age and the advice given by doctors who are treating them. A suspected Covid-19 case is kept in a separate ward from those confirmed, while the test results are pending.
An unidentified doctor at the Ahmedabad Civil Hospital told The Hindu that some patients from the Hindu community were uncomfortable about sharing a same ward as Muslims. "After some patients complained, it was decided to segregate them on a temporary basis," the doctor said.
As many as 150 of the 186 people admitted in the hospital for coronavirus have tested positive. Out of these, at least 40 are Muslims, unidentified officials told The Indian Express.
"On Sunday night, the names of 28 men admitted in the first ward [A-4] were called out," a patient told the newspaper. "We were then shifted to another ward [C-4]. While we were not told why we were being shifted, all the names that were called out belonged to one community," the patient added.
When asked the reason behind segregating patients, a staff member claimed it was done for "the comfort of both communities", the patient said.
https://scroll.in/latest/959274/covid-19-separate-wards-for-hindu-and-muslim-patients-made-in-ahmedabad-hospital
----
Islamic Sect Leader Charged Of Culpable Homicide As Attendees Of Delhi Mosque Event Die: Police
April 15, 2020
New Delhi: Islamic sect 'Tablighi Jamaat' leader Maulana Saad Kandhalvi has been booked for culpable homicide after some of the attendees of the religious congregation died due to coronavirus, police said today.
Mr Kandhalvi had organised the religious gathering at Nizamuddin Markaz last month against the social distancing protocol imposed by the Centre to curb the spread of the deadly disease.
An FIR was registered against the cleric on March 31 at Crime Branch police station on a complaint of the Station House Officer of Nizamuddin.
"After several attendees of the Tablighi Jamaat event succumbed to coronavirus, we added IPC section 304 (culpable homicide not amounting to murder) in the FIR against the leader," a police official said.
In an audio message, Kandhalvi had said that he was exercising self-quarantine after several hundreds who visited the Tablighi Jamaat congregation at Nizamudddin Markaz tested positive for coronavirus.
The FIR registered against the Tablighi Jamaat event says that the Delhi Police contacted the authorities of Nizamuddin Markaz on March 21 and reminded them of the government order which prohibited any political or religious gathering of more than 50 people.
It says that despite repeated efforts, the event organisers failed to inform the health department or any other government agency about the huge gathering inside the Markaz and deliberately disobeyed government orders.
"The sub district magistrate of Defence Colony inspected the premises several times and found that around 1,300 people, including foreign nationals, were residing there without maintaining social distance. It was also found that there were no arrangements of hand sanitizers and face masks," the FIR adds.
The Nizamudddin centre, attended by thousands, turned out to be a hotspot for spread of coronavirus not only in the national capital, but the entire country. More than 25,500 Tablighi members and their contacts have been quarantined in the country after the Centre and the state governments conducted a "mega operation" to identify them.
At least 9,000 people participated in the religious congregation in Nizamuddin. Later, many of the attendees travelled to various parts of the country.
https://www.ndtv.com/india-news/islamic-sect-leader-charged-of-culpable-homicide-as-attendees-of-delhi-mosque-event-die-police-2212415
-----
Salman Khan shows how Muslims and Hindus are united in the fight against coronavirus
April 16, 2020
While the coronavirus has unarguably confined a large part of the world into their homes, it has also brought many together during these times of distancing.
A prime example of that was visible on Bollywood megastar Salman Khan's Instagram page, as he exhibited the perfect moment that defined inter-faith harmony during these catastrophic times.
The Bharat actor turned to his Instagram with a picture showing two balconies on a building with two men sitting on each floor.
While the man on the upper floor had his palms pressed against each other for prayer, the one on the floor below him had his raised in front of his face as per the Islamic way to pray.
The picture became the epitome of inter-faith harmony and peace that is coming to the forefront and uniting the world in these times of crisis, as people hailing from all faiths, ethnicities and backgrounds come together to defeat the global pandemic.
Captioning the photo, Salman wrote: "Setting examples… #IndiaFightsCorona."
https://www.thenews.com.pk/latest/645245-salman-khan-shows-how-muslims-and-hindus-are-united-in-the-fight-against-coronavirus
-----
Distribution of food packages by "Ahle Bait (AS) Foundation of India" among needy Shiites
April 15, 2020
The outbreak of the new coronavirus (Covid-19) in the world has infected a large number of people and killed thousands.
The people of the India have been quarantined for 21 days.
In the current difficult situation, millions of poor and needy workers who earn a living from daily work are in critical situation.
In this situation, the Cultural Ahle Bait (AS) Foundation of India, incooperation with the members of the Foundation, has prepared and distributed food and economic aid to the needy Shiites.
The secretary general of the Foundation said: more than two hundred food packages have been delivered to the homes of the needy by the members of the Foundation.
"This humanitarian action of the Foundation continues until the end of the holy month of Ramadan in different parts of India," Hojjat al-Islam "Sayyed Sarvar Abbas Naqavi" said.
https://en.abna24.com/news//distribution-of-food-packages-by-ahle-bait-as-foundation-of-india-among-needy-shiites-photos_1026184.html
-----
Video of fruit vendors in Indore shared with false anti-Muslim angle
Archit Mehta
15th April 2020
Since April 6, Alt News has received several requests to fact-check a 30-second video on WhatsApp (+91 76000 11160) and on our official Android application. In the video, we can see several policemen wearing a mask and a few fruit vendors.
The video has been shared with the following text in Hindi: "Check all fruit and vegetable vendors properly. Since 2-3 days around 6-7 am, two vendors were seen in Mahalaxmi Nagar. Since they were coming early in the morning, people had their doubt. When some people asked their names, they went mum. In a matter of a few minutes, they said their name is Shiva, Mukesh, Dinesh and said they didn't have identity cards on them. The vendors were stopped. When the police came to enquire they found out the boys were Muslim. That means, there is something really wrong. Please be alert."
[Translated from: कोई भी सब्जी और फल वाला कॉलोनी में ठेले वाला आया तो उसकी पूरी तरह जांच पड़ताल कर ले महालक्ष्मी नगर कॉलोनी में 2 ठेले वाले 2-3 रोज से सुबह सुबह 6 से 7 बजे में संतरे का ठेला ला रहे है इतनी जल्दी आने के कारण आज उन पर शक हुआ उनको कॉलोनी के कुछ लोगो ने रोक कर नाम पूछा तो उनकी सिट्टी पिट्टी गुम हो गई 2 मिनिट में 3-4 नाम बता दिए शिवा, मुकेश, दिनेश न ही उनके पास I D थी फिर उन्हें रोककर रखा पुलिस को बुलाया तो वो मुसलमान लड़के निकले इसका मतलब कुछ गड़बड़ है कृपया सतर्क रहे ).
A Twitter user posted the video with a different Hindi text but the same anti-Muslim narrative. He claimed that the viral video is from Indore (archive link).
1. At the 11-second mark, a man can be heard giving directions to their current location. The instruction mentioned Mahalaxmi Nagar and Partabh Medical as landmarks. We performed a keyword search on Google and found that a medical store with the same name is located in Mahalaxmi Nagar, Indore. Just Dial lists the full address as G-1 577 /78 Sai Shraddha Apartment, Balaji Height Road, Mahalaxmi Nagar, Indore – 452010, Near Water Tank.
2. At the 27-second mark, we can see a yellow jeep with the words 'Nagar Nigam Indore (translated from नगर निगम इंदौर)'
Alt News spoke with Vivek Sharma, inspector general (IG), Indore Police. He stated that the video is at least a week old and the claims made on social media are false. IG Sharma connected Alt News with the concerned officer Yusuf Qureshi, superintendent of police (SP), East Indore.
SP Qureshi and his team traced the two fruit vendors in the viral video (highlighted above). According to the police investigation, vendors Rohit and Ravi are employed by Girraj Gupta, who owns a fruit shop. SP Qureshi informed, "Girraj Gupta is 40 years old and stays at Tapeshwari Bagh, MR Ten Road."
The distance between Tapeshwari Bagh and Partabh Medical, Mahalaxmi Nagar is less than two kilometres away according to Google Maps.
SP Qureshi added, "Due to the lockdown, Gupta wasn't able to sell the remaining stock of fruits. Rohit and Ravi stepped out to sell the remaining fruits in the colony. That's when the police and the municipal authorities seized the handcart."
The officer shared a video with us which was taken on April 13 by Indore police. It captures their conversation with Gupta. At 1:14 mark, Gupta confirms both Rohit and Ravi hail from the Hindu community.
Alt News also spoke with Gupta, who said, "My carts, fruits and weighing scale were ceased. That's a loss of up to 1.5 lakhs rupees." He also confirmed that the men standing behind the cart are Rohit and Ravi.
Therefore, the claim associated with the viral video is false. Indore police have not arrested the fruit vendors. However, their cart has been seized by the municipal authorities. Alt News couldn't independently verify the religious affiliation of the vendors seen in the video.
Since the last few weeks, several misleading social media posts have been circulated to target Muslim vendors with the claim that they are intentionally spreading coronavirus. Such misinformation causes panic that ultimately manifests in communal violence. On April 13, Alt News verified a video where a man can be seen assaulting a vegetable vendor after he revealed that his name is Mohammad Saleem.
https://www.altnews.in/video-of-fruit-vendors-in-indore-shared-with-false-anti-muslim-angle/
-----
11 Foreigners Linked To Delhi Mosque Event Jailed In Bihar For Violating Visa Norms
April 16, 2020
Buxar: Eleven foreign nationals linked to Tablighi Jamaat were sent to jail and a case has been registered against them for violating visa rules in Buxar, Bihar, according to Superintendent of Police, Upendra Nath Verma.
The foreign nationals are from Indonesia and Malaysia, as per the official.
"Eleven foreign nationals from Indonesia and Malaysia, linked to Tablighi Jamaat were in Buxar district. They were kept in quarantine, however, their tests did not reveal any signs of the disease. They had violated visa rules, therefore, the Buxar police have registered a case and have sent them to jail," Verma told reporters here.
Earlier on Wednesday, an FIR was also registered in Samastipur district against nine Bangladeshi nationals for allegedly misusing their travel visa by being involved in religious preachings under Tablighi Jamaat and for violating lockdown restrictions, police said on Wednesday.
Notably, a congregation at the Markaz building of Tablighi Jamaat in the Nizamuddin area of Delhi has become an epicentre of coronavirus spread, with several who attended the event testing positive and infecting hundreds of others across the country.
https://www.ndtv.com/india-news/11-foreigners-linked-to-delhi-mosque-event-jailed-in-bihar-for-violating-visa-norms-2212574
-----
Pakistan
JI supports ulema's demand for reopening mosques
April 16, 2020
LAHORE: Jamaat-e-Islami (JI) has reiterated that mosques being the centres of faith and spiritual healing must not be closed down for worshippers at a time they badly needed to turn to the Creator for spiritual strength to counter coronavirus threat.
This stance was conveyed by Jamaat-e-Islami naib ameer Liaqat Baloch during his meetings and telephonic contacts with a number of Ulema and religious leaders across the country to support their demand for reopening of mosques and chalking out protective measures at mosques.
Liaqat Baloch phoned JUI-F ameer Maulana Fazlur Rehman and Milli Yakjehti Council (MYC) president Dr Abul Khair Zubair, and visited the residence of MarkaziJamiat e Ulema Islam president Maulana Muhammad Ajmal Qadri. Besides, he also addressed via phone link a meeting of Ulema and scholars at DarulUloom Karachi, chaired by Mufti Rafi Usmani and Mufti TaqiUsmani, along with other noted Ulema of the country to discuss the issue of offering congregational prayers, Friday and Traveeh during Ramazan
https://www.thenews.com.pk/print/645059-ji-supports-ulema-s-demand-for-reopening-mosques
----------
NAB laws flawed in light of Islamic jurisprudence, says Mufti Muneeb-ur-Rahman on MSR's arrest
April 16, 2020
ISLAMABAD: The National Accountability Bureau's (NAB) laws are flawed in light of Islamic jurisprudence and international legal system, top Pakistani cleric and the chairperson of the Ruet-e-Hilal Committee, Mufti Muneeb-ur-Rahman, said Wednesday, commenting on the arrest of Jang Geo Media Group Editor-in-Chief Mir Shakil-ur-Rahman by the anti-graft body.
Speaking to Geo News, Mufti Muneeb said under the Islamic law, the burden of proof rested on whoever levels any allegation.
If the plaintiff does not have arguments, the defendant should be asked to swear an oath, he said. The Council of Islamic Ideology (CII) has also pointed this out as well, he added.
"According to Islamic and international justice systems, punishment cannot be awarded if a crime cannot be proven; however, a court can only award punishment if evidence is provided," he said.
"The NAB," he added, "levels serious allegations but does not provide evidence when the court asks for it. It detains people then says it does not have proofs.
"This is a private matter and Mir Shakil-ur-Rahman did not hold any public office; [therefore] it does not fall under the NAB's jurisdiction," the cleric noted.
Mufti Muneeb said an ordinance allowing exemptions to the business community was recently passed. "Mir Shakil-ur-Rahman is a businessman; he, too, should be given exemption," he mentioned.
By detaining the Jang Geo Media Group editor-in-chief, the anti corruption watchdog "did not gain honour; in fact, it lost respect", he said, adding that MSR should be released.
"Mir Shakil-ur-Rahman suffers from different ailments. The case against Mir Shakil-ur-Rahman should be taken to the court and the rest left to the judge," Mufti Muneeb stressed.
Earlier today, leading religious scholar Mufti TaqiUsmani had raised questions on MSR's arrest as well, saying: "Keeping someone behind the bars without a case is against the Islamic principles of justice."
If MSR was ready to provide evidence of his innocence in court, there was no point in keeping him in detention any further, he added. "Mir Shakil-ur-Rehman should be released and the case against him pursued in court," said the scholar.
MSR's arrest by the NAB in a 34-year-old property case has been roundly condemned by many politicians, journalists, lawyers, and human rights bodies across the country.
Senior politicians from across the spectrum, journalists from major media outlets and other notables spoken out in favour of the veteran journalist, who, local and international watchdogs have said, is being victimised for speaking truth to power.
Celebrity barrister Amal Clooney's law firm, Doughty Street Chambers, has also filed a complaint at the United Nations (UN) against the "politically-motivated and arbitrary arrest" of MSR
https://www.thenews.com.pk/latest/644851-nab-laws-flawed-in-light-of-islamic-jurisprudence-says-mufti-muneeb-ur-rahman-on-msrs-arrest
-----
Mehwish Hayat blasts India over discrimination against Muslims
April 15, 2020
Pakistani superstar Mehwish Hayat has blasted India for discrimination against the Muslim citizens amid the coronavirus false claims.
Sharing a report by The Guardian titled "Coronavirus conspiracy theories targeting Muslims spread in India", the Load Wedding actress said "Just came across this article. When the world is uniting to fight against a common enemy, our neighbours are using this pandemic as a way of spewing further hatred & dividing ppl."
The actress questioned, "Why do they discriminate when the virus doesn't? This is Shameful! #Covid_19."
Mehwish Hayat is in self-isolation amid the coronavirus lockdown and has urged the people to stay at home to save lives as even their minor negligence can put many in danger.
https://www.thenews.com.pk/latest/644799-mehwish-hayat-blasts-india-over-discrimination-against-muslims
-----
Mideast
Ayatollah Bashir Najafi fatwa on fasting during coronavirus pandemic
April 15, 2020
A senior Iraqi Shia cleric issued a Fatwa about fasting in the holy month of Ramadan amid the coronavirus outbreak.
Ayatollah Bashir Hussein Najafi issued the Fatwa (religious edict) in response to an Istifta (new inquiry) about fears that fasting might raise the possibility of infection with COVID-19.
He said if a Muslim knows for sure that fasting will cause him to contract the virus, it will not be Wajib (obligatory) for him, Al-Sumaria TV reported.
However, the cleric added, there has been no definitive medical evidence showing a relation between fasting and COVID-19 infection.
He referred to a Hadith from the Holy Prophet (PBUH) that says 'fast to remain healthy' and stressed that fasting during Ramadan should be regarded as an opportunity for preventing diseases, including COVID-19.
Earlier, Iraq's top Shia cleric Ayatollah Ali al-Sistani said in a Fatwa that if a Muslims fears that he may contract the coronavirus by fasting, even after observing all the necessary precautions, it will not be obligatory for him to fast.
Ramadan, the lunar Hijri month in which Muslims fast from dawn to sunset, will begin on April 25.
https://en.abna24.com/news//ayatollah-bashir-najafi-fatwa-on-fasting-during-coronavirus-pandemic_1026177.html
------
Palestinians instructed to pray at home during Ramadan due to coronavirus
By KHALED ABU TOAMEH
APRIL 15, 2020
Palestinian Mufti Sheikh Mohammed Hussein announced on Wednesday that Muslims must hold prayers during the fasting month of Ramadan at home and not in mosques, to curb the spread of the coronavirus pandemic.
Mosques in east Jerusalem, the West Bank and the Gaza Strip have been closed since the outbreak of the virus last month.
"The taraweeh prayers will be held at home, because reopening the mosques is linked to the end of the coronavirus crisis," Hussein said, referring to the daily ritual prayers performed by Muslims at night during Ramadan, which begins next week.
The mufti also ruled that due to the pandemic, Palestinians will not be required to look at the night sky for the slight crescent moon (hilal) that marks the beginning of the next month.
The Islamic calendar is lunar-based, with each month coinciding with the phases of the moon and lasting either 29 or 30 days. Traditionally, Muslims mark the beginning of an Islamic month by looking for the crescent moon.
Hussein said that the task of watching for the crescent moon would be limited to religious clerics and the Palestinian Astronomers Association.
The announcement came two days after Saudi Arabia also announced the suspension of the Ramadan prayers.
Saudi Minister of Islamic Affairs Abdul Lateef al-Sheikh said that the daily obligatory prayers observed by Muslims are more important than taraweeh prayers. Instructions to stay home were in line with advice from the Health Ministry, he added. "We ask Allah the Almighty to accept taraweeh prayers whether held at mosques or homes, which we think is better for people's health," al-Sheikh said.
https://www.jpost.com/Middle-East/Palestinians-instructed-to-pray-at-home-during-Ramadan-due-to-coronavirus-624723
--------
Health Ministry weighs options to prevent COVID-19 spread during Ramadan
APRIL 15, 2020
The Health Ministry is currently weighing various options to curb the spread of coronavirus in Israel's Arab communities ahead of the month of Ramadan, Ynet reported on Wednesday.
The concern is that as families attend the large evening meals that break the daily fast coronavirus might spread within the Muslim population and beyond. The report follows the recent decision to place four Arab-Israeli villages in the north of the country under lockdown following an outbreak of the virus.
The month of Ramadan begins on April 23, giving officials just over a week to decide on a comprehensive set of policies and communicate them to Arab communities in Israel.
The ministry stated that the coronavirus instructions for Ramadan "will not resemble the Passover instructions" given to Jewish people. The difference in policy is due to the fact that Ramadan is four times longer than Passover, involves daytime fasting and people observing the holiday often take walks to greet friends and neighbors.
Decision makers are also aiming to reduce possible clashes between security forces and Arab communities, after riots erupted in Jaffa when a person was arrested by police after violating coronavirus orders.
One concern is the Arab community in Jerusalem. To reduce possible hostility in some Muslim sections of the city, IDF soldiers do not deliver food packages in uniform, as they usually do, but place them in delivery centers where they are picked up by local volunteers who distribute them to refugee camps and neighborhoods that are over the green line.
One idea that is currently being suggested to the national Coronavirus Task Force is to avoid using IDF soldiers, who are currently busy offering help at elderly people's homes.
The national Coronavirus Task Force is also examining communications options that will ensure that instructions are widely and accurately disseminated.
Head of the Interior Ministry's committee to combat coronavirus among the Arab community Ayman Sayaf warned that he sees a relaxation among Arab-Israelis in the last few days and that "as Ramadan comes near we want to increase the level of compliance with the instructions."
He added that not only will special centers be opened in the north to house coronavirus patients, some centers will only serve women. However, it was stressed that only people who agree to going to one of the centers will stay there
Interior Minister Aryeh Deri is tasked with handling the coronavirus epidemic among both haredi (Ultra-Orthodox) Jews and Arab-Israelis. The ministry already delivered funds to Arab municipalities to ensure they can maintain services during a massive outbreak.
The month of Ramadan (intense heat in Arabic) is one of the five pillars of Islam and is composed of daytime fasting and evening festivities. The month marks the beginning of the Quranic revelation to Muhammad, the founder of Islam.
https://www.jpost.com/Israel-News/Health-Ministry-weighs-options-to-prevent-COVID-19-spread-during-Ramadan-624712
------
Turkish Red Crescent to aid 10M in Ramadan, head says
Faruk Zorlu
15.04.2020
The Turkish Red Crescent aims to reach 10 million people both in Turkey and across the globe during the Muslim holy month of Ramadan as the novel coronavirus continues its grip worldwide.
In a video conference on aid to be distributed during Ramadan, KeremKinik, the head of the Turkish Red Crescent, told reporters: "This year, we allocated a large part of our operations for needy in Turkey" due to the coronavirus pandemic, unlike previous years.
However, the aid body will also reach lots of areas suffering from poverty, war and natural natural disasters around the world, he added.
The Turkish Red Crescent will deliver food packages to half a million people in 16 countries across the world, including Bosnia and Herzegovina, Bulgaria, the Turkish Republic of Northern Cyprus, Palestine, Syria, Iraq, South Sudan, Somalia, Afghanistan, Pakistan, Bangladesh, Rakhine, and Senegal in Ramadan, Kinik elaborated.
The agency will deliver food aid to 610,000 families, about 2.5 million people, in Turkey, he said, adding the aid will be distributed both in cash and in-kind.
He went on to say: "This year, we will also send a code to those in need via text messages for grocery shopping with codes in related shops during Ramadan."
Besides food packages, and face masks and sanitizers produced by the aid body, the Turkish Red Crescent will also organize 3 million iftar, fast-breaking, meals to those who stay at home for different causes in Turkey, the chief underlined.
Also, the agency will deliver iftar meals to 4,000 healthcare staff who will be working in hospitals to fight the pandemic during Ramadan.
Additionally, it will deliver personal care packs and sanitizers to 550,000 families, and provide 400 Turkish liras ($58) per month for 215,000 families in Turkey during Ramadan.
After first appearing in China in late last year, the virus has spread to at least 185 countries and regions, according to data compiled by U.S.-based Johns Hopkins University.
The data shows more than 1.99 million cases have been reported worldwide, with the death toll surpassing 127,500 and over 500,000 recoveries.
https://www.aa.com.tr/en/turkey/turkish-red-crescent-to-aid-10m-in-ramadan-head-says/1805884
-----
U.S. accuses Iran of 'dangerous harassment' of its warships
04.16.20
Iranian officials did not immediately acknowledge the incident, which comes after armed men believed to be from Iran's Revolutionary Guard seized a Hong Kong-flagged tanker.
In a statement, the U.S. Navy's Bahrain-based 5th Fleet said Revolutionary Guard vessels repeatedly crossed the bows and sterns of several American ships at close range and high speed.
The American vessels included the USS Paul Hamilton, a Navy destroyer, the USS Lewis B. Puller, a ship that serves as an afloat landing base, and the USCGC Maui. The ships were operating with U.S. Army Apache attack helicopters in international waters, the statement said.
"The dangerous and provocative actions increased the risk of miscalculation and collision... and were not in accordance with the obligation under international law to act with due regard for the safety of other vessels in the area," the statement said.
The Americans issued multiple warnings via bridge-to-bridge radio, fired five short blasts from the ships' horns and long-range acoustic noise maker devices, but received no immediate response, the statement said. After about an hour, the Iranian vessels responded to the bridge-to-bridge radio queries, then maneuvered away.
The semiofficial Fars news agency, believed to be close to the paramilitary Guard, acknowledged the incident in a report that did not include any comment from Iranian officials.
Tense incidents remain common between Iranian and U.S. forces in the Persian Gulf and its narrow mouth called the Strait of Hormuz, through which a fifth of all the world's oil passes. Iran seized ships last summer and the U.S. accuses it of attacking tankers in the region amid tensions over President Donald Trump unilaterally withdrawing America from Tehran's nuclear deal with world powers.
On Tuesday, armed men boarded and briefly held the Hong Kong-flagged tanker SC Taipei and its Chinese crew before releasing the vessel.
The U.S.-led International Maritime Security Construct, a group created to deter Iranian attacks in the region, acknowledged the incident in a statement late Wednesday. The group said it "assessed no immediate threat to the free flow of shipping in the area."
https://www.ynetnews.com/article/Syv2eFSdU
-----
Israel talks to drag on as Netanyahu and Gantz miss coalition deadline
16/04/2020
Israeli Prime Minister Benjamin Netanyahu and his main rival Benny Gantz missed a midnight deadline to reach a unity government deal but agreed early on Thursday to continue talks.
Even the medical and economic crises brought on by the coronavirus outbreak have so far failed to end an unprecedented political deadlock that has pushed Israel into three inconclusive elections in the last year, and perhaps now a fourth.
Gantz and Netanyahu have been negotiating a power-sharing deal that would keep the right-wing premier in office for another 18 months, Israeli media reported.
Gantz, a relative newcomer to politics, was given the first chance to put together a government after the most recent election, in March.
President Reuven Rivlin, who is overseeing the talks, said on Monday that progress justified his decision to grant Gantz a two-day extension to hash out a deal with Netanyahu.
But Gantz's mandate expired at midnight on Wednesday after a last-minute attempt by the two leaders' envoys to clinch a deal. That complicates plans for economic recovery once the coronavirus outbreak is brought under control, and the country's stringent lockdown is eased.
Without a deal, it will be up to parliament to pick a candidate who would then have 14 days to form a government. Failure to do so would automatically dissolve parliament and trigger a snap election.
Netanyahu and Gantz released a joint statement early on Thursday saying they would continue negotiations later in the day. Talks technically can continue until parliament is formally dissolved.
Gantz had previously said he would not serve in a government led by Netanyahu, who is facing indictment on corruption charges but denies any wrongdoing. The trial is due to begin next month.
But the enormity of the coronavirus crisis prompted Gantz to break his campaign promise and to consider a deal, a move that angered many of his anti-Netanyahu supporters.
The outcome appeared to weaken Gantz while strengthening Netanyahu, whose caretaker government is overseeing the country's response to the coronavirus crisis.
A Monday poll from Israel's Channel 12 news said that if an election were held now, Netanyahu's Likud party would see a four-seat boost to 40 in the 120-member Knesset, while Gantz's weakened Blue and White party would win only 19.
Israel has reported over 12,500 COVID-19 cases and at least 130 deaths. Restrictions have confined most Israelis to their homes, forcing businesses to close and sending unemployment to more than 25%.
https://www.france24.com/en/20200416-israel-talks-to-drag-on-as-netanyahu-and-gantz-miss-coalition-deadline
-----
South Asia
India sending 500,000 HCQ tablets to Afghanistan to help treat the coronavirus patients
15 Apr 2020
The government of India has decided to send 500,000 hydroxychloroquine (HCQ) tablets to Afghanistan in a bid to help with the treatment of the COVID-19 patients, it has been reported.
A senior government official has told the Hindustan Times that New Delhi is currently working on options for the shipment of the tablets to Afghanistan in view of relations with Pakistan.
"We are looking at various possibilities to reach the medicine to the people of Afghanistan at the earliest," the official said.
Global demand for the anti-malarial drug hydroxychloroquine had boosted over the last few weeks after some studies showed that it helped to reduce the viral load in Covid-19 patients, according to Hindustan Times.
This comes as the COVID-19 positive cases are sharply rising in Afghanistan and the total cases rose to 784 as of Wednesday.
The disease has killed at least 25 people including some doctors, the officials in Ministry of Public Health said.
https://www.khaama.com/india-sending-500000-hcq-tablets-to-afghanistan-to-help-treat-the-coronavirus-patients-04668/
----
Bangladesh Commerce Minister Seeks Help Of All For TCB's OMS Operation Ahead Of Ramadan
April 15, 2020
DHAKA, April 15, 2020 (BSS) – Commerce Minister Tipu Munshi today sought cooperation from the people and officials concerned as Trading Corporation of Bangladesh (TCB) started open market sale (OMS) of essential commodities ahead of the holy month of Ramadan.
TCB's OMS operation is going on through 3,000 dealers in 400 spots across the country where oil, sugar, lentil, gram and onion are available, said a commerce ministry press release today.
Of the total 400 spots, highest 90 are located in capital while 30 in Chattogram and the remaining spots are in divisional, district and upazila levels to sell the essentials commodities at reasonable price.
Meanwhile, eight mobile teams of commerce ministry have been working to ensure smooth operation of TCB's OMS activities in Dhaka City Corporations areas.
The commerce minister directed the officials concerned to take stern legal action if any irregularity is found in the OMS activities.
https://www.bssnews.net/?p=376342
------
Bangladesh rescues hundreds of Rohingya adrift at sea; 24 dead
4 hours ago
At least 24 Rohingya died at sea after their boat failed to reach Malaysia, the coastguard in Bangladesh said on Thursday after rescuring 396 Rohingya people from the vessel which had been adrift for weeks after failing to reach Malaysia.
The official said a "final decision" had been made to send those rescued to neighbouring Myanmar. The coastguard initially said 382 had been rescued but later revised the number higher.
Video images showed a crowd of mostly women and children, some stick-thin and barely able to stand, being helped to shore. One refugee told a reporter that the group had been turned back from Malaysia three times and at one point there was a fight on board between the passengers and the crew.
Myanmar does not recognise Rohingya as citizens, and they face severe curbs on their movement as well as access to jobs, healthcare and education.
A boatload of hundreds of emaciated #Rohingya drifted ashore in #Bangladesh after a failed attempt to flee to #Malaysia. 28 reportedly died while adrift. Until justice, rights, & livelihoods improve, many will continue to risk their lives at sea & these horrors will continue... https://twitter.com/DhakaTribune/status/1250483782915731457 …
400 #Rohingyas returning from #Malaysia #rescued in #Teknaf https://www.dhakatribune.com/bangladesh/nation/2020/04/15/400-rohingyas-returning-from-malaysia-rescued-in-teknaf …
Hundreds of thousands of Rohingya fled the country in 2017 following a brutal army crackdown, and violence continues in the western state of Rakhine where some remain in squalid camps. Those forced into Bangladesh live in sprawling refugee camps near the border with Myanmar, which is under investigation at the International Court of Justice for genocide against the ethnic group.
Myanmar denies persecuting the Rohingya and says they are not an indigenous group despite having lived in the country for centuries.
A human rights group said it believed more boats carrying Rohingya were still at sea, because of coronavirus lockdowns in Thailand and Malaysia, a popular destination for the mainly Muslim Rohingya despite the country not being a signatory to the UN refugee convention.
"Rohingya may encounter closed borders supported by a xenophobic public narrative," Arakan Project Director Chris Lewa said.
On April 5, Malaysian authorities intercepted a boat found drifting off the coast of the northwestern island of Langkawi and detained more than 200 Rohingya, including children, who were found on board.
In February, at least 15 Rohingya who had been living in the refugee camps in Teknaf died after their boat capsized in the Bay of Bengal. Reports said they had also been trying to get to Malaysia.
A police official in Malaysia's northern state of Kedah told Reuters that several boats were trying to reach Malaysia and that monitoring had been stepped up. In southern Thailand, a police official said that five boats had been seen off the coast of Satun late on Monday. It was not possible to independently confirm the comments.
Rohingya have for years boarded smugglers' boats to get to Southeast Asia, usually during the November to March dry season when the sea is calmer.
https://www.aljazeera.com/news/2020/04/bangladesh-rescues-hundreds-starving-rohingya-adrift-sea-200416031401026.html
-----
With Virus, South Korea's Govt Wins in Landslide
15 April 2020
South Korea's world-class response to the global coronavirus pandemic has helped President Moon Jae-in's left-leaning allies to retain control of its government with a historic majority in Parliament, The New York Times reported.
Moon's Democratic Party won 163 of the 300 seats in the National Assembly, while a satellite party won another 17, giving the groups a combined three-fifths of the seats, the largest majority in about 30 years, according to the report.
Voter turnout was high at 66.2 in what amounted to a midterm referendum on Moon's five-year term that began in 2017, the Times reported.
This is the first left-leaning majority in South Korea in 16 years, which is a credit to South Korea's mitigation of the deadly coronavirus. There have been just 10,613 confirmed cases of COVID-19 in the country, with just 229 related deaths reported, according to Worldometers.
Moon's regime had faced criticism for downplaying the threat, per the Times, but the mitigation there has limited the infections and deaths to that of a mid-level U.S. state.
https://www.newsmax.com/newsfront/south-korea-moon-jae-in-pandemic-parliament/2020/04/15/id/963080/
----
COVID-19 cases rise to 840 in Afghanistan with 56 new positive cases
16 Apr 2020
The total number of the novel coronavirus (COVID-19) positive cases climbed to 840 in Afghanistan with the new 56 positive cases.
The Ministry of Public Health announced Thursday that the 54 new positive cases of the novel coronavirus were recorded across the country in the past 24 hours.
WaheedullahMayar, a spokesperson for the Ministry of Public Health, confirmed the new positive cases which the authorities recorded in several provinces in the past 24 hours.
Mayar further added that 37 positive cases were recorded in Kabul, 11 in Herat, 6 in Balkh, 1 in Nangarhar and 1 in Laghman province.
The disease has so far killed at least 30 people across the country while at least 54 others have fully recovered, according to public health ministry officials.
https://www.khaama.com/covid-19-cases-rise-to-840-in-afghanistan-with-56-new-positive-cases-04672/
-----
Over 3 million rounds of munitions handed over to Afghan forces
16 Apr 2020
The international allies of Afghanistan handed over more than 3 million rounds of munitions to the Afghan National Defense and Security Forces.
The 205th Atal Corps reported late on Wednesday that the Resolute Support advisers in Kabul transferred more than 3 million rounds of small arms and heavy machine gun ammunition to the Afghan forces.
According to a short statement released by Atal Corps, the coalition forces handed over the munitions to the Afghan forces on 10th of April.
"#COVID19 won't stop #NATO Resolute Support from providing critical supplies to #ANDSF as they ensure security for the #Afghan ppl. RS transferred over 3 million rounds of small arms and heavy machine gun ammo to ANDSF partners April 10 in Kabul.@MoDAfghanistan @moiafghanistan," the alliance said in a Twitter post.
https://www.khaama.com/over-3-million-rounds-of-munitions-handed-over-to-afghan-forces-04671/
-----
Stoltenberg talks about troop reduction, peace process, political challenges in Afghanistan
15 Apr 2020
The NATO Secretary General Jens Stoltenberg has said any reduction in troop numbers will be condition based as he reaffirmed the alliance's support to Afghanistan and the Afghan forces.
He made the remarks in response to a question regarding the impact of the recent political developments and the U.S.-Taliban peace on NATO mission in Afghanistan.
"Well, NATO Allies and NATO have expressed support to the agreement between the US and Taliban. And to support the peace efforts we have decided to adjust our troop levels in Afghanistan from currently roughly 16,000 down to 12,000. But we also said that any reduction will be conditions based and that we remain committed to Afghanistan and that we will continue to provide training, assistance and also financial support," Stoltenberg said.
Stoltenberg further added "And we have to understand that even at the level of 12,000 we will be able to continue the mission operations very much as we have done for several years now, because we were actually almost at that level until 2017. Then we had that increase to 16,000. Now we are back again almost at the same level as before the increase in 2017. So the NATO troop levels have been adjusted before up and down, and we have conveyed a clear message that what we do in Afghanistan will be conditions based."
However, he said "So NATO's message is that we went into Afghanistan together, we'll make decisions on adjusting our posture together and when the time is right, we will of course leave together, but we will leave when the conditions are in place for reducing further our presence."
He also added "We actually believe that the best way we can support the peace efforts is to continue to support the Afghan security forces and by doing that sending a message to the Taliban that they will not win on the battlefield. They have to sit down and make real compromises at the negotiating table. We call on the Taliban to respect the peace agreement with the US to reduce violence and to sit down and engage in intra-Afghan negotiations."
In regards to the political tensions in the country, Stoltenberg said "It is also important that the political challenges we see on the government side and in Afghanistan that they are addressed. And we need unity. We need a functioning political process in Afghanistan not least to be able to fully engage in the peace process."
https://www.khaama.com/stoltenberg-talks-about-troop-reduction-peace-process-political-challenges-in-afghanistan-04667/
----
Southeast Asia
Ramadan under a quarantine: Finding meaning even with distancing
April 16, 2020
COTABATO CITY – The plague of COVID-19 has emptied houses of worship across the world: Catholics observed Lent and the Holy Week celebration under quarantine, and Christians all over the world celebrated Easter with more solemnity and social distancing than they ever have. Religious practices and traditions had to be adjusted to ensure the health and safety of the religious.
The last week of April will mark another important religious event – this time for Muslims: the holy month of Ramadan which will bring close to two billion people around the world together in fasting, prayer, and charitable works, despite this pandemic.
"This mosque used to be packed with the faithful especially during Friday prayers," said 67-year-old HaronMenang, who is a caretaker of the Al Borhan Mosque in Cotabato City. He said hundreds of people used to attend daily prayers at this mosque, but this all stopped after COVID-19. He said this is not the norm.
In mid-March, the Bangsamoro Grand Mufti, one of the leading Islamic clerics in the region issued a declaration temporarily suspending all congregational prayers in small and big mosques across the Bangsamoro region.
Menang, who hails from DatuPiang in the nearby province of Maguindanao, said that he has been a caretaker of the Al Borhan Mosque for decades. He considers this holy site as his second home.
Next week, Muslims around the world will start the month-long fast of Ramadan, the most important month for the Muslim faithful, when they engage in reflection and works of charity.
With a pandemic confining people to their homes, the upcoming month-long observance is more challenging than usual for Menang now that the suspension of congregations has not been lifted, and people continue to observe the quarantine.
"It was our routine every Friday to clean this mosque thoroughly since people gather for the Friday prayer. Now, I am the only one left praying here."
"I always include a request for this to end soon in my daily prayers," Menang said. "because it affects the lives of the people negatively." He added that this will be the first time he is observing the month-long fast with no congregation prayers in the mosque.
Davao-based Nina Bahjin-Imlan, a working professional and a mother of one, highlights the sense of community during Ramadan: "Ramadan for me is really about having a sense of community. It's the time of the year where I get to connect the most with my fellow Muslims."
She said "I've lived half my life in Metro Manila away from my family, but I've never felt alone during Ramadan. My usual routine consists of fasting during the day, breaking my fast with the community (whether at UP, or in other mosques), praying tarawih collectively, even partaking my pre-dawn meals with Muslim neighbors and friends whenever we get the chance to do so."
Tarawih is the additional prayers perform by Muslims at night during Ramadan – more than an hour after they break their fast at dusk. Bahjin-Imlan said that she also makes sure to maximize social media during Ramadan so she can listen online to daily khutbahs, the public preaching of local and international imams. On weekends, she sometimes joins charity events and interfaith iftars organized by Muslim organizations.
Iftar is a meal Muslims eat at sunset to break their fast. In recent years, community iftars were enjoyed not just by a Muslim community, but by various groups that host such shared meals as a means for fostering interfaith solidarity in some parts of Mindanao and in Metro Manila. Schools and universities in Mindanao have also organized community iftars inside their campuses in the past. This year, that is not happening.
For her, Ramadan also makes it easier for other Muslims from other cultures to reconnect with their faith and the global community of the Islamic faithful.
"There's a certain magic during Ramadan that seems to break social barriers brought about by cultural differences within the Muslim community," she said. "It is especially during Ramadan where I see Tausug praying alongside Meranaw, born Muslims organizing events with Muslim reverts, or Arab Muslims breaking their fast amongst Filipino Muslims. These slight differences in culture that are otherwise magnified for various reasons (often political) seem to come to a halt during Ramadan, and that's one of the most special things about this season."
This year's Ramadan will be different, she said, because the contagion that holds the world hostage has yet to be contained and defeated.
"Should the enhanced community quarantine still be in place when Ramadan comes in, I suppose that this year there will be no community iftars, congregational prayers, and physical gatherings. It will be heartbreaking, especially for Muslim females who, more often than not, only get to feel that they're part of the community during this time of the year. It's a good thing that, with social media, people will still have access to online khutbahs. The internet also gives a lot of room for innovative ideas to take place. However, I imagine that the adjustment period will be difficult."
"Personally, since my husband is a medical doctor who works at the front lines, Ramadan will be especially harder for me as I would have to go through the holy month alone," Bahjin-Imlan added. "I imagine that I would need to wake up in ungodly hours to cook alone, take my pre-dawn meal alone, break my fast alone, and pray alone. Not being with the community during Ramadan is hard enough as it is, but not being with your family and knowing that they are at a big risk of contracting the virus is a different kind of heartbreak altogether."
"I can only hope that this will be a blessing as much as it is a trial—that through this experience, I would be able to empathize more with the poor and the needy who are in far more disadvantaged situations than I am," she said.
For Andrew Alonto, who works for the Bangsamoro autonomous government, his Ramadan routine "has been pretty much the same in recent years. We would have this Ramadan fair where I work. For the whole month, exhibitors would set up booths and sell a variety of products from food to souvenir items."
"Before heading home after work, I would usually pass by the fair and see what I can buy and take home for my wife," Alonto said. "I usually go for my wife's favorites—siomai, takoyaki, and tapioca. When my parents are in town to spend some days of Ramadan with us, I'd include grilled fish and some Meranaw food. There are days also where we have iftars in the home of my aunt who lives nearby."
He also said that "we have a way of breaking our fast: As soon as we hear the adhan for magrib, we break the fast with fruit salad, pray, and then have some soup with bread. This is heavy enough to last until the end of tarawih. After tarawih, we have our actual dinner and some dessert after."
Adhan is the Islamic call to prayer that summons Muslims to perform the obligatory five prayers a day. Magrib. is one of the five obligatory prayers and it is performed just after sunset.
Look at the bright side, he said: "I know this year will be a lot different. We can't expect the usual festive mood that Ramadan brings. There won't be any trade fairs. There won't be any tarawih prayers in the mosques. There won't be any breaking of iftar with friends and other relatives. However, I choose not to take it negatively. Maybe this year, the spiritual side of Ramadan will be highlighted. I think it will be an opportunity to have a sincere reflection of the past and to solemnly pray for the ummah (Muslim community)."
This year's Ramadan will definitely be very different for Muslims around the world. This also offers an opportunity for Muslims to step back and deepen their reflections.
The dreaded COVID-19 may have challenged Muslims' ability to gather in mosques, or to be with families and friends during community iftars. It may have succeeded, at some point in separating them physically from each other. But it will not destroy their resolve, our faith, or their hopes that they will be able to come together in spirit, and observe a meaningful Ramadan
https://www.rappler.com/nation/258075-ramadan-quarantine-finding-meaning-with-distancing
------
SC 2019 Annual Report: Malaysia retains top position in Islamic capital market
16 Apr 2020
KUALA LUMPUR, April 16 — Malaysia, being world's top Sukuk insurer and prominent centre for Islamic funds, continues to maintain its leadership in the Islamic capital market (ICM).
Securities Commission Malaysia (SC) said in 2019, ICM represented majority of Malaysia's capital market at 63.57 per cent and a market size of RM2.04 trillion as at December 2019, a growth of 8.23 per cent from the previous year.
Malaysia issued RM102.39 billion worth of Sukuk, constituting 77.09 per cent of total corporate issuances, while Islamic asset under management (AUM) stood at RM180.52 billion last year, making up 21.93 per cent of the fund management industry.
In addition, Shariah-compliant securities comprised 64.06 per cent of total equity market capitalisation valued at RM1.1 trillion, the SC said in its 2019 Annual Report released today.
"These include Islamic Exchange Traded Fund (ETF) based on gold, SRI Islamic funds, as well as social and green Sukuk," it said, adding that there were now 23 full-fledged Islamic fund management companies in the country as of December 2019.
To facilitate the development of a Waqf concept linked to the capital market, the SC has explored leveraging investment products such as collective investment schemes (CIS), where returns generated would be channelled into Waqf projects or initiatives.
Taking into account the results of extensive consultations with the industry, the SC is developing a waqf fund structure for the reference of fund managers interested in issuing such product.
The SC has also licensed Wahed Technologies as Malaysia's first Islamic digital investment manager (DIM) on Aug 9, 2019, as recommended by the Islamic Fund and Wealth Management Blueprint (IFWMB) to facilitate new Islamic digital business models, products and services in the country.
This provides investors with access to a diversified Shariah-compliant portfolio in an efficient and transparent manner, and facilitates connectivity with international markets through its parent company, Wahed Invest, which has presence in more than 130 countries.
The five-year IFWMB was introduced in 2017 to chart the strategic direction for Malaysia's Islamic fund and wealth management industry.
https://www.malaymail.com/news/money/2020/04/16/sc-2019-annual-report-malaysia-retains-top-position-in-islamic-capital-mark/1857290
-----
India agrees to sell hydroxychloroquine to Malaysia to help fight Covid-19
16 Apr 2020
NEW DELHI/KUALA LUMPUR (Reuters): India has agreed to sell hydroxychloroquine tablets to Malaysia for use in the treatment of Covid-19 patients, Deputy Foreign Minister KamarudinJaffartold Reuters on Wednesday (April 15), with New Delhi partially lifting its bar on exports of the anti-malarial drug.
https://www.thestar.com.my/news/nation/2020/04/16/india-agrees-to-sell-hydroxychloroquine-to-malaysia-to-help-fight-covid-19
-----
Health DG: Wear mask and practise social distancing
15 Apr 2020
By JOSEPH KAOS
PETALING JAYA: People should wear masks, practise social distancing and avoid the '3Cs' of confined spaces, crowded places and close contact with one another, says Health director-general Datuk Dr Noor Hisham Abdullah.
"If you have confined space, with poor ventilation, you should avoid that space," he said.
"Then it's crowded places. You should avoid that, too.
"Please, avoid close contact when you communicate with your friends, for instance.
"Sometimes you can come very close. If you can stay a bit of distance (away), that would be encouraged.
"Wearing a mask will be additional protection," he said at the ministry's daily Covid-19 media briefing here Wednesday (April 15).
Dr Hisham made the mask remark after he was asked if Malaysia would follow Singapore to make it mandatory for everyone to wear a mask when they step out as part of stricter measures to curb the further spread of the coronavirus.
On whether the ministry had identified any sub-cluster in Lembah Pantai, he pointed to areas that had been put under the enhanced Movement Control Order (MCO).
"If you look into the areas involved, Menara Plaza City One, Malaya Mansion and the Selangor Mansion are under Lembah Pantai.
"There is an increase in case detection in the area," he said.
-----
MCO violators to serve time at prison academy
16 Apr 2020
PUTRAJAYA: Those sentenced to jail for movement control order (MCO) offences will serve time at the Prisons Department's academy premises.Senior Minister Datuk Seri Ismail Sabri Yaakob (pic) said 13 such premises would be gazetted to house MCO offenders to avoid overcrowding in prisons.
He said this was in line with the decision to bring MCO violators to court instead of issuing them a RM1,000 compound.
"By using these premises as detention centres, we have resolved concerns of overcrowding in prisons. Bear in mind that the detention centres may not have the physical outlook of a prison, but all prison rules still apply there, " he said.
On Tuesday, authorities arrested 612 people for MCO violations. Of that total, 590 were remanded while the others released on police bail.
Ismail Sabri also said the government had allowed Sabah and Sarawak flights to resume because individuals from these two states, who were quarantined in the peninsula, had completed the requirement and wanted to return home.
"This is also to resolve the issue of those in transit as we have allowed Sabahans and Sarawakians returning from overseas to undergo mandatory quarantine in their home states, " he added.
It was reported that Malaysia Airlines (MAS) would resume flights between Peninsular Malaysia and Sabah and Sarawak this week.
The flights involved are the Kuala Lumpur-Kuching-Kuala Lumpur, Kuala Lumpur-Miri-Kuala Lumpur and Kuala Lumpur-Kota Kinabalu-Kuala Lumpur routes.
https://www.thestar.com.my/news/nation/2020/04/16/mco-violators-to-serve-time-at-prison-academy
-----
Building regional resilience against COVID-19
Retno LP Marsudi
April 16 2020
This week, the world saw the COVID-19 infection rate top 1.7 million, with more than 100,000 deaths globally. Although cases in ASEAN countries only account for 1 percent of worldwide cases, the numbers will likely increase as testing continues.
The World Health Organization has warned that this pandemic is far from over in the Asia-Pacific region. The specter of a new wave of infection is on the horizon if we do not act swiftly and collectively.
COVID-19 is not simply a health crisis. It is a humanitarian tragedy with devastating socio-economic implications. Our region is not immune to such predicament.
The Asian Development Bank projected that growth in the Southeast Asia region would drop to 1 percent in 2020. The economic fallout could drive an additional 11 million people in East Asia and the Pacific into poverty, according to the World Bank. Meanwhile, the International Monetary Fund said it was anticipating the worst economic crisis since the Great Depression. Therefore, there is no time to be complacent.
Proposed by Indonesia to respond to this urgent situation, ASEAN leaders held a special summit, followed by the ASEAN Plus Three Special Summit via video conference on Tuesday, aimed at bolstering regional coordination and response against COVID-19 and mitigating its socioeconomic impact on the region.
The ASEAN Summit is especially important as ASEAN countries had the opportunity to hear from China and South Korea, which were hit earlier by the virus and have shown results in "flattening the curve".
These summits take place at a time whereby a collective regional response is highly needed. In both summits, President Joko "Jokowi" Widodo addressed that urgency by underlining the importance of strengthening unity, solidarity, synergy and collaboration in the region.
First, suppressing further spread of COVID-19. We all share the responsibility to ensure all countries in the region have the necessary support and capacity to prevent, detect, control and respond to the pandemic.
Concrete collaboration could make a big difference in terms of how many lives we could save. This could translate into joint development of an antivirus and vaccine for COVID-19, and capacity-building for medical professionals and healthcare workers, including through the ASEAN+3 Field Epidemiology Training Network. We should also consider developing a platform for private sectors' involvement to support these efforts.
Equally important is intensifying exchange of information on the latest developments, best practices and lessons learned in real-time more regularly as some countries have shown positive signs in "flattening the curve".
Breaking the chain of COVID-19 requires each country to prevent the virus from spreading beyond its borders. Therefore, during the ASEAN Summit, President Jokowi suggested that ASEAN develop a protocol for cross-border public health responses to help contact tracing and outbreak investigation, as an important element of ASEAN's standard operating procedure for public health emergencies.
Additionally, Indonesia also welcomes the proposal to establish a COVID-19 ASEAN Response Fund to scale up our efforts to contain COVID-19.
Second, preserving the sustainability of regional supply chains. At this critical juncture, a steady supply of food, medicine and medical equipment are essential. Temporary restrictions on the movement of people should not restrict trade within the region.
We certainly do not wish for this health crisis to spiral into a food security crisis. To avoid this calamity, countries in the region might consider the utilization of the ASEAN Plus Three Emergency Rice Reserve.
Indonesia remains committed to keeping its critical infrastructure for trade and trading routes open. In this respect, President Jokowi proposed that ASEAN adopt a special arrangement to ensure the unimpeded flow of essential goods during this outbreak.
As each ASEAN country adopts their own national measures to contain COVID-19, we must not lose sight of our commitment to assisting and protecting our nationals, particularly the vulnerable ones, in other ASEAN countries. Nearly 7 million workers migrate within ASEAN countries. I believe that they are at the heart of our community building process.
With more than 1 million Indonesians working in Singapore and Malaysia, I have been in close contact with my counterparts to ensure the protection of our migrant workers in their respective countries.
The two summits resulted in the commitment to boost confidence and improve the regional economy, including through policy stimulus and assistance for micro, small and medium enterprises .
President Jokowi called for the strengthening of existing mechanisms to support regional financial stability, such as the ASEAN+3 Macroeconomic Research Office and Chiang Mai Initiative Multilateralization. We must contribute to revitalizing international trade as a means to promote regional economic recovery. This includes instilling confidence in Southeast Asia as a trade and investment hub.
All in all, it is only by strengthening our unity and solidarity can the region win this battle against COVID-19. It is in the DNA of ASEAN as one family to always stand ready to help each other. Now is the time to translate that into concrete actions to jointly fight this common challenge.
https://www.thejakartapost.com/news/2020/04/16/building-regional-resilience-against-covid-19.html
-----
Arab world
International Islamic Trade Finance Cooperation Provides $850 Million for COVID-19 Emergency Interventions for OIC Member Countries in Most Need
16th, 2020
Societies and economies are being affected by the unprecedented and unpredictable nature of the COVID-19 pandemic. These include a major shift in global trade routes, changes in consumption and extraordinary levels of monetary easing and stimulus packages at a scale never experienced before. The International Islamic Trade Finance Corporation (ITFC) is moving quickly to consolidate efforts to mitigate the socio-economic risks that the virus poses to all our stakeholders in member countries of the Organization of Islamic Cooperation (OIC).
As we assess how COVID-19 affects the work we do and the impact on member countries, ITFC is engaging closely with government stakeholders, partners, businesses and the financial institutions we work with. That dialogue enables us to respond in a coordinated manner to soften the economic fallout. This is in addition to practical measures that have already been taken.
ITFC has moved quickly to put in place emergency financing measures to ensure that member countries continue to receive the support needed. Our COVID-19 'Rapid Response Initiative' (RRI) has made US$ 300 million immediately available.
ITFC is also responding to the different requests made by Member Countries to provide immediate crisis-related technical assistance programs, including capacity building for medical personnel and capacity enhancement of laboratories. ITFC is also assisting in sourcing medical equipment and medicines from its network.
These funds are being directly funneled towards eligible OIC member countries in most need of support – for critical supplies of energy, healthcare, food security and other life support requirements. ITFC is in continuous consultations with OIC member countries to ascertain their most pressing needs as the pandemic unfolds.
An additional fund – the 'Recovery Response Program' (RRP) - earmarks another $550 million for deployment over the next two years. The RRP is aimed at fixing the socio-economic damage which is expected to last longer than immediate impact of the virus.
ITFC is actively engaging international, regional and local partners as a strategic means of scaling these interim financing measures to contribute to the critical needs of the member countries and where necessary, on the mobilization of trade development support services during the pandemic. This includes helping OIC member countries with strategies for the control and production of healthcare facilities.
ITFC employees continue to work remotely through virtual platforms and other online means of communication, to ensure business is running as usual. We remain fully engaged and responsive to the business and socio-economic needs of the many millions of people we serve.
Whilst the challenges and impact of COVID 19 continue to evolve, we are certain by uniting and standing in solidarity with our member countries, we will overcome the crisis.
https://www.albawaba.com/business/pr/international-islamic-trade-finance-cooperation-provides-850-million-covid-19-emergency
------
UAE CHARITIES WILL DELIVER IFTAR MEALS DURING RAMADAN
16 APRIL 2020
BY KATHRYN RAO
Due to the ongoing COVID-19 pandemic, the UAE government has implemented necessary movement restrictions and has temporarily closed places of worship in an attempt to contain the spread of the coronavirus. The virus has now infected over 2 million people and caused over 100,000 deaths worldwide.


As Ramadan approaches and tradition of distributing iftar meals to those in need at mosques and tents will not take place this year, in order to avoid crowded places as a result of the current global situation, charities are preparing to deliver thousands of iftar meals during the holy month of Ramadan to low-income workers and struggling families countrywide. The decision was made to provide relief and ease the suffering of thousands of individuals during this time.
Additionally, in contribution to the Community Solidarity Fund Against COVID-19 UAE, accredited groups of charities in the UAE such as Mohammed bin Rashid Al Maktoum Humanitarian and Charity Establishment, MBRCH, Beit Al Khair Society, Dar Al Ber Society and Tarahum Charity Foundation have already delivered over 30,000 daily meals to underprivileged people in Naif, Satwa, Jebel Ali and Al Warsan.
"The humanitarian assistance to people affected by the current circumstances provides them relief and a sense of stability. Contributions like these reflect the UAE's ethos of providing aid to everyone without discrimination," stated Ahmed Darwish Al Muhairi, Executive Director of the Charitable Work Sector at IACAD.
https://www.graziame.com/life/mind-soul/uae-charities-will-deliver-iftar-meals-during-ramadan
-----
UAE charities to deliver iftar meals rather than serve them in Ramadan tents
Shireena Al Nowais
April 15, 2020
Iftar meals will be directly delivered to those in need in the UAE this year, rather than being served at Ramadan tents or at mosques.
The change in delivery approach was made necessary to avoid crowding in areas, which is banned as part of measures to stop the spread of coronavirus.
On Wednesday, charity organisations said food parcels containing essential groceries – including rice, sugar, flour and canned goods - would be delivered to anyone struggling to feed themselves or their families this year.
Many people around the world have taken a financial hit this year, having had their salaries slashed or been asked to go on an early or unpaid leave. Some have also been let go by companies struggling to mitigate financial losses as a result of the pandemic.
In the past, there were many Ramadan tents set up to provide food and in mosques but now, with the current situation, it is not safe to set them up and they won't be there any more
These parcels will be delivered to homes instead. This is the first time Ramadan tents that fed the low-income workers is being abandoned since the formation of the UAE.
"We are expecting a lot more since hotels too will have to donate through a charity," Dr Hisham Al Zahrany, deputy director of Social Services at the society, said.
"The target is labour accommodation where a representative will go in and deliver the meals. And then there are those whose jobs have been affected by the curfews and the pandemic such as taxi drivers," said
ShukoorKallungal, president of Kerala Muslim Cultural Centre in Abu Dhabi, said they are expecting to distribute more than 700 food bags a day during Ramadan.
"With the current situation, it is not possible to make iftar meals, but we will be distributing groceries for the people [in need] to prepare food at home."
"We started 10 days ago, since the coronavirus difficulties started. Many people are sitting in their rooms without any salary or income, so we are trying to help them," he said.
The centre receives requests for food through their helpline. They began by distributing ready meals, but switched to groceries - with each bag containing basic foodstuff such as rice, chicken and eggs.
"In Ramadan it is going to be very necessary to increase food bags. In the past, there were many Ramadan tents set up to provide food and in mosques but now, with the current situation, it is not safe to set them up and they won't be there any more.
On Wednesday, Emirates Red Crescent said it aims to help more than one million people through its charitable initiatives this Ramadan.
Their annual campaign would usually involve providing iftar meals to those in need at Ramadan tents set up across the country.
This year, the organisation will also be delivering food parcels to people to avoid crowding and adhere to social-distancing rules.
Other ERC programmes include Zakat Al Fitr, a charity undertaken at the end of Ramadan, and handing out clothes to those in need ahead of Eid Al Fitr - when Muslims typically wear new clothes to celebrate the "festival of breaking the fast".
"We are preparing to start the best month of the year by strengthening the spirit of human solidarity and offering the opportunity to participate in our programmes around the country, which will benefit hundreds of thousands," said Rashid Al Mansouri, ERC deputy secretary-general for Local Affairs.
https://www.thenational.ae/uae/government/uae-charities-to-deliver-iftar-meals-rather-than-serve-them-in-ramadan-tents-1.1006563
----
Synergy releases promo of Ramadan sci-fi series The End
Gina El Alfy
15 Apr 2020
Egypt's biggest production company Synergy released the promo of the television series The End (Al-Nehaya) scheduled to be aired in Ramadan, starting on 23 April.
Following its release on 13 April, the promo has garnered over one million views in two days.
The series takes place 100 years into the future and follows an engineer who tries to prevent technology from threatening the world. His endeavours are obstructed when he meets his clone.
The series stars Youssef El-Sherif, Amr Abdel-Gelil, Ahmed Wafik, Mohamed Lotfi, and Nahed El-Sebaai.
The End is directed by Yasser Sami and is based on the script by Amr Samir Atef, the scriptwriter of the movie Bani Adam (Sons of Adam, 2018), TV series KafrDeihab (2017), and Shahadet Milad (Birth Certificate, 2016), among others
http://english.ahram.org.eg/NewsContent/5/159/367360/-.aspx
----
Custodian of the Two Holy Mosques approves a package of additional initiatives to mitigate impacts of Coronavirus on economic activities and private sector
16-04-2020
The Custodian of the Two Holy Mosques King Salman bin Abdulaziz Al Saud has approved a package of additional initiatives including support, exemption, and expediting payment of private sector dues as an extension of continuing efforts of the Government to deal with impacts and consequences of the novel Coronavirus pandemic and take all measures to confront financial and economic impacts on the private sector and economic activities which have been most affected by repercussions of the pandemic.
On this occasion, Minister of Finance, Acting Minister of Economy and Planning Mohammed bin Abdullah Al-Jadaan, expressed his thanks to the Custodian of the Two Holy Mosques for his approval of the additional initiatives, stressing that the government has taken a number of additional precautionary measures aiming to provide cash to the private sector that can be used to manage its economic activities, work continuously to study the effects and repercussions of the Coronavirus crisis and its challenges in a number of sectors and regions, and study opportunities to address them whether with support or stimulus or others.
He pointed out that the additional initiatives prepared by the government included support, exemptions and expediting the payment of the dues of the private sector, which come as an extension of the announced initiatives to support the private sector, especially small and medium enterprises and economic activities most affected by the consequences of this pandemic, which exceeded SR 70 billion, such as exemptions and postponement of some government dues, and the government bears through the Sanid system 60% of the salaries of Saudi private sector employees with a total value of SR 9 billion, in addition to the support program announced by Saudi Arabian Monetary Authority to banks, financial institutions, and small and medium-sized enterprises with an amount of SR 50 billion at the current stage.
Second: Providing a discount 30% of the value of the electricity bill for consumers in commercial, industrial and agricultural sectors for a period of two months (April - May), with the possibility of extension in need.
Third: Optionally allowing subscribers in the industrial and commercial sector to pay 50% of the value of the monthly electricity bill for the months' bills (April, May, and June), provided that the remaining dues shall be collected in divided installments for a period of six months starting from January 2021 AD with the possibility of postponing the payment period in need.
Fourth: Supporting individuals working directly, who are not under the umbrella of any company and registered with Public Transport Authority, in the activities of passenger transport and were stopped due to precautionary measures of the Coronavirus, by paying an amount of the minimum amount of salaries to them.
Fifth: The rapid activation of Cabinet decision No. (649) dated 13 DhulQi'dah 1440 AH, which requires that companies in which the State owns more than (51%) of its capital, to take into account the general principles and rules for offering business and purchases and give preference to local content and small and medium enterprises, which will increase the economic movement in the local market and direct demand towards local products and services.
Minister Al-Jadaan assured that additional funds were allocated to the health sector as needed, as the amount of support for the health sector reached additional 47 billion riyals in order to raise the health sector's readiness, secure medicines, operate additional beds, and provide necessary medical supplies such as artificial respirators and devices and supplies of laboratory tests, as well as to secure the necessary medical and technical cadres from inside and abroad.
http://alriyadhdaily.com/article/7cc27c564b9a4b2fbe19e508264c8ee7
----
Europe
Germany arrests 4 Islamic State suspects planning attack on US bases
Apr 15, 2020
German authorities say police have arrested four suspected members of the Islamic State group alleged to be planning an attack on American military facilities.
Federal prosecutors said the suspects were arrested early Wednesday at various locations in the western state of North Rhine-Westphalia.
They identified the men as Azizjon B., Muhammadali G., Farhodshoh K. and Sunatullokh K. — all citizens of Tajikistan. The suspects' surnames weren't released for privacy reasons.
German weekly Der Spiegel reports that the men's alleged leader, a 30-year-old Tajik man identified only as Ravsan B., has been in jail since last year on firearms charges.
Prosecutors said the men swore allegiance to IS in early 2019 and had contacts with high-ranking figures in the group. They reportedly first planned to carry out an attack in Tajikistan but later shifted their target to Germany, including U.S. Air Force bases in the country and persons deemed critical of Islam.
https://www.hindustantimes.com/world-news/germany-arrests-4-islamic-state-suspects-planning-attack-on-us-bases/story-ZxNpecGgR8BRKqs3c22RUO.html
----
Ramadan will be 'very different this year' says doctor
6 hrs ago
By Brad Deas
The coronavirus outbreak has halted hundreds of events and seen mosques across the city and country close.
The holy month of Ramadan is rapidly approaching, with it set to begin on Thursday, April 23, subject to the sighting of the crescent moon - which marks its beginning.
A major part of Ramadan is fasting between sunrise and sunset, but the month also focuses on prayer, reflection and the community.
Given the unprecedented circumstances, and the uncertainty surrounding when the UK lockdown may come to an end, the community element of Ramadan has become problematic.
Dr Sohail Abbas, deputy clinical chair at Bradford District and Craven Clinical Commissioning Group (CCG) reiterated that the guidelines from the Government must remain a priority.
He said: "To help fight coronavirus, the single most important action we can all take is to stay at home in order to protect the NHS and save lives.
"Following the social distancing guidance will mean that Ramadan is very different this year for Muslims living in Bradford district and Craven.
"It is a time of intensive worship, reading of the Holy Quran, giving to charity, purifying behaviour and doing good deeds.
"Muslims will pray together for their loved ones, people who are unwell and people who have died and will support everyone from every religious and cultural background in our communities in dealing with this pandemic.
"With the Mosques being closed and the restrictions on gatherings of more than two people – this will impact on the way people observe Ramadan and their daily rituals.
"We would like to encourage people to look at how they can still follow national guidance during Ramadan and use some of the free video conferencing tools to stay connected - perhaps to pray with others or break the fast virtually."
Tell MAMA, an organisation that supports victims of Islamophobia and anti-Muslim hate, also reiterated the "stay at home message".
Director of Tell MAMA, Iman Atta OBE, said: "As Ramadan approaches, our advice to families is that it is a time of reflection and self-rejuvenation and connection with God.
"The ethos of Islam, is about protecting life and this means ensuring the well being of the individual before thinking about the well-being of others, since if someone is sick, they cannot help themselves, let alone others.
"We therefore urge people to stay at home, fast where they can if able to, and if they have medical issues, Islam allows for dispensations in fasting.
"Finally, we wanted to re-iterate that if anyone is targeted for Islamophobic hate, we are here to assist and they are not alone.
He said: "Ramadan will see Muslims fasting between sunrise to sunset which could potentially mean that people will not eat or drink for up to 17 hours.
This advice includes: eating smaller portions when breaking your fast, choosing slow burning foods such as basmati rice, fruit or veg and avoid fatty or sugary foods.
Diabetic patients are also at a higher risk of hypoglycaemias (a "hypo") during Ramadan, so it is important you monitor your blood sugar levels more often than you usually would and seek urgent medical attention, if you notice signs of a "hypo".
https://www.thetelegraphandargus.co.uk/news/18383169.ramadan-will-very-different-year-says-doctor/
------
Record number of Muslims apply for Zakat
17 hours ago
The National Zakat Foundation has said it has received the highest number of applications for support in a single day as the need for Zakat amongst British Muslims rises sharply amid the coronavirus crisis.
NZF said on April 10 it had the busiest day in its history, with 166 people reaching out for help.
The organisation said that more people are falling into poverty, while those already struggling to make ends meet are being hit hardest by the crisis.
"Experts will continue to try and predict the long-term impact of this public health crisis on the economy, but right here, right now, we're already seeing the effect it's having on the most vulnerable in our community," NZF said.
"Many Muslims in need across the country have been applying to NZF for support. Our grants team has been working hard on behalf of our Zakat payers. With Allah's help, we're managing to meet this need and help many struggling Muslims buy food, groceries and other basic essentials."
Yesterday the government's independent economics forecaster warned that Britain's economy could shrink by 35% this spring and unemployment could soar by more than 2 million due to the coronavirus crisis.
The Office for Budget Responsibility said that gross domestic product (GDP) could plunge by more than a third in the second quarter of the year and by 13% for 2020 as a whole.
It said joblessness could hit 10% by the end of June and government borrowing this year would increase at the fastest pace since the Second World War.
Such an increase in people losing their jobs would return the country to levels last recorded in the early 1990s recession, when Britain crashed out of the European Exchange Rate Mechanism.
With business activity and social life effectively brought to a standstill in most of the developed world, the International Monetary Fund also warned on Tuesday of an economic slump unparalleled since the Great Depression of the 1930s.
In its half-yearly forecasts, the IMF said the "Great Lockdown" could cause global GDP to contract by around 3% this year. The Washington-based fund had forecast growth of 3.3% this year as recently as three months ago.
Gita Gopinath, the IMF's economic counsellor, said the size of the hit to the global economy, uncertainty about the how long the shock would last, and the need to discourage economic activity to contain the virus had to led to a crisis "like no other."
https://5pillarsuk.com/2020/04/15/record-number-of-muslims-apply-for-zakat/
-----
Cyprus imam revives island's historic Islamic sites
16 April 2020
Like the pink flamingos that winter on the salt lake nearby, most worshippers at the Hala Sultan Tekke mosque in Cyprus have travelled from afar.
The fact they are praying at the pilgrimage site at all is largely thanks to Shakir Alemdar, a Cypriot imam determined to revive key Islamic places of worship on the divided Mediterranean island.
"For the Turkish Cypriots, this place has great meaning," he told AFP. "Everyone has a love for this place."
The cheerful 51-year-old grew up in the capital Nicosia and recalls visiting the most holy Islamic site in Cyprus, near the southeastern city of Larnaca, as a child.
But shortly afterwards, in 1974, an Athens-backed coup aimed at unification with Greece sparked a Turkish invasion of the northern third of the island.
Majority-Muslim Turkish Cypriots took refuge in the north, which later broke away as the Turkish Republic of Northern Cyprus, recognised only by Ankara.
"Ok, it's a nice place to see -- for me it's the nicest place to see (in Cyprus) -- but the emphasis that this is a place of worship was ignored."
As a representative of the Mufti of Cyprus, Alemdar has made it his life's work to restore services to Hala Sultan Tekke and other abandoned mosques, patiently winning over Greek Cypriot bureaucrats.
Cyprus joined the European Union in 2004, but Alemdar says Turkish-speaking Cypriots have been unable to claim their full rights as EU citizens because most of them live in an unrecognised breakaway territory.
Today, of 100 mosques on the island in areas controlled by the Republic of Cyprus, Alemdar said "only eight are operational and (Islamic religious authorities) are only administering half of them because of political issues".
Hala Sultan Tekke is managed by the antiquities department, something Alemdar says is an infringement on religious freedoms guaranteed by the European Union.
The mosque is only open for two of the five daily prayer times, though dispensation is given to keep the mosque open at night during the holy month of Ramadan.
Alemdar is also locked into bureaucratic battles over other mosques on the island, fighting to install new plumbing for ablutions in one historic building and demanding a voice in a redevelopment plan for a mosque complex in another municipality.
Despite ongoing political differences between the Republic of Cyprus and the breakaway north, with reunification talks stalled, Alemdar maintains that the island remains an example of mutual religious respect.
One recent Friday, before anti-coronavirus measures closed all tourist sites and cancelled services, worshippers arrived at Hala Sultan Tekke via a palm-flanked causeway across the salt lake.
Alemdar delivered his sermon in Turkish and English, his booming voice expounding on the mysteries of creation in one sentence and railing against climate change in the next.
As groups of selfie stick-wielding tourists wandered the complex, Turkish Cypriots prayed alongside a group of Uzbek men on a work trip and a holidaying British Bangladeshi family
https://www.dailymail.co.uk/wires/afp/article-8224195/Cyprus-imam-revives-islands-historic-Islamic-sites.html
-----
Representatives of Administrations of Muslims of Kyrgyzstan, Kazakhstan, Uzbekistan discuss date of start of Ramadan
APRIL 16, 2020
AKIPRESS.COM - The Chairman of the Council of Ulemmas of Kyrgyzstan, AbibillaKadyrberiev, held an online meeting with his colleagues from Kazakhstan, Uzbekistan, the press service of the Central Administration of Muslims said.
The member of the Council of Ulemmas of Kazakhstan, SansyzbaiShokanov, Deputy Mufti of Uzbekistan HomijonIshmatbekov, other clergymen partook in the online meeting.
The discussions focused on start of the Month of Ramadan, the date of fasting, the size of Sadaqah and Zakah.
https://akipress.com/news:639678:Representatives_of_Administrations_of_Muslims_of_Kyrgyzstan,_Kazakhstan,_Uzbekistan_discuss_date_of_start_of_Ramadan/
-----
CORONAVIRUS: Six-figure fund set up to help Bradford mosques
6 hrs ago
By Brad Deas
The Bradford Council for Mosques has created the "Mosque Support Fund" in response to the COVID-19 pandemic.
The outbreak has seen the suspension of congregational prayers and teachings across all mosques and Muslim supplementary faith schools in Bradford.
The initial fund is available for mosques within the Bradford District that are in hardship, to help with running and maintenance costs during the national lockdown.
President of the Bradford Council for Mosques, Zulfiqar Karim DL said: "Bradford Council for Mosques fully understands the gravity of the situation in which mosques currently find themselves, through no fault of their own.
"Safeguarding the future of our mosques and supporting our communities is our priority, and this fund will help to ensure that we are able to better recover from the COVID-19 crisis."
"Our aim is to double the amount of funding available through partners and other contributions, providing much-needed relief to our community during this unprecedented time."
https://www.thetelegraphandargus.co.uk/news/18383170.coronavirus-six-figure-fund-set-help-bradford-mosques/
-------
North America
Coronavirus: US Muslims pitch in to help frontline health workers
15 April 2020
By Umar A Farooq
When Dr MouniraHabli, an ob-gyn specialist in Cincinnati, Ohio, made a plea for face masks earlier this month, the local Islamic center was quick to answer her call.
MaramKhabbaz, the community service director at the Islamic Center of Greater Cincinnati, assembled a team of volunteers to begin stitching face masks from the confines of their homes.
Coordinating the effort virtually, one of the volunteers went to work on creating an instructional video, another obtained materials and the group even created a system for deliveries to local hospitals.
"We needed a lot of help, a lot of volunteers who could sew. So we reached out to all of our friends and neighbours," Khabbaz, who is also a physician, told Middle East Eye.
"In the volunteer list, we had Muslims and non-Muslims - so it was nice to have all members of the community working together."
As a geriatrician - a doctor who focuses on the elderly - Khabbaz said she knew first hand of the need for masks for doctors, as well as the needs of vulnerable patients.
Low supplies of N95 masks for healthcare workers, which filter out 95 percent or more of small particulate matter from the air – including the virus, have prompted some manufacturers and fashion brands to shift their production to mask-making.
Still, doctors and physicians have repeatedly complained that they are operating on the front lines without proper personal protective equipment (PPE), creating a dangerous situation for the health-care community as they grapple with a seemingly never-ending influx of Covid-19 patients.
So far, the US has reported almost 600,000 cases of the coronavirus, with the world's highest death toll at more than 24,000.
In addition to making masks, the team of volunteers has also helped make mask covers that have helped lengthen the lifespan of those already in use by frontline health-care workers.
"This type of support from the community has been such a blessing to our team members during the current Covid crisis," said Jeanette Altenau, director of community relations at TriHealth, one of the recipients of the free masks.
As individuals and groups across the country have taken up needle and thread, many hospitals are eager to receive home-made masks, though the need for medical-grade face masks remains.
Looking for a way to help frontline healthcare professionals facing dwindling supplies of PPE, a group of Muslim physicians in Rhode Island made use of their connections to help their local hospital receive the much needed items.
Umer Akbar, a Rhode Island doctor, said one of his colleagues - Dr Noreen Shaffi - was able to secure a shipment of 4,500 KN95 masks from China.
Not to be confused with N95 masks, KN95 masks are a Chinese version of the N95 mask. They are almost identical and have been approved for use by the Food and Drug Administration (FDA) in the US.
"A few weeks ago there was an estimated two-month stockpile of masks, but within a week that went down to a two-week stockpile," Akbar, who serves as president of Americans Helping Others Prosper (AHOPE), told Middle East Eye.
"There is a significant amount of members of the Muslim community who are also in the healthcare community and represent a decent proportion of the healthcare community here," he said.
"Medicine is a noble profession," he said. "I think our religion emphasises the responsibility of helping others. So it makes it all the more satisfying to be involved in caring for others."
https://www.middleeasteye.net/news/coronavirus-muslims-make-masks-shortages-covid19
-----
Top Muslim leaders launch grant initiative to protect imams from layoffs
April 15, 2020
Aysha Khan
(RNS) — With mosques' biggest fundraisers of the year in jeopardy, a new crowdfunding initiative led by four prominent Muslim American leaders aims to protect the livelihoods of imams and other mosque staff around the country.
The initiative has raised about $155,000 as an emergency stopgap measure to maintain mosque staff's income. The funds will be distributed to mosques and Islamic centers that apply for assistance in one-time grants ranging from $5,000-$10,000.
The initiative is spearheaded by Muslim crowdfunding platform LaunchGood, the American Muslim Community Foundation philanthrophic organization and four of the country's most recognizable Muslim leaders: Imams Zaid Shakir, Omar Suleiman, Yasir Qadhi and Suhaib Webb.
"We started hearing that some of our colleagues were being let go or furloughed, and that some of these masjids (mosques) may even shut down," said Webb, who works with the Islamic Center at New York University. "The masjid and imam are central to Muslim life. Mosques provide a sacred place to worship, while imams facilitate the worship and provide valuable leadership and religious instruction."
All four imams said they have seen some of their colleagues being left without adequate incomes to provide for their families due to stay-at-home orders and shutdowns of gatherings across the country.
"These are the people who are leading our community, and we should be doing everything we can to help them out," said MuhiKhwaja, co-founder of the American Muslim Community Foundation, which LaunchGood partnered with to collect and distribute the funds.
"It's unfortunate that some staff have already had to be furloughed, let go or have their salary reduced significantly," Khwaja said. "And it's not only imams. There are thousands of Sunday school teachers, youth directors and other staff who can use these funds as well."
So far, Webb said, the problem is not severe. Through grants like this, organizers hope to keep a crisis at bay and prevent the need for a larger-scale solution.
"Until now I haven't seen this as an acute issue, but it's enough that religious leaders and others have reached out to us," Webb said. "One of the things we try to do as a community is get in front of issues proactively and not wait for them to worsen."
The holy month of Ramadan is marked as a time of daily dawn-to-sunset fasting and spiritual discipline: from food, drink, sexual activity, anger, gossiping and any sinful activities.
Muslims often use the month as a time to pay their annual zakat, the obligatory almsgiving in proportion to one's wealth. Islamic scholars in the U.S. are also increasingly interpreting Quranic guidelines on zakat's beneficiaries to include mosques, Islamic schools and Muslim nonprofits.
Mosques typically rely on donations collected during Friday prayer services as well as nightly fundraisers during Ramadan. With the doors to these physical spaces closed, many mosque administrators have been left wondering how to keep up with monthly operational costs while also paying staff.
Packages of bread and a crate of apples sit on a table for passersby to take, outside the closed Masjid at-Taqwa mosque on March 26, 2020, in the Brooklyn borough of New York. The mosque is closed, as are other houses of worship, during the coronavirus pandemic after the government banned large gatherings to help reduce the spread of COVID-19. (AP Photo/Kathy Willens)
Donations made during Ramadan comprise not only week-to-week funds needed to survive, Webb pointed out. For smaller mosques and nonprofits, the donations can provide the entire annual budget.
Muslims must not neglect their clergy and spiritual institutions, particularly mosques in underprivileged communities, during times of crisis, Qadhi told Religion News Service.
"Most mosques in America are already struggling financially, and many people who work for mosques — clergy and staff — are underpaid and overworked as it is," noted Qadhi, who leads The Islamic Seminary of America. "Many have chosen these professions and careers not for the sake of financial rewards but for the benefits of giving back to their communities."
With doors to religious institutions closed, and Americans facing unprecedented levels of unemployment and other financial strains, such charitable giving has already taken a hit.
While a state-to-state debate continues about whether religious institutions should be considered "essential" services and some pastors have made headlines for continuing to hold in-person services, most mosques have been shut down since the earliest stay-home orders were issued, meaning they have also lost weeks' worths of funds they usually collect on Fridays, Webb said.
"Most mosques across the country were some of the first religious institutions to say 'we're shutting down,'" Webb said. "Because that's something in the ethos of Islamic law, that prevention is better than cure."
Through countless requests for donations over email chains, WhatsApp groups and GoFundMe pages, Muslim communities have sought to plug these gaps over the past few weeks.
Some have been successful. A GoFundMe campaign for the Islamic Society of New Hampshire, for example, exceeded the $6,000 necessary to cover its monthly rent and utilities costs, typically covered by donations made during Friday prayers.
But most likely, not all these individual initiatives are properly accounted for and tax-deductible, organizers say, nor are all the donation requests whizzing through social media legitimate.
The LaunchGood initiative was meant to formalize the process of donation, ensuring all donations were eligible both for tax deductions as well as for zakat purposes.
Organizers also encourage all qualifying mosques and Islamic centers to apply for the Small Business Administration's forgivable loans, part of the Paycheck Protection Program to incentivize businesses to keep their staff employed. The agency says nonprofit and faith-based organizations are eligible for the funds.
LaunchGood CEO Chris Blauvelt said the dozens of Muslim-led coronavirus charitable campaigns on the website counter the popular narrative of religious communities' contributing to the spread of the disease by continuing to hold in-person services.
"For every one or two outliers out there, there are literally thousands of people that are putting their money where their mouth is and showing their values in action," Blauvelt told RNS. "That's true of the Muslim community and I think you'll find that across other faith groups as well."
The fundraiser partnered with several Muslim American charitable organizations, including Islamic Relief USA, Mercy Without Limits, Zakat Foundation of America and more. The project has also been supported by leading Muslim American organizations such as the Islamic Society of North America, the Muslim Public Affairs Council and Muslim American Society.
https://religionnews.com/2020/04/15/top-muslim-leaders-launch-grant-initiative-to-protect-imams-from-layoffs/
-------
With New Plots and Sterilized Sets, Ramadan TV Adapts to Virus
2h ago
The coronavirus will be making an appearance on some television series over the Muslim fasting month of Ramadan, bringing a taste of lockdown life to the family dramas and comedies watched by millions across the Middle East.
Food and TV consumption soars once the fast ends at sunset during Ramadan, which starts next week. Some shows on the main pan-Arab entertainment network MBC have been given a last-minute tweak to include corona-related material "reflecting on people's mood and modified lifestyles vis-a-vis social distancing and home confinement," said Mazen Hayek, a spokesman for the Dubai-based broadcaster.
Those programs will portray the implications of the virus on married life as well as relationships between family members and friends, he said.
The lockdown in the Gulf affected filming: the network needed permission from authorities in the United Arab Emirates and Saudi Arabia to finish production on some programs and to allow Saudis involved to fly to the U.A.E. They were given the green light after sets and studios were sterilized and staff tested negative for the virus, Hayek said.
While most Ramadan programming is filmed well in advance, some series in Kuwait and Lebanon have been delayed or may be canceled due to virus-related restrictions. In Tunisia, the government last week allowed production companies to resume filming of some Ramadan specials after suspending them in March. The Ministry of Cultural Affairs said the programming was needed to entertain families and encourage them to stay at home by preserving the familiar "Ramadan atmosphere".
https://www.bnnbloomberg.ca/with-new-plots-and-sterilized-sets-ramadan-tv-adapts-to-virus-1.1422229
----
11 Islamic Revolutionary Guard Corps vessels harass US warships in the Persian Gulf
16-04-2020
On Wednesday 11 Islamic Revolutionary Guard Corps vessels harassed six U.S. warships operating in the north Persian Gulf, according to U.S. Naval Forces Central Command.
U.S. Navy Forces Central Command detailed in a news release that the IRGC vessels "repeatedly conducted dangerous and harassing approaches" of several U.S. warships while the American vessels were conducting air integration exercises with U.S. Army AH-64E Apache attack helicopters.
The 11 Iranian ships carried out an "unsafe" and "unprofessional" interaction with the following U.S. warships: the expeditionary mobile base vessel Lewis B. Puller, the Arleigh Burke-class destroyer Paul Hamilton, Cyclone-class of coastal patrol boat Firebolt, Cyclone-class patrol ship Sirocco, and Coast Guard ships Wrangell and Maui.
How would Iran's military fare in an armed conflict with the U.S.? In this Feb, 11, 2019, file photo, Iranian Revolutionary Guard members arrive for a ceremony celebrating the 40th anniversary of the Islamic Revolution, at the Azadi, or Freedom, Square, in Tehran, Iran. (Vahid Salemi/AP)
Military Times interviewed more than a dozen military experts, including current and former U.S. military officials, about how a conflict might begin and how it could play out. This is what they said could happen:
NAVCENT said the Iranian ships "repeatedly crossed the bows and sterns of the U.S. vessels at extremely close range and high speeds" and even came within 50 yard "closest point of approach" of the Puller and 10 yards of Maui's bow.
The ships' crews attempted to warn the Iranian vessels using "bridge-to-bridge radio, five short blasts from the ships' horns and long range acoustic noise maker devices," NAVCENT said.
After roughly an hour, Iranian ships responded to the bridge-to-bridge radio signals and "maneuvered away from the U.S. ships," NAVCENT detailed.
"The IRGCN's dangerous and provocative actions increased the risk of miscalculation and collision, were not in accordance with the internationally recognized Convention on the International Regulations for Preventing Collisions at Sea (COLREGS) "rules of the road" or internationally recognized maritime customs, and were not in accordance with the obligation under international law to act with due regard for the safety of other vessels in the area," NAVCENT said in the release.
"U.S. naval forces continue to remain vigilant and are trained to act in a professional manner, while our commanding officers retain the inherent right to act in self-defense," NAVCENT said in the release.
It's the latest provocation from Iran following a deadly rocket attack in March believed to be carried out by Iran-backed militias targeting coalition troops in Iraq.
Gen. Kenneth F. McKenzie, Jr., the commander of U.S. Central Command, told reporters at the Pentagon in March following a deadly rocket attack in Iraq targeting Camp Taji that Iran may be trying to ratchet up tension due to fallout from COVID-19.
He cautioned that virus may be increasing pressure on Iranian leaders that could push the authoritarian regime to turn outward "to marshal against a common foe."
https://www.militarytimes.com/flashpoints/2020/04/15/11-islamic-revolutionary-guard-corps-vessels-harass-us-warships-in-the-persian-gulf/
------
Press Remarks by Jihad Azour on the Economic Outlook for the Middle East and Central Asia
April 15, 2020
Good morning and welcome to the IMF's 2020 Virtual Spring Meetings. Today, I'd like to make a few remarks about the economic outlook for the Middle East, North Africa, Central Asia, and Caucasus, and launch our Regional Economic Outlook (REO) update, before turning to your questions.
We are at a time like no other. The COVID-19 pandemic is an unprecedented global crisis, with no part of the world spared. The Middle East and Central Asia region has been hit by two large and reinforcing shocks.
First, almost all MCD countries have now reported confirmed cases of the coronavirus. The outbreak hit other regions of the world first, significantly reducing external demand. The resulting global slowdown has impacted global value chains in our region, as well as job-rich retail and manufacturing sectors, and small- and medium-sized enterprises. At the same time, containment measures introduced by governments in the region and fear of contagion are weakening consumer demand, particularly in tourism, hospitality, and retail sectors. Fragile and conflict-affected states are expected to be particularly hard hit, worsening the already large humanitarian and refugee challenges.
Second, on top of this, the sharp plunge in oil prices since the start of the year has complicated issues for many countries in our region. Oil exporters, especially, have been hit with a double whammy of lower oil prices and much lower demand for their products.
Meanwhile global financial conditions have also tightened sharply, with a sharp rise in risk aversion leading to massive capital outflows from all emerging markets. This adds to challenges facing our region.
Countries in our region have been very swift in their responses to the crisis. As we highlight in our REO update, they have taken measures to protect lives, contain the spread of the virus, and support hard-hit sectors. All countries have increased expenditure in health care to support emergency and infrastructure needs. Fiscal measures have also been announced throughout the region, at an average of 3.8 percent of GDP and comprising both revenue and expenditure measures. In addition, central banks in the region have announced large liquidity support measures, eased monetary policy, and, where appropriate, used the exchange rate as a buffer.
It is with this background that I note the outlook for the region, discussed further in the REO update.
We project the region to contract this year, with substantial economic impact. This downward revision of more than 4 percentage points of GDP in one year is equivalent to removing $425 billion from the region's total output. For nearly all countries, these revisions are higher than those seen during the global financial crisis in 2008.
Looking at Middle East, North Africa, Afghanistan, and Pakistan (MENAP), we project the region to contract by 3.1 percent this year. This comes after an expansion of 0.7 percent last year. Facing a double whammy, oil exporters in MENAP contract by even more, 4.2 percent. The oil importers, on the other, would contract by 1 percent, after growing at 3.5 percent in 2019.
Now turning to the Caucasus and Central Asia (CCA), we project a contraction of 1 percent in 2020, after a growth rate of 4.8 percent a year earlier. Due to their strong trade, tourism, and remittance links to parts of world greatly affected by the pandemic, oil and gas importers in the CCA region are hit even harder, with growth declining from 6.2 percent in 2019 to -2.2 percent in 2020.
Risks are clearly dominant. Given the double whammy of lower global demand and lower oil prices, oil-exporting countries face weakening fiscal and external balances. Oil importing countries could be adversely affected by a large decline in remittances and investment and capital inflows from oil-exporting countries. Furthermore, forthcoming maturing debt presents financing risks, while already high public debt in many countries continues to increase.
The immediate priority is to save lives. Governments should continue to accommodate essential health spending, delaying non-essential spending to create space if needed. In this context, external support may be crucial for some, especially the fragile and conflict-affected states in our region given their weak health infrastructures and living conditions.
Furthermore, policies should be directed at protecting engines of growth, mitigating the impact on households, hard-hit sectors, and SMEs. Fiscal policy should be used to ensure adequate social safety nets, and provide temporary and targeted relief. Monetary and financial policies should ensure liquidity needs are met while financial soundness is maintained.
Ultimately, policies should target putting the economy back on track to sustainable growth. This could require broad-based monetary and fiscal support where space is available. In many countries, where policy space is limited, international assistance would be needed.
These issues are explored in greater detail in our Regional Economic Outlook Update, which is also being released today. Before fielding your questions, I'd like to underscore the role the IMF is playing in the MCD region during this crisis. We have quickly responded to demands for increased emergency assistance. The Kyrgyz Republic was the first member country to benefit. We have also doubled the amount of such emergency financing that countries could access—here, too, Tunisia was the first country to avail this added support. As you know, Jordan's IMF-supported program makes space for crucial health-related expenditure. Morocco has also decided to draw on the precautionary line it had, for current expenditure needs.
We continue to be engaged with all of our member countries and are coordinating with multilateral and regional development institutions as well as donors to serve our members in the most effective way possible.
https://www.imf.org/en/News/Articles/2020/04/15/press-remarks-by-jihad-azour-on-the-economic-outlook-for-the-middle-east-and-central-asia
------
Africa
In northern Nigeria, distrust jeopardises response to coronavirus
April 16, 2020
The "malam" or teacher they were referring to is Shaykh Sani Yahaya Jingir, an Islamic scholar based in Jos, Plateau State, in Nigeria's religiously and ethnically diverse Middle Belt. He is a senior figure within the Islamic reform movement Jama'atIzalat al-Bid'awa-Iqamat al Sunna (Izala for short), the largest Salafi group in Nigeria.
Shaykh Jingir has caused a stir in recent weeks with his incendiary sermons denouncing the coronavirus pandemic as yet another Western plot to stymie the practice of Islam. It is grist to his mill that travel to Saudi Arabia for the Islamic pilgrimage to Mecca (umrah) has been stopped, and that several states across Nigeria have suspended congregational prayers in an effort to stem the spread of the virus.
Recognising the danger of inflammatory messages like Shaykh Jingir's, the Jama'atuNasril Islam, an umbrella organisation for Nigerian Muslims, issued a statement cautioning Islamic preachers against misleading their followers over COVID-19, the disease caused by the new coronavirus. Under pressure from both the religious establishment (including the Izala leadership) and state authorities, Shaykh Jingir has now backpedalled.
Alas, he is not the only person to publicly air doubt about the threat posed by COVID-19 being real. In northern Nigeria, others – from a wandering street preacher to a local music celebrity – have expressed similar views, as SadisuSalisu Idris, a Kano-based community activist and Qur'anic school graduate who collaborated with me on this research, has found.
As of April 14, most of Nigeria's 373 confirmed COVID-19 cases are in Lagos (214) in the south and in Abuja/FCT (58). However, confirmed cases have also started to appear across the north of the country, including in Bauchi (six), Kaduna (six), Katsina (five), and Kano (four).
Lockdowns are in place in the most heavily affected Nigerian states. Many other states have closed their borders and restricted large gatherings including markets. Mosques and churches in many parts of the country have been ordered to cap attendance, or to close.
But state authorities have been struggling to see heavy restrictions through. Met with popular opposition to mosque closures, on April 9 Katsina state announced they would be allowed to reopen for Friday congregational prayers.
There is a history of scepticism in northern Nigeria towards global public health measures. The drive to eradicate polio in the early 2000s was troubled by widespread fears, fanned by religious and political leaders, that vaccines were intentionally contaminated with anti-fertility agents and HIV to decimate the Muslim population. Almost two decades later, polio still remains endemic in the region.
It's difficult to know how many people in predominantly Muslim northern Nigeria are swayed by the idea that the coronavirus pandemic is merely "fake news" and social media are likely to magnify extreme viewpoints. However, given the virulence of the virus, public health measures will only be effective if the vast majority of the population follows them. Understanding and addressing the wider political experiences underpinning opposition to public health measures is therefore crucial.
Interventions seen to originate in the West frequently spark suspicion in northern Nigeria, and trigger questions about the motivations that underpin them. Memories of the British colonial occupation certainly matter, as do perceptions of current geopolitics. The "War on Terror" in the wake of 9/11 is still fresh in people's minds and is widely perceived as primarily a hate campaign against Islam.
The persistent anti-Islam rhetoric of some Western leaders has been noted. Events in other parts of the non-Muslim world, including violent clashes between Muslims and Hindus in India and mass incarcerations of Uighur Muslims in China, have not been lost on the northern Nigerian public either.
In these circumstances, it doesn't come as a surprise that people question whether highly disruptive measures, encouraged by mostly non-Muslim outsiders including the World Health Organization, are indeed well-intentioned.
Widespread perceptions of Nigerian politicians as self-interested and corrupt fuel suspicions further. The news that Nasir Ahmed El-Rufa'i, the governor of Kaduna State, tested positive for COVID-19 in late March was met with suspicion by some Kano residents, my research collaborator Salisu found. They believed his positive test result was fabricated and part of yet another fraudulent scheme to access federal resources allocated to states affected by COVID-19.
People in northern Nigeria have not forgotten the massive misappropriation of federal funds destined to tackle the Boko Haram crisis in north-eastern Nigeria and to support its victims. In this environment, rumours of COVID-19 being a hoax appear plausible, especially as so far most confirmed cases reported by the media have been among the elites. Their international mobility explains this, but privileged access to testing facilities is also likely to contribute to the high number of elite Nigerians confirmed to have the virus.
Recurrent rumours that the world may soon come to an end further complicate an already challenging situation, as they raise the stakes in religious observance. If the end times are imminent, the umma or Muslim community should live extra-righteously. The suspension of communal prayers seems to impede that.
Convincing the faithful that it is right to stay at home will be no easy task, especially with Islam's holy month Ramadan just around the corner. Unequivocal messages from Islamic leaders across the religious spectrum will be crucial.
However, stay-at-home messages from Islamic leaders will only work if the government and international community do their part to rebuild trust. This means protecting ordinary northern Nigerians from the devastating effects heavy lockdowns are likely to have on their already precarious livelihoods.
https://www.premiumtimesng.com/health/health-interviews/388155-in-northern-nigeria-distrust-jeopardises-response-to-coronavirus.html
------
Boko Haram Kill 8 Passengers Driving along Highway
04/15/2020
Nigeria (International Christian Concern) – PremiumTimes has reported that Boko Haram killed at least 8 people in an attack that took place on April 12 near the village of Auno. Travelers were driving along Maiduguri-Damaturu highway when the terrorists tried to stop them. According to the new agency, the driver of the first vehicle did not want to stop. When he tried to drive past, the terrorist opened fire on his vehicle. They were able to hit it enough to force him to stop. The extremists then forced a few vehicles to stop and made everyone get out.
Two individuals were killed on the spot. After this, they took abducted another 13 people. According to new reports from the agency and locals, 6 more people were killed shortly after when one of the terrorist's vehicles broke down. They killed the 6 abductees instead of trying to take them further. This took place less than 2 kilometers from the initial attack site.
Despite local's reporting the case, the military initially tried to claim that the attack did not take place. This has been the Nigerian governments main stance with attacks. They often try to hide them and constantly claim that Boko Haram has been defeated. This is their way of trying to lessen the backlash from these continued attacks after President Buhari guaranteed ending the insurgency. It is time that the government stopped trying to hide these attacks and just admitted that they are incapable of defeating this insurgent group without the help of outside entities.
https://www.persecution.org/2020/04/15/boko-haram-kill-8-passengers-driving-along-highway/
-----
58 Boko Haram members to appear in court Thursday
April 15, 2020
Fifty-eight suspected Islamists, who were rounded up in a Chadian operation against Boko Haram, will be heard by a criminal court from Thursday, Justice Minister Djimet Arabi told AFP.
President IdrissDebyItno asserted that Boko Haram militants were chased out of the country in the operation carried out between March 31 and April 8.
A Chadian army spokesman said at least 52 soldiers and 1,000 jihadists were killed during the operation, which was launched after a massive attack on an army base near Lake Chad that claimed the lives of around 100 soldiers.
Idriss warned his allies in the region that Chad's army would no longer take part in operations outside the country.
The force, considered one of the best in the region, has fought Boko Haram in the Lake Chad region as part of the Joint Multinational Force with Nigeria, Cameroon and Niger.
https://punchng.com/58-boko-haram-members-to-appear-in-court-thursday/
-----
Boko Haram confronts Buratai with mortar gun attacks in Borno camp
April 16, 2020
By Duku JOEL
Boko Haram insurgents on Wednesday evening launched an attack on the Army Special Super Camp at Ngamdu, a border town between Borno and Yobe where the Chief of Army Staff Lt Gen Tukur Buratai relocated to launch a final onslaught on the terrorists.
The daring attack by the insurgents is coming barely 72 hours after Buratai sent a damning message to defeat the insurgents within a very short.
The Nation reports the Chief of Army Staff, at the 2020 Special Easter celebration with the troops at the Camp, promised to stay with them until the insurgents are "substantially degraded".
But the insurgents tested their confidence by launching the attack on the camp even as Buratai and his officers are apparently mapping out strategies on how to deal final blows on the terrorists.
Sources at the camp, who are not authorised to speak with the press, revealed that the insurgents came in motor gun trucks from the south-western side and opened fire.
Our correspondent gathered that Buratai ordered the troops to chase the ranting insurgents and warned them to focus on a bigger target.
"The Chief of Army Staff told the soldiers to see what happened as a distraction from the main operation that they are going to carryo But we defended ourselves very well by repelling them," the source said.
Another source revealed that the insurgents could have been angered by an earlier advance operation that the troops carried out on Tuesday.
"We suspect it was the advance operation that we carried out yesterday that got them angry and they decided to come to attack us.
Y"know we killed some of their men in the operation and captured others alive so they were angry," he informed.
https://thenationonlineng.net/boko-haram-confronts-buratai-with-mortar-gun-attacks-in-borno-camp/
----
URL: https://www.newageislam.com/islamic-world-news/stop-adding-religious-colour-our/d/121591
New Age Islam, Islam Online, Islamic Website, African Muslim News, Arab World News, South Asia News, Indian Muslim News, World Muslim News, Women in Islam, Islamic Feminism, Arab Women, Women In Arab, Islamophobia in America, Muslim Women in West, Islam Women and Feminism