New Age Islam News Bureau
2 May 2019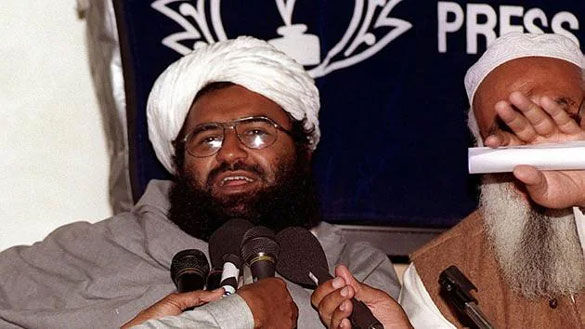 Jaish-e-Mohammad chief Masood Azhar was released from the Kot Bhalwal jail in Jammu on December 31, 1999 in a hostage swap after an Indian Airlines aircraft was hijacked to Kandahar in Afghanistan.(AFP FILE PHOTO)
--------
•
'Still Remember the Day Masood Azhar Was Released,' Recalls Former Jailor
• IS Threat to India, Bangladesh; New 'Emir' Named In Bengal
• 'Victory for American Diplomacy': Mike Pompeo on Terror Tag for Masood Azhar
• For Weeks, A U.S. Army Veteran Planned a Terror Plot across L.A., Authorities Say
• Pak-Turk Education Foundation Declared Banned Outfit
• High Court to Hear Sisters in Islam's Challenge against 'Deviant' Fatwa Again
• Conservatives Want Catholic Bishops To Denounce Pope As Heretic
• Muslim Survivors of Cyclone Kenneth Find Refuge in Mozambique Church
India
• 'Still Remember the Day Masood Azhar Was Released,' Recalls Former Jailor
• IS Threat to India, Bangladesh; New 'Emir' Named In Bengal
• Freed as Harkat man after Kandahar, Masood Azhar set up Jaish, became India's nemesis-in-chief
• Profile in terror: List of terror attacks carried out by Masood Azhar and his Jaish-e-Mohammad
• In aftermath of Sri Lanka attacks, India must realise very real threat posed by radical Islam points to bleak future ahead
• Indian Christians seek better security at churches
--------
North America
• 'Victory for American Diplomacy': Mike Pompeo on Terror Tag for Masood Azhar
• For Weeks, A U.S. Army Veteran Planned a Terror Plot across L.A., Authorities Say
• The Poway Synagogue Attack Brought The Terror I Experienced In Israel Home To America
• America under Attack by White Supremacists Acting Like ISIS
• Iran, Turkey criticize US plan to designate Muslim Brotherhood a terror group
• Top US newspapers warn against designating Brotherhood
• Muslims, Jews must unite against hate: US lawmaker
• U.S. Military Stops Counting How Much of Afghanistan Is Controlled by Taliban
--------
Pakistan
• Pak-Turk Education Foundation Declared Banned Outfit
• Curriculum, Administration Of Madrassas In Punjab To Remain Unchanged
• Pakistan Plans To Integrate Islamic Seminaries into State Education
• JI chief says country needs Islamic system of governance
• Masood Azhar hidden in a safe house in Islamabad by Pakistani agencies
• Military authorities contemplate transferring terror cases to govt
• Labbaik's Afzal Qadri says sorry to Gen Bajwa, judges, resigns from movement
--------
Southeast Asia
• High Court to Hear Sisters in Islam's Challenge against 'Deviant' Fatwa Again
• Revisiting religious narratives to combat violent extremism
• Who says we never acted on insults to Islam, asks Muhyiddin
• Entrepreneur minister: Malaysia to unify worldwide halal certs for Muslim countries
• How preacher Zamri got into hot soup when speaking out against 'selfish Muslims'
• It was PH that turned a deaf ear to my proposal, says mufti
--------
Europe
• Conservatives Want Catholic Bishops To Denounce Pope As Heretic
• Trump Accuses European Nations of 'Refusing' To Take Back ISIS Prisoners From Their Countries
• Germany's Merkel promises aid to fight jihadists in Burkina Faso
• Australian-Lebanese man found guilty in Etihad Airways bomb plot
• France opens formal probe against 4 suspects held over attack plot
--------
Africa
• Muslim Survivors of Cyclone Kenneth Find Refuge in Mozambique Church
• Libyans Link ISIS Leader's Surprise Appearance to Tripoli Battle
• Al-Baghdadi admits ISIS was defeated in Libya's Sirte
• 25 people killed in suspected Boko Haram attack on Nigerian village
• Islamic State recognizes new Central Africa Province, deepening ties with DR Congo militants
• Terror Attacks on the Rise in Burkina Faso
• African Union Tells Sudan Military Council To Hand Power To Civilians Within 60 Days
• Libyan coast guard rescues nearly 100 Europe-bound migrants
--------
South Asia
• Sri Lanka's President Lifts Ban on Social Media
• Afghan forces launch attacks to clear warring militants from east Afghanistan
• Bangladesh Police Say They Have Killed 2 Islamist Militants
• Afghan Special Forces kill 14 Taliban militants, rescue abducted soldier in their latest raids
• Senior Haqqani Network leader killed in Paktia province
I• SIS explosives experts among 10 killed, wounded as IED goes off prematurely in Kunar
• Sri Lanka names Easter suicide bombers
• Sixth round of US, Taliban peace talks begin
--------
Arab World
• Syria's Lost Heritage Stands out in Aleppo's Broken Minarets
• 'Human Timebomb': 45,000 Children May Soon Become Stateless In Post-Isis Iraq, Warns Rights Group
• Deir Ezzur Residents Ask Damascus to Take Control of Eastern Syria
• Escalation in Syria's Idlib displaces nearly 140,000, says UN
• 84 children returned to Tajikistan from Iraq, says official
• Saudi crown prince offered Abbas $10 billion to accept Trump's plan: Report
• US, Israel to supply anti-aircraft missiles to Kurdish militants in Syria: Report
--------
Mideast
• Biden Wants an End To US Support For Saudi War On Yemen
• Arab Coalition targets Houthi air base near Sanaa airport
• Saudi aggressors kidnap 150 Yemeni fishermen off Hudaydah
• Israel targets Hamas in Gaza after 'balloon bombs' launched
• Houthi militia intensifies civilian suffering for political purposes
• Houthis detain 10 journalists in Yemen on 'trumped-up spy charges'
Compiled by New Age Islam News Bureau
URL: https://www.newageislam.com/islamic-world-news/still-remember-day-masood-azhar/d/118485
--------
'Still remember the day Masood Azhar was released,' recalls former jailor
May 01, 2019
As the UN Security Council on Wednesday finally declared Jaish-e-Mohammad founder Masood Azhar a global terrorist, Chanchal Singh, the then superintendent of Jammu's high security Kot Bhalwal prison recalled the day in December 1999 when the dreaded terrorist was freed from the prison.
"I still remember the day. The then DIG Jammu Dr SP Vaid, who later became DGP of the state police and is now Transport Commissioner, came to the prison at 10 am that day. He handed me a government order and after fulfilling the formalities, we handed him Masood Azhar and two other terrorists, who were lodged in the prison," said Singh.
Thereafter, a motorcade in tight security straightway headed for Jammu airport, he added.
Two other terrorists - Mushtaq Ahmed Zargar and Ahmed Omar Saeed Sheikh – were released from the prison along with Azhar. The JeM chief was kept in Kot Bhalwal jail until December 31, 1999 before being taken to Kandahar.
The retired superintendent said that Masood Azhar and his aides were segregated and kept in a separate room in the prison.
"There was no preferential treatment to him and he and his aides were treated like other prisoners. In fact, we always treated them like terrorists," said Singh. "Every morning I used to visit all the barracks of the prison as part of my duty and therefore had to visit Masood's room."
Singh recalled that most of the time Masood used to stay inside his room and kept offering prayers.
"A couple of days before he was released, he had come to know about what was going to happen -- that he and two other terrorists would be freed," said Singh.
Singh said, "Though Masood Azhar spent around five years in Kot Bhalwal jail, I was given the charge of the prison in May 1999 when I was transferred from Srinagar and he was released in December that year. He remained under my custody for around eight months before being freed and taken to Kandahar."
However, a senior prison official, who pleaded anonymity, said that during Masood's confinement at the prison, some officials used to call him "Masood Sahib" or "Azhar Sahib".
"During his years in Kot Bhalwal prison, he continued to radicalise fellow prisoners before being segregated," he added.
Masood was arrested in January 1994 when he visited Kashmir Valley to meet JeM foot soldiers.
In December 1999, an Indian Airlines Flight 814 (IC814) from Kathmandu to New Delhi was hijacked and eventually taken to Kandahar.
The hijackers had demanded the release of Azhar, Zargar and Sheikh.
The February 14 attack in Pulwama by a JeM suicide bomber in which 40 CRPF troopers were killed led to fresh efforts to designate Azhar a global terrorist. In March, China blocked a UN effort for the fourth time with a technical hold before it lifted it on Wednesday to ensure that Azhar was blacklisted.
https://www.hindustantimes.com/india-news/still-remember-the-day-masood-azhar-was-released-recalls-former-jailor/story-Tnbe4lODLSa0JGxLbWkSXL.html
--------
IS threat to India, Bangladesh; new 'emir' named in Bengal
May 1, 2019
Amid developments after the Easter Sunday bombings in Sri Lanka which claimed 253 lives, an Islamic State (IS) affiliate group, "Al-Mursalat", has been reportedly planning to carry out similar attacks in India and Bangladesh with its announcement of appointing a new "emir" (chief) in Bengal, sources said.
The emir of the Islamic State group, an intelligence official said, has been named as Abu Muhammed al-Bengali who has been given the responsibility of planning terror attacks and recruiting new members.
Citing a poster released by the Islamic State, the official, requesting anonymity, said the group has warned that their "soldiers of Khalifa in Bengal and Hind are not silenced" and that the "thirst for revenge is never to be faded away."
The threat came to light soon after a minor explosion near Gulistan theatre in Dhaka on Monday evening, in which a few police personnel suffered injuries. No casualties were reported in the blast.
The two developments followed a "propaganda" video released for the first time in five years by the fugitive Islamic State leader Abu Bakr al-Baghdadi in which he acknowledged the terrorist group's defeat in the Syrian town of Baghuz, another anti-terror official said.
Looking heavier than when he proclaimed the existence of the now-collapsed caliphate in mid 2014, Baghdadi blamed its demise on the "savagery" of Christians in the 18-minute video in which he was seen sitting cross-legged alongside a Kalashnikov rifle and appeared to be limited in his movements.
"Truthfully, the battle of Islam and its people against the cross and its people is a long battle. The battle of Baghuz is over. But it did show the savagery, brutality and ill intentions of the Christians towards the Muslim community," Baghdadi said in the video.
The IS released a statement in Arabic in the early hours of Tuesday through its mouthpiece Amaq.
Indian intelligence agencies have been closely monitoring the developments in Bangladesh and they suspect that the Islamic State may carry out "jihadi" attacks in Bangladesh or West Bengal.
Officials close to the investigation have raised an alarm that some Bengali posters were in circulation in West Bengal and Bangladesh to radicalise those who were pro-Islamic State sympathisers.
The poster, officials said, read "Shighroi Aschhe (coming soon), Inshallah."
"The posters are being circulated on Telegram flashing the logo of a group called Al-Mursalat. The threat cannot be ignored as a little-known Islamist group, National Thowheeth Jama'ath (NTJ), affiliated to the Islamic State was instrumental in the Sri Lanka bombings and their links have been found in a recent unearthed group in Kerala's Kasaragod," another official said.
He said that another group, Jamaat-ul-Mujahideen Bangladesh, which also reportedly pledged allegiance to the Islamic State, was also active in Bangladesh for years and may be a threat to West Bengal where Bangladeshi people frequently travel.
The April 21 attacks on three churches and three luxury hotels in Colombo and elsewhere killed 253 people, including 11 Indian nationals and some foreigners, besides injuring 500 others.
Fifteen people, including three suicide bombers, died during a raid by Sri Lankan security forces on April 26 and nearly 100 people have been detained in the island nation.
The Islamic State claimed responsibility for the bombings and released a video that showed alleged plot organiser and suicide bomber Zahran Hashim and seven other men pledging allegiance to IS chief Abu Bakr al-Baghdadi.
https://www.business-standard.com/article/news-ians/is-threat-to-india-bangladesh-new-emir-named-in-bengal-119050100977_1.html
--------
'Victory for American diplomacy': Mike Pompeo on terror tag for Masood Azhar
May 02, 2019
The designation of Pakistan-based JeM chief Masood Azhar as a global terrorist by the UN demonstrates the international commitment to rooting out terrorism in Pakistan and bringing security and stability to south Asia, the White House has said.
Secretary of State Mike Pompeo also welcomed the move and said that it is a victory for the American diplomacy and the international community against terrorism.
Pompeo also congratulated the US mission in the UN which took the lead in America's diplomatic effort to designate Azhar as a global terrorist, after China finally lifted its nearly 10-year technical hold on such an effort by India, the United States and other permanent members of the Security Council including Britain and France.
"Congrats to our team @USUN for their work in negotiating JEM's Masood Azhar's #UN designation as a terrorist," Pompeo tweeted.
"This long-awaited action is a victory for American diplomacy and the international community against terrorism, and an important step towards peace in South Asia," Pompeo said.
The UN sanctions committee on the Islamic State and Al-Qaeda on Wednesday announced the designation of Azhar, leader of Jaish-e-Mohammed (JeM), over its ties to Al-Qaeda.
The JeM has claimed responsibility for the Pulwama suicide attack that killed 40 CRPF soldiers and led to a spike in military tensions between India and Pakistan.
Reacting to the development, Garrett Marquis, spokesperson of the National Security Council, White House said: "Designating Azhar demonstrates international commitment to rooting out terrorism in Pakistan and bringing security and stability to south Asia".
The US commends the United Nations Security Council 1267 Sanctions Committee for the designation of Azhar, the leader of JeM, a UN-designated terrorist group that was responsible for the February 14 terrorist attack in Kashmir that killed over 40 Indian security personnel, Marquis said in a statement.
Meanwhile, State Department spokesperson Morgan Ortagus said that the JeM has been responsible for numerous terrorist attacks and is a serious threat to regional stability and peace in South Asia.
"The JeM was designated by the United States as a Foreign Terrorist Organization and Specially Designated Global Terrorist (SDGT) in 2001 and has been listed by the UN since 2001," she said.
"As JEM's founder and leader, Azhar clearly met the criteria for designation by the UN. This listing requires all the UN member states to implement an asset freeze, a travel ban, and an arms embargo against Azhar. We expect all countries to uphold these obligations," Ortagus said.
Today's designation is an important step in promoting a peaceful and stable South Asia, she said.
"In line with this vision, we appreciate Pakistani Prime Minister Khan's stated commitment that Pakistan, for the sake of its own future, will not allow militant and terrorist groups to operate from its territory," Ortagus said.
The spokesperson said that the US looks forward to further and sustained actions from Pakistan as outlined in its National Action Plan consistent with its international obligations.
The US, France along with the UK had moved the proposal to designate Azhar as a "global terrorist" in the UN Security Council's 1267 Al Qaeda Sanctions Committee in February, just days after the deadly Pulwama terror attack.
A veto-wielding permanent member of the UNSC, China was the sole hold-out in the 15-nation body on the bid to blacklist Azhar, blocking attempts by placing a "technical hold" and asking for "more time to examine" the proposal.
https://www.hindustantimes.com/india-news/masood-azhar-s-designation-demonstrates-global-commitment-to-rooting-out-terrorism-in-pak-white-house/story-3Axu4Id7TtXhTkSLKGrkTJ.html
--------
For weeks, a U.S. Army veteran planned a terror plot across L.A., authorities say
APR 30, 2019
The targets kept changing, but investigators say Mark Steven Domingo's mission remained as bloody as it was simple.
In one conversation, prosecutors said, the 26-year-old U.S. Army veteran spoke of spraying a Los Angeles police cruiser with bullets. Other times, his rage allegedly redirected toward a nearby synagogue. Sometimes he wanted to kill Christians, authorities said, and at least once, he considered bombing the Santa Monica Pier.
Domingo believed he should "start small," considering one killing practice for the next, according to court documents. He hoped to learn about police response times and build toward a large-scale attack, possibly an explosion that would end with "hundreds and maybe thousands of U.S. citizens injured."
"And then what?" an informant asked Domingo.
"Then the fun starts," Domingo responded.
Domingo finally set his sights on a right-wing rally that was scheduled to take place Sunday in Long Beach's Bluff Park, authorities said; he hoped to detonate an explosive device and gain vengeance for Muslims killed in other corners of the globe. But after receiving what he believed to be a pressure-cooker bomb while scouting the attack site, Domingo was arrested Friday by the FBI before his violent fantasies could become reality.
Federal investigators and local law enforcement leaders announced Domingo's capture Monday, expressing relief that they were able to intercept a terror suspect they described as "consumed with hate, and hell-bent on mass murder."
"It's not inconceivable that I'd be standing here today, beginning my remarks by offering condolences to victims of a horrific attack," said Ryan Young, special agent in charge of counterterrorism for the FBI's Los Angeles field office. "But not today."
An Army infantryman who once served in Afghanistan, Domingo was charged with attempting to provide material support to terrorists. If convicted as charged, he faces 15 years in prison and remains in federal custody pending a May 31 court hearing.
News of the thwarted attacks comes as Southern California is still reeling from an eruption of gunfire that left one woman dead and three others injured inside a synagogue near San Diego on Saturday. That attack is being investigated as an anti-Semitic hate crime, and federal investigators said Monday that religion was at the heart of Domingo's motivations as well.
Domingo, who recently converted to Islam, had been under surveillance for weeks after he expressed a desire in an online post to commit acts of violence, according to a 30-page affidavit unsealed Monday. Specifically, he wanted revenge for Muslims killed during a mass shooting in New Zealand last month, according to court documents.
"I feel like I should make a christians life miserable tomorrow for our fallen bros n sis in new zealand ... maybe a jews life [I don't know] ... they shed our blood," he wrote in a post after the shooting, according to the affidavit. "no Muslim should have to experience this, a message needs to be sent."
After weeks of online chats and recorded conversations with an undercover law enforcement officer and an FBI informant, Domingo settled on a target, which he described as a "white nationalist" rally scheduled for Bluff Park in Long Beach on Sunday. The event had been organized by United Patriots National Front, whom extremism experts describe as a far-right organization with a dozen members, though they are not explicitly considered white nationalists.
Days before the rally, Domingo purchased 8 pounds of 3½-inch-long nails and asked an FBI informant to connect him with a bomb-maker who could build an explosive device similar to the pressure cooker bombs that maimed dozens of people at the finish line of the 2013 Boston Marathon. According to the affidavit, Domingo chose nails that "would be long enough to penetrate the human body and puncture internal organs."
Rumors that the rally might be canceled unnerved Domingo, according to court records. He considered two alternative targets: a Saturday demonstration against California's so-called sanctuary state law in Huntington Beach, and an attack on the Santa Monica Pier where he would set off an explosive and then spray survivors with gunfire before he died a martyr.
Ultimately, records show, Domingo settled on the Long Beach event. He drove to Bluff Park on Friday with the informant and an undercover officer, whom he believed to be the bomb-maker. After scouting the park, he took possession of an inert device which he thought was a "weapon of mass destruction" and was arrested by FBI agents.
Law enforcement officials did not warn organizers at either rally because they believed Domingo was the only credible threat to either event. The far-right group did not show up at Bluff Park, according to Long Beach Police Chief Robert Luna, who said about 200 counterprotesters descended on the park without incident Sunday.
Federal investigators said the rapidly evolving nature of Domingo's plans concerned them.
"Our biggest fear is this is what we call a rapid radicalization, a rapid mobilization, to violence," the FBI's Young said. "Sometimes, we get asked what keeps you up at night? This is a case that keeps us up at night."
Domingo, who lives in Reseda, had been assigned to Fort Campbell in Kentucky and served in Afghanistan from September 2012 to January 2013. Authorities said he left the armed forces shortly after. A Department of Defense representative did not immediately respond to a request for comment. A law enforcement official, who spoke on the condition of anonymity, said Domingo did not receive an honorable discharge.
It was unclear when Domingo converted to Islam. According to the affidavit, he first posted a video declaring his faith on March 2. He began expressing a desire to see Americans killed a short time after.
"america needs another vegas event [to be honest] something to kick off civil unrest," he wrote on March 3, referencing the 2017 mass shooting at the Route 91 Harvest music festival in Las Vegas. "its not about winning the civil war its about weakening America and giving them a taste of the terror they gladly spread all over the world."
The FBI made contact with Domingo online within the next two weeks, and he was under near constant surveillance until his arrest, officials said. During discussions with the informant, Domingo repeatedly suggested using one of the three rifles he owned to carry out a violent attack.
Hussam Ayloush, executive director of the Greater Los Angeles Area office of the Council on American-Islamic Relations, said in a statement that the group is "grateful the alleged plans to hurt and kill innocent people were foiled. There is absolutely no justification for such murderous intent."
After synagogue shooting, Newsom supports $15 million to secure religious facilities »
But, Ayloush noted, he was "concerned by the FBI informant's tactics, which seemed to encourage and spur this veteran to plot these attacks."
His comment echoes those who have criticized the FBI's online terror stings in the past, believing agents prod mentally ill suspects into involving themselves in plots they would otherwise have been unable to carry out. But court records show the informant repeatedly tried to talk Domingo out of his plans.
"You don't need to, like, you don't have to do this. You know that, right?" the informant told Domingo on March 22.
But in each conversation, Domingo's violent desires seemed to escalate. He showed up to an April 19 meeting wearing camouflage and carrying a semiautomatic rifle, according to court records. When discussing the potential bombing, Domingo seemed to find joy in possible carnage.
"The human body is very easy to break. A grenade can do a lot of damage but a big [improvised explosive device] in a backpack, in a crowd?" he said, according to the affidavit. "You're looking at at least 20 people dead, maybe 30 people injured... If we do this L.A. is going to be locked down."
https://www.latimes.com/local/lanow/la-me-terror-plot-los-angeles-attacks-20190430-story.html
--------
Pak-Turk education foundation declared banned outfit
Iftikhar A. Khan
May 02, 2019
ISLAMABAD: The government has declared Pak-Turk International CAG Education a proscribed organisation, bringing the total number of banned outfits to 71.
This is the fifth addition to the list made by the present government and the first after retired Brig Ejaz Ahmad Shah assumed the office of interior minister. Informed sources told Dawn that a notification to this effect had been issued the day Ejaz Shah assumed new responsibility on April 18.
The first addition to the list by the Pakistan Tehreek-i-Insaf government had been made on Dec 13, 2018, when Yemen-based Al-Rahmah Welfare Trust Organisation was outlawed.
Balwaristan National Front (Abdul Hameed Khan Group) was the first organisation to have been proscribed in 2019, with the issuance of a formal notification on Feb 26.
The decision to ban Jamaatud Dawa (JuD) and Falah-i-Insaniyat Founda­tion (FIF) was taken at a meeting of the National Security Committee, head­ed by the prime minister and comprising key cabinet members and military leaders, on Feb 21, but a notification by the interior ministry to that effect was issued on March 5.
In February last year, then president Mamnoon Hussain had promulgated an ordinance amending the Anti-Terrorism Act, 1997, with regard to proscription of terrorist individuals and organisations to include entities listed by the UN Security Council — in a move to declare JuD and FIF proscribed groups. How­ever, the ordinance lapsed after the expiry of 120 days and was neither re-promulgated nor brought to parliament as a bill.
The process of maintaining a list of proscribed organisations started on Aug 14, 2001, when Lashkar-e-Jhangvi and Sipah-i-Mohammad Pakistan were outlawed. Jaish-e-Mohammad, Lashkar-e-Taiba, Sipah-i-Sahaba Pakistan, Tehreek-i-Islami and Tehreek-i-Nifaz Shariat-i-Mohammadi were banned on Jan 14, 2002.
Tehreek-i-Jafria Pakistan was put on the list on Jan 28, 2002, followed by Al Qaeda on March 17, 2003, Millat-i-Islamia Pakistan and Khuddamul Islam on Nov 15, 2003 and Islami Tehreek Pakistan on Nov 15, 2003. Three more organisations — Jamiatul Ansar, Jamiatul Furqan and Hizbut Tehrir — were banned on Nov 20, 2003, while Khair-un-Naas International Trust was proscribed on Oct 27, 2004.
Balochistan Liberation Army was placed on the list on April 7, 2006, and Islamic Students Movement of Pakistan on Aug 21, 2006.
Lashkar-i-Islam, Ansarul Islam and Haji Namdar Group were banned on June 30, 2008, and Tehreek-i-Taliban Pakistan on Aug 25, 2008.
Five militant organisations from Balochistan — Balochistan Republican Army, Balochistan Liberation Front, Lashkar-i-Balochistan, Balochistan Liberation United Front and Balochistan Musallah Difa Tanzeem — were put on the list on Sept 8, 2010.
Three organisations from Gilgit — Shia Tulaba Action Committee, Markaz Sabeel Organisation and Tanzeem Naujawanan-i-Ahle Sunnat — and Peoples Aman Committee (Lyari), Karachi, were placed on the list on Oct 10, 2011. Ahle Sunnat Wal Jamaat, a reincarnation of Sipah-i-Sahaba Pakistan, was banned on Feb 15, 2012, followed by Al Harmain Foundation and Rabita Trust on March 6, 2012, and Anjuman-i-Imamia and Muslim Students Organisa­tion (both from Gilgit-Baltistan) on April 24, 2012.
Tanzeem Ahle Sunnat Wal Jamaat (Gilgit-Baltistan) was placed on the list on June 5, 2012, while Balochistan Bunyad Parast Army, Tehreek Nafaz-i-Aman, Tahaffuz Hadudullah, Balochistan Waja Liberation Army, Islam Mujahideen, Jaish-i-Islam and Balochistan National Liberation Army were banned on Aug 4, 2012.
The list was widely expanded in 2013, with the addition of Khana-i-Hikmat Gilgit-Baltistan on March 13 and Tehreek-i-Taliban Swat, Tehreek-i-Taliban Mohm­and, Tariq Jeedar Group, Abdullah Azam Brigade, East Turkmenistan Islamic Movement, Islamic Movement of Uzbekistan, Islamic Jihad Union, 313 Brigade, Tehreek-i-Taliban Bajaur, Amar Bil Maroof Wa Nahi Anil Munkir (Haji Namdar Group), Baloch Student Organisation-Azad, United Baloch Army and Jeay Sindh Muttahida Mahaz on March 15, 2013.
Since then, the list remained unchanged till July 15, 2015, when the name of Daesh (the Arabic acronym for the militant Islamic State group) was placed on the list of banned organisations. This was the only addition to the list during the last two-and-a-half years.
Jamaat-ul-Ahrar and Lashkar-e-Jhangvi Al-Alami were added to the list on Nov 11, 2016, followed by Ansarul Hussain on Dec 30, 2016.
Tehreek-i-Azadi Jammu and Kashmir was the only addition made to the list in 2017. The organisation was outlawed on June 8, 2017. Jundullah was the last addition made by the then PML-N government in 2018.
According to the list, Ghulaman-i-Sahaba and Maymar Trust continue to be on watch-list. Al-Akhtar Trust and Al-Rasheed Trust have been on the list under the UN Security Council resolution No. 1267 since December 2005.
https://www.dawn.com/news/1479742/pak-turk-education-foundation-declared-banned-outfit
--------
High Court to hear Sisters in Islam's challenge against 'deviant' fatwa again
02 May 2019
By Zurairi AR
KUALA LUMPUR, May 2 ― The High Court will today hear Sisters in Islam's (SIS) challenge against a fatwa, or religious edict, declaring it "deviant" ― three years after it dismissed the Muslim women's rights group's initial judicial review in 2016.
The Federal Court had decided in favour of SIS last year, sending the lawsuit back to the High Court for SIS to challenge the fatwa by the Selangor Islamic Religious Council (Mais) against any persons or groups "professing liberalism or religious pluralism".
"SIS's challenge is mounted on the basis that the fatwa violates certain provisions in the Federal Constitution, certain federal laws and the Selangor administration of Islamic law enactment itself," SIS's lawyer A. Surendra Ananth told Malay Mail.
The judicial review application was first filed on October 31, 2014 by three applicants ― the company SIS Forum (Malaysia) Bhd which operates SIS; the group's co-founder Zainah Anwar; and Datuk Zaid Ibrahim, with the three respondents named as the Selangor Fatwa Committee, Mais, and the Selangor state government.
The fatwa, gazetted on July 31, 2014, had singled out SIS by name, in addition to "any individuals, organisations or institutions" deemed "liberal".
It also deemed any publication with elements of liberalism and religious pluralism as "haram", or prohibited, and liable for seizure by religious authorities.
In addition, the fatwa had urged local Internet regulator Malaysian Commission of Multimedia and Communications to block "any social websites" opposed to Islamic teachings and laws.
Fatwas are opinions issued by Islamic clerics on a multitude of issues. Although these are advisory in nature, Malaysia occasionally gazettes some into law.
However, SIS's challenge against the fatwa in 2014 had antagonised Islamists, drawing rebuke and protests such as PAS Youth then declaring SIS as an "insolent" and "extremist" group out to challenge the monarchy and Federal Constitution.
In addition, SIS was also recently attacked by PAS after receiving RM20,000 contribution from deputy minister Hannah Yeoh to fund its Telenisa free legal advisory service.
The group's lawyer Datuk Malik Imtiaz Sarwar had, however, clarified last year that the lawsuit by SIS was not regarding Islamic law, but merely on whether the fatwa issued against it was done legally and according to proper procedures.
Malik said SIS was not implying that the fatwa was wrong in Islamic law, but that it had gone beyond the legal limits and infringes on fundamental freedoms.
A five-year journey
SIS will argue today among others that religious authorities have no jurisdiction over companies like SIS, as they only have jurisdiction in respect of persons professing the religion of Islam.
It will also argue that the fatwa is an unlawful fetter on SIS's freedom of expression.
"The fatwa does not define what amounts to 'liberalism and pluralism'. Further, disobeying a fatwa is a criminal offence," Surendra said.
"Liberalism" encompasses a wide array of ideas, but its proponents commonly espouse notions such as civil rights, freedom of speech and of religion, free trade, private property, and free and fair elections.
Meanwhile, "religious pluralism" maintains that no one religion holds the sole and exclusive source of truth, often promoting harmonious co-existence and understanding between all faiths and their adherents.
Malaysia's religious authorities under the previous administration had derided liberalism and pluralism, with Friday sermons nationwide claiming a conspiracy by "enemies of Islam" to manipulate Muslims through ideas like secularism, socialism, feminism and positivism, in addition to the two.
On December 2014, then High Court judge Datuk Asmabi Mohamad had granted SIS leave for the judicial review to be heard on its merits.
But High Court judge Datuk Hanipah Farikullah had on June 24, 2016 dismissed the case based on a preliminary objection by the Selangor religious authorities on the issue of which court had jurisdiction, ruling that only the Shariah courts have the powers to deal with the fatwa.
This led to SIS appealing successfully to the Court of Appeal to reinstate the lawsuit and for it to be sent back to the High Court to be heard before another judge. The Selangor religious authorities later filed its appeal, and had on July 11, 2017 obtained leave from the Federal Court to proceed.
Consequently, a seven-man panel at the Federal Court led by the then Chief Justice Tan Sri Richard Malanjum had on September last year directed the High Court to start the case afresh and decide on all issues raised by the parties.
https://www.malaymail.com/news/malaysia/2019/05/02/high-court-to-hear-sisters-in-islams-challenge-against-deviant-fatwa-again/1748895
--------
Conservatives want Catholic bishops to denounce pope as heretic
Philip Pullella
May 2, 2019
A group of 19 Catholic priests and academics have urged bishops to denounce Pope Francis as a heretic, in the latest ultra-conservative broadside against the pontiff over a range of topics from communion for the divorced to religious diversity.
The most prominent of the group is Father Aidan Nichols, a 70-year-old British priest of the Dominican order who has written many books and is one of most recognised theologians in the English-speaking world. The others are less well known.
"We take this measure as a last resort to respond to the accumulating harm caused by Pope Francis's words and actions over several years, which have given rise to one of the worst crises in the history of the Catholic Church," they said in a 20-page open letter.
The letter attacks Francis for allegedly softening the Church's stance on a range of subjects. They say he has not been outspoken enough against abortion and has been too welcoming to homosexuals and too accommodating to Protestants and Muslims.
It was published on Tuesday by LifeSiteNews, a conservative Catholic website that often is a platform for attacks on the pope. Last year, it ran a document by the Vatican's former ambassador to Washington, Archbishop Carlo Maria Vigano, calling on the pope to resign.
A Vatican spokesman had no comment on the letter, which includes dozens of footnotes, Bible verses, pronouncements by previous popes, and a separate bibliography. The letter invites people to join an on-line signature drive.
Addressing the bishops, the letter says "We therefore request that your Lordships urgently address the situation of Pope Francis's public adherence to heresy."
It asks them to "publicly to admonish Pope Francis to abjure the heresies that he has professed".
Deciding whether a Church member is a heretic is the job of the Congregation for the Doctrine of the Faith, the Vatican's doctrinal watchdog department.
Massimo Faggioli, a well-known professor of historical theology at Villanova University in the United States, said the letter was an example of the extreme polarisation in the Church.
"There is overwhelming support for Francis in the global Church on one side, and a tiny fringe of extremists trying to paint Francis as a pope who is heretic. The problem is that there is very little legitimate, constructive critique of Francis' pontificate and his theology," he said in an email.
A significant part of the letter concentrates on "Amoris Laetitia" (The Joy of Love), a 2016 papal document that is a cornerstone of Francis' attempt to make the 1.3 billion-member Church more inclusive and less condemning.
ULTRA CONSERVATIVES TAKE AIM
In it, Francis called for a Church that is less strict and more compassionate towards any "imperfect" members, such as those who divorced and later remarry in civil ceremonies.
Under Church law they cannot receive communion unless they abstain from sex with their new partner, because their first marriage is still valid in the eyes of the Church, unless they have received an annulment. The Church does not allow divorce.
Francis has opened the door to some exceptions, allowing the decision whether the person can be fully re-integrated and receive communion to be made by a priest or bishop jointly with the individual on a case-by-case basis.
After Amoris Laetitia was published, four conservative publicly challenged the pope, accusing him of sowing confusion on important moral issues. He has thus far not responded to their demands that he clear up their doubts.
The new letter lists pages of what it calls "Evidence for Pope Francis being guilty of the delict (crime) of heresy".
It attacks him for having once said that the intentions of Martin Luther, the father of the Protestant Reformation, "were not mistaken". It says he has not condemned abortion strongly enough and is too lenient with homosexual Catholics.
The letter criticised Francis for signing a joint statement with Lutherans in 2016 in which the pope said Catholics were grateful for the "theological gifts" of the Reformation.
It attacked the pope for a common statement with a prominent Muslim leader in Abu Dhabi in February which said the pluralism and diversity of religions was "willed by God". Conservatives say the Roman Catholic Church is the only true one and that members are called to convert others to it.
https://www.thejakartapost.com/news/2019/05/02/conservatives-want-catholic-bishops-to-denounce-pope-as-heretic.html
--------
Muslim survivors of Cyclone Kenneth find refuge in Mozambique church
May 1, 2019
PEMBA, Mozambique — Next to a marble pulpit inside a Catholic church, a young Muslim girl chases around with other children.
The church has become a home for her and nearly 1,000 others from different faiths as they wait out the aftermath of Mozambique's latest devastating cyclone.
Situated in the heart of this predominantly Muslim but diverse city ravaged by Cyclone Kenneth, the Maria Auxiliadora parish houses those displaced by the storm in Cabo Delgado, Mozambique's northernmost province.
"We don't ask about people's religions, human life is all we value," the Rev. Ricardo Filipe Rosa Marques, the 41-year-old priest in charge, told the Associated Press.
The government has said 41 people have died after the cyclone made landfall Thursday, and the humanitarian situation in Pemba and other areas is dire. More than 22 inches of rain have fallen in Pemba since Kenneth arrived just six weeks after Cyclone Idai tore into central Mozambique.
This is the first time two cyclones have struck the country in a single season, and Kenneth was the first cyclone recorded so far north in Mozambique in the era of satellite imaging.
The danger is not over. More rain was expected and rivers were expected to reach flood stage by Thursday, the United Nations humanitarian office has said, citing a UK aid analysis. It is the end of the rainy season and rivers already were running high.
Shelter is a top priority for most cyclone survivors and this is what the church is providing, promoting itself as a safe space even before the storm.
In a region where little-known Islamic militants reportedly have killed dozens of people in recent months, a certain amount of tension might be expected. But for some, what matters most is shelter.
"I had never been in a church before … but as long as I am safe, I don't mind," said Aamilah Felciano, who is Muslim. "It doesn't mean I have abandoned my faith, I am just saving my life."
The church has suspended Mass and other routine programs. There is no space or time for such activities, the priest said.
"There can be no better Mass than giving people shelter and hope. That is the church's mission," he said.
Women and children have taken up residence inside the main hall. The few belongings they could carry as they fled, mainly clothing and plastic buckets, are tucked close by.
Children climb over the pulpit and the priest's chair, playing. In one corner, a woman breastfeeds her baby. Church pews have been turned into washing lines. Outside, shielded from the pounding rains, girls and boys take turns stirring huge pots of rice and soup.
As nightfall approaches, people prepare reed mats or pieces of cloth. Some will sleep on the bare floor. Men sleep on the hall's balcony.
More than 900 displaced people are sheltering here, while about 200 others are staying at church centers elsewhere in the city, according to Joao Paulo, an official with Caritas, a Catholic relief agency.
Some people are still arriving. But getting people to leave their homes was not easy at first.
"The difficulty was that a lot of people here are Muslims, some said they cannot stay in a Catholic church," said Rosa Marques, adding: "Some refused and preferred to stay at their homes. My heart broke because these people chose to face death over safety."
But there are few religious tensions among city residents, he said, and many of the people arriving at the church with food, medicine and other aid are Muslim. "It is not as difficult as in other areas," he said.
As he spoke, the Muslim call to prayer blared from speakers at one of the numerous mosques nearby, and people left the church to pray.
Cyclone Kenneth is not the first calamity to bring people of different faiths together in the province. When the Islamic extremists intensified their attacks on local communities last year, Muslims and Christians organized joint prayer meetings and opened an inter-faith dialogue center, the priest said.
"People here have suffered a lot. They have been through (Portuguese) colonialism, civil war and the recent killings. They have been living with scars for years yet their love and sense of sharing is amazing," he said.
"I am learning from them. The people here are teaching me how to be a true priest."
https://nypost.com/2019/05/01/muslim-survivors-of-cyclone-kenneth-find-refuge-in-mozambique-church/
--------
India
Freed as Harkat man after Kandahar, Masood Azhar set up Jaish, became India's nemesis-in-chief
May 2, 2019
On December 31, 1999, Masood Azhar, a top commander of Pakistan-based Harkat-ul-Mujahideen (HuM), was released in exchange for passengers of IC-814 flight hijacked by Pakistani militants. Azhar returned to Pakistan, but not to HuM.
Instead, he set up a new militant outfit, Jaish-e-Mohammad (JeM), whose audacious attacks brought India and Pakistan to the brink of war on more than one occasion.
Azhar, 50, was born in Bahawalpur, in Pakistani Punjab. One of 11 children of a government school teacher, his family ran a dairy and poultry farm in their native city.
His father, a disciple of Deobandi school of thought, sent Azhar to a seminary in Karachi. After completing his course, the young man went on to teach at the same madrassa, where he had his first brush with militants, who were part of the "jihad" in Afghanistan.
Azhar and many students of the madrassa also went to Afghanistan to fight. In their book 'The Meadow', authors Adrian Levy and Cathy Scott-Clark write that Azhar was once injured in a friendly fire in Afghanistan when he left the camp to relieve himself and forgot to utter the pass code on his return.
Azhar was sent back to Karachi. Recognising his oratory skills, he was appointed head of HuM's 'Department of Motivation' – seen as the terror group's best orator, he rose to become its general secretary.
After withdrawal of Russian forces from Afghanistan, HuM focussed on Jammu and Kashmir. In 1994, Azhar entered India on a Portuguese passport, disguised as a businessman to attempt a patch-up between different HuM factions.
Unlike most militants, he did not cross the LoC. Instead, he flew into New Delhi from Dhaka, posing as a Gujarat-born Portuguese national under the fictitious name Wali Adam Issa. He checked into Ashoka Hotel and later moved to Janpath Hotel, from where he left for Deoband with two HuM men from Kashmir. He flew to Srinagar and met Harkat's then chief in the Valley, Sajjad Afghani.
In February 1994, Afghani was taking Azhar to a mosque in south Kashmir to deliver a Friday sermon when their car broke down. They took an auto-rickshaw, which was stopped by the Army in Anantnag. Both Azhar and Afghani were arrested after a brief chase.
While Afghani was a big catch for the security agencies, they didn't know much about Azhar. Azhar's arrest, however, rattled HuM in Pakistan. In less than a year, Harkat planned his release.
In October 1994, four foreign tourists were kidnapped from New Delhi and the abductors sought the release of 10 militants, including Masood Azhar. The plot failed and Omar Saeed Sheikh, a British national of Pakistani origin, was arrested.
In July 1995, Al Faran kidnapped five foreign tourists from Kashmir and demanded release of Azhar in return. In 1999, Afghani planned a jailbreak by digging a tunnel inside Kotbalwal jail in Jammu. While Azhar failed to escape through the tunnel, Afghani was killed while trying to escape.
Several months later, Harkat militants hijacked Delhi bound IC 814 – 180 passengers and crew were on board — and took it to Kandahar, Afghanistan, then under the Taliban's control. The hijackers initially demanded release of 35 militants jailed in Kashmir, including Azhar, a ransom of $200 million and Afghani's exhumed body. They later scaled down the demands to release of Azhar, Kashmiri militant commander Mushtaq Ahmad Zargar and Omar Saeed Sheikh. On December 31, Azhar, Mushtaq and Sheikh were taken to Kandhar and released by the government in exchange of the passengers.
After returning to Pakistan, he set up JeM. Just a couple of months on, JeM marked its arrival in J&K with the Valley's first ever human bomb when 17-year-old Afaq Ahmad drove an explosives-laden Maruti car to the headquarters of Army's 15 Corps in Srinagar. On Christmas Day the same year, the militant group sent a 24-year-old British citizen driving another explosives-laden Maruti car to the entrance of the 15 Corps headquarters. Eleven people, including five soldiers, were killed in the attack.
On December 13, 2001, Jaish fidayeen stormed Parliament Complex in New Delhi. After a fierce gunfight, five Jaish attackers, six Delhi Police personnel, two Parliament security service personnel and a gardener were killed. The attack brought India and Pakistan to the brink of war and the stand-off on the border continued for several months.
https://indianexpress.com/article/india/masood-azhar-ic-814-jaish-e-mohammad-india-un-china-pathankot-pulwama-5705869/
--------
Profile in terror: List of terror attacks carried out by Masood Azhar and his Jaish-e-Mohammad
May 2, 2019
1999 IC-814 Hijack: On December 24, an Indian Airlines flight carrying 176 passengers from Kathmandu was hijacked by terrorists from Pakistan who later turned out to be relatives of Masood Azhar. The flight was taken to Kandahar in then Taliban-administered Afghanistan. Following days of negotiations, passengers were released after Masood Azhar, then incarcerated in India, was handed over to the terrorists.
2001 J&K Assembly Attack: After reaching Pakistan, Masood Azhar formed the Jaish-e-Mohammad (JeM). On October 1, a Jaish-e-Mohammed terrorist drove an IED-laden vehicle to the J&K Assembly and blew it up. The explosion killed 38 people.
2001 Parliament Attack: Five terrorists of the group breached Parliament's security in a car carrying a Home Ministry label on December 13 and opened indiscriminate fire. Over a hundred politicians were in Parliament when the attack took place. The terrorists were killed but seven people, including security personnel and a gardener, lost their lives. The attack brought India and Pakistan to the brink of war.
Attacks in Kashmir during 2014-15: Following the hanging of Parliament attack convict Afzal Guru, JeM became active in Kashmir again after a prolonged lull. It formed the 'Afzal Guru Shaheed Squad' which carried out a series of attacks on police stations and Army camps in Kathua, Samba, Handwara and Pulwama, leading to the deaths of over a dozen security personnel.
2016 Pathankot attack: Four heavily-armed members of the Afzal Guru squad entered the high security premises of the Indian Air Force base at Pathankot on January 2. Six security personnel died in the attack.
2016 Nagrota attack: On the morning of November 29 at around 5.30 am, three JeM militants in Indian police uniform attacked a unit of the Army's 166 Field Regiment in the town of Nagrota, near Jammu city. Four Army soldiers, including an officer, were killed.
2016 Uri attack: On September 18, four JeM militants attacked an Indian Army Brigade headquarters in Uri near the Line of Control in a pre-dawn ambush. They were said to have lobbed 17 grenades in three minutes. As a rear administrative base camp with tents caught fire, 17 Army personnel were killed during the attack.
Full report at:
https://indianexpress.com/article/india/profile-in-terror-masood-azhar-jaish-e-mohammad-global-terrorist-5705820/
--------
In aftermath of Sri Lanka attacks, India must realise very real threat posed by radical Islam points to bleak future ahead
P Sandeep
May 01, 2019
The terror attack on churches and hotels in Sri Lanka on Easter Sunday and the blasts and events of the following days once again reminded us that the threat posed by radical Islam is closer than it appears. Radicalisation and terrorism is not a problem faced by Sri Lanka alone. As a victim and target of Islamic terrorism, India should take precautionary measures to avoid the sort of unpleasant events that have unfolded in the neighbourhood.
The cross-country connection of radicalisation and the movement of men and material is a reality. According to reports, people inspired by radical Islam in south India visited or used the Island Nation as a breeding ground or as a transit point. Preachers from south India are said to have visited there on a regular basis to radicalise the youth. For instance, P Jainalabdeen — the leader of Tamil Nadu Thowheed Jamath (TNTJ), a purported part of the NTJ that plotted the attack in Sri Lanka — was deported from Sri Lanka in 2005 for hate-mongering. In 2015, he was denied a visa for fear of a backlash.
According to sources, Merin Jacob (from Kochi) and Bestin Vincent (from Palakkad), who converted to Islam and later joined the Islamic State, visited Sri Lanka on multiple occasions under the pretext of a carpet business before crossing over to Afghanistan in 2015. A petition filed by Bindu Sampath, the mother of Nimisha (from Thiruvananthapuram) who converted to Islam and changed her name to Fatima, says that her daughter moved to Afghanistan via Sri Lanka along with a larger radicalised group. Moreover, Nimisha's husband Bexen also known as Issa is the brother of the aforementioned. In a private conversation, Sampath alleged that it was due to the interference of a powerful Kerala politician that the police turned a blind eye to her daughter's case.
Apart from the radical Islamic groups, Pakistan's spy agency ISI also uses Sri Lanka as a hub for operations in South India. The Pakistani High Commission in Sri Lanka is the control centre of such activities. Muhamad Sakir Hussain, a Sri Lankan national arrested in 2014 at Chennai for possible subversive activities, told his investigators that he was handled from the Pakistani High Commission in Sri Lanka and his mission was to organise deadly attacks in south India. In 2012, the Tamil Nadu Police filed an FIR in a Trichy court against Amir Zubair Siddiqui, a diplomat posted at the Pakistani High Commission in Colombo for his alleged spy activities in India. In 2017, a Pakistani national came to India by boat from Sri Lanka was arrested in Ramanathapuram ahead of the visit of Prime Minister Narendra Modi.
These two crucial factors — radical Islam and Pakistani interference — are a threat to the peace and stability of the region. The focus of the radicalised elements these days appears to be the peninsular region. And the threat is live and imminent. According to reports, Riyas Abubakar, who was arrested in Palakkad by the NIA, claimed that he was willing to act as a suicide bomber. Sources says that although he was operating silently he was a key functionary of Islamic State in Kerala with the nickname Abu Dujane. It is believed that he was radicalised in Tamil Nadu while working there. Although his house is located in an influential PFI/SDPI area, people say he was not seen associated with any organisations there.
Many people get radicalised via the internet and social media. Online preachers and handlers plays a major role in this radicalisation process. Where the handlers are involved, they teach the new recruits how to carry out jihad and also how to make the necessary weapons via online tutorials. They also guide people to certain training centres for further training. It is believed that Abdul Rasheed, a key Islamic State handler from Kerala, who is now operating somewhere in Afghanistan, plays a vital role in the recruitment and training process.
There are also agents in south India to recruit people and send them abroad. And it's not just conversion and radicalisation. Human-trafficking involving women is a major problem associated with this. Akshara Bose from Ranni in Kerala's Pathanamthitta district is a perfect example. According to her, after her forced conversion, her husband tried to take her abroad and sell her to the Islamic State.
Radicalisation is not limited to extreme activities alone. In the past decade alone, Islamic fringe elements have been involved in creating their own pockets, where they can impose a lifestyle based on their ideals. The first step of this process is capturing administrative control of local mosques. According to sources, they are succeeding at this in many places. The ramifications of this process are fearsome. For instance, in some pockets they are not willing to even allow the simple vaccination of kids to protect them from deadly diseases. Recently, violent protests against vaccination were reported from some such pockets in the Malappuram district of Kerala.
This may lead to the reemergence of many eradicated diseases in future. The increase in numbers of radicalised youths and their reluctance to continue the study of non-Islamic curriculum (according to them) and also their reluctance to communicate with non-Muslims pose a real threat to social cohesion and harmony. Muslim youths are increasingly becoming attracted towards radical organisations like PFI and SDPI. It curtailed the influence of traditional and outwardly non-fanatical organisations like the Muslim League.
Full report at:
https://www.firstpost.com/india/in-aftermath-of-sri-lanka-attacks-india-must-realise-very-real-threat-posed-by-radical-islam-points-to-bleak-future-ahead-6552651.html
--------
Indian Christians seek better security at churches
May 2, 2019
Christian leaders in India have intensified their call to make churches safer after police arrested a man and accused him of having links to Islamic terror groups and planning to attack religious places in Kerala state.
Police arrested 28-year-old Riyaz Aboobacker, alias Abu Dujanan, at his house in Kerala on April 29 as part of their investigation into the so-called Islamic State (IS) terrorist network in the southern state, local reports said.
According to police, a four-member IS-linked group was planning suicide attacks at tourist destinations and religious places in Kerala similar to the attacks on churches and hotels in Sri Lanka on Easter Sunday that killed 252 people.
The Indian government should pre-empt any attacks planned against minorities including Christians in the country, said A.J. Philip, a Christian political observer based in New Delhi.
"We simply cannot shut our churches. We cannot stop a person who comes with a bomb to blow us all up. The government must prioritize to nip these evils in the bud," said Philip.
IS has claimed responsibility for the Sri Lankan attacks. Its Amaq News Agency said they were in response to the group's call to attack citizens of the international coalition that fought IS in Syria.
The transnational terror group was nearly decimated after a U.S.-led coalition in September 2014 began to fight them in their strongholds in Iraq and Syria. But since 2016, IS has claimed responsibility for several bomb attacks around the world, including spots in Asia where Western tourists gather.
Most killed in Sri Lanka were local Christians, giving rise to the idea that Islamic terrorists are targeting Christians to avenge their anger on the Western world, which they associate with Christianity.
Philip said places of worship cannot be closed to worshipers and the government should ensure safety at religious sites and thwart any nefarious attempts aimed at targeting innocent devotees.
The IS threat in India, and South Asia in general, is real, according to research done in 2018 by the Observer Research Foundation, an independent Indian think tank.
"This does not come from an organizational pattern from the so-called caliphate or [IS leader Abu Bakr] al-Baghdadi himself, but the ecosystem that has been created that allows open-source access to ISIS as a brand, which is a powerful enough tool to make global headlines with the smallest incident, committed even by a petty criminal," the research stated.
For example, churches in Kerala, where Christians form 18 percent of the state 33 million people, overflow on Sundays with worshipers. An explosion in any major church could kill hundreds to gain global attention, observers say.
Police say Aboobacker, the man arrested in Kerala, has been in online contact with IS terrorist Abdul Rashid Abdulla for a long time and has been following his audio clips instigating others to carry out terror attacks in India. He also has contacted Abdul Khayoom Abu Khalid, believed to be in Syria, according to a police statement.
The arrest and the police revelations are a shock to Christians all over India, said Christian leader Joseph Dias, who is based in Mumbai.
"The real threat to Christians in India doesn't come from IS but from Islamic fundamentalism. Radicalization of local Muslim youth could prove calamitous for all, including Muslims," Dias said.
"Indian agencies must swing into action and stop these fundamentalist groups from expanding their wings."
Indian police in the past two years have arrested 112 people with suspected links to IS terrorists, government figures show.
Michael Williams, an educationalist in New Delhi, told ucanews.com that Muslims and Christians must stand together to defeat divisive elements and foil their plans.
"The IS version of Islam is something new in our region. Traditionally in South Asia, Muslims and Christians have been living as brothers. Muslims are largely peace-loving people, especially in India, and therefore this is something absolutely new," said Williams.
In India, Sri Lanka and Nepal, Muslims and Christians form tiny minorities in dominant Hindu or Buddhist populations.
Patsy David, a senior member of the Alliance Defending Freedom, said the threat of extremism is not for the Christian community alone "but for everybody and for people of all faiths."
David said Hindu communalism is more dangerous for Indian Christians than Islamic threats. "Hindu communalism boosts Islamic extremism in the country and radicalizes youth."
Christian leaders say that since Prime Minister Narendra Modi came to power in 2014 after his pro-Hindu Bharatiya Janata Party (BJP) won national elections, Christians and Muslims have been targeted by Hindu groups who took the poll mandate as a license to push for their goal of making India a Hindu-only nation.
According to various independent surveys, there were 219 incidents of targeted violence reported against the Christian community by Hindu fanatic groups in India in 2018.
Full report at:
https://www.ucanews.com/news/indian-christians-seek-better-security-at-churches/85091
--------
North America
The Poway synagogue attack brought the terror I experienced in Israel home to America
By Ilene Prusher
May 1, 2019
I moved to Jerusalem 15 years ago this spring, drawn by a coveted position as a Middle East bureau chief and a chance to live life in one of the most exciting cities on Earth.
At the time, it was also a place where terrorism made you think twice about doing mundane things like meeting a friend in a cafe, going to a festival or a market — or really, anything that put you in the midst of a large crowd that could be an enticing target for a suicide bomber. When I made plans to eat out with friends or go on dates, the question wasn't how well-reviewed the restaurant was, but how well-guarded.
Over time, Israel became my second home. I married and gave birth to my two children there. But covering another mini-war between Israel and Gaza, as I did in the summer of 2014, felt extraordinarily different with two toddlers in tow. Having adventures as a journalist was one thing — I had only myself to be responsible for. Though I cared deeply about Israelis and Palestinians, the brunt of the conflict was borne by people whom I didn't know.
But over a summer of hurrying my kids into shelters during rocket attacks and attending the funeral of a teenage soldier whose mother was my son's pre-school teacher, the realities of raising a family in Israel hit home. When I received an offer to join the faculty of a public university in Florida, I jumped at the opportunity to enter a new phase of life, reconnect with family and rediscover America for myself after nearly 20 years abroad, which included assignments in Iraq, Afghanistan, Turkey and Japan. When you leave Israel for America, some Israelis view it with awe and envy, others with a sense of desertion. They often assume you're choosing the easy life over a life of purpose. That America is a safe place for Jews — safer, oddly, than the nation-state that was set up to be the safe haven of the Jewish people — has long been a given.
But when for the second time in half a year, a hate-filled gunman walks into a synagogue and starts shooting, the givens may be starting to give. It's not just the horror of an extremist stalking our houses of prayer, first in Pittsburgh and now in Poway, California, but an overall trend that's getting harder to dismiss. Violent attacks against the Jewish community in the United States doubled last year, according to the Anti-Defamation League, while attacks including vandalism and harassment remained near record-high levels.
The America I returned to looks different from the one I left in other ways as well. Some things have progressed in the nearly two decades I was away — more Americans have health care, LGBT citizens can now legally marry — but other things seem to be moving backward. Hatred toward racial and religious minorities suddenly became socially acceptable, and calling it out is now the domain of the dreaded politically correct. Americans are being told that immigrants, particularly Muslims and Mexicans, are stealing jobs, bringing crime to America and opening a door to terrorism on our soil.
But from where I sit, it looks like the terrorism is growing from within.
Last Saturday I spent my morning in a synagogue much like the one in Poway — not the Conservative egalitarian one we belong to, but a Chabad "shul," to use an old Yiddish term. That I was greeted by an armed guard who wanted to check my bag seemed like a formality. Hours later, I learned what had happened at a synagogue on the other side of the country and found myself thinking, again? The feeling that took over was disbelief rather than fear. I felt the urge to minimize the horror, whether to refuse to give a murderous hater center stage, or to deny that it could have been any of us in synagogue that day. This is random and this is marginal, right?
But if I'm honest I have to admit: It's becoming more difficult to dismiss the rise of violent white supremacy and virulent anti-Semitism in America as the work of a lunatic fringe and lone wolves. Both the Poway and Pittsburgh attacks were committed by extremists encouraged by the ability to share racist screeds on sites like 8chan, and were buoyed by the new air of permissiveness about white nationalist views on full display at the "Unite the Right" rally in Charlottesville in August 2017 — an event never properly condemned by President Donald Trump.
I'll admit that when I made a decision to return to America, the thought of taking my little family to live in a place where I wouldn't have to think about cafes being blown up was attractive. I would not, as I did in Jerusalem, need to worry about the upkeep of the bomb shelter in my building nor the location of a safe room to get to in case of a rocket or missile attack. Friends poked fun at my decision to move to Florida, teasing me about golf courses and wondering if I, in my mid-40s, was headed into early retirement.
But Florida, with multiple mass shootings that seem to put it at the heart of the American story, has dragged me into the kind of up-close encounters with terrorism I thought I'd left in the Middle East. I covered the Pulse Nightclub shooting in 2016, and last year, I covered the disaster down the road, the shooting at Marjory Stoneman Douglas High School in Parkland.
It's difficult to keep telling my children, now seven and eight, that despite these events happening at schools near them and synagogues like ours, there's nothing for them to worry about. I want to believe that these events are random and far away, but the truth is they are closer and more connected than any of us care to admit.
The feeling that the very place that should serve as one's spiritual refuge is actually a target is an experience that's already been felt by many in this nation — most recently by Muslims attending mosques and African Americans going to church. As Jews we've had our share of this hatred over the millennia, but seeing it follow us into our sanctuaries on American soil is something new.
I am concerned but not afraid. I feel resolved to keep forming alliances and build community within the interfaith organization I am part of and to share in the struggle against hatred and intolerance. I am privileged to have an opportunity to teach journalism, which exposes students to a wide variety of narratives and expands their worldviews far beyond their front doors.
America, despite the president's recent pronouncement, is not full. It still needs immigrants from all walks of life to keep coming in search of the American dream. All of our families and faith traditions are part of that story. The America that welcomed my grandparents and great-grandparents and all the hard-working immigrants I know — from my Israeli-born husband to my students struggling to be the first in their families to earn a college degree — is the America I am proud to still call home.
https://www.nbcnews.com/think/opinion/poway-synagogue-attack-brought-terror-i-experienced-israel-home-america-ncna999771
--------
America Under Attack by White Supremacists Acting Like ISIS
Kelly Weill
04.30.19
The alleged killer at a Southern California synagogue this weekend worked alone, according to law enforcement, but behind him is a sprawling, digital network of white supremacists spurring each other on to murder.
Moments before allegedly opening fire at worshippers in Chabad of Poway on Saturday, white supremacist John Earnest previewed his plans on 8chan, just as his supposed inspiration did. Last month, a white supremacist in Christchurch, New Zealand used 8chan to share a link to a livestream of him killing 50 Muslims at a mosque. In between the attacks, the anonymous forum with a large fascist presence called for people to carry out more shootings. The calls for violence also spread across fringe platforms like Gab, and messaging apps like Telegram. It's reminiscent of calls online for followers of ISIS and al Qaeda to strike out at the enemy, counter-terrorism experts said.
After the New Zealand shooting, 8chan users decorated the alleged killer as a "saint" and encouraged each other to commit shootings of their own, including against synagogues, to prepare for the "third world war" against Jews, or to kill a journalist critical of the forum.
"As a lot of people have noted over the past few days, 8chan is an awful cesspool of encouraging violence and hatred," said Sam Jackson, an assistant professor focusing on online extremism at the University of Albany. "That hate and encouragement of violence might be a sort of baseline, background noise, but periodically someone moves from participating in this online awfulness to committing offline actions."
Those real-life actions appear to have spiked over the past six months, with at least three white supremacists announcing attack plans on 8chan or Gab, before opening fire at Jewish or Muslim houses of worship. Three such attacks—at a Pittsburgh synagogue, a Christchurch mosque, and at the Poway synagogue—have killed a combined 62 people in the past six months.
That background noise can act as a war drum for violence. White supremacist communities often use memes to normalize extreme violence. Almost immediately after the San Diego shooter warned of his attack on 8chan, forum-goers treated the mass-shooting like a game.
The first response to his 8chan post urged him to "get the high score," investigative outlet Bellingcat noted. (When only one person, 60-year-old Lori Gilbert Kaye, was murdered, some 8chan users lamented the attack's "low score.")
The online-inspired terror, and its instant repackaging as propaganda, was pioneered by ISIS and al Qaeda. And unlike Islamic extremism, white supremacist terror appears to hold a place of middling concern in the Trump administration.
"It's interesting: we fretted so much about al Qaeda and ISIS online, and we've got a massive white supremacist network online right now," said Clint Watts, a former FBI agent on the Joint Terrorism Task Force.
"The technology has evolved over the last few years," said Watts, who traced in real-time propaganda from groups like ISIS and Al-Shabaab in his role a distinguished research fellow covering terrorism and social media at the Foreign Policy Research Institute.
Groups like al Qaeda "used to film their attacks, or parts of them. Some good examples are the Westgate attack of al-Shabaab in Nairobi in 2013. They were live-tweeting out updates during the attack. Fast forward to ISIS a couple years later—they would be shooting video and quickly uploading it during 2013-2014. But ISIS was mostly kicked off the mainstream platforms by the time live video uploads were available."
Nazis, meanwhile, have found more staying power online.
Forums like Gab and 4chan's far-right /pol/ board appear to have grown steadily more hateful since President Donald Trump's election, research by the Anti-Defamation League found earlier this month.
In these forums and others, users can be observed spreading anti-Semitic conspiracy theories with the stated goal of inciting a reader to violence.
After the San Diego shooting, Twitter user AntiFash Gordon uploaded screenshots of members of a violent white nationalist Telegram channel agitating for "pogroms."
"thats the thing with memes about jews," one user wrote on Telegram. "does it matter if theyre true? their consequences are pogroms and thats what matters at the end of the day."
Not even experts can predict who will kill next. Studies of so-called "lone wolf" terrorists have produced few common characteristics besides "young and male," Watts said.
Jackson added that researchers at University College London conducted "a study where they found lone wolf actors have a slightly higher chance of having some sort of mental illness, but it's not even a huge number."
Perhaps surprisingly, the series of terror attacks have happened in a slow moment for open white supremacist organizing. After 2017's deadly white supremacist rally in Charlottesville, Virginia, a number of the movement's stars have fallen and its most prominent groups have imploded or gone underground. Opposition from anti-fascists in the streets and lawsuits in the courts has smeared the public-friendly face some racists hoped to present before 2018.
Sometimes movements under pressure will resort to terrorism, Watts said, comparing the movement to al Qaeda after a law enforcement crackdown.
"By the time it was like 2009, the real threat was inspired terrorism," he said, by extremist preachers "like Anwar al-Awlaki. He'd post a message telling people to do attacks at home, and people would pick up arms and do attacks at home. You're seeing a refined version of that."
Jackson, meanwhile, attributed the apparent spikes in white supremacist attacks to "a contagion effect," adding that "it's also possible that the attention that previous attackers have got from mainstream sources encourages others to make a name for themselves in similar sorts of acts."
The white supremacist movement's online footprint is a sign of its terror potential. Whereas ISIS supporters might succeed in uploading a limited number of ISIS videos to social media, footage of the Christchurch shooting went viral immediately after the attack. In the 24 hours after the mass shooting, Facebook recorded 1.5 million attempts to upload the video.
ISIS might be a favorite Trump talking point, but the 1.5 million Christchurch video uploads suggest a much larger following for white supremacist terror.
Full report at:
https://www.thedailybeast.com/poway-synagogue-shooting-america-under-attack-by-white-supremacists-acting-like-isis
--------
Iran, Turkey criticize US plan to designate Muslim Brotherhood a terror group
1 May 2019
Iran and Turkey have both criticized a US plan to designate the Muslim Brotherhood as a terrorist organization.
Iranian Foreign Minister Mohammad Javad Zarif told reporters in Doha on Wednesday that "the US is not in a position to (..) start naming others as terror organizations and we reject by any attempt by the US in this regard."
"The US is supporting the biggest terrorist in the region, that is Israel," Zarif said.
Turkey, meanwhile, said on Tuesday that if the United States designated the Muslim Brotherhood a foreign terrorist organization, it would hamper democratization efforts in the Middle East and serve militant groups like ISIS.
Omer Celik, the spokesman for Turkish President Tayyip Erdogan's Islamist-rooted AK Party, said such a decision by the US would "undoubtedly yield extremely wrong results regarding stability, human rights, basic rights and freedoms in countries of the Islamic world", he said.
"At the same time, (Trump's move) is the biggest support that can be given to the propaganda of Daesh," he said, referring to ISIS.
Full report at:
https://english.alarabiya.net/en/News/world/2019/05/01/Iran-criticizes-US-plan-to-designate-Brotherhood-as-a-terrorist-organization.html
--------
Top US newspapers warn against designating Brotherhood
Michael Hernandez
01.05.2019
WASHINGTON
The New York Times and Washington Post newspapers have published pieces critical of ongoing considerations aimed at designating the transnational Muslim Brotherhood a foreign terrorist organization.
"Is the Muslim Brotherhood a Terrorist Group?" the New York Times asks. "Even experts critical of the Brotherhood agree that the organization does not meet the criteria for a terrorist group."
The newspaper pointed to legal difficulties the decision poses, noting that the Trump administration would have to present evidence the group engages in "terrorist activity" that threatens America or its interests, and that rationale would have to be vetted through an interagency process that includes the State, Justice and Treasury departments.
After the designation is made Congress would have a week to block it, and the brotherhood would have a month to appeal the decision in court.
The White House confirmed Tuesday the Trump administration is seeking to blacklist the group following a meeting between U.S. President Donald Trump and Egyptian President Abdel Fattah el-Sisi.
Trump's push to designate the brotherhood would open the door to U.S. sanctions for any group, nation or entity that does business with it, or otherwise provides loosely-defined material support to the group.
It is unclear if the administration is seeking to designate Egypt's Muslim Brotherhood, its worldwide offshoots or a combination thereof.
Ousted Egyptian President Mohamed Morsi, who had the brotherhood's backing, won Egypt's first democratic elections in 2012, but was removed from power by the Egyptian military following mass demonstrations roughly a year later.
Sisi helped lead the coup that removed Morsi from power.
Trump first mulled the idea of designating the Muslim Brotherhood when he assumed office in 2017, but then decided to drop the matter.
In addition to Sisi, the designation would squarely place the U.S. alongside Saudi Arabia, the United Arab Emirates and Bahrain who all oppose and have blacklisted the Muslim Brotherhood.
In its op-ed, the Washington Post said: "While the Brotherhood may be accused of promoting political extremism, it cannot be equated with organizations such as al-Qaeda, the Islamic State or Iran's Islamic Revolutionary Guard Corps (IRGC) that actually carry out acts of terrorism."
Full report at:
https://www.aa.com.tr/en/americas/top-us-newspapers-warn-against-designating-brotherhood/1467595
--------
Muslims, Jews must unite against hate: US lawmaker
Umar Farooq
01.05.2019
WASHINGTON
Muslim and Jewish communities in the U.S. need to unite against hate caused by white supremacy, congresswoman Ilhan Omar said Wednesday.
"We know that many of the people who are targeting the Jewish community for anti-Semitism are also targeting the Muslim community for Islamophobia," Omar said in an interview with Democracy Now radio program.
"And so we have to collectively work together to uplift our voices and say no to hate. We know that both our communities here in the United States are targeted by white supremacists."
According to a Pew Research Center poll earlier this month, the majority of Americans say Muslims face discrimination, and the number of people who say Jews face discrimination doubled since 2016.
A gunman opened fire Saturday on a synagogue in California, leaving one dead and three injured.
A user online, with the same name as the suspect John Earnest, posted an anti-Semitic letter earlier in the day. The writing was similar in style and tone to, and even mentioned, another letter posted by Brandon Tarrant, the perpetrator of the terrorist attacks on mosques in New Zealand that killed 50 worshippers in March.
"We know the conservatives are doing everything they can to distance themselves, to disinform the public about the monsters that they helped feed, that are now causing devastation in mosques and synagogues," Omar said.
"If we are not collectively wising up to that reality then we will suffer the pain of it."
Full report at:
https://www.aa.com.tr/en/americas/muslims-jews-must-unite-against-hate-us-lawmaker/1467478
--------
U.S. Military Stops Counting How Much of Afghanistan Is Controlled by Taliban
By David Zucchino
May 1, 2019
KABUL, Afghanistan — The American military command in Afghanistan has halted regular assessments of how many people and districts the government and insurgents there control, it emerged on Wednesday — eliminating what has long been an important public measure of progress in the war.
The military said the assessments had "limited decision-making value" for commanders. As recently as November 2017, the previous American commander in Afghanistan had called them "the metric that's most telling in a counterinsurgency."
The decision to end the assessments, which have been produced in various forms since at least 2010, was published in the latest quarterly report by the American special inspector general for Afghanistan reconstruction.
"We're troubled by it," the inspector general, John F. Sopko, said in an interview. "It's like turning off the scoreboard at a football game and saying scoring a touchdown or field goal isn't important."
The military command in Afghanistan told the inspector general that the assessments, which had covered each of the country's 407 districts, were "subjective" and were plagued by "uncertainty in the models" that produced them, the report said.
"We are focused on setting the conditions for a political settlement to safeguard our national interests," Col. Dave Butler, a spokesman for the American-led military mission in Afghanistan, said in a statement to The New York Times. The assessments "did little to serve our mission of protecting our citizens and allies," he said.
Colonel Butler added that the information in the assessments was already provided to Mr. Sopko by intelligence agencies.
Mr. Sopko said that while United States and Afghan forces, along with the Taliban, knew what was happening on the ground in Afghanistan, ending the assessments cut off vital public information. He said he and many members of Congress had access to classified information unavailable to the public.
"The only people who don't know what's going on and how good or bad a job we're doing are the people paying for it — the American taxpayers," he said.
Gen. John W. Nicholson, Jr., center right, then the American commander in Afghanistan, with Jim Mattis, center, then defense secretary, in Kabul last year.
Bill Roggio, a military commentator whose assessments have challenged the Pentagon's analyses, said the assessment reports had recently reflected a shrinking in the territory the government controlled, particularly outside urban areas.
"The district assessments highlight failure, which is contrary to the U.S. military's desired message of success," Mr. Roggio said in an email. "Make no mistake, if these assessments showed the Afghan military retaking lost ground, the U.S. military would continue to publish the information."
Mr. Sopko's report said the assessments had limitations but were "the only unclassified metric" provided by the military "that consistently tracked changes to the security situation on the ground."
Ending the public assessments is the latest move by the military command in Afghanistan to limit public dissemination of information about the war, which is now in its 18th year. In October 2017, the military stopped reporting casualty figures for Afghan security forces at a time when casualties were approaching what the Pentagon now considers unsustainable levels.
Also classified or restricted are performance assessments for Afghan security forces and information about the operational readiness of Afghan Army and police equipment; anticorruption efforts by the Afghan Ministry of the Interior; and progress by the Afghan military on certain security-performance benchmarks.
Anthony H. Cordesman, a national security analyst at the Center for Strategic and International Studies, said ending the assessments "means there now is no official estimate of progress in the war since late 2018."
But he added in an email, "There is no reliable way to know who is 'winning' or the level of 'stalemate.'" That included the assessments, which he said had often seemed too positive.
Gen. John W. Nicholson, Jr., the American commander in Afghanistan until September last year, told reporters in November 2017 that district and population data were "the key factor that we're looking at." He said that he hoped the Afghan government could extend its control to 80 percent of the population by the end of 2019.
The most recent American military assessment, released in January for the three-month quarter ending in October, showed that the government in Afghanistan controlled territory containing 63.5 percent of the country's population. That represented a 1.7 percent decrease from the previous quarter.
The report said gains by the Taliban had given the insurgents control over territory that was home to 10.8 percent of the population. The remaining population areas were considered contested.
The Pentagon said at the time that the assessment was "not indicative of effectiveness" of American military strategy, citing "uncertainty" and "subjectivity" in the data. Mr. Sopko said that had been the first time the military had criticized its own metric.
United States Marines walking to guard stations at a military camp in Helmand Province, Afghanistan, in 2017.
An analysis co-authored by Mr. Roggio, a senior fellow at the Foundation for the Defense of Democracies, published in the Long War Journal, found that territory controlled by the Afghan government covered 48 percent of the population and that held by the Taliban 9 percent, with the rest contested.
The inspector general's report said Afghan defense force casualties rose by 31 percent from December through February compared with the same period a year ago. Insurgent attacks increased by 19 percent from November through January compared with the quarter ending in October, the report said.
The figures reflect a higher tempo of combat operations in the conflict as both sides seek leverage in the peace talks between the United States and the Taliban in Doha, Qatar. The Taliban announced their spring offensive on April 12.
The report said that the Afghan army and national police force were below authorized strength levels. The army was 36,000 personnel below its authorized level of 227,000, and the police force 6,600 below its authorized level of 125,000.
Both forces have been plagued by corruption, poor leadership, desertions and "ghost soldiers" — the practice by some commanders of producing inflated strength numbers and pocketing the extra salaries.
In the United States, training classes for Afghan pilots were shut down by the Pentagon after more than 40 percent of the student pilots went absent without leave, the report said. Mr. Sopko said Afghan military trainees have higher A.W.O.L. rates than those from any other country.
The report warned that even if a peace agreement were reached, the American military and reconstruction effort in Afghanistan would continue to confront longstanding obstacles. It listed eight areas of concern, among them widespread insecurity, endemic corruption, threats to advances in women's rights and rampant drug trafficking.
The report said the United States had spent $9 billion since 2002 to combat opium production and trafficking, a trade that helps fund the Taliban. Yet Afghanistan remains the world leader in poppy cultivation — reaching a record in 2017, according to the United Nations Office on Drugs and Crime.
The United States has spent $780 billion in Afghanistan since 2001, with $133 billion of that amount earmarked for reconstruction, the report said.
American and Taliban negotiators have reached an agreement on the framework of a deal for the withdrawal of American troops in exchange for a Taliban guarantee that terrorists would not launch attacks from Afghan soil. But widespread combat and insurgent attacks against civilians have continued.
Full report at:
https://www.nytimes.com/2019/05/01/world/asia/us-afghanistan-territory-taliban.html
--------
Pakistan
Curriculum, administration of madrassas in Punjab to remain unchanged
May 02, 2019
The curriculum and administration of the madrassas taken over by the Punjab Education Department from proscribed militant groups Lashkar-e-Taiba and Jaish-e-Muhammad in 36 districts will remain unchanged, Punjab government decided on Wednesday.
The provincial government had taken over the control of dozens of madrassahs/schools run by the militant groups in March and the Punjab Education Department had appointed its administrators at these schools while introducing a blend of secular and religious subjects.
"There will be no change in syllabus and administrative system of these taken over madrassahs/schools for the time being and till further orders," according to an internal memo of the Punjab Education Department. The memo further states that the instructions should be followed in letter and spirit.
Reportedly, the government is currently reviewing the syllabus of these educational institutions in an effort to modernise it. The development comes two days after military spokesperson Major General Asif Ghafoor said that seminaries in the country were working under the Ministry of Industries and that the government would place them under the Ministry of Education.
Giving a background of seminaries in Pakistan, he said at the time of Partition, Pakistan only had 247 madrassas. That number went up close to 3,000 in 1980, which had now swelled to 30,000. However, he added that out of the 30,000, only 100 or so seminaries were involved in promoting militancy.
https://www.pakistantoday.com.pk/2019/05/01/curriculum-administration-of-madrassas-in-punjab-to-remain-unchanged/
--------
Pakistan Plans To Integrate Islamic Seminaries Into State Education
By Arshad Mehmood
MAY 1, 2019
[Islamabad] Pakistan has announced it will take control of about 30,000 madrassas, or Islamic seminaries, and bring them into the country's broader school system.
"We have allocated 2 billion rupees to bring these madrassas into the mainstream education system, and one billion annually to operate them," Maj.-Gen. Asif Ghafoor, head of the Pakistan Armed Forces Media Wing, said at a news conference in Rawalpindi on Monday.
Contemporary subjects will be included in the curriculum, and all of the madrassas will be administered by the Ministry of Education.
"Madrassas offer eight years of studies in Shari'a law and related subjects, but when [students] come out of these madrassas, what job opportunities await them?" Ghafoor asked. "That is why we are trying to turn these seminaries into reformed institutes so that children studying there have the opportunity to become doctors and engineers, just like the children studying in mainstream schools."
There is also the matter of extremism.
Muhammed Shahid Masood, a prominent lawyer and member of Awami Tehreek, a political party aiming to strengthen democracy in Pakistan, told The Media Line that the introduction of secular courses in madrassas would only be of slight value unless there were major changes in the religious curriculum to end the promotion of violent sectarianism and self-proclaimed jihad.
Ghafoor, however, claimed that of the 30,000 madrassas, fewer than 100 were found to be pushing their students toward extremism. What's more, he claimed that the armed forces had broken up the country's militant outfits.
"I can now say with confidence that there is no terrorist organization in Pakistan anymore. We have proscribed violent extremist organizations and we have been working to curb terrorism in Pakistan," he said.
As such, he continued, some of the funding necessary for the overhaul will come from budgets that had been earmarked for the fight against terror. He added that Prime Minister Imran Khan had formed a committee with the coordination of the Interior and Education ministries to come up with a syllabus in which religious education will continue, but without hate speech.
Molana Fazal Rehman, head of the right-wing Jamiat ul Ulema Islam party and a former opposition leader, told The Media Line that changing curriculums could not be imposed on the madrassas, although he agreed that action should be taken against seminaries involved in sectarian and extremist activities, including shutting them down.
Liaquat Baluch, a former senator and deputy chief of the Jamat e Islami party, told The Media Line that the country's current education system would be unable to run or administer Islamic schools.
"Our students are more loyal and patriotic when compared to other [students]," Baluch added.
Qazi Abrar ul Haque, a senior official in the Education Ministry, told The Media Line it was a "bitter reality that our current education system is derived from the British colonial era," explaining that the system was divided into three categories: Urdu, English and the madrassas.
"These children have no choice but to take the version imposed on them without even having the chance of thinking otherwise," Haque said. "Thus, we sow the seeds of division right from the birth of the child."
Dr. Muhammed Sajjad Sajid, a prominent Sunni scholar, told The Media Line that madrassas in Pakistan had become symbols of sectarianism, extremism and terrorism, although they also provide free education and meals to millions of poor children.
By bringing them in the mainstream education system, every teacher and every student will be registered with the government, making it easier to monitor their activities.
Full report at:
https://www.jpost.com/Middle-East/Pakistan-Plans-to-Integrate-Islamic-Seminaries-into-State-Education-588391
--------
JI chief says country needs Islamic system of governance
Essa Khankhel
May 2, 2019
MINGORA: Jamaat-e-Islami (JI) head Senator Sirajul Haq on Wednesday said Pakistan needed Islamic system of governance and not a presidential form of government.
He was speaking at the workers' convention here at the Grassy Ground.
JI provincial head Senator Mushtaq Ahmad Khan, district chief Muhammad Amin and other leaders of the party were present as well.
Sirajul Haq said exploitation of the nation had continued for the last 70 years, adding that the government was not different in approach and governance from previous ones.
"The Pakistan Tehreek-e-Insaf (PTI) leadership was criticizing Hafeez Sheikh and his economic policies when he was finance minister in
Syed Yusuf Raza Gilani's cabinet. In total frustration, they have now inducted Hafeez Sheikh to come up with economic plans," he said.
The JI chief said the PTI government was totally directionless in its plans and vision.
He scoffed at the government for failure in legislation in the last nine months.
Sirajul Haq said the presidential form of the government was not the solution for the development of the state. The Islamic system is the only way out, he added.
"The government has failed to deliver. Is it prosperity to take more loans and negotiate with International Monetary Fund (IMF)," he asked.
The JI chief said that the "Child Marriage Restraint Bill was against the injunctions of Islam.
Full report at:
https://www.thenews.com.pk/print/465992-ji-chief-says-country-needs-islamic-system-of-governance
--------
Masood Azhar hidden in a safe house in Islamabad by Pakistani agencies
May 2, 2019
New Delhi: Designated as a global terrorist by the United Nations, Jaish-e-Mohammed (JeM) chief and Pulwama terror attack mastermind Masood Azhar has been shifted to a safe house in Islamabad from his residence in Bahawalpur by Pakistan's Inter-Services Intelligence (ISI), sources have said.
A dossier prepared by the government on the global terrorist which has also been shared with the international community, says that the Azhar was "put under house arrest at Markaz Subhan Allah in Bahawalpur, post 'Balakot Attack' and has been recently shifted to a Safe House in Islamabad."
Pakistan has been hiding Azhar and his relatives from the public glare ever since he carried out Pulwama attack against CRPF personnel in February this year in which 40 jawans were killed and has been hiding fearing a direct Indian strike on him.
In the dossier, sources said Jaish head has not only intensified terrorist operations against the Indian government, security forces and civilians in Jammu and Kashmir but has also broadened Jaish's operational focus by joining Afghan Taliban in attacks against government and coalition forces in Afghanistan.
"JeM has undertaken a recruitment drive through its students and charity fronts. Talba Al-Murabitoon (Students Movement for Ideological and Geographical Defence of Islam and Pakistan), along with other wings such as Al Rehmat Trust and Preaching Wing, regularly organises events in close coordination in order to urge people to wage Jehad according to Sunnat and Shariah and support their action against India," the dossier says.
Azhar also decides on the deployment of terrorists along with his brother and Operational Commander of JeM, Mufti Abdul Rauf Asghar. On their direction and supervision, 'high-value operatives,' particularly trained terrorists belonging to their family are infiltrated into J&K to conduct spectacular terror attacks.
"The killings of such high-value targets by Indian Security Forces are then projected as "Shahadat" and leveraged for aggressive recruitment and fund collection activities in Pakistan and PoJK. Pamphlets, books dedicated to killed terrorists, photos, posts over social media, speeches of JeM functionaries and audio messages are released to further intensify recruitment and to radicalize for terror operations," sources said.
Maulana Masood Azhar is also head of the swimming course projected by JeM as 'Samundari Jehad,' which has been started at JeM's Markaz Subhanallah in Bahawalpur, Punjab, during mid-2018. This training has also been incorporated in JeM's curriculum of advanced training towards its preparation to gain maritime capability in the medium to long run, to undertake sea/river-based operations.
Sources said Prime Minister Narendra Modi and External Affairs Minister Sushma Swaraj played a key role in getting Masood Azhar designated as a global terrorist by the United Nations Security Council.
Full report at:
https://www.asianage.com/india/all-india/020519/masood-azhar-hidden-in-a-safe-house-in-islamabad-by-pakistani-agencies.html
--------
Military authorities contemplate transferring terror cases to govt
Malik Asad
May 02, 2019
ISLAMABAD: The military authorities are contemplating transferring the cases of all suspected terrorists arrested over a period of time to the federal government in case military courts are not given another extension through constitutional amendment.
In case of the transfer of these cases to the federal government, they may be assigned to the sessions courts or antiterrorism courts, legal experts believe.
The military courts set up under the National Action Plan (NAP) in 2015 to try civilians on terrorism charges ceased to function after their second two-year constitutional term expired at the end of March.
Director legal of the defence ministry Brigadier Falak Naz had, in response to a petition seeking release of under-trial accused Abdullah Saleh, submitted to the Lahore High Court a report stating that the accused was being tried by a military court and his case was pending as the authorities were awaiting further extension in the tenure of the military courts. The report further states: "However, in case of non-extension of military courts by parliament, his case for trial along with other accused will be at the disposal of the federal government for appropriate disposal."
Abdullah Saleh is the son of retired Major Mohammad Saleh who has challenged the arrest of his son, saying he has been in the custody of secret agencies since Aug 28, 2016.
Brigadier Naz informed the court that Abdullah Saleh was allegedly involved in terrorist activities and his case was processed for trial under the military court. "Presently, his case with other cases is pending, subject to further extension of military courts."
According to former officer of the military's legal branch retired Lt Col Inam-ur-Rahim, in case these cases are transferred to the federal government, these will be given to the sessions courts or antiterrorism courts of the respective provinces.
Minister for Law and Justice Dr Farogh Nasim, when asked about the fate of pending cases in the military courts, told Dawn that it was a complicated issue and it needed some legal interpretation.
When he was reminded that after the antiterrorism law — Protection of Pakistan Act (PoPA) — had lapsed, the cases registered under PoPA were transferred to antiterrorism courts, he said PoPA was a different law and it could not be compared with the amendment to the Pakistan Army Act that empowered the military courts to try terrorists.
Though there are no official statistics available about military court cases, Defence Minister Pervez Khattak, in response to a question raised by MNA Mohsin Dawar, had informed the lower house of parliament in November last year that the military courts had to decide 185 terrorism-related cases before the expiry of their two-year term in March this year.
The minister had said that since the launch of the Zarb-i-Azb operation, the interior ministry had referred a total of 717 cases to the military courts. Of the total cases, 185 were still under process and these had to be decided by March 30, he added. The minister had said a total of 478 cases had been decided by the military courts, which meant that the conviction rate of the cases was more than 60 per cent.
Mr Khattak had said that 284 convicts had been awarded death sentences and 56 of them had been executed. Similarly, he added, 192 convicts had been awarded rigorous imprisonment, two accused acquitted and 54 cases dropped due to technical reasons.
The Pakistan Tehreek-i-Insaf (PTI) government, which has already decided in principle to give another extension to the military courts for two more years, is still struggling to seek cooperation of the opposition parties over the issue as it does not have the required two-thirds majority in any of the two houses of parliament to carry out the constitutional amendment for the purpose.
The Pakistan Muslim League-Nawaz seems to be willing for the extension of the military courts, but it wanted the PTI government to convince the opposition on this issue.
PML-N Senator Pervaiz Rashid blamed the PTI for the expiry of the military courts and delay in their revival. Talking to Dawn, he said that in this case the PML-N was ready to support the bill for the extension of the military courts, but it appeared that "complainant is lazy and witness is active" in the current situation.
"We asked the government to formally engage the opposition in discussion on the revival of the military courts, but the PTI leadership seems not interested as they did not contact Nawaz Sharif or Shahbaz Sharif," he added.
Full report at:
https://www.dawn.com/news/1479688/military-authorities-contemplate-transferring-terror-cases-to-govt
--------
Labbaik's Afzal Qadri says sorry to Gen Bajwa, judges, resigns from movement
May 02, 2019
LAHORE: Firebrand Tehreek-e-Labbaik Pakistan (TLP) patron-in-chief Pir Afzal Qadri, who is currently on judicial remand pending multiple cases against him, has announced his retirement from the movement and issued an apology for incendiary remarks made by him against Pakistan Army chief General Qamar Javed Bajwa and the superior judiciary during a protest against the Supreme Court's acquittal of Asia Bibi.
Qadri was booked under sedition and terrorism charges in Gujrat and taken into "protective custody" by the government during a crackdown in November after the TLP announced it would observe martyrs' day on Nov 25, 2018.
Currently, the Lahore High Court (LHC) is hearing a bail plea filed by Qadri and TLP chief Khadim Hussain Rizvi since their earlier applications were rejected by an anti-terrorism court. In the last hearing of the case, the court had asked police to submit a record of proof that led to the arrests of Rizvi and Qadri.
Pir Afzal Qadri read out a statement announcing his retirement in a video shared on Tuesday night.
An accompanying press release stated that the TLP patron-in-chief is sorry for "hurting the sentiments of the government, the judiciary and the chief of army staff".
"I am a patient of heart disease, paralysis, kidney disease, high blood sugar, and high blood pressure etc, and when the verdict of the Asia Masih case was pronounced, my religious sentiments got hurt and I delivered a speech. I am very sorry for hurting the sentiments of the government, the judiciary and the chief of army staff," he said.
Qadri also distanced the TLP from an incident at a university in Bahawalpur earlier this year, in which a teacher was killed by a student allegedly associated with a senior TLP leader.
He directed party leaders and workers to propagate their viewpoints in a manner consistent with the teachings of the Holy Quran and the Sunnah, and also in line with the law and the Constitution of Pakistan.
"No one will be allowed to resort to arson, vandalism and destroying public and private properties," he said, adding: "Terrorism, killings, discord and armed sectarian actions will be discouraged."
"All the institutions, the law, the Constitution of Pakistan will be honoured," he vowed, adding that that the party workers would stand by the Pakistan Army to defend the country.
The TLP leader called on party workers to "behave well, remain peaceful, and refrain from engaging in any activity against the integrity of the state".
He said that he had decided last year to retire from the movement and had informed his friends, but had announced the decision now as his health had further deteriorated.
In November 2017, TLP workers demanding the resignation of the then law minister Zahid Hamid had staged a weeks-long sit-in at the Faizabad interchange that had virtually paralysed the federal capital and led to several people losing their lives.
On Nov 21 of the same month, the apex court had taken notice of the sit-in and directed the defence and interior secretaries to submit a detailed report on the matter.
Days later, the PML-N-led government had launched against the protesters an operation which, when failed, had forced the authorities to cave and Hamid to resign.
On Nov 23, 2018, the top TLP leaders, including Khadim Rizvi and Afzal Qadri, were taken into "protective custody" as they had announced holding a public rally in Islamabad. The were arrested amid a massive crackdown against workers of the TLP and Tehreek-i-Labbaik Ya Rasool Allah (TLYRA).
The crackdown came ahead of the party's call to party members to observe martyrs' day on Nov 25, 2018. The party had asked workers and supporters to gather at Faizabad in the federal capital — the same venue where the party had staged in 2017.
Full report at:
https://www.pakistantoday.com.pk/2019/05/01/tlp-patron-in-chief-pir-afzal-qadri-calls-it-a-day/
--------
Southeast Asia
Revisiting religious narratives to combat violent extremism
May 2nd, 2019
Why certain Muslims use their potential to destroy so much of what our merciful and kind God has given to us, all of us? Does it really help anyone when more suicide bombers die and their families are left behind? Why is so much energy spent on creating havoc and death instead of a better life?
On a related note which depicts a sad fact is more Muslims today are dying at the hands of Muslims than by acts of white supremacist, Israelites, Americans or any other perceived enemies — whether it's from weekly suicide bombings in Pakistan, intra-Palestinian fighting, or sectarian violence in Iraq.
While we mourn together with loved ones of the victims who were attacked in places of worship, the moderate Muslims should take a stronger, bolder stand against all this madness in the name of Islam.
Moderates need to stand up zealously for civilians who are harmed by Muslim violence. We need to reflect on our internal dysfunction. Religions don't make choices. Individuals do.
Injustices have been done, country against country, no doubt about it. But are we going to hold onto that resentment and hate for the rest of our lives at the expense of trying to create a religious exclusivism of future generations? What about our conception of Islam, of a "Muslim" society, of our "Muslim values"?
Do we have the key to knowledge and righteousness just because we are Muslims? And what is Islam? Do we practise it in the right way? What is the right way?
We need to ask ourselves these questions first. That is what ijtihad (independent thought) is advocating, questioning of our values and practices as rational individuals.
Contrary to ijtihad, jihad now appears to be a term with its meaning taken out of context. In the Arabic language, the word jihad basically means to strive and exert your utmost effort for any given objective.
In Islam, jihad can be classified into several realms; jihad by the heart, tongue, hand and finally, by the sword. Unfortunately, the latter is usually the level that is most publicised and exposed due to its wide misinterpretation and misuse by extremist Islamic groups for their own interest.
Their misinterpretation of this term has unleashed far-reaching consequences even on Muslims worldwide and even in Malaysia.
According to a study on tolerance and susceptibility to extremism in South-East Asia by the Merdeka Centre, the main drivers for extremism were religious narratives such as the pursuit of "purist" Islamic goals like jihad or hudud, as well as religious literalism in which respondents take the word of their Islamic teachers literally.
The study reported that 28% of Malaysian Muslims demonstrated "violence-receptive" tendencies, meaning that they did not directly reject violence.
Instead, Faisal S Hazis, an academic who co-authored the survey said, the respondents showed support for extremism or justified violence in the name of Islam.
The survey measured two areas of extremism: Violent extremism and "self-sacrificial tendencies" or the willingness to sacrifice their lives, freedom or belongings to defend Islam.
Malaysia and Thailand recorded the highest levels of self-sacrificial tendencies. Merdeka Centre also found that support for global and regional terror groups such as Jemaah Islamiyah was present across all four countries surveyed and Malaysia was the highest at 18.1%.
There are many mullahs and prominent Islamic leaders who condemn the extremists and stood by the fact that Quran condemns violence against civilians and against the words of Prophet Muhammad.
According to them and to most of the moderate Muslims, the Hadith never approved any violence and has clearly stated that jihad in the sense of physical warfare is only of minor significance as the last resort for self- defence purposes, and for fighting back against aggression.
Jihad in the bigger picture encompasses a wider concept of noble struggle to ensure the wellbeing of the family, community, the nation and ummah.
The Quran said if someone kills a person, it is as if he had killed the whole society.
The extremists who lean towards violence read and believe the same Quran as these mullahs and Islamic leaders have. So, what went wrong with the way these extremists interpret the Quran here?
Why the violence in extremists were taught about a vengeful God, but the God of these mullahs, Islamic leaders or moderate Muslims worship is a compassionate and loving God?
If we intend to think that the education level is the cause of misinterpretations, how do we explain that most of the attackers of the Sri Lanka's Easter Sunday bombings were "well educated" and had come from "middle- or upper middle-class" families, as what reported by the Sri Lankan government?
Just a little quote from the Quran of the Chapter Five, Verse 32, that reads, "If you kill a human being, it is like killing all of mankind, unless you are killing that human being as punishment for violence, or murder, or other villainy in the land." (This verse might be being literally or blindly quoted by the extremists as the best citation of Quran to service killing sprees.)
Hence, the mullahs and Islamic leaders need to get real, need to be honest, and need to offer bold and competing re-interpretations of what is actually in the Quran.
The problem is not with Islam, as a religion, as much as a problem with us the Muslims. If we go back to what happened in all those attacks worldwide, those people who did that, they believed they were performing an act of jihad. Not an act of terrorism. And if you look at most of the videos which have been sent by those terrorists, they were doing that in the name of Allah, and in the name of Islam.
All these extremists who lean towards violence operated from religious conviction. Religion was not the cause of extremism but could serve either as an enabler or disabler.
The moderate Muslims cannot deny that there is a problem in the way certain Muslims interpret and understand the Holy Book and its way of life.
They cannot condemn violence committed in Islam's name, but reflexively recite that "Islam has nothing to do with it".
Islam is what Muslims make it. Just as Christians and Jews have reinterpreted the troubling passages of their scriptures for new centuries, Muslims must do likewise.
Moderate Muslims need to bear the responsibility for re-interpretation. It is not a call to rewrite the Quran, but more of a call to update interpretations of existing words.
Reinterpretation is a baby step to take away certain malignant interpretations from terrorists.
The violent extremists need to be reminded of the Quran's unambiguous reminder that God alone has the full truth and there's not only just one approach that can hold water.
Reinterpretation of certain religious narratives to harness the potential for compassion, tolerance and peaceful coexistence within Islam is just one tool in the toolbox of a complex, multi-pronged strategy to combat violent extremism.
https://themalaysianreserve.com/2019/05/02/revisiting-religious-narratives-to-combat-violent-extremism/
--------
Who says we never acted on insults to Islam, asks Muhyiddin
Sean Augustin
May 2, 2019
PUTRAJAYA: Home Minister Muhyiddin Yassin today dismissed claims by Perlis mufti Mohd Asri Zainul Abidin that government leaders are not proactive in addressing offensive remarks aimed at Muslims, saying the police are currently investigating 53 cases.
He added that eight individuals who insulted Islam and the Prophet Muhammad had been hauled to court.
"So to say that we are not taking action or not doing anything is not true at all. Some have been fined, some have been jailed.
"And we will continue to do so. We view this matter very seriously and we would like to put an end to such things," he said in a special interview with the media to mark Pakatan Harapan's one-year anniversary.
Muhyiddin also said he had issued many statements cautioning the people against making provocative statements, especially on social media, as it would "create a lot of problems".
"It is not good for us. It will not benefit anyone at all," he added.
On Monday, Asri accused government leaders of keeping mum on remarks which he said were offensive to Muslims, following the arrest of a close associate in Perlis, Muhammad Zamri Vinoth Kalimuthu, last month.
Prime Minister Dr Mahathir Mohamad then labelled the popular preacher as "deaf" to the good that Putrajaya had done for Islam and Muslims.
However, Asri defended his remarks, saying the authorities had not acted against government leaders who insulted Islam.
Speaking today, Muhyiddin also rubbished claims that the status of Islam under Pakatan Harapan is under threat.
"Islam is the religion of the federation as stipulated in the Federal Constitution, so such claims are not true at all," he said.
He added that the rally reportedly organised by Ummah (Gerakan Pembela Ummah) this Saturday on such grounds would likely fan racial flames and provoke Muslims.
Full report at:
https://www.freemalaysiatoday.com/category/nation/2019/05/02/who-says-we-never-acted-on-insults-to-islam-asks-muhyiddin/
--------
Entrepreneur minister: Malaysia to unify worldwide halal certs for Muslim countries
02 May 2019
By Thasha Jayamanogaran
KUALA LUMPUR, May 2 — Entrepreneur Development Minister Datuk Seri Mohd Redzuan Md Yusof said Malaysia will soon spearhead a move to unify halal certification worldwide.
Mohd Redzuan said the halal industry has always been one of the main agendas that his ministry has focused on and the aim to achieve a single halal certification was made after several countries agreed with Malaysia that the unification was needed.
"We obtained feedback from several countries.. and they agreed with Malaysia for the unification of the halal certification for the world.
"There is a major consensus on this though it has yet to be formalised, which is to have Malaysia to lead Muslim countries for the unification so that we are borderless in terms of applying halal lifestyle," he told a special interview in conjunction with Pakatan Harapan's (PH) first anniversary in power.
Mohd Redzuan said if the halal unification is successfully implemented it would mean that one single halal certification will govern everything in the entire world.
He said most Muslim countries have recognised that Malaysia has the highest standards set when it comes to halal certification guidelines.
"With our high standards being recognised by most Muslim countries, they want to use as a basis to unify the certifications so that we are more open to the entire market.
"We are seen as champions to spearhead he halal unification," he said.
Mohd Rezuan cited as an example that there will be no difference between Saudi Arabia and Malaysia in the future if the halal certification is the same.
"At the moment there are some products accepted in other countries but not in Malaysia because it doesn't meet Jakim's requirement.
"With a unified halal certification it will no longer be like that," he said.
Mohd Redzuan said his ministry will streamline all effort to pursue this with other relevant ministries.
It was announced during the 11th World Halal Conference (WHC) here last month that the global halal market is currently valued at RM7 trillion.
On April 4, Economic Affairs Deputy Minister Senator Mohd Radzi Md Jidin urged Malaysian halal industry players to strengthen their efforts to tap into the RM7 trillion global halal market value.
He said with over 1.8 billion Muslims globally, Malaysia has a huge chance to capitalise on this market considering it has been recognised as the champion of the Global Islamic Economic Indicator by the Dubai Islamic Economy Development Centre in its report released in October 2018.
Full report at:
https://www.malaymail.com/news/malaysia/2019/05/02/entrepreneur-minister-malaysia-to-unify-worldwide-halal-certs-for-muslim-co/1748904
--------
How preacher Zamri got into hot soup when speaking out against 'selfish Muslims'
Ainaa Aiman
May 2, 2019
PETALING JAYA: Muslim preacher Zamri Vinoth is in trouble with the law apparently because he made a passing reference to what he described as "illogical" Hindu practices in a talk that was largely critical of Muslims.
The leader of the group that made the first police report against him, Arun Doraisamy, told FMT that Hindus were offended by a remark about their worship of a multiplicity of deities.
In that segment of the talk, Zamri said one of the reasons he left Hinduism was that he couldn't make sense of a belief in "330 million gods" and the "worship of stone objects to which food is then offered".
Zamri was arrested last Sunday for allegedly insulting Hinduism while giving a talk at a mosque in Kelantan on Dec 30.
In speaking of a Muslim's duty to introduce the religion to others, he referred to his own angst over his failure to convert members of his own family and some of his close friends.
He said some of them had better morals than many Muslims. "I don't feel they deserve to go to hell," he added.
He criticised Muslims who didn't care to preach the religion, calling them "selfish", and he denounced those whose attitudes were repellent to non-Muslims.
He said: "Have you seen newspaper reports about two non-Muslims entering a mosque and being chased away with a broom?"
He also spoke of Muslims who would try to shut up non-Muslims approaching them with questions they could not answer because of their failure to educate themselves about their own religion.
"They won't ask the easy questions," he said. "They'll ask questions that are important to them. For example, why did Prophet Muhammad marry a nine-year-old girl? How would you answer that?"
Some ignorant Muslims, he said, would respond with aggressive statements like, "You are not Muslim. It's not your business to ask about Islam."
He said many Muslims did not embody the real teachings of Islam in their daily lives.
"Imagine a non-Muslim looking at Muslims in Malaysia. Do you feel they would come towards or keep away from the religion?"
Arun, who leads a Hindu group called Agamam Ani Malaysia, said Zamri's insulting remarks about Hinduism had "no place in peaceful Malaysia".
He also criticised Perlis mufti Mohd Asri Zainul Abidin's stance on the issue as "an insult" to the institution of muftis.
Zamri's arrest triggered a Facebook post by Asri in which he said "current political realities" allowed Muslims to be bullied.
He accused the Putrajaya administration of holding a double standard, saying it had not acted against government leaders who made statements offensive to Muslims.
Full report at:
https://www.freemalaysiatoday.com/category/nation/2019/05/02/how-preacher-zamri-got-into-hot-soup-when-speaking-out-against-selfish-muslims/
--------
It was PH that turned a deaf ear to my proposal, says mufti
May 1, 2019
PETALING JAYA: Days after being labelled as "deaf" by the prime minister, Perlis mufti Mohd Asri Zainul Abidin today questioned why Putrajaya had turned a "deaf ear" to a proposal on interfaith dialogue he once shared with them.
Taking to Facebook, Asri recalled how Mujahid Yusof Rawa, the minister in charge of Islamic affairs, had proposed a meeting between him and Penang Deputy Chief Minister II P Ramasamy last July.
This was after Asri and Ramasamy had been involved in a public spat over allegations of terrorism following Ramasamy's call to Putrajaya to deport controversial Indian Muslim preacher Zakir Naik.
Asri said he attended the meeting, "despite the majority of Muslims" not in favour of him doing so, as he wanted to "maintain the peace of Islam and respect the authority of national Islamic management".
"Among some of my suggestions during the meeting that the YB minister seemed agreeable to, and YB Dr Ramasamy, who agreed with it as well, was a platform for national dialogue represented by leaders of the various religions," he said.
"It was proposed that issues involving religious sensitivities be discussed there first."
He said the platform was to avoid tension among the people, and it was proposed that the Islamic Development Department of Malaysia (Jakim) would head it.
Asri said Mujahid appeared to "very agreeable" with the proposal but "sadly, this never came to be, even until today. I do not know (at which point) it got stuck".
Asri said statements sensitive to and relating to Muslims were being made daily, "making many feel nervous".
"There is nothing proactive being done," he said.
"I am not sure if this administration intends to take steps to control the situation."
Asri had on Monday suggested that the government practised double standards, following the arrest of an associate, preacher Muhammad Zamri Vinoth Kalimuthu, over remarks allegedly insulting Hinduism.
"Many statements insulting Muslims were made by individuals who are part of the current government, creating racial tension, but they were only called to give a statement," he claimed.
Asked for his response, Dr Mahathir Mohamad labelled the mufti "deaf" while defending the Pakatan Harapan administration's Islamic credentials.
"If he could hear, we do many things for Muslims and Islam but he does not hear it," the prime minister said.
Yesterday, Asri published several lines from Mahathir's autograph in his memoir "A Doctor in the House".
"Never ignore the truth due to fear. A true struggle is not without challenges and opposition," Asri quoted from Mahathir's note.
Full report at:
https://www.freemalaysiatoday.com/category/nation/2019/05/01/it-was-ph-that-turned-a-deaf-ear-to-my-proposal-says-mufti/
--------
Europe
Trump accuses European nations of 'refusing' to take back ISIS prisoners from their countries
May 02, 2019
President Trump on Tuesday accused European nations of "refusing" to take back ISIS prisoners who originally were from their countries, as he said decisions are "being made" as to what to do with the nearly 2,000 ISIS fighters captured in the final assault on their now-destroyed caliphate.
"We have 1,800 ISIS Prisoners taken hostage in our final battles to destroy 100% of the Caliphate in Syria. Decisions are now being made as to what to do with these dangerous prisoners," Trump tweeted Tuesday.
"European countries are not helping at all, even though this was very much done for their benefit. They are refusing to take back prisoners from their specific countries. Not good!" he said.
The president's tweets come amid a months-long effort to convince European countries to take back their citizens captured on the battlefield in the Middle East. The topic is a complicated one, as Islamic State prisoners held in Syria and Iraq are subject to the death penalty or torture if they remain in jail. The European Union, though, opposes the death penalty.
The president has been met with resistance from European nations, as they consider how to bring their citizens fighting in Syria home for trial.
In February, the president first asked Britain, France, Germany and other European allies to "take back over 800 ISIS fighters that we captured in Syria and put them on trial."
"The Caliphate is ready to fall. The alternative is not a good one in that we will be forced to release them," Trump warned earlier this year.
"The U.S. does not want to watch as these ISIS fighters permeate Europe, which is where they are expected to go. We do so much, and spend so much - Time for others to step up and do the job that they are so capable of doing. We are pulling back after 100% Caliphate victory!" he tweeted in February.
At the time, NATO Secretary General Jens Stoltenberg said to CNBC that the return of potential terrorists to the EU would be "a challenge for all of us."
Meanwhile, on Tuesday, Russian Foreign Minister Sergei Lavrov blasted the EU and the U.S.
"Our western colleagues from Europe first of all and from other parts of the world do not want to take international terrorists and members of militias that were captured by Americans and Kurds at the east brink of the Euphrates," Lavrov said Tuesday according to Al Masdar News.
"Americans threaten that they will free them, and this would be an awful crime, I think. The Europeans refuse to take these criminals although they are citizens of European states. The last I heard is that they are trying to persuade the Iraqi authorities to take them. It is not funny," he added.
https://www.foxnews.com/politics/trump-accuses-european-countries-of-refusing-to-take-back-isis-prisoners-from-their-countries
--------
Germany's Merkel promises aid to fight jihadists in Burkina Faso
02 MAY 2019
Ouagadougou (B Faso), May 2 German Chancellor Angela Merkel on Wednesday arrived in Burkina Faso where she promised aid to strengthen security in the jihadist-hit West African country.
Merkel, who also attended a G5 meeting of Sahel country leaders, is due travel on to Mali and Niger.
"We talked about the deteriorating security situation and we want to be on the side of Burkina Faso, especially in terms of cooperation on security," Merkel told reporters after a meeting with Burkina Faso President Roch Marc Christian Kabore.
"This is necessary because in the east and north of the country there is a situation where children cannot go to school, where populations seem to live in insecurity," she said.
"We need to end these problems as quickly as possible," she added.
President Kabore said the aid would help Burkina Faso to tackle the closure of schools due to jihadist attacks which have seen teachers forced to flee.
"Germany has announced 46 million euros ($51 million) in aid which should enable us to take better charge of the security issue in the north and east and take action that will strengthen the resilience of these populations," he said.
The presidents of Mali, Ibrahim Boubacar Keita, Mauritania, Mohamed Ould Abdel Aziz, Niger, Mahamadou Issoufou and Chad, Idriss Deby Itno were also in Ouagadougou to attend the G5 meeting.
President Kabore also spoke of the situation in Libya, accusing the West of not listening to Africa.
"We have asked the big nations to take their responsiblity to solve the Libyan question. It is clear that the African vision... was swept aside... The solution that was chosen was to get rid of (Libyan leader Moamer) Kadhafi and his ouster has led today to a fragmentation of the country into several sub-groups with large quantities of arms....
"Europe must take a common position, so that we can find a definitive solution which will freeze the supplies to these terrorist groups across Libya," he added.
Burkina Faso has suffered from increasingly frequent and deadly attacks attributed to a number of jihadist groups, including the Ansarul Islam group, the Group to Support Islam and Muslims (GSIM) and Islamic State in the Greater Sahara.
Jihadist raids began in 2015 in the north before targeting the capital Ouagadougou and other regions, notably in the east.
A total of 350 people have been killed since 2015 -- mainly in hit-and-run raids -- according to an AFP tally.
Around 4.3 million people have been driven from their homes in the worsening violence that has engulfed the entire Sahel region, including one million over the past year, according to UN humanitarian officials.
Full report at:
https://www.outlookindia.com/newsscroll/germanys-merkel-promises-aid-to-fight-jihadists-in-burkina-faso/1526734
--------
Australian-Lebanese man found guilty in Etihad Airways bomb plot
2 May 2019
The first of two brothers charged with plotting to bring down a flight from Sydney to Abu Dhabi with a crude bomb concealed in a meat grinder was found guilty on Wednesday.
Australian-Lebanese brothers Khaled and Mahmoud Khayat were charged in July 2017 with planning to bring down an Etihad Airways passenger jet in a plot police alleged was under the instructions of ISIS.
The improvised device, using "high military-grade explosive," was due to be smuggled onto a July 15 service from Sydney, but the attempt was aborted before they reached security.
Police claimed that communications with ISIS began in April 2017, with the group sending the men components and propellants through international cargo from Turkey.
Full report at:
https://english.alarabiya.net/en/News/world/2019/05/02/Australian-Lebanese-man-found-guilty-in-Etihad-Airways-bomb-plot.html
--------
France opens formal probe against 4 suspects held over attack plot
1 May 2019
France opened a formal investigation Tuesday against three adults and a teenager accused of planning an attack on security forces in the coming days, which the French interior minister had said would have been "extremely violent".
The four were arrested on Friday as part of an investigation into a terrorist conspiracy.
They were handed over to a court in Paris on Tuesday, where a judge opened a formal investigation against them, prosecutors said.
A day earlier, Interior Minister Christophe Castaner had said that the four suspects were being held "over a plan to carry out an extremely violent terror attack".
One of the suspects is a minor serving a probationary sentence at an educational facility after being sentenced to three years, two suspended, for trying to travel to Syria, the Paris prosecutors office said.
The other three are known for common law offences, according to a source close to the inquiry which was opened by prosecutors on February 1 and is being handled by the DGSI, France's domestic intelligence agency.
The source put the suspects' ages at 17, 26, 38 and 39.
Investigators said they had become convinced that the attack may have been planned to coincide with the start of Ramadan, the Muslim month of fasting which starts next Sunday and Monday.
That was the reason why the authorities had decided to arrest them now, the source close to the inquiry said, adding that "possible scoutings had been made and (they) were looking to procure weapons".
The Europe 1 radio station reported that a Kalashnikov rifle had been found among the weapons seized.
During the four days they had been held so far, the suspects had not contested their adhesion to radical Islamist thinking, the source said.
France has been on high alert since the start of a wave of jihadist attacks began in 2015, leaving more than 250 people dead, with ISIS urging followers to target soldiers and police in France.
Despite the collapse of ISIS's self-proclaimed "caliphate" in Iraq and Syria last month, the threat of further attacks inspired by the group remains high.
Full report at:
https://english.alarabiya.net/en/News/world/2019/05/01/France-opens-formal-probe-against-4-suspects-held-over-attack-plot-.html
--------
Africa
Libyans Link ISIS Leader's Surprise Appearance to Tripoli Battle
1 May, 2019
The surprise appearance of ISIS leader Abu Bakr al-Baghdadi in a video recording earlier this week has raised questions in Libya that it may be linked to the ongoing battle for Tripoli.
Baghdadi made his first purported appearance in five years in a propaganda video released Monday, acknowledging ISIS's defeat in the Syrian town of Baghouz while threatening "revenge" attacks.
He also acknowledged that ISIS supporters had attacked the al-Fuqaha town in southern Libya in October. The attack left civilians and Libyan National Army (LNA) members dead.
Libyan MP Ibrahim Abu Bakr told Asharq Al-Awsat that the ISIS leader's appearance is "damning" evidence that the LNA operation against Tripoli was primarily a battle on terrorism.
The LNA, commanded by Khalifa Haftar, had launched its operation to liberate the capital of terrorist and criminal gangs on April 4. It has pitted his forces against militias loyal to the Government of National Accord (GNA).
"Baghdadi's remarks proved that terrorist groups are the main enemy of the LNA," continued the MP.
A political official disagreed and said that the Tripoli operation was not linked to Baghdadi.
"The security agencies in Tripoli have been countering ISIS militants for years in both Sirte and the capital," he told Asharq Al-Awsat on condition of anonymity.
He also noted that just this week an ISIS member was arrested in Tripoli.
Tripoli has been targeted by ISIS in the past, said the official who is close to the Tripoli-based Presidential Council. He referred to the bombing of the foreign minister and higher elections commission headquarters last year that were claimed by ISIS.
MP Saeed Amghib, however, remarked that ISIS has been in control of Tripoli under the guise of various militias.
"The group has taken advantage of the poor conditions there," he added.
Moreover, he noted that Baghdadi's appearance at this time reveals that the militias were nearing their demise, saying that he sought to offer them moral support by emerging in his video.
He called on the residents of Tripoli to rally around the LNA to help it quickly capture the capital and counter the terrorist threat.
https://aawsat.com/english/home/article/1703126/exclusive-libyans-link-isis-leader%E2%80%99s-surprise-appearance-tripoli-battle
--------
Al-Baghdadi admits ISIS was defeated in Libya's Sirte
April 30, 2019
The leader of ISIS Abu Bakr Al-Baghdadi appeared on Monday in a video for the first time since his last appearance in Mosul, Iraq in 2014.
The video went on for 18 minutes in which ISIS leader talked about many countries including Libya and several militants sitting with Al-Baghdadi said they could be effective in Libya despite losing Sirte in 2016.
Al-Baghdadi hailed the terrorists' attacks in Fuqahaa town in Libya, saying they were part of the reaction to the attacks on ISIS in Al-Baghuz in Syria.
He called on ISIS militants in Libya to carry out a war of attrition so they can destroy logistics, kill people and damage the economy in the country.
Several officials at the Presidential Council's government said over the last weeks that Khalifa Haftar's military operations in southern Tripoli had opened door for ISIS sleeper cells who always take advantage of security vacuum caused by the fighting.
Full report at:
https://www.libyaobserver.ly/news/al-baghdadi-admits-isis-was-defeated-libyas-sirte
--------
25 people killed in suspected Boko Haram attack on Nigerian village
April 30, 2019
MAIDUGURI, Nigeria — Victims' relatives said suspected Boko Haram extremists attacked a village in northeastern Nigeria, killing at least 25 people who had just returned home from a wedding.
Rebecca Malgwi said two of her brothers-in-law were killed in the attack on Kuda-Kaya village in Adamawa state on Monday night.
She said the attackers went from house to house, and that many people could not escape because the shooting came from all directions.
Former local government official Yahaya Muhammed confirmed that 25 people were killed.
Full report at:
https://nypost.com/2019/04/30/25-people-killed-in-suspected-boko-haram-attack-on-nigerian-village/
--------
Islamic State recognizes new Central Africa Province, deepening ties with DR Congo militants
APRIL 30, 2019
On April 18, Islamic State claimed its first attack in the Democratic Republic of Congo. Not only did it strike in a new location, but ISIS attributed the attack to an entirely new province, Wilayat Central Africa. Before this claim and even before the fall of the jihadist group's 'caliphate' in Iraq and Syria, there was evidence of growing ties between ISIS and the DRC-based militant group Allied Democratic Forces. Just how lasting this new province will be remains to be seen.
In video released by al-Furqan media on April 29, ISIS leader Abu Bakr al-Baghdadi, in his first appearance for five years, is seen handling documents about some global affiliates, including one entitled "Wilayat Central Africa."
The April 18 claim issued through the Amaq propaganda agency said that ISIS fighters had killed and wounded several Congolese soldiers in an attack on the town of Kamango, near the border with Uganda. This was followed by a statement from Nashir News Agency and another from Amaq saying "Soldiers of the Caliphate" had attacked an army base in Bovata, around 5 km from Kamango, killing three Congolese soldiers and wounding five.
The Nashir claim attributed this attack to "Wilayat Central Africa," the first such claim for this province. However, a Central African province was previously mentioned by Baghdadi in an August 2018 speech, meaning ISCAP had existed for almost a year before ISIS first publicly attributed an attack to the wilayat.
Reuters reported the attack killed two soldiers and a civilian, and that it had been carried out by the ADF, a Ugandan-led but DRC-based militant group mainly operating in the eastern North Kivu province.
The ADF was founded in 1995 with a stated goal of overthrowing the Ugandan government, but has since drifted to carrying out attacks and massacres in DRC against military and civilian targets. The ADF did have Islamist roots, with many of its leaders and early members coming from Uganda's Salifist movments, but the extent to which religion is important to them has been unclear.
Issue 179 of ISIS's weekly Al-Naba newsletter released on April 25 claimed a second attack by ISCAP, saying fighters killed three soldiers and wounded another in the Butembo area four days earlier.
Al-Naba also published the first known image of ISCAP. Around 15 militants are present in the picture, standing in a circle with their hands together in the center. This pose appears similar to one often made by militants when pledging allegiance to Baghdadi, for example the recently published pledge by Sri Lankan suicide bombers and one from Saudi Arabia, so the picture could be a still from a bayah video.
The militants are armed with a variety of weapons identified for The Defense Post by Calibre Obscura, including FN MAG and Type 80 general purpose machine guns, and Type 3 AK-47 and AKM assault rifles. A PG-7V warhead which appears to have a hole in it can also be seen. Tents and buildings in the background suggest the picture could have been taken at the edge of the militant's camp.
That the ADF would have carried out the attack is not surprising – much of ISIS's expansion around the world has come from working with local militant groups, which establish ties with ISIS and pledge allegiance to Baghdadi. If the bayat is accepted, they become an ISIS affiliate, and some later become official provinces. Examples include Boko Haram becoming Islamic State West Africa Province, various militant groups in the Philippines and Indonesia evolving into Islamic State East Asia Province, and Ansar Beit al-Maqdis becoming Islamic State Sinai Province.
Not every ISIS affiliate becomes an official province. Tunisia has been an active ISIS affiliate for years but has only ever remained an affiliate, never being designated a full wilyat. This could suggest ISIS sees greater potential in ISCAP.
There is evidence ISIS has repeated this model with the ADF. Several signs point to the building of tentative ties between them before the creation of ISCAP.
A book published by the Islamic State's Office of Research and Studies, which produces texts espousing the group's ideology, was found on the body of a dead ADF militant in February 2018.
A report by the Congo Research Group published in November 2018 suggests the ADF has undergone a radicalization with a "shift in the rhetoric employed by the movement, from a war against the Ugandan government to a broader struggle for Islam."
Part of this shift included adopting the name Madina at Tauheed Wau Mujahedeen (the City of Monotheism and Holy Warriors) as well as a flag incorporating elements used by many jihadist groups including ISIS. The Congo Research Group argued the ADF was "making a tentative attempt to align itself with other militant Islamist groups." This attempt appears to have succeeded with the inclusion of "Central Africa Province" in the Baghdadi video.
Most significantly, the U.S. imposed sanctions on two Kenya-based ISIS financiers who it says were responsible for sending funds to ADF fighters in DRC. Waleed Ahmed Zein and Halima Adan Ali allegedly set up an extensive financial network spanning Europe, Africa, the Middle East, and the Americas, and between 2017 and early 2018 they moved $150,000 to ISIS fighters in Libya, Syria, and Central Africa. Some of this funding was reportedly supplied to the ADF, with the Congo Research Group saying that Zein moved money from the United Kingdom, South Africa and Syria to the DRC-based group.
Various governments have also warned about the possible expansion of ISIS into DRC. Last May, the Director-General of Uganda's Internal Security Organization Colonel Kaka Bagyenda said ISIS had collaborated with the ADF. However, Uganda has in the past attempted to define the narrative around the ADF to suit its own ends.
More recently, DRC's newly elected President Félix Tshisekedi warned at the start of April that ISIS may attempt to expand into the country, and Major Karl J. Wiest, a spokesperson for U.S. Africa Command, said the ADF is considered to have "meaningful ties to the Islamic State," the New York Times reported.
But this is not a recent move, according to the Hiraal Institute, a security think tank based in Somalia. As early as 2016, "ADF members are said to have reached out to the Islamic State in Libya and Syria to discuss a formal relationship between the two groups," it said in an October report. If accurate it suggests a long period developing a partnership, before the creation of ISCAP and claiming attacks.
The evidence of growing ties before attributing attacks and declaring a province suggests this was not purely a reactionary move. In particular, the mention of ISCAP in August 2018 shows the expansion wasn't specifically in response to the loss of the final piece of ISIS territory in Syria in March. However, defeats in Iraq and Syria certainly influenced a shift in focus to regions outside Iraq and Syria. ISCAP may be part of that.
In the August 2018 speech that first mentioned ISCAP, Baghdadi also mentioned Wilayat East Asia, which had first been referred to as a province in al-Naba a month earlier. Around the same time, ISIS consolidated its province structure, changing countries that previously contained multiple provinces – such as Syria, Iraq, Libya, and Yemen – to single, larger provinces. The similar timing suggests the decision to create ISCAP came at the same time as these other changes.
Despite this, how enduring and active this new ISIS province will be is not certain. Some previous ISIS provinces such as Algeria have ceased to be viable, with the affiliate there no longer conducting operations, while others such as Caucasia do not frequently carry out attacks.
A key factor will be the proportion of ADF militants who have joined ISCAP, if that is the case. Without a public bayah, or pledge of allegiance, it remains unclear if the leader of the ADF has joined ISIS along with the entirety of the group, or just some factions within it – the sole ISCAP image released by ISIS only shows around 15 militants out of an estimated ADF membership in the hundreds.
The claim itself indicates communication between ISCAP and ISIS central, as information must be relayed from the province to be published by the centrally controlled propaganda agencies. However, the long period between the first mention of ISCAP and the first attack claim suggests difficulties in communication. Unreliable communication could have a significant impact in the future, limiting ISIS central's ability to claim ISCAP attacks and communicate with fighters in Central Africa.
While the long-term prospects of ISCAP are hard to estimate, there is evidence this apparent ISIS expansion into the DRC has already had an effect.
The U.S. closed its embassy in the capital Kinshasa in western DRC in November. CNN reported the closure was due to a threat from an ISIS-affiliated group, and citing diplomats, Reuters said it was due to the arrest of an ADF cell. Such an attack would have been unprecedented – the ADF had been limited to militant activity in northeastern DRC, and a major shift such as this may have been due to the developing links with ISIS.
Additionally, the ISIS affiliation may encourage foreign fighters to travel to DRC, and there is evidence that this had already started to occur.
One video that the Congo Research Group said showed an attempt to "align with other militant Islamic groups" directly called on foreign fighters to travel to the country. In it an Arabic-speaking militant called on people to migrate to DRC, saying "I swear to God that this is Dar al Islam [abode of Islam] of the Islamic State in Central Africa." This video was shared by multiple pro-ISIS groups on social media.
"In the last year, we have debriefed a South African, a Tanzanian, a Kenyan, a Rwandan, a Burundian, a Brit and a South Sudanese," Laren Poole, one of the co-authors of the Congo Research Group report, told the New York Times earlier this month.
The Hiraal institute report said that the ADF "began to emerge as a new destination for would-be Islamic State recruits in Africa" in 2017.
Full report at:
https://thedefensepost.com/2019/04/30/islamic-state-new-central-africa-province/
--------
Terror Attacks on the Rise in Burkina Faso
APRIL 30, 2019
Violence fueled by extremists is on the rise in the West African nation of Burkina Faso and appears to be getting worse.
In April more than 65 people died in ethnic clashes inflamed by Islamist extremists seeking to gain a stronghold in the Sahel. On Sunday, four worshippers and a pastor were killed when gunmen targeted a church in the small northern town of Silgadji, local security sources said.
"What we fight against, what we see every day is like a toxin," Lt. Col. Kanou Coulibaly of the Burkina Faso Armed Forces told VOA.
Use the arrows below to navigate to Carla Babb's video reports from Burkina Faso.
Burkina Faso has seen more than 230 attacks in just over three years, and the United States is hoping local forces can increase pressure on the militants, even as the U.S. military decreases its force numbers in the region.
The attacks began shortly after the country elected its first new leader in decades, Roch Marc Christian Kabore, in 2015.
U.S. Ambassador to Burkina Faso Andrew Young tells VOA that the violence has quickly spread across a nation virtually untouched by terrorism just a few years ago.
"They're trying to target the resilience of this community, which has lived in harmony for thousands of years. There are Muslims and Christians who are in the same family, and those terrorist groups (are trying) to break down a stable society and attack a fragile democracy," Young said.
Now, just as instability provided terrorists an opening to infiltrate in Iraq and Syria, Islamist groups are planting their flags in West African nations like Burkina Faso.
"We know that al-Qaida considers the Sahel right here to be a very important area for them to deliberately and quietly build infrastructure. They've been doing this for a number of years, and they've been fairly successful," Air Force Maj. Gen. Marcus Hicks, the commander of U.S. Special Operations Command Africa, tells VOA.
Speaking on the sidelines of Flintlock, a major U.S.-led military exercise held in Burkina Faso involving more than 30 African and Western countries that ended in March, Hicks says, "At this time, we are not winning" the counterterrorism war in West Africa.
Officials worry that if the terrorists win in Burkina Faso, the country could become a launchpad for terrorists to expand their influence to West Africa's coast and beyond.
US, international training
That's why training exercises with Sahel nation forces are critical, Hicks says. African militaries learn skills ranging from how to plan operations to how to treat and evacuate the wounded.
Burkinabe Gendarmes First Lt. Robert Compaore says the newly honed skills make a big difference on the battlefield.
In response to the uptick in violence, the U.S. embassy has tripled its funding to Burkina Faso for security assistance.
But instead of bringing in more troops, the U.S. is actually decreasing its numbers in West Africa. About 1,000 American troops will remain in the region, and Hicks says that's still enough forces to help build local security partners.
However, he does not recommend further cuts and has warned the terrorism threat will be "a long-term problem."
The military is not the only security prong to receive U.S. and international training in Burkina Faso. The United States also funded training for law enforcement units who would likely serve as first responders to attacks in the capital, Ouagadougou.
"So we move from battlefield to custody, chain of custody, judicial process to accountability through the rule of law system. That's the key to success in the long term," Ambassador Young says.
But the U.S. Embassy's Regional Security Officer Rosendo "Rosie" Cedeno says there is a major hitch in that system -- terrorism cases are not going to trial.
"So here in Burkina Faso, there are a lot of terrorism cases. And one of the challenges is that they haven't been able to prosecute a case just yet," Cedeno said.
Sources familiar with Burkinabe terrorism cases tell VOA there are about 400 cases involving nearly 200 terror suspects imprisoned in Burkina Faso with no trial date.
The government of Burkina Faso has not replied to VOA requests for comment.
In response to the backlog, the U.S. embassy has sent a U.S. prosecutor from the Department of Justice to help build and try these cases.
Education targeted in attacks
The United Nations reports more than 100,000 people have been displaced this year in Burkina Faso because of violence. The threat from jihadist violence is now so severe in the country that it is preventing about 5,000 teachers and 150,000 children from going to school.
"Any Burkinabe must be concerned because to destroy a country, you just need to destroy education," education advocate Hawa Bissiri, of Burkina Faso's IQRA Association, told VOA.
For displaced teacher Sia Michael, "It's a matter of life and death."
As he spoke to VOA at a local elementary school playground in the capital, he remembered the joy of his students before Islamic militants burned down his school and forced him to flee.
"What are you going to do? You have to leave. Once they burn down the school, then your life is next," he said.
The school closings have spread across the country's east and north, where jihadists from neighboring Mali and Niger have spilled over the borders.
Opposed to Western education, the militants destroy some schools like Michael's. Others are closed by teachers worried they'll be targeted next.
Badina Joseph told VOA that Salafists showed up in December at his village near the country's northern border with Mali and "warned teachers that if we did not move or start teaching in Arabic the following day, we better leave the village."
Full report at:
https://www.voanews.com/a/terror-attacks-on-the-rise-in-burkina-faso/4897627.html
--------
African Union tells Sudan military council to hand power to civilians within 60 days
1 May 2019
The African Union said on Tuesday that Sudan's military rulers should hand over power to a civilian-led transitional authority within 60 days.
In a statement, the AU said it noted "with deep regret" that the military had not stepped aside and handed power to civilians within a 15-day period set by the AU last month.
The 60 days were a final extension for Sudan's Transitional Military Council to hand over power to civilians, the AU said.
https://english.alarabiya.net/en/News/middle-east/2019/05/01/African-Union-tells-Sudan-military-council-to-hand-power-to-civilians-within-60-days.html
--------
Libyan coast guard rescues nearly 100 Europe-bound migrants
1 May 2019
Libya's coast guard says it has rescued 96 Europe-bound migrants off the Mediterranean coast.
Spokesman Ayoub Gassim said on Wednesday that a rubber boat carrying the migrants, mostly from Africa, stopped Tuesday off the coast of the western town of Khoms.
He says the migrants were given humanitarian and medical aid and were taken to a refugee camp in the town.
Libya became a major conduit for African migrants and refugees fleeing to Europe after the uprising that toppled and killed Moammar Gadhafi in 2011.
Traffickers and armed groups have exploited Libya's chaos following the 2011 uprising.
Full report at:
https://english.alarabiya.net/en/News/north-africa/2019/05/01/Libyan-coast-guard-rescues-nearly-100-Europe-bound-migrants.html
--------
South Asia
Sri Lanka's President Lifts Ban on Social Media
By Kai Schultz
April 30, 2019
COLOMBO, Sri Lanka — Sri Lanka's president on Tuesday called for the "immediate" lifting of a temporary ban on several social media networks, a clampdown that had been intended to prevent the spread of misinformation after devastating suicide bombings on Easter.
The restrictions, which were put into place quickly after attacks at three churches and three high-end hotels killed more than 250 people in Sri Lanka, reflected increasing global concern about the role that American-owned networks play in spreading hate speech and inciting communal violence.
In a statement following President Maithripala Sirisena's decision, the government called on the public "to use social media responsibly even though the ban is lifted, due to the prevailing situation in the country." According to internet monitoring groups, Facebook, Instagram, WhatsApp and Viber were among those affected.
The decision to block networks was not new in Sri Lanka, which has a complicated history with social media. Last year, the government briefly restricted some platforms after rumors that spread largely on Facebook appeared to instigate a wave of anti-Muslim riots and lynchings.
But the government's broad shutdown of social media immediately after the Easter attacks, which were tied to eight attackers linked to a local affiliate of the Islamic State, was unusual. Access was shut down before any social-media-inspired violence was known to have taken place.
It is unclear how effective the ban has been at curbing unrest, or whether information spread on social media has contributed to recent reports of some attacks on Sri Lanka's Muslims and refugees from Pakistan and Afghanistan.
After the bombings, Muslims, who comprise about 10 percent of the country's population, have reported mobs attacking their homes and storefronts and threatening violence. Some of the blocked media outlets were sporadically accessible. And many Sri Lankans have simply used V.P.N.s, or virtual private networks, to circumvent the restrictions.
For days, Sri Lanka's capital, Colombo, had been on lockdown, with nightly curfews and army personnel deployed along largely empty roads. Recently, life has started slowly returning to normal around Sri Lanka, but security forces said that they are continuing to comb the country in "house-to-house searches" for people linked to the six attacks on churches and hotels.
The Islamic State, in a statement over the weekend, claimed responsibility for three additional suicide bombings that occurred Friday during a raid by security forces on a hide-out of National Thowheeth Jama'ath, its local affiliate, which is believed to have carried out the Easter attacks.
Despite the curfew being lifted in Colombo, security forces remained on high alert. The police have warned lawmakers that the group could still be planning further attacks, said a member of Parliament who sought to remain anonymous because of the sensitivity of the internal communication.
Three of the 15 people killed in Friday's raid were identified as the father and two brothers of Zaharan Hashim, National Thowheeth Jama'ath's leader, who was one of two suicide bombers to strike the Shangri-La Hotel on Easter, killing 33 people.
On Monday, in rare video and audio messages, Abu Bakr al-Baghdadi, the leader of the Islamic State, acknowledged that the attacks in Sri Lanka were carried out by fighters of his group.
Investigators in Sri Lanka, aided by at least two F.B.I. teams that have arrived in the country, have been trying to pin down direct connections between the attackers and the Islamic State hub in Syria. One lead they are following is possible travel to Islamic State-controlled parts of Syria by one of the Easter Sunday bombers.
While American and other Western intelligence officials are sorting through intelligence strands on the bombers, pinning down exact travel to Syria through Turkey — the route one of the earlier Sri Lankan members of the Islamic State had taken — or other countries is a challenging task.
Ruwan Gunasekara, a spokesman for the Sri Lankan police, said in a statement on Monday that 59 suspects "with terrorists links" have been detained since the attacks and investigators are questioning them. The authorities have also confiscated caches of weapons, explosives, "terrorist literature" and fake identification, Mr. Gunasekara said.
Mujib Mashal and Dharisha Bastians contributed reporting.
https://www.nytimes.com/2019/04/30/world/asia/sri-lanka-social-media.html
--------
Afghan forces launch attacks to clear warring militants from east Afghanistan
APRIL 30, 2019
KABUL (Reuters) - Afghan government forces have launched attacks in a bid to clear rival militants who have been battling each other for territory near the Pakistan border in fighting that has forced thousands of villagers from their homes, officials said on Tuesday.
Taliban and Islamic State militants have been fighting for more than a week in the eastern border province of Nangarhar, since Islamic State fighters seized six villages in an area where the mineral talc is mined.
There has been no comment from Islamic State or information about casualties it has sustained in the clashes, some of the heaviest between the rival Islamist factions over the past year.
The Taliban said in a statement on Tuesday that Afghan soldiers backed by U.S. forces had killed seven civilians in raids in Nangarhar, decrying their "ruthless savagery". The statement did not give details about the continuing clashes.
Late on Monday, Afghan government forces launched attacks including air strikes to push the militants out of the area, officials said.
The main government intelligence agency, the National Directorate of Security, said in a statement that 22 Islamic State fighters had been killed and two of their weapons caches destroyed.
The provincial governor's spokesman, Ataullah Khogyani, said that while Monday night's attacks were aimed at "eliminating" Islamic State in the area, the government wanted to clear out the Taliban too.
"The government is fighting both militant groups," Khogyani said.
Sohrab Qaderi, a provincial council member in Nangarhar, said more than 9,000 families had been displaced by the clashes between the militant groups.
Qaderi also said the government strikes did not appear to have ended the fighting between them, and that some villagers' homes had been damaged in the air strikes.
Nangarhar province has large deposits of talc and other minerals such as chromite and marble, and sits on major smuggling routes into Pakistan.
Illegal mining of talc, used in products ranging from paint to baby powder, is a major source of revenue for insurgents in Nangarhar, where Islamic State has its stronghold.
Full report at:
https://af.reuters.com/article/worldNews/idAFKCN1S61SA
--------
Bangladesh Police Say They Have Killed 2 Islamist Militants
April 30, 2019
Police in Bangladesh say security forces killed at least two people suspected of belonging to an Islamist militant group behind the 2016 attack on a Dhaka cafe.
Police say they raided a hideout suspected of belonging to Jamaat-ul-Majahideen Bangladesh early Monday in the capital's Bosila neighborhood after receiving a tip.
Officials say when security forces knocked on the door, the residents fired at them instead of opening the door. They say after the firefight, police detained three people, including the owner of the house.
Bangladesh launched a crackdown on Islamist extremists after the 2016 cafe attack in which 22 people were killed, most of them foreigners.
While Islamic State claimed responsibility for the cafe attack, Bangladesh officials said the attackers were members of Jamaat-ul-Majahideen Bangladesh, a domestic group that has been banned for more than 10 years.
Since the attack, Bangladeshi security forces have carried out nationwide raids and say they have killed nearly 100 Islamist militants. Hundreds of suspects have been detained.
Full report at:
https://www.voanews.com/a/bangladesh-authorities-arrest-suspects/4897082.html
--------
Afghan Special Forces kill 14 Taliban militants, rescue abducted soldier in their latest raids
02 May 2019
At least 14 Taliban militants were killed and a kidnapped Afghan soldier was freed during the military operations which were conducted in the past 24 hours in various provinces of the country.
Informed military sources said Thursday that the Afghan security forces conducted an operation in Nerkh district of Wardak province killing 4 Taliban fighters.
The sources further added that a similar operation was conducted in Tarin Kot district during which 18 RPGs and assorted IED components were destroyed.
In the meantime, airstrikes in Tarin Kot district of Uruzgan province killed 9 Taliban fighters.
Full report at:
https://www.khaama.com/afghan-special-forces-kill-14-taliban-militants-rescue-abducted-soldier-in-their-latest-raids-03862/
--------
Senior Haqqani Network leader killed in Paktia province
02 May 2019
A senior leader of the notorious Haqqani Network was killed during the operations of the Afghan National Defense and Security Forces in south-eastern Paktia province.
The Ministry of Interior in a statement said the Sher Zaman alias Mohammad Omar, a senior leader of the Haqqani terrorist network who was in charge of intelligence activities of the network in Syed Karam district was killed during the operations which were conducted on Tuesday.
The statement further added that the operation was conducted in Kohsin and Adram Khel villages of Syed Karam district.
At least three other members of the network were also wounded during the same operations, the Ministry of Interior added in its statement.
The anti-government armed militants including Taliban have not commented in this regard so far.
Full report at:
https://www.khaama.com/senior-haqqani-network-leader-killed-in-paktia-province-03861/
--------
ISIS explosives experts among 10 killed, wounded as IED goes off prematurely in Kunar
29 Apr 2019
At least ten ISIS Khurasan militants were killed or wounded in a premature explosion triggered by an Improvised Explosive Device in eastern Kunar province.
The 201st Silab Corps in a statement said the incident took place on Saturday in Pech Dara district.
The statement further added that ISIS militants were planting an improvised explosive device when the incident took place, leaving at least 7 militants dead and 3 others wounded.
According to 201st Silab Corps, two explosives experts of the group were also among those killed in the explosion.
Full report at:
https://www.khaama.com/isis-explosives-experts-among-10-killed-wounded-as-ied-goes-off-prematurely-in-kunar-03830/
--------
Sri Lanka names Easter suicide bombers
1 May 2019
Sri Lanka's police Wednesday named nine people who staged Easter Sunday suicide bombings that killed 253 people, and said the attackers' assets will be confiscated in line with anti-terror laws.
Police spokesman Ruwan Gunasekera confirmed that two of the luxury hotels were bombed by two brothers from a wealthy Colombo family involved in spice exports.
The group of extremists had used one bomber at each of the locations hit on Easter Sunday, except at Shangri-La hotel where there were two suicide explosions.
One of the Shangri-La bombers was Zahran Hashim, the leader of the local extremist group responsible for the audacious attacks that were claimed by ISIS.
Hashim headed the National Thowheeth Jama'ath (NTJ) which has since been banned. He attacked the Shangri-La in the company of fellow extremist Ilham Ahmed Mohamed Ibrahim.
Ilham's elder brother Inshaf Ahmed was the man who bombed the nearby Cinnamon Grand hotel.
The third hotel to be targeted, the Kingsbury, was bombed by a man identified as Mohamed Azzam Mubarak Mohamed. His wife was now in police custody, Gunasekera said.
The St. Anthony's Church was targeted by a local resident named Ahmed Muaz. His brother has been arrested. The St. Sebastian bomber was Mohamed Hasthun, a resident from the island's east where Hashim was based.
The Christian Zion church in the eastern district of Batticaloa was hit by a local resident, Mohamed Nasser Mohamed Asad.
Another man who failed to set a bomb off at a de luxe hotel, but blasted his explosives at a guest house near the capital. He was identified as Abdul Latheef who had studied both in Britain and Australia.
Shortly after the hotel bomb attacks, Fathima Ilham, the wife of the younger of the two brothers, blasted explosives strapped to herself, killing her two children and three police officers who rushed to the family home in Colombo.
Full report at:
https://english.alarabiya.net/en/News/world/2019/05/01/Sri-Lanka-names-Easter-suicide-bombers.html
--------
Sixth round of US, Taliban peace talks begin
1 May 2019
American and Taliban officials are meeting on Wednesday in Qatar to resume talks aimed at ending a 17-year war in Afghanistan, a Taliban official said.
"We are expecting the meeting to start in the next two hours as the US delegation has already arrived," Zabihullah Mujahid, a spokesman for the Taliban, told Reuters.
The sixth round of talks will be led by US special envoy for peace in Afghanistan Zalmay Khalilzad in Doha. The US delegation will focus on a declaration of a ceasefire to pave the way to an end to fighting, said a western diplomat who is closely monitoring the talks.
But the Taliban's demands will focus on firstly the withdrawal of US forces from the country.
Khalilzad, the Afghan-born American diplomat heads a team of US negotiators who have held several rounds of direct negotiations with the Taliban since October.
He has earlier acknowledged that both sides had drafted a preliminary agreement on how and when US-led foreign troops will withdraw from Afghanistan in return for insurgent assurances that hardline militant groups will not be allowed to again use Afghanistan to attack other nations.
An official working closely with Khalilzad said he is expected to encourage the insurgent group to engage in Afghan-to-Afghan talks to find a political settlement to the 17-year-old war in the country.
The United States has about 14,000 troops in Afghanistan as part of a NATO-led mission, known as Resolute Support, that is training and assisting the Afghan government's security forces in their battle against Taliban fighters and extremist groups such as Islamic State and Al-Qaeda.
Full report at:
https://english.alarabiya.net/en/News/world/2019/05/01/Sixth-round-of-US-Taliban-peace-talks-begin-.html
--------
Arab World
Syria's lost heritage stands out in Aleppo's broken minarets
May 01, 2019
ALEPPO: The pencil minaret of the Ottoman Adliyeh mosque in Syria's Aleppo lists to one side and is scored by an ugly gash running down its flank, the result of bombing in the war.
The sorry state of Aleppo's Old City, a labyrinthine World Heritage Site and a battlefield from 2012-16, is obvious from a glance across the skyline at its shell-beaten minarets.
They look down on an area that suffered massive damage in a conflict that brought down the medieval covered souk, smashed mosque domes and burnt churches.
The UN cultural agency UNESCO in December said 10 percent of Aleppo's historic buildings were destroyed and more than half the buildings they assessed showed severe to moderate damage.
But restoration work in Syria is controversial. With the exception of Daesh, which deliberately targeted ancient ruins, all sides in the war have portrayed themselves as guardians of historical sites and their enemies as vandals.
A huge image of President Bashar Assad dangles from the monumental gateway of the ancient citadel in central Aleppo.
Western countries that have imposed sanctions on Assad's government oppose any reconstruction work until there is a political solution to the conflict, arguing it would reward him for war crimes they say he has committed but which he denies.
But that has cut off most funding from the nations that are normally top donors for cultural work — prompting state media to accuse them of complicity in destroying Syrian heritage.
A few of the most famous monuments are slowly recovering. At the Umayad Mosque, bullet-scarred walls are being refaced and the stones of the fallen minaret are piled ready to be rebuilt under a yellow crane.
One of the tallest, loveliest stretches of the souk has already been restored, its collapsed domes rising again high above the cobbled floor using original materials and techniques.
Minarets, domes, souks
But these sites represent only a fraction of the Old City's myriad historical streets and buildings and, without fresh funding, the others risk falling into yet grimmer ruin.
"If there are funds I am optimistic that it will all be restored. We only need the money," said Bassil Al-Zaher, an engineer who is restoring part of the souk.
At the Halawiya Madrasa, part of the dome has already caved in. It was once a Byzantine cathedral, built on the site of a Roman temple, and was converted to a mosque by a Muslim ruler during the Christian Crusades. With more rain, the rest of the dome will fall, an engineer there said.
From the roof of the restored Saqatiyeh section of the souk, damaged minarets can be seen punctuating the Old City's skyline.
The 18th-century Kemaliyeh mosque, the Mamlouk-era Siffahiyeh mosque and the 14th-century Tawashi mosque have all suffered considerable damage.
Viewed from close up, it is hard to see how the 16th-century Adliyeh mosque's minaret is still standing. The hollow interior and tightly wound spiral stairs inside are clearly visible through a monstrous shell hole on its west side.
"The best solution is to rebuild it because it is not straight. Even if there's a small earthquake, it would collapse," said Zaher.
Lack of money
Work on mosques is the domain of the Ministry of Awqaf or Islamic endowments, and it lacks the money for major repairs.
At the medieval Mehmindar Mosque, the minaret above the door is now a stump. In the courtyard two men, the imam and a friend, were hauling large stones to one side to clear the floor.
The mosque's dome is also shattered, with only a corner left. They have spent three months clearing and sorting the stones and have no idea when or if the minaret will be rebuilt.
Each covered street in the Old City seems to harbor a dozen alleys, each alleyway hidden stone courtyards ringed by mosques or shops, with olive and lemon trees growing in the center.
Down one street, under a high vaulted ceiling, most shops were empty, their floors covered in debris and their walls scorched. But a man sat at a table in one, singing Qur'anic verses, his melodic voice echoing softly through the souk.
Near Bab Al-Nasr, one of the historic gates into the Old City, few of the traders have reopened their stalls. Metal shutters hang down and the streets are quiet.
A local group worked in this area to clear debris and restore parts of the old gateway and nearby buildings, including two large, protruding, wooden windows.
The UN Development Project is also at work, providing traders with aid to clear shops and buy fittings and stock.
Ahmed Sabbagh's pistachio shop has been in his family for generations. He has just reopened it.
But in the Attariyeh souk, the destruction is almost complete. The roofs have collapsed and old thoroughfares where traders once shouted their wares are now narrow, overgrown lanes between neatly stacked piles of stone under a hot white sky.
http://www.arabnews.com/node/1490946/middle-east
--------
'Human timebomb': 45,000 children may soon become stateless in post-Isis Iraq, warns rights group
May 02, 2019
At least 45,000 children in Iraq born into the so-called Islamic State may soon become stateless, in what right groups are calling a "human timebomb".
Unless they are formally recognised, tens of thousands of minors – one in every five living in Iraqi camps – are barred from medical care, attending school or receiving food rations warned the Norwegian Refugee Council (NRC) in a new report on Tuesday.
At its peak the jihadi group controlled nearly a third of Iraq and children born under the militants' rule are now missing vital documentation, such as birth certificates.
Any papers issued by Isis are not recognised by the Iraqi state. Others have also lost their documentation or had it confiscated when they fled their homes.
The NRC's report, Barriers from Birth, found that it can take up a number of years for these children to receive documentation, but warned it is "nearly impossible" for those whose families are perceived to be have been affiliated with Isis to secure paperwork.
They said it resulted in collective punishment for thousands of innocent children.
"Children are not responsible for crimes committed by their relatives, yet many are denied their basic rights as Iraqi citizens," said Jan Egeland, NRC's secretary general.
"We face a possible human timebomb. Allowing these children to have an education, healthcare, simply the right to exist, is key to ensuring a sustainable future for them and for the country," he added.
"A society cannot be at peace if it allows a generation of stateless children in its midst."
During Isis's rule, the group established its own version of state bureaucracy, which included registering births, marriages and deaths.
After US-backed forces defeated the militant group and its self-styled "caliphate", many Isis-affiliated families and civilians who lived under their rule were put in displacement camps.
An estimated 225,000 children are believed to be living in such camps across Iraq.
One mother, Hana, who has seven children and now lives in a displacement camp in Kirkuk, said that her husband "destroyed" her life by taking her eldest son and joining Isis in Hawija, north of Baghdad. She said she fled the town once the Iraqi government retook it from the militant group, after which the authorities confiscated her family paperwork.
"My husband took the wrong path. He took my oldest son and left us to fight with Islamic State. They are both dead now, and I am alone in this camp with my young children," the widow said.
"Three of them don't even have identity documents. My husband destroyed our lives; me and my children suffer," she added.
Back in Hawija, another family said their son, Mithaq, who was born four days after Isis took control of the town in 2014 and is disabled, has also been barred access to proper documentation. He is also barred from receiving hospital treatment.
The number of undocumented children is also likely to significantly rise in the coming weeks with the expected return of more than 30,000 Iraqis from Syria, the NRC report warned.
Ninety per cent of the returnees are thought to be wives and children with suspected ties to Isis militants.
The rights group said as many as 80,000 households across Iraq may have family members missing at least one form of ID.
The total number of children may be even higher.
"Undocumented children risk remaining left on the margins of society if this issue is not addressed immediately. This seriously undermines future prospects of reconciliation efforts," Mr Egeland said.
"We urge the government to ensure that undocumented children have the right to exist like any other Iraqi citizen," he added.
Foreign children affiliated with Isis are also at risk and face an indefinite stay in Iraq, with many countries unwilling to allow them to be repatriated.
Full report at:
https://www.independent.co.uk/news/world/middle-east/iraq-children-isis-human-timebomb-islamic-state-nrc-a8893306.html
--------
Deir Ezzur Residents Ask Damascus to Take Control of Eastern Syria
May 01, 2019
The Arabic-language al-Watan newspaper reported on Wednesday that residents of different parts of Eastern Deir Ezzur have raised the demand in several contacts with the paper.
It underlined that residents of towns and villages of Deir Ezzur are highly dissatisfied with measures adopted by the occupying US forces and SDF, including detentions, torture of civilians and seizure of the civilian properties.
The newspaper said that the occupied areas in Hasaka and Deir Ezzur do not enjoy even the minimum living conditions, including electricity, adding that a large number of residents of the towns and villages in Eastern Deir Ezzur have been transferred to the Syrian army-controlled areas.
Meantime, residents of tens of towns and villages in Eastern Deir Ezzur have staged rallies in the past week against the SDF's actions against civilians and their hoarding of fuel and closed the roads, demanding for their withdrawal from the region.
In a relevant development last Saturday, a number of civilians holding peaceful protests were killed and injured by the SDF in Deir Ezzur province in Eastern Syria, sources said.
Hundreds of residents of al-Zaman town and the city of al-Basira in Eastern Deir Ezzur continued their protests against the SDF for the third day in the row, the Arabic-language media quoted battlefield sources as saying.
The sources said that the civilians called for exit of SDF fighters by closing the roads leading to these regions.
Meantime, it was reported that at least three civilians were killed and several others were wounded in SDF's shootout at protesters.
Full report at:
http://en.farsnews.com/newstext.aspx?nn=13980211000418
--------
Escalation in Syria's Idlib displaces nearly 140,000, says UN
1 May 2019
Fighting in northwestern Syria has displaced nearly 140,000 people since February, the UN said on Wednesday, as the regime and its ally Russia have stepped up their bombardment.
"Since February, over 138,500 women, children and men have been displaced from northern Hama and southern Idlib," said David Swanson of the UN Office for the Coordination of Humanitarian Affairs, OCHA.
"Between 1 and 28 April, its estimated more than 32,500 individuals have moved to different communities in Aleppo, Idlib and Hama governorates," he told AFP.
Idlib has been protected from a massive regime offensive by a September deal inked by Damascus ally Russia and rebel backer Turkey.
But the region of some three million people has come under increasing bombardment since the militant Hayat Tahrir al-Sham group took full control of it in January.
The escalation has killed more than 200 civilians since February, the UN said last week.
A new wave of shelling and airstrikes this week targeted schools and medical centers, according to Swanson.
"The UN is deeply concerned over the recent escalation," he said.
The attacks targeted parts of Hama and southern Idlib, including the village of al-Qasabiyah.
"The majority of the Al-Qasabiyah village residents reportedly displaced to safer villages due to hostilities in the area," Swanson said.
AFP correspondents saw intense bombardment of Al-Qasabiyah on Wednesday, with bombs dropped by warplanes sending huge plumes of grey smoke billowing into the sky.
Vehicles loaded with mattresses, carpets and even household appliances like refrigerators and washing machines could be seen leaving villages in southern Idlib.
Intense shelling
The Britain-based Syrian Observatory for Human Rights on Wednesday said that regime shelling over the past two days has been the most intense since the agreement between Moscow and Ankara.
The United States on Tuesday urged Russia to abide by its commitments and stop an "escalation" in Idlib.
"The violence must end," State Department spokeswoman Morgan Ortagus said in a statement.
An estimated three million people live in Idlib and adjacent rebel-held territory, 1.7 million of whom were already displaced from other parts of Syria since the conflict erupted in 2011.
The figure for those displaced there since February is more than double the number of people forced to move during battles against the Islamic State group in eastern Syria between December and March.
OCHA on Wednesday said more than 63,000 people were displaced from territory held by ISIS in southeastern Deir Ezzor between December and March as a US-backed force snuffed out its self-declared "caliphate".
Full report at:
https://english.alarabiya.net/en/News/middle-east/2019/05/01/Escalation-in-Syria-s-Idlib-displaces-nearly-140-000-says-UN-.html
--------
84 children returned to Tajikistan from Iraq, says official
1 May 2019
More than 80 children have arrived in Tajikistan from Iraq where their parents were sentenced for joining the ISIS extremist group and other militant outfits, Tajikistan's foreign ministry said online Wednesday.
Eighty-four children, all Tajik citizens, had been "forced to join the ranks" of the militant groups after their parents were recruited, according to the statement on the ministry's website.
They returned on a special flight from Baghdad to Tajikistan's capital Dushanbe on April 30, it added.
In February Tajikistan's foreign ministry said it was seeking the repatriation of 75 children marooned in Iraq where 43 Tajik women are serving jail sentences for extremism-related crimes.
Repatriating the jailed women would be far more difficult, Tajik foreign minister Sirodjidin Mukhriddin admitted at the time.
The ISIS group seized large swathes of Iraq in a lightning 2014 offensive, before the Iraqi government dislodged the militants from urban centres and eventually declared victory in December 2017.
The fall of the ISIS's caliphate in Iraq and Syria has left many countries grappling with what to do with the militants and their relatives who want to return.
Tajik authorities have said over 1,000 citizens left the country to fight on the side of militant groups in Iraq and Syria after 2011, some after stints working abroad in Russia.
Full report at:
https://english.alarabiya.net/en/News/middle-east/2019/05/01/84-children-returned-to-Tajikistan-from-Iraq-says-official-.html
--------
Saudi crown prince offered Abbas $10 billion to accept Trump's plan: Report
May 1, 2019
Saudi Crown Prince Mohammed bin Salman has reportedly offered Palestinian Authority (PA) chief Mahmoud Abbas 10 billion dollars in return for accepting US President Donald Trump's controversial proposal for peace between the Israelis and Palestinians, dubbed "the deal of the century."
The Lebanese daily Arabic-language newspaper al-Akhbar reported on Tuesday that Abbas turned down the offer, saying supporting the deal would be "the end of his political life."
Al-Akhbar cited leaked diplomatic reports based on conversations between the two Arab politicians, noting that the reports -- written by Jordanian envoy to Ramallah, Khaled al-Shawabkeh -- were based on briefings with a number of Palestinian officials.
According to the Lebanese newspaper, bin Salman briefed Abbas on the contents of the American proposals during the latter's visit to Saudi Arabia in December 2017, and asked the Palestinian leader how much his delegation's annual budget was.
"I'm not a prince to have my own entourage," Abbas replied.
"How much money does the Palestinian Authority, its ministers and employees need?" bin Salman then questioned.
Abbas said that the Palestinians need $1 billion each year, to which the Saudi de facto ruler was said to have responded, "I will give you $10 billion over 10 years if you accept the deal of the century."
Abbas, however, said no, because if he did, it would "mean the end of my political life."
Bin Salman also told Abbas that Saudi Arabia and other Arab countries would help them expand their control over Areas B and C in the occupied West Bank, and provide financial support for projects to boost their economy.
"Saudi Arabia will support the Palestinian Authority with more than $4 billion," the Saudi crown prince reportedly said.
The Palestinian Authority chief highlighted that political realities prevent him from taking the so-called US peace plan, emphasizing that he could not make concessions regarding Israeli settlements, the so-called two-state solution and Jerusalem al-Quds. Abbas underscored that the Americans would not provide any written proposals, but would adopt a tactic similar to the 1917 Balfour Declaration that led to the Israeli occupation of Palestinian lands.
Trump's so-called "peace plan" has been dismissed by Palestinian authorities ahead of its unveiling at the end of the holy fasting month of Ramadan and the formation of the new Israeli cabinet, most likely in June.
Speaking in the occupied West Bank city of Ramallah on April 16, Palestinian Prime Minister Mohammad Shtayyeh lashed out at Trump's initiative, asserting that it was "born dead."
Full report at:
https://www.presstv.com/Detail/2019/05/01/594858/Saudi-crown-prince-offered-Abbas-10-billion-to-accept-Trumps-plan-Report
--------
US, Israel to supply anti-aircraft missiles to Kurdish militants in Syria: Report
May 1, 2019
The United States and Israel are reportedly set to supply anti-aircraft missiles to Kurdish militants in northern Syria amid tensions between Ankara and Washington over the latter's support for the militants, which the Turkish government views as terrorists.
Citing local sources, Turkey's Yeni Safak daily reported that the US is set to deliver shipments of Stinger Man Portable Air Defense System (MANPADS) to militants of the Kurdistan Workers' Party (PKK).
The PKK, it added, has designated the towns of Rmelan and Shaddadah in Syria's Hasakah Province as well as the Jalabiyah and al-Omar regions as launching points for its American-supplied missiles.
Ankara is unhappy with Washington's support for Kurdish militants of the People's Protection Units (YPG), which it views as an extension of the PKK, and has repeatedly called on the US administration to stop providing them with arms.
The PKK has been fighting for autonomy inside Turkey for decades and runs bases in neighboring Syria and Iraq as well.
The report further said the regime in Israel has also vowed to supply the Kurds with Spike anti-aircraft missiles in the Syrian provinces of Dayr al-Zawr and Raqqah following high-level meetings between the militants and Tel Aviv.
Israel has long been backing the militants operating against the Syrian government. The regime has, on several occasions, criticized Turkey for its operations against the Kurdish militants.
The US-Kurdish alliance is closely coordinating the missiles' deployment to Syria as part of a "special joint strategy," according to the report.
It further said that a group of 30 PKK militants have already received training to handle the advanced anti-aircraft missiles.
Turkey has since 2016 launched two military operations inside Syria against the US-backed Kurdish militants and has threatened a third if they fail to leave the east of the Euphrates.
Like Turkey, the US has listed the PKK as a terrorist group, but views the YPG as an ally in its so-called fight against the Takfiri Daesh terror group.
Turkey has repeatedly questioned Washington's deployment of heavy weapons in Syria despite the defeat of Daesh.
Last December, US officials said the Pentagon was considering recommending that Kurdish militants be allowed to keep American-supplied weapons after the withdrawal of troops from Syria.
Full report at:
https://www.presstv.com/Detail/2019/05/01/594809/Turkey-Syria-PKK-missiles
--------
Mideast
Biden wants an end to US support for Saudi war on Yemen
May 1, 2019
Former US Vice President Joe Biden has called for a halt to US support of the Saudi-led war on crisis-hit Yemen.
The 2020 Democratic hopeful made the announcement through his campaign spokesman Andrew Bates, who spoke to The Washington Post Wednesday.
"Vice President Biden believes it is past time to end US support for the war in Yemen and cancel the blank check the Trump administration has given Saudi Arabia for its conduct of that war," he said.
US President Donald Trump has vetoed a resolution spearheaded by Biden's Democratic contender Senator Bernie Sanders after it was passed by the entire Senate Democratic caucus and several Republicans.
The Republican-controlled Senate should decide Thursday whether to override President Trump's veto of the measure.
Biden has previously attacked Saudi Arabian leaders also over violation of human rights evident in cases such as the murder of Saudi dissident journalist Jamal Khashoggi.
"My doubts are that there's very little sense of rule of law, respect for human rights, dignity," Biden said of the Saudi government in a recent interview with CBS. "The allegations that are made so far … are not inconsistent with the way the kingdom would act."
Saudi Arabia and a number of its regional allies launched the devastating campaign against Yemen in March 2015.
The war has led to a humanitarian crisis sin the impoverished country, where millions remain in dire need of food in the wake of thousands of deaths caused by Saudi aggression.
https://www.presstv.com/Detail/2019/05/01/594869/Biden-wants-an-end-to-US-support-for-Saudi-war
--------
Arab Coalition targets Houthi air base near Sanaa airport
2 May 2019
The Arab Coalition confirmed it had launched air strikes targeting the al-Dulaimi air base near Sanaa's airport, sources said.
Air strikes launched at the al-Dulaimi Air Base targeted a drone maintenance site and another location in which Houthi experts and operators were present at.
According to the coalition, the Houthi militias have been using Sanaa airport to carry out terrorist and hostile operations.
https://english.alarabiya.net/en/News/gulf/2019/05/02/Arab-coalition-targets-Houthi-air-base-near-Sanaa-airport.html
--------
Saudi aggressors kidnap 150 Yemeni fishermen off Hudaydah
May 2, 2019
The Saudi-led coalition, which has been waging a deadly war on Yemen, has abducted more than 150 fishermen in the waters off the embattled port city of Hudaydah.
The Houthi-run al-Masirah TV channel reported that the kidnapping of the fishermen on 15 boats by the "aggression forces" took place southwest of the Turfa Island on Wednesday.
According to the latest report by Yemen's Ministry of Human Rights, the Saudis have deprived over 50,000 Yemeni fishermen of their right to fish, killed dozens of them, targeted 93 fishing facilities and destroyed 4,586 boats.
Hudaydah, a lifeline for millions of Yemenis, has seen some of the heaviest fighting in the four-year Saudi aggression against the impoverished nation.
Saudi Arabia and the UAE launched the Hudaydah offensive in June 2018, but they have faced strong resistance put up by Yemeni armed forces – led by the Houthis -- and the city's residents.
The Saudi-led coalition claims that the Houthis are using the port for weapons delivery, an allegation rejected by the fighters.
Last December, representatives from the Houthi Ansarullah movement and the Riyadh-sponsored government of the ex-president, Abd Rabbuh Mansur Hadi, agreed to cease fighting in Hudaydah during peace talks in Sweden last December.
Under the truce deal, the rival parties also agreed to the withdrawal of their troops and the deployment of UN monitors to the port city.
The Houthis have, however, reported numerous truce violations by the Saudi-backed side.
More Saudi aerial assaults
In another development on Wednesday, al-Masirah reported that the Saudi-led coalition had conducted 13 airstrikes on the Sana'a airport and the al-Dailami air base.
The Saudi Press Agency (SPA) confirmed the raids on the air base, claiming that it had targeted drone maintenance sites, a communications system and locations of drone experts and operators.
"Planes have been flying for more than an hour, and sounds of violent explosions rocked the north of the city where the airport and the military base are located," said a Sana'a resident.
Saudi Arabia and its allies launched the war against Yemen in March 2015 in an attempt to reinstall the Riyadh-allied former regime and crush Houthis.
The invaders have, however, failed to achieve their objectives in the face of the Yemeni resistance.
The Western-backed war on Yemen, coupled with a naval blockade, has destroyed the country's infrastructure and led to a humanitarian crisis.
Full report at:
https://www.presstv.com/Detail/2019/05/02/594882/Yemen-fishermen-Hudaydah
--------
Israel targets Hamas in Gaza after 'balloon bombs' launched
May 02, 2019
JERUSALEM: The Israeli military says it struck several Hamas militant sites in Gaza in response to incendiary balloons with explosives launched from the strip.
The military says it hit the sites in northern Gaza Strip early on Thursday. It says that afterward, two rockets were fired out of Gaza. There were no injuries on either side.
The brief flareup marked the first Israeli strike in more than a month. Egyptian mediators have been trying to reach a long-term cease-fire during the lull.
Israel previously scaled back the permitted fishing zone off Gaza's Mediterranean coast following a rocket attack.
Full report at:
http://www.arabnews.com/node/1491341/middle-east
--------
Houthi militia intensifies civilian suffering for political purposes
May 02, 2019
DUBAI: The Houthis have intensified civilian suffering in a number of Yemen's regions, Saudi state-news agency SPA reported on Thursday.
According to a recent report issued by the Higher Relief Committee, the Houthis continue to exacerbate the humanitarian crisis in a desperate attempt to sway the international community by blocking food supplies to the capital Sanaa and neighboring provinces.
The report, published by the official Yemeni news agency, said that with the approach of the holy month of Ramadan, the Houthis had stepped up their attacks on supply lines of these provinces in an effort to disrupt the arrival of food and intensify the humanitarian tragedy.
http://www.arabnews.com/node/1491331/middle-east
--------
Houthis detain 10 journalists in Yemen on 'trumped-up spy charges'
May 01, 2019
DUBAI: Iran-backed Houthi militias in Yemen have detained and tortured 10 journalists for nearly four years on trumped-up charges of spying, the human-rights group Amnesty International said on Wednesday.
The 10 are accused of working on behalf of the Saudi-led military coalition fighting on behalf of the internationally recognized government of Abed Rabbo Mansour Hadi.
Amnesty said the 10 men had been held since the summer of 2015 and that they were formally charged in December 2018 with a series of offenses, including spying and aiding the coalition, by a special court that handles terrorism-related cases.
"It is completely outrageous that these men could face the death penalty simply for doing their jobs," said Rasha Mohamed, Amnesty's Yemen researcher.
"These men are being punished for peacefully exercising their right to freedom of expression. The charges against them are false and should be dropped immediately."
Some of the journalists worked for online news outlets affiliated with the Islah party, which is part of Hadi's government, Amnesty said. Nine of them were arrested in a raid on a hotel in Sanaa and one man was detained at home by Houthi forces.
"Over the course of their detention the men have been forcibly disappeared, held in intermittent incommunicado detention, been deprived of access to medical care and suffered torture and other ill-treatment," Amnesty said.
The accusations are the latest charges of human-rights abuses leveled against the Houthis. They have also been accused of abducting children and using them as child soldiers in the conflict, and of illegally deploying mines in civilian areas.
Full report at:
http://www.arabnews.com/node/1490971/middle-east
--------
URL: https://www.newageislam.com/islamic-world-news/still-remember-day-masood-azhar/d/118485
New Age Islam, Islam Online, Islamic Website, African Muslim News, Arab World News, South Asia News, Indian Muslim News, World Muslim News, Women in Islam, Islamic Feminism, Arab Women, Women In Arab, Islamophobia in America, Muslim Women in West, Islam Women and Feminism