New Age Islam News Bureau
20 Nov 2018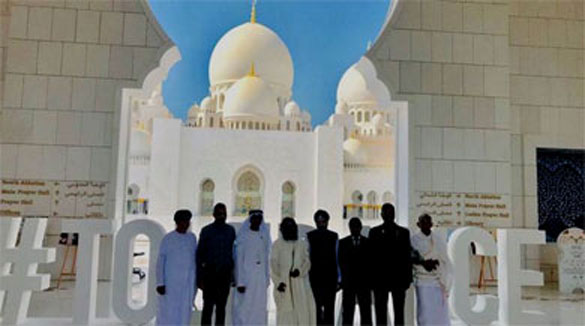 Sri Sri, who was on a four-day visit to the UAE, visited the mosque on Sunday and hailed its beauty and "good vibrations". (Twitter/@SriSri)
------
• Sri Sri Visits Grand Mosque in Abu Dhabi Hails Its 'Good Vibrations'
• Saudi King Salman to Shura Council: We Adopt Values of Moderation, Tolerance
• 'We Will Do What Is Best for Our People, Our Interests': PM Khan Fires Back after Trump Tweets
• Bangladesh Polls: Why Awami League Cosying Up To Islamic Fundamentalist Hefazat-e-Islam Is Raising Eyebrows
• Indonesian Mosques Preaching Extremism to Civil Servants, Warns Intelligence Agency
India
• Sri Sri Visits Grand Mosque in Abu Dhabi Hails Its 'Good Vibrations'
• Significance of Milad un-Nabi, the Prophet's Birthday
• Four Terrorists Killed, Commando Martyred in Shopian Encounter
• Aligarh Muslim University Issues Notices To Drama Club Members, Cancels Play over 'Erroneous Poster'
• J&K Police collect data on Rohingya Muslims
• J-K: Four militants, soldier killed in encounter in Shopian
--------
Arab World
• Saudi King Salman to Shura Council: We Adopt Values of Moderation, Tolerance
• Report: Saudi Royals Turn On King's Favourite Son after Killing
• Egypt's Sisi Calls On Scholars, Intellectuals to 'Spread the Tolerant Teachings of Islam'
• Turkish Army Hands over Demilitarized Zone in Northern Syria to Tahrir Al-Sham Terrorists
• Hashd Al-Shaabi Blocks US Attempts to Capture Military Base in Al-Anbar
• Jubeir: Justice in Khashoggi case is a Saudi demand before it is a global one
• Is Baghdadi hiding in this ISIS stronghold in Syria?
• Syrian army says Daesh cleared from last stronghold in south
• Egypt looks to remove religion from ID cards — but is it too little, too late?
--------
Pakistan
• 'We Will Do What Is Best for Our People, Our Interests': PM Khan Fires Back after Trump Tweets
• Al Qaeda in the Indian Subcontinent 'High-Profile Militant' Held In Karachi
• Differences Remain Over Tough Conditions of IMF Bailout
• $1bn Received From Saudi Arabia: State Bank of Pakistan
• Charge-sheet filed against journalist Nasrullah in ATC
• Comprehensive national response needed on hybrid conflicts: COAS
--------
South Asia
• Bangladesh Polls: Why Awami League Cosying Up To Islamic Fundamentalist Hefazat-e-Islam Is Raising Eyebrows
• Taliban: No Deal Reached With US in Qatar on Deadline to End Afghan War
• Taliban say no pact struck with US over deadline to end war
• Taliban confirms talks with US officials on Afghan conflict
• Jamaat wants six seats from BNP-led alliance in Sylhet Division
• Myanmar Wants a 'Systematic Repatriation' of Rohingya, Social Welfare Minister Says
• President Ghani met with the delegation of U.S. House of Representatives
• UN calls for calm after Myanmar police shoot, wound Rohingya Muslims
--------
Southeast Asia
• Indonesian Mosques Preaching Extremism to Civil Servants, Warns Intelligence Agency
• On Prophet's Birthday, Minister Says Islam Doesn't Discriminate
• Survey finds Malaysian Muslims sympathetic towards terrorism
• Malaysia's leaders backtrack on ratifying UN human rights treaty
• PH govt committed to strengthening Jakim, says Mujahid
• Former Malaysia Cleo magazine hunk dies fighting for Islamic State in Syria
• Clarity needed between following Shia Islam and propagating it, says minister
--------
North America
• US Muslim Lawmaker-Elect in Proposal to End Head-Covering Ban In Congress
• 'US Mulls Designating Venezuela State Sponsor Of Terror'
• 17 years into Afghanistan War, US admits 'Taliban not losing'
• Trump: Osama bin Laden should have been captured sooner
• Trump defends Saudi prince despite Khashoggi murder
--------
Mideast
• Muslims in Turkey observe Milad un-Nabawi, the birth of Prophet Muhammad
• Yemeni Information Minister Says Houthi Militias Have Broken The Truce
• Yemen legitimate government says to take part in peace talks in Sweden
• Israeli forces injure 25 Palestinians in Gaza flotilla protests
• 52 Palestinian children killed by Israel since beginning of 2018, says rights group
• Israeli forces raze Palestinian property, seize vehicles in East Jerusalem al-Quds
• US cuts in Palestinian refugee aid mitigated by new pledges
--------
Europe
• France to Impose Sanctions on Saudi Arabia
• Saudi Crown Prince Ordered Khashoggi Hit: UK Think-Tank
• Iran bets on Europe as UK's Hunt lands in Tehran to discuss nuclear deal
• British foreign secretary in Tehran for nuclear deal talks
• Germany bans 18 Saudis from entering Schengen zone over Khashoggi killing
• Germany halts all arms exports to Saudi Arabia
• EU backs Iran sanctions over foiled France attack plot -diplomats
--------
Africa
• Nigeria: Eid-El-Maulud - Buhari, Saraki, Dogara, Others Preach Peace, Unity
• Boko Haram attacks three military bases in NE Nigeria
--------
Australia
• Russian Twitter Trolls Stoking Anti-Islamic Sentiment In Australia, Experts Warn
• Three charged over alleged Melbourne terror plot
Compiled by New Age Islam News Bureau
URL: https://www.newageislam.com/islamic-world-news/sri-sri-visits-grand-mosque/d/116930
--------
Sri Sri Visits Grand Mosque in Abu Dhabi Hails Its 'Good Vibrations'
November 19, 2018
Spiritual leader Sri Sri Ravi Shankar has visited the Sheikh Zayed Grand Mosque, the largest in the UAE, whose marble pillars have been designed by Indian artisans belonging to the families believed to have worked for the Taj Mahal.
Sri Sri, who was on a four-day visit to the UAE, visited the mosque on Sunday and hailed its beauty and "good vibrations".
Director-General of the Sheikh Zayed Grand Mosque Centre (SZGMC) Yousef Al Obaidly briefed the Art of Living (AOL) founder about the Indian connection of the mosque constructed between 1996 to 2007.
The SZGMC director explained to Sri Sri that the white marble pillars, inlaid with floral patterns in the mosque, were inspired and done by the descendants of skilled families from India who are believed to have done similar art work in the Taj Mahal, Art of Living (AOL) officials said.
According to a website of the Abu Dhabi Government, Sheikh Zayed Mosque is the third largest in the world after the ones in Mecca and Madina in Saudi Arabia.
It is named after the founder and first President of the UAE, the late Sheikh Zayed bin Sultan Al Nahyan. The mosque can accommodate around 40,000 people. Artisans and materials for its construction came from many countries including India.
The 82-dome mosque's main dome is the largest in the world with a diameter of 32.8 metres. The spectacularly decorated mosque is open for prayers to everyone, including non-Muslim visitors.
"Very beautiful place with very good vibrations. With love and blessings," Sri Sri wrote in the visitors' book at the mosque.
Al Obaidly said the warm reception accorded to the Indian spiritual leader at the mosque was part of a mission to foster social connections between followers of all religions.
Indian Ambassador to the UAE Navdeep Singh Suri, business tycoon B R Shetty and south Indian super star Mohanlal joined UAE's minister of Culture, Youth and Social Development Nahyan bin Mubarak Al Nahyan in welcoming Sri Sri.
He visited the country on an invitation from ruler of Fujairah Hamad bin Mohammed Al Sharqi. Sri Sri meditated with thousands of people including women and children for world peace in Fujairah, one of the seven emirates in the UAE.
He also held a meditation session in Sharjah and imparted lessons on how to lead a stress-free life to nearly 5,000 migrant workers from 20 countries, including Pakistan.
His two-day discourse- 'Unveiling Infinity', based on the rare Kashmiri scripture 'Vigyan Bhairav' was attended by a large gathering, including women members from the royal family of the UAE, at the Dubai World Trade Center.
https://indianexpress.com/article/india/sri-sri-visits-grand-mosque-in-abu-dhabi-hails-its-good-vibrations-545438/
--------
Saudi King Salman to Shura Council: We adopt values of moderation, tolerance
19 November 2018
King Salman bin Abdulaziz Al Saud inaugurated the activities of the 3rd year of the 7th session of the Shura Council in the presence of His Royal Highness Prince Mohammed bin Salman bin Abdulaziz, Crown Prince, Vice President of the Council of Ministers and Minister of Defense.
Immediately after the King's arrival, the Royal Anthem was played. Then, the 3rd year of the 7th session of the Shura Council was inaugurated with a recitation of verses from the Holy Quran.
In his speech, King Salman bin Abdulaziz stated that the kingdom adheres to Islamic Sharia law and adopts the values of moderation and tolerance.
In his speech, King Salman spoke about a number of issues, including oil, stating that the kingdom's policy on oil is based on cooperation and coordination with other oil producers.
"We are keen on a strategic partnership based on mutual benefits and respect," the King said, referring to oil production.
"We are working to maintain the stability of oil markets to protect producers and consumers," the King said.
The King also said that the kingdom is continuing to develop the governance of state institutions.
He added that the Saudi citizen is the main driving force of development in the country, adding that development plans are achieving set goals at a satisfactory rate.
The King also stated that Saudi Crown Prince Mohammed bin Salman is focused on developing human capabilities and preparing the new generation.
The King also spoke about terrorism in the region, stating that the kingdom will continue to fight extremism and support a developmental approach. He added that the Palestinian case will remain the number one priority "until the Palestinians get their rights."
In the Yemeni file, the King stated that Saudi Arabia's involvement was not a choice, but a duty to confront the Houthi militias. He said that the kingdom supports a political solution in Yemen according to Security Council resolutions and the GCC initiative.
The King also spoke about relations with Iraq, stating that the kingdom looks forward to continuing efforts to strengthen cooperation with Baghdad.
On Iran, the King said that the international community needs to put an end to its activities that threaten the stability and security of the region. He added that Iran is working to cause chaos in surrounding countries, and that it insists on sponsoring terrorism.
This is the third year of the seventh session of the Shura Council, where the council's Chairman Dr. Abdullah bin Mohammed al-Sheikh said they were looking forward to the king's much-anticipated speech, which acts as an annual guideline for the deliberations of the council.
Sheikh thanked the kingdom's foreign ministry for their cooperation in the council's deliberations and the council members for their inputs and efforts.
https://english.alarabiya.net/en/News/gulf/2018/11/19/Saudi-King-Salman-to-Shura-Council-.html
--------
'We will do what is best for our people, our interests': PM Khan fires back after Trump tweets
November 19, 2018
What started with United States President Donald Trump's tirade against Pakistan on Sunday night culminated into a heated exchange between him and Prime Minister Imran Khan on Twitter on Monday, with the latter making it clear that "Now, we [Pakistan] will do what is best for our people and our interests."
PM Khan's latest rebuttal came after Trump tweeted about Pakistan's alleged inaction against "Osama bin Laden and Afghanistan". The US head of state was repeating his statements from his interview to Fox News on Sunday in which he attempted to justify his administration's decision to pull "military aid" to Pakistan.
The US president claimed he had pointed out Osama bin Laden in his book "just BEFORE" the 9/11 attacks and that his country "of course" should have captured the Al Qaeda leader "long before we did".
"President Clinton famously missed his shot. We paid Pakistan Billions of Dollars & they never told us he was living there. Fools!.." he wrote.
Reiterating his earlier comment, Trump said the US no longer pays billions of dollars in aid to Pakistan "because they would take our money and do nothing for us". He cited the capture of bin Laden in Abbottabad and the Afghanistan war as the two areas of alleged inaction by Pakistan.
"They [Pakistan] were just one of many countries that take from the United States without giving anything in return. That's ENDING!" Trump said.
The US president's tweets were shortly followed by a Twitter post by Prime Minister Khan, who said Trump "needs to be informed abt historical facts".
"Trump's false assertions add insult to the injury [that] Pak has suffered in US WoT in terms of lives lost & destabilised & economic costs," the premier wrote.
"Pak has suffered enough fighting US's war. Now we will do what is best for our people & our interests," he concluded.
PM Khan's response to Trump's tirade
PM Khan first hit back at Trump's remarks earlier today, suggesting that Washington assess its efficacy in the War on Terror in Afghanistan instead of making Pakistan a scapegoat for its failures.
While speaking to Fox News, Trump had justified his administration's decision to cancel military aid for Pakistan by linking it to bin Laden being found in Pakistan in 2011. "They [Pakistan] don't do a damn thing for us," the US president had said.
Speaking of the compound in Abbottabad where bin Laden was found in 2011, Trump said the bin Ladens had been "living in Pakistan right next to the military academy, everybody in Pakistan knew he was there."
However, contrary to Trump's insinuations, former US president Barack Obama, under whom the raid was carried out, had said last year: "We had no evidence that Pakistan was aware of his presence — that is something that we looked at."
Trump also added that the US used to give Pakistan $1.3 billion a year, but doesn't anymore. "I ended it because they don't do anything for us."
Read more: 'Appeasement does not work with US': Shireen Mazari claps back at Trump over tirade against Pakistan
PM Khan responded to Trump's statements, saying that Islamabad had decided to "participate in the US War on Terror" although no Pakistani was involved in the 9/11 attacks.
"Pakistan suffered 75,000 casualties in this war and over $123 billion was lost," he added, of which "US 'aid' was a minuscule $20bn", the premier said.
In addition to economic losses, the PM highlighted the impact of the US war on Pakistan's tribal areas. "Our tribal areas were devastated and millions of people were uprooted from their homes. The war drastically impacted the lives of ordinary Pakistanis," he said.
"Pakistan continues to provide free lines of ground and air communications (GLOCs/ALOCs)," he added.
"Can Mr Trump name another ally that gave such sacrifices?" he asked.
Earlier today, Minister for Human Rights Shireen Mazari also called Trump out over his remarks about Pakistan, saying: "@realDonaldTrump suffers conveniently from perpetual historic amnesia!"
Relations between the United States and Pakistan, which began to strain in 2011, reached a new low in January when Trump suspended US security assistance to Islamabad over the alleged presence of Afghan militant groups in Fata. The government as well as the military had rejected the charge as incorrect.
The Inter-Services Public Relations had clarified at the time that the Coalition Support Fund, received from the US, is reimbursement of money spent for operations in support of the coalition for regional peace.
https://www.dawn.com/news/1446580/we-will-do-what-is-best-for-our-people-our-interests-pm-khan-fires-back-after-trump-tweets
--------
Bangladesh polls: Why Awami League cosying up to Islamic fundamentalist Hefazat-e-Islam is raising eyebrows
19-11-2018
Shantanu Mukharji
Electioneering is at full throttle across Bangladesh ahead of the December 30 general elections. The election-related activities assume greater significance this time due to Prime Minister Sheikh Hasina's display of political astuteness in engaging her political adversaries into what is being described as 'dialogue'. Such adversaries include the Jatiya Oikya Manch — a conglomerate of rightist parties — and a more significant faction led by Gano Forum chief and former foreign minister under Sheikh Mujibur Rahman, Dr Kamal Hossain.
It would be worth recalling that Hossain, a constitutional expert and Mujib-Hasina loyalist, floated a separate platform against Hasina just before the elections to take on the formidable Awami League.
However, more surprising is Hossain's volte-face in consistently pressing for Begum Khaleda Zia's release from prison and canvassing for the Bangladesh Nationalist Party's (BNP) participation in the elections as an ally. There were a slew of dialogues between Hasina and the Oikya Manch's delegates that started from November 1. They have locked horns mainly over the release of Khaleda.
Simultaneously, former President of Bangladesh AQM Badruddoza Chowdhury, a former BNP cadre, had initially allied with Hossain but parted ways as Chowdhury (of the erstwhile Bikalpa Dhara) distanced himself from the former on the grounds that Hossain was supporting the BNP that has partnered with the fundamentalist Jamaat-e-Islami (JeI).
Chowdhury realised through straws in the wind that the BNP was a 'burden' and taking it along will be an electoral suicide. However, he too held a dialogue with Hasina. General HM Ershad of the Jatiya Party (JP) followed suit. Ershad, as of now, is with Hasina but talks with the Oikya Manch did not yield any results and things are in limbo and unlikely to show any tangible results.
Meanwhile, the Awami League's growing warmth towards Islamic fundamentalist Hefazat-e-Islam has raised eyebrows among a section of the liberals in Bangladesh. And such elements are not off the mark. Their argument is the same that Hefazat, perceived to be a diehard communal outfit with its hate actions in 2013 silencing liberals and abetting terror, perpetrated through hate crimes, has now tied up with the Awami League.
Political analysts, however, reckon that this is political masterstroke by Hasina because of the following: activities of Hefazat in May 2013 had elements of violence. From there, the moderation that is now seen in Hefazat is a positive development. There are almost 1.4 million students studying in 14,000 Qawmi Madrasas in Bangladesh. Most of the students are very poor and many are orphans.
By recognising the madrasa's degree, the government has taken a very positive step in bringing these students into the formal employment circuit in the country. By coming close to Hefazat and conceding to its list of demands, The Awami League has tactically neutralised the Hefazat's communal aggression. The recognition of degrees is expected to enable the madrasa students to compete with students from the mainstream education stream for jobs both in public and private sectors.
Also, keeping these huge number of poor students outside the formal job market would mitigate a great danger of these young people becoming radicalised. The banned extremist organisations would exploit the situation to the maximum possible extent. Further, mainstreaming the madrasa students would expose them to the wider society and to the enlightened world weaning them away from the medieval and antiquated thoughts.
All this is fine, but Hasina should be hawkish in keeping an eye on Hefazat activities in the longer run.
Fanatics, in the past, have always let down democratic governments. Be it the Taliban in Afghanistan or the latest misdeeds of the Tehreek-e-Labaik Pakistan (TLP). The TLP initally gave signals that it was all for Imran Khan. But in the infamous Asia bibi acquittal case, it held the government to ransom.
Hence, in the context of Bangladesh too, caution is called for.
Hasina perhaps took a calculated risk in addressing a Hefazat gathering at Dhaka's Suhrawardy Udyan openly engaged in bonhomie incurring the wrath of the minority and liberals who are opposed to or are victims of Hefazat-e-Islam. Hasina, on the other hand, appears confident to handle Hefazat keeping it on a tight leash.
Meanwhile, last week Dhaka downtown areas saw violence allegedly sparked off by BNP leading to many injuries and a law and order situation cropping up. Under no circumstances, the BNP or its allies like Jamaat should be given any leeway to take to the streets and agitate. That's exactly what they want. A little political space to exploit the situation to their advantage.
After all, they have nothing to lose and violence will enable the BNP to stay politically afloat. By implication, they must be enjoying moral and logistical support from inimical quarters. That needs to be curbed.
Electioneering, in the meantime, is picking up steam with colourful posters and poll speeches and film actors, sportspersons and other celebrities seeking to contest in large numbers. By and large, as of now, the Awami League and party leader Hasina are riding on the waves of optimism.
This enthusiasm deserve careful restraint to ensure a decisive victory for the Awami League. And, that will be in the interest of India too.
https://www.dailyo.in/politics/bangladesh-polls-why-awami-league-s-growing-warmth-towards-islamic-fundamentalist-hefazat-e-islam-is-raising-eyebrows/story/1/27829.html
--------
Indonesian mosques preaching extremism to civil servants, warns intelligence agency
Nicola Smith
20 NOVEMBER 2018
Dozens of Indonesian mosques are preaching extremism, including violence against non-Muslims, to government workers, the country's intelligence agency has warned.
The alarming findings of the Indonesian State Intelligence Agency follow Indonesia's worst terrorist attack in a decade when three churches and a police station were bombed in the city of Surabaya in May, killing 28 people. Islamic State of Iraq and the Levant (Isil) claimed responsibility for the bombings.
In a chilling development, child suicide bombers were among the attackers in the deadly assault, once again raising fears about the growing influence of hardline Islamism and the decline of religious tolerance in the world's most populous Muslim nation.
According to AFP, the intelligence agency revealed it had probed about 1,000 mosques across the Southeast Asian country since July, and discovered that imams at some 41 places of worship in one neighbourhood in the capital, Jakarta, were preaching extremism to worshippers.
"The majority of people who go to these mosques are government workers so that's why this is alarming," Wawan Purwanto, the intelligence agency's spokesman, told the newswire. "These are the people who are running the country."
Intelligence officers found about 17 clerics expressed support of sympathy for Isil and encouraged their congregation to fight for the jihadist group in Syria and Marawi, the southern Philippine city that was destroyed in 2017 after it was besieged by foreign Isil fighters.
More than 600 Indonesians, including at least 166 women and children, travelled to Syria to join Isil, according to data released earlier this year by the Indonesian authorities.
Other preachers urged their followers to commit violence on behalf of the jihadist group, and spread hatred to vilify Indonesia's minority religions, which include Christianity, Buddhism and Hinduism.
Details were not released about the agency's findings at hundreds of other mosques outside of Jakarta.
Concerns have been rising in recent years about the growing influence of extremist groups in Indonesia, a sprawling archipelago that is home to 260 million people.
Last year, the Christian minority was left reeling in shock after the controversial jailing of the former governor of Jakarta, Basuki Tjahaja Purnama – known by his nickname Ahok – on blasphemy charges.
The conviction of a prominent member of the Christian community followed months of large-scale protests by the Islamic Defenders Front, a hardline group with a record of violence and intimidation, which had previously argued that a Christian should not govern a Muslim-majority city.
Ahok was accused of insulting Islam on the campaign trail but he insisted that his comments had been misinterpreted.
His case highlighted the challenges faced by the government and judiciary in tackling extremist groups which are capable of influencing large sections of the electorate, despite constitutional guarantees on freedom of religion.
President Joko Widodo faces a tough re-election battle in 2019 in a country which ranges widely from the more liberal holiday paradise of Bali to Aceh province, which is ruled by Sharia law and where citizens can be caned for having sex outside of marriage or for selling alcohol.
https://www.telegraph.co.uk/news/2018/11/20/indonesian-mosques-preaching-extremism-civil-servants-warns/
--------
India
Significance of Milad un-Nabi, The Prophet's Birthday
November 19, 2018
Milad-un-Nabi is celebrated to honour the birth of Prophet Mohammed. This year, the auspicious Muslim festival will begin on November 20 and will end on November 21. The festival is also called Nabid and Mawlid colloquially. The festivities start one day prior to the festival and end on the following day. Several places across the country are lit including streets, mosques, shrines and residential areas, with colorful lights.
The 'Mawalid' word is derived from the Arabic word which means to give birth and in this context, the term refers to the observance of Prophet Muhammad. On this day, people carry green flags in their hands and tie ribbons on their wrist to celebrate Prophet Muhammad's teachings. Have you ever thought why only green color and what does this shade represent? The color green represents Islam and paradise. The origin of celebrating this day dates back to the early four Rashidun Caliphs of Islam. The idea was first initiated by the Fatimids.
People get together at the mosque or at the dargah and carry on long hours of prayers. Processions are carried out from the mosques to the town and back. People march and chant prayers and praises of the Prophet simultaneously. There are community meals organized and people gather together and narrate stories about the Mohammed's life.
The Sunni community of Muslim's celebrate this auspicious day on the 12th of the Islamic month of Rabi' al-awwal. Whereas the Shi'a community celebrate it on the 17th of Rabi' al-Awwal. Muslims celebrate the advent of the Prophet Muhammad's teachings and even held social gatherings wherein they have night long prayers meeting. The date of this festival varies in the Gregorian calendar.
The occasion is celebrated at its best when people wear new clothes, observe prayers, and exchange greetings. Eid is incomplete without sweet Sheer Kurma and Sevaiyan. On this auspicious occasion, we at India.com wish each one of you Happy Eid. We just hope you celebrate and strengthen the bond of love with your loved ones.
https://www.india.com/festivals-events/eid-milad-un-nabi-2018-india-date-timing-significance-of-mawlid-al-nabi-the-prophets-birthday-3437356/
--------
Four Terrorists Killed, Commando Martyred in Shopian Encounter
November 20, 2018
Srinagar: Four terrorists were gunned down in the encounter in Nadigam village in Jammu and Kashmir's Shopian early Tuesday morning, confirmed ANI. However, a commando was also martyred even as two soldiers were injured, said Zeenews. (Also read: BSF Jawan Killed in Blast)
Initially, the security forces managed to restrict the terrorists to an area. The gunbattle has reportedly lasted over an hour. More details are awaited.
The Valley has been witnessing a spurt in terror activities for the past few months. On November 18, two terrorists associated with terror outfit Al-Badr were killed in an encounter in Rebban area of Shopian district. The encounter came a day after the militants abducted and killed a 19-year-old teenager.
Police said that a search and cordon operation was launched in the area after the forces received specific inputs about the presence of terrorists hiding in the region. "As search operation was going on, a search party was fired upon by the hiding terrorists. The fire was retaliated leading to an encounter. In the ensuing encounter, 2 terrorists were killed and bodies were retrieved from the site of encounter. Identities are being ascertained," police added.
Full report at:
https://www.india.com/news/india/j-k-four-terrorists-killed-commando-martyred-in-shopian-encounter-3437797/
--------
Aligarh Muslim University issues notices to drama club members, cancels play over 'erroneous poster'
November 20, 2018
The Aligarh Muslim University (AMU) on Monday issued showcause notices to the president and secretary of its drama club for putting up posters allegedly carrying a map of India without Kashmir and the North East.
A notice has also been issued to an employee of the university, who allegedly prepared the controversial poster.
'Jis Lahore Na Vekhiya', the play for which the posters had been put up, was cancelled hours before it was was to be staged at the university's Kennedy auditorium Sunday after an uproar over the issue.
BJP's Brij Chhetra vice-president Manvendra Pratap Singh claimed to have intimated AMU proctor Mohsin Khan and the additional district magistrate about the posters.
Written by noted Hindi writer Asghar Wajahat in the 1980s, the play, 'Jis Lahore Na Vekhiya', is set in 1947. AMU's public relations in-charge M Shafey Kidwai said the plot revolves around the Mirzas, a Muslim family which migrated from Lucknow to Lahore and are allotted a haveli which was evacuated by a Hindu family. When they arrive in Lahore, they find an elderly Hindu woman living in the haveli, claiming its ownership and refusing to leave. The Muslim family gradually settles in the haveli along with the Hindu woman and drops the idea of evicting her.
"After coming to know about the poster, AMU cancelled the play and also removed the posters and hoardings from campus. Action will be taken after receiving replies to the notices issued to the drama club president, secretary and the employee," said Kidwai, adding that the play was "anti-partition" and "anti-communal".
The president of the drama club is an assistant professor of the university, said Kidwai. The professor and employee have been asked to submit their explanations to the registrar's office within two days, while the student has been asked to provide an explanation to the proctor's office within 72 hours, said a press note issued by AMU on Monday.
"When permission was obtained from AMU authorities, the said poster was not shown. The AMU had given permission to stage the play on Sunday at the auditorium. Hoardings and posters carried an erroneous map of India in which the North-East and J&K parts are mixed up. The drawing of the map was a mistake committed inadvertently by the drama society of AMU," added Kidwai.
Full report at:
https://indianexpress.com/article/cities/lucknow/aligarh-muslim-university-issues-notices-to-drama-club-members-cancels-play-over-erroneous-poster-5454520/
--------
J&K Police collect data on Rohingya Muslims
by Arun Sharma
November 20, 2018
The Jammu and Kashmir Police has started collecting personal details of all Rohingya Muslims living in the state to identify how, from where and when they came to India, and travelled further on to J&K.
Inspector General of Police, Jammu zone, S D Singh Jamwal, said this is being done on instructions from the Central government to identify these people and maintain records. Asked whether it has to do something with their deportation, Jamwal said, "It may be a process for that."
Written in Burmese language, with English translations, these "personal date forms'' were circulated by the police in some Rohingya settlements in Jammu city on Sunday as well.
Each settler from Myanmar has been asked to fill up these forms, furnishing personal details of not only self but of parents, spouse and siblings, too.
The seven-page form seeks details such as the applicant's name, parentage, occupation or present address, colour of his/her eyes and hair, other name, and special particulars. Applicants are asked to furnish passport-sized photograph, besides details about place of birth, height, national identity card, address in Myanmar, education, spouse's current occupation, address and even of school and university where he or she studied, among several others.
J&K Governor Satya Pal Malik had earlier this month said that biometric details of Rohingya refugees in the state will be collected within two months. His statement came nearly a month after Union Home Minister Rajnath Singh had said that all states have been asked to identify Rohingya refugees living within their boundaries and collect their biometric data, a compiled report of which will be sent to Myanmar.
There are nearly 8,000 Myanmar nationals staying in Jammu, Samba and Kathua districts of Jammu region, with nearly 90 per cent of them settled in Jammu city and outskirts, according to the police.
Full report at:
https://indianexpress.com/article/india/jk-police-collect-data-on-rohingya-muslims-5454668/
--------
J-K: Four militants, soldier killed in encounter in Shopian
November 20, 2018
At least four militants and a soldier were killed in an encounter that broke out Tuesday morning in Nadigam village of Jammu and Kashmir's Shopian district on Tuesday. Two other Army men were injured in the gunbattle. The gunfight is underway and the operation began after forces cordoned off the area following inputs on the presence of militants.
"Four terrorists have been killed in the operation in Nadigam area of Shopian," PTI quoted Srinagar-based defence spokesman, Col Rajesh Kalia as saying. However, a police official said an Army man was killed while two others were injured in the encounter. "The search operation turned into an encounter after the militants fired on the forces, who retaliated," PTI quoted a police official as saying.
https://indianexpress.com/article/india/shopian-encounter-between-security-forces-militants-in-nadigam-5454791/
--------
Arab World
Report: Saudi royals turn on king's favourite son after killing
Nov 20, 2018
Members of Saudi Arabia's ruling family are agitating to prevent Crown Prince Mohammed bin Salman (MBS) from becoming king after the international uproar over the killing of Saudi journalist Jamal Khashoggi, sources close to the royal court told Reuters news agency.
Senior US officials, meanwhile, have indicated to Saudi advisers in recent weeks they would support Prince Ahmed bin Abdulaziz - who was deputy interior minister for nearly 40 years - as a potential successor to King Salman, according to Saudi sources with direct knowledge of the consultations.
Amid international outrage over Khashoggi's murder, dozens of princes and cousins from powerful branches of the Al Saud family want to see a change in the line of succession, but will not act while King Salman - the crown prince's 82-year-old father - is still alive, sources said.
They recognise the king is unlikely to turn against his favourite son, the report added.
Rather, they are discussing the possibility with other family members that after the king's death, Prince Ahmed, 76, uncle of the crown prince, could take the throne, according to the sources.
Prince Ahmed, King Salman's only surviving full brother, would have the support of family members, the security apparatus, and some Western powers, one of the Saudi sources said.
Prince Ahmed returned to Riyadh in October after two months abroad.
During the trip, he appeared to criticise the Saudi leadership while responding to protesters outside a London residence chanting for the downfall of the Al Saud dynasty. He was one of only three people on the Allegiance Council, made up of the ruling family's senior members, who opposed MBS becoming crown prince in 2017, Saudi sources said at the time.
Neither Prince Ahmed nor his representatives could be reached for comment. Officials in Riyadh did not immediately respond to requests from Reuters for comment on succession issues.
Tribal tradition
The House of Saud is made up of hundreds of princes. Unlike typical European monarchies, there is no automatic succession from father to eldest son. Instead, the kingdom's tribal traditions dictate the king and senior family members from each branch select the heir they consider fittest to lead.
Saudi sources said they were confident Prince Ahmed would not change or reverse any of the social or economic reforms enacted by the crown prince, would honour existing military procurement contracts, and would restore the unity of the family.
However, one senior US official said the White House is in no hurry to distance itself from MBS despite pressure from legislators and the CIA's assessment he ordered Khashoggi's murder, though that could change once Trump gets a definitive report on the killing from the intelligence community.
The official also said the White House saw it as noteworthy that King Salman seemed to stand by his son - also known as MBS - in a speech in Riyadh on Monday and made no direct reference to Khashoggi's killing, except to praise the Saudi public prosecutor.
The Saudi sources said US officials had cooled on MBS not only because of his suspected role in the murder of Khashoggi. They are also unhappy because the crown prince recently urged the Saudi defence ministry to explore alternative weapons supplies from Russia, the sources said.
In a letter dated May 15, seen by Reuters, the crown prince requested the defence ministry "focus on purchasing weapon systems and equipment in the most pressing fields" and get training on them, including the Russian S-400 surface-to-air missile system.
Neither the Russian defence ministry nor officials in Riyadh immediately responded to requests for comment.
'A red line'
The brutal killing of Khashoggi, a prominent critic of the crown prince, in the Saudi consulate in Istanbul last month has drawn global condemnation, including from many politicians and officials in the United States, a key Saudi ally.
Saudi Arabia's foreign minister said on Tuesday claims, including by the CIA, that MBS gave the order to kill Khashoggi were false, according to an Arabic-language newspaper interview.
"We in the kingdom know that such allegations about the crown prince have no basis in truth and we categorically reject them, whether through leaks or not," Foreign Minister Adel al-Jubeir was quoted as saying in Saudi-owned al-Sharq al-Awsat newspaper.
"They are leaks that have not been officially announced, and I have noticed that they are based on an assessment, not conclusive evidence."
Jubeir was also asked about comments by Turkish President Recep Tayyip Erdogan that the kill order came from the highest level of the Saudi leadership but probably not King Salman, which has put the spotlight instead on the 33-year-old crown prince.
"We have already asked the Turkish authorities at the highest level about the meaning of these comments, and they confirmed to us categorically that the crown prince is not meant by these comments," he said.
"The leadership of the kingdom of Saudi Arabia - represented by the Custodian of the Two Holy Mosques [the king] and the crown prince - is a red line and we will not permit attempts to harm or undermine them."
Saudi Arabia's public prosecutor has also said the crown prince knew nothing of Khashoggi's killing.
Consolidated control
Since his ascension, MBS has gained popular support with high-profile social and economic reforms, including ending a ban on women driving and opening cinemas in the conservative kingdom.
However, the reforms have been accompanied by a crackdown on dissent, a purge of top royals and businessmen on corruption charges, and a costly war in Yemen.
He has also marginalised senior members of the royal family and consolidated control over Saudi's security and intelligence agencies. The entire House of Saud has emerged weakened as a result.
According to one well-placed Saudi source, many princes from senior circles in the family believe a change in the line of succession "would not provoke any resistance from the security or intelligence bodies he controls" because of their loyalty to the wider family.
"They [the security apparatus] will follow any consensus reached by the family."
Officials in Riyadh did not respond to a request for comment.
https://www.aljazeera.com/news/2018/11/report-saudi-royals-turn-king-favourite-son-killing-181120035219219.html
--------
Egypt's Sisi calls on scholars, intellectuals to 'spread the tolerant teachings of Islam'
19 Nov 2018
Egypt's President Abdel-Fattah El-Sisi has called on scholars and intellectuals to "defend the reputations of Muslims worldwide by spreading the tolerant teachings of Islam."
In a speech, El-Sisi said that the "building up of human beings" and the enlightening of minds is the main pillar of progress and development.
The president called on clerics and intellectuals to exert efforts to enlighten and call upon the teachings of the Prophet Muhammad, which promote working to face those who call for killing, destruction and extremism.
El-Sisi spoke during an event held to celebrate Al-Moulid Al-Nabawy; the Prophet Muhammad's birthday. The event was organised by the Ministry of Endowments and attended by Prime Minister Mostafa Madbouly, Al-Azhar's Grand Imam Ahmed El-Tayeb, Grand Mufti Shawki Allam and a number of ministers and Arab ambassadors.
El-Sisi said that Islam's message promotes peaceful coexistence between human beings and the right to life without discrimination based on colour or race.
"Our noble religion has taught us that there is no compulsion in religion and it establishes the values of tolerance and acceptance," El-Sisi said.
"It is regrettable that we have among us those who have misinterpreted [the religion] and abandoned moderate teachings to follow unchecked opinions that are not in line with the teachings of the Quran and the Sunnah regarding the inviolability of human beings," El-Sisi said.
The issue of reforming religious discourse, which has been brought up by the president on multiple occasions, was also discussed during the event.
Egyptian Endowments Minister Mohamed Mokhtar Gomaa said that the issue of reforming religious discourse should move forward as long as the "fixed principles" of the religion are preserved.
Full report at:
http://english.ahram.org.eg/NewsContent/1/64/316574/Egypt/Politics-/Egypts-Sisi-calls-on-scholars,-intellectuals-to-sp.aspx
--------
Turkish Army Hands over Demilitarized Zone in Northern Syria to Tahrir Al-Sham Terrorists
Nov 19, 2018
Syria's state-owned al-Watan daily quoted a sources close to Tahrir al-Sham as disclosing that Ankara forces have hand over the demilitarized zone, spread from Northeastern Lattakia to Western and Southern Idlib, Northwestern Hama and Western Aleppo to Tahrir al-Sham and its allies.
It further said the move comes as the Turkish army plans to move to the East to launch a large-scale assault on the Syrian Democratic Forces (SDF) in Tal Abyadh region in Northern Raqqa and other border regions on the Eastern bank of the Euphrates River.
The daily went on to say that recent attack on the Syrian Army by Tahrir al-Sham, deployed in the demilitarized zone in Northeastern Lattakia and Northern Hama, is yet another proof showing the agreement between Ankara and Tahrir al-Sham to hand over the zone to the latter over a month after the deadline for the terrorists' withdrawal from the zone under the Sochi Agreement ended.
According to the deadline the terrorists including Tahrir al-Sham should have evacuated the demilitarized zone or face repercussions that included a joint attack by the Syria and Russian army assisted by Turkey.
The move by the terrorists is pushing the army to initiate its long-waited assault on militants in Idlib that had been put on hold due to the Sochi Agreement.
Colonel Mar'ei Hamdan, a Syrian military expert, was quoted by the Arabic-language website of Sputnik news agency as saying on Monday that Tahrir al-Sham is in control of nearly 70% of towns and villages in Idlib province and makes provocative moves against the Syrian army, adding that the army's commitment to decrease tensions is not lasting forever.
He added that the Syrian army has so far repelled all attacks by terrorists against its positions and inflicted heavy damages on them, noting that the army is now necessitated to come out of the defensive mood to retake control of Idlib.
Hamdan said that Tahrir al-Sham will resort to a full-scale military operation against the Syrian and Russian armies soon, after rejecting the Sochi agreement last October, which leaves no room for ceasefire or disarmament anymore, and underlined that the Syrian army's battle against Tahrir al-Sham is inevitable.
Meantime, the Turkey-backed Ahrar al-Sham and National Liberation Front (NLF) terrorist groups has also dismissed the Russian-Turkish Sochi agreement and is preparing for military operations against the army in Northern Syria, calling for a coalition with Tahrir al-Sham.
Tahrir al-Sham and other allied terrorist groups have not left the demilitarized zone two months after the Sochi agreement and have instead reinvigorated their strongholds and targeted the army positions every day.
Relevant reports said last Sunday that the Turkey-backed NLF had put its gunmen on alert to launch a heavy offensive against the Syrian army in the demilitarized zone in Idlib province.
Full report at:
http://en.farsnews.com/newstext.aspx?nn=13970828000677
--------
Hashd Al-Shaabi Blocks US Attempts to Capture Military Base in Al-Anbar
Nov 19, 2018
Commander of Hashd al-Shaabi forces in Western al-Anbar Qassem Moslih said on Sunday that his forces had prevented a US plane carrying military forces from landing at Abu Radha al-Baladawi airbase, adding that they wanted to capture the military base.
Another commander for Hashd al-Shaabi said on Monday that their forces cordoned off the runway at the Abu Radha al-Baladawi airbase.
He added that Hashd al-Shaabi opposes the presence of US military personnel in the area which, as the source said, contradicts Washington's claim of contributing to the ongoing anti-ISIL efforts on the ground.
"Americans are always provoking our troops while in the area and interfering in the security affairs," he said. "The western Anbar region does not need any foreign deployments as the Iraqi forces, whether from the army or the Hashd al-Shaabi, are able to defend it at any time."
He accused the US forces of supporting the revival of terrorism and the remaining ISIL sleeper cells instead of eliminating them on the border between Iraq and Syria.
He said that the US troops were planning to establish a military installment at the airbase.
The US military has widened its buildup in bordering areas between Iraq and Syria, Iraqi sources said in September.
The Arabic-language al-Ma'aloumeh news agency quoted Farhan Mohammed al-Dulaimi, a member of al-Anbar province's council, as saying that the US forces were still present in different parts of Western al-Anbar near the borders with Syria.
Full report at:
http://en.farsnews.com/newstext.aspx?nn=13970828001152
--------
Jubeir: Justice in Khashoggi case is a Saudi demand before it is a global one
20 November 2018
Saudi Arabia's Foreign Minister Adel al-Jubeir told Asharq Al-Awsat that justice in the case of late journalist Jamal Khashoggi is a Saudi demand before it is an international one.
Jubeir also said that the king and his crown prince are a red line and that "we will not allow them to be harmed".
The Saudi foreign minister also called on Ankara to submit its evidence in the Khashoggi case to the Saudi Public Prosecution and help them in reaching all the facts, pointing out that Ankara confirmed that the Crown Prince was not the intended person in their accusations.
"Those who want to achieve justice, must provide what they have to the Saudi judiciary," Jubeir was quoted as saying by Asharq al-Awsat.
Jubeir stressed that "the leadership of the Kingdom is keen to maintain and strengthen the strategic relationship and historical partnership with the United States," noting that "the US sanctions in the case of Khashoggi are individual and did not target the Kingdom's government or economy."
Full report at:
https://english.alarabiya.net/en/News/gulf/2018/11/20/Jubeir-Justice-in-Khashoggi-case-is-a-Saudi-demand-before-it-is-global-one.html
--------
Is Baghdadi hiding in this ISIS stronghold in Syria?
19 November 2018
Just like Kurdish officials and their allies in Syria hid intelligence information related to the Beatles terrorist cell which slaughters foreigners, and which the Syrian Democratic Forces held two of its members since the beginning of this year, they once again abstain from revealing the whereabouts or fate of ISIS leader Abu Bakr al-Baghdadi.
A prominent Kurdish official commented in a British news report that the Syrian Democratic Forces managed to locate Baghdadi and monitor him. He told Al Arabiya English that what was published "is a mere intelligence piece of information that was conveyed to them via a journalist." The official thus neither denied nor confirmed the report.
Syrian Democratic Forces spokesperson Kino Gabriel refused to comment on these reports but military sources said there was a great possibility that Baghdadi is present in the Syrian town of Hajin near Deir az-Zour, which is close to the border with Iraq.
Deir az-Zour military council spokesperson Lilawa al-Abdullah told Al Arabiya Englsih that most ISIS fighters in Hajin and its surroundings have different nationalities, and they are among the organization's most important commanders.
"It's possible that Baghdadi or those close to him are in that area. The Syrian Democratic Forces monitor the movement of most ISIS members who are besieged in Hajin and who cannot easily escape," Abdullah said.
"We seek to completely end ISIS in Syria all the way to the Iraqi borders where its last stronghold is. The campaign against it is ongoing after it was halted as a result of Turkey's attacks on populated areas," she added.
"Ever since the campaign resumed, our fighters launched major attacks against ISIS and they've managed to destroy a command headquarters and kill dozens of them," she also said.
The Syrian Democratic Forces, an alliance of Kurdish-Arab factions supported by Washington in the war against ISIS, holds hundreds of ISIS members in their prisons, including two members of the Beatles cell, including their wives and children.
Abdulkarim Omar, the head of foreign relations in the Kurdish-led area, had told Al Arabiya English that these detainees are a burden and pose a security threat, calling on the international community to take serious measures to find a solution.
Authorities in North Syria are not trying these ISIS members, and are demanding that they be handed to their governments for trials. This is unlike the case in Iraq where the judiciary sentenced more than 300 ISIS fighters to life in prison or execution.
Full report at:
https://english.alarabiya.net/en/features/2018/11/19/ANALYSIS-Is-Baghdadi-hiding-in-this-ISIS-stronghold-in-Syria-.html
--------
Syrian army says Daesh cleared from last stronghold in south
Nov 19, 2018
The Syrian army says it has removed Daesh Takfiri terrorists from their last stronghold in the country's south, where they had been holding out for months.
Syria's government forces made the announcement in a statement on Monday, saying they had taken full control of the hilly region of Tulul al-Safa, situated between Damascus and Suwayda provinces.
The army also said a large amount of light and medium weaponry had been recovered following the victory over the Takfiris.
"Following a string of accurate and focused military operations, our valiant armed forces have established complete control over Tulul al-Safa area which is of a complex volcanic nature, eliminating Daesh terrorists positioned there, and confiscated large amounts of light and medium weapons," the statement said.
The armed forces also hailed the liberation as an achievement which is particularly significant given that an area of 380 square kilometers in the country's south has been cleared of terrorism.
Syria's official news agency SANA confirmed a day earlier that the army units had made "a significant advance against Daesh terrorists' depots in Tulul al-Safa" and killed many extremists during their counter-terrorism operations.
The Syrian army has been fighting Daesh in Suwayda since July, when the Takfiri terrorists launched their deadliest attack on the Druze minority community in the province.
The terror outfit killed over 250 Syrians and kidnapped around 30 in its July 25 assault. Most of the hostages have been released, but the remainders appear to have died or been executed.
Full report at:
https://www.presstv.com/Detail/2018/11/19/580538/Syria-Daesh-Takfiri-group-Tulul-alSafa
--------
Egypt looks to remove religion from ID cards — but is it too little, too late?
Shahira Amin
November 19, 2018
Legislator Ismail Nasreddin has announced plans to submit a bill to Egypt's parliament that would remove religious affiliation from national ID cards. The move paves the way for a civil state that respects the values of citizenship, Egyptian media quoted Nasreddin as saying. While the national charter recognizes the three "heavenly religions" and guarantees freedom of belief and worship for all citizens, Article 2 of the constitution declares Islam the official religion and states that "the principles of Islamic Sharia are the main source of legislation."
The time is ripe for elimination of all forms of religious discrimination, Nasreddin said, adding that he took a cue for his action from President Abdel Fattah al-Sisi's comments on citizenship rights at the recent World Youth Forum in Sharm el-Sheikh. Painting an idealistic picture of religious tolerance and diversity, Sisi told the youth participants that "every citizen has the right to worship as he or she pleases and the right not to worship at all."
Yet the reality is vastly different: In Egypt's majority Muslim conservative society, atheism is a longstanding taboo, and "minority Christians face unprecedented levels of persecution," according to The Guardian. Those who dare express their lack of faith in public risk prosecution and arrest under Egypt's blasphemy law, in place since 1982. The law stipulates that a person can be imprisoned for up to five years if he or she defames or disrespects one of the three monotheistic religions; harms national unity; or uses religion to promote extremist ideas with the intention of sowing discord in society.
Lawmaker Amr Hamroush sought to outlaw atheism in late December of last year, proposing a bill to that effect to parliament. This was part of a wider fear-mongering campaign by politicians, the media and religious leaders. Rights campaigners warned that the draft law "risks heightening discrimination against the nonreligious." But Hamroush insisted the bill was necessary to counter what he described as "a dangerous trend that threatens the fabric of our society." While the bill has yet to be signed into law, it sent a chilling message to nonbelievers.
Atheists are not the only group that is being targeted for their nonconformist ideas, which some Egyptian media outlets and religious clerics have criticized as "inappropriate" and "destructive." Coptic Christians — estimated at 10% of the population — also have their own grievances and have come under repeated attack in recent years. In the latest assault on the religious minority, eight people were killed and at least a dozen others injured on Nov. 2 when gunmen opened fire on a bus transporting worshippers from a remote desert monastery to the southern province of Minya. The violence, later claimed by Egypt's Islamic State affiliate, is reminiscent of a similar assault on Christian pilgrims that took place in the same spot in May 2017.
Nasreddin's proposed bill came on the heels of the latest deadly violence and was seen by skeptics as an attempt by the state to appease angry Christians who accuse the government of failing to protect them.
"The state has no interest in pushing this forward," Samuel Tadros, a senior fellow at the Hudson Institute's Center for Religious Freedom, told Al-Monitor, in reference to the draft law. "Even if it does pass, it would be symbolic, as it is easy to tell a person's religion by his or her name, even if the religion box is deleted." Christians in Egypt often name their children after Christian saints and traditionally have a cross or other religious symbols tattooed on their wrist to assert their religious identity.
Humanists, who have repeatedly called for the "divisive'' and "discriminatory" religious demarcation on ID cards to be scrapped, welcomed the bill but are skeptical about the likelihood of its endorsement.
"Over the past several years, there have been several discussions about removing religion from ID cards, but they have all come to a dead end," Timothy Kaldas, a nonresident fellow at the Tahrir Institute for Middle East Policy, told Al-Monitor. "If the bill is signed into law — and that's a big if at the moment — it is definitely welcome."
Nasreddin's proposition is not the first attempt by a lawmaker to have religion dropped from ID cards. In 2016, a similar proposal from legislator Alaa Abdul Moneim was shelved after it met with stiff resistance from conservatives in the House of Representatives. Members of the Salafi Nour Party slammed the bill, arguing that it contradicts Article 2 of the constitution and warning that such an amendment could pave the way for interfaith marriages between Christian men and Muslim women, which are forbidden by Sharia. Islam allows Muslim men to marry women of other Abrahamic faiths but does not permit Muslim women to marry non-Muslim men.
While Al-Azhar, Islam's highest authority, shares these concerns, it considers the removal of religion from IDs more of a security than a religious matter, Mostafa Abdel Gawad, head of Al-Azhar's Media Department, told Al-Monitor. If the bill is endorsed by parliament, it would be referred to Al-Azhar for review. It would be up to Al-Azhar's Committee of Ulama, comprised of senior Al-Azhar scholars, to ultimately decide if the legislation conforms with Sharia.
Skeptics like Bahey Hassan, director of the Cairo Institute for Human Rights Studies, dismissed the bill as "cosmetic," saying "it is an attempt by the state to whitewash institutionalized discrimination against Christians."
"The discrimination faced by Coptic Christians is not because their religion is mentioned on their ID cards, it is because they are Christians," he told Al-Monitor. He cited examples of unjust policies that fuel sectarian violence, like the legal restrictions on the building and restoration of churches and how Christians are denied high-level positions in government, the military and security agencies.
A church construction law, approved by parliament in 2016, fell short of a much anticipated unified houses of worship that critics say would have put Muslims and Christians on equal legal footing in terms of the governing of mosques and churches. Instead, the law has been decried by critics as "sectarian" and "prejudiced." The legislation makes it mandatory to get approval from governors to build or renovate a church and stipulates that the size of a church must be proportional to the number of Christians in the area. No such restrictions are in place for the building of mosques.
"The legal difficulties of building houses of worship for Christians are a pretext for acts of vigilante violence against the Coptic Christian community, particularly in rural areas," said Kaldas.
"The state's tendency to try and resolve these issues at traditional arbitration gatherings as opposed to legal trials for the perpetrators, creates an environment of impunity that encourages more people to commit acts of violence against the Coptic Christian community," he said.
Full report at:
https://www.al-monitor.com/pulse/originals/2018/11/egypt-remove-religion-national-id-cards-coptic-christians.html
--------
Pakistan
Al Qaeda in the Indian Subcontinent 'High-Profile Militant' Held In Karachi
November 20, 2018
KARACHI: A 'high-profile' militant linked with the banned Al Qaeda in the Indian Subcontinent (AQIS) has been apprehended in Karachi, it emerged on Monday.
A security official who wished not to be named told Dawn that Umar Jalal Chandio alias Kathio was detai­ned from Gulshan-i-Iqbal recently.
Jalal hailed from Mirpurkhas. He shifted to Kotri where he remained neighbour of Tahir Minhas alias Sain. Minhas was one of the main accused in the Safoora bus carnage in which over 47 members of the Shia Ismaili community were shot dead in 2015.
Minhas along with other militants was arrested in 2015 by the Counter-Terrorism Department (CTD).
A joint investigation team (JIT) in its report on the Safoora carnage revealed that Jalal was appointed AQIS's local emir after the arrest of previous AQIS's chief Abdul Rehman in 2001 in Karachi.
According to JIT, when Minhas was associated with AQIS, Jalal Chandio asked him to move to Karachi.
During a press conference in 2015, Raja Umar Khattab of the CTD had stated: "Jalal was associated with Al Qaeda's Arab network while Haji Sahib (code name) was active in Karachi and the Wadh area of Balochistan where the group's mainly Baloch youths were involved in kidnapping for ransom, terrorism and attacks on Nato forces' containers."
Sources told Dawn that Jalal's wife was also a high-profile activist of AQIS.
https://www.dawn.com/news/1446665/aqis-high-profile-militant-held-in-karachi
--------
Differences remain over tough conditions of IMF bailout
Khaleeq Kiani
November 20, 2018
ISLAMABAD: Pakistan and the International Monetary Fund are facing differences over tough conditionalities on key areas of an IMF bailout programme, including further increase in energy prices, more taxes and complete disclosure of Chinese financial support.
"There are still gaps in the position of the IMF and the position that we have," Finance Minister Asad Umar said after a series of meetings with an IMF team on Monday. He, however, said the talks were continuing positively and gaps reducing.
Take a look: Why Pakistan will go to the IMF again, and again and again
He said that $1 billion of the $3bn committed by Saudi Arabia had been remitted to the State Bank of Pakistan on Monday and the remaining $2bn would follow over the next few days.
Informed sources said the two sides had a wide gap in their positions on the need for increase in electricity tariff, upward revision in the revenue target and additional tax measures on matters relating to Chinese assistance and its impact — both inflow and outflow.
The sources said the IMF also demanded that the provincial governments finance the Benazir Income Support Programme (BISP), instead of the federal government, and wanted committed cash surpluses to minimise the consolidated fiscal deficit.
The two sides are expected to conclude the talks on Tuesday before Finance Minister Umar leaves for Malaysia in the evening.
The sources said the IMF was insisting on revising the revenue target upward to Rs4.75 trillion for the current year — more than eight per cent increase from the existing target of Rs4.39tr. Practically, this means raising about Rs360bn additional revenue from the remaining seven months of the current fiscal year.
Finance Minister Umar, according to the sources, told the IMF mission led by Herald Finger that the revenue target could be increased at best to Rs4.5tr and the government's major focus would be on recovering taxes through administrative measures.
Responding to a question, he said the talks would end on Tuesday and declined to go into specifics of the sticking points. Regarding the Chinese financing, the minister said there was complete transparency in the Chinese assistance and whatever the external debt was would have to be shared with the IMF as part of the programme.
In response to another question, he said the people in the United States might have some issues, but there was no secret in Chinese loans and investments which were transparent and open.
The sources said the IMF mission wanted a clear roadmap for elimination of power sector circular debt that currently stood at Rs1.2tr and welcomed administrative measures to recover some arrears, but insisted on further increasing electricity rates for full cost recovery of power supply. The sources said the IMF team was not satisfied with the power sector reforms plan and wanted the government to surrender its powers to set electricity tariff and let these be independently dealt with by the power regulator.
The finance minister insisted that maximum funds would be generated through administrative measures against theft and recovery of past bills and there was no more room for further increase in electricity rates in the short term.
The sources said the IMF was very critical of the fiscal federalism arrangements at present and noted with concern that the Centre had transferred all profitable taxes to the provinces while keeping all necessary expenditures of provincial nature as federal responsibility.
In this regard, the IMF wanted the provinces to finance the BISP that currently stood at about Rs150bn a year and is increasing because poverty reduction should be a shared responsibility of the federal and provincial governments. Likewise, the special areas like mainstreaming of the tribal region should also be a responsibility of the provinces.
The IMF mission also sought a complete market-based free float of the exchange rate and complete independence to the State Bank of Pakistan.
Full report at:
https://www.dawn.com/news/1446670/differences-remain-over-tough-conditions-of-imf-bailout
--------
$1bn Received From Saudi Arabia: State Bank of Pakistan
November 20, 2018
KARACHI: Pakistan received $1 billion from Saudi Arabia on Monday as part of the $3bn package promised by the kingdom during the visit of Prime Minister Imran Khan.
State Bank of Pakistan's Chief Spokesman confirmed the arrival of $1bn, taking the SBP reserves to $8.482bn, from $7.482bn reported on November 9.
The new government has been struggling to plug the big hole on the external front as the current account deficit reached record $18bn in FY18.
Estimates suggest the country needs $12bn additional inflow to meet the deficit in FY19.
Khan visited Saudi Arabia last month and got promises of $3bn oil on deferred payments and $3bn cash to be placed in the SBP account.
These dollars would not be used by Pakistan; they will simply support the foreign exchange reserves.
Similarly, $3bn oil on deferred payment for next three years would help the country reduce its import bill, the main cause for rising current account deficit.
Full report at:
https://www.dawn.com/news/1446693/1bn-received-from-saudi-arabia-state-bank-of-pakistan
--------
Charge-sheet filed against journalist Nasrullah in ATC
November 20, 2018
KARACHI: The Counter Terrorism Department has filed a charge-sheet with the administrative judge of antiterrorism courts on Monday against a journalist accusing him of fanning religious disharmony.
According to the CTD, it arrested Nasrullah Khan Chaudhry, a journalist associated with Urdu-language daily Nai Baat, in Karachi's Garden area on Nov 11. The agency alleged that Nasrullah Khan was carrying some journals and booklets about Afghan Jihad and the Punjabi Taliban which contained material intended to sow discord on sectarian grounds as well as to motivate people to take part in "Jihad".
Later the court remanded the journalist to prison.
The investigating officer (IO) named five prosecution witnesses in the charge-sheet. The IO repeatedly cited the name of Khalid Mukshi in the remand papers and the charge-sheet, alleging that he was a leader of Al Qaeda and that the detained journalist had links to him.
However, the IO did not name Mukshi as an accused or absconder in the charge-sheet.
The administrative judge sent the case to ATC-VIII for trial and directed the jail authorities to produce Nasrullah Khan before the trial court on Friday (Nov 23).
Full report at:
https://www.dawn.com/news/1446675/charge-sheet-filed-against-journalist-nasrullah-in-atc
--------
Comprehensive national response needed on hybrid conflicts: COAS
Nov 20, 2018
RAWALPINDI: Chief of Army Staff (COAS) General Qamar Javed Bajwa on Monday said that a comprehensive national response was required on hybrid conflicts.
He was speaking to 20 participants of the National Security Workshop during an interactive session at the General Headquarters (GHQ).
During the interaction, COAS Bajwa said that Pakistan us now confronting hybrid conflicts where the focus is shifting subversion on religions, sectarian, ethnic and social issues, the Inter-Services Public Relations (ISPR) said in a press release.
"This needs a national response," the COAS said about hybrid conflicts, emphasising that there was greater responsibility now on ensuring that Pakistanis, especially the youth, stay aware and steadfast against the propaganda onslaught being launched through soft offensive.
"It is our time to rise and progress and we must grasp the opportunity achieved after countless sacrifice," the press release quoted COAS.
The army chief also said that Pakistan had been subjected to various threats, especially during the last two decades, adding that the Pakistani nation and its armed forces had bravely and successfully stood up to these challenges and are on a positive trajectory to defeat it effectively.
Full report at:
https://www.pakistantoday.com.pk/2018/11/19/comprehensive-national-response-needed-on-hybrid-conflicts-coas/
--------
South Asia
Taliban: No deal reached with US in Qatar on deadline to end Afghan war
Nov 19, 2018
The Taliban militant group says it has failed to reach any agreement with the United States after three days of talks in Qatar, citing dissatisfaction with a deadline set by Washington's Afghanistan envoy to end the war.
The Taliban leaders met US special envoy Zalmay Khalilzad at their political headquarters in Qatar last week for the second time in the past month, said the militant group's spokesman Zabiullah Mujahid on Monday.
"These were preliminary talks and no agreement was reached on any issue," Mujahid added.
The statement came a day after Khalilzad said he was hoping to cut a peace deal with the Taliban by April 20, 2019, the date set for presidential elections in Afghanistan.
The militant group, however, said they had not accepted any deadline set by Washington.
Another senior member of the Taliban said Khalilzad's strategy to declare a deadline showed how desperate Washington was to withdraw foreign forces from Afghanistan.
"Taliban leaders have not agreed to any deadline because we are winning on all fronts," he claimed.
The Taliban also warned the US against sending mixed messages that could muddle the peace process. The group was apparently referring to an earlier statement by Khalilzad that said the Taliban believe they will "not win militarily."
"We were astonished to see Khalilzad's statement in Kabul on Sunday. He wrongly quoted us, saying that the Taliban admitted that militarily we would not succeed," said a senior Taliban member in Afghanistan.
The United States appointed Khalilzad, its former ambassador to Iraq and Afghanistan, in September to lead the reconciliation efforts with the Taliban.
Khalilzad has since been traveling to the region for discussions with the national government and the Taliban, trying to renew the peace talks.
Two senior US officials also confirmed that the second round of talks ended last week, and that the Taliban expected Khalilzad to visit Qatar for a meeting before the end of 2018.
"The second round of talks went on for three days. This clearly proves that both sides are exercising patience and caution during their diplomatic engagement," a US official told Reuters on condition of anonymity.
The group's five-year rule over at least three quarters of Afghanistan came to an end following the 2001 US-led invasion, but 17 years on, Washington -- having failed to end Taliban's militancy campaign – is seeking truce with the militants.
The Taliban have strengthened their grip over the past three years, with the government in Kabul controlling just 56 percent of the country, down from 72 percent in 2015, a US government report showed this month.
The Taliban issued a statement earlier this month, demanding the lifting of sanctions against its leaders; the release of prisoners and the recognition of their office in Qatar.
Kabul, however, is strongly opposed to any recognition of the Qatar office, which was established at the request of Washington in 2013 to "facilitate peace talks."
Diplomats and political analysts in Kabul have urged Khalilzad to include Afghan politicians and officials from neighboring countries such as Pakistan and Iran in the process before a third round of talks.
"Khalilzad's hasty approach could lead to an epic disaster," Reuters cited a Western diplomat in Kabul as saying. "The Taliban would trust him only if he did not speak on their behalf."
https://www.presstv.com/Detail/2018/11/19/580484/Afghanistan-Taliban-Qatar-Zalmay--Khalilzad
--------
Taliban say no pact struck with US over deadline to end war
November 20, 2018
KABUL: A three-day meeting between the Tali­ban and the US special envoy for Afghanistan to pave the way for peace talks ended with no agreement, the militant group said a day after the diplomat declared a deadline of April 2019 to end the 17-year-long war.
Afghanistan's security situation has worsened since Nato formally ended combat operations in 2014, as the Taliban battle to re-impose Isla­mic laws following their overthrow in 2001 at the hands of US-led troops.
Leaders of the hardline group met US special envoy Zalmay Khalilzad at their political headquarters in Qatar last week for the second time in the past month, said spokesman Zabiullah Mujahid. "These were preliminary talks and no agreement was reached on any issue," he said in a statement on Monday.
Taliban leaders had not accepted any deadline set by the US to wrap up talks, three Taliban officials added.
The US embassy in Kabul declined to comment.
Khalilzad, an Afghan-born US diplomat authorised by US President Donald Trump's government to lead peace negotiations with the Taliban, on Sunday said he hoped to cut a peace deal with the group by April 20. That deadline coincides with the date set for Afghan presidential elections.
Full report at:
https://www.dawn.com/news/1446664/taliban-say-no-pact-struck-with-us-over-deadline-to-end-war
--------
Taliban confirms talks with US officials on Afghan conflict
November 19, 2018
The Taliban held talks with US officials in Qatar on ending the Afghan conflict last week, the militants confirmed Monday, but said no agreement was reached on "any issue".
The statement comes a day after US envoy Zalmay Khalilzad expressed hopes in Kabul that a peace deal could be struck before the Afghan presidential election, scheduled for April 20 next year.
Khalilzad was in the Afghan capital after the second round of regional meetings with top government officials to coordinate efforts on ending the 17-year war.
Senior Taliban officials met with a "high-ranking" US delegation in Qatar on November 14, 15 and 16, the militant group said in a WhatsApp message, without mentioning Khalilzad.
The Taliban has a political office in the capital Doha that serves as a de facto embassy.
"These were preliminary talks and no agreement was reached on any issue," spokesman Zabiullah Mujahid said.
"We want to reassure our Mujahideen and Muslim nation that the representatives of the Islamic Emirate will never agree to anything that does not adhere to Islamic principles."
The second Taliban-US meeting in as many months come as the militants step up attacks on beleaguered Afghan security forces, which are suffering an unprecedented level of casualties.
The death toll among Afghan soldiers and police is nearing 30,000 since the start of 2015, Afghan President Ashraf Ghani revealed this month -- a figure far higher than anything previously acknowledged.
In a recent report, the US Special Inspector General for Afghanistan Reconstruction (SIGAR) cited the NATO mission in Kabul as saying this summer's toll had been worse than ever for Afghan forces.
Khalilzad told reporters on Sunday that he recognized the "complexity" of the conflict, but insisted he wanted to "make as much progress as possible as soon as possible".
His comments underscore an apparent increasing sense of urgency in the White House and among American diplomats for a peace deal to be done quickly.
Full report at:
https://nation.com.pk/19-Nov-2018/taliban-confirms-talks-with-us-officials-on-afghan-conflict
--------
Jamaat wants six seats from BNP-led alliance in Sylhet Division
November 19th, 2018
Sources say former MP and Jamaat Executive Member Moulana Farid Uddin Chowdhury collected the nomination form from Constituency 5 and its central leader Moulana Habibur Rahman collected it from Constituency 6
Bangladesh Jamaat-e-Islami is planning to demand six seats from the BNP-led political alliance for vying in 11th general election in Sylhet Division.
Local Jamaat leaders said they had got the green signal from the party central committee to prepare for the election with the alliance members, but work as independent candidates.
They have categorized the Sylhet 5 (Kanaigaht and Zakiganj upazilas) and 6 (Bianibazar and Golapganj upazilas) constituencies as A grade.
They think they have stronghold in A. They also seek four more other seats to vie in the election in the division.
The sources said former MP and Jamaat Executive Member Moulana Farid Uddin Chowdhury collected the nomination form from Constituency 5 and its central leader Moulana Habibur Rahman collected it from Constituency 6.
Jamaat also seeks nomination from the Sunamganj Constituency 5 for Principal Abdus Salam Al-Madani, from Moulvibazar Constituency 1 for ex-Shibir leader Aminul Islam, from Sylhet 3 for former South Surma Upazila Jamaat Chairman Moulna Lokman Ahmed and from Sylhet 4 for the Jointapur Upazila Parishad Chairman Joynal Abedin.
Jamaat central leader and Sylhet city unit Ameer Advocate Ehshanul Mahbub Zubayer said they would work with the alliance to contest the poll.
"We want to vie in 6 of 19 seats in the division," he said.
When asked about their symbol, Ehshanul said Jamaat's policymaking body would decide it in the next meeting of the alliance.
Meanwhile, Aminul Islam collected a nomination paper from the Moulvibazar 1 constituency, said Jamaat sources.
Bangladesh Jamaat-e-Islami, an organization committed war crimes during the country's Liberation War in 1971, carry on organizational activities and prepare for the national election even if the registration of the party is cancelled.
According to sources, to bring back the image of the party and to maintain their own existence, the activists are silently preparing to become candidates for the 11th parliamentary election.
The party is also tactful about carrying out organizational activities. Even though the court has imposed a ban on the party participation in the polls, the high command of the party directed its Sylhet unit to prepare to participate in the next parliamentary election.
Full report at:
https://www.dhakatribune.com/bangladesh/election/2018/11/19/jamaat-demands-six-seats-to-23-party-alliance
--------
Myanmar Wants a 'Systematic Repatriation' of Rohingya, Social Welfare Minister Says
2018-11-19
Myanmar has delayed the return of Rohingya Muslim refugees from Bangladesh in order to conduct a "systematic repatriation," a Myanmar government official said Monday, four days after an initial group of Rohingya verified as eligible for return did not show up at the border for processing on the day that they were expected.
"We want to work on this repatriation systematically according to the memorandum of understanding with Bangladesh," Win Myat Aye, Myanmar's minister for social welfare, relief and resettlement who is in charge of the repatriation program, told RFA's Myanmar Service in response to a question asked during an event in Naypyidaw marking Universal Children's Day.
"The Myanmar government wants the dignified and safe repatriation [of the refugees, and the postponement of the repatriation to the end of December by Bangladesh means that there is still work to be done to have a systematic repatriation."
Myanmar signed a memorandum of understanding (MoU) with Bangladesh a year ago to take back the Rohingya who were among the hundreds of thousands who fled a violent military crackdown in Rakhine state that began in August 2017 in response to deadly attacks by a Rohingya militant group.
The campaign prompted an exodus of more than 720,000 Rohingya as security forces killed families, sexually assaulted women and girls, and burned villages in what the United Nations, human rights groups, and other members of the international community have said amounted to ethnic cleansing and genocide.
The first group of 2,200 refugees was set to return on Nov. 15, but none of them showed up amid protests by Rohingya in the refugee camps in Bangladesh who said they would not go back unless the Myanmar government met their demands to be treated as equal citizens in Myanmar.
According to the MoU and to another agreement that Myanmar signed with the U.N.'s refugee (UNHCR) and development (UNDP) agencies, the country can only accept refugees who want to return voluntarily.
The UNHCR and rights groups have warned that repatriations should not begin until the safety of returning Rohingya can be guaranteed and that they will not be subject to systematic discrimination. The Rohingya refugees are demanding that Myanmar grant them certain rights and access to basic services contingent upon their return.
Myanmar and Bangladesh were to begin the repatriations on Nov. 15, but none of the Rohingya or Hindu refugees approved for return showed up at the border for processing.
"As we have to work on this procedure, it is very important to consider whether these refugees really want to return or not," said Win Myat Aye, who is also vice chairman of Myanmar's Union Enterprise for Humanitarian Assistance, Resettlement and Development in Rakhine State (UEHRD). "Bangladesh, the UNHCR and UNDP will work on the repatriation on this basis."
Bangladesh's Foreign Affairs Minister Abul Hassan Mahmud Ali said his county will resume the repatriation process at the end of December after a general election.
"According to the MoU, Myanmar can receive the refugees only if Bangladesh sends them back," Win Myat Aye said. "When it resumes the refugee repatriation, we want a systematic process like we have arranged in Myanmar."
The terms of the agreement say that the Myanmar government can accept only refugees who want voluntary return and it cannot force those who don't wish to return, he added.
Boat people return home
Win Myat Aye also said that more than 100 Rohingya rescued on Friday from a boat stranded in the Andaman Sea on Friday as they attempted to travel from Myanmar to Malaysia had been sent back to their places of residence in Rakhine state.
Sixty-six of the 106 Rohingya detained by police following their rescue at sea are from internally displaced persons (IDP) camps in Sittwe township, while the rest are from 40 villages around the township, he said.
The refugees, who were found adrift off Kyauktan township in Yangon region after their vessel's engine failed, said they left Myanmar because they didn't have enough food rations in the camps and they wanted jobs.
When asked about the lack of food in the camps, Win Myat Aye said that the Rakhine state government is responsible for the management of IDP camps in Sittwe, and that his ministry provide support to the state.
"International NGOs still support the Sittwe camps as well, but more may be needed," he said. "We are working on this issue with other organizations as well."
On Sunday, Myanmar police shot and injured four Rohingya at the Ah Nauk Ye IDP camp, about 15 kilometers (nine miles) east of the capital Sittwe on Sunday, after detaining two men accused of smuggling the 106 Rohingya out of the country in their boat, Reuters reported.
Relevant organizations have been investigating whether or not they were illegally trafficked, Win Myat Aye said, though he had no details about the probe.
"As the Ministry of Social Welfare, Relief and Resettlement, we are working on supporting them in their resettlement," he said.
IDP camps in Sittwe and other areas of Rakhine house tens of thousands of Rohingya displaced by communal violence between ethnic Rakhine Buddhists and Muslims in 2012.
The Myanmar government is in the process of shutting down the camps in keeping with one of the recommendations of an advisory commission that probed ways to end violence in the ethnically and religiously divided state.
Hindus want to return
Meanwhile, nearly 440 Hindus who were not on the first list of refugees to be repatriated told officials from Myanmar's Ministry of Foreign Affairs visiting the Bangladeshi camps in October that they still wanted to return to Rakhine state.
During their visit to the Kutupalong camp, Myint Thu, permanent secretary of the Ministry of Foreign Affairs, pledged that he would try to have the Hindus returned as soon as possible, said Maungdaw district administrator Soe Aung.
RFA tried to contact some of the Hindus in the camps to get an update, but they refused to answer questions, citing security reasons.
Ni Maul, a Hindu social worker and community leader in Maungdaw who has regular contact with the Hindu refugees, told RFA that they want to return to Rakhine state so they can die where they were born.
"They thank Bangladesh for helping and feeding them in the camp, but they want to come back home because they want to die where they were born," he said. "It is our religious belief."
Myanmar officials initially sent the Bangladeshi government a list of 1,222 people, including roughly 440 Muslims, in March to receive as the first group of returnees, said Chan Aye, director general of the Consular and Legal Affairs Department.
But afterwards, Bangladeshi officials sent back a list with more than 8,000 refugees to be considered for repatriation, he said.
"Hindus from the Bangladesh camps contacted and told us that they want to return, said Soe Han, director general of the ASEAN Affairs Department at the Ministry of Foreign Affairs. "We requested that Bangladesh put them on the list of first group to be repatriated.
"But Bangladesh replied that it didn't want to send Hindus back first and that it would try to put them on the list after the first group had been sent," he said. "I hope they will be on the list after the first group of 2,260 refugees is sent back."
Hindus residing in northern Rakhine suffered violence at the hands of Muslim militants who invaded their villages and drove out or killed them following deadly attacks on police outposts that sparked the 2017 crackdown on Rohingya communities.
The militants detained nearly 100 people from several Hindu villages, killed most of them, and dumped their corpses in mass graves. They also forced the young Hindu women to convert to Islam and took them to a Rohingya refugee camp in Bangladesh.
Protest planned
Meanwhile, Buddhist monks and ethnic Rakhine groups are planning a protest in Sittwe on Nov. 25 to oppose the resettlement of Rohingya refugees in northern Rakhine's Maungdaw district, a predominantly Rohingya area prior to the crackdown.
Event organizers said they will also protest against plans to appoint Muslim youths as assistant teachers and against the issuance of National Verification Cards to Muslims in Ramree township. The cards are seen as a first step to applying for citizenship, which the Rohingya have long been denied since they are seen as illegal immigrants from Bangladesh.
Full report at:
https://www.rfa.org/english/news/myanmar/myanmar-wants-a-systematic-repatriation-of-rohingya-11192018165242.html
--------
President Ghani met with the delegation of U.S. House of Representatives
Nov 20 2018
President Mohammad Ashraf Ghani on Monday met with a delegation of the U.S. House of Representatives in Presidential Palace to discuss key issues of bilateral interest.
The Office of the President, ARG Palace, in a statement said the meeting took place on Monday evening during which the two sides held talks regarding the expansion of bilateral cooperation, impact of the U.S. strategy for Afghanistan and South Asia, Afghan-led peace process, elections, reformss, regional connectivity and economic development.
The statement further added that the U.S. delegation reaffirmed the long term commitment of the United States to Afghanistan and hailed the Afghan government's recent achievements.
Full report at:
https://www.khaama.com/president-ghani-met-with-the-delegation-of-u-s-house-of-representatives-02772/
--------
UN calls for calm after Myanmar police shoot, wound Rohingya Muslims
Nov 19, 2018
The United Nations has called for calm after several members of persecuted Rohingya Muslims were shot and wounded at a camp in the western state of Rakhine.
Knut Ostby, head of the UN office in Myanmar, in a statement on Monday called for "calm, non-violence and restraint" in Ah Nauk Ye camp, which is located about 15 kilometers east of Sittwe, capital of Rakhine.
Witnesses said at least four Rohingya Muslims were shot and wounded as Myanmar police entered the camp in central Rakhine state's Pauktaw township on Sunday morning.
Noor Hakim, an Ah Nauk Ye resident, said that the trouble started on Sunday soon after 20 police arrived and crowds gathered. "I am not sure where the police shot but four people got injured and among them, one seriously."
He added that one of the wounded was sent to Sittwe hospital. Another man said his son was hit on the left thigh.
Witnesses said officers were trying to arrest two Rohingya suspected of links with a boat carrying over 100 Rohingya last week.
Myanmar's immigration authorities on Friday arrested 106 Rohingya members who were heading to Malaysia. Authorities stopped a boat about 30 kilometers south of Yangon. The group was taken back to Rakhine on Sunday by Myanmar's navy.
For years, the Rohingya on both sides of the border have boarded boats in the dry months between November and March, when the sea is calm. The perilous journey to Thailand and Malaysia, often undertaken in rickety vessels, has cost many lives.
Thousands of Rohingya have been confined to camps outside Sittwe since violence swept Rakhine in 2012. More than 4,000 people live in Ah Nauk Ye. They are denied free movement, access to decent healthcare and education.
Last year, Solidarites International, an international aid group, warned the conditions at Ah Nauk Ye, home to more than 4,000 Rohingya, were severe. It said the "natural environment" at the camp was "unsuitable to human settlement" and warned of water shortages, poor access to livelihood opportunities and communal violence.
International aid groups worry many refugees may once again risk traveling to Southeast Asia by boat, a route previously popular among Rohingya Muslims seeking economic opportunities outside the crowded camps.
Hundreds of thousands of Rohingya Muslims have also been living for more than a year in cramped refugee camps in southeastern Bangladesh after fleeing violence in Rakhine at the hands of the Myanmar military.
In late October, Bangladesh and Myanmar agreed to begin to repatriate hundreds of thousands of Rohingya refugees who fled last year.
None of those on the list agreed to return if their demands for justice, citizenship and the ability to go back to their original villages and land were not met.
"I don't think anyone's agreeing to go back without these," said Kalam, who last week called on the international community to pressure Myanmar to accept certain "logical and acceptable" demands in order for any repatriation to take place.
Abul Kalam, Bangladesh's refugee relief and repatriation commissioner, said on Sunday that Bangladesh's plans to tackle the Rohingya refugee crisis had been stalled until the new year with repatriation and relocation programs.
Myanmar's government has faced international condemnation for failing to halt the brutal persecution of Rohingya Muslims by military forces and Buddhist extremists.
Full report at:
https://www.presstv.com/Detail/2018/11/19/580507/UN-Myanmar-Rakhine-Sittwe-Ah-Nauk-Ye-Bangladesh
--------
Southeast Asia
On Prophet's birthday, minister says Islam doesn't discriminate
20 November 2018
By Syed Jaymal Zahiid
PUTRAJAYA, Nov 20 ? Datuk Mujahid Yusof Rawa reminded Muslims today that Islam admonishes any form of discrimination, amid growing conservative anger over Putrajaya's proposal to ratify an international convention against racial bias.
Speaking at the official celebration of the Prophet Muhammad's birthday here, the Islamic affairs minister reminded the faith's followers that Islam is a religion that promotes universal values of justice and goodness, more so towards non-Muslims.
The universality of Islam's notion of justice, he added, was reflected in Prophet Muhammad's life.
"Islam prohibits any form of discrimination based on faith, descent or differences," Mujahid said.
The minister's speech came amid simmering tension between conservative ethnic Malays and minorities over state efforts to recognise the International Convention on Elimination of All Forms of Racial Discrimination (ICERD).
The treaty's detractors, mostly nativists aligned to the former ruling party Umno and Islamists PAS, claim ICERD is a backdoor for non-Muslims to abolish Malay political and economic privilege.
Government leaders, including Mujahid, have denied this and said the ICERD issue has been intentionally distorted by political rivals to stoke racial strife.
In his speech today, Mujahid defended inclusive policies as in line with "maqasid syariah", the universal objective of Islamic teachings that takes into consideration context and social pluralism.
"The administration of a state must be based on the Quran and sunnah without abandoning key rules like the maqasid syariah," he said.
"In a multiracial context, governance must be based on the maqasid syariah in that justice must be for all without exclusion.
"Everyone will prosper under this system. That is what we call rahmatan lil alamin."
Rahmatan lil alamin literally translates to blessedness to all, which refers to Islam as a universal religion. It is often cited by progressives to defend merits-based welfare policies.
The newly-elected Pakatan Harapan administration is facing fierce opposition against its plans to expand state socio-economic development programmes to include more minorities.
Conservative backlash has forced them to stall some of these initiatives, including delaying ratifying the ICERD in a move both aimed at mitigating tension and averting political damage.
On the streets and in social media, disquiet over the issue has somewhat spilled over and given rise to casual racism towards minorities.
Mujahid touched on this in his speech today. Saying how Muslims behave affect the faith's image, he urged Malays to display exemplary lives and avoid acts that alienate non-Muslims.
"Our courtesy and politeness is how we win them over as actions that reflect poorly will only alienate them from Islam.
"That is the right and smooth dakwah," he said.
https://www.malaymail.com/s/1695200/on-prophets-birthday-minister-says-islam-doesnt-discriminate
--------
Survey finds Malaysian Muslims sympathetic towards terrorism
Ainaa Aiman
November 19, 2018
KUALA LUMPUR: A research firm has warned of a growing trend in support and tolerance for terrorist activities despite the findings from a recent survey that Muslims in Malaysia report low tendencies for direct participation in violent extremism.
Faisal S Hazis an academic who coauthored the survey on tolerance and susceptibility to extremism in Southeast Asia, said 28% of Malaysian Muslims demonstrated "violence-receptive" tendencies, meaning that they did not directly reject violence.
Instead, he said, the respondents showed support for extremism or justified violence in the name of Islam.
However, only 2% of the 823 Malaysian Muslim respondents polled said they would directly participate in violent extremism.
The study by the Merdeka Center was conducted across four Southeast Asian countries: Malaysia, Indonesia, Thailand and the Philippines. It included both Muslim and non-Muslim respondents.
The survey measured two areas of extremism: violent extremism and "self-sacrificial tendencies" or the willingness to sacrifice their lives, freedom or belongings to defend Islam.
Malaysia and Thailand recorded the highest levels of self-sacrificial tendencies.
Merdeka Center also found that support for global and regional terror groups such as Jemaah Islamiyah was present across all four countries surveyed, but was the highest in Malaysia at 18.1%.
Faisal said support for the Islamic State was also highest in Malaysia.
According to the study, intolerance among Muslim respondents for other religious groups was also high in all four countries, except Thailand where Muslims demonstrated a positive attitude towards Buddhists.
Muslim respondents in the region, including Malaysia, were also reported as being against the implementation of multi-faith education to learn about other religions.
Universiti Sains Malaysia political scientist Ahmad Fauzi Abdul Hamid said the research provided compelling evidence that the Southeast Asian region, including Malaysia, demonstrated "increasing degrees of extremism" although he added that the levels were still considered moderate.
"Extremist-like behaviour in Malaysia has been creeping into the state. Not all, but a part of it has been creeping into the government and universities.
"This can be seen in the form of religious education such as sekolah agama(religious schools), and even in the national curriculum as part of high school or university syllabi," he said.
He added that many extremists were from government schools, not religious schools.
Factors for extremist ideologies
Ananthi Al-Ramiah, who coauthored the survey with Faisal, said that for both forms of extremism – violent and self-sacrificing – men were more likely to be extremists.
She said the main drivers for extremism were religious narratives such as the pursuit of "purist" Islamic goals like jihad or hudud, as well as religious literalism in which respondents take the word of their Islamic teachers literally.
She said those inclined towards religious extremism also reported feeling a perceived loss of Muslim dignity, saying they felt Muslims were treated unfairly by governments around the world.
They also reported feeling a loss of personal dignity, saying they felt personally victimised for being Muslim.
The research also found that those who reported inclinations towards violent extremism did not have much money, tended to believe that suicide bombing is sanctioned in Islam, and felt that there was discrimination against Islam.
However, Ananthi also noted that 96% to 98% of Muslim respondents strongly endorsed the view that people should be treated with respect despite having extremist ideologies.
Broad recommendations
The researchers recommended an audit to determine, change or refine religious narratives in education and sermons to see if these were in line with plural democracies or secular countries.
They also suggested an active push for more moderate counter-narratives, especially towards the younger population.
Using "formers" or ex-militants who had been de-radicalised and reintegrated into society as messengers to educate the public and raise awareness was also an effective way to counter extremism, they said.
"They've seen it from the inside out, so when they speak about the dangers or tell people not to get recruited, it can be much more effective," Ananthi said.
Full report at:
https://www.freemalaysiatoday.com/category/nation/2018/11/19/survey-finds-malaysian-muslims-sympathetic-towards-terrorism/
--------
Malaysia's leaders backtrack on ratifying UN human rights treaty
Nov 20, 2018
KUALA LUMPUR • Malaysian government leaders are backpedalling on a plan to ratify a United Nations human rights treaty after facing resistance from Malay and Muslim organisations, and with the main opposition parties Umno and Parti Islam SeMalaysia (PAS) united against the issue.
Those opposed to the convention said that if the government ratified the International Convention on the Elimination of All Forms of Racial Discrimination, or ICERD, it would weaken the rights of Malays and Malay royalty, and dilute Islam's position in Malaysia.
The two top leaders of the ruling Pakatan Harapan coalition, Prime Minister Mahathir Mohamad and Datuk Seri Anwar Ibrahim, on Sunday signalled that the government is unlikely to ratify the treaty soon.
Once ratified, the convention requires the signatory UN state to set up legislation that prohibits racial discrimination and related acts. This could affect Malaysia's longstanding bumiputera policy that reserves education and job spots for Malays and other indigenous races, as well as the primacy of Islam in the country and the special position of the nine royal houses.
Umno and PAS leaders met last Saturday and agreed to hold a big demonstration in Kuala Lumpur on Dec 8 to protest against the government's plan to ratify the treaty.
Speaking at a joint Umno-PAS rally in Perak over the issue, Umno president Ahmad Zahid Hamidi told the crowd: "Don't wait until the Malays run amok. But if our warning goes unheeded, Umno and PAS will unite.
"This is not a mere warning; don't play if you don't want the amok to happen."
The matter became a major talking point in Malaysia soon after Tun Dr Mahathir spoke in September at the UN General Assembly, where he said his new government would ratify all remaining UN human rights conventions as part of its international commitments. Malaysia is also taking steps to remove the death penalty.
Dr Mahathir, speaking to Malaysian reporters in Papua New Guinea on Sunday, said: "This matter (ICERD) is sensitive to the Malays, we understand that."
He was quoted by Bernama news agency as saying: "In my speech at the United Nations, I mentioned about the complexity of implementing ICERD. So, we didn't commit that we are going to do it."
The Prime Minister also said it would be almost impossible to change the federal Constitution to accommodate ICERD, as this would need support from two-thirds of MPs in Parliament.
The ruling Pakatan Harapan coalition that he leads has 127 out of the 222 seats in Parliament. A minimum of 148 votes are needed for a two-thirds majority to change any part of the Malaysian Constitution.
"Only with the support from the opposition can we have a two-thirds majority, and even then government members themselves may not support (it). So I feel that it's almost impossible for us to achieve the two-thirds majority necessary," Dr Mahathir said.
Mr Anwar, speaking to reporters after the annual congress of Parti Keadilan Rakyat that he leads, said he believes it is not the right time to ratify ICERD.
"This is a new government; we need to make sure Pakatan Harapan and the Prime Minister are strong and receive the support of the people. For me, it (ratifying ICERD) can be postponed," he was quoted as saying by Malaysiakini news site.
Full report at:
https://www.straitstimes.com/asia/se-asia/malaysias-leaders-backtrack-on-ratifying-un-human-rights-treaty
--------
PH govt committed to strengthening Jakim, says Mujahid
19 November 2018
KUALA LUMPUR, Nov 19 — Minister in the Prime Minister's Department Datuk Seri Dr Mujahid Yusof Rawa has dismissed allegations made by certain parties that the Pakatan Harapan government is not concerned about Islamic affairs, including relating to the Islamic Development Department Malaysia (Jakim).
He stressed that the government was always committed to strengthening and upgrading the institution through various measures.
This include placing four agencies under Jakim — the Department of Wakaf, Zakat and Haji, the Al-Hijrah, the Institute of Islamic Understanding Malaysia (Ikim) and Yayasan Dakwah Islamiyah Malaysia.
"Previously, these agencies were scattered, even though they have to report to the Prime Minister's Department, but we have made the changes to strengthen Jakim.
"So the assumption that we (the government) is not concerned (about Jakim) is wrong, in fact some even said we wanted to shut down Jakim," he said when winding-up the debate on Budget 2019 at his ministry level in Dewan Rakyat, today.
Mujahid said Jakim had also been allocated RM882 million in 2019 for the Estimated Operating Expenditure involving the four agencies.
Mujahid also said the government had set up a task force to look into the status of Quran reading and Fardu Ain (KAFA) teachers which is chaired by Deputy Minister in the Prime Minister's Department Fuziah Salleh.
He said this special team will study and review the duties of KAFA teachers and supervisors and will propose to the government a scheme of permanent posts for them.
Mujahid who is also Parit Buntar MP said at present, the government had provided a special allocation through Jakim to pay for the allowances of KAFA teachers.
He said in 2018, a total of RM401.8 million was provided for this purpose, which benefited 32,764 KAFA teachers who taught 978,661 pupils in 40,711 classes.
Full report at:
https://www.malaymail.com/s/1694991/ph-govt-committed-to-strengthening-jakim-says-mujahid
--------
Former Malaysia Cleo magazine hunk dies fighting for Islamic State in Syria
20 Nov 2018
PETALING JAYA: The winner of Cleo magazine's Most Eligible Bachelor of Malaysia in 2010 has been killed while fighting for the Islamic State in Syria.
Australian newspaper Herald Sun reported that Amir Milson died in 2016 when he stepped on a landmine while carrying another fighter on his shoulder in Syria.
"We heard when he died," Amir's friend reportedly said.
"He was carrying a fighter on his shoulder when he stepped on a landmine. That was it," he added.
In September, the Australian Security Intelligence Organisation confirmed his death.
Amir, who was half Malaysian and half Australian, studied mass communication at Curtin University in Perth, according to the report.
In 2010, Amir who was 27 then, was doing part-time modelling and had even planned to be a television presenter.
However, the Herald Sun reported that Amir, whose real name is Amirrudin Hud Rashid Milson, subsequently got married and had a son.
In 2014, he began to become radicalised. Subsequently, he divorced his wife before going to Syria.
According to one of his friends, Amir's conversion to Islam was a "gradual process".
Full report at:
https://www.thestar.com.my/news/nation/2018/11/20/former-malaysia-cleo-magazine-hunk-dies-fighting-for-islamic-state-in-syria/
--------
Clarity needed between following Shia Islam and propagating it, says minister
November 20, 2018
PUTRAJAYA: Clear guidelines should be drawn between Muslims who follow Shia Islam and those who not only follow but also promote it, Mujahid Yusof Rawa today.
The minister in the Prime Minister's Department said this in response to Penang mufti Wan Salim Wan Mohd Noor's remark that the fatwa or edict which established Shia as a devious teaching could be reviewed based on the argument that the previous consensus only stated that it was against the Ahli Sunnah Wal Jamaah Islamic (Sunni) sect.
Wan Salim reportedly said the review could be done by taking into consideration the fact that Shia was still in line with Islamic teaching and that Sunni Islam did not represent Muslims as a whole.
He, however, said Shia teachings must be practised discreetly because it contradicted with Sunni teachings, apart from fear that it would cause unrest and division among Muslims.
"There are two things in this matter (regarding the fatwa). Firstly, all Shia teachings are devious. Secondly, the fatwa says that Malaysia follows Sunni teachings.
"But should action be taken just because people follow Shia teachings? Or because they are Shias and they are promoting Shia Islam? These are two different things," said Mujahid when met by reporters after the national-level Maulidur Rasul celebration held here at the Putrajaya International Convention Centre (PICC).
He noted that Article 11 of the Federal Constitution stated there was freedom to practice religion.
He said this freedom, however, should be read with the caveat under Article 11 (4) that "such teachings cannot be promoted".
"So that is why there should be a guideline between the right to embrace any religion and teaching, and promoting it," he said.
Full report at:
https://www.freemalaysiatoday.com/category/nation/2018/11/20/clarity-needed-between-following-shia-islam-and-propagating-it-says-minister/
--------
North America
US Muslim lawmaker-elect in proposal to end head-covering ban in Congress
20 November 2018
A Muslim congresswoman-elect has co-authored changes to a longstanding rule banning the wearing of head coverings on the US House floor, an effort supported Monday by the nation's largest Muslim rights group.
Ilhan Omar, a Somali refugee who was one of the first two Muslim women elected to Congress earlier this month, has joined Democratic leaders in drafting an update to a 181-year-old rule to allow for religious exemptions for headwear like the Muslim hijab, Jewish yarmulkes or Sikh turban.
The change is part of a rules package introduced by top Democrats including House Minority Leader Nancy Pelosi that is expected to be approved in January, when Democrats take majority control of the chamber.
"No one puts a scarf on my head but me. It's my choice -- one protected by the first amendment," Omar posted Saturday on Twitter.
"And this is not the last ban I'm going to work to lift," added the Minnesota representative-to-be.
The proposal earned the backing of the Council on American-Islamic Relations.
"We support the effort to update this anachronistic policy and to bring the House of Representatives into conformity with the Constitution and its existing protection of religious freedom," said CAIR national executive director Nihad Awad.
A record number of women, and scores of minorities including Hispanics, African Americans, Native Americans and members of the gay, lesbian and bisexual communities, will fill the ranks of the 116th Congress when it convenes beginning January 3.
Democrat Jim McGovern, expected to chair the House Rules Committee starting in January, said the update reflects the broader diversity in Congress.
"This change will finally codify that no restriction may be placed on a member's ability to do the job they were elected to do simply because of their faith," he said.
The head-covering rule has vexed some lawmakers, notably Congresswoman Frederica Wilson, who is known for her colorful hats and has pushed to get the ban lifted.
Under the proposed changes, Wilson would still be barred from wearing hats on the House floor.
https://english.alarabiya.net/en/News/world/2018/11/20/US-Muslim-lawmaker-elect-in-proposal-to-end-head-covering-ban-in-Congress-.html
--------
'US mulls designating Venezuela state sponsor of terror'
Nov 20, 2018
The United States is considering enlisting Venezuela as a "state sponsor of terrorism," but no final decision has been made by Washington yet, an informed source reportedly says.
The source told Reuters that the deliberations had moved forward in recent days with strong lobbying by junior Republican Senator Marco Rubio, himself the son of Cuban migrants and a hawk on Latin America.
The move could limit US economic assistance and impose financial restrictions on Venezuela.
The source, however, said no time frame had been determined yet for the decision on whether to designate Venezuela as a terrorism sponsor.
A US official, who also talked to Reuters under the condition of anonymity, said it would be a challenge for the US administration to provide concrete proof linking the Venezuelan government to terrorism if it decided to add Venezuela to the list.
Caracas has already been facing a series of US sanctions targeting its economy and officials since 2014 over alleged human rights abuses and threats to US national security.
Venezuelan President Nicolas Maduro has said the US administration is seeking to assassinate him.
Rubio has long pressed the administration of US President Donald Trump to take a tougher stand against the Maduro government.
In a letter sent to Secretary of State Mike Pompeo in September, Rubio and two other Republican senators called for naming Venezuela as a state sponsor of terrorism and accused it of links to Lebanon's Hezbollah resistance movement and the Revolutionary Armed Forces of Colombia (FARC), without offering any proof.
The United States has classified Lebanon's Hezbollah resistance movement as a "terrorist" group. Hezbollah is a resistance and political group that has aided the Lebanese military fend off Israeli aggression on Lebanon in the past.
Full report at:
https://www.presstv.com/Detail/2018/11/20/580559/US-Venezuela-state-sponsor-of-terror
--------
17 years into Afghanistan War, US admits 'Taliban not losing'
Nov 19, 2018
The top US military officer has admitted that the Taliban "are not losing" in Afghanistan and much more needs to be done to bring peace to the war-torn country 17 years into the longest war in American history.
"They are not losing right now, I think that is fair to say," General Joseph Dunford, chairman of the Joint Chiefs of Staff, said of the Taliban during a discussion at a security forum in Halifax, Nova Scotia, on Sunday. "We used the term stalemate a year ago and, relatively speaking, it has not changed much."
The top US military officer said while there was no "military solution" to peace in Afghanistan, Washington and its allies in the NATO military alliance were trying to use all their military, political and economic potentials in a bid to convince the Taliban that it was time to come to the negotiation table.
"Without going into detail here, we do believe the Taliban know that at some point they do have to reconcile," he said. "The key to success is to combine all that pressure to incentivize the Taliban" to negotiate.
The commander said reconciliation was still too far-fetched, conceding that "we are a long way" from that stage.
Despite Dunford's claims that Washington sees no military solution, US President Donald Trump's strategy for the long-running war revolves around bringing more troops and use them to force a political resolution to militant groups.
The new strategy, unveiled last year, announced an increase in US troop levels, bringing the total number of foreign foot soldiers in the country to about 14,000.
The US State Department has named former US Ambassador to Afghanistan Zalmay Khalilzad as its special representative for Afghanistan reconciliation process.
Khalilzad has traveled to the region to meet national government officials and the Taliban to try and jump-start a dialogue. But progress has proven elusive.
That is partly because the Taliban are gaining strength as the Afghan government in Kabul struggles to keep ground.
The US government's overseer for the military push in Afghanistan warned in a report earlier this month that the Taliban had cemented their position by taking control over larger chunks of the country while the Afghan government had seen its control shrink to about 56 percent of the land -- down from 72 percent in 2015.
Also contributing to the issue is the fact that Afghan security forces who took over in 2014 -- after undergoing years of US training – have failed to secure the country and suffered a high number of casualties in their battle against the Taliban.
US Defense Secretary James Mattis said last month that Afghan forces had sustained "over a thousand dead and wounded" in August and September in their effort to protect Afghan parliamentary elections in October.
Full report at:
https://www.presstv.com/Detail/2018/11/19/580466/US-Afghanistan-war-dunford-Taliban-not-losing
--------
Trump: Osama bin Laden should have been captured sooner
November 20, 2018
WASHINGTON: President Donald Trump repeated Monday that Al-Qaeda chief Osama bin Laden, killed by US Navy SEALs in May 2011, should have been captured much earlier, casting blame on his predecessors and Pakistan.
"Of course, we should have captured Osama Bin Laden long before we did," the US president tweeted, echoing remarks he gave to "Fox News Sunday" that drew the ire of Pakistan, where bin Laden had been hiding.
"I pointed him out in my book just BEFORE the attack on the World Trade Center," he continued.
"President Clinton famously missed his shot. We paid Pakistan Billions of Dollars & they never told us he was living there. Fools!"
Ten years after the September 11, 2001 attacks on the United States, bin Laden was found to be hiding in the Pakistani city of Abbottabad, where he was killed in a raid by US Navy SEALs approved by Trump's predecessor Barack Obama.
Donald J. Trump
?
@realDonaldTrump
Of course we should have captured Osama Bin Laden long before we did. I pointed him out in my book just BEFORE the attack on the World Trade Center. President Clinton famously missed his shot. We paid Pakistan Billions of Dollars & they never told us he was living there. Fools!..
117K
8:56 PM - Nov 19, 2018
The assault sent relations between the wayward allies to a new low.
In his interview on Sunday, the Republican leader had said he canceled assistance worth hundreds of millions of dollars to Pakistan earlier this year because "they don't do anything for us, they don't do a damn thing for us."
Trump had also told Fox News that bin Laden had lived "beautifully in Pakistan and what I guess in what they considered a nice mansion. I don't know, I've seen nicer."
Pakistani Prime Minister Imran Khan hit back at Trump's claim, calling on the president to name an ally that has sacrificed more against militancy.
"Pakistan suffered 75,000 casualties in this war & over $123 bn was lost to economy. US 'aid' was a minuscule $20 bn," Khan tweeted.
Robert O'Neill, a former Navy SEAL who claims to have fired the shots that killed bin Laden, was terse in his reply.
"The mission to get bin Laden was bipartisan. We all wanted to get him as soon as we could," tweeted O'Neill, who regularly appears on Fox News as a security expert.
Donald J. Trump
?
@realDonaldTrump
....We no longer pay Pakistan the $Billions because they would take our money and do nothing for us, Bin Laden being a prime example, Afghanistan being another. They were just one of many countries that take from the United States without giving anything in return. That's ENDING!
130K
9:11 PM - Nov 19, 2018
Twitter Ads info and privacy
54.1K people are talking about this
Twitter Ads info and privacy
Former director of national intelligence James Clapper was more direct in his criticism of Trump.
"It's really a slam at the intelligence community, who was responsible for tracking down Osama bin Laden, and reflects, I think, his complete ignorance about what that took," Clapper told CNN.
Former CIA director John Brennan also hit back at Trump's remark.
Full report at:
http://www.arabnews.com/node/1407811/world
--------
Trump defends Saudi prince despite Khashoggi murder
20.11.2018
By Umar Farooq
WASHINGTON
U.S. President Donald Trump continues to defend Saudi Crown Prince Mohammed bin Salman amid mounting evidence that he is responsible for the murder of Washington Post journalist Jamal Khashoggi, The New York Times reported Monday.
In an opinion piece, The Times wrote that Trump called Saudi Arabia a "truly spectacular ally" in direct contrast to his earlier criticism of the Kingdom for "the worst cover-up in history".
Even after the CIA released a report which concluded that bin Salman ordered the assassination, Trump said he would wait for his administration to deliver its own report before making any comments and assigning blame.
"For Mr. Trump, it is enough that Prince Mohammed denied any involvement in the killing in phone calls with him," said The Times.
The newspaper noted that Trump's position on Khashoggi is becoming increasingly isolated, with the European Union demanding clear answers on what happened to the Saudi journalist, and even Israel, which has strategic ties with Saudi Arabia, not verbally defending the Crown Prince.
Khashoggi, a columnist for The Washington Post, went missing after entering the Saudi Consulate in Istanbul on Oct. 2.
After initially saying he had left the consulate alive, the Saudi administration admitted weeks later that he was killed there.
Trump's position on the matter is also being met with resistance in the U.S. legislature.
"Everything points to the Crown Prince of Saudi Arabia, MbS, ordering @washingtonpost journalist Jamal #Khashoggi's killing," said Bob Corker, head of the Senate Foreign Relations Committee.
The president noted that Saudi Arabia's pledge to buy $110 billion worth of weapons has created jobs for the American people. Yet The Times, citing defense analysts, said only around $14.5 billion in sales have been booked.
Trump also noted that the U.S. has suspended air-to-air refueling of Saudi planes in the Yemen war and imposed sanctions on 17 Saudi nationals involved in the crime.
"At the same time, we do have an ally, and I want to stick with an ally that in many ways has been very good," he said.
The Times wrote that despite Trump's defense of bin Salman, the White House will leverage the Khashoggi incident to curtail the war in Yemen, which would appease American legislators who have been calling for an end to the war.
Yet Trump's commitment to bin Salman will not waver because the Crown Prince "has become the fulcrum of the administration's strategy in the Middle East," according to The Times.
"It's very clear that what the administration wants is to buy off Congress with Yemen," Bruce Riedel, an expert on Saudi Arabia and senior fellow at the Brookings Institution, told The Times.
Full report at:
https://www.aa.com.tr/en/americas/trump-defends-saudi-prince-despite-khashoggi-murder/1315991
--------
Mideast
Muslims in Turkey observe Milad un-Nabawi, the birth of Prophet Muhammad
Nov 20, 2018
Millions in Turkey joined Muslims throughout the world Monday to mark the Milad un-Nabawi, the celebration of the birth anniversary of Prophet Muhammad, a day of spiritual significance in Islam.
Muslims of all ages flocked to mosques to pray and recite poems dedicated to the prophet on the occasion known as Milad un-Nabawi.
Religious programs were organized at mosques across Turkey, including Istanbul, Ankara, Bursa, Edirne, Gaziantep, Hatay, Konya, Hakkari and Sanliurfa.
On this sacred night, Muslims say their prayers and read the Holy Quran in their homes and mosques.
"We remember today our beloved prophet, who has been sent to humanity as messenger and advisor," said Parliament Speaker Binali Yildirim in a statement.
"We should work to dominate our lives with goodness and kindness," he added.
Ali Erbas, head of Turkey's Presidency of Religious Affairs, issued a message congratulating the Mawlid of all citizens.
Erbas said with the birth of Prophet Muhammad, humanity regained its lost morals and values.
"Today, if mankind meets the values that he has brought, humanity will find peace," he said.
The top cleric said Muslims should introduce the Islamic principles of kindness, mercy, fairness, good morals and coexistence to the world which is struck by wars and conflict.
Muslims across the world celebrate the 12th of Rabi-ul-Awwal, with the day varying from country to country according to the lunar calendar. The prophet passed away on the same day as that of his birth, at the age of 63.
The day is a public holiday in several Muslim-majority countries, including Pakistan, Indonesia, Malaysia, Bangladesh and some parts of India.
In Indonesian capital Jakarta, thousands of people gathered in a commemoration program held in the Monas National Monument after the isha prayer.
https://www.dailysabah.com/religion/2018/11/19/muslims-in-turkey-observe-mawlid-al-nabawi-the-birth-of-prophet-muhammad
--------
Yemeni information minister says Houthi militias have broken the truce
20 November 2018
Yemen's Information Minister Moammar al-Eryani confirmed that the Houthi militias have broken the ceasefire after firing a missile targeting Saudi territories just hours after saying that they were halting drone and missile attacks on Saudi Arabia, the United Arab Emirates and their Yemeni allies.
"Hours after a statement issued by Al-Houthi announcing the halt of ballistic missile fire, one of their fighters directed one of its rockets targeting the lands of Saudi Arabia," al-Eryani tweeted.
"The Iranian missile did not achieve its goal and fell in Yemeni territory, confirmed how the militias do not stick with their word."
Meanwhile, the Arab Coalition had confirmed that forces have intercepted and destroyed three ballistic missiles launched by the
Full report at:
https://english.alarabiya.net/en/News/gulf/2018/11/20/Yemeni-information-minister-says-Houthi-militias-have-broken-the-truce.html
--------
Yemen legitimate government says to take part in peace talks in Sweden
19 November 2018
The Yemeni legitimate government announced Monday its participation in peace talks the United Nations is trying to hold in Sweden in the coming weeks to end the conflict.
In a letter to UN envoy Martin Griffiths, the Yemeni foreign ministry in the internationally-recognized government said in a statement published by Yemen's news agency SABA, that it would send a delegation to represent it in the negotiations.
In its letter, the government called on the United Nations to "pressure the Houthi militias to respond to UN efforts and to come to consultations unconditionally."
The Yemeni legitimate government demanded that the UN take a "firm stance of any disruption by the militias to delay or not to attend scheduled consultations."
Also Read: Yemen's Houthis announce halt of missile attacks on Saudi Arabia
Griffiths is seeking new peace talks in Sweden in the coming weeks, with support from major powers, notably the United States, Britain and France.
Full report at:
https://english.alarabiya.net/en/News/gulf/2018/11/19/Yemen-legitimate-government-says-to-take-part-in-peace-talks-in-Sweden.html
--------
Israeli forces injure 25 Palestinians in Gaza flotilla protests
Nov 19, 2018
At least 25 Palestinians, including a journalist, were injured by the Israeli live fire during the Freedom Flotilla protests at the northern border of the Gaza Strip on Monday.
The protests were held in support of the launch of a flotilla titled 'Freedom Ship 16' that set sail from the port of Gaza in an attempt to break the Israeli siege on the enclave.
The Israeli forces' live fire wounded 25 people, including the Associated Press' cameraman Rashed Rashid, who were all transported to local hospitals for medical treatment.
The journalist was filming hundreds of Palestinians who were protesting on a beach by the border fence near Beit Lahia, a spokesman for the Palestinian health ministry said.
Around 30 fishing boats reportedly joined the flotilla, which was organized by Gaza's National Committee for Breaking the Siege.
The flotilla sailed to the northern coastal border of the Gaza Strip but was then allegedly forced to return to shore by Israeli naval forces.
Monday's protests came days after a Palestinian was killed and more than a dozen were injured in similar clashes along the border with Israeli troops and a week after a major flare-up between Israel and Palestinian resistance forces.
Gaza has been under a crippling siege since 2007 and witnessed three wars since 2008. It has also witnessed a fresh wave of tensions since March 30, which marked the start of "The Great March of Return" protests.
The Tel Aviv regime carries out regular attacks on the coastal enclave under the pretext of hitting positions belonging to Hamas.
Earlier on Monday, Israeli military forces shot and injured a dozen Palestinians across West Bank as tensions continue to rise in the occupied territories over US President Donald Trump's recognition of Jerusalem al-Quds as Israel's capital and relocation of the US embassy to the occupied city.
According to a statement released by the Palestinian Ministry of Health, four Palestinians were injured overnight by bullets from Israeli forces near the village of Deir Abu Mash'al, located 24 kilometers (15 miles) west of Ramallah.
Full report at:
https://www.presstv.com/Detail/2018/11/19/580540/Palestine-Gaza-Israel-flotilla-protest
--------
52 Palestinian children killed by Israel since beginning of 2018, says rights group
Nov 19, 2018
A renowned children rights NGO says the Israeli military troopers have shot and killed more than 50 Palestinian children in the occupied West Bank and the besieged Gaza Strip so far this year.
Defense for Children International - Palestine reported on Monday that 52 Palestinian children lost their lives due to Israeli soldiers' live fire since January, 46 of whom killed in the blockaded enclave, mostly during anti-occupation protests.
According to the report, 18 of these children were shot in the head, 9 were shot in the chest, 7 were shot in the belly, 5 were shot in the neck and the rest sustained fatal injuries in other parts of their bodies.
Figures show that more than 2100 Palestinian children have been killed and over 13,000 wounded by Israeli live bullets since the outbreak of al-Aqsa Intifada in 2000.
The NGO also called for the arrest of Israeli soldiers, who kill or maim Palestinian children in clear violation of international law.
Nearly 240 Palestinians have been killed by Israeli forces ever since anti-occupation protest rallies began in the Gaza Strip on March 30. Over 22,000 Palestinians have also sustained injuries.
The Gaza clashes reached their peak on May 14, on the eve of the 70th anniversary of Nakba Day (Day of Catastrophe), which coincided this year with the US embassy relocation from Tel Aviv to occupied East Jerusalem al-Quds.
On June 13, the United Nations General Assembly adopted a resolution, sponsored by Turkey and Algeria, condemning Israel for Palestinian civilian deaths in the Gaza Strip.
The resolution, which had been put forward on behalf of Arab and Muslim countries, garnered a strong majority of 120 votes in the 193-member assembly, with 8 votes against and 45 abstentions.
The resolution called on UN Secretary General Antonio Guterres to make proposals within 60 days "on ways and means for ensuring the safety, protection, and well-being of the Palestinian civilian population under Israeli occupation," including "recommendations regarding an international protection mechanism."
Full report at:
https://www.presstv.com/Detail/2018/11/19/580531/Palestine-Israel-children-Defense-for-Children-Gaza-West-Bank
--------
Israeli forces raze Palestinian property, seize vehicles in East Jerusalem al-Quds
Nov 19, 2018
Israeli bulldozers have razed a Palestinian property on the outskirts of the occupied Old City of East Jerusalem al-Quds under the heavy protection of Israeli troops, who confiscated a number of Palestinian-owned vehicles.
The Palestinian Ma'an news agency reported on Monday that the land, belonging to Palestinian resident Khaled al-Zir, was situated in the Silwan neighborhood, adding that the incident occurred after the staff members of the Israeli Nature and Parks Authority and the Jerusalem Municipality stormed the area.
The report, citing unnamed sources, further said that the Israeli forces seized several Palestinians' civilian vehicles in the neighborhood under the pretext that their owners had not obtained an Israeli license.
In recent years, Israel has expanded the authority of its military to demolish Palestinian homes in the occupied territories. The Israeli army can now execute demolition orders in the so-called Area C of the West Bank, in which the Old City is located, just days after they are issued.
In recent months, the Israeli regime ordered the demolition of Palestinian homes as a punitive measure in response to a growing number of alleged attacks by Palestinians against Israeli settlers, who constantly waged attacks against Palestinian residents and their properties.
Residents say Israel is relentlessly destroying Palestinians' homes and livelihoods in order to make way for more illegal settlements.
International bodies and rights groups argue that Israel's sustained demolitions of Palestinian homes and structures in the occupied West Bank and East Jerusalem al-Quds are an attempt by the Tel Aviv regime to uproot Palestinians from their native territories, and confiscate more land for expansion of illegal settlements.
About 600,000 Israelis live in over 230 illegal settlements built since the 1967 Israeli occupation of the Palestinian territories of the West Bank and East Jerusalem al-Quds.
Palestinians want the West Bank as part of a future independent Palestinian state with East Jerusalem al-Quds as its capital.
Separately on Monday, Israeli soldiers detained at least 22 Palestinians during predawn raids across the occupied West Bank, including al-Khalil (Hebron), Ramallah and Nablus.
According to the Palestinian prisoners' rights group Addameer, there are 5,580 Palestinian prisoners being held in Israeli prisons.
In recent months, Israeli forces have frequently raided the houses of Palestinians in the West Bank, arresting dozens of people, who are then transferred to Israeli prisons, where they are kept without any charges.
The occupied Palestinian territories have been the scene of heightened tensions since August 2015. The tensions were triggered by an Israeli move to impose restrictions on the entry of Palestinian worshipers into the al-Aqsa Mosque compound in East Jerusalem al-Quds.
Palestinians say the Tel Aviv regime seeks to change the status quo of the sacred site.
Full report at:
https://www.presstv.com/Detail/2018/11/19/580510/Palestine-Israel-West-Bank-Silwan-alQuds
--------
US cuts in Palestinian refugee aid mitigated by new pledges
November 19, 2018
JORDAN: The UN agency for Palestinian refugees says it has nearly closed its funding gap after securing new donor pledges to make up for US aid cuts.
Pierre Kraehenbuehl, the head of the UN Relief and Works Agency, said Monday that the shortfall was reduced from $446 million to $21 million, singling out donors from Europe and the Gulf region.
He says the agency no longer faces the "critical situation" created by a US decision earlier this year to cut nearly $300 million of aid.
The agency provides health care, education and social services to 5.4 million Palestinian refugees and their descendants in the West Bank, Gaza Strip, Jordan, Syria and Lebanon. The agency was created after the mass displacement of Palestinians during the 1948 war over Israel's creation.
http://www.arabnews.com/node/1407601/middle-east
--------
Europe
France to impose sanctions on Saudi Arabia
20.11.2018
By Yusuf Ozcan
PARIS
French Foreign Minister Jean-Yves Le Drian on Monday said his country will impose sanctions on Saudi Arabia over the murder of journalist Jamal Khashoggi.
"We will swiftly impose many sanctions [on Saudi Arabia] based on what we know [about Khashoggi]," Jean-Yves Le Drian said in an interview with Europe 1 Radio.
Urging that details of the murder of Saudi journalist must be revealed, Le Drian said the culprits should be unmasked.
Le Drian said France and Germany were cooperating on the issue.
Khashoggi, a Saudi journalist and columnist for The Washington Post, went missing after entering the Saudi Consulate in Istanbul on Oct. 2.
After initially saying he had left the consulate alive, the Saudi administration admitted weeks later he was killed inside the consulate.
His body has yet to be returned to his family amid reports that it was chemically dissolved.
https://www.aa.com.tr/en/europe/france-to-impose-sanctions-on-saudi-arabia/1315930
--------
Saudi crown prince ordered Khashoggi hit: UK think-tank
19.11.2018
The order to kill Saudi journalist Jamal Khashoggi was given by Saudi Crown Prince Mohamed bin Salman, Azzam al-Tamimi, director of the London-based Institute of Islamic Political Thought, has told Anadolu Agency.
According to the Palestinian researcher, bin Salman issued the order because Khashoggi was undermining Saudi efforts to market the crown prince as a "liberal" and "reformist" to western audiences.
Khashoggi's frequent contributions to The Washington Post, al-Tamimi said, "had been attracting considerable attention".
"Intellectuals in the U.S. viewed Jamal as an insider vis-à-vis the Saudi administration," he explained. "And his criticisms were counteracting the propaganda on which the Saudi lobby was spending millions of dollars."
"Now, for the first time, the international media is focusing on a single issue," al-Tamimi continued. "Not only because a prominent journalist was brutally killed, but because it took place inside a diplomatic mission."
According to al-Tamimi, the Turkish government has handled the issue in a very competent manner.
"They [the Turks] shared the information gradually, thus keeping the issue on the [international] agenda," he said.
What's more, al-Tamimi said, Khashoggi had not concealed his position regarding the 2011 Arab Spring uprisings, which Saudi Arabia had actively worked to subvert.
"He therefore drew the ire of the Saudi royal court, which ultimately led to his demise," he said.
"I believe the Saudis hatched the plan, but it failed, after which they tried to blame Ankara for Khashoggi's disappearance," al-Tamimi asserted. "But God ruined their plans."
He added: "Without a doubt, bin Salman ordered the murder."
"He [bin Salman] enjoys the support of U.S. President Donald Trump and the White House, and now he's looking to them to evade responsibility," he said. "But the murder has become an international incident and this [U.S. support] will not save him."
Al-Tamimi believes that if the crown prince escapes prosecution, "this will be the beginning of the end of the House of Al Saud".
But if bin Salman is removed from a position of leadership, he added, "the dynasty may yet survive".
"He [bin Salman] is the one who declared war on Yemen, imposed a blockade on Qatar and detained [dissident] scholars," al-Tamimi said.
He also noted the close relationship between Saudi Arabia and the United Arab Emirates (UAE), especially during the bin Salman era.
"There are strong ties between bin Salman and Abu Dhabi Crown Prince Mohamed bin Zayed [Al Nahyan]," he said. "Bin Zayed is largely seen as a spiritual godfather to his Saudi counterpart."
Full report at:
https://www.aa.com.tr/en/europe/saudi-crown-prince-ordered-khashoggi-hit-uk-think-tank/1315770
--------
Iran bets on Europe as UK's Hunt lands in Tehran to discuss nuclear deal
19 November 2018
British Foreign Secretary Jeremy Hunt arrived in Tehran on Monday for the first time since taking office to hold talks with Iranian authorities on issues including the future of the 2015 nuclear deal, Iranian media reported.
In May, US President Donald Trump abandoned the deal, negotiated with five other world powers during Democratic President Barack Obama's administration. The United States also restored sanctions targeting Iran's oil, banking and transportation sectors earlier this month.
"He will meet (Iranian Foreign Minister Mohammad Javad) Zarif today and the secretary of Iran's Supreme National Security Council Ali Shamkhani," state TV reported.
Shamkhani is an ally of Iran's Supreme Leader Ayatollah Ali Khamenei, who has the last say on all state matters, including nuclear issues.
Hunt's office said in a statement that, during his meeting with Zarif, he would stress that the UK is committed to the nuclear deal as long as Iran sticks to its terms.
"The Iran nuclear deal needs 100 percent compliance though to survive," Hunt said in a statement ahead of the visit.
Iran has warned it could scrap the accord if the bloc fails to preserve the deal's economic benefits against US pressure.
"We will stick to our side of the bargain as long as Iran does. But we also need to see an end to destabilizing activity by Iran in the rest of the region if we are going to tackle the root causes of the challenges the region faces," Hunt said.
Iran is still hopeful that Europe can save a 2015 nuclear deal between Tehran and six major powers despite the withdrawal of the United States, Iranian Foreign Ministry spokesman Bahram Qasemi said on Monday.
"There are some ambiguities on implementation of EU's mechanism to protect trade with Iran from America's sanctions ... But we remain hopeful that the Europeans can save the deal," Qasemi told a weekly news conference, broadcast live on state TV.
Under the deal, Iran restricted its disputed nuclear program, widely seen in the West as a disguised effort to develop the means to make atomic bombs, in exchange for an end to international sanctions.
Full report at:
https://english.alarabiya.net/en/News/world/2018/11/19/Iran-bets-on-Europe-as-UK-s-Hunt-lands-in-Tehran-to-discuss-nuclear-deal.html
--------
British foreign secretary in Tehran for nuclear deal talks
Nov 19, 2018
British Foreign Secretary Jeremy Hunt has met with his Iranian counterpart, Foreign Minister Mohammad Javad Zarif, in the Iranian capital Tehran for talks that were expected to focus on a 2015 multilateral nuclear deal with the Islamic Republic.
The British official arrived in the Iranian capital earlier on Monday and later met with Zarif.
IRNA reported that Hunt would also meet with Secretary of Iran's Supreme National Security Council (SNSC) Ali Shamkhani.
Later on Monday, Zarif posted a tweet on his official Twitter account saying that the 2015 nuclear deal between Iran and the P5+1 group of countries, officially known as the Joint Comprehensive Plan of Action (JCPOA), ways of maintaining it, and the crisis in Yemen were major items on the agenda of his talks with Hunt.
The Iranian foreign minister added that the two sides also discussed Europe's commitment to normalize economic relations with Iran.
Secretary Hunt is the first Western official of his rank to visit Iran since the United States — formerly a party to the deal — unilaterally withdrew from the agreement in May.
The administration of US President Donald Trump had been hoping to get the other parties to the deal with Iran to likewise scrap the deal. Instead, they have stressed that not only will they stick to the agreement but that they will also work to sustain it in the face of increased US pressure.
In a statement ahead of the visit, Hunt called the Iran deal "a vital component of stability in the Middle East."
"It (the Iran nuclear deal) needs 100 percent compliance though to survive," the British foreign secretary stressed. "We will stick to our side of the bargain as long as Iran does."
Just last week, the International Atomic Energy Agency (IAEA) confirmed that Iran continues to adhere to all of its obligations under the JCPOA, despite the US pullout, which also entailed the restoration of unilateral sanctions on Iran and the countries doing business with it.
The IAEA is tasked with monitoring the technical aspects of the deal. It is yet to post its latest verification and monitoring report on Iran on its website, but Reuters has obtained a copy and reported its content.
Iran's partners in the deal, namely the UK, France, Russia, China, Germany, and the European Union (EU), have been working on a financial mechanism that would bypass the American monetary system and enable direct and secure payments to the Islamic Republic, including for oil purchases, which the US sanctions have attempted to hinder.
That mechanism, known as the Special Purpose Vehicle, will likely be one topic of discussion between Hunt and Zarif.
Full report at:
https://www.presstv.com/Detail/2018/11/19/580456/Iran-UK-Foreign-Secretary-Jeremy-Hunt-nuclear-deal-JCPOA
--------
Germany bans 18 Saudis from entering Schengen zone over Khashoggi killing
Nov 19, 2018
Germany has imposed travel bans on 18 Saudi nationals suspected of having links to the murder of dissident journalist Jamal Khashoggi at the kingdom's diplomatic mission in Turkey's Istanbul early last month.
German Foreign Minister Heiko Maas made the announcement on Monday, saying the 18 Saudi citizens had been banned from entering the country's territory as well as Europe's Schengen passport-free zone over Khashoggi's killing.
"As before, there are more questions than answers in this case, with the crime itself and who is behind it," Maas said on the sidelines of a European Union meeting in Brussels, adding that he had discussed the decision with his British and French counterparts prior to the announcement.
Berlin has "decided that Germany should impose an entry ban on 18 Saudi citizens, who are presumed to be in connection with this deed, in the Schengen information system," Maas told reporters.
Mass' office later announced that it could not release the names of those sanctioned Saudi nationals due to Germany's privacy laws, but said the members of the 15-strong squad accused of carrying out the killing and a further three suspected of organizing the brutal act had been given entry bans.
The Schengen Area comprises 22 EU countries and four non-EU countries. Britain is not part of the passport-free Schengen zone but shares intelligence through Schengen Information System (SIS) for law enforcement purposes.
Germany has already imposed a ban on selling weapons to Riyadh until the circumstances of Khashoggi's killing are fully cleared up.
The United States also imposed economic sanctions on 17 Saudi nationals last week, including suspected members of the alleged hit squad and senior advisers to Saudi Crown Prince Mohammed bin Salman – who is alleged to have been involved in the killing of the 59-year-old critic.
US media reported on Saturday that the US Central Intelligence Agency (CIA) believed with "high confidence" that the Saudi crown prince directly ordered the killing.
Saudi Arabia is facing global criticism over Khashoggi's killing inside the Saudi consulate in Istanbul on October 2.
Khashoggi, a prominent commentator on Saudi affairs who wrote for the Washington Post's Global Opinions section, had lived in self-imposed exile in the US since September 2017, when he left Saudi Arabia over fears of the Riyadh regime's crackdown on critical voices.
The 59-year-old was seeking to secure documentation for his forthcoming marriage when he entered the Saudi consulate, but never came out despite Riyadh's initial claim that he exited the mission less than an hour after completing his paperwork.
The Saudi kingdom, after denying the murder for several days, finally admitted that Khashoggi had been killed in the consulate during an interrogation by rogue operatives that had gone wrong after diplomatic pressure grew tremendously on Riyadh to give an account on the mysterious fate of its national.
However, Saudi Arabia said that it did not know the whereabouts of Khashoggi's body, which is widely believed to have been dismembered.
Turkish President Recep Tayyip Erdogan has said the assassination was ordered at the "highest levels" of the Saudi government, but stopped short of pointing the finger of blame at the crown prince.
Full report at:
https://www.presstv.com/Detail/2018/11/19/580506/Germany-Heiko-Maas-Jamal-Khashoggi-travel-bans-Saudi-nationals
--------
Germany halts all arms exports to Saudi Arabia
19.11.2018
By Ayhan Simsek
BERLIN
Germany announced Monday that it halted all arms exports to Saudi Arabia in a move to increase pressure on Riyadh to conduct a full investigation into the murder of journalist Jamal Khashoggi.
Speaking at a news conference in Berlin, Economy and Energy Ministry spokesman Philipp Jornitz said the German government informed companies, who had already received export licenses, that currently no arms exports to Saudi Arabia would be allowed.
His remarks came after U.S. media reports claimed the CIA had concluded the Khashoggi's murder was ordered by the Crown Prince Mohammed bin Salman.
German government had decided last month not to approve any new weapon exports to Saudi Arabia, but Berlin stopped short of blocking the delivery of already approved arms sales.
On Monday, Chancellor Angela Merkel's spokesman renewed call on Riyadh to conduct a full and transparent investigation into the murder of Khashoggi.
"The circumstances surrounding this horrendous crime have not been cleared up yet in a satisfactory manner," Steffen Seibert told reporters in Berlin.
Khashoggi, a Saudi journalist working for The Washington Post, was killed shortly after he entered the Saudi Consulate in Istanbul on Oct. 2.
Saudi Arabia had offered shifting explanations for Khashoggi's disappearance before suggesting he was killed during a botched rendition operation by rogue agents.
Full report at:
https://www.aa.com.tr/en/europe/germany-halts-all-arms-exports-to-saudi-arabia-/1315739
--------
EU backs Iran sanctions over foiled France attack plot -diplomats
November 19, 2018
European Union foreign ministers on Monday endorsed a French government decision to sanction Iranian nationals accused of a bomb plot in France, a move that could enable EU-wide enforcement of the measures, diplomats said.
The ministers said technical work could now start on a freeze on the EU assets of two Iranians and Iran's intelligence service over a failed plot to carry out a bomb attack at a rally near Paris organised by an exiled Iranian opposition group.
Denmark, which in October said it suspected an Iranian government intelligence service had tried to carry out an assassination plot on its soil, also lobbied for support for similar EU-wide sanctions once its investigation is complete, the diplomats told Reuters.
Though largely symbolic in impact, the EU's readiness to target Iranians marks a shift after months of division within the bloc over how to punish Iranians accused of destabilising activities in Europe and the Middle East.
In October, France said there was no doubt that Iran's intelligence ministry was behind the June plot to attack the demonstration by Iranian exiles near Paris.
It froze assets belonging to Tehran's intelligence services and two Iranian nationals - a Vienna-based diplomat now under arrest in Belgium for the plot and the deputy minister and director general of intelligence, Saeid Hashemi Moghadam.
Neither appear to have had any assets in France. Paris also discreetly expelled an Iranian diplomat, diplomatic sources told Reuters last month.
Eager to save a 2015 nuclear accord with Iran from which the United States has withdrawn, the EU has focused its efforts in trying to keep trade flowing with Iran in the face of renewed U.S. sanctions, in order to keep Tehran from pulling out.
Under the 2015 deal, Iran restricted its disputed nuclear programme, widely seen in the West as a disguised effort to develop the means to make atomic bombs, in exchange for an end to international sanctions against it.
In March, Britain, France and Germany proposed to sanction Iran over its development of ballistic missiles and its role in Syria's war, but the initiative failed to gather sufficient support across the EU to take effect.
Italy was one EU country unwilling to countenance new measures as it sought to preserve business ties with Iran?.
In an effort to balance Iran policy, the ministers at their meeting on Monday also tried to press ahead in setting up a special mechanism to trade with Iran that could be under EU, not national, law.
The Special Purpose Vehicle (SPV) is a kind of clearing house that could be used to help match Iranian oil and gas exports against purchases of EU goods in an effective barter arrangement circumventing U.S. sanctions, which are based on global use of the dollar for oil sales.
Despite technical difficulties and delays, the EU believes this formula could shield individual member states from being hit by US sanctions that have been reimposed on trade with Iran after Washington's pullout from the nuclear deal.
"There is a willingness for the financial vehicle ... to be set up quickly," French Foreign Minister Jean-Yves Le Drian told reporters.
However, no country has come forward as a potential host. Their reluctance arises from fears that SPV reliance on local banks to smooth trade with Iran may incur U.S. penalties, severing the lenders' access to U.S. markets, diplomats said.
Luxembourg is seen as a good candidate to manage the Iran SPV given its experience setting up a similar mechanism during the 2009-12 euro zone financial crisis.
Luxembourg Foreign Minister Jean Asselborn told Reuters that the country had not been formally asked and he declined to say if it was willing to play host, insisting that firstly, setting it up under EU law could prove a critical step.
"It's a European commitment, not a national commitment. It must therefore be given a basis in European law," he said.
Full report at:
https://www.thenational.ae/world/europe/eu-backs-iran-sanctions-over-foiled-france-attack-plot-diplomats-1.793644
--------
Africa
Nigeria: Eid-El-Maulud - Buhari, Saraki, Dogara, Others Preach Peace, Unity
20 NOVEMBER 2018
As Muslims in Nigeria join their counterparts the world over to commemorate the Eid Maulud, the birthday of Prophet Muhammad, President Muhammadu Buhari; President of Senate, Dr. Bukola Saraki; Speaker of the House of Representatives, Yakubu Dogara; Deputy President of the Senate, Senator Ike Ekweremadu; Ogun State Governor, Ibikunle Amosun and his Delta State counterpart, Ifeanyi Okowa, have called on Nigerians to close ranks and work for a country where every man is his brother's keeper.
In his message signed by his Special Adviser on Media and Publicity, Femi Adesina, President Buhari said the nation is making great progress under the APC-led federal government in dealing with issues of security, the war against corruption, the reform and restructuring of the economy and the provision of needed infrastructure but to be fully successful, the country needs the support and prayers of all citizens.
He also asked for prayers for the nation for peaceful electioneering as we embark on the journey to democratic elections in the New Year.
Saraki, on his part, urged Nigerians to use the opportunity of Prophet Muhammad's birthday celebration to show love to one another and imbibe the virtues of perseverance and restraint.
The Senate President while congratulating the Muslim Ummah on the birthday of the Holy Prophet emphasised that the occasion should inspire Nigerians to renew their belief in the Almighty Allah and the country.
Saraki charged Nigerians, particularly Muslims to always emulate and promote the virtues of Prophet Muhammad which include honesty, love for others and peaceful co-existence, saying "He, Prophet Muhammad preached and lived for peace and was revered and widely followed for his honesty and perseverance".
The Maulud, according to him, would not have come at a better time than now when the country is about to conduct elections, adding that "this year's Maulud has come at the most appropriate time for Nigerians to use it in praying for peaceful, free, fair and credible elections."
On his part, Dogara called on the Ummah to replicate in their lives, the virtues of righteousness, honestly, charity and peaceful coexistence as exemplified by the prophet.
In a statement issued by his Special Adviser on Media and Public Affairs, Turaki Hassan, the Speaker said the celebration of Maulud is an opportunity for the adherents to renew faiths, rejuvenate their spirit and engender love in the society.
"The life of Prophet Muhammad and his teachings on piety, unity, charity, peaceful coexistence and good neighbourliness should serve as a lesson and guidance as we march towards building a nation of our dream".
In his message, Ekweremadu called for peaceful prayers towards 2019 general elections and charged politicians to play by the rules and highest democratic ethos.
He said: "As the nation joins the Muslim Ummah around the world to mark the birth of the holy prophet, let all compatriots rededicate themselves to the path of peaceful coexistence, unity, love, forgiveness, and tolerance to build a Nigeria of our dreams. "I urge our Muslim brethren to pray for unity and peace in the country as well as a peaceful general elections in 2019.
"I also call on the political elites to eschew any utterances and actions capable of undermining peaceful and credible elections. Let the campaigns be issues-based and a rich marketplace of ideas and plausible alternatives for the peace and development of the country."
On his part, Amosun, in a statement signed by the state Commissioner for Information and Strategy, Otunba Adedayo Adeneye, said in the midst of the celebration, Muslims should also pray for the nation and the leaders.
"As we rejoice in celebration of the birth of Prophet Mohammed, let us be mindful of the need to pray for peace and unity among the citizens, which form the fulcrum for the progress of our dear country.
"It is not coincidental that this is coming in the build up to the 2019 polls, but a divine arrangement, to give us the opportunity to lift up our voices in supplication to Allah, for guidance in the choice of our leaders," Amosun added.
The governor also called on Nigerians to continue to live in harmony and tolerant of each other, irrespective of religion, tribe and language.
For Okowa, Muslims need to offer prayers for peaceful conduct of the 2019 general elections.
In a statement by his Chief Press Secretary, Mr. Charles Aniagwu, the governor enjoined Nigerians, and Deltans especially Muslims to use the celebration as a period of sober reflection and pray for the peace and unity of the country especially as we are entering an election year.
The governor also advised Muslims to use the period to reflect on the challenges bedeviling our country and share with one another, to spread the virtues of peace, love and charity which the Holy Prophet represents.
He enjoined Muslims to follow the exemplary leadership of the Holy Prophet Mohammed by promoting and ensuring peaceful co-existence within the society.
While urging Nigerians to eschew ethnic, political and religious tendencies in all their dealings, he urged them to work towards building a secured and prosperous nation.
https://allafrica.com/stories/201811200108.html
--------
Boko Haram attacks three military bases in NE Nigeria
2018-11-19
Boko Haram jihadists at the weekend attacked three military bases in northeast Nigeria, putting the spotlight on insecurity in Nigeria just three months before presidential polls.
On Sunday, fighters from the Islamic State West Africa Province (ISWAP) faction attacked a base in Metele, a remote village in northeast Borno state, near the Niger border.
Troops were "dislodged" from the base before it was reclaimed with aerial support, a military officer in the northeast told AFP.
"There are still no details of human or material losses," said the officer, who asked not to be identified because he was not authorised to speak on the incident.
The same day, jihadists also launched a pre-dawn attack on another base in the town of Gajiram, some 80km north of the Borno state capital, Maiduguri.
"Soldiers fought off the insurgents after hours of fighting which lasted up to 0430 GMT," said Kulo Gana, who lives 60km away in the garrison town of Monguno.
On Saturday, ISWAP fighters attacked a base in the town of Mainok, killing a soldier and seizing a truck from civilian militia fighting the jihadists.
"They faced stiff resistance from soldiers who fought them for an hour before the terrorists withdrew," said a militia member in the town.
"We lost a soldier in that Mainok attack," the military officer said.
Jihadists claim responsibility
Both Metele and Gajiram have been attacked in the past six months, underlining the persistent threat that Boko Haram poses to the ravaged region.
ISWAP claimed on Monday to have killed 42 troops in the Metele and Mainok attacks, according to the SITE Intelligence Group which monitors jihadist activities.
The militant group said it killed "more than 40 Nigerian soldiers" in Metele and two more in Mainok, in addition to carting away "four tanks" and other vehicles and ammunition.
Army spokesperson Brigadier General Texas Chukwu told AFP he had "no information" about any attacks. Neither claim could be independently verified.
Attacks on bases have increased in recent months and claims that the military has played down casualties.
The military said it repelled an attack on a base in Kekeno village, near Monguno, on Friday, in the second attempted takeover in two months.
ISWAP, which split from the Abubakar Shekau-led faction in mid-2016, also claimed another attack on a base in Kareto, 150km north of Maiduguri, last on Wednesday.
The attacks have been seen as a sign of a hardline takeover in the faction by more radical lieutenants and have stretched the army at a time when troops are complaining of fatigue.
More than 27 000 people are thought to have been killed in the nine-year insurgency that has triggered a humanitarian crisis and left 1.8 million people without homes.
Full report at:
https://www.news24.com/Africa/News/boko-haram-attacks-three-military-bases-in-ne-nigeria-20181119
--------
Australia
Russian Twitter trolls stoking anti-Islamic sentiment in Australia, experts warn
20 Nov 2018
Russian Twitter trolls have targeted Australia's democracy primarily through attempts to stoke anti-Islamic sentiment and have begun to advocate on behalf of Julian Assange, researchers have warned.
On Tuesday academics from the University of Canberra's News and Media Research Centre told a parliamentary inquiry that tweets identified by Twitter as belonging to an "organised influence operation" from Russian troll-farm the Internet Research Agency were playing on fears around Islam.
Senior research fellow Michael Jensen told the joint standing committee on electoral matters his analysis of the Russian tweets suggested there was "little evidence" of direct influence on Australian elections.
However, Russia-linked accounts seem "interested in amplifying social divisions, in particular distinctions between Muslims and the rest of the population" and they "emphasise links to terrorism extensively", he said.
Jensen explained that amplifying "fears and anxieties make it easier to move people to new political identifications" because they help convince targets they can "no longer trust the institutions and political figures that have kept them safe in the past".
Jensen noted that the accounts had "advocated strongly on behalf of Julian Assange asking for Australia's intercession regarding his cause to help free him".
He said this cause may become "more salient in the near future" after last week's revelation that Assange – who is still in the Ecuadorean embassy in London – is under sealed indictment in the United States.
Jensen said that despite the focus on the spread of misinformation and fake news, the "truth or falsity of a statement is often incidental to its utility in an influence operation".
Conjecture, leaked information and statements that are "true in and of themselves or not demonstrably false" can be used to amplify fears and anxieties regardless of their accuracy, making fact-checking "likely inadequate" as a solution to foreign influence operations, he said.
Jensen said the day on which the Internet Research Agency-linked accounts were most active was 8 February 2017 on which they participated in the #makeTVshowsAussie conversation on Twitter.
Jensen said the accounts "showed an ability to use Australian slang terms" which was commonly associated with "traditional spy-craft practices" to first establish a connection with an audience on "non-political grounds then slowly move them to adopt political positions over time".
"Even within that game I saw experimentation where they would move from that game to statements about Muslims being dangerous."
Jensen said the Twitter accounts would "seize on any evidence they can find", looking for people who make statements of that type and retweeting them to amplify their influence.
Social media reactions can form the basis of articles in news sources like Russia Today or other "grey media sources", a form of "information laundering" that can "create the illusion of credibility for particular claims" and add to a growing sense that a social attitude or belief is widely accepted.
Labor's deputy chair of the committee, Andrew Giles, said the evidence of Russian-linked Twitter accounts fomenting anxiety against Muslims was "of great concern to me".
He said the evidence was concerning "at a couple of levels" because it shows the focus on social media is "too narrow" and "simply looking at the accuracy" of statements would not be enough to deal with the problem.
Jensen agreed that combating foreign influence "likely requires a whole-of-government or a whole-of-society approach".
The the joint standing committee on electoral matters is examining the need to combat cyber interference in elections as part of its inquiry into the 2016 election.
In its submission to the committee, Twitter said that in October 2017 it banned advertising from all accounts owned by Russia Today and Sputnik because of the US intelligence community's conclusion they attempted to interfere in the 2016 US presidential election.
Twitter said it had identified and suspended "a number of accounts" potentially connected to the Internet Research Agency and identified and suspended a further 1,062 accounts associated with the IRA.
Facebook did not address the issue of Russian interference in its submission, but said it had "expanded [its] ability to find and eliminate information operations" in which "sophisticated threat actors run coordinated efforts to mislead and manipulate the public".
https://www.theguardian.com/australia-news/2018/nov/20/russian-twitter-trolls-stoking-anti-islamic-sentiment-in-australia-experts-warn
--------
Three charged over alleged Melbourne terror plot
NOVEMBER 20, 2018
Three men who allegedly plotted "chilling" terror attacks in Melbourne were charged early Tuesday, less than two weeks after a stabbing rampage inspired by the Islamic State group left two dead in Australia's second city, police said.
The trio, all Australian nationals of Turkish descent, were detained by counter-terror police in overnight raids as they escalated preparations to attack crowded areas of Melbourne, according to police.
The three, two brothers aged 31 and 26 and 21-year-old, were later charged with planning a terrorist action, which carries a maximum penalty of life in prison, officials said.
Victoria Police Chief Commissioner Graham Ashton said the men were "certainly inspired by ISIS", the Islamic State group, but had no known links to a specific organisation.
They had been under investigation since March but had become "more energised" since the IS-inspired stabbing attack in Melbourne on November 9, he said.
The men had sought to purchase semi-automatic .22 calibre rifles and police were concerned they could target upcoming Christmas season events that will see huge crowds gathering in the city.
"There was a view towards a crowded place, a place where maximum people would be attending, to be able to kill, we allege, as maximum an amount of people as possible," Ashton told reporters.
The group had not yet picked a specific target or time for the attack, and Ashton added that police were confident Tuesday's arrests had "neutralised any threat to the… community from this group".
In the November 9 attack, a Somali-born Australian, Hassan Khalif Shire Ali, stabbed and killed one man and wounded two others in a central shopping area before being shot dead by police.
Coincidentally, the victim of that attack, Sisto Malaspina, 74, was honoured by a state funeral in Melbourne on Tuesday.
Full report at:
https://dailytimes.com.pk/324378/three-charged-over-alleged-melbourne-terror-plot/
--------
URL: https://www.newageislam.com/islamic-world-news/sri-sri-visits-grand-mosque/d/116930
New Age Islam, Islam Online, Islamic Website, African Muslim News, Arab World News, South Asia News, Indian Muslim News, World Muslim News, Women in Islam, Islamic Feminism, Arab Women, Women In Arab, Islamophobia in America, Muslim Women in West, Islam Women and Feminism