New Age Islam News Bureau
26 Apr 2019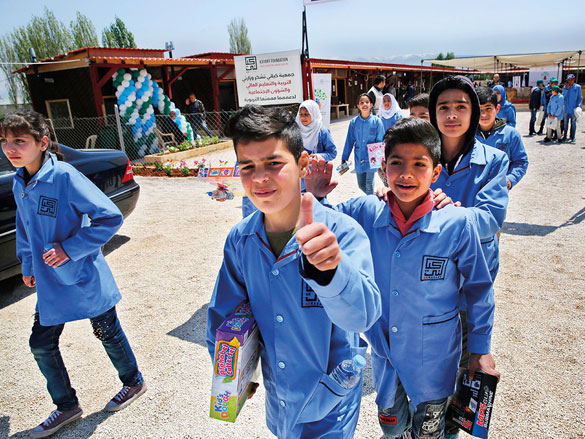 Syrian refugee students in Saadnayel, Lebanon. From this Ramadan, Muslims will get a global platform under the UNHCR to channel their obligatory alms for refugees and the displaced.
Image Credit: AP
-------
• Sri Lanka's Muslim Community Should Not Be Blamed For the Easter Sunday Suicide Bombings: The Archbishop of Colombo
• Sri Lankans Urged To Avoid Mosques, Churches amid Fears Of More Attacks
• UN Agency Urges Muslims to Give 'Zakat' For Refugees
• Extremism Must Be Defeated, Prince Tells New Zealand Mosque Survivors
• Hindus Help Muslims Shift Minaret Facing Demolition in Assam
• Unchecked 'Hate' Toward Rep. Ilhan Omar Has American Muslims Shuddering
• Anwar Advises Islamic Bodies to Be Vigilant Against Terrorist Groups
• Trump Plan Doesn't Include Jordan-Palestinian Union, Says US Envoy
South Asia
• Sri Lanka's Muslim Community Should Not Be Blamed For the Easter Sunday Suicide Bombings: The Archbishop of Colombo
• Sri Lankans Urged To Avoid Mosques, Churches amid Fears Of More Attacks
• 'I Challenge Talibs to Join Other Afghans And Work To Make This The Year Of Peace': Khalilzad
• How Zahran Hashim Went From Obscure Extremist Preacher To The Alleged Mastermind Of The Sri Lanka Bombings
• Wanted Sri Lanka radical Hashim died in hotel attack: President Maithripala Sirisena
• Suspected militant blown up while planting a bomb inside a private university in Kabul
• Afghan Forces Rescue 53 Hostages from A Taliban Prison In Zabul Province
• 3 prominent Taliban leaders arrested by Afghan forces in Logar province
• Sri Lanka's Easter bombings send a militant global message
• Sri Lankan police looking for 140 with ISIS links, says President Sirisena
• Afghan official says Taliban ambush police convoy, kill 9
• 100s of Muslim refugees flee homes after Sri Lanka bombings over attack fears
--------
Europe
• UN Agency Urges Muslims to Give 'Zakat' For Refugees
• Extremism Must Be Defeated, Prince Tells New Zealand Mosque Survivors
• UK far-right activist, anti-Islam campaigner to run for EU parliament elections
• Libya's PM raps France for backing 'dictator' general
• Britain slams Iran's 'vile ploy' over Zaghari-Ratcliffe prisoner swap offer
• 'Political Islam' seeks secession from France: Macron
--------
India
• Hindus Help Muslims Shift Minaret Facing Demolition in Assam
• Kerala IS Cells Played A Role In Lanka Blasts? Probe On
• Sri Lanka blasts: Coimbatore man denies link with NTJ, says NIA trying to frame him
• Two Hizbul Mujahideen militants killed in Anantnag
• NIA arrests two from Kashmir for 'links' with Pulwama suspect
• NIA questions former J&K finance minister in terror funding case
• India delaying talks to finalise agreement to operationalise Kartarpur corridor: Pakistan
• NIA arrests key conspirator of pro-IS module Harkat-Ul-Harb-E-Islam in Delhi; Mohammad Faiz 14th accused who planned attacks in NCT
--------
North America
• Unchecked 'Hate' Toward Rep. Ilhan Omar Has American Muslims Shuddering
• US Regrets Afghan Civilian Deaths, Says Answer Is Peace
• Mike Pompeo grants wide exemptions for Iran Revolutionary Guards sanctions
--------
Southeast Asia
• Anwar Advises Islamic Bodies to Be Vigilant Against Terrorist Groups
• Reviewing 'Kafir' To End Intolerance, Inequality
• Malay leaders, post-truth and alternative facts
• Asia is new "ground zero" for Islamist terror
• Yoursay: Hadi's deliberate misreading of the constitution spells danger
• Don't meddle in Johor Islamic affairs, warns TMJ
--------
Mideast
• Trump Plan Doesn't Include Jordan-Palestinian Union, Says US Envoy
• Hundreds Of Settlers Storm Aqsa Mosque As Israel Imposes Restrictions
• Yemeni combat drone targets Saudi mercenaries' command centre in Aden: Report
• UN force says third tunnel crossed Lebanon-Israel border
--------
Africa
• Sudanese Protesters Delay Naming Of Civilian Government
• Sudan military chiefs resign as deal struck with protestors
• ICRC: Residential areas of Libya capital turning into 'battlefields'
• Britain funds $600,000 anti-terror centre in Kenya
• Air force bombs Boko Haram mechanic workshop, kills scores in Borno
--------
Arab World
• Iraq: Yazidis to Accept Children of Daesh Rape Into Community
• Abu Dhabi festival celebrates Islam's tolerance
• US-led coalition killed 1,600 civilians in Raqqa: report
• Official Reveals US Assistance to ISIL Terrorists to Occupy Iraq-Syria Border Desert
• People in Deir Ezzur Hold Protest Rallies, Expel US-Backed SDF Commanders
• Syrian Expert: Russia's Recent Airstrikes in Idlib Prelude to Massive Military Operations
• Three protesters killed by Kurdish militants of US-backed SDF in Syria's Dayr al-Zawr
--------
Pakistan
• PM Imran Regrets Upsurge in Violence In Afghanistan, Terms It Counterproductive To Peace
• Fatima Bhutto Will Soon Take Place Of Her Father: Ghous
• PML-N to take part in JUI-F's anti-govt march
• PM Khan calls for tackling climate change, poverty as Pakistan, China enter next CPEC phase
• Polio Vaccinator Is Shot and Killed in Pakistan
• PM's 'Sahiba' Comment Has Sent A Wrong Message To Women: Bilawal
Compiled by New Age Islam News Bureau
URL: https://www.newageislam.com/islamic-world-news/sri-lanka-muslim-community-be/d/118435
--------
Sri Lanka's Muslim Community Should Not Be Blamed For the Easter Sunday Suicide Bombings: The Archbishop of Colombo
April 25, 2019
Sri Lanka's Muslim community should not be blamed for the Easter Sunday suicide bombings that authorities have blamed on a local Muslim group, the Archbishop of Colombo said on Thursday.
Malcolm Cardinal Ranjit said that Muslim politicians and others from the community had offered their condolences and said they had nothing to do with the Sunday horror that killed 359 people and injured hundreds.
"Hence, I am of the opinion that the Muslim community had absolutely nothing to do with these attacks," the Daily Mirror newspaper quoted him as saying.
But the Archbishop said he could not fathom why the Catholic community was subjected to such atrocities.
"I have been personally open and friendly towards the Muslim community as we share a common ancestor in Abraham," Cardinal Ranjith said.
"However, the reason why they chose us would emerge in the future."
He said that members of the Muslim community had met him at Inter-Religious Council meetings where they expressed their condolences and insisted they had no connection with what transpired on Easter Sunday.
Addressing the media, he said the government should have told him "if they knew something was about to take place".
In such an event, he said the community would have cancelled all the masses and services during the Holy Week.
He was referring to published reports that Sri Lanka had been warned by intelligence agencies about possible terror attacks during Easter but the warnings were ignored.
"I have also told my Catholic population not to raise their hand against anyone because that's what we Christians have to follow," the Cardinal added.
He said he had stopped all festivals taking place in churches until the situation was brought back to normal.
https://www.business-standard.com/article/news-ians/muslim-community-has-no-links-with-easter-carnage-cardinal-119042500956_1.html
--------
Sri Lankans urged to avoid mosques, churches amid fears of more attacks
Apr 26, 2019
SYDNEY: Muslims in Sri Lanka were urged to pray at home on Friday and not attend mosques or churches after the State Intelligence Services warned of possible car bomb attacks, amid fears of retaliatory violence for the Easter Sunday bombings.
The US embassy in Sri Lanka also urged its citizens to avoid places of worship over the coming weekend after authorities reported there could be more attacks targeting religious centres.
Sri Lanka remains on edge after suicide bombing attacks on three churches and four hotels that killed 253 people and wounded about 500. The attacks have been claimed by the extremist Islamic State group.
Nearly 10,000 soldiers are being deployed across the Indian Ocean island state to carry out searches and provide security for religious centres, the military said on Friday.
Fears of retaliatory sectarian violence has already caused Muslim communities flee their homes amid bomb scares, lockdowns and security sweeps.
The All Ceylon Jamiyathul Ullama, Sri Lanka's main Islamic religious body, urged Muslims to conduct prayers at home on Friday in case "there is a need to protect family and properties".
Cardinal Malcolm Ranjith also appealed to priests not to conduct mass at churches until further notice.
"Security is important," he said.
Police have detained least 76 people, including foreigners from Syria and Egypt, in their investigations so far.
Islamic State provided no evidence to back its claim that it was behind the attacks. If true, it would be one of the worst attacks carried out by the group outside Iraq and Syria.
Islamic State released a video on Tuesday showing eight men, all but one with their faces covered, standing under a black Islamic State flag and declaring their loyalty to its leader, Abu Bakr Al-Baghdadi.
The Sri Lankan government said there were nine homegrown, well-educated suicide bombers, eight of whom had been identified. One was a woman.
Authorities have focused their investigations on international links to two domestic Islamist groups - National Thawheed Jama'ut and Jammiyathul Millathu Ibrahim - they believe carried out the attacks.
Government officials have acknowledged a major lapse in not widely sharing an intelligence warning from India before the attacks. Defence Secretary Hemasiri Fernando resigned over the failure to prevent the attacks.
The Easter Sunday bombings shattered the relative calm that had existed in Buddhist-majority Sri Lanka since a civil war against mostly Hindu ethnic Tamil separatists ended 10 years ago.
Sri Lanka's 22 million people include minority Christians, Muslims and Hindus. Until now, Christians had largely managed to avoid the worst of the island's conflict and communal tensions.
Most of the victims were Sri Lankans, although authorities said at least 38 foreigners were also killed, many of them tourists sitting down to breakfast at top-end hotels when the bombers struck.
They included British, U.S., Australian, Turkish, Indian, Chinese, Danish, Dutch and Portuguese nationals. Britain warned its nationals on Thursday to avoid Sri Lanka unless it was absolutely necessary because there could be more attacks.
https://timesofindia.indiatimes.com/world/south-asia/sri-lankans-urged-to-avoid-mosques-churches-amid-fears-of-more-attacks/articleshow/69051887.cms
--------
UN agency urges Muslims to give 'zakat' for refugees
April 25, 2019
Dubai: From this Ramadan, Muslims across the world will have a global platform under the United Nations High Commissioner for Refugees (UNHCR) to channel their obligatory alms, or zakat, for the refugee and displaced families from Syria, Iraq, and Yemen.
The UNHCR on Thursday announced the launch of its Refugee Zakat Fund, a new global structure that transforms its three-year-old zakat programme into a global fund.
Aimed at aiding the most vulnerable displaced populations, the fund accepts contributions all year round through the site zakat.unhcr.org
The UN agency also unveiled its "UNHCR Zakat Program: 2019 Launch Report", developed in partnership with DinarStandard, a growth strategy research and advisory firm and the co-authors of the report, during the Refugee Zakat Fund launch in Dubai.
"Every two seconds, we have a refugee," said Houssam Chahine, UNHCR's head of private sector partnerships, MENA.
For the past 70 years, he said, UNHCR has helped 68 million displaced people. "Refugees in Yemen, Lebanon, Jordan and Egypt need urgent assistance for food, water, health care and shelter," he said.
Billion dollar budget
The budget required by UNHCR in 2019 is $7.9 billion (Dh29 billion), to respond to the overall needs of refugees and internally displaced and other people of concern around the world.
Almost 155,000 refugee families are in need of UNHCR's cash-based assistance which requires a funding of $208.6 million this year.
"We are aiming, at least in the coming months, to channel lifesaving support to 24,000 of the most vulnerable refugee and displaced families," said Chahine.
"Ramadan is an important time for refugees, and this year we are launching a major campaign globally to encourage Muslims to remember refugees in their prayers, and remember them with their zakat. However, the Refugee Zakat Fund accepts contributions all year round," he said, while recommending Islamic financial institutions, other organisations and individuals to provide alms to refugees.
He pointed out that refugees are eligible to receive zakat as they fall under at least four of the eight zakat categories mentioned in the Quran.
UNHCR's zakat initiative is fully Sharia-compliant and is backed by five fatwas, authorising the collection of zakat funds to be delivered to eligible refugees under rigorous stipulations. "100 per cent of your zakat goes directly to eligible refugees," Chahine said.
The report said UNHCR's zakat programme globally received $14.4 million from 2016 to 2018, directly assisting 6,888 displaced families, primarily Syrian refugees in Jordan and Lebanon.
How it works
Chahine noted that only up to 30 per cent refugees are in camps and the rest are in urban situations.
Refugees eligible to register for the UNHCR fund can withdraw zakat allotted to them every month until they are out of the crisis and go back to their native places. In countries without ATM facilities, partner banks help UNHCR verify the identities of the refugees receiving zakat by scanning their iris, Chahine explained.
"We have surveys that show where the money is spent by the beneficiaries."
For example, refugee families in Jordan spend the most on rent, followed by food, health care and finally on debt repayment.
In addition, the report shows that the global zakat giving stands at $76 billion and could potentially reach an amount as high as $356 billion, if proper mechanisms are in place for Muslims to safely fulfil their zakat obligations.
Through online bank transfers and digital payments, UNHCR is bringing zakat provision into the modern era. The site also helps donors calculate their zakat and know how that money can impact the lives of refugees.
And hence, UNHCR Fund meets the main challenges like transparency and reporting of zakat, said Rafi-uddin Shikoh, CEO and managing director at DinarStandard.
"Zakat has the potential to release tens of billions of dollars into global philanthropic causes and humanitarian needs, the inaugural UNHCR report reveals. Muslim obligatory charitable contributions might be just the solution to address UNHCR's funding gap, given that 60 per cent out of the 68.5 million of forcibly displaced people worldwide (around 40.8 million people) are Zakat-eligible." he added.
How to remember refugees with your zakat
■ Visit zakat.unhcr.org
■ Choose your zakat destination, supported currency and amount
■ Fill in the fields with your details and click on "Dedicate your Zakat"
■ Alternately, for bank transfer donations, use the accounts given on the next page of the site.
■ Notify UNHCR at care@unhcr.org when the bank transfer is done
https://gulfnews.com/uae/un-agency-urges-muslims-to-give-zakat-for-refugees-1.63553507
--------
Extremism must be defeated, prince tells New Zealand mosque survivors
April 26, 2019
In an emotional meeting with survivors of the New Zealand mosques massacre, Britain's Prince William appealed Friday for "extremism in all forms" to be defeated.
About 160 people gathered at the Al Noor mosque in Christchurch to meet the prince who had earlier told first responders to the March 15 carnage that when "a good friend" is in need "you travel to their place and you put your arms around them."
Six weeks to the day from when a self-styled white supremacist killed 50 people and wounded just as many in two Christchurch mosques, the prince said he stood with the people of New Zealand, the people of Christchurch and the Muslim community.
"An act of violence was designed to change New Zealand, but instead, the grief of a nation revealed just how deep your wells of empathy, compassion, warmth and love truly run," the prince said after arriving at the mosque from a meeting with hospital staff who had tended to the wounded.
"In a moment of acute pain, you stood up, and you stood together. In reaction to tragedy, you showed something remarkable.
"I stand with you in gratitude to what you have taught the world in these past weeks. I stand with you in optimism... I stand with you in grief. I will support those who survive.
"May the forces of love always prevail over the forces of hate... Extremism in all forms must be defeated."
As armed police stood guard outside the mosque and a police helicopter circled overhead, the prince was welcomed to the mosque by the Imam Gamel Fouda, Prime Minister Jacinda Ardern and attack survivor Farid Ahmed whose wife was among those killed.
Ahmed, who became the face of the Muslim community when he said he loved and forgave the gunman, told the prince: "We have to keep up hope and not surrender to hatred".
When William arrived in the country on Thursday he made an unannounced visit to the Starship Children's Hospital in Auckland where he met with five-year-old Alen Alsati and her father, Wasseim, who were both injured in the March 15 attack.
In a touching video released by Kensington Palace, Alen, who only woke from a coma early this week, asked William: "Do you have a daughter?,"
"Do I have a daughter? Yes, she's called Charlotte... she's about the same age as you," William replied.
He flew to Christchurch later in the day to meet with police and medical officers who were first to the scene of the carnage, telling them they did "an incredible job on a very bad day."
William -- who also visited Christchurch just weeks after the devastating February 2011 earthquake which claimed 185 lives -- will end his brief visit later Friday when he lays a wreath at the earthquake memorial site.
https://www.thejakartapost.com/news/2019/04/26/extremism-must-be-defeated-prince-tells-new-zealand-mosque-survivors.html
--------
Hindus Help Muslims Shift Minaret Facing Demolition In Assam
Apr 26, 2019
GUWAHATI: Puranigudam Minar, as the locals call it, stands tall in a dusty bylane of Nagaon. Situated inside the Puranigudam Masjid, built in 1824, the turret was about to be demolished to make way for a highway expansion project. The people of Purunigudam, cutting across religious lines, would not let that happen.
In 2015, the National Highways Authority of India (NHAI) proposed expansion of NH-37 into a four-lane highway.
The Minar was in its way. A few concerned locals, both Hindus and Muslims, approached the district administration with a memorandum to preserve the Minar, but the NHAI and public works department said moving it would be difficult.
Not relenting, some of them started a crowd-funding initiative. Soon, their campaign caught the attention of an engineering firm based in Haryana.
"We proposed a technique called lifting-and-shifting... We lift the structure from its base, using plate rollers, and move it," explained Gurdeep Chauhan, the engineer who worked this out. "The base of the Minar has a perimeter of 42 feet, intricately designed. A few accidents have damaged it a little over the year," he said.
Now, the Minar is being moved 70 feet away from the original site, engaging six labourers. "Initially, we estimated a Rs 5-lakh budget. But it has shot up to Rs 8 lakh. So, our firm is chipping in. The work is 60% done. In another 20 days, we will be able to finish it," Chauhan further said.
For the locals, this comes as a relief after a long battle. "It has been four years since we took the initiative to preserve the site.
The Minar is a symbol of harmony in Nagaon. Through social media, a lot of people are now aware of it and help is coming in from all quarters," said Chittaranjan Borah, a resident of Puranigudam, who was the first to alert the authorities about the need to preserve the site.
https://timesofindia.indiatimes.com/india/hindus-help-muslims-shift-minaret-facing-demolition/articleshow/69050150.cms
--------
Unchecked 'Hate' Toward Rep. Ilhan Omar Has American Muslims Shuddering
By John Eligon
April 25, 2019
KANSAS CITY, Mo. — When Makkah Ali learned that Representative Ilhan Omar had been elected, she could not get enough of the good news — someone like her, a black Muslim woman, was going to Washington to represent Americans.
But just four months into Ms. Omar's first term, that feeling of celebration has taken a sharp turn.
"Watching what Congresswoman Omar is going through will have a lot of young black Muslim women wondering if what she is going through will ultimately be worth it," said Ms. Ali, 29, a producer and co-host of the "Identity Politics" podcast.
Ms. Omar, 36, the first congresswoman to wear a hijab, has faced intense opposition over her outspoken, controversial positions on Israel and comments about Jews that many felt played on anti-Semitic tropes about money and dual loyalty.
Leaders of her own party drafted a resolution rebuking her comments. Republicans have threatened to censure her. Things escalated when President Trump accused her of playing down the events of Sept. 11 after comments she made about the aftermath of the attacks.
And while her choice of words has caused some of her own Muslim constituents to describe her as anti-Semitic, many American Muslims across the country are worried that the ongoing criticism of Ms. Omar is being motived by racism and Islamophobia, and they are concerned about the broader consequences for their communities, including a heightened sense that they are not welcome in the halls of power.
"If we start fearing visibility, we're putting a ceiling on what change we can make in this world," said Ms. Ali.
American Muslims are a small but increasingly significant part of the electorate. During last year's midterm elections, nearly 100 Muslim candidates ran for office, and some of the largest American Muslim communities are in swing states.
But that momentum could easily be derailed, some say, and the blame for such a setback would lie not just with Ms. Omar's poor choice of words or Mr. Trump's inflammatory rhetoric, but also with Democratic leaders who appear reluctant to embrace the diversity they claim to champion.
Maheen Ahmed, a 25-year-old aide in the California Legislature, said it was inspiring to see someone who looked and prayed like her representing Americans at the federal level, but the tepid support for Ms. Omar from some Democrats was disheartening.
"By allowing for the hate toward Congresswoman Ilhan Omar to go unchecked, many people that are like me, we are pretty discouraged," said Ms. Ahmed, who is Muslim and wears a hijab.
Ms. Omar has received hundreds of threats since taking office, she said. A New York man was arrested earlier this month for threatening to kill her. A Florida man was arrested last week for making threatening phone calls to members of Congress, including Representative Rashida Tlaib, with references to Ms. Omar.
Ms. Tlaib, Democrat of Michigan, is also Muslim, but it is Ms. Omar who has attracted the most scrutiny because of her outspoken criticism of Israel.
When Ms. Omar first came onto the national scene as a blunt-talking freshman congresswoman from Minnesota, Suldan Hagi, who is a Muslim immigrant from Somalia like Ms. Omar, understood how her comments and delivery could be perceived as hurtful and offensive.
Still, he felt her unique perspective as an immigrant and refugee made for valuable contributions to Congress. It was just that Ms. Omar needed to be more reserved and avoid attention and getting into trouble, he said.
Then came what Mr. Hagi saw as unfair charges that Ms. Omar was anti-Semitic, and a false insinuation from Mr. Trump that she did not understand the severity of Sept. 11. Now Mr. Hagi thinks it is not Ms. Omar's politics upsetting people, but her identity.
"There's many people that are racist," said Mr. Hagi, 38, who owns a trucking business in Kansas City. "And when you see someone who wears a hijab, although an American, they don't like it. She's different. Maybe a lot of people are saying, 'What's going on here?'"
Others agreed that Ms. Omar would have been better off keeping a low profile so early in her tenure.
"Usually when someone is elected to a higher office, I always see that people take it easy in the first term, first year," said Omar Jamal, a political consultant in St. Paul, Minn., who is from Somalia. "They learn. They don't go around saying whatever comes to their mind."
Mr. Jamal said he believed Ms. Omar was paying the price for focusing too heavily on Israel. "I think she's gone the wrong way in creating controversy and being anti-Semitic," he said. "She should have focused on her district, housing, education, but she became obsessed with Israel."
Last month, Ms. Omar said during a speech at an event hosted by the Council on American-Islamic Relations that many Muslims had been mistreated because of the actions of a few on Sept. 11.
Following those remarks, Mr. Trump shared a video on Twitter that featured four words from Ms. Omar's speech — "some people did something" — against the backdrop of planes hitting the twin towers, suggesting that Ms. Omar did not comprehend the gravity of the attacks.
Mr. Trump also told a Minneapolis TV station that Ms. Omar has "been very disrespectful to this country."
Representative Nancy Pelosi, the House speaker, acknowledged the video in a statement that criticized the president for using "the painful images of 9/11 for a political attack," but she failed to mention Ms. Omar by name.
That led to accusations that the speaker and Democratic leadership were ambivalent about the continued attacks faced by Ms. Omar, who said she had received an increase in threats in the wake of the video.
Several Democrats, including Representative Jerrold Nadler and Senators Bernie Sanders and Elizabeth Warren, offered their support for Ms. Omar. Ms. Pelosi requested a review of the congresswoman's security.
To Ms. Ali, the podcast host, Democratic leadership did not show real solidarity with Ms. Omar when she faced threats of violence, underscoring her fears that the congresswoman was being singled out. As a freshman, she said, Ms. Omar not only deserved support but time to learn and grow.
"Give them the same benefit of the doubt we give to white politicians and leaders that say bigoted and racist and horrible things," Ms. Ali said. "Black women have always been held to a different standard."
Although Ms. Omar continues to face political attacks and death threats, she has said she does not plan to slow down, a relief to many of her Muslim supporters and others who feel her criticism of the influence Israel has on Washington is legitimate and justified.
"I think all of us are incredibly inspired by Ilhan's bravery as she continues to face this hatred and Islamophobia," said Representative Andre Carson, Democrat of Indiana, who is also Muslim.
As for Ms. Omar's comments on Israel, Mr. Hagi said that he felt Mr. Trump had said much worse, and that the president had put Ms. Omar in his cross hairs simply to spread fear and score political points.
It would not work, he added. "People are smarter than that."
Sheryl Gay Stolberg and Pierre-Antoine Louis contributed reporting.
https://www.nytimes.com/2019/04/25/us/ilhan-omar-muslim-reactions.html
--------
Anwar advises Islamic bodies to be vigilant against terrorist groups
25 Apr 2019
KUALA LUMPUR (Bernama): PKR president Datuk Seri Anwar Ibrahim (pic) has advised Islamic bodies to be vigilant against religious fanatic and extremist groups which promote terrorism among Muslims in the name of Islam.
The Port Dickson MP said Islam promotes harmony and opposes all forms of violence.
"I strongly condemn the action of the Daesh (Islamic State) militant group that claimed responsibility for the suicide attacks at several churches and hotels in Sri Lanka.
"The violent act is against the teachings in the Quran," he said in a statement on Thursday (April 25).
The bomb blasts which ripped through the Sri Lankan churches and hotels in Colombo, Negombo and Batticaloa on Easter Sunday (April 21) claimed the lives of up to 360 people and injured hundreds of others.
Anwar advised Malaysians to extend moral support to the families of the victims, like how the citizens of the world responded in the wake of the March 15 terror attacks at two mosques in Christchurch, New Zealand, last month that claimed 50 lives. - Bernama
https://www.thestar.com.my/news/nation/2019/04/25/anwar-advises-islamic-bodies-to-be-vigilant-against-terrorist-groups/
--------
Trump plan doesn't include Jordan-Palestinian union, says US envoy
25 April 2019
An architect of a still-secret US plan to end the Israeli-Palestinian conflict took to Twitter again on Wednesday to disclose another element that it would not contain - a confederation with neighboring Jordan.
US President Donald Trump's Middle East envoy, Jason Greenblatt, had already tweeted "False!" on Friday to what he said were reports that the proposal would give part of Egypt's Sinai desert to the adjacent Palestinian enclave of Gaza, which is ruled by the Islamist Hamas group.
On Wednesday, Greenblatt denied that the plan envisages a confederation involving Jordan, Israel and the Palestinian Authority, which administers limited self-rule in the occupied West Bank.
"@KingAbdullahII & #Jordan are strong US allies. Rumors that our peace vision includes a confederation between Jordan, Israel & the PA, or that the vision contemplates making Jordan the homeland for Palestinians, are incorrect. Please don't spread rumors," Greenblatt wrote.
Jason D. Greenblatt
✔
@jdgreenblatt45
.@KingAbdullahII & #Jordan are strong US allies. Rumors that our peace vision includes a confederation between Jordan, Israel & the PA, or that the vision contemplates making Jordan the homeland for Palestinians, are incorrect. Please don't spread rumors. 169
6:28 PM - Apr 24, 2019
Twitter Ads info and privacy
181 people are talking about this
White House senior adviser Jared Kushner, another main architect of the peace proposal, said on Tuesday it would be made public after the Muslim fasting month of Ramadan ends in June.
Kushner, who is married to Trump's daughter Ivanka and spoke at a Time magazine forum in Washington, did not say whether the plan called for a two-state solution, a goal of past US peace efforts.
Palestinian leaders have called for the establishment of an independent state alongside Israel in the West Bank and Gaza Strip, with East Jerusalem as its capital.
Israeli Prime Minister Benjamin Netanyahu, who won a fifth term in an election two weeks ago, laid down a series of conditions for Palestinian statehood in a major policy speech in 2009.
But US-brokered peace talks collapsed in 2014, partly over the expansion of Israeli settlements in occupied territory Palestinians seek for their state.
In a last-minute election campaign promise that angered Palestinians, Netanyahu said he planned to annex Jewish settlements in the West Bank if he was again chosen as Israel's leader.
The US proposal, which has been delayed for a variety of reasons over the last 18 months, has two major components. It has a political piece that addresses core issues such as the status of Jerusalem, and an economic part that aims to help the Palestinians strengthen their economy.
Palestinian leaders have said Trump cannot be an honest broker after he broke with long-standing US policy and recognized Jerusalem as Israel's capital in 2017 and moved the American embassy to the city last May.
https://english.alarabiya.net/en/News/middle-east/2019/04/25/Trump-plan-doesn-t-include-Jordan-Palestinian-union-says-US-envoy.html
--------
South Asia
'I challenge Talibs to join other Afghans and work to make this the year of peace': Khalilzad
26 Apr 2019
The U.S. Special Representative for Afghanistan Reconciliation Ambassador Khalilzad has challenged Taliban to join other Afghans and work to make the current year the year of peace.
In a statement posted on his official Twitter account after the release of latest UN report regarding civilian casualties in the first quarter of 2019, Khalilzad said "We are distressed by reports of civilian casualties, each one an unnecessary victim of a war that has gone too long. Sons &daughters, brothers &sisters, neighbors &friends. Their deaths outrage us all & we stand w/ Afghans who protest the deaths & want to end the bloodshed."
Khalilzad further added "We deeply regret any loss of innocent life during military operations. We never target innocents. War is treacherous & unintended consequences are devastating. While we strive to prevent casualties, real solution is a ceasefire or reduced violence as we pursue lasting peace."
"The Taliban say 'a ceasefire is not part of the agenda'. For us, peace is the agenda. The Afghan people have had enough violence & want an end to the war. The United States stands with them. I challenge Talibs to join other Afghans and work to make this the year of peace," Ambassador Khalilzad added.
According to a report released by United Nations Assistance Mission, the mission documented 1,773 civilian casualties (581 deaths and 1,192 injured), including 582 child casualties (150 deaths and 432 injured) from 1st January to 31st of March.
UNAMA attributed 963 civilian casualties to anti-government armed elements, 608 casualties to pro-government forces, 208 civilian casualties to pro-government forces airstrikes, and 219 civilian casualties to airstrikes conducted by foreign forces.
https://www.khaama.com/i-challenge-talibs-to-join-other-afghans-and-work-to-make-this-the-year-of-peace-khalilzad-03804/
--------
How Zahran Hashim went from obscure extremist preacher to the alleged mastermind of the Sri Lanka bombings
April 26, 2019
ISLAMABAD, Pakistan: Until last Sunday, the only thing Zahran Hashim was known for was being a member of a local Sri Lankan group accused of defacing Buddhist statues.
Now, the obscure radical preacher is believed to be Daesh's point person in Sri Lanka and the "mastermind" of the coordinated Easter Sunday attacks that have left 359 dead and more than 500 injured.
A video released by Daesh on Tuesday shows seven black-clad, masked men pledging allegiance to the organization, and an eighth man, whose face is visible, leading them. That man is Hashim. Security officials in Sri Lanka claim to have "credible information" that he was planning another attack targeting Muslim shrines that followed the mystical stream of Sufi Islam.
Sri Lanka has no history of Islamist extremism. The Sri Lankan government first named a local militant group, National Thowheed Jamath (NTJ), as the main suspect behind the attacks. It is one of the few Islamist radical groups operating in the country and was thus seen as the main contender for involvement with Daesh. Hashim is known to have been a member of the group until at least 2016 when security officials say he left and formed his own faction because the core group disapproved of his increasingly hard-line views.
Hashim was driven out of his hometown Kattankudy in eastern Sri Lanka by townspeople and moderate clerics because of his divisive teachings. Media reports say he received his early schooling in Kattankudy and then traveled to India to start a seven-year course on Islamic theology. He dropped out midway. Since then, he has reportedly traveled frequently between India and Sri Lanka.
Shunned by his hometown and the NTJ, Hashim found a small, but loyal, band of supporters online. Over the past two years, he gained thousands of followers for his impassioned sermons against non-Muslims on YouTube and a Sri Lankan Facebook account, which he called Al-Ghuraba Media and used to spread pro-Daesh propaganda.
According to Robert Postings, a researcher whose work focuses on Daesh, Hashim had been a supporter of the group at least since 2017, when he began posting pro-Daesh propaganda on Facebook. In many of Hashim's videos, the backdrop is images of the burning Twin Towers after the Sept. 11, 2001 attacks in the US.
Last year, Hashim appeared on intelligence officials' radar after several of his students defaced three Buddhist statues in central Sri Lanka. The subsequent investigation led officers to a large weapons cache, including 100 kg of explosives and detonators, on the northwestern coast of Sri Lanka.
Experts say Daesh has been recruiting for years in Sri Lanka and other Asian countries. On the ground, the group seems to have received help from Hashim after he created the Al-Ghuraba group. "That is the Islamic State (Daesh) branch in Sri Lanka," said Rohan Gunaratna, a Singapore-based expert on militancy in the region.
Experts with knowledge of the investigations said Hashim's faction of the NTJ was the "main player" in the Easter attacks and that he worked with international support, given the sophistication of the bombings and the fact that foreigners were targeted.
"Most Sri Lankans have not heard about this (National Thowheed Jamath) group before," said Jehan Perera, executive director of the National Peace Council of Sri Lanka. "There is someone behind them, a handler."
As of Thursday, Daesh had not provided any further proof for its claim of responsibility for the attacks, and Sri Lanka's Defense Minister Ruwan Wijewardene said investigators were trying to determine if it had directly provided training or financing to the bombers. There was no evidence to suggest the bombers had traveled to the Middle East to fight for Daesh, he said..
"There were many people who understandably doubt that the attacks were a purely domestic operation," said Taylor Dibbert, a Sri Lanka expert and fellow at the Pacific Forum.
"The investigation surrounding intelligence failures and the bombings should be done with significant international assistance. The Sri Lankan government cannot be trusted with this type of thing on its own," he said.
TIMELINE OF SRI LANKA BLASTS
April 11
Sri Lanka's police chief issues an intelligence alert, warning that suicide bombers from a group called National Thowheed Jamath plan to hit "prominent churches."
April 21
8.45 a.m. Four bombs explode on Easter Sunday at the Shangri-La and Kingsbury hotels, and
St. Anthony's church in Colombo; and St. Sebastian's church in Negombo, north of the capital.
8.50 a.m. Explosion at Colombo's Cinnamon Grand Hotel.
9.05 a.m. Blast hits the Zion Roman Catholic church in Batticaloa on Sri Lanka's
east coast.
1.45 p.m. Explosion at the New Tropical Inn, Dehiwala.
2.15 p.m. Three police officers are killed in an explosion while raiding a house in Colombo.
8 p.m. Curfew begins in the capital; police say they have made their first arrests.
April 22
4 a.m. Evening curfew is lifted amid tight security. Police find 87 detonators at Colombo's main bus stand.
8 p.m. Another night curfew begins.
April 23
Midnight State of emergency comes into effect.
Daesh releases a video that shows eight men, all but one with their faces covered, standing under the terror group's flag and declaring their loyalty to its leader, Abu Bakr Al-Baghdadi. The man with his face uncovered is identified as Moulvi Zahran Hashim, a preacher known for his militant views.
Full report at:
http://www.arabnews.com/node/1488261/world
--------
Wanted Sri Lanka radical Hashim died in hotel attack: President Maithripala Sirisena
Apr 26, 2019
COLOMBO: An Islamic extremist believed to have played a key role in Sri Lanka's deadly Easter bombings died in an attack on a Colombo hotel, the country's president confirmed Friday.
"What intelligence agencies have told me is that Zahran was killed during the Shangri-La attack," President Maithripala Sirisena told reporters, referring to Zahran Hashim, leader of a local extremist group.
Hashim appeared in a video released by the Islamic State group after they claimed the bombings, but his whereabouts after the blasts were not immediately clear.
Sirisena did not immediately clarify what Hashim's role was in the attack on the Shangri-La, one of six bomb blasts that killed over 250 people on Sunday.
Security forces had been on a desperate hunt for Hashim, believed to be around 40, after the government named the group he led -- the National Thowheeth Jama'ath -- as its prime suspect.
His appearance in the IS video, where he is seen leading a group of seven others in a pledge of allegiance to IS chief Abu Bakr al-Baghdadi, only heightened fears about the radical.
Full report at:
https://timesofindia.indiatimes.com/world/south-asia/wanted-sri-lanka-radical-hashim-died-in-hotel-attack-president-maithripala-sirisena/articleshow/69052788.cms
--------
Suspected militant blown up while planting a bomb inside a private university in Kabul
25 Apr 2019
A suspected militant was blown up by own explosives as he was attempting to plant a bomb inside the compound of a private university in Kabul.
Kabul police officials have confirmed that the incident took place at around 10:30 am local time in the vicinity of Kart-e-Naw area in 8th police district of the city.
Basir Mujahid, a spokesman for Kabul Police confirmed the incident and said the suspected militant was looking to place an improvised explosive device inside the toilet of Jahan University.
He also added that the explosives went off prematurely leaving the suspected militant dead while three others were wounded.
Full report at:
https://www.khaama.com/suspected-militant-blown-up-while-placing-a-bomb-inside-a-private-university-in-kabul-03800/
--------
Afghan forces rescue 53 hostages from a Taliban prison in Zabul province
26 Apr 2019
The Afghan security forces have rescued 53 hostages from a Taliban prison in southern Zabul province, the Ministry of Interior officials said.
Nasrat Rahimi, a spokesman for the Ministry of Interior said the operation was conducted by Special Forces in Daichupan area of the province.
According to Rahimi, at least 8 militants were also killed during the same operation.
Full report at:
https://www.khaama.com/afghan-forces-rescue-53-hostages-from-a-taliban-prison-in-zabul-province-03806/
--------
3 prominent Taliban leaders arrested by Afghan forces in Logar province
26 Apr 2019
Three prominent leaders of the Taliban group have been arrested during separate operations of the Afghan security forces which were conducted in Logar province.
The Ministry of Interior in a statement said the Special Forces of the Afghan National Police conducted a targeted raid against Taliban militants in Pul-e-Alam city, the provincial capital of Logar.
The statement further added that three Taliban including two prominent leaders of the group identified as Qari Mohammad Yousuf alias Ahmadi and Mohammad WAli alias Sangari were detained.
The Afghan forces also confiscated a pistol, a binacolur, and three motorycles during the operation, the Ministry of Interior added.
The Ministry of Interior in a separate statement said a commission chief of Taliban identifeid as Karim was arrested together with another militant during an operation which was conducted in Padghab area of Pul-e-Alam city.
Full report at:
https://www.khaama.com/3-prominent-taliban-leaders-arrested-by-afghan-forces-in-logar-province-03805/
--------
Sri Lanka's Easter bombings send a militant global message
April 26, 2019
Ever since the Islamic State of Iraq and Syria (IS) emerged as a ruthless, rampaging force to be reckoned with more than five years ago, the question that has haunted intelligence circles has been: If home is an option for foreign jihadists, what will they do if they return?
IS has claimed responsibility for the Easter Sunday bombings in Sri Lanka that left more than *250 people dead and hundreds more wounded, confirming what many had feared.
IS, al-Qaeda and Osama bin Laden, and affiliates such as Jemaah Islamiyah, have a long history of inspiring and coordinating Islamic suicide bombers.
Before Easter Sunday, IS alone had inspired 143 attacks in 29 countries while acting as a magnet for fanatical Muslims wanting to reshape the world in their own image, sucking them into war in Syria and Iraq.
As IS nears defeat in the Middle East, its militias are leaving to rejoin their families at home and hook up with the ranks of other jihadist groups in Asia and the West, where terror tactics have become an unfortunate and deadly norm.
Nightclubs, city malls, office blocks, public transport, pop concerts, hotels, schools, hospitals churches and mosques — with lots of people and lax security — are the low-hanging fruit for terrorists of all stripes.
Immediately after the attacks on churches and hotels in Sri Lanka, suspicion fell on local Islamist group National Thowheeth Jama'ath (NTJ), which had been named in an intelligence warning 10 days earlier.
Jama'ath means council, while thowheeth has been romanized from Arabic with various spellings. The most popular is tawhid or tawheed and signifies oneness with God, Islam's central and most important tenet.
NTJ's brand of Islam is straight out of the IS playbook: cheap, homemade simultaneous bombings targeting society's most vulnerable, using fear to underscore a political or religious agenda. In military parlance, it is the very definition of terrorism.
What they want is a Sri Lankan Islamic caliphate and for non-Muslims to submit.
Almost 40 Sri Lankans are known to have fought with IS in Syria, similar to jihadist numbers from as far afield as Malaysia and Indonesia to Australia and Britain. Perhaps the most infamous Sri Lankan IS jihadi was Sharfaz Shuraih Muhsin, killed in an airstrike on Syria in 2015. More came from the nearby Maldives.
Small in number, potent in reach
Radical groups such as NTJ are small. Jemaah Islamiyah terrorized Indonesia and beyond for more than a decade but could only boast about 1,500 core members. Including the periphery, often made up of family and close friends, the number was closer to 5,000.
The group's ties with bin Laden and al-Qaeda in Afghanistan and Pakistan were extensive. That included funding, tactics, political strategies and demands for a caliphate encompassing most of Southeast Asia and northern Australia — a stupid and incredulous claim.
It's a relationship that NTJ and IS appear to have mimicked.
According to the Center for Strategic and International Strategic Studies, the number of jihadists globally has quadrupled since the 2001 attacks on New York and Washington, and the number of people killed by them stands at about half a million. Terrorism is cheap, nasty, psychotic and potent.
As recently as the Vietnam War, Hanoi and the Viet Cong reputedly had a hand in teaching the Irish Republican Army terror tactics, while their use of plastic explosives inspired the Tamil Tigers who used similar terrorist techniques in their bloody 26-year civil war in Sri Lanka.
Not since that war ended in 2009 has Sri Lanka endured such carnage.
The Easter Sunday bombings were carried out with precision, even if word had leaked. Ten days before the attacks, police were warned by international intelligence agencies of a threat by bombers to "prominent churches" and the Indian High Commission in Colombo.
"A foreign intelligence agency has reported that NTJ is planning to carry out suicide attacks," it read in part.
There have been other threats in Sri Lanka, where Buddhists make up 70 percent of its population and 12.6 percent are Hindu while Muslims and Christians account for 9.7 and 7.6 percent respectively, but reports of ethnic and religious strife are not that common.
According to the Christian Evangelical Alliance of Sri Lanka, there were 86 verified reports of discrimination, threats and violence against Christians last year. That's hardly rampant in a country of 22 million people.
NTJ has been active in recent years, earning a reputation for vandalizing Buddhist statues, and it went very public with its goal of importing the global jihadist movement to Sri Lanka. Secretary Abdul Razik was charged with inciting racism in 2016.
Following his arrest, one commentator noted: "Tawhid Jama'ath [sic] is an organization which is despised by the majority of Muslims in Sri Lanka, India and the world over. They are a minority of minorities who carry no respect whatsoever in the community."
Maniacal dogma
For all the ethnic bloodshed which has dogged Sri Lanka, the island state had escaped the tentacles of Islamic terrorism and the type of maniacal dogma normally associated with bin Laden and IS.
The latest bombings put the Vatican and its dioceses, and any government that felt immune to this type of attack, on notice.
Forensic scientists have determined that at least seven suicide bombers were deployed. At least 40 people have been arrested and Prime Minister Ranil Wickremesinghe admits security measures initiated after the intelligence warning were inadequate.
The Indian High Commission was presumably warned and was not hit. Whether the churches and hotels were warned and what measures they took to protect their parishioners and guests may well emerge as one of the great issues in this tragic and bloody terrorist act.
From the Vatican down, prayers will be said alongside reminders to turn the other cheek. Priests will deliver sermons based on peace and eternal love and the victims will be deservedly venerated.
Full report at:
https://www.ucanews.com/news/sri-lankas-easter-bombings-send-a-militant-global-message/85033
--------
Sri Lankan police looking for 140 with ISIS links, says President Sirisena
26 April 2019
Sri Lankan President Maithripala Sirisena said on Friday police are looking for 140 people believed to have links with the ISIS extremist group over the Easter Sunday attacks on churches and hotels that killed at least 253 people.
The president appealed to the island nation not to view its minority Muslim community as terrorists in the wake of the attacks that officials said was carried out by a local Muslim extremist group.
President Sirisena spoke to Colombo-based reporters on Friday. He said Sri Lanka had the capability "to completely control ISIS activities" in the country, which hasd claimed responsibility for the bombings.
Sirisena told reporters some Sri Lankan youths had been involved with the extremist group since 2013, and that top defense and police chiefs had not shared information with him about the impending attacks.
Officials have acknowledged that some intelligence units were made aware of a plot to attack churches weeks in advance. Sirisena says he was kept in the dark and placed the blame squarely on Sri Lanka's defense secretary and police chief.
He said the defense secretary had resigned but would stay on until a replacement could be named, and that the police chief would soon step down, too.
He also blamed Prime Minister Ranil Wickremesinghe's government for weakening the intelligence system by focusing on the prosecution of military officers over alleged war crimes during a decade-long civil war with Tamil separatists.
Wanted Sri Lanka radical Hashim died in hotel attack
An Islamic extremist believed to have played a key role in Sri Lanka's deadly Easter bombings died in an attack on a Colombo hotel, the president confirmed on Friday.
"What intelligence agencies have told me is that Zahran was killed during the Shangri-La attack," President Sirisena told reporters, referring to Zahran Hashim, leader of a local extremist group.
Hashim appeared in a video released by the ISIS after they claimed the bombings, but his whereabouts after the blasts was not immediately clear.
Full report at:
https://english.alarabiya.net/en/News/world/2019/04/26/Sri-Lankan-police-looking-for-140-with-ISIS-links-says-President-Sirisena.html
--------
Afghan official says Taliban ambush police convoy, kill 9
25 April 2019
An Afghan official says the Taliban ambushed a security convoy, killing nine policemen in western Farah province.
Abdul Samad Salehi, a provincial councilman, says the convoy was heading to defuse a roadside bomb on Wednesday afternoon when the ambush happened in Anardara district.
Saleh says that shortly after the attack on the convoy, other Taliban insurgents targeted and briefly overran the district police headquarters. After a few hours of clashes, reinforcements arrived and wrested back control of the headquarters.
The insurgents did not immediately comment on the Farah attacks. The Taliban have been active in the area and have launched large-scale attacks against Afghan security forces in Farah.
Full report at:
https://english.alarabiya.net/en/News/world/2019/04/25/Afghan-official-says-Taliban-ambush-police-convoy-kill-9.html
--------
100s of Muslim refugees flee homes after Sri Lanka bombings over attack fears
Apr 25, 2019
Hundreds of Muslim refugees have gathered in mosques and a police station in Sri Lanka, fearing harm after recent bombings although the country's Muslim community has categorically distanced itself from the perpetrators.
Since the Sunday terrorist attacks, some among local communities have begun targeting the Muslims, who have already fled to the eastern city of Negombo from persecution at their home countries, activists said on Thursday. Unknown people have raided the Muslims' houses before beating them and many landlords have ejected the refugees.
The attacks saw bombers targeting churches and luxury hotels in the capital Colombo and two other cities, killing at least 359 people and wounding some 500 others. The government has blamed a small group, known as the Nations Thawahid Jaman (NTJ), but the group has not claimed responsibility for the bombings.
"Today, these refugees have become refugees again in Sri Lanka. They have been displaced for a second time," said Ruki Fernando of Inform, a Sri Lankan human rights group, AFP reported.
He said around 700 refugees were believed to have sought shelter at one mosque in Negombo. Around 120 others were at a police station, while several hundred more were at another mosque located 25 kilometers from Negombo, he added.
Dozens got on buses to leave Negombo on Wednesday, but turned back after being advised against heading to Colombo over security fears.
"People are scared. They are in a vulnerable position and don't have basic facilities," Herman Kumar from Unity of Negombo Citizens, a group trying to foster communal harmony in the city, said.
Meanwhile, the leader of All Ceylon Jamiyyathul Ulama, the main umbrella body for Sri Lanka's Muslim clerics, told journalists that the country's Muslim community does not accept the bodies of the individuals who carried out the attacks.
"Those who committed this barbaric attack on innocent civilians do not belong to us and hence we categorically state that we will not accept their bodies," Rizwe Mufti said.
Full report at:
https://www.presstv.com/Detail/2019/04/25/594336/Sri-Lanka-Muslims-flee-terrorist-attacks-bombings
--------
Europe
UK far-right activist, anti-Islam campaigner to run for EU parliament elections
Apr 25, 2019
British far-right activist and anti-Islam campaigner, Tommy Robinson, has announced he would run for the European Parliament elections in May.
Robinson said on Thursday that he would contest the May 23 elections on a campaign of trying to revive UK's bid to withdraw from the EU.
"The election on 23rd May is how we fight back. Put me right inside the EU and they won't know what hit them," read a statement on Robinson's website.
Robinson is well known in Britain and around the world for his extensive hate campaign against Muslims and migrants. However, a political crisis in Britain on how the country should leave the EU has helped far-right nationalist figures like him to gain more public attention.
Robinson, whose real name is Stephen Yaxley-Lennon, said he would campaign for Brexit's revival like Nigel Farage, the former head of UK Independence Party (UKIP) who has recently launched the Brexit Party.
"They'll long for the days when it was just Nigel Farage," said the statement, adding that the British government had clearly failed to deliver on the results of the 2016 Brexit referendum.
Robinson has been banned from major social media organizations due to his Islamophobic activity. He has several convictions and a pending case on contempt of court charges.
Robinson's appointment as an advisor to UKIP leadership last year caused Farage, who many believe would gain a sweeping victory in the EU parliament elections, to leave the party.
In his statement, Robinson criticized Farage for his silence on the spread of Islam across the UK.
"I admire what Farage achieved in the past. But at the end of the day, he's just another millionaire stockbroker who looks down at the working classes," he said, adding, "And he's terrified of talking about issues like the Islamification of Britain. He won't fight the battle for the heart of our country — in fact he bad-mouths those who do."
https://www.presstv.com/Detail/2019/04/25/594344/UK-Islamophobe-Robinson-EU-parliament-elections
--------
Libya's PM raps France for backing 'dictator' general
Apr 25, 2019
Libyan Prime Minister Fayez al-Sarraj, the leader of Libya's internationally-recognized government, has denounced France for supporting renegade general Khalifa Haftar, whose forces are pressing ahead with an offensive on the capital, Tripoli.
Sarraj said in an interview with the French newspaper Leberation on Wednesday that Libyans were surprised to see Paris backing up "dictator" Haftar, a former army field marshal who is based in eastern Libya and heads a group of militia known as the so-called Libyan National Army (LNA).
"We are surprised that France does not support our government, which is democratic, but supports a dictator," said Sarraj, who heads the internationally-recognized Government of National Accord (GNA). "When [French President] Emmanuel Macron called me, I warned him that public opinion was against France. We don't want Libyans to hate France. France still has a positive and important role to play."
The Libyan prime minister made the remarks after reports emerged that a group of armed French intelligence operatives had been denied entry into Tunisia from Libya, where they were believed to have been helping Haftar.
The men, claiming to be diplomats, carried communications devices speculated to have been used for keeping in touch with the LNA.
Meanwhile, France's Le Monde newspaper has also claimed that Paris has been training Haftar's forces since 2015.
Libyan officials have said the country would cease cooperation with the French government over the European country's interactions with Haftar. On Monday, Interior Minister Fathi Bach Agha said the French government was supporting "the criminal Haftar," adding that the GNA would cut security ties with Paris.
The supporters of the United Nations (UN)-backed GNA say France has blocked resolutions at the UN Security Council, the European Union, and other international organizations opposing Haftar's offensive on Tripoli.
Hundreds of Libyans held a protest against France in Tripoli on Friday, sporting the trademark yellow vests of French anti-government demonstrators and condemning both France and "war criminal" Haftar.
France has publicly denied supporting Haftar so far, saying it has contact with all the factions and rival groups in the war-ravaged Libya.
Libya has been divided between two rival governments, the House of Representatives based in the eastern city of Tobruk and the GNA, headed by Serraj, in Tripoli.
The 75-year-old Haftar, who enjoys the loyalty of a group of armed militia and backing from Saudi Arabia, the United Arab Emirates, and Egypt, has taken upon himself to protect the government in Tobruk. Armed forces and militia loyal to the GNA have been fighting back.
Haftar launched his deadly campaign to invade and conquer Tripoli — the seat of the GNA — on April 4. Fierce fighting is ongoing on the southern edges of the capital.
Full report at:
https://www.presstv.com/Detail/2019/04/25/594296/Libya-Sarraj-Haftar-France-support
--------
Britain slams Iran's 'vile ploy' over Zaghari-Ratcliffe prisoner swap offer
April 25, 2019
LONDON: British Foreign Secretary Jeremy Hunt on Thursday dismissed the suggestion of a prisoner swap for a British-Iranian mother being held in Tehran as a "vile" diplomatic ploy, while her husband told AFP the idea was "almost impossible."
In New York, Iranian Foreign Minister Mohammad Javad Zarif on Wednesday suggested a swap between Nazanin Zaghari-Ratcliffe, who is in jail in Tehran for alleged sedition, and Negar Ghodskani, an Iranian woman held in Australia on a US extradition warrant. Hunt said there was a "huge difference" between the two women.
"The woman in jail in Australia is facing due process, a proper legal procedure, and she is alleged to have committed a very serious crime," he told reporters in London.
"Nazanin Zaghari-Ratcliffe is innocent — she has done nothing wrong."
He added: "What is unacceptable about what Iran is doing is that they are putting innocent people in prison and using it as leverage.
"I'm afraid that is what is happening with this Australian case. They're saying, we'll only release this innocent Brit if you'll do something that suits us diplomatically."
Richard Ratcliffe, Zaghari-Ratcliffe's husband who has been campaigning for her release, said he was "blindsided" by the offer as he followed Zarif's speech on Twitter and does not think it is the "way forward."
"It's clearly a hopeful thing that he was talking about her release explicitly," he told AFP.
"At the same time, linking her in a public way to a big complicated deal that is almost impossible to do because it's been made public could easily be a displacement tactic."
Zaghari-Ratcliffe worked for the Thomson Reuters Foundation and was arrested in 2016 while visiting relatives for the Persian New Year.
Iranian authorities accused her of plotting against the government and handed her a five-year jail sentence for sedition.
Britain has taken the unusual step of granting her diplomatic protection in a bid to free her.
Ghodskani, a legal resident of Australia, was arrested in 2017 after US prosecutors said she sought US digital communications technology by presenting herself as an employee of a Malaysian company.
US prosecutors said she in fact was sending the technology to Iranian company Fanamoj, which works in public broadcasting.
Both women have been separated from their young children while being detained.
Ratcliffe has also been separated from his daughter Gabriella, who was with her mother when she was detained in Iran and has since remained in the country with her grandparents.
The prospect of Gabriella's possible return to Britain after her fifth birthday this June is causing Zaghari-Ratcliffe fresh anguish amid her continued detention, he said.
Full report at:
http://www.arabnews.com/node/1488106/middle-east
--------
'Political Islam' seeks secession from France: Macron
Yusuf Ozcan
26.04.2019
PARIS
French President Emmanuel Macron vowed Thursday to resist 'political Islam', which he said is a threat and seeks succession from the republic.
Macron made the remarks during a press conference at the Elysee Palace to unveil his policy response to the Yellow Vest protests following a three-month-long national debate.
"Political Islam wants to secede from our republic," he said, asking the government to be "intractable" against it.
"We are talking about people who, in the name of a religion, pursue a political project," he said.
He said the control of funds from abroad to some organizations should also be strengthened.
Macron also noted that France's 1905 law on secularism has been effective and should continue to be implemented.
"We must not hide ourselves when we talk about secularism. We do not really talk about secularism. We talk about the communitarianism that has settled in certain neighborhoods of the republic," he said, referring to Muslim communities in France.
Since last November, thousands of protesters wearing bright yellow vests -- dubbed the Yellow Vests -- have gathered in major French cities to protest Macron's controversial fuel tax hikes and the deteriorating economic situation.
Under pressure, Macron announced a rise in the minimum wage and scuttled the tax hikes.
The protests grew into a broader movement aimed at tackling income inequality and are calling for giving citizens a stronger voice in government decision-making.
Full report at:
https://www.aa.com.tr/en/europe/political-islam-seeks-secession-from-france-macron/1462978
--------
India
Kerala IS cells played a role in Lanka blasts? Probe on
Apr 26, 2019
KOZHIKODE: Security agencies are probing whether any of the Islamic State (IS) modules in Kerala have links with the terror attack in Sri Lanka on Easter Sunday which killed over 350 people. Many IS sympathizers, who were earlier taken into custody and let off, were summoned by the agencies to know whether they have any clue about the attacks.
Sources said nothing concrete has come out of the investigation as of now but pointed out that IS cadres in Kerala had shared the posts of Aadil AX, a Facebook account suspected to be operated by a Sri Lankan terrorist. He operated an account 'Did You Know', which contained posts about the "glorious past of Islam" that was used by IS to justify its deeds.
The IS cadres from Kerala were very much enthused by the posts and almost all of them shared the same.
An agency report has even said that Zahran Hashim, the suspected mastermind of the Sri Lankan attacks, was in direct touch with some IS sympathisers in Kerala and Tamil Nadu for over three years through social media sites like Youtube and Facebook. National Investigation Agency (NIA) had arrested some IS sympathizers like Mohammed Ashiq, Ismail, Samsudeen, Jafar Sadik Ali and Shahul Hameed from south India. The agency report said that some of them were in touch with Hashim while others were in contact with men in Hashim's network of operatives.
Interestingly, there are striking similarities between the hate speeches of Hashim and some extreme Salafi preachers in Kerala.
Both have been stressing on the 'dangers' of Muslims living in Darul Kufr (land of unbelievers) and the need to keep a distance from the Kafirs (non-believers).
Malayali IS recruits had another link with Lanka when in 2016 they visited a Hadees study centre in Sri Lanka, run by Salafi preacher Nawas al-Hindi, before migrating to IS strongholds in Afghanistan.
IS cadres from Kasaragod Abdul Rashid, Ashfak Majeed and Hafeesudeen joined the centre run by al-Hindi, but soon left after heated debate over IS. Al-Hindi had later stated that he ousted the Malayalis from the centre as they had spoken in favour of IS and claimed that his centre never entertained anyone remotely connected with the terrorist organisation.
It may be mentioned that NIA had arrested 15 operatives affiliated to IS when they had met at Kanakmala in Kannur district in October 2016. According to probe agencies, they were plotting to attack Jews and political leaders in and outside Kerala but NIA cracked down on them after receiving a tip-off. Some of the IS cadres arrested in the Kanakamala case had links with a terror module in Tamil Nadu. Subhani Haja Moideen, an IS cadre arrested from Thirunelveli in Tamil Nadu, was trained by the terror outfit in Syria and allegedly had a role in the terror attack in Paris in 2015.
Meanwhile, many Muslim organizations in Kerala have strongly condemned the terror attacks in Sri Lanka. In a statement, Sunni leader Kanthapuram A P Aboobacker Musaliyar said those who perpetrated violence have no connection with Islam. "The stand taken by the attackers is against Islam. Suicide attack is a heinous crime which is not allowed in any religion," he said.
KNM (Markazudawa) president E K Ahmedkutty and general secretary C P Umer Sullami said that Muslims need no help from terrorists and suicide bombers to save the religion.
https://timesofindia.indiatimes.com/india/kerala-is-cells-played-a-role-in-lanka-blasts-probe-on/articleshow/69050078.cms
--------
Sri Lanka blasts: Coimbatore man denies link with NTJ, says NIA trying to frame him
Apr 26, 2019
COIMBATORE: R Ashiq of Marakkadai in Coimbatore, who is accused of plotting to murder Hindutva leaders, on Friday said the National Investigation Agency (NIA) is trying to frame him and others by linking them with the National Thowheed Jama'at (NTJ), a terror group suspected to be involved in the serial blasts in Sri Lanka.
"We don't have any connection with the serial bomb blasts in Sri Lanka.
The NIA is trying to frame us by stating that we were in touch with Moulavi Zahran Bin Hashim of the National Thowheed Jama'at. The NIA is working against innocent Muslims and is trying to present Muslims as terrorists in the international arena", he said.
Ashiq, 25 of Thirumal Street at Marakkadai is working in a butcher shop at Kottaimedu in the city. He is one among the six men who have been accused of plotting to murder Indu Makkal Katchi (IMK) leader Arjun Sampath.
The NIA was investigating the case. The NIA had taken him into custody thrice. However, it failed to file a chargesheet within 180 days against Ashiq and others, and they got bail from the NIA special court at Poonamallee in Chennai two months ago.
The NIA claimed that it had alerted Sri Lanka through Indian intelligence agency about the conversation that had happened between the NTJ leader and the six accused.
Ashiq told TOI that he did not have any connection with the serial bomb blasts in Sri Lanka.
"The NIA registered a fake case against innocent Muslims and tried to create a story that Muslims are terrorists. But the NIA won't bother about the real culprits. The case against us in connection with plotting to murder Hindutva leaders is also a false one. We came out on bail because the NIA doesn't have any valid evidence against us," he said .
Ashiq alleged that he had been beaten up by the Coimbatore city police and made him to put his signature on a document accepting that he was also one of the accused in the murder plot case.
He added that he knew four of the accused people through Facebook . "They came to Coimbatore city to attend a marriage function and I went to the Coimbatore railway junction to receive them. Meanwhile, the city police arrested all of us and foisted fake cases," he said.
He added that he was not a sympathiser of terror group ISIS. The NIA created a story against me saying that he was an ISIS sympathiser, he said.
" I had not heard about ISIS earlier. I came to know about ISIS on after my arrest. I have never contacted NTJ leader Zahran Bin Hashim. I haven't chatted with him. I gave my Facebook details to the NIA for investigation. But I don't know about the others whether they were in touch with NTJ leader, " said Ashiq.
"I came to know about the NTJ leader on after the serial blasts in Sri Lanka. Those who involved in the serial bomb blasts should be punished severely," he added.
Full report at:
https://timesofindia.indiatimes.com/india/sri-lanka-blasts-coimbatore-man-denies-link-with-ntj-says-nia-trying-to-frame-him/articleshow/69052400.cms
--------
Two Hizbul Mujahideen militants killed in Anantnag
Apr 25, 2019
Two Hizbul Mujahideen militants were killed in Bijbehara in south Kashmir's Anantnag district after a gun battle with security forces on Thursday morning, officials said.
The police and security forces launched a cordon-and-search operation at Bagender Mohalla in Bijbehara following intelligence inputs on Thursday morning. The team was fired upon by militants who were hiding in a house.
In the retaliatory fire, two militants were killed. Arms and ammunition were recovered from the encounter site, one of the police officials said.
Police identified the slain militants as Safdar Amin of Bijbehara and Burhan Ahmad Ganaie alias Saifullah of Anantnag. Burhan, who was pursuing a Bachelor of Physiotherapy course, joined militant ranks in June last year. Safder became a militant in May 2017.
"The killed terrorists were affiliated with proscribed terror outfit Hizbul Mujahideen. They were wanted by law for their complicity in a series of terror crimes including attack on security establishments and civilian atrocities. Several terror crime cases were registered against them,'' the police official cited above said.
Full report at:
https://www.hindustantimes.com/india-news/two-hizbul-mujahideen-militants-killed-in-anantnag/story-M2UuDHiqGA1fkOHeRsNmLN.html
--------
NIA arrests two from Kashmir for 'links' with Pulwama suspect
by Deeptiman Tiwary
April 26, 2019
The National Investigation Agency (NIA) on Thursday arrested two youths from Kashmir on suspicion of their involvement with a suspect being probed for his alleged connections with the attack on a CRPF convoy in Pulwama on February 14.
The agency took into custody Tanveer alias Tanveer Ahmad Ganie, 29, and Bilal Mir alias Bilal Ahmad Mir, 23, for allegedly being in touch with arrested accused Sajjad Ahmed Khan, who is suspected to have had knowledge of the Pulwama attack. According to NIA, both are members of Jaish-e-Mohammed (JeM).
"Investigation has disclosed that earlier arrested accused Sajjad Ahmad was in regular contact with these accused over WhatsApp during the relevant period. Tanveer and Bilal were brought from Kot Bhalwal Jail, Jammu, where they have been detained under Public Safety Act, and produced before the NIA Special Court today against a production warrant. The NIA court has granted seven days of NIA custody of the two accused persons," a statement by the agency said.
Full report at:
https://indianexpress.com/article/india/nia-arrests-two-from-kashmir-for-links-with-pulwama-suspect-5695128/
--------
NIA questions former J&K finance minister in terror funding case
Apr 25, 2019
SRINAGAR/ NEW DELHI: The National Investigation Agency (NIA) interrogated a former PDP minister in Mehbooba Mufti's coalition government, Altaf Bukhari, on Thursday, in a terror funding case, sources have confirmed.
Bukhari, a well-known neta, had been pipped to be PDP and National Conference's consensus candidate for chief minister when the BJP-PDP coalition government gave way in June 2018.
But governor SP Malik had then dissolved the state assembly, thereby blocking any chances of Bukhari becoming J&K CM. PDP dismissed the 60-year-old Bukhari from party's basic membership in January 2019 for "anti-party activities".
Bukhari runs FIL Industries in Kashmir, makers of apple concentrates. His younger brother Tariq Bukhari is also likely to be questioned in the terror-funding case in a few days, NIA sources said.
A politician businessman, Bukhari joined PDP in 2005, and won from Amira Kadal constituency in the assembly elections of 2014. He was a minister in the coalition government headed by Mufti Mohammad Sayeed but was dropped from the cabinet after Mehbooba took over following the party founder and her father's death in 2016.
In February 2017, Bukhari was re-inducted into the cabinet and made education minister and allotted the finance ministry portfolio in March 2018 after veteran Haseeb Drabu was also dropped from the cabinet. In November 2018, Altaf Bukhari was seen as consensus CM candidate of PDP and the Abdullahs' National Conference.
The Bukharis belong to Ludoora in Baramulla district of north Kashmir but the family has long moved to Srinagar and lives at Sheikh Bagh in the heart of the city.
Full report at:
https://timesofindia.indiatimes.com/india/nia-questions-former-jk-finmin-in-terror-funding-case/articleshow/69047822.cms
--------
India delaying talks to finalise agreement to operationalise Kartarpur corridor: Pakistan
Apr 25, 2019
ISLAMABAD: Pakistan on Thursday accused India of delaying the delegation-level talks to finalise the agreement to operationalise the Kartarpur corridor.
The Kartarpur corridor links Gurudwara Darbar Sahib in Pakistan's Narowal with Dera Baba Nanak shrine in Gurdaspur district in Punjab.
Foreign Office (FO) spokesperson Mohammad Faisal said, "Pakistan is keen that the Kartarpur Corridor becomes operational as per the schedule. However, the meetings are delayed as the Indian government is not willing to hold the delegation-level meeting at this juncture."
On April 16, India and Pakistan held a meeting on technical aspects of the proposed corridor. At the nearly four-hour-long meeting, which took place in makeshift tents at "Zero point" of the proposed corridor, experts and technicians from both the countries discussed timing for completion of bridge, alignment of roads and engineering aspects of the proposed crossing points.
After the meeting, Faisal said that work is proceeding rapidly on the Pakistani side on the Kartarpur corridor.
"In view of paucity of time, we are keen to hold the meeting to finalise the draft agreement at the earliest. The meeting is specifically to discuss differences related to proposals of both countries for operationalising the corridor and to align positions to build convergence. We hope India will agree to hold a meeting at the earliest," he had said.
Full report at:
https://timesofindia.indiatimes.com/india/india-delaying-talks-to-finalise-agreement-to-operationalise-kartarpur-corridor-pakistan/articleshow/69046368.cms
--------
NIA arrests key conspirator of pro-IS module Harkat-Ul-Harb-E-Islam in Delhi; Mohammad Faiz 14th accused who planned attacks in NCT
Apr 24, 2019
New Delhi: The National Investigation Agency (NIA) on Tuesday arrested a key conspirator who was planning to carry out terrorist attacks in the national capital region of Delhi and Uttar Pradesh.
"Mohd Faiz was found to be the main member of the Pro-IS module Harkat-Ul-Harb-E-Islam, who was instrumental in bringing other members besides founding the group. The investigation has revealed that he was closely involved in the procurement of arms and ammunition for the group to carry out terrorist acts in and around the National Capital Region," an NIA release said. Faiz, a resident of Delhi, is the fourteenth accused arrested in the case so far.
"The case pertains to a group of Pro-IS terrorists who formed a terrorist gang which was engaged in acts preparatory to the commission of terror attacks with a view to wage war against the Indian government. The group was found to be inspired by the ideology of IS and was conspiring and preparing to target places of importance in and around NCT of Delhi," the release said. The agency also found that a resident of Jafrabad was mobilising funds and explosive materials to prepare IEDs.
Full report at:
https://www.firstpost.com/india/nia-arrests-key-conspirator-of-pro-is-module-harkat-ul-harb-e-islam-in-delhi-mohammad-faiz-14th-accused-who-planned-attacks-in-nct-6506791.html
--------
North America
US regrets Afghan civilian deaths, says answer is peace
25 April 2019
The US envoy negotiating with the Taliban voiced regret Thursday over findings that US-backed forces were killing more civilians than the militants, and said the solution was a peace deal.
A UN report released Wednesday found that international and pro-government forces were responsible for the deaths of 305 civilians in the first three months of the year, the first time they were behind more killings than the Taliban since the US-led coalition toppled the extremists' regime in 2001.
"We deeply regret any loss of innocent life during military operations. We never target innocents," said Zalmay Khalilzad, the US negotiator who is set shortly to resume talks with the Taliban in Qatar on ending the war.
"War is treacherous, and unintended consequences are devastating. While we strive to prevent casualties, real solution is a ceasefire or reduced violence as we pursue lasting peace," he tweeted.
Khalilzad appealed to the Taliban and other Afghans to "work to make this the year of peace."
He struck a different tone than the spokesperson for US forces in Afghanistan, Colonel Dave Butler, who said the United States pursued "the highest standards of accuracy and accountability" and that troops "reserve the right of self-defense."
President Donald Trump is eager to find a negotiated way to pull out troops and end the longest-ever US war.
Afghan President Ashraf Ghani, with whom the Taliban refuse to negotiate, has called for next week a "loya jirga," a traditional gathering of all the country's communities, although it is unclear how broad the attendance will be.
https://english.alarabiya.net/en/News/world/2019/04/25/US-regrets-Afghan-civilian-deaths-says-answer-is-peace.html
--------
Mike Pompeo grants wide exemptions for Iran Revolutionary Guards sanctions
April 25, 2019
The United States has watered down sanctions on Iran's Revolutionary Guard by clarifying that foreign governments and businesses that do dealings with Tehran's paramilitary force will not face travel bans.
When the administration of Donald Trump imposed the sanctions on April 15, there was a fear that military officials and US diplomats would have to cut contact with officials in countries that have dealings with Tehran and the guards force.
But on Wednesday, Secretary of State Mike Pompeo published two notices in the Federal Register clarifying that those that have dealings with the guards or their affiliates would not be subject to a ban on travel to the US.
The decision to directly apply sanctions on Iran's Revolutionary Guard and its proxies is the first time an arm of a foreign government has ever been designated a terrorist organization by the United States. They came as part of the American push to apply more pressure on Tehran over destabilising regional policies and its backing for militant and armed groups from Beirut to Aden.
There were concerns that without such an exemption, US relations with countries such as Lebanon or Iraq would be hit given Beirut and Baghdad's close ties to Tehran.
In Lebanon, Iran and the guard are active in their support of the militant Hezbollah movement, and in Iraq they back Shiite militias and have close ties to the government. Both countries also have close relations with the United States.
Mr Pompeo said in the notices that he decided to waive the travel bans in US foreign policy and national security interests.
In one notice, he said the sanctions "shall not apply to any ministry, department, agency, division, or other group or subgroup within any foreign government" unless that entity is covered by existing US sanctions.
In the second notice, he said the sanctions would not apply "to any business, organization, or group, whether public or private, solely based on its provision of material support to any foreign government sub-entity that has been designated as a foreign terrorist organization."
The notices, one former US official said, was a pragmatic approach.
"At first glance, it looks like a wise carve-out," Daniel Fried, a former sanctions coordinator for the State Department who is now with The Atlantic Council, told the Associated Press. "One of the rules of sanctions is that you need to account for unintended consequences and have wide licensing and waiver authority. Otherwise, if there are unintended consequences you find yourself unable to act."
The notices come just days after the US decided to end sanctions waivers for countries reliant on Iranian oil in a move that Mr Trump said was aimed at bringing Tehran's oil and gas exports to zero.
But, some Iran hawks in the US are concerned that the US administration may not fully enforce the sanctions on countries that continue to import Iranian oil.
AP reported that one of the scenarios being considered is to allow countries covered under the waiver to place orders for Iranian oil and gas before the May 2 deadline, essentially pre-purchasing supplies to be delivered at a later day. The AP said the plan was relayed by congressional aides and outside advisers familiar with the matter although there was no official mention of the proposal.
The AP also said that US officials had refused to rule out a soft implementation of the sanctions, giving countries time to taper off Iranian imports.
But US officials that vocal critics of Iran have been clear in their view of Mr Trump's campaign of "maximum pressure" on Tehran.
"I think maximum pressure should mean maximum pressure," Senator Ted Cruz told Mr Pompeo earlier this month at a Senate Foreign Relations Committee hearing during which he implored the administration to adopt the strictest possible interpretation of the sanctions.
Full report at:
https://www.thenational.ae/world/mena/mike-pompeo-grants-wide-exemptions-for-iran-revolutionary-guards-sanctions-1.853510
--------
Southeast Asia
Reviewing 'Kafir' To End Intolerance, Inequality
Aan Anshori
April 26, 2019
In the previous months, we have been shocked by intolerant actions against two Indonesian Christians — including a deceased elderly woman. In mid-February, villagers in Mojokerto regency, East Java, opposed the burial of Nunuk Suwartini, 68, in Ngares village because of her religion. The most recent case saw a Christian artist, Slamet Jumiarto, 42, expelled from another predominantly Muslim neighborhood in Bantul in Java's heartland, Yogyakarta. As a Muslim by birth, who was raised in Islamic education systems from pre-elementary school to the postgraduate level, I can surely say that while these cases are shocking, they are the extreme logical consequences of what all Muslims have been taught regarding all non-Muslims, referred to as kafir or infidels. While we are indoctrinated to believe that there is no salvation outside Islam, likewise we are taught that ...
https://www.thejakartapost.com/academia/2019/04/26/reviewing-kafir-to-end-intolerance-inequality.html
--------
Malay leaders, post-truth and alternative facts
April 26, 2019
I can empathise with those who feel that Pakatan Harapan (PH) has let us down on international treaties like the International Convention on the Elimination of All Forms of Discrimination (ICERD) and the Rome Statute.
It's not so much that we lost the battle to counter arguments; the main worry is when you are bested by groups of people who have manipulated public opinion to further their political agenda.
It was reported that a group of students stumbled upon a summary paper prepared by four academics to convince the Conference of Rulers to reject ratification of the Rome Statute. The students claimed that the arguments in the summary were one-sided and had sinister motives.
The academics who wrote the summary are now being challenged by legal minds and are even being accused of treason.
Prime Minister Dr Mahathir Mohamad said critics of the Rome Statute were engaging in a political move to pit the country's monarchy against the new government.
In November 2018, ICERD was abandoned because of Malay sensitivities. Umno's Ahmad Zahid Hamidi said then that the Malay-Muslim community would "run amok" to protest if ICERD was not withdrawn.
Malay-Muslim groups organised a mass protest at Dataran Merdeka, spearheaded by the two largest Malay opposition parties, Umno and PAS.
With ICERD and the Rome Statute, the Malay opposition played on the usual rhetorical deceit, that the Malays would lose their special rights, the position of the Malay rulers would be eroded, and the Malay language and Islam would be undermined.
Post-truth
Filmmaker Robert Kane Pappas in an interview once said, "If you repeat a lie often enough, people will believe it. It really is public brainwashing and misinformation."
In 2016, the Oxford dictionary named "post-truth" as the word of the year.
Post-truth is related to or denotes circumstances in which objective facts are less influential in shaping public opinion than appeals to emotions and personal beliefs.
In simple terms, many a time our opinion is swayed by emotions and personal beliefs rather than hard facts or empirical evidence.
Malay leaders with ulterior motives have peddled post-truth and Trump-like alternative facts to further the political concept of "ketuanan Melayu" or Malay supremacy to rule the country.
Post-truth has a lot to do with the derailing of the ratification of ICERD and the Rome Statute.
We can explain in objective terms why we as a nation have agreed to sign these international treaties, but when the Malay opposition leaders play up Malay rights issues, you are appealing to emotions and personal beliefs rather than sound reasoning.
As George Orwell lamented, "The very concept of objective truth is fading out of the world. Lies will pass into history."
How can Malay rights be threatened when the education ministry says it will stick to its original policy of allocating 90% for Bumiputera and 10% for non-Bumiputera students for the matriculation programme?
Like NEP, there is always a legitimate question of fairness, equality and even human rights when such a policy is peddled at the highest levels of government.
But then, the Malay argument would be that Malays are still behind in all aspects of the economy and education, and they need to be given a handicap to even the playing field, as in the game of golf.
But how long before they can be competitive and stand on their own? If there is no time limit to the handicap, we will be forever perpetuating the idea that the Malays are weak and need to be spoon-fed.
Donald Trump has used a combination of post-truth, alternative facts and fake news to further his agenda. By creating false fear that Mexican criminals and illegals are flooding the country and painting a picture of crisis at the border, he declared a state of emergency to build the wall in order to appease his power base.
In the same vein, Malaysia has arrived at a post-truth era, where, as philosopher Lee McIntyre said, alternative facts and feelings have more weight than evidence.
Malaysia is on dangerous ground when truth is challenged as a method for asserting political dominance.
McIntyre, author of the book "Post-Truth", states: "Post-truth amounts to a form of ideological supremacy, whereby its practitioners are trying to compel someone to believe in something whether there is good evidence for it or not."
Malaysia is among 14 countries in the world yet to accede to the ICERD, a convention which has been ratified by numerous Muslim-majority countries such as Indonesia, Saudi Arabia, Iran, Turkey and Jordan.
People like PAS president Abdul Hadi Awang like to emulate Saudi Arabia by dressing like Arabs and implementing shariah laws. But when it comes to ICERD, Hadi comes up with post-truth to dissuade the Malay populace, tugging their heartstrings with mumbo-jumbo that the Malay race will be forever threatened.
Hadi is the expert on false propaganda. He can say things like Muslims should place their trust in Muslim leaders regardless of their wickedness, claiming that believers will end up in hell if led by non-Muslims, and that it's dangerous for non-Muslims to touch on Islam and the rulers.
On religion, I would agree – we should not comment on each other's religions or beliefs, especially in public space. On the current debate on the role of constitutional monarchy, it has nothing to do with Islam but concerns the law of the land.
It's good to see Mahathir's debate with Tunku Ismail Sultan Ibrahim of Johor, as it brings the issue of the powers of our constitutional monarchy into the open.
The PH government inherited a host of problems from the Barisan Nasional government. After failing to ratify ICERD and the Rome Statute and losing three by-elections in a row, and now with the constitutional monarchs flexing their powers, the headwinds are strong.
Full report at:
https://www.freemalaysiatoday.com/category/opinion/2019/04/26/malay-leaders-post-truth-and-alternative-facts/
--------
Asia is new "ground zero" for Islamist terror
Brahma Chellaney
26 April 2019
The Easter Sunday bombings in Sri Lanka rank among the deadliest terrorist attacks in modern history, and underscore the metastasising scourge of Islamist violence in Asia. Radical Islamic groups, some affiliated with larger extremist networks, have been quietly gaining influence in an arc of countries extending from the Maldivian to the Philippine archipelagos, and the threat they pose can no longer be ignored.
In fact, the grisly Sri Lankan bombings are a reminder that Asia – not the Middle East – is the region most afflicted by terrorist violence. Home to the vast majority of the world's Muslims, it is also host to multiple "terrorist safe havens," owing to the rise of grassroots radical movements and years of complacency on the part of policymakers.
With a total of 359 people dead (and hundreds more wounded), the Sri Lanka bombings were seven times deadlier than the 15 March massacre by a white supremacist at two mosques in Christchurch, New Zealand. The death toll is also more than double that of the 2008 Mumbai attacks, which involved 10 Pakistan-based militants in one of the modern world's longest-ever terrorist sieges.
By targeting international hotels and iconic churches, the Islamists behind the Sri Lankan blasts clearly intended to strike a blow against Sri Lanka's fast-growing tourism industry, a mainstay of the country's debt-ridden economy. Reduced tourism receipts will add to the burden of Sri Lanka's high external interest payments, compounding a problem that has already forced the country to cede control of its strategic Indian Ocean port, Hambantota, to China (a signal achievement of the latter's debt-trap diplomacy).
The attacks also mark the dawn of Islamist terrorism in Sri Lanka. Though suicide bombings were not uncommon during the country's 26-year civil war, which pitted the ethnic Sinhalese majority against the minority Tamils, Sri Lanka has not previously experienced coordinated violence on this scale or a major attack by Islamist militants.
The civil war ended in 2009, when the Sri Lanka Army brutally crushed the last of the Tamil separatist rebels. But that outcome sowed the seeds of religious conflict between the country's mainly Buddhist Sinhalese and a Muslim minority that constitutes one-tenth of the population.
Sri Lanka's Muslim population is largely concentrated in the Eastern Province, where Saudi and other Gulf funding has fuelled the rise of jihadist groups seeking to enforce sharia (Islamic law). The group suspected of carrying out the Easter bombings, the National Thowheed Jamaath, thrived in this setting. Like the similarly named outfit Sri Lanka Thawheed Jama'ath and the rapidly growing Tamil Nadu Thoweed Jamath in southernmost India, its primary goal is to foment militant Islamic fundamentalism.
We now know that Indian intelligence had tipped off Sri Lankan security agencies about the Easter bombing plot, even identifying its alleged masterminds. Yet, owing to political infighting between Sri Lankan President Maithripala Sirisena and Prime Minister Ranil Wickremesinghe, the latter was kept in the dark. Accordingly, many are now blaming the failure on Sirisena, who oversees the security agencies (and who had previously attempted to remove Wickremesinghe in a constitutional coup, only to be overruled by the Supreme Court).
Though its extremist enclave in Syria and Iraq has crumbled and its leaders are on the run, the Islamic State (ISIS) has claimed responsibility for the bombings. Like al-Qaeda before it, ISIS wants to demonstrate its continued relevance by taking credit for attacks in areas where it has no presence. Most likely, the Sri Lanka attacks were not the direct work of ISIS. And yet they were inspired by the same toxic ideology espoused by ISIS: Wahhabi fanaticism.
Wahhabism, the austere, rigid version of Islam bankrolled by Saudi Arabia and other Gulf sheikhdoms, remains the driving force behind Islamist terrorism today. Its offspring include not just al-Qaeda and ISIS, but also the Taliban in Afghanistan, Lashkar-e-Taiba in Pakistan, Boko Haram in Nigeria, and al-Shabaab in Somalia. All of these groups are driven by a nihilistic rage born of hostility toward non-Sunnis and a rejection of modernity.
Unfortunately, as the Sri Lanka bombings and other attacks in Asia show, the defeat of ISIS in Syria and Iraq has only intensified the terrorism challenge, because battle-hardened fighters with the operational training to stage savage attacks are now returning home. The presence of such returnees in Sri Lanka explains how an obscure local group was able to carry out sophisticated, near-simultaneous strikes on three churches and three hotels, using military-grade explosives.
Returnees are present in many other Asian countries as well, from the Philippines and Indonesia to the Maldives and Uzbekistan. Like Osama bin Laden and other al-Qaeda leaders who cut their teeth in the United States (US)-backed war against the Soviet occupation of Afghanistan, this new generation of jihadist veterans could haunt the security of Asia, the Middle East, and the West for years to come.
To be sure, official discrimination against Muslims has contributed to Islamists' growing influence, particularly in Myanmar's Rakhine state, Thailand's four southernmost provinces, and the southern Philippine island of Mindanao. But so have Saudi-funded madrasas (religious seminaries) and social-media platforms, which facilitate fundraising, recruitment, and dissemination of jihadist propaganda. Hence, jihadist violence has also come to threaten predominantly Muslim countries such as Indonesia, Malaysia, Bangladesh, and Kazakhstan. And in some cases – namely Pakistan – the state itself is abetting violent extremists.
Full report at:
https://theaseanpost.com/article/asia-new-ground-zero-islamist-terror
--------
Yoursay: Hadi's deliberate misreading of the constitution spells danger
Apr 26, 2019
Appum: PAS president Abdul Hadi Awang believes that non-Muslims have no right to comment on issues related to Islam and the Malay rulers.
Hadi seems like one who dons the holy uniform, but inwardly practises all that is forbidden in his religion. He has a forked tongue, he takes what is not his, and he preaches to his followers that others not like them are evil.
His mind seems to be so closed and limited that he cannot see humanity. What a bad representation of the religion.
OMG!: Hadi says "even when they (non-Muslims) were dissatisfied, they saw the kehebatan (supremacy) of the constitution, the greatness of rulers, the greatness of Islam and greatness of the Malays".
The fact is, if the Federal Constitution was strictly followed, non-Malays would have nothing to complain about. Then, according to the "reasonable proportion" stated in Article 153, the Chinese and Indians would have 30 percent – their racial proportion – of the civil service.
That's 1.6 million jobs or 480,000 government employees enjoying pension and medical benefits. But how many are there today?
David Dass: No, Hadi, constitutional lawyers are not cowed by the "greatness" of the provisions you speak of. Yes, there are provisions relating to Islam, the rulers and Article 153. None of these provisions makes non-Malays feel slighted or inferior.
The rulers are hereditary rulers, and it is only right that their position is secured by the Federal Constitution. They are rulers for all Malaysians. The position of Islam is similar to the position of Anglicanism in the United Kingdom.
Freedom of worship and the equality of all Malaysians are fundamental liberties under our constitution. Non-Muslims do not have problems with these provisions, and in fact, want Hadi and people like him to respect and uphold the constitution.
Bright Morning Star: Hadi has nothing good to say every time he opens his mouth. Nothing besides race, religion, royalty and bad mouthing the minorities in this nation. Who does he think he is?
Non-Malays, to my knowledge, are more than happy to uphold the Federal Constitution and recognise Islam as the official religion of the federation.
On the contrary, the extremists – Hadi and his goons from Umno and PAS – are the "emboldened culprits" who bully the non-Malays with their toxic race and religion rhetoric.
Mission Accomplished: If Hadi is right, then what do we even need the constitution for?
Don't use threats, Hadi. The glory days of 'ketuanan Melayu' (Malay supremacy) and bigotry are over. You have cried wolf once too often.
If you want peace, be faithful to the constitution. If you wish the country to burn, the racists and bigots will not escape the flames too.
Clever Voter: Hadi is a political opportunist. He is not to be taken seriously. Non-Muslims have every right to comment on issues that threaten the future of the nation, including religion or rulers.
Everyone has the right to comment on corrupt politicians, including those from Pakatan Harapan.
Let's face it, Hadi should know in today's world, all public figures, especially those whose existence is enabled with taxpayers' money, are subject to public comments, good or bad.
Indeed, Hadi is a hypocrite by any standard. He should avoid stirring up racial tensions, for the sake of ensuring peace, unless he intends otherwise.
Ramesh Nair: Why do we keep entertaining religious fanatics who keep harping on issues that have nothing to do with the economy and the overall development of the country?
Why are the racist and religious parties getting mainstream media headlines? Selling news or fanning hatred? The media should be held responsible for such terrible clickbait headlines and reporting.
Let the bigots of old fade away with their beliefs, so that the new generation can start to think critically. When a nation's people start questioning the relevancy of such beliefs and laws, it shows maturity, not dissent.
Not Convinced: Not reporting on what Hadi said will not make the problem go away. It will make it worse because one-half of the population will not know what the other half is feeling and thinking.
That was how Donald Trump won the US presidential election. Hadi needs to be exposed and countered, not ignored.
Anonymous_3b6c1foc: The PAS president is raising the race and religion rhetoric to dangerous levels when there has never been a situation where non-Muslims have questioned Islam or the royal institution. He revels in raising tensions.
He should be cautioned, as it is people like him that can cause extremists to strike. Never in Malaysia's history nor in any part of the world do you find a majority race feeling they are under siege when they control the economy, security services and the government.
This act of Hadi in trying to corral Malay support exclusively by making provocative statements is encouraging extremism. There was a time when such statements would have been met with swift jailing.
BTN: The younger generation must be very confused because of people like Hadi who is projecting Islam in a very negative light.
Islam is a religion of peace and compassion but the actions and words of people like the PAS president make the religion seem the opposite of what it is supposed to be.
The trouble with this is when people get confused and embrace negativity, they will turn towards extremism, such as in the case of Christchurch and Colombo.
Do we want our youth to evolve into such hideous people? We want responsible leaders, not those who misuse people and religion for their selfish gain.
VGeorgeMy: What would Hadi know about any social contract not mentioned in the constitution? Is this another syariah-complaint lie to oppress minorities and the marginalised?
Does the law exclude the oppressed classes from participating in the life of democratic institutions?
Newday: All residents of Malaysia live under the direction of the sultans and the Yang di-Pertuan Agong. The states have rulers, the country has the king.
Hadi is saying that non-Muslims cannot comment on royalty? But we all live here. The rulers have responsibilities over all, not just Muslims.
Full report at:
https://www.malaysiakini.com/news/473772
--------
Don't meddle in Johor Islamic affairs, warns TMJ
April 25, 2019
JOHOR BAHRU: The Crown Prince of Johor, Tunku Ismail Sultan Ibrahim, today reminded those who have nothing to do with Johor not to cause problems by interfering in the state's Islamic affairs.
Speaking at the opening of the seventh Darul Ta'zim Gathering of Ulama, held in conjunction with the official birthday of the Sultan of Johor, Sultan Ibrahim Sultan Iskandar, here, Tunku Ismail reminded all quarters that Johor is a sovereign state with its own constitution, based on the Ahli Sunnah Wal Jamaah.
"To those who have nothing to do with Johor, don't meddle with Islamic religious affairs, which are state matters.
"And don't create problems among the people of Johor or confuse them, including the Johor royalty.
"In fact, Johor is always ready to share knowledge and work together to strengthen the ummah (Muslims) in the region," said Tunku Ismail.
Present at the ceremony were the Tunku Temenggong of Johor, Tunku Idris Iskandar; the Tunku Panglima of Johor, Tunku Abdul Rahman; and the Tunku Putera of Johor, Tunku Abu Bakar.
Also present were Johor Menteri Besar Dr Sahruddin Jamal and state Islamic Affairs, Agriculture and Rural Development Committee chairman Tosrin Jarvanthi.
Tunku Ismail also advised all parties not to smear the image of mosques and suraus by indulging in activities that can undermine Muslims.
Only matters concerning Islam and suitable to Ahli Sunnah Wal Jamaáh can be raised during sermons, lectures, talks and other activities at mosques and suraus in the state, he said.
Tunku Ismail said these speakers should be qualified and accredited by the Johor Islamic Religious Council (MAINJ) and should be sensitive to current issues.
"The same applies to speakers from political parties who, despite being qualified in Islamic matters, could lace their talks with politics because of their political leanings.
"In this matter, I would like to remind all, don't be a thorn in the flesh. The consequences will be damaging.
"If we cause confusion in these places by raising matters not connected to Islam, the role of mosques and suraus in propagating Islamic teachings will become meaningless," he said.
On the setting up of the Johor Halal Council under the supervision of MAINJ, Tunku Ismail said its role is to regulate the halal industry and promote Johor's halal products to a wider market.
Earlier, Sultan Ibrahim suggested that the federal and Johor governments set aside any dispute or misunderstanding and meet and discuss matters with maturity for the good of all, especially the people.
In a post on his official Facebook account, the Ruler hoped the focus would be on the development and progress of Johor.
"The new state leadership should remain focused and enhance efforts to take care of the people's welfare and interests," he said.
Sultan Ibrahim said he hoped that all quarters would extend their fullest cooperation to enable the Johor administration to function smoothly.
Full report at:
https://www.freemalaysiatoday.com/category/nation/2019/04/25/dont-meddle-in-johor-islamic-affairs-warns-tmj/
--------
Mideast
Hundreds of settlers storm Aqsa Mosque as Israel imposes restrictions
Apr 25, 2019
Hundreds of extremist settlers have stormed the al-Aqsa Mosque compound in the occupied Old City of East Jerusalem al-Quds amid an escalation of violence by Israeli forces and settlers against Palestinian people.
Palestinian sources, requesting not to be named, said more than 320 Israeli settlers entered the site through the Moroccan Gate under tight protection of several groups of Israeli soldiers and special police forces.
The sources added that the settlers toured the compound and performed prayers on the fifth day of the Jewish week-long Passover holiday.
The sources further noted that Israeli forces had erected checkpoints along streets and alleyways around the al-Aqsa Mosque compound. The movement of locals was also blocked off with iron barriers and sandbags.
In addition, Israeli troops searched Muslim worshipers and checked their identity cards before allowing them to enter the site.
The al-Aqsa Mosque compound sits just above the Western Wall plaza and houses both the Dome of the Rock and al-Aqsa mosque.
Palestinians have repeatedly warned of Israeli attempts to change the status quo of the al-Aqsa Mosque compound. Al-Aqsa Mosque is the third holiest site in Islam.
The occupied Palestinian territories have witnessed new tensions ever since US President Donald Trump announced his decision on December 6, 2017 to recognize Jerusalem al-Quds as Israel's capital and relocate the US embassy in Israel from Tel Aviv to the occupied city.
On December 21, 2017, the United Nations General Assembly overwhelmingly voted in favor of a resolution that calls on the US to withdraw its controversial recognition of Jerusalem al-Quds as Israeli "capital."
In an attempt to prevent the passing of the resolution, Trump threatened reprisals against countries that backed the measure, which had earlier faced a US veto at the UN Security Council.
Israel, however, rejected the world body's resolution while thanking Trump for his decision to move the US embassy to Jerusalem al-Quds.
https://www.presstv.com/Detail/2019/04/25/594329/Hundreds-of-settlers-storm-Aqsa-Mosque-as-Israel-imposes-restrictions
--------
Yemeni combat drone targets Saudi mercenaries' command centre in Aden: Report
Apr 25, 2019
Yemeni army soldiers, backed by allied fighters from Popular Committees, have launched an airstrike against a command center of Saudi-sponsored militiamen loyal to Yemen's former president, Abd Rabbuh Mansur Hadi, in the country's southern province of Aden.
A Yemeni military source, speaking on condition of anonymity, said Yemeni soldiers and their allies attacked the military site in the al-Burayqah district of the province on Thursday, using a domestically-designed and -manufactured Qasef K2 (Striker K2) combat drone.
Later in the day, Yemeni troopers and fighters from Popular Committees carried out an ambush against vehicles carrying Saudi-paid militiamen on the outskirts of al-Sadis area in Saudi Arabia's southern border region of Najran, killing or injuring those on board.
An unnamed Yemeni military official also said Yemeni troops and their allies had managed to purge a number of Saudi mercenaries' positions east of al-Nar Mountain in the kingdom's Jizan region.
The official noted that several Saudi-sponsored militiamen were killed or wounded in the process.
Saudi Arabia and a number of its regional allies launched a devastating campaign against Yemen in March 2015, with the goal of bringing the government of Hadi back to power and crushing Houthi Ansarullah movement.
According to a December 2018 report by the Armed Conflict Location and Event Data Project (ACLED), a nonprofit conflict-research organization, the Saudi-led war has claimed the lives of over 60,000 Yemenis since January 2016.
Full report at:
https://www.presstv.com/Detail/2019/04/25/594322/Yemeni-combat-drone-targets-Saudi-mercenaries-command-center-in-Aden-Report
--------
UN force says third tunnel crossed Lebanon-Israel border
25 April 2019
A UN peacekeeping force in Lebanon Thursday said a tunnel discovered earlier this year by Israel had crossed the Lebanese-Israeli border, in the third such breach of a ceasefire resolution.
Israel in January accused Lebanese Hezbollah of having dug what it described as the deepest, "longest and most detailed" tunnel it had discovered.
The Israeli army said the tunnel from the Lebanese town of Ramyeh - just 800 meters (yards) from the border - reached a few dozen meters into Israel, and descended to 55 meters underground.
UNIFIL on Thursday said the tunnel was the third to have crossed the "blue line," a demarcation line drawn by the UN to mark Israel's withdrawal from southern Lebanon in 2000.
"UNIFIL's independent assessment confirms that this tunnel crosses the blue line in violation of resolution 1701," which ended the 2006 war between Israel and Hezbollah, it said.
"UNIFIL has informed the Lebanese authorities about the violation and has requested urgent follow-up actions," the UN force said in a statement.
Lebanon and Israel are still technically at war. Israel is currently building a wall along the 130 kilometre (80 mile) frontier to block Hezbollah attempts to infiltrate.
Since early December, Israel has said it discovered six tunnels, destroying them either with explosives or by filling them with a cement-like material.
Five have been confirmed to exist by UNIFIL.
"Of these, three tunnels have been found to be crossing the blue line," the peacekeeping force said.
Israel alleges Hezbollah had planned to use the tunnels to kidnap or kill its civilians or soldiers, and to seize Israeli territory in the event of any hostilities.
On January 26, Hezbollah leader Hassan Nasrallah said it had taken Israel "years" to discover some of the tunnels, but did not specify who had constructed them.
Hezbollah is the only side not to have disarmed after Lebanon's 1975-1990 civil war.
In recent years, Israel has repeatedly carried out air strikes against what it says are Hezbollah weapons convoys in war-torn Syria next door, where the group is backing regime forces.
The United States has designated Hezbollah a "terrorist" group since 1997, while the European Union blacklisted its military arm in 2013.
But it also functions as a political party, with posts in the current cabinet.
Full report at:
https://english.alarabiya.net/en/News/middle-east/2019/04/25/UN-force-says-third-tunnel-crossed-Lebanon-Israel-border.html
--------
Africa
Sudanese protesters delay naming of civilian government
25 April 2019
The organizers of the protests that drove Sudan's President Omar al-Bashir from power are delaying their announcement of a transitional civilian government as they hold new negotiations with the ruling military council.
The protesters suspended talks with the military last weekend, saying key figures in the council were too close to al-Bashir. But on Wednesday they resumed negotiations, and three members of the council resigned from their posts, apparently in response the protesters' demands.
The Sudanese Professionals Association, which spearheaded the protests, had planned to announce a transitional civilian government at a mass rally on Thursday. But Ahmed Rabie, a senior member of the group, says it will delay the announcement and instead focus on forming different committees to hold talks with the military.
https://english.alarabiya.net/en/News/middle-east/2019/04/25/Sudanese-protesters-delay-naming-of-civilian-government.html
--------
Sudan military chiefs resign as deal struck with protestors
25 April 2019
Three members of Sudan's ruling military council resigned on Wednesday after it said it reached "agreement on most demands" with protest leaders who have called for a million-strong march to demand a civilian government.
The 10-member military council had invited the protest leaders for a meeting after the leaders suspended talks with the army rulers on Sunday.
"We have an agreement on most demands presented in the document of the Alliance for Freedom and Change," Lieutenant General Shamseddine Kabbashi, spokesman of the ruling military council, told reporters after the meeting between the council and leaders of the umbrella group leading the protest movement.
He did not elaborate on the key demand of handing power to a civilian government, but said there "were no big disputes".
One of the protest leaders who attended the meeting, Ahmed al-Rabia, said the two sides had also agreed to form a joint committee, but did not elaborate for what.
Minutes later in a separate statement the military council announced that three members of the ruling body had resigned.
They were Lieutenant General Omar Zain al-Abdin, Lieutenant General Jalaluddin Al-Sheikh and Lieutenant General Al-Tayieb Babikir.
"Million-strong march"
Wednesday's late night developments came as Siddiq Farouk, one of the leaders of the protests, told reporters that the demonstrators were "preparing for a general strike" if the ruling military council refuses to hand power to a civilian administration.
He also said that a "million-strong march" is planned, confirming a call for the mammoth protest on Thursday by the Sudanese Professionals Association (SPA), the group that initially launched protests against longtime leader Omar al-Bashir in December.
For the first time, Sudanese judges said they would join an ongoing sit-in outside army headquarters "to support change and for an independent judiciary".
Demonstrations
The demonstrations initially began in the central town of Atbara on December 19 against a decision by Bashir's government to triple bread prices.
They swiftly turned into nationwide rallies against his rule and that of the military council that took his place.
The council, led by General Abdel Fattah al-Burhan since his predecessor quit after barely 24 hours in the post, says it has assumed power for a two-year transitional period.
Hundreds of protesters came from the central town of Madani to join the sit-in on Wednesday, the second major batch of new arrivals from outside the capital in as many days.
A train laden with demonstrators had rolled in from Atbara -- the crucible of the protests -- on Tuesday.
"Revolutionaries from Madani want civilian rule," the latest arrivals chanted, according to witnesses.
The protesters suspended earlier talks with the council on Sunday over its refusal to transfer power immediately.
But the military council invited the protesters to fresh talks Wednesday, acknowledging their role in "initiating the revolution and leading the movement in a peaceful way until the toppling of the regime" of Bashir.
'Ready to talk'
Earlier in a press conference, senior opposition figure Omar el-Digeir said protest leaders were prepared to meet directly with Burhan.
"We are ready to talk with the chief of the military council and I think the issue can be solved through dialogue," he told reporters.
Thousands have camped outside the military headquarters in central Khartoum since before Bashir was deposed, and have vowed not to leave the area until their demands have been met.
Late Wednesday, crowds of protesters carrying Sudanese flags marched through the protest site outside the army headquarters, an AFP correspondent reported.
"Fall or not, we are staying," the protesters chanted.
Protester Ayman Ali Mohamed said he was planning to join Thursday's march.
"We fear that the military council might steal our revolution, so we have to participate until the transfer to civilian rule is accomplished," he said.
"We are standing our ground no matter what."
The protesters have found support in Washington, which has backed their call for civilian rule.
"We support the legitimate demand of the people of Sudan for a civilian-led government, and we are here to urge and to encourage parties to work together to advance that agenda as soon as possible," State Department official Makila James told AFP on Tuesday.
On Tuesday several African leaders, who had gathered in Cairo at the behest of Egyptian President Abdel Fattah al-Sisi, insisted on "the need for more time" for a transition, according to Sisi's office.
Full report at:
https://english.alarabiya.net/en/News/middle-east/2019/04/25/Sudan-military-chiefs-resign-as-deal-struck-with-protestors.html
--------
ICRC: Residential areas of Libya capital turning into 'battlefields'
25 April 2019
Intensified fighting for control of the Libyan capital is turning residential areas of Tripoli into "battlefields," the International Committee of the Red Cross said on Thursday.
"The humanitarian situation in and around Tripoli has deteriorated sharply over the past three weeks," since forces loyal to eastern Libyan commander Khalifa Haftar launched an offensive on April 4 against forces loyal to the internationally-recognised Government of National Accord (GNA), the ICRC said in a statement.
"More than 30,000 people are said to have fled their homes and are sheltering with relatives or in public buildings," it said, a figure which Libyan authorities and the United Nations say has risen to almost 35,000.
"Tripoli's basic services and infrastructure, such as hospitals and water pumping stations, which have already suffered from violence over the past eight years, are being weakened further," it said, referring to the insecurity in Libya since the 2011 uprising that ousted Moamer Kadhafi.
Youness Rahoui, the head of office in Tripoli for the ICRC, singled out the impact of the violence, which has focused on Tripoli's southern suburbs, on residents of the capital.
"One of our greatest concerns is for civilians living near the frontlines. Densely-populated residential areas are gradually turning into battlefields," Rahoui said.
He also said it was becoming "increasingly dangerous for medical workers to retrieve the wounded, with mounting reports of indiscriminate shelling."
At least 278 people have been killed and more than 1,300 wounded in the clashes, according to the latest casualty toll from the World Health Organization.
Full report at:
https://english.alarabiya.net/en/News/north-africa/2019/04/25/ICRC-Residential-areas-of-Libya-capital-turning-into-battlefields-.html
--------
Britain funds $600,000 anti-terror centre in Kenya
25.04.2019
NAIROBI, Kenya
The U.K. announced on Thursday that it was sponsoring a $600,000 anti-terrorism center on the Kenyan coast.
"The U.K. is very proud to sponsor the new building of the ATPU [Anti-Terror Police Unit] here in Mombasa," British High Commissioner to Kenya Nic Hailey said just a day after a British man was found guilty of possessing explosive-making materials by a Kenyan court.
"We have seen, tragically, in the recent months and years the effects of terrorism menaces. It has struck us in UK it has struck us here in Kenya and recently in Sri Lanka," Hailey said, noting that the center was planned to be completed by the end of the year.
Speaking to journalists at the ground-breaking ceremony, Hailey said fighting terrorism and boosting security in East Africa was a priority for the U.K. as well as the region facing numerous attacks from the Somali-based al-Qaeda affiliated al-Shabaab militant group.
Kenya's Mombasa county has witnessed a spate of attacks by al-Shabaab militants who cross over into Kenya through the porous Kenya-Somali border.
The area is also seen as a recruiting ground for al-Shabaab militants by Kenyan authorities due to its close proximity to Somalia.
British national Jermaine Grant was found guilty on Wednesday by a Kenyan court for abetting terrorism after being convicted for possession of bomb-making ingredients.
He was arrested in Kenya in December 2011 at the house of Samantha Louise Lewthwaite, also known as the White Widow, who is among the world's most wanted terror suspects.
Full report at:
https://www.aa.com.tr/en/africa/britain-funds-600-000-anti-terror-center-in-kenya/1462803
--------
Air force bombs Boko Haram mechanic workshop, kills scores in Borno
April 26, 2019
The Nigerian Air Force Alpha jet has conducted air strikes on a mechanic workshop of the Boko Haram terrorists uncovered in Sambisa Forest, Borno State, killing scores of the insurgents.
Our correspondent learnt that the Air Task Force of Operation Lafiya Dole carried out the operation on Wednesday, after a NAF Intelligence Surveillance and Reconnaissance platform on a routine mission noticed the mechanic workshop.
The air force said the ISR aircraft observed "significant activities" as well as some serviceable vehicles hidden under some trees at the Boko Haram mechanic workshop.
An Alpha Jet was thereafter deployed to attack the location, killing scores of the Boko Haram fighters who were trying to escape from the location.
The NAF Director of Public Relations and Information, Air Commodore Ibikunle Daramola, who confirmed the incident in a release on Thursday, said two vehicles and other equipment were destroyed at the workshop.
He said, "The Air Task Force of Operation Lafiya Dole has destroyed some vehicles and neutralised some Boko Haram terrorists at a suspected vehicle workshop in the Sambisa Forest.
"The ATF scrambled an Alpha Jet to attack the location and overhead the target area, some of the terrorist fighters were seen attempting to flee the location but they were taken out by the Alpha Jet's successful strikes, which also caused the destruction of vehicles and other equipment at the workshop.
Full report at:
https://punchng.com/air-force-bombs-bharam-mechanic-workshop-kills-scores-in-borno/
--------
Arab World
Iraq: Yazidis to accept children of Daesh rape into community
April 26, 2019
IRBIL, Iraq: The children of Yazidi women raped by Daesh men will be welcomed into the minority faith, a community leader said Thursday, allowing women taken as slaves by the militant group to return to Iraq from Syria.
Eido Baba Sheikh, son of the Yazidi spiritual leader Baba Sheikh, said the children of the formerly enslaved women will be treated as members of the faith, resolving one of the most difficult questions facing the community since the Daesh group's 2014 campaign to try to exterminate the minority. Thousands of women and girls were forced into sexual slavery when the extremists attacked Yazidi communities in northwestern Iraq.
But the community shunned the women returning from captivity with children, a reflection of the deeply held Yazidi traditions to view outsiders with suspicion as a response to centuries of persecution.
US-backed Kurdish forces defeated the last fragments of the Daesh group's self-styled "caliphate" in Syria in March, raising the possibility that thousands of missing Yazidi women and children might be found and reunited with their families.
Still, some 3,000 Yazidis are still missing. Many of the children enslaved by militants in 2014 were separated from their parents and given to Daesh families for rearing. Boys were pressed into the militants' cub scouts, given military training, and indoctrinated in extremist ideology.
Officials at the Beit Yazidi foundation in Kurdish-administered northeast Syria said Yazidi women with children who could have returned to Iraq were choosing to stay in Syria, instead, in order not to be separated from their children.
Other women gave their young ones up for adoption to find acceptance among their community.
The Yazidi Supreme Spiritual Council issued a decree welcoming the survivors of slavery, and their children, into the Yazidi community, on Wednesday.
Murad Ismael, a founder of the global Yazidi charity Yazda, said it will nevertheless take time for the community in Iraq to accept the mothers and their children, because of the stigma of rape.
"It will take a couple of years for the community to digest this fully," he said.
He said many women and children will have to seek resettlement in other countries, some to escape the stigma of their situation, and to find psychosocial services to heal after the trauma of slavery.
The community sent two representatives to search for Yazidi women and children in the camps in northeast Syria, where tens of thousands of civilians who survived the Daesh caliphate are waiting to be returned to their places of origin, said Eido Baba Sheikh.
He said it is believed that there could be Yazidi children among foreign or Daesh families in the camps, a result of the sale of Yazidis under the caliphate. Complicating the search will be that many of the children may have never learned to identify as Yazidis, or to speak Kurmanji, the language of the community. Women and older children may have started to identify with their captors, as well, confounding search efforts.
And though the community will recognize the children of Yazidi survivors as Yazidis, they will still face legal difficulties in Iraq, said Eido Baba Sheikh. Under the country's family laws, a child is registered under the nationality and religion of their father, and it is unclear whether Iraq will allow Yazidi survivors to register their children as Iraqi Yazidis when there are questions about the children's patrimony.
Also on Thursday, Prime Minister Nechirvan Barzani of Iraq's autonomous Kurdish regional government, asked for continued US support to allow Iraqis displaced by the war with IS to return to their homes, according to a State Department statement on a call between Barzani and Vice President Mike Pence.
Iraq's Kurdish region hosts more than 1 million displaced people, including many of the 200,000 Yazidis forced to flee their homes when the Daesh militants attacked their communities in 2014.
http://www.arabnews.com/node/1488356/middle-east
--------
Abu Dhabi festival celebrates Islam's tolerance
April 25, 2019
The four-day event aims to enhance the common values of Muslims and highlight the Islamic culture.
Cultural diversity, unity, tolerance and compassion that align with the inherent values of Islam were in the spotlight as the second edition of the Organisation of Islamic Cooperation (OIC) Festival kicked off in Abu Dhabi.
Sheikh Nahyan bin Mubarak Al Nahyan, Minister of Tolerance, inaugurated the festival that will run until April 27. Representatives from more than 16 Islamic countries have descended on the Capital to display their cultures and traditions through arts and music.
"The festival unites cultures and traditions that align with the inherent values of Islam such as tolerance, unity and openness... All these will further enhance global awareness on the diversity of Islam. It represents a unique opportunity for Muslims to immerse themselves in different elements of their faith and its multiple layers," Youssef Aldobeay, adviser of the secretary-general for political affairs, elected assistant secretary-general for political affairs and OIC General Secretariat, told Khaleej Times.
"Beyond that, the festival offers unprecedented access for non-Muslims eager to learn more about our faith. In addition, held in the UAE's Year of Tolerance, the festival is a chance to highlight the great values and principles of Islam to coincide with the 50th anniversary of the OIC."
The four-day event aims to enhance the common values of Muslims, highlight the Islamic culture and show the world that Islam is a peaceful religion that embraces inclusion and co-existence and denounces violence and terrorism.
Running under the theme 'One nation unified by benevolent cooperation, justice and tolerance', the festival is addressing a range of issues mainly involving tolerance as a foundation of Islam, the role of youth in spreading the culture of tolerance, and the importance of tolerance and moderation in worship.
Among key highlights of the festival is the Palestine pavilion, strategically placed at the heart of the exhibition, emphasising the state's importance to the Islamic world and its vital status within Islamic identity. The festival celebrates the Palestinian culture through mediums such as art and short films.
Mohammed Khalid, an exhibitor from Saudi Arabia, said: "We are here to celebrate Islam through art and music and to show other people about the culture of the Islamic religion, which is peace, love and tolerance."
Cultural diversity
The festival features a main stage area where Islamic scholars and thought leaders present lectures and workshops that highlight different aspects of Islamic culture.
The main stage also hosts live performances by the Abu Dhabi Folklore Group, showcasing traditional UAE arts and culture; the Alexandria Folklore Dance Troupe, from Egypt; and a display of Emirati Malid - a traditional Emirati art that embodies the UAE's culture heritage.
Full report at:
https://www.khaleejtimes.com/nation/abu-dhabi/abu-dhabi-festival-celebrates-islams-tolerance
--------
US-led coalition killed 1,600 civilians in Raqqa: report
April 26, 2019
BEIRUT: The US-backed assault to drive the IS from its Syrian capital Raqqa in 2017 killed more than 1,600 civilians, 10 times the toll the coalition itself has acknowledged, Amnesty International and the monitoring group Airwars said on Thursday.
Amnesty and Airwars, a London-based group set up in 2014 to monitor the impact of the US-led campaign against the IS, spent 18 months researching civilian deaths including two months on the ground in Raqqa, they said.
"Our conclusive finding after all this is that the US-led coalition's military offensive [US, UK and French forces] directly caused more than 1,600 civilian deaths in Raqqa," they said.
They said the cases they had documented probably amounted to violations of international humanitarian law and called for coalition members to create a fund to compensate victims and their families.
The coalition said in response to the report that it takes "all reasonable measures to minimise civilian casualties" and that there are still open allegations it is investigating.
"Any unintentional loss of life during the defeat of Daesh is tragic," said Scott Rawlinson, a coalition spokesman in an emailed statement later on Thursday, using an Arabic acronym for the IS. "However it must be balanced against the risk of enabling Daesh to continue terrorist activities, causing pain and suffering to anyone they choose," he added.
The IS seized Raqqa in early 2014 during its lightning advance through Syria and Iraq in which it built a self-proclaimed caliphate characterised by summary executions of opponents. Its mass killing and enslavement of minorities was described as genocide by the United Nations.
The group, which controlled a third of both Syria and Iraq in 2014, has since been driven from all the territory it controlled by military campaigns waged by an array of forces including the Syrian and Iraqi governments, the United States, its European allies and their rivals Russia and Iran.
The IS was defeated by US-backed fighters in its last Syrian stronghold this year. Despite no longer controlling territory, it is still seen as a threat to launch attacks around the world.
An international coalition led by Washington has given military support to both the Iraqi government and a Syrian militia, the Kurdish-led Syrian Democratic Forces (SDF). The SDF captured Raqqa in October 2017 after a five month offensive backed by US-led air strikes and special forces.
Amnesty said last year that there was evidence coalition air and artillery strikes in Raqqa had broken international law by endangering the lives of civilians, but until now had not given an estimate of the death toll during the battle.
Full report at:
https://www.dawn.com/news/1478501/us-led-coalition-killed-1600-civilians-in-raqqa-report
--------
Official Reveals US Assistance to ISIL Terrorists to Occupy Iraq-Syria Border Desert
Apr 25, 2019
Head of Badr Organization's Office in al-Anbar Qusai al-Anbari told the Arabic-language al-Ma'aloumeh news website on Thursday that the US forces are secretly supporting the ISIL terrorists and closely monitoring al-Anbar desert.
He added that Hit and Hasibah al-Baghdadi regions are now fully controlled by the Americans, and warned of a possible occupation of al-Anbar desert by the ISIL.
Al-Anbari had also earlier said that the US stationed 700 ISIL terrorists in Western al-Anbar to target the Iraqi security forces.
Earlier this month, he said that the US military men stationed in occupied bases in al-Anbar province used the ISIL terrorists in disguise of ordinary people to target the Iraqi forces in desert areas of the region.
Al-Anbari was quoted by al-Ma'aloumeh as saying that the US forces deployed in Ein al-Assad and al-Habaniyeh bases in al-Anbar deserts in Western Iraq were using a new method to attack the Iraqi security forces.
He added that they disguise the ISIL terrorists as shepherds and tribesmen to launch on against the Iraqi security forces, Hashd al-Shaabi and civilians in al-Anbar desert.
Full report at:
http://en.farsnews.com/newstext.aspx?nn=13980205000711
--------
People in Deir Ezzur Hold Protest Rallies, Expel US-Backed SDF Commanders
Apr 25, 2019
Local sources in Eastern Deir Ezzur reported that masses of people in the villages and towns of Mahimideh, al-Hisan, Safirah al-Tahtani, Safirah al-Foqani, al-Wasiah, al-Mawilah, al-Hasin, Qaribah, al-Azabah and al-Basirah in Eastern Deir Ezzur took part in anti-SDF rallies in the past two days.
They added that the protest rallies were held after increased insecurity, murder, detentions, kidnapping of civilians and hoarding oil by the SDF forces, noting that the protestors closed the main roads of these regions, including Deir Ezzur-Raqqa road in al-Jazeera region.
The sources said that the residents also expelled from the region a number of SDF commanders and forces who had come for talks.
People in Deir Ezzur are widening protests against the Syrian Democratic Forces deployment in the region after the US-backed militants arrested and killed tens of civilians in their jails, media reports said on Monday.
People in the town of Sweidan Jezira in Southeastern Deir Ezzur blocked the roads leading to the region and asked for the expulsion of the SDF fighters.
The sources also pointed to the anger of residents of Eastern Deir Ezzur after the death of a civilian under SDF torture, and said that a large number of Syrians have been shot dead or killed under SDF torture in prisons in recent months while many others are in SDF's jails under different accusations.
Meantime, the SDF forces have imposed curfew in several towns and villages, including al-Sovar, Hajin, al-Basira, Zabiyan and Gharanij.
Full report at:
http://en.farsnews.com/newstext.aspx?nn=13980205000655
--------
Syrian Expert: Russia's Recent Airstrikes in Idlib Prelude to Massive Military Operations
Apr 25, 2019
Ali Maqsoud told the Arabic-language website of Sputnik on Thursday that militants' chemical weapons plant has likely been destroyed in the attacks which were carried out on the verge of Astana peace talks to be held in Kazakhstan later this month.
He added that Abu Mohammed al-Julani, the leader of Tahrir al-Sham al-Hay'at (the Levant Liberation Board or the Al-Nusra Front), has strongly warned against any compromise with the Syrian government, noting that the intelligence showing the terrorists' important centers have certainly been revealed by a number of militants to the Syrian and Russian sides.
In the recent Russian airstrikes against Tahrir al-Sham in Idlib, 3 of their arms caches, several main centers and their military vehicles were destroyed.
In a relevant development on Wednesday, a large number of terrorists have been killed and injured in a massive explosion at the headquarters of Tahrir al-Sham in West of Idlib province, sources said.
A bomb-laden vehicle was exploded in the city of Jisr al-Shoghour in Western Idlib, killing and injuring at least 40 terrorists, pro-militant sources said.
The sources said that at least 15 militants were killed and 27 others wounded, including a number of terrorists.
Full report at:
http://en.farsnews.com/newstext.aspx?nn=13980205000229
--------
Three protesters killed by Kurdish militants of US-backed SDF in Syria's Dayr al-Zawr
Apr 25, 2019
At least three civilians have been killed after militants of the US-sponsored Syrian Democratic Forces (SDF) attacked a protest rally in Syria's eastern province of Dayr al-Zawr.
The incident occurred on Thursday when SDF militants opened fire on a peaceful demonstration held in al-Daman village, Syria's official news agency SANA reported, citing some local sources.
The rally was held in protest against SDF practices, calling for their expulsion from the region. Protesters chanted slogans against the SDF occupation, which has led to chaos, kidnapping, killing and monopoly of oil.
The protesters also closed the main roads in the region and shut their shops amid a general strike in the town of al-Basira and the village of al-Azba, renewing their demand to expel SDF militants from their areas.
The SDF illegally transports Dayr al-Zawr's crude oil to neighboring Hasakeh province in Syria's northeast, a move that has angered the people.
The US has long been providing the SDF -- an alliance of Kurdish alliance -- with arms and militants, calling them a key partner in the purported fight against the Takfiri Daesh terrorist group. Many observers, however, see the support in the context of Washington's plans to carve out a foothold in the Arab country.
Full report at:
https://www.presstv.com/Detail/2019/04/25/594350/Syria-SDF-US-protest-Dayr-alZawr-Hasakeh
--------
Pakistan
PM Imran regrets upsurge in violence in Afghanistan, terms it counterproductive to peace
April 25, 2019
Sanaullah Khan
Responding to the new wave of violence in Afghanistan, Prime Minister Imran Khan on Thursday issued a condemnatory statement saying "Pakistan is highly dismayed" by the developments.
"[The] Afghanistan conflict has brought great suffering for both Afghanistan and Pakistan over [the] last 40 years," it began. "Now, after a long wait, the Afghanistan Peace Process presents a historic opportunity for peace in the region and Pakistan is fully supporting the process, including the next logical step of Intra Afghan Dialogue wherein Afghans will themselves decide upon the future of their country.
"In this backdrop, Pakistan is highly dismayed by the surge of violence in Afghanistan from all sides. The so called offensives are condemnable and will undermine the peace process. It is not right to seek an edge in dialogue through coercion.
"Pakistan implores all parties to recognise the importance of the moment and seize it. Pakistan has committed all diplomatic and security capital to success of [the] peace process. Pakistan will not be party to any internal conflict in Afghanistan anymore," it read.
Although it is not clear what prompted the Prime Minister's Office to issue the cryptic statement, it seems to be a veiled reprimand to the Taliban as well as a warning to Washington that Islamabad will not exert its influence over the militant group for long if Kabul continues with its confrontational policy.
Zalmay Khalilzad, the US envoy tasked with brokering a peace deal with the Taliban, also voiced regret over findings that US-backed forces were killing more civilians than the militants and said the solution was a peace deal.
"We deeply regret any loss of innocent life during military operations. We never target innocents," said the US negotiator who is set shortly to resume talks with the Taliban in Qatar on ending the war.
"War is treacherous, and unintended consequences are devastating. While we strive to prevent casualties, [the] real solution is a ceasefire or reduced violence as we pursue lasting peace," he tweeted.
A United Nations report released a day earlier found that international and pro-government forces were responsible for the deaths of 305 civilians in the first three months of the year.
Earlier this month, Taliban fighters stormed Afghan army checkpoints in southern Afghanistan near the Pakistani border overnight, killing 20 troops. Eight other security forces were wounded in the attack.
Later, on April 20, at least seven people were killed in an attack on the Afghan communications ministry in central Kabul, breaking months of relative calm in the capital and underlining continued security threats.
Kabul has also been extremely indignant at what it sees as Islamabad's 'interference' in Afghanistan's affairs, having recalled its ambassador twice over a statement from Prime Minister Khan regarding a possible interim setup in Afghanistan while a peace is brokered.
Pakistan has been playing a key role in the Afghan peace process, helping US President Donald Trump keep an election promise of withdrawing US military presence from Afghanistan.
On the surface, the talks seem to be progressing to the satisfaction of both sides — the US and the Taliban — but the incumbent Afghan regime has largely been excluded from several rounds of negotiations, and hostilities between Kabul and the Taliban show no signs of abating.
Hopes for a breakthrough last weekend were dashed when a dialogue planned between the Taliban and Afghan officials in Doha collapsed at the last minute when Ghani announced a delegation of some 250 people from all walks of Afghan life, including government figures, would attend talks. The Taliban had rejected the lengthy list, saying the meeting was "not an invitation to some wedding or other party at a hotel in Kabul".
US President Donald Trump is eager to reach a solution to end the longest-ever US war, which dislodged the Taliban following the September 11, 2001 attacks. Secretary of State Mike Pompeo voiced disappointment over the impasse during a call with President Ghani last weekend and "encouraged all sides to seize the moment and reach an understanding on participants, so that an inclusive intra-Afghan dialogue can be convened in Doha as soon as possible".
The Taliban's political spokesman Suhail Shaheen has told AFP that the upcoming talks will focus on a timetable for pulling all foreign forces from Afghanistan.
https://www.dawn.com/news/1478320/pm-imran-regrets-upsurge-in-violence-in-afghanistan-terms-it-counterproductive-to-peace
--------
Fatima Bhutto will soon take place of her father: Ghous
April 26, 2019
KHAIRPUR: Former Sindh chief minister Syed Ghous Ali Shah believes Mir Murtaza Bhutto's daughter Fatima Bhutto will one day get her due place in politics because "her father was martyred and children of martyrs do replace their parents sooner or later".
Mr Shah was speaking to reporters at a gathering in the city on Wednesday.
Mr Shah was of the view that Imran Khan was a good and honest politician who was performing well. The past governments had created serious crises for the country, the consequences of which were being faced by present government and people of the country, he said.
He hoped that Imran Khan would soon put the national economy back on track. He, therefore, must be allowed to complete five-year tenure.
He said that Pakistan Peoples Party had broken all past records of corruption. If they had been clean they would not have been facing cases by National Accountability Bureau. Sindh Chief Minister should have resigned after the tragic incidents of Ismat, Nashwa and Ahsan, he said.
Full report at:
https://www.dawn.com/news/1478374/fatima-bhutto-will-soon-take-place-of-her-father-ghous
--------
PML-N to take part in JUI-F's anti-govt march
April 26, 2019
MANSEHRA: The Pakistan Muslim League-Nawaz has announced that it will offer all-out support to the Jamiat Ulema-i-Islam-Fazl's agitation against the Pakistan Tehreek-i-Insaf government.
"Our leaders and workers will take part in the JUI-F's million march to be held here on April 28 as we both agree to the idea of ousting the government over economic crisis, including inflation, caused by its wrong policies," PML-N district president Zafar Mehmood told reporters here on Thursday.
A JUI-F delegation led by its district emir Mufti Kifayatullah met PML-N leader Sardar Mohammad Yousuf, district president Zafar Mehmood and district nazim Sardar Said Ghulam here and sought their support for the April 28 million march to be addressed by JUI-F emir Maulana Fazlur Rehman.
"Our leadership has accepted the JUI-F's invitation for the million march and therefore, our leaders and workers will actively participate in it giving out a message to the ruling PTI that the people don't accept escalating inflation, unemployment and power and gas charges," said Mr Mehmood.
He said the million march's success would prove that the PTI had failed to improve the people's socioeconomic condition as it'd claimed in elections.
"The people are struggling to make ends meet. They can't afford expenses of their children's education," he said.
Also in the day, Fiaz Solari met trader leaders and invited them to take part in the April 28 million march, saying the event will be a referendum against the PTI government's policies.
RALLY: The Al-Khidmat Foundation took out a rally on Abbottabad Road here on Thursday to mark the Malaria Day.
Students of the Al-Khidmat School of Excellence participated in it holding banners inscribed with malaria awareness slogans.
The foundation also provided the people with free screening for malaria at a diagnostic centre.
It also held a malaria awareness session for women at Al-Khidmat School of Excellence.
DRUGS SEIZED: Mansehra police seized narcotics and unlicensed arms in raids here on Thursday.
Full report at:
https://www.dawn.com/news/1478415/pml-n-to-take-part-in-jui-fs-anti-govt-march
--------
PM Khan calls for tackling climate change, poverty as Pakistan, China enter next CPEC phase
April 26, 2019
Prime Minister Imran Khan in his keynote speech at the opening ceremony of the second Belt and Road Forum in Beijing on Friday called for greater attention towards tackling climate change and poverty as Pakistan and China enter the next phase of the China-Pakistan Economic Corridor (CPEC).
The prime minister appreciated the significance of the China's Belt and Road Initiative (BRI) as it "marks a new and distinct phase in the onward march of nations in the world along the path of globalisation".
"The presence of so many world leaders today is proof that we choose hope over despair and cooperation over confrontation. 122 states and 49 international organisations have signed onto the BRI's vision and this is a historic and monumental development," he pointed out.
"The BRI offers a model of partnership, collaboration, connectivity and shared prosperity," the prime minister told the audience. "Pakistan is proud to have partnered with China in this transformative endeavour. We have been among BRI's earliest and most enthusiastic proponents," he said.
"The China-Pakistan Economic Corridor, one of the BRI's major components ─ and one of its earliest manifestations ─ has made substantial progress. Pakistan's energy supplies have increased massively, critical infrastructure gaps are being plugged, Gwadar ─ once a small fishing village ─ is transforming rapidly into a commercial hub. The Gwadar airport will be the largest in our country," he told his audience.
He informed the audience that special economic zones being set up along the CPEC offer investment opportunities for Pakistani, Chinese and foreign entrepreneurs and invited them to "avail Pakistan's liberal foreign investment regime and participate in our economy, in particular infrastructure, railways, dams, IT and manufacturing."
"Together Pakistan and China are entering the next phase of CPEC, with greater emphasis on socioeconomic uplift," he said, adding that the next phase would be "supplemented" by the signing of an expanded Pakistan-China Free Trade Agreement.
He added that Pakistan wants to promote cooperation with China in agriculture, health and education sectors.
"We are changing Pakistan's economic landscape and Insha Allah, the destiny of our people. I want to thank China and its leadership for their unwavering support for Pakistan," he said.
Prime Minister Imran suggested that, as the BRI takes on a more concrete shape, world leaders direct their efforts and focus onto the people of their countries by addressing impediments in the path towards sustainable growth.
He suggested collaboration on five points: mitigating the adverse effects of climate change by launching an ambitious tree-planting project; establishing a BRI tourism corridor; establishing an office for anti-corruption cooperation; creating a poverty alleviation fund; further trade liberalisation and encouraging private sector investment.
Xi's address
Chinese President Xi Jinping in his keynote address at the three-day forum said that the joint construction of the Belt and Road has opened up new space for the world's economic growth, Radio Pakistan reported.
He said that the Belt and Road Initiative (BRI) had also created a new platform to boost international trade and investment, expand new practices to optimise global economic governance, and make new contributions to improving the wellbeing of people of all countries.
The Chinese president said that Beijing would negotiate and sign high-standard Free Trade Agreements with more countries, and that it would allow foreign investors to operate businesses in more sectors with a controlling or full stake.
He said that China would work with other parties to promote a coalition of sustainable cities and an international coalition for green development under BRI.
PM's agenda in China
The prime minister arrived in China yesterday on a four-day official visit. According to the Foreign Office, he will attend a world leaders' meeting representing around 38 countries. He will also speak in the first session of the leaders' meeting, and hold meetings with several heads of states/governments and corporate and business leaders on the sidelines of the BRF.
In addition to participating in the Belt and Road Forum, the premier will hold bilateral meetings with President Xi Jinping and Premier Li Keqiang. Pakistan and China will also sign several memoranda of understanding and agreements to enhance bilateral cooperation in diverse areas.
After the forum, the prime minister will address a Pakistan business and investment forum on April 28. Prominent Pakistani and Chinese businessmen will attend the event.
Full report at:
https://www.dawn.com/news/1478521/pm-khan-calls-for-tackling-climate-change-poverty-as-pakistan-china-enter-next-cpec-phase
--------
Polio Vaccinator Is Shot and Killed in Pakistan
By Haroon Janjua
April 25, 2019
ISLAMABAD — Two gunmen on motorcycle shot and killed a polio vaccinator in the southwestern Pakistani city of Chaman on Thursday, bringing the death toll among vaccinators working in the country's anti-polio drive to at least three this week, officials said.
The shooters opened fire on a group of vaccinators when they were at the front gate of a house in the remote village of Sultan Zai, near the border with Afghanistan, said Samiullah Agha, who is the assistant commissioner of Chaman.
Two members of the vaccination team were hit: Nasreen Bibi, 35, was killed, and Rashida Afzal, 24, was critically wounded, Mr. Agha said in an interview. Vaccination was suspended for an indeterminate period of time in the Chaman area after the shooting.
"The gunmen fled after the attack," Mr. Agha added. "Security forces have launched a search operation in the area."
Polio vaccination teams have suffered several attacks since a countrywide vaccination drive began on April 23. Polio workers, volunteers and their guards are frequently targeted in the South Asian country. Islamist militants and hard-line clerics say the vaccination drive is a foreign plot to sterilize Muslim children and a cover for western spies.
"These are unfortunate incidents," said Babar Atta, who is the special adviser on polio to Imran Khan, Pakistan's prime minister. "We have increased the security of vaccination teams across the country and are determined to end this crippling disease in Pakistan."
Hayat Khan, a resident of a tribal area bordering Afghanistan who runs a shop, said he is skeptical of the polio vaccine. Neither he nor his parents have taken the vaccine, which can be delivered orally as drops, and they are living a healthy life, he said.
"We have doubts in our minds about this western vaccine," he said. "Tribal people are not sure what they are giving to our children and what information they are collecting for spying. It's a Western agenda, indeed."
Relatives sitting beside the body of Nasreen Bibi, 35, a polio vaccinator who was shot and killed during a campaign to eradicate the disease.
Two days ago, in separate events, two police officers who were protecting polio vaccination teams were shot and killed in the northern districts of Buner and Bannu. And a polio worker was injured in a knife attack this week in the eastern city of Lahore.
Sitara Ayaz, a senator, said the perpetrators were "humiliating Pakistan internationally."
"We should be concerned about the killing of polio workers as it is adding more global pressure on us," said Ms. Ayaz, who is a member of the secular Awami National Party. "It is mandatory now to introduce a comprehensive policy or legislation to get rid of crippling polio disease in the country."
Recently the government has started public education campaigns on the issue, and urged Muslim clerics to inform the population that the vaccine protects children from a disease that can lead to paralysis or death.
A global effort to eradicate the disease left Pakistan, Afghanistan and Nigeria as the only countries that have not stopped the transmission of the polio virus, according to the World Health Organization.
The number of polio cases in Pakistan jumped to eight this year after two new cases were found this week, according to the website End Polio Pakistan, which shows the country's polio elimination efforts.
The number of cases of the disease in the country dropped to 12 in 2018 from 58 in 2012, according to End Polio Pakistan. According to an independent tally by the news media, 95 polio workers have been killed doing their work since 2012.
This is despite the fact that vaccination efforts in Pakistan have often been the subject of suspicion and unfounded rumors that suggest the vaccines harm children.
More than 25,000 children were rushed to hospitals in northwestern Pakistan on Monday after false rumors that polio drops were making children sick, creating a panic.
Full report at:
https://www.nytimes.com/2019/04/25/world/asia/polio-vaccine-pakistan.html
--------
PM's 'sahiba' comment has sent a wrong message to women: Bilawal
APRIL 26, 2019
Pakistan People's Party (PPP) Chairman Bilawal Bhutto Zardari on Thursday said Prime Minister Imran Khan 'only insults himself when he passes comments such as sahiba', a private TV channel reported.
"Referring to a man as a woman does not harm the man, but what sort of message does this send to the women of Pakistan? That our prime minister is saying that being a woman is an insult?" Bilawal asked while speaking to media here outside the Parliament House. "This is Pakistan and here women stand shoulder to shoulder with men. If there was no Fatima Jinnah, had Pakistan been formed? If there was no Fatima Jinnah, who would have opposed Ayub?" he asked.
"We were the first Muslim country to elect a woman as prime minister," the PPP chairman continued. "We are proud of the women of this country. We think they should be given space in politics, economy and society," he said. "If Khan Sahab thinks that by passing a comment like this he is insulting anyone, he is only insulting himself," he asserted. "He is this country's prime minister and he should hold his tongue," he added.
Commenting on statements that the prime minister referring to him as 'sahiba' was a 'slip of tongue', Bilawal said, "The amount of slip of tongues by this prime minister is more than the speed of light. Slip of tongue should not happen because it insults the entire nation. So many slips of tongue happen when we have a selected PM," he said, and appealed to Foreign Minister Shah Mehmood Qureshi to travel with the prime minister so that such slips of the tongue can be avoided.
Regarding the current economic situation, Bilawal said, "People are drowning in a tsunami of inflation. In every industry, there is unemployment. Inflation has risen so much that life has become difficult for Pakistanis." "How can this government say inflation is not an issue? Inflation is worrisome for every Pakistani and it is the government's job to provide relief to the people," he stated. "Why should we be happy if loans are leading to prices being raised? Can the poor people be given amnesty and relief? The government will eliminate subsidies to provide relief to the rich," he continued. "If there is no relief for the people in the budget, they will come out on the streets themselves," he warned.
"There cannot be two Pakistans in this country. These are oppressive rulers and do not care for the people. The nation can take your oppression till a limit," he said. "The party which was known for its use of social media cannot tolerate a tweet from a political party or a journalist now," he added.
Bilawal said the PTI-Led government rejoices every time they are being granted a loan or are given an investment but the money is being brought in at the cost of people's employment. He said the amnesty schemes will only give relief to the elite but will not yield any positive impact on the poor. He claimed that any deal with the International Monetary Fund (IMF) will be unconstitutional without the approval of the National Assembly.
Full report at:
https://dailytimes.com.pk/382683/pms-sahiba-comment-has-sent-a-wrong-message-to-women-bilawal/
--------
URL: https://www.newageislam.com/islamic-world-news/sri-lanka-muslim-community-be/d/118435
New Age Islam, Islam Online, Islamic Website, African Muslim News, Arab World News, South Asia News, Indian Muslim News, World Muslim News, Women in Islam, Islamic Feminism, Arab Women, Women In Arab, Islamophobia in America, Muslim Women in West, Islam Women and Feminism