New Age Islam News Bureau
27 Apr 2019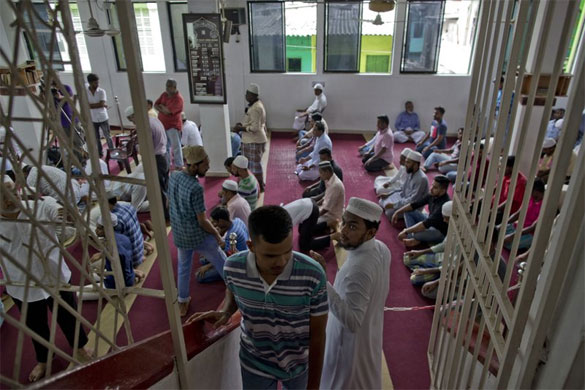 A Muslim volunteer assigned to spot unfamiliar visitors looks at a man ahead of Friday prayers in Colombo, Sri Lanka, Friday, April 26, 2019. Religious leaders cancelled large public gatherings amid warnings of more attacks, along with retaliatory sectarian violence in Sri Lanka though some still held communal Friday prayers at mosques. (AP Photo/Gemunu Amarasinghe)
--------
• Sri Lanka Muslims Brave Militant Threats for Friday Prayers
• ISIS Official Newsletter Carries 'Special Report' On Sri Lanka Bombings
• Johor Crown Prince: Don't Meddle With Islamic Religious Affairs, Which Are State Matters
• Indonesia To Launch Sharia Economy Masterplan In May
• Muslims, Christians Join Forces to Fight Egyptian Church Fire
• Officials Promote Coordination between the Muslim World League and Russia
• Sudan Protesters Hold Prayers outside Military Headquarters In Campaign For Civilian Rule
• Turkey: France Had Role In Massacre Of Turks Century Ago
South Asia
• Sri Lanka Muslims Brave Militant Threats for Friday Prayers
• ISIS Official Newsletter Carries 'Special Report' On Sri Lanka Bombings
• Fifteen killed in Sri Lanka in shootout with suspected Islamist militants
• How kingpin's radical tilt slipped Lankan radars
• Afghan Loya Jirga to debate US efforts for deal with Taliban
• Bangladesh mosques urged to denounce radicalism
• ISIS patron releases two video messages against Bangladesh
• Afghan forces kill 15 Taliban militants in Uruzgan province
• 3 Taliban blow themselves up in Zabul Province
• Taliban had a wrong perception regarding U.S. withdrawal from Afghanistan: Abdullah
• Sri Lanka on high alert as police hunt 140 Daesh members
--------
Southeast Asia
• Johor Crown Prince: Don't Meddle With Islamic Religious Affairs, Which Are State Matters
• Indonesia To Launch Sharia Economy Masterplan In May
• Pakatan approval rating plunges to 39%, Dr M's down to 46%: Poll
• Two academics who advised Rulers against Rome Statute reject invite to forum
• Eggi Sudjana Summoned for Questioning by Police Over Call for 'People Power'
--------
Arab World
• Muslims, Christians Join Forces to Fight Egyptian Church Fire
• Officials Promote Coordination between the Muslim World League and Russia
• Russia: Syria constitution body could be agreed on soon
• Germany halts processing some Syrian asylum applications, says report
• Russian air strikes kill 10 civilians in Syria's Idlib
• UN: More than 7,000 Syrians quit camp near Jordan border
• US troops kill Iraqi policeman, injure two others while 'transferring' Daesh terrorists: Report
• Bodies of Saudi Arabian Airlines crew killed in Sri Lanka attacks arrive in the Kingdom
• Egypt vote firms up El-Sisi rule as regional unrest flares
--------
Africa
• Sudan Protesters Hold Prayers outside Military Headquarters In Campaign For Civilian Rule
• Medical team allowed to check Zakzaky's health in Nigeria
• Jordan Condemns Israeli Trespassing At Al-Aqsa Mosque
• Son of Algeria, hero of glorious defeats: Abbasi Madani
• Al-Shabaab retaliate over Lower Shabelle loses
--------
Europe
• Turkey: France Had Role In Massacre Of Turks Century Ago
• Ukip Leader Endorses Change UK Candidate Accused Of Islamophobia
• Iranian, Russian DMs discuss further cooperation in anti-terror fight
• Iran, Russia, Turkey 'determined' to fight terror in Syria
--------
India
• Global Campaign to Get China Make Azhar U-Turn Gains Pace
• Sri Lanka Blasts: Coimbatore Man Denies Link with NTJ, Says NIA Trying To Frame Him
• HC Dismisses Yasin Malik's Plea Seeking Transfer Of Two Cases
• Seven States Put On Alert After Terror Attack Call To Police
• India, Turkey on 'same page' as US threatens sanctions over Iran oil import
• J&K cop critically injured in Srinagar terror attack
--------
Mideast
• Turkey Orders Detention of 210 Military Personnel over Links to Gulen
• Israeli Forces Injure 60 Gazans, 15 of Them Children
• Yemen's Houthis begin radical reforms plan
• US voices concern for Baha'i facing death from Houthis
• 60 Palestinians hurt in Gaza border clashes
--------
Pakistan
• US Imposes Sanction on Pakistan, May Deny Visas to Pakistanis
• Sri Lanka may seek Pakistan's help to trace terrorists
• Polio Drive Suspended Across Country after Spike in Attacks
• Bilawal Warns Against Bid to Bring Presidential System
• Pemra orders Channel-24 to air apology 'for propagating false news' about PM Imran's personal life
• If necessary, will seek Pakistan's help to trace Easter Sunday terrorists, says Sri Lankan PM
• Raza Rabbani sounds the alarm over unelected people getting access to sensitive data
• Khalilzad lauds PM Imran's statement on Afghan peace
• US praises Pakistan's stance on Afghanistan
--------
North America
• US agrees with Russia, China on pulling troops from Afghanistan
• US driver targeted family because they looked Muslim, says police
• Russia says al-Qaeda, Daesh, similar groups emerging in Latin America
Compiled by New Age Islam News Bureau
URL: https://www.newageislam.com/islamic-world-news/sri-lanka-muslims-brave-militant/d/118445
--------
Sri Lanka Muslims brave militant threats for Friday prayers
By JON GAMBRELL
Apr 27, 2019
COLOMBO, Sri Lanka (AP) — At 12:10 p.m. Friday, men and boys in a Muslim neighborhood in Sri Lanka's capital did something everyone had warned them not to do: They came together to pray.
Hundreds gathered at the Masjidus Salam Jumma mosque for their communal Friday prayers, one of many mosques that conducted services despite warnings of retaliatory violence.
And while praying through tears to Allah to help their fellow countrymen, all stressed one thing: the Islamic State-claimed Easter attacks targeting churches and hotels that killed at least 250 people came from people who didn't truly believe the teachings of Islam.
They are "not Muslims. This is not Islam. This is an animal," said Akurana Muhandramlage Jamaldeen Mohamed Jayfer, the chairman of the mosque. "We don't have a word (strong enough) to curse them."
Up until the call to prayer echoed through Colombo's Maligawatta neighborhood at noon, it wasn't certain the community would be able to pray. On Thursday, the U.S. Embassy in Sri Lanka issued a stark warning over Twitter that places of worship could be targeted by militants through the weekend. Sri Lankan Prime Minister Ranil Wickremesinghe also told The Associated Press he feared some of the suspects "may go out for a suicide attack" and local authorities urged Muslims to pray at home.
But Friday prayers hold a special importance to Muslims as the Quran has its own chapter on the worship called "Al-Jumah," or Friday in Arabic.
"When the call is made for prayer on Friday, hurry toward the remembrance of Allah, and leave all business," the Quran commands.
For Muslims, Friday prayers means dressing in their nicest clothes and communing with others, often sharing a meal after listening to the imam and praying.
The day carries the same significance for Muslims in Sri Lanka, where Arab traders brought Islam in the 7th century. Today, nearly 10% of Sri Lanka's 21 million people are Muslim.
In the hours before, community leaders decided that women should stay home for the prayers because of the threat. It remained unclear if they would hold the prayers, even as young men stopped in the mosque for a moment of quiet prayer, their sweat dripping from their brows as they bowed down on the purple-and-gray carpeting.
"Everyone is nervous," said Abdullah Mohammed, 48. "Not just the Muslims. Buddhists, Christians, Hindus — everybody's nervous."
But as the time drew closer, they decided to hold them. Sri Lankan police officers armed with Kalashnikov rifles stood guard around the mosque, blocking the street. Organizers posted young volunteers to watch surrounding streets above the mosque, near a major cricket stadium.
Inside the mosque, a young man worked on its internal security cameras, one hanging above wooden carvings of Arabic calligraphy and copies of the Quran. Jayfer said they had been installed two years earlier, but they needed repair "given what's happening."
When the electronic clock struck 12:10 p.m., a caller got on the loudspeaker, saying "Allah akbar," or God is great. Men and boys quickly filled two floors of the mosque and part of a third as Imam Mohamed Imran stood before them on the minbar, the pulpit from which he preached.
In English and later Tamil, Imran reminded the congregation they remain a minority in Sri Lanka, that they need to pray and ask for God's help.
As the sermon ended, he offered a prayer, growing emotional as he asked for God for help. Several men in the congregation cried.
Then they bowed toward Mecca and its cube-shaped Kaaba, finishing their prayers and walking safely out of the mosque into the street below. A new sign in Sinhala hung by the mosque outside offered condolences, saying that just because the attackers had Arab names didn't make them Muslims.
"It is our country. We are Sri Lankans," Jayfer said. All "Sri Lankans have a duty to be calm and quiet. (There) has to be peace."
https://www.apnews.com/9d8609e391e34fffb2ac83b4d29e2c53
--------
ISIS official newsletter carries 'special report' on Sri Lanka bombings
Apr 27, 2019
NEW DELHI: Days after claiming responsibility for the Sri Lanka bombings, which resulted in the death of at least 250 people and injured over 500, the Islamic State has published a "special report" on the attacks in the latest issue of its weekly newsletter, Al Naba.
The official newsletter claims their targets were Christians and Coalition citizens. "Every time the crusaders think they have imposed their influence and stolen the abode of Islam, the conquerors appear in another region in a war brought on by the sons of the caliphate and their leaders. To rival the enemy.. frustrate him in every part of the world and drain his energy and capabilities...," the 'editors' of the magazine have written.
The newsletter has also published another report on the foiled attack on Saudi Arabia, which also took place simultaneously on April 21, saying that both attacks hatched by the ISIS Central. The attack in Afghanistan, which happened a day before on April 20, has also been detailed in the newsletter.
The Sri Lanka report begins by saying that a group of Caliphate soldiers carried out "seven martyrdom and inghemasi attacks
targeting several churches of 'christians at war' and the citizens of the crusader states in multiple cities of Sri Lanka during a "christian celebration of their 'Kufr' (non believer of Islam) occasions. ISIS claims that of the '350 people killed and 650 wounded, 45 were from America, Spain, Britain, China, France, Holland and India.
The report, which is Arabic, says that Islamic States' religious war against the 'crusader military coalition' was 'ongoing and won't stop". Interestingly, it also mentions that the IS did not need an attack on its citizens, like it happened in New Zealand, to wage a war against the Kufr.
The Sri Lanka report also contains an info graphic on the serial bombings and elaborates in detail how they were executed.
"The Inghimasi (fighter) brothers headed to a number of the churches and hotels frequented by citizens of the Crusader alliance, while all the martyrdom operatives conducted their operations simultaneously."
"Brother Abu Hamza al-Silani attacked the Antoni church in Colombo..He came into the middle of Muharibeen Christians and detonated his explosive belt.. .Wile brother Abu Muhammad al-Silani went towards the Zion church in Batticaloa and blew himself up.. The brothers Abu Obeida al-Silani, Abu al-Barra al-Silani and Abu al-Mukhtar al-Silani went towards gatherings of the Crusaders in the hotels in Colombo and detonated a number of explosives on the Crusaders."
https://timesofindia.indiatimes.com/world/south-asia/isis-official-newsletter-carries-special-report-on-sri-lanka-bombings/articleshow/69067592.cms
--------
Johor crown prince: Don't meddle with Islamic religious affairs, which are state matters
By Anna Maria Romero
April 26, 2019
Johor Bahru—In what may be an answer to Malaysian President Dr Tun Mahathir Mohamad's call to uphold the 1957 federal constitution as the highest law of the land, the Crown Prince of Johor on April 25, Thursday, emphasised that Johor is a sovereign state and that it has its own constitution.
Therefore, he asked that "those who have nothing to do with Johor, don't meddle with Islamic religious affairs, which are state matters."
Furthermore, he said that creating problems among the Johor people must end.
He added, "And don't create problems among the people of Johor or confuse them, including the Johor royalty. In fact, Johor is always ready to share knowledge and work together to strengthen the community in the region."
Prince Tunku Ismail Ibrahim made these remarks at an event held in conjunction with the official birthday of Johor Sultan Iskandar Ibrahim. The new menteri besar, or chief minister, of Johor Dr Sahruddin Jamal, was also present, along with Johor executive council member Tosrin Jarvanthi.
Other members of the royal family were present as well.
Prince Tunku Ismail warned against activities that could put Muslims in a negative light, such as smearing the image of mosques and prayer rooms. He encouraged that appropriate matters should only be discussed during sermons and other activities in Johor's mosques and prayer rooms.
He also pointed out that the speakers at mosques should not only be sensitive to political issues but also be qualified and accredited by the Johor Islamic Religious Council.
He added, "The same applies to speakers from political parties who, despite being qualified in Islamic matters, could lace their talks with politics because of their political leanings.
The Crown Prince reminded his audience not to be a thorn in the flesh.
"In this matter, I would like to remind all, don't be a thorn in the flesh. The consequences will be damaging. If we cause confusion in these places by raising matters not connected to Islam, the role of mosques and prayer rooms in propagating Islamic teachings will become meaningless."
The verbal tussle between the Malaysian Prime Minister and the Royal Family of Johor has been going on for some time now and has encompassed various issues including the ratification of the Rome Statute of the International Criminal Court, the Johor shipping hub project, and the appointment of Johor's chief minister.
Earlier this week, Dr Mahathir upheld the country's 1957 federal constitution as the highest law of the land in what many interpret to be a message to the royal family of Johor, as he emphasized how it superseded state constitutions even if they pre-date the federal one.
In a 14-point blog post, which he also posted on his Facebook page, he wrote, "The constitutions of Johor and Terengganu which were promulgated earlier were nullified by the new constitution which was accepted by all the states of Malaysia."
The Prime Minister's post seemed particularly pointed in the wake of what many perceived to be interference from the Sultan of Johor in the resignation of the former Chief Minister (menteri besar) of Johor, Osman Sapian, and his replacement with his successor, Sahruddin Jamal.
According to the royals of Johor, the state constitution dictates that it is within the jurisdiction of the royal family to choose the chief minister and exec members of Johor.
Dr Mahathir was reportedly displeased that Mr Sahruddin had reshuffled the former state executive council, which the royals had asked for, instead of sticking to a cabinet agreement to keep the state executive council in place.
On Monday, April 22, Tosrin Jarvanthi and Mohd Solihan Badri from Bersatu and Tan Chen Choon from DAP were sworn in before the sultan at Istana Bukit Serene in Johor Baru as new members of the state executive council. Mr Sahruddin was also awarded a datukship by the Sultan.
However, according to Dr Mahathir, the state executive council lineup was for the Johor Pakatan Harapan to decide upon, and that "The Johor sultan has no influence," he said, on the state executive council./ TISG
http://theindependent.sg/johor-crown-prince-dont-meddle-with-islamic-religious-affairs-which-are-state-matters/
--------
Indonesia to launch Sharia Economy Masterplan in May
April 26, 2019
The government plans to launch the 2019-2024 Sharia Economy Masterplan on May 14, as a road map for the development of the sharia economy to support national economic development in the country that has the largest Muslim population on the planet.
The masterplan draft highlights four main strategic recommendations to develop the sharia economy in the country – strengthening halal products, sharia finance and micro, small and medium enterprises (MSMEs), as well as optimizing the digital economy.
The draft stresses the importance of optimizing the use of the digital economy in the form of e-commerce, marketplaces and financial technology.
Meanwhile, on the sharia finance, the Sharia Economy Masterplan is an improvement of the existing Indonesia Sharia Finace Architectre Masterplan (MAKSI).
National Development Planning Minister Bambang Brodjonegoro, who is also head of the National Development Planning Agency (Bappenas), said Indonesia, as a country with the largest Muslim population, should not only be a market of halal products.
"We need to develop the sharia economy through the halal industry. We need to optimize the local wisdom to benefit the global opportunity," he said when speaking at the Indonesia Islamic Economy Festival (IIEFest) as quoted in a press statement on Friday. In the draft, the aim of sharia economy development domestically was to expand the business scale and to improve independence and people's welfare, while on the international level, Indonesia wants to upgrade its position on the Global Islamic Economy Indicator (GIEI). (bbn)
https://www.thejakartapost.com/news/2019/04/26/indonesia-to-launch-sharia-economy-masterplan-in-may.html
--------
Muslims, Christians join forces to fight Egyptian church fire
April 27, 2019
ABU QURQAS, Egypt: Muslim and Christian worshippers in an Egyptian city turned firefighters to tackle a blaze at the site of a recently demolished church.
Local residents, who spotted smoke billowing from a camp in the grounds of the Coptic Orthodox church of Mar Girgis (St. George) in Abu Qurqas, Minya province, raced to the scene and worked together to extinguish flames.
By the time fire crews arrived the blaze had been put out. There were no casualties and officials are investigating the cause.
Landmark church
In a statement, the Coptic Orthodox Church said the fire broke out at 4 a.m. and all the camp's contents were destroyed.
Despite its unique architectural value, the landmark church of Mar Girgis was demolished a few months ago following a demolition order.
Archaeologist Dr. Monica Hanna said the church had contained valuable oil paintings and other historical features.
http://www.arabnews.com/node/1488631/middle-east
--------
Officials promote coordination between the Muslim World League and Russia
April 26, 2019
These include the historical Islamic presence in Russia, and ways to increase cooperation between Russia and the Islamic world, to tackle hate speech, hatred and discrimination and to address calls for violence and terror.
Chebotarev extended his thanks and appreciation for the MWL's organization of the "Islam, a Message of Mercy and Peace" conference, the first of its kind, which was opened in Moscow and concluded in the Chechen capital Grozny. It was held under the patronage of the Russian government, including the Russian Presidency, the Russian Council of the Federation (Senators) and Duma Council, and attracted the presence of 43 states of different religions and nationalities.
Chebotarev said that a peaceful and harmonious atmosphere prevailed in his country, where all places of worship were open, without any restrictions on the freedom of belief and religious practice, as recognized by the constitution and protected by the laws. "Today, Russia has become a common home for hundreds of peoples and communities, and this positive coexistence is one of Russia's most significant riches."
Chebotarev also praised the Islamic presence in Russia, stressing that Russian Muslims are a pride to the country, as they have participated in the Russian renaissance and in building their country, occupying prominent positions as statesmen, scientists, soldiers and professional workers in all fields.
For his part, the MWL secretary-general stressed the need for continued efforts toward promoting peace, harmony and positive coexistence around the world, along with respecting the national umbrella of each state.
http://www.arabnews.com/node/1488526/saudi-arabia
--------
Sudan protesters hold prayers outside military headquarters in campaign for civilian rule
April 26, 2019
KHARTOUM: Thousands of Sudanese protesters performed the weekly Muslim prayers outside army headquarters on Friday, a day after vast crowd of demonstrators flooded Khartoum to demand the military rulers cede power.
Protesters have massed outside the army complex in central Khartoum since April 6, initially to demand the overthrow of longtime leader Omar Al-Bashir.
But since his ouster by the army on April 11, the protesters have kept up their sit-in, demanding that the military council that took over hand power to a civilian administration.
Despite international support for the protesters, the 10-member council has so far resisted, although three of its members resigned on Wednesday under pressure from the street.
The resignations triggered jubilation among the protesters, who massed in their tens of thousands on Thursday in response to a call from their leaders for a "million-strong" march.
Despite the scorching heat, the protesters were back in numbers on Friday, an AFP correspondent reported.
"Freedom, freedom," they chanted as prayer leader Sheikh Matter Younis delivered the sermon.
"We will not retreat until we get our main demand of civilian rule," said Younis, an activist from Sudan's war-torn western region of Darfur.
He also called for the "symbols" of the old regime to be punished.
"They must face fair and transparent justice, they have to be held accountable," he said, as the protesters chanted "Blood for blood! We will not accept compensation!."
Another Darfuri, Harun Adam, said his family lived in Kalma, one of the sprawling camps that are still home to hundreds of thousands of people who were driven from their homes by the Bashir government's brutal response to the ethnic minority rebellion which erupted in 2003.
"I'm here since April 6," when the sit-in started, Adam told AFP.
"I'm ready to stay here for a year until we get our main demand, which is a civilian government and that all those who committed crimes be held accountable."
Behind him crowds chanted "One, two, three, four, we are all Darfur!"
The military council, led by General Abdel Fattah Al-Burhan, says it has assumed power for a two-year transitional period.
Protest leaders have held several rounds of talks with the council and the two sides have agreed to set up a joint committee to chart the way forward but there has so far been no breakthrough.
Washington has thrown its weight behind the protesters.
State Department official Makila James said on Tuesday that Washington supports "the legitimate demand of the people of Sudan for a civilian-led government" and urged all parties to work together to that end.
But at a summit hosted by Egyptian President Abdel Fattah El-Sisi on Tuesday, African leaders conceded that more time was needed for a transition to civilian rule.
Their statement angered the protesters who held a rally outside the Egyptian embassy on Thursday.
The African Union had taken a strong line setting an end of April deadline for the military council to hand power to civilians or face suspension from the 55-nation bloc.
http://www.arabnews.com/node/1488476/middle-east
--------
Turkey: France Had Role In Massacre Of Turks Century Ago
26.04.2019
Turkey's Foreign Ministry spokesman on Friday blamed France for its role in massacring the Turks a century ago by arming Armenians.
"The French have a role in arming Armenians and massacring Turks a century ago," Hami Aksoy said at a news conference in capital Ankara.
"We will not forget [French President Emmanuel] Macron's declaring April 24 as a day for commemoration [for the so-called Armenian genocide]," Aksoy said.
France held its first national day of commemoration on Wednesday.
Turkey objects to the presentation of the incidents as "genocide" but describes the 1915 events as a tragedy in which both sides suffered casualties.
Ankara has repeatedly proposed the creation of a joint commission of historians from Turkey and Armenia plus international experts to tackle the issue.
The spokesman said archives of the Armenian side had not been revealed completely, contrary to Armenian claims.
"If Armenians actually show the courage to reveal the archives, the truth will be out. Unfortunately, they continue misleading the world and the young generation," he said.
Turkey's position on the events of 1915 is that the deaths of Armenians in eastern Anatolia took place when some sided with invading Russians and revolted against Ottoman forces.
Responding to recent remarks by French Prime Minister Edouard Philippe against Turkey regarding the events, Aksoy said: "I would like to point out that this attitude, which does not suit the head of an ally country, will not remain unanswered."
'Threatening language'
Regarding U.S. Vice President Mike Pence's remarks about Turkey on the sidelines of the NATO summit in Washington earlier this month, Aksoy said: "We see that the U.S. administration has restarted the use of threatening language but we've seen it before it does not work."
Pence had said Turkey's purchase of the Russian S-400 defense systems could potentially pose a risk to NATO.
"Turkey must choose. Does it want to remain a critical partner in the most successful military alliance in the history of the world, or does it want to risk the security of that partnership?" Pence said.
Aksoy said: "It is impossible to accept this expression regarding our country. The U.S. should understand that it will not get any result through impositions."
Tensions between the U.S. and Turkey have reached a fever pitch in recent months with Turkey set to begin receiving the advanced S-400 Russian surface-to-air missile system that Washington said will jeopardize Turkey's role in the F-35 fighter jet program and which could trigger congressional sanctions.
"We are part of the F-35 program. We are making payments regularly. Our pilots are being trained there. The delivery of the aircraft have started. We will not take a step back," Aksoy said.
He noted that the U.S. use of F-35s as an "element of threat" does not suit relations with the ally country.
Stating that the contacts with the U.S. continue to resolve the problems between the two countries, the Turkish foreign ministry spokesperson said: "We expect concrete steps from the U.S. in the main subjects regarding our country's security, particularly on PYD, YPG, and FETO [terror groups]."
https://www.aa.com.tr/en/europe/turkeyfrance-had-role-in-massacre-of-turks-century-ago/1463245
--------
South Asia
Fifteen killed in Sri Lanka in shootout with suspected Islamist militants
Apr 27, 2019
COLOMBO: The bodies of 15 people, including six children, were discovered at the site of a fierce overnight gun battle on the east coast of Sri Lanka, a military spokesman said on Saturday, six days after suicide bombers killed more than 250 people.
The shootout between troops and suspected Islamist militants erupted on Friday evening in Sainthamaruthu in Ampara, to the south of the town of Batticaloa, site of one of the Easter Sunday blasts at three churches and four luxury hotels.
A police spokesman said that three suspected suicide bombers were among the 15 dead after the shoot out.
Military spokesman Sumith Atapattu said in a statement that as troops headed towards the safe house three explosions were triggered and gunfire began.
"Troops retaliated and raided the safe house where a large cache of explosives had been stored," he said in a statement.
He said the militants were suspected members of the National Towheed Jama'at (NTJ), which has been blamed for last Sunday's attacks.
The government has said nine homegrown, well-educated suicide bombers carried out the Easter Sunday attacks, eight of whom had been identified. One was a woman.
Police said on Friday they were trying to track down 140 people they believe have links with Islamic State, which claimed responsibility for the suicide bombings.
Police have detained at least 76 people, including foreigners from Syria and Egypt, in their investigations so far.
Islamic State provided no evidence to back its claim that it was behind the attacks. If true, it would be one of the worst attacks carried out by the group outside Iraq and Syria.
The extremist group released a video on Tuesday showing eight men, all but one with their faces covered, standing under a black Islamic State flag and declaring their loyalty to its leader, Abu Bakr Al-Baghdadi.
https://timesofindia.indiatimes.com/world/south-asia/fifteen-killed-in-sri-lanka-in-shootout-with-suspected-islamist-militants/articleshow/69067628.cms
--------
How kingpin's radical tilt slipped Lankan radars
Apr 27, 2019
COLOMBO: On Easter Sunday, just hours after a series of bomb explosions tore through Sri Lanka, a video showing a bearded man wearing a topi and spewing venom was circulated widely.
Soon almost the entire world learnt that Zahran Hashim, somewhere in his 40s, could well have masterminded the deadly attack that killed 253 people and injured around 500.
It has now been disclosed, by Sri Lankan President Maithripala Sirisena, that Zahran, who was the ringleader, could well have been one of the eight suicide bombers who set out on their chilling mission.
In the video, Zahran, who was heading the fledgling National Thowheed Jamaath, speaks in Tamil with a faint Lankan slant:
"The faith classifies men as three types — one is the Muslim, another who is in agreement with the Muslim and the third one who has to be killed. Many people are afraid to say this. When this is pointed out, some call it terrorism. Anyone who is not in agreement with Islam has to be killed."
Born in Kattankudi, a coastal Muslim town in Batticaloa district 300km from Colombo, Maulvi Zahran Hashim's growth was rapid as much as it was short-lived. A home-grown radical leader, his fundamentalist leanings went almost unnoticed by the Sr Lankan government. His fiery sermons and open support for the Islamic State outfit on social media drew thousands of supporters, many of them youth. But Lankan authorities paid scant regard to the radical, with tragic consequences, say moderate Muslim leaders.
"We complained about Zahran's hate speeches to the intelligence agencies as far back as 2015 when we found his videos in circulation on social media," Muslim Council of Sri Lanka vice-president Hilmy Ahamed told TOI.
Ahamed again raised the issue with Lankan authorities in December 2018 when Zahran vandalised some Buddhist temples in Mawanaalla, about 110 km from Colombo. He was accompanied by youth whom he had radicalised under the pretext of taking Quran classes, said Ahamed.
It was after the series of attacks on Buddhist temples in 2017 that the leader grabbed the attention of the Lankan authorities.
Subsequently, he went underground and surfaced on April 21 with his suicide attacks. Videos and photographs of him that surfaced on social media showed him posing with seven masked men, declared as the suicide bombers by the Sri Lankan government.
Full report at:
https://timesofindia.indiatimes.com/world/south-asia/the-making-of-a-radical-leader/articleshow/69066476.cms
--------
Afghan Loya Jirga to debate US efforts for deal with Taliban
April 27, 2019
KABUL: Afghanistan on Monday will convene a rare "loya jirga" — a massive meeting for delegates from across the country — to discuss the war and US efforts to forge a peace deal with the Taliban.
More than 2,000 people have been invited to gather amid tight security for four days of debate under a large tent in Kabul.
The jirga is being held three days after the inauguration of the newly elected parliament on Friday.
A loya jirga, literally "grand assembly" in Pashto, is traditionally comprised of Afghan elders.
The most recent jirga was held in 2013, when Afghan officials endorsed a security agreement that allowed US troops to stay in Afghanistan beyond their planned withdrawal in 2014.
In August 2007, the first joint Afghan-Pakistan jirga was held in Kabul after relations between the neighbours deteriorated amid Afghan accusations that Pakistan was harbouring Taliban and Al Qaeda fighters.
In 2003, former president Sibghatullah Mojaddedi chaired a loya jirga that approved Afghanistan's new constitution for a post-Taliban era.
The events usually comprise political figures, religious scholars, teachers, activists and community leaders. Delegates typically break into smaller groups to tackle various matters.
The upcoming loya jirga is being held at a time when the US and Taliban militants have held several rounds of talks.
The two sides have discussed a possible troop withdrawal from Afghanistan in exchange for a ceasefire and various pledges from the Taliban.
But crucially, the talks have thus far cut out the government of President Ashraf Ghani, whom the Taliban view as a US stooge.
Mr Ghani's government is jostling for influence in the peace talks and the jirga aims to set out Kabul's red lines for any deal, including the continuation of the constitution and the protection of women's rights, the media, and free speech.
Mr Ghani has invited the Taliban to participate, but the insurgents, having waged an unrelenting guerrilla war since 2001, have refused.
In the past, the Taliban have blasted rockets at the loya jirga tent, and much of Kabul is being locked down under a massive security operation for this year's event.
In a statement, the Taliban vowed that any decisions or resolutions made at a loya jirga were "never acceptable to the real and devout sons of this homeland".
Top politicians including Ghani, former president Hamid Karzai, ex-foreign minister Zalmay Rassoul, former warlord Abdul Rab Rasoul Sayyaf and many other Afghan officials are attending.
Full report at:
https://www.dawn.com/news/1478632/afghan-loya-jirga-to-debate-us-efforts-for-deal-with-taliban
--------
Bangladesh mosques urged to denounce radicalism
April 27, 2019
DHAKA: The Bangladesh government told mosques to denounce extremism, following deadly attacks in Sri Lanka that killed hundreds of people.
Sri Lanka has been shocked by the Easter Sunday bombings that targeted churches and top hotels, with the attacks carried out by locals although Daesh claimed responsibility.
The mosque directive came from the prime minister's office, telling clerics to deliver a message in their Friday sermons that opposed terrorism and extremism.
"Extremism has no place in Islam," Sultan Muhiuddin, an imam of Dhaka's Rahmatia Jame Mosque, told Arab News.
"As disciples of the Prophet Muhammad (PBUH) we can't indulge in any radical activities. We preached upon the negative effects of radicalization and reminded people of the dire consequences in the light of the Qur'an," he said.
Premier Sheikh Hasina said terrorism had become a global phenomenon and that every country was threatened by this menace.
"We are very much alert on this issue and have already taken the necessary steps to avoid any untoward situation," she told reporters on Friday.
"I had a detailed meeting with all the intelligence agencies' chiefs and asked them to stay alert. Extremism has no religion, no country … It has become a global issue and now the time has come to find out the patrons of these terrorists."
But Bangladesh police deny that Daesh exists or has a presence in the country.
"In Bangladesh there is no existence of Daesh (Daesh) or any of its branches," Mohammad Masudur Rahman, deputy commissioner of Dhaka Metropolitan Police, told Arab News.
"But there are some other extremist groups specially Ansar-Al-Islam and Neo JMB, which have had almost no activity in recent days. Still, we are very vigilant. If any militant group re-emerges with their activities, we are ready to curb them at an early stage."
But one security analyst said the Sri Lanka attacks may inspire some militant groups to carry out similar acts in Bangladesh.
"We need to remain alert regarding the people who joined Daesh," retired Air Commodore Ishfaq Ilahi Choudhury told Arab News.
Full report at:
http://www.arabnews.com/node/1488646/world
--------
ISIS patron releases two video messages against Bangladesh
April 27, 2019
Salah Uddin Shoaib Choudhury
Sitting in London, Islamic State funder and fugitive criminal Md. Shahid Uddin Khan issued two statements in Bangla and English on the video sharing site copying the video messages of Islamic State. In the messages, Md. Shahid Uddin Khan is seen wearing black dress (a dress worn by ISIS members) and on purpose he has used dark glasses to hide his eyes.
In the video, Md. Shahid Uddin Khan once again has called upon the supporters of Astha (faith) an ISIS-prototype outfit floated by him to unseat the democratically elected government in Bangladesh with the ulterior agenda of establishing Caliphate. Counter-militancy experts are seeing these videos similar to those videos released by Islamic State and Al Qaeda.
Md. Shahid Uddin Khan (Army No: BA002428, Course: 8-BMA, Commission Date: 10-06-1983) and his wife and daughter currently are continuing activities sitting in United Kingdom. On January 17, 2019, Dhaka residence of Md. Shahid Uddin Khan was raided by the members of the Counter Terrorism and Transnational Crime (CTTC) unit of Bangladesh Police.
CTTC, based on secret information, raided House No. 184, Road No. 2, Baridhara DOHS in Dhaka, Bangladesh on January 17, 2019. This house is owned by Md. Shahid Uddin Khan and was allegedly used as a warehouse for arms, explosives and propaganda materials of Islamic State (ISIS). During the raid, large volume of weapons, detonator, counterfeit Bangladesh currency notes and jihadist materials of ISIS were recovered by the CTTC unit.
Following this recovery, three separate cases against ISIS-funder Md. Shahid Uddin Khan, his wife Farjana Anjum, daughters and other accomplices were lodged. The cases are: Cantonment PS, Case no 10, Section-6(2)/7/11/12 of Anti Terrorism Act 2009 (amendment 2013); Cantonment PS, Case no 11, Section-25-A, Special Power Act 1974; and Cantonment PS, Case no 12, Section-19-A of Arms Act 1878.
In 2009, he invested two million pounds in the United Kingdom in exchange of obtaining immigrant status under Visa Tier 1, vide VAF No. 511702. Later the family had laundered an unknown amount of money and brought that into the United Kingdom.
Ever since his identity as a patron and funder of ISIS had been exposed following the raid at his Dhaka residence, Md. Shahid Uddin Khan has been consistently conspiring against Bangladesh.
From the video messages it was made clear that Md. Shahid Uddin Khan was already having a plot of terrorist attacks during the first week of April. As part of this conspiracy, Shahid Khan had funded the recent jihadist attacks in Sri Lanka.
Md. Shahid Uddin Khan funded the Sri Lanka attacks:
According to media reports, four months before the Sri Lanka attacks, ISIS funder Md. Shahid Uddin Khan had sent large amount of money to his Colombo-based jihadist contact via Dubai. Khan has been living in the United Kingdom for last few years along with his family. Sitting in Britain, Khans are continuing various forms of jihadist activities. Recently he has established an organization named 'Astha' which aims at unseating democratically elected governments in the world and replace those with Caliphate. By now, Md. Shahid Uddin Khan already has expanded his activities in Sweden and the United States through two of his recruits.
According to documents available with various intelligence agencies in Bangladesh, Md. Shahid Uddin Khan hails from a radical Muslim family while his wife Farjana Anjum too hails from a similar family background. This couple's daughters though are living and being educated in Britain is notoriously radicalized and is working as lone wolves. They have been targeting various individuals and trying to convert them into Islam.
In January this year, Md. Shahid Uddin Khan used illegal channel in transferring an amount equivalent to ninety-two thousand dollars. This amount went from Dubai to Colombo. It may be mentioned here that, last year this newspaper published several reports exposing a secret conspiracy by a conglomerate of several jihadist outfits of staging terrorist attacks in a number of South Asian nations.
Sri Lanka was alerted of the jihadist attacks:
At least ten days before attacks, a Middle East based intelligence agency gave security officials a detailed warning of a possible threat to churches by the National Thowheeth Jama'ath. Similar alerts were also echoed by a Western intelligence agency. But the matter was not conveyed even to Prime Minister Ranil Wickremersinghe. Now authorities are investigating the reason behind such dubious behavior of Sri Lankan intelligence agencies.
Trashing the allegation of failure, sources inside Sri Lankan intelligence agencies claimed, on the basis of the security alert of the Middle East based intelligence source, they already have brought the matter to the attention of country's Prime Minister. But it was Sri Lankan politicians who had on purpose ignored the matter thus leading to the series of jihadist attacks on churches and high-end hotels.
Meanwhile, Sri Lankan law enforcing agencies, on Friday, April 26 raided the location where they believe militants recorded a video pledge to Islamic State leader Abu Bakr al-Baghdadi before carrying out deadly Easter Sunday attacks.
The discovery in the town of Sammanthurai, around 210 km (130 miles) east of the capital Colombo, came as security forces continued to search for extremists responsible for the bombings.
Seven people were reportedly arrested in the raid that was conducted by police and army personnel.
Police found an ISIS flag which they said was used as a backdrop, as well as clothing similar to that worn by the eight people in the video recorded before they launched suicide bomb attacks against three luxury hotels and three churches within 20 minutes of each other on Sunday. Two blasts at a guesthouse and a house in came later in the day.
ISIS released the video via its Amaq propaganda agency two days after the attacks.
Sammanthurai is around 40 km south of Batticaloa, where at least 25 people were killed in a suicide bombing at the Zion church.
Police showed the clothing and the flag on national television along with around 150 sticks of gelignite, 100,000 ball bearings, and a quadcopter drone. Video appeared to show a stack of 50 kg fertiliser sacks, around a dozen large drums of liquid and a box of battery power units among other items seized.
On Monday, police said they had found 87 detonators – 12 of them scattered on the ground at the Bastian Mawatha Private bus stand in Colombo and another 75 in a nearby garbage dump.
Meanwhile, there were reports of explosions on Friday in Kalmunai, around 5 km from Sammanthurai.
Troops and a small group of militants exchanged fire for over an hour, military spokesperson Brigadier Sumith Atapattu said, adding that there were no fatalities among troops, but the area was still not cleared.
Two gunmen were reportedly killed in the shootout, while one civilian died and three were injured.
And in Colombo, Navy personnel arrested three people and recovered one kilo of C-4 explosives near Wellawetta railway station.
NTJ kingpin Zahran Hashim killed?
President Maithripala Sirisena said Zahran Hashim, the leader of a local jihadist group named National Thowheed Jamath (NTJ), was one of two attackers killed at one of the Colombo hotels hit on Sunday.
"What intelligence agencies have told me is that Zahran was killed during the Shangri-La attack," he said.
Hashim was accompanied by a second bomber identified as Ilham Ibrahim in the attack, the president said.
Ilham and his brother Inshaf Ahmed Ibrahim attacked the Shangri-La and Cinnamon Grand hotels and Inshaf Ibrahim's wife Fatima was killed in an explosion the family home on Sunday, Firstpost reported.
An intelligence source told The Times that Abdul Lathief Jameel Mohamed is believed to have targeted the Taj Samudra hotel – located between the Shangri-La and the Cinnamon Grand – but his suicide vest failed to detonate. He later detonated the device at a guesthouse near the zoo.
Authorities had been searching for Hashim after naming his little-known group, National Thowheeth Jama'ath, as perpetrators of the attack.
DNA tests are being carried out on a severed head to conclusively establish that it is of Hashim's, officials said, adding they believe the tests will prove positive.
Hashim was the only person whose face was not covered in the video released by ISIS site Amaq after it claimed the attacks.
Is Sirisena cashing the jihadist attacks?
With the country on the defensive over ignored foreign warnings that attacks were likely, police chief Pujith Jayasundara on Friday became the second major resignation, after Sri Lanka's top defence ministry official Hemasiri Fernando stepped down late Thursday.
Sirisena had called on both to leave their posts because of the recriminations over the government's failure to prevent the attacks despite the warnings from India that NTJ suicide bombers were likely to hit "prominent churches."
Late on Friday, Prime Minister Ranil Wickremesinghe apologized.
"We take collective responsibility and apologise to our fellow citizens for our failure to protect victims of these tragic events," Wickremesinghe tweeted.
The military poured troops onto the streets to bolster police in the search for suspects using newly granted powers under a state of emergency.
At least 74 people are in custody, including a man believed to be millionaire spice-trader Mohammed Yusuf Ibrahim, the father of two of the bombers.
"We now have info that there are about 140 people in Sri Lanka linked to the Islamic State, we can and we will eradicate all of them very soon," Sirisena said, announcing that there would also be new legislation to ban extremist groups.
On Thursday, authorities reduced the death toll from 360 dead to 253, saying that badly mutilated bodies had been double counted.
Critics of President Maithripala Sirisena are saying, the controversial President is trying to cash the jihadist attacks in ousting few of his foes within the Defence Ministry, security agencies and police.
ISIS funder Md. Shahid Uddin Khan plotting more attacks:
Full report at:
https://www.weeklyblitz.net/news/isis-patron-releases-two-video-messages-against-bangladesh/
--------
Afghan forces kill 15 Taliban militants in Uruzgan province
27 Apr 2019
At least 15 Taliban militants were killed during the operations of the Afghan National Defense and Security Forces in southern Uruzgan province of Afghanistan in last two days.
The 205th Corps spokesman confirmed 15 Taliban have been killed in the last two days by a series of raids by the Afghan Special Forces along with the airstrikes by the Afghan Air Force in Tarin Kot, Uruzgan.
The officials are saying that this has been an on-going attempt to degrade Taliban networks and future terrorist operations in the area which has been a historically heavily contested area by the Taliban.
The raids conducted in the area by the Afghan Special Forces were met with clashes with the Taliban in Tarin Kot which were successfully defended by the security forces.
https://www.khaama.com/afghan-forces-kill-15-taliban-militants-in-uruzgan-province-03814/
--------
3 Taliban blow themselves up in Zabul Province
26 Apr 2019
The 205th Corps confirmed Taliban operating in the Safa District of Zabul Province were attempting to move roadside bombs which accidentally detonated and blew up three Taliban and wounded an additional three.
The 205th Corps also stated that their engineering team in Zabul found and destroyed 12 mines in the Safa district which were intended to be used against security forces as they traveled through the area.
The use of roadside bombs is a common practice used by the Taliban against Afghan forces but unfortunately residents in the area are usually those who fall victim to these tactics.
https://www.khaama.com/3-taliban-blow-themselves-up-in-zabul-province-03811/
--------
Taliban had a wrong perception regarding U.S. withdrawal from Afghanistan: Abdullah
26 Apr 2019
The Chief Executive of the Unity Government Abdullah Abdullah has said the Taliban group had a wrong perception regarding U.S. withdrawal from Afghanistan.
He made the remarks during a meeting with the members of the Fulbright Association of Afghanistan on Thursday.
Abdullah further added that the United States and the European Union have vowed to maintain their cooperation with Afghanistan even after a peace deal was reached.
Emphasizing that the excuses of Taliban should be eliminated in peace process, Abdullah said the Taliban group has a weaker stance in ongoing negotiations as the Afghan people do not want the return of Taliban regime.
Full report at:
https://www.khaama.com/taliban-had-a-wrong-perception-regarding-u-s-withdrawal-from-afghanistan-abdullah-03810/
--------
Sri Lanka on high alert as police hunt 140 Daesh members
Apr 26, 2019
President Maithripala Sirisena says the country's police and security forces are looking for more than 100 individuals with links to the Daesh Takfiri terrorist group.
The country remains on high alert in the aftermath of a string of bombings that claimed the lives of more than 250 people on the Easter Sunday.
Sirisena said Friday that police were looking for no less than 140 Daesh sympathizers, adding some Sri Lankan youths had been involved with the terror group since 2013.
Almost 10,000 soldiers were being deployed across the Southeast Asian country to carry out searches and provide security for religious centers, the military said on Friday.
Sri Lanka and the world were shocked on Easter Sunday after eight apparently coordinated blasts hit churches and luxury hotels in the capital, Colombo, and the cities of Negombo and Batticaloa.
The government, which has blamed a small group known as the Nations Thawahid Jaman (NTJ) for the attacks, has so far detained at least 76 people.
The NTJ has yet to claim responsibility for the bombings. Instead, Daesh has released footage of eight men whom it said had carried out the attacks that five days ago.
The response of Sri Lanka's security apparatus to the attacks was quickly questioned after reports stated earlier this week that intelligence officials had been alerted about potential bombings weeks before the attacks on Sunday.
Sri Lanka's own police chief had also warned of a security threat against churches and the Indian high commission in Colombo 10 days before the attacks.
The questionable performance has prompted Sirisena to ask the police chief and the defense secretary to resign. On Tuesday, he pledged to "completely restructure the police and security forces in the coming weeks."
The Sri Lankan head of state said Friday that top defense and police chiefs had not shared information with him about the attacks.
He further accused Prime Minister Ranil Wickremesinghe's government of weakening the intelligence system by focusing on the prosecution of military officers over alleged war crimes during a decade-long civil war between the so-called Tamil Tigers and the government.
The civil war ended in 2009 with an estimated 100,000 deaths.
The prime minister, who said earlier that neither he nor his cabinet ministers were informed about the warnings, blamed the attacks on a "breakdown of communication."
According to government sources, opposing factions aligned to the prime minister and the president often refuse to communicate with each other and blame any setbacks on their opponents.
The major lapse in intelligence sharing has sparked a feud between the prime minister and the president, who have been engaged in an intense animosity that led to a constitutional crisis last year.
Muslim community urged to avoid Friday prayers
Muslims in the country, who form a tenth of the population, have been warned to pray at home and avoid attending mosques or churches on Friday.
The All Ceylon Jamiyathul Ullama, Sri Lanka's main Islamic religious body, issued the warning on Friday after the State Intelligence Services warned of possible car bomb attacks.
Many, however, attended their prayers at mosques across the country.
At least 700 refugees from a persecuted Islamic sect are in hiding after fleeing their homes in the Sri Lankan port city of Negombo, British daily the Guardian reported.
"A group of around 500 Muslims are being sheltered in one city, which the Guardian is not naming," the paper said.
There was a significant police presence outside their location and dozens of locals were protesting, calling for the group to be removed from the area, it added.
Cardinal Malcolm Ranjith also appealed to priests not to conduct mass at churches until further notice, saying, "security is important."
Full report at:
https://www.presstv.com/Detail/2019/04/26/594395/Sri-Lanka-security-terror-ISIS-Daesh
--------
Southeast Asia
Pakatan approval rating plunges to 39%, Dr M's down to 46%: Poll
26 APRIL, 2019
KUALA LUMPUR — Malaysian Prime Minister Mahathir Mohamad's popularity rating has dropped to 46 per cent from 71 per cent recorded last August, said pollster Merdeka Centre based on its latest survey.
The survey also showed only 39 per cent of Malaysian voters gave the Pakatan Harapan federal government positive ratings, just weeks short of its first year in power.
"The decline in public support for the administration can also be seen in the number of voters who felt the country was headed in the wrong direction which increased from 24 per cent in August to 46 per cent in March.
"The decline in ratings are likely to be attributable to three factors — condition of the economy perceived by ordinary consumers, perceived performance of the administration, and concerns over Malay rights and privileges as well as fair treatment of the other races in Malaysia.
"As a result, public satisfaction in the government's management of the economy has fallen from 60 per cent in August to 40 per cent in March," Merdeka Centre said in a statement on April 26.
The survey was carried out between March 5 and 11 to gauge voter perceptions towards the economy, and current leadership and issues.
A total of 1,204 registered voters comprising Malay (52 per cent), Chinese (29 per cent), Indian (7 per cent), Muslim Bumiputera (6 per cent), Non-Muslim Bumiputera from Sabah and Sarawak (6 per cent) were interviewed.
The poll was funded by the centre's internally generated financial resources.
Merdeka Centre reported the survey also indicated that only 34 per cent of voters believed that the country was heading in the right direction, compared to 55 per cent last August.
"This sentiment was more acute among Malay voters where only 24 per cent felt the country was headed in the right direction."
Some 40 per cent of voters expressed satisfaction in the way the government is managing the economy now, down from 60 per cent last August while 46 per cent of voters were satisfied with the prime minister compared to 71 per cent last August.
A total of 67 per cent of those surveyed agreed the ruling pact needed more time to fulfil its election pledges.
The Pakatan Harapan government is set to celebrate its first year in power on May 9 after its historic win in last year's general election.
Since then, the government has come under fire for failing to keep its election promises, and to reduce the cost of living. THE MALAYSIAN INSIGHT
https://www.todayonline.com/world/pakatan-approval-rating-plunges-39-dr-ms-down-46-poll
--------
Two academics who advised Rulers against Rome Statute reject invite to forum
26 April 2019
By R. Loheswar
KUALA LUMPUR, April 26 — Two of the four academics who advised the Yang di-Pertuan Agung to reject the Rome Statute have declined the invitation to attend a forum organised by student activists on the treaty tomorrow.
The two are law lecturers Abdul Aziz from International Islamic University Malaysia (IIUM) and Fareed Mohd Hassan of Universiti Sains Islam Malaysia (USIM), said a report in The Star.
The forum is organised by nine students who had leaked the executive summary of a briefing by the four academics to the Conference of Rulers, which then ostensibly led to Putrajaya's decision to withdraw the ratification of the statute.
The other two academics, Universiti Teknologi Mara's deputy vice-chancellor and dean of Faculty of Law Prof Datuk Rahmat Mohamad and USIM law lecturer Hisham Hanapi, have yet to respond to the invitation.
"The paper presented by the four academicians was biased, factually wrong and had purposely twisted sensitive issues to confuse the Yang di-Pertuan Agong," a student representative Asheeq Ali Sethi Alivi was quoted in The Star.
"We invited the academicians as panellists to the forum but unfortunately, two of them have rejected the invite. We are still awaiting a response from Rahmat and Hisham Hanapi.
"I would urge them to attend the forum as panellists to have a healthy discussion, answer questions from the public and also defend themselves."
Asheeq said the forum would be a platform for the four academics to shed light on what transpired behind the closed-door meet with the Conference of Rulers and for any confusion on the Rome Statute to be addressed.
"I urge them to be responsible and brave to defend their presentation to the Yang di-Pertuan Agong," said Asheeq.
"Accountability is very important for academicians. Don't run and hide behind politicians who only want to confuse the rakyat on the issue.
"Come forward and argue as a professional and experienced academician."
Full report at:
https://www.malaymail.com/news/malaysia/2019/04/26/two-academics-who-advised-rulers-against-rome-statute-reject-invite-to-foru/1747318
--------
Eggi Sudjana Summoned for Questioning by Police Over Call for 'People Power'
APRIL 26, 2019
Jakarta. Police summoned lawyer-turned-politician Eggi Sudjana for questioning on Friday over his "people power" threats, which had gone viral on social media and messaging platforms, related to the 2019 elections.
Jakarta Police spokesman Senior Comr. Raden Prabowo Argo Yuwono confirmed to BeritaSatu.com that Eggi, a legislative candidate for the National Mandate Party (PAN), would be questioned as a witness at 2 p.m.
This comes after Dewi Ambarwati Tanjung, a member of the ruling Indonesian Democratic Party of Struggle (PDI-P), reported him to police on Wednesday over a video in which he allegedly calls for mass action, as he believes the elections had been tainted by cheating.
The allegations against the politician include hate speech and his purported involvement in a planned a coup against the government.
The video went viral on WhatsApp and YouTube on April 17, the day millions of Indonesians went to the polls in simultaneous presidential and legislative elections.
The video drew widespread criticism from various groups and individuals. A mass organization supporting Joko "Jokowi" Widodo and his running mate Ma'ruf Amin also filed a report to the police on April 19.
The term "people power" has become a sensitive topic in Indonesia over fears that this may result in chaos and sharpen divisions between the country's people. The issue was championed by supporters of rival presidential and vice-presidential candidates Prabowo Subianto and Sandiaga Uno, who have lost the election, according to all quick-count results by registered pollsters.
Full report at:
https://jakartaglobe.id/context/eggi-sudjana-summoned-for-questioning-by-police-over-call-for-people-power
--------
Arab World
Russia: Syria constitution body could be agreed on soon
26 April 2019
The Syrian government and armed opposition groups, together with both sides' backers, could agree on the makeup of a constitutional committee in coming months, Russian negotiator Alexander Lavrentyev said on Friday.
Forming a constitutional committee is key to political reforms and new elections meant to unify Syria and end an eight-year war which has killed hundreds of thousands and displaced about half of Syria's pre-war population of 22 million.
The sides have so far failed to agree the constitutional committee's makeup, and a fresh round of talks in Kazakhstan's capital Nur-Sultan, produced no apparent breakthrough on Friday.
But Lavrentyev said it was close.
Diplomats from Russia, Iran and Turkey will meet with United Nations negotiators in Geneva to discuss the issue again, he said, adding that the issue was "at the finish line."
"The timing has not been agreed yet, taking into account the upcoming month of Ramadan, it is most likely to happen after that," Lavrentyev told reporters.
"But I think by that time (UN mediator) Mr Pedersen will be able to announce" the establishment of the committee.
Ramadan starts on May 5 this year and ends on June 4.
Russia, a backer of Syrian President Bashar al-Assad, has taken a lead role in diplomatic efforts in Kazakhstan that has largely sidelined UN diplomacy.
Tehran, like Moscow, is an ally of Assad's regime, while Ankara has aligned itself with the rebels but has repeatedly threatened to attack Kurdish fighters on the Syrian side of its southern border that it views as "terrorists."
On Thursday, a Western diplomat told AFP that Moscow will be aware of perceptions that recent rounds of the so-called "Astana process" have made little progress and may push to speed up the creation of a long-awaited constitutional committee.
The capital of Kazakhstan was called Astana until last month, when it was renamed after the country's outgoing president.
https://english.alarabiya.net/en/News/middle-east/2019/04/26/Russia-Syria-constitution-body-could-be-agreed-on-soon-.html
--------
Germany halts processing some Syrian asylum applications, says report
27 April 2019
Germany has stopped processing some applications for asylum by Syrian refugees, pending a new assessment of the security situation in the war-torn country, according to a report on Saturday.
German media group Funke, quoting the interior ministry, said decisions on some asylum applications from Syrians have been 'postponed' with changes expected to be made to ministry guidelines.
Delegations from Iran, Russia and Turkey met in Kazakhstan on Thursday seeking an end to the Syrian conflict.As a consequence of the Germany's halting of some asylum applications, refugee organizations fear Angela Merkel's government will reject more applications from Syria if there is no longer armed conflict there, say Funke.
According to the Funke report, those affected are asylum seekers awarded "subsidiary protection" - exposed to serious danger, acts of war, the death penalty or torture in their home country.
According to government figures, 17,411 Syrians were awarded the status in 2018.
Germany has been deeply polarized by Chancellor Angela Merkel's 2015 decision to open the country's borders to those fleeing conflict and persecution at the height of Europe's migrant crisis.
Since then, the influx of over a million asylum seekers - mainly from Syria, Iraq and Afghanistan - has fueled the rise of the far-right, anti-Islam AfD party.
Full report at:
https://english.alarabiya.net/en/News/middle-east/2019/04/27/Germany-halts-processing-some-Syrian-asylum-applications-report-.html
--------
Russian air strikes kill 10 civilians in Syria's Idlib
26 April 2019
Air strikes by regime ally Russia killed 10 civilians in the region of Idlib in northwestern Syria Friday, a war monitor said.
The Syrian Observatory for Human Rights, a Britain-based monitor, said those killed included two children.
The raids took the lives of three civilians including a boy on the outskirts of the town of Kafranbel, and seven including a girl in the town of Tal Hawash, Observatory chief Rami Abdel Rahman said.
Russia and rebel-backer Turkey in September inked a buffer zone deal to prevent a massive regime offensive on the Idlib region, near the Turkish border.
But the region of some three million people has come under increasing bombardment since former al-Qaeda affiliate Hayat Tahrir al-Sham took control of it in January.
The latest air raids came as two days of talks on ending the war in Syria – sponsored by Russia, fellow regime ally Iran, and rebel backer Turkey – concluded in Kazakhstan.
In a statement released by the three countries after the meeting, they expressed concern about HTS extending its influence in Idlib.
They stressed their "determination to continue cooperation in order to ultimately eliminate" HTS and ISIS, the statement said.
Full report at:
https://english.alarabiya.net/en/News/middle-east/2019/04/26/Russian-air-strikes-kill-10-civilians-in-Syria-s-Idlib.html
--------
UN: More than 7,000 Syrians quit camp near Jordan border
26 April 2019
More than 7,000 people have left a desperate desert camp for displaced Syrians near the Jordanian border since March, a United Nations spokesperson said on Friday.
According to the UN's humanitarian coordination office OCHA, around 36,000 people remained in the isolated Rukban camp near al-Tanf base used by the US-led coalition fighting ISIS extremist group, after over 4,000 left between March and April 21.
The Syrian government and key backer Russia said in February they had opened corridors out of the camp, calling on residents to leave.
"Since March, over 7,300 people have left Rukban," OCHA spokesman David Swanson told AFP, including some 3,000 who left after April 21.
Those who have quit the camp have moved to collective shelters in the central city of Homs or resettled in their areas of origin in the province of the same name, OCHA said Thursday.
It said Rukban residents were organizing their own transportation to the edge of a de-escalation zone established around al-Tanf, from where they either continued in their vehicles or were transferred by private or government-provided vehicles to four collective shelters in Homs city.
The Britain-based Syrian Observatory for Human Rights says those returning to government-held parts of Homs from Rukban had struck so-called "reconciliation deals" with the Syrian government.
Conditions inside Rukban are dire, with many surviving on just one simple meal a day, often bread and olive oil or yoghurt, according to one resident.
The camp has been particularly difficult to reach due to its location on the Jordanian border and the proximity of US forces and the rebels they support.
In February, a humanitarian convoy of 133 trucks delivered food, clothes, healthcare items and medical supplies to the camp's residents.
The February 6 delivery was just the second in three months.
Full report at:
https://english.alarabiya.net/en/News/middle-east/2019/04/26/UN-More-than-7-000-Syrians-quit-camp-near-Jordan-border.html
--------
US troops kill Iraqi policeman, injure two others while 'transferring' Daesh terrorists: Report
Apr 26, 2019
American troops have killed an Iraqi policeman and injured two others while allegedly transferring a group of Daesh Takfiri terrorists in the country's northern province of Kirkuk.
The incident happened after American troops were deployed to the region by helicopter in an attempt to airlift the terrorists to an undisclosed region, Iraq's Alahad television network reported on Friday.
The operation turned deadly after US forces opened fire on an Iraqi police unit nearby. Iraqi forces had been monitoring the Daesh elements but were not informed of the US operation.
Iraq's Joint Operations Command (JOC) later issued a statement announcing the formation of a committee investigating the incident.
During an interview with the Alahad, Iraqi law expert Ali al-Tamimi claimed the incident was a case of intentional murder that should be dealt with according to Iraqi law.
Tamimi stressed that based on mutual agreements, the military immunity of US forces expired after the 2011 withdrawal from Iraq.
The Asa'ib Ahl al-Haq group, a main component of Iraq's Popular Mobilization Units (PMU), later issued a statement describing the incident as a violation of Iraq's sovereignty.
The statement said that despite Washington's claims that US military presence in the country is to provide military and logistical assistance to Iraqi forces, American forces have operated in the country at will and without coordination with Iraqi forces. While circumstances surrounding the incident remain unclear, this is not the first incident where US forces have 'airlifted' Daesh terrorists to undisclosed locations. Many similar cases have also been reported in Syria.
Daesh overran large swaths of Syria and Iraq in offensives beginning in 2014. The group was, however, militarily defeated by the governments of the two countries in the course of some four years.
Speculations have been made about Washington's direct or indirect support for the terrorist group in the past years.
Full report at:
https://www.presstv.com/Detail/2019/04/26/594438/US-troops-Iraqi-policeman
--------
Bodies of Saudi Arabian Airlines crew killed in Sri Lanka attacks arrive in the Kingdom
April 26, 2019
JEDDAH: The bodies of two Saudi Arabian Airlines cabin crew killed in the Sri Lanka bombings have arrived back in the Kingdom.
Cabin manager Ahmed Zain Jaafari and steward Hani Maged Othman, were in one of the hotels targeted by extremists. A crew member injured in the attacks, Hajer Aziz, also arrived home.
Tearful colleagues greeted their return late Thursday night at the King Abdulaziz International Airport in Jeddah.
Pictures showed Aziz arriving in a wheelchair before tearfully hugging two children.
She was then taken from the airport in an ambulance.
The string of suicide bombings on Easter Sunday targeted three churches and four hotels, killing 253 people.
Full report at:
http://www.arabnews.com/node/1488521/saudi-arabia
--------
Egypt vote firms up El-Sisi rule as regional unrest flares
April 27, 2019
CAIRO: As mass protests rock other Arab countries, a snap referendum in Egypt has gone against the grain and cemented President Abdel Fattah El-Sisi's rule for years to come.
The three-day ballot saw constitutional changes sail through that allow the former military chief to stay in power until 2030, boost his control over the judiciary and give the army even greater influence in political life.
Officials said more than 88 percent of ballots cast were for "yes."
After years of turmoil that saw the ouster of long-time ruler Hosni Mubarak and his successor Mohammed Mursi, stability remains a priority for many Egyptians, said Timothy Kaldas, a non-resident fellow at the Tahrir Institute for Middle East Policy.
"Undoubtedly some still support El-Sisi and believe that he has prevented Egypt from suffering the fate of neighbors," he said.
"For most Egyptians, they believe they've overthrown two presidents and seen their quality of life get worse each time, so there's little faith that a third uprising will improve the situation."
Around 27 million votes were cast, with a turnout rate of 44.33 percent, at the referendum after it was called and held within a matter of days.
The amendments prolong El-Sisi's current term to 2024 from 2022 and allow him to then run for another six-year term.
"The country is on the right track and it's stable... it's logical that El-Sisi is given his full chance to finish what he started," said Mervat Abdel Fattah, a housewife in her 50s.
After the result state television broadcast images of El-Sisi supporters waving flags and blaring national tunes in Tahrir Square — the site of angry protests that toppled his two predecessors.
The opposition's lack of political power and the absence of "a unified stance on the referendum" helped El-Sisi to an easy win, said Ziad Aqel, political sociology expert at the Al-Ahram Center for Political and Strategic Studies.
Especially when coupled with "mobilization" at the ballot box by state bodies, he added.
The New York-based Soufan Center said before the vote that the amendments helped "solidify El-Sisi's grip" on Egyptian politics.
As army chief of staff at the time, El-Sisi led the military's overthrow of Mursi in 2013 following mass protests against Mursi's rule.
Full report at:
http://www.arabnews.com/node/1488626/middle-east
--------
Africa
Medical team allowed to check Zakzaky's health in Nigeria
Apr 25, 2019
A group of medical experts and consultants has completed its initial health assessment of Nigeria's top Muslim cleric Sheikh Ibrahim al-Zakzaky and his wife, who have been in detention since late 2015.
The delegation led by UK-based Islamic Human Rights Commission (IHRC) visited the cleric and his wife, Mallima Zeenah, on Thursday and highlighted the need for urgent investigations into their health which it hoped would be carried out in the next couple of days.
The IHRC, an NGO which campaigns for justice, said in a statement it "acknowledges the authorities' change of position in making this possible and hopes this heralds a full and just resolution of the situation."
Zakzaky, the leader of the Islamic Movement in Nigeria, has been held in detention since December 2015. He was charged in April 2018 with murder, culpable homicide, unlawful assembly, disruption of public peace and other accusations.
In 2016, Nigeria's federal high court ordered his unconditional release from jail following a trial, but the government has so far refused to set him free.
The top cleric, who is in his mid-sixties, lost his left eyesight in a raid carried out by the Nigerian army on his residence in the northern town of Zaria in December 2015.
During the raid, Zakzaky's wife sustained serious wounds too and more than 300 of his followers and three of his sons were killed. Zakzaky, his wife, and a large number of the cleric's followers have since been in detention.
https://www.presstv.com/Detail/2019/04/25/594356/Nigeria-Ibrahim-Zakzaky-IHRC-health-protests
--------
Jordan condemns Israeli trespassing at Al-Aqsa Mosque
April 27, 2019
AMMAN: Jordan issued a statement on Thursday condemning Israel's lack of action against Jewish extremists who regularly attempt to pray on the grounds of Al-Aqsa Mosque and its surrounding compound, Al-Haram Al-Sharif.
The statement came after a week of tension in Jerusalem during the Jewish Passover holiday. A significant number of Israelis were allowed to enter Al-Haram Al-Sharif under police protection, and some paid an unscheduled visit to Al-Aqsa Mosque, sparking a confrontation.
Arafat Amro, head of the Islamic Museum of Archaeology at Al-Aqsa Mosque, told Arab News that the head of the Jerusalem police was among those who entered the mosque without obtaining permission from the Jerusalem Islamic Waqf — the religious trust that manages the Islamic sites in Al-Haram Al-Sharif.
Amro claimed that when he confronted the group and asked if they had arranged their visit with the Waqf, "the head of the police threatened me, saying that I would never be able to enter the mosque again."
After Amro left the mosque on Wednesday, he was arrested by Israeli police and accused of interfering with the work of the police in Al-Haram Al-Sharif, which Israelis call the Temple Mount. Amro claims he was threatened and harassed during his interrogation. He was later barred from visiting the mosque for 15 days.
"I was told that if I came to Al-Aqsa Mosque, I would have to pay a fine of 10,000 shekels ($3,400). I replied that I am an employee of the Jordanian government."
In a statement on Thursday, a spokesperson for Jordan's Foreign Ministry, Sufian Qudah, said, "Such irresponsible acts provoke millions of Muslims around the world."
Qudah added that the government had sent a letter of objection to Israel through diplomatic channels regarding ongoing violations in Jerusalem.
He went on to say that Israel's "denounced and rejected" measures in Jerusalem are an attempt to change the status quo in the city, and reiterated that the Jerusalem Islamic Waqf is the sole caretaker of Al-Aqsa Mosque and the only organization with the authority to grant entry to the complex.
Qudah emphasized that Israel, as an occupying power, must honor its obligations under international law, which considers East Jerusalem an occupied territory.
Full report at:
http://www.arabnews.com/node/1488616/middle-east
--------
Son of Algeria, hero of glorious defeats: Abbasi Madani
Vakkas Doğantekin
26.04.2019
Prominent Algerian opposition leader Abbassi Madani passed away in Qatar on Wednesday at the age of 88.
Madani was born on Feb. 28, 1931 in Sidi Aqba, near Algeria's southeastern city of Biskra.
Madani earned doctorate in education in London and went on to lecture at the University of Algiers.
His activist career started when he was arrested by the French occupation authorities on bogus charges in 1954. He stayed in jail until 1962, when Algeria gained its independence from France.
But he soon found himself at odds with the ruling National Liberation Front (NLF) party.
His demand that the government replace French with the Arabic language cost him another jail term in 1982.
Soon after serving a brief sentence, Madani entered politics.
In 1988, Madani and Ali Ben Hadj co-founded the Islamic Salvation Front (FIS) and grew the movement through preaching in mosques. The FIS, which was associated with small armed militias, skirmished with the regime.
In 1989, the secular regime had to legalize the FIS after mass riots the previous year.
Backed especially by Algeria's disenfranchised and urban youth, the FIS saw itself as an alternative to the regime and the establishment, which were closely associated with France and the West.
The FIS, which opposed Western dominance in Algeria, evolved into being the only threat to the regime by winning local elections in 1990.
In the parliamentary elections of December 1991, the FIS won even more decisively in the first round of the elections, securing 188 of 231 seats.
Coup
To prevent an FIS landslide in the second round of elections scheduled for a month later, Gen. Khaled Nezzar, the France-backed defense minister, staged a military coup.
According to a book by history professor Philip Naylor, Ali Hussein Kafi, an Algerian politician who became chairman of High Council of the State and acting president from 1992 to 1994, criticized Nezzar's former service in the French military and his late engagement with the Algerian revolution against France.
He even accused Nezzar of infiltrating the ruling National Liberation Front on behalf of France.
The Nezzar-appointed junta reimposed martial law and tortured, murdered, and killed thousands extra-judicially.
Enforced disappearances and other acts constituting grave violations of international human rights law were everyday occurrences. These crimes were mostly committed against FIS supporters.
They upheld laws that forced men to shave off their beards in a bid to humiliate practicing Muslims in an overwhelmingly Muslim country.
Nezzar's iron-fist rule was little different than 132 years of French colonialism and the War of Independence against France that left 1.5 million Algerians dead.
Following the coup, the FIS was outlawed by the army, which then rounded up and imprisoned its leaders, triggering a devastating decade-long civil war.
It is estimated that eventually nearly 100,000 people died, 20,000 disappeared, and 1.5 million were forcefully displaced.
In 1997, after years in prison, the Algerian authorities released Madani, along with prominent FIS leader Abdelkader Hachani (who would be assassinated two years later).
In 2000, Madani and his deputy, Ali Ben Hadj, were banned from engaging in political activity.
Three years later, Madani was allowed to leave the country to get medical treatment in Qatar, where he lived until his death.
Legacy
Madani's vital role in shaping Algerian politics for decades and his unwavering faith in the nation's bright future is likely to be remembered for many years to come.
In a 1990 video, Madani summarized the revolutionary struggle of Algeria.
"Either Algeria remains the Algeria of the French, or it becomes the Algeria of the Muslims. As soon as the people wake up and choose Islam, it will be just a matter of time."
Madani ended his words in the video by underlining France's double standards in its approach to democracy.
Full report at:
https://www.aa.com.tr/en/africa/son-of-algeria-hero-of-glorious-defeats-abbasi-madani/1463047
--------
Al-Shabaab retaliate over Lower Shabelle loses
April 26, 2019
SOMALIA— Al-Shabaab has had a heavy engagement with Somali troops in Afgoye District's outposts in Lower Shabelle last night.
The two sides have used heavy artilleries in the confrontation that was reported in Lower Shabelle.
Al-Shabaab attacked Somali troop's base that was established after they took over locations from the militants. The militants had lost those locations in Afgoye district within Lower Shabelle in the past.
Residents have reported the fighting that took a course between Al-Shabaab and Somali troops. They claimed that the two sides exchanged fire for too long before the ceasefire.
Al-Shabaab claimed that they took over one base that belonged to Somali troops in Sabib District and killed a soldier in last night's attack.
On the other hand, the Somali government has not given reports on the attack.
https://www.somaliaffairs.com/news/al-shabaab-retaliate-over-lower-shabelle-loses/
--------
Europe
Ukip leader endorses Change UK candidate accused of Islamophobia
Apr 27, 2019
Ukip's leader Gerard Batten has thrown his support behind a candidate from rival party Change UK who was criticised by Muslim community groups for her views about Islam.
Nora Mulready's selection for the European Parliament elections was condemned as a "joke" by racism reporting service Tell MAMA and criticised by the Muslim Council of Britain.
But the remain-supporting centrist party has found an unlikely ally in arch-Brexiteer Mr Batten – who himself has been criticised for an alleged "fixation" with Islam.
The Ukip leader expressed hope that the presence of views like Ms Mulready's in a remain-supporting party would make his own politics more acceptable in the mainstream.
"Change UK MEP candidate is apparently someone 'with the guts to say things as they are'. That can get you called names these says," Mr Batten said, sharing a link to an article about the row.
He added: "Maybe 'saying things as they are' will become more acceptable if Remainers do it. It could even catch on."
Change UK has stood by their candidate and claims she is subject to a "smear campaign". The party has already seen two candidates resign over racially-charged tweets since its European elections launch on Tuesday. One had suggested he would support Brexit if it stopped "Romaining pickpockets", while the other had made a series of historic offensive tweets, including one referring to a "crazy black wh***".
Ms Mulready was accused by the Muslim Council of Britain of being "all too ready in othering people, in this case, conflating Islam with terrorism".
Comments had emerged in which she appeared to conflate Islam with terrorism, questioned Pakistani immigration, and suggested the concerns of far-right leader Tommy Robinson should be acknowledged.
Ukip leader Mr Batten himself faced a backlash last year after he appointed Mr Robinson, former face of the English Defence League, as an advisor.
That row resulted in Nigel Farage quitting the party, with the former leader accusing the MEP of an "obsession" with Robinson and a "fixation" with Islam.
"I believe he is entirely unsuitable to be involved in any political party," Mr Farage wrote of Robinson. "The fact is that his entourage includes violent criminals and ex-BNP members."
Writing in The Independent, Ms Mulready defended her record: "Ever since the announcement yesterday of my candidacy as a London MEP for Change UK – The Independent Group, I have been subjected to an online campaign of false allegations of racism, including an accusation by the Muslim Council of Britain (MCB) that I am Islamophobic," she said in a comment piece.
"I have never – not once – expressed anti-Muslim hatred or bigotry. I have always been clear that any criticisms I may make are about Islamism, and conservative Islamic cultures or beliefs; never Muslims.
"I am horrified, appalled and deeply upset to have been targeted by what appears to be an active campaign of smears and lies from hard-left activists and the MCB."
https://www.independent.co.uk/news/uk/politics/change-uk-islamophobia-nora-mulready-gerard-batten-eu-elections-a8887251.html
--------
Iranian, Russian DMs discuss further cooperation in anti-terror fight
Apr 26, 2019
Iranian and Russian defense ministers have held talks on enhancement of mutual cooperation between the two countries' armed forces in a bid to strengthen regional and global stability and security and in the fight against terrorism.
Iranian Defense Minister Brigadier General Amir Hatami and his Russian counterpart Sergei Shoigu held the meeting on Friday in Moscow on the sidelines of the Moscow Conference of International Security (MCIS).
Hatami highlighted the growing trend of defense and security interactions between the two countries in light of the determination of Iranian and Russian political leaders.
However, he added, the two states have numerous capacities for promotion of their interaction, and need to develop their military and defense cooperation in both quantity and quality.
The Iranian defense chief also underlined that enhanced military ties between the two sides can further reinforce stability and security in the region and the world.
Shoigu, in turn, said Tehran and Moscow have already managed to promote their military and defense cooperation to a great level, but the two sides need to maintain their military interactions in training, technical, and security fields.
He also pointed to the two countries' cooperation within the framework of Astana Process, stressing the key role of joint efforts by Iran and Russia in the fight against terrorism and establishment of ceasefire in Syria.
"Cooperation in the Astana format plays a significant role in establishing ceasefire regime and stabilizing situation in the Syrian Arab Republic," the Russian defense minister noted.
The Astana Process refers to an initiative by Iran, Russia, and Turkey which mediate peace negotiations between representatives from the Damascus government and opposition groups in a series of rounds held in the Kazakh capital Astana - recently renamed as Nur-Sultan - and other places since January 2017.
The talks, which are collectively referred to as the Astana peace process, have so far helped significantly reduce violence gripping the Arab country by establishing four de-escalation zones there. They have also paved the way for the formation of a Constitutional Committee.
This is while the parallel UN-backed peace process in Geneva has failed to deliver much.
Delegations from Iran, Russia and Turkey arrived in Nur-Sultan on Thursday, seeking an end to the eight-year conflict in Syria. The UN envoy for Syria, Geir Pedersen, is also participating in the talks.
The top Russian negotiator said after the first day of the talks that the three guarantor states of the ceasefire regime in Syria are "clearly determined" to continue their fight against terrorism in the Arab country.
Over the past few years, the Syrian military, with advisory military help from Iran and Russia — and a Russian aerial bombardment campaign — has retaken control of much of the country, and the conflict is generally believed to be winding down.
Full report at:
https://www.presstv.com/Detail/2019/04/26/594404/Iran-Russia-military-cooperation-defense-ministers-hatami-shoygu
--------
Iran, Russia, Turkey 'determined' to fight terror in Syria
Apr 26, 2019
Iran, Russia, and Turkey - the three guarantor states of a ceasefire regime in Syria - are "clearly determined" to continue their fight against terrorism in the Arab country, says the Russian negotiator.
The Russian president's special envoy for Syria Alexander Lavrentiev made the remarks in a press statement at the end of the first day of the 12th round of Astana talks on Thursday.
"The talks dealt with the situation in Syria in general, and in the northwestern region of Idlib in particular where the terrorist organization of Jabhat al-Nusra controls the majority of the area," he noted.
The situation on the ground in Idlib, which is under the control of al-Qaeda affiliate Jabhat al-Nusra, was also discussed, Lavrentiev said.
He said there would be no ceasefire with Jabhat al-Nusra but that minimizing harm to "peaceful citizens" was a priority in the fight against the terrorist group.
Last Friday, Syrian President Bashar al-Assad called for progress in stalled talks on a so-called buffer zone around Idlib province in a meeting with Lavrentiev in Damascus.
The Syrian president also stressed his government's determination to eliminate terrorist groups which are holed up in Idlib and attack civilians in neighboring areas.
President Assad called for the removal of any "obstacles" blocking the full implementation of the deal.
Turkey and Russia brokered a deal in September 2018 to create a demilitarized zone in Idlib that would be evacuated of all heavy weapons and militants.
The talks on Idlib come as the situation in the militant-held province is being described as "dangerous".
"The situation in the Syrian province [of Idlib] is very dangerous, and the Nusra Front terrorist group – which is not part of a de-escalation zone – is controlling a majority of the province's regions," Iranian Foreign Minister Mohammad Javad Zarif warned last month.
Issues impeding formation of constitutional committee
According to Lavrentiev, the Thursday talks also concentrated on forming a committee on discussing the country's new Constitution, the return of the displaced Syrians, and the means to help Syria reconstruct the country
"The talks were held within a practical atmosphere," he said. However, "several unclear issues" were slowing the formation of a constitutional committee which the United Nations hopes will drive a political settlement for Syria.
Lavrentiev said the talks over the committee were "complex" but "moving forward."
"We are on a complex path towards forming the constitutional committee. There are some unclear issues," he told reporters.
"(We are) moving forward...I think tomorrow (Friday) at the plenary session we will be able to put these issues to a general discussion," Lavrentiev said.
Delegations from Iran, Russia and Turkey arrived in Kazakhstan's capital Nur-Sultan seeking an end to the eight-year conflict in Syria. The UN envoy for Syria, Geir Pedersen, is also participating in the talks.
Full report at:
https://www.presstv.com/Detail/2019/04/26/594393/Lavrentiev-Astana-talks-Syria-Idlib-Nusra-Front-Terrorism
--------
India
Global campaign to get China make Azhar U-turn gains pace
Apr 26, 2019
NEW DELHI: The international process to put Masood Azhar on the terror list in the UN Security Council is gathering steam.
On Friday, British high commissioner, Dominic Asquith told journalists the UK was "optimistic" that the process would be completed soon. "We're waiting to see whether the country that has so far been resisting in agreeing to his listing will lift that objection. … We have been strong supporters of the listing of Masood Azhar for a decade."
Senior US official, Alice Wells, was in Delhi this week, and the Azhar listing was on the agenda in the meetings with Indian officials. Sources familiar with developments said the US is pushing China to lift its hold and get the designation through in the coming days, in the "very near term".
At the UN in New York, officials have been fine-tuning the language of the resolution that will finally name Azhar, the head of Jaish-e-Mohammed. While there is no obvious "deadline", the effort by the sponsors of the resolution — US, UK, France — is to get China to change its stand without suffering loss of face. Speaking to TOI, officials involved in the exercise said on condition of anonymity that China doesn't want to be seen as supporting a known terrorist. "They want the monkey off their back too," they said.
Last week, foreign secretary, Vijay Gokhale made a final pitch with the Chinese leadership in Beijing. Giving a readout of the conversation, MEA spokesperson said, "We have shared with China all evidences of terrorist activities of Jaish-e-Mohammad and its leader Masood Azhar. It is now for the 1267 Sanctions Committee and other authorized bodies of the U.N. to take a decision on the listing of Masood Azhar. India will continue to pursue all available avenues to ensure that terrorist leaders who are involved in heinous attacks on our citizens are brought to justice."
Pakistan has resisted and has relied on China's veto support to keep Azhar off the list. There have been reports that China is afraid that a listing of Azhar might unleash retaliatory attacks against Chinese personnel working on the CPEC. However, Indian security officials have dismissed it, since security on CPEC is guaranteed by the Pakistan army.
https://timesofindia.indiatimes.com/india/uk-optimistic-about-listing-of-masood-azhar-as-global-terrorist-at-un-british-high-commissioner/articleshow/69062443.cms
--------
Sri Lanka blasts: Coimbatore man denies link with NTJ, says NIA trying to frame him
Apr 26, 2019
COIMBATORE: R Ashiq of Marakkadai in Coimbatore, who is accused of plotting to murder Hindutva leaders, on Friday said the National Investigation Agency (NIA) is trying to frame him and others by linking them with the National Thowheed Jama'at (NTJ), a terror group suspected to be involved in the serial blasts in Sri Lanka.
"We don't have any connection with the serial bomb blasts in Sri Lanka.
The NIA is trying to frame us by stating that we were in touch with Moulavi Zahran Bin Hashim of the National Thowheed Jama'at. The NIA is working against innocent Muslims and is trying to present Muslims as terrorists in the international arena", he said.
Ashiq, 25 of Thirumal Street at Marakkadai is working in a butcher shop at Kottaimedu in the city. He is one among the six men who have been accused of plotting to murder Indu Makkal Katchi (IMK) leader Arjun Sampath.
The NIA was investigating the case. The NIA had taken him into custody thrice. However, it failed to file a chargesheet within 180 days against Ashiq and others, and they got bail from the NIA special court at Poonamallee in Chennai two months ago.
The NIA claimed that it had alerted Sri Lanka through Indian intelligence agency about the conversation that had happened between the NTJ leader and the six accused.
Ashiq told TOI that he did not have any connection with the serial bomb blasts in Sri Lanka.
"The NIA registered a fake case against innocent Muslims and tried to create a story that Muslims are terrorists. But the NIA won't bother about the real culprits. The case against us in connection with plotting to murder Hindutva leaders is also a false one. We came out on bail because the NIA doesn't have any valid evidence against us," he said .
Ashiq alleged that he had been beaten up by the Coimbatore city police and made him to put his signature on a document accepting that he was also one of the accused in the murder plot case.
He added that he knew four of the accused people through Facebook . "They came to Coimbatore city to attend a marriage function and I went to the Coimbatore railway junction to receive them. Meanwhile, the city police arrested all of us and foisted fake cases," he said.
He added that he was not a sympathiser of terror group ISIS. The NIA created a story against me saying that he was an ISIS sympathiser, he said.
" I had not heard about ISIS earlier. I came to know about ISIS on after my arrest. I have never contacted NTJ leader Zahran Bin Hashim. I haven't chatted with him. I gave my Facebook details to the NIA for investigation. But I don't know about the others whether they were in touch with NTJ leader, " said Ashiq.
"I came to know about the NTJ leader on after the serial blasts in Sri Lanka. Those who involved in the serial bomb blasts should be punished severely," he added.
Full report at:
https://timesofindia.indiatimes.com/india/sri-lanka-blasts-coimbatore-man-denies-link-with-ntj-says-nia-trying-to-frame-him/articleshow/69052400.cms
--------
HC dismisses Yasin Malik's plea seeking transfer of two cases
Apr 27, 2019
The Jammu and Kashmir High Court on Friday dismissed two petitions by separatist leader Yasin Malik and others seeking transfer of cases related to the kidnapping of Rubiya Sayeed, daughter of former chief minister Mufti Mohammed Sayeed, and killing of Air Force personnel, from Jammu to Srinagar. The two cases are nearly 30-year-old.
Malik, chairman of the Jammu and Kashmir Liberation Front, is currently lodged in Delhi's Tihar Jail following his arrest in a terror funding case earlier this month. Justice Sanjay Kumar Gupta struck down a 2008 order that had transferred their hearing to Srinagar.
In a 27-page judgment, the judge also vacated an order by a single bench of the high court which had stayed trial against Malik in 1995, besides observing that the October 25, 2008 order of a special Terrorist and Disruptive Activities (Prevention) Act (TADA) court of Jammu allowing Malik's petition for shifting trial to Srinagar was not correct.
Full report at:
https://www.hindustantimes.com/india-news/hc-dismisses-yasin-malik-s-plea-seeking-transfer-of-two-cases/story-8VXXiVUjtaAaKjqQjpFYrK.html
--------
Seven states put on alert after terror attack call to police
Apr 27, 2019
Seven states, including all south Indian ones, were put on alert late on Thursday after the Bengaluru police received a tip-off about a possible terror attack on multiple cities and the gathering of a group of terrorists in Tamil Nadu's Ramnathapuram.
The alert comes at a time when security and intelligence agencies are concerned about the existence of sleeper cells on Indian soil that could be linked to the group that carried out bombings in Sri Lanka, where 253 people were killed on Sunday during Easter celebrations.
A caller claiming to be a lorry driver said major cities in Tamil Nadu, Karnataka, Kerala, Andhra Pradesh, Telangana, Goa, Maharashtra and Puducherry would be hit by terror attacks… (which) will take place on trains, said the letter issued by Karnataka director general of police to the states mentioned in the tip.
"He also claimed that there are 19 terrorists present at Ramanathapuram, Tamil Nadu," the letter added.
A Karnataka police official, who asked not to be named, said the letter had been sent out after analysing the tip-off, which was received around 5:30pm. "Inputs with the police suggest that over a dozen terrorists could have sneaked through Ramanathapuram," the officer added.
Ramanathapuram is few kilometres west of Rameswaran on the east coast, which is a short nautical distance from Sri Lanka. Tamil Nadu too issued alerts to district and coastal security officials. A Maharashtra police officer said "... places that attract crowds… have all been put under extra surveillance". The Andhra Pradesh police also confirmed it was on alert.
Full report at:
https://www.hindustantimes.com/india-news/seven-states-put-on-alert-after-terror-attack-call-to-police/story-eEk4JY8pthpakeGMkFD3DL.html
--------
India, Turkey on 'same page' as US threatens sanctions over Iran oil import
Apr 26, 2019
India and Turkey have discussed how they can work together to counter terrorism and common challenges such as the US decision to end exemptions to sanctions on Iranian oil imports, Ibrahim Kalin, senior advisor to the Turkish president, said on Friday.
Kalin, who held talks with National Security Adviser Ajit Doval and foreign secretary Vijay Gokhale, said Turkey and India find themselves on the "same page" on several pressing issues, including US sanctions on Iranian oil imports and Russian military equipment, and the American plan to end the Generalised System of Preferences (GSP) for preferential duty-free imports.
Like India, Turkey has been threatened with US sanctions under the Countering America's Adversaries Through Sanctions Act for procuring the S-400 air defence system from Russia. Kalin told an event at Observer Research Foundation Turkey opted for the Russian system only after trying unsuccessfully to buy the Patriot missile system from the US for 10 years.
Kalin said US sanctions "don't work and hurt everybody", and Turkey is on the same page with European nations on the issue of US ending exemptions to sanctions on Iranian oil imports, which are set to take effect from May 2. Despite the threat of sanctions, he said Turkey had no plans to cut oil imports to zero or to stop trade with Iran "for the time being".
"We are talking to the Europeans (to see) how we can find ways and mechanisms by which we continue to trade with Iran without affecting our economy and without violating the sanctions and having another confrontation with the US over this issue," he said. He added he hadn't heard anything officially about India joining such a mechanism
US unilateralism and trade wars will cost everyone, and the raising of tariffs and taxes in the name of protecting the American economy will "certainly backfire", Kalin said. "If the idea is to change Iranian behaviour on certain regional issues in Iraq, Yemen and Syria, that will not happen through sanctions. You have to have further engagement and dialogue with Iran rather than this kind of antagonistic sanction-based policy," he said.
Kalin said in Turkey's view, there is no difference between the attack on mosques in New Zealand and the suicide bombings in Sri Lanka claimed by Islamic State. Nine suicide bombers carried out a series of blasts targeting churches and luxury hotels on Easter Sunday in Sri Lanka, killing 253 people. On March 15, a white supremacist killed 50 people and injured many others in two mosques, the deadliest mass shootings in New Zealand.
Full report at:
https://www.hindustantimes.com/india-news/india-turkey-on-same-page-as-us-threatens-sanctions-over-iran-oil-import/story-oytlSHLckePrigpx6KHVsK.html
--------
J&K cop critically injured in Srinagar terror attack
Apr 26, 2019
SRINAGAR: A constable of Jammu and Kashmir Police was critically injured after terrorists attacked a police party near Chanapora police post in Srinagar on Friday evening. Kashmiri terror outfit Al-Umar Mujahideen has claimed responsibility for the strike.
Around 7.45pm, some bike-borne terrorists opened four-five rounds of fire at the cops on duty at the Chanapora checkpoint.
Constable Feroz Ahmad, who sustained grievous injuries in the attack, was rushed to the 92 Base military hospital. SDPO Sadder Shabir Khan confirmed the strike.
The police party effectively retaliated to the attack, but the terrorists managed to escape towards Baghi Mehtab area in south Kashmir. Soon after the attack, security forces launched a cordon-and-search operation to trace the assailants.
Full report at:
https://timesofindia.indiatimes.com/india/jk-cop-critically-injured-in-srinagar-terror-attack/articleshow/69064149.cms
--------
Mideast
Turkey orders detention of 210 military personnel over links to Gulen
26 April 2019
Istanbul prosecutors ordered the detention of 210 military personnel over suspected links to the network blamed by Ankara for orchestrating a failed 2016 military coup, the Istanbul chief prosecutor's office said on Friday.
It said the suspects from the air, marine and land forces, as well as the gendarmerie and coast guard, included five colonels, seven lieutenant colonels, 14 majors, and 33 captains.
They were suspected of being supporters of US-based Muslim cleric Fethullah Gulen, who is accused by Turkish authorities of masterminding the failed putsch three years ago.
Gulen has denied any role.
More than 77,000 people have been jailed pending trial since the coup and widespread arrests are still routine. Authorities have suspended or sacked 150,000 civil servants and military personnel.
The prosecutor's office said it believed the number of Gulen supporters who remained unidentified within the military was greater than those who took part in the coup attempt, and the network still posed the greatest threat to Turkey's constitutional order.
Turkey says Gulen's network had infiltrated its military, judiciary and state institutions.
Ankara's Western allies have criticized the crackdown, with Erdogan's critics accusing him of using the putsch as a pretext to quash dissent.
Turkish authorities say the measures are necessary to combat threats to national security.
The military personnel being sought on Friday were identified by listening to recordings of conversations held on pay phones across Turkey, the prosecutor said.
About 250 people were killed in the failed putsch. Gulen, a former ally of President Tayyip Erdogan, has lived in self-imposed exile in Pennsylvania since 1999.
Separately, state-owned Anadolu agency reported that the Ankara chief prosecutor ordered the detention of 41 people believed to be members of the network.
They were suspected of obtaining the questions to a police school exam in 2009, to help their members join the force.
https://english.alarabiya.net/en/News/middle-east/2019/04/26/Turkey-orders-detention-of-210-military-personnel-over-links-to-Gulen.html
--------
Israeli forces injure 60 Gazans, 15 of them children
Apr 26, 2019
Israeli forces have attacked Palestinians protesting in the Gaza Strip near the fence between the besieged Palestinian enclave and the Israeli-occupied territories, leaving at least 60 people injured.
Ashraf al-Qedra, the spokesman for the Gazan Health Ministry, said that Israeli forces injured 60 Palestinians, including four women and 15 children, during the protests in Gaza on Friday.
A paramedic and a journalist were also among those injured during the latest protests.
Since March 30 last year, the Palestinians in Gaza have been holding weekly rallies to demand the right to return for those driven out of their homeland by Israeli aggression and an end to the siege on the enclave. More than 270 Palestinians have been killed since then, and over 16,000 have been injured.
A United Nations (UN) fact-finding mission found earlier that Israeli forces committed rights violations during their crackdown against the Palestinian protesters in Gaza that may amount to war crimes.
Full report at:
https://www.presstv.com/Detail/2019/04/26/594436/Israel-Gaza-protest-60-Palestinians
--------
Yemen's Houthis begin radical reforms plan
Apr 26, 2019
The Houthi Ansarullah movement's new "National Vision" lays out Sana'a's road map towards building a "modern, stable and democratic state," which seeks peace and equal cooperation with the international community.
The Ansarullah's incumbent President of the Supreme Political Council in the Yemeni capital, Sana'a, Mahdi al-Mashat, announced the implementation of the movement's manifesto this week.
Press TV was among the first to receive the English translation of the document, which contains 175 strategic aims on how to rebuild the badly damaged nation.
The reforms plan, known as the National Vision, aims to protect the Yemeni people and rebuild the war-torn country, while at the same time, "strengthen state institutions," which have been rendered inadequate due to the war.
President al-Mashat, who is also a senior member of the Ansarullah political party, acknowledged that Yemen is at a difficult stage in its history.
Speaking at the inauguration event attended by members of the Council, Mashat called for the nation to sharpen its resolve and move towards rebuilding the country.
However, Mashat admitted that "while we are confronting the (Saudi-led) aggression, we are at the same time facing the challenge of the state-building."
The Ansarullah-led government, known as the National Salvation Government of the Republic of Yemen, has officially adopted this new vision.
Yemen has been dealing with ongoing conflict, which includes a nationwide blockade, enforced by the Saudi Arabia-led coalition of regional allies that launched a devastating campaign against Yemen in March 2015.
The Saudi coalition's offensive was aimed at bringing the government of former President Abd Rabbuh Mansur Hadi back to power by crushing Ansarullah and their National Salvation Government in Sana'a.
Speaking to Press TV, the chairman of the International Solidarity Committee with Yemen, Rune Agerhus, explained why this new vision is so important.
"This document is truly historic. First of all, it completely shreds the narrative of supposed 'violent rebels' holding the capital, but rather shows a competent government institution showing a willingness to alleviate the suffering of the Yemeni people, it re-establishes the Yemeni democracy and seeks to make Yemen a prosperous nation."
"It's also a sign of Yemen opening its arms to the international community. They want to re-establish good and equal relations with the countries of the world, as well as open up for foreign investments."
The idea of a new National Vision was initially proclaimed by the former Yemeni President Saleh al-Sammad. Samad was killed during a coalition airstrike last year.
A famous quote by the former president, "one hand protects, the other hand builds," has been used as the slogan for the Sana'a government's new vision.
Some of the many critical areas of focus for the government include raising the average life expectancy and improving electricity and water supplies, while also reducing the illiteracy rate and tackling corruption.
Ismail al-Shami, the media announcer for Yemen's state news broadcaster al-Masirah, told Press TV that the Vision was a "good and practical" step.
"The vision was made from the reality of the need of Yemeni citizen's and has many steps that will help in building Yemen and raise living standards."
Full report at:
https://www.presstv.com/Detail/2019/04/26/594431/Yemens-Houthis-begin-radical-reforms-plan
--------
US voices concern for Baha'i facing death from Houthis
April 26, 2019
WASHINGTON: The United States urged Yemen's Iran-backed Houthi militia to end the mistreatment of members of the Baha'i faith, as Houthi court sentenced believer to death on "absurd" allegations.
The Baha'i community said that Hamed bin Haydara, who has been detained since 2013, will face an appeal hearing on Tuesday in the Houthi-controlled capital Sanaa.
The US State Department said it was "deeply concerned" that the Houthis have targeted dozens of Baha'is and voiced alarm over accounts that Haydara has endured "physical and psychological torture."
"This persistent pattern of vilification, oppression and mistreatment by the Houthis of Baha'is in Yemen must end," State Department spokeswoman Morgan Ortagus said in a statement.
The Baha'i community on Thursday released what it said was the response to Haydara's appeal, with the prosecutor accusing the faith of being founded on "satanic thought."
It said that Haydara has also been accused of seeking to create a separate Baha'i homeland on the Yemeni island of Socotra.
"The prosecutor's arguments do not address the merits of Mr. Haydara's appeal and instead make absurd, wide-ranging accusations that are not based in law or in fact," said Bani Dugal, the principal representative of the Baha'i International Community to the United Nations.
He charged that the prosecutor was following the tactics of Iran's clerical regime, which allows freedom of religion to several minorities but targets the Bahai's, whose founder the Baha'u'llah was Iranian born in 1817.
Full report at:
http://www.arabnews.com/node/1488396/middle-east
--------
60 Palestinians hurt in Gaza border clashes
26 April 2019
At least 60 Palestinians were injured during clashes on Friday along Gaza's border, including 36 shot and wounded by Israeli fire, the health ministry in the coastal enclave said.
"60 people were injured by (Israeli) occupation forces" and of these 36 were shot by live fire, ministry spokesman Ashraf al-Qudra told AFP.
An Israeli army spokeswoman said approximately 7,000 "rioters and demonstrators" had gathered in multiple spots along the heavily-fortified border.
Demonstrators "hurled rocks and a number of explosive devices" towards troops, she said, with forces responding in "accordance with standard procedures."
Palestinians in Gaza have taken part in often violent demonstrations along the Israeli border fence for more than a year, calling on the Jewish state to end its blockade of the territory.
Full report at:
https://english.alarabiya.net/en/News/middle-east/2019/04/26/60-Palestinians-hurt-in-Gaza-border-clashes.html
--------
Pakistan
US imposes sanction on Pakistan, may deny visas to Pakistanis
Apr 27, 2019
WASHINGTON: The US has imposed sanctions on Pakistan after Islamabad refused to take back its citizen deportees and visa over-stayers from America, warning that it may withhold visas of Pakistanis beginning from its senior officials.
The state department on Friday said that consular operations in Pakistan remain "unchanged" as of now but as a result of such a sanction mentioned in a Federal Register notification dated April 22, the US may withhold visas of Pakistanis beginning with its senior officials.
Pakistan is the latest to join the list of 10 nations that have been imposed with sanctions under a US law according to which countries refusing to take back deportees and visa over-stayers will be denied American visas.
Notably eight of these countries have been slapped with such visa sanctions under the Trump administration. Two of them Ghana and Pakistan have been included in the list this year.
The other countries include Guyana in 2001, the Gambia in 2016, Cambodia, Eritrea, Guinea, and Sierra Leone in 2017, Burma and Laos in 2018.
Under Section 243 (d) of the Immigration and Nationality Act, the Secretary of State is required to discontinue granting immigration or non-immigrant visas to a nation upon receiving notice from the Homeland Security Secretary that the country has denied or is unreasonably delaying accepting a citizen, subject, national or resident of that country.
The state department tried to downplay the impact of the sanctions on Pakistan.
"Consular operations in Pakistan remain unchanged," a state department spokesperson said when asked about the federal register notification.
"This is a bilateral issue of ongoing discussion between the US and Pakistani governments and we are not going to get into the specifics at this time," the spokesperson added.
Former Pakistan's ambassador to the US, Hussain Haqqani, feels that this will make things difficult for Pakistanis.
"This measure will create hardship for Pakistanis who want or need to travel to the US and could have been avoided if Pakistani authorities had not ignored American requests to respect their legal requirements for deportation," Haqqani said, days after the federal register notification.
He said that Pakistan's refusal to accept it's citizen deported from the US is not new.
"Pakistan's refusal to accept every Pakistani citizen deported from the US is not new. It seems that the US is no longer willing to overlook a wide range of official Pakistani behaviour. Bonhomie has been replaced by sanctions and restrictions based on Islamabad's policy decisions," Haqqani said.
While the law in this regard has been under existence since 1996, it is only in last several years that there had been increasing demand from lawmakers towards its enforcement against countries that had refused to accept deportees and visa over-stayers.
In the last few years, India has been taking such deportees on special planes at regular intervals.
The Trump administration after coming to power had said that it will strictly enforce such provisions by denying visas to people from those countries that refuse it accepting deportees and visa over-stayers.
While section 243 (d) of the Immigration and Nationality Act was used only twice before 2017, the Trump Administration has been effective in using this provision on many countries, including Pakistan.
However, the state department federal register notification indicates that the number of visa denial under this sanction is far
less.
Since the law was modified to cover non-immigrant visas in 1996, 318 visa applicants have been affected, the notification said.
"During this same time period, tens of millions of aliens have received non-immigrant visas including, collectively, millions of applicants from the 10 countries affected," the notification said.
The Federal Register notification said that there is no set formula, though, notably state has never issued a blanket refusal for visas from the country in question.
"For some countries, sanctions begin by targeting officials who work in the ministries responsible for accepting the return of that country's nationals with escalation scenarios that target family members of those officials and potentially officials of other inistries and then other categories of applicants if initial sanctions do not prove effective at encouraging greater cooperation on removals by the targeted government," the notification said.
https://timesofindia.indiatimes.com/world/pakistan/us-imposes-sanction-on-pakistan-may-deny-visas-to-pakistanis/articleshow/69067179.cms
--------
Sri Lanka may seek Pakistan's help to trace terrorists
APRIL 27, 2019
Sri Lankan Prime Minister Ranil Wickremesinghe has said that his government will, if necessary, seek Pakistan's help to trace the terrorists involved in the recent Easter Sunday bombings.
In an exclusive interview with an international newspaper published on Friday, Wickremesinghe pointed out that Pakistan had in the past 'fully supported Sri Lanka's war on terror'. "If necessary, we will seek their help to trace the terrorists and eliminate them. I see this tragic event as further strengthening the trust that exists between our countries and increasing cooperation," he said.
Prime Minister Wickremesinghe said that although Sri Lanka is investigating the possibility of foreign links in the attack, there is no evidence yet to suggest that any particular country has backed the terrorists involved in the string of bombings that left approximately 250 people dead. "All the countries in our region are faced with the same threats […] Even the best of defences can sometimes be breached by ruthless terrorists, as we have seen time and again, all over the world. Our intelligence has worked with their counterparts [foreign intelligence agencies] abroad. But this is the first time that global terrorism has struck Sri Lanka. This is a new experience for us and we will work with our international allies to apprehend all the perpetrators," he said.
When asked about anti-Muslim sentiment in the country, the Sri Lankan prime minister said there had been a marked improvement since 2012-2014, when the minority community was 'under pressure'. He noted that since 2015, anti-Muslim sentiment has not been not allowed to raise its head. "There was only one unfortunate incident in Kandy, which was brought under control. They have been patient in the face of these provocations, and I must commend their political leaders for maintaining inter-religious harmony," he said. "But again, the wave of anti-Muslim sentiment spreading across the liberal world and our region, has had some impact on Sri Lanka as well. We must provide constitutional guarantees to every community to coexist within one Sri Lanka," he asserted. The militant Islamic State group has claimed responsibility for the attacks. It released a video that showed eight men, all but one with their faces covered, standing under a black Islamic State flag and declaring their loyalty to its leader, Abu Bakr Al-Baghdadi. The government said there were nine suicide bombers, eight of whom had been identified. One was a woman.
Authorities have focused their investigations on international links to two domestic Islamist groups – National Thawheed Jama'ut and Jammiyathul Millathu Ibrahim – they believe carried out the attacks.
A picture has emerged of a group of nine well-educated, home-grown suicide bombers. Two were brothers, sons of a wealthy spice trader, a source close to the family said. At least 76 people, including several foreigners, have been rounded up since Sunday.
Full report at:
https://dailytimes.com.pk/383453/sri-lanka-may-seek-pakistans-help-to-trace-terrorists/
--------
Polio drive suspended across country after spike in attacks
Asif Chaudhry
April 27, 2019
LAHORE: Amid serious security threats and increasing attacks on polio workers in different parts of the country, the federal government has suspended the anti-polio campaign "for an indefinite period".
And for the first time in the history of Pakistan, the government has also suspended the post-campaign evaluation — Lot Quality Assurance Sampling (LQAS).
The National Emergency Opera­tion Centre (EOC) for polio, Islam­abad, issued a red alert to all the provinces on Friday, directing them to stop the anti-polio campa­ign all over the country to protect 270,000 polio field staff from attacks.
The nationwide campaign was launched in all districts of the country on April 22 and Friday was the last catch-up day.
"After the Peshawar incident, the uncertain and threatening situation for the frontline polio workers has emerged and we need to save the programme from a further major damage," reads the alert issued by the EOC.
It says that it has been unanimously decided by the national technical team and Global Polio Eradication Initiative (SPEI) partners to call off the catch-up activities of April National Immunisation Day campaign across the country with immediate effect.
"Hence, no further vaccination or catch-up activity will be conducted in any area for this campaign," said the EOC in the letter.
An official said that the World Health Organisation had been using the LQAS as new sampling methodology under the GPEI to document status of anti-polio coverage and areas of weak coverage with statistical reliability.
He said the national anti-polio programme had suffered a major setback due to frequent attacks on polio teams in different parts of the country, prompting the federal government to suspend LQAS activities as well.
He said the action was taken in the wake of the Peshawar incident in which a violent mob torched a government health facility and the murder of a woman polio worker in Chaman, besides attacks on staff in Sindh, Balochistan and Punjab in recent days.
The EOC in a separate official letter addressed to all the provinces conveyed apprehension about increasing attacks on polio workers, directing them to suspend LQAS activities.
The letter reads, "It has been decided by the National EOC that no post campaign evaluation (LQAS) will be conducted anywhere in the country."
The official said the EOC had acted due to fear of pathetic vaccination coverage of 40 million targeted children across the country because of security threats and attacks on polio workers.
In Punjab alone, he said, it was for the first time that 700,000 children were either missed or their families refused to get their children vaccinated, putting lives of too many children at risk of contracting the crippling disease, during the last four days of the drive which started on April 22.
Full report at:
https://www.dawn.com/news/1478637/polio-drive-suspended-across-country-after-spike-in-attacks
--------
Bilawal warns against bid to bring presidential system
Syed Irfan Raza
April 27, 2019
ISLAMABAD: Pakistan Peoples Party (PPP) chairman Bilawal Bhutto-Zardari on Friday warned against any attempt to bring presidential form of government in the country, saying it would not be in the interest of democracy by any means. He said there was no 'third umpire' — only people — in a democracy.
"In Pakistan, not the desire of third umpire but the will of people prevails. This is what democracy warrants," the PPP chief said during a press talk along with some opposition leaders after attending a conference organised by the Asma Jahangir Legal Aid Cell in collaboration with the Pakistan Bar Council (PBC).
The conference was attended, among others, by Senators Mushaidullah Khan, Sherry Rehman, Mustafa Nawaz Khokhar and Usman Kakar, MNAs Mohsin Dawar, Shaista Pervaiz, Nafeesa Shah and Chaudhry Manzoor, PPP leader Farhatullah Babar, PBC vice chairman Syed Amjad Shah, PBC Executive Committee chairman Hafiz Mohammad Idris, Human Rights Committee chairman Abid Saqi, Afrasiab Khattak, Nida Aly and Munizae Jahangir.
Mr Bhutto-Zardari, who is also chairperson of the National Assembly's Human Rights Committee, said that as far as the attempt to roll back the 18th Constitution Amendment and enforce the presidential system was concerned, it could be the desire of some elements hatching conspiracies. "Presidential system is neither in the interest of the country nor the federation and all democratic forces will resist any such move," he said, adding that the presidential form of government had failed wherever it had been enforced. "There is no provision in our laws for conducting referendum."
The PPP chairman termed the National Accountability Bureau Ordinance 1999 a 'black law' and said the opposition could sit with the government to amend it. "This black law was made by Gen Pervez Musharraf. There must be a same law for accountability of all," he said.
Talking about the China-Pakistan Economic Corridor (CPEC), he expressed the hope that Prime Minister Imran Khan would give due importance to the corridor project and would not make any compromise on it. "The present government has diverted CPEC funds and provided them to the ruling party's MNAs. The government should not make the CPEC a controversial project by doing this," he added.
Talking about the conference, he said all stakeholders held a threadbare debate on the 18th Amendment and human rights. "But the problem is that the government is not serious on any issue," he regretted.
Interestingly, government representatives were also invited to the event, but none of them turned up.
The purpose of the consultation was to engage parliamentarians and the legal fraternity for a way forward on the recommendations emerged from the conference. A consensus was reached during the dialogue that challenges to the 18th Amendment and the desire to roll back the provincial autonomy and National Finance Commission Award must be resisted and the 19th Amendment related to Article 175-A (appointment of judges in the superior judiciary) must be repealed.
The conference called for revival of the role of the parliamentary committee on judicial appointments.
A resolution adopted at the conference said that military courts, a parallel justice system, impede access to justice and did not meet standards of fair trial. They should not be extended as they were given jurisdiction over civilians and used against them. The criminal justice system should be strengthened instead.
The conference emphasised that the state must fulfil its responsibility to protect fundamental rights of citizens, stop the harassment of human rights defenders and immediately lift the ban on international and national non-governmental organisations (NGOs).
It demanded that Pakistan must implement legislation to criminalise enforced disappearances and the government must prevent torture by adopting the 2014 bill passed by the Senate. "The Commission of Missing Persons must prosecute the 153 identified officials responsible for enforced disappearances," it added.
The conference desired that there should be an effective implementation of merger and reforms in western districts of Khyber Pakhtunkhwa (formerly Fata) as approved by parliament. The participants of the conference demanded that women of western districts of KP should be given representation in the NCSW (National Commission for the Status of Women) and included in the reform process.
They said the state's appeasement of religious fundamentalism must end and all minorities must be protected in the face of new threats, especially the Hazara community in Balochistan. The National Action Plan should be expanded and implemented in letter and spirit.
The conference called for effective legislation and enforcement of such laws against enforced conversions. It demanded that legal age that defines a child should be uniform and legal marriage age for girls should be made 18 years in all the provinces (Sindh is the only province where the legal age for marriage is 18).
Another resolution said freedom of expression must not be curtailed by the state and unannounced censorship in print and electronic media must be lifted. Parliament must approve a new bill for the independence of the Pakistan Electronic Media Regulatory Authority (Pemra) according to the recommendation of the media commission report. Parliament must approve a journalist safety bill which was moved in the previous parliament.
On cyber laws, the conference resolved there should be training of judges, lawyers and the cybercrime wing on the Prevention of Electronic Crimes Act. Parliament should review the laws to remove draconian provisions of the cybercrime law.
The participants of the even observed that the law on sexual harassment against women in the workplace was not being implemented and parliament and provincial assemblies have not constituted committees on sexual harassment as mandated by the law. "The federation and the provinces must collectively ensure that the curriculum is devoid of hate material and derogatory material with respect to minorities," another resolution said.
Full report at:
https://www.dawn.com/news/1478636/bilawal-warns-against-bid-to-bring-presidential-system
--------
Pemra orders Channel-24 to air apology 'for propagating false news' about PM Imran's personal life
Sanaullah Khan
April 27, 2019
The Pakistan Electronic Media Regulatory Authority (Pemra) on Friday issued orders to Channel-24 to air an apology within seven days through its show Najam Sethi ke saath as penance for what the regulator described as propagation of false news about the prime minister.
The authority stated that the decision was taken following a complaint lodged by Prime Minister Imran Khan at Pemra's Council of Complaints.
The decision was taken under the terms outlined in Clause 18 of the Electronic Media (Programmes and Advertisements) Code of Conduct 2015, Pemra stated in its notification.
Although the notification steered clear of expressly mentioning the nature of the "false news" in question, it appears that the Pemra orders pertain to certain remarks made by Sethi on the premier's marital life.
The episode in question was aired on March 30. During the show, Sethi claimed that "a little bird" had told him that the prime minister had "developed differences" with the first lady.
Six days later, Sethi wrote an op-ed in The Friday Times, revealing that the premier had "formally applied to Pemra" to act against the channel "for airing a statement that allegedly defames him".
"No public figure, least of all a prime minister, can claim that his or her 'private affairs' are out of the scope of public scrutiny especially if they impinge on matters covered by Articles 62 and 63 of the Constitution of Pakistan," Sethi tweeted, quoting an excerpt from his article.
In his piece, he also mentioned that the channel has been asked "to immediately appear before its Complaints Committee and defend itself".
Today, however, upon receiving Pemra's directives, Sethi took to Twitter to question the orders, saying that the authority "did not give us (Channel-24) an opportunity to defend this statement".
Pemra's directives to Channel-24
The channel has been directed by Pemra to air an apology during the same show "besides running text scrolls to the same effect for propagating false news about [the] Prime Minister of Pakistan".
"The apology, including that in audio visual and text scroll form, should clearly refer to in its subjective context without repeating the afore-noted news item," states Pemra's notification.
The channel has also been ordered to a pay a sum of Rs1 million as fine to the authority.
In case of failure by the channel to comply either partially or wholly with Pemra's orders, the show concerned "shall remain prohibited for a period of thirty days", according to the notification.
Full report at:
https://www.dawn.com/news/1478569/pemra-orders-channel-24-to-air-apology-for-propagating-false-news-about-pm-imrans-personal-life
--------
If necessary, will seek Pakistan's help to trace Easter Sunday terrorists, says Sri Lankan PM
April 26, 2019
Sri Lankan Prime Minister Ranil Wickremesinghe has said that his government will, if necessary, seek Pakistan's help to trace the terrorists involved in the recent Easter Sunday bombings and eliminate them.
In an exclusive interview with the Hindustan Times published on Friday, Wickremesinghe pointed out that Pakistan had, in the past, "fully supported Sri Lanka's war on terror".
He added: "If necessary, we will seek their help to trace the terrorists and eliminate them. I see this tragic event as further strengthening the trust that exists between our countries and increasing cooperation."
Prime Minister Wickremesinghe said that although Sri Lanka is investigating the possibility of foreign links in the attack, there is no evidence yet to suggest that any particular country has backed the terrorists involved in the string of bombings that left approximately 250 people dead.
"All the countries in our region are faced with the same threats [...] Even the best of defences can sometimes be breached by ruthless terrorists, as we have seen time and again, all over the world. Our intelligence has worked with their counterparts [foreign intelligence agencies] abroad. But this is the first time that global terrorism has struck Sri Lanka. This is a new experience for us and we will work with our international allies to apprehend all the perpetrators," he vowed.
The Sri Lankan premier, when asked about anti-Muslim sentiment in the country, said there had been a marked improvement since 2012-2014, when the minority community was "under pressure". He noted that since 2015, "anti-Muslim sentiment was not allowed to raise its head".
"There was only one unfortunate incident in Kandy, which was brought under control. They have been patient in the face of these provocations, and I must commend their political leaders for maintaining inter-religious harmony," he said.
"But again, the wave of anti-Muslim sentiment spreading across the liberal world and our region, has had some impact on Sri Lanka as well. We must provide constitutional guarantees to every community to coexist within one Sri Lanka," he asserted.
Sri Lankan officials revised the death toll from the Easter Sunday bombings down by about 100 on Thursday, blaming the difficulty in identifying body parts at bomb scenes for the earlier inaccurate number. The new official figure was 253, down from an earlier 359, Deputy Defence Minister Ruwan Wijewardene said, blaming inaccurate data provided by morgues for the discrepancy.
Government officials have acknowledged a major lapse in the sharing of intelligence information. Lakshman Kiriella, the leader of parliament, said senior officials had deliberately withheld the intelligence about possible attacks. The defence secretary, Hemasiri Fernando, resigned over the failure to prevent the attacks yesterday, although he insisted that the authorities had been acting in response to intelligence tips from India warning of imminent attacks. He said he had resigned to take responsibility for institutions he ran, but said there had been no failure on his part.
The militant Islamic State group has claimed responsibility for the attacks. It released a video that showed eight men, all but one with their faces covered, standing under a black Islamic State flag and declaring their loyalty to its leader, Abu Bakr Al-Baghdadi. The government said there were nine suicide bombers, eight of whom had been identified. One was a woman.
Authorities have focused their investigations on international links to two domestic Islamist groups — National Thawheed Jama'ut and Jammiyathul Millathu Ibrahim — they believe carried out the attacks.
A picture has emerged of a group of nine well-educated, home-grown suicide bombers. Two were brothers, sons of a wealthy spice trader, a source close to the family said.
At least 76 people, including several foreigners, have been rounded up since Sunday, but police on Thursday for the first time identified seven people they were looking for and appealed to the public for help in finding them.
Photographs, apparently casual snapshots, posted with a wanted notice showed young bearded men, one with a Muslim cap, and three young women, all with headscarves.
Meanwhile, fears are growing of a surge of communal tension. Out of Sri Lanka's total population of around 22 million, 70pc are Buddhist, 12.6pc Hindu, 9.7pc Muslim, and 7.6pc Christian, according to the country's 2012 census.
Full report at:
https://www.dawn.com/news/1478532/if-necessary-will-seek-pakistans-help-to-trace-easter-sunday-terrorists-says-sri-lankan-pm
--------
Raza Rabbani sounds the alarm over unelected people getting access to sensitive data
April 27, 2019
ISLAMABAD: Former Senate chairman and Pakistan Peoples Party (PPP) stalwart Raza Rabbani on Friday raised questions over unelected people attending cabinet meetings and having access to sensitive information.
Speaking in the Senate, Mr Rabbani conceded that it was prime minister's prerogative to change his cabinet but at the same time the appointments must not affect functioning of the government and parliament.
Pointing out that there are currently five advisers and 17 special assistants to the prime minister, the former Senate chairman said that none of them was under the constitutional oath not to disclose any information that was brought to their knowledge by virtue of their official position.
"How can they become privy to classified and sensitive information when they are not members of the cabinet? How can you share defence budget with [adviser on finance] Abdul Hafeez Shaikh? Are we in safe hands?" Mr Rabbani asked.
Almost all important ministries, including finance, petroleum, commerce, power, information and overseas Pakistanis, were currently under the control of unelected people, he said, adding that this gave credence to reports that Pakistan was being pushed towards a presidential system.
There was no mention of special assistants in the Constitution, except in Article 260 that was about definitions, yet they attended cabinet meetings as in charge of the ministries assigned to them, Mr Rabbani said.
Under the rules, the prime minister is in charge of those ministries and divisions, which are not assigned to anybody. "That means the prime minister is in charge of 22 ministries and divisions at this particular time," he remarked.
The PPP senator explained that any legislation to be carried out by a ministry ought to be signed by the relevant minister as statements of objects and reasons of bills also carried signatures of that minister. "Is it fair that 17 ministries are with the special assistants who cannot come to the house? Isn't it a joke with the parliament?" he asked.
Calling it a serious issue, Mr Rabbani observed that there seemed to be an attempt to introduce a so-called technocrat set-up and replicate Ayub Khan's authoritarian model. The president during the days of Gen Ayub Khan was empowered to veto a bill passed by parliament, he recalled.
Leader of the House in the Senate Syed Shibli Faraz, after the PPP senator's remarks, sought a verbatim report on the proceedings so that the law ministry could examine and address the constitutional issues raised in the house. He said parliamentary affairs minister used to respond to questions of all the ministries, but the opposition wanted each question asked and issue raised to be responded by the minister concerned himself. "In ideal circumstances, it should be like that," Senator Faraz agreed in principle. However, he added, around six ministers were accompanying the prime minister during his tour to China.
Separately, speaking on a calling-attention notice on reallocation of Rs24 billion out of Rs27bn under the head of China-Pakistan Economic Corridor (CPEC) special initiatives towards different programmes, Mr Rabbani said there appeared to be a tilt in government's foreign policy towards the United States.
The former Senate chairman recalled the US secretary of state's statement made last year opposing the International Monetary Fund (IMF) bailout package for Pakistan and another statement proposing to block aid to allies of China. In October 2018, he said, the IMF chief economist had also cautioned that excessive loaning from China would not be good, and China's involvement would be a risk to the economy, he added. He said pressure was being built on Pakistan for gradual withdrawal from the CPEC and scaling down the strategic relationship with the two neighbouring country. He also referred to New Delhi's allegation that the bailout package would be used for terrorism.
The PPP senator alleged that the government had provided CPEC-related sensitive information to the IMF and demanded that the IMF conditions must be disclosed and discussed in parliament.
He regretted that Rs24bn funds for the CPEC had been diverted to the discretionary programme for parliamentarians, reducing the total funds for special initiatives under the CPEC to Rs3bn. Almost 200 CPEC schemes had been scrapped, he added.
Responding to the calling-attention notice, Minister for Parliamentary Affairs Azam Swati ruled out the reversal of CPEC and said no one would be allowed even to cast an evil eye on it. He said the original allocation for CPEC projects was Rs167bn out of which 70 per cent had already been released. He said the Rs24bn diverted to other works had nothing to do with the original CPEC allocation.
On a point of public importance, Pakistan Muslim League-Nawaz Senator retired Lt Gen Abdul Qayyum raised the issue of construction of a firing range in Diplomatic Enclave by the US Embassy. For this, he said, an advertisement had recently been placed by the embassy on its website.
The matter was referred by the chair to the Senate Standing Committee on Interior.
Full report at:
https://www.dawn.com/news/1478649/raza-rabbani-sounds-the-alarm-over-unelected-people-getting-access-to-sensitive-data
--------
Khalilzad lauds PM Imran's statement on Afghan peace
Apr 27, 2019
WASHINGTON: Special Representative of US for Afghanistan Reconciliation Zalmay Khalilzad has praised Prime Minister Imran Khan's statement on Afghanistan.
"Greatly appreciate @ImranKhanPTI's statement yesterday on #Afghanistan. His appeal for reduction of violence and policy against promoting internal conflict in other nations has the potential to positively transform the region and give #Pakistan a leading role," Khalilzad tweeted on Friday.
U.S. Special Representative Zalmay Khalilzad
✔
@US4AfghanPeace
Greatly appreciate @ImranKhanPTI's statement yesterday on #Afghanistan. His appeal for reduction of violence and policy against promoting internal conflict in other nations has potential to positively transform the region and give #Pakistan a leading role. http://pid.gov.pk/site/press_detail/10853 …
945
15:16 - 26 Apr 2019
Twitter Ads information and privacy
387 people are talking about this
In his statement, Prime Minister Imran said Pakistan would not be a party to any internal conflict in Afghanistan anymore. The prime minister added that Pakistan was fully supporting the Afghan peace process including the intra-Afghan dialogue.
"Pakistan has committed all diplomatic and security capital to the success of peace process," Imran said in the statement.
Last month, Afghanistan recalled its ambassador from Islamabad after Prime Minister Imran Khan was quoted in the local media suggesting the formation of an interim Afghan government that would smooth peace talks between US and Taliban officials. The premier was quoted as saying to Pakistani journalists that the Afghan Taliban wanted to meet him but the government in Kabul protested so he did not meet them.
Later at a rally, Prime Minister Khan explained his comments as "brotherly advice" to the people and government of Afghanistan and should not be considered interference.
Pakistan's Ministry of Foreign Affairs also stated that the prime minister's comments were reported out of context. Foreign Office spokesperson Dr Mohammad Faisal said the prime minister had referred to Pakistan's model, where elections are held under an interim government and said his comments should not be misinterpreted to imply interference in Afghanistan's internal affairs.
Full report at:
https://www.pakistantoday.com.pk/2019/04/26/khalilzad-lauds-pm-imrans-statement-on-afghanistan/
--------
US praises Pakistan's stance on Afghanistan
APRIL 27, 2019
US Special Representative for Afghan Reconciliation Zalmay Khalilzad has praised Prime Minister Imran Khan's statement on Afghanistan.
"Greatly appreciate @ImranKhanPTI's statement on #Afghanistan. His appeal for reduction of violence and policy against promoting internal conflict in other nations has potential to positively transform the region and give #Pakistan a leading role," Khalilzad tweeted on Friday.
Describing the Afghan peace process a 'historic opportunity' for peace in the region, Prime Minister Imran Khan had on Thursday said that Pakistan was fully supporting the process and would not be a party to any internal conflict in Afghanistan anymore. "Afghanistan conflict has brought great suffering for both Afghanistan and Pakistan over the last 40 years. Now, after a long wait, the Afghan peace process presents a historic opportunity for peace in the region and Pakistan is fully supporting the process including the next logical step of Intra-Afghan Dialogue wherein Afghans will themselves decide upon the future of their country," he had said in a statement issued by the PM Office.
Recently, Kabul has been extremely indignant at what it sees as Islamabad's 'interference' in Afghanistan's affairs, having recalled its ambassador twice over a statement from Prime Minister Khan regarding a possible interim setup in Afghanistan while a peace is brokered.
Full report at:
https://dailytimes.com.pk/383452/us-praises-pakistans-stance-on-afghanistan/
--------
North America
US agrees with Russia, China on pulling troops from Afghanistan
27 April 2019
The United States on Friday found backing from rivals Russia and China on the key formula of a peace deal it is negotiating in Afghanistan - withdrawing troops in return for Taliban pledges not to welcome foreign extremists.
Zalmay Khalilzad, the US envoy who is set shortly to hold his latest round of talks with the Taliban, called the consensus a "milestone" in efforts to end the war after he met Russian and Chinese representatives in Moscow.
A joint statement by the three countries called for an "inclusive Afghan-led" peace process and outlined points expected to feature in an eventual agreement.
"The three sides call for an orderly and responsible withdrawal of foreign troops from Afghanistan as part of the overall peace process," said the statement issued by the US State Department.
They also said that the Taliban have made a "commitment" to fight the extremist ISIS group and sever ties to Al-Qaeda.
The Taliban have promised to "ensure the areas they control will not be used to threaten any other country," the statement said, calling on them to prevent any "terrorist recruiting, training and fund-raising."
Khalilzad said that the statement, along with his talks earlier in the week in London with European envoys, "means we have an emerging international consensus on US approach to end the war AND assurances terrorism never again emanates from Afghanistan."
U.S. Special Representative Zalmay Khalilzad
✔
@US4AfghanPeace
Our agreement w/ China & Russia yesterday along w/ previous one w/ Europeans means we have emerging intl consensus on US approach to end the war AND assurances terrorism never again emanates from #Afghanistan. More to do but important milestone. #Momentum https://www.state.gov/r/pa/prs/ps/2019/04/291372.htm …
258
2:19 AM - Apr 27, 2019
Twitter Ads info and privacy
Joint Statement on Trilateral Meeting on Afghan Peace Process
state.gov
105 people are talking about this
"More to do but important milestone," he tweeted.
President Donald Trump is eager to end America's longest-ever war, which was launched in response to the September 11, 2001 attacks, when the then Taliban regime gave shelter to Al-Qaeda.
Russia and China both have strong interests in Afghanistan. Some 14,000 Soviet soldiers were killed in Afghanistan from 1979 to 1989 in a conflict with US-backed guerrillas.
China has been stepping up its involvement in Afghanistan both militarily and economically as it voices worries that militants could sneak into its restive Muslim-majority Xinjiang region.
Khalilzad will also hold separate talks during his latest trip with Pakistan and India, which have strongly different views on Afghanistan.
One major sticking point is the Taliban's refusal to negotiate with the government of Afghan President Ashraf Ghani, which has wide-ranging international support.
The United States, Russia and China called on the Taliban to speak as soon as possible with a "broad, representative Afghan delegation that includes the government."
One country that has criticized the US approach is Iran, whose foreign minister, Mohammad Javad Zarif, recently said that the United States had alienated Afghans by turning the Taliban into king-makers.
https://english.alarabiya.net/en/News/world/2019/04/27/US-agrees-with-Russia-China-on-pulling-troops-from-Afghanistan-.html
--------
US driver targeted family because they looked Muslim, says police
27 April 2019
A California man who deliberately drove into a crowd of people, injuring eight, did so because he thought they were Muslim, police said on Friday.
The driver, 34-year-old Isaiah Peoples, reportedly targeted the family solely on their appearance, according to police in Sunnyvale, near San Francisco, who are now treating the case as a "hate crime".
"There is new evidence that Peoples intentionally targeted victims based on their race and belief that they were Muslim," said Sunnyvale Public Security in a statement.
According to local media, three members of the same family are among the eight pedestrians injured on Tuesday -- a father and his son and daughter.
The nationality and religion of the family have not been released.
Full report at:
https://english.alarabiya.net/en/News/world/2019/04/27/US-driver-targeted-family-because-they-looked-Muslim-says-police.html
--------
Russia says al-Qaeda, Daesh, similar groups emerging in Latin America
Apr 26, 2019
Russia's military intelligence chief says such terrorist groups as al-Qaeda and Daesh are establishing a foothold in Latin America to recruit members for their activities in the Middle East and North Africa, where they have been mainly based.
Igor Kostyukov, the head of the Russian military intelligence agency GRU, said on Thursday that terrorist "training camps and harbors" were "new risk factors" emerging in Latin America, Russia's TASS news agency reported.
Kostyukov was speaking at the 8th Moscow Conference on International Security, an international defense forum gathering defense ministers and experts from various countries.
He said the terrorist groups were seeking to infiltrate the six million Muslims living in Latin America.
The terrorist groups "are recruiting militants to fill their ranks in the Middle East and North Africa," and "gathering the funds needed for that," he said.
Extremist activity has been rare in Latin America so far. In a singular case last year, Brazilian prosecutors announced charges against 11 people for promoting Daesh through social media and recruiting militants to send to Syria.
Daesh overran large swaths of Syria and Iraq in offensives beginning in 2014. The group was, however, militarily defeated by the governments of the two Middle Eastern countries in the course of some four years.
Many of its members, including recruits from all across the world, were killed in the anti-terror operations, which were assisted by regional countries.
The group has largely shrunk as a result of that defeat, but it has sought to regroup in other regions, including Afghanistan, Southeast Asia, and Africa.
Full report at:
https://www.presstv.com/Detail/2019/04/26/594419/Russia-GRU-Latin-America-alQaeda-Daesh
--------
URL: https://www.newageislam.com/islamic-world-news/sri-lanka-muslims-brave-militant/d/118445
New Age Islam, Islam Online, Islamic Website, African Muslim News, Arab World News, South Asia News, Indian Muslim News, World Muslim News, Women in Islam, Islamic Feminism, Arab Women, Women In Arab, Islamophobia in America, Muslim Women in West, Islam Women and Feminism