New Age Islam News Bureau
15 Jul 2018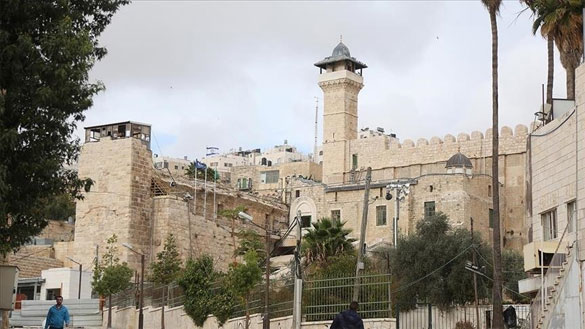 By Esat Firat
--------
• Sri Lanka: Hindu Group Protests against Muslim Teachers Wearing Abaya
• Palestine: Israel Banned Call to Prayer 298 Times at Ibrahimi Mosque
• Abbasi, Shahbaz among 1,500 Booked For Taking Rally In Support Of Nawaz Sharif
South Asia
• Sri Lanka: Hindu Group Protests against Muslim Teachers Wearing Abaya
• Civilian Deaths in Afghanistan Hit Record As Suicide Attacks Surge
• 'We are always missing you': Torn apart by violence, Rohingya families connect through letters
• Taliban militants suffer casualties after attacking Afghan forces in Hesarak
• Top political leaders share demands regarding the elections during Kabul meeting
• Afghan forces arrest ISIS recruitment leader in Ghazni province
• Suicide car bomb attack targets security post in Lashkargah city
--------
Mideast
• Palestine: Israel Banned Call to Prayer 298 Times at Ibrahimi Mosque
• Israeli Air Strikes Hit Gaza after Bloody Border Protests
• Palestinian father and son killed following building explosion in Gaza
• Hamas says ceasefire with Israel reached to end Gaza violence
• Saudi Arabia intercepts Houthi-launched ballistic missile targeting Najran
• Yemeni army gains control of mountainous area in Houthi stronghold Saada
• UN official says Gaza has nothing to lose as Israel threatens war
• Turkey to lift emergency rule on July 18
--------
Pakistan
• Abbasi, Shahbaz among 1,500 Booked For Taking Rally In Support Of Nawaz Sharif
• Fresh Wave of Terrorism May Be Aimed At Getting Polls Postponed, Says Khuhro
• Family meets Nawaz, Maryam at Adiala jail
• Imran asks people to reject corrupt politicians on 25th
• JI alleges ANP activists hurled stones at Siraj's motorcade
• TLP men cause unrest among PML-N leaders
• Maryam aims to affiliate with Education department in prison
• World deplores attacks on political rallies in Pakistan
--------
India
• Court Case against Vice President Of J&K Muslim Personal Law Board
• Pakistan must stop supporting terrorism: India
• Rajnath Singh calls on Bangladesh PM in Dhaka, discusses bilateral concerns
• Politics over Narendra Modi-Nawaz Sharif 'friendship', both in India and Pakistan
--------
Southeast Asia
• Perlis Mufti Proposes Zakir-Ramasamy Debate, Loser 'Maybe Gets Sent Back To India'
• Will Growing Intolerance Lead To The End Of Democracy In Indonesia?
• Rescind UEC Recognition in Seven Days Or Face Our Wrath, Malay-Muslim Groups Tell Maszlee
• Zakir Naik, another Mess for PH Govt to Clean Up
• Ramasamy Prepared To Debate Zakir Only If Preacher Clears Name in Indian Courts
• Indonesian police shoot dead three suspected militants
--------
Arab World
• West Scrambles to Evacuate White Helmets from Syria amid Assassination Threats
• Iraqi Protesters Storm Provincial Government Building in Karbala
• Syrian govt. forces discover US-made arms in Daesh redoubt in Dayr al-Zawr
• Saudi Arabia launches 'Mecca Road' initiative for Hajj pilgrims from Malaysia
• Egypt sentences 24 Brotherhood men to life
• Syrian Army on Verge of Full Control over Northern Dara'a
• US, Western Arms Found in Terrorists' Strongholds in 2 Syrian Provinces
• Syrian Army Repels Terrorists' Offensive in Sweida
• 3 Notorious Terrorist Commanders Killed in Northern Syria as Tensions Rise
• Kurdish Militants Selling US-Made Arms in Black Market
• Damascus-Stationed Terrorist Group Recruited in Afrin with 1,000 Forces
• Kurdish Forces Willing to Return Raqqa Dam, Al-Tabaqa Town to Syrian Army
• Iraq deploys security forces in Najaf after day of protests
• Syrian rebels surrender heavy weapons in Daraa city
--------
Africa
• At Least 23 Nigerian Troops Missing After Boko Haram Attack
• OBL bodyguard held in Tunisia over terror probe
• Eritrea president hails unity with Ethiopia on historic visit
• Tunisia interrogates 'Bin Laden bodyguard' after he was deported by Germany
• Somalia: Al-Shabaab Carries out Attack in Baidoa, Kills At Least 3 Soldiers
--------
Europe
• Britain Refuses US Request to Extradite American 'Terrorist' Linked To Al Queda Allies As Family Claim He Is 'Just A Janitor'
• Macron to discuss Syria, Iran and Ukraine with Putin: Elysee
• Italy transfers migrants off ship, but refuses them entry
• French young man converts to Islam at Imam Reza Holy Shrine
--------
North America
• Rouhani: Sanctions target ordinary Iranians; US isolated
Compiled by New Age Islam News Bureau
URL: https://www.newageislam.com/islamic-world-news/sri-lanka-hindu-group-protests/d/115835
--------
Sri Lanka: Hindu Group Protests against Muslim Teachers Wearing Abaya
By Lisa Fuller
July 15, 2018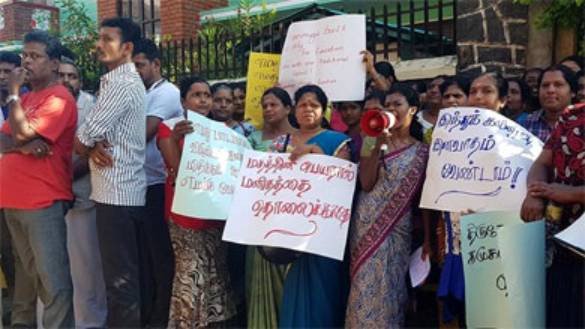 Protesters gathered outside the school to demand Muslim teachers stop wearing the abaya, a cloak worn by some women [Courtesy of M. I. M. Ifas]
------
Trincomalee, Sri Lanka - Fathima Rameez had been teaching at Shanmuga Hindu Ladies College for five years and never feared for her safety in Trincomalee, a port city on the northeast coast of Sri Lanka.
But that all changed on April 24.
Early that morning, near the school, four men tried to attack another Muslim teacher with sticks.
When Rameez arrived at work, 150 Hindu protesters were outside the school demanding five female Muslim teachers stop wearing their abaya robes.
"Send the Muslim teachers away," they chanted, "wearing abayas destroys Hindu culture."
Some yelled racial epithets at Rameez.
The protest led to hate speech on Facebook and inflamed ethnic tensions in Sri Lanka's eastern province.
There were also some counterdemonstrations.
More than two months later, the issue has not been resolved.
Escalating Islamophobia
Anti-Muslim violence has grown in Sri Lanka over the past five years, but the perpetrators have mainly been hardliners from the majority Sinhala Buddhist population.
In March, Sinhala mobs rampaged through central Kandy district for four days, destroying Muslim homes, shops and mosques. Those attacks started with false stories by Sinhalese nationalists about Muslim birth rates and wealth, analysts said.
During Sri Lanka's civil war, which ended in 2009, communal violence between Muslims, who consider themselves to be a distinct ethnic group in Sri Lanka, and Tamils was common.
While most Tamils are Hindus, a minority are Christian, and Tamil leaders have traditionally reinforced a secular identity to maintain solidarity.
The violence subsided after the war ended, but lingering tensions have helped drive the emergence of a Hindu nationalist movement, to the chagrin of many Tamil political and civil society leaders.
The rise of Hindu nationalists
A Hindu nationalist organisation, Siva Senai, formed in north Sri Lanka in 2016 with the stated purpose of protecting Hindus from "threats" posed by other religions.
It made headlines in May when it organised protests to oppose what it called "the Islamic slaughter of cows".
In Trincomalee, another pro-Hindu group, Ravana Senai, has been quietly gaining support over the past two years.
Ravana Senai's leader K Senthuran says he founded the movement because "Muslims are taking Trincomalee from Hindus little by little."
As evidence, he claims that Muslims replaced Tamils as the majority population in Trincomalee.
While Tamils outnumbered Muslims in Trincomalee before Sri Lanka's civil war started in 1983, some of the Tamil population were displaced amid fighting between the Sinhala-dominated government and the Liberation Tigers of Tamil Eelam, a Tamil separatist group.
But Sri Lanka's most recent censuses show that those demographic trends reversed after the war ended: between 2007 and 2012, the Tamil population regained ground, while the Muslim population has been proportionally decreasing in Trincomalee.
Nevertheless, rumours persist that Muslims are trying to dominate the east by having more children and carrying out conversions.
'The school was built for Hindus'
Senthuran says his pro-Hindu Ravana Senai group organised the abaya protest with alumni from Shanmuga's School Development Committee.
"The Muslim teachers started wearing abayas to impose their culture and convert the children to Islam," he says. "So, we called the alumni and explained why they had to protest. We made banners and signs for them."
The teachers say they do not want to impose their culture on anyone. They simply want to practise their religion.
According to a complaint filed by the teachers with Sri Lanka's Human Rights Commission, the dispute started in January when a new Muslim teacher at Shanmuga wanted to continue wearing an abaya.
In response, the school principal prohibited her from teaching and relegated her to the staffroom where she would sit idle every day.
In April, other Muslim teachers at the school decided they would wear abayas in solidarity.
"Because what we wear is an individual choice and right," said Rameez.
The principal, who requested anonymity, said she banned abayas because "the school was built for Hindus. For 95 years, teachers have worn saris".
Although Shanmuga was founded as a Hindu school, it was later nationalised.
Word spread on social media that the teachers had begun wearing abayas.
Facebook posts stirred outrage among Hindus by purporting that the teachers' husbands had threatened the school principal, an allegation she refutes.
"The husbands didn't intimidate me. They met me and said their wives meant no offence by wearing abayas," she said.
Two days after the teachers started wearing abayas, former students protested.
When the police asked them to disperse, Ravana Senai rallied more to join.
The number of protesters grew to around 400, according to witnesses, making it impossible for the 40 police officers to end the demonstration without risking a riot.
But Rameez credits the police with keeping her and her colleagues safe.
"Police were the main reason that there wasn't violence", she says. "They calmed down the protesters."
In contrast, during the anti-Muslim riots in Kandy in March, police were accused of allowing - and in some cases perpetrating - attacks on Muslims.
'Fighting for our fundamental rights'
To quell tensions, the Ministry of Education temporarily transferred the teachers to a Muslim school pending a permanent solution.
In June, a ministerial committee recommended that teachers be permitted to wear abayas as long as their faces remain uncovered.
However, the ministry has yet to implement those recommendations and is still deciding how to approach the dispute.
"It's a sensitive situation that needs to be handled carefully," said the ministry's coordinating secretary.
Gehan Gunatilleke, a Sri Lankan human rights lawyer who specialises in ethnoreligious violence said: "This issue is not something the state should legislate at the moment.
"Either way, one of the communities would be aggrieved, and the issue could escalate into communal tensions, and even violence. It is better if the ministry engages both communities, and tries to facilitate a settlement."
Rameez said that she and her colleagues are determined to stay at Shanmuga, even if it means risking their safety.
"We're fighting for our fundamental rights," she said.
https://www.aljazeera.com/indepth/features/hindu-group-protests-muslim-teachers-wearing-abaya-180713125727894.html
--------
Palestine: Israel Banned Call to Prayer 298 Times at Ibrahimi Mosque
12th Jul 2018
By Esat Firat
RAMALLAH, Palestine (AA): Israel prohibited the Muslim call to prayer 298 times in the first half of this year at a historical mosque in the occupied West Bank city of Hebron.
"Occupying Israeli forces prohibited the Azan, including calls to Friday prayer, at the Ibrahimi Mosque 298 times in the first six months of 2018," Palestinian Religious Endowments Minister Yousef Adais said Tuesday in a written statement.
He said Israel was strengthening its presence at the mosque and closed it for two consecutive days using Jewish festivals as an excuse.
He also touched on violations committed by Jewish settlers.
"The immorality and violations of Jewish settlers have also crossed the line – so much so that they organized parties with music until midnight inside the Ibrahimi Mosque. They have also set up huge camps in southern courtyards of the mosque," Adais said. In June, dozens of Jewish settlers backed by Israeli police forced their way into the mosque, where they performed Talmudic rituals and held a music concert attended by senior Jewish rabbis and Israeli Internal Security Minister Gilad Arad.
Adais added that Israel was also interrupting restoration work at the mosque and its courtyard.
"All efforts must be made to strengthen the resistance of the people living in the region to protect the Ibrahimi Mosque and the Old City and to fight against the occupation regime and racist actions," he stressed.
The Ibrahimi Mosque is located in Hebron's Old City district, which is home to some 160,000 Palestinian Muslims and about 500 Jewish settlers, with the latter living in a series of Jewish-only enclaves heavily guarded by Israeli troops.
In 1994, Baruch Goldstein, an Israeli-American Jewish settler, gunned down 29 Palestinian Muslims as they prayed at the mosque before being killed himself.
Since then, the mosque — believed to have been built on the tomb of Prophet Ibrahim — has been divided into a Muslim section (45 percent) and a Jewish section (55 percent).
http://muslimnews.co.uk/news/religion/palestine-israel-banned-call-prayer-298-times-ibrahimi-mosque/
--------
Abbasi, Shahbaz among 1,500 Booked For Taking Rally In Support Of Nawaz Sharif
JULY 14, 2018
According to the police, Mr. Shahbaz Sharif, the PML-N president and younger brother of Nawaz Sharif, led the rally here in violation of Section 144 that stops assembly of five or more people at one place at a particular time.
Around 1500 PML-N workers and leaders, including Shahid Khaqan Abbasi and Shahbaz Sharif, were booked on Saturday under terrorism and other charges for taking out a rally here in support of ousted Pakistani prime minister Nawaz Sharif.
Police said Pakistan Muslim League-Nawaz (PML-N) leaders and workers have been booked for taking the rally on Friday in violation of law, attacking policemen and rangers, causing damage to the public property and hurling abuses at judiciary and military.
Thousands of PML-N workers had set up their march to reach the Allama Iqbal International Airport here to welcome Nawaz Sharif and and his daughter Maryam Nawaz arriving from London to face jail terms of 10 and seven years, respectively, in the Evenfield properties corruption case.
Police said FIRs have been registered against 1,500 workers and 20 leaders in three police stations of the city under 7-ATA (anti-terrorism act) and various sections of the Pakistan Penal Code. Police officials are complainants in all three FIRs.
According to the police, Mr. Shahbaz Sharif, the PML-N president and younger brother of Nawaz Sharif, led the rally here in violation of Section 144 that stops assembly of five or more people at one place at a particular time.
"Those taking part in the rally including those nominated in the FIR attacked the law enforcement agency personnel, damaged the public property, harassed people, used abusive language against the state institutions [army and judiciary]," said the FIRs.
The PML-N has condemned registration of FIRs and demanded their immediate withdrawal as several of the booked leaders are taking part in the July 25 election.
"It is an attempt to stop our leadership to take part in the elections. It is a pre-poll rigging," PML-N spokesperson Marriyum Aurenzeb said.
Besides Mr. Shahbaz Sharif and former prime minister Abbasi, the other leaders booked include Shahbaz's son Hamza, Speaker National Assembly Sardar Ayaz Sadiq, PML-N chairman Raja Zafarul Haq, former information minister Maryam Aurenzeb, Senators Mushahid Hussain Syed and Musadiq Malik, former interior minister Talal Chaudhry, veteran politician Javed Hashmi, former parliamentarian Uzma Bokhari and Saira Afzal Tarar.
More than 50 people, including 20 policemen, were injured during clashes in the PML-N rally in Lahore on Friday.
Nawaz Sharif and Maryam were arrested by Pakistan's anti-graft body, the National Accountability Bureau, upon their arrival in Lahore from Dubai last night and flown to Islamabad and had been lodged at the Adiala Jail in Ralwapindi.
The PML-N Lahore rally, which failed to reach the airport as it was several kilometres away when the plane of Nawaz Sharif landed, ended at late Friday night.
https://www.thehindu.com/news/international/abbasi-shahbaz-among-1500-booked-for-taking-rally-in-support-of-ousted-pm-nawaz-sharif/article24420751.ece
--------
South Asia
Civilian deaths in Afghanistan hit record as suicide attacks surge
15 July 2018
The number of Afghan civilians killed in the country's long-running conflict hit a record high in the first six months of 2018, UN figures showed Sunday, with militant attacks and suicide bombs the leading causes of death.
The toll of 1,692 fatalities was one percent more than a year earlier and the highest for the period since the United Nations Assistance Mission in Afghanistan (UNAMA) began keeping records in 2009.
Another 3,430 people were wounded in the war, down five percent from the same period last year, the report said.
Overall civilian casualties -- 5,122 - fell three percent year on year.
The record high death toll came despite an unprecedented ceasefire by Afghan security forces and the Taliban last month that was largely respected by both sides, UNAMA said.
The ceasefire for the first three days of Eid was marked by scenes of jubilation as security forces and Taliban fighters celebrated the Islamic holiday, raising hopes that peace was possible after nearly 17 years of conflict.
But the suspension of hostilities was marred by two suicide attacks in the eastern province of Nangarhar that killed dozens of people and were claimed by the Islamic State group, which was not part of the ceasefire.
The Taliban refused a government request to extend the truce, returning to the battlefield and ignoring calls to enter talks with Kabul to end the war.
"The brief ceasefire demonstrated that the fighting can be stopped and that Afghan civilians no longer need to bear the brunt of the war," Tadamichi Yamamoto, the UN Secretary-General's Special Representative for Afghanistan, said.
"We urge parties to seize all opportunities to find a peaceful settlement -- this is the best way that they can protect all civilians."
Suicide bombs and "complex" attacks that involve several militants accounted for 1,413 casualties -- 427 deaths and 986 injuries -- up 22 percent from a year earlier.
If that trend continues, the figure will top the 2017 full-year record of nearly 2,300 casualties.
UNAMA attributed 52 percent of suicide and complex attacks to ISIS, mainly in Kabul and the eastern province of Nangarhar where the group established a stronghold after emerging in Afghanistan in 2014.
The Taliban was responsible for 40 percent of such attacks.
While the Taliban is Afghanistan's largest militant group and holds or contests more territory than any other, ISIS has repeatedly demonstrated its ability to carry out devastating attacks in urban areas.
The latest report comes almost a year after US President Donald Trump announced his new South Asia strategy that involved ramping up American airstrikes against militants.
https://english.alarabiya.net/en/News/world/2018/07/15/Civilian-deaths-in-Afghanistan-hit-record-as-suicide-attacks-surge.html
--------
'We are always missing you': Torn apart by violence, Rohingya families connect through letters
July 14, 2018
Inside a bamboo shelter on Bangladesh's eastern coast, 58-year-old Sait Banu held a dog-eared note from her husband. "If you find a good match for my daughter Una Jamin, you can arrange her wedding," he urged her in the letter.
"Don't worry, there is no problem in jail."
The message, sent from a prison hundreds of miles away in Myanmar's Rakhine state, was the first Sait Banu had heard from her husband since he was arrested in an army sweep last August that forced more than 700,000 Rohingya Muslims, including Sait Banu and her nine children, to flee to neighbouring Bangladesh.
During weeks of violence that the United Nations has called "ethnic cleansing," soldiers killed, raped, and arrested thousands of Rohingya, survivors and human rights groups said. Myanmar denies the allegations.
With entire villages razed and thousands believed dead, Red Cross workers say many of those stuck in Myanmar prisons have been desperate to know if their families made it to the safety of refugee camps in Bangladesh. And those on the other side of the border, unable to go back, told Reuters they are equally keen to know if their loved ones had survived.
Scraps of paper carried between prisons in Myanmar and the camps by the International Committee of the Red Cross are a rare source of hope for families torn apart by the largest and fastest refugee influx in the region in the past twenty years, the refugees say.
More than 1,600 notes have been gathered from the Bangladeshi camps since August, the Red Cross says. About 160 have been delivered to jails in Rakhine and the replies sent back to Bangladesh.
Reuters saw copies of seven notes, provided by Red Cross officials and hand-written on forms bearing the letterheads of Red Cross organisations, but could not independently verify their authenticity.
The letters often serve as the first proof of life of loved ones. They also include snippets of family news.
"I've been imprisoned for three years. Please don't worry for me," one letter from a Myanmar jail reads.
"We're always missing you very much, and I know you're also missing us," reads another one sent from the camps in Bangladesh to a Myanmar jail.
"Please send a picture of everybody. I would be so happy to see you all. Give news of the children," a Rohingya man detained in Myanmar asks in a February letter delivered to his wife in the camps in Bangladesh.
"HOW IS MY FAMILY?"
When Sait Banu's husband was arrested in their village in northern Rakhine one morning last August, she was not told why the police were taking him. "They arrested 50 men from my village that day," she said. It took place only days before Rohingya insurgents struck 30 police posts on August 25.
Spokesmen for the Myanmar government and police did not respond to calls and e-mails seeking comment on the arrests or on ethnic cleansing and human rights abuses against the Rohingya, which they have denied in the past. They also did not respond to requests for comment on the exchange of letters.
Myanmar has said it has arrested 384 Rohingya on suspicion of links to the Muslim militant group, Arakan Rohingya Salvation Army (ARSA) since last August.
More than 2,700 people were detained in prisons in Rakhine state's two main jails - in the state capital Sittwe and Buthidaung in the north - according to the Myanmar National Human Rights Commission, although it does not say how many of them are Rohingya.
Min Tun Soe, a spokesman for Myanmar's prisons department, declined to say how many people had been arrested on accusations of ties to ARSA and said that only those formally charged were kept in the jails.
With no idea where her husband had been taken, Sait Banu was forced to escape without him. "They shot and killed people, so we fled," she said, referring to Myanmar security forces.
In December, Red Cross volunteers near her shelter called on refugees who wanted to write to their families. She had heard from relatives that most men from her village had been sent to Sittwe prison, so she gave her husband's name and other details. Red Cross staff in Myanmar later traced him to Sittwe prison.
ONLY SON ALIVE
When Yuzana, 30, a field officer for the Myanmar Red Cross, visited the jail in February, she faced anxious questions from Rohingya detainees. "They thought I'd met their families," she said, adding that they asked her: "How is my family? Do you know where my wife is?"
Although written forms of the Rohingya language exist, and there are efforts to digitise a script, none is widely used in the camps.
But some of the refugees speak Burmese or English. In Bangladesh, their messages are taken down by Red Cross volunteers in English, often through a translator, while those from the prisons in Rakhine are in Burmese so they can be read by the censors.
Because Myanmar censors all communications in and out of the jails, the letters are limited to family news. Rohingya cannot write about last year's violence or why they were arrested, Red Cross officials say.
Min Tun Soe, a spokesman for the Myanmar Prisons Department, said it was normal practice to censor communications in the prisons.
"We have to check whether the information written in the letter affects the security of the prison or not," he said.
On a recent afternoon, a volunteer for the Bangladesh Red Crescent Society - a Red Cross-funded organisation – at the Zadimura refugee camp read out a list of 16 Rohingya men found alive in Buthidaung jail.
Among the refugees who quietly gathered around him was Oli Mian, 70, hoping to hear the name of his 35-year-old son, Mohammed Rashid, who was arrested in 2016.
When Oli Mian heard his son's name, he couldn't believe it. Only when it was read out again and the family details were confirmed he realised this meant his only son was alive. His eyes welled up with tears and he walked with his wooden stick back to his shelter to tell his wife.
Full report at:
https://www.thedailystar.net/rohingya-crisis/myanmar-rohingya-violence-families-connect-through-letters-bangladesh-1605253
--------
Taliban militants suffer casualties after attacking Afghan forces in Hesarak
Jul 15 2018
The local officials in Nangarhar province are saying at least eleven Taliban militants were killed or wounded during a clash with the police forces in Hesarak district.
The incident took place late on Friday night in the vicinity of Hesarak district of Nangarhar province.
The provincial government media office in a statement said at least four Taliban militants were killed and seven others were wounded during the clash.
The statement further added that the security forces and the local residents did not suffer any casualty during the clash.
The anti-government armed militants including Taliban militants have not commented regarding the report so far.
Nangarhar has been among the relatively calm provinces since the fall of the Taliban regime in 2001 but the anti-government armed militants have been attempting to expand their foothold in this province during the recent years.
However, the Afghan armed forces are busy conducting counter-terrorism operations to suppress the militant groups.
Full report at:
https://www.khaama.com/taliban-suffer-casualties-after-attacking-afghan-forces-in-hesarak-05584/
--------
Top political leaders share demands regarding the elections during Kabul meeting
Jul 14 2018
The leaders of the top political parties in met in Kabul on Saturday to hold talks regarding the upcoming parliamentary and district council elections.
The meeting was attended by the leader of Hezb-e-Islami Gulbuddin Hekmatyar, leader of Jamiat-e-Islami Salahuddin Rabbani, leader of Junbish Milli Batur Dostum, leader of Wahdat Islami Mohammad Mohaqiq, and the leader of Mahaz Milli Syed Hamid Gilani.
Zerar Ahmad Muqbil also participated in the meeting on behalf of the former President Hamid Karzai and member of the Front for Security and Stability of Afghanistan Mohammad Younus Qanooni.
The participants of the meeting called on the government and the independent election commission to invalidate the process for the registration of voters for the upcoming elections.
They also urged the government and election commission to bring changes in the elections system of the country, use the biometic system for the registration of the voters, and give more share to the political parties in the elections.
Full report at:
https://www.khaama.com/top-political-leaders-share-demands-regarding-the-elections-during-kabul-meeting-05581/
--------
Afghan forces arrest ISIS recruitment leader in Ghazni province
Jul 14 2018
The Afghan security forces have arrested the recruitment leader of the Islamic State of Iraq and Syria (ISIS) group in eastern Ghazni province of Afghanistan.
Provincial Security Chief Farid Ahmad Mashal told reporters that the ISIS recruitment leader Mullah Edris, also famous as Abuzar, was arrested by the security forces on Friday.
He said the detained militant has confessed that he was actively recruiting for the terror group from Ghazni and other provinces of the country.
The anti-government armed militant groups including ISIS loyalists have not commented regarding the report so far.
In the meantime, Mashal said the counter-terrorism operations are underway against the anti-government armed militant groups in various restive districts of Ghazni province.
He said at least 49 militants were killed and at least 21 others sustained injuries during the ground operations and airstrikes in the past 48 hours.
Full report at:
https://www.khaama.com/afghan-forces-arrest-isis-recruitment-leader-in-ghazni-province-05580/
--------
Suicide car bomb attack targets security post in Lashkargah city
Jul 14 2018
A suicide car bomb attack targeted a security post in Lashkargah city, the provincial capital of Helmand province, at noon time today.
According to the local officials, the incident took place in the vicinity of the 10th police district of lashkargah city.
Provincial governor's spokesman Omar Zwak confirmed the incident and said at least one policeman lost his life in the attack and at least eleven other have sustained injuries.
No individual or group has so far claimed responsibility behind the incident.
Helmand is among the relatively volatile provinces in South of Afghanistan where the Taliban militants are actively operating in some of its districts and often carry out terrorist related activities.
Today's suicide attack in Lashkargah city takes place a day after a US airstrike targeted the Taliban gathering in Musa Qala district.
The provincial government media office in a statement said the airstrike was carried out at around 2 pm local time on Friday in Musa Kala district.
Full report at:
https://www.khaama.com/suicide-car-bomb-attack-targets-security-post-in-lashkargah-city-05579/
--------
Mideast
Israeli air strikes hit Gaza after bloody border protests
July 15, 2018
GAZA CITY - Two Palestinians were killed on Saturday as Israel unleashed a wave of air strikes against the Gaza Strip, while scores of rockets were fired back from the Hamas-run territory.
The Palestinian teenagers, aged 15 and 16, were killed when an Israeli strike hit a building they were near in the west of Gaza City, the enclave's health ministry said.
Fifteen people have been wounded across Gaza, the ministry said.
The flare-up came after Israeli troops shot and killed two Palestinians, including a teenager, and wounded hundreds of others in border clashes on Friday, the latest in months of protests.
The Israeli raids on Saturday involved the "largest daytime operation" carried out by its air force in Gaza since a war in 2014, Israel's military spokesman Jonathan Conricus told journalists.
Israel's armed forces said dozens of strikes targeted military facilities belonging to the Gaza Strip's Islamist rulers Hamas, against which it has fought three wars over the past decade. In the other direction "more than 60 rockets" were fired at southern Israel from Gaza, the Israeli military said, of which "approximately 10 rockets were intercepted".
An Israeli air force official said that the wave of strikes on the Gaza Strip throughout Saturday was the biggest since a 2014 war in the Hamas-run Palestinian enclave.
"We are talking about the biggest offensive strikes since Protective Edge," Brigadier General Tzvika Haimovic told journalists, referring to Israel's name for its 2014 operation in the Gaza Strip. He said the "massive" air campaign was continuing. He could not give a precise figure of targets so far.
According to Haimovic, around 100 rockets and mortars have been fired from the Gaza Strip by Hamas and other groups, a number of which were intercepted by Israel's air defence systems. Most of the projectiles were mortars, he said.
Three Israelis were wounded from rocket fire that hit a house in Sderot near the Gaza Strip, authorities said. "We are ready for all the scenarios that could be possible," Haimovic said.
On Saturday the Israeli military said it was conducting strikes against Hamas "in response to the terror acts instigated during the violent riots that took place along the security fence" the day before.
Among the main targets was the "Hamas Battalion HQ in Beit Lahia, which includes urban warfare training facilities, (a) weapon storage warehouse, training compounds, command centres, offices and more", the Israeli army said in a statement.
"A weapons manufacturing site and storage facilities housing various types of weapons, including Hamas' naval capabilities" were also hit, the statement added.
The Israeli army said air strikes carried out in the morning hit "complexes used to prepare arson terror attacks and a Hamas terror training facility".
Hamas spokesman Fawzi Barhoum said the group was responsible for Saturday's barrage against Israel and that it was carried out "in response to the Israeli air strikes".
"The protection and the defence of our people is a national duty and a strategic choice," Barhoum said.
Palestinians in Gaza have for months been demonstrating against Israel's decade-long blockade of the territory and in support of their right to return to lands they fled or were driven from during the war surrounding the creation of Israel in 1948.
In fresh violence Friday, a 15-year-old was shot dead during the demonstrations and a 20-year-old died later of gunshot wounds sustained during the protest, the Gaza health ministry said.
Since the protests and clashes broke out along the border on March 30, at least 141 Palestinians have been killed by Israeli fire.
The majority of those killed were involved in protests and clashes but others were seeking to breach or damage the border fence.
No Israelis have been killed, but officials said one soldier was injured by a grenade on Friday.
Molotov cocktails, flaming tyres and stones were also hurled in the direction of its soldiers according to the Israeli army. Israel says its use of live fire is necessary to defend its borders and stop infiltrations.
It accuses Hamas of seeking to use the protests as cover for attacks against Israel.
https://nation.com.pk/15-Jul-2018/israeli-air-strikes-hit-gaza-after-bloody-border-protests
--------
Palestinian father and son killed following building explosion in Gaza
15 July 2018
Two Palestinians were killed and one was wounded in an explosion on Sunday in a building in Gaza, health officials said.
The cause of the blast, hours after a ceasefire between Israel and Palestinian militants in the enclave was announced, was not immediately known. Health officials said the two people killed were a father and his son.
The Israeli military had carried out its largest airstrike campaign in Gaza since the 2014 war Saturday as Hamas militants fired dozens of rockets into Israel throughout the day, threatening to trigger an all-out war after weeks of growing tensions along the volatile border.
Two Palestinian teenagers were killed in an airstrike in Gaza City, while three Israelis were wounded from a rocket that landed on a residential home.
Israel said it was focused on hitting militant targets and was warning Gaza civilians to keep their distance from certain sites. But even before the report of casualties the intense tit-for-tat airstrikes and rocket barrages still marked a significant flare-up after a long period of a generally low-level, simmering conflict.
"The Israeli army delivered its most painful strike against Hamas since the 2014 war and we will increase the strength of our attacks as much as necessary," Prime Minister Benjamin Netanyahu said.
Late Saturday, Hamas and Islamic Jihad militants in Gaza announced that they had agreed to a cease-fire brokered by Egypt, but sirens warning of incoming rockets still wailed in southern Israel early Sunday and it was unclear if the cease-fire was holding.
The Israeli military lifted its restrictions along the Gaza border area, indicating it's accepted an Egypt-mediated cease-fire to end an intense, 24-hour round of fighting with Hamas militants.
Full report at:
https://english.alarabiya.net/en/News/middle-east/2018/07/15/Israel-says-ceasefire-holds-following-intense-fighting-with-Hamas-militants-in-Gaza.html
--------
Hamas says ceasefire with Israel reached to end Gaza violence
15 July 2018
Hamas said Saturday it had reached a ceasefire with Israel brokered by Egypt after a wave of Israeli air strikes on the Gaza Strip and dozens of rockets fired from the Palestinian enclave.
Hamas spokesman Fawzi Barhoum said the Islamist movement, which runs the Gaza Strip, had agreed to an "Egyptian offer to return to a ceasefire to stop this escalation."
An Israeli military spokesman declined to comment, but said its actions would depend on what happens on the ground.
https://english.alarabiya.net/en/News/middle-east/2018/07/15/Hamas-says-ceasefire-with-Israel-reached-to-end-Gaza-violence.html
--------
Saudi Arabia intercepts Houthi-launched ballistic missile targeting Najran
14 July 2018
Saudi air forces intercepted a ballistic missile launched from Yemen on Saturday.
The missile was launched by Houthi militias inside Yemen, Saudi military sources said.
The missile targeted the border town of Najran, but no casualities have been reported.
Yemen's Houthis has stepped up missile attacks on the kingdom in recent months.
https://english.alarabiya.net/en/News/gulf/2018/07/14/Saudi-Arabia-intercepts-a-ballistic-missile-launched-by-Houthi-militias.html
--------
Yemeni army gains control of mountainous area in Houthi stronghold Saada
14 July 2018
The Yemeni army, backed by the Arab coalition, has made new progress in northern Saada, a Houthi militia stronghold.
Military sources said that the army liberated the mountainous chain of al-Sabah, close to the directorate of Baqem in Saada.
The army had earlier made field progress in the same area. The army also controlled a number of positions as part of its operations to disintegrate the Houthi militia and cause heavy losses among its ranks.
Brigadier Yasser Majali said in an earlier statement to Al Arabiya News Channel that his forces, with the support of the coalition and Saudi ground forces, took control of large areas in the region, and reached the outskirts of al-Zamah, after liberating the surrounding valleys.
https://english.alarabiya.net/en/News/gulf/2018/07/14/Yemeni-army-controls-Sabah-mountain-chain-near-Baqem-in-Sadaa.html
--------
UN official says Gaza has nothing to lose as Israel threatens war
Jul 15, 2018
A United Nations aid agency official says Palestinians in the Gaza Strip "have nothing to lose" as Israel threatens the besieged enclave with a large-scale war after heavily bombing it Saturday.
The remarks by United Nations Relief and Works Agency (UNRWA) media adviser Adnan Abu Hasna underlined problems facing Gazans who grapple with a shattered economy in the face of a crippling Israeli siege.
"There is no tomorrow in Gaza, it's a big prison, there are no dreams, there is no stability. Two million people, 50 percent unemployment, the private sector doesn't work," he said in an interview with Ynet, the online arm of Israeli paper Yedioth Ahronot on Saturday.
"The damage from the 2014 war has still not been repaired, but the central problem here in Gaza is that people have nothing to lose," he said.
He was referring to Israel's last war against the enclave, which killed nearly 2,200 Palestinians, including 577 children. The war last for 50 days.
Threat of war
Abu Hasna said Israel could take the territory under yet another war.
"We hear the attacks, the drones and the F-16s. The people are talking about an escalation and these kinds of things," he said, noting, "There is fear of an escalation and it reminds them exactly of 2014. There's a bad memory of what happened at that time."
Abu Hasna said the Palestinian resistance movement of Hamas, Palestinian officials, and regular people in the street do not want wars.
Tel Aviv has most recently ratcheted up its attacks against Gaza, taking it under dozens of airstrikes, while claiming that it is responding to rocket fire from the territory.
Also on Saturday, it was reported that the regime and Gaza-based resistance groups had reached a "ceasefire agreement." Only hours afterwards, however, the regime resumed its attacks again alleging that it had come under renewed rocket strikes.
The UN official also cited the drastic cut in the United States assistance to his organization as a decisive factor in its ability to provide relief to the enclave.
"Every year, we would get $360 million. This year we got only $60 million. A large portion of this money is spent on the food we supply a million people in Gaza's population here, every three months. I'm talking about basic food: Olive oil, bread, things like that," he said.
Full report at:
https://www.presstv.com/Detail/2018/07/15/568160/Gaza-Israel-UNRWA-war-Hamas
--------
Turkey to lift emergency rule on July 18
July 15, 2018
ANKARA: Turkey is to lift the two-year-old state of emergency next week on July 18. The much-awaited decision was made during the first Cabinet meeting of the new executive presidential system on Friday.
Emergency rule has been renewed seven times since it was imposed in the aftermath of the failed coup attempt in July 2016.
The state of emergency gave Parliament increased powers to pass new laws, and suspend rights and freedoms.
Under the measures, more than 110,000 public-sector employees allegedly affiliated with the Fethullah Gulen network and terrorist organizations have been removed from their posts, while more than 1,300 associations have been closed.
Turkish business organizations have been calling for the end of the emergency rule to normalize the country's international relations and preserve its reputation.
The EU has also criticized Turkey, claiming that many civil and political rights were curtailed.
Whether the decision will re-energize Turkey's relationship with the EU, which has dropped to an all-time low over recent years, remains to be seen.
Foreign investors in Turkey also criticized the emergency rule, saying it deterred direct investment to the country, which is in desperate need of cash flow.
In a press conference following Friday's decision, presidential spokesman Ibrahim Kalin said that if Turkey faced another threat, the state of emergency might be reintroduced.
The lifting of the two-year emergency rule was among promises Recep Tayyip Erdogan made during his election campaign.
Laura Batalla, secretary-general of European Parliament's Turkey Forum, a cross-party non-partisan discussion platform, said the lifting of the state of emergency was a positive step toward normalizing relations between Turkey and the EU.
"While this move has been long overdue, we expect a renewed commitment from the Turkish government to improve the protection of fundamental rights and freedoms in the country," she told Arab News.
Batalla also noted that an improvement in this area could lead to an unfreezing of negotiations on the modernization of the Customs Union as well as improving the overall climate of relations between Turkey and the EU.
Sinan Ulgen, chairman of the Istanbul-based Center for Economics and Foreign Policy Studies and a visiting scholar at Carnegie Europe in Brussels, said the lifting of emergency rule would be welcomed by foreign investors.
"But the vulnerabilities of the Turkish economy have in the meantime deepened. And more structural measures are urgently needed to restore confidence," he told Arab News.
According to Ulgen, the lifting of emergency rule is a necessary but insufficient step forward.
Full report at:
http://www.arabnews.com/node/1339076/middle-east
--------
Pakistan
Fresh wave of terrorism may be aimed at getting polls postponed, says Khuhro
July 15, 2018
LARKANA: Senior Pakistan Peoples Party (PPP) leader Nisar Khuhro, who is the party's Sindh president, has condemned the fresh wave of terrorism in the country, saying that the series of suicide bombings could be a conspiracy to get the July 25 election postponed and sabotage democratic forces' electioneering.
He was speaking at various corner meetings of PPP candidates here on Saturday.
Mr Khuhro called for ensuring the holding of the election on July 25.
"The blasts in Mastung and other parts of the country put a question mark on caretaker government's performance," he said, and declared in categorical terms that his would not limit electioneering in the wake of the terrorist attacks targeting political gatherings.
He demanded from the caretaker set-up to provide security to leaders and candidates of PPP and other parties and participants in their election campaigns across the country.
He termed it double-standards' "where the ladla, the supporter of terrorists is given security and PPP is advised to contain its political activities".
The senior PPP leader criticised Muttahida Majlis-i-Amal (MMA) candidate Maulana Rashid Mehmood Soomro, who is contesting against PPP chairman Bilawal Bhutto-Zardari on NA-200 Larkana-I constituency, and regretted that PPP had supported his father [slain Jamiat Ulema-i-Islam-Fazl leader], Dr Khalid Mehmood Soomro, in becoming a senator but in return the JUI-F "deceived" PPP by not voting for PPP candidate Farhatullah Babar in Khyber Pakhtunkhwa.
Mr Khuhro also criticised politics of the anti-PPP Grand Democratic Alliance saying that some of its components supported the Kalabagh dam project and some others a division of Sindh while they together claimed to be sincere with the people of Sindh. He said the GDA would vanish once and for all after the upcoming election.
No 'Bhutto' seen in contest: Maulana Soomro
Maulana Soomro, who is the Sindh president of MMA and also provincial general secretary of JUI-F, also addressed a rally here on Saturday.
Besides criticising PPP's poor performance in its 10 years of rule over the province, massive corruption and unpopular policies, Maulana Soomro told his supporters that it was height of ignorance that today seven candidates from the Zardari clan were fielded by the PPP [in Larkana district] but not a single one belonged to the Bhutto clan.
Zardari league not PPP, says GDA
GDA candidate and PPP-Workers chairman Dr Safdar Abbasi, who is contesting for the PS-15 Qambar-Shahdadkot-II constituency, told an election rally in Behram town on Saturday that 'arrow' was not the symbol of Benazir Bhutto's PPP.
"[PPP co-chairman] Asif Ali Zardari, after burying Benazir Bhutto's politics, occupied the party and turned it into Zardari league," he alleged, warning that by raising the slogan of 'Jeay Bhutto', they [Zardari's party] were fooling the masses.
Dr Abbasi said that an acute shortage of irrigation water across Sindh, unavailability of basic facilities in most parts of the province were the glaring example of the PPP's performance over the last 10 years of rule.
Hindus told to vote for SUP
Sindh United Party (SUP) candidate for PS-11 Larkana-II constituency Jagdesh Ahuja spoke at a reception hosted for him by the Larkana Hindu Panchayat Committee (HPC) at the local dharmashala on Saturday.
He said the SUP had challenged the forces that treated politics as a business and used the masses as ladder to reach the power corridors.
He said Hindus were tremendously contributing to the progress of Larkana and the community was playing its due role in its development.
Awami Jamhoori Party (AJP) president Amanullah Shaikh told the audience that Ahuja had stood up against feudal lords, and urged the Hindu community to vote for him.
Larkana HPC chairman Dr Dharampal, Mukhi Santosh Kumar, Anita Panjani, Aishwar Lal (Sukkur HPC chairman) and others in their speeches extended support to Ahuja.
Earlier, SUP workers and supporters took out a motorcycle rally in the city as part of the party's door-to-door election campaign.
https://www.dawn.com/news/1420044/fresh-wave-of-terrorism-may-be-aimed-at-getting-polls-postponed-says-khuhro
--------
Family meets Nawaz, Maryam at Adiala jail
July 15, 2018
PAKISTAN Muslim League-Nawaz president Shahbaz Sharif along with his mother and other family members on Saturday night visited ousted premier Nawaz Sharif, his daughter Maryam Nawaz and son-in-law retired Capt Mohammad Safdar, who began serving their prison terms in the Avenfield properties reference, at Adiala jail.
The family members, including Maryam Nawaz's daughter Meharun Nisa and Shahbaz's son Hamza Shahbaz, were earlier flown to Islamabad from Lahore on a special plane for the meeting, which took place in the jail superintendent's room and continued for more than two hours.
No other party leader or worker visited Nawaz Sharif and Maryam Nawaz on their first day in jail, as the authorities had allocated Thursday for the visitors wanting to meet them. The meeting of the family members, however, had been arranged on a special permission of the government, a senior official of the district administration told Dawn.
Hours before the visit, Mr Shahbaz told a press conference in Lahore that the party would use all available options, legal and political, to challenge the caretaker government's decision about the jail trial of the former premier. He expressed the hope that the Sharif family would get relief in the London properties case from the high court.
Nawaz Sharif and Maryam Nawaz were handed down 10 and seven years' imprisonment, respec­tively, in the London properties case last week.
After their return from London on Friday night, the caretaker law ministry issued a notification declaring that the accountability court will conduct trial in the Flagship Investment and Al Azizia Steel Mills references against Nawaz Sharif in Adiala jail.
In the wake of their arrest, senior PML-N leaders discussed the party's strategy for the July 25 elections in a meeting held at the Model Town office. Mr Shahbaz also criticised the authorities for registration of FIRs against himself, other party leaders and workers after the Friday crackdown, asking the election commission and other institutions to take notice of the "pre-poll rigging".
Better class facilities for Nawaz, Safdar
Meanwhile, the Punjab home department notified "Better Class" category in Adiala jail for the former prime minister and Capt Safdar on their formal requests, while Maryam refused to apply for the better class.
A senior home department official told Dawn that the department had notified Better Class, generally known as B-Class, for the former premier. The category entailed facilities of a mattress, small table and chair, ceiling fan, 21-inch TV and a newspaper, he said, adding that none of the facilities would be provided by the jail authorities. They would be provided by the convict's family.
Speaking to Dawn, a district administration official said retired Capt Mohammad Safdar was getting better class facilities in the jail as he was a former military officer and a former parliamentarian. "Yes, he had applied for the better class and after getting formal permission of the home department, he is availing the facility," the official said, adding that he had been kept in the ordinary class earlier.
However, Maryam Nawaz refused to apply for it. In her signed letter, she stated: "I was offered to apply for better class facilities by the superintendent of the jail, as per the rules that I refused of my own will. This is purely my own decision, taken without any pressure from anyone."
Earlier, in her special audio message for voters recorded before going to the Adiala jail, Maryam said: "You all know, I left my mother in critical condition, as I went to London to meet her along with my father Mohammad Nawaz Sharif. We found her unconscious and when I was returning back home she opened eyes and saw us but could not talk. I haven't committed any crime, but I am in prison because I am daughter of a brave man. They want to make me a weakness of my father but luckily now I am a source of [his] strength. Kindly pray for my mother's health, I wish to hug her in healthy condition."
Full report at:
https://www.dawn.com/news/1420148/family-meets-nawaz-maryam-at-adiala-jail
--------
Imran asks people to reject corrupt politicians on 25th
July 15, 2018
SWABI: Pakistan Tehreek-i-Insaf chairman Imran Khan said on Saturday that some elements in the country wanted postponement of general elections, but all such conspiracies would be foiled and the polls would be held on July 25.
Addressing a public meeting here in Gohati Cricket Ground, he said that the recent suicide attacks had shaken him.
However, he made it clear that they were not afraid of terrorists and none of the public meetings of PTI till July 23 would be postponed.
He said that both internal and external factors were responsible for the recent suicide attacks. He said that some elements didn't want a prosperous Pakistan and the election, while the external powers wanted to harm and destabilise the country.
The PTI chief said that after hearing about the attack on Siraj Raisani he wanted to postpone his public meetings in Swabi, Mardan and Taxila, but then he thought about the younger generation who were the future of the country. He said that it was need of hour to put the youth on the right track so as to rid the country of the crises.
Referring to conviction of former prime minister Nawaz Sharif, he said that about 22 years ago he had said that the most serious threat to the country was the menace of corruption, which the people of the country had fully understood now.
He said that Nawaz Sharif had amassed Rs300 billion through corrupt practices. He asked the people to reject corrupt politicians in the coming elections. He said that these leaders had looted the public and then shifted the money abroad through illegal channels.
He said that PTI was against such malpractices and wanted the leadership to focus on economic development and people's welfare instead of accumulating wealth. He said that the dream of prosperous country could not be fulfilled unless the nation rose against corrupt leaders.
Imran Khan said that every government in the past two decades had left two things; an empty exchequer and Maulana Fazlur Rehman who remained part of every government.
"Due to wrong priorities the country's debt climbed to a record level and the dollar had devoured our currency," he said.
The PTI chief said that in the last one decade the price of electricity had surged by 410 per cent and petrol and diesel by 380 per cent, while the price of wheat flour jumped from Rs13 per kg to Rs45 per kg, and the whole burden was shifted to the poor masses. He said that all this happened due to corruption of the rulers during the last 10 years.
Full report at:
https://www.dawn.com/news/1420139/imran-asks-people-to-reject-corrupt-politicians-on-25th
--------
JI alleges ANP activists hurled stones at Siraj's motorcade
July 15, 2018
TIMERGARA: Jamaat-i-Islami leaders on Saturday alleged that Awami National Party workers hurled stones at the caravan of JI chief Sirajul Haq on Friday night when it was passing by the house of ANP candidate for PK-16, Haji Bahadar Khan. Mr Bahadar has rejected the charge.
Speaking at a press conference in Timergara Press Club, JI leader Izazul Mulk and its activists alleged that the ANP workers attacked their motorcycle rally on Friday when it reached near the house of Mr Bahadar. They said that the motorcade of Sirajul Haq was also attacked near Mr Bahadar's house the same night.
"It shows the attacks were preplanned and aimed at disturbing the peaceful environment," Mr Mulk said, adding that the JI chief remained unhurt while three workers were injured on the occasion.
He said that a case had been registered against Haji Bahadar, his son Abdur Rashid and Bakht Biland, but none of them was arrested. He demanded arrest of the people involved in the attack on the peaceful procession of JI chief.
Meanwhile, the ANP leaders alleged that the JI workers were chanting immoral slogans against their party and its candidate when the motorcade reached near the house of Haji Bahadar on Timergara-Munda road at Gosum.
The Munda police have registered cases against leaders of the two parties.
Speaking at a press conference here, ANP candidate Haji Bahadar rejected the allegations of the JI leaders and alleged that his house was attacked by the Jamaat workers.
He claimed that the JI workers hurled stones at his house on the directives of Izazul Mulk and his aide Bakht Biland.
Mr Bahadar said that the JI workers also chanted unethical slogans against him and his party.
The ANP candidate demanded of the Lower Dir police to register a case against the JI chief and Mr Mulk for attacking his house.
Full report at:
https://www.dawn.com/news/1420129/ji-alleges-anp-activists-hurled-stones-at-sirajs-motorcade
--------
TLP men cause unrest among PML-N leaders
July 14, 2018
LAHORE: The presence of Tehreek-i-Labbaik Pakistan (TLP) supporters at the Muslim Mosque Lohari Gate before the start of the PML-N rally on Friday gave a shudder to some of its senior leaders.
The rally was due to be taken out after Friday prayers and Azad Kashmir Prime Minister Raja Farooq Haider, his cabinet member Mushtaq Minhas and former minister Tallal Chaudhry were present there for offering the prayers.
When the prayer ended, some TLP supporters came close to them and started raising religious slogans, causing unrest among the PML-N leaders.
In the past, some of its leaders had come under attack of the TLP activists. However, the PML-N leaders soon left to join the rally.
https://www.dawn.com/news/1419984/tlp-men-cause-unrest-among-pml-n-leaders
--------
Maryam aims to affiliate with Education department in prison
JULY 15, 2018
LAHORE: Pakistan Muslim League Nawaz's (PML-N) Maryam Nawaz aimed to get affiliated with the pre-existing education department in prison, sources reported on Sunday.
According to the sources, along with general subjects, Maryam is expected to teach political science as well.
She has requested a list of national and international books about political leaders including Nelson Mandela and Benazir Bhutto, sources informed.
During her time of imprisonment, Maryam desires to work on education and research, sources stated.
https://dailytimes.com.pk/268079/maryam-aims-to-affiliate-with-education-department-in-prison/
--------
World deplores attacks on political rallies in Pakistan
JULY 15, 2018
German Chancellor Angela Merkel on Saturday condemned suicide attack on a political rally in Mastung that claimed the lives of 128 people and injured more than 150 others.
In a telegram sent to caretaker Prime Minister Nasir-ul-Mulk, the chancellor conveyed Germany's heartfelt condolences for the families of the victims and those wounded in the blast. "I am deeply shocked by the news of the terrible terrorist attack on an election campaign event in the province of Balochistan. I strongly condemn this cowardly attack that has claimed so many lives. Be assured that Germany stands by your side in the fight against terrorism. Please convey our heartfelt condolences and our wishes for recovery to the relatives of the victims and the injured," the message read.
Furthermore, the German foreign office called the attack "an attack on the elections and the democratic process in Pakistan." "We condemn the cowardly terrorist attacks on election campaigns in the Pakistani provinces of Balochistan and Khyber Pakhtunkhwa in the strongest terms. Our sympathy goes to the relatives of the victims. We wish the injured people quick and complete recovery. The inhumane attack was an attack on the elections and the democratic process in Pakistan," the statement read. "Terrorism must not reach this goal. We call on political actors in Pakistan to do their utmost to ensure the peaceful, fair and transparent conduct of elections," it added.
In a statement issued from Washington, US State Department spokesperson Heather Nauert said these attacks are cowardly attempts to deprive people of their democratic rights. "Washington will continue to stand with the people of Pakistan in their fight against terrorism," the statement read.
Meanwhile, Saudi Arabia has strongly condemned suicide attacks in Mastung and Bannu. Saudi Ministry of Foreign Affairs reiterated Kingdom's stance and solidarity with Pakistan against terrorism and extremism.
"Japan expresses its condolences to the victims and the bereaved families," Japanese Foreign Minister Taro Kono said on Saturday. Japan also prays for those injured in the blasts for their earliest recovery, he added.
"No act of terrorism can be justified for whatever reason or purpose. Japan strongly condemns terrorism in all its forms and manifestations and expresses solidarity to the government of Pakistan and their people and supports efforts by the government of Pakistan to combat terrorism. Japan also hopes that the general election to be held this month will be implemented freely, fairly and peacefully without giving in to such heinous attacks," he said.
"I strongly condemn the attack on election rallies in Mastung and Khyber Pakhtunkhwa. I am deeply grieved to hear about the loss of so many precious lives. Australia stands with Pakistan in its efforts to combat terrorism and protect democracy by holding free and fair elections," a press release quoted the Australian high commissioner in Islamabad as saying. The high commissioner also extended profound condolences to families of all victims.
Organisation of Islamic Cooperation (OIC) Secretary General Yousef bin Ahmad Al-Othaimeen also condemned the Mastung bomb blast. He expressed deep grief and sorrow with the families of the victims. agencies
Full report at:
https://dailytimes.com.pk/267907/world-deplores-attacks-on-political-rallies-in-pakistan/
--------
India
Court case against vice president of J&K Muslim Personal Law Board
Manogya Loiwal
Kolkata
July 15, 2018
A fresh petition has been filed against Azam Nasir ul Alam, vice president of Muslim Personal Law Board, Jammu and Kashmir.
Nasir made a statement on January 30, 2018. His statement was a comment on Muslims in the country on the pretext of intolerance and persecution by Hindus.
Petitioner Sharad Singh filed a complaint against the political leader's statement.
"In a country where Muslims are the second largest community, these statements may lead to civil war," Sharad said.
Nasir at a press conference in Kashmir said, "Either Shariat Law should be implemented or the country should be partitioned based on its population."
He also added his concerns on the 'pathetic' conditions of the Muslims.
Nasir has been summoned on August 14 for the proceedings at the City Magistrate Court. He is booked under Section 121A, 153A and 295A of IPC.
"He should not make such statements sitting in Kashmir, he should come and see how all Indians are living together", the petitioner added.
https://www.indiatoday.in/india/story/court-case-against-vice-president-of-j-k-muslim-personal-law-board-1286027-2018-07-15
--------
Pakistan must stop supporting terrorism: India
Jul 14, 2018
NEW DELHI: India on Saturday hit back at Pakistan over its comments on the alleged human rights abuse in Kashmir, saying Islamabad must first stop terrorism emanating from its soil.
The Pakistan Foreign Office on Saturday alleged human rights violations in Kashmir. It also raised concern over shifting of woman separatist leader Syeda Aasiya Andrabi to Tihar jail and detention of Hurriyat leaders Shabbir Ahmad Shah, Masarrat Alam Bhat.
Andrabi was arrested by the National Investigating Agency under the Unlawful Activities Prevention Act (UAPA) for allegedly carrying out secessionist activity and waging war against India.
"They sometimes forget that what they preach they don't follow. Time and again we have told them to stop supporting terrorism, stop supporting terrorist entities, which are operating out of Pakistan. That is something (on which) they have taken no action. Our position on this remains clear and consistent," ministry of external affairs spokesperson Raveesh Kumar said in response to a question at a media briefing.
According to media reports, Zafar Bangash, a Pakistani-origin journalist based in Canada has claimed that the UN High Commissioner for Human Rights, Zeid Ra'ad al-Hussein, was in constant touch with him while preparing the controversial report on Kashmir which was rejected by India.
In a report released by the United Nations High Commissioner for Human Rights last month, the UN body talked about alleged human rights violations in Kashmir and sought an international inquiry into these abuses.
"We also question the intention of bringing out this report. The document that was brought out reflected the clear bias of the official, who was acting without a mandate whatsoever and who relied on unverified source of information. The report which had put out was very motivated. It had a clear bias. And when I say motivated, it explains what you are alluding to," he said.
Responding to a question on Gulab Singh Shaheen, the Pakistan's first Sikh police officer, forcibly evicted from his home along with his children and wife, following a property dispute with the government, Kumar said India strongly condemns the act.
"This is not for the first time that the religious minorities in Pakistan have been subjected to such a behaviour. In the past, there have been reports of persecution of people from other communities," he said.
Kumar added that in May, Charnjit Singh, a prominient Sikh leader was also killed in Peshawar.
"We want Pakistan to probe the matter with sincerity and act as per its international obligation to protect the minorities," he said.
Kumar said Don Pramudwinai, the foreign minister of Thailand, in a letter to external affairs minister Sushma Swaraj, has thanked India for the moral support it had extended during the operation to rescue 12 boys trapped in the cave.
Full report at:
https://timesofindia.indiatimes.com/india/pakistan-must-stop-supporting-terrorism-india/articleshow/64992124.cms
--------
Rajnath Singh calls on Bangladesh PM in Dhaka, discusses bilateral concerns
Sahidul Hasan Khokon
July 14, 2018
Bangladesh Prime Minister Sheikh Hasina, on Saturday, said Bangladesh wants to resolve all problems through dialogue with the neighbouring countries, including India, as Rajnath Singh, who arrived in dhaka on a three-day visit, met Sheikh Hasina at the Ganobhaban.
"Hasina said many issues including that of the land boundary have been settled through bilateral discussion," a premier's office spokesman said quoting her.
Bangladesh PM's Additional Press Secretary Nazrul Islam said, "Sheikh Hasina expected the two neighbours could settle the rest of the outstanding issues through dialogue."
The premier and the spookesman reiterated Dhaka's firm stance against terrorism and violent extremism in all forms and said, "Bangladesh does not allow its territory to be used by any terrorist individual, group or entity against any state or people."
Singh, on the other hand said, dialogue among South Asian countries is needed to uproot terrorism saying it would be possible "through united efforts of all".
According to the spokesman the Indian home minister, however, said, it was not being possible due to some of the countries in the region. Singh highly appreciated Sheikh Hasina's dynamic leadership and said achievement of 7.78 per cent GDP growth is possibly the highest and fastest in the world.
Singh also mentioned that Bangladesh and India are now enjoying the highest level of cordial bilateral relations.
Sheikh Hasina recalled her recent visit to India and meeting with her Indian counterpart Narendra Modi at Shantiniketan and described it to be fruitful.
Bangladesh Home Minister Asaduzzaman Khan, PM's Principal Secretary Md Nojibur Rahman, Public Security Division Secretary Mostafa Kamal Uddin, Security Services Division Secretary Farid Uddin Ahmed Chowdhury and Inspector General of Police Dr Mohammad Javed Patwari were present during the call.
Singh was accompanied by India's Home Affairs Ministry's Special Secretary (Border Management) BR Sharma and its High Commissioner in Dhaka Harsh Vardhan Shringla in the meeting.
INDIA UNVEILS LARGEST VISA CENTRE IN THE WORLD IN BANGLADESH
India has unveiled a new state-of-the-art visa centre in Dhaka, which will gradually replace all the other four centres in the capital with modern facilities, promising shorter waiting times for applicants.
Singh inaugurated the integrated centre at Jamuna Future Park (JFP) in Dhaka along with his Bangladeshi counterpart Asaduzzaman Khan Kamal.
Indian High Commissioner Harsh Vardhan Shringla, who was present at the inauguration, later told journalists that this is the largest Indian visa centre in the world and possibly the largest anywhere.
To mark the inauguration of the new IVAC, the Indian home minister presented a five-year multiple-entry tourist visa to Mohammad Nazrul Islam, under the Muktijoddha category while the Bangladesh Home Minister presented a five-year multiple-entry tourist visa to Amal Chandra Natta under the Senior Citizen category.
The high commissioner handed over one year multiple entry tourist visa to Jannattul Ferdous and the special secretary (Border Management) of India's Home Affairs handed over a six-month triple entry medical visa to Begum Sharifa (who is going to Bengaluru for medical treatment).
Bangladeshis constitute one of the largest numbers of visitors from a single country to India. Last year, the country issued 1.4 million visas to Bangladeshi nationals. India has 12 visa centres in Bangladesh, which is the highest number the former has in any country in the world.
India issues five-year multiple entry visas for freedom fighters, senior citizens and businessmen.
The centre has services, such as computer-generated token vending machines, which will indicate waiting time, comfortable seating in air-conditioned waiting areas, coffee and soft drinks via vending machines, food kiosks and as many as 48 counters for visa applications.
There are separate counters for senior citizens, women, freedom fighters and business applicants. A special counter will provide printing and photocopying services for a fee.
Singh's three-day visit is taking place in the context of the home-minister level talks held on a regular basis between India and Bangladesh, the Indian High Commission in Dhaka said.
The last home minister-level talks were held in New Delhi in July 2016.
Issues tied to security, border management, cooperation in countering illegal activities and travel arrangements are expected to be discussed at a meeting on Sunday.
INDIA INAUGURATES BANGLADESH-INDIA FRIENDSHIP BUILDING
Rajnath Singh and Asaduzzaman Khan jointly inaugurated the Bangladesh-India Friendship Building at the Bangladesh Police Academy in Sardah, Rajshahi, foundation stone of which was laid in 2015 by PM Narendra Modi and PM of Bangladesh Sheikh Hasina. This is a development cooperation project between India and Bangladesh.
The newly inaugurated facility incorporates state-of-the-art Forensic Laboratories, Mock Crime Scenes, Mock Police Station, IT Centre with computer labs, etc.
A Memorandum of Cooperation was also signed between Sardar Vallabhbhai Patel National Police Academy, Hyderabad and the Bangladesh Police Academy in Sardah, Rajshahi to establish mutual cooperation in the sphere of training, management and exchange of trainers and trainees between two Police Academies. The Memorandum of Cooperation was signed by D R Doley Barman, Director, Sardar Vallabhbhai Patel National Police Academy, Hyderabad and Nazibur Rahman, ndc, Addl (IGP), Principal, Bangladesh Police Academy.
Full report at:
https://www.indiatoday.in/india/story/rajnath-singh-calls-on-bangladeshi-pm-in-dhaka-discuss-bilateral-concerns-1285854-2018-07-14
--------
Politics over Narendra Modi-Nawaz Sharif 'friendship', both in India and Pakistan
Jul 14, 2018
The Congress on Saturday taunted Prime Minister Narendra Modi over his "friendship" with former Pakistan prime minister Nawaz Sharif, who has been convicted in a corruption case along with his daughter Maryam.
"Nawaz Sharif has been arrested on corruption charges. We'd like to know what his dear friend, PM Modi, has to say about this," the Congress tweeted along with a photograph of the two holding hands during the Indian prime minister's visit to Pakistan in December 2015.
Modi had landed in Lahore on the way from Afghanistan to greet Sharif on his birthday and attend the engagement ceremony of the Pakistan premier's granddaughter. That was his first visit to the neighbouring country.
The BJP, however, was quick to respond to the Congress' jibe. "The people of this country are saying this to our Prime Minister: All the politicians who are roaming around India on bail will one day have to go to jail," it tweeted in an apparent reference to the anticipatory bail granted to Congress MP Shashi Tharoor in the Sunanda Pushkar case.
Modi himself had compared the Congress to a 'bail gaadi', punning on the Hindi term for bullock cart, to target the opposition party at a rally held in Rajasthan last Saturday. "Some people are calling Congress 'bail gaadi,' not bullock cart, because some of its top leaders and former ministers are out on bail," he had said.
Incidentally, the Congress' jibe comes on the back of a similar remark by Pakistan Tehreek-e-Insaf chief Imran Khan – wherein he accused Modi and Sharif of disrupting law and order in the country and creating tensions at the border in order to ensure a favourable environment for the Pakistan Muslim League (Nawaz). "Beginning to wonder why whenever Nawaz Sharif is in trouble, there is increased tension along Pakistan's borders and a rise in terrorist acts? Is it mere coincidence?" he tweeted.
Sharif (68) and Maryam (44) were convicted by an accountability court in what has come to be known as the Avenfield Apartments case and sentenced to jail terms of 10 and seven years respectively. While Sharif was found guilty of owning assets beyond his known sources of income, Maryam was convicted of aiding and abetting her father in covering up a "conspiracy".
Full report at:
https://www.hindustantimes.com/india-news/congress-taunts-modi-over-friendship-with-sharif-bjp-responds-with-bail-jibe/story-uYwcBHaLtwvURstuCuLCHM.html
--------
Southeast Asia
Perlis mufti proposes Zakir-Ramasamy debate, loser 'maybe gets sent back to India'
July 14, 2018
KANGAR: Perlis mufti Datuk Dr Mohd Asri Zainul Abidin has put forth the suggestion for controversial Muslim preacher Dr Zakir Naik and Penang deputy chief minister II Dr P Ramasamy to have an open debate.
He said the debate should be aired live so that it can be seen by people from walks of life.
"In the spirit of a New Malaysia that is more open and transparent in making matured and intellectual judgments, I would like to suggest for a debate between Dr Zakir and Ramasamy to be done soon.
"The title is 'Who is the real terrorist?'. There should also be room for the media to air it live. Let the rakyat be the witness to this polemic," Dr Mohd Asri said on Facebook, today.
Dr Zakir is wanted by the Indian government for alleged money-laundering and terrorism.
Meanwhile, Dr Mohd Asri had previously shared a post on Facebook, urging Dr Ramasamy to be investigated for alleged ties to the Liberation Tigers of Tamil Eelam (LTTE) in Sri Lanka.
Commenting further on the debate, Dr Mohd Asri said if the DAP leader prioritised freedom of speech, intellectual values and the rights of the rakyat to assess the truth, his suggestion should be accepted.
"If they don't, then clearly this issue is nothing more than their enmity with Muslims," Dr Mohd Asri said.
"Based on their demands, I suggest that whoever loses in the debate, maybe they can be sent back to India as per their wishes. One of them will be sent back there," he added, expressing hope that all quarters, especially the rakyat would urge for the debate to take place soon.
https://www.nst.com.my/news/nation/2018/07/390757/perlis-mufti-proposes-zakir-ramasamy-debate-loser-maybe-gets-sent-back
--------
Will growing intolerance lead to the end of democracy in Indonesia?
July 15, 2018
For much of the past 20 years, Indonesia has been held up as a model of democratic transition for other countries, particularly those with significant Muslim populations.
Indonesia's leaders like to present their nation as embodying an exemplary path away from authoritarianism. Their form of government, they say, is tolerant yet enshrines religious practice, offering a political alternative for Muslim communities that is more palatable to the West than the failed Arab Spring and the extremist catastrophes that have engulfed the Middle East since the US intervened in Afghanistan and Iraq.
This view of Indonesia now needs rethinking. The country's hard-won advances towards liberalism and tolerance may be under threat. This nation of more than 260 million people – over 85% of them Muslim – has often been called the "smiling face of Islam", but that label may no longer apply.
Indonesia's recent questioning of its own liberal-democratic aspirations has been accompanied by growing expressions of intolerance, including violence towards vulnerable minorities. As next year's presidential election approaches, the temptation to resort to regressive identity politics and opportunistic populism will increase, and Indonesia's departure from its post-1998 progressive tilt is likely to become more pronounced.
Sliding towards a 'Neo New Order'?
In Indonesia today, reform has stagnated. Although the democratic transition in 1998 was presented as a national consensus, this was never entirely true. It always had opponents, some of whom felt politically constrained to accept democratisation as a necessary evil but never accepted it as a final settlement.
As well as the hardliners, today these include enormously wealthy oligarchs, tenacious survivors of former dictator Suharto's regime and elements of the armed forces. These disparate forces that together form Indonesia's revisionist and populist right have little in common and often compete with one another. However, they also create expedient alliances from time to time, motivated by a common desire to roll back at least some of the democratic system initiated by Reformasi, the reform era.
Together they can sometimes intimidate or outflank progressive civil-society leaders. Governments, local and national, seem uncertain about how to respond to these challenges, and vacillate between inaction, opaqueness or endorsement of reactionary policies. As a result, 20 years on from Reformasi, the spirit of reform that drove democratisation seems distant.
Most Indonesian champions of civil society would agree that Reformasi ended long ago – maybe well over a decade ago – but a new label to define what replaced it has not yet emerged. This reflects an uncertainty among many Indonesians about where their country is heading. Many prominent critics of the government believe that while electoral democracy seems entrenched, liberal democracy is under threat from populism, Islamism and renewed conservatism.
For them, Indonesia seems to be sliding towards what some call the "Neo New Order". Others say this is too harsh, arguing that electoral democracy is now firmly entrenched and the critical change that marked the end of Suharto's system, the retreat of the military from government, has not been reversed.
However, it is increasingly difficult to argue that all is well with Indonesian democracy.
The forthcoming elections aside, rampant corruption is perhaps Indonesia's single biggest political issue. The courageous Corruption Eradication Commission is under continual attack from politicians and police. The human rights courts are virtually defunct and rarely hear cases.
The National Commission on Human Rights is ineffective; the Constitutional Court has faced its own corruption scandals; the press is confronting increasingly prohibitive defamation laws that assist politicians and oligarchs; and civil society is under pressure from elite push-back and Islamist provocation.
Indonesia's alt-right: trolls, hackers and vigilantes
The tensions over Islam are part of a much older struggle in Indonesia to determine who controls the interpretation of the religion, and thus religious power. However, the recent rise of conservative Islamist hardliners also resembles the rise of populism and conservative politics elsewhere in the world. Islamist conservatives are in many ways the local equivalent of America's alt-right – and they are just as adept at online disruption and manipulation.
Research by State Islamic University Jakarta links the rise of religious intolerance among young Muslims to their increased access to the internet and social media. Indeed, Jakarta tweets more than any other city in the world, and Indonesians are very big users of Facebook, as well as WhatsApp, Instagram and Telegram, an encrypted-messaging service.
One of the best-known examples of online disruption involves the so-called Muslim Cyber Army, the most prominent of a number of tags adopted by Islamist trolls in Indonesia. Active across all platforms popular in Indonesia, Muslim Cyber Army members enjoy building an atmosphere of mystery, threat and self-importance, sometimes using the Guy Fawkes mask, popularised by the graphic novel and film V for Vendetta, of the hacktivist group Anonymous in their postings.
This is deeply ironic, given the distance between their ideological objectives and the libertarian ambitions of most Western hacktivist groups. The Muslim Cyber Army does, however, share a willingness to exploit online anonymity to enable criminal activity – for example, by hijacking the social media accounts of the dead.
An Indonesian researcher, Damar Juniarto, has shown that Muslim Cyber Army trolls are highly effective, working collectively and using tools such as Twitbots to flood Twitter with coordinated messages. They target their more liberal opponents by "doxing": publishing their personal information and contact details. This often triggers physical attacks from groups such as the notorious vigilante organisation Islamic Defenders Front, or Front Pembela Islam (FPI), within a few days and, in some cases, police attention on suspicion of blasphemy.
A list of such targets went viral in a video produced by the "Blasphemer Hunter Team". These groups have attacked President Joko Widodo ("Jokowi"), former Jakarta governor Basuki Tjahaja Purnama (known as "Ahok"), foreigners and LGBTI Indonesians – targets they share with some prominent hardliner "buzzers", or social media opinion leaders, many of whom are keyboards for hire.
The Conversation logo Juniarto also suggests that many of these groups have close ties to politicians and senior military figures. Certainly, social media manipulation and "fake news" hoaxes produced by Islamist groups were powerful factors in the campaign that led to Ahok's defeat in last year's Jakarta gubernatorial elections. The winner was Anies Baswedan, a protégé of former general Prabowo Subianto, Jokowi's possible rival in the 2019 presidential election.
It would be naive to think this won't happen again in next April's crucial legislative and presidential races. During the 2014 presidential campaign, Jokowi, a Muslim, endured claims he was a closet Christian and ethnic Chinese (his detractors chose to ignore the fact that his opponent, also a Muslim, has a Christian mother and siblings).
Full report at:
https://www.business-standard.com/article/international/will-growing-intolerance-lead-to-the-end-of-democracy-in-indonesia-118071500064_1.html
--------
Rescind UEC Recognition in Seven Days Or Face Our Wrath, Malay-Muslim Groups Tell Maszlee
14 July 2018
KUALA LUMPUR, July 14 — A coalition of Malay-Muslim groups has threatened to protest against Education Minister Maszlee Malik in seven days, should the latter ignore its call to not recognise the Unified Examination Certificate (UEC).
In a statement, Ummah said it has received the support of 10 lawyers to review and take action against Putrajaya's recognition of the examination in independent Chinese schools.
"We give a warning, if the minister continues to keep mum and be obstinate in defending his stance to recognise UEC, maybe he will be the first minister in the Pakatan Harapan government to face the wave of people's rising protest in the Education Ministry, Putrajaya," said Mohd Zai Mustafa, an Ummah secretariat committee member.
As proof of the support they have allegedly received, Mohd Zai said Ummah has received over 20,000 supportive reactions from Facebook users on its page.
"Support was received from national education, language and academic figures, political veterans, NGOs, education sector, and the people," said Mohd Zai, who is also the chief executive of Islamic Education Development Council Malaysia (Mappim).
Earlier this week, Maszlee was quoted saying the Pakatan Harapan government will stick to its manifesto and recognise the UEC as a legitimate entry requirement for students, pointing to its manifesto pledging to recognise the UEC for entry into public universities.
But the minister said recently that a holistic study was needed before this could be done.
The UEC is the school-leaving certificate issued by independent Chinese-medium schools in Malaysia.
There are about 60 independent Chinese-medium schools in Malaysia, with over 20 of them in East Malaysia.
Full report at:
https://www.malaymail.com/s/1652366/rescind-uec-recognition-in-seven-days-or-face-our-wrath-muslim-groups-tell
--------
Zakir Naik, another mess for PH govt to clean up
15 July 2018
By Zurairi AR
JULY 15 — Absolutely nobody envies Prime Minister Dr Mahathir Mohamad and his team's task: to sort out a seemingly endless laundry list of mess left behind by the previous administration.
They certainly did not realise the gargantuan task before them before taking power, and the struggle has been real, with ministers making gaffes one after another of late.
At any other time, we may be able to ignore this particular mess in that long list: the continued presence of Indian televangelist Dr Zakir Naik in our country.
After all, who cares about a washed-out fugitive whose only "fame" now is making an appearance at Friday prayers?
Maybe, but perhaps not. The issue can no longer be ignored after Zakir himself was pictured in the same room as Dr Mahathir last week, the two smiling into the camera as they shook hands — the latter seemingly less sincere than the former.
As usual, the first thing we have to ask is who benefits the most from that meeting?
It is hardly an easy thing to steal some time from the prime minister, who barely has time for himself. So how deep a political connection does Zakir have with the current government to procure a slot? And does it hurt Dr Mahathir more to refuse that meet, than to accept it?
Home Minister Muhyiddin Yassin has largely stayed quiet on the status of Zakir, but prior to that meet, Dr Mahathir pledged that Putrajaya will not simply accede to pressure to send Zakir home where he faces several charges: links to terrorism, and money laundering.
This deliberation may be frustrating but understandable.
Ministers Gobind Singh Deo and M. Kulasegaran have since explained that the Cabinet has had a discussion about the matter, with the former urging India to present its case so Putrajaya can decide whether to deport Zakir.
Similarly, Kula said that the rule of law would require India to make the first move, and he would raise the matter with Dr Mahathir's counterpart Narendra Modi during a visit soon.
"This is the right way of doing things, it is not right for the government nor one man to decide on this matter... it should be decided by law in the courts as they have the duty to dispense justice," Kula said in a statement.
It is important that the Pakatan Harapan (PH) plays a cautious game when it comes to Zakir, since his permanent residency is a particularly devastating landmine left behind by Barisan Nasional.
Simply put, the pact would have one less political dilemma to deal with had Zakir been denied residency. But allowed he was, and this needs to be handled carefully.
Zakir's last resort is to play the game of persecution, much like a certain former prime minister after he was caught with a smoking gun over misappropriating billions of ringgit.
The most common excuse being used by his supporters now is that he will not face fair trials in India under the undeniably discriminatory Hindu government of Modi.
And if Putrajaya were to unilaterally decide on sending Zakir back, despite this perception of persecution, then Malaysia would be seen as an enabler of oppression against Muslims, wrongly or rightly.
And this would not bode well for PH politically — either internally with voters, or externally among other Muslim-majority allies.
In this sense, Dr Mahathir and Putrajaya's hands are tied. Even the prime minister admitted so himself, when he reportedly said this week: "We need to consider all the elements involved before we provide feedback on all the urgings made against him.
If not it would result in unnecessary victimisation."
But perhaps that was neither tacit nor overt support by Dr Mahathir for Zakir, but merely a move of political expediency.
Putrajaya can still do better. India has on numerous occasions highlighted that it has submitted a formal request to extradite Zakir in January. But that was when Barisan Nasional was still in power, and they had reason to collude with Zakir and continue to hide him.
PH has nothing to gain, and all to lose by keeping this political landmine within our borders. So how will PH react now?
Two months into the "new Malaysia", the government has already experienced how exasperating it is when you need a witness or suspect so bad, and yet find it impossible to bring him home — as in the case of the elusive Jho Low.
And it has already experienced how diplomatic co-operation can bring someone to justice — as it was with Jamal Md Yunos.
We have a steady hand in diplomacy with the appointment of Saifuddin Abdullah to helm Wisma Putra, and we hope he is not further burdened with the perception that Malaysia is a place where fugitives can elude justice.
We need a complete shift when it comes to Zakir, starting by discarding all the propaganda that his followers have surrounded him with.
He is not God's miraculous worker with the power to convert heathens into Islam by the sheer force of his will, nor does he have the influential long arm of his media empire.
Zakir now is a scared man whose deeds have caught up with him, and literally begging to not be sent to the gallows. A dying man will say anything to save his skin.
"I am humbled to be a part of this diversity, and I also acknowledge the sensitivities it entails. I would never wish to disrupt or jeopardise this balance in any way, or to break the rule of law of this country, because it is my primary concern to foster the social harmony currently enjoyed by its citizens," he said.
But where was this "respect" for diversity and sensitivities when he was freely denigrating and insulting other religions, with a smile? When he was calling for the deaths of apostates and the LGBT?
If Zakir had cared as much for the social harmony of his own hometown, as he claimed to do for Malaysia, he may not have had to run away here.
Full report at:
https://www.malaymail.com/s/1652232/zakir-naik-another-mess-for-ph-govt-to-clean-up
--------
Ramasamy prepared to debate Zakir only if preacher clears name in Indian courts
July 15, 2018
KUALA LUMPUR: Saying he was not afraid to engage in a debate, Penang Deputy Chief Minister II Dr P Ramasamy however said he would only do so with controversial Muslim preacher Dr Zakir Naik after the latter clears his name in the Indian courts.
This was in response to a proposal put forth by Perlis mufti Datuk Seri Dr Mohd Asri Zainul Abidin for Ramasamy and Zakir to have an open debate on the topic of 'who is the real terrorist?'.
""I'm a Malaysian citizen, I am not afraid to debate.
"But I want Zakir Naik to go back to India voluntarily, face the charges and clear his name first," Ramasamy was quoted as saying by newsportal Malaysiakini last night.
In a Facebook post, Dr Mohd Asri had called for the debate in the spirit of a 'New Malaysia' that he said was more open and transparent in making matured and intellectual judgments.
"There should also be room for the media to air it live. Let the rakyat be the witness to this polemic," he had said.
"Based on their demands, I suggest that whoever loses in the debate, maybe they can be sent back to India as per their wishes. One of them will be sent back there," he added.
Calling the debate challenge as an attempt to sidestep the issue of the Indian government calling for Malaysia to extradite the preacher, Ramasamy said that should be addressed first.
Ramasamy said he did not have anything personal against Zakir.
"...but there are serious claims against him and India has filed charges against him. There are no charges against me for being involved in any terrorist movement, but I am involved in many peace talks, so how come I am accused of supporting the gun movement?" Ramasamy was quoted as saying.
He was referring to a previous Facebook post by Dr Mohd Asri, who had urged for Ramasamy to be investigated for alleged ties to the Liberation Tigers of Tamil Eelam (LTTE) in Sri Lanka.
Full report at:
https://www.nst.com.my/news/nation/2018/07/390958/ramasamy-prepared-debate-zakir-only-if-preacher-clears-name-indian-courts
--------
Indonesian police shoot dead three suspected militants
July 14, 2018
JAKARTA: Indonesian anti-terrorism officers shot dead three suspected Islamic militants on Saturday in the central Java city of Yogyakarta, police said.
National police spokesman Mohammad Iqbal said the officers from the elite unit had shot the suspects after being attacked with "sharp weapons and a firearm".
Two officers suffered arm wounds and police seized four machetes and a revolver.
Iqbal's statement said the men were believed to be members of Jemaah Ansharut Daulah (JAD), a loose grouping of hundreds of Islamic State sympathisers that is on a US State Department terrorist list.
Full report at:
http://www.freemalaysiatoday.com/category/world/2018/07/14/indonesian-police-shoot-dead-three-suspected-militants/
--------
Arab World
West scrambles to evacuate White Helmets from Syria amid assassination threats
Jul 15, 2018
Western countries have reportedly been scrambling to evacuate "volunteer" White Helmets from Syria, who have been accused of cooperating with Takfiri terrorists and staging false flag gas attacks.
CBS News broadcasting service reported on Saturday that White Helmets members are in danger of assassination and in need of rescue as the Syrian army intensifies its counter-terrorism operation in the country's southern part.
The report said the issue of the White helmets' withdrawal from Syria had been raised with US President Donald Trump in multiple conversations with allied countries on the sidelines of the July 11-12 NATO summit in Brussels.
The Netherlands, Britain, France, Canada and Germany have been trying to find a way to get an estimated 1,000 White Helmets volunteers and their family members out of Syria, the report added.
British Prime Minister Theresa May brought up the issue during her meeting with Trump in the UK, and that the topic may also be discussed at Trump's upcoming summit with Russian President Vladimir Putin.
The White Helmets was founded in Turkey in 2013 by former British MI5 officer James Le Mesurier.
Since its establishment, the group has received at least $55 million from the British Foreign Office, $23 million or more from the US Office of Transition Initiatives and untold millions from Qatar.
US officials and Western diplomats say the evacuation has not been formalized on the agenda of the July 16 Trump-Putin meeting due to uncertainty about the Russians' help in the process, The CBS News said.
"We are not there yet at all in terms of firming up the necessity to have a discussion with Putin," a Western diplomat said. "If we run out of options, and the only option left is the Russians, then it is worth pursuing."
A US government official stressed that efforts to evacuate the White Helmets from Syria is in line with the Trump administration's plans for a withdrawal from the Arab country.
"This effort says we are in the evacuation phase. It is an admission that the regime is going to regain control of the country and the White Helmets can't remain," he said. "Or else the regime will take repercussions on them."
Back in March, Trump ordered the State Department to suspend $200 million in recovery funds for Syria, including aid to the White Helmets, amid a review of the future of the US role in the war-torn country.
Three months later, however, Trump authorized the release of $6.6 million in previously frozen funding for a volunteer organization, without referring to the $193.4 million that remains frozen.
Both Damascus and Moscow have accused the volunteer group of having staged the suspected chemical weapons attack in the town of Douma in Syria's Eastern Ghouta region on April 7.
Syrian President Bashar al-Assad described the White Helmets as "a branch of al-Qaeda and al-Nusra" militant groups and a "PR stunt" by the US, the UK and France.
Russian Foreign Ministry spokeswoman Maria Zakharova said the group claims to be a humanitarian NGO, but actually supports terrorists and covers up their crimes.
"The White Helmets not only feel at home on Jabhat al-Nusra and Daesh-controlled territories but openly sympathize with them and provide them with information and even financial support. How is that for double standards? There is documentary evidence of the White Helmets' involvement in some of al-Nusra's operations and cover-up over civilian deaths," she said.
https://www.presstv.com/Detail/2018/07/15/568163/Syria-White-Helmets-Nusra-Front
--------
Iraqi protesters storm provincial government building in Karbala
14 July 2018
Protesters stormed the provincial government building in the Iraqi city of Karbala on Saturday, a Reuters witness said.
Protests over poor government services and corruption, which had spread to the Shi'ite holy city on Saturday, entered their sixth consecutive day in several cities in Iraq's southern provinces.
Iraq's interior ministry has announced a nationwide state of high security alert in response to ongoing protests in the country's southern provinces over poor government services and corruption.
Al Arabiya News Channel's correspondent reported power outages in the entire province of Najaf late on Saturday and that security forces have declared a curfew.
https://english.alarabiya.net/en/News/middle-east/2018/07/14/Iraqi-protesters-storm-provincial-government-building-in-Karbala.html
--------
Syrian govt. forces discover US-made arms in Daesh redoubt in Dayr al-Zawr
Jul 14, 2018
Syrian government forces have discovered considerable amounts of munitions, telecommunication equipment as well as US-built mortar shells at a weapons depot of the Daesh Takfiri terrorist group in the country's eastern province of Dayr al-Zawr near the border with Iraq.
Syria's official news agency SANA reported that Syrian army troopers launched a clean-up operation in Hasrat town, which lies on the western outskirts of Abu Kamal town, on Saturday and uncovered a huge cache of ammunition and explosives.
The report added that the weapons included 120mm mortars, BM-21 Grad rockets, 107mm rockets, 40mm grenades, anti-tank missiles and a combat-net radio transceiver.
An unspecified number of mines and explosive devices were also found, which Daesh Takfiris had planned to use to booby-trap residential buildings.
Militants hand over heavy, medium weapons in southwestern Syria
Meanwhile, foreign-backed militant groups in the Dara'a al-Balad residential area of Dara'a have begun handing over their heavy and medium weapons to Syrian government troops.
On July 12, Syrian army soldiers raised the national flag over several buildings in Dara'a after foreign-backed militants agreed to leave the region under surrender deals negotiated with the Damascus government.
State television reported that the Syrian military had managed to enter the militant-held part of the city and hoist the flag near its post office.
Syria has been gripped by foreign-backed militancy since March 2011. The Syrian government says the Israeli regime and its Western and regional allies are aiding Takfiri terrorist groups wreaking havoc in the country.
Russia has been helping Syrian forces in an ongoing battle in the province of Dayr al-Zawr as Daesh struggles to keep its last positions in eastern Syria.
The Russian military assistance, which began in September 2015 at the official request of the Syrian government, has proved effective as the Syrians continue to recapture key areas from Daesh and other terrorist groups across the country with the backing of Russia's air cover.
On May 21, the General Command of the Syrian Army and Armed Forces announced in a statement that complete security was restored to Damascus and its countryside after al-Hajar al-Aswad district and al-Yarmouk camp had been totally purged of Daesh terrorists.
Full report at:
https://www.presstv.com/Detail/2018/07/14/568101/Syrian-govt-forces-discover-USmade-arms-in-Daesh-redoubt-in-Dayr-alZawr
--------
Saudi Arabia launches 'Mecca Road' initiative for Hajj pilgrims from Malaysia
15 July 2018
Saudi Arabia has officially launched the Mecca Road Initiative by commissioning the first two flights of pilgrims from Kuala Lumpur International Airport.
The initiative began with ending the entry visas into Saudi Arabia from a pilgrim's own country, at the airport where the originating flight takes off from, in collaboration with various related Saudi government agencies to facilitate pilgrimage arrangements and requirements.
This comes as the Saudi Ministry of Health announced that they have begum checking of pilgrims' health requirements electronically without the need to see the papers of vaccines at the airport in Kuala Lumpur on the first trip of the pilgrims of Malaysia, which arrived on Saturday at the Prince Mohammed bin Abdul Aziz Airport in Madinah under the initiative Mecca Road where fingerprints were taken and passports stamped at the pilgrims' country of departure and their entry into Saudi Arabia would be facilitated like a domestic flight while their baggage would be sent to their places of residence through the Ministry of Hajj.
Saudi, Malaysian and Indonesian officials, prepared in past weeks to launch the first pilgrim flights from the Kuala Lumpur and Soekarno-Hatta international airports.
Saudi Arabia has started implementing the 'Mecca Road' service to finalize the pilgrims' entrance procedures to Saudi Arabia from inside their home countries through unified electronic paths in the airports covered.
Full report at:
https://english.alarabiya.net/en/features/2018/07/15/Saudi-Arabia-launches-Mecca-Road-initiative-for-Hajj-pilgrims-from-Malaysia.html
--------
Egypt sentences 24 Brotherhood men to life
July 15, 2018
CAIRO: An Egyptian court on Saturday sentenced 24 members of the outlawed Muslim Brotherhood to life imprisonment over charges of inciting violence and terrorizing citizens, official news agency MENA reported.
Life sentence in Egypt is 25 years in prison. The case dates back to 2014, when 27 people affiliated to the Muslim Brotherhood organized a march in the Delta province of Sharqiya.
They were accused of throwing incendiary bottles, committing sabotage, hindering the traffic and distributing booklets against the armed forces and the police.
Three others were sentenced to three years in prison over the same charges.
Egypt has been witnessing anti-security attacks since the army-led ouster of the former Islamist leader Mohamed Morsi in 2013.
Morsi's Muslim Brotherhood was added to the terror list in 2014.
Full report at:
https://nation.com.pk/15-Jul-2018/egypt-sentences-24-brotherhood-men-to-life
--------
Syrian Army on Verge of Full Control over Northern Dara'a
Jul 14, 2018
The army forces engaged in clashes with the terrorists South of the town of Ankhal in Northern Dara'a, retaking control of the village of Kharbat al-Saraya and an adjacent hill as well as al-Motawwaq hills.
Meantime, militants in the town of Jassim in Northwestern Dara'a agreed to deliver control of the region and surrender their arms and military equipment to the army soldiers.
Local sources also reported that the militants have agreed with rendering control of the strategic al-Hareh hill in Northwestern Dara'a near the Golan Heights in Quneitra province to the army troops, adding that residents of the town have called on the terrorist groups to leave.
A small number of towns and villages in Northern and Northwestern Dara'a are still under the terrorists' occupation now after the army's recent advance.
In a relevant development earlier today, the Syrian army continued its military operations against the terrorist groups in Dara'a, and managed to purge terrorists from neighborhoods East of the city.
Battlefield sources said that after the terrorist groups agreed with the Syrian army's peace plan in Dara'a city, the army imposed full control over Dara'a al-Balad region.
The sources also reiterated that the Syrian army has purged terrorists from Eastern Dara'a after the army's successful military operation in the province and militants' endorsement of the peace plan in several regions.
The Syrian army is now in full control in 84 percent of lands in Dara'a province or an area covering 3200 square kilometers.
Full report at:
http://en.farsnews.com/newstext.aspx?nn=13970423000951
--------
US, Western Arms Found in Terrorists' Strongholds in 2 Syrian Provinces
Jul 14, 2018
The Syrian army units found an underground cache of weapons and ammunition of the ISIL during mop-up operations in the town of al-Hassarat in West of Albu Kamal region in Southeastern Deir Ezzur which included US and western-made mortars and RPGs, Grad missiles and satellite communication systems.
Also, the army forces in the town of Aqrab in Southwestern Hama found a hideout of terrorists which included a large number of weapons and ammunition as well as military equipment.
Meantime, field sources reported that the Syrian army troops found a large number of sniper guns made by the western countries, PKC machine-guns and different types of advanced military equipment.
In a relevant development on Thursday, the Syrian army forces discovered British and US-made military equipment in the terrorists' strongholds near the Syria-Jordan borderline during cleansing operations in Dara'a province.
Field sources reported that the Syrian army's engineering units found British military vehicles near the border with Jordan used by terrorists to carry weapons and personnel, during purging operations in Southern Dara'a.
Meantime, the army units found several caches of weapons and military equipment, including TOW missile-launchers and US armored vehicles, in the villages and towns of Southeastern and Northeastern Dara'a.
Full report at:
http://en.farsnews.com/newstext.aspx?nn=13970423000883
--------
Syrian Army Repels Terrorists' Offensive in Sweida
Jul 14, 2018
The army men engaged in tough battle with ISIL in Al-Zolf Dam in Eastern Badiyeh (Desert) in Sweida, and managed to beat the terrorists back.
In the meantime, the army's artillery unit pounded ISIL's movements in the battlefield.
The ISIL suffered heavy casualties and its military hardware sustained major damage in the failed attack.
Field sources reported last month that the army sent a large convoy of military equipment to the Eastern desert of Sweida.
They added that the convoy which included several tanks, missile-launchers and vehicles equipped with heavy weapons was sent to Tal Sa'ad, the frontline of battle against the ISIL, through the village of al-Janineh in Northeastern Sweida.
Meantime, the Syrian army units engaged in fierce clashes with the ISIL terrorists in Badiyeh region of Sweida province, including al-Harmieh region.
Full report at:
http://en.farsnews.com/newstext.aspx?nn=13970423001088
--------
3 Notorious Terrorist Commanders Killed in Northern Syria as Tensions Rise
Jul 14, 2018
Field sources in Idlib province reported that one of the senior commanders of the ISIL terrorist group named Abu al-Bara al-Lazeqani was assassinated by Tahrir al-Sham Hay'at (the Levant Liberation Board or the Al-Nusra Front) terrorists in Sahl al-Rouj region, West of Idlib.
The sources also reiterated that after assassination of the ISIL commander by Tahrir al-Sham, clashes intensified between the two sides at a Tahrir al-Sham checkpoint in the town of Sarmin, Southeast of Idlib.
Meantime, the ISIL terrorists also shot dead Tahrir al-Sham Commander Abu Talheh in Saraqib city, Southeast of Idlib and they also injured another commander of the rival group.
A commander of Sultan Murad Brigade affiliated to the Free Syrian Army (FSA), namely Abu Ahmad Sansavi, was also gunned down by unknown assailants in the city of Dana.
Infighting among different terrrorist group has intensified as reports said the Syrian army plans to launch an assault on terrorists in Idlib province once its mission in the Southern province of Dara'a is accomplished.
Relevant reports said last Wednesday that differences and feuds are increasing among the non-Syrian members of Tahrir al-Sham Hay'at, known as al-Turkistani Party, in Northern Syria amid reports on the Syrian army's imminent operation in the province.
Militant-affiliated websites disclosed that a fresh wave of defections has been reported among the foreign members of Tahrir al-Sham, known as al-Turkistani Party.
The websites further said that Abu Mohammad Mansour, one of the commanders of al-Turkistani, has seized leadership of the terrorist group in a coup against al-Turkistani's former commander Abu Ibrahim.
In the meantime, a large number of terrorists were killed in heavy fighting between ISIL and Horas al-Din along a road to the village of Hafsarja in Northwestern Idlib.
Full report at:
http://en.farsnews.com/newstext.aspx?nn=13970423000997
--------
Kurdish Militants Selling US-Made Arms in Black Market
Jul 14, 2018
"The Kurdish fighters are selling the weapons supplied by the US to other militants," the Arabic-language Daily Sabah quoted local sources in Northern Syria as saying.
The sources said that the move by the Kurdish forces is made to meet their expenses.
They pointed to an agreement reached between Turkey and the US on Kurdish forces' withdrawal from the city of Manbij and other regions West of the Euphrates and surrender of their weapons to the US by end of 2018, and said that the Kurdish forces are worried that the Turkish army might conduct a new military operation against them in Northern Syria if they surrender their weapons.
"Hence, they are selling the weapons to other militant groups that operate in the same region," they added.
The US has delivered light and heavy weapons on a large number of trucks to the Kurdish forces in Northern Syria on the pretext of fighting the ISIL.
In a relevant development earlier in July, the US army dispatched a new military convoy to the Syrian Democratic Forces (SDF) in Hasaka province in Northern Syria.
Field sources in Hasaka province reported that Washington had sent a large military convoy, consisting of a large number of weapons, ammunition and military equipment to the US-backed SDF forces.
They added that the military equipment was carried on 200 trucks transferred through the border crossing of Simalka at the borders with Iraq to Northeastern Hasaka.
In a relevant development earlier in July, another convoy of weapons and military equipment was sent by the US to the SDF in Hasaka of Syria near the borders with Iraq.
The Arabic-language Smart News website affiliated to the militants in Syria reported that a new US military convoy was sent to the SDF in Northeastern Hasaka through Simalka passageway at the Iraqi borders with Syria.
It added that the convoy consisted of 100 trucks which carried military and armored vehicles and concrete blocks as well as oil tankers with kerosene cargos.
The US army had also dispatched military equipment to the Kurdish militias in Hasaka late last month, a media outlet reported as Washington continued all-out support for the group in Northeastern Syria.
The Arabic-language al-Watan daily quoted local sources as saying that the US-led coalition forwarded several personnel carriers and armored vehicles from Iraq to the Kurdish units stationed in Northeastern Hasaka via the Simalka border-crossing.
Full report at:
http://en.farsnews.com/newstext.aspx?nn=13970423000572
--------
Damascus-Stationed Terrorist Group Recruited in Afrin with 1,000 Forces
Jul 14, 2018
The Syrian Observatory for Human Rights reported on Saturday that Faylaq al-Rahman militants reinforced Brigade 135 in Northeastern Afrin (earlier held by the Kurdish forces) after it evacuated Eastern Ghouta of Damascus.
It added that Faylaq al-Rahman has hired over 1,000 militants from the population who have left Eastern Ghouta, Northern Homs and Southern Hama after giving them a second training in return for monthly salaries.
Meantime, the terrorist group has purchased heavy and light weapons as well as different types of ammunition to equip itself militarily.
The Turkish army had earlier accommodated the terrorists and their commanders who had been evacuated from Eastern Ghouta in Afrin after forcing the local civilian population to leave the region.
Relevant reports said in June that a notorious commander of Faylaq al-Rahman in Eastern Ghouta left Syria for Turkey, taking away a hefty amount of money following eruption of differences over militants' share of historical artifacts looted from the region.
Local sources said that Abu Tariq al-Sheifouni, a former commander of Faylaq al-Rahman in Eastern Ghouta escaped to Turkey via the town of Sheran in Northeastern Afrin in Aleppo province with $150,000 of the terrorist group's assets.
The sources further said that al-Shifouni's escape came after differences erupted between al-Shifouni and Chief Commander of Faylaq al-Rahman Abdul Nasser Shamir over distribution of a large amount of money and historical artifacts stolen from a Jewish church in Jobar region in Eastern Ghouta.
Full report at:
http://en.farsnews.com/newstext.aspx?nn=13970423000613
--------
Kurdish Forces Willing to Return Raqqa Dam, Al-Tabaqa Town to Syrian Army
Jul 14, 2018
The Kurdish-language Hawar news quoted Chairman of Syria's Democratic Council Ilham Ahmed as saying on Saturday that at present, talks have been held between the Syrian government and the local councils in al-Tabaqa to return al-Tabaqa dam experts and personnel to run the dam.
He also confirmed negotiations between the two sides to deliver control of al-Tabaqa town to the Syrian government, adding that, "Negotiations are still the best option for us to resolve all problems with the Syrian government instead of military solution."
Ilham said that more negotiations are likely on other issues as well.
In a relevant development on Thursday, the Syrian army reached an agreement with the SDF to retake control of a key neighborhood in Hasaka, media reports said.
The Arabic-language al-Watan newspaper reported that implementation of an agreement between the Syrian government and the SDF in Hasaka province in Northeastern Syria has started with the transfer of the control of occupied regions to the army.
It quoted dissident sources as saying that the SDF has surrendered control of al-Nashweh district in Hasaka city to the Syrian army, adding that the army has set up checkpoints near the region.
The SDF is now required to bring down the flags and slogans of Kurdish parties in the city in line with implementation of the agreement with the army.
Full report at:
http://en.farsnews.com/newstext.aspx?nn=13970423000500
--------
Iraq deploys security forces in Najaf after day of protests
14 July 2018
Iraqi security forces have deployed on the streets of the Shiite holy city of Najaf after a day of angry protests against poor public services and high unemployment.
Military vehicles and fire engines deployed along Najaf's streets on Saturday after demonstrators on Friday attacked the ruling Dawa party's office downtown and stormed the airport, forcing it to shut down.
Earlier in the day, Iraq's interior ministry has announced a nationwide state of high security alert in response to ongoing protests in the country's southern provinces over poor government services and corruption.
Iraqi Interior Minister Qasim al-Araji also announced that all arrest warrants against those who violated government departments and institutions have been issued and will be arrested in the next few hours.
Al Arabiya News Channel's correspondent reported power outages in the entire province of Najaf late on Saturday and that security forces have declared a curfew.
Earlier in the day, hundreds of Iraqis stormed the airport and halted air traffic in Najaf, extending protests following demonstrations in the southern city of Basra decrying poor government services and corruption.
Later on, reports confirmed protesters stormed the provincial government building in the Iraqi city of Karbala, a Reuters witness said, while in protesters in Basra province blocked the Safwan border crossing with Kuwait.
Full report at:
https://english.alarabiya.net/en/News/middle-east/2018/07/15/Iraq-cuts-off-electricity-in-Najaf-declares-curfew.html
--------
Syrian rebels surrender heavy weapons in Daraa city
14 July 2018
Syrian rebels in the southern city of Daraa were surrendering their heavy weapons to government forces on Saturday, state media said, under a deal brokered by regime ally Russia.
State news agency SANA said opposition fighters in the neighborhood of Daraa al-Balad, a district in the city's rebel-held southern half, handed over heavy ammunition and other equipment.
It came a day after the regime and rebels began dismantling the dirt barriers that had divided the city for years, AFP's correspondent said.
The agreement reached on Wednesday will see Daraa city -- the cradle of Syria's seven-year uprising -- fall back into government control.
Negotiated by Moscow, it provides for rebels to hand over heavy- and medium-duty weapons and to "reconcile" legally with the government, according to state media.
Those who rejected the deal would be allowed safe passage out of the city.
The terms mirror a broader deal announced on July 6 for the entire province of Daraa, which would be implemented in three stages: the eastern countryside first, then the city, and finally the province's west.
While rebels have handed over weapons to government forces in dozens of towns, no transfers of fighters or civilians to the opposition-held north have taken place yet.
The Daraa deals are the latest in a string of so-called "reconciliation" agreements that typically follow blistering military offensives.
After using the strategy to secure Damascus and other strategic parts of Syria since 2015, President Bashar al-Assad turned his attention to the south.
Beginning on June 19, Syrian and Russian bombardment pounded rebel areas in Daraa and the neighboring province of Quneitra, ostensibly protected by an internationally agreed ceasefire.
The onslaught came to an end with the July 6 ceasefire.
Regime forces now hold more than 80 percent of Daraa province, according to the Syrian Observatory for Human Rights, a Britain-based war monitor that relies on a network of sources inside the country.
Some western areas of the province remain under opposition control, and the deal excludes a southwestern patch held by an affiliate of ISIS.
Full report at:
https://english.alarabiya.net/en/News/middle-east/2018/07/14/Syrian-rebels-surrender-heavy-weapons-in-Daraa-city-State-Media.html
--------
Africa
At least 23 Nigerian troops missing after Boko Haram attack
2018-07-15
Kano, Nigeria, July 14, 2018 (AFP) -Twenty-three Nigerian soldiers are missing after Boko Haram jihadists ambushed a convoy in the remote northeast of the country, said military and civilian vigilante sources on Saturday.
"Up until now 23 troops have not been accounted for. They include five officers and 18 soldiers," a military officer in Maiduguri, the capital of Borno state, told AFP on condition of anonymity.
"They came under attack from Boko Haram terrorists in Balagallaye village in the Boboshe area outside Bama," the officer said.
The officer said that on Friday afternoon the soldiers had received a report that "around 100 terrorists" had gathered in Boboshe and that the "troops mobilised to fight them".
"Only three vehicles have made it back to Bama, the remaining eight and scores of soldiers are still missing. Their fate is still unclear," he said.
"We lost eight vehicles. That's a lot," the officer added.
A member of the civilian militia confirmed the officer's account, saying that "dozens" of soldiers are still missing.
"It is not known if they escaped into the bush, were killed or captured," he said.
"You know it is now rainy season and the roads are water-logged. The convoy got stuck in the mud and Boko Haram opened fire. It was a perfect ambush and the soldiers were on the defensive," he said.
"So far three vehicles have returned. The other eight have either been destroyed or captured by Boko Haram."
The group's Islamist insurgency has devastated the region since 2009, leaving at least 20,000 dead, displacing more than two million others and triggering a humanitarian crisis.
Despite persistent attacks, President Muhammadu Buhari maintains that Nigeria is in a "post-conflict stabilisation phase".
The former military ruler came to power three years ago on a promise to defeat Boko Haram, which is aligned to the Islamic State group and threatens security in the Lake Chad region.
But while there have been clear military gains since a counter-insurgency was launched in 2015, suicide bombings and raids remain a constant threat, particularly to civilians.
https://www.news24.com/Africa/News/at-least-23-nigerian-troops-missing-after-boko-haram-attack-20180715
--------
OBL bodyguard held in Tunisia over terror probe
July 15, 2018
TUNIS: A man who allegedly worked as Osama bin Laden's bodyguard has been detained in Tunisia as part of a terrorism probe after his expulsion from Germany, a prosecution spokesman said Saturday. Known as Sami A. by German authorities and Sami Idoudi in his home country, the Tunisian "has been taken into custody following a judicial decision by the prosecutor of Tunis," said spokesman Sofiene Sliti.
He was wanted on "suspicion of involvement in extremist activities in Germany", following an investigation by the anti-terrorism unit, Sliti added. Tunisian legislation allows cases to be brought against citizens accused of terrorism crimes abroad, Sliti said. The 42-year-old suspect returned to Tunis on Friday, following a lengthy legal battle in Germany over his deportation.
Idoudi had lived in Germany for more than two decades, staying in the country despite his asylum request being denied in 2007 as courts cited the danger of torture in Tunisia.
The legal dispute is set to continue as a German court on Friday ordered Idoudi be returned to the country, after a ruling blocking the expulsion arrived once his plane was already airborne.
The court said his expulsion was illegal and accused authorities of "knowingly" defying the order by completing his transfer to authorities in Tunis.
The Tunisian authorities "have not received any official written request" for his return, said Sliti, who also represents the country's anti-terrorism unit. He was unable to confirm whether Tunisian authorities intended to send the detainee back to Germany.
Full report at:
https://nation.com.pk/15-Jul-2018/obl-bodyguard-held-in-tunisia-over-terror-probe
--------
Eritrea president hails unity with Ethiopia on historic visit
July 15, 2018
ADDIS ABABA - Eritrean President Isaias Afwerki pledged to resolve his country's dispute with Ethiopia on Saturday in a historic visit to Addis Ababa aimed at cementing peace less than a week after the nations declared an end to two decades of conflict.
Isaias arrived in the Ethiopian capital just five days after Ethiopian Prime Minister Abiy Ahmed visited Eritrea as part of a dizzying peace process aimed at ending years of violence and animosity between the neighbours who were once part of the same nation.
Abiy and Isaias shared laughs and hugs at an official lunch on Saturday as the Ethiopian leader said his counterpart was "beloved, respected and missed by the Ethiopian people."
"We are no longer people of two countries. We are one," Isaias told political and cultural figures gathered in a palace built during Ethiopia's imperial days. "We'll go forward together."
Isaias started his three-day visit at Addis Ababa's airport, where he and Abiy strode down a red carpet as a brass band played and traditional dancers cheered.
The leaders then drove into the city on a road lined with thousands of people dressed in white shawls and waving palm fronds as Ethiopian and Eritrean flags flew side-by-side from lampposts.
There were also banners and pictures of the two leaders who on Monday signed a declaration declaring an official end to the war.
"Welcome home President Isaias!!" Abiy's chief of staff Fitsum Arega wrote on Twitter as the Eritrean leader arrived.
Later in the day, the two leaders flew to the southern city of Hawassa where Isaias toured an industrial park that's key to Ethiopia's economy.
Eritrea was once part of Ethiopia and comprised its entire coastline on the Red Sea until it voted for independence in 1993 after decades of bloody conflict.
The move left Ethiopia landlocked, and the deterioration of relations after the outbreak of the war in 1998 forced Addis Ababa to channel its foreign trade through Djibouti.
The two countries showed little sign of rapprochement since the signing of the Algiers peace agreement in 2000 after a conflict which left 80,000 people dead before settling into a bitter cold war.
Analysts say the surprisingly rapid burying of the hatchet was possible only because of Abiy's ascension to the post of prime minister in April.
As part of a whirlwind set of reforms, Abiy announced last month that Ethiopia would abide by a 2002 UN-backed ruling and hand back disputed border territory to Eritrea, including the flashpoint town of Badme.
However Ethiopia has not announced the pull-out of troops from the area.
Abiy then paid a historic visit to Eritrea, where the two leaders announced the re-establishment of diplomatic and trade ties that could mean big benefits for both nations, and the wider Horn of Africa region, plagued by conflict and poverty.
The emotional reunion between the two countries has allowed residents to speak to each other by telephone for the first time in two decades as communication lines were re-opened.
Direct flights are due to start next week.
"Can one find appropriate words to describe the intensity of popular emotions that has gripped both countries; the depth and significance of the promising changes underway in the region!" Eritrean Information Minister Yemane Gebremeskel said on Twitter after Isaias arrived.
Ethiopia's state-affiliated Fana Broadcasting Corporate said Isaias would also re-open the Eritrean embassy during his three-day stay.
A state dinner in his honour will be held on Sunday.
Eritrea and Ethiopia are both among Africa's poorest nations.
However, Ethiopia has seen double-digit growth in recent years and is seeking wider options for importing goods and exporting from its nascent manufacturing industry by eyeing ports in Somalia and Eritrea.
Meanwhile Eritrea, one of the world's most isolated nations, has pursued policies that have hamstrung the economy by scaring off investors, including an indefinite military conscription programme the UN has likened to slavery.
Amnesty International said Saturday that the newfound peace should be a catalyst for change in Eritrea, where thousands of people, including rights activists and opposition politicians are "languishing in detention simply for expressing their views."
"The end of hostilities with Ethiopia is a joyous moment for Eritreans, but it must be followed by tangible reforms that make a real difference in the daily lives of the people and put an end to decades of repression in the country," said Seif Magango, AI's deputy director for the region.
In a statement he said Eritrea was the biggest jailer of journalists on the continent, and that its last independent media house was shut down 17 years ago.
Full report at:
https://nation.com.pk/15-Jul-2018/eritrea-president-hails-unity-with-ethiopia-on-historic-visit
--------
Tunisia interrogates 'Bin Laden bodyguard' after he was deported by Germany
14 July 2018
Tunisian authorities said on Friday they are interrogating Tunisian national Sami al-Aidoudi, believed to have once been Osama bin Laden's bodyguard, as soon as he entered the country after being deported by German authorities where he had been living in the past 20 years.
Sufian al-Sulaiti, a spokesman for Tunisia's counter-terrorism apparatus said the German authorities "deported a Tunisian citizen called Sami in accordance with an Interpol warrant issued by Tunisia," pointing out that the Tunisian General Prosecution gave its approval to the national unit investigating terror crimes to "receive him upon arrival and interrogate him."
The spokesman added that "he was working as bodyguard for Osama Bin Laden, the former leader of the al-Qaeda terrorist organization after undergoing military training in Afghanistan, in addition to his involvement in extremist activities on German territories."
Full report at:
https://english.alarabiya.net/en/News/north-africa/2018/07/14/Tunisia-interrogates-Bin-Laden-bodyguard-after-Germany-deported-him.html
--------
Somalia: Al-Shabaab Carries Out Attack in Baidoa, Kills At Least 3 Soldiers
14 JULY 2018
The Al Qaeda-affiliated Somalia-based militant group Al-Shabaab was reported to have carried out an overnight attack in the southern strategic city of Baidoa.
At least three soldiers are confirmed dead and four others wounded in the attack which was targeted the residence of Deynunay police commissioner under Southwest state.
The police boss and others security officials have escaped unhurt from the grenade bomb thrown into his house, according to the eyewitnesses.
"Those killed and injured in the bomb attack were the security guards," said a local resident who spoke to Radio Shabelle over the phone from Baidoa town.
Al-Shabaab has claimed credit for the attack which seemed to be an apparent assassination against the key security officials in the building.
Full report at:
https://allafrica.com/stories/201807140032.html
--------
Europe
Britain refuses US request to extradite American 'terrorist' linked to Al Queda allies as family claim he is 'just a janitor'
14 July 2018
Britain has refused to extradite an American who fought with an Islamic terror group and who travelled to the UK despite being on a 'no-fly' list.
Muslim convert Brian Dempsey, 46, admitted to FBI agents in Rome that he had fought in Syria for the Al Qaeda ally Islamic Front before fleeing to Britain in 2014 – and has since resisted attempts to extradite him to the US.
District judge Kenneth Grant threw out the American extradition request at Westminster Magistrates' Court last year after ruling that Dempsey's conduct 'did not amount to an extraditable offence'.
The case has emerged now because the US government successfully appealed against the ruling at the High Court earlier this month, in papers seen by The Mail on Sunday. The case will now go back to an extradition court.
Dempsey, from California, who was arrested in Derbyshire last year, is said to have converted to Islam while working as a youth counsellor with US prisoners.
US court papers say Dempsey had conspired to travel to Syria in July 2013 to 'participate in combat'.
When, just six weeks later, he tried to return home via Rome, he was intercepted by FBI agents because he was on a no-fly list, which bans named individuals from travelling by plane to, from or within the US.
A former senior British terrorism officer said the US shared the list with Britain but added: 'It is not a perfect system.'
After the first FBI interview, Dempsey returned to Syria and in January 2014, when he once again landed in Rome, he was intercepted by FBI agents. This time he 'admitted he had travelled with the intention of fighting' and had, according to the High Court judgment, told a witness 'he had joined a group called Ahrar al-Sham in Azaz [a rebel-held Syrian city 20 miles from Aleppo] and, with that group, had engaged in fighting on two occasions'.
The High Court documents say Dempsey came to England in September 2014 and was arrested last year by police acting on the US extradition request. He was charged by the US government with 'making a false statement involving international terrorism'.
His niece Veronica DeAngelo, 27, from Sacramento, said: 'The FBI questioned the whole family. They believed that Brian had been involved in fighting. It was a shock. He would call me from England every now and again and told me he was doing janitorial work… he never sounded like an extremist.'
A Home Office spokesman said: 'We do not comment on matters of national security.'
http://www.dailymail.co.uk/news/article-5954637/Britain-refuses-request-extrodite-American-terrorist-linked-Al-Queda-allies.html
--------
Macron to discuss Syria, Iran and Ukraine with Putin: Elysee
14 July 2018
French President Emmanuel Macron will discuss Syria, Iran and Ukraine with Russian President Vladimir Putin when they meet in Moscow on Sunday, the day of the soccer World Cup final between France and Croatia, a source at the French president's office said.
Macron and Putin are expected to meet at the Kremlin before the kick-off.
The Elysee Palace source said the situation in Ukraine had not evolved enough for Macron to invite Putin to a Group of Seven summit in Biarritz, in the south of France, in the summer of 2019.
Following the G7 summit in Canada, Macron had said he would like to invite his Putin to Biarritz, but that it would depend on Russia's application of the process agreed in Minsk with France, Germany and Ukraine to resolve the conflict in Ukraine.
The source said the discussion would also be an opportunity for both leaders to draw their positions on the Syrian crisis closer.
On Iran, Macron urged Trump in vain earlier this year not to pull out of an international deal that eased sanctions against Iran in return for curbs on its nuclear program.
Full report at:
https://english.alarabiya.net/en/News/world/2018/07/14/Macron-to-discuss-Syria-Iran-and-Ukraine-with-Putin-on-Sunday-Elysee.html
--------
Italy transfers migrants off ship, but refuses them entry
14 July 2018
Italy transferred 451 migrants from a big fishing boat onto two border patrol vessels on Saturday in the Mediterranean Sea, but the migrants' ultimate destination remained uncertain after Italy's hard-line interior minister insisted they should be sent to Malta or Libya instead.
Interior Minister Matteo Salvini, who has forced migration to the top of Europe's agenda by refusing to let rescue boats dock at Italian ports, vowed to remain firm on Saturday as he created yet another standoff with hundreds of migrants stranded at sea.
Italian Premier Giuseppe Conte's office said three ideas were being considered: Redistributing the migrants among European countries, contacting Libyan authorities to arrange for their return, or keeping them on board the ships to screen them for asylum.
Both Italy and Malta refused to let the fishing boat dock. Malta said on Friday it had fulfilled its obligations by monitoring the vessel to see if it needed help. Malta says the ship's crew made clear they were heading toward the Italian island of Lampedusa and eventually moved out of Maltese waters.
Salvini and his transport minister insisted Malta should have opened its ports to the ship.
Early Saturday, the migrants were taken off the boat and transferred onto a rescue vessel from the EU border patrol agency Frontex and a ship from the Italian border police.
Salvini's office said he told the Italian premier the two ships should now be directed south toward Malta "or better Libya."
In just one month in office, Salvini has upended years of Italian policy toward migrants by refusing them entry. Italy in general feels that the European Union has left it alone to handle the tens of thousands of migrants coming across the sea every year. Salvini is pressing the EU to step up and take in the migrants who land in Italy and trying to helping Libya to prevent them from leaving.
Full report at:
https://english.alarabiya.net/en/News/world/2018/07/14/Italy-transfers-migrants-off-ship-but-refuses-them-entry.html
--------
French young man converts to Islam at Imam Reza Holy Shrine
July 14, 2018
Attending Razavi Holy Shrine and reciting his words of faith, a French young man converted to Islam.
This newly Muslim person who converted to Islam by attending at Astan Quds Razavi Office of Non-Iranian Pilgrims stated, "I have been living in France east part since my childhood and therefore, I have had lots of contacts with Muslims".
Noting that my family has always had a very open view toward other religions and saying that all religions have some common points with each other, he added, "I had many work and recreational travels to the Middle East and Islamic countries and I got familiar with Islam and found lots of common points between the two religions".
Saying that he has had lots of studies about Islam and Christianity, this young French man mentioned, "Although I am a Christian, I am not a specialist in it. Therefore, I found more practical and useful viewpoints and procedures about lifestyle in Islam and I got a positive opinion about it".
He went on to say, "All humans are looking for a better life. Islam is a strong religion in this area and it offers many points and orders for promotion and advancement of the mankind".
He said, "Although getting familiarity with the religion is very important for me, making acquaintance with an Iranian lady added to my understanding of Islam significantly. I decided to convert to Islam to have a better life".
Emphasizing that his conversation to Islam was totally personal and marriage was one of his reasons for accepting this religion, this Muslim convert said, "I am interested know more about Islam and Shia religion and I do want to try more in order to be better and more useful man".
In continuation of his remarks, he referred to the west's attacks toward Islam and Muslims and reiterated, "Being useful for yourself and others and also representing real Islam through behavior and action is the best way to encounter with enemies' soft war".
"Today is a starting point for me and I ask God in this very holy place to add to my comprehension and science of Islam and Shia", he added.
Full report at:
http://en.abna24.com/news/iran/french-young-man-converts-to-islam-at-imam-reza-holy-shrine_901681.html
--------
North America
Rouhani: Sanctions target ordinary Iranians; US isolated
Jul 14, 2018
President Hassan Rouhani says new US sanctions are aimed at targeting the Iranian nation, adding the plan has made Washington more isolated than ever, even among its allies.
"Today, the United States is isolated in the public opinion of the world, and is even more secluded among the Iranian people because the US sanctions plan is against the Iranian people," Rouhani said on Saturday.
Speaking in Brussels on Wednesday, US President Donald Trump boasted that his decision to leave the 2015 nuclear deal with Iran and reimpose sanctions on the country was creating "a lot of problems" for the Iranians.
"They're feeling a lot of pain right now," he told a news conference at a NATO leaders summit.
Rouhani said, "If the sanctions were for a particular sector and industry, they (the US) could be justified for their excuses, but these sanctions are a general and blind measure that would put pressure on the people of Iran."
"Therefore, their plan is to pressure the Iranian people, as they pressure other nations," he added.
The president said US leaders today are detested among Muslims and developing countries more than ever, and even face problems within the United States.
"Current American rulers are treating adventurously and illegally not only the Iranian people, but also other nations, and even their own allies," he said.
Rouhani referred to protests held in Britain against the visit of President Trump who had to hold his meetings outside London.
"You saw how the people of a nation most allied to the US reacted to Trump's recent trip to Britain. The people's encounter in London and other cities was such that they (authorities) had to change official ceremonies for the trip."
Rouhani said he is confident the United States cannot continue the path and policy that it applies to Iran, the Middle East, the world of Islam, other world powers and even its allies.
"And the path that the Islamic Republic of Iran has taken - the path of endurance, resistance, planning, coordination with the people and engaging with friendly governments around the world - can thwart the plots," he said.
"Today, we are more powerful than before to confront our enemy's plots and continue our path. Our people must rest assured that despite pressures, we can manage the situation with the support of the people and get over the problems."
The first group of US sanctions on Iran's automotive sector, gold trade, and other industries will "snap back" on August 4. Further sanctions on oil and transactions with the central bank of Iran will come into effect November 6.
Rouhani said state officials and the government have had "good contacts" with various European countries, China and Russia, as well as neighboring countries and important Asian countries to deal with the situation.
"The vast majority of countries for whom independence and sovereignty is important have answered positively and said they will not go under domestic American rules."
Rouhani said in the field of energy, transportation, basic goods and production, there will be no problem for the country.
"We have always won when the government and the people were together," he said, adding "we are very hopeful that Iran's economic engagement with the world will continue as before."
Full report at:
https://www.presstv.com/Detail/2018/07/14/568089/Iran-Rouhani-US-sanctions-Trump-Europe-economy
--------
URL: https://www.newageislam.com/islamic-world-news/sri-lanka-hindu-group-protests/d/115835
New Age Islam, Islam Online, Islamic Website, African Muslim News, Arab World News, South Asia News, Indian Muslim News, World Muslim News, Women in Islam, Islamic Feminism, Arab Women, Women In Arab, Islamophobia in America, Muslim Women in West, Islam Women and Feminism