New Age Islam News Bureau
13 March 2015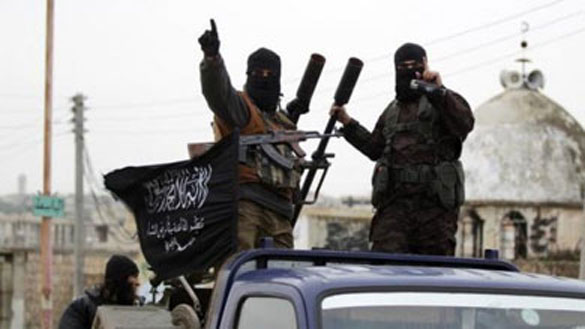 Members of al Qaeda's Nusra Front said they have seized control of from Syrian rebel factions, in the southern countryside of Idlib, December 2, 2014. (File photo: Reuters)
-----------
Pakistan
• Squeezed Taliban Factions Reintegrate for Survival
• End Rifts or Talks Won't Take Off, Pakistan Tells Afghan Taliban
• Terrorists will find no place to hide: COAS
• Pakistani brothers plead guilty to New York terror plot
• Lakhvi's detention declared void by IHC
• Lashkar-i-Islam merges into TTP
• Rangers get 90 days to quiz 28 MQM men
• Terrorism common AfPak enemy: PM
• Rabbani, Haideri new Senate custodians
• Two more convicts hanged in Faisalabad
----------
Arab World
• Clashes between Assad and Nusra Forces Kill 50
• GCC Invites All Yemeni Factions, Including Houthis, To Riyadh Talks
• Iraq's First Christian Brigade to Battle ISIS
• Minister accuses states of backing terror to target KSA
• Iraq forces tighten noose on IS in Tikrit
• Tikrit houses 'on fire' but U.S. can't confirm abuse
• Egypt's Salafist Nour Party says it is committed to running in election
• U.S. restates Assad must go as war enters 5th year
• Arab Gulf states reject Iran's role in Iraq
• Lebanon lawmakers fail to pick president for 20th time
----------
Africa
• ISIS Accepts Allegiance Of Nigeria Jihadists Boko Haram
• African States Want UN Fund To Fight Boko Haram
• Nigeria Drafts in Foreign Mercenaries To Take On Boko Haram
• Nigerian army retakes Adamawa state from Boko Haram
• Somalia's Shebab militants attack in central town of Baidoa
• Hundreds of witchdoctors rounded up in Tanzania
• Jordanian King Abdullah and Queen Rania visit Morocco
• ISIL 'accepts Boko Haram's pledge of allegiance'
----------
India
• 'Love Jihad' Gets a Bengal Reply: Bahu Lao, Beti Bachao, 'Purify' Muslim Brides
• To Keep Lakhvi in Jail Is Pakistan's Responsibility: India
• RSS mouthpiece shows PoK as Pak territory; Govt to probe
• Tipu Sultan's arms and armour to be auctioned in London
----------
Southeast Asia
• 11 Minors among Latest Indonesian IS Suspects
• Indonesia Shariah Insurance Growth Attracts AIG: Islamic Finance
• Hindraf wants rogue Islamic authorities reined in
• Jakarta rejects Aussie offer to pay for pair's jail time
• Vicar crucified over Muslim prayer service in his church
• Indonesia says 32 held or missing in Turkey, suspected trying to join Islamic State
------------
South Asia
• Govt Agrees To Review Deadline for Afghan Refugees' Return
• Arson Attacks on Court, Govt Offices in Bangladesh
• UK worried about media freedom
• Police: At least 6 dead in roof collapse at Bangladesh cement factory
• Brutal Murder in Bangladesh Highlights Growing Religious Intolerance
• 8 BNP-Jamaat men detained from Dhaka for blockade violence
• Kabul wants consulate in Lahore
------------
Mideast
• Khamenei Condemns Republican Letter On Iran, Bemoans US 'Tricks'
• Netanyahu Behind in Final Polling Day Before Election
• Shiite Militia Shoot Dead 2 Yemen Protesters
• Iranian Assyrians rally in protest at ISIL crimes
• 'Quiet' talks under way to end U.N. sanctions on Iran
• GCC states say Yemen crisis talks open to Houthis
• Export of Iran's revolution enters 'new chapter,' says general
• Israel's Arab parties hope for unity to win
• Veiled Turkish Politician Sues French Airport
-----------
North America
• Syed Soharwardy, Muslim Cleric, Issues Fatwa against ISIS
• 'Hug A Muslim' Project Goes Beyond Toronto
• Canadian defence minister tweets hoax photos from anti-Muslim hate sites
• Muslim college co-founded by anti-Israel firebrand receives accreditation
----------
Europe
• British Muslims Decry Gov't Witch Hunt
• British-Egyptians call on UK government to ban Muslim Brotherhood
• The Novel France Can't Put Down Depicts Muslim Future — Or Does It?
Compiled by New Age Islam News Bureau
URL: https://newageislam.com/islamic-world-news/squeezed-taliban-factions-reintegrate-survival/d/101939
----------
Pakistan
Squeezed Taliban Factions Reintegrate for Survival
March 13, 2015
ISLAMABAD - Following successful military operations against them in the tribal areas of the country, Tehrik-e-Taliban Pakistan (TTP), Jamaat ul Ahrar (JuA) and Lashkar-e-Islam (LeI) on Thursday announced forging an alliance for their 'survival' and vowed to carry out joint missions under the banner of TTP (Taliban's mother coalition).
"TTP, TTP-JuA and LeI have formed a strong coalition to fight against democratic, infidel and un-Islamic system," said senior Taliban commander Ehsanullah Ehsan in a statement. "This decision was taken by the leaders of all the three jihadi groups – Fazlullah Khorasani, Omar Khalid Khorasani and Mangal Bagh – in a joint consultative meeting," he said.
Giving details about their future plans and roles of different commanders in the organisation, he said, "An organising committee was formed which will make a central supreme council (Rehbari Shura) and an organising body in few days".
According to the militant commander, rift among the militants had surfaced due to the involvement of some 'hidden enemies' but in future the militants will "not let the conspiracies" of the opponents succeed. He also disclosed that in the recent actions of the forces four militant commanders of JuA including Shakeel Ahmad Haqqani were killed. He was very important commander of Pakistani Taliban who once worked as the head of central shura of Hakimullah-led TTP.
Doctor Tariq Ali aka Abu Obaidah al Islamabadi was another commander who according to the statement was killed by the Pakistani secret agencies. "The revenge of these commanders will be taken by TTP jointly," he warned.
Muhammad Khurassani, the official spokesperson of Mullah Fazlullah also confirmed the making of new coalition and said "the three powerful factions have been united". According to him in the first joint venture they will investigate elements behind the killing of "four members of JuA" and take "renege".
Over differences with Fazlullah-led TTP, JuA emerged in August 2014 as a new militant faction. Although Qasim Khurassani was named as the head of the group, Omar Khalid Khurassani was the real man behind the group who run its affairs.
In October 2014, when military operation Khyber-1 was launched against warlord Mangal Bagh-led group in Khyber Agency, both TTP and JuA had announced their supports to the LeI. However, relations between JuA and TTP remained tense and both groups alleged each other of indulging in anti-Shariah activities.
http://nation.com.pk/national/13-Mar-2015/squeezed-taliban-factions-reintegrate-for-survival
----------
End rifts or talks won't take off, Pakistan tells Afghan Taliban
March 13, 2015
ISLAMABAD: Days after word leaked that the Afghan Taliban had signalled willingness to enter talks to end Afghanistan's long war, senior representatives of the militant group visited Islamabad for secret discussions on the next step forward.
They left with a blunt message from Pakistan: the Taliban must end the rift between two top leaders, or talks might never get off the ground.
The warning was a reminder of how tough it will be to get insurgents and the Afghan government around the same table, let alone agree to a lasting peace, even with help from Pakistan.
The two senior Taliban figures in question are political leader Akhtar Mohammad Mansour, who favours negotiation, and battlefield commander Abdul Qayum Zakir, a former Guantanamo Bay detainee, who opposes talks with Kabul.
Also read| Pak facilitating talks between Afghan Taliban, govt: Sartaj Aziz
Mansour and Zakir, long-time rivals, met recently to resolve their personal differences, slaughtering sheep for a feast to mark the occasion, according to two Taliban sources.
But Mansour was unable to persuade Zakir to reverse his opposition to direct talks with Kabul, which he sees as "wasting time" because the United States holds real power in Afghanistan, the sources added.
Also read| Afghan Taliban deny reports of peace talks: spokesman
The latest peace initiative, considered more promising than recent doomed efforts because of Pakistani and Chinese mediation, is aimed at ending an escalating conflict in which hundreds of Afghans are being killed every month.
The potential breakthrough came after foreign combat troops withdrew at the end of 2014, leaving a smaller training force of about 12,000.
Both sides are deeply suspicious and the Taliban are expected to demand the immediate withdrawal of the remaining foreign troops, a request Afghan President Ashraf Ghani appears sure to reject.
Still, the process is at least moving, according to several Taliban sources in Afghanistan and Pakistan as well as senior Pakistani and Afghan officials.
Also read: US envoy praises Pakistan's role for peace in Afghanistan
This week, the US Special Representative for Afghanistan and Pakistan, Daniel Feldman, made an unannounced visit to Islamabad to discuss the possibility of talks, the Pakistani army said.
And in late February, a delegation led by Qari Din Mohammad Hanif of the Taliban's political office in Qatar met in Islamabad with Pakistani army leaders and Chinese diplomats, according to two Taliban commanders and two senior Pakistani officials.
The Taliban's official spokesman denied that the visit took place.
China's foreign ministry spokesman, Hong Lei said its diplomats in Islamabad met with Taliban representatives who "do not accord with reality".
A US government official said Feldman was in Pakistan as part of a business delegation, adding Washington had encouraged Pakistan and China to support Ghani's reconciliation efforts.
According to two senior insurgent commanders with direct knowledge of the Taliban delegation's visit to Islamabad, the group then met many Taliban leaders who remain in hiding, to brief them on preliminary discussions.
"They said Pakistani officials had advised them to remove our internal differences before starting formal talks with Kabul," one of the Taliban commanders said by telephone.
Because Zakir holds sway over several thousand fighters in eastern Afghanistan, it is uncertain any ceasefire could hold were he to continue opposing direct talks with Kabul.
The verdict of Mullah Mohammad Omar, the Taliban's reclusive supreme leader, could prove key. He has not been seen in public since the US-sponsored toppling of the Taliban after the Sept 11, 2001 attacks.
Search for "middle ground"
Some experts are more hopeful of progress this time around because of a Pakistani threat to arrest or expel Taliban leaders if they do not negotiate with Kabul.
That could force the Afghan Taliban to cut ties with al Qaeda and the separate Tehreek-i-Taliban Pakistan (TTP).
Also read: Lashkar-i-Islam merges into TTP
Renewed Pakistani pressure on the Afghan Taliban was galvanized by the TTP's massacre of 132 students in December at an army-run school in Peshawar.
In return for Pakistani support for talks, Afghanistan has targeted TTP strongholds in its eastern Kunar province, near the Pakistan border - an indication of improving relations under Ghani.
"It's early, but the signs are good," said Saifullah Mahsud, head of the FATA Research Centre, an Islamabad-based think-tank.
"The Afghan Taliban have their financiers, their businesses, their families here. The Afghan Taliban are smart enough to know that the Pakistani state is a better contact than the TTP."
Another new development is willingness by the Taliban to open talks without preconditions, said a senior Pakistani official with direct knowledge of the process.
However, Taliban representatives have indicated that, should talks begin, they would make demands including the immediate departure of all foreign troops.
A senior aide to Ghani said anticipated Taliban demands, which may also include re-imposing the harsh interpretation of Islamic law the movement enforced during its five-year rule, would be unacceptable.
The aide said Pakistani intermediaries were "working to find middle ground", but so far reported no change in the Taliban stance.
"If these demands are not softened," the aide said, "the first day of talks could become the last day of talks."
http://www.dawn.com/news/1169317/end-rifts-or-talks-wont-take-off-pakistan-tells-afghan-taliban
----------
Pakistani brothers plead guilty to New York terror plot
March 13, 2015
MIAMI: Two Pakistani-born brothers accused in a plot to detonate a bomb in New York City to avenge the deaths of people killed by drone attacks in Afghanistan, pleaded guilty to federal terrorism charges on Thursday in Miami.
Raees Alam Qazi, 22, and Sheheryar Alam Qazi, 32, were arrested in 2012, accused of providing support to al Qaeda to use a weapon of mass destruction.
The brothers are naturalised US citizens who were living in Fort Lauderdale, Florida at the time of their arrest.
The younger brother pleaded guilty on Thursday to conspiring and attempting to provide material support to terrorists and conspiring to assault a federal employee. He faces a maximum sentence of 35 years in prison followed by supervised release for life.
His older brother also pleaded guilty to conspiring to provide material support to terrorists as well as conspiring to assault a federal employee. He faces a maximum sentence of 20 years in prison followed by supervised release for life.
Sentencing was set for June 5.
"The plot was intended to further al Qaeda's message in the United States," said the US attorney for south Florida, Wifredo Ferrer.
He went on to say, "this case serves as an example of our commitment to protecting civilians from violent jihadi attacks."
Both pleaded not guilty after their initial arrest and were denied bail after a judge considered them a flight risk.
Raees Alam Qazi traveled to New York in November 2012 with the hope of finding a job to make enough money to build an explosive, according to court testimony from an FBI agent.
The younger Qazi told investigators after his arrest that he rode around New York on a bike looking for targets but never chose one and returned home four days later after running out of money, prosecutor Karen Gilbert said.
His older brother, a cab driver, was accused by prosecutors with supporting the plot, paying bills, providing a computer and a cellphone.
During recorded phone calls, Raees Alam Qazi asked about the size of crowds at Times Square, Wall Street and at some New York theaters, the FBI said.
In a search of the house where Raees Alam Qazi was living, authorities say they recovered a laptop computer that showed he had researched ingredients to make a shoe bomb.
http://www.dawn.com/news/1169322/pakistani-brothers-plead-guilty-to-new-york-terror-plot
----------
Lakhvi's detention declared void by IHC
March 13, 2015
ISLAMABAD: The detention orders of the alleged mastermind of the 2008 Mumbai attacks, Zakiur Rehman Lakhvi, were declared void by the Islamabad High Court (IHC) on Friday.
IHC's Justice Noorul Haq Qureshi accepted Lakhvi's appeal filed against his third time detention orders and ordered the immediate release of the alleged Mumbai attack mastermind.
The IHC had earlier reserved its decision over the application.
Lakhvi has been granted bail in both cases against him, including the 2008 Mumbai attack case and the six-year-old case pertaining to the kidnapping of an Afghan national.
Read: Lakhvi living comfortable 'detention' life in jail: BBC report
Lakhvi is accused of being the mastermind of the November 2008 Mumbai attacks, which killed 166 people. The Pakistani government took Lakhvi and other suspects into custody in February 2009 for 'facilitating' the attacks.
The Special Investigation Unit (SIU) of the Federal Investigation Agency (FIA) had also registered a First Information Report (FIR) against Lakhvi and six other alleged abettors in 2009.
Also read: Govt finally finds lawyer to prosecute Lakhvi
In August 2009, Chaudhry Zulfiqar Ali was appointed special prosecutor in the case. Later, Advocate Mohammad Azhar Chaudhry was also appointed senior prosecutor.
After the murder of Chaudhry Zulfiqar on May 3, 2013, the FIA handed over the job to Abuzar Hasnain Pirzada.
Read: Legal loopholes led to Lakhvi's bailing out
India and some other countries took strong exception to the granting of bail to Lakhvi by an anti-terrorism court, only a couple of days after the December 16 terrorist attacks on Army Public School, Peshawar.
This had forced the government to detain Lakhvi under the Maintenance of Public Order (MPO).
Also read: IHC orders conditional release of Mumbai attacks mastermind
The IHC on December 29 suspended the detention order, but the Supreme Court on January 7 restored Lakhvi's detention and asked the IHC to decide the matter after hearing the federal government.
The prosecution in the Mumbai attacks case has also filed a petition seeking the cancellation of Lakhvi's bail.
In the petition, the FIA's special prosecutor claimed that, "The fact remained that being the prosecution in such cases has been the most difficult job in our country for the last many years." The petition further states, "Even in this case, the prosecutors have been receiving threats on their cellphones during the proceedings which were duly conveyed to the concerned authorities. The witnesses are also not protected and were reluctant to depose against the accused persons in the given situation."
The government, in the meantime, had registered another FIR against Lakhvi on December 29 in a six-year-old case of the kidnapping of an Afghan national.
Lakhvi through his lawyer had filed petitions for his acquittal in the kidnapping case and for setting aside his detention order. Bail was again granted to Lakhvi on Jan 8, this time in the kidnapping case.
In-camera hearing of the petition filed by Lakhvi against his detention under the MPO were held initially, during which the federal government submitted on Tuesday some 'classified documents' before the court.
The court then resumed hearing in the open court.
Also read: Govt told to inform court before registering new cases against
On Mar 2, IHC directed the federal government not to register any new case against Zakiur Rehman Lakhvi, without informing the court.
http://www.dawn.com/news/1169306/lakhvis-detention-declared-void-by-ihc
----------
Lashkar-i-Islam merges into TTP
March 13, 2015
PESHAWAR: The outlawed Lashkar-i-Islam (LI) led by Mangal Bagh has merged itself into the Tehreek-i-Taliban Pakistan (TTP) under a reorganisation planned by militants.
According to a statement issued by Jamatul Ahrar spokesman Ehsanullah Ehsan here on Thursday, the reorganised TTP would consist of members of his group, LI and the remaining of the TTP. The head of the new set-up was yet to be named, he added.
The TTP disintegrated last year after a group led by Omar Khalid Khurasani based in Mohmand Agency revolted against Mulla Fazlullah and formed his own faction with the name of Jamatul Ahrar.
Know more: Interactive special: The consortium of terror
Khurasani had accused Fazlullah of siding with people whom he held responsible for killing top leaders of the group.
Before him, South Waziristan-based militant leader Khan Said alias Sajna abandoned the TTP which had been set up by Baitullah Mehsud in December 2007.
Ehsanullah Ehsan congratulated what he called "Mujahideen of Pakistan" on the unification of militant groups. He said the decision was taken at a meeting attended by Mulla Fazlullah, Omar Khalid Khurasani and Mangal Bagh.
Full report at:
http://www.dawn.com/news/1169243/lashkar-i-islam-merges-into-ttp
----------
Rangers get 90 days to quiz 28 MQM men
ISHAQ TANOLI
March 13, 2015
KARACHI: The Pakistan Rangers informed an anti-terrorism court (ATC) on Thursday that 28 suspects, including Muttahida Qaumi Movement leader Amir Khan, picked up from the MQM headquarters during Wednesday's raid were under 90 days of preventive detention for questioning.
The Rangers personnel and their prosecutor brought the blindfolded suspects to the anti-terrorism court amid tight security. Amir Khan was in handcuffs.
They produced the suspects before ATC-II and submitted that in exercise of power conferred by the provincial government on Nov 9, 2013, they detained the suspects upon receiving credible information about their involvement in offences relating to target killing and terrorist activities punishable under the Anti-terrorism Act, 1997.
Also read: Farooq Sattar rebuffs claims of confrontation with Rangers
Therefore, they said that detainees were placed under preventive detention for three months under Section 11EEEE (1) and in compliance of Section 11EEEE (3) of ATA they were produced along with copies of notification, detention orders and jail warrants for the court's information.
Some members of MQM's legal wing were present in the court and they asked the judge to call a report from the Rangers asking them what kind of credible information they had and why had they detained MQM coordination committee member Amir Khan despite the fact that the paramilitary force's spokesman had told the media that he was not arres­ted, but brought for inquiry.
Full report at:
http://www.dawn.com/news/1169236/rangers-get-90-days-to-quiz-28-mqm-men
----------
Terrorism common AfPak enemy: PM
March 13, 2015
ISLAMABAD - Prime Minister Muhammad Nawaz Sharif has said that building stable and cooperative relations with all countries of the region, including Afghanistan is part of his vision of a peaceful neighborhood.
He said this while talking to Afghan Minister for Refugees and Repatriation Sayed Hussain Alemi Balkhi, who called on him at the PM House here on Thursday morning.
He said with the change of leadership in Afghanistan our two countries have commenced a historic new phase in our bilateral relations, agreeing to overcome the past and building a forward-looking relationship based on mutual trust.
The Prime Minister said our focus is on enhanced political engagement, security and counter-terrorism cooperation, trade and economic partnership, and regional cooperation.
He said terrorism is a common enemy of the two countries and requires our common endeavours to defeat it. Both the countries have paid a very heavy price at the hands of terrorism and now we have launched Operation Zarb-e-Azb which has broken the backbone of terrorists network in the country, he said. We have a commitment, he said, not to allow our territories to be used against each other. Pakistan is in favour of an Afghan-owned and Afghan-led peace and reconciliation process.
Talking about Afghan refugees the Prime Minister said Pakistan is fully committed to the internationally endorsed Solution Strategy for Afghan Refugees. "The two countries should closely engage with UNHCR for devising a realistic roadmap for repatriation of the refugees," he said.
Full report at:
http://nation.com.pk/national/13-Mar-2015/terrorism-common-afpak-enemy-pm
----------
Rabbani, Haideri new Senate custodians
March 13, 2015
IMRAN MUKHTAR
ISLAMABAD
A week-long political manoeuvring and hullabaloo ended in the capital on Thursday as the lawmakers in the Upper House of the Parliament unanimously elected PPP's Raza Rabbani as Senate chairman while JUI-F's Abdul Ghafoor Haideri was elected as his deputy.
No parliamentary party in the Senate fielded its candidate against Mian Raza Rabbani as all parties of treasury and opposition benches except PTI had already nominated him their consensus candidate and consequently he was unanimously elected as Senate chairman.
Election for deputy chairman surprised many inside and outside the parliament as PTI candidate Syed Shibli Faraz bagged 16 votes against JUI-F candidate Abdul Ghafoor Haideri who got 74 votes. PTI has only six lawmakers in the house while it had the support of one senator of Jamaat-e-Islami (JI). So PTI candidate got nine extra votes against Haideri, a consensus candidate of treasury and opposition parties except PTI and JI. Total 96 votes were cast in the deputy chairman election while six were rejected.
Senator Farhatullah Babar termed the development an eye-opener for the Senate as this pattern of voting conveyed a very meaningful political message that needs to be heeded to. He asked whether it was a protest vote against the JUI-F for its views about women and progressive elements. "The six rejected votes could also be seen as a protest vote by some members ignoring party line," he said.
It is likely that some PPP lawmakers and some members of nationalist parties of Balochistan did not vote in favour of Haideri violating their parties' line because of JUI-F's religious outlook and its views about progressive elements.
Full report at:
http://nation.com.pk/national/13-Mar-2015/rabbani-haideri-new-senate-custodians
----------
Two more convicts hanged in Faisalabad
March 13, 2015
Faisalabad- Two death row convicts were hanged in Faisalabad Central Jail today.
According to details, Muhammad Akhtar and Sajid were executed after Fajar prayer. Muhammad Akhtar was executed for murder of a man and rape of a woman in 1999. Sajid had killed a woman in 2000. Both the convicts were sentenced to death by the Anti Terrorism Court (ATC). The bodies were handed over to their families after medical.
Full report at:
http://nation.com.pk/national/13-Mar-2015/two-more-convicts-hanged-in-faisalabad
----------
Arab World
Clashes between Assad and Nusra forces kill 50
12 March 2015
More than 50 regime soldiers and Islamist fighters were killed as they battled over a strategic hilltop in Syrian President Bashar al-Assad's home province, a monitoring group said on Thursday.
Government forces clashed with Al-Qaeda-affiliated militants backed by other armed Islamist groups in a village in Latakia province in the northwest.
The Syrian Observatory for Human Rights said the fighting broke out Wednesday and raged through the night in Jabal al-Akrad district, a rare rebel stronghold in the province, which is the heartland of the ruling Assad clan.
Al-Qaeda's Syrian affiliate Al-Nusra Front and its allies were seeking to recapture the village of Dourine, which overlooks their positions in one of the district's main towns, Salma.
They lost the village to Assad's forces last week after holding it for more than year.
"The clashes on Wednesday led to 50 dead from both sides. There are many casualties because the fighters are facing off directly," said Observatory head Rami Abdel Rahman.
"Al-Nusra managed to retake parts of the village, but the regime still controls the hilltop that overlooks Salma," he said.
Full report at:
http://english.alarabiya.net/en/News/middle-east/2015/03/12/Clashes-between-Assad-and-Nusra-forces-kill-50.html
----------
GCC invites all Yemeni factions, including Houthis, to Riyadh talks
12 March 2015
The six-nation Gulf Cooperation Council strongly backed the presidential legitimacy of Yemen's Abed Rabbo Mansour Hadi following a meeting of the GCC foreign ministers here Thursday. The ministers also threw their weight behind the political process led by the GCC, saying that all factions including the Houthi group will be invited to attend reconciliation talks in Riyadh.
"All parties will participate in the political conference to be organized by GCC in Riyadh with the sole aim to resolve the crisis," Khaled Al-Attiyah, Qatari foreign minister, told a press conference after the meeting. "But, no date has been announced for holding the political conference," said Al-Attiyah, whose country holds the rotating presidency of the bloc.
He said "the security of Yemen was an essential element for the peace and security of the Gulf region." Al-Attiyah also spoke at length on key regional issues including Iranian nuclear file, the Middle East peace process, Iran and Libya.
The Saudi delegation was led by Foreign Minister Prince Saud Al-Faisal.
Welcoming the GCC move, Al-Attiyah, on behalf of the GCC foreign ministers, renewed the call to all Yemeni parties "to work in the interest of Yemen amid concerns that the country is collapsing after it was taken over by the militants."
Full report at:
http://www.arabnews.com/featured/news/717331
----------
Minister accuses states of backing terror to target KSA
March 13, 2015
ALGIERS - Saudi Deputy Crown Prince and Interior Minister Mohammad bin Naif bin Abdulaziz has accused unnamed states of sponsoring terrorist groups to target Saudi Arabia.
Prince bin Naif, who is also Second Deputy Premier, made the statements during 32nd Meeting of the Arab Interior Ministers Council in Algeria. He said there were terrorist groups that are proxies 'of states and regimes that use their potentials to undermine our security and stability and the continuity of our existence,' Al Arabiya News Channel reported.
Addressing Arab foreign ministers, Prince bin Naif said: 'You know that the security of our countries is an integral part and we seek to protect the gains and the blood of the [Arab] nations.' He said: 'previous efforts to expose the danger of terrorism on our countries and the countries of the world were successful in preparing an Arab strategy to confront terrorism.' Full report at:
http://nation.com.pk/international/13-Mar-2015/minister-accuses-states-of-backing-terror-to-target-ksa
----------
Iraq forces tighten noose on IS in Tikrit
March 13, 2015
ALBU AJIL, Iraq - Thousands of Iraqi troops and militiamen laid siege to jihadist fighters holed up in Tikrit on Thursday, wary of rushing into streets littered with bombs and infested with snipers.
After making major gains in and around the city on Wednesday, commanders were confident that Baghdad's biggest victory yet against the Islamic State group was only a matter of time.
"Now we are moving to the second phase of our plan," Defence Minister Khaled al-Obeidi told reporters in Salaheddin province, of which Tikrit is the capital.
"We are very keen for our losses to be as low as possible. Time is on our side, we have the initiative," he said on the 11th day of the offensive. None of the fighting forces involved have provided casualty figures since the start of the operation to wrest back Tikrit, the largest since IS captured the city nine months ago.
Dozens of bodies are being driven south to Baghdad and the city of Najaf almost every day, however, and, while government forces have had the upper hand, IS has done damage with suicide car bombs, booby traps and snipers.
"We don't want to be rushed because we want to avoid casualties," Police Staff Major General Bahaa al-Azzawi told AFP in Albu Ajil, a village from which Tikrit can be seen across the Tigris river.
"Tikrit is sealed off from all sides," he said.
Troops and police as well as volunteers from the Popular Mobilisation units moved deep into the northern half of Tikrit on Wednesday and finished securing outlying areas. Tikrit was the hometown of executed dictator Saddam Hussein, whose Baath party collaborated with the militant when they took over almost a third of the country last June. With crucial military backing from neighbouring Iran and a 60-nation US-led coalition, Baghdad has rolled back some of the losses.
Full report at:
http://nation.com.pk/international/13-Mar-2015/iraq-forces-tighten-noose-on-is-in-tikrit
----------
Tikrit houses 'on fire' but U.S. can't confirm abuse
13 March 2015
The United States military has voiced concern over reports that Shiite militia have set fire to homes as they advance on the Iraqi city of Tikrit, although they have not yet confirmed cases of abuse during the major push against Islamic State of Iraq and Syria (ISIS) militants.
Iraqi security forces and mainly Shi'ite militia fought Sunni militants in Tikrit on Thursday, a day after they pushed into Saddam Hussein's home city in their biggest offensive yet against the militants.
U.S. officials said they were closely monitoring accounts from Tikrit, including video posted on social media, showing buildings being set ablaze. But attributing blame was tricky, they noted, pointing to accusations against both the Iran-backed militia and ISIS fighters.
"What we know is that there are houses on fire," said one U.S. official, speaking on condition of anonymity.
The top U.S. military officer, General Martin Dempsey, told Congress this week he had "no doubt" the Iran-backed militia and Iraqi security forces would retake Tikrit. But he voiced concerns about treatment of Sunni Muslims there.
Last month, former U.S. central command advisor Ali Khedery said that the U.S. was complicit in the abuses committed by Baghdad-sponsored militia groups.
"The United States is now acting as the air force, the armory, and the diplomatic cover for Iraqi militias that are committing some of the worst human rights abuses on the planet," Khedery wrote in Foreign Policy magazine.
ISIS fighters stormed into Tikrit last June during a lightning offensive that was halted just outside Baghdad. They have since used the complex of palaces built in Tikrit under Saddam, the executed former president, as their headquarters.
Full report at:
http://english.alarabiya.net/en/News/middle-east/2015/03/13/U-S-watching-Tikrit-blazes-with-concern-as-Iraqi-fighters-advance.html
----------
Egypt's Salafist Nour Party says it is committed to running in election
13 March 2015
Egypt's ultra-conservative Islamist Nour party says it is committed to participating in elections, in a boost to President Abdel Fattah al-Sisi, whose crackdown on critics has stifled much of Egypt's political opposition.
A parliamentary election, originally set for this month but now deferred for legal changes, is meant to be the last stage of a political road map that Sisi announced after he, as army chief, ousted president Mohamed Mursi of the Muslim Brotherhood in 2013 following mass protests against his rule.
The delay gives Sisi more room to wield sole legislative authority in a country that has not had a parliament since June 2012, although the government says it is committed to democracy.
"We, as the Nour Party, are committed to completing the road map," Nour leader Younes Makhyoun said in an interview on Wednesday in the Nile Delta town of Abu Homos. "Whatever the law, even if we object to it, we'll participate."
Nour was founded in the aftermath of the uprising that ousted Hosni Mubarak in 2011, and broke ranks with the Brotherhood after it became clear that Egypt's oldest and biggest Islamist group would not be able to stay in power.
Like the Brotherhood, it has gathered most of its support through charitable activities in poor areas where religion is prominent. But observers say it differs in being ready to seek accommodation in order to secure some influence and, perhaps, safety from repression. The group says it is not seeking political positions.
Full report at:
http://english.alarabiya.net/en/News/middle-east/2015/03/13/Egypt-s-Salafist-Nour-Party-says-it-is-committed-to-running-in-election.html
----------
U.S. restates Assad must go as war enters 5th year
13 March 2015
Marking the fourth anniversary of the civil war, the United States on Thursday made a fresh call for embattled Syrian President Bashar al-Assad to step down, as U.N. chief Ban Ki-moon on urged the Security Council to take "determined measures" to end the war.
"For four years the Assad regime has answered Syrians' calls for freedom and reform with unrelenting brutality, authoritarianism and destruction," State Department spokeswoman Jen Psaki told reporters.
"As we have long said, Assad must go and be replaced through a negotiated, political transition that is representative of the Syrian people."
Without the departure of Assad, it would not be possible "to fully stabilize" the country, Psaki said.
"On this somber occasion, we are reminded of all those who suffered and of the brave Syrians who stand up to tyranny and continue to struggle for a future of respect for basic rights, tolerance and prosperity."
The State Department's calls come as U.N. Secretary General Ban Ki-moon said in a statement that Syrians felt "increasingly abandoned" by the world "as they enter the fifth year of the war that has torn their country apart."
Full report at:
http://english.alarabiya.net/en/News/middle-east/2015/03/13/Assad-must-go-says-U-S-as-Syrian-war-begins-fifth-year.html
----------
Arab Gulf states reject Iran's role in Iraq
12 March 2015
The Gulf Cooperation Council expressed rejection to foreign interference in the Iraqi crisis, in reference to Iran's direct involvement in Iraq's war against ISIS, during a meeting held in Riyadh on Thursday
"The GCC Arab States confirm their support for Iraq's unity and territorial integrity and for the Iraqi government to help it for maintaining security and stability in Iraq, and non-interference in its internal affairs and extending its sovereignty over all its territory," said Qatari Foreign Minister Khalid al-Attiyah who chaired the session, in statements carried by the Saudi Press Agency (SPA).
Also read: Saudi FM: Iran is taking over Iraq
Attiyah said this "wont' be achieved but only with the cooperation of all spectrums of Iraqi people and concerted efforts to give priority to the interests of Iraq, preserve the coherence of its people and the unity of the national territory."
The Qatari foreign minister stressed the firm position of the Gulf stateson ridding the Middle East of nuclear weapons, while recognizing the right of countries in the region to possess nuclear expertise in the field of nuclear energy in accordance with the International Atomic Energy Agency standards.
Full report at:
http://english.alarabiya.net/en/News/middle-east/2015/03/12/Arab-Gulf-states-reject-Iran-s-role-in-Iraq.html
----------
Lebanon lawmakers fail to pick president for 20th time
12 March 2015
Lebanon's parliament failed for the 20th time Wednesday to elect a president, after more than nine months with no head of state because of tensions linked to war-torn neighbor Syria.
The presidential vacuum is the longest since the end of Lebanon's civil war in 1990.
"Speaker of the House Nabih Berri postponed on Wednesday the presidential election session to April 2 due to lack of quorum," his office said.
Only 55 of the parliament's 128 members were present, less than the required two-thirds quorum.
Lebanon has been without a head of state since Michel Sleiman's term expired on May 25, 2014.
Full report at:
http://english.alarabiya.net/en/News/middle-east/2015/03/12/Lebanon-lawmakers-fail-to-pick-president-for-20th-time-.html
----------
Africa
ISIS accepts allegiance of Nigeria jihadists Boko Haram
13 March 2015
The Islamic State of Iraq and Syria (ISIS) group has welcomed a pledge of allegiance to it made by the Nigerian jihadist organization Boko Haram, according to an audiotape Thursday purportedly from its spokesman.
"We announce to you to the good news of the expansion of the caliphate to West Africa because the caliph... has accepted the allegiance of our brothers of the Sunni group for preaching and the jihad," ISIS spokesman Mohammed al-Adnani said in the message, using the Arabic name for Boko Haram.
Itself a radical Sunni Muslim movement, ISIS has seized large swathes of Iraq and Syria and declared an Islamic "caliphate" there, and has also drawn expressions of allegiance from jihadists in Egypt and Libya.
On Saturday, an audiotape attributed to Boko Haram leader Abubakar Shekau said "we announce our allegiance to the Caliph of the Muslims, Ibrahim ibn Awad ibn Ibrahim al-Husseini al-Qurashi," referring to #ISIS leader Abu Bakr al-Baghdadi.
Shekau has previously mentioned Baghdadi in video messages yet stopped short of pledging formal allegiance.
Full report at:
http://english.alarabiya.net/en/News/middle-east/2015/03/13/ISIS-accepts-allegiance-of-Nigeria-jihadists-Boko-Haram.html
----------
African states want UN fund to fight Boko Haram
March 13, 2015
New York- African states want the United Nations to set up a trust fund to finance a force to fight Boko Haram in Nigeria and called on the international community to supply intelligence and equipment, according to a draft U.N. resolution.
The draft U.N. Security Council text endorses the creation of a force by Nigeria and its neighbors Cameroon, Chad, Niger and Benin to take on Boko Haram. The 54-nation African Union has already approved a force of up to 10,000 troops.
Boko Haram has killed thousands of people in northeastern Nigeria in its six-year insurgency and has also pledged allegiance to the Islamic State, which has created a self-declared caliphate in parts of Iraq and Syria.
The text drafted by Chad, Nigeria and Cameroon, and obtained by Reuters, has not yet been circulated to the 15 Security Council members. Chad's U.N. Ambassador Mahamat Cherif has said he hoped the council could vote on a resolution by end-March.
The draft is under Chapter 7 of the U.N. Charter, allowing decisions to be enforced with economic sanctions or force.
A U.N. diplomat, speaking on condition of anonymity, said once negotiations begin among the 15 council members some of the key issues would likely be how to finance the operation and whether or not it needs to be a Chapter 7 resolution.
Full report at:
http://nation.com.pk/international/13-Mar-2015/african-states-want-un-fund-to-fight-boko-haram
----------
Nigeria drafts in foreign mercenaries to take on Boko Haram
March 13, 2015
JOHANNESBURG/DAKAR: Nigeria has brought in hundreds of mercenaries from South Africa and the former Soviet Union to give its offensive against Boko Haram a shot in the arm before a March 28 election, according to regional security, defence and diplomatic sources.
Rumours about the use of foreign "soldiers of fortune" against the Islamist militant group gained substance this month when pictures surfaced on Twitter showing armoured vehicles rumbling along a street in what was said to be Maiduguri, the regional capital of Nigeria's Boko Haram-hit northeast.
In one photo that appeared on Twitter on March 6, a white man in a khaki tee-shirt and body armour is shown beside a heavy-calibre machine gun on top of one of the sand-coloured vehicles as the column drives through the streets at dusk.
A Reuters reporter with knowledge of Maiduguri was able to verify the location of the photo as the Bama road, leading southeast out of the city, near the University of Maiduguri.
Election campaign posters of Borno state governor Kashim Shettima hanging from street lights indicate it was taken recently. The lights, notable for their ornate ironwork, were only installed last year.
In confirming the presence of hundreds of foreign military contractors on the ground, including recently in the city of Maiduguri, security and diplomatic sources put the total much higher than the hundred or so previously reported.
Nigerian government spokesman Mike Omeri declined to comment, referring questions to military spokesman Chris Olukolade, who also declined to respond to multiple requests for comment.
Full report at:
http://www.dailytimes.com.pk/region/13-Mar-2015/nigeria-drafts-in-foreign-mercenaries-to-take-on-boko-haram
----------
Nigerian army retakes Adamawa state from Boko Haram
Mar 13, 2015
The Nigerian army has managed to retake full control of the northeastern state of Adamawa from Boko Haram Takfiri terrorists.
"Troops today succeeded in clearing terrorists out of Madagali, the last of places held by the terrorists in Adamawa," the Nigerian military tweeted on Thursday, adding that a clean-up operation is underway in the liberated area.
There were no casualties among the government troops, according the army announcement.
In an interview published on Wednesday, Nigerian President Goodluck Jonathan predicted that the three violence-wracked states of Yobe, Borno and Adamawa in the northeast of the country would be recaptured in the next three weeks.
On the same day, Mike Omeri, the coordinator of Nigeria's National Information Center, also said the country's armed forces freed 36 towns from Boko Haram since the start of a military operation by regional West African countries against the Takfiri group.
Crucial "co-operations and alliances" have brought victories against the militants, Omeri said, adding, "It is hoped that the unfolding regional cooperation will hasten the total defeat and extermination of Boko Haram in Nigeria and the sub-region."
Full report at:
http://www.presstv.in/Detail/2015/03/13/401597/Nigeria-army-recaptures-Adamawa-state
----------
Somalia's Shebab militants attack in central town of Baidoa
March 13, 2015
Somalia's Al-Qaeda-affiliated Shebab militants yesterday attacked a fortified area in the central town of Baidoa, home to a key regional government headquarters, United Nations compound and airport, security officials said.
Officials said five gunmen opened fire at the gate of the high-security zone but were held off by Ethiopian troops. A source said an Ethiopian soldier was killed, while three of the attackers blew themselves up, another was shot dead and the fifth was shot and wounded, ending the attack.
Full report at:
http://www.thedailystar.net/backpage/somalias-shebab-militants-attack-central-town-baidoa-71365
----------
Hundreds of witchdoctors rounded up in Tanzania
March 13, 2015
DAR ES SALAAM - Over 200 people have been arrested in Tanzania as part of a nationwide crackdown on witchdoc tors linked to a wave of albino attacks and murders, police said Thursday.Police arrested 225 unlicenced traditional healers and soothsayers during a special operation carried out in several parts of the east African country and due to be extended to all 30 regions. "Some of those arrested were found in possession of items like lizard skin, warthog teeth, ostrich eggs, monkey tails, bird claws, mule tails and lion skin," said police spokesperson, Advera Bulimba. Bulimba said the police campaign would target the entire network of gangsters, traders and witchdoctors.
Full report at:
http://nation.com.pk/international/13-Mar-2015/hundreds-of-witchdoctors-rounded-up-in-tanzania
----------
Jordanian King Abdullah and Queen Rania visit Morocco
12 March 2015
King Abdullah of Jordan held "closed talks" with his Moroccan counterpart King Mohammed VI as the Jordanian royal arrived in Casablanca city on Wednesday.
Queen Jordan walks with Princess Lalla Salma of Morocco in Casablanca. (Al Arabiya.net)
The Moroccan leader along with his wife Princess Lalla Salma received King Abdullah and Queen Rania in a formal reception in Casablanca's royal palace.
Full report at:
http://english.alarabiya.net/en/News/middle-east/2015/03/12/Jordan-s-King-Abdullah-arrives-in-Morocco-.html
----------
ISIL 'accepts Boko Haram's pledge of allegiance'
12 Mar 2015
The Islamic State of Iraq and the Levant (ISIL) has accepted a pledge of allegiance to the group made by Nigeria's Boko Haram, according to an audiotape purportedly from its spokesman.
"We announce to you to the good news of the expansion of the caliphate to West Africa because the caliph... has accepted the allegiance of our brothers," ISIL spokesman Mohammed al-Adnani said in the message.
Inside Story: Why is Boko Haram teaming up with ISIL?
Al Jazeera cannot authenticate the audio recording, which was posted on ISIL-affiliated websites on Thursday, but it is similar to previous messages from Adnani.
Boko Haram's pledge to ISIL, attributed to leader Abubakar Shekau, was made in an audio recording posted on the armed group's Twitter page on Saturday, but it could not be immediately verified.
Full report at:
http://www.aljazeera.com/news/2015/03/isil-accepts-boko-haram-pledge-allegiance-150312201038730.html
----------
India
'Love jihad' gets a Bengal reply: Bahu lao, Beti bachao, 'purify' Muslim brides
March 13, 2015
The din over the 'ghar wapsi' reconversion campaign in the north and west may have dropped many decibels after Prime Minister Narendra Modi underlined "the undeniable right" of an individual's choice of religion. But in the east, the RSS and its affiliates are experimenting with another conversion programme — where, instead of hounding a Hindu-Muslim couple, they are actively facilitating their union. The only condition: the bride, in this case, is a Muslim who becomes a Hindu after a "suddhikaran" (purification) programme.
Also read: Sabina to Nandini, Kashmira to Kavita, Rukaiya to Rumpa…
In West Bengal, especially in districts where the BJP has made significant electoral gains — at the expense of a crumbling Left and Congress — the Hindutva brotherhood, from Vishwa Hindu Parishad to Hindu Samhati, Hindu Jagran Manch to Bharat Sevashram Sangha, have stepped up a campaign they call "Bahu lao, Beti bachao" (bring a daughter-in-law, save a daughter), saying this is their answer to "love jihad."
In sharp contrast to their hounding of Hindu woman-Muslim man couples, these groups actively "shelter, arrange" the marriage of Hindu man-Muslim woman couples.
Over two months, The Indian Express travelled through South 24 Parganas, North 24 Parganas, Murshidabad, Howrah and Birbhum — the rise of the BJP in these areas has coincided with the spread of this campaign — and met several couples who openly credit the Hindu groups for their marriage. VHP leader Badal Das, who is in charge of his organisation's role in the campaign, estimates that at least 500 Muslim and Christian women have "become Hindus through marriage" in the last one year. All women have adopted Hindu names and their families have been "advised" to join the BJP for their "own safety".
Full report at:
http://indianexpress.com/article/india/india-others/love-jihad-gets-a-bengal-reply-bahu-lao-beti-bachao-purify-muslim-brides/
----------
To keep Lakhvi in jail is Pakistan's responsibility: India
March 13, 2015
New Delhi- The overwhelming evidence against 2008 Mumbai attack mastermind Zakiur Rehman Lakhvi has not been presented properly before court by Pakistani agencies, the Union Home Ministry said today.
Responding to a Pakistan court order holding Lakhvi's detention illegal, the Ministry said that "it is the responsibility of the Pakistan government to take all legal measures to ensure that Lakhvi does not come out of jail."
Full report at:
http://nation.com.pk/national/13-Mar-2015/it-is-pakistan-s-responsibility-to-keep-lakhvi-in-jail-india
----------
RSS mouthpiece shows PoK as Pak territory; Govt to probe
Mar 13, 2015
NEW DELHI: The publication of mutilated Indian map in the latest edition of the Rashtriya Swayamsevak Sangh (RSS) mouthpiece 'Organiser' evoked strong reaction from the Opposition members in the Rajya Sabha on Friday. The agitated MPs wanted to know whether the government had approved such map.
Though the embarrassed government promised to investigate the matter saying it was not its stand nor of the RSS or the BJP over what is shown in the published map, the members led by leader of opposition Ghulam Nabi Azad put the treasury bench completely on back foot on the issue.
The 'Organiser' in its latest issue printed a map of South Asia, depicting a part of Jammu & Kashmir as Pakistan's territory. Although it quickly pulled out the map from its online edition, the print edition of March 15 carries the map showing Pakistan-occupied-Kashmir (PoK) as part of the neighbouring country.
Raising the issue in Zero Hour in the Upper House of the Parliament, Azad said, "Jammu and Kashmir is the crown of India and numerous sacrifices have been made to maintain it as the crown".
Observing that the BJP and the RSS have been in the forefront of protests whenever a foreign magazine showed PoK as part of Pakistan, the leader of opposition wanted to know from the government if it approved of the Organiser's map.
Full report at:
http://timesofindia.indiatimes.com/india/RSS-mouthpiece-shows-PoK-as-Pak-territory-Govt-to-probe/articleshow/46552029.cms
----------
Tipu Sultan's arms and armour to be auctioned in London
Mar 13, 2015
LONDON: A spectacular collection of arms and armour once owned by Tipu Sultan, the erstwhile King of Mysore, will go under the hammer here next month.
The items will be sold by Bonhams as part of the Islamic and Indian art auction at Bonhams New Bond Street on April 21, the auction house said in a statement.
All the items come from a single collection, which has been exhibited and published.
The collection features sabres, gem-set trophy swords, embroidered arrow quivers, exquisite quilted helmets, blunderbusses, fowling pieces, sporting guns, pistols, and a three-pounder bronze cannon, with each and every weapon a work of art in its own right.
Tipu's personal motif was the tiger, and he adorned both objects of art and instruments of war with images of the animal and with the tiger-stripe design, earning him the nickname the 'Tiger of Mysore'.
Full report at:
http://timesofindia.indiatimes.com/india/Tipu-Sultans-arms-and-armour-to-be-auctioned-in-London/articleshow/46548705.cms
----------
Southeast Asia
11 minors among latest Indonesian IS suspects
March 13 2015
The government has discovered that a group of Indonesian nationals detained after attempting to cross the Turkish border into Syria, allegedly to join the Islamic State (IS) militant group, are mostly children.
They are currently being held in the Turkish border city of Gaziantep, 97 kilometers north of Aleppo, Syria.
Coordinating Politics, Legal and Security Affairs Minister Tedjo Edhy Purdijatno said on Thursday that the group found at the Turkish border was not the group of 16 people that had earlier been reported missing from a tour group in Istanbul. "[This is] a second group. There is one man, four women and 11 children," he said at the Presidential Office.
Tedjo said the government could not confirm whether joining the militant group was the motive of their travel but the women had said that they were going to Syria to meet their husbands.
Last week, another group of 16 Indonesians had reportedly separated themselves from a tour party of 25 immediately after passing through immigration in Istanbul. They claimed that they would arrange family affairs but they failed to rejoin the tour party at the time scheduled in order to return home on March 4.
Foreign Minister Retno LP Marsudi confirmed that there were two groups of Indonesians attempting to reach Syria via Turkey. "There is indeed an indication that the [latest] 16 are different from the 16 [Indonesians] who [previously] went missing [in Turkey]," she said.
"I cannot confirm this yet since we have yet to receive formal confirmation from the Turkish authorities," she added.
According to Retno, President Joko "Jokowi" Widodo has told her to continue coordinating with other relevant ministries to investigate the matter.
Full report at:
http://www.thejakartapost.com/news/2015/03/13/11-minors-among-latest-indonesian-is-suspects.html
----------
Indonesia Shariah Insurance Growth Attracts AIG: Islamic Finance
By Yudith Ho and Liau Y-Sing
March 13, 2015
Indonesia's Islamic insurance industry is expanding three times as fast as Malaysia's, prompting American International Group Inc. and Sun Life Financial Inc. to seek a broader presence in the nation.
AIG is considering offering Shariah-compliant reinsurance, known as retakaful, in Indonesia in two years, the company's Malaysia Chief Executive Officer Antony Lee said in a March 6 interview in Kuala Lumpur. The initiative would complement an Islamic insurance business it started in the Southeast Asian nation in 2010 and speed up Indonesia's industry, which grew 34 percent to a record 22 trillion rupiah ($1.7 billion) in 2014, outpacing the 9 percent expansion to $6.1 billion in Malaysia.
Join Insurance Journal's community dedicated to helping agents find markets.
Sign up is free. It takes less than 60 seconds.
The pace of growth shows the nation with the world's biggest Muslim population is making some progress in catching up with the market leader Malaysia. Ernst & Young LLP forecasts the global Islamic insurance industry will expand to $20 billion by 2017, from an estimated $14 billion last year.
"Now that the takaful companies are showing great interest to increase their activities and offer new products in Indonesia, that shows good signs that there's demand for Shariah-compliant insurance," Abas A. Jalil, chief executive officer at Amanah Capital Group Ltd., said by e-mail Wednesday. "The growth will be much faster once the market starts to understand the takaful principle."
Full report at:
http://www.insurancejournal.com/news/international/2015/03/13/360423.htm
----------
Hindraf wants rogue Islamic authorities reined in
March 13, 2015
KUALA LUMPUR: Hindraf Makkal Sakthi, an ad hoc apolitical human rights NGO working across the political divide, has cautioned Putrajaya that Malaysia has embarked on "a dangerous path" if rogue Islamic religious authorities in the country are not reined in. According to the NGO, it appears very clear that the leaders of the country right from the Prime Minister, the respective Chief Ministers and Menteris Besar, Parliament, and Attorney General to the Inspector General of Police and police "are no longer in control of these religious bodies which seem to be acting beyond their jurisdiction and powers". "Enough injustice has been perpetrated against the non-Muslim community in Malaysia," said Hindraf chairman P. Waythamoorthy, a lawyer in private practice and until recently a Deputy Minister in the Prime Minister's Department and a Senator. "We urge Muslim political leaders from both sides of the divide to be bold enough to speak up, as fellow human beings, for the rights of the minorities and take responsibility to correct the religious persecution of non-Muslims." Barisan Nasional (BN) and Pakatan Rakyat (PR) leaders in their respective states must bring their religious bodies under control, he urged, "for we fear inaction would lead to an eventual violent reaction". He was commenting on the latest case, a 14-year old school boy in Seremban, who attempted suicide allegedly for fear of being taken away by Islamic religious authorities and having gone through a torturous ordeal. "This needs a serious overhaul in the mindset of politicians across both sides of the political divide," added Waytha. "Thiyagguru must have gone through great ordeal for him to have attempted to take away his life." Hindraf states that it's appalled that religious extremism among Islamic authorities in the country has reached a breaking point. "We could describe it as 'destructive' to the well-being and spirit of co-existence of the various races and religious groups in the country," said the Hindraf Chief. "There seem to be a disturbing silence amongst Muslim leaders in both BN and Pakatan Rakyat who dare not put the Islamic authorities under the control of the state government, let alone the Federal Government." He attributes the Islamic religious authorities getting out of control due to the amendment to Article 121 (1) (a) of the Federal Constitution in 1988. Full report at:
http://www.freemalaysiatoday.com/category/nation/2015/03/13/hindraf-wants-islamic-authorities-reined-in/
----------
Jakarta rejects Aussie offer to pay for pair's jail time
March 13, 2015
JAKARTA - Indonesia said Thursday it had rejected an offer from Australia to pay the cost of life imprisonment for two drug smugglers if they are spared the firing squad, as Jakarta signalled the executions might not take place for weeks.
Foreign Minister Julie Bishop made the offer in a letter to her Indonesian counterpart Retno Marsudi as Canberra explores all avenues to convince Jakarta not to execute the Australians, Andrew Chan and Myuran Sukumaran.
They are among several foreigners, including a Frenchman, a Brazilian, three Nigerians and convicts from the Philippines and Ghana.
However, the attorney-general's office confirmed Thursday they would stick to an initial plan of putting all the offenders to death at the same time, meaning the date might be pushed back for some time as authorities wait for several to complete legal appeals.
Bishop suggested a prisoner-swap with Indonesia in a tense phone call with Marsudi on March 3, which was rejected, and in a follow-up letter said Canberra was willing to pay for the pair's life imprisonment costs.
Full report at:
http://nation.com.pk/international/13-Mar-2015/jakarta-rejects-aussie-offer-to-pay-for-pair-s-jail-time
----------
Vicar crucified over Muslim prayer service in his church
March 13, 2015
LONDON: An Anglican vicar has ruffled the feathers of his congregation and other evangelical clerics for allowing a Muslim group to hold an Islamic prayer service at his church, St John's in Waterloo, central London. What's outraged them even more is that Reverend Giles Goddard even willingly participated in their prayers, declaring his love for Allah, which in his words was "the god that we love". Hitting out at Rev Goddard for going against canon law, which states that only the official liturgy be followed for services taking place in the church, the clerics also said the reverend had "offended" Christians by his liberal stance, the Daily Mail UK reported. Defending his actions to the Christian Today website, Rev Goddard however said it was not only legal and within the bishop's guidelines but that he was only offering the Muslims a place to worship. He added: "It is very much about St John's being a place of welcome. We understand God as a generous God, a God who celebrates love and celebrates life." He also told the Daily Telegraph: "They could have gone to a community centre, I suppose, but they loved being in a church, they were just really pleased and delighted to have the welcome and it was very moving, really.
Full report at:
http://www.freemalaysiatoday.com/category/world/2015/03/13/vicar-crucified-over-muslim-prayer-service-in-his-church/
----------
Indonesia says 32 held or missing in Turkey, suspected trying to join Islamic State
March 13, 2015
JAKARTA (Reuters) - Indonesian officials confirmed on Friday that up to 32 Indonesians had been detained in Turkey or gone missing after being suspected of trying to cross into Syria to join Islamic State (IS) militants.
Foreign Minister Retno Marsudi told reporters a group of 16 Indonesians, most of them women and children, had been arrested by Turkish authorities this week.
"We have obtained information that they were indeed trying to cross into Syria," she said, adding that Indonesia would send a team to help a Turkish investigation.
Marsudi said 16 other Indonesian citizens who went missing from a tour group last week had yet to be located, adding that Turkish authorities had yet to confirm if they were still in Turkey or had crossed into Syria.
National police chief Badrodin Haiti said on Thursday the groups were suspected of trying to join IS.
Full report at:
http://whbl.com/news/articles/2015/mar/13/indonesia-says-32-held-or-missing-in-turkey-suspected-trying-to-join-is/
----------
South Asia
Govt agrees to review deadline for Afghan refugees' return
March 13, 2015
ISLAMABAD: The government agreed on Thursday to reconsider the Dec 31 deadline for the return of Afghan refugees by committing to prepare a "realistic roadmap".
The flexibility on part of the government, which had been adamantly opposed to an extension in the deadline, was evident in a joint statement issued at the end of a tripartite meeting involving the Afghan government, the Office of UN High Commissioner for Refugees (UNHCR) in Pakistan and Afghanistan and Pakistan.
Meanwhile, Prime Minister Nawaz Sharif said during a meeting with Afghan Refugees Minister Sayed Hussain Alemi Balkhi: "The two countries should closely engage with the UNHCR for devising a realistic roadmap for repatriation of the refugees."
Afghanistan, Pakistan and the UNHCR have agreed to work together for formulating a "comprehensive plan" containing "realistic timelines" for the repatriation of refugees, according to the joint communiqué of the tripartite meeting.
The earlier decision of not extending the Dec 31 deadline had been unilaterally taken by Pakistan in January this year. It is believed that recent improvements in Pak-Afghan ties have made Islamabad soften its position.
Full report at:
http://www.dawn.com/news/1169246/govt-agrees-to-review-deadline-for-afghan-refugees-return
----------
Arson attacks on court, govt offices in Bangladesh
March 13, 2015
Government offices continued to face pro-hartal supporters' wrath as two offices in Barisal and another in Jhenidah were torched yesterday, the fifth day of the BNP-led combine's hartal.
In Barisal, unidentified criminals set fire to a room of the court building inside the compound of Senior Judicial Magistrate's Court in the city around 9:00pm.
Witnesses said the fire spread quickly to another room of the tin-shed building.
On information, firefighters rushed to the spot and doused the flames. Many important documents of the office were burnt, said a fire service man.
In another incident, the divisional office of the Directorate of Secondary and Higher Education on Gora Chand Das Road in the city came under an arson attack early yesterday.
Mustafizur Rahman, director of the office, said criminals threw a petrol bomb inside the office around midnight after breaking a window.
Computer monitor, printer, furniture and documents of the room were damaged, he said.
Abu Taher, a sub-inspector of Barisal Kotwali Police Station, said two bottles used for carrying petrol were recovered from the spot.
A general diary was lodged in this connection.
In Jhalakathi, criminals torched the Ponabalia union land office building in Sadar upazila early yesterday, gutting land-related documents.
Four rooms out of five of the building and all its furniture were completely burnt, said Majid Ali, superintendent of police in Jhalakathi.
Abul Hossen, a night guard of the area, said he saw smoke billowing from the office building before dawn.
Full report at:
http://www.thedailystar.net/backpage/night-time-buses-resume-trips-71350
----------
UK worried about media freedom
March 13, 2015
The British government has observed that some of the steps taken recently by Bangladesh government have generated concerns about civil society space, media freedom, and government power to suppress criticism or dissent.
The observation was made in the Annual Human Rights and Democracy Report 2014 released in London yesterday. The report is available on the website of UK Foreign and Commonwealth Office.
Saying the Bangladesh government has proposed revisions to the foreign donations act (pending parliamentary approval) and a new broadcast policy, the report added that some using digital media to criticise the government have been detained under the information and communication technology act.
The report in a part titled "Bangladesh – Political Violence" also said, the government also restored parliament's authority to impeach judges, which, depending on how it is implemented, could compromise the independence of the judiciary.
On political issue, it said after the January 5, 2014, elections, the BNP committed to peaceful protest, although political tension at the end of the year led to the re-emergence of widespread political violence.
Full report at:
http://www.thedailystar.net/backpage/uk-worried-about-media-freedom-71394
----------
Police: At least 6 dead in roof collapse at Bangladesh cement factory
March 12, 2015
At least six people have died and more than 60 were injured after the roof of a partially built cement factory collapsed Thursday in southwestern Bangladesh, police and fire officials told CNN.
Many of those injured were in critical condition, said Mohammed Bakir Hossain, the top government physician of Bagerhat district.
Mohammad Niazmur Rahman, the fire and civil defense official coordinating the search and rescue effort, said early Thursday evening that two people had been pulled alive from the rubble and as many as 30 others are believed to be still trapped.
Deputy inspector general of police of Khulna range SM Monir Uz Zaman said the number of those still trapped was unclear "as we're not sure how many people were working inside."
The collapse took place around 1 p.m. (3 a.m. ET) in Mongla, a port city in the Asian nation's Bagerhat District. The factory is owned by Sena Kalyan Sangstha, a welfare organization for former Bangladeshi troops and their beneficiaries, according to Rahman and other local officials.
Video from Boishakhi TV showed medical workers tending to the injured as they were wheeled into a local medical facility caked in dust.
Deadly incidents at factories and other buildings, sadly, are nothing new in Bangladesh.
The worst happened on April 24, 2013, when a nine-story building that housed five garment factories collapsed. Rescuers managed to save the lives of more than 2,400 people, but more than 1,100 died in the horrific accident.
Full report at:
http://edition.cnn.com/2015/03/12/asia/bangladesh-factory-collapse/
----------
Brutal Murder in Bangladesh Highlights Growing Religious Intolerance
BY RAZA RUMI
MARCH 12, 2015
With growing religious intolerance in Bangladesh, is the country heading for the same path as Pakistan, asks Raza Rumi?
The brutal, cowardly murder of freethinker Avijit Roy on the streets of Dhaka is a reflection of embedded intolerance in many Muslim societies. Bangladesh, despite its secular credentials, is no exception.
On February 26, Roy was hacked to death by extremists with machetes, while his hapless wife, Rafida Bonya Ahmed, was also injured. What's even more shocking was the fact that a good number of people witnessed the crime but did not intervene. Many were taping the violence on cellphones. Worse, according to media reports, the attack took place near a police check-post, erected for traffic control.
This incident left me deeply disturbed. As someone who was also subjected to (missed) bullets in 2014, Roy's murder brought back memories of my close brush with death, subsequent exile and the fear of returning to my own country, Pakistan. Like Roy and many others, Islamist extremists found my views unacceptable to the extent that physical elimination was the only answer. I miraculously escaped the assassination attempt, but my driver was killed and another companion was injured.
While a few gunmen were arrested, the trial lingers on. But from my experience as an analyst, Pakistani courts seldom punish attackers, and the masterminds are never apprehended or brought to book.
I had never met Roy, but I was aware of his powerful work. It is not easy to profess atheism when you belong to a Muslim country. Roy lived in the United States and ran a blog called Mukto Mona, (free mind), and he was vocal in opposing religious bigotry and intolerance. While he remained in the relatively safer climes of the US, he was still part of the discourse in Bangladesh, and this is why he was a threat to Islamist extremists.
He received regular threats on social media — an irony of the ostensibly postmodern 21st century. The online store that sold Roy's books was also harassed, and later it stopped displaying them altogether. In 2014, an Islamist said that Roy would be killed when he returned to his native country.
Full report at:
http://www.fairobserver.com/politics/brutal-murder-in-bangladesh-highlights-growing-religious-intolerance-54011/
----------
8 BNP-Jamaat men detained from Dhaka for blockade violence
2015-03-13
he Dhaka Metropolitan Police (DMP) Deputy Commissioner Masudur Rahman said they were picked up from various parts of the capital in a special 24-hour raid ending on Friday morning.
The five Jamaat and three BNP activists are believed to be linked with acts like vandalism, arson and firebombing of vehicles committed during an ongoing transport blockade and shutdowns, the official said.
More than a hundred people have died from such attacks, mostly from burns, after BNP-led 20-Party Alliance took to the streets from Jan 5, demanding interim polls under a non-partisan government.
Full report at:
http://bdnews24.com/bangladesh/2015/03/13/8-bnp-jamaat-men-detained-from-dhaka-for-blockade-violence
----------
Kabul wants consulate in Lahore
March 13, 2015
LAHORE - The Afghan government has come up with a proposal to open its Consulate General office in Lahore.
Afghan Ambassador in Pakistan Janan Mosazai held a meeting with Punjab Chief Minister Shahbaz Sharif here on Thursday.
During the meeting, the two leaders discussed the matters of mutual interest, promotion of Pak-Afghan relations and regional situation.
Full report at:
http://nation.com.pk/national/13-Mar-2015/kabul-wants-consulate-in-lahore
----------
Mideast
Khamenei condemns Republican letter on Iran, bemoans US 'tricks'
March 13, 2015
DUBAI - Iran's Supreme Leader hit out on Thursday at a letter by US Republican senators threatening to undo any nuclear deal between Washington and Tehran, saying he was worried because the United States was known for "backstabbing", Mehr news agency reported.
Ayatollah Ali Khamenei, the ultimate authority on all Iranian matters of state, added at a meeting with President Hassan Rouhani and senior clerics that whenever negotiators made progress, the Americans became "harsher, tougher and coarser". The letter signed by 47 Republican senators warned Iran that any nuclear deal made with US President Barack Obama, a Democrat, could last only as long as he remained in office - an unusual intervention into US foreign policy-making.
The White House has described the letter as "reckless" and "irresponsible," saying it interfered with efforts by six major powers to negotiate with Iran on a deal to prevent it from building a nuclear bomb.
Mehr quoted Khamenei as saying: "Of course I am worried, because the other side is known for opacity, deceit and backstabbing.
"Every time we reach a stage where the end of the negotiations is in sight, the tone of the other side, specifically the Americans, becomes harsher, coarser and tougher. This is the nature of their tricks and deceptions."
The clerical Supreme Leader said the letter was "a sign of the decay of political ethics in the American system", and he described as risible long-standing US accusations of Iranian involvement in terrorism.
Full report at:
http://nation.com.pk/international/13-Mar-2015/khamenei-condemns-republican-letter-on-iran-bemoans-us-tricks
----------
Netanyahu behind in final polling day before election
13 March 2015
The top-selling Yediot Aharonot showed Likud's main challenger, the Zionist Union coalition, winning 26 of the 120 seats in parliament against 22 for Netanyahu's party.
Its survey of 1,032 respondents by pollster Mina Tzemach put The Joint List, a newly formed alliance of Israel's main Arab parties, in third, with 13 seats.
The poll had a margin of error of 2.5 percentage points, the paper said.
A Panels Research poll published jointly by The Jerusalem Post and Maariv dailies showed the same four-seat gap between parties, with the Zionist Union winning 25 against 21 for Likud.
The survey of 1,300 people also saw The Joint List winning 13 places. It had a margin of error of 3.0 percent.
Full report at:
http://english.alarabiya.net/en/News/middle-east/2015/03/13/Netanyahu-behind-in-final-polling-day-before-election.html
----------
Shiite militia shoot dead 2 Yemen protesters
13 March 2015
SANAA: Shiite militiamen in Yemen killed two protesters on Thursday when they opened fire on a rally in support of the beleaguered Western-backed president, a medic and an activist said.
Thousands of people had joined the demonstration in the central city of Baida, which the Houthi militiamen who control the capital seized last month, said organizing committee member Fahd Al-Tawil. The Houthis fired live rounds to disperse them, said Tawil.
A medic said "two people were killed and six others were wounded," raising an earlier toll, after injured protester succumbed to his wounds.
Full report at:
http://www.arabnews.com/middle-east/news/717501
----------
Iranian Assyrians rally in protest at ISIL crimes
Mar 12, 2015
The Iranian Assyrians have held a demonstration in the capital city of Tehran to protest against the atrocious crimes perpetrated by the ISIL Takfiri terrorist group against religious minorities in Iraq and Syria.
On Thursday, hundreds of Iranian Assyrians gathered in front of the United Nations headquarters in Tehran to condemn the heinous killings of civilians, especially Assyrians, in the ISIL-held areas of Iraq and Syria, urging the international community to take action against the ongoing "genocide" in the two Arab countries.
The protesters also deplored the destruction of the ancient sites belonging to the Assyrian civilization in Iraq at the hands of ISIL extremists.
"What has happened to the Assyrians [in Iraq and Syria] over the past year is unparalleled in history," said the statement which was read aloud by Yonathan Betkolia, the representative of Assyrians at Iran's Parliament (Majlis).
The ISIL's ideology is in line with the oppressors who consider as legitimate the atrocities against Shia Muslims and Palestinians in other parts of the world, the statement added.
The demonstrators also called for "an emergency meeting of the UN Security Council in coordination with international human rights organizations and the European Parliament," stressing that the world body must mobilize all forces to secure the release of the Assyrians from ISIL captivity.
Full report at:
http://www.presstv.in/Detail/2015/03/12/401539/Iran-Assyrians-protest-ISIL-atrocities
----------
'Quiet' talks under way to end U.N. sanctions on Iran
13 March 2015
Major world powers have quietly begun talks on a U.N. Security Council resolution to lift U.N. sanctions on Iran if a nuclear agreement is struck, a step that could make it harder for the U.S. Congress to undo a deal, Western officials said.
The talks between Britain, China, France, Russia and the United States - the five permanent members of the Security
Council - plus Germany and Iran, are taking place ahead of difficult negotiations that resume next week over constricting Tehran's nuclear ability.
U.S. Secretary of State John Kerry told Congress on Wednesday that an Iran nuclear deal would not be legally
binding, meaning future presidents could decide not to implement it. That point was emphasized in an open letter by 47 Republican senators sent on Monday to Iran's leaders asserting any deal could be discarded once President Barack Obama leaves office in January 2017.
Full report at:
http://english.alarabiya.net/en/News/middle-east/2015/03/13/Talks-under-way-on-ending-U-N-sanctions-on-Iran-officials.html
----------
GCC states say Yemen crisis talks open to Houthis
12 March 2015
Talks aimed at pulling Yemen out of crisis are open to the Shiite Houthi militia which seized power in Sanaa last month, Qatar's Foreign Minister Khalid al-Attiyah said on Thursday.
The Houthis have opposed any change in venue for U.N.-brokered talks, which broke down after Western-backed President Abedrabbo Mansour Hadi escaped from house arrest in Sanaa last month.
Hadi, who has resumed power from second city Aden in the south, has proposed that talks move to neighboring Saudi Arabia.
The six Sunni-dominated Gulf Cooperation Council members agreed to that request last Monday but have not set a date for the meeting.
"The invitation concerns the Houthis," Attiyah, whose country currently holds the GCC's rotating presidency, told reporters following a meeting of Gulf foreign ministers in the Saudi capital.
"It's their business to accept or not."
GCC Secretary General Abdullatif al-Zayani confirmed that "the invitation was addressed to all "protagonists in the crisis in Yemen, which is a frontline in the United States war against al-Qaeda.
At the joint news conference with Attiyah, Zayani underlined that anyone joining the negotiations must adhere to Hadi's conditions.
These include rejecting "the coup d'etat" by the Houthis, returning seized military equipment and allowing the state "to recover its authority over all territory," Hadi said in a letter to Saudi King Salman.
The talks would aim for a resumption of the political process begun after the departure of former president Ali Abdullah Saleh in early 2012 after a bloody year-long popular uprising.
The process, which stalled after Houthis overran Sanaa in September, called for turning the republic into a federation of six regions -- a move rejected by the Houthis who say it would divide Yemen into rich and poor areas.
They have instead favored the "national dialogue" in the capital Sanaa under the supervision of UN envoy Jamal Benomar.
The planned talks in Riyadh would be a separate initiative, Zayani said.
Saleh's General People's Congress party has also warned that it will boycott talks held outside Sanaa. Saleh is widely accused of backing the Houthis.
Full report at:
http://english.alarabiya.net/en/News/middle-east/2015/03/12/GCC-states-say-Yemen-crisis-talks-open-to-Houthis-.html
----------
Export of Iran's revolution enters 'new chapter,' says general
12 March 2015
Iran's top general said Wednesday his country has reached "a new chapter" towards its declared aim of exporting revolution, in reference to Tehran's growing regional influence.
The comments by Major General Mohammad Ali Jafari, commander of the nation's powerful Revolutionary Guards Corps, come amid concern among some of Shiite Iran's neighbours about Tehran's role.
"The Islamic revolution is advancing with good speed, its example being the ever-increasing export of the revolution," he said, according to the ISNA news agency.
"Today, not only Palestine and Lebanon acknowledge the influential role of the Islamic republic but so do the people of Iraq and Syria. They appreciate the nation of Iran."
He made references to military action against Islamic State (IS) jihadists in Iraq and Syria, where the Guards have deployed advisers in support of Baghdad and Damascus.
"The phase of the export of the revolution has entered a new chapter," he added, referring to an aim of Iran's 1979 Islamic revolution.
In his speech to the Assembly of Experts, Iran's top clerical body, Jafari also mentioned Hezbollah, the Shiite militia and political party in Lebanon whose fighters fought a devastating war with Israel in 2006.
"Hezbollah and its resistance against one of the armies in the world -- that is to say the army of the Zionist regime.. is one of the Islamic revolution's miracles," he said.
"It is (part of) the powerful influence of the Islamic system as the helmsman in the region."
Jafari's remarks echoed those of another Iranian general, Qassem Suleimani, head of the Quds Force, the Guards' foreign wing, who has reportedly been posted in Iraq near the front line against IS.
Full report at:
http://english.alarabiya.net/en/News/middle-east/2015/03/12/Export-of-Iran-s-revolution-enters-new-chapter-says-general.html
----------
Israel's Arab parties hope for unity to win
12 Mar 2015
Nazareth, Israel - Though just over one week remains before Israel votes for a new parliament, there's not much of an election buzz here in Nazareth, the biggest majority-Arab city in Israel.
In Mary's Well Square - where the Angel Gabriel is said to have appeared to the Virgin Mary - four Arab Israeli men are chatting about the election, sitting around a small table on white plastic chairs.
Rasi Abu Amni, a 64-year-old who runs a fish restaurant in the square, said he thinks it is important to vote "to show we are here, and that we exist". But others at the table said they would not participate in the election.
That is despite the fact that for this election, four Arab-dominated parties - Hadash, Balad, Taal and the Islamic Movement - have joined forces to create a unified list. The four parties in the Joint List have starkly different ideologies, ranging from the far-left Hadash to the Islamic Movement, which identifies with the Muslim Brotherhood.
RELATED: Anti-Arab incitement grips Israel
The Joint List was formed after Israel's electoral threshold was increased from 2 percent to 3.25 percent last March - meaning that parties failing to garner more than this share of the vote will not be represented in the Knesset, Israel's parliament. Many suspect that Israeli Foreign Minister Avigdor Lieberman viewed the raising of the threshold as a way to reduce Arab representation in the Knesset. The Arab parties currently hold 11 seats in the 120-member Knesset.
So far, the Joint List has been light on policy, announcing that it is united on tackling racism and the Israeli occupation of Palestinian territories, reducing violence in Arab communities, boosting the employment of women, recognising unregistered Bedouin communities in the Negev region, and providing public transport to all Arab towns.
Abu Amni said he is frustrated with the Joint List, but would vote for it nevertheless. "Unity is really good, but it's too late. We needed this 20 years ago. We've been calling for the political parties to unite for a long time, and if they had united earlier, we could have less problems now."
Full report at:
http://www.aljazeera.com/news/2015/03/israel-arab-parties-hope-unity-win-150308065111823.html
----------
Veiled Turkish Politician Sues French Airport
12 March 2015
STRASBOURG – A veiled Muslim politician will sue a French airport authorities after being forced to take off her jacket at security checkpoint, in an incident that reflects increasing Islamophobia across Europe.
"I have been living in Europe for 31 years," the Justice and Development (AK) Party's deputy representative in Brussels, Asiye Bilgin, told Anadolu Agency on Thursday, March 12.
"Although I have faced many types of discrimination, I was never humiliated this much."
Though the Muslim woman, Bilgin, said was only wearing a sleeveless shirt, security officers forced her to remove her jacket at the airport.
When Bilgin refused to remove her jacket, a security officer yelled at her to do so.
"What you are doing is against religious freedom and human rights," she said she told the security officer.
She also asked for a private room to take off her jacket, instead of removing it in public.
"This is Strasbourg and there is no cabin here, you have to take off your jacket," Bilgin said another officer yelled.
Commenting on the incident, the head of passengers' control post at the Strasbourg airport revealed that the airport includes private cabins, unlike what the Muslim politician was told.
The AKP lawmaker lodged a complaint against the discriminatory treatment at the airport as well as giving false information to passengers.
"All Muslim women, especially the ones wearing hijab, can face inhumane treatment despite the universal values," Bilgin said.
"And this treatment took place in front of the ones who attempt to lecture Turkey on so-called humanity and freedom."
Full report at:
http://www.onislam.net/english/news/europe/483955-veiled-turkish-politician-sues-french-airport-.html
-----------
North America
Syed Soharwardy, Muslim cleric, issues fatwa against ISIS
Mar 11, 2015
Imam Syed Soharwardy of Calgary has issued a religious edict, or fatwa, against the Islamic State of Iraq and Syria (ISIS) and its recruitment efforts in Canada.
Soharwardy is head of the Calgary-based Islamic Supreme Council of Canada, a group he founded in 2000. He is also the founder of Muslims Against Terrorism and has worked to prevent the radicalization of youth in Canada.
He says what ISIS teaches its followers violates the Qur'an.
"It is based on their own political ideology and it is based on greed or temptation to control the area," he said.
"They are not sincere with Islam."
Soharwardy's fatwa was supported 38 imams and Islamic scholars. With the exception of one American, they are all based in Canada.
'Standing up against this evil'
However, he said threats of retaliation are making some Muslim leaders reluctant to speak out against ISIS.
"In my opinion I am doing the right thing standing up against this evil which is not only disturbing the peace of the world but is also responsible for killing thousands and thousands of Muslims around the world," he said.
Full report at:
http://www.cbc.ca/news/canada/calgary/syed-soharwardy-muslim-cleric-issues-fatwa-against-isis-1.2990404
----------
'Hug a Muslim' project goes beyond Toronto
13 March 2015
In Toronto, a blindfolded man stands between two signs with his arms extended. The first sign reads "I am a Muslim, I am labeled as a terrorist" and the second reads "I trust you, do you trust me? Give me a hug."
Photos and videos of the stunt went viral on social media and the world watched as the man was enamored with hugs.
The experiment, which was part of the Blind Trust Project initiated by three Canadian students, went on to inspire others to test the waters in New York, Germany, Sweden and Norway.
The #BlindTrustProject in Sweden
In the Big Apple, YouTuber Karim Metwaly recently tried his luck with notoriously tough-talking, busy New Yorkers.
While initially his tired shoulders started to shudder, he eventually got his prize: Not one hug but many.
"Damn that made me happy seeing a Jew hugging a Muslim that made my day! Good video Karim God bless you!" one commentator wrote on YouTube.
In Germany, a Syrian man also had his fair share of hugs.
The students who initiated the project told The Huffington Post Canada that they did not know what to expect.
Maaz Khan, who created the initial video in partnership with Mustafa Mawla and Asoomii Jay, said that the idea of blindfolding Mawla and asking for hugs came to them while shooting another video.
Full report at:
http://english.alarabiya.net/en/variety/2015/03/13/-Hug-a-Muslim-project-goes-beyond-Toronto.html
----------
Canadian defence minister tweets hoax photos from anti-Muslim hate sites
03/11/2015
Muslims in Canada have strongly condemned their country's defense minister for tweeting hoax photographs purporting to depict enslavement and oppression of women and girls by Muslim men. This comes amid accusations that the government is deliberately stoking anti-Muslim sentiment in the country.
The National Council of Canadian Muslims said the tweets by Minister of National Defense Jason Kenney were "corrosive" and "inflammatory" and provided "another example of our elected leaders, at best, ignorantly conflating Islam and Muslims with extremism and terrorism, and at worst, deliberately attempting to score political points by stoking divisions among Canadians."
On Monday, International Women's Day, Kenney, a member of Prime Minister Stephen Harper's governing Conservative Party, tweeted the images with a message saying "thank-you to the @CanadianForces for joining the fight against #ISIL's campaign to enslave women & girls."
on Twitter
Canada has deployed warplanes and ground troops that are taking part in airstrikes against Islamic State, also known as ISIS or ISIL, in northern Iraq.
In one image, young girls dressed head to toe in black are being led off in chains. In another, older women appear to be suffering the same fate.
A third image shows a smiling man with his arm around a young girl who is crying. Behind him is the black and white flag used by ISIS.
Full report at:
http://electronicintifada.net/blogs/ali-abunimah/canadian-defense-minister-tweets-hoax-photos-anti-muslim-hate-sites
----------
Muslim college co-founded by anti-Israel firebrand receives accreditation
Perry Chiaramonte
By Perry Chiaramonte
March 12, 2015
A California school co-founded by a firebrand who once called for an "intifada" in the U.S. has become the nation's first accredited Muslim college.
Zaytuna College, which operates out of two rented buildings in Berkeley, Calif., and had an enrollment of 30 in 2013, was officially accredited earlier this week by the Western Association of Schools and Colleges—one of the six academic organizations responsible for authorizing public and private colleges and universities in the United States. The certification means the school can apply for various federal and private grants, issue visas to international students and allow students to transfer credits to or from other accredited schools.
"Five years ago, we introduced an undergraduate liberal arts program inspired by the idea of restoring the holistic education that had been offered in the great teaching centers of Islamic civilization," co-founder and President Hamza Yusuf stated in an open letter on the school's website on Monday. "Today, Zaytuna's accreditation roots this vision in a reality recognized within American higher education. It gives our community its first accredited academic address in the United States. And we hope, God willing, that there will be more such Muslim colleges and universities to come."
The school offers one Bachelor of Arts, in Islamic Law and Theology. Course offerings include various courses on Islamic law, Introduction to the Koran, Ethics, Mathematics and History of the United States.
Yusuf, an Islamic Studies advisor at both Stanford University and University of California Berkeley, is known for being an outspoken critic of extremism. He drew a death decree from ISIS earlier this year for condemning the Charlie Hebdo massacre, in which workers at a French satirical magazine were killed by Islamist fanatics for publishing caricatures of Prophet Mohammad.
Full report at:
http://www.foxnews.com/us/2015/03/12/muslim-college-co-founded-by-anti-israel-firebrand-receives-accreditation/
----------
Europe
British Muslims Decry Gov't Witch Hunt
12 March 2015
CAIRO – Scores of British imams and leaders of Muslim organizations have issued a strongly worded public statement to condemn what they describe as 'crude and divisive' government, accusing it of criminalizing Islam.
"We reject the portrayal of Muslims and the Muslim community as a security threat," statement, seen by the Guardian, reads.
"The latest act of parliament, the Counter-Terrorism and Security Act, threatens to create a 'McCarthyite' witch-hunt against Muslims, with nursery workers, schoolteachers and universities expected to look out for signs of increased Islamic practice as signs of 'radicalization'."
Signed by more than 60 imams and Muslim leaders, the statement accused British government of exploiting the "terror threat" for political capital ahead of the general election.
"Exploiting public fears about security is as dishonorable as exploiting public fears about immigration," the statement reads.
"Both deflect attention from crises in the economy and health service, but are crude and divisive tactics, where the big parties inevitably try to outdo each other in their nastiness."
The letter cited the targeting of Muslims through anti-terror legislation following revelations that the Home Office is planning a "more assertive" stance against extremism.
"The latest Act of Parliament, the Counter-Terrorism and Security Act, threatens to create a 'McCarthyite' witch-hunt against Muslims, with nursery workers, schoolteachers and Universities expected to look out for signs of increased Islamic practice as signs of 'radicalization'," the statement reads.
"Such a narrative will only further damage social cohesion as it incites suspicion and ill feeling in the broader community.
"The use of undefined and politically charged words like 'radicalization' and 'extremism' is unacceptable as it criminalizes legitimate political discourse and criticism of successive governments," the letter said.
Full report at:
http://www.onislam.net/english/news/europe/483953-british-muslims-decry-govt-witch-hunt.html
----------
British-Egyptians call on UK government to ban Muslim Brotherhood
12 Mar 2015
The UK government must proscribe the Muslim Brotherhood immediately and ban its activities on British soil, a delegation of British-Egyptians has said.
They say the Brotherhood, which was declared a terrorist group in Egypt in December 2013, has "committed crimes against humanity."
The delegation, which included Muslim and Christian professionals, businessmen and representatives from civil society organisations, delivered a petition to the UK government calling for action "before girls are killed in British schools."
"Terror knows no borders, and the Muslim Brotherhood and its spin-offs know no mercy, their lust for power, quest for theocracy and desire for domination, make them all blood thirsty, and they will stop at nothing until they bring down civilization – West and East alike," the petition said.
In April last year, British Prime Minister David Cameron commissioned a review into the group, including its activities in the UK.
Although the review team, led by Sir John Jenkins, the UK's ambassador to Saudi Arabia, finished its work in July, the government has not released its conclusions.
According to the commissioning letter, Jenkins' team conducted "an internal government review into the philosophy and activities of the Muslim Brotherhood and the government's policy towards the organisation."
The Brotherhood, which has repeatedly denied any involvement in terror activities, submitted evidence to the review.
The petition warned the UK government it should move against the group as soon as possible.
"Soon enough we will see its devilish siblings such as ISIL (Islamic State in Iraq and Levant), Boko Haram (the militant Islamist group in Nigeria) enslaving and killing our young girls in the schools of London and globally," the petition said.
"The atrocities in Iraq and Syria are not to be separated from the evils dispensed in France, Australia, and Canada, nor can it be detached from the hatred poured all over Egypt since Mohamed Morsi was ousted from power in the June Revolution," it added.
Full report at:
http://english.ahram.org.eg/NewsContent/2/9/125078/World/International/BritishEgyptians-call-on-UK-government-to-ban-Musl.aspx
----------
The Novel France Can't Put Down Depicts Muslim Future — Or Does It?
March 13, 2015
Though it pretends to be about France's near future, Michel Houellebecq's controversial "Soumission" is also about its recent past. Set in the year 2022, the novel portrays a country riven by conflicting ideologies and worldviews, teetering on the edge of civil war. Yet, even as the streets of Paris become the stage for gun battles and bombings, men and women go about their lives as if tomorrow will be no different from today. When tomorrow does arrive, and turns out to be very different from yesterday, it is met with resignation rather than resistance. France is under new management, but it is business as usual.
Except, that is, for Jews.
As the world now seems to know — including those who, until last month, thought Houellebecq was a brand of Belgian beer — "Soumission" tells the story of the occupation of France. In the presidential elections of 2022, the Front National's Marine Le Pen seems poised to succeed François Hollande. (Of course, Hollande winning a second term in 2017 is one of several plot twists about as credible as the French baguettes at Walmart.) The election takes place against the background of armed clashes between FN supporters and Muslims, whose sinister nature is deepened by news blackouts (yet another Walmart baguette, given the ubiquity of social media and foreign news outlets).
Come the first round of voting, newscasters are shocked — shocked! — to discover that finishing in second place, behind Marine Le Pen, is Mohammed Ben Abbes, the leader of the Muslim Fraternity. A graduate of France's elite engineering school, Ben Abbes bears a passing resemblance to Egypt's Mohammed Morsi, ex-president and former leader of the now-outlawed Muslim Brotherhood. But the similarities end where political smarts begin: Ben Abbes is a subtle and canny politician. In order to block the Front National's path to power, he joins the defeated socialist and conservative leaders, Manuel Valls and Jean-François Copé, to form a "republican front."
Full report at:
http://forward.com/articles/216230/the-novel-france-cant-put-down-depicts-muslim-futu/
----------
URL: https://newageislam.com/islamic-world-news/squeezed-taliban-factions-reintegrate-survival/d/101939