New Age Islam News Bureau
1 Feb 2014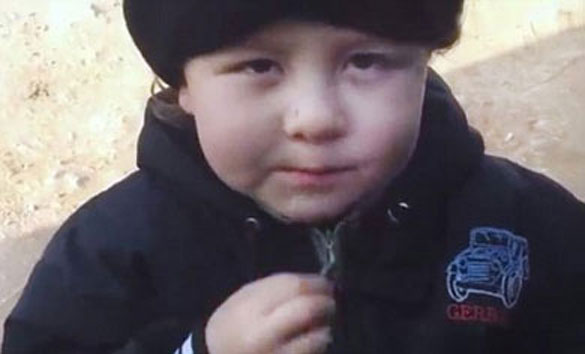 Children of war: The boy will have lived almost his whole life through the Syrian conflict, though with his high voice and chubby cheeks, he belongs more in infants' school than on a battlefield
------------
Arab World
• Spraying Bullets from AK-47, 4yr-Old Al Qaeda Fighter in Syria Who Should Be In Infants' School
• Iraqi Jews Seek to Prevent Return of Religious Artifacts to Iraq
• Iraqi army kills 40 ISIS fighters in Fallujah
• Airstrikes kill 13 Sinai militants: Egypt military
• Damascus 'got upper hand thanks to Iran'
• Kurdistan's "Islamic" parties seek to downplay Islam
• Syrian Army Repels Militants' Attack on Strategic Daraa Region
• Jabhat al-Nusra Insists on Destroying the Cherubim Monastery in Saidnaya
• More than 1,000 killed in Iraq in January
South Asia
• Foreigners opt to stay in Bangladesh beyond Ijtema to learn Islam
• Two militants blown up by own explosives in Uruzgan province
• Bangladesh aiming to boost ties with KSA: Nazmul Islam
• 331 Bangladeshis held in Malaysia
• Roadside blast kills 4 Afghan policemen in Kandahar province
Southeast Asia
• Three Child soldiers caught up in Muslim rebels' mayhem in Philippines
• Muslim Scholar Awarded Top Indonesia's Human-Rights Prize
• Saudi tourists continue to patronize Malaysia
• Former archbishop wants Catholic priests to network and foster religious harmony
Mideast
• Senior Judiciary Official: US, UK, Israel Supporting Takfiri Terrorists in Region
• Old manuscripts get facelift at Al-Aqusa Mosque
• 15 Palestinians shot in West Bank, Gaza demos: Medics
• Ankara alarmed over Qaeda threat in Syria
Europe
• UNESCO team 'shocked' at Egypt Islamic museum loss
• 'Don't stop serving pork in prisons, hospitals and schools for Muslims': Norway minister
• Bosnian Salafists movement on mission to recruit
• Satellite photos prove demolishment of entire Syrian neighborhood
• Terrorism in Syria cannot be fought using other terrorists - Russian FM Lavrov
• We can solve problems in Iran and Syria only in tandem with Russia - German FM
• German defense minister urges Karzai to sign Afghan-US security deal
• The British Government's Responsibility for Northern Nigeria
• Trials in France, Belgium Reflect Radicalization Fears
Africa
• Tunisia revives the dreams of the Arab Spring
• Two assassination attempts in Benghazi
• On the edge sectarian violence threatens fragile Algeria desert region
• Uganda archbishop responds to Welby on anti-gay laws
Pakistan
• Ahle Sunnat Wal Jamaat sit-in against Iran
• Maulana Abdul Aziz excuses himself from playing role in Taliban talks
• Counter IED School reveals clever ways to hide homemade bombs
• Imran urges govt, Taliban to ensure ceasefire
• Three killed, four injured in Karachi violence
• Four killed, 50 rounded up in Swabi raid
• 11 countries to be represented at Karachi Literature Festival
• Violence claimed 150 lives during January in Karachi
• Taliban asked to form negotiation team
North America
• 'Obama to visit Saudi Arabia amid tensions over Iran, Syria'
'• Homosexual and Stealth Jihad Agenda' Has Apparently Taken Over the Michigan GOP
• US sends warships amid Sochi Islamic militants threat
• Film series in Utah explores world of Islamic faith, history and art
• CAIR-NY Welcomes Mayor's Deal to End NYPD 'Stop-and-Frisk'
• The Lesson of WMDs: Obama and US Military Divided Over Syria
• Former U.S. Ambassador Hof: Iran Fears Saudi Arabia, Not Israel
• 'Military action likely' if Iran talks fail, US spokeswoman says
India
• No composite dialogue till end to terrorism: India to Pakistan
• J&K: Militant killed in encounter in Pulwama
Compiled by New Age Islam News Bureau
URL: https://newageislam.com/islamic-world-news/spraying-bullets-ak-47,-4yr/d/35548
------------
Arab World
Spraying Bullets from AK-47, 4yr-Old Al Qaeda Fighter in Syria Who Should Be In Infants' School
Feb 01 2014
He is barely old enough to go to infant school, let alone fight in a savage civil war.
Yet this youngster, believed to be just four years old, is one of the latest 'cub jihadists' recruited for bloody battle in Syria.
He can be seen firing rounds from an automatic assault rifle in a shocking video that has emerged from the war-torn country.
Counter-terrorism officials say it is further evidence of how jihadists are grooming children to become fighters, as Al Qaeda factions strive to establish a Taliban-like Islamic state in Syria.
The disturbing footage was posted on YouTube and is believed to be that of a son of a jihadist from Albania who is one of thousands of foreigners fighting with Al Qaeda in Syria.
The youngster, who wears a black ski mask, can be seen firing shots from a black AK-47-style automatic assault rifle with a folding stock.
He is so small that the barrel of the gun has to be supported by a section of road block so that he can cope with its weight.
The child opens fire to shouts of Allahu Akbar – Arabic for 'God is Greater' – before an arm reaches down and retrieves the weapon.
The video emerged as French President Francois Hollande yesterday claimed as many as 700 Britons are among extremists fighting in the Syrian civil war.
Speaking at a press conference after talks with David Cameron, the president said: 'We have young people who live in our respective countries who are being manipulated, and they are going off to the combat areas.
'Today we were exchanging figures – 600 to 700 young people are involved in each of our countries.'
That is almost double the most recent estimate by experts and comes amid 'huge concern' from security chiefs that the young jihadists will target Britain when they return from fighting in Syria.
The video of the four-year-old first emerged on January 21 on a YouTube channel operated by a jihadist who claimed to be based in northern Syria. It was entitled in Arabic: 'A message from one of the cubs of the Islamic State of Iraq and the Levant.'
The footage was removed after it was exposed by an American-based 'anti-jihad' activist who claimed it was evidence of child abuse.
Copies of the video, however, remained in circulation on other online channels.
Suspected British Al Qaeda fighters in Syria have been circulating other images showing children being trained to use deadly weapons in a jihad training camp.
The pictures showed children aged between nine and 15 in full battle dress and wearing black ski masks bearing the distinctive logo of Al Qaeda.
Many were seen holding Kalashnikov automatic assault rifles, tripod-mounted heavy machine guns and rocket-propelled grenades.
The video of the toddler emerged just days after the European Union's anti-terror coordinator warned that social media websites play a crucial role in recruiting foreign fighters to travel to Syria.
Gilles de Kerchove told the Home Affairs Select Committee that online messages, many posted by 'narcissistic youths posing with AK-47 rifles, had contributed to an acceleration in the number of Europeans, including Britons, travelling to Syria to fight – with many falling in with extremist groups.
The issue – which has become a key focus for the security and intelligence services – was among topics discussed by Mr Hollande and Mr Cameron. Syria is proving a popular training ground for would-be jihadists.
Sir Peter Fahy, Chief Constable of Greater Manchester Police – who leads the Association of Chief Police Officer's 'Prevent' strategy on counter-terrorism – told the BBC this week there was 'huge concern' that Britons arriving back after fighting in Syria posed a threat to the UK.
Scotland Yard has also said its biggest concern is that some could return as terrorists.
In the past month, 16 people have been arrested on suspicion of terror offences after travelling between Syria and the UK.
This compares with 24 in the whole of 2013.
http://www.dailymail.co.uk/news/article-2549768/The-4-year-old-Al-Qaeda-fighter-Syria-shooting-AK-47.html#ixzz2s1F76ppr
------------
Iraqi Jews Seek to Prevent Return of Religious Artifacts to Iraq
Feb 01 2014
WASHINGTON — Maurice Shohet shuffles through a box full of old black-and-white photos and reminisces about growing up in Baghdad, in one of the world's oldest Jewish communities.
The snapshots show family weddings and bar-mitzvahs, and there's one of him and his brothers in t-shirts, and his mother in a bulky old rowboat on the serene waters of the Tigris River.
The Shohet family fled Iraq in 1970 - crossing the border on foot in the dead of night - during the reign of Saddam Hussein's Arab nationalist Baath Party. But Shohet is still proud of his fatherland.
"I love Iraq because I was born and raised there. And the people are wonderful," he said, wistfully. "We cannot equate what happened at the time by the Baath regime as reflecting everybody."
Shohet loaned his family album to accompany a National Archives exhibit of a trove of Jewish religious books and community documents found in Baghdad during the Iraq war.
U.S. soldiers searching for weapons of mass destruction discovered them in the flooded basement of the Mukhabarat, Saddam Hussein's intelligence service.
The exhibit, "Discovery and Recovery: Preserving Iraqi Jewish Heritage," opens next week at the Museum of Jewish Heritage in New York, after being on display since November at the National Archives in Washington. It will run in New York until May 18.
Iraq's Jews once numbered about 150,000 and the archive offers a glimpse at the life of one of the most important Jewish communities of the Middle East, which dates back thousands of years, but was driven out in the 20th century amid Arab nationalism and the founding of Israel.
In total, more than 2,700 books and documents were recovered from the Mukhabarat headquarters, including dozens of Torah fragments, a "tik," or Torah scroll case, and scriptural books dating back to the 16th century. Many were printed in Baghdad, but some were brought from faraway places such as Venice.
They were in such bad shape - soggy and stuck together, and covered with mold - that they had to be frozen immediately despite the war situation, said Doris Hamburg, who directed the preservation effort.
"They were able, believe it or not, to find a freezer truck in these very difficult circumstances in Baghdad," she said.
According to the U.S.-Iraqi agreement to bring the items to the United States for restoration, they are scheduled to be shipped back to Iraq after the process is completed this year. The U.S. State Department says it has trained Iraqi archivists to make sure the collection is protected in Baghdad.
Iraqi Jews living in the U.S., though, backed by major Jewish organizations, say the U.S. government had no right to promise to return the archive.
Iraq's ambassador offered in an interview with the Jewish Daily Forward to delay the return of the artifacts.
For Maurice Shohet, that is not enough. He argued that Iraqi-Jewish expatriates were never consulted about the agreement, and maintains the items still belong to them.
"Because they were confiscated from us to begin with," he said. "So it has to be returned to the community, since there is no community left in Iraq, only five people who are afraid even to meet each other."
http://www.voanews.com/content/iraqi-jews-seek-to-prevent-retrn-of-religious-artifacts-to-iraq/1841076.html
------------
Iraqi army kills 40 ISIS fighters in Fallujah
Feb 1, 2014
The Iraqi armed forces, working with tribal fighters in Anbar province killed 40 fighters from the Islamic State of Iraq and Syria (ISIS), destroyed weapons and seized four ISIS headquarters in the city of Fallujah this week.
According to a statement by the Iraqi Defense Ministry, the 39th Brigade of the Iraqi army, reinforced by the Iraqi air force, took part in the operation.
Al Arabiya News Channel's correspondent reported on Friday that the Iraqi air force had targeted ISIS fighters in the city of Ramadi, in Anbar.
Sources speaking to the correspondent stated that the fighters had fled earlier from the al-Bofaraj area of Anbar, where security forces had launched an operation on Wednesday.
On Wednesday, Iraqi Prime Minister Nouri al-Maliki announced that his country refuses to arm "terrorists" in Syria, while Iraqi forces managed to regain control of some of the areas that were seized by ISIS fighters in Anbar province to the west of Baghdad.
Since December 2013, Iraqi forces, along with the police and tribal forces, have been battling to regain control over areas in Anbar, which shares a 300 kilometer border with Syria.
Parts of Ramadi and Fallujah have been held by militants for weeks, harkening back to the years after the 2003 U.S.-led invasion when both cities in Anbar province were insurgent strongholds.
http://english.alarabiya.net/en/News/middle-east/2014/01/31/Iraqi-army-kills-40-ISIS-fighters-in-Fallujah.html
------------
Airstrikes kill 13 Sinai militants: Egypt military
AP | Feb 1, 2014
EL-ARISH(Egypt): Egyptian military aircraft pounded suspected positions of al-Qaida-inspired fighters in the Sinai Peninsula, killing 13 people, officials said today, as fears rise over an increasingly well-armed insurgency that is striking with increasing regularity in the capital.
In the latest attack, bombs on a highway on Cairo's outskirts hit a police truck.
At the same time, protests by Islamist supporters of ousted President Mohammed Morsi brought further violence, with clashes in several provinces.
In an eastern Cairo district, an attempt by pro-Morsi protesters to commemorate dozens killed in clashes a week ago turned into new battles with police and pro-military civilians that authorities said involved fire by automatic weapons.
The Islamist protesters had tried to set up a stage in Naam Square, blocks from the fighting last Saturday, when civilians descended on them, firing birdshot and throwing stones, participants in the protest said.
Islamists have been protesting nearly daily for months demanding the reinstatement of Morsi, and have been met with a heavy crackdown that has killed hundreds and led to the arrests of thousands since army chief Abdel-Fattah el-Sissi removed the president on July 3. The deaths have brought a new tone from protesters one increasingly demanding vengeance.
"The demands in the first months after Morsi ouster was his reinstatement," said Hassan Farahat, one of the protesters at Naam Square. "But after all the massacres, the demand now is retribution and the execution of el-Sissi."
The military-backed government accuses Morsi's Muslim Brotherhood of orchestrating violence by Islamic militants and has officially declared the group a terrorist organization.
The Brotherhood denies the accusation, calling it a pretext for authorities to crush it.
Since Morsi's ouster, which followed giant nationwide protests demanding his removal, Sinai-based militants have stepped up a campaign of bombings, suicide attacks and shootings against police and soldiers, along with assassinations of senior security officials.
Last Saturday, militants downed a military helicopter in the northern Sinai, killing all five crewmembers.
The al-Qaida-inspired group that has claimed responsibility for most of the previous attacks Ansar Beit al-Maqdis, or Champions of Jerusalem said it downed the aircraft, posting a video of a fighter hitting a helicopter with a shoulder-fired missile. The video suggested the group has gained access to more sophisticated weaponry.
http://timesofindia.indiatimes.com/world/middle-east/Airstrikes-kill-13-Sinai-militants-Egypt-military/articleshow/29679748.cms
------------
Damascus 'got upper hand thanks to Iran'
Feb 1, 2014
Damascus is in a much better position today vis-à-vis its opponents in Syria thanks to the help it has received from Iran, President Abdullah Gül has said.
"For Iran, Syria is a matter of life and death. For us, it is a humanitarian issue. For Russia, it is a matter of warm seas, the only stronghold issue. It keeps saying 'I will end the war.' I had said earlier that the rhetoric of the Western world was strong but that would not be reflected on the field; it was only valor," he said while returning to Turkey from a trip to Rome.
"[Today], it is Damascus which has the stronger hand. How did it come to Geneva?" he said.
Speaking about Turkey's security risks in Syria, Gül said: "There is no [place] to be very optimistic about Syria's future. If a transitional government with power had come out of Geneva, maybe that could have fuelled hope for the future. That didn't happen. The next aspect we need to focus on are the threats and risks for Turkey that are being created in the environment that has emerged. Many groups have emerged in this uncertain environment," he said.
Full report at:
http://www.hurriyetdailynews.com/damascus-got-upper-hand-thanks-to-iran.aspx?pageID=238&nID=61850&NewsCatID=338
--------
Kurdistan's "Islamic" parties seek to downplay Islam
Assyrian International New Agency
Feb 01 2014
Erbil, Asharq Al-Awsat—Kurdistan's two main Islamist parties—the Kurdistan Islamic Group and Kurdistan Islamic Union—are witnessing separate internal attempts to drop the term "Islamic" from their names in order to broaden their public appeal.
Nazim Abdulla, a senior member of the Kurdistan Islamic Group led by Ali Bapir, has recently called on the party to drop the term "Islamic" from its name in order to strengthen its presence on the political scene. He warned that the Islamist group—colloquially referred to as Komal—might be losing potential supporters due to some Kurds being intimidated by the "Islamic" nature of the group. Abdulla said it was important to clarify that the Kurdistan Islamic Group was seeking to serve the interests of all Kurds "regardless of their ideological views or background."
Full report at:
http://www.aawsat.net/2014/01/article55328358
------------
Syrian Army Repels Militants' Attack on Strategic Daraa Region
Feb 01 2014
TEHRAN (FNA)- The Syrian army repelled an attack by the armed rebels in a strategic region in Daraa countryside in the Southern parts of the country.
The army pushed back the militants of the Ahrar Al-Sham and the Free Syrian Army (FSA) who were trying to seize a military center of the Syrian army in Ain Al-Tineh town in Al-Qanitreh region in Daraa countryside.
The Syrian army restored security to the international Damascus-Daraa highway by pushing back the militants from surrounding areas a few days ago.
Full report at:
http://english.farsnews.com/newstext.aspx?nn=13921112001112
------------
Jabhat al-Nusra Insists on Destroying the Cherubim Monastery in Saidnaya
Feb 01 2014
Militants from Jabhat al-Nusra (al-Qaeda) in collaboration with the Ghuraba' (Foreigners) Brigade have attacked the Cherubim monastery in Saidnaya, located on the highest hilltop in the Qalamoun mountain range. The militants have unsuccessfully been trying to sneak into and attack the monastery for the last couple of months. This time, they were able to start destroying the monastery, while aiming to bring down what they perceive as the "idolatrous" statue of Jesus.
http://www.blazingcatfur.blogspot.in/2014/01/jabhat-al-nusra-insists-on-destroying.html
------------
More than 1,000 killed in Iraq in January
Feb 01 2014
More than 1,000 people were killed in Iraq in January, official data showed on Friday, as security forces grapple with a surge in bloodshed and a standoff with militants.
A total of 1,013 people -- 795 civilians, 122 soldiers and 96 policemen -- died as a result of violence, according to data compiled by the ministries of health, interior and defence.
The figures also showed that 2,024 people were wounded: 1,633 civilians, 238 soldiers and 153 policemen. Security forces killed 189 militants and arrested 458 more.
January's overall death toll is the highest released by the ministries since April 2008, when 1,073 people were killed.
Full report at:
http://english.ahram.org.eg/NewsContent/2/8/93143/World/Region/More-than-,-killed-in-Iraq-in-January.aspx
---------
South Asia
Foreigners opt to stay in Bangladesh beyond Ijtema to learn Islam
Feb 01 2014
Ijtema of Tabligh Jamaat is considered as the second largest Muslim congregation after the hajj
Hajj is the biggest Muslim congregation in the world; but it seems that everyone goes to Mecca to perform hajj as a mandatory Islamic ritual. At the Biswa Ijtema in Tongi of Bangladesh, people come willingly to learn about Islam and send invitation to others to follow its path.
"We visit this place after travelling hundreds of miles from our country only to learn Islam," said Kalimullah, 40, a pharmacist from Saudi Arabia.
Asked how long he will stay in Bangladesh, Kalimullah said he had come to complete his learning Islam, and that he would not leave the country until he found almighty Allah through his prayers.
Full report at:
http://www.dhakatribune.com/bangladesh/2014/feb/01/foreigners-opt-stay-beyond-ijtema-learn-islam#sthash.455CHi32.dpuf
------------
Two militants blown up by own explosives in Uruzgan province
Feb 01 2014
At least two militants were blown up by own explosives in southern Uruzgan province of Afghanistan.
Defense minitry spokesman, Gen. Zahir Azimi, said the incident took place in Khas Uruzgan district after the militants struck with the improvised explosive device (IED).
Gen. Azimi furhter added that Afghan national army soldiers discovered and seized at least 99 improvised explosive devices (IEDs) during military operations in past 24 hours.
According to Gen. Azimi, at least 40 improvised explosive devices (IEDs) were discovered during the operations from southern Helmand province of Afghanistan.
Full report at:
http://www.khaama.com/two-militants-blown-up-by-own-explosives-in-uruzgan-province-3377
------------
Bangladesh aiming to boost ties with KSA: Nazmul Islam
Feb 1, 2014
The Bangladesh consulate in Jeddah is working to establish channels of communication between the trading communities in the port cities of Jeddah and Chittagong. A senior delegation is expected to visit the Kingdom soon to explore business opportunities in both countries said Maryland Namul Islam, consul general of Bangladesh in Jeddah.
Chittagong is a strategic port in Asia and the business hub of Bangladesh while Jeddah is an important port on the Red Sea.
Nazmul Islam said that Chittagong is strategically located sharing borders with Burma, China and India while the landlocked neighbors such as Nepal and Bhutan need the port as an entry point for cargo to be transported to their countries.
Besides these two countries, the emerging economic giant India also wants access to Chittagong to send goods to its seven north-eastern states.
Full report at:
http://www.arabnews.com/news/518761
---------
331 Bangladeshis held in Malaysia
Feb 01 2014
The arrested Bangladeshis would have to return home on their own expenses
As many as 331 undocumented Bangladeshi migrant workers were arrested in the last 10 days in Malaysia.
The immigration department arrested 2,544 illegal immigrants for various offences during the second phases of the nationwide integrated operations that started on January 21, Bernama, the national news agency of Malaysia, reported on Thursday.
Full report at:
http://www.dhakatribune.com/labour/2014/feb/01/331-bangladeshis-held-malaysia#sthash.rpF8Qkkq.dpuf
------------
Roadside blast kills 4 Afghan policemen in Kandahar province
Feb 01 2014
At least four Afghan policemen were killed and another police officer was injured following an improvised explosive device (IED) explosion in southern Kandahar province of Afghanistan.
The incident reportedly took place on Friday near Spin Boldak district, local officials said.
A spokesman for the provincial security commandment, Zia-ur-Rehman Durani, confirming the report, said a vehicle of the Afghan police forces struck with a roadside bomb, while it was on its way from Kandahar city to Spin Boldak district.
Full report at:
http://www.khaama.com/roadside-blast-kill-4-afghan-policemen-in-kandahar-province-3376
------------
Southeast Asia
Three Child soldiers caught up in Muslim rebels' mayhem in Philippines
Feb 1, 2014
MANILA — Three child soldiers recruited by hard-line Muslim rebels in the Philippines were among 53 people killed in a five-day military offensive in the restive south, an official said Friday.
Regional spokesman Colonel Dickson Hermoso said the offensive against fighters of the Bangsamoro Islamic Freedom Fighters (BIFF) group in the strife-torn southern island of Mindanao had resulted in the deaths of 52 rebels, including the children, and one soldier.
"They are employing child soldiers with guns and camouflage uniforms. When we encounter them, we cannot discriminate if they are children or not," he told AFP.
The military offensive came after the main Muslim rebel group, the Moro Islamic Liberation Front (MILF), successfully concluded peace talks with government negotiators last week aimed at ending a decades-long insurgency that has killed tens of thousands.
Full report at:
http://www.saudigazette.com.sa/index.cfm?method=home.regcon&contentid=20140201194337
----------
Muslim Scholar Awarded Top Indonesia's Human-Rights Prize
Feb 01 2014
Muslim scholar Dawam Rahardjo was awarded Indonesia's annual Yap Thiam Hien prize for human rights in Jakarta on Thursday.
Dawam, now a rector at the Universitas Proklamasi 45 in Yogyakarta, was given the award because of his record of defending the rights of minorities, especially religious minorities such as Ahmadi Muslims, Shiites and Christians, according to Todung Mulya Lubis, head of the Yap Thiam Hien foundation.
"The issue of [human rights] issue is being overlooked amid buzz of this year's election," Todung said, adding that the plight of minorities was not on the agenda of most of Indonesia's political establishment.
Full report at:
http://www.thejakartaglobe.com/news/muslim-scholar-awarded-top-human-rights-prize/
------------
Saudi tourists continue to patronize Malaysia
Feb 1, 2014
More than 73,000 Saudis visited Malaysia between January and September 2013, according to Ahmad Al-Jahsyi, overseas director and tourism consul of Tourism Malaysia for Saudi Arabia, Yemen, the Levant and North Africa.
He said that most Saudis who travel to Malaysia belong to the younger generation, with over 55 percent between the ages of 25 and 34. Saudis visitors stay in the country on average between nine and 13 nights, he said.
Al-Jahsyi told Arab News in an interview that the government is targeting a total of 28 million tourist arrivals and $23.3 billion in tourist receipts under the 'Visit Malaysia Year' (VMY) 2014 program.
Full report at:
http://www.arabnews.com/news/518756
------------
Former archbishop wants Catholic priests to network and foster religious harmony
Feb 01 2014
Against the backdrop of several incidents pointing to rising religious tension in Malaysia, Archbishop Emeritus Tan Sri Murphy Pakiam wants his priests to go to the ground and meet other religious leaders to foster peace and tolerance.
"They should find out who are the Muslim leaders, the Hindu leaders, the Buddhist leaders and so forth, in their parishes," said Pakiam, urging his Catholic priests to go to the grassroots level to seek out other religious leaders to work with them.
"We are fighting over one name, but what is most important is the brotherhood of humankind. We have to make things better."
The 75-year-old former Archbishop of the Roman Catholic Archdiocese of Kuala Lumpur was referring to the church's legal battle over the use of the word "Allah".
Full report at:
http://www.themalaysianinsider.com/malaysia/article/former-archbishop-wants-catholic-priests-to-network-and-foster-religious-ha
------------
Mideast
Senior Judiciary Official: US, UK, Israel Supporting Takfiri Terrorists in Region
Feb 01 2014
TEHRAN (FNA)- Iran's Deputy Judiciary Chief Ebrahim Rayeesi said major world powers and their regional allies are supporting and helping to the spread of Takfiri currents in the Middle East.
"The triangle of UK, Israel and the US as well as Saudi Arabia are spreading the Takfiri currents in the region," Rayeesi said.
He further cautioned against the repercussions of such policies, warning that Takfiri terrorism could destabilize the region.
Iranian officials have repeatedly warned those states that are supporting Salafi and Takifiri terrorists in the region that their policy would backfire and the same groups would eventually target them as well.
Full report at:
http://english.farsnews.com/newstext.aspx?nn=13921112001285
----------
Old manuscripts get facelift at Al-Aqsa Mosque
Feb 1, 2014
Half of the books are already undergoing restoration funded by the Waqf, Jordan's Islamic authority which manages the holy site, and with assistance from UNESCO.
IN the 1920s, an urgent call went out to the literati across the Middle East from Arab leaders in occupied Jerusalem: Send us your books so that we may protect them for generations to come. Jerusalem was soon flushed with writings of all kinds, to be stored and preserved at the newly minted Al-Aqsa Mosque library.
But many of those centuries-old manuscripts are in a state of decay. Now, religious authorities are restoring and digitizing the books, many of them written by hand. They hope to make them available online to scholars and researchers across the Arab world who are unable to travel to Jerusalem.
Full report at:
http://www.saudigazette.com.sa/index.cfm?method=home.regcon&contentid=20140201194369
------------
15 Palestinians shot in West Bank, Gaza demos: Medics
Feb 01 2014
Israeli soldiers shot and wounded 15 Palestinians near the West Bank town of Ramallah during a protest Friday over the killing of a teenager, Palestinian medics and security sources said.
In Gaza, meanwhile, medics said five more Palestinians were wounded by Israeli army gunfire near the border fence with Israel.
The sources said the Palestinians in the West Bank were hit by live rounds on the outskirts of Jalazun refugee camp and hospitalised in Ramallah, including one with serious injuries.
Hundreds of Palestinians took part in the protest, many of them hurling rocks at the soldiers.
The demonstration was called to protest at the Israeli army's killing on Wednesday of Mohammed Mubarak, a 19-year-old from Jalazun working on a project funded by USAID and son of the camp's locally elected leader.
Full report at:
http://english.ahram.org.eg/NewsContent/2/8/93125/World/Region/-Palestinians-shot-in-West-Bank,-Gaza-demos-Medics.aspx
----------
Ankara alarmed over Qaeda threat in Syria
Feb 1, 2014
With no end in sight to the civil war in neighboring Syria, Turkey is expressing increasing alarm over the al-Qaeda threat amid the growing presence of the group in northern Syria and skirmishes with Turkey's army this week along the frontier.
A report prepared jointly by the Turkish National Intelligence Agency (MİT), the gendarmerie and the Police Department indicated that the al-Qaeda-linked Islamic State of Iraq and the Levant (ISIL) was preparing to attack targets inside Turkey using car bombs and assassinations.
Full report at:
http://www.hurriyetdailynews.com/ankara-alarmed-over-qaeda-threat-in-syria.aspx?pageID=238&nID=61849&NewsCatID=338
---------
Europe
UNESCO team 'shocked' at Egypt Islamic museum loss
Feb 01 2014
Associated Press
CAIRO (AP) — UNESCO pledged Friday to help restore a renowned museum dedicated to Islamic history in Cairo that was devastated by a bomb last week, with officials expressing "shock" at the scale of the damage.
The Museum of Islamic Art was across the street from the truck bomb that targeted the Egyptian capital's security headquarters on Jan. 24. It killed four people and caused damage to buildings for hundreds of meters (yards) around, smashing the museum's facade and sending debris crashing onto exhibits.
Egypt's Antiquities Minister Mohammed Ibrahim said that 164 of the 1,471 items on display were damaged, of which 90 could be reassembled or restored. Most of the 74 irreparably damaged items were glass and porcelain, smashed to powder.
On a tour of the building on Friday, shattered glass littered the floor while fragments and steel slabs from the broken windows lay all over.
"It was an outstanding museum and to see it now, inside at least, totally destroyed is a big shock for us," Christian Manhart, head of UNESCO's museums sections, said at a news conference.
Full report at:
http://www.advertiser-tribune.com/page/content.detail/id/449426/UNESCO-team--shocked--at-Egypt-Islamic-museum-loss.html?isap=1&nav=5017
------------
'Don't stop serving pork in prisons, hospitals and schools for Muslims': Norway minister
Feb 01 2014
Norway's agriculture minister has called on the country's prisons, hospitals and nursery schools to serve more pork, claiming that the meat is being pulled off the menu to avoid offending the country's Muslim minority.
"We cannot stop serving pork because Muslims have moved to Norway," Sylvi Listhaug, a politician for the right-wing Progress Party, said this week.
"Those responsible for food in public institutions should put pork on the menu, and then make sure that those who do not eat pork can get something else," she said.
Bjørn-Ole Juul-Hansen, the managing director of the Norwegian meat industry association, told NRK that public institutions in the country were now serving pork less often, although he could provide no statistics to back up the claim.
Full report at:
http://m.thelocal.no/20140131/muslim-norwe
------------
Bosnian Salafists movement on mission to recruit
Feb 01 2014
Radical Salafists from Bosnia-Herzegovina are among those who fight in Syria's civil war. Recently, they have stepped up efforts to recruit young people to follow suit. Experts say war returnees are especially dangerous.
The footage of this Internet video is unsettling and disturbing: Three armed men sit at a makeshift shelter where they are protected from the blazing sun. Two of them wear masks and viewers can only make out their eyes. The third man's face is pixelated.
They carry Kalashnikov assault rifles and Qurans on their laps. The man speaking calls on the Bosnian youths to "join Allah on the path to jihad in Syria" where Muslim men are allegedly abused and Muslim women raped. One couldn't sit at home and do nothing, the spokesman says in clear Bosnian.
Full report at:
http://www.dw.de/bosnian-salafists-movement-on-mission-to-recruit/a-17397173
------------
Satellite photos prove demolishment of entire Syrian neighborhood
Feb 01 2014
There is photographic evidence that proves that Syrian government has been destroying thousands of buildings in Damascus and Hama back in the last two years. The so-called "Razed to the Ground: "Syria's unlawful neighborhood demolitions in 2012-2013" report has been published showing seven cases of such demolitions, which included explosions and a lot of other acts that violated the law. According to the pages, the demolitions were made not for military purpose and in a way that just harmed civilians.
Ole Solvang, who is an emergencies researcher at Human Rights Watch stated, "Wiping entire neighborhoods off the map is not a legitimate tactic of war. These unlawful demolitions are the latest additions to a long list of crimes committed by the Syrian government."
As a part of Geneva-2 peace talks, Syrian authorities are obliged to promise to stop the demolishment of the buildings and to obey the international law. Meanwhile, the United Nations Security Council would refer the situation to the International Criminal Court (ICC).
Full report at:
http://voiceofrussia.com/news/2014_02_01/Satellite-photos-prove-demolishment-of-entire-Syrian-neighborhood-2974/
------------
Terrorism in Syria cannot be fought using other terrorists - Russian FM Lavrov
Feb 01 2014
Syria's armed opposition group, the Islamic Front, with whose assistance foreign stakeholders in the conflict are trying to combat terrorism in the country, is in fact a terrorist organization itself, says Russian Foreign Minister, Sergei Lavrov.
Speaking at the Munich Security Conference on Saturday, Lavrov noted that, while some are trying to combat the terrorist organizations al-Nusra Front and the Islamic State of Iraq and the Levant through establishing a new association called the Islamic Front, the groups comprising the Islamic Front are pretty similar to those terror groups.
At least one was involved, with the al-Nusra Front, in the Adra massacre in Syria, in which dozens of Christians, Druze, and other minorities were slain, he added. Militants migrate between the Islamic Front, al-Nusra Front, the Islamic State of Iraq and the Levant depending on who pays more, Russia therefore has great doubts that the Islamic Front could serve as an alternative to terrorists, Lavrov said.
Full report at:
http://voiceofrussia.com/news/2014_02_01/Terrorism-in-Syria-cannot-be-fought-using-other-terrorists-Russian-FM-Lavrov-6002/
------------
We can solve problems in Iran and Syria only in tandem with Russia - German FM
Feb 01 2014
The West should seek opportunities for developing cooperation with Russia while Moscow should look for possible common ground with western partners, said Frank-Walter Steinmeier, German Foreign Minister at the start of the second day of the Munich Security Conference.
"Now we see that only in tandem with Russia can we solve the Iranian issue and ensure transportation of Syrian chemical weapons," Steinmeier stated.
"We need to find common ground with Russia in order to develop our relations in a more efficient manner. Only with the help of Russia can we solve the Iranian issue and the problem of elimination of Syrian chemical weapons. European policy against Russia is destined to fail. At the same time, Moscow should also decide what common ground it has with Europe and determine its position per se," the Foreign Minister stressed.
Full report at:
http://voiceofrussia.com/news/2014_02_01/We-can-solve-problems-in-Iran-and-Syria-only-in-tandem-with-Russia-German-FM-2515/
------------
German defense minister urges Karzai to sign Afghan-US security deal
Feb 01 2014
The German defense minister Ursula von der Leyen has called on president Hamid Karzai to sign the bilateral security agreement (BSA) between Kabul and Washington.
While speaking during the 50th security conference in Munich, Germany's defense minister, said Berlin is prepared to keep a residual force in Afghanistan, in a bid to help maintain peace and stability in the country.
She said Germany remains committed to provide training and equip the Afghan national security forces.
Full report at:
http://www.khaama.com/german-defense-minister-urges-karzai-to-sign-afghan-us-security-deal-3378
------------
The British Government's Responsibility for Northern Nigeria
Feb 01 2014
"The British colonial masters took our land and handed it over to Muslim rulers... They gave us [non-Muslim groups] an inferior social and political role in the colonial hierarchical system in northern Nigeria, and that is exactly where we are right now." — Dr. Yusufu Taraki
It is a truth not universally acknowledged in Western politically-correct circles that Christianity has become the most persecuted religion in the world and that most of the oppression comes from the hands of Islam and in Muslim-majority areas.
Nowhere is this more true than in northern Nigeria where, in 2012, 70% of all Christians murdered worldwide were slain. Not only death but discrimination, too, is rife across the country's twelve northern Sharia states in which Christians and other minorities live with second-class dhimmi status, and with inferior rights to jobs, justice and worship.
Full report at:
http://www.gatestoneinstitute.org/4146/uk-northern-nigeria
------------
Trials in France, Belgium Reflect Radicalization Fears
Feb 01 2014
PARIS — Two trials opened in France and Belgium Thursday, underscoring a worrying trend: young Europeans heading to Syria to join the ranks of Islamist fighters.
One of the trials takes place in Paris, where three young men in their '20s are accused of trying to join jihadists fighting in Syria. They were detained at a French airport in 2012 as they tried to board a flight to Turkey. They allegedly planned to head on to Syria. Two of the three deny the charges.
A similar trial opened Thursday morning in Brussels, where 19 people are suspected of having links to radical Islamist groups in Syria, and in Somalia.
While the trials reflect efforts to catch suspects before they head to Syria, experts say hundreds of others have made it. Once there, many join Islamist rebels fighting the regime of Syrian President Bashar al-Assad.
Full report at:
http://www.voanews.com/content/trials-in-france-belgium-reflect-radicalization-fears/1840950.html
------------
Africa
Tunisia revives the dreams of the Arab Spring
Feb 01 2014
Tunisian feminists remember August 13, 2012 as the day they plucked the country's constitution from the jaws of religious conservatism. It was Women's Day - the day on which a landmark law on gender equality came into effect 56 years earlier - but the mood among the thousands of women who gathered in the capital Tunis was grim.
The ruling Islamist party Ennahda, which had won the first elections held after the overthrow of dictator Zine El Abidine Ben Ali the previous year, had just unveiled a draft constitution that referred to women as being "complementary to," rather than equal to, men.
Many women smelt a plot to reverse some of the most progressive women's rights laws in the Arab world. "Rise up, women, for your rights" read the placards waved by the protesters. "Equality all the way!" they shouted. Ennahda quickly back-pedalled on the "complementarity" clause, saying it had been misunderstood. But secularists remained at the barricades, while conservatives seeking a greater role for Islam in public life regrouped for their next campaign.
Full report at:
http://www.brecorder.com/articles-a-letters/187/1149060/
------------
Two assassination attempts in Benghazi
Feb 01 2014
A retired colonel and a driver for the military police survived assassination attempts in two separate incidents in Benghazi yesterday.
The retired police colonel sustained a head injury when his car was hit by a hail of bullets, according to Libyan news agency LANA. He was taken to Benghazi Medical Centre where he underwent emergency surgery. He is in a critical condition.
In a separate attack, yesterday afternoon a civilian, who worked as a driver for the Military Police, was injured when he was fired on by gunmen driving a vehicle described as a white Kia in Benghazi's Sabri district.
Full report at:
http://www.libyaherald.com/2014/02/01/two-assassination-attempts-in-benghazi/#ixzz2s2G9GwWU
--------
On the edge sectarian violence threatens fragile Algeria desert region
Feb 1, 2014
Weeks of violence between two rival communities have swept Algeria's desert city of Ghardaia, enflamed by the destruction of a historic Berber shrine, with analysts warning of sectarian conflict engulfing the fragile region.
For more than a month, the city of 90,000 inhabitants has witnessed clashes between the Chaamba community of Arab origin and the majority Mozabites, indigenous Berbers belonging to the Ibadi Muslim sect.
Three people were killed in the violence, which both sides accused the other of starting.
Houses were looted and burned, shops and schools closed and thousands of police deployed as the authorities scrambled to contain the unrest.
"The fear is that if Ghardaia is destabilized, the entire region will find itself in a vulnerable situation," Algerian political analyst Rachid Tlemcani told AFP.
Full report at:
http://www.saudigazette.com.sa/index.cfm?method=home.regcon&contentid=20140201194344
------------
Uganda archbishop responds to Welby on anti-gay laws
Feb 01 2014
The head of the Anglican Church in Uganda has given a critical response to a letter from the Archbishops of Canterbury and York warning that gays and lesbians should not be victimised.
Their letter was sent to all presiding archbishops of the Anglican Communion.
It was also sent to the presidents of Uganda and Nigeria, which have recently introduced anti-gay legislation.
Archbishop Stanley Ntagali responded that "homosexual practice is incompatible with Scripture".
He said he hoped the Church of England would "step back from the path" it had set itself on "so the Church of Uganda will be able to maintain communion with our own Mother Church".
Archbishop Ntagali said the Church of Uganda had been encouraged that the country's parliament had amended the Anti-Homosexuality Bill to remove the death penalty, and make other provisions of the bill less severe - all amendments which he said the Church had recommended..
Full report at:
http://www.bbc.co.uk/news/world-africa-25993140
---------
Pakistan
Ahle Sunnat Wal Jamaat sit-in against Iran
Feb 1, 2014
KARACHI: Ahle Sunnat Wal Jamaat (ASWJ) held a protest rally and sit-in on Friday, against involvement of neighbouring country Iran in flaring religious and sectarian strife in Pakistan.'
As per details, the ASWJ planned to protest in front of Iranian Consulate General for which a large number of leaders, workers and supporters gathered outside party HQ Siddique-e-Akbar Masjid, Nagan Chowrangi after the Friday's prayers. The party workers then marched till Guru Mandir where they were barricaded by the contingents of law enforcement agencies, preventing them to move towards Iranian Consulate General - the venue ASWJ had announced to stage their sit-in at.
The ASWJ - evolved through name change, having previously been banned while operating as Sipah-e-Sahaba Pakistan along with its rival sectarian outfit, Sipah-e-Mohammad Pakistan - had announced the protest following the disclosure of a "neighbouring Islamic country's involvement in sectarian violence" by Raja Umar Khitab, in-charge of Crime Investigation Department's (CID) Counter Terrorism and Financial Crime Unit.
Full report at:
http://www.dailytimes.com.pk/sindh/01-Feb-2014/aswj-sit-in-against-iran
------------
Maulana Abdul Aziz excuses himself from playing role in Taliban talks
Feb 1, 2014
ISLAMABAD: Major (retired) Amir, a member of the government-backed four-member committee for holding talks with the Taliban met Lal Masjid Khateeb Maulana Abdul Aziz on Saturday here, Geo News reported.
Sources said that Maulana Abdul Aziz has excused himself from playing any role in the holding of talks with the Taliban saying that he could not play any role unless assured that no operation would be conducted.
http://www.thenews.com.pk/article-136303-Maulana-Abdul-Aziz-refuses-to-play-role-in-Taliban-talks
------------
Counter IED school reveals clever ways to hide homemade bombs
Feb 1, 2014
RISALPUR: Militants in Pakistan have found clever ways to hide homemade bombs. They've been strapped to children's bicycles, hidden inside water jugs and even hung in tree branches. But the most shocking place that Brig. Basim Saeed has heard of such a device being planted was inside a hollowed-out book made to look like a Quran, Islam's holy book, said an exclusive AP report published in Washington Post.
A soldier who went to pick up the book from the floor was killed when it exploded.
"Normally if that book is lying somewhere on the floor, you tend to pick it up immediately just for respect," said Saeed, the chief instructor at a school training Pakistani forces how to detect the so-called improvised explosive devices, which have become increasingly popular in wars in Iraq, Afghanistan and the insurgency in Pakistan's northwest, near the Afghan border.
The Associated Press was the first foreign media outlet to be allowed access to the facility, according to the Pakistani military.
Full report at:
http://www.thenews.com.pk/article-136306-Inside-Pakistani-anti-bomb-school
------------
Imran urges govt, Taliban to ensure ceasefire
ISLAMABAD - Chairman Pakistan Tehreek-e-Insaaf (PTI) Imran Khan has urged the Taliban and the government to ensure ceasefire during dialogue process.
The PTI chief expressed his views during a meeting with two members of the peace committee, recently constituted by the government to initiate peace talks with Taliban. Imran said the nation and media should be kept aware of all the developments.
Earlier, two of the peace committee members, Rahimullah Yousafzai and Rustam Shah Mehmand, met Imran Khan at his residence in Islamabad on Friday.
Full report at:
http://www.nation.com.pk/national/01-Feb-2014/imran-urges-govt-taliban-to-ensure-ceasefire
----------
Three killed, four injured in Karachi violence
Feb 1, 2014
KARACHI: At least three people were killed and four others were injured, including two policemen, in separate incidents of violence in Karachi on Friday, DawnNews reported.
Two policemen were injured when an unknown miscreant hurled a cracker at Pirabad police station in district west.
The injured policemen were identified as Mohammad Ashfaq and Mohammad Faisal.
The assailant escaped after the attack.
A search was underway to apprehend the suspect.
Meanwhile, during a clash between two groups in Lyari's Chakiwara area, a Chippa ambulance driver, Lal Muhammad, and a woman identified as Naseema were killed.
Full report at:
http://www.dawn.com/news/1084232/three-killed-four-injured-in-karachi-violence
------------
Four killed, 50 rounded up in Swabi raid
Feb 1, 2014
PESHAWAR: Four suspected militants were killed and 50 others were rounded up in a targeted raid in Khyber Pakhtunkhwa's Swabi district.
The operation, being carried out by police and security personnel, was still in progress.
Station House Officer of Parmoli Police Station, Haji Khan, told Dawn.com that the raid was launched after security personnel received a tip off that militants had occupied the Shakoli primary school in Swabi's Khanpur village.
When police and security personnel raided the school, the militants returned fire and an hour-long gun battle resulted between the two sides.
A huge quantity of explosive material and other arms and ammunition was also recovered during the raid, officials confirmed.
Full report at:
http://www.dawn.com/news/1084221/four-killed-50-rounded-up-in-swabi-raid
------------
11 countries to be represented at Karachi Literature Festival
Feb 1, 2014
KARACHI: The 5th Karachi Literature Festival to be held on Feb 7, 8 and 9 at the Beach Luxury Hotel will have 100-plus sessions featuring 200 speakers from 11 countries, announced the founder of the festival and OUP Managing Director Ameena Saiyid at a press conference at a hotel on Friday evening.
Informing the media on the different events that are going to take place during the three-day festival, Ms Saiyid said that all kinds of activities related to literature, including 28 book launching sessions, art and music had been planned.
Rajmohan Gandhi, Kamila Shamsie and Reza Ali Abidi will be the keynote speakers. Special prizes for books in three categories — fiction, non-fiction and books promoting peace — will also be awarded.
Full report at:
http://www.dawn.com/news/1084044/11-countries-to-be-represented-at-karachi-literature-festival
------------
Violence claimed 150 lives during January in Karachi
Feb 1, 2014
KARACHI: Despite the claimed arrest of 14,000 criminals by law enforcers, Karachi remained undulant; violence gripped the metropolis, as around 150 people lost their lives in the first month of the ongoing year.
Karachi remained unstable throughout the targeted operation with political and religious killings of different people, as well as bomb attacks by extremists and extortionists that rocked the city. All efforts for establishing peace and security in the metropolis have failed miserably.
During these five months of operation initiated with the purpose of 'maintenance of peace, as many as 14,000 criminals were detained by law enforcers', but none of the arrests seem to have affected the activities.
Full report at:
http://www.dailytimes.com.pk/national/01-Feb-2014/violence-claimed-150-lives-during-january-in-karachi
------------
Taliban asked to form negotiation team
Feb 1, 2014
ISLAMABAD: The four-member dialogue committee has urged the Taliban to complete their consultation process at the earliest and constitute a negotiation team for talks. It has also showed willingness to talk to the Taliban wherever they want.
Special Assistant to the Prime Minister Irfan Siddiqui, who is a member of the committee, told media persons that it was the first message from the committee for the Taliban.
The committee held three sessions to discuss various issues regarding the dialogue. Irfan Siddiqui said the committee members sincerely wanted that there should be no delay in initiating the dialogue process. He said the committee was waiting for a response from the Taliban for a mechanism to proceed further.
Full report at:
http://www.thenews.com.pk/Todays-News-13-28301-Taliban-asked-to-form-negotiation-team
------------
North America
'Obama to visit Saudi Arabia amid tensions over Iran, Syria'
Feb 1, 2014
President Barack Obama plans to travel to Saudi Arabia in March on a mission to smooth tensions with Washington's main Arab ally over US policy on Iran's nuclear program and the civil war in Syria, a newspaper reported.
Obama is preparing to meet with King Abdullah for a summit, the Wall Street Journal reported on Friday, citing unnamed Arab officials briefed on the meetings.
"This is about a deteriorating relationship" and declining trust, said a senior Arab official in discussing the need for the summit, which was pulled together in recent days, the newspaper reported.
Full report at:
http://www.jpost.com/Middle-East/Report-Obama-to-visit-Saudi-Arabia-amid-tensions-over-Iran-Syria-340032
------------
'Homosexual And Stealth Jihad Agenda' Has Apparently Taken Over The Michigan GOP
Feb 01 2014
For some Michigan Republicans, their biggest enemies are members of their own party.
In a Facebook post Sunday, the Delta County Republican Party published a list condemning "the Republicans Who Have Blatantly Surrendered to the Homosexual and Stealth Jihad Agenda." The 18 listed individuals include Republican National Committee Chairman Reince Priebus, Michigan Republican Party Chairman Bobby Schostak, the state attorney general, several U.S. Reps., the state Senate majority leader, party officials, Republican candidates and even one gay Democrat mayor.
The last one might have been a mistake, but all won their spots for perceived condemnation of Dave Agema, the Michigan Republican National Committee member who has received continued criticism for his anti-gay comments, but is apparently still supported by the Delta County Republican Party.
Full report at:
http://www.huffingtonpost.com/2014/01/30/michigan-gop-republicans_n_4696236.html
------------
US sends warships amid Sochi Islamic militants threat
Feb 01 2014
The first of two warships has sailed from Italy in a high-profile sign of US efforts to protect Americans at the Winter Olympics - and at least two dozen FBI agents are on their way to Russia.
The USS Mount Whitney set sail from Gaeta, Italy, yesterday, and the US Navy frigate USS Taylor is expected to leave from Naples today.
FBI director James Comey said the FBI was in constant contact with Russian authorities as the games approached and said he spoke to the head of the Russian Federal Security Service yesterday.
Full report at:
http://www.independent.ie/world-news/us-sends-warships-amid-sochi-threat-29970339.html
------------
Film series in Utah explores world of Islamic faith, history and art
Feb 01 2014
Despite the fact that Utah is home to a dozen or so mosques and more than 30,000 Muslims, residents of the Beehive State often know little more about Islam than what they see in Hollywood films.
The Utah Humanities Council and the Utah Cultural Celebration Center hopes to change that.
In February, the two groups will jointly present a series of films — a re-enactment with commentary, a series of filmed lectures, and a documentary — followed by discussions that explore the rich world of Islamic faith, history and art.
Full report at:
http://www.sltrib.com/sltrib/entertainment2/57473830-223/film-islamic-series-art.html.csp
------------
CAIR-NY Welcomes Mayor's Deal to End NYPD 'Stop-and-Frisk'
Feb 01 2014
(NEW YORK, N.Y., 1/31/14) - The New York chapter of the Council on American-Islamic Relations (CAIR-NY) today welcomed an agreement proposed by New York City Mayor Bill de Blasio for the city to reach a settlement in its legal battle over the controversial NYPD "stop-and-frisk" policy.
That policy involved stopping, questioning and frisking people in primarily African-American and Latino neighborhoods. Last year, a federal judge found that the police tactic was unconstitutional, calling it "a policy of indirect racial profiling."
Full report at:
http://www.cair.com/press-center/press-releases/12351-cair-ny-welcomes-mayors-deal-to-end-nypd-stop-and-frisk.html
------------
The Lesson of WMDs: Obama and US Military Divided Over Syria
01 May 2013
By Shamus Cooke, Counterpunch
Has Syria crossed the "red line" that warrants a U.S. military invasion? Has it not? The political establishment in the United States seems at odds over itself. Obama's government cannot speak with one voice on the issue, and the U.S. media is likewise spewing from both sides of its mouth in an attempt to reconcile U.S. foreign policy with that most stubborn of annoyances, truth.
The New York Times reports:
"The White House said on Thursday that American intelligence agencies now believed, with "varying degrees of confidence," that the Syrian government had used chemical weapons…"
Immediately afterwards, Obama's Secretary of Defense, Chuck Hagel, gave a blunt rebuke: "Suspicions are one thing; evidence is another."
Full report at:
http://truth-out.org/news/item/16115-obama-and-us-military-divided-over-syria
------------
Former U.S. Ambassador Hof: Iran Fears Saudi Arabia, Not Israel
Feb 01 2014
Iran believes Saudi Arabia to be its real enemy inside and outside Syria, and not Israel, which it believes will be kept in check by an armed and ready Hezbollah, in Lebanon, Former U.S. Ambassador Frederic Hof said at a Congressional panel discussion this week, according to Dubai's Al Arabiya News on Friday.
Hof, the former special adviser for transition in Syria at the U.S. Department of State and adviser to Special Envoy for Middle East Peace George Mitchell, said this insight was revealed to him by Iranian officials in private meetings.
Hof said one Iranian official told him that "neither the U.S. nor Israel intervened in Syria," adding that the real problem was Saudi Arabia and to a lesser extent, Turkey, according to Al Arabiya.
Full report at:
http://www.algemeiner.com/2014/01/31/former-u-s-ambassador-hof-iran-fears-saudi-arabia-not-israel/
------------
'Military action likely' if Iran talks fail, US spokeswoman says
Feb 1, 2014
WASHINGTON- State Department deputy spokeswoman Marie Harf said on Friday that a resolution to the longstanding nuclear crisis with Iran, should current diplomatic efforts fail, "is likely to involve military action."
"I'm not predicting that we would take military action right away," Harf said. "It's more of a broad statement that, look, if we can't get this done diplomatically in six months or a year or at any time, we will– we are committed to resolving it. And that involves less durable and, quite frankly, riskier actions."
In his fifth State of the Union address this week, US President Barack Obama said that negotiations between Iran and the P5+1– the US, United Kingdom, France, Russia, China and Germany– were the world's best chance to resolve the standoff "peacefully" and to avoid "the risks of war."
Full report at:
http://www.jpost.com/Iranian-Threat/News/Military-action-likely-if-Iran-talks-fail-US-spokeswoman-says-340028
------------
India
No composite dialogue till end to terrorism: India to Pakistan
Feb 1, 2014
NEW DELHI - India wants resolution of all outstanding issues with Pakistan, including Kashmir, says Indian Foreign Secretary Sujatha Singh.
"We need to break down the old barriers. India wants progress with Pakistan in all segments of life and resolution of disputes, but without the involvement of outsiders," the highest Indian foreign office official told a select group of Pakistani journalist during a briefing here on Friday.
It was interesting and surprising at the same time to find out that the remarks about Kashmir were part of Sujatha Singh's initial statement at the outset, and not part of any hard-pushed query. The Indian foreign secretary was blunt on terrorism-related issues between the South Asian neighbours. In a nutshell, for now India wants improvement of trade relations with Pakistan on fast track (MFN status to India a pre-requisite) and progress on Mumbai attack investigation as these confidence-building measures would accelerate any meaningful composite dialogue.
Full report at:
http://www.nation.com.pk/national/01-Feb-2014/no-composite-dialogue-till-end-to-terrorism-india
-------
J&K: Militant killed in encounter in Pulwama
PTI | Feb 1, 2014
SRINAGAR: A militant was killed in an overnight gunbattle with security forces in Pulwama district of south Kashmir, police said on Saturday.
"The body of the militant has been recovered along with a rifle and some ammunition," a police spokesman said.
Security forces had on Friday cordoned off village Kangan in Pulwama, 35 kms from here, following information about presence of militants in the village.
As the security forces were closing in on the target house, the militants opened firing, which was retaliated.
The exchange of fire stopped after an hour leading to fatal injuries to the militant.
The operation was halted for the night and the body of the slain ultra was recovered on Saturday morning.
The spokesman said the identity and group affiliation of the slain militant is being ascertained.
http://timesofindia.indiatimes.com/india/JK-Militant-killed-in-encounter-in-Pulwama/articleshow/29702893.cms
------------
URL: https://newageislam.com/islamic-world-news/spraying-bullets-ak-47,-4yr/d/35548