New Age Islam News Bureau
24 March 2015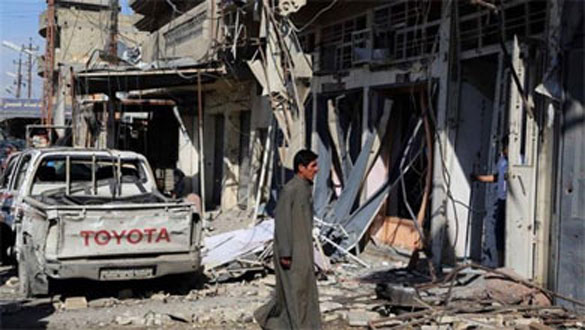 A man inspects the site of a car bomb explosion in a busy commercial street at the al-Habibiya section of Baghdad's Sadr City, Iraq on March 23, 2015
----------
Arab World
• Sporadic Car Bombings in Baghdad Claim 19 Lives, Wounds 36
• Peshmerga Forces Kill 13 ISIL Takfiris in North Iraq
• Iraq Warplanes Target ISIL Positions in Tikrit
• To stop extremism, end Syria's civil war: rights groups
• Salam: Lebanon to seek Arab support in anti-terror fight
• No funding for ISIS via Lebanese banks: Salameh
• Saudi king invites Iraq PM to visit as ties thaw
• Egypt signs up to Ethiopian Nile dam, citing trust
• 'ISIS Hackers' Googled Their Hit List; Troops' Names Were Already on Public Websites
• Canada will expand anti-ISIS campaign to Syria
• Syrian warplanes bomb Northern Province where helicopter crashed
• Saudi FM: Iran shouldn't get 'deals it doesn't deserve'
• KSA: Interventionist Iran 'does not deserve N-deal'
------------
Pakistan
• Ruling Class Blocking Introduction of Islamic System, Says JI
• Islamic State Activates Operation in Pakistan
• Drone Strike near Khyber Border Kills Nine, Including Driver of LI Chief
• 8 Terrorists Killed 30 Arrested In Karachi
• JI chief pleads for uniform education curriculum
• Pakistan Ulema Council Chairman receives threats from TTP
• Quaid's Aug 11 Speech to Be Included in School Curriculum
• Pakistan needs short-range nukes for deterrence against India: govt adviser
• Kashmir solution only way to durable peace
• Pakistan, Qatar to boost defence co-op
• Forces capture Masatul Pass in Khyber Agency
• APS attack victims' parents vow to stand by armed forces
-----------
India
• Muslim Population No Issue, Conversion Is, Says Home Minister
• MoS External Affairs Attends Pak Day, Then Tweets 'Disgust'
• Muslim Gau Bhakt Spreads Message of Cow Protection
• India Didn't Prevent Hurriyat Members' Meet with Pakistan Envoy
• Dialogue Only In Atmosphere Free Of Terror and Violence, Modi Tells Sharif
• Gujarat Delegation All Praise For Pakistan Authorities
------------
Southeast Asia
• Under Islam, 'Haram' and 'Sinful' To Impose Goods and Services Tax:, Hardline Islamist Group
• Egyptian Al Azhar to Help Promote Moderate Islam in Indonesia
• Indonesia must be united to reject IS ideology: VP
• IS threatens to blast Sampit-bound flight
• Japan Mosque Teaches Islam
• China Bans Muslim Group Activities
• Indonesia Arrests Five Islamic State Suspects
• The Islamic State's success in Indonesia has Hong Kong worried
-------------
Africa
• Algeria Temporarily Evacuates Turkish Workers after ISIS Threat
• Jordan to Help Train Syrian Rebels To Fight ISIS
• Airstrikes kill eight; Libya government tries to retake capital
• Egypt, Ethiopia, Sudan sign Nile agreement
------------
North America
• California Muslim Police Officers Allege Harassment
• U.S. opens up to Hamas, Muslim Brotherhood, Syria, and Iran
• Boston Mosque Youth Leader Builds Bridges
• Moments before Explosion at Yemen Mosque, Worshipers Were Chanting 'Death to America' and 'Victory to Islam'
• UN warns of Yemeni civil war
-----------
South Asia
• Amid Political Chaos, Bangladesh Fears a Rise in Militancy
• Bangladesh Approves Islamic Instruments
• ISIS is targeting Afghanistan: Ashraf Ghani
• Bus passengers killed in Afghanistan attack
• JMB man reveals plan for Islamic Bangladesh by 2020
• Lands belonging to arsonists will be confiscated, says PM
• Ghani thanks US troops for service in Afghanistan
----------
Mideast
• Turkey Scholars Warn Against Fertilization
• Yemen Risks: Separatism, Sea Lanes, Al-Qaeda, Sectarianism
• Iran expands influence ahead of nuclear deal
• Israel steps up military drills on Lebanon border
• Israel missing from UNHRC session on Gaza conflict
• Yemen asks GCC for military action against Houthis
• Netanyahu apologizes to Arab Israeli minority
• No time should be wasted in Iran talks: China
------------
Europe
• UK To Investigate Sharia Courts, Crack Down On Extremist Preachers
• Paris Warns Of Unprecedented Terror Threats
• Gloucester Mosque Opens Doors to Public
• French Muslims Face Islamophobia or Extremism
• Russia: Illogical to condemn Hezbollah
vWhy Islam Karimov will win Uzbekistan's elections
• Activist pulls out of Trinity College talk due to 'restrictions' aimed at not 'antagonising' Muslims
• Morocco says breaks up ISIS militant cell
• Britain evacuates Special Forces from Yemen over worsening security
Compiled by New Age Islam News Bureau
URL: https://www.newageislam.com/islamic-world-news/new-age-islam-news-bureau/sporadic-car-bombings-in-baghdad-claim-19-lives,-wound-36/d/102089
-----------
Arab World
Sporadic car bombings in Baghdad claim 19 lives, wound 36
Mar 24, 2015
At least 19 people have lost their lives and over 36 others sustained injuries in multiple car bomb blasts in the Iraqi capital Baghdad, authorities say.
According to the officials, the deadliest car bombing on Monday rocked a hectic commercial street in the al-Habibiya area of south-central Baghdad's Sadr City, claiming at least nine lives and wounding 22 people.
A man inspects the site of a car bomb explosion in a busy commercial street at the al-Habibiya section of Baghdad's Sadr City, Iraq on March 23, 2015.
Another car bombing hit a vegetable market in the Tarabya section, killing at least six people and injuring 14.
Iraqi police also confirmed that a bomb went off near an intelligence branch of the Interior Ministry in northwestern Baghdad earlier Monday, killing four people.
Medical officials have corroborated the casualty figures.
There has been no claim of responsibility for Monday's attack yet, however, Iraqi officials usually blame them on the Takfiri ISIL militants.
Baghdad, which was gripped by violence in 2006 and 2007, has enjoyed relative calm in recent months.
While Iraqi security forces have been preparing for a large-scale operation to retake the city of Tikrit, in the Salahudin province, military officials said they have decided not to rush the final attack and focus on minimizing casualties.
Iraq's overall security situation has deteriorated over the past few months as the ISIL terrorists, of whom many are foreign nationals, have taken control of some parts of the country's northern and western regions.
According to the UN Assistance Mission for Iraq (UNAMI), a total of 1,103 Iraqis were killed in February, while 2,280 others were injured as a result of attacks in the country. The UN mission put the number of civilians killed at 611 and those injured at 1,353.
In the same month, violence also killed 492 members of the Iraqi army, while 927 others were wounded.
ISIL started its campaign of terror in Iraq in early June 2014. The Takfiri extremists, who currently control parts of Syria and Iraq, have carried out heinous crimes, including mass executions and the beheading of people.
http://www.presstv.in/Detail/2015/03/24/403122/Bomb-blasts-in-Iraq-kills-19-wound-36
-----------
Peshmerga forces kill 13 ISIL Takfiris in north Iraq
Mar 23, 2015
Iraqi Kurdish Peshmerga forces have engaged members of the ISIL Takfiri group in Iraq's northern province of Nineveh, killing more than a dozen of the terrorists.
The Kurdistan Democratic Party (KDP) spokesman in Mosul, Saeed Mamouzini, said Peshmerga fighters killed 13 ISIL members during heavy exchanges of fire with the Takfiris east of the militant-held city of Mosul, situated some 400 kilometers (248 miles) north of the capital, Baghdad, on Monday, Iraq's al-Sumaria satellite TV network reported.
Mamouzini noted that the clashes lasted more than an hour.
Kurdish forces are fighting the ISIL Takfiri group in several areas across Iraq and Syria and have inflicted heavy losses on them.
On Saturday, ISIL Takfiris executed five more Iraqi Kurdish Peshmerga fighters in Hammam al-Alil area, located some 25 kilometers (15.5 miles) south of Mosul.
ISIL also released a video on March 19, showing the purported beheading of three Peshmerga soldiers identified as Rezkar Mohammad Saleh, Pishtiwan Osman Rasul, and Hisham Nabil Khorshid.
The three victims were dressed in orange outfits, and are beheaded in three different locations with masked knife-wielding Takfiri militants speaking Kurdish.
A still from a video posted by the ISIL on March 19, 2015, showing the purported beheading of Rezkar Mohammad Saleh, a member of Peshmera forces, by the ISIL Takfiri terrorist group
In February, the Takfiri terrorists released a video that showed 21 Kurdish Peshmerga fighters in cages being paraded through streets in the Iraqi province of Kirkuk.
The nine-minute footage showed the orange jumpsuit-clad prisoners being interviewed by an ISIL militant holding a microphone with the group's insignia, before being seemingly taken to a location to be killed.
The prisoners were driven one by one on the back of pick-up trucks with ISIL militants accompanying each prisoner.
ISIL started its campaign of terror in Iraq in early June 2014. The heavily-armed militants took control of the country's northern city of Mosul before sweeping through parts of the country's Sunni Arab heartland.
Iraqi soldiers, police units, Kurdish forces, Shia volunteers and Sunni tribesmen have succeeded in driving the ISIL terrorists out of some areas in Iraq.
http://www.presstv.in/Detail/2015/03/23/403059/Kurdish-fighters-kill-13-ISIL-militants
-----------
Iraq warplanes target ISIL positions in Tikrit
Mar 24, 2015
Iraq's Ministry of Defense has released a footage of the army's airstrikes and helicopter attacks against the positions of ISIL Takfiri terrorist group in the strategic city of Tikrit.
According to the ministry on Monday, the strikes inflicted heavy casualties on the ISIL, killing many of the Takfiri terrorists stationed in the embattled northern city in Salahuddin province.
The attack came a day after the commander of the Iraqi volunteer forces, Hadi al-Ameri, said that Iraqis do not need the US airstrikes in their operation to liberate Tikrit.
The army's offensive marked the resumption of the Tikrit operation a week after Iraqi officials had announced its temporary halt to allow civilians to leave the embattled city.
Iraq's Defense Minister Khaled al-Obeidi © AFP
"When we see that the time is right for the Tikrit alliance, we will storm in as quickly as possible," said Iraq's Defense Minister Khaled al-Obeidi, adding, "Tikrit is under full siege. We are taking caution to not take any losses and to protect civilians in the city."
ISIL victims' mass grave discovered
Earlier in the day, a mass grave was discovered in the town of Yathrib, about 170 kilometers north of the capital city of Baghdad.
An unnamed Iraqi security source said that the site contained the remains of Iraqi soldiers who had been murdered by ISIL terrorists.
The report, however, did not specify the exact number of the slain soldiers.
Tikrit operation
Earlier this month, some 30,000 Iraqi troops started a large-scale operation to recapture Tikrit, which is the birthplace of former Iraqi dictator Saddam Hussein. The volunteer forces, which include both Shia and Sunni members, also joined the operation.
Reports said the Iraqi army and volunteer forces regained much of Tikrit from the Takfiri militants following heavy firefight in the city.
Iraqi forces stand at a checkpoint at the entrance of al-Alam, a flashpoint town north of Tikrit, March 22, 2015. © AFP
Tikrit has a strategic position as it sits on the road to the ISIL stronghold, Mosul.
The ISIL terrorists, many of whom were initially trained by the US Central Intelligence Agency in Jordan in 2012 to destabilize the Syrian government, now control parts of Iraq and neighboring Syria. They have been engaged in crimes against humanity in the areas under their control.
http://www.presstv.in/Detail/2015/03/24/403125/Iraq-warplanes-target-ISIL-positions
-----------
To stop extremism, end Syria's civil war: rights groups
March 24th , 2015
Syrian civil society groups appealed March 24 for an international commitment to end the brutal war in their country as the only means to put the brakes on the spread of extremism.
"Stopping the violence requires two steps which we cannot achieve alone: an end to (President Bashar) al-Assad regime's barrel bombs and air strikes and negotiations between all Syrian groups and their international backers," 85 groups said in an emotive joint campaign.
"We have called the campaign 'Planet Syria' because we sometimes feel as if we are from a different planet," said campaign organiser Oula Ramadan.
"Our demands for freedom and democracy are treated by many as if they are completely alien and unrecognisable," she said.
"Our peaceful uprising has been turned into the world's war ... We need truly global solidarity to end it."
Campaign activists said they felt "abandoned" by an international community preoccupied with extremism rather than the war's daily horrors.
"We are deeply frustrated by the lack of support from our friends around the world," said another organiser, Salma Kahale.
"It's not complicated -- the vast majority of Syrians don't want dictatorship or extremism," she said. "We want exactly the same as anyone, anywhere: freedom and dignity."
Syria's civil war began in March 2011 with peaceful demonstrations, but the protests have been drowned out by a brutal regime crackdown and the barbarity of jihadist organisations like the Islamic State group.
The civil society groups attributed the rise in extremism to continuing indiscriminate violence, particularly barrel bomb attacks which Damascus has been widely accused of carrying out on rebel-held areas despite its denials.
"With every home they destroy, more people are radicalised, turning their backs on more moderate paths towards justice," they warned.
"Extremism grows from the rubble of our ravaged towns and cities, and will only continue to expand unless we act together," they said.
"To stop the extremism we have to end the bloodshed in Syria."
The signatory groups represent civilians across Syria and include unions, women's collectives and nonviolent activist groups like the Violations Documentation Centre (VDC), the Syrian Network for Human Rights (SNHR) and the Kurdish Women's Union.
http://www.hurriyetdailynews.com/to-stop-extremism-end-syrias-civil-war-rights-groups----.aspx?pageID=238&nID=80090&NewsCatID=352
------------
Salam: Lebanon to seek Arab support in anti-terror fight
Mar. 24, 2015
BEIRUT: Lebanon will ask the forthcoming Arab summit for support in its open battle against terrorism as well as financial aid to cope with the Syrian refugee crisis, Prime Minister Tammam Salam said Monday.
In the absence of a president, Salam will head Lebanon's delegation to the annual Arab League summit, scheduled to be held on March 28-29 in Egypt's Red Sea resort of Sharm el-Sheikh, with national security topping the agenda.
Arab League officials have said the threat from the ISIS group, the war in Syria, and the crises in Libya and Yemen are among the issues expected to be discussed during the summit.
Speaking to The Daily Star, Salam said terrorism, which is threatening the security of Arab countries, is among key issues to be addressed by Lebanon during the summit.
"Among the important issues to be raised by Lebanon and which will have strong presence in this summit is the issue of terrorism which is sweeping across our countries and threatening our sovereignty and security," the premier said.
"Lebanon will explain its efforts in the battle against terrorism. We can say that we have made successes [in this battle], thanks to our Army, security forces and national unity," he added.
Salam's remarks come amid mounting fears that ISIS and Nusra Front militants, entrenched in caves in the rugged mountainous outskirts of the northeastern town of Arsal, are gearing up for a major offensive deep into Lebanese territory along the eastern border with Syria when the snow melts.
The Army has frequently clashed with ISIS and Nusra Front gunmen in areas near the border with Syria.
It has also carried out pre-emptive strikes against terror cells and thwarted several suicide bomb attacks in the past few months.
Salam said that Lebanon would also request from the Arab summit financial aid to help it cope with the heavy economic and social burdens caused by the presence on Lebanese territory of more than one million Syrian refugees fleeing the war in their country.
"We will also raise the tragedy of Syrian refugees and the enormous burden it represents for Lebanon," the premier said. "We will reaffirm what we had previously said before our Arab brothers and international donors, that the aid we have received so far still falls short of meeting the huge needs caused by the refugee influx.""In this respect, we will certainly ask our Arab brothers to provide assistance to Lebanon in line with a government plan exceeding $2 billion," Salam said. He added that Lebanon would present the plan to a donor conference scheduled to be held in Kuwait on March 31.
Lebanon hosts 1.1 million Syrian refugees registered with the UNHCR, though government estimates put that number higher, putting a severe strain on Lebanon's feeble infrastructure and its social services.
Salam underlined the need for Arab solidarity in the face of popular upheavals and turmoil threatening the security and stability of some Arab countries. "Lebanon will stress at the summit the significance of Arab solidarity in this difficult stage which is witnessing tragedies and disasters in several Arab countries," he said.
He added that the 4-year-old war in Syria has so far resulted in the killing of tens of thousands of civilians, wreaked massive destruction on the country's national wealth and resources and threatened its territorial integrity.
"We hope this summit will help in strengthening Arab ranks and come out with resolutions that will help in facing the current challenges," Salam said. "We will support any decision taken by the Arab League in this respect."
Salam welcomed any Arab or foreign efforts to help Lebanon end the political deadlock that has left the country without a president for 10 months, but stressed that the solution to the crisis should be reached by the Lebanese.
"With regard to the political crisis in Lebanon, I say that any Arab or non-Arab effort that can help us overcome our problems, at the forefront of which is the vacancy in the presidency, is welcomed," Salam said. "But we must know that the solution is in our hands, we the Lebanese. That's why we will not make any request of help of this kind from our Arab brothers at this summit."
http://www.dailystar.com.lb/News/Lebanon-News/2015/Mar-24/291931-salam-lebanon-to-seek-arab-support-in-anti-terror-fight.ashx
-----------
No funding for ISIS via Lebanese banks: Salameh
Mar. 24, 2015
BEIRUT: ISIS was not receiving funds being routed through Lebanese banks, Central Bank Governor Riad Salameh said Tuesday.
"We are against the transfer of funds linked to ISIS in Lebanon," Salameh told local television channel MTV.
"There is no funding for this organization through Lebanese banks," he stressed.
http://www.dailystar.com.lb/News/Lebanon-News/2015/Mar-24/291936-no-funding-for-isis-via-lebanese-banks-salameh.ashx
-----------
Saudi king invites Iraq PM to visit as ties thaw
March 24, 2015
BAGHDAD - Iraqi Prime Minister Haider al-Abadi received an invitation from King Salman to visit Saudi Arabia, as relations between the two nations improve, the premier's office said.
Ties between Baghdad and Riyadh have become steadily better since Abadi took office last year after reaching a low ebb under his predecessor Nuri al-Maliki, who accused Saudi Arabia of backing militants in Iraq while it criticised him as sectarian.
Iraqi President Fuad Masum visited Saudi, and Riyadh announced in January that it would reopen an embassy in Iraq for the first time in more than two decades.
The invitation came during a phone call with the king in which Abadi sought to emphasise the cross-sectarian nature of Baghdad's battle against the Islamic State jihadist group, which led an offensive that overran large parts of Iraq last June.
Victories over IS "were realised with the cooperation of all the sons of the Iraqi people and by volunteers from the sons of the areas," Abadi told Salman, according to a statement released Sunday night.
Full report at:
http://nation.com.pk/international/24-Mar-2015/saudi-king-invites-iraq-pm-to-visit-as-ties-thaw
-----------
Egypt signs up to Ethiopian Nile dam, citing trust
March 24, 2015
KHARTOUM - Egypt, Ethiopia and Sudan Monday agreed a preliminary deal on a controversial dam project that Cairo feared would reduce its share of vital waters from the Nile.
The leaders of Egypt, Ethiopia and Sudan all gathered in Khartoum to sign the agreement of principles on Ethiopia's Grand Renaissance Dam project.
"I confirm the construction of the Renaissance Dam will not cause any damage to our three states and especially to the Egyptian people," Ethiopian Prime Minister Hailemariam Desalegn said at the signing ceremony. Egypt, heavily reliant for millennia on the Nile for agriculture and drinking water, feared that the Grand Renaissance Dam would decrease its water supply.
However, Egypt's President Abdel Fattah al-Sisi said on Monday that "this is a framework agreement and it will be completed".
"We have chosen cooperation, and to trust one another for the sake of development."
Sisi said the final accord will "achieve benefits and development for Ethiopia without harming Egypt and Sudan's interests".
Sudan's President Omar al-Bashir hailed the deal as "historic".
The agreement is made up of 10 principles, Egypt's Water Resources Minister Hussam al-Maghazi told AFP.
The countries agreed on the "fair use of waters and not to damage the interests of other states by using the waters".
They also agreed to establish "a mechanism for solving disputes as they occur", Maghazi said.
He gave no details as to when the final agreement would be signed.
Sudan's deputy water resources minister, Saif al-Din Hamed, said the signing of the agreement "will not stop the current construction and building" of the dam in Ethiopia.
Ethiopia began diverting the Blue Nile in May 2013 to build the 6,000 MW dam, which will be Africa's largest when completed in 2017.
Ethiopian officials have said the project to construct the 1,780-metre-long and 145-metre high dam will cost more than $4 billion.
Before the agreement, the dam sparked a dispute between Ethiopia and Egypt, which use the river in different ways.
Full report at:
http://nation.com.pk/international/24-Mar-2015/egypt-signs-up-to-ethiopian-nile-dam-citing-trust
-----------
'ISIS Hackers' Googled Their Hit List; Troops' Names Were Already on Public Websites
03.23.15
Nancy A. Youssef
They swore they 'hacked military servers' to threaten U.S. troops. Actually, these self-proclaimed ISIS whiz kids basically cobbled together information that was already online.
So much for ISIS's super-sophisticated hacker army.
A group calling itself the "Islamic State Hacking Division" posted the names, addresses, and photos of 100 U.S. service members on Saturday, claiming it had obtained the information by breaching military security.
As it turns out, the group didn't need to hack the Pentagon. At least two-thirds of the troops on the ISIS "hit list" had been featured on public Defense Department websites designed to promote the military, The Daily Beast has learned.
Many service members were quoted or photographed in promotional stories talking about their work, often in the Middle East. Others were featured in news videos or in holiday messages to their families. Some were photographed after they returned home from long missions. Others were spokespeople or official photographers for the U.S. military.
Several troops featured in pieces talking about their missions in Iraq, Afghanistan and in the U.S.-led ongoing campaign against ISIS. In at least one instance, two of the airmen on the "hit list" were featured in the same July 2012 photograph taken at Barksdale Air Force Base, La.
In counter-terrorism and cybersecurity circles, there's been a long-running debate about just how skilled Islamic extremists groups have become in the art of network attack. Not long ago, for instance, hackers claiming to be part of a "Cyber Caliphate" took over the social media accounts of U.S. Central Command.
This latest stunt initially appeared to be a substantive penetration of Defense Department security. Upon further examination, however, the "hit list" seems to be little more than a bit of creative Googling.
Full report at:
http://www.thedailybeast.com/articles/2015/03/23/isis-hackers-googled-their-hit-list-troops-names-were-already-on-public-websites.html
-----------
Canada will expand anti-ISIS campaign to Syria
24 March 2015
Canada plans to expand its mission against Islamic State of Iraq and Syria militants by sending fighter bombers to attack targets in Syria as well as Iraq, two well-placed political sources said on Monday.
The expansion means Canada is set to become only the second nation after the United States to bomb the militants in Syria.
Prime Minister Stephen Harper will formally announce the plan at 10 am eastern time (1400 GMT) on Tuesday, the sources said. He will also announce that Canada intends to extend its six-month military mission by another year to April 2016.
Canada has around 70 special forces troops operating in northern Iraq and has also provided six jets to take part in U.S.-led bombing missions against ISIS in Iraq.
Harper, whose right-of-center Conservatives face an election in October, has taken a strong line on ISIS, saying the movement poses a fundamental threat to Canada.
Harper will put his plans to a vote by legislators which is guaranteed to win approval, since the Conservatives have a majority in the House of Commons.
Full report at:
http://english.alarabiya.net/en/News/middle-east/2015/03/24/Canada-will-expand-anti-ISIS-bombing-campaign-to-Syria-.html
-----------
Syrian warplanes bomb Northern Province where helicopter crashed
23 March 2015
Activists say Syrian government warplanes have attacked areas close to the site where an army helicopter crashed a day earlier and its crew members were captured.
The Britain-based Syrian Observatory for Human Rights says nine air raids were conducted Monday in the Jabal al-Zawiya region in the northwestern province of Idlib.
The Local Coordination Committees reported several airstrikes in the area without giving a figure on casualties.
Full report at:
http://english.alarabiya.net/en/News/middle-east/2015/03/23/Syrian-warplanes-bomb-Northern-Province-where-plane-crashed.html
-----------
Saudi FM: Iran shouldn't get 'deals it doesn't deserve'
23 March 2015
Saudi Foreign Minister Prince Saud al-Faisal said on Monday that Iran should not be given "deals it does not deserve," in reference to the looming nuclear agreement between Tehran and the major powers.
Prince al-Faisal made the statement during a joint press conference with visiting British Foreign Secretary Philip Hammond in Riyadh.
The Saudi top diplomat said Iran was conducting "aggressive policies, and interfering in the countries of the region and [seeking to] acquire a nuclear weapon that threatens regional and international security."
"It is impossible to give Iran deals it does not deserve," Prince al-Faisal said, according to Al Arabiya Net.
Full report at:
http://english.alarabiya.net/en/News/middle-east/2015/03/23/Saudi-British-foreign-ministers-hold-talks-in-Riyadh.html
-----------
KSA: Interventionist Iran 'does not deserve N-deal'
24 March 2015
Iran should not get an "undeserved" deal with world powers on its nuclear program, Foreign Minister Prince Saud Al-Faisal said on Monday.
Prince Saud said Tehran was continuing its interventionist policies in the Middle East. He was speaking at a joint press conference with visiting British Foreign Secretary Philip Hammond.
"It is impossible that Iran should get undeserved deals," Prince Saud said. The negotiations should ensure that Iran does not develop nuclear capability and thus threaten the safety and stability of the region, he said.
Prince Saud and Hammond said the two countries were doing everything they could to restore the legitimate government in Yemen. They expressed concern over the deteriorating security situation in the country.
They said every effort would be made to prevent further Houthi aggression against the elected government in Yemen. They also condemned last week's bombings that targeted mosques and the presidential palace in Aden.
Full report at:
http://www.arabnews.com/featured/news/722536
-----------
Pakistan
Ruling class blocking introduction of Islamic system, says JI
March 24th , 2015
NOWSHERA: Jamaat-i-Islami Khyber Pakhtunkhwa chief Professor Mohammad Ibrahim on Monday declared the rulers the main hurdle to the introduction of Islamic system in the country and urged the people to find new leadership for the purpose.
"The ruling class fears Islamic system will hurt its interests and therefore, it is creating hurdles to this system's introduction in the country," he told a public meeting in Khaishgi area here.
Jamaat-i-Islami leaders Mirajuddin and Anwarul Islam also spoke on the occasion.
Professor Ibrahim said the people could change the country's political leadership if they really wanted resolution of their problems.
He said children should be given modern education along with Islamic education so that they could help the country meet internal and external challenges.
The JI leader said children were the country's future as they would become doctors, engineers, professors and political leaders in future.
He said it was the duty of teachers to train children in such a way that they contributed to national progress well.
Full report at:
http://www.dawn.com/news/1171557/ruling-class-blocking-introduction-of-islamic-system-says-ji
-----------
Islamic State activates operation in Pakistan
MARCH 24, 2015
Pakistan (MNN) — We've been telling you about the Islamic State's presence in Pakistan for months. Now, ISIS is officially launching its terror campaign.
Before and after bombing a Shi'ite mosque on Friday, the Islamic State handed out hundreds of notices on official ISIS letterhead. National pastors shared a copy of one with Forgotten Missionaries International's Bruce Allen.
"'You must embrace Islam or be ready to be killed.' That is the message going out in Pakistan in recent hours from ISIS," he reports.
Believers from Youhanabad are already on the run.
Youhanabad
Translated as "John's Land" (named for the John of the Gospels, Allen says), Youhanabad is reportedly the largest Christian community in Lahore, Pakistan.
"Youhanabad is about 300,000 people; 97% of the people are Christian," says Allen. "80% of the population has fled–they've left the city. Some are staying with relatives in other towns while others have just left."
Those remaining in the city are likely staying close to loved ones who survived last week's attack, Allen adds. The death toll is now up to 44, and approximately 20 victims are on life-support in the hospital.
FMI's National Director in Pakistan, *Nehemiah, is on the ground in Youhanabad and has been sharing regular updates with Allen.
"I know some stories now from the survivors of the blast, the people who have lost loved ones in the attack," Allen shares. One of those stories centers on a young man serving as a church security guard.
"He saw the suicide bomber coming, and he pulled him back out from the church area so the blast would occur more in the street [instead of within the church]," Allen says.
"He was the sole provider of income…. He lives with his parents, along with many other siblings. They're dealing with the emotional loss of a son or a brother, as well as with the loss of income."
Full report at:
https://www.mnnonline.org/news/islamic-state-activates-operation-in-pakistan/
-----------
Drone strike near Khyber border kills nine, including driver of LI chief
AKBAR ALI
March 24th , 2015
PESHAWAR: At least nine suspected militants, including the driver of Lashkar-i-Islam (LI) chief Mangal Bagh, were killed in a US drone strike in Nazyan district of Afghanistan's Nangarhar province, near the Pak-Afghan border in Khyber Agency.
Shakir Sipah, a driver of Mangal Bagh who is the chief of the banned LI militant organisation, was among those killed in the drone attack.
Intelligence sources say that militants belonging to the proscribed Tehreek-i-Taliban Pakistan (TTP) and LI militants organisations were killed in the strike.
Other LI commanders who were killed were identified as Fazal Ameen, Shamat Khan Sipah and Wajid.
TTP commanders, including Yaseen, Zubair , Abdul Rehaman Shinwari and training instructor Zar Wali, were also among the dead.
The sources further said that the unmanned aerial vehicle targeted a suspected militant hideout with two missiles, completely destroying the compound.
Several people were also wounded in the strike.
The details could not be independently verified as the access of media personnel is severely restricted in the region. Militant hideouts have been frequently pounded by Pakistan's security forces in Tirah Valley area of Khyber region.
The outlawed Lashkar-i-Islam (LI) led by Mangal Bagh had recently merged itself into the Tehreek-i-Taliban Pakistan (TTP) under a reorganisation planned by militants.
The development comes at a time when security forces are making significant gains against militants in military operations in North Waziristan and Khyber Agency which were once considered their strong bastions.
Khyber is one of Pakistan's seven semi-autonomous regions governed by tribal laws and lies near the porous Afghan border.
A military operation titled 'Khyber One' and 'Khyber Two' was launched by security forces and aimed at targeting militants in Khyber Agency, particularly the Tirah Valley of Bara which borders Nazyan.
Full report at:
http://www.dawn.com/news/1171563/drone-strike-near-khyber-border-kills-nine-including-driver-of-li-chief
-----------
8 Terrorists Killed 30 Arrested In Karachi
March 23, 2015
KARACHI - At least eight terrorists were killed and more than 30 suspected militants were arrested in separate raids in different areas of the metropolis.
A police team led by SSP Rao Anwar conducted a raid in Quetta Town at Super Highway on a tip-off regarding presence of militants. Witnessing arrival of police into the area, the criminals opened indiscriminate fire and heavy exchange of gunfire ensued.
SSP Anwar said that the criminals were using modern weapons against the police.
"They fired rockets at the police party upon arrival in the area," he claimed.
He confirmed that three terrorists had been killed by the police. He informed that the slain terrorists belonged to a banned terror outfit. Acting on a tip-off, police conducted a raid at Pathan Colony in Orangi Town, killing three suspects and arresting 15 others.
In yet another raid conducted by the Counter-Terrorism Department (CTD), two suspects were killed while large numbers of weapons were recovered from their possession. The suspects were making explosives.
Full report at:
http://nation.com.pk/karachi/23-Mar-2015/8-terrorists-killed-in-karachi
-----------
JI chief pleads for uniform education curriculum
March 24, 2015
SWABI - Jamaat-i-Islami Chief Senator Sirajul Haq has said that if he gets an opportunity to rule the country he will introduce one curriculum from nursery to matric level in both public and private sector schools across the country.
He was addressing the prize distribution ceremony of All Pakistan TechFest which was organised by Society of Mechanical Engineering Pakistan (SMEP), students' chapter of Ghulam Ishaq Khan Institute of Engineering Sciences and Technology here on Monday. The academia and students from various engineering universities participated in the three-day event.
Siraj said that after matriculation each student would be allowed to go to the field of his/her choice as to deliver according to the requirements of the country and his/her wishes. The students study in the religious institutions would also be brought into the mainstream of contemporary education, he said.
Full report at:
http://nation.com.pk/national/24-Mar-2015/ji-chief-pleads-for-uniform-education-curriculum
-----------
Pakistan Ulema Council Chairman receives threats from TTP
March 24th, 2015
ISLAMABAD: Allama Tahir Ashrafi has received threats from the outlawed Tehreek-i-Taliban Pakistan (TTP), mainly over a 'decree' he issued condemning the attack on Army Public School in Peshawar and terming it against the principles of Islam.
An advisory has been issued by the Punjab government on the basis of information received from security agencies in which it has stated that TTP (Hazro Group) was planning to target clerics who opposed them.
The advisory has been issued to all the concerned police departments and even offices of security agencies in Punjab.
The advisory says that Taliban commander Naikullah has carried out a reconnaissance of a number of targets in Peshawar, and has now been detailed in Lahore to work on likely targets.
Full report at:
http://www.dawn.com/news/1171534/allama-ashrafi-receives-threats-from-ttp
-----------
Quaid's Aug 11 speech to be included in school curriculum
SHAZIA HASAN
March 24th , 2015
KARACHI: The Sindh government on Monday decided to include Quaid-i-Azam Mohammad Ali Jinnah's speech of Aug 11, 1947 in the curriculum of classes eight to 10.
The decision to include the speech made by the Father of the Nation in his address to the first Constituent Assembly of Pakistan on Aug 11, 1947 was taken by the provincial senior minister for education and literacy on the direction of former president of Pakistan and PPP co-chairman Asif Ali Zardari.
The speech — "You are free, you are free to go to your temples, you are free to go to your mosques or any other place of worship in this State of Pakistan. You may belong to any religion or cast or creed — that has nothing to do with the business of the State ... Now I think we should keep that in front of us as our ideal and you will find that in course of time Hindus would cease to be Hindus and Muslims would cease to be Muslims, not in the religious sense, because that is the personal faith of each individual, but in the political sense as citizens of the State" — in which the Quaid explicitly spoke of giving equal rights and freedom to the religious minorities of Pakistan will be made a part of the curriculum in its entirety.
Know more: Curricular concerns
"History needs to be put right back on track and that is exactly what we intend to do now. Sindh has a right to prepare its syllabi so we are including Mr Jinnah's speech, in its entirety, so that the message remains clear, in the course books of our children.
"The step, besides spreading awareness among the younger generation, would help our young generation face and fight the mindset of intolerance found in many people of today. They should understand that Pakistan was meant to be a secular nation where everyone has the right to follow their religion," said the senior minister.
It was said that the textbooks with the addition would be distributed among schoolchildren free of cost next year.
Full report at:
http://www.dawn.com/news/1171436/quaids-aug-11-speech-to-be-included-in-school-curriculum
-----------
Pakistan needs short-range nukes for deterrence against India: govt adviser
March 24th , 2015
WASHINGTON: Pakistan needs short-range "tactical" nuclear weapons to deter India, a top adviser to its government, retired Lt Gen Khalid Kidwai, said Monday, dismissing concerns it could increase the risk of a nuclear war.
Mr Kidwai also rejected concerns over the security of Pakistan's nuclear arsenal, insisting that adequate safeguards are in place to protect what analysts have described as the world's fastest-growing atomic arsenal.
Pakistan's development of smaller warheads built for use on battlefields, in addition to longer-range weapons, has increased international concerns that they could get into rogue hands because of the pervasive threat of Islamic militants in the country.
Pakistan and its larger neighbour India have fought three wars. They have held on-off peace talks over the years but are involved in a nuclear and missile arms race that shows no sign of abating.
Neither side discloses the size of its arsenal. But a recent report by the Council on Foreign Relations think tank estimated that Pakistan has enough fissile material to produce between 110 and 120 nuclear weapons, and India enough for 90 to 110 weapons.
Read more: Pakistan still ahead of India in arms race
For 15 years, Mr Kidwai led the administration of Pakistan's nuclear and missile weapons program. He now serves as an adviser to the National Command Authority, a committee of the top civilian and military leaders that sets the country's nuclear weapons policy.
He spoke Monday at a conference on nuclear security organised by the Carnegie Endowment for International Peace in Washington.
On the sidelines of the conference, Rakesh Sood, former Indian special envoy for disarmament and non-proliferation, said it was "extremely destabilising for any country to develop tactical nuclear weapons", and that India has no plans to.
He contended that Pakistan's nuclear doctrine is "cloaked in ambiguity" which undermines confidence between the two countries.
Full report at:
http://www.dawn.com/news/1171574/pakistan-needs-short-range-nukes-for-deterrence-against-india-govt-adviser
-----------
Kashmir solution only way to durable peace
IMPRESSIVE PAK
March 24, 2015
ISLAMABAD - A highly impressive joint military parade by the armed forces of Pakistan took place here Monday after a gap of seven years, to commemorate the historic Pakistan Resolution on March 23, 1940 – a day which set course for the creation of Pakistan.
Led by Brigadier Khurram Sarfraz, personnel from all three services, Pakistan Army, Navy and Air Force, strategic command, Rangers, FC, police, boys and girls guides participated in the parade.
Mobile phone networks in the capital were disabled to thwart potential bomb attacks, some roads were closed to the public and much of the city was under heavy guard for the event.
The ceremony was attended by Prime Minister Nawaz Sharif, Defence Minister Khawaja Asif, Chairman Joint Chiefs of Staff Committee General Rashad Mahmood, Chief of Army Staff General Raheel Sharif, naval chief Admiral Zakaullah, PAF chief Air Chief Marshal Sohail Aman, senior serving and retired civil and military officials, diplomats and citizens.
This year's event took place at the new Parade Ground, specially built near scenic Shakarparian.
In the past, the parade was held on Parade Avenue in front of Parliament House and before that, at the Race Course in Rawalpindi.
The colourful ceremony of Pakistan Day parade kicked off with a splendid fly past of aircraft of Pakistan Air Force and Pakistan Navy led by Air Chief Marshal Sohail Aman.
Both modern and more traditional elements of Pakistan's military arsenal were on display, from nuclear-capable missiles and the new home-made armed Burraq drone to a camel-mounted musical band.
Full report at:
http://nation.com.pk/national/24-Mar-2015/kashmir-solution-only-way-to-durable-peace
-----------
Pakistan, Qatar to boost defence co-op
March 24, 2015
ISLAMABAD - Prime Minister Nawaz Sharif has said that Pakistan holds Qatar in very high esteem and wishes to enhance cooperation in all fields, particularly energy, trade, investment, defence and manpower.
He said this while talking to Qatari Emir Sheikh Tamim bin Hamad Al-Thani at the PM House on Monday.
The Qatari emir arrived in Islamabad on a two-day official visit to Pakistan on the invitation of the prime minister.
The prime minister himself received the emir and members of his delegation at the Islamabad airport where he was accorded a warm welcome, including a 21-gun salute and guard of honour.
Talking to him, the premier said Pakistan and Qatar were enjoying close and brotherly relations.
He lauded the personal contribution of Sheikh Tamim bin Hamad Al-Thani in transforming Qatar into one of the most attractive destinations of the world.
"Qatar's progress is remarkable, enviable and a matter of pride for us as a brotherly country," he said.
"I was waiting for your highness' visit to Pakistan just like a brother waits for a brother," he remarked.
He said, "Pakistan wants Qatari investment in all areas.
Our bilateral trade of less than US$ 300 million per annum is much below its potential.
" The prime minister said Qatar was home to more than 100,000 Pakistanis whose remittances were making a valuable contribution to the socio-economic development of Pakistan.
"We would appreciate if Pakistani manpower in Qatar is substantially enhanced," he said.
The Qatari side expressed interest in enhancing the number of Pakistanis working in Qatar for various development projects they plan to undertake for hosting FIFA 2022 World Cup.
Both the sides agreed to take measures to enhance trade and strengthen cooperation in the field of defence and manpower.
The prime minister said this visit of the emir of Qatar would provide fresh impetus to bilateral relations between the two countries.
The emir said, "Qatar attaches great importance to its relations with Pakistan.
It is a very important country not only for Qatar but also for the region.
"
He expressed the confidence that his visit would strengthen bilateral cooperation.
He said Qatar would also positively look into opportunities available in Pakistan for investment in various fields, including energy.
Full report at:
http://nation.com.pk/national/24-Mar-2015/pakistan-qatar-to-boost-defence-co-op
-----------
Forces capture Masatul Pass in Khyber Agency
March 24, 2015
KHYBER AGENCY/RAWALPINDI - Pakistan Army, achieving significant success in the ongoing Khyber-I operation in Tirah Valley, captured Masatul Pass linking Khyber Agency with Afghanistan and killed at least 15 militants in the airstrikes by fighter jets.
According to ISPR, Pakistan military had also dislodged terrorists from Sokh which is the central area of operation.
Director-General Inter-Services Public Relations (ISPR) Major General Asim Saleem Bajwa said Monday that significant goals were achieved by airstrikes Sunday night targeting terrorists in the area close to Afghan border.
He said Masatul Pass linking Khyber-Afghanistan, used by terrorists for movement to Afghanistan had been seized by forces.
"Now they are tightening noose against terrorists," he said.
"Terrorists suffered serious setback with large casualties.
Our forces are consolidating their gains," the ISPR added.
Meanwhile, at least 15 terrorists, including Al-Qaeda commander Umar Farooq, were killed during security forces operation in Khyber Agency's Tirah Valley on early Monday morning.
Sources said some key TTP figures including Taliban chief Mullah Fazlullah were also among killed, but there was no official confirmation.
Full report at:
http://nation.com.pk/national/24-Mar-2015/forces-capture-masatul-pass-in-khyber-agency
-----------
APS attack victims' parents vow to stand by armed forces
March 24, 2015
PESHAWAR - Parents of the martyred students of Army Public School (APS) have praised the steps of civil and military leadership for elimination terrorism, and vowed to render more sacrifices for the sake of motherland and for restoration of durable peace in the country.
While speaking at a news conference at the Press Club here on Monday, Mian Amir Kakakhel, member of the APS Shuhada and Ghazi Forum, said that security forces have been scaled up their ongoing military operation in restive tribal region and killed mastermind of the Peshawar tragic attack, which is commendable.
"We are standing with the Pakistan's military in its efforts to eliminate terrorism from across the country," Amir said.
Full report at:
http://nation.com.pk/national/24-Mar-2015/aps-attack-victims-parents-vow-to-stand-by-armed-forces
-----------
India
Muslim Population No Issue, Conversion Is, Says Home Minister
24 Mar, 2015
NEW DELHI: Home Minister Rajnath Singh, in comments that would run counter to the line often used by hardline Hindutva elements, said on Monday he had no issues with the pace of growth of the Muslim population in the country, but railed against religious conversions and exhorted minorities to take the lead in pressing for an anti-conversion law.
"It does not matter how many Muslims are there. If their population is increasing, let it increase. We have no issues. But the cycle of conversions must stop," Singh told a conference of state minority commissions in Delhi.
The comments come at a time some hardliners in the Sangh Parivar have expressed their annoyance at what they allege is the fast pace of growth in the country's Muslim population and have exhorted Hindus to procreate more to counter this. India's Muslim population probably rose to 14.2% in 2011 from 13.4% in 2001, the government yet-to-be-released census data is expected to show.
While Singh appeared conciliatory to Muslims, he struck a hard line against religious conversions — a topic that has of late been sought to be linked with the Christian community.
Members of the Sangh Parivar have in recent weeks sought to link service done by Christian institutions with religious conversions.
RSS Chief Mohan Bhagwat last month stirred up a controversy when, referring to conversions, he said there was a "motive" behind the service rendered by Mother Teresa. Singh appeared to echo similar sentiments.
'Respect Others'
"Why do we do conversions? If we want to do service, let us do service. But should service be done for the purpose of religious conversion? Cannot we decide that we will go worldwide to do service but conversion will not be our target but only to serve humanity?" he asked.
"Can't we live without respecting each other's faith. What is the necessity of conversion. Can't a religion survive without involving in conversion?... People say conversions are done by people on their own accord...that there is freedom for conversions. Do not do this (conversions). Leave it," he added.
The home minister said he was posing three basic questions.
"First, is conversion necessary? Second, can a religion not survive without conversions? Thirdly, if anybody tries to change the demographic character of any country, will anyone tolerate it? In US or Europe, if I go and try to change their demographic character, isn't it a crime on my part? Why should I do this? Let that country's identity remain. That country has a culture, let it be. Why do we want to change it?" he said.
Singh also blamed the Congress government for creating an "atmosphere of insecurity" among minorities and said the Narendra Modi government was reversing this. He termed the controversy around 'Ghar Vapasi', or reconversion of minorities back into the Hindu faith, as "misunderstandings and rumours" and said a solution needed to be found.
The home minister lamented that the majority community had to ask for an anti-conversion law and not minorities.
"In other countries, minorities demand that anti-conversion law should be made. India is the only country where it is not so. In our country, the state of affairs is such that we have to say and demand that there should be a debate over anti-conversion law.
Why is there such a state of affairs? It will be good if you think over this and debate it," he said.
Full report at:
http://economictimes.indiatimes.com/news/politics-and-nation/muslim-population-no-issue-conversion-is-says-home-minister-rajnath-singh/articleshow/46669682.cms
-----------
MoS External Affairs Attends Pak Day, Then Tweets 'Disgust'
Mar 24, 2015
NEW DELHI: In what could turn into a major embarrassment for the Narendra Modi government, minister of state for external affairs V K Singh on Monday tweeted his "disgust" at being forced to attend the Pakistan Day celebrations at the Pakistan high commission here.
Singh was warmly welcomed by Pakistani high commissioner Abdul Basit, who said it was a matter of honour that Singh had graced the occasion? With his presence, but that did not prevent the minister from leaving the venue within 10 minutes of his arrival. Later in the evening, though, in a series of tweets with hashtag "duty" and "disgust", he let out his displeasure. In one of these, he said "#duty" was "a task or action that a person is bound to perform for legal or moral reasons".
Full report at:
http://timesofindia.indiatimes.com/india/VK-Singh-attends-Pak-Day-then-tweets-disgust/articleshow/46669697.cms
-----------
Muslim Gau Bhakt Spreads Message of Cow Protection
Binay Singh
Mar 23, 2015
VARANASI: While many Bollywood celebrities and politicians criticized the ban on beef and cow slaughter, it is pleasant to see a Muslim 'Gau bhakt' (cow activist) from Raipur (Chhattisgarh) Mohammed Faiz Kkhan in temple town Varanasi to spread the message of cow protection through a series of 'Gau katha'. A firm believer in Islam Faiz has been advocating for cow rearing and conservation through lectures and preaching at different places for last two years leaving the job of lecturer.
"Cow is not the mother Hindus only, but, as Veda says, She is the mother of all (Vishwa Mata)," said the 34-year-old preacher, who has so far delivered about 200 lectures on cow's importance in schools and other institutions and held 15 Gau Katha in various states including Gujarat, Madhya Pradesh, Rajasthan and Chhattisgarh.
For people it was really surprising to see a Muslim in saffron with an idol made of the cow dung speaking about cow's significance for mankind and appealing for the protection of cows. "It is unique and first of its kind happening in the city," said Rupesh Pandey, who was looking after the arrangements for the three-day Gau Katha that began on the bank of Ganga at Assi Ghat on Monday. Shankaracharya of Jyotish and Dwarka Shada Peeth Swami Swaroopanand Saraswati also appreciated Faiz for spreading a message of cow protection. "He is doing a good work and it should be appreciated," said the seer.
Full report at:
http://timesofindia.indiatimes.com/city/varanasi/Muslim-Gau-Bhakt-spreads-message-of-cow-protection/articleshow/46665230.cms
-----------
India didn't prevent Hurriyat members' meet with Pakistan envoy
Mar 24, 2015
NEW DELHI: Separatists led by Mirwaiz Umer Farooq met Pakistan high commissioner Abdul Basit for Pakistan Day on Monday. After Basit mentioned to a TV reporter that India had not objected to the meeting, India reacted by saying that it could speak for itself.
"Having repeated it on so many occasions, there should be no scope for misunderstanding or misrepresenting India's position on the role of the so called Hurriyat. Let me reiterate there are only two parties and there is no place for a third party in resolution of India-Pakistan issues,'' said external affairs ministry spokesperson Syed Akbaruddin.
The government was represented at the event by minister of state for external affairs V K Singh. He, however, spent barely 10 minutes at the high commission and left immediately after the national anthems were played.
"The only way forward to proceed on all outstanding issues is a peaceful bilateral dialogue within the framework of Simla Agreement and Lahore Declaration,'' the MEA spokesperson said.
India did not try to prevent the meeting from taking place knowing fully well that Hurriyat leaders have for years been attending the same event without New Delhi protesting despite its reservations. India had called off foreign secretary-level talks with Pakistan last year after Basit held consultations with Hurriyat leaders only because the meeting took place on the eve of the scheduled dialogue. ?Welcoming Singh at the high commission, Basit said the two sides owed it to the future generations not to leave a legacy of conflict.
Full report at:
http://timesofindia.indiatimes.com/india/India-didnt-prevent-Hurriyat-members-meet-with-Pakistan-envoy/articleshow/46670629.cms
-----------
Dialogue only in atmosphere free of terror and violence, Modi tells Sharif
Mar 24, 201
NEW DELHI: On a day India and Pakistan bickered over Hurriyat's participation in Pakistan Day celebrations, Prime Minister Narendra Modi wrote to his counterpart Nawaz Sharif emphasising the significance of bilateral dialogue in an "atmosphere free of terror and violence".
While India did not officially protest against the Hurriyat leaders' meeting with Pakistani high commissioner Abdul Basit, the government warned Islamabad that there is no scope for "misunderstanding or misrepresenting India's position on the role of the so-called Hurriyat''. This was after Basit said India had no objection to his meeting with the separatists as he urged the media not to turn a "non-issue into an issue''.
Modi himself said in a letter to Sharif that it is his firm conviction that all outstanding disputes could be resolved through bilateral dialogue in an atmosphere free from terror and violence. He wrote to Sharif to convey his good wishes on Pakistan Day.
The separatists, led by Mirwaiz Umer Farooq, met Basit at the high commission for the event. After Basit mentioned to a TV reporter that India had not objected to the meeting, India reacted by saying that it could speak for itself.
"Having repeated it on so many occasions, there should be no scope for misunderstanding or misrepresenting India's position on the role of the so called Hurriyat. Let me reiterate there are only two parties and there is no place for a third party in resolution of India-Pakistan issues,'' said external affairs ministry spokesperson Syed Akbaruddin.
The government was represented at the event by minister of state for external affairs V K Singh. He, however, spent barely 10 minutes at the high commission and left immediately after the national anthems were played.
"The only way forward to proceed on all outstanding issues is a peaceful bilateral dialogue within the framework of Simla Agreement and Lahore Declaration,'' the MEA spokesperson said.
Full report at:
http://timesofindia.indiatimes.com/india/Dialogue-only-in-atmosphere-free-of-terror-and-violence-Modi-tells-Sharif/articleshow/46669704.cms
-----------
Gujarat delegation all praise for Pakistan authorities
March 23, 2015
THE Gujarat delegation which returned from Pakistan after overseeing the successful return of 57 fishing boats to Porbandar was all praise for the western neighbors on Monday.
The delegation, led by Pravinchandra Malli, assistant director of Fisheries of Vadodara, had landed in Karachi on March 9 to coordinate efforts for repatriating the trawlers. The delegation remained in Karachi till March 22 when the Pakistan Marine Security Agency (PMSA) delivered the fishing boats to the Indian Coast Guard some 105 nautical miles off Karachi on the Indo-Pak International Maritime Boundary Line in the Arabian Sea. As India got custody of the boats, the delegation boarded the return flight and landed back in Ahmedabad early on Monday morning.
The delegation had a daunting task of getting all the boats repaired and make them seaworthy in days before the deadline of March 31, Pakistan had set to claim the boats. In frantic activities, amidst bombing incidents in Karachi, the delegation held a series of meetings with officers of PMSA, local contractors and technicians to get the job done. But delegation members admitted the task would have been difficult without the cooperation of Pakistani authorities.
"Pakistan authorities knew that we had very little time. Repairing engines would have taken months. So, we had to do repairs in days. Contractors quoted 59,000 Pakistani rupees for repairing hulls of boats. But PMSA officers told the contractors they cannot manipulate the situation and forced them to repair hulls at 32,000 Pakistani rupees. Similarly, officers helped reduce towing contract prices by almost half," Malli told The Indian Express on Monday.
Pravin Rada, assistant superintendent of fisheries at Mangrol in Junagadh district, also said the PMSA helped their cause a great deal.
Full report at:
http://indianexpress.com/article/india/india-others/gujarat-delegation-all-praise-for-pakistan-authorities/
-----------
Southeast Asia
Under Islam, 'Haram' and 'Sinful' To Impose Goods and Services Tax:, Hardline Islamist Group
March 23, 2015
KUALA LUMPUR, March 23 — The local chapter of a hardline Islamist group wants Putrajaya to call off is implementation of the Goods and Services Tax (GST) next month, claiming today that Islam forbids the government from usurping the properties of others.
In a statement on its website, Hizbut Tahrir Malaysia accused the Malaysian Islamic Development Department (Jakim) of "cleaning the sins" of the government by certifying the GST as halal although the new tax system is akin to the "robbing the people's property".
"Hizbut Tahrir Malaysia urges the government of Malaysia to call off the implementation of GST as it is an oppressive and sinful decision.
"Hizbut Tahrir Malaysia would like to remind the Ummah that the implementation of GST is forbidden and is part of a systematic oppression framework within capitalist state, which must be destroyed to its core and replaced with the Khilafah State upon the method of the Prophethood," the group's media office head Abdul Hakim Othman said in the statement.
"Islam," he added, "has clearly forbidden anyone, including the government to usurp the properties of others. Implementation of GST, SST (Sales and Services Tax) or any kind of taxation on the people are clear forms of usurpation."
Abdul Hakim noted that the GST, which will see a six per cent tax levied at every level from the manufacturer, the purveyor, retailer and the consumer, will inevitably result in a sharp increase of prices of essential goods and services.
As such, he said although Putrajaya has insisted that the new tax system would not impose any financial burden on Malaysians, the reality is far from it.
"A rational mind will not succumb to such lies," he said, pointing out that even before its implementation on April 1, the prices of goods and services have already soared due to fuel price hikes and "flawed" economic management.
Full report at:
http://www.themalaymailonline.com/malaysia/article/under-islam-haram-and-sinful-to-impose-gst-muslim-group-says
-----------
Egyptian Al Azhar to help promote moderate Islam in Indonesia
23 Maret 2015
Cairo (ANTARA News) - Indonesian President Joko Widodos (Jokowis) special envoy Alwi Shihab has urged Al Azhar scholars and educators in Egypt to help spread moderate Islam in Indonesia.
"Ahmad Al-Tayeb, the grand sheikh of Al Azhar, positively welcomed President Jokowis request to increase the spread of moderate Islamic understanding in Indonesia," Shihab stated in Cairo.
During the meeting with Al-Thayeb last Sunday (March 22), Shihab was accompanied by Indonesian Ambassador to Egypt Nurfaizi Suwandi and Culture and Education Attach at the Indonesian Embassy in Cairo Fahmy Lukman.
In response to President Jokowis request, Al-Tayeb remarked that he was ready to send Al Azhar scholars and educators to Indonesia to improve the understanding of moderate Islam.
Sheikh Ahmad Al-Tayeb was appointed as grand sheikh of Al Azhar in March 2010, following the demise of his predecessor, Muhammad Sayyid Tantawi.
Full report at:
http://www.antaranews.com/en/news/98244/egyptian-al-azhar-to-help-promote-moderate-islam-in-indonesia
-----------
Indonesia must be united to reject IS ideology: VP
March 23 2015
Vice President Jusuf Kalla said on Monday that Indonesia must be united in an effort to repel the ideology of the Islamic State (IS) movement.
"Learning from existing development, we have to improve our nation because it will not be easy for IS ideology to penetrate if our state is strong," Kalla said at the opening of the International Conference on Terrorism and IS in Jakarta.
The conference was attended by, among others, former president Megawati Soekarnoputri, former State Intelligence Agency director AM Hendropriyono and People's Consultative Assembly Speaker Zulkifli Hasan.
Full report at:
http://www.thejakartapost.com/news/2015/03/23/indonesia-must-be-united-reject-is-ideology-vp.html
-----------
IS threatens to blast Sampit-bound flight
March 23 2015
The Islamic State (IS) movement, also known as ISIS, threatened to bomb a Sampit-bound Kalstar flight on Monday, forcing Banjarmasin airport authorities in Central Kalimantan to inspect the aircraft, which was still on the apron.
The threat was sent through Syamsudin Noor Airport in Banjarmasin. "We received the threat under the name of ISIS through facsimile at 1:30 p.m. on Monday, saying that they would install a bomb on the Kalstar flight heading to Sampit," said Banjarbaru Police chief AKBP Harun Yuni Aprin.
Full report at:
http://www.thejakartapost.com/news/2015/03/23/is-threatens-blast-sampit-bound-flight.html
-----------
Japan Mosque Teaches Islam
23 March 2015
TOKYO – One of the oldest mosques in Japan has been holding free tours into the facility over the past year, offering interested visitors information about true Islam and Islamic teachings.
"Which area in the world do you think is the most heavily populated by Muslims?" Shigeru Shimoyama, 66, asked visitors to Tokyo Camii in Shibuya Ward, The Japan News reported on Monday, March 23.
Serving as a guide at the mosque, Shimoyama left the visitors for a while before giving them the answer.
"The answer is Asia," he said. "Sixty per cent of about 1.6 billion Muslims in the world are living in Asia. They are our neighbors."
Tokyo Camii mosque is the largest mosque in Japan which was originally built along with an adjoining school on May 12, 1938 by Tatar immigrants from Russia who had come to Japan after the October Revolution.
It was made under the direction of Abdürreşid İbrahim, the first Imam of the mosque, and Abdülhay Kurban Ali.
In 1986, the mosque had to be demolished because of severe structural damage. Under the direction and support of Diyanet İşleri Başkanlığı a new building was begun in 1998.
The construction was completed in 2000 at a cost of around 1.5 billion yen. The inauguration was held on June 30, 2000.
Visitors to the mosque have been offered free tours since the new program was launched last April.
Full report at:
http://www.onislam.net/english/news/asia-pacific/484193-japan-mosque-teaches-islam.html
-----------
China Bans Muslim Group Activities
23 March 2015
CAIRO – A Chinese Muslim group has been banned from holding meetings over allegations it has links with the so-called Islamic State (ISIL), in a move that was criticized as a "big misunderstanding".
"It's a Muslim symbol anyone can use. All Muslims around the world will know the meaning of this," group spokeswoman Ika told South China Morning Post on Monday, March 23.
"We don't have any connection with this IS," she added, using another acronym to refer to ISIL.
A prayer meeting by the Mujahidah of Islam Hong Kong has been cancelled by the Chinese authorities after accusing the group of recruiting ISIL fighters.
The controversy has erupted after the release of a leaflet for the event which bears an image widely recognized as the militant group's "flag".
Defending itself, the group explained that the flag was a globally recognized Muslim symbol that translated into "Allah is my only God. Mohammed is my messenger".
Besides banning the event, keynote speakers of the event were denied entry to China by the immigration department.
However, the Jakarta-based scholars were allowed to visit China before in order to participate in previous events.
"It's all a big misunderstanding," said event co-sponsor K.K. Leung, chairman of the TKI Association, a consultancy for Indonesian domestic helpers.
"Indonesians are mainly here for work and are moderate Muslims. I hope … the public will not label them as terrorists."
Full report at:
http://www.onislam.net/english/news/asia-pacific/484191-china-bans-muslim-group-activities.html
-----------
Indonesia Arrests Five Islamic State Suspects
March 23, 2015
JAKARTA—
Indonesia said it has arrested five men suspected of raising funds and recruiting new members for the Islamic State group, which Jakarta calls ISIS.
At a news conference Monday, Vice Chief of Police, General Badrodin Haiti said the five were taken into custody Saturday in the suburbs of Jakarta.
"We're in the midst of an investigation," he said. "But based on the initial data we have, they are involved in ISIS network," he said.
He added that authorities discovered travel documentation such as passports and airline tickets, several cell phones and cash in Indonesian and U.S. currencies when they raided the home of one of the suspects.
The suspects have not had a chance to publicly respond to the allegations against them.
Indonesia has been actively trying to combat recruitment by Islamic State, which it banned last year. But the police general said the group's recruitment efforts have spread to several parts of the country.
"ISIS pockets are not only in Poso [in central Sulawesi], but also in some other areas where there are ISIS followers or sympathizers," he said. Not only in Poso but they are also in East and Central Java, East Nusa Tenggara and South Sulawesi."
News of the arrests came as Indonesia opened a conference in Jakarta on the threat posed by the Islamic State.
Full report at:
http://www.voanews.com/content/indonesia-arrests-five-islamic-state-tuspects/2691826.html
-----------
The Islamic State's success in Indonesia has Hong Kong worried
March 24th , 2015
A 25-year-old, heavily-pregnant domestic helper from Indonesia who recently disappeared from Hong Kong may be the Islamic State's first recruit from the Asian financial capital.
Before she went missing in recent weeks, the woman, named Najma, confesses to friends who loaned her money that she planned to join the Islamic State in Syria with her husband, a representative of Hong Kong's Indonesian Migrant Muslim Alliance told the South China Morning Post.
Najma left the city February 27, the representative said, and while there's no concrete evidence she traveled to Syria, the woman had previously asked the group how to travel there from Hong Kong.
This is the latest in a series of inconclusive, yet worrying, reports about alleged Islamic State recruiting among Hong Kong's Indonesian maids, who make up nearly half of the city's 320,000 domestic workers.Last week, the Apple Daily reported that one Indonesian group in Hong Kong was distributing leaflets advertising a talk by alleged Islamic State supporters. The group that organized the talk denied any link to the Islamic State, but said the two Jakarta-based imams scheduled to speak were denied entry to Hong Kong.
Leung Chun-ying, Hong Kong's chief executive, warned last weekend that city residents should be vigilant, citing the recruitment rumors:
Hong Kong has been one of the safest cities in the world. However, it is also one of the most open, international cities with high respect of personal freedom and privacy. Against this background and seeing new terrorist threats, we should not take the matter lightly.
Islamic State recruitment in Indonesia is certainly widespread and growing, terrorism experts and local officials said at a conference this week. The terrorist group is using social media and propaganda videos to draw Indonesian volunteers who train with the East Indonesia Mujahideen, and efforts have spread to several parts of the country.
Full report at:
http://qz.com/368591/the-islamic-states-success-in-indonesia-has-hong-kong-worried/
-------------
Africa
Algeria temporarily evacuates Turkish workers after ISIS threat
23 March 2015
Algerian authorities temporarily evacuated nearly 100 Turkish construction workers from a roadway project east of Algiers as a precaution after a threat from militants affiliated with Islamic State, security sources said on Monday.
The measure underscores growing concern over militant attacks in North Africa following last week's Bardo museum massacre of foreign tourists in Tunisia and Islamic State's growing presence in neighbouring Libya.
The Turkish workers were evacuated for 24 hours as a "preventative" measure but returned to the Kabilye region east of the capital on Monday. A French tourist was kidnapped and beheaded in the area by Islamic State loyalists last year.
"Things are under control, evacuation was just a preventive action, and they have resumed work this afternoon," a security source who asked not to be named told Reuters.
Algeria, which saw a decade of Islamist insurrection in the 1990s in which 200,000 people were killed, is a top U.S. ally in the fight against Islamist militancy in the Sahel region. But Islamist fighters still strike, mostly at armed forces.
The Algerian leader of Al Qaeda in the Islamic Maghreb is still in hiding in the eastern mountains. But a splinter group, the Caliphate Soldiers, declaring affiliation with Islamic State has also emerged. Last year, they kidnapped Frenchman Herve Gourdel and executed him.
Full report at:
http://english.alarabiya.net/en/News/africa/2015/03/23/Algeria-temporarily-evacuates-Turkish-workers-after-ISIS-threat-.html
-----------
Jordan to help train Syrian rebels to fight ISIS
23 March 2015
Jordan says it will help train Syrian rebels as part of its fight against the Islamic State of Iraq and Syria (ISIS).
The training is part of a regional effort also involving Turkey, Saudi Arabia and Qatar as hosts of training sites.
The U.S. Congress has passed legislation providing $500 million for training about 5,000 rebels over the next year.
Full report at:
http://english.alarabiya.net/en/News/middle-east/2015/03/23/Jordan-says-it-will-help-train-Syrian-rebels-to-fight-ISIS.html
-----------
Airstrikes kill eight; Libya government tries to retake capital
Mar. 24, 2015
TRIPOLI/BENGHAZI: Eight civilians were killed in an airstrike near Tripoli Monday, the U.S. ambassador said, as Libya's internationally recognized government pressed on with an assault to recapture the capital it abandoned to rivals last year.
Four years after NATO warplanes helped dislodge dictator Moammar Gadhafi, Libya has descended into chaos, with two rival governments fighting for control, both fielding armies of former rebel fighters and air forces that bomb rival territory.
The internationally recognized government has been based in the country's east since being driven out of the capital last August by an alliance of armed groups called Libya Dawn, which has set up its own rival government and parliament.
Friday, the east-based government announced an assault to recapture Tripoli, even as the sides are both attending U.N.-hosted peace talks in Morocco.
Western countries fear a total collapse of central authority in a country of 6 million people a short sail from Europe. Islamist militants, including fighters who proclaim loyalty to Al-Qaeda or ISIS, have taken advantage of the chaos to establish bases, attack oil fields and enter central regions.
Full report at:
http://www.dailystar.com.lb/News/Middle-East/2015/Mar-24/291896-airstrikes-kill-eight-libya-government-tries-to-retake-capital.ashx
-----------
Egypt, Ethiopia, Sudan sign Nile agreement
23 March 2015
Leaders from Egypt, Sudan and Ethiopia signed a declaration of principles on Monday relating to Ethiopia's Renaissance Dam on a tributary of the River Nile.'
Egypt, which relies almost exclusively on the River Nile for farming, industry and drinking water, has sought assurances that the dam will not significantly cut the river's flow to its rapidly growing population.
Full report at:
http://english.alarabiya.net/en/News/africa/2015/03/23/Egypt-Ethiopia-Sudan-sign-agreement-on-Nile-dam.html
-----------
North America
California Muslim Police Officers Allege Harassment
March 23, 2015
by Halima Kazem
Patrolling around mosques and checking in on schools in the dangerous south side of town was second nature for Richmond, California, police officer Mujaheed Rasheed.
"I felt like I could talk to people who were at their lowest point and reach out to them," said Rasheed, who was born and raised just 30 miles south of Richmond in Hayward.
"Since I'm a Muslim, I could go into the mosques and connect with those members of our community," he said.
It's this kind of community policing efforts that Rasheed says made him want to join the Richmond police in December 2008. But today that enthusiasm has soured, because he says some department officials discriminated against him and that other police officers harassed him because he is Muslim.
"I was used to hearing the other officers make derogatory remarks about Muslims, like calling us towelheads or suicide bombers, but I never said anything about it because I didn't want to rock the boat," he said.
Richmond sits across the San Pablo Bay from San Francisco, a city whose law enforcement officials pledged this week to review an estimated 1,000 cases worked on by four San Francisco police officers who are accused of sending a series of racist and homophobic text messages.
"The messages make clear the utter contempt these officers had for the people they were sworn to protect. You can't simply set aside this kind of extreme bias when you go to work," said San Francisco Public Defender Jeff Adachi in a statement.
Rasheed and other Muslim police officers say this bias also affects police culture on the inside. Rasheed, 34, said he tolerated the harassment because he wanted to advance his career and try to change the system once he became a sergeant.
But when he got that promotion in 2013, he said unlike another officers promoted at the same time, who was mentored and guided, he was never given "proper training."
Less than a year later, Rasheed was the only sergeant trainee ever to be demoted. He was also the only Muslim officer on the Richmond police force.
Feeling that he was "set up to fail," Rasheed filed a complaint with the California Department of Fair Employment and Housing (DFEH), a governmental agency, which is mandated to protect Californians from unlawful discrimination in employment, housing and public accommodations and from hate violence.
Full report at:
http://america.aljazeera.com/articles/2015/3/23/muslim-officers-allege-discrimination.html
-----------
U.S. opens up to Hamas, Muslim Brotherhood, Syria, and Iran
By Nicola Nasser*
March 24th, 2015
The appointment of Robert Malley as White House Coordinator for the Middle East, North Africa and the Gulf Region is not considered a sufficient indicator that there will be any radical change in U.S. strategy despite the campaign launched against the U.S. by the Zionists due to its openness to Hamas, the Muslim Brotherhood, Syria and Iran.
On 6 March, President Barack Obama's administration appointed Robert Malley, the former senior director of the National Security Council who dealt with the Iraqi, Iranian, and Gulf issues, and a member of the delegation negotiating the Iranian nuclear programme, as the Special White House Coordinator for the Middle East, North Africa and Gulf region. Malley is scheduled to assume his new position on 6 April, succeeding Philip Gordon.
Edward Abington, former U.S. consul general in occupied Jerusalem, described the lawyer specialised in "conflict resolution" as being an "American Jewish" and that his appointment is a "positive development". He was also described by U.S. national security adviser Susan Rice as "one of our country's most respected experts on the Middle East, since February 2014 Rob has played a critical role in forming our policy on Iran, Iraq, Syria and the Gulf."
However, the Zionist Organisation of America (ZOA) opposed the appointment of Malley for several reasons, stating that Malley is an "Israel-basher, advocate of U.S. recognition of major, unreconstructed terrorist groups Hamas and Hezbollah, and proponent of containment of Iran (i.e., not preventing them from attaining nuclear weapons) and proponent of negotiating with Syrian President Bashar Al-Assad (i.e. not changing his regime)."
He also believes that working with the Muslim Brotherhood is "not a bad idea" and called Israel's settlements located in the Palestinian territories occupied in 1967 "colonies". He also called for abandoning the Road Map for Peace approved by the international Quartet in 2003 and replacing it with a comprehensive settlement plan to be imposed on the parties with the backing of the international community, including Arab and Muslim states. He did so before the Foreign Relations Committee in the U.S. Senate in 2004. He also continues to urge the Palestinian President Mahmoud Abbas, Fatah, Palestinian Authority and Hamas "to unite".
Malley also called for "involving" Hamas in the PLO's negotiations with the occupation, explaining his statement by saying that the PLO must include Hamas because it has become "antiquated, worn out, barely functioning, and is no longer considered the Palestinian people's sole legitimate representative." He also called for the resumption of negotiations between the Arabs and Israel "on all levels on the basis of the Arab peace initiative."
The ZOA did not fail to mention his father, Simon Malley who was born and worked in Egypt as a journalist for Al-Goumhouria newspaper before moving with his family to France and founding Afrique-Asie magazine. The ZOA said that Simon Malley was "a virulently anti-Israel member of the Egyptian Communist Party, a close confidante of Yasser Arafat, and an enthusiast for violent Third World 'liberation' movements." As for his mother, Barbara Malley, she worked with the United Nations delegation of the National Liberation Front (NLF), the Algerian independence group.
Full report at:
http://www.thepeoplesvoice.org/TPV3/Voices.php/2015/03/24/u-s-opens-up-to-hamas-muslim-brotherhood
-----------
Boston Mosque Youth Leader Builds Bridges
22 March 2015
CAIRO – Reaching out to Muslim teens in Boston, the largest mosque in New England has hired a new youth director who is conversant with American culture, in a bid to fill the gap after the departure of imam William Suhaib Webb last December.
"I don't necessarily need kids to spend the night reading the Qur'an — if they are in good company, doing something fun and beneficial, as opposed to going to a club, or wasting their life ... the positive will appear naturally," AbdelRahman Murphy, the new youth director at the Islamic Society of Boston Cultural Center in Roxbur, told The Boston Globe on Sunday, March 22.
The 27-year-old mental health counselor and aspiring scholar based in Dallas, Murphey, has been hired by Roxbury mosque to offer support for Muslim teens and college students in New England.
The new scholar will be working with Muslim youth three days each month over the next year, as a part of the mosque building youth program.
During each long weekend he spends in Boston, he will organize a discussion at an area college, give a sermon before Friday prayer, besides giving a talk there that night.
On the following day, Murphy will dedicate his work to Muslim teenagers in Boston by introducing his series "Be Like Muhammad".
Mixing creativity and religious enrichment, the new Muslim leader's approach is based on selecting "what works best, using sport, cultivating a rapport with youth and teach tradition in ways that make sense to them".
"It's an opportunity for us to learn more about youth work he's done and begin to build a fabulous youth program here," said Yusufi Vali, the Boston mosque's executive director.
With the recent murder of three young Muslim students in Chapel Hill, North Carolina, the burning of an Islamic Center in Houston, Texas, which authorities ruled as arson, and the numerous reports of personal harassment, Muslims feel they are targeted in the States.
Shocked by the heinous crime, world Muslims mourned the three young American Muslims in North Carolina, pouring into social media to send messages of solidarity to the victims' families.
Full report at:
http://www.onislam.net/english/news/americas/484169-boston-mosque-youth-leader-builds-bridges.html
-----------
Moments Before Explosion at Yemen Mosque, Worshipers Were Chanting 'Death to America' and 'Victory to Islam'
Mar. 23, 2015
Newly translated video from inside one of the Yemeni mosques targeted in Friday's suicide bombings purports to show worshipers shouting anti-American and anti-Jewish slogans the moment one of the bombs exploded.
"Death to America. Death to Israel. Curse upon the Jews. Victory to Islam. Allah akbar. Death to America. Death to Israel," those inside the mosque chanted, according to a Middle East Media Research Institute translation of the amateur video.
As the men shout, "Victory to…" the bomb explodes at the Houthi Al-Hashoush Mosque in the capital of Sanaa, and pandemonium ensues just before the video clip ends.
Before the bomb exploded, the preacher said, "Our belief in Allah will increase after today. We will triumph over their deceit and their arrogance. Allah is with us."
Four suicide bombers struck a pair of mosques controlled by Shiite Houthi rebels in Sanaa, killing at least 137 people.
Full report at:
http://www.theblaze.com/stories/2015/03/23/moments-before-explosion-at-yemen-mosque-worshipers-were-chanting-death-to-america-and-victory-to-islam/
-----------
UN warns of Yemeni civil war
24 March 2015
ADEN: Yemen's Shiite militia sent reinforcements south and clashed with local fighters on Monday after the United Nations warned the country is on the brink of a protracted civil war.
Security sources said the militiamen, known as Houthis, had sent several thousand troops south and fought with local Sunni tribes as they approached the main southern city of Aden, where President Abed Rabbo Mansour Hadi took refuge after fleeing the capital last month.
On Sunday the militia seized the airport and a nearby military base in Taez, Yemen's third-largest city which is just 180 km north of Aden and seen as a strategic entry point to Hadi's southern refuge.
Full report at:
http://www.arabnews.com/middle-east/news/722381
-----------
South Asia
Amid Political Chaos, Bangladesh Fears a Rise in Militancy
March 23, 2015
DHAKA, Bangladesh—A heavy crackdown on antigovernment protesters in Bangladesh has been fueling anger and fear within the country's opposition movement, creating an opening for militant extremism to take root here, rights advocates and others say.
More than 100 people have died since January, when supporters of the main opposition Bangladesh Nationalist Party and its ally, the Jamaat-e-Islami, took to the streets to call for early elections. Police have arrested thousands of activists and banned the opposition groups from holding demonstrations. The opposition has defied that ban, leading to clashes across the country.
As police respond to the violent protests with tactics that critics allege include stifling political speech and carrying out extrajudicial killings, rights advocates fear that militant groups could be better positioned to attract new recruits from among embittered opposition sympathizers in this country long known as a bastion of moderate Islam.
"If democracy is undermined, militancy could rise," said Shahdin Malik, a civil-rights lawyer in Dhaka. "There is very little political space for dissent right now."
The government denies that it is curbing political speech or carrying out extrajudicial killings.
Mohammed Nasim, a senior minister who often acts as a government spokesman, said the administration would allow "peaceful and democratic" political activities but would crack down on "anarchy and terrorist activities".
The Inspector General of Bangladesh's national police, Shahidul Hoque, said security forces only open fire in self-defense.
Full report at:
http://www.wsj.com/articles/amid-unrest-bangladesh-fears-a-rise-in-militancy-1427141386
-----------
Bangladesh Approves Islamic Instruments
By Ferdous Ahmad Bhuiya,
21 March 2015
DHAKA – In a bid to accelerate the country's economy, Bangladesh has launched a new interest-free financial instrument pertaining to Islamic Shari`ah, highlighting the need for a strong Islamic Shari`ah board or council to operate and supervise the new instrument.
"This Islamic Investment Bond is good financial instrument for Bangladesh economy," Professor Mujahidul Islam, senior teacher and former chairman of the banking department of Dhaka University, told OnIslam.net.
"But there are some problems, so this kind of bond is not popular in Islamic banks, financial institutions and among people as well," he added.
He opined that this bond fund should be invested in power sector, water treatment plants and any other profitable and economically viable projects which contribute to the welfare of the country and accelerate the economy.
Prof Islam added that in order to guarantee success of the new bond, the government must establish a monitoring and advisory committee which combines the efforts of Shari`ah experts, Muslim scholars and bankers.
"We got good response in this bond from all Islamic Banks. At this time a good number of bonds has already been issued, but this money is not invested in appropriate segments," Bishnu Pada Shaha, General Manager of Debt management department of Central Bank of Bangladesh, told OnIslam.net.
Interest free a new financial instrument Islamic Investment Bond has been started in January 2015 with Islamic Shari`ah laws in Bangladesh.
The new Bangladesh Government Islamic Investment Bond (BGIIB) is expected to play a pioneering role in accelerating the Bangladesh economy.
Islam forbids Muslims from usury, receiving or paying interest on loans.
Islamic banks and finance institutions cannot receive or provide funds for anything involving alcohol, gambling, pornography, tobacco, weapons or pork.
Shari`ah-compliant financing deals resemble lease-to-own arrangements, layaway plans, joint purchase and sale agreements, or partnerships.
Investors have a right to know how their funds are being used, and the sector is overseen by dedicated supervisory boards as well as the usual national regulatory authorities.
New Council Urged
Applied for the first time in Bangladesh, the new bond was dealt with on trial and error basis, Shaha said.
Full report at:
http://www.onislam.net/english/news/asia-pacific/484117-bangladesh-joins-islamic-investments.html
-----------
ISIS is targeting Afghanistan: Ashraf Ghani
March 23, 2015
Washington- ISIS is operating inside Afghanistan and eyeing the country as a strategic foothold in its broader war to establish a caliphate in the Middle East, Afghan President Ashraf Ghani sources.
In an interview, Ghani said that Afghanistan has evidence ISIS is organizing inside the country.
"Fortunately, we've prevented them from acting," Ghani told NBC News' Andrea Mitchell. "But we have sufficient evidence that they were targeting us because to their narrative, to their story line, Afghanistan is central."
Full report at:
http://nation.com.pk/international/23-Mar-2015/isis-is-targeting-afghanistan-ashraf-ghani
-----------
Bus passengers killed in Afghanistan attack
24 Mar 2015
Armed men have killed 13 passengers travelling on a bus towards southern Afghanistan, officials say, the latest attack to target civilians in the country's conflict.
Tuesday's killings in Wardak province, which lies close to the capital Kabul, highlighted Afghanistan's fragile security situation as President Ashraf Ghani holds talks in Washington.
With the spring fighting season about to begin, Ghani has asked the US for "flexibility" as it pulls out its remaining 10,000 troops by the end of 2016.
Ataullah Khogyani, spokesperson for the provincial governor, told AFP a group of armed men opened fire on a bus in Wardak around 1am local time (2030 GMT Monday), killing 13 people including one woman.
The bus was heading for the southern city of Kandahar, once a bastion of the Taliban.
Mohammad Ali, the deputy governor of neighbouring Ghazni province, confirmed the incident, and said the attackers picked their victims and shot them one by one.
Both officials said the motive for the attack was still under investigation.
Last month, masked attackers abducted 30 Shia members from the Hazara ethnic group from a bus in Zabul province. They have still not been recovered.
NATO ended its combat operation against the Taliban in December after 13 years of war, leaving Afghan forces to deal with the fighters themselves.
A smaller contingent of foreign troops, most of them American, is staying on for training and counter-terror operations.
But there have been fears that without the military muscle of the US-led NATO coalition behind them, Afghan forces could struggle to quell the campaign.
The Pentagon insists Afghan forces are holding their own in the fight, but senior US officers have voiced concern that they are sustaining casualties at an "unsustainable" rate.
The US was due to reduce its 10,000 troops to 5,500 by December, but that number is expected to be reassessed after American commanders appealed to keep more troops on the ground.
Full report at:
http://www.aljazeera.com/news/2015/03/gunmen-kill-13-bus-passengers-afghanistan-150324051305860.html
-----------
JMB man reveals plan for Islamic Bangladesh by 2020
march 24, 2015
Based on interrogation of a militant commander, law enforcers reveal that militant groups are working in concert to establish a Sharia-based state with the help of international terrorist group Islamic State.
The police arrested a regional commander of banned Islamist outfit Jama'atul Mujahideen Bangladesh yesterday and made the statement after initial questioning.
Their aim is to turn Bangladesh into a model Islamic country by 2020 incorporating parts of India and Myanmar with it, said the police. A new umbrella of militants named "International Lions Force of Hindustan" has also been working to turn the three neighbouring countries into one unified Islamic state in the long run.
A four-member delegation of the IS from Syria visited Chittagong in October last year and sat with the top leaders of banned Islamist outfits JMB, Huji and Hizb ut-Tahrir, and the recently-emerged Ansarullah Bangla Team, according to the information given out by the militant commander in custody.
JMB chief Saidur Rahman, Ansarullah's Mufti Jashim Uddin Rahmani, and several top leaders of Huji held meetings inside the Kashimpur High Security Jail in September last year and decided to work together as they had the same goal – establishing an Islamic state in Bangladesh, said detectives.
Members of Chittagong city's Akbar Shah police yesterday morning arrested Ershad Hossain alias Mamun, 20, of Birol upazila in Dinajpur, at a residence in the city's New Monsurabad area. Police claim that grenade maker Ershad is the district commander of JMB, banned since 2005.
Full report at:
http://www.dhakatribune.com/bangladesh/2015/mar/24/jmb-man-reveals-plan-islamic-bangladesh-2020
-----------
Lands belonging to arsonists will be confiscated, says PM
2015-03-22
She gave the order on Sunday being angry at the loss of public and private properties during the BNP-led alliance's anti-government agitations.
More than 100 people have been killed in the agitation since Jan 5, mostly in arson.
A number of government establishments, particularly land offices, have been set on fire during this agitation.
"They are setting fire to land offices... what could be their reason for burning land-related documents?" Hasina wondered, while speaking at the 40th founding anniversary of the Islamic Foundation in Dhaka.
"I've ordered our intelligence agencies to find these arsonists out.
"Lands belonging to those behind the incidents and their forefathers will be confiscated," the prime minister announced.
Full report at:
http://bdnews24.com/bangladesh/2015/03/22/lands-belonging-to-arsonists-will-be-confiscated-says-pm
-----------
Ghani thanks US troops for service in Afghanistan
March 24, 2015
WASHINGTON - Afghan President Ashraf Ghani thanked US troops Tuesday for their service in Afghanistan and said they have helped to train a country that can defend itself against terrorism.
"So what's the legacy? The legacy is now a proud Afghan security forces that has dealt with the best of you and emulates the best of your example," Ghani said to a crowd of service members at the Pentagon.
"The special forces who worked shoulder to shoulder with you are now carrying the mission.
"
During his first visit to Washington since being elected president, Ghani is expected to make the case for more flexibility in the planned drawdown of US troops in Afghanistan at the end of this year.
There are currently about 10,000 American service members in Afghanistan, though the White House has said it will reduce that to about 5,500 by December.
Jeff Eggers, senior director for Afghanistan and Pakistan at the National Security Council, told reporters last week that he expected President Obama to make a statement on Afghanistan troop levels Tuesday after speaking with Ghani.
"But no decisions have been made yet," Eggers said.
Some Republicans have warned that not leaving behind a residual US presence in Afghanistan could lead to the country's hard-won security falling back into chaos similar to what happened in Iraq.
Defence Secretary Ashton Carter said that while the US and other international partners will continue to help in the fight, Ghani has made it clear that "Afghanistan's future is ultimately for Afghans to grab hold of and for Afghans to decide.
"
In speaking to service members, Ghani also emphasized changes the country has made that allow young Afghan girls more freedom to get an education.
He directed the remarks specifically to someone in the audience - Reese Larson, a 9-year-old girl whose father is currently deployed in Afghanistan.
"Reese, I have greetings to you from 3 million Afghan girls who are attending school today.
Fourteen years ago, there were exactly none.
Each one of them wants to entertain the hopes you do, and your dad is making this possible," Ghani said.
Full report at:
http://nation.com.pk/international/24-Mar-2015/ghani-thanks-us-troops-for-service-in-afghanistan
-----------
Mideast
Turkey Scholars Warn Against Fertilization
23 March 2015
ISTANBUL – Turkey's top religious affairs warned that in vitro fertilization (IVF) between unmarried individuals is un-Islamic, saying it contains an element of adultery.
"An in vitro fertilization process that starts and finalizes between individuals who are not de facto married is religiously not acceptable as it offends humane feelings and contains elements of adultery," a statement by the Directorate of Religious Affairs (Diyanet) was cited by Doğan News Agency, Hurriyet Daily News reported on Sunday, March 22.
Diyanet's warning against surrogate motherhood came in a response to a question: "whether or not in vitro fertilization was licit to have babies?"
Diyanet's Religious High Council's platform said: As long as the sperm and the ovum to be fertilized belong to a married couple and the fertilized ovum is placed inside the ovum of the beholder's womb, and "not inside a stranger's womb," then the in vitro fertilization method of bearing a child was religiously acceptable.
The religious body also said IVF process will be acceptable in case it is medically proven that it would not have a negative effect, spiritually or mentally, on the mother, father and to-be-born child.
Full report at:
http://www.onislam.net/english/news/europe/484185-turkey-scholars-warn-against-fertilization.html
-----------
Yemen risks: separatism, sea lanes, Al-Qaeda, sectarianism
Mar. 24, 2015
DUBAI: Houthi fighters and loyalists of Yemen's President Abed Rabbou Mansour Hadi are locked in a power struggle that diplomats say risks drawing in neighboring Saudi Arabia and its main regional rival Iran.
The duel between the northern-based Houthi militia and the mostly Sunni southern backers of the president threatens to erode what remains of a Yemeni state weakened by years of corruption, poor governance and a series of conflicts.
A worst-case scenario – sectarian war with foreign powers backing opposing sides – would deepen already grave humanitarian suffering in the impoverished country and endanger strategic shipping lanes.
SECTARIANISMThe political crisis threatens to pit Yemen's two main Islamic sects against each other.
Zaidi Islam, an offshoot of Shiism, predominates in the northern highlands while Sunni Shafii Islam is the majority school in the south and east. Unlike in Syria and Iraq, however, followers of the two schools pray together in the same mosques and have peacefully coexisted for centuries.
The Houthis are a Zaidi Islamist militia group, which says it has no sectarian agenda. They describe their takeover of much of the country as a revolution for all Yemenis. Sunni Islamist parties and tribes reject this.
Ultra-hardline Sunni Al-Qaeda militants have joined forces with some tribal opponents of the Houthis in months of fighting, while suicide bombings at Houthi mosques Friday claimed by ISIS raised the risk of a sectarian war.
SEA NAVIGATIONThe threat of war has spurred fears over the security of oil supplies through the Bab al-Mandab shipping lane, a vital energy gateway for Europe, Asia and the United States. More than 3.4 million barrels of oil per day passed through Bab al-Mandeb in 2013, according to the U.S. Energy Information Administration.
Closure of the strait, which connects the Red Sea with the Gulf of Aden and the Arabian Sea, could keep tankers from the Gulf from reaching the Suez Canal or Sumed Pipeline, diverting them around the southern tip of Africa. Egypt has said it could not stand by if its interests were threatened.
Full report at:
http://www.dailystar.com.lb/News/Middle-East/2015/Mar-24/291893-yemen-risks-separatism-sea-lanes-al-qaeda-sectarianism.ashx
-----------
Iran expands influence ahead of nuclear deal
Mar. 24, 2015
BEIRUT: With Iran moving closer to a deal with world powers to constrain its nuclear program in return for an end to sanctions, Arab analysts and leaders are focused more on how Tehran is working unconstrained to tighten its grip on Arab states, from Iraq to Lebanon, and Syria to Yemen.
The man behind what some see as an attempt to create a new Persian and Shiite "empire" on Arab land is Maj. Gen. Qasem Soleimani, commander of the Al-Quds brigade of the elite Islamic Revolutionary Guard Corps.
Since he emerged from the shadows last autumn, Soleimani seems to be omnipresent on the battlefields of the Middle East.
Photos of Soleimani, 60, almost an invisible man until the Sunni jihadis of ISIS overran cities in northern and central Iraq last year, are now everywhere.
He is seen directing operations in the battle to recapture from ISIS the Sunni city of Tikrit, birthplace of Saddam Hussein. He is snapped in Syria offering condolences on the killing of a relative of Bashar Assad, the Syrian president he has helped cling to power during four years of war.
In Beirut he is photographed praying at the grave of Jihad Mughniyeh, son of the late commander of Hezbollah. Jihad Mughniyeh was killed in Syria in January.
Meanwhile, the heterodox Shiite Houthi movement in Yemen has seized power in the capital, Sanaa, to Iranian acclaim and the alarm of Sunni Arab states such as neighboring Saudi Arabia, Iran's regional rival.
Such is Soleimani's personal sway that a Syrian opposition website has put up a spoof election poster saying: "Vote for Qasem Soleimani, President of Syria."
Iran may be serious about a nuclear deal that ends its pariah status and the crippling sanctions. But it has been maximizing its strength across the Middle East and, because Iranian forces and allied militias are spearheading the fight against ISIS in Iraq and Syria, Sunni Arab leaders believe the United States will do nothing to stop this.
This month, U.S. Secretary of State John Kerry assured Saudi leaders there would be no "grand bargain" with Tehran attached to any deal. Yet in a news conference at which Kerry acknowledged that Soleimani was involved in Tikrit, his host, Saudi Foreign Minister Saud al-Faisal, almost exploded. "The situation in Tikrit is a prime example of what we're worried about," Prince Saud said. "Iran is taking over Iraq."
That is why, regional analysts say, it is not so much the prospective nuclear deal that is panicking the Gulf and its Sunni allies such as Egypt, but what a U.S.-Iran rapprochement may bring.
Full report at:
http://www.dailystar.com.lb/News/Middle-East/2015/Mar-24/291927-iran-expands-influence-ahead-of-nuclear-deal.ashx
-----------
Israel steps up military drills on Lebanon border
Mar. 23, 2015
HOULA, Lebanon: Thunderous explosions were heard along Lebanon's southeastern border Monday as Israeli forces carried out military exercises.
A Lebanese security source told The Daily Star that the blasts came from an area where the Israeli Army was conducting training operations.
The source said that several Israeli patrols combed the occupied section of the Shebaa Farms as their military jets flew low over southern Lebanon.
Several Israeli soldiers were also spotted monitoring and taking pictures of Lebanon's southern border as Lebanese soldiers and U.N. peacekeepers patrolled the al-Abad area of the town of Houla.
Full report at:
http://www.dailystar.com.lb/News/Lebanon-News/2015/Mar-23/291875-israel-steps-up-military-drills-on-lebanon-border.ashx
-----------
Israel missing from UNHRC session on Gaza conflict
March 23, 2015
GENEVA: Israel's representative was missing when the UN Human Rights Council started a special session today on the situation in the Palestinian territories and the 2014 Gaza conflict.
Israel provided no immediate explanation for not being present at the session dedicated overwhelmingly to discussion of its policies and alleged abuses, but a source close to the council said its absence clearly amounted to a boycott.
"We won't comment on that," a spokeswoman with the Israeli mission in Geneva told sources.
The United States was also absent from Monday's discussions. Asked for an explanation, a spokesman said only that the UN ambassador to the council Keith Harper was in Washington.
Monday's session had originally been scheduled to discuss a probe on the 50-day war in Gaza last year, but the investigators obtained a delay after the head of the team quit under Israeli pressure.
"The process cannot be rushed," former New York judge Mary McGowan Davis, who has taken over as head of the team, told the council.
Canadian international law expert William Schabas resigned as chair of the Commission of Inquiry on the 2014 Gaza conflict last month after Israel complained he could not be impartial because he had prepared a legal opinion for the Palestine Liberation Organisation in October 2012.
Schabas strongly denied that he was beholden to the PLO but said he was reluctantly stepping down to avoid the inquiry into the July-August conflict — commissioned by the UN Human Rights Council — being compromised in any away.
Israel was not satisfied, calling for the entire inquiry to be shelved, insisting the commission and the Human Rights Council which created it are inherently biased against the Jewish state.
The Jewish state is the only country in the world with a special agenda item dedicated to it, meaning its rights record is discussed at every session of the UN's top rights body.
Its absence Monday does not mark the first time it has boycotted the council. It cut all ties with the council in March 2012 over its plans to probe how Jewish settlements were harming Palestinian rights, and did not resume relations until late 2013.
Full report at:
http://nation.com.pk/international/23-Mar-2015/israel-missing-from-unhrc-session-on-gaza-conflict
-----------
Yemen asks GCC for military action against Houthis
23 March 2015
Yemeni President Abed Rabbo Mansour Hadi has asked the GCC to intervene militarily against the Houthi rebels, Foreign Minister Riad Yassin told Al Arabiya Channel's sister station Al Hadath on Monday.
In the interview, Yassin warned that the ongoing conflict was affecting the whole nation, noting that the Houthis rebels were attempting to scupper the proposed peace talks in Riyadh.
"Yemeni authorities are working with the Gulf Cooperation Council and the [U.N.] Security Council to put an end to the Houthi expansion," he said, noting that Hadi had asked the United Nations and the GCC's Peninsula Shield Force to "intervene to face the Houthis."
"GCC states are considering this request," he added.
He also revealed that Yemen had put forward a request to the United Nations to impose a no-fly zone at airports controlled by the Shiite rebel force.
Saudi Arabia's Foreign Minister Saudi al-Faisal said: "The Houthi coup threatens the security and stability of Yemen, the region and the world," warning that "if the Houthi coup does not end peacefully, we will take the necessary measures for this crisis to protect the region."
The six-nation Gulf Cooperation Council – Saudi Arabia, Kuwait, Qatar, the United Arab Emirates, Oman and Bahrain – warned earlier this year that they would act to protect the Arabian Peninsula's security and described the Houthi takeover of parts of Yemen as a "terrorist" act.
Full report at:
http://english.alarabiya.net/en/News/middle-east/2015/03/23/Yemen-s-Hadi-calls-for-GCC-military-intervention.html
-----------
Netanyahu apologizes to Arab Israeli minority
23 March 2015
Israeli Prime Minister Benjamin Netanyahu said on Monday he regretted offending Israel's Arabs during a rallying call on election day last week that his critics had denounced as racist.
In a video clip posted on his Facebook page, Netanyahu told representatives of Israel's Arab community: "I know that the things I said a few days ago offended Israel's Arabs. I had no intention for this to happen, I regret this."
Fearing his voters would stay home, Netanyahu, who won a surprise election victory last Tuesday and is set to head a new government, accused left-wing organizations of bussing Arab-Israelis to the polls "in droves" to vote against him.
"The rule of the right is in danger," he said at the time.
Speaking to the group of Israeli Arabs at his official residence in Jerusalem on Monday, Netanyahu said: "I consider myself as prime minister of each one of you, of all Israel's citizens, regardless of religion, race or gender."
While he got a warm reception from those present, his comments were rejected by Ayman Odeh, leader of the Joint Arab List, which secured 13 seats at last week's election to become the third largest force in parliament.
Full report at:
http://english.alarabiya.net/en/News/middle-east/2015/03/23/Netanyahu-tells-Israel-s-Arabs-he-regrets-election-day-rallying-call.html
-----------
No time should be wasted in Iran talks: China
Mar 24, 2015
China has urged all sides involved in the negotiations over Tehran's nuclear program no to lose any time in the bid for a comprehensive agreement.
Speaking at a regular press conference on Monday, Chinese Foreign Ministry Spokesperson Hong Lei urged all sides in the negotiations about Iran's nuclear program to build up political will in an attempt to reach a comprehensive agreement.
"The negotiation on a comprehensive agreement on the Iranian nuclear issue has come to a critical point… All parties concerned should build up political will, work towards the shared goal, waste no time in making political decisions and make joint efforts to clinch a final deal through negotiation," Hong said.
He added that during the latest nuclear talks between Iran, the P5+1 countries and the EU in Lausanne, Switzerland, all participants demonstrated "strong political will, pragmatic attitude for negotiation and innovative thinking."
The Chinese official pointed out that important progress has been made in Lausanne while the gaps still remain.
He said Beijing pursues an "objective and unbiased" approach to the Iranian nuclear issue and plays a constructive role in advancing the negotiations.
"The Chinese side put forward a host of 'China solution' and 'China thinking' on relevant focal and thorny problems during the negotiations to bridge differences among all parties and contribute 'China wisdom' to the negotiations. We will continue to make relentless efforts together with other parties," Hong said.
Zarif, Lavrov discuss talks
Meanwhile, foreign ministers of Iran and Russia have exchanged views on the latest developments pertaining to Tehran's nuclear program and vital issues relating to bilateral cooperation.
Full report at:
http://www.presstv.in/Detail/2015/03/24/403136/Iran-Russia-hold-nuclear-talks
-----------
Europe
UK to investigate Sharia courts, crack down on extremist preachers
March 24, 2015
LONDON - Britain will introduce measures to counter extremism, including an investigation into Sharia courts and a crackdown on incendiary preachers, if Prime Minister David Cameron's Conservatives win May's election, Home Secretary Theresa May said on Monday.
May said Britain would no longer tolerate those who rejected the country's values of democracy, free speech, equality and the rule of law, adding that Islamist extremism presented the most serious and widespread problem. "To those who choose consciously to reject our values and the basic principles of our society, the message is ... clear: the game is up," she said in a speech in London. "We will no longer tolerate your behaviour."
Britain has wrestled with how to deal with extremism and radicalisation among its 2.8 million Muslims since the Sept. 11, 2001 attacks on the United States.
The issue came to the fore after suicide bombings on the London transport system in 2005 and the murder of a British soldier in 2013 by young British Islamists, while recently some 600 Britons have travelled to fight in Iraq and Syria including "Jihadi John", suspected of being the most notorious executioner of Islamic State radicals who have occupied swathes of Iraq and Syria.
May said not all extremism led to terrorism, but that those who spread hatred had to be tackled and she called for Muslims to join "a partnership" to defeat extremists.
Measures she said would be brought in under a Conservative government included bans for groups which fell short of current terrorism proscription orders, closure orders to shut down premises owned or used by extremists and extremism disruption orders to target individuals who incite hatred.
Full report at:
http://nation.com.pk/international/24-Mar-2015/uk-to-investigate-sharia-courts-crack-down-on-extremist-preachers
-----------
Paris warns of unprecedented terror threats
Mar 24, 2015
French security officials have reportedly warned of more terrorist attacks by ISIL-linked Takfiri elements in the country, saying terrorist threats have climbed to "a level without precedent".
"Not one day goes by without an alert, the discovery of a network trying to send people to Syria or Iraq, or an intervention (by the security services)," a high-level official of France's defense ministry told AFP on condition of anonymity on Monday.
French counter-terrorism authorities further described the threat as "permanent."
At the moment, there are nearly 4,000 elements "identified or suspected of evil intentions" in France, who include highly-educated individuals described as "pros, not drop-outs".
The report further cited "another unnamed counter-terrorist official" as stating that the biggest source of France's concerns is the 200 former Takfiris who have returned to the country after engaging in foreign-backed military operations against the governments of Iraq and Syria.
Full report at:
http://www.presstv.in/Detail/2015/03/24/403123/French-terror-threat-unprecedented
-----------
Gloucester Mosque Opens Doors to Public
23 March 2015
GLOUCESTER – Addressing misconceptions about Islam in England, a Gloucester mosque opened its doors over the past week, in a bid to build bridges and present the true Islam.
"Islam is a peaceful religion and Muslims are like any other individual. We work, we put food on the table and we live normal lives," Imam Hassan, who organized the event, was quoted by Gloucester Citizen on Sunday, March 22.
"We wanted people to learn more about Islam and Muslim culture and help people from different backgrounds to get to know each other.
"We want to make the mosque a hospitable place for all religions."
Imam Hassan was addressing the attendants at the open day organized by the Masjid-E-Noor mosque in Gloucester on Saturday, March 21.
Crossing oceans of ignorance, the tenets of Islam and how its religious schools operate were discussed during the mosque event.
The event offered visitors a first-hand experience of what Islam is all about, as several speakers shared their personal journey to the fast growing faith.
Recital of the holy Qur'an along with briefing about the history of Muslims in Britain and their contribution were also presented during the interfaith event.
"Whatever your culture, whatever your ethnicity, the message is of peace," speaker Haroon Kadodia said.
"There is so much anti-Islamic propaganda that to separate the wheat from the chaff is very difficult. We have to cross oceans of ignorance.
"Faith schools, women in Islam, Jihad- these weeds have become a jungle of misconception," he added.
Last Month, more than 20 mosques took part in "Visit My Mosque Day", an interfaith event that was organized by the Muslim Council of Britain.
Building Bridges
The mosque event has been hailed by visitors as a way to build bridges between faiths in the south western English city.
"This has helped to build bridges, personal relationships and understanding of the community here. Everyone has been really welcoming," Redcliffe College Theology teacher Daniel Button, who also attended the event, said.
Button also suggested holding similar events regularly.
"It would be great to have a follow-up event which delves deeper," he said.
On his part, Said Hansdot, Gloucester city councilor for Barton and Tredworth who attended the event, said: "People think we are a closed society but it's just not true. This event shows we're willing to bring people in and show we're no different under the skin."
Stories of Muslim heroes during the two world wars have been shared by Speakers Asya and Zack Pandor during the event.
More than 400,000 Muslim soldiers fought for Britain in WWI is vital to fully understand the multi-ethnic Britain that we are today".
Full report at:
http://www.onislam.net/english/news/europe/484189-gloucester-mosques-open-doors-defeat-ignorance.html
-----------
French Muslims Face Islamophobia or Extremism
23 March 2015
CAIRO – Alienation, discrimination and scapegoating were the three social problems that have made Muslims worst reality, especially after recent attacks in Europe.
"There's more and more racism every day in France," Najim Hakem, a 25-year-old son of Algerian immigrants, told Washington Post.
"You turn on the TV and all you see is bad publicity about Muslims."
Growing up in a high-rise that overlooks Vincennes, just two miles in distance yet a world away, Hakem is surrounded by empty expanses of concrete instead of beautiful boulevards.
His neighbourhood is full of crowds of young men who struggle to find work in a sluggish economy.
The fact that he was a practicing Muslim was not helping him to find a permanent job after studying human resources in college.
"After work, if you go out with colleagues and say that you don't drink alcohol or eat pork, people are going to say, 'I don't like this guy,' " said Hakem.
The situation for French Muslims has been deteriorating recently, especially after Chapel Hill attacks, in which 17 people were killed.
Another attack in Copenhagen has added to anti-Muslim attacks, which increased sharply across Europe recently.
According to France's National Observatory Against ­Islamophobia, more than 214 separate acts of anti-Muslim behavior, more than it documented in all of 2014, were recorded in the first month after January attacks.
"There was always racism toward immigrants," said Abdallah Zakri, head of France's National Observatory Against ­Islamophobia.
"But now the extremists on all sides are using the atmosphere after these ­attacks to build permanent conflict between communities," he added.
Full report at:
http://www.onislam.net/english/news/europe/484195-islamophobia-pushes-french-muslims-to-extremism.html
-----------
Russia: Illogical to condemn Hezbollah
Mar. 24, 2015
BEIRUT: It would be illogical for the United Nations to condemn Hezbollah's intervention in Syria since the group is allied with Damascus, Russia's ambassador to Lebanon said Monday.
Asked about a report that said Qatar and Saudi Arabia were pushing for the U.N. Human Rights Council to add a clause to its annual statement condemning Hezbollah's participation in the Syrian war, Alexander Zasypkin said: "This is absolutely illogical, because Hezbollah stands by the legitimate regime and does not fight it."
The diplomat, who spoke to reporters after meeting with Foreign Minister Gebran Bassil, noted that numerous groups and factions fighting in Syria had illegally entered Syria from across the world in a bid to overthrow the government.
It does not make sense to single out Hezbollah since the group was fighting on the "legitimate" side, he said.
Full report at:
http://www.dailystar.com.lb/News/Lebanon-News/2015/Mar-24/291925-russia-illogical-to-condemn-hezbollah.ashx
-----------
Why Islam Karimov will win Uzbekistan's elections
23 March 2015
In a bright and spacious room Uzbek President Islam Karimov is talking to his voters. Like every other meeting broadcast on state TV, it all looks very orderly.
Men in suits and ties, women in smart dresses occupy the entire hall leaving no empty seats. They all have a pen and a notebook but nobody is taking any notes.
When the speech is over, everyone jumps from their seats and applauds.
President Karimov has been in power since 1989 when he was selected as the Communist Party leader of Soviet Uzbekistan.
Today this Central Asian state is seen as one of the most repressive countries in the world, international organisations describe its human rights record as "abysmal" and Uzbek citizens often call their leader "podishoh", the king.
Few doubt that Mr Karimov will be re-elected for yet another term in the vote on 29 March.
His other three opponents are virtually unknown politicians who pose no real challenge.
Unknown rivals
"They are running just to create a sense of democracy," said Abdurakhmon Tashanov, a Tashkent-based activist from Ezgulik human rights organisation. "But no real opposition is present. This is all like a play and everyone is playing their roles."
Mr Karimov's opponents show little sign of criticism. When they campaign, they repeatedly talk about "continuing the development of the country", "further democratisation" and "keeping the [current] high pace of economic growth".
They all praise "achievements" of Uzbekistan since independence.
Their message is to vote for Islam Karimov as he has been doing everything right.
Observers say that the general public is indifferent towards the election, yet many are expected to cast their votes for the incumbent.
A voter in the eastern province of Jizzakh says that she will vote for Mr Karimov because "no one else can be better than him", referring to the president as "otamiz" - our father.
"We are used to him. I can't imagine anyone else in his place," she said.
Others feel under pressure. A voter in the capital Tashkent told the BBC that an official from the municipality came to her flat with a list of people who are to vote for Islam Karimov. The list included the names of the residents and their addresses. She was asked to provide her passport details.
Full report at:
http://www.bbc.com/news/world-asia-31971638
-----------
Activist pulls out of Trinity College talk due to 'restrictions' aimed at not 'antagonising' Muslims
23/03/2015
Iranian-born Maryam Namazie was due to give a talk to the Society for International Affairs on Monday on 'Apostasy and the rise of Islam' but decided to withdraw from the event after college security imposed "certain conditions".
"I've just been informed… that college security (why security?) has claimed that the event would show the college is 'one-sided' and would be 'antagonising' to Muslim students," she wrote on her blog.
Ms Namazie, who is from a Muslim background but stopped practising the religion several years ago, said she would not do the talk "since such conditions are not usually placed on other speakers."
"I was told that two conditions were required for the event to go ahead; one, that it only be open to students of the college, and two, that there would be a moderator to chair the talk".
Speaking to Independent.ie, Ms Namazie said she decided against speaking because "such conditions had not been placed on other speakers."
Last month preacher Sheikh Kamal El Mekki was invited to Trinity College in an event co-hosted by the TCD Muslim Student Association (MSA) and the Irish branch of the AlMaghrib Institute.
His visit to the university was controversial because, in the past, the scholar has explained why apostates should get the death penalty and why the punishment of stoning exists for adultery.
"It is unsettling because these people are given free access to a campus, while those who oppose violence and speak out against the violation of rights of non-Muslims and Muslims alike have restrictions placed on them," said Ms Namazie, who was invited to speak in part because of Mr El Mekki's lecture.
"No conditions were placed on his talk, nor was there threats to cancel his event over concerns that his position on death for apostates would 'antagonise' ex-Muslim and Muslim students who do not support apostasy laws."
Full report at:
http://www.independent.ie/irish-news/activist-pulls-out-of-trinity-college-talk-due-to-restrictions-aimed-at-not-antagonising-muslims-31087977.html
-----------
Morocco says breaks up ISIS militant cell
24 March 2015
Moroccan authorities said on Monday they had dismantled a militant cell planning to create an ISIS affiliate in the North African kingdom, seizing guns and accusing its members of plotting attacks.
The cell, the latest in a string of radical groups Morocco say it has uncovered, operated in several cities including the two largest tourist destinations, Marrakesh and Agadir, authorities said.
Hundreds of fighters from Morocco and other Maghreb states like Tunisia and Algeria have joined Islamist militant forces in Syria's civil war. Some are starting to head home and create a new jihadi battlefield, security experts say.
Last week, gunmen attacked a museum in Tunis and killed 23 people, mostly foreign tourists. Algeria temporarily evacuated nearly 100 Turkish construction workers from a roadway project east of Algiers, a source said on Monday, after a threat from militants affiliated with Islamic State.
The 13 members of the cell in Morocco had pledged allegiance to Abu Bakr al-Baghdadi, leader of Islamic State militants fighting in Syria and Iraq, and planned to create an offshoot, called the Islamic State in the Extreme Maghreb.
Full report at:
http://english.alarabiya.net/en/News/middle-east/2015/03/24/Morocco-says-breaks-up-ISIS-militant-cell.html
-----------
Britain evacuates special forces from Yemen over worsening security
23 March 2015
Britain has evacuated its last special forces from Yemen because of the deteriorating security situation there, a person familiar with the matter told Reuters on Monday, following reports that the United States had done the same.
Britain withdrew staff from its embassy in Yemen last month and temporarily suspended operations there over security concerns.
The person, speaking on condition of anonymity, said the extraction of special forces had occurred in recent days. The Ministry of Defense said it never commented on such matters.
U.S. officials said on Saturday that the United States had evacuated its own remaining personnel, including about 100 special operations forces, from Yemen because of the deteriorating security situation there.
Full report at:
http://english.alarabiya.net/en/News/middle-east/2015/03/23/Britain-evacuates-special-forces-from-Yemen-over-worsening-security.html
-----------
URL: https://www.newageislam.com/islamic-world-news/new-age-islam-news-bureau/sporadic-car-bombings-in-baghdad-claim-19-lives,-wound-36/d/102089