New Age Islam News Bureau
18 Nov 2014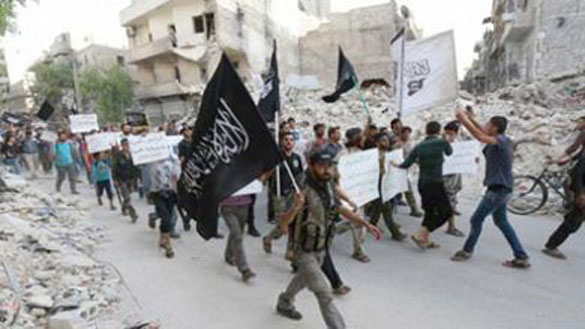 Photo: Pakistani Taliban splinter group vows allegiance to Islamic State
South Asia
• South Asian Diversities A Platform for Human Rights Mechanism
• 36 Taliban Rebels Killed, 20 Injured In Clearing Operations in Afghanistan
• Bangladesh Cyber Jihadists Hint At Next Targets
• Bangladesh at high risk of terrorism
Arab World
• Isis Using Media to 'Hijack' Arab World: Queen Rania
• Saudi Scholar: Extremism Awareness Programs for Students Needed
• Al-Qaeda Releases Video of French, Dutch Hostages
• Saudi Arabia Declares War on Child Abuse
• Victims in ISIS video begin to be identified
• Global terrorism on rise: Fivefold increase in terror-related deaths since 2000
• Egypt's iconic music artist takes on ISIS chief
• Foreign intelligence behind recent terror attacks: Egypt's interior ministry
• Syrian Think Tank: Turkey, Qatar Trying to Unite Terrorists in Syria
• 3 sentenced to death for Riyadh, Alkhobar terror attacks
• IS executes nearly 1,500 people in Syria in 5 months: Monitor
Mideast
• PM Davutoğlu: 'Killing Urbanite-Islam, Led To Creation of ISIS'
• Four Israelis Killed In Jerusalem Synagogue Attack
• Blast kills senior Islamist politician in Yemen
• Turkey's Religious Body: Exposing Privacy with Online Photos 'Improper' In Islam
• Iran's Zarif says nuclear deal possible if no 'excessive demands'
• Israel to step up demolition of Palestinian homes
• Jerusalem attack 'result' of Abbas, Hamas incitement: Israel PM
Pakistan
• Pakistani Taliban Splinter Group Vows Allegiance to Islamic State
• Air raids in Tirah valley kill 6 suspected militants
• Militants Not Dangerous To Pakistan Should Not Be Targeted: Advisor to PM
• Foreign Office Clarifies Sartaj Aziz Statement on Ties with Militant Groups
• Catch me if you can: Tahir ul Qadri dares govt
• Imran accuses PML-N leaders of having links with terrorists
• Two government officials gunned down in Balochistan's Awaran
• Two held for plastering Islamic State stickers in Lahore
• Haqqani Network in tribal areas a thing of past: ISPR
Europe
• Leading British Islamic Organisation to Challenge UAE Terror Designation
• Drones counterproductive with Zarb-i-Azb underway: UN envoy
• Britain is Europe's number one terror target
• 'Report Jihad' button promised by UK internet providers to help tackle online extremism
• Islamic State Kassig murder: Cameron says UK won't be 'cowed'
• Ukrainian president ready for 'total war' against Russia, says crisis there is more dangerous than ISIS
India
• India Should Bring Back Areas Lost To Pakistan, China: Senior RSS Leader
• Pakistan's Musharraf warns of proxy war with India in Afghanistan
North America
• Two U.S. Islamic Groups Called Terrorist by U.A.E
• Iran nuclear talks haunted by ISIS, history
• Kerry: U.S. 'not intimidated' by 'barbaric' ISIS
Africa
• Cleric backs vigilantes fighting Boko Haram
• Congo-Kinshasa: Police Operation Kills 51 Youth
• At Least Four Killed After Radical Youth Go On a Rampage in Kisauni, Mombasa
Southeast Asia
• Malaysian court to review appeal on use of the word 'Allah'
• Imam Shamsi Ali and Rabbi Schneier: Reuniting Muslims and Jews
• Our education policies separating haves and have-nots, says Dr M
• Muslims declare support for Ahok
Compiled by New Age Islam News Bureau
URL: https://www.newageislam.com/islamic-world-news/new-age-islam-news-bureau/south-asian-diversities-a-platform-for-human-rights-mechanism/d/100072
---------
South Asia
South Asian Diversities A Platform for Human Rights Mechanism
Nov 18, 2014
Diversities in religion, culture and different other practices in the South Asian region should not be considered as a barrier, but as a platform to enhance the human rights mechanism in the region, said Jatiya Sangsad Speaker Dr Shirin Sharmin Chaudhury yesterday.
Speaking at the inauguration of the two-day regional seminar titled "Towards a South Asian Human Rights Mechanism: Prospects and Challenges," she said: "Human rights are universal and inherited. One of the challenges which has been addressed as the reason of conflicts is religious and cultural diversities and practices.
"But I disagree with this idea. I think if we embrace these diversities that exist in South Asia, we can build a strong platform and also unity among the countries in this region," she said.
Organised by National Human Rights Commission (NHRC), the event was held at the Dhaka University's Nabab Nawab Ali Chowdhury Senate Bhaban.
"Living in the time of globalisation, it becomes difficult to just remain within one's confined territory. There are common concerns, problems and interests in the region that bind us together, which actually creates the necessity for the regional cooperation," the speaker said.
Other speakers at the event expressed their deep concern over trans-border issues, human trafficking, violence against women and children, child labour, migration, climate change, etc.
Dr Mizanur Rahman, NHRC chairman who also chaired the event, said: "Within a region, adaptation of international solutions to real problems can be intelligently carried out, and the states' commitments to each other can be confined to manageable proportions and sanctioned by clearly evident bonds of mutuality."
He also expressed his hope saying: "Dhaka is the birth place of Saarc; let Dhaka become the birth place of South Asian Human Rights Mechanism."
Among others, the event was also attended by India's NHRC Chairperson Shri KG Balakrishnan, Maldives' Human Rights Commission President Marayam Azra Ahmed, Nepal's NHRC Commissioner Mohona Ansari, Sri-Lanka's NHRC Secretary Samanthi, and Afganistan's IHRC Commissioner Ahmad Zia Langari, with UNDP's Deputy Country Director to Bangladesh Nick Beresford as special guest.
http://www.dhakatribune.com/bangladesh/2014/nov/18/speaker-south-asian-diversities-platform-human-rights-mechanism#sthash.KCyUOwvA.dpuf
---------
36 Taliban Rebels Killed, 20 Injured In Clearing Operations in Afghanistan
Nov 18, 2014
At least 36 Taliban militants were killed and 20 others were injured following counter-terrorism operations in the past 24 hours.
The Ministry of Interior (MoI) following a statement said, "In past 24 hours, Afghan National Police conducted several anti-terrorism joint operations with Afghan National Army and NDS to clean some of the areas from terrorists and enemies of peace and stability of Afghanistan."
The statement further added that the operations were conducted in Zabul, Kandahar, Farah, uruzgan, Ghazni, Khost, Sar-e-Pul, Nangarhar, Takhar, Kundar and Logar provinces.
At least six militants were also arrested by Afghan National Security Forces during the same operations.
"Also, during these operations, Afghan National Police discovered and confiscated light and heavy rounds ammunition," the statement said.
The statement also added that the Afghan National Police discovered and defused seven different types of IEDs placed by enemies of Afghanistan for destructive activities in Zabul, Sar-e-Pul and Faryab provinces.
The Taliban militants group has not commented regarding the report so far.
http://www.khaama.com/moi-36-taliban-rebels-killed-20-injured-in-clearing-operations-9017
---------
Bangladesh Cyber Jihadists Hint At Next Targets
Nov 18, 2014
In a long status update yesterday, the Facebook page of Ansar al Islam Bangladesh – 2, a Jihadist group that claimed responsibility of killing Rajshahi University Professor Shafi ul Islam Lilon, has given hints who their next targets can be.
Citing a verse from the holy Qur'an, the Bangla status said the group had not been targeting those who were "atheists in their personal lives," rather their targets were those who "had been demeaning Prophet Muhammad under the cover of atheism."
The groups' probable next targets could be teachers of universities, schools and colleges; public representatives or local opinion leaders; heads of organisations; judges, lawyers and doctors; poets and intellectuals; journalists or editors of newspapers; and television, stage or film actors, the status said.
The only definitive name that appears in the 342-word status update is vernacular daily newspaper Prothom-Alo.
The status, posted at 5pm yesterday, fetched more than a hundred comments until 9:30pm. While some praised the organisation, several Facebook users opposed killing people in the name of Islam and urged the page admins to not create anarchy.
Some of the comments suggestionsed the group about who their next targets could be.
One such comment is from Facebook user Abdullah Hil Baki Nayem, a resident of Rajshahi, who said Ansar al Islam Bangladesh -2's next targets could be Gonojagoron Moncho spokesman Imran H Sarker and activist Lucky Akter.
Last year, the Moncho emerged as a strong campaigner for war crimes trial. They have been demanding death sentence for all convicted war criminals and the trial of Jamaat-e-Islami's alleged 1971 crimes.
Feni Basherkella, a Facebook page run by the Feni unit of Jamaat's student front Shibir, urged the militant organisation to kill Prime Minister Sheikh Hasina and Imran saying that would solve every problem in the country.
Another user Dr Cherag Ali wrote: "Please contact with me in inbox. I have some important information for you. We will be beneficiary. This is my duplicate ID."
On the other hand, several Facebook users expressed their suspicion that Shibir men might actually be running the page from behind.
Abir Ahsan Tamim commented: "I knew you are Shibir men. You killed the teacher and now changing name trying to shift blame to an unknown organisation."
Facebook community page Ansar al Islam Bangladesh - 2 claimed responsibilities hours after the murder of Rajshahi University Professor Shafi ul Islam Lilon, who was hacked to death outside his house in the Chauddapai area of Rajshahi city on Saturday afternoon and succumbed to his injuries in hospital some hours later.
Having observed the activities on the page for several hours yesterday, this correspondent discovered that most of the comments were from people whose profiles suggest that they lived in London, UK. Only a few of the respondents appear to be from Dhaka.
The profiles of many, whose are presently located in London, suggest their origins are Sylhet or Dhaka.
A man named Shahriar, who was once a sathi or a member of Rangpur unit Shibir, was the first to like the page.
Most followers of the page have posted Jamaat-Shibir-generated contents on Facebook in the past.
Until 10pm yesterday, the page fetched a total of 2,927 likes.
http://www.dhakatribune.com/crime/2014/nov/18/cyber-jihadists-hint-next-targets#sthash.tnkq6S4h.dpuf
---------
Bangladesh at high risk of terrorism
Nov 18, 2014
Bangladesh is at a risk of higher level of terrorism in spite of not having any conflict in the country, said a report published by the Institute for Economics and Peace (IEP).
Sydney-based IEP has published the report titled Global Terrorism Index 2014 using four indicators to create a weighted five-year average for each country.
According to the report, Bangladesh ranked 23rd position with a score of 5.25 among 124 countries in the global terrorism index.
Iraq has topped the list with a score 10, followed by Afghanistan and Pakistan.
Around 6,362 died in 2,492 terror attacks in Iraq last year.
The international research body said the pattern of terrorism acts in the South Asian regions mostly includes explosions.
IEP published its first report on global terrorism in 2012. Bangladesh ranked 39 among 158 countries in 2012.
The report stated that a total 17,958 lost their lives to terror in 2013, 61% more than last year. Nearly 10,000 terror attacks have taken place, 44% more than the previous figure.
IEP was founded by Australian entrepreneur and philanthropist Steve Killelea in 2008. The institute is a UN-accredited NGO in Special Consultative Status to the UN Economic and Social Council.
http://www.dhakatribune.com/bangladesh/2014/nov/18/gti-bangladesh-high-risk-terrorism
----------
Arab World
ISIS Using Media to 'Hijack' Arab World: Queen Rania
18 November 2014
Queen Rania of Jordan has called on the Arab media to fight attempts by the Islamic State of Iraq and Syria (ISIS) to 'hijack' the region via social channels like Facebook and Twitter.
Speaking on Tuesday during her opening speech at the Abu Dhabi Media Summit, Queen Rania also raised of the role of education in thwarting the threat posed by extremists.
"A minority of irreligious extremists is using social media to rewrite our narrative and hijack our anatomy," Queen Rania said. "That's what ISIS is doing to the Arab world and all of us."
ISIS, which now controls large swathes of Iraq and Syria, is notorious for its use of sites such as Facebook, Twitter and Instagram, through which it has lured foreign fighters to join their self-proclaimed "Islamic caliphate."
Hundreds of photos and videos emerged on social media highlighting the atrocities committed by the terrorist group, including street beheadings, mass executions, enslavements and crucifixions.
Full report at:
http://english.alarabiya.net/en/media/digital/2014/11/18/Queen-Rania-ISIS-using-media-to-hijack-Arab-world-.html
---------
Saudi Scholar: Extremism Awareness Programs for Students Needed
Nov 18, 2014
A leading Saudi scholar has urged the government to set up awareness programs on extremism for young citizens studying abroad, to counter the influence of terrorist groups such as Islamic State.
Sheikh Ayed Al-Qarni, who has 7.5 million followers on Twitter, made the proposal in an interview with Arab News on Monday, on the sidelines of a lecture tour of the Eastern Province on the dangers of extremism.
Al-Qarni proposed that Saudi embassies run these programs and use scholars, educators and journalists to warn students about these groups. They should be similar to the awareness programs currently run in the Kingdom. He said some young people are easily swayed by the rhetoric of terrorists.
Full report at:
http://www.arabnews.com/saudi-arabia/news/661701
---------
Al-Qaeda releases video of French, Dutch hostages
18 November 2014
Al-Qaeda in the Islamic Maghreb has released a video purporting to show a French and a Dutch hostage held since November 2011 in the Sahara, Agence France-Presse reported.
The video was found on the Internet by private terrorism watchdog SITE , the agency said ,and shows French national Serge Lazarevic and a man identifying himself as Sjaak Rijke appealing to their governments to negotiate their release.
There is nothing in the footage of Lazarevic to suggest when it was shot, but Rijke says he is speaking on Sept. 26 this year and refers to a U.S.-Taliban prisoner exchange conducted in May.
Lazarevic, 50, who was kidnapped in the Malian town of Hombori in November 2011, appears in a dark headdress and with a thick beard in the front of a pick-up truck with a black jihadist banner behind him.
Full report at:
http://english.alarabiya.net/en/News/africa/2014/11/18/Al-Qaeda-group-releases-video-of-French-Dutch-hostages-.html
---------
Saudi Arabia declares war on child abuse
Nov 18, 2014
The Council of Ministers on Monday passed a bill to protect children's rights, including the right to have uninterrupted education.
The Cabinet also decided to establish a sports federation — Saudi School Sports Federation — and entrusted the Supreme Committee for Education Policy to set out its rules and regulations.
The new law protects children below 18 from all forms of abuse. It stresses children's rights established by the Shariah and international regulations and conventions.
"The new law considers a number of actions as an abuse or neglect of a child's right including causing interruption of his or her education, ill-treatment, harassment, exploitation, use of abusive words, and discrimination against the child for any ethnic, social or economic reason," a Cabinet statement said.
Full report at:
http://www.arabnews.com/featured/news/661746
---------
Victims in ISIS video begin to be identified
18 November 2014
State-run and anti-regime media in Syria confirmed the death of more than a dozen men in a recent video released by Islamist militants, identifying more than five as members of the Syrian army, Lebanon's the Daily Star reported.
The graphic footage also showed the death of U.S. aid worker and former army ranger Peter Kassig, sparking international outrage within hours of its circulation on Sunday.
However, the Daily Star reports that Syrian media only responded to the video on Monday when pro-regime daily al-Watan mentioned the slayings, marking the first reference to the incident in pro-government press.
Full report at:
http://english.alarabiya.net/en/News/middle-east/2014/11/18/Victims-in-ISIS-video-begin-to-be-identified.html
---------
Global terrorism on rise: Fivefold increase in terror-related deaths since 2000
November 18, 2014
Almost 18,000 people were killed in terrorist attacks in 2013, a 61 percent increase from the 2012. Four terrorist groups, the Islamic State, Al-Qaeda, the Taliban and Boko Haram were responsible for two thirds of all such deaths around the globe.
The Global Terrorism Index, produced by the London-based Institute for Economics and Peace, also found that 80 percent of terrorist attack fatalities occurred in only five countries; Afghanistan, Iraq, Nigeria, Pakistan and Syria.
Worryingly, the 63 percent increase from 11,133 terrorist deaths in 2012 to 17,958 in 2013 is the biggest year-on-year escalation since records began in 2000. Since the turn of the millennium, the number of deaths due to terrorist activates has increased fivefold, which also coincided with US military campaigns in Afghanistan and Iraq.
There has also been a sharp increase in the number of terrorist attacks, with almost 10,000 occurring in 2013. However, the report also showed that around 50 percent of terrorist attacks did not claim any lives.
Full report at:
http://rt.com/news/206475-terrorism-increase-report-deaths/
--------------
Egypt's iconic music artist takes on ISIS chief
18 November 2014
The self-proclaimed "Emir" of the Islamic State of Iraq and Syria (ISIS) militant group has made a new adversary in the form of one Egypt's most iconic popular music artists, Shaaban Abdel Rahim.
In a new song, the singer addresses Baghdadi as a bored "Emir of criminals" and describes ISIS militants as a "bunch of crazies."
Abdel Rahim, a pioneer in the Sha'abi, or popular, genre of music is famous for his politically fueled lyrics.
The song day viewed during a talk show on Dream TV, a privately-owned Egyptian channel.
"What caliphate are you talking about? All you say is fantasy, so who sent you, say!" the song goes.
He accuses the group of "profiling" people, adding that religion is "innocent of" Baghdadi "and his likes."
Full report at:
http://english.alarabiya.net/en/variety/2014/11/18/Egypt-s-Shaaban-Abdel-Rahim-takes-on-ISIS-Baghdadi.html
---------
Foreign intelligence behind recent terror attacks: Egypt's interior ministry
Nov 18, 2014
Egypt's interior ministry said on Monday that foreign intelligence was behind the recent attacks against Egypt's army in North Sinai and Damietta, state-run news agency MENA reported.
Abdel-Latif added that the identity of the parties supporting the terrorist groups "would be revealed after army's recent strikes against militant groups in North Sinai."
In late October, an attack on an army checkpoint in North Sinai left over 30 soldiers dead. The Sinai-based militant group Ansar Beit Al-Maqdis (ABM) claimed the attack in a 30-minute video clip published online on Friday. ABM has pledged allegiance to the Islamic State, the militant group which has seized large parts of Iraq and Syria.
Full report at:
http://english.ahram.org.eg/NewsContent/1/64/115758/Egypt/Politics-/Foreign-intelligence-behind-recent-terror-attacks-.aspx
---------
Syrian Think Tank: Turkey, Qatar Trying to Unite Terrorists in Syria
Nov 18, 2014
Head of the Syrian Strategic Studies Center Taleb Zifa disclosed that Ankara and Doha are doing their best for the reconciliation of the foreign-backed terrorists fighting against the Syrian government.
"Qatar and Turkey are doing their best to unite the terrorists in order to prepare them to stop the Syrian army advances in the coming days and months," Zifa told FNA on Tuesday.
Zifa noted that both Ankara and Doha want to play a role in any upcoming negotiations between the Syrian government and the United Nations.
Last month, Syria's permanent ambassador to the United Nations called on the world body to punish "the terrorist coalition of Turkey, Saudi Arabia, Qatar and Israel".
Speaking at a UN Security Council session on Tuesday, Bashar al-Jaafari said the coalition has been seeking to destroy Syria by fanning the flames of terrorism and shedding the blood of Syrian people.
Full report at:
http://english.farsnews.com/newstext.aspx?nn=13930827000391
---------
3 sentenced to death for Riyadh, Alkhobar terror attacks
Nov 18, 2014
A special criminal court in Riyadh has sentenced to death three members of a terror cell for killing 20 people and injuring 35 others at the Oasis Residential compound in Alkhobar in the Eastern Province, and the Al-Mohayya complex in Riyadh in separate attacks. Five were each handed 30-year jail terms.
The victims of the terror attacks included BBC photographer Simon Cumbers. His colleague Frank Gardner was critically wounded and is now wheelchair-bound. There were also Saudi civilians and policemen among the victims.
The first defendant, N. Boqami, chief of Cell 86, said Al-Qaeda had assigned him and others to storm the Oasis complex in 2004. They had been told that US forces had kidnapped and detained several Sunni Iraqi women during the 2003 invasion.
Full report at:
http://www.arabnews.com/featured/news/661741
---------
IS executes nearly 1,500 people in Syria in 5 months: Monitor
Nov 18, 2014
The jihadist Islamic State group (IS) has executed nearly 1,500 people in Syria in the five months since it declared the establishment of a "caliphate", a monitoring group said Monday.
"The Syrian Observatory for Human Rights has documented the execution of 1,429 people since the IS announced its 'caliphate' in June," the group's director, Rami Abdel Rahman, said.
The majority of IS's victims in Syria have been civilians, he said.
"Of the total number of people beheaded or shot dead in mass killings by IS, 879 have been civilians, some 700 of them members of the Shaitat tribe."
The Sunni Muslim Shaitat tribe, from the eastern province of Deir Ezzor, rose up against the jihadist group in mid-2014.
Full report at:
http://english.ahram.org.eg/NewsContent/2/8/115732/World/Region/IS-executes-nearly-,-people-in-Syria-in--months-Mo.aspx
-----------
Mideast
Pm Davutoğlu: 'Killing Urbanite-Islam, Led To Creation of ISIS'
Nov 18, 2014
ISTANBUL — PrIme Minister Davutoğlu said Islamic culture in Iraq and Syria had been dominated by cities and that once the Assad regime destroyed the urban centers, Salafist ideology and ISIS were able to take its place. He said cities needed to be rebuilt in order for the peaceful and urban Islamic culture to return.
During his talks with Turkish editors-in-chief, Davutoğlu explained why the militant group ISIS was able to grow so powerful in a short period of time. According to the Turkish prime minister, Iraqi and Syrian Muslims had adopted urbanite Islam, which was distant from Salafist ideologies or interpretations of the religion. When urban structures in both Syria and Iraq were demolished, Salafist ideologies were imported to these countries, creating a base for the self-proclaimed Islamic State of Iraq and al-Sham (ISIS).
He added that re-urbanization is the cure to clear ISIS from the region. Speaking critically of international society, Davutoğlu recently accused world powers of taking no action. "The international society should prove itself," he said, implying the U.N.'s failure with regard to the matter.
http://www.dailysabah.com/politics/2014/11/16/killing-urbaniteislam-led-to-creation-of-isis
---------
Four Israelis killed in Jerusalem synagogue attack
Nov 18, 2014
Two Palestinians armed with a gun and axes attacked a Jerusalem synagogue on Nov. 18 killing four Israelis, police said.
It was the deadliest attack in Jerusalem in years and comes after months of unrest in the annexed eastern sector of the city.
"There are four dead and six injured, among them two policemen," police spokeswoman Luba Samri said in a statement.
The attack began shortly before 7am (0500 GMT) as worshippers were attending morning prayers at a synagogue in the ultra-Orthodox Har Nof neighbourhood on the western outskirts of the city.
The two assailants, who were identified by police as Palestinians from east Jerusalem, were shot dead.
Full report at:
http://www.hurriyetdailynews.com/four-israelis-killed-in-jerusalem-synagogue-attack.aspx?pageID=238&nID=74473&NewsCatID=352
---------
Blast kills senior Islamist politician in Yemen
18 Nov 2014
A car bombing on Tuesday killed a leading member of Yemen's powerful Sunni Al-Islah party whose supporters have been battling Shiite militias, a security official said.
Al-Islah assistant secretary general Sadeq Mansur died "immediately" when a device inside the door of his car exploded in the country's third city Taez southwest of Sanaa, the official told AFP.
Police are trying to identify the attackers, the official added.
Supporters of the Muslim Brotherhood-linked Al-Islah have been resisting an advance by Shiite Huthi militiamen who easily overran the capital Sanaa on September 21 and who have since been expanding farther south.
Full report at:
http://english.ahram.org.eg/NewsContent/2/8/115812/World/Region/Blast-kills-senior-Islamist-politician-in-Yemen.aspx
---------
Turkey's Religious Body: Exposing Privacy with Online Photos 'Improper' In Islam
Nov 18, 2014
Sharing personal photos on social media is inappropriate according to Islam, Turkey's Directorate for Religious Affairs (Diyanet) has announced.
"It is improper in religion for a person to expose their privacy on virtual platforms and share it with other people," the Diyanet said in its monthly magazine, according to daily Habertürk.
"People should be cautious against this danger. It is necessary to pray to God and worship in order to avoid sins, and to be busy with more useful things. Friendship circles should be formed according to this [principle]," it added.
Full report at:
http://www.hurriyetdailynews.com/turkeys-top-religious-body-says-exposing-privacy-with-online-photos-improper-in-islam-.aspx?pageID=238&nID=74484&NewsCatID=393
---------
Iran's Zarif says nuclear deal possible if no 'excessive demands'
Nov 18, 2014
VIENNA: Iran's foreign minister insisted Tuesday a nuclear deal remained possible as he arrived for a final round of talks with world powers, with differences still wide just six days before a deadline to strike an agreement.
But Mohammad Javad Zarif warned that an accord would only happen if the other side — the five permanent members of the UN Security Council plus Germany — refrained from making "excessive demands".
"A deal is still possible," Zarif was quoted by Iranian media as saying after landing at Vienna airport.
"If, because of excessive demands by the other side, we don't get a result, then the world will understand that the Islamic Republic sought a solution, a compromise and a constructive agreement and that it will not renounce its rights and the greatness of the nation."
The mammoth accord being sought by Monday's deadline, after months of negotiations, is aimed at easing fears that Tehran might develop nuclear weapons under the guise of civilian activities.
Full report at:
http://www.dawn.com/news/1145307/irans-zarif-says-nuclear-deal-possible-if-no-excessive-demands
---------
Israel to step up demolition of Palestinian homes
Nov 18, 2014
JERUSALEM: Israel said on Monday it has sent notices to the families of several Palestinians in the West Bank implicated in attacks against Israelis to vacate their homes ahead of their impending demolitions.
The development indicated that Israel is intensifying its much maligned policy of punitive destructions of homes of suspected attackers.
The assaults the attackers are accused of involved deadly intent against
civilians — ramming vehicles into commuters at Jerusalem light rail platforms, for example — rather than just throwing stones or Molotov cocktails at Israeli soldiers.
The Israeli military said that in recent weeks, an unspecified number of notices warning of impending house demolitions have been issued to Palestinian families in the West Bank, whose relatives had carried out the attacks.
Full report at:
http://www.dawn.com/news/1145134/israel-to-step-up-demolition-of-palestinian-homes
---------
Jerusalem attack 'result' of Abbas, Hamas incitement: Israel PM
Nov 18, 2014
An attack on a Jerusalem synagogue which killed four Israelis Tuesday is the "direct result" of incitement by Palestinian president Mahmud Abbas and Hamas, Israeli Prime Minister Benjamin Netanyahu said.
"This is the direct result of incitement by Hamas and Abu Mazen (Abbas), incitement that the international community ignores in an irresponsible manner," Netanyahu said in a statement.
It added that he would meet security chiefs during the afternoon.
http://english.ahram.org.eg/NewsContent/2/8/115790/World/Region/Jerusalem-attack-result-of-Abbas,-Hamas-incitement.aspx
---------
Pakistan
Pakistani Taliban splinter group vows allegiance to Islamic State
Nov 18, 2014
DERA ISMAIL KHAN: A splinter group of Pakistan's Taliban has pledged support to Islamic State (IS), a spokesman said, in another indication of the appeal of the Iraq- and Syria-based militant group in a region traditionally dominated by al Qaeda and local insurgencies.
Jundullah announced its backing after meeting a three-man delegation representing IS led by al Zubair al Kuwaiti, the group's spokesman Fahad Marwat told Reuters. Jundullah is one of several Pakistani groups exploring relations with IS, whose fighters have captured swathes of Iraq and Syria in a drive to set up a self-declared caliphate. Analysts say that so far IS has mainly attracted sectarian groups rather than anti-state militants like the Taliban.
Jundullah carried out a church bombing that killed around 80 Christians. "They (Islamic State) are our brothers, whatever plan they have we will support them," said Jundullah spokesman Marwat. His comments follow the release of a video last month by five Pakistani Taliban commanders pledging support to IS. Islamic State also has contacts with the banned Pakistani group Lashkar-e-Jhangvi (LeJ), militants and security officials said.
Full report at:
http://www.dailytimes.com.pk/national/18-Nov-2014/pakistani-taliban-splinter-group-vows-allegiance-to-islamic-state
---------
Air raids in Tirah valley kill 6 suspected militants
Nov 18, 2014
PESHAWAR: At least six suspected militants,including an alleged key commander, were killed in military airstrikes in Malikdin Khel area of Khyber tribal region's Tirah valley on Tuesday.
Military jets targeted suspected militant hideouts in various areas of the region killing six people and wounding several others. The identity of the commander killed in the strikes was being ascertained.
The details could not be verified by military sources.
Khyber is one of Pakistan's seven semi-autonomous regions governed by tribal laws and lies near the Afghan border.
Full report at:
http://www.dawn.com/news/1145306/air-raids-in-tirah-valley-kill-6-suspected-militants
---------
Militants not dangerous to Pakistan should not be targeted: Advisor to PM
Nov 18, 2014
ISLAMABAD: Adviser to the Prime Minister on National Security and Foreign Affairs, Sartaj Aziz on Monday said that Pakistan should not target militants who do not threaten the country's security.
"Why should America's enemies unnecessarily become our enemies," Sartaj Aziz said during an interview with BBC Urdu.
"When the United States attacked Afghanistan, all those that were trained and armed were pushed towards us.
"Some of them were dangerous for us and some are not. Why must we make enemies out of them all?," he said when speaking about the Haqqani Network.
Full report at:
http://www.dawn.com/news/1145135/militants-not-dangerous-to-pakistan-should-not-be-targeted-sartaj
---------
Foreign Office clarifies Sartaj Aziz statement on ties with militant groups
Nov 18, 2014
ISLAMABAD: Clarifying an earlier statement of the prime minister's senior aide, Sartaj Aziz, the Foreign Office on Tuesday said Aziz had made the statement in a "historical context."
The statement comes a day after the adviser to the prime minister on national security and foreign affairs in an interview to BBC Urdu disapproved the conventional wisdom of indiscriminately targeting all shades of militants in the ongoing military operations in the tribal regions, arguing in favour of a more selective approach.
"Why should Pakistan target those who do not pose any threat to its security?" asked Aziz, arguing, "The enemies of [the United States of] America have become enemies of Pakistan for no reason."
Referring to his statements, Foreign Office spokesperson Tasneem Aslam affirmed Pakistan's commitment to fight all militants and said, "Pakistan has launched Operation Zarb-e-Azb and is taking action against all groups without any distinction and discrimination."
"Pakistan's policy and actions should be seen in the light of its commitment to fight terrorism in all forms and manifestations," the spokesperson emphasised.
http://tribune.com.pk/story/793054/foreign-office-clarifies-sartaj-aziz-statement-on-ties-with-militant-groups/
----------
Imran accuses PML-N leaders of having links with terrorists
Nov 18, 2014
ISLAMABAD: Pakistan Tehreek-i-Insaf Chairman Imran Khan has accused PML-N leaders of having links with terrorists.
Minister for Information Pervez Rashid had alleged on Sunday that Imran Khan had links with terrorists, but according to the PTI chief, the PML-N leaders themselves are in league with terrorists.
Addressing the participants of his party's sit-in here on Monday, Mr Khan said the local administration had been trying to create obstructions for PTI's public meeting in Larkana on Nov 21.
"The PTI leaders in Larkana are making arrangements on their own land for the public meeting, but the district administration has registered an FIR against a local leader," he said.
The PTI chief also accused the PML-N and PPP of continuously trying to harass supporters and workers taking part in public gatherings of their party across the country.
Full report at:
http://www.dawn.com/news/1145186/imran-accuses-pml-n-leaders-of-having-links-with-terrorists
---------
Catch me if you can: Tahir ul Qadri dares govt
Nov 18, 2014
LONDON: Pakistan Awami Tehreek (PAT) chief Tahir ul Qadri said on Monday that the Nawaz government cannot dare to arrest him.
Talking to media in the British capital, Qadri said that he is ready to be arrested 100 times but the government cannot dare to do so. He said no power on earth could stop him from returning to Pakistan. The controversial cleric again dismissed the notion he had travelled abroad as a result of a deal with the government. "Is declaring me a proclaimed offender part of the deal?" he questioned and added he would continue to visit Europe, North America and other countries as part of his international commitments relating to Minhaj ul Quran and his party.
Full report at:
http://www.dailytimes.com.pk/national/18-Nov-2014/catch-me-if-you-can-qadri-dares-govt
-----------
Two government officials gunned down in Balochistan's Awaran
Nov 18, 2014
QUETTA: Armed men killed two government officials in Balochistan's Awaran district on Tuesday, police said.
Muhammad Rafiq, a police official told Dawn that the men barged into a house in the Labach area of Balochistan's Awaran district and killed the two.
He said one official was working in the National Database and Registration Authority (Nadra) and the other was an employee of Balochistan Constabulary.
The assailants managed to escape unhurt from the spot.
Security and emergency personnel reached the location and cordoned off the area as a probe into the incident went underway.
Full report at:
http://www.dawn.com/news/1145301/two-government-officials-gunned-down-in-balochistans-awaran
---------
Two held for plastering Islamic State stickers in Lahore
Nov 18, 2014
LAHORE: Police in Lahore arrested two suspects Monday for plastering Islamic State stickers on walls in various localities, DawnNews reported.
Earlier on November 3, stickers bearing the IS flag were found plastered on walls in Lahore's Canal road, Nawab Town and some other areas.
According to police, the plastering of stickers was an attempt to disrupt peaceful Muharram processions.
Following the emergence of IS stickers on walls, Capital City Police Officer (CCPO) Lahore constituted a special team for the arrest of those involved in such activities.
Two suspects were arrested from Lahore's Nawab town today. Moreover, banned religious literature was also recovered from their possession.
Police are still interrogating the suspects whose names have not been disclosed as yet.
http://www.dawn.com/news/1145094/two-held-for-plastering-islamic-state-stickers-in-lahore
---------
Haqqani Network in tribal areas a thing of past: ISPR
Nov 18, 2014
MIRANSHAH: The Pakistan Army on Monday said that at least 350 terrorists had surrendered to armed forces in Khyber-I Operation in Khyber Agency, while the Haqqani Network in the tribal areas is a thing of the past.
According to Inter-Services Public Relations (ISPR), of the total militants, 20 of them were "extremely dangerous" and key commanders of Khyber Agency. The ISPR said militants also handed over their arms and munitions to the security forces. The army launched the operation "Khyber-1" last month with air strikes against militants' hideouts in areas under the Mangal Bagh-led group's control in Tirah and Bara. The latest operation was launched amidst Zarb-e-Azb, a full-fledged military operation being conducted by the army against the Tehreek-e-Taliban Pakistan (TTP) and other militants in the North Waziristan tribal region.
Full report at:
http://www.dailytimes.com.pk/national/18-Nov-2014/haqqani-network-in-tribal-areas-a-thing-of-past-ispr
---------
Europe
Leading British Islamic organisation to challenge UAE terror designation
Nov 18, 2014
A leading British Islamic organisation has condemned the United Arab Emirate for listing it as a terrorist organisation, vowing to challenge the action legally and diplomatically.
In its first reaction to the announcement, the Muslim Association of Britain (MAB) questioned the basis under which the list was compiled.
"We express our total and utter condemnation of the UAE authorities who have recently placed our organisation and 84 others on a terrorist list," Dr Omer El-Hamdoon, president of MAB, said at a news conference at the organisation's headquarters in London.
On Saturday, the UAE Cabinet formally designated 85 Islamic and charitable organisations as terrorist groups.
They include 14 organisations in Europe, four of them based in the UK.
The UAE also proscribed Muslim Relief UK, Cordoba Foundation and Islamic Relief Worldwide, which is allegedly part of the Muslim Brotherhood's global arm.
Full report at:
http://english.ahram.org.eg/NewsContent/2/8/115772/World/Region/Leading-British-Islamic-organisation-to-challenge-.aspx
---------
Drones counterproductive with Zarb-i-Azb underway: UN envoy
Nov 18, 2014
UNITED NATIONS: Reaffirming its stand that US drone strikes are counterproductive in combating terrorism, Pakistan on Monday called for an immediate end to such attacks on its soil to avert more civilian deaths and injuries.
"The use of armed drones against Pakistan's tribal territory violates international law by infringing our sovereignty and territorial integrity," Ambassador Masood Khan, Pakistan's permanent representative to the UN, told the General Assembly's Third Committee, which deals with social, humanitarian and cultural issues.
"Moreover, there is no justification for these strikes because Pakistan is pursuing with full vigour the Zarb-i-Azb operation to take out terrorists and dismantle their networks," he said while participating in a discussion on the annual report of the Geneva-based Human Rights Council.
Full report at:
http://www.dawn.com/news/1145309/drones-counterproductive-with-zarb-i-azb-underway-un-envoy
---------
Britain is Europe's number one terror target
Nov 18, 2014
Britain is the most vulnerable country in Europe to terrorist attacks, a new report has warned.
The UK suffered 131 terror incidents last year, with three people killed including Lee Rigby, the soldier butchered in cold blood by cleaver-wielding Muslim fanatics outside his barracks in Woolwich, south-east London.
The Institute for Economics and Peace (IEP) ranked Britain 27 out of 162 countries on its annual Global Terrorism Index.
The UK is pushed up the list because of a number of terror attacks from dissident Republican organisations, including IRA splinter groups, in Northern Ireland.
Some countries associated with disorder and random violence, such as Indonesia, where the 2002 Bali bombings took place, and Sri Lanka, which has fought a violent insurgency against Tamil Tigers militants, are lower down the list.
The think-tank also said there were up to 370 British jihadists fighting with Islamic State militants in Iraq and Syria – the second highest total after France which has up to 410 extremists in the warzone.
Full report at:
http://www.dailymail.co.uk/news/article-2838622/Britain-Europe-s-number-one-terror-target-Country-ranks-27-162-nations-global-index-131-terror-incidents-past-year.html#ixzz3JNH85eo0
---------
'Report Jihad' button promised by UK internet providers to help tackle online extremism
Nov 18, 2014
Internet service providers in the UK including BT, Virgin, TalkTalk and Sky have pledged to introduce a 'report Jihad' button to make it easier for customers to flag extremist materials.
The government has been working with these companies to introduce a reporting button that would work in a similar way to the system that lets members of the public report cases of child sexual abuse online - ISPs all agreed to introduce a button on their home pages that let people report child abuse material directly to the police.
In this way, the Metropolitan police's Counter-Terrorism Internet Referral Unit (Citru) would play a similar role to the Child Exploitation and Online Protection agency (Ceop).
ISPs have also said they'll beef up their default web filters to try and cut out this sort of content.
Full report at:
http://www.mirror.co.uk/news/technology-science/technology/report-jihad-button-promised-uk-4641750
---------
Islamic State Kassig murder: Cameron says UK won't be 'cowed'
Nov 18, 2014
The UK will not be "cowed" after Islamic State killed another western hostage, David Cameron has told MPs.
The prime minister described IS as "sick terrorists" who he pledged would be defeated.
A video was released on Saturday showing the beheading of a US aid worker and 18 Syrian prisoners.
Earlier Home Secretary Theresa May told the Commons the killing of American Abdul-Rahman Kassig demonstrated the "deadly threat" faced by the UK.
Mr Kassig - known as Peter before he converted to Islam - became the fifth western captive beheaded by IS in recent months.
The father of a British man thought to be pictured in the video has denied it is his son.
Ahmed Muthana said 20-year-old Nasser Muthana was not among the uniformed jihadists seen in the footage.
Full report at:
http://www.bbc.com/news/uk-30089073
---------
Ukrainian president ready for 'total war' against Russia, says crisis there is more dangerous than ISIS
Nov 18, 2014
Ukrainian president Petro Poroshenko today said he is ready for 'total war' against Russia as he claimed the crisis in Eastern Europe is more serious than the threat from Islamic State.
Kiev is convinced that Moscow is strengthening its troop presence on its borders and inside rebel-held areas, which the Kremlin has repeatedly denied.
As Putin returned from the G20 in Brisbane where he was under siege from Western leaders, Poroshenko claimed his army is now better prepared to fight to defend its territory than when the conflict began.
'I am not afraid of a war with Russian troops,' he said.
'We are prepared for a scenario of total war.
'We don't want war, we want peace and we are fighting for European values.'
He told Germany's Bild newspaper the unfolding drama on the edge of the EU was more critical than the Islamic State defiance.
'There are thousands of Russian soldiers, hundreds of tanks and heavy artillery in my country,' he insisted.
'This is one of the largest armies in the world, which threatens not only us, but also the whole of Europe.'
Full report at:
http://www.dailymail.co.uk/news/article-2838094/Ukrainian-president-says-country-ready-war-Russia-says-crisis-dangerous-spread-ISIS.html#ixzz3JNGncCrv
---------
India
India Should Bring Back Areas Lost To Pakistan, China: Senior RSS Leader
Nov 18, 2014
Senior RSS leader Indresh Kumar on Monday suggested that India should take steps to reclaim territories which are controlled by Pakistan and China.
He also said the people from the Valley who have left Jammu and Kashmir due to terrorism must be brought back in the greater interest of democracy.
Releasing a book, Plight of Jammu and Kashmir, by Justice (retd) G D Sharma, RSS national executive member Kumar mentioned a Parliament resolution on reclaiming Indian territories and said, "Leaders of country must adhere to the resolution passed by Parliament. Bring back the lost land."
"Boundaries were changed due to our weakness and their (China and Pakistan) hawkish approach," Kumar said.
The RSS leader said Jammu and Kashmir was yet to join the "mainstream", and that in 2014 there was an opportunity to bring back "Kashmir, Kashmiriyat and Kashmiri" into the mainstream of India.
He said that the people of the state were now in favour of development, and terrorists and separatists were on the verge of being wiped out.
Kumar said due to violence, the state it is far behind in terms of industrialisation, education and other parameters of development.
http://indianexpress.com/article/india/india-others/india-should-bring-back-areas-lost-to-pakistan-china-indresh/#sthash.9Mg1D0Xf.dpuf
----------
Pakistan's Musharraf warns of proxy war with India in Afghanistan
AFP | Nov 18, 2014
KARACHI: The departure of Nato combat forces from Afghanistan could push India and Pakistan towards a proxy war in the troubled state, Pakistan's former military ruler General Pervez Musharraf warned in an interview with AFP.
As Pakistan's ruler, Musharraf was a key US ally in its "war on terror", but he now lives under tight security in his Karachi home, facing Taliban death threats and a litany of criminal cases dating back to his near decade-long rule that ended in 2008.
The 71-year-old — who seized power in a bloodless coup in 1999 — praised new Afghan President Ashraf Ghani, who made his first official trip to Pakistan last week in a bid to reset fractious ties with Islamabad.
Pakistan's support is seen as crucial to Afghan peace as US-led forces pull out by the end of this year after 13 years battling the Taliban.
But the former strongman said calming tension between India and Pakistan — running high at the moment after some of the worst cross-border firing in years — is key to peace in Afghanistan.
Full report at:
http://timesofindia.indiatimes.com/world/pakistan/Pakistans-Musharraf-warns-of-proxy-war-with-India-in-Afghanistan/articleshow/45186971.cms
---------
North America
Two U.S. Islamic Groups Called Terrorist by U.A.E
Nov 18, 2014
The United Arab Emirates included two U.S.-based Islamic groups on a list of more than 80 terrorist movements worldwide in an action that drew swift denials from the organizations.
The U.A.E. named the Council on American-Islamic Relations, a Washington-based group known as CAIR, as well as the Muslim American Society, in a list that also included al-Qaeda and Islamic State.
The Muslim American Society, which describes itself as a religious community service organization that serves people in the U.S., said it would seek U.S. government help "to address this issue." CAIR said it was seeking an explanation from U.A.E. authorities "about this shocking and bizarre report."
"There is absolutely no factual basis for the inclusion of CAIR and other American and European civil rights and advocacy groups on this list," the group said in the e-mailed statement.
The U.A.E. announcement comes as the U.S. ally clamps down on political Islam and radical militant groups. Its air force is part of a U.S.-led coalition against Islamic State in Syria and Prime Minister Sheikh Mohammed bin Rashid Al Maktoum today released a decree designed to combat money laundering and terrorism financing.
Full report at:
http://www.bloomberg.com/news/2014-11-16/two-u-s-islamic-groups-called-terrorist-by-u-a-e-.html
---------
Iran nuclear talks haunted by ISIS, history
18 November 2014
Bill Clinton tried. So did George W. Bush. Neither succeeded. As President Barack Obama's own second term winds down, he is getting closer than either of his immediate predecessors to the goal of improving U.S. relations with Iran. But he's not there yet, and plenty stands in the way, including a messy and brutal conflict in Iraq and Syria.
As high-stakes negotiations with Iran over its nuclear program resume this week in Vienna ahead of a Nov. 24 deadline for a deal, the ghosts of previous failed attempts at American-Iranian rapprochement loom large. So do very real and current concerns, not least of which are the rise of the Islamic State of Iraq and Syria (ISIS) group, fierce opposition to a deal from U.S. ally Israel and open hostility from many in Congress and hardliners in Iran who already look to be trying to derail a potential agreement.
Those issues, combined with the already frustratingly complex nature of the negotiations, have made for slow going and increased the chances of something less than a full deal being struck by next Monday's target. Officials say an extension of the already once-extended talks is possible, but they warn additional delays will invite complications. Diplomats from all sides are eager to meet the deadline.
Full report at:
http://english.alarabiya.net/en/perspective/analysis/2014/11/18/Iran-nuclear-talks-haunted-by-ISIS-history.html
----------
Jerusalem attack 'act of pure terror': John Kerry
Nov 18, 2014
US Secretary of State John Kerry on Tuesday condemned an attack on a Jerusalem synagogue that killed four Israelis as an "act of pure terror and senseless brutality".
Speaking in London ahead of talks with British Foreign Secretary Philip Hammond, Kerry called on the Palestinian leadership to denounce the attack, which was carried out by two Palestinians armed with a gun and axes in the Har Nof neighbourhood.
http://english.ahram.org.eg/NewsContent/2/8/115792/World/Region/Jerusalem-attack-act-of-pure-terror-John-Kerry.aspx
---------
Africa
Cleric backs vigilantes fighting Boko Haram
Nov 18, 2014
KANO: One of Nigeria's most powerful Muslim leaders, the emir of Kano, has voiced support for vigilantes fighting Boko Haram, urging others to form civilian militias and questioning the competence of the military.
The comments were made by Sanusi Lamido Sanusi, who became emir earlier this year after being sacked from his post as the central bank governor, where he was one of the government's most high-profile critics.
It is extremely rare for Nigeria's clerics to speak explicitly about political and military affairs, but many expected Mr Sanusi to defy convention and inject himself into public debate after assuming the highly influential post.
Full report at:
http://www.dawn.com/news/1145239/cleric-backs-vigilantes-fighting-boko-haram
---------
Congo-Kinshasa: Police Operation Kills 51 Youth
Nov 18, 2014
Kinshasa — Police in the Democratic Republic of Congo summarily killed at least 51 youth and forcibly disappeared 33 others during an anti-crime campaign that began a year ago, Human Rights Watch said in a report released today.
"Operation Likofi," which lasted from November 2013 to February 2014, targeted alleged gang members in Congo's capital, Kinshasa.
The 57-page report, "Operation Likofi: Police Killings and Enforced Disappearances in Kinshasa," details how uniformed police, often wearing masks, dragged kuluna, or suspected gang members, from their homes at night and executed them. The police shot and killed the unarmed young men and boys outside their homes, in the open markets where they slept or worked, and in nearby fields or empty lots. Many others were taken without warrants to unknown locations and forcibly disappeared.
Full report at:
http://allafrica.com/stories/201411180003.html
----------
At Least Four Killed After Radical Youth Go On a Rampage in Kisauni, Mombasa
Nov 18, 2014
At least four people have been killed by suspected radical youth in Mtopanga, Kisauni in Mombasa.
One person said to be a pastor died on the spot after he was stabbed in the neck by one member of the rowdy youth on Monday night.
Sources at the scene said three other bodies were removed by police from the scene and more than 20 youth arrested. Police has not confirmed the number of those killed on Monday night attacks.
Full report at:
http://allafrica.com/stories/201411180341.html
----------
Southeast Asia
Malaysian court to review appeal on use of the word 'Allah'
Nov 18, 2014
A Malaysian court on Monday agreed to review the Catholic Church's bid to reverse a government ban against publishing the word "Allah" in its weekly paper. The hearing has been set for January 21 next year.
The Herald newspaper had been told by the government that using the word Allah to mean God was illegal.
Earlier this year, a seven-member panel of the Federal Court, in a majority judgment, dismissed the Catholic Church's application for leave to appeal.
The Church is seeking leave to appeal against a decision delivered last year, which allowed the government's appeal to overturn a decision given in 2009 that the Herald could use the word "Allah".
http://www.thehindu.com/news/international/malaysian-court-to-review-appeal-on-use-of-the-word-allah/article6608934.ece
---------
Imam Shamsi Ali and Rabbi Schneier: Reuniting Muslims and Jews
Nov 18, 2014
The death of a beloved pope is the bridge that connects two men from two worlds tormented with rage, anger, hatred, bloodshed and prejudice.
The first man is Imam Shamsi Ali, a Muslim scholar born in Tana Toa, South Sulawesi, in 1967. Growing up, he resented Jews as he was taught as a child that all of them were "evil".
"Whenever there was a naughty kid, we always called him 'you Jew brat'," Shamsi said during a discussion in Jakarta.
Shamsi's sentiment was further fuelled when he attended Muslim schools in Pakistan and Saudi Arabia, where he was taught that Jews intended to destroy Islam and its practitioners. As Shamsi progressed his education to become an imam, he continued to view Jews with hostility.
Full report at:
http://www.thejakartapost.com/news/2014/11/17/imam-shamsi-ali-and-rabbi-schneier-reuniting-muslims-and-jews.html
---------
Our education policies separating haves and have-nots, says Dr M
Nov 18, 2014
Putrajaya's education policies have resulted not only in widening the gap between races but also the rich and the poor, said Tun Dr Mahathir Mohamad.
The former prime minister said children from wealthy families went to private schools in Malaysia and abroad while the children of the poor were left with no choice but to attend national schools.
"Apart from the racial separation because of the ethnic language-based schools, we now see a separation of rich children and poor children," he said in his blog, chedet.cc.
Furthermore, he said, the rich now spoke English while the poor in Malay, Chinese or Tamil, adding that the current job market favoured the English speakers.
Dr Mahathir, who was education minister from 1974 to 1978, reflected that after achieving Merdeka in 1957, Malaysia had a clear idea on education.
"We wanted every Malaysian child to go to national schools where the medium of teaching would be Bahasa Malaysia.
Full report at:
http://www.themalaysianinsider.com/malaysia/article/our-education-policies-separating-haves-and-have-nots-says-dr-m#sthash.Wzie4Od4.dpuf
---------
Muslims declare support for Ahok
November 18 2014
Prior to his inauguration as new Jakarta governor, acting governor Basuki "Ahok" Tjahaja Purnama, has received support from various Muslim communities — online and offline — despite his minority status.
A movement expressing support for Ahok, "I am Muslim and I support Ahok" has circulated on social media, in an apparent effort to counter the anti-Ahok movement launched by hard-line group the Islam Defenders Front (FPI).
Over the weekend a group calling itself the Indonesia Volunteers Front unfolded a giant banner at the car-free day at the Hotel Indonesia traffic circle and invited Jakarta residents to sign the banner, showing support for Ahok. Hundreds of signatures were collected on the day.
Full report at:
http://www.thejakartapost.com/news/2014/11/18/muslims-declare-support-ahok.html
---------
URL: https://www.newageislam.com/islamic-world-news/new-age-islam-news-bureau/south-asian-diversities-a-platform-for-human-rights-mechanism/d/100072