New Age Islam News Bureau
12 Jun 2020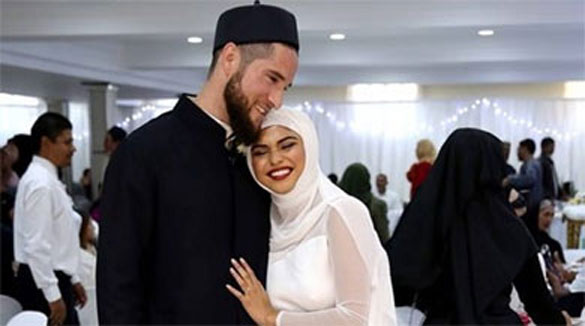 South African cricketer Wayne Parnell with his newly-wedded bride. Photo credit: The Indian Express
-----
• South Africa Will Not Recognize Muslim Marriages
• One Thousand Doves Die at Afghanistan's Blue Mosque, Since the Coronavirus Pandemic Started
• Delhi's Jama Masjid to Remain Close till June 30: Shahi Imam
• Doha Institute Study Exposes Anti-Muslim Bias in Coverage of Terrorism By Top US Dailies
• COVID-19 Will Reshape Islamic Finance Markets
• Halal Label Stands Outin Exports Not Only to The Islamic World but Even in Non-Islamic Markets
• '28 Case-Free Days the Benchmark'Declare Malaysia Free from Covid-19
• Iranian Deputy FM Calls for Muslims' New Strategy to Guarantee Palestinians' Rights
• Bedford Corn Exchange
Africa
• South Africa Will Not Recognize Muslim Marriages
• Muslim Groups Kick Against Worsening Sexual Violence Against Women in Nigeria
• SA Muslims 'not able to embark' on Hajj pilgrimage due to Covid-19
• Nigeria's Military Vow Revenge on Islamic State-Linked Jihadis Who Massacred 81 People
• Nigerian Government To Release 603 Repentant Boko Haram Terrorists Back To Society In July
• Nigerian president charges military to sustain fight against Boko Haram
------
South Asia
• One Thousand Doves Die at Afghanistan's Blue Mosque, Since the Coronavirus Pandemic Started
• Afghanistan: Freed Taliban Prisoners Seek Return To Battlefield
• Taiwan Taking Initiatives to Accommodate Muslims: US Report
• Chattogram MP Moslem Uddin, 9 family members test positive for Covid-19
• International Islamic Trade Finance Corporation Signs US$15 million Murabaha Financing Facility to support SMEs in Bangladesh
-----
India
• Delhi's Jama Masjid to Remain Close till June 30: Shahi Imam
• MLA Says Muslim Students Forced to Write Exam Outside Hall in Madhya Pradesh
• 'Aurangzeb-Like Brutal Atrocities Are Being Committed on Dalits In Mewat," Says Retired Judge from Haryana
• AyodhyaMosques to Remain Shut
• Uttar Pradesh: Dalit houses burnt after clash with Muslims in Jaunpur village, 37 held
• Most Indians Are Still Susceptible ToCovid-19, Finds ICMR Survey
• Militants escape after Budgam shootout
-----
Arab world
• Doha Institute Study Exposes Anti-Muslim Bias in Coverage of Terrorism By Top US Dailies
• Saudi Arabia Reopens Mosques Except Those in Makkah And Jeddah
• Worshippers relieved with measures taken at mosques, hope people's number increase
• Egyptian star Mohamed Ramadan raps about coronavirus in new music video
• Palestinian military brigades blow up Islamic State bases in Syria
• Ramadan Shallah dedicated his life to Palestine
------
Pakistan
• COVID-19 Will Reshape Islamic Finance Markets
• Will Monitor Countrywide Implementation Of Sops And Take Action Against Violations: PM
• Smart lockdown is only option: PM Imran
• AC issues non-bailable arrest warrants for Nawaz
• Thousands of patients suffer as hospital staff boycott OPDs across Sindh
• SOPs relaxed for people returning from Afghanistan
• MPC says rollback of 18th Amendment to harm federation, democracy
• Locust situation worsening as swarms entering Pakistan via Afghanistan
------
North America
• Halal Label Stands Outin Exports Not Only to The Islamic World but Even in Non-Islamic Markets
• CAIR-NJ to Join New Jersey Muslim Groups in Rally Against Police Brutality
• Local Dawoodi Bohra Muslim community donates PPE to Tomball ISD
• US Criticizes Turkey for Deportations, Entry Bans of Non-Muslims In Its Report on Religious Freedoms
• Trump says he'll pursue police use-of-force standard
• U.S. lawmakers ask Zoom to clarify China ties after it suspends accounts
------
Southeast Asia
• '28 Case-Free Days the Benchmark'Declare Malaysia Free from Covid-19
• Indonesia calls on countries to uphold social responsibility regarding COVID-19 vaccines
• 'COVID-19 is real': Virus ravages family in Indonesia's second-largest city
• Coronavirus: Malaysia's Transport Services Resume at Full Capacity, Mosques Reopen
• Brunei's Muslims To Skip Hajj Pilgrimage This Year
• No Hajj for Malaysia's Muslims This Year Due To Pandemic
• Ismail Sabri: Meetings and seminars allowed soon; non-Muslim places of worship to get updated SOPs
------
Mideast
• Iranian Deputy FM Calls for Muslims' New Strategy to Guarantee Palestinians' Rights
• 73% Of Turks Favor the Transformation of Hagia Sophia Into A Mosque
• President Rouhani: Sanctions failed to weaken Iranian nation's will
• A Waqf Guard to Jewish Woman at Temple Mount, 'You Can't Mention the Temple–You're in A Mosque'
• Neo-Nazi mosque shooter in Norway jailed for minimum 21 years
• Iran, Russia express concern over humanitarian crisis in Yemen, Syria
• Iran raises possibility of more prisoner exchanges with US
• Yemeni bodies condemn Saudi-led coalition over use of banned cluster bombs in Sana'a
-----
Europe
• Bedford Corn Exchange, Churches, Gurdwaras And Mosques Could Be Flu Vaccination Points
• Mosques Shouldn't Rush To Reopen For Congregational Prayers, Say UK Muslim Leaders
• Boyfriend Of 'Miss Hitler' Wanted To Spark 'White Jihad' Race War In Yorkshire
• High Commissioner visits Open Kitchen set up by Muslim Hands; announces food for 300 people
• Norway mosque shooter jailed for 21 years for murder, terrorism
• All mosques located along highways to be closed in Talas
Compiled by New Age Islam News Bureau
URL; https://www.newageislam.com/islamic-world-news/south-africa-recognize-muslim-marriages/d/122105
------
South Africa Will Not Recognize Muslim Marriages
By Vicky Stark
June 11, 2020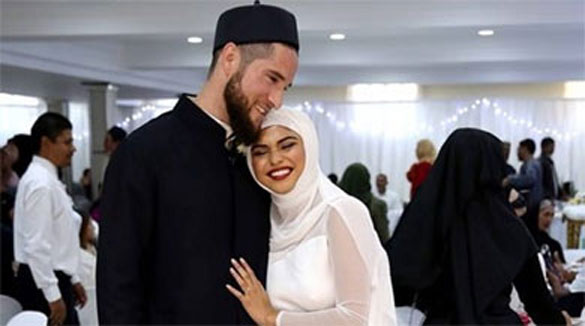 South African cricketer Wayne Parnell with his newly-wedded bride. Photo credit: The Indian Express
-----
JOHANNESBURG - Muslims across South Africa are pushing back against a decision last week by the home affairs minister, who said his department cannot legally recognize Muslim marriages.
The controversy erupted after the minister, Aaron Motsoaledi, said death certificates cannot indicate that someone was married unless the marriage is considered valid under South African law.
Since 1994, under African National Congress rule, South Africa has recognized only African customary marriages. Religious marriages, including Muslim marriages, are considered invalid.
"A marriage entered into in terms of Muslim rites is thus far not recognized in South Africa," Motsoaledi said, replying to a written parliamentary question by Al Jama-ah party leader Ganief Hendricks. "The department would not have powers to indicate that a person is ­married in the death certificate, whereas such is not the case in terms of the law."
Hendricks petitioned the government to recognize Muslim marriages, known as nikah. He says he was motivated by the deaths of Muslims from COVID-19, the disease caused by the novel coronavirus.
When a Muslim man dies from COVID-19, "then all those widows who were married for 40 years ... get a death certificate and the death certificate says 'never married,''' Hendricks said. "And that has stunned so many of these Muslim women."
There are no official figures as to how many South Africa Muslims have died from COVID-19. Overall, South Africa had reported just over 58,500 cases and 1,210 deaths as of Thursday, according to Johns Hopkins University researchers.
"Muslim women have a right to dignity," Hendricks said. "When their children are born, the children are illegitimate if they are not in a nikah. If their spouse dies, their death certificate says 'never married.' So their dignity is harmed from the cradle to the grave. That is unacceptable in a democratic South Africa."
"The courts don't recognize their marriage, and so they are subjected to whatever informal, nonlegal processes are put in place in terms of religion to deal with the division of estate in the instance of divorce," said Charlene May, an attorney at the center.
In 2018, the center won a case in the Western Cape High Court that ruled the government must legalize Muslim marriages within two years.
"If women aren't able to access rights like any other woman in a legally recognized marriage can access, then that is a form of discrimination," May said. "And then the state does have an obligation and a duty to step into the space that has been created, and the state has an obligation to legislate."
The Department of Home Affairs is working on an omnibus marriage bill. But party leader Hendricks worries it could take years to pass.
"We can't wait four years to do public participation, drafting," Hendricks said. "All we want in the act is that Muslim marriage is a valid marriage just like a gay marriage."
But Siya Khoza, speaking on behalf of the home affairs minister, said in a statement that deliberations on a new marriage policy are advancing to reflect marriages and practices in modern-day South Africa. The government hopes to have the legislation finalized by next March, according to Khoza.
https://www.voanews.com/covid-19-pandemic/south-africa-will-not-recognize-muslim-marriages
------
One Thousand Doves Die at Afghanistan's Blue Mosque, Since the Coronavirus Pandemic Started
June 11, 2020
Falah Gulzar
Local officials said authorities were ready to feed the birds if mosque managers allow it. (AFP)
----
As the muezzin called out the adhan daily, thousands of snow-white doves would scatter from one courtyard outside Afghanistan's famous Blue Mosque to another. However, since the coronavirus pandemic started, the lives of these birds have been greatly endangered.
Before the mosque complex shut amidst a nationwide lockdown, flocks of the white birds would gather at the popular tourist attraction, where visitors would feed them.
"Every day, about 30 doves die. We bury them outside the shrine," Qayum Ansari, head of cultural affairs at the mosque, was quoted as saying.
It has been said that the doves have been raised and fed at the location at least since the 12th century. Some visitors even consider the birds scared.
"The birds were fed by visitors but since the lockdown, nobody has come," Ahmed Naweed, a caretaker at the mosque was quoted as saying.
A sign of peace, in the conflict-ridden country, Afghan officials are desperate to save the birds that once lined the bright blue tiles of the site.
Whereas, Twitter user @drwazhmahakimi asked people to feed the birds: "White doves matter! According to an Ariana News report, about 1,000 #pigeons have died of starvation since the coronavirus disaster in Mazar-i-Sharif, Afghanistan. Is there a human to feed them?"
Over 22,000 people have been reportedly infected by the coronavirus in Afghanistan so far, though the real number is thought to be much higher.
https://gulfnews.com/world/asia/coronavirus-1000-doves-die-at-afghanistans-blue-mosque-1.1591876154396
-----
Delhi's Jama Masjid to remain close till June 30: Shahi Imam
June 11, 2020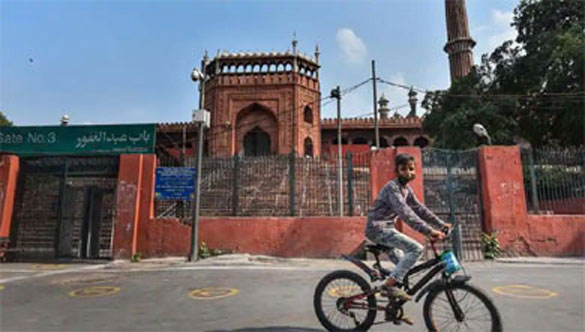 A boy cycles past the Jama Masjid after it was closed by authorities in the wake of rising coronavirus cases in New Delhi on Wednesday.(Sanchit Khanna/HT PHOTO)
-----
Jama Masjid's Shahi Ahmed Bukhari on Thursday said the mosque will remain closed till June 30 due to the deadly coronavirus.
The development came a day after he urged the people to offer namaz from their homes amid the spike in coronavirus cases.
Speaking to the media, Bukhari said, "I had made an appeal to the people to offer namaz from their homes and after taking public opinion and consulting scholars, it has been decided that from Thursday's Maghreb (sunset) till June 30 no congregational prayers will be performed at the Jama Masjid."
The historic mosque was reopened after the lockdown on June 8 after over two months as the government allowed further relaxations as part of Unlock-1.
However, Bukhari also asked the government to reconsider its decision over the unlock of several establishments from June 8.
The shopping malls, offices, place of worship and other establishments were allowed to open by the government from June 8.
https://www.thestatesman.com/coronavirus/delhis-jama-masjid-to-remain-close-till-june-30-shahi-imam-1502898903.html
-----
Doha Institute study exposes anti-Muslim bias in coverage of terrorism by top US dailies
June 12 2020
Findings from a new Doha Institute for Graduate Studies study suggest that elite American newspapers pay comparatively more attention to non-Muslim victims of terrorism, and also employ different framing mechanisms depending on terrorism victim identity.
Researchers Mohamed Hamas Elmasry and Mohamed el-Nawawy carried out a quantitative content analysis on ten large American dailies. Results showed that terror attacks occurring in Western Europe received about nine times more coverage than attacks occurring in Turkey and Africa, respectively, despite fewer average casualties.
Attacks in Western Europe were also more likely to be framed as acts of "terrorism," while non-Muslim victims of terror were more likely to be "personalised" and "humanised" than Muslim and black victims. The study, which was published online this week in Journalism, a highly-ranked peer-reviewed journal, offers some structural explanations for the coverage disparities.
We selected terror attacks on an apples-to-apples basis and also controlled for the religious identity of attackers, geography, and race," said Elmasry. "We expected to find differences, but the identified disparities were ultimately larger than we expected going in."
The study builds on previous research into alleged terrorism coverage double standards, but employs a coding scheme that goes farther than previous research focusing only on coverage totality and prominence. Examined newspapers included The Chicago Tribune, The Cleveland Plain-Dealer, The Denver Post, The Houston Chronicle, The Minneapolis Star-Tribune, The Los Angeles Times, The New York Times, the USA Today, The Wall Street Journal, and The Washington Post.
https://www.gulf-times.com/story/665448/Doha-Institute-study-exposes-anti-Muslim-bias-in-c
-----
COVID-19 will reshape Islamic finance markets
June 12, 2020
Since the inception of the Islamic finance industry in the 1970s, there has been a steady growth in demand for sharia-compliant products and services and the industry's total assets reached US$2.5 trillion globally in 2019.
Given the headwinds posed by the COVID-19 pandemic, the volatility in oil prices and the uncertain macroeconomic environment, the Islamic finance industry faces an unprecedented challenge to its development.
Nevertheless, COVID -19 is also shifting the dynamics in the industry and the outbreak may create new opportunities for Islamic finance markets by accelerating trends such as socially responsible investing, sustainability, and digitalization.
The impact of the 2008 global financial crisis on Islamic banks and financial institutions was largely minimal due to the prohibitions against speculation and risky asset classes in the industry.
However, the COVID-19 pandemic will have a more severe and deeper impact on Islamic finance markets, as the current crisis is affecting small and medium enterprises (SMEs) as well as low income and minimum wage individuals particularly hard. Compared to conventional banking, Islamic finance has a larger exposure to SMEs, microfinance, and retail lending, especially in Asia.
Despite government measures such as Indonesia's tax break facility and Malaysia's Special Relief Facility for SMEs, these businesses are still under immense financial strain given the lockdown measures and store closures imposed to contain the COVID-19 outbreak.
Beyond its immediate economic implications, COVID-19 is also forcing the Islamic finance industry to adapt to rapidly evolving market conditions and speeding up the pace of emerging trends such as digitalization to mitigate the impact of the outbreak.
Even before the COVID-19 pandemic, Islamic banks have been trying to catch up with conventional banking counterparts by stepping up investment in digitalization to reduce operating expenses, boost revenue and automate internal processes.
As financial institutions around the globe implement remote work policies and homebound safety measures amid the outbreak, there has been a considerable increase in digital banking transactions and activity, which in turns provides an added impetus driving the digital transformation push across Islamic banks. These may include increased automation of processes to minimize the need for human contact as well as digital structures for liquidity management.
Against the backdrop of the COVID-19 pandemic, fintech will continue to play a significant role in the industry's development in the coming years by improving access to financial services and transforming Islamic social finance.
In Indonesia, where Islamic financial institutions disbursed $16 million in corporate social responsibility funds in 2018, the National Committee for Islamic Finance has partnered a centralized quick response code payment platform owned by four Islamic units of state-owned banks to develop a digital platform for distributing Islamic social finance funds and to help Islamic finance cooperatives better manage funds from zakat and waqf payments.
Another new development was the acceptance of zakat payments in the form of cryptocurrencies in 2018. In response to consumer demand, Islamic finance microfinance firm Blossom Finance's Jakarta office began accepting payments made directly via the blockchain to a wallet address held at a cryptocurrency exchange in Indonesia. The funds are then distributed via an Islamic financial cooperative to any of the 87 microfinance institutions Blossom has partnered with.
In April 2020, the United Nations Development Program (UNDP) highlighted several sharia-compliant financing instruments that could be part of the integrated pandemic response plan including zakat (charity) and sukuk (Islamic bonds) to help countries prepare, respond, and recover from the pandemic.
UNDP's partnership Baznas, Indonesia's national zakat collection agency, has been in place since 2017. This collaboration provides an example of how zakat stakeholders can systematically link their projects with the Sustainable Development Goals (SDG), including in response to crises.
The ongoing COVID-19 outbreak has prompted financial institutions across the globe to pay greater attention to environmental, social, and governance (ESG) risks to build greater resilience in their business operations and supply chains, and we believe that Islamic finance markets will see a similar trend as well.
In fact, an analysis of the 6,554 companies in Refinitiv's EIKON global database shows that sharia compliance screening can do much to improve ESG performance and sharia-compliant companies — to which Islamic financial institutions will direct capital — have ESG scores that are on average 6 percent higher than for those excluded by the sharia screening process.The principal source of ESG risk facing Islamic banks is embedded in their balance sheets though the financing they provide, and it is becoming clear to financial institutions around the world that ESG risks will affect their potential profitability, portfolio risk levels and returns on capital. Not only will improving ESG risk management benefit the bottom line, the strategic shift towards responsible finance will also unlock new opportunities for Islamic banks to differentiate itself from peers and unlock new business opportunities in the post-COVID environment.
https://pakobserver.net/covid-19-will-reshape-islamic-finance-markets/?utm_source=rss&utm_medium=rss&utm_campaign=covid-19-will-reshape-islamic-finance-markets
------
Halal Label Stands Out in Exports Not Only to The Islamic World but Even in Non-Islamic Markets
10/06/2020
São Paulo – We need to reinforce the idea that the halal certification stands out in exports not only to the Islamic world. The point was made by representations of Brazilian halal certifiers on Wednesday (10) during the webinar "Global Halal Market: Trends, Regulation and Opportunities," hosted by the Arab Brazilian Chamber of Commerce. The online event had about 1,000 viewers and featured CDIAL Halal president Ali Saifi, Fambras Halal president Mohamed Zohgbi (pictured above), Alimentos Halal commercial director Nasser Khazraji, and Siil Halal president ChaibounDarwiche.
Zoghbi stressed that carrying out researches for new sectors is one of the first steps to widen the halal chain. "Brazil stands out in animal protein, but we can't forget about other growing industries. It's a matter of time; we are working so that these industries are structured," he said, pointing out that a technical work of market research must be done, as well as studies on individual products.
"Many companies are apt. Their growth is remarkable, and we can say that the costs are negligible, but it requires a lot of work and effort from the companies. It must be transparent, requires a lot of study. There's no doubt that this label brings many benefits. Even in non-Islamic markets, people are choosing halal products because they are of high quality," Zohgbi pointed out.
The executive expressed the desire that Brazil had a certifier accrediting entity. "Halal is a state policy, and we must pay attention to it. We are doing an excellent work. Naturally, we should come into the technological age and use the tools that make our job easier. Certification shouldn't be an obstacle; it is there to support Brazilian exporters. Therefore, we do what we can't to make things easier," he said.
CDIAL Halal president Ali Saifi also believes that we should look at certification as an exporting channel. "The word halal shouldn't be regarded as a barrier. Companies must see it as a business opportunity. The halal label brings many possibilities and market openness," he said.
He believes that the certification process is simple but requires that the company has clear and well documented processes. "Certifiers now have new categories and requirements. The certification is there so that the procedure is well controlled and analyzed," he said, pointing out that it takes effort to keep up with the changes. "Where have we failed? We must see what the market is requiring. Last year, I said that it would require more. Some companies didn't believe, and the result? A storage certification is now required. So, Brazil must always be one step ahead," he said.
On the other hand, Alimentos Halal commercial director Khazraji sees the pandemic as a key moment for sectors to think on how to attract the Muslim consumer. "There are many industries, such as pharmaceuticauls, that are little explored. Now everything is kind of halted, but we expect that everything will go back to normal after the pandemic. Maybe even stronger," Halal Alimentos commercial director said, pointing out that the halal industries can grow over the next months.
Darwiche says that the certificate shows a mark of excellence in every process of the production and the service delivery. "The halal label means quality, security," Siil Halal president said.
When asked by Arab Chamber administrative vice president Mohamad Orra Mourad about the added value the certificate gives the companies, Ali Saif was emphatic. "The halal certification makes a company grow. Just see how the animal protein industries were before and after this market. It was an outstanding growth. Maybe half of this industry's jobs come from the Islamic market, and 50% of the Brazilian animal protein has the halal certification," he stressed.
For Alimentos Halal commercial director Nasser Khazraji, the certification is a sound yet long-term investment. "Many companies are afraid to break into this market because they aim immediate gains. Depending on their segment, it's important that they carry out a market study and estimate the benefits. The investment in halal is not big; it requires studying laws and documents, but this is part of any regulation. The Brazilian businessperson must be patient about the gains, which may short- or long-term," he pondered.
Arab Chamber president Rubens Hannun pointed out that halal is the future of the market. "I strongly believe that the consumer, whether he is Islamic or not, if he has two products on his hand, one that is halal-certified and one that is not, will choose the certified one. Our challenge is show this to our companies, train the professionals, and we've seen that this is possible," he said.
The event also featured Prime Group cofounder and managing partner Mohamed Badri, Halal Trade and Marketing Centre (HTMC) manager Tomas Guerrero, Jordanian Society for Organic Farming (JSOF) secretary Ibrahim Abu-Helil, Dubai Airport Free Zone (DAFZA) director general Amna Lootah, as well as Arab Chamber secretary-general Tamer Mansour.
https://anba.com.br/en/halal-label-stands-out-even-in-non-islamic-markets/
------
'28 Case-Free Days the Benchmark' Declare Malaysia Free from Covid-19
12 Jun 2020
By JOSEPH KAOS
PUTRAJAYA: The Health Ministry will only declare the country free from Covid-19 if there are no new cases for a period of 28 days.
Health Director-General Datuk Dr Noor Hisham Abdullah said 28 days was the ministry's benchmark as this corresponded to two Covid-19 incubation cycles.
"Using this as a benchmark, if the country has zero cases for 28 days straight, we can declare it Covid-19 free," said Dr Noor Hisham at the ministry's daily Covid-19 briefing here yesterday.
New Zealand was declared Covid-19 free after its final patient was discharged. The country had no new cases for 17 days and had only one active case for a week.
On Wednesday, the Health Ministry declared an end to the Madrasah SolokDuku cluster in Alor Gajah, Melaka, which meant that 35 Covid-19 clusters had been considered closed so far.
There are currently 28 active clusters remaining in the country, with new cases detected in the Pedas cluster in Negri Sembilan (16), the Kampung Sungai Lui cluster, Selangor, (1) and the cleaning services company cluster in Kuala Lumpur (1).
Earlier, Dr Noor Hisham had announced 31 new cases and 51 recoveries as at noon yesterday, bringing the current number of active cases to 1,186.
Yesterday's figure marked a return to double digits after three days in a row of single digit daily cases. Out of the new cases, 11 were imported cases involving returning Malaysians who were all infected in Egypt.
Dr Noor Hisham said protocols would be in place for express bus services to operate at full capacity, adding that congestion in such vehicles would not be permitted.
"Passengers of express buses and planes will be screened and must register their details for contact tracing via the MySejahtera app.
"The first thing is that we will be conducting screening. Secondly, we will use apps to trace those who sit (in public transport vehicles).
"What we are worried about is if there is congestion, for instance if the number of passengers who are standing exceeds the number of those sitting, or when the capacity is more than the seats available.
"By next week maybe, we will present the SOP (standard operating procedures) to MKN (National Security Council) that can allow reflexology services to resume.
"There are strict guidelines that need to be adhered to and we must balance this with the number of new cases in the country. We have to ensure that there is no spike in new cases," he added.
https://www.thestar.com.my/news/nation/2020/06/12/28-case-free-days-the-benchmark
-----
Iranian Deputy FM Calls for Muslims' New Strategy to Guarantee Palestinians' Rights
Jun 11, 2020
TEHRAN (FNA)- Iranian Deputy Foreign Minister for Legal and International Affairs Mohsen Baharvand underlined the need for Islamic states to find a new strategy against Israel which guarantees the rights of the Palestinian people.
It is very important for Muslims to think seriously about developing a new strategy regarding Palestine in order to guarantee the inalienable right of Palestinians to decide their destiny, Baharvand said, addressing a virtual meeting held by the Executive Committee of the Organization of Islamic Cooperation at the level of foreign ministers, following a recent announcement by the Zionist regime and the Israeli occupiers of the plan to annex parts of the Palestinian territories, specially the West Bank, to their occupied territories next month and the US government's support for the unlawful plan.
He stressed the Islamic Republic of Iran's unwavering commitment to defending the cause of Palestine, and explained Tehran's views on the current threats of the Zionist regime, its main supporter, the US regime, and the effective solution to the long-running crisis facing the Islamic world.
He strongly condemned the Zionist regime's actions in relocating its capital to Beit ul-Moqaddas, as well as its plan to annex parts of the Palestinian and Arab territories and the US regime's support for these measures and stressed inefficiency of the policy of negotiations with the Zionists.
Israeli Prime Minister Benjamin Netanyahu, who was sworn into office for another term on May 17, has set July 1 for the start of cabinet discussions on extending Israeli sovereignty over settlements in the West Bank and the Jordan Valley.
In response to Israel's decision, Palestinian President Mahmoud Abbas declared the end of all agreements signed with Israel and the United States on May 19.
https://en.farsnews.ir/newstext.aspx?nn=13990322000424
------
Bedford Corn Exchange, churches, gurdwaras and mosques could be flu vaccination points
12th June 2020
Places of worship, Bedford Corn Exchange and other indoor venues are being lined up as possible venues for flu vaccinations during coronavirus restrictions.
Bedford Mayor Dave Hodgson (Lib Dem) said the council would need to talk to GPs about where the jabs would be given, so at risk people could remain socially distant.
Responding to a question from Dr Roshan Jayalath, of the King Street surgery, he said: "We have venues. Maybe using the Corn Exchange is a good one, or places not being used, churches, gurdwara or mosques.
"Maybe we could look at four or five venues, unless we are having big events inside before December, which I don't think we will be.
Bedford Borough Council's health and wellbeing board, on Wednesday (June 10), discussed helping people get a flu jab, and other immunisations, during the coronavirus pandemic.
According to Public Health England, flu has killed between 1,692 and 28,330 people across the country every year between 2014-15 and 2018-19, putting thousands of other people in hospital.
Muriel Scott the borough's director of public health, said, "June is the time we need to plan, so everything is in place for September and October with all the constraints covid-19 has brought."
Dr Nicola Smith, who chairs the new clinical commissioning group covering Bedfordshire, Luton and Milton Keynes, said the health system is geared up.
But she added, "It's about convincing the public to get their vaccinations done. It is a really big thing and we will all be behind it."
She urged health chiefs to find a different kind of vaccine for children because a nasal spray, used as an alternative to the needle, contains pig gelatine.
Figures for Bedford flu jabs last winter saw the borough failing to hit immunisation targets when compared to national figures. As few as 31.6 per cent of carers were protected.
They say there were delays getting vaccines. Mayor Dave said he believed convincing people should be easier. "There is a vaccine for this, and where there is a vaccine, make sure you use it."
We choose to champion editorial independence, meaning we report the facts without bias and can stand up to those in power when we believe it's needed.
We can give a voice to people in our community whose voices may otherwise not be heard. And we don't have a paywall, so everyone can read the stories we publish for free.
But in this time of crisis, many news organisations all over the world are facing existential threat, with advertising revenues plummeting. We're no different.
We work hard every day to bring you news, commentary, entertainment and announcements from across Bedford. We hope that, with your help, we'll be able to continue this for many years to come.
https://www.bedfordindependent.co.uk/bedford-corn-exchange-churches-gurdwaras-and-mosques-could-be-flu-vaccination-points/
------
Africa
Muslim Groups Kick Against Worsening Sexual Violence Against Women In Nigeria
Jun 12, 2020
THE Network for Democracy and Development (NDD) has expressed concern over the growing cases of rape and other forms of sexual violence around the country and called on the authorities to take decisive steps towards ensuring the security and well-being of women and female children.
The NDD, a Muslim civil society group, said it joined all men and women of conscience across Nigeria and the world in condemning the recent cases of rape of women across the country.
It urged the government to do everything to make sure that perpetrators of these dastardly acts feel the full weight of the law.
In a statement by its National Coordinator, TajudeenAlabede, and Director of Public Affairs, Dr Abdul-WasiMoshood, the NDD said: "We are particularly worried by the recent upsurge in the crime of rape in Nigeria. "We are horrified by the direction of the national conversation which in part blames victims of rape for the inhuman, invidious and criminal act. There can be no justification for rape under any circumstance. Rape is an act of violence that robs the victim of her dignity and sometimes her future and her life.
"Many living victims of rape live with the attendant mental, physical, emotional and social trauma throughout their lives. This is a violation of the sanctity of life and the dignity of the human person which Islam, the constitution and the universal declaration of human rights protect.
"It is, therefore, important that the government makes more effort to protect and rehabilitate the victims of rape. While stigmatisation of victims of rape should be a punishable offence, victims and their families should be encouraged to report the crime of rape to appropriate government agencies. It is the rapist rather than the victim that should be shamed.
"The prevalence of violent behaviours in different parts of Nigeria in recent years points to the deteriorating value system in the country. This is worrisome. We, therefore, call on the government, religious bodies, the traditional institution and women groups to provide leadership in addressing this ugly descent into the abyss as a matter of urgent national importance.
"It is our submission that all organs of government and other critical segments of the society in Nigeria need to do more in their efforts to prevent the incessant cases of rape and other crimes in the society. This ominous reality makes campaign for value re-orientation an urgent national imperative.
"To this end, we call on the police and other relevant agencies of the executive arm of government as well as the judicial arm of government to ensure that the offenders are brought to justice.
"Law enforcement agents should be trained to attend to victims with compassion and obtain their evidence timeously. Cases of rape should be handled with dispatch while convicted rapists, in addition to the appropriate punishment under the law, should be made to pay damages to their victims by way of restitution.
"In the same vein, the legislature should review the extant laws on rape with a view to determining the viability of the punishment for rape to serve as deterrent to any would-be rapist. A rapist is a potential murderer and should be treated as such.
"NDD commiserates with the families of Miss Vera UwailaOmozuwa, Miss Barakat Bello and other victims of rape in Nigeria. May Allah comfort the families and set the nation on the path of rectitude."
https://tribuneonlineng.com/muslim-groups-kick-against-worsening-sexual-violence-against-women-in-nigeria/
------
SA Muslims 'not able to embark' on Hajj pilgrimage due to Covid-19
11 June 2020
BY TIMESLIVE
With the country's borders still closed due to the Covid-19 lockdown, South Africans wishing to embark on the Hajj pilgrimage this year will not be allowed to do so.
This was the official word from the SA Hajj & Umrah Council (Sahuc) in a statement issued on Wednesday night.
The council said a meeting was held earlier on Wednesday with international relations minister Naledi Pandor.
"Based on the closures of our borders, the curtailment of international travel and issues pertaining to Covid-19, it is with regret that we inform South African accredited Hujaaj that South African pilgrims will not be able to embark on the 1441/2020 Hajj," it said.
The pilgrimage - to Mecca, Saudi Arabia - was scheduled to start on July 28 and end on August 2.
https://www.timeslive.co.za/news/south-africa/2020-06-11-sa-muslims-not-able-to-embark-on-hajj-pilgrimage-due-to-covid-19/
------
Nigeria's Military Vow Revenge on Islamic State-Linked Jihadis Who Massacred 81 People
By Tim Hume
Jun 11 2020
Nigeria's president instructed his military Wednesday to "extract a heavy price" from suspected Boko Haram militants who killed 81 people in a massacre in the country's remote northeast, kidnapping seven others before they fled.
The militants drove into FadumaKoloram village in Gubio district in the northeast state of Borno on Tuesday, opening fire on residents, who said the onslaught lasted for more than two hours. The Nigerian military said many women and children were among the dead.
One survivor told CNN that the attackers had told the villagers they were going to deliver a religious sermon, and asked them to hand over any weapons before they started firing.
"Suddenly, they started shooting at will. Even children and women were not spared. Many were shot at close range," said the villager.
Malam Bunu, the leader of a local defence group, told the Associated Press that the fighters had returned on Wednesday morning to kill a local who had escaped the massacre, and set the village on fire as they left.
Banu said he believed the attackers had launched the assault in retaliation for an earlier clash, in which locals had killed two militants while fighting off a raid on their herd. Others told Reuters they believed the village had been targeted because militants suspected residents of having passed on information about the group's whereabouts to officials.
Nigerian President Muhammadu Buhari said Wednesday he was "deeply shocked" by the massacre, and ordered the soldiers deployed to the region to pursue the attackers and bring back those they had kidnapped.
In a statement, Nigerian army spokesman Sagir Musa said militants were suspected to belong to the Islamic State's West Africa Province, an ISIS-affiliated offshoot of the jihadist group Boko Haram. He said a large contingent of soldiers had been deployed to the area to "track and apprehend or neutralize" the militants.
Heather Nicell, analyst at Janes Terrorism and Insurgency Centre, told VICE World News that the attack was the deadliest recorded by any of Boko Haram's factions since May 2018.
She said the attack on the village was unusual for the ISIS-affiliated offshoot, which had previously distinguished itself from its rival by primarily targeting security forces and military targets in Nigeria and Niger, rather than civilians, in a bid to build its legitimacy among local populations.
The latest massacre "reflects an unusual change in the group's targeting, as it typically does not target civilians cooperating with security forces," she said.
She said the lines between the various factions of Boko Haram had become increasingly blurred due to reported internal rifts within Boko Haram — known also as the Islamic State's West Africa Province (ISWAP) — and an unconfirmed leadership change in February.
Boko Haram, whose name loosely translates as "Western education is forbidden", has been waging a brutal insurgency in the region for more than a decade in its bid to create an Islamic state in the region. The conflict has led to the deaths of more than 37,500 people and displaced 2.5 million, according to the Council of Foreign Relations' Global Conflict Tracker.
The group is notorious for carrying out mass abductions during its raids, most notably in April 2014, when it kidnapped more than 270 schoolgirls from the town of Chibok. More than 100 were kidnapped in another raid in the town of Dapchi in February 2018.
https://www.vice.com/en_us/article/ep4zzz/nigerias-military-vow-revenge-on-islamic-state-linked-jihadists-who-massacred-81-people
------
Nigerian Government To Release 603 Repentant Boko Haram Terrorists Back To Society In July
JUN 11, 2020
The Defence Headquarters on Thursday said that a total of 603 repentant Boko Haram fighters are billed to be reintegrated into their communities in July having completed the Deradicalisation, Rehabilitation and Reintegration programme.
Spokesperson for the Defence Headquarters, Major-General John Enenche, said the DRR programme under Operation Safe Corridor had recorded tremendous success judging from the feedback from previous trainees.
Enenche added that OPSC had admitted 893 ex-combatants for the programme out of which 280 including two Chadians had been successfully reintegrated back into the society through their respective national and state authorities.
He said, "Presently, there are 603 of them undergoing the DRR programme and would be graduating by July 2020.
"The operation is a success story as feedback from those reintegrated are positive.
"A particular one in Bama who learnt barbing as a vocation has successfully empowered four locals and is happily married with children."
http://saharareporters.com/2020/06/11/nigerian-government-release-603-repentant-boko-haram-terrorists-back-society-july
-----
Nigerian president charges military to sustain fight against Boko Haram
June 11, 2020
ABUJA, June 11 (Xinhua) -- Nigerian President Muhammadu Buhari late Wednesday expressed shock over the killing of at least 81 villagers by suspected Boko Haram militants in the northeast region and called on the military to sustain the fight against the terror group.
Buhari charged the armed forces to sustain their recent string of successes against the terrorists to "extract a heavy price from the attackers and bring back all those they kidnapped, and a large number of cattle rustled."
"The primordial nature of the killings is particularly shocking because it happened not long after the Ramadhan and Eid, and the country is preparing to celebrate the Democracy Day," Buhari said while condemning the incident.
Seven other villagers were abducted when suspected Boko Haram militants attacked the FadumaKoloram village in Gubio local government area of the northern state of Borno on Tuesday. Thirteen villagers were also wounded, as many houses were razed and hundreds of cattle were also stolen by the suspected militants.
Since 2009, Boko Haram has been trying to establish an Islamist state in northeastern Nigeria, extending its attacks to countries in the Lake Chad Basin that includes Nigeria, Chad, Cameroon, Benin, and Niger. Enditem
http://www.china.org.cn/world/Off_the_Wire/2020-06/11/content_76153026.htm
------
South Asia
Afghanistan: Freed Taliban prisoners seek return to battlefield
Jun 11, 2020
Afghan authorities are opening prison doors for thousands of Taliban inmates in a high-risk gambit to ensure the insurgent group begins peace talks with Kabul.
"If the Americans do not pull out, we will continue our jihad, because they have killed many Afghans in their operations," said Mohamed Daud, who was freed from Bagram jail north of Kabul last month.
"We do not want foreign forces in our country anymore," he told AFP, dressed in a traditional shalwar kameez, before taking a taxi back to his village with a cash handout from authorities worth $65.
Afghan authorities accelerated the planned release of 5,000 Taliban prisoners, including Daud, as a "goodwill gesture" after the insurgents called a three-day ceasefire to mark the Eid holiday.
A security official said those flagged by the Taliban for release include aspiring suicide bombers, suicide vest makers, kidnappers and even foreign fighters.
Before their release, inmates were required to sign a pledge that they would not pick up arms again. It is increasingly clear such commitments mean little.
A Taliban commander in Pakistan told AFP there should be "no ambiguity" that the released men will eventually be deployed to Afghanistan's front lines.
"It's an ongoing jihad, and will continue until and unless we reach some sort of agreement with the Kabul government," he said.
A Taliban spokesman who represents insurgent fighting forces did not respond to a request for comment, but the group's political spokesman Suhail Shaheen rejected claims prisoners would rejoin the fight, saying the Taliban had enough "active and reserve forces".
Several freed insurgents say they remain angry at US troops, but under a US-Taliban deal signed in February, the insurgents committed to stop attacking American and foreign forces as they withdraw from the country by next year.
The immediate enemy is instead the struggling Afghan National Defence and Security Forces (ANDSF), with whom no such pledge has been made.
In return, the Afghan government must release 5,000 insurgent inmates while the Taliban pledged to free 1,000 security force prisoners.
Since the swap started, Afghan authorities have freed 3,000 Taliban inmates while the insurgents have released more than 750 government prisoners, officials said.
It could represent a boost of up to 10 percent for the Taliban, with estimates on the number of insurgents ranging between 50,000 and 100,000.
More than the fighters, "those that worry us are the brains", a senior security official said, adding that one of the freed Taliban inmates had already joined the insurgents' military squad while another had committed a murder.
The Taliban heralded the US deal as proof they had defeated America in its longest war, and the bluster has only grown in recent months.
"Politics and negotiations should not be taken to mean that we will neglect jihadi affairs and the strengthening and development of our jihadi military force," Taliban deputy leader Sirajuddin Haqqani said in a recent broadcast.
With its key donor calling the shots, the Afghan government had no choice but to yield to Washington's demand to proceed with the exchange.
"These talks hold a better hope for a lasting ceasefire than any other current approach," said Andrew Watkins, an analyst with International Crisis Group.
https://www.wionews.com/south-asia/afghanistan-freed-taliban-prisoners-seek-return-to-battlefield-304988
-----
Taiwan taking initiatives to accommodate Muslims: US report
11 June, 2020
A newly-released US State Department report on religious freedom says that Taiwan is taking the initiative to accommodate Muslims.
The report says the government has accommodated Taiwan's Muslim population by building prayer rooms in public spaces such as train stations, libraries, and tourist spots.
The report also quoted Secretary General of the Taiwan-based Chinese-Muslim Association, Ma Chao-yen, who said that Taiwan is increasingly popular among Muslim tourists. Ma attributed this popularity to efforts towards "improving the Muslim travel environment by increasing training, Muslim-friendly hotels, and halal restaurants by 20% annually."
However, the report also noted that many migrant caretakers in Taiwan are unable to attend religious services. That's because they are not covered by Taiwan's labor law, which guarantees a weekly day off. The report says this problem particularly affects many of Taiwan's 258,000 foreign caregivers and domestic workers. Most are either Muslims from Indonesia or Catholics from the Philippines.
https://en.rti.org.tw/news/view/id/2003417
-----
Chattogram MP Moslem Uddin, 9 family members test positive for Covid-19
June 11, 2020
Sheikh Fazle Rabbi, civil surgeon of Chattogram, told The Daily Star that the lawmaker and his family members were diagnosed yesterday.
Apart from Moslem, who is also president of Awami League Chattogram district (south), his wife, two daughters, son-in-law, three grandsons and two domestic help have tested positive, reports our Chattogram correspondent.
SM Borhan Uddin, president of Bangladesh Chhatra League, Chattogram district (south), told The Daily Star today that all the family members set off for Dhaka to access better treatment.
https://www.thedailystar.net/country/chattogram-8-constituency-mp-moslem-uddin-9-family-members-test-positive-1912597
------
International Islamic Trade Finance Corporation Signs US$15 million Murabaha Financing Facility to support SMEs in Bangladesh
12-06-2020
DHAKA, People's Republic of Bangladesh, June 11, 2020/APO Group/ -- The International Islamic Trade Finance Corporation (ITFC) (ITFC-idb.org), member of the Islamic Development Bank (IsDB) Group, has approved a US$15 million Murabaha Financing Facility in favour of City Bank Limited in Bangladesh to support the Bank's private sector businesses, particularly SMEs importing raw materials from the international markets.
City Bank is the latest partner institution to work with ITFC as it expands its financing outreach to the private sector through local banks in Bangladesh. The financing comes at a critical time as SMEs in Bangladesh and other OIC member countries face the social and economic effects of the coronavirus pandemic, which has disrupted global trade and strained financial resources.
We are proud to partner with City Bank Bangladesh in supporting SME growth and the import of raw materials in Bangladesh
City Bank Additional Managing Director, Sheikh Mohammad Maroof, discussed how the Murabaha financing facility will enable the Bank to provide better value to its importing clients through extensive links and support of ITFC and IsDB. "We are committed to providing our clients with the best possible service. We take a very keen interest in the private sector, which is a major driver in the economy of Bangladesh, and we look forward to seeing the new partnership make a lasting contribution to private sector development and socio-economic growth in Bangladesh," he added.
Commenting on the Murabaha Financing Facility, Eng. Hani Salem Sonbol, ITFC CEO, said: "We are proud to partner with City Bank Bangladesh in supporting SME growth and the import of raw materials in Bangladesh. A central tenet of the ITFC strategy is to provide financing to local partner financial institutions like City Bank to facilitate SME access to financing that is key for the country's economic growth and their ability to participate in global value chains. As such, it is contributing to the development of intra-OIC trade flows and ultimately leading to socio-economic development in our member countries."
The financing and grants being rolled out by ITFC, as part of the IsDB Group COVID-19 Response Package, are supporting preparedness for the pandemic through the provision of medical supplies, staple foods and fertilizer for agricultural production to OIC countries including Bangladesh, Egypt, Kyrgyzstan, the Maldives and Senegal.
https://itfc.africa-newsroom.com/press/international-islamic-trade-finance-corporation-signs-us15-million-murabaha-financing-facility-to-support-smes-in-bangladesh?lang=en
-----
India
MLA says Muslim students forced to write exam outside hall in Madhya Pradesh
11th June 2020
INDORE/BHOPAL: An educational institution in Indore has reportedly forced the Muslim students to write the exam sitting outside the exam hall. Congress MLA Arif Masood has written to Chief Minister Shivraj Singh Chouhan expressing concern over the matter.
Masood, an MLA from the Central region of Bhopal, wrote that a Bengali school located at Naulakha in Indore has been made a centre for the 12th class examination. This examination centre is also for the students of Islamia Karimiya School. In the examination held on June 9, students of Islamia Karimiya School were not allowed to enter the examination centre. When the students protested the administration made them sit outside the exam hall.
"Where communal harmony should be taught, hatred is being spread. Action should be taken against those who are found guilty," the letter read.
https://www.newindianexpress.com/nation/2020/jun/11/mla-says-muslim-students-forced-to-write-exam-outside-hall-in-madhya-pradesh-2155343.html
-----
'Aurangzeb-Like Brutal Atrocities Are Being Committed On Dalits In Mewat," Says Retired Judge From Haryana
by Swati Goel Sharma
Jun 11, 2020
A retired District and Sessions judge from Haryana has prepared a report on Dalit atrocities in the state's Nuh (earlier called Mewat) district and submitted it to the state government.
The judge, Pawan Kumar, told this correspondent over the phone that "Aurangzeb-like brutal atrocities are being committed against Dalits in Mewat".
The Nuh (or Mewat) district is the only Muslim-majority district in Haryana, and is notorious for criminal activities. The 2011 census recorded its population as comprising 80 percent Muslims and 20 percent Hindus.
Kumar said that on 31 May, he along with three other persons spent a day at Mewat where they talked to several Dalit villagers and recorded their testimonies.
"I was approached by Pran Ratnakar, who is general secretary of one Valmiki Mahasabha of Haryana. He expressed grave concern about the situation of Dalits in Mewat and requested me to prepare a report. We then formed a four-member committee comprising two people from Scheduled Castes and two people from general caste for an impartial report," Kumar, who also belongs to Valmiki (SC) caste, said.
Other members were Sultan Singh, president of Valmiki Mahasabha of Haryana; Devdutt Sharma, advocate and president of Sohna Bar Association; and Kanhaiya Lal, vice-president of Arya Pratinidhi Sabha of Haryana.
Before sharing the details, he said that whatever he has written in his report is based on recorded witness statements and documents. "I have been a judge. You know that I can't write a single line that's not backed by some evidence," he said.
While Kumar didn't share the report with this correspondent, saying it was "confidential", he shared a summary that he has prepared for the media.
He said that the committee had identified 48 people for testimonies, but only 19 turned up. About four-five of them were women. "The rest didn't come out of fear," he said.
At the village Ferozepur Namak, a woman was abducted under the pretext of a job offer. For several days, nine Muslims including one Yusuf gangraped her. A named-FIR against the perpetrators was registered under IPC section 376 (rape), but the police did not take any action. The woman was admitted to a hospital after which she was killed. The police took no action in this FIR either, which was filed under IPC section 302 (murder), and instead passed it off as suicide.
One Nizam, son of Isar, along with his accomplices, abducted a Dalit girl at gunpoint. An FIR was registered but the girl was forced to make a statement that she had eloped and married at her own will and converted to Islam.
In Mewat villages, Dalit girls are routinely molested on streets. Obscene acts are committed in their presence, and attempts are made to abduct them. Due to this, the Dalit girls either do not go to school or even if they go, they give up their studies midway. A Dalit girl from Sheikhpur village has been missing for the past several months.
At the time of marriage of a Valmiki woman from village Siroli, 15 Muslim men beat up the bridegroom. They tried to abduct the bride but the village youths managed to stop them.
One Junaid from Ghasera village kidnapped the mother of two children, and forcibly married her. He is now pressuring both her minor girls to convert to Islam. The father even makes the girls watch obscene messages on his phone.
A minor Dalit girl of Nuh village was kidnapped and gangraped by four Muslim men. This abominable crime was committed in the house of a Muslim policeman. There has been no action in the FIR which was registered on 7 July, 2019.
Ramjilal, a resident of village Bichhor, was brutally beaten up by one Iqbal, who is father of the woman sarpanch of that village. Iqbal, along with his accomplices, cut open Ramjilal's stomach, filled it with cotton and burnt him alive. No action was taken even after the registration of named FIR. The police declared it to be a death due to lightning bolt.
On 20 April, 2020, one Haneef, along with his 10-12 accomplices, kidnapped a Dalit youth from his home at village Chundika. They beat up the youth with rods and sticks and left only when they thought he was dead. Despite registration of FIR, no action has been taken so far. Instead, pressure is being built on the complainant to retract or they would face a false case. That Dalit boy's only fault was that he had asked for his borrowed money back.
The plots allotted to the Dalits in village Kiranj were captured by Kamruddin, along with his accomplices, and till date no action has been taken on the complaint of the victims.
On April 21, 2020, Atees along with his 10-15 accomplices, blocked the way of one Rahul, who is resident of village Puleta. The group hurled caste slurs at him and assaulted his family. The police overlooked the provisions of the SC/ST Act without investigation and did not take any action.
On April 7, 2020, one Asif thrashed Yogesh, a resident of village Nagina, with a stick at the latter's chemist shop, while Sakir took away Rs 22,200 from his drawer at gunpoint. Despite the FIR, no action has been taken.
Yunus was distributing ration at his shop at Bisru village, where 25-30 men were standing there as a crowd. Vinod, a Dalit boy, who works as a watchman, asked them to maintain social distancing to prevent spread of COVID-19. But then one Arif abused him with caste slurs. The police have not taken any action yet.
The judge also said that out of some 500 villages in Mewat, 103 have become totally devoid of Hindus while 82 villages have only four-five Hindu families left. Kumar said that these figures are based on statements by villagers.
He also narrated a case of a Dalit youth named Pravin from Nangal Mubarikpur village who was "tricked" to become a Muslim and now his wife and children are being pressured to convert too.
"As many as 205 Valmiki families have converted to Islam by force since 1996," he said, adding that this number, again, is based on statements by villagers.
In the conclusion, the report says, "It is the conclusion of this inquiry committee that the life of Dalit community in Mewat today has become thorny and unbearable. Their religion, their real-estates and wealth, dignity of their womenfolk and nothing else are safe today. Even after 73 years of independence, they have not been truly independent…"
Kumar said that the committee has sent the report to state chief minister ML Khattar and National Commission for Scheduled Castes (NCSC).
The report recommends action against police officers under whose nose such atrocities are taking place, and also recommends probe by the NCSC.
Devdutt Sharma, advocate and president of Sohna Bar Association, told this correspondent that there was an urgent need to make the police accountable.
"Most of the official staff are, in fact, Hindus, but they either take bribe to cover up the cases or are too scared to take action," Sharma said.
He also said that the 2011 census figures don't reveal the current demographic reality of Mewat. "If a census is carried out today, it would show Hindus as less than 15 percent. Most of these Hindus are poor Dalits who are unable to move out for lack of money," he said.
It is pertinent to mention that a week before this report, senior members of the Vishwa Hindu Parishad (VHP), along with members of various social and religious organisations of Haryana, had met CM Khattar over "anti-national and anti-Hindu activities in Mewat".
https://swarajyamag.com/politics/aurangzeb-like-brutal-atrocities-are-being-committed-on-dalits-in-mewat-says-retired-judge-from-haryana
------
Ayodhya mosques to remain shut
Jun 12, 2020
AYODHYA: Three days after religious places and shrines opened for the devout, the top body of Muslim clerics in Ayodhya decided to close mosque doors, citing rising spread of coronavirus in the district and the practical problem of maintaining physical distancing while allowing only five namazis at a time.
The representative body of Muslim clerics, Jamiat Ulema Hind (JUH), took this decision on Thursday. In his fatwa (opinion in light of Hadees), Maulana Hasbullah, president of JUH, Ayodhya, asked imams and trustees not to open mosques for prayer till the pandemic ebbs. "Adhering to covid-19 protocols cannot ensure coronavirus won't spread. Also, it's not always possible for mosque committees to meticulously follow guidelines and repeatedly sanitize premises and this could in turn raise the risk of infection," he said.
Prominent social activist Captain Afzal Khan, said, "Keeping in view the pandemic-triggered crisis, I support the JUH move and appeal to Muslims to pray in homes."
https://timesofindia.indiatimes.com/city/lucknow/ayodhya-mosques-to-remain-shut/articleshowprint/76330584.cms
-----
Uttar Pradesh: Dalit houses burnt after clash with Muslims in Jaunpur village, 37 held
by Asad Rehman
June 12, 2020
Around 10 houses of Dalit families were set on fire after a clash with Muslims at Batheti village in Jaunpur district of Uttar Pradesh on Tuesday night, leading to tension in the area.
By Wednesday evening, police had arrested 37 of the 57 named in the FIR lodged on a complaint filed by Dalit community. While additional police force has been deployed in the village, the district administration has removed the Station House Officer of Sarai Khwaja Police Station, Sanjiv Mishra, and sent him to Police Lines.
"On Tuesday evening, some Dalit and Muslim teenagers were grazing buffaloes and goats when they started quarreling. Initially, the village head intervened, but later, some boys from the Muslim community returned to the Dalit basti where a Dalit man slapped a Muslim boy, and the matter got escalated… There was stone-pelting from both sides and people alleged that firearms were used. Eleven boys from both the communities were injured in the stone-pelting. Later, a group of Muslim men indulged in arson and set fire to Dalit huts," Mishra, the outgoing SHO, told The Indian Express before he was shuntedout.
In the police complaint filed by the Dalit families, it was alleged that the fight began after the Muslim boys hurled casteist slurs at them.
"When this was opposed, they started beating up my cousins… When some family members, including mothers of my cousins, went to inquire about the incident to the house of the accused, they had to face abuses… Around 6 pm, 57 identified and 20-25 unidentified people from the Muslim community came to our basti with sticks and weapons threatened to kill us… Women and children had to take shelter in the nearby village and 10 houses were burnt by the Muslims," the complainant told the police.
While police have booked the accused for rioting, attempt to murder and breach of peace, Chief Minister Yogi Adityanath ordered the police to invoke the stringent Nation Security Act (NSA) and Gangster Act against them.
The accused have also been booked under section 7 of the CLA Act, Disaster Management Act, Epidemic Diseases Act and under SC/ST (Prevention of Atrocities) Act.
The Chief Minister also directed the district administration to provide houses to the affected families under the CM Awas Yojana. "The families should also be given Rs 1 lakh as compensation," a statement issued by the government said.
To compensate for the losses, the Chief Minister has extended a monetary help of Rs 10,26,450. He has also directed officials to provide a help of Rs 1 lakh to the victim families through the social welfare department according to the norms.
https://indianexpress.com/article/india/uttar-pradesh-dalit-houses-burnt-after-clash-with-muslims-in-jaunpur-village-37-held-6454773/
-----
Most Indians are still susceptible to Covid-19, finds ICMR survey
Jun 12, 2020
Rhythma Kaul
By the end of April, only 0.73% of the over 26,000 people across 83 districts of India may have been exposed to the Sars-CoV-2 virus that causes the coronavirus disease (Covid-19), a study showed, highlighting the slow spread of the pandemic in the country, but also the fact that much of its population is not immune to a disease that still has no cure.
To be sure, only part of the findings of the survey have been released; a key part, on the presence of antibodies in so-called hot spots or containment zones, areas most affected by the disease is awaited.
Blood samples were taken in May from 26,400 individuals in 28,595 households across 83 districts in 21 states and tested for IgG antibodies that determine a past infection due to the virus, and, therefore, also immunity — according to a few scientists.
The results are reassuring as less than 1% population has shown antibodies in the survey that means we have managed to keep the pandemic suppressed successfully. This is a situation around April end as samples were lifted around mid May and it takes about 2 weeks for the results to show," said VK Paul, chairman, Covid empowered group I, and member (health), Niti Aayog. He also added that the case mortality rate (the proportion of deaths to total Covid-19 cases) in the sample studied was just 0.08%. "This is a big achievement for a country as large as India, and if we continue to keep the loss of life minimal then it will be an accomplishment for the country," he said.
Covid-19 has, around the world, ravaged crowded urban areas and its preference for these was visible to some extent in the study conducted by the Indian Council of Medical Research, along with National Centre for Disease Control, state health departments and World Health Organization (WHO). Urban areas showed higher Covid-19 prevalence of about 1.09%, and within them, urban slums, 1.89%.
"The results show rural areas were largely unaffected, and even overall prevalence was less than 1%; it means that the lockdown and containment measures in the country have been effective, and spread of the virus was slowed down successfully," said Dr Balram Bhargava, director general, ICMR, while releasing the data at the briefing. To be sure, a repeat of the survey conducted now may throw up a different result. India saw 155,668 new cases of Covid-19 in May, 54% of its current total of 286,953 cases (as on June 10). The month also saw migrant workers returning to their homes in the hinterland from urban centres, potentially carrying the virus with them.
The findings of the study also shed light on the immunity of the Indian population. Around the world, limited blood tests for Covid-19 bodies have been used to assess the immunity of the population to the disease. And they have shown that herd or mass immunity is still far away.
Stopping further spread is a challenge, say experts. "You have to look at it both ways; if the percentage is low then it means there is a large geographical area where the virus hasn't gone. Can we contain it like that for ever, and not allow the virus to enter those areas? The immunity in those areas is low, and you have to ensure no infected person goes there ever. Is that even practical or possible?," asked Dr Shobha Broor, former head, microbiology department, All India Institute of Medical Sciences, Delhi.
The second part of the study, which may provide details of immunity of the general population in hot spots, may still throw up a surprise. "The data for the second part is still being collated, and what we have seen so far is that infection in containment zones is high with significant variations," said Dr Bhargava.
At the briefing, Dr Bhargava also shared data that compared India's management of the pandemic with that of other countries. The number of cases and deaths per lakh population in India are also lowest in the world, with 20.77 cases as compared to 91.67 cases globally, and 0.59 deaths in India as opposed to 5.23 deaths in the world.
https://www.hindustantimes.com/india-news/most-indians-are-still-susceptible-to-covid-19-finds-icmr-survey/story-jxXvwUJB8kJAbkWktYHf3K.html
------
Militants escape after Budgam shootout
Ibn Yusuf
June 12, 2020
Two militants managed their escape after an encounter with security forces in Budgam district of central Kashmir.
The encounter started at 2 am at Pathanpora village after personnel from Police, Army's Rashtriya Rifles and Central Reserve Police Force cordoned the area. The cordon was established after inputs of presence of two militants in the area.
"As searches were started the militants lobbed grenades and opened fire on the forces parties," police said adding that militants took advantage of darkness and escaped from the spot.
Inspector General of Police, Kashmir Zone, Vijay Kumar said, "Two militants of Jaish-e-Muhammad escaped after firing and throwing grenades on the security forces. Hunt is on to track them."
Meanwhile, a junior commissioned officer of Army slipped to death in Gurez area of Bandipora district, police said. He has been identified as Subedar Yamaha Kumar of 6-Maratha.
https://www.greaterkashmir.com/news/front-page-2/militants-escape-after-budgam-shootout/
------
Arab world
Saudi Arabia reopens mosques except those in Makkah and Jeddah
June 12, 2020
DUBAI: Mosques in Saudi Arabia, except those in Makkah and Jeddah, will reopen 40 minutes before the call for Friday prayer starting Friday June 12, state news agency SPA reported citing the Ministry of Islamic Affairs, Call and Guidance.
The Ministry of Health reported 3,733 new confirmed coronavirus cases, bringing the total number of infections to 116,021 cases. It has also recorded 2,065 recoveries, raising the total to 80,019.
The Ministry of Health added that 38 new fatalities have been confirmed; bringing the total number of deaths to 857.
https://www.arabnews.com/node/1688541/saudi-arabia
-----
Worshippers relieved with measures taken at mosques, hope people's number increase
11/06/2020
By NawaraFattahova
After three months of closure due to the coronavirus pandemic, some mosques in Kuwait reopened Wednesday starting with Dhuhur (noon) prayer. The Ministry of Awqaf has previously announced all health measures and precautions taken to allow Muslims to pray in mosques, including not allowing wudu (ablution), worshippers must bring their own prayer mats, must wear facemasks, must keep a specified distance between them, among other measures.
Muslims who were used to praying at the mosque missed the habit during the past months, and were excited to pray at the mosque again. Many of them even went to a different area to pray there, as none of the mosques in their areas were opened yet. Meanwhile, the women's sections at mosques were not opened, even in mosques that reopened in the so-called 'model areas'.
Abu Abdullah is one of those who are keen to pray in the mosque when it's possible. As the mosque in his area hasn't opened yet, he went to pray at Masjed Othman in Khaldiya. "It was a bittersweet moment. I'm glad that mosques are finally open, but sad that the atmosphere is not the same as before due to social distancing measures," he told Kuwait Times, describing his feeling.
"I missed praying at the mosque so much. It has become a part of daily life to go to the mosque five times a day. I read the new measures for praying at the mosque, so I brought my own prayer rug, did ablution at home, and wore a mask. There were only about 25 – 30 worshipers for the Dhuhur prayer," added Abu Abdullah.
According to him all worshipers who came were let inside, as the mosque is large and the worshipers were few. "Maybe some people still have concerns about the safety of praying in the mosque, so many didn't come today. The prayer was a bit shorter than usual, as the imams have been instructed to keep the prayers short," he concluded.
Ayoub Al-Khamees was excited to pray again in the mosque of his area, the Ali Bin Abi Talib Mosque in North Ahmadi. "I felt happy and calm to finally be able to pray again in the mosque. It's a different feeling. Of course I missed the feeling of hearing the Holy Quran and praying in Jamaa'. I took a face mask and my own praying mat. Also, sanitizers were provided by the entrance," he pointed out.
Only few worshipers attended the Dhuhur prayer in that mosque as well. "There were about 10 – 14 people because our mosque is somewhat small. All worshipers who came were let in. it's really honorable that everyone is following the rules, and everyone was let in. the prayer was shorter than usual, as per the rules of the Awqaf Ministry. Our Imam did his best to carefully follow the instructions," Khamees further said.
https://news.kuwaittimes.net/website/worshippers-relieved-with-measures-taken-at-mosques-hope-peoples-number-increase/
-----
Egyptian star Mohamed Ramadan raps about coronavirus in new music video
11 Jun 2020
In his new music video released on YouTube, Corona Virus, Mohamed Ramadan raps about the virus while stressing the importance of taking precautions during the pandemic.
"I am a gentleman, I wear gloves and a face mask; I don't hug. This way I am safe," he raps to rhythmic music and dynamic and colourful visuals.
Playfully, the song stresses the importance of disinfecting, physical distancing and attentiveness to measures that can help people avoid contracting coronavirus.
Without making any clear statements about his new music video, Ramadan gave a hint on social media about his new song-in-the-making in mid-May.
On 15 May, he posted a 40-second-long video in which he is in a car with his daughter Hanin, as he raps a short line from the newly released song.
Music to Corona Virus is by El Power El 3aly who also worked on the lyrics together with Bldozer. The music arrangement is by Wessam Abdel Munem.
Having signed a singing contract with Rotana in 2019, Ramadan released the song 'Baba', the video clip for which garnered over 30 million views in its first few weeks after release.
On 1 January, Ramadan released another music video on his YouTube channel titled Bum Bum which brought 108 million views until date, followed by Enta Gad3 released in March 2020.
http://english.ahram.org.eg/NewsContent/5/33/371932/Arts--Culture/Music/Egyptian-star-Mohamed-Ramadan-raps-about-coronavir.aspx
-----
Palestinian military brigades blow up Islamic State bases in Syria
Jun 11, 2020
DAMASCUS, (BM) – The Palestinian-led Jerusalem Brigade (Liwaa Al-Quds) has been conducting a wide-scale combing operation against the Islamic State (ISIS/ISIL/IS/Daesh) in the vast Syrian desert region recently, learned BulgarianMilitary.com citing AMN.
Backed by the Syrian Arab Army (SAA), the Jerusalem Brigade has been eliminating Islamic State hideouts and dens, while also clearing areas believed to harbor Islamic State sleeper cells in the Badiya Al-Sham region between the governorates of Homs, Damascus, and Deir Ezzor.
Thus far, the operation has proven successful, as the Jerusalem Brigade has forced the Islamic State terrorists to either surrender themselves, fight, or flee further into this vast desert region.
In a video released by the Palestinian-led group this week, they can be seen blowing up ISIS bases and attacking the terrorist group throughout the Badiya Al-Sham region.
In February, Turkey lost at least 62 troops killed in Syria, nearly 100 soldiers were wounded, dozens of Turkish armored vehicles were destroyed and more than ten drones, including drone, were shot down. Washington has repeatedly accused Moscow of involvement in the deaths of Turkish soldiers, Russia rejects these allegations.
In early March, the presidents of Russia and Turkey, Vladimir Putin and Recep Tayyip Erdogan, concluded an agreement according to which a ceasefire came into force in the Idlib de-escalation zone.
Syrian President Bashar al-Assad later said that if the US and Turkish military did not leave the country, Damascus would be able to use force.
The reason for the Russian-Turkish negotiations was a sharp aggravation of the situation in Idlib, where in January a large-scale offensive by the Syrian army against the positions of the armed opposition and terrorists began.
Government forces recaptured nearly half of the Idlib de-escalation zone and left behind a number of Turkish observation posts. After that, Ankara sharply increased its military contingent in the region and launched the operation "Spring Shield" to push the Syrian troops. Turkey is also supported by militants loyal to it.
https://bulgarianmilitary.com/2020/06/11/palestinian-military-brigades-blow-up-islamic-state-bases-in-syria/
-----
Ramadan Shallah dedicated his life to Palestine
11 June 2020
Aslam Farouk-Alli
Ramadan Abdallah Shallah passed away on 6 June. The 62-year-old was an icon of the Palestinian struggle, serving at the helm of Islamic Jihad, a Palestinian resistance faction, for almost 23 years.
Shallah – or Abu Abdallah as he was fondly known – assumed leadership of Islamic Jihad in 1995, after Israel's assassination of FathiShiqaqi, the movement's founder.
Like Edward Said – and the majority of Palestinians I daresay – he was a person Out of Place: He was born in Gaza, was educated in Egypt and the United Kingdom, had taught in the United States, was exiled in Syria, confined to a sick bed in Beirut and finally was interred in a refugee camp in Damascus.
I met Shallah in Syria in 2008. As a Third-World diplomat working in Damascus, I enjoyed privileged access to most of the Palestinian factions that opposed the Oslo accords signed by Israel and the Palestine Liberation Organization in 1993, and therefore sought refuge in a country aligned with the resistance axis.
He stood out immediately not only for his personal charisma, but also for his razor sharp intellect. In time, I grew to know him as a sensitive soul with refined cultural tastes.
He was a respected voice in the joint committees of the resistance factions and the go-to mediator when conflict arose amongst the brothers in arms. He played a major role in facilitating dialogue between Fatah and Hamas – the two largest Palestinian factions – but managed to maintain critical distance from both.
I would often ask him for his analysis of the complex Palestinian political landscape and his readings were always insightful and profound.
Although he constantly navigated the minefield of factional politics, at a personal level he always lamented the infighting, emphasizing that the Palestinian struggle was still in its liberation phase and therefore required unity of purpose to fulfill its central goal.
For Shallah, the trappings of power as embodied in the Palestinian Authority were the biggest threat to national liberation. He regarded the PA as no more than an Israeli mechanism compelling Palestinians to manage their own oppression.
The disparity between the stereotypical image of Islamic Jihad as a violent terrorist organization and the sophisticated understanding of its leader always stood out for me, so I once asked Shallah if there were any serious critical studies of the movement.
He responded that the only study thus far was Israeli scholar Meir Hatina's Islam and Salvation in Palestine: The Islamic Jihad Movement, published in 2001.
Hatina's study goes to some length to unpack the sociopolitical context that gave rise to Islamic Jihad and also examines the movement's ideology.
For example, he astutely points out that the ideological motto of the movement under Shallah was immediate struggle against occupation.
However, Hatina's study is ultimately flawed because it is based exclusively on secondary literature and he had no direct access to the central protagonists of the movement.
Also, the book's foreword – written by Martin Kramer, the director of the Moshe Dayan Center for Middle East and African Studies at that time – unhelpfully paints Islamic Jihad in black-and-white, two dimensional terms.
As such, Shallah welcomed the prospect of an unbiased critical examination of his organization, but regarded it as a task for a professional researcher.
In my view, Shallah was fully qualified for such an undertaking; the academic within him always found expression in his discourse and he was up to date with the current literature.
We even discussed the Israeli revisionist New Historians: IlanPappe's The Ethnic Cleansing of Palestine was a study that won his praise.
Nonetheless, his singular preoccupation was the liberation struggle and therefore the need for a thorough examination of the political and ideological underpinnings of Islamic Jihad remains.
Such an undertaking is all the more pressing since the 9/11 attacks and their aftermath have blurred the dividing line between armed struggle for national liberation and terrorism driven by unreasoning ideology.
Principled positions clearly defined the policies of Islamic Jihad under Shallah's leadership: All of Palestine must be liberated, the right of return for refugees is unconditional and Jerusalem is the capital of Palestine.
Shallah's principles were however not only confined to the Palestinian struggle. He had great sympathy for the cause of the oppressed everywhere and was well read on the anti-apartheid struggle in South Africa too.
By March 2011, revolutionary contagion had spread to Syria and the Palestinian factions in Damascus were placed under severe pressure to support the government of President Bashar al-Assad, with most complying and issuing statements backing it.
Hamas and Islamic Jihad were the notable exceptions. Shallah would not be drawn into declaring unconditional support for the Syrian government in spite of the tremendous pressure exercised upon his organization by Iran, its chief supporter.
Nonetheless, he was willing to mediate between the government and the Syrian protest movement and I am aware of at least one instance where Shallah intervened personally to secure the release of a Syrian Islamist leader being interrogated by the notorious Syrian intelligence service.
The person in question had been incarcerated for a third time by then. There were several intelligence branches in operation in Damascus, each one totally unaware of the operations being conducted by the others.
I met Shallah shortly after the person in question had fled into exile and asked him if he'd heard the news. He just laughed and told me that he had intervened to secure his release and that he would now be held accountable for vouching for him!
As I got to know Shallah I discovered that he was not only defined by politics. His interests traversed literature, poetry, popular culture and the classical Islamic heritage. He was a bibliophile who maintained an impressive library kept in immaculate order.
There was rarely an occasion during my visits in which I did not find a stack of new books piled upon his desk. Whatever he was not able to source in Damascus because of censorship, he acquired in Beirut.
I once found him paging through Alaa Al Aswany's novel Chicago, which deals with racism and the conflict between Arab and Western culture after 9/11.
I asked him what he thought of the work. He animatedly sketched a scene from the book where one of the Arab protagonists orders a call girl and is disappointed to find a Black woman knocking at his door.
Not only was he struck by the character's racist response, but his Islamic sentiments were also clearly offended by this encounter.
On another occasion I asked him what his favorite movie was. Without hesitation he responded that it was Edward Zwick's The Last Samurai, starring Tom Cruise.
He then related how he came to know of the film: Shallah was once in deep discussion at his office with Hizballah's military commander Imad Mughniyeh, who all of a sudden asked him if he had seen the movie.
He responded that he hadn't, so Mughniyeh promised to bring along a copy and the next time he visited the two of them watched the movie together.
With regards to poetry, Shallah was a patriot in no uncertain terms. He would recite from memory lines by Mahmoud Darwish, the Palestinian national poet.
This is hardly surprising, for no other poet has been able to capture the pain of exile like Darwish, best expressed in his poem The Earth is Closing on Us:
Displacement, however, is but only a physical manifestation of exile. Even though Shallah was forced to struggle for the cause of his people from outside the homeland, he never saw this as a deterrent.
Like the 14th century Islamic reformist Ibn Taymiyya, who is also buried in Damascus, he understood that when exile is elevated to a spiritual state, it only strengthens one's resolve for justice.
Shallah knew only too well what Ibn Taymiyya meant when reflecting over his existential condition with these poignant words: "Whatever will my enemies do with me? My garden and my heaven are in my heart. My incarceration is seclusion; my banishment is a chance for travel; my killing is martyrdom."
https://electronicintifada.net/content/ramadan-shallah-dedicated-his-life-palestine/30436
-----
Pakistan
Will monitor countrywide implementation of SOPs and take action against violations: PM
June 11, 2020
Prime Minister Imran Khan on Thursday warned that strict action will now be taken against those found to be violating the government's standard operating procedures (SOPs) for curbing the spread of the coronavirus, adding that he will be monitoring the situation from the Prime Minister's Office.
Pakistan currently ranks among the top 10 countries in the world reporting the highest number of new cases of Covid-19, according to the World Health Organisation. The international body has advised the government to enhance daily testing capacity to 50,000 to assess the actual prevalence of coronavirus across the country.
In his address to the nation about the country's coronavirus situation, the premier detailed the steps the government will now take to address the growing number of cases.
"Today I have a report from Punjab and Sindh regarding the implementation of SOPs. These reports detail the steps taken by mosques, courts, public offices, public parks, industries, shopping malls, local and private transport.
"I will get these reports daily and on the basis of these, the administration and the Corona Relief Tiger Force will take action. When we will be informed of violations, we will close them down. The purpose of a 'smart lockdown' is to shut down areas where the virus spreads."
The premier issued a warning that whether it be a shop, a mall or a factory, if they are caught flouting rules they will be closed down.
"We didn't enforce this strictly before because we were still gathering data. But now that it is in our hands, we will take action."
Prime Minister Imran acknowledged that the fatalities will increase but added that the death rate in Pakistan from the virus was among the world's lowest. "Less than one per cent of patients [...] these are those that are aged or have underlying conditions such as blood pressure or diabetes.
"Other than that, I want to say to my health workers that think of this as a jihad. The government is ready to extend all the necessary facilities to you and will introduce a special package."
Further, the government will also deploy data managers at all hospitals in the country to give continuous feedback, he said. "We can't take the right steps until the data or the information we are receiving is incorrect."
The premier urged the public to strictly follow SOPs. "By doing this, the country can be saved from the danger of cases increasing exponentially [...] we will be able to cope.
The premier reiterated that the government expects cases to peak in July, adding that the public must now consider taking precautionary measures their "duty".
"On behalf of my team and health workers, I urge you to think of SOPs as a duty which can save the lives of others. The lives of people suffering from blood pressure, diabetes and the elderly will be in peril if we don't take precautionary measures.
"I will monitor this, and I am hopeful that if we begin taking precautionary measures from here on out, we can avoid a difficult situation."
At the onset, the prime minister lashed out at the opposition, saying it appeared they "wanted more Covid-19 deaths and the economy to fail" so that they could have a reason to criticise the government.
"The country was facing difficult times, but I felt as though they wanted to cash in on that. As coronavirus deaths are increasing, they are saying that the government's policies are incorrect, it is confused and doesn't know what to do."
He said he was glad that his government didn't succumb to the pressure, adding that the country was "saved because a complete and extended lockdown" was not enforced.
https://www.dawn.com/news/1562841/will-monitor-countrywide-implementation-of-sops-and-take-action-against-violations-pm
------
Smart lockdown is only option: PM Imran
June 12, 2020
Ikram Junaidi
ISLAMABAD: With the novel coronavirus rapidly spreading across the country, Prime Minister Imran Khan on Thursday said he was already aware that the number of Covid-19 cases and deaths would increase with the passage of time but smart lockdown was the only option for Pakistan to deal with the disease.
The country reported 6,321 Covid-19 cases and 92 deaths during the past 24 hours, taking the national tally of cases to 123,493 and fatalities to 2,409.
In his address to the nation, the prime minister said strict monitoring would be done to ensure that people follow standard operating procedures (SOPs), adding that the government would get tough on the violators. He warned of sealing all such premises that caused the spread of the deadly virus. He said the number of Covid-19 cases would increase if the masses did not take precautionary measures.
PM Khan alleged that the opposition wanted that more people were infected with the virus so that it would criticise the government and that was why the opposition leader came from London.
"I want to tell you that we did not bow to the pressure and did not enforce the lockdown similar to the one imposed in some other countries, including India. A survey has been published by the experts of University of Pennsylvania, University of Chicago, etc, in which it is revealed that 84 per cent of the people in India have faced financial loss and 34pc households cannot meet their daily requirements without financial support. It also reveals that 30 million people have lost jobs but the elite class has not suffered due to Covid-19," he said.
The prime minister said Pakistan survived because of opening of economy and distribution of cash amount among the poor. "I want to inform you that in Pakistan the number of deaths will increase in coming days, but in India patients are not getting beds in hospitals and now it [India] has also reached a conclusion that the lockdown is not a solution," he added.
Mr Khan urged the masses to take precautionary measures as the country's health system could not afford the burden of patients. "Now I will get the report about violations of SOPs and strict action will be taken against the violators. Shops, malls, factories and even residential areas will be closed/cordoned off in case of violations," he warned.
The prime minister said healthcare providers were doing jihad and the government would introduce a special package for them. "Today we have the capacity to conduct 1.2 million tests in a month; initially, we had 2,800 ventilators, but now we have 4,800 vents and 1,400 more have been ordered. There were 600 ICU beds, but now we have 1,300. We are holding crash courses to train staff as we lack the trained staff to run the [ICU] beds," he said.
Meanwhile, Leader of the Opposition in the National Assembly Shahbaz Sharif became the latest high-profile victim of Covid-19. Chief of the Army Staff Gen Qamar JavedBajwa called the PML-N president to inquire after his health.
Pakistan Medical Association secretary general Dr Qaiser Sajjad, while talking to Dawn, said it was unfortunate that the government had now realised that strict action should be taken against the violators of SOPs. "We suggest that a strict lockdown should be enforced and special package should be announced for the healthcare providers who have been sacrificing their lives in the fight against Covid-19," he said.
A meeting of the National Command and Operation Centre (NCOC) was informed that 1,251 smart lockdowns were enforced across the country under the trace, test and quarantine (TTQ) mechanism and 212,900 people were socially disconnected.
Moreover, the highest number of 26,573 Covid-19 tests was conducted during the last 24 hours.
https://www.dawn.com/news/1562976/smart-lockdown-is-only-option-pm-imran
------
AC issues non-bailable arrest warrants for Nawaz
Malik Asad
June 12, 2020
ISLAMABAD: The Ac­­count­ability Court of Islam­abad on Thursday issued non-bailable arrest warrants for former prime minister and Pakistan Muslim League-Nawaz sup­reme leader Nawaz Sharif in a reference that accused him, Pakistan Peoples Party co-chairperson Asif Ali Zardari and PPP leader Yousuf Raza Gilani of receiving luxury vehicles and gifts from Toshakhana.
The court directed the Foreign Office to execute arrest warrants against Mr Sharif through the Pakistan High Commission in London.
The special prosecutor of the National Accountability Bureau (NAB) told the court that Mr Sharif was residing in Avenfield Apartments in the UK. He suggested that the court issue a directive to publish the notice in UK newspapers.
Senator Farooq H. Naek submitted papers of attorney to represent MrZardari. He requested the court to exempt MrZardari from personal appearance since the courtroom would be filled by the people who would wish to accompany the former president.
Former prime minister Yousuf Raza Gilani informed the judge that since a number of lawmakers had tested positive for Covid-19, he may be given permanent exemption from personal attendance in the court.
Accountability Judge Syed Asghar Ali had on May 15 issued summons for Mr Sharif, MrZardari, Mr Gilani, Khawaja Anwar Majeed and Abdul Ghani Majeed, owners of the Omni Group, nominated as accused in the reference.
The NAB reference alleged that MrZardari and Mr Sharif had obtained cars from Toshakhana by paying 15 per cent of the price of the cars. The bureau further alleged that Mr Gilani had facilitated MrZardari and Mr Nawaz in this regard.
He dishonestly and illegally relaxed the procedure for the acceptance and disposal of gifts, issued by the government of Pakistan vide Cabinet Division's Memorandum No.9/8/2004-TK dated June 25, 2007, which expressly stipulates that vehicles shall not be allowed to be purchased by recipients and be given to the central pool care of the Cabinet Division.
https://www.dawn.com/news/1562984/ac-issues-non-bailable-arrest-warrants-for-nawaz
-----
Thousands of patients suffer as hospital staff boycott OPDs across Sindh
Dawn Report
June 12, 2020
KARACHI: Thousands of patients seeking consultation and medical intervention had to return home in sheer disappointment when they visited many government hospitals in Sindh on Thursday as house officers, doctors, paramedics and other support staff observed a boycott of outpatient department (OPD) duties on a call given by the recently formed Grand Health Alliance (GHA).
In Hyderabad, OPDs at Liaquat University Hospital (LUH) as well as Bhitai, Kohsar, Paretabad and Qasimabad hospitals remained shut as protesting employees stayed away from work and joined demonstrations on the premises of their respective places of work.
Doctors did not enter OPDs adding to patients' woes. Thousands of patients from within Hyderabad city and other districts had turned up at these hospitals as usual but had to return without being heard or examined by doctors.
Consultants from the Liaquat University of Medical and Health Sciences (LUMHS) who sit at the LUH outpatient department also did not turn up.
Pakistan Medical Association (PMA) leaders Dr Lala Jaffar and Dr Murad Qureshi, Dr Roshan Chandio of the Young Doctors Association (YDA), paramedics' leaders Latif Otho and Sharif Palari were among those who observed the token hunger strike and demonstrations.
At Bhitai Hospital, Latifabad, YDA's Dr Saleem Masood, Dr Ramiz Rajput and Dr Fayyaz Magsi took part in the protest while at Kohsar Hospital YDA's Dr Farrukh Raees, Dr Imtiaz Bhatti and others joined in the protest. They demanded health risk allowance for doctors and restoration of service structure for all health institutions' employees.
They demanded that a separate Covid-19 isolation ward be established in LUH for paramedics and doctors in view of the number of doctors and paramedics contracting the contagion.
They said healthcare professionals should be provided 'shuhada package' and also personal protection equipment (PPE) besides N-95 masks.
In Larkana, doctors and paramedics boycotted their duties in the central OPD of the Chandka Medical College Hospital (city block) and its allied hospitals for the acceptance of their 17-point charter of demands in response to a call given by the GHA.
The protesting employees were led by YDA president Dr Irshad Ali Abro and CMCH Paramedics' Association general secretary MunawwarMangi.
After taking rounds in the hospital building raising slogans, the protesters assembled outside the central OPD, where the leaders spoke to them.
He said the GHA was formed to make the Sindh government grant risk allowance to house officers, young doctors, paramedics and supporting staff. He called for legislation for health insurance of all employees of this sector. He demanded a separate isolation ward for the employees contracting Covid-19.
The other demands presented during the rally included ensuring time-scale under a four-tier formula, promotion of paramedics, 20-50pc health professional allowances for nurses, paramedics and supporting staff.
The leaders called for regularisation of jobs of the staff working at the Shaheed Mohtarma Benazir Bhutto Trauma Centre at Karachi.
The GHA called for nationalisation of all private hospitals and promotion of the health workers of Peoples Primary Health Initiative (PPHI).
The OPD boycott was also observed in scores of government hospitals in Mirpurkhas, NaushahroFeroze, Sukkur, Jacobabad, Ghotki, Shikarpur and Kandhkot-Kashmore districts where health employees had been holding protest demonstrations and observing a two-hour strike every day for the acceptance of their demands.
https://www.dawn.com/news/1562901/thousands-of-patients-suffer-as-hospital-staff-boycott-opds-across-sindh
------
SOPs relaxed for people returning from Afghanistan
June 12, 2020
LANDI KOTAL: With a change in Standard Operating Procedures (SOPs) for returning Pakistanis from Afghanistan via Torkham border, the mandatory stay at quarantine centres in Khyber tribal district has been relaxed with the arrival of the 413 persons last Saturday.
Officials said that no newly arrived Pakistanis were kept at any of the seven quarantine centres in the tribal district under the new SOPs. They were allowed to leave for their respective districts of residence only after they were served one-time food and taking their swab samples at the government degree college centre, they added.
The administration had in mid April established seven quarantine centres in LandiKotal and Jamrud alongside isolation wards at all the three hospitals of Bara, Jamrud and LandiKotal for providing immediate Covid-19 related health facilities to those returning from Afghanistan via Torkham border. These quarantine centres had collectively 1,550 beds.
The local authorities would immediately shift all the returning Pakistanis to these quarantine centres with initial screening with thermal guns and then taking their swab sample within 48 hours of their arrival and providing them food and lodging facility along with free internet for contacts with their family members.
More than 2,000 returned Pakistanis were kept at these centres. They were duly tested for novel coronavirus infection. Health authorities later shifted those, who tested positive for Covid-19, to isolation wards and sent the rest to their homes.
"The policy has now changed under the new SOPs and we do not keep any of the newly returned Pakistanis in these centres," Deputy Commissioner MehmudAsalam Wazir told Dawn.
He said that those people were sent to their homes after taking their swabs with the advice to stay at home till the receipt of the test result. "At present, we do not have anybody staying at these centres," he added.
He said that the deputy commissioners of the home districts f the returning persons were informed through an official letter along with a copy of his health report in order to keep track of their activities if they tested positive for the virus.
https://www.dawn.com/news/1562894/sops-relaxed-for-people-returning-from-afghanistan
------
MPC says rollback of 18th Amendment to harm federation, democracy
June 12, 2020
Imran Ayub
KARACHI: Political parties in Sindh warned the federal government on Thursday that any attempt to roll back the 18th Constitutional Amendment could lead to dangerous consequences for the federation and weaken the already struggling democratic system of the country.
At a time when the country is facing multiple crises amid the increasing coronavirus cases, they questioned the fresh debate on the 18th Amendment, calling both the federal and provincial governments to focus on measures to save people's lives.
The political leaders representing different ideologies unanimously supported the provincial governments for their rights under the 18th Amendment.
These thoughts were highlighted at a multiparty conference organised by the ruling Pakistan Peoples Party (PPP) at the CM House. It was also attended by Sindh Chief Minister Syed Murad Ali Shah and key members of his cabinet as part of its nationwide campaign to build political consensus on the 18th Amendment and seek consensus for unanimous policies over the challenges that emerged after the Covid-19 outbreak.
The conference, presided over by PPP Sindh president Nisar Ahmed Khuhro, was attended by all major parties, including the MuttahidaQaumi Movement-Pakistan (MQM-P), Pakistan Muslim League-Nawaz (PML-N), Jamaat-i-Islami, Awami National Party, Jamiat Ulema-i-Islam of Maulana Fazlur Rahman (JUI-F), Jamiat Ulema-i-Pakistan-Noorani (JUP-N), Shia Ulema Council, Sunni Tehreek, Pak Sarzameen Party, Sindh Taraqqi-pasand Party and others.
After the conference, MrKhuhro addressed the media and shared the resolution passed with consensus by the political parties. He also appreciated the role and spirit of the political parties in Sindh which, he said, despite ideological and political differences showed their mature and democratic character for a strong federation.
"The conference supported the Sindh government's apprehension on the recently-constituted National Finance Commission (NFC) and warned that such a move would badly affect the country's national unity and social fabric, while demanding withdrawal of the fresh orders and reconstitution of the body," MrKhuhro said.
"The conference agreed that the government is proving that it doesn't support provincial autonomy and economic stability of the provinces," he said. "The fresh debate and controversial statement from the top suggest there's a strong desire to introduce the one-unit system. The mature political leadership of this country, represented in the conference, said such an approach causes disintegration and weakens the federation."
The conference, he said, also condemned the decision of the federal government to lay off more than 9,000 workers of the Pakistan Steel Mills before its privatisation. They called the move "against human values" to make people unemployed at the time of pandemic, said MrKhuhro, vowing that his party in consultation with other political forces would soon devise a strategy to safeguard the workers' interests and save the industrial giant from privatisation.
The leaders of the political parties also called for immediate measures to face the challenges emerging from the coronavirus outbreak in the country and a strong policy to save the people's lives. The leaders of different parties, he said, showed their concern over the confusion created by the government, which on one hand appealed to the people to stay at home and on the other reopened the tourism industry.
"The federal government is confused between lockdown and smart lockdown," said MrKhuhro. "Here the number of cases is rising every day and the people are dying due to pressure on our health system, but the government is still not clear that what should be its policy. The conference demanded a strong, urgent and uniform policy to meet the emerging challenges."
During the conference, the PPP government in Sindh also came under criticism when leaders of some parties questioned the performance of the provincial administration in the wake of coronavirus pandemic. They criticised the role of the provincial government mainly during the last three months when it had mostly focused on showing concern to save people's lives but fell short of taking practical measures.
"It's so unfortunate that the health system of Sindh has not been able to sustain pressure of just 3,000 patients despite the fact that the PPP is enjoying a third consecutive term in the government," said JUI-F leader Rashid Soomro. "We support the stance on the 18th Amendment but benefits of such landmark constitutional reforms should be enjoyed by the people. The Sindh government needs to take drastic measures to [bring] its health system at par with the required standards."
The PSP's national council members Shabbir Kaimkhani and Syed Hafeez-ud-Din, in accordance with the party policy, submitted two dissenting notes in the conference.
The PSP leaders took a firm stand in the first dissenting note that their party did not agree with the PPP's stance on the 18th Constitutional Amendment. They elaborated that the PSP wanted to make it mandatory for the provinces to issue a provincial finance commission award for the districts in the same manner in which the provinces received the National Finance Commission award from the federal government. Likewise as provinces have provincial autonomy, districts and cities should be given autonomy.
The MQM-P also came up with its thoughts and its leaders said the 18th Amendment was not beneficial for the people of the province unless Article 140-A of the Constitution was implemented.
Leaders of the MQM-P, an ally of the PTI government in the centre, said powers transferred to the grassroots level were key to utilising the 18th Amendment and until they were transferred to the district level, it would remain ineffective. The PPP's Sindh government had not been transferring power to grassroots level against its own manifesto of a strong democratic culture.
https://www.dawn.com/news/1562912/mpc-says-rollback-of-18th-amendment-to-harm-federation-democracy
------
Locust situation worsening as swarms entering Pakistan via Afghanistan
June 12, 2020
ISLAMABAD: The desert locust situation in Pakistan is fast deteriorating and locusts have found a new corridor — they are ente­ring Pakistan from Afghan­istan — to attack agricultural fields in Khyber Pakhtunkhwa.
Crop losses have been reported in several areas of Khyber Pakht­unk­h­wa, particularly in Dera Ismail Khan district, from where these loc­ust swarms were entering Punjab thereby posing a serious threat to the food basket of the country.
Winding up the debate on locu­sts in the National Assembly on Thursday, Minister for National Food Security and Research Syed Fakhr Imam said the government was keeping a vigil on the movement of swarms of desert locusts entering Pakistan from four countries: Ethiopia, Somalia, Eritrea and Djibouti in the horn of Africa via Saudi Arabia, Yemen and Iran.
He said that new swarms of des­ert locusts would enter Baloc­histan from Iran over the next two weeks, adding that the province was already the worst-hit with its 33 districts already invaded by insects.
In Balochistan, he said, ground operation against locusts had been carried out over 85,000 hectares by ground teams and aerial sprays had been carried out over 500 hectares.
A well-coordinated operation involving the federal and provincial governments, the district administration and farmers was under way to eliminate locusts.
At the same time, he said, the federal government was in close coordination with the Food and Agri­­c­ulture Organisation (FAO) of the United Nations which was keeping Pakistan informed on a daily basis on the movement of locust swarms in the region.
The minister said that the department of plant protection of the ministry of national food security was recruiting 100 entomologists, 50 locust assistants and 50 drivers on an emergency basis to help the government fight the menace.
https://www.dawn.com/news/1562980/locust-situation-worsening-as-swarms-entering-pakistan-via-afghanistan
-----
North America
CAIR-NJ to Join New Jersey Muslim Groups in Rally Against Police Brutality
June 11, 2020
(SOMERSET, NJ, 6/11/2020) — On Friday, June 12, the New Jersey chapter of the Council on American-Islamic Relations (CAIR-NJ) will join the New Jersey branch of ICNA Council for Social Justice (ICNA-CSJ), the Council of Imams in New Jersey (CIINJ) and Muslim American Society New Jersey (MAS) at a joint press conference and rally (Saturday, June 13) in Newark N.J., in solidarity with African-Americans and to protest police brutality.
The press conference and rally will bring together religious, political and leaders of the Muslim community to condemn police brutality and express solidarity with the African-American community.
"The Muslim community of New Jersey unites in its condemnation of the recent killings of George Floyd, Breonna Taylor, Ahmed Arbery, Steven Taylor, and the senseless killings of countless other unarmed and innocent African-Americans.
"Our Muslim community leaders and organizations want the wider community to know that we hear the voices crying for help, and we hasten in response to their cries with solidarity, compassion, and love. Our collective condemnation of the rise in police brutality — and white supremacy — is firm, united and unequivocal. We stand with the oppressed people of this nation in their fight for justice as we uphold the venerable principles of Islam as outlined in the Holy Qur'an; 'O you who have believed, be persistently standing firm for justice, witnesses for God, even if it be against yourselves, your parents or kin.'"
"Leaders at this gathering will express their full solidarity with their brothers and sisters in the African American community and unequivocally condemn the murder of Mr. George Floyd in Minnesota.
"Police brutality is a long-standing issue in this country, and Mr. Floyd was a victim of this atrocity. This is a failure of leadership and we demand reform in the interest of re-establishing basic rights for all."
"The sins of racism has and continues to deceive and misguide minds, moral conscience, perceptions of human worth, personalities, and behaviors of white, black, and brown people by the false images of 'divine authority' that people are blatantly and subtly told to submit to, obey and worship in various authoritarian disguises. The subliminal message in the physical images translates into how race consciousness warps and weakens perceptions of truth, reality, morality, ethics and justice and how these universal principles are applied by, and to, those who do, and do not, relate to these 'purported images of divine authority' in human society."
The Islamic Circle of North America (ICNA) is an American Muslim organization dedicated to the betterment of society. ICNA works to build relations between communities by devoting itself to education, outreach, and social service.
ICNA Council for Social Justice (CSJ) is a social justice/human rights organization that strives to systematically facilitate assertive Muslim involvement in the field of human struggle for the rights of the poor and oppressed in the United States.
La misión de CAIR es proteger las libertadesciviles, mejorar la comprensión del Islam, promover la justicia, y empoderar a los musulmanesen los Estados Unidos.
https://www.cair.com/press_releases/cair-nj-to-join-new-jersey-muslim-groups-in-rally-against-police/
------
Local Dawoodi Bohra Muslim community donates PPE to Tomball ISD
June 11, 2020
By Jeff Forward
Members of a local Muslim community called the Dawoodi Bohra recently donated personal protective equipment to officials with the Tomball Independent School District, in an effort to help protect workers in the community meal distribution program.
In a press release, Asma Gulamhusein, a spokesperson for the Dawoodi Bohra community of The Woodlands, said the donation was done as part of a global campaign to, "assist local food drives, as well as support and show appreciation for emergency staff."
"The leader of the worldwide Dawoodi Bohra community sent a message to all Bohra community organizations to extend whatever help they can to those who are hungry and unable to help themselves, and so Bohra volunteers in The Woodlands have mobilized to do just that.," Gulamhusein stated in the press release. "We cannot predict for how long cases will continue to increase, in the meantime, we're committed to stepping up to help vulnerable members of society, while supporting those many people working tirelessly on the front line in The Woodlands — medical professionals, the police and emergency services, delivery people, and relief agencies — who selflessly ensure that everyone is safe and cared for."
Officials with the Tomball ISD have been distributing free meals to an estimated 2,800 families per week at a drive-through service hosted at Tomball High School.
The donation from the Dawoodi Bohra community included: 45 fabric face masks sewn by local community members; 250 disposable face masks; and 70 bottles of hand sanitizer of various sizes.
Gulamhusein said the DawoodiBohras are a group of Muslims from the nations of India, Pakistan and in Eastern North Africe, and are, "united by a set of centuries-old principles: love for one's country, eradicating poverty and hunger, women's empowerment, enhancing the natural environment, engagement with other faiths, and physical health and wellbeing."
In an email interview, Gulamhusein said The Dawoodi Bohra community in The Woodlands consists of roughly 30 families who attend worship services at a local facility in Conroe since 2013 under the spiritual leadership of Sheik Nooruddin Yamani
"Many of our community members are immigrants from India, Pakistan, and East Africa. Several members, though, are born and raised Americans and are now raising families of their own with strong ties to their mother countries and Texas alike," he said in an email. "Our Woodlands community includes professionals and small business owners, including 12 physicians practicing in the Northwest Houston metropolitan area. Our community members are actively involved in The Woodlands area events, ranging from environmental initiatives, interfaith gatherings, and professional associations. We are committed to integrating within our community and embracing all cultures just as we have been embraced by many over the years."
https://www.chron.com/neighborhood/woodlands/news/article/Local-Dawoodi-Bohra-Muslim-community-donates-PPE-15333545.php
-----
US criticizes Turkey for deportations, entry bans of non-Muslims in its report on religious freedoms
June 11 2020
The United States has criticized Turkey over deportations and entry bans of non-Muslims in its report on religious freedoms.
The report titled, "2019 Report on International Religious Freedom: Turkey" said that the Turkish government continued to limit the rights of non-Muslim religious minorities, "especially those not recognized under the government's interpretation of the 1923 Lausanne Treaty," which includes only Armenian Apostolic Orthodox Christians, Jews, and Greek Orthodox Christians.
"Minority communities continued to object to the prevention of governing board elections for religious foundations. The government continued to restrict efforts of minority religious groups to train their clergy," the report by the U.S. State Department said, while also giving examples of the practice.
"Religious minorities again reported difficulties opening or operating houses of worship; resolving land and property disputes and legal challenges of churches whose lands the government previously expropriated; operating or opening houses of worship; and obtaining exemptions from mandatory religion classes in schools. The government did not return any church properties seized in previous decades," it added.
The report touched upon the challenges faced by religious minorities, particularly members of the Alevi community, on religious content and practices in the public education system.
According to the report, multiple monitoring organizations and media outlets, including Middle East Concern, International Christian Concern, World Watch Monitor, Mission Network News, and Voice of Martyrs, reported entry bans, denial of residency permit extensions, and deportations for long-time residents affiliated with Protestant churches in the country.
It also cited the Interior Ministry's announcement on denying extension requests to long-term residents for tourist purposes, in the absence of another reason to request a residency permit, which poses a challenge on several religious minority ministers, including Christians, in conducting religious services while resident in the country on long-term tourist residence permits.
While similar measures occurred in previous years, the report said that multiple groups reported they perceived a significant increase in the number of removals and entry bans during the year.
"Multiple reports said these Protestant communities could not train clergy in the country and relied on foreign volunteers to serve them. Local Protestant communities stated they aimed to develop indigenous Turkish leaders in their congregations because it was becoming increasingly difficult to rely on foreign volunteers; however, they faced difficulties because they could not operate training facilities in-country," the report read.
The State Department also cited community sources as saying that some of the deportations and entry bans during the year targeted foreign-citizen members of the community who had lived legally, as long-term residents, in the country for decades and who had previously not experienced any immigration difficulties.
According to community members, these immigration procedures also affected a local community's ability to raise funds for local churches because foreign clergy members attracted individual donations and support from church communities in their countries of origin.
"Some of the individuals with entry bans or resident permit denials requested review of their immigration status through the country's legal system. None of the cases reached conclusion by year's end and could take several years to resolve due to the complexities of and backlog in the judicial system, according to media report," it said.
The State Department also commented on President Recep Tayyip Erdoğan's recent remarks on Hagia Sophia's status, saying that it is the site of extraordinary significance and "symbol of coexistence."
"Senior U.S. government officials continued to publicly, and privately with government officials, express their understanding of the Hagia Sophia as a site of extraordinary significance, and to support its preservation in a manner that respects its complex multireligious history. They underscored the importance of the issue with government officials and emphasized that the Hagia Sophia is a symbol of peaceful coexistence, meaningful dialogue, and respect among religions," it said.
The attacks on several Christian and Jewish places of worship were also cited in the report, including those on the SurpHreshdagabet Armenian Church in Istanbul's Balat district, the Mardin Protestant Church and the Beth Israel Synagogue in the western province of İzmir.
In January three assailants threw a "sound" grenade at the door of the Mardin Protestant Church. The suspects were detained and released after making statements to police.
In February, unknown assailants sprayed graffiti on the doors and walls of the SurpHreshdagabet Armenian Church that included derogatory messages. A representative of community foundations to the GDF, Moris Levi, said in a statement that police had launched an investigation and received security camera footage of the incident. According to the community, the perpetrators had not been found by year's end.
In March a person attempted to vandalize the Beth Israel Synagogue with a Molotov cocktail. The synagogue was not damaged in the incident. Police arrested and charged the individual for attempting to damage a place of worship. He stated his intention was to "protest Israel," according to multiple media reports.
On the issue of the Halki Seminary remaining close, the State Department said that the they continued to call on the government to allow the reopening of Halki Seminary and to allow for the training of clergy members from all communities in the country.
"The Secretary of State and other senior U.S. government officials continued to urge government officials to reopen the Greek Orthodox seminary in Halki and allow all religious communities to train clergy in the country. In May the Charge d'Affaires and the Istanbul Consul General visited Halki to demonstrate ongoing interest in the reopening of the seminary. In October staff of the consulate general in Istanbul joined representatives from 24 other missions and the foreign ministry to visit Halki with Ecumenical Patriarch Bartholomew I. In April the Charge d'Affaires attended Easter services at the Greek Orthodox Cathedral of St. George to show support for religious minorities," the report read.
https://www.duvarenglish.com/diplomacy/2020/06/11/us-criticizes-turkey-for-deportations-entry-bans-of-non-muslims-in-its-report-on-religious-freedoms/
------
Trump says he'll pursue police use-of-force standard
June 12 2020
President Donald Trump said on June 11 he would pursue an executive order to encourage police departments to meet "current professional standards for the use of force," while accusing Democrats of broadly branding police as the problem.
He also defended his calls on governors and mayors to aggressively quell violent protests that erupted across the country after the death of George Floyd, boasting, "We're dominating the street with compassion."
Trump offered few details about the yet-to-be-formalized order during a discussion on race relations and policing before a friendly audience in Dallas. The call for establishing a national use-of-force standard amounted to his first concrete proposal for police reform in response to the national outcry following Floyd's death in a violent encounter with Minneapolis police.
The president also acknowledged that law enforcement may have some "bad apples," but he said it is unfair to broadly paint police officers as bigots.
"We have to work together to confront bigotry and prejudice wherever they appear," Trump said. "But we'll make no progress and heal no wounds by falsely labeling tens of millions of decent Americans as racists or bigots."
The president said the nation also needs to bolster its efforts to confront its long-simmering racial relations problems by focusing on inequality, redoubling on his contention that solving economic issues is the fastest way to healing racial wounds.
He said his administration would aggressively pursue economic development in minority communities, confront health care disparities by investing "substantial sums" in minority-serving medical institutions, and improve school choice options.
Dallas Police Chief U. Renee Hall, Dallas County Sheriff Marian Brown and Dallas County District Attorney John Creuzot did not receive invitations to the event, according to their offices. Mayor Eric Johnson was invited but did not attend because of prior commitments, according to an aide.
A senior administration official who briefed reporters ahead of Trump's trip noted other law enforcement officials were in attendance but did not directly respond to a question about why the three officials weren't invited.
Trump filled the roundtable with police union officials and allies from the African American community, including a member of Black Voices for Trump many who spoke glowingly about the president.
Democrats on Capitol Hill have unveiled sweeping police reform legislation, including provisions to ban choke holds and limit legal protections for police. Congressional Republicans say they are also open to some reforms, including a national registry of use-of-force incidents so police officers cannot transfer between departments without public awareness of their records.
White House chief of staff Mark Meadows and senior adviser Jared Kushner have been discussing possible packages with GOP lawmakers, but it's unclear what the president himself would be willing to accept.
Trump, for his part, lashed at some in the Democratic party who have called for "defunding the police," a broad call to reframe thinking about how communities should approach public safety.
"Unfortunately there's some trying to stoke division and to push an extreme agenda, which we won't go for, that will produce only more poverty, more crime, more suffering," Trump said.
Glenn Heights, Texas, Police Chief Vernell Dooley urged Trump to increase resources to provide police with more training. "We need training," Dooley said. "This is not the time to defund police departments."
Activists say it isn't about eliminating police departments or stripping agencies of all their money. They say it is time for the country to address systemic problems in policing in America and spend more on other things communities across the U.S. need, like housing and education.
Trump has previously publicly expressed sympathy for Floyd's family of Floyd, but did not mention them during the roundtable discussion, held two days after Floyd was buried in Houston.
He previously suggested that Minneapolis Officer Derek Chauvin, who prosecutors say pressed his knee on Floyd's neck for several minutes, must have "snapped." U.S. Surgeon General Jerome Adams, who took part in the panel, started his remarks by extending condolences to the Floyds and Texans.
Attorney General William Barr, who accompanied Trump to the event, backed up the president's emphasis on law and order. Barr said what happened to Floyd shouldn't obscure the fact that police offers are decent people "who put their lives on the line for us."
"We can't let this event obscure the fact that the real oppression and danger to our communities comes more from violent crime and lawlessness than it does from the police," Barr said.
Former Vice President Joe Biden, the presumptive Democratic presidential nominee, dismissed Trump's Dallas visit in advance as a "photo op" and charged that the president has "run away from a meaningful conversation on systemic racism and police brutality."
Trump, whose campaign effort has been largely sidelined by the coronavirus, also held a high-dollar fundraiser during his visit to Dallas. The intimate event for about 25 supporters was expected to raise $10 million to be split between his campaign, the Republican National Committee and 22 state parties, according to a GOP official.
https://www.hurriyetdailynews.com/trump-says-hell-pursue-police-use-of-force-standard-155588
------
U.S. lawmakers ask Zoom to clarify China ties after it suspends accounts
June 12, 2020
By Brenda Goh
Three U.S. lawmakers asked Zoom Video Communications Inc <ZM.O> to clarify its data-collection practices and relationship with the Chinese government after the firm said it had suspended user accounts to meet demands from Beijing.
The California-based firm has come under heavy scrutiny after three U.S. and Hong Kong-based activists said their accounts had been suspended and meetings disrupted after they tried to hold events related to the anniversary of China's Tiananmen Square crackdown.
Zoom said on Friday it was notified of the events and asked to take action by the Chinese government in May and early June. It said it suspended one account in Hong and two in the United States but has now reinstated these accounts and will not allow further requests from China to affect users outside the country.
"We did not provide any user information or meeting content to the Chinese government," Zoom said in a statement. "We do not have a backdoor that allows someone to enter a meeting without being visible."
The online meeting platform, which has surged in popularity as the COVID-19 pandemic has forced millions around the world indoors, has seen its downloads soar in China.
The service is not blocked in China, unlike many Western platforms such as Facebook and Twitter, which abandoned efforts to crack China's market years ago due to government demands to censor and monitor content. Twitter on Thursday said it had removed accounts tied to a Beijing-backed influence operation.
Representatives Greg Walden, the top Republican on the House Energy and Commerce Committee, and Cathy McMorris Rodgers, the ranking member of a consumer subcommittee, sent a letter to Zoom CEO Eric Yuan on Thursday asking him to clarify the company's data practices, whether any was shared with Beijing and whether it encrypted users' communications.
The three politicians have previously expressed concerns about TikTok's owner, Chinese firm ByteDance, which is being scrutinized by U.S. regulators over the personal data the short video app handles.
"We appreciate the outreach we have received from various elected officials and look forward to engaging with them," a Zoom spokesman said.
China's internet watchdog, the Cyberspace Administration of China, did not immediately respond to a faxed request for comment from Reuters. Chinese foreign ministry spokeswoman Hua Chunying told reporters on Friday that she was not aware of the details.
Wang Dan, a U.S.-based dissident and exiled student leader of the crushed 1989 Tiananmen Square protests, had his Zoom account suspended. He said he was shocked to hear Zoom acknowledge it had interrupted meetings he was participating in. His June 3 event with about 200 participants was deactivated midstream, he said.
"Zoom complied with China's request, preventing us from going about our lives smoothly," Wang said in an email to Reuters. "It cannot get away with just a statement. We shall continue to use legal means and public opinion to ask Zoom to take responsibility for its mistake."
The company said it is now developing technology to enable it to remove or block participants based on geography, allowing it to comply with requests from local authorities. It said it would publish an updated global policy on June 30.
U.S.-based Humanitarian China founder Zhou Fengsuo said he welcomed Zoom's acknowledgement of the suspensions but told Reuters it was unacceptable for the company "to separate China users from the rest of the world."
Toronto-based internet watchdog Citizen Lab said in April it had found evidence some calls made in North America, as well as the encryption keys used to secure those calls, were routed through China. Zoom said it had mistakenly allowed Chinese data centres to accept calls.
Zoom says it has many research and development personnel in China. Its founder Yuan grew up and attended university in China before migrating to the United States in the mid 1990s. He is now an American citizen.
Bill Bishop, editor of the China-focused Sinocismnews letter, wrote on Friday that "Zoom should no longer get the benefit of the doubt over its China-related issues and given how many people, organizations, government bodies and political campaigns now rely on its services the company must err on the side of transparency.
https://www.metro.us/u-s-lawmakers-ask-zoom/
------
Southeast Asia
Indonesia calls on countries to uphold social responsibility regarding COVID-19 vaccines
Budi Sutrisno
June 12, 2020
The Indonesian government has asserted the importance of international collaboration in COVID-19 vaccine development in order to ensure fair distribution of the vaccine to every corner of the globe.
Speaking to journalists during a virtual press briefing on Thursday, Foreign Minister Retno LP Marsudi said she had conveyed such hope during a virtual meeting on Tuesday with the International Coordination Group (ICG), a grouping of countries aimed at resolving certain challenges in the COVID-19 pandemic response.
Retno said she had underlined her hope that countries would not fulfill domestic needs at the expense of other countries once the COVID-19 vaccine was found.
She emphasized the importance of a "fair, transparent and inclusive mechanism to allocate [medical] supplies, particularly to the most vulnerable groups."
She added countries should also ensure the transfer of knowledge from vaccine producers to other countries in order to allow production to be scaled up .
"To achieve this, [apart from] flexibility of intellectual property rules, patent rights policy must also consider social responsibility, especially during the pandemic," said Retno.
The foreign minister also encouraged more international cooperation on vaccine development and synergy between national and international efforts.
Indonesia has established a national consortium that focuses on developing a COVID-19 vaccine comprising several ministries and the Eijkman Institute for Molecular Biology, which is currently doing genome sequencing and preparing seed to produce a vaccine.
Retno went on to say that the country was also exploring potential collaboration in procuring a vaccine and joint production of different types of vaccine with all international stakeholders, including the ICG state members.
The ICG is comprised primarily of G20 countries -- including China, India, Japan Russia and the United States – and non-G20 countries such as Singapore and Peru.
https://www.thejakartapost.com/news/2020/06/12/indonesia-calls-on-countries-to-uphold-social-responsibility-regarding-covid-19-vaccines.html
-----
'COVID-19 is real': Virus ravages family in Indonesia's second-largest city
Ardila Syakriah
June 11, 2020
Almost unnoticeably, sometime in early May, the coronavirus crept into a house in Indonesia's emerging COVID-19 epicenter of Surabaya and ensnared four members of the family who lived there.
The father of the family, 68, died on the morning of May 30 before being tested, less than a day after he was admitted to an isolation room at a Surabaya hospital along with his 61-year-old wife.
Later that day, in a different hospital, surgeons operated on the couple's eldest daughter to remove her unborn child, whose heart had stopped beating. The woman who lost her child had tested positive for COVID-19 and had been on a ventilator for days before the operation.
In the early morning of May 31, hours after the burial of the family's father and the unborn child, which the bereaved family could only witness from inside their cars, the eldest daughter died.
The youngest daughter begged the nurses to let her see her dead sister, a 34-year-old who had been married for two years, by video call.
On June 2, the mother of the family died before she was tested, an hour after she told her youngest daughter by phone that she could no longer bear her breathing difficulties. She passed away unaware that her eldest daughter had died before her.
Their stories were shared by the family's youngest daughter, 27-year-old Dea Winnie Pertiwi, who spoke with the media after rumors about the family made the rounds on WhatsApp groups.
"Thank God that during the last burial, which was my mother's, I could bathe her body and join her funeral even though I had to have full personal protective equipment [PPE] on," Dea told The Jakarta Post, referring to a common Islamic funeral rite that has all but ceased under the pandemic.
Dea and her family spent the following days separately in mandatory isolation. They were united only by their grief. There was no takziyah (vigil) nor funeral for the deceased. The graves were left plain, with simple wooden mounds displaying the deceased's names and the hospitals where they had died.
Like nearly half of those over 60 years old in the country, Dea's parents lived in a three-generation household, consisting of themselves, two of their daughters, a son-in-law and a grandchild. Dea lived further away in the suburbs of Surabaya.
Surabaya had recorded 3,439 COVID-19 cases as of Wednesday – making up half of East Java's cases – with 923 recoveries and 300 deaths. The city also had 3,426 patients under surveillance (PDPs) and 4,002 people under observation (ODPs). Eastern Surabaya, the downtown area where Dea's parents resided, has recorded the highest numbers of cases and deaths.
In mid-May, Dea's brother-in-law started developing COVID-19 symptoms a day after he took his wife, who was eight months pregnant, to a monthly prenatal check-up. This was followed by Dea's middle sister, who developed breathing difficulties. The family brushed it off as a seasonal flu.
A few days later, Dea's eldest sister developed a fever and breathing difficulties. Her pregnancy had limited the medicine she could take, and by the time she was admitted to the hospital on May 26, it was too late. Her condition had worsened, and she had suffered a miscarriage.
"I've brought my sister to the emergency room twice. The first time we asked for her to be hospitalized, the doctor said the hospital was overloaded and that there were no isolation rooms for pregnant women," Dea said. "My mother also requested hospitalization twice, but the hospital advised her to self-isolate first.
"Why were patients who had personally requested hospitalization because home treatment was not sufficient rejected by the hospitals?"
At Dea's mother's first visit to the hospital on IdulFitri, the chest X-ray showed white spots on her lungs. Her rapid antibody test indicated the presence of COVID-19, but the more conclusive swab test would only be available a week later, and its results would take even longer, Dea said.
Within five days, the white spots had multiplied, Dea's mother's second X-ray showed, and only then was she admitted to an isolation room with her husband, who had become too weak to walk.
Both died as PDPs before they were swabbed. Dea was told that this was because the lab was closed on Sunday and June 1 was a national holiday, coupled with a lengthy waiting list for swab testing.
Her case gives a glimpse of the problems haunting Surabaya's efforts to contain the outbreak: overloaded hospitals and a lingering testing backlog. These problems remain even as the city begins to ease restrictions to address economic concerns. Meanwhile, new cases continue to soar.
East Java COVID-19 task force tracing team head Kohar Hari Santoso said that although hospitals had been "relatively full", there were rooms available for new patients.
He also pointed to a newly opened emergency hospital in the city, which had a capacity of 271 beds that could be gradually increased to 512 beds. The hospital, however, only aimed to treat mild cases so as to not overwhelm the city's 20 referral hospitals.
"[Surabaya's health care system] was already overwhelmed before restrictions were loosened. [...] If transmission continues, patients will not be able to be treated optimally – or will not be treated at all – and the death rate may increase," epidemiologist Windhu Purnomo said.
https://www.thejakartapost.com/news/2020/06/11/covid-19-is-real-virus-ravages-family-in-indonesias-second-largest-city.html
------
Coronavirus: Malaysia's transport services resume at full capacity, mosques reopen
JUN 11, 2020
KUALA LUMPUR - Malaysia's public transport services, including buses, ferries, trains and planes, can now resume operating at full capacity with no limit on their operating hours, said Senior Minister for Security Ismail Sabri Yaakob on Thursday (June 11).
Transport operators and passengers however have to comply with strict safety protocols including wearing face masks, using tracking applications and conducting temperature checks.
Under the country's stricter measures previously, buses were not allowed to run at night, and could transport only half their usual capacity of passengers. Meanwhile ride-hailing services could operate until 10pm only and were limited to a maximum of two passengers in a car.
These relaxed rules come as Malaysia enters what it calls the "recovery" phase of its coronavirus measures, after a partial shutdown initiated in March brought down the number of new daily infections to double-digit figures.
On Thursday, the health ministry reported 31 new Covid-19 cases, 11 of which were returning Malaysians who had been infected abroad. The spike follows three days of single-digit new infections.
However national health chief Noor Hisham Abdullah noted on Thursday that the country could be declared free from Covid-19 only if there are no new cases for a period of 28 days.
De facto Religious Affairs Minister Zulkifli Mohamad Al-Bakri said in a special televised address on Thursday that only mosques and suraus (prayer houses) in areas with no active coronavirus cases can reopen, and these would be allowed to have congregants fill only one-third of their prayer halls' total space.
They will be open only to Malaysians above the age of 12, who have no Covid-19 symptoms and who do not suffer from chronic diseases.
The minister also announced that Malaysian Muslims would not be permitted to undertake the haj this year due to the Covid-19 pandemic.
The decision to postpone this year's pilgrimage was made after a briefing by the Health Ministry and a discussion by the special committee of the National Council for Islamic Religious Affairs on Tuesday.
Theme parks in Penang may also reopen but water-based attractions and public swimming pools, including in condominiums, must stay closed for the time being, said Penang tourism, arts, culture and heritage committee chairman Yeoh Soon Hin. Art, music and dance classes in the state are also allowed to resume.
The government began easing movement controls from May 4 to revive the economy, which it said then had been suffering RM2.4 billion (S$784 million) in daily losses since controls were implemented in mid-March.
https://www.straitstimes.com/asia/se-asia/coronavirus-malaysias-transport-services-resume-at-full-capacity-mosques-reopen
------
Brunei's Muslims to skip Hajj pilgrimage this year
11.06.2020
Brunei on Wednesday announced that its citizens would not perform the annual Islamic Hajj pilgrimage to Mecca this year for health concerns amid the novel coronavirus pandemic, according to a local media report.
Speaking in a press conference, Minister of Religious Affairs Awang Badaruddin Othman said the country would not send its 1,000 yearly selected pilgrims and those traveling at their own expenses to perform the Hajj, the daily Borneo Bulletin reported.
Baddarudin said the decision was made after Sultan Hassanal Bolkiah gave his consent to the recommendation of the Brunei Islamic Religious Council, which convened last Saturday to cancel Bruneian pilgrims participation in the Hajj.
"[...] regarding the participation of Hajj pilgrims, it is confirmed that the COVID-19 pandemic still poses a global threat and that the spread of this virus is not likely to cease in the near future," he was quoted in the newspaper.
Brunei became the fourth country in Southeast Asia to withhold its Hajj pilgrims this year following Singapore, Indonesia and Malaysia.
According to the Islamic Religious Council of Singapore, the registration of 900 pilgrims who had signed up this year will be pushed forward to 2021.
Indonesia's Minister of Religious Affairs, FachrulRazi, also decided to cancel the departure of Hajj pilgrims out of health concerns.
Nearly 2.5 million Muslims traveled to Mecca last year for the pilgrimage, which Muslims are required to perform at least once in their life if possible, with 75% -- more than 1.8 million -- came from abroad, according to data from Saudi Arabia's General Authority for Statistics.
The kingdom, which has reported more than 112,288 cases and 819 deaths so far, suspended the year-round Umrah, a lesser Islamic pilgrimage, in March.
https://www.aa.com.tr/en/asia-pacific/bruneis-muslims-to-skip-hajj-pilgrimage-this-year/1873409
-----
No hajj for Malaysia's Muslims this year due to pandemic
11 JUN 2020
Malaysia's pilgrims will not be going to the hajj this year due to the COVID-19 pandemic, Dr. Zulkifli Mohamad Al-Bakri, minister in the prime minister's office announced on Thursday (June 11).
In a speech whose text was published on his official twitter account, the minister said the decision was arrived at in consultation with the Ministry of Health and Lembaga Tabung Haji, as well as after discussions with members of a special meeting of the Committee of the National Council for Islamic Religious Affairs on June 9.
Dr. Al-Bakri said that hajj is to be carried out considering health, safety, permission to travel to Saudi Arabia, and financial means. Since most of these conditions cannot be currently met, it would not be compulsory for the pilgrimage to be carried out this year.
Saudi Arabia has not announced its decision whether the hajj will carry on this year. It has kept the umrah suspended from the end of February, and the country has stll not opened its borders to international flights.
Malaysia's pilgrims who were scheduled to go for the hajj this year will be able to defer their pilgrimage to next year.
The country's decision to cancel hajj for its pilgrims this year follows the same by Indonesia and Singapore.
https://www.salaamgateway.com/story/no-hajj-for-malaysias-muslims-this-year-due-to-pandemic
-----
Ismail Sabri: Meetings and seminars allowed soon; non-Muslim places of worship to get updated SOPs
12 Jun 2020
BY JULIA CHAN
KUALA LUMPUR, June 12 — Meeting, seminar, training and course organisers will soon be able to operate when the government comes up with the standard operating procedure (SOP) guidelines.
Senior Minister Datuk Seri Ismail Sabri Yaakob said that the government will be announcing the SOP once they have been discussed and agreed upon.
"The National Security Council is discussing the details of the SOP. It will be brought up again on Monday with the Health Ministry. I will make an announcement once it has been decided," he said.
"National Unity Minister Datuk Halimah Mohamed Sadique will propose a new SOP on Monday for non-Muslim places of worship. So I believe there will be changes moving forward, maybe we will increase opening days beyond the current one day.
https://www.malaymail.com/news/malaysia/2020/06/12/ismail-sabri-meetings-and-seminars-allowed-soon-non-muslim-places-of-worshi/1874824
------
Mideast
73% of Turks favor the transformation of Hagia Sophia into a mosque
06/12/2020
by Marian Demir
Istanbul (AsiaNews) - 73% of Turkish citizens are in favor of transforming Istanbul's Hagia Sophia into a place for Muslim worship and prayer. Originally a basilica, it was later transformed into a mosque and is now a museum according to the will of Kemal Ataturk.
The recently published survey is nourishing the controversy around the building, already at the center of a fierce debate last week after President Recep Tayyip Erdogan had endorsed the recitation of an Islamic prayer inside.
According to an investigation conducted by Areda Survey and published on 11 June, 73.3% of respondents on a sample of 2414 people answered affirmatively to the question: "Should Hagia Sophia be converted into a mosque and open to worship?". 22.4% answered "no" and only 4.3% said they did not have a precise opinion on the matter.
As an example to follow for Hagia Sophia, the exponents of the nationalist and radical Islamic faction - including Erdogan himself, who is following this fundamentalist wave to maintain power - recall the cases of the Akdamar church and the monastery of Sümela. These two places of worship, originally Christian, were first transformed into a museum but today are full-fledged mosques.
It should also be added that the current government, led by the majority party Akp, has also granted other religions the opportunity to pray in buildings that had long been forbidden to worship and used as museums or places of culture. These include the Armenian church of SurpGiragos in Diyarbakır, the great synagogue of Edirne and the monastery of Aho in Gercüş. For the first time this year, Jews from Turkey celebrated Hanukkah (the festival of lights) in a public way.
Meanwhile, on the domestic front, the control policy desired by the government and by Erdogan himself is strengthening, decreasing consensus for the management of the Covid-19 pandemic and the economic and social crisis that the virus has triggered and fed. The new wave of repression follows the approval by Parliament of a controversial law that strengthens the duties of the "neighborhood policeman", a parallel force made up of about 28 thousand people. Thanks to the new standard they can inspect passers-by and their vehicles, verify identities and, if necessary, use their weapons.
Another law currently being approved provides for the obligation for internet users to have an identification number to access social networks and messaging programs; an additional weapon to counter dissent and online criticism. This obsession with control represents the last frontier for the Turkish president, in an attempt to strengthen the grip on the country. And this happens for an electoral reason: according to the latest polls, in fact, Erdogan and his party seem to have lost consensus, votes and popular power over the nation.
http://www.asianews.it/news-en/73-of-Turks-favor-the-transformation-of-Hagia-Sophia-into-a-mosque-50327.html
-----
President Rouhani: Sanctions failed to weaken Iranian nation's will
11 June 2020
President Hassan Rouhani says sanctions imposed on Iran by Western countries, especially the United States, have failed to weaken the Iranian nation's will and this has been proven through incessant inauguration of development projects under the toughest sanctions.
Rouhani made the remarks in Tehran on Thursday during a ceremony held via video-link that featured inauguration of industrial and mining projects in the northeastern Khorasan Razavi and central Esfahan provinces.
He cited the continued trend of the country's unveiling various developmental projects across its different areas as a testament to the Islamic Republic's steadfastness down its path of progress and the fact that "the sanctions cannot affect the Iranian nation's will."
However, the president said directors of countrywide production units were urging allocation of more foreign exchange to their projects so they can speed up the production process, saying this proved that "the enemy has not been able to stop us and force us to surrender."
The US returned the sanctions against Tehran in 2018 after leaving a historic nuclear agreement between Iran and major world powers. Washington's departure and snapback of the bans came although the deal, officially known as the Joint Comprehensive Plan of Action (JCPOA), has been ratified by the United Nations Security Council as a resolution and notwithstanding the JCPOA's multilateral nature.
Ever since quitting the deal, Washington has been trying to scare other countries of the world into abiding by its coercive measures, warning they would face punitive action if they failed to do so.
Not only has not Iran allowed the enemies to achieve their goals against the Iranian people, but it has also kept proceeding further, Rouhani noted.
Although the enemies' efforts might have slowed down the country's advance to some extent, Iran would "keep up adhering to the principle of moving forward," the president stated.
"Today, we are bearing witness to a very good onward movement in the country," he noted, reminding that the outbreak of the new coronavirus had not impeded the Islamic Republic's onward march either.
As cases in point concerning the virus failure to bring down the country's production levels, he cited instances of a monumental increase in the output of home appliances.
Last month, the output of washing machines and television sets respectively rose by 152 and 49 percent compared to the same period last year, when the virus was many months away from hitting the country, Rouhani announced.
https://www.presstv.com/Detail/2020/06/11/627220/Iran-sanctions-Rouhani-United-States-coronavirus
------
A Waqf Guard to Jewish Woman at Temple Mount, 'You Can't Mention the Temple–You're in A Mosque'
11/06/20
A Waqf guard approached a Jewish woman visiting the Temple Mount and demanded that she stop photographing and even forbade her to discuss the temple. "You can't mention the temple –you're in a mosque," he told her.
Jerusalem resident Shaina Hirsch visited the Temple Mount yesterday. Due to her "secular" outward appearance, she was allowed to wonder around the premise unaccompanied by the Israeli police.
At one point, a number of Waqf guards approached and ordered her to stop filming telling her "You can't mention the Temple here," and demanded that she leave the building.
At one point, she stopped filming, fearing arrest. The guards accompanied her to the exit, and she reported they even tried to confiscate her phone.
"They pushed me around, tried to take my phone away, and threatened to arrest me," she said. "I tried visiting my favorite historical site in Jerusalem, the Temple Mount, and [mentioned] the temples that stood at this place when they suddenly approached me and told me to stop."
Hirsch added, "They claimed that since Adam and Eve only mosques have existed on the Temple Mount, and that the rest was just Zionist propaganda. They told me to stop talking about the Temple because it wasn't respectful. People need to know their history and this type of brainwashing and historical revision can't be allowed to go on."
Tom Nisani, chairman of Students for the Temple Mount, said: "When Israeli police are party to…removing and revising our history, and a tourist is prevented from shooting video and shamefully kicked out for doing so, Prime Minister Netanyahu, Minister of Tourism, Minister of Public Security and others involved need to stop placing the blame with UNESCO or Europe for disregarding Jewish history in Jerusalem. Only on the Temple Mount can the government sponsor a complete revision of our history. Absolutely despicable," he stated.
http://www.israelnationalnews.com/News/News.aspx/281717
------
Neo-Nazi mosque shooter in Norway jailed for minimum 21 years
11 June 2020
BAERUM, Norway — A Norwegian court on Thursday sentenced a right-wing extremist to a minimum of 21 years in prison for a 2019 mosque attack near Oslo and murdering his step-sister in a racially-motivated act.
"Philip Manshaus… is sentenced to 21 years of 'forvaring,'" a court west of Oslo ruled, using the Norwegian term for a custodial sentence that can be extended indefinitely.
A self-proclaimed neo-Nazi, 22-year-old Manshaus was arrested on August 10, 2019, after opening fire in the Al-Noor mosque in the affluent Oslo suburb of Baerum while wearing a bulletproof vest and a helmet with a camera strapped to it.
"Manshaus has said that his plan was not only to kill as many Muslims as possible but that wanted to destabilize society and accelerate the race war," the court said in its verdict.
Philip Manshaus (R) and his defense lawyer Unni Fries arrive for his sentencing for terrorism and homicide in the Asker and Baerum district court west of Oslo on June 11, 2020. (Photo by HåkonMosvold Larsen / NTB Scanpix / AFP)
Norway does not have a life sentence, but a custodial sentence can be extended without limit as long as the person is considered a threat to society. Manshaus can apply for an early release after 14 years.
His defense lawyer Unni Fries had raised doubts about his mental health and recommended psychiatric care, against Manshaus' wishes.
Fries noted his "rather paranoid world view" and his belief that Europe was under threat from "Muslims, Jews, gender equality, homosexuals, the media and the authorities."
Manshaus had admitted to the facts of the case but pleaded not guilty, claiming his actions came out of "necessity," namely to ensure the "survival of the white race."
Manshaus has said he was inspired by the attacks in Christchurch, New Zealand in March 2019, when self-avowed white supremacist Brenton Tarrant killed 51 people in shootings at two mosques.
Tarrant in turn has said he was inspired by Norwegian Anders Behring Breivik, who in July 2011 killed 77 people in a truck bomb blast near government offices in Oslo and a shooting spree at a Labor Party youth camp.
https://www.timesofisrael.com/neo-nazi-mosque-shooter-in-norway-jailed-for-minimum-21-years/
-------
Iran, Russia express concern over humanitarian crisis in Yemen, Syria
June 11, 2020
Iran's Senior Assistant to Foreign Minister in Special Political Affairs Ali-Asghar Khaji and Russian Deputy Minister of Foreign Affairs in charge of Syrian affairs Sergei Vershinin extended concerns over the humanitarian crisis in Yemen and difficult conditions for Syrians.
Both sides discussed the latest developments in Yemen and the escalation of humanitarian crisis after the outbreak of coronavirus.
Iranian and Russian diplomats underlined the importance of solving Yemeni crisis through intra-Yemeni talks
Khaji stressed the need for establishing intensive truce, removing siege, and resuming the political process.
Both sides also reviewed developments in Syria, constitutional law committee, and holding meetings by Astana peace guarantors.
They expressed concerns over difficult conditions for Syrians and escalation of tensions as a result of sanctions.
Khaji slammed unilateral and cruel sanctions imposed on Syrians and called for removing sanctions and taking necessary actions for alleviating Syrians' pains.
https://en.abna24.com/news//ss_1045269.html
-----
Iran raises possibility of more prisoner exchanges with US
11 June 2020
Tehran has raised the possibility of exchanging more prisoners with Washington, reaffirming Iran's readiness for more diplomatic efforts to secure the release of its citizens held hostage in the US.
Foreign Ministry Spokesman Abbas Mousavi said on Thursday that Iran has already announced that it stands ready to do all in its power to secure the release of Iranian hostages in US jails and bring them back home "within different frameworks."
The Islamic Republic, he added, showed "goodwill" and made a "humanitarian" gesture in response to the proposals by some countries and figures, including Switzerland and its ambassador to Tehran, for the freedom of US security prisoners, whose wrongdoings are confirmed.
"If we find the conditions ripe again for such swaps or if we can prove the innocence of the Iranian citizens, who are facing baseless and delusional charges of circumventing unilateral, illegal and groundless US sanctions, we will definitely use all our diplomatic means to free our dear ones and reunite them with their families," Mousavi said.
Last week, Iran freed US navy veteran Michael White as part of a prisoner swap, in which the US released Majid Taheri, an Iranian scientist who had been imprisoned in the US on false charges, after spending over a year in jail.
Iran's Judiciary spokesman Gholam-Hossein Esmaeili said White was freed "on humanitarian grounds" while taking the country's "general interests" into consideration.
Iranian scientist SirousAsgari returns to the country after some three years in detention in the United States that had wrongfully accused him of stealing information and transferring it to the Islamic Republic.
The prisoners exchange came a day after Iranian scientist SirousAsgari, a professor of material sciences at Iran's Sharif University of Technology, returned home after spending about three years in detention in the US.
https://www.presstv.com/Detail/2020/06/11/627207/Iran-US-prisoner-swap
------
Yemeni bodies condemn Saudi-led coalition over use of banned cluster bombs in Sana'a
11 June 2020
Yemeni bodies have censured the Saudi Arabia-led military coalition over deploying cluster bombs against a residential neighborhood in the country's capital province of Sana'a, seriously injuring members of a family.
Yemen's Ministry of Human Rights, in a statement released by the official SABA news agency, warned that cluster munitions pose a serious danger to the lives of civilians, especially women and children, if they come in close contact with them.
The statement added that the alliance has used thousands of cluster bombs on residential areas, leaving many civilians dead or injured. Unexploded submunitions risk the lives of locals in the targeted areas as well.
The ministry further highlighted that thousands of civilians, mostly women and children, have either lost their lives or sustained grave injuries since March 2015 as Saudi-led military aircraft continue to strike various areas across Yemen.
Over five years after the Saudi-led war on Yemen began, still more atrocities are being committed against civilians of the war-torn country.
On Wednesday, a couple and their three children were injured when Saudi-led warplanes dropped cluster bombs on a residential neighborhood in al-Subaha neighborhood of Sana'a province. Their house was also badly damaged in the bombardment.
The Yemeni Ministry of Human Rights later held member states of the Saudi-led coalition and their mercenaries fully responsible for all crimes and perpetrations being perpetrated against the Yemeni nation.
The ministry then called on the United Nations and the Security Council to stop the ongoing Saudi-led military aggression and blockade, and establish an independent and impartial international commission to investigate all crimes committed by the coalition and its proxies in Yemeni regions.
Separately, the Supreme Council for the Management and Coordination of Humanitarian Affairs (SCMCHA) decried the Saudi-led coalition's use of cluster munitions in al-Subaha neighborhood, stating it is not the first time the alliance has committed such a crime.
The SCMCHA also denounced the shameful international silence on the Saudi Arabia-led coalition's continued attacks on residential regions and farms with utter disregard for civilian lives.
The council then called on the UN to take up its humanitarian duties, and put pressure on the coalition of aggression to stop its military campaign and all-out blockade against Yemen.
Saudi Arabia and a number of its regional allies launched the devastating war on Yemen in March 2015 in order to bring former president Abd Rabbuh Mansur Hadi, back to power and crush the Houthi Ansarullah movement.
The US-based Armed Conflict Location and Event Data Project (ACLED), a nonprofit conflict-research organization, estimates that the war has claimed more than 100,000 lives over the past five years.
Yemen's health minister says the ongoing blockade imposed by Saudi Arabia against the war-torn country has created a new crisis amid the coronavirus pandemic.
More than half of Yemen's hospitals and clinics have been destroyed or closed during the war by the Saudi-led coalition, which is supported militarily by the UK, US and other Western nations.
At least 80 percent of the 28 million-strong population is also reliant on aid to survive in what the United Nations has called the world's worst humanitarian crisis.
https://www.presstv.com/Detail/2020/06/11/627205/Yemeni-bodies-condemn-Saudi-led-coalition-over-use-of-banned-cluster-bombs-in-Sana%E2%80%99a
------
Europe
Mosques Shouldn't Rush To Reopen For Congregational Prayers, Say UK Muslim Leaders
Jun 12, 2020
By SaheedSalawu
THE Muslim Council of Britain has advised mosques not to rush to reopen for congregational prayers despite government indications that they could reopen from July 4.
According to the council, the advice followed consultations with hundreds of mosques and dozens of regional and national Muslim associations in the past few weeks.
Following the consultations, the MCB produced detailed guidance on the safe and gradual reopening of mosques for congregational worship.
It paints a picture of what congregational worship is likely to look like "in our mosques over the next few months at least, with strict social distancing and other measures in place."
Secretary General of the MCB, Harun Khan, said: "Though we as Muslims are longing to go back to our mosques and worship with our communities, it is essential that we do not rush. Coronavirus is still prevalent and dangerous, and mosque leaders must carefully plan and decide when they feel they can put the required controls in place to reopen in the safest way possible. These guidelines are designed to help mosque leaders achieve this.
"With BAME [black, Asian and minority ethnic] communities, including Muslims communities disproportionately impacted by coronavirus, we must prioritise the safety of our communities and focus on minimising the risk of infection transmission in our decision making. The preservation of life is paramount in Islam.
"Local coordination is also essential, and we encourage mosques leaders to implement a coordinated approach with other mosques in their town, city or borough, utilising local Councils of Mosques, regional Muslim forums and other platforms to share advice, best practice and resources.
Also, the Leeds Council of Mosques urged the city's mosques to remain closed as the government eases lockdown measures on places of worship.
When asked on Tuesday when communal worship could return, Lord Greenhalgh told the Religion Media Centre's (RMC) Zoom briefing: "The earliest possible moment would be at step three, which is July 4.
"We need to recognise that some form of collective or public worship is happening pretty much everywhere else apart from the United Kingdom and I think we just need to be ready by July 4, in terms of having the guidance ready to go."
Leeds Council of Mosques said the decision to reopen places of worship for private prayer does not "go far enough" in recognising the practices of the Muslim community, many of which are centred around congregational prayers.
The body urged the city's mosques to remain closed, warning that opening for individual prayer from June 15 would cause "significant challenges" for mosques and Imams in Leeds.
In a statement, a spokesperson for Leeds Council of Mosques said: "The government's announcement to open places of worship from June 15 for individual prayer is welcome.
Mosques are first and foremost used for congregational prayers. Jama'at/congregational prayers, even with a small group of people, following social distancing and other preventative measures, will not be allowed in mosques from June 15.
Accordingly, opening the mosques from June 15 will cause significant challenges for mosques and Imams as the expectation from the community will be to resume communal worship (Jama'at) for the public.
"Covid-19 is still present and poses a threat to life, with higher cases within BAME communities, and, therefore, appropriate steps must be taken to minimise risk to health when our mosques do open."
Mosques in Leicester will not be reopening with other places of worship on June 15 even though latest government updates have permitted so.
The Communities Secretary, Robert Jenrick, announced on June 7 that places of worship would be permitted to open on June 15 for individual prayer only and with social distancing measures in place.
In response, the Federation of Muslim Organisations based in Leicester announced that although they welcome the "positive step towards supporting faith communities," mosques affiliated with the FMO will stay closed.
The spokesman for the Federation of Muslim Organisations, Suleman Nagdi, said: "We are of the view that the decision does not go far enough in accommodating the religious requirements of the Muslim community and other faith groups for whom a mosque or a public place of worship's primary purpose is to facilitate led congregational or communal prayers."
This means daily prayers in the mosque would still be restricted and Jummah (Friday prayers) would not be able to go ahead.
Nagdi said: "We believe the decision as it currently stands is impractical to manage for mosque committees that are largely made up of dedicated volunteers and will cause confusion and further dismay to worshippers who may misinterpret the guidance as the resumption of congregational prayers."
In a statement, Nagdi paid tribute to the Muslim community "who have shown incredible patience, resilience and extraordinary generosity to the wider community over the course of the pandemic".
He said: "Clearly, we are all treading in unchartered territory with new information emerging on almost a daily basis. We will, therefore, continue to assess events as they unfold and review our position accordingly in liaison with our affiliates and the relevant authorities to work towards the reopening of mosques in a safe and measured way."
"However, preservation of life must be at the forefront of any local decisions, so in the meantime, we strongly recommend that all mosques across the city and county remain closed for congregational prayers and religious gatherings until the government has confirmed a date and issued clear guidance in relation to facilitating congregational prayers in public places of worship."
https://tribuneonlineng.com/mosques-shouldnt-rush-to-reopen-for-congregational-prayers-say-uk-muslim-leaders/
------
Boyfriend of 'Miss Hitler' wanted to spark 'White Jihad' race war in Yorkshire
ByMatthewDresch
11 JUN 2020
The boyfriend of 'Miss Hitler' dreamed of a race war erupting in West Yorkshire and was a proponent of 'White Jihad'.
Mark Jones, 25, was one of four National Action members, including Alice Cutter - also known as 'Miss Hitler', jailed for membership of the banned group on Tuesday.
Cutter was runner-up in a sickening beauty pageant competition called The Buchenwald Princess, referring to a Second World War concentration camp where tens of thousands of people died.
Anti-racism organisation Hope not Hate claims Jones was the most committed member of National Action and was idolised by other members because he had a job and a girlfriend.
Hope not Hate's Matthew Collins told Mirror Online: "He was an exponent of 'White Jihad' ideology. That is encouraging people to step over the line and commit terrorism acts.
"It's a term they use themselves. It's because they realised the missing component to building a terror network is that spiritual belief. They put that belief in."
"He was a talented web and graphic designer but unfortunately he used his talents to promote Nazism not something useful.
https://www.mirror.co.uk/news/uk-news/boyfriend-miss-hitler-wanted-spark-22175917
-----
High Commissioner visits Open Kitchen set up by Muslim Hands; announces food for 300 people
June 11, 2020
LONDON, Jun 11 (APP):Pakistan High Commissioner to the United Kingdom (UK), Mohammad Nafees Zakaria visited 'Open Kitchen' set up by Muslim
Appreciating the good work of Ehsan Shahid Choudhry of Muslim Hands and his team of volunteers, Zakaria announced that the High Commission would provide food through this kitchen for 100 people for three days with effect from today (Thursday) to join hands in this noble cause.
The High Commissioner has been visiting and coordinating with such food banks, set up by Pakistani charitable organisations in the UK during the COVID-19 pandemic.
These organisations have taken upon themselves to serve those people in this country who are in need of support, the statement said.
The integrity and dedication of these community leaders belonging to Muslim Hands, Pakistan Community Centre, Willesdon, Conservative Friends of Pakistan (CFOP),MyLahore, and Overseas Pakistanis Welfare Council (OPWC) have attracted not just the donors on massive scale but also volunteers from diverse backgrounds.
The Overseas Pakistanis Welfare Council (OPWC) has also been distributing food packages to key workers of different departments during pandemic.
'MyLahore', a Pakistani restaurant chain has also been providing food packages to the key workers and the needy during the pandemic.
On behalf of the High Commission, ' MyLahore' delivered food to National Health Service (NHS) and other frontline workers as a token of Mission's respect for them.
Similarly, One Million Meals campaign was initiated by three Pakistani social entrepreneurs namely Arif Anis, Suleman Raza and Bilal Bin Saqib.
On this occasion, the High Commissioner said, "The British Pakistani charitable organisations are doing a commendable work by providing nutritious meals to support people in these difficult times of pandemic and lockdown".
" Being open and free to all, these kitchens and food banks reflect the true spirit of human equality, fraternity and brotherhood.
These philanthropic organisations provide important platforms for community engagement and empowerment and hence, be supported in their community building work.
The services of the British Pakistani welfare organisations during the ongoing pandemic have been duly acknowledged by the Royals, the British Government and the media, the statement said.
https://www.app.com.pk/high-commissioner-visits-open-kitchen-set-up-by-muslim-hands-announces-food-for-300-people/
------
Norway mosque shooter jailed for 21 years for murder, terrorism
12th June 2020
A far-right Norwegian man was jailed for 21 years for the racially motivated murder of his Chinese-born stepsister and attempting to kill worshippers in a mosque shooting spree.
Norwegian Philip Manshaus arrives into the courtroom for the start of his trial at Asker and Baerum district court, outside Oslo, on May 7, 2020Philip Manshaus. Photo: AFP
Manshaus, now 22 years old, shot and killed Johanne ZhangjiaIhle-Hansen in their family home, later explaining he believed the adopted daughter of his father's spouse posed a risk to the family because of her Asian origin.
He then drove to the nearby Al-Noor Islamic Centre and entered the building, firing several shots but hitting no one before being overpowered by a 65-year-old member of the congregation who wrestled away his guns.
Manshaus expressed admiration for the massacre of more than 50 people at two New Zealand mosques last year by a white supremacist who filmed and broadcast the killings live.
The attack also drew comparisons with the massacre of 77 people by far-right mass killer Anders Behring Breivik in 2011 in Norway's worst peacetime atrocity.
Manshaus wore a helmet camera, filming the mosque shooting, but failed in his attempt to broadcast the attack online.
In his first court hearing last August, Manshaus appeared with black eyes and bruises on his face and neck from the ensuing fight at the mosque.
The court rejected the defence's plea to declare Manshaus insane, relying instead on a psychiatric evaluation which found him fit to stand trial.
The 21-year prison term, the steepest available for the first-degree murder and breach of anti-terrorism law, also contained a provision that his release can be put off indefinitely should he still be considered a threat to society.
https://www.rnz.co.nz/news/world/418826/norway-mosque-shooter-jailed-for-21-years-for-murder-terrorism
------
All mosques located along highways to be closed in Talas
11 June 2020,
All mosques located along highways will be closed in Talas. Head of the region, MaratbekMurataliev, told at a briefing.
«Drivers of heavy vehicles can stop at mosques, so we close everything along the roads. Owners of shops, which are also located along the highways, were also asked to refuse to serve long-haul truckers,»MaratbekMurataliev said.
Drivers of heavy trucks themselves are obliged to give a written commitment that they will not stop at shops and mosques. They are recommended to have stock of food, drinks and fuel.
The first case of coronavirus infection was registered in Talas region on June 10. As of today, there are already three infected people.
According to local government officials, the man had contracted coronavirus in his store and possibly from heavy truck drivers.
https://24.kg/english/155703__All_mosques_located_along_highways_to_be_closed_in_Talas/
-----
URL: https://www.newageislam.com/islamic-world-news/south-africa-recognize-muslim-marriages/d/122105
New Age Islam, Islam Online, Islamic Website, African Muslim News, Arab World News, South Asia News, Indian Muslim News, World Muslim News, Women in Islam, Islamic Feminism, Arab Women, Women In Arab, Islamophobia in America, Muslim Women in West, Islam Women and Feminism