New Age Islam News Bureau
25 Jun 2013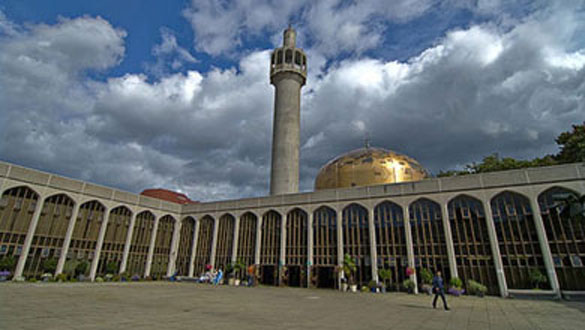 Central Mosque in London. (Photo Flickr)
----------------
Europe
• Somali Youth Stabs Namazis for Not Saying 'Amen' Loudly In the Wahhabi Way
• Are Jews protecting mosques in London? Yes, they are
• French police arrest 6 suspected radical Islamists
• 'Europe must see Islam as family member not as guest'
• German police reported to have raided Islamist network
• Muslim prison numbers soar as staff warn of Islamic "gang culture" in jails
• Spain remands al-Qaeda suspects over Syria attacks
• U.N.'s Ban urges Lebanese army to back president
• Pope Francis: Christianity is incompatible with anti-Semitism
• Berlusconi convicted for sleeping with 'that' Moroccan prostitute
• Syrian opposition's gains make peace conference unlikely - Hague
• Moscow airport source confirms Snowden arrived on Sunday; Russia rejects US's allegations
• EU agrees to continue accession talks with Turkey
North America
• US Arms Firm Coats Bullets with Pork 'to Deter Islamic Terrorists'
• Florida professor's terrorism class: Muslims taught to hate 'from the cradle'
• Talks with Taliban under 'certain conditions': John Kerry
• US wants India to bring Hamid Karzai around
• NSA surveillance prevented terror strikes: Kerry
• India not to get access to Headley for questioning again: US
• Snowden says joined Booz for evidence of US spying: report
• Kerry heads to Saudi Arabia on Syria push
• US hopeful of getting Taliban peace talks 'back on track'
• FBI helps investigate attack on foreign tourists in Pakistan
• Mosque-building rises as Muslim American clout grows
India
• Haj Committee's 'Barring Polio-Hit, AIDS Patients from Performing Haj against Human Rights'
• Entire nation stands united against terrorism, PM says in J&K
• Wagah-like ceremonies on Bangla border, minus the aggression
• Students' body prepares a list of demands for the Muslims in Manipur
• Omar condemns terror attack, says it will not demoralise forces
• Rihai Manch appeals to women groups & activists to support Dharna outside UP Assembly
• Not enough proof to convict blast accused, UP tells court
South Asia
• Afghanistan Will Never Again Be Ruled By the Taliban
• Taliban attack Afghan presidential palace, CIA office; three guards killed
• Taliban attack in Kabul throws peace talks into further doubt
• Pressure growing in PPM to quit coalition government: MP Nihan
• ACC defends airport privatisation deal as Adhaalath Party President insinuates bribery from GMR
• Kabul attacks will not derail Qatar process: Afghan Taliban negotiators
• Bangladesh looks for Indian Supreme Court help to train judges
• Ex-Jamaat men indicted for 1971 war crimes
• Hasina not Khaleda will be held for graft if CG comes
Mideast
• Iran condemns Egypt's sectarian killings as 'contradicting Islam'
• Israel planning to raze Al-Aqusa to build 'second temple'
• Turkish PM praises police 'heroism'
• Far-right Israelis stir tensions over Jerusalem holy site
• Suspected Israeli extremists vandalise Palestinian areas in east Jerusalem
• BBC reporters 'intimidated' by Turkey
Arab World
• Qatar's emir announces transfer of power to son Sheikh Tamim
• Ten car bombs kill 39 in Iraqi capital
• Twin suicide bombs kill 8 Iraqi Turkmen
• 3 killed in Iraqi Shiite pilgrims' minibus bombing
• Lebanese Troops search for Sunni cleric, Ahmed al-Assir in South Lebanon
• Radical Muslim Brotherhood Gets More US Tax Dollars despite Terror Ties
• Iraqi PM Maliki fears spill over of the Syrian crisis
• Islamic finance lobby planning regional network
• Al Assad will not cede power at Geneva meeting
• Syria military battles rebels in eastern Damascus
Pakistan
• 'Violence has influenced art tremendously in recent times in Pakistan'
• TTP supports US-Afghan Taliban talks in Qatar
• Security forces in Balochistan should operate within the law: HRCP
• Gilani demands judges to be tried with Musharraf
• Imran demands national policy on terrorism
• Freedom of information bill to be tabled in Khyber-Pakhtunkhwa Assembly
• Pakistani users cross 9 million mark on Facebook
• Musharraf charged in Bhutto killing case
• Taliban suspect involved in PTI MPA murder arrested: police
Africa
• 4 Boko Haram members dressed as women arrested in Borno
• From Femen to Salafism: Behind Tunisia's Chaos
• Nigeria executes prisoners for first time since 2006
• Amnesty International condemns 'homophobia' in Africa
• Malawi Muslims Urged to Live Qur'an
Southeast Asia
• Police report over Facebook post on Islam and Prophet Muhammad
• Philippine Islamic militants seize local film-makers
• Contempt of court as the judge's shield in Indonesian justice system
• Indonesia demands compensation over hajj numbers
Compiled by New Age Islam News Bureau
URL: https://newageislam.com/islamic-world-news/new-age-islam-news-bureau/somali-youth-stabs-namazis-for-not-saying-'amen'-loudly-in-the-wahhabi-way/d/12274
-------------
Europe
Somali Youth Stabs Namazis for Not Saying 'Amen' Loudly In the Wahhabi Way
New Age Islam News Bureau, June 25, 2013
London: The kind of religious intolerance that is practised in Pakistan where Muslims are killed even inside mosques on sectarian lines, has now raised its head among the Muslims of the UK too. In the latest incident of religious intolerance, a Somali Wahhabi youth stabbed some three Namazis belonging to Sunnah wal Jama'at in a mosque in Birmingham only because they did not say 'amen' loudly at the end of Surah Fatiha during the namaz. He also injured a policeman who tried to control him. He also argued with the Muslims in the mosque why they did not offer prayer with legs apart and why they did not keep their first finger wagging all the while reading 'at Tahiyat' as it was a bida't (innovation).
The Muslims said that the behaviour of the Somali youth was aggressive and he wanted the Muslims in the mosque to offer prayer the way he wanted. According to him, those who do not raise their hands up to the ears while going to 'Ruku' (bending forward) and do not keep their first fingers continuously wagging during 'at Tahiyat' actually practice bida't (innovation). According to the devotees in the mosque, the youth started discussing such petty issues at the time of Isha (night) prayers and got enraged. He did not like the method of offering prayers of the people in the 'Sunnah Wal Jamat' mosque and he declared the method of offering prayers followed by the prophet (pbuh) and his holy companions wrong and took out his dagger. He also expressed his surprise at why people covered their heads with caps while offering prayers.
This incident has started the debate in the mosques of the UK if the mosques of the UK have also become unsafe like the mosques in Pakistan. Muslims of the area say that everyone had the right and freedom to offer prayers the way he thinks right and imposing one's ideology or belief on others is terrorism. The Ulema of ahl-e-Sunnat Wal Jamat believe that it is not appropriate to offer prayer while keeping legs parted and it is not necessary to raise the hands to the ears again while going to Ruku. In the same way, wagging the first finger while sitting and reciting at Tahiyat is also not correct. A religious leader of Birmingham, Abdul Rashid said, 'I do not call the beliefs of others wrong. My only concern is that this behaviour may affect other devotees and especially Muslim youth'. After this incident, the mosques of Birmingham have beefed up their security arrangements.
The leaders of Majlis-e-Amal, a religious organisation of British Muslims has also decided to issue guidelines to the mosques and Muslims attending prayers in mosques. The leaders said that it should be investigated who the people are who declare the method of the rightly guided caliphs wrong and un-Islamic and from where they are getting the training. They also said that such people should be banned from entering the mosques of Ahl-e-Sunnah wal Jamat.
Maulana Suhail Bawa, Maulana Imdadul Hasan Nomani, Maulana Qari Tasawwurul Haque and Mufti Faizur Rahman have decided to chalk out a future course of action. The leaders said that the act of terrorism teaches us that we should restrict the entry of such people in our mosques.
Qari Abdul Rashid said that the extremists could not be permitted to kill and injure people on the basis of sectarian differences. He said that the nurseries of extremism are also being run in the UK and the government should track those nurseries and shut them down.
-------------
Are Jews protecting mosques in London? Yes, they are
June 25th, 2013
A police force made up of Jews is protecting a variety of mosques in London following an increase in violence and attacks on the religious buildings.
This particular "police force" – based in Stamford Hill – is called Shomrim, a group of trained volunteers that patrol the area looking for anti-Semitic hate crimes or public nuisances. You can think of them as a neighborhood watch sort who is also capable of apprehending criminals until authorities arrive. All in all, the Stamford patrol has 22 members and was set up in 2008.
Recently, Mosque leaders met with the Shomrim at a Cazenove Road Mosque and Community Centre to strengthen cooperation between the two communities, the Hackney Road reports.
According to the Huffington Post, attacks on Muslim buildings have been on the rise after an improvised explosive device was found at a mosque in Walsall. The publication reported the increase in violence can also be attributed to the the death of drummer Lee Rigby.
"In our ward, the three councillors are two Charedi Jews, and one religious Muslim," Ian Sharer, a founder of the Muslim-Jewish forum, told the Huffington Post. "We have been friends for many years, and we get [along] very well.
"This seemed like a natural thing to do. This is a very serious situation, and so I thought, why not calls my friends from Shomrim? We wanted to see if we could offer them protection and also security lessons."
http://www.albawaba.com/editorchoice/are-jews-protecting-mosques-london-yes-they-are-501966
-------------
French police arrest 6 suspected radical Islamists
Reuters | Jun 25, 2013
PARIS: French police arrested six people on Monday who are suspected of belonging to a radical Islamist cell and of preparing attacks in France, a police source said.
The suspects, aged 22 to 38, were arrested in and near the Paris region. They were all known to police for various offences and one had appeared in an anti-terrorism investigation.
They can be held for questioning for up to 96 hours before judges decide whether to put them under formal investigation.
France has been on heightened security alert since January, when its military intervened in Mali to help repel al-Qaida-linked Islamist rebels who had seized control of the north of the former French colony.
A Muslim convert suspected of stabbing a French soldier in a religiously motivated attack was placed under formal investigation last month.
Alexandre Dhaussy, 22, is suspected of stabbing the soldier in the neck while he was patrolling a Paris business district, and then fleeing the scene. The soldier survived and is out of hospital.
http://timesofindia.indiatimes.com/world/europe/French-police-arrest-6-suspected-radical-Islamists/articleshow/20758484.cms
-------------
'Europe must see Islam as family member not as guest'
25 June 2013
Secretary General of the Organization of Islamic Cooperation Ekmeleddin Ihsanoglu said that Islam should be welcomed as a family member in Europe, not as a guest.
'Europe must see Islam as family member not as guest'
- SG of OIC Ihsanoglu urged a serious fight against Islamophobia to strengthen ties between Islam and Europe, to eradicate the unnecessary sensitivities
Coming to Brussels for official opening of the OIC Permanent Observer Mission to the European Union (EU) on June 25, and holding talks with EU officials, Secretary General of OIC Ihsanoglu spoke to Anadolu Agency and Turkish State Broadcaster TRT.
Ihsanoglu expressed OIC's wish to further relations with the EU via the new OIC mission they will open with the EU High Representative for Foreign Affairs and Security Policy Catherine Ashton in Brussels.
"We need to seriously fight against Islamophobia to further strengthen ties between the Islamic world and Europe and to eradicate the unnecessary sensitivities," he said.
He warned against making policies out of hatred remarks, hostility and discrimination against Islam, saying "If Islam becomes a political content, it will be a double-edged sharp knife. We observed such results in Norway, France and several places in Europe."
Appreciating the "Islamic terrorist" phrase taken out of EU vocabulary, Ihsanoglu disapproved using the definition of "jihadist" instead.
"As a matter of fact, it is those terrorists who use such definitions themselves. How come you call it jihad and do it in the name of Islam what you are doing? We must ask this question with a much higher voice. We must explain to the world public opinion that those people have no right to declare jihad, use these words and phrases, explaining clearly with historical evidences and religious justifications that jihad does not necessarily mean killing the other," he added.
Describing the exclusion of Islam by Europe as unacceptable, Ihsanoglu underscored that "Islam should be welcomed as a family member in Europe, not as a guest. As the exclusion of Islam means ignoring the influential role of Islamic civilization in the evolution of the Western civilization."
http://www.turkishweekly.net/news/152359/-39-europe-must-see-islam-as-family-member-not-as-guest-39.html
-------------
German police reported to have raided Islamist network
Jun 25, 2013
German police are reported to have carried out a series of raids against a suspected Islamist militant network.
Reports suggest the police targeted a money-laundering operation which financed terrorist activity, and people planning to use model aircraft to carry out an attack.
Flats and other premises were raided in the early hours of Tuesday in Bavaria and Baden-Wuerttemberg in the south of Germany and Saxony in the east.
Full report at:
http://www.bbc.co.uk/news/world-europe-23045561
----------
Muslim prison numbers soar as staff warn of Islamic "gang culture" in jails
23 Jun 2013
Prison officers' association boss reveals "there is clear ­evidence of radicalisation of young men... some ­individuals are bullied into conversion"
Prison officers have warned of Islamic "gang culture" in jails after ­figures showed the number of Muslim inmates has rocketed compared with other faiths.
Stats obtained by the Sunday People reveal convicts in England and Wales who say their religion is Islam have passed the 11,000 mark for the first time.
The total for Christians is 43,235, ­according to data given out under ­freedom of information laws.
Full report at:
http://www.mirror.co.uk/news/uk-news/muslim-prison-numbers-soar-staff-1982124#ixzz2XDTNdv34
-------------
Spain remands al-Qaeda suspects over Syria attacks
24 June 2013
A Spanish court on Monday remanded in custody eight suspected Al-Qaeda members accused of sending suicide attackers to the civil war in Syria, officials said.
The National Court in Madrid said the suspects were part of an international network "dedicated to radicalizing, recruiting and sending mujahedeen to Syria to wage jihad and become martyrs".
Full report at:
http://english.alarabiya.net/en/News/world/2013/06/24/Spain-remands-al-Qaeda-suspects-over-Syria-attacks-.html
-------------
U.N.'s Ban urges Lebanese army to back president
24 June 2013
U.N. chief Ban Ki-moon on Monday appealed to Lebanon's armed forces to remain loyal to President Michel Sleiman as sectarian tensions fuelled by the Syrian conflict mounted.
Ban is following events in Lebanon with "deep concern," said U.N. deputy spokesman Eduardo del Buey after 16 Lebanese troops were killed as they battled followers of a radical Sunni Muslim sheikh for two days.
"He condemns the attacks on the Lebanese Armed Forces, which have led to serious losses in the army," said del Buey.
Full report at:
http://english.alarabiya.net/en/News/middle-east/2013/06/25/U-N-s-Ban-urges-Lebanese-army-to-back-president.html
-------------
Pope Francis: Christianity is incompatible with anti-Semitism
By ALESSANDRO SPECIALE
Jun 24 2013
Vatican City - In his first official meeting with a Jewish delegation, Pope Francis on Monday reaffirmed the Catholic Church's condemnation of anti-Semitism and vowed to further deepen Catholic-Jewish relations.
"Due to our common roots, a Christian cannot be anti-Semitic," he told a delegation of the International Jewish Committee for Interreligious Consultations, the Vatican's official partner for interfaith dialogue with the world's Jews.
In his speech, Francis stated that the church condemns "hate, persecution and all manifestations of anti-Semitism."
He also reiterated that the Second Vatican Council's 1965 declaration "Nostra Aetate" remains the key point of reference for Catholic-Jewish relations.
Full report at:
http://www.sltrib.com/sltrib/lifestyle/56505631-80/jewish-francis-pope-catholic.html.csp
-------------
Berlusconi convicted for sleeping with 'that' Moroccan prostitute
June 24th, 2013
An Italian court on Monday sentenced Silvio Berlusconi to seven years in jail and banned the former premier from public office after convicting him of paying for sex with an underage prostitute and abuse of power. The judges handed down a sentence that went beyond the request of proesecuters, who had called for the 76-year-old billionaire to serve seven years.
The sentence is "completely illogical. The judges even went beyond the prosecutors' request," Berlusconi's lawyer Niccolo Ghedini told journalists after the verdict was read out.
A small group of protesters cheered and applauded outside the courtroom, and sang the national anthem.
Full report at:
http://www.albawaba.com/news/berlusconi-convicted-sleeping-moroccan-prostitute-501811
-------------
Syrian opposition's gains make peace conference unlikely - Hague
June 25th, 2013
The intensified Syrian government offensives against the opposition is damaging chances of staging a peace conference on the conflict, British Foreign Secretary William Hague said on Monday.
Noting that the UK expects the conditions of the crisis to worsen, Hague added that Britain has not yet decided if it will provide Syrian rebels with arms.
Hague called for a redoubling of international efforts to bring Syrian President Bashar Assad to the negotiating table with representatives of the opposition, AFP reported.
Full report at:
http://www.albawaba.com/news/syrian-oppositions-gains-making-peace-conference-unlikely-hague-501917
-------------
Moscow airport source confirms Snowden arrived on Sunday; Russia rejects US's allegations
Reuters | Jun 25, 2013
MOSCOW: Former US spy agency contractor Edward Snowden arrived in Moscow from Hong Kong on Sunday afternoon and was due to depart for Havana the following day, but did not use the ticket, a Moscow airport source said on Tuesday.
The source said he was travelling with Sarah Harrison. Harrison is a British legal researcher working for the anti-secrecy group, WikiLeaks.
Full report at:
http://timesofindia.indiatimes.com/world/europe/Moscow-airport-source-confirms-Snowden-arrived-on-Sunday-Russia-rejects-USs-allegations/articleshow/20761181.cms
-------------
EU agrees to continue accession talks with Turkey
AP | Jun 25, 2013
BRUSSELS: A top European Union official says the bloc has decided to revive long-dormant EU membership talks with Turkey later this year.
Commissioner Stefan Fuele said on Twitter a meeting of EU ministers in Luxembourg decided to resume the negotiations if a report assessing Turkey's situation — due in October — is approved.
Full report at:
http://timesofindia.indiatimes.com/world/europe/EU-agrees-to-continue-accession-talks-with-Turkey/articleshow/20759955.cms
----------
North America
US Arms Firm Coats Bullets with Pork 'to Deter Islamic Terrorists'
By HANNAH OSBORNE
June 24, 2013
An ammunition firm in the US is coating its bullets with pork in order to "deter Islamic terrorists".
Jihawg Ammunition, based in Idaho, said it used ballistic paint infused with pork to render the bullets "unclean for jihadists" and could "send them to hell".
On its website, the company says: "The only ammunition that provides a peaceful and natural deterrent to radical Islam.
"With Jihawg Ammo, you don't just kill an Islamist terrorist, you also send him to hell. That should give would-be martyrs something to think about before they launch an attack."
The bullets were a result of "patriots from Idaho County" sitting around a campfire and drinking, the website explained. The group was said to be disgusted that a mosque was being built at Ground Zero in New York and that a deterrent was needed to "the ever growing threat of radical Islam and Sharia Law".
"Jihawg Ammo is certified haram or unclean. According to the belief system of the radical Islamist becoming 'unclean' during jJihad will prevent their attaining entrance into heaven. Jihawg Ammo is a natural deterrent to radical and suicidal acts of violence."
Full report at:
http://www.ibtimes.co.uk/articles/482580/20130624/jihawg-ammunition-bullets-pork-deter-islamic-terrorists.htm
-------------
Florida professor's terrorism class: Muslims taught to hate 'from the cradle'
By David Edwards
June 20, 2013
A Florida professor who teaches a class on terrorism is facing a formal complaint after he claimed that Muslims are taught to hate "from the cradle."
In a letter to the University of Central Florida, the Council on American-Islamic Relations (CAIR) calls for the school to review terrorism courses taught by Professor Jonathan Matusitz, which the group says "includes inaccurate information, anti-Muslim bigotry and hostility in the form of hate speech toward Islam and Muslims."
Full report at:
http://www.rawstory.com/rs/2013/06/20/florida-professors-terrorism-class-muslims-taught-to-hate-from-the-cradle/
------------
Talks with Taliban under 'certain conditions': John Kerry
Indrani Bagchi, TNN | Jun 24, 2013
NEW DELHI: The US appeared to backtrack after India raised red flags about their outreach to the Taliban in a way that equated the insurgent group with the Karzai government.
Salman Khurshid questioned visiting US secretary of state John Kerry during the strategic dialogue this morning. Clarifying the US position, Kerry reportedly told Khurshid that this outreach in Doha was just an attempt to get Afghans to talk to the Taliban because the US feels reconciliation is necessary.
Full report at:
http://timesofindia.indiatimes.com/india/Talks-with-Taliban-under-certain-conditions-John-Kerry/articleshow/20747369.cms
-------------
US wants India to bring Hamid Karzai around
Jayanth Jacob
June 25, 2013
An America obsessed with the idea Pakistan's assistance is necessary for an orderly withdrawal from Afghanistan, pushed a soft line on Pakistan with the Indian government.
US secretary of state John Kerry, during the fourth Indo-US strategic dialogue, urged his Indian interlocutors to prod a reluctant Afghan President Hamid Karzai to come around to supporting talks with the Taliban.
Full report at:
http://www.hindustantimes.com/India-news/newdelhi/US-wants-India-to-bring-Hamid-Karzai-around/Article1-1081845.aspx
-------------
NSA surveillance prevented terror strikes: Kerry
TNN | Jun 25, 2013
NEW DELHI: Visiting US secretary of state John Kerry on Monday backed alleged snooping by US agencies saying it did not undermine civil rights of people of any country and, going by evidence available with the FBI, the exercise actually prevented terror strikes and saved lives.
Speaking at a joint press conference with foreign minister Salman Khurshid, after the fourth round of US-India Strategic Dialogue, Kerry said there was "an enormous amount of misinformation" about the work done by US authorities like National Security Agency (NSA) which allegedly accesses private internet and call data of individuals.
Full report at:
http://timesofindia.indiatimes.com/india/NSA-surveillance-prevented-terror-strikes-Kerry/articleshow/20753192.cms
-------------
India not to get access to Headley for questioning again: US
PTI | Jun 24, 2013
NEW DELHI: India will not get fresh access to Mumbai terror attack mastermind David Headley, who is currently in American jail, for questioning, the US indicated on Monday.
This was conveyed to India during the Indo-US strategic dialogue held here today for which Secretary of State John Kerry is here. India had persistently asked the US to give access to Headley for a second time to get more information about the November 2008 audacious attack.
Full report at:
http://timesofindia.indiatimes.com/india/India-not-to-get-access-to-Headley-for-questioning-again-US/articleshow/20747996.cms
-------------
Snowden says joined Booz for evidence of US spying: report
June 25, 2013
Edward Snowden took up a position at a US government defence contractor specifically to gather evidence on Washington's surveillance programmes, he told the South China Morning Post in remarks published on Tuesday. He joined Booz Allen Hamilton to collect proof about the US National
Security Agency's secret programmes with the aim of releasing the details to the media, he said in the interview on June 12.
The publication of the admission comes after Snowden left Hong Kong for Moscow, with US officials angrily demanding that Russia hand him over for trial, and slamming China for letting him go.
Full report at:
http://www.hindustantimes.com/world-news/restofasia/Snowden-says-joined-Booz-for-evidence-of-US-spying-report/Article1-1082150.aspx
-------------
Kerry heads to Saudi Arabia on Syria push
June 25, 2013
NEW DELHI, INDIA: US Secretary of State John Kerry headed Tuesday to Saudi Arabia in hopes of coordinating support for Syria's rebels amid fears that a prolonged civil war will embolden extremists.
Kerry will spend several hours in the western city of Jeddah consulting with the leadership of the oil-rich monarchy, which has been outspoken in its opposition to embattled Syrian President Bashar al Assad.
President Barack Obama is cautious about deeper US involvement in the increasingly sectarian conflict but has vowed to step up support for the rebels after concluding that Assad defied warnings and used chemical weapons.
Full report at:
http://tribune.com.pk/story/568090/kerry-heads-to-saudi-arabia-on-syria-push/
-------------
US hopeful of getting Taliban peace talks 'back on track'
June 25, 2013
WASHINGTON: The United States is still hoping to get peace talks with the Taliban and Afghan officials "back on track," a US State Department spokesperson said on Monday.
There have been some hopeful signs for the talks, Department spokesperson Patrick Ventrell told reporters, adding that "we want to see if we can get it back on track."
"We don't know whether that's possible."
Still, a new date for discussions has not yet been set and US special envoy for Afghanistan and Pakistan, James Dobbins, has not met with Taliban representatives, Ventrell added.
Dobbins to visit Pakistan
Full report at:
http://tribune.com.pk/story/567954/us-hopeful-of-getting-taliban-peace-talks-back-on-track/
-------------
FBI helps investigate attack on foreign tourists in Pakistan
ANWAR IQBAL
2013-06-25
WASHINGTON: The US Federal Investigation Agency is working with Pakistani officials in investigating the terrorist attack in which nine foreign tourists were killed, the State Department said on Monday.
The State Department condemned the attack and confirmed that an American citizen was among the victims.
Full report at:
http://beta.dawn.com/news/1020551/fbi-helps-investigate-attack-on-tourists
-------------
Mosque-building rises as Muslim American clout grows
By Angel Jennings and Teresa Watanabe
June 23, 2013
The opening this weekend of a new mosque in Rowland Heights is powerful evidence of a building boom of such facilities in Southern California and around the nation.
Over the last several years, new mosques have risen in Mission Viejo, Irvine, Anaheim, Reseda, Rancho Cucamonga, Rosemead, Diamond Bar and Tustin. Additional mosques are slated for Temecula, Ontario, Lomita and Corona.
Strikingly, the new mosques have been funded entirely by local Muslims, who began settling in the region in the 1960s. Before 2001, new mosques were often funded by foreigners; the Saudis financed the King Fahad Mosque in Culver City, and Libyans helped build Masjid Omar near USC.
Full report at:
http://www.latimes.com/local/lanow/la-me-ln-mosque-building-booms-as-muslim-american-clout-grows-20130623,0,3969372.story
------------
India
Haj Committee's 'Barring Polio-Hit, AIDS Patients from Performing Haj against Human Rights'
FIROZ ROZINDAR
Jun 25, 2013
The Indian Haj Committee under the Ministry of External Affairs apparently does not believe in meting out fair treatment to HIV/AIDS-affected and those with disabilities.
Its website, hajcommittee.com, has a clause barring the HIV/AIDS-affected and the polio-hit from going on Haj to Makkah.
The clause surfaces in the FAQ's "eligibility criteria" query in answer to which it lists those who are not eligible to perform Haj.
The link states that those "suffering from polio, tuberculosis, congestive cardiac and respiratory ailments, acute coronary insufficiency, coronary thrombosis, mental disorder, infectious leprosy, AIDS and / or any other communicable diseases or handicaps, are ineligible to perform Haj."
The barring of AIDS and polio-affected has attracted the attention of not only Islamic clerics but also human rights activists.
Veteran human rights activist Shabnam Hashmi calls such restrictions absurd and against Islamic Shariat. "Even the World Health Organisation (WHO) has made it clear that no person suffering from any disability or those afflicted with AIDS should be prevented from travelling to any country," she said.
Full report at:
http://www.thehindu.com/news/national/karnataka/barring-poliohit-aids-patients-from-performing-haj-against-human-rights/article4847257.ece
-------------
Entire nation stands united against terrorism, PM says in J&K
PTI | Jun 25, 2013
KISHTWAR, J&K: Prime Minister Manmohan Singh on Tuesday said that the entire nation stands united against terrorism which will not be allowed to succeed, a day after terrorists struck in Srinagar killing eight army men.
"I want to pay my tributes to the soldiers who laid down their lives while fighting the terrorists. I would like to make it clear that the entire nation stands united against terrorism and will not allow their nefarious designs to succeed," he said.
Noting that security was a pre-requisite for growth, Singh said the Centre and Jammu and Kashmir government will work together towards improving the situation in the state for fast and uniform development.
Full report at:
http://timesofindia.indiatimes.com/india/Entire-nation-stands-united-against-terrorism-PM-says-in-JK/articleshow/20760851.cms
-------------
Wagah-like ceremonies on Bangla border, minus the aggression
VijaitaSingh
Jun 25 2013
New Delhi : In A marked difference from the border ceremony on the India-Pakistan frontier, retreat ceremonies planned for the India-Bangladesh border will include renditions from the works of famous Bengali poet Kazi Nazrul Islam, who spoke about undivided Bengal.
India and Bangladesh decided to organise retreat ceremonies at four places on their frontier after talks in March between their border forces. It was also decided to keep the ceremony cordial, devoid of any feet stomping or aggressive body language.
Full report at:
http://www.indianexpress.com/story-print/1133480/
------------
Students' body prepares a list of demands for the Muslims in Manipur
25 June 2013
Imphal: All Manipur Muslim Students' Organization (AMMSO) organized a get-together function on June 23, 2013 at the Conference Hall of Orient Hotel at Imphal to discuss some of the key issues that the Muslim community is facing today in the State. A list of demands was also prepared to be placed before the State Government for implementation.
The gathering was attended by Advisors and Executive Members of AMMSO, President Farid Khan, General Secretary Saddam Hussain, Advisors A. Qayum, Syed Azam and Md. Aulad Shah, members, Muslim social activists, students and sympathizers. Parliamentary Secretary Md. Amin Shah graced the function as Chief Guest.
Full report at:
http://twocircles.net/2013jun25/students%E2%80%99_body_prepares_list_demands_muslims_manipur.html
-------------
Omar condemns terror attack, says it will not demoralise forces
June 24, 2013
Jammu and Kashmir chief minister Omar Abdullah on Monday condemned the militant attack on an army convoy in Srinagar, saying such strikes would not demoralise the security forces.
Immediately after the attack in which five army men were killed, the chief minister spoke to the Corps Commander of 15th Corps, Lt Gen G Singh, and expressed his condolences at the loss of lives.
Full report at:
http://www.hindustantimes.com/India-news/srinagar/Omar-condemns-terror-attack-says-it-will-not-demoralise-forces/Article1-1081678.aspx
--------
Rihai Manch appeals to women groups & activists to support Dharna outside UP Assembly
24 June 2013
Lucknow: Rihai Manch has appealed to women organisations and activists to come in support on 25th June at Manch's indefinite Dharna outside UP Assembly demanding justice for Khalid Mujahid.
Rihai Manch (Forum for the Release of Innocent Muslims imprisoned in the name of Terrorism) is on indefinite dharna outside the UP Assembly since May 20 demanding arrest of police officers involved in Khalid Mujahid's murder, issuing the RD Nimesh commission report and action report, and the immediate release of innocent Muslim youth imprisoned in the name of terrorism.
Full report at:
http://twocircles.net/2013jun24/rihai_manch_appeals_women_groups_activists_support_25_june.html
-------------
Not enough proof to convict blast accused, UP tells court
Manish Sahu
Jun 25 2013
Lucknow : The Uttar Pradesh government has informed a Gorakhpur court that there was insufficient evidence against alleged HuJI operative Tariq Qasmi in connection with the 2007 serial blasts in Gorakhpur and his conviction was, therefore, not possible.
The statement has been made in an affidavit filed by assistant district government counsel S N Pandey in the court where the government had on May 22 filed an application for withdrawal of the case against Qasmi. The Lucknow Bench of the Allahabad High Court has since stayed the process of withdrawal of cases.
Full report at:
http://www.indianexpress.com/story-print/1133454/
----------
South Asia
Afghanistan Will Never Again Be Ruled By the Taliban
Malik Achakzai
Jun 25, 2013
Last week, representatives from the United States and the Taliban began Afghanistan peace talks in Qatar. Afghan President Hamid Karzai's High Peace Council is expected to follow up with its own talks with the Taliban a few days later.
The first meeting will focus on an exchange of agendas and consultations on next steps.
The Taliban's spokesman, Zabiullah Mujahid has said the group supports the negotiating process.
Efforts toward a peace negotiation have been in process since 2010.
Still, ordinary Afghans are afraid of the possible return of the Taliban, even though the Taliban seem ready to abide by the newly-created Afghan constitution and would accept policies like women rights.
Full report at:
http://www.policymic.com/articles/49775/afghanistan-will-never-again-be-ruled-by-the-taliban
-------------
Taliban attack Afghan presidential palace, CIA office; three guards killed
Jun 25, 2013
KABUL: Taliban militants attacked an entrance to the Afghan presidential palace with gunfire and car bombs on Tuesday, just a week after insurgent leaders opened an office in Qatar for peace talks.
Three Afghan security guards were killed when Taliban gunmen and bombers attacked the presidential palace and CIA base in Kabul on Tuesday, officials said.
"Three guards assigned at the first entrance are dead and another of them is wounded," Rafi Ferdous, a government spokesman, told AFP
t was one of the most brazen attacks in the capital since President Hamid Karzai narrowly escaped assassination in April 2008 when the Taliban attacked an annual military parade in Kabul.
Full report at:
http://dawn.com/news/1020554/taliban-attack-afghan-presidential-palace-cia-office-three-guards-killed
-------------
Taliban attack in Kabul throws peace talks into further doubt
June 25, 2013
Taliban militants attacked key buildings near Afghanistan's presidential palace and the US CIA headquarters in Kabul, a brazen assault that could derail attempts for peace talks to end 12 years of war.
The Taliban, who have said they are willing to take part in talks with theUnited States and Afghan President Hamid Karzai's administration, said they launched the early morning assault, which triggered a 90-minute firefight.
A US envoy was in Kabul on Tuesday to try to smooth the way forward for the stalled talks in the Gulf state of Qatar ahead of the pullout from Afghanistan of most of the Nato-led troops next year.
Full report at:
http://www.hindustantimes.com/world-news/afghanistan/Taliban-attack-in-Kabul-throws-peace-talks-into-further-doubt/Article1-1082093.aspx
-------------
Pressure growing in PPM to quit coalition government: MP Nihan
By Neil Merrett | June 25th, 2013
Pressure is growing in the Progressive Party of Maldives (PPM) for its council to decide whether to continue backing President Dr Mohamed Waheed's government ahead of September's presidential election, a party official told Minivan News.
PPM MP Ahmed Nihan said the party has grown increasingly concerned at what it believed were "deliberate" attempts by President Waheed to try and discredit the party and its members to boost his own election campaign.
Full report at:
http://minivannews.com/politics/pressure-growing-in-ppm-to-quit-coalition-government-mp-nihan-60185
-------------
ACC defends airport privatisation deal as Adhaalath Party President insinuates bribery from GMR
By Ahmed Naish | June 24th, 2013
The Anti-Corruption Commission (ACC) has issued a press statement defending its investigative report of the airport privatisation deal signed by the previous government, harshly condemning "false and misleading" remarks by politicians of government-aligned parties.
On June 17, the ACC released a 61-page investigative report concluding that there was no corruption in the awarding of a concession agreement to a consortium of Indian infrastructure giant GMR and Malaysia Airports Holdings Berhad (MAHB) to develop and manage the Ibrahim Nasir International Airport (INIA).
Full report at:
http://minivannews.com/politics/acc-defends-report-on-airport-privatisation-deal-as-sheikh-imran-insinuates-bribery-from-gmr-60077
-------------
Kabul attacks will not derail Qatar process: Afghan Taliban negotiators
June 25, 2013
ISLAMABAD: Afghan Taliban negotiators have said that Tuesday's brazen attacks near the Afghan Presidential palace in Kabul will not affect the Qatar peace process.
The attack was carried out at the heart of Kabul city close to the Presidential Palace, the Ministry of Defence, a major ISAF base, the American embassy and dozens of other government and non-government organisations, officials say.
Full report at:
http://tribune.com.pk/story/568153/kabul-attacks-will-not-derail-qatar-process-afghan-taliban-negotiators/
-------------
Bangladesh looks for Indian Supreme Court help to train judges
TNN | Jun 25, 2013
NEW DELHI: Bangladesh Supreme Court's senior-most and lone Hindu judge, Surendra Kumar Sinha, on Monday sought assistance of India's Supreme Court in training their quota-riddled judiciary to infuse judicial discipline in them.
Justice Sinha, whose ancestors were from Bihar, was impressed by the judicial training imparted to judges in India from the trial courts till the level of the Supreme Court through state judicial academies and national judicial academy.
Full report at:
http://timesofindia.indiatimes.com/india/Bangladesh-looks-for-SCs-help-to-train-judges/articleshow/20753406.cms
----------
Ex-Jamaat men indicted for 1971 war crimes
HARON HABIB
Jun 25, 2013
For the first time in 42 years, a war crimes tribunal indicted two former Jamaat-e-Islami leaders for killing nation's top intellectuals during the liberation war.
The War Crimes Tribunal-2 indicted Chowdhury Mueen-Uddin and Ashrafuzzaman Khan, the two leaders of the infamous Al-Badr killer gang instrumental in abducting and killing dozens of Bengali intellectuals in the first and second week of December 1971, days before the Pakistan army surrendered to the joint Bangladesh-India military command in Dhaka.
Full report at:
http://www.thehindu.com/news/international/south-asia/exjamaat-men-indicted-for-1971-war-crimes/article4847274.ece
-------------
Hasina not Khaleda will be held for graft if CG comes
Jun 25, 2013
Prime Minister Sheikh Hasina would be arrested for her corruption if a caretaker government comes to power, not the opposition chief Khaleda Zia, said BNP Standing Committee Member Rafiqul Islam Mia yesterday.
She [Hasina] was involved in the Hallmark scam, Padma bridge and share market corruptions, he alleged.
Full report at:
http://www.thedailystar.net/beta2/news/hasina-not-khaleda-will-be-held-for-graft-if-cg-comes/
-------------
Mideast
Iran condemns Egypt's sectarian killings as 'contradicting Islam'
25 June 2013
The killing of four Shi'ite Egyptians near Cairo earlier this week violated the "tenets of Islam," Iran's foreign ministry said on Monday.
"The Islamic Republic of Iran denounces any act of extremism and violence which contradicts Islam and the tenets of Islam," read a foreign ministry statement published by the website of English-language news channel, Press TV.
"Iran is certain that the sensible and revolutionary Egyptian nation, through its prudent leaders ... will also exercise vigilance vis-à-vis plots to foment discord among various schools of Islam," it added.
Full report at:
http://english.alarabiya.net/en/News/middle-east/2013/06/25/Iran-Egypt-s-sectarian-killings-contradict-tenets-of-Islam-.html
-------------
Israel planning to raze Al-Aqsa to build 'second temple'
Jun 25, 2013
RAMALLAH – Israeli authorities on Monday began new excavations near Al-Aqsa Mosque Complex in occupied Jerusalem, a Palestinian foundation said.
The Al-Aqsa Foundation for Endowment and Heritage said that the Israeli authorities began the excavations in the southern part of Al-Magharebah Gate, the eastern part of the Umayyad palaces and at the entrance of the Wadi Hilweh neighborhood. The three sites are located in Jerusalem's Old City.
The foundation said that its inspection teams documented the new excavations in the three sites. It added that these excavations take place at night and are covered with tents and plastic sheets.
Full report at:
http://www.saudigazette.com.sa/index.cfm?method=home.regcon&contentid=20130625171130
-------------
Turkish PM praises police 'heroism'
Jun 25, 2013
ANKARA — Turkey's prime minister has brushed off criticism by human rights groups and some European countries, insisting police officers have displayed "legendary heroism" in quelling weeks of anti-government protests. Addressing police academy graduates at a ceremony in Ankara Monday, Recep Tayyip Erdogan said it was protesters — not police — that were violent, and praised the security forces for showing restraint.
Full report at:
http://www.saudigazette.com.sa/index.cfm?method=home.regcon&contentid=20130625171153
-------------
Far-right Israelis stir tensions over Jerusalem holy site
Jun 25, 2013
(Reuters) - Far-right Israelis are pressing for an end to an effective ban on holding Jewish prayers at a Jerusalem holy compound once dominated by Biblical temples and now home to al-Aqsa mosque, one of Islam's most revered sites.
Palestinians oppose Jewish worship at the vast stone plaza overlooking Judaism's Western Wall as a potential threat to access for Muslims.
Aware of the volatile mix of politics and religion, Israel has largely stymied such prayer for 46 years by having its police prevent Jewish worship at the site on grounds it could cause a public disturbance.
Full report at:
http://www.reuters.com/article/2013/06/24/us-palestinians-israel-jerusalem-idUSBRE95N0V520130624
-------------
Suspected Israeli extremists vandalise Palestinian areas in east Jerusalem
June 24th, 2013
"Price Tag" vandals attacked once again on Monday Palestinian property in occupied East Jerusalem, this time slashing tires of 22 cars parked in the all-Arab Beit Hanina neighborhood, according to witnesses.
The vandals, believed to be Israelis, spray painted slogans on a wall saying "We will not remain silent to stone throwing," and the Star of David was painted on one of the damaged vehicles.
Full report at:
http://www.albawaba.com/news/suspected-israeli-extremists-vandalise-palestinian-areas-east-jerusalem-501676
------------
BBC reporters 'intimidated' by Turkey
Jun 25, 2013
The BBC says it is "very concerned" by a campaign by the Turkish authorities to "intimidate its journalists".
In a statement, the corporation says one reporter has been "attacked on social media by the mayor of Ankara for her coverage of the current protests".
On Sunday, Mayor Ibrahim Melih Gokcek described BBC Turkish reporter Selin Girit as an "English agent", launching a campaign against her on Twitter.
This triggered a counter-campaign which became Turkey's most trending topic.
Twitter 'war'
In the statement on Monday, BBC Global News Director Peter Horrocks said that "a large number of threatening messages have been sent to one of our reporters".
Full report at:
http://www.bbc.co.uk/news/world-europe-23036924
------------
Arab World
Qatar's emir announces transfer of power to son Sheikh Tamim
25 June 2013
Qatar's Sheikh Hamad bin Khalifa al-Thani announced in a live televised address to the nation on Tuesday that he will transfer power to his son Sheikh Tamim.
In a speech broadcast on Qatar state television, Sheikh Hamad, 62, said it was time for "a new generation to take over." But he made no direct mention of Prime Minister and Foreign Minister, Sheikh Hamad bin Jassim al-Thani, who had been widely expected to also step down.
"God knows that I didn't want power in itself and I didn't seek it for personal reason," said the emir, who overthrew his father in a bloodless coup in 1995.
Sheikh Tamim bin Hamad al-Thani will be the new emir of a gas-rich nation which has punched above its weight in recent years.
Full report at:
http://english.alarabiya.net/en/News/middle-east/2013/06/25/Qatar-s-emir-announces-transfer-of-power-to-son-Sheikh-Tamim.html
-------------
Ten car bombs kill 39 in Iraqi capital
25 June 2013
Ten car bombs exploded across the Iraqi capital on Monday, killing nearly 40 people in markets and garages on the evening of a Shiite Muslim celebration, police and medical sources said.
Some of the attacks targeted districts where Shiites were commemorating the anniversary of the birth of a revered Imam, but there also were explosions in mixed neighborhoods and districts with a high population of Sunnis.
The violence reinforced a growing trend since the start of the year, with more than 1,000 people killed in militant attacks in May alone, making it the deadliest month since the sectarian bloodletting of 2006-07.
Full report at:
http://english.alarabiya.net/en/News/middle-east/2013/06/25/Ten-car-bombs-kill-39-in-Iraqi-capital.html
-------------
Twin suicide bombs kill 8 Iraqi Turkmen
Jun 25 2013
TIKRIT:Two suicide bombers killed at least eight Iraqi Turkmen on Tuesday when they blew themselves up at a protest by members of the ethnic minority group, police said.
The attackers walked into the encampment on the Baghdad-Kirkuk highway, near the town of Tuz Khurmato, 170 km north of the Iraqi capital, where Turkmen were protesting against what they saw as government failure to protect them.
Tuz Khurmato is a disputed area with a mixed population of ethnic Kurds, Arab Sunnis and Shia Turkmen.
Full report at:
http://dawn.com/news/1020689/twin-suicide-bombs-kill-8-iraqi-turkmen
---------
3 killed in Iraqi Shiite pilgrims minibus bombing
Jun 25, 2013
The minibus was carrying Shiite pilgrims to Karbala for the annual Shabaniyah festival
Iraqi officials said a roadside bomb hit a minibus carrying Shiite pilgrims to the holy city of Karbala, killing three.
Police and hospital officials said the bus was struck on Tuesday about 55 km south of Baghdad while it was travelling between the towns of Musayyib and Iskandariyah. Another 15 were wounded, they added.
Tens of thousands of Shiites are massing in the holy city of Karbala, 80 km south of Baghdad, for the annual festival of Shabaniyah marking the anniversary of the birth of the ninth-century Shiite leader known as the Hidden Imam.
Iraq is weathering its deadliest outburst of violence since 2008.
http://www.thehindu.com/news/international/world/3-killed-in-iraqi-minibus-bombing/article4849837.ece
-------------
Lebanese Troops search for Sunni cleric, Ahmed al-Assir in South Lebanon
Jun 25, 2013
Lebanese army forces searching for an influential Sunni cleric who has backed Syrian rebels were forced on Tuesday to defuse bombs planted by his followers while on the run in southern Lebanon.
Ahmed al-Assir, who supports opponents of Syrian President Bashar al-Assad, had fled his complex following clashes between his followers and Syrian troops in the southern Lebanese port city of Sidon that left at least 18 soldiers dead.
Full report at:
http://www.thehindu.com/news/international/world/troops-search-for-sunni-cleric-in-south-lebanon/article4849817.ece
---------
Radical Muslim Brotherhood Gets More US Tax Dollars Despite Terror Ties
6/24/2013
JAY SEKULOW
The news from Egypt is grim.
Egypt's Muslim Brotherhood president, Mohammed Morsi, made international headlines this week as he appointed Adel Al Khayat as governor of Luxor, an ancient Egyptian city that is key tourist destination.
The problem with Mr. Khayat? He just happens to lead the "political" arm of a terrorist organization that massacred tourists in Luxor in 1997. The details of the attack are beyond grisly, with many of the dead disemboweled and notes "praising Islam" placed inside their mutilated bodies.
Full report at:
http://www.charismanews.com/opinion/39997-radical-muslim-brotherhood-gets-more-us-tax-dollars-despite-terror-ties
-------------
Iraqi PM Maliki fears spillover of the Syrian crisis
24 June 2013
Iraqi Prime Minister Nuri al-Maliki expressed fear of a possible spillover of the Syrian civil war into Iraq, adding, saying Iraq will be harmed if Islamists fundamentalists come to power in a post-Assad era.
"I am m afraid for the unity of Iraq from the escalating conditions in the region and I fear that there are serious projects to divide what has already been already divided by Sykes–Picot Agreement," Maliki told Al Arabiya in a special interview broadcast on Monday.
Full report at:
http://english.alarabiya.net/en/News/middle-east/2013/06/24/Iraqi-PM-Maliki-afraid-of-Syrian-crisis-spillover.html
-------------
Islamic finance lobby planning regional network
Jun 25, 2013
DUBAI – A Bahrain-based association which lobbies on behalf of Islamic finance says it plans to expand beyond the Gulf, so that it can shape rules and practices in new markets as they grow.
The General Council for Islamic Banks and Financial Institutions (CIBAFI), a non-profit organization headquartered in Manama, has traditionally focused on neighboring countries, which form a core market for the industry.
But Omar Hafiz, who took over last year as secretary-general of the body, said he was keen to enlarge its geographic scope while engaging national regulators more actively.
Full report at:
http://www.saudigazette.com.sa/index.cfm?method=home.regcon&contentid=20130625171120
-------------
Al Assad will not cede power at Geneva meeting
June 24, 2013
Damascus: Syrian President Bashar Al Assad will not step down at a proposed peace conference in Geneva but will only discuss the formation of a national unity government, the foreign minister said on Monday.
"President Bashar Al Assad will not resign, Foreign Minister Walid Mua'alem said. "If your condition [for talks at Geneva] is President [Al] Assad's resignation, don't bother coming.
Full report at:
http://gulfnews.com/in-focus/syria/al-assad-will-not-cede-power-at-geneva-meeting-1.1201450
-------------
Syria military battles rebels in eastern Damascus
Reuters | Jun 25, 2013
BEIRUT: Syrian forces loyal to President Bashar al-Assad hit rebel-held eastern districts of Damascus on Tuesday with mortar bombs, artillery and air strikes, opposition activists said.
The assault was focused on Zamalka and Irbin, on the edge of the government-controlled centre of the capital, according to the pro-opposition Syrian Observatory for Human Rights.
Rebels in the capital's outskirts say they are facing a slow but steady army advance. A rebel push into the city a year ago was seen at the time as heralding Assad's fall, but his forces, with support from his Shi'ite Muslim allies, have fought back.
Full report at:
http://timesofindia.indiatimes.com/world/middle-east/Syria-military-battles-rebels-in-eastern-Damascus/articleshow/20761533.cms
-------------
Pakistan
'Violence has influenced art tremendously in recent times in Pakistan'
Jun 25, 2013
KARACHI, June 24: As artists are greatly affected by their surroundings, not only the death and destruction caused by bomb blasts, gun attacks and arson activities but also the subsequent changes in lifestyle of people and their emotions associated with growing violence are bound to reflect in their work, say artists and art critics.
"Art is an outcome of external influences that are slowly or forcefully assimilated through the artist's vision."
The intense level of violence and insecurity experienced by artists (and the general pubic) in Pakistan, has filtered into the work that is being produced in Pakistan over the last decade," says artist and curator Naiza H. Khan.
Full report at:
http://dawn.com/news/1020670/violence-has-influenced-art-tremendously-in-recent-times
-------------
TTP supports US-Afghan Taliban talks in Qatar
ZAHIR SHAH SHERAZI
Jun 25, 2013
PESHAWAR: The Pakistani Taliban said on Tuesday that it supports peace negotiations between the US and the Afghan Taliban, a week after the Afghan insurgent leaders opened a political office in Qatar.
Spokesperson for the banned Tehrik-i-Taliban Pakistan (TTP), Ehsanullah Ehsan, in a video interview, said that the banned organisation had vowed allegiance to Mullah Omar and that any decision taken by the Afghan Taliban chief would be accepted.
Full report at:
http://dawn.com/news/1020677/ttp-supports-us-afghan-taliban-talks-in-qatar
-------------
Security forces in Balochistan should operate within the law: HRCP
SYED ALI SHAH
Jun 25 2013
QUETTA: The Human Rights Commission of Pakistan has urged security forces and intelligence agencies in Balochistan to "operate within the Constitution and law".
Addressing a press conference after her visit to Balochistan on Tuesday, renowned human rights activist and HRCP member Asma Jehangir said there were continuing reports of serious human rights violations, enforced disappearances, torture and extra- judicial killings in the insurgency-hit province.
Full report at:
http://dawn.com/news/1020688/security-forces-in-balochistan-should-operate-within-the-law-hrcp?view=print
-----------
Gilani demands judges to be tried with Musharraf
June 25, 2013
Former Pakistani premier Yousuf Raza Gilani has demanded that Pakistani judges who endorsed the October 1999 coup, led by former army chief Pervez Musharraf, should also be charged with treason. Gilani, a senior leader of the Pakistan People's Party, made the demand after Prime Minister
Nawaz Sharif on Monday announced that his government would put Musharraf on trial for high treason for violating the Constitution twice.
In May 2000, a 12-judge bench of the Supreme Court had unanimously validated the October 1999 coup and granted Musharraf executive and legislative authority for three years.
Full report at:
http://www.hindustantimes.com/world-news/pakistan/Gilani-demands-judges-to-be-tried-with-Musharraf/Article1-1081912.aspx
-------------
Imran demands national policy on terrorism
Jun 25, 2013
PESHAWAR: Pakistan Tehrik-i-Insaf (PTI) Chairman Imran Khan on Monday demanded of the federal government devise a national policy for countering terrorism in the country suggesting that Pakistan should separate itself from the US led war on terror.
While addressing a press conference on his first visit after his party formed government in Khyber Pakhtunkhwa province, he said the federal government should call a meeting, which should be briefed by the army chief. "In that meeting KP chief minister, I as chairman PTI and others should sit to know what our army is doing and what is their program."
"We should be on the same page and devise a national policy," he said adding that there were different types of terrorism ongoing in the country which need different strategies to counter them.
Full report at:
http://beta.dawn.com/news/1020480/imran-demands-national-policy-on-terrorism
-------------
Freedom of information bill to be tabled in Khyber-Pakhtunkhwa Assembly
June 25, 2013
PESHAWAR: The provincial government will table a law on freedom of information, said Minister for Finance Sirajul Haq on Monday.
Speaking on the floor of the house, Haq said the law will make access to information easier and lead to greater transparency in the dealings of government departments. He was responding to members' complaints while discussing their demands for grants.
The minister said information about why projects are delayed is not available and corruption prevails because of the absence of such a law. "Once enacted, a freedom of information law would put an end to various complaints about government departments," Haq said.
Full report at:
http://tribune.com.pk/story/567796/freedom-of-information-bill-to-be-tabled-in-khyber-pakhtunkhwa-assembly/
-------------
Pakistani users cross 9 million mark on Facebook
June 25, 2013
Pakistan becomes 27th most popular country on Facebook.
Users of social networking site Facebook in Pakistan have crossed the nine million mark, making Pakistan the 27th most popular country on Facebook, reported ProPakistani on Tuesday.
Out of these nine million users, 70% are aged 25 years or younger, while male users are 6.4 million in number and females 2.7 million.
According to an infographic by ThirdWorldStrategy.com, around 44,000 new Pakistani users join Facebook every week.
The report also reveals that over two million users are college graduates.
http://tribune.com.pk/story/568124/pakistani-users-cross-9-million-mark-on-facebook/
-------------
Musharraf charged in Bhutto killing case
PTI | Jun 25, 2013
ISLAMABAD: Compounding his legal woes, Pakistani investigators today included ex-military ruler Pervez Musharraf in the list of main accused who conspired to assassinate former Prime Minister Benazir Bhutto in 2007.
The Federal Investigative Agency (FIA) submitted a chargesheet against 69-year-old Musharraf including him in the list of main accused in the case in the Anti-Terrorism Court (ATC) in Rawalpindi.
Full report at:
http://timesofindia.indiatimes.com/world/pakistan/Musharraf-charged-in-Bhutto-killing-case/articleshow/20762113.cms
-----------
Taliban suspect involved in PTI MPA murder arrested: police
Jun 25 2013
ISLAMABAD: Police in the federal capital have arrested two alleged Taliban terrorists, claiming one of them to be the primary suspect in the murder of Khyber Pakhtunkhwa provincial lawmaker Fareed Khan.
MPA Fareed Khan, who was elected as an independent candidate from the KP-42 seat and later joined the Pakistan Tehrik-i-Insaf (PTI), was gunned down on June 3 in Hangu.
In a press conference on Tuesday, Senior Superintendent of Police (SSP) Yaseen Farooq claimed that they one of the suspects arrested, identified as Atifullah, was a member of the banned militant group Tehrik-i-Taliban Pakistan (TTP) and was involved in the killing of the KP lawmaker.
Farooq said the other suspect was identified as Abid Khan and as also an alleged member of the TTP.
http://dawn.com/news/1020686/taliban-suspect-involved-in-pti-mpa-murder-arrested-police
---------------
Africa
4 Boko Haram members dressed as women arrested in Borno
25 June 2013
RESIDENTS of Gwange area in Maiduguri, the Borno State capital has restricted their women from going out in the evening following reports that Boko Haram sect members now resort to wearing women's clothing to go out and perpetrate evil or try to escape arrest by soldiers and vigilante youths in the area.
Nigerian Tribune gathered that, four Boko Haram members were arrested on Saturday in Gwange ward wearing women's clothing and trying to escape arrest as a result of pressure mounted on them in the area by the vigilante youths who have been seriously hunting for the sect members particularly in Gwange area of the metropolis.
Full report at:
http://tribune.com.ng/news2013/en/component/k2/item/15184-4-boko-haram-members-dressed-as-women-arrested-in-borno.html
-------------
From Femen to Salafism: Behind Tunisia's Chaos
June 18th, 2013
As Tunisia's post-dictatorship constitution is being forged through a democratic and messy process in a former palace of the Ottoman bey, the local Al-Qaeda affiliate might be planting explosive mines near the Algerian border—and the press is aflame with coverage of culture clashes between extremists of stringy beards and perky breasts.
The story of Amina Tyler, 19-year old French-Tunisian whose provocative nude political statements aroused liturgical lusts, has expanded beyond just one woman and her critics. With their Tunisian comrade forced to wear a white robe while on trial, three sextremist colleagues from Europe flew to Tunisia, ready to bare all in support of Tyler. The resulting half-dozen slipped nips enraged political activists—both Tunisian feminists and Islamists—and landed the trio four months each in Tunisian jail. Tyler got two years.
Full report at:
http://www.albawaba.com/news/femen-salafis-behind-tunisias-chaos-500370
------------
Nigeria executes prisoners for first time since 2006
Jun 25, 2013
Four prisoners have been hanged in southern Nigeria, officials say, in what are believed to be the first executions for seven years.
The justice commissioner for the state of Edo, Henry Idahagbon, told reports that the prisoners had been convicted of armed robbery or murder.
Amnesty International said the executions represented "a truly dark day for human rights" in Nigeria.
More than 1,000 prisoners in Nigeria are believed to be on death row.
Local media say President Goodluck Jonathan recently asked state governors to sign death warrants in an effort to reduce crime.
Full report at:
http://www.bbc.co.uk/news/world-africa-23041746
------------
Amnesty International condemns 'homophobia' in Africa
Jun 25, 2013
Homophobic attacks have reached dangerous levels in sub-Saharan Africa and must stop, Amnesty International has said in a report.
Governments are increasingly criminalising "homosexual acts" by seeking to impose new laws and draconian penalties, it adds.
This sends the "toxic message" that lesbian, gay, bisexual and transgender people are criminals, the report says.
Some of the continent's leaders say homosexuality is un-African.
In 2011, the US and UK hinted that they could withdraw from countries which did not respect homosexual rights on the socially conservative continent.
Full report at:
http://www.bbc.co.uk/news/world-africa-23033423
-------------
Malawi Muslims Urged to Live Qur'an
24 June 2013
CAIRO – Celebrating the best memorizers of the Noble Qur'an, Muslim leaders in Malawi have urged their community to preserve and instil the Qur'anic teachings in the soul of their children to help boost the development of their country.
"Malawi would have been a better place to live should Malawians recognize and adhere to the teachings of the Holy Qur'an," Ibrahim Milanzi, director of Al-Baraka Charity Trust, told Nyasa Times on Monday, June 24.
Speaking at a celebration for winners of the Qur'an Recitation Competition at Iqra Propagation Centre, Milanzi regretted that Islamic development was below standard in the African country.
Full report at:
http://onislam.net/english/news/africa/463254-malawi-encourages-muslims-to-live-quran.html
-------------
Southeast Asia
Police report over Facebook post on Islam and Prophet Muhammad
JUNE 25, 2013
Parti Cinta Malaysia has lodged a police report against the owner of Facebook account for allegedly insulting Islam and Prophet Muhammad.
The party's vice-president, Huan Cheng Guan said they wanted police and the Malaysian Communication and Multimedia Commission (MCMC) to take stern action against the account owner.
"The account owner is irresponsible and obviously has insulted Islam and Prophet Muhammad in her comments today and many Muslims are angered by her actions," he told reporters after lodging the report at the Perai Police Station in Butterworth yesterday.
The account owner is alleged to have commented that Islam was a religion plagiarised from Christianity.
Huan said the party had set up a special team, called Semut, participated by more than 200 people around the country to monitor social media websites and blogs. - Bernama, June 25, 2013.
http://www.themalaysianinsider.com/malaysia/article/police-report-over-facebook-post-on-islam-and-prophet-muhammad/
-------------
Philippine Islamic militants seize local film-makers
24 Jun 2013
Islamic extremists kidnapped two Filipina Muslim film-makers in the southern Philippines as they were working on a movie about the area's impoverished residents, authorities and a friend of the victims said Monday.
Members of the Abu Sayyaf group, which frequently kidnaps locals and foreigners in the south to extort ransoms, abducted the sisters as they were visiting strife-torn Jolo island on Saturday, said military officials.
Full report at:
http://english.ahram.org.eg/NewsContent/2/9/74825/World/International/Philippine-Islamic-militants-seize-local-filmmaker.aspx
-------------
Contempt of court as the judge's shield in Indonesian justice system
Frans H. Winarta
June 24 2013
Indonesia's criminal justice system historically came from the Netherlands, which previously adopted the French criminal justice system (Code de Penal). However, the development of the legal community has been so advanced that it is inevitable that the common law and civil law systems have influenced one another.
This also happens to the Criminal Law and Criminal Procedural Law, which are influenced by the legal principles of common law, especially in the criminal justice system.
The continental criminal justice system (civil law) which is known as the "interrogation by magistrate" has been influenced by the Anglo-Saxon criminal justice system (common law) which is known as "the battle of learned counsel" between the advocate and prosecutor.
Full report at:
http://www.thejakartapost.com/news/2013/06/24/contempt-court-judge-s-shield-indonesian-justice-system.html
-------------
Indonesia demands compensation over hajj numbers
ARTICLEPHOTOS
By Daniel Shane
Monday, 24 June 2013
The government of Indonesia has demanded compensation from Saudi Arabia over reported losses incurred by the Gulf kingdom's decision to cut the global quota for hajj pilgrims.
Saudi earlier this month unexpectedly reduced the number of overseas Muslims permitted to travel to Makkah on Islamic pilgrimage this year by 20 percent.
More than 2m Muslims around the world travel to Saudi on hajj and umrah, with the next pilgrimage season set to start in September. Indonesian authorities claim that they have already paid out close to $70m on travel and accommodation for citizens of the South-East Asian nation. Indonesia's own quota has been cut to 168,000.
Full report at:
http://www.arabianbusiness.com/indonesia-demands-compensation-over-hajj-numbers-506271.html
-------------
URL: https://newageislam.com/islamic-world-news/new-age-islam-news-bureau/somali-youth-stabs-namazis-for-not-saying-'amen'-loudly-in-the-wahhabi-way/d/12274