New Age Islam News Bureau
15 Jun 2019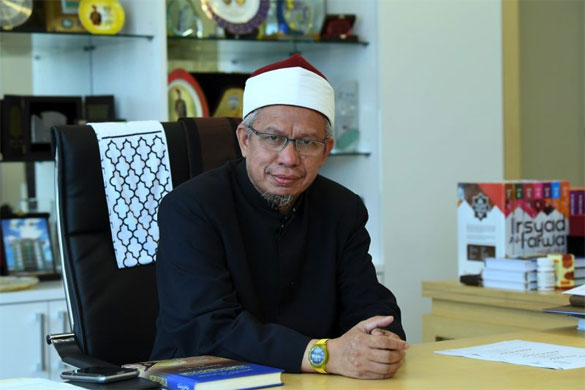 Federal Territories Mufti Datuk Zulkifli Mohamad Al-Bakri says the accuser must produce four witnesses to support the allegation that they clearly saw the act being committed. — Bernama pic
----------
• Sodomy Accusation without Providing Four Witnesses Is a 'Qazaf' Offence, Says Federal Territories Mufti
• UN Official Accused of Legitimising China's Detention of Uighur Muslims by Visiting Xinjiang Province
• Rohingya Refugee Crisis Must Be Resolved Forthwith To Avoid Emergence of another ISIS Battleground
• Xi Offers Support For Better India-Pakistan Ties
• Case of Allegations Against Maulana Kalbe Jawad Takes New Turn; Girl Reveals Shia Waqf Board Chairman's Role In The Conspiracy
• Sikh Jatha Not Allowed To Go To Pakistan, New Delhi Denies Clearance to Special Train for Sikh Pilgrims
• US, Argentina Hold Workshop on Countering Hezbollah Terror
• Iraqi Shi'ite Groups Deepen Control in Strategic Sunni Areas
• London Bomb Factory Is a Sign of Iran's Widening Campaign of Terror
Southeast Asia
• Sodomy Accusation without Providing Four Witnesses Is a 'Qazaf' Offence, Says Federal Territories Mufti
• UN Official Accused of Legitimising China's Detention of Uighur Muslims by Visiting Xinjiang Province
• One Million Signatures Campaign to Fight against Zakir Naik Extradition
• Opportunities for Growth: Indonesia's Gulf Connections
--------
South Asia
• Rohingya Refugee Crisis Must Be Resolved Forthwith To Avoid Emergence of another ISIS Battleground
• Xi Offers Support For Better India-Pakistan Ties
• Five Suspects In Easter Bombings Extradited To Sri Lanka From A Middle Eastern Country
• Bangladesh's 201-Dome Mosque Becomes Center of Attraction
• Suicide bomber kills 9 in eastern Afghanistan
• 7 Taliban militants killed, 4 house-bone IEDs destroyed in Logar and Kandahar
• Afghan Special Forces rescue soldiers from a Taliban prison in Ghor
• 15 Taliban militants killed in Special Forces operation, airstrikes in Ghazni
• Freed Taliban fighters will be 'peace envoys,' says Ghani
--------
India
• Case of Allegations Against Maulana Kalbe Jawad Takes New Turn; Girl Reveals Shia Waqf Board Chairman's Role In The Conspiracy
• Sikh Jatha Not Allowed To Go To Pakistan, New Delhi Denies Clearance to Special Train for Sikh Pilgrims
• Second Arrest in Coimbatore Islamic State-Inspired Terror Module Case
• PM Narendra Modi slams terror factories, Bishkek Declaration backs him
• Pakistan Claims India Refused To Let Its Train Cross Border to Bring 200 Sikh Pilgrims
• J-K: Four journalists allegedly roughed up by police while covering encounter in Pulwama
• When Rohingya refugees fled to India, hate on Facebook followed
--------
Arab World
• US, Argentina Hold Workshop on Countering Hezbollah Terror
• Iraqi Shi'ite Groups Deepen Control in Strategic Sunni Areas
• The Kidnapped Yazidi Children Who Don't Want To Be Rescued From ISIS
• Escalation continues in Idlib despite cease-fire claims
• An Isis killer and an unlikely hero have heaved open the cracks in Lebanese politics
• Egypt officials say roadside bomb wounds 6 police in Sinai
• US Not Disclosing Fate of Tens of Iraqi ISIL Commanders Arrested in Syria to Baghdad Government
• Bodies of More US, ISIL Victims Found in Raqqa
• Hundreds More Flee US-Controlled Refugee Camp in Homs
• Russia, Syria bomb gathering of Jabhat al-Nusra ringleaders
• Top Bahraini court upholds jail terms against dozen anti-regime activists
--------
Mideast
• London Bomb Factory Is a Sign of Iran's Widening Campaign of Terror
• Senior Cleric Lauds Leader's Stances on US' Offer for Talks
• The terrorism of Iran and its militias must be confronted
• US says video shows Iran removing mine from stricken tanker
• Turkey refuses Russian 'excuse' over Syria strikes
• Arab Coalition strikes Houthi positions in Yemen's Sanaa
• Coalition: Saudi Arabia intercepts five Houthi drones in new attack
• Rouhani tells SCO summit: US poses 'serious threat' to world
• President Xi: China to promote ties with Iran no matter what
• Israeli forces injure 49 civilians in Gaza
• Saudi Arabia's air defense forces shot down five Houthi drones aimed at Asir region
--------
Africa
• Islamist Insurgents Overrun Nigerian Army Base In Northeast - Security Sources
• Cameroon Says 88 People Killed in Suspected Boko Haram Attack
• 4 al-Shabab militants killed in Kenya's coast in botched attack
• Tunisian Who Withheld Info About ISIS-affiliated Brother Sentenced to 10 Years
• Islamic State arrival in Mozambique further complicates Cabo Delgado violence
• Sudan says military council suspends decree on UN sites
• UN suspends handover of camps in Sudan's Darfur
• Somalia: Premature IED Detonation Kills 4 Al-Shabaab Militants in Garissa, Kenya
• Kenya Says Al-Shabaab Members Died in Premature Bomb Blast
• Somalia: Time to Consider Negotiating With Al-Shabaab in Somalia?
--------
North America
• U.S. Special Forces Battle against ISIS Turns to Containment, and Concern in Afghanistan
• Jew and Muslim Touched By Shootings Unite To Speak Against Religious Hatred
• US focused on building international consensus following attacks in Middle East
• Congress will block Trump's arms sales to Saudi Arabia: Pelosi
• White House releases update on global counterterrorism efforts
• Trump says wants Iran 'back at the table' after tanker attacks
• US sanctions on Turkey may open Pandora's box at NATO
• US stands with Turkey in fighting terrorism: official
--------
Europe
• Increasing Anti-Muslim Attacks Worry Islamic Community In Germany
• Amid Sahel violence, France seeks more European Special Forces
• U.S. Congressmen To Merkel: Designate Hezbollah A Terror Group
• Sajid Javid and the complex life of a Muslim Conservative leadership hopeful
• Russia says interested in energy investment in Iran
• UK: Iran 'almost certainly' behind tanker attacks
• Six orphans from ISIS families arrive in Belgium
• Monitor: regime and Russian bombardment kill 28 in north-west Syria
--------
Pakistan
• China Praises Frequent Xi-Imran Meetings
• Pak lawyers hold nationwide protests as proceedings against senior judges begin in SC
• Extradition process for Dar, Nawaz's sons to begin soon: Fawad
• Zardari wants debt probe body to start with Musharraf era
• Mystery surrounds SJC hearing of references against judges
• NAB seeks Faryal Talpur's physical remand from Islamabad's accountability court
• PM Imran is a devout Muslim without a beard, Fawad says
• Imran Khan makes veiled attack on India over Kashmir during address at SCO Summit
Compiled by New Age Islam News Bureau
URL: https://www.newageislam.com/islamic-world-news/sodomy-accusation-without-providing-four/d/118895
-------
Sodomy Accusation without Providing Four Witnesses Is a 'Qazaf' Offence, Says Federal Territories Mufti
14 June 2019
PUTRAJAYA, June 14 ― Accusing someone of committing sodomy is a "qazaf" offence if the sexual misconduct is not proven by four witnesses or without a confession by the accused, said Federal Territories Mufti Datuk Zulkifli Mohamad Al-Bakri.
In Islam, he said, the burden of proof is on the accuser or person who brings the claim, while the person who is being accused may take an oath to tell the truth on the accusation.
"In this way, the accuser must produce four witnesses to support the allegation that they clearly saw the act being committed.
"In the case of the video recording, the offence must be proven by the testimony of four witnesses who should be impartial, not blind and are righteous Muslims," he said when met by reporters at an Aidilfitri event held at his office here today.
Zulkifli was commenting on the qazaf complaint filed by Economic Affairs Minister's political secretary, Muhamad Hilman Idham at the Federal Territories Islamic Religious Department (Jawi) over the dissemination of the sex video purporting to implicate the minister, Datuk Seri Mohamed Azmin Ali.
Mohamed Azmin had also vehemently denied the allegations made by an individual who tried to link him to the sex video.
Qazaf is a syariah criminal offence which refers to the act of accusing someone of committing illicit sex without procuring four witnesses to support the allegation.― Bernama
https://www.malaymail.com/news/malaysia/2019/06/14/sodomy-accusation-without-providing-four-witnesses-is-a-qazaf-offence-says/1762280
--------
UN official accused of legitimising China's detention of Uighur Muslims by visiting Xinjiang province
Jun 15, 2019
A visit by the UN's counterterrorism chief to China's western Xinjiang region has sparked outrage from human rights groups who say it legitimises Beijing's treatment of more than one million Uighur Muslims detained there.
Beijing has long argued that its use of detention centres in the region is justified in order to help stamp out extremism and give people new skills. But the complexes have seen China condemned internationally, with accusations of widespread abuses, disappearances and arbitrary detentions targeting the Muslim community.
The UN's high commissioner for human rights, Michelle Bachelet, requested permission to visit Xinjiang and assess the situation in December. On Thursday, China's envoy to the UN in Geneva said they were yet "to define a time which is convenient to both sides".
Yet it seems a convenient time was found for a trip by Vladimir Voronkov, a former Russian diplomat and the UN's undersecretary general for counterterrorism. His visit, first reported by Foreign Policy magazine and later confirmed by a UN spokesperson, sees him become the highest-level UN official to visit the restive region.
Details of Mr Voronkov's itinerary were not immediately revealed, but UN spokesperson Farhan Haq did issue a statement saying the UN's counterterrorism office always worked to ensure that measures used to fight terror respected human rights.
Louis Charbonneau, the UN director for Human Rights Watch, told Foreign Policy that Mr Voronkov's visit was "handing China a propaganda victory".
"The UN allowing its counterterrorism chief to go to Xinjiang risks confirming China's false narrative that this is a counterterrorism issue, not a question of massive human rights abuses," he said.
And Prince Zeid Ra'ad Al Hussein of Jordan, the former UN human rights commissioner who clashed with China on a number of occasions, said a simple government-controlled visit to Xinjiang would be "quite useless, rais[ing] dramatically the possibility of staging and whitewash".
The UN formally raised concerns over the human rights situation in Xinjiang during a visit by secretary general Antonio Guterres to China in May. At the request of some western countries, he told China's prime minister that rights in Xinjiang "must be respected".
China insisted on Thursday that an invitation to rights chief Ms Bachelet "is always there", with envoy Chen Xu praising her approach of "dialogue and cooperation" and contrasting it to that of her predecessor Prince Zeid.
"We hope to see the high commissioner pay a visit to China including a trip to Xinjiang to see by herself ... Seeing is believing," Mr Chen told a news conference.
https://www.independent.co.uk/news/world/asia/china-uighur-muslims-xinjiang-detention-centre-un-vladimir-voronkov-a8958446.html
--------
Rohingya refugee crisis must be resolved forthwith to avoid emergence of another ISIS battleground
June 15, 2019
In 2017, as Myanmar military began a crackdown on the Rohingya ethnic minority group, over one million fled the Rakhine state and took refuge in Bangladesh. In today's world, Rohingya refugee is the highest size of refugees. A developing nation like Bangladesh has to bear the expenditure of hundreds of millions of dollars each year towards food, housing, medical and other basic needs of these unfortunate people. Ever since the emergence of this crisis, Bangladeshi Prime Minister Sheikh Hasina and her government have been relentlessly trying to mobilize global communities in putting pressure on Myanmar in immediately resolving the crisis. Unfortunately, until now, none of the mighty nations in the world, including the United States, China, Russia, and India, in particular, are showing real interest in this issue, except for some mere lip-service, while China and India in particular, as well as Russia, are silently siding towards Myanmar.
Why world powers are silent on Myanmar issue
According to Myanmar's own Department of Geological Survey and Mineral Exploration (DGSE), there is a huge stock of mineral resources such as gold, copper, tin, and zinc, within the Rakhine state, which are yet to be explored. In addition to this, there are potential gas and oil reserves. It may be mentioned here that, several nations are already competing – either openly or discreetly in deepening relations with Myanmar with the hope of getting a stake in the huge stock of mineral resources within the Rakhine state as well as other parts of the country. For this particular reason, many of the nations, particularly China and India even are shy in uttering the word 'Rohingya' thinking it may hurt their Burmese counterpart.
Every nation is actually eyeing on Myanmar's natural resources and that is one of the key reasons that stop them from speaking out loud enough on the Rohingya issue. In this case, China and India already have greatly succeeded in deepening relations with Myanmar, and most definitely, for this reason, both the nations are unwilling to annoy Myanmar by helping Bangladesh in a real sense in resolving the crisis.
Rohingya a crisis is not a lone burden for Bangladesh and Myanmar
Until now, everyone in the world may think, Rohingya refugee the issue is a lone burden on Bangladesh and Myanmar and it is the responsibility of Dhaka and Naypyitaw to resolve the matter through "mutual dialogues". What some of the countries do not realize is, for Myanmar, it is actually a priority in keeping the Rohingyas out of the land for the sake of ensuring a favorable atmosphere in the Rakhine state, which would enable Naypyitaw in having foreign investors in larger number for investing billions of dollars in the exploration of mineral resources.
Why Myanmar wants Rohingyas out of the land
The 1.5 million Muslim population in the Rakhine state in Myanmar actually is considered as a liability than human resources by the policymakers in Naypyitaw. The main reason behind such perception is –the majority of these Rohingyas are uneducated, unskilled and to some extent radicalized Muslims. Rohingyas have tried in 1947 and again in 1971 for making Rakhine state a part of the then East Pakistan and then Bangladesh. It means they are not loyal to Naypyitaw. The reason behind such sentiment is decade-old persecution and hostilities these Rohingyas have been enduring mostly from the Buddhist majority populace as well as Myanmar's military junta. Myanmar's military and the Buddhists see Islam as a threat to country's peace, stability, and even integrity because the next-door neighbors of Myanmar are Bangladesh, a Muslim majority country and India, a country with over 180 million Muslim population. Myanmar does not want the Rohingyas to attain legitimacy as citizens of the country and ultimate form any type of nexus under the garb of solidarity of the Muslim ummah.
The ultimate price of driving out the Rohingyas
Neither Myanmar nor China and India are realizing the potential risk posed by the Rohingya refugee crisis, which would definitely jeopardize regional and even global security within the next few years unless it is resolved immediately without wasting further time.
We are aware of Arakan Rohingya Salvation Army (ARSA), a terrorist outfit that came into existence since 2013 under the leadership of Ataullah Abu Ammar Jununi, born in Karachi, Pakistan and grown and educated in the Islamic school in Mecca, Saudi Arabia. He is of Myanmar origin. In his later years in Saudi Arabia, Ataullah served as an imam, (similarly as Islamic State (ISIS) kingpin Abu Bakr Al Baghdadi) and served as an imam to the Rohingya diaspora community of around 150,000.
A report from the International Crisis Group (ICG) released in December 2016 stated that Ataullah left Saudi Arabia in 2012, shortly after religiously motivated violence erupted in Rakhine State. A Myanmar government press release claims Ataullah spent six months of training in modern guerrilla warfare under the Taliban in Pakistan. The ICG report stated that though not confirmed, there are indications he went to Pakistan, and possibly elsewhere and that he received practical training in modern guerrilla warfare. Several members of the group also stated to ICG that he may have received additional training in Libya.
Ataullah has been an active supporter of Islamic State ever since its emergence in 2014 and according to several documents, he maintains deeper connections with Pakistani spy agency Inter Service Intelligence.
Since 2012, Ataullah began recruiting members under the banner of Harakah al-Yaqin after the 2012 riots in Myanmar. HaY, which would become ARSA in 2017, was comprised of seething, angry young men whose lives had been destroyed by the Myanmar armed forces.
The most important point to note here is – Ataullah Abu Ammar Jununi promotes Caliphate, which is a prototype of Abu Bakr Al Baghdadi's concept of Islamic State. Each of his directives is issued after cross-checking with the Quran and Hadith, meaning we can for granted take ARSA as the next ISIS – if not even much dangerous and mighty.
Ataullah's confidants in ARSA, his devoted followers among the Rohingya, and his acquaintances from Saudi Arabia all unanimously describe him as one of the politest and softest-spoken people they have ever known. He even is described of his mesmeric personality, who calls upon his fellowmen to die or kill the "enemies".
The next ISIS
Let us remember, the size of the "armies" of ARSA would be millions, as there are 1.5 million Rohingyas only now in Bangladesh [over one million Rohingya refugees] and Myanmar, while there are thousands of Rohingyas in Saudi Arabia, India, Pakistan, Malaysia, Indonesia, the Philippines, in addition to an unknown number of Rohingyas in the western nations. There is a sharp possibility of ARSA joining hands with ISIS and may even expand up to those Islamists in Chechens and Uyghurs. There are over 110 million Uyghurs in China and thousands in Turkey, Russia, and Canada. And let us not forget those hundreds of thousands of Chechens, who are spread within Chechnya, Russia, Turkey, Middle East, United States, Canada, and the European nations. Can we realize the ultimate consequence if there is a nexus of jihadists formed in between ISIS, ARSA and beyond? Can we really afford to keep the Rohingya refugee crisis alive and open the door to the formation of a gigantic jihadist force under the theme of Caliphate?
https://www.weeklyblitz.net/news/rohingya-refugee-crisis-must-be-resolved-forthwith-to-avoid-emergence-of-another-isis-battleground/
--------
Xi offers support for better India-Pakistan ties
Jun 15, 2019
BEIJING: A day after PM Narendra Modi told Chinese President Xi Jinping about his grave concerns about terror attacks from Pakistan, Xi offered Beijing's support, during discussions on Friday morning with Pakistan PM Imran Khan, for the improvement of the Delhi-Islamabad relationship.
The leaders were in the Kyrgyz capital of Bishkek for the Shanghai Cooperation Organisation Summit which ended on Friday.
China "supports Pakistan and India in improving their relations," the Chinese leader was quoted as saying by Xinhua. Xi also offered Pakistan the necessary assistance to build its capability to fight terrorism. China is also concerned about terrorism in Pakistan because it may affect the Beijing-funded $60-billion China-Pakistan Economic Corridor.
Modi had said in discussions with Xi on Thursday that for the resumption of dialogue India expected "concrete action" by Islamabad to create an atmosphere "free of terror".
On China-India relations, Xi told Modi on Thursday that China and India "do not pose threats" to each other, Xinhua reported on Friday. The two leaders met on the sidelines of the SCO summit. "China and India offer to each other chances for development, and do not pose each other threats (sic)," Xinhua, China's official news agency, quotedx Xi as telling Modi. He called for strengthening confidence-building measures to maintain stability at the border. One of SCO's chief goals is the battle against terrorism. New Delhi wants SCO, which has China, Russia, India and Pakistan as members, to show that it is really capable to directing one of its members to stop terrorism on its soil.
"The two sides should expand and enrich the construction of the China-Pakistan Economic Corridor with new focus on areas including industrial parks, agriculture and social welfare," Xi said.
Talking about efforts to resolve the India-China border dispute, Xi said, "We need to make good use of the meeting of the special representatives on the boundary issue and other mechanisms, strengthen confidence-building measures and maintain stability at the border areas.
https://timesofindia.indiatimes.com/india/xi-offers-support-for-better-india-pakistan-ties/articleshow/69795638.cms
--------
Case of Allegations Against Maulana Kalbe Jawad Takes New Turn; Girl Reveals Shia Waqf Board Chairman's Role In The Conspiracy
Jun 14, 2019
By Rasia Hashmi
Lucknow: The case of allegations against Maulana Kalbe Jawad took a new turn when the girl who had made allegations against the religious leader refuted them. Not only this, she revealed the role of Shia Waqf Board Chairman Wasim Rizvi in defaming Maulana Jawad and accused Wasim Rizvi of bribing her father for defaming Maulana.
The girl told that due to an old rift, Wasim Rizvi bribed her father and younger sister and hatched the whole conspiracy against Maulana. The girl further accused her father Naushad Ali that her father is a habitual blackmailer who defames people and extorts money by blackmailing them. Hence she is staying with her mother separately.
The girl said she faces a threat to her life from her father and Wasim Rizvi. She appealed to the officers that if she is not protected, her father and Wasim Rizvi will kill her.
https://www.siasat.com/news/case-allegations-against-maulana-kalbe-jawad-takes-new-turn-girl-reveals-wasim-rizvis-role-conspiracy-1512560/
--------
Sikh Jatha Not Allowed To Go To Pakistan, New Delhi Denies Clearance to Special Train for Sikh Pilgrims
by Kamaldeep Singh Brar
June 15, 2019
A Sikh Jatha was not given permission to cross over to Pakistan from Attari railway station on Friday to observe the martyrdom of fifth master Guru Arjun Dev Ji.
A total of 130 Sikh devotees had 10 days' visa to go to Pakistan and a special train was also awaiting them at Wagah. However, Indian Railways officials said they did not have required permissions from the Union government to enter a special train for Sikh devotees to go to Pakistan.
Disappointed devotees raised slogans against the government, the Shiromani Akali Dal Badal and SGPC for cancellation of their visit.
"Why is the Union government not allowing us to go to Pakistan to observe Martyrdom Day? It is our religious right. We have visa to go there. We are not going there illegally," said Harpal Bullar, head of the Bhai Mardana Seva Society, which had 80 members in Jatha of 130 Sikhs.
There has been no official communication on why devotees were not allowed to go Pakistan.
The Shiromani Gurudwara Parbandhak Committee had last sent Jatha to Pakistan to observe martyrdom day of Guru Arjun Dev in 2013. Since then, the SGPC hasn't done so due to its differences with the Pakistan Gurudwara Parbhandak Committee over Nankshahi calendar.
However, some independent Sikh bodies apply for visas to observe martyrdom of Guru Arjun Dev, which falls on June 16 every year according to old Nanakshahi calendar.
This year, SGPC observed martyrdom day on June 7 according to the amended Nanakshahi calendar. The Pakistan Gurudwara Parbandhak Committee observes Gurpurb according to the old calendar.
There has been no official communication on why devotees were not allowed to go Pakistan.
The Shiromani Gurudwara Parbandhak Committee had last sent Jatha to Pakistan to observe martyrdom day of Guru Arjun Dev in 2013. Since then, the SGPC hasn't done so due to its differences with the Pakistan Gurudwara Parbhandak Committee over Nankshahi calendar.
However, some independent Sikh bodies apply for visas to observe martyrdom of Guru Arjun Dev, which falls on June 16 every year according to old Nanakshahi calendar.
This year, SGPC observed martyrdom day on June 7 according to the amended Nanakshahi calendar. The Pakistan Gurudwara Parbandhak Committee observes Gurpurb according to the old calendar.
There is a divide among the Sikh community over acceptance of amended Nanakshahi calendar and many Sikh bodies follow the old Nanakshahi calendar which was in practice before 2014.
"We have gone to Pakistan to observe martyrdom day even after the controversy over Nanakshahi calendar erupted. But now the Union government is poking its nose unnecessarily in Sikh issues. When Pakistan has no problem then why does India have a problem with our going there and observing martyrdom day," asked Harpal Bhullar.
https://indianexpress.com/article/india/sikh-jatha-not-allowed-to-go-to-pakistan-to-observe-martyrdom-day-of-fifth-sikh-guru-5781793/
--------
Us, Argentina Hold Workshop On Countering Hezbollah Terror
By Anna Ahronheim
June 13, 2019
The United States and Argentina held a workshop this week on countering Hezbollah's terror activities in the Western Hemisphere, a month before the 25th anniversary of the AMIA bombings.
The workshop, held in Buenos Aires on Tuesday and Wednesday, included law enforcement personnel and financial practitioners from Argentina, Chile, Colombia, Panama, Paraguay and Peru, as well as representatives from Ameripol.
Officials from the US Departments of State, Justice and the Treasury, as well as the Federal Bureau of Investigation, National Counterterrorism Center, and Drug Enforcement Administration, also participated in the meeting.
The summit was held ahead of Western Hemisphere Ministerial that the Government of Argentina will host commemorating the 25th anniversary of the terrorist bombing of the AMIA Jewish Center in the Argentine capital on July 18, 1994 which killed 85 people and injured over 300 others.
According to a statement released by the US State Department, the workshop focused on Hezbollah's global modus operandi and its terrorist and criminal infrastructure and activities in the Americas.
"Participants discussed various techniques to constrain and counter the group's illicit activities, including the financial and law enforcement tools available to identify, investigate, and prosecute Hezbollah's global support and facilitation networks. Participants also discussed Hezbollah attempts to continue and expand its fundraising in the Western hemisphere, especially in light of the current financial pressure on Hezbollah," the statement said.
The finances of the Lebanese Shi'ite militant group, designated as a Foreign Terrorist Organization by dozens of countries across the globe, has been hit hard due in recent years by sanctions placed the United States.
The US has also passed the Hezbollah International Financing Prevention Act threatening sanctions against anyone who finances the group in any significant way. But the designation has not affected Hezbollah's patron, Iran, which continues to provide the terrorist group with financial and military support.
Hezbollah also receives significant financial aid by supporters who live abroad as well as through charities and a wide variety of criminal activities including fraud and trafficking in drugs, arms and blood diamonds.
Not based in Lebanon, Hezbollah's crime network is global, and based primarily in Africa. The group also runs an international network of criminal and narcotic rings in Africa, as well as both North and South America.
Hezbollah operatives also rely on legitimate business enterprises that in truth are shell companies which raise, launder and transfer vast sums to the group.
https://www.jpost.com/Middle-East/US-Argentina-hold-workshop-on-countering-Hezbollah-terror-592364
--------
Iraqi Shi'ite groups deepen control in strategic Sunni areas
JUNE 13, 2019
MOSUL, Iraq (Reuters) - The only sign that Sunni-majority Mosul's newest and busiest marketplace is in Shi'ite Muslim hands is a small plaque in the office of its leaseholder from Baghdad.
"The Imam Hussein Market," it reads, dedicated to the Prophet Mohammed's grandson and most revered Shi'ite imam.
Banners of Shi'ite leaders that militiamen erected after helping drive out the Sunni extremists of Islamic State two years ago have been removed amid fears of renewed sectarian tension.
Iraq's second city, once a recruitment center for Sunni officers in Saddam Hussein's army, became an al Qaeda hotbed after the 2003 U.S. invasion that toppled the dictator, and later the base from where IS leader Abu Bakr al-Baghdadi declared a caliphate in 2014.
Iranian-backed Shi'ite paramilitary groups that played a crucial role in driving out IS have since become dominant in the city, if less visibly than before.
But Shi'ite religious authorities are now quietly seeking to formally take over state land and property they say is historically Shi'ite - something that has incensed Sunni officials.
In the Imam Hussein marketplace, an area of some 60 shops and stalls, they have established a lucrative foothold.
Shi'ite paramilitary groups deny accusations by local officials that they provide at least the implied threat of force to back up Shi'ite claims of land ownership.
But many Iraqi Sunnis view the growth of Shi'ite land control and investment in areas once held by IS as a sign of the expanding power of the militias and influence of Iran. [nL8N1XN33U] [nL5N20136K]
"Today in Iraq, the last word goes to whoever has force, and that's what these groups have. Law means nothing," said Mosul lawmaker Shirwan Dubardani.
The areas the Shi'ite groups and authorities are seeking to acquire lie in a strategic corridor of territory stretching from Tehran to Beirut. Greater Shi'ite control there, whether by Iranian allies or others, is important for Iran as it seeks to offset U.S. economic sanctions. [nL8N23H1VV]
It comes at a time when Iran has been expanding its influence in Syria, Yemen and Lebanon, while asserting its readiness to take on its Saudi and U.S. enemies.
There is also evidence of further Iranian-linked Shi'ite expansion in Iraq. North of Baghdad on the way to Mosul - and near a military base hosting U.S. forces - an Iranian-backed militia offered to buy an area where it built a shrine to an Iranian general killed fighting IS in 2014, the owner of the land said.
The owner refused, but cannot return with the area sealed off by policemen linked to the militia. "They're not satisfied with controlling land - they want formal, legal control," he said, declining to be named for fear of reprisals.
In Mosul, it is religious authorities, not militias, that are seeking property, particularly older shrines and mosques.
Iraq's Shi'ite endowment office - a government body that administers religious sites and real estate - is using legal recourse, incentives and influence to invest in several areas of Mosul, according to local authorities, business owners, investors and documents seen by Reuters.
Such claims could be explosive.
"We sometimes worry that armed force will be used, by either side," said Mosul Mayor Zuheir al-Araji.
Officials in the city accuse the Shi'ite endowment and armed groups of unlawful land grabs to make money and force demographic change.
Shi'ite armed groups and investors deny this, saying all property takeovers are legal and those lands rightfully Shi'ite.
The Shi'ite endowment did not immediately respond to a request for comment. Its Mosul branch declined several requests. The Iraqi prime minister's office declined to comment on the issue.
The Sunni endowment says it owns all state religious land in Mosul including sites claimed by Shi'ites. But the battle over legal ownership of areas claimed by both sects is intractable. A complex legal process for solving disputes favors those with power, analysts say.
MONEY, CHARM AND THREATS
In the past year, the Shi'ite endowment issued notices asserting ownership of several sites in Mosul that it had long claimed, handing leases for attached commercial areas to investors.
More recent claims have stalled pending appeals by Sunni officials and the town hall. But the marketplace is already operating as a Shi'ite endowment-owned area.
"The Shi'ite endowment has rights to this land, which historically was a Shi'ite cemetery," said Uday Muhsin, the market leaseholder.
He pays 170 million dinars yearly ($143,000) to the endowment which he says goes to a fund for wounded Shi'ite fighters and victims of Islamic State.
Last year, Muhsin began leasing the deserted site opposite the tomb of Nabi Yunis (the Prophet Jonah), which was destroyed by IS. He rents it out to local traders, and showed papers from city authorities letting him do so.
Market vendors said the rent of roughly $200 per month is about half what they would pay in areas administered by the Sunni endowment.
It is one way of winning local support and securing control, Sunni officials say. They say the takeover was illegal and dispute the area's Shi'ite heritage - the basis for the endowment's claim to it.
"People accept it because it's done in an attractive way. They're poor and need the money," Mosul's Sunni endowment director Abu Bakr Kanaan said.
But behind paperwork and lower rent there is the implied threat of force, said Kanaan and shopowners in another area the Shi'ite endowment claimed last month.
"A Shi'ite investor came to 20 stores on this road, saying we must sign new rental agreements with him," said Abu Mohammed, who owns a shop that abuts state religious property in the Old City managed by the Sunni endowment.
The investor produced a document from the Shi'ite endowment, a copy of which was seen by Reuters, declaring ownership of the area and leasing him the properties for around $40,000 per year.
"He was charming at first, and was offering better rent. But when we hesitated he threatened to throw us out. He clearly had connections and force behind him," said Abu Mohammed. He declined to give his full name for fear of reprisals.
Harith Hasan, an Iraq expert at the Carnegie Middle East Centre, said the Shi'ite endowment "often reinforces its guardianship not only through the legal process but also by allying with groups that are present on the ground."
Paramilitaries in Mosul denied involvement but said they had once intervened to "calm things down" between the two sides.
"The Sunni endowment chief doesn't accept the idea that the Shi'ite endowment can take land in Mosul," said Hayder Abu Hadma, a deputy commander in the Popular Mobilisation Forces (PMF), the official grouping of Iraq's Shi'ite paramilitaries.
"But he knows very well there are many Shi'ites here and 20 to 30 Shi'ite shrines," he said.
SECTARIAN SYSTEM
Under Saddam a single endowment ministry ran all state religious lands, which Shi'ites persecuted by the dictator complained left them unable to oversee their heritage.
The ministry disbanded after 2003, replaced by separate Shi'ite and Sunni endowment offices. When a mosque or shrine is claimed by both, a committee with representatives from both sides must decide. It often cannot, leaving decisions pending and benefiting whoever has sway in courts or on the ground.
In recent years the Shi'ite endowment "has been in a better position to advance its claims, given the support it has enjoyed from Shi'ite Islamist parties that dominated the government and parliament," Hasan said.
Around Mosul, once a melting pot for ethnic and religious groups along the ancient Silk Road, IS destroyed Shi'ite shrines. Now many PMF groups see defense of shrines as their primary task.
"They think they have the right to our religious sites because IS blew up Shi'ite property. It's all about money, from investment and rent to attracting pilgrims who would eventually visit," Kanaan said.
Sunni authorities acknowledge the Shi'ite heritage around Mosul. But they say most heritage inside the city is Sunni.
Mayor Araji hopes the Shi'ite endowment will stop claiming property, which would encourage stability.
After the chaos that followed the end of IS, things were now more under control, he said. "But we need Baghdad's support. We can't bring law and order on our own."
https://www.reuters.com/article/us-iraq-militias-land-insight/iraqi-shiite-groups-deepen-control-in-strategic-sunni-areas-idUSKCN1TE18D
--------
London bomb factory is a sign of Iran's widening campaign of terror
Con Coughlin
June 13, 2019
The latest revelation that an Iranian-backed terror group has been stockpiling bomb-making materials in London has shed fresh light on Tehran's reach in Europe.
For decades after the Islamic revolution of 1979, Iran mainly confined its terrorist activities to the Middle East region, using the Revolutionary Guard Corps and proxies such as Hezbollah to target opponents and undermine moderate Arab regimes.
There was, of course, the brief flurry of terrorist activity in Paris in the immediate aftermath of ayatollah Ruhollah Khomeini's emergence as the leader of the revolution, as his followers sought to neutralise opponents of the clerical regime. Other notable acts of Iranian terrorism outside the region include the infamous 1994 attack against a Jewish institution in Argentina, which killed 85 people.
But for the most part, the focus of Iran's activities has been confined to the region, where attacks have been deployed as an effective tactic in support of Tehran's drive for regional dominance.
Now, intelligence officials in Europe are undertaking a radical reappraisal of that view in the light of recent events. Earlier this week, it was revealed that London raided a terrorist cell with links to Hezbollah four years ago. It was stockpiling three tonnes of explosive materials on the outskirts of London in what has been described as a secret bomb factory.
The bomb-making group was discovered in the autumn of 2015, shortly after Britain had become one of the signatories to the controversial nuclear deal.
Even though former prime ministers David Cameron and Theresa May – who was then serving as home secretary – were informed of the discovery, the fact that it was not made public suggests they were keen not to reveal any information that might damage the flawed nuclear agreement.
Even now, British authorities are reluctant to disclose too many details. A brief statement issued by the Metropolitan Police this week simply stated that counter-terrorism specialists had raided four properties at addresses in north-west London – three businesses and a home – and that a man in his 40s was arrested on suspicion of plotting terrorism, although he was later released without charge.
However, British intelligence officials close to the investigation believe the stockpile was part of an international Hezbollah scheme for future terror attacks in Europe. They have drawn parallels between the stash of chemicals discovered in London and a similar case in Cyprus at around the same time. Hassan Bassam Abdallah, a 28-year-old member of Hezbollah's military wing, was convicted of possessing 65,000 ice packs filled with ammonium nitrate which he admitted were for use in future terrorist attacks in Larnaca. He was subsequently jailed for six years.
For years, whenever I have raised the subject with senior British intelligence officials, they have repeatedly denied the existence of Iranian-backed sleeper cells in the UK, maintaining the traditional line that Iran's terrorist activity was mainly confined to the Middle East.
But in reality, the discovery of this London bomb factory is part of an upsurge of Iranian terrorist activity in Europe in the past decade.
Concerns that Hezbollah had expanded its operations in Europe first surfaced in 2012 when the group carried out a bomb attack against a tour bus in Bulgaria, prompting the European Union to follow America's lead in designating Hezbollah's military wing as a terrorist organisation.
In June last year, two Iranian diplomats were expelled from the Netherlands for plotting political assassinations in the country, while France's intelligence ministry foiled a bomb plot the same month to target a rally of opposition groups in Paris. Then, in October, Danish authorities accused Iran of an "unusual and serious" plot to murder an Arab separatist leader.
One positive outcome from Iran's increased terrorist activity has been to push the British government to finally designate the entirety of Hezbollah as a terrorist organisation. Previously, London sought to make a distinction between the group's political and military wings, with only the latter designated a terrorist organisation, thereby allowing representatives of the political wing to maintain links with prominent British politicians such as Labour leader Jeremy Corbyn.
Moreover, the growing awareness that Iran's terrorist infrastructure poses a threat to Europe comes at a time when Iranian aggression is increasing in the Middle East.
Saudi officials have accused Tehran of being behind a Houthi missile strike against Abha airport in southern Saudi Arabia this week, which injured 26 people, while Iran will inevitably be the focus of investigations into the explosions that have reportedly hit two oil tankers in the Gulf of Oman. The latest incident follows accusations made by US national security adviser John Bolton that Iran was responsible for last month's attacks against four oil tankers off the coast of Fujairah.
These elements suggest that Iran has embarked on a new campaign of terror in which Europe is just as likely to be targeted as the Middle East.
https://www.thenational.ae/opinion/comment/london-bomb-factory-is-a-sign-of-iran-s-widening-campaign-of-terror-1.874277
--------
Southeast Asia
One million signatures campaign to fight against Zakir Naik extradition
June 15, 2019
Mohd Azmi Abdul Hamid, president of the Malaysian Islamic Organisation of Consultative Council (Mapim), wants to get one million signatures to lobby for controversial preacher Zakir Naik to remain in Malaysia.
The petition targets Muslims in Malaysia where Zakir has a large following and it will back the Malaysian government's right not to extradite the preacher sought by India.
Mapim and other Muslim NGOs launched a "one million signatures campaign" yesterday and its promoter Mohd Azmi said the campaign is for Mahathir not to cave in to pressures from certain quarters.
"The Malaysian government has resisted so far and not bowed to pressure from India and certain quarters in Malaysia…
"However, the political climate of late has been worrying.
"So we decided to state our stand and support the government, failing which, Islam would continue to be a tool for those deliberately stirring religious hate," local media reports say.
The NGO's believe Zakir's lectures do not incite to violence or belittle other religions and that he will not be given a fair trial in India.
While Zakir claims the allegations against him are fabricated, the Indian authorities are pressing Interpol to issue a Red Notice against Zakir. With the notice, any country Zakir travels to is bound to arrest him and send him to India.
But Malaysia's Prime Minister has already assured Zakir that Malaysia will by-pass the Red Notice and will not follow suit with India's extradition request.
Dr Mahathir said Malaysia has the right to do so and a treaty with India that allows Malaysia to extradite offenders to India can also be withheld if Putrajaya feels there will not be faire trial and torture or mistreatment of the accused.
http://theindependent.sg/one-million-signatures-campaign-to-fight-against-zakir-naik-extradition/
--------
Opportunities for Growth: Indonesia's Gulf Connections
By Mohammed Shihab
June 15, 2019
The Arab world's long ties to Indonesia began with the first traders initially reaching the island in the fifth century. In the centuries since, the Arab world has provided maritime trade and financial services.
When Islam finally made its way to Indonesia, the two cultures already exhibited a strong financial and cultural bond thanks to Arab trade and migration. The routes that were initially used for trade have helped the ties between Indonesia and the Arab world flourish as Islam's influence expanded throughout the world.
Indonesia is now home to the world's largest Muslim population; over 225 million people, or nearly 13 percent of the world's Muslims, live in the country.
With few exceptions, Indonesia's economy has grown between 5 and 6 percent annually for nearly 14 years. This impressive consistency is the result of a strong macroeconomic policy, modernization efforts, and a focus on stability following the collapse of Suharto's brutal military dictatorship.
While Indonesia's successive governments deserve the lion's share of the credit for this turnaround, this new status quo as an economic force and a beacon of Islam in Southeast Asia is also due to the Persian Gulf's influence and efforts.
Today, the Kingdom of Saudi Arabia is responsible for most of the funding that flows from the Gulf, though the bulk of it is earmarked for religious purposes. Despite President Joko Widodo demonstrating some public disappointment in 2017 regarding the declining amount of funding the country was expected to receive, the Saudi government remains an important partner.
Saudi Arabia supports enormous investments in Islamic education throughout the country. This has been the primary strategy undertaken by the Saudis to extend its soft power over the past 40 years, and includes establishing Islamic schools, providing educational materials, and financing scholarships based in the Kingdom. This support is still largely employed to expand Saudi influence instead of spurring economic activity.
The rest of the Gulf states, however, view Indonesia as a valuable partner and investment that stretches beyond religious motives. While Saudi interest lies in reinforcing influence through religious funding, the real focus for the other Gulf states should be attuned toward economic cooperation and investment. Indeed, while Indonesia's economy has been stable in the past, its infrastructure is quickly growing obsolete as its economic engine slows.
This is not news to the Gulf. In 2017, the Indonesian government sought a total investment of $10 billion from the United Arab Emirates, even as the country's private sector was already providing $2 billion in total capital for Indonesian energy and retail sectors. Similarly, Oman recently signed a major agreement with Indonesia worth $14 billion to build a refinery capable of handling 300,000 barrels of oil per day.
However, foreign direct investment in Indonesia from the Gulf states pales in comparison to other foreign benefactors (the top five sources of foreign funds in Indonesia are Singapore, Japan, South Korea, China, and Hong Kong). This reality should concern the Gulf states. While on the surface it simply represents a slight loss of trade influence, it also signals that the Gulf is losing a critical ally in one of the world's fastest-growing economies. This is unacceptable both in financial and political terms.
Indeed, the Gulf states should view this loss of influence seriously. As the largest Muslim state by population in the world, Indonesia is a vital cultural and political ally for the Arab world in Southeast Asia. Additionally, the current economic landscape poses a national security threat to Indonesia, which should concern the Arab world. China has been known to invest heavily in nations to exert both soft and hard power, and it seems to be following a similar pattern with Indonesia. This waning influence in the biggest bastion of Muslim and Arab interests in Southeast Asia represents a loss of leverage that affects the Gulf's financial stakes around the world.
Full report at:
https://thediplomat.com/2019/06/opportunities-for-growth-indonesias-gulf-connections/
--------
South Asia
Five Suspects In Easter Bombings Extradited To Sri Lanka From A Middle Eastern Country
Jun 14, 2019
COLOMBO: Sri Lankan police say five key suspects in Easter Sunday bomb attacks on churches and hotels have been extradited from a Middle Eastern country.
Police spokesman Ruwan Gunasekara says the suspects arrived early Friday from Saudi Arabia after their arrest in an unspecified Middle Eastern country.
Gunasekara said Friday the five include the main suspect in the killing of two policemen last year at a checkpoint in eastern Sri Lanka that was blamed on Islamic extremists.
He said a total of 102 suspects are now being held in connection with the Easter suicide bomb attacks on three churches and three tourist hotels that killed more than 250 people.
The Islamic State group has claimed responsibility for the attacks.
https://timesofindia.indiatimes.com/world/south-asia/five-suspects-in-easter-bombings-extradited-to-sri-lanka/articleshow/69787908.cms
--------
Bangladesh's 201-dome mosque becomes center of attraction
June 15, 2019
DHAKA: A 201-dome mosque in Bangladesh has become the center of attraction for people all around the country. It is built on the bank of the Jhinai River in the Tangail district some 140 km from the capital Dhaka.
The 451-foot minaret of the mosque is the tallest concrete minaret in the world, recognized by Guinness World Records. The minaret is equivalent to the height of a 55-story building. The mosque will hold more than 15,000 devotees at a time. Among the 201 domes, the tallest one is 79-feet high and the surrounding ones are 42-feet high.
Construction work on the mosque began in January 2013 and took more than five years to complete. The organizers have spent about $13 million building the mosque.
The project began when Rafiqul Islam, from South Pathalia village, Gopalpur, Tangail, dreamed of building the mosque at his birthplace. Later he formed the Rafiqul Islam Trust to look after the construction of the mosque. Islam has donated some of his ancestral land for the building of the mosque. At the same time, some of the villagers helped to make Islam's dream true. Finally the construction of the mosque started on 5 acres of land.
"My village South Pathalia was an unknown place to my countrymen. But now many people from home and abroad come here to witness the beauty of the 201-dome mosque and during every holiday around 10,000 people visit the mosque," Islam told Arab News.
"It was a dream project for me, which I started with only $20,000. Later on, many of the philanthropists of the country extended support in building the mosque and the construction work was not stopped even for an hour due to lack of funds," Islam said.
To make the mosque unique, Islam visited many world-famous mosques in the Middle East, from where he developed the primary idea. Later on he shared his experience with a Bangladeshi architect to visualize the design of the mosque.
The 201-dome mosque complex also has a helipad for the convenience of international tourists. In addition, organizers plan to run an orphanage, old people's home and a charity hospital for women.
The tiles and marbles of the mosque were imported from Italy, Germany, Turkey, Switzerland and China.
"The main attraction of the mosque is 201 domes and the tallest minarets. The domes were designed in line with the sub-continental traditional base of Islamic structures," said Mrinmoy Adhikary, the lead architect of the mosque.
"The south and north side of the mosque is kept open to have plenty of light and natural air. The design is made in such a way that the devotees can offer prayers even without an artificial air-conditioning system," Adhikary said.
Sitting inside the mosque, devotees can recite all the verses of the holy Qur'an, which have been inscribed on brass and installed on the mosque wall.
"With the grace of the almighty Allah we have already completed construction work of the mosque. Now the 451-foot concrete minaret is in under construction and we are facing some technical difficulties in building this," said Islam. "It would be a great support for us if we receive some assistance from any Muslim country for the completion of the minaret," he said.
Although the mosque can currently hold more than 15,000 devotees at a time, the organizers plan to double capacity to up to 30,000.
Full report at:
http://www.arabnews.com/node/1510946/world
--------
Suicide bomber kills 9 in eastern Afghanistan
By Amir Shah 
June 13, 2019
KABUL, Afghanistan — A suicide bomber walked up to an Afghan police vehicle in Jalalabad, the capital of eastern Nangarhar province, and detonated an explosive device that killed three police and six civilians on Thursday, said provincial health department official Shoaib Sahak. He said another 13 people were wounded, some of the seriously.
Attahullah Khogyani, spokesman for the provincial governor, said security forces were the target of the attack. Several of the injured were police, he said.
The Islamic State group, through its Amaq news agency, claimed responsibility for the suicide attack. The group claimed eight people were killed. Both IS and the Taliban operate in Nangarhar province, located on the border with Pakistan and considered an IS stronghold.
Afghanistan's security forces come under near-daily attacks by both Taliban and IS-affiliated fighters. Afghan forces have suffered staggering casualties in recent years, even as the Taliban hold peace talks with U.S. Peace Envoy Zalmay Khalilzad. He is currently in the Afghan capital, Kabul, trying to restart stalled peace talks aimed at ending the country's 18-year war and America's longest-running military engagement.
The Taliban have held talks with prominent Afghans, including former President Hamid Karzai and members of opposition political parties, but so far they have refused to hold direct talks with the Afghan government, calling them U.S. puppets
Late Wednesday, the Afghan government freed 490 Taliban prisoners from jails across the country in a goodwill gesture that doubled as an attempt to further the peace process.
Full report at:
https://www.washingtonpost.com/world/asia_pacific/afghan-government-says-it-has-freed-490-taliban-prisoners/2019/06/13/0bbd2908-8db5-11e9-b6f4-033356502dce_story.html?noredirect=on&utm_term=.c9e36e1b588f
--------
7 Taliban militants killed, 4 house-bone IEDs destroyed in Logar and Kandahar
15 Jun 2019
The Afghan Special Forces killed 7 Taliban fighters in Logar and Kandahar provinces.
The Special Forces also destroyed four house-borne improvised explosives devices
The military officials said Saturday that the Special Forces killed 3 Taliban fighters in Mohammad Agha district of Logar.
The Special Forces killed 4 Taliban in a similar operation in Maiwand district of Kandahar, the officials added.
They also destroyed 4 house-borne improvised explosive devices during the same operation, the officials added.
Full report at:
https://www.khaama.com/7-taliban-militants-killed-4-house-bone-ieds-destroyed-in-logar-and-kandahar-03618/
--------
Afghan Special Forces rescue soldiers from a Taliban prison in Ghor
15 Jun 2019
The Afghan Special Forces rescued 3 security personnel from a Taliban prison in Ghor province.
The Special Operations Corps in a statement said Saturday that the Special Forces freed the three security personnel during an operation on Friday night.
The statement further added that the Special Forces conducted the in Gharmain Village located in the outskirts of the capital of Ghor.
Full report at:
https://www.khaama.com/afghan-special-forces-rescue-soldiers-from-a-taliban-prison-in-ghor-03617/
--------
15 Taliban militants killed in Special Forces operation, airstrikes in Ghazni
15 Jun 2019
The security forces conducted separate operations in Ghazni province and killed 15 Taliban militants.
The informed military sources said Saturday that the Special Forces of the Afghan military killed 4 Taliban fighters during an operation in Ghazni.
The sources further added that the Special Forces also detained 2 Taliban fighters and destroyed 2 landmines.
The Special Forces also destroyed 8 Improvised Explosive Devices during a separate operation in Deh Yak district of Ghazni, the sources added.
Meanwhile, the security forces conducted separate airstrieks in Ghazni, Giro and Andar district.
According to military officials, the airstrikes killed at least 11 Taliban militants in the three districts.
Full report at:
https://www.khaama.com/15-taliban-militants-killed-in-special-forces-operation-airstrikes-in-ghazni-03616/
--------
Freed Taliban fighters will be 'peace envoys,' says Ghani
June 15, 2019
KABUL: Afghanistan has freed hundreds of jailed Taliban fighters since Eid as a goodwill gesture, the government confirmed on Friday.
Feroz Bashari, head of the government media center, told Arab News that "490 Taliban fighters have been freed since Eid."
Brushing aside widespread criticism of the move, President Ashraf Ghani said on Thursday that most freed prisoners "will return to the battlefield, but will serve as peace envoys."
The Taliban has long demanded that prisoners held in Afghan and US-run jails be freed as part of a possible future peace deal. The militants so far have refused to hold direct talks with government delegates, while meeting with US officials on several occasions.
The prisoner release, the biggest since Ghani assumed office in late 2014, has become a controversial issue in the deeply divided government, which has lost tens of thousands of troops in battle since the Taliban intensified attacks.
In an apparent response to criticism over the freeing of prisoners, Ghani told a gathering at the presidential palace that he was responding to calls made by the traditional assembly, or Loya Jirga, in April when scores of people urged him to release Taliban inmates.
"We are not going backward with regards to peace and serving the people," Ghani said. "I accepted your suggestion and that of the Loya Jirga. Most of the released prisoners will become peace ambassadors and will not return to war."
Government officials said a number of the freed men had "incurable illnesses, and some were elderly who had almost completed their sentences."
A Taliban spokesman, Zabihullah Mujahid, on Thursday described the prisoner release as "a good step," but said that only 261 out of those freed were Taliban fighters. The rest were falsely arrested by government and US-led troops.
John Bass, US ambassador to Afghanistan, praised Ghani's move, saying it will "improve the climate for a political settlement."
"Lasting peace will be rooted in reconciliation and forgiveness by all," he said. The prisoner release has been widely attacked around the country, however.
Farmarz Tamana, a presidential candidate, said that with the Taliban stepping up attacks in recent months, Ghani's decision "will reduce motivation among security forces."
Taghyan Sakai, a university professor who lost a close relative in a recent Taliban attack, said the release will "harm the spirit of soldiers." The former captives will return to battle as other prisoners had done in the past.
Fauzia Koofi, a former lawmaker, said that Ghani had the right to free or reduce the jail terms of criminals and other prisoners, but not of "terrorists."
Full report at:
http://www.arabnews.com/node/1510956/world
--------
India
Second Arrest In Coimbatore Islamic State-Inspired Terror Module Case
Jun 15, 2019
NEW DELHI: The Islamic State-inspired terror module busted by the National Investigation Agency (NIA) following Wednesday's raids in Coimbatore, has turned out to be larger with four persons other than the six accused being questioned for being its members. On Friday, NIA made a second arrest in the case, that of accused Shiek Hidayuthullah.
Earlier on Thursday, NIA had arrested Mohammad Azarudheen, leader of the 10-member module and a Facebook friend of Sri Lankan suicide bomber Zahran Hashim. NIA on Friday said that Shiek was arrested based on the facts revealed thus far, regarding his pro-IS activities. tnn
He is aged 38 years and is a resident of South Ukkadam locality in Coimbatore. Scrutiny of the documents from his house shows that he is also associated with proscribed terrorist organisation Student Islamic Movement of India (SIMI).
While Shiek will be produced before the special court, Azarudheen was sent to judicial custody on Thursday. NIA expects to get their police remand early next week.
NIA sources said while the nearly 10-member module was following and sharing radical content attributed to Hashim on social media, it was not really close to executing any terror attack. NIA will be sending the computer resources seized during Wednesday's raids for forensic examination, which will help it trace any links with similar IS-inspired elements in Sri Lanka, including those connected with Easter Sunday attacks.
The module - comprising around 10 men from Coimbatore who were well known to one another -is suspected to have propagated IS ideology on social media with the intention of recruiting vulnerable youth for executing terror attacks in Tamil Nadu and Kerala.
https://timesofindia.indiatimes.com/india/second-arrest-in-coimbatore-is-module-case/articleshow/69796447.cms
--------
PM Narendra Modi slams terror factories, Bishkek Declaration backs him
Jun 15, 2019
Prime Minister Narendra Modi raised the issue of terrorism at the SCO summit in Kyrgyzstan on Friday, saying nations which provided encouragement, support and financial help to the menace needed to be called out. While he didn't name Pakistan, there were few doubts as to what Modi was referring to as he reiterated his call for a global conference to deal with the challenges posed by terrorism.
"I was recently in Sri Lanka... There I was again reminded of the ugly face of terrorism which surfaces anytime and anywhere to claim innocent lives.
It is now time for all humanitarian forces to rise above their narrow confines and come together to deal with this danger," said Modi, adding that countries which supported terrorism needed to be held responsible.
Significantly for India, the Bishkek Declaration said terrorism and spread of terrorist ideology were among the issues which required special attention because they were "cross-border in nature".
It also condemned terrorism in all its forms and manifestations, stressing that acts of terrorism and extremism cannot be justified.
Modi also called on the SCO member-states to cooperate under the SCO regional anti-terrorist structure to end terrorism. The Bishkek Declaration also said the member-states believed it was important to take comprehensive measures to intensify efforts against terrorism and its ideology, as well as to determine and eliminate the factors and conditions that promote terrorism and extremism. "They (member-states) note that interfering in other countries' domestic affairs under the pretext of fighting terrorism and extremism as well as using terrorist, extremist and radical groups to achieve one's own mercenary ends is unacceptable," it said.
"The member-states condemn the propaganda of the ideology of terrorism, extremism and religious intolerance, as well as manifestations of intolerance and discrimination based on religion or convictions in any form," the declaration said.
"It is a priority to step up the international community's joint efforts to counter the attempts to involve young people in the activities of terrorist, separatist and extremist groups and will continue to focus on preventing the spread of religious intolerance, xenophobia and racial discrimination, it added.
The PM said in his address that a peaceful, united, safe and prosperous Afghanistan was vital for the stability and security in the SCO.
"Our goal is to support the people and the government of Afghanistan for an Afghan-led, Afghan-owned and Afghan-controlled comprehensive peace process. We are happy that a further roadmap has been prepared at the SCO Afghanistan contact group," he said.
Modi came up with a new template he described as "HEALTH" for cooperation among SCO members. H, he said, stood for healthcare cooperation, E for economic cooperation, A for alternative energy, L for literature, T for terrorism-free society and the last H for humanitarian cooperation.
"Our shared area is in great need of better connectivity in the modern era," he said.
Initiatives like the International North-South Transport Corridor, Chabahar Port and Ashgabat Agreement clarify the focus of India on connectivity, Modi said.
"Respect for sovereignty, regional integrity, good governance, transparency, practicality and reliability should be the basis of connectivity initiatives. The importance of people-to-people contact with physical connectivity is not less," he said in an apparent reference to China's massive infrastructure development under the China-Pakistan Economic Corridor which traverses through Pakistan-occupied Kashmir.
Full report at:
https://timesofindia.indiatimes.com/india/modi-slams-terror-factories-bishkek-declaration-backs-him/articleshow/69795801.cms
--------
Pakistan claims India refused to let its train cross border to bring 200 Sikh pilgrims
Jun 14, 2019
LAHORE: Pakistan on Friday claimed that India refused to let its train cross the border and bring some 200 Sikh yatrees to Lahore for Jore Mela festivities.
"Pakistan had issued visas to some 200 Indian Sikhs to attend the Jore Mela (death anniversary of Guru Arjun Dev jee) and they were due to arrive here by a Pakistani train on Friday. But the Indian government refused to allow the Pakistani train to enter its territory to bring the Sikh yatress here," Amir Hashmi, spokesperson for Evacuee Trust Property Board, told PTI.
"We remained in touch with the Indian authorities at the border regarding letting the Pakistani train cross the border to pick the awaiting Sikh yatrees but they plainly refused," Hashmi claimed.
He said the Indian authorities gave no reason for their refusal.
The ETPB is a government department that looks after the affairs and holy places of minorities in Pakistan.
"We have protested the Indian decision. Since the Pakistani High Commission (in Delhi) had issued visas to 200 Sikh yatrees there was no point in stopping them from coming to Lahore," he said, adding that this issue will be take up with India at the government level.
Full report at:
https://timesofindia.indiatimes.com/india/pakistan-claims-india-refused-to-let-its-train-cross-border-to-bring-200-sikh-pilgrims/articleshow/69793420.cms
--------
J-K: Four journalists allegedly roughed up by police while covering encounter in Pulwama
June 14, 2019
Four photo and video journalists were allegedly beaten and their cameras were snatched by J&K Police personnel when they were covering an encounter which broke out in South Kashmir's Pulwama district on Friday morning.
The Kashmir Press Club (KPC) has condemned the police action.
One of the journalists who was beaten by police personnel at the encounter site in Braw Bandina area of Awantipora in Pulwama told The Indian Express that he had reached the spot around 10 am and while he was doing his job, J&K policemen came and started beating the journalists who were present on the spot.
"My cameras were taken away by the policemen and were returned only after an hour. We kept telling them we are doing our job, but they didn't listen," he said.
In a statement, Kashmir Press Club (KPC) on Friday condemned the assault and the seizure of cameras of photojournalists.
While demanding action against the accused security forces personnel responsible for the act, KPC reiterated its concern about difficulties faced by journalists working in Kashmir.
IGP Kashmir SP Pani was not available for comments. A senior J&K police officer in south Kashmir said that they are looking into the matter. The KPC while quoting a photojournalist said, "The officer hurled abused, thrashed and seized our cameras. An hour later, our equipment was returned to us."
"KPC urged the Governor's administration and in particular the higher up in the police force to investigate the matter and act against those found responsible for it," the KPC statement said.
Full report at:
https://indianexpress.com/article/india/jk-journalists-encounter-awantipora-beaten-cameras-snatched-kashmir-police-5781177/
--------
When Rohingya refugees fled to India, hate on Facebook followed
June 14, 2019
Mohammad Salim, a Rohingya Muslim refugee, thought he had left genocidal violence and Facebook vitriol behind when he fled his native country, Myanmar, in 2013.
But lately, his new home, India's West Bengal state, has not felt much safer. And once again, Facebook is a big part of the problem.
During India's recent national elections, Salim said, he saw Facebook posts that falsely accused Rohingya Muslims of cannibalism go viral, along with posts that threatened to burn their homes if they did not leave India. Some Hindu nationalists called the Rohingya terrorists and shared videos on the social network in which the leader of India's governing Bharatiya Janata Party vowed to expel the minority group and other Muslim "termites." A week ago, new posts popped up falsely accusing the Rohingya of killing BJP workers in West Bengal.
"Many groups demonized us on Facebook and WhatsApp, and they succeeded in whipping up a strong anti-Rohingya passion in the state," Salim, 29, said in a recent interview in a village near Kolkata, West Bengal's capital.
He said he had quit selling fruit juice at local rail stations and was moving with his pregnant wife and two toddlers to a new, undisclosed location — their fourth home in the past 15 months — because he was afraid of being attacked by right-wing Hindus or arrested.
Salim's experience, echoed in interviews with other Rohingya Muslims who sought refuge in India, shows the widening, real-world repercussions of Facebook's failure to stop anti-Rohingya hate speech on its platform, an issue that the company's chief executive, Mark Zuckerberg, promised last year to solve.
For years, Facebook ignored dehumanizing anti-Rohingya propaganda on its Myanmar pages, despite substantial evidence that it was leading to mass killings, rape and the destruction of villages. After United Nations investigators criticized Facebook last year for playing a "determining role" in the ethnic cleansing of the Rohingya and the flight of 700,000 refugees, Zuckerberg told the United States Senate: "What's happening in Myanmar is a terrible tragedy, and we need to do more."
But anti-Rohingya hate speech and falsehoods have since spread to India, where Facebook has 340 million users. That is creating the potential for violence in tinderbox regions like West Bengal, a Hindu-majority state with a substantial Muslim population, where the BJP has stoked fears of Muslim "infiltrators" from Bangladesh. In total, the government estimates there are about 40,000 Rohingya in India.
"Hate speech and misinformation is adding fuel to the already existing hatred towards the Rohingyas," said Mariya Salim, an independent activist on minority and women's rights who lives in Kolkata. "It's not a secret that online calls for violence can easily turn into real-life threats."
Facebook said it had made progress in combating anti-Rohingya hate speech. The Silicon Valley company has assembled a team of 100 people who speak Burmese to review posts from Myanmar, which was formerly known as Burma. It banned some military accounts responsible for hate speech. And it said it had trained its algorithms to better detect hate speech globally, claiming that it now removes about two-thirds of such posts before anyone even complains about them.
"We don't want our services to be used to spread hate, incite violence or fuel tension against any ethnic group in any country — including the Rohingya in India," Facebook said in a statement. "We have clear rules against hate speech and credible threats of violence, and we use a combination of technology and reports to help us identify and remove such content."
Yet Facebook is limited in its ability to eradicate hate speech and false information. It relies heavily on users to report inappropriate posts and on third-party partners to assess falsehoods, which means only some of the offending material is caught. The company's employees and contractors often lack the linguistic and cultural knowledge necessary to gauge the offline risks posed by certain content. And Facebook's focus on individual posts means it can overlook the long-term impact of sustained hate campaigns.
"I think Facebook keeps thinking they can solve this within the bunker of their offices and not with the collaboration of the communities who are affected," said Thenmozhi Soundararajan, the founder of Equality Labs, a human rights group that tracks hate speech in India.
Anti-Rohingya hate speech can also be found on Twitter and YouTube. But Facebook is far more influential than those services in India.
Soundararajan said that such speech on Indian Facebook pages started to increase in early 2018 when the country held elections for the upper house of Parliament. It escalated late last year as the elections for the more important lower house of Parliament approached.
Dealing with anti-Rohingya content was made harder by the BJP, which is led by Prime Minister Narendra Modi. Hoping to win Hindu votes in heavily Muslim states like West Bengal, the party campaigned on a promise to expel Muslim "infiltrators" and to make India — which is about 80 percent Hindu but constitutionally secular — into a Hindu nation. BJP supporters used false information and criticism of Rohingya refugees as shorthand for broader anti-Muslim sentiments, Soundararajan said.
She said she had warned Facebook officials last fall about the spike in anti-Rohingya hate speech and had provided specific examples. But they did little to address the problem, she said.
Since then, anti-Rohingya posts directed at Indians have circulated widely on Facebook. In one video, a gang of men from the BJP's militant wing brandishes knives and burns the effigy of a child. "Rohingyas, go back!" the men scream in English and Hindi. This month, dozens of Rohingya homes were burned in Jammu, where the video and similar ones were shot.
Facebook said it had decided not to remove the videos because they were posted by entities claiming to be news organizations and were not directly linked to violence.
Users also posted gruesome images of human arms and other body parts and falsely claimed that the Rohingya were cannibals. The images were often removed because they violated Facebook's rules against graphic violence and hate speech, yet they kept resurfacing.
Other videos inaccurately said that Rohingya Muslims had attacked BJP workers and beaten up a Hindu priest in West Bengal. Facebook said that after independent fact checkers disproved these claims, it buried those posts.
In a more subtle attack, two Indian actresses, Payal Rohatgi and Koena Mitra, championed the anti-Rohingya cause on Facebook and Twitter. Mitra accused Rohingya refugees of being terrorists and criminals. Facebook removed some images posted by Mitra after The New York Times inquired about them.
An extremist state lawmaker, Raja Singh, whose official Facebook page was banned in March over his anti-Muslim hate speech, set up another page weeks later. In one older video still on Facebook, he called the Rohingya "insects" and "worms" and said that they should be shot if they did not leave India voluntarily. The company said Singh had not violated its rules since his return.
Facebook said its efforts to fight hate speech were a work in progress.
"We still have a long way to go," said Rosa Birch, director of the company's strategic response team.
Birch's year-old team is figuring out how to tackle issues such as "divisive" posts that do not violate the social network's rules. It is also experimenting with new techniques for preventing violence, including a temporary restriction on the sharing of posts in Sri Lanka after Muslim-led terrorist bombings there last Easter.
In addition, Facebook said it was supplementing its 15,000 human content reviewers by teaming up with civil society groups in various countries to help it assess potentially violent or threatening speech. It declined to disclose the names of its partners. For the Rohingya in India, those explanations are of little comfort.
Hossain Gazi, a social worker in West Bengal who built huts and rented homes last year to house several hundred Rohingya refugees, including Salim's family, said that after his efforts received some publicity, right-wing Hindu groups visited, took photographs and made threats on Facebook and via phone against the Rohingya living there.
"They even wrote in several social media posts that I was running a terrorist training camp for the Rohingya and the authorities should arrest and jail me," he said. All the Rohingya refugees soon left his camps, he said.
Abdul Goni, a Rohingya refugee who lived in India from 2012 until fleeing to Bangladesh last year, said that Rohingya Muslims had used WhatsApp, where messages are private, to circulate some of the threatening videos from right-wing Hindu groups and to warn one another of impending danger.
As for Facebook, which is more public, Goni said that many Rohingya had deactivated their accounts on the social network. Others have stayed on it to monitor what is being said about them but have hidden their location and erased videos and photos — anything that would link them to the Rohingya community.
Salim, who has since moved from his West Bengal location, said it was as if he had gone full circle.
Full report at:
https://indianexpress.com/article/india/rohingya-refugees-muslims-facebook-hate-bjp-narendra-modi-5781270/
--------
Arab World
The kidnapped Yazidi children who don't want to be rescued from ISIS
By Liz Sly
June 14, 2019
OUTSIDE HASAKAH, Syria — Early last month, an informant offered a tip to one of the Yazidi leaders engaged in tracking down members of the minority faith who are still missing after being abducted by the Islamic State five years ago.
Two Yazidi girls, 14 and 11, were said to be living in a tent with a woman loyal to the Islamic State in the al-Hol camp in eastern Syria, where tens of thousands of Islamic State family members are being detained, said Mahmoud Rasho, the Yazidi leader.
A few days later, he headed to al-Hol, gathered a group of Kurdish security guards and went to the tent to rescue the girls.
They didn't want to be rescued.
The girls sobbed and screamed and clung to the woman, insisting she was their mother. The woman sobbed, too, wailing that the girls were her daughters and hugging them in her arms. The Kurdish security forces physically separated them and put the girls into a van for the first leg of their journey back to their real families, in the Sinjar region of Iraq.
Accounts of the wrenching scene, given by both Rasho and the girls, point to a new challenge confronting members of the Yazidi community as they try to trace nearly 3,000 Yazidis who remain unaccounted for after the territorial defeat of the militants. Perhaps hundreds of them are children, who are still being hidden by Islamic State families in camps or homes, Rasho said.
Mahmoud Rasho poses for a portrait outside his house near Hasakah, Syria. (Alice Martins for The Washington Post)
A Yazidi girl, 11, follows one of Rasho's daughters into the kitchen of their house. (Alice Martins for The Washington Post)
Snatched from their families at a young and vulnerable age, these children now must undergo the trauma of new separations and new adjustments, after spending some of the most formative years of their lives with the militants. The children were given new names, new families and a new faith. Many forgot their native Kurdish language and now speak only Arabic.
They barely remember the circumstances of their earlier lives, and many have embraced the ultra-extremist form of Islam at the heart of the Islamic State's ideology.
Altogether, over 6,200 Yazidis, an ancient minority viewed as infidels by the Islamic State, went missing when the militants swept through their ancestral homeland in the Sinjar mountains of northern Iraq in 2014.
Many Yazidi men were simply murdered on the spot. The women were taken to be sold as sex slaves, and most of them have returned home, either after their families paid ransom or they escaped. They have brought with them harrowing tales of the conditions they endured in captivity.
The children tell a different story.
They endured horrors, to be sure — the relentless airstrikes carried out by the U.S.-led coalition, the deaths of the people they cared about, and the atrocities they witnessed.
But their lives with the militants also brought adventure, friendship and love.
A Yazidi girl, 14, poses for a portrait with the veil she likes to wear loosely over her head. (Alice Martins for The Washington Post)
In an interview at Rasho's home, where she was staying ahead of her return to Iraq, the older of the two girls described the misery they felt when they were separated from the woman they had come to regard as their mother, whom they knew as Umm Ali. They wept all the way back to Rasho's home, and she said they still cry every day because they miss her.
"I love her more than my own mother," said the girl. "She treated me better than my original mother. My mother and father divorced and they didn't care about me. Umm Ali really cared for me, as if I were her own daughter."
She was among four recently rescued children, the two girls and two boys, who spoke during a series of interviews at Rasho's home about their experiences of life with the Islamic State. Their names are being withheld because they are minors, and the opinions they express now may haunt them in the future as they readapt to yet another way of life in their original homes — and perhaps change their views again.
A 15-year-old boy who was recruited into the Islamic State's "Caliphate Cubs" army for children said he was sure he would not change his mind. Alone among the four children, he volunteered in late May to be rescued, after spending three months in jail with captured Islamic State fighters.
His leg was blown off during shelling last year, conditions in the cell were difficult, and he decided it would be better to acknowledge his Yazidi identity to the guards than to remain incarcerated perhaps for years.
But he did so with regret, he said, sitting in a wheelchair procured for him by Rasho from a nearby family. He misses the camaraderie of the battlefield and, above all, the friend he made on the front lines, a Saudi man called Abu Hassan, who died beside him in the attack that cost him his leg. He cries when he remembers him and says he dreams of joining Abu Hassan in heaven.
"I never cried when I left my mother in Sinjar, but I cried when I left my friends," he said.
A Yazidi boy, 12, walks through Rasho's home. (Alice Martins for The Washington Post)
Yazidi women rescued by Rasho prepare tea. They stay in his house while waiting for transport and permissions to cross the border back home to Iraq. (Alice Martins for The Washington Post)
One of the hardest adjustments, he said, has been seeing women with their hair and faces uncovered. It is an adjustment he doesn't think he will be able to make when he returns to the more liberal Yazidi community in Iraq.
"Maybe there's a lot of things I won't like," he said. "The women where I am going don't cover their hair. It will be very hard for me if someone comes to my house and sees my mother and my sister not covered. Or if I go to my uncle's house and see the faces of his daughters. I can't force them to do something they don't want. But when I get married I will not allow anyone to see the face of my wife."
The 14-year-old girl nodded and said that for her, going without her face and hair covered was something she couldn't get used to.
"Dressed like this now, I'm not comfortable. I feel naked," she said, pointing to the black lace dress and leggings she was wearing, more goth than Islamist, that were lent to her by one of Rasho's daughters. Her hair was tied up in a pink scrunchy.
The girl was sassy and articulate and talked animatedly about the lessons her adoptive mother had taught her about Islam. When told she looked pretty in her new outfit, she scowled.
"If I am pretty, men will look at me and it will cause strife," she responded sternly, echoing the Islamic State's teachings about why women should cover their faces and hair. She lovingly touched the black abaya that she had on when she was rescued and said she wishes Rasho's family would allow her to wear it.
"I'm confused. There they tell you to do one thing. Here they tell you another. When I was there I was told to wear abaya and cover my face. Here they tell me not to cover. In my mind it's chaos."
Yazidi children play with a toy rifle. (Alice Martins for The Washington Post)
A Yazidi girl, 11, braids the hair of another Yazidi girl, 14, while they watch television with a Yazidi boy, 12. (Alice Martins for The Washington Post)
When reminded that the Islamic State had committed atrocities, the children quickly dismissed them.
"Why do you hate the Islamic State so much?" asked the boy. "They killed my father and my cousins but still I love them. Why should you be against them when they didn't do anything to you?"
"It's true some of the military men were bad, but most of them were really good people," added the girl.
Rasho acknowledged that the children are facing difficulties adjusting but predicted they would adapt once they got home. He and his family do their best to make them feel welcome. His teenage children befriend them. They teach them about the Yazidi faith. But the traumatized children will need counseling and the support of their families, he said.
Not all of them will find it.
The second boy, 12, seemed somewhat more at ease with his new life. Like the girls, he resisted being rescued from the Iraqi family he was with in the al-Hol camp, but he said that was because he was afraid. The Islamic State had taught him, he said, to believe that the Yazidis would kill him if they found him.
He only dimly recalls the faces of his father and mother, who were abducted alongside him, but said he was looking forward to seeing them again.
Speaking in Kurdish as the boy poured tea for the guests, Rasho told us his parents are missing and almost certainly dead. The boy betrayed no sign that he understood.
"I know in those days I spoke only Kurdish, and I only understood Kurdish, and I don't know how it is that I speak only Arabic now and I forgot Kurdish," he said.
Out of earshot of the Yazidi adults, he begged us to take him back to the camp from which he was rescued, saying he missed his friends.
"Maybe in the beginning we are suffering, but maybe, only God knows, we will get used to it," suggested the 14-year-old girl.
The youngest of the group, the 11-year-old girl, didn't seem sure. Painfully shy, she refused to speak. She nodded or shook her head to the few questions she was asked, her eyes downcast.
Did she want to be rescued? She shook her head. Was she happy to be here? She shook her head. Does she also miss Umm Ali, like the older girl? She looked up and nodded vigorously.
Then the corners of her mouth drooped, her eyes fell, and she looked as though she was going to cry.
https://www.washingtonpost.com/world/the-kidnapped-yazidi-children-who-dont-want-to-be-rescued-from-isis/2019/06/13/ef051578-87a1-11e9-9d73-e2ba6bbf1b9b_story.html?noredirect=on&utm_term=.20b78ce66c28
--------
Escalation continues in Idlib despite cease-fire claims
June 14, 2019
ANKARA: The dynamics in Syria's latest opposition stronghold quietly shifted on Wednesday night with Russian news agencies claiming that Turkey and Russia had struck a cease-fire deal in Idlib between Syrian regime forces and opposition fighters.
However, contrary to the cease-fire claims, intensive shelling reportedly continued afterward targeting civilian zones in southern Idlib and the northern Hama countrysides. Turkey's tenth observation post in the enclave was also attacked from the Syrian regime-held territory of Al-Shariah, wounding Turkish soldiers and damaging facilities.
The Turkish Foreign Ministry denied the cease-fire and announced that it would retaliate if regime attacks continue. The counterattacks by Syrian fighters against pro-Assad forces continued on Thursday.
Experts underline that such declarations of a cease-fire are only to provide room for maneuvering by Russia and Turkey to negotiate the dynamics on the ground in the light of their regional interests.
Hundreds of civilians have been killed and hundreds of thousands displaced since the Russian-led military offensive in northwestern Syria, which has become the scene of a serious military escalation between Assad regime forces and the fighters.
Joe Macaron, a fellow at the Arab Center in Washington, DC, thinks this is not the first or last time a fragile Russian-Turkish cease-fire announced in Idlib has already been violated.
"The two sides have irreconcilable interests in Idlib, however they chose neither to fight if off nor to strike a deal since both scenarios have a detrimental impact on their bilateral relations," he told Arab News.
Moscow backs the Syrian regime, while Ankara gives its support to some opposition groups in the region.
For Macaron, the only way out of the Idlib quagmire is either the shortcut of an unwarranted military solution or the long-term arduous path of conflict resolution.
Some experts see the latest developments in Idlib from the prism of the current dynamics in relations between Moscow and Ankara, especially regarding the Russian air defense S-400 system and its approaching delivery within two months. Russian reports about the cease-fire in Idlib came hours after Turkish President Recep Tayyip Erdogan announced that Turkey has already bought S-400s, challenging the US threat of sanctions over the purchase.
"Idlib and the S-400 delivery have become increasingly intertwined and caught up in the US-Russian tensions and Turkey's attempt to play both sides," Macaron said.
"Erdogan is approaching a critical moment next month where he might have to choose between coming under significant US pressure if he officially receives the S-400s and dealing with a Russian offensive in Idlib if the S-400 deal does not go through," he said.
Erdogan would also be put under domestic pressure ahead of the June 23 Istanbul vote if any escalation in Idlib triggered massive refugee flows to Turkey, considering the deep anti-Syrian sentiments among Turkish society.
Dr. Kerim Has, a Moscow-based analyst on Russia-Turkey relations, thinks that the latest cease-fire in Idlib cannot be realized.
"Following the "anonymous attack" in Idlib against Turkey's tenth observation point, Ankara blamed the Syrian regime forces, whereas the Russian Ministry of Defense pointed out the militant groups and disclosed Turkey's request for Moscow's assistance to counter the attack," Has told Arab News.
"The Turkish side denied Russian claims, and both statements still have quite contradictory details if compared with each other," he said.
According to Has, the recent incompatible views of Turkey and Russia in Idlib have two main aspects.
"First, the Sochi deal of September 2018 on Idlib was born as an absolutely 'dead deal,' and Ankara now has to face the realities on the ground. Moscow's pressure intensifies as the last chance for Turkey to eliminate the terrorist groups in the region who fled away," he said.
Has noted that a 15-20 km demilitarized zone could not be created, and the M4 and M5 highways are still close to Assad regime's use.
"Cease-fire violations both by the regime and Hayat Tahrir Al-Sham, or HTS, and other militant groups never stopped, drone attacks against Russian bases keep on going. HTS now almost totally dominates the Idlib province compared to partly controlling it when the Sochi deal was reached," he said.
Experts also note that the deepening crisis in Turkish-US relations following the S-400 decision and F-35 deadlock plays into the hands of Moscow, especially in Idlib where "horse-trading" is heating up.
New Russian weapons were monitored heading for Syria through the Turkish straits a few days ago — likely a prelude to a bigger offensive in the region.
"Most possibly, we are going to watch not a comprehensive offensive soon, but a 'slow motion' advancement of regime forces in Idlib at least until the first US sanctions on Turkey over S-400's procurement," Has said.
Full report at:
http://www.arabnews.com/node/1510701/middle-east
--------
An Isis killer and an unlikely hero have heaved open the cracks in Lebanese politics
Jun 15, 2019
Saber Mrad grinned up from his bed on the third floor of the Islamic Hospital with a hero's smile.
"I've always been the kind of person to interfere if someone's being hurt," he said. "I've never been scared in my life." Which is just as well. For the cheerful Lebanese with the Australian accent, his torso covered in bandages and far too many tattoos, had deliberately crashed his car into the motor-cycle-riding Isis killer who opened fire on crowds of civilians preparing for the Eid al-Fitr festival in the Northern Lebanese city of Tripoli.
The back of Mrad's head is also swathed in gauze and bandages because – this being a truly bloody tale without many Hollywood happy endings – the Isis veteran from Syria shot him three times in the brain and once below the neck.
"I felt the bullets hitting me in a blur and then the back of my head opened. It was surreal," Mrad said – and he never stopped smiling at me as he remembered – "but this guy had big hate-filled eyes, he seemed to hate everybody. He had a beard like me but longer, and he kept saying filthy things at all the people round me. It was surreal."
Even Mrad's aunt and his other female relatives standing at the bottom of the 31-year-old construction worker's bed open their mouths in awe at such a frightful description.
"There was a lot of blood and I started to walk and I couldn't see and I kept telling people, 'Where are you?' I couldn't see anything. One guy stayed with me during the rest of the shooting and wouldn't leave me till an ambulance came and he kept saying, 'It isn't that bad,' and he stayed with me till the ambulance came and then he disappeared.
"All I did was try to help people – I've always been like that, all my life. I just said, 'I can't let this man go on shooting at these people'. I just couldn't let those people go on getting killed."
So much for the drama last week, which cost the lives of two Lebanese soldiers and two cops. But the drama did not end when Abdul Rahman Mabsout, the Isis veteran who had fought against the Assad regime in Syria, smashed his way into an empty fourth-floor apartment, shot his last victim from the balcony and blew himself up with a grenade amid a blaze of army gunfire.
The balcony is now gutted black, bullet holes spattered around it, an ugly black hole in a new apartment block almost as dark as the holes which Mabsout blew in the body politic of Lebanon.
For it has now emerged that the "have-a-go" hero of Lebanon risked his life for a people whose country had refused to give him its citizenship – for the simple and disgraceful reason that while his mother was Lebanese, his father was Palestinian.
The exodus of 750,000 refugees from Palestine in 1948, and Lebanon's fear of contaminating its carefully balanced Muslim-Christian-Druze society with the aliens who fled the Israelis more than 75 years ago, has largely sealed the descendants of that distant war into the squalor of the camps. And if the menfolk later married Lebanese women, the status of their children did not change.
The Lebanese authorities have been quick to lavish praise on Mrad, but less keen to discuss the fact that while he is now an Australian citizen, he was never allowed a Lebanese passport – nor the right to live equally in the country of his birth.
True, they are ensuring the best of treatment for their hero's wounds, although even the word "their" is a bit dodgy. After all, if they rewarded this fine man with the right to call himself Lebanese, that would set a precedent for the continuing arguments of thousands of Lebanese women who married foreign citizens but want the law changed so that their children can be Lebanese. The government has repeatedly been asked to change this legislation – and has refused.
Saber Mrad's brain has clearly been affected by those Isis bullets. He still speaks perfectly in English and Arabic – he was taking calls from relatives in Australia when I walked into his private hospital room – but he can no longer use numbers. He had to count up to 10 on his fingers three times and hold up a thumb when I asked him his age, to illustrate his 31 years. Mrad is divorced but has two children in Austrialia, Maria and Ace – when I asked their age, he twice held up his hands before he reached 10 and 11. But despite his wounds, he is a lucky man.
And so this might be the moment – since the victims of last week's lone Isis attack also had families who sobbed over their coffins across Lebanon this past week – to recall the names of the dead: Lieutenant Ali Farhat and Private Ibrahim Saleh of the Lebanese army and Sergeant Johnny Khalil and Corporal Youssef Faraj of the Internal Security Forces (ISF).
So now to the Isis killer. Mabsout had fought in Syria, a full-time member of the "Islamic State" cult, and his attack on the festival crowds in Tripoli with both automatic rifle and six grenades also wounded dozens of civilians. Lebanon's interior minister, Raya el-Hassan, quickly called him a "lone wolf", although most people in Tripoli I talked to believe he must have had help. After all, he was a veteran Isis man, considered so dangerous that when he returned to Lebanon in 2015, he was imprisoned within the grim concrete walls of the hopelessly overcrowded Roumieh prison north of Beirut.
But his Isis activities had been committed in Syria, a foreign country – and Lebanon's Muslims and Christians remain divided in their support and hatred for Bashar al-Assad's regime.
The Shia Muslim Lebanese Hezbollah have been fighting alongside the Syrian government army. Sunni Muslim politicians, while hardly espousing the Isis cause, largely oppose Assad. And the Lebanese prime minister, Saad Hariri, who holds a Saudi as well as a Lebanese passport and remains loyal to the Saudis – despite his brief kidnapping in Riyadh last year – is no friend of the Syrian regime. He still blames it for the 1995 murder of his ex-prime minister father Rafiq.
So it was not surprising that the pro-Assad Christian Free Patriotic Movement (FPM) – whose founder and former leader is Lebanese president Michel Aoun – should have accused Hariri's Sunni Future Movement (FM) of freeing Mabsout early from prison, after only 18 months, because of the Isis man's record as an anti-Assad fighter.
A former Aounist parliament member then circulated a fake photo on social media of the bearded Mabsout apparently standing next to Ashraf Rifi, a Sunni Tripoli FM politician and the former director of the paramilitary ISF – which is itself often accused by Aounists of being over-sympathetic to Hariri's party.
Rifi himself suggested that the inspiration behind the fake picture had been Christian Lebanese foreign minister and leader of the FPM Gibran Bassil, who also happens – by chance, of course – to be President Aoun's son-in-law.
Thus did Mabsout's attack open up sectarian divisions – a principal and stated aim of Isis commanders when they first encouraged their supporters to stage attacks in countries outside their Iraqi-Syrian "caliphate" in 2014. And no better confessional cocktail at which to strike than Lebanon. But the divisions don't end there.
For the hopeless state of Lebanon's prisons, especially Roumieh – where inmates of all religions are crammed into tiny cells and often wait without charge for years before being put on trial or released – has long been a national scandal. Now there are politicians who say that if Mabsout set off on his killing spree to revenge himself for the 18 months he spent in Roumieh (another Lebanese report), then other Islamists in the jail should be freed and given psychiatric treatment to "cure" them of their extremism as quickly as possible.
Equally, and rather more understandably, there are others who would like to keep the Islamists – some of whom participated in a bloody uprising against the state in northern Lebanon more than a decade ago – locked up for the rest of their lives.
And so the political repercussions of Mabsout's three-hour act of murder and multiple woundings have painfully divided this tiny country of Lebanon, perhaps a quarter of whose present inhabitants are refugees from the war in Syria. I'm conscious that I'm a foreign journalist, clumping around town to chart the sectarian suspicion and ice-thin anger of this moment, and so it is a useful counterpoint to remind you that life can go on happily in the middle of all this. Just last week, I attended the glorious wedding of a Sunni Muslim and a Christian Maronite scarcely 30 miles from Tripoli.
Full report at:
https://www.independent.co.uk/voices/lebanon-syria-isis-killing-lone-wolf-hariri-robert-fisk-tripoli-australia-a8956851.html
--------
Egypt officials say roadside bomb wounds 6 police in Sinai
By Ashraf Sweilam
June 13, 2019
EL-ARISH, Egypt — Egyptian security officials are saying that six policemen were wounded by a roadside bomb targeting a police patrol vehicle in the restive northern Sinai province.
The officials said Thursday that the bomb was detonated remotely near the city of El-Arish. They said Islamic militants had set up ambushes along the highway leading to El-Arish where they had kidnapped at least 14 civilians over the course of the last 24 hours. The officials spoke on condition of anonymity because they weren't authorized to speak to the media.
Egypt has battled Islamic militants for years in northern Sinai, where an affiliate of the Islamic State group is based.
Full report at:
https://www.washingtonpost.com/world/middle_east/egypt-officials-say-roadside-bomb-wounds-6-police-in-sinai/2019/06/13/87204426-8dc5-11e9-b6f4-033356502dce_story.html?noredirect=on&utm_term=.7d68ccfa1f04
--------
US Not Disclosing Fate of Tens of Iraqi ISIL Commanders Arrested in Syria to Baghdad Government
Jun 14, 2019
The Arabic-language al-Arabi al-Jadid quoted Iraqi officials as saying that the fates of about 40 to 50 ISIL commanders with Iraqi nationalities who had been arrested in al-Baghouz are still unknown.
They said that according to the intelligence obtained by Iraqi officials, the arrested ISIL commanders are very important and the US and its allied militants have hidden them for interrogations.
A member of the Iraqi Armed Forces General Command pointed to the intelligence collected by Iraq's friendly countries, and said the intel confirms that the US and its allied militants have kept these ISIL commanders in secret places.
Full report at:
http://en.farsnews.com/newstext.aspx?nn=13980324000552
--------
Bodies of More US, ISIL Victims Found in Raqqa
Jun 14, 2019
Media activists in Raqqa reported that the civil teams in the city found the corpses of 13 people from a mass-grave in al-Talaeh Garrison South of Raqqa and four others who were killed in the US airstrikes from the ruins of a building in al-Dokhar region in Raqqa City.
Meantime, the Kurdish-language Hawar News quoted Head of Civil Team Yasser al-Khamis as saying that 14 mass graves have been found in Raqqa since the beginning of the year 2018.
"The number of the corpses discovered from the mass graves has exceeded 4,500," al-Khamis said.
Most of the bodies found in Raqqa belong to civilians who had been killed in this region over the past two years and also the civilians executed by the ISIL terrorist group on different charges.
In a relevant development in late March, the bodies of over 300 victims of the ISIL and the US air raids, including those of slain women and children, were discovered in mass-graves and from under the rubles of destroyed buildings in Raqqa.
The Hawar News reported at the time that the corpses of 304 people had been unearthed from a mass-grave in Fakhikheh region in Southern Raqqa since early January.
He added that most of the bodies belonged to the civilians, including women and children, noting that some of the victims had been executed.
Meantime, media activists reported that bodies of several civilians, most of them women and children, were pulled out of the debris in al-Adkhar and al-Ta'aminat districts of Raqqa in the past few days.
Full report at:
http://en.farsnews.com/newstext.aspx?nn=13980324000360
--------
Hundreds More Flee US-Controlled Refugee Camp in Homs
Jun 14, 2019
Over 500 refugees incarcerated by the US-backed militants in al-Rukban Camp in al-Tanf region in Eastern Homs opened their way to escape from the camp, the Arabic-language Al-Watan newspaper quoted special sources as saying on Thursday.
They said that tens of Syrian families most of them women and children managed to flee al-Rukban Camp controlled by the Syrian Democratic Forces (SDF) for areas under the Syrian Army control through Jaliqam crossing in Eastern Homs.
The sources also said that the exit of the civilians came after terrorists sought to block their departure from the camp.
The families who have escaped al-Rukban have confirmed lack of food and hygiene in the camp, adding that the US-backed terrorists keep people hungry and prevent their evacuation, al-Watan said.
Meantime, the Syrian Air Force carried out consecutive attacks on the ISIL's military positions near Wadi Awirez Dam, T2 Station, Badiyeh al-Sukhna and near the borders with Deir Ezzur in Eastern Badiyeh of Homs, destroying terrorists' several military positions and killing several of them.
In a relevant development late April, Al-Watan newspaper reported that "there are around 40,000 to 60,000 people residing in al-Rukban Camp and about 2,500 of them have managed to leave the camp".
Based on media reports, the US troops that occupy a 55-km zone in Southern Syria block Russian and Syrian diplomatic and military officials from entering al-Rukban Camp to provide people with humanitarian aid.
The US command in Al-Tanf had previously delayed the delivery of aid to al-Rukban from Damascus, after refusing to guarantee its safety. It has also prevented buses sent by Damascus and guarded by the Russian military police from taking Syrians from the camp to other parts of Syria.
Full report at:
http://en.farsnews.com/newstext.aspx?nn=13980324000323
--------
Russia, Syria bomb gathering of Jabhat al-Nusra ringleaders
Jun 14, 2019
Syrian and Russian warplanes have jointly carried out precision attacks against the positions of Jabhat al-Nusra terrorist group, formerly known as al-Nusra Front, in the northwestern province of Idlib.
A gathering of the terrorist group's ringleaders at Taftanaz military airbase in Idlib was pounded three times by Syrian and Russian aircraft on Thursday night as part of a joint operation, Sputnik news agency reported.
The report said the terrorists' hideouts in the southern areas of Khan Shaykhun, Sufuhon, Kafr Nabl, and Hass in the province were also targeted by the warplanes.
The strikes came after the militants refused to honor a full ceasefire agreement brokered between Russia and Turkey late Wednesday with the aim of halting clashes between Syrian forces and militants in the area.
That agreement put on hold a Syrian government offensive to liberate Idlib, where between 10,000 and 15,000 militants are estimated to be holed up.
Militants have persisted in their stay in the zone and refused to leave the area, launching instead numerous attacks on the outposts of the Syrian army and Russian forces.
Russia and Turkey gave sharply conflicting accounts on Thursday of an attack on a Turkish military outpost.
Turkey claimed one of its observation posts in Idlib province had come under deliberate attack from Syrian forces, in which three Turkish soldiers were allegedly wounded.
Moscow said the attack was carried out not by the Syrian troops, but by militants.
Russia says it is Turkey's duty to rein in the armed groups and help separate them from the Takfiri outfits, which form the backbone of the militant presence in Idlib.
Idlib remains the only large area in the hands of anti-Damascus militants after government forces managed to undo militant gains across the country and bring back almost all of the Syrian soil under government control.
In recent weeks, Syrian armed forces have been conducting counter-terrorism operations in areas surrounding Idlib.
Full report at:
https://www.presstv.com/Detail/2019/06/14/598489/Syria-Russia-Idlib-Turkey-alNusra
--------
Top Bahraini court upholds jail terms against dozen anti-regime activists
Jun 14, 2019
Bahrain's supreme court of appeals has upheld jail terms, ranging from life imprisonment to three years in prison, against a dozen anti-regime activists.
On Friday, the Court of Cassation upheld life terms for four convicts and sentenced seven others to between three and 10 years in jail. The last defendant was handed a six-year sentence.
The defendants were found guilty of "planting an explosive device underground in a sand yard in the northern village of Karrana, luring police forces to the area and then detonating the bomb."
Dissident on hunger strike over jail condition, mistreatment
Meanwhile, a Bahraini inmate has launched a hunger strike in protest at harsh prison conditions and mistreatment at the hands of prison authorities.
Female human rights campaigner Ebtesam al-Sa'eq wrote on her Twitter page that 29-year-old Hussein al-Tawil has been on hunger strike since Monday, and his family is fearing for his life as the detainee suffers from diabetes and serious blood sugar fluctuations.
"Taweel is dying a thousand times a day due to symptoms of the disease. His eyesight is affected by unstable blood sugar levels, and irregular treatment doses," Sa'eq said.
Bahraini officials have reportedly leveled terror charges against Taweel based on his confessions. Confessions, however, are said to have been extracted under duress and torture.
Thousands of anti-regime protesters have held demonstrations in Bahrain on an almost daily basis ever since a popular uprising began in the country in mid-February 2011.
They are demanding that the Al Khalifah regime relinquish power and allow a just system representing all Bahrainis to be established.
Manama has gone to great lengths to clamp down on any sign of dissent. On March 14, 2011, troops from Saudi Arabia and the United Arab Emirates were deployed to assist Bahrain in its crackdown.
Scores of people have lost their lives and hundreds of others sustained injuries or got arrested as a result of the Al Khalifah regime's crackdown.
On March 5, 2017, Bahrain's parliament approved the trial of civilians at military tribunals in a measure blasted by human rights campaigners as being tantamount to imposition of an undeclared martial law countrywide.
Full report at:
https://www.presstv.com/Detail/2019/06/14/598522/Bahrain-court-jail-terms
--------
Mideast
Senior Cleric Lauds Leader's Stances on US' Offer for Talks
Jun 14, 2019
Addressing a large and fervent congregation of the people in Tehran on Friday, Ayatollah Khatami said, "The statements by the Supreme Leader in his meeting with Japanese Prime Minister Abe Shinzo on negotiating with the US were wise, subtle and clever."
"We clearly understand from Supreme Leader's remarks that the US rulers and the triangle of evil do not know anything about sincerity and being humble to negotiate," the senior cleric said.
In a Thursday meeting with Abe, Ayatollah Khamenei strongly rejected talks with the United States, and told the visiting Japanese premier that he doesn't see Donald Trump as a party deserving to receive a message from Iran.
"I do not consider Trump, as a person, deserving to exchange messages with. We will not negotiate with the United States," the Supreme Leader stressed in the meeting in Tehran.
During the meeting, Japanese Prime Minister Abe Shinzo told Ayatollah Khamenei that "I would like to give you a message from the President of the United States".
Ayatollah Khamenei responded by pointing to the US ingenuity and untrustworthiness, and argued, "We do not doubt your sincerity and goodwill. However, regarding what you mentioned about the President of the US, I do not consider Trump as a person worth exchanging any message with and I have no answer for him, nor will I respond to him in the future."
"What I am going to say is part of our talks with the Japanese Prime Minister. Because we consider Japan a friend of ours. Although, there are some complaints," he added.
Ayatollah Khamenei referred to Abe's remarks that the US intends to prevent Iran's production of nuclear weapons, and said, "We are opposed to the nuclear weapons and my religious Fatwa bans production of nuclear weapons but you should know that if we intended to produce nuclear weapons, the US could do nothing and its non-permission was not an obstacle."
He also described stockpiling of nuclear weapons as an unwise measure, and said, "The US is not qualified at all to say which country should have or have not nuclear weapons because the US has several thousand nuclear warheads in its arsenals."
Referring to the Japanese prime minister that Trump told him that "the United States is not after regime change in Iran", the Supreme Leader insisted, "Our problem with the United States is not about regime change. Because even if they intend to pursue that, they won't be able to achieve it; just as previous US presidents tried to destroy the Islamic Republic of Iran during the past 40 years, and failed. What Trump says, that he is not after regime change, is a lie. For, if he could do so, he would. However, he is not capable of doing it."
Ayatollah Khamenei referred to the Japanese prime minister's remarks regarding the United States' request to negotiate with Iran about the nuclear issue, and said, "The Islamic Republic of Iran negotiated for 5 to 6 years with the United States and the Europeans — the P 5+1 — which led to an agreement. But the United States disregarded and breached this definite agreement. So, what common sense would once again allow negotiations with a state that has thrown away everything that was agreed upon?"
He pointed to the forty years of hostility that the US has showed to the Iranian nation and its continued hostility, and said, "We believe that our problems will not be solved by negotiating with the US, and no free nation would ever accept negotiations under pressure."
Ayatollah Khamenei then responded to remarks by the Japanese Prime Minister on how the Americans have always wanted to impose their own beliefs and views on other nations, and stated, "It is good that you acknowledge this fact, and you should also know that the Americans will observe no limits in imposing their views."
The Leader of the Islamic Revolution pointed to the process of negotiations with the US that led to the formation of the 2015 nuclear deal, and said, "After the nuclear agreement, the first person to immediately breach the JCPOA was Mr. Obama himself; the same person who had asked for direct talks with Iran and had also sent a mediator."
"This is our experience, and rest assured Mr. Abe that we will not repeat it," he underlined.
Ayatollah Khamenei referred to the remarks made by the Japanese prime minister quoting Trump as saying that "negotiating with the US will help Iran progress", and said, "By God's grace, we will progress without negotiating with the US and despite the sanctions."
The Leader of the Revolution welcomed the Japanese prime minister's suggestion of expanding relations between Japan and Iran, and reminded, "Japan is an important country in Asia, and if they are willing to expand relations with Iran, they should prove their sincere willingness -- just as some important countries have shown their interest."
Abe arrived in Tehran on Wednesday afternoon.
Before holding a bilateral meeting with the Iranian Leader, he attended talks and pursuing joint press conference with Iranian President Hassan Rouhani.
During the press conference, President Rouhani slammed the US sanctions on his nation as an act of terrorism and "root cause of tensions in the region", and told the visiting Japanese Prime Minister that Iran would continue with modifying its undertakings under the nuclear deal if it remains the only party complying with its terms.
Rouhani also noted the age-old ties between the two countries and appreciated the Japanese premier for giving a positive response to his invitation to visit Iran.
He further praised constructive ties and consultations with Japan in the past several years, and stressed that Tehran welcomes cooperation with Japan at all the bilateral, regional and international levels.
"We discussed investment in Iran's Southern port city of Mahshahr and the port of Makran," Rouhani said, and added that Japan's willingness to continue buying crude from Iran ensures stability in growing ties between the two countries.
"We welcome Japan's interest to continue purchasing Iran's crude and settle financial ties between the two countries," he said.
"In addition to bilateral ties, we also discussed regional security and detente," Rouhani said, and voiced pleasure in the two countries' interest in regional stability.
The president ensured his state's policy has been built on peace and security at regional and global stage, but meantime, indicated that Tehran is fully prepared for all scenarios, implying that it would definitely not sit idly if it comes under attack by the US.
"I ensured Mr. Prime Minister we will not initiate any war with any country in the region, but if war is imposed on us, we will give a decisive response," the Iranian president reiterated.
"Mr. Abe voiced optimism in the present conditions and said he knows that prospects are bright," he added.
President Rouhani praised Japan's support for the Joint Comprehensive Plan of Action (JCPOA), and said he has informed the Japanese premier that Iran is resolved to continue the present path of modifying its undertakings under the nuclear deal based on the contents of "Paragraphs 36 and 37" if the merits promised by the signatories to Tehran are not provided.
The president slammed Washington's sanctions on Tehran and said, "I told Mr. Prime Minister that the sanctions imposed on Iran are a clear instance of economic terrorism."
"Tensions in the region are rooted in the United States' economic war against Iran," the Iranian president reiterated.
Yet, he appreciated Japan's goodwill and care for regional security and stability, and asked for expansion of nuclear cooperation with Tokyo for peaceful purposes.
The Japanese premier appreciated Iran's warm hospitality during the visit, and said he had wished to visit Tehran all throughout the last three decades after he accompanied his father, the then foreign minister, during a visit to Tehran.
Noting that this is the first official trip to Iran by a Japanese prime minister after 41 years, he expressed strong willingness to expand cooperation with Tehran in various areas, including medical grounds.
The Japanese premier further voiced concern over instability in the region, and said his country is willing to help to deescalate the present tensions.
Abe appreciated the religious Fatwa issued by Iran's Supreme Leader Ayatollah Seyed Ali Khamenei that has placed strong religious ban on the acquisition, production, stockpiling and use of the Weapons of Mass Destruction, and voiced pleasure in Iran's full compliance with the nuclear deal.
He failed to note the US sanctions and military threat to Iran by the deployment of thousands of troops in and around the Persian Gulf, and asked Iran to help him advance his mediation efforts.
Abe, heading a high-ranking politico-economic delegation, arrived in Tehran on Wednesday on a three-day visit to discuss bilateral ties and cooperation. According to Japanese media, mediation between Iran and the US is on his agenda.
The visit comes more than one year after Washington's abrupt withdrawal from the landmark nuclear deal that led to the lifting of economic sanctions on Iran. Japan is not a member of the deal but has been a supporter.
Before making the trip official, Abe and Trump had a phone conversation on Tuesday about the Japanese prime minister's trip to Tehran.
The US president's anti-Tehran top aide, Secretary of State Mike Pompeo, has recently claimed that Washington is ready to engage in talks with the Islamic Republic without preconditions, and his boss has reinstated harsh economic sanctions against Iran to force Tehran back to the table - a desire that has not yet come to reality. Washington has also escalated America's military presence in the Persian Gulf - recently sending an aircraft carrier group, a squadron of B-52 bombers and additional Patriot air defense systems as a "message" to Iran. Trump claimed that the United States is not seeking armed conflict with Tehran, calling for negotiation with Iran to reach a new deal. The US president also introduced sanctions on third countries that would do business with the Islamic Republic. Dependent on Iranian oil, Japan is one such country.
In May, Iran announced it was suspending some of its commitments under the nuclear deal, setting a 60-day deadline for the five remaining parties to the deal — France, Germany, the UK, China and Russia — to take practical measures towards ensuring Tehran's interests in the face of the American sanctions.
http://en.farsnews.com/newstext.aspx?nn=13980324000422
--------
The terrorism of Iran and its militias must be confronted
DR. HAMDAN AL-SHEHRI
June 13, 2019
The Houthis' targeting of Abha Airport with a missile, injuring 26 civilians, is clear and explicit evidence of the group's terrorism. This targeting of a civilian airport makes us re-evaluate the comprehensive Yemeni peace process at all levels. First is the mechanism for dealing with the Houthis — the rules of engagement should now be expanded, making the military option the only option. Not only have the Houthis rejected the Stockholm agreement and its implementation, but Wednesday's escalation in targeting vital facilities within Saudi Arabia threatens the security of the Kingdom's citizens and residents.
This escalation from the Houthi side is considered a war crime and evidence that the militia is playing the role of Iran in the war and fighting on Tehran's behalf. This is what the Arab League has always warned of. The re-evaluation this time should include the role of the UN and the international community, which has not done its job properly. The Houthis' attacks on civilians inside Saudi Arabia have reached record levels.
Why should we re-evaluate the UN's role in Yemen? Because Security Council resolution 2216 has, since 2015, called for the Houthis to withdraw from the Yemeni cities they occupy, hand over their heavy weapons, and engage in political negotiations to end the coup against the legitimate government. But the UN and its envoys, including incumbent Martin Griffiths, have not worked to implement the resolution. Instead they have emptied the resolution of its value and entered into negotiations with the Houthis, which has led to a prolonging of attempts to restore the legitimate government and slowed the liberation of Hodeidah port. Comically, Griffiths praised the Houthi leadership personally and even gave them gifts of four-wheel drive cars.
Iranian terrorist militias such as the Houthis must be dismantled and eliminated. The Daesh "caliphate" was eradicated by the international community forming a coalition to defeat it — this should be no different.
The question remains: Why has the international community not confronted Iran over its use of sectarian terrorist militias? They have ballistic weapons and drones and have used them to target international waterways and global interests, oil pipelines inside Saudi Arabia, and oil tankers in the region's waters. They have targeted international airports and carried out terrorist acts inside Yemen, including kidnappings, extrajudicial killings, starving the civilian population and the theft of international aid. Why is there so much patience and so many cover-ups of the Houthis' crimes? This was also the case for some members of Hezbollah in the UK in 2015, when it was discovered they were storing materials involved in the manufacture of bombs in London but it was not disclosed at the time.
If the international community wants to defeat terrorism, it must confront it in all its forms. Militias must be forced to disarm. It should be unacceptable for militias to use weapons to destabilize the security and stability of other countries.
Iran is responsible for them and legally should bear the consequences of all the violations and terrorist attacks carried out by these militias. They are armed and trained on the basis of being sectarian terrorists in the mold of Iran's Islamic Revolutionary Guard Corps, and they serve the interests of Iran in the region and beyond. Therefore, Tehran must be held accountable for the actions of such militias. This issue should be as important as preventing Iran from acquiring nuclear weapons.
Full report at:
http://www.arabnews.com/node/1510411
--------
US says video shows Iran removing mine from stricken tanker
By JON GAMBRELL
Jun 15, 2019
DUBAI, United Arab Emirates (AP) — The U.S. military released a video Friday it said showed Iran's Revolutionary Guard removing an unexploded limpet mine from one of the oil tankers targeted near the strategic Strait of Hormuz, suggesting Tehran wanted to hide evidence of its alleged involvement.
Iran denied any role in Thursday's apparent attacks, which have again roiled the Persian Gulf amid heightened tensions between Tehran and Washington over the unraveling nuclear deal with world powers.
Four other oil tankers off the nearby Emirati port city of Fujairah suffered similar attacks in recent weeks, and Iranian-allied rebels from Yemen have struck U.S. ally Saudi Arabia with drones and missiles.
President Donald Trump withdrew America last year from the 2015 nuclear deal that Iran reached with world powers and recently imposed a series of sanctions now squeezing its beleaguered economy and cutting deeply into its oil exports. While Iran maintains it has nothing to do with the recent attacks, its leaders repeatedly have threatened to close the vital Strait of Hormuz, through which 20 percent of the world's oil flows.
Iran accused Washington of waging an "Iranophobic campaign" against it, while Trump countered that the country was "a nation of terror."
"Iran did do it," he said of the attack, in remarks Friday morning to "Fox & Friends."
Trump also warned Iran not to close off the strait, saying if it does so, it won't be shut for long.
The black-and-white U.S. video of the Iranians alongside the Japanese-owned tanker Kokuka Courageous came after its crew abandoned ship after seeing the undetonated explosive on its hull, said Capt. Bill Urban, a spokesman for the U.S. military's Central Command. It separately shared photos of the vessel, which showed what appeared to be a conical limpet mine against its side.
In the video, the boat from Iran's paramilitary Revolutionary Guard pulls alongside Kokuka Courageous at 4:10 p.m. Thursday. The Iranians reach up and grab along where the limpet mine could be seen in the photo. They then sail away.
Limpet mines, which are magnetic and attach to a ship's hull, are designed to disable a vessel without sinking it.
Analysts say Iran, if involved, wouldn't want investigators to find an unexploded mine because they could check its serial numbers and other attributes to trace it.
"The U.S. and the international community stand ready to defend our interests, including the freedom of navigation," Urban said in a statement. "The United States has no interest in engaging in a new conflict in the Middle East. However, we will defend our interests."
In a statement from its U.N. mission, Iran accused the U.S. of escalating tensions.
"The U.S. economic war and terrorism against the Iranian people as well as its massive military presence in the region have been and continue to be the main sources of insecurity and instability in the wider Persian Gulf region and the most significant threat to its peace and security," the statement said.
In Tokyo, the owner of the Kokuka Courageous said its sailors saw "flying objects" before the attack, suggesting it wasn't damaged by mines. Company president Yutaka Katada offered no evidence for his claim, which contradicted the U.S. military account.
Katada also said crew members saw an Iranian naval ship nearby, but did not specify whether this was before or after the attacks.
The suspected attacks occurred at dawn Thursday about 40 kilometers (25 miles) off the southern coast of Iran. The Front Altair, loaded with naphtha from the United Arab Emirates, radioed for help as its cargo of flammable chemicals caught fire. The Kokuka Courageous, carrying methanol from Saudi Arabia and Qatar, called for help a short time later.
The U.S. Navy sent the USS Bainbridge, which picked up 21 sailors from the Kokuka Courageous, and they stayed overnight on the destroyer, returning to their vessel Friday to help in it being towed.
Thursday's attack resembled one in May that targeted four oil tankers off the nearby Emirati port of Fujairah. U.S. officials similarly accused Iran of using limpet mines.
U.S. Secretary of State Mike Pompeo said the U.S. assessment of Iran's involvement was based in part on intelligence, as well as the expertise needed for the operation. It was also based on recent incidents, including the Fujairah attack, he said. He also tied Iran to a drone attack by Yemen's Houthi rebels on a crucial Saudi oil pipeline around the same time.
"Taken as a whole, these unprovoked attacks present a clear threat to international peace and security, a blatant assault on the freedom of navigation and an unacceptable campaign of escalating tension by Iran," Pompeo said. He didn't elaborate.
Iran also denied being involved in last month's attacks. Its foreign minister questioned the timing of Thursday's incidents, given that Japanese Prime Minister Shinzo Abe was meeting Supreme Leader Ayatollah Ali Khamenei in Tehran.
Pompeo noted that Abe had asked Iran to enter into talks with Washington but Tehran "rejected" the overture.
"The supreme leader's government then insulted Japan by attacking a Japanese-owned oil tanker just outside Iranian waters, threatening the lives of the entire crew, creating a maritime emergency," Pompeo added.
On Friday, Abe condemned the attack as a threat to safe navigation.
Abe told reporters he briefed Trump by phone on his trip to Iran but did not give details, except to say the president thanked him for trying to help de-escalate tensions in the region and that he planned to continue cooperating closely with the U.S.
The U.N. Security Council held closed consultations on the tanker incidents late Thursday at the request of the U.S. but took no action.
Tensions have risen as Iran appears poised to break the nuclear deal, which Trump repudiated last year. In the deal, Tehran agreed to limit its enrichment of uranium in exchange for the lifting of crippling sanctions. Now, Iran is threatening to resume enriching uranium closer to weapons-grade levels if European nations don't offer it new terms to the deal by July 7.
Already, Iran says it quadrupled its production of low-enriched uranium. Meanwhile, U.S. sanctions have cut off opportunities for Iran to trade its excess uranium and heavy water abroad, putting Tehran on course to violate terms of the nuclear deal regardless.
Full report at:
https://apnews.com/6a48842e263541a5b3451f0d41dee01a
--------
Turkey refuses Russian 'excuse' over Syria strikes
14 June 2019
Turkey's foreign minister on Friday said Ankara did not accept Russia's "excuse" that Syria would not listen to Moscow and stop regime strikes in Idlib province.
"In Syria, who are the regime's guarantors? Russia and Iran," Mevlut Cavusoglu told state news agency Anadolu in a televised interview.
"Thus we do not accept the excuse that 'we cannot make ourselves listened to by the regime'," he said.
Turkey and Russia have worked closely to find a political solution under the Astana process to the eight-year conflict despite being on opposing sides of the war.
While Ankara has called for Syrian President Bashar al-Assad's ouster and backed opposition fighters, Moscow has provided support to the Damascus regime.
Turkey, as part of the Astana talks, is the guarantor for Syrian rebels. Cavusoglu said there had been "no issues" from the moderate opposition.
But Damascus had sent radical groups to Idlib from Aleppo, East Ghouta, and Hama with their weapons, the minister charged.
"We knew in the future after other areas had been captured, the regime would attack Idlib using the excuse of the radical groups' presence after sending them there," he said.
There was disagreement over whether a ceasefire had been secured in Idlib this week after Moscow's announcement on Wednesday. The following day Cavusoglu said a complete ceasefire had not been secured in the northwestern province.
Idlib is intended to be protected from a major regime assault under a buffer zone deal agreed on by Russia and Turkey in September but it was never fully implemented.
In recent weeks, hundreds have been killed after increased bombardment by Damascus and Moscow in the province, which is home to three million people.
Ankara says Turkish soldiers have also been wounded in two separate incidents in May and again on Thursday in deliberate attacks by the regime on Turkish observation posts in Idlib.
Russia and Turkey made conflicting claims over Thursday's attack with Moscow claiming it was the work of "terrorists" and that it had responded with air strikes.
Full report at:
https://english.alarabiya.net/en/News/middle-east/2019/06/14/Turkey-refuses-Russian-excuse-over-Syria-strikes.html
--------
Arab Coalition strikes Houthi positions in Yemen's Sanaa
15 June 2019
The Arab Coalition backing the Yemeni legitimate government struck on Saturday Houthi military targets in the capital Sanaa, including air-defense systems.
The assault followed a missile attack by the Iran-aligned Houthi militia on Saudi Arabia's Abha airport on Wednesday that injured 26 people.
On Friday, Saudi Arabia's air defense forces intercepted five drones launched by the Houthi militia in Yemen, targeting the Abha airport and the nearby city of Khamis Mushait, the Arab Coalition said.
https://english.alarabiya.net/en/News/gulf/2019/06/15/Arab-Coalition-strikes-Houthi-positions-in-Yemen-s-Sanaa.html
--------
Coalition: Saudi Arabia intercepts five Houthi drones in new attack
14 June 2019
Saudi forces on Friday intercepted five drones launched by Iran-aligned Houthis in Yemen, targeting the Abha airport in the country's northwest, the Arab Coalition said.
This was the second such targeting of the airport in two days. A missile on Wednesday left 26 civilians wounded at the Abha airport. The nearby city of Khamis Mushait was also targeted in the latest attack.
The latest attack comes amid spiraling regional tensions after Washington accused Iran of carrying out attacks that left two tankers ablaze in the Gulf of Oman, the second such incident in a month in the strategic sea-lane.
"The royal Saudi air defense force and air force successfully intercepted and destroyed five unmanned drone aircraft launched by Houthi militia towards Abha international airport and Khamis Mushait," the coalition statement said.
Full report at:
https://english.alarabiya.net/en/News/gulf/2019/06/14/Coalition-Saudi-Arabia-intercepts-five-Houthi-drones-in-new-airport-attack.html
--------
Rouhani tells SCO summit: US poses 'serious threat' to world
Jun 14, 2019
Iran's President Hassan Rouhani says the Trump administration is a serious threat to the stability of the Middle East and the world, urging the international community to stand up to US unilateralism.
"For the past two years, the US government has used its economic, financial and military power through an aggressive approach to disrupt all international structures and regulations," Rouhani said Friday.
This has turned the US administration "into a serious threat for the stability of the region and the world", he noted.
He was speaking at a meeting of the Shanghai Cooperation Organisation -- a Eurasian security alliance that includes China, India and Russia -- in Bishkek, the capital of the Central Asian nation of Kyrgyzstan.
"The Islamic Republic of Iran believes that today, the international community has been challenged more than ever by the issue of unilateralism, and the problems and complexities of today's world, especially terrorism, extremism and drug trafficking, have made multilateralism a necessity," Rouhani added.
Rouhani also warned that "terrorism, in its different forms, extremism, unilateralism and interference of extra-regional countries in the affairs of other regions and interference in the internal affairs of other countries have put the international community in a grave situation."
The situation, he noted, can pose a threat to the stability, security and interests of all countries around the world.
"Today, we all have to be united from the East to the West against the danger of extremism; because extremism threatens development, peace and security of the world," Rouhani said.
"It does not matter whether we are Muslim, Christian, Jewish, Buddhist or following any other religion; what matters is to be united against extremism of any color, race or religion."
On Thursday, Rouhani reaffirmed Iran's commitments to guarding regional peace and security, saying Tehran has practically shown over the past years how much it is sensitive to the security of its neighboring and regional countries.
Rouhani reminded how the International Atomic Energy Agency has verified Iran's compliance with its commitments under the 2015 nuclear deal in 15 successive reports.
"Unfortunately, however, the United States trampled on this agreement, violated UN Security Council Resolution 2231 and launched economic war and terrorism" against the Islamic Republic, he said in Tehran.
The 19th SCO summit was held in Kyrgyzstan, with the presidents of 11 countries taking part, including Russia, China, Kazakhstan, Tajikistan, Uzbekistan, India, Pakistan and Iran.
The Shanghai Cooperation Organization is an intergovernmental organisation founded for multilateral, political, economic and security cooperation.
China, Russia, Kazakhstan, Kyrgyzstan, Tajikistan, Uzbekistan, Pakistan and India are its main members, and Iran, Mongolia, Afghanistan and Belarus are observers.
On the second leg of his three-day trip, Rouhani was to leave Bishkek later Friday for Dushanbe, the capital of Tajikistan to participate at the 5th summit of Conference on Interaction and Confidence-Building Measures in Asia (CICA).
Full report at:
https://www.presstv.com/Detail/2019/06/14/598490/Iran-Rouhani-world-stability-trump-SCO-Summit
--------
President Xi: China to promote ties with Iran no matter what
Jun 14, 2019
Chinese President Xi Jinping says Beijing will continue to promote steady development of ties with Tehran no matter how the situation changes.
He made the remarks on Friday during a meeting with Iranian President Hassan Rouhani on the sidelines of the Shanghai Cooperation Organization summit underway in the Kyrgyz capital of Bishkek, the official Xinhua news agency said.
Xi condemned Washington's unilateral pullout from the 2015 nuclear deal with Tehran as the main reason behind rising tensions in the region, calling for the promotion of multilateralism.
He stressed that Beijing will continue its strategic relations with Tehran in various fields, including fighting terrorism and systematic crimes.
Rouhani said Iran and China's resistance in the face of US unilateralism could be in the interest of the two countries as well as the entire world.
He further slammed Washington for violating international laws and unilaterally abandoning agreements, including the Joint Comprehensive Plan of Action (JCPOA).
"The US is violating all international norms, and is seeking to establish its dominance over Asia and the entire world," the president said.
Iran and China, Rouhani said, have great capacities to develop their relations. "Due to its exceptional geographical location, Iran is ready to play a key role in the development of 'One Belt, One Road' Initiative," he said.
Under the "One Belt, One Road" initiative, China aims to create a modern Silk Road economic belt and a 21st century maritime Silk Road to boost trade.
Projects under the plan include a network of railways, highways, oil and gas pipelines, power grids, Internet networks, maritime and other infrastructure links across Central, West and South Asia to as far as Greece, Russia and Oman.
Heading a high-ranking political delegation, Rouhani left Tehran for Bishkek on Thursday.
The Iranian president was about to deliver a speech to the 19th SCO summit and later meet participating leaders, including Russian President Vladimir Putin.
The SCO was formed in 2001 in Shanghai by the leaders of Kazakhstan, China, Kyrgyzstan, Russia, Tajikistan, and Uzbekistan to curb extremism in the region and enhance border security.
Iran is currently an observer member of the SCO, though it has long sought full membership.
Full report at:
https://www.presstv.com/Detail/2019/06/14/598482/Iran-China-SCO-Rouhani-Xi-Bishkek
--------
Israeli forces injure 49 civilians in Gaza
Jun 14, 2019
Israeli forces have attacked Palestinians taking part in anti-occupation protests near the fence separating the besieged Gaza Strip from the occupied territories, wounding 49 civilians.
Ashraf al-Qedra, the spokesman for the Gazan Health Ministry, said 46 Palestinian protesters sustained different types of injuries during the protests in eastern Gaza Strip on Friday.
Three paramedics were also wounded by Israeli soldiers, he added.
The rallies have been held every week since March 30 last year. The Palestinians demand the right to return for those driven out of their homeland by Israeli aggression.
Israeli troops have killed at least 305 Palestinians since the beginning of the rallies — called the "Great March of Return" — and wounded more than 17,000 others, according to the Gazan Health Ministry.
In March, a United Nations (UN) fact-finding mission found that Israeli forces committed rights violations during their crackdown against the Palestinian protesters in Gaza that may amount to war crimes.
Full report at:
https://www.presstv.com/Detail/2019/06/14/598524/Gaza-protest-Israeli-soldiers
--------
Saudi Arabia's air defense forces shot down five Houthi drones aimed at Asir region
June 14, 2019
JEDDAH: Saudi Arabia's air defense forces shot down five drones launched by Houthi terrorists against targets in the Kingdom's southern border region of Asir, a spokesman of the Arab Coalition supporting Yemen's legitimate government said on Friday.
Col. Turki Al-Maliki said the drones were targeted at Abha International Airport and the city of Khamis Mushayt on Thursday night, according to the Saudi Press Agency.
"Air traffic and airspace at Abha International Airport are operating normally, and there is no delay in flights and passenger traffic," Al-Maliki said. He said: "The Houthi terrorist militia is trying to target civilian facilities in desperate and repeated attempts, without achieving any of their irresponsible and hostile objectives."
He added: "These drones were exposed and dropped. We stress our legitimate right to take appropriate deterrence measures, with such hostile acts and in conformity with international humanitarian law and its customary rules."
It was the second drone attack by the Iran-backed Houthis on Khamis Mushayt in four days. Last Monday, Saudi air defense forces shot down two drones launched toward the city.
Full report at:
http://www.arabnews.com/node/1510641/saudi-arabia
--------
Africa
Islamist insurgents overrun Nigerian army base in northeast - security sources
JUNE 14, 2019
MAIDUGURI, Nigeria (Reuters) - Islamist insurgents overran a Nigerian army base in the country's northeast, killing at least the commander, two Nigerian security sources said on Thursday.
Militants on Wednesday took a Nigerian army base at the village of Kareto in northeastern Borno state, some 130 kilometres from state capital Maiduguri, the security sources said.
No other details about possible further casualties were available.
Nigerian army spokespeople did not immediately respond to requests for comment.
The latest development is at odds with the Nigerian military's public statements as recently as Monday that their campaigns against Boko Haram and Islamic State's West African branch are making "major breakthroughs", statements that frequently describe the insurgents as "remnants".
It was not immediately clear whether the attackers were affiliated with Boko Haram or Islamic State.
The insurgents were said to have overrun troops from the Nigeria Army's 158th Battalion stationed at Kareto, killing at least their commanding officer and causing the remaining soldiers to flee, one security source said.
After the assault, the militants left Kareto, but remained in the area, they said.
President Muhammadu Buhari in his second-term inaugural speech on Wednesday said Nigeria was meeting security challenges "with much greater support to the security forces in terms of money, equipment and improved local intelligence".
Nigeria's government has said the Boko Haram insurgency, and the rival Islamic State West Africa Province group, are on their last legs.
But sustained efforts to eradicate the militants have failed and the military continues to suffer heavy losses.
The insurgency has killed over 30,000 people and displaced millions of civilians in affected areas.
https://uk.reuters.com/article/uk-nigeria-security-insurgency/islamist-insurgents-overrun-nigerian-army-base-in-northeast-security-sources-idUKKCN1TE3AH
--------
Cameroon Says 88 People Killed in Suspected Boko Haram Attack
By Pius Lukong
June 13, 2019
More than 80 people were killed, including 16 Cameroonian soldiers, during an attack by suspected Boko Haram Islamists in the north of the country, the defense ministry said.
Eight civilians and 64 fighters also died in the pitched battle in the Darak locality of Cameroon's Far North Region on June 9, while another eight fighters were taken prisoner, Defence Minister Joseph Beti Assomo said in statement handed to reporters in the capital, Yaounde.
Based in Nigeria, Boko Haram has been waging a violent campaign since 2009 to impose its version of Islamic law in Africa's most populous country. Its attacks have left tens of thousands of people dead and the violence has spilled into Niger, Chad, and Cameroon.
https://www.bloomberg.com/news/articles/2019-06-14/u-s-says-video-shows-iran-was-involved-in-an-attack-on-tanker
--------
4 al-Shabab militants killed in Kenya's coast in botched attack
2019-06-14
LAMU, Kenya, June 13 (Xinhua) -- Four al-Shabab militants were killed after an improvised explosive device (IED) they were setting up apparently detonated prematurely in Kenya's coastal Lamu region early Thursday, the police confirmed.
A number of militants were also injured in the 3 a.m. incident near a bridge in Lamu East, said Lamu security operation director Joseph Kanyiri.
"I can confirm that four of the militants died from an IED explosion," he said. "It seems the device went off before they were done setting it up, killing three militants on the spot while another died a few minutes later.
"Three badly charred bodies were recovered on the scene while another was picked up a few meters away. It seems he was trying to get away but succumbed to injuries," Kanyiri added.
The area falls within the infamous Boni forest where a security operation, dubbed Linda Boni, has been underway since 2015 to flush out militants there.
The militants have been using the forest to stage attacks on local civilians and security personnel.
Kanyiri said three loaded AK-47 magazines, 12 loose rounds of ammunition and a magazine pouch were also recovered at the scene.
The tourism resort region of the coast has been a target of terror attacks in the past, often staged by al-Shabab terrorists who waged a war against Kenya soon after it deployed its military to war-ravaged Somalia in October 2011.
Full report at:
http://www.xinhuanet.com/english/2019-06/14/c_138141086.htm
--------
Tunisian Who Withheld Info About ISIS-affiliated Brother Sentenced to 10 Years
13 June, 2019
The Court of First Instance in Tunis sentenced a Tunisian to 10 years in prison and his wife for six months. The two are accused of joining a terrorist group, planning to smuggle terrorist elements to the country, plotting terrorist operations and concealing important information about counter-terrorism agencies.
Security investigation carried out by the anti-terrorism apparatuses revealed that the husband had been accused of contacting his brother, who is an ISIS affiliate.
The wife, however, hid the mobile phone belonging to her terrorist brother-in-law who is currently in the hotbeds of tension in Syria.
Security units considered this an attempt to mislead the judiciary and not enable anti-terrorism agencies to access information and important data in the ISIS element's mobile phone.
The wife confirmed that he contacts them on a regular basis and he talks to her husband and his mother. Yet, she said she was afraid to reveal her husband's contacts with his terrorist brother and hid the mobile phone in a plastic bag before burying it near their house in Ramada (southeast Tunis).
In this context, the husband denied preparing and planning to carry out terrorist operations in the country and denied smuggling a terrorist group across the border to carry out bombings and killings within Tunisia's territory.
He admitted, however, contacting his terrorist brother once, which the court considered sufficient evidence to issue a prison sentence against him.
The court said he had hidden clear evidence about his brother's joining of a terrorist organization, threatening the country's security and stability.
Full report at:
https://aawsat.com/english/home/article/1765526/tunisian-who-withheld-info-about-isis-affiliated-brother-sentenced-10-years
--------
Islamic State arrival in Mozambique further complicates Cabo Delgado violence
JUNE 13, 2019
Islamic State claimed its first presence in Mozambique, saying in a statement on June 4 an attack by the army was repelled in "Metobe" in the "Mocimboa area." The fighting was attributed to its Central Africa Province affiliate. Evidence of links between ISIS and local groups in northeastern Mozambique preceding this claim remain elusive, only increasing questions around the deadly insurgency carried out by Ahlu Sunnah Wa-Jama.
Previously, ISCAP-attributed attacks were limited to the Democratic Republic of Congo but ISIS on June 4 claimed: "The soldiers of the Caliphate were able to repel an attack by the Crusader Mozambican army," and that the fighting led to "killing and wounding a number of them," adding that "weapons, ammunition, and rockets" had been captured.
Mozambique police denied that ISIS was behind the fighting, with spokesperson Orlando Mudumane saying "the security forces distance themselves from these reports," and that "the information is not true."
ISIS also released two images purporting to show weapons and ammunition seized in the fighting. A weapons researcher known as Calibre Obscura identified some of the arms as a PK-pattern machine gun, an RPG-7 rocket-propelled grenade launcher, and two assault rifles – an East German AK-type MPi-KMS-72 and an AKMS with East German furniture. Along with the weapons there was various ammunition including mortar shells, RPG warheads, magazines, and an assortment of other items, including limes, juice boxes and water bottles.
The exact location of "Metobe" is unclear, but Mocimboa da Praia is in the northern Cabo Delgado province, where violence has been going on for over a year. There were no media reports or military statements about an attack in the region on June 4, but Africa researcher Jasmine Opperman told The Defense Post that the incident likely took place on June 2.
An offensive on that day by the armed forces of Mozambique (FADM) in the area of Ntoto, around 30 km (20 miles) south of Mocimboa da Praia, was intended to clear an area believed to contain an insurgent base. After initial success, a counter-attack by militants inflicted several casualties among FADM personnel and forced the rest to withdraw, Opperman said.
A week earlier on May 28, militants ambushed a truck carrying passengers and goods in the coastal district of Macomia, south of Mocimboa da Praia. Homemade explosives were reportedly thrown at the truck before militants opened fire. Eight people were found dead in the vehicle, another seven bodies were recovered nearby, and one person died the next day. Ten people were evacuated to hospital by helicopter. Among the dead were three soldiers who had been on the truck as protection.
Ahlu Sunnah Wa-Jama
Mozambique has grappled with terrorism blamed on jihadists since October 2017, when militants attacked a police station and military outpost in Mocimboa da Praia.
The violence has been centered in Cabo Delgado, a Muslim-majority province in northeastern Mozambique that borders Tanzania, and is the least developed region in the country.
Poor socio-economic conditions in Cabo Delgado may have been a factor in fueling the insurgency; with high unemployment, poverty, and ineffective government services. But the province has seen an influx of financing after the discovery of major gas deposits in 2010, although many locals have not benefited.
The violence in Mozambique is most commonly viewed as Islamist militancy, with the little-known Ahlu Sunnah Wa-Jama blamed for the attacks. There are reports the group may have initiated as a splinter from a peaceful sect before turning to violence.
Locals refer to the group as al-Shabaab, but it is not believed to be linked to the Somalia-based al-Qaeda affiliate with the same name.
It is unclear if Ahlu Sunnah Wa-Jama is responsible for the attack ISIS claimed.
Other theories blame the violence on links to organized crime networks or to the discovery of gas in the region, and the lack of public statements by the attackers has only increased confusion.
The Armed Conflict Location and Event Data Project has logged over 100 events reported to involve Ahlu Sunnah Wa-Jama, most of it focused on civilians. From January to April 2019, ACLED logged only three clashes between state forces and militants, compared to at least 30 attacks on civilians. Attacks had led to over 200 deaths and have caused thousands of people to flee their homes.
Many of the attacks have been defined by their brutality: civilians, including children, have been decapitated or chopped up, and their homes burnt. While firearms and rudimentary explosives have been used, often violence has been carried out with machetes and other similar weapons.
The government has responded with the deployment of more forces, although they have failed to halt the violence and there are reports of abuses. Human Rights Watch has alleged that security forces committed crimes against accused militants, including arbitrary detentions, poor treatment, and summary executions. Multiple mosques in the country have been closed as a reaction to the attacks and at least one was levelled. Journalists are often obstructed in their work by security forces, and several have been detained.
Alleged foreign connections
While the majority of Ahlu Sunnah Wa-Jama militants are Mozambicans from the local area, foreigners are also present, including Tanzanians and Ugandans.
Even less is known about the activities of any ISIS cells in the area. In May 2018 a photo was shared on pro-ISIS Telegram channels showing six fighters standing in front of the black flag infamously used by ISIS, but several other groups use the same flag, including Boko Haram, the Somali al-Shabaab, and al-Qaeda in the Arabian Peninsula.
Along with the picture it was claimed that a bayah, or pledge of allegiance, to ISIS leader Abu Bakr al-Baghdadi would follow. If such a pledge has been made it was not done so publicly.
That same month, the African Union claimed ISIS had expanded its reach into East Africa including Mozambique, but provided no details.
The statement and images released by ISIS suggest a line of communication from Mozambican militants to ISIS central, but that communication may not be direct. In the past such releases have typically been preceded by the building of ties and a bayah, or pledge of allegiance, to Baghdadi.
Separately, there are alleged links between Ahlu Sunnah Wa-Jama and the Allied Democratic Forces, a Ugandan-led Islamist group based in Democratic Republic of Congo. Six Ugandans have been arrested in Mocimboa da Praia and extradition proceedings are underway, Uganda's Daily Monitor reported.
In July, the Somalia-based think tank Hiraal Institute cited a Tanzanian security official as saying Tanzanian militants with Ahlu Sunnah Wa-Jama had been in contact with Tanzanians who joined ADF.
Islamic State Central Africa Province
Until the June 4 attack in Mozambique, all activity attributed to ISCAP had been confined to the DRC. The group is believed by experts and analysts to have been formed from ADF or a splinter group that had previously built ties with ISIS.
ISIS has sought to expand into new regions through local groups or their splinters, just as they apparently did with the ADF. After a group has pledged allegiance to Abu Bakr al-Baghdadi, it will act in ISIS's name and propaganda coverage of its activities is released by ISIS central.
This model has previously been seen: in Nigeria a Boko Haram faction became West Africa Province, and Ansar Beit al-Maqdis in Egypt became Sinai Province.
The relationship allows ISIS to expand into a new region, while local forces gain financing, propaganda and legitimacy among would-be jihadists from being part of ISIS.
ISIS benefits – especially since the fall of its proto-state in Iraq and Syria – by signaling to its supporters that it will continue to expand.
With the lack of clear links between militants in Mozambique and ISIS, it remains unclear if the attack claimed by ISIS was carried out by Ahlu Sunnah Wa-Jama, a splinter, or a completely separate group. The lack of overt links between local militants and ISIS central creates rightful suspicions about the actual level and nature of ISIS involvement.
Full report at:
https://thedefensepost.com/2019/06/13/islamic-state-mozambique-cabo-delgado-iscap/
--------
Sudan says military council suspends decree on UN sites
15 June 2019
Sudan's transitional military council has suspended implementation of a decree demanding that the joint UN-African Union peacekeeping force in Darfur hand over its premises as part of its withdrawal next year, a Sudanese diplomat said Friday.
Omer Ahmed Mohamed Ahmed told the UN Security Council that the transitional military council also decided on Thursday to withdraw all armed forces and other security forces from sites the government has already received from the peacekeeping force known as UNAMID.
The United Nations has opposed the transitional military council's decree, saying under an agreement with the Sudanese government its facilities when handed over are to be used solely for civilian purposes.
Last July, the Security Council voted to dramatically cut the UNAMID force in the vast western Darfur region in response to reduced fighting and improved security conditions. The target for ending the mission is June 30, 2020, and Ahmed urged the council to keep to that timetable.
"We reject any attempt to postpone or suspend the exit of UNAMID given that there are no conditions, no justification or reasons for its presence," Ahmed said.
Russia and China backed Sudan and urged the Security Council to stick to the timetable.
But Britain, Germany, South Africa, the United States and others raised questions about the impact on Darfur of the transitional military council's crackdown on protesters last week that killed over 100 people and wounded hundreds more.
Earlier this week, the Security Council strongly condemned the violence and urged Sudanese authorities to immediately end the use of violence, respect human rights, and ensure justice and accountability.
A monthslong popular uprising against Sudanese President Omar al-Bashir's 30-year rule led to his fall from power in April, but there has been a standoff since then between the protesters and the transitional military council that succeeded him.
Britain's Deputy UN ambassador Jonathan Allen told the council that his government and Germany are proposing "a technical rollover" to extend the UNAMID mandate, which expires June 30.
This "would provide time for progress on the broader political situation," he said, and give time to resolve the issue of the handover of UNAMID sites.
South Africa's UN Ambassador Jerry Matjila said "there is an urgent need for an assessment of the drawdown" of the UNAMID force, given the political situation following al-Bashir's ouster.
Full report at:
https://english.alarabiya.net/en/News/middle-east/2019/06/15/Sudan-says-military-council-suspends-decree-on-UN-sites.html
--------
UN suspends handover of camps in Sudan's Darfur
Umar Farooq
14.06.2019
The UN announced on Friday it would be suspending the handover of sites in Darfur to the control of Sudan's Transitional Military Council (TMC).
The suspension serves as a rejection of the TMC's call for the UN Hybrid Operation in Darfur (UNIMAD) to hand over all of its camps to the Rapid Support Forces, the Sudanese paramilitary forces which is reportedly made of militia groups accused of human rights abuses.
"We have had no choice but to suspend the handover of UNAMID sites to the Sudanese authorities until the TMC decree is rescinded," Jean Pierre Lacroix, the UN peacekeeping chief, told the Security Council.
The Council issued a statement condemning the violence in Sudan after the Central Committee of the Sudanese Doctors said at least 11 people were killed and 20 others wounded Monday when the paramilitary Rapid Support Forces (RSF), a faction of the army, opened fire on residents in Central Darfur state.
Sudanese protesters began a nationwide civil disobedience campaign on Sunday as part of pressures on the ruling TMC to hand over power to a civilian government.
More than 100 people have been killed since June 3 when the government forces broke up the sit-in by forces.
The TMC later promised to bring the perpetrators to the justice, vowing that it would release the results of investigation it conducts within three days.
Full report at:
https://www.aa.com.tr/en/africa/un-suspends-handover-of-camps-in-sudans-darfur/1504701
--------
Somalia: Premature IED Detonation Kills 4 Al-Shabaab Militants in Garissa, Kenya
14 JUNE 2019
Somali based terror group Harakat Shabaab Mujahideen has dealt a huge blow after 4 group's operatives were killed while planting an IED in Hulugho Sub-county of Garissa in Kenya.
The IED prematurely detonated killing the four terror operatives. The IED was targeted at Kenya security patrol teams that are frequent in this area. This is the same place one officer of the KDF morning patrol team was killed by an IED.
A number of militants were also injured in the 3 a.m. incident near a bridge in Lamu East, said Lamu security operation director Joseph Kanyiri.
"I can confirm that four of the militants died from an IED explosion," he said. "It seems the device went off before they were done setting it up, killing three militants on the spot while another died a few minutes later.
"Three badly charred bodies were recovered on the scene while another was picked up a few meters away. It seems he was trying to get away but succumbed to injuries," Kanyiri added.
The area falls within the infamous Boni forest where a security operation, dubbed Linda Boni, has been underway since 2015 to flush out militants there.
The militants have been using the forest to stage attacks on local civilians and security personnel.
Mogadishu Mayor Lauds Development and Security Progress in the City
AMISOM equips Somalia's security forces with specialised containers
Al-Shabab Launches Anti-Malaria Unit, Vows to Eradicate the Disease
Full report at:
https://allafrica.com/stories/201906140614.html
--------
Kenya Says Al-Shabaab Members Died in Premature Bomb Blast
14 JUNE 2019
Four al-Shabab militants were killed after an improvised explosive device (IED) they were setting up apparently detonated prematurely in Kenya's coastal Lamu region early Thursday, the police confirmed.
A number of militants were also injured in the 3 a.m. incident near a bridge in Lamu East, said Lamu security operation director Joseph Kanyiri.
"I can confirm that four of the militants died from an IED explosion," he said. "It seems the device went off before they were done setting it up, killing three militants on the spot while another died a few minutes later.
"Three badly charred bodies were recovered on the scene while another was picked up a few meters away. It seems he was trying to get away but succumbed to injuries," Kanyiri added.
The area falls within the infamous Boni forest where a security operation, dubbed Linda Boni, has been underway since 2015 to flush out militants there.
The militants have been using the forest to stage attacks on local civilians and security personnel.
Kanyiri said three loaded AK-47 magazines, 12 loose rounds of ammunition and a magazine pouch were also recovered at the scene.
The tourism resort region of the coast has been a target of terror attacks in the past, often staged by al-Shabab terrorists who waged a war against Kenya soon after it deployed its military to war-ravaged Somalia in October 2011.
Full report at:
https://allafrica.com/stories/201906140618.html
--------
Somalia: Time to Consider Negotiating With Al-Shabaab in Somalia?
11 JUNE 2019
By Akinola Olojo
The use of force hasn't worked, and negotiation is one of several non-military options for preventing terrorism.
'I knew how to found al-Shabaab, I know how to finish them.' This was a 2018 statement by Mukhtar Robow, former deputy leader of Africa's deadliest terror group - al-Shabaab.
At the time, a United Nations Security Council report noted that at Robow's instigation, 20 senior al-Shabaab members defected to the Somali government. He himself officially surrendered in 2017 and tried to enter mainstream Somali politics the next year. His attempts were however short-lived due to his subsequent detention by the government. The government's action arguably eroded trust that could have helped attract defectors and manage the problem of terrorism through non-military means.
Negotiating with al-Shabaab is one of several non-military options. It can complement existing counter-terrorism approaches in a country where using force to deal with al-Shabaab is yet to deliver a lasting solution. As attacks and fatalities increase, it is worth re-examining the possibility of political settlement through negotiation.
Horn of Africa countries including Djibouti, Ethiopia, Kenya, Somalia and Uganda rely heavily on a militarised approach to addressing terrorism, under the auspices of the African Union Mission in Somalia (AMISOM). External actors such as the United States (US) have also contributed efforts, albeit mainly through airstrikes, particularly in recent years.
At its peak, AMISOM deployed over 22 000 uniformed personnel at an annual cost of about US$1 billion. Despite this, al-Shabaab's operational capability remains intact. By the end of 2018, the Global Terrorism Index listed the group as among the four deadliest in the world. It is increasingly unsustainable for both African states and Western donors to keep channelling funds solely towards a military response.
The most important requirements for negotiation are understanding the (ideological) objectives and membership structure of al-Shabaab, identifying acceptable third parties or mediators, and involving regional and global actors.
Al-Shabaab aims to replace the Federal Government of Somalia with its own version of sharia or an Islamic government. The group also demands the withdrawal of foreign forces from the country. Because Somalia's constitution defines Islam as the state religion and sharia inspires national legislation, dialogue over issues of sharia offers the government some scope for negotiation. What is in question is the interpretation of sharia - and this cannot be resolved through the use of force.
Regarding al-Shabaab's opposition to foreign troops, there is already a plan for the gradual withdrawal of AMISOM forces from Somalia by December 2021. The burden left for the Somali government may prove manageable as long as urgent steps are taken from now to reform and strengthen the country's security sector.
Analysts describe three main reasons for people joining al-Shabaab. The first is ideological, the second is the desire for personal gain, and the third is socio-economic and political grievances. However there are nuances when it comes to individuals' reasons for being members of the group. Collective motivations offer a useful perspective, but experts like Anneli Botha note that understanding al-Shabaab from an individual standpoint makes more visible the potential openings for members to disengage.
Knowing more about the group's membership can also highlight where non-military engagement with militants can occur. Understanding the motivations behind the various levels of membership could clarify what incentives would make members amenable to talks, and help identify who could act as a third party to mediate and facilitate these discussions.
Third parties must be a combination of entities and individuals. Locally, this could include militants' family members, Islamic clerics, mediation experts, women's groups, traditional institutions, clan representatives and civil society organisations, among others, should be involved in the different phases of negotiation, bearing in mind the thematic contexts.
These community actors have varying levels of influence and awareness of issues, ranging from religion and ideology to familial knowledge of militants and their motivations. Engagement with them must be conducted in a way that does not compromise their own safety. A dedicated commission should also be tasked with developing a communications strategy for reaching out to al-Shabaab.
Negotiation requires the support of regional and international stakeholders. Beyond the backing of the African Union, the US can channel the same kind of endorsement it gives to airstrikes towards the idea of a political solution to the crisis.
It's important to remember how removing Robow from the 'most wanted list' of terror suspects by the US in 2017 strengthened prospects of a positive turning point for him. Besides, if the US is willing to engage in talks with the Taliban, then supporting peace efforts through non-military means in Somalia shouldn't be too much to ask.
Engaging terror groups through non-military means should become a strategic priority to be explored alongside current approaches. For this to be meaningful in Somalia however, the regional states and central government need to resolve their political differences and strive for greater cohesion.
Full report at:
https://allafrica.com/stories/201906140728.html
--------
North America
U.S. Special Forces Battle against ISIS Turns to Containment, and Concern in Afghanistan
By Thomas Gibbons-Neff
June 14, 2019
DEH BALA, Afghanistan — Two years ago, Pentagon officials said that American forces in the remote reaches of Afghanistan could defeat the Islamic State's offshoot here by the end of 2017.
This month, American Special Forces in eastern Afghanistan were still fighting, with no end in sight.
During a visit by a New York Times reporter to their dusty army outpost, in the eastern province of Nangarhar, the Americans pointed out the ridges and valleys at the foot of the snow-capped Spin Ghar mountains: There, they noted, was the start of the Islamic State's territory, in some of the most forbidding terrain in Afghanistan.
The extremist group is growing, able to out-recruit its casualties so far, according to military officials. It is well funded by illicit smuggling and other revenue streams. And in the eastern part of the country, Islamic State fighters are waging a war of terrain that the United States military can — for now — only contain, those officials said.
Interviews with six current and former American officials, who spoke on the condition of anonymity, indicated that the group is poised to expand its influence if the United States and the Taliban reach a peace settlement. The officials expressed concern that in addition to destabilizing the Afghan government, the group is becoming connected to terrorist plots beyond Afghanistan's borders.
Deep in Afghanistan, the immediate conclusion has been to try to keep up the pressure through patrols and raids by American and Afghan Special Operations units. But the officials acknowledge that it all amounts to more of a containment effort than anything that could eradicate the Islamic State loyalists here.
Mission Support Site Jones, on the outskirts of the small village of Deh Bala, is part of the small constellation of Special Forces outposts in Nangarhar.
The Special Forces units are falling back on a counterinsurgency strategy that has been used off and on throughout 18 years of war. That means they are juggling between clearing territory alongside Afghan troops, trying to hold it, and building an Afghan force that could take over security for the district — supposedly while keeping the Islamic State contained — when the Americans eventually leave.
During a recent meeting at his outpost in Nangarhar Province, the team leader of a Special Forces unit pointed to a map of Deh Bala spread out in front of him.
"They're always going to hold those mountains," he said of the Islamic State. The team leader spoke on the condition of anonymity because the Pentagon insists that members of Special Operations units not disclose their names.
History supports his view: This corner of eastern Afghanistan has sheltered insurgencies for hundreds of years.
Efforts to root out militants in this area are hampered by shifting weather that can quickly close off air support, and by drastic changes in elevation — by thousands of feet — that limit the troops and equipment that can be safely ferried by helicopter.
What began in 2015 as a small group of tribes composed mostly of former Pakistani Taliban fighters who pledged allegiance to the Islamic State and its leader, Abu Bakr al-Baghdadi, soon grew into a loosely connected web of fighters and commanders spread throughout the country.
According to American military officials, fighters gradually appeared from all over the region, including Kazakhstan and Tajikistan, as well as a trickle of fighters who had fought in Iraq and Syria.
In the Afghan offshoot's early months, Islamic State leadership in the Middle East sent money to help it along. But officials say the group has approached self-sufficiency by extorting money from locals along with smuggling timber, drugs and raw earth material, such as lapis lazuli, mined in some of the eastern provinces.
Islamic State fighters in Afghanistan are paid significantly more per month than their Taliban counterparts, in some regions by hundreds of dollars. And they have been able to keep growing.
There are an estimated 3,000 Islamic State fighters in Afghanistan, but their relatively low numbers belie the group's growing support network of facilitators with unclear alliances and its ability to move with relative ease between Afghanistan and Pakistan, according to the officials. In recent months, Islamic State cells have appeared in the northern province of Kunduz and the western province of Herat.
But no Islamic State cell is more threatening to maintaining stability in Afghanistan than the one in Kabul, the Afghan capital.
The Islamic State groups there have become increasingly skilled in avoiding detection, the officials said, staging high-profile attacks more frequently since 2016. Last year, it carried out an estimated 24 attacks in Kabul, leaving hundreds dead or wounded and outpacing the Taliban's Haqqani network as the most lethal group in the capital, officials said.
In Kabul and other major cities, Islamic State recruiters are siphoning disenfranchised and educated youth from universities, American officials said. And though the group has long been considered to be locally focused, there is growing concern that it is turning its sights to attacks abroad.
American officials now say that at least one Islamic State leader in Nangarhar Province helped inspire and direct the April 7, 2017, terrorist attack in Stockholm that left five people dead and at least 12 wounded when Rakhmat Akilov, an Uzbek citizen, drove a hijacked beer truck into a crowd of people. One senior intelligence official said that eight people had been arrested in the United States on accusations of providing support to the Islamic State offshoot in Afghanistan.
The group's growing profile, particularly within Kabul, led Gen. Austin S. Miller to form a Special Operations task force soon after he took command of the American-led mission in Afghanistan last year. The task force, led by American troops, works alongside Afghan police special units to track and target Islamic State members.
The task force, according to one American defense official, could be the foundation for a counterterrorism force left behind after any peace agreement with the Taliban is reached.
But that idea remains a sticking point in the continuing peace talks in Qatar. American military officials say the Taliban have pushed back on that proposal, insisting that their fighters could handle and defeat the Islamic State loyalists.
Recently, though, the Taliban has done little to fight the Islamic State. American officials give the example of Kunar Province, where the extremist group has quietly probed into Taliban-held territory for months and where Taliban counterattacks have gained little traction. Taliban fighters there, for the most part, have continued to focus on attacking Afghan government forces rather than the competing militants, the officials said.
But not only are the Taliban mostly avoiding fighting the Islamic State, they are also feeding its ranks. Taliban insurgents serve as one of the Islamic State's primary recruiting pools, and they often bring a wealth of combat experience with them, according to the officials.
This has made American military leadership increasingly concerned about large groups of Taliban fighters shifting to the Islamic State if a peace deal is reached. Already, the Islamic State in Afghanistan is using propaganda in preparation for a concerted recruiting campaign after any settlement.
But despite the political uncertainty, the unsettled future of American forces in Afghanistan and the potential surge in Islamic State fighters there, the slow war in Deh Bala goes on.
The Special Forces team at Mission Support Site Jones, named after Capt. Jason Benjamin Jones, a Green Beret who was killed in Nangarhar Province in 2014, is building up its outpost, now a year old. The team has a weekly meeting with village elders, where they discuss the district's security and the results of recent American and Afghan operations.
In a few months, the Special Forces team here will return to the United States only to be replaced by another detachment. But its remaining time will be spent the same way: juggling community outreach and training efforts with hazardous raids up into the mountains where the Islamic State shelters, in the hope that the group can somehow be contained.
https://www.nytimes.com/2019/06/14/world/asia/afghanistan-islamic-state.html
--------
Jew and Muslim touched by shootings unite to speak against religious hatred
Joseph Brean
June 14, 2019
Several months after his eulogy for victims of the 2017 Quebec City mosque atrocity went viral for its provocative suggestion that the murderer was also a "victim" of hatred, Hassan Guillet took his lawnmower in for repairs.
He is a volunteer imam, a retired engineer and former aviation executive, from Lebanon but in Canada since 1974. He is also a lawyer, and a newly announced federal Liberal candidate in Montreal. But on that day, out where the South Shore suburbs give over to farmland, he was just a guy with a busted machine, chatting with a mechanic he has known for years.
The mechanic was keen to talk to Guillet about seeing him on TV, and to ask his thoughts about another Muslim customer. By coincidence, this customer was also an imam but, as the mechanic described it, he had become so overwhelmed by a climate of ignorance, mistrust and bigotry that he decided to close up his synagogue.
"I said, 'What?'" Guillet recalls, laughing because synagogues are Jewish, and the mechanic clearly was grasping in vain for the word "mosque." "Imagine! The guy's not stupid."
What he discovered in this awkward moment was more than just a winning anecdote. It was an opportunity for outreach and education, something he has pursued in other improbable locations, such as when a man recently approached him in a supermarket to confess his ignorance and curiosity about Islam, and got a five-minute crash course right there in the aisle of the Super C.
There is a rare power in this friendly approach to interfaith outreach and anti-hate activism, which Guillet will speak about next week at Holy Blossom Temple, an actual Jewish synagogue in Toronto. He will be in dialogue with Marnie Fienberg, an American woman with a painfully personal experience of intolerance who is pursuing a similar goal from a Jewish perspective.
Both have identified ignorance and unfamiliarity as key drivers of modern religious hatred, especially against Jews and Muslims. Sponsored by the Canadian Anti-Hate Network, the Canadian Association of Jews and Muslims, and JSpace Canada, "Moving from Hate to Hope" aims to foster interfaith understanding as a means of reducing hatred and violence.
It is a more genteel sort of anti-racism activism than the average street protest. The target is not those who have already slipped into the fever swamps of online hatred of the sort that inspires attacks on synagogues and mosques. It is common people, otherwise pure of heart, but unsure how to recognize and respond to the common tropes of hate propaganda, to which modern Jews and Muslims are especially attuned.
"Many people forget that we are all brothers and sisters," Guillet said. They fail to see that an existential danger to one is a threat to everyone. "This is the mission I gave myself, to teach people you are not alone."
The idea is that familiarity protects against dehumanization.
Guillet said his strategy against Islamophobia also takes some inspiration from the #MeToo movement, in which some people came to a heightened awareness and sensitivity to the suffering of others. Many realized how their own ignorance or inattention had allowed injustice to continue, even if they themselves never felt or displayed any malice.
"I feel that most people are like that," said Marnie Fienberg of Washington, D.C., who shares top billing with Guillet. She means good people, uninformed but curious for decent reasons, not looking to validate their own predetermined hatred with conspiracy theory.
She is a former business consultant for the US federal government, working on strategic communications for Homeland Security and NASA. But she found herself unable to work after he mother-in-law Joyce Fienberg, 75, was among the 11 murdered in Tree of Life Synagogue in Pittsburgh last October.
"I was too upset. I couldn't focus," she said.
She was keen to put her energy toward fighting anti-Semitism, but found there were few opportunities for the average volunteer, someone who was not a security professional or a Holocaust survivor with a story to tell.
She came up with her own, a campaign called 2forSeder, in which Jews invite non-Jews to the Passover meal, at which foundational questions about Judaism are traditionally asked and answered.
She has found it filled a void, and has caught on in Canada as well, with a strong majority of guests identifying as Christian. As usual, food makes a good cultural bridge. Her neighbour in Washington, for example, is a conservative Republican gun enthusiast with a heart of gold. His interest in Judaism after he was moved by a memorial service for Joyce Fienberg inspired 2forSeder. Here was a potential ally, who would push back against hatred if he were only able to recognize the many insidious forms it takes, the classic tropes about fanatical bloodthirsty Muslims or greedy, manipulative Jews.
"He might stand up for it the way he stands up for gun rights. He just needs the data. He's an upstanding guy. He might even swear," Fienberg said. "I feel that most people are like that."
Guillet, retired as a lawyer, said Canada's laws that respond to hate are "practical and useful," but capable of being improved. He said one problem with criminal responses to hate is the unwillingness of judges to actually use them. And he said he agreed in principle with non-criminal sanctions, such as the proposed online hate law under the Canadian Human Rights Act that has lately been the subject of a parliamentary committee review.
Full report at:
https://nationalpost.com/news/canada/jew-and-muslim-touched-by-shootings-unite-to-speak-against-religious-hatred
--------
US focused on building international consensus following attacks in Middle East
14 June 2019
US President Donald Trump's administration is focused on building international consensus following attacks on oil tankers in the Middle East that the United States has blamed on Iran, acting US Defense Secretary Patrick Shanahan said on Friday.
"The focus for myself and Ambassador Bolton and Secretary Pompeo is to build international consensus to this international problem," Shanahan told reporters outside the Pentagon, referring to White House national security adviser John Bolton and Secretary of State Mike Pompeo.
Shanahan said the Pentagon's role in that effort would include sharing intelligence, as the US military's Central Command did on Thursday by publicly releasing a video it said showed Iran's military removing an unexploded mine from one of the tankers.
Full report at:
https://english.alarabiya.net/en/News/middle-east/2019/06/14/US-focused-on-building-international-consensus-following-attacks-in-Middle-East.html
--------
Congress will block Trump's arms sales to Saudi Arabia: Pelosi
Jun 14, 2019
US House Speaker Nancy Pelosi has said that Congress will block President Donald Trump's arms sales to Saudi Arabia, which has been carrying out a war of aggression against the impoverished people of Yemen since 2015.
Speaking at a forum in New York on Thursday night, Pelosi said the House of Representatives would soon vote to block the transfer of weapons to Saudi Arabia, America's strongest ally in the Persian Gulf.
"There will be a vote to remove any authority to make those sales to Saudi Arabia," Pelosi said during an interview with Fareed Zakaria hosted by the Council on Foreign Relations. "This is something that we will fight, and we'll have bipartisan support to fight."
The White House said last month it was making an emergency provision within the country's arms control law to enable the billions of dollars of arms sales to the Saudi kingdom and the United Arab Emirates, the US's strongest allies in the Persian Gulf. The recourse helps the president spare congressional review for the exports.
The Trump administration had cited "alleged threats from Iran" to justify resorting to the provision.
Trump has been accused of creating a "phony" emergency to bypass Congress to approve the $8 billion arms sale to Saudi Arabia.
R. Clarke Cooper, the State Department's assistant secretary of state for political-military affairs, appeared before the House Foreign Affairs Committee on Wednesday where he was grilled over the $8 billion "'emergency" arms sale to Saudis.
Democratic members of the House committee said the president's action violated the law because there was no actual emergency.
They also said Trump's action shows that the United States is tolerating worst human rights abuses by Saudi Arabia in its war on Yemen.
"There is no emergency. It's phony. It's made up. And it's an abuse of the law," said Representative Eliot Engel, chairman of the House Foreign Affairs Committee.
The US has been supporting a 2015-present Saudi-led war against Yemen that seeks to bring back the impoverished country's former Riyadh-backed officials. The American patronage has featured aerial refueling, which the US only stopped earlier in the year after the Saudi-led coalition grew independent of it, as well as logistical and commando support.
Tens of thousands have died since the onset of the war, and the entire Yemen has been pushed close to the edge of outright famine.
A year after the war was launched, Trump made his maiden foreign visit to Saudi Arabia, announcing more than $100 billion in arms sales to the kingdom.
'Follow the money'
In her interview on Thursday night, Pelosi noted that Trump's first trip abroad as president was to Saudi Arabia, where he struck the massive arms deal. She warned that Trump's arms deal "includes nuclear technology that he is transferring to Saudi Arabia."
"Follow the money. What's going on here?" she said. "And there's a question of who is financially benefiting from the nuclear part of the sales to Saudi Arabia. ... The case against Saudi Arabia — in terms of Yemen, in terms of Khashoggi, in terms of so much — that they should not be receiving these weapons sales is very strongly bipartisan in the Congress."
Pelosi also denounced Trump's renewed war rhetoric accusations against Iran and his decision to pull out from the Iran nuclear deal negotiated under the Obama administration.
Full report at:
https://www.presstv.com/Detail/2019/06/14/598526/Congress-will-block-Trumps-arms-sales-to-Saudi-Arabia-Pelosi
--------
White House releases update on global counterterrorism efforts
Jun 15, 2019
WASHINGTON — Libya has been excluded from a list of locations where U.S. military personnel are deployed and equipped for combat as part of counterterrorism operations.
The exclusion, from a letter to the speaker of the House from President Donald Trump, is a change from the same report sent six months ago. The report is required by the War Powers Resolution.
The Republican president and Democrats in the House are currently at odds over military support in Yemen, where "a small number" of U.S. military personnel are deployed, according to the June 11 letter.
The latest letter also reveals that the number of U.S. military personnel in Lebanon has declined by 50 percent since the last report, to 60.
The letter cites the territorial defeat of the Islamic State group in Iraq and Syria, but says that "operations against the continuing terrorist threats emanating from Iraq and Syria remain ongoing."
The U.S. is coordinating its activity in Iraq with the Kurdistan Regional Government, an autonomous entity in the country — something not included in the previous letter.
Full report at:
https://www.defensenews.com/global/mideast-africa/2019/06/13/white-house-releases-update-on-global-counterterrorism-efforts/
--------
Trump says wants Iran 'back at the table' after tanker attacks
Jun 14, 2019
US President Donald Trump has said that he wants Iran to get back at the table, following attacks on two oil tankers in the Sea of Oman which Washington has blamed on Tehran.
In an interview on Fox News pm Friday, Trump blamed Iran for the attack on oil tankers without providing evidence, as did his secretary of state, Mike Pompeo, on Thursday.
A day after the incident, Iran warned the US to stop playing a blame game through "suspicious" attacks on oil tankers in the Middle East, describing the American behavior as "worrying".
Trump said on Friday that if Iran were to close the Strait of Hormuz, "it's not going to be closed for long," without elaborating how the United States would keep the international shipping route open.
"They're not going to be closing [the strait]," Trump said in response to a hypothetical question from Fox News.
"They know it, and they've been told in very strong terms. We want to get them back at the table, if they want to go back," he said.
"I'm ready when they are, but whenever they're ready, it's okay. And in the meantime, I'm in no rush. I'm in no rush," he added.
Leader of the Islamic Revolution Ayatollah Seyyed Ali Khamenei on Thursday dismissed Trump as a person not worthy of a response or a message, stressing that negotiations with Washington cannot help solve any problem.
Ayatollah Khamenei made the remarks in a meeting with Japanese Prime Minister Shinzo Abe, who told the Leader he was carrying a message from the US president.
"We have no doubts about your (Japan's) goodwill and seriousness, but regarding what you quoted from the US president, I personally do not consider Trump worthy of exchanging any messages with, and do not have and will not have any response for him," the Leader told Abe.
The Leader said Iran has "no trust" in the United States and will not at all "repeat the bitter experience" it gained from the negotiations that led to the conclusion of a 2015 nuclear deal, which Washington later ditched.
Earlier this year, Iran said it would close the strait in response to a US decision to end waivers for companies that export oil from the Islamic Republic.
The top commander of the Islamic Revolution Guards Corps (IRGC)'s Navy said on April 22 the Strait of Hormuz is an international maritime passage, and warned that Iran may close the strategic waterway if prevented from using it.
"According to international law, the Strait of Hormuz is a waterway and we will close it [to other countries] in case we are banned from using it," IRGC Navy Commander Rear Admiral Alireza Tangsiri said.
Full report at:
https://www.presstv.com/Detail/2019/06/14/598511/Trump-says-wants-Iran-back-at-the-table-after-tanker-attacks
--------
US sanctions on Turkey may open Pandora's box at NATO
15.06.2019
Washington's strong reaction against Turkey over its decision to purchase Russia's S-400 missile defence system may reinforce disputes within the NATO alliance, according to an analyst.
The tensions between Turkey and the U.S. will result in greater Turkish military cooperation with Russia, said Karol Wasilewski, Turkey analyst at the Polish Institute of International Affairs (PISM).
It will also result in more U.S. limitations on military cooperation with Turkey, Wasilewski said.
His comments come at a time when tensions between the two countries may rise further as the delivery date approaches for the Russian S-400 system, which is scheduled for next month.
"A stronger U.S. reaction may also reinforce disputes within the alliance, given the expected opposition of some countries," he said, citing Germany as an example.
It is said that possible U.S. sanctions against Turkey may spur tensions within the alliance due to the large trade volume Turkey has with another NATO member, Germany.
Wasilewski also underlined that the decision to acquire the Russian system is part of Turkey's desire to achieve "strategic autonomy".
"By 2053, Turkey wants its arms industry to be self-sufficient, which has forced the country to systematically reduce its dependence on Western suppliers, currently dominant in arms transactions, and acquire new technologies," he said.
Wasilewski said one of the crucial aspects that facilitated Turkey's S-400 transaction was Russia's willingness to include technology transfer, in contrast to Western allies' proposals, which failed to meet Turkey's military demands.
What happened?
In December 2017, Turkey agreed to buy Russia's S-400 air defense system after its initiatives in 2013 to purchase U.S.-made Patriot missiles fell on deaf ears.
During the height of the expanding Syrian civil war which threatened Turkey's southern borders, Washington was aware of Turkey's need for an air defense system yet proposed an exorbitant price for its Patriots.
In an interview this April with Defense & Aerospace Report, Stephen Flanagan, a senior political scientist at policy think tank the RAND Corporation, said the U.S. had "concerns" about Turkey at the time.
In 2013, the U.S. assumed that Turkey would be unable to secure its defense needs through other vendors, Russia in particular, since the two countries were at odds with each other over the Syrian war until 2016.
Turkey later shopped for European alternatives, especially Italian. But in 2017, when Russia offered its state-of-the art S-400s at a reasonable price and with a fair contract, the Turkish government signed the deal.
Since then, although Turkish officials have repeatedly stressed their commitment to NATO's mission and said Turkey is not choosing Russia over NATO, Washington has pursued a policy of issuing threats.
That policy reached a new low last week, when the U.S. State Department gave Turkey a July 31 deadline to suspend the S-400 deal or face consequences.
Rebuffing the deadline, Turkish President Recep Tayyip Erdogan said the S-400 issue is a "done deal" and "backtracking is out of the question," while Foreign Minister Mevlut Cavusoglu said "no one can force Turkey to choose between NATO and Russia".
Turkey's contributions to F-35 project
The U.S. threat to cut Turkey out of the F-35 project ignores not only its settled contract to buy the jets but also its long and integral role in producing technology for the advanced planes.
Spearheaded by defense giant Lockheed Martin, Turkey joined the U.S. F-35 Joint Strike Fighter Program in 2002 along with the U.K., Italy, Australia, the Netherlands, Norway, Denmark and Canada, and to date has invested more than $1.25 billion.
Turkey has partnered with Lockheed Martin for more than 25 years, primarily on the F-16 Fighting Falcon aircraft.
It also manufactures more than 900 aircraft parts for all F-35 variants and customers.
Industries of participating countries have been contributing to the program.
One of the most complex structural sections of the aircraft, the F-35A Center Fuselage, is produced by Turkish Aerospace Industries as a second source.
Top Turkish defense firms Aselsan, Havelsan, Kale Aero, Kale Pratt & Whitney, Ayesas and Alp Aviation also manufacture essential components of the F-35 and provide cutting-edge engineering services.
Under the U.S. system, as a Level 1 country, Britain has the most privileges, followed by Italy and the Netherlands at Level 2 and five other countries, including Turkey, at Level 3.
Israel, Japan and Singapore have participated in the project as export customers.
Turkish industry's participation contributes significantly to the program's cost effectiveness, which is one of the most major concerns for the project's future.
Turkey plans to purchase 100 of the F-35A conventional takeoff and landing variant.
Full report at:
https://www.aa.com.tr/en/americas/us-sanctions-on-turkey-may-open-pandoras-box-at-nato/1504772
--------
US stands with Turkey in fighting terrorism: official
Vakkas Doğantekin
14.06.2019
The U.S. stands with Turkey in combatting terrorism from the PKK, al-Qaeda and Daesh, the nation's counterterrorism coordinator said.
The U.S. Embassy in Ankara on Friday said Ambassador Nathan Sales on Thursday met with Turkish Deputy Minister of Foreign Affairs, Sedat Onal, Turkish Deputy Minister of Justice Selahaddin Mentes and Senior Presidential Advisor Gulnur Aybet.
They discussed countering the PKK, global efforts to defeat al-Qaeda and Daesh, the repatriation and prosecution of foreign terrorist fighters, border security and curtailing terrorist travel, and the fight against terrorist finance, the embassy tweeted.
"The United States stands with our Turkish ally in combatting the threat of terrorism, including from the PKK, al-Qa'ida, and ISIS," Sales said, using alternate uses for al-Qaeda and Daesh, respectively.
The activities of the terrorist PYD/YPG group, PKK's Syria branch in northern Syria, has been a major security concern for Ankara, while the U.S. administration viewed the group as a "reliable partner" in the fight against Daesh.
Turkish leaders have long warned their U.S. counterparts that one cannot rely on a terrorist organization in the fight against another terrorist group.
Full report at:
https://www.aa.com.tr/en/americas/us-stands-with-turkey-in-fighting-terrorism-official/1504603
--------
Europe
Increasing anti-Muslim attacks worry Islamic community in Germany
15.06.2019
Germany's Muslim community is concerned over the increasing number of anti-Islam attacks, fueled by far-right extremism and xenophobia.
In reply to a parliamentary motion, German Interior Ministry said a total of 132 crimes against Muslims and their places of worship were recorded in the first three months of 2019 alone.
The ministry added that the number of crimes in the second quarter of the year may be higher. Security experts, however, think that the exact numbers may be much higher as not all assaults have been reported.
Even though the official numbers for this year's April-June term are yet to be revealed; only Turkish mosques and foundations were subjected to 15 attacks, in cities like Dortmund, Baden-Württemberg and Frankfurt.
The methods of the latest attacks show anti-Islam sentiment in Germany has proceeded to the next level. While assaults in past were limited with drawing swastikas on mosque walls and throwing pig's head, real bullets have been used to damage mosques in recent attacks.
Burhan Kesici, the head of the German Islamic Council, criticized the attitude of German politicians. He told Anadolu Agency (AA) that their rhetoric has been fueling hatred against Muslims. "We are expecting the politicians to visit our mosques, have a conversation with the people of our community and make us feel a part of this society," he said.
According to a report by the Leipzig-based Competence Center for Right-Wing Extremism and Democracy Research published last November, the country has been showing increasingly hostile attitudes towards immigrants, the Muslim community and other minorities, such as the Roma. One in three Germans thinks foreigners come only to exploit the welfare state.
Germany, a country of over 81 million people, has the second-largest Muslim population in Western Europe after France. Among the country's nearly 4.7 million Muslims, 3 million are of Turkish origin. Many Turkish origin Germans are second- and third-generation German-born citizens of Turkish descent whose grandparents had moved to the country during the 1960s.
This Turkish population, largely descending from the country's "guest workers" who arrived to aid the post-World War II development boom, often complains of the racist attacks and lack of follow-up in police investigations for such incidents.
https://www.dailysabah.com/politics/2019/06/15/increasing-anti-muslim-attacks-worry-islamic-community-in-germany
--------
Amid Sahel violence, France seeks more European special forces
June 13, 2019
By Sophie Louet
PAU, France, June 13 (Reuters) - France has asked European powers to provide special forces to support thousands of troops struggling to contain a rise in violence in West Africa, Defence Minister Florence Parly said on Thursday.
There has been an increase over the last six months in Islamist militant attacks and inter-ethnic violence in the Sahel region, highlighting the difficulty that foreign partners face in helping to restore stability.
"If we do not stabilise Mali, Niger or Burkina Faso, Europe will have above its head, not one, but two lasting Damocles swords: that of terrorism ... and that of illegal migration," Parly said in a speech at a French special forces bases in southwestern France.
France, the former colonial power in the region, intervened in Mali in 2013 to drive out Islamist militants who had occupied the north.
It has since kept about 4,500 troops in the region as part of Barkhane counter-terrorism operations, while the United Nations has a peacekeeping force in Mali of about 15,000 soldiers and police.
Western powers have also provided funding to a regional force made up of soldiers from Mali, Niger, Burkina Faso, Chad and Mauritania to combat jihadists, but the so-called G5 force has been hobbled by delays in disbursing the money and poor coordination. Some 23 European countries play a role in the region between financing and logistical support, but France has been at the heart of action trying to stop the spread of jihadist groups. Besides Paris, none provide special forces.
"If the Europeans, who are directly concerned, don't do it, who will? So, why not appeal to the special forces of European countries? They are perfectly capable of it if they want to," Parly said.
"This is what I proposed to several of our partners," she said referring initially to providing help to Malian troops.
A French military source said the idea was still embryonic and declined to comment on countries targeted or the number of potential forces.
Full report at:
https://news.yahoo.com/amid-sahel-violence-france-seeks-155033224.html
--------
U.S. Congressmen To Merkel: Designate Hezbollah A Terror Group
By Omri Nahmias
June 14, 2019
WASHINGTON – A bipartisan group of four members of Congress sent a letter to Chancellor Angela Merkel urging Germany to designate Hezbollah as a terrorist organization.
Currently, only the military wing of the terrorist group is named as such. Last week, the Bundestag failed to pass a resolution that would refer to the entire organization as a terror group.
The four, Lee Zeldin (R, NY-1), Grace Meng (D, NY-6), Ted Deutch (D, FL-22), and Gus Bilirakis (R, FL-12) wrote to Merkel that they wish to "express concern" over the recent failed vote in the Bundestag.
"We appreciate your government's commitment to fighting terrorism, and we believe that taking the step to designate the political wing of Hezbollah will have a significant impact on Hezbollah's activity in Europe and around the globe," they added.
"Since 2016, the Gulf Cooperation Council (GCC) and United Kingdom have labeled Hezbollah's political and military wing as a terrorist organization," they wrote, noting Hezbollah is an Iranian proxy with a significant political and military influence in Lebanon that poses a geostrategic threat to Israel.
"Iran has provided Hezbollah with approximately $800 million annually for military equipment and supplied over 100,000 missiles in southern Lebanon, including the capability of building more missiles," the four continued. "Hezbollah's leader, Hassan Nasrallah, has clearly expressed his intent to spread jihad and wipe Israel off the map.
"The threatening influence of Hezbollah extends beyond Israel and poses a tremendous risk to the security interests of Europe as a whole. As you know, your intelligence service has detailed that the number of Hezbollah members and supporters has increased to 1,050 in 2018. The growth of support for Hezbollah will also contribute to the rise of antisemitism in Europe, which has already resulted in deadly attacks against Jews. That is why we strongly urge Germany to take substantive action against Hezbollah through sanctions and other means that will hamper their ability to project influence in the region."
They expressed their support for the steps that Germany has already taken by designating Hezbollah's military wing and added that they believe that "it is critical that Germany take into full consideration the impact that designating Hezbollah's political wing will have on the terrorist organization's dangerous activities."
Full report at:
https://www.jpost.com/American-Politics/Bipartisan-group-of-congressmen-to-Merkel-Designate-Hezbollah-a-terror-org-592491
--------
Sajid Javid and the complex life of a Muslim Conservative leadership hopeful
June 15, 2019
Sajid Javid, the son of Pakistani Muslim immigrants and currently the British home secretary, has positioned himself as the "change" candidate in his bid to become the next leader of the Conservative Party, and de facto prime minister.
It's been a complicated journey from a boy who faced racism and low expectations at school, to a city trader who made his fortune in banking, to fast rising star in the Conservative Party.
Javid's official campaign video shows him as a family man. It opens with the husband and father at home with his white British wife, their children and the family's pet dog. They are a picture perfect portrait of multicultural Britain. It includes a visit to his childhood home in Bristol on what he described as one of Britain's most dangerous streets, where he previously also that he could have had been drawn into a life of crime. Towards the end of the video, Javid is seen visiting his mother, who is dressed in traditional shalwar kameez, frying pakoras in the kitchen. She allows her son to taste one. Mum's cooking is the best, he says appreciatively.
A deeply personal snapshot of life as the son of immigrant parents, the video emphasises Javid's non-traditional backstory for someone vying to lead the Conservative Party. It is undoubtedly a "change" not lost on the party membership. Indeed, a YouGov poll of 944 Tory members found that 55% said Javid did not look or sound like a typical Conservative.
Given that Boris Johnson remains the bookies favourite to win by a long margin, it does seem the Conservative Party values familiarity. Johnson (Eton, Oxford, and Bullingdon) won the highest number of votes in the first of ballot of MPs to select their new leader. He is also thought to be the firm favourite among party members, who decide on the final candidate.
Javid dismisses Johnson as "yesterday's news" but the gap between Johnson's 114 votes, and the 43 received by his nearest rival Jeremy Hunt shows Johnson is very much today's news. Javid received 23 votes, putting him in fifth position, so while he is not out of the race yet, he remains an outsider.
Javid's is a text-book example of the British Dream where hard work and application can elevate a boy once living above a shop in a rough neighbourhood into one of the highest offices in the land. Javid would argue that his story shows the power of the individual to rise above circumstances – his small-state, self-reliant philosophy is influenced by the Conservative prime minister, Margaret Thatcher, who he heralds an inspiration and whose picture hangs in his office.
Yet, in his leadership campaign speech he speaks frankly about the issues of racism he has faced throughout his life; from school and his teacher's expectations about what boys like him should aspire to, his career in banking, and in politics.
Islamophobia in the Conservative Party
Javid has steered clear from talking about Islamaphobia. Johnson, of course, was accused of Islamaphobia in 2018 after he made comments comparing Muslim women in burqas to ["letter boxes" and "bank robbers"]. Neither Javid nor Johnson has commented on the issue in the campaign thus far.
When Javid was not invited to the state banquet held in honour of the US president Donald Trump, even though some more junior ministers were, it lead some to point the finger towards Islamophobia. Javid himself has only commented that he thought it was "odd" and that he did not like it. But others, including the former Conservative Party chair and the first Muslim to be appointed to a cabinet post, Sayeeda Warsi, were quite certain Javid's background was the reason.
Warsi has been vocal about Islamphobia in the Conservative Party as well as more widely, once claiming that Islamaphobia was socially acceptable and had "passed the dinner-table" test. The Muslim Council of Britain (MCB), an umbrella organisation purporting to represent Britain's Muslims wrote to the prime minister expressing their concern that Javid's snub showed that the state was willing to forgo the principals of fairness and equality for all.
Javid has, in the past, opposed the MCB's calls for an inquiry into Islamaphobia in the Conservative Party, dismissing their claims to represent British Muslims.
Previously, Javid has insisted his party, by the very fact of entertaining him as the home secretary is not Islamophobic. Asked directly whether he thought his Muslim background influenced his omission from the invitation list to Trump's state banquet, his reply was less than clear: "I am not saying that at all. I really don't know".
Javid must be relieved he was not called a "stone cold loser" by the president of the United States, like his fellow son of an immigrant Pakistani Muslim bus driver, the Mayor of London, Sadiq Khan.
Full report at:
https://theconversation.com/sajid-javid-and-the-complex-life-of-a-muslim-conservative-leadership-hopeful-118849
--------
UK: Iran 'almost certainly' behind tanker attacks
Muhammad Mussa
15.06.2019
LONDON
Iran is very likely responsible for the attacks this week on two oil tankers in the Gulf of Oman, the British government said Friday.
Using its own assessments, the government concluded that Tehran was "almost certainly" behind the attacks, said Foreign Secretary Jeremy Hunt, which were reportedly carried out using explosive devices.
"I condemn yesterday's attacks on two vessels in the Gulf of Oman," Hunt said in a press statement. "These latest attacks build on a pattern of destabilizing Iranian behavior and pose a serious danger to the region."
"In targeting civilian shipping, international norms have been violated. It is essential that tankers and crews are able to pass through international waters safely," said Hunt, urging Iran to cease any provocative and destabilizing actions.
Dozens of crew members were rescued after the Japanese Kokuka Courageous and Norwegian Front Altair oil tankers burst into flames as they were passing through the Strait of Hormuz and entering the Gulf of Oman.
The Iranian mission to the UN rejected the U.S. claim that Iran was behind the attacks.
"Iran categorically rejects the U.S. unfounded claim" and "condemns it in the strongest possible terms" the Iranian government said in a statement.
U.S. President Donald Trump has blamed Iran for the attacks, citing a video taken from U.S. Central Command that purports to show footage of a patrol boat with personnel docked near one of the oil tankers.
But Yutaka Katada, president of Kokuka Sangyo shipping company, the owner of the Kokuka Courageous, said U.S. reports of the attacks provided false information as to what really happened.
"It seems that something flew towards them. That created the hole, is the report I've received," said Katada, speaking to The Financial Times.
Full report at:
https://www.aa.com.tr/en/europe/uk-iran-almost-certainly-behind-tanker-attacks/1504774
--------
Six orphans from ISIS families arrive in Belgium
June 15, 2019
Six Belgian orphans born to families belonging to ISIS have arrived in Belgium, Foreign Minister Didier Reynders said on Friday.
"The six children from Syria have just arrived in our country," Mr Reynders said on Twitter.
"The children are now being monitored and supervised by the competent local state attorneys and youth support services," he added.
One of the country's prosecutors said the children were "psychologically supervised" during the journey, and that their ongoing mental and physical well-being were a priority.
"It should be noted that these children have spent a long period of time in Syria under difficult conditions," the prosecutors' statement added.
didier reynders
✔
@dreynders
The 6 children from #Syria have just arrived in our country. I thank @BelgiumMFA @BelgiumDefence @policefederale @SanteBelgique for this humanitarian operation. The children are now being monitored and supervised by the competent local state attorneys & youth support services.
50
10:57 PM - Jun 14, 2019
Twitter Ads info and privacy
24 people are talking about this
The children arrived in Belgium just a day after being handed over to officials by Kurdish authorities in northeast Syria.
The statement said that one of the orphans no longer was a minor.
Officials have previously said that four of the six orphans expected to return were older than 10, but that none was a suspect.
Belgium had announced the transfer of the children from Kurdish-controlled camps in Syria after the deaths of their jihadist parents.
Belgium is one of several European countries wrestling with the dilemma of what to do about citizens trapped in Syria following the defeat of the IS.
Some are reticent to accept captured extremist fighters, but the cases of children and non-combatant wives have proved more complicated for Western authorities.
The bulk of IS fighters and family members who were captured when its so-called caliphate collapsed are being held in Syria in Kurdish-run camps.
According to Belgian media reports, 50 to 60 Belgian children under 18 are in the camps of Al Hol, Roj, and Ain Issa in Syria.
Belgium was one of the European countries which, relative to its size, saw one of the larger contingents of extremists set off for the Syrian battlefield.
Authorities estimate that 400 adults have headed to jihadist-controlled areas since 2012 and 150 were still considered "active and in place" at the end of last year.
Syria's Kurds have detained hundreds of foreigners suspected of fighting for ISIS, as well as thousands of related women and children, during the US-backed battle against ISIS in Syria.
Full report at:
https://www.thenational.ae/world/europe/six-orphans-from-isis-families-arrive-in-belgium-1.874524
--------
Monitor: regime and Russian bombardment kill 28 in north-west Syria
June 14, 2019
Regime and Russian air strikes and shelling have killed at least 28 people including seven civilians in north-west Syria despite a ceasefire announced by Moscow, a war monitor said on Friday.
The attacks took place in the south of Idlib province and the north of Hama province on Thursday, the Syrian Observatory for Human Rights said.
The Idlib region of some three million people is supposed to be protected from a massive regime offensive by a buffer zone deal that Russia and Turkey signed in September.
But it was never fully implemented, as hardline Islamist fighters refused to withdraw from a planned demilitarised zone.
In January, the Hayat Tahrir Al Sham alliance led by Syria's former Al Qaeda affiliate extended its administrative control over the region, which includes most of Idlib province as well as adjacent slivers of Latakia, Hama and Aleppo provinces.
The Syrian government and and its ally Russia have intensified their bombardment of the region since late April, killing more than 360 civilians, according to the Observatory.
The latest attacks come despite Russia's announcement of a renewed ceasefire agreement with Turkey to take effect from Thursday. Turkish Foreign Minister Mevlut Cavusoglu said there were "serious and sincere efforts" with Moscow to stop the violence, but a full ceasefire had not been realised.
On Friday, Mr Cavusoglu said Turkey did not accept Russia's "excuse" that Syria would not listen to Moscow and stop attacks in Idlib.
"In Syria, who are the regime's guarantors? Russia and Iran," he told state news agency Anadolu in a televised interview. "Thus we do not accept the excuse that 'we cannot make ourselves listened to by the regime'."
Despite being on opposing sides of the Syrian war, Turkey and Russia have worked closely to find a political solution under the Astana process which also involves Iran, Syrian President Bashar Al Assad's other main ally. Turkey, as a backer of opposition forces, is the guarantor for Syrian rebels.
Mr Cavusoglu said that there had been "no issues" from the moderate opposition, and accused Damascus of send armed radical groups to Idlib from Aleppo, East Ghouta and Hama.
"We knew in the future after other areas had been captured, the regime would attack Idlib using the excuse of the radical groups' presence after sending them there," he said.
Syria's war has killed more than 370,000 people and displaced millions since it started in 2011 with the repression of anti-government protests.
Full report at:
https://www.thenational.ae/world/mena/monitor-regime-and-russian-bombardment-kill-28-in-north-west-syria-1.874481
--------
Pakistan
China praises frequent Xi-Imran meetings
June 15, 2019
BEIJING: Chinese President Xi Jinping on Friday pointed out that his three meetings with Prime Minister Imran Khan over the past eight months fully reflected the high level of China-Pakistan all-weather strategic partnership and said that both countries should carry out closer coordination and cooperation under the changing regional and international situation.
"Xi Jinping pointed out that in the past eight months, I met with the prime minister three times. This fully reflects the high level of China-Pakistan all-weather strategic partnership," said a statement issued by the Chinese foreign minister after the meeting held between President Xi and Prime Minister Khan on the sidelines of Shanghai Cooperation Organisation summit in Bishkek, Kyrgyzstan.
The Chinese president remarked that under the changing international and regional situation, China and Pakistan should carry out closer coordination and cooperation to build a closer community of shared destiny.
Mr Xi emphasised that both the countries must maintain, consolidate and develop China-Pakistan all-weather relations and all-round cooperation.
He maintained that the two sides should thoroughly communicate on issues of common concern and jointly safeguard international and regional security and stability.
"We must expand and enrich the construction of the China-Pakistan Economic Corridor (CPEC) with new focus on industrial parks, agriculture and people's livelihood," he added.
Mr Xi said it was necessary to seize the opportunity of the escalation of the China-Pakistan Free Trade Agreement and vigorously expand bilateral trade. China was willing to provide assistance to Pakistan within its ability, he added.
The Chinese president said his country supported Pakistan in carrying out the national anti-terrorism action plan and would help Pakistan strengthen its counter-terrorism capacity building, adding, "China supports Pakistan and India to improve relations." --------
During the meeting, Prime Minister Khan said China was an all-weather strategic partner of Pakistan.
The Pakistani side thanked the Chinese side for its support and assistance for a long time and said Pakistan highly valued China's positive role in promoting international and regional peace and security and was committed to continuously deepening its strategic relationship with China.
https://www.dawn.com/news/1488323/china-praises-frequent-xi-imran-meetings
--------
Pak lawyers hold nationwide protests as proceedings against senior judges begin in SC
June 14, 2019
Pakistan's Supreme Judicial Council (SJC) on Friday began examining a government request for the removal of two senior judges for concealing assets abroad amid a nationwide protest by lawyers, who say the duo were being victimised for being "independent-minded".
Pakistan President Arif Alvi moved the SJC last month, asking it to take action against Supreme Court Judge Justice Qazi Faez Isa and Justice Karim Khan Agha of the Sindh High Court for allegedly hiding information of their properties in the UK.
The SJC is a constitutional body and deals with cases of misconduct against judges of higher courts. Only the SJC can remove a Supreme Court or a High Court judge. The five-member SJC is headed by the Chief Justice of the Supreme Court. The other members are four seniormost judges -- two from the apex court and as many from the high courts.
The court proceedings, which were held in-camera, lasted for about one-and-a-half hour. However, there was no formal announcement.
Attorney General Anwar Mansoor appeared before the SJC as the prosecutor.
According to the guidelines, in the first stage the SJC will determine if the cases were maintainable and merit formal trial.
Earlier in the day, wearing black bands in solidarity with the accused judges, the Supreme Court Bar Council (SCBA) led the protest.
The (SCBA) and the Pakistan Bar Council (PBC) termed the cases as "vendetta by the government against the independent-minded judges".
The agitating lawyers led by SCBA president Amanullah Kanrarni also burnt copies of the cases outside the Supreme Court. A group of protesters also held a sit-in at the main entrance of the apex court, virtually blocking the access to the court room.
The agitators also put up banners, demanding the withdrawal of the cases, on the walls of the SC building.
There were also reports of protests in Quetta, Peshawar, Karachi and Lahore. But the protests in those areas were not forceful as the legal fraternity was divided on the issue with some segments distancing themselves from the strike.
Full report at:
https://www.business-standard.com/article/pti-stories/pak-lawyers-hold-nationwide-protests-as-proceedings-against-senior-judges-begin-in-sc-119061401134_1.html
--------
Extradition process for Dar, Nawaz's sons to begin soon: Fawad
Kalbe Ali
June 15, 2019
ISLAMABAD: Federal Minister for Science and Technology Fawad Chaudhry on Friday said that the process for extradition of former finance minister Ishaq Dar, Hassan Nawaz and Hussain Nawaz would be initiated soon.
"Ishaq Dar is the linchpin in the whole episode; the people of Pakistan demand recovery of looted money and it will happen when Ishaq Dar is brought back as he knows about all the details of hidden money," he said while talking to the media outside the Parliament House.
The former information minister said that negotiations had been made with the home department of the UK in the past two weeks for extradition of Mr Dar and the two sons of Nawaz Sharif. He added that there was positive response from the UK government in this regard.
The minister said that recovery from plunderers would start soon which would be a big achievement of the government. "These people will be brought back soon and the recovery will start," Mr Chaudhry said. He added that time had come for Altaf Hussain, Asif Zardari and Nawaz Sharif to pay for their past misdeeds.
He said that National Assembly sessions should not be used to protect the criminals and looters of the country.
National Assembly Speaker Asad Qaiser was being pressurised by the opposition for issuance of production orders of the arrested plunderers so that the investigations could not be completed, he said.
The minister said that the same thing happened in the case of Leader of the Opposition in the National Assembly Shahbaz Sharif and that was the reason why investigation against him over Ashiyana and Saaf Pani schemes could not be completed as he was in the ministers' colony all the time.
"The speaker has sought legal opinion from the Ministry of Law and Justice in this regard," he said, adding that a similar tactic was being used to protect former president Asif Zardari now.
The minister alleged money transferred from the federation to Sindh was shifted to different countries of the world in the account of president of the Peoples Party Parliamentarians Asif Zardari through fake accounts.
The minister said the opposition was demanding a production order for Mr Zardari only to create a hurdle in the smooth investigation against the plunderer who had looted the national exchequer.
The minister urged the opposition parties in the National Assembly not to turn the house into an arena for personal vendetta as whenever Prime Minister Imran Khan arrived in the session, the opposition started chanting slogans.
About the prime minister's recent visit to Kyrgyzstan, the minister said the conference of Shanghai Cooperation Organisation (SCO) was the best forum utilised by Imran Khan to promote good relations with Russia.
Full report at:
https://www.dawn.com/news/1488336/extradition-process-for-dar-nawazs-sons-to-begin-soon-fawad
--------
Zardari wants debt probe body to start with Musharraf era
June 15, 2019
ISLAMABAD: Former president and co-chairperson of the Pakistan Peoples Party (PPP) Asif Ali Zardari on Friday demanded that Prime Minsiter Imran Khan's proposed commission investigate the loans obtained by former military dictator retired General Pervez Musharraf before examining the debts secured by successive civilian governments.
Mr Zardari was speaking to journalists after attending the proceedings of the accountability court in connection with a fake accounts case. The accountability court was also informed that the National Accountability Bureau had taken Mr Zardari's sister, Faryal Talpur, into custody and her residence had been declared a sub-jail.
PM Khan in his June 11 televised addr­ess announced that a commission comprising officials of the Inter-Services Intelli­ge­nce, Federal Investigation Agency, Secu­r­i­ties and Exchange Commission of Pakistan and Intelligence Bureau would probe Rs2,400 billion loans obtained during the last 10 years.
"I wanted the scope of the commission be expanded to 1947; however, I don't want to disgrace graves," he said, adding that the commission should at least probe the debts obtained over the last 20 years and the loans added by the incumbent government of the Pakistan Tehreek-i-Insaf (PTI) should also be examined by the commission.
He expressed surprise over the televised address, saying that such a speech at midnight by a prime minister was rare in Pakistan's history.
In response to a question as to whether the PTI government — minus Imran Khan — would be acceptable to the PPP, Mr Zardari said that a multi-party conference would take a decision in this regard.
Regarding PM Khan's claim regarding pursuing the corrupt and those who misused the debts at the cost of his life, the ex-president said that all claims of Imran Khan were a pack of lies. "He repeatedly stated that he would prefer to commit suicide than taking a loan from the Internat­ional Monitory Fund but took a U-turn and went to the IMF," he said.
Replying to a question as to why the PPP and Pakistan Muslim League-Nawaz governments had failed to amend the National Accountability Ordinance 1999, the former president said that since he and Nawaz Sharif were not on the same page then, they could not agree on some clauses of the proposed amendments to the NAB law.
Full report at:
https://www.dawn.com/news/1488328/zardari-wants-debt-probe-body-to-start-with-musharraf-era
--------
Mystery surrounds SJC hearing of references against judges
Nasir Iqbal
June 15, 2019
ISLAMABAD: Mystery surrounds the proceedings of the Supreme Judicial Council (SJC) which held a closed-door session on Friday to commence a preliminary hearing of government-sponsored references against two superior court judges as no official handout was released about the proceedings. At the conclusion of the SJC session, despite facing a volley of questions by chasing journalists, Attorney General Anwar Mansoor remained tight-lipped and did not offer any comment. But to many, his body language indicated that everything had not gone off well during the proceedings.
The five-member SJC — comprising Chief Justice Asif Saeed Khosa, Justice Gulzar Ahmed, Justice Sheikh Azmat Saeed, Chief Justice of the Sindh High Court Ahmed Ali M. Shaikh and Chief Justice of the Peshawar High Court Waqar Ahmed Seth — held the proceedings from 2pm to 3.30pm. AG Mansoor appeared as the prosecutor to advance his arguments in favour of the references.
The references have been filed against Supreme Court judge Justice Qazi Faez Isa and Justice K.K. Agha of the Sindh High Court on charges of owning properties in London.
Outside, rumours of all sorts were doing the rounds with some speculating that the references had been quashed and others confidently opining that the session of the constitutional body had remained inconclusive since the council might further examine the maintainability of the references. Some said that the SJC had reserved its ruling on the fate of the references whereas others believed that notices had been issued to the accused judges asking them to furnish their replies. Consideration on the part of the government to withdraw the references was also part of the whispering campaign.
In the evening the AG even had to take a long walk to leave the Supreme Court premises towards the judges parking where his car was parked to avoid the lawyers waiting at the entrance of the top court.
Lawyers' protest
The lawyers' leaders, who put up quite an impressive show by sitting outside and inside the Supreme Court entrance hall, were clueless about the outcome of the SJC session. This was the reason why Vice Chairman of the Pakistan Bar Council (PBC) Syed Amjad Shah and two bitter rivals standing side by side — Supreme Court Bar Association (SCBA) president Amanullah Kanrani and former SCBA president Ali Ahmed Kurd — Hamid Khan, a known Pakistan Tehreek-i-Insaf leader, and Rasheed A. Razvi announced that they would chalk out future strategy of the lawyers' movement after learning what the SJC had really decided.
But before closing Friday's protest meeting, they thanked all lawyers' bodies which had staged similar demonstrations in their respective bars throughout the country as well as civil society representatives and a delegation of the Pakistan Federal Union of Journalist, including Afzal Butt and Nasir Zaidi, who had come to participate in the protest as a mark of solidarity.
Mr Kanrani, who in the morning burnt papers to depict as if he had alighted a copy of the references, appreciated that leaders of all lawyers' groups, including Hamid Khan-led Professional Group and Independent Group previously known as Asma Jahangir group, had joined hands to express solidarity with the superior court judges facing references and to uphold rule of law and the constitution and independence of the judiciary.
"Today we have gathered here to free the judiciary of the shackles of the executive," Mr Kanrani said, asking the SJC to make public orders of all concluded references against judges and proceedings of pending references.
Earlier in the morning, Ali Ahmed Kurd — one of the lawyers' leaders who had spearheaded the epic 2007 lawyers' movement — was accorded a rousing welcome when he entered the apex court premises with lawyers taking him to the rostrum installed for the press talk on their shoulders.
Talking to the media, Mr Kurd said that if any one believed that they could defeat the lawyers by breaking their unity, they lived in a fool's paradise because the lawyers believed in the true meaning of democracy.
He alleged that the references against the judges had been instituted by the government with mala fide intentions and said, "We want to give a loud and clear message to all that the lawyers' fraternity has gathered outside the Supreme Court only to discourage the tendency of filing references against independent judges.
"A judge should be free of all pressures and considerations while deciding cases," he said, adding that it was the lawyers' duty to protect competent and independent judges.
Mr Kurd also warned what he called a small section of lawyers who at the behest of the powers that be were trying to create a wedge among the lawyers that failure was their fate.
The highlight of the day was the media talk of Senator Raza Rabbani who said that he had come to attend the lawyers' protest as a practising lawyer and not as a leader of the Pakistan Peoples Party only to express his solidarity.
The situation arising out of the filing of the reference could not be seen in isolation as today the entire country was being pushed to fulfil the agenda of former President Pervez Musharraf, he said.
The government had filed the references with an intention to browbeat not only the judiciary, but all the dissenting voices in the country, including civil society and the media, he said.
"This is an assault against the judiciary," Senator Rabbani said and expressed the confidence that the SJC would move without succumbing to any pressure.
All during the day, the lawyers remained peaceful, sitting on the chairs, though they occasionally raised slogans in favour of the judiciary and the judges facing the references and against the government for filing references.
Meanwhile a group of dissenting lawyers, popularly known as the Lawyers Action Committee, also held a press conference not very far from the Supreme Court building to claim that lawyers' bodies had demonstrated their indifference to the PBC's call for staging demonstrations.
The press conference was addressed by coordination secretary of the action committee Haroon Irshad Janjua who alleged that the lawyers who participated in the protest belonged to different political parties and had gathered to advance the agenda of their parties.
Such lawyers were bent on making the SJC, a constitutional body, controversial, he said, adding that that the council should proceed against the superior court judges without any fear and favour strictly in accordance with the law.
Full report at:
https://www.dawn.com/news/1488332/mystery-surrounds-sjc-hearing-of-references-against-judges
--------
NAB seeks Faryal Talpur's physical remand from Islamabad's accountability court
Nadir Guramani
June 15, 2019
The National Accountability Bureau (NAB) on Saturday presented PPP co-chairman Asif Ali Zardari's sister Faryal Talpur in front of an Islamabad accountability court to seek her physical remand.
On Friday, Talpur was arrested by NAB officials in Islamabad in connection with a case pertaining to money laundering through fake accounts.
A five-member NAB team including female investigators had reached Zardari House, Islamabad, which was notified as a sub-jail by the NAB chairman earlier today "for the purposes of detention of accused under the NAO, 1999", according to a notification issued by the accountability watchdog.
Today, when Talpur left her residence female PPP workers including Shagufta Jumani, Mehreen Bhutto and Senator Krishna Kumari saw her off. Farhatullah Babar also reached Zardari House.
Talpur was transferred to the accountability court amid tight security; an armoured vehicle was also part of the security detail.
When the armoured vehicle reached Zardari House, PPP workers chanted slogans of "shame" and said, "these people are afraid of a woman."
Once the physical remand is procured, NAB is expected to transfer Talpur back to Zardari House.
Zardari's arrest
PPP co-chairman Asif Zardari was arrested on Monday after cancellation of his and Talpur's pre-arrest bail by the Islamabad High Court in the fake bank accounts case, prompting a strong reaction from the opposition and sporadic protests by PPP workers in various parts of the country, mostly in Sindh.
The NAB said the grounds for arresting Zardari included whitening ill-gotten money through fake accounts, acquiring stakes in Summit Bank through fraudulent means, using Omni Group as a hedge between himself and fake accounts, receiving millions of rupees from two fake accounts, and getting unauthorised payments released for construction of a Karachi plot.
Zardari is currently on physical remand in NAB custody. NAB sources told DawnNewsTV that investigators, after their questioning of Zardari, had concluded that Talpur's arrest was "unavoidable".
Full report at:
https://www.dawn.com/news/1488383/nab-seeks-faryal-talpurs-physical-remand-from-islamabads-accountability-court
--------
PM Imran is a devout Muslim without a beard, Fawad says
Jun 15, 2019
Prime Minister Imran Khan is a devout Muslim but does not wear religion on his sleeve, Federal Minister for Science and Technology Fawad Chaudhry said on Friday.
Talking to reporters outside Parliament House after the National Assembly's budget session, Fawad said, "He [PM Imran] is an honest man and a devout Muslim … he just doesn't prefer wearing beard."
The minister said that politics and religion must be kept apart, however, opposition politicians often use religion to advance their agenda against the government.
Full report at:
https://www.pakistantoday.com.pk/2019/06/14/pm-imran-a-pious-man-without-a-beard-fawad-says/
--------
Imran Khan makes veiled attack on India over Kashmir during address at SCO Summit
Jun 14, 2019
Bishkek [Kyrgyzstan]: Pakistan Prime Minister Imran Khan on Friday made a veiled attack on India over Kashmir during his address at the Shanghai Cooperation Organisation (SCO) summit here.
"Pakistan condemns terrorism in all its forms and manifestations, including State-terrorism against people under illegal occupation," the leader said amidst the SCO Council of Heads of State.
Relations between India and Pakistan reached a stalemate after the Pulwama terror attack, where India lost over 40 CRPF personnel.
Pakistan-based terror group Jaish-e-Mohammed (JeM) claimed responsibility for the attack, after which the entire world community threw its weight behind India in its fight against terrorism.
India launched a successful diplomatic campaign to get JeM's Pakistan-based chief Masood Azhar listed as a global terrorist at the UN Security Council, in the aftermath of the attack.
The proposal was launched by the US, France and the UK. In a major diplomatic win for India, Azhar was designated as a global terrorist by the UNSC on May 1.
Full report at:
https://www.siasat.com/news/imran-khan-makes-veiled-attack-india-over-kashmir-during-address-sco-summit-1512620/
--------
URL: https://www.newageislam.com/islamic-world-news/sodomy-accusation-without-providing-four/d/118895
New Age Islam, Islam Online, Islamic Website, African Muslim News, Arab World News, South Asia News, Indian Muslim News, World Muslim News, Women in Islam, Islamic Feminism, Arab Women, Women In Arab, Islamophobia in America, Muslim Women in West, Islam Women and Feminism