New Age Islam News Bureau
7 Jan 2019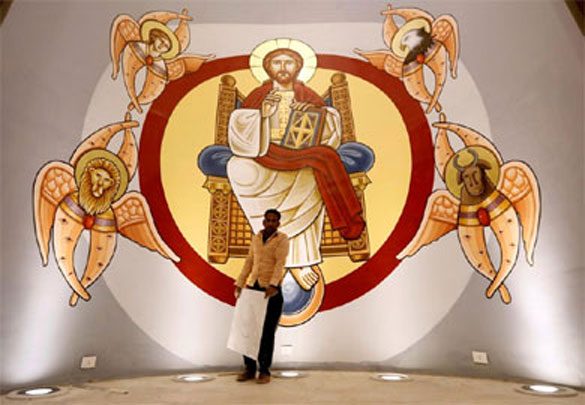 A worker inside the new Cathedral 'The Nativity of Christ' ahead of Sunday's Coptic Christmas Eve Mass in the New Administrative Capital, Egypt January 3, 2019. Reuters
-----
• Social Exclusion, And Not Religion, Feeding Western Terrorism: UK Study
• Egypt's Sisi Opens Mega-Mosque and Mideast's Largest Cathedral in New Capital
• China Plans To Bring Islam on Socialist Lines in 5 Years
• 'Seerat-i-Rehmatul Alameen Ulema Ask Govt to Devise Mechanism for Issuing Fatwas
• Saudi Arabia Deporting Scores of Rohingyas To Bangladesh
• US House Panel to Probe Saudi Links To Trump's Finances
• Turkish Islamic Scholar Says Erdogan Opponents 'Must Be Killed'
• In Kashmir, Claimed Al Qaeda Affiliate Ansar Ghazwat-Ul-Hind May Be Struggling To Survive
Europe
• Social Exclusion, And Not Religion, Feeding Western Terrorism: UK Study
• Radicalized In Jail, Teen Thug Becomes Hardened Terrorist
• UK Turks, NGOs hold fundraising event for Yemen
• Pope urges EU leaders to show solidarity with refugees off Malta
--------
Arab World
• Egypt's Sisi Opens Mega-Mosque and Mideast's Largest Cathedral in New Capital
• Agreement Signed To Boost Technical Services at Two Holy Mosques
• US Enhancing Military Build-up in Western Iraq
• Syrian Army Fends Off ISIL's Attack on Deir Ezzur's Eastern Deserts
• Syria's opposition calls for reviewing decisions dealing with Assad regime
• US links Syria withdrawal to ISIS defeat, Turkish treatment of Kurds
• Saudi-backed militants cry foul as countries resume ties with Syria
• Syria sends reinforcements to Hama, Idlib amid clashes
--------
Southeast Asia
• China Plans To Bring Islam on Socialist Lines in 5 Years
• China's Campaign against Uighurs Has New Target: Their Top Thinkers
• Indonesia's conservative Islam regains clout ahead of elections
• Why Isma's campaign to recognise Malaysia as an Islamic State is a no-brainer
• Sultan Muhammad V steps down as Malaysia's king
• Indonesia Takes Up UN Security Council Seat
--------
Pakistan
• 'Seerat-i-Rehmatul Alameen Ulema Ask Govt to Devise Mechanism for Issuing Fatwas
• International Islamic University Islamabad Chief Underscores Significance Islam Attaches To Peace
• No terror group backed by army, says Lt Gen Mehmood
• Abu Dhabi Crown Prince holds talks with Khan, discusses oil refinery in Pakistan
• Imran Khan the real owner of sister's illegal property: PML-N
• Hostile agencies behind terrorism: Langove
• 12 injured in two blasts targeting security personnel in Balochistan
--------
South Asia
• Saudi Arabia Deporting Scores of Rohingyas To Bangladesh
• Taliban's operations centre destroyed, 16 militants killed in Helmand airstrike
• At least 30 gold miners killed in tunnel collapse in northern Afghanistan
• Turkish doctors revive Rohingya twins in Bangladesh
--------
North America
• US House Panel to Probe Saudi Links To Trump's Finances
• US Airstrikes Kill Qaeda Plotter Of 2000 USS Cole Bombing In Yemen: Pentagon
• US-backed SDF captures five ISIS fighters among them two Americans
• Bolton Angers Palestinians with Visit to Old City Of Jerusalem Al-Quds
• Turkey slams 'irrational' US accusation that it attacks Syrian Kurds
• Bolton: Protection of Syria's Kurds a condition for US withdrawal
--------
Mideast
• Turkish Islamic Scholar Says Erdogan Opponents 'Must Be Killed'
• Muslim Doctor of Malaysia Who Saw Similarities, Not Differences
• Turkey orders arrest of 100 soldiers over suspected Gulen links
• Netanyahu takes aim at graft probes ahead of Israel polls
• How Iranian Regime Sinks Deeper Into Isolation
• Palestinian Authority pulls employees from Egypt-Gaza crossing
• Houthis negotiate with UN's Griffiths in Sanaa, while attacking Hodeidah
• Iran says EU 'hostage' of US, warns of 'consequences'
• Israeli military strikes Gaza after overnight rocket fire
--------
India
In Kashmir, Claimed Al Qaeda Affiliate Ansar Ghazwat-Ul-Hind May Be Struggling To Survive
• Muslim Outfits of Kerala Plan Stir against Denial of Quota
• Infiltration, South Kashmir remain a headache for security forces in J&K
• Muslim Marathi literature meet in Pune: Basharat Ahmed's ouster irks organisers
• Mehbooba's visits to militants' families a pre-poll drama: Hizbul
• Citizenship bill glimmer of hope for Hindu, Sikh refugees from Afghanistan
--------
Africa
• Why Did Tripoli Issue Arrest Warrants For Libya's Top Post-2011 Actors?
• Sudan police break up anti-govt. protesters, Bashir backers plan to rally
• Nigeria Is Colonised By Christian and Islamic Imperialists
• US attacks on Somalia's al Shabaab increase under Trump
• Nigeria arrests two reporters over Boko Haram coverage
Compiled by New Age Islam News Bureau
URL: https://www.newageislam.com/islamic-world-news/social-exclusion-religion-feeding-western/d/117390
--------
Social exclusion, and not religion, feeding Western terrorism: UK study
Jan 6, 2019
Social exclusion is the main reason behind the growth of terrorism-related motives in people in many Western countries, a British study shows.
Results of the study by University College London (UCL) published on Sunday on the website of the Guardian newspaper showed that a lack of social integration made people more inclined toward terrorist activities.
The findings cancel out wide-held beliefs in Western countries that home-grown terrorism was a result of issues like religious conservatism, psychosis or poverty.
"This finally dispels such wrongheaded ideas," said the study's co-lead author, Nafees Hamid of UCL, whose team of researchers used neuroimaging techniques to map how the brains of would-be terrorists respond to being socially marginalized.
"The first ever neuroimaging study on a radicalized population shows extreme pro-group behavior seems to intensify after social exclusion," Hamid said, as he elaborated on the significance of social factors on the surge of home-grown terrorism in the Western countries.
The study, involving more than 500 men in the Spanish city of Barcelona who had expressed sympathy with perpetrators of a 2017 deadly attack by Daesh terrorist group in the city, found out that the individuals have their set of values, whether religious or not, highly affected by social exclusion.
"This latest research has shown how values start to become sacred and indicates that social exclusion makes non-sacred values behave like sacred values, which in turn makes people recalcitrant and prone to violence," Hamid said of the scientific research, which ran brain scans on the research population after they were marginalized during a ball toss game.
UCL researchers called for the result of their study to be incorporated in Western governments' strategies policy-making in preventing radicalization, arguing that those governments should revise their approaches to the issue which are mainly based on previous studies suggesting there is an established link between religion and terrorism.
The findings come around a year after Manchester mayor Andy Burnham commissioned a report on causes of hate attacks and terrorism in the city. The report, which followed May 23, 2017 attack in Manchester, also concluded that lack of social integration was a major factor in radicalizing the youth in Britain.
The study also comes following a suspected terror attack on New Year's Eve in a train station in Manchester where a man critically wounded three by his knife.
https://www.presstv.com/Detail/2019/01/06/585050/Terrorism-West-causes-UK-study
--------
Egypt's Sisi opens mega-mosque and Mideast's largest cathedral in New Capital
6 January 2019
President Abdel Fattah al-Sisi inaugurated Egypt's largest church and mosque in the New Administrative Capital on Sunday, the eve of Coptic Christmas, in a symbolic message of tolerance in the predominantly Muslim nation.
Copts, the largest Christian minority in the Middle East, were due hold a midnight mass in the Cathedral of the Nativity, billed by the government as the Middle East's largest church, a few hours after the inauguration.
Coptic Christians make up an estimated 10 percent of Egypt's nearly 100 million people.
They have also increasingly been targeted in recent years by militants including ISIS, which is waging an insurgency in the north of the remote Sinai Peninsula.
Foreign dignitaries and officials including Palestinian President Mahmoud Abbas and Arab League Chief Ahmed Aboul Gheit flanked Sisi at the opening, state television showed.
Angham, a prominent local singer, sang for Muslim-Christian coexistence as a display of fireworks lit the skies over the two houses of worship.
"On this day we see you have fulfilled this promise and here we are witnessing a great opening on this grand occasion," the head of the Coptic church Pope Tawadros II said. He will preside over midnight mass later in the evening with Sisi in attendance.
US President Donald Trump also praised the opening of the church and the mosque.
"Excited to see our friends in Egypt opening the biggest Cathedral in the Middle East. President Al-Sisi is moving his country to a more inclusive future," Trump tweeted on Sunday.
The Cathedral of the Nativity, adorned with Coptic icons, can accommodate more than 8,000 worshippers while the al-Fattah al-Aleem Mosque can hold nearly double the number. Both are located in the new administrative capital, a major development located some 45 km (28 miles) east of Cairo.
Contractors have been clearing debris from the perimeter of the cathedral in the last two weeks in preparation for its grand opening, a Reuters witness said.
The new Egyptian capital, announced in March 2015, is intended partly to reduce crowding in Cairo but will also be home to government ministries and an airport. The government is expecting to begin moving to the new premises later this year.
https://english.alarabiya.net/en/News/middle-east/2019/01/06/Egypt-s-Sisi-opens-mega-mosque-and-Mideast-s-largest-cathedral-in-New-Capital.html
--------
China plans to bring Islam on socialist lines in 5 years
Jan 07, 2019
China has firmed up an outline to sinicise Islam by 2022 in an effort to redefine the practice of the religion and align the beliefs of Muslims with the Communist Party of China's (CPC) policies and traditional Chinese culture.
The five-year plan (2018-2022) was discussed and agreed upon by eight Islamic associations and government officials at a conference held in Beijing on Saturday.
Sinicisation of religion could be defined as an effort to mould religious beliefs and doctrine to bring them in line CPC's objectives and the culture of the majority Han community.
Details of the plan were not shared in a report on the conference in the nationalistic tabloid, Global Times, which only said the outline will soon be released.
President Xi Jinping in 2015 had spoken about sinicising the five major religions practised in China: Catholicism, Protestantism, Islam, Buddhism and Daoism.
The CPC's focus has been on Islam in the remote Xinjiang Uyghur Autonomous Region (XUAR) where, according to the United Nations, a million Uyghur Muslims could be interred in re-reduction camps to pledge first loyalty to the Party.
At Friday's seminar, government-appointed Islamic officials and clerics agreed that their religion needs to follow the CPC's lead.
"They agreed that the outline is the basic policy for Islamic sinicisation covering the next five years," according to a statement published on the official website of the Chinese Islamic Association.
Yang Faming, head of the Chinese Islamic Association, said at the seminar that "…relevant measures should be implemented including holding lectures and providing training on socialist core values, laws and traditional culture as well as guiding Muslims through vivid stories with a positive spirit".
Gao Zhanfu, the vice-dean of the Beijing-based China Islamic Institute, told the Global Times on Sunday that sinicisation of Islam had "matured" since the concept was brought forward in 2015 by President Xi Jinping.
"Sinicisation of Islam is not about changing the beliefs of Islam, habits or ideology but to make it compatible with a socialist society," Gao said.
In October, a CPC leader said in Xinjiang that the "…Party's leadership over religious work must be upheld," and that "the infiltration of religious extremism must be guarded against".
You Quan, a member of the CPC central committee secretariat, one of the top decision-making bodies of the party, and head of the party's powerful United Front Work Department, expressed "…hope that people in religious circles can inherit and carry forward the fine traditions to love the motherland and their faith, lead religious believers to follow the right faith and abide the law and contribute to the healthy development of Islam".
https://www.hindustantimes.com/india-news/china-plans-to-bring-islam-on-socialist-lines-in-5-years/story-0S2lUSAGtTu9RAWgVv1UrN.html
--------
'Seerat-i-Rehmatul Alameen Ulema Ask Govt to Devise Mechanism for Issuing Fatwas
Kalbe Ali
January 07, 2019
ISLAMABAD: Religious scholars, clerics and caretakers of various shrines in the country have decried the practice of recklessly issuing Fatwas (religious decrees) by some religious leaders and urged the government to devise a mechanism which could streamline the practice.
These observations were made at the 'Seerat-i-Rehmatul Aalameen Con­fe­rence' held here on Sunday under the aegis of the Pakistan Ulema Council (PUC).
A joint declaration issued at the conference underlined that people issuing decrees against the state institutions, the armed forces and the chief of the army staff were causing harm to the country. It termed such decrees a threat not only to the country, but also to Islam.
Titled Islamabad Decla­ration, the joint declaration said 2019 would be observed as the year to eradicate terrorism, extremism and sectarian violence from the country.
It said no political or religious party in the country should be allowed to do politics on the issue of the Finality of Prophethood.
The declaration pointed out that killings on the pretext of religious belief was against the teachings of Islam. It said all religious groups and sects denounced decrees for killings and the extremist belief of some sections of society.
It said people of no sect of Islam could be declared infidel. No one — Muslim or non-Muslim — can be declared as punishable by death. Only courts could deliver a death sentence, it added.
According to the declaration, people belonging to all religions and sects in the country have equal constitutional rights and they can live in the country as per their cultural and traditional norms.
Speakers at the conference said that leaders of all religious groups had condemned decrees issued against security agencies and their leaderships, adding that they termed such decrees against the teachings of the Quran and Sunnah.
The speakers urged the government to devise a mechanism for putting a check on the practice of recklessly and immaturely issuing decrees, particularly those decrees which are related to some serious issues, such as the Finality of Prophethood.
https://www.dawn.com/news/1455995/ulema-ask-govt-to-devise-mechanism-for-issuing-fatwas
--------
Saudi Arabia deporting scores of Rohingyas to Bangladesh
January 7, 2019
Days after India deported a Rohingya Muslim family of five lodged at an Assam prison to Myanmar, Saudi Arabia on Sunday prepared to send scores of Rohingyas to Bangladesh.
Rohingyas, some of whom have already spent five to six years in Saudi detention, were being are lined up for deportation at the Shumaisi detention centre in Jeddah on Sunday, reported the Middle East Eye.
According to video footage sent to Middle East Eye, a detainee, speaking in Rohingya, could be heard saying, that he has been in Saudi Arabia for the past six years and is now being sent to Bangladesh, where he, like other Rohingyas, will become refugees. "I've been here for the last five to six years, now they are sending me to Bangladesh. Please pray for me," he said.
Some of them were also put in handcuffs after they reportedly attempted to resist their deportation to Bangladesh, according to the voice notes sent to the Middle East Eye.
Another voice note said: "They came to our cells in the middle of the night, telling us to pack our bags, and get ready for Bangladesh. They put handcuffs on me and now making us wait."
According to Rohingya activist Nay San Lwin, if these Rohingya detainees are released in Saudi Arabia, they can support their families held in refugee camps in Bangladesh, instead of being deported to Bangladesh.
"They are not criminals to be held in handcuffs, and I am very sad to see them being treated like criminals by the Saudi authorities... Now they will be sent to refugee camps and will increase the number of refugees in Bangladesh," Lwin was quoted as saying.
Many Rohingya locked up in the Shumaisi detention centre reportedly went to Saudi Arabia on Bangladeshi passports, obtained via fake documents. Some of them have also reportedly entered the country on passports from Bhutan, India, Pakistan and Nepal.
On January 3, India deported a family of five Rohingyas lodged at an Assam prison to Myanmar. A day before that a Rohingya Muslim migrant from Myanmar's Rakhine state who was kept at Ambala jail in Haryana, was sent back.
They were reportedly handed over to Myanmarese authorities at the border check point in Manipur's Moreh town.
This was the second batch of Rohingya immigrants sent to Myanmar. A batch of seven Myanmar nationals, believed to be Rohingya Muslims, were handed over to their country in October last year through the Manipur border after the Supreme Court refused to stop the first such deportation from India.
As many as 10 others still await deportation at Tezpur jail in Assam.
Rohingya Muslims escaping persecution in Myanmar and entering India has become a bone of contention between the Indian government and human rights activists. While the government dubs them as a "security threat", law-enforcement agencies in various states have been instructed to to arrest them upon identification.
In December last year, Union Minister of State for Home Kiren Rijiju said in the Rajya Sabha about some of these illegal immigrants living in the country illegally after fraudulently obtaining Indian identity documents such as Aadhaar card, pan card and even passports.
In 2017, the Centre had informed Parliament that over 14,000 Rohingya people, registered with the UN refugee agency UNHCR stay in India.
According to government sources, most Rohingya immigrants have been staying in Jammu and Kashmir, Telangana, Punjab, Haryana, Uttar Pradesh, Delhi, Rajasthan, Tamil Nadu, West Bengal, Assam, Karnataka and Kerala.
https://www.indiatoday.in/india/story/saudi-arabia-deporting-scores-of-rohingyas-to-bangladesh-1425064-2019-01-07
--------
US House panel to probe Saudi links to Trump's finances
Jan 6, 2019
A US House of Representatives panel plans to investigate ties between the sprawling business conglomerate owned by President Donald Trump and Saudi Arabia.
A member of the House Intelligence Committee said it will aggressively investigate the links, including "hundreds" of hotel rooms Saudi lobbyists booked at the new Trump Hotel in Washington after the president's election victory.
"What I would like to know is, again — and you could see this through his tax returns, you could see this through bank records — whether there is an ongoing relationship financially with the Saudis," said Eric Swalwell on the Yahoo News podcast Skullduggery.
A spokesman for a public relations company working for Saudi Arabia told The Wall Street Journal that the lobbyists were trying to stonewall a bill that allowed Americans to sue foreign governments for responsibility in the September 11 attacks.
The campaigners would offer the rooms to US military veterans, whom they would send to Capitol Hill to lobby against the bill, the Middle East Eye (MEE) news portal reported, citing veterans and organizers.
The PR firm working for Saudi Arabia spent "nearly $270,000 on lodging and catering" at the hotel, the MEE added.
Saudi feeding Trump's ego?
Swalwell went on to say that Trump was absorbed with Saudi Arabia due to Riyadh's satisfying of the president's sense of self-importance.
"You have a narcissistic personality, and they're throwing him this massive welcome ceremony, and I think we all can see, you know, why he would kind of gravitate toward them," the congressman said.
The reception came during Trump's first foreign visit, which he paid to Saudi Arabia of all other countries in May 2017. It saw Saudi King Salman attending a sword dance with the kingdom, and Washington signing a $110-billion arms deal with Riyadh.
The US has been the main Western patron of the Saudi-led war on Yemen. It also lends logistical support to the war, which has killed tens of thousands and raised the specter of outright famine over the already-impoverished country.
Trump has refused to downgrade the support in defiance of an international outcry. The murder in October last year of prominent US-based Saudi journalist Jamal Khashoggi has also failed to affect the US relations with the kingdom, despite allegations that Saudi Crown Prince Mohammed bin Salman ordered the killing.
Swalwell blasted Trump's failure to assert "American values" in holding Saudi Arabia responsible for the killing.
https://www.presstv.com/Detail/2019/01/06/585001/United-States-Saudi-Arabia-Trump-Organization-ties-Swalwell-House-of-Representatives
--------
Turkish Islamic scholar says Erdogan opponents 'must be killed'
6 January 2019
The Netherlands announced it would open an investigation into statements made by an Islamic Turkish academic, loyal to President Recep Tayyip Erdogan, in which he said, "opponents rebelling against Turkish authorities must be killed."
Ahmet Akgunduz, head of the Islamic University of Rotterdam in Netherlands, had also stated that "enemies of Turkey (supporters of Fethullah Gulen) should be sentenced to death, even if they were pious," during a telephone interview with Turkish news channel Akit TV, according to Turkish newspaper Zaman.
Akgunduz also cited a Quranic verse asserting that it is permissible to kill enemies of the state.
He added, "what Fethullah Gulen and his movement did on July 15 is an insurgency in the state, therefore they are aggressors according to Islamic Sharia."
Dutch Education Minister Ingrid van Engelshoven had threatened to withdraw the accreditation of the university that Akgunduz heads. "These are frightening remarks. We are going to have a special committee in order to make what he said clear and to decide how we should comment, but we must wait for the results of the committee's findings first," she said.
Zaman newspaper had also said that "Ahmet Akgunduz did not mention the arrests and displacement of more than 60,000 people in Turkey, including women and children, as well as the confiscation of people's property and companies and media organizations with the absence of legal evidence" under the guise of "suspicion in participating in the failed coup" that Ankara accuses Gulen of heading.
This is not the first time that Akgunduz had stirred up controversy, as he had recently insulted critics of Erdogan and had called Kurds "dogs".
https://english.alarabiya.net/en/News/world/2019/01/06/At-least-30-goldmine-workers-killed-in-landslide-in-northern-Afghanistan-.html
--------
In Kashmir, claimed Al Qaeda affiliate Ansar Ghazwat-ul-Hind may be struggling to survive
Jan 07, 2019
On December 22, six militants were killed in a gunfight with the security forces in Arampora village of South Kashmir's Tral. All belonged to Ansar Ghazwat-ul-Hind, which started life in July 2017 and claims to be affiliated to Al Qaeda.
The gunfight turned the focus back on the shadowy group formed by Zakir Rashid Bhat, popularly known as Zakir Musa, after he rebelled against Hizbul Mujahideen, the largest indigenous militant organisation in Kashmir. According to police officials, Ansar Ghazwat-ul-Hind's strength has hovered around 10 to 12 militants since its inception. The December 22 killings are the biggest blow to its ranks so far. The police estimate that the group is now reduced to just four militants, including Musa. But they are not writing it off just yet. "When Zakir Musa is still alive, how can we say the group has been wiped off?" asked Munir Khan, additional director general of police.
Breaking with the Hizb
Musa, whose name is today often chanted at militant funerals and protests, is one of Kashmir's best-known militants since Burhan Wani, the Hizb commander killed by the security forces in 2016. Before Wani's killing, the two were believed to be close associates. In May 2017, Musa caused a stir in the Valley with an audio message in which he threatened to behead separatist leaders of the Hurriyat for calling Kashmir's war a political struggle instead of a religious one. He had taken up arms, Musa said, not to create a secular state but to implement sharia, or Islamic law, once Kashmir was free of India. "I will not fight for Azadi for a secular state," he declared. "I will fight for Azadi for Islam, for the establishment of an Islamic state. Not only in Kashmir but in India and Pakistan too."
Soon afterwards, Musa broke away from the Hizb, which had called his statement "unacceptable". Nearly two months after the audio message went viral, the Global Islamic Media Front, Al Qaeda's official propaganda channel, released a "statement of establishment". It announced: "After the martyrdom of heroic Mujahid Burhan Wani, the jihad in Kashmir has entered a stage of awakening, as the Muslim Nation of Kashmir has committed to carry the flag of jihad to repel the aggression of tyrant Indian invaders, and through jihad, and with the aid of Allah only, we will liberate our homeland Kashmir."
The new group, Ansar Ghazwat-ul-Hind, was to be headed by Musa. It caused a flurry of speculation in the Indian media. Was the separatist movement in Kashmir moving away from its old political aspirations?
Since it exploded in 1989, the militancy in Kashmir had developed several ideological strands, from the Jammu and Kashmir Liberation Front, which claimed to fight for an independent secular state, to the pro-Pakistan Hizb and Lashkar-e-Taiba, which spoke of an Islamic state spanning South Asia. With the establishment of Musa's group, intelligence agencies reportedly warned of a "parallel, resurgent narrative of terrorism" that was gaining ground, propelled by Islamism rather than the old demand for self-determination.
After his split with the Hizb in 2017, Musa began to fashion himself differently. Initially, the civil engineering student who had dropped out of his college in Chandigarh to join the Hizb in 2013 appeared in several posters with Wani, wearing military fatigues and and brandishing weapons. Now, pictures on social media show him wearing a long cloak, holding a staff and wearing a pakol cap, inviting comparisons with the slain Al Qaeda leader Osama Bin Laden. In recent months, there have been rumours of Musa being spotted in various cities across Punjab. What has upped his profile on the security radar is a series of arrests of Kashmiri students in Punjab for their alleged links to Musa.
Base of operations
In Kashmir, Ansar Ghazwat-ul-Hind's rhetoric does not seem to have translated into practice. Like Wani before him, Musa is from Tral, a region of orchards bordered by the Dachigam forests, giving way to mountains. Musa was born in the sleepy village of Noorpora. Like Wani, Musa's influence seems to have spread largely through local networks.
All six militants killed on December 22 belonged to Tral, four of them from the village of Dadsara. Among the group's four surviving militants, two are from Tral. "Most of AGH's cadre has come from Tral because it's Zakir's hometown," said Mohammad Zahid Malik, superintendent of police, Awantipora. "He has a good hold in this area and earlier he remained a top commander of Hizbul Mujahideen so he has his own contact and his own network intact from that outfit."
According to police records, the group's activities have largely been restricted to a few bank robberies in South Kashmir and a grenade blast in Tral. "Their pattern is different," Malik explained. "They were in the process of setting up bases first. Once they were established, they were planning to go for big attacks. But we have taken out a good number of them before that. I think their capability is greatly reduced now."
Another senior police official in South Kashmir said the group is still in its "infancy" so far as its operational capacities go. "As compared to other militant groups, AGH is not much organised," he said. "Till now, it doesn't have a proper chain of command or supply of logistics. They don't have weapons or the means to get them like Hizbul Mujahideen or Lashkar-e-Taiba have." This dearth of weapons showed in the Arampora gunfight as well. The police and local residents said that out of six militants, only three carried weapons, two AK-47 rifles and one pistol.
How substantial is the group's affiliation with Al Qaeda? "As far as their audios, videos and utterances are concerned, they are like those of Al Qaeda and global jihad," Malik said. "But we haven't been able to find any direct link between them."
'Fight against India'
Relatives of militants who have joined Ansar Ghazwat-ul-Hind give out the old reason for youth taking up arms in the Valley: to fight the excesses of the security forces. It is the same reason quoted by families of Hizb and local Lashkar militants as well.
"My son could not tolerate the abuse and harassment meted out to Kashmiri women by Indian forces," said Jan Mohammad Akhoon, father of Sauliha Akhoon, one of the militants killed on December 22. "Otherwise, he was like any other teenager occupied by his studies."
Sauliha Akhoon, 21, was the deputy chief of Ansar Ghazwat-ul-Hind. He had joined the Hizb in March 2015 and switched to the new group in 2017. It is easy to find his house in Arampora village: photocopied images showing him wielding a gun, in the company of other militants, and banners of Ansar Ghazwat-ul-Hind hang outside.
"India is fooling the world and its people by claiming that our young generation is picking up arms due to the lack of jobs, infrastructure and development," said Jan Akhoon, a government employee. "They are fighting for dignity and freedom."
In Dadsara, the family of Umar Ramzan Mir, 18, blames the state police for pushing their son towards militancy. In November, the Punjab police arrested two Kashmiri students allegedly associated with Ansar Ghazwat-ul-Hind, charging them with involvement in a grenade blast at the Maqsudan police station in Jalandhar two months earlier. The police also named two other Kashmiris, but said they were absconding. They were Umar Ramzan Mir and his childhood friend, Rouf Mir.
"In his life, Umar never went outside Kashmir," said his father Mohammad Ramzan Mir. "How was it possible for a person like him to go to Punjab and carry out attacks? When we went to our local police station in Awantipora, we were told that they can't do anything as the case has been taken over by the National Investigation Agency. We feared our son will rot in some jail for his entire life. We had no one to go to save our son."
After their names appeared in media reports, Umar Mir and Rouf Mir disappeared. Their families thought they had gone into hiding to evade arrest. "Until we saw him during the funeral of a local militant giving a gun salute, we had no idea that he had joined militant ranks," said Mushtaq Ahmad, Umar Mir's uncle. "Shouldn't our police be held responsible for it? This is how you create militancy. First you accuse them of crimes and then you wash your hands of them. What option did Umar really have to save himself?"
Umar Mir and Rouf Mir were both killed in the Arampora gunfight. "Their fates were interlinked since childhood," Mushtaq Ahmad said. "They left together, and returned as martyrs on the same day."
Ask about an ideological divide between the militant groups operating in Tral and it elicits stern looks. "The objective is the same: the end of Indian military occupation," retorted Jan Akhoon. "It's not right for me to say why my son choose a different group because I am not on the ground. But all of them are fighting against injustice and to implement Islam in Kashmir. They are brothers."
In Dadsara, the families of the four slain militants speak in the same vein. "Yes, Umar was part of a different militant group, but it does not mean that those in other groups were his enemies," said his cousin Shahnawaz Ahmad. "As long as the enemy is same, the ideological differences don't matter."
A closing divide?
The name Ansar Ghazwat-ul-Hind is rooted in a Hadith, or saying attributed to Prophet Muhammad, in which he prophesied the Muslim conquest of the Indian subcontinent before the end of time. This would be instrumental to the creation of a vast caliphate similar to that which existed during Islam's early period, the prophecy goes. There are multiple interpretations of the Hadith as well as questions about its authenticity. Still, according to some analysts, the prophecy has long been a part of the rhetoric used to incite militant groups to battle. But the Hizb began life in the early 1990s with the primary aim of merging Kashmir with Pakistan rather than fighting a distant religious battle.
In Tral, there are theories galore about why Musa fell out with the Hizb, not all of them ideological. He was to succeed Wani as the Hizb commander but the group's leadership went to Yaseen Itoo, alias Mehmood Ghaznavi. Musa wanted to end the alleged influence of the Jama'at-e-Islami, a socioreligious organisation preaching political Islam, on militancy in Kashmir. Musa is a red herring introduced by Indian security agencies, bent on portraying the Kashmir conflict as part of the global jihad. Almost all agree on this: Musa is no longer a fan of Pakistan.
But could the divide between the Hizb and Musa's group be closing? After the new group came into being last year, the Hizb called it "an Indian intelligence operation" to "divide the Kashmiri nation". A year and a half later, the criticism has grown muted, even turned to sympathy. After the gunfight on December 22, an old audio message from the Hizb commander Riyaz Naikoo clarifying that his group was not opposed to Ansar Ghazwat-ul-Hind went viral on social media.
"It is an acknowledgement that the sentiment represented by the AGH is somewhere genuine," said a PhD scholar from Pulwama who asked not to be identified. "Also, it's a fact that Zakir has kept a distance from hardcore extremist groups like ISIS, which means he is aware of Kashmir's realities."
Around the same time that Musa's outfit was formed, another group calling itself the Islamic State of Jammu and Kashmir and claiming to have ties with the Islamic State in Syria emerged on social media. The police, however, say the group's presence in the Valley is marginal, confined to urban pockets, and there is little to prove actual ties to the Islamic State.
Changing realities
For political observers, Musa's popularity with the Valley's youth reflects Kashmir's changing realities. "This kind of thinking was latent even before Burhan Wani," said Altaf Hussain Nadvi, a columnist and religious scholar from Anantnag. "Until now, martyrdom for a militant meant sacrificing his life for Kashmir to become part of Pakistan because of its Muslim character. A considerable chunk of the youth now challenges this assertion. They are asking if Pakistan could not become an Islamic state 70 years after its creation, why should they lay down their lives for it? What they are asking is whether a jihad to free Kashmir and make it a part of Pakistan or an independent state has religious validity or not."
The older players in the Kashmir conflict may be losing currency, Nadvi suggested, including Pakistan. "If you observe carefully, even Hizbul Mujahideen's operational chief, Riyaz Naikoo, has been critical of Pakistan in his audio and video messages lately," he explained. "Even though he is not doing so openly, anyone can gauge it. Similarly, there has been vocal criticism of the Hurriyat and its strategy after the 2016 Burhan Wani uprising."
In October, a leaked audio message purportedly featuring Naikoo circulated on social media. "Only Pakistan can represent us on the diplomatic front," he is heard saying. "But unfortunately, the politicians there have limited the Kashmir issue to elections."
Nadvi contended that geopolitical factors, such as the United States withdrawing from Afghanistan, would also affect the "tone" of Kashmir's militancy. "Doesn't America know that after its exit Taliban will implement sharia law? The fact is America has lost in Afghanistan," he said. "The echoes of a world power's defeat at the hands of regular militants will not be confined to Afghanistan."
https://scroll.in/article/907269/in-kashmir-al-qaedas-putative-affiliate-ansar-ghazwat-ul-hind-may-be-struggling-to-survive
--------
Europe
Radicalized in jail, teen thug becomes hardened terrorist
January 07, 2019
BRUSSELS: Mehdi Nemmouche stands accused of carrying out Europe's first attack by a fighter returning from the war in Syria.
But his journey from a French foster home to a Brussels court began not in a Middle Eastern desert but in a run-down industrial town.
This week, he will go on trial for four anti-Semitic murders during a shooting spree at Belgium's Jewish Museum. Separately, he is also accused of acting as the jailer of four French journalists taken hostage by terrorists in Aleppo in 2013. The trial will last several weeks, but the 33-year-old is already a case study in the radicalization of some young Europeans. Belgium and France, in particular, fear the defeat of groups like the Daesh in Syria will send more angry young men homewards.
But Nemmouche seems to have been on a radical path long before he set off, in early 2013, for the so-called "caliphate" on the Euphrates. The investigation into the May 2014 massacre in the museum has pieced together elements of his background.
Nemmouche was born April 17, 1985, in the northern French town of Roubaix, to a family of Algerian origin. He never knew his father and his mother was judged not "capable" of raising him, investigators say. Aged only three months, he was moved to a foster family in the northern industrial city of Lille, where he would stay — off and on — until he was 16. But his upbringing was not stable. He would make difficult trips to stay with his grandparents, and sometimes to care homes or a Parisian orphanage.
His foster parents, in documents seen by AFP, describe him as an "angry" youth, "capable of the worst as well as the most kindly" acts.
He committed his first known crime at 13, then at 16, he spent three weeks in a juvenile prison for a hold-up with an air pistol after being convicted by a children's court.
His criminal record grew ever longer in his late teens, with traffic offenses and muggings, and his grandmother lost track of him after his second jail term.
In 2007, aged 22, he headed to Provence in southern France after gaining a vocational qualification as an electrician, but soon fell back into trouble.
"What an enormous waste," his former lawyer Soulifa Badaoui said after the museum murders, lamenting the fact that the authorities had not helped Nemmouche integrate.
"No one knew what to do with an intelligent, lively young man who wanted to get out, become an ordinary French citizen," she told AFP.
Between December 2007 and December 2012, he spent five years in custody — and investigators believe this is when his ideas hardened.
In prison, he was known as an "extremist proselytiser" who tried to organize group prayer and spoke of terrorism and the 1995 "genocide of Muslims in Bosnia."
This linked him to the "Roubaix gang" — French militants who returned from the Bosnian war and carried out robberies to fund Al-Qaeda, some of whom he knew.
When his grandmother saw him in Tourcoing in December 2012, he had a long beard and was praying daily, something she had not seen before.
Less is known about his experiences in Syria, but three former French hostages have identified him as their "strict and violent" overseer.
They say he did not hide his admiration for Mohammed Merah, who murdered three French soldiers, a Jewish teacher and three young children in 2012.
Nemmouche, who was extradited to Belgium over the museum shooting after being arrested in Marseille, will go on trial in France over the hostages at a later date.
Held under tight security at a prison in Leuze-en-Hainaut, his lawyers describe him as a man of "steely will" who was bearing up well under incarceration.
"When he greets me with a warm, relaxed smile it's as if we're not in prison," defense counsel Francis Vuillemin told AFP. "The walls seem to slip off him."
http://www.arabnews.com/node/1431516/world
--------
UK Turks, NGOs hold fundraising event for Yemen
07.01.2019
By Ahmet Gurhan Kartal
LONDON
Humanitarian aid for people of Yemen "must increasingly continue", Turkish Red Crescent (Kizilay) president said Sunday during a fundraising event organized by Turks living in the U.K.
Speaking to Anadolu Agency at the Help Yemen Now event jointly organized by the Union of International Democrats (UID) and eight non-governmental organizations, Kerem Kinik said Yemen has had a deepening crisis since 2015.
"There is a serious political crisis [in Yemen] and a humanitarian crisis caused by it," Kinik said.
He said: "Aid can be shipped through various channels. Kizilay runs these operations via its permanent delegation in Aden. Last year, we delivered nearly 13,000 tons of food to almost all regions in Yemen."
Kinik said delivering aid to Sana'a and its surrounding region became easier thanks to a UN-brokered deal for access to the Hudaydah port and asserted that Kizilay now helps almost 1,000 families every month.
Kinik said: "17-18 million people, including 400,000 children, are in need of humanitarian aid and if they cannot receive this aid, they may die."
He added: "There is a cholera epidemic as well as other diseases. We have shipped 60 tons of cholera medicine and established two desert hospitals with our Health Ministry. The aid needs to continue increasingly."
Also attending the event, Turkey's ruling Justice and Development (AK) Party Foreign Relations Deputy Chairman Burhan Kayaturk dubbed Yemen a "bleeding wound."
He underlined that the UN described the crisis in Yemen as "the greatest problem caused by humans for other humans."
Kayaturk said Turkey does its part with its agencies such as Kizilay, the Turkish Cooperation and Coordination Agency (TIKA) and Disaster and Emergency Management Authority (AFAD) and delivers aid to Yemen, adding that President Recep Tayyip Erdogan always raises the Yemen issue during his visits abroad.
He said Iran and the Gulf countries are deepening the crisis in Yemen by using various groups, but "the correct way should be found between those two mistakes."
"We need to create a medium where Yemen's people could solve their own problems ," Kayaturk added.
The UID's London branch chair Erdal Yetimova told Anadolu Agency that the aid and funds collected by eight NGOs will be delivered to Yemen by the Turkish Red Crescent.
Full report at:
https://www.aa.com.tr/en/europe/uk-turks-ngos-hold-fundraising-event-for-yemen/1357628
--------
Pope urges EU leaders to show solidarity with refugees off Malta
Jan 6, 2019
Pope Francis on Sunday urged EU leaders to show "concrete solidarity" with 49 refugees stranded on NGO ships off the coast of Malta who have been refused permission to land.
But both Italy and Malta, who have refused port access to the rescue ships, on Sunday reiterated their positions.
"Forty-nine migrants rescued in the Mediterranean by two NGO ships have been onboard for several days now, waiting to be able to disembark," Francis told thousands of people gathered in Saint Peter's square in Rome.
"I address a pressing appeal to European leaders that they show some concrete solidarity with respect to these people."
The European Commission also urged EU member states to admit them earlier this week as concern grows over their plight, with some of the refugees stranded at sea for more than two weeks.
This is not the first time the Argentinian pope, himself descended from Italian immigrants, has appealed to European leaders to open their borders.
But there was no sign of Italy changing its policy.
"In Italy, no more people are arriving," far-right Interior Minister Matteo Salvini told the Sunday paper Il Messaggero. "That's the line and it will not change."
And he rammed the message home on Twitter, saying "Italy's ports are and will stay closed."
'A precedent'
While not quite as categorical, Maltese Prime Minister Joseph Muscat also set out his reservations on Sunday.
"This is an issue that might set a precedent and we should be vigilant about it," he told Malta's Radio One station.
"It is easy to play the Christmas Saint with everyone, but then come January, February and the summer period we would be told to do the same."
If Malta let in refugees from the two rescue ships, "the bullies would have won", he added.
"That is why we are stressing that we do not want this case to set a precedent."
The small island state of Malta, which has a population of just 450,000, sits in the middle of the Mediterranean, not far from the Libyan coast.
Relations between Italy and Malta have been strained since Salvini's decision to close Italian ports to the refugees, accusing the rights groups who rescue them of running a refugee "taxi service".
Salvini has called on Malta to assume its responsibilities and take in the rescue boats, arguing that they are the closest.
Muscat said that Malta's own naval vessels had in recent days rescued 250 refugees, with the government saying some of them were pulled to safety closer to Italian waters.
The Netherlands and Germany have already offered to take some of the refugees if their EU partners do the same.
But the European Union's long-running deadlock over sharing responsibility for refugees has yet to be resolved.
Full report at:
https://www.presstv.com/Detail/2019/01/06/585048/EU-Pope-Francis-NGO-refugees-Malta-Italy-
--------
Arab World
Agreement signed to boost technical services at Two Holy Mosques
January 07, 2019
JEDDAH: The General Presidency of the Grand Mosque and the Prophet's Mosque on Sunday signed a cooperation agreement with the Saudi Ministry of Communications and Information Technology to upgrade technical and digital services at the mosques.
The signing ceremony was attended by the president of the General Presidency for the Affairs of the Two Holy Mosques, Sheikh Dr. Abdulrahman bin Abdul Aziz Al-Sudais, and the minister of communications and information technology, Abdullah bin Amer Al-Swaha.
The agreement aims to create a strong partnership with a view to developing the digital infrastructure, creating an e-business environment and boosting emerging technologies such as artificial intelligence, the Internet of Things and augmented reality.
It is the most important agreement signed by the presidency, and is a turning point for visitors of the Two Holy Mosques, Al-Sudais said.
He thanked King Salman and Crown Prince Mohammed bin Salman for supporting the presidency so as to enable it to serve pilgrims to its fullest. Al-Sudais also thanked Al-Swaha for supporting the agreement.
Attendees of the signing ceremony watched a documentary about the services provided by the presidency for the last 56 years. Al-Swaha said his ministry seeks through the agreement to activate and support technology and digital transformation to serve pilgrims.
"The infrastructure in the Two Holy Mosques is among the best globally," he added. "In the previous Hajj season, we launched the Smart Hajj campaign across a number of apps, most notably the Soha app, which enables pilgrims to access the services of a physician anywhere at the holy sites."
The agreement will establish an institutional framework, transfer knowledge and innovation, and contribute to raising the efficiency of employees and the system, he said.
http://www.arabnews.com/node/1431496/saudi-arabia
--------
US Enhancing Military Build-up in Western Iraq
Jan 06, 2019
The sources were quoted by Russia's RT news channel as saying that dozens of US troops stationed in Syria have relocated to Ein al-Assad base in al-Anbar province in Western Iraq.
"Reports that the US forces who have left Syria are now stationed in Erbil in Iraqi Kurdistan region are not all true. A major part of these forces have gone to Ein al-Assad base in al-Anbar province and a number of others have been deployed in the military bases in other Iraqi provinces," they added.
According to the sources, the US forces are still stationed at the Iraqi-Syrian borders and have not left Syria completely.
An informed source said on Saturday that a large number of state-of-the-art US-made weapons had been dispatched to Ein al-Assad airbase in al-Anbar province.
"A number of US military planes, carrying weapons and military equipment, arrived at Ein al-Assad airbase in al-Baghdadi region in the town of Hit in Western al-Ramadi. No reason has yet been cited for these flights to the airbase and the details about the weapons which are said to be advanced," the source was quoted as saying by Iraq's al-Wa'e news agency.
He added that a few days ago, a large number of US military vehicles had also arrived at Ein al-Assad, noting that the American forces take assistance from the security companies for transferring military equipment to their positions in Iraq and the military men are sent to different places on planes.
Full report at:
http://en.farsnews.com/newstext.aspx?nn=13971016000827
--------
Syrian Army Fends Off ISIL's Attack on Deir Ezzur's Eastern Deserts
Jan 06, 2019
The Syrian army troops engaged in heavy clashes with the ISIL terrorists who had attacked some regions in Eastern deserts in Eastern Deir Ezzur.
Meantime, the Syrian army's missile and artillery units targeted ISIL's movements in Eastern Badiyeh, inflicting major losses on the terrorists and repelling their attack.
Meantime, the Syrian army targeted the ISIL's movements with heavy artillery and missile attacks in the surrounding areas of Jabal al-Gharab and to the Southeast of the town of al-Sukhna in the outskirts of Aviraz region near Homs provincial border with Deir Ezzur in Eastern Badiyeh of Homs province.
The Syrian army troops also destroyed several military positions of the terrorists, killing and wounding a large number of them.
In a relevant development on Wednesday, the Syrian Army forwarded more troops and military equipment to the Eastern deserts of Deir Ezzur on Wednesday, preparing for a large-scale operation to hunt down the remaining pockets of the ISIL terrorists.
The army dispatched the 4th Division and a part of Presidential Guard Forces to the Eastern desert of Syria from the small town of al-Dowayer up to the town of al-Hari near border with Iraq in Southeastern Deir Ezzur.
The army's growing military buildup in the Eastern desert of Deir Ezzur indicates that the government forces are preparing for a major operation to purge the entire region of the ISIL terrorists and put an end to any movement of the terrorists between Syria's Deir Ezzur desert and Iraq's Anbar.
The army's main objective is restoring sustainable security to the borders with Iraq.
On Monday, the army forwarded a large number of troops, including the 5th Division, more tanks and armored vehicles to the small towns of al-Sukariyah and Huweija al-Moshahedah near the town of Albu Kamal near the border with Syria.
In the meantime, tens of army men, a number of Russian forces, several cannons and heavy weapons arrived at Deir Ezzur military airport and were further sent to regions near the small town of al-Dowayer.
Full report at:
http://en.farsnews.com/newstext.aspx?nn=13971016000567
--------
Syria's opposition calls for reviewing decisions dealing with Assad regime
6 January 2019
The head of the Syrian Negotiation Commission of opposition and revolution forces, Nasr al-Hariri expressed hope that the countries which announced restoring relations with the Syrian regime, will reconsider their decisions.
In a press conference in the Saudi capital Riyadh, Hariri who represent the Syrian opposition, said on Sunday that: "Iran aims to isolate Syria from its natural Arab surrounding."
The president of the official Syrian opposition added: "We are in front of a historic stage, either we leave the field to the Syrian regime or not."
Nasr al-Hariri said: "We hope the Arab leaders won't give up on the Syrian people," warning of the "entry of the Iranian militias to fill the vaccum of the American dangerous pullout."
Full report at:
https://english.alarabiya.net/en/News/middle-east/2019/01/06/Syria-s-opposition-calls-for-reviewing-decisions-dealing-with-Assad-regime.html
--------
US links Syria withdrawal to ISIS defeat, Turkish treatment of Kurds
6 January 2019
President Donald Trump's national security adviser, John Bolton, said Sunday that the US military withdrawal from northeastern Syria is conditioned on defeating the remnants of the ISIS group, and on Turkey assuring the safety of Kurdish fighters allied with the United States.
Bolton, who traveled to Israel to reassure the US ally of the Trump-ordered withdrawal, said there is no timetable for the pullout of American forces in northeastern Syria, but insisted it's not an unlimited commitment.
"There are objectives that we want to accomplish that condition the withdrawal," Bolton told reporters in Jerusalem. "The timetable flows from the policy decisions that we need to implement."
Those conditions, he said, included the defeat of remnants of ISIS in Syria, and protections for Kurdish militias who have fought alongside US troops against the extremist group.
Bolton's comments mark the first public confirmation that the drawdown has been slowed, as Trump faced widespread criticism from allies and the resignation of Defense Secretary Jim Mattis for a policy that was to have been conducted within weeks.
Trump announced in mid-December that the US will withdraw all of its 2,000 forces in Syria. Trump's move has raised fears over clearing the way for a Turkish assault on Kurdish fighters in Syria who fought alongside American troops against IS extremists. Turkey considers the Syrian Kurdish People's Protection Units, or YPG, a terrorist group linked to an insurgency within its own borders.
Bolton, who is to travel on to Turkey on Monday, said the US is insisting that its Kurdish allies in the fight against the ISIS group are protected from any planned Turkish offensive. He is to deliver a warning to Turkish President Recep Tayyip Erdogan this week.
"We don't think the Turks ought to undertake military action that's not fully coordinated with and agreed to by the United States," Bolton said.
Trump has stated that he would "not allow Turkey to kill the Kurds," Bolton said. "That's what the president said, the ones that fought with us."
Bolton said the US has asked its Kurdish allies to "stand fast now" and refrain from seeking protection from Russia or Syrian President Bashar al-Assad's government. He said Chairman of the Joint Chiefs of Staff Gen. Joseph Dunford would continue negotiations with his Turkish counterparts this week to seek protection for America's Kurdish allies in Syria.
He added that Ambassador Jim Jeffrey, who has been serving since August as the special representative for Syrian engagement and was named last week as the American special envoy for the anti-ISIS coalition, would travel to Syria this week in an effort to reassure the US's Kurdish allies that they are not being abandoned.
Bolton said US troops would remain at the critical are of al-Tanf, in southern Syria, to counter growing Iranian activity in the region. He defended the legal basis for the deployment, saying it's justified by the president's Constitutional authority, adding "I'm a strong believer in Article II."
Bolton on Sunday also toured the ancient tunnels beneath the Western Wall in Jerusalem's Old City. He watched a virtual reality tour of the historic site and dined there with his Israeli equivalent, as well as US Ambassador to Israel David Friedman and Israel's ambassador to the US, Ron Dermer.
Full report at:
https://english.alarabiya.net/en/News/middle-east/2019/01/06/US-links-Syria-withdrawal-to-ISIS-defeat-Turkish-treatment-of-Kurds.html
--------
Saudi-backed militants cry foul as countries resume ties with Syria
Jan 7, 2019
Syria's Saudi-backed groups are desperately calling on world nations to stop rebuilding ties with the government of Syrian President Bashar al-Assad.
Speaking to reporters in Riyadh on Sunday, Nasr al-Hariri, the head of the Syrian opposition's so-called High Negotiations Committee (HNC), said he was surprised that some Arab leaders, who once backed anti-Assad forces, were now seeking reconciliation with Damascus.
"We do not have the power to stop this reconciliation," Nasr Hariri told reporters in the Saudi Arabian capital Riyadh, where he is based. "We still hope there is a possibility for (these countries) to revisit their decisions."
Last month, Sudanese President Omar al-Bashir – who has, over the past years, built good relations with Saudi Arabia and the United Arab Emirates (UAE) -- became the first Arab head of state to pay an official visit to Damascus and sit down for talks with Assad.
Days later, the United Arab Emirates (UAE) re-opened its embassy in the Syrian capital. Bahrain also followed suit, adding that the Syrian embassy in Manama had been operating "without interruption."
Jordan is also reported to be considering normalizing with Syria.
Kuwait indicated last week that more Arab countries were going to re-open their diplomatic missions in Damascus in the "coming days," even though such decisions need a green light from the Arab League first.
The Arab League suspended Syria's membership in 2011, as foreign-backed militants declared war against Assad. The League now needs to reach a consensus before reinstating Syria.
"We do not think it would be a sound step to readmit Syria into the Arab League. We think this is a decision that won't be in the interest of the political process," Hariri said.
Saudi Arabia and some other US-allied Arab regimes of the Persian Gulf region were the main regional backers of anti-Assad militant groups, providing them with money and weapons as part of a program coordinated by Washington.
Seven years into the deadly conflict, however, Assad has been able to score major victories against Daesh and other terrorist groups, purging them from most parts of the country with help from Iran, Russia and the Lebanese resistance movement Hezbollah.
Around 10 months after the outbreak of militancy in Syria, Assad had predicted in an address to a group of Syrian youths that "the same Arab countries that are now hatching plots against us return to Damascus to apologize."
Full report at:
https://www.presstv.com/Detail/2019/01/07/585076/Syria-reconciliation-HNC-Hariri-Saudi-Assad
--------
Syria sends reinforcements to Hama, Idlib amid clashes
Jan 6, 2019
The Syrian army has reportedly dispatched military equipment, including artillery, armored vehicles and personnel carriers, to the outskirts of the western provinces of Hama and Idlib.
An informed military source, cited by Russia's Sputnik news agency, said the military build-up is meant to boost readiness against any possible change on the ground following the fresh bout of infighting among terrorists.
Syrian army bases and residential areas have come under stepped-up attacks by terrorist groups, especially al-Qaeda-linked Hayat Tahrir al-Sham (HTS) which is currently engaged in fighting with Turkish-backed militants.
The military source said the Syrian government cannot remain indifferent to the assaults which breach a ceasefire brokered between Russia, Turkey and Iran in September 2017.
The so-called safe zones declared in Idlib have seen HTS terrorists attacking Turkish-backed militants from the so-called National Front for Liberation (NFL) in a bid to seize key roads in the province and gain ground in neighboring Hama.
The so-called Syrian Observatory for Human Rights has put the death toll from the skirmishes in the upwards of 100, including civilians, but pan-Arab al-Mayadeen television has cited a fatality count of more than 500.
The clashes have raised concerns that the deal to set up de-escalation zones in the region could unravel.
In a joint declaration issued on Friday, local councils in Syria called for the establishment of a humanitarian corridor as clashes spread to urban areas.
The tensions come amid contradictory statements made by US officials about the American military pullout from Syria.
US President Donald Trump ordered a quick withdrawal of all 2,000 American forces from Syria last month but then said troops would get out slowly "over a period of time."
On Saturday, a senior administration official said some US troops could remain in southern Syria for an unspecified amount of time. Those who leave Syria would be sent to Iraq, he added.
With Syria reinforcing troops in Idlib, US national security adviser John Bolton struck the familiar aggressive note, warning Damascus against the use of chemical weapons.
The official was traveling to Israel when he expressed that there was "absolutely no change" in the US stance on the matter of chemical weapons, according to The Wall Street Journal.
Last September as the Syrian army geared up to drive out terrorists from Idlib, Washington claimed that Damascus planned to carry out a chemical attack which the West has used as a pretext in the past to hit government positions.
Full report at:
https://www.presstv.com/Detail/2019/01/06/585019/Syria-Idlib-terrorists
--------
Southeast Asia
China's campaign against Uighurs has new target: their top thinkers
By Austin Ramzy
06 Jan 2019
Istanbul |As a writer and magazine editor, Qurban Mamut promoted the culture and history of his people, the Uighurs, and that of other Turkic minority groups who live in far western China. He did so within the strict confines of censorship imposed by the Chinese authorities, who are ever wary of ethnic separatism and Islamic extremism among the predominantly Muslim peoples of the region.
It was a line that Mamut navigated successfully for 26 years, eventually rising to become editor-in-chief of the Communist Party-controlled magazine Xinjiang Civilisation before retiring in 2011.
"My father is very smart; he knows what is the red line, and if you cross it you are taken to jail," said his son, Bahram Sintash, who now lives in Virginia. "You work very close to the red line to teach people the culture. You have to be smart and careful with your words."
Then last year, the red line moved. Suddenly, Mamut and more than a hundred other Uighur intellectuals who had successfully navigated the worlds of academia, art and journalism became the latest targets of a sweeping crackdown in the region of Xinjiang that has ensnared as many as 1 million Muslims in indoctrination camps.
The mass detention of some of China's most accomplished Uighurs has become an alarming symbol of the Communist Party's most intense social-engineering drive in decades, according to scholars, human rights advocates and exiled Uighurs.
As the guardians of Uighur traditions, chroniclers of their history and creators of their art, the intellectuals were building the Central Asian, Turkic-speaking society's reservoir of collective memory within the narrow limits of authoritarian rule. Their detention underscores the party's attempts to decimate Uighur identity in order to remould the group into a people who are largely secular, integrated into mainstream Chinese culture and compliant with the Communist Party, observers say.
The Chinese government has described the detentions as a job training program aimed at providing employment opportunities for some of the country's poorest people. But a list of more than 100 detained Uighur scholars compiled by exiles includes many prominent poets and writers, university heads and professors of everything from anthropology to Uighur history.
"The fact that highly educated intellectuals and academics and scientists and software engineers are being held in these facilities is one of the best counterarguments to authorities' claims that this is some kind of educational program meant to benefit Uighurs," said Maya Wang, a Hong Kong-based researcher for Human Rights Watch.
The removal of high-profile Uighur scholars familiar with the Chinese government, and the country's education and legal systems, is aimed at erasing not only the group's unique ethnic identity but also its ability to defend such traditions, said a Uighur professor now living in Istanbul who asked not to be identified because of possible risks to family in Xinjiang.
Many scholars trace the assault on intellectuals to the imprisonment of Ilham Tohti, a Uighur economist, in 2014. Tohti, who was an outspoken critic of the discrimination Uighurs face in China, was sentenced to life in prison after being found guilty of separatism.
More detentions came in 2017. Many of those targeted worked on preserving Uighur culture.
Rahile Dawut, one of the most well-known of the disappeared Uighur academics, is an anthropologist at Xinjiang University who studied Islamic shrines, traditional songs and folklore. Dawut was detained in December 2017 and hasn't been heard from since.
Before the crackdown, the Uighur intellectual elite offered a bridge between the body of Uighur society, who number about 11 million and are largely poor farmers, and the much wealthier Han Chinese, who dominate economic and political power. The scholars also worked carefully to try to improve the lot of a group that complained of widespread discrimination and draconian restrictions on religious activity.
These scholars offered a moderate path, where Uighurs could maintain religious and cultural practices without turning to extreme and isolationist ideas, said Rune Steenberg, a postdoctoral researcher at the University of Copenhagen.
"This is the really big tragedy about the clampdown," Steenberg said. "They were actually bridge builders of integration of broader Uighur society into modern Chinese society and economy."
Many young Uighurs have been inspired by the scholars' accomplishments, said Erkin Sidick, a Uighur engineer who went to the United States for graduate school in 1988 and now works on telescopes for NASA's Jet Propulsion Laboratory. Sidick said hundreds would attend informal talks he gave on pursuing graduate degrees, and many closely studied a book he published that compiled biographies of Uighur academics.
"Uighur people value education very much," he said.
Now, Uighurs keep a grimmer list of Uighur intellectuals - those who have disappeared in the current campaign.
Tahir Hamut, a Uighur poet who lives in Virginia, began working with other Uighur exiles to collect the names of those detained over the past year based on news reports and information from families and classmates. The list has now grown to 159 Uighurs and five others from other minority groups.
"These people are all the most prestigious in Xinjiang," Hamut said. "They are models who all study diligently and raise themselves up. Their arrest is a great injury, a great attack to all Uighurs."
The Chinese authorities have accused Uighurs in official positions of being "two-faced", or mouthing the official line in public but resisting the crackdown in private. Such labels have surrounded the removal of several top administrators at universities in Xinjiang.
The Xinjiang government propaganda department and the news office for the State Council, China's cabinet, did not respond to faxed requests for comment. But officials in Xinjiang have clearly stated their resolve to pursue people they see as hindering efforts to rewire Uighurs and steer them from what authorities have called religious extremism.
"Break their lineage, break their roots, break their connections and break their origins," wrote Maisumujiang Maimuer, a religious affairs official, in a commentary in the state news media. "Completely shovel up the roots of 'two-faced people', dig them out, and vow to fight these two-faced people until the end."
https://www.afr.com/news/politics/world/chinas-campaign-against-uighurs-has-new-target-their-top-thinkers-20190106-h19s6z
--------
Indonesia's conservative Islam regains clout ahead of elections
JANUARY 07, 2019
JAKARTA -- Religious intolerance is on the rise in Indonesia as conservative Muslims regain political clout ahead of general elections scheduled for April, a sign that the country is re-examining its Islamic foundations.
Singaporean online retailer Shopee's huge marketing campaign to break into the Indonesian market is backfiring, as its television commercial featuring the popular South Korean girl group Blackpink was slapped with a ban from a local watchdog due to "indecent" content.
The Indonesia Broadcasting Commission said on Dec. 11 it issued "strong warnings" to 11 local TV stations to stop airing the commercial, in which four members of Blackpink don miniskirts and short dresses. The ad was supposed to coincide with National Online Shopping Day on Dec. 12.
"The commercial features several scantily clad women singing and dancing," the commission said in a statement. "The Shopee commercial potentially breaches decency norms that the general Indonesian public adhere to."
The commission had acted swiftly in response to an online petition filed against the ad, which was signed by more than 120,000 people just a week after it was posted in early December. Shopee has bowed to the pressure and replaced the ad.
The controversy is the latest instance of conservatives' growing influence in Indonesia, a secular nation home to the world's largest Muslim population. Largely oppressed during three decades of the authoritarian New Order regime, Indonesia's small conservative communities have been able to express themselves more freely following the regime's collapse in 1998. But while their teachings had been largely confined to mosques and small community gatherings, in recent years they have spread via social media to the relatively moderate Muslim majority, allowing outspoken conservatives to often dominate public discourse.
Conservatives nearly succeeded in forcing the Constitutional Court and the House of Representatives to prohibit gay and extramarital sex. They have also started an anti-vaccine movement based of claims that certain medicines contain pork-based ingredients, causing problems for the health ministry's vaccination programs. Their influence is now such that many public institutions are drawing up policies to more actively promote Islam, the latest being the Jakarta prosecutors' office's controversial launch of a smartphone app -- dubbed the "heresy app" -- allowing people to report deviant religious activities.
Unlike radical extremists such as Islamic State, Indonesian's conservative Muslims have long denounced terrorism. But their sermons have become increasingly strident, laced with fearmongering and disinformation to portray Indonesia as being under siege by anti-Islam conspiracies. This growing intolerance is fueling sectarian tensions in the world's third-largest democracy.
"I used to be a fan of this preacher," a civil servant in Jakarta said, referring to a Muslim cleric in his neighborhood. "But he now often delivers inflammatory sermons, saying that the Shiite blood is halal. It's very uncomfortable." Shiites, a major branch of Islam, are a minority in predominantly Sunni Indonesia. Like other minorities, they have been the subject of verbal attacks.
Indonesia's conservative movement is far from homogeneous, noted Bastiaan Scherpen, a Netherlands-based expert on politics and Islam in Indonesia. Groups range from the vigilante-like Islamic Defenders Front, or FPI, and the radical Hizbut Tahrir Indonesia, which was banned last year due to its stated goal of establishing an Islamic caliphate, to the more moderate Prosperous Justice Party, which has members in parliament.
The groups disagree over many matters. But during the hotly contested and publicly divisive 2014 presidential election, they began to coalesce around the opposition camp led by former Army general Prabowo Subianto, who lost to President Joko Widodo in 2014 and is set to face off against him again in April.
Their alliance emerged when the groups jointly organized huge rallies in late 2016 against then-Jakarta Governor Basuki Tjahaja "Ahok" Purnama, a Chinese Christian ally of Widodo. The groups accused the popular governor of blasphemy, leading to his downfall and later incarceration. The opposition-backed candidate, former education minister Anies Baswedan, went on to win the governor's race.
Similar campaigns spread via social media and in speeches warned of an invasion of Chinese workers and the revival of the disbanded Indonesia Communist Party, while the Widodo administration was accused of intimidating the country's ulemas, or Islamic scholars, in a bid to undermine the president's Muslim credentials.
The alliance held a large gathering, tagged as "reunion," at the National Monument in Jakarta on Dec. 2. Although held under the pretext of Islamic solidarity, the event was attended by opposition leaders, including Subianto. Although he did not deliver a political speech there, claiming the event was not election campaigning, which is not allowed until March, organizers played a speech record by a self-exiled FPI leader in Saudi Arabia, who repeatedly asserted that "It is forbidden to vote for presidential and legislative candidates backed by parties who support religious blasphemers."
Apart from Ahok, the statement is also likely in reference to Grace Natalie, the Chinese Christian leader of the newly founded Indonesian Solidarity Party. Natalie, who has expressed her support for Widodo, was reported to police last month over a blasphemy allegation after she declared opposition to Sharia- and Bible-inspired bylaws.
"We don't know what kind of arrangements are being made behind closed doors, but the challengers clearly know how to use conservative Islamic sentiment to their advantage," Scherpen told the Nikkei Asian Review.
He does not believe, though, that Subianto and his running mate Sandiaga Uno, a businessman and former deputy governor of Jakarta, are genuinely inclined to Islamic conservatism. They are largely seen as seculars by people who have long known them.
Scherpen pointed out how Baswedan-Uno used the same religious arguments to defeat Ahok in the 2017 Jakarta election. "This initially caused shock waves, but since then there has been more continuity than change in the way the city is being governed."
He added that a victory for Subianto in April will likely be presented and perceived by many as a victory for conservative Islam. "But while a different tone would be set in the presidential palace, I wouldn't expect significant change in policies related to religion or rights."
Widodo's choice of senior cleric Ma'ruf Amin, chairman of the Indonesian Ulema Council which issued a religious edict against Ahok, has largely helped the president fend off attempts to remove him from office the same way Ahok was chased out, observers have noted. But his choice of the cleric will hardly change the thinking of conservative-leaning Muslim voters, who have already been barraged with allegations of the president's anti-Islamic views.
Full report at:
https://asia.nikkei.com/Politics/Indonesia-s-conservative-Islam-regains-clout-ahead-of-elections
--------
Why Isma's campaign to recognise Malaysia as an Islamic State is a no-brainer
07 January 2019
JANUARY 7 — We read about the campaign by Isma to gather one million signatures in support of its claim of "Malaysia Negara Islam" or Malaysia an Islamic state. But the main question that begs an answer is whether does it really matter whether this country is an Islamic state or not? Does the name matter as much as the content?
Perhaps to Isma, an Islamic state denotes a State which is governed by the Shariah. Whether Malaysia is termed as an Islamic state, a secular state, or a hybrid state; the most important issue to be resolved is how does the state govern its citizens.
While it is true that Malaysia's constitution does not define the country as secular nor does it call it Islamic, many have argued that the construction laid down by our founding fathers of the nation was to create a pluralistic and equal society.
It is true as Isma insisted that Article 3(1) of the Constitution clearly spells out about the position of Islam. But this Article was taken to mean that as far as official ceremonial matters are concerned, Islamic forms and rituals are to be used.
And this does not take away the fact that a secular pluralistic system of governance, one that valued fundamental liberties and equality, was the main aim of the Constitution.
We see this on page 73 of the Reid Commission Report of the Federation of Malaya that says "The observance of this principle...shall not imply that the State is not a secular state".
Furthermore in a landmark case of Che Omar bin Che Soh v Public Prosecutor [MLJ 1988], the former Lord President Tun Salleh Abbas said that the word Islam in Article 3(1) should be given a restrictive meaning based on Article 3(4), which states that nothing in this Article derogates from any other provision of the constitution.
The Supreme Court then held that laws in Malaysia do not have to conform to the Islamic principles, and thereby confirmed the position that Malaysia is not an Islamic state.
But having said all these, the main intent of this writing is not to provide legalistic arguments that Malaysia is a secular state, but to show that such a debate is futile for the growth and progress of the country.
If Isma is truly concerned that Muslims especially that constitute the majority in this country should be truly observant Muslims, then we say that both Islam and true religiosity thrive better in a secular state that breaks down the monopoly of religious truth.
Only in a secular state can a Muslim live a life based on his own freewill and true conviction for the sake of God, not because they are scared of the state apparatus and imposition.
To us, genuine piety only arises through personal choice. And that choice only becomes possible when there is freedom. And this is the freedom that is celebrated by many of those living in secular states.
This idea of freedom, or to use a phrase coined by Mustafa Akyol is his book that was banned by the previous regime, "Islam without Extremes" as "freedom to sin" which is basically a necessary medium for Muslims to be sincerely pious.
The erudite Muhammad Asad has made it very clear when making his commentary in his magnum opus The Message of the Qur'an regarding verse 25 of Surah al-A'raf or the Faculty of Discernment where he commented on the story about Adam and Eve temptation when he said in a concluding remark after an exhaustive exegesis: "by forbidding him (Adam) to "approach the tree", God made it possible for man to act wrongly, and therefore, to act rightly as well. And so, man became endowed with that moral free will, which will distinguish him from all other sentinel beings."
What is equally important is how Islamic can an Islamic state be? Apart from creating a truly pious and God-fearing community of Muslims, the true indicator that an Islamic state is a state worth emulating in the modern world, is whether it has all the values that are consistent with Islam.
Since Islam is rahmatan lil ālamin or blessings to the entire universe, then an Islamic state should be able to be a state that has all the values that we cherish in the modern world politically and economically.
But sad to say, none of the Islamic countries in this world has shown to be in the top ten of countries that prosper according to Islamic principles.
In a 2010 research paper published by two Professors at the George Washington University, Scheherazade Rehman and Hossein Askari entitled How Islamic Are Islamic Countries? which looked at the Islamicity Index, the countries that occupy the top five were New Zealand, Luxembourg, Ireland, Iceland, and Finland.
And when the Economic Islamicity Index was calculated based on the degree of their policies, achievements, and whether the realities were in accordance with a set of Islamic economic principles namely, achievement of economic justice and achievement of sustained economic growth, broad-based prosperity and job-creation, and adoption of Islamic economic and financial practices; we also noticed that Islamic countries fell way behind the Western and Scandinavian countries.
The researchers concluded that Islamic countries are not Islamic in their practice as one might expect; instead it appears that Western countries tend to place higher on the Islamicity Index such as respect for human rights, social and economic justice, hard work, equal opportunity for all to develop, absence of corruption, absence of waste and hoarding, ethical business practices, well-functioning markets, and a legitimate political authority. All these factors resulted is flourishing economies that we witnessed in modern secular states.
But Muslim countries lag behind in all these spheres. So what is there to argue on semantics on whether this country is an Islamic state or a secular state? What we feel would be more important are the Islamic values that could result in prosperity and show an example to all the other communities in this world that Islam is truly a blessing for the entire universe.
It should be like the Islamic state during the reign of the Muktazila or the rationalists centuries ago when Islam was at the forefront of science and medicine, mathematics and physics, astronomy and philosophy. When Islam carried the torch of knowledge that paved the way for European's enlightenment and renaissance.
That was when then where an Islamic state, or more aptly, an Islamic empire, that ruled the world with the idea of scientific progress and innovation. It was the time when we realised that one of the reasons for the Islamic world to flourish was not only about their attitude towards knowledge but also an early emphasis on freedom of speech and expression, which is very rare in any Muslim countries nowadays.
It was reported that al-Hashimi, a cousin of Caliph al-Ma'mun, a Muktazila, once said to his religious opponent:
"Bring forward all the arguments you wish and say whatever you please and speak your mind freely. Now that you are safe and free to say whatever you please, appoint some arbitrator who will impartially judge between us and lean only towards the truth and be free from the slyness of passion and that arbitrator shall be Reason, whereby God makes us responsible for our own rewards and punishments."
That was a rare occurrence in history. But what do we envisage now when we heard of an Islamic state? The image is that of a poor, destitute, and disorganised state that is ruled by long-bearded turbaned men with fierce-looking faces that are more concerned and obsessed about punishing people rather than anything else. An Islamic state brings all the negative connotation and the burden will be borne by none other but the religion of Islam itself.
Full report at:
https://www.malaymail.com/s/1709738/why-ismas-campaign-to-recognise-malaysia-as-an-islamic-state-is-a-no-braine
--------
Sultan Muhammad V steps down as Malaysia's king
6 Jan 2019
Malaysia's king has abdicated, royal officials have said, ending weeks of speculation about his future.
The announcement on Sunday follows a leave of absence by the head of state and rumours he had married a former Russian beauty queen.
Sultan Muhammad V's decision marks the first time a king has abdicated in the Muslim-majority country since Malaysia gained independence from Britain in 1957.
"The National Palace informs that his majesty has resigned as the 15th king effective January 6," a statement from the palace said on Sunday.
The palace did not give any reason for the 49-year-old royal's move.
There had been a question mark over the reign of the king, who ascended to the throne in December 2016, since he took a leave of absence for medical treatment in November.
Reports then circulated online that the king had married a former Miss Moscow in Russia, although royal officials in Malaysia have so far not commented on the rumours.
Malaysia is a constitutional monarchy, with a unique arrangement where the throne changes hands every five years between the rulers of the nine Malaysian states headed by centuries-old Islamic royalty.
Full report at:
https://www.theguardian.com/world/2019/jan/06/sultan-muhammad-v-steps-down-as-malaysias-king
--------
Indonesia Takes Up UN Security Council Seat
January 05, 2019
Jakarta. Indonesia and four other nations officially took up their seats as nonpermanent members of the United Nations Security Council, one of the six principal organs of the intergovernmental organization that has the power to impose sanctions on countries and authorize the use of military force in conflict zones.
Indonesia, Germany, Belgium, South Africa and the Dominican Republic will take part in formulating policies to maintain international peace and security as mandated in the UN Charter. Their memberships are effective from Jan. 1, 2019 until Dec. 21, 2020.
"The huge support we received shows the international community's trust in Indonesia's track record in diplomacy and our free and active foreign policy, which has been crucial in maintaining world peace," the country's permanent representative to the United Nations, Dian Triansyah Djani, said in a statement on Thursday.
The Security Council has 15 members, with five of them – the United States, Russia, China, Britain and France – permanent. The council also makes decisions on the admission of new members to the United Nations.
The UN General Assembly in New York elects the 10 nonpermanent members of the Security Council. The last election took place in June last year, which saw Indonesia and the four other nations replace Bolivia, Ethiopia, Kazakhstan, Sweden and the Netherlands at the end of their respective two-year terms.
Indonesia secured 144 votes, which Dian said was a reflection of the international community's solid trust in the country. Indonesia plans to focus on improving the efficiency of UN peacekeeping operations during its term.
The country has prioritized several issues, including developing a comprehensive global approach to tackling terrorism, radicalism and extremism, as well as Palestinian statehood.
As a Muslim-majority country, Indonesia is expected to use its Security Council seat to prioritize resolutions of various issues affecting Muslims around the world, including the Rohingya humanitarian crisis and the Qatar diplomatic crisis.
Full report at:
https://jakartaglobe.id/news/indonesia-takes-up-un-security-council-seat/
--------
Pakistan
International Islamic University Islamabad Chief Underscores Significance Islam Attaches To Peace
January 07, 2019
TOBA TEK SINGH-International Islamic University Islamabad (IIUI) President Prof Dr Ahmad Yousuf Al-Draiweesh on Sunday emphasised that Islam is totally against extremism and violence in all its forms and abhors all such social evils to create peace in society.
IIUI Prof Dr Ahmad Yousuf Al-Draiweesh, also Tamgha-i-Imtiaz, was addressing Paigham-e-Pakistan conference here on Sunday. The conference was organised by the Toba District Administration.
The IIUI president, the author of 73 books on peace, interfaith harmony, highlighted the concepts and practices of fraternity, affection and brotherhood by quoting examples from the holy Quran and Sunnah.
He emphasized the exemplary protection conferred on the minorities in a Muslim state of Madina during the enlightened period of Holy Prophet (SAWW) and later the caliphates.
He said that Islam binds its followers to struggle for prosperity of the humanity and ensure protection of each's other life, honour and property.
In his welcome speech delivered in Arabic, Toba Deputy Commissioner Ahmad Khawar Shahzad said that it is a great honour for his district that an International Islamic scholar has come here on the special invitation to speak on Islam's message of peace and brotherhood. The DC termed Prof Dr Al-Draiweesh as a great ambassador of goodwill between the Kingdom of Saudi Arabia and Pakistan.
Director General Islamic Research Institute of International Islamic University, Prof Dr Muhammad Ziaul Haq said Toba is the first district in which a number of programmes under auspices of Paigham-e-Pakistan have been arranged so far.
He euologised the dedicated endeavours of the DC for launching different programmes to curb terrorism, extremism and violence from society.
Provincial Coordinator for Punjab for Maimaran-e-Pakistan programme Mian Allah Bakhsh Tariq, MNA Riaz Fatyana, politicians, members of divisional and district Peace Committees, civil society members, parliamentarians, lawyers, business community members, journalists and educationists also attended the conference in great number.
https://nation.com.pk/07-Jan-2019/iiui-chief-underscores-significance-islam-attaches-to-peace
--------
No terror group backed by army, says Lt Gen Mehmood
Jan 07, 2019
PESHAWAR: Peshawar Corps Commander Lt Gen Shaheen Mazhar Mehmood said on Sunday that the Pakistan Army does not support any terrorist group or faction, adding that they have always desired sustainable peace and stability in the region.
Addressing the media persons in the erstwhile Federally Administered Tribal Areas (FATA), he said, "Security forces will be withdrawn from erstwhile Fata within two years but a limited number of troops will be stationed there to maintain peace and border vigilance."
"Troops withdrawal is conditional as it largely depends on peace and stability on the western border," he added.
Lt Gen Mehmood said no more military operations would be carried out in the seven tribal districts as it was time for development and economic revival.
"The Pakistan Army has formed citizen action committees to address people's concerns and issues," he added. "The tribal people have rendered matchless scarifies for stability, peace and ideology and now it's the security forces' priority to provide every facility, including health and education, to them at their doorstep."
Mehmood said Khasadar and Levies forces would be transformed into police force and given modern training and weapons.
"Education and reconstruction are the main sectors we are working on and health facilities, which were rare in the past, will soon be available in remote villages in the tribal region," said the corps commander.
On the fencing issue, Lt Gen Mehmood said, "The only motive behind it is to stop cross border movements and to address the grievances of Kabul, which claims that militants come from across the border. To stop that, we have started fencing and the national exchequer is bearing the cost.
"We have also started military operations in erstwhile Fata to dismantle terrorist safe havens on our side of the border. We did it at the cost of officers, jawans and civilians as we are committed to peace in the region."
Full report at:
https://www.pakistantoday.com.pk/2019/01/07/no-terror-group-backed-by-army-says-lt-gen-mehmood/
--------
Abu Dhabi Crown Prince holds talks with Khan, discusses oil refinery in Pakistan
Jan 6, 2019
ISLAMABAD: Pakistan on Sunday said the UAE has "almost finalised" investment plan for the setting up of an oil refinery in the country as the Crown Prince of Abu Dhabi met Prime Minister Imran Khan and discussed economic assistance to the cash-strapped country to bolster its foreign exchange reserves.
Crown Prince Sheikh Mohammed bin Zayed bin Sultan Al-Nahyan, who was on a day-long visit to the country after nearly 12 years, was received by Khan upon his arrival at Nur Khan airbase in Rawalpindi and the Prime Minister personally drove him to his residency for a welcome ceremony.
He was given a guard of honour and a fly-past during the red carpet welcome.
The Prince and the Prime Minister held a one-on-one meeting, followed by delegation-level talks between the top officials of the two sides as Pakistan seeks economic assistance to bolster its foreign exchange reserves and the government's fiscal policies.
Both delegations discussed bilateral relations and matters of mutual, regional and international interest.
Pakistan, reeling under severe financial crisis, reached out to some "friendly countries" for economic assistance including Saudi Arabia, China and the UAE since Prime Minister Khan assumed office in August.
Information minister Fawad Chaudhry said the UAE has already promised to provide $3 billion assistance and the Crown Prince also discussed investment to set up an oil refinery.
"The two side have almost finalised investment for setting up of a refinery," he said.
He said the two countries enjoyed traditional friendship and the Crown Prince said that he considered Pakistan as his "second home".
Foreign Office said this was the third interaction between the leadership of Pakistan and the UAE in less than three months, which is a "testimony to the special nature of our brotherly relations with this important GCC country".
"The UAE is Pakistan's largest trading partner in the Middle East and a major source of investments. It is home to more than 1.6 million expatriate community which contributes around $4.5 billion annually to the GDP," the foreign office said.
It said Pakistan and the UAE are working closely to transform the existing special relations into a "long-term strategic economic partnership", as agreed between the two leaders during Prime Minister Khan's visit to the Emirates in November.
It said that apart from a "generous $3 billion support to help Pakistan overcome its balance of payment crisis, provision oil on deferred payment was also under discussion."
Khan visited the UAE twice since August to seek economic assistance to ward off the country's foreign exchange crisis.
Pakistan and the UAE last week finalised the terms and conditions of a $6.2 billion support package for Islamabad to help address the balance of payments crisis.
Pakistan's all weather ally China has also pledged to provide a generous aid to Islamabad to overcome its financial woes.
Beijing has not yet revealed the quantum of its financial support.
Pakistan is negotiating a $8 billion bailout package from the International Monetary Fund (IMF) to overcome a severe balanceof-payments crisis that threatens to cripple the country's economy.
Pakistan apprehends the IMF will come with stringent conditions of austerity besides scrutiny of $60 billion China-Pakistan Economic Corridor projects whose terms till now remained confidential.
Full report at:
https://timesofindia.indiatimes.com/world/pakistan/abu-dhabi-crown-prince-holds-talks-with-khan-discusses-oil-refinery-in-pakistan/articleshow/67408483.cms
--------
Imran Khan the real owner of sister's illegal property: PML-N
January 7, 2019
Pakistan Muslim League-Nawaz (PML-N) leader and spokesperson Marriyum Aurangzeb claimed that Prime Minister Imran Khan is the real owner of his sister Aleema Khan's illegal property.
Addressing the media on Sunday, Aurangzeb inquired why Aleema's assets and money laundering allegations levelled against her were not being investigated.
Furthermore, the PML-N leader took a dig at the National Accountability Bureau (NAB) and said the bureau should rename itself to 'Noon Accountability Bureau,' according to Dunya News.
On December 25, the Prime Minister had taken a potshot at the Pakistan People's Party (PPP) and PML-N, saying that the Joint Investigation Teams' (JIT) reports on Panama Papers and fake accounts cases were "case studies in how states fail."
Full report at:
https://www.business-standard.com/article/news-ani/imran-khan-the-real-owner-of-sister-s-illegal-property-pml-n-119010700084_1.html
--------
Hostile agencies behind terrorism: Langove
January 07, 2019
QUETTA: Provincial Home Minister Mir Zia Langove has said blasts in Pishin and Panjgur indicate that hostile intelligence agencies operating from Afghanistan are behind acts of terrorism taking place in different parts of Balochistan, but pledged that members of security forces would foil such acts.
"Hostile spy agencies are busy in making plots against Pakistan and they have been funding and arming terrorists targeting members of our security forces and innocent people of Balochistan," Mr Langove said while talking to journalists in Civil Hospital's Trauma Centre where he met victims of the Pishin blast.
"The US and Nato forces have now been defeated in Afghanistan and, therefore, the United Nations should now set up a task force for ensuring peace in Afghanistan," he said.
Denouncing double blasts in Pishin and Panjgur, Mr Langove said that despite terrorists' attacks morale of members of security forces of Pakistan was high and such incidents could not deter the government and security forces' resolve to continue the war against terrorism.
"A single network is behind all incidents of terrorism taking place in different parts of Balochistan and that network is using names of different armed groups and it is operating from Afghanistan," the minister said.
Full report at:
https://www.dawn.com/news/1456025/hostile-agencies-behind-terrorism-langove
--------
12 injured in two blasts targeting security personnel in Balochistan
Syed Ali Shah
January 06, 2019
Two blasts in Balochistan on Sunday left 12 people injured, including three Levies personnel and a member of the Frontier Corps.
In northern Balochistan's Pishin district, Naib Tehsildar Abdul Malik Tareen was the target of the first attack, police official Tahir Mehmood told DawnNewsTV. An improvised explosive device planted in a motorcycle parked outside Tareen's office detonated as he was entering the building.
Police said Tareen and two other Levies personnel were injured, along with seven civilians.
Eight wounded were rushed to Civil Hospital Pishin, while Tareen and gunman Salahuddin were shifted to District Headquarters Hospital Quetta for medical treatment.
Doctors said the naib tehsildar's condition is critical, but all others injured are out of danger.
In a separate incident, two people including a Frontier Corps soldier and a civilian were injured in a remote-controlled blast in Panjgur district. The wounded were rushed to a hospital for medical treatment.
A security official who declined to be named said the miscreants targeted an FC vehicle with the roadside remote-controlled bomb in Panjgur bazaar. The blast also damaged the vehicle.
Full report at:
https://www.dawn.com/news/1455859/12-injured-in-two-blasts-targeting-security-personnel-in-balochistan
--------
South Asia
Taliban's operations centre destroyed, 16 militants killed in Helmand airstrike
07 Jan 2019
At least sixteen militants of the Taliban group were killed and an operations center of the group was destroyed in an airstrike conducted in southern Helmand province of Afghanistan.
According to the informed military sources, a coalition airstrike today killed 16 Taliban fighters and destroyed an operations center.
Earlier, at least 29 Taliban militants were killed during the airstrike of the coalition forces in southern Kandahar province of Afghanistan.
According to the military sources, the airstrikes were carried out earlier this week in Shahwali Kot district of the province.
The sources further added that a commander of Taliban was also among those killed.
The Afghan forces also conducted a force protection patrol operation in Shahwali Kot district of Kandahar which resulted in the killing of 5 Taliban fighters killed, the sources said, adding that coalition forces conducted an airstrike killing 2 Taliban fighters and destroying one vehicle in Pashtun Kot district of Faryab.
The anti-government armed militants including Taliban have not commented regarding the recent operations and airstrikes so far.
https://www.khaama.com/talibans-operations-center-destroyed-16-militants-killed-in-helmand-airstrike-03067/
--------
At least 30 gold miners killed in tunnel collapse in northern Afghanistan
JANUARY 7, 2019
At least 30 Afghans were killed on Sunday when the tunnel they were digging in to mine gold in northern Afghanistan collapsed, officials said.
Officials said the victims were villagers who were mining for gold illegally, rather than in a government project.
"Poor villagers during winters try to compensate their earnings by pursuing illegal mining. They dig tunnels to enter the mines," Nek Mohammad Nazari, a spokesman for the provincial governor, said.
He said the tunnel had caved in. A police spokesman for Badakhshan province, Sanaullah Rohani, earlier said the cause of the accident, which occurred in heavy snowfall, was a landslide.
Rohani said seven people were injured alongside the at least 30 killed, while they were working inside the mine in Kohistan district.
Rohani said about 50 illegal miners were present in the mine when the incident occurred and two rescue teams were deployed to help the injured. Landslides are frequent in the northern mountainous provinces of Afghanistan.
Full report at:
https://dailytimes.com.pk/341462/at-least-30-gold-miners-killed-in-tunnel-collapse-in-northern-afghanistan/
--------
Turkish doctors revive Rohingya twins in Bangladesh
Jan 07, 2019
Rohingya twins, whose hearts stopped beating in their mother's belly, have been brought back to life with efforts of Turkish doctors, according to Turkey's Disaster and Emergency Management Authority (AFAD) on Sunday.
AFAD said in a written statement that a 32-week pregnant woman, who had seizures due to high blood pressure, was brought to the Sahra Hospital in Bangladesh, which was opened by AFAD and Turkish Health Ministry.
The patient was immediately taken to the cesarean section after doctors failed to hear the babies' heartbeat and they were brought back to life thanks to the Turkish medics efforts.
The mother named the boy Amaorara, and the girl Ameorara.
Mother and babies were discharged from the hospital after they recovered, AFAD said.
Turkey continues to stand with Rohingya Muslims -- who fled persecution in Myanmar and are clinging to life in Bangladesh -- since the beginning of the humanitarian crisis in the region.
AFAD, which coordinates Turkish aid in the region, set up shelters and dug water wells for the Rohingya.
More than 180,000 patients have been treated and 1,215 patients underwent operations at the Sahra Hospital over the last year.
The hospital has also delivered 106 babies.
The Rohingya, described by the U.N. as the world's most persecuted people, have faced heightened fears of attack since dozens were killed in communal violence in 2012.
Full report at:
https://www.dailysabah.com/turkey/2019/01/06/turkish-doctors-revive-rohingya-twins-in-bangladesh
--------
North America
US airstrikes kill Qaeda plotter of 2000 USS Cole bombing in Yemen: Pentagon
Jan 7, 2019
WASHINGTON: American airstrikes in Yemen killed a top al-Qaeda leader responsible for the deadly USS Cole bombing in 2000 in which 17 US sailors had lost their lives, the Pentagon said.
Seventeen American sailors were killed and at least 40 others injured in the terrorist attack on the US Navy guided-missile destroyer USS Cole on October 12, 2000, while it was being refuelled in Yemen's Aden harbour.
Jamal al-Badawi, a "legacy al-Qaeda operative in Yemen" involved in the USS Cole bombing, was wanted by the US for his role in the attack.
Spokesman of the US Central Command Capt Bill Urban said: "Jamal alBadawi was killed in a precision strike in Marib governate on January 1".
"US forces confirmed the results of the strike following a deliberate assessment process," Urban said.
US President Donald Trump praised the US military for "delivering justice for the heroes lost and wounded in the cowardly attack on the USS Cole".
"We have just killed the leader of that attack, Jamal al-Badawi. Our work against al-Qaeda continues. We will never stop in our fight against Radical Islamic Terrorism!" the president said.
Badawi was indicted by a federal grand jury in 2003, charged with 50 counts of various terrorism offenses, including murder of US nationals and murder of US military personnel.
Badawi was also charged with attempting with co-conspirators to attack a US Navy vessel in January 2000.
https://timesofindia.indiatimes.com/world/rest-of-world/us-airstrikes-kill-qaeda-plotter-of-2000-uss-cole-bombing-in-yemen-pentagon/articleshow/67414993.cms
--------
US-backed SDF captures five ISIS fighters among them two Americans
6 January 2019
The US-backed force known as the Syrian Democratic Forces announced that it captured five ISIS members in the extremist group last stronghold in Deir Ezzor province, east of the Euphrates river, bordering Iraq.
Among the five two from the United States and others from Ireland and Pakistan, according to SDF.
In a press release on Sunday, SDF confirmed capturing the five ISIS members, saying that "They were preparing to launch attacks against the fleeing civilians from that areas" pointing out that the capture happened on December 30.
According to field sources, the SDF only announced the news after it finished interrogation with the five elements.
The five are American Warren Christopher Clark (34 year) from Huston, who goes by the name "American Abu Mohammad" and American from Arab origin Zaid Abed al-Hamed known by "American Abu Zaid".
In addition to the two Americans, there are an Irish citizen called Alexandr Ruzmanovich Bekmirzaev from Dublin, in addition to two Pakistanis Fadel al-Rahman Jad from Lahore and Abed al-Azem Rajbout.
The Syrian Democratic Forces have arrested around 1,000 foreign fighters of ISIS during its control of vast areas in Syria.
Among those captured, militants who were part of a notorious kidnapping cell dubbed "The Beatles" known for torturing hostages and executing foreign journalists in Syria and Iraq, in addition to another fighter from al-Qaeda, known to have met with the terrorist group's leader Osama bin Laden, before he was killed.
Most of the foreign governments refuse to repatriate their citizens who were fighting with ISIS, while Kurdish officials say "they cannot detain them (ISIS fighters) forever, calling the international community to "find a solution."
In contrast to what is happening in Iraq, where the Iraqi judicial authorities sentenced more than 300 members of the extremist group, including 100 foreigners to life imprisonment or death, the Kurdish authorities and their local allies in Syria refuse to prosecute captured ISIS fighters while they only prosecute the extremist group local members without carrying out the death penalty.
Full report at:
https://english.alarabiya.net/en/News/middle-east/2019/01/06/Iran-MPs-to-investigate-protester-torture-claims.html
--------
Bolton angers Palestinians with visit to Old City of Jerusalem al-Quds
Jan 6, 2019
US National Security Adviser John Bolton's visit to the Old City of the Israeli-occupied Jerusalem al-Quds has been met with angry responses from Palestinians.
Bolton, an avid supporter of the Tel Aviv regime's brutal crackdown against the people of Palestine, visited the Western Wall and its adjacent tunnels on Sunday before meeting with Israeli Prime Minister Benjamin Netanyahu.
Saeb Erekat, the secretary-general of the Palestine Liberation Organization (PLO), condemned the visit, saying in a tweet that it undermined international law and promoted "lawlessness."
"This behavior will not change the fact that East Jerusalem (al-Quds) is occupied territory and the capital of the state of Palestine," he said.
The Old City is located in the East Jerusalem al-Quds, which Palestinians regard as the capital of their future state.
Accompanying him on the tour of the city were his Israeli counterpart, Meir Ben-Shabbat, Israeli Ambassador to the US Ron Dermer, and US Ambassador to Israel David Friedman.
Since the international community does not recognize Jerusalem al-Quds as Israeli territory, foreign dignitaries usually avoid having Israeli officials as company when they visit the Western Wall, which is considered as one of the most sacred Jewish sites.
Erekat said the issue with Israel's sovereignty claims over the occupied city was merely political and had nothing to do with religion.
US President Donald Trump became the first sitting American head of state to visit the Western Wall In May 2017. Later on, he recognized Jerusalem al-Quds as Israel's capital and proceeded to move the US diplomatic mission to the ancient city.
Full report at:
https://www.presstv.com/Detail/2019/01/06/585069/US-Bolton-Israel-Jerusalem-Quds-PLO-Erekat
--------
Turkey slams 'irrational' US accusation that it attacks Syrian Kurds
Jan 6, 2019
Turkish President Recep Tayyip Erdogan's spokesman has denounced as "irrational" US claims that Turkey was attacking Kurds in Syria's northeastern parts.
Ibrahim Kalin said Sunday that Ankara's military campaign in the neighboring Arab country, besides Daesh, has only targeted members of the Kurdish People's Protection Units (YPG) and the Kurdistan Workers' Party (PKK).
Ankara views the YPG as the Syrian branch of the PKK, which regularly clashes with Turkish forces in the Kurdish-dominated southeast of Turkey.
Kalin argued that the YPG and the PKK did not represent Syrian Kurds, which he called as "brothers."
"To argue that a terrorist organization represents Kurds is, above all, disrespectful to our Kurdish brothers," Kalın said, adding, "One of the goals of Turkey's struggle against the PKK and its Syrian offshoots is to save the Kurds from the tyranny and oppression of this terror group."
The YPG is the backbone of the Syrian Democratic Forces (SDF), which maintains close military cooperation with the US.
US President Donald Trump's decision last month to leave Syria has exposed the Kurdish group to possible Turkish attacks.
Kalin's remarks came after John Bolton, the US National Security Advisor, said earlier on Sunday that American forces were going to stay in northeastern Syria until Turkey pledges not to go after US-allied Kurdish groups.
"We don't think the Turks ought to undertake military action that's not fully coordinated with and agreed to by the United States, at a minimum," he told reporters in Israel.
This, he said, was to make sure that Turkey meets Trump's key condition to follow up on his withdrawal plan.
While Trump had originally promised to pull out all American troops within a month, Bolton refused to provide a clear timetable and said the evacuation would go ahead as planned once all "conditions" were met.
"This is a cause-and-effect mission," Bolton said, adding, "Timetables or the timing of the withdrawal occurs as a result of the fulfillment of the conditions and the establishment of the circumstances that we want to see. And once that's done, then you talk about a timetable."
The White House's top national security official is expected to travel to Turkey on Monday, where he is supposed to discuss Ankara's plans to fight Daesh.
Trump has suggested that Turkey could take on America's military responsibilities in Syria.
Full report at:
https://www.presstv.com/Detail/2019/01/06/585041/Turkey-US-Bolton-Syria-Kurds-Kalin-Erdogan
--------
Bolton: Protection of Syria's Kurds a condition for US withdrawal
January 6, 2019
Turkey must agree to protect Washington's Kurdish partners in Syria before the US withdraws troops from the country, White House National Security Adviser John Bolton said yesterday, as battles with ISIS raged on the eastern banks of the Euphrates River.
Mr Bolton, who is scheduled to travel to Turkey on Monday, said that a US pull-out is also conditional on the defeat of ISIS, in comments that confirm that an exit announced by President Donald Trump last month has been slowed.
"We don't think the Turks ought to undertake military action that's not fully co-ordinated with and agreed to by the United States ... so that they meet the president's requirement that the Syrian opposition forces that have fought with us are not endangered," Mr Bolton said in Israel, before a meeting this week in Turkey with President Recep Tayyip Erdogan.
"Timetables or the timing of the withdrawal occurs as a result of the fulfilment of the conditions and the establishment of the circumstances that we want to see. And once that's done, then you talk about a timetable."
His comments drew the ire of Mr Erdogan's spokesman who said on Sunday it was irrational to claim Turkey targets Kurds.
Ibrahim Kalin said Ankara's targets are ISIS and the People's Protection Units (YPG) – a Syrian Kurdish group – as well as the Kurdistan Workers' Party (PKK), an outlawed militant group that has been waging an insurgency against the Turkish state since 1984.
The announcement by Mr Trump of a US withdrawal speeded up the resignation of senior White House officials, including defence secretary Jim Mattis and Washington's envoy to the anti-ISIS coalition, Brett McGurk.
It also sparked criticism from allies who accused Washington of abandoning its Syrian partners and exposing them to attacks by Turkey.
Mr Bolton said the US has asked its Kurdish allies to "stand fast" and refrain from seeking protection from Russia or Syrian President Bashar Al Assad's government.
"I think they know who their friends are," he said, referring to Syria's Kurdish groups.
Some Kurdish groups are in talks with Russia to secure a deal with the Syrian government in Damascus. A Kurdish delegation visited Moscow to discuss a road map after a US withdrawal.
They aim to secure a Russian-mediated political deal with Damascus regardless of US plans to withdraw from the region, Badran Jia Kurd, a senior Kurdish official told Reuters this week.
"The final decision is [to reach an] agreement with Damascus, we will work in this direction regardless of the cost, even if the Americans object," Mr Jia Kurd said in the northern Syrian city of Qamishli.
Mr Bolton said Jim Jeffrey, who was named last week as the American special envoy for the anti-ISIS coalition, will go to Syria this week to reassure Washington's Kurdish allies they are not being abandoned
Fighting yesterday continued between ISIS and the US-backed Syrian Democratic Forces around the village of Al Shaafa – one of the last major areas held by the militants.
A missile fired by ISIS on the outskirts of the village of Al Shaafa on Saturday wounded two British soldiers in the US-led coalition and killed one Kurdish fighter, according to the Syrian Observatory for Human Rights.
The two British soldiers were transported by helicopter to receive medical care, the observatory said. When contacted by The National, the UK Ministry of Defence said it could not comment as the troops are members of the country's special forces.
A second missile attack on Sunday targeted an SDF position on the flanks of Al Shaafa and killed scores of Kurdish fighters, the activist-run DeirEzzor24 monitor said.
The SDF was not available for comment.
Fierce fighting in and around Al Shaafa since Saturday comes after the SDF and coalition forces made advances in the area in recent days.
Omar Abu Layla of DeirEzzor24 told The National that most of the village was under SDF control. ISIS defences in the area are "collapsing," he said.
He warned, however, that ISIS sleeper cells in Deir Ezzor still posed a threat.
Clashes east of the Euphrates have killed more than 1,000 ISIS militants and nearly 600 fighters affiliated with the SDF since the fighting began in September, according to the Observatory.
Full report at:
https://www.thenational.ae/world/mena/bolton-protection-of-syria-s-kurds-a-condition-for-us-withdrawal-1.810029
--------
Mideast
Muslim Doctor Of Malaysia Who Saw Similarities, Not Differences
AMAR SHAH MOHSEN
06 JAN 2019
ISTANBUL: It was about four years ago, during the major flood that devastated the east coast of Malaysia, that Dr Zazali Mohd Yatim, 57, decided to become a member and volunteer for the Tzu Chi Foundation.
The family medicine specialist would later discover that he is only one of less than one percent of Malay-Muslims in the Malaysian chapter of the humanitarian, non-governmental organisation.
Zazali recalled how he was about to clean up a surau in Temerloh, Pahang, following the floods when he came across what he described as "Chinese-looking volunteers" wearing Tzu Chi T-shirts, thinking they were Japanese volunteers.
He researched the group and found that Tzu Chi is a Taiwanese international human aid organisation with more than 10 million members across the globe, including Malaysia.
"It really impressed me that this non-Muslim NGO was helping to clean a surau, and had advanced equipment," he told Malaysian reporters who were visiting Syrian refugees here recently.
"I did my homework and found they have a clinic in Batu Caves for Rohingya refugees, so I visited them.
"I then started visiting and helping out at the clinic every month, and would later become more involved in the organisation."
Zazali said he was often asked about his decision to join Tzu Chi when there were other Muslim NGOs in the country, and his answer was: "Why not?"
He explained that what was being practised in Tzu Chi was in fact similar to what is being taught in many other religions – to show compassion, be disciplined and have respect for others.
"I bank on the similarities Tzu Chi has with Islam, rather than the differences. The problem with our people is even if we have 99 similarities, we would look for that one difference, and fight on that."
But it has not been easy for Zazali, who said that being the minority, he has to project himself as a good, true Muslim to his other non-Muslim friends in Tzu Chi.
"If there is another Muslim member who skipped his prayers and don't abide by Islamic teachings, I have to defend him and explain why," he said.
Zazali also explained how Tzu Chi volunteers would have to use their own money for any humanitarian missions, including for flight tickets and accommodation, and that the main funding would often come from small collections, even from the poor.
"Our aim is to teach the rich to help the poor and the poor to help themselves, and that giving is not the privilege of the rich, but of the sincere," he said.
Zazali is currently undergoing a two-year training programme to become a Tzu Chi commissioner.
https://www.thesundaily.my/local/muslim-doctor-who-saw-similarities-not-differences-LF351793
--------
Turkey orders arrest of 100 soldiers over suspected Gulen links
January 07, 2019
ISTANBUL: Turkish prosecutors ordered the detention of 100 soldiers over suspected links to the network of the US-based Muslim cleric accused of orchestrating a failed coup in 2016, state-owned media said on Monday.
The detentions were the result of investigations into pay phone communications between alleged members of cleric Fethullah Gulen's network, Anadolu said. It said the detentions were in progress.
Police have conducted a steady stream of raids against Gulen's alleged supporters since the July 2016 coup attempt, in which 250 people were killed. Gulen denies involvement.
More than 77,000 people have been jailed pending trial, while 150,000 civil servants, military personnel and others have been sacked or suspended from their jobs as part of the post-coup purges. Widespread operations are still routine.
Rights groups and Turkey's Western allies have voiced concerns over the scale of the crackdown, saying President Tayyip Erdogan has used the abortive putsch as a pretext to quash dissent.
Full report at:
http://www.arabnews.com/node/1431571/middle-east
--------
Netanyahu takes aim at graft probes ahead of Israel polls
January 07, 2019
JERUSALEM: Israeli Prime Minister Benjamin Netanyahu has in recent days taken aim at what seems to be his main opponent ahead of upcoming elections: corruption investigations that may lead to his indictment.
In a widely criticized social media video at the weekend and elsewhere, Netanyahu has spoken out against the possibility that the attorney general will announce his decision on whether to indict him before April 9 elections.
Polls show the premier is likely to win despite the investigations hanging over him, but a move to indict him pending a hearing could shake up the campaign.
With that in mind, he has publicly urged the attorney general to postpone his announcement, leading to criticism that his comments are out of bounds.
After his video on Saturday, former supreme court justice Eliyahu Matza compared Netanyahu's rhetoric to that of a crime boss.
In the video, Netanyahu stands before a map of the Middle East, smiling as if recounting a joke, and refers to amputation as punishment in certain countries.
He says that a man who has his arm cut off following a conviction for stealing cannot get it back after winning on appeal — hinting that polls influenced by a hearing in the graft cases against him could similary not be undone.
"You don't start a hearing before the elections if you can't conclude it before the elections," he says.
The pre-indictment hearing is a key step in Israel's judicial process.
If Attorney General Avichai Mandelblit announces his intention to indict him, Netanyahu gets a final chance to defend himself in a hearing before the charges are filed.
The prime minister, facing possible indictment in three separate probes, says he has no intention of resigning if called in for such a hearing before the vote.
Netanyahu pushed for polls in April — seven months before they are due — because he would like to combat potential charges with a fresh electoral mandate, according to many analysts.
That strategy would allow Netanyahu, who denies all allegations against him, to argue that the investigations are the result of a political plot by his enemies to force him from office against voters' will.
For that reason, Netanyahu's argument that the attorney general must wait until after April 9 does not hold water, said Reuven Hazan of Hebrew University's political science department.
"It's a completely ludicrous argument because Netanyahu called the early elections in order to try to avoid a decision in the midst of an election campaign," he said.
"So if Netanyahu is allowed to throw Israel into an election campaign in order to try to circumvent the attorney general, then the attorney general adhering to the legal rules of the game is not something that Netanyahu can throw back at him."
The pressure on the attorney general is immense.
He has remained largely silent, saying only that his office is working to conclude the investigations as quickly as possible.
Graffiti was recently sprayed in northern Israel calling Mandelblit a "collaborator," and his father's grave was also vandalized, though it was unclear if the incidents were connected, according to Israeli media.
Netanyahu's political allies have ramped up arguments in support of him, while opposition figures — and at least one minister in his current government — insist he must step down if indicted.
A prime minister is not legally required to resign if charged — only after convicted with appeals exhausted.
Winning would put Netanyahu on track to surpass founding father David Ben-Gurion as Israel's longest-serving prime minister.
Yair Lapid, head of centrist opposition party Yesh Atid, distributed his own video mocking Netanyahu.
"The prime minister of Israel thinks we're in Saudi Arabia," Lapid said, arguing he should not run if indicted.
While Netanyahu may win no matter what the attorney general decides, future coalition partners will face the choice of whether to stick with him as the case takes its course.
Netanyahu supporters may also have to reconsider if "overwhelming evidence" against the premier makes it difficult for him to remain in office, Hazan said.
"They will begin to realize that once there is an indictment and the legal process begins, if there is overwhelming evidence, then this will be the last time that he is elected," he said.
Full report at:
http://www.arabnews.com/node/1431541/middle-east
--------
How Iranian regime sinks deeper into isolation
7 January 2019
Following Iran's announcement of missiles tests under the pretext of "launching satellites" into space, the regime in Tehran is facing a new wave of political isolation.
US Secretary of State Mike Pompeo issued a statement in response: "The Iranian Regime's Ministry of Defense has publicly announced plans to launch three Space Launch Vehicles (SLV) in the coming months. Such actions would once again demonstrate Iran's defiance of UN Security Council Resolution (UNSCR) 2231, which calls upon the Iranian regime not to undertake any activity related to ballistic missiles capable of delivering nuclear weapons… The United States will not stand by and watch the Iranian regime's destructive policies place international stability and security at risk. We advise the regime to reconsider these provocative launches and cease all activities related to ballistic missiles in order to avoid deeper economic and diplomatic isolation."
Iranian Foreign Minister Mohammad Javad Zarif responded in a tweet claiming, "Iran's launch of space vehicles— & missile tests—are NOT in violation of Res 2231…"
Two months after the US launched new sanctions against the Iranian regime, Washington apparently intends to increase its political and economic pressures to compel Tehran into at least ending its adventurous policies.
Important details
Zarif's remarks are nothing new, as the regime claims their missiles are for defensive purposes and do not bear the capability of delivering a nuclear payload. However, both the US and Europe are showing grave sensitivity in this regard and making contrast comments.
The missile ranges are key and upgrading these vehicles into delivering a nuclear warhead are an easy step. This subject becomes especially important when placed alongside threats made by senior Revolutionary Guards (IRGC) officials saying Iranian missiles now reach Europe.
Why the tests?
It is common knowledge that the Iranian regime is facing a conglomerate of crises as we speak. One particular issue, being Iran's restive society and continuing protests, is of the utmost importance for the ruling regime, having severe impacts on their entire apparatus, especially more members of their ranks and files throwing in the towel.
Tehran's clerics are now in dire need of what they describe as "hope therapy." One such measure is through ballistic missiles and satellite launching vehicles to elevate diminishing spirits.
In regards to Iran's nuclear program, the regime continues to claim this initiative is for peaceful purposes and/or medical isotopes, knowing a complete shutdown of their "civilian" nuclear program would be humiliating in the face of the "Great Satan."
Inside Iran and abroad, it would be considered as the regime beginning to succumb to the 12-demands raised by Pompeo.
Not so easy
These adventurous measures, however, create certain issues in already tense relations between the Iranian regime and Europe.
While Tehran desperately continues effort to create a rift between the US and Europe, the Green Continent cannot overlook Tehran's meddling in the Middle East, support for terrorism, ballistic missile tests and human rights violations, to some extent. Making things even more complicated is the position long adopted by Tehran, saying a step back on any of these issues will be the beginning of the end on all far more important subjects.
One such sign is the impasse Iran's regime faces in regards to Europe's "special purpose vehicle" initiative aimed at providing a mechanism to bypass US sanctions.
This subject has become so provocative for the European Union – especially considering Washington's start opposition – that members of Iran's Majlis (parliament) are heard claiming Tehran is not counting on the SPV!.
Seeing the matter becoming utterly embarrassing, Zarif has made similar remarks saying there was no economic objective in signing into the 2015 nuclear deal. It appears Zarif has forgotten how the Iranian regime went on a trade-signing rampage following the nuclear signing, including with companies such as AirBus, Boeing, Total and so forth.
Mehdi Mohammadi, described as an "expert in nuclear and international policy issues," provided an interesting response after Zarif's remarks raised quite a few eyebrows across the board.
"If we assume that Mr. Zarif was honest in his remarks, and these words were not the result of pressures from public opinion after the nuclear deal failed to provide economic fruit… this question comes to mind that if there were no economic/sanctions-lifting objectives involved in the nuclear deal, then what objective was the nuclear deal seeking?... Why did we even negotiate in the first place?"
Final thoughts
It is an undeniable fact that Iran's regime is facing growing isolation, as the international community is coming to understand the clerics' mortal weakness in the face of mushrooming protests.
Having no solutions, the Iranian regime is kicking the can down the road. 2019, with protests showing no signs of cooling and Washington determined to increase economic and diplomatic pressures, is promising to be a devastating period for Tehran.
Full report at:
https://english.alarabiya.net/en/features/2019/01/07/ANALYSIS-How-Iranian-regime-sinks-deeper-into-isolation.html
--------
Palestinian Authority pulls employees from Egypt-Gaza crossing
7 January 2019
The Palestinian Authority said on Sunday it had ordered its employees to pull out from the Gaza-Egypt border crossing, effectively closing the main exit point from the impoverished Gaza Strip.
The dispute over the border stems from a rift between the PA, based in the occupied West Bank and headed by Western-backed Palestinian President Mahmoud Abbas, and the Islamist militant group Hamas, which took control of Gaza more than a decade ago in a civil war.
Re-opening the Rafah crossing, which according to human rights groups is the sole exit point from Gaza for an estimated 95 percent of its 2 million population, will require Egypt to agree on a new operator.
It is unclear whether it will allow Hamas to run the passage. Cairo has not so far commented on the situation.
PA employees were deployed to Gaza's border crossings with Israel and Egypt in 2017 under Egyptian mediation in what was seen as the first concrete step towards ending the dispute.
The PA said Sunday's decision to pull out from the crossing was a response to Hamas undermining its operations and detaining some of its workers.
"After Hamas's insistence on bolstering division ... and the questioning, detention and suppression of our employees, we have become convinced it is useless to maintain our presence there," it said.
The decision takes effect on Monday, though the crossing was already scheduled to be closed until Tuesday due to a holiday.
Hamas spokesman Fawzi Barhoum told Reuters the closure of the border amounted to "additional sanctions by Abbas against the people of Gaza".
"This is a blow to... Egypt, which had overseen the handover of the crossings as part of the implementation of the reconciliation deal that Abbas has destroyed," he said.
Poverty is rampant in Gaza due to an Israeli-Egyptian blockade and three armed confrontations with Israel since 2008, as well as the internal rivalry. Israel says its restrictions are to stop weapons entering the territory.
The two Palestinian groups have tried and failed numerous times to end their dispute.
Full report at:
https://english.alarabiya.net/en/News/middle-east/2019/01/07/Palestinian-Authority-pulls-employees-from-Egypt-Gaza-crossing.html
--------
Houthis negotiate with UN's Griffiths in Sanaa, while attacking Hodeidah
7 January 2019
As Houthi militiamen on Saturday launched an attack on the UN's World Food Program warehouses in Yemen's port city of Hodeidah, the militia's leadership was negotiating with UN envoy Martin Griffiths.
Griffiths, who brokered the breakthrough last month in Sweden, returned to Yemen Saturday with a plan to expedite measures agreed between the government and the Iran-backed Houthi militia.
Key among them is the redeployment of rival forces from Hodeida, the Red Sea port city crucial for aid and food imports.
Mohammed Ali al-Houthi, head of the rebel Higher Revolutionary Committee, told Agence France-Presse that talks on Yemen's war-torn country's economy "could take place in Amman... which I discussed with the UN envoy."
Militia
Griffiths also held talks Sunday with Houthi chief Abdelmalik al-Huthi, spokesman Mohammed Abdelsalam said in a statement carried by the militia's media platforms. He said that the two addressed "preparations for the upcoming round of talks."
However, during these talks between the UN envoy and militia leaders, residents in eastern Hodeidah confirmed that a huge fire broke out in the food aid warehouses as a result of Houthi artillery shelling.
Meanwhile, five civilians, including two children, were injured and three houses were destroyed on Saturday following a Houthi artillery bombardment on a village in the district of Hays in Hodeidah.
Full report at:
https://english.alarabiya.net/en/News/gulf/2019/01/07/Houthis-negotiate-with-UN-s-Griffiths-in-Sanaa-while-attacking-Hodeidah.html
--------
Iran says EU 'hostage' of US, warns of 'consequences'
Jan 6, 2019
Iran has criticized the European Union for failing to set up a payment mechanism meant to circumvent US sanctions, warning that the bloc should account for the "consequences" of the delay.
"The Islamic Republic of Iran holds Europe definitely responsible for failing to implement the financial mechanism called the SPV," Foreign Ministry spokesman Bahram Qassemi said late Saturday.
The SPV or the special purpose vehicle is a virtual clearing house which the Europeans have been working on for months to process Iran-related transactions independent of the US but the mechanism has yet to see the light of the day.
So far, the Europeans have failed twice to fulfill their promises to get the system up and running in order to persuade Iran to remain in a landmark 2015 nuclear deal known as the JCPOA after the US abandoned it.
The EU first pledged to make it operational before the US sanctions went into effect in August 2018. Last month, EU foreign policy chief Federica Mogherini said she expected the instrument to be established before the end of the year but that date also passed without any explanation.
Mogherini said on Wednesday that efforts to implement the special purpose vehicle for trade with Iran will continue into 2019 but Qassemi warned that Iran's patience was running thin.
"The Europeans, as the main culprit, should consider the consequences of their decision, because Iran has so far honored all its JCPOA commitments, but ultimately there is a limit to Iran's patience. Hence, it is about time the EU made a strategic decision and chose its path," he said.
Qassemi cited "the domination of the dollar and the interconnectedness of the European and American economies" as the reasons behind the delay, state news agency IRNA reported.
"The European Union and even the three European parties to the deal with Iran are captive and hostage to the American economy, so they need to decide for their independence," he said.
Iran is already angry with the EU over its failure to stop European companies from leaving the Islamic Republic.
"European countries should pay for their independence from the United States, because doing so cannot be without costs, especially for the implementation of important historical tasks such as the SPV, which could be a major milestone for European solidarity on the global stage; so the European countries need to make a decision at this point and juncture," Qassemi said.
Qassemi said while the Europeans started with goodwill and showed a "positive political will" to set up a financial mechanism, "over time and during negotiations over the past months, they are reinforcing the impression that the European states face a series of serious disabilities in implementing the SPV."
Pomepo's 'unwise' remarks
Qassemi also touched on US Secretary of State Mike Pompeo's recent controversial claim that sanctions were aimed at giving the Iranian people a chance to have better lives.
"The US imposition of sanctions against the Iranian nation with the logic of improving their lives is hurting the sentiments of Iranians and is totally wrong.
"Hence, Pompeo should watch the mood in which he speaks. Is it possible to sanction the Iranian people and, like they [US authorities] say, exert more pressure on them in order to bring more relief to them?" Qassemi said.
US authorities, the spokesman said, "are constantly fraught with contradiction in speech, due to lack of attention, awareness, as well as their hostile policies towards Iran, and will ultimately make a laughing stock of themselves in the international community."
Qassemi further dismissed as "baseless" Pompeo's claims that Iran's launch of space rockets and missiles was a breach of UN Security Council Resolution 2231 which was issued to endorse the JCPOA.
The Iranian official urged the top US diplomat to seek expert advice on the resolution, reiterating that "our missile policies are completely defensive and deterrent, do not violate Resolution 2231 and are not against any country."
"Iran is not a nation to buckle under these kinds of pressures and bow to the bullying and excessive demands of the American government. US authorities are advised to review the history and experience of past sanctions to somehow come to their senses."
Full report at:
https://www.presstv.com/Detail/2019/01/06/584994/Iran-EU-SPV
--------
Israeli military strikes Gaza after overnight rocket fire
January 07, 2019
JERUSALEM: The Israeli military has struck Hamas sites in Gaza in response to rocket fire toward Israel.
The military says it targeted a militant camp in the northern Gaza Strip early Monday. It followed an overnight rocket attack toward the city of Ashkelon. The rocket was intercepted by Israel's Iron Dome defense system. There were no reported injuries on either side.
The exchange marked a brief flare up two months after a massive wave of rocket attacks led to fierce Israeli retaliation and nearly brought the region toward another war. Israel and Hamas have fought three wars over the past decade.
Full report at:
http://www.arabnews.com/node/1431566/middle-east
--------
India
Muslim Outfits Of Kerala Plan Stir Against Denial Of Quota
JANUARY 06, 2019
Muslim organisations in the State are planning to rope in outfits representing other backward classes (OBCs) to take forward an agitation against the "denial of reservation benefits" in the recruitment of officials to the proposed Kerala Administrative Service (KAS).
K. Kutty Ahmed Kutty, former Minister and convener, Minorities and Backward Classes Forum, told The Hindu on Sunday that discussions would be held soon with functionaries of the Kerala Pulayar Maha Sabha (KPMS) and the Sree Narayana Dharma Paripalana (SNDP) Yogam.
He said the forum had the support of the Samvarana Samudaya Munnani led by V. Dinakaran, who represented the Akhila Kerala Dheevara Sabha, and Vishnupuram Chandrasekharan, chairman of the Vaikuntaswami Dharma Pracharanasabha, which represented the Nadar community.
"Leaders of over 60 most backward Hindu communities have offered support to us. They will hold a meeting soon, after which we will have joint deliberations," Mr. Mr. Kutty said.
The government proposed to give reservation to the minorities and backward classes only in Category 1 of the KAS, which will be through direct recruitment. Under Category 2, officials will be appointed from regular employees or approved probationers in government departments. Under Category 3, those holding first gazetted post or above can be transferred or promoted. In both these cases, reservation rules are not applicable.
Chief Minister Pinarayi Vijayan had said that this was based on the advice of the Advocate General. He had also suggested a Constitutional amendment to help the poorest among forward castes eligible for reservation without diluting the quota for Dalits and backward classes.
The decision to launch the agitation was taken at a meeting of the Muslim Coordination Committee, a body representing various Muslim organisations, in Kozhikode on Saturday. Participants, including IUML State president Panakkad Syed Hyderali Shihab Thangal, pointed out that the alleged flouting of reservation benefits was an injustice meted out to the backward classes. It should be corrected.
They pointed out that the minuscule representation enjoyed by backward classes in government jobs was due to reservation. Government-appointed panels such as the one headed by retired judge K.K. Narendran had pointed out that even the mandatory level of reservation had not been ensured in government jobs, they added.
The committee is planning to hold a meeting of organisations representing backward and minority communities in Kozhikode to chalk out the future course of action. Representatives of the IUML, Samastha Kerala Jamiyyathul Ulama, Kerala Nadvathul Mujahideen, Jamaat-e-Islami, Wisdom Global Islamic Mission, Muslim Education Society, Muslim Service Society, among others, were present at the meeting.
https://www.thehindu.com/news/national/kerala/muslim-outfits-plan-stir-against-denial-of-quota/article25925836.ece
--------
Infiltration, South Kashmir remain a headache for security forces in J&K
Jan 6, 2019
SRINAGAR/NEW DELHI: Failure to curb infiltration from across the Line of Control and putting a check on local recruitment of youths in terror groups remain a constant source of worry for security agencies in militancy-hit Jammu and Kashmir, officials said Sunday.
Analysing the trends of 2018, it has been seen that infiltration figures continue to remain unchanged as around 140 terrorists successfully sneaked into the Kashmir Valley, majority of whom are believed to be of Jaish-e-Mohammed terror group, they said.
Although around 110 terrorists were killed during infiltration, the successful number of cross overs continue to worry the security agencies. During recent meetings with Army and BSF officials, it has been brought to their notice that the counter infiltration grid needs to be further strengthened as militants may try and sneak in during the peak winters as well.
"It is not only the Line of Control, which stretches from Poonch in Jammu to Kupwara in Kashmir, but also international border, which has been exploited by the terror groups," said a senior security official on condition of anonymity.
The Army and the BSF have been maintaining that they have been able to substantially curb infiltration, but their assertions were negated by the arrest of some of the terrorists during 2018 who spoke about bringing in cadres successfully, the official said.
According to the officials in the know of the security situation in the state, around 130 foreign terrorists were still active in the Kashmir Valley who were mainly tasked to impart training to local youths, who were lured into the terrorist ranks and files.
Besides infiltration, inability to check flow of local youths to the militancy fold continues to worry security agencies. Local recruitment crossed the 100 mark from four districts of South Kashmir.
A careful analysis of South Kashmir shows that 104 local militants from this area have been killed during the last year, showing that the area is dominated with more numbers of local militants.
The year gone by saw the maximum number of local terrorists killed in the region which has accounted for over 250 militant killings in last five years.
Considered a highly politically sensitive area of the Valley, South Kashmir has virtually turned into a virtual breeding ground for militants with many youths joining their rank and file or becoming their sympathisers.
The areas has seen a better intelligence network of terrorists, assistance of people to local terrorists, heavy turnouts at the funerals of militants and stone-pelting on security forces even during encounters.
Comprising four districts – Anantnag, Kulgam, Pulwama and Shopian– South Kashmir has been on the boil ever since the killing of terror group Hizbul Mujahideen's poster boy Burhan Wani in July 2016.
Full report at:
https://timesofindia.indiatimes.com/india/infiltration-south-kashmir-remain-a-headache-for-security-forces-in-jk/articleshow/67405532.cms
--------
Muslim Marathi literature meet in Pune: Basharat Ahmed's ouster irks organisers
Jan 06, 2019
The cancellation of a talk by well-known Ahmadiyya writer and poet Basharat Ahmed following a public protest in Pune on Friday was the first disappointing incident of its kind in the 29 years of the Akhil Bharatiya Muslim Marathi Sahitya Samelan, organisers of the event said here on Saturday.
Slogans were raised outside the assembly hall of Azam Campus in Pune, Camp after the Friday prayers, demanding that poet Basharat Ahmed from Latur should not be allowed to speak at the event. Some of the protestors alleged that his views were heretical and critical of the Muslim faith.
A sizeable crowd had gathered immediately after the Friday prayers even as the Cantonment police were on standby since early in the morning. Ahmed was slated to speak during one of the three days of the Sahitya Sammelan.
"This movement of writing in Marathi language began 30 years ago and Basharat Ahmed is one of the past presidents of this Sammelan, where authors, poets, novelists, playwrights, all meet to express their views in Marathi. We never thought of him as an outsider," said Sheikh Iqbal Minne, president of the Akhil Bhartiya Muslim Marathi Sahitya Sammelan.
" We are all here in Pune to speak about literature. Basharat Ahmed is a well-known author and he too is aware that this is not a religious programme nor there is any discussion based on religion. This is the first time that some of the protestors tried to stop such a literary meet. But we have managed to convince them that this is only a literary meet," Minne said.
AK Shaikh, an author from Panvel said that while there are many sects in the Muslim community, all have always worked together for the literary meet and never has anyone asked which sect one belongs to. But ever since the Sammelan became popular, it was drawing attention on a larger scale.
"Basharat Ahmed comes from the Qadayani or Ahmadiyya sect and his thought process is different and many people within the community don't like it. All these years he has never said anything regarding his sect and this is the first time that people in Pune feel that he might say something and create a dispute," Shaikh said.
The three days 12th Akhil Bhartiya Muslim Marathi Sahitya Sammelan which began at Azam Campus on Saturday, had a slow start on the second day with many of the speakers missing from the list of invitees, after the protests against Basharat Ahmed's talk, which was slated to be the biggest draw of the literary meet.
Ahmed was the chief guest and the main speaker on the topic of religious polarisation and the movement of equality.
According to members of the organising committee, Ahmed opted out of the event, even though he had arrived in Pune after he was informed about the protest.
Rajib Ahmed, from Jalgaon, said the protestors and the author were right in their own ways as they were expressing their views freely. "I think from the protesters point of view, they would be worried about Basharat's views being misinterpreted even though he is a literary figure," he said.
The event was being hosted by Maharashtra Cosmopolitan Education (MCE) Society's Azam Campus led by educationist PA Inamdar, in association with Muslim Marathi Sahitya Sanskrutik Mandal.
"My role is simply to promote Marathi language and this is not a religious meet. It is a coincidence that the government of Maharashtra is also holding the 15 day Marathi language promotion at the same time," Inamdar said.
'Organisers should have taken a firm stand'
Basharat Ahmed is an author who belongs to the Ahmadiyya Muslim jamaat was looking forward to participate in the 12th Akhil Bhartiya Muslim Marathi Sahitya Sammelan which began here on Friday had to return home to Osmanabad. "I got a request from the Pune police not to come to the venue, Azam Campus, for the fear of a riots. I also have it in writing from the organising committee that it would be best if I stayed away," he said.
This is not the first time that Ahmed has faced this kind of threat. "It was in the 2004 Sammelan which was held in Kolhapur where the same group of people belonging to Jamate Islamic Hind Sanghatana had threatened me against presenting my thoughts. However, the organisers of the Sammelan were firm in their views and had said that if I was not allowed the Sammelan wouldn't be held. But this time, the organisers did not show support and gave in to the demands of these protestors who under the name of Jamate Islamic Hind are poisoning the minds of the people," he said.
According to Basharat, the committee members were locked inside the guest house the night before the Sammelan on campus by these protestors demanded the list of people attending the festival.
"Now it will be difficult to hold such Sammelans in the future. This time they objected to me being part of it, next time it will be somebody else. Our organisation should have taken a firm stand, but they gave in to their demands. Soon they will take over the organisation if they continue like this," said Ahmed, a founder member of this Muslim Marathi movement and also the national vice-president of the literary meet.
"I will continue to write and express my views through my writings and my poetry. Besides this Sammelan there are other platforms for me; although thisSsammelan means much more to me," he said.
Full report at:
https://www.hindustantimes.com/pune-news/muslim-marathi-literature-meet-in-pune-basharat-ahmed-s-ouster-irks-organisers/story-uHlXk5IdN04Vcy9oaLqigP.html
--------
Mehbooba's visits to militants' families a pre-poll drama: Hizbul
Jan 06, 2019
A militant commander on Sunday dismissed ex-Jammu and Kashmir chief minister Mehbooba Mufti's visits to families of militants as a pre-election "drama". "…Mufti goes to homes of militants and expresses sympathies with them and claims that police are getting directions from somewhere to harass their families. When she was in power… family members of militants were harassed. Who was giving directions to police then?'' Hizbul Mujahideen's operational commander, Riyaz Naikoo, purportedly said in an audio clip. Naikoo said militants and civilians were also killed when Mufti was in power. He added Mufti's statements then were aimed at appeasing her erstwhile alliance partner, the Bharatiya Janata Party (BJP), and Delhi. "Now elections are near… that is the reason why she is expressing sympathies with the people,'' he said, referring to the assembly elections that have to be held within six months after the imposition of the president's rule in Jammu and Kashmir in November. "Whenever she visits them, she should be humiliated and asked to go back. She has sympathies with India and not with us."
Mufti, who lost power in June after the BJP pulled out of her coalition government, on Thursday visited a slain militant's family in South Kashmir's Shopian and asked security forces not to harass relatives of militants. She urged authorities to release the militant's brother, who has been under police detention since last month.
Mufti, who regularly visited the kin of people killed in violence in Kashmir after she left the Congress and formed her party in the late 1990s, claimed to have directed security forces against harassing families of militants while fighting militancy when she was in power. She had earlier on December 30 met a militant's sister after her alleged detention and custodial torture.
Full report at:
https://www.hindustantimes.com/india-news/mehbooba-s-visits-to-militants-families-a-pre-poll-drama-hizbul/story-aK3qlU6uFXP20Ax5kq68FL.html
--------
Citizenship bill glimmer of hope for Hindu, Sikh refugees from Afghanistan
Jan 06, 2019
After losing two of her sons in insurgency-related violence in Afghanistan, Jaswant Kaur had to flee the country 10 years ago with her family, but little did she know that her struggle for a life of dignity would begin in her "natural homeland", India.
Kaur, her grand children and daughters-in law are among the thousands of Hindus and Sikhs who escaped persecution in Afghanistan to find safety in India, but are now left running pillar to post for citizenship.
The process to get citizenship is long with a wait of about 12 years or more. Rife with red-tapism and complicated procedures, one has to run office to office to complete requirements.
The challenge is bigger for Kaur, in her early sixties, as her family is an all-women household. Her third son was killed in a suicide bomb attack in Jalalabad in which prominent members of the Hindu-Sikh community in Afghanistan also died in July last year.
"Compare this to the situation in Europe and western countries where Afghan refugees get residency in five years," Manohar Singh, Delhi President of Khalsa Diwan Society, said.
Kaur lives in India on a visa which is to be renewed after a couple of years. Recently, the government introduced a long-term visa but made the procedure even more complicated.
The procedure now requires refugees to get guarantee of two Indian citizens who will be responsible if an applicant is caught in a crime or violation of regulations, Singh said.
However, for Kaur all may not be lost. She may have a glimmer of hope with the Citizenship (Amendment) Bill that seeks to ease the citizenship process for people from minority communities in Pakistan, Afghanistan and Bangladesh who are coming to India in the wake of discrimination faced by them.
Following the Jalababad attack, the wife of Jaswant Kaur's third son, Thirpal Kaur also joined her mother-in-law in West Delhi with her four children four months back. A Joint Parliamentary Committee will submit its report Monday in which it is likely to recommend introduction of the bill.
The bill seeks to amend the Citizenship Act, 1955, to grant Indian nationality to people belonging to minority communities -- Hindus, Sikhs, Buddhists, Jains, Parsis and Christians -- in Afghanistan, Bangladesh and Pakistan after six years of residence in India instead of 12, even if they don't possess any proper document. The Congress, TMC, CPI(M) and a few other parties are steadfastly opposing the bill claiming citizenship cannot be given on basis of religion.
After the report is submitted in Lok Sabha on January 7, it is to be seen whether the bill could get through during the Winter Session of Parliament, which comes to an end on January 8, sources said.
Various members from opposition parties are asserting that citizenship is a constitutional provision and cannot be based on religion, as India is secular.
An opposition MP said if the bill in its present form comes into effect, then it will nullify the Assam Accord under which anyone entering the state illegally after March 1971 should be declared a foreigner and deported.
A large section of people and organisations in the Northeast have opposed the bill, saying it will nullify provisions of the 1985 Assam Accord, which fixed March 24, 1971, as the cut-off date for deportation of illegal immigrants irrespective of religion. Even Meghalaya and Mizoram governments have strongly opposed the bill and adopted resolutions against it. "We don't want any compensation, monetary relief, house, jobs. We want a dignified life so that we can earn livelihood, go abroad for business, get good education. This is not possible without having Indian passport," Singh said.
Khalsa Diwan Society is an effort by Sikhs and Hindus who have come to India from Afghanistan to make this country their home. Singh came to India in 1979 after Afghan president Mohammed Daoud assassination. It was the first major exodus of Sikhs. The second wave of Hindus and Sikhs left Afghanistan in 1992 after withdrawal of the USSR and arrival of Mujahideens.
"The Afghanistan Constitution allows freedom of religion but Hindus and Sikhs face public discrimination, intimidation, harassment and violence for following their religious practices even in the matters like last rites," an official said requesting anonymity.
From a vibrant population of 2.20 lakh in Afghanistan, the number of Hindus and Sikhs have now come down to 5,000 now, according to estimates of India security agencies.
"About 25,000 Sikhs and Hindus managed to escape the violence during 1992 civil war with the help of the then Prime Minister P V Narsimha Rao and Finance Minister Manmohan Singh but only estimated 35 per cent have been able to get citizenship," Singh told PTI in an interview. In the absence of citizenship, these people are in an open jail. Despite being well qualified, they are not able to find jobs because of Afghan passports, he said.
Unlike in the US and several European countries where children born get local passports, Afghan refugees have to get Afghan passports for their children even if they are born in India, Singh said.
Extremists have stopped minority communities from trading and employment unless they convert to Islam. Looting is rampant and women can move only in burkas, he alleged.
Full report at:
https://www.hindustantimes.com/india-news/citizenship-bill-glimmer-of-hope-for-hindu-sikh-refugees-from-afghanistan/story-2WEtP0zKMJgm8HOnCjYmTJ.html
--------
Africa
Why did Tripoli issue arrest warrants for Libya's top post-2011 actors?
6 January 2019
The Libyan Public Prosecutor has issued an arrest warrant of the Chairman of the Wattan Party Abdelhakim Belhaj and the former commander of the Petroleum Facilities Guard Ibrahim Jadran, according to Libyan Express.
The warrants included four other Libyan personalities and 31 Chadian names from the Rebel Groups in Chad.
The papers issues by the investigation office of the Public Prosecutor in Tripoli headed by Siddiq Al-Sour were sent to the Intelligence Chief and General Investigation Bureau's Chairman.
The warrants say Belhaj and Jadran as well as the rest were involved in attacks, crimes and leading armed groups in Libya, including attacks on oil terminals, Timnahint air base in southern Libya and other crimes in south of the country.
Michel Cousins, the editor-in-chief of the Libya Herald, said in a piece that the move is a political bombshell, by issuing arrest warrants for one of Libya's top post-2011 actors and other key figures in the Libya crisis.
He added that a total of 31 Chadian and Sudanese militants in Libya were also charged. All are accused of involvement in attacks on oil terminals and on the airbase at Tamanhent, near Sabha in southern Libya.
Abdelhakim Belhaj, the most prominent figure named on the warrants, leads Libya's pro-Islamist Watan Party. A former fighter in Afghanistan against the Soviets and later the leader of Libyan Islamic Fighting Group, which was allied to al-Qaeda and the Taliban in Afghanistan, he became head of Tripoli Military Council after the 2011 revolution.
Since then he has branched out into business, allegedly with the help of Qatar, although he is still seen as primarily a controversial political figure. He has been said to be involved with Tunisia's terrorist Ansar al-Sharia organisation, an accusation he denied.
In June 2017, Belhaj was included on a list of suspected terrorists linked to Qatar issued by Bahrain, Egypt, the United Arab Emirates and Saudi Arabia and subsequently endorsed by the House of Representatives, Libya's parliament in Tobruk.
It is not known what the consequences of the arrest warrant will be but Belhaj, who is in Turkey, has supporters in Tripoli and there are fears there may be violence as a result. He was quoted by the pro-Islamist Nabaa TV saying that it was unlikely the arrest warrants will be implemented in Tripoli.
Michel Cousins believes that the warrant could be related to the January 1's operation when Libyan National Army (LNA) forces freed 22 hostages who had been seized weeks earlier by suspected Islamic State (ISIS) gunmen.
They were discovered after an attack December 27 on a military camp at Traghen, 125km from Sabha.
Cousins said that following the assault, in which one soldier was killed, several others injured and 24 army vehicles reportedly stolen, LNA units tracked the attackers, said to be Chadian irregulars.
He stressed that Chadian and Sudanese fighters have been active in southern Libya in recent years, hiring themselves out to the highest bidder or sometimes kidnapping local Libyans for ransom. The majority are Chadian, some being members of the Chadian opposition movement the Military Command Council for the Salvation of the Republic (CCMSR). Others are freelance bandits, with no political attachment.
Cousins said that following the Traghen attack, LNA forces went to Ghudwa, believed to be the base for the bandits. The attackers were not there but hostages were found in two containers. The hostages were said to have been taken October 28 by ISIS during a particularly brutal attack on the southern village of Fugha and others captured during an attack November 23 on the police station in southern town of Tazerbo.
Authorities are now questioning whether ISIS was involved in the attacks or whether there are links between the Chadians and ISIS. So far there are no answers, although, in a potentially significant twist, the Attorney General's Office announced that a leading CCMSR member had been arrested in Tripoli, according to the piece published by Arab Weekly.
https://english.alarabiya.net/en/features/2019/01/06/Why-did-Tripoli-issue-arrest-warrants-for-Libya-s-top-post-2011-actors.html
--------
Sudan police break up anti-govt. protesters, Bashir backers plan to rally
Jan 6, 2019
With supporters of President Omar al-Bashir planning a counter-rally next week, police in Sudan have once again fired tear gas canisters at protesters to break up their crowds, more than two weeks after anti-government protests began in the African country.
Hundreds of protesting men and women convened in areas of downtown in the capital Khartoum on Sunday but dozens of riot police officers began attacking the protesters with tear gas when a group of organizing anti-government rallies called for a march on the presidential palace, witnesses said.
"Police are not even allowing 10 people to gather," a witness said.
On Sunday, anti-government rallies were also held in the city of Madani, located southeast of the capital, with protesters chanting for "peace, justice, freedom." A separate demonstration was staged in the northern town of Atbara, from where the current wave of unrest first erupted.
Sudan has been rocked by near-daily demonstrations since December 19, in the wake of a move by the government to triple the price of a loaf of bread, which angered people and triggered the rallies.
In the initial days of the protests, several buildings and offices of Bashir's ruling National Congress Party were set alight by protesters. Riot police have so far managed to disperse the rallies, and security agents have arrested several opposition leaders and activists in a crackdown on suspected organizers.
The public display of anger soon escalated into calls for Bashir, who took power in 1989, to resign.
According to figures provided by authorities, at least 19 people, including two security personnel, have so far been killed in violent clashes. However, rights group Amnesty International says it has "credible reports" that at least 37 people have lost their lives since the onset of the rallies.
Videos posted on social media networks, purportedly of Sunday's rallies, showed protesters fleeing down the streets and alleyways in the downtown area trying not to inhale the noxious gas.
On Saturday, the Sudanese Professionals' Association, a group of doctors, teachers and engineers, had called for the march after organizing similar protests in recent weeks.
"We will march on the palace on Sunday calling for President Bashir to step down," the association said in a statement.
Meanwhile, Sudan's Labor Minister Bahar Idris announced at a press conference that a pro-government rally would be staged Wednesday at the capital's Green Yard, a large open ground in Khartoum, adding that the rally would express "the choice of the Sudanese people and address the present crisis."
The Wednesday demonstration would be the first pro-Bashir rally since protests began last month.
Additionally on Sunday, Sudanese security authorities detained at least eight faculty members from Khartoum University, after they participated in anti-government protests.
It was the first time the faculty of Sudan's oldest and most prestigious educational institution has joined the protests since last month.
According to witnesses, security forces barred professors and lecturers from joining the rallies outside the university.
Police held some 100 professors in the faculty club house for nearly three hours after arresting eight of their colleagues, witnesses added.
Sudanese authorities have launched a clampdown on opposition leaders, activists and reporters to prevent the spread of rallies. Authorities have declared curfews and states of emergency in several states. Residents say police have used live ammunition in some cases to disperse the protesters.
The African country has been struggling with a growing economic crisis over the past year led by a serious shortage of foreign currency. The cost of some commodities, including medicines, has more than doubled and a soaring inflation has hit 70 percent.
Full report at:
https://www.presstv.com/Detail/2019/01/06/585060/Sudan-police-Bashir
--------
Nigeria is colonised by Christian and Islamic imperialists
06 January 2019
Until I listened to another person on radio, I thought Ustaz AbdulSalam Olayiwola Imam lost his voice. I did not know that it was the harmattan wind that was at work. What should I do to Imam Dr Abubakar Ali-Agan and Imam Dr AbdulHamid Olohunoyin, talking rubbish and nonsense in their Madrasat Muhammad of Friday, December 21, 2019, openly saying that Kwara state belongs to only Muslims, and that the state House of Assembly is dominated by persons who would not approve anything, including Customary Court of Appeal, not supported by Ilorin Muslims? They went as far as adding that agents of African Traditional Religion (ATR) should not be free to go around praying for people in Ọjà Ọba (King's Market), Ilorin, and that we adherents of ATR are Shango's children, as if God is not the Father of all and sundry.
Yes, I will give them dirty slaps. Their utterances indicate how Muslim and Christian conspiracies are destabilizing Nigeria. The late President Umaru Musa Yar'Adua abused his presidential powers to attack the Boko Haram Muslim community of men, women, and children that did not attack anybody until attacked. Goodluck Ebele Azikiwe Jonathan took undue advantage of Yar'Adua's death and abused his own position as the Acting President to truncate rotational presidency against the northwest, pulling on nepotism, Biafra, and Christian Association of Nigeria, thereby compounding the Boko Haram crisis.
The current President, General Muhammadu Buhari (GMB), at his inauguration as Nigeria's President on May 29, 2015, paid homage to Shehu Usumanu Danfodio, the foremost Fulani jihadist warrior, and went into an all out war against Boko Haram where Jonathan left off. Count the costs in human lives and economic resources, 2009 till date. The question then arises whether genuine democracy and social equity can thrive where Islamic and Christian imperialisms are dominant. Ali-Agan and Olohunoyin are not among the poorest of the poor. Their goal is Islamic propagation and not human solidarity and social justice.
What is your own priority in life: Christian imperialism; religious bigotry, or human rights and social equity? Yes, I know why GMB is reluctant on the N30, 000 minimum wage. He himself has confessed secretly to the Governors that the economy is in shambles. Yet he is unrepentant on the unjustifiable war against Boko Haram and the Fulani herdsmen terrorists are still on rampage, together with the armed bandits, coupled with skyrocketing debts. Hence, as the former President, General Olusegun Obasanjo, said, only fools would vote for GMB in 2019.
Full report at:
https://guardian.ng/opinion/nigeria-is-colonised-by-christian-and-islamic-imperialists/
--------
US attacks on Somalia's al Shabaab increase under Trump
Jan. 07, 2019
Donald Trump's presidency has coincided with a sharp rise in US-led airstrikes in Somalia and the trend is set to continue in 2019.
In a speech in December outlining the US' Africa policy, President Trump's National Security Adviser John Bolton said "terrorists operating in Africa have... repeatedly targeted US citizens and interests".
He gave the impression that there would be no let up in the struggle against militant Islamist groups, such as the Somalia-based al-Shabab, which is affiliated to al-Qaeda.
In March 2017, the Pentagon received White House approval to expand its fight against the militants in the Horn of Africa nation.
Commanders now no longer require high-level vetting to approve strikes on al-Shabab in "areas of active hostilities" in Somalia.
"It allows [us] to prosecute targets in a more rapid fashion," said General Thomas Walhauser of US Africa Command (Africom).
The move has seen increased attacks by aircraft, as well as the first public deployment of US boots on the ground since 1993 to "advise and assist" Somali government troops.
Africom has now carried out at least 46 confirmed airstrikes in Somalia in 2018, following the previous record of 38 in 2017, according to the Bureau of Investigative Journalism (BIJ).
Some single strikes have focused on large groups of militants. For example, about 60 were killed on 12 October around Harardere in the central Mudug region, in what was the largest airstrike of its kind in nearly a year.
Other strikes focused on individuals, such as the lone militant targeted and killed six days earlier in Kunyo Barrow in southern Somalia.
Compared to previous years, 2017 and 2018 marked a significant increase in US action against al-Shabab.
In fact, a BIJ tally reveals that at least 538 people have been killed in these airstrikes since the beginning of 2017 - far more than the previous 10 years combined - although not every strike was recorded to have killed someone.
Africom says the "airstrikes reduce al-Shabab's ability to plot future attacks, disrupt its leadership networks, and degrade its freedom of manoeuvre within the region". This shows that every trace of the group is considered a threat.
As noted by the Long War Journal, the strikes are part of a wider pattern that has ranged from targeting top commanders to the rank and file who make up the group's visible presence on the ground.
'Militants adopt new tactics'
But apart from one senior al-Shabab commander, Ali Mohamed Hussein, killed in a joint US-Somalia military raid in the southern Lower Shabelle region in August 2017, few have been significant enough to be named by the US since Mr Trump approved the expansion of military operations in Somalia.
Al-Shabab militants, like other jihadist groups, are well aware of the threat from the skies.
According to a senior regional security official, the fighters now avoid congregating in large groups. They move in units of three or four and only converge to carry out attacks, including on bases of African Union troops and Somali government forces.
Despite the increased strikes, al-Shabab's core capabilities remain solid.
The group has not lost control of territory in central and southern parts of Somalia, where it is trying to set up its own administration, including raising taxes from the local population.
These are vast areas - far larger than the urban centres that the federal government controls in the same regions.
Bill Roggio and Alexandra Gutowski of the Long War Journal conclude that this reflects al-Shabab's primary goal, adopted from al-Qaeda, which is "to overthrow local governments and create emirates which will eventually coalesce into an Islamic caliphate". US 'adheres' to laws of conflict
The jihadist group has displayed its confidence through attacks such as the ambush last June on a combined force of Somali, Kenyan and American troops in Jamame town in southern Somalia, in which a US special forces soldier was killed.
Despite the insistence of the Somali government and Amisom that the group has been eliminated from the capital, Mogadishu, one of its leaders, Ali Dhere, was recently photographed hosting a charity event near the city.
Al-Shabab still mounts occasional forays into neighbouring Kenya's border regions carrying out ambushes and explosive attacks on security forces, and it often publishes videos documenting these incidents as part of its media operation.
The group sometimes responds to Ethiopian, Kenyan and US airstrikes by claiming that the casualties were innocent civilians, but from the US action over the past two years, there are no independent records of civilians killed.
Meanwhile, at least 32 have been injured in areas held by the militants, according to BIJ statistics.
In a statement to the BBC, Africom spokeswoman Becky Farmer noted that the US military command for Africa "has not discovered or assessed any civilian casualties resulting from our operations over the last two years".
She added: "In fact, [we go] to extraordinary lengths to reduce the likelihood of civilian casualties, exercising restraint as a matter of policy that regularly exceeds the restrictions of the law of armed conflict."
There are still vivid memories of America's disastrous exit during its last major military action in Somalia in 1994.
At the time, two US Black Hawk helicopters were shot down in Mogadishu.
In the ensuing battle, hundreds of Somalis were estimated to have died. Some 18 Americans and two UN soldiers were killed.
However, the Pentagon would consider the option of airstrikes today to be far less risky to US troops and possibly more effective in taking out targets.
As a result, the campaign is unlikely to be affected by the recent announcement of an impending reduction of US troops in Africa.
So far, the increased airstrikes have not given the US, the Somali government and AU troops the upper hand. Al-Shabab will be content to retain its vast geographical control.
Full report at:
https://www.the-star.co.ke/news/2019/01/07/us-attacks-on-somalias-al-shabaab-increase-under-trump_c1873794
--------
Nigeria arrests two reporters over Boko Haram coverage
2019-01-07
Nigerian security forces on Sunday arrested two journalists over their coverage of the jihadist group Boko Haram, sources at the newspaper told AFP.
A combined team of secret police, soldiers and civil defence paramilitary stormed the office of the Daily Trust in the northern city of Maiduguri and whisked away its northeast regional editor Uthman Abubakar and reporter Ibrahim Sawab.
The team seized the journalists' laptops and mobile phones, the sources at the newspaper's headquarters in the capital Abuja said.
"The raid was in response to our cover story today on the military preparation to retake the town of Baga which was captured by Boko Haram last week," one source at the paper said.
"They came looking for our reporter Hamza Idris, who anchored the story, but arrested the two reporters when they didn't find him," another source said.
Armed police have sealed the office, according to the sources and Maiduguri residents.
More than two dozen armed soldiers also raided the Daily Trust head office in Abuja on Sunday evening, sources at the newspaper added.
Similar operations
"Armed soldiers raided our head office this evening.
"It is a continuation of the crackdown that started in our Maiduguri office earlier today
"They stormed into the newsroom on the third floor and seized computers and laptops before ordering everyone to vacate the building.
"They have sealed the building. This means we will not be on the newstands tomorrow for the first time in 20 years," a source at the paper said.
According to the same sources, similar operations took place at the Lagos Daily Trust office at the same time.
The Daily Trust reported on December 31 that Boko Haram militants captured six localities in northern Borno state including Baga, disputing military claims that the jihadists were not in control of any territory in the region.
This followed a series of Boko Haram raids on military bases in the area.
Following the report the military issued a statement threatening to take action against "unscrupulous elements" and "inaccurate news reports by some sections of the media".
Soldiers carried out a similar raid on the same office in 2013 in a failed attempt to arrest Idris over another report the military deemed critical.
In November the Nigerian military threatened legal action for "fake news" after media reports stated much higher military casualties than the official toll from a Boko Haram raid on a military base in Metele village.
Full report at:
https://www.news24.com/Africa/News/nigeria-arrests-two-reporters-over-boko-haram-coverage-20190107
--------
URL: https://www.newageislam.com/islamic-world-news/social-exclusion-religion-feeding-western/d/117390
New Age Islam, Islam Online, Islamic Website, African Muslim News, Arab World News, South Asia News, Indian Muslim News, World Muslim News, Women in Islam, Islamic Feminism, Arab Women, Women In Arab, Islamophobia in America, Muslim Women in West, Islam Women and Feminism