New Age Islam News Bureau
19 Feb 2013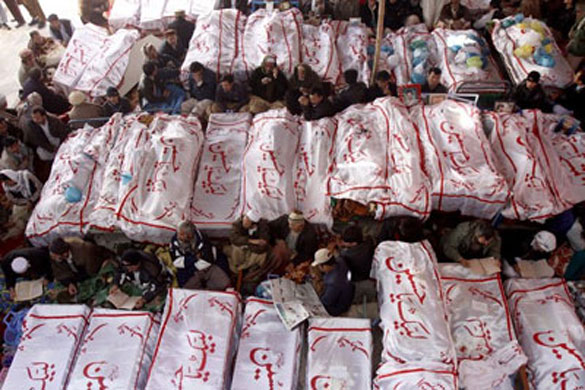 Arab World
• Sheikhs against Shakes: Egypt Belly Dancing Channel 'Arouses Viewers'
• Scholarship Students in U S Warned Against Criticism of Kingdom and Islam
• More than 30 Syrians killed in Hama suicide blast: NGO
• Saudi Arabia to name and shame traffickers
• Assad says will win Syria war: newspaper
• Egypt's top court rejects articles in draft election law
• Egypt in Political Clinch as Economic Cliff Looms
• Saudi student makes device for the blind
• Constant mobile use causing health problems in Kingdom
India
• Maulana Mahmood Madani's pro-Narendra Modi remarks rile Congress, Left
• Deoband Fatwas Confuse India Muslims
• Ahmadabad's Muslim ghetto finally gets a municipal school
• Hague court upholds India's right on Kishanganga project in Kashmir
• Rural Muslim poverty highest in Gujarat, Assam, WB, and UP: UNDP
• Muslims should shed attitude of minorityism, says M.J. Akbar
• India unmoved as Maldives issues arrest warrant against Nasheed
• Maldives ex-president Nasheed remains in Indian mission for seventh day
• UK seeks to keep India in loop on NATO pullout from Afghanistan
• Indo-Bangla rail link, border 'haats' plan welcomed
• UAE hails role of Indian diaspora in economic growth
Pakistan
• Pak inks deal to hand over Gwadar port to China firm
• 'Soft spot for LJ': 'Govt must stop backing anti-Shia groups'
• Pak PM orders 'targeted operation' against militants in Quetta
• Pak militants storm govt office; Shia protests on
• Pakistan court takes suo motu notice of Hazara killings
• Parliamentary delegation arrives in Quetta to meet protesters
• Unbowed Hazaras refuse to bury dead
• 170 suspects nabbed in Quetta operations: BBC
• 7 suspects in Pakistan sectarian killings arrested
• Solidarity with Hazaras over another Quetta atrocity
• Collective wisdom, action must to eliminate terrorism: PM
• Senior Pakistani insurgent arrested in Afghan east: Officials
• Opportunity for a Better Future in Pakistan's Ex-Battlegrounds
South Asia
• War crimes trial not anti-Islamic activity: Information Minister
I• n Afghanistan 'car Guantanamo', autos languish & trust dies
• Violence grips Bangladesh; three killed in clashes
• Handle crisis in Maldives "properly": China
Mideast Asia
• When the Turkish envoy says al-Qaeda and terror are different
• Israeli soldier posts Instagram image of Palestinian child in crosshairs of rifle
• Iran wants its 'nuclear rights' acknowledged
• Iranian Commander Killed In Syria Was A Major Enemy Of Israel
• 11 killed in Sanaa warplane crash
• Israeli Ethiopian birth control ignites debate
• Stung by the movie 'Argo,' Iran Backs Conference Denouncing 'Hollywoodism'
• Netanyahu Doubles Down On Spy Secrecy Following Prisoner X Fallout
• Turks don't favour presidency, could accept Turkish PM
• Gaza court cuts sentence in Italian murder case
Europe
• Blast damages Bosnian Muslim soldier's war monument
• Killings of government workers soar in Afghanistan: UN
• Britain's 'Floating Shop Window' Signals Massive Undeclared Arms Race In Libya
• Kumtor's Controversy Creating Dangerous Precedent for Kyrgyzstan's Investment
• Russia steps up Syria evacuation efforts
• Time to refer Syrian war crimes to ICC: UN probe
Africa
• Mali: Dragging the West Back in to the War on Terror
• Tunisia PM says plan for new government has failed
• Statue of murdered Tunisian opposition leader vandalized
North America
• After 15 years in solitary, 9/11 convicted terrorist pleads for contact with others
• Obama Could Revisit Arming Syria Rebels as Assad Holds Firm
Southeast Asia
• Indonesia to host Muslim-Christian leaders' conference
• Indonesian Father Confesses to Raping Teenage Daughter
• Indonesian maid jailed for child abuse, attempted murder in Malaysia
Australia
• Prisoner X was arrested for 'leaking Mossad work'
Compiled by New Age Islam News Bureau
Photo: Shiite leaders in Pakistan end protest after operation against militants behind bombing
URL: https://www.newageislam.com/islamic-world-news/new-age-islam-news-bureau/sheikhs-against-shakes--egypt-belly-dancing-channel-'arouses-viewers'/d/10484
-------------
Arab World
Sheikhs against Shakes: Egypt Belly Dancing Channel 'Arouses Viewers'
19 February 2013
A widely-known private Egyptian TV channel, which showcases 24-hour rolling clips of belly-dancing, has been accused of airing ads that "arouse viewers," and broadcasting illegally. An Egyptian court demanded its closure earlier this week.
Despite the ruling, the director, Baleegh Hamdy, says he will not give up broadcasting the al-Tet channel. It is now being aired from a different satellite.
In an interview with Al Arabiya Hamdy added that he is planning to launch a new channel called 'Bom Tak' and another channel on YouTube, also to showcase belly dancing.
Court orders shutdown
Egypt's administrative court on Saturday ordered the belly dancing channel to be taken off air for broadcasting without a license.
The channel was also accused of airing advertisements that "arouse viewers," sell sexual-enhancement products and promotes matchmaking, according to the court's statement.
According to Hamdy, the court ruling was not based on accurate evidence. "The judge was supposed to check the facts present in the lawyer's allegations."
The lawyer, who filed a suit against al-Tet, accuses the channel of providing a platform for matchmaking, but "this is not true," the director told Al Arabiya's English website.
"The channel does not air ads for sexual products that aren't licensed," he added.
"There are more than 150 channels in Egypt airing the same ads for the same products ... why are people picking on al-Tet?"
Hamdy said that al-Tet had a license and that it is not aired through the Nilesat provider, but aired on Noorsat, an Arab satellite provider headquartered in Bahrain.
The judge issued a court ruling that says the channel must be taken off the Nilesat, Hamdy said, quoting the court's final statement.
He added that the Egyptian court should not have authority over the Bahrain-based satellite provider.
However, contrary to his expectations, the Noorsat provider in Bahrain shut down al-Tet after the Egyptian court ruling, Hamdy confirmed.
"Noorsat was supposed to respect the contract between us, but the channel is still aired anyway," he said.
Like channels dedicated to sports and movies only, Hamdy wonders why some Egyptians find it a problem to have a channel dedicated to belly dancing. "All that I did was to collect these clips and air them on a channel especially for belly dancing."
"When you watch a movie and a dancing scene comes on, you are forced to watch it to continue the movie," he said.
"But people have remote controls and are free to choose to watch what they want."
The internet and the Hotbird satellite also contain more sexually explicit content that are still permitted in Egypt, he added.
Al-Tet is among many channels that opened in Egypt after the 2011 uprising that toppled Hosni Mubarak. The channel's owner is an American, said Hamdy.
By the beginning of 2013, al-Tet opened in the U.S. and in Canada, it will be up next month in Switzerland, according to the director.
In addition to launching a new channel for belly dancing called 'Bom Tak' and another on YouTube, Hamdy expressed his hopes to open a bouquet of channels dedicated to all kinds of dancing, including ballet and tango.
'Islamists have nothing to do with it'
Despite the court ruling, Hamdy told Al Arabiya he respects the Egyptian judiciary system and denied that the Muslim Brotherhood had anything to do with the channel's shutdown.
A spokesman for Egypt's Muslim Brotherhood (MB) on Sunday told Al Arabiya that the movement has welcomed the court decision to shut down al-Tet.
"We welcome court rulings that aim to protect the community's values," Abdel Haleem Behiry, the MB's Freedom and Justice Newspaper deputy editor-in-chief, told Al Arabiya.
"Like rotten food ... there are rotten ideas being fed to our society," he added. "The judicial system is one of the factors that can protect the society's values, which both Muslims and Christians agree on."
The spokesman denied that the MB had anything to do with the channel's closure, saying it was a court ruling and the channel was not operating on a legal basis.
http://english.alarabiya.net/articles/2013/02/19/267118.html
-------------
Scholarship Students in U S Warned Against Criticism of Kingdom and Islam
19 February 2013
The Saudi Embassy in the United States of America will send back any student on the King Abdullah Scholarship Program who attacks the Kingdom and Islam, an embassy official said at a function in Washington DC on Saturday.
Muhammad Al-Eisa, the Saudi cultural attaché, warned students against crossing the line of criticizing Islam and the Kingdom while addressing a meeting of Saudi student clubs in the US.
During the meeting in which more than 200 club chairmen participated, Al-Eisa said the embassy has requested that authorities enhance the stipend amount.
He noted that the number of student clubs in the US has increased from 23 in 2007 to 234 clubs now.
"More than 98,000 Saudis with their accompanying relatives are currently studying in various American universities and have made remarkable achievements, including 200 inventions," Al-Eisa said, adding that their numbers are growing in 10 leading universities.
Saudi medical students have joined 1,500 fellowships, while 500 dental doctors are participating in various programs in leading research and science universities, he said, adding that 500 pharmaceutical students are attending advanced programs.
Speaking on the occasion, Saudi Ambassador to the USA Adel Jubeir said the Kingdom plans to open a new consulate in Chicago to address the needs of the rising number of students and other Saudi citizens in Chicago city.
Jubeir said the embassy is striving to increase its manpower and expand it technological facilities to adequately meet student needs, especially on occasions of natural calamities and in dealing with legal matters. He added that the embassy has appointed a leading legal firm to handle the students' legal cases.
According to the ambassador, the Kingdom has signed agreements with some of the largest airlines companies and technical institutions in the USA to train Saudi scholarship students for two years upon their graduation to enable them to work in the Saudi branches of these companies.
Jubeir said that the government decided to extend the foreign scholarship project for a third term thanks to the academic success of Saudi students in various universities across the world, Al-Hayat daily reported yesterday.
"The great achievements made by Saudi students portray a shining image of the Kingdom abroad and is a fitting reply to those who doubt the success of the scholarship project," the ambassador said.
http://www.arabnews.com/scholarship-students-warned-against-criticism
-------------
More than 30 Syrians killed in Hama suicide blast: NGO
Feb 19 2013
Beirut : More than 30 people, both civilians and pro-regime militiamen, were killed in a suicide car bombing in the town of Salmiyeh in the central province of Hama, the Syrian Observatory for Human Rights said.
A high-ranking regime official confirmed to AFP that dozens were killed in the yesterday attack, which the Britain-based Observatory said targeted a building used by loyalist paramilitary fighters.
The watchdog gave an initial toll of "30 members of the armed pro-regime people's committees killed in a car bomb in front of their headquarters in Salmiyeh in eastern Hama province."
Citing medical sources, the Observatory said there were civilians among the dead and the number of fatalities could rise well over 50 with dozens wounded or in critical condition.
State news agency SANA also reported the blast, saying that "a terrorist suicide car bomb was detonated in the heart of Salmiyeh, leaving a number of people killed and others wounded". It said that the wounded were being transported to area hospitals.
http://www.indianexpress.com/news/more-than-30-syrians-killed-in-hama-suicide-blast-ngo/1076345/
-------------
Saudi Arabia to name and shame traffickers
Authorities warn against threats by undocumented foreigners
By Habib Toumi
February 19, 2013
Manama: Saudi authorities could name and shame people involved in smuggling, transporting, sheltering or employing absconded, illegal or undocumented foreign women.
The move would be part of a campaign by the government to tackle the phenomenon and its perceived security threats and to arrest traffickers, sources told local daily Al Riyadh.
Reports have warned about an increase in the attempts to smuggle women from different nationalities illegally into the kingdom or from one region to another.
Full report at:
http://gulfnews.com/news/gulf/saudi-arabia/saudi-arabia-to-name-and-shame-traffickers-1.1148099
------------
Assad says will win Syria war: newspaper
Feb. 19, 2013
Syrian President Bashar al-Assad told visiting Lebanese politicians that his troops will win the ongoing war against rebels fighting to oust his regime, a pro-Damascus Lebanese daily reported on Monday.
The As-Safir newspaper said that Assad also told the politicians, who were unnamed in the report, that Syria's future belonged to his camp.
"We are sure we will win, we are reassured by the political and military developments," Assad was quoted as telling the Lebanese politicians, the newspaper said.
Full report at:
http://www.hurriyetdailynews.com/assad-says-will-win-syria-war-newspaper.aspx?pageID=238&nID=41355&NewsCatID=352
-------------
Egypt's top court rejects articles in draft election law
19 February 2013
Egypt's top court on Tuesday declared five articles of a draft election law as unconstitutional and sent the text back to the Shura Council for redrafting, in a move that may delay a parliamentary poll due in April.
Egypt's High Constitutional Court (HCC) announced that it had rejected five articles of the draft parliamentary elections law that is soon up for ratification.
Full report at:
http://www.thehindu.com/news/international/egypts-top-court-rejects-articles-in-draft-election-law/article4430999.ece
-------------
Egypt in Political Clinch as Economic Cliff Looms
February 19, 2013
Cairo. The Egyptian pound has lost 14 percent of its value since the 2011 revolt. Dollars are scarce. An IMF loan that could unlock wider aid is on hold. Unemployment is rising. Public security has deteriorated, and arms smuggling is rife.
With little regard for the looming economic cliff, politicians in the most populous Arab nation are trading blows over an Islamist-tilted constitution, political violence and an alleged power grab by the Muslim Brotherhood.
Full report at:
http://www.thejakartaglobe.com/international/egypt-in-political-clinch-as-economic-cliff-looms/572605
-------------
Saudi student makes device for the blind
19 February 2013
Hajar Al-Oqaily, a Saudi student on a scholarship to study for a first university degree, was awarded a prize by Queensland University of Technology for developing a portable device to be used by the visually impaired.
Full report at:
http://www.arabnews.com/saudi-student-makes-device-blind
-------------
Constant mobile use causing health problems in Kingdom
18 February 2013
Mobile phones affect the hearing of phone users, a Saudi study has revealed.
The study, conducted by Dr. Nahid Al-Zuhair, director of Health Intelligence office in the Eastern Province, showed that about 59 percent of those surveyed said they are aware they are exposed to radiation when they use their mobiles, but 9.7 percent said they do not care.
It showed that 51.1 percent of those surveyed noticed changes in their hearing when using mobile phones, as well as an itch or pain in their ear during long-term use.
Full report at:
http://www.arabnews.com/saudi-arabia/constant-mobile-use-causing-health-problems-kingdom
---------
India
Maulana Mahmood Madani's pro-Narendra Modi remarks rile Congress, Left
Feb 19, 2013
NEW DELHI: The Congress and the Left Front came in for some uncomfortable criticism by Jamiat Ulema-i-Hind general secretary Maulana Mahmood Madani who, in an interview to a private TV channel, said a section of Muslims have voted for Narendra Modi and the BJP in Gujarat.
"In Gujarat, Jamiat workers on the ground have told me that in several assembly segments, Muslims voted for Modi. There is a perceptible change and circumstances are different now," said Madani to the channel.
Madani said, "Some Muslims have indeed voted for Modi primarily for two reasons — fear and that the alternative is not good enough either."
Full report at:
http://timesofindia.indiatimes.com/india/Jamiat-leaders-pro-Narendra-Modi-remarks-rile-Congress-Left/articleshow/18566685.cms
-------------
Deoband Fatwas Confuse India Muslims
By Shuriah Niazi
Feb. 19, 2013
NEW DELHI – Fatwas issued by the Deoband seminary have become a source of controversy and confusion among India's Muslims, with many criticizing the religious edicts as "outdated" and running counter to the modern age.
"The media uses Fatwas to portray Muslims in a bad light," journalist Jawed Alam told OnIslam.net.
Darul Uloom Deoband has invited the ire of many Muslims in India in recent months after issuing a number of controversial Fatwas.
Full report at:
http://www.onislam.net/english/news/asia-pacific/461437-deaband-fatwas-confuse-india-muslims.html
-------------
Ahmedabad's Muslim ghetto finally gets a municipal school
Feb 19 2013
Ahmedabad : Juhapura, Ahmedabad's biggest Muslim ghetto, will finally get its first municipal school, an urban health centre and an anganwadi kendra, if one goes by the Ahmedabad Municipal Corporation's (AMC) 2013-14 budget ratified on Tuesday.
Gujarat's Revenue and Urban Development Minister Anandiben Patel performed bhoomipujan for the school in Sankalit Nagar in the heart of Juhapura last Tuesday. The health centre, anganwadi and primary school from Class I-VIII will come up on different floors of the same building.
Full report at:
http://www.indianexpress.com/news/ahmedabad-s-muslim-ghetto-finally-gets-a-municipal-school/1076216/
---------
Hague court upholds India's right on Kishanganga project in Kashmir
Feb 19, 2013
NEW DELH: The International Court of Arbitration at The Hague on Monday upheld India's right to divert water from the Kishanganga hydroelectric project (KHEP).
Reacting to the development, official spokesperson in the ministry of external affairs said, "The award of the Court of Arbitration at The Hague today reaffirmed validity of India's position regarding KHEP by allowing diversion of water from the KHEP as envisaged by India."
Full report at:
http://timesofindia.indiatimes.com/india/Hague-court-upholds-Indias-right-on-Kishanganga-project-in-Kashmir/articleshow/18565980.cms
----------
Rural Muslim poverty highest in Gujarat, Assam, WB, and UP: UNDP
Feb 18 2013
Hyderabad : United Nations has observed that poverty head count ratio for Muslims is highest in the states of Assam, Uttar Pradesh, West Bengal and Gujarat even as it expressed satisfaction over India's efforts to meet the millennium development goals in important areas.
"India is well placed to meet the millennium development goals on reducing poverty by half and achieving universal primary education and gender parity in education. However, it is not likely to meet targets in areas of maternal mortality, infant mortality, under-five mortality and sanitation," said UNDP country director Caitlin Wiesen.
Full report at:
http://www.indianexpress.com/news/rural-muslim-poverty-highest-in-gujarat-assam-wb-and-up-undp/1075967/
-------------
Muslims should shed attitude of minorityism, says M.J. Akbar
19 February 2013
'Sell your vote to those who promise education, especially to girls'
Veteran journalist M.J. Akbar has questioned the minority status of Muslims, saying they had ruled India for decades and Brahmins were a bigger minority. He called upon Muslims to unshackle themselves from the "politics of fear" and adopt the "politics of development."
Full report at:
http://www.thehindu.com/news/national/muslims-should-shed-attitude-of-minorityism-says-mj-akbar/article4429030.ece
-------------
India unmoved as Maldives issues arrest warrant against Nasheed
Feb 19, 2013
MALE: India's diplomatic conundrum in Maldives compounded on Monday after a magistrate's court issued an arrest warrant against deposed President Mohamed Nasheed who has taken refuge in the Indian high commission in Male. India wants the liberal Maldivian Democratic Party (MDP) leader to contest the presidential elections in September.
Full report at:
http://timesofindia.indiatimes.com/world/south-asia/India-unmoved-as-Maldives-issues-arrest-warrant-against-Nasheed/articleshow/18568152.cms
-------------
Maldives ex-president Nasheed remains in Indian mission for seventh day
Feb 19, 2013
MALE: India on Tuesday remained in hectic diplomatic parleys to resolve the situation arising out of former Maldives president Mohamed Nasheed taking refuge in its High Commission for the seventh day to evade an arrest warrant.
As part of the ongoing consultations, the Indian High Commissioner DM Mulay has in last few days met Thasmeen Ali, leader of the Dhivehi Rayyithunge Party (DRP).
Full report at:
http://timesofindia.indiatimes.com/world/rest-of-world/Maldives-ex-president-Nasheed-remains-in-Indian-mission-for-seventh-day/articleshow/18573791.cms
-------------
UK seeks to keep India in loop on NATO pullout from Afghanistan
Feb 19, 2013
NEW DELHI: India and the UK will establish a high-level contact group - on the lines of a joint working group -- to coordinate their activities and initiatives in Afghanistan leading up to the NATO drawdown next year. The setting up of the group is likely to be announced during the visit of British PM David Cameron here on Tuesday.
Full report at:
http://timesofindia.indiatimes.com/india/UK-seeks-to-keep-India-in-loop-on-NATO-pullout-from-Afghanistan/articleshow/18566289.cms
-------------
Indo-Bangla rail link, border 'haats' plan welcomed
February 18, 2013
Political leaders in Tripura and traders' forums have hailed the pact between India and Bangladesh to start work on laying the Agartala-Akhaurah new rail link and setting up of border 'haats' (bazaars) in the northeastern states. India's External Affairs Minister Salman Khurshid and his Bangladesh counterpart Dipu Moni signed agreements in Dhaka Saturday and expressed readiness to start work on laying tracks for the Akhaurah (Bangladesh) - Agartala (Tripura, India) rail link.The two leaders have also decided to amend the double taxation avoidance treaty, and open additional border 'haats' along the international border in Tripura and Meghalaya.
Full report at:
http://www.hindustantimes.com/India-news/tripura/Indo-Bangla-rail-link-border-haats-plan-welcomed/Article1-1013325.aspx
-------------
UAE hails role of Indian diaspora in economic growth
February 19, 2013
The UAE government has hailed the role of the Indian community living and working in the region and said they were contributing to the economic growth there.
The reason for strong India-UAE relations is because the Indian community living and working in the country enjoys respect and are contributing to the building of the local community, UAE minister of higher education and scientific research, Sheikh Nahyan bin Mubarak Al Nahyan said on Monday.
Full report at:
http://www.hindustantimes.com/world-news/restofasia/UAE-hails-role-of-Indian-diaspora-in-economic-growth/Article1-1013802.aspx
----------
Pakistan
Pak inks deal to hand over Gwadar port to China firm
Feb 19, 2013
ISLAMABAD: Pakistan and China on Monday signed an agreement to hand over control of the strategic Gwadar port on the Arabian Sea to a Chinese company, a move that has raised serious security concerns in India.
Under the agreement for transfer of concession rights, the deep sea port will remain the property of Pakistan while the Chinese company will share profits from its operation. China Overseas Port Holdings Limited will fully assume responsibility for Gwadar port in Balochistan.
Full report at:
http://timesofindia.indiatimes.com/world/pakistan/Pak-inks-deal-to-hand-over-Gwadar-port-to-China-firm/articleshow/18568359.cms
-------------
Shiite leaders in Pakistan end protest after operation against militants behind bombing
By Associated Press
Feb 19, 2013
QUETTA, Pakistan — Shiite Muslim leaders in southwestern Pakistan say they are ending three days of protests after the government launched an operation against militants responsible for a bombing targeting the minority sect that killed 89 people.
A prominent Shiite leader, Amin Shaheedi, announced the end of the protest in Quetta, the capital of Baluchistan province, on Tuesday following talks with a government delegation sent from Islamabad.
Shaheedi said arrangements would be made to bury the victims from Saturday's bombing. Relatives had refused to bury their loved ones until the army took control of Quetta and launched a targeted operation against the militants behind the bombing.
Baluchistan's home secretary, Akbar Hussain Durrani, said paramilitary forces began an operation Monday night. He said four members of the group responsible for Saturday's bombing, Lashkar-e-Jhangvi, were killed in a shootout, including a senior commander.
There is no sign the army will take control of the city.
Copyright 2013 The Associated Press. All rights reserved. This material may not be published, broadcast, rewritten or redistributed.
http://www.washingtonpost.com/world/asia_pacific/pakistan-orders-operation-in-quetta-
-----------
'Soft spot for LJ': 'Govt must stop backing anti-Shia groups'
February 19, 2013
LAHORE: The Punjab government must stop supporting extremist groups that target Shias and quickly bring to justice the murderers of a prominent Shia doctor, demanded the participants of a sit-in protesting against violence against the community here on Monday.
The protest outside Governor's House organised by the Majlis-i-Wahdat-i-Muslimeen (MWM), which began around noon on Sunday after a bombing targeting Quetta's Hazaras that killed over 80 people, was called off briefly late on Sunday night amidst reports of a deal with the government.
Full report at:
http://tribune.com.pk/story/509230/soft-spot-for-lj-govt-must-stop-backing-anti-shia-groups/
-------------
Pak PM orders 'targeted operation' against militants in Quetta
Feb 19 2013
Islamabad : Prime Minister Raja Pervez Ashraf today directed authorities to launch a "targeted operation" against militants in Quetta following the killing of nearly 90 people in a terror attack in the Shia-dominated southwestern Pakistani city.
The Prime Minister "has ordered an immediate launch of targeted operation aimed at eliminating those responsible for playing with the lives of innocent civilians and restoring peace and security in Quetta," said a spokesman for the premier's office.
Full report at:
http://www.indianexpress.com/news/pak-pm-orders-targeted-operation-against-militants-in-quetta/1076410/
-------------
Pak militants storm govt office; Shia protests on
Feb 19 2013
Islamabad : Militants wearing suicide vests and disguised as policemen attacked the office of a senior political official in northwestern Pakistan Monday, killing five people, police and hospital officials said.
In Pakistan's southwest, meanwhile, several thousand Shia Muslims protested for a second day following a massive bombing targeting the minority sect that killed 84 people. The protesters have refused to bury victims of the attack until authorities take action against the militants who were responsible.
Full report at:
http://www.indianexpress.com/news/pak-militants-storm-govt-office--shia-protests-on/1076121/
-------------
Pakistan court takes suo motu notice of Hazara killings
ANITA JOSHUA
19 February 2013
The Supreme Court on Monday took suo motu notice of the killing of Hazara Shias in Quetta and issued summons to the Attorney General of Pakistan and Advocate General of Balochistan. The hearing has been scheduled for Tuesday even as families of the 84 killed in Saturday's blast near Hazara Town in Quetta refused to bury their dead for the second day in a bid to draw attention to the plight of the community facing "genocide".
Full report at:
http://www.thehindu.com/news/international/south-asia/pakistan-court-takes-suo-motu-notice-of-hazara-killings/article4428761.ece
-------------
Parliamentary delegation arrives in Quetta to meet protesters
19 February 2013
Hazaras shout slogans as they protest against the bombing which killed 89 people, in Quetta on February 18, 2013. Thousands of members of the Shia community refused for a third day on Tuesday to bury victims of a devastating bomb attack on their community, demanding protection against record levels of sectarian violence.
A six-member parliamentary delegation met with Balochistan Governor Zulfiqar Magsi on Tuesday prior to talks with participants of a sit-in being staged in Quetta against Saturday's carnage, DawnNews reported.
Full report at:
http://dawn.com/2013/02/19/parliamentary-delegation-arrives-in-quetta-to-meet-protesters/
-------------
Unbowed Hazaras refuse to bury dead
19 February 2013
KARACHI: Anger and outrage replaced shock and grief as tens of thousands of people took to the streets across the country on Monday to protest over the mass killing of Shia Hazaras in the suicide attack in Quetta three days ago.
From Karachi to Parachinar, and Hyderabad to Multan, Rawalpindi and Islamabad, people staged sit-ins, blocking main thoroughfares.
Full report at:
http://dawn.com/2013/02/19/unbowed-hazaras-refuse-to-bury-dead/
-------------
170 suspects nabbed in Quetta operations: BBC
February 19, 2013
QUETTA: Pakistani security forces have nabbed 170 suspects in their operations across the city, BBC News reported.
These operations were carried out as part of the government's response to the growing demands of dealing with terrorists who masterminded Saturday's deadly bombing that killed 89 people.
Full report at:
http://tribune.com.pk/story/509418/security-forces-arrest-suspects-over-shia-killings-officials/
-------------
7 suspects in Pakistan sectarian killings arrested
19 February 2013
QUETTA, Pakistan: Pakistani forces on Tuesday killed four men and arrested seven others accused of killing Shiite Muslims, including an alleged mastermind of a bomb attack that killed 89 people, officials said.
The operation was carried out on the outskirts of the southwestern city of Quetta, where thousands of Shiites are demanding army protection and refusing to bury the victims of Saturday's bomb attack on their ethnic Hazara community.
Full report at:
http://www.arabnews.com/7-suspects-pakistan-sectarian-killings-arrested
----------
Solidarity with Hazaras over another Quetta atrocity
By Nusrat Javeed
February 19, 2013
Disregarding the party divide, member after member kept standing in the national assembly Monday evening to express sympathy and solidarity with Hazara community. Their choked voices and spiritedly put questions with dramatic pauses simply failed to invoke my sympathy. One rather felt extremely irritated with their nonstop drumming of a narrative, which wanted us to believe that duly elected members of a sovereign-claiming house savoured no control over law enforcers and multiple agencies of our deep state. They rather appeared too late in discovering their limits in closing days of the smooth looking five-year term of a directly elected house.
Full report at:
http://tribune.com.pk/story/509339/solidarity-with-hazaras-over-another-quetta-atrocity/
-------------
Collective wisdom, action must to eliminate terrorism: PM
19 February 2013
ISLAMABAD: Strongly condemning the Quetta incident, Prime Minister Raja Pervez Ashraf on Monday said the government would take all out measures to bring the perpetrators to task without making any compromise in this regard.
Full report at:
http://dawn.com/2013/02/18/collective-wisdom-action-must-to-eliminate-terrorism-pm/
-------------
Senior Pakistani insurgent arrested in Afghan east: Officials
February 19, 2013
KABUL: Afghan security forces captured a top Pakistani Taliban commander during an operation in eastern Afghanistan, security officials said on Tuesday, in a move that could help improve trust between the two countries.
Full report at:
http://tribune.com.pk/story/509429/senior-pakistani-insurgent-arrested-in-afghan-east-officials/
-------------
Opportunity for a Better Future in Pakistan's Ex-Battlegrounds
Nivell Rayda | February 19, 2013
Mingora, Pakistan. In the words of a local politician, there is now a "new normalcy" in Pakistan.
Traditional markets are bustling with life and the streets are packed with scores of aging cars and colourfully decorated trucks, even in the restive province of Khyber Pakhtunkhwa, which for years was a Taliban stronghold.
Full report at:
http://www.thejakartaglobe.com/international/opportunity-for-a-better-future-in-pakistans-ex-battlegrounds/572458
-------------
South Asia
War crimes trial not anti-Islamic activity: Information Minister
19 February 2013
Information Minister Hasanul Huq Inu yesterday said the trial of war criminals is not an anti-Islam activity in any way as the trial is a strong initiative to establish justice.
The war criminals are clearly guilty under international law, he said, adding, "They are being tried for crimes like killing, mass rape, looting and arson attack. These crimes are also unpardonable according to Islamic laws."
Inu said the self-declared war criminals are not professional political leaders, activists, religious preachers, religious teachers or imams.
http://www.thedailystar.net/newDesign/news-details.php?nid=269658
-------------
In Afghanistan 'car Guantanamo', autos languish & trust dies
NYT News Service
Feb 19, 2013
KABUL: On the northern edge of Kabul , down a road riddled with mammoth potholes, is a secure site that bears all the marks of a prison: high stone walls topped with concertina wire, cops barking into walkie-talkies, forsaken visitors pacing the compound's edge, waiting for a sign of hope. Residents here call it 'Car Guantanamo'. Behind these walls are thousands of cars, trucks, vans, motorcycles and even bicycles, lined up in vehicular purgatory after falling afoul of the Kabul traffic police.
Full report at:
http://timesofindia.indiatimes.com/world/middle-east/In-Afghanistan-car-Guantanamo-autos-languish-trust-dies/articleshow/18568267.cms
-------------
Violence grips Bangladesh; three killed in clashes
February 19, 2013
At least three persons were killed insporadic clashes in Bangladesh today during a nationwide general strike called by fundamentalist Jamaat-e-Islami (JI) to protest their leaders' trial for 1971 war crimes.
Witnesses said JI activists visibly took a hit and run strategy in Dhaka and several other cities amid a clarion call by rival protestors at Shahbagh Square to defy the strike.
One pedestrian was killed when a minibus overturned as it was chased by JI activists, who also damaged four buses in the capital. The transport operators defied the JI's strike call expressing solidarity with demands for trial of "crimes against humanity" during the 1971 War against Pakistan.
Another death was reported from central Comilla district where JI activists clashed with police. Witnesses said one person died with bullet injuries after JI protesters went on rampage on the street prompting the police intervention.
The third death was reported from Cox's Bazar, a stronghold of Jamaat. The victim was a patient who died when JI activists attacked his ambulance.
Many schools in Dhaka were open though with thin student presence while businesses and major shopping centers remained open as the main shop owners association at a press briefing yesterday said they planned to ignore the call by JI, which was opposed to Bangladesh's 1971 independence from Pakistan.
Visibly shifting from its previous stance, main opposition Bangladesh Nationalist Party (BNP) this time declined to extend its "moral support" to the JI strike call.
http://www.hindustantimes.com/world-news/bangladesh/Violence-grips-Bangladesh-three-killed-in-clashes/Article1-1013584.aspx
----------
Handle crisis in Maldives "properly": China
Feb 19, 2013
BEIJING: China on Tuesday reacted cautiously to the political turmoil in Maldives and former president Mohamed Nasheed's decision to seek refuge in the Indian mission in Male, hoping that the issue will be handled "properly".
"The Chinese side sincerely hopes that Maldives could maintain peace, stability and development, and hopes and believes that relevant issue could be properly handled," the Chinese foreign ministry said in brief written response to question on the situation in Maldives.
This is the first time the Chinese government reacted to the crisis in Male, while the official media here reported the day-to-day developments unfolding in the Maldivian capital as well as New Delhi's response.
Full report at:
http://timesofindia.indiatimes.com/world/south-asia/Handle-crisis-in-Maldives-properly-China/articleshow/18577898.cms
----------
Mideast Asia
When the Turkish envoy says al-Qaeda and terror are different
Feb. 19, 2013
Whenever faced by criticism on its Syrian policy, Turkish government officials have used the moral card: "We could not stay indifferent to innocent people being killed."
This argument could have proved legitimate, if of course the actions taken by the government would have helped save the lives of Syrians. But as of today, this argument does not hold. On the contrary, the very steps taken by the government are seen as having led to more violence.
Full report at:
http://www.hurriyetdailynews.com/when-the-turkish-envoy-says-al-qaeda-and-terror-are-different.aspx?PageID=238&NID=41385&NewsCatID=412
-------
Israeli soldier posts Instagram image of Palestinian child in crosshairs of rifle
Military investigates Mor Ostrovski, 20, as row grows over spate of offensive images posted online by Israeli soldiers
Phoebe Greenwood
18 February 2013
An Israeli soldier has sparked outrage by posting a photograph appearing to show the back of a Palestinian boy's head in the crosshairs of his sniper rifle on a social networking site.
The context of the picture, posted on the personal Instagram site of Mor Ostrovski, 20, could not be verified but the aggressive message is clear. The minarets and Arabic architecture of the village captured in the background suggest the boy and the town are Palestinian. Ostrovski is an Israeli soldier in a sniper unit.
Full report at:
http://www.guardian.co.uk/world/2013/feb/18/israeli-soldier-posts-instagram-palestinian
-------------
Iran wants its 'nuclear rights' acknowledged
19 February 2013
Iran said Tuesday there would be a swift solution to the nuclear dispute if its nuclear rights were acknowledged by a group of six world powers.
The five permanent members of the United Nations Security Council and Germany are to restart nuclear negotiations with Iran in Almaty, Kazakhstan, on February 26.
Full report at:
http://www.thehindu.com/news/international/iran-wants-its-nuclear-rights-acknowledged/article4431451.ece
-------------
Iranian Commander Killed In Syria Was A Major Enemy Of Israel
Michael Kelley
Feb. 19, 2013
Iran vowed revenge against Israel after a senior commander of Iran's Revolutionary Guards Corps (IRGC) was shot dead in southwestern Syria last week while traveling to Lebanon.
A closer look at General Hassan Shateri (aka Hessam Khosnevis) shows just how important this man was, and why Iran quickly blamed "agents and supporters of the Zionist regime."
Shateri was a senior officer in the IRGC's elite Quds force — the international arm of the Revolutionary Guards — and reportedly "the highest ranking Iranian Revolutionary Guard Corps officer to be killed outside Iran."
Full report at:
http://www.businessinsider.com/iranian-commander-killed-in-syria-a-big-deal-2013-2#ixzz2LJvNYxZT
-------------
11 killed in Sanaa warplane crash
19 February 2013
SANAA: A Yemeni air force plane crashed in the center of the capital Sanaa on Tuesday, killing at least 11 people and wounding 15, security sources said.
The Ministry of Defense said in a text message that the plane had been on a training flight when it came down in a western residential district.
Full report at:
http://www.arabnews.com/11-killed-sanaa-warplane-crash
-------------
Israeli Ethiopian birth control ignites debate
Reopens claims of discrimination against the group
February 19, 2013
Occupied Jerusalem: Accusations that Israel deliberately tried to curb birth rates among Ethiopian immigrants have reopened a debate over discrimination against the group - highlighting the state's uneasy relationship with a community that has yet to fully settle into the Israeli mainstream.
Full report at:
http://gulfnews.com/news/region/palestinian-territories/israeli-ethiopian-birth-control-ignites-debate-1.1148077
-------------
Stung by the movie 'Argo,' Iran Backs Conference Denouncing 'Hollywoodism'
By THOMAS ERDBRINK
TEHRAN — As the trailer for "Argo," an Oscar contender and a thorn in the side of the Iranian government, played in a conference room in a hotel here this month, Mehdi Tondro shook his head in disapproval.
A self-described "specialist in anti-Iranian and anti-Islamic films," he fumed over scenes of angry Iranians storming the gates of the American Embassy in Tehran in 1979.
Full report at:
http://www.nytimes.com/2013/02/19/world/middleeast/stung-by-argo-iran-backs-conference-decrying-hollywoodism.html
-------------
Netanyahu Doubles Down On Spy Secrecy Following Prisoner X Fallout
Agence France Presse
Feb. 17, 2013
Exposure of intelligence activities can "badly damage" state security, Israel's Benjamin Netanyahu said on Sunday in his first remarks on the arrest and death of a jailed Australian-Israeli with Mossad links.
In remarks to his outgoing cabinet, the Israeli prime minister insisted that the security forces be allowed to "quietly" get on with their jobs, in his first remarks on the mysterious spy saga which has dominated headlines in Israel and Australia.
Full report at:
http://www.businessinsider.com/israel-needs-secrets-despite-prisoner-x-2013-2#ixzz2LJvc20NM
-------------
Turks don't favour presidency, could accept Turkish PM Erdogan
Feb. 19, 2013
Most Turks do not want to see a presidential system in the country, but if there is no choice, than PM Erdogan might as well lead it, a survey shows
A majority of Turks favor the continuation of the parliamentary system rather than the imposition of a presidential one even though they would prefer seeing Prime Minister Recep Tayyip Erdogan as president if such a system were imposed, according to a survey to be released today.
Full report at:
http://www.hurriyetdailynews.com/turks-dont-favor-presidency-could-accept-turkish-pm-erdogan-poll.aspx?PageID=238&NID=41402&NewsCatID=338
-------------
Gaza court cuts sentence in Italian murder case
Two men were convicted in September for kidnap and murder of Italian activist
February 19, 2013
Gaza: A Gaza military court on Tuesday accepted the appeal by two militants convicted last year of the kidnap and murder of an Italian national, reducing their sentences from life to 15 years.
"The High Military Court has accepted the appeal presented by (Mahmoud) Al Salfiti and (Tamer) Al Husasna to reduce their sentence from hard labour and life, to 15 years," said the judge in a brief hearing.
Full report at:
http://gulfnews.com/news/region/palestinian-territories/gaza-court-cuts-sentence-in-italian-murder-case-1.1148210
-----------------
Europe
Blast damages Bosnian Muslim soldier's war monument
Feb. 19, 2013
A monument to Bosnian Muslim soldiers killed in the country's 1992-1995 war was damaged in a blast early Monday in Mostar, a town divided between its Croat and Muslim communities, police said.
Police official Srecko Bosnjak said no one was injured in the blast, which took place outside the city hall in downtown Mostar.
The explosion caused no other damage but sparked concern among residents, Srecko Bosnjak said. The perpetrator remained unknown, he added.
Mostar, some 120 kilometres (75 miles) south of Sarajevo, saw fierce fighting between Muslims and Croats during the war. Almost two decades on, the town remains divided and tensions between the two ethnic groups still run high.
Full report at:
http://www.hurriyetdailynews.com/blast-damages-war-monument-in-divided-bosnian-town.aspx?pageID=238&nID=39059&NewsCatID=354
-------------
Killings of government workers soar in Afghanistan: UN
Feb 19 2013
Kabul : Insurgent attacks on Afghan govt employees soared by a staggering 700 per cent last year even as the overall civilian death toll from the war fell for the first time in six years, the UN said today.
Targeted killings of women in government service by Taliban-led insurgents were "particularly disturbing", the UN mission in Afghanistan said in its annual report on civilian casualties.
A total of 2,754 civilians died in the conflict last year, a 12 per cent drop from 2011, taking the toll over the past six years to 14,728, the report said.
Full report at:
http://www.indianexpress.com/news/killings-of-government-workers-soar-in-afghanistan-un/1076393/
-------------
Britain's 'Floating Shop Window' Signals Massive Undeclared Arms Race In Libya
Christopher Steven and Nick Hopkins, The Guardian
Feb. 17, 201
Undeclared arms race among European defence contractors to re-equip Libya's armed forces causes concern among locals.
Britain is trying to boost the sale of defence equipment to Libya by sending a Royal Navy warship to Tripoli to act as floating shop window for security firms, amid concern in Whitehall that France and Italy are already cashing in on the fall of Muammar Gaddafi.
Full report at:
http://www.guardian.co.uk/world/2013/feb/17/royal-navy-warship-libya-defence
-------------
Kumtor's Controversy Creating Dangerous Precedent for Kyrgyzstan's Investment
February 18, 2013
By: Georgiy Voloshin
On December 25, 2012, the state commission tasked by the government of Kyrgyzstan to analyze the legal situation around the Kumtor gold mine unveiled its official conclusions. This commission was formed back in July, following a decree by the country's parliament that mandated the need to carry out a full investigation of such issues as the rational use of mineral resources, the environmental impact of gold production, as well as the social and economic benefits provided by the current operator (Kyrgyzstan's Ministry of Economy's official website, December 25, 2012).
Full report at:
http://www.jamestown.org/single/?no_cache=1&tx_ttnews%5Btt_news%5D=40474&tx_ttnews%5BbackPid%5D=7&cHash=61bdf822de9653b65483cfc69e8ae2b1
-------------
Russia steps up Syria evacuation efforts
Feb 19, 2013
MOSCOW: Russia on Tuesday sent two planes to Syria to pick up Russians wanting to leave the conflict-torn country as the navy despatched four warships to the Mediterranean reportedly for a possible larger evacuation.
Two emergencies ministry planes carrying humanitarian aid for Syria took off from Moscow for the port city of Latakia and would take any Russians wanting to leave on their flight back, the ministry said.
Full report at:
http://timesofindia.indiatimes.com/world/europe/Russia-steps-up-Syria-evacuation-efforts/articleshow/18574597.cms
-------------
Time to refer Syrian war crimes to ICC: UN probe
Feb 18, 2013
GENEVA: United Nations investigators said on Monday that Syrian leaders they had identified as suspected war criminals should face the International Criminal Court (ICC).
The investigators urged the UN Security Council to "act urgently to ensure accountability" for violations, including murder and torture, committed by both sides in a conflict that has killed an estimated 70,000 people since a revolt against President Bashar al-Assad began in March, 2011.
Full report at:
http://timesofindia.indiatimes.com/world/middle-east/Time-to-refer-Syrian-war-crimes-to-ICC-UN-probe/articleshow/18560684.cms
----------
Africa
Mali: Dragging the West Back in to the War on Terror
By Magnus Taylor
FEBRUARY 13, 2013
A few weeks ago, most Western journalists, politicians, and foreign policy watchers would have had difficulty accurately locating Mali on a map or naming its capital city (Bamako). They would certainly have been unable to bandy around the names of Tuareg and Islamist insurgent groups, or speculate on the importance of the trans-Saharan trade in drugs and cigarettes. That was before the French intervention in January propelled this poorly understood region to the headlines, turning Mali into the latest country to be subsumed within the rhetoric of the post-9/11 "Global War on Terror."
Full report at:
http://www.fletcherforum.org/2013/02/13/taylor/
-------------
Tunisia PM says plan for new government has failed
Feb 19, 2013
TUNIS: Tunisia's Prime Minister Hamadi Jebali announced late Monday that his plan for a new government of technocrats has failed, but he left the door open for compromise and did not say he would stand down.
"I say in all clarity that the initiative I presented -- that is to say, a government composed of members not belonging to any political parties -- failed to reach a consensus," Jebali said after talks with party leaders.
Full report at:
http://timesofindia.indiatimes.com/world/middle-east/Tunisia-PM-says-plan-for-new-government-has-failed/articleshow/18567144.cms
-------------
Statue of murdered Tunisian opposition leader vandalized
19 February 2013
TUNIS: A statue erected in honor of murdered Tunisian opposition leader Chokri Belaid was found vandalized and broken into three pieces during the night, an AFP correspondent reported yesterday.
Full report at:
http://www.arabnews.com/statue-murdered-tunisian-opposition-leader-vandalized
-------------
North America
After 15 years in solitary, 9/11 convicted terrorist pleads for contact with others
Ramzi Yousef, convicted in the 1993 bombing of the World Trade Centre, asks a judge to move him into a more open prison environment. Some agree his treatment is unconstitutional.
By Richard A. Serrano, Washington Bureau
February 16, 2013
WASHINGTON — Ramzi Yousef, inmate No. 03911 at a federal "supermax" penitentiary, is serving life with no parole plus 240 years in a 7-by-11-foot cell with no bars and one small high window, far from other inmates, prison staff and the world beyond the fortress deep in the Colorado Rockies.
Full report at:
http://www.latimes.com/news/nationworld/nation/la-na-yousef-solitary-20130217,0,6689449.story
-------------
Obama Could Revisit Arming Syria Rebels as Assad Holds Firm
By MARK LANDLER and MICHAEL R. GORDON
2013/02/19
WASHINGTON — When President Obama rebuffed four of his top national security officials who wanted to arm the rebels in Syria last fall, he put an end to a months of debate over how aggressively Washington should respond to the strife there that has now left nearly 70,000 dead.
But the decision also left the White House with no clear strategy to resolve a crisis that has bedeviled it since a popular uprising erupted against President Bashar al-Assad almost two years ago. Despite an American program of nonlethal assistance to the opponents of the Syrian government and $365 million in humanitarian aid, Mr. Obama appears to be running out of ways to speed Mr. Assad's exit.
Full report at:
http://www.nytimes.com/2013/02/19/world/middleeast/as-assad-holds-firm-obama-could-revisit-arms-policy.html?pagewanted=all&_r=0
---------
Southeast Asia
Indonesia to host Muslim-Christian leaders' conference
February 19 2013
Indonesia has prepared to organize a conference for Asian Muslim and Christian leaders, which is slated to be held from Feb.26 to March 1. The conference is entitled "Bringing a common word to common action for justice."
It is organized by three religious leaders' organizations, the International Conference of Islamic Scholars (ICIS), the Indonesian Bishops Council (KWI) and the Indonesian Communion of Churches (PGI) and jointly supported by the Federation of Asian Bishops Conference (FABC) and the Christian Conference of Asia (CCA).
Full report at:
http://www.thejakartapost.com/news/2013/02/19/indonesia-host-muslim-christian-leaders-conference.html
-------------
Indonesian Father Confesses to Raping Teenage Daughter
SP/Fana Fadzikrillahi | February 19, 2013
A father has confessed to raping his 13-year-old daughter at least 60 times over the past five years, after the teenager finally found the courage to report him to the East Jakarta Police on Monday.
The young victim only discovered that she was pregnant after she reported the crime when a medical examination was carried out.
Full report at:
http://www.thejakartaglobe.com/news/father-confesses-to-raping-teenage-daughter-60-times-over-five-years/572559
-------------
Indonesian maid jailed for child abuse, attempted murder in Malaysia
Feb 19 2013
Kuala Lumpur: A 24-year-old Indonesian maid was today sentenced to 20 years in prison in Malaysia after she pleaded guilty to two separate charges of attempted murder and physical abuse of her employer's four-month-old baby boy.
Yuliana pleaded guilty to attempted murder of four-month-old Mohamed Hareez at his parents' home in Kuantan last week on February 15.
Full report at:
http://www.indianexpress.com/story-print/1076413/
---------
Australia
Prisoner X was arrested for 'leaking Mossad work'
Feb 18, 2013
SYDNEY: A suspected Mossad agent known as Prisoner X was arrested by his own spymasters after leaking detailed information about his work to Australian intelligence services, according to sources cited by broadcaster ABC on Monday.
Ben Zygier, an Australian-Israeli, gave Australian intelligence officials a comprehensive account of a number of Mossad operations, the sources told the Australian Broadcasting Corporation.
Full report at:
http://timesofindia.indiatimes.com/world/rest-of-world/Prisoner-X-was-arrested-for-leaking-Mossad-work/articleshow/18560996.cms
------------
URL: https://www.newageislam.com/islamic-world-news/new-age-islam-news-bureau/sheikhs-against-shakes--egypt-belly-dancing-channel-'arouses-viewers'/d/10484