New Age Islam News Bureau
21 Jun 2018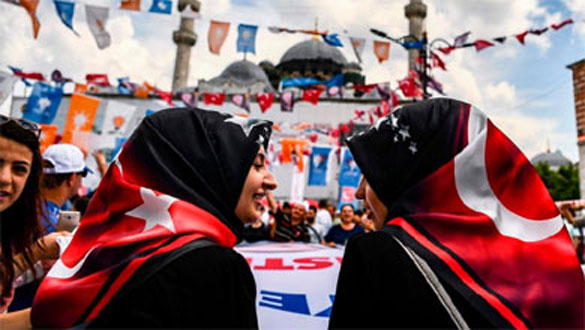 Two young women attend a presidential campaign happening at a pro-Erdogan supporters' kiosk in Istanbul on June 19, 2018. Aris Messinis / AFP
------
• Sheikh Mohammed: First UAE Astronaut Is Heading To the Stars Next Year
• Embrace Hinduism to Get Passport Renewed, Inter-Faith Couple Told
• Taliban Kill 50 Afghan Soldiers in First Major Attack since Eid Ceasefire, Seize Military Base
• Disruption in Distribution of Dawn Termed Violation of Article 19
• British Museum Renames Gallery after Sheikh Zayed
Arab World
• Sheikh Mohammed: First UAE astronaut is heading to the stars next year
• Baghdad mall sorry for turning away orphans at Eid
• In Saudi Arabia, men still drive gender policy
• Saudi Arabia: A year of change with a new crown prince
-----
India
• Embrace Hinduism to get passport renewed, inter-faith couple told
• Eight, including 5 minors, booked for sedition in Bihar
• Centre overhauls J&K administration, pads up for security challenges
• Governor's rule in J&K: Why these are the best days for state's MLAs
----
South Asia
• Taliban kill 50 Afghan soldiers in first major attack since Eid ceasefire, seize military base
• Badhaber airbase attack: ATC acquits alleged female 'facilitator'
• 23 ISIS-K militants killed in separate operations in Kunar and Nangarhar
• Abdullah urges action against Taliban leadership during his meeting with Pak President
• Sherzai claims he is in contact with Taliban's Quetta council
• Afghan forces arrest two suicide bombers in Kabul city
-----
Pakistan
• Disruption in distribution of Dawn termed violation of Article 19
• Appellate court suspends Gilgit-Baltistan Order 2018
• Musharraf explains why he put off his return
• Moody's downgrades Pakistan's rating outlook to negative
• Justice Dost's 'interim' placement does not violate rules
• Imran lacks ability to rule: ex-minister
• Panama Papers: New leak shows Pak clients struggling to avoid trouble
• NAB to probe scam involving DHA, Bahria Town, CDA
• 4 terrorists killed in Quetta 'encounter'
• Pakistan-Iran Permanent Border Committee meeting begins
----
Europe
• British Museum renames gallery after Sheikh Zayed
• War crimes committed in Eastern Ghouta battle - UN
• Russia 'sceptical' over UN Syrian crimes against humanity report
----
Mideast
• Imprisoned Bahrain opposition leader acquitted in spy case
• Turkey's youth: the last hope for democracy?
• Gaza rocket barrage triggers Israeli air strikes
• Turkey's Erdogan seeks new term with greater powers
• Yemen army tightens noose on Houthi militia in Saada
• Gaza teen dies of border protest wounds
• Hundreds of civilians from Daraa displaced due to regime attacks
-----
Africa
• Tunisian arrested in Cologne was planning biological attack, say German police
• South Sudan rebel leader arrives in Ethiopia for talks to end civil war
• Libya's coast guard rescues 80 African migrants
• East Libyan forces advance rapidly to retake key oil ports
----
North America
• Trump backs down on migrant family separations policy
---
Southeast Asia
• 'Hate narratives' from abroad drive Myanmar communities apart, Suu Kyi says
---
Compiled by New Age Islam News Bureau
URL: https://www.newageislam.com/islamic-world-news/sheikh-mohammed-first-uae-astronaut/d/115603
-----
Sheikh Mohammed: First UAE Astronaut Is Heading To The Stars Next Year
June 20, 2018
The countdown has begun. April 2019 is when the first Emirati astronaut is due blast into space.
In a deal signed with the Russian space agency, Roscosmos, a Soyuz rocket will carry the UAE astronaut on mission to the International Space Station.
According to the Mohammed bin Rashid Space Centre, the mission will last ten days, with the flight, MS-12, carrying a Russian commander and American flight engineer.
The identity of the first UAE astronaut is still to be revealed, Dubai Media Office, quoting the space centre in a tweet, says training will begin next month.
The news was first announced by Sheikh Mohammed bin Rashid, the Vice President and Ruler of Dubai, who called it an "historic agreement."
"Our vision to develop the national space sector, which began 12 years ago, is beginning to bear fruit," Sheikh Mohammed wrote on his Twitter feed.
Sheikh Mohammed gave the Emirates Mars Mission, the construction of the first UAE-made satellite KhalifaSat and the training of Emirati astronauts as examples of the country's progression in the field.
The agreement was signed on the side lines of the United Nations Conference on the Exploration and Peaceful Uses of Outer Space (UNISPACE), in the Austrian capital Vienna this week.
It was signed on behalf of the UAE by Yousef Hamad Al Shaibani, Director General of the Mohammed Bin Rashid Space Centre, and Ahmed Bahloul Al Falasi, Minister of State for Higher Education and Advanced Skills.
It was announced last year that the UAE was creating an astronaut corps, with the aim of sending an Emirati into space by 2021.
Over 4,000 people applied, with shortlist of 95 men and women between the ages of 23 and 48 announced earlier this month.
The final corps of four would then undergo training for long term missions on the ISS, an international collaboration between five bodies, including the US, Russia, Japan, Canada and the European Space Agency, which represents 13 nations.
The intention is that UAE astronauts would carry out long term scientific research lasting many months on the ISS.
Soyuz MS-12 is part of Mission 59 to the space station. At present only two of the three crew in the capsule have been announced: Oleg Skripochka, a veteran Russian commander, and Christina Hammock, an American who became a Nasa astronaut in 2013.
The third seat now seems to have been reserved for the UAE. That mission is due to return to Earth in October next year, so it is not yet clear how the UAE member of the crew will return earlier, if as announced.
He - or she - will be the third Arab astronaut into space, after Saudi Prince Sultan bin Salman Al Saud who flew in the Space Shuttle in 1985 and Syrian Mohammed Faris, who visited the Russian Mir space station in 1987.
The Russian Soyuz is a workhorse of space exploration, first developed under the Soviet Union and blasting off from the Baikonur Cosmodrone in what is now Kazakhstan.
Since Nasa ended its Space Shuttle programme in 2011, it has been the only way to send astronauts to the ISS, which was built jointly by Russia and the US, each of whom has its own section.
The US currently is paying Russia to fly its astronauts to the ISS, a cost that has steadily risen to over $80 million for each seat, and an overall cost of over US$3 billion.
However, the US is currently getting ready for the first flight of its Starliner capsule, developed by Boeing, with Nasa hoping to be able to send flights to the ISS as early as the end of next year and ending the costly deal with Russia.
There is also potential competition from the private sector. Both Space X and Blue Horizon, backed respectively by Tesla billionaire Elon Musk and Amazon's Jeff Bezos, are developing manned flight.
Space X has also successfully sent cargo flights to the space station on its Dragon capsule, including the winning Genes In Space experiment by Dubai schoolgirl Alia Al Mansoori in a competition sponsored by The National.
Later this year, a Japanese commercial rocket is due to take KhalifaSat into orbit. The Earth observation satellite is the first to be built by Emirati engineers at the MBRSC.
Further in the future is the Emirates Mission to Mars, the first by an Arab country to the planet, which will place a scientific mission in orbit by 2021, the 60th anniversary of the UAE.
Source: thenational.ae/uae/science/sheikh-mohammed-first-uae-astronaut-is-heading-to-the-stars-next-year-1.742182
-----
Embrace Hinduism to Get Passport Renewed, Inter-Faith Couple Told
Yusra Husain
Jun 21, 2018
LUCKNOW: When Tanvi Seth and her husband Anas Siddiqui reached the Passport Sewa Kendra at Ratan Square on Wednesday they had little idea of the ordeal that was to follow. "When I reached counter C5, the official, Vikas Mishra, told me there was an issue with my file since I had married a Muslim, and yet retained my maiden name. He shouted at me and insulted me in front of everyone and sent me to the office of an additional passport officer, who was sympathetic to me and asked me to reach the main branch in Gomtinagar on Thursday," Tanvi, who has a six-year-old daughter with Anas, told TOI.
Tanvi said her documents were complete, yet her file was stopped. The official called out Anas's name and insulted him, too. "He told Anas to convert to Hinduism for his passport to be renewed. This is a case of moral policing and religious prejudice. I was made to feel insulted; I broke down," she said in a tweet addressed to external affairs minister Sushma Swaraj.
In a five-part tweet to the minister, and also in an email to her, Tanvi Seth narrated her ordeal that they had to go through at the passport office, claiming that she was asked to "change her name as is the duty of all girls after marriage" and her husband Anas Siddiqui was asked to "convert to Hinduism and take pheras" for getting his passport renewed.
When asked, Regional Passport Officer Peeyush Verma told TOI: "The incident has happened and the couple will be coming to the office in Gomtinagar in Lucknow on Thursday. I will look into the matter and take appropriate action."
Tanvi wrote to Swaraj: "I tweet this with immense faith in justice and in you and ironically with a lot of anger/hurt and agony in my heart because of the way I was treated at the Lucknow passport office at Ratan Square by Mr Vikas Mishra the reason because I married a Muslim and not changed my name ever."
She also tweeted, "I never felt so insulted in the last 12 years of my marriage with my husband. It is my personal choice to choose a name I want to after marriage."
Vijay Dwivedi, the additional private secretary to Swaraj, asked DM Mulay, the secretary to passport, visa and overseas Indian affairs at MEA, to look into the issue. Mulay later replied to Tanvi, "I sought report from regional passport office Lucknow. Will take appropriate action."
Source: timesofindia.indiatimes.com/city/lucknow/embrace-hinduism-to-get-passport-renewed-inter-faith-couple-told/articleshow/64672461.cms
----
Taliban Kill 50 Afghan Soldiers in First Major Attack since Eid Ceasefire, Seize Military Base
June 21, 2018
Kabul,Taliban militants killed up to 50 Afghan troops and overran a military base in a series of attacks on Wednesday — the first major strike by them since the Eid Al-Fitr cease-fire ended.
The deadliest attack took place in the Balamorghab district in northwestern Badghis province, where at least 30 Afghan soldiers died in a pre-dawn ambush.
"It was heavy fighting. The Taliban captured a military base in addition to killing 30 soldiers," Abdul Aziz Beg, Badghis's provincial council chief, told Arab News.
"Large numbers of Taliban came from several directions," he said. "After hours of heavy fighting, 30 Afghan security forces were killed and the Taliban captured the base."
The Defense Ministry confirmed the deaths of 13 soldiers in the attack.
Taliban fighters also struck government posts in the Bala Boluk district of western Farah province, killing 17 security force personnel in a night attack.
The attacks were the first by the Taliban since the Eid truce with the government ended on Sunday.
The governors of Farah and Badghis provinces were among officials who took selfies and celebrated Eid with Taliban fighters who left the frontlines and gathered in towns during the cease-fire — the first truce in the current Afghan conflict which began with the US forces ousting the militants in late 2001.
Beg said Taliban fighters may have visited government-held areas during the cease-fire to plan their attacks.
Afghanistan's President Ashraf Ghani initially called for a week-long cease-fire, but extended the truce by 10 days before the Taliban announced a resumption of hostilities.
Speaking with a group of peace marchers who walked for 40 days and covered about 700 km on their way to Kabul, Ghani said on Tuesday that he was prepared to extend the truce for a year if the Taliban were willing to accept.
While the US, UK and UN hailed Ghani's peace overtures, many have criticized the Afghan leader for allowing militants to enter government-held areas and cities, including Kabul.
Retired Gen. Attiqullah Amarkhail accused the government of "poor management and leadership," saying troop numbers in vulnerable areas should have been increased before the truce.
"From a military point of view, when two sides observe truce, both need to put intelligence and reconnaissance on high alert to foil possible attacks," he told Arab News.
"We did not do that. The cease-fire does not mean that soldiers have to sleep or put their guns under their pillows. There is a problem in management and leadership here. The enemy escalated its attacks to show the world and the Afghans they are still strong," he said.
Source: pakobserver.net/taliban-kill-50-afghan-soldiers-seize-military-base/
----
Disruption in Distribution Of Dawn Termed Violation Of Article 19
Amir Wasim
June 21, 2018
ISLAMABAD: In reaction to Dawn's statement disclosing disruption in its distribution, journalists' bodies, politicians and rights activists across the country have expressed concern over attempts to gag print and electronic media by way of physical intimidation, abduction and torture of dissenting journalists and blocking of news channels.
The statement issued by the newspaper's management on Tuesday said: "The distribution of Dawn newspaper, for the past month, is witnessing daily disruptions in targeted cities and towns... hawkers and sales agents are being subjected to continued harassment, threats and physical coercion, while attempting to deliver copies of Dawn to regular subscribers."
The management requested caretaker Prime Minister retired Chief Justice Nasirul Mulk, Chief of the Army Staff General Qamar Bajwa and Chief Justice of Pakistan Mian Saqib Nisar to take notice of the hostile situation.
Parliamentarians, journalist groups express outrage over attempts to gag media
In response, the Committee to Protect Journalists (CPJ) Asia issued a statement saying: "It's way past time for authorities in Pakistan to stop disrupting the distribution of Dawn newspaper. Shackling the media only undermines the fairness of July's election."
Former Senate chairman Raza Rabbani was of the view that such actions went against Article 19 of the Constitution, which states "there shall be freedom of the press".
"Such actions are a denial of the fundamental right guaranteed under Article 19(A), the right of every citizen to have access to information in all matters of public interest," he said on Wednesday.
"If this campaign [of intimidation] continues, the holding of free, fair and just elections, as stipulated under the Constitution, will become next to impossible. Let such forces be warned that the social and political fibre of Pakistani society and the polarisation within the federation cannot withstand an engineered election," he warned.
The PPP stalwart said it appeared that a "hidden hand" was gradually "dismantling" the pillars of the federation in order to weaken it.
Expressing his views on Twitter, senior leader of the Awami National Party (ANP) Afrasiab Khattak said: "Silencing dissent is sure path to murder of democracy. A prestigious and independent newspaper (is) getting strangulated by fascist methods before our eyes. Judiciary, political parties and civil society aren't taking notice. Speak, before it is too late."
Javed Jabbar, who sits on a media commission appointed by the Supreme Court, also issued a statement in which he "strongly condemned" reported attempts to halt distribution of Dawn to its readers in various parts of the country.
Mr Jabbar, who had previously served as minister for information, said there were reports from credible sources who stated that advertisers and ad agencies, which owed large sums to certain media firms, had been telephonically advised to withhold payments in order to create difficulties.
Although, he said, he often "totally disagreed" with some of Dawn's editorial and news policies, he stressed that the paper's right to free and responsible expression deserved respect, not covert obstruction. "I endorse the urgent appeal made to the caretaker prime minister, the chief justice of Pakistan, and the army chief to give directions in their respective sectors to ensure immediate prevention of any coercive pressures against Dawn and other media," Mr Jabbar said.
Leader of the Opposition in the Senate Sherry Rehman called on the government to take action against reports of restrictions on media. "I firmly believe it is the right of every person to buy and read a newspaper of their choice, and any attempt to forcibly deny citizens' access to it is a categorical violation of Article 19 of the Constitution," she tweeted.
In a statement issued from Lahore, spokesperson for the Pakistan Muslim League-Nawaz (PML-N) and former federal information minister Marriyum Aurangzeb said: "Free press is a fundamental pillar of mature democracies and civilised societies. The PML-N's manifesto is firmly committed to independent journalism and freedom of expression."
The former minister stressed that impediments in the way of free journalism and acts of violence against journalists were unacceptable.
PML-N Senator and former information minister Mushahid Hussain Sayed posted a tweet saying: "Dawn, founded by Quaid-i-Azam Mohammad Ali Jinnah, a newspaper which was a vanguard of freedom movement, is now under pressure for not speaking the 'officially certified truth'. Salute to its brave CEO Hameed Haroon and (the) Editor for standing up for Article 19 of the Constitution."
Source: dawn.com/news/1415079/disruption-in-distribution-of-dawn-termed-violation-of-article-19
-----
British Museum Renames Gallery After Sheikh Zayed
John Dennehy
June 20, 2018
The British Museum is to name one of its prestigious galleries after the Founding Father, Sheikh Zayed.
Gallery 51, which shows how the arrival of farming transformed life in Europe, will be renamed the "Sheikh Zayed bin Sultan Al Nahyan Gallery for Europe and the Middle East".
The Department of Culture and Tourism — Abu Dhabi and the museum also agreed on Wednesday to develop a loan framework that will see objects from the UK institution exhibited at the Zayed National Museum. These pieces will complement the museum's permanent collection when it opens on Saadiyat Island.
Mohamed Khalifa Al Mubarak, chairman of the DCT, said the renaming of the gallery in the Year of Zayed was fitting tribute to the late President.
"The renaming of this gallery, one that explores the history and heritage of the Middle East, and the lasting impact that an industry can have on the world, highlights the significant role that Sheikh Zayed played in the preservation and protection of our unique cultural heritage," he said at the ceremony in London on Wednesday.
"We are delighted to build on our long history of collaboration with the British Museum as part of DCT Abu Dhabi's mission to establish lasting cultural partnerships with leading institutions worldwide."
Hartwig Fischer, director of the British Museum, said it was honoured by the renaming.
"This gallery shows the impact of the introduction of farming in the Middle East and its spread to Europe, thereby shaping the modern world," he said.
"This support is a reflection of the long-standing collaborative relationship we share with DCT Abu Dhabi and is all the more significant in this important year for the UAE."
Sheikh Zayed was committed to agriculture as way to sustainably transform the UAE and this dedication honours that. The late president also supported the first archaeological excavations in the UAE more than 50 years ago.
There has been a long relationship between Abu Dhabi and the British Museum, particularly over the planned Zayed National Museum.
The UK institution had previously provided specialists and staged three exhibitions in Abu Dhabi featuring items from its eight-million strong collection.
The Zayed museum, designed by architect Norman Foster, was initially to open several years ago as the centrepiece of the Saadiyat cultural district but has been delayed. It aims to tell the story of the UAE through the life and achievements of Sheikh Zayed, the story of unification, the history of the region, and its cultural connections across the globe. Construction contracts for the Zayed museum and its neighbour, the Guggenheim have yet to be awarded but Louvre Abu Dhabi opened on Saadiyat on November 11.
The renamed gallery, meanwhile, explores how farming began in the Middle East close to 12,000 years ago and then arrived in Britain. It ushered in social, cultural and economic change with people now showcasing their status through weapons, jewellery and artefacts. The objects on display show how the people of prehistoric Europe celebrated life and death and expressed their relationship with the natural world. People who visit can view shields, swords and farming implements. Other artefacts ranging from 10,000 to 800BC shed light on the practice of feasting, which was a type of social gathering held by powerful people that aimed to reinforce loyalty.
The British Museum was founded in 1753 and it attracts about six million visitors a year. Among the museum's other standout pieces are the Elgin Marbles from the Parthenon at Athens, the Rosetta Stone, which unlocked Egyptian hieroglyphs and Chinese ceramics from the Ming dynasties.
Source: thenational.ae/uae/heritage/british-museum-renames-gallery-after-sheikh-zayed-1.742467
-----
Arab World
Baghdad mall sorry for turning away orphans at Eid
By Lamees Altalebi
BBC
20 June 2018
Eid al-Fitr is meant to be a happy time when everyone comes together to share food and festivities at the end of the holy fasting month of Ramadan.
But when 20 war orphans tried to enter a luxury shopping mall in Baghdad, Iraq, to visit a restaurant booked for them by a charity, they were turned away.
A video of the children standing outside the gates of Al Mansour mall on Saturday was widely shared on Iraqi social media by users threatening a boycott.
The shopping centre has since apologised claiming it was a misunderstanding by a member of staff, and pledged to fund the care of 50 orphans for one year.
The children, who are aged between seven and 15, had arrived with volunteers from orphans charity Ruhmaa Benahm at the Al Mansour mall, which is one of the largest in Baghdad and cost $35 (£26.5m) million to build in 2013.
The charity had booked a restaurant inside after it received a donation from an individual to treat the orphans to an Eid outing.
But instead of enjoying the special day, the group stood outside in the blazing summer sun after a security guard refused to allow them in.
A volunteer called Sheriff filmed a video explaining what had happened, which was quickly shared by social media users angered by the children's treatment.
An Arabic hashtag which translates to #Boycott_AlMansour_Mall was used around 12,000 times and the video was watched more than 500,000 times.
Many Iraqis said that the incident showed a "lack of humanity".
Some speculated about why the children were denied entry, suggesting that the children's clothes and appearances were not seen as "appropriate" for a chic mall like Al Mansour.
"How would you feel if the tables were turned and you were denied entry because of how you dress?" one user Yahya asked the mall's manager.
However, others ruled out that the children's dress and social standing was unrelated, instead arguing that the mall was too crowded.
One user wrote that if it was not for these orphans' fathers, who are believed to have been soldiers killed in the war against Islamic State, the mall would not exist.
Some also expressed their anger by posting negative reviews on the mall's Facebook page, causing its 5-star rating to decline to 1-star. The option to rate Al Mansour has since been removed.
On Sunday the mall's manager Saad Al Kurdi posted a video apologising about the incident, explaining that it was a misunderstanding. He said that as part of the pledge to care for 50 orphans, the centre will pay for food, drink, clothes and recreation in the mall.
All being well, the children can now look forward to a happier Eid in 2019.
Georgina Rennard also contributed to this story.
Source: bbc.com/news/world-asia-44547670
-----
In Saudi Arabia, men still drive gender policy
AFP | Jun 21, 2018
DUBAI: The public relations blitz that has seen Saudi Arabia garner headlines this year culminates Sunday, when women take the wheel for the first time. But a draconian guardianship system remains.
The notorious system that places the legal and personal affairs of women in the hands of the men in their lives -- the only people qualified to make decisions on their behalf -- continues to thrive in a kingdom carefully crafting a new image.
One year ago this month, Prince Mohammed bin Salman was appointed heir to the most powerful throne in the Middle East, setting in motion a record number of policy changes in a very, very short time.
But the reforms only chip at the surface of a system, and society, that many say has far to go.
Saudi Arabia's guardianship system, in place for decades, stipulates that women need the permission of their closest male relative -- father, husband, brother, son -- to enroll in classes, renew their passports and leave either the country or jail.
Women may also be asked to provide the approval of their guardians to access healthcare.
Since the appointment of Prince Mohammed as crown prince last year, his father King Salman has signed off on decrees allowing women to watch sports live in stadiums, join the police force, apply online for their own business licences and, of course, drive.
For many Saudi women, the right to drive a car with comprehensive insurance -- for those who can afford it -- is a dangerous distraction.
"How can you call this empowerment? This is hypocrisy. I can drive in my own country, but I cannot leave my own country unless my own son permits it?" one Saudi Arabian woman told AFP by phone on condition of anonymity.
"We are rich. We are educated. And yet we are not citizens under the same law. We are at the mercy of the father we are born to or the husband we are married off to."
Rights groups say the recent decrees are at best partial. At worst, they nullify but some of the larger issues still hanging.
"Allowing women to drive is a welcome step and it is a step towards freedom of movement for women," said Samah Hadid, Amnesty International's director of Middle East campaigns.
"But it doesn't go far enough," Hadid told AFP. "If Saudi Arabia is serious about women's rights, they need to immediately abolish the guardianship system".
Another Saudi Arabian woman, who also requested she not be identified, says she is stuck in an unhappy marriage -- a marriage she described as emotionally abusive.
She says she cannot divorce. Her husband has her passport, and her parents live abroad.
"He says it every day: 'With one call, you'll never be able to leave Saudi Arabia and see your parents'."
Change has been slow in Saudi Arabia.
In 2000, the UN Convention on the Elimination of All Forms of Discrimination against Women (CEDAW) was ratified by Saudi Arabia, which thus became legally bound to end discrimination against women, including guardianship.
Seventeen years later, King Salman ordered government agencies to provide an official list of services which required women to secure guardian approval, a move rights groups said could mark a small step towards at least reviewing a system now deeply engrained in society.
While it is difficult to accurately gage public opinion on guardianship in Saudi Arabia, given what Hadid calls a pervasive "culture of fear and silencing of dissent," online protest movements, and real life arrests, may give some indication.
"It's important to remember that some of the very women who fought for this lifting of the ban, who campaigned peacefully, are behind bars," Hadid said.
"To lift the ban on the one hand, and arrest the very women who called for it, is hypocrisy."
Eight leading women's rights activists are behind bars in the kingdom, Amnesty said Wednesday, after a state crackdown this month.
While some activists have been released, among those still detained are high-profile campaigners against the driving ban, including Loujain al-Hathloul and Aziza al-Yousef, whose names are associated with a 2016 petition to end the guardianship system.
Source: timesofindia.indiatimes.com/world/middle-east/in-saudi-arabia-men-still-drive-gender-policy/articleshow/64680207.cms
----
Saudi Arabia: A Year Of Change With A New Crown Prince
AFP | Updated: Jun 21, 2018,
RIYADH: Mohammed bin Salman became crown prince of Saudi Arabia a year ago, shaking up the ultra-conservative oil power. Here is a rundown of developments:
In a royal decree issued on June 21, 2017, King Salman ousts his nephew as crown prince and installs his 31-year-old son, Mohammed, as his heir.
Widely known as MBS, Prince Mohammed retains his role as defence minister. The move caps a meteoric rise for the young prince.
It comes at the start of a major fallout with Qatar: Riyadh and three Arab allies severe ties with Doha the same month, accusing it of supporting "terrorists" and being too close to Saudi Arabia's archrival Iran. Qatar denies the charges.
Over several days in September 2017 authorities round up at least 20 people, including influential clerics and intellectuals, in what is condemned as a crackdown on dissent by the crown prince.
Around 380 royals, ministers and business tycoons are then arrested in November in a dramatic purge led by Prince Mohammed that the government says is a move against corruption + .
Many are held for weeks in the Riyadh Ritz-Carlton Hotel. Most are released after agreeing significant financial settlements.
The monarchy ends the world's only ban on female drivers by announcing in September 2017 that they will be able to take the wheel from June 2018.
It is the most striking of a series of reforms since the installation of Prince Mohammed, who is also the architect of a wide-ranging plan for social and economic change, called Vision 2030, that is approved before his appointment.
Other reforms include reopening cinemas + and allowing both sexes to attend concerts. However Saudi women remain under various restrictions and the authorities are accused of continuing crackdowns on rights activists.
In November 2017 Lebanese Prime Minister Saad Hariri announces in a televised address from Riyadh that he is resigning, citing Iran's "grip" on his country.
Saudi Arabia is accused of forcing his hand to make a stand against the influence of Iran and its ally in Lebanon, Hezbollah.
Hariri, supported by Saudi Arabia for years, spends two weeks in Riyadh amid speculation he cannot leave, until France intervenes and he withdraws his resignation.
The crown prince in November 2017 accuses Iran of "direct military aggression" by supplying ballistic missiles to rebels in neighbouring Yemen.
Days before, Saudi forces intercepted a ballistic missile near Riyadh international airport that was fired by the rebels.
Riyadh entered the Yemeni conflict in 2015 at the head of an Arab military coalition supporting the government against the Iran-allied Huthi rebels.
Prince Mohammed says in March 2018 that if Iran develops a nuclear weapon, Riyadh will do so too. In an interview with CBS television, he also likens Iran's supreme leader with Hitler, saying he "wants to create his own project in the Middle East".
Riyadh holds deep reservations over the 2015 accord aimed at controlling Iran's nuclear ambitions and hails President Donald Trump's announcement in May that the United States is withdrawing from the deal.
In March the prince embarks on his first foreign tour as heir, visiting Egypt and Britain -- where he lunches with Queen Elizabeth II -- and spending two weeks in the United States, where he meets Trump and other political and industry leaders. He also goes to France and Spain.
In what appeared to be another shift, Prince Mohammed says in a magazine interview in April that Israelis as well as Palestinians "have the right to have their own land".
King Salman however later reaffirms Riyadh's "steadfast" support for the Palestinian cause.
Source: timesofindia.indiatimes.com/world/middle-east/saudi-arabia-a-year-of-change-with-a-new-crown-prince/articleshow/64678892.cms
-----
India
Eight, Including 5 Minors, Booked For Sedition In Bihar
Amarnath Tewary PATNA, JUNE 21, 2018
The boys allegedly danced to a "pro-jihadi" song during a religious procession in Nasriganj locality.
Eight people, including five minors, were booked for sedition allegedly for dancing on "pro-jihadi" songs on Eid celebration at Nasriganj in Rohtas district of Bihar.
The incident happened on June 15 night when over 100 people took out a religious procession in Nasriganj locality. The FIR was lodged on June 17 at the Nasriganj police station.
"Eight named persons, including five minors and the organizers of the procession, and 20 unidentified were booked in the case… eight, including five minors, were later arrested under various sections of the Indian Penal Code including, 143, 124(A), 153(A) and 295(A)", said the local Nasriganj police.
The FIR said that one Chandan Thathera had shot the video of the procession and later handed it over to local leader Manoj Bajrangi, who gave that video clip to the police.
"The police took action after a video of the function surfaced..the police has sent the video for FSL test" Satyaveer Singh, Rohtas Superintendent of Police said.
All five minors are aged between 14-17 years and have sent to juvenile home, he said.
Local people said that the organizer of the procession also had arranged a musical van playing songs on which several youths, including those five minors, were dancing to the tune.
"Suddenly a pro-jihadi song was played and the unawared youths and young boys continued with their dance," said a local resident.
Later, when the police lodged a complaint the minor boys came to know that they had danced to the tune of a "pro-jihadi" song and have committed a wrong, said the villager to local journalists.
Meanwhile, a group of residents of Nasriganj have appealed to the local police to probe the case from every aspect and release the minor boys caught unaware to the controversial song.
Source: thehindu.com/news/national/other-states/eight-including-5-minors-booked-for-sedition-in-bihar/article24217139.ece
-----
Centre overhauls J&K administration, pads up for security challenges
Neeraj Chauhan
Jun 21, 2018
NEW DELHI: A day after the exit of the Mehbooba Mufti government, the Centre swiftly moved to oversee administrative work in J&K by appointing experienced bureaucrats and advisers while gearing up for what it feels will be an enhanced challenge on the security front.
A key appointment was that of B V R Subrahmanyam, who had earlier served as private secretary to former PM Manmohan Singh, as chief secretary in place of B B Vyas. He will assist governor N N Vohra, who sources said would not be replaced any time soon.
While Subrahmanyam, a 1987 batch IAS officer from Chhattisgarh, will be chief secretary, Vyas was appointed as adviser to Vohra along with IPS officer Vijay Kumar, who gained recognition for the operation he led against sandalwood smuggler Veerappan.
The immediate focus will be on safe conduct of the Amarnath Yatra as central sources said there were serious threat perceptions while it was anticipated that extremists unhappy with the unceremonious fall of the PDP-led government could step up hostile acts. The situation along the LoC and the international border has been tense and could be a fresh challenge through heightened infiltration attempts.
"The next one-and-a-half months will be focused on securing Amarnath Yatra and breaking the alliance of terrorists, Hurriyat and some elements in local police, who often leak information about CASO (cordon and search operations), raids and crackdown on overground workers of terror groups," said an official, requesting anonymity.
Speaking on the imposition of governor's rule, Army chief Gen Bipin Rawat said, "We don't think there will be any impact (on anti-terror operations). We don't have any kind of political interference."
The suggestion that security forces will have a freer hand was echoed by state DGP S P Vaid but he later clarified that the remark was being misinterpreted to mean there had been constraints. The comment, however, was seen to reflect relief over the police force not being subject to pressure of PDP leaders acting on behalf of hardline Jamaat interests. The stepped up security operations will also be accompanied by more intense efforts to quicken development works which it was felt had not been progressing fast enough. The direct rule through the governor is seen to have benefits as decision making would be quicker even though feedback through political channels is restricted.
Subrahmanyam worked with Manmohan Singh between 2004 and 2008 before going to the World Bank and later in Narendra Modi's PMO from May 2014 till March 2015. Officials said he has immense internal security experience and has handled J&K while working in the PMO. He was posted as additional chief secretary in Chhattisgarh.
About Kumar, the anti-Naxal operations expert presently working as senior security advisor in the home ministry, officials said he too had J&K experience as he had served there as inspector general in the Border Security Force. Asked about appointment of a Chhattisgarh cadre IAS officer in J&K, a source said, "It's not something new. All India Services officers can work anywhere."
The Centre's special representative in the state, Dineshwar Sharma, will continue engaging with different groups for peace talks.
Source: timesofindia.indiatimes.com/india/centre-overhauls-jk-administration-pads-up-for-security-challenges/articleshow/64672699.cms
-----
Governor's rule in J&K: Why these are the best days for state's MLAs
TIMESOFINDIA.COM | Updated: Jun 21, 2018
NEW DELHI: President Ram Nath Kovind has approved governor's rule + in J&K . The move comes after the BJP pulled out of its three-year alliance with the Peoples Democratic Party (PDP) in Jammu and Kashmir.
J&K governor NN Vohra has placed the J&K assembly under suspended animation. Unlike other states, where President's rule is imposed in such situations, the J&K constitution provides for governor's rule for six months, but only after the consent of the President of India.
Governor NN Vohra will be presiding over the state for the fourth time, during his 10-year tenure, having overseen governor's rule in 2008, 2015 and 2016. Vohra was set to complete his second term in a few days, but is now set to continue in Raj Bhavan at least till the conclusion of 'Amarnath Yatra' on August 26.
MATTER OF DAYS: An assembly is kept in suspended animation only if the governor feels that there is possibility of government formation in the near future. If that doesn't happen, he can recommend dissolution of assembly, in which case MLAs cease to be MLAs.
NOT JUST MLAs: J&K''s police chief is happy because "it is much easier" to work under governor's rule. Director General of Police (DGP) S P Vaid on Wednesday told a news channel that counter-terror operations will be much "easier" for security agencies under governor's rule and that such operations will be intensified.
BVR Subrahmanyam + would, meanwhile, be happy with his appointment as the new chief secretary of J&K. Subrahmanyam worked with Manmohan Singh between 2004 and 2008 before going to the World Bank and later in Narendra Modi's PMO from May 2014 till March 2015. Officials said he has immense internal security experience and has handled J&K while working in the PMO. He was posted as additional chief secretary in Chhattisgarh.
Source: timesofindia.indiatimes.com/india/governors-rule-in-jk-why-these-are-the-best-days-for-states-mlas/articleshow/64680134.cms
-----
South Asia
Badhaber airbase attack: ATC acquits alleged female 'facilitator'
By Hidayat Khan
June 21, 2018
PESHAWAR: An anti-terrorism court on Wednesday acquitted an accused allegedly involved in planning the attack on the Pakistan Air Force's base camp in Badhaber in which 29 persons, including security personnel, were martyred in September 2015.
The Counter-Terrorism Department (CTD) had claimed to have arrested Zari Zadgai in March 2016 for allegedly planning the attack by collecting security information of the base, facilitating the suicide attackers and providing them stay in her house.
She was also charged with arranging a vehicle for the terrorists, involvement in anti-state activities and carrying explosives.
Arrested by the Special Police Unit of CTD, it was informed that during the investigation, Zadgai alias Perveen had confessed to providing food to the terrorists and empty bottles to assemble explosives devices.
Zadgai, wife of Mewa Khan, is a resident of Telabanad village near the provincial capital. She hired senior lawyer Shabbir Hussain Gigyani to contest her case.
ATC acquits Imran in SSP Junejo torture case
Her counsel contended that during the trial the prosecution had failed to provide solid evidence under which she could be indicted for planning such a heinous assault on the PAF base.
He added there were also irregularities in the confessional statement. Therefore, on the ground of poor investigation and lack of solid evidence against his client, he asked the court to release her.
A judicial magistrate had recorded the confessional statement of the accused under Section 164 of the Criminal Procedure Code.
But the lawyer contended that the confessional statement did not carry any legal weight.
"It is very weak evidence," said Gigyani.
"It might have been taken through [coercive means like] torture or via a proposal that she will be treated well if she accepts the charges."
ATC confiscates Musharraf's surety bonds in Benazir murder case
He added she has two daughters in confinement; hence she was in a better position to make a compromise and accept the charges.
The prosecution accused her of visiting the airbase before the attack as a beggar to collect information relating to security arrangements of the base. However, no proper evidence was presented to support the charge, her lawyer claimed.
Gigyani added that no explosives or weapons were recovered from her possession or from her house.
"The date of her arrest, presented to the court, is misleading," said the defense lawyer, adding, "She has been kept in illegal confinement along with her minor daughters, which is a grave violation of human rights and laws."
After recording the statements and concluding arguments from both sides, the judge of ATC-2, Tariq Yousafzai, exonerated the accused of all charges for lack of evidence.
Source: tribune.com.pk/story/1738739/1-badhaber-airbase-attack-atc-acquits-alleged-female-facilitator/
-----
23 ISIS-K militants killed in separate operations in Kunar and Nangarhar
By KHAAMA PRESS - Thu Jun 21 2018
At least twenty three militants affiliated with the Islamic State of Iraq and Syria Khurasan (ISIS-K) were killed during the separate operations conducted in eastern Kunar and Nangarhar province.
The Ministry of Defense (MoD) said at least 17 ISIS Khurasan militants were killed during the ground operations and airstrikes conducted in Suki of Kunar and Khogyani district of Nangarhar.
The source further added that two hideouts of the terror group were also destroyed during the same operations.
In a separate statement, the defense ministry said at least six ISIS Khurasan militants were killed during an operation in Achin district of Nangarhar.
The anti-government armed militant and terrorist groups have not commented regarding the report so far.
This comes as the Afghan Intelligence, National Directorate of Security (NDS), operatives had earlier busted an urban network of the Islamic State of Iraq and Syria Khurasan (ISIS-K) in Jalabad city, the provincial capital of Nangarhar province.
Provincial governor's spokesman Ataullah Khogyani told reporters that five ISIS-K militants were also arrested during the operation.
He said the terror group was using the network to carry out targeted killings of the government staff besides planting explosives, smuggling arms, and conducting other terrorist related activities.
Source: khaama.com/23-isis-k-militants-killed-in-separate-operations-in-kunar-and-nangarhar-05398/
------
Abdullah urges action against Taliban leadership during his meeting with Pak President
By KHAAMA PRESS - Thu Jun 21 2018
The Chief Executive of the Unity Government Abdullha Abdullha met with the President of Pakistan Mamnoon Hussain on the sidelines of a summit in Tajikistan and urged for resolute steps against the Taliban leadership based in Pakistan.
Abdullah informed regarding the ongoing counter-terrorism efforts by the Afghan government and security forces and said the fight against the terror groups is being waged without any distinction.
He said the Afghan government does not recognize good and bad terrorists and the Afghan forces continue to their relentless fight against all terror groups, including Pakistani Taliban.
Abdullah said the Afghan forces coordinated an operation against the Pakistani Taliban leader Mullah Fazlullah who was killed few days ago.
Pointing towards the recent travels of the Afghan and Pakistani officials, Abdullah said he is hopeful that practical and honest steps would be taken for regional peace and stability.
The Chief Executive of the Unity Government also urged for resolute and practical steps against the Taliban leadership based in Pakistan.
This comes as the U.S. Army general nominated to head U.S. military operations in Afghanistan has said that Pakistan, Russia, and Iran were continuing to support Taliban fighters.
In written remarks to the Senate Armed Services Committee, Lieutenant General Scott Miller, called the militant sanctuaries in Pakistan as one of the biggest challenges to Afghan stability.
Acknowledging that Pakistan has made many sacrifices and its security forces have fought bravely, Gen. Miller said "We have not yet seen these counterterrorism efforts against anti-Pakistan militants translate into definitive actions against Afghan Taliban or Haqqani leaders residing in Pakistan."
Afghan and US officials have long been criticizing Pakistan for the lack of action against the Taliban and Haqqani terrorist network leadership councils based in its soil.
Source: khaama.com/abdullah-urges-action-against-taliban-leadership-during-his-meeting-with-pak-president-05399/
----
Sherzai claims he is in contact with Taliban's Quetta council
By KHAAMA PRESS - Thu Jun 21 2018
The Minister of Borders and Tribal Affairs Gul Agha Sherzai claims that he has established contacts with the Quetta council of the Taliban group in a bid to help pave the way for the revival of peace talks.
Speaking during a gathering in southern Kandahar province, Sherzai claimed that he has established a Jirga (gathering of elders) and the members of the Jirga are in contact with the Taliban leaders in Quetta council for the past three months.
He did not disclose further information in this regard but went on to claim that the recent ceasefire announced by the Taliban was a positive feedback from the ongoing efforts of the Jirga.
In the meantime, the Taliban rejected the claims of Sherzai and said such claims are baseless that the leaders of the group are in contact with the officials of the Afghan government.
Taliban spokesman Zabiullah Mujahid in a statement said the stance of the Taliban group is clear regarding peace talks and reconciliation.
Mujahid further added that there has been no change in the stance of the Taliban group for peace talks and the leadership of the group is not keen to waste time on peace talks.
Source: khaama.com/sherzai-claims-to-have-established-contacts-with-talibans-quetta-council-05402/
-----
Afghan forces arrest two suicide bombers in Kabul city
By KHAAMA PRESS - Thu Jun 21 2018
MoI spokesman Najib Danish said the two suicide bombers were arrested at around 10:30 am local time from the vicinity of Jada-e-Maiwand area of the city.
Danish further added that the two suicide bombers were arrested from Halabi Sazan lane based on a tip off.
According to Danish, the security forces also confiscated two suicide bombing vests during the operation but did not elaborate further in this regard.
The possible target of the suicide bombers has not been ascertained so far with the anti-government armed militant groups yet to comment regarding the apprehension of the two bombers.
This comes as the anti-government armed militant groups have been attempting to carry out deadly attacks in the key provinces and cities of the country, including capital Kabul.
The militants carried out a suicide attack near the ministry of rural rehabilitation and development in west of Kabul city nearly two weeks ago.
The attack left several people dead including several employees of the ministry who were targeted while leaving for their homes.
Source: https://www.khaama.com/afghan-forces-arrest-two-suicide-bombers-in-kabul-city-05401/
------
Pakistan
Appellate court suspends Gilgit-Baltistan Order 2018
Jamil Nagri
June 21, 2018
GILGIT: The Supreme Appellate Court on Wednesday suspended the newly-promulgated Gilgit-Baltistan Order 2018.
In a short order, it also issued contempt of court notice to respondents — former prime minister Shahid Khaqan Abbasi as chairman of the GB Council, federal minister for Kashmir affairs and GB and joint secretary of the council — for violation of law.
Take a look: Explainer: Why GB's opposition parties oppose new order
Member of council Saeed Afzal, elected from GB Legislative Assembly, had filed a petition in Supreme Appellate Court earlier in April under Article 61 of the GB Empowerment and Self-Governance Order 2009, pleading the court to declare the GB Order 2018 illegal and issue a stay order.
In the petition, Mr Afzal had said that he was elected amongst others as the GB council member who took the oath under Article 33 of the GB Empowerment and Self-Governance Order 2009 and was entitled to hold the office till 2020.
He had contended that the former prime minister had intended to repeal the law in order to introduce a new government under GB Order 2018 in the name of constitutional and administrative reforms.
Mr Afzal had requested that the respondents to be directed not to abolish the membership of the petitioners as members of the GB council till completion of their tenure. He also urged respondents to refrain from introducing the new order in haste without taking all stakeholders of the region in confidence.
During the hearing of the case on April 24, GB Supreme Appellate Court Chief Judge Rana Muhammad Shamim had issued a stay order till disposal of the case.
However, the federal government promulgated GB Order 2018 during the last days of its government.
In its latest hearing on Wednesday, the two-member bench of the court comprising Chief Judge Rana Shamim and Justice Javed Ahmed issued suspension order of the new order.
The chief judge observed that despite stay order of the court, GB Order 2018 was introduced which was violation of law.
Advocate Amjad Hussain said that introduction of the law during a stay order was illegal, adding that the step was an attack on the disputed status of GB and the Kashmir issue. The next hearing of the case is scheduled for July 26.
Source: dawn.com/news/1415071/appellate-court-suspends-gb-order-2018
----
Musharraf explains why he put off his return
Ikram Junaidi
June 21, 2018
ISLAMABAD: All Pakistan Muslim League (APML) chairman retired Gen Pervez Musharraf has said that he was all set to return to the country but the Supreme Court order forced him to change his mind.
Speaking to journalists through a video link, the former president said the apex court order "barring the authorities from arresting me till my appearance before the august court has forced me to rethink my plans about return".
"There will be no benefit of my return to the country if I am arrested just after my appearance before the court," he said.
"The entire world knows that I am not a coward, but now I will wait for an appropriate time to return," Mr Musharraf said.
In reply to a question about the National Accountability Bureau's (NAB) probe into his assets, the former army chief said he was living in a three-bedroom apartment and the bureau must investigate his assets and he would fully cooperate with it.
Before the video-link interaction with journalists, Mr Musharraf also addressed the APML's National Assembly candidates and answered their questions.
Meanwhile, APML president Dr Muhammad Amjad said that Mr Musharraf was willing to return to the country, but the Supreme Court had given him insufficient time under which arrangements for his travel, accommodation and security could not be made.
He alleged that the caretaker government was not allowing Mr Musharraf's return as it had blocked his CNIC and passport when the Supreme Court asked the APML chief to come back to the country.
Published in Dawn, June 21st, 2018
https://www.dawn.com/news/1415077/musharraf-explains-why-he-put-off-his-return
-----
Moody's downgrades Pakistan's rating outlook to negative
Dilawar Hussain
June 21, 2018
KARACHI: Moody's Investors Service has downgraded Pakistan's rating to negative from stable. A statement released by the credit rating agency in the evening on Wednesday stated that the decision to change the outlook to negative was driven by heightened external vulnerability risk as ongoing balance of payment pressures erode foreign exchange buffers.
The rating agency expects the government's tax amnesty scheme — due to expire on June 30 — to have a modest impact of around $2-3 billion in foreign exchange inflows.
Moody's said that the foreign exchange reserves have fallen to low levels and in the absence of significant capital inflows 'would will not be replenished over the next 12-18 months'.
Rating of B3 reaffirmed for local and foreign currency debt
"Low reserves adequacy threatens continued access to external financing at moderate costs, in turn potentially raising government liquidity risks".
Moody's affirmed the B-3 local and foreign currency long-term issuer and senior unsecured debt ratings. It said that the decision to affirm the B3 rating reflects Pakistan's robust growth potential, supported by ongoing improvements in the energy supply and physical infrastructure, which are likely to raise economic competitiveness over time. "These credit strengths balance Pakistan's fragile external payment position and very weak government debt affordability owing to low revenue generation capacity".
Concurrently, Moody's affirmed the B3 foreign currency senior unsecured ratings for the Second Pakistan International Sukuk Co. Ltd. and the Third Pakistan International Sukuk Co. Ltd. "The associated payment obligations are, in our view, direct obligations of the government of Pakistan," Moody's argued.
Pakistan's Ba3 local currency bond and deposit ceilings remain unchanged. There was no change in the B2 foreign currency bond ceiling and the Caa1 foreign currency deposit ceiling.
The short-term foreign currency bond and deposit ceilings also remain unchanged at Not-Prime. "These ceilings act as a cap on the ratings that can be assigned to the obligations of other entities domiciled in the country," Moody's concluded.
Source: dawn.com/news/1415115/moodys-downgrades-pakistans-rating-outlook-to-negative
----
Justice Dost's 'interim' placement does not violate rules
June 21, 2018
PESHAWAR: The top provincial lawyer was asked on Wednesday to explain the legality of appointing the interim chief minister of the province.
A two-judge bench of the Peshawar High Court (PHC) comprising Justice Waqar Ahmad Seth and Justice Muhammad Nasir Mahfooz, on Wednesday heard a petition by Syed Azizuddin Kakakhel which claimed that the appointment of Justice (retired) Dost Muhammad Khan as the caretaker chief minister of Khyber-Pakhtunkhwa (K-P) did not fulfill certain provisions of the Constitution.
Regulating private schools: K-P fails to craft policy
Kakakhel in his petition contended that Justice Dost does not fulfil provisions under Article 62 and 63 of the Constitution wherein an elected or chosen person, who has served in any statutory body, shall be disqualified unless a period of two years has elapsed since the end of serving their tenure.
The petitioner pointed out that the interim chief executive had retired on March 20, 2018. Hence, he does not fulfil the constitutional requirements and asked the court to declare his appointment as unconstitutional.
Kakakhel also claimed that the appointment was also against the National Judicial Policy 2009, which suggests that a Supreme Court judge shall not accept any post lower than his status or dignity.
PHCBA expresses concern over 'no reference' for Justice Khan
The PHC subsequently directed K-P Advocate General (AG) Abdul Latif Yousafzai to submit reply on the questions raised in the petition.
Yousafzai appeared before the court on Wednesday and told the court that Article 63 of the constitution does not apply here since the position is only for an interim period.
Published in The Express Tribune, June 21st, 2018.
Source: tribune.com.pk/story/1738660/1-justice-dosts-interim-placement-not-violate-rules/
----
Imran lacks ability to rule: ex-minister
June 21, 2018
LAHORE: Imran Khan is a naïve person and he cannot be entrusted with the fate of 200 million people, former federal interior minister Ahsan Iqbal said on Wednesday.
He was talking to reporters here after attending the proceedings of a contempt of court case against him in the Lahore High Court (LHC).
Criticising the chairman of Pakistan Tehreek-e-Insaf (PTI), he said: "The fate of 200 million people cannot be handed over to (such) a naïve person."
However, the former federal minister avoided commenting on his own case, saying that it was a sub-judice matter.
According to him, consistency in policies was a crucial requirement but Imran Khan lacked this ability.
Terming Khan inconsistent, he said that he (Khan) was even unable to decide the nomination of the caretaker chief minister in Punjab.
He wondered how a person could claim to be able to lead the country when he did not even have the experience of contesting local bodies polls.
Ahsan Iqbal said Pakistan had been facing internal challenges to its growth and stability.
Nisar, Imran chide ex-PM
Before the PML-N government, he said, more than 40 people fell victim to acts of terrorism almost every day, but his party had re-established peace across the country.
Reiterating his regard for the judiciary, he said that he held all courts in high esteem, adding that he was contesting his case against the mindset that was behind the attempt on his life.
Earlier, during the proceedings of his case, the three-member bench, headed by Justice Sayyed Mazahar Ali Akbar Naqvi, asked him why had he targeted the Chief Justice of Pakistan in his speech on the China Pakistan Economic Corridor (CPEC).
The bench also turned down his request for not screening his "contemptuous speech" in the courtroom and ordered the court officials to show the video.
Imran, Nawaz completed NA term with lowest attendance
Ahsan Iqbal said that he had simply complained to the Chief Justice of Pakistan in his speech.
The bench put off further hearing until June 22.
The bench also recorded statement of the accused involved in staging a rally against judges of the superior courts in Kasur and directed their legal representatives to present their arguments.
Accused Nasir Khan and Jamil Khan confessed to the crime before recording their statements.
Imran challenges rejection of nomination papers
However, former PML-N MNA Sheikh Waseem and Ahmad Latif pleaded not guilty. Former MPA Naeem Safdar and another accused have already recorded their statements in the case.
The case was later deferred till June 25.
Source: tribune.com.pk/story/1738761/1-imran-lacks-ability-rule-ex-minister/
----
Panama Papers: New leak shows Pak clients struggling to avoid trouble
Umar Cheema
June 21, 2018
ISLAMABAD: A fresh batch of leaked documents of Panamanian law firm, Mossack Fonseca, reveals how panic triggered after the release of Panama Papers among the firm and its clients; several of them were Pakistanis who had to change their plans of hiding wealth abroad amid fear of yet another leak.
A person nominated by PPP for interim PM, who had also been chairman of the Pakistan Cricket Board (PCB), abandoned the process of opening two accounts in Swiss banks after the Panama Papers through his two benami shell companies which came to surface earlier but their ownership was unknown.
Former attorney general Justice (R) Malik Qayyum disassociated himself from a benami company. Its Swiss bank account had Qayyum and his wife as signatories. Samina Durrani, the mother of Tehmina Durrani, "gifted" one offshore company holding property in the UK, to Asimullah Durrani, her son, a few months after the release of Panama Papers.
Meanwhile, a Pakistani banker in the Middle East, Saleem Sheikh, was found seeking explanation from the law firm about the steps taken to prevent any embarrassment in future through yet another leak.
Instead of replying to this concern, Mossack Fonseca served him notice in April 2017 together with other Pakistani passport holders having companies in British Virgin Islands to change their registered agent as "an administrative decision has been taken to resign as registered agent/office for companies with links to high risk countries." Pakistan is among those 21 countries declared prohibited for business by BVI in April 2017. Nielsen and Nescoll, the offshore companies owned by Sharif family had changed their agent in 2014 hence no detail was found in the latest leak.
The newly obtained documents also bring under spotlight financial details of sports celebrities like soccer superstar Lionel Messi, politicians like Argentine president's family and a former Kuwaiti official convicted for looting his country's social security system.
The fresh leak comprises 1.2 million documents which date from a few months before April 2016 (when 11.5 million Panama Papers were released) onward to December 2017. The documents were leaked to Munich-based Süddeutsche Zeitung, which shared them with International Consortium of Investigative Journalists (ICIJ). The News is ICIJ's only Pakistani partner which collaborated in Panama Papers, Paradise Paper and now in this latest project.
The Mossack Fonseca announced its closure in March this year due to, what it describes, "the reputational deterioration, the media campaign, the irregular actions of some Panamanian authorities have caused irreparable damage."
The new leak reveals how the embattled law firm scrambled to contain the fallout from the leak and identify its own clients. A couple of months after the firm became aware of its records had been leaked, it was unable to identify owners of more than 70 percent of 28,500 active companies in the British Virgin Islands, its busiest offshore hub, and 75 percent of 10,500 active shell companies in Panama. Know-your-client law makes it obligatory for the financial institution to know who they are doing business with and what's their past, a due diligence process often ignored.
Two such anonymous companies were legally represented by Justice (R) Malik Muhammad Qayyum: Camberwell Financial Limited and Fernbridge Resources Inc. The former is registered in the British Virgin Islands and the latter in Panama. Who is the beneficial owner remains unknown to-date. Both were used for opening accounts in LGT Bank Switzerland Ltd wherein Malik Qayyum was signatory of the account (his wife was co-signatory of the account opened in the name of Fernbridge Resources Inc.)
When The News contacted for his version a week before the release of Panama Papers on April 4, 2016, Qayyum said Fernbridge had been his client and he couldn't disclose detail about the owner. About his wife as co-signatory, he explained the client required two signatories and his wife was travelling with him. "It is my practice to normally have a trusted backup signatory in such transaction," he told then.
Newly released documents include two letters dated April 6, 2016 (second day after the release of Panama Papers), issued by non-beneficial Panama-based directors of Fernbridge to declare that Qayyum was legal representative of the company and that his wife was made signatory on his suggestion. It was explicitly mentioned in these "To Whom IT May Concern" letters that they have been issued on Qayyum's request. A letter of his engagement with Fernbridge signed by directors is dated Aug 27, 2012.
However, email data in the leaked record shows that the drafts of above three letters were sent for signatures on April 7 and returned on April 11. There is yet another signed letter dated April 14 wherein the shareholders and directors of Fernbridge have "approved your removal as authorised signatory of the company."
Incidentally, this letter was signed on April 13. The record shows and it strengthened the suspicion of backdated documentation carried out haphazardly amid Panama Papers panic. Responding to this, Qayyum confirmed he was no more legal representative of the company.
Neither The News could mention in past the British Virgin Islands-based Camberwell Financial Limited legally represented by Qayyum nor is there any evidence from the leaked documents to suggest that he sought removal from there. Both of the companies are looked after by the so-called same board of directors which are appointed by the service providers.
They are neither shareholders nor beneficial owners of the company. Qayyum when contacted for this story, confirmed he was not more legal representative of Fernbridge. About Camberwell, he expressed ignorance.
Two Panama-based companies owned by the PPP nominee for interim PM who also happened to be the president of a bank in last PPP government, would have remained anonymous had this fresh leak not made possible. Tavendish Engineering S.A. and Jeflian Investment S.A. were part of documents leaked earlier but the ownership was kept secret. As companies were in process of opening bank accounts at Swiss bank, LGT Bank, (where companies represented by Qayyum also had accounts), it was made known he, his wife and son are beneficial owners. They however changed mind of opening bank accounts after the release of Panama Papers fearing the secrecy they look for is vulnerable to leaks.
"The shareholders were in process to open a bank account with LGT in Switzerland, but after what happened with the leak, they decided to liquidate the company and not to open the bank account. They will open a bank account in their personal names," read an email of June 9, 2016. Incidentally, the relationship manager dealing with Qayyum and the former PCB chairman accounts is the same person, Ahmed Tahir Butt. The release of Panama Papers also hurried the transfer of a company from mother (Samina Durrani) to her son (Asimullah Durrani). In March 2016 when The News contacted Tehmina Durrani (daughter of Samina and wife of Shahbaz Sharif) as her mother was untraceable, she expressed ignorance of any property owned by her mother. As the story of Samina's offshore companies featured prominently, the process of gifting started completing on November 10, 2016.
Armani River Limited which has been gifted to Asad owns a property in the UK whose estimated value has been declared as one million pounds. Source of funding for this property has been described as the saving of his late father, Shakirullah Durrani, former governor State Bank of Pakistan. Star Precision Limited and Rainbow Limited are two other offshore companies of Samina Durrani. Star Precision's described assets as per Panama Papers is "cash as the investment portfolio. We are also holding 1,165,238 shares in Orix Leasing Pakistan Limited."
Although Mossack Fonseca announced its closure in March this year, it started resigning in April as registered agent of clients from Pakistan which is "on our current prohibited list of countries." "Kindly however advise the client that an administrative decision was made after conducting a risk assessment to cease acting as agent for companies associated with Pakistan currently, due to the elevated country risk. "Accordingly, we suggest that they make arrangements to change the registered agent/office of the company soonest," read an email.
There are another 20 countries which have been declared 'High Risk' due to money laundering and terror financing. Pakistan has been flagged due to terror financing. Other high risk countries are Afghanistan, Belarus, Bosnia, Central African Republic, Cuba, Congo, Eretria, Iran, Iraq, Lebanon, Libya, North Korea, Serbia, Sierra Leone, Somalia, South Sudan, Sudan, Syria, Yemen and Zimbabwe.
Source: thenews.com.pk/print/331641-panama-papers-new-leak-shows-pak-clients-struggling-to-avoid-trouble
----
NAB to probe scam involving DHA, Bahria Town, CDA
Syed Irfan Raza
June 21, 2018
ISLAMABAD: The National Accountability Bureau (NAB) on Wednesday initiated investigations against administrations of Defence Housing Authority (DHA) Islamabad, Bahria Town and Capital Development Authority (CDA) for over Rs62 billion DHA Valley and its Phase-II (extension) scams.
The anti-graft watchdog also decided to start probe against the son-in-law of ex-prime minister Nawaz Sharif retired Capt Safdar and Pakistan Muslim League-Nawaz (PML-N) Khyber Pakhtunkhwa president Ameer Muqam for having assets beyond their known sources of income.
The NAB closed down a case of Khushhal Pakistan Programme funds against Nawaz Sharif who has already been facing four other cases.
110,000 civilians, and 41,000 serving and retired military officers and families of martyrs suffered losses
These decisions were made in the executive board meeting that was chaired by the bureau's chairman, retired Justice Javed Iqbal.
An official press release regarding the meeting said: "The administrations of the three organisations were accused of being involved in non-development of DHA Valley and DHA Phase-II extension causing irreparable losses to hundreds of thousands of people who had invested their hard earned money in these projects."
In October 2016, former army chief Gen Raheel Sharif had given a go-ahead to NAB to take stern action against retired military officers and civilians involved in the DHA Valley scam. However, the then NAB administration did not take significant action.
A top NAB official, on condition of anonymity, told Dawn that a senior official of the army had called on NAB's former chairman Qamar Zaman Chaudhry in July 2015 and had assured full support to the bureau in investigating the matter.
It is NAB's second action against Bahria Town's chief Malik Riaz in a month as the anti-corruption watchdog had already started inquiry against him.
The DHA Valley scheme, meant for the bereaved families of martyred military personnel, was proposed on the site of a small dam called the Dadhocha dam on Punjab government's land.
The DHA Valley case was started on the complaint of a resident of Rawalpindi, retired Lt Col Mohammad Tariq Kamal, in Sept 2010, who alleged that the real estate project DHA Valley was being developed on the area reserved for the lake adjoining the proposed Dadhocha dam. Following the verification of the complaint on June 13, 2011, the bureau had authorised an inquiry on July 3, 2012.
Names of former army chief Gen Ashfaq Parvez Kayani's brothers and some other retired officials of the army are also part of the scam as their firm was hired to provide land for DHA Valley scheme.
The petition said the DHA, Bahria Town and a real estate/construction firm Habib Rafique had entered into a contract to develop various housing schemes, including DHA Valley, DHA Phase II extension, DHA Express Way and DHA Villas in Rawalpindi, as a joint venture.
According to the petitioner's evaluation, the DHA Valley was valued at Rs110 billion, DHA Phase II Extension at Rs70 billion, the Express Way at Rs50 billion and DHA Villas was valued at Rs100 billion. DHA-I and DHA-II are said to be developed housing societies, but DHA Valley is yet to be developed.
The NAB inquiry said that the people who had paid money to get the plots in DHA Valley had found that they were fooled because they were deliberately not informed by the DHA management about the agreement between DHA-I and Bahria Town over land development. In 2009, the DHA had transferred all the funds raised from the public — Rs62bn — to the accounts of Bahria Town. But, Bahria Town failed to develop the scheme.
About 110,000 civilians, 41,000 serving and retired military officers and families of martyrs were cheated in the scam. The total land in question is of 165,000 kanals.
Source: dawn.com/news/1415073/nab-to-probe-scam-involving-dha-bahria-town-cda
-----
4 terrorists killed in Quetta 'encounter'
June 21, 201
Quetta,The Balochistan Counter-Terrorism Department (CTD), Frontier Corps (FC) and other law enforcement agencies killed four suspected terrorists, including a woman, during an operation in Quetta on Wednesday.
The CTD had launched an operation in Quetta's Dasht area in the morning targeting a hideout belonging to suspected militants of an outlawed group active in the area, sources in the CTD said.Deputy Inspector General of Police Quetta Abdur Razzaq Cheema in an afternoon press conference said the operation had been conducted after a tip-off from an arrested suspect.
During the operation, the CTD officials said a militant had detonated a bomb near an armoured security forces' vehicle but there was no loss of life. An exchange of fire also took place between the two sides.
Subsequently, personnel of the FC and other LEAs reached the site to provide backup.
An FC official said that in the ensuing chaos after the blast, two suspected militants — one of whom was a woman — tried to escape but were killed in a shootout.
Seven CTD personnel were injured in the gunfight.
Security forces later took over the compound being used by the terrorists. A large cache of arms and ammunition were recovered during a subsequent search operation.
The FC official said that the operation had been concluded in less than two hours.
The suspected terrorists were involved in multiple terrorist attacks, including the targeted killing of security forces' officials.
The CTD officials said that they have yet to verify the identity of the suspected terrorists that were killed in the operation via DNA tests and through Nadra's help.
In another incident, unidentified armed militants opened fire at the vehicle of a police officer in Quetta's Nawan Killi area. Police sources said that a CTD sub-inspector, his father and son were injured in the attack. The attackers managed to flee from the scene.
Police officials believe that it was a targeted attack.
The injured were rushed to the Combined Military Hospital, Quetta for treatment, but the father and son of the police officer succumbed to injuries.
Source: pakobserver.net/4-terrorists-killed-in-quetta-encounter/
----
Pakistan-Iran Permanent Border Committee meeting begins
June 21, 2018
Tehran,Fifth Pak-Iran Permanent Border Committee meeting commenced in Iranian city Zahedan from Wednesday, state media reported.
Pakistani delegation led by Director General Balochistan Levies Force Tariq-ur-Rehman went Iran through Taftan border today.
The Pakistani delegation includes Deputy Commissioners of Chagai, Washuk, Panjgur, Turbat and Gwadar and Frontier Corps officials.
Pak-Iran border affairs, security issues, trade activities on border villages and mutual cooperation will be discussed in the meeting.—TNS
Source: pakobserver.net/pakistan-iran-permanent-border-committee-meeting-begins/
-----
Pakistan part of Afghan issue solution: Millar
June 21, 2018
Washington,United States Army general Lieutenant General Austin Miller has said that he considers Pakistan as a part of resolution of Afghanistan issue.
Responding to the questions during Senate Armed Services Committee meeting on Tuesday, Miller said that Pakistan has an important role in not only diplomatic matters but for security purpose as well, Bloomberg reported.
Miller said Pakistan has made "many sacrifices" and "its security forces have fought bravely," but "we have not yet seen these counterterrorism efforts against anti-Pakistan militants translate into definitive actions against Afghan Taliban or Haqqani leaders residing in Pakistan."
Trump has been equally vocal in the past about Pakistan, saying in August that "we can no longer be silent about Pakistan's safe havens for terrorist organizations, the Taliban and other
groups that pose a threat to the region."
A United States Army general has expressed dissatisfaction with Pakistan's counter-terrorism efforts, calling the country's actions "contradictory".
Lieutenant General Austin Miller, US President Donald Trump's nominee to lead allied forces in the 17-year-old Afghan war, told the Senate Armed Services Committee on Tuesday that the biggest challenge to stabilising Afghanistan remains the militant sanctuaries in Pakistan.
"We should have high expectations that they [Pakistan] are part of the solution, not just diplomatically but from a security standpoint as well," he said, as reported by Bloomberg.
The 57-year old military veteran, who as a captain led a ground assault during the October 1993 "Black Hawk Down" operation in Mogadishu, Somalia, is now head of the Joint Special Operations Command, the unit of elite US commando forces conducting counter terror operations in Afghanistan.
He has been tasked with executing the Trump-backed Pentagon strategy that abandons any public timeline for withdrawing about 14,000 US troops and assigns them to work more closely to train and assist Afghan troops.
Trump has, in the past, also accused Pakistan of harbouring "agents of chaos" and providing safe havens to militant groups waging an insurgency against a US-backed government in Kabul.
Pakistan estimates there have been 70,000 casualties in militant attacks, including 17,000 martyred, since it joined the US "war on terrorism" after the September 11, 2001, attacks.—INP
Source: pakobserver.net/pakistan-part-of-afghan-issue-solution-millar/
-----
Europe
War crimes committed in Eastern Ghouta battle - UN
20 June 2018
Syrian pro-government forces committed a crime against humanity and war crimes during their siege of the Eastern Ghouta region, UN investigators say.
A new report says troops caused serious mental and physical suffering to the rebel enclave's residents by bombarding their homes and denying them food.
They also allegedly attacked protected objects like hospitals deliberately.
Rebel forces are accused of committing a war crime by indiscriminately shelling civilians in nearby Damascus.
But the investigators are still looking into whether chemical weapons were used in an attack in April on what was then the last rebel town in the Eastern Ghouta.
They said the evidence pointed to the use of chlorine in Douma, but that some people had exhibited symptoms more consistent with exposure to a nerve agent.
The US, UK and France have said they are confident the government used chemical weapons but it has accused them of "staging" the incident.
Douma 'chemical attack': What we know
The five-year siege of the Eastern Ghouta, an agricultural region outside the capital where at least 265,000 civilians lived, was the longest in modern history.
It came to an end in April, after a two-month offensive by pro-government forces, backed by Russian air strikes, that decimated homes, markets, and hospitals and reportedly left more than 1,700 men, women and children dead.
The report published by the UN's Commission of Inquiry on Syria on Wednesday condemned the government's method of warfare as "barbaric and medieval" and painted a graphic picture of the misery of civilians who lived there.
With power and water cut off, they resorted to burning plastic to generate electricity and dug hundreds of wells in the hope of finding clean water. As the bombardment intensified, they retreated to overcrowded basement shelters lacking toilets.
"It is completely abhorrent that besieged civilians were indiscriminately attacked, and systematically denied food and medicine," said the chairman of the commission, Paulo Pinheiro.
Why is there a war in Syria?
The report finds that through the widespread and systematic bombardment of civilian areas and objects, and the continued denial of food and medicine to besieged civilians, pro-government forces "perpetrated the crime against humanity of inhumane acts causing serious mental and physical suffering".
The report also concludes that the frequency of attacks on official and makeshift hospitals "strongly suggests that pro-government forces systematically targeted medical facilities, repeatedly committing the war crime of deliberately attacking protected objects, and intentionally attacking medical personnel".
There was no immediate response to the report from the Syrian government or its allies but at the time of the offensive they denied targeting civilians or civilian infrastructure, and blamed rebel fighters for operating in residential areas.
Rebel groups, including Jaysh al-Islam and Ahrar al-Sham, along with the al-Qaeda-linked jihadist alliance Hayat Tahrir al-Sham relentlessly fired unguided mortars into neighbouring Damascus and other nearby areas, killing and maiming hundreds of civilians, according to the report.
"Even if pro-government forces are bombing and starving the civilian population of Eastern Ghouta into submission, there can be no justification for the indiscriminate shelling of civilian inhabited areas in Damascus," said commission member Hanny Megally.
The report says rebels also regularly arbitrarily arrested and tortured civilians, including members of religious minority groups, which constituted the war crimes of cruel treatment and torture, and outrages upon personal dignity.
The report notes that by the time the government declared the Eastern Ghouta successfully recaptured, some 140,000 people had been displaced from their homes, tens of thousands of whom are still being unlawfully interned by government forces in managed sites.
Another 50,000 civilians were bussed to rebel-held areas in Idlib and Aleppo provinces under "evacuation agreements" that the commission has in the past warned could constitute forced displacement.
Source: https://www.bbc.com/news/world-middle-east-44548298
-----
Russia 'skeptical' over UN Syrian crimes against humanity report
June 21, 2018
MOSCOW: Russia's foreign minister on Thursday said he was "skeptical" about a UN report accusing the Syrian regime of committing crimes against humanity during the siege of Eastern Ghouta.
The report published Wednesday said forces loyal to the government had deliberately starved civilians during the siege between February and April, among other crimes.
"We are in principle very skeptical toward the methods of this sort of work, whether it comes to war crimes or the use of chemical weapons," Foreign Minister Sergei Lavrov said at a press conference in Moscow with UN Secretary General Antonio Guterres.
When questioned by journalists, Lavrov confirmed he had not seen the report.
He said it was "based on data obtained through social networks, video that was filmed by witnesses," rather than being put together on the ground.
The five-year siege, on the outskirts of the capital, ended in April when Damascus regained control of the rebel enclave.
As pro-government forces dramatically escalated their campaign to recapture the besieged enclave, they used tactics that were "largely unlawful in nature," the UN-commissioned report said.
The tactics, it said, "aimed at punishing the inhabitants of eastern Ghouta and forcing the population, collectively, to surrender or starve."
Russia has been involved in Syria's civil war since September 2015. Its military support of the regime changed the course of the war, allowing government troops to retake more than half the country from rebels and the Daesh group.
More than 350,000 people have been killed in Syria's war since it started in 2011 with the brutal repression of anti-government protests.
Source: arabnews.com/node/1325321/middle-east
-----
Mideast
Imprisoned Bahrain opposition leader acquitted in spy case
AP | Updated: Jun 21, 2018
DUBAI: A prominent Shiite cleric in Bahrain who led a now-shuttered opposition party was acquitted Thursday of spying charges with two colleagues, marking a rare victory for activists in the island kingdom amid a yearslong clampdown on dissent.
Sheikh Ali Salman headed the Al-Wefaq political party, the largest Shiite opposition group in the kingdom, and served as a central figure in Bahrain's 2011 Arab Spring protests.
A lawyer previously involved with Salman's case, Abdulla al-Shamlawi, said the cleric would be released after he finished serving some four years in prison in another case widely criticized internationally.
"It is defusing unnecessary circumstances," al-Shamlawi said. "It is very good."
Bahrain's government and state-run media did not immediately comment on the court's verdict.
Salman, 52, long has been targeted by Bahrain's government. In 1994, he was arrested, tortured and detained for months without trial before being deported and forced to live in exile for over 15 years, according to the United Nations.
He was a prominent figure in Bahrain's Arab Spring protests in 2011, in which the island's Shiite majority and others demanded more freedoms from the Sunni monarchy.
In December 2014, two days after being re-elected as Al-Wefaq's secretary-general, Salman was again arrested by security forces. This time, prosecutors brought him to trial on charges he insulted the Interior Ministry, which oversees police, incited others to break the law and incited hatred against naturalized Sunni citizens, many of whom serve in the island's security forces. While Bahrain's constitution guarantees freedom of expression, authorities routinely arrest and charge activists over their comments.
Bahrain is one of four Arab countries that have been boycotting Qatar for over a year as part of a wider diplomatic dispute.
The call between Salman and the Qatari official at the time were aimed at peacefully resolving the 2011 protests, which ended when Bahraini, Emirati and Saudi security forces violently put down the demonstrations. A government-sponsored report on the 2011 protests and unrest noted Bahrain's opposition accepted that mediation while Bahrain's government rejected it.
Source: timesofindia.indiatimes.com/world/middle-east/bahrain-opposition-leader-acquitted-in-qatar-spy-case-activists/articleshow/64679516.cms
-----
Turkey's youth: the last hope for democracy?
Stephen Starr
June 20, 2018
Philosophy student Şafak Küçüksezer was due to submit an assignment about totalitarian states and the moral dilemmas presented in Watchmen, a dystopian comic book series, the morning in March when police raided his home. "The search of the house and the expropriation of my external hard drive, laptop and cell phone took about two hours," he recalls. "One of the officers was actually reading my copy of Watchmen as I was taken away."
Two days earlier, a group of students at Istanbul's prestigious Bogazici University celebrated the Turkish military's takeover of Afrin in northern Syria by handing out sweets on campus. A group of anti-war and leftist students organised a counter protest, and soon scuffles broke out. Fourteen of the 22 counter demonstrators were arrested on the spot, and all have since been accused of spreading "terrorist propaganda." The incident took on particular significance when President Recep Tayyip Erdogan called the anti-war students "communists, traitors and terrorists."
Mr Küçüksezer, a final year student at Bogazici, was detained on suspicion of involvement as, he says, he was "known to be a socialist." He was released once authorities found out he wasn't on campus at the time, but the other students, released on parole this month, face further court hearings. "The case against them is so absurd," says Mr Küçüksezer.
Ahead of Sunday's presidential and parliamentary elections, the authorities' response to the Bogazici incident shows how rights enjoyed by young people in Turkey for decades – free speech and the right to gather unencumbered – are increasingly restricted. With more than 1.5 million young people expected to cast their vote for the first time on Sunday, the youth vote will be an important factor in deciding where Turkey goes next. A dual victory for the government – Mr Erdogan retaining the presidency and a Justice and Development Party (AKP) majority in parliament – may institutionalise the authoritarian turn that in recent years has seen courts, the media and public life fall under increasing government control.
Turkey's first-time voters are the first generation not to have experienced the political and economic upheavals of the late twentieth century; they're a generation that's grown up expecting a life with all the modern trappings. But the political upheaval that's traumatised Turkey in recent years means they now do so with a dearth of job prospects and university places weighing on their minds: The purge that followed the failed July 2016 coup saw the independence of universities severely curbed and thousands of academics fired. Meanwhile, the number of people aged between 20 and 25 not in employment, training or education stands at 20 per cent for men and 51 per cent for women.
All the while, polls find that young people are more dissatisfied with the state of democracy in Turkey than any other age group. Research by the Organisation for Economic Co-operation and Development shows that the turnout rate among 18- to 24-year-olds in elections in 2015 were some of the highest in the 34-nation group at more than 80 per cent (though Turkey's compulsory voting system partly explains this).
For Ezgi Cengiz, a first-time voter from Aydin in western Anatolia, the country is not going in the right direction. "We are in an economic crisis, they [the government] always win elections with the threat of civil war," the 18-year-old says, referring to ongoing military operations in eastern Turkey against the outlawed Kurdistan Workers' Party. "I want to have an academic career and be a journalist. [But] I'm not sure if I can get these because of the pressure on journalists in Turkey, because of the detentions."
Recent comments in pro-government newspapers suggest the AKP hierarchy is aware that in past elections it performed worse among young voters than other age groups, and it has since pivoted to embrace a new generation. Several party members in their early twenties, including rising star Yasemin Atasever, were named to the AKP's Central Decision and Executive Board last year. While in government it has overseen the lowering of the age required to stand for parliament from 25 to 18. "There is no other political party in Turkey that trusts young people and relies on them as much as we do," Mr Erdogan told a gathering of the AKP Youth in Ankara last month. "Young people will not be ordered around; we will work alongside you." According to the pro-government Daily Sabah newspaper, the AKP has 25 parliamentary candidates under 25-years-old standing in Sunday's election, though the opposition CHP has put forward 48.
Ms Atasever's Instagram feed offers a window into the life of young, ambitious AKP members. There are photos of ornate Malaysian mosques and Ai Weiwei's refugee exhibition at an Istanbul museum. There are also pictures of Ms Atasever standing next to the most powerful figure in modern Turkish history: President Erdogan. Miss Atasever didn't respond to requests for comment.
For Furkan, a PhD student from Istanbul currently studying in Massachusetts and who plans to return to Turkey in the next five or six years, jobs in his field are scarce. "I work in the area of next generation technology, so it would be extremely difficult for me to find a job in Turkey that is near my experience level, especially considering even in the US there are only three to four companies in this field," he says. "I could find a job most likely in engineering but it would be doing something more mundane."
Furkan wouldn't divulge who he voted for – nor his full name, given the tension he says exists between the US and Turkey today – but says he believes Mr Erdogan will likely win in a second round vote, expected on July 8 if no candidate wins more than 50 per cent on Sunday. He believes more should be done in Turkey to invest in long term tech advancements.
"Last year there was, I believe, around US$164 billion [Dh600 billion] in total venture capital investment into start-ups globally. Turkey made up less than 0.1 per cent [US$105 million or Dh385 million] of this. This is ridiculous, considering we have close to the 20th largest economy," he says. In a country with one of the highest social media penetration rates in the world, the government has an uneasy relationship with technology, in the past banning YouTube and Twitter, while Wikipedia remains inaccessible today.
The beating and alleged torture of high school students in Kadikoy, Istanbul, on June 8 suggest the authorities are concerned with rather different issues. Around 50 students, several as young as 15, were protesting the "poor quality" of education on the last day of school when many were detained for hours in a police vehicle and beaten.
"The future looks bleak for most. There is a cultural deprivation growing hand in hand with the increasing poverty," says Mr Küçüksezer, the Bogazici University student. "We are a generation referred to as 'the election-fatigued generation'," he says, adding that he thinks he'll face difficulties finding a job after he graduates since his "personal profile is known to be political by various government organs."
Few expect Mr Erdogan to be unseated as president, but the challenge by the 'Nation Alliance' of opposition parties could see that grouping win enough parliamentary seats to damage the aura of invincibility that has surrounded the president for the past 15 years. "The best outcome on Sunday," says Mr Küçüksezer, "would be that the [pro-government] 'People's Alliance' loses its majority in the parliament."
With one of the youngest populations in Europe and an economy many experts expect to enter a period of increased instability, the prospects for young people – like Turkey's future – are far from certain.
Source: thenational.ae/world/europe/turkey-s-youth-the-last-hope-for-democracy-1.742398
----
Gaza rocket barrage triggers Israeli air strikes
20 June 2018
Israeli jets have struck Palestinian militant positions in the Gaza Strip after rockets and mortars were fired into Israel, the Israeli military says.
Twenty-five targets linked to the Hamas movement were hit overnight in response to a barrage of about 45 projectiles.
Two Hamas security personnel are reported to have been lightly injured.
The escalation came hours after Israel bombed three sites in retaliation for the launching of incendiary kites and balloons over the Gaza border.
Israeli officials say the crude devices have sparked more than 450 fires in recent weeks, burning 2,800 hectares of land and causing $2m (£1.5m) of damage.
Palestinians began launching kites and balloons carrying containers of burning fuel and explosive devices during mass protests at which Gaza health officials say more than 120 Palestinians have been killed by Israeli forces since 30 March.
The demonstrations have seen thousands of Palestinians gather on the border in support of the declared right of Palestinian refugees to return to their ancestral homes in what is now Israel.
Human rights groups have accused Israeli troops of using excessive force during the protests. Israel has said they have only opened fire in self-defence or on people trying to infiltrate its territory under the cover of the protests.
Life in the Gaza Strip
Early on Wednesday morning, the Israeli military announced that its warplanes had struck three military targets in a Hamas compound in southern Gaza in response to the incendiary kite and balloon attacks.
The military said Hamas, which dominates Gaza, was responsible for all events in the coastal territory and would "bear the consequences".
Not long afterwards, sirens were sounded across southern Israel and the Israeli military said it had detected rocket and mortar fire emanating from Gaza.
Israeli jets subsequently struck another eight targets in three Hamas military compounds as well as a cement factory, according to the military.
Following further rocket launches, Israeli warplanes carried out a third round of strikes, this time hitting 11 targets in four military compounds.
Israeli officials say six rockets fired from Gaza landed inside populated areas, causing damage to buildings and vehicles but no casualties. One rocket exploded just outside a kindergarten.
At least three people were injured in Israeli strikes on southern Gaza, two in the town of Rafah and one in neighbouring Khan Younis, according to the Palestinian news agency Wafa. Residents told Reuters news agency that two were Hamas security men.
"The sounds and explosions reminded us of the nights of summer of 2014," one Gaza resident told the Israeli newspaper Haaretz, referring to the last major conflict between Israel and Palestinian militants in Gaza.
The Israeli military warned Hamas that it was "dragging the Gaza Strip and its civilians down a deteriorating path".
Hamas spokesman Fawzi Barhoum praised the rocket attacks on Israel, insisting it was "a legitimate right that bombing is met with bombing", but he did not say who was behind them.
Source: bbc.com/news/world-middle-east-44544169
----
Turkey's Erdogan seeks new term with greater powers
AP | Jun 21, 2018
ANKARA: The most powerful and polarizing leader in Turkish history is standing for re-election in a presidential vote on Sunday that could cement Turkey's switch from a parliamentary to a presidential system, which was narrowly approved in a referendum last year.
Recep Tayyip Erdogan would take an office with vastly expanded powers, in a system that critics have compared to one-man rule. His opponents have promised a return to a parliamentary system with a distinct separation of powers.
Opinion polls have put Erdogan several points ahead of his closest competitor in the presidential race. However, he would need to win more than 50 percent of the votes for an outright first-round victory and that looks less likely. Analysts say the outcome could be decided in a second round runoff on July 8
Source: https://timesofindia.indiatimes.com/world/middle-east/turkeys-erdogan-seeks-new-term-with-greater-powers/articleshow/64680054.cms
-----
Yemen army tightens noose on Houthi militia in Saada
ARAB NEWS
June 21, 2018
DUBAI: The Yemeni army, with the backing of the Saudi-led Arab coalition, gained control on Wednesday new positions in the front of Al-Zaher, south of the Houthi-stronghold of Saada.
The commander of the special forces brigade, Brigadier General Adel bin Ali Al-Musabi, said that the army forces were engaged in fierce battles with the Houthi militia for three days, Saudi state channel El-Akhbariya reported.
The Houthi militia suffered heavy losses in their ranks, he added.
According to the information center of the armed forces, the army was able to liberate the mountains of Al-Kharashi and Al-Ruqi, while continuing to move towards the liberation of Jabal Al-Jarza.
Military forces were also advancing towards Houthi positions on the Maran mountains.
Source: ttp://www.arabnews.com/node/1325226/middle-east
----
Gaza teen dies of border protest wounds
AFP
June 21, 2018
GAZA CITY, Palestinian Territories: A Palestinian shot by Israeli forces last month during protests on the Gaza border died of his wounds Monday, the health ministry in the Hamas-ruled territory said.
"Mohammed Ghassan Abu Daqqa died ... on Wednesday evening from his wounds, after he was shot by the Israeli occupation east of Khan Yunis on May 14," it said in a statement, which did not give his age.
At least 33 Palestinians have been killed in clashes since mass protests broke out along the Gaza border on March 30.
No Israelis have been killed.
The protests peaked on May 14 when at least 62 Palestinians were killed as thousands approached the heavily guarded border fence on the same day the United States moved its Israel embassy from Tel Aviv to Jerusalem.
Israel says its use of live fire is necessary to defend its borders and stop infiltrations. It accuses Gaza's rulers Hamas of seeking to use the protests as cover for attacks.
Source: http://www.arabnews.com/node/1325196/middle-east
-----
Hundreds of civilians from Daraa displaced due to regime attacks
(AFP)
June 21, 2018
BEIRUT: Hundreds of civilians from Daraa were displaced Thursday due to attacks carried out by the regime according to the Syrian Observatory for Human Rights.
More than 12,000 people have fled regime bombardment on rebel-held areas in Syria's southern province of Daraa in the past three days, the Britain-based Syrian Observatory for Human Rights monitor said Thursday.
The UN humanitarian coordination office reported that 2,500 people had fled one of these areas in the eastern countryside of the province as of Wednesday.
Source: http://www.arabnews.com/node/1325306/middle-east
-----
Africa
Tunisian arrested in Cologne was planning biological attack, say German police
AFP BERLIN, JUNE 20, 2018
Toxic substances that turned out to be ricin seized from 29-year-old Tunisian migrant.
A Tunisian arrested in Germany for possession of deadly poison ricin and bomb-making material was planning a biological attack, the national police chief said on Wednesday.
"Very concrete preparations had been made for an act with a ... biological bomb, which is a first for Germany," Holger Muench, head of the Federal Criminal Police Office, told public broadcaster ARD.
German police commandos on June 12 stormed the Cologne apartment of the 29-year-old Tunisian migrant identified only as Sief Allah H and discovered "toxic substances" that turned out to be ricin.
Produced by processing castor beans, ricin is 6,000 times more lethal than cyanide and has no known antidote.
Link to Islamic State?
German news weekly Der Spiegel has reported the man was thought to have been following instructions disseminated by the Islamic State group on how to build a bomb containing ricin.
Prosecutors have charged that he was "strongly suspected of intentionally manufacturing biological weapons" but it remained unclear whether he was actively plotting an attack.
Mr. Muench said "we became aware of this person a few months ago, and then evidence emerged pointing to links to the so-called Islamic State".
Alert from CIA
The case was an example of "good cooperation between security authorities, nationally and internationally", he said.
Bild daily has reported Germany received a tip-off from the CIA based on the suspect's online purchases.
During the raid, said Mr. Muench, "we found a large number of castor seeds from which to make it [ricin], as well as the utensils you need to make an explosive device".
"Which concrete target he had in mind we don't know yet ... and the question of possible accomplices also remains open," said Mr. Muench.
Prosecutors say Sief Allah H. started buying the equipment and ingredients to make ricin in mid-May — including an online purchase of "a thousand castor seeds and an electric coffee grinder".
He succeeded in manufacturing the toxin earlier this month.
The case comes less than a month after French authorities said they had foiled a terror attack possibly involving the use of ricin. Two brothers of Egyptian origin were arrested.
Germany remains on high alert after several deadly attacks claimed by the IS group, including a 2016 truck rampage through a Berlin Christmas market by Tunisian asylum seeker Anis Amri that claimed 12 lives.
Source: thehindu.com/news/international/german-police-foil-bio-attack-suspect-arrested/article24209704.ece
----
South Sudan rebel leader arrives in Ethiopia for talks to end civil war
June 20, 2018
South Sudan's rebel leader Riek Machar arrived in Ethiopia on Wednesday for a meeting with South Sudan President Salva Kiir, as part of talks to try to negotiate an end to a four-and-a-half-year civil war, a rebel spokesman and an Ethiopian official said.
"Yes, I can confirm to you that our chairman has arrived in Addis Ababa airport this morning," rebel spokesman Lam Paul Gabriel said, referring to Mr Machar, who had been held under house arrest in South Africa since late 2016 after fleeing South Sudan.
An Ethiopian government official also confirmed Mr Machar's arrival and said he would meet Ethiopian Prime Minister Abiy Ahmed before his talks with Mr Kiir.
"Riek Machar has arrived," Foreign Ministry spokesman Meles Alem said.
Mr Kiir and Mr Machar are due to meet later on Wednesday. It will be the first between the two since a peace deal between the government and Machar's rebel group fell apart in August 2016.
South Sudan, the world's newest country, has been mired in a devastating civil war for more than four-and-a-half years, with tens of thousands of people killed, nearly four million displaced and its economy in ruins.
The two men have been central to the fate of South Sudan since its 2011 separation from the north.
War broke when President Kiir accused his former deputy Mr Machar of plotting a coup just two years after the country gained independence from Sudan in 2011.
The civil war began in late 2013 when troops loyal to Mr Machar launched a rebellion against the government.
Seven million South Sudanese, more than half of the population, will need food aid this year, according to the UN, and nearly four million South Sudanese have been driven from their homes by the conflict, which the United Nations ranks among the most serious humanitarian crises in the world.
All sides in the now complex and multi-faceted war stand accused by the United Nations and other bodies of committing atrocities against civilians.
Source: thenational.ae/world/africa/south-sudan-rebel-leader-arrives-in-ethiopia-for-talks-to-end-civil-war-1.742140
-----
Libya's coast guard rescues 80 African migrants
AP | Jun 21, 2018
CAIRO: Libya's coast guard says it has rescued some 80 African migrants, including four women and two children, and recovered one body in the Mediterranean Sea east of the capital, Tripoli.
He said the migrants were given humanitarian and medical aid, and were handed over to anti-migration authorities.
Libya has emerged as a major transit point to Europe for those fleeing poverty and civil war elsewhere in Africa. Traffickers have exploited Libya's chaos following the 2011 uprising that toppled and later killed a longtime dictator.
Libyan authorities have stepped up efforts to stem the flow of migrants, with European assistance.
Source: timesofindia.indiatimes.com/world/rest-of-world/libyas-coast-guard-rescues-80-african-migrants/articleshow/64680698.cms
-----
East Libyan forces advance rapidly to retake key oil ports
REUTERS
June 21, 2018
BENGHAZI, Libya/VIENNA: East Libyan forces said on Thursday they had rapidly retaken the shuttered oil ports of Es Sider and Ras Lanuf, where the head of Libya's National Oil Corporation (NOC) said he hoped operations would resume in a "couple of days."
Staff were evacuated from the key terminals in Libya's eastern oil crescent and exports were suspended last Thursday when armed opponents of eastern-based military commander Khalifa Haftar attacked the ports and occupied them.
The closure has led to daily production losses of up to 450,000 barrels per day (bpd), and two oil storage tanks were destroyed or badly damaged by fires during the fighting.
For the past week, Haftar's Libyan National Army (LNA) has been pounding the area with air strikes as it mobilized to retake the ports, and it continued to target its rivals with air strikes on Thursday as they retreated.
Ahmed Al-Mismari, a spokesman for the LNA which Haftar built up during his three-year campaign to seize Libya's eastern city of Benghazi, said troops had retaken Es Sider by mid-morning and were clashing with opponents as they advanced west.
Mismari said Ras Lanuf, which includes a residential town, an air strip, storage tanks and a refinery, alongside the oil terminal, had also been taken by the LNA.
"Our armed forces fully control the Ras Lanuf district and the enemy suffered large losses in lives and equipment," he said.
Libya's national production was cut to between 600,000 and 700,000 bpd from more than one million bpd by clashes in the oil crescent, but NOC Chairman Mustafa Sanalla said he was expecting a quick restart.
"Libyan production is very low but we are going to resume very soon," he told reporters in Vienna. "After a couple of days we will resume, we start our operations hopefully."
The NOC has blamed the attack on the terminals on militias led by Ibrahim Jathran, who blockaded oil crescent ports for several years before losing control of them in September 2016 to the LNA.
The LNA has said the Benghazi Defense Brigades, a coalition of anti-Haftar fighters that previously tried to take the oil crescent and advance on Benghazi, were also involved.
Haftar is the dominant figure in eastern Libya and is aligned with a government and parliament based in the east opposed to an internationally recognized government in the capital, Tripoli.
He has controlled Benghazi, which lies northeast of the oil crescent, since late last year.
Source: ttp://www.arabnews.com/node/1325256/middle-east
-----
North America
Trump backs down on migrant family separations policy
21 June 2018
US President Donald Trump has bowed to public pressure and signed an executive order promising to "keep families together" in migrant detentions.
Mr Trump reversed his own policy amid international fury over the separation of undocumented parents and children.
He said he had been swayed by images of children who have been taken from parents while they are jailed and prosecuted for illegal border-crossing.
But the order does not address families already separated by the policy.
US immigration officials say 2,342 children were separated from 2,206 parents between 5 May and 9 June.
"It's about keeping families together," Mr Trump said at the signing ceremony on Wednesday.
"I did not like the sight of families being separated," he said, but added the administration would continue its "zero tolerance policy" of criminally prosecuting anyone who crosses the border illegally.
The president said his wife, Melania, and daughter, Ivanka, who reportedly have been applying pressure on him to drop the policy, "feel strongly" about ending the practice of separating migrant families.
"I think anybody with a heart would feel very strongly about it," he said. "We don't like to see families separated."
Vice-President Mike Pence and Department of Homeland Security Secretary Kirstjen Nielsen, who has emerged as the face of the White House policy, were both present for Wednesday's order signing.
The president had previously said "you can't do it through an executive order", insisting that only Congress could fix the policy by passing immigration reform before his U-turn on Wednesday.
Republican congressional leader Paul Ryan said the House of Representatives will vote on Thursday "on legislation to keep families together".
A series of White House contradictions on migrants
ho decided to separate illegal immigrant families?
He did not immediately provide details of the bill, but said it resolves the issue of so-called Dreamers, undocumented adult migrants who entered the US as children, "in a very elegant way".
Trump backs down
Analysis by Anthony Zurcher, BBC News, Washington
For days administration officials have insisted they were simply following the law as written and their "zero tolerance" policy for illegal border crossings meant they "have to take the children away", in the president's words.
Critics have countered that Mr Trump unilaterally created the situation that produced the heart-rending accounts of children separated from their parents, and he could unilaterally fix it.
By taking executive action, the president is effectively acknowledging they were correct.
Now the fight will probably move to the courts, with legal challenges to the administration's decision to hold detained families together while their immigration status is adjudicated.
That is more politically hospitable ground for Republicans, who already face challenging mid-term congressional elections.
Why the uproar?
n April, the US attorney general announced a "zero-tolerance" policy to criminally charge and jail undocumented border crossers.
As children cannot legally be jailed with their parents, they are kept in separate facilities.
US immigration officials say more than 2,300 children have been taken from some 2,200 parents since 5 May.
Pictures of dozens of children sleeping in fenced enclosures and audio of them crying emerged in recent days, provoking the widespread criticism.
Under previous US administrations, immigrants caught crossing the border for the first time tended to be issued with court summonses and released.
Six American airlines have told the Trump administration not to use their aircraft to transport child migrants who have been separated from their parents.
Alaska, American, Delta, Frontier, Southwest and United airlines all said the policy contravened their values.
Where are the children taken?
Holding cells: They are first detained at Customs and Border Protection (CBP) facilities, where chain-link fenced enclosures are used, though the children can only be legally held there for three days.
Detention centres: They are then supposed to be moved to one of around 100 detention centres run through the Office of Refugee Resettlement (ORR), part of the Department of Health and Human Services. US officials recently showed reporters around a converted Walmart Supercenter in Texas which was housing migrant boys aged 10-17. They apparently had access to beds, classes and games.
"Tender age shelters": AP news agency reports that babies and toddlers are being taken to three "tender age shelters" in southern Texas. A CBP official said it is up to the discretion of border agents whether to detain "tender-aged" children, who are typically less than five years old.
Tent camps: US officials have set up a tent camp for migrant children in Tornillo, Texas.
Family members: Under US law, the children are meant to be released to stay with relatives or foster carers "without delay". In practice, the ORR says this process takes about two months.
How are they reunited? Immigrations and Customs Enforcement (ICE) has set up a hotline for parents to call after they are released from custody. However, a former ICE director has said some family separations are "permanent".
What happens now?
Mr Trump's order says that families could remain together in detention instead of separating children from parents illegally crossing into the country.
But immigrant children are only allowed to be held for 20 days, according to a 21-year-old landmark court decision known as the Flores agreement.
The order also calls for the justice department to request to modify the Flores agreement to allow children to be held longer, but it is unclear what will happen if the law does not change.
The Trump administration is likely to become tangled in legal battles with immigration activists on behalf of detained migrants if it is unable to overturn the Flores agreement before the 20-day deadline.
"This is a stopgap measure," said Gene Hamilton, counsel to Attorney General Jeff Sessions.
The order also did not provide any date or timeline on when it would be implemented and does not address how the more than 2,000 children already stripped from their families would be reunited.
Health and Human Services (HHS) Secretary Alex Azar has said his department will begin working to return detained immigrant children to their families, but did not give a timeline.
A top HHS official told Agence France-Presse on Tuesday they have no system in place to do so.
Source: bbc.com/news/world-us-canada-44552852
-----
Southeast Asia
'Hate narratives' from abroad drive Myanmar communities apart, Suu Kyi says
Reuters | Updated: Jun 21, 2018
YANGON: "Hate narratives" from abroad have driven communities in Myanmar further apart, the Southeast Asian nation's leader, Aung San Suu Kyi, said in a social media statement on Thursday.
Patience and time are required to restore trust between the communities, Suu Kyi told Christine Schraner Burgener, the United Nations special envoy on Myanmar on Wednesday, according to the statement on the Nobel Peace laureate's Facebook page.
Since August, nearly 700,000 Rohingya Muslims from mainly Buddhist Myanmar's northern Rakhine state have fled to Bangladesh following a military response to Rohingya insurgent attacks, the United Nations and aid agencies have said.
Many reported killings, rape and arson on a large scale.
The United Nations has called the campaign a textbook example of "ethnic cleansing", a charge Myanmar denies.
"The state counsellor also pointed out that the hate narratives from outside the country have driven the two communities further apart," the Facebook statement paraphrased Suu Kyi as saying, without identifying the communities.
Suu Kyi also stressed the need for a forward-looking approach to resolve the issue, it added.
Zaw Htay, a spokesman for the government, did not immediately respond to Reuters' requests to clarify what narratives Suu Kyi was referring to.
In Facebook and Twitter posts since August, Suu Kyi's government has shown support for non-Muslims displaced by the violence and blamed the international community for distributing "fake news" about alleged rights abuses.
Rohingya in Myanmar are denied citizenship, freedom of movement and access to services such as health care and education.
This month, Myanmar and UN agencies signed an outline deal on the return of Rohingya refugees, a warming of ties after a low point hit last year when the government suggested some agencies provided food to Rohingya militants.
Source: timesofindia.indiatimes.com/world/south-asia/taiwan-passes-controversial-bill-cutting-veterans-pensions/articleshow/64677444.cms
-----
URL: https://www.newageislam.com/islamic-world-news/sheikh-mohammed-first-uae-astronaut/d/115603
New Age Islam, Islam Online, Islamic Website, African Muslim News, Arab World News, South Asia News, Indian Muslim News, World Muslim News, Women in Islam, Islamic Feminism, Arab Women, Women In Arab, Islamophobia in America, Muslim Women in West, Islam Women and Feminism