New Age Islam News Bureau
18 Oct 2018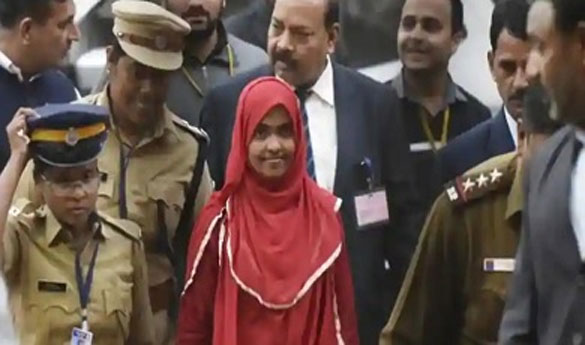 Photo: Hadiya (in red) converted to Islam and married Shafin Jahan, but her marriage was annulled by the Kerala high court on the basis of a petition filed by her father; the Supreme Court set aside the high court order.(HT File Photo)
---------
• NIA ends Kerala probe, says there's love but no jihad
• Terrorists Recruiting Children to Counter Syrian Army in North, Northwest
• Masood urges religious scholars to promote teachings of Islam
South Asia
• Sheikh Hasina gifts 1.5 bigha land to biggest hindu temple in Bangladesh
• ISIS shadow judge among a dozen militants killed in Nangarhar operations
• Clashes reported among Afghan forces, militants in Balkh, Sari Pul provinces
• Myanmar and the limits of pan-Islamism
• PM woos Saudi entrepreneurs to invest in Bangladesh
• Car bomb destroyed, several militants killed in NDS raid in Nangarhar
• Taliban claims responsibility for the explosion in Qahraman's office in Helmand
• Rohingya refugees in Bangladesh sold into forced labor: UN
--------
India
• NIA ends Kerala probe, says there's love but no jihad
• Muslim businessman funds Durga temple
• Kashmiri Students Defer Decision To Leave AMU En Masse
• J&K: Three terrorists, policeman killed in encounter in Srinagar
--------
Arab World
• Terrorists Recruiting Children to Counter Syrian Army in North, Northwest
• Syrian Army Launches Fresh Attacks on ISIL after Terrorists Violate Agreement in South
• US Army Sends Fresh Military Convoy to Manbij amid Turkey's Threats
• More Terrorists Including Commanders Killed by Unknown Raiders, Blast in Northwestern Syria
• UN Syria envoy Staffan de Mistura to step down next month
• US imposes sanctions on Iraq-based money exchange for ISIS ties
• One year after Daesh defeat, Syria's Raqqa still in fear
• US says some withdrawal of militants from Syria's Idlib -pool report
• Egyptian ex-lawmaker goes missing, may have been detained
--------
Pakistan
• Masood urges religious scholars to promote teachings of Islam
• NUML holds conference on challenges to Muslim societies
• Will keep exerting pressure on Pak until change in Afghan policy: US
• Afghan Taliban kill parliamentary candidate in attack on election office
• US must stay in Afghanistan until peace is achieved: army
• Pakistan says 'active' efforts underway to recover Iran troops
• Abraaj founder sought to buy influence with Sharifs, says WSJ
• Imran's close aide refuses to become his special assistant
• Gen Bajwa meets Italian defence minister, army chief
--------
Europe
• France closes Muslim Shia center on grounds of terrorism
• UK should impose sanctions on Saudi Arabia: Labour Party
• Third of British people wrongly believe there are Muslim 'no-go areas' in UK governed by sharia law
• Afghan children deported from Europe left to fend for themselves in war-torn country
• MPs back campaign to put Muslim heroine on British bank note
--------
Southeast Asia
• China says Muslim internment camps meant to bring minorities into "modern, civilized" world
• Malaysian court bars unilateral child conversions
• Mindanao religious leaders campaign for new Muslim region
• Relax, It's Just Religion: Feby Indirani's 'Magical Islamism'
• Indonesia Questions Australian Leader's Announcement on Jerusalem Embassy Move
• China Defends 'Anti-Extremism' Measures in Xinjiang as Scrutiny Mounts
--------
Mideast
• Turkish, Saudi investigators enter consul's residence in Istanbul as Khashoggi remains missing
• ICC prosecutor 'alarmed' by Gaza violence
• Yemeni army, Arab Coalition block Houthi attempt to open Sanaa, Hodeidah route
• Israeli, Saudi army chiefs meet in Washington: Report
--------
Africa
• UN to deliver aid to Syrians trapped near Jordan border
• Hundreds of Syrian 'White Helmets' leave for West: Jordan
• Sudan appoints new peace envoy to South Sudan
• Ghana: Ahmadiyaa Muslim Mission Commended for Promoting Peace
• US airstrike wiped out al-Shabaab camp, intel officials say
--------
North America
• Trump: US needs Saudi Arabia in fight against terrorism
• Arsonist sentenced to 24 years for Texas mosque burning
• Trump: Saudi Arabia has been a very important ally of ours in the Middle East
• Pompeo: Erdogan confirms Saudis cooperating into Khashoggi probe
• White House, Saudis working to make up story on missing journalist's fate: Brennan
• Kushner retreating from MidEast front amid Khashoggi crisis: Sources
• Iran slams US 'addiction to sanctions' after new bans target key banks
• US pastor Brunson's lawyer challenges Turkish jail sentence
Compiled by New Age Islam News Bureau
URL: https://www.newageislam.com/islamic-world-news/sheikh-hasina-gifts-15-bigha/d/116658
--------
Sheikh Hasina gifts 1.5 bigha land to biggest hindu temple in Bangladesh
OCT 18, 2018
NEW DELHI: Bangladesh Prime Minister Sheikh Hasina gifted about one and a half bigha land to a temple in Dhaka on the occasion of Durga Puja this week, reinforcing her image as a champion of minority rights in the country where Islam is the state religion.
She visited Bangladesh's biggest temple, Dhakeshwari Temple, on Monday and announced gifting of adjacent land, valued at nearly 50 crore taka (Rs 43 crore), to the temple authorities. In the process, she fulfilled a six-decade old demand to help restore to its old glory the temple after which Dhaka is named.
The minority Hindu community in Bangladesh has been a staunch supporter of the ruling Awami League since the formation of the party. The next parliamentary polls in Bangladesh are due in December. Over the years the temple lost a lot of its property to land grabbing, but recently, under Hasina's directions the government mediated an agreement to hand over the land to the temple authorities at a discounted price of 10 crore taka and decided to increase the corpus of funds of the Hindu Kalian Trust to 100 crore taka from 21crore taka.
"There is no doubt that during the last 10 years of the Awami League government, Bangladesh has seen constant economic development and witnessed a period of stability, something that was absent in the early years of this century," a Bangladesh government official told ET on condition of anonymity.
"This growth and stability has also resulted in an improved security situation that has had a positive impact not only on the security of religious minorities but on Bangladeshis as a whole," he said. The Hasina government's slogan 'Dhormo JaarJaar, Utsob Shobar' (religion is individual right but festivities belong to all) is being implemented on the ground, as can be seen from the fact that in 2017, more than 30,000 Durga Puja celebrations were organised peacefully across the country.
This year, the number has increased to 31,272. While the opposition BNP and its partner Jamaat-e-Islami accuse the government of not doing enough for the Hindus, and raise this issue at international platforms, Bangladesh is witnessing a homecoming of its traditional liberal Bangla ethos, the foundation on which the country was formed in 1971, said the official.
"If this continues, the country will emerge as a shining example on the world's stage of an Islamic nation that is secular, inclusive and democratic — a complete contrast of what Pakistan, the country it separated from, has become," said the official.
https://economictimes.indiatimes.com/news/politics-and-nation/sheikh-hasina-gifts-1-5-bigha-land-to-biggest-hindu-temple-in-bangladesh/articleshow/66269866.cms
--------
NIA ends Kerala probe, says there's love but no jihad
Oct 18, 2018
Rajesh Ahuja
The National Investigation Agency's (NIA) "examination" of interfaith marriages in Kerala has not unearthed any evidence of coercion that can result in prosecution in these cases, officials familiar with the matter said. One of them added that while there may have been efforts to facilitate the conversion of either the man or the woman involved, there was no evidence of a larger criminal design.
"The NIA is not supposed to file any further report in this regard in the Supreme Court. As far as the NIA is concerned, the matter stands closed as the agency has not found any evidence to suggest that in any of these cases either the man or the woman was coerced to convert," said a senior agency official who spoke on condition of anonymity.
The agency picked 11 cases of interfaith marriages in Kerala for examination as part of its probe into so-called cases of "love jihad" at the instance of the Supreme Court.
These 11 cases were picked up from a list of 89 interfaith marriages that were already before law enforcement authorities (usually because of complaints by parents) and which were referred to the federal anti-terrorism agency by the Kerala police.
The investigation happened in the context of the celebrated Hadiya case.
Hadiya converted to Islam and married Shafin Jahan, but her marriage was annulled by the Kerala high court on the basis of a petition filed by her father; the Supreme Court set aside the high court order.
"At least one among the 11 marriages under examination was purely a matter of relationship gone sour. In most of the other cases we found that a similar set of people and organisations associated with Popular Front of India (PFI) were involved in helping either the man or the woman involved in a relationship to convert to Islam, but we didn't find any prosecutable evidence to bring formal charges against these persons under any of the scheduled offences of the NIA, like the Unlawful Activities (Prevention) Act," added the official.
The official said the Constitution of India had provided freedom to practice and promote religion in a peaceful manner to all citizens as a fundamental right. "Conversion is not a crime in Kerala and also helping these men and women convert is also within the ambit of the Constitution of the country."
PFI's legal advisor KP Muhammer Shareef labelled the concept of love jihad a "sinister design cooked up by right wing forces" to "target the Muslim community at large" and claimed the effort was aimed at portraying the Front and (its political arm), the Social Democratic Party of India (SDPI), as conduit pipes for love jihad.
"Umpteen investigations and enquiries conducted by various agencies have now found the allegation of love jihad is obnoxious, fictitious and without any scintilla of evidence," said Shareef.
Still, the results of this investigation should not be construed as a "clean chit" for PFI, the NIA official said.
"There are separate criminal cases of serious charges of murder going on against the alleged cadres of PFI. Those matters are being dealt (with) separately."
Among the 11 cases examined by the NIA, there were at least four cases of interfaith marriages where Hindu men embraced Islam or where efforts were made to convert them to Islam. In the rest of the cases examined by NIA, Hindu women married Muslim men.
"The NIA probe found that in at least three cases, efforts at conversion failed," said a second NIA official who asked not to be named.
https://www.hindustantimes.com/india-news/nia-ends-kerala-probe-says-there-s-love-but-no-jihad/story-wlpWR7BMNcdJHkb1MUso4J.html
--------
Terrorists Recruiting Children to Counter Syrian Army in North, Northwest
Oct 17, 2018
Arabi Al Youm news website reported that Tahrir al-Sham and its allied terrorists, deployed in Northern and Northwestern Syria, have recruited hundreds of children to train them and use them in battle against the army and its popular allies as Tahrir al-Sham has rejected to retreat from the demilitarized zone in Northeastern Lattakia, Southern Idlib and Western Aleppo on October 15.
It further said that the terrorists have persuaded the children to join them in return for a very low payment, adding that hundreds of children have been recruited by terrorists in this way.
The news website said that the terrorists' move to recruit children has enraged local people.
A Syrian field commander claimed on Tuesday that the Syrian government troops were preparing for military operation against terrorists in Northern and Northwestern Syria after terrorists refused to comply with the Sochi Agreement.
Mohand Ali al-Haj Ali, a military commander and a member of the Syrian Parliament, told the Arabic-language website of Sputnik that based on reports from Idlib, only a part of heavy weapons of the terrorists and almost 1,000 militants have been withdrawn from the demilitarized zone, adding that tens of thousands of terrorists are still in the zone.
The news agency further reported that the Turkish side is showing off its compliance with the Sochi Agreement, adding that the Syrian Army has been preparing to kick off the liberation of occupied lands after the deadline.
Al-Haj Ali told Sputnik that the army is planning to launch its operation from Western Aleppo where the terrorists of Tahrir al-Sham Hay'at have been conducting missile attacks on residential neighborhoods.
He further said that Idlib is a highly populated province, enabling the terrorists to use people as human shield, adding that the army will use new weapons and elite forces to counter the terrorists with the least number of human casualties.
Sputnik quoted the commander as saying that should the army prevails over the first line of terrorists' positions in Idlib the remaining lines of their positions will be conquered automatically.
http://en.farsnews.com/newstext.aspx?nn=13970725000817
--------
Masood urges religious scholars to promote teachings of Islam
October 18, 2018
Sardar Masood Khan, president of Azad Jammu and Kashmir urged the religious leaders to play their role to rid the country of the violent extremism by spreading the true message of Islam. Speaking at 'Paigham Pakistan Conference' organizing by Ulema and Mushaikh here on Wednesday, Sardar Masood Khan said Islam is universal religion and Prophet (PBUH) was sent to all peoples of the world, regardless of their race, colour, culture and geographical location.
"Islam's universality makes it a religion that is acceptable to all people in this world and that was the very reason that over one billion human being are now in the fold of this true religion," President Masood said. Describing peace, tranquility, mercy and compassion as foundations of the religion of Islam, the president called upon the Ulema and religious scholars to demonstrate respect to all human beings to create a space for further expansion of their religion.
Terming tendencies of violent extremism and radicalization in the country as a serious challenge for the nation, he said our enemies on one hand want to destabilize Pakistan by dividing us in different sects and groups and on the other they are attempting to deprive the people of Pakistan from the basic ideology of Pakistan. He said that people of Pakistan, particularly Ulema and Mushaikh are united and they would never allow anti Islam and anti-Pakistan forces to materialize their evil designs. Urging religious scholars and intellectuals to promote the true teachings of Quran and Sunnah, President Masood said that rivalries on the basis of petty and insignificant differences among the followers of different sects is detrimental to the social fabric of our society.
Describing the declaration of Paigham Pakistan (Message of Pakistan) signed by the religious scholars from all schools of thought as right step at right time, President Masood commended the efforts of Ulema and Mushaikh for bringing and maintaining peace and harmony in the society.
https://pakobserver.net/masood-urges-religious-scholars-to-promote-teachings-of-islam/
--------
South Asia
ISIS shadow judge among a dozen militants killed in Nangarhar operations
Oct 18 2018
A key leader of the Islamic State of Iraq and Syria Khurasan (ISIS-K) was among at at least a dozen militants killed during the operations of the Afghan National Defense and Security Forces in eastern Nangarhar province of Afghanistan.
The provincial government media office in a statement said the Special Operations Forces of the Afghan Intelligence, National Directorate of Security (NDS), conducted operations in Jamal Khel, Deewana Baba, Kandar, and Chenar Kali areas of Achin, leaving at least 12 militants dead.
The statement further added that four hideouts of the terror group were also destroyed during the same operations.
According to the governor's office, a key leader of the terror group who was operating as the shadow judge of ISIS-K, Waliullah Mansor who was also famous as Yasir, was among those killed.
Some heavy and light weapons belonging to the militants of the terror group were destroyed, the statement said, adding that the security forces and the local residents have not suffered casualties during the operations.
https://www.khaama.com/isis-shadow-judge-among-a-dozen-militants-killed-in-nangarhar-operations-06176/
--------
Clashes reported among Afghan forces, militants in Balkh, Sari Pul provinces
Oct 17 2018
The Afghan Military in the North says at least twenty five militants have been killed or wounded during separate clashes in northern Balkh and Sari Pul provinces.
The 209th Shaheen Corps of the Afghan Military in the North in a statement said at least three militants were killed and six others were wounded during a clash in Tarbalaq area in the provincial capital of Sari Pul province.
The statement further added that the clash broke out at around 4:30am local time on Tuesday morning and as a result five motorcycles of the militants were also destroyed.
At least 4 militants were killed and 12 others were wounded during a separate clash in Qashqar village in Chemtal district of northern Balkh province, the 209th Shaheen Corps added in its statement.
Full report at:
https://www.khaama.com/clashes-reported-among-afghan-forces-militants-in-balkh-sari-pul-provinces-06175/
--------
Myanmar and the limits of pan-Islamism
Faisal Devji
OCTOBER 18, 2018
Since Myanmar's latest bout of violence against the Rohingya began in 2012, there has been a slow uptick of outrage in the Muslim world. But it was only recently, once international observers described what was happening there as an ethnic cleansing, that Muslim concern became more vocal than protests in Europe or the U.S. In the past, Muslim-majority countries such as Bangladesh and Malaysia, at the receiving end of refugee flows from Myanmar numbering in the tens and even hundreds of thousands, have acted forcefully to prevent the Rohingya from entering their territories.
But last year everything changed, with Bangladesh, Turkey, Malaysia, Indonesia and Pakistan at the forefront of international demands to stop the flight of refugees from Myanmar and alleviate their suffering. Behind this change lay a number of causes, from the humanitarian, political and economic emergency created by the influx of refugees among Myanmar's neighbours, to growing Muslim protests around the world at the treatment of the Rohingya. The crisis also presented an opportunity for politicians to claim leadership in an otherwise fragmented Muslim world by demanding relief and justice for the Rohingya.
Turkey's President made strong statements about the crisis, putting it at the top of the agenda at the Organisation of Islamic Cooperation. His wife made a highly publicised trip to Bangladesh to be filmed and photographed in Rohingya camps, while donating and promising more Turkish aid. Turkey, Indonesia and Malaysia also competed to deliver assistance in Rakhine state while engaging the Myanmar government in talks. The Bangladesh Prime Minister spoke about the plight of the refugees at the UN and demanded safe zones for the Rohingya in Myanmar.
Yet both Turkey's President and the Bangladesh Prime Minister use the same accusations of Islamic terrorism against their domestic opponents as are levelled against the Rohingya in Mynamar. And they do so for the same reason, in order to de-legitimise suspect minority groups and political opposition in their own countries. Like Myanmar, these states are all heirs to the 'War on Terror', deploying its language and practices to forge a new politics. What we are seeing is not disagreement between Muslim and non-Muslim states on the subject of the Rohingya, but instead fundamental agreement on a narrative of counter-terrorism that has been globalised beyond American control.
The Rohingya cause represents the return of states to leadership roles within the Muslim world, and it has made Islamic unity possible for the first time since the sectarian bloodletting of the Syrian war, to say nothing of the divide between Saudi-led and pro-Iranian movements across West Asia. All over the world, bar Afghanistan and Somalia, states are triumphing over their religious critics to champion Islamic causes long held by the latter. By suppressing such groups in the name of counter-terrorism, however, these states have also adopted their narrative of Muslim victimisation.
The victim's tale
Non-state groups had been among the first to promote a narrative of Muslim victimisation, with jihadis as much as liberals drawing from a familiar humanitarian repertoire in which suffering demands an immediate and therefore violent response. But this storyline only dates back to the aftermath of the Cold War, beginning with Muslim mobilisations over the fate of the Bosnians during the breakup of Yugoslavia. International Muslim causes had earlier been political rather than humanitarian. They called for the establishment of certain kinds of states, rather than emergency measures to guarantee a people's survival.
In the ideologically defined conflicts of the Cold War, groups like the Palestinians emerged as political heroes rather than simply humanitarian victims. But nowadays they, too, are seen by their supporters as representing a humanitarian cause. This is due to their loss of an institutionalised political identity with the creation of the Palestinian Authority as an Israeli partner and the sequestration of Gaza. It is therefore their Israeli enemies who ironically are the only ones to grant Palestinians a political existence, by considering them actors motivated by ideas freely adopted rather than by purely biological needs.
Humanitarianism today is premised upon a distrust of politics, which is blamed for every crisis humanitarians seek to resolve. This means that any relief or intervention deemed to be political is condemned as hypocritical. Indeed, hypocrisy has become the gravest charge in the lexicon of liberals and militants alike. And it is the humanitarian or anti-political character of Muslim outrage that has allowed states such as Bangladesh and Turkey to appropriate it, just as al-Qaeda and the Islamic State had done before them for very different reasons.
It is not simply state violence that has muffled the voice of non-state actors in mobilising Muslims globally. Their outrage over Rohingya suffering has been viewed with suspicion among Muslims more widely. Pakistani newspapers have levelled accusations of hypocrisy against the religious and militant groups that specialised in charging others with it. And so Islamists outraged by the treatment of the Rohingya are reproached for their own violence against non-Muslim or sectarian minorities. Signalling the decline of such actors, this mistrustful response illustrates the internal shifts in Muslim opinion and protest.
European midwife
The narrative of Muslim victimisation is arbitrary in its application. Palestinians, Bosnians and now the Rohingya might enjoy global attention as victims of this kind, but not Uighurs, Somalis, Yemenis or Chechens. The lack of Muslim solidarity in these cases cannot be attributed to politics understood as hypocrisy. Neither are they explained by the economic interests that are often thought to underlie such hypocrisy. They must instead be understood in terms of familiar storylines. Only a crisis that can be attributed to western imperialism, or Zionism understood as its surrogate, is a candidate for global Muslim solidarity.
Muslim outrage over the persecution of the Rohingya follows a familiar script. Like all such global mobilisations, whether prompted by the victimisation of fellow believers or Islam itself in alleged insults to its prophet, these demonstrations of solidarity are midwifed in the West. This was the case with the first global mobilisation of Muslims in 1989, against Salman Rushdie's novel The Satanic Verses. It is only books, cartoons, speeches or desecrations in Europe and America that give rise to Muslim protests globally, with similar publications or events in other places possessing merely local significance. Similarly, it is only those wars and humanitarian crises receiving either positive or negative attention in the West that end up as Muslim causes worldwide.
This trajectory illustrates the consequences of Western political and economic dominance. Since colonial times, Asians, Africans and Latin Americans have had to relate to each other through Europe and America. But such mediation also suggests the intimate way in which Islam's globalisation is linked to a West often seen as its enemy. As Myanmar but also Bosnia and Kosovo demonstrate, global forms of Muslim solidarity are not only prompted by calls for humanitarian relief in the West, but also favour the kind of military intervention whose deployment by western powers Muslims otherwise criticise.
Full report at:
https://www.thehindu.com/opinion/lead/myanmar-and-the-limits-of-pan-islamism/article25252377.ece
--------
PM woos Saudi entrepreneurs to invest in Bangladesh
October 17th, 2018
She mentioned that Bangladesh has earmarked 2,000 acres of land in one of the Exclusive Economic Zones for Saudi Arabian investors, which can be developed and operated according to their own requirements
Prime Minister Sheikh Hasina has invited Saudi entrepreneurs to invest in Bangladesh for mutual benefit, as both the countries lag behind exploiting full potential of trade and investment opportunities.
The Prime Minister said on Wednesday: "We can join hands in our journey of shared profit and prosperity. I assure you of my government's full support and cooperation."
She was speaking at a meeting with the Saudi business community, including leaders of the Council of Saudi Chamber (CSC) and Riyadh Chamber of Commerce,at King Saud Palace, reports UNB.
Sheikh Hasina said Bangladesh is implementing 10 growth and employment-generating mega projects as is ready to take up more projects in diversified areas of infrastructure, connectivity and high-tech, tourism, health and education for a sustainable double-digit growth.
"We welcome Saudi entrepreneurs to invest in our emerging sectors like the capital market, power, energy, telecommunications and IT, petrochemicals, pharmaceuticals, shipbuilding, agro-processing,light engineering, blue economy,Research and Development (R&D) and technology innovation,water and marine and other infrastructure projects,and services sectors like, banking and finance, logistics, and human resource development," she said.
She mentioned that Bangladesh has earmarked 2,000 acres of land in one of the Exclusive Economic Zones for Saudi Arabian investors, which can be developed and operated according to their own requirements.
The prime minister further said: "The advantages of Bangladesh for the foreign investors, including Saudis' are -a young, committed and an easily trainable workforce with highly competitive wages, cheaper cost of setting us businesses, and access to large duty,quota-free markets that include the EU, Australia, Canada, India, Japan and New Zealand.
"It also has low-cost electricity and water, good credit rating, minimum risk factors, and fast technology adaptability. All these facilities combined together, Bangladesh gives the maximum return and dividend to investors."
The Prime minister also mentioned that Bangladesh has the most liberal investment policy in South Asia with most attractive incentives that return the highest profit rate. It includes the protection of Foreign Direct Investment(FDI) by law, incentives like generous tax holiday, concessionary duty on import of machinery, duty-free import of raw materials, remittances on royalty, 100% foreign equity, unrestricted exit policy, and full repatriation of dividend and capital on exit.
She said:"Bangladesh's strategic location is making it an emerging hub for regional connectivity, foreign investments and global outsourcing. We've eight fully operational "Export Processing Zones" (EPZs) exclusively for 100% export-oriented industries.In addition, we are developing 100 Economic Zones to ensure resilient and sustainable industrialization for new industries and investment at both public and private sectors."
The prime minister also added:"Bangladesh wants to connect and transform those by introducing smart, next-generation logistic networks so that these Zones become part of dynamic global supply chains.Two dozens of high-tech parks are also there in place.
"Bangladesh and Saudi Arabia have been enjoying excellent bilateral relation which is based on common faith, culture, values and aspirations."
"Trade relations between Bangladesh and Saudi Arabia dates back to the seventh century when Arab traders first set foot in the port city of Chittagong.Both countries have reached an increasing level of bilateral trade in recent years crossing the $1 billion mark in 2017-18 fiscal year. But,we are far behind in exploiting full potential of trade and investment opportunities," she added.
She mentioned that Saudi investment in Bangladesh now stands at $5 billion in 25 projects and it is primarily focused on the agro-based industry, food and processed food, textiles and garments, leather, petro-chemical,engineering and service sector products.
The Prime Minister further said: "Bangladesh is now the 32nd largest economy in the world in terms of purchasing power parity.Poverty rate has fallen to 21.8% in 2018 from 41.5% in 2006."
"In March 2018, the United Nations declared Bangladesh eligible for graduation from Least Developing Countries(LDC) group to a developing country.
"Last year, Bangladesh's economy was among the top-10 fastest-growing economies of the world. Despite the global economic turmoil, it maintained a sustained GDP growth of over 7% during the last 10 years reaching 7.86% this year," she added.
"We're expecting to reach8.25% GDP growth next year.At the same time,inflation has decreased to 5.4%. Foreign currency reserve has grown more than nine times since 2008-2009, to $33billion in 2018," she said.
CSC Chairman Dr Sami A Alabadi, Secretary General Dr Saud A Almashari and Saudi Ambassador to Bangladesh Abdullah HM Al-Mutairi also spoke at the program.
The Bangladesh delegation included Bangladesh Foreign Minister AH Mahmood Ali, prime minister's Private Sector Development Affairs Adviser Salman F Rahman, Chairman of Bangladesh Investment Development Authority Kazi Md Aminul Islam, Foreign Secretary Md Shahidul Haque andBangladesh Ambassador to Saudi Arabia Golam Moshi.
Full report at:
https://www.dhakatribune.com/bangladesh/development/2018/10/17/pm-woos-saudi-entrepreneurs-to-invest-in-bangladesh
--------
Car bomb destroyed, several militants killed in NDS raid in Nangarhar
Oct 17 2018
A vehicle-borne Improvised Explosive Device was destroyed and several militants were killed during a raid of the Afghan Intelligence, National Directorate of Security (NDS), operatives in eastern Nangarhar province of Afghanistan.
The provincial government media office in a statement said the said raid was conducted in the vicinity of Sherzad district.
The statement further added that the NDS Special Forces stormed a hideout of the militants in Marak Khel area of the district late on Monday night and as a result a car bomb which was prepared for an attack was destroyed and several militants were killed. The raid was conducted with an aim to arrest key Taliban group members Ehsanullah who is also famous as Sajid, Omar Tangiwal, and Abdul Raziq also famous as Khalid.
However, the named militants had escaped from the area before the operations were launched but several of their comrades were killed during the raid, the statement added.
Full report at:
https://www.khaama.com/car-bomb-destroyed-several-militants-killed-in-nds-raid-in-nangarhar-06174/
--------
Taliban claims responsibility for the explosion in Qahraman's office in Helmand
Oct 17 2018
The Taliban militants group in Afghanistan has claimed responsibility for the explosion in parliamentary candidate Abdul Jabar Qahraman's office in Lashkargah city, the provincial capital of Helmand province.
The Taliban spokesman Qari Yousuf Ahmadi in a statement claimed that the candidate has been killed along with his three colleagues in the tactical explosion.
A police source confirms that the parliamentary candidate Abdul Jabar Qahraman has lost his life in the explosion which was triggered by an explosive device planted in his office.
Provincial governor's spokesman Omar Zwak had earlier said at least eight people have sustained injuries in the explosion, including parliamentary candidate Abdul Jabar Qahraman.
Full report at:
https://www.khaama.com/taliban-claims-responsibility-for-the-explosion-in-qahramans-office-in-helmand-06170/
--------
Rohingya refugees in Bangladesh sold into forced labor: UN
Oct 17, 2018
The United Nations (UN) says mostly female Rohingya Muslim refugees are being sold into forced labor to make income for desperate families living in squalid border camps in Bangladesh.
The UN's International Organization for Migration (IOM) said in a statement that it had identified 99 cases of human trafficking since September 2017, further cautioning that realistic figures are probably much higher, Reuters reported Wednesday.
"The stories we commonly hear are of vulnerable people being approached by traffickers with false promises of work and a better life," IOM spokeswoman Dina Parmer said in a statement, noting that some refugees were not aware of the dangers.
"Others may be aware it is dangerous, but feel their situation is so desperate that they are willing to take extreme measures, perhaps sacrificing one family member for the sake of the rest of the family," the statement said.
According to the IOM's report, 35 of the victims were girls and 31 others were women. Victims also included 25 adult men and eight boys.
Bangladesh bars refugees from leaving the camps, or holding jobs other than participating in small-scale cash-for-work programs run by humanitarian agencies, the IOM said.
The statement further revealed that five women and four girls ended up in situations of sexual exploitation.
According to the report, a Bangladeshi charity group known as Young Power in Social Action (YPSA) is currently engaged in raising awareness among the Muslim refugees forced out of Myanmar about the risks of human trafficking, and has been compiling reports from Rohingya community leaders, as well as local and international organizations.
"More than 1,000 have been identified as victims of human trafficking," said Jishu Barua of the YPSA. "They are desperate to get out of the camps to make some money."
IOM insists that traffickers prey on the refugees, in desperate situations, offering them transportation and work opportunities.
Among the cases documented by the IOM is a woman who was forced to work "extremely long hours for very little pay in the fish processing industry" while other girls and young women were used as domestic maids.
The agency, however, did not elaborate on the locations where the refugees were being forced into labor and which countries they were potentially being transported to.
According to UN figures, more than 900,000 Rohingya Muslims that were forced to flee their homes in Myanmar currently live in Bangladesh's Cox's Bazar district — most of them in camps.
Tens of thousands of Rohingya Muslims were killed, injured, arbitrarily arrested, or raped by Myanmarese soldiers and Buddhist mobs mainly between November 2016 and August 2017, when many of the surviving members of the community started fleeing to Bangladesh en masse.
Full report at:
https://www.presstv.com/Detail/2018/10/17/577259/Bangladesh-Rohingya-refugees-Myanmar-United-Nations-International-Organization-for-Migration-IOM-forced-labor-female-refugees
--------
India
Muslim businessman funds Durga temple
18.10.18
A Muslim businessman donated Rs 11 lakh to help finish a Durga temple in Murshidabad's Suti whose construction had been stalled for three years for lack of funds.
Zahirul Islam inaugurated the temple in Bamuha on Sasthi (October 15), giving the village 5km from Suti the opportunity to hold its first puja. "Allah has given me generously. I spend Rs 20-25 lakh a year on social causes. So, I decided to help them with Rs 11 lakh," Islam said.
Bamuha is home to around 3,000 villagers. Nearly all are Hindu, except for a single Muslim locality of 300. The villagers are mostly small farmers and labourers.
The residents had collected Rs 4 lakh from among themselves in 2015. Construction began that year. The money collected was spent on purchasing the four-cottah land, building the foundation and other minor constructions.
Villagers then realised that Rs 10 to 12 lakh would be needed. As a result, the construction was stalled since the villagers had no other ways to raise money.
Over the next few years, members of the temple committee started looking for donors.
Assistant secretary of the Durga Mandir Committee, Atul Pramanik, said they had heard about Islam and his philanthropy and contacted him in April this year.
Islam, a contractor from Suti now settled in Durgapur town, is well-known across the district for making donations to build mosques.
"The temple committee approached Islam and asked him to have a look at its construction plans. In June, Islam visited the site himself and asked the committee members for a detailed layout and how much money it would take to finish the 45ftx30ft temple. The cost was estimated at Rs 11 lakh, including floor tiles.
https://www.telegraphindia.com/states/west-bengal/muslim-businessman-funds-durga-temple/cid/1672043
--------
Kashmiri Students Defer Decision To Leave AMU En Masse
October 17, 2018
ALIGARH: Kashmiri students at the Aligarh Muslim University have deferred their decision to surrender their degrees and leave the campus en masse Wednesday following revocation of the suspension order of the two students by the varsity.
The suspension order was revoked Tuesday night after a three-member enquiry panel set up by the varsity exonerated Waseem Ayyub Malik and Abdul Haseeb Mir, saying "no credible evidence" of their participation in any "unlawful assembly" in the varsity campus was found, AMU spokesperson Shafey Kidwai said.
They were suspended Friday for allegedly participating in an prayer meeting in the university campus for a Hizbul Mujahideen terrorist Manan Bashir Wani.
Both the students, besides one unknown person, were charged by police on sedition charges for allegedly raising "anti-India" slogans.
Former president of AMU Students' Union Mashkoor Ahmad Usmani told reporters that the decision to revoke the suspension order of the two Kashmiri students was a "welcome step" and will have salutary effect not only in the AMU, but also in the Kashmir Valley.
"We are strongly opposed to any anti-national act and we will never allow any such incident to take place at the campus. However, we are strongly opposed to any attempt to harass any student, be it from Kashmir or from any other part of the country.
"We feel that slapping of a sedition case against the two Kashmiri students by police was hasty, ill conceived and based on flimsy evidence," Mr Usmani said.
He said if the police fails to withdraw the cases, the Kashmiri students have decided to re-launch their protest and go ahead with their peaceful resistance by leaving the campus en masse.
Former vice president of AMU Students' Union Sajjad Subhan Rather, who hails from Kashmir and led a silent protest Tuesday at the venue of the All India AMU Alumni Meet, demanded justice for the Kashmiri students.
"We have come to the AMU to build our careers. Please do not snatch away the 'pens' from our hands," he said.
Meanwhile, former Supreme Court judge, Justice Markandey Katju, who is currently abroad, has made an emotional appeal to the Kashmiri students studying at the AMU, urging them not to be "carried away by emotions and abandon their promising futures".
"I wish to send my greetings to Kashmiri students since my DNA is same as theirs. They must not get disheartened by the recent unfortunate turn of events," Katju told PTI.
He assured the Kashmiri students that if they ever needed his help, he will always be available for them in a just cause.
According to AMU officials, Jammu and Kashmir Governor Satya Pal Malik is playing a key role in resolving the ongoing crisis at the AMU.
Full report at:
https://www.ndtv.com/india-news/kashmiri-students-defer-decision-to-leave-amu-en-masse-1933445
--------
J&K: Three terrorists, policeman killed in encounter in Srinagar
Oct 17, 2018
SRINAGAR: Three terrorists, including a wanted Lashkar-e-Toiba (LeT) commander involved in several killings, and a policeman were killed during an encounter between ultras and security forces in the city on Wednesday.
The district administration has closed all schools and educational institution in the city as a precautionary measure and mobile internet services have also been snapped.
Police assisted by the Central Reserve Police Force (CRPF) launched a cordon and search operation in Fateh Kadal in downtown area of the city following a specific intelligence input about the presence of terrorists there, a senior police official said.
"Cordon was laid in the early hours following specific intelligence input. Three terrorists, including Mehrajuddin Bangroo, were killed in the encounter," Inspector General of Police (IGP) Kashmir Swayam Prakash Pani said.
The other two terrorists have been identified as Fahad Waza and over ground worker Rayees, son of the house owner where the encounter took place.
The IGP said Bangroo was involved in several killings in Srinagar and was the key coordinator for the Lashkar in the city.
"Bangroo's elimination is an important achievement for security forces," Pani added.
Jammu & Kashmir: Three terrorists have been eliminated and one Jammu & Kashmir police personnel has lost his
life:… https://t.co/3c6NXaVpFk
— ANI (@ANI) 1539745656000
Giving details of the operation, police officials said a siege was laid around the house where the terrorists were hiding.
"As soon as the police barged inside the house, the policemen came under a heavy barrage of firing from the terrorists, resulting in injuries to one jawan, who succumbed later," the officials said.
They said the security forces responded to the firing of terrorists in equal measure and in the heavy exchange of fire, the house, where the ultras were hiding, got destroyed.
"The terrorists managed to run out of the house and tried to enter into an adjacent house, but were killed in the street," they added.
The policeman killed during the operation was identified as constable Kamal Kishore.
A wreath-laying ceremony was held for the slain policeman at the District Police Line here before his mortal remains were sent to his native place.
Srinagar: Wreath laying ceremony of Kamal Kishore, policeman of Special Operations Group (SOG) of J&K police,
who l… https://t.co/1xmlzps2IB
— ANI (@ANI) 1539758054000
Full report at:
https://timesofindia.indiatimes.com/india/jk-three-terrorists-policeman-killed-in-encounter-in-srinagar/articleshow/66260659.cms
--------
Arab World
Syrian Army Launches Fresh Attacks on ISIL after Terrorists Violate Agreement in South
Oct 17, 2018
The army's artillery and missile units opened heavy fire at ISIL's strongholds in Toloul al-Safa in the Eastern desert of Sweida.
Meantime, the army's aircraft pounded ISIL's positions in the region, imposing major losses on the terrorists.
The army attacks came after the ISIL violated an agreement with the government and Russian army that could make the way for their surrender to the army and let the hostages release.
The ISIL attacked the army positions after rejecting complying with the agreement.
The Syrian army troops have, thus far, liberated 3,000 square kmeters of land in their operation in Sweida desert and have now laid siege on the remaining pockets of the terrorists in Toloul al-Safa rugged terrain.
Terrorists, trapped in Toloul al-Safa, have no way but to surrender, army officers said.
On Sunday, the Syrian Army resumed its large-scale offensive against the ISIL in Toloul al-Safa region in the Eastern desert of Sweida.
Led by the elite 4th Division, the Syrian army kicked off a heavy assault this morning by storming the ISIL's positions from three different flanks, including the Qabr Sheikh Hossein front.
The 4th Division reportedly scored a new advance at the Qabr Sheikh Hussein front after an intense battle with the ISIL this morning.
According to a military source in Sweida city, the army managed to kill over ten ISIL terrorists, while also destroying several trenches and position in Toloul al-Safa region.
The Syrian Arab Army is now working to surround one of the highest peaks in Toloul al-Safa region before they make a major push to liberate this key hilltop in Southern Syria.
http://en.farsnews.com/newstext.aspx?nn=13970725000885
--------
US Army Sends Fresh Military Convoy to Manbij amid Turkey's Threats
Oct 17, 2018
The US Army sent a convoy, including several vehicles, to Manbij from its base in Ein Issa in Northern Raqqa, the sources said, adding that the Manbij Military Council has kept its gunmen on alert and banned traffick of motorcycles in the region after tensions intensified in the town in recent days.
The US army sent the convoy to Manbij after Turkish President Recep Tayyip Erdogan threatened that if the US army does not adhere to its commitments to remove the YPG from its positions in Manbij in a 90-day deadline, the Ankara forces will launch military operation in the region.
In a relevant development earlier this month, the Kurdish-led People's Protection Units (YPG) were preparing for a major showdown with the Turkish military in Northeastern Aleppo.
According to local activists, the YPG was seen raising trenches and building new positions in Western Manbij amid reports of a possible military operation by the Turkish Army.
Furthermore, the YPG brought in reinforcements in order to strengthen their forces around Manbij.
The Turkey's recent comments about the presence of Kurdish fighters inside Manbij raised a lot of red flags for the YPG, as it appears Ankara was preparing to launch a new operation to expel the group from the city.
Full report at:
http://en.farsnews.com/newstext.aspx?nn=13970725000502
--------
More Terrorists Including Commanders Killed by Unknown Raiders, Blast in Northwestern Syria
Oct 17, 2018
One of the field commanders of Horas al-Deen along with a number of his forces were killed after a bomb went off near the village of Kabani in Jabal al-Akrad in Northeastern Lattakia.
Local sources said that the bomb went off when the terrorists were detecting Syrian army positions in the region.
In the meantime, al-Syaq, a commander of Horas al-Deen was gunned down by unknown raiders near the village of Kansafrah Northwest of the small town of Kafr Nubl in Southern Idlib.
Also, two terrorists from Ahrar al-Sham, affiliated to the National Liberation Front, were killed after unknown assailants opened fire at a positon of the group in Jisr Beit in al-Ghaab Plain in Northwestern Hama.
Meanwhile, local sources in Idlib city reported that Tahrir al-Sham Hay'at (the Levant Liberation Board or the Al-Nusra Front) attacked one of the bases of the ISIL in the province that imposed several casualties on both warring sides.
Militant-affiliated sources reported on Sunday that tensions were rising among various groups of militants in Northern and Northwestern Syria over the Sochi Agreement as the deadline for its implementation was looming.
The sources said that violent feuds erupted among terrorists over Tahrir al-Sham Hay'at retreat from the demilitarized zone in Northern and Northwestern Syria and start of a so-called Salvation Government in the region.
In the meantime, a commander of Free Syrian Army (FSA) said that one of the most difficult phases of implementing the Sochi Agreement is withdrawal of militants that are enlisted as terrorists from the demilitarized zone and then relocation of the terrorist groups in other regions in Idlib without their dissolution.
The FSA commander further said that another serious difference over the Sochi Agreement pertains to the administration of those territories remaining under terrorists' occupation in Northern and Northwestern Syria in the presence of a salvation government and the interim government in the region.
Full report at:
http://en.farsnews.com/newstext.aspx?nn=13970725000686
--------
UN Syria envoy Staffan de Mistura to step down next month
17 October 2018
The United Nations Envoy for Syria Staffan de Mistura announced on Wednesday he will step down at the end of November after more than four years in the key post, setting back UN efforts to end the seven-year war in Syria.
"I will myself be moving on as of the last week of November," de Mistura told the UN Security Council during a meeting on the crisis in Syria.
The Italian-Swedish diplomat, who became the UN's third Syria envoy in July 2014, said he was leaving for "purely personal reasons" and had discussed his plans to leave with UN Secretary-General Antonio Guterres.
"I am not laying down the charge until the last hour of the last day of my mandate," he said.
De Mistura will be traveling to Damascus next week to push for the creation of a committee to agree on a post-war constitution for Syria.
Syria is resisting the UN-led effort to set up the constitutional committee that will be comprised of government officials, opposition members and representatives of civil society.
De Mistura was appointed UN envoy for Syria in July 2014 after veteran Algerian diplomat Lakhdar Brahimi resigned following the failure of peace talks in Geneva.
Brahimi spent two years in the position, stepping in after former UN chief Kofi Annan quit just six months into the role.
Full report at:
https://english.alarabiya.net/en/News/world/2018/10/17/UN-Syria-envoy-Staffan-de-Mistura-to-step-down-next-month.html
--------
US imposes sanctions on Iraq-based money exchange for ISIS ties
17 October 2018
The US Treasury imposed sanctions on Wednesday on an Iraq-based money services business, Afaq Dubai, believed to be moving funds for ISIS extremist group.
The Treasury's Office of Foreign Assets Control added the business to its list of specially designated global terrorists for "assisting in, sponsoring or providing financial, material or technical support" for ISIS, the department said in a statement.
The Treasury action followed a Pentagon decision on October, 11 targeting a financial group supporting ISIS.
The Treasury said the moves are part of a broader US effort to target a network of money services businesses that enable ISIS to carry out operations across the Middle East.
In September, the Treasury took action against ISIS financial facilitators with ties in the Caribbean and the Middle East. It took action against a money exchange group in Syria in December 2016.
The Treasury said Afaq Dubai is located in Iraq and does not have branches in the United Arab Emirates, despite its name.
Full report at:
https://english.alarabiya.net/en/News/middle-east/2018/10/17/US-imposes-sanctions-on-Iraq-based-money-exchange-for-ISIS-ties.html
--------
One year after Daesh defeat, Syria's Raqqa still in fear
October 18, 2018
RAQQA, Syria: A year after a US-backed alliance of Syrian fighters drove the Daesh group from the northern city of Raqqa, traumatized civilians still live in fear of near-daily bombings.
"Every day we wake up to the sound of an explosion," said resident Khaled Al-Darwish.
"We're scared to send our children to school ... there's no security," he added.
The militants' brutal rule in Raqqa was brought to an end in October 2017 after a months-long ground offensive by the Kurdish-led Syrian Democratic Forces supported by air strikes from a US-led coalition.
But despite manning roadblocks at every street corner, the SDF and the city's newly created Internal Security Forces are struggling to stem infiltration by Daesh sleeper cells.
At Raqqa's entrance, soldiers verify drivers' identity papers and carefully sift through lorry cargoes.
Inside the city, there are regular foot patrols and armored vehicles sit at strategic points.
Women wearing the niqab are asked to show their faces to female security members before entering public buildings.
"If there wasn't fear about a return of Daesh, there wouldn't be this increased military presence," said Darwish, a father of two, speaking near the infamous Paradise Square.
It was here that Daesh carried out decapitations and other brutal punishments, earning the intersection a new name — "the roundabout of hell."
While the nightmare of militant rule may be gone, most of the city still lies in ruins and there are near daily attacks on checkpoints and military vehicles, according to the Syrian Observatory for Human Rights.
Although a series of stinging defeats have cut Daesh's so-called caliphate down to desert hideouts, the militants still manage to hit beyond the patches of ground they overtly control.
Some Raqqa residents say the city's new security forces lack the expertise to cope.
"We are exhausted. Every day we don't know if we will die in a bomb explosion or if we will go home safe and sound," said Abu Younes, sitting in his supermarket near a roundabout not far from Paradise Square.
"There is no security — (the new security forces) on the roadblocks are not qualified and there is a lot of negligence," he complained.
"There are faults that enable Daesh to infiltrate the city easily and carry out attacks."
But despite the continued attacks, a semblance of normal life has returned to the city.
Shops have reopened and traffic has returned to major roads — albeit choked by the impromptu checkpoints.
In a public garden, children climb up a multi-colored slide and onto dilapidated swings as their mothers sit on nearby benches carefully keeping watch.
They are set amidst an apocalyptic backdrop of twisted metal and splayed balconies — the remnants of buildings torn apart by US-led coalition air raids.
Nearby, Ahmed Al-Mohammed pauses as he listens to music on his phone. Like others, he does not hide his disquiet.
"We're scared because of the presence of Daesh members in the city," the 28-year-old said.
"The security forces need to tighten their grip."
Ahmed Khalaf, who commands Raqqa's Internal Security Forces, defended the work of his men and claimed successes against the militants.
He said patrols are highly organized and that a "joint operation cell" had recently been established with coalition forces to monitor the city's security.
"Recently we arrested four (militants) — it was a cell that took part in attacks that terrorized the city," said Khalaf, sporting plain green fatigues.
"We are continuing our investigation to uncover the other cells," he added.
"Daesh's goal is to destroy the country and to not let anyone live in safety," he said.
Security and stability are what Najla Al-Ahmed wants most for her children.
Full report at:
"The war has worn us out. Us and our children. It has destroyed our future," she said.
http://www.arabnews.com/node/1389776/middle-east
--------
US says some withdrawal of militants from Syria's Idlib -pool report
October 17, 2018
ISTANBUL: There has been some withdrawal of militants from the demilitarization zone in Idlib following the Russia-Turkey deal on the northwestern Syrian region, the US special representative for Syria engagement told reporters in Ankara.
The two countries reached a deal to set up a buffer zone running 15-20 km (9-13 miles) deep into rebel territory and evacuated of all heavy weapons and all militants by Monday. Hayat Tahrir Al-Sham (HTS), a militant alliance spearheaded by Al-Qaeda's former Syrian affiliate, is the most powerful militant alliance in Idlib.
"The withdrawal of heavy weapons is complete by all accounts," James Jeffrey said. "There is some question as to whether everybody from (Hayat Tahrir Al-Sham) has left."
http://www.arabnews.com/node/1389496/middle-east
--------
Egyptian ex-lawmaker goes missing, may have been detained
October 17, 2018
CAIRO: The wife of a former Egyptian lawmaker says he went missing nearly three weeks ago and may have been detained by security forces.
Shaymaa Afifi says Mustafa El-Nagar went missing on September 27 while traveling to the southern city of Aswan. She has sent a request to prosecutors asking for information about his whereabouts.
She says an unknown person informed her by telephone last week that police arrested her husband but gave her no further details.
An appeals court on Monday upheld El-Nagar's conviction and three-year prison sentence for insulting the judiciary. He had been out on appeal.
Egypt's Interior Ministry did not respond to requests for comment.
Full report at:
http://www.arabnews.com/node/1389431/middle-east
--------
Pakistan
NUML holds conference on challenges to Muslim societies
October 18, 2018
Islamabad: Islamic Studies Department of National University of Modern Languages (NUML) organised forth two-day international conference on 'Contemporary Ideological and Moral Challenges to Muslims Societies and their Solutions from Islamic Perspective,' says a press release.
Federal Minister for Religious Affairs Dr. Noor ul Haq Qadri was the chief guest of the inaugural session while NUML Rector Major General (r) Zia Ud Din Najam, Dr. Masoom Yasin Zai, ex-rector International Islamic University, NUML Director General Brig Muhammad Ibrahim, scholars from the various universities of Pakistan and abroad, deans, directors and students attended the inaugural session.
Speaking on the inaugural session federal minister Dr. Noorul Haq Qadri said that Muslim Ummah has splendid past which was full of knowledge, equality, justice, morality but today we have lost everything. He said that there is only one key to regain that success and hounour is to act on the Sunnah of Holy Prophet Muhammad (Peace Be Upon Him) and follow His teachings.
Minister said that present government is committed to transform the homeland into the state of Madina of that times and every possible step will be taken in this regard.
He said that declaring prime minister house as an educational institute tells the priorities of the government. "Prime Minister Imran Khan committed to bring educational revolution in the country", minister said.
Earlier, NUML rector in his welcome address said that this conference must bring forth the suggestions to address the issue. He thanked the chief guest and guests for participating in the conference. The conference will conclude today (Thursday).
https://www.thenews.com.pk/print/382245-numl-holds-conference-on-challenges-to-muslim-societies
--------
Will keep exerting pressure on Pak until change in Afghan policy: US
Oct 18, 2018
WASHINGTON: Officials within the United States (US) Department of State said on Wednesday night that Donald Trump's administration would continue to exert diplomatic pressure on Pakistan until it changes its policy towards regional peace and stability in Afghanistan.
While addressing an event at the Wilson Centre, Henry Ensher, Acting Deputy Assistant Secretary for Pakistan for the State Department, said that negotiations on Afghanistan were a major area of policy divergence with Pakistan despite the significance of bilateral linkage with shared interests.
"As long as that continues, we will continue to colour and take centre stage in [the] bilateral relationship," he said.
"In reality, we have seen some action but we have not seen the decisive steps from Pakistan that could demonstrate commitment, ensuring their territory cannot be used by the Taliban, the Haqqani Network, and other groups that were so violent and bring instability in the region," he stressed.
Ensher also argued that the Trump administration's decision to withhold security assistance and coalition support fund (CSF) payments to Pakistan drew from its concerns over Islamabad's consistently "counter-productive policies".
However, the US State representative added that Washington had pinned hopes on the new civilian government under the leadership of Prime Minister Imran Khan, claiming that it had the opportunity to "fix bilateral relations" as well as to "bring peace and stability to Afghanistan and Pakistan by partnering with the US".
"Doing so will enable more mutually beneficial relationship," he noted, adding that the US was committed to forming productive diplomatic relations with Pakistan but not much could be done until Pakistan took reformative action.
"A future course of our relationship, and indeed the trajectory of Pakistan's development, rest in the hands of Pakistani leaders," he said.
Ensher addressed common criticisms of US policies in Pakistan. Firstly, that US-Pakistan relations had too strong a focus on Afghanistan, and secondly that the US exerted pressure on the country to manipulate Pakistan's regional policies.
He justified that diplomatic relations were such because the US had directly been engaged with the conflict for 17 years, though it did not occur in its own territory.
"It has more than 15,000 troops on the ground, spent more than $900 billion so far, and endured more than 2200 deaths," He added.
The official agreed that the Trump administration was more than willing to continue applying pressure to advance US national interests.
"We will continue to do so in South Asia as well as elsewhere, but it should not disguise the fact that we genuinely believe that a shift in Pakistan policy in aligning with our strategy is very much in Pakistan's own interests as well."
He warned Pakistan that its policies in Kabul don't serve "its own interests" as the militant group Daesh threatens peace in the region, as well as the possibility of Tehrik-i-Taliban Pakistan (TTP) using Afghan territory as a platform for attacks in Pakistan.
He appreciated Pakistan's support for ending the conflict through a negotiated settlements by bringing the Taliban to table.
"We know that Pakistan can't deliver a deal by itself, but Pakistan can play a constructive role. We welcome additional measures that Pakistan government could take to increase the willingness of the Taliban leadership to negotiate," he said.
Ensher reminded how long-standing proxy policies and contentious regional relationships have cost Pakistan in the past.
"Pakistan has a potential to be a leader in the region — economically and politically — but its policies have instead fed instability and division both in South Asia as well as in the country itself," he said.
INDO-PAK RELATIONS:
Speaking on Pakistan-India relations, he added that Washington hoped bilateral discussions between the two countries could move forward, however, the presence of terrorist groups on Pakistani soil could limit the potential for a positive outcome from such a dialogue.
Full report at:
https://www.pakistantoday.com.pk/2018/10/18/will-keep-exerting-pressure-on-pak-until-change-in-afghan-policy-us/
--------
Afghan Taliban kill parliamentary candidate in attack on election office
Tahir Khan
OCTOBER 17, 2018
ISLAMABAD: Just two days ahead of the elections in Afghanistan, an influential parliamentary candidate, Abdul Qaharman, was killed in a bomb blast in southern Helmand province on Wednesday.
Taliban claimed responsibility in a statement posted online. Abdul Qaharman was killed in the blast in his election office in Lashkargah, the capital of Helmand, Omar Zwak, spokesman for the Helmand's governor confirmed.
In Kabul, interior ministry spokesman Nusrat Rahimi said three supporters of Qaharman were also killed in the blast while seven other people were injured in the attack.
Taliban, who had threatened to disrupt the elections this week, said they were behind the attack on Qaharman, who was also a former lawmaker and retired general. The deceased had served on different military positions during the Communist regime.
President Ashraf Ghani's office condemned the attack, praised the slain leader and ordered investigation into the incident.
It is the second attack on an election candidate in Helmand this month. National Assembly candidate Saleh Muhammad Achakzai and his 8 supporters were killed in a bomb attack on October 9. No group claimed responsibility of the deadly attack on Achakzai.
In a suicide explosion on October 3, at least 16 people were killed in Kama district of eastern Nangarhar province. The Taliban claimed the attack days after they called upon the people to completely boycott the elections and not to participate by 'denying its value and credibility.'
A Taliban statement had also urged the candidates to refrain from participating in this process as they consider the elections as "fake and a conspiracy of deceiving the people for achieving the malicious interests of foreigners."
Full report at:
https://dailytimes.com.pk/311368/afghan-taliban-kill-parliamentary-candidate-in-attack-on-election-office/
--------
US must stay in Afghanistan until peace is achieved: army
OCTOBER 17, 2018
Inter-Services Public Relations (ISPR) Director General Major General Asif Ghafoor Tuesday said Pakistan wants US forces to stay in Afghanistan until complete peace is achieved in the war-torn country.
"Peace in Afghanistan is imperative for lasting peace in Pakistan and the whole region," the ISPR chief, who arrived in United Kingdom last week as part of a military delegation headed by Chief of Army Staff General Qamar Javed Bajwa, said in his address at the University of Warwick here. The world would not have been able to defeat al Qaeda without Pakistan's support, he said, adding that the international community must thank Pakistan for elimination of terrorism.
Maj Gen Ghafoor said Pakistan has rendered numerous sacrifices for achieving peace in the region. He noted that terror activities had marginally decreased following Pakistan Army's operations against terrorists. He said the terrorists who were against women's education had targeted Nobel laureate Malala Yousafzai. The DG ISPR told Pakistani students to be proud of their country for the contributions it has made to the world peace. He asked the students to come to Pakistan after completing their studies and play role in the development of their country.
https://dailytimes.com.pk/311266/us-must-stay-in-afghanistan-until-peace-is-achieved-army/
--------
Pakistan says 'active' efforts underway to recover Iran troops
Oct 17, 2018
ISLAMABAD: Pakistan on Wednesday informed Iran that it had launched "active" efforts to locate 11 Iranian security personnel, including Revolutionary Guards intelligence officers, who were abducted near the countries' shared border.
The Guards blamed "terrorist groups that are guided and supported by foreign forces" for the abductions on Tuesday on the southeastern border with Pakistan.
Pakistan's foreign ministry said Foreign Minister Shah Mahmood Qureshi met his Iranian counterpart Javad Zarif in Islamabad and briefed him "about the active efforts launched by the Pakistan law enforcement agencies to ascertain the whereabouts of the missing Iranian guards, in coordination with the Iranian military and intelligence counterparts".
Qureshi blamed the kidnapping on "our common enemies unhappy with the existing close, friendly relations between Pakistan and Iran", the foreign ministry said in a statement.
The group kidnapped was involved in "a security operation" and included two members of the elite Revolutionary Guards intelligence unit and seven Basij militiamen as well as regular border guards, said the Young Journalists' Club (YJC), an Iranian state-owned news website, in an article that was later deleted.
The abduction took place around the Sistan-Baluchistan province, which has long been a flashpoint, with Pakistan-based Balochi separatists and jihadists carrying out regular cross-border raids against Iranian security posts.
Full report at:
https://timesofindia.indiatimes.com/world/pakistan/pakistan-says-active-efforts-underway-to-recover-iran-troops/articleshow/66265908.cms
--------
Abraaj founder sought to buy influence with Sharifs, says WSJ
October 18, 2018
KARACHI: Arif Naqvi, the embattled founder of Dubai-based Abraaj Group, allegedly paid $20 million to businessman Navaid Malik for his assistance in securing cooperation of Sharif brothers for K-Electric sale, claims an article published in the Wall Street Journal (WSJ) on Tuesday.
The article alleges Malik was tasked with securing cooperation from Nawaz Sharif — former prime minister — and Shahbaz Sharif – former chief minister Punjab — to help Naqvi sell Abraaj's stake in K-Electric. The Government of Pakistan owns a 24.6 per cent stake in the Karachi-based power utility.
After reviewing company documents and emails, WSJ claims that Omar Lodhi — partner at Abraaj — in October 2015 informed Naqvi of Malik's assurance that former chief minister Shahbaz Sharif was "willing to give a strong endorsement" of the K-Electric deal to Chinese bidders.
The email also attributes the businessman saying it is "important for him to share every detail with the brothers and get their blessings as well as their instructions as to how this money [$20 million] should be distributed," such as "a portion to charity" or "a portion to the election fund kitty".
Abraaj's undoing began in February when an article from WSJ reported that investors were questioning the use of their investments destined for company's healthcare fund. Naqvi set up a healthcare fund by securing commitments from Bill and Melinda Gates Foundation and other Western Institutions. The fund's investments include Islamabad Diagnostic Centre in Pakistan and hospital chain Quality Care India.
The article claims that, "documents from liquidators, auditors and investors show that Abraaj moved investor money meant for hospitals and companies into accounts that paid its own expenses, salaries and loans. Abraaj founder Arif Naqvi denies any wrongdoing and says the transfers were appropriate."
The article which highlights some of the known details of the fund's collapse include using investor's money to pay for its own expenses, borrowing money against its own stakes in its funds and a highly unstable business model. The article alleges that, "Abraaj has defaulted on more than $1 billion of debt."
The firm also allegedly cooked its books when Gates Foundation asked Abraaj for bank statements of the accounts that held money for the healthcare fund. Following the request on Nov 30, 2017, Abraaj borrowed $140m from Air Arabia and transferred $29m from its own treasury in to the healthcare fund's account on Dec 5, 2017. However, after providing investors with a letter from Commercial Bank of Dubai confirming the presence of funds [$170m] in healthcare account, the company repaid $140m to Air Arabia and transferred $10m into Abraaj Treasury on Dec 13, 2017.
During investigations conducted in 2018, "lawyers for investors in the fund wrote to Abraaj stating that the balance of the fund had been just $16,186 on Dec 1, 2017 and $9.98m on Dec 15 and that Abraaj's transfer of the Air Arabia money to the fund was 'plainly improper.
The firm was able to attract massive investments for its use of private capital to solve social problems in the emerging markets but has damaged the trust in the entire movement after the fallout. The undoing of the fund has also raised questions on Dubai's regulatory environment.
The article also alleges that Naqvi transferred more than $200m to his personal accounts, companies linked to him, his family and his former assistant.
Naqvi denies WSJ allegations
Naqvi, however claims that, he was "perfectly entitled to direct" funds from Abraaj and claims that there was nothing untoward about those transfers to his personal accounts or his family. Payments were recorded as his personal liability to the company, Naqvi said.
In his statement, Naqvi said that he denies being part of any conversation that involved a payment to anyone in political office to facilitate the sale of K-Electric. He said Malik was an Abraaj adviser on a variety of activities and that the contract was part of a lengthy discussion about the terms of that role. He said the final agreement "ensured that no conflict of interest would occur." He said he called it "explosive" due to a reference to the potential sale of K-Electric, which was confidential at the time.
Naqvi said he was entitled to draw down funds from Abraaj, including for his sons and The Modist, an online luxury-clothing retailer started by his former assistant Ghizlan Guenez. No payments were made directly to Ms Guenez, he said. His sons declined to comment. The Modist said Naqvi is a personal investor in the company.
Full report at:
https://www.dawn.com/news/1439725/abraaj-founder-sought-to-buy-influence-with-sharifs-says-wsj
--------
Imran's close aide refuses to become his special assistant
Syed Irfan Raza
October 18, 2018
ISLAMABAD: Prime Minister Imran Khan got a setback on Wednesday when one of his close aides refused to become his special assistant.
According to a notification issued a couple of days ago by the Cabinet Division, the prime minister had appointed Sahibzada Amir Jahangir as a special assistant on foreign investments.
The notification said that Mr Jahangir's term as the prime minister's special assistant had begun on Oct 11.
Mr Jahangir had been serving as a senior adviser to Pakistan Tehreek-i-Insaf (PTI) chairman on foreign trade, investment and development. He is also head of the PTI's chapters for Britain and Europe.
However, on Wednesday Mr Jah­a­n­gir expressed regrets and anno­unced that he would not be assisting the prime minister owing to the severe criticism levelled at him by opposition parties and other people active on social media.
In a tweet, he said: "To work to attract foreign investments. I cannot permit any controversy and problems for my prime minister. Therefore I have decided to voluntarily withdraw from the assignment, though in my private capacity I will continue to bring foreign investments to Pakistan."
"I am honoured as the prime minister trusted in me by appointing me as special adviser for foreign investments. It is an honorary assignment. I decided not to [take] salary or benefits. However, fake allegations and media propaganda to malign my character and dignity could affect my performance," he added.
Interestingly, a prominent educationist from Khyber Pakhtun­khwa, Dr Amir Muhammad Khan Jogezai, had refused to accept the position of Balochistan governor that was offered to him by Mr Khan in August.
Similarly, adviser to the prime minister on parliamentary affairs, Babar Awan, had to step down from the post because the National Accountability Bureau had filed a reference against him for his alleged involvement in an inordinate delay in the construction of the Nandipur power plant.
Likewise, former inspector general of police Nasir Khan Durrani, who was appointed as chief of a task force formed to suggest reforms in Punjab police, resigned last week amid media reports that he had developed differences with the PTI leadership.
Full report at:
https://www.dawn.com/news/1439737/imrans-close-aide-refuses-to-become-his-special-assistant
--------
Gen Bajwa meets Italian defence minister, army chief
October 18, 2018
ROME: Chief of the Army Staff Gen Qamar Javed Bajwa has called on the Italian defence minister, army chief and secretary general of defence and discussed with them enhancement in bilateral defence and security cooperation, including potential joint initiatives.
The Italian leadership was highly appreciative of the role played by Pakistan in regional stability and also towards global security, said a press release issued by the Inter-Services Public Relations on Wednesday.
They maintained that Pakistan was well on its way towards a prosperous future and that Italy and Pakistan would benefit by building on the existing relationship between the two countries.
Asked about the success formula in the war against terrorism, Gen Bajwa said that it was due to the spirit of sacrifice and support of the nation, especially the people of tribal areas and the families of Shuhada and Ghazis.
The army chief said that although the fight was still on, Pakistan had emerged stronger from the tribulations.
He said that today's Pakistan was open to the world and the government was looking for peace within and peace without to provide its people the prosperity they deserved after the difficult times.
During the visit, the army chief was also presented demonstrations of Italian defence capabilities both for land and amphibious operations.
Full report at:
https://www.dawn.com/news/1439751/gen-bajwa-meets-italian-defence-minister-army-chief
--------
Europe
France closes Muslim Shia center on grounds of terrorism
Oct. 18, 2018
CAIRO – 18 October 2018: French authorities issued Wednesday an Official decree to close the Shia Muslim center "Zahra France", located in Grande-Synthe north of France, and freeze its assets for six months.
The decree was preceded by a police raid on the organization premises on October 2, where 11 members of the organization were detained and questioned. The raid took place on the grounds that the organization supports terrorist groups such as Hezbollah in Lebanon and Hamas in Palestine.
The French police departments issued a statement then explaining the reasons behind the security raids on the Shia center, accusing the group of promoting ideas and ideologies against the French Republic's values, besides supporting terrorist groups.
Zahra France center was founded in 2005, its activities focused on social and religious aspects, However the founder of the center, Yahia Gouasmi, started a political party in 2009 which ran for the European elections then, the party was accused of adopting anti-Semitic ideas by other French parties.
http://www.egypttoday.com/Article/2/59133/France-closes-Muslim-Shia-center-on-grounds-of-terrorism
--------
UK should impose sanctions on Saudi Arabia: Labour Party
Oct 17, 2018
The opposition Labour Party in the UK says the conservative-led government should consider imposing sanctions on Saudi Arabia over its alleged role in the murder and disappearance of a prominent critic and journalist.
John McDonnell, the second in command of Labour and its finance spokesman, said on Wednesday that London should have plans for slapping Riyadh with sanctions if it failed to answer questions about Jamal Khashoggi's disappearance in the Kingdom's consulate in Turkey.
"If we are not getting the legitimate answers that you would expect, we have got to be one of those countries ... that leads in the reaction to it," said McDonnell while speaking to reporters in the parliament.
Khashoggi has been unaccounted for since he entered the Saudi diplomatic mission in Istanbul on October 2 to collect documents for his forthcoming marriage.
Turkish police believes the journalist, who had been living in exile in the United States since last year, was killed inside the Saudi consulate and his body was removed. Riyadh has denied the allegations.
The Labour had earlier criticized Prime Minister Theresa May's response to Khashoggi's case.
The Party said earlier this week that it would impose a ban on arms sale to Saudi Arabia if it was in power. Sources in May's government have said that a ban on Saudi arms sale would enable rivals like Russia and china to fill the gap.
McDonnell said sanctions on Saudi Arabia should go beyond mere diplomatic measures and the kingdom should be punished economically. He said that Saudi Arabia should feel the tide because of the special relationship it has with London.
"That (our response) does mean, yes, diplomatic isolation but it also means economic sanctions," said McDonnell.
Full report at:
https://www.presstv.com/Detail/2018/10/17/577283/Britain-Labour-Saudi-Arabia-sanctions-Khashoggi
--------
Third of British people wrongly believe there are Muslim 'no-go areas' in UK governed by sharia law
Oct 18, 2018
Almost a third of British people now believe the myth that there are "no-go zones" where non-Muslims cannot enter, according to a report warning of mounting intolerance.
Research by Hope Not Hate found that economic inequality was driving hostility towards Muslims, immigration and multiculturalism, particularly in post-industrial and coastal towns.
"These areas also voted strongly for Leave in the referendum and, ironically, may well suffer most under a hard Brexit – making them a ripe target for the far and populist right," the group said.
"In effect, two Britains have emerged, with a more confident, diverse, liberal population now concentrated in our cities. The implications of this for Brexit, for the Labour Party, for politics in general, and potentially aiding the rise of a far-right movement, could all be profound."
The research comes following an increase street protests by far-right groups including the anti-Islam Democratic Football Lads Alliance and supporters of English Defence League founder Tommy Robinson.
A 2018 YouGov survey of more than 10,300 people showed that attitudes towards Muslims had been hardening in Britain in the wake of Isis-inspired terror attacks and grooming scandals where the majority of suspects have been of Pakistani heritage.
It found that the perception of Islam as a threat was moving into the mainstream, with 32 per cent of respondents believing that there are "no-go areas in Britain where sharia law dominates and non-Muslims cannot enter".
The view was shared by almost half of people who voted Leave in the EU referendum, and 47 per cent of Conservative voters.
The "no-go zones" theory, which is spread by global far-right pundits online has been widely debunked and where there have been isolated incidents of "Muslim patrols", suspects have been arrested and condemned by local Muslim leaders.
The most infamous group, called the Sharia Project, was headed by Siddhartha Dhar, an acolyte of Anjem Choudary who later joined Isis in Syria.
In the YouGov poll, a small majority felt that there was an increasing amount of tension between the different political and demographic groups in the UK.
Almost a third thought Islamist terrorists "reflected a widespread hostility to Britain from among the Muslim community", including two thirds of Leave voters.
Hope Not Hate's research mapped data from the YouGov poll across parliamentary constituencies to create a heat map of different attitudes.
Overall it showed that liberal attitudes are most concentrated in areas like major cities where diversity is a normal part of everyday life, and the population tends to be better educated, younger and enjoying greater opportunities.
Meanwhile, the greatest concern about immigration and Islam was found particularly in post-industrial towns and coastal areas, where populations are less diverse.
Researchers documented a "halo effect" where cities with large Muslim populations are surrounded by predominantly white British areas with more hostile views.
"Where non-Muslims live, work and socialise with Muslims, these interactions are likely to reduce prejudice," the report said. "But if people witness rather than experience super diversity, existing prejudices can be reinforced."
Nick Lowles, chief executive of Hope Not Hate, warned of a growing cultural divide between increasingly educated, diverse and multicultural metropolitan populations and those living in smaller towns.
"Communities with the greatest anxiety to immigration and multiculturalism are also the ones which has lost most through industrial decline," Mr Lowles said.
"These communities had failed to see any benefit in globalisation and were, if anything, going backwards … the Brexit vote was, in the eyes of many, those in the left behind communities getting their revenge.
"Views are hardening and the target of their anger is increasingly Muslims, Islam and the political establishment."
He said a sense of loss of hope and abandonment by the government was translating into hostility towards the political system.
"Political parties will not reduce anxiety or even hostility to immigration and multiculturalism by cracking down on immigration alone," Mr Lowles added.
"It is about rebuilding these communities, equipping their young people with the skills that will enable them to compete more effectively in the modern global world and – fundamentally – giving them a sense of hope in the future.
"It means genuinely empathising with them, ensuring that people like them are at the heart of the party and in decision making and it is about showing through action that they care.
"All this will require money and political will, but if we are to genuinely reduce anxiety about immigration and now growing hostility to British Muslims and Islam more generally, which could have seriously bad consequences, then we have to address the underlying issues which give rise of these attitudes."
Attitudes were found to be heavily influenced by age, social deprivation and education.
All 100 areas where people were found to be the most hostile towards immigration and multiculturalism were in towns or on the outskirts of cities, with 93 in the Midlands or north of England.
But the 100 areas most associated with "confident multicultural" populations were in central city areas and close to universities.
Younger people were less likely to be concerned with immigration, oppose diversity or believe that Muslims were "hostile to Britain" than over-65s.
Three quarters of people with university degrees thought that having a wide variety of backgrounds and cultures is part of British culture, and that immigration has been good for the country, compared to just 45 per cent of people educated to GCSE level.
Rosie Carter, who led a public engagement exercise for the research, said: "To fight fascism, we understand the need to take the economic link seriously.
Full report at:
https://www.independent.co.uk/news/uk/home-news/uk-no-go-zones-muslim-sharia-law-third-poll-hope-not-hate-far-right-economic-inequality-a8588226.html
--------
Afghan children deported from Europe left to fend for themselves in war-torn country
October 17, 2018
Afghan children seeking asylum in the European continent are repeatedly being returned to the war-ravaged country with no safeguard or support on the ground, a report commissioned by Save the Children found.
In 2017, nearly 44,000 Afghans filed for asylum in Europe. The exact number of children repatriated from Europe to Afghanistan is unknown, but evidence collected by the Samuel Hall – a social enterprise that authored the report, titled "From Europe to Afghanistan: the Experience of Child Returnees" – suggests the experience is a harrowing one.
Out of 57 interviewed child returnees, nearly three-quarters did not feel safe during the returns process. Over half reported instances of violence and coercion and nearly half arrived in Afghanistan alone or were escorted by police.
Only three children interviewed received a specific reintegration plan and assistance once in Afghanistan.
One 19-year-old boy, who was 17 when he was deported from Norway, recounted how he was forcefully deported from Norway after joining his sister, who had been granted asylum in the country.
"My sister was separated from us in Turkey, forced by the smugglers. After one-and a-half, two years, we found out that she is in Norway. During this time, we were in Greece, we had to sleep in parks, it was a difficult life there," he said, according to the report.
He arrived to Norway when he was 12 thanks to the family reunion program. Five years later, at the age of 17, he was deported together with the rest of his family. "The day of my brother's birthday, my sister came to celebrate. Around midnight, around 15 police officers came and surrounded the house. They told us we had to pack our things and go back to Afghanistan. We were all shocked, we were crying," he said.
He recounted being so depressed that he "could not think" and attempting to take his life the day before repatriation.
The boy is one of eight children – out of the 57 interviewed – who were born in Iran or Pakistan and had never been to Afghanistan. Return and (re-)integration have different meanings for these children as they prepare to set off to a country that has never been home, the report found.
The family of Afghani origin had suffered threats and discrimination in Iran, which prompted the decision to emigrate to Europe. Norway is not part of the European Union, but it is associated with the Union through its membership in the European Economic Area (EEA), which grants Norway access to the single market.
Similar cases involving children deported from EU member states, including Austria, Bulgaria and Sweden, were also documented.
Of the 53 interviewed children, only ten neither wished nor expected to re-migrate in the next year, which suggests that the support necessary to ensure sustainable returns for children are not in place.
While 45 children had attended school in Europe, only 16 were attending school in Afghanistan.
Human rights organizations have denounced the return of Afghan refugees, claiming that the institutions remain "wilfully blind" to the plight of Afghan nationals.
Full report at:
https://www.thenational.ae/world/europe/afghan-children-deported-from-europe-left-to-fend-for-themselves-in-war-torn-country-1.781598
--------
MPs back campaign to put Muslim heroine on British bank note
October 17, 2018
British politicians have thrown their weight behind a campaign to make a Muslim spy who resisted the Nazis the new face of the £50 note.
Aged just 29, Noor Inayat Khan was parachuted into occupied France to serve as a radio operator behind enemy lines during the Second World War. She helped run the Prosper network of resistance communications in Paris, an Special Operations Executive established by Winston Churchill in order to "set Europe ablaze".
As mass arrests by the Gestapo stifled the allies' communications networks across France, Khan refused to leave her French colleagues and single-handedly ran a cell of agents in Paris for 3 months. However, she was eventually betrayed and captured by the Nazis, eventually perishing in Dachau concentration camp.
Born to a wealthy American mother, and an Indian Muslim father in Moscow, the Sufi operative began her career as a children's writer in Paris before joining the war effort. A bust of her was unveiled in London in 2012 by Princess Anne.
The campaign has gathered support from senior MPs including Nusrat Ghani, Transport and Maritime Minister, as well as Tom Tugendhat, Chairman of the Foreign Affairs Select Committee.
Zehra Zaidi, who is helping lead the campaign, told The Telegraph: "Noor Inayat Khan was an inspirational and complex woman who was a Brit, a soldier, a writer, a Muslim, an Indian independence supporter, a Sufi, a fighter against fascism and a heroine to all. She navigated complex identities and has so much resonance in the world we live in today."
Tom Tugendhat said: "She was murdered in Dachau concentration camp and posthumously awarded the George Cross for her extraordinary courage fighting evil.
"She must be pretty unusual if not absolutely unique - it's nothing to do with her race, religion or sex - this is a woman who had everything, who came from a life of great privilege.
Full report at:
https://www.thenational.ae/world/europe/mps-back-campaign-to-put-muslim-heroine-on-british-bank-note-1.781534
--------
Southeast Asia
China says Muslim internment camps meant to bring minorities into "modern, civilized" world
October 17, 2018
BEIJING -- China on Tuesday characterized its mass internment of Muslims as a push to bring into the "modern, civilized" world a destitute people who are easily led astray -- a depiction that analysts said bore troubling colonial overtones. The report is the ruling Communist Party's latest effort to defend its extrajudicial detention of Central Asian Muslim minorities against mounting criticism.
China's resistance to Western pressure over the camps highlights its growing confidence under President Xi Jinping, who has offered Beijing's authoritarian system as a model for other countries.
About 1 million Uighurs, Kazakhs and other minorities have been arbitrarily detained in mass internment camps in China's far west Xinjiang region, according to estimates by a U.N. panel. Former detainees say they were forced to disavow their Islamic beliefs in the camps, while children of detainees are being placed in dozens of orphanages across the region.
The report by the official Xinhua News Agency indicated that key to the party's vision in Xinjiang is the assimilation of the indigenous Central Asian ethnic minorities into Han Chinese society -- and in turn, a "modern" lifestyle.
Xinjiang Gov. Shohrat Zakir said the authorities were providing people with lessons on Mandarin, Chinese history and laws. Such training would steer them away from extremism and onto the path toward a "modern life" in which they would feel "confident about the future," he said.
"It's become a general trend for them to expect and pursue a modern, civilized life," Zakir said, referring to the trainees. He said the measures are part of a broader policy to build a "foundation for completely solving the deeply-rooted problems" in the region.
China has long viewed the country's ethnic minorities as backward, said James Leibold an expert on Chinese ethnic polices at Melbourne's La Trobe University.
Leibold described Beijing's perspective on minorities as: "They're superstitious, they're deviant, they're potentially dangerous. The role of the party-state is to bring them into the light of civilization, to transform them."
Despite growing alarm from the U.S. and the United Nations, China has maintained that Xinjiang's vast dragnet of police surveillance is necessary for countering latent extremism and preserving stability.
The Turkic-speaking Uighurs have long resented restrictions placed on their religious practices. They say they experience widespread discrimination in jobs and access to passports.
In the Xinhua report, Zakir said authorities provide free vocational training in skills geared toward manufacturing, food and service industries. Zakir said "trainees" are paid a basic income during the training, in which free food and accommodations are provided.
The report appeared aimed at disputing accounts provided by former detainees, who have said they were held in political indoctrination camps where they were forced to denounce Islam and profess loyalty to the party.
Ethnic Uighurs and Kazakhs have told The Associated Press that ostensibly innocuous acts such as praying regularly, viewing a foreign website or taking phone calls from relatives abroad could land one in a camp.
Zakir said the training centers were for people "who are influenced by terrorism and extremism, and those suspected of minor criminal offenses" who could be exempted from criminal punishment.
Zakir did not say whether such individuals were ever formally charged with any crime or provided a chance to defend themselves against the allegations. The report also did not say if attendance was mandatory, though former detainees have said they were forcibly held in centers policed by armed guards.
Maya Wang, senior China researcher at Human Rights Watch, said the system deprived detainees of basic legal protections such as access to lawyers.
The authorities' attempts to justify the camps "illustrate what the 'rule of law' in China means - that the party bends it to its will and uses it as a weapon against perceived political enemies," Wang said in an email.
Zakir did not say how many people were in such courses, but said some would be able to complete their courses this year.
Zakir seemed to try to counter reports of poor living conditions within the camps, saying that "trainees" were immersed in athletic and cultural activities. The centers' cafeterias provide "nutritious, free diets," and dormitories are fully equipped with TVs, air conditioning and showers, he said.
Omir Bekali, a Xinjiang-born Kazakh citizen, said he was kept in a cell with 40 people inside a heavily guarded facility.
Bekali said he was kept in a locked room with eight other internees. They shared beds and a wretched toilet. Baths were rare.
Before meals, they were told to chant "Thank the party! Thank the motherland!" During daily mandatory classes, they were told that their people were backward before being "liberated" by the party in the 1950s.
The idea that one's beliefs can be transformed through indoctrination dates back to the Mao Zedong era, when self-criticisms and public humiliation were routinely employed to stir up ideological fervor.
The program's philosophies can be traced even further back to the late imperial era, when Xinjiang's "natives" were seen as requiring education in the Confucian way, according to Michael Clarke, a Xinjiang expert at Australian National University.
Amnesty International called the Xinhua report an insult to detainees and the families of people who have gone missing in the crackdown.
"No amount of spin can hide the fact that the Chinese authorities are undertaking a campaign of systematic repression," the human rights group said.
https://www.cbsnews.com/news/china-muslim-internment-camps-bring-them-into-modern-civilized-world/
--------
Malaysian court bars unilateral child conversions
October 17, 2018
A Malaysian court has reaffirmed that the conversions of minors to Islam can only be made with the consent of both parents and not just a single parent.
The ruling by the Kuala Lumpur High Court on Oct. 16 was seen as testing the precedent set by the landmark ruling in January by the country's supreme court that overturned the conversion to Islam of three children of Indira Gandhi, a Hindu mother, by her estranged husband.
In the latest case, the first similar case since the landmark verdict, justice Azizah Nawawi said she was bound by the federal court's decision and ruled in favor of the Buddhist father who had challenged the unilateral conversion of his two children by his Muslim convert ex-wife.
The ruling invalidates the certificates of conversion of his two children, who were born in a civil marriage when his now ex-wife was still a Buddhist, issued by Malaysia's Islamic authorities in 2016.
Justice Azizah noted in her ruling that it was not in dispute that the children were converted without the consent of both parents and therefore the court was "bound by the decision in Indira Gandhi case."
The ruling compels the state's powerful Islamic authorities to immediately cancel the children's registration as Muslim converts in their records or Muslim converts' register, a crucial requirement to protect the children from any intrusion in their lives by Islamic authorities.
The court also rejected a request by their mother for a stay to quash the children's conversion to Islam. The two children are currently under the father's custody.
The two children, then aged eight and three, were converted to Islam on May 11, 2016 without their father's knowledge and consent. That was also the day that he had filed a fresh application for divorce at the high court.
Separately, the Buddhist father and Muslim convert mother have been locked in court disputes over the custody of the two children. On Sept. 13, the court of appeal decided that the father would have sole guardianship, custody of the two children, reversing a lower court ruling.
The father was reunited with his children who he had been separated from since April.
A court order bars the media from naming the family members. The elder child is now aged 10, while the younger child is now 6 years old.
The lawsuit, which was filed on June 14, 2016, was against five respondents, namely the Federal Territories Islamic Religious Department director-general, the Federal Territories Registrar of Muslim Converts, the education ministry director-general, the government of Malaysia and the Muslim convert mother.
Mazlifah Ayob, the counsel in Attorney General's Chambers' representing the government respondents, said she would be seeking instructions on whether to appeal the decision.
In the landmark decision in Jan. 29, Indira Gandhi, a Hindu mother, had filed a similar judicial review application to challenge her Muslim convert ex-husband's unilateral conversion of their three children — then aged 11, 10 and with the youngest just over 11 months old — to Islam without her or the children's knowledge or consent.
Like the more recent case, the children were born into a civil marriage to a couple who were initially non-Muslims, but were converted to Islam unilaterally by one of the parents who became a Muslim. Both cases also involve court disputes over custody of the children.
The federal court's five-man panel in Indira Gandhi's case had unanimously declared it was unlawful to unilaterally convert children to Islam and that the consent of both parents is required before a child born in a civil marriage can be converted to Islam.
Despite the rulings, Malaysian laws on children's rights and protections in place remain opaque.
The government had proposed a ban on unilateral child conversions by amending the Law Reform (Marriage and Divorce) Act 1976, but dropped the initiative following pressure from certain Islamic groups.
Muddying the waters is a previous federal court ruling that interpreted the word "parent" in the federal constitution as a single parent, and not both.
After the Indira ruling, former prime minister Najib Razak had pledged to consider re-introducing a legal amendment to ban unilateral child conversions to Islam, but nothing was tabled in the last parliamentary session before his coalition's defeat in the May 9 election.
Full report at:
https://www.ucanews.com/news/malaysian-court-bars-unilateral-child-conversions/83650
--------
Mindanao religious leaders campaign for new Muslim region
October 18, 2018
Christian and Muslim religious leaders in the southern Philippines have vowed to work for the ratification of a proposed law that will create an autonomous Muslim region in Mindanao.
The new region, which will be called the Bangsamoro Autonomous Region in Muslim Mindanao, will be bigger than the current entity and will have fiscal autonomy and its own justice system.
"We will go all out to win the hearts and minds of the electorate," said Dr. Hamid Barra of the National Ulama Conference of the Philippines.
A plebiscite to ratify the proposed Bangsamoro Organic Law is scheduled on Jan. 21, 2019, across Mindanao.
Barra called it a "milestone towards the realization of self-determination for the Bangsamoro (local Muslims), as well as peace and development for all people in Mindanao."
Father Clifford Baira, social action director of Cotabato Archdiocese, said the group Christians for Peace would also conduct an information awareness campaign on key points of the law.
He said Christians in Mindanao have already come up with a 17-point "Christian Settlers' Peace and Development Agenda" for the proposed Bangsamoro region.
President Rodrigo Duterte signed in July the Bangsamoro Organic Law, which is anchored to a peace agreement signed by the government and the rebel Moro Islamic Liberation Front in 2014.
Last week, the international donor community reiterated its support for the Mindanao peace process during a meeting with top government and rebel leaders,
Ola Almgren, resident coordinator of the United Nations in the Philippines, stressed the need for synergy among international donor agencies in the implementation of programs and projects.
"There must be an alignment of our plans with those of the Bangsamoro," said the U.N. official.
In a statement, Jesus Dureza, Duterte's peace adviser, underscored the role of foreign partners in implementing the peace process.
"Expectations from the people are very high. There is still a lot of work that needs to be done," he said.
Full report at:
https://www.ucanews.com/news/mindanao-religious-leaders-campaign-for-new-muslim-region/83649
--------
Relax, It's Just Religion: Feby Indirani's 'Magical Islamism'
October 17, 2018
Jakarta. Published last year, Feby Indirani's book "Bukan Perawan Maria" or "Not Virgin Mary" is filled with stories about Indonesian Muslims finding themselves caught in strange, surrealistic circumstances.
A suicide bomber, anticipating a heaven full of angels, is stuck in the afterlife's waiting room.
A corpse, who had spent her lifetime learning Arabic so she could pass her mandatory interrogation in the grave with flying colors, gets a shock of her (after)life when she's questioned by an angel speaking in her mother tongue, Sundanese.
A pig, an animal considered najis ("dirty") and whose meat is haram ("forbidden") to be consumed by Muslims, wants to convert into Islam.
Feby told the Jakarta Globe in a recent interview that her book belongs to a new genre of her own invention, called "Magical Islamism."
"Many things in this life and beyond are magical. The afterlife, supernatural beings, all those are magic," the writer and journalist said.
Feby said her book presents narratives written from multiple points of view with dabs of dark humor.
She pours out questions about Islam that she's waited to ask all her life, and tries to make readers empathize with people who might have different interpretations of the religion.
"The characters [in my book] believe everything they are taught, but can you be sure what's going to happen in the hereafter? Everything comes back to our interpretations of the [Quranic] tenets. Every time we talk about religion, we should ask ourselves this question: are we talking about the religion itself or our interpretations of it?" Feby said.
The author herself comes from a Muslim family, just like "many moderate Muslim families out there."
Feby's family encouraged her and her siblings to pursue formal education.
They were allowed to read whatever books they want and ask all the questions they wanted to ask.
"Living in Indonesia makes you unable to shake off religion no matter how un-religious you may feel. Every one hundred meters or so, you'll find a mosque or other places of worship. You simply can't separate religion from our life," she said.
Feby has written about the problems of religion in both fiction and non-fiction.
One of her essays, "Rangkul Dia, Perempuan yang Membuka Jilbabnya" ("Hug Her, That Woman Who Takes Off Her Hijab"), calls for people not to judge female Muslims who choose to take off their headscarves.
The essay made it into a collection of essays published by feminist online magazine Magdalene, titled "Menjadi Perempuan" ("Becoming a Woman").
When Feby was working as a journalist for Tempo magazine, she traveled to Tasikmalaya to interview members of the persecuted Islamic sect Ahmadiyah.
The trip resulted in a book titled "Ahmadiyah: Keyakinan yang Digugat" ("Ahmadiyah: A Faith Accused").
Feby said her family didn't have a problem with her interviewing a group that many Muslims in Indonesia think of as blasphemous.
"My family is that open-minded. But still, one question remained for me. Who has the right to determine which Islam is right or wrong? The Syiah and Ahmadiyah communities here are marginalized because people say they practice the wrong kind of Islam. Who has the authority to say which is the right Islam and which are the wrong ones? Writing is my way to bring that question to the public," said the author, who participated in the Australia-Indonesia Muslim Exchange in 2006.
Power of Fiction
Feby said she was worried her book Bukan Perawan Maria would attract negative reactions, even abuse, but that didn't stop her from publishing it.
For a while though, she couldn't find any publisher willing to take the risk.
Religious tension in Indonesia was at an all-time high during the divisive Jakarta gubernatorial election when Feby completed the manuscript, so mainstream publishers were hesitant to publish it.
In the end, Feby decided to partner with cultural organization Pabrikultur, founded by film critic Hikmat Darmawan, to put the book out.
Some of the stories in Bukan Perawan Maria had already been published in magazines and blogs.
"Baby Ingin Masuk Islam" ("Baby Wants to Convert" – the word for "pig" in Indonesian is "babi," phonetically close to "baby") was first published on Qureta in November 2016, the same month when the first anti-Ahok rally by hardline Muslim groups took place in Jakarta.
The story garnered thousands of clicks, and surprisingly, hardly any negative comments.
After that, a report on her book launch and a short story called "Rencana Pembunuhan Sang Muazin" ("A Plot to Kill the Muezzin"), which also ends up in Bukan Perawan Maria, were published on detik.com.
The responses were starkly different.
In the article, many commenters called out Feby for offending Islam, but the short story's comment box was filled with praises.
"It's interesting to see how people often just read the headline and get angry immediately. But when they read fiction, it's almost impossible to jump into conclusions. They have to read it first, digest the content. They have to postpone their response. That's crucial. They actually have to read what it's all about first before they comment," she said.
Bukan Perawan Maria has been translated into English, and is in the process of being translated into Italian.
"People from western countries like Australia and the United States are saying that conservatism is rising in Indonesia, that it's no longer a tolerant place. To me, it's important that this book is translated into English to show the world that we're not that bad. The fact that Bukan Perawan Maria exists shows that Indonesia has not become totally conservative, and hopefully we won't reach that point because there are many people fighting for diversity here," she said.
Relax, It's Just Religion
Feby took her time to figure out a way to present the book to the public in an inviting way.
Among the challenges included the perception that only religious leaders should be allowed to talk about religion.
"But what's wrong if artists talk about it? We rarely talk about religion per se, but our personal experiences are always bound together with it. The thing is, art can be interpreted in many ways. We can enjoy art together even if we don't share the same opinion," Feby said.
This was the thinking behind Feby's "Relaksasi Beragama" ("Relax, It's Just Religion") exhibition, which was held on July 15-25 in Jakarta.
In the exhibition, seven artists offered their own interpretations of Feby's stories.
The goal of the exhibition, Feby said, was to start conversations around religion that aren't polarizing and "don't always revolve around right and wrong, the existence of hell, calling out a person as kafir [nonbelievers] or onta ['camel,' an offensive nickname for conservatives]."
The exhibition pulled in around 1,000 visitors and many of them suggested the exhibition should be taken on a tour around the country.
Feby then applied for the Cipta Media Ekspresi grant for women in the arts and won Rp 200 million ($13,000) that she will use to host the exhibition in Bandung (West Java) and Mataram and Lombok (West Nusa Tenggara).
She chose the above cities for a reason.
According to a Setara Institute report released in 2015, Bandung was one of the most intolerant cities in Indonesia.
Mataram made it to the same list last year.
The Bandung exhibition was held last month.
Because of the massive earthquake in Lombok in July, the exhibition there that was initially planned for August had to be postponed to the 27th of this month.
Some of the local artists who were going to take part in the exhibition in Lombok also pulled out because they still had to cope with the aftermath of the disaster.
Both these exhibitions feature training sessions for the public to teach them a more relaxed way of discussing and practicing religion.
Feby works with local female artists in each city.
Aside from fostering dialogues on religion, the exhibitions are also meant to empower female artists.
"Most religious figures are men, so female voices are rarely heard. And these aren't just women, but also artists. They might not be the accepted authority to speak about religion. But as individuals, are we not allowed to respond to religious issues in our own way?" Feby said.
Feby, who is going to appear at the Ubud Writers and Readers Festival later this month, said she is writing another short story collection as part of her Relax, It's Just Religion campaign, set for release in 2019.
Full report at:
https://jakartaglobe.id/features/relax-just-religion-feby-indiranis-magical-islamism/
--------
Indonesia Questions Australian Leader's Announcement on Jerusalem Embassy Move
October 16, 2018
Jakarta. Indonesia raised concern on Tuesday over Australian Prime Minister Scott Morrison's recent announcement that he was open to moving his country's embassy in Israel to Jerusalem.
"Indonesia is concerned about this matter and questions the merit of the announcement," Foreign Minister Retno Marsudi said during a joint press conference with Palestinian Foreign Minister Rayid al-Maliki, who is currently on a visit to Jakarta.
Morrison's proposal follows a similar announcement by United States President Donald Trump in December last year.
Trump's recognition of Jerusalem as the capital of Israel sparked international condemnation, with Indonesia being one of the most vocal in its opposition. The country rallied support for Palestine through different platforms, including the Organization of Islamic Cooperation.
Despite this, the United States proceeded with its plan by relocating its embassy from Tel Aviv to Jerusalem in May.
Al-Maliki described the announcement as "sad news" and said Australia would be violating several United Nations Security Council Resolution, including No. 478 of 1980.
The resolution condemns Israel's attempt to annex East Jerusalem and states that the Security Council will not recognize Israel's declaration of Jerusalem as its capital.
Indonesia reiterated the importance of a two-state solution to the Israeli-Palestinian conflict this week.
"Indonesia has asked Australia and other countries to continue their support for peace in Palestine and Israel, according to international law, and to refrain from taking steps that could threaten peace, stability and security in the world," Retno said.
Indonesia and Australia concluded talks on a bilateral trade deal in August, after years of negotiations. The two neighbors are due to sign the agreement by the end of this year.
Trade Minister Enggartiasto Lukita said Jakarta was not considering putting the agreement on hold, despite Australia's new stance on Israel, Reuters reported.
Full report at:
https://jakartaglobe.id/news/indonesia-questions-australian-leaders-announcement-on-jerusalem-embassy-move/
--------
China Defends 'Anti-Extremism' Measures in Xinjiang as Scrutiny Mounts
October 17, 2018
Beijing. Vocational training is being used "to the greatest extent" in China's far-western Xinjiang region to ensure militant activities are "eliminated before they occur," a senior Communist Party official said.
The state media interview with Shohrat Zakir, the number two party official and most senior ethnic Uighur in Xinjiang, is China's most detailed defense yet of its policies in the region, which is home to a large Muslim population.
Reports of mass detentions and strict surveillance of ethnic Uighurs and other Muslims have prompted the United States to consider sanctions against officials and companies linked to allegations of human rights abuses.
After initially issuing blanket denials, Chinese officials have in recent weeks said they were not enforcing arbitrary detention and political re-education across a network of secret camps, but rather some citizens guilty of minor offences were sent to vocational centers to provide employment opportunities.
The measures had helped to prevent violent militant attacks in Xinjiang for the past 21 months, Zakir said in an interview published by the Xinhua news agency.
Trainees signed "education agreements" to receive "concentrated training" and undergo "live-in study," Zakir said.
They received Chinese language lessons and lectures on the country's constitution and laws, he said, without specifying how many people were receiving such training. Skills training included food processing, assembling electronic products, hairdressing, clothes making and e-commerce.
"Through vocational training, most trainees have been able to reflect on their mistakes and see clearly the essence and harm of terrorism and religious extremism," Zakir was quoted as saying.
"They have also been able to better tell right from wrong and resist the infiltration of extremist thought," he said.
Beijing has faced an outcry from activists, scholars, foreign governments and UN rights experts over what they say are mass detentions and strict surveillance of the mostly Muslim Uighur minority and other Muslim groups who call Xinjiang home.
Human rights groups and former detainees have said that conditions in the camps are poor, with inmates subject to psychological and physical abuse. They said detainees did not receive any vocational training.
In response, Beijing has mounted a sophisticated counterattack to criticism of its policies in Xinjiang, courting foreign media and running opinion pieces abroad as its seeks to spin a more positive message.
China says Xinjiang faces a threat from Islamist militants and separatists. It rejects all accusations of mistreatment in an area where hundreds have been killed in unrest between Uighurs and members of the ethnic Han Chinese majority.
The interview with Zakir comes a week after Xinjiang inserted into its anti-extremism regulations new clauses that prescribe the use of "vocational training centers" to "educate and transform" people influenced by extremism.
James Leibold, a Xinjiang expert at La Trobe University in Melbourne, said China was increasingly seeking to deflect international criticism by attempting to retrospectively justify the mass detention camps.
Full report at:
https://jakartaglobe.id/international/china-defends-anti-extremism-measures-xinjiang-scrutiny-mounts/
--------
Mideast
Turkish, Saudi investigators enter consul's residence in Istanbul as Khashoggi remains missing
Oct 17, 2018
Saudi Arabia and Turkey have reportedly sent investigative teams to inspect the Saudi consul general's residence in the Turkish city of Istanbul, as the kingdom struggles to convince the world that it had nothing to do with the mysterious disappearance of dissident journalist Jamal Khashoggi.
Over a dozen police officers and prosecutors, including forensic experts, entered the compound of Mohammed al-Otaibi on Wednesday, a day after he returned to Saudi Arabia.
Turkish and Saudi investigators are working together to find out what exactly happened to Khashoggi, who is believed to have been murdered after entering the Saudi consulate in Istanbul on October 2.
Ankara has criticized Riyadh's lack of enthusiasm to get to the bottom of the incident. It took Saudis two full weeks before allowing Turkish investigators into the consulate on Monday.
Turkey's National Intelligence Organization says it is in possession of secret audio recordings that incriminate Otaibi and other Saudi officials in the case.
Leaked details of the 11-minute recording published by Turkish media on Tuesday and Wednesday pointed to the gruesome "torture and murder" of Khashoggi inside the consulate. According to some reports, the journalist was slowly dismembered by an assassination squad as Saudi diplomats calmly listened to music.
Citing Turkish law enforcement sources, Al Jazeera, reported that Saudi intelligence elements had "verbally abused and used profanity to address Khashoggi, in addition to torturing him during the first four minutes after he entered the Saudi consulate."
Turkish officials have reportedly informed their American counterparts that they had audio and video recordings pointing to Khashoggi's death inside the consulate, according to The Washington Post, to which Kahshoggi was a contributor.
Meanwhile, US President Donald Trump said Wednesday he had asked Turkish officials to hand in their evidence.
Khashoggi entered the Saudi mission to obtain the required paperwork for marrying his fiancée, who claims she waited outside the consulate for 11 hours but did not see him come out.
Saudi authorities, on the other hand, insist that Khashoggi left the building on the same day.
German FM, IMF chief cancel trips to Saudi Arabia
Khashoggi's suspected murder and Saudi Arabia's lackluster efforts to solve the case has negatively affected Riyadh's economic reform drive, chasing away investors and foreign officials alike.
On Wednesday, German Foreign Minister Heiko Mass called off his scheduled visit to Riyadh and asked Saudi officials to "fully cooperate" in the investigation.
"Regarding my travel plans […] we were actually considering a visit as part of our dialogue with Saudi Arabia. Now we would wait and see," he told reporters.
Earlier in the day, Christine Lagarde, the managing director of the International Monetary Fund (IMF), also announced that she would skip a high-profile Saudi economic event next week.
So far, major businesses such as Uber Technologies, Viacom, JP Morgan and Ford have boycotted the three-day event, dubbed "Davos in the Desert."
CNN, the Financial Times, The New York Times, CNBC, Bloomberg and other major media outlets have also pulled out.
https://www.presstv.com/Detail/2018/10/17/577300/Saudi-investigators-Otaibi-residence-Istanbul-Khashoggi
--------
ICC prosecutor 'alarmed' by Gaza violence
Oct 17, 2018
The International Criminal Court's chief prosecutor Fatou Bensouda says she is "alarmed" by violence at the border between the besieged Gaza Strip and the Israeli-occupied territories, threatening to take an action.
The warning comes on the heels of Israeli aerial assaults on Gaza that killed a Palestinian youth.
The Israeli military claimed that its fresh air raids came "in response to the rockets fired from Gaza" onto occupied territories overnight. The claim was, however, rejected in a joint statement by Gaza-based Palestinian resistance groups.
The Hague-based court has been conducting a preliminary probe into crimes in the Palestinian territories since 2015.
The probe covers Tel Aviv's actions during the regime's full-scale war of 2014 against the Gaza Strip.
Bensouda said in a statement on Wednesday that she was "alarmed by the continued violence, perpetrated by actors on both sides, at the Gaza border with Israel."
"As prosecutor seized of the situation in Palestine, I therefore feel compelled to remind all parties that the situation remains under preliminary examination by my office," she added.
"I continue to keep a close eye on the developments on the ground and will not hesitate to take any appropriate action."
Tensions have been running high along the border between the besieged Gaza Strip and the occupied territories since March 30, which marked the start of a series of protests dubbed "The Great March of Return." Palestinian protesters demand the right to return for those driven out of their homeland.
The clashes in Gaza reached their peak on May 14, the eve of the 70th anniversary of Nakba Day, or the Day of Catastrophe, which coincided this year with Washington's relocation of the US embassy from Tel Aviv to occupied Jerusalem al-Quds.
More than 190 Palestinians have so far been killed and over 20,000 others wounded in the renewed Gaza clashes, according to the latest figures released by the Gaza Health Ministry.
Gaza has been under Israeli siege since June 2007, causing a decline in living standards as well as unprecedented unemployment and poverty.
Full report at:
https://www.presstv.com/Detail/2018/10/17/577291/ICC-prosecutor-Gaza-violence
--------
Yemeni army, Arab Coalition block Houthi attempt to open Sanaa, Hodeidah route
18 October 2018
The Yemeni army, with support from the Arab Coalition supporting legitimacy, blocked an attempt by the Houthi militias to open routes between Hodeidah and Sanaa.
The sources added that Houthi militias had sent reinforcements to attack army posts but suffered severe losses, and failed to infiltrate the road to Hodeidah from Sanaa from the Kilo 10 area.
The army's media center said that 70 Houthis were killed during violent battles where the Arab Coalitions' vigorous air raids caused severe losses on the militias' fronts in Hodeidah.
Sources said that the air raids targeted Houthi gatherings and bases killing dozens, and destroying an armed vehicle.
https://english.alarabiya.net/en/News/gulf/2018/10/18/Yemeni-army-Arab-Coalition-block-Houthi-attempt-to-open-Sanaa-Hodeidah-route.html
--------
Israeli, Saudi army chiefs meet in Washington: Report
Oct 17, 2018
Israeli media reports suggest the regime's military chief Gadi Eizenkot has held talks with his Saudi counterpart, major General Fayyad bin Hamid Raqed al-Ruwaili, in Washington as Tel Aviv moves to make its secret ties with Persian Gulf Arab governments public.
Israel's Kan public broadcaster reported that the two sides had discussed several regional issues, including Iran, during their meeting that took place on the sidelines of the Counter–Violent Extremist Organizations conference for military commanders, in the US on Tuesday.
In addition to Ruwaili, Eizenkot also met with his counterparts from several Arab states on the sidelines of the same event without mentioning which countries they were, the report added.
The meeting between Eizenkot and Ruwaili was the first publicized talks between the two military chiefs.
After his first participation in the event, Eizenkot made a rare interview with the Saudi-owned Elaph online newspaper last November, during which he expressed Tel Aviv's readiness to share intelligence with Riyadh to help boost their joint efforts to confront Tehran.
"We are ready to exchange experiences with Saudi Arabia and other moderate Arab countries and exchange intelligence to confront Iran," he said, adding, "There are many shared interests between us and Saudi Arabia."
Israel and Saudi Arabia have no diplomatic relations, but are widely believed to have secret liaisons. Based on latest reports, the two regimes are even working behind the scenes to establish formal contact.
Critics say Saudi Arabia's flirtation with Israel would undermine global efforts to isolate Tel Aviv and harm the Palestinian cause.
They say Riyadh has gone too far in its cooperation with Tel Aviv as a way of deterring Tehran as a regional rival.
Full report at:
https://www.presstv.com/Detail/2018/10/17/577236/Saudi-Arabia-Israel-Gadi-Eizenkot
--------
Africa
UN to deliver aid to Syrians trapped near Jordan border
18 October 2018
The UN said Wednesday it was organizing a joint aid convoy with the Syrian Arab Red Crescent to tens of thousands of Syrians stranded in the desert near the Jordanian border.
The world body said the convoy would deliver "humanitarian assistance to an estimated 50,000 women, children and men who are stranded at the Rukban camp in southeast Syria near the Iraqi and Jordanian border".
"The overall humanitarian situation inside the Rukban camp is at a critical stage," said Ali al-Za'tari, the UN's top official in Damascus.
Linda Tom, a spokeswoman for the UN's humanitarian coordination office, OCHA, told AFP the world body was "deeply concerned over the deteriorating humanitarian situation" at the camp.
A suicide bombing claimed by ISIS extremist group in June 2016 killed seven Jordanian soldiers in no-man's land near the nearby Rukban crossing.
Soon afterwards, the army declared Jordan's desert regions that stretch northeast to Syria and east to Iraq "closed military zones".
The kingdom, part of the US-led coalition fighting ISIS, has allowed several humanitarian aid deliveries to the area following UN requests, but the borders remain closed.
The camp, home to displaced people from across Syria, also lies close to the Al-Tanf base used by the US-led coalition fighting ISIS.
The Syrian Observatory for Human Rights says the camp suffers from a severe lack of food and medicines, compounded by its remote desert location, the closure of the Jordanian border and regime forces cutting off all roads to it.
The last delivery of UN aid to Rukban took place in January 2018 through Jordan.
The UN children's agency UNICEF last week urged warring parties in Syria to allow basic health service deliveries to the camp, saying two babies without access to hospitals had died there within 48 hours.
https://english.alarabiya.net/en/News/middle-east/2018/10/18/UN-to-deliver-aid-to-Syrians-trapped-near-Jordan-border.html
--------
Hundreds of Syrian 'White Helmets' leave for West: Jordan
Oct 17, 2018
Nearly 300 members of the US-backed White Helmets "aid group," which stands accused of working with Takfiri terrorists and launching false-flag gas attacks in Syria, have now left for resettlement in Western countries.
The Jordanian Foreign Ministry said in a statement on Wednesday that about 300 Syrian "White Helmet" workers fled Syria for Jordan three months ago.
In July, the White Helmets, fleeing advancing Syrian government troops, slipped over the Israeli-occupied Golan Heights frontier and into Jordan with the help of Israeli soldiers and Western powers.
Israeli Prime Minister Benjamin Netanyahu said at the time he had helped the evacuation at the request of US President Donald Trump and other Western leaders.
Jordan had accepted them after getting guarantees that their stay would be temporary and they would be given asylum in Canada, Germany and Britain.
The White Helmets have operated in militant-held areas in recent years.
The Russian Defense Ministry said on October 10 that chlorine canisters had fallen in the hands of Daesh Takfiri terrorists after they attacked the headquarters of the White Helmets and al-Nusra Front militants in northern Syria.
Damascus says the so-called volunteer group staged the suspected chemical attack in the town of Douma in Syria's Eastern Ghouta on April 7. Syrian President Bashar al-Assad has also described the White Helmets as "a branch of the al-Qaeda and al-Nusra" militant groups and a "PR stunt" by the United States, Britain and France.
Syria has been gripped by foreign-backed militancy since March 2011. The Syrian government says the Israeli regime and its Western and regional allies are aiding Takfiri terrorist groups wreaking havoc in the country.
Syrian army troops, backed by allied fighters from popular defense groups, have recently made major territorial gains in battles against Daesh and other foreign-sponsored Takfiri terrorist groups, almost capturing the entire southern part of the country after securing the capital Damascus and other key areas.
The major militant stronghold remains in the northwestern province of Idlib, where government forces were preparing to launch a full-scale military operation.
The terrorists aimed to stage the chemical attacks and lay the blame on the Syrian government to provoke a western attack as the Assad government was planning to launch a full-scale offensive to retake the militant-held Idlib province.
Full report at:
https://www.presstv.com/Detail/2018/10/17/577273/White-Helmets-Syria-Israel-US-Trump-Jordan--Benjamin-Netanyahu
--------
Sudan appoints new peace envoy to South Sudan
October 17, 2018
KHARTOUM: Sudan's President Omar Al-Bashir on Wednesday appointed a peace envoy to South Sudan, mired in conflict since it won independence from its northern neighbor in 2011.
Former ambassador to Juba, Jamal Al-Sheikh, was put in charge of "following the implementation" of the peace deal signed last month by warring South Sudanese parties, Bashir told a gathering of Sudanese diplomats.
"Peace in Sudan cannot be separated from peace in the region, and achieving peace in South Sudan is a big step toward a comprehensive peace," he said.
Civil war in the world's youngest country erupted in December 2013, killing tens of thousands, displacing millions and triggering a regional refugee crisis.
South Sudanese arch-foes President Salva Kiir and rebel chief Riek Machar signed their latest peace deal on September 12 in Ethiopia after talks hosted by Khartoum.
South Sudan gained independence under a peace deal ending a 22-year civil war pitting rebel groups against Khartoum.
But the Darfur region and the states of Blue Nile and South Kordofan, close to oil-rich South Sudan, have continued to see deadly conflict pitting rebel groups against the Sudanese government.
Khartoum accuses Juba of supporting insurgents against it.
Full report at:
http://www.arabnews.com/node/1389656/middle-east
--------
Ghana: Ahmadiyaa Muslim Mission Commended for Promoting Peace
16 OCTOBER 2018
By Cliff Ekuful
A former Supreme Court (SC) Judge, Justice William Atuguba, has commended the Ahmadiyya Muslim Mission and other faith-based organisations for their contribution towards peace building in the country.
According to him, the contributions of various religious organisations in the maintenance of the country's fragile peace could not be down-played.
"I thank God that the Islamic community in Ghana has always been at peace with other religious faith and this conference will put a seal to that state of affairs," Justice Atuguba said.
The former SC Judge made these observations at a farewell dinner organised for the Consul-General of Tuvalu in the United Kingdom (UK), Sir Dr Iftikhar Ahmed Ayaz.
Justice Atuguba said the quest for peace would continue to elude the world unless people imbibe the fear of the most high, stressing that "The personality of the Amir exudes peace and fear of the Lord most High, and these are most important ingredients that can propel any human community forward."
He said if Ghanaians committed themselves to the Supremacy of Allah above all other considerations and in all our undertakings, including; politics, business and social activities, the country would be great.
On his part, Sir Ayaz re-echoed the need for peace in the world stressing that "We cannot have peace unless we have true and most importantly, divine justice."
He, therefore, called on Ghana to lead in the crusade to attain peace not only on the continent, but the world at large.
Sir Ayaz said it was important that people continued to dispense justice, even if they were denied same by others, adding that attaining peace and justice was a long journey but the outcome was always greater.
He commended Ghana for working hard to ensure peaceful coexistence among its citizens irrespective of their religion, creed, tribe and their educational status.
The Amir of the Ahmadiyya Muslim Mission in Ghana, Mualvi Mohammed Bin Salih, said no nation could sit idle and watch for a third world war to take place.
He explained that "the weapons available have the capacity to annihilate everybody on the earth surface as a result, we must all work in a concerted effort to ensure world peace."
Full report at:
https://allafrica.com/stories/201810170422.html
--------
US airstrike wiped out al-Shabaab camp, intel officials say
2018-10-17
Somali intelligence officials say the largest US military airstrike against al-Shabaab extremists in Somalia in nearly a year largely destroyed a training camp where recruits were preparing to graduate and killed more fighters than the US announced.
Two officials tell The Associated Press that several missiles were fired on Friday by two unmanned US drones.
Some of the freshly trained al-Shabaab recruits were "burnt beyond recognition" and the death toll exceeds 75, one official said. The US Africa Command on Tuesday said about 60 extremists had been killed.
The US said the strike was meant to deny the al-Qaeda-linked extremist group, the deadliest in sub-Saharan Africa, the ability to reconsolidate. Al-Shabaab has several thousands of fighters and has proven to be resilient over the years, carrying out suicide bombings on high-profile targets in the capital, Mogadishu, and other cities as well as more conventional attacks against Somali, US and African Union forces.
Some of the al-Shabaab fighters killed in the US airstrike, who had gone through months of training, were being prepared to carry out suicide bombings on Somali and AU bases while others were foot soldiers meant for complex attacks across central and southern Somalia, one of the Somali intelligence officials said.
The officials spoke on condition of anonymity because they were not authorised to speak to reporters.
The US airstrike outside the al-Shabaab-controlled seaside community of Harardere in Mudug province in Somalia's central region was the deadliest since one on November 21, 2017, against a camp killed about 100 al-Shabaab fighters.
Full report at:
https://www.news24.com/Africa/News/us-airstrike-wiped-out-al-shabaab-camp-intel-officials-say-20181017
--------
North America
Trump: US needs Saudi Arabia in fight against terrorism
October 17, 2018
LONDON: Donald Trump said on Wednesday that the US needs Saudi Arabia in the fight against terrorism and that he did not want to walk away from the Kingdom.
His comments came after US Secretary of Sate Mike Pompeo met the Turkish president, Recep Tayyip Erdogan for talks about the disappearance of Saudi journalist Jamal Khashoggi.
Erdogan made clear that Saudi Arabia is cooperating in the investigation, Pompeo said, the day after he met King Salman and Crown Prince Mohammed bin Salman in Riyadh.
"You know we need Saudi Arabia in terms of our fight against all of the terrorism, everything that's happening in Iran and other places," Trump told Fox Business in response to questions about the Khashoggi case.
The US president said he did not want to walk away from Saudi Arabia.
"They have a tremendous order, $110 billion," he said, in reference to US arms sales to the Kingdom.
Trump said later on Wednesday the US had asked Turkey for any audio or video evidence it may have related to the case but was not sure whether any such evidence exists.
"We have asked for it, if it exists ... I'm not sure yet that it exists," Trump said at the White House. "I'll have a full report on that from Mike (Pompeo) when he comes back."
On Tuesday, Trump criticized global condemnation of Saudi Arabia over Khashoggi's disappearance, warning of a rush to judgment and echoing the Kingdom's request for patience.
Khashoggi, who lived in the US, disappeared on Oct. 2 after visiting the Saudi Consulate in Istanbul to complete paperwork related to his divorce.
Saudi Arabia, which denies any involvement in the kidnapping or killing of Khashoggi, has set up a joint team to investigate the disappearance with Turkey.
As he returned to the US from Turkey, Pompeo said President Erdogan "made clear that the Saudis had cooperated with the investigation that the Turks are engaged in and they are going to share information."
"There have been a couple of delays but they seemed pretty confident that the Saudis would permit them to do the things they need to do to complete their thorough and complete investigation," he said.
He added that the US must be mindful of the important business and government ties with the Kingdom, once the facts of the case have been determined.
http://www.arabnews.com/node/1389531/saudi-arabia
--------
Arsonist sentenced to 24 years for Texas mosque burning
October 18, 2018
CHICAGO: An arsonist convicted of burning down a Texas mosque last year was sentenced Wednesday to more than 24 years in prison for a crime prosecutors said was motivated by hate.
Marq Perez had been found guilty in July of a hate crime and felony arson in the January 2017 burning of the Victoria Islamic Centre in Southeast Texas.
The 26-year-old had broken into the mosque a week before the arson in order to conduct reconnaissance, the Department of Justice (DoJ) said in a statement citing trial testimony.
A witness testified that on the night of the crime Perez used a lighter to set papers on fire, and described "how excited Perez was upon seeing the mosque in flames just minutes later," DoJ said.
The witness testified that Perez wanted to "send a message," it said, adding that others gave testimony about the suspect's use of anti-Muslim slurs.
"Mr Perez sought to provoke terror," FBI Agent Edward Michel said in a statement.
"No one in this country should feel afraid to openly practice their religion or express their beliefs."
The crime elicited an outpouring of support from around the world for the Islamic community in the city of Victoria, Texas.
An online GoFundMe campaign raised more than US$1 million (RM4.15 million) from donors in 90 countries to rebuild the mosque. It reopened in September.
Full report at:
https://www.freemalaysiatoday.com/category/world/2018/10/18/arsonist-sentenced-to-24-years-for-texas-mosque-burning/
--------
Trump: Saudi Arabia has been a very important ally of ours in the Middle East
17 October 2018
United States President Donald Trump has said that he does not want to walk away from Saudi Arabia when asked by Fox Business Network regarding the ongoing probe into the Khashoggi case.
Trump also said that Washington needed Saudi Arabia in the fight against terrorism. "Saudi Arabia has been a very important ally of ours in the Middle East. We are stopping Iran. We're not trying to stop, we're stopping Iran," Trump said.
This comes after he criticized rapidly mounting global condemnation of Saudi Arabia over the mystery of missing journalist Jamal Khashoggi, warning of a rush to judgment and echoing the Saudis' request for patience.
Full report at:
https://english.alarabiya.net/en/News/gulf/2018/10/17/Trump-US-needs-Saudi-Arabia-in-the-fight-against-terrorism.html
--------
Pompeo: Erdogan confirms Saudis cooperating into Khashoggi probe
17 October 2018
United States Secretary of State Mike Pompeo has confirmed that Turkish President Recep Tayyip Erdogan made clear in talks that Saudi Arabia is cooperating in probe into missing Saudi citizen Jamal Khashoggi.
"He made clear that the Saudis had cooperated with the investigation that the Turks are engaged in and that they're going to share information that they learn with the Saudis as well," Pompeo told reporters aboard his plan after left Turkey.
Full report at:
https://english.alarabiya.net/en/News/gulf/2018/10/17/Pompeo-Erdogan-confirms-Saudis-cooperating-into-Khashoggi-probe.html
--------
White House, Saudis working to make up story on missing journalist's fate: Brennan
Oct 18, 2018
Former CIA Director John Brennan says the United States government is working with Saudi Arabia to "concoct a story" about the fate of Jamal Khashoggi, an anti-Riyadh journalist who is believed to have been murdered after entering the Saudi consulate in Turkey's Istanbul earlier this month.
Speaking to MSNBC on Wednesday, Brennan said Saudi Crown Prince Mohammed bin Salman and the White House of President Donald Trump knew what happened to Khashoggi.
"It also seems now we're in this surreal and morally horrific situation in which the White House and the Saudis seem to be trying to sort of figure out what story they can come up with that they can both have plausibility for Mohammad bin Salman," said Brennan, a firm Trump critic who was director of the CIA under former President Barack Obama.
The former spymaster said Washington and Riyadh might be looking for scapegoats inside Saudi Arabia but no matter what they do to make it look like MBS had nothing to do with the incident, their story "is going to fall apart."
Brennan also called on the CIA and other US intelligence agencies to hand in their evidence to Congress so that lawmakers could scrutinize the White House over its role in the alleged cover-up.
"That's why it's so important for the intelligence agencies, and CIA, to fully brief the intelligence committees on the Hill so that they have full insight into what happened there and they can then hold the administration's feet to the fire," he explained.
Khashoggi, who was also a US green card holder, entered the Saudi mission on October 2 in order to obtain the necessary paperwork for marrying his fiancée. That was the last time he was seen.
According to Washington Post, to which Khashoggi was a contributor, US intelligence intercepts already prove that he was killed and dismembered by Saudi agents in a hit job directly ordered by bin Salman.
Turkish officials say they are in possession of audio and video recordings that prove the murder and incriminate Saudi diplomats.
First leaked details of the audio recordings picture a gruesome scene where Khashoggi is tortured, killed and dismembered by a Saudi assassination squad in cold blood.
Trump has so far rejected growing calls inside and outside the US to pressure Riyadh over the issue.
He said Wednesday that he had asked Turkish officials to hand in their evidence. However, the president is probably on Riyadh's side, as he has already indicated that while he would "punish" the perpetrators of the alleged murder, he would not go as far as risking the current financially profitable ties with Riyadh.
Full report at:
https://www.presstv.com/Detail/2018/10/18/577334/US-Saudi-Khashoggi-CIA-Brennan-Trump-bin-Salman
--------
Kushner retreating from MidEast front amid Khashoggi crisis: Sources
Oct 18, 2018
US President Donald Trump's son-in law and Saudi Crown Prince Mohammed bin Salman are communicating through Whatsapp amid the crisis arising over the mysterious disappearance of a dissident journalist at the Saudi consulate in Turkey.
Jared Kushner, who has been appointed by his father-in-law to handle the Middle East, has therefore retreated from the front, CNN reported Wednesday citing unnamed sources.
The powerful Jewish figure at the Trump administration is "quietly leveraging his close relationship" with bin Salman as the two states engage in crisis management and "retreating to the sidelines when necessary."
In part, Ivanka Trump's husband is being cautious not to overstep the realm of Secretary of State Mike Pompeo, a former CIA chief who has just visited top Saudi officials and allegedly received $100 million.
"Senior administration officials said Kushner's close relationship with bin Salman was an early cause for concern among career national security staffers, who worried off-the-books conversations with the young prince could lead to misunderstandings or worse," read the report.
Trump has downplayed Kushner's close ties to the prince saying last week that, "We have a lot of very close relationships with a lot of countries."
Intelligence intercepts show that Jamal Khashoggi, who was last seen entering the Saudi mission in Istanbul on October 2, was murdered on bin Salman's direct order.
Full report at:
https://www.presstv.com/Detail/2018/10/18/577321/Kushner-bin-Salman-talking-on-Whatsapp-amid-scandal
--------
Iran slams US 'addiction to sanctions' after new bans target key banks
Oct 17, 2018
The United States is becoming increasingly addicted to sanctions, Iranian Foreign Minister Mohammad Javad Zarif has warned, after Washington imposed fresh sanctions on a number of Iranian entities.
"US addiction to sanctions is out of control," Zarif wrote in a tweet on Wednesday. "Iranian private bank key to food/medicine import is designated because of alleged EIGHT degrees of separation w/ another arbitrary target. In comparison, all humans on planet are connected by SIX degrees of separation. You do the math."
In another tweet, the Iranian foreign minister said the new sanctions violate a recent International Court of Justice (ICJ) ruling and amount to "utter disregard" for the rule of law and human rights of "an entire people."
On Tuesday, the US Treasury announced fresh sanctions on Iranian banks, including Bank Mellat and Mehr Eqtesad Bank.
Also included on the list were Iran Tractor Manufacturing Company, Esfahan's Mobarakeh Steel Company, and other companies linked to investment, commodities and engineering.
The US Treasury's sanctions further targeted what it called a multibillion-dollar financial network that supported the Basij Resistance Force affiliated with Iran's Islamic Revolutionary Guards Corps (IRGC).
US President Donald Trump announced in May that he was pulling out of the 2015 Iran nuclear agreement, officially known as the Joint Comprehensive Plan of Action (JCPOA).
The deal, signed between Iran and six world powers -- the US, Britain, France, Russia, China and Germany -- lifted nuclear-related sanctions against Tehran in exchange for restrictions on its peaceful nuclear program.
Following Trump's decision to stop implementing the deal, Washington reinstated sanctions removed under the agreement while imposing new ones against the Islamic Republic.
A first round of American sanctions took effect in August, targeting Iran's access to the US dollar, metals trading, coal, industrial software, and auto sector. A second round, forthcoming on November 4, will be targeting Iran's energy sector and financial transactions.
Full report at:
https://www.presstv.com/Detail/2018/10/17/577308/Iran-zarif-Trump-US-sanctions
--------
US pastor Brunson's lawyer challenges Turkish jail sentence
Oct 17, 2018
The lawyer for US evangelical pastor Andrew Brunson has appealed to a Turkish court to challenge the jail sentence his client received last week.
The lawyer said Wednesday that the verdict "contravened the law and procedures," according to a copy of the application seen by Reuters.
Also, the prosecutor in Brunson's case challenged the verdict, citing the same reason, a copy of that application showed.
Both documents showed that detailed appeals will be prepared once the court verdict are delivered in writing.
Brunson was sentenced to more than three years for helping terrorist organizations, but was allowed to return to the United States and met President Donald Trump.
The 50-year-old man was indicted by a Turkish court on charges of having links with the Kurdistan Workers' Party (PKK) militant group and the movement of the US-based opposition cleric Fethullah Gulen, whom Ankara accuses of having masterminded the July 2016 coup attempt against President Recep Tayyip Erdogan. Brunson had denied the charges as "shameful."
Trump threatened to impose "large sanctions" on Turkey in July over the detention of Brunson and demanded his immediate release by Ankara.
"The United States will impose large sanctions on Turkey for their long time detainment of Pastor Andrew Brunson, a great Christian, family man and wonderful human being," Trump tweeted at the time. "He is suffering greatly. This innocent man of faith should be released immediately!"
Shortly before Trump's tweet in July, US Vice President Mike Pence also leveled a similar threat directly at Turkey's president.
Full report at:
https://www.presstv.com/Detail/2018/10/17/577258/US-Turkey-evangelical-pastor-Andrew-Brunson
--------
URL: https://www.newageislam.com/islamic-world-news/sheikh-hasina-gifts-15-bigha/d/116658
New Age Islam, Islam Online, Islamic Website, African Muslim News, Arab World News, South Asia News, Indian Muslim News, World Muslim News, Women in Islam, Islamic Feminism, Arab Women, Women In Arab, Islamophobia in America, Muslim Women in West, Islam Women and Feminism