New Age Islam News Bureau
6 Apr 2017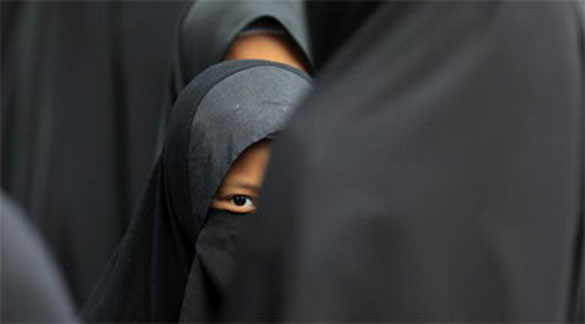 Shariah lawyer Musa Awang said state Islamic laws allow for Muslim child marriages to be carried out if the Shariah courts consent to it. — Reuters
--------
• Shariah Lawyer: Consent Needed For Rapists to Marry Victims, Child Marriages
• Ajmer Dargah Head Sacked, Declared Non-Muslim
• Syria: Terrorists Aware Of Chemical Attack on Idli
• Turkey Planning to Form More Terrorist Groups in Syria
-----
Southeast Asia
• Shariah Lawyer: Consent Needed For Rapists to Marry Victims, Child Marriages
• Don't Belittle Islam, Warns Hadi on Shariah Bill
• Malaysian Universities Primed to Supply Manpower for World's Booming Halal Market
• Speaker allows Shariah Bill, says subjudice not barrier to lawmaking
• Zaid: Fear of local Taliban makes politicians remain silent
--------
India
• Ajmer Dargah Head Sacked, Declared Non-Muslim
• Sheopur, Madhya Pradesh, Tense After RSS Shakha, Near A Mosque, Row, 10 Muslims Held
• No Need to Worry About Islamic State in India, Says Home Minister
• India to deport 10, 000 Rohingya Muslims from occupied Kashmir
• Around 36,310 Pak nationals staying in India with expired visas
• Shia Board Cites Iraqi Fatwa to Back Ban on Cow Slaughter
• Muslim man dies in India after attack by Hindu 'cow protectors'
--------
Arab World
• Syria: Terrorists Aware Of Chemical Attack on Idli
• Islamic State Executes 33 People in Syria
• Military Source: Al-Nusra Front Only Party to Possess Chemical Weapons in Syria
• UN experts warn Saudi Arabia against demolition of Shia neighbourhood
• Donors pledge billions at Syria aid conference
• Several Senior Terrorist Commanders Killed in Clashes with Syrian Army in Homs
• ISIL Suffers Tens of Casualties in Syrian Army Attack in Deir Ezzur
• Iraqi Commander: US, Turkey Pressuring Baghdad to Postpone Liberation Plans in Tal Afar
• Syrian Army at Gates of Terrorist-Held City of Souran in Hama
• US, Britain, France request name of pilot who carried out Syrian chemical attack
• UN Security Council postpones vote on Syria resolution
• Khan Sheikhoun attack: A father bids farewell to twin toddlers
• Blaming Assad, Trump says Syria attack 'cannot be tolerated
• Saudi Arabia detained 77 terror suspects last month
--------
Mideast
• Turkey Planning to Form More Terrorist Groups in Syria
• Israeli Legislature Passes Contentious Demolition Law
• Iran says Britain's policies behind Middle East instability
• Following St. Petersburg blast, Iran stresses cooperation with Russia in anti-terror fight
• Australia warns of terror threat in Turkey
• Turkey occupying Syria, trying to build city near al-Bab: Syrian envoy
--------
Europe
• Imam in Hiding after Backing Calls to Close Aussie Muslim Schools
• Pope Praises British Muslim Leaders
• Russia defends Syria against 'chemical attack' outcry
• Why France's Muslim voters are not all panicking about a Le Pen victory
• Exonerated terror suspect is a former soldier who converted to Islam
--------
Pakistan
• Pakistani Prosecutor Pulled For Offering Christians Freedom for Becoming Muslim
• National Charter of Peace Urged To Eradicate Extremism
• Army calls for improved coordination in wake of Lahore attack
• Pakistan engaged with all Afghan peace processes
• Strict security planned for Urs of Qalandar
• Pakistan seeks strong ties with US to defeat terrorism
• Hafiz files another plea against detention
--------
South Asia
• Suu Kyi Denies Ethnic Cleansing of Myanmar's Muslim Minority
• Afghanistan Strongly Reacts At Pakistani Violations Along Durand Line
• Most senior leader of ISIS loyalists killed in East of Afghanistan
• Afghan forces' Khalid operation underway in 13 provinces: MoI
--------
Africa
• Liberia: Imam Council 'Demands' Muslim Holidays
• Car bomb kills at least 7 at restaurant in Somalia's capital
• Islam set to become world's largest religion by 2075, study suggests
• Sanusi: Northern Nigeria has refused to recognise that the Muslim world has moved on
--------
North America
• US Threatens Unilateral Action If UN Fails To Act on Syria
• Trump Says Chemical Attack In Syria Crossed Many Lines
• Election Supervisor's Islam Presentation Causes Alarm
• US-Bangladeshi Muslim writes 'BlackLivesMatter' 100 times, gets into Stanford University
Compiled by New Age Islam News Bureau
URL: https://www.newageislam.com/islamic-world-news/shariah-lawyer-consent-needed-rapists/d/110670
--------
Shariah Lawyer: Consent Needed For Rapists to Marry Victims, Child Marriages
BY IDA LIM
April 6, 2017
KUALA LUMPUR, April 6 — Marriages of rape victims to their rapists and child marriages that are approved by Shariah courts should be by consent and never by compulsion, Shariah lawyer Musa Awang has said.
Musa, the president of Shariah Lawyers Association of Malaysia (PGSM), said the Islamic family laws used in all state enactments in Malaysia fixes the minimum marriage age for men and women at 18 and 16 respectively.
But he said state Islamic laws allow for Muslim child marriages to be carried out if the Shariah courts consent to it.
"The marriage of children below the age that has been set is very much discouraged.
"However that marriage can be carried out with the permission of Shariah courts for Muslims. Certainly the court will also ask whether the woman agrees or not to marry the future husband (that is also the rapist)," he told Malay Mail Online when contacted.
"Although marriage of underage children seldom happens, there have also been situations where the courts are forced to give permission for marriage to avoid immoral acts such as Zina (illicit sex) or Khilwat (close proximity) that are offences under the Shariah Criminal Offences Act," he said.
"However that marriage is dealt with by certain quarters by mutual consent, not by compulsion," he added.
The Islamic perspective
Musa also explained Islam's perspective on child marriages, noting that the religion does not fix a minimum marriage age for Muslims but allows them to marry once they hit puberty and display physical signs of such maturity.
Islam also places emphasis instead on the maturity of Muslims who have stepped into adulthood to determine if they are qualified to marry, with differing maturity levels due to factors such as environment factors and education opportunities also a reason why Islam does not fix a minimum marriage age, he said.
However, a child's Wali or guardian would act as the "safeguard" in instances of underage marriage of those who have yet to hit puberty, and the marriage can only take place if the consent of the father as the guardian is first obtained.
"This is the safeguard outlined by Islamic religious scholars regardless of whether the woman is a rape victim or not.
"If the guardian feels that an even bigger problem will be caused by marrying his child to the rapist, then the guardian has the right not to do so," he said.
Islam lays no obstacles to a rapist marrying the rape victim as long as both the guardian and victim consents and if all the conditions under Islamic law for marriage are fulfilled, he said.
He listed the checklist for a Muslim male spouse as including a man who is marrying of his own willingness and who does not have four validly married wives, besides knowing the actual guardian for the marriage ceremony and knowing that the woman to be wed is eligible to be the wife. He should also not be in the state of ihram or special state of purity before going for Muslim pilgrimage or have any family ties with the potential wife.
As for the checklist for a Muslim female spouse, she has to among other things not have any family ties or be related to the potential husband, and not be a hermaphrodite and not be in the state of purity before Muslim pilgrimages of haj or umrah, not be in the mourning period as a widow and not be someone else's wife.
"When the guardian and the woman agrees to marry with a man, that means she has agreed to accept the man as her husband, even though the man may be the man who have raped her. The willingness to accept the man shows that Islam places importance on humans forgiving one another although that person had committed a big wrong," he explained.
Marrying rapist a personal choice
As for the issue of marrying the rapist, Musa said this would ultimately be up to the rape victim.
"There is no compulsion or order in Islam to marry with the rapist. Likewise there is also no obstacle or obstruction in Islam for her to marry with the rapist. Marriage is on the basis of choice, suka sama suka, aimed at finding happiness," he said.
Musa stressed that it is not the duty of the government or anyone to decide whether one should marry another individual or to force a rape victim to marry the rapist, saying: "Don't abuse process or abuse the law".
When asked if a rapist would be allowed to have sexual intercourse with the rape victim that has been married, Musa noted that a legally married couple would have sexual obligations towards each other which he stressed should not be a responsibility shouldered by compulsion.
"That's why it goes back to the woman's consent whether to marry the rapist or not," he said.
http://www.themalaymailonline.com/malaysia/article/shariah-lawyer-consent-needed-for-rapists-to-marry-victims-child-marriages
--------
Ajmer dargah head sacked, declared non-Muslim
April 5, 2017
New Delhi: The Ajmer dargah's (shrine) spiritual head, who had earlier supported a ban on sale and consumption of beef and other bovine products, was on Wednesday "sacked" by his brother and declared a "non-Muslim."
Syed Allauddin Alimi, brother of Syed Zainul Abedin, claimed that he took the extreme step with the support of the family. He has appointed himself the new 'deewan' or spiritual chief of the Khwaja Moinuddin Chisti mausoleum in Ajmer.
Alimi's claim, however, has not been recognised by the dargah committee.
The post of 'deewan' is hereditary and belongs to heirs of the 12th-13th century Sufi priest Syed Moinuddin Chishti. 'Deewan' has no control over the management of the shrine but gets a monthly remuneration from the management committee.
"I am the new deewan. I have the support of the entire Chishti clan. Abedin is an apostate because he had spoken in violation of the Islamic law. Whatever he said is blasphemous. I am not interested in salary. Abedin can have the money. But I wont allow him to enter the shrine again," Alimi told media on Wednesday.
On Monday, welcoming the Gujarat government's move to enact a law with the provision of life sentence for those found guilty of cow slaughter, Abedin had said that the Modi government should declare cow as the national animal if the government wants to protect it.
"Cow is the symbol of religious belief. The government should declare cow as the national animal. Not only the government, but it is also the duty of every follower of the religion to protect them," he said.
He urged the government to impose a ban on the slaughter of all bovine animals in a bid to promote communal harmony in the country.
"The government should widely impose ban on slaughtering of all bovine animals and sale of beef, which is one of the prominent reasons for communal hatred. Muslims should become an example by taking resolution to not consume beef in the interest of communal harmony in the country," he had said.
Abedin also said that saying 'triple talaq' at one time for seeking divorce is not as per Sharia.
He had made these statements during the 805th annual function at the shrine, which was attended by religious heads of various shrines from different parts of the country.
http://gulfnews.com/news/asia/india/ajmer-dargah-head-sacked-declared-non-muslim-1.2006499
--------
Syria: Terrorists Aware of Chemical Attack on Idli
Apr 05, 2017
Social media activist in tweeter and Facebook released the image of one of the messages of Faras Karam, a journalist of Orient network affiliated to the terrorist groups, about a chemical raid on Khan Sheikhoun several hours before the attack.
"Faras Karam wrote in his message, published at 3:06 on Monday morning hours before the chemical attack that "a media campaign will kick off tomorrow to cover chlorine gas airstrike on civilians in Hama countryside".
Media activists are now asking how Faras could find out about the attack and its type several hours before the incident, questioning how he also could specifically determine the chemical element to be used in the attack (chlorine gas).
On Tuesday, media and news sources affiliated to opposition released news about chemical attack in Khan Sheikhoun, accusing Syrian government of carrying out the attack via its Sukhoi 22 fighter jets that left tens of people dead or wounded.
Meantime, a senior Syrian military source underlined that the Al-Nusra Front (also known as Fatah al-Sham Front or the Levant Liberation Board) is the only side in Syria which has access to chemical weapons, raising speculations about certain western spy agencies' role in chemical attack against Idlib.
"The Syrian army has not used any chemical gases against the citizens in Idlib and it is not logical for the army to kill the residents of a city that it is trying to set free," the military source told the Arabic website of Sputnik news agency on Wednesday.
He underlined that the Syrian army has had no chemical weapons since 2012 when the terrorist groups stole and transferred its chemical weapons to their caches.
Stressing that al-Nusra Front is the only side which possesses chemical weapons, including toxic gases, the source raised the possibility that certain western spy agencies have also played a role in the chemical attack which killed dozens of people in Idlib province.
The General Command of the Syrian Army and Armed Forces categorically denied allegations and claims circulated by media outlets about the use of chemical substances in the town of Khan Shaikhoun in Idlib countryside.
"The armed terrorist groups used to accuse the Syrian Arab Army of using toxic gases against them or against civilians at anytime they fail to implement the targets of their sponsors and operators or when they are unable to achieve any advantages on the ground in an desperate attempt to justify their failure and to maintain the support of their masters," the Army's general command said in a statement.
It categorically denied any use of chemical or poisonous materials in the town of Khan Shaikhoun in Idlib countryside, affirming that it didn't and will never use those materials in any place or time, nor in the future.
The army's general command held the terrorist groups and those behind them responsible for the use of chemical and toxic substances and the disregard for the lives of innocent citizens to achieve their goals.
Separately, a Syrian member of parliament, Sharif Shahada, said on Tuesday he believed a chemical arms depot set up and held by the militants in the area might have exploded in the incident, adding that the Syrian government was not in possession of such weapons.
Shahada also accused Turkey of having supplied militants in Syria with chemical arms.
Meanwhile, the Russian military said in a statement that Moscow did not conduct any airstrikes in Idlib province.
The United States and its allies have in the past accused the Syrian military of conducting chemical attacks, while Damascus turned its entire chemical arsenal over to international monitors under a deal negotiated by Russia and the United States back in 2013.
Foreign-backed militants have repeatedly used chemical weapons against Syrian troops and civilians, but the attacks have often been ignored by Western governments.
Syrian forces had also found Saudi and Turkish chemicals in Aleppo that were used by Takfiri terrorist groups to make chemical weapons. Damascus forces also discovered several chemical-weapons workshops in the war-torn country in the past years.
Russia's Defense Ministry also found poisonous chlorine and white phosphorus in nine samples from Southwestern Aleppo in November 2016.
Russian Defense Ministry's Spokesman Igor Konashenkov said the UN-backed Organization for the Prohibition of Chemical Weapons (OPCW) was reluctant to join forces with Russia or send experts to Aleppo, adding that "which does not stop some OPCW members from apportioning blame from afar and ignoring the evidence that chemical weapons are being used against civilians."
Russia's Foreign Minister Sergey Lavrov said in the same month that the Organization for the Prohibition of Chemical Weapons refuses to send its experts to Aleppo to check substances used by militants in attacks and the move was "seemingly done under pressure from our Western colleagues".
"Russian specialists found that militants in Eastern Aleppo used ammunition with poisonous substances, with the ammo targeting Western Aleppo. The collected samples leave no doubt that it's a toxic agent," he added.
In December 2016, Syrian authorities had provided the Organization for the Prohibition of Chemical Weapons (OPCW) with evidence of mustard gas use by militants in Aleppo province.
Syria has been hit with rounds of Western sanctions for years on accusations that its government exercised violence against its own people. The European Union has extended until June 2017 curbs on Syria linked to investment, oil production and trade.
http://en.farsnews.com/newstext.aspx?nn=13960116000792
--------
Turkey Planning to Form More Terrorist Groups in Syria
Apr 05, 2017
Haddad said that Ankara intends to rebrand the ISIL and Al-Nusra Front (also known as Fatah al-Sham Front or the Levant Liberation Board) terrorists groups.
He added that Turkey has vowed to give Turkish nationality and pay $400 monthly salaries to all fresh members of the new terrorist groups.
Media sources reported in late March that ISIL members joined the Turkey-backed militants of the Euphrates Shield Operation.
Hawar news website released images of ISIL Emir Mostafa Abi, nom de guerre Abu Ayesheh, along with two of his comrades in Homs province, and reported that he was a member of al-Mo'tasem Bellah group.
According to Hawar news, the other two ISIL militants seen in the image were now members of Jeish al-Izzah terrorist group.
Meantime, the news website released an image of militants in ISIL uniforms standing among the Euphrates Shield Operation forces.
Hawar news had reported in March that the Turkish Army troops forced Arab citizens in Northern Syria to join the Ankara-backed militants of the Euphrates Shield Operation, killing those who did not obey.
It added that the Turkish army killed four civilians in the villages of Kari Sabi town in Northern Syria after they refused to join the Euphrates Shield Operation forces.
Hawar new went on to say that the Turkish soldiers further left the body of the killed Syrian civilians at the border region between Rojava and Bakour in Syria's Kurdistan.
The news website added that the Turkish army intended to send the four killed civilians via border to Rojava but it faced tough opposition by the civilians.
http://en.farsnews.com/newstext.aspx?nn=13960116000867
--------
Southeast Asia
Don't belittle Islam, warns Hadi on shariah bill
Minderjeet Kaur
April 6, 2017
KUALA LUMPUR: PAS president Abdul Hadi Awang defended Islamic laws as meant to "educate" and not to punish criminals, as he presented his motion to table his private member's bill to amend the Syariah Courts (Criminal Jurisdiction) Act in the Dewan Rakyat today.
"We remind the non-Muslims. Do not belittle Islam which is the religion of the federation," the Marang MP said as he hit out at critics of the bill.
He questioned claims that the bill would affect non-Muslims' freedom to practise their faiths, saying there had not been a single case of non-Muslims being tried under state shariah enactments.
He said the opposition by non-Muslim and some Muslim MPs to the bill showed they were not ready for mature politics.
"They (non-Muslims) have no right to reject this amendment. They do not at all sacrifice their personal rights or the rights of the non-Muslims," said Hadi.
The bill, which was moved to the top of the Dewan Rakyat's order paper, seeks to increase punishments for shariah offenders, from the current three years' jail to 30 years, from the maximum RM5,000 fine to RM100,000 and from six strokes of the cane to 100 lashes.
The bill has been opposed by both opposition as well as BN component parties. The bill, which aims to give wider powers to shariah judges, is seen as opening the path for hudud laws, or Islamic capital punishments for serious crimes, in Malaysia.
But Hadi denied suggestions that the bill was a "back door" to implement hudud, saying crimes such as murder and robbery still came under federal jurisdiction.
Defending the proposal for heavier penalties, Hadi said they were not geared towards punishing the offenders.
"Caning under Islam is different from the civil laws," he said, before explaining how a convict is punished without causing injuries.
"It may be 100, but it's different from caning under civil laws.
"It is to educate, not to inflict pain," added Hadi.
He said Muslims were bound by the Quran to treat even their enemies justly.
"If even with the enemies of Islam we are commanded to be just, what more with non-Muslim citizens who we consider our brothers?"
Hadi's explanation today comes a week after a meeting of top Barisan Nasional leaders chaired by Prime Minister Najib Razak decided to call off plans to take over the shariah bill.
http://www.freemalaysiatoday.com/category/nation/2017/04/06/dont-belittle-islam-hadi-warns-as-shariah-bill-tabled/
--------
Malaysian universities primed to supply manpower for world's booming halal market
Lee Lian Kong
April 6, 2017
Muslims are expected to make up more than a quarter of the world's population by 2030. As their numbers grow, so will the global demand for Islamic products and services.
The Muslim consumer market is huge and relatively under-served in the conventional marketplace, but world economies are fast joining the rush for a slice of the pie in this lucrative multitrillion-dollar industry. Quartz reports the global Islamic market in 2013 was already worth a staggering US$3.6 trillion; come 2020, that figure is expected to balloon to over US$5 trillion.
For the young and uninitiated, this inevitably means one thing: opportunities abound as the need for more trained experts in anything Islam-approved or "halal" will experience stark growth in the coming years.
No country is more ready than Malaysia to supply the manpower for this through its universities.
Halal is an Arabic word that means "permissible" – a halal product or service is thus one that is done in line with Islamic law.
For decades, Malaysia has been a pioneer in this line of business, building a halal component for each level of the supply chain and coming up with Syariah-compliant products for almost everything, from food items to even toiletries such as toothpaste.
These goods and services were then exported to both the Muslim and increasingly, the non-Muslim world.
Now, there is a new export to add to this list: graduates.
"The halal market is a huge market, huge industry," said Dr Mohamad Aizat Jamaludin of the International Islamic University of Malaysia (IIUM) to Study International during the Malaysia International Halal Showcase in Kuala Lumpur on Wednesday.
The assistant professor is part of a faculty that is training specialists both on and off campus on Syariah law and the halal industry skills related to it.
On its campus, situated north of Malaysia's capital city, Dr Aizat and his colleagues teach students from countries such as South Korea, China and Egypt.
These foreign students make up the majority (60 percent) of students in the three postgraduate courses offered by IIUM, i.e. PhD in Halal Industry, Masters in Halal Industry Management and MSc in Halal Industry Science.
Outside university grounds, Dr Aizat and his team from the school's International Institute for Halal Research and Training (Inhart) are also bringing their expertise in areas such as "halal auditing", to countries like South Korea, and soon, to China and Canada.
And the knowledge exchange does not stop there.
IIUM students also have plans to bring their knowledge gained here back to their home states.
Full report at:
https://www.studyinternational.com/news/malaysian-universities-primed-supply-manpower-worlds-booming-halal-market/#SJyq4ZrL6GD8gbeE.97
--------
Speaker allows Shariah Bill, says sub judice not barrier to lawmaking
BY RAM ANAND AND KAMLES KUMAR
April 6, 2017
KUALA LUMPUR, April 6 — The legal rule of sub judice cannot be cited to prevent Parliament from performing its legislative function, Tan Sri Pandikar Amin Mulia said when allowing a private member's Bill to enhance Shariah sentencing today.
Rejecting allegations of abuse in his decision to admit the Bill despite an ongoing lawsuit to block this, Pandikar said each arm of the government must not interfere with the others.
"If a court stops this, that means the courts become more powerful than Parliament," he told the Dewan Rakyat today, citing parliamentary rules on sub judice.
Pandikar was yesterday served with a writ of summons by Mohamed Tawfik Ismail, who is suing the Speaker and the secretary of the Dewan Rakyat over their decision to accept the Bill into the Order Paper.
The private member's Bill by PAS president Datuk Seri Abdul Hadi Awang is set to be read out for the second time in Parliament today.
Upon tabling his Bill, Hadi reiterated that both his proposed amendments and the Act do not concern non-Muslims.
Full report at:
http://www.themalaymailonline.com/malaysia/article/speaker-allows-shariah-bill-says-sub-judice-not-barrier-to-lawmaking
--------
Zaid: Fear of local Taliban makes politicians remain silent
April 6, 2017
KUALA LUMPUR: Malaysian leaders and politicians do not support sound laws and decisions, such as banning child marriages, because they are afraid of the local Taliban, says Zaid Ibrahim.
He says in his latest blog post: "If we were led by truly capable Muslim leaders, it would not be difficult to stipulate the minimum age of marriage to be 18, with an allowance for those at 16 if they possess exceptional mental and psychological maturity to maintain a relationship.
"But we can't do this because we have shallow and timid Muslim politicians fearful of the Taliban who would surely oppose such a move."
The DAP member regretted that some people heaped praise on the recently passed Sexual Offences Against Children Bill 2017 but were totally silent about the government allowing child marriages to continue.
"Isn't permitting a child of 13 or 14 to marry a sexual and psychological violation of the child? Why then is child marriage not an offence against the child under the new law?
"The answer lies in the fear of a 'Taliban uprising' if we have laws prohibiting child marriage. Our political leaders have a rudimentary and shallow knowledge of Islam so they are fearful of PAS and the conservative ulama in Umno who are strong supporters of child marriage. Naturally, keeping quiet is the preferred route."
Zaid said he was proud of his compatriot Teo Nie Ching, the member of Parliament for Kulai, who has been relentless in seeking a ban on child marriage as part of overall child protection reform.
"Of course, there are many who do not want to enter the fray and support the DAP parliamentarian even though they know child marriage is wrong. They once again allow themselves to become victims of the local Taliban. "Fearful of being pounced on and accused of being anti-Islam, these 'leaders' prefer to remain silent."
The former de factor law minister said PAS's Rantau Panjang MP Siti Zailah Mohd Yusoff had told Teo she had no business talking about Islamic law.
"This is the usual method of trying to silence MPs so they don't talk about anything the Taliban disagree with. What PAS and other Muslim NGOs must understand is this simple fact: laws are made in Parliament or in state legislative assemblies, which means elected members are entitled to speak about any law they like. They are not only entitled to do this – the people expect them to do so.
"There has never been a Parliament in Saudi Arabia, so perhaps the MP from Rantau Panjang does not understand how the system works."
Zaid said he agreed with the view of more progressive Muslims that modern societies should not allow young girls to be married except under exceptional circumstances.
Turning to the Quran to support his argument, Zaid said Surah An-Nisa 4:6 did not prescribe any age for marriage.
Full report at:
http://www.freemalaysiatoday.com/category/nation/2017/04/06/zaid-fear-of-local-taliban-makes-politicians-remain-silent/
--------
India
Sheopur, Madhya Pradesh, Tense After RSS Shakha, Near A Mosque, Row, 10 Muslims Held
April 6, 2017
Sheopur town of Madhya Pradesh is simmering since Sunday evening when a group of Muslims objected to a new RSS Shakha in Gandhinagar locality and allegedly beat up more than 10 activists of the outfit. Police have so far arrested 10 Muslims in connection with the incident. One minor accused has been released on bail. In all, 76 Muslims, 60 of them unidentified, have been booked in four FIRs lodged in connection with the incident.
The RSS activists alleged that the Muslims did not want the Shakha near a mosque. They also accused members of the community of raising anti-India and pro-Pakistan slogans and uprooting the saffron flag of RSS.
The activists alleged that they were stoned when they reached the police station late on Sunday night to lodge a complaint against the accused. On Monday, members of the Hindu community submitted a memorandum to the district administration and demanded immediate arrest of those named in the FIRs.
The next day, members of the Muslim community submitted a memorandum to the authorities, alleging that the community was being targeted and accused of offences it did not commit. The memorandum alleged that a group of right-wing Hindu activists had hurled stones at the mosque before they gathered for the Shakha. Members of the community also said that they lodged two FIRs about separate attacks on Muslims, but the police have not acted on them. The memorandum further said that members of Muslim community wanted to take to the streets on Wednesday, but decided against it in view of the Ram Navami procession.
Sheopur SP Saket Pandey said the situation is "peaceful" and added that the police were probing charges levelled in the memorandum submitted by members of the minority community.
A senior police officer said the land on which the Shakha was being held belongs to the local municipal body.
Congress MLA Ramniwas Rawat claimed that the Shakha was never held on the ground before last few days. He said the RSS activists Sunday gathered at a ground near the mosque and started raising slogans. When Muslims objected that the raising of slogans was disrupting their prayers, a scuffle broke out, Rawat said.
http://indianexpress.com/article/india/sheopur-tense-after-rss-shakha-row-10-muslims-held-4601359/
--------
No Need to Worry About Islamic State in India, Says Home Minister
05/04/2017
NEW DELHI -- Home Minister Rajnath Singh on Wednesday assured that there is no need for Indians to be concerned about Islamic State (IS) as the terror group has little penetration in the country.
"There is no need for Indians to be worried about IS (penetration) in India. If a few youth get radicalised by them, we also have counter-radicalisation programmes," Rajnath told the Rajya Sabha.
In response to a question by a member whether unemployment and poor socio-economic background -- and not just religious fundamentalism -- were responsible for Indian youths' radicalisation, Rajnath ruled out the possibility.
"We are running several programmes for socio-economic uplift of minorities, including for the Muslims. These include skill development programmes, easy bank loans for business etc," Singh said.
Congress leader Digvijaya Singh asked the Home Minister if Saifullah, killed in a police encounter in Lucknow on 8 March, had links with the IS. He said an American intelligence website said as much.
To this, Rajnath Singh said that the National Investigation Agency (NIA) was probing the matter. He said that "because of things found on Saifullah, some people concluded he had links with IS".
The Uttar Pradesh police had called Saifullah a "self-radicalised terrorist", though Madhya Pradesh police said he was part of an IS module.
Earlier, Minister of State for Home Hansraj Gangaram Ahir said that the number of Muslim youth who have been radicalised so far by the IS was miniscule in comparison with the Muslim population in India.
"There is not much presence of IS in India. So far only 80 youth have been found to be radicalised by IS through social media and internet, which is a negligible number.
"We are monitoring the social media etc round the clock to check further spread of IS," Ahir said.
Full report at:
http://www.huffingtonpost.in/2017/04/05/no-need-to-worry-about-islamic-state-in-india-says-rajnath-sing_a_22026861/
--------
India to deport 10, 000 Rohingya Muslims from occupied Kashmir
April 5, 2017
India plans to deport nearly 10, 000 Rohingya Muslims from Indian-held Kashmir, the International Business Times reported.
The decision, based on a proposal by the Indian government in occupied Kashmir, was made following a high-level meeting by the central government – it was endorsed by both the state and federal government, who are working on implementing it.
"The Ministry is exploring ways and means to identify and deport the Rohingya Muslims from the State," the New Indian Express quoted a Union Home Ministry official after the meet.
For persecuted Rohingya Muslims, a place to call home in India
The newspaper further claims the Rohingyas Muslims are accused of raising funds for militant activities through drug trafficking and smuggling by the country's intelligence services.
Between 5, 000 – 10, 000 Rohingya Muslims reportedly entered Indian-occupied Kashmir illegally through Indo-Bangladesh and Indo-Myanmar border. Currently an estimated 40, 000 are believed to be living as "illegal settlers" across the country, the IBT report added.
Myanmar's government considers the estimated 800,000 Rohingya in the country to be foreigners, while many citizens see them as illegal immigrants from neighbouring Bangladesh and view them with hostility, the BBC reports.
Full report at:
https://tribune.com.pk/story/1374788/india-deport-10-000-rohingya-muslims-occupied-kashmir/
--------
Around 36,310 Pak nationals staying in India with expired visas
Bharti Jain
Apr 5, 2017
NEW DELHI: Nearly 28% of the Pakistani nationals who were issued Indian visas under various categories between January 1, 2014 and December 31, 2015 had overstayed, the government informed the Rajya Sabha on Wednesday.
Of the 48,510 Pakistani nationals who overstayed during the two-year period, around 25% (12,200) had departed the country by the end of 2015. As many as 36,310 Pakistanis whose visas had expired were still in the country at the time, minister of state for home Kiren Rijiju said in reply to a starred question in the Rajya Sabha.
While India issued visas to 94,993 Pakistani nationals in 2014, the number fell to 77,543 in 2015.
As for Bangladeshis entering India on a valid visa, Rijiju informed the Elders that 6,52,919 visas were issued to them in 2014, which went up to 7,51,044 in 2015. As many as 20,870 Bangladeshi nationals overstayed during the period January 1, 2014 to December 31, 2014, though 8,387 departed the country following the overstay.
Full report at:
http://timesofindia.indiatimes.com/india/around-36310-pak-nationals-staying-in-india-with-expired-visas/articleshow/58033584.cms
--------
Shia board cites Iraqi fatwa to back ban on cow slaughter
April 6, 2017
THE ALL India Shia Personal Law Board has asked the central government to enact a law to ban triple talaq and declared its support for a ban on cow slaughter across the country. The board has also endorsed the Supreme Court's suggestion to settle the Ayodhya dispute out of court amicably.
These were among the resolutions passed during a meeting in Lucknow Wednesday of around 150 executive members of the board from across the country .
A board member said that the support for a cow-slaughter ban was based on a fatwa issued by a Shia cleric in Iraq, Maulana Ayatollah Basheer Najafi.
All India Shia Personal Law Board Supports Cow Slaughter Ban
"We got that fatwa from Iraq, according to which cows should not be killed because the issue concerns the religious sentiments of Hindus. Hence, a prohibition on it should be implemented effectively," said Maulana Ejaz Athar, speaking on behalf of the board.
Athar said that the board members will take measures to spread awareness among the Muslim community about the fatwa.
"A similar fatwa against cow slaughter had been issued by a Shia cleric in India as well, around 40 or 50 years ago. As per the resolution passed at that time, a person should follow the laws of the country where he lives," he said.
On triple talaq, Athar said, the board resolved to ask the Centre to enact a law to prohibit the practice so that married Muslim women and their rights could be protected. The board will present its opinion in the Supreme Court, too, said Athar, while claiming that there was no mention of triple talaq in the Quran.
Besides, he said, the Shia board welcomed the recent observation of the Supreme Court that described the Ram Janmabhoomi-Babri mosque dispute as a "sensitive" and "sentimental" issue and suggested that the issue should be settled amicably.
Athar said the board will appeal to both parties in the case to hold talks to resolve the issue peacefully.
When it was pointed out that the board's resolutions appeared to favour the stance adopted by various Hindutva groups on these issues, Athar said the Shia body has been raising them for several decades.
"The meeting was called to discuss these proposals because triple talaq and cow slaughter are burning issues these days and the board wanted to communicate its opinion to the masses," said Athar.
Full report at:
http://indianexpress.com/article/india/shia-board-cites-iraqi-fatwa-to-back-ban-on-cow-slaughter-4601458/
--------
Muslim man dies in India after attack by Hindu 'cow protectors'
Michael Safi
5 April 2017
A Muslim man has died in western India after he was attacked by hundreds of Hindu cow protection vigilantes, the latest attack in a spate of mob killings in the name of the revered animal.
Police said on Wednesday that Pehlu Khan, 55, had died in hospital two days after a group attacked his cattle truck on a road in Alwar in the desert state of Rajasthan.
Gangs of "cow protectors" have been implicated in killing at least 10 people in the past two years as the welfare of the animal has become an increasingly charged issue in Indian politics.
Cows are revered by most of India's majority Hindu community and beef consumption is permitted in only eight of the country's 29 states and territories.
Alwar's police chief, Rahul Prakash, told Agence France-Presse at least six others were injured in the attack, but they had now been discharged from hospital.
Police posted a 5,000-rupee (£62) reward to help identify the attackers and have listed more than 200 people as suspects in the murder case.
"We are yet to receive the postmortem report, but [the victim] had multiple rib fractures," Prakash said.
Khan was driving in a convoy of six cattle transport trucks and returning to his home state of Haryana when the mob intercepted his vehicle.
Video of the attack was broadcast on Indian television, showing the men being beaten with iron rods and sticks.
Cow protection has been a trigger for sectarian violence throughout modern Indian history and its resurgence since 2015 has been linked to an increasingly assertive Hindu nationalist movement.
India's prime minister, Narendra Modi, won office in 2014 pledging to ban beef across India, and calls to declare the cow India's national animal have grown since his election.
Illustrating the careful path some Indian politicians walk in discussing the violence, the Rajasthan home minister said on Wednesday the vigilantes had "done a good job by protecting cows from smuggling".
"But they have violated the law by beating people brutally," Gulab Chand Kataria said.
Police are regularly accused of working alongside cow-protection vigilantes and one state, Haryana, announced plans last year to license some of the groups.
In September 2015 a Muslim man from a village near Delhi was lynched after being accused of storing beef in his freezer.
Modi rebuked the vigilantes last August after videos emerged showing young Dalits – India's least socially dominant caste, tasked with disposing of dead cows – being flogged for handling the animals' carcasses.
Full report at:
https://www.theguardian.com/world/2017/apr/05/muslim-man-dies-in-india-after-attack-by-hindu-cow-protectors
--------
Arab World
Islamic State executes 33 people in Syria
6 April 2017
Islamic State insurgentss have executed 33 people in the north-eastern Syrian province of Deir al-Zour, according to a British war monitor.
The mass slaying took place in the town of Badiat al-Mayadin, eight kilometres south-east of the city of al-Mayadin, in Deir al-Zour, one of the main strongholds of the terror group.
The victims were between 18 and 25 years old, according to activists of the Syrian Observatory for Human Rights, who did not witness the executions, but saw the bodies of the victims after the killing.
This is the largest mass execution carried out by the IS in the Arab country so far this year.
The activists did not know the identities of the deceased and whether they were civilian prisoners or belonged to armed factions.
In 2016, IS killed 30 people in Deir al-Zour in two separate incidents, the first was in September, while the second was in October, according to the observatory.
http://www.skynews.com.au/news/world/mideast/2017/04/06/islamic-state-executes-33-people-in-syria.html#sthash.IMGVmGMl.dpuf
--------
Military Source: Al-Nusra Front Only Party to Possess Chemical Weapons in Syria
Apr 05, 2017
"The Syrian army has not used any chemical gases against the citizens in Idlib and it is not logical for the army to kill the residents of a city that it is trying to set free," the military source told the Arabic website of Sputnik news agency on Wednesday.
He underlined that the Syrian army has had no chemical weapons since 2012 when the terrorist groups stole and transferred its chemical weapons to their caches.
Stressing that al-Nusra Front is the only side which possesses chemical weapons, including toxic gases, the source raised the possibility that certain western spy agencies have also played a role in the chemical attack which killed dozens of people in Idlib province.
Meantime, the General Command of the Syrian Army and Armed Forces categorically denied allegations and claims circulated by media outlets about the use of chemical substances in the town of Khan Shaikhoun in Idlib countryside.
"The armed terrorist groups used to accuse the Syrian Arab Army of using toxic gases against them or against civilians at anytime they fail to implement the targets of their sponsors and operators or when they are unable to achieve any advantages on the ground in an desperate attempt to justify their failure and to maintain the support of their masters," the Army's general command said in a statement.
Full report at:
http://en.farsnews.com/newstext.aspx?nn=13960116000762
--------
UN experts warn Saudi Arabia against demolition of Shia neighbourhood
Apr 6, 2017
UN rapporteurs have urged Saudi Arabia to immediately halt a planned demolition of an entire 400-year-old neighborhood inhabited by the kingdom's Shia Muslim minority.  
The UN experts warned that the so-called development plan for the historic neighborhood of al-Masora in the village of Awamia in the eastern province of Qatif threatens the historical and cultural heritage of the area with irreparable harm.
They said such a move would lead to forced eviction of 2,000 to 3,000 people from their businesses and residences. 
"The area is of importance not only to local people and the entire cultural landscape of Awamia, but also has national significance for the history and cultural heritage of Saudi Arabia," said the UN Special Rapporteur in the field of cultural rights, Karima Bennoune.
"The planned demolition would erase this unique regional heritage in an irreversible manner," she pointed out. 
Masora is considered a historical model of a walled village, including mosques, farms and farmers markets, places of worship for Shia Muslims, 'Hussainiyats', and businesses. It has been of great interest for researchers and experts in the fields of heritage and archaeology.
The imminent demolition of the entire neighborhood is part of a so-called development plan aimed at transforming Masora from a mainly residential neighborhood to a commercial and service zone.
Local residents are concerned that the plan will exacerbate the existing housing crisis and lead to a rise in real estate prices, as the plan does not include the construction of residential buildings.
"Residents have been pressured in many ways, including through power cuts, to vacate their homes and businesses without adequate alternative resettlement options, leaving them at best with insufficient compensation and at worst, with nowhere to go," said the UN Special Rapporteur on the right to adequate housing, Leilani Farha. 
"Demolitions must never lead to homelessness of the evicted persons, so the authorities have to ensure the provision of adequate alternative housing facilities, resettlement and compensation for lost property," she added. 
UN Special Rapporteur on extreme poverty Philip Alston (File photo)
The UN Special Rapporteur on extreme poverty, Philip Alston, warned about the ramifications of the demolition on the standard of living of Masora residents.
"If implemented, the plan will remove people from the areas where they live and work, resulting in loss of livelihood and difficulty in securing housing," he said.
Full report at:
http://www.presstv.ir/Detail/2017/04/06/516911/Saudi-Arabia-Shia-demolition-UN
--------
Donors pledge billions at Syria aid conference
Apr 6, 2017
BRUSSELS: International donors on Wednesday pledged $6.0 billion in aid for Syria this year at a conference overshadowed by a suspected deadly chemical attack blamed by the West on Damascus.
The Brussels meeting, co-chaired by the European Union and United Nations, was a follow-up to a meeting last year in London which raised $12 billion (10.1 billion euros) in all for humanitarian aid programmes. "Our conference is sending a powerful message, we are not letting down the people of Syria," EU Humanitarian Aid Commissioner Christos Stylianides told delegates. Announcing the new pledges to applause from those at the meeting, he added: "Thank you so much. It is an impressive figure."
Stylianides did not clarify if the funding was new, or if it included some funds previously pledged by the international community for war-torn Syria.
In London last year, donors put together two $6.0 billion tranches in aid, one for 2016 and the other to cover the period to 2019.
The two-day Brussels meeting brought together some 70 countries and aid groups who also wanted to show support for UN-sponsored peace talks between the rebels and Russian-backed President Bashar al-Assad.
Wednesday's session was dominated by news that at least 72 civilians including 20 children had been killed in a suspected chemical weapons attack on the rebel-held town of Khan Sheikhun in Idlib province.
UN chief Antonio Guterres said "the horrific events of yesterday demonstrate unfortunately that war crimes are going on in Syria."
"This conference must represent a moment of truth where the international community" finally comes together to settle the war and give the Syrian people hope, he said.
British Foreign Secretary Boris Johnson told delegates it was "impossible for us to ignore the horrific attack" and pointed the finger of blame firmly at Damascus.
Johnson and other delegates repeatedly urged all parties to the conflict and their backers to condemn the attack and the use of chemical weapons.
The war has claimed more than 320,000 lives since anti-Assad protests descended into a full-blown civil war in 2011, with five million Syrians fleeing the country and most of the remaining population being displaced.
Most of the refugees have ended up in Turkey, Lebanon and Jordan.
The UN warned Tuesday that the plight of the refugees was becoming "desperate," with only 433 million euros out of a needed 4.7 billion euros pledged so far.
The UN estimated another 3.4 billion euros was needed for humanitarian aid in Syria.
Lebanese Prime Minister Saad Hariri urged donors to "invest in peace."
"Ladies and gentlemen, the current situation in Lebanon is a ticking time-bomb," he told the conference.
Full report at:
http://nation.com.pk/international/06-Apr-2017/donors-pledge-billions-at-syria-aid-conference
--------
Several Senior Terrorist Commanders Killed in Clashes with Syrian Army in Homs
Apr 05, 2017
The army men fended off the Al-Nusra attack on government forces' positions in al-Houleh dam from the direction of Taldou village in al-Houleh region, killing a number of terrorists, including Khalid Bin Abdultoweihi and several other senior field commanders.
The Al-Nusra's military vehicles and hardware also sustained major damage in the failed attack.
Reports said earlier today that the army soldiers engaged in an intense battle with ISIL North of Palmyra's silos and managed to push them back from the Southwestern slopes of Mount al-Mazbed.
Tens of ISIL terrorists were killed and a number of their vehicles were destroyed in the attack.
Full report at:
http://en.farsnews.com/newstext.aspx?nn=13960116001270
--------
ISIL Suffers Tens of Casualties in Syrian Army Attack in Deir Ezzur
Apr 05, 2017
The army soldiers stormed ISIL's gathering centers and positions in al-Maqaber (cemetery) region, killing at least 60 terrorists and wounding tens of others.
A large volume of ISIL's arms and ammunition also were destroyed in the attack.
The army men managed to push terrorists back from more positions in al-Maqaber to lift the siege on their comrades in the Deir Ezzur and its airbase.
Relevant reports said on Tuesday that at least 28 ISIL terrorists were killed and 22 others were injured in the Syrian army's artillery and missile attacks on the terrorist group's military positions in al-Maqaber, al-Jabilieh and al-Rashidiyeh regions and also the surrounding areas of Regiment 137 base and East of Deir Ezzur military airport and Deir Ezzur power station.
The Syrian army also destroyed an anti-tank missile base and a machinegun-equipped military vehicle of the ISIL terrorists.
Full report at:
http://en.farsnews.com/newstext.aspx?nn=13960116001140
--------
Iraqi Commander: US, Turkey Pressuring Baghdad to Postpone Liberation Plans in Tal Afar
Apr 05, 2017
"The US and Turkey are exerting much political pressure on Baghdad to prevent the capture of the strategic city of Tal Afar in Western Mosul," Nazzem al-Assadi told FNA.
Stressing that the Iraqi army's operations to retake Tal Afar will start soon in cooperation with Hashd al-Shaabi despite all obstacles, he said, "The volunteer forces are prepared for the battle and are ready to start operations after besieging the city from several directions."
His remarks came after a spokesperson for Iraq's Popular Mobilization Forces said the number of ISIL militants currently fighting in Western Mosul stands at 2,000 members, higher than the 1000 estimated by the US-led coalition.
The PMF's spokesperson, Ahmed al-Assadi, said Tuesday that 70 percent of ISIL militants in Western Mosul were Iraqi nationals.
"Numbers mentioned by US officials, about the numbers of terrorist ISIL members being nearly 1,000, are related to only Western Mosul," Assadi said.
"What is left of the Western side does not exceed 30 percent of the city's territory, so the number of militants does not exceed 1,000, and they are trapped in that space," he added.
According to Assadi, the number of ISIL members at the group's so-called "al-Jazeera State", reaches more than 3,000 fighters, and there are 2,000 others in "Nineveh State".
ISIL's Al-Jazeera State comprises towns and regions West of Mosul and near the borders with Syria like Ba'aj, Tal Afar and Mahalabiya, while Nineveh State primarily includes Mosul.
"Those terrorists, though shrinking in numbers, are still holding between 200,000 and 300,000 civilians.
Full report at:
http://en.farsnews.com/newstext.aspx?nn=13960116000359
--------
Syrian Army at Gates of Terrorist-Held City of Souran in Hama
Apr 05, 2017
The army units engaged in fierce clashes with Al-Nusra Front (also known as Fatah al-Sham Front or the Levant Liberation Board) in areas surrounding Souran, while the army's artillery and missile units targeted terrorists' centers heavily in Souran and Taybat al-Imam towns to back the ground troops.
In the meantime, the Russian and Syrian fighter jets bombed terrorists' concentration centers in different parts of Northern Hama.
A military source said that the army men targeted and destroyed three suicide bomb-laden vehicles before terrorists could use them to hit the government forces' positions in Ma'ardes region, adding the army soldiers further engaged with the militants that tried to prevail over the army positions North of Souran, killing a large number of them and repelling their attack.
Informed sources said on Tuesday that a large number of Al-Nusra Front terrorists fled the battlefields in Hama province after they sustained heavy losses and lost their hope and trust in the terrorist group.
"After repeated defeats in Northern Hama and Al-Nusra Front commanders' lack of attention to the injured militants and leaving them behind, the terrorists have lost their morale and, hence, left the battlefields," media sources said.
Meantime, a military source confirmed that the Syrian army's artillery and missile attacks as well as air raids by the country's air force on the Al-Nusra Front's concentration centers and movements severely weakened the terrorist group and made them dig deep tunnels for storing their weapons and ammunitions.
Full report at:
http://en.farsnews.com/newstext.aspx?nn=13960116000502
--------
US, Britain, France request name of pilot who carried out Syrian chemical attack
6 April 2017
The US, Britain and France have demanded the names of the pilots who carried out the recent chemical attack in Syria.
Their request came as part of the draft resolution, which they submitted on Wednesday during an emergency session at the UN Security Council.
The draft resolution calls for a full investigation into the attack in the early hours of Tuesday in the town of Khan Sheikhoun. At least 72 people were killed in the strike and dozens more were injured.
Syrian Pilot Mohammed al-Hasouri, who took off in his jet from the Shayrat military airport on Tuesday morning, may have not thought that his name may be internationally listed and he will be pursued.
Victim testimonies
According to the testimonies of Khan Sheikhoun residents, Hasouri carried out a similar attack using chemical weapons four days ago in Hama's countryside in the town of Al-Lataminah.
A local observatory has taken charge of monitoring the regime air force's activity. On the day of the chemical attack on Khan Sheikhoun, it monitored that the same jet which attacked Lataminah – dubbed Quds 1 according to an audio which the Syrians have been circulating – took off.
It was 6:00 a.m. when the jet began to attack Khan Sheikhun in Edleb, northwest of Syria. The attack was thunderous and the one in charge at the observatory said: "It seems the jet is carrying toxic substances."
Full report at:
https://english.alarabiya.net/en/News/middle-east/2017/04/06/US-Britain-France-request-name-of-pilot-who-carried-out-Syrian-chemical-attack.html
--------
UN Security Council postpones vote on Syria resolution
6 April 2017
Britain, France and the United States on Wednesday held off calling a vote at the UN Security Council on a resolution demanding an investigation of the suspected chemical attack in Syria to allow time for negotiations with Russia.
However, a vote on the draft text presented by the Western trio could be held as early as Thursday, diplomats said. Russia rejected the draft resolution as "categorically unacceptable," suggesting it is ready to veto the measure if no compromise text is agreed.
British Ambassador Matthew Rycroft told reporters that "the negotiations continue with our colleagues on the Security Council and I would not anticipate them coming to a conclusion today."
The draft resolution backs a probe by the Organization of the Prohibition of Chemical Weapons (OPCW) and demands that the Syrian government cooperate to provide information about its military operations on the day of the assault.
Britain, France and the United States blame President Bashar al-Assad's forces for the attack, but the Syrian army has denied any involvement.
"We very much hope that it will be possible for everyone to come together," Rycroft said. "If not, we will press ahead."
Full report at:
https://english.alarabiya.net/en/News/middle-east/2017/04/06/UN-council-postpones-vote-on-Syria-resolution.html
--------
Khan Sheikhoun attack: A father bids farewell to twin toddlers
6 April 2017
The father cradled his 9-month-old twins, Aya and Ahmed, each in an arm. He stroked their hair and choked back tears, mumbling, "Say goodbye, baby, say goodbye" to their lifeless bodies.
Abdel Hameed Alyousef lost his two children, his wife and other relatives in the suspected chemical attack Tuesday in the northern Syrian town of Khan Sheikhoun that killed at least 72 people.
In footage shared with The Associated Press, Alyousef sits in the front seat of a van with the twin, his eyes red as he asks his cousin Alaa to video his farewell to them.
'They were conscious at first'
When the airstrike took place, "I was right beside them and I carried them outside the house with their mother,"Alyousef, a 29-year-old shopowner, told the AP. "They were conscious at first, but 10 minutes later we could smell the odor." The twins and his wife, Dalal Ahmed, fell sick.
He brought them to paramedics and, thinking they would be OK, went to look for the rest of his family. He found the bodies of two of his brothers, two nephews and a niece, as well as neighbors and friends. "I couldn't save anyone, they're all dead now," he said.
Only later was he told his children and wife had died. "Abdel Hameed is in very bad shape," his cousin Alaa said. He's being treated for exposure to the toxin. "But he's especially broken down over his massive loss."
Hardest hit family
More than 80 people, including at least 30 children and 20 women, were killed in the chemical attack on the Syrian town of Khan Sheikhoun early Tuesday, and the toll could still rise. The Alyousef family, one of the town's main clans, was hardest hit.
Another member of the family, Aya Fadl, recalled running from her house with her 20-month-old son in her arms, thinking she could find safety from the toxic gas in the street. Instead, the 25-year-old English teacher was confronted face to face with the horror of it: A pick-up truck piled with the bodies of the dead, including many of her own relatives and students.
Full report at:
https://english.alarabiya.net/en/News/middle-east/2017/04/06/Khan-Sheikhoun-attack-A-father-bids-farewell-to-twin-toddlers.html
--------
Blaming Assad, Trump says Syria attack 'cannot be tolerated
5 April 2017
Decrying an "affront to humanity," President Donald Trump declared Wednesday that a chemical weapons attack in Syria "cannot be tolerated" but did not say what the US might do in response. He blamed the attack squarely on Syrian President Bashar Assad.
Trump, speaking alongside Jordan's King Abdullah II in the Rose Garden, offered no details about what steps the US might take in response, even as his UN ambassador, Nikki Haley, was promising a strong and perhaps even unilateral response. But Trump said the attack was "so horrific" and noted that it had killed "innocent people, small children and even beautiful little babies."
"These heinous actions by the Assad regime cannot be tolerated," Trump said.
He said the US stood with its global allies "to condemn this horrific attack."
The United States and Russia were trading conflicting assertions Wednesday about who launched a chemical weapons attack in Syria that killed 72 people, as world leaders grasped for a response to the latest atrocity in Syria's intractable civil war.
As Trump stood by his charge that Assad's forces were responsible, Russia disagreed. The staunch Assad ally insisted that the chemicals were dispersed when Syrian warplanes bombed a facility where rebels were building chemical weapons.
At the United Nations, Trump's envoy threatened unilateral US action if the world body failed to act.
"When the United Nations consistently fails in its duty to act collectively, there are times in the life of states that we are compelled to take our own action," Haley declared. She addressed an emergency meeting of the Security Council, which was weighing a resolution condemning chemical weapons use in Syria. Russia, which has veto power, is opposed.
Yet in Moscow, Russian Foreign Ministry spokeswoman Maria Zakharova focused her attention elsewhere: "It's necessary to demand that the rebels offer full access to study the area and collect necessary information."
Leaders and officials in other countries, including Britain and Israel, joined the US in saying Assad's forces were responsible.
A US official said an American review of radar and other assessments showed Syrian aircraft flying in the area at the time of the attack. Russian and coalition aircraft were not there at that time, said the official, who wasn't authorized to discuss intelligence publicly and requested anonymity. Washington hasn't yet concluded what type of chemical was used.
On Tuesday, President Donald Trump split the blame between Syria's embattled leader and former President Barack Obama for the country's worst chemical weapons attack in years.
While calling the attack "reprehensible" and intolerable, Trump said Obama "did nothing" after Assad crossed the former US leader's "red line" in 2013.
"These heinous actions by the Bashar al-Assad regime are a consequence of the past administration's weakness and irresolution," Trump said.
The political tone of Trump's statement took many US officials by surprise. They noted that US presidents have rarely attacked their predecessors so aggressively for events like chemical weapons attacks that Democrats and Republicans both abhor.
Full report at:
https://english.alarabiya.net/en/News/middle-east/2017/04/05/Blaming-Assad-Trump-says-Syria-attack-cannot-be-tolerated-.html
--------
Saudi Arabia detained 77 terror suspects last month
6 April 2017
Saudi security forces arrested 77 terror suspects in March, according to an updated list posted on the Interior Ministry's Nafethah Tawasol website.
The suspects belong to nine nationalities — 53 of them are Saudis. The others included 16 Turks, two Syrians, one Bengali, an Egyptian, an Indian, a Nigerian, a Nepalese and a Kuwaiti.
Three Turks were listed in Nafethah Tawasol last year. One is still being interrogated, while another's case has been referred to the investigation commission and the general prosecution.
Also read: Details of the security raid on terrorist cells in eastern Saudi Arabia
The paperwork for the third is being finalized in order for him to be referred to the prosecution. The Nafethah portal is a window of communication between the prisoner or detainee or the beneficiary in detention centers and their relatives abroad.
Full report at:
https://english.alarabiya.net/en/News/gulf/2017/04/06/Saudi-Arabia-detained-77-terror-suspects-last-month.html
--------
Mideast
Israeli legislature passes contentious demolition law
Apr 5, 2017
The Israeli parliament, known as the Knesset, has approved a controversial law targeting what are said to be illegal constructions amid criticisms that the legislation will disproportionately affect Palestinians and Arab communities.
The legislation, dubbed the "Kaminitz Law," was passed on Wednesday with 43 votes for and 33 against.
It increases the maximum imprisonment for those convicted of building without permits to three years from the current two-year term.
The legislation, which further hikes fines and reduces the powers of courts to postpone the date of demolition orders, will also target 300,000 Palestinians living in the occupied East Jerusalem al-Quds.
The law, backed by Israeli Prime Minister Benjamin Netanyahu's right-wing government, has sparked widespread criticisms.
Israeli Druze lawmaker Abdullah Abu Ma'aruf accused Netanyahu of attempting to "please the (political) right at whatever cost and at the expense of the Arabs."
He further said the law threatens "50,000 Arab homes in which hundreds of thousands of people live."
Bedouins cry following the destruction of their houses in the Bedouin village of Umm al-Hiran on January 18, 2017.
Several Israeli human rights NGOs warned in January that the legislation would lead to a "dramatic rise" in home demolitions in Arab towns.
"Reducing court involvement and taking administrative measures will lead to a situation in which residents have no means of appealing for legal assistance. And even if they do, the court's consideration is limited and has no place in considering the circumstances of planning, the personalities or the type of building," said Moran Aviv, a city planner for Sikkuy civil society organization.
Tel Aviv has accelerated its land grab and settlement construction activities in the occupied Palestinian lands after pro-Israel US President Donald Trump took office earlier this year. Human rights groups say Israel's sustained demolitions of Palestinian homes are aimed at uprooting Palestinians from their native territories and expropriating more land for the expansion of settlements.
Israeli forces have demolished over 48,000 Palestinian homes and buildings since the 1967 occupation of the Palestinian lands, according to the Israeli Committee Against House Demolitions.
http://www.presstv.ir/Detail/2017/04/05/516889/Israel-Palestine-Palestinians-East-Jerusalem-alQuds
--------
Iran says Britain's policies behind Middle East instability
Apr 6, 2017
Iran says the crises in the Middle East region are largely due to the "colonial" policies of the UK and its allies.
Iranian Foreign Ministry Spokesman Bahram Qassemi made the comments on Wednesday in response to remarks made by British Prime Minister Theresa May during a trip to Saudi Arabia.
During an interview with al-Riyadh newspaper, May claimed that Iran was creating tensions and insecurity in the region by interfering in the affairs of Arab nations.
While noting that this was not the first time May had made such baseless claims, Qassemi stressed that Iran's regional policies are undoubtedly aimed at establishing stability and battling terrorism in the region.
"It is know to all that Iran has played a significant role in supporting security, stability and peace in the countries that have been attacked by terrorists and have requested aid from the Islamic Republic," he said.
He added that the UK and some of its close allies in the region were "probably not pleased with" the recent gains made against terrorist groups in Syria and Iraq, and would prefer a Middle East "beset with prolonged insecurity and instability."
Qassemi also noted that May's claims against Iran are made at a time when Britain has supplied millions of dollars worth of weapons to Saudi Arabia, which has been waging a deadly war on Yemen.
Full report at:
http://www.presstv.ir/Detail/2017/04/06/516900/iran-uk-middle-east-may-qassemi
--------
Following St. Petersburg blast, Iran stresses cooperation with Russia in anti-terror fight
Apr 5, 2017
A senior Iranian official has condemned the Monday deadly explosion in the Russian city of St. Petersburg, calling for more cooperation between Tehran and Moscow in fighting terrorism.
"The barbaric crimes committed by terrorist groups against defenseless civilians show that an effective, all-out fight against these inhuman elements, the origin of their thoughts and their supporters should top the security priorities of the international community," Secretary of Iran's Supreme National Security Council Ali Shamkhani said in a Wednesday message to his Russian counterpart Nikolai Patrushev.
Shamkhani called for further cooperation between Tehran and Moscow against terrorism.
"Undoubtedly, indiscriminate [terror] acts by the defeated terrorists have not dented the strong determination of the countries that are forerunners of the fight against Takfiri terrorism and will cause more severe action against them," he added.
A man fixes Russia's flag at a symbolic memorial at the Technologicheskiy Institute subway station in St. Petersburg, Russia, on April 5, 2017. (Photo by AP)
The St. Petersburg metro explosion killed 14 and injured almost 50 others.
The Russian Investigative Committee said the bombing had been carried out by a man whose body parts were found on the train.
Security services in Kyrgyzstan said a national of the Central Asian state was behind the St. Petersburg explosion.
Also on Wednesday, Iranian Foreign Minister Mohammad Javad Zarif held a telephone conversation with his Russian counterpart Sergei Lavrov, condemning the St. Petersburg blast.
Full report at:
http://www.presstv.ir/Detail/2017/04/05/516853/Iran-Russia-St-Petersburg-blast-terrorism-Shamkhani
--------
Australia warns of terror threat in Turkey
Apr 6, 2017
Australia Thursday warned terrorists could target Anzac Day commemorations on the Gallipoli Peninsula in Turkey this month, and urged travelers to avoid Ankara and Istanbul.
The emotive event on April 25 remembers the heroism and sacrifice of Australians and New Zealanders during World War I and their campaign against the Ottoman Empire in 1915.
Canberra said intelligence suggested it could be a target this year by extremists.
"There is information to suggest that terrorists may seek to target Anzac Day commemorations on the Gallipoli Peninsula," said Veterans' Affairs Minister Dan Tehan, adding that Turkey was aware and stepping up security.
"The Turkish authorities are taking this extremely seriously. The celebrations on Gallipoli are as important to the Turkish authorities and Turkish people as they are to the Australians.
"They are taking it seriously, in terms of the security envelope for the sake of everybody on the peninsula."
While Canberra's advice to travelers had not changed from "exercise a high degree of caution" in Gallipoli and Turkey overall, it said they should "reconsider their need to travel to Ankara and Istanbul."
"We are conscious of the effect of this on the many Australians planning to attend this year's Anzac Day commemorations at Gallipoli," added Tehan. "In the current global environment, major events attract threats of varying degrees of credibility. Regrettably Anzac Day is not immune."
Full report at:
http://www.presstv.ir/Detail/2017/04/06/516920/Australia-Turkey-Gallipoli-Anzac-Day-commemorations-terrorist-threat
--------
Turkey occupying Syria, trying to build city near al-Bab: Syrian envoy
Apr 5, 2017
The Syrian ambassador to Russia has accused Turkey of seeking to establish a city near the northern Syrian city of al-Bab, citing Turkish troops' presence and occupation of the area.
Riad Haddad told Russia's Sputnik news agency on Wednesday that the situation on the ground contradicts Turkey's claim about the end of its military campaign on Syrian soil.
"In practice, the Turkish side has not withdrawn its troops, which are currently in the north of the city of al-Bab, and are trying, with the help of factions that are allies of Turkey, to build a city there. I mean those terrorist groups which are located in the area, and thus they violate the territorial sovereignty of the Syrian Arab Republic," Haddad said.
Syrian Ambassador to Russia Riad Haddad
Turkey launched its incursion into Syria on August 24, 2016, in an alleged bid to push Daesh terrorists from the border with Syria and stop the advance of Kurdish forces. Damascus condemned the campaign as an act of aggression.
In February, Turkey announced that it had seized al-Bab and referred to the Syrian cities of Manbij and Raqqah as its next targets.
On March 29, however, Turkish Prime Minister Binali Yildirim said the country's 'Operation Euphrates Shield' was complete, noting that any further military measures in Syria would by conducted under a different name.
Full report at:
http://www.presstv.ir/Detail/2017/04/05/516833/Turkey-Syria-Bab-Riad-Haddad
--------
Europe
Imam in hiding after backing calls to close Aussie Muslim schools
April 5, 2017
Mohammed Tawhidi, of the Islamic Association of South Australia, said he agrees with Ms Ali's call to close Islamic schools in Australia.
He has also rejected extremist groups.
Ms Ali cancelled her tour of Australia this week because of fears for her safety.
"These schools do exist that are a problem and they need to be either shut down or changed completely," Imam Tawhidi said.
Fearing reprisals, the Adelaide-based Imam said he was escorted into hiding by police.
A video released on Facebook has been credited, in part, with stopping Ms Ali's speaking tour.
In a video, which was posted to Facebook a group of Muslim women speak out against Ms Ali saying: "You're not here to help us or stand with... you're here to profit from an industry that exists to dehumanise us".
Hana Asafiri, of the Persons of Interest group, which is behind the video, said they opposed Ms Ali because her rhetoric could inspire random attacks against Australian Muslims.
"There's nothing to be celebrated through a divisive and very hostile and fear-mongering conversation," Ms Asafiri said.
Ms Asafiri said Ms Ali cancelling her trip was seen by her group as a victory for free speech.
"Everybody has a right and they're the hallmarks of our freedoms and democracies.
"But I guess what I'm saying is those rights cannot be uncontested particularly when they're promoting hatred and fear."
The group has condemned Ms Ali as an extremist and a hatemonger and signed a petition against her visit.
But the Somali-born former Muslim has hit back, saying her critics are doing the work of radical groups.
"These are people who are far more interested in defending Sharia Law, that's Islamic law and the doctrine of radical Islam over human rights."
Ms Ali said these women criticise her, but say nothing about the millions of repressed women in Islamic countries.
"The idea that women have to cover themselves from head to toe to hide from men because if men see women's hair or women's faces or women's bodies then they are seized by this desire... and they start harassing and groping and sexually assaulting women," Ms Ali said.
"There is no feminist ideology of Islam.
"There are of course Muslim women all across the world who are fighting for their rights and fighting for their dignity, you know, the women in Saudi Arabia who are fighting for their right to drive a car and to be relieved of the obligation that they need a male guardian at all times."
But Ms Asafiri said her group opposed female oppression.
"Look, we start from the premise that all forms of violence against women and the subjugation of women are completely unacceptable," Ms Asafiri said.
An unrepentant Ms Ali has gone further, when asked whether groups like Hizb ut-Tahrir should be banned in Australia she said they should be treated like "skinheads".
"White supremacists and all sorts of remnants of the Nazi Party ... are stigmatised and they are actively marginalised and that's what we should do with Hizb ut-Tahrir, Jemaah Islamiyah, with the Diobandi, with the Muslim Brotherhood, with all Islamism organisations that set up shop in Australia and other liberal societies."
https://au.news.yahoo.com/nsw/a/34925087/adelaide-imam-sheikh-mohammed-tawhidi-in-hiding-after-supporting-calls-from-ayaan-hirsi-ali-to-close-australias-muslim-schools/#page1
--------
Pope praises British Muslim leaders
Apr 6, 2017
VATICAN CITY : Pope Francis met briefly Wednesday with a delegation of four British Muslim clerics and praised their contribution to dialogue between different faiths and cultures.
"I like to think that the most important job we have to do between us, as humanity, is done with our ears, by listening," Francis told the four-man group as he greeted them warmly at the Vatican for a private audience. "The ability to listen is so important. Those who have it speak softly, quietly. Those that don't talk loudly, shout even.
"Among brothers, all of us have to talk and listen gently, to seek the way together. "And when we listen and talk to each other, we are already on the path."
The clerics at the talks were Shia scholar Syed Ali Raza Rizvi, Moulana Muhammad Shahid Raza, an imam who heads the British Muslim Forum, Ibrahim Mogra of the Christian Muslim Forum and Sayed Ali Abbas Razawi, Director General of the Scottish Ahlul Bayt Society.
Since his election four years ago, Francis has overseen a steady improvement in relations between the Vatican and the Islamic world, overcoming the acrimony caused by a series of spats under his predecessor Benedict XVI.
The Argentine pontiff hosted top Sunni cleric Ahmed al-Tayeb at the Vatican last year and will meet him again when he visits the Al-Azhar mosque as part of a visit to Egypt at the end of this month.
Ties were badly soured when the now-retired Benedict made a September 2006 speech in which he was perceived to have linked Islam to violence, sparking deadly protests in several countries and reprisal attacks on Christians.
Francis has made interfaith dialogue one of his priorities, describing fundamentalism as a disease of all religions.
And he endeared himself to many Muslims last year when he returned from the migrant crisis island of Lesbos with three Syrian Muslim families who are being put up by the Vatican in Rome while their asylum requests are processed.
Full report at:
http://nation.com.pk/international/06-Apr-2017/pope-praises-british-muslim-leaders
--------
Russia defends Syria against 'chemical attack' outcry
Apr 6, 2017
Russia defended ally Syria on Wednesday against allegations it launched a chemical weapons attack that killed scores of civilians, denouncing a proposed UN resolution on the incident as "unacceptable".
At least 72 people, among them 20 children, were killed in Tuesday's attack in rebel-held Khan Sheikhun, and dozens more were left gasping for air, convulsing, and foaming at the mouth, doctors said.
The Security Council was holding an emergency session to discuss the attack and a draft resolution presented by Britain, France and the United States that urges a swift investigation.
"We are talking about war crimes here, war crimes on a large scale, war crimes with chemical weapons," French Ambassador Francois Delattre told reporters as he entered the council chamber.
But ahead of Wednesday's session, Russia's foreign ministry dismissed the draft resolution against its Damascus ally as "categorically unacceptable".
Moscow, which launched a military intervention in 2015 in support of Assad's forces, earlier defended the government against accusations of responsibility for the attack.
It said the deaths were caused when a Syrian air strike hit a "terrorist warehouse" used for making bombs containing "toxic substances", and pledged to continue its military support for Assad.
US Ambassador Nikki Haley rebuked Moscow for railing to rein in its ally, asking Security Council members: "How many more children have to die before Russia cares?"
Syria's army has denied any use of chemical weapons, saying it "has never used them, anytime, anywhere, and will not do so in the future".
But health experts said victims of Tuesday's incident showed symptoms consistent with the possible use of a nerve agent such as sarin -- suspected to have been used by government forces in deadly attacks outside Damascus in 2013.
Russian and Syrian denials have done little to quiet international condemnation, with UN chief Antonio Guterres on Wednesday saying Tuesday's attack proved "war crimes are going on in Syria".
Pope Francis said he was "horrified" by the "unacceptable massacre".
And US President Donald Trump, who has drawn criticism from Syria's opposition for apparently softening his stance on Assad, condemned the "unspeakable" attack.
'Murderer'
Others blamed Damascus directly, including British Foreign Secretary Boris Johnson, who said "all the evidence I have seen suggests this was the Assad regime".
Turkish President Recep Tayyip Erdogan, whose forces have deployed in northern Syria, was even more forthright, labelling Assad a "murderer".
Iran, another key Assad ally, condemned "all use of chemical weapons" in Syria, but suggested the blame for the attack may lie with "terrorist groups".
If confirmed, the attack would be among the worst incidents of chemical weapons use in Syria's civil war, which has killed over 320,000 people since it began in March 2011.
It unfolded in the early hours of Tuesday morning, with warplanes carrying out strikes that released "toxic gas" on Khan Sheikhun, in the northwestern province of Idlib, according to witnesses and a monitoring group.
The Syrian Observatory for Human Rights, a Britain-based monitor, said at least 160 people suffered the effects of the gas.
The WHO said some victims showed symptoms "consistent with exposure to organophosphorus chemicals, a category of chemicals that includes nerve agents".
The Doctors Without Borders charity said its teams in northern Syrian had found victims showing symptoms of exposure to a nerve agent like sarin, and chlorine gas.
Medics worked frantically in the hours after the attack to treat a steady stream of patients, administering oxygen and hosing down victims to wash off chemical residue.
Air strikes also hit a medical facility treating victims, an AFP correspondent said, inflicting severe damage and prompting nearly a dozen medical staff to flee.
Trump described the suspected chemical attack as "a terrible affront to humanity" after hosting Jordan's King Abdullah II in the Oval Office Wednesday.
Full report at:
http://nation.com.pk/international/05-Apr-2017/russia-defends-syria-against-chemical-attack-outcry
--------
Why France's Muslim voters are not all panicking about a Le Pen victory
5 April 2017
Marine Le Pen, who wants to ban the Islamic headscarf, might be threatening to pull off a shock election win but that doesn't mean France's Muslim voters are all panicking over the far-right, National Front candidate taking power.
The name Marine Le Pen is routinely preceded by the words "anti-Islam".
Even though she herself has moved to soften her image with Muslim voters by insisting their religion is indeed "compatible with the French Republic" (much to the disgust of some in her party), it's not hard to see why she has a reputation for being an Islamophobe.
She once described Muslims praying in the streets of French cities in protest over a lack of mosque space to being akin to the Nazi occupation and has regularly taken aim at halal food, the veil, the burkini, and various other aspects of Muslim culture.
With experts refusing to rule out a shock Le Pen victory carried by the same wave of nationalist populism that swept Donald Trump to power, you would think France's Muslim community, believed to number between four and six million, would be in a panic with the election just weeks away.
And while there is no doubt concern, there are reasons why France's Muslims are not all frantically preparing for the worst.
1. Because many voters distrust other candidates as much as they do Le Pen
When The Local talked to worshippers at a mosque in north east Paris not one singled Le Pen out as being worse than the other candidates.
Amadou, 57, said he still doesn't know who he will vote for, but that he has no intention of voting "against" Marine Le Pen.
"It's true that Marine Le Pen is an Islamophobe, but they all are, so what's the difference? She is the only one who will talk about it openly, while the rest of the candidates are Islamophobes but just keep it inside."
Many Muslims in France feel the country's politicians and political parties across the spectrum all resort to Muslim bashing in order to try and win votes.
While Marine Le Pen might have made a name for herself as being "anti-Islam", François Fillon has been equally if not more critical of the religion.
"In France there is a problem linked to Islam," said Fillon recently, who wrote a book titled "Conquering Islamic Totalitarianism" and who wants to impose administrative controls on the religion.
Amar Lasfar, president of the Union of Islamic Organisations in France (UOIF), blasted all the candidates in the election race.
"They know nothing about Islam nor about Muslims," he said.
Leftist candidates Jean-Luc Melenchon and Benoit Hamon might have something to say about that, so too the centrist liberal Emmanuel Macron, who recently blasted Le Pen for trying "to turn France's Muslim voters into enemies of the Republic".
But Henni-Moulai, the founder of the website Melting Book, which aims to amplify minority voices in the media, believes Macron will fall into the same trap as other politicians at some point.
"Muslim bashing is inescapable, especially if you want to reach the Elysée palace," she told Al Jazeera news site.
2. Because Muslims, like many French voters, just feel disenfranchised altogether
As Mohammed Moussaoui, the president of the Union of France's Mosques, told The Local, Muslim voters are first and foremost French citizens like other voters, which in 2017 means the same anger, apathy and indifference towards politics that has afflicted other sections of the population has also seeped into the Muslim community.
In 2012 some 86 percent of France's Muslim population voted for François Hollande and like other Hollande voters, particularly the working classes, many feel let down over the lack of real change.
So even the threat of Le Pen is not enough to motivate them to vote, and with France set for record abstention rates, its clear the country's Muslims are not the only disenchanted ones.
At the mosque in the 19th arrondissement of Paris, a middle-aged man named Ismail, originally from Algeria, told The Local he would not be voting.
"Many of the people here at the mosque aren't interested in politics. People here feel mistreated, they think the politicians are all hypocrites, why would they vote?" he said.
3. Because they know there are safeguards even if she wins
Even if Le Pen does pull off the type of shock populist win that led to Brexit and Trump, Muslims are confident that France's constitution and its political institutions will hold her back from doing exactly what she wants.
For a start Le Pen's party, only having two MPs currently, is unlikely to gain a majority in the parliamentary elections in June and without a majority in parliament she will find it difficult passing any of the reforms she plans, including banning Muslim women from wearing the headscarf in public places.
"Muslims, like other French citizens, will have confidence in the country's institutions that will put limits on her power," Mohammed Moussaoui from the Union of France's Mosques told The Local.
"There is the constitutional council which makes sure all laws are in line with the French constitution," he said.
"It will be hard for her as president. She will need the ability to unite people, which will be difficult for her," he added, pointing to the fact that other parties are unlikely to enter into coalition with Le Pen.
His view was backed by an Algerian-born Muslim named Ismael, who told The Local:
"Even if she does win it doesn't matter. I'm not scared of her. Why would I be scared of her? It's not as if she will have the power to change laws and make life difficult for immigrants or Muslims. That's why they have the constitution and the National Assembly."
4. Because Le Pen has successfully softened her image… even with Muslims
Le Pen has made big efforts to soften the image of her party – which under her father Jean-Marie (see photo below) was seen as a bastion of racists and colonial settlers returning from Algeria as well as apologists for the wartime Vichy regime's collaboration with Nazi Germany.
Recently she has been at pains to point out that she is not anti-Islam but anti-Islamic fundamentalism and extremists.
As she tries to widen her appeal and make herself more electable she has tried to appease fears among Muslims by stressing she feels Islam is perfectly compatible with the French Republic, a quote that did not sit well with many of her party members.
Rachid, an Algerian-born man in his thirties, told The Local: "I'm a Muslim but I'm not against Le Pen. I honestly don't think she is actually racist - she is just against anyone who is causing problems. I don't think it matters if they're Muslims, refugees, from the Roma community, the yobs….that's why a lot of people in France are uniting with her."
5. Because some Muslim voters will actually back Le Pen
Mohammed Moussaoui said the Muslim community, like the rest of France, is made of up of voters of all political persuasions, even those who will vote for Marine Le Pen.
According to Le Point magazine some 4 percent of Muslim voters opted for Le Pen in the first round of the 2012 election, but that number is expected to jump this time round as the taboo around the party has fallen.
These voters often find extremist Islam and communalism as distasteful as Le Pen does and her talk of cracking down on crime and battling globalisation appeals to voters in poor, peripheral areas, Muslims included.
Some Muslim voters may be enticed to Le Pen over her desire to scrap the gay marriage bill, which many protested against in 2013.
In the 2015 regional elections the National Front made a special effort to woo Muslim voters in the poor Paris suburbs.
"We'll tell them they're as French as the others," was the message and observers say the National Front allows those Muslims who feel French first and foremost to express their identity.
6. Because many still believe she won't win
"Although the polls suggest she will win the first, they also say she will lose the second round," said Moussaoui. "We have to take both polls together."
While no analyst will rule out a Le Pen win, there are reasons why it's still highly unlikely to happen.
Full report at:
https://www.thelocal.fr/20170405/why-frances-muslim-voters-are-not-as-scared-of-le-pen-as-you-might-think
--------
Exonerated terror suspect is a former soldier who converted to Islam
April 5, 2017
AIZHAN KAZAK
Photographs shown by REN TV of the previously alleged terrorist in black clothing with a black beard and skullcap made front pages in Russian and global media several hours after the bombing in the St. Petersburg metro on April 3.
REN TV reported that a man entered the metro at the Petrogradskaya Station 20 minutes before the explosion, left the briefcase in the train and exited the metro.
Evening that same day, the man in the photograph appeared at a police precinct and said he was innocent. His identity was revealed to be Andrei Nikitin, a retired captain in an airborne regiment who recently converted to Islam and took the name of Ilias. Nikitin had graduated from the Ryazan Military Academy, served in Chechnya and until recently worked as a trucker.
Nikitin said he freely went to the nearest police precinct to testify as soon as he saw his photo in the media because he said that he had nothing to hide and was innocent. The first to report this was blogger Ilya Varlamov, who posted Nikitin's photograph on Vkontakte, the Russian social network.
Can't get home
After law-enforcement agencies released Nikitin, he tried to get on an evening UTair flight from Pulkovo Airport to Orenburg, via Moscow's Vnukovo Airport. His problems began at Vnukovo, however, where Nikitin was waiting for his connection to Orenburg. Astonished passengers noticed the resemblance between Nikitin and the man in the photograph that was published by media, and they then beseiged airline representatives with their worries and fears.
Before take off, FSB agents boarded the plane and took Nikitin away for interrogation, reported Life.
The airline was not able to control the situation at the airport and neither could security, but with the help of law-enforcement agents, Nikitin was reimbursed for his missed flight.
In an interview with IslamNews Nikitin said the passengers' reaction was unexpected, and he hopes that he can get on another flight.
In an interview with Komsomolskaya Pravda, his close friend Rasul Tavdiyarkov remarked that Nikitin "is bearing everything very calmly and patiently." Nikitin said he was offered to remain in the airport until the next flight, but he decided to sleep at a friend's place near Vnukovo.
Full report at:
http://rbth.com/politics_and_society/2017/04/05/exonerated-terror-suspect-is-a-former-soldier-who-converted-to-islam_735786
--------
Pakistan
Pakistani Prosecutor Pulled For Offering Christians Freedom For Becoming Muslim
April 5, 2017
LAHORE, Pakistan (ChurchMilitant.com) - A Pakistani prosecutor, who offered imprisoned Christians freedom if they converted to Islam, has been pulled from the case.
Aftab Gill, information secretary of the Christian, Masiha Millat Party, confirmed Tuesday that the Pujab officials in Lahore, Pakistan, have removed Deputy District Public Prosecutor Syed Anees Shah from his role in the lynching trial involving 42 Christians that dates back to 2015. "We welcome the Punjab government's decision to remove Shah after his controversial offer," Gill said. "We are planning to file a formal application for his dismissal from his job," he added.
The attorney representing the Christians, Joseph Francis, executive director of the Center for Legal Aid, Assistance and Settlement (CLAAS), confirmed that Shah did indeed offer the Christians an acquittal in exchange for their conversion to Islam. "He told them if they embrace Islam, he can guarantee them their acquittal in this case," said Francis.
The 42 Christians have been jailed since March of 2015, following the bombing of two Pakistani churches. The twin bombings killed 15 people and injured 70 others.
The bombing attacks ignited public outrage, resulting in the vigilante lynching of two suspected terrorists thought to be involved in the attacks. Subsequently, this group of 42 Christians alleged to be involved in the lynching, were rounded up and have been incarcerated since that time while awaiting trial.
Shah, who has been the public prosecutor in the lynching trial, at first denied that he made the offer of a not guilty verdict in exchange for the Christians conversion to Islam. After a video recording of the incident surfaced, however, Shah admitted to offering "them a choice."
The Christians were reportedly dumbfounded by the offer, relates Francis. He adds that one of the Christians said he was ready to hang rather than convert to Islam. Another said he would rather rot in jail than deny Christ.
Naseeb Anjum Advocate, an assistant attorney for the Christians commented, "The government should get rid of such elements that bring a bad name to the state by such acts."
Full report at:
http://www.churchmilitant.com/news/article/pakistani-prosecutor-pulled-for-offering-christians-freedom-for-becoming-mu
--------
National charter of peace urged to eradicate extremism
April 06, 2017
islamabad - To root out extremism, state players, civil society and religious stakeholders should hold multi-pronged dialogues on critical philosophical issues of the state and society producing 'National Charter of Peace'. The document will greatly curb extremist ideologies in the country.
These thoughts were suggested by a working group discussing 'National Dialogue and Social Contract'. This was the 3rd dialogue in a series conducted by Pak Institute for Peace Studies (PIPS), an Islamabad-based think tank, on countering extremism in the country.
The group suggested that three separate dialogue forums should be constituted, one each for the state, civil society, and religious stakeholders. These different forums should debate the critical philosophical tensions in the country. Some of the themes these forums may discuss are about relation between state and religion, state and society, state and citizen, and so on.
The ultimate objective, it was suggested, should be to produce the 'National Charter of Peace', which lays down the mechanism for achieving peace and harmony in the country and diagnosing the wrongs committed in the past.
The working group argued that any dialogue convened should uphold the constitution of Pakistan.
Some of them argued that the constitution requires certain fundamental changes, and those changes should be brought about through the mechanism enriched in the constitution.
The outcomes of such dialogue forums should be disseminated widely, engaging a broad range of stakeholders such as media, schoolteachers, lawyers, and even religious hardliners.
Meanwhile, several other stakeholders may be engaged in their own dialogues too. A group member called for an urgent dialogue on reforming curriculum, to rid it of the content that can radicalize the students.
Full report at:
http://nation.com.pk/islamabad/06-Apr-2017/national-charter-of-peace-urged-to-eradicate-extremism
--------
Army calls for improved coordination in wake of Lahore attack
Apr 6, 2017
LAHORE: Following the suicide attack on a census team here on Wednesday, Chief of General Staff Lt Gen Bilal Akbar called Interior Minister Chaudhry Nisar and Punjab Chief Minister Shahbaz Sharif to discuss possibilities of greater civil-military cooperation against terrorism.
While there has been no official word on the telephonic conversations between the top civil and military leadership, sources said that the chief of general staff, who had previously supervised the Karachi operation as director general of the paramilitary Rangers, discussed various aspects of the terror incident with the civil leaders.
He called for improved coordination between the army and civilian law enforcement agencies and expediting action under Operation Raddul Fasaad for effective results.
The interior minister was quoted as expressing concern at the fact that the unfortunate incident had taken place despite a prior intelligence report in this regard.
Full report at:
https://www.dawn.com/news/1325226/army-calls-for-improved-coordination-in-wake-of-lahore-attack
--------
Pakistan engaged with all Afghan peace processes
Apr 6, 2017
ISLAMABAD: Pakistan is keeping itself engaged with all major processes aiming for peace in Afghanistan and isn't committing itself to any one particular initiative.
This was the gist of an in-camera briefing by Adviser on Foreign Affairs Sartaj Aziz to the National Assembly's Foreign Affairs Committee on relations with Afghanistan that are currently being repaired after suffering a massive rupture in the aftermath of the uptick in terrorist violence in February that was blamed on sanctuaries on Afghan soil, according to the account of the meeting shared by a couple of participants.
Mr Aziz, according to the participants, told the NA panel that the Quadrilateral Coordination Group (QCG) — which included the US, China and Afghanistan in addition to Pakistan — was still alive and efforts were afoot to revitalise it.
The QCG has been dormant since Afghan Taliban chief Mullah Mansoor Akhtar was killed in a drone attack on Pakistani soil last year. It was assumed by the observers of the Afghan conflict that the QCG process had outlived its usefulness as none of the partners looked interested in taking it forward. During the few months QCG remained active, it was able to draw up a roadmap, but failed to bring the Taliban to talks.
Efforts afoot to revive Quadrilateral Coordination Group, NA panel on foreign affairs told
Pakistan has in the meantime got itself also increasingly involved with the Russian-led initiative. The process that started with a meeting between officials of Russia, China and Pakistan first grew to six parties and is now set to expand to a 12-country forum. The US was not involved in the process at the initial stages, but it has now decided to stay away from the meeting of 12 countries, being held in Moscow on April 14, to which it had been invited. Pakistan is participating in the meeting. Pakistani participation in the Russia-led initiative created an impression that Pakistan may desire to work on an Afghan strategy independent of the US.
During his briefing, Mr Aziz nevertheless placed a lot of emphasis on the importance of the emerging regi­onal initiative led by Russia, which now also involves the Central Asian states.
"Pakistan remained committed to continued efforts for facilitating an Afghan-owned Afghan-led peace process," Mr Aziz told the panel, adding that there was need for focused efforts for a politically negotiated settlement for a lasting peace in Afghanistan.
One of the reasons behind this lack of clarity on Pak­istan's part is that the US is yet to finalise its Afghan policy. Mr Aziz too referred to US government still firming up its Afghan policy.
About the enga­gement with Afghanistan, the advi­ser said the understanding reached during his meeting with Afghan National Secu­rity Adviser Hanif Atmar provided an opportunity for engagement to address the issues of counter-terrorism and border management.
As per the understanding reached in London, both sides were to develop a framework for interaction at multiple levels — military, intelligence, security and political. The process was to take off with a meeting of the local field commanders, which would investigate recent border incidents. The progress towards materialising of the understanding was being hampered by mistrust between the two countries. But in a first tentative step towards that arrangement Commander of Southern Command Lt Gen Aamir Riaz and Afghan National Army's 205 Corps Com­mander Lt Gen Daud Shah Wafadar spoke over hotline.
Full report at:
https://www.dawn.com/news/1325214/pakistan-engaged-with-all-afghan-peace-processes
--------
Strict security planned for Urs of Qalandar
Apr 6, 2017
HYDERABAD: The civil district administration has decided to install 200 closed-circuit TV cameras and double the deployment of Rangers and police while making intelligence network more effective for the upcoming Urs of Qalandar Lal Shahbaz in the Hijri month of Sha'aban.
The decisions were made at a meeting on Wednesday in Shahbaz Hall, Jamshoro.
According to official sources, the meeting noted that ambulances and fire tenders from nearby districts would be made available to meet any emergency.
The meeting was chaired by Jamshoro Deputy Commissioner Munawwar Ali Mahesar and attended by Auqaf chief administrator Mushtaq Ahmed and representatives of the Rangers, revenue, police, health, education, local bodies, culture, Wapda, irrigation, highways and other departments.
Mr Mahesar told the meeting that foolproof security arrangements were the need of the hour during the Urs celebrations.
Hot and humid conditions were expected during the event, therefore drinking water facilities were also to be ensured, he added.
He said health centres would be set up to deal with heatstroke cases and all required medicines should be provided at the centres.
All the departments concerned, he said, should prepare their contingency plan and no laxity in arrangements of the Urs would be tolerated.
He criticised the Hesco administration for sending a line superintendent to attend such a high-level meeting regarding the security of the Qalandar shrine.
The Hesco administration would have to cooperate with the district administration for ensuring uninterrupted power supply during the celebrations, he added.
He said heavy penalty would be imposed on vehicles plying on the Indus Highway without fitness certificates and permits.
A permanent ambulance service centre needed to be established near the powerhouse of Jamshoro for transportation of injured for which Faisal Edhi would be approached, he told the meeting.
Full report at:
https://www.dawn.com/news/1325100/strict-security-planned-for-urs-of-qalandar
--------
Pakistan seeks strong ties with US to defeat terrorism
06-Apr-17
ISLAMABAD: Adviser to the PM on Foreign Affairs Sartaj Aziz on Wednesday called for more dialogue and communication at all levels between Pakistan and the United States.
Addressing a conference, he said the cooperation between the two countries was vital to defeat the menace of terrorism and bring peace and stability to Afghanistan and the region. "The fight against terrorism continues successfully and terrorist incidents have decreased by 70 percent. Now Operation Raddul Fasaad is underway to eliminate terrorists from across the country," he said.
The adviser further said that Pakistan believed in the policy of going after terrorists without any discrimination. Aziz expressed the hope that improved security and economic situation would help further expand trade and investment relationship between Islamabad and Washington.
Speaking on the occasion, the US Ambassador David Hale stressed the need for enhanced cooperation on shared national interests to benefit the people of both the countries. He said these shared interests included fighting terrorism, fostering economic growth, investment and building a more stable and prosperous region, including in Afghanistan.
He said the United States greatly acknowledged Pakistan's great sacrifices in this regard. The ambassador said that Pak-US ties were resilient and Pakistan's success was of great strategic interest to the United States.
Separately, Aziz addressed the National Assembly's Standing Committee on Foreign Affairs. He said that Pakistan was pursuing a policy of strengthening relations with Afghanistan.
Briefing the committee, the adviser said that Pakistan was working on modernisation of the visa system and facilities at border crossing points with Afghanistan.
He also informed the parliamentarians that Pakistan was also focusing on efforts to increase facilities for Afghan students in Pakistan's educational institutions. He said that the government had announced another 3,000 scholarships for Afghan students in the field of higher education after utilisation of the existing 3,000 scholarships.
He said that the Afghan government was going to convene the next meeting of the Afghanistan-Pakistan Transit Trade Coordination Authority at the earliest for revising and strengthening the authority.
Aziz underlined the importance of close engagement between the two sides on connectivity projects in infrastructure and energy. He said that $500 million economic assistance from Pakistan could be utilised for initiating these connectivity projects.
On the issue of peace and reconciliation in Afghanistan, he reiterated that there was no military solution to the Afghan conflict and there was a need for focused efforts for a politically negotiated settlement for lasting peace in Afghanistan. He said Pakistan remained committed to continued efforts for facilitating an Afghan-owned Afghan-led peace process.
Full report at:
http://dailytimes.com.pk/pakistan/06-Apr-17/pakistan-seeks-strong-ties-with-us-to-defeat-terrorism
--------
Hafiz files another plea against detention
April 06, 2017
LAHORE - Hafiz Saeed and other leaders of Jamatud Dawa on Wednesday filed an application before the Lahore High Court in an already pending petition seeking directions for the government for their release. He filed application through his counsel AK Dogar and submitted that it was clearly cited in his main petition that his and others' detention was unlawful and the government had no ground them to keep them detained. They said that if ultimately their detention was proved unconstitutional they would face irreparable loss and injury. They prayed the court to order their release.
http://nation.com.pk/lahore/06-Apr-2017/hafiz-files-another-plea-agaisnt-detention
--------
South Asia
Suu Kyi denies ethnic cleansing of Myanmar's Muslim minority
Apr 06, 2017
Myanmar state counsellor Aung San Suu Kyi has denied the ethnic cleansing of Myanmar's Muslim minority, speaking to the BBC after the UN rights council agreed to investigate allegations against the army.
"I don't think there is ethnic cleansing going on. I think ethnic cleansing is too strong an expression to use for what is happening," Suu Kyi said in the interview on Wednesday.
Her one-year-old government has faced international condemnation for the treatment of the country's Rohingya Muslims, who are regarded as illegal immigrants from Bangladesh, prompting the UN rights council to agree last month to launch an investigation into violations against the minority.
The Geneva-based body's fact-finding mission will examine allegations of torture, murder and rape allegedly committed by troops.
Suu Kyi told the BBC there was "a lot of hostility" in the western state of Rakhine, where more than one million Rohingya live.
"It is Muslims killing Muslims, as well, if they think they are collaborating with authorities. It is not just a matter of ethnic cleansing. It is a matter of people on different sides of a divide, and this divide we are trying to close up. As best as possible and not to widen it further," she said.
Myanmar has launched its own domestic probe into possible crimes in Rahkine and appointed former UN chief Kofi Annan to head a commission tasked with healing long-simmering divisions between Buddhists and Muslims.
Suu Kyi said the army was "not free to rape, pillage and torture".
"They are free to go in and fight. And of course, that is in the constitution... Military matters are to be left to the army," she said, adding that she aimed to amend the constitution.
Almost 75,000 people from the persecuted minority have escaped to Bangladesh after the military launched operations in the north of Rakhine state to find Rohingya militants who raided police border posts in October.
Rohingya who have fled have told the UN rights office that soldiers executed babies in front of their mothers, as part of campaign to terrorise the Muslim minority.
"If they come back they will be safe," said Suu Kyi, adding that those who fled were welcome to return.
Her National League for Democracy (NLD) faced the ballot box on Saturday in by-elections across the country, winning a string of seats but losing out in ethnic minority areas including Rakhine.
The NLD came to power in a historic 2015 election which ended half a century of brutal military rule, but there has been disillusionment with the administration as it struggles to push through reforms and ease unrest.
http://www.hindustantimes.com/world-news/suu-kyi-denies-ethnic-cleansing-of-myanmar-s-muslim-minority/story-sTuceg7Kd8RTqM8A42ZfZN.html
--------
Afghanistan strongly reacts at Pakistani violations along Durand Line
Apr 05 2017
The Afghan government has strongly condemned the growing work by the Pakistani authorities along the Durand Line, calling it a unilateral move.
The Ministry of Foreign Affairs (MoFA) spokesman Ahmad Shekib Mostaghni told reporters in Kabul today that Afghan National Defense and Security Forces (ANDSF) are ready to defend the national sovereignty of the country if the unilateral movements and violations continue by Pakistan along the Durand Line.
He said Pakistan has on numerous occasions violated the line, including in Nangarhar, Kunar, Khost, Paktia, Zabul, and Kandahar.
Mostaghni further added that the government of Afghanistan has always adopted diplomatic approaches to protest against the violations and the government has complained regarding the violations along the Durand Line to United Nations and United Nations Security Council.
He said the violations by Pakistan along the line included artillery shelling, air and ground maneuvers, closing of the routes, and installation of fences.
Mostaghani added that the Durand Line is a historic issue and the no government in Afghanistan can decide regarding it except the people based on the two sides of the line.
According to Mostaghni, the violations along the Durand Line are clear violations of the UN charter warning that the persistent violations could result into a resolution to be adopted against Pakistan.
He rejected that the issue of the Durand Line has ever been discussed during any summit and emphasized that the Afghan government's main focus was on the list of the terrorists handed over to Pakistan during the London trilateral summit attended by the Afghan, Pakistani, and British officials.
Full report at:
http://www.khaama.com/afghanistan-strongly-reacts-at-pakistani-violations-along-durand-line-02514
--------
Most senior leader of ISIS loyalists killed in East of Afghanistan
Apr 05 2017
One of the most senior leaders of the loyalist of Islamic State of Iraq and Syria (ISIS) terrorist group was killed during the operations in eastern Nangarhar province of Afghanistan.
The Ministry of Defense (MoD) said the ISIS leader killed during the operation has been identified as Syed Omar Bajawari who was also famous as Khetab.
According to a statement by MoD, Bajawari was killed along with at least 24 militants during the counter-terrorism operations conducted in Achin district.
The statement further added that four ISIS commanders including Bajawari were killed along with 21 other insurgents during the operations.
Nangarhar is among the relatively calm provinces in eastern Afghanistan but the anti-government armed militants have recently increased their insurgency activities in some parts of the province during the recent years.
Both the Afghan and US forces based in Afghanistan are conducting regular operations to suppress the insurgency led by ISIS militants and other insurgent groups including Taliban.
Full report at:
http://www.khaama.com/most-senior-leader-of-isis-loyalists-killed-in-east-of-afghanistan-02515
--------
Afghan forces' Khalid operation underway in 13 provinces: MoI
Apr 05 2017
A large scale military operation under the name of Khalid is underway against the militant groups in at least thirteen provinces, the officials said Wednesday.
Najib Danish, acting spokesman for the Ministry of Interior (MoI), told reporters that 16 areas or districts in 13 provinces are under the cover of Khalid operations at the moment.
He said the operations will continue to cover the districts or provinces which witnessed massive instability and insurgency last year.
This comes as the Ministry of Defense (MoD) officials earlier said the operations were launched from the two districts of Helmand, including Garamser and Nad-e-Ali and Nish district of southern Kandahar province.
The officials further added that the three districts are facing enormous security challenges and the Afghan forces will continue to maintain pressure on insurgents so that they are eventually eliminated.
The Afghan National Defense and Security Forces (ANDSF) conducted counter-terrorism operations under the name of Shafaq last year.
The operations were launched days after the Taliban group announced their spring offensive earlier last year.
Full report at:
http://www.khaama.com/afghan-forces-khalid-operation-underway-in-13-provinces-moi-02513
--------
Africa
Liberia: Imam Council 'Demands' Muslim Holidays
5 APRIL 2017
The National Imam Council of Liberia has ended its third annual assembly with a call for the Liberian Government to grant two national holidays to Muslims in the country.
In a resolution at the end of the assembly Monday read by its National Chief Imam Sheikh Ali Krayee, the Council said the time has come for the government to declare two of the most important Muslims' events that occurred every year, including end of Ramadan as national holidays.
The Imam Council said over the years, Muslims have been marginalized, even though they were in Liberia prior to its independence.
The Council said giving Muslims two national holidays is not a big ask, as such, government must do all it can to ensure the request of the council is considered.
Continuing, the National Imam Council also called on the government to employ Muslims at every government ministries and agencies as chaplains so that they can spiritually minister to Muslims at those institutions.
Imam Krayee said Liberia no longer has the luxury of time to give Muslims their full rights like their Christian brothers and sisters.
He said the time is now for the government to act and act properly, adding "we can no longer wait... we been patience for years... "
The Council among other things called on the National Elections Commission (NEC) and the Supreme Court of Liberia to justly and transparently discharge their duties, as Liberia goes to the polls on October 10, 2017.
It further called on the government and partners to work with every stakeholder, especially the religious community so as to ensure peaceful transition.
The two days Annual Assembly was attended by Imams from the 15 counties.
It was held under the theme: "Enlightening The Nation; Inspiring The Generation.
http://allafrica.com/stories/201704051208.html
--------
Car bomb kills at least 7 at restaurant in Somalia's capital
Apr 6, 2017
MOGADISHU: Police in Somalia say a car bomb blast at a restaurant in the capital has killed at least seven people.
Col. Ahmed Hashi says several others were injured in the massive blast Wednesday near the ministries of internal security and youth and sports in Mogadishu.
There has been no immediate claim of responsibility for the blast. However, the al-Qaida-linked Islamic extremist group al-Shabab group often carries out such attacks.
The rebels have been pushed out of the capital and other major urban areas in Somalia but they continue to carry out deadly bombings and attacks in Mogadishu and elsewhere.
Full report at:
http://nation.com.pk/international/05-Apr-2017/car-bomb-kills-at-least-7-at-restaurant-in-somalia-s-capital
--------
Islam set to become world's largest religion by 2075, study suggests
5 April 2017
The number of babies born to Muslims is expected to overtake those born to Christians within two decades, making Islam the world's largest religion by 2075, according to new analysis of data by the Pew Research Center.
People with no religious affiliation are set to shrink as a proportion of the world's population as a result of their declining birthrate and growing numbers of Muslims and Christians.
The analysis points to modest but significant demographic shifts in religious affiliation over the coming decades, as populations in the global south continue to grow rapidly and Christian populations in Europe age and die.
Between 2010 and 2015, an estimated 31% of babies born in the world were to Muslim parents, far exceeding the 24% share of the world's population held by Muslims. In the same period, 33% of the world's babies were born to Christians, only slightly higher than their 31% share of the global population.
That is set to change, owing to the relatively young age profile of Muslims and their higher fertility rates. Between 2030 and 2035, slightly more babies (225 million) will be born to Muslims than to Christians (224 million). Between 2055 and 2060, the gap is expected to widen to 6 million – 232m births to Muslims, and 226m to Christians.
Meanwhile, deaths among Christians in Europe are far outstripping births. In Germany, between 2010 and 2015, there were an estimated 1.4m more deaths than births among Christians. Pew said the pattern was expected to continue across much of Europe in the decades ahead.
Despite a relatively young and fertile Christian population in sub-Saharan Africa, Christians have accounted for a disproportionate 37% of the world's deaths in recent years.
"In contrast with [the] baby boom among Muslims, people who do not identify with any religion are experiencing a much different trend," said Pew. Religiously unaffiliated people make up 16% of the global population, but only produce 10% of the world's babies.
"This dearth of newborns among the unaffiliated helps explain why religious 'nones' (including people who identify as atheist or agnostic, as well as those who have no particular religion) are projected to decline as a share of the world's population in the coming decades."
By 2055-2060, 9% of all babies will be born to religiously unaffiliated women, while more than 70% will be born to either Muslims (36%) or Christians (35%), said Pew.
Religiously unaffiliated people are "heavily concentrated in places with ageing populations and low fertility, such as China, Japan, Europe and North America. By contrast, religions with many adherents in developing countries – where birthrates are high and infant mortality rates have been falling – are likely to grow quickly. Much of the worldwide growth of Islam and Christianity, for example, is expected to take place in sub-Saharan Africa," said Pew.
Full report at:
https://www.theguardian.com/world/2017/apr/05/muslim-population-overtake-christian-birthrate-20-years
--------
Sanusi: Northern Nigeria has refused to recognise that the Muslim world has moved on
Apr 6, 2017
Muhammad Sanusi II, the emir of Kano, says northern Nigeria needs to move on from the 13th century mindset of Islam, emphasising that the rest of the Muslim world has moved on.
Speaking to the theme 'promoting investments in the midst of economic challenges', Sanusi said northern Nigeria has not been paying attention to providing necessary education and healthcare for the girl child.
"We are in denial. The north-west and the north-east, demographically, constitute the bulk of Nigeria's population, but look at human development indices, look at the number of children out of school, look at adult literacy, look at marternal mortality, look at infant mortality, look at girl-child completion rate, look at income per capita, the north-east and the north-west Nigeria, are among the poorest parts of the world," Sanusi said.
"As far back at 2000, I looked at the numbers, Borno and Yobe state, UNDP figures, Borno and Yobe states, if they were a country on their own, were poorer than Niger, Cameroon and Chad.
"Nobody saw this because we were looking at Nigeria as a country that averages the oil-rich Niger Delta, the industrial and commercial-rich Lagos, the commercially viable southeast, and you have an average.
"Break Nigeria into its component parts, and these parts of the country are among the poorest, if it were a country. And we do not realise we are in trouble."
He said books preaching love were being burnt in northern Nigeria, calling for better interpretations of Islamic views, which can drive a better life for women and the girl-child.
"We need to understand the roots of the problem of northern Nigeria. Burning books, it happened in Kano, what is the crime of those books? They were writing about (love), and love apparently is supposed to be a bad word," he said.
"In a society where you don't love your women and you don't love your children, you allow them to beg, you beat up your women, why should anyone talk about love?
"We have adopted an interpretation of our culture and our religion that is rooted in the 13th century mindset, that refuses to recognise that the rest of the Muslim world has moved on.
"Today in Malaysia, you wake up and divorce your wife, that is fine. But you give her 50 percent of all the wealth you acquired since you married her. It is a Muslim country. In Nigeria, you wake up after 20 years of marriage, you say to your wife, 'I divorce you', and that's it.
"Other Muslim nations have pushed forward girl-child education, they've pushed forward science and technology. They have pushed forward the arts. We have this myth in northern Nigeria, where we try to creat an Islamic society that never existed.
"We are fighting culture, we are fighting civilisation. We must wage an intellectual war, because Islam is not univocal; there are many voices, there are many interpretations, there are many viewpoints, and we have for too long allow the ascendancy of the most conservative viewpoints. The consequencies of that is that there are certain social problems."
Full report at:
https://www.thecable.ng/sanusi-northern-nigeria-refused-recognise-muslim-world-moved
--------
North America
US threatens unilateral action if UN fails to act on Syria
Apr 6, 2017
UNITED NATIONS - The United States may take unilateral action in Syria if the United Nations fails to respond to a suspected chemical attack in Syria which is reported to have killed dozens of civilians, including children, American Ambassador to UN Nikki Haley has warned.
The warning came as the UN Security council held an emergency meeting on Wednesday about the atrocity, after Washington, Paris and London drew up a draft statement condemning the attack and demanding an investigation. "When the United Nations consistently fails in its duty to act collectively, there are times in the life of states that we are compelled to take our own action," Ambassador Haley told the 15-member Council.
Meanwhile, Russia threatened to veto any resolution by the UN Security Council on a claiming it is based on "false information." Russia denied on Wednesday that Syrian President Bashar al-Assad was to blame for a poison gas attack and said it would continue to back him, opening a rift between the Kremlin and Donald Trump's White House, which initially sought warmer ties.
Francois Delattre, France's permanent representative to the UN, described the attack as a "chemical horror." "We hope this draft resolution can unite the international community in refusing what is unacceptable," he said at the Security Council meeting.
Matthew Rycroft, the UK's permanent representative, said the UN was "seeing the consequences" of previous vetoes by Russia and China which only served to encourage Assad to keep carrying out attacks on his own people. "They [the consequences] are printed on the faces of the children of a regime that will stop at nothing to hold on to power," he said.
"Russia will say they don't have any information...and yet we are seeing all the signs of a nerve agent capable of killing hundreds of people. "This does not look like the opposition, or terrorists, it bears all the hallmarks of the Assad regime, and the use of chemical weapons is a war crime," he added. He said that Assad was humiliating Russia in the eyes of the world by showing how empty Syria's promise was to remove chemical weapons, and called on Russia to join him in condemning the attack.
The Russian deputy envoy to the UN, Vladimir Safronkov, criticized the draft resolution for being unbalanced and jumping to conclusions. It said the document would have to include several amendments, such as calling on the rebels controlling the area to provide full access to UN investigators and setting an unbiased and comprehensive probe into the incident as the primary goal of the resolution.
Meanwhile, US President Donald Trump warned Wednesday that Bashar al-Assad's Syrian regime had crossed a line with its latest alleged chemical attack and faces a US response.
Previously the White House has said its sole focus in Syria is defeating the militant Islamic State group, not on ending Assad's civil war against opposition fighters. But Trump and other senior US officials said that the latest attack, which doctors say caused the agonizing deaths of at least 72 people, had changed the calculus.
And he renewed his criticism of his predecessor Barack Obama who in 2013 famously failed to take action after Assad crossed a "red line" with a previous chemical attack. "It crossed a lot of lines for me," Trump said, at a joint White House news conference with Jordan's King Abdullah.
"When you kill innocent children, innocent babies, little babies ... that crosses many, many lines, beyond a red line, many, many lines," he warned.
"I will tell you, it's already happened, that my attitude towards Syria and Assad has changed very much ... You're now talking about a whole different level."
Trump did not go into detail about what a US response to the atrocity will be - and he has previously opposed deeper US military involvement in Syria's civil war.
But his statement that his attitude had changed came after the US ambassador to the United Nations, Nikki Haley, had warned of unilateral American action.
"When the United Nations consistently fails in its duty to act collectively, there are times in the life of states that we are compelled to take our own action," she said.
http://nation.com.pk/international/06-Apr-2017/us-threatens-unilateral-action-if-un-fails-to-act-on-syria
--------
Trump says chemical attack in Syria crossed many lines
Apr 6, 2017
U.S. President Donald Trump accused Syrian President Bashar al-Assad's government of going "beyond a red line" with a poison gas attack on civilians and said his attitude toward Syria and Assad had changed, but gave no indication of how he would respond.
Trump said the attack, which killed at least 70 people, many of them children, "crosses many, many lines", an allusion to his predecessor Barack Obama's threat to topple Assad with air strikes if he used such weapons. His accusations against Assad put him directly at odds with Moscow, the Syrian's president principal backer.
"I will tell you, what happened yesterday is unacceptable to me," Trump told reporters at a news conference with Jordan's King Abdullah on Wednesday.
"And I will tell you, it's already happened that my attitude toward Syria and Assad has changed very much," though when asked at an earlier meeting whether he was formulating a new policy on Syria, Trump said: "You'll see."
Vice President Mike Pence, when asked whether it was time to renew the call for Assad to be ousted and safe zones be established, told Fox News: "But let me be clear, all options are on the table," without elaborating.
U.S. officials rejected Russia's assertion that Syrian rebels were to blame for the attack.
Trump's comments, which came just a few days after Washington said it was no longer focused on making Assad leave power, suggested a clash between the Kremlin and Trump's White House after initial signals of warmer ties. Trump did not mention Russia in his comments on Wednesday but Secretary of State Rex Tillerson said it was time for Russia to think carefully about its support for Assad.
Pence said the time had come for Moscow to "keep the word that they made to see to the elimination of chemical weapons so that they no longer threaten the people in that country."
Western countries, including the United States, blamed Assad's armed forces for the worst chemical attack in Syria for more than four years.
U.S. intelligence officials, based on a preliminary assessment, said the deaths were most likely caused by sarin nerve gas dropped by Syrian aircraft on the town of Khan Sheikhoun on Tuesday. A senior State Department official said Washington had not yet ascertained it was sarin.
Moscow offered an alternative explanation that would shield Assad: that the poison gas belonged to rebels and had leaked from an insurgent weapons depot hit by Syrian bombs.
A senior White House official, speaking on condition of anonymity, said the Russian explanation was not credible. "We don't believe it," the official said.
COUNTER-RESOLUTION
The United States, Britain and France have proposed a draft U.N. Security Council resolution that would condemn the attack; the Russian Foreign Ministry called it "unacceptable" and said it was based on "fake information".
Kremlin spokesman Dmitry Peskov said Moscow would press its case blaming the rebels and Deputy Foreign Minister Gennady Gatilov said Russia would veto the draft if Western nations went to a vote without further consultations, Interfax news agency reported.
Moscow has proposed its own draft, TASS news agency quoted a spokesman of Russia's U.N. mission, Fyodor Strzhizhovsky, as saying on Wednesday.
The U.S. ambassador to the United Nations, Nikki Haley, issued what appeared to be a threat of unilateral action if Security Council members could not agree.
"When the United Nations consistently fails in its duty to act collectively, there are times in the life of states that we are compelled to take our own action," she told the council, without elaborating.
Trump described the attack as "horrible" and "unspeakable." He faulted Obama for failing to carry through on his "red line" threat and when asked if he had responsibility to respond to the attack, said: "I now have responsibility".
The new incident means Trump is faced with same dilemma that faced his predecessor: whether to openly challenge Moscow and risk deep involvement in a Middle East war by seeking to punish Assad for using banned weapons, or compromise and accept the Syrian leader remaining in power at the risk of looking weak.
While some rebels hailed Trump's statement as an apparent shift in the U.S. position, others said it was too early to say whether the comments would result in a real change in policy.
Fares al-Bayoush, a Free Syrian Army commander, told Reuters: "Today's statement contains a serious difference from the previous statements, and we expect positivity ... from the American role.
Others who declined to be identified said they would wait and see.
Video uploaded to social media showed civilians sprawled on the ground, some in convulsions, others lifeless. Rescue workers hose down the limp bodies of small children, trying to wash away chemicals. People wail and pound on the chests of victims.
The charity Medecins Sans Frontieres said one of its hospitals in Syria had treated patients "with symptoms - dilated pupils, muscle spasms, involuntary defecation - consistent with exposure to neuro-toxic agents such as sarin". The World Health Organization also said the symptoms were consistent with exposure to a nerve agent.
"We're talking about war crimes," French U.N. Ambassador Francois Delattre told reporters in New York.
Labib Nahhas, chief of foreign relations at Ahrar al-Sham, one of the biggest rebel groups in western Syria, called the Russian statement factually wrong and one which contradicted witness accounts.
"This statement provides Assad with the required coverage and protection to continue his despicable slaughter of the Syrian people," Nahhas told Reuters.
The incident is the first time U.S. intelligence officials have accused Assad of using sarin since 2013, when hundreds of people died in an attack on a Damascus suburb. At that time, Washington said Assad had crossed a "red line" set by then-President Obama.
Obama threatened an air campaign to topple Assad but called it off at the last minute when the Syrian leader agreed to give up his chemical arsenal under a deal brokered by Moscow, a decision which Trump has long said proved Obama's weakness.
SAME DILEMMA
The Western-drafted U.N. Security Council resolution condemns the attack and presses Syria to cooperate with international investigators. Russia has blocked seven resolutions to protect Assad's government, most recently in February.
Trump's response to a diplomatic confrontation with Moscow will be closely watched at home because of accusations by his political opponents that he is too supportive of Russian President Vladimir Putin.
Full report at:
http://nation.com.pk/international/06-Apr-2017/trump-says-chemical-attack-in-syria-crossed-many-lines
--------
Election Supervisor's Islam Presentation Causes Alarm
April 5, 2017
The Florida chapter of the Council on American-Islamic Relations wants an election official in Florida to cancel a presentation on Islam that he's offering to voters and poll workers.
NBC-2 first reported that Charlotte County Supervisor of Elections Paul Stamoulis will present what he calls a "history of radical Islam" on Thursday night. Stamoulis told the station his speech is an extension of something he calls "voter education." He says he feels it's an important issue for both voters and poll workers.
But CAIR says it's inappropriate for an official to host such a polarizing event. In a news release sent Wednesday, CAIR spokesman Wilfredo A. Ruiz says Stamoulis' job is to ensure fair and non-partisan elections.
Some groups are planning to protest the event.
Full report at:
https://www.usnews.com/news/best-states/florida/articles/2017-04-05/election-supervisors-islam-presentation-causes-alarm
--------
US-Bangladeshi Muslim writes 'BlackLivesMatter' 100 times, gets into Stanford University
April 6, 2017
An 18-year-old Bangladeshi-American Muslim student has won a place at the prestigious Stanford University after writing '#BlackLivesMatter' a 100 times in the essay section of his application.
ALSO READ | This Quora user's answer to 'What's the worst thing about Indian schools?' is a must read
Ziad Ahmed said he was "stunned" when his innovative approach to the application process, which he described as "unapologetic activism", paid off. On his Stanford University application, Ahmed was posed the question, "What matters to you, and why?" The activist from Princeton, New Jersey, decided to use the opportunity to write "#BlackLivesMatter" a 100 times. To his surprise, the answer caught the attention of the California school's admissions office and Ahmed received his acceptance letter on Friday.
ALSO READ | Meet Kerala, an 8-year-old from US named after 'God's Own Country' in India
He proudly tweeted his answer and his acceptance letter to the prestigious American university, which boasts 20 applications per place. "I was actually stunned when I opened the update and saw that I was admitted," Ahmed told Mic.
"I didn't think I would get admitted to Stanford at all, but it's quite refreshing to see that they view my unapologetic activism as an asset rather than a liability," he said.
Ahmed said as an ally of the black community, he felt it was his duty to make a statement and speak up against the injustices he witnesses. "As an ally of the black community though, it is my duty to speak up in regards to the injustice, and while this was not a form of 'activism' as it was simply an answer in a college application. I wanted to make a statement," he said.
The Bangladeshi-American teen has already been making impressive waves in his activism work. At just 18 years of age, Ahmed has already been invited to the White House Iftar dinner and recognized as a Muslim-American change-maker under the Obama administration.In 2016, he interned and worked for Democratic nominee Hillary Clinton's presidential campaign.
Full report at:
http://indianexpress.com/article/trending/trending-globally/us-bangladeshi-muslim-writes-blacklivesmatter-100-times-gets-into-stanford-university-4601669/
--------
URL: https://www.newageislam.com/islamic-world-news/shariah-lawyer-consent-needed-rapists/d/110670
New Age Islam, Islam Online, Islamic Website, African Muslim News, Arab World News, South Asia News, Indian Muslim News, World Muslim News, Women in Islam, Islamic Feminism, Arab Women, Women In Arab, Islamophobia in America, Muslim Women in West, Islam Women and Feminism