New Age Islam News Bureau
31 Jul 2018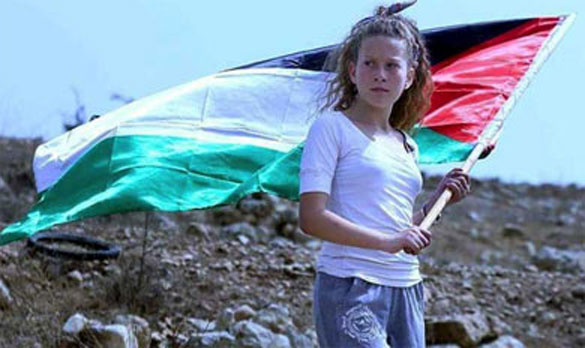 Tamimi, who was 16 when she was arrested in December for hitting and kicking soldiers in front of her house in the occupied West Bank, was released Sunday and swarmed by media from across the globe.
------
• Shahi Imam of Jama Masjid Writes To PM Modi, Rahul Gandhi; Seeks To Allay 'Fears' Of 25 Crore Indian Muslims
• Grand Opposition Alliance Taking Shape in Pakistan Parliament
• Hefazat Involves Itself in Tabligh Affairs
• Palestinian Teen, Ahed Tamimi, Says No Regrets after Release from Israeli Prison
• Donald Trump Says He Will 'Certainly Meet' Iran President Hassan Rouhani
India
• Shahi Imam of Jama Masjid Writes To PM Modi, Rahul Gandhi; Seeks To Allay 'Fears' Of 25 Crore Indian Muslims
• All India Muslim Majlis-e-Mushawarat Denounces NRC
• Don't Codify Muslim Personal Laws: AIMPLB
• J&K: Those creating Hindu-Muslim divide not real Dogras, says Mehbooba Mufti
• India's Modi and Pakistan's Khan discuss regional peace in post-election call
• Displeased with Hindu-Muslim couple elopement, mob in Gujarat attacks, burns man's house
• Muslims men volunteer as divers for Kanwar Yatra
• Jammu: JWAM seeks deportation of Rohingya and Bangladeshi Muslims from state
--------
Pakistan
• Grand Opposition Alliance Taking Shape in Pakistan Parliament
• Iran Vows To Fully Cooperate With Imran-Led Govt
• Can Pakistan's Imran Khan deliver peace through dialogue in Afghanistan?
• PTI seeks MQM-P's support for govt formation
• Qureshi says PTI to form govt in Balochistan as well
• JI chief rejects Rehman's suggestion against taking oath in parliament
• TLP to stage protest in Lahore on Aug 6
• Security deposit of PPPP, MMA, TLP candidates forfeited on NA Rawalpindi seats
--------
South Asia
• Hefazat Involves Itself in Tabligh Affairs
• 20 Militants Killed, Wounded, Suspected Pak Militant Held in Paktia Operations
• Tribal elder among 4 killed in a suicide car bomb attack in Nangarhar
• Reuters reporter jailed in Myanmar denies collecting secret documents
• At least 8 dead, 40 wounded, as roadside bomb hits Afghan bus
• Rajshahi votes peacefully but allegations of fraud persist
--------
Mideast
• Palestinian Teen, Ahed Tamimi, Says No Regrets after Release from Israeli Prison
• Israeli Christian, Druze Communities Denounce 'Jewish Nation-State' Law
• Teens of Jerusalem Peacebuilders Gather In New Haven to Paint Welcome Billboard For Refugees
• Turkish forces 'neutralize' 46 PKK terrorists in Turkey, northern Iraq
• Yemenis kill 4 Saudi troopers in mortar attack on bases in kingdom's Najran, Jizan
• European package to save JCPOA not ideal but good start
• US in no position to make human rights' judgment on other countries: Iran
• Emirati regime too weak to start war against even one Yemeni village: Ansarullah
• UN panel finds further evidence of Iran link to Yemen missiles
--------
North America
• Donald Trump Says He Will 'Certainly Meet' Iran President Hassan Rouhani
• New Shocking Expose: Obama Administration Funded Al-Qaeda Affiliate
• Company Hired By Qatar to Sabotage US World Cup Bid Did PR for Assad, Gaddafi
• Activists revive 'Muslim ban' challenge over lack of waivers
• As Muslim students fight for protection, some parents battle to keep Islam out of schools
• Democratic incumbent faces Muslim challenger in Florida House district that includes Parkland
• Requirement of action against Haqqani network missing from US defence bill
--------
Europe
• Report Highlights Muslims' 'Persecution' Fears in Greater Manchester
• Extremism Within Muslim Countries Serious Issue: Britain's Counter-Extremism Commissioner
• Muslim Candidates Band Together In Michigan
• Pope tells moral theologians of the need to build bridges of fraternity
• IS claims deadly attack on tourists in Tajikistan
• Russian envoy rejects Israel demand to expel Iran from Syria
--------
Southeast Asia
• Indonesian Court Disbands Islamic State-Linked Group for 'Terrorism'
• Thinking Muslims and The Denial Syndrome
• 3 protests that spell victory for the rakyat
• Disagreement over atheism at forum on religious tolerance
• Lawyers group claims attempt made to 'indoctrinate' court officers, registrars
--------
Arab World
• Fresh Infighting Reported Among Ankara-Backed Militants in Northern Syria
• Terrorists Start New Coalition in Northern Syria under Turkey's Pressure
• Countdown Starts for Syrian Army's Major Assault on Terrorists in Idlib
• Syrian Army Shells Terrorists' Positions Heavily in Aleppo Province
• Former FSA Rebels Fighting alongside Syrian Army against ISIL in Dara'a
• More Senior Terrorist Commanders Killed in Northern Syria
• ISIL's Senior Non-Syrian Emir Killed in Southwestern Dara'a
• As part of Mecca Road Initiative, first Indonesian pilgrims arrive in Jeddah
• Syrian constitutional reform tops agenda on first day of Sochi talks
--------
Africa
• Somalia, Eritrea Mend Ties as Change Sweeps Africa
• US Africa Command confirms deployment of armed drones in Niger
• East Libya parliament set to vote on constitution bill
• Nigeria: Lessons Learned, Missed in Yusuf's Death Nine Years After
Compiled by New Age Islam News Bureau
URL: https://www.newageislam.com/islamic-world-news/shahi-imam-jama-masjid-writes/d/115994
--------
Shahi Imam of Jama Masjid Writes To PM Modi, Rahul Gandhi; Seeks To Allay 'Fears' Of 25 Crore Indian Muslims
July 30, 2018
Imam Bukhari of Jama Masjid in Delhi has written to Prime Minister Narendra Modi seeking stern action against mob lynching and alleged atrocities on minorities, including Dalits and Muslims in India.
In his letter, Imam Bukhari alleges that Modi government has failed to deliver its poll promise 'Sabka Sath Sabka Vikas'. "You gave a promise of treating 125 crore Indians with equality, irrespective of their religion and ethnicity... but unfortunately, the ground reality is not only contrary to this, but is a cause of concern for every civilised Indian citizen," he said in the letter.
The Imam racked up the issue of mob violence by Gau Rakshaks or cow vigilantes and claimed that PM Modi's stern warning to such 'anti-social' elements has failed to rein them in.
Furthermore, he alleges that BJP government has been tactically encouraging some central and state legislators who have called Muslim community names. "The BJP talks of the formation of a riot free society, but today every thing are being weighed in a Hindu-Muslim perspective. The government and the sizeable of the media are doing the job very diligently," he claimed.
Time has come today for the state and its leadership to prove its impartiality with its words, deeds, moves and their implementation. Even today I have faith in the state and hope that the Indian state would allay the uneasiness prevalent amongst the 250 million Indian Muslims without delay, the Imam appealed in the letter to PM Modi.
In a similar letter to Congress President Rahul Gandhi, the Imam has sought clarity of the stand of his party over alleged atrocities on Muslims in the country. In his letter to Gandhi, the Imam has said that the condition of Muslims in the country is currently worse as compared to the last seven decades.
He has also pointed that as many as 64 innocent Muslims have been killed in cases of mob lynching. "Where is your voice against the way the current government is treating us?" Imam Bukhari has asked Rahul Gandhi in his letter.
According to him, it has become difficult for Muslim youth to walk out of their homes wearing skull caps and sporting beard. "We expect that as a responsible opposition, you will pressure the government over this issue," Bukhari further wrote in his letter.
https://www.indiatvnews.com/news/india-imam-bukhari-writes-to-pm-modi-rahul-gandhi-seeks-to-allay-fears-of-25-crore-indian-muslims-455382
--------
Grand Opposition Alliance Taking Shape in Pakistan Parliament
Amir Wasim
July 31, 2018
ISLAMABAD: The possibility of a grand opposition alliance looms before the future parliament as leaders of four groups on Monday agreed they would launch a joint protest campaign "inside and outside the parliament" against alleged rigging in the July 25 elections.
Senior leaders of the Pakistan Muslim League-Nawaz (PML-N), Pakistan Peoples Party (PPP), Muttahida Majlis-i-Amal (MMA) and Awami National Party (ANP) met at the residence of speaker of the outgoing assembly Ayaz Sadiq in Islamabad, and agreed that they would not leave the field open for their opponents and will give the Pakistan Tehreek-i-Insaf (PTI), the party looking to form the future government, a tough time.
Although the PTI has emerged as the single largest party in the National Assembly after the polls, the final results issued by the ECP, however, show that the party is still short of the numbers required to form a government independently. According to the results, the PTI has bagged 115 general seats — 22 short of a simple majority — whereas the PML-N and PPP have won 64 and 43 seats, respectively.
Sources told Dawn that Maulana Fazlur Rehman had suggested that they should jointly field candidates for the parliamentary offices and make every effort to prevent the PTI from forming its government at the Centre. Since the MMA has 12 seats, the combined seats of the PPP, PML-N and MMA come up to 117 — two more than the number of seats the PTI has.
According to sources, Maulana Fazlur Rehman agreed to reconsider his earlier decision of boycotting the upcoming National Assembly apparently at the insistence of the PPP and the PML-N, and due to a division within the MMA. The sources said the Maulana had told the other two parties that he would consult leaders of his party and the MMA, and would inform them about their decision.
At Ayaz Sadiq's house on Monday, leaders of the four parties discussed strategies for holding a strong protest in the National Assembly as well as outside the parliament during its first sitting when the newly-elected members would take oath, sources said.
The leaders also agreed in principle that they would demand the formation of a parliamentary commission to probe charges of rigging and alleged interference of some institutions in the polling process.
"A parliamentary commission is the best option to probe rigging and fix responsibility. The commission can be formed under a person like Raza Rabbani," said a senior PML-N leader, though he said that no names were discussed at the meeting.
This was the first direct meeting of PML-N president Shahbaz Sharif with PPP leaders in recent years.
Besides Mr Sharif, the PML-N was represented by Mr Sadiq, Raja Zafarul Haq, Mushahid Hussain Sayed, Shahid Khaqan Abbasi, Ameer Muqam, Shah Muhammad Shah and retired Lt-Gen Abdul Qadir Baloch.
The PPP delegation comprised Syed Khursheed Shah, Sherry Rehman, Yousuf Raza Gilani, Syed Naveed Qamar, Raja Pervez Ashraf and Farhatullah Babar. Maulana Fazlur Rehman was joined by Akram Durrani, whereas Ghulam Ahmed Bilour and Mian Iftikhar Hussain represented the ANP.
Talking to Dawn, PML-N's Mushahid Hussain termed the meeting positive, saying that democratic forces were coming closer to form a "united front" inside and outside the parliament. He said that the parties would hold several meetings in the coming days.
Responding to a question, the PML-N leader said so far, they had not discussed a strategy for elections of the speaker, deputy speaker and the prime minister. He said another multi-party conference (MPC) would be convened to finalise a joint strategy for opposition parties.
PPP's Sherry Rehman said they had tried to explain to the Maulana that boycotting the parliament was not a good option for them. She said that PPP chairman Bilawal Bhutto-Zardari had convened a meeting of the party in Karachi on Tuesday (today) to discuss the post-election scenario.
Talking to reporters following the meeting, former Prime Minister Yousuf Raza Gilani said it had been decided that they would "form a strong opposition both inside and outside parliament". He said all the parties had rejected the polls results.
ANP's Ghulam Ahmed Bilour said the "establishment" should not have interfered in the poll process as by doing so, it had brought a bad name for itself.
Senior PML-N leader Raja Zafarul Haq alleged that the Election Commission of Pakistan (ECP) had "remained ineffective" in the conduct of the election and demanded that the chief election commissioner (CEC) should resign.
MMA chief Fazlur Rehman said all parties were deliberating on the issue so they could arrive at a consensus regarding a future course of action. He also criticised the electronic media for not showing protests being held all over the country against the alleged rigging in the elections. He urged the media to join hands with political forces in the struggle for upholding democracy in the country.
https://www.dawn.com/news/1423982/grand-opposition-alliance-taking-shape-in-parliament
--------
Hefazat involves itself in Tabligh affairs
July 29, 2018
Hefazat-e-Islam's influence on a Tabligh Jamaat faction has become evident with the Hefazat chief attending a rally of the faction for the first time in the capital yesterday.
In the presence of Hefazat chief Maulana Shah Ahmed Shafi, the faction decided to prevent Tabligh Jamaat's top leader and Indian Islamic scholar Maulana Saad Kandhalvi from giving sermons in Bangladesh.
Shafi, the top leader of the Chittagong-based Islamist outfit, agreed on the six decisions made at the rally attended by thousands of followers of the Tabligh Jamaat faction and Hefazat that oppose Saad.
However, none of the 11 Shura members of Tabligh Jamaat, a non-political Islamic group, attended yesterday's rally.
Saad, who had conducted Akheri Munajat (concluding prayers) of the Biswa Ijtema at Tongi for three consecutive years since 2015, had to return to New Delhi without joining the congregation this year in the face of protests over his alleged controversial statements for which he later apologised.
The Tabligh Jamaat faction claimed that Saad took the title of Ameer by himself going against the Sharia, and said it would not let him give any sermons in Bangladesh.
The rally which began around 9:00am at Mohammadpur Eidgah caused traffic chaos on the roads around the venue. It ended around 1:00pm.
In his speech at the rally, Shafi, also chairman of Qawmi Madrasa Education Board, said no "new Tabligh Jamaat" would be tolerated.
"You should fan out across villages so that none can launch a new Tabligh. Ulema should join Tabligh even if they have to shut madrasas for this ...," said Shafi.
According to one of the six decisions, no member or group of Tabligh Jamaat will travel to Nizamuddin in India to attend religious programmes, and no one of Tabligh Jamaat there will be allowed to attend programmes in Bangladesh.
The faction also asked Tabligh Jamaat members to disobey those Shura members -- based in the capital's Kakrail Mosque -- who follow Saad.
It said Tabligh Jamaat would be run in line with the teachings of three murubbis (leaders) -- Maulana Ilyas, Maulana Yusuf and Maulana Inamul Hasan.
These instructions have to be followed in carrying out all the activities at Kakrail, Tongi Maidan and in districts, read one of the decisions.
In another decision, the faction said those Shura members who follow Saad have lost the eligibility to remain in the posts.
At the rally, Shafi said, "Ulema made the decisions on the basis of fatwa [religious edict] by Darul Uloom Deoband. Tabligh [Jamaat] will follow the teachings of the three murubbis [leaders] till the judgement day."
The faction thanked Home Minister Asaduzzaman Khan and Awami League lawmaker Jahangir Kabir Nanak for facilitating the rally.
Founded by Maulana Ilyas Kandhalvi in India in 1927, Tabligh Jamaat, a non-political global religious movement, now has an estimated 70 to 80 million followers in more than 150 countries, majority of whom are based in South Asia.
All the decisions regarding Ijtema and selection of Shura members are made after consultations with the organisation's headquarters in Nizamuddin of New Delhi, according to sources at Kakrail mosque, considered the headquarters of Tabligh Jamaat in Bangladesh.
Saad had played a key role in these affairs in the past. But this year has been an exception as the Shura members in India and Bangladesh have become sharply divided over Saad's alleged controversial statements.
Though there has been a rift in Tabligh leadership in India for the last two years, no such conflict occurred in Bangladesh until Hefazat's protests in January this year.
The conflict between the two factions of Tabligh Jamaat in Bangladesh surfaced at the last Biswa Ijtema, the second largest Muslim congregation after the hajj.
Since then, the two sides clashed at least four times over Saad's statements as well as establishing supremacy at Kakrail mosque. Police were deployed at the mosque as tension ran high.
Later, the home minister mediated between the two factions to resolve the feud.
According to the mosque sources, there are 11 Shura members. Of them, six support Saad and five oppose him.
In the past, Saad used to hold meetings with the Shura members in Bangladesh every year to decide on various issues. But this year, some of the Sura members declined to meet him when he came to Bangladesh to attend the Tabligh Jamaat in January, said the sources.
PUBLIC SUFFERINGS
The residents of Mohammadpur and its adjoining areas suffered due to long tailbacks as more than 20,000 members of Hefazat and the Tabligh faction gathered at the venue adjacent to Tajmahal Road.
Traffic movement was disrupted on Tajmahal and Noorjahan roads, and also on the streets and alleys around the Town Hall and Mohammadpur bus stand. Rain worsened the situation.
Loudspeakers were set up at nearby mosques, intersections and on different roads to relay the speeches of the participants, said witnesses.
Students and office-goers were the worst sufferers. Failing to find any transport, many of them started walking to their destinations.
Contacted, Biplob Kumar Sarkar, deputy commissioner (Tejgaon Division) of Dhaka Metropolitan Police, said the organisers verbally sought permission from police to hold the rally but did not submit any written application.
Asked why police permitted holding the rally in a residential area, the DC said, "Every area in Bangladesh is a residential area."
https://www.thedailystar.net/backpage/Hefazat-gets-involved-tabligh-jamaat-affairs-1612705
--------
Palestinian Teen, Ahed Tamimi, Says No Regrets after Release from Israeli Prison
July 31, 2018
Joe Dyke - Palestinian teenager Ahed Tamimi said Monday she was deeply changed by her eight-month sentence in an Israeli jail for slapping two soldiers, but does not regret any of her actions.
Tamimi, who was 16 when she was arrested in December for hitting and kicking soldiers in front of her house in the occupied West Bank, was released Sunday and swarmed by media from across the globe.
In an interview the day after her release, the now 17-year-old told AFP that she understood she had become a "symbol" of the Palestinian cause.
"Of course my life has been changed a lot. I changed a lot in prison," said Tamimi.
"I became more focused, more aware also. Prison ages a person. In one day you age 100 years," she said in the backyard of her home in the West Bank village of Nabi Saleh.
Asked if she would have done the same thing if she had known it would land her behind bars for months, she said yes.
She pointed to the circumstances in which the soldiers had entered the garden of her house in December during a day of major protests that saw her cousin shot in the head with a rubber bullet.
Her confronting of the Israeli soldiers was recorded and went viral online. "I didn't do anything wrong that I should regret," she said.
"If I had known I would be in jail eight months, of course I would have done it because it was a natural reaction to a soldier being in my house shooting at people, people from my village," she said.
"Any person in this situation - I hit him, maybe there are people that would have killed him."
Israel's military said the two soldiers had been in the area to prevent Palestinians from throwing stones at Israeli motorists.
The video of the altercation does not show the soldiers reacting to Tamimi's actions or using their weapons, and the teenager was arrested four days later. Tamimi said she hoped to study law to expose the issue of Israel's occupation to the rest of the world.
Israel has long said Tamimi and her siblings have been manipulated by her parents - long-time activists - and used as pawns in staged provocations.
When she was only 14, a picture of her biting a soldier's hand to prevent him from arresting a family member went viral.
She denied claims that she had been exploited.
"My family never exploited me once," she said.
"I am mature enough and I know the cause. I know the consequences that will stem from choosing this path. I am not a child."
Tamimi and her mother Nariman were sentenced to eight months by an Israeli military court in a plea deal following the December incident.
Israel has occupied the West Bank and east Jerusalem since seizing it in a 1967 war. Tamimi's village Nabi Saleh is close to a number of Israeli settlements.
'No ice cream'
Even though she's only 17, Tamimi's stint in jail has made her one of the best-known living Palestinians.
Palestinians and their supporters see her as a hero standing up to the Israeli army unarmed.
Many Israelis view her with contempt and some accuse her activist family of being supporters of "terrorism."
Last week a 14-foot (4-metre) mural of her was painted on Israel's separation wall that cuts off the West Bank. The Italian artists who painted it were arrested by Israel.
After her release on Sunday, throngs of media and supporters rushed to catch a glimpse of her and greet her.
At times when speaking to AFP she sounded like a budding Palestinian politician, at others like the teenager she is.
She said she still loves football and was crazy over the World Cup - watching the games when possible in jail and supporting Brazil and Neymar in particular.
One of the first things she did after leaving prison was visit an ice cream parlour in central Ramallah, the West Bank city where the Palestinian government is based.
"Of course there is no ice cream in prison ever. I love it a lot. When it was summer I would avoid food. I would only eat ice cream for breakfast, lunch and dinner," she said.
Asked if she had a message for Israelis who think of her as a "terrorist", she said she would ask them to "put themselves in my place, just that, nothing more".
"Go back to their humanity a little so they can understand the reality."
https://nation.com.pk/31-Jul-2018/palestinian-teen-says-no-regrets-after-release-from-israeli-prison
--------
Donald Trump says he will 'certainly meet' Iran President Hassan Rouhani
July 31, 2018
President Donald Trump said Monday that he would "certainly meet" Iranian President Hassan Rouhani, and without preconditions, if the Iranian leader was willing. Speaking at a joint news conference with Italy's premier, Trump said he would meet with the Iranians "anytime they want to". "I'll meet with anybody. There's nothing wrong with meeting," he said.
The overture marks a significant shift in tone and comes as Trump and the Iranians have been escalating their rhetoric following Trump's May withdrawal from the landmark Iran nuclear accord. The administration is set to begin reimposing sanctions that had been lifted under the 2015 deal next month and has been ratcheting up a pressure campaign on the Islamic republic that many suspect is aimed at regime change.
And it's unclear whether Rouhani has any interest in meeting. Rouhani's chief of staff claimed earlier this month in Iran's state-owned newspaper that Rouhani had rejected eight requests from Trump for one-on-one talks last year. Rouhani recently warned the US that "war with Iran is the mother of all wars," prompting an all-caps retort from Trump.
"To Iranian President Rouhani. NEVER, EVER THREATEN THE UNITED STATES AGAIN OR YOU WILL SUFFER CONSEQUENCES THE LIKES OF WHICH FEW THROUGHOUT HISTORY HAVE EVER SUFFERED BEFORE. WE ARE NO LONGER A COUNTRY THAT WILL STAND FOR YOUR DEMENTED WORDS OF VIOLENCE & DEATH," Trump tweeted. He ended the message with a warning: "BE CAUTIOUS!"
Iranian Foreign Minister Mohammad Javad Zarif fired back with his own message that began, "COLOR US UNIMPRESSED." Trump tempered his threatening rhetoric two days later when he said his administration stands ready for Iran to come back to the negotiating table. "We're ready to make a real deal, not the deal that was done by the previous administration, which was a disaster," he said.
Trump has long cast himself as a master negotiator who is most effective when he meets with his counterparts face-to-face. He pointed to his recent one-on-one with North Korea's Kim Jong-un and Russia's Vladimir Putin as examples of the benefits of such get-togethers, though both drew bipartisan criticism.
"I believe in meeting," he said, talking up the benefits of "speaking to other people, especially when you're talking about potentials of war and death and famine and lots of other things". Asked whether he would set any preconditions for the meetings, Trump was clear.
"No preconditions, no. If they want to meet, I'll meet anytime they want, anytime they want," he said. "Good for the country, good for them, good for us and good for the world. No preconditions. If they want to meet, I'll meet," Trump said.
Secretary of State Mike Pompeo told CNBC on Monday that he was onboard with the president's invitation, but he appeared to add several qualifications. "If the Iranians demonstrate a commitment to make fundamental changes in how they treat their own people, reduce their malign behavior, can agree that it's worthwhile to enter in a nuclear agreement that actually prevents proliferation, then the president said he's prepared to sit down and have a conversation with him," he said.
Garrett Marquis, a spokesman for the president's National Security Council, later said in a statement that the US would not be lifting any sanctions or re-establishing diplomatic and commercial relations until "there are tangible, demonstrated, and sustained shifts in Tehran's policies". "Until then," he said, "the sting of sanctions will only grow more painful if the regime does not change course".
Reaction among Trump critics in both parties on Capitol Hill was mixed, with Senator Dianne Feinstein, D-Calif, telling reporters, "I actually think that's a good idea." Senate Foreign Relations Committee chairman Bob Corker, R-Tenn, characterised the overture as fine, but only "as long as they are willing to talk about being a normal country in the future".
Senator Bob Menendez, D-NJ, was more skeptical, calling it "another recipe for bad outcomes". "It's the same as North Korea," he said. "No preconditions, no preparation. And what do we have? We have Kim Jong-un was elevated from an international pariah to someone who seems like a legitimate statesman," he said.
https://indianexpress.com/article/world/donald-trump-iran-president-hassan-rouhani-meeting-5284104/
--------
India
All India Muslim Majlis-e-Mushawarat Denounces NRC
Jul 31, 2018
The All India Muslim Majlise-e-Mushawarat, an Apex Body of Indian Muslims, expressed shock over "mischievous" exclusion of 40.07 lac Indian citizens from Assam's draft NRC.
Terming the whole exercise full of faults and fictitious for ignoring genuine and valid documents like Passport and Aadhar Cards as proof of citizenship, Mushawarat's president Navaid Hamid described it as tragedy on a massive scale.
"What about families of freedom fighters, descendants of great people who had confronted the accession of areas of Assam state to then East Pakistan whose names have been excluded in the proposed NRC list?"
He claimed that families of former Deputy Speaker of Assam state assembly and former Director General of Police and several government pensioners also do not find their names in the proposed NRC list.
"Unfortunately the only guiding criteria of the officers of NRC officials, it seems, was politics of bigotry and hate to exclude as much as Bengali speaking citizens (overwhelming majority with Muslim names) and a good number of citizens with roots of ancestry in Bihar."
" The whole exercise is being done not only to create an environment of hate and polarize nation on communal lines but also to create a fear psychosis amongst the citizens across nation invoking false bogey of infiltration," said Hamid.
http://www.dnaindia.com/india/report-muslim-umbrella-body-denounces-nrc-2643735
--------
Don't codify Muslim personal laws: AIMPLB
31st July 2018
NEW DELHI: The All India Muslim Personal Law Board (AIMPLB) is against codification of Muslim personal laws and changes in those laws, as is being considered by the Law Commission, the New Indian Express has learnt.
The board, which will meet the commission on Tuesday, has prepared a detailed response to a questionnaire given by the law panel as part of consultations undertaken by it to pave the way for the implementation of the Uniform Civil Code.
The commission sought the views of Muslim groups, including AIMPLB, on seven key issues, including custody of children, inheritance rights and adoption in Islam. On the commission's clarifications on the different interpretations that exist among the schools of thought in Islam, such as Hanafi, Shafi'i, Maliki or Hanbali, the AIMPLB is likely to tell the panel that the different schools of thoughts should continue to enjoy this right.
"If Muslim personal laws are to be codified or reviewed; only people belonging to the community can codify these laws. In Islam, the Quran and Hadith are guide to all problems. There is a consensus among the Muslim community on most issues. However, there are certain issues on which the view of the community is divided. For instance, instant triple Talaq was never practised by those belonging to certain schools of thought in Islam, but some others were practising it," said a member of AIMPLB, on condition of anonymity.
According to sources, the AIMPLB is also likely to oppose any reforms in Muslim personal laws based on principles from other religions, as suggested by the Law Commission. For instance, the commission, headed by Justice BS Chauhan, had proosed incorporating among Muslims the practice of giving equal inheritance rights to women and men, as is the practice in Hinduism. According to the Muslim personal law, a woman is entitled to only half her brother's share in property. However, the Board has decided to oppose this.
No equal rights for adopted child
Full report at:
http://www.newindianexpress.com/nation/2018/jul/31/dont-codify-muslim-personal-laws-aimplb-1851000.html
--------
J&K: Those creating Hindu-Muslim divide not real Dogras, says Mehbooba Mufti
by Arun Sharma
July 31, 2018
JUST OVER a month after the BJP pulled out of the alliance with the PDP, leading to the fall of her government in Jammu and Kashmir, Mehbooba Mufti on Monday took on her former ally on a range of issues the saffron party is taking up to critique her.
Indicating support of some BJP leaders from Jammu to the demand to hand over the probe into the rape and murder of an eight-year-old girl in Kathua district of Jammu region, Mufti said that those who "carry the Tricolour and support people who have committed crime with a little girl" only to create a divide between Hindus and Muslims are "not real Dogras".
Mufti's remarks come days after Choudhary Lal Singh, BJP MLA and a former minister in Mufti's cabinet, floated a "non-political" organisation named Dogra Swabhiman Sangathan, which is seen as a front to press for his public support to the call for a CBI probe into the Kathua gangrape and murder case.
Addressing her first rally in Jammu, a stronghold of the BJP, since stepping down as chief minister, Mufti said, "What Dogras you are talking about? I want to remind those trying to make it (Kathua case) a Hindu-Muslim issue that a Dogra maharaja had banned the entry of a maharaja of some other state into Jammu and Kashmir since the latter had made certain remarks against a girl. They are the real Dogras, and not those who carry a Tricolour and support those who have committed a crime with a little girl…"
"A rapist is a rapist. He has no religion," Mufti said in her address to party workers on the occasion of PDP's foundation day.
Full report at:
https://indianexpress.com/article/india/jk-those-creating-hindu-muslim-divide-not-real-dogras-says-mehbooba-mufti-kathua-rape-case-5283833/
--------
India's Modi and Pakistan's Khan discuss regional peace in post-election call
JULY 31, 2018
ISLAMABAD (Reuters) - Indian Prime Minister Narendra Modi called Imran Khan on Monday to congratulate him on his party's victory in the Pakistan general election, with both men discussing regional peace.
It was their first call since Khan's Pakistan Tehreek-e-Insaf (PTI) party emerged victorious from the July 25 vote that has been marred by claims of pre-election rigging and irregularities on the day.
Relations between the nuclear-armed rivals have frayed in the last couple of years, with direct talks stalled amid diplomatic rows and military firing across the Line of Control frontier that divides the disputed region of Kashmir.
Khan, widely seen as Pakistan's prime minister-in-waiting, is now courting independent candidates and minor parties to form a coalition government in a nation that has fought three wars with India.
In the phone call, Modi "reiterated his vision of peace and development in the entire neighborhood", according to a statement by India's Ministry of External Affairs.
Khan declared in his victory speech that he wanted to resolve the long-standing territorial dispute over Kashmir, saying "if India comes and takes one step toward us, we will take two".
Khan's media team said he had told Modi it was vital both countries focus on pulling millions out of poverty.
The PTI said Khan had also told Modi that issues between the two nations must be resolved through talks. "Wars can breed tragedies instead of facilitating resolution of conflicts," he said, according to a PTI statement.
"Prime Minister (Modi) expressed hope that democracy will take deeper roots in Pakistan," the Indian ministry said in a brief statement.
European Union observers say there was uneven playing field during the election as major obstacles were put in the way of a rival party that was led by jailed former premier Nawaz Sharif. The United States has also expressed concern about what it calls electoral "flaws".
Khan has offered to investigate all claims of irregularities, and promised to build a new Pakistan with an Islamic welfare state that would seek to elevate those mired in poverty.
Some analysts and commentators have said Pakistan's democracy has been weakened by meddling by the armed forces. Both Khan and the military deny colluding with each other.
Full report at:
https://www.reuters.com/article/us-india-pakistan-election/indias-modi-and-pakistans-khan-discuss-regional-peace-in-post-election-call-idUSKBN1KK2BQ
--------
Displeased with Hindu-Muslim couple elopement, mob in Gujarat attacks, burns man's house
Jul 30, 2018
Four people were arrested for allegedly setting vehicles ablaze and stealing ornaments from a house while demonstrating against the elopement of an interfaith couple, police said on Monday.
According to police, a Hindu man and a Muslim woman eloped on June 29. Following which, the woman's relatives and members from her community stormed the man's house in Sanjeli village in neighbouring Dahod district on last Saturday.
The man's father, Prakash Bhoi, filed a complaint against the mob comprising at least 200 people, Sanjeli police Sub-Inspector S N Bariya said.
The complainant alleged that the mob, armed with sticks and sharp weapons, set ablaze his multi-utility vehicle and his neighbour's moped bike, Bariya said.
"The complaint stated that the mob ransacked the house and looted ornaments worth Rs 45,000," the official said, adding that since the couple eloped, the woman's kin had asked the Bhoi family to send their daughter back to them.
The woman's family had also staged a hunger strike outside the Sanjeli police station on July 22 and had called it off only after officials assured them that their demands would be looked into, Bariya said.
Dahod Superintendent of Police Hitesh Joysar said the entire area was under vigilance and efforts were on to trace the couple.
"We have taken prompt action to maintain peace in the area. Our operation is on to nab the remaining accused. We have also formed various teams to find the couple," Joysar said.
Bariya Sub-Inspector said relevant sections pertaining to dacoity, rioting, arson and trespassing haven been invoked against members of the mob.
Full report at:
https://www.hindustantimes.com/india-news/displeased-with-hindu-muslim-couple-elopement-mob-in-gujarat-attacks-burns-man-s-house/story-S7Msqw3D74aB7So5n5k39L.html
--------
Muslims men volunteer as divers for Kanwar Yatra
Jul 30, 2018
Meerut: "We don't ask the religion of a person while rescuing him from drowning," says Mohammad Sookha, a diver camping by a narrow lane running parallel to Upper Ganga canal near here, which is taken by lakhs of Kanwariyas (devotees of Lord Shiva) while they embark on their religious excursion every year. Like Sookha, there are 20 more Muslim divers who have volunteered to save lives of the Shiva devotees and are living in makeshift camps. They are always on their toes to dive and fish out people in the nick of time.
Scores of Kanwariyas drown every year as they venture into the canal to wash clothes and utensils. The canal is usually gushing with muddy rainwater during the yatra period. In all, there are 25 divers in the camps.
"I know these divers for quite some time and police often utilise their services for locating missing people in the canal. I just asked them if they would like to be part of the camp as standby divers, and they readily agreed. We will certainly make provisions to pay them for their services," said superintendent of police (city) Ranvijay Singh.
Sookha, however, said that it was a noble cause.
"We are all Muslims but that does not matter. I think I am in a very important profession – of saving lives. And, when we are rescuing someone, we don't ask that panic-stricken person which religion he belongs to," he said.
Most of the divers are from Julhera and Mehmati villages on the outskirts of Meerut.
Another diver, Zishan Ahmad, said that this is not the first time when he will be on guard to save the devotees.
Full report at:
https://timesofindia.indiatimes.com/city/meerut/muslims-men-volunteer-as-divers-for-kanwar-yatra/articleshow/65204113.cms
--------
Jammu: JWAM seeks deportation of Rohingya and Bangladeshi Muslims from state
July 31, 2018
The Jammu West Assembly Movement (JWAM) on Monday demanded deportation of Rohingya and Bangladeshi Muslims, fast-tracking development projects and dissolution of State assembly.
JWAM president Sunil Dimple highlighted these demands in a memorandum handed over by a delegation of the party which met Khurshid Ahmad Ganai, advisor to the Governor N N Vohra, here.
The memorandum, addressed to the Prime Minister Narendra Modi, Home Minister Rajnath Singh and the state governor, opposed dialogue with Pakistan while seeking free hand to the security forces to crush terrorism and deal with separatists, the JWAM said in a statement here.
Dimple who led the delegation also demanded cancellation of the registration of PDP and arrest of its leaders including former chief minister Mehbooba Mufti and MP Muzaffar Hussain Baig under sedition charges for their "anti-national" statements.
Full report at:
https://indianexpress.com/article/india/jammu-jwam-seeks-deportation-of-rohingya-and-bangladeshi-muslims-from-state-5283821/
--------
Pakistan
Iran vows to fully cooperate with Imran-led govt
JULY 30, 2018
ISLAMABAD: Iranian Ambassador to Pakistan Mehdi Hunarmand Dost on Monday said that Imran Khan's victory in 2018 General Elections will further strengthen ties between the two countries and that Iran is willing to fully cooperate with next government.
In an official letter written to the Pakistan Tehreek-e-Insaf (PTI) chairman, the envoy congratulated Khan and his party over success in elections 2018.
He also praised the people of Pakistan for showing "willingness to apply their right to self-determination accomplish progress and development in the country". Mehdi also said Iran is willing to cooperate with Pakistan in various ventures to bolster ties. The dignitary also extended his good wishes to the PTI chief and hoped that the party will work in the best interests of the people of the country.
https://dailytimes.com.pk/275483/iran-vows-to-fully-cooperate-with-imran-led-govt/
--------
Can Pakistan's Imran Khan deliver peace through dialogue in Afghanistan?
30 July 2018
Imran Khan, Pakistan's cricket star-turned politician, is all set to become nuclear armed nation's next prime minister. But how his rise to power will influence the security situation in Pakistan, Afghanistan and South Asia, remains to be seen.
Khan, 65, known for speaking his mind, won hearts in New Delhi, Washington and Kabul simultaneously as he expressed his desire to play role in bringing peace in neighboring Afghanistan, resume talks with arch-rival India and establishing warm ties with the Trump administration, which is striving hard to maintain law and order in war-torn Afghanistan.
"Afghanistan has suffered a lot in the war on terror. Peace in Afghanistan is in greater interest of Pakistan. We will work with the world and Afghanistan leadership to bring to ensure peace in Afghanistan", Khan said after his party won majority seats.
Renewing its approach to bring peace to Afghanistan, Trump Administration has vowed to negotiate with Taliban signaling green to reduce, or even eliminate, its military presence in the country.
Interestingly, Imran Khan has expressed support for such a strategy during his speech last week and has been calling for talks with Taliban for several years.
"If there is peace in Afghanistan, there will be peace in Pakistan. People of both Pakistan and Afghanistan want peace in Afghanistan. We have to ensure that" Khan said, unveiling salient features of his foreign policy.
However, it is yet to be seen how Khan, who has been an outspoken critic of the US led war in Afghanistan and its controversial drone operations across the globe, plans to proceed.
Most important question is how his rise to power will influence the security situation in Pakistan and Afghanistan. Given his excellent relations with Afghan Taliban, can he play a role in bringing peace?
Trump and Islamabad
Many believe Khan's stance against the US' role in Afghanistan will be a hurdle in the Trump administration's dealings with Islamabad. He promised to shoot down US drones if he was elected prime minister. However, for now, both the United States and Imran have vowed to work together.
It is believed that Khan can play a vital role in bringing Taliban and the US to sit across the table and ensure long lasting peace in Afghanistan.
Key politicians of Imran's political party also believe Khan has sound knowledge of the situation on the ground in Afghanistan and is determined to play his role in bringing peace.
"He has the team and the experience suited to handle the Afghan challenge. So, when it comes to Afghanistan, Imran as prime minister will be a blessing for the world," Fawad Chaudhry, his party's spokesman, told reporters.
His victory speech sent the right signals across the war-torn Afghanistan where prominent figures well as officials welcomed his statement.
Proposing the two countries to embrace a "European Union" type of relationship, Khan hinted "an open border policy" with Afghanistan. The plan, however, seems highly unlikely.
"He can bring Taliban to the table and we need him to get rid of years-long war," Abdullah Shah, an Assistant professor of International Relations in a local university in Kabul told Al Arabiya English.
Khan scored a brownie point last week after the United States stated it look forward to work with new government in Pakistan to advance the goals of security and stability in South Asia.
"The United States will look for opportunities to work with new government in Pakistan to advance our goals of security, stability, and prosperity in South Asia," the spokesperson of US state department said.
However, Khan may turn his back on Washington if the Trump administration continues with its existing policy in Afghanistan.
"Both Trump and Imran can work wonder in Afghanistan. While Imran can help brig Taliban across table, Trump can convince the world to change attitude towards them," Ijaz Ahmed, Islamabad-based foreign policy expert said.
India front
On the other hand, Imran Khan has made it loud and clear that his government will be "ready for talks" with arch-rival India which is also a stakeholder in Afghanistan.
"If they take one step toward us, we will take two steps toward them," Khan said during his maiden speech, drawing a positive response from India.
"India desires a prosperous and progress Pakistan at peace with its neighbors," a spokesperson of India's Ministry of external affairs said on Thursday, last week.
On Saudi Arabia, which also has great influence in Afghanistan, and South Asian, Khan said Pakistan has always found Saudi Arabia close to his heart.
"Saudi Arabia is one of Pakistan's great friend which has always helped Islamabad through thick thin," Khan said. Unveiling his future plan, Khan vowed to bridge the gulf between Iran and Saudi Arabia.
"Iran and Saudi Arabia are two important Muslim countries. We will play our role to bring them closer," a determined and confident looking Khan said.
Limits to ambitions
Aamir Ghauri, Islamabad-based editor of influential daily The News International believes there is a limit to what an elected Pakistani civilian head of government can do in relation to Afghanistan.
"Imran Khan will not be any different from Nawaz Sharif or Benazir Bhutto. His diplomatic skills are untested and his campaign rhetoric ran parallel to what any government in Kabul would like to hear from a Pakistani prime minister," Ghauri told Al Arabia English.
Full report at:
https://english.alarabiya.net/en/features/2018/07/30/Can-Pakistan-s-Imran-Khan-deliver-peace-through-dialogue-in-Afghanistan-.html
--------
PTI seeks MQM-P's support for govt formation
Azfar-ul-Ashfaque
July 31, 2018
KARACHI: Pakistan Tehreek-i-Insaf (PTI) chairman Imran Khan's pointman Jahangir Tareen flew into Karachi from Islamabad on Monday evening and invited former nemesis Muttahida Qaumi Movement-Pakistan (MQM-P) to join Mr Khan-led next federal government.
The MQM-P has won six National Assembly seats — four in Karachi and two in Hyderabad — in the July 25 elections compared to its 24 NA seats in 2013.
With just six seats, the MQM-P has become an important factor in national politics since the PTI cannot form a government on its own and lacks a simple majority in the lower house of parliament.
Mr Tareen along with PTI leaders Arif Alvi, Firdous Shamim Naqvi and Imran Ismail reached the MQM-P's temporary headquarters in Bahadurabad area and met with its convener Dr Khalid Maqbool Siddiqui. Senior leaders Dr Farooq Sattar, Amir Khan, Faisal Subzwari, Khwaja Izharul Hasan and Karachi Mayor Wasim Akhtar were also present.
Talks between the two parties held behind closed doors till 1.10am and an MQM-P source told Dawn that Mr Tareen sought MQM-P's help in the election of speaker, deputy speaker and leader of the house in the National Assembly and offered the party its share in the upcoming federal cabinet.
The source said the MQM-P was not interested in a single ministry and it wanted more powers for the Karachi and Hyderabad local governments.
Later, Mr Tareen told the media that the PTI had invited the MQM-P to join its government at the Centre for the sake of the country.
He said that both the PTI and MQM-P got mandate from Karachi and now it's time to deliver to the people.
Mr Tareen said that the issues of water shortage, garbage collection, mass transit, an empowered local government system, devolution of powers came under discussion and the MQM-P was told that all such things were part of the PTI manifesto. To a question, Mr Tareen said that the PTI did not offer the MQM-P any ministry as the two parties discussed ways and means to solve the problems of the people of Karachi.
MQM-P convener Dr Siddiqui said that the coordination committee would discuss the PTI offer on Tuesday (today). However, he hoped that the cooperation between the two parties would go a long way and it would strengthen not only democracy but also the country.
Full report at:
https://www.dawn.com/news/1423986/pti-seeks-mqm-ps-support-for-govt-formation
--------
Qureshi says PTI to form govt in Balochistan as well
July 31, 2018
MULTAN: Pakistan Tehreek-i-Insaf Vice Chairman Shah Mahmood Qureshi says the party will also form government in Balochistan with the support of the allies.
Talking to media here on Monday, he said PTI would form a stable government in the Centre owing to its numerical edge. "The people of Khyber Pakhtunkhwa have changed the history by making the PTI successful as no party in the past was able to form government again. They not only brought the PTI into power again but also gave it two-third majority," he said.
Qureshi said PTI's new candidates defeated 'giants' in Khyber Pakhtunkhwa which showed the success of the ideology of Imran Khan. He said the multi-party conference had failed in which Maulana Fazlur Rehman tried to convince other parties for boycott of the parliament; however his proposal was rejected.
"Some defeated elements are hatching conspiracies to achieve their notorious designs," he said.
The PTI leader said there was a major difference between the election held in 2013 and now as the recent polls were transparent."The international observers have also termed the elections transparent."
He said demand for the resignation of chief election commissioner was unjustifiable. He said his son Zain Qureshi defeated Ali Musa Gilani, the son of former prime minister Yousaf Gilani, in the first election of his political career.
Full report at:
https://www.dawn.com/news/1423938/qureshi-says-pti-to-form-govt-in-balochistan-as-well
--------
JI chief rejects Rehman's suggestion against taking oath in parliament
Jul 30 2018
LAHORE: Muttahida Malis-e-Amal's (MMA) deputy president Siraj-ul-Haq on Monday rejected president Fazal-ur-Rehman's suggestion to boycott taking oath in the parliament.
MMA, a political alliance consisting of conservative, religious, and far-right parties of Pakistan, has protested against the poll results. It includes Jamaat-e-Islami, Rehman's Jamiat Ulema-e-Islam-Fazl (JUI-F) among other political parties.
During a press conference held at Jamaat-e-Islami's (JI) head office in Mansoorah, Haq said he did not believe in responding to disagreement with hostility.
"We will sit in the opposition with complete dignity and play our part," he said.
The JI chief and deputy president of MMA further noted that a responsible leadership was put in charge of the electoral process, however, excessive intervention of institutions had affected the public opinion.
"All efforts were made to remove the national and political leadership from the picture," Haq said. "From Karachi to Dir and Chitral, poll results were not released in a timely manner. The election process was made suspicious and it is regrettable that polling agents were sent out while the votes were being counted."
The MMA deputy president further stated that an effort had been made to target democracy, however, despite serious reservations his party was ready to give a chance to the new government to prove itself. "We will wait for Imran Khan to fulfill his promise to make Pakistan a welfare state like Madina," he said.
Furthermore, Haq stated that MMA would play its part in making democracy stable — both from within and outside the parliament.
According to information received from sources, MMA has called an emergency meeting in the federal capital later today. Members will attempt to convince the MMA chief to let the alliance join the opposition. They will also discuss the suggestion to not take oath in the parliament.
Earlier on July 27, the All Parties Conference — convened by Pakistan Muslim League-Nawaz (PML-N) and MMA — had rejected the results of the July 25 general election result.
Speaking to the media after presiding over the APC meeting, Rehman said people had been robbed of their mandate. He had rejected the 'claims of those claiming victory in the elections.' Rehman had also said that the APC will organise demonstrations in different parts of the country till elections were held again.
Full report at:
https://www.geo.tv/latest/205377-ji-chief-rejects-rehmans-suggestion-against-taking-oath-in-parliament
--------
TLP to stage protest in Lahore on Aug 6
July 31, 2018
LAHORE: The Tehreek-i-Labbaik Pakistan will hold a march on Monday (Aug 6) to protest against, what it called, the worst rigging in the elections, says a press release of the party after a meeting of its central executive committee.
The protest rally will start from Data Darbar and end at the Punjab Assembly.
The party maintained that it was not an election, but a selection – a "fraud, committed on the basis of the worst kind of rigging."
The party also decided to participate in by-elections and told its workers to get ready for the purpose.
The workers should also get ready for local bodies elections. The party also told its workers to prepare for Aug 14 which would be celebrated in a befitting manner.
https://www.dawn.com/news/1423934/tlp-to-stage-protest-in-lahore-on-aug-6
--------
Security deposit of PPPP, MMA, TLP candidates forfeited on NA Rawalpindi seats
Jul 31, 2018
RAWALPINDI: Security deposits of Pakistan People's Party Parliamentarian (PPPP), Mutihda Majlis-e-Amal (MMA) and Tehreek-e-Labaik Pakistan (TLP) candidates have been forfeited on five National Assembly (NA) seats of the district out of seven.
The election on NA-60 was postponed by the Election Commission of Pakistan (ECP) due to life imprisonment of Pakistan Muslim League-Nawaz (PML-N) candidate Hanif Abassi in ephedrine case while ECP has ordered re-counting of NA-57 votes. Losing security deposit in any election is termed as a humiliating defeat.
According to Section 43 of The Representation of People Act 1976 in the Election Laws, any candidate who fails to get one-eighth (12.5 percent) of the total votes cast in a constituency from where he contests the polls, his security deposit would be confiscated.
Although the security deposit is not a handsome amount but in Pakistani politics, one whose security is confiscated is considered to have been defeated humiliatingly.
In NA-58 MMA candidate Mehmood Hussain got 1,960 votes and failed to keep his security deposit.
In NA-59 Ch Kamran Ali Khan of PPPP got 4830 votes while the total votes polled were 209,974. MMA's candidate Maulana Abdul Ghafoor Tauhidi obtained 1,506 votes and TLP candidate Malik Taj bagged 14,320 votes and could not obtain 12.5 per cent of the total votes.
Similarly from NA-61 Haji Gulzar Ahmed Khan of PPP could only get 2,693 votes while TLP candidate Syed Shahid Pervaiz got 9,246 votes and MMA candidate Mian Zafar Yaseen bagged 3,899 votes.
From NA-62 Sumera Gul of PPPP also could not manage to save her security deposit as she obtained 5,583 votes. MMA's candidate Tariq Munir got 3,719 votes while TLP candidate Ch Qadeer Ahmed bagged 9,366 votes.
Full report at:
https://www.pakistantoday.com.pk/2018/07/30/security-deposit-of-pppp-mma-tlp-candidates-forfeited-on-na-rawalpindi-seats/
--------
South Asia
20 militants killed, wounded, suspected Pak militant held in Paktia operations
Jul 31 2018
At least eight militants were killed and a suspected Pakistani militant was arrested during the operations of the Afghan National Defense and Security Forces in southeastern Paktia province.
The 203rd Thunder Corps of the Afghan Military in a statement said the Afghan armed forces conducted operations based on intelligence tip in Zurmat district, leaving at least eight militants dead.
The statement further added that at least twelve militants also sustained injuries during the same operations and a suspected Pakistani militant was arrested.
The detained Pakistani militant has been identified as Mirza Khan son of Sardar Khan who is originally a resident of Balochistan province, Thunder Corps added
The counter-terrorism operations are still being conducted in Zurmat district of Paktia and is led by Thunder Corps commander Rohullah Khalil Oghlo, Thunder Corps said.
Paktia has been among the relatively calm provinces in southeastern parts of the country but the security situation has deteriorated in some parts of the province during the recent years.
The Afghan forces are busy conducting counter-terrorism operations in Paktia and other provinces in southeastern parts of Afghanistan.
https://www.khaama.com/20-militants-killed-wounded-suspected-pak-militant-held-in-paktia-operations-05671/
--------
Tribal elder among 4 killed in a suicide car bomb attack in Nangarhar
Jul 30 2018
At least four people including a local tribal elder were killed in a suicide car bomb attack in eastern Nangarhar province of Afghanistan.
The provincial government media office in a statement said the incident took place at around 6:30pm local time in the vicinity of Rodat dsitrict.
The statement further added that the attack in Kabul Camp area left the local tribal elder Haji Hayat and three of his family members dead.
According to governor's office, Haji Hayat's son was also wounded in the suicide car bomb attack.
The incident took place as Haji Hayat Khan was on his way to Jalalabad city from Kot district, the statement said, adding that the suicide bomber used a mini truck packed with explosives to carry out the attack.
Haji Hayat Khan was also a nominee for the upcoming parliamentary elections and three of his family members killed in the attack were serving as his security guards and driver, the provincial government added.
The statement by the provincial government also added that Haji Hayat Khan's son has sustained minor injuries in the attack.
Full report at:
https://www.khaama.com/tribal-elder-among-4-killed-in-a-suicide-car-bomb-attack-in-nangarhar-05669/
--------
Reuters reporter jailed in Myanmar denies collecting secret documents
July 30, 2018
YANGON: Kyaw Soe Oo, one of two Reuters journalists accused of obtaining state secrets in Myanmar, told a court on Monday that the information in documents police say were found on his mobile phone was already public.
The 28-year-old reporter said he did not know how the documents, previously submitted to the court in Yangon by the prosecution during pre-trial hearings, had got on to his phone.
Kyaw Soe Oo and his Reuters colleague Wa Lone, 32, are facing up to 14 years in prison for allegedly violating Myanmar's colonial-era Official Secrets Act. Both have pleaded not guilty to the charges and have told the court how they were "trapped" by police officials who planted documents on them.
Referring to what he said were "top secret" documents found on his phone and in his possession, lead prosecutor Kyaw Min Aung accused Kyaw Soe Oo during cross-examination of having "a habit of collecting those documents…to write news and send to foreign news agency Reuters".
In response, Kyaw Soe Oo, sitting in the witness box facing the judge, said: "I didn't collect those documents voluntarily."
At the time of their arrest in December, the journalists had been investigating the killing of 10 Rohingya Muslim men and boys in a village in western Myanmar's Rakhine state. The killings took place during an army crackdown that United Nations agencies say sent nearly 700,000 people fleeing to Bangladesh.
The trial has attracted global attention and has come to be seen as a test of press freedom and reforms in the fledgeling democracy.
Defence lawyers also called as a witness on Monday a driver for Reuters, Myo Thant Tun, who had dropped the reporters off for a meeting on the evening they were arrested.
Myo Thant Tun said the pair were carrying "nothing but their handphones" when they entered a restaurant where they met police officials who handed them a set of papers shortly before they were detained.
Kyaw Soe Oo and Wa Lone have testified that Police Lance Corporal Naing Lin and another officer handed them documents during their meeting at the north Yangon restaurant, but that they had no time to look at them before being arrested as they left.
A police captain, Moe Yan Naing, has also testified that a superior officer had instructed his subordinates, including Naing Lin, to "trap" the reporters. Naing Lin has told the court he met the reporters, but denied giving them anything.
Myanmar government spokesman Zaw Htay has mostly declined to comment throughout the proceedings, saying Myanmar courts are independent. He did not answer calls seeking comment on Monday.
In their testimony, the journalists have described how they were handcuffed, hooded, deprived of sleep, and forced to kneel for hours while being questioned by interrogators who focused on their reporting of the massacre of Rohingya Muslims, rather than the documents they are accused of obtaining.
Full report at:
http://www.freemalaysiatoday.com/category/world/2018/07/30/reuters-reporter-jailed-in-myanmar-denies-collecting-secret-documents/
--------
At least 8 dead, 40 wounded, as roadside bomb hits Afghan bus
July 31, 2018
HERAT, Afghanistan: A roadside bomb hit a Kabul-bound passenger bus in western Afghanistan on Tuesday, killing at least eight people and wounding around 40, mostly women and children, officials said.
"It was a bomb planted by the Taliban to hit security forces but unfortunately it got a passenger bus," Farah provincial police spokesman Muhibullah Muhib told AFP.
The explosion happened as the bus travelled through Bala Baluk district of Farah at 4:30 am (0000 GMT), provincial governor spokesman Naser Mehri told AFP.
Photos posted on social media purportedly of the bus showed the vehicle's blackened shell and dozens of Afghan men standing at the scene.
http://www.arabnews.com/node/1348561/world
--------
Rajshahi votes peacefully but allegations of fraud persist
July 30th, 2018
Mayoral candidates of BNP and Islami Andolan Bangladesh claim there has been massive irregularities during the vote
Rajshahi City Corporation voted peacefully on Monday, as the Election Commission saw no reason to shut down or suspend polling at any polling centre.
There were no reports of violence at any of the polling centres in the northern city.
A shortage of ballot papers did cause problems at some polling centres, sources on the ground told the Dhaka Tribune. Voters complained about having to wait for hours outside the polling centres.
Balloting was temporarily put on hold at the Islamia Degree College centre in Rajshahi's Binodpur area because of a shortage of ballot papers.
However, when asked about the shortage of ballot papers, the presiding officer at the polling centre, Abdullahil Shafi, refused to comment.
"I do not want to talk about it," he said.
A long line of voters was seen at the Khademul Islam Government Primary School centre. One of the voters, Mosharraf Hossain, said he had been waiting for two hours on the same spot, with no sign of the line moving.
When asked about it, the centre's presiding officer Azad Masud said: "Security checking of the voters has been intensified as we have received information that some of them are carrying hidden cameras, which is why it is taking longer."
BNP mayoral candidate Mohammad Mosaddek Hossain Bulbul and Islami Andolan Bangladesh mayoral candidate Shafiqul Islam claimed there had been massive irregularities during vote casting.
Bulbul said BNP polling agents had been barred from entering polling centres by the Awami League men, and Shafiqul complained about vote rigging.
However, Awami League mayoral candidate AHM Khairuzzaman Liton said there had been nothing out of place and the voting had gone peacefully.
"The voting has been conducted peacefully," said Liton, who cast his vote at the Satellite Town High School polling centre. "I hope the people will elect me, but I will accept whatever their decision is."
He also requested the law enforcement agencies to ensure a peaceful voting environment across the city corporation.
Bulbul refrains from voting, claims election fraud
In a rare move in Bangladesh's politics, BNP candidate Bulbul refrained from casting his vote in protest of alleged vote rigging and conducted a sit-in demonstration in front of the Islamia Degree College polling centre.
"Not even 20% voters have come to the polling centres, but over 50% of the ballots have been cast. I have never seen an election with this much fraud," Bulbul told reporters. "I will not cast my vote, as this is not a fair election."
He further claimed BNP polling agents had been thrown out of the polling centres by Awami League men.
Sources in BNP said their polling agents could not enter Siroil Government High School polling centre until Bulbul himself went to the centre around 10:30am.
At Jatiya Tarun Sangha Government Primary School, nine of the 10 BNP polling agents were allegedly thrown out by Awami League activists.
When Bulbul went to the centre and asked the presiding officer about his agents, the presiding officer said the BNP agents had been around before and he did not know where they had gone.
Later, during a press briefing, Bulbul rejected the election and demanded that the entire Election Commission resign. "This was not a fairly held election," he added.
Islami Andolan candidate Shafiqul alleged that massive vote rigging had taken place.
"Votes were rigged at Wards 25, 26, 27, 28, 29, and 30," he told the Dhaka Tribune. "A group people entered the polling centres and put seals on the ballot papers."
Journalists barred from polling centres
Journalists were barred by police from entering some polling centres in Rajshahi City Corporation, who cited instructions from presiding officers.
Police barred Dhaka Tribune reporters at Dashmari High School polling centre in Ward 29, Upashahar Model Government Primary School centre in Ward 17, and Shishu Niketon Madhyamik Balika Bidyalay centres.
Full report at:
https://www.dhakatribune.com/bangladesh/election/2018/07/30/rajshahi-votes-peacefully-but-allegations-of-fraud-persist
--------
Mideast
Israeli Christian, Druze communities denounce 'Jewish nation-state' law
Jul 31, 2018
Opposition to a newly-adopted apartheid law that calls Israel "the exclusive nation-state of the Jewish people" has grown to include Arab and Druze minority groups as well as the Christian community in the occupied territories.
On Sunday, the Catholic Church in the occupied city of Jerusalem al-Quds condemned the "nation-state" law that cleared the Israeli parliament on July 19, The Times of Israel reported.
The Latin Patriarchate, which represents the Roman Catholic Church, said in a statement, "The law fails to provide any constitutional guarantees for the rights of the indigenous and other minorities living in the country."
"Palestinian citizens of Israel, constituting 20 percent are flagrantly excluded from the law," it added, citing an example.
"It is beyond conception that a law with constitutional effect ignores an entire segment of the population as if its members never existed," the church said. "It sends an unequivocal signal to the Palestinian citizens of Israel, to the effect that in this country they are not at home."
The legislation also violated international laws, the church said, calling on Christians to rise in protest against the legislation.
On Sunday, hundreds of Arabs and Israelis protested the law in the port city of Haifa.
The protest was joined by several lawmakers, who lashed out against the legislation, with outspoken Arab legislator Aida Touma-Sliman calling it "an Apartheid law."
The law prioritizes "Jewish" values over democratic ones, declares al-Quds the "capital" of Israel, and sets Hebrew as the official language, relegating Arabic from an official language to one with "special status."
Also on Sunday, Druze leaders met with Israeli Prime Minister Benjamin Netanyahu and President Reuven Rivlin to voice their unease at the issue.
"We want full civil equality for all residents," Rafik Halabi, mayor of Druze town Daliyat al-Karmel, told the president.
Last week, Druze leaders, including three Knesset members, filed a petition with the Israeli High Court of Justice against the legislation, calling it an "extreme" act.
Israeli commander breaks ranks
Separately, a commander with the community, whose members are subject to mandatory draft into the Israeli military, resigned in protest at the law.
He called on the Druze to end their youths' service in the military, and warned that the Israeli military will suffer greatly as a consequence of the law.
In an open letter to Netanyahu, Capt. Amir Jmall wrote, "This morning, when I woke up to drive to the [army] base, I asked myself, why?"
"After many thoughts ran through my head, I decided to let go and to discontinue serving the country, a country that has a government that takes and does not give back," he wrote.
"Continue serving the country? I do not want to continue and I am sure that hundreds more people will stop serving and will be discharged from the army following your decision, Netanyahu, that of you and your government," he continued.
https://www.presstv.com/Detail/2018/07/31/569752/Israel-law-protest-Catholic-Church-Druze-commander-Netanyahu
--------
Teens of Jerusalem Peacebuilders Gather In New Haven to Paint Welcome Billboard For Refugees
By LORI MACK
JUL 12, 2018
Over 30 Jewish, Muslim, and Christian teenagers came together on the New Haven Green Tuesday to paint a 48-foot sign welcoming refugees.
The teens are part of the Jerusalem Peacebuilders, an interfaith organization that promotes peace across religions, cultures, and nationalities.
The goal for the project was to create a visual message of tolerance and respect.
The teens worked side-by-side with local residents and city officials painting, socializing, and listening to music. But they each had a clear, and somewhat unique, vision of what the billboard represents. Malak, 16, is an American Muslim from Jerusalem.
"It's really important to make other people feel included, and let people know that New Haven and America is about including," she said. "This is what America is built upon - refugees upon refugees. So us not accepting them is just going against our principles and what built this country."
The billboard design was inspired by a photograph taken by the New York Times Pulitzer Prize-winning photojournalist Tyler Hicks of a young Turkish boy arriving on the Greek island of Lesbos in October 2015.
For Eliran, a 15-year-old from Israel, the welcoming sign is personal. His parents are Moroccan Jews who were forced to migrate to Israel.
"I just want to help, especially kids," Eliran said. "Kids have a special place in my heart, but I want to help refugees to find a warm house everywhere. And I think the U.S. is a good start. If we can be friends here, we can be friends in Israel and Palestine. So this is our example for the whole world - that we can live together."
Full report at:
http://www.wnpr.org/post/teens-gather-new-haven-paint-welcome-billboard-refugees
--------
Turkish forces 'neutralize' 46 PKK terrorists in Turkey, northern Iraq
Jul 30, 2018
Turkish military forces have "neutralized" nearly four dozen members of the Kurdistan Workers' Party (PKK) militant group when they carried out a string of counter-terrorism operations in the country's southeastern provinces as well as Iraq's northern semi-autonomous Kurdistan region.
The Interior Ministry, in a statement released on Monday, said 36 PKK terrorists were "neutralized" in counter-terrorism ground operation and airstrikes between July 23 and 30.
The statement said 18 Kurdish terrorists were killed while six others were captured. The remaining 12 surrendered themselves to Turkish authorities.
The Turkish military generally uses the term "neutralize" to signify that the militants were killed, captured or surrendered.
Meanwhile, the Turkish General Staff, in a message published on its official Twitter page, said Turkish Armed Forces conducted clean-up operations in the Metina region of northern Iraq on July 29, neutralizing 10 PKK terrorists.
PKK militants regularly clash with Turkish forces in the Kurdish-dominated southeast of Turkey attached to northern Iraq.
Turkey, along with the European Union and the United States, has declared the PKK a terrorist group and banned it. The militant group has been seeking an autonomous Kurdish region since 1984.
A shaky ceasefire between the PKK and the Turkish government collapsed in July 2015. Attacks on Turkish security forces have soared ever since.
Over the past few months, Turkish ground and air forces have been carrying out operations against PKK positions in the country as well as in northern Iraq and neighboring Syria.
Full report at:
https://www.presstv.com/Detail/2018/07/30/569706/Turkish-forces-neutralize-46-PKK-terrorists-in-Turkey-northern-Iraq
--------
Yemenis kill 4 Saudi troopers in mortar attack on bases in kingdom's Najran, Jizan
Jul 30, 2018
Yemeni army forces, supported by allied fighters from Popular Committees, have killed four Saudi Soldiers after hitting two military bases in the kingdom's southern provinces of Jizan and Najran with mortar shells.
Yemen's Arabic-language al-Masirah television network, citing unnamed military officials, announced the news on Monday, saying that the al-Ojabah base in Jizan and al-Soh base in Najran came under Yemeni mortar fire earlier in the day.
Meanwhile, the Saudi military in one of its affiliated twitter accounts confirmed the news.
Yemeni army soldiers, backed by fighters of the Houthi Ansarullah movement, also launched an attack against Saudi-led units deployed in the Baqim Mountain in Yemen's northern province of Jawf and established full control over the mountain after driving enemy force out of the area.
According to a separate report by al-Masirah, Yemeni troops inflicted heavy damage on Saudi-led forces, killing several Saudi mercenaries, mostly Sudanese.
Additionally on Monday, at least four civilians were killed and five others sustained injuries after Saudi warplanes conduced a number of airstrikes against the residential areas of al-Doreihami distinct in the impoverished country's western province of Hudaydah.
Saudi Arabia and some 20 of its allies, including the United Arab Emirates, Morocco and Sudan, launched a brutal war, code-named Operation Decisive Storm, against Yemen in March 2015 in an attempt to reinstall former Yemeni President Abd Rabbuh Mansur Hadi, a staunch ally of Riyadh, and crush the popular Ansarullah movement.
The offensive initially consisted of a bombing campaign but was later coupled with a naval blockade and the deployment of ground forces into Yemen.
The imposed war, however, has so far failed to achieve its goal, thanks to firm resistance mounted by Yemeni troops and Houthi fighters in defense of the city. The war was also launched despite warnings that it would compound the impoverished nation's humanitarian crisis.
The Yemeni Ministry of Human Rights announced in a statement on March 25 that the war had left 600,000 civilians dead and injured until then. The war and the accompanying blockade have also caused famine across Yemen.
The Saudi-led aggression has also taken a heavy toll on the country's infrastructure, destroying many hospitals, schools, and factories. The United Nations has already said that a record 22.2 million Yemenis are in need of food aid, including 8.4 million threatened by severe hunger.
Full report at:
https://www.presstv.com/Detail/2018/07/30/569729/Yemen-Saudi-Arabia-Najran-Jizan-Jawf-Hudaydah-Houthis
--------
European package to save JCPOA not ideal but good start
Jul 30, 2018
The head of the Atomic Energy Organization of Iran (AEOI) says the European package to save the 2015 nuclear deal may not be an ideal one but it could be an opening for the future.
"If the Europeans, as they have promised in the proposal, stay committed and if they really materialize what they have proposed to us… it could be a good start for a good relationship with Europe and then try to expand it further," he told Press TV on Monday.
Expressing his optimism about the Iran nuclear deal, Salehi said if the international community joins hands, the accord will be a good example for resolving international crises in the future.
"JCPOA is a deal that is in the interest of my nation, it is in the interest of the region, and it is in the interest of the international community. So I wish that this deal will stay intact and it will not be jeopardized further," the Iranian top nuclear official added.
"If it (JCPOA) fails, if it breaks down, nobody will be benefiting from that," Salehi added.
He also described the US foreign policy as confusing and said such a policy will not serve any purpose even for American people.
Full report at:
https://www.presstv.com/Detail/2018/07/30/569738/Atomic-Energy-Organization-European-package-nuclear-deal-
--------
US in no position to make human rights' judgment on other countries: Iran
Jul 30, 2018
Iran says the United States is not in a position to make biased and one-sided judgments about the human rights situation in other countries.
Iranian Foreign Ministry Spokesman Bahram Qassemi on Monday condemned a statement issued on July 26 by participants at the Ministerial to Advance Religious Freedom held in the US.
He said the statement was interference in the Islamic Republic's internal affairs and leveled allegations against the country based on "incorrect, spiteful and unreal" information.
"The US and other violators of the most natural and obvious basic human rights are not in a position to make biased and one-sided judgment about other countries with different cultures and varieties," Qassemi pointed out.
In their statement, participants at the US-hosted meeting said "as representatives of the international community, we stand together in condemning the systematic, ongoing, and egregious violations of religious freedom taking place in Iran and call on authorities to ensure religious freedom for all."
They also strongly urged "the government of Iran to cease" alleged violations of religious freedom "and ensure that all individuals – regardless of their beliefs – are treated equally and can live out their lives and exercise their faith in peace and security."
Full report at:
https://www.presstv.com/Detail/2018/07/30/569726/Qassemi-US-human-rights-Ministerial-Religious-Freedom
--------
Emirati regime too weak to start war against even one Yemeni village: Ansarullah
Jul 30, 2018
The spokesman for Yemen's Houthi Ansarullah movement has dismissed the recent belligerent remarks by the United Arab Emirates (UAE) Minister of State for Foreign Affairs Anwar Mohammed Gargash, saying the Abu Dhabi regime is too feeble to fight in a battle against the residents of a single village in Yemen let alone the entire Yemeni nation.
"The Emirati regime is notoriously too weak to wage an armed assault on a Yemeni village. Therefore, there are serious questions about their capability to launch a war against the entire Yemeni people," Yemen's Arabic-language al-Masirah television network quoted Mohammed Abdul-Salam as saying.
He added, "The United States dragged the UAE into the Yemeni quagmire. The ongoing military aggression on Yemen fully exposed the type of relationship between a colonial power and one of its pawns. This war plainly showed that the Emirati regime is nothing without the support of the US."
On Thursday, Gargash denounced Houthis after an attack on Saudi oil tankers, asserting that Yemen's strategic western coastal city of Hudaydah must be taken from members of the Ansarullah movement.
"The attack on the two Saudi oil tankers in the Red Sea reinforces the need to free Hudaydah from the Houthi … forces. The systematic attack on maritime traffic is a terrorist act, which is an expression of the uncontrollable, aggressive nature of Houthis," he wrote on his official Twitter page.
Qarqash was apparently alluding to an incident in which fighters from Yemen's Houthi Ansarullah movement targeted a Saudi warship off the country's western coast in retaliation for the Riyadh regime's deadly military campaign on the impoverished nation.
Following the attack, Riyadh announced that it was temporarily suspending all oil shipments through the Bab el-Mandeb Strait.
Recently, Yemeni army soldiers, backed by allied fighters from Popular Committees, launched an airstrike against a strategic economic target in the United Arab Emirates in retaliation for the devastating military aggression against their impoverished homeland by the so-called Saudi-led military coalition to which the UAE is an important member.
A Yemeni military source, speaking on condition of anonymity, said Yemeni soldiers and their allies attacked Abu Dhabi International Airport using a domestically-built long-endurance Sammad-3 (Invincible-3) unmanned aerial vehicle.
The Yemeni Ministry of Human Rights announced in a statement on March 25 that the Saudi-led war had left some 600,000 civilians dead and injured since March 2015.
The United Nations says a record 22.2 million Yemenis are in need of food aid, including 8.4 million threatened by severe hunger.
A high-ranking UN aid official has warned against the "catastrophic" living conditions in Yemen, stating that there is a growing risk of famine and cholera there.
Full report at:
https://www.presstv.com/Detail/2018/07/30/569694/Emirati-regime-too-weak-to-fight-battle-against-even-one-Yemeni-village-Ansarullah
--------
UN panel finds further evidence of Iran link to Yemen missiles
July 31, 2018
UNITED NATIONS: Yemen's Houthi rebels are still arming themselves with ballistic missiles and drones that "show characteristics similar" to Iranian-made weapons, a report by a UN panel of experts has found.
In a confidential report to the Security Council, a copy of which was seen by AFP on Monday, the panel said it "continues to believe" that short-range ballistic missiles and other weaponry were transferred from Iran to Yemen after an arms embargo was imposed in 2015.
Iran has repeatedly denied that it is arming the Houthis in Yemen, but the United States and Saudi Arabia have accused Tehran of providing military support to the rebels.
Recent inspections of weaponry including missiles and unmanned aerial vehicles (UAVs) used by the Houthis "show characteristics similar to weapons systems known to be produced in the Islamic Republic of Iran," said the 125-page report.
During recent visits to Saudi Arabia, the panel was able to inspect debris from 10 missiles and found markings that suggest an Iranian origin, said the report spanning January to July this year.
"It seems that despite the targeted arms embargo, the Houthis continue to have access to ballistic missiles and UAVs to continue and possibly intensify their campaign against targets in KSA (Saudi Arabia)," said the report.
The panel said there was a "high probability" that the missiles were manufactured outside of Yemen, shipped in sections to the country and re-assembled by the Houthis.
Financial support for Houthis
In a letter to the panel, Iran maintained that the missiles, which the Houthis have dubbed the Burkan, are a domestic upgrade of SCUD missiles that were part of Yemen's arsenal before the start of the war.
The experts are also investigating information that the Houthis received from Iran a monthly donation of fuel valued at $30 million. Iran has denied providing any financial support to the Houthis.
During the inspections of the missile debris, the experts mandated by the council also found power converters produced by a Japanese company and Cyrillic markings on components that suggested a Russian link.
The investigation of those findings continues.
UN Secretary-General Antonio Guterres told the council in a separate report in June that some components from five missiles fired at Saudi Arabia were manufactured in Iran but that UN officials were unable to determine when they were shipped to Yemen.
The panel has opened an investigation of seven airstrikes by the Saudi-led coalition that hit civilian buildings, a gas station and commercial vessels, in a possible violation of international humanitarian law.
The Houthis are accused of widespread and indiscriminate use of land mines.
Since 2015, Saudi Arabia has been leading a military campaign to push back the Houthis and restore the internationally recognized government to power.
Full report at:
http://www.arabnews.com/node/1348436/middle-east
--------
North America
New shocking expose: Obama administration funded al-Qaeda affiliate
31 July 2018
The Obama Administration "knowingly funded" an Islamist organization linked to al-Qaeda. This startling expose, published on the website of US magazine National Review, states that a Sudan-based terror organization was approved a grant of $200,000 by the US Treasury in 2014.
It then adds the more shocking news that even after Obama administration's officials were told that the financing unit — Islamic Relief Agency (ISRA) — is a US-designated terrorist organization, they went ahead with authorizing the release of at least $115,000 of the aforesaid grant to the Khartoum-based group in 2015.
Grants despite terror tag
It was way back in 2004, that the US Treasury Department's Office of Foreign Assets Control (OFAC) had designated ISRA, also known as the Islamic African Relief Agency (IARA), as a terror-financing organization. It had taken the decision because of ISRA's strong links to Osama bin Laden and his organization Maktab al-Khidamat (MK) since 1997. In fact, ISRA had raised $5 million for Osama bin Laden's group by 2000.
In spite of these and other evidence of linkages in the past, the magazine claims that the US Agency for International Development (USAID) in July 2014 awarded $723,405 to an international charity group World Vision Inc. working in Sudan for humanitarian purposes— out of which it surprisingly earmarked $200,000 to the sub-grantee, the infamous ISRA.
After a lot of controversy over the news of the grant of these funds to the terror funding unit, OFAC held "close collaboration and consultations with the [US] Department of State" to then take the untenable decision of issuing a license to a World Vision affiliate, World Vision International, which allowed "a one-time transfer of approximately $115,000 to ISRA in May 2015.
Call for Congressional probe
Another astounding fact in this respect is that all grantees and sub-grantees of US-government grants register for a Data Universal Numbering System (DUNS) number and with the government's System for Award Management (SAM) database. However, ISRA was mysteriously assigned a DUNS number — as recorded at the government's USAspending.gov website — that did not match with any organization in the US government's SAM database. The only listings for ISRA in this database were among the designated Sudanese al-Qaeda affiliates and branches.
The writer of the article Sam Westrop, who is director of the 'Islamist Watch' project of the Middle East Forum, states that: "It is no secret that the Obama administration sought to downplay the threat of Islamism, and even to coopt some Islamist movements to promote its agenda. In its foreign policy, the administration expressed support for Mohamed Morsi's Muslim Brotherhood government in Egypt, while domestically, the White House invited Islamists to design the government's Countering Violent Extremism program".
In his concluding remarks, he states: "[The US] Congress must investigate this question and, more broadly, where USAID is sending taxpayers' money, for ISRA might not be the only example. The House's Foreign Affairs, Oversight, and Financial Services Committees, along with the Senate Finance Committee, must examine how a designated group came to qualify for government monies, why OFAC and the State Department authorized the transfer of funds after learning of ISRA's terror ties, and which bureaucrat or political appointee was responsible for this mess".
https://english.alarabiya.net/en/features/2018/07/31/New-shocking-expose-Obama-administration-funded-al-Qaeda-affiliate.html
--------
Company hired by Qatar to sabotage US World Cup bid did PR for Assad, Gaddafi
30 July 2018
The PR company Brown Lloyd James Worldwide which Qatar hired to sabotage World Cup bid rivals, the US and Australia, has a list of interesting former clients who used the company's services to cover up their corrupt governments' conducts and 'rebrand' their names. Topping that list is Syrian President Bashar al-Assad and slain Libyan ex-President Muammar Ghaddafi.
The company was hired in 2010 by Assad, where they signed a $5000 per month contract. The strategic communications agency was able to "liaise" between Syrian first lady Asma al-Assad and Vogue, where they landed her a glamorous profile in the magazine titled "A Rose in the Desert".
The world-renowned magazine described her as "young and very chic—the freshest and most magnetic of first ladies…a thin, long-limbed beauty with a trained analytic mind who dresses with cunning understatement." It also claimed that Syria was "the safest country in the Middle East."
Vogue has since removed the article after finding out the truth about the dictator's regime and the killing of innocent civilians, but it remained available on their online site.
BLJ Worldwide was also hired in 2008 by then President Muammar Gaddafi to manage his international image. According to reports, the firm helped write speeches for him at the UN, and reached out to newspaper editors to discuss proposed edits and articles.
Full report at:
https://english.alarabiya.net/en/News/world/2018/07/30/PR-company-hired-by-Qatar-to-sabotage-US-World-Cup-bid-worked-with-Assad-Gaddafi.html
--------
Activists revive 'Muslim ban' challenge over lack of waivers
July 30, 2018
The Supreme Court may have upheld President Trump's travel ban, but several dozen Muslims are still challenging the way his administration is carrying it out, saying he's not living up to the terms he set for his own policy.
The Muslims, in a new court filing Sunday, said Mr. Trump promised there would be waivers available for people from banned countries who nonetheless showed a special reason why they should be admitted to the U.S. But those waivers haven't been forthcoming, the Muslims said.
Plaintiffs, who range from a "world-class" Syrian violinist to a number of Iranian professors or investors, say they had been initially cleared for visas to visit the U.S., but when they went to try to actually get their visas, they were denied under the travel ban.
"The blanket denials of visas to applicants from banned countries without the opportunity to demonstrate their eligibility for a waiver from the proclamation, together with statements made by defendants concerning their intent and the application of the travel ban, makes clear that defendants are targeting individuals for discriminatory treatment based on their country of origin or nationality, without any lawful justification," the plaintiffs say in their new filing.
Their case is being led by Muslim Advocates, a group that has battled Mr. Trump on immigration in general and has been one of the most vocal critics of the travel ban.
The original ban — one of the first major actions of Mr. Trump upon taking office — prohibited nearly all entry into the U.S. of citizens from seven majority-Muslim countries.
After nearly 18 months of court battles, and several revisions to the policy, the latest version applies to Iran, Libya, Somalia, Syria, Yemen, North Korea and Venezuela. For some of the countries the ban is fairly wide, covering most visitors. For Venezuela, the ban applies to government officials and their family members.
That policy was upheld by the Supreme Court in a 5-4 ruling last month, with the court citing the availability of waivers as evidence the policy is carefully crafted.
Writing in dissent, however, Justice Stephen G. Breyer said the waivers were actually a strike against the policy, because the government hadn't followed through on them.
He said during the first month the new ban was in place the State Department approved just two waivers out of 6,555 applicants. That grew to 430 waivers over the next few months, but that was still "minuscule," Justice Breyer wrote.
Full report at:
https://www.washingtontimes.com/news/2018/jul/30/activists-revive-muslim-ban-challenge-lack-waivers/
--------
As Muslim students fight for protection, some parents battle to keep Islam out of schools
July 30, 2018
By Rupa Shenoy
"Good evening. My name is Sohaila Gebaly," she said. "I'm going to 6th grade. I love school and science."
Gebaly went on to tell board members that the year before, three boys in school started calling her names. When no one stopped them, they hit her, kicked her and pushed her.
"I didn't feel safe," Gebaly said. "I told my teacher I didn't feel safe, but she didn't react to that."
Gebaly was one of several Muslim students and parents with similar stories.
Board members were supportive, pointing to a national climate of escalating tension fueled by then-presidential candidate Donald Trump's anti-Muslim comments. Activists were documenting a dramatic rise in hate crimes across the country, particularly against Muslims. The Council on American-Islamic Relations — an organization that's a prominent voice for Muslims — launched a national effort to work with schools to combat Islamophobic bullying.
San Diego is the first place where a small group of parents pushed back.
The night Gebaly and others testified, asking for more protection, board members took action, voting unanimously to develop an anti-bullying program focused on Islamophobia. Over the next few months, San Diego district staff started putting the new program together with some help from CAIR.
"There were some books that that CAIR recommended," says Mike Sullivan, an attorney for the school district. "The district vetted those. Anyone who looks at those books sees they're not advocating at all for Islamic beliefs. They're simply trying to give an understanding and an understanding of why bullying is not appropriate."
On April 4, 2017, Superintendent Cindy Marten presented a plan for the new initiative: It would create safe spaces for Muslim students; send staff and parents letters about Islamophobia; make sure calendars list Muslim holidays; and include Islamic history and culture in social studies lessons.
Kids who were caught bullying Muslim students wouldn't be disciplined with detention — schools would instead use a restorative justice method, an organized mediation technique where the accused student and alleged victim talk to repair their relationship. Again, the board voted to unanimously approve the plan.
That's when Jose Velazquez, a Navy veteran whose kids go to San Diego schools, went searching for an attorney who would listen to his concerns about CAIR.
"CAIR is creating division using religion and that's not right," he says. "Their agenda is to promote Islam in the school district, in the schools."
Velazquez didn't understand why the district needed a special new program. He says he got bullied as a kid, and his children had been bullied, and they just went to the principal and complained. That worked, Velazquez says, so it should work for Muslim kids, too.
He found a team of pro bono lawyers called the Freedom of Conscience Defense Fund who wanted to help him make his case. They filed an injunction on the grounds that the district was singling out Muslim students as a privileged religious group.
"If they're going to work with CAIR, then any other organization should have the same equal access. But we doubt that would happen," says Freedom of Conscience Defense Fund attorney Daniel Piedra. "So we think the reasonable solution would be just to have CAIR out of the schools completely."
In response to concerns, the San Diego board of education revised their earlier plans. They decided to instead create an intercultural committee, and work more with the Anti-Defamation League — a group who says its values are rooted in Jewish beliefs.
"We don't think there was anything inappropriate that they did initially," Sullivan says, but the district revised the program "to make sure that it was clear to everyone that they were not favoring any religion, and that this was an effort to prevent all bullying with regard to anyone with religious beliefs in the district."
That move by the district — taking a step away from CAIR — frustrated another group of parents who spoke at a July 11, 2017 board meeting.
"I want to thank the school board for the policy to combat Islamophobia," said parent Laura Beiser. "Given the current misinformation and fear shown by a small group of parents, it is clear that this program is much needed in our communities."
But the group of parents worried about CAIR's involvement with the district wasn't satisfied. They said people working on the revised program were still talking with CAIR. So the lawsuit continued, and it got a lot of play in the media. CAIR's attorney, Gadeir Abbas says that's part of what the Freedom of Conscience Defense Fund was trying to accomplish.
"Their theory of why San Diego district's interactions with CAIR are problematic is premised on these conspiratorial notions that CAIR is not an American organization run by US citizens ... and somehow CAIR is a nefarious group aimed at displacing American law," he says.
CAIR has never been charged with criminal activity.
"I think there is a very determined, well-organized group of organizations that have as their mission the marginalization of the Muslim community all across the US," Abbas says. "This lawsuit legitimizes the false beliefs that anti-Muslim bullying is a fiction, when in fact it's an emerging phenomenon that affects most Muslim students anywhere in the country."
Abbas says that's why CAIR's working with many students and school districts nationwide to address Islamophobic bullying.
"The San Diego case, unfortunately, might be the first of many attempts to exclude CAIR and Muslim communities from their own schools in an attempt to isolate the Muslim communities and allow anti-Muslim bullying to fester," he says.
Velazquez says that he just wants all children, including his own, to be treated the same at school.
"I got kids in school. They should not be treated differently," he says. "CAIR itself called us Islamophobics, bigots, racists. ... You know, they don't even know me. I'm Hispanic. Served my country. Every time someone says 'Islamophobia,' I think that's just another reason to cover up the real facts going on."
Sullivan says the district has always maintained that no one's being treated differently, and it works with all community groups, including religious ones.
"What plaintiffs have requested is the notion that the district not have any relationship with CAIR," Sullivan says. "They think it's inappropriate to have any relationship with CAIR because they disagree with CAIR. That is what would be inappropriate."
Sullivan says if the school district refused to have any contact with CAIR, that, in and of itself, would be religious discrimination.
Full report at:
https://www.pri.org/stories/2018-07-30/muslim-students-fight-protection-some-parents-battle-keep-islam-out-schools
--------
Democratic incumbent faces Muslim challenger in Florida House district that includes Parkland
Jul 31, 2018
In the state House district that includes Marjory Stoneman Douglas High School, Democratic challenger Saima Farooqui says incumbent state Rep. Kristin Jacobs, D-Coconut Creek, has not been a strong enough presence in the community following the mass shooting that claimed 17 lives.
"There's a huge disconnect in between the current representative and the community because most of the people really don't know that she's our current representative and post-Parkland, it was very noticeable," Farooqui said in a meeting with the Sun Sentinel Editorial Board. "When you are involved in different clubs and groups and different associations in the community, and you meet with people on a day-to-day basis, then you know better about their issues."
Farooqui cited her positions as vice president of the Coconut Creek Democratic Club, a board member of the Broward Democratic Environmental Caucus and secretary of the American Muslim Democratic Caucus of Florida as examples of active involvement that gives her a sense of the community's feelings.
"Post-Parkland" is especially important in state House District 96, which comprises an area of Broward County west of Florida's Turnpike and northeast of Coral Springs, up to the Broward-Palm Beach County line, including parts of Parkland, Margate and Coconut Creek.
The Florida Legislature was in session in Tallahassee when the mass shooting occurred, and Jacobs immediately went home to her district, along with other lawmakers who represent the area. All Democrats, they invited the leadership of the Republican-dominated legislature to tour the building where the shooting occurred.
The visit was an important first step in passing what eventually became the Marjory Stoneman Douglas School Safety Act, which contained the first gun-control provisions passed by the Florida Legislature in more than 20 years.
Gun violence is not what Jacobs had in mind when she was elected to the Legislature in 2014 after 16 years on the Broward County Commission.
In four years in Tallahassee, Jacobs has made a mark as an environmental advocate, sponsoring successful legislation to protect South Florida coral reefs and establish an interagency group to consider how to deal with the effects of climate change.
But with the Parkland shooting now in the forefront, Jacobs said she wants to push to gun violence issues, including requiring bleed kits wherever public facilities currently have defibrillators. The kits would allow onsite treatment of injuries with severe loss of blood, such as gunshot wounds.
"There are some people who think the way to get something done up there is to rattle your saber and poke leadership in the eye," Jacobs said. "And I always want to ask them, 'How's that working out for you?' "
Farooqui is one of two Muslim candidates seeking election to the state House from Broward County in a Democratic primary this year. A Muslim candidate is also running for the Broward County Commission.
Although Muslims are trying to raise their political profile, that hasn't translated to fundraising. Farooqui has raised $5,485 through July 6, the latest period for which campaign finance reports are available. Jacobs has raised $37,640 over the same time period.
Farooqui cited affordable education and creating more science and engineering jobs as top concerns.
If re-elected, Jacobs said she hopes to continue to push for environmental change. She is the Democratic ranking member on both the Agriculture and Natural Resources Appropriations and Natural Resources and Public Lands subcommittees. She cited cleaning up pollution from septic tanks, especially north of Lake Okeechobee where the runoff can create ideal conditions for algae development in the lake, as a top concern.
She also intends to push for a sexual harassment bill that was filed this year after several sex scandals in the Legislature but did not pass due to irreconcilable differences between House and Senate versions.
"I feel like I'm hitting my stride," she said. "I've learned so many ways to move things and get things done up there."
Full report at:
http://www.sun-sentinel.com/news/sound-off-south-florida/fl-reg-state-house-96-jacobs-farooqui-20180725-story.html
--------
Requirement of action against Haqqani network missing from US defence bill
July 31, 2018
WASHINGTON: The US National Defence Authorization Act (NDAA) 2019, passed by Congress this week, does not link future payments of security-related assistance to Pakistan to the country's counterterrorism efforts.
The bill, which was approved by the House of Representatives and the Senate last week, now goes to President Donald Trump for signing into a law. The bill has only one reference to the Haqqani network, which the US claims carries out attacks into Afghanistan from its hideouts in Pakistan, a charge Islamabad rejects as incorrect. It mentions the Haqqani network while talking about the ability of the Afghan security forces to defend their territory against militants.
There are 19 references to Pakistan in the document, known as the conference report, which is the joint version of both chambers of the US Congress.
The first reference comes in the section that lays out the condition for reimbursing some friendly countries for their border security operations. It notes that the US could provide security assistance to Pakistan for supporting and enhancing efforts of its armed forces to "increase security and sustain increased security along the border of Pakistan with Afghanistan".
It's not clear how much assistance the US plans to provide to Pakistan for these operations. Some media reports suggested that the amount has been reduced to $150 million from $350 million last year and $700 million a year before.
Other reports, however, suggested that the Trump administration retained $350 million for 2019 as well. The conference report, however, makes it clear that the goals and desired outcomes of each such operation or activity have to be "established and agreed upon in advance by the United States and Pakistan". It also requires a bilateral process to verify the achievement of the goals and desired outcomes, as agreed.
The bill also requires Pakistan to actively coordinate with Afghanistan on issues relating to border security. The US Secretary of Defence is required to provide a quarterly report to Congress about Pakistan's compliance with the goals and objectives of this assistance.
One section urges Pakistan to release Dr Shakil Afridi, who is praised as "an international hero" for helping the US find Osama bin Laden in a hideout in Abbottabad.
Diplomatic observers in Washington said the reduction in reimbursement was not specific to Pakistan. The NDAA 2019 had reduced total global Coalition Support Fund (CSF) authorisation to $350 million from which Pakistan may receive up to $150 million as reimbursement for border-security operations, not CSF. The remaining $200 million will be "available" to reimburse Pakistan or other nations as CSF.
Anish Goel, a former staffer of the Senate Armed Services Committee, told The Hindustan Times newspaper that NDAA 2019 "gets rid of the certification requirements for Pakistani action against the Haqqani network, and also gets rid of the authority to reimburse Pakistan for counterterrorism".
Full report at:
https://www.dawn.com/news/1424001/requirement-of-action-against-haqqani-network-missing-from-us-defence-bill
--------
Europe
Report Highlights Muslims' 'Persecution' Fears In Greater Manchester
30 July 2018
There is a "genuine fear" that the government's counter-terrorism strategy is targeting Muslims in Greater Manchester, according to a new report.
A Shared Future was commissioned by the region's mayor Andy Burnham after the Manchester Arena attack in May 2017.
The report said a lack of information about the Prevent scheme had led to a "fear of persecution" among Muslims.
Security Minister Ben Wallace said the biggest challenge to Prevent was "inaccuracies" in perception.
Prevent's critics claim it "disproportionately targets" Muslims.
Prevent is part of the government's counter-terrorism strategy and is designed to support people at risk of carrying out terrorist activities.
The report was set up to consider how to tackle extremism, social exclusion and radicalisation across Greater Manchester in the wake of the Arena attack on 22 May 2017, which killed 22 people.
It said there was "no causal pathway that leads to extremism" and it was "unwise" to attempt to identify vulnerable groups.
It also recommended there should be an effort to move Prevent away from police and law enforcement to the safeguarding of people at risk of radicalisation.
Mr Burnham said he wanted to "challenge false perceptions" of Prevent despite previously saying it should be scrapped.
Manchester Arena suicide bomber Salman Abedi was not known to the Prevent scheme, Greater Manchester Police had previously said.
However, two people who knew him while he was at college made separate calls to an anti-terrorism hotline about his extremist views.
'Division and alienation'
The report from the Greater Manchester Preventing Hateful Extremism and Promoting Social Cohesion Commission said the current strategy was "vital to community safety" and "vulnerable people were being safeguarded".
But it said much of the positive work "was not being appropriately disseminated into communities".
The mayor said Prevent was "working well" in many areas but he accepted the need to provide more information about it.
Prevent has been backed by senior police figures, but criticised by some who said it was "counter-productive".
Siema Iqbal, a Manchester GP who is the co-founder of Advancing Voices of Women Against Islamophobia, said it was "almost offensive" to suggest Muslims were critical of Prevent because of a lack of understanding.
She said the Muslim community was "being disproportionately targeted by a strategy that has repeatedly been shown to be counter-productive".
In 2016, Mr Burnham, then shadow home secretary, called for a cross-party review of the strategy, The Guardian reported.
Shortly after the Manchester attack, he said he "didn't back away" from the comments, saying Prevent had led to "a sense of division and alienation" among some British Muslims.
https://www.bbc.co.uk/news/uk-england-manchester-45005029
--------
Extremism Within Muslim Countries Serious Issue: Britain's Counter-Extremism Commissioner
Murtaza Ali Shah
July 31, 2018
LONDON: Britain's Pakistani origin counter-extremism commissioner Sara Khan has said that religious-motivated extremism within the Muslim communities is a serious issue, and it will be dealt at any cost to make Muslim communities safe and secure.
In an interview here coinciding with the launch of an evidence gathering programme with the aim of producing an in-depth report on how to confront all forms of extremism from all communities, Sara Khan explained the role of the Commission for Countering Extremism (CCE) to deal with the problem of extremism within the communities and the far-right threat.
The British Pakistani campaigner, who was appointed this year in January in her role by the Home Office, said she has been vilified for speaking out against extremism and terrorism, but it was her resolve to continue highlighting the threats that exist and why its important to deal with these challenges.
The counter-extremism commissioner told this reporter that the CCE, which she now leads, was set up after five incidents of terrorism last year. She said the commission has been set up to "build our understanding of extremism and to look at the harm it has caused".
She said: "We are engaged in an intensive evidence gathering drive because we want to produce a comprehensive study helping us to understand the scale of extremism in our country and the harm its causing to the communities, to our families, to young people, to our society, to understand the tactics of extremists and to look at what should be the response of counter extremism experts. Are we doing enough to counter extremist threat? We are embarking on a study to determine all of this and its findings will be published next year."
Since January, Sara Khan has visited 10 towns and cities and spoken to 300 experts, women groups, youth and faith leaders in her quest to understand the problem. "Everywhere I went to the communities are concerned about extremism; on the one hand, they talk about far-right extremism and extremists as mosques have been attacked, there has been a rise in hate crimes and also there has been Islamist extremism within our communities as well and the challenge that it brings. I have been speaking to mothers who have been telling us that their children are being groomed into extremism and that they have been targeted and being drawn into it.
These are the challenges we have to look at, we have to look at how we can protect women rights, how we can protect human rights, this is where extremist threaten; they don't believe in diversity and pluralism. I want to help people and help communities to challenge extremism and do more to support those who are challenging it, and we know that Muslims in this country are diverse. I have spoken to members of Hindu and Sikh communities; I am very keen to look at all forms of extremism because that way we can come together collectively to challenge all forms of extremisms," explained the commissioner. After her appointment in January, Sara Khan faced immediate calls to quit from some Muslim groups and politicians because of her support for the Home Office's prevent counter-terrorism strategy, but Sara Khan said that she will continue and will not be bothered by the politics around the issue. She said that there are two sets of people who were worried about her appointment; those who were concerned about the commission and its mission and those who are scared of the agenda of the counter extremism commission.
"I had a very constructive meeting with Sayeeda Warsi and with the free speech alliance. These meetings were constructive and useful. Then there are those people who are scared of the agenda against extremism. It's for sure that I will be actively exposing and highlighting extremism," said Sara Khan.
Full report at:
https://www.thenews.com.pk/print/348665-extremism-within-muslim-countries-serious-issue-sara
--------
Muslim candidates band together in Michigan
By David Weigel
July 30
DEARBORN, Mich. — The crowd at the first #MyMuslimVote rally was bigger than it looked, a few hundred people clustered on one side of a soccer pitch. The attendees had spent the afternoon getting henna tattoos, sampling from food vendors and registering to vote — often under the watchful eye of candidates who want their support.
It had a low-key feel, until speakers took the stage and began explaining the stakes of the 2018 midterm election. Linda Sarsour, a co-founder of the national Women's March, reminded the crowd that two Muslim women are running in winnable congressional primaries, and a Muslim man has a shot at being elected governor.
"I don't want you to think that you guys are just one state, one people," Sarsour said, as several security guards looked on. "People across this country — immigrants, undocumented people, black people, people who feel intimidated and silenced, you have an opportunity to show those people that democracy still works in America."
On Aug. 7, Michigan Democrats will vote in primaries that have become, simultaneously, tests of the party's progressive insurgency and tests of whether Muslim candidates can win.
Former state legislator Rashida Tlaib and Obama administration official Fayrouz Saad are competing for a deep-blue seat in Detroit and a GOP-leaning seat in the suburbs. Abdul El-Sayed, 33, a gubernatorial candidate backed by Sen. Bernie Sanders (I-Vt.), has leaned into identity to explain why the party's establishment is afraid of him.
"They say: Abdul, you're a little bit young. You're a little bit brown. You're a little bit Muslim," El-Sayed says in his stump speech.
Each candidate, as well as some progressive challengers down the ballot, is working to mobilize an electorate that swung decisively toward Democrats after 2001, but has struggled for representation. Two states — Indiana and Minnesota — have sent Muslims to Congress. Michigan, with at least 115,000 Muslims registered as Democrats, has not.
"If we're going to be real, we come from a legacy of oppression," Mohamed Gula, the executive director of Emerge USA, said at a weekend conference of Muslims in Dearborn.
All of this year's Muslim Democrats in Detroit are running to the left. Dearborn broke for Sanders in the 2016 Democratic presidential primary, as the senator won an upset victory. But in the general election, the overall vote in Wayne County fell by 35,417 compared to 2012 — more than three times as large as the overall margin by which Hillary Clinton lost the state.
Abraham Aiyash, a Democrat running for state Senate this year from Wayne County, said that he saw some of that falloff himself. It wasn't just that some Muslim voters were skeptical of Clinton's tenure as secretary of state — it was that "they didn't think Trump could win." The cold splash of reality that came that year had galvanized Muslim voters, he said; his campaign had registered more than 1,500 voters alone.
On Saturday, Aiyash campaigned alongside El-Sayed, whose campaign has made his religion and his roots — he frequently talks of "my father's native Egypt" — a selling point. Last year, when he began his long-shot bid, much of the attention that came his way focused on Michigan's opportunity to elect a Muslim governor. El-Sayed was called "the man running to be US's first Muslim governor" by Al Jazeera, while Politico asked whether the Midwest was "ready for a governor named Abdul."
El-Sayed has also suggested that his faith has kept Democrats away from his campaign — which promises statewide single-payer health care, a $15 minimum wage and rural broadband. In an interview Monday night on HBO's "Vice News Tonight," El-Sayed makes some of the points he made in a recent conversation with The Washington Post, that party elites warned that his religion would make him unelectable.
"I literally had, I had, let's just say, very powerful people who call a lot of shots in the party sit me down and say: We think you're great," El-Sayed told Vice. "You just, you know, it's not that we're racist. It's just that we think people outside of Southeast Michigan are racist and so you can't win."
In the race's final weeks, El-Sayed has received far more media attention than the longtime front-runner, Gretchen Whitmer, a former state Senate leader who would be Michigan's second female governor. On Saturday and Sunday, a large group of reporters, national and international, followed El-Sayed and Alexandria Ocasio-Cortez, a Democratic congressional candidate in New York, to rallies and speeches across Michigan, where both made the argument that party elites had been wrong about who could and could not win.
"[This] isn't the year that we get our first Muslim woman to Congress — it's the year that we get our first class of Muslim women," Ocasio-Cortez said in Dearborn.
But at one press scrum, in Detroit, a reporter tossed El-Sayed a question about U.S. policy in the Middle East, and he demurred. "I'm running for governor of Michigan," he said. Saad and Tlaib, the candidates for Congress, have eagerly engaged on those questions — especially Tlaib, who would join Rep. Justin Amash (R-Mich.) as the second Palestinian American in Congress. At a forum at a Detroit synagogue on Friday night, she told Jewish voters that she wants more integration between Jews and Muslims in Israel.
"We need to be much more honest about the fact that the walls are not working," Tlaib said in an interview. "We need to be honest about the dehumanization on both sides, frankly. And more importantly, we need to be not choosing a side. What I bring to the table, growing up in a Palestinian American household, and coming to Detroit, is an understanding that there's so much comparison between what happened there and what happened to African Americans here."
Tlaib, who would be all but certain to join Congress if she won her primary — no Republican is competing for the Detroit-based seat — had the clearest path to victory of any of this year's Muslim candidates in Michigan. All of the candidates were described, by their allies, as uniquely positioned to oppose the Trump administration.
Full report at:
https://www.washingtonpost.com/news/powerpost/wp/2018/07/30/muslim-candidates-band-together-in-michigan/
--------
Pope tells moral theologians of the need to build bridges of fraternity
By Robin Gomes
Jul 31, 2018
Pope Francis is encouraging Catholic men and women in the field of theological ethics to be passionate about dialogue and networking in order to remove the walls of division and build bridges of fraternity everywhere in the world.
The Pope's encouragement came in a message to participants in a 2-day conference in Sarajevo, Bosnia and Herzegovina. on the theme, "A Critical Time for Bridge-Building, Catholic Theological Ethics Today." Some 500 Catholic moral theologians from 80 countries are attending the July 26-27 meeting, organized by the Catholic Theological Ethics in the World Church (CTEWC) network.
Commenting on Sarajevo, the Pope said that in today's environment of tension and division marked by fear and forms of regression, the city of bridges calls for the need to build new paths of closeness between peoples, cultures, religious, visions of life and political orientations.
Ecological challenge
The Pope noted that certain aspects of the ecological challenge can create grave imbalances not only in terms of the relationship between man and nature, but also between generations and people. In this regard, he said, the issue of migrants and refugees can foster ethical and theological reflection, even before inspiring suitable pastoral attitudes and responsible and carefully planned political policies.
In this backdrop, the Holy Father said individuals and institutions need to assume a renewed leadership to help find and put into practice a more just way for all of us to live in this world as sharers in a common destiny.
Network of persons
Full report at:
https://www.vaticannews.va/en/pope/news/2018-07/pope-francis-message-conference-theological-ethics-ctewc-sarajev.html
--------
IS claims deadly attack on tourists in Tajikistan
JULY 31, 2018
The Islamic State jihadist group on Monday claimed an attack that killed four foreign cyclists in Tajikistan in what was originally reported as a hit-and-run road accident.
The victims, two Americans, a Swiss and Dutch citizen, were struck by a car and attacked on Sunday while on a popular cycle route in the Danghara district, about 100 kilometres (60 miles) south of the capital Dushanbe.
"(The suspects) had knives and firearms," said interior minister Ramazon Hamro Rahimzoda, adding that two other cyclists, Swiss and Dutch nationals, were injured and hospitalised.
"One tourist received a knife wound and is being given medical assistance. The victim's condition is stable," said Rahimzoda, without mentioning a nationality.
Another cyclist with the group, a French citizen, escaped without injury and had been questioned by police, he added.
In a statement published Monday, IS said that a "detachment from the soldiers of the Caliphate" had carried out the attack against "citizens of Crusader coalition countries," according to intelligence monitor SITE.
Five people suspected of involvement in the attack were killed by police and at least four suspects detained, according to separate police accounts.
Among the dead suspects was 21-year-old Jafariddin Yusufov, the owner of the Daewoo Leganza car that struck the tourists on Sunday afternoon, local officials said.
A Belgian cyclist who said he arrived at the scene after the attack told Flemish broadcaster VRT that he saw "several cyclists on the ground. Some were completely shocked".
"When I asked what had happened, the first thing someone said was that they had been hit by a car and that the people who had come out had started stabbing them with knives," cyclist Nicolas Moerman said.
The Dutch foreign ministry told AFP on Monday that one of the dead tourists was a 56-year-old man who was cycling the route with his 58-year-old partner, without providing names.
The cyclists were travelling on a road that adjoins the famous Pamir Highway, a Soviet-era road surrounded by stunning mountain scenery.
Gillian HANDYSIDEMap locating Danghara in Tajikistan where four tourists were attacked and killed, according to police.
"We can't say if it is an act of terror," Rahimzoda said earlier on Monday.
"We are considering all possibilities," he added but said that "state institutions are being guarded… to provide safety for citizens and tourists".
The US embassy in Tajikistan confirmed that two of the fatalities were American citizens.
The Swiss foreign ministry on Monday told AFP that Switzerland "calls for every effort to be made to shed light on this serious incident".
"If it is established that this was a terrorist attack, it will be noted in (Switzerland's) future travel advice for Tajikistan," said ministry spokeswoman Silvia Muller while noting that the motive for the attack was still unclear.
A French diplomatic source told AFP that the country's embassy in Tajikistan was "engaged in facilitating the return" of the French survivor of the attack.
Tajikistan's President Emomali Rakhmon sent notes of condolence to the US, Switzerland and the Netherlands over the deaths and called for increased security throughout the country at a special meeting on Monday with the country's law enforcement chiefs.
Tajik authorities had declared 2018 "a year of tourism" in the former Soviet republic.
In June, Rakhmon said that state officials found to be soliciting bribes from tourists would be deemed "traitors" and fired from their positions.
Visitor numbers had quadrupled in the first five months of 2018 compared the same period last year, he said.
Full report at:
https://dailytimes.com.pk/275856/is-claims-deadly-attack-on-tourists-in-tajikistan/
--------
Russian envoy rejects Israel demand to expel Iran from Syria
31 July 2018
Russia's ambassador to Israel on Monday described as unrealistic Israeli Prime Minister Benjamin Netanyahu's repeated demands that Iranian forces and their allies be expelled from Syria.
Russia is a key backer of Syrian President Bashar al-Assad's regime alongside Iran and Lebanon's Hezbollah -- two sworn enemies of Israel.
"The Iranians are playing a very, very important role in our common efforts to eliminate the terrorists in Syria," Anatoly Viktorov said in English-language comments on Israel's private Channel 10 broadcaster.
"That's why, for this period of time, we see as non-realistic demands to expel any foreign troops from the territory of the Syrian Arab Republic," he said.
Anatoly said Iran's presence in Syria was "fully legitimate according to UN principles".
Asked about the possibility of Russia expelling the Iranians from the war-hit country, the ambassador replied: "No, we cannot force them".
Viktorov said Russia was "not okay" with the use of "force" by the Israeli government.
Air attacks often attributed to Israel have repeatedly struck Iranian targets or those of its ally Hezbollah in Syria.
The diplomat continued by saying Russia "cannot persuade Israel how to proceed" in Syria.
"It is not up to Russia to give (Israel) freedom to do anything or to prohibit anything," he said.
Last Monday at a Jerusalem meeting between Netanyahu and Russian Foreign Minister Sergei Lavrov, Russia offered to keep Iranian forces 100 kilometers (62 miles) from Syria's border with the Israeli-occupied Golan Heights, according to an Israeli official.
The ambassador refused to confirm information about the deal.
Netanyahu in recent months has increased demands that Iran withdraw from Syria and not entrench itself militarily.
While it has been careful not to be dragged into the conflict next door, Israel has on several occasions struck Syrian territory -- including convoys of weapons it says are bound for Hezbollah.
Israel has been on high alert since June 19, when Syrian government forces launched an offensive to retake southern Daraa and Quneitra provinces, the latter of which includes the divided Golan Heights.
Full report at:
https://english.alarabiya.net/en/News/world/2018/07/31/Russian-Envoy-rejects-Israel-demand-to-expel-Iran-from-Syria.html
--------
Southeast Asia
Indonesian court disbands Islamic State-linked group for 'terrorism'
Jul 31, 2018
JAKARTA: An Indonesian court disbanded the country's largest Islamic State-linked group, Jemaah Ansharut Daulah (JAD), on Tuesday for "conducting terrorism" and affiliating itself with the foreign militant organisation.
Senior JAD figure Zainal Anshori stood up and shouted "Allahu akbar" when the judge delivered the ruling in the heavily guarded courtroom in Jakarta, capital of the world's largest Muslim-majority country.
JAD is a U.S.-listed terror organisation with thousands of followers in Indonesia.
Its leader, Aman Abdurrahman, was sentenced to death last month for masterminding from his jail cell a string of deadly attacks.
The ban and recent changes to anti-terrorism laws will empower police to detain JAD sympathisers, experts say. Police have long complained of not being able to act against the group.
JAD has been linked to attacks across the country in recent years, including suicide bombings in the city of Surabaya in May that killed more than 30 people.
The group's lawyer Asludin Hatjani said JAD would not appeal the verdict.
https://timesofindia.indiatimes.com/world/rest-of-world/indonesian-court-outlaws-islamic-state-linked-group/articleshow/65207803.cms
--------
Thinking Muslims and the denial syndrome
July 31, 2018
By Moaz Nair
I refer to Amer Aqel Amer Nordin's response to my piece dated July 22, "Why Muslims are failing in society".
I stand by my opinion that dogmatism, orthodoxy and fundamentalism among some Muslim scholars, leaders and preachers have attributed to Muslims' failing in society. Muslims are failing because they have rejected the reasoning and inquiry that was the bearing used by Muslim scholars of the past.
There are statistics to this effect if one were to glance through research papers and articles on the achievements of the Muslim world as compared to the non-Muslim world. One can also look into the observable facts – phenomenological observation, they say in social science – that many Muslim countries are failing themselves with unending wars, illiteracy and poverty. And yet they claim to be following the right teachings of Islam based on the Quran and hadith.
We must be adamant, or are we just reluctant to accept the fact that we need to reform in order to be seen as a successful people in society?
There has to be a paradigm shift in the way Muslims approach knowledge. As Muslims, we should not have the opinion that everything about ourselves and our practices is hunky-dory. If truth be told, failed Muslim countries are putting up a false front to the real unpleasant concerns affecting them. This denial syndrome is not going to make Muslims any the wiser.
Muslim philosophers
It's a fact that Sufis such as Ibn Khaldun, Ibn Sina, etc, were great Muslim philosophers and many were free thinkers. One only has to do a quick Google search on this subject and read up the narratives, biographies and writings on these philosophers to prove my point.
They were lovers of knowledge and they rejected dogmatism. They were generally influenced by the thoughts of Greek philosophers. Persians (not Arabs) then were seekers of worldly knowledge who travelled far beyond their state.
Most Muslims fear accepting this fact. They fear that their thoughts of these people as Arabs and not Persians and the fact that they were philosophers will make their pre-conceived understanding of these figures crumble. This is not the way we approach knowledge in the 21st century.
By the way, free thinkers may not necessarily have no faith in God. They are just against dogmatic thinking. They adopt reasoning, inquiry and thinking in their approach to seeking knowledge.
I am not a proponent of Sufism. In truth, though, in some Muslim countries, persecution of Sufis and Sufism has included the destruction of Sufi shrines and mosques, suppression of orders, murder, and discrimination against adherents. Turkey, for instance, banned all Sufi orders and abolished their institutions in the early 20th century after Sufis opposed their new secular order.
Post-revolution Iran has harassed Shia Sufis, reportedly for their lack of support for the government doctrine that the supreme Shia jurist should be the nation's political leader.
In most other Muslim countries such as Pakistan, attacks on Sufis and other sects, especially their shrines, mosques and burial grounds, have come from adherents of puritanical schools of thought.
Schools of thought
There is no denying that the majority of Muslims in this country belong to the Sunni school of thought. One should also be aware that there are Muslims in this country who belong to other schools of thought. Even the Salafi/Wahhabi school of thought is creeping into the Muslim community here with the help of some preachers and sectarian scholars.
And of course, there are other Muslim groups too. This happens in almost all Muslim countries. We have to accept this manifestation, though some of their teachings can be detrimental to society.
I agree that "Islam looks forward, not backwards". Islam practised in the 21st century should of course be forward looking in life, and Muslims should not just be contented in delving into thoughts of the hereafter. There's nothing wrong with glorifying God's scriptures and the past, but this is not enough.
Muslims must prove to themselves that they can move forward in life just like the many successful non-Muslim nations. For this reason, Muslims have to make reforms to the ways they approach religion and knowledge so that their practice is relevant in the 21st century. Otherwise, they will be left behind.
I don't deny the fact that there are many verses in the Quran that advocate exploring, learning and thinking. The problem with many Muslims these days is that they are more obsessed with rituals than looking into the virtuous teachings of the Quran – that is in part, to seek knowledge and become thinking Muslims. As a consequence, they are left behind when it comes to the pursuit of knowledge and this phenomenon can be seen in almost all Muslim countries.
There are verses in the Quran that give high respect to women and also state that slaves of those days should be freed by Muslims in various circumstances. Muslims have and should abide by this.
Muslim preachers today should not preach the "unpleasant" norms that were accepted in the 7th century. Slavery, for instance, is against human rights. Prisoners of war must be given due respect, be they women or men.
Slave women should not be turned into "sex objects", as practised by some extremist groups such as the IS in the name of religion, who justify their acts by referring to the Quran or hadith. We are now living in the 21st century and no longer in the 7th century.
Controversial preachers
As mentioned in my article, it has been quoted – the interpretation by a controversial Indian preacher from overseas now residing in the country – "… that Muslims have the right to sex with their female slaves where he referred to slaves as 'prisoners of war'."
The main reference he cited is verse 23:1-6 in the Quran. It reads: "And successful are the believers who guard their chastity… except from their wives or those that their right hands possess."
A controversial high-level Saudi jurist, also a Salafi, Shaykh Saleh Al-Fawzan, was quoted to have said in a lecture, "Slavery is a part of Islam. Slavery is part of jihad, and jihad will remain as long there is Islam." He dismissed Muslims who believed otherwise as ignorant and blind followers.
Another prominent Saudi Salafi cleric, Saad Al-Buraik, was quoted to have urged Palestinians "to enslave women of the Jews".
Unfortunately, these are people who read and understand the Quran and hadith and yet come up with weird decrees of this nature for present-day consumption. This really baffles the minds of intellectuals and thinkers of the 21st century.
Thinking Muslims would not be misguided by elements of terrorism and sex slavery. No sane mind in the 21st century would accept terrorism or sex slavery. Preachers of these distorted precepts based on their literal understanding of the scriptures must be reined in before people out there are influenced by them.
Surprisingly, there are still Muslim preachers in this century who believe that Muslims have the right to have sex with their slave prisoners and also terrorise others not of their own faith, when this is against 21st century norms.
Let me again emphasise here that no doubt, slavery was a mainstay of life in Islamic Arabia and the surrounding lands in the 7th century – before and after. It was in this social milieu that Islam emerged. And it was in these circumstances that sex slaves were permitted.
Freedom to practise
There is no dispute that Malaysian Muslims and most Muslims of the world follow the Sunni practice, with the Quran as the main source of guidance and hadith as a supplementary source of review.
However, Muslims should be given the latitude to follow other schools of thought peacefully if they wish. The Quran is the main source of guidance for all Muslims despite their adherence to their respective sects.
Muslims should be allowed the freedom to practise Islam the way they choose as long as they are tolerant of one another's opinions and are able to critically dissect issues with an inquisitive mind using reason and understanding.
As for the hadith, I have said that this has always been a contentious point among many Muslims. Nevertheless, I have not suggested that the authentic hadith be rejected.
There's no doubt that Malaysia is a Muslim-majority country despite claims of us being a secular state. However, the people are allowed to practise their own faiths peacefully. Being the Muslim majority does not mean that our ideas and opinions must be trapped in 7th century culture and we should keep on living in denial. Muslims cannot be static in their thinking if they want to move forward in life.
Muslims should not stop other Muslims from giving their ideas or opinions, either. And Muslims should learn to accept differences of thoughts and opinions in others. Only this way can Muslims thrive in today's world. Having a conformist mind without accepting new ideas and venturing into the realm of the 21st century will not make Muslims any the wiser.
There's no intention of misguiding Muslims in this context. Muslims should have an open mind and be able to accept criticism. Muslims cannot live in a cocoon, thinking that all is already well. They have to accept the fact that they are failing in many fields of life and cannot make headway in some countries because of our stagnancy in thinking and refusal to acknowledge our weaknesses.
This is the problem with our society. We fear the truth and would want to remain outmoded in our outlook. We just cannot accept new ideas and new approaches to knowledge.
I doubt that this article is misguided or misguiding the thinking Muslims. Thinking and educated Muslims will appreciate new ideas put forward by others, and they are given all the wisdom to accept or reject opinions of others without going to war.
I am not denying the fact that there are many Muslims who have made it in life, who are kind and compassionate and have contributed a lot to mankind. They belong to the farsighted, rational and thinking cohort of people. These are those who use their intelligence to trek forward. And we need more people of this kind among Muslims.
Full report at:
http://www.freemalaysiatoday.com/category/opinion/2018/07/31/thinking-muslims-and-the-denial-syndrome/
--------
3 protests that spell victory for the rakyat
July 31, 2018
By A Kathirasen
There have been at least three street protests in the past ten days. All of them were peaceful. The protesters came, they shouted, they left.
Police did not use force, or did not need to use force, to break up any of the three gatherings.
On July 20, about 300 Muslims protested after Friday prayers at the Masjid Jamek Shaik Eusoff in Jalan Macalister, Penang, against Penang Deputy Chief Minister II P Ramasamy's call for controversial preacher Zakir Naik of India to be sent back if India were to request for Naik's extradition.
They also claimed that Ramasamy had links with the now defunct Liberation Tigers of Tamil Eelam (LTTE), which has been listed as a terrorist organisation by about 30 countries, including Malaysia. The LTTE was defeated in 2009 by the Sri Lankan government with the aid of several nations. Ramasamy says he was helping the peace process.
A week later, on July 27, two opposing groups – one supporting Ramasamy and the other against – gathered at Komtar in Penang. The supporters were non-Muslim Indians. Those against were Muslims.
It was a potentially dangerous mix. Religion and race were at play. However, there was no violence, as the protesters dispersed peacefully after engaging in a shouting match.
On July 28, almost 2,000 Malays gathered at Kampung Baru in Kuala Lumpur to protest what they perceived as a threat against Malay and Muslim interests in the nation because of the Pakatan Harapan (PH) government's policies.
The speakers claimed that Islam and Malay rights were in danger. Many in the crowd were unhappy with the appointments of non-Muslims to three top positions recently: Tommy Thomas as attorney-general, Richard Malanjum as chief justice and Liew Vui Keong as minister in the Prime Minister's Department in charge of law.
The crowd later dispersed peacefully.
As usual, at all three gatherings, policemen – both uniformed and in plainclothes – were in attendance.
Deputy Inspector-General of Police Noor Rashid Ibrahim expressed happiness at the way the Kampung Baru protest went. He said: "We tried to ease the organiser's business and co-operate with them. This is the kind of gathering we want and hope to see in the future. We will help any such gathering and we hope that organisers will follow the rules and regulations that have been set."
I am happy with this new attitude of the police. It augers well for democracy. I am also satisfied with the way the crowds at all three protests handled themselves. It augers well for democracy, too.
Compare this with protests and gatherings before the May 9 general election. The authorities threw all sorts of obstacles in the way of protest organisers. And organisers of protests in the past had almost always complained that police were not helpful.
Most readers would recall the many incidents where police fired tear gas and water cannons, used batons, or arrested protesters.
The Malaysian Human Rights Commission, or Suhakam, lawyers groups and NGOs have over the years spoken up against attempts to frustrate citizens' right to protest. In fact, after the Bersih 5 rally for free and fair elections and the Red Shirts rally to oppose Bersih in November 2016, Suhakam reminded the police that any attempt to prevent peaceful assemblies was unconstitutional.
At least 14 people were arrested, including Bersih chairman Maria Chin Abdullah and Red Shirts leader Jamal Md Yunos, in the opposing rallies in Kuala Lumpur.
A year earlier, a day before a Berish 4 rally, then home minister Ahmad Zahid Hamidi banned all items related to the rally. This included the ridiculous ban on the wearing of yellow-coloured t-shirts with Bersih 4 on it in any part of the country. Such materials, the authorities stated, were "likely to be prejudicial to security" and to "national interest".
Remember, 29 people were arrested on May 1, 2015, during an anti-goods and services tax protest in Kuala Lumpur?
Remember, 589 people were arrested after tear gas was fired and water cannons used to break up a rally protesting the Internal Security Act in Kuala Lumpur in August 2009?
Remember, 1,401 people were arrested in July 2011 after police fired tear gas to break up a protest against the government of Najib Razak?
Earlier, in November 2007, police fired tear gas and water cannons, and arrested more than 130 people when protesters led by Hindraf tried to hand over a memorandum on the treatment of Indians to the British High Commission in Kuala Lumpur in November 2007?
All that happened during the rule of the Barisan Nasional.
So, those who participated in the recent protests should be happy that the PH government is different, that it is allowing people the freedom to gather and protest – a fundamental right of all citizens.
They, and we, should be happy that the police are adopting a new, and better, approach in line with the democratic policy of the new government. The job of the police is not to place impediments or break-up peaceful protests; rather, they should facilitate demonstrations so that there is the least disruption in the normal cycle of everyday life. However, they should be alert and act against any troublemaker.
So, there is greater space for freedom today under the PH government. It is incumbent upon those who wish to protest to ensure they do so peacefully. Both protesters and the police should work together to ensure that citizens get to exercise their rights, but without causing chaos.
Full report at:
http://www.freemalaysiatoday.com/category/opinion/2018/07/31/3-protests-that-spell-victory-for-the-rakyat/
--------
Disagreement over atheism at forum on religious tolerance
31 July 2018
PUTRAJAYA, July 31 — Panellists at the "Religious Tolerance and New Malaysia" forum organised by interfaith NGO Projek Dialog exchanged opinions over the right to profess no religion in the county.
Isma vice-president Aminuddin Yahya said that despite Malaysia's social status as a tolerant Muslim nation, atheism is still not permitted in Islam.
"I had discussed earlier that a framework for religious tolerance is needed, which originates from divine inspiration rather than man-made ideals.
"Per this framework, atheists should be counselled and given proper guidance. Yet when they push for their so-called human rights, it is another thing altogether. Such things would render them largely unacceptable and viewed as alien," he said.
In contrast, lawyer Syahredzan Johan advocated that atheists have a place in the new Malaysia just as everyone else did.
"To me, freedom of religion also means freedom to not believe (in any faith) Just as the right to have an opinion means the right to have no opinion if you so choose," he said.
Syahredzan also extended this to individuals or groups who who followed schools of Islam beyond what is officially recognised here.
"The Constitution defines Islam as the federal religion but it does not specify if this solely refers to Sunnis, so broadly speaking it can possibly encompass Shi'as and Ahmadiyyas as well. Whatever the case I feel there needs to be some sort of harmonisation for Malaysians to be able to live peacefully among each other," he said.
On her part social activist and lawyer Siti Kasim said Malaysia would be better off if religion and politics could be separated.
Full report at:
https://www.malaymail.com/s/1657587/disagreement-over-atheism-at-forum-on-religious-tolerance
--------
Lawyers group claims attempt made to 'indoctrinate' court officers, registrars
31 July 2018
KUALA LUMPUR, July 31 ― Not just lower court judges but judicial officers and registrars at the Palace of Justice in Putrajaya were ordered to attend "propaganda" courses organised by the National Civic Bureau (BTN) prior to the May 9 general election, Lawyers for Liberty (LFL) claimed today.
The group's adviser N. Surendran said there were new documents to suggest that there was a bid to "indoctrinate" Palace of Justice staff as well as court officers from the Kuala Lumpur and Shah Alam courts in the training programme that was held between March 23 and 25 at Kem Bina Negara, Tanjung Rhu in Selangor.
"The rot, thus, runs deeper than we had previously suspected; it is not just session court [sic] judges, but the entire court system that appears to have been targeted for BTN's propaganda," he said in a statement.
"Those who were forced to attend the course have informed us, among other things, that it was impressed upon them that it was important to maintain the BN in power as government," he added.
The BTN, created in 1974 as a research unit under the Youth Ministry, was later renamed and parked directly under the Prime Minister's Department in 1981 when Tun Dr Mahathir Mohamad became prime minister the first time.
The agency is supposed to work towards nation building, but its critics, including participants, have claimed that the programmes promote Malay Muslim supremacy and aim to keep the BN in power.
According to Surendran, the BTN training programme was also drummed into the court officers ahead of the 14th general election that "if the opposition Pakatan Harapan wins, the people will suffer and the economy be damaged".
The civil rights lawyer and former Padang Rengas MP accused the BTN of fomenting racism and disunity as well as being an alleged propaganda machine of the former Barisan Nasional (BN) administration.
Surendran had recently also claimed that Sessions Court judges were asked to attend a similar training from March 16 to 18 at the Akademi Kenegaraan Biro Tatanegara at Jalan Bellamy here.
"This is an unmistakable attempt at the indoctrination of the judicial arm of the state, carried out behind closed doors," he said.
Surendran said such an act cannot be ignored and called for an independent panel of inquiry to investigate the matter.
"We need to know what else was done to compromise the judiciary, and over what period of time?" he said.
Full report at:
https://www.malaymail.com/s/1657674/lawyers-group-claims-attempt-made-to-indoctrinate-court-officers-registrars
--------
Arab World
Fresh Infighting Reported Among Ankara-Backed Militants in Northern Syria
Jul 30, 2018
Terrorists of Sultan Murad and the 51st Brigade, both affiliated to the Turkish troops, engaged in heavy fighting in Akhtarin in Azzaz region in Aleppo province. Reports said the clashes left a number of casualties on both warring sides.
The infighting came after Commander of the 51st Brigade Mohammad al-Dayeri was abducted in al-Bab, making the Brigade commanders to put forces on alert and declare curfew in the some areas.
In the meantime, Eastern Ghouta's Faylaq al-Rahman terrorists, who were forced to retreat from Damascus province to Aleppo last month, engaged in heavy infighting with Ankara-backed militants in Afrin that inflicted a number of casualties on both warring sides.
The Afrin infighting came after Ankara-affiliated local military police forces called on Faylaq al-Rahman terrorists to leave houses they had occupied.
Assassination, looting of people's assets and infighting in Turkish Army-held regions in Northern Syria has been on rise in recent weeks.
Local sources reported on Saturday that terrorists of Ahrar al-Sharqiyah affiliated to the Ankara-backed Free Syrian Army resettled over 20 terrorists of Faylaq al-Rahman in civilians' residential units in the town of Rajou Northwest of Afrin.
Faylaq terrorists had left Eastern Ghouta in Damascus province under a reconciliation deal with the Syrian Army.
The sources went on to say that the FSA-affiliated Firqah al-Hamzah broke into residential units of the people in the village of Qojman Northeast of the town of Jandaris and captured 20 villagers, transferring them to an unknown destination.
They further said that fresh infighting has started between Ahrar al-Sham and Firqah al-Hamzah over the share of the assets looted from the local people in Jandaris.
http://en.farsnews.com/newstext.aspx?nn=13970508000813
--------
Terrorists Start New Coalition in Northern Syria under Turkey's Pressure
Jul 30, 2018
Anab al-Baladi website quoted a well-informed source as disclosing that the terrorist groups' decision to form a new coalition in Idlib was made under Ankara's pressure, adding that Turkey had forced the entire terrorist groups, including Syria's Liberation Front, the National Liberation Front, Tahrir al-Sham Hay'at and Jeish al-Izzah, in Northern Hama to stand united against the Damascus government before they are annihilated in the upcoming operation of the Syrian army.
In the meantime, Commander of Syria's Liberation Front Abdul Salam Abdul Razaq claimed that the coalition members have an endorsed an agreement to specify their battlefield responsibilities across the region which stretches from the coastal areas to Northern Aleppo.
Al-Baladi further said that representatives of Idlib's terrorist groups will gather in Ankara in coming days to confer on their duties with regard to Idlib province.
Al-Quds al-Arabi daily quoted militant-affiliated sources in Northern Syria as reporting on Sunday that Syria's Liberation Front, Tahrir al-Sham Hay'at (the Levant Liberation Board or the Al-Nusra Front), National Liberation Front, Jeish al-Islam and Idlib Free Army formed a new coalition known as Jeish al-Fatah in Idlib province.
The daily further said that the newly-formed Jeish al-Fatah has almost 75,000 gunmen, adding that the terrorist groups' move is aimed at confronting the Syrian Army's large-scale imminent operation in Southern and Western Aleppo, Western Idlib and Northern and Northeastern Lattakia.
Full report at:
http://en.farsnews.com/newstext.aspx?nn=13970508000768
--------
Countdown Starts for Syrian Army's Major Assault on Terrorists in Idlib
Jul 30, 2018
The Arabic-language website of Sputnik quoted field sources as reporting that the army has recently dispatched a large number of forces and a large volume of military hardware to Southeastern Idlib, mainly to the town of al-Dhohour and to al-Zalaqiyat in Northern Hama.
It went on to say that the army intends to free the villages and towns of Kafr Zita, al-Latamina, al-Latmin, al-Zakah, al-Arba'ein, al-Lahaya and Ma'arkaba in the first phase of its upcoming large-scale operation.
The report further said that the army plans to restore security to Northeastern Lattakia and Jisr al-Shughour in Southwestern Idlib in the upcoming offensive.
It went on reporting that the Russian and Syrian forces have paid several visits to the battlefields and have specified their joint military objectives in Northeastern Lattakia and in Jourin in Northwestern Hama.
It further said that the army's artillery and missile units have been pounding terrorists' bases, command posts, arms depots and movements in the towns of Badama and al-Najiyeh in Western Idlib and Khan Sheikhoun region in Southern Idlib for their immediate ground invasion.
Sputnik added that the army is likely to launch the operation from Western Idlib to Jisr al-Shughour and Ariha after heavy artillery fire at terrorists' centers in Northern Hama, Southern Idlib and Northern Lattakia.
Al-Quds al-Arabi daily quoted militant-affiliated sources in Northern Syria as reporting on Sunday that Syria's Liberation Front, Tahrir al-Sham Hay'at (the Levant Liberation Board or the Al-Nusra Front), National Liberation Front, Jeish al-Islam and Idlib Free Army formed a new coalition known as Jeish al-Fatah in Idlib province.
The daily further said that the newly-formed Jeish al-Fatah has almost 75,000 gunmen, adding that the terrorist groups' move is aimed at confronting the Syrian Army's large-scale imminent operation in Southern and Western Aleppo, Western Idlib and Northern and Northeastern Lattakia.
Full report at:
http://en.farsnews.com/newstext.aspx?nn=13970508000593
--------
Syrian Army Shells Terrorists' Positions Heavily in Aleppo Province
Jul 30, 2018
The terrorists, deployed in Western Aleppo, launched missile attacks on residential areas in al-Hamdanieh district and the 3,000-unit Housing Project near Aleppo city, killing and wounding eight civilians.
The army's artillery and missile units, in response, targeted terrorists' positions in Bashantara, Hoor and Bashqatin regions in Western Aleppo, destroying several artillery platforms, launchers, cannons and positions of the terrorists.
A number of terrorists were killed in the army shelling.
Last month, the Syrian army engaged in heavy clashes with Tahrir al-Sham Hay'at (the Levant Liberation Board or the Al-Nusra Front) as the terrorists were preparing to attack the government forces' positions in Khan Touman.
Meantime, the artillery and missile units of the Syrian army pounded the terrorists' positions in the area, killing all the terrorists and destroying their military equipment.
The Syrian army's missile units also targeted a movement of Al-Nusra Front (also known as Fatah al-Sham Front or the Levant Liberation Board) near Kharba Marate in Southwestern Aleppo, destroying their military vehicles.
Full report at:
http://en.farsnews.com/newstext.aspx?nn=13970508000894
--------
Former FSA Rebels Fighting alongside Syrian Army against ISIL in Dara'a
Jul 30, 2018
The rebel fighters from the Free Syrian Army's Shabab Al-Sunnah Brigade are currently taking part in the Syrian Army's ongoing offensive against the ISIL-affiliated Jeish Khaled bin Walid terrorists in Hawz Yarmouk region, massdar reported.
According to a Syrian military report, over 500 former rebels are now fighting alongside the government forces after settling their cases in Dara'a.
These reconciled rebels were given the option to serve alongside the Syrian Army in order to settle their cases and remain in Dara'a and Quneitra provinces.
http://en.farsnews.com/newstext.aspx?nn=13970508000555
--------
More Senior Terrorist Commanders Killed in Northern Syria
Jul 30, 2018
Hossein Jamal nom de guerre Abu Zeid, a security commander of the National Liberation Front, along with two other commanders namely Osama al-Jaqmara and his aide were killed after unidentified raiders opened fire at them in the town of Ma'arat al-Nu'aman in Southern Idlib.
In the meantime, Mahmoud Zab'an, a senior field commander of the National Liberation Front was also killed in a bomb blast near the town of Dar al-Izzah in Western Aleppo.
On Saturday, Mohammad Saleh Qatish, a field commander of Jund al-Aqsa, was killed after unknown raiders who opened fire at him in the village of Ma'ar Zita South of the town of Kafr Nubl in Southern Idlib.
In the meantime, Abu Aisha Tunisi, a notorious commander of Tahrir al-Sham, was also killed by unknown attackers in the village of Hass Southwest of the town of Ma'arat al-Nu'aman in Southern Idlib.
Also, a number of Tahrir al-Sham militants were killed or wounded after unknown attackers stormed their base in the town of Sarmada in Idlib province.
A base of Tahrir a-Sham also came under rocket attack in the town of al-Dana in Northern Idlib that left a number of fighters dead or wounded.
Full report at:
http://en.farsnews.com/newstext.aspx?nn=13970508000621
--------
ISIL's Senior Non-Syrian Emir Killed in Southwestern Dara'a
Jul 30, 2018
The army men, covered by artillery and missile fire, stormed ISIL's strongholds in the small town of al-Shajara in Hawz Yarmouk and captured several key areas near the main base of the terrorists in region, killing a large number of terrorists, including Abu Walid Mesri, the Egyptian commander of them.
The army men further cut off the supply lines to the terrorists' positions in al-Shajara, destroying their positions and bases.
The army soldiers, meantime, destroyed several suicide vehicles of the ISIL that tried to block the army's dvance.
Local sources reported on Sunday that more than 230 ISIL terrorists were killed and hundreds more wounded in the army's massive operation in Hawz Yarmouk region in Southwestern Dara'a that started ten days ago.
The sources further said that the army men have now fortified their newly-captured positions in the region, repelling several heavy attacks of the ISIL.
Full report at:
http://en.farsnews.com/newstext.aspx?nn=13970508000225
--------
As part of Mecca Road Initiative, first Indonesian pilgrims arrive in Jeddah
31 July 2018
The first flight carrying Indonesian pilgrims arrived on Tuesday through a dedicated Mecca Road Initiative hall at the King Abdulaziz International Airport in Jeddah.
The initiative facilitated the completion of entry procedures for the 406 pilgrims from the airport in Jakarta.
The group was received by members of a supervising committee who provided the pilgrims with flowers, sweets and gifts, including the undersecretary of the Ministry of Hajj and Umrah and the vice president of ground operations for Saudi Airlines.
Saudi authorities said that this initiative, which is being implemented for the second year in a row, aims to make a pilgrim's journey from their country to Mecca or Medina easier.
Full report at:
https://english.alarabiya.net/en/News/gulf/2018/07/31/As-part-of-Mecca-Road-Initiative-first-Indonesian-pilgrims-arrive-in-Jeddah.html
--------
Syrian constitutional reform tops agenda on first day of Sochi talks
Jul 30, 2018
Reform of the Syrian constitution was top of the agenda during the first day of the tenth round of Syrian talks in Sochi on Monday according to Russian Special Envoy for Syria Alexander Lavrentiev.
Having received lists of potential candidates for the constitutional committee from the Syrian government and opposition, "we are currently discussing the third main group: representatives from Syria's civilian society," Lavrentiev said.
"Then we will look into procedural and organizational issues surrounding how the constitutional committee will work, but that is not for now. As a guarantor, we are helping Stefan de Mistura get the constitutional reform off the ground," he said.
The delegations also discussed helping refugees to return to Syria and "the strengthening of trust between the opposition and government."
"We pay particular attention to this question, mainly during our working group meetings on prisoner exchanges, searches for missing people and body exchanges. This is very important and we hope that to make progress here," the envoy said.
Delegations from Iran, Turkey and the Syrian government along with UN Special Envoy for Syria Staffan de Mistura are attending the talks.
Full report at:
https://www.presstv.com/Detail/2018/07/30/569740/Russia-Syrian-constitutional-reform-tops-agenda-on-Sochi-talks
--------
Africa
Somalia, Eritrea mend ties as change sweeps Africa
July 31, 2018
NAIROBI - The presidents of Somalia and Eritrea on Monday signed an agreement to establish diplomatic ties after over a decade of animosity, in the latest lightning rapprochement between Horn of Africa rivals.
Somali President Mohamed Abdullahi Mohamed's three-day visit to Asmara coincides with an extraordinary peace process between Eritrea and Ethiopia - part of dizzying change in a region burdened by war, proxy conflicts, isolation and iron-fisted rule.
"The two countries will establish diplomatic relations and exchange ambassadors," read a "joint declaration on brotherly relations" signed in Asmara by Eritrean President Isaias Afwerki and Mohamed.
The declaration came just three weeks after Ethiopia and Eritrea declared an end to two decades of conflict, rapidly restoring diplomatic ties and flights between their capitals.
The history of the three nations, and their fallouts, have been intertwined.
Somalia and Eritrea were once close. Under Somali dictator Siad Barre, the military regime in Mogagishu backed Eritrea's long fight for independence from Ethiopia, which was attained in 1993.
In 1998 Ethiopia and Eritrea began a bloody two-year war over their shared border which left 80,000 dead before settling into a bitter cold war.
After the fall of Barre in 1991, Somalia fell into chaos.
By around 2006, it became the site of what observers called a proxy war between Eritrea and Ethiopia.
Ethiopia backed backing a weak interim government in Mogadishu while Eritrea was accused of backing the militants fighting to overthrow it, a charge it denied.
The United Nations Security Council in 2009 imposed an arms embargo and targeted sanctions on Eritrea for its alleged support of the Al-Qaeda linked Al-Shabaab militants, which continue to launch regular deadly attacks despite losing territory in recent years.
The declaration placed special emphasis on its support for the Somali government.
"Eritrea strongly supports the political independence, sovereignty and territorial integrity of Somalia as well as the efforts of the people and government of Somalia to restore the country's rightful stature and achieve the lofty aspirations of its people," it said.The document, posted on Eritrea's information ministry website, also said the two nations "will endeavor to forge intimate political, economic, social, cultural as well as defense and security cooperation."
They will in addition "work in unison to foster regional peace, stability and economic integration."
At a state banquet on Sunday, Afwerki bemoaned the gloomy post-Cold War history of the Horn of Africa.
He said the region had been destroyed by "ethnic and clan cleavages" and "external pillage and internal thievery" in the speech which also lashed out at the "micromanagement of anarchy" by the United Nations and NGOs.
"Under these bleak realities, interventionist and expansionist regional agendas in the name of religion, cultural intoxication under various extremist ideologies, terrorism, piracy, human trafficking, as well as trade in weapons and narcotics became the new normal," he said, according to a speech posted on the information ministry's website.
"But this epoch of crises, conflict and instability is not inherently sustainable. As such, it is nearing its end. We are indeed entering a new, transitional, phase."
Ethiopia, which is undergoing lightning reforms under new Prime Minister Abiy Ahmed, has already formally requested that sanctions be lifted against Eritrea.
And in the wake of Ethiopia's peace with Eritrea, its other neighbour and rival Djibouti asked the UN Security Council for help mediating a long-standing border dispute that has soured relations with Asmara.
https://nation.com.pk/31-Jul-2018/somalia-eritrea-mend-ties-as-change-sweeps-africa
--------
US Africa Command confirms deployment of armed drones in Niger
Jul 30, 2018
The Africa Command of the US military (AFRICOM) says US forces started deploying armed drones in the West African country of Niger earlier this year to launch attacks against purported militant hideouts.
"In coordination with the Government of Niger, US Africa Command has armed intelligence, surveillance, and reconnaissance (ISR) aircraft already in Niger," media outlets quoted a spokesperson for AFRICOM as saying on Monday.
"As a matter of operational security, we do not discuss where strike platforms originate from, nor current or future operations," it added.
Media reports indicate that the drones are currently being flown out of a base in the capital Niamey while the military completes construction of a $100 million drone base in the central city of Agadez.
Last November, Niger's government granted American forces permission to arm their drones. Before that, US drones had only been used for surveillance.
An ambush by a local affiliate to the Daesh Takfiri terrorist group in western Niger last October killed four US troops. Militant groups based in neighboring Mali have also struck military and civilian targets as far afield as Ivory Coast.
In recent years, the US military presence in Niger has expanded to an 800-strong force that accompanies Nigerien troops on intelligence gathering and other missions.
Also in November last year, the Pentagon revealed that the US had some 500 troops on the ground in Somalia.
The US military says the drones are a cost-efficient way to counter the militants.
Critics, however, say drone strikes will cause civilian casualties and trigger blowback from the local population.
The US has currently thousands of Special Operations troops deployed to 92 countries, in an alleged bid to fight against violent extremists.
Full report at:
https://www.presstv.com/Detail/2018/07/30/569698/US-Niger-Africa-AFRICOM-Daesh-alQaeda
--------
East Libya parliament set to vote on constitution bill
30 July 2018
East Libya-based parliament is set to vote Monday on a bill for holding a referendum on a proposed constitution.
"Members of the House of Representatives (parliament) have arrived in [the eastern city of] Tobruk to take part in the vote," spokesman Abdullah Bleiheq said in press statements.
In July 2017, a constitution-drafting assembly approved a draft for a permanent constitution and demanded the adoption of a bill for holding a referendum on the draft.
The United Nations Support Mission in Libya (UNMIL) immediately welcomed the move, saying on Twitter that it is "following closely this democratic process to ensure a free and fair voting process on the referendum bill for the future and safety of Libya".
In May, Libya's warring rivals agreed during talks in Paris to finalize and adopt a constitution by Sept. 16 and hold presidential and parliamentary elections on Dec. 18.
Libya has been dogged by turmoil since 2011, when a bloody NATO-backed uprising led to the death of strongman Muammar Gaddafi after more than four decades in power.
Full report at:
http://www.worldbulletin.net/africa/204529/east-libya-parliament-set-to-vote-on-constitution-bill
--------
Nigeria: Lessons Learned, Missed in Yusuf's Death Nine Years After
31 JULY 2018
By Tope Templer Olaiya
On July 30, 2009, the Nigerian Police Force summarily executed Mohammed Yusuf, founder of the dreaded militant Islamist group, Boko Haram, then aged 39.
Nine years after, it has turned out to be an 'unforced error' in one of the unending incidences of extrajudicial killings that is hurting the nation dearly.
Security forces had hunted door-to-door for the Islamic militants after killing more than 100 of them by storming the sect's compound in Borno State.
The military captured Yusuf at his parents-in-law's house.
They transferred him to the custody of the Nigerian Police.
The police summarily executed Yusuf in public view outside the police headquarters in Maiduguri.
Police officials claimed Yusuf was shot while trying to escape.
Abubakar Shekau took over Boko Haram following Yusuf's death.
At thew time of his death, Yusuf had four wives and 12 children, one of them being Abu Musab al-Barnawi, who has claimed since 2016 to be the rightful leader of Boko Haram, opposing Shekau.
Today, the home of Yusuf is to be turned into a museum, in the hope it will boost tourism in the area by the Borno State government.
The state is also considering plans to transform the Sambisa forest - the group's base - into a tourist centre.
But critics say the plans risk immortalising the Boko Haram founder.
About 20,000 people have been killed in the group's eight-year insurgency, with dozens still dying in deadly attacks on a regular basis.
Mohammed Bulama, Borno Commissioner for Home Affairs, Information and Culture, told reporters in November 2017 that the house in Maiduguri would become a museum "where all the things that had happened relating to the insurgency will be archived.
We want to document and archive all that had happened so that our future generation will be able to have first hand information," he said.
At the moment, save for the capital in Maiduguri, many parts of Borno is still an active theatre of war with security forces repelling attacks from the insurgents.
Yusuf began the group in 2002, focusing on opposing Western education.
It was not for another seven years that it launched its military operations in an attempt to create an Islamic state.
Since then, the group, which officially is called Jama'atu Ahlis Sunna Lidda'awati wal-Jihad, meaning "People Committed to the Propagation of the Prophet's Teachings and Jihad", has spread into neighbouring countries.
Boko Haram, literally 'Western Education is Sin', has been one of the deadly terrorist groups, not only in Nigeria but in the world.
In 2014, the group overtook ISIS as the world's most deadly terrorist organisation, after series of beheadings, bombings, kidnappings, and other terrorist activities.
Shortly after, Boko Haram pledged allegiance to ISIS, also known as the Islamic State.
This led to the breakout of the group into two factions, the Shekau group and the al-Barnawi gang.
Before the end of 2015, Boko Haram had conquered and captured more than one-third of the Borno and Yobe states local government areas and instituted its own violent interpretation of sharia law.
The insurgency dislocated social and economic activities in the North-Eastern and some parts of the North-Western Nigeria that resulted in over 20,000 deaths while displacing more than three million people.
Born in Girgir village, in Jakusko, present-day Yobe State, Yusuf received a local education.
Later he studied more of Islam and became a Salafi. As a young man, Yusuf was strongly influenced by the teachings of Ibn Taymiyyah and studied theology at the University of Medina, Saudi Arabia.
Upon his return, he violently criticised the Federal Government and believed in the strict application of Islamic law, which represented his ideal of justice according to the teachings of the Prophet.
In a 2009 BBC interview, Yusuf stated his belief that the concept of a spherical Earth is contrary to Islamic teaching and should be rejected.
He also rejected Darwinian evolution theory and the concept of the condensation cycle that produces rain.
In the interview he said: "There are prominent Islamic preachers who have seen and understood that the present Western-style education is mixed with issues that run contrary to our beliefs in Islam, like rain.
We believe it is a creation of God rather than an evaporation caused by the sun that condenses and becomes rain; or like saying the world is a sphere.
If it runs contrary to the teachings of Allah, we reject it. We also reject the theory of Darwinism."
What then led to the uprising in 2009 that marked the turning point of the deadly sect? Boko Haram members were en route to bury a comrade at the cemetery in Maiduguri.
The police officers, part of a special operation to suppress violence and rampant crime in Borno, demanded that the young men comply with a law requiring motorcycle passengers to wear helmets.
They refused and, in the confrontation that followed, police shot and wounded several of the men.
On July 28, Nigerian troops surrounded the home of Yusuf in Maiduguri, after his followers had barricaded themselves inside.
On July 30, the military captured Yusuf and transferred him to the custody of the police.
According to a young scholar, Aliyu Dahiru Aliyu, Boko Haram, officially 'Jama'at Ahlussnnah Lid Da'awati Wal Jihad' (Ahlussunnah Group for Preaching and Combat), can be traced back to 2001, when some unknown militants appeared in some Northern states, especially Yobe and Kano, who were then called Yan Taliban.
"The group called Nigerian government 'thaghut' (an Arabic term that means ungodly or satanic).
The people that would later be called Boko Haram, started becoming popular after they attacked a local government secretariat and police station in Kanamma, Borno in 2003.
The group then moved to Gwoza, where they took the town as their training underground camp.
"Yusuf, Boko Haram leader, who before his death was a student of another popular salafi cleric, Sheikh Ja'afar Mahmoud Adam, started preaching violence in the mosque he named after the 13th century controversial scholar, Ibn Taimiyya.
He embarked upon aggressive preaching mission between 2004 and 2009 and started to win the heart of the Maiduguri youth and attracting them to the Markaz Ibn Taimiyya.
"In 2009, the terror squad started to launch attacks in various cities and villages in Northern Nigeria.
The primary motive of Boko Haram is to institute a caliphate in the region and to continue conquering lands as it is in the slogan of its terror mother ISIS."
Recent developments have however shown that the Federal Government has learned little lessons from the growth and expansion of religious sects in the country. Barely two weeks ago, a new religious sect known as Hakika emerged in Toto Local Government Area of Nasarawa State.
The group, with members claiming to be Islamist saints, is currently occupying a large expanse of the forest in the area.
At a meeting in Lafia, Alhaji Isah Agwai, the Emir of Lafia, who is also the chairman of the State Traditional Council of Chiefs, expressed dismay over the activities of the group and cautioned residents to be wary.
Speaking also, the Secretary General of the state Ja'martu Nasil Islam, Ahmed Ali, said the doctrines of the group were not Islamic.
"They have the kind of religious belief which I think is not Islam; they don't believe in Quran, they don't believe in any of the doctrines that Allah talked about in the Quran," Ali said.
On his part, Senior Special Assistant to the Governor on Security Matters, Brigadier General Muhammad Adika(retd), said: "It is believed that some of them are those running away from Zamfara State as a result of the pressure and have concentrated themselves in an expanse of land, which is highly forested."
Also, there is tension in Kaduna State ahead of Thursday's August 2 resumption of the trial of the leader of the Islamic Movement in Nigeria (IMN), Sheikh Ibraheem Zakzaky at the state High Court.
At his last day in court on July 11, messages of possible violence by Zakzaky's followers were being circulated on WhatsApp, advising residents to avoid some areas in the city, as the IMN members, also known as Shiites, were allegedly planning "a big attack" during the trial.
But the spokesman of the IMN, Ibrahim Musa, dismissed the message, saying it was false.
Musa maintained that the message was being peddled by the detractors of the IMN, including the security agencies.
At Zakzaky's court appearance on June 21, his followers allegedly killed a policeman during a clash.
Zakzaky has been in detention, alongside his wife, for over two years following a clash between his followers and the Nigerian Army in Zaria, in December 2015.
He was charged with unlawful gathering, criminal conspiracy and culpable homicide, punishable with death.
At the root of the crisis is religious extremism upon which religious terrorism is built.
The other loopholes that are exploited are poor economy (the wider gap between the rich and the poor in Nigeria) and poor governance associated with corruption and mismanagement of public funds by government officials.
Religious conviction and the extremists' interpretation of Islam are two among the most important triggers of terrorism in Nigeria.
Nigeria may see the emergence of another Boko Haram if it turns a blind eye and allow extremists continue propagating their own interpretation of religion, of war and bloodshed.
Preaching should be regulated and religious hate speech should be curbed and countered before it reaches the point of becoming religious terrorism.
Also, Deputy Senate President, Senator Ike Ekweremadu, recently noted that no unjustly treated man would be interested in embracing peace if nothing is done to ensure that every segment of the society is given a sense of belonging.
Ekweremadu, advocated justice, dialogue, and tolerance as key instruments for building peace at all levels of the society.
According to the Deputy Senate President, mankind was "besieged by a groundswell of intolerance, injustice, racial discrimination, and ethnic hatred, leading to violence, conflicts, extremism, terrorism, insurgency, and all forms of restiveness."
Ekweremadu spoke at the first procedural session of the International Parliament for Tolerance and Peace (IPTP), which was launched in Valetta, Malta, early this month.
Full report at:
https://allafrica.com/stories/201807310109.html
--------
URL: https://www.newageislam.com/islamic-world-news/shahi-imam-jama-masjid-writes/d/115994
New Age Islam, Islam Online, Islamic Website, African Muslim News, Arab World News, South Asia News, Indian Muslim News, World Muslim News, Women in Islam, Islamic Feminism, Arab Women, Women In Arab, Islamophobia in America, Muslim Women in West, Islam Women and Feminism