New Age Islam News Bureau
19 October 2021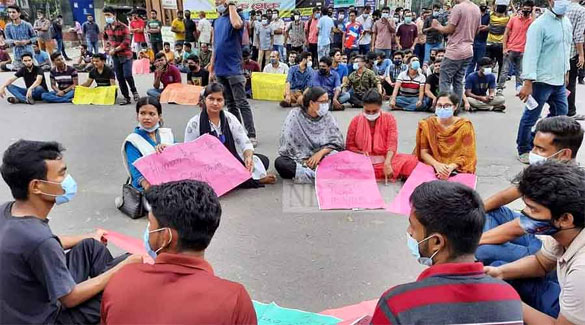 Monday's rally against communal violence at Shahbag, led by students, staff and faculty from Dhaka University. Twitter/ @MarginalS4th
------
• Islamic State Khorasan Warns Of More Attacks in Kashmir amid a Series of Targeted Killings
• No 'Evidence' Of Forced Conversion to Islam in Pakistan, Claims Study by International NGOs
• Muhammad Again among UK's Most Popular Baby Names
• Reviving the Prophet's Guidance Needed To Save Muslims from Those Who Kill Innocents: Al-Azhar Grand Imam
South Asia
• Pakistan allows 1,000 Afghan students to cross Torkham
• Taliban needs legitimacy at home in order to gain international recognition, says former President Karzai
• Zalmay Khalilzad steps down, Thomas West to continue as spl-representative to AFG
• Afghanistan transfers injured people in Kandahar blast to Iran for treatment
--------
India
• BJP Objects to Rajasthan's Grant for Modernisation of Muslim Seminaries
• Pakistan Is Directing Local Kashmiri Militants to Specifically Target Non-Muslims, One Security Official Said
• Vice-President Venkaiah Naidu extends greetings on Milad-un-Nabi
• S Jaishankar terms meeting with counterparts of US, UAE, Israel as 'fruitful'
• Indian Army guns down six LeT terrorists in Rajouri jungles, fire-fight on
• Karnataka: 11 Cases against Hindus And Muslims In One Month, In Moral Policing Incidents
• MP: Curfew after Clashes Erupt Over 10-Year-Old Muslim Boy's Presence at Garba Venue
• Dongri gets India's first gate dedicated to Karbala martyrs
• Afghanistan in food crisis, India plans to send 50,000MT of wheat
• Karnataka: Muslim Couple's Chicken Shop Vandalised by Hindutva Group, Cops Advise 'Compromise'
--------
Pakistan
• Scholars, Saints' Role Pivotal In Spreading Islamic Teachings: Punjab CM
• Future of Pakistan directly linked with Riyasat-e-Madina: Tahir Ashrafi
• Bajwa stresses Pakistan's desire for 'enduring ties' with US
• Soldier martyred in fire exchange with terrorists in N Waziristan
--------
Europe
• EU Extends Sanctions against Daesh/ISIS, Al-Qaeda Terrorists
• EU Says No Nuclear Talks with Iran on Thursday in Brussels, Contradicting Tehran
• Greece suppresses fundamental rights of Turkish minority in Western Thrace: Mufti
• ICJ starts hearing in Azerbaijan case against Armenia for racial discrimination
• UK government urged to make good on Shariah-compliant loans promise
--------
Arab World
• Nasrallah: Lebanese Forces Real Agenda Is Civil War, Hezbollah Has 100,000 Fighters
• Lebanon tensions test alliance between Shia Hezbollah, Christian Aoun
• Sisi congratulates Egyptians, Arab and Islamic nations on Milad un Nabi
• 'He lied': Iraqis still blame Powell for role in Iraq war
• Iraq arrests mastermind of deadly 2016 bombing
• Joint naval exercise kicks off between Saudi Arabia, US
--------
Mideast
• Tens of Extremist Jewish Settlers Defile Al-Aqsa Mosque under Heavy Police Protection
• More than 150 Houthis killed, injured in Yemen's Abedia: Arab coalition
• President Rayeesi: ISIL Terrorists Tasked to Complete West's Destructive Mission in Afghanistan
• Israeli scuba diver discovers ancient Crusader sword
• Iran: US should lift sanctions to prove it wants nuclear deal talks
• Turkey shifting Syria strategy after Kurdish militia's attacks
--------
North America
• Hackers Deface Trump's Presidential Website, Urge Readers to 'Not Forget Allah'
• Canada Must Look Out For the Shia Minority In Afghanistan
• US envoy for Afghanistan Zalmay Khalilzad steps down from position
• US State Department watchdog to review end of Afghanistan operations
• US does not attend Moscow conference on Afghanistan
--------
Southeast Asia
• Sultan Nazrin Calls On Scholars, Leaders to Wage Jihad against Corruption
• On Prophet Muhammad's birthday, PM Ismail Sabri urges Malaysians to treat differences as source of strength
• Prophet Muhammad teaches people to remain united regardless of backgrounds, PM says in Maulidur Rasul message
--------
Africa
• 43 people killed by suspected gunmen stormed marketplace in Nigeria
• Milad un Nabi celebrations: Niger Governor urge Muslims to rise against those promoting violence, insecurity
• Milad un Nabi: Gov. Ugwuanyi felicitates with Muslims, calls for renewed faith in God, prayers
• Father of MP's suspected killer 'despises terrorists' after run-ins with Al-Shabaab
• Gunmen kill dozens in Nigeria's troubled north
Compiled by New Age Islam News Bureau
URL: https://www.newageislam.com/islamic-world-news/shahbag-bangladesh-dhaka-durga-temple/d/125604
--------
Shahbag Square in Dhaka Sprang Back To Life As Thousands Cutting Across Religions Raised Voice against the Attack on Hindu Temples, Durga Pandals and Homes
Devadeep Purohit
19.10.21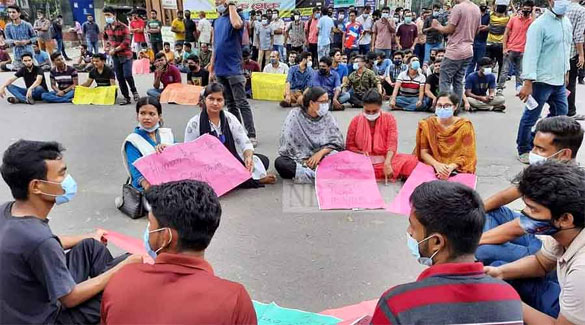 Monday's rally against communal violence at Shahbag, led by students, staff and faculty from Dhaka University. Twitter/ @MarginalS4th
------
Shahbag Square in Dhaka sprang back to life on Monday as thousands cutting across religions trooped down to the seat of protest in the Bangladesh capital to raise their voice against the attack on Hindu temples, Durga pandals and homes and shops belonging to the Hindu community in the past few days.
Not once but twice on Monday, demonstrations rekindled memories of February 2013 when Shahbag Square drew international attention as the epicentre of a protest against fundamentalist forces in Bangladesh.
In the afternoon, a 1,000-plus congregation, including students of Dhaka University and monks of Iskcon and the Ramna Kali temple, blocked the crossing for five hours. In the evening, marchers with torches staged a demonstration.
"Scores of Muslim brothers and sisters either joined the protest or pledged support to our cause. This is the beauty of a secular and inclusive Bangladesh," said Joyjit Dutta, a Dhaka University student and a spokesperson for the protesters who had assembled in the afternoon.
Dutta hails from Cumilla, where the attacks began on Ashtami when rumours of alleged blasphemy, spread on social media, prompted some zealots to attack local temples and Durga pandals.
Over the past few days, the attacks have spread from one district to another and reports of clashes — resulting in at least six deaths, according to official sources — have come from Chandpur, Chattogram, Cox's Bazar, Bandarban, Moulvibazar, Gazipur, Chapainawabganj, Feni and several other districts.
On Monday afternoon, after laying siege to the crossing for five hours, the mostly young protesters left around 3pm following requests from law-enforcement agencies. They vowed to return to the same venue after 24 hours if the Sheikh Hasina government failed to meet their seven demands, including the arrest and "highest punishment" of those behind the attacks on Hindu temples, homes and businesses across Bangladesh.
Those who gathered in the evening said they would return to the venue on October 20 with a much bigger turnout and hold a slew of programmes across the country to protest the rise of fundamentalist forces.
The two congregations were at best a trickle compared with the turnouts the square had witnessed in the past, but the gatherings were significant in view of the recent developments in Bangladesh, a Muslim-majority country tied to the principle of secularism.
Imran H. Sarkar, a prominent face of the Shahbag movement of 2013, was at the forefront in the evening. "We will not let Bangladesh be taken over by zealots.... The government has to take stern measures," Sarkar said.
"This was the first day of our programme.... It will be bigger in the coming days," Dutta said.
Despite the deployment of additional security personnel in 22 districts and a strong message by Hasina that the attackers would not be spared, more than 90 houses were vandalised and 25 homes belonging to Hindus were torched in Rangpur's Pirgonj on Sunday night following rumours that a local Hindu youth had made a blasphemous post on Facebook.
Bangladesh home minister Asaduzzaman Khan told reporters on Monday afternoon that the government would rebuild the homes and compensate the losses suffered by the victims.
But the visuals of the attacks came as a surprise to scores of Bangladeshis, from all religions.
"All these deserve unequivocal condemnation. Such acts of arson were not witnessed even after the Babri mosque demolition in 1992.… This is not the Bangladesh for which we fought against Pakistan in the War of Liberation (1971). I fought for an inclusive and non-communal Bangladesh, but if that has not happened, my purpose is defeated," said Shamsher Mobin Chowdhury, a decorated war veteran and a former foreign secretary.
Several prominent Bangladeshis this correspondent spoke to over the phone echoed these feelings and expressed dismay at the attacks that have continued over the past few days amid allegations that the law-enforcement agencies did not act promptly despite repeated requests for protection from the victims.
The attacks have come as an embarrassment for the Hasina-led Awami League, with the Opposition in Bangladesh and a section of civil society contending that the attacks could not have continued without support from the ruling party.
The Awami League has accused the Opposition alliance of the BNP and the Jamaat-e-Islami of masterminding the attacks to create communal tension in the country.
Sources in the ruling party said the government realised the damage the attacks could cause and had drawn up a plan -- following a meeting between Hasina and senior party colleagues on Monday evening -- to handle the situation politically.
"Our party will observe harmony gatherings and peace marches across the country on Tuesday.... Information minister Md Hasan Mahmud will visit Rangpur tomorrow to meet the victims. Soon, our leaders will travel across the country with the message of peace," Biplab Barua, office secretary, Awami League, said on Monday evening.
Realising that the attacks on minorities will shift the focus from Bangladesh's success story as a burgeoning economy, the government is organising a briefing with diplomats in Dhaka on Tuesday that would be addressed by junior foreign minister Shahriar Alam.
The damage-control measures by the government, a senior journalist said, are likely to bring the situation under control.
"Now that the government has woken up, there will be a temporary calm, but the attacks in different parts of Bangladesh will resume after a few months," said the journalist, who did not wish to be named.
"Over the past 10 years or so, the attacks during Durga Puja have become an annual feature. Most of the time, the attacks begin with allegations of blasphemy and later it is found out that it was only a rumour. Unless the perpetrators of the attacks are given exemplary punishment, this will never stop."
Source: Telegraph India
Please click the following URL to read the text of the original story:
https://www.telegraphindia.com/world/protest-against-bangladesh-temple-attacks-at-shahbag-square/cid/1835074
--------
Islamic State Khorasan Warns Of More Attacks in Kashmir amid a Series of Targeted Killings
Arvind Ojha
October 18, 2021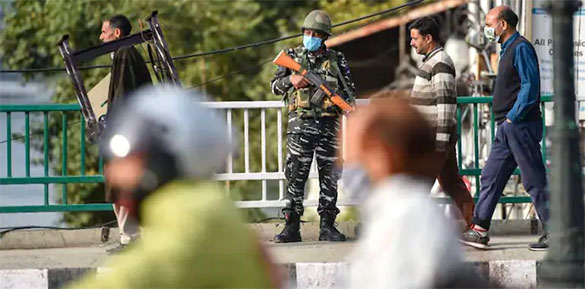 The rising attacks on civilians has prompted the security agencies to heighten security and intensify crackdown on militant activities in the Kashmir Valley. (Photo: PTI/Representational)
------
Amid a series of targeted killings in Jammu and Kashmir, terror group Islamic State Khorasan Province (ISKP) has warned that more such attacks could take place in the Valley.
The 21st edition of ISKP's India mouthpiece 'Voice of Hind' carried a photo that shows a hawker being shot from behind. The caption to the photo reads "WE ARE COMING".
ISKP had also released the video of the shooting after the killing of a non-local street vendor in Jammu and Kashmir.
The magazine also carries a photo of Hindu deities with a trident, indicating that they would be targeted. A few days ago, security agencies caught many terrorists who were planning to carry out blasts during the festival season.
ISKP has been releasing the Voice of Hind magazine since February 2020, which emerged as a fountainhead of large-scale radicalisation of Muslim youth in the Valley.
ISKP's sleeper cell is spread across Jammu and Kashmir. Security agencies had issued an alert that terrorist organisations could carry out terrorist activities in Jammu and Kashmir.
Security agencies also suspect that Pakistan's intelligence agency ISI is behind the recent attacks.
Many small organisations have been formed to carry out terrorist attacks, which would then take responsibility for attacks and target killings, agencies said.
The National Investigative Agency (NIA) has cracked down on several people linked to ISKP in the Valley. On October 10, NIA carried out raids at 16 locations in the Valley.
Targeted killings in Kashmir
Eleven civilians have been murdered by terrorists in Kashmir in the last 15 days, including five non-locals. On Sunday, terrorists shot down two non-local labourers and injured another in Kulgam district of South Kashmir.
On Saturday last week, a street hawker from Bihar and a labourer from Uttar Pradesh were killed in two back-to-back attacks by terrorists.
Earlier this month, a street hawker from Bihar, Virendra Paswan, was killed by terrorists in Srinagar's Eidgah area.
The rising attacks on civilians has prompted the security agencies to heighten security and intensify crackdown on militant activities in the Valley. On Saturday, the Jammu and Kashmir Police said thirteen terrorists have been killed in the union territory in nine encounters over the last nine days.
Source: India Today
Please click the following URL to read the text of the original story:
https://www.indiatoday.in/india/story/islamic-state-khorasan-attacks-kashmir-targeted-killings-1866275-2021-10-18
--------
No 'Evidence' Of Forced Conversion to Islam in Pakistan, Claims Study by International NGOs
October 18, 2021
KARACHI:
A Pakistani think tank claims to have debunked reports by several international and domestic NGOs that girls from the minority Hindu community are being forced to convert to Islam in the country, mainly in the southern Sindh province.
"There is no evidence suggesting that non-Muslims, including underage girls, have been forcibly converted to Islam in Sindh," said the study by the Islamabad-based Institute of Policy Studies (IPS) on Sunday.
The "largest long-term" study, the IPS said, is based on the 10-year episodic fieldwork, interviews with a cross-section of Sindhi society, and statistical analysis of data acquired from seminaries and courts across the province.
It comes days after a parliamentary panel rejected anti-forced conversion legislation, following the opposition from the Ministry of Religious Affairs. The Hindu lawmakers protested the decision.
The proposed law stipulated punishment between five to 10 years and a fine to any person who uses criminal force to convert a person to another religion.
According to Sufi Ghulam Hussain, who led the research, most of the alleged forced conversion cases highlighted by the non-governmental organizations (NGOs) and the minority leaders over the past decade are based on newspapers' reports rather than first-hand information.
"When we analyzed the NGO reports and data, we, in most of the cases, could not find the record of the so-called victims of forced conversion. Even, the data itself appeared to be contradictory," Hussain told Anadolu Agency.
Read Scores protest Christian girl's 'forced conversion'
Hussain and his team's fieldwork consisted of 200 "in-depth" interviews with a cross-section of Muslim and non-Muslim population, content analysis of over 400 audio recordings, and a review of 19 NGO reports.
The quantitative sample comprised 6,055 cases of converts documented and collected from 2008 to 2020. Some 32 families, 24 couples (of whom females were mostly new converts), 16 males, 24 leaders of the Hindu community, 22 religious clerics, 21 civil society activists, eight lawyers, two police officers, and two magistrates were interviewed during the study, Hussain added.
"The key hypothesis was to investigate whether non-Muslim girls below the age of 18 are forcibly converted to Islam. Analysis of data shows that of the total recorded cases of conversion involving freewill marriages in this study, only a fraction was of minor marriages," Hussain said, adding: "Given the prevalence of marriages below 18 years in rural Sindh, this is not unexpected."
"None of the cases verified by this research proved to be forcible conversion whereby 'force' means coercion, blackmail, deception or the threat to kill a person or his/her parents. Contradictory to the commonly propagated perception, it was found that coercion is often used by parents and the community of the converting individual to revert such a person," the study claimed, insisting: "This is in the form of political pressure, influencing the local administration and state institutions, social media campaigning, NGO activism, invoking caste or community honor, appealing to patriarchal ego, mobilizing separatist elements, and even torture."
Lal Malhi, a Hindu parliamentarian from the ruling Pakistan Tehreek-e-Insaf party of Prime Minister Imran Khan, however, rejected the report, claiming that the government itself acknowledged that the issue exists in "three to four districts".
"The government itself is admitting that the issue is there but it is not ready to pass a law to contain that," he told Anadolu Agency, referring to the rejection of the anti-forced conversion bill by the parliamentary panel.
"We are not against conversion. If someone wants to change his or her religion, that's a personal matter. But, there must be a proper legal and constitutional procedure for that, which unfortunately is not there at the moment," he went on to say, demanding that no one should be allowed to convert before the age of 18.
"We do not allow a person to vote before he or she turns 18 for certain understandable reasons. Then how come an underage person is allowed to change his or her religion," he added.
Complicated phenomenon
Malhi, however, admitted that there is no proper data compilation of forced conversion cases in the country.
"This is true that we (Hindu community) don't have proper data. But this does not mean the problem is not there," he said.
Amar Guriro, a Karachi-based journalist who has been covering religious minorities for over a decade, thinks that the issue is "exaggerated".
"No doubt, there could be some genuine cases of forced conversion of Hindu or other minority girls in the country, but it is not as widespread as it is depicted," Guriro told Anadolu Agency.
"Both (Hindu and Muslim) communities have been living together in Sindh for centuries. Sindhi Muslims traditionally harbor sympathies for Sindhi Hindus. Forced conversion is not that easy here," he went on to argue.
"Abduction of girls, whether Hindu or Muslim, has nothing to do with religion or conversion. It is a general phenomenon in rural areas, involving powerful people in stereotype feudal Sindh province of Pakistan, where a majority of Pakistani Hindus live," he added.
The absence of credible data compounded by several socio-economic, and cultural issues has made the issue further complicated, Guriro maintained.
Due to a strict caste system, inter-caste marriages are not encouraged in Hindu society. Cousin marriages are also forbidden in the Hindu religion.
"A majority of Hindu parliamentarians are rich and belong to the upper caste. They highlight the issue only if a girl from their caste converts (to Islam). Otherwise, in the case of girls from the Scheduled (lowest) Caste, there is no hue and cry," he contended.
In April 2019, the Islamabad High Court found that the two Hindu sisters from Sindh had voluntarily converted to Islam.
The ruling came following an investigation by a five-member commission, which included several left-wing human rights activists, who had claimed that the girls were abducted and forced to marry Muslim men.
In several cases, Hindu and Christian men have also converted to marry Muslim women.
Push-and-pull factors
Hindus make up 4% of the total 210 million population of Muslim-dominated Pakistan. A majority of the Hindus – nearly 92% - belong to the Scheduled caste of Hindus. Over 90% of Hindus live in Sindh.
The study found that several socio-economic, religious, and cultural push-and-pull factors come into play in the process of conversion from one religion to another.
Read How long will Pakistan continue to ignore forced conversions?
"In most cases, a normative ritual to convert and socio-economic incentive (push factors), desire to marry and inspiration from Islam and its religious mentors (pull factors) are the key factors that constitute the conversion process," it said.
Some 92% of the Hindu population in Pakistan comprises Dalits, who are unable to marry off their girls into upper-class Hindu families, the report said.
Among the total sample, 4,490 individuals converted because their families were either sufficiently Islamized already over decades or they were pulled by better social and economic support system among Muslims.
"Presence of 229 male converts in the sample negates the popular perception of only women being converted to Islam. About 970 individuals, who are couples, included several widows who could not remarry while being Hindu and individuals who wished to marry their cousins against the dictates of Hindu society," the study went on to say.
Several marriages, it added, took place between the persons of two distinct castes, which again is disallowed in Hindu ethos, and conversion offers an option for them. This is a major push factor as out of the total cases of conversion (723) involving marriage, 617 belong to Scheduled Caste Hindus.
Source: The Tribune Pakistan
Please click the following URL to read the text of the original story:
https://tribune.com.pk/story/2325357/no-evidence-of-forced-conversion-to-islam-in-pakistan-claims-study
--------
Muhammad again among UK's most popular baby names
October 18, 2021
LONDON: Muhammad was the fifth most popular name for male British babies in 2020, the UK's Office for National Statistics revealed on Monday.
Mohammed and Mohammad were also among the 100 most popular baby boy names in the UK – ranking 32 and 74 – though neither came close to the Muhammad spelling.
Noah, an important figure in all three Abrahamic religions, was the fourth most popular name for male British babies.
Two other Muslim names — Ibrahim and Yusuf — made it into the top 100 for 2020. All three spellings of the prophet's name, as well as Yusuf and Ibrahim, have been climbing in popularity consistently since 1996, ONS data shows.
Muslims from different ethnic and cultural backgrounds transliterate the name Muhammad differently into English, but all are named in reverence of Islam's most loved figure.
Despite being spelled differently by different groups, the origins and intention behind the naming are likely shared by each culture and ethnicity employing it.
It is likely that the name is even more popular than the ONS rankings suggest, but the methodology of dividing names based on their spellings makes it unclear exactly how it ranks against other top names.
Other popular names for male British babies included George, Oliver, and Arthur. The eldest child of Prince William and Kate Middleton is called George, while the middle name of their third child is Arthur.
Sian Bradford, a statistics officer at the ONS, said: "Popular culture continues to provide inspiration for baby names, whether it's characters in our favorite show or trending celebrities. Maeve and Otis, characters from the program 'Sex Education,' have seen a surge in popularity in 2020. While the name Margot has been rapidly climbing since actress Margot Robbie appeared in the film 'The Wolf of Wall Street.'"
Archie leapt into the top 10 of baby names for boys — likely because Prince Harry and his wife Meghan Markle chose that name for their firstborn.
Source: Arab News
Please click the following URL to read the text of the original story:
https://www.arabnews.com/node/1950241/world
--------
Reviving the Prophet's guidance needed to save Muslims from those who kill innocents: Al-Azhar Grand Imam
Amr Kandil
17 Oct 2021
Al-Azhar Grand Imam Sheikh Ahmed El-Tayyeb stressed on Sunday the necessity to revive Prophet Muhammad's guidance as a way to save Muslims from those who falsely claim to abide by the instructions of the prophet and follow his religion and jurisprudence, while they kill innocents.
The grand imam of Al-Azhar, the world's most prestigious Islamic Sunni institution, made the remarks during the celebration of Milad un Nabi - Prophet Muhammad's birth anniversary - at Manara International Conference Centre in New Cairo.
Egyptian President Abdel-Fattah El-Sisi, Prime Minister Mostafa Madbouly, state officials, and religious scholars attended the celebration, which was hosted by the Ministry of Religious Endowments (Awqaf).
In his speech, El-Tayyeb extended greetings to El-Sisi, the Egyptian people, and Arab and Islamic nations on the occasion of the Milad un Nabi.
The grand imam noted that the late well-known Irish writer George Bernard Shaw praised Islam as a system that establishes the pillars of peace and hailed Prophet Muhammad as a man who would solve all the problems of humanity today.
"If Bernard Shaw thinks the return of Muhammad's guidance is necessary to save our world today, I see that this has become more of a necessity to save our Muslim communities from inhumane conditions," El-Tayyeb said.
He added that these conditions have been imposed by "some people who claim they abide by the instructions of the prophet, and his religion and jurisprudence, while they kill innocents."
El-Tayyeb castigated those individuals who "turn Allah's mosques … to arenas for war where lives are lost, blood is shed, bodies shattered, sanctities violated, and the rights of people, and the rights of women, girls and children squandered."
The grand imam warned that brutal killings committed by Muslims against Muslims fuel "far-right tendencies in the West and East" and increase the so-called "Islamophobia".
He described the Prophet Muhammad as a forgiving person who was never harsh or bad-tongued or immoral.
"He was not a loud person who raises his voice in the streets and markets. He did not repay evil with evil, but rather with pardon and forgiveness," he said.
El-Tayyeb added that the Prophet Muhammad "never hit someone with his hands except in Jihad, never beat a servant or a woman, and was never seen avenging any injustice he suffered so long as God's prohibitions were not violated."
During the celebrations, the grand imam presented a vintage version of Al-Azhar Mushaf (Quran) that has taken over 20 years to be prepared and featured with geometric motifs inspired by precious Quranic manuscripts that date back to the Ilkhanid and Mamluk eras.
The guilding in this version of the Mushaf has been preserved by high-quality papers made from cotton, while the cover is made of cow leather. It was typeset using King Fouad's handwriting, automatically regenerated via computer under the supervision of skilled calligraphers.
Sunday's event commemorated the Milad un Nabi, which comes every year on 12 Rabi' Al-Awwal – the third month of the Islamic calendar – and falls this year on 19 October on the Gregorian calendar.
The event started with reciting verses of Holy Quran.
Minister of Religious Endowments Mokhtar Gomaa presented the president a series of Ro'ya (Vision) publications issued by the ministry to correct religious misconceptions.
During the celebration, El-Sisi honoured a number of religious figures from Egypt and the Islamic world for their intellectual contributions.
In a speech, El-Sisi affirmed that Egypt will continue "building awareness and reforming religious discourse as a collaborative, participatory responsibility."
Source: Ahram
Please click the following URL to read the text of the original story:
https://english.ahram.org.eg/News/429042.aspx
--------
South Asia
Pakistan allows 1,000 Afghan students to cross Torkham
18 Oct 2021
Pakistan's embassy based in Kabul in a statement said that up to one thousand Afghan students were allowed to cross Torkham crossing into the country.
The statement that was released on Sunday, October 17 reads that the Afghan students were stranded since the Taliban takeover and were finally allowed in two different batches.
Earlier, hundreds of students were returned from Torkham crossing point after being made to wait for the whole day at the crossing.
Pakistan embassy later said that the students lack proper gate pass to cross.
Pakistan has rarely kept the Torkham crossing point east of Afghanistan and Spin Boldak in the southeast after the Taliban takeover.
The decision has put tens of thousands of people in grave trouble in both countries as they often cross the points for family visits, education, and business.
Source: Khaama Press
Please click the following URL to read the full text of the original story:
https://www.khaama.com/pakistan-allows-1000-afghan-students-to-cross-torkham-436436/
--------
Taliban needs legitimacy at home in order to gain international recognition, says former President Karzai
Oct 19, 2021
KABUL: Former President Hamid Karzai said that the Taliban needs legitimacy nationally in order to gain recognition by the international community.
In an interview with Voice of America (VOA), he advised the Taliban to gain national legitimacy through elections or by holding a Loya Jirga (a national grand assembly), reported Tolo News.
Further, Karzai also said the Islamic Emirate should have a constitution to run the country.
"National legitimacy and international recognition are important. Steps should be taken, and the first step should be paving the way for national legitimacy via a Loya Jirga or enforcing the Afghanistan constitution. National legitimacy is acquired either through elections or by holding a Loya Jirga," he said.
Karzai also said that Pakistan should not interfere in Kabul's internal affairs. He stated that Pakistan should base its relations with Afghanistan on international norms and principles, adding that it cannot represent Afghanistan, reported Tolo News.
"These days Pakistan speaks in a way as if it represents us. No, Pakistan is not the representative of Afghanistan or its people," he added.
Meanwhile, a number of international relations analysts said holding a Loya Jirga is not practical at the current time and that the world should find alternative ways for engaging with the Islamic Emirate, reported Tolo News.
Source: Times of India
Please click the following URL to read the full text of the original story:
https://timesofindia.indiatimes.com/world/south-asia/taliban-needs-legitimacy-at-home-in-order-to-gain-international-recognition-says-former-president-karzai/articleshow/87128759.cms
--------
Zalmay Khalilzad steps down, Thomas West to continue as spl-representative to AFG
19 Oct 2021
Joe Biden's special envoy for Afghan reconciliation Zalmay Khalilzad resigns from his post and is all set to leave his office this week as the US Department of State plans to start an investigation over the withdrawal of US troops from Afghanistan and the deadly evacuation of Kabul.
The native Afghan veteran diplomat served in this post for the past three years both during President Trump and Joe Biden's tenures.
Though Zalmay Khalilzad is widely criticized for not putting pressure on the Taliban to reconsolidate with the Afghan government, secretary of state Antonio Blinken praised his efforts and thanked him.
Khalilzad succeeded to ink US-Taliban agreement but failed to make the latter reach an agreement with the Afghan government.
The former US ambassador to Afghanistan and United Nations, Zalmay Khalilzad previously planned to resign from his post in May when Joe Biden announced troops' withdrawal to be completed before the 20th anniversary of 9/11, he was asked to stay in his post and he did.
Source: Khaama Press
Please click the following URL to read the full text of the original story:
https://www.khaama.com/zalmay-khalilzad-steps-down-as-state-department-to-start-investigation-over-troops-withdrawal-evacuation-43634634/
--------
Afghanistan transfers injured people in Kandahar blast to Iran for treatment
October 19, 2021
The wounded of the recent terrorist attack on Afghanistan's Kandahar Fatemieh Mosque have been transferred to Iran for treatment.
The injured Afghans in the terrorist attack on Friday at the Fatemieh Kandahar Grand Mosque were transferred to the Islamic Republic of Iran on Monday due to lack of hospital facilities.
Meanwhile, the humanitarian aid of the Islamic Republic of Iran to Afghanistan reached the victims of the terrorist attack in Kandahar today.
The aid included medicine and 25 tons of food delivered to the people of Kandahar by agreement of the Taliban interim government in Afghanistan.
The ISIS terrorist group has twice attacked Shiite mosques in Kandahar and Kunduz, Afghanistan, in the last ten days, martyring and wounding hundreds of people.
The Taliban had promised to confront and suppress the ISIS terrorist group in Afghanistan.
Source: ABNA24
Please click the following URL to read the full text of the original story:
https://en.abna24.com/news//afghanistan-transfers-injured-people-in-kandahar-blast-to-iran-for-treatment_1189944.html
--------
India
BJP objects to Rajasthan's grant for modernisation of Muslim seminaries
By Sachin Saini
Oct 19, 2021
The Rajasthan government has invited fresh applications for grants up to ₹25 lakh under its modernisation scheme launched in 2019 for Muslim seminaries or madrasas even as the opposition Bharatiya Janata Party (BJP) has accused the ruling Congress of misusing public money for religious activities. The BJP has called the scheme "Muslim appeasement".
State minority affairs minister Saleh Mohammad rejected the BJP's criticism as "baseless politics" and underlined the scheme is in line with the Prime Minister's 15-point programme for the welfare of minorities. "If they have issues, they should ask the Prime Minister to stop the programme," he said.
Under the scheme, the seminaries are provided with computers, internet connectivity, smart classes, furniture and other basic necessities.
Mohammad said the state government wants to promote quality education for 200,000 students studying in these seminaries and allocated ₹3 crore in 2019-20, ₹5 crore in 2020-21, and ₹17 crore for 2021-22 for the scheme. He added there are 6,000 registered Muslim seminaries in the state. Mohammad said only those that fulfil the conditions under the scheme will get the grants.
Source: Hindustan Times
Please click the following URL to read the full text of the original story:
https://www.hindustantimes.com/india-news/bjp-objects-to-rajasthan-s-grant-for-modernisation-of-muslim-seminaries-101634627378075.html
--------
Pakistan Is Directing Local Kashmiri Militants to Specifically Target Non-Muslims, One Security Official Said
By Harinder Baweja
Oct 19, 2021
Instructions to kill non-Muslims in Kashmir, including by name, are being passed on to local militants in the Valley, several security officials told HT, even as they grapple to secure the soft targets.
"The instructions are clear. Pakistan is directing local militants to specifically target non-Muslims," one security official said. Another top official confirmed, saying, "Some non-Muslim names were passed on to local militants and we were able to secure them." Neither official wished to be identified.
Violence has spiked dramatically in the Valley over the last few weeks and at least 11 civilians have been killed in the month of October alone. Two non-local labourers from Bihar were killed in South Kashmir on Sunday and another grievously injured.
The Valley is currently full of non-locals, especially since it is apple-picking season, and security estimates put their number at 300,000 to 400,000.
To be sure, it isn't only non-locals that are being targeted. It is also locals belonging to minority communities.
Earlier in October, ML Bindroo, a well-known Kashmiri Pandit pharmacist was gunned down, as was a Sikh teacher, leading to large-scale insecurity amongst the minority communities. According to security estimates, close to 50,000 Sikhs and Pandits reside in the Valley.
"Fears of a demographic change are spurring the targeted killings. The new 'non-Muslim' attacks also started after the Union Territory started a portal for Pandits in mid-August, to help then reclaim the property they had left behind. The Centre is perceived as being anti-Muslim," said another official, who did not want to be identified.
The administration has started moving non-Kashmiri labourers to the safety of security camps but the exercise is difficult because they have to step out for work.
In a change in strategy, local youth joining the ranks of militants are now not announcing their arrival to the path of violence, so as to not garner attention. The recruitment of locals by terror outfits Lashkar-e-Taiba and Jaish-e-Mohammad has not ebbed. According to home ministry officials, at least 87 locals joined the ranks of militants by August-end this year. The figure for 2020, for the same period, was 103.
Source: Hindustan Times
Please click the following URL to read the full text of the original story:
https://www.hindustantimes.com/india-news/terrorists-told-to-kill-non-muslim-civilians-101634584125794.html
--------
Vice-President Venkaiah Naidu extends greetings on Milad-un-Nabi
Oct 19, 2021
NEW DELHI: Vice President M Venkaiah Naidu on Tuesday extended greetings on Milad-un-Nabi, praying that the path shown by Prophet Muhammad continues to guide the people in building a just, humane and harmonious society.
Milad-un-Nabi marks the birth anniversary of Prophet Muhammad.
"The holy Prophet showed humanity the righteous path of compassion, tolerance and universal brotherhood. May his eternal message continue to guide us in building a just, humane and harmonious society," the Vice-President secretariat tweeted, quoting Naidu.
Source: Times of India
Please click the following URL to read the full text of the original story:
https://timesofindia.indiatimes.com/india/vice-president-venkaiah-naidu-extends-greetings-on-milad-un-nabi/articleshow/87128662.cms
--------
S Jaishankar terms meeting with counterparts of US, UAE, Israel as 'fruitful'
Oct 19, 2021
TEL AVIV: External Affairs Minister (EAM) S Jaishankar on Tuesday termed his first meeting with the Foreign Ministers of the US, UAE, and Israel as 'fruitful' and said the Ministers discussed working together on economic growth and global issues.
"A fruitful first meeting with Israeli APM and FM Yair Lapid, UAE Foreign Minister Abdullah bin Zayed and US Secretary of State Secretary Antony Blinken this evening," EAM said in a tweet.
"Discussed working together more closely on economic growth and global issues, agreed on expeditious follow-up," he added in the tweet.
Jaishankar's remarks came after the minister along with his Israeli counterpart Yair Lapid joined a virtual meeting with US Secretary of State Antony Blinken and UAE Foreign Minister Abdullah bin Zayed.
Source: Times of India
Please click the following URL to read the full text of the original story:
https://timesofindia.indiatimes.com/india/s-jaishankar-terms-meeting-with-counterparts-of-us-uae-israel-as-fruitful/articleshow/87124956.cms
--------
Indian Army guns down six LeT terrorists in Rajouri jungles, fire-fight on
By Shishir Gupta
Oct 19, 2021
The Indian Army has gunned down six terrorists belonging to Pakistan based Laskhar-e-Taiba (LeT) in the ongoing encounter in the thick jungles of Rajouri sector with efforts on to neutralise the remaining three to four Islamic jihadists by the 16 Corps troops.
After the Indian Army lost nine men in engaging the terrorists in Rajouri jungles, Chief of Defence Staff (CDS) Gen Bipin Rawat visited the area on October 16 to hold discussions with the local commanders handling the ongoing counter-terrorist operations. It is understood that the Indian Army commanders were told to wait or tire out the terrorists in deliberate operations rather than pro-actively engaging them on their terms.
"Casualties to our troops have occurred due to the advantage the terrorists took by operating in buddy pairs of two. This allowed them to continuously change position and engage a larger body of troops, resulting in casualties," said a Indian Army commander.
According to South Block, as many as nine to 10 LeT terrorists infiltrated from Pakistan towards the jungles between Rajouri-Poonch district borders in the past two to three months. While many infiltration bids were foiled on the LoC and along the fence, the Pak terrorists were buoyed with their success in Afghanistan and to that extent the terror surge was anticipated by the Indian Army and the security agencies.
While the Indian troops were raring in "josh" to get the terrorists, on the spot instructions were issued to establish a cordon around the area with presence of terrorists. The change in tactics was that now it was left to the terrorists to make the movement to get replenishments from the nearby villages for survival and thus expose themselves as targets. " Jungle warfare required patience and the instructions to troops are to be cautious and avoid casualties by engaging the terrorists head-on. Since time is not a constraint, we will tire out the terrorists and eliminate them," said a commander.
Although it is a matter of time when the Indian Army counter-terrorist troops eliminate the remaining terrorists, the plethora of weapons and night vision devices left by the US troops in Afghanistan will raise the level of violence in Kashmir as Pak based jihadists groups believe that they can occupy Jammu and Kashmir like Taliban militarily occupied Afghanistan.
Source: Hindustan Times
Please click the following URL to read the full text of the original story:
https://www.hindustantimes.com/india-news/indian-army-guns-down-six-let-terrorists-in-rajouri-jungles-fire-fight-on-101634621499786.html
--------
Karnataka: 11 Cases against Hindus And Muslims In One Month, In Moral Policing Incidents
ANUSHA RAVI SOOD
19 October, 2021
Bengaluru: On 26 September, a group of medical students belonging to different communities were allegedly stopped, intimidated and harassed by a group of Hindu men at the coastal town of Surathkal in Karnataka. Five members of the Bajrang Dal were arrested two days later, but let off on bail on the same day.
About a week earlier, on 20 September, a gang allegedly assaulted and harassed a group of three people belonging to different communities while they were eating at a hotel in Puttur. A Hindu woman who was part of the group filed a complaint, following which two members of the Hindu Jagaran Vedike (HJV) were arrested.
On 18 September, two Muslim men allegedly stalled, assaulted and abused a Hindu man for dropping his Muslim woman colleague home in Bengaluru. Both men were arrested within 12 hours, booked under non-bailable sections, and sent to prison.
On 27 August, six paramedical students were allegedly heckled, harassed and threatened in Bantwal for mingling despite belonging to different faiths. Following a complaint by one of the girls, three persons from the HJV were arrested but let off on bail.
Last week, on 8 October, two Muslim men were arrested by the Shivamogga police for allegedly waylaying and assaulting a Hindu man for dropping his Muslim woman friend.
A day later, Moodabidiri police arrested two Bajrang Dal workers for allegedly waylaying the car of a Muslim couple travelling with two more Hindu girls, before abusing and harassing them. By 9 pm the same day, they were let out on bail with the intervention of the local BJP MLA.
On 10 October, a video of a group of men seemingly intimidating, threatening a Muslim man and a Hindu women for travelling on a bike, forcing the woman's father to arrive on the spot to take the girl away, went viral.
These are just some of the instances of moral policing in recent times in Karnataka — a phenomenon that isn't entirely new to the state but one that has seen a sudden spurt over the last two months.
Just in the past month alone, at least 11 cases of moral policing have been reported in Karnataka. Of the 11 cases that made it to the headlines, the perpetrators were Hindus in eight, and Muslims in three.
While moral policing has been a steady affair in the coastal districts of Karnataka for over a decade, it has now, worryingly, spread to other districts.
Over the last month, three cases of moral policing have been reported from Shivamogga, Mandya and even capital Bengaluru.
Through all of this, Chief Minister Basavaraj Bommai drew flak after appearing to white-wash the crimes, especially the ones involving Hindu vigilantes.
"When sentiments are hurt, naturally, there will be action and reaction," Bommai told reporters Wednesday in communally sensitive Mangaluru. "We need morality in society, don't we? Can we live without morality?" he asked reporters who had raised the moral policing issue.
Barely three weeks earlier, for a case involving Muslim suspects, Bommai had a different take. "My Govt (sic) deals with such incidents with an iron hand," the chief minister had tweeted.
Bommai also got into an ugly spat with leader of opposition Siddaramaiah on Twitter.
After the Congress leader slammed the chief minister's justification of moral policing, Bommai called Siddaramaiah "an icon of anti-Hindus" and claimed he presided over the "killing of Hindu activists as Tipu Sultan did".
Bommai's stand also appears to have emboldened fringe Hindu outfits in the state. Just a day after his apparent whitewashing of moral policing, the Bajrang Dal and the Vishva Hindu Parishad (VHP) held a "Trishul Deekshe" event in Mangaluru, where they allegedly handed over sharp weapons to their cadre — a claim the outfits have rejected.
The VHP, though, doesn't deny its involvement in moral policing. "I welcome the chief minister's statement. When our sentiments are hurt, we will definitely react," Sharan Pumpwell, the Mangaluru district VHP secretary, told The Print.
"There is no need to file cases against us. It is not like we are thrashing people. We feel that our women need to be protected," he added. "It is not our intent to harass or assault women. We only want to create awareness against being trapped by Muslim men."
Sharan owns a security firm that often doubles up as his personal information network since it deploys security personnel to malls, offices, and educational institutions, among other places. He claimed over 200 Hindutva workers have been booked this year alone for vigilantism.
"People come to us complaining about Hindu women being seen with Muslim men. Our workers, their networks, common people in buses, marketplaces, parks, on roads in hotels etc inform us of such interfaith mingling," Sharan said.
The politics around moral policing in Karnataka
The country first saw a real glimpse of moral policing in Karnataka on 24 January 2009, when goons of the Sri Ram Sene — a Right-wing Hindu outfit founded by Pramod Muthalik — barged into a pub in Mangaluru and assaulted young men and women. Nine years after the brutal attack, all accused in the case were acquitted.
In the 12 years since, Karnataka has seen instances of moral policing — largely in the coastal districts of Dakshina Kannada and Udupi — especially on Valentine's Day and New Year's Eve. Now, vigilantism fueled by religious intolerance appears to be spreading across the state.
Talking about Bommai's statements on moral policing, sources in the BJP say he is being careful to impress the party's ideological fount, the Rashtriya Swayamsevak Sangh (RSS), to offset any criticism of him not upholding the ideology of the BJP and Sangh Parivar. Bommai doesn't have roots in the RSS.
"Hindutva will be the primary poll pitch for the BJP in Karnataka in 2023," a national general secretary of the party had earlier told The Print.
Another reason for the spurt in such cases, a Karnataka Congress office-bearer said, was his party's silence.
"Whether it is the goons of Bajrang Dal or VHP or PFI or SDPI, vigilante activities in Karnataka are rising because the Congress is refusing to speak up about it," he said.
"The Congress is under the wrong impression that if it stays away from speaking about moral policing and peddles soft Hindutva, it can win back Hindu votes. That will never be true."
Unlike Hindutva organisations that take pride in moral policing, however, the Popular Front of India (PFI), a controversial Kerala-based Muslim organisation, denies involvement in such cases.
"It might have been true that our workers were indulging in moral policing a few years ago but it has not happened in recent times… As part of our training and policy we prohibit such activities," Anis Ahmed, national general secretary of the PFI, told The Print.
Many, meanwhile, have called for new legislation to deal with these cases.
"We desperately need an anti-vigilante law in India. Whether it is moral policing or lynchings or opposition to interfaith relationships or conversion vigilantism, a law against vigilantes is the need of the hour," Congress spokesperson Lavanya Ballal said.
Ballal herself allegedly came under attack from vigilantes. On 30 September, a man claiming to be a Hindutva worker phoned in and threatened Lavanya with assault on a live television debate. She has filed two complaints against the man who threatened her but, 16 days after the incident, the identity of the accused has not been established.
Karnataka Home Minister Araga Jnanendra, however, said there was no need for such laws.
"There is no need to bring in a new law to curb moral policing. Miscreants will be punished by police within the tenets of existing laws," he told ThePrint. "Our laws are strong enough. This is a social issue and society should discuss this. There is a need for creating awareness because everything cannot be solved with laws."
Source: The Print
Please click the following URL to read the full text of the original story:
https://theprint.in/india/11-cases-against-hindus-muslims-in-1-month-bommai-in-spotlight-over-moral-policing-incidents/751858/
--------
MP: Curfew After Clashes Erupt Over 10-Year-Old Muslim Boy's Presence at Garba Venue
Kashif Kakvi
October 19, 2021
Bhopal: A day-long curfew was imposed and nearly two dozen people were arrested after a clash erupted over the alleged presence of 10-year-old Muslim boy at a garba venue in Sendhwa city of Madhya Pradesh's Barwani district, on October 13.
Located on the Maharashtra border, Sendhwa has a history of communal incidents.
According to Barwani Police, a dispute erupted when a Muslim boy was spotted at a garba venue in the Moti Bagh locality. This was objected by a Hindu teenager who had had a previous tiff with the Muslim boy's family. Heated arguments turned into a brawl which got worse as adults got involved in the fight which saw stone pelting as well.
"A trivial fight among boys became a communal incident and soon, the communities came face-to-face and pelted stones at each other, leaving a dozen people injured including women and children," said Deepak Shukla, Superintendent of Police, Barwani district.
The officials said that a "lack of trust" between two communities and WhatsApp rumours which spread like wildfire soon after the stone pelting turned one community against another.
Sensing the gravity of the incident owing to the festive season and the spread of rumours, the district administration clamped Section 144 of the Criminal Procedure Code since the night of the incident – October 13 – and imposed a day-long curfew the following day.
As the news of stone pelting reached the Sub Divisional Magistrate (SDM) of Sendhwa, Tapasya Parihar, she along with Baldev Mujalda, in-charge of Sendhwa police station, rushed to the spot with police forces. However, police were attacked by the locals. Stone pelting left four injured, said police.
Meanwhile, a crowd of over 500 men of the majority Hindu community picketed the Sendhwa Police station demanding an FIR be lodged and arrests be made among Muslims. This mob manhandled a 14-year-old boy, his mother and two of his relatives who had gone to the police station to register a complaint after the minor child sustained a head injury during the stone pelting among two communities.
Police had to use mild force to rescue the child and his family.
An eyewitness said that the mob not only roughed up the child and his family, but also manhandled Sayed Afzal, the chief Muslim cleric of the city and a Congress leader, Mohammad Samar, who had gone to the police station for a meeting called by the SP, Deepak Shukla, to control the situation.
"We would have been lynched by the mob if the cops did not rescue us," Sayed Afzal told The Wire over phone.
The mob dispersed after police assured them of action. But even after they had dispersed, some miscreants targeted shops owned by Muslims and attacked the place of worship which was foiled by the police. "The angry mob damaged a car and a motorcycle in Sadar Bazaar area, forcing police to resort to lathicharge," said an official.
"It's unfortunate that a fight between the two kids took a communal turn and took away the happiness of the festivities which came after a year of COVID-19-induced restrictions," said Chotu Choudhary, a BJP leader and vice president of Sendhwa Municipal corporation. Choudhary added that they were "cooperating with administration to bring peace."
In a bid to restore normalcy, district administration held separate meetings with members of both communities to prevent further escalation. Later in night, police registered three FIRs in connection with the incident, booked over 30 people from both communities and arrested 15 people in a late night operation, SP Shukla told The Wire.
The first FIR was registered against three for pelting stones at a police convoy, under sections 143, 148, 149, 353, 307 and 327 of the IPC. One arrest has been made in this case.
20 Muslims, 6 Hindus booked
The other two FIRs were lodged against the Hindu and Muslim communities respectively, under the same sections – 143, 148, 294, 323 and 506 of the IPC – naming 26 people. Twenty of them are Muslims and six are Hindus.
Until Monday night, police have arrested 22 people in all three cases.
The following day, police held a joint meeting urging members of the both communities to maintain peace. "The consensus arrived at in the meeting was that not more than 200 people will take part in Rawan Putla Dahan. The scheduled processions of Duga Visarjan and Eid Milad-un-Nabi would be cancelled only allowing in-house events," said Sendhwa SDM Parihar.
"We have urged the members of the Muslim community to celebrate Eid Milad-un-Nabi in their mohallas as permission for the procession has been denied due to tension," the SDM added.
Source: The Wire
Please click the following URL to read the full text of the original story:
https://thewire.in/communalism/mp-curfew-imposed-22-people-held-after-clashes-over-10-year-old-muslim-boy-entering-garba-venue
--------
Dongri gets India's first gate dedicated to Karbala martyrs
Mohammed Wajihuddin
Oct 19, 2021
MUMBAI: The busy Hazrat Abbas Street in Dongri that houses Khoja Shia Isnashari Jamaat and its Jama Masjid has just added another jewel to its crown. It has got Baab-e-Shohda-e-Karbala, India's first gate commemorating the martyrs of Karbala.
Prophet Muhammad's grandson Imam Hussain, along with 72 companions, including some family members, were massacred at the Battle of Karbala (Iraq) in 680 CE by the army of Ummayad king Yazid.
During Muharram, the Dongri street turns into a 'mourning zone' with hundreds of Shias flocking to it. "Locals had been demanding for long to have a gate at the mouth of this street. Besides paying tribute to the martyrs of Karbala, this gate also beautifies the lane and will become an important landmark of the locality," said local MLA Amin Patel who funded the construction of the 28-fthigh and 31.5-ft-wide gate. "We wanted a structure that could last centuries and also become an important landmark on Mumbai's pilgrimage-tourism map," he added.
Martyrdom gate to 'last for over 200 years'
Architects Aadil Shakir Lokhandwala and Haque Mohd Musaib Abdul Mohammed were engaged to execute the plan.
Local MLA Amin Patel, corporator Javed Juneja, president of World Federation of Khoja Shia Isnashari Muslim Community, UK, Shaikh Safdar Jaffar, the Jamaat's India president Safdar Karmali, among others, attended the gate's inauguration on Monday.
For eight months, artisans in Makrana (Rajasthan) hand-carved Jaisalmer stones to prepare the pillars and slabs. "Apart from yellow Jaisalmer stones, we have used Italian marble, blue stones and mother of pearls which collectively give the structure a majestic look. The gate is a blend of Persian and Mughal style of architecture," said Lokhandwala. He added that it will last for over 200 years and brave storms, scorching sun and heavy rains.
Many Shias felt there could not have been a more appropriate place than this to put up the gate that commemorates the martyrs of Karbala. "This street has always been associated with the Shia sentiments because of the Jamaat, Jama Masjid, the Imambada and Mehfil-e-Shah-e-Khorasan, another sacred Shia site. In the next lane is Kesar Baug which sees a huge crowd of mourners in Muharram. I am glad this gate has come up here," said Karmali.
Source: Times of India
Please click the following URL to read the full text of the original story:
https://timesofindia.indiatimes.com/city/mumbai/dongri-gets-indias-first-gate-dedicated-to-karbala-martyrs/articleshow/87126288.cms
--------
Afghanistan in food crisis, India plans to send 50,000MT of wheat
Sachin Parashar
Oct 19, 2021
NEW DELHI:With Afghanistan's food crisis driving millions to the brink of starvation, India is considering options to transport 50,000 metric tonnes (MT) of wheat and medical aid to the Taliban-ruled country.
The government needs to circumvent what it has described as the challenge of efficient logistics to be able to despatch any food aid to Afghanistan though. India wants unhindered and direct access for those handling humanitarian aid to Afghanistan and believes only the UN is equipped to monitor, as foreign minister S Jaishankar said last month in a UN address, a non-discriminatory distribution of humanitarian assistance across all sections of the Afghan society. Indian aid will depend on whether or not this ``enabling environment'' is created.
The UN World Food Programme had said earlier this month that it was in touch with Indian authorities for procurement of wheat from India for Afghanistan. India had last year delivered 75,000 MT of wheat to Afghanistan but that was through the long and circuitous Chabahar port route.
One of the options being considered is to transport wheat to Afghanistan by road via the Attari-Wagah border with Pakistan but that will be a complicated exercise given that Pakistan doesn't allow 2-way trade for India and Afghanistan through that border. It only allows Afghanistan to export goods to India. India though is learnt to be in touch with Pakistan on this issue. For any such proposal to materialise, UN will have an important role to play in the logistics.
Source: Times of India
Please click the following URL to read the full text of the original story:
https://timesofindia.indiatimes.com/india/afghanistan-in-food-crisis-india-plans-to-send-50000mt-of-wheat/articleshow/87121362.cms
--------
Karnataka: Muslim Couple's Chicken Shop Vandalised by Hindutva Group, Cops Advise 'Compromise'
October 19, 2021
New Delhi: Karnataka Police allegedly refused to register an FIR when a Muslim family approached them alleging that their chicken shop had been vandalised by a Hindutva group which demanded that it be closed for a temple opening, Indian Express has reported.
The incident, outside Belagavi city, reportedly took place on October 8 and only came to light after a video began to be shared on social media.
Express has reported that the Hindutva group had demanded that the shop, owned by one Hasab Sab and his wife, Afsana Hasan Sab Khureshi, be closed on the occasion of a temple inauguration.
Notably, there was no order from the administration on this.
Afsana told the news outlet that while the couple did close shop by the "stipulated" 11 am, they sent two workers to clean it in the afternoon.
These workers were assaulted and the shop, vandalised. When the couple rushed to the shop, they received threats from members of the Hindutva group. "They threatened us that they would not allow us to live in the town and tried to extort money from us," Afsana said.
When the couple approached police, the latter held a meeting to affect a "compromise" in spite of the fact that the couple had asked for action against the attackers.
"The police told us that they had 'settled the matter and would not intervene in our business and told us that there was no need to file a complaint," Afsana told Express.
But no real compromise had been reached, Afsana said, as when the couple attempted to reopen the shop, the attackers continued to trouble them and attempted to get money from them with threats of eviction from the village.
Source: The Wire
Please click the following URL to read the full text of the original story:
https://thewire.in/communalism/karnataka-muslim-couples-chicken-shop-vandalised-by-hindutva-group-cops-advise-compromise
--------
Pakistan
Scholars, Saints' Role Pivotal In Spreading Islamic Teachings: Punjab CM
October 19, 2021
LAHORE:
Punjab Chief Minister Punjab Sardar Usman Buzdar has stressed religious scholars to lead the mission of spreading the teachings of Holy Prophet Muhammad (PBUH) through their platforms and motivate the people to follow the blessed way of life of the Holy Prophet Muhammad (PBUH).
While addressing the international Mashaikh and Ulema conference held under the aegis of the Auqaf department on Monday in connection with Ashra Shan-e-Rehmatul-lil-Alameen, the chief minister said religious scholars and Sufi saints have always rendered commendable services for Islam.
"They have played their role for the collective good of the country. The purpose of celebrating Ashra Shan-e-Rehmatul-lil-Alameen is to sensitise the world that Muslims' utmost love and affection for Holy Prophet Muhammad (PBUH) is beyond every love. The reverence and honour of Holy Prophet Muhammad (PBUH) will always prevail over everything," he asserted.
The CM said 10,574 Shan-e-Rehmatul-lil-Alameen scholarships, valuing Rs273.80 million, have been given to bright and needy students.
As many as 29,142 scholarships will be given this year and the amount will be increased to Rs1 billion, he said.
"Seerat Chairs have been established in IUB, Ghazi University DG Khan, Okara University, GCU Faisalabad, University of Chakwal and BZU Multan to fund the research," he said.
"Ashra Shan-e-Rehmatul-lil-Alameen will be celebrated with more zeal and enthusiasm next year and I also pay tributes to PM Imran Khan for initiating the tradition of officially celebrating Ashra Shan-e-Rehmatul-lil-Alameen," added the chief minister.
Auqaf Minister Saeedul Hassan Shah, Maulana Abdul Khabeer Azad and Auqaf Secretary Nabeel Javed also spoke on the occasion.
SACM Hasaan Khawar, secretaries, religious scholars and notable persons of other religious communities also attended the conference.
Source: The Tribune Pakistan
Please click the following URL to read the full text of the original story:
https://tribune.com.pk/story/2325424/scholars-saints-role-pivotal-in-spreading-islamic-teachings-buzdar
--------
Future of Pakistan directly linked with Riyasat-e-Madina: Tahir Ashrafi
October 19, 2021
FAISALABAD - Special Representative to Prime Minister on Religious Harmony Allama Tahir Mahmood Ashrafi said on Monday the future of Pakistan was directly linked with Islamic welfare state on the pattern of Riyasat-e-Madina.
Addressing a Seeratun Nabi Conference here at District Council Hall, he said that Pakistan was achieved on the basis of "Kalimah Tayyabah" and Prime Minister Imran Khan was fully committed and sincere to transform the country into a true Islamic welfare state on the pattern of Riyasat-e-Madina.
In this connection, he said the government had also announced to celebrate Ashra Rehmatul-lil-Alameen so that faithful could be educated with true Islamic teachings by arranging Seerat conferences and seminars across the country. Prime Minister Imran Khan had also formally inaugurated Ashra Rehmatul-lil-Alameen in Islamabad, he added.
Ashrafi said: "We claim to be true followers of Hazrat Muhammad (Peace Be Upon Him), therefore, we must follow Uswa-e-Hasna and avoid from telling lie, deceiving others, taking bribe, occupying illegal lands, increasing artificial prices, hoarding, usurping rights of sisters and daughters as well as rights of parents, relatives and neighbors.
He said: "Being Muslims we are duty bound to work hard to implement true Islamic teachings in the society and for this purpose, we should promote Uswa-e-Hasna at maximum extent". He said that today there was a flood of obscenity and nudity, so we have to stop it by following Seeratun-Nabi.
Tahir Ashrafi said the aim and vision of Prime Minister Imran Khan was very clear as the PM wanted to introduce and spread the teachings of Islam across the whole world.
He said that Islam gave much emphasize on cleanliness as it declares it half of the faith, therefore, we should concentrate on cleanliness of houses, streets and surroundings areas to ward off various diseases like dengue.
He said that marriage had become difficult today due to lack of dowry so we should launch a vigorous campaign against dowry as it has become a major societal evil which deprives millions of poor girls from wedding as their parents cannot afford dowry. "Islam teaches us not to spent money on useless rituals, so we should abolish these rituals from our death and birth anniversaries so that this amount could be spent on constructive purposes and development of the country", he added.
He said that Islam was a religion of peace and gave much emphasis on character building. "We should learn from the life of holy Prophet (Peace Be Upon Him) and his caliphs including Hazrat Abu Bakr Siddique, Hazrat Umar Farooq, Hazrat Usman Ghani and Hazrat Ali if we want to lead a successful life in this world and hereafter", he added.
He said the era of four caliphs was also a beacon for us, therefore, conferences should also be arranged to highlight the life aspects of righteous caliphate. Ashrafi said that some elements were worried about why the government had adopted the policy of self-reliant. In this connection, PM Imran Khan had decided that no one would be allowed to use Pakistani land against anyone and now Afghanistan had also followed this policy and assured that its land would not be used against anyone.
He said the opposition should make legitimate criticism and avoid from uttering in Indian tune against armed forces and national institutions. He said, "We have maintained peace during Muharram and now Ulema will also cooperate for religious harmony on the eve of Jashn-e-Milad".
Source: The Nation Pakistan
Please click the following URL to read the full text of the original story:
https://nation.com.pk/19-Oct-2021/future-of-pakistan-directly-linked-with-riyasat-e-madina-tahir-ashrafi
--------
Bajwa stresses Pakistan's desire for 'enduring ties' with US
October 19, 2021
ISLAMABAD: Army Chief Gen Qamar Bajwa reiterated Pakistan's desire for "enduring ties" with the United States.
He was talking to US Charge d'affaires to Pakistan Angela Aggeler, who called on him.
The Inter-Services Public Relations, the media affairs wing of the army, said the two discussed "matters of mutual interest, current security situation in Afghanistan and bilateral cooperation in various fields".
"Pakistan desires to maintain the tradition of bilateral engagement and wishes for an enduring relationship with the United States," Gen Bajwa was quoted as having told the American diplomat.
The ISPR said Gen Bajwa emphasised the need for a "global convergence" on Afghanistan to avoid humanitarian crisis. He called for "coordinated efforts" for economic uplift of the Afghans.
Source: Dawn
Please click the following URL to read the full text of the original story:
https://www.dawn.com/news/1652825/bajwa-stresses-pakistans-desire-for-enduring-ties-with-us
--------
Soldier martyred in fire exchange with terrorists in N Waziristan
October 18, 2021
A soldier was martyred on Monday as security forces exchanged fire with terrorists in North Waziristan's Spinwam area, the military's media wing said.
The Inter-Services Public Relations (ISPR), in a statement, said intense firing took place after the terrorists had fired on a security forces' checkpoint.
Following the terrorists' move, the troops had initiated a prompt response and effectively engaged the terrorists' location, the military's media wing said.
The martyred soldier was identified as Sepoy Saifullah, 25, resident of Karak, according to the ISPR. The security forces are carrying out an area clearance to eliminate any terrorists found in the area.
The development comes three days after security forces had gunned down a terrorist in North Waziristan's Mir Ali area, the ISPR had said.
Source: Pakistan Today
Please click the following URL to read the full text of the original story:
https://www.pakistantoday.com.pk/2021/10/18/soldier-martyred-in-fire-exchange-with-terrorists-in-n-waziristan/
--------
Europe
EU extends sanctions against Daesh/ISIS, al-Qaeda terrorists
Agnes Szucs
18.10.2021
BRUSSELS
The European Union prolonged on Monday its sanctions regime against Daesh/ISIS and al-Qaeda terrorists for another year.

"Currently, six individuals are subject to restrictive measures, which consist of a travel ban to the EU and an asset freeze," the Council of the EU announced in a news statement following the decision of EU foreign ministers.

In addition to these sanctions, EU operators are also forbidden from making funds available to the blacklisted terrorists.

The sanctions are extended until Oct. 31, 2022.

The EU has sanctioned perpetrators of terrorist acts and those who provide support to and incite such acts or recruit for Daesh/ISIS and al-Qaeda or their affiliates since 2016.
Source: Anadolu Agency
Please click the following URL to read the full text of the original story:
https://www.aa.com.tr/en/europe/eu-extends-sanctions-against-daesh-isis-al-qaeda-terrorists/2395415
--------
EU says no nuclear talks with Iran on Thursday in Brussels, contradicting Tehran
18 October ,2021
The EU will not hold talks with Iran to revive the abandoned 2015 nuclear deal on Thursday in Brussels, foreign policy chief Josep Borrell said on Monday.
"We are at a critical point in time for the JCPOA [Iran nuclear deal]… Everybody is determined to bring the JCPOA on track, so we are working hard to go back to Vienna," Borrell told reporters.
"No, next Thursday there is not going to be a meeting as far as a I know… We made clear to the Iranians that time is not on their side and its better to go back to the negotiations table quickly," he added.
This contradicts Iran's announcement that its lead nuclear negotiator, Ali Bagheri, would go to Brussels for discussions on Thursday.
The EU has been trying to restart negotiations to revive the Iran nuclear deal which was abandoned after former US President Donald Trump withdrew from the accord in 2018.
Negotiations over reviving the nuclear accord have stalled since the election of Iranian President Ebrahim Raisi in June.
Source: Al Arabiya
Please click the following URL to read the full text of the original story:
https://english.alarabiya.net/News/middle-east/2021/10/18/EU-says-no-nuclear-talks-with-Iran-on-Thursday-in-Brussels-contradicting-Tehran
--------
Greece suppresses fundamental rights of Turkish minority in Western Thrace: Mufti
Tevfik Durul
19.10.2021
XANTHI, Greece
Greek authorities suppress the fundamental rights and freedoms of the Muslim Turkish minority in Western Thrace, the elected mufti (Muslim scholar and legal expert) of Xanthi (Iskece) has said.
Speaking to Anadolu Agency, Ahmet Mete said the heads of the Muslim Turkish minority in Western Thrace are "threatened and insulted."
Noting that the mufti institution in Western Thrace was regulated by the principles in the Treaty of Lausanne, he said the Greek authorities did not give the rights to the minority group it was entrusted to.
The appointment of muftis by Greek authorities weaken the position of muftis in Western Thrace, he said, adding that a man with a primary school degree was appointed to the position in Xanthi.
Mete said the Islamic clerics have an important role for the unity and solidarity of the minority in the region, adding that they will continue their "rightful struggle" against moves that divide the society.
Mete and his predecessor Mehmet Emin Aga have previously been convicted by Greek courts for usurping authority.
The Western Thrace region of Greece is home to a Muslim Turkish minority of around 150,000 people, where muftis have legal jurisdiction to decide on the family and inheritance matters in the local community.
Source: Anadolu Agency
Please click the following URL to read the full text of the original story:
https://www.aa.com.tr/en/europe/greece-suppresses-fundamental-rights-of-turkish-minority-in-western-thrace-mufti/2396259
--------
ICJ starts hearing in Azerbaijan case against Armenia for racial discrimination
Selman Aksunger
18.10.2021
The International Court of Justice (ICJ) in The Hague on Monday began hearing a suit filed by Azerbaijan against Armenia for racial discrimination.
Azerbaijan accused Armenia of violating the International Convention on the Elimination of All Forms of Racial Discrimination, to which both states are signatories.
Due to the coronavirus epidemic, the hearing was held in a "mixed format," which will continue on Tuesday. Some members of the court attended the hearing in person and others via video.
The claims that Armenia breached the international convention on the prevention of racial discrimination were presented by an Azerbaijani team led by Deputy Foreign Minister Elnur Mammadov.
Azerbaijan also requested the court to adjudicate interim measures to put an immediate end to Armenia's violations.
Last week, hearings on Armenia's claim against Azerbaijan for violating the same convention were held.
Azerbaijan-Armenia relations
Relations between the former Soviet republics of Azerbaijan and Armenia have been tense since 1991 when the Armenian military occupied Nagorno-Karabakh, also known as Upper Karabakh, a territory internationally recognized as part of Azerbaijan, and seven adjacent regions.
When new clashes erupted on Sept. 27 last year, the Armenian army launched attacks on civilians and Azerbaijani forces and violated several humanitarian cease-fire agreements.
The two countries signed a Russian-brokered agreement on Nov. 10, 2020 to end the fighting and work toward a comprehensive resolution.
Source: Anadolu Agency
Please click the following URL to read the full text of the original story:
https://www.aa.com.tr/en/europe/icj-starts-hearing-in-azerbaijan-case-against-armenia-for-racial-discrimination/2395822
--------
UK government urged to make good on Shariah-compliant loans promise
CHRISTOPHER HAMILL-STEWART
October 18, 2021
LONDON: MPs, campaigners and Islamic finance professionals will deliver a letter to UK Prime Minister Boris Johnson on Tuesday urging him to take action that would end the annual exclusion of thousands of British Muslims from higher education.
A survey by the Muslim Census, published on Monday, found that thousands of young British Muslims choose not to go to university every year because the loans they rely upon to fund their studies bear interest.
"There is a genuine and widespread need for ASF (alternative student financing), and its absence is leading to unequal access to university," reads the letter signed by Lord Sharkey, MP David Timms, Islamic Finance Guru CEO Ibrahim Khan, Rizwan Yusoof of the National Zakat Foundation and Asha Hassan, a student finance campaigner.
It is religiously prohibited for Muslims to borrow or lend money upon which interest is paid. This means British-Muslim students are forced to pay up to £9,000 ($12,361) per year upfront for their education, as well as cover all their own living expenses. Muslim Census found that of its survey's 36,000 respondents, roughly 10 percent missed out on higher education entirely because of a lack of alternative financing options.
A further one in six self-financed their education, which "resulted in severe restrictions with regards to which course and university they decide to attend," it said.
Extrapolated to the UK's Muslim population as a whole, these results mean that more than 4,000 potential students are forgoing a university education every year, while close to 6,000 are forced to self-fund.
In 2013, then-Prime Minister David Cameron pledged to deal with the inequity in access to education for Muslims, saying: "Never again should a Muslim in Britain feel unable to go to university because they cannot get a student loan simply because of their religion."
But nearly 10 years since that promise was first made, Muslims are still being forced to choose whether to pursue an education or stick to the principles of their religion, Hassan told Arab News.
"This is really important to our community, but we've so far felt like we have no voice. This letter is hopefully a chance for the prime minister to see that this is a big issue," she said.
Source: Arab News
Please click the following URL to read the full text of the original story:
https://www.arabnews.com/node/1950291/world
--------
Arab World
Nasrallah: Lebanese Forces real agenda is civil war, Hezbollah has 100,000 fighters
18 October ,2021
Lebanon's Hezbollah chief Hassan Nasrallah accused on Monday the Lebanese Forces party of seeking to ignite a "civil war" in the country after last Thursday's violence.
"The real agenda of the Lebanese Forces party is the civil war because it leads to the displacements of Christians and confines them to a certain area, and thus the establishment of a Christian canton dominated by the Forces party where there is no room for anyone else," Nasrallah said in his first remarks since the bloody street violence.
Nasrallah stressed that his Iran-backed militia has never been stronger and added that it has 100,000 "trained and armed" fighters armed with weapons at its disposal. This was the first time Nasrallah disclosed the size of his militia.
"I advise the Lebanese Forces party to give up this idea of internal strife and civil war. You are wrong one hundred percent, your calculations are wrong. The region has never seen Hezbollah as strong as it is now," he said.
He also demanded an investigation into the events of last Thursday to hold those responsible accountable for their actions, adding that Hezbollah would take action if the judiciary did not.
Tensions over the investigation into the Beirut blast ignited street violence which led to seven deaths, all of whom were Shia.
They were killed in what the powerful Shia militia Hezbollah called an ambush by the Lebanese Forces, a Christian party led by Samir Geagea.
The Lebanese Forces denied the accusation and pointed the finger of blame at Hezbollah for provoking trouble by sending supporters into the Christian neighborhood of Ain al-Remmaneh where it says four residents were wounded before a shot was fired.
The street violence, the worst in over a decade, began as supporters of Hezbollah and its Shia ally, Amal, began gathering for a protest to demand the removal of Judge Tarek Bitar, who is investigating the blast that killed more than 200 people.
Source: Al Arabiya
Please click the following URL to read the full text of the original story:
https://english.alarabiya.net/News/middle-east/2021/10/18/Lebanon-s-Hezbollah-chief-Nasrallah-Lebanese-Forces-party-real-agenda-is-civil-war
--------
Lebanon tensions test alliance between Shia Hezbollah, Christian Aoun
18 October ,2021
Worsening sectarian tensions in Lebanon are testing an alliance between Shia Hezbollah and its Christian ally President Michel Aoun, who may lose ground to their rivals as they step up opposition to the Iran-backed group's influence.
Analysts believe divisions that have deepened since an outbreak of violence in Beirut last week may play to the political advantage of Aoun's long-time Christian adversary, Samir Geagea, a Hezbollah opponent with close Saudi ties.
For the latest headlines, follow our Google News channel online or via the app.
The alliance between the heavily armed Hezbollah and Aoun has been a defining feature of Lebanese politics since 2006: Hezbollah helped Aoun become president in 2016, while Aoun has provided important Christian backing for the armed status of the group, which is more powerful than the Lebanese army.
But strains have been growing, specifically over Hezbollah's opposition to the investigation into who was to blame for last year's catastrophic explosion at the Beirut port, which, while killing many Muslims, did most of its damage in Christian parts of the city.
The dilemma facing Aoun sharpened last week when tensions over the investigation ignited Beirut's deadliest street violence in years, reviving memories of the 1975-90 civil war.
All of the seven dead were Shias, killed in what Hezbollah has called an ambush by the Lebanese Forces, a Christian party led by Geagea.
The LF denies this and blames the other side for provoking trouble by sending supporters into the Christian neighborhood of Ain al-Remmaneh where it says four residents were wounded before a shot was fired.
The violence began as supporters of Hezbollah and its Shia ally, Amal, began gathering for a protest to demand the removal of Judge Tarek Bitar, who is investigating the blast that killed more than 200 people.
"Today, you have Christians rejecting these scenes of getting back to civil war memories, and at the same time not happy with the way Shia are expressing their opposition to the Judge Bitar process," said a source familiar with thinking in the Free Patriotic Movement, the party founded by Aoun.
The FPM and Hezbollah had not decided to part ways, but the course of events was separating them, the source said.
Officials from Hezbollah and the FPM did not immediately respond to a Reuters request for comment.
Biggest loser
Hezbollah has accused Bitar of bias as he has sought to question some of its allies on suspicion of negligence that led one of the largest non-nuclear explosions ever.
Geagea, who stands by Bitar, has said Thursday's trouble began when Hezbollah and Amal supporters vandalized cars, clashed with residents and tried to enter homes in Ain al-Remmaneh.
"It wasn't the Lebanese Forces that defended the area ... all the people of Ain al-Remmaneh did that," Geagea said in an interview late on Friday.
The view that Ain al-Remmaneh was attacked was widely shared among Christians, said Mohanad Hage Ali of the Carnegie Middle East Center.
"There is some kind of agreement among Christians on supporting the port blast investigation and the right to self defense - and that Hezbollah and Amal attacked the area before they were attacked themselves," he said.
"Geagea so far seems to have gained some popularity among Christians."
Nabil Boumonsef, deputy editor-in-chief of Annahar newspaper, said the FPM had made a mistake by accusing Geagea of the violence and he enjoyed wide sympathy among Christians.
"I see the FPM as the biggest loser," he told Reuters.
The army is investigating Thursday's violence.
It initially said gunfire had targeted protesters but later stated there had been an altercation and exchange of fire while protesters were on their way to the demonstration.
A soldier suspected of firing towards protesters is under investigation.
The FPM is the biggest Christian party. In Lebanon's last parliamentary election in 2018, the FPM, Hezbollah and other parties that support the group's possession of weapons secured a majority.
Hezbollah's opponents hope this can be overturned in 2022, with Christian seats seen as the main battleground.
In addition to the port blast, Aoun's presidency has been overshadowed by a massive financial meltdown that has plunged more than three quarters of the population into poverty.
Source: Al Arabiya
Please click the following URL to read the full text of the original story:
https://english.alarabiya.net/News/middle-east/2021/10/18/Lebanon-tensions-test-alliance-between-Shia-Hezbollah-Christian-Aoun
--------
Sisi congratulates Egyptians, Arab and Islamic nations on Milad un Nabi
18 Oct 2021
"I extend my sincere congratulations to the Egyptian people and the Arab and Islamic nations on the anniversary of the birth of our faithful Prophet, whose birth was a turning point in human history," El-Sisi tweeted.
"May the peace of Allah be upon Prophet Muhammad, the role model, the paragon, and the righteous epitome of the leader, who carried the message of heaven and took responsibility with courage and faced adversity with determination, will and patience.
"I pray to God on this blessed occasion to protect Egypt and our Arab and Islamic peoples from all evil," he added.
El-Sisi attended on Sunday a celebration of Milad un Nabi at Manara International Conference Centre in New Cairo.
Source: Ahram
Please click the following URL to read the full text of the original story:
https://english.ahram.org.eg/News/429098.aspx
--------
'He lied': Iraqis still blame Powell for role in Iraq war
18 October ,2021
For many Iraqis, the name Colin Powell conjures up one image: the man who as US secretary of state went before the UN Security Council in 2003 to make the case for war against their country.
Word of his death Monday at age 84 dredged up feelings of anger in Iraq toward the former general and diplomat, one of several Bush administration officials whom they hold responsible for a disastrous US-led invasion that led to decades of death, chaos and violence in Iraq.
His UN testimony was a key part of events that they say had a heavy cost for Iraqis and others in the Middle East.
"He lied, lied and lied," said Maryam, a 51-year-old Iraqi writer and mother of two in northern Iraq who spoke on condition her last name not be used because one of her children is studying in the United States.
"He lied, and we are the ones who got stuck with never-ending wars," she added.
As chairman of the Joint Chiefs of Staff, Powell oversaw the Persian Gulf war to oust the Iraqi army in 1991 after Iraqi leader Saddam Hussein invaded Kuwait.
But Iraqis remember Powell more for his UN presentation justifying the invasion of their country more than a decade later by casting Saddam as a major global threat who possessed weapons of mass destruction, even displaying a vial of what he said could have been a biological weapon. Powell had called Iraq's claims that it had no such weapons "a web of lies." No WMD were ever found, however, and the speech was later derided as a low point in his career.
"I am saddened by the death of Colin Powell without being tried for his crimes in Iraq. ... But I am sure that the court of God will be waiting for him," tweeted Muntadher al-Zaidi, an Iraqi journalist who vented his outrage at the US by throwing his shoes at then-President George W. Bush during a 2008 news conference in Baghdad.
In 2011, Powell told Al Jazeera he regretted providing misleading intelligence that led the US invasion, calling it a "blot on my record." He said a lot of sources cited by the intelligence community were wrong.
But in a in a 2012 interview with The Associated Press, Powell maintained that on balance, the US "had a lot of successes" because "Iraq's terrible dictator is gone."
Saddam was captured by US forces while hiding in northern Iraq in December 2003 and later executed by the Iraqi government.
But the insurgency that emerged from the US occupation grew into deadly sectarian violence that killed countless Iraqi civilians, and the war dragged on far longer than had been predicted by the Bush administration and eventually helped give rise to the Islamic State group. President Barack Obama pulled US troops out of Iraq in 2011 but sent advisers back in three years later after the Islamic State group swept in from Syria and captured large swaths of both countries.
Powell's UN testimony "resulted in the deaths of tens of thousands of Iraqis. This blood is on his hands," said Muayad al-Jashami, a 37-year old Iraqi who works with nongovernmental organizations.
While he did not suffer direct losses, al-Jashami said he continues to struggle with stress and panic attacks as a result of growing up with war, displacement, and years of terrorist bombings in the country.
Aqeel al-Rubai, 42, who owns a clothes and cosmetics shop in Baghdad, said he doesn't care if Powell regretted the faulty information he gave on WMD.
Al-Rubai, who lost his cousin in the war, also blames the US for the death of his father, who had a close call during the sectarian blood-letting that followed the US invasion, and later had a fatal heart attack.
"What does that remorse do for us? A whole country was destroyed, and we continue to pay the price," he said.
"But I say may God have mercy on him."
Elsewhere, Powell was remembered as "a towering figure in American military and political leadership over many years, someone of immense capability and integrity," by former British Prime Minister Tony Blair, who backed the US campaign and invasion.
German Foreign Minister Heiko Maas tweeted that Powell was a "straight-talking foreign policy official" and a "trans-Atlantic bridge-builder."
Source: Al Arabiya
Please click the following URL to read the full text of the original story:
https://english.alarabiya.net/News/middle-east/2021/10/18/-He-lied-Iraqis-still-blame-Powell-for-role-in-Iraq-war
--------
Iraq arrests mastermind of deadly 2016 bombing
18 October ,2021
Iraq said Monday it has detained the mastermind behind a deadly 2016 bombing in a Baghdad shopping center, which killed around 300 people and wounded 250.
The suicide car bombing in the central Karradah district was the deadliest attack by a single bomber in the Iraqi capital after the 2003 US-led invasion that toppled Iraqi dictator Saddam Hussein.
For the latest headlines, follow our Google News channel online or via the app.
Two Iraqi intelligence officials said the man identified as Ghazwan al-Zobai, an Iraqi, was detained during a complex operation that was carried out with the cooperation of a neighboring country they did not name. He had been tracked by authorities for months.
They told The Associated Press that al-Zobai was detained in an unidentified foreign country and transported to Iraq two days ago. They spoke on condition of anonymity because they were not authorized to speak of the operation on the record.
The 29-year-old al-Zobai was an al-Qaeda militant when he was imprisoned by the Americans in Iraq at Cropper prison until 2008, and then escaped from Abu Ghraib prison in 2013. He joined the ISIS group after that.
The officials said al-Zobai plotted many attacks in Iraq, the most infamous of which was the 2016 bombing in Karrada in 2016. He operated under the Alias Abu Obaida.
Source: Al Arabiya
Please click the following URL to read the full text of the original story:
https://english.alarabiya.net/News/middle-east/2021/10/18/Iraq-arrests-mastermind-of-deadly-2016-bombing
--------
Joint naval exercise kicks off between Saudi Arabia, US
19 October ,2021
The joint naval exercise Indigo Defender-21 between Saudi Arabia and the US kicked off earlier this week on Sunday, the official Saudi Press Agency (SPA) reported.
The mixed bilateral naval exercise kicked off in the presence of Assistant Commander of the Western Fleet, Commander of the exercise, Admiral Mansour bin Saud Al-Juaid, and Naval Colonel Daniel Bailey of the US Navy, according to SPA.
The exercise maneuvers, which will last for ten days, aim to strengthen relations and military cooperation, raise the level of combat readiness between the Royal Saudi Naval Forces and the US Navy, and exchange experiences in the field of port protection, the exercise commander said.
Source: Al Arabiya
Please click the following URL to read the full text of the original story:
https://english.alarabiya.net/News/gulf/2021/10/19/Joint-naval-exercise-kicks-off-between-Saudi-Arabia-US
--------
Mideast
Tens of extremist Jewish settlers defile al-Aqsa Mosque under heavy police protection
October 19, 2021
Dozens of extremist Jewish settlers forced their way into the Al-Aqsa Mosque in Occupied Jerusalem on Monday under heavy police protection.
Eyewitnesses said that the settlers guarded by Israeli police broke into the holy site through its Al-Magharba Gate, southwest of the Mosque, and performed provocative tours in its courtyards.
An Israeli court has recently ruled deeming the performance of Jewish silent prayer within the Al-Aqsa Mosque premises not a "criminal act".
Source: ABNA24
Please click the following URL to read the full text of the original story:
https://en.abna24.com/news//tens-of-extremist-jewish-settlers-defile-al-aqsa-mosque-under-heavy-police-protection_1189962.html
--------
More than 150 Houthis killed, injured in Yemen's Abedia: Arab coalition
October 18, 2021
RIYADH: The Arab coalition said on Monday that it carried out 38 operations targeting the Houthi militia in Abedia and the surrounding villages in the Yemeni governorate of Marib.
The coalition said more than 150 militia members were killed and 13 Houthi vehicles destroyed in the operations in the previous 24 hours.
The coalition said that "international organizations must assume their responsibilities toward the civilians (who have been) trapped in Abedia" for weeks.
The Iran-backed Houthi militia mounted a brutal offensive in February to take control of one of the last remaining government strongholds. The energy-rich region has served as a safe haven for internally displaced people fleeing the fighting since the conflict began in 2014.
The Arab coalition began hitting Houthi targets in Abedia last week following an escalation in the militia's incursions.
This comes as Yemeni Foreign Minister Ahmed Awad bin Mubarak warned of the "dangerous repercussions" of the Houthis' escalating offensive on civilians and displaced people in Marib governorate.
His comments came during a meeting with the chief of the International Organization for Migration's mission for Yemen, Christa Rottensteiner.
Source: Arab News
Please click the following URL to read the full text of the original story:
https://www.arabnews.com/node/1950341/middle-east
--------
President Rayeesi: ISIL Terrorists Tasked to Complete West's Destructive Mission in Afghanistan
2021-October-18
The Iranian president made the remarks while appointing Hassan Kazzemi Qomi as his special envoy for Afghanistan affairs during cabinet meeting on Sunday.
President Rayeesi, meantime, condemned the recent attacks on Muslims and mosques in the cities of Kunduz and Kandahar which resulted in death and injury of hundreds of people, and said, "Such attacks are carried out with the purpose of creating discord, war and bloodshed in Afghanista."
The Iranian president reiterated that the rising number of terrorist acts are in line with the destabilizing policy by the US in Afghanistan.
President Rayeesi renewed Iran's suport for Afghan people, and said, "The Islamic Republic is ready to help Afghanistan to restore security and stability to that country."
More than 60 people were killed in three back-to-back explosions that hit the Bibi Fatima mosque during Friday prayers, one of the biggest blasts in Kandahar. It came just a week after a bomb attack killed more than 150 people and left scores of others injured at a Shia mosque in the northeastern city of Kunduz.
Source: Fars News Agency
Please click the following URL to read the full text of the original story:
https://www.farsnews.ir/en/news/14000726000206/Presiden-Rayeesi-ISIL-Terrriss-Tasked-Cmplee-Wes's-Desrcive-Missin
--------
Israeli scuba diver discovers ancient Crusader sword
19 October ,2021
An Israeli scuba diver has salvaged an ancient sword off the country's Mediterranean coast that experts say dates back to the Crusaders.
Israel's Antiquities Authority said Monday the man was on a weekend dive in northern Israel when he spotted a trove of ancient artifacts that included anchors, pottery and a meter-long (yard-long) sword.
The diver was about 150 meters (170 yards) off the coast in five-meter-deep (5.5-yard-deep) water when he made the discovery.
Experts say the area provided shelter for ancient ships and is home to many archaeological treasures, some dating back 4,000 years. But such discoveries can be elusive because of the constantly shifting sands.
Source: Al Arabiya
Please click the following URL to read the full text of the original story:
https://english.alarabiya.net/News/middle-east/2021/10/19/Israeli-scuba-diver-discovers-ancient-Crusader-sword
--------
Iran: US should lift sanctions to prove it wants nuclear deal talks
19 October ,2021
Iran's president said Monday the US should lift the sanctions on his country to prove it is serious about restarting stalled nuclear talks in Vienna.
In an interview with state TV, Ebrahim Raisi said Iran is after "goal-oriented" talks with the West and said Iran "never left" the negotiation table.
"Lifting sanctions is an indication of seriousness of the other party," he said.
Talks between Iran and European signatories of the 2015 nuclear deal, alongside Russia and China, have been stalled since June. Raisi's administration, which took office in August, has not fixed a date for resuming talks.
"The Islamic Republic is serious in this issue, we should see seriousness in the other party," too, Raisi said.
The 2015 nuclear deal saw Tehran drastically limit its enrichment of uranium in exchange for the lifting of economic sanctions. Iran has insisted its nuclear program is only for peaceful purposes.
Source: Al Arabiya
Please click the following URL to read the full text of the original story:
https://english.alarabiya.net/News/middle-east/2021/10/19/Iran-US-should-lift-sanctions-to-prove-it-wants-nuclear-deal-talks
--------
Turkey shifting Syria strategy after Kurdish militia's attacks
October 19, 2021
ANKARA: Turkey is shifting to a proxy force strategy and diplomacy with the US and Russia to counter the Kurdish People's Defense Units in Syria instead of deploying its own troops, analysts have said.
It comes after senior Turkish officials hinted at a strategy change regarding the war-torn country following deadly attacks by the militia in the Kurdish-dominated Tal Rifaat region, which targeted Turkish police officers.
The militia has also engaged in a cross-border shelling campaign against nearby Turkish villages.
President Recep Tayyip Erdogan said that Ankara was "determined to remove all threats in northern Syria," while Foreign Minister Mevlut Cavusoglu pledged that Turkey "would do what is necessary for its security," adding that neither the US or Russia had kept their promises to ensure the withdrawal of the militia from the Syrian border.
But the Turkish government has said that the military will pursue a "much more different campaign" in northern Syria, sparking debate over whether Ankara will engage in diplomatic talks with the US and Russia before launching possible military action.
The militia is the chief local partner of the US in its fight against Daesh in the region, while Turkey considers the Kurdish group and its political wing, the Democratic Union Party, as Syrian extensions of the outlawed Kurdistan Workers' Party, which has fought a civil war against the Turkish state for more than three decades.
In the meantime, the Syrian Liberation Front branch of the Syrian National Army said that it is "determined to clear our regions from all terror groups," including the Kurdistan Workers's Party, Democratic Union Party and Daesh.
Soner Cagaptay, director of the Turkish program at the Washington Institute, said that every time Russian President Vladimir Putin has allowed Turkey to enter Syria and seize territory from the Kurdish militia, he has demanded that Turkey end its support for rebel groups.
"This involved a land exchange with either Turkey taking territories from the YPG (Kurdish People's Defense Units in Syria) or the Bashar Assad regime taking territories from the hands of the rebels. But this new model that we are talking right now is a bit different from this one. Now, Turkish-backed troops in Syria, instead of Turkish troops, might move in to take an area from the YPG with a tacit agreement from Putin," he told Arab News.
According to Cagaptay, Ankara's broader strategy is to divide the militia-controlled zones and prevent the formation of any future political entity in the group's territory.
"The recent Erdogan-Putin deal in Sochi aimed at implementing this new model," he said.
Amid particularly sensitive times for US-Turkey relations, a growing emphasis on diplomatic channels outweighs military action, he added. Erdogan is expected to discuss the issue with US President Joe Biden on the sidelines of the G20 summit in Rome at the end of October.
After their recent meeting in Sochi, Erdogan will also talk to Putin following his meeting with Biden.
According to Ozgur Unluhisarcikli, Ankara office director of the German Marshall Fund of the US, the threat that Turkey sees in the Kurdish militia is the possibility of a Kurdish state being formed close to its borders.
"Ankara is therefore taking whatever measures it can to prevent this from happening," he told Arab News.
Unluhisarcikli said that current conditions mean that it is unsuitable for Turkey to conduct military operations against YPG-held territories in northwest or northeast Syria.
Therefore, Ankara will push diplomatic channels to proceed efficiently, he added.
"Turkey is already in a tense relationship with Russia over Syria's rebel-held Idlib province and would not like to add a new layer to these tensions. At a time when Turkey is trying to improve relations with US, it would not like to introduce a new headache," he said.
Source: Arab News
Please click the following URL to read the full text of the original story:
https://www.arabnews.com/node/1950471/middle-east
--------
North America
Hackers Deface Trump's Presidential Website, Urge Readers to 'Not Forget Allah'
18 October 2021
Hackers defaced former President Donald Trump's presidential website Monday and redirected visitors to a page by Turkish hacktivist group RootAyyildiz who urged readers to "not forget Allah."
"Do not be like those who forgot Allah, so Ally made them forget themselves. Here they really went astray," the site read.
The message was in Turkish. The suspected hacker has been blamed for briefly defacing President Joe Biden's official campaign website in November 2020.
Biden's website displayed a message in Turkish with the country's flag placed at the top with aliases and usernames such as "MarbeyliWerom," "b4rbarøsas," and "oneshot."
A photo of the 34th Sultan of the Ottoman Empire, Abdul Hamid II, was also on the site with a footer note saying: "We are the ones who stopped the tanks with their bare hands on the night of July 15.
"We are those who killed death that night. We have been waiting for Archers Hill for 15 centuries! We are the keepers of that golden banner that will never miss its shadow on us."
Source: News Max
Please click the following URL to read the full text of the original story:
https://www.newsmax.com/newsfront/hackers-trump-website-deface/2021/10/18/id/1040989/
--------
Canada must look out for the Shia minority in Afghanistan
Oct. 19, 2021
The suicide explosion this last Friday in the Lady Fatima Mosque in Kandahar, Afghanistan, has taken 47 lives and injured many more.
This act of terror comes on the heel of another terrorist explosion only one week earlier in Kunduz that killed at least 50 and injured over 150. That explosion also targeted the Shia minority population during the Friday prayers.
Canada has an opportunity and responsibility to act. Leaving the security of the Shia minority to the Taliban is like trusting the fox to guard the henhouse.
First, Canada can increase the number of Afghan refugees it takes, particularly from the vulnerable Shia minority.
Second, Canada must ensure much-needed aid reaches the Afghan people, but bypasses the Taliban.
Source: The Star
Please click the following URL to read the full text of the original story:
https://www.thestar.com/opinion/letters_to_the_editors/2021/10/19/canada-must-look-out-for-the-shia-minority-in-afghanistan.html
--------
US envoy for Afghanistan Zalmay Khalilzad steps down from position
October 19, 2021
The United States' special envoy for Afghanistan is stepping down following the chaotic American withdrawal from the country, the US State Department said on Monday.
Zalmay Khalilzad will leave the post this week after more than three years on the job under both the Trump and Biden administrations. He had been criticised for not pressing the Taliban hard enough in peace talks begun while Trump was president but Secretary of State Antony Blinken thanked him for his work.
"I extend my gratitude for his decades of service to the American people," Blinken said of Khalilzad, a former US ambassador to the United Nations and Afghanistan.
Khalilzad had initially planned to leave the job in May after Biden's announcement that the US withdrawal would be completed before the 20th anniversary of the 9/11 attacks in September. However, he was asked to stay on and did so.
Khalilzad had served as the special envoy for Afghan reconciliation under both the Trump and Biden administrations since September 2018, when then-secretary of state Mike Pompeo brought him on board to lead negotiations with the Taliban and the Afghan government.
An Afghan native, Khalilzad was unsuccessful in getting the two sides together to forge a power-sharing deal but he did negotiate a US agreement with the Taliban in February 2020 that ultimately led to the end of America's longest-running war.
The agreement with the Taliban served as the template for the Biden administration's withdrawal of all US forces from Afghanistan, which many believe was conducted too hastily and without enough planning. Thousands of Afghan citizens who worked for US forces there over the past two decades were left behind in the rush to leave as were hundreds of American citizens and legal residents.
President Joe Biden and his aides frequently said the agreement that Khalilzad negotiated tied their hands when it came to the pullout and led to the sudden takeover of the country by the Taliban, although administration critics noted that Biden had abandoned the "conditions-based" requirements for a complete US withdrawal.
In interviews and in his resignation letter described to the AP, Khalilzad noted that the agreement he negotiated had conditioned the final withdrawal of US forces to the Taliban entering serious peace talks with the Afghan government. He also lamented that those negotiations and consequently the withdrawal had not gone as planned.
Despite the criticism, Khalilzad remained on the job, although he skipped the first high-level post-withdrawal US-Taliban meeting in Doha, Qatar earlier this month, prompting speculation he was on his way out. Khalilzad will be replaced by his deputy Thomas West, who led the US delegation to that last round of talks in Doha.
Source: Dawn
Please click the following URL to read the full text of the original story:
https://www.dawn.com/news/1652926/us-envoy-for-afghanistan-zalmay-khalilzad-steps-down-from-position
--------
US State Department watchdog to review end of Afghanistan operations
19 October ,2021
The US State Department's inspector general will review the end of the Biden administration's diplomatic operations in Afghanistan, including the emergency evacuation of the US embassy in Kabul, a spokesperson said on Monday.
The department's acting inspector general will also look into its Special Immigrant Visa Program, the processing of Afghans for admission as refugees, and their resettlement in the United States.
The acting inspector general, Diana Shaw, notified Congress on Monday that her office was launching "several oversight projects" related to the end of the US military and diplomatic missions in Afghanistan.
A congressional aide said a briefing by the IG was scheduled for Tuesday.
The planned evaluation was first reported by Politico.
The US-backed Afghan government collapsed in mid-August as the Taliban swept through the country at lightning speed and marched into the capital, Kabul.
US Republicans have harshly criticized President Joe Biden's administration for the spectacular collapse of the two-decade war effort, although the president's approval ratings have largely recovered from an initial hit tied to the chaotic withdrawal.
Source: Al Arabiya
Please click the following URL to read the full text of the original story:
https://english.alarabiya.net/News/middle-east/2021/10/19/US-State-Department-watchdog-to-review-end-of-Afghanistan-operations
--------
US does not attend Moscow conference on Afghanistan
19 Oct 2021
US department of state on Monday, October 18 said that they will not send a representative to a Russia-hosted conference that is concentrated on Afghanistan.
Spokesperson of the state department Ned Price reasoned logistic problems for which the United States will not be participating in Moscow talks.
Moscow is all set to host a conference on Afghanistan tomorrow, October 20.
Taliban have also been invited to the talks that have been confirmed and the de-facto authorities will be taking part in Moscow talks.
Iran, Pakistan, China, Tajikistan, Uzbekistan, and Turkmenistan are said to be participating in the conference.
Source: Khaama Press
Please click the following URL to read the full text of the original story:
https://www.khaama.com/us-does-not-attend-moscow-conference-on-afghanistan-4754745/
--------
Southeast Asia
Sultan Nazrin calls on scholars, leaders to wage jihad against corruption
18 Oct 2021
KUALA LUMPUR, Oct 18 — The Deputy Yang di-Pertuan Agong Sultan Nazrin Shah said that Muslim scholars and leaders must pool their energy and work together in the fight against corruption.
He said corruption is a harmful cancer that had been proven to be the cause of the people's suffering and poverty, the fall of governments and rulers, the collapse of nations and empires and the ruins of civilisations and cultures.
"Therefore, scholars and leaders cannot close their eyes, deafen their ears and hold their tongues against acts of corruption," said Sultan Nazrin.
The ruler said so many incidences of corruption have been reported recently, adding that based on the news reports, corruption is not only widespread but also happening on a large scale.
"It is more worrying when it is being carried out more boldly and openly," the ruler said in a message in conjunction with the Maulidur Rasul celebration aired over RTM tonight.
Sultan Nazrin said when the ummah is suffering, leaders have a big role in creating a peaceful world and prosperous life.
He said the people long for a fair and just leadership that bravely upholds the truth and firmly implements justice based on the law as well as a leadership that does not commit injustice, does not oppress, cheat and is not a hypocrite.
"The ummah has been voicing out their longing for a leadership that is not corrupt, does not abuse power, does not practise nepotism and does not commit breach of trust.
"The ummah longs to be led by leaders who practise the leadership qualities of Rasulullah Sallallahu Alai Wassalam (SAW), qualities that (all leaders) must follow," the ruler said, adding that the well-being of a nation and the prosperity of a country is greatly influenced by the characteristics and sensibility of its leaders.
He said, if leaders are constantly aware of their responsibility to God as well as to the ummah and the country, the ummah will prosper, national treasures will be managed transparently, resources to be distributed fairly and national wealth will not be wasted.
"Leaders will not allow dishonest wealth accumulation especially involving ways that sideline the rules and ridicule the law," he said.
Sultan Nazrin said those who are entrusted to lead the ummah must follow the leadership wisdom exhibited by Rasulullah SAW.
"Prophet Muhammad SAW is an example, a figure of outward good looks that reflects inner beauty. Through his leadership, he succeeded in building a great civilisation that had raised the ummah to the stage of glory," said Sultan Nazrin.
Source: Malay Mail
Please click the following URL to read the full text of the original story:
https://www.malaymail.com/news/malaysia/2021/10/18/sultan-nazrin-calls-on-scholars-leaders-to-wage-jihad-against-corruption/2014316
--------
On Prophet Muhammad's birthday, PM Ismail Sabri urges Malaysians to treat differences as source of strength
19 Oct 2021
KUALA LUMPUR, Oct 19 — Datuk Seri Ismail Sabri Yaakob has called on Malaysians to treat differences as an advantage rather than a weakness, and similarities as a source of strength in dealing with the current twin crises of economy and health.
The prime minister said as a Malaysian Family, everyone needed to work together to revive the country and adapt to new norms.
"Let us forge and strengthen unity with the bond of love and tolerance as a big Malaysian Family.
"Whoever we are, whether a father, mother, child, neighbour, employee, head of an office, community leader, religious leader or political leader, we have to play the role to revive the country for the well-being of the Malaysian Family."
He said this in a special message in conjunction with the Maulidur Rasul 2021M/1443H celebration that was broadcast live on RTM1 today.
Ismail Sabri said the rise and fall of a race and country are dependent on their unity and solidarity.
"Rasulullah, for example, had made a peace treaty with the various tribes living near Madinah in the northern and southern regions to increase understanding and renew relations based on the principle of truth as well as to avoid chaos and clashes of power.
"Don't let differences of opinion and approach cause us to lose our value of ukhuwah (brotherhood) and spirit of unity that have been established for so long," he said.
Based on the belief that Rasulullah SAW is the best role model for mankind including when he became the head of state in building Madinah, Ismail Sabri said the government would continue to emulate the initiatives implemented by the Prophet as a guide in the country's administration for the prosperity of the Malaysian Family.
"To this end, various policies, initiatives and incentives will be introduced and planned by the government so as to ensure that no members of the Malaysian Family are left behind in enjoying the wealth and prosperity of the country," he said.
According to him, Rasulullah SAW, among others, introduced Sahifah Madinah or the Constitution of Madinah for political stability, in which its core values managed to create the elements of togetherness and mutual respect between the communities, thus uniting them as one family.
"The stability of the country in terms of sustainable health and wellbeing as well as economic prosperity were the elements that had been given special attention by Rasulullah as the caliph of Madinah. Prophet Muhammad SAW in his administrative policy also prioritised the welfare of all the people of Madinah.
"Rasulullah also ensured that the country's revenue was shared and distributed fairly to all the people. Apart from that, he always encouraged the people of Madinah to develop the agriculture and business sectors as an economic resource at that time," he said.
In the context of humanity, Ismail Sabri said Rasulullah was a model in upholding the brotherhood of humanity when he sought to eliminate any form of discrimination based on religion, race, skin colour or descent.
"This shows that Islam is a religion that is built on the principle of takrim al-insan or honouring of humanity.
"It is also in line with the Federal Constitution, including Article 12 which accords the right to education to all citizens without any discrimination on the basis of their religion, race, descent, gender or place of birth," he said.
On the theme of this year's Maulidur Rasul celebration, which is 'Manhaj Rabbani Ummah Berkualiti', Ismail Sabri said it led to the norms of life that emphasise the principles of the Manhaj Rabbani policy, namely blessings, peace, godliness, devotion and justice.
He said all these values were in line with the three main thrusts of the Malaysian Family concept, namely inclusivity, common ground and contentment in addition to 20 other values such as compassion, faith, love and musyawarah (consensus through discussion).
Source: Malay Mail
Please click the following URL to read the full text of the original story:
https://www.malaymail.com/news/malaysia/2021/10/19/on-prophet-muhammads-birthday-pm-ismail-sabri-urges-malaysians-to-treat-dif/2014429
--------
Prophet Muhammad teaches people to remain united regardless of backgrounds, PM says in Maulidur Rasul message
18 Oct 2021
KUALA LUMPUR, Oct 18 — Prime Minister Datuk Seri Ismail Sabri Yaakob said the unity concept brought by Prophet Muhammad (PBUH) has taught Malaysians to stay united regardless of their backgrounds so as to create a harmonious Malaysian Family.
He said this unity concept that Prophet Muhammad introduced transcended tribal groups, religions and creeds.
He said that when Prophet Muhammad (PBUH) migrated to Madinah, he succeeded in not only uniting the Muhajirin (early followers of Islam who migrated from Makkah to Madinah) and the Ansar (local inhabitants of Madinah) through the Charter of Madinah but also the Jews.
Source: Malay Mail
Please click the following URL to read the full text of the original story:
https://www.malaymail.com/news/malaysia/2021/10/18/prophet-muhammad-teaches-people-to-remain-united-regardless-of-backgrounds/2014318
--------
Africa
43 people killed by suspected gunmen stormed marketplace in Nigeria
October 19, 2021
At least 43 people were killed when suspected gunmen stormed a marketplace in northern Nigeria on Monday, according to a local official.
"We just finished a meeting with some stakeholders, and I have confirmed that we unfortunately lost 43 people to that incident," Aminu Waziri Tambuwal, the governor of Sokoto state, said in a statement.
Tambuwal said security forces were dispatched to the region, adding more forces should be deployed to deal with security problems.
Nigerian President Muhammadu Buhari condemned the incident, saying the days of those responsible for the attack are numbered.
Earlier, Sokoto government spokesman Muhammad Bello said the assault was carried out by unidentified attackers in the Goronyo region.
He said the attack also left many wounded.
Sokoto is often targeted by armed groups. Twenty people were killed and many others wounded in a similar armed attack on Oct. 10.
Source: ABNA24
Please click the following URL to read the full text of the original story:
https://en.abna24.com/news//43-people-killed-by-suspected-gunmen-stormed-marketplace-in-nigeria_1189953.html
--------
Milad un Nabi celebrations: Niger Governor urge Muslims to rise against those promoting violence, insecurity
October 18, 2021
By Priscilla Dennis
Niger State, Governor Abubakar Sani Bello, has advised Muslims across the nation to rise against all those promoting violence and insecurity in Nigeria.
The Governor gave this advice in a message to commemorate the Milad un Nabisigned by his Chief Press Secretary, CPS, Mrs Mary Noel Berje in Minna.
He regretted the attitude of miscreants who use the religion of Islam as facade to perpetrate heinous crime.
Bello, however, insisted that only genuine love and an ending social equilibrium can frustrate the spread of violent ideology in the society.
The statement noted, "humanity is fast losing its essence due to obvious disregard to religious teachings and practice. Prophet Muhammad (SAW) and indeed Islam preaches peace, tolerance, unity and togetherness".
Source: Daily Post
Please click the following URL to read the full text of the original story:
https://dailypost.ng/2021/10/18/eid-el-maulud-celebrations-niger-governor-urge-muslims-to-rise-against-those-promoting-violence-insecurity/
--------
Milad un Nabi: Gov. Ugwuanyi felicitates with Muslims, calls for renewed faith in God, prayers
October 19, 2021
By Emmanuel Uzodinma
Governor Ifeanyi Ugwuanyi of Enugu State has felicitated with the Muslim faithful on this year's commemoration of Milad un Nabi, calling on all Nigerians to renew their faith in God and intensify prayers for the country to surmount its challenges.
In his goodwill message, Gov. Ugwuanyi urged Muslims and indeed all Nigerians to remain committed to the core values of the nation's founding fathers so that the concerted efforts at sustaining the peace, unity and progress of the country will be fully actualized.
The governor pointed out that the significance of Milad un Nabi anchored on love, sacrifice, obedience, tolerance and charity, as exemplified by the deeds and teachings of Holy Prophet Muhammad, is germane to the peaceful co-existence, unity and prosperity of Nigeria.
Source: Daily Post
Please click the following URL to read the full text of the original story:
https://dailypost.ng/2021/10/19/Milad un Nabi-gov-ugwuanyi-felicitates-with-muslims-calls-for-renewed-faith-in-god-prayers/
--------
Father of MP's suspected killer 'despises terrorists' after run-ins with Al-Shabaab
October 18, 2021
LONDON: The father of the suspect accused of murdering British MP David Amess is said to "despise terrorists" after being targeted himself with death threats by Somali extremists.
Ali Harbi Ali, 25, from London, is being held by police over the suspected murder of Amess on Friday.
Ali is estranged from his parents, the Daily Mail reported, and his father Harbi Ali Kullane is said to "despise terrorists" after his time working alongside the Somali prime minister before coming to the UK in 1996.
A security source told the Daily Telegraph that Kullane was himself involved in countering extremist narratives while working with the Somali government.
The source said: "He was quite involved in countering Al-Shabaab's message in his role as comms director, and he received death threats from them for doing so, which is common for anyone involved in a high-profile position in the government."
Ali was referred to Britain's counterterrorism program five years ago after his teachers noticed his views becoming increasingly radical.
Estranged from his family, the young man was enamored with hate preacher Anjem Choudary, who had himself been jailed on terrorism-related charges until recently.
Choudary's videos, his former friends told The Sun, turned Ali from a "popular pupil into an extremist."
Kullane has reportedly been in contact with British security services, who are analyzing Ali's phone and looking for an explanation as to his movements and thought processes ahead of the sudden attack.
Officials are reportedly not yet clear on why the man chose Amess as the target, but a government insider told the Daily Telegraph: "He was unlucky. He was not targeted because of his political party. David Amess was not specifically targeted."
Amess, 69, was stabbed 17 times during the attack, which took place during his surgery — weekly open meetings in which politicians meet their local constituents.
The attack has raised questions in Britain over the effectiveness of its de-radicalization program Prevent, which was already under review after a string of other terrorist incidents.
Source: Arab News
Please click the following URL to read the full text of the original story:
https://www.arabnews.com/node/1950416/world
--------
Gunmen kill dozens in Nigeria's troubled north
October 18, 2021
ABUJA: Gunmen from a suspected criminal gang attacked a village market in northwest Nigeria's Sokoto's state killing dozens of people, the state government said Monday.
Heavily armed gangs known locally as bandits have terrorized northwest and central Nigeria for years, raiding and looting villages, but attacks have become even more violent in recent months.
"We're not sure of the (death toll) figure. But it is 30 something," Sokoto's government spokesman Muhammad Bello said in a statement, adding that the attack occurred on Sunday evening in Goronyo district.
"It was a market day and there were many traders," Bello told AFP by phone.
Police spokesman Sanusi Abubakar also confirmed that bandits attacked Goronyo late on Sunday.
"Our sercurity operatives are there to conduct investigations," Abubakar added, without giving details.
Phone networks in the area have been suspended for weeks to disrupt the gangs' operations, making information-gathering tricky.
A gang raided another village market on October 8, in Sabon Birni district near the border with Niger, killing 19 people.
Since last month, Nigerian troops have been conducting air and ground operations on bandit camps in neighboring Zamfara state.
Telecom services were also shut down in Zamfara, and parts of Kaduna and Katsina states.
Officials in Sokoto are worried that bandits are relocating to the state as a result of operations in Zamfara.
"We're faced and bedevilled by many security challenges in our own area here, particularly banditry, kidnapping and other associated crimes," wrote Bello, on behalf of the state governor.
Governor Aminu Waziri Tambuwal, he said, had requested "the presence of more forces in the state and the deployment of more resources."
Last month 17 Nigerian security personnel were killed when gunmen attacked their base in Sabon Birni, an assault the military blamed on Islamic State-aligned jihadists.
Bandits have no known ideological agenda, but concerns have grown of jihadist inroads in the region.
Violence has spiralled in recent months across the northwest, forcing thousands of already vulnerable people to flee their homes in a situation that aid agencies fear risks becoming a humanitarian crisis.
Since January 2020, about 50,000 people fled from their homes in the northwest alone, according to the International Organization for Migration.
Source: Arab News
Please click the following URL to read the full text of the original story:
https://www.arabnews.com/node/1950256/world
--------
URL: https://www.newageislam.com/islamic-world-news/shahbag-bangladesh-dhaka-durga-temple/d/125604
New Age Islam, Islam Online, Islamic Website, African Muslim News, Arab World News, South Asia News, Indian Muslim News, World Muslim News, Women in Islam, Islamic Feminism, Arab Women, Women In Arab, Islamophobia in America, Muslim Women in West, Islam Women and Feminism