New Age Islam News Bureau
15 Dec 2013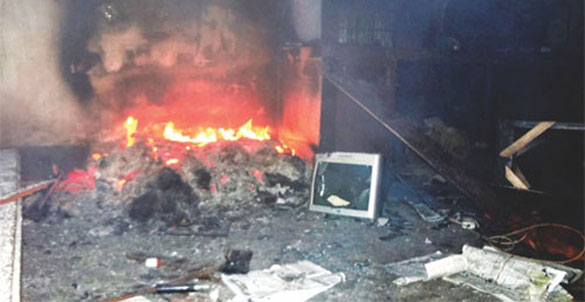 A post office burned down by Jamaat-Shibir activists in Companyganj of Noakhali yesterday. Photo: Focus Bangla
-------------
Southeast Asia
• Sex, Lies and Beef: Racy Scandal Hits Indonesia's Islamic Parties
• Lawyer: Muslims better off in Malaysia, human rights treaties not needed
• It's in PAS constitution to follow ONLY SUNNI Islam - Hadi suspects ulterior motives
• Malaysian Shia Muslims Prepare for Trial
------------
Arab World
• Iraq: 29 killed, 41 wounded in violent attacks
• Egypt: 3 Christians sentenced for killing a Muslim
• Egyptian Copt gets life over sectarian killings
• Syria air raids kill 15 in Aleppo: NGO
• President announces referendum on Egyptian constitution on 14, 15 January
------------
South Asia
• Violence kills 11 in Noakhali and Nilphamari after Molla hanging
• Afghan president says he does not 'trust' US
• Hamid Karzai lauds India's role in Afghanistan reconstruction
• Ban politics of Jamaat-e-Islami
• India told US to play positive role on Bangladesh
• Jatiya Party leaders split on joining polls
• Jamaat-Shibir activists attack, loot Freedom Fighter's house, business centres
------------
Mideast
• Drone strike in Yemen kills 17, mostly civilians
• Yemen says air strike targeted al Qaeda leaders
• Iran cancels Pakistan gas pipeline loan
• Turkish-Born Australian Senator Second Muslim In Parliament
• Israel begins fuel transfer for Gaza power plant
------------
Pakistan
• British Ahmadi doctor jailed in Pakistan for posing as Muslim
• Pak-India joint march can outdo West: Punjab CM
• CID police arrest key Taliban commander in Karachi
• Pakistan fashion casts off 'dark cloud' of extremism
• Top TTP terrorist held in Karachi
• JUI-F bags highest number of seats; PkMAP, NP big winners
------------
India
• Green Tablighi Ijtima Draws World Muslims
• India Scholars Fatwa Rejects Terrorism
• Sarabjit's sister to meet Sharif, seek visas for families of Indians in Pakistani jails
• Post-riots, Maya picks more Muslim nominees for Lok Sabha elections
• Indian businessman eyes Saudi market
------------
Europe
• Russians, Muslims and otherwise, show a marked preference for Halal foods
• From Mecca to Europe: Understanding Islam
• How widespread is Islamic fundamentalism in Western Europe?
------------
Africa
• Tunisia parties in final talks to choose new PM
• Bombs kill one in Kenya near Somalia border: police
Compiled by New Age Islam News Bureau
URL: https://www.newageislam.com/islamic-world-news/new-age-islam-news-bureau/sex,-lies-and-beef--racy-scandal-hits-indonesia-s-islamic-parties/d/34862
------------
Southeast Asia
Sex, Lies and Beef: Racy Scandal Hits Indonesia's Islamic Parties
15 Dec 2013
JAKARTA: Clandestine hotel room sex, money laundering and huge bribes to import beef evokes a seedy, criminal underworld rather than conservative politicians in the world's most populous Muslim nation.
But they all feature in a racy scandal that has shattered the clean image of Indonesia's biggest Islamic party and could further damage already-unpopular Muslim parties at national polls next year.
"The scandal... has given Islamic parties as a whole a bad image," said Umar S Bakry, from pollster Lembaga Survei Nasional.
The controversy that has shocked the country peaked last week when an anti-corruption court sentenced the disgraced former president of the Prosperous Justice Party (PKS) to 16 years in jail.
Luthfi Hasan Ishaaq was found guilty of bribery and money laundering after accepting kickbacks from firm Indoguna Utama in return for pressing the PKS-controlled agriculture ministry to increase the company's beef import quota.
Two executives from the company had earlier been jailed over the case, dubbed "Beefgate" by local media, which has given blanket coverage to a scandal of enormous proportions.
Ishaaq, who resigned as president of ruling coalition member PKS when the scandal emerged, has said he will appeal the guilty verdict against him.
During their probe, anti-graft investigators uncovered juicy details that tarnished the clean, pious image the PKS has sought to cultivate.
They seized six cars from Ishaaq and prosecutors accused the 52-year-old of trying to hide his marriage to one of his three wives, whom he wed last year when she was still a teenager.
But an arguably bigger figure in the scandal is Luthfi's close aide Ahmad Fathanah, jailed for 14 years in November, who was a key middleman in efforts to get Indoguna's quota increased.
His arrest in January kicked the scandal off in dramatic fashion -- anti-corruption agents caught the married man in a raid in a Jakarta hotel with a naked college student.
Fathanah had just collected bribe money and the student later admitted he paid her for sex.
He was found to have laundered his bribe money by giving gifts, including cars and diamonds, to 45 women, including an adult magazine model and several celebrities.
The PKS plays down the scandal and insists it is still on track for a strong result at legislative elections in April.
But independent polls in recent months show the party is receiving far below the almost eight per cent it garnered at elections in 2009, and there is much public anger towards it.
"PKS is such an absolute disgrace, anyone who votes for or supports this party must be either totally delusional or incapable of independent thought," said a recent comment on the website of the Jakarta Globe newspaper.
"Beefgate" has scotched the party's recent efforts to reinvent itself by moving away from a purist Islamic agenda and presenting itself as a clean organisation as others were battered by graft allegations -- President Susilo Bambang Yudhoyono's Democratic Party in particular.
And the controversy risks affecting all Indonesia's Islamic parties, which were already struggling, analysts warn.
The five main Islamic parties, including the PKS, won a combined total of more than 25 per cent at the 2009 legislative elections. They range from moderate groups to more extreme ones that want to introduce Islamic Sharia laws.
While the parties expected their share of the vote to continue the same downward trend of recent years, the PKS scandal means the fall is likely to be steeper and swifter, said Bakry from the Lembaga Survei Nasional.
He cited a recent LSN survey in which 42.8 per cent of respondents said they expected the groups' popularity to fall and only 21.6 per cent said they expected them to win more votes.
It is just another sad chapter in the history of political Islam in Indonesia, the world's most populous Muslim-majority country.
Islamic parties have seen their support erode gradually in recent years due to their own shortcomings and the greater appeal of the major, secular-nationalist parties, such the Democratic Party and the Indonesian Democratic Party of Struggle.
Experts point to poor organisation, infighting, previous corruption scandals, and a feeling among even conservative Muslims that there is no longer an obligation to vote for a party describing itself as "Islamic".
"Years ago if you were a pious Muslim you voted for an Islamic party but now it's not the case," said Greg Fealy, an Indonesia expert at the Australian National University.
Most voters, he added, now opted for parties with a solid track record of running the country.
http://au.news.yahoo.com/thewest/world/a/20340078/sex-lies-and-beef-racy-scandal-hits-indonesias-islamic-parties/
------------
Lawyer: Muslims better off in Malaysia, human rights treaties not needed
BY ZURAIRI AR
DECEMBER 15, 2013
KUALA LUMPUR, Dec 15 ― Malaysia should not be banded with other Muslim countries and pressured to ratify international human rights covenants as the ummah here enjoy good living conditions, a lawyer has said.
Azril Mohd Amin, who is vice-president of the Muslim Lawyers Association, also claimed that Muslim nations that had previously inked the treaties had mistakenly done so out of fear.
"It is unfair to compare Malaysia to other countries such as Myanmar and Afghanistan when debating about ratifying human rights conventions," Azril, who led a coalition of Muslim non-government organisations to the Universal Periodic Review process (MuslimUPRo), wrote in an opinion piece for BH, a Malay daily.
"Of course the condition of Muslims in Malaysia and our effort to fix the human rights conditions in this country is better, and the space to strengthen it is wide."
Malaysia's human rights record had come under intense scrutiny in recent years over the treatment of minority groups and migrant workers.
Several civil societies had also banded together to lobby Putrajaya to ratify the Universal Declaration of Human Rights (UDHR) earlier this year.
But according to Azril, UDHR was the result of a secular liberal ideology, which makes some of its demands unacceptable for Muslims.
The UDHR was drafted from early 1947 to late 1948 by Canadian John Peters Humphrey of the United Nations Secretariat and representatives of countries which were members of the first United Nations Commission on Human Rights, including China, Iran, and Lebanon.
It was subsequently adopted by UN members in 1948, with 48 countries in favour and eight ― mostly from the then Soviet bloc ― abstaining.
Azril claimed Muslim-majority countries such as Egypt, Tunisia, Chad and Afghanistan of signing the covenants because they were under pressure due to post-war or invasion trauma.
He also accused Muslim-majority countries of making the mistake of sending incompetent representatives to draft the human right conventions, including secularists or non-Muslims.
In his article, he had chastised the chairman of the Malaysian Human Rights Commission (Suhakam), Tan Sri Hasmy Agam, and Datuk Saifuddin Abdullah, the chief executive of the local branch of the Global Movement of Moderates (GMM) ― mooted by Prime Minister Datuk Seri Najib Razak ― for pushing the nation to ratify as many human rights treaties as possible.
In November, a forum on Malaysia's future in human rights was told that Muslim critics of human rights defenders are "barking up the wrong tree" by accusing the latter of furthering a Western-backed or Christian conspiracy.
According to Bar Council member Andrew Khoo, Muslim-majority countries were among those which have asked Malaysia to obey international human rights standards in the United Nations' Universal Periodic Review (UPR) in October.
Some 19 countries, including Muslim-majority Egypt, Algeria, Chad, Tunisia and Sierra Leone, wanted Malaysia to sign one or more of the six core international conventions on human rights which the Southeast Asian nation has yet to ratify.
In the run up to the UPR, MuslimUPRo had gone head-to-head with another coalition of civil societies, Comango, which had recommended the federal government ratify global treaties on human rights to protect the individual rights of Malaysians.
It sparked a row that dragged in several prominent public personalities, including activist Datin Paduka Marina Mahathir.
http://www.themalaymailonline.com/malaysia/article/lawyer-muslims-better-off-in-malaysia-human-rights-treaties-not-needed
------------
It's in PAS constitution to follow ONLY SUNNI Islam - Hadi suspects ulterior motives
14 December 2013
Not a single PAS member can be a Shi'ite as the Islamist party's constitution clearly subscribes to only the Sunni denomination, its president Datuk Seri Abdul Hadi Awang has said in the ideological row brewing in Malaysia.
The Marang MP also took a jab at political foe, Umno, as he questioned the recent spotlight on the decades-long rift between Islam's two largest schools worldwide here — Sunni and Shiah — which he argued was the result of a rise in secularism.
"This (provision) does not exist in any other parties' constitutions, including Umno itself which boasts of being Sunni," Abdul Hadi said in a statement carried yesterday by the PAS-owned news portal, Harakah Daily.
"Because of this Sunni principle, PAS' Disciplinary Committee can act on other sects in PAS, and not only in disciplinary cases against the PAS administration," he added.
Abdul Hadi explained that the paramount laws in PAS are based on the holy texts of Quran, Hadith, consensus of Islamic clerics, and "qias" (legal reasoning).
Its adherence to Sunni teachings however does not restrict PAS from interacting with other parties, including non-Muslims, Abdul Hadi said.
He boasted that PAS is "more advanced" in its relationship with other Muslim groups of all ideologies and sects than any other political party in the country.
"PAS can differentiate between Islamic teachings, based on restrictions allowed by the 'syara'," the federal lawmaker said, using the Arabic term meaning Muslim code.
"That is how PAS supports the Malaysian government's diplomatic relations with Iran, Oman, including Western and communist nations," he added.
What's brewing
In the Umno's general assembly recently, Home Minister Datuk Seri Ahmad Zahid Hamidi had ordered the religious authorities to take action against PAS deputy president Mohamad Sabu for his alleged Shiah links.
Mohamad had since described allegations of his Shiah beliefs as "lies", after Putrajaya furnished purported evidence of his links to the Islamic sect that is considered deviant despite being practised by an estimated 15 per cent of 1.5 billion Muslims worldwide.
The Penang-born speaker has said he is considering suing Ahmad Zahid and the Home Ministry for defamation over the Shiah claims.
PAS leaders have also rallied behind its deputy president since the allegations were made publicly against Mohamad, with Abdul Hadi seen as his most vocal and lucid supporter.
Abdul Hadi said the rise of secularism among Muslims has driven a bigger wedge among the religion's many schools, noting that the different denominations had previously existed peacefully side- by-side.
"Muslims were divided with secularism which separates political and worldly affairs from Islam, causing them to adhere to many ideologies different from Islam, especially nationalism," said Abdul Hadi.
"In the same time, the issue of different sects in Sunni and Shiah were made a material to pit Muslims together, until they even requested for the service and help of the colonials to fight each other."
15% of 1.5 bil Muslims worldwide are Shia
According to the PAS president, there are two sects in the Shiah denomination that are not considered deviant by religious clerics: the Imami and the Zaidi, which are also known as the Twelvers and Fivers.
Abdul Hadi's argument comes in the wake of a growing storm within the federation's biggest creed, with the country's foremost religious authority, the Malaysian Islamic Development Department (Jakim), stating yesterday that all branches of Shiah teachings deviate from the Sunni Islam practised here, and are therefore a violation of Islamic law.
Shiah is Islam's second-largest branch practised by an estimated 15 per cent of the 1.5 billion Muslims worldwide but is regarded as deviant by Malaysia, which follows the Sunni school.
The division between Sunni and Shiah resulted from a political split over the leadership succession after the death of Prophet Muhammad, with Shiites maintaining that the Muhammad had designated his cousin and son-in-law Ali as the rightful heir.
Muslims worldwide who identify themselves as a Shi'ite are largely from Iran, Iraq, Azerbaijan and Bahrain while those in Southeast Asia predominantly follow Sunni Islam. - Malay Mail
http://www.malaysia-chronicle.com/index.php?option=com_k2&view=item&id=200611:unlike-umno-its-in-pas-constitution-to-follow-only-sunni-islam-hadi-suspects-ulterior-motives&Itemid=2#axzz2nSID79F7
------------
Malaysian Shia Muslims Prepare for Trial
By Celine Fernandez
DECEMBER 15, 2013
Two Shia Muslims are scheduled to go on trial in a religious court this week over allegations that they possessed books that violate an edict that only the Sunni branch of Islam can be promoted in Malaysia.
Nur Azah Abdul Halim, 41 years old, and Mohammad Ridzuan Yusof, 31, who were arrested in August, have pleaded not guilty to having books on Shia teachings. Ms. Nur, a homeopathic practitioner, and Mr. Mohammad, a restaurant owner, are from the state of Perak, about three hours' drive north of the capital city of Kuala Lumpur.
The case highlights a complaint of Shia followers in Malaysia—that they are not allowed to freely practice their faith.
"We are treated very unfairly," Ms. Nur said. "We are treated like criminals just because we want to follow Shia Islam."
Mr. Mohammad couldn't be reached for comment.
Malaysia has two parallel legal tracks: traditional common law, applying to everyone, and Shariah law, Islamic codes on religious observance and family matters that apply only to Muslims
Nearly two-thirds of Malaysia's 28 million people are Muslim, according to government statistics, the vast majority of whom are Sunnis. It is unclear how many Shia followers are in Malaysia. Shia leaders don't collect or estimate their numbers, while government officials offer widely differing estimates—from 2,000 to 250,000—with some of the huge discrepancy attributed to foreign tourists and students. All agree, however, that Shia followers are a small number compared with Sunnis.
Malaysia hopes to avoid violence between the two faiths that has sometimes broken out in other parts of the world by promoting only the Sunni faith, said Malaysian Muslim scholar Muhammad Asri Zainul Abidin.
Malaysia's inspector general of police, Khalid Abu Bakar, said at a news conference on Friday that if the Shia movement isn't monitored and controlled, it could lead to militant activities. "We do not want what happened in Syria, Iraq, Afghanistan and Pakistan to happen here, do we?" he said.
The government's home minister has the power to authorize individual state religious authorities to arrest Muslims, conduct raids and ban books when considered a national security threat.
Home Minister Ahmad Zahid Hamidi, at a news conference on Dec. 6, acknowledged authorizing actions against Shia followers, including banning their books and not registering their groups because it "will disunite the Muslims."
Shia followers are watching the trial—scheduled for Dec. 17 in Perak state—for signs of whether they will need to go deeper underground in practicing their faith, they said in interviews. More broadly, if the two Shia followers are convicted and sentenced, the case may suggest that Sunni leaders are going to actively enforce edicts to discourage any other followers of Islam from practicing or converting to Shia.
The trial comes amid other high-profile cases about religion in Malaysia. In the secular court, Christians in two cases are asking for the right to use the word "Allah" in their newspapers and religious publications in Bahasa Malaysia. In a religious court, a Muslim woman is being prosecuted over complaints she insulted other Muslims by washing a dog's feet in a video posted on YouTube.
The specific edict—or fatwa—Ms. Nur and Mr. Mohammad are accused of violating was set by Perak's local fatwa council last year. It echoed a decision by the National Fatwa Council in 1996 that said Muslims in Malaysia should only follow Sunni teachings and banned books contrary to Sunni teachings. Eleven of Malaysia's 14 states, including Perak, have adopted the fatwa.
"They had with them books that were banned. So if it is banned, you cannot keep them," Harussani Zakaria, Perak's mufti—or cleric—said of the accused pair.
A Muslim convicted of possessing non-Sunni religious materials faces a punishment of up to two years imprisonment and a $1,000 fine. But prison sentences aren't common because people usually plead guilty and judges take that into consideration.
Since the arrests in August, at least four others in Perak have been charged with possession of Shia publications as well as another person in the state of Pahang. Meanwhile, the minister in charge of Islam in the prime minister's department, Jamil Khir Baharom, told parliament in late September that 16 people had been arrested this year in an unspecified time period for propagating the teachings of the Shia denomination, while 120 anti-Shia raids had been carried out.
Mohd Faizal Musa, a research fellow at the National University of Malaysia who says two of his books were banned that touched on Shia, said Sunni leaders appear concerned that Shia is growing in popularity—Shia is the world's second-largest branch of Islam behind Sunni—as social media empowers its followers.
Mr. Faizal said Shia Islam appeals to some of Malaysia's younger generation as an alternative to Sunni Islam.
"The younger generation of Shia followers are using Facebook, Twitter, blogs to express their identities, thus demanding their rights," Mr. Faizal said.
http://stream.wsj.com/story/latest-headlines/SS-2-63399/SS-2-405957/
------------
Arab World
Iraq: 29 killed, 41 wounded in violent attacks
14th Dec 2013
BAGHDAD, (Xinhua): At least 29 people were killed and 41 others wounded in violent attacks in Iraq on Friday, police said.
Unidentified gunmen attacked a pipeline transporting gas from Iran to Iraq near Neda ,some 50 km east of Baquba, the capital of Diyala province, killing 15 Iranians and three Iraqis, a police source told Xinhua on condition of anonymity.
Five Iranians workers and two Iraqis were injured in the attack, the source added.
A car bomb exploded near a popular market in Madaien, some 30 km south of Baghdad, killing four people and wounding 13 others, the souece said, adding that the blast also damaged sevral nearby shops and cars.
Earlier in the day, a suicide car bomber attacked a gathering of Iraqi army and police forces in Ramadi, the capital of Anbar province, killing five policemen and wounding four policemen and five soldiers, a local police source told Xinhua.
A car bomb went off near a fish market in the Nahrawan arear in eastern Baghdad, killing two people and wounding 12 others, the source added.
No group has so far claimed responsibility for the deadly attacks, but the al-Qaida front in Iraq, in most cases, was responsible for such bombings in the country.
Friday's attack came amid escalation of sectarian tension between the Sunni and Shiite communities, which has been at its highest level since the US troops pulled out from the country at the end of 2011.
Iraq is witnessing its worst eruption of violence in recent years. According to the UN Assistance Mission for Iraq, 8,109 Iraqis were killed in the country from January to November this year.
http://webcache.googleusercontent.com/search?q=cache:http://www.muslimnews.co.uk/news/middle-east/iraq-29-killed-41-wounded-violent-attacks/
------------
Egypt: 3 Christians sentenced for killing a Muslim
December 14, 2013
CAIRO (AP) — An Egyptian criminal court convicted three Christians Saturday of killing a Muslim man, a judicial official and the state news agency said, in a dispute that that left nine people dead in some of this year's worst sectarian violence.
Six Christians died in the clashes, which took place in a small town just outside Cairo in April, but no one was arrested or convicted for their killings, lawyers said.
In its ruling, the criminal court of Qalubiya province sentenced one Christian man, Hani Farouk Awad, to life imprisonment and two others to 15 years for the killing of a Muslim resident of Khosoos, where the violence took place. Nine Muslims were sentenced to up to five years for vandalizing Christian properties while 32 were acquitted, the official said.
He was speaking on condition of anonymity because he was not authorized to speak to reporters.
Egypt's Christians, who make up about 10 percent of the country's population, have long complained of discrimination and sectarian strife — usually fueled by hate speech from religious extremists, attempts to build new houses of worship or interfaith love affairs.
The sense of fear was heightened when Islamists rose to power following the 2011 uprising that ousted longtime autocrat Hosni Mubarak. The Khosoos dispute was the worst violence during the one-year rule of Islamist President Mohammed Morsi, who was removed in a popularly backed coup in July.
The fight started when young Muslims drew inflammatory symbols on an Islamic school and the vandalism was blamed on local Christians.
Two defense lawyers in the case said a cleric of the local mosque urged revenge for the death of the Muslim man, leading to three consecutive days of violence that also saw a church attacked and private shops and homes of Christians looted and burned. Assailants doused one of the Christians with gasoline and set him on fire. They contend that only two Christians were convicted in the case. The difference with the court's number of convicted could not be reconciled.
Samaan Youssef, one of the Christians' lawyers in the case told The Associated Press that the prosecution failed to identify any of the suspects in the killing of Christians because local witnesses were afraid to speak out and possibly provoke revenge attacks and renewed violence.
The violence later spread to the doorsteps of the country's main Coptic Cathedral after funerals for the Christian victims. An angry mob of Muslims threw firebombs and rocks at the church forcing a group of Christians, who attempted to march against the government, back into the church.
The violence left two dead, including one Christian. Reports at the scene said few police were present.
Full report at:
http://www.usnews.com/news/world/articles/2013/12/14/egypt-3-christians-sentenced-for-killing-muslim
------------
Egyptian Copt gets life over sectarian killings
15 December 2013
CAIRO: An Egyptian Copt was sentenced Saturday to life in prison as 10 others got jail terms from six months to 15 years over sectarian deaths in April, judicial sources said.
Seven people — five Christians, one Muslim and an unidentified man — were killed when sectarian violence erupted in Al-Khusus, north of Cairo, after a Muslim objected to children drawing a swastika on a religious institute.
He then insulted Christians and the incident flared into an exchange of gunfire between Muslims and Christians, security officials said at the time. Several shops and houses were also set ablaze.
On Saturday, a court in Benha, north of the capital, delivered the verdicts against 11 Christian and Muslim men.
It also acquitted 32 others out of a total of 43 defendants in the case, the judicial sources said.
Full report at:
http://www.arabnews.com/news/492786
------------
Syria air raids kill 15 in Aleppo: NGO
December/15/2013
Fifteen people, among them eight children, were killed in air raids Sunday on a rebel area of the war-torn northern city of Aleppo, the Syrian Observatory for Human Rights said.
The Britain-based Observatory also reported that at least 28 people have been killed in Adra, northeast of Damascus, since rebels launched an offensive there Wednesday.
"Fifteen people, including six men, an 18-year-old and eight children were killed in an aerial bombardment of the Ard al-Hamra neighbourhood" of Aleppo, it said.
The Aleppo Media Centre, an activist network on the ground, reported several helicopter attacks on rebel areas of the city, once Syria's economic hub.
The helicopters, said the group, dropped explosive-laden barrels on several neighbourhoods, causing widespread destruction.
Also in Aleppo, the Syrian Red Crescent on Saturday delivered food and medicine to the central prison, which has been under rebel siege for eight months.
The volunteers escorted out 15 prisoners, said the Observatory, adding that "another 341 detainees are waiting to be released." President Bashar al-Assad's regime earlier this week announced an amnesty for scores of detainees at the jail "because of the poor health and humanitarian conditions," according to the Observatory.
Meanwhile, northeast of Damascus, at least 28 civilian members of minority religious communities have been confirmed dead in Adra since Wednesday, when Islamist rebels launched an offensive aimed at capturing the key entrance into the capital.
"The number of civilian fatalities has risen to 28... among them Alawites, Shiites and Druze," said the Observatory, which relies on a broad network of doctors, activists and lawyers across Syria for its reports.
The army has vowed to "crush" Islamist rebels in the industrial town, which has seen fierce fighting for five days.
Full report at:
http://www.hurriyetdailynews.com/syria-air-raids-kill-15-in-aleppo-ngo.aspx?pageID=238&nID=59583&NewsCatID=352
------------
President announces referendum on Egyptian constitution on 14, 15 January
14 Dec 2013
Interim President Adly Mansour has announced a national referendum on the new draft of the constitution, to take place on 14-15 January.
In a speech at a ceremony on Saturday afternoon, the president called on those who opposed the current political settlement to "give up on their stubbornness," to stop "following a mirage," and to join the nation.
The drafting committee submitted the amended draft to Mansour on 3 December. According to the transitional roadmap announced by the interim authorities after the ouster of former president Mohamed Morsi in July, the amended constitution must be approved by a national referendum. A successful referendum vote would be followed by elections.
During the amendment process, the constitutional drafting committee decided to leave the decision of whether to hold presidential or parliamentary elections first to President Mansour.
The new draft aims to replace the 2012 constitution, which was drafted during the presidency of Mohamed Morsi by an assembly dominated by Islamist representatives, and faced widespread political opposition. The Islamist-drafted constitution was approved by a referendum in December 2012, with 64 percent of the votes. Turnout was 33 percent.
"Let this constitution be a word of justice, that unites and doesn't separate … for hatred is a tool for destruction ... disagreement is legislated, as long it adopts peacefulness and is in the country's interest," Mansour stated in his speech.
Speaking at the ceremony at Ittihadiya presidential palace in Cairo, the head of the committee which drafted the new version of the constitution, Amr Moussa, said that the panel had drafted a "balanced constitution" that provides freedoms, rights and separation of powers.
Full report at:
http://english.ahram.org.eg/NewsContent/1/64/89074/Egypt/Politics-/President-announces-referendum-on-Egyptian-constit.aspx
------------
South Asia
Violence kills 11 in Noakhali and Nilphamari after Molla hanging
December 15, 2013
At least 11 people were killed in Noakhali and Nilphamari yesterday, as Jamaat-Shibir men clashed with law enforcers and ran riot in several parts of the country to protest the execution of their leader Abul Quader Mollah.
Meanwhile, a Jamaat leader died early yesterday when law enforcers raided his house in Laxmipur town.
A total of 21 people have died in political violence since convicted war criminal Mollah was hanged on Thursday night.
The Jamaat-e-Islami enforces a 12-hour shutdown from 6:00am today across the country to protest the hanging of its assistant secretary general.
Unlike previous blockades and hartals, today's shutdown has been called by Jamaat alone without the backing of any other party in the BNP-led opposition alliance.
The Islamist party has unleashed a wave of violence over the last two days, disrupting normal life in many parts of the country.
In Nilphamari, the motorcade of Awami League lawmaker Asaduzzaman Noor came under attack from Jamaat-Shibir men yesterday afternoon. Noor, however, escaped unhurt.
An arson attack was made, allegedly by Jamaat men, on the Pabna regional passport office early in the morning. State Minister for Home Shamsul Haque Tuku owns the building that houses the passport office.
Besides, Jamaat-Shibir men attacked two police outposts in Narayanganj.
5 KILLED IN NILPHAMARI
Jamaat-Shibir men attacked Noor's motorcade while he was returning to Nilphamari town after visiting Laxmichap, Shishatoli and Palash Bari villages where Jamaat men on Thursday night set ablaze 70-80 shops and storehouses belonging to Hindus and AL activists.
The attack on the motorcade triggered a three-way clash between Jamaat men, AL activists and law enforcers near Ramganj Bazar in Sadar upazila, leaving five people dead and at least 50 others injured.
According to police and witnesses, when Noor and his entourage were coming back to the town via Ramganj-Mirganj road around 4:00pm, they found that a part of the road had been dug up by Jamaat men.
As the AL activists accompanying Noor tried to repair the road, several hundred Jamaat-Shibir men pelted them with stones and brickbats from roadside bamboo groves and houses, prompting the AL men to retaliate.
Locals alleged that the Jamaat men had forcibly entered many roadside houses and lay in wait to attack Noor's motorcade.
At one stage, the law enforcers escorting Noor and his entourage fired teargas shells and rubber bullets to disperse the attackers, said witnesses.
Jamaat men torched at least 25 to 30 motorbikes belonging to local AL leaders and activists.
As the situation deteriorated further, additional police and BGB personnel from the district headquarters went to the spot to ensure safe passage for Noor after more than an hour.
In a bid to prevent the AL lawmaker from reaching Nilphamari town, Jamaat men blocked the road by felling roadside trees. But he finally reached the town safely, as police, locals and AL men removed the barricades.
Noor, also cultural secretary of the Awami League, told The Daily Star last night, "The pattern of the attack indicates that it was well-planned. The attackers were also well-trained."
They went on the offensive like the Pakistan occupation army did in 1971, he said.
The five people killed in the clash are Khorshed Chowdhury, 50, president of Tupamari union Krishok League, Jubo League men Farhad Hossain, 35, and Lebu, 30, Murad Hossain, 35, an AL activist, and Abu Bakar Siddique, 45, reports our Nilphamari Correspondent.
At least 50 people, mostly AL activists, were wounded in the clash. The condition of six of the injured was stated to be critical.
Ten policemen, including ASP (circle) Shafiul, also suffered injuries.
6 KILLED IN NOAKHALI
Activists of the Islamist party clashed with law enforcers in Companiganj upazila, leaving six Shibir men dead and 15 people injured.
The clash erupted around 4:00pm when police intercepted a procession brought out by Jamaat-Shibir men from the KM Model High School, reports our Noakhali correspondent, said police and witnesses.
Unruly Jamaat activists set alight the offices of land, family planning and public health engineering, and some shops there. They hurled crude bombs and brickbats at police, prompting the law enforcers to open fire.
Six Shibir men died on the spot. They are Motiur, 22, Raihan, 21, and Abdus Sattar, 24, Saiful Islam, 21, Sajib, 22, and Russel, 20, said local sources.
Police, however, confirmed the death of three.
Sajidul Islam, officer-in-charge of Companiganj Police Station, said they brought the bodies of three Shibir activists to the police station.
At least five policemen, including Shafiqul Islam, OC (investigation) of the police station, were injured in the clash, said Anisur Rahman, superintendent of police in the district.
On information, fire fighters went to the spot and brought the flames under control. Additional policemen were deployed in the area to ward off further violence.
OTHER DISTRICTS
In Laxmipur, Fayez Ahmed, 66, nayeb-e-ameer of Jamaat's district unit, was found dead after a team of police and Rab personnel raided his house at Dakkhin Temuhoni early yesterday.
Marzia Begum, wife of the Jamaat leader, said a group of men, identifying themselves as Rab personnel, forced into their house in Laxmipur Sadar around 12:30am.
They took Ahmed to the rooftop, shot him in the head, and then tossed the body from there, she claimed.
Full report at:
http://www.thedailystar.net/beta2/news/violence-kills-11/
------------
Afghan president says he does not 'trust' US
December 15, 2013
NEW DELHI: Visiting Afghan President Hamid Karzai said in New Delhi on Saturday he no longer "trusts" the United States, accusing the Americans of saying one thing and doing another in his troubled homeland.
Karzai's statement to journalists came a day after he insisted he would not be "intimidated" into signing a security pact allowing US troops in Afghanistan to stay on after next year.
"I don't trust them," Karzai said in a wide-ranging discussion at a local hotel in which he singled out a letter US President Barack Obama wrote last month assuring him that US forces would "respect" the safety of Afghans in their homes.
Karzai was speaking on the second day of a three-day visit to India during which the United States hopes New Delhi can persuade him to sign the troubled troop deal.
Karzai, who is due to stand down after elections next year, initially endorsed the so-called Bilateral Security Agreement, or BSA.
But he later said the agreement could only be signed after the presidential election in April, warning against a NATO presence if it just meant "more bombs and killings".
His stance has outraged US officials and lawmakers, who have threatened a complete forces pullout if Karzai does not sign by the end of the year.
"When Obama writes to me that he will respect homes, they should prove it... implement the letter, respect Afghan homes," Karzai said.
"Just instruct no more bombings and there will be no more bombings and of course launch the peace process publicly and officially," he said.
"I am trying to make it a win-win for all," he said.
Karzai met Friday with Indian Prime Minister Manmohan Singh and foreign minister Kapil Sibal.
India has consistently pledged to do all it can to promote stability in Afghanistan, mindful of how it was one of the main enemies of the Taliban regime before its ouster in the wake of the September 11 attacks in 2001.
On his last visit to New Delhi in May, Karzai said he had put forward a "wishlist" of military assistance he hoped Delhi could deliver on.
India's foreign ministry has declined to detail the list's contents, but local media reports said it included light and heavy artillery, aircraft, and small arms and ammunition.
Karzai said he was "very satisfied" with the help India is offering Afghanistan but would not disclose its nature.
"India is not shying away from providing assistance to Afghanistan" but "in terms of India's support to Afghanistan in military equipment and training, the facts are much better than you hear in the press."
Full report at:
http://www.dailytimes.com.pk/default.asp?page=2013\12\15\story_15-12-2013_pg14_1
------------
Hamid Karzai lauds India's role in Afghanistan reconstruction
Dec 15, 2013
NEW DELHI: India has done enough to satisfy Afghanistan over its demand for military aid from New Delhi, Afghan President Hamid Karzai said on Saturday. Karzai had met PM Manmohan Singh on Friday to discuss a range of issues including Kabul's demand for both lethal and non-lethal equipment and also the bilateral security agreement which the Afghan president is refusing to sign with the US.
Karzai said India was helping Afghanistan build capabilities to defend the country "through its own resources and its own citizens".
"India is also not shying away from providing assistance to Afghanistan and I can tell you that in terms of India's support to Afghanistan in military equipment and training and the facts are lot better then what you hear in the press," he said.
Karzai said a host of crucial issues including supply of military equipment by India, Afghanistan's conditions in signing bilateral security pact (BSA) with the US ahead of withdrawal of NATO forces and the peace process were discussed extensively during his talks with Prime Minister Manmohan Singh on Friday.
"India wants to help us...India wants to have a region free of tension and that's exactly what Afghanistan wants. I have satisfaction over the outcome (of the meeting with Singh)," the Afghan president said.
Karzai had meetings with top leadership here including Singh and external affairs minister Salman Khurshid.
When pressed further on the issue of supply of military equipment by India, he only said, "As far as military hardware is concerned, Afghanistan needs them and India and other countries are helping."
Full report at:
http://timesofindia.indiatimes.com/india/Hamid-Karzai-lauds-Indias-role-in-Afghanistan-reconstruction/articleshow/27384976.cms
------------
Ban politics of Jamaat-e-Islami
December 15, 2013
Some eminent citizens of the country have demanded a ban on the politics of Jamaat-e-Islami and the quick execution of all war crimes convicts.
They came up with the demand in response to the widespread violence following the hanging of war criminal Abdul Quader Mollah.
They also urged all political parties to refrain from imposing hartals, carrying out destructive activities on railway, roads and houses and from triggering communal violence in the country.
The calls came from a rally organised by Bangladesh Rukhe Darao, a platform of eminent citizens, at the Central Shaheed Minar in the capital yesterday marking the Martyred Intellectuals Day.
Addressing the rally, Prof Anisuzzaman said, "The current government can ban the politics of Jamaat under the anti-terrorism act, as International Crimes Tribunal has already described Jamaat as a criminal organisation."
Rights activist Sultana Kamal said, "The Jamaat activists have been committing atrocities like killing and burning people since 1971."
She also urged the political parties not to liaise with Jamaat for political gains.
Asked about the stand of international community over Mollah's execution, educationist Prof Muhammad Zafar Iqbal recalled how international forces had abused their powers in harming weaker countries.
Full report at:
http://www.thedailystar.net/beta2/news/ban-politics-of-jamaat/
------------
India told US to play positive role on Bangladesh
December 15, 2013
India has weighed pressure on the US to play a positive role in light of the volatile political situation in Bangladesh, reports an Indian newspaper on its website.
The Anandabazar, through its source, reports that the South Block is disappointed about the White House's stance on Bangladesh and due to the significance of the situation the disappointment has been conveyed to the White House.
Indian Foreign Secretary Sujatha Singh discussed the current situation in Dhaka with her US counterpart Wendy Sherman during her recent visit to the country, says the report.
The South Block has explicitly told the US leadership that the West should help bring back the democratic and congenial environment in Bangladesh for the sake of the security of the entire South Asia.
But the Indian foreign ministry thinks that the US is yet to take any active measure to this end, says the report.
According to the newspaper, Indian government sources claim that the US believes Jamaat-e-Islami does not support terrorism; so if the party is allowed in the political arena, it will help combat extremist Taliban supporters. The US also thinks BNP believes in their (US) principles to a good extent and if it assumes power, it will be easier for the US to access Bangladeshi market. On strategic issue, BNP is more preferred by the US, says the report.
However, New Delhi has been trying to convince the US of the fact that the situation of Bangladesh is gradually going out of hand due to the destructive activities of Jamaat.
Spokesperson of the Indian Foreign Ministry Syed Akbaruddin said, "We believe that as the people of a democratic nation Bangladeshi politicians will resolve their differences through dialogue."
Full report at:
http://www.thedailystar.net/beta2/news/india-told-us-to-play-positive-role-on-bangladesh/
------------
Jatiya Party leaders split on joining polls
December 15, 2013
While Jatiya Party Chairman HM Ershad is at the Combined Military Hospital, the party's leaders made contradictory statements yesterday over contesting the parliamentary polls.
Claiming to be the spokesperson of the JP Chief, Bobby Hajjaj, special adviser to Ershad, said the party chairman would not budge from his decision to boycott the January 5 polls.
"I and the Jatiya Party will not contest the election as it won't produce a democratic government," Bobby quoted Ershad as saying.
Briefing reporters at the JP's research and strategic office at Gulshan, Bobby said Ershad and other party leaders had applied for a withdrawal of their nomination papers, but the authorities did not accept the applications.
"All the instructions from HM Ershad will directly go to Jatiya Party Secretary General Ruhul Amin Hawlader and its presidium member GM Quader," he mentioned.
Asked if he had any written or verbal approval from the JP chief to be the party's spokesperson, Bobby said he had been in regular contact with the party chairman.
Meanwhile, after meeting Raushan Ershad at her Gulshan residence, JP office secretary Tajul Islam Chowdhury told reporters that the JP was united under the leadership of Ershad and the party would contest the election.
But JP presidium member Kazi Firoz Rashid, who was also present at the meeting, rejected Tajul's statement, claiming that they had not made such a decision.
Members of an intelligence agency picked up Ershad from his Baridhara residence and took him to the hospital on Thursday night.
Full report at:
http://www.thedailystar.net/beta2/news/jp-leaders-split-on-joining-polls/
------------
Jamaat-Shibir activists attack, loot Freedom Fighter's house, business centres
December 15, 2013
Criminals, allegedly belonging to Jamaat-Shibir, ransacked and looted the house of a freedom fighter at Kutubpur village in Chirirbandar Upazila on Friday night.
House owner Altaf Hossain, 62, said a gang entered the house around 11:30pm and went on rampage. Sensing trouble, he along with his family members fled the scene.
The gang also took away three cattle before leaving the spot. However, the cattle were recovered later, he said.
FF Altaf Hossain suspected that Jamaat-Shibir men carried out the attack.
Meanwhile, many traders of different 'sensitive areas' in the district have started shifting their business items at warehouses to safer places in fear of arson attack and looting as Jamaat-Shibir called countrywide hartal for today.
The areas are Bhusirbandar and Ranirbandar of Chirirbandar and Pakerhat of Khansama Upazilas.
Full report at:
http://www.thedailystar.net/beta2/news/jamaat-shibir-activists-attack-loot-ffs-house-business-centres/
------------
Mideast
Drone strike in Yemen kills 17, mostly civilians
SANAA: A drone strike on a wedding convoy in Yemen killed 17 people, mostly civilians, medical and security sources said Friday, adding grist to mounting criticism of the US drone war.
"Some" of the dead in Thursday's strike near the central town of Radaa were suspected members of Al-Qaeda, but the rest were all civilians with no connection to the jihadist network, a security official said.
The death toll from the two-missile strike rose to 17 overnight, a medical source in Radaa told AFP.
Two of the dead whose names were released — Saleh Al-Tays and Abdullah Al-Tays — had figured in the past on Yemeni government lists of wanted Al-Qaeda suspects.
But most of those killed were civilian members of the Al-Tays and Al-Ameri clans headed to the wedding, the security official.
He said one of the rockets scored a direct hit on a vehicle carrying at least 10 passengers. The other struck near the convoy.
The US military operates all unmanned aircraft flying over Yemen in support of Sanaa's campaign against Al-Qaeda and has killed dozens of militants in a sharply intensified campaign this year.
Yemen is the ancestral home of Osama Bin Laden and the home base of Al-Qaeda in the Arabian Peninsula (AQAP), which the United States views as the global jihadist network's most dangerous franchise.
But critics say the drone strikes have claimed numerous civilian lives and have demanded an end to the secrecy surrounding their use.
Full report at:
http://www.arabnews.com/news/492446
------------
Yemen says air strike targeted al Qaeda leaders
December 15, 2013
SANAA: Yemen said senior al Qaeda militants were targeted in Thursday's air strike in al-Bayda province, the first government statement on an incident which local officials said killed 15 people on their way to a wedding.
Local officials said the wedding party was hit in an air strike on Thursday in the south of Yemen after being mistaken for an al Qaeda convoy, and five people were also injured.
The government's statement, issued late on Friday, made no mention of the wedding or civilian casualties.
"An air strike was carried out at about 4:30 in the afternoon of (Thursday), targeting a car belonging to a leader," an official of the government's security committee was quoted as saying in the statement carried by the state news agency.
Full report at:
http://www.dailytimes.com.pk/default.asp?page=2013\12\15\story_15-12-2013_pg4_9
------------
Iran cancels Pakistan gas pipeline loan
2013-12-14
TEHRAN: Iran says it has canceled a planned $500 million loan to Pakistan to build part of a pipeline to bring natural gas from Iran.
Deputy Oil Minister Ali Majedi says Iran has no obligation to finance the Pakistani side of the project and also doesn't have the money. Majedi's comments were posted on the oil ministry's website, shana.ir, Saturday.
"Pakistani officials were told in recent talks that, given the sanctions, Iran is not able to finance construction of the pipeline (in Pakistan) and has no obligation to do so," he said.
He said Tehran will demand compensation if Islamabad fails to take Iranian gas by end of next year.
Under a valid contract, Pakistan is required to finish construction of the pipeline on its territory by the end of 2014.
"If a contractor is chosen today and pipeline construction begins today, it will take four years to complete it. Should Pakistan fail to take gas by the end of next year, Iran will demand compensation under the terms of the contract," he said.
Pakistan has welcomed an Iranian offer to approach third parties, including European companies, to finance the project.
Full report at:
http://www.dawn.com/news/1073896/iran-cancels-pakistan-gas-pipeline-loan
------------
Turkish-Born Australian Senator Second Muslim In Parliament
MELBOURNE, Dec 12
(Bernama) -- Australia's first Muslim senator has praised the growing multicultural nature of parliament's upper house, using his first speech to laud the system that allowed his illegal immigrant parents to settle in Australia in the 1970s, the Australian Associated Press (AAP) reports.
Mehmet Tillem, Labor Senator from the state of Victoria, praised the government of former Liberal prime minister Malcolm Fraser that allowed his father Ramazan Tillem to settle in Australia despite being an illegal immigrant from Turkey.
Tillem, 39, noted senators from all sides of politics with immigrant backgrounds, including Labor's Penny Wong, who was born in Malaysia, and Liberal Eric Abetz, who was born in Germany.
"Yet we are all Australians, sharing common Australian values, sharing common civic responsibilities, and all working for the benefit of our common homeland," Senator Tillem said.
Full report at:
http://www.bernama.com.my/bernama/v7/wn/newsworld.php?id=1000486
------------
Israel begins fuel transfer for Gaza power plant
December/15/2013
Israel began transferring fuel to the Gaza Strip's sole power plant Sunday, a Palestinian official said, as the Hamas-ruled enclave struggled to deal with massive flooding caused by winter downpours.
Raed Fatuh, a Palestinian Authority official in charge of the transfer of goods between Gaza and Israel, said Israel would be transferring 450,000 litres of fuel to the plant, which has been shut down for some 50 days.
The PA does not hold sway over the Gaza Strip but does coordinate the transfer of goods from the territory with Israel, which Hamas does not recognise.
Israel sold the fuel to the PA, which paid with funds supplied by gas-rich Gulf state Qatar.
The Palestinian Energy authority said it hoped the power plant would be operational again later Sunday.
Torrential rains that began on Thursday caused heavy flooding in the enclave, with thousands of residents evacuated from their homes to schools.
An AFP correspondent said on Sunday the water level was dropping, but that many residents were still stranded.
Following a request from the United States, Israel on Friday allowed the transfer of gas for domestic heating and provided four water pumps.
In addition to the fuel for the power plant, Israel was also allowing in "800,000 litres of diesel fuel for transportation... and another 200 tonnes of household gas," the army said in a statement.
Full report at:
http://www.hurriyetdailynews.com/israel-begins-fuel-transfer-for-gaza-power-plant.aspx?pageID=238&nID=59581&NewsCatID=348
------------
Pakistan
British Ahmadi doctor jailed in Pakistan for posing as Muslim
2013-12-15
LAHORE: A 72-year-old British doctor is in prison in Pakistan for "posing as a Muslim", charges that reveal an escalating ideological fight that often spills over into violence.
Masood Ahmad is a quiet, reserved widower who returned to Pakistan to open a pharmacy in 1982 after decades of working in London to pay his children's school fees, his family said.
He is also an Ahmadi. A 1984 Pakistani law declared them non-Muslims, and Ahmadis can be jailed for three years for posing as a Muslim or outraging Muslims' feelings.
Some clerics promise that killing Ahmadis earns a place in heaven. Leaflets list their home addresses.
Three years ago, 86 Ahmadis were killed in two simultaneous attacks on Friday prayers in Lahore.
There have been no mass attacks since then, but targeted killings are rising: last year 20 Ahmadis were killed, up from 11 in 2009.
And legal prosecutions are on the rise, say Ahmadis, some of which they say are linked to property grabs.
Ahmad was arrested in Pakistan's eastern city of Lahore last month when two men posing as patients questioned him about his faith and used mobile phones to secretly record him reading a verse from the Holy Quran.
"He (the patient) said you are like a father to me, please help me with some questions," said the doctor's older brother, Nasir Ahmad. "When (my brother) answered, they began beating him and dragged him outside by his neck."
One of his accusers, religious teacher Muhammad Ihsan, told Reuters that Ahmad had preached to them illegally.
Last year 20 cases against Ahmadis were registered, up from 10 cases in 2009.
A bank clerk was arrested for wearing a ring with a Quranic verse and an entire family was charged for writing a Muslim greeting on a wedding invitation.
Clerics have twice sought the arrest of an entire town of Ahmadis, 60,000 people, for holding religious celebrations.Residents were serving food, giving out sweets and displaying bunting, the complaints said.
"We would not have a problem with them if they did not use the name of Islam and the symbols of Islam," said Tahir Ashrafi, head of the powerful Ulema Council of clerics.
"We are against the killing of any innocent... Such attacks are not acceptable or allowed, but if they break the law, we have a right to go to the police," he said.
"His chidlren watched him die"
There are about half a million Ahmadis in Pakistan, their leaders say. Many only feel safe in Rabwa, a town they bought when Pakistan was created in 1947. On its main streets, banks of security cameras monitor fruit vendors and dozing dogs.
Near the playing fields, blocks of flats house families that fled other parts of Pakistan after loved ones were murdered.
Rafiatta, who asked her last name not be used, moved to Rabwa after gunmen killed her husband in 2010 in front of their young children.
"He was just a hard-working man who loved his family," she said. The family fled after two Ahmadi neighbours were also killed and men tried to kidnap Raffiata's young son.
The Ahmadi are also targets outside Pakistan.
In Indonesia,a gruesome YouTube video recorded a mass lynching in 2011 as police looked on.
Ahmadi publications are banned in Bangladesh, where a festival site was torched earlier this year.
In Britain, Ahmadi buildings have been vandalised and leaflets have appeared forbidding them to enter shops and urging Muslims to kill them, British media have reported.
But Pakistan is the epicentre of persecution.
Jailed with no bail
Last April, a 25-year-old hospital clerk and his father were at home in Lahore reading an Ahmadi newspaper when a crowd broke down their door, the clerk said.
They beat the two and looted their home. Then a gunman forced the pair into a car without license plates, the clerk said. He asked not to be named for fear of retribution.
Their kidnappers went free but the two were eventually charged with impersonating Muslims in special anti-terrorist courts designed to combat the Taliban.
The clerk was released after a month, but his father, who has not yet been convicted, has been in prison for nine months.The family has since fled their home and the man now occupying it is refusing to pay them for it.
Full report at:
http://www.dawn.com/news/1074095/british-ahmadi-doctor-jailed-in-pakistan-for-posing-as-muslim
------------
Pak-India joint march can outdo West: Punjab CM
December 15, 2013
LAHORE - Punjab Chief Minister Shahbaz Sharif has said that if Pakistan and India march forward jointly and peacefully, their development can surprise the West, adding wars give nothing except miseries.
Addressing various functions in Indian Punjab, he said it was high time for Pakistan and India to end confrontation and start the journey of peace, friendship and mutual cooperation for the sake of the people.
Speaking at a reception hosted by Indian Punjab Chief Minister Sardar Badal Singh Parkash, Shahbaz Sharif said if the European countries could come closer to each other despite hatred and enmities of centuries, why Pakistan and India could not do so for the betterment and welfare of the people. He said division of India was the decision of history and no one could remove the borderlines between both the countries. He said the people and governments of both the countries could certainly demolish those walls which were hampering development, prosperity and security of the region. He vowed: "We can definitely remove such walls jointly as are creating hurdles in cooperation in research, technology and journey of peace and security," he asserted.
Speaking to a big gathering on the occasion of the final of Kabaddy match between India and Pakistan in Ludhiana, Shahbaz said victory of either country in this match was the victory of both the neighbours as they wanted to forget bitterness of the 66 years. He said: "Now we have to promote love, trade and business between the two countries for prosperity and progress of the peoples on both sides of the border.
He urged the Indian Punjab CM to let Lahore host the next World Kabaddy event or the two sides should share the matches. He also invited the people of the Indian Punjab to visit Lahore where he would entertain them with Puri, chanay, bhaji, pathoorey, halwa and ghee ki choori.
He said both Punjabs should join hands to combat poverty and unemployment by benefiting from the experiences of each other. He vowed to make the two Punjabs the most peaceful part in the region with joint efforts where love and affection would foster. The CM concluded his address with lines from Amrita Singh's poetry, "Ajj Akhan Waris Shah nu kitay qabran wichon bol."
Full report at:
http://www.nation.com.pk/national/15-Dec-2013/pak-india-joint-march-can-outdo-west-shahbaz
------------
CID police arrest key Taliban commander in Karachi
2013-12-14
KARACHI: The Crime Investigation Department (CID) of police claim to have arrested a key Pakistani Taliban commander, Abu Hamza, during a raid in Karachi's West Wharf area on Saturday.
Chief of CID's investigation unit, Mazhar Mashwani claimed that Muhammad Adnan alias Abu Hamza had been operating for banned Tehrik-i-Taliban Pakistan (TTP) and was placed at number 36 in the Red Book – the list of wanted suspects.
According to a report published on BBC's Urdu website, the CID police claim to have recovered two hand grenades, handguns and bullets from his possession also.
Chaudhry Muhammad Arif, an officer of CID's investigation unit told BBC that Abu Hamza was also arrested in 2007 for holding illegal weapons.
"He, however, had moved to Lahore during his trial and got recruited in (government's) Awqaf department (ministry)," said Arif. Later, upon his transfer back in Karachi, he (Abu Hamza) manipulated the court in dismissing the case he was facing, he added.
The CID officer further said the suspect had also worked for al Qaeda's Takfiri group before joining the TTP.
Full report at:
http://www.dawn.com/news/1073897/cid-police-arrest-key-taliban-commander-in-karachi
------------
Pakistan fashion casts off 'dark cloud' of extremism
December 15, 2013
Pakistan fashion casts off 'dark cloud' of extremism
PARIS: Mention the Taliban to Pakistan fashion designer Kamiar Rokni and his irritation is clear.
"One of the things we feel diminishes our work is whenever our story is linked to Talibanisation and whether we are doing this to fight extremism," he told AFP in Paris.
"We're not. We're doing this for the business of fashion!"
Tired of the countries 'bombs and Burqas' image, Rokni is far from alone in his desire to see fashion for fashion's sake.
Certain precautions are unavoidable however and the locations of fashion shows are never disclosed in advance.
"It's the one thing we do to protect ourselves," said Rokni who runs his House of Kamiar Rokni label with two cousins.
"Apart from that you just have to have faith and carry on."
Fellow designer Hassan Sheheryar Yasin, founder of the HSY label, is equally keen to distance himself from any political motive. "We've been lumped up with a very bad dark cloud that's been over our heads... but this really isn't our war," he said.
Extremism aside, the designers – who recently held a catwalk show in Paris – say Pakistan fashion is finally starting to establish itself. From an industry made up of just a handful of designers and models in the early 1990s, fashion shows, attracting foreign buyers, are now held regularly in Lahore and Karachi.
Its leading figures are gossip column and glossy magazine staples and not afraid to court controversy.
One designer, Safinaz Muneer, sparked outrage last year when she told a magazine that Pakistan employees could spend 1,500 hours on embroidery that "will cost you nothing".
The row failed to dent sales and the designer denounced critics demanding to know what they had contributed to the industry.
Rokni and Yasin, both graduates of the couture-focused Pakistan School of Fashion Design in Lahore, are evangelical about what the country has to offer, citing the Zardozi embroidery technique which uses gold thread, beads and seed pearls to embellish fabric.
"The world gets their embellishment done from India but when you see the clothes that are hand embellished in Pakistan it's arguably some of the best in the world," said Rokni.
"It's generally a South Asian tradition and the skills are very much alive here."
The Lahore school, now known as the Pakistan Institute of Fashion and Design, was established in 1994 with the aim of giving Pakistani textiles a competitive edge in a global market.
"Our fashion school was primarily to develop us into making value added products for the textiles industry but our fashion industry also started to develop and flourish," Rokni said.
Yasin describes his clothes as "uber-masculine with a touch of contemporary", summing up his signature style as "rock, royal, gent".
"That's 'rock', for rock star, 'royal', all the embellishments, and 'gent' meaning very classic so the blazer is 100 percent wool cashmere," he said.
And he dismissed as out of date the image of Pakistan as a place where men only ever dressed in the traditional salwar kameez of long shirt worn over loose trousers.
In fact, well off Pakistani men in the 25 to 35 age group were increasingly interested in fashion, he said, irrespective of whether they opted for western or traditional south Asian styles.
Full report at:
http://www.dailytimes.com.pk/default.asp?page=2013\12\15\story_15-12-2013_pg7_15
------------
Top TTP terrorist held in Karachi
December 15, 2013
KARACHI - A most-wanted terrorist, having ties with Al-Qaeda and Tehreek-e-Taliban Pakistan, was arrested by the Crime Investigation Department on Saturday.
The accused was identified as Adnan alias Abbu Hamza. He was placed in the sixth addition of Red Book.
He was arrested from his hideout in Keamari. Crime Investigation Department Interrogation Cell's in-charge Mazhar Mashwani while talking to The Nation said the accused was the resident of Mehmoodabad area of Karachi. Earlier, he was arrested in 2009.
Hamza got bail from the court and settled in Lahore where his maternal uncle Chaudhry Asghar, affiliated with Pakistan Tehreek-e-Insaf, got him employed in the Auqaf Department in grade 16. He was transferred from Lahore to Karachi and then he started reorganising his group.
He was a close aide of Talat Hussain and Raja Abdul Razak of Al-Qaeda, the alleged masterminds behind the ISI headquarter suicide blast in Sukkur in July 24, 2013.
Investigators also suspected the involvement of these groups in October 18, 2007 blast carried out on the convoy of slain PPP leader in Karachi and also investigate the incidents of law enforcers' killings in Hyderabad.
Full report at:
http://www.nation.com.pk/karachi/15-Dec-2013/top-ttp-terrorist-held-in-karachi
------------
JUI-F bags highest number of seats; PkMAP, NP big winners
SALEEM SHAHID
2013-12-15
QUETTA, Dec 14: Balochistan's election commissioner announced on Saturday that the Jamiat Ulema-i-Islam-Fazl clinched 964 seats, Pakhtunkhwa Milli Awami Party 765, National Party 562 and the Pakistan Muslim League-Nawaz 472 seats in the elections for local bodies held last week.
"We have received results from all districts and according to final and official results, the JUI-F won 964 seats, PkMAP 765, NP 562 and PML-N 472 seats," Syed Sultan Bayazeed said, adding that all results were compiled in a transparent manner.
He said local bodies elections could not be held in three districts — Harnai, Turbat and Awaran – because of law and order situation as well as some other reasons.
The provincial election commissioner said that local government elections were held for 4,036 seats on Dec 7, including 472 seats of district councils, 772 of metropolitan, municipal corporations and municipal committees and 2,842 seats of union councils. Giving details of results of local bodies' elections in the provincial capital Quetta, he said that 21 seats out of 58 of the Metropolitan Quetta were won by independent candidates while PkMAP bagged 18 seats, PML-N 5 seats, Hazara Democratic Party 3 seats, BNP-M 3 seats, Tehreek-i-Insaf 3 seats, National Party 2 seats, Majlis Wahdatul Muslimeen 1 seat, JUI-F 1 seat and JUI-N 1 seat.
"Two-hundred-eighty-four candidates were elected unopposed on seats of municipal corporations and municipal committees while 2,120 candidates were elected unopposed on union councils' seats in different districts," he said.
He said that local bodies' elections were yet to be held on 34 vacant seats of municipal corporations and municipal committees and 511 seats of union councils.
Full report at:
http://www.dawn.com/news/1074074/jui-f-bags-highest-number-of-seats-pkmap-np-big-winners
------------
Green Tablighi Ijtima Draws World Muslims
By Shuriah Niazi
14 December 2013
BHOPAL – Just like every year, around one million Muslims from worldwide countries have flocked to the Indian central city of Bhopal to mark the annual Aalmi Tablighi Ijtima, the third largest gathering in the world after hajj and Bishwa Ijtima in Bangladesh.
"I am here to learn about Islam," Yusuf Khan, one of the participants from Chhattisgarh, told OnIslam.net on Saturday, December 14.
"I am born a Muslim, but never knew what exactly Islam is. Here I am learning everything about Islam and its teachings."
Ahmed Kamal, another participant from South India, said "Allah has given this life and it is up to us to decide how to lead our life. Our life should be for the betterment of the mankind."
"Here I learnt how we could become a true Muslim," he added.
The two were among hundreds of thousands of Muslims who flocked to the Aalmi Tablighi Ijtima, or World Muslim Congregation, held in Bhopal and organized by India's Tabligh Jamaat, an international non-political Islamic group.
At the crack of dawn on Saturday, the 66th annual Muslim congregation, the largest in India, has begun in central Indian city of Bhopal after Fajr prayer.
The congregation is considered to be the third largest after hajj in Makkah and annual Ijtima in Bangladesh, drawing more than a million people.
The three-day annual gathering, which runs from December 14 to 16, brought together Muslims from around the world including; Sri Lanka, Bangladesh, Indonesia, Malaysia, Brunei, South Africa, Iraq, Saudi Arabia, Jordan, Kuwait, UAE, Yemen, USA, France, Thailand and Morocco.
A mass prayer was held at the end on the day the grand congregation concludes.
Accommodating hundreds of participants from India and abroad, a tent city spreading over 175 acres has come up in the outskirts of Bhopal.
Apart from the organizers, the locals are also providing different modes of transport free of cost to the participants to reach the venue.
The first Ijtima in Bhopal was organized in 1948 in a local mosque, since then it has a regular feature for the city.
Green Event
For the first time in its history, organizers of annual Islamic congregation said they would not allow the use of tobacco and polythene in the premises.
"For the first time we have decided not to allow the use of polythene and tobacco use in Ijtima premises," Ateeq-ul-Islam, chief spokesman of Ijtima organizing committee, told OnIslam.net.
"Our volunteers are not allowing the use of polythene and tobacco. Even shops inside the premises are not allowed to sell tobacco."
Ateeq-ul-Islam added that attendants would be given message from holy Qur'an to make them more conscience towards nature.
Attendants would also be taught about the importance of working for the afterlife.
"Muslims should follow the path shown by Prophet Mohammad," prominent Muslim preacher and scholar Maulana Saad said.
"We are moving away from Allah and his religion and because of which we are facing humiliation in this world."
Maulana Saad added that Muslims need to understand the true teachings of Islam and devote more time to learn about their faith.
Another scholar Maulana Ahmed Laat Sahab, agreed.
"It is easy to be a Muslim, but it is not easy to be a true Muslim. A Muslim is someone who through his deeds and acts should set an example for the society. His acts should not be harmful for the society but should be beneficial for the mankind," Sahab told OnIslam.net.
"We must understand that there is a life after death and we should prepare ourselves for that life.
Full report at:
http://www.onislam.net/english/news/asia-pacific/467009-green-tablighi-ijtima-draws-world-muslims.html
------------
India Scholars Fatwa Rejects Terrorism
14 December 2013
NEW DELHI – A leading Indian Muslim organization concluded on Saturday, December 14, a two-day conference on world peace, unifying world Muslim scholars' word against terrorism.
"In 2008, 6000 Ulema and Muftis had come together to sign the fatwa against terrorism issued by Darul Uloom Deoband," prominent Muslim scholar and politician Mahmood A Madani, General Secretary, Jamiat Ulema-I-Hind said while addressing the conference, ummid.com News Network reported.
"After receiving international consensus for disassociating the image of terror from the peaceful identity of Islam, over 200 Ulema from the UK, Nepal, Bangladesh, Myanmar, The Maldives, Pakistan and Sri Lanka have added their support to the fatwa," he added.
Organized by the Sheikh ul-Hind Educational Charitable Trust, the two day Conference is India's first initiative to establish a positive dialogue about world peace.
Held under the banner, World Peace Conference, the two-day conference aimed at seeking solutions from Islam to problems plaguing the region.
The conference was attended by scholars from countries of the region, including Pakistan, Bangladesh, Myanmar, Sri Lanka, Nepal and Maldives.
Muslim scholars from the US and the UK were also present to debate and discuss ways to combat terrorism perpetrated in the name of Islam.
"The conference therefore marks an international declaration to establish and maintain peace and harmony," scholar Madani said.
The decisions made after extensive deliberation at the two day event will be announced at Aman Ka Paigham: Message of Peace, at Ramlila Maidan (New Delhi) on 15 December 2013.
The event will be attended by 1, 00,000 Muslims from all walks of life and will see them take a pledge of peace.
Full report at:
http://www.onislam.net/english/news/asia-pacific/467005-india-scholars-issue-fatwa-against-terrorism.html
------------
Sarabjit's sister to meet Sharif, seek visas for families of Indians in Pakistani jails
Yudhvir Rana
Dec 15, 2013
AMRITSAR: Dalbir Kaur, whose brother Sarabjit Singh was killed in Lahore's Kot Lakhpat Jail on May 2, would give a memorandum to Shahbaz Sharif, the visiting Pakistan Punjab's chief minister, demanding visa for the family members of Indian prisoners languishing in Pakistani jails.
Dalbir had earlier planned to meet Sharif at Jatti Umra but couldn't make it due to his tight schedule. She has now decided to meet him on Sunday in Amritsar.
"I have a list of 129 Indian prisoners who have completed their jail terms but continue to live in inhumane conditions in Pak jails. The Pakistan government should grant visas to their family members so that they can visit the country and meet them," Dalbir told TOI on Saturday.
Dalbir expects Sharif would take up the issue with his brother and Pakistan Prime Minister Nawaz Sharif. "There can't be a better gesture than releasing Indian prisoners for long-term Indo-Pak relations," she said.
Though she lost her brother, Sarabjit's sister didn't want any other sister to meet the fate of her brother. "I will ask Shahbaz Sharif to ensure security of Indian prisoners in Pakistani jails and also request him to take stern action against the culprits who had attacked and killed my brother".
Full report at:
http://timesofindia.indiatimes.com/i
------------
Post-riots, Maya picks more Muslim nominees for Lok Sabha elections
RAMENDRA SINGH
Dec 14 2013, 02:42 hrs
Lucknow : With the recent communal riots in Muzaffarangar and Shamli districts likely to impact political loyalties, the Bahujan Samaj Party(BSP) has begun wooing the Muslims.
The party, which had earlier identified 13 candidates from the community for the Lok Sabha elections, has now dropped candidates of three more seats to accommodate Muslims in their place.
In western UP, where Muslims are in majority, the party has fielded candidates from the community in Muzaffarnagar, Kairana, Meerut, Amroha, Sambhal, Badaun, Pilibhit, Dhaurahra and Rampur.
The party has also picked Muslim candidates from Azamgarh, Domariyaganj, Kanpur, Sitapur and Fatehpur Lok Sabha seats.
The party replaced Kamlesh Shukla, who was chosen in place of sitting MP from Deoria seat Gorakh Prasad Jaiswal, by Niyaz Ahmed Hasan in October.
Hasan had unsuccessfully contested the 2012 Assembly elections from Pathardewa as an Independent.
The party has also replaced Satyaprakash Singh, whose name was earlier announced for Etah constituency, with Noor Mohammed. Most recently, the party sidelined R K Verma, who was announced to contest from Pratapgarh seat. A party coordinator said a Muslim leader will be fielded from the seat and his name will be announced within a week.
Party sources say in order to show the party's closeness to the community that the BSP has appointed Nisar Nabi, a Muslim party worker, as district president of Hamirpur district in Bundelkhand region in September.
Usually, the posts of district president of the BSP are occupied by Dalits or the Most Backward Castes. Nabi, who was earlier the president of Muslim Bhaichara Committee of Hamirpur assembly constituency, is the only Muslim district president of the party.
Sources said the party has also been showcasing its Muslim leaders, national general secretary Naseemuddin Siddiqui and Rajya Sabha member Munquad Ali, prominently.
Siddiqui, who is also the Leader of Opposition in the Legislative Council, chairs most of the party functions and review meetings in eastern and central UP. Ali plays a similar role in western UP where he is the in-charge.
Full report at:
http://www.indianexpress.com/news/postriots-maya-picks-more-muslim-nominees-for-lok-sabha-elections/1207516/
------------
Indian businessman eyes Saudi market
15 December 2013
A Mumbai-based entrepreneur, who has introduced a new multilingual digital version of the Holy Qur'an in India, is currently scouting for business opportunities in real estate, housing and textile sectors in the Kingdom.
Haji Arafat Shaikh, vice president of India's Maharashtra Navnirman Sena (MNS) and president of Maharashtra Navnirman Vahtook Sena, expressed concern about businesses owned by the Muslim community in India.
During his visit, Shaikh held talks with several Saudi businessmen, including Prince Mashal bin Fahd Al-Faisal Al-Saud in Riyadh and Mohammed Ali Siddiqui, a Riyadh-based businessman and social activist. The meetings stressed the importance of enhancing business tie-ups with Saudi business houses.
Full report at:
http://www.arabnews.com/news/492856
------------
Europe
Russians, Muslims and otherwise, show a marked preference for Halal foods
December 15th, 2013
Al Islami Foods, the leading Halal food company in the Middle East, will soon be establishing a permanent presence in Russia, Azerbaijan and other countries in the Commonwealth of Independent States, or CIS, saying that the former Soviet states represent a whopping 284 million people who are potential food consumers.
A top Al Islami spokesperson said that awareness about Halal food has been increasing exponentially among Muslim and non-Muslim residents in the CIS countries and current indications show that this remains a highly under-served market. Russia's current annual production of Halal food stands at around 65,000 tons, produced mostly by unorganized livestock farmers and smaller meat-production companies.
"Russian and CIS consumers are increasingly showing a marked preference for food products that comply with real halal standards," said Saleh Abdullah Lootah, board member of Al Islami Foods according to Khaleej Times.
"In recent times, this unprecedented demand has led many retail outlets and restaurants in those countries to introduce exclusive sections and menus featuring only pure halal food products."
Full report at:
http://www.albawaba.com/business/al-islami-halal-russia-540573
------------
From Mecca to Europe: Understanding Islam
December 15 2013
Among the various travel packages of Umrah, there are also extended packages where pilgrims can also visit other countries.
Al-Aqsa Mosque, for example, which is located within the Old City of Jerusalem, is among the favorite additional destinations after performing umrah. Al-Aqsa, also known as "The Farthest Mosque", is one of the holiest places in Islam.
Islamic tradition holds that the Prophet Muhammad led prayers toward Al-Aqsa until the 17th month after the emigration, when God directed him to turn toward the Kaaba.
Being in the Old City, which is controlled by the Israeli government, the mosque remains under the administration of Palestine.
"To fully understand Islamic teaching, a Muslim is encouraged to learn Islamic history by, among other things, visiting the religion's historical places," Muhammad Ridwan of ESQ Tours and Travel told The Jakarta Post recently.
"Within the umrah and Al-Aqsa [to Jerusalem] package, our clients can learn more about the place of Prophet Ibrahim [Abraham] and the mosque itself."
The cost of the 11-day umrah plus Al-Aqsa trip ranges from US$3,545 to $4,225 per person for a regular package, which is available from December to May 2014.
"The time arrangements will be nine days for the umrah in Saudi Arabia and the remaining days will be for the Al-Aqsa trip," said Ridwan, adding that his agency usually entered Al-Aqsa via Jordan.
Ridwan suggested December as the best month to visit Al-Aqsa. "The weather is great. It's winter, so the climate can go down to minus five degrees Celsius. However, you can get that great feeling of visiting Al-Aqsa in the winter."
Tazkia Tours and Travel offers umrah plus Andalusia in Spain, among other packages, to educate its clients on Islam in Europe.
"It must be understood that Islam isn't just in Saudi Arabia. There were times when the religion's supremacy saw it spread to Europe," said Mirna Rafki of Tazkia.
"Back in the days when Islamic soldiers conquered Andalusia, the area was filled with Islamic civilization. Now, we can witness Islam's legacy in some of Spain's architecture, such as in the Mosque-Cathedral of Cordoba."
Evita Megawati Marpaung of HTK Tour said some young people sought more adventure alongside the basic umrah rituals.
"Besides the regular nine-day umrah package, we also provide clients with umrah plus Turkey for a minimum 12-day trip, umrah plus Europe — Germany, Switzerland, Spain or Belgia — for a 15-day trip, and thematic packages," she said.
The thematic packages, which are conducted once a year, include umrah quantum, which gives extra spiritual guidance to clients, and umrah for men only, which gives extra adventure trips such as visiting the Cave of Hira on Jabal Nur Mountain — some 3.2 kilometers from Mecca.
Full report at:
http://www.thejakartapost.com/news/2013/12/15/from-mecca-europe-understanding-islam.html
------------
How widespread is Islamic fundamentalism in Western Europe?
December 13, 2013
One narrative about Muslim immigrants in Europe is that only a relatively small proportion holds views that are sometimes labeled as "fundamentalist." Ruud Koopmans from the Wissenschaftszentrum in Berlin argues that this perspective is incorrect. He conducted a telephone survey of 9,000 respondents in the Netherlands, Germany, Belgium, France, Austria, and Sweden and interviewed both Turkish and Moroccan immigrants as well as a comparison group of Christians.
His first finding is that majorities of Muslim immigrants believe that there is only one interpretation of the Koran possible to which every Muslim should stick (75 percent), and that religious rules are more important than the laws of the country in which they live (65 percent). Moreover, these views are as widespread among younger Muslims as among older generations.
He then looks at hostility toward out-groups. Fifty-eight percent do not want homosexual friends, 45 percent think that Jews cannot be trusted, and 54 percent believe that the West is out to destroy Muslim culture. Among Christians, 23 percent believe that Muslims are out to destroy Western culture. Koopmans says these results hold when you control for the varying socio-economic characteristics of these groups (although the analyses are not presented).
Religious fundamentalism is the strongest correlate of out-group hostility both among Muslims and Christians. Fundamentalism here is taken to mean beliefs that believers should return to unchangeable rules from the past, that the Bible/Koran should be taken literally, and that religious rules are more important than secular laws. Although Muslims are more likely to be fundamentalist and hostile toward out-groups than Christians, there are many more Christians in these countries. So, the overall numbers of Christians who feel hostile toward Muslims still vastly outnumber the Muslims who believe the West is out to destroy Muslim culture. This accounts for the success of extremist parties in many of the countries in which the survey was conducted. It may be that Muslim perceptions are partially a response to this but we can't tell. (The study, as far as I can tell, has little to say about the sources of these attitudes).
This study is bound to attract ample media attention (it already has) and will be seen as a verification for political parties with extreme views, such as Geert Wilders's PVV in the Netherlands. This is not an issue per se, facts are facts, however uncomfortable they may be, and from what I can tell, this is a professional survey (technical report here) done by a reputable academic scholar. Indeed, the survey was conducted in 2008, and the researchers appear to have waited until now to publicize these findings. Nevertheless, I wished that the publication of a sensitive survey like this would be partnered with a bit more information. For example, I could not even track down country-specific marginals for the main survey questions and key analyses in the article come without tables or graphs.
Full report at:
http://www.washingtonpost.com/blogs/monkey-cage/wp/2013/12/13/how-widespread-is-islamic-fundamentalism-in-western-europe/
------------
Africa
Tunisia parties in final talks to choose new PM
15 December 2013
TUNIS: Tunisia's political parties were holding final talks Saturday to choose an interim premier to end the country's political crisis, said the powerful UGTT union, which has been acting as mediator.
The negotiations come a day after a candidate agreed on by the government and the mostly secular opposition, 92-year-old Mustapha Filali, ruled himself out due to his age.
Mediators in the crisis, which was sparked by the assassination of opposition MP Mohammed Brahmi by suspected militants in July, had originally given parties until 1100 GMT Saturday to make another choice, threatening to announce the talks' failure. But the UGTT said on Facebook that the press conference at which the new candidate was to be announced has been pushed back until an unspecified time.
Full report at:
http://www.arabnews.com/news/492791
------------
Bombs kill one in Kenya near Somalia border: police
2013-12-14
NAIROBI: At least one person was killed and three others seriously wounded when twin explosions rocked the Kenyan town of Wajir near the Somalia border, police said on Saturday.
The blasts ripped through the town market shortly after 8:00 pm Friday night, a senior police officer told AFP on condition of anonymity.
"It looks like these were improvised explosive devices," the officer said.
"We lost one person while three others were taken to hospital," he added.
No one claimed responsibility for the attack, which police said was likely the work of Al Qaeda-linked Shebab insurgents or their sympathisers.
The region along Kenya's 700-kilometre border with Somalia has seen a series of attacks, mainly on police but also against hotels and restaurants, since Kenya sent its troops to Somalia to fight the Shebab in October 2011 and authorities routinely blame the attacks on the rebels.
Full report at:
http://www.dawn.com/news/1073886/bombs-kill-one-in-kenya-near-somalia-border-police
------------
URL: https://www.newageislam.com/islamic-world-news/new-age-islam-news-bureau/sex,-lies-and-beef--racy-scandal-hits-indonesia-s-islamic-parties/d/34862